Today we are going to walk you through the unique bridal stylings of fashion forward designer, Yolan Cris.
Yolan Cris is a fashion-house based in Barcelona, concentrated on creating unique, couture wedding and evening wear. These gowns are sensual, feminine, bohemian, and eclectic. They challenge what our ideals are about classic bridal, and bring us full steam ahead into natural inspired modern fashion. These styles are the perfect match between playful and romance. With cascading lace and intricate detailed accents, along with stunning surprises such as dramatic necklines and fringing finishes from head to toe.
Get ready to take a trip down the rabbit hole with Yolan Cris's 2017 bridal styles. We will start with the 2017 Boho Chic collection and finish with the 2017 Couture Bride collection. Get ready to expect the unexpected with these stunning Yolan Cris designs. These are sure to inspire your 2017 bridal fashion.
2017 Boho Chic Collection:
01.

Abedul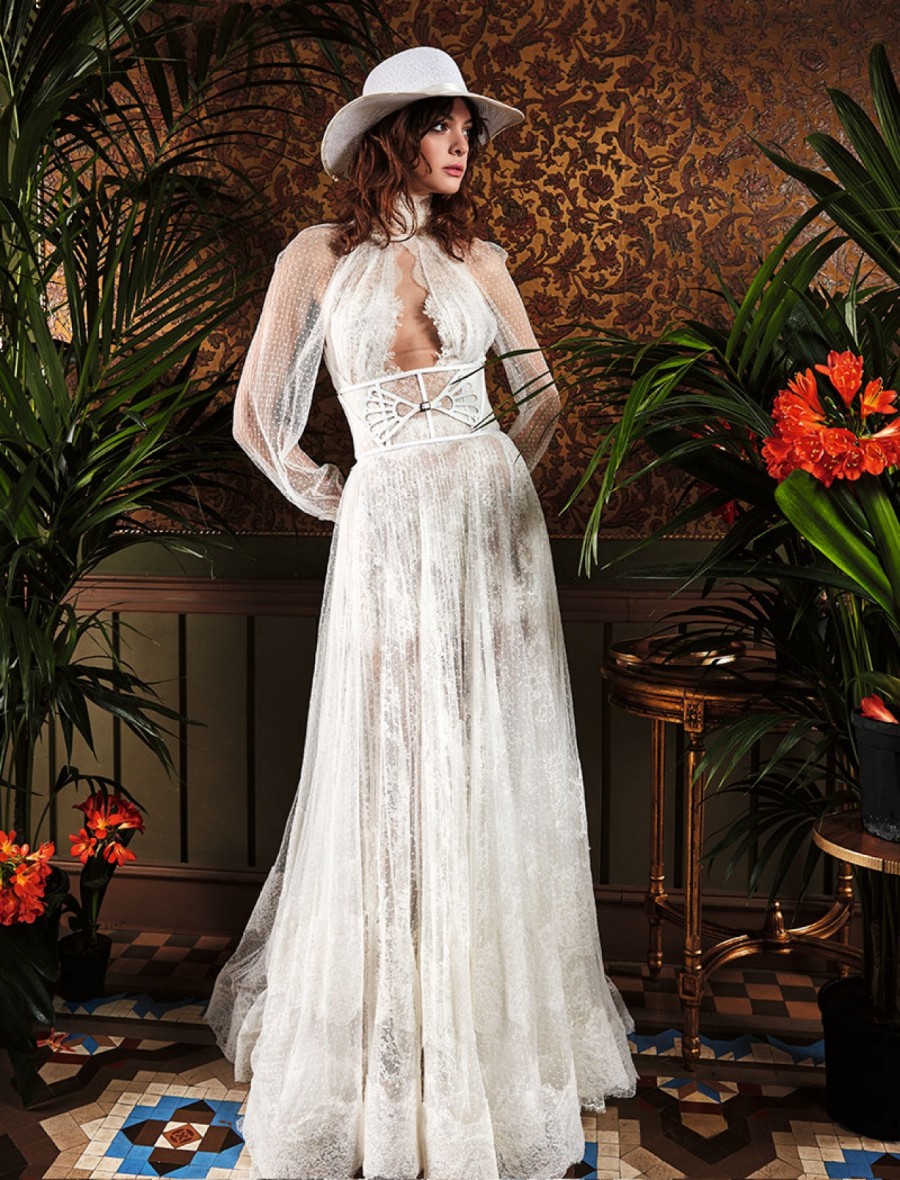 A Victorian Age inspired long sleeve gown. A romantic, feminine style with a sensual focal neckline.
02.

Acanto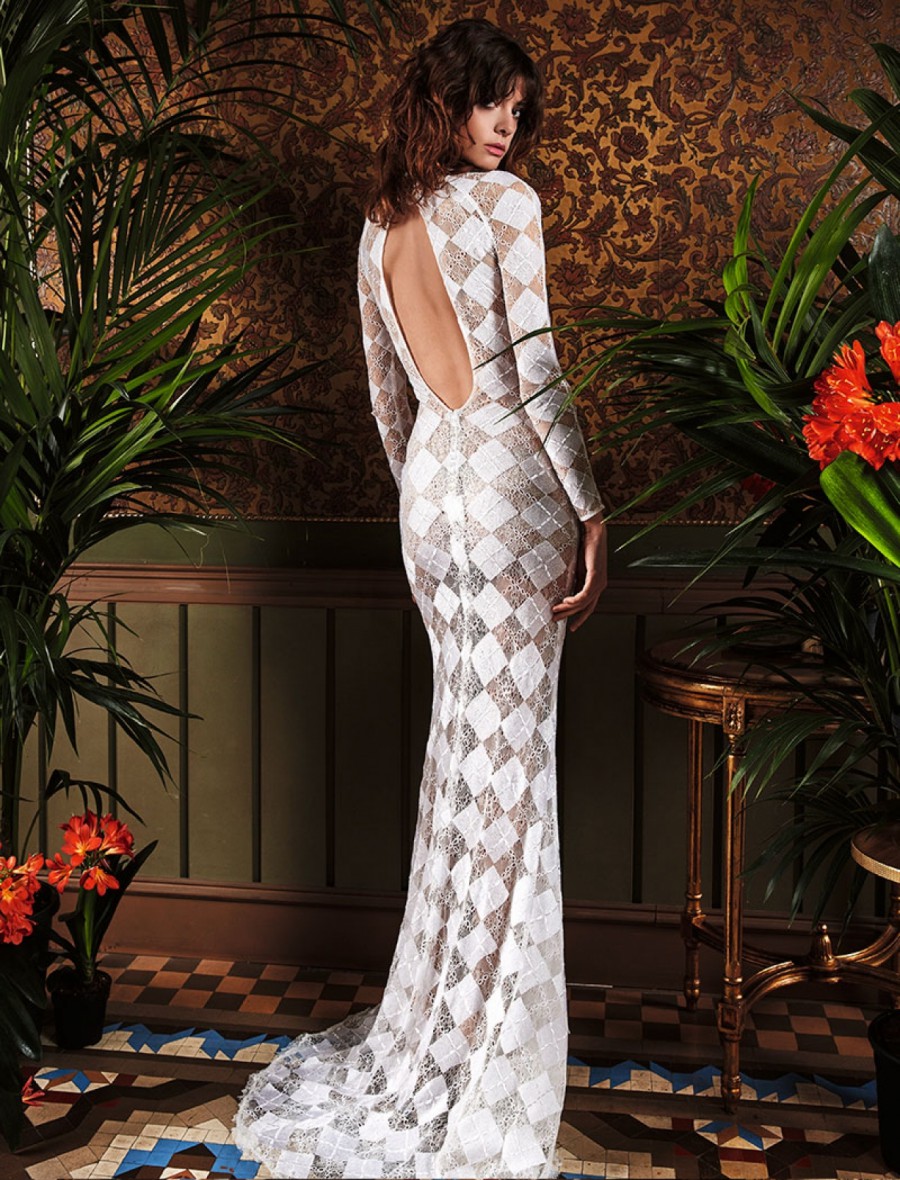 A unique checkered style with dramatic keyhole back opening and a form fitting silhouette to hug your curves in all the right places.
03.

Aloe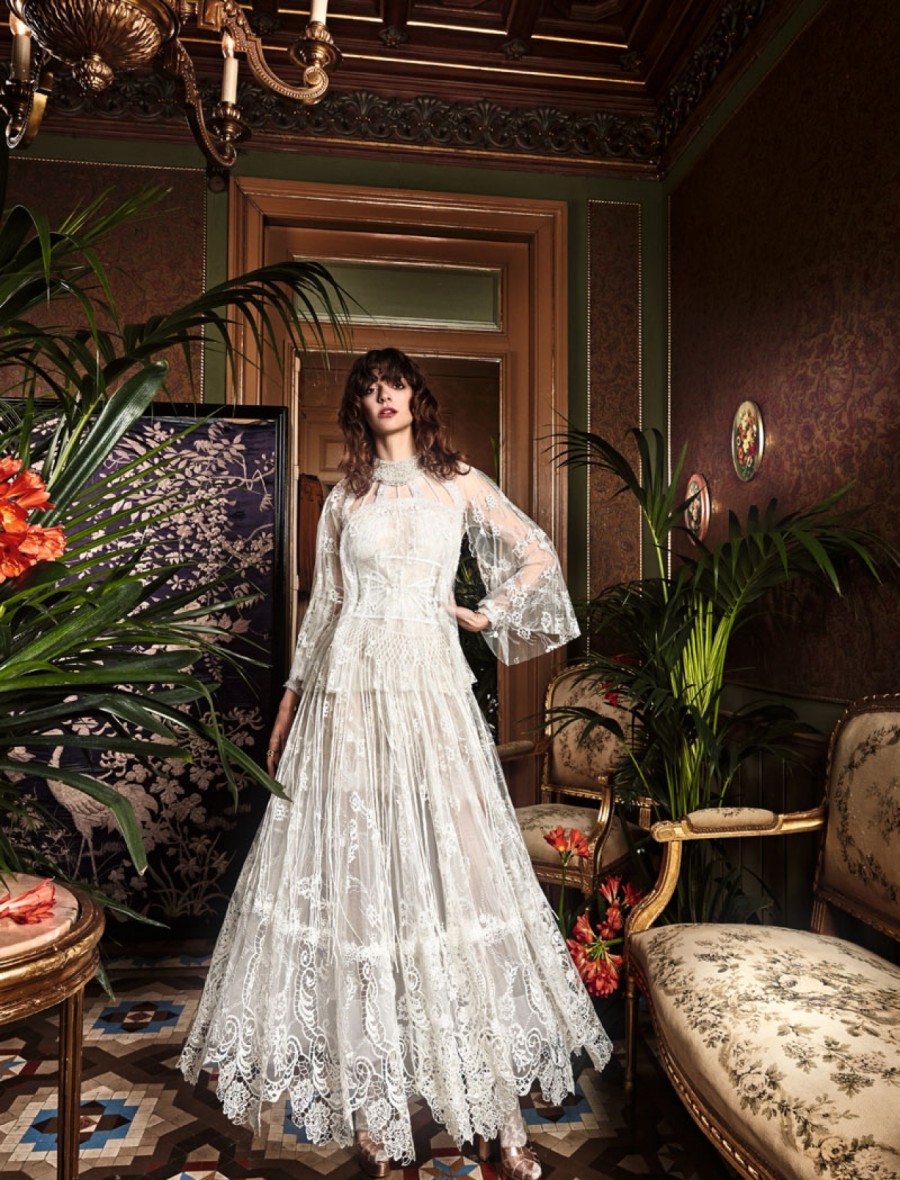 A style that is all about the lace. With layers of delicate, intricate lace, finished with a dramatic high neckline.
04.

Aquilea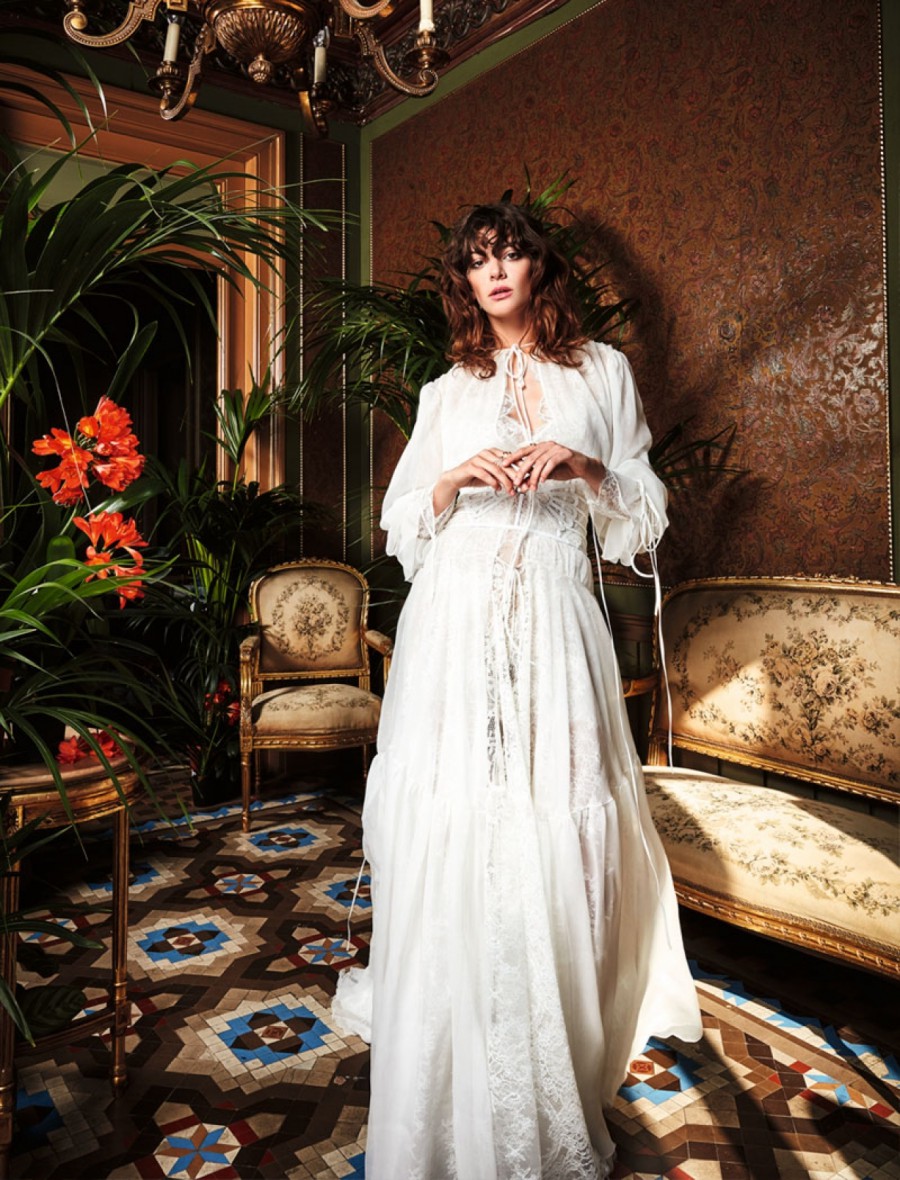 An airy feminine style. This lingerie inspired dress is perfect for a more casual affair.
05.

Baobab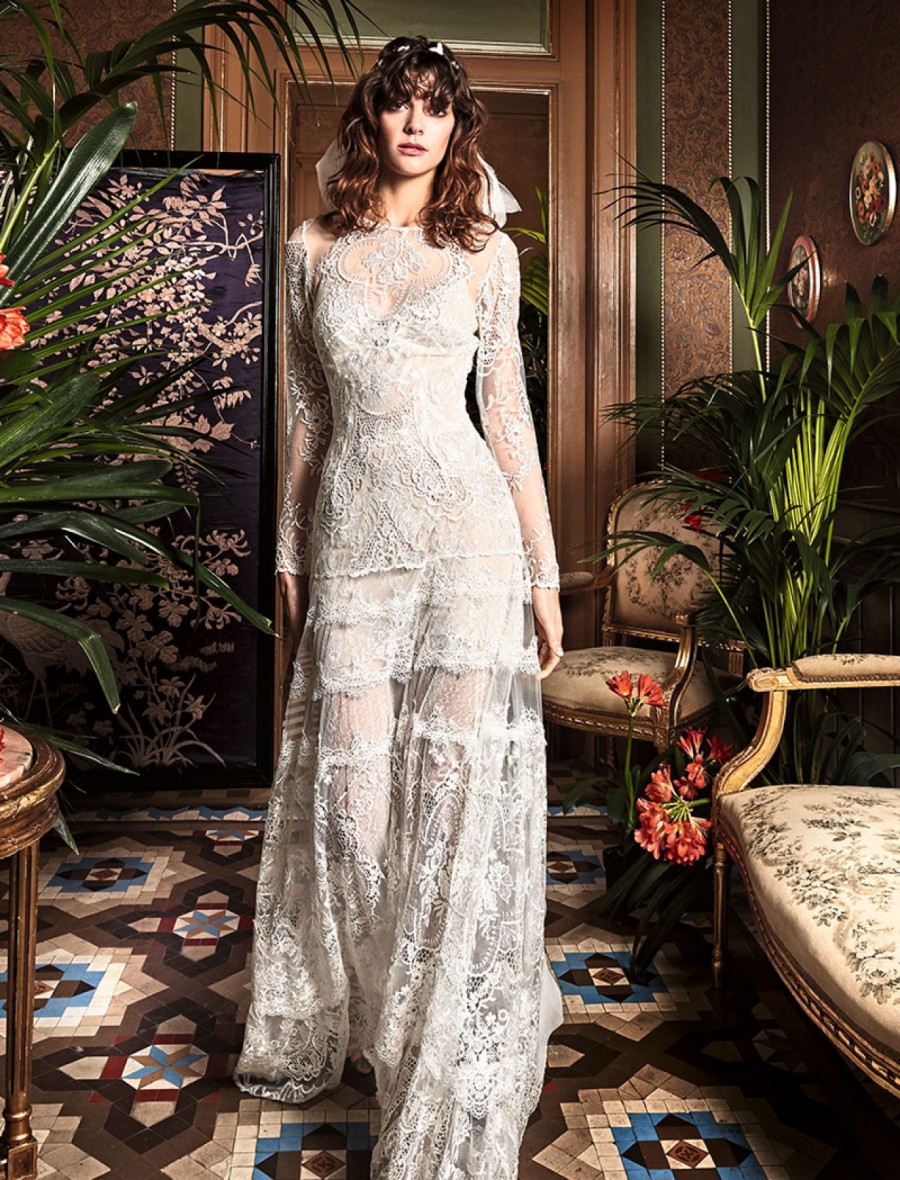 .Intricately crafted lace bohemian style. Perfect for those fashionable boho goddesses out there.
06.

Belladona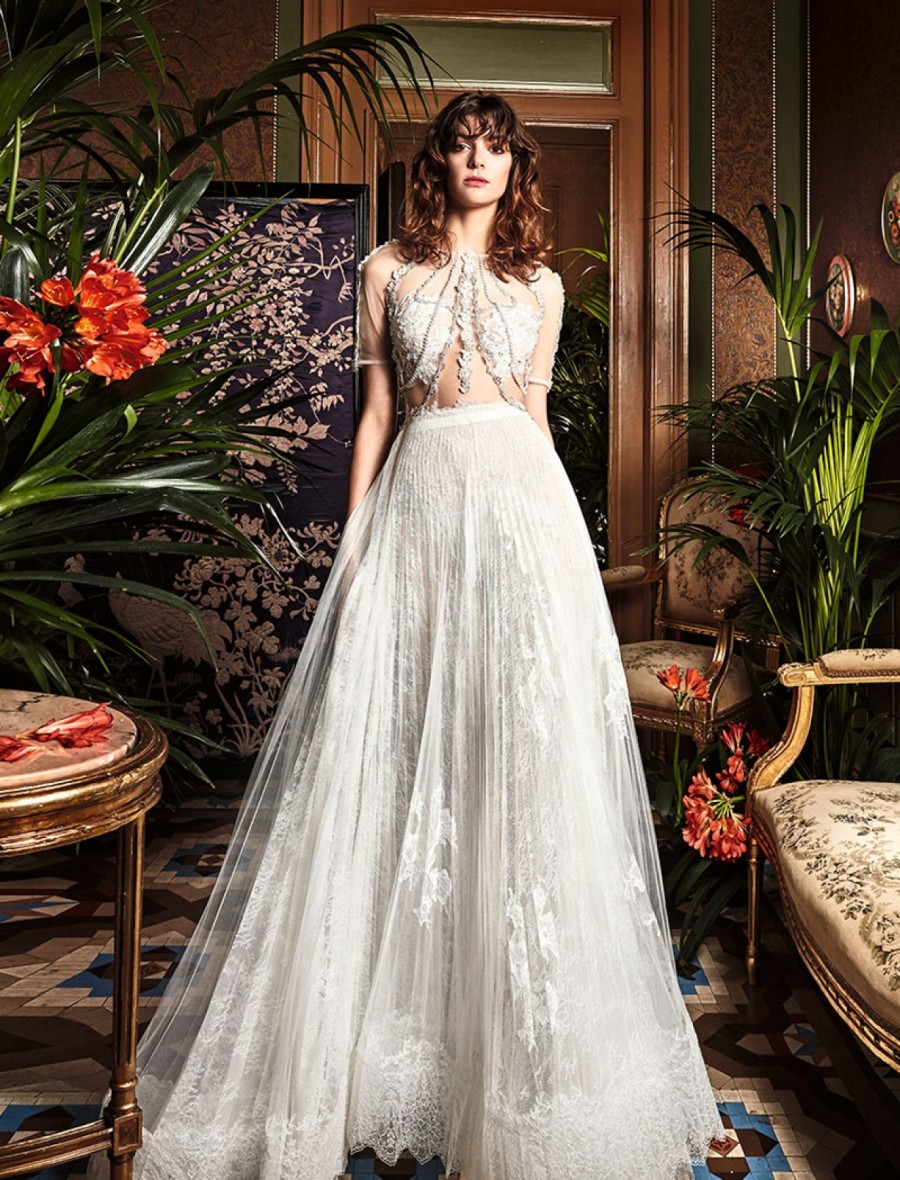 Add some lavish luxury to your boho bridal style with this stunning look.
07.

Nogal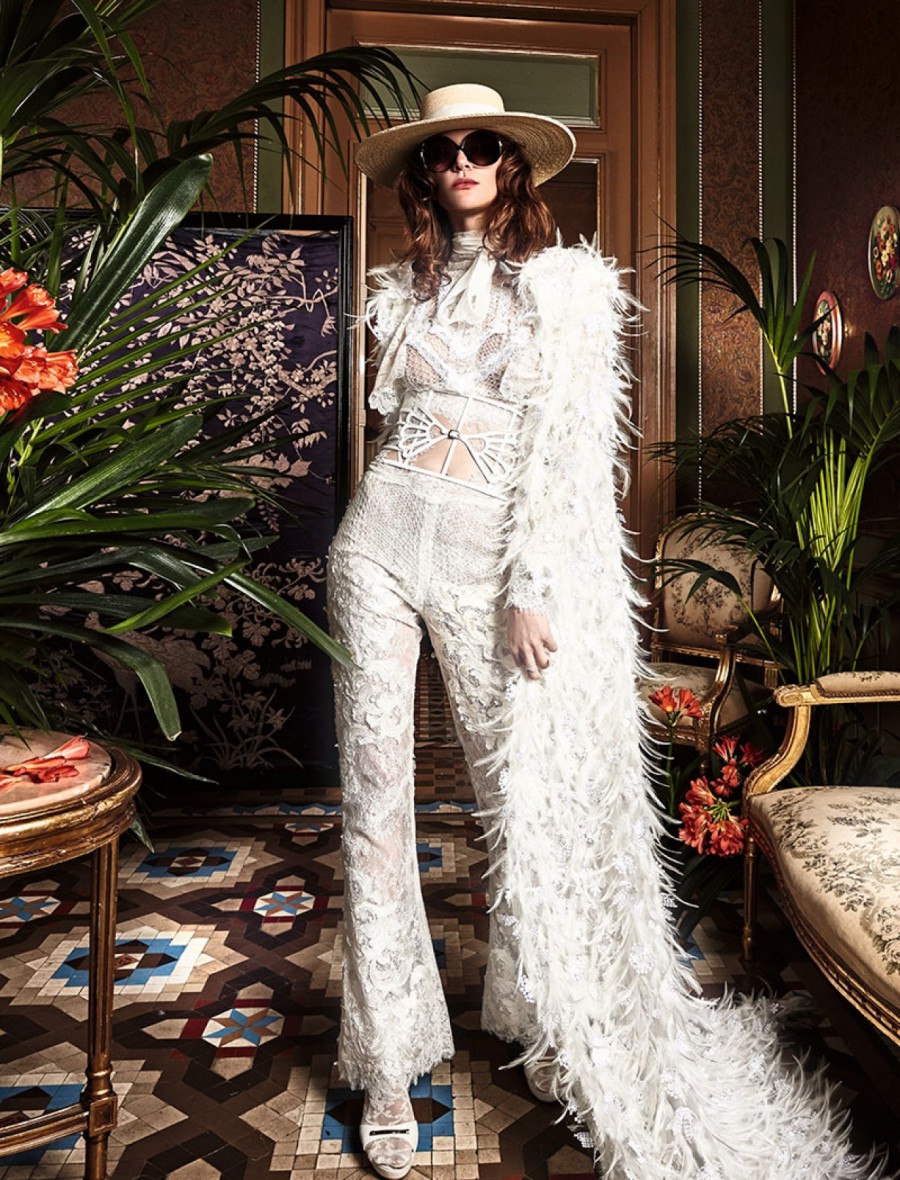 Looking for a bold two-piece style for your wedding day? We have just the inspiration for you. This head to toe lace style is dramatic, modern, and reminiscent of the 1970s.
08.

Boldo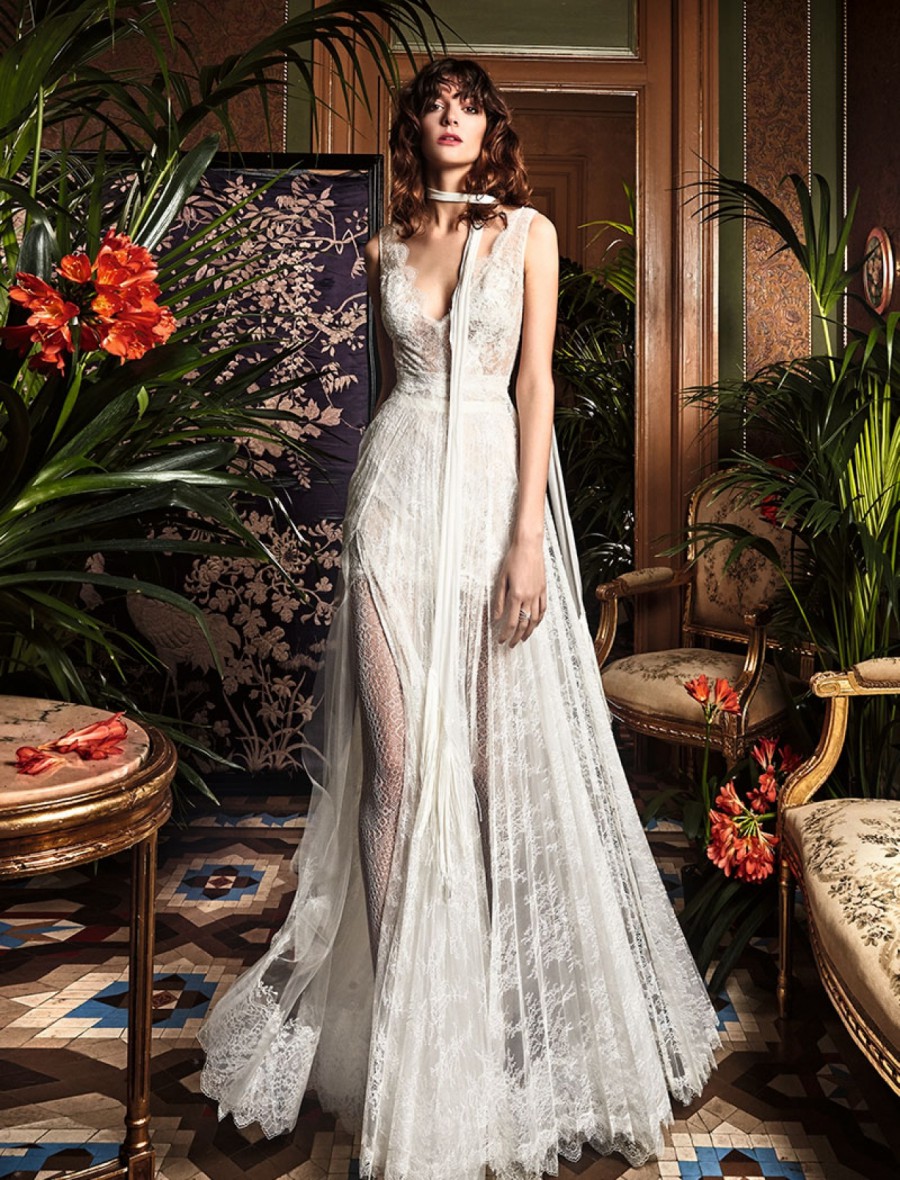 This light delicate style is sexy from head to toe. Feel feminine and sensual with V neckline and deep side slits.
09.

Calamo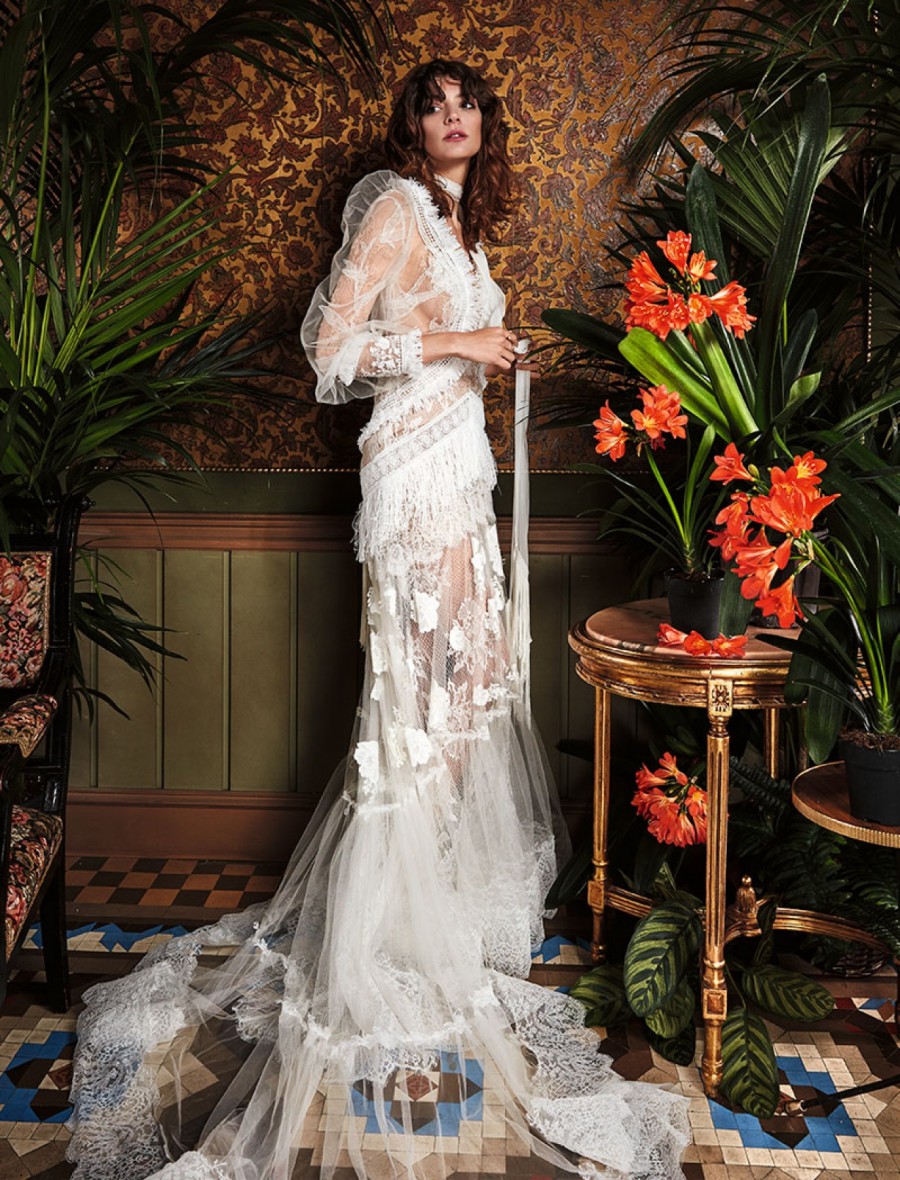 An ethnic and eclectic inspired gown, with voluminous sleeves and fringe detailing. A completely original hand sewn design. And did we mention this is the dress Beyoncé wore to accept her Video of the Year award and the VMA's? What more reason do you need to love this look?
10.

Calendula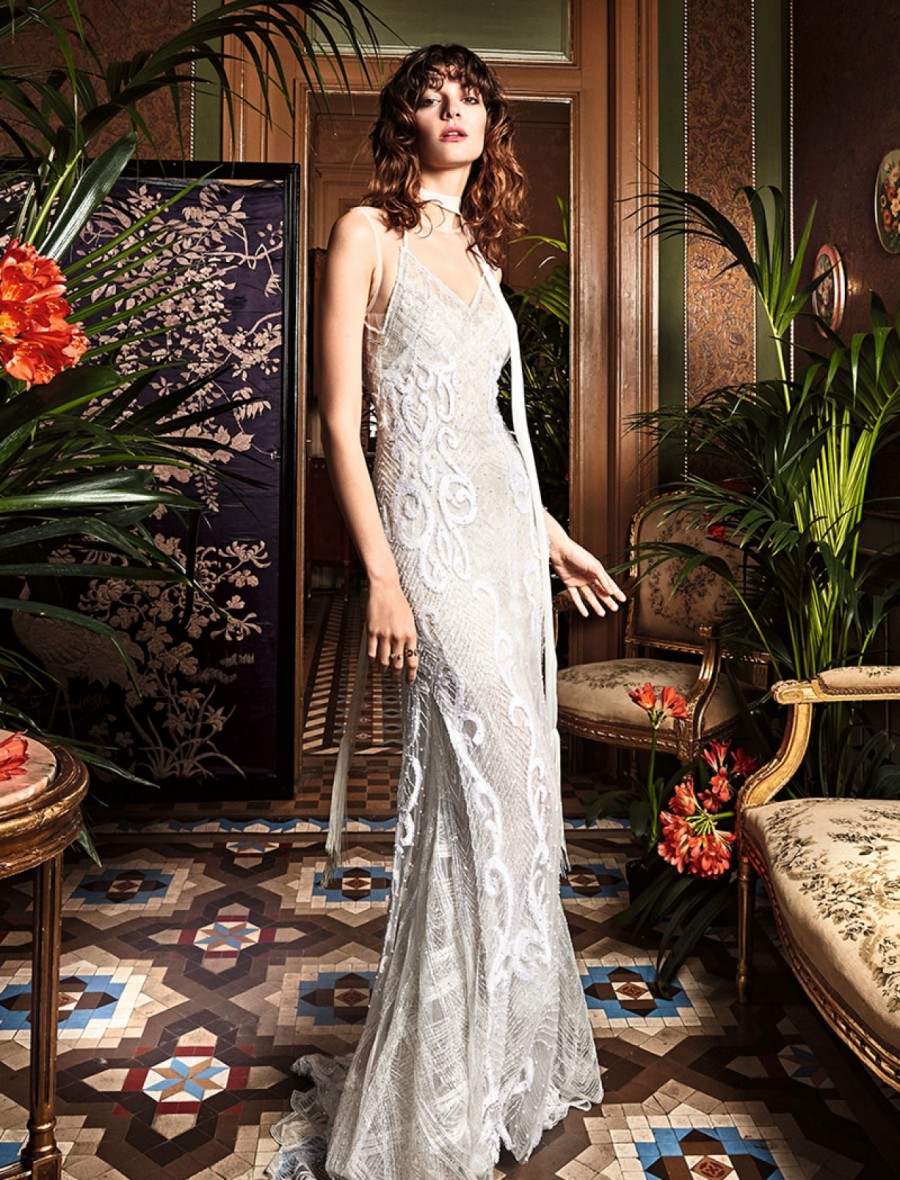 A simple elegant silhouette that is form fitting through the bodice and waist, and has a slight mermaid flair at the bottom. The perfect look for all over glam and elegance.
11.

Camomila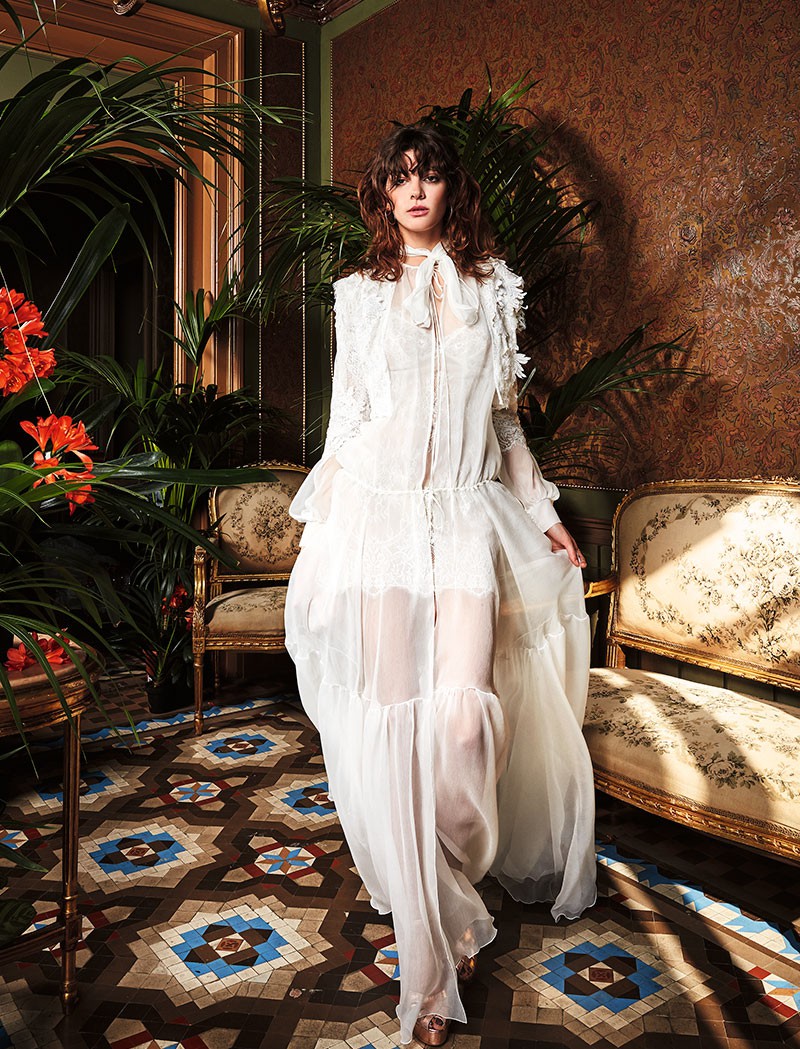 A lingerie inspired gown made of light chiffon and soft flowing skirt.
12.

Canam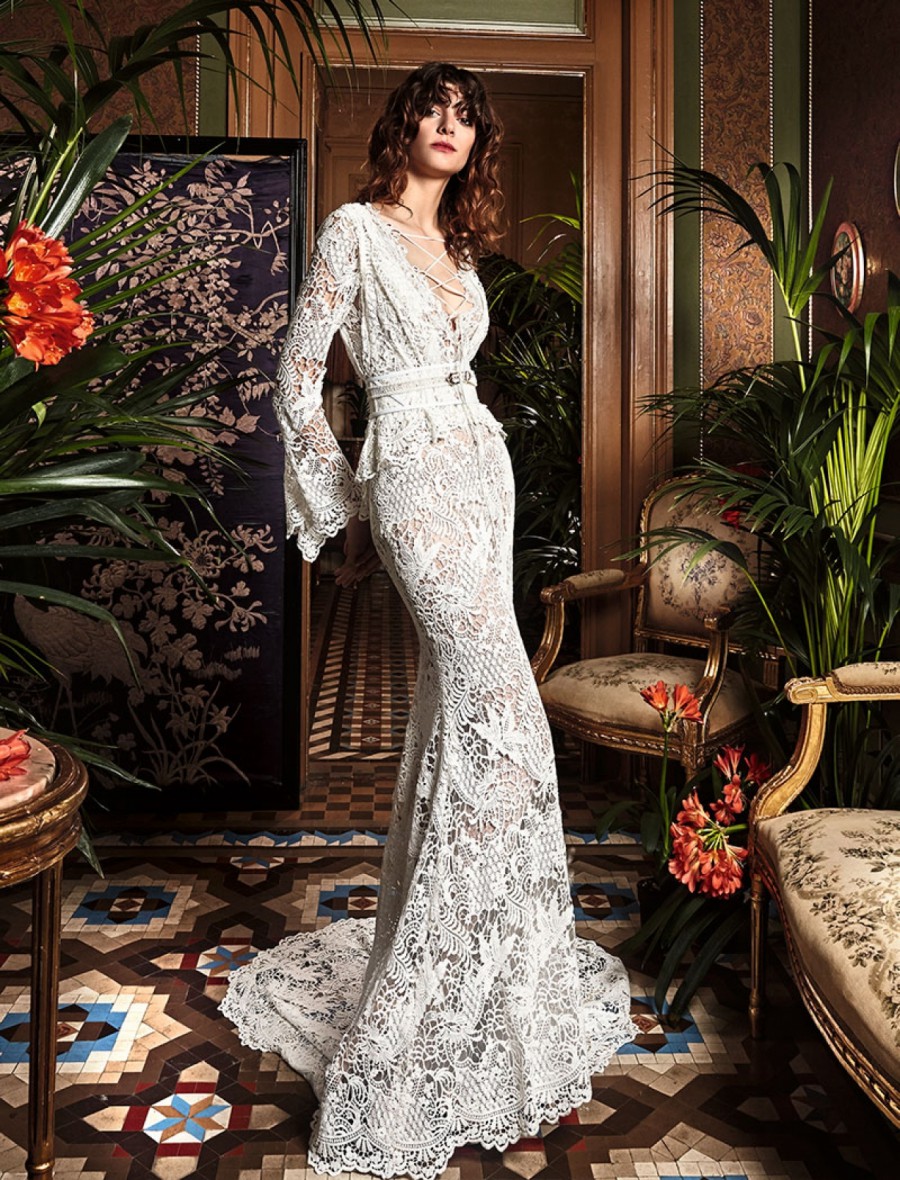 The ultimate 1970's hippie inspired wedding gown. A soft mermaid silhouette with bell sleeves and a laced neckline for a bohemian glam style.
13.

Carlina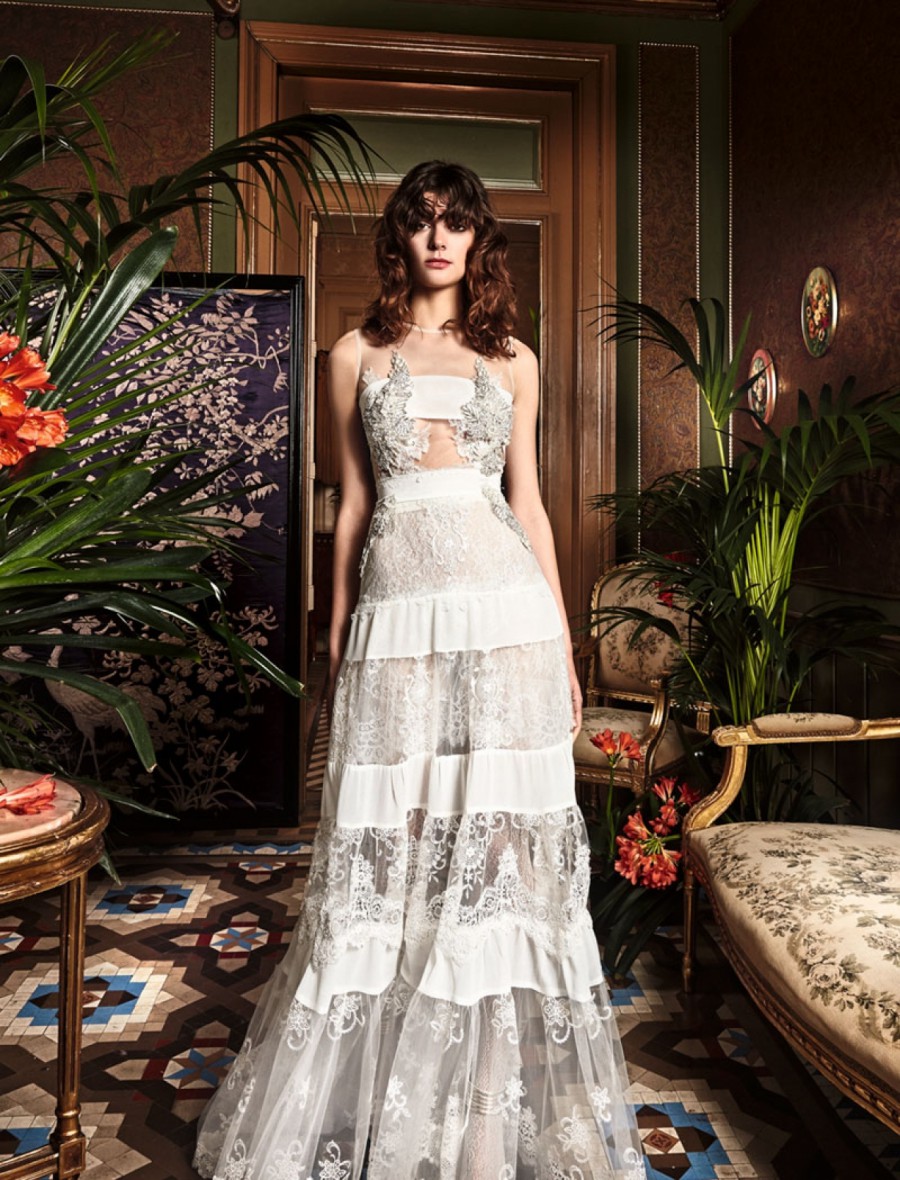 This gown features silver applique accents at the bodice, for a modern glamour feel, and is completed with a bohemian inspired skirt, for a contrasting style like nothing else.
14.

Casia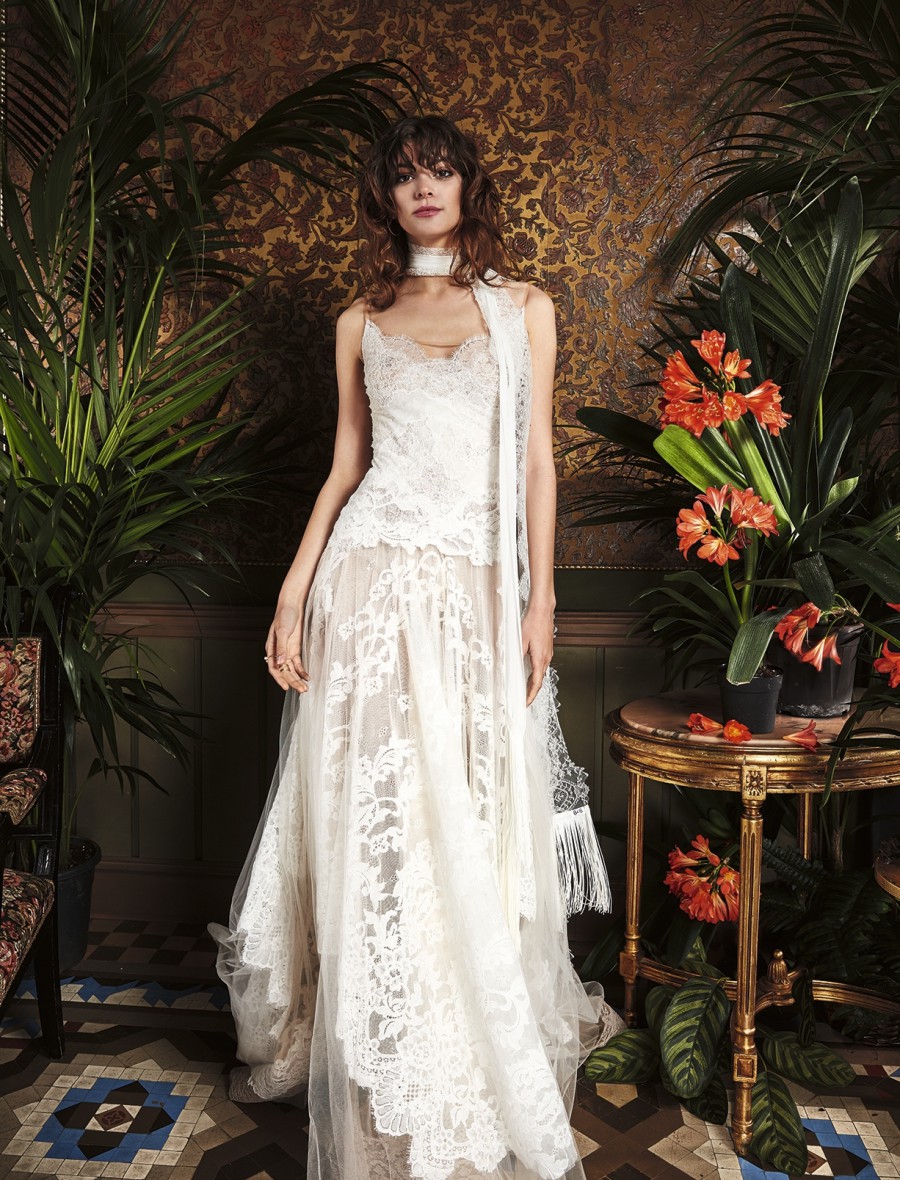 A style modeled after antiqued romance. A soft romantic style with vintage inspiration.
15.

Cedro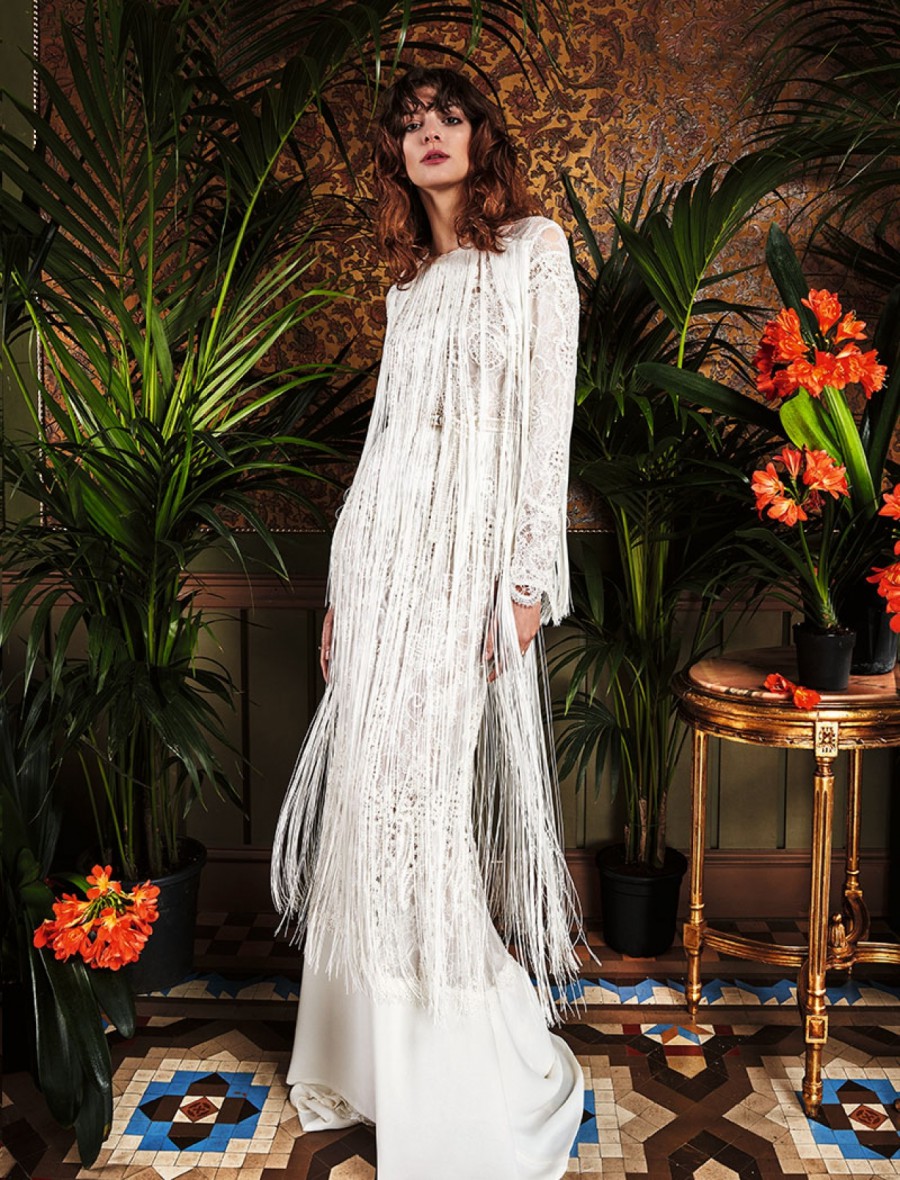 A gown designs for Folk loving brides. The dress is festival ready with full length fringe accents.
16.

Centella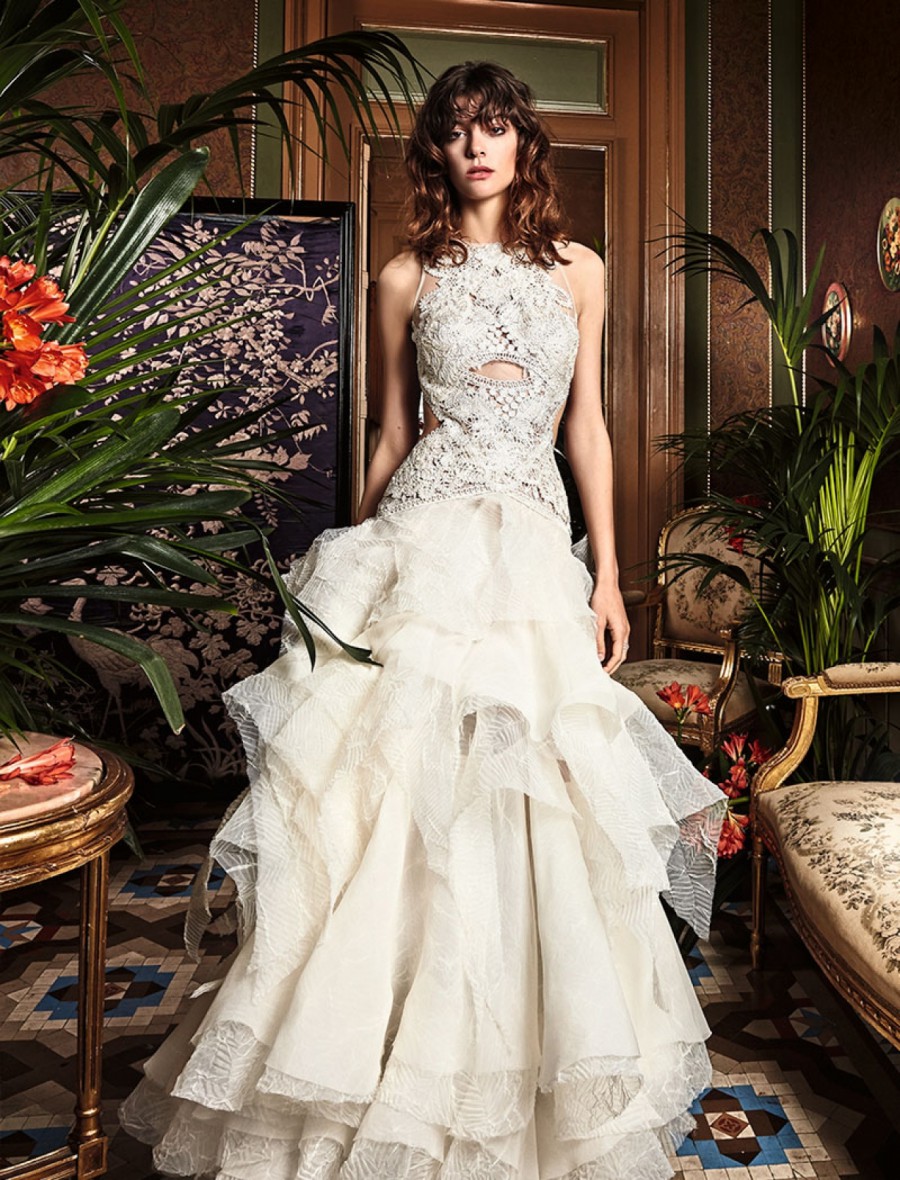 A stunning modern twist on an elegant ball gown style. Unique accents such as the cut-out bodice and layered rugged organza skirt, make this look perfect for the modern, fashion forward bride.
17.

Draba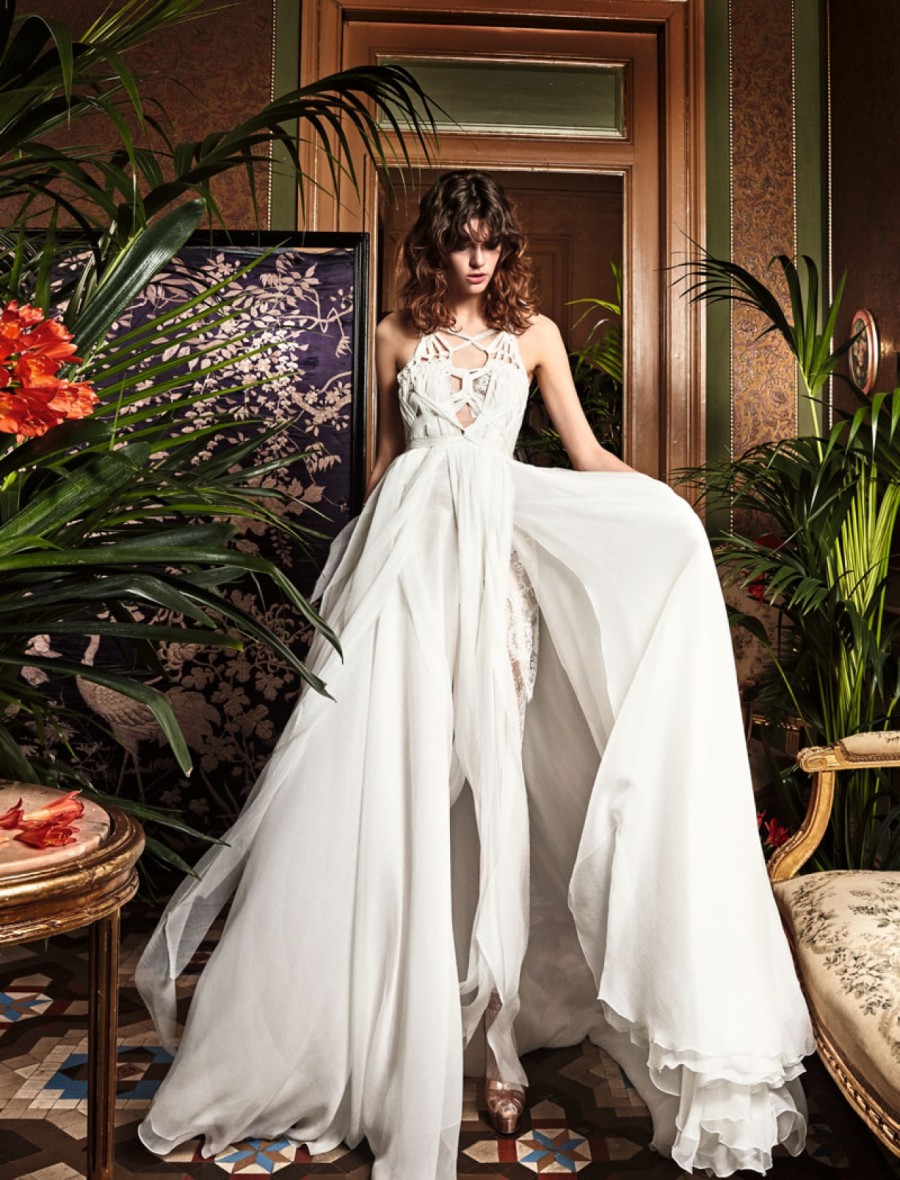 This flowing chiffon gown is brought to life with its intricately twisted neckline. The double slit skirt adds some sensual femininity to the look.
18.

Driada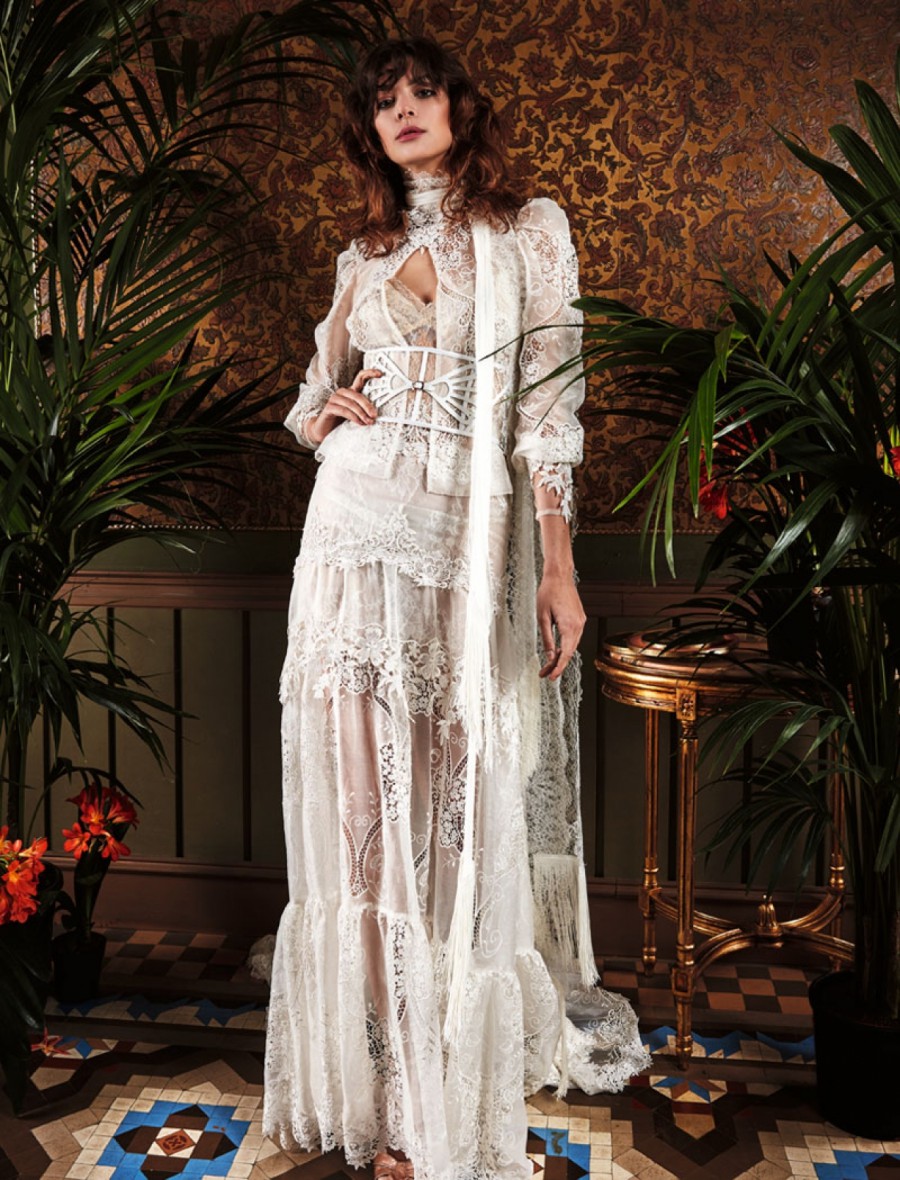 The power of romantic femininity is brought to life in this all lace style. With a characteristic halter neckline, the viewer can get completely lost in the intricacy of the details.
19.

Edril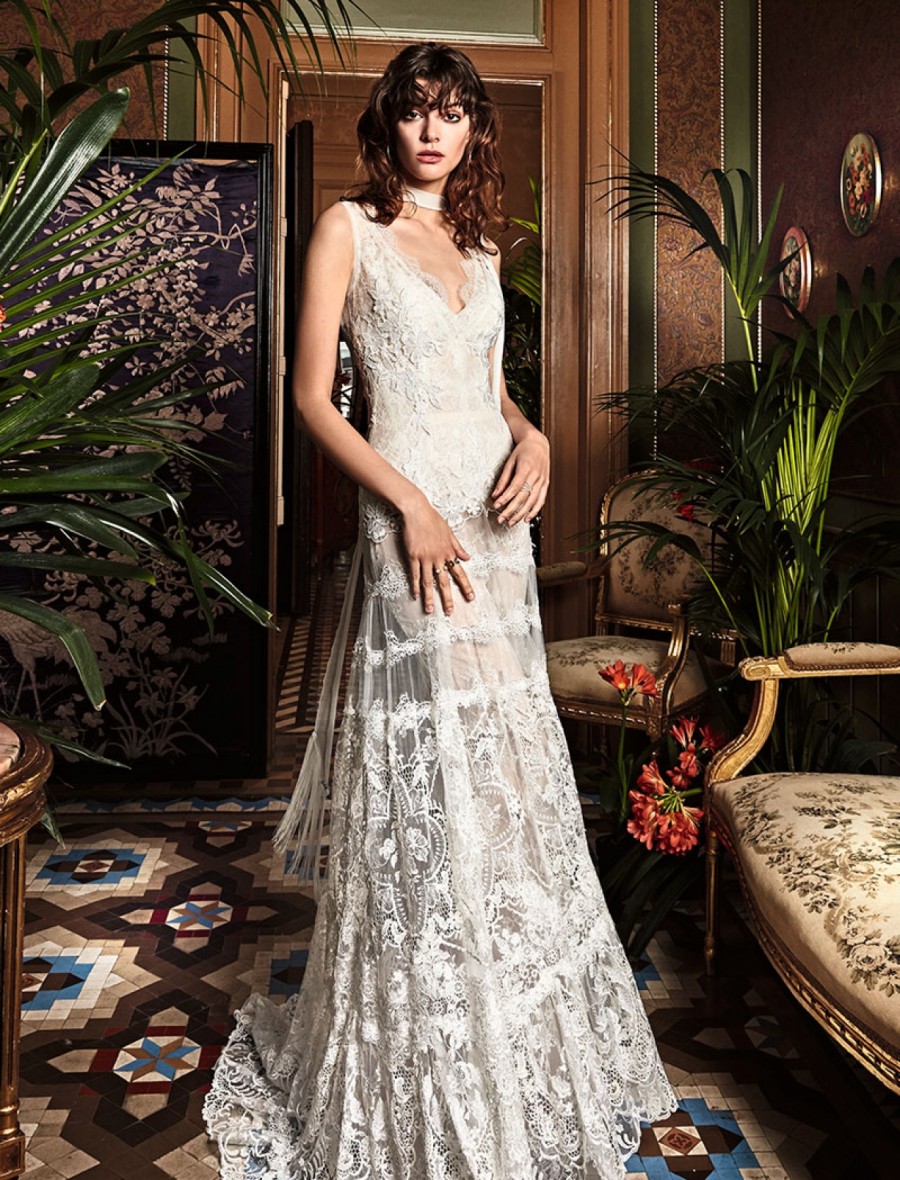 A dreamy lace look that mixes lace styles to add romantic appeal.
20.

Encina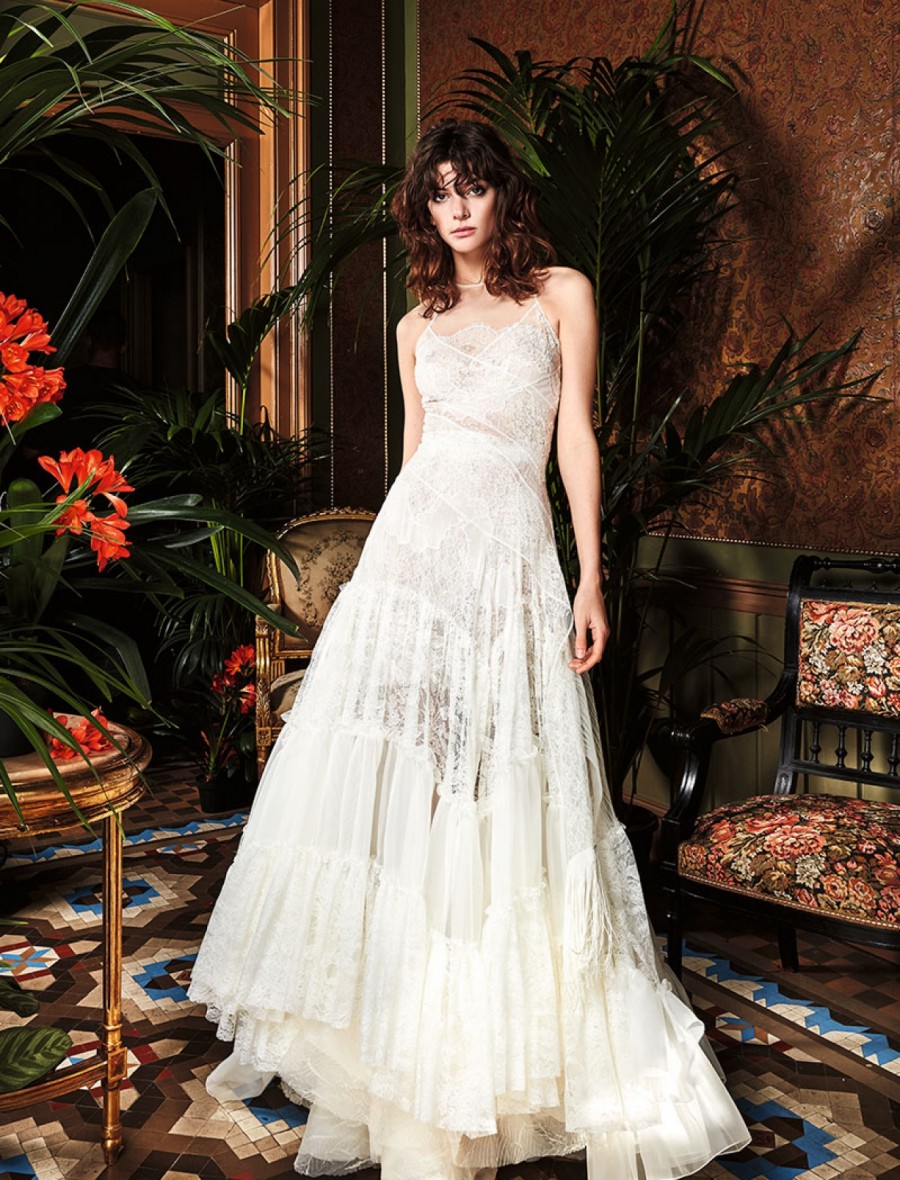 A simple lace and crepe dress that is light, and ready to move. With some slight added volume to the bottom of this dress, get ready to twirl the night away.
21.

Endrino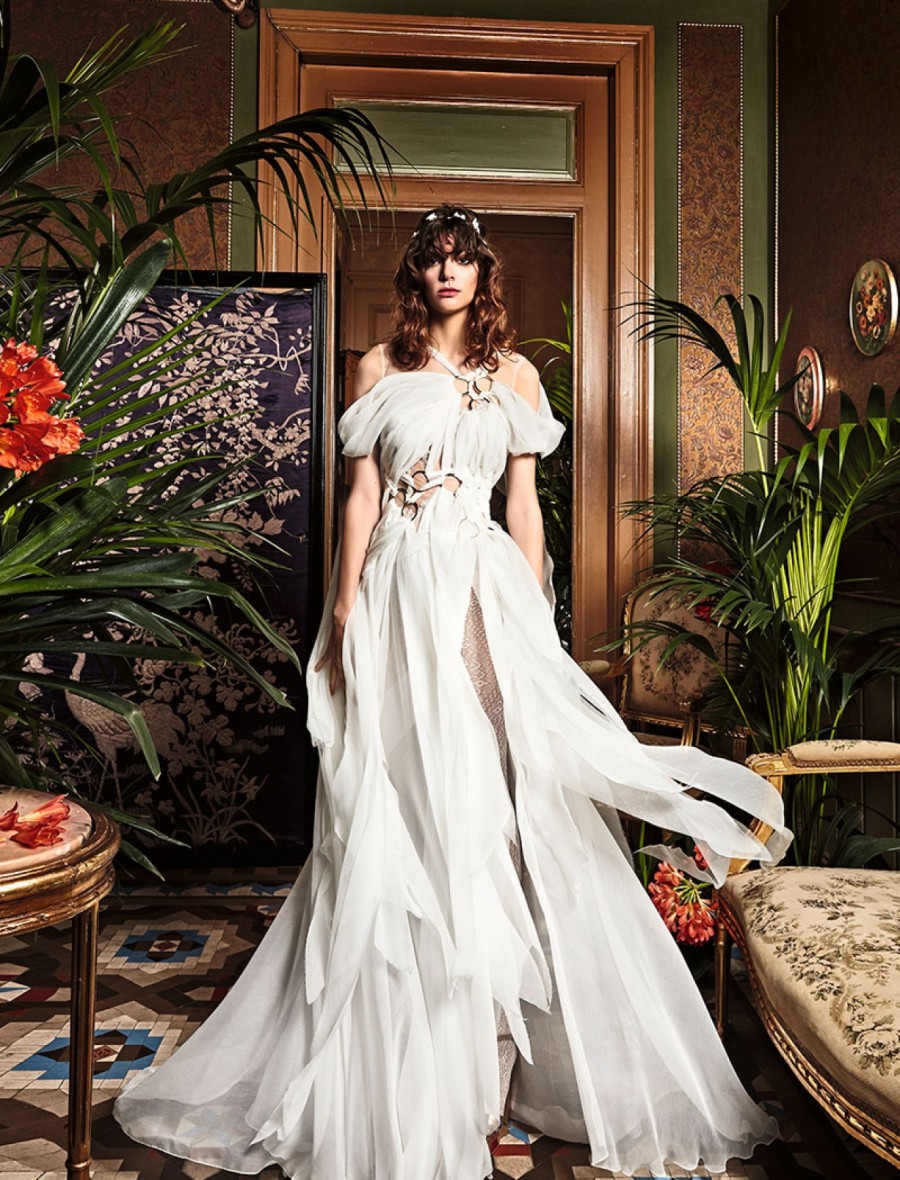 A truly unique ethereal bohemian style. Flowing cuts of light chiffon softly blow in the wind. The bodice adds some interesting appeal with intertwined gold rings worked into this unique style.
22.

Enebro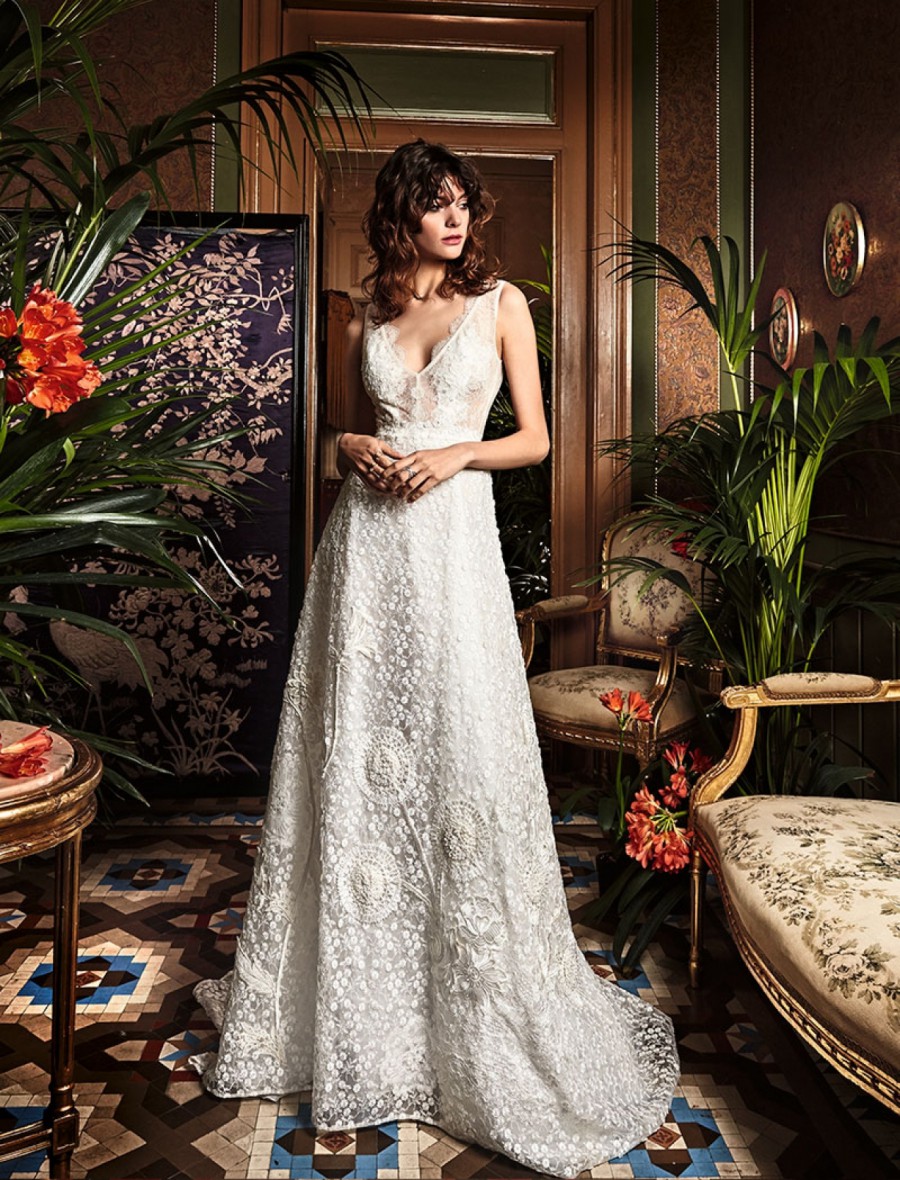 This tulle and macramé gown is sweet and elegant. The textured skirt adds some subtle contrast to the beautifully sheer styled bodice.
23.

Orgeano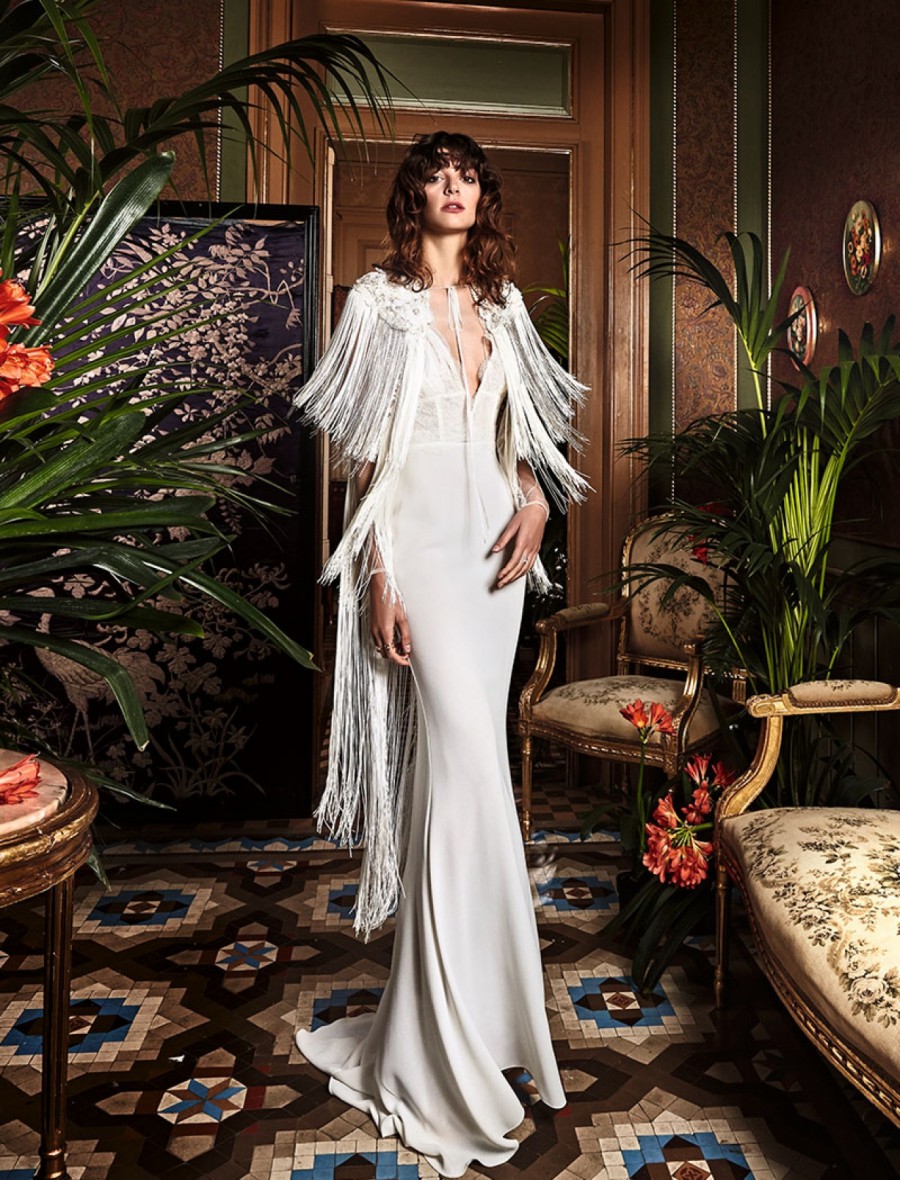 A sleek silk style with soft lace accents around the deep V neckline. An old Hollywood glamour look for a more modern bride.
24.

Fresa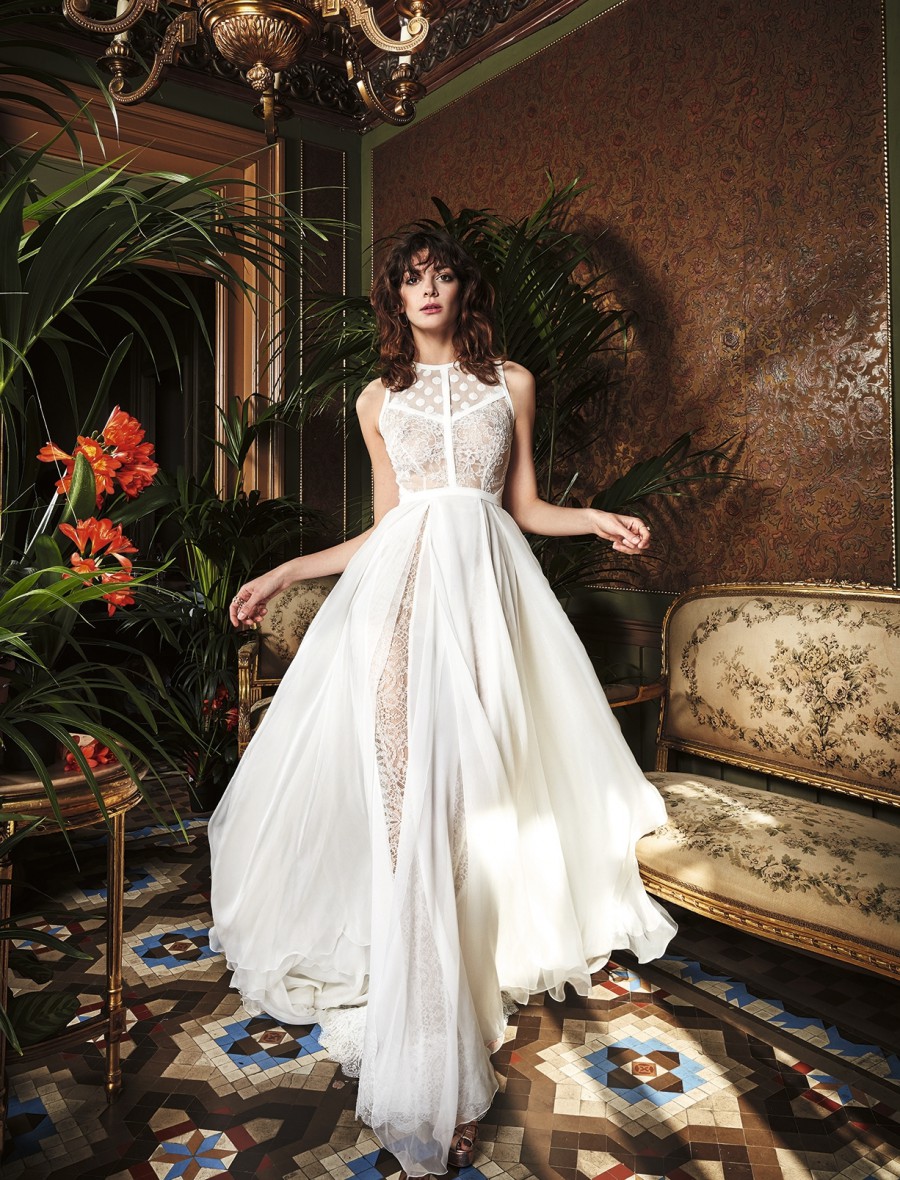 A playful design that incorporates different textures and fabrics for a completely fun and original design. From a bold polka dotted neckline, to intricate lace accents, and a whimsical flowing skirt.
25.

Grama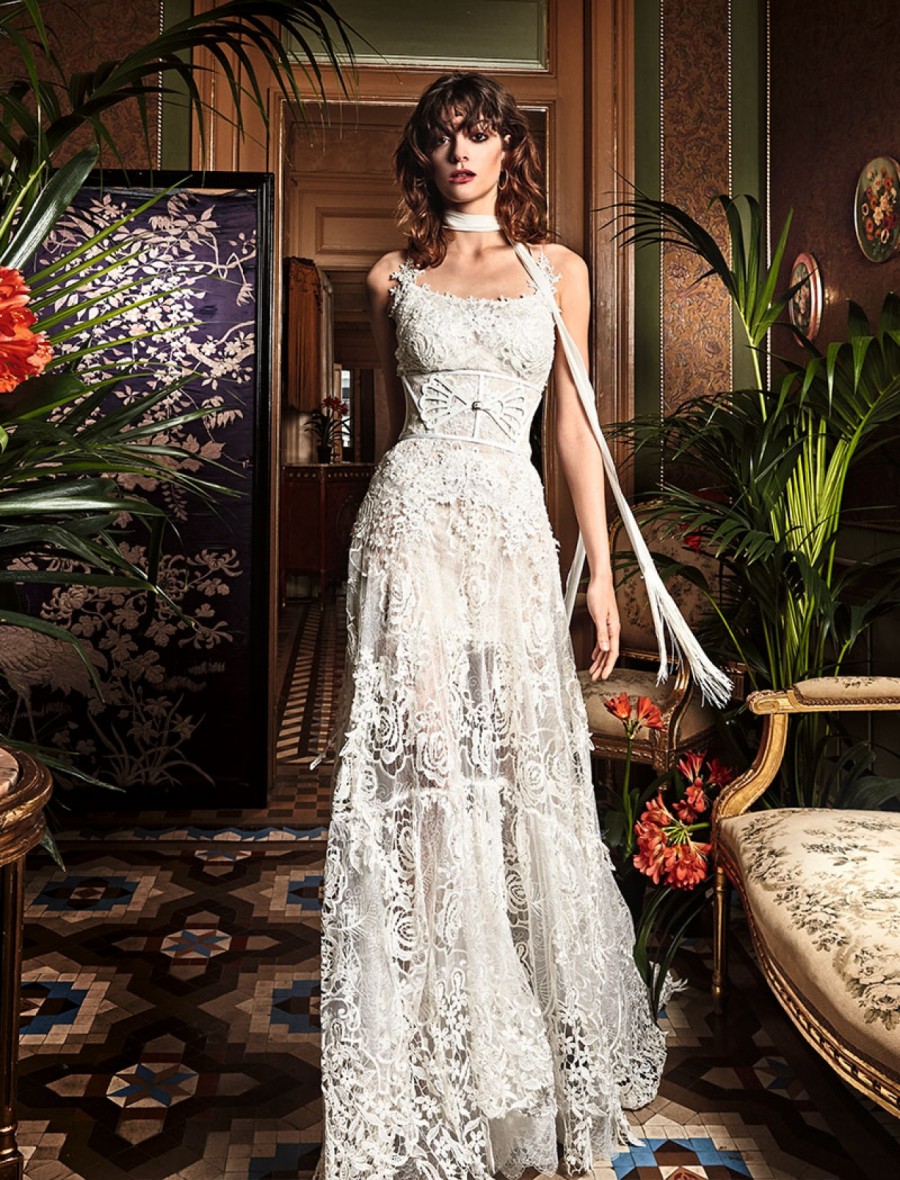 A simple silhouette taken over by overwhelmingly delicate and intricately embroidered tulle and guipure fabrics. A perfect dress for a summer beach or outdoor wedding.
26.

Granado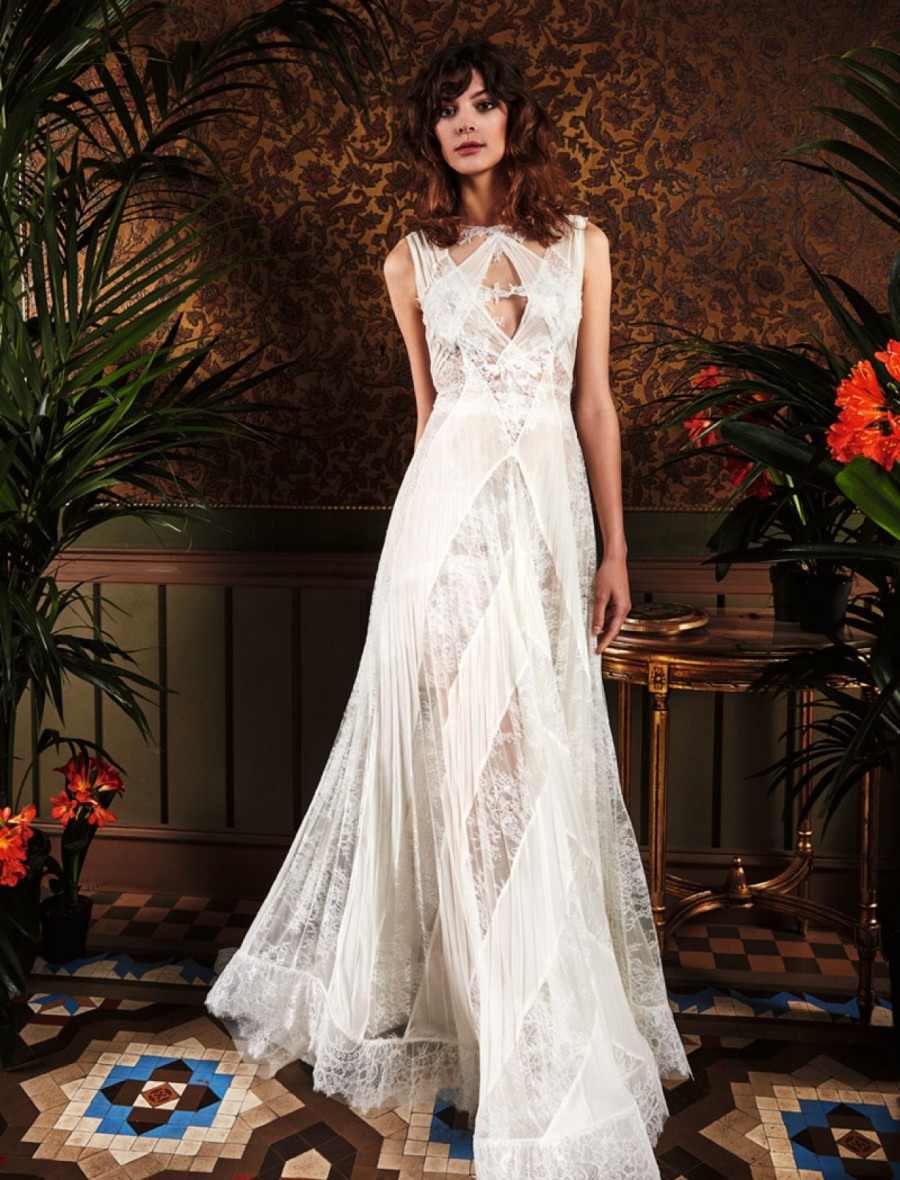 A unique style that combines layers of pleated fabric and lace underlay. The crisscrossed neckline is the focal point of this beautifully layered style.
27.

Heidra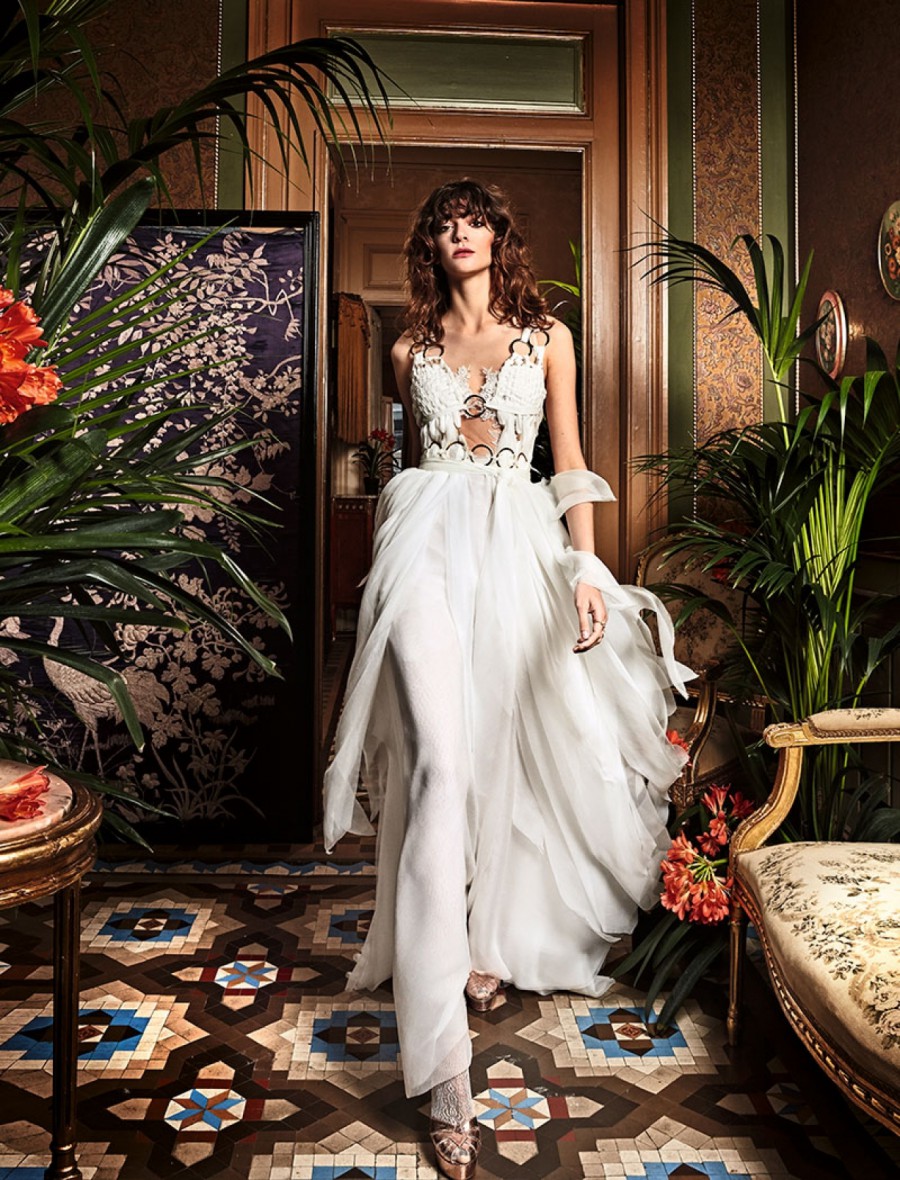 A style for only the most daring of modern brides. The handcrafted, woven chest design is accented with golden rings, that add a cold metallic flair. The skirt is made with layered, cut fabric for a dramatic flowing effect.
28.

Higuera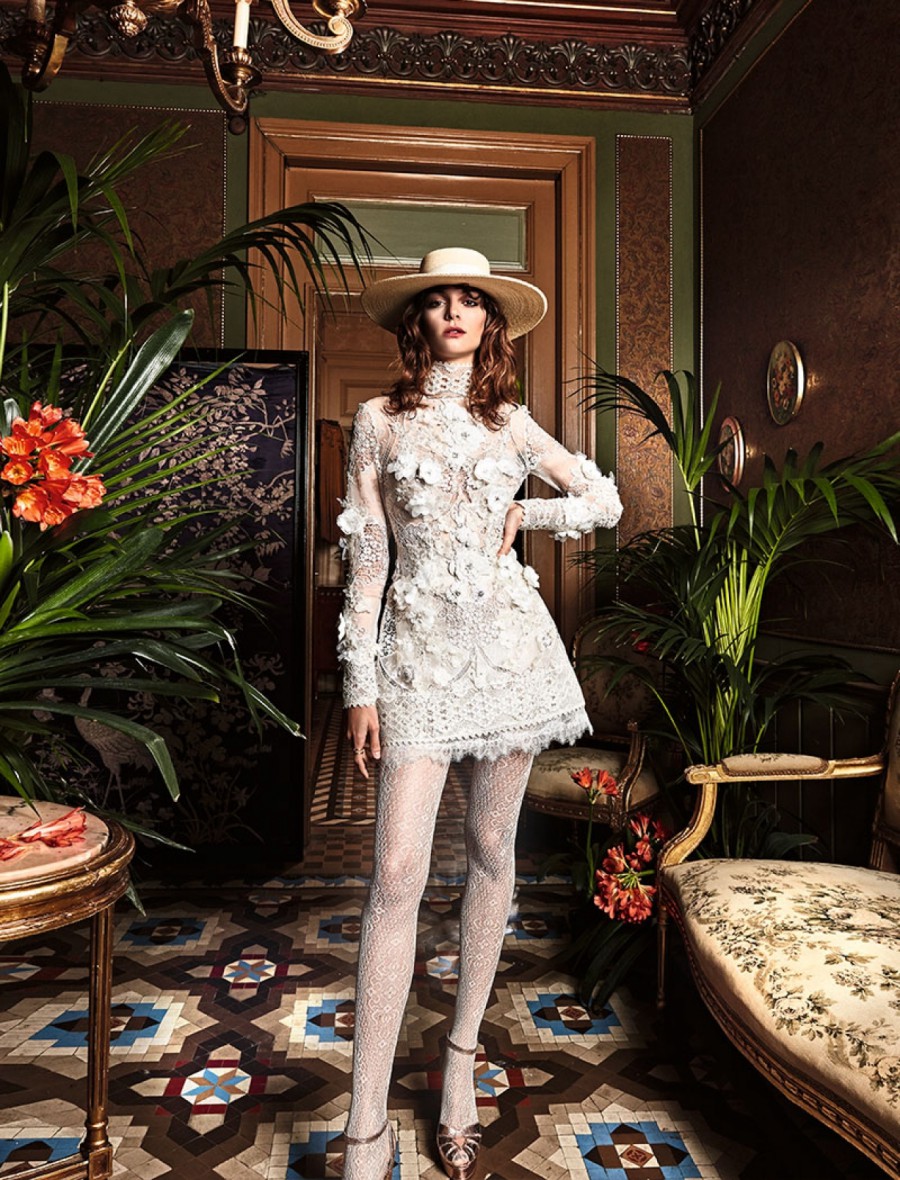 This style may be short, but it is far from lacking personality. Hand-stitched floral applique pieces add a textured, dimensional effect to the style.
29.

Manzanilla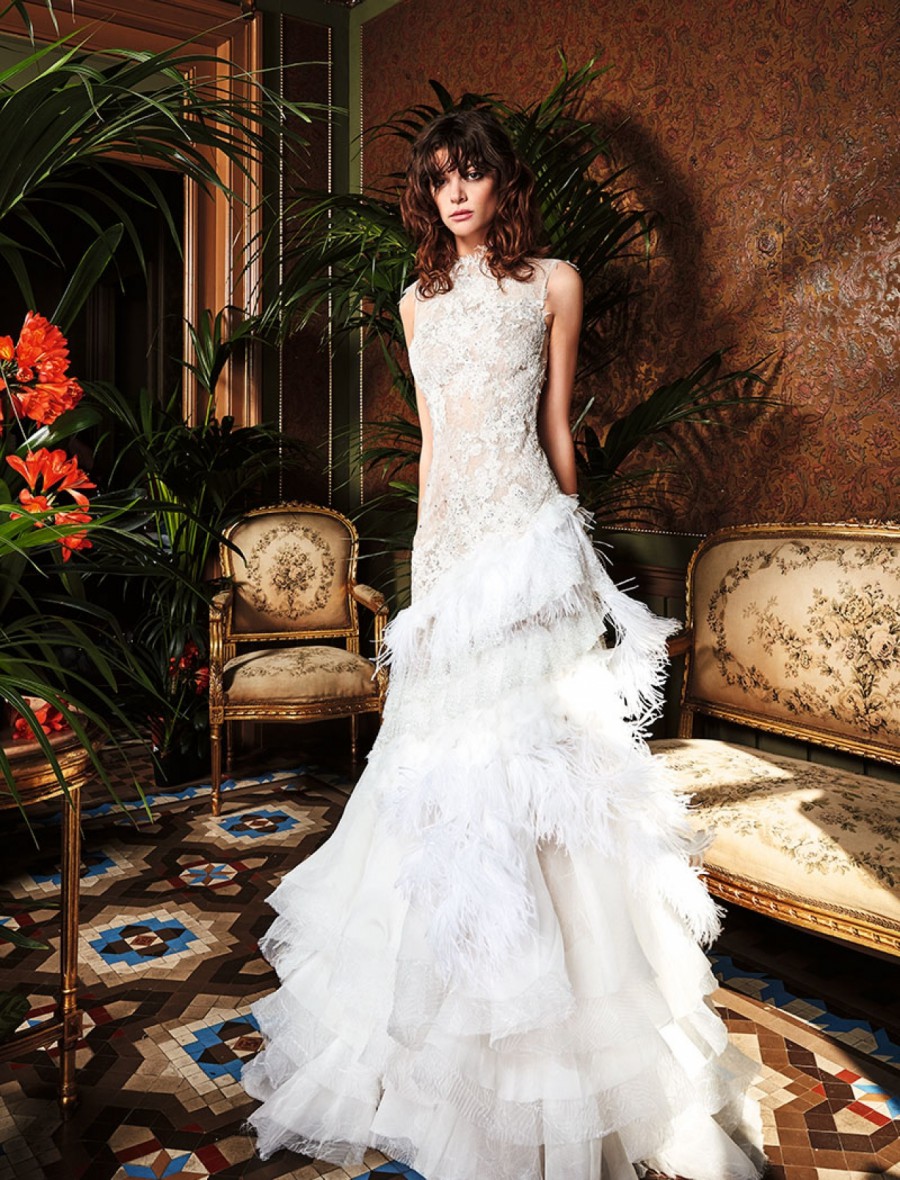 A luxe feathered style, not for the faint of heart. A form fitting bodice of embroidered tulle and crystals, gives way to a skirt of layered tulle, organza and feathers.
30.

Menta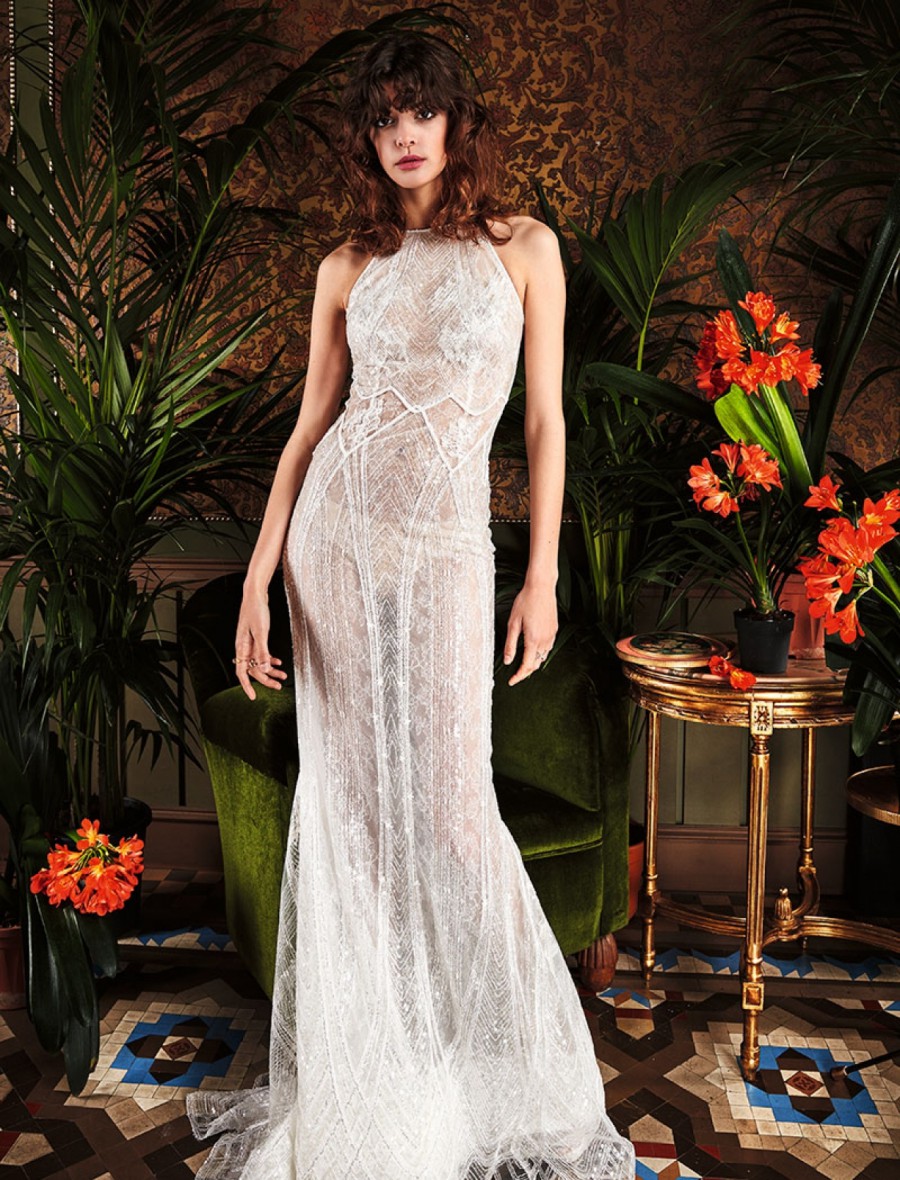 A sexy, party ready, 70s inspired dress. This soft form fitting silhouette mixes subtle lace and beaded accents for a soft romantic feel. Your natural beauty will be accented by this simple elegant gown.
31.

Mirra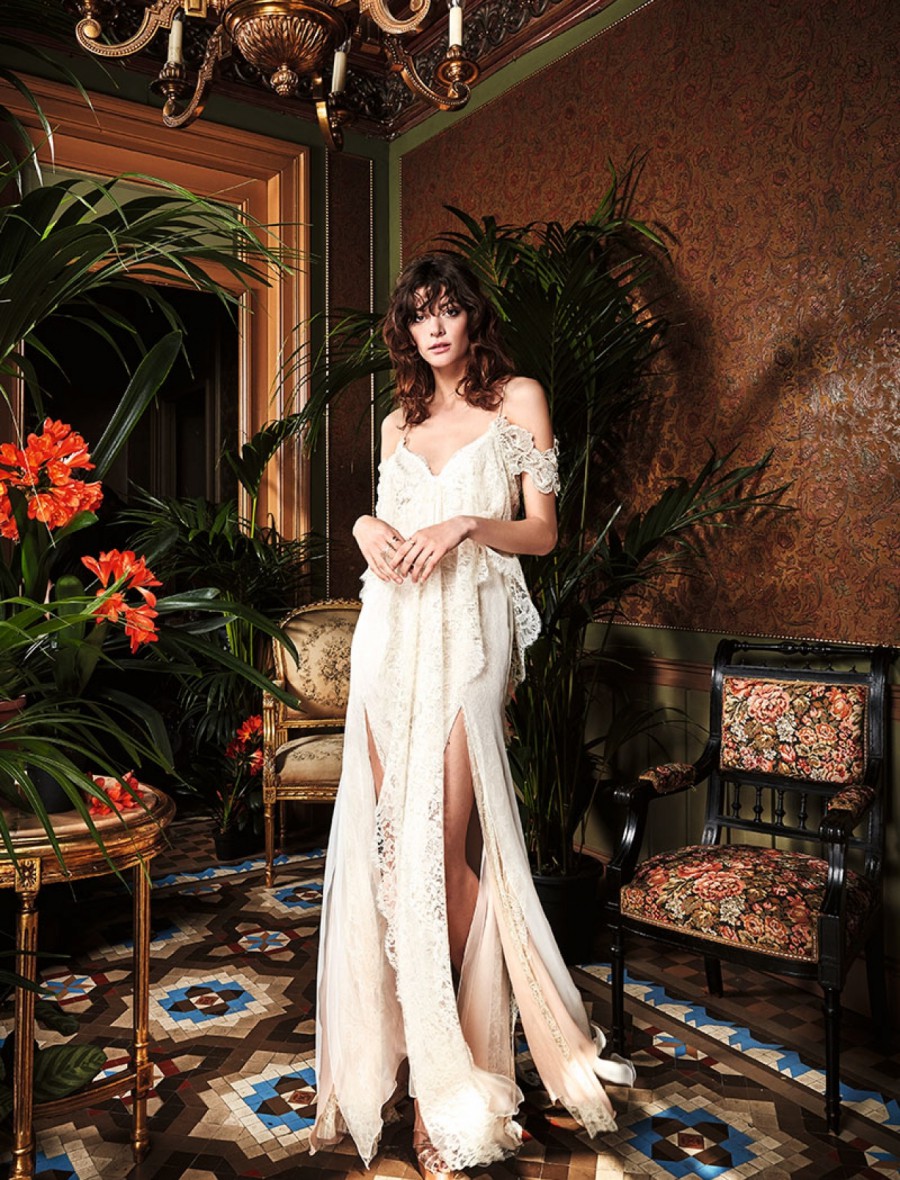 A sultry off the shoulder lace bohemian style. Layered romantic lace and deep front slits give this look a lingerie flair.
32.

Mirto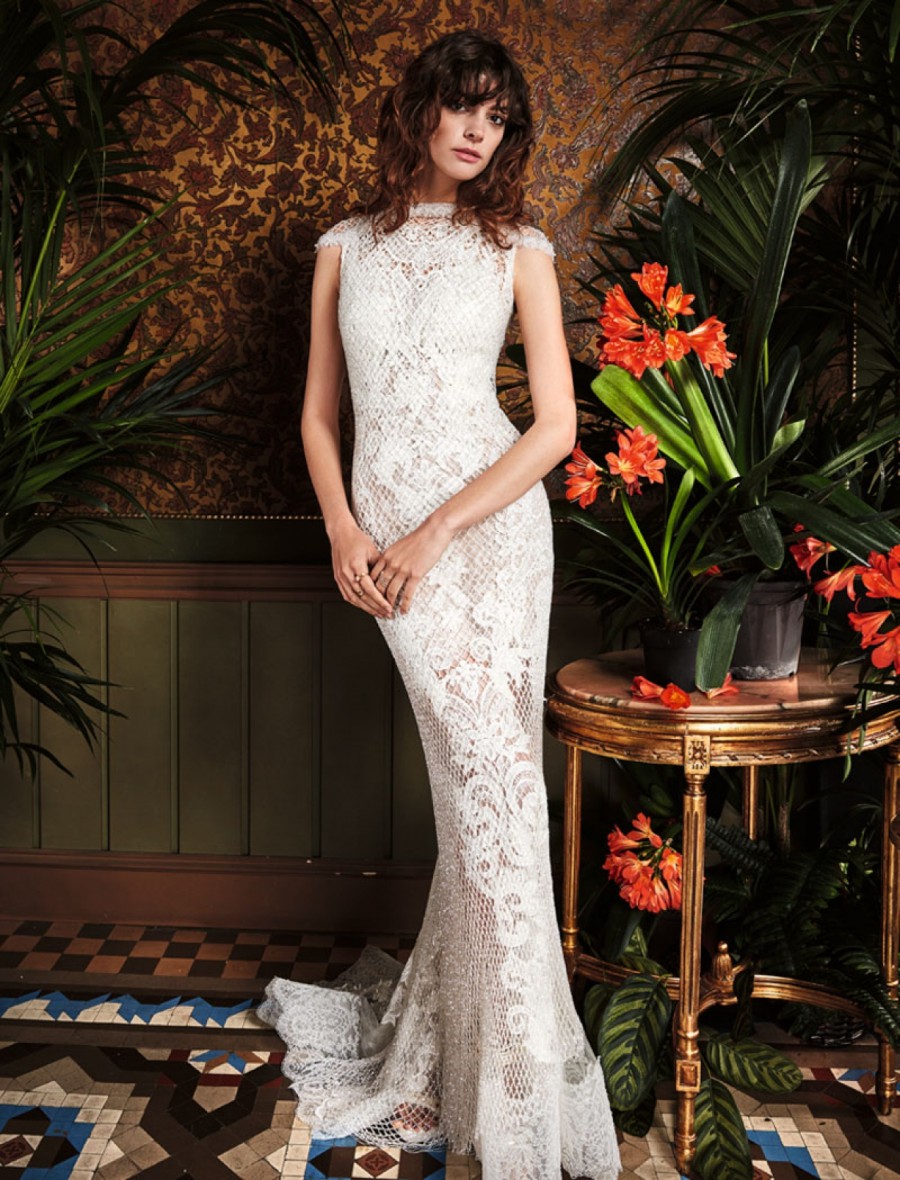 A simple mesh covered couture style. This elegant style is luxurious and classic.
33.

Morea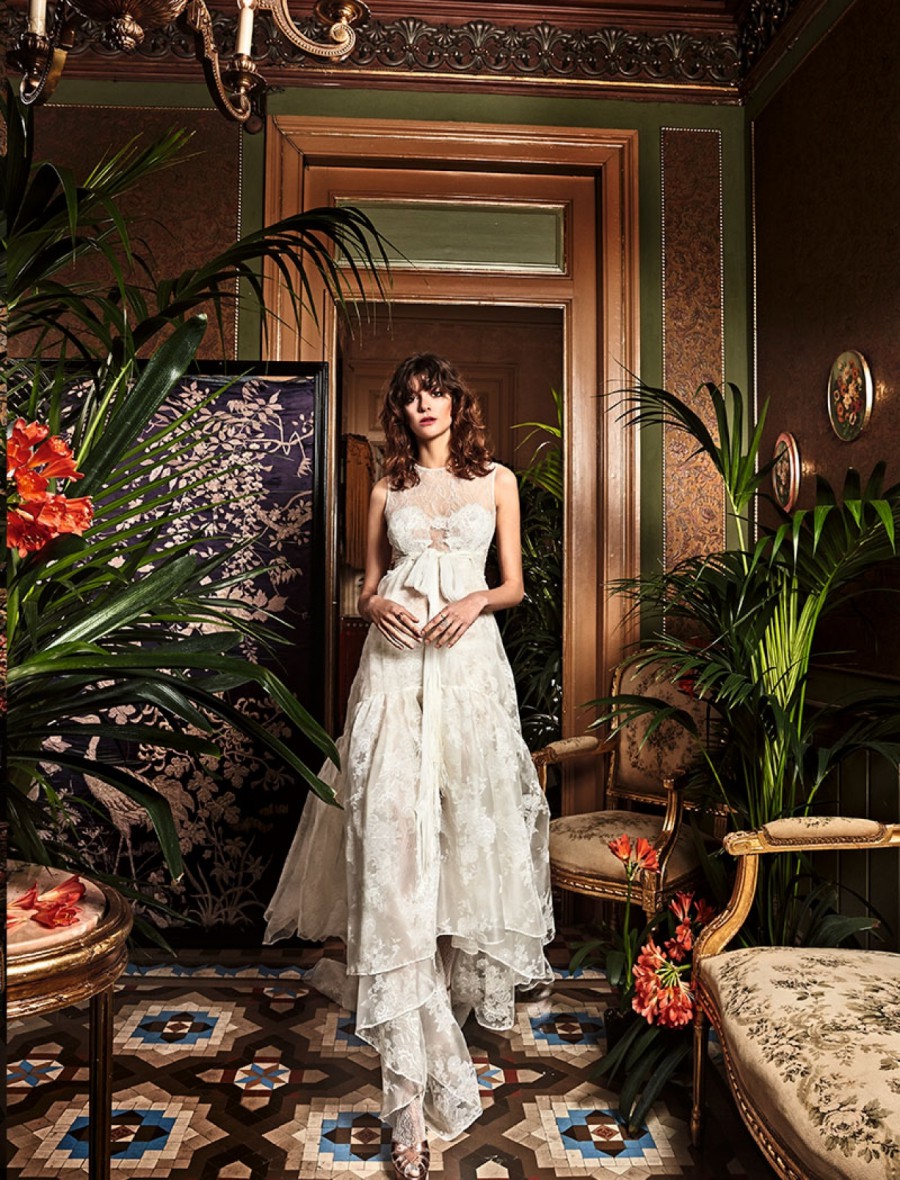 A sweet empire silhouette finished with a delicately styled bow. A flowing feminine style that is romantic and playful.
34.

Muerdago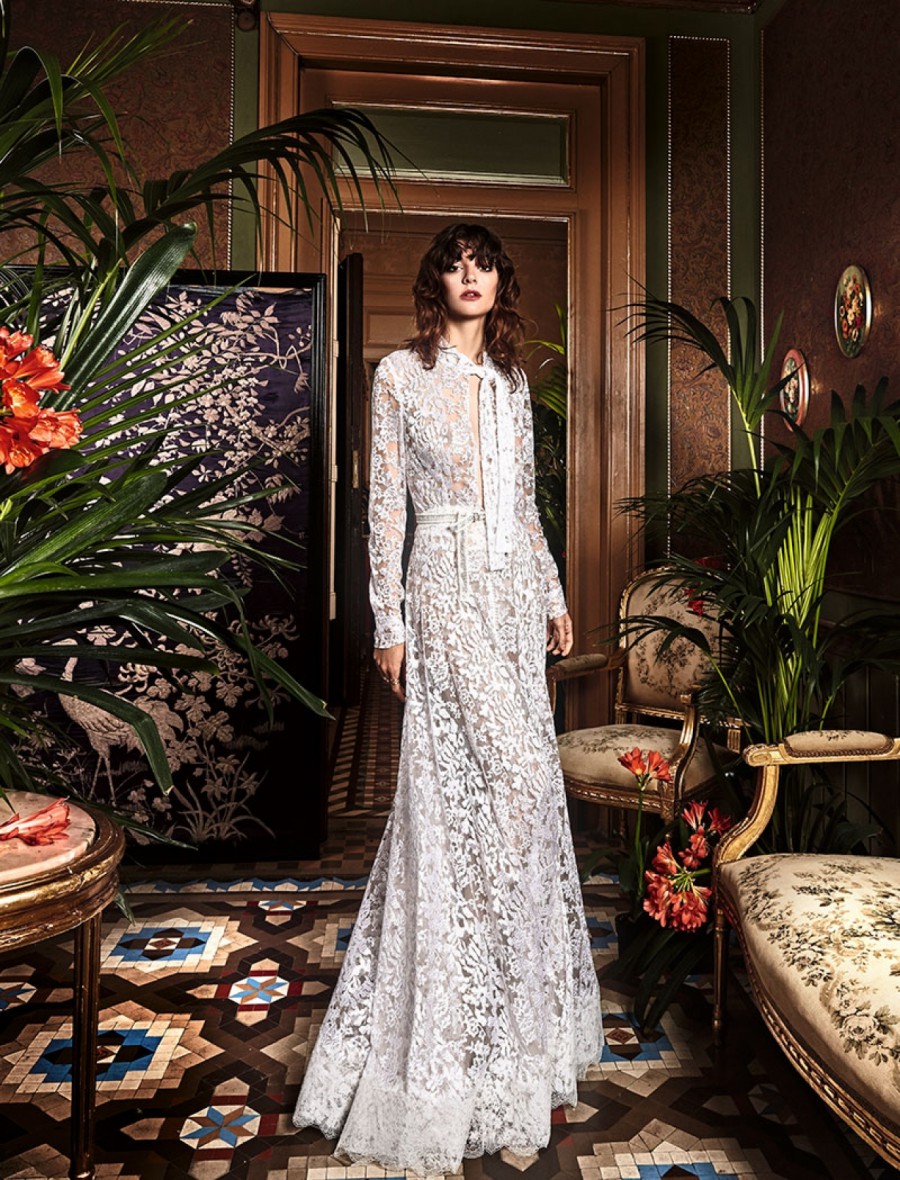 An Italian embroidered two piece 70s folk inspired design. Full sleeves and tie neckline make this a classy, flirty style.
35.

Narciso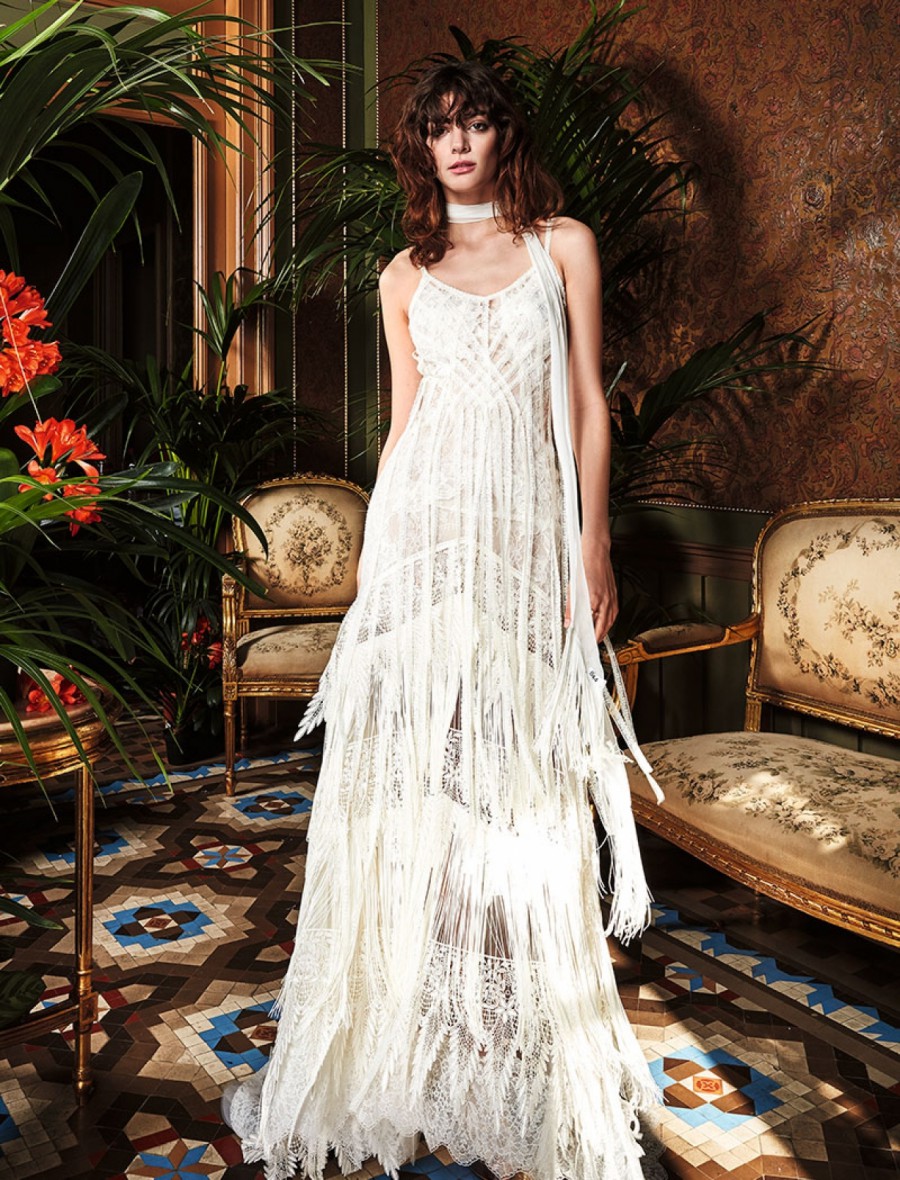 An ethically folk inspired hand sewn fringe gown, with intricate bust detailing to accentuate the clean neckline.
36.

Pasiflora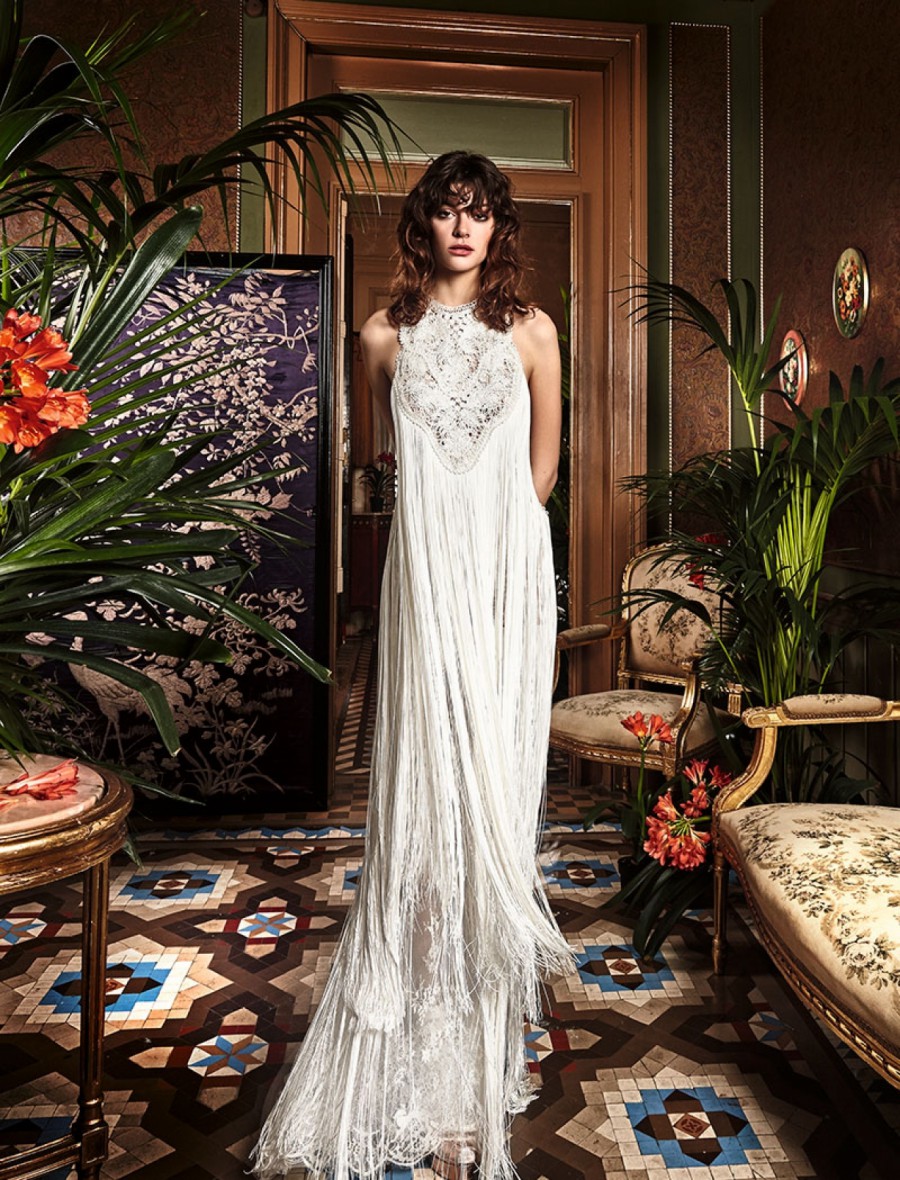 The next style features cascading fringe from the neckline to the knee. The detailed high neck design is balanced by a plunging low back. This style is perfect for a summer day beach wedding with dancing all night under the stars.
37.

Petunia
Petunia is a gown inspired by lush botanicals with intricately detailed florals covering the entire dress. A plunging V neckline and sheer fabric pieces add to the sensual femininity of the dress.
38.

Pinillo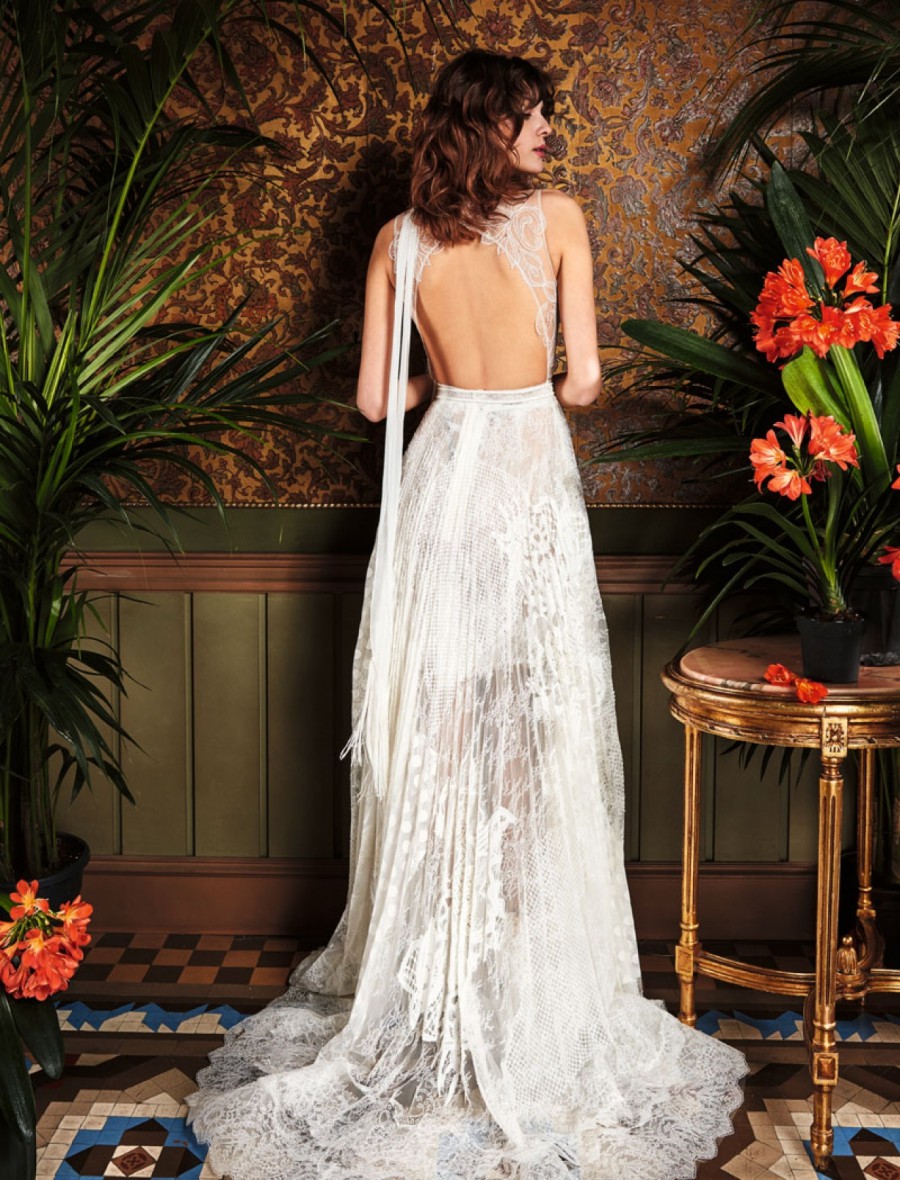 A soft romantic style for a fashionably feminine bride. The open back adds a flirty touch to the style, and the unique skirt mixes everything from polka-dots to geometrics layered over a tulle base, and all pleated together as one.
39.

Retama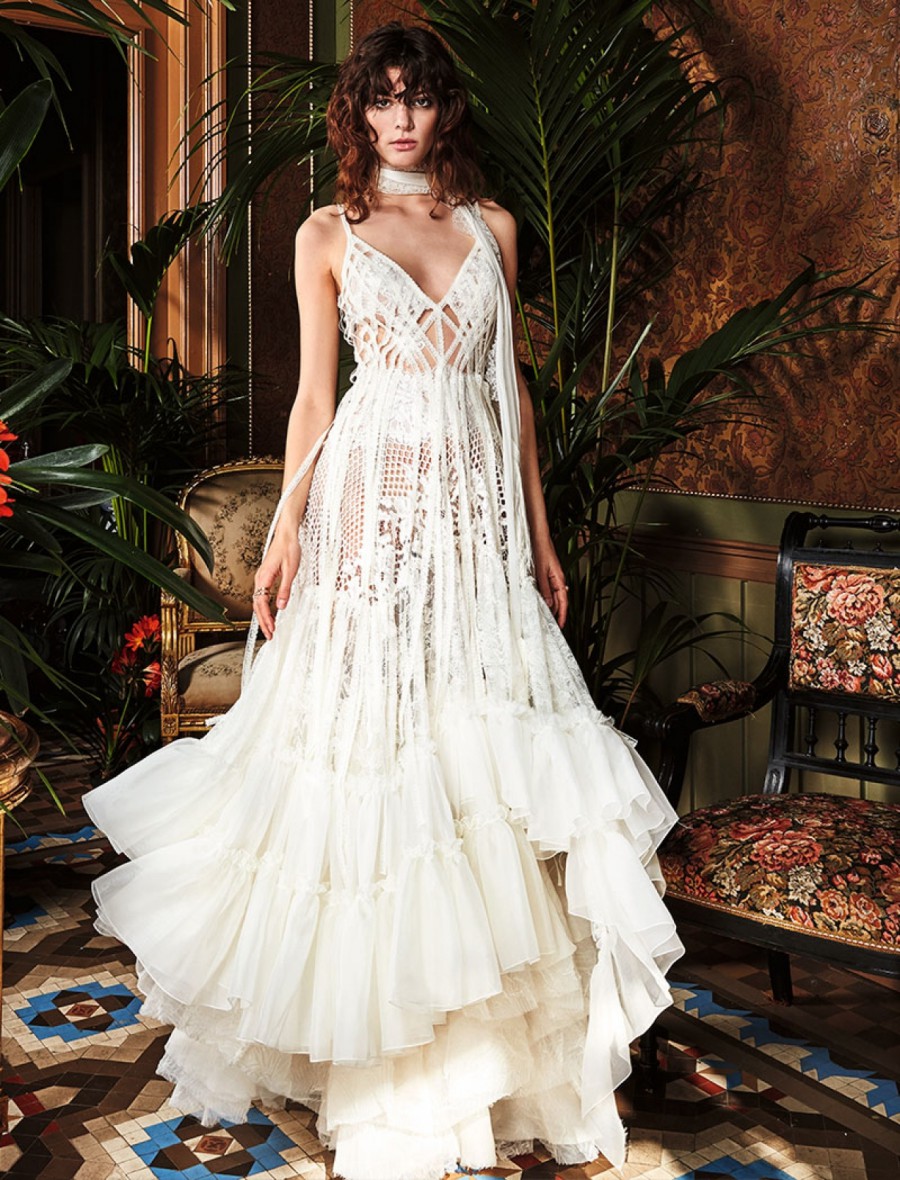 Make a bold statement with the Retama gown. The braided bodice adds a great deal of appeal compared to a more traditional neckline. The skirt is finished with organza frills layered over a mesh base. The beautiful bohemian style is ready for dancing the night away.
40.

Sabine
A sexy 1970s inspired form fitting gown with long bell sleeves. The geometric designed fabric adds a modern touch to this era classic. A sexy chic way to add some bohemian style to your big day.
41.

Tamarindo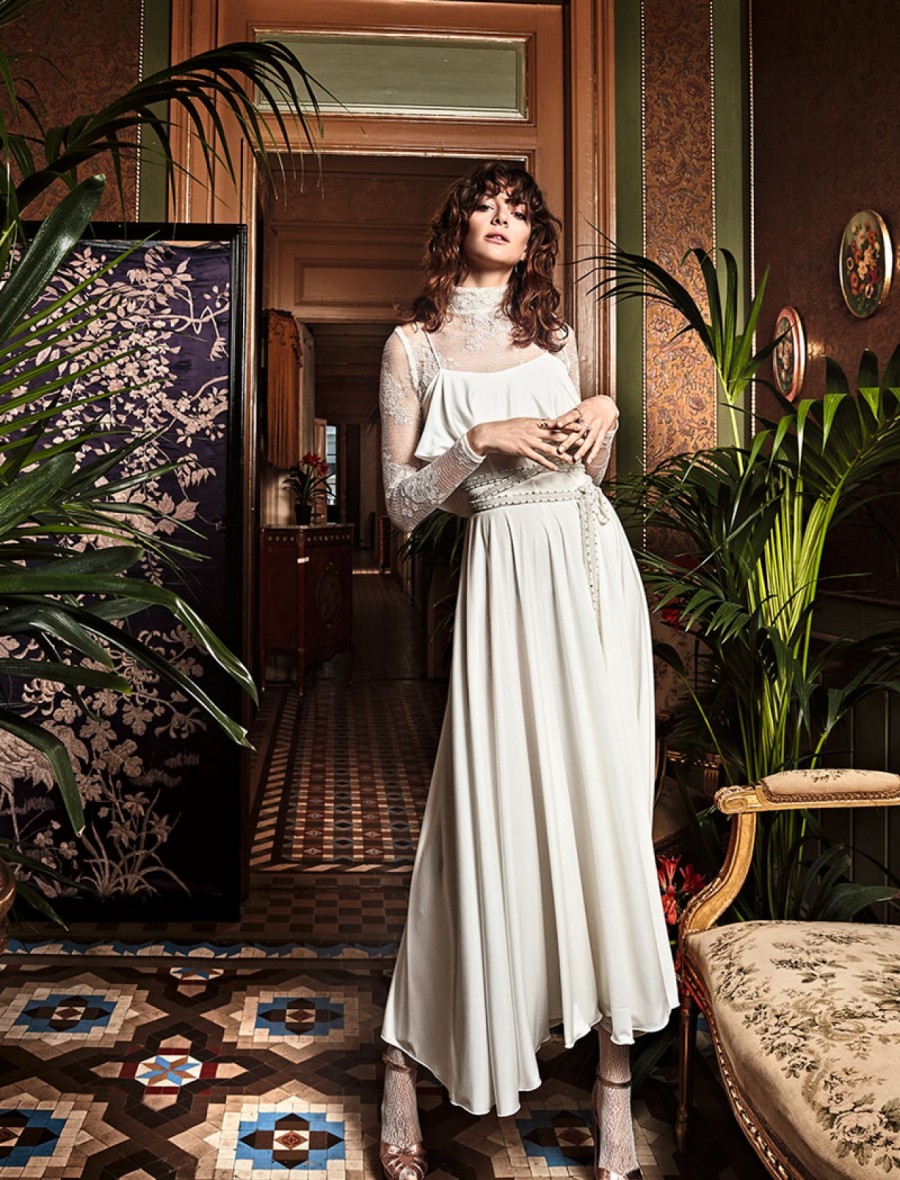 A modest, lady-like, two-piece wedding gown. The design is a light, fresh twist on a traditional style.
42.

Tejo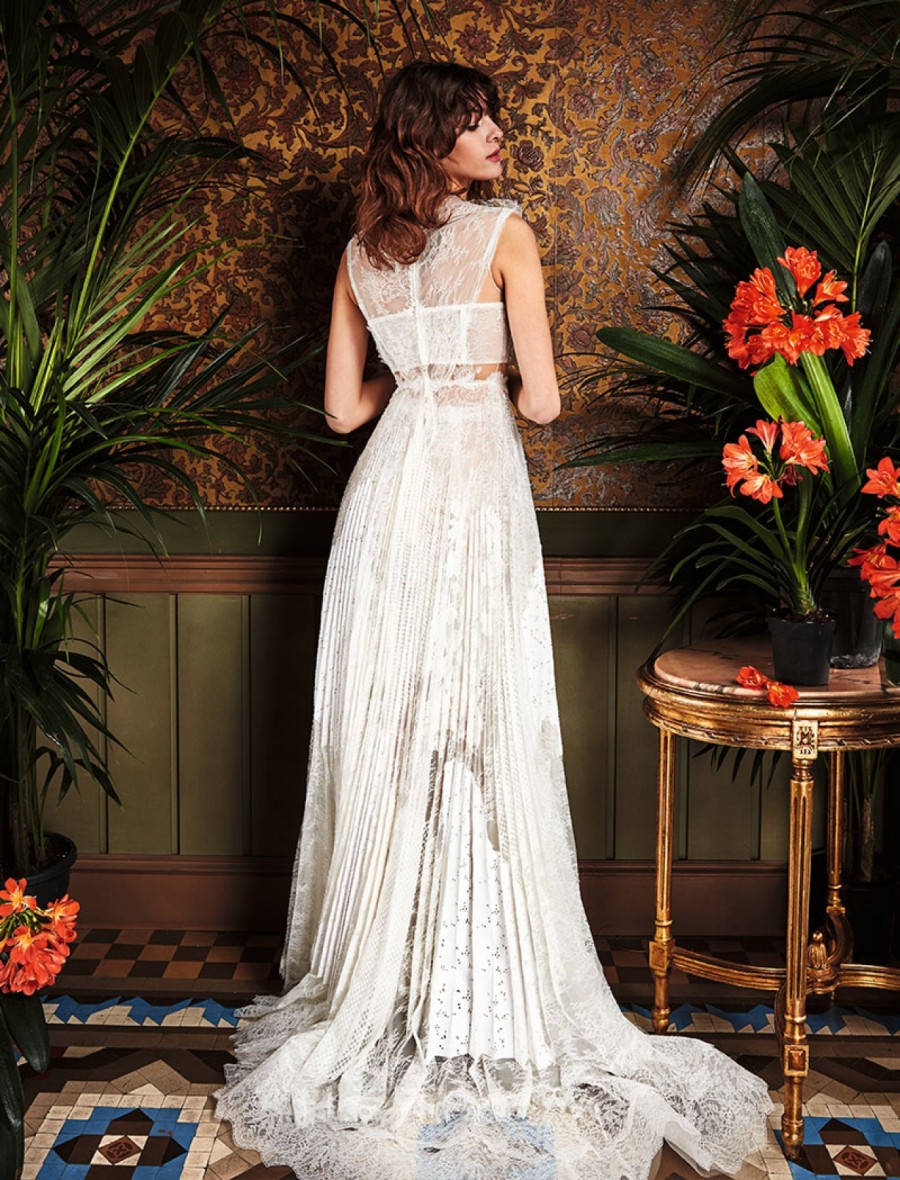 A fine layer of lace covers the bodice of this gown for a fashion forward feel. A seemingly two-piece effect adds some sex appeal to the elegant style. The skirt mixes varying fabrics from polka-dots, to lace, to geometrics layered over a tulle base, and all pleated together as one.
43.

Tilo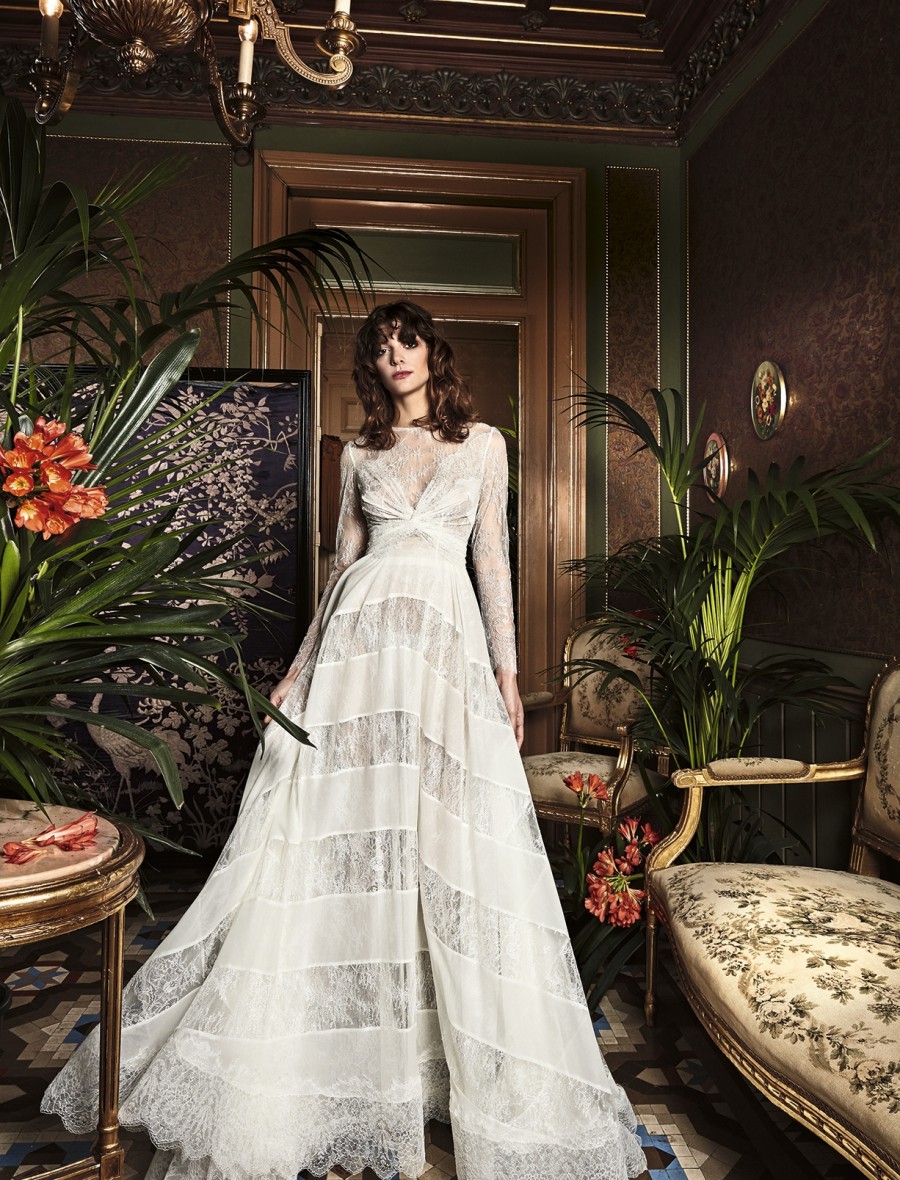 A unique full gown with an elegantly designed bodice, and full skirt that alternates between organza and lace to create a curious stripe pattern.
44.

Tomillo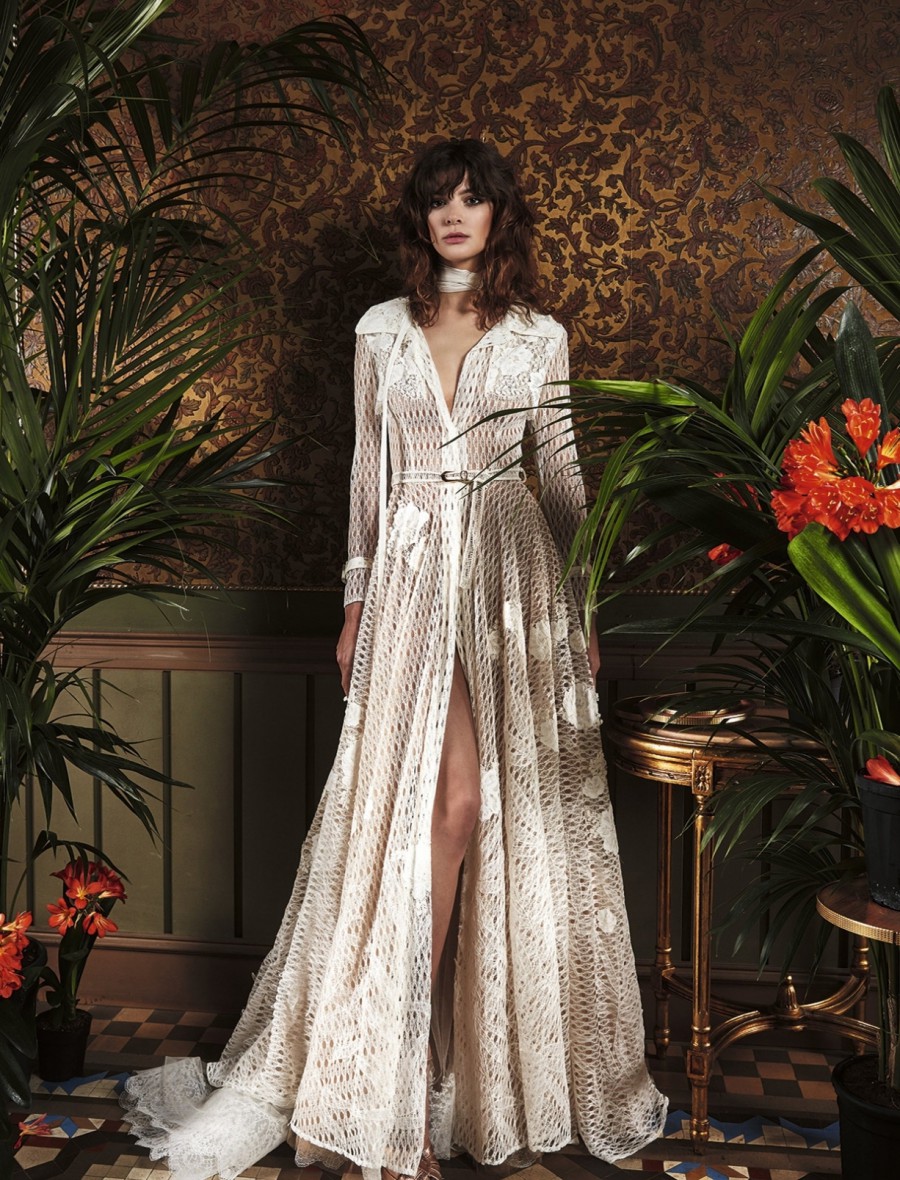 A Sahara style wedding gown complete with collared neckline and belted waist, for a casual shirt-like effect. Different lace fabrics are layered to create a delicate floral motif.
45.

Trebol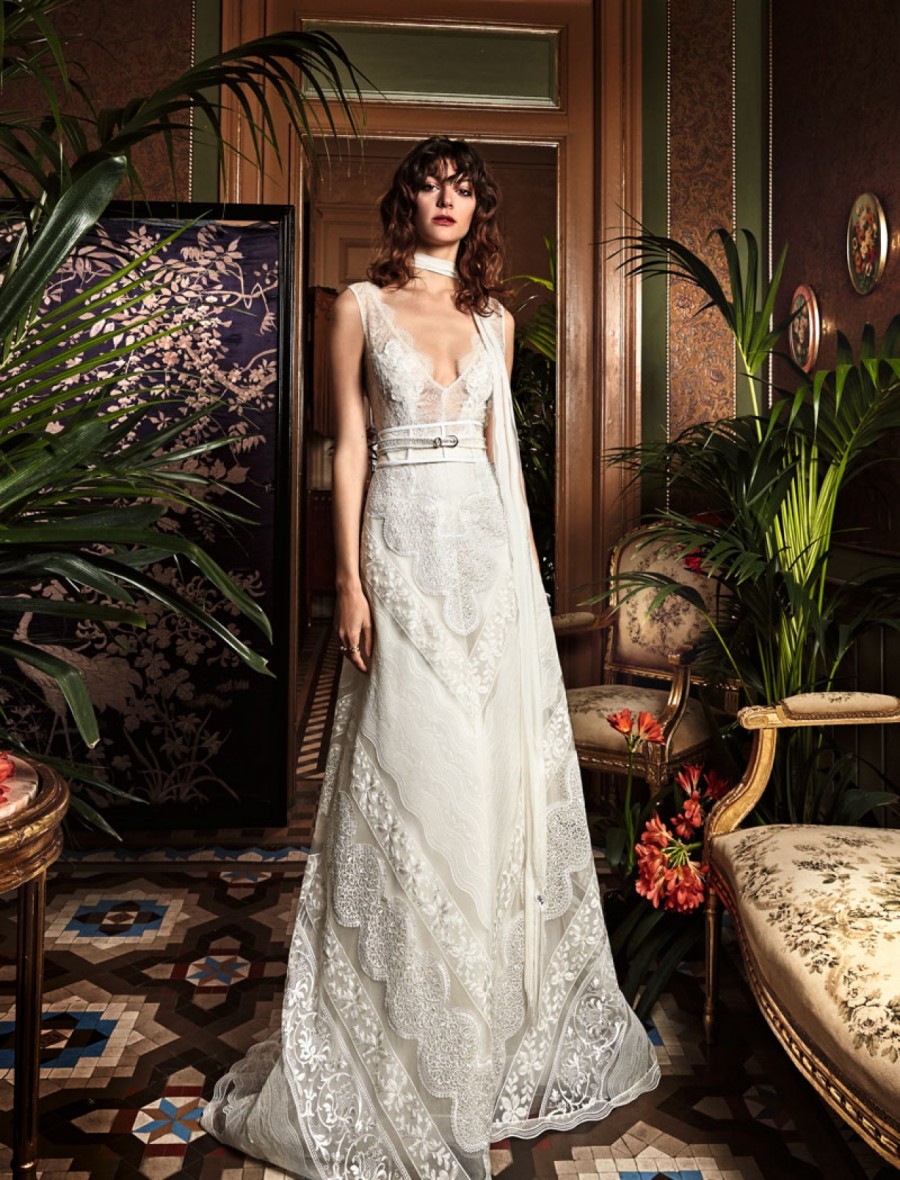 The Trebol dress finds a mix between feminine and ethnic, with its Arabian architecture inspirations. The sheer deep V neckline adds a sexy feminine touch to the style. The unique skirt alternates between various fabrics to form a chevron like effect.
46.

Vetiber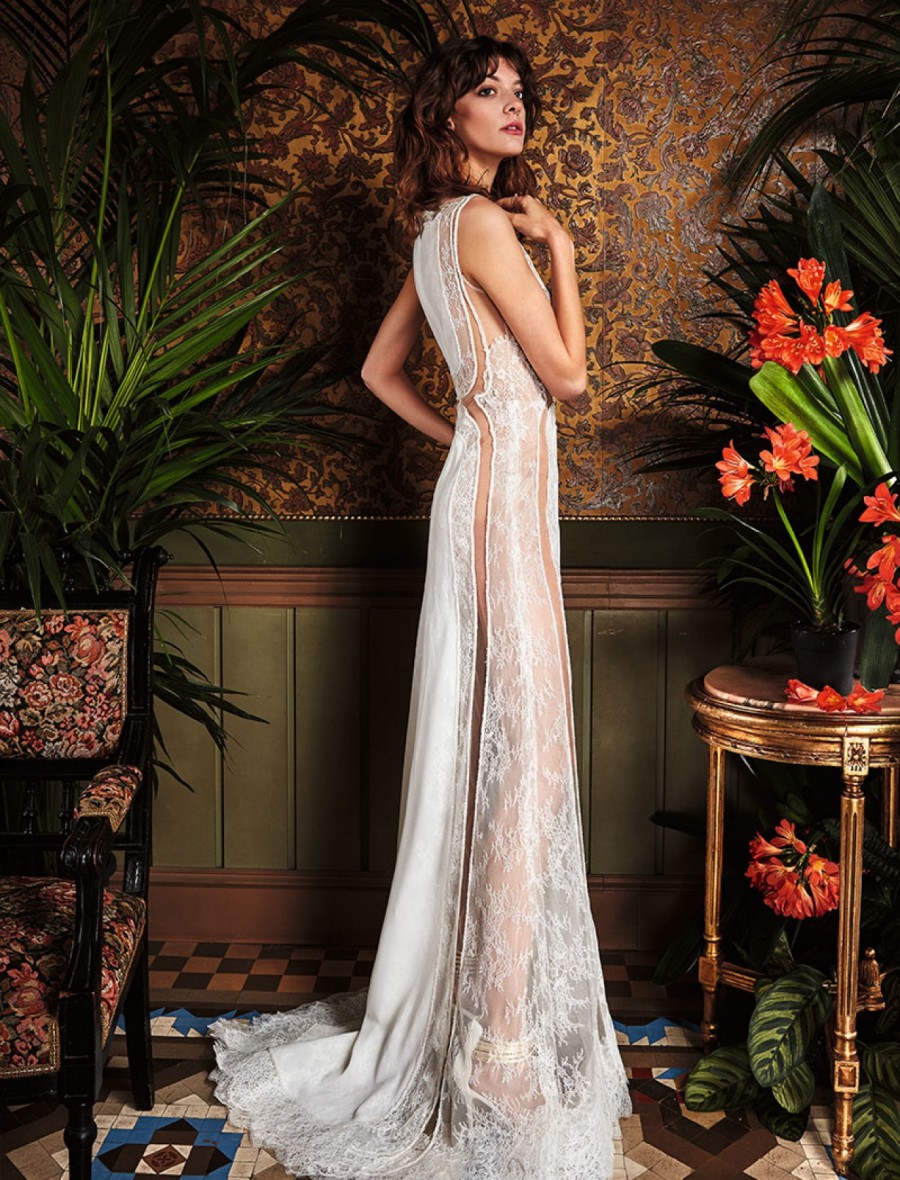 A sexy modern classic with uniquely designed clean lines throughout the look. This uniquely lined silhouette is a breath of fresh air. A simple style that is like no other in bridal fashion.
47.

Vinca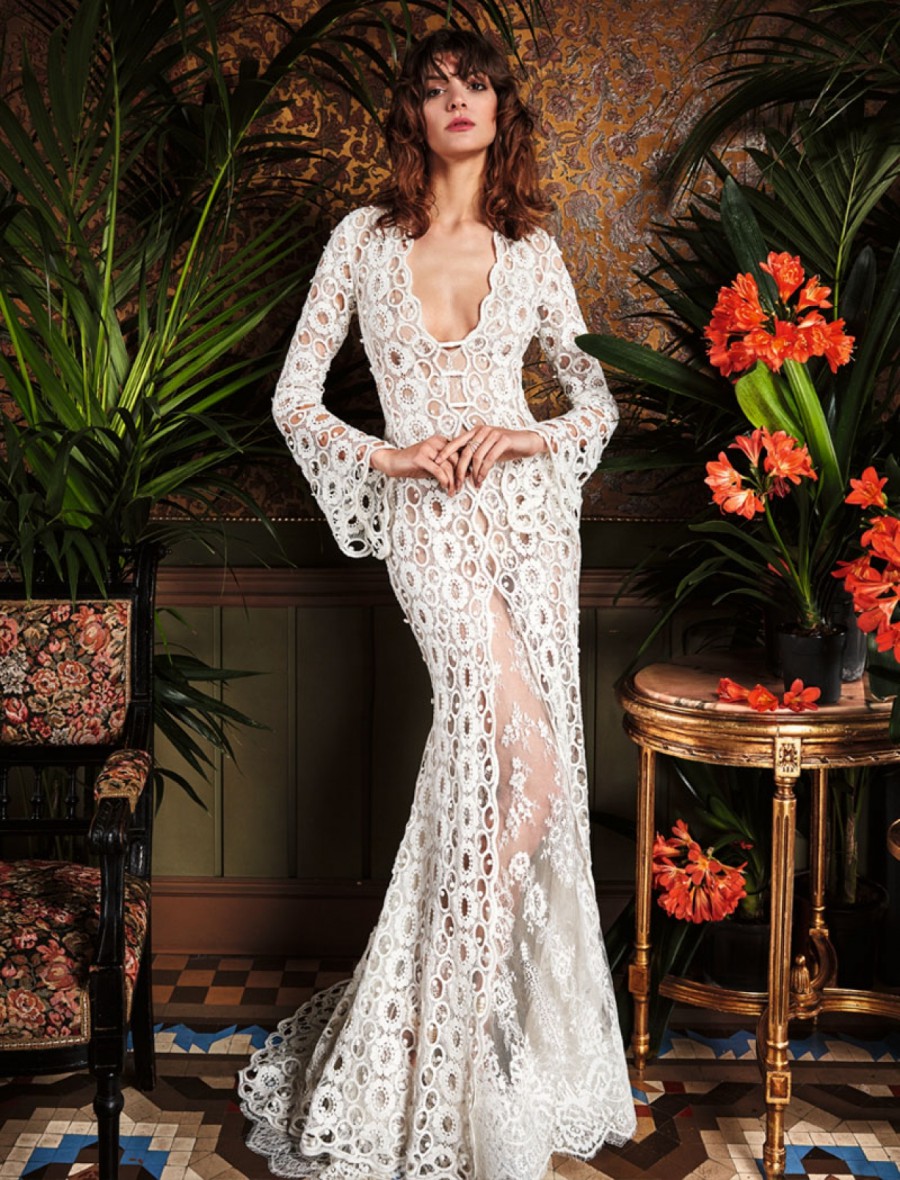 A vintage inspired bohemian glam style with gorgeous floral motifs covering the gown from top to bottom. A pattern reminiscent of the 70s, perfect for a modern day bohemian ceremony.
2017 Couture Bride Collection:
48.

Abelia
A fitted peplum style gown with upper bustier boning that gives way to a voluminous overlying skirt.
49.

Abeto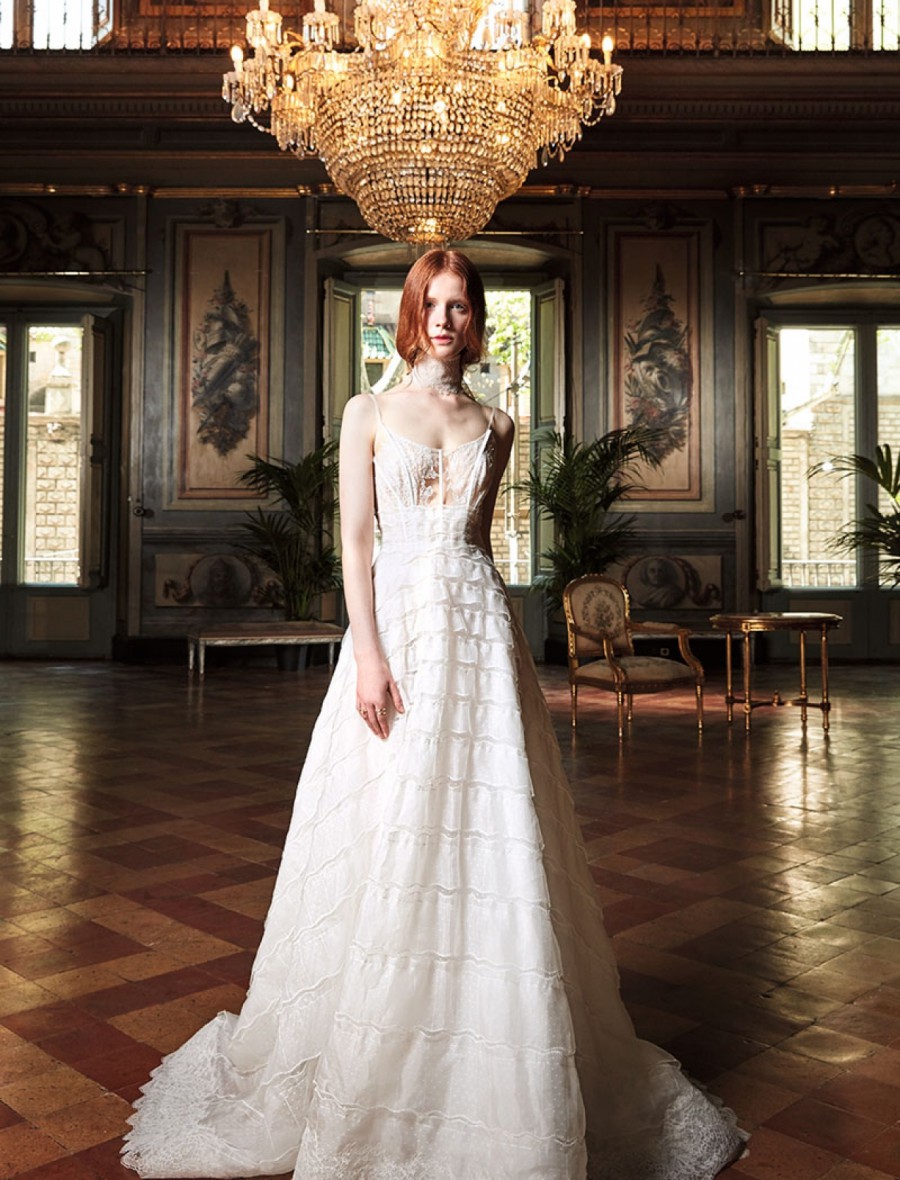 An A-line styled wedding gown with a delicately designed lingerie inspired bustier. The full skirt features a delicate strip effect to give the dress a modern dimension.
50.

Acebo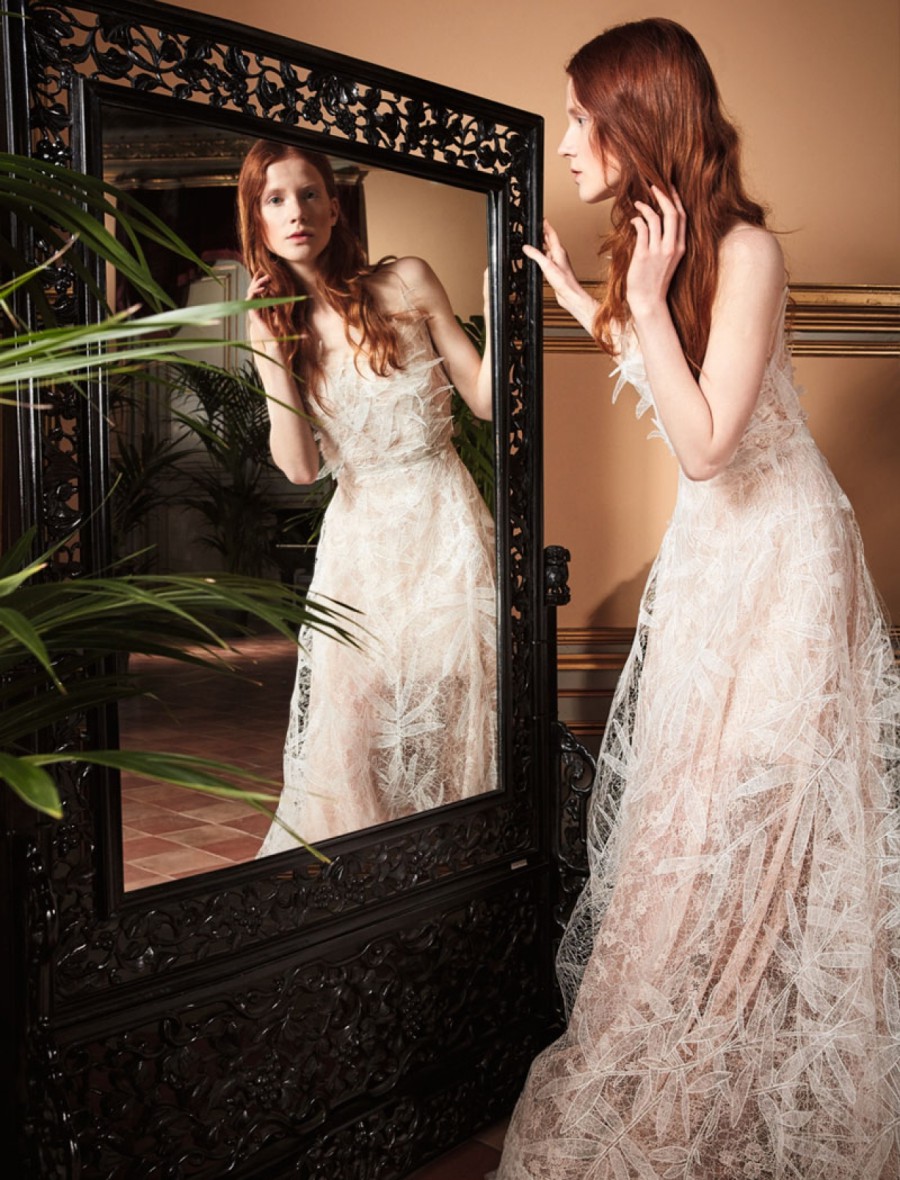 A romantic nature inspired tulle gown featuring hand sewn leaves for an overall ethereal woodland feel. The blush lining gives the look a hint of feminine pink.
51.

Alamo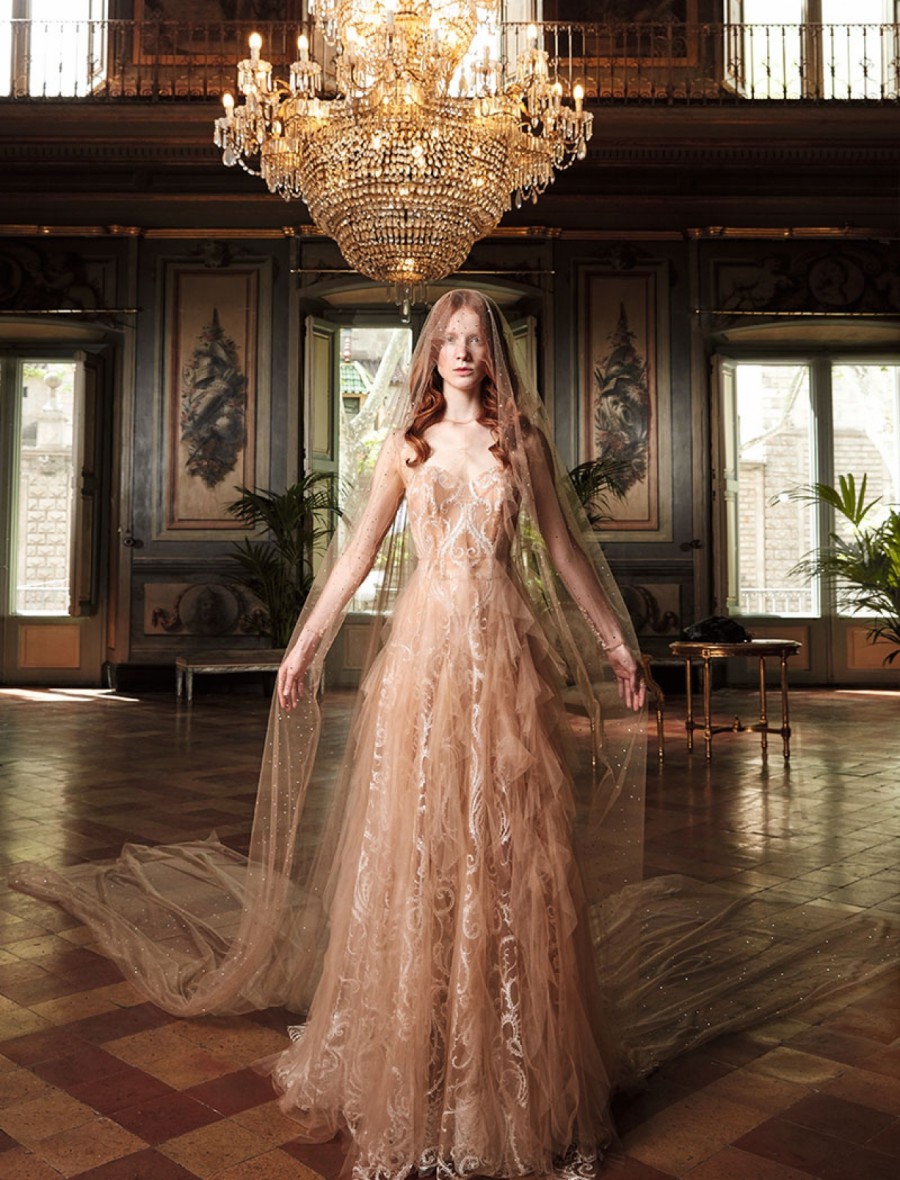 This elegant nude gown is something out of a fantasy. Unique ruffled layers and hand sewn sequins accentuate the intricate pattern of this whimsical gown.
52.

Capelina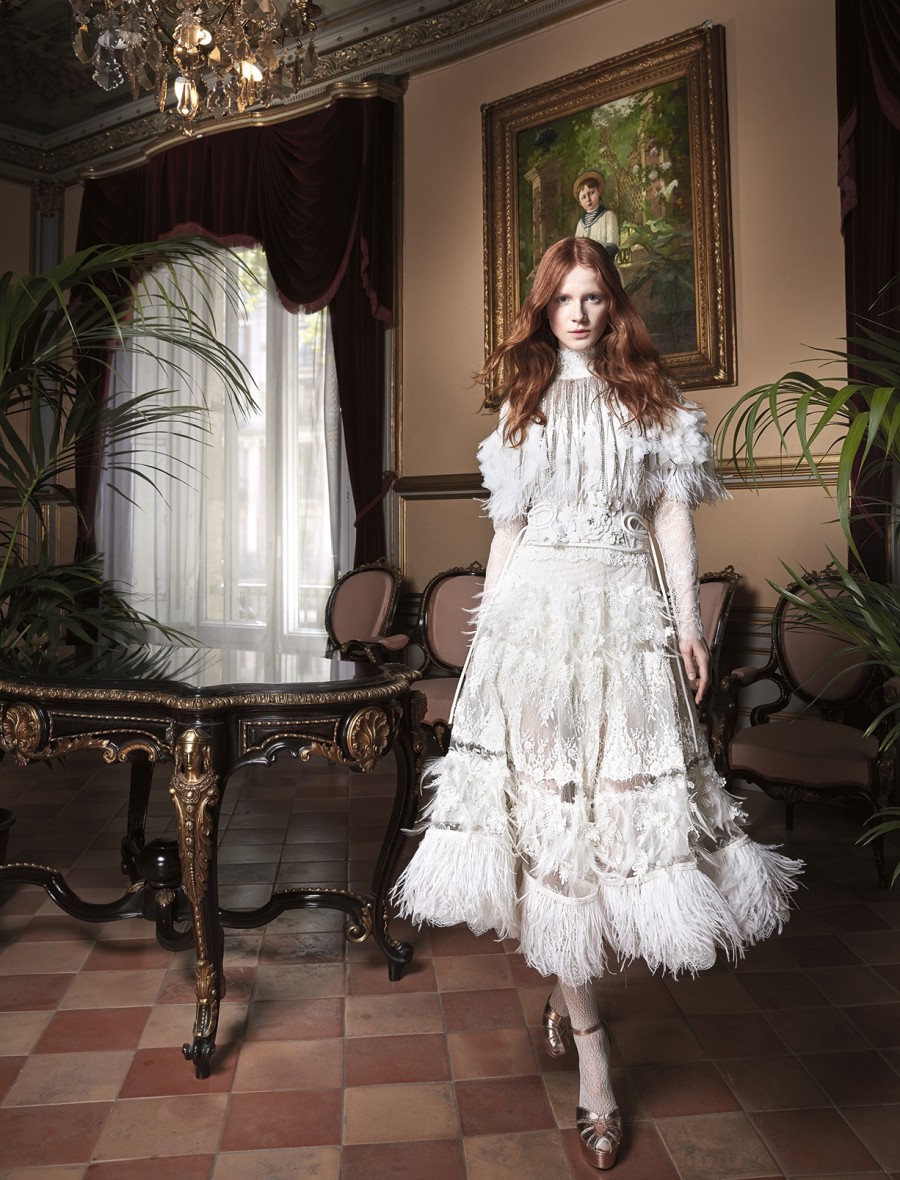 Looking for a style like nothing else in mainstream bridal fashion? This is the look for you. This mid length style combines various fabrics and feathers to create a look like nothing else. A high fashion style for the boldest of modern day brides.
53.

Albahaca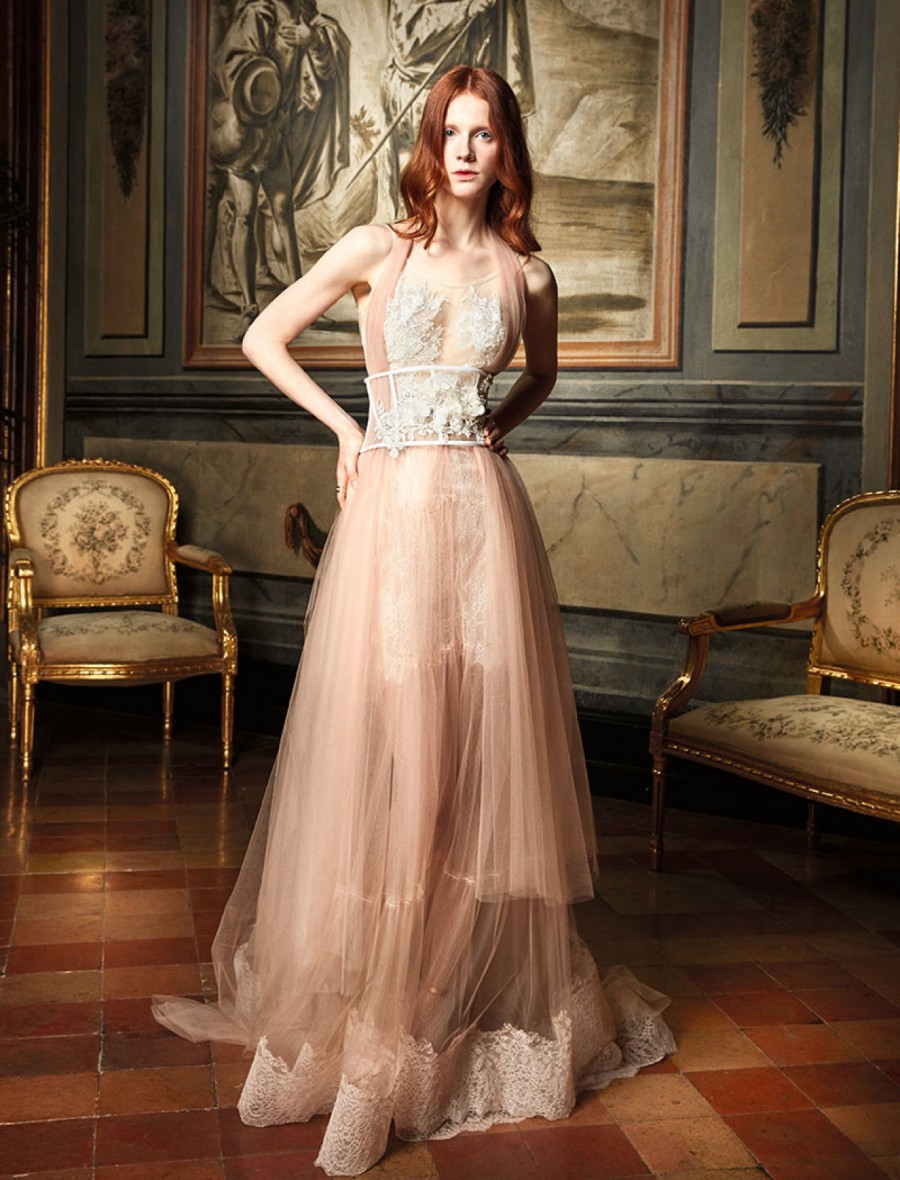 This blush tulle and silk gown is femininity at its finest. A soft silhouette that is delicate, flowing, and romantic.
54.

Arce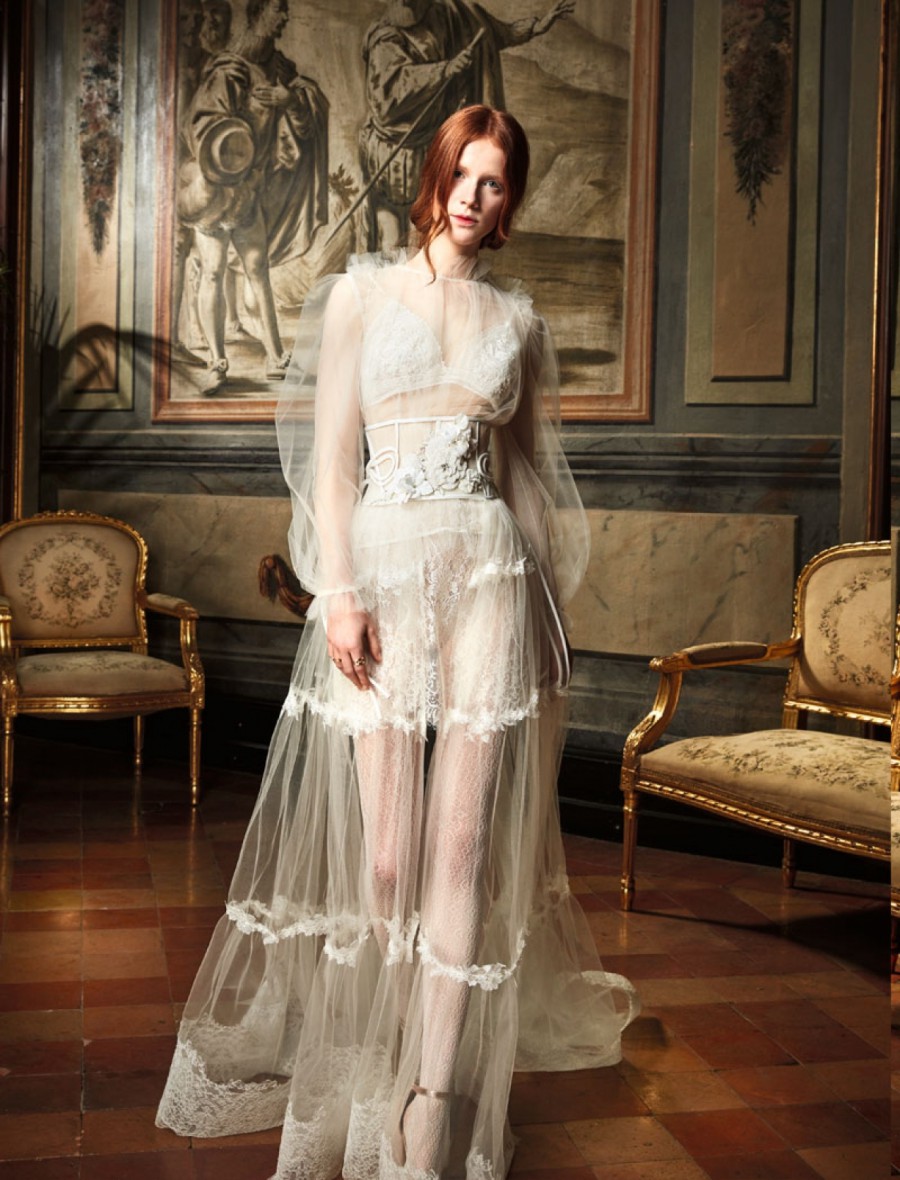 An ethereal high fashion style with Victorian era influences. The look is light, airy, and somewhat whimsical. The billowing Victorian sleeves add a touch of sophistication to the style.
55.

Bambu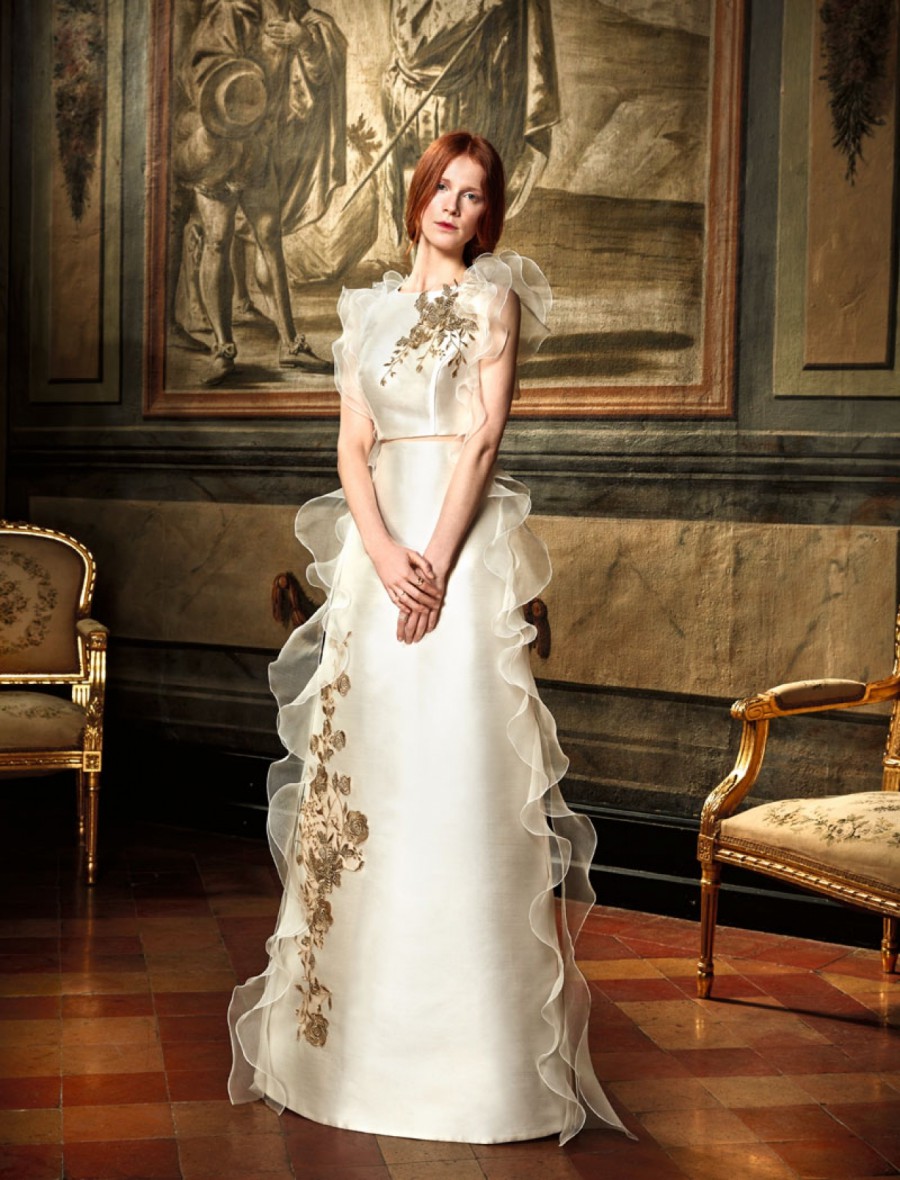 An elegant silk two-piece gown, somewhat different from the vintage inspired ethereal lace pieces we are used to seeing from Yolan Chris. This simple gown is brought to life by its side ruffle accents and gold floral motifs.
56.

Benjui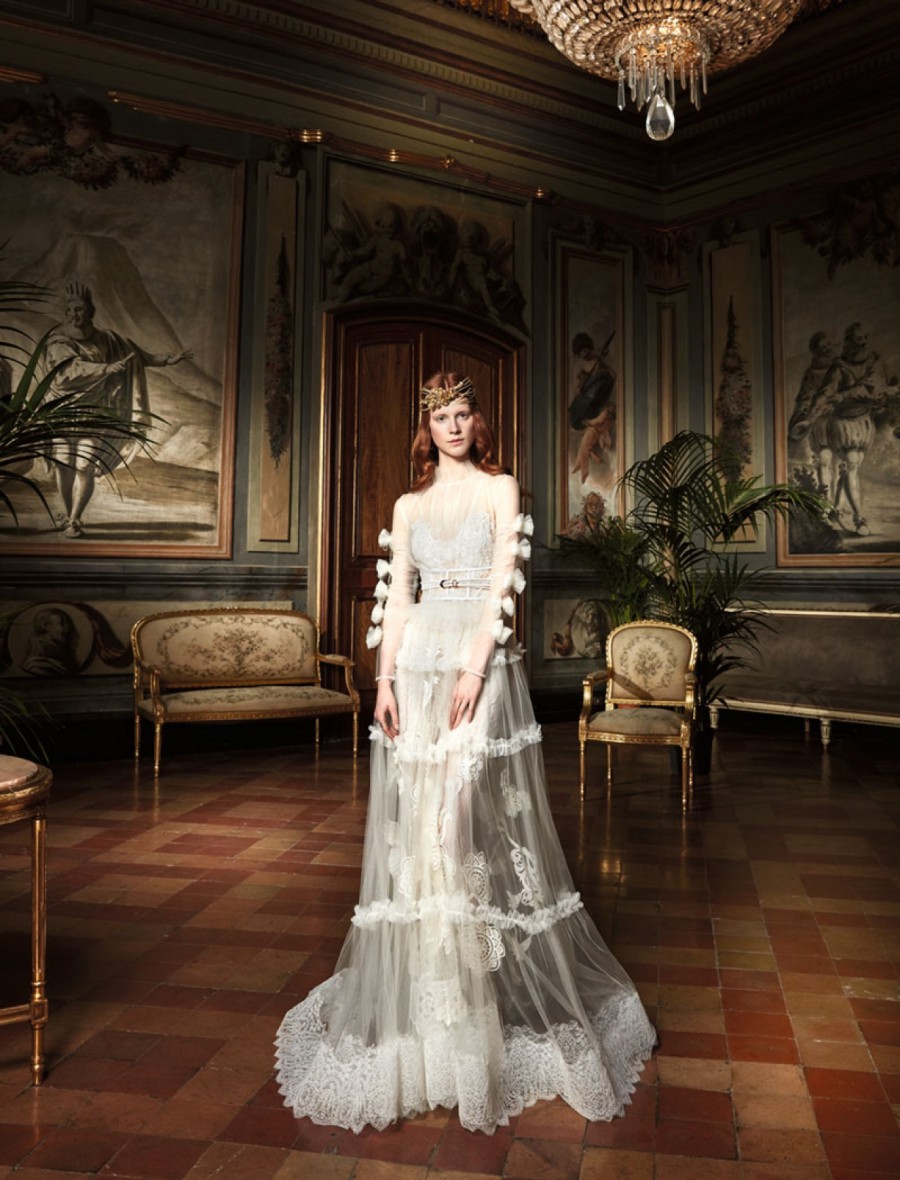 A unique Victorian inspired wedding gown. The detailed bowed, voluminous sleeves are a stunning detail to this dress. This dress is a beautiful representation of the couture style of the Victorian era.
57.

Brecina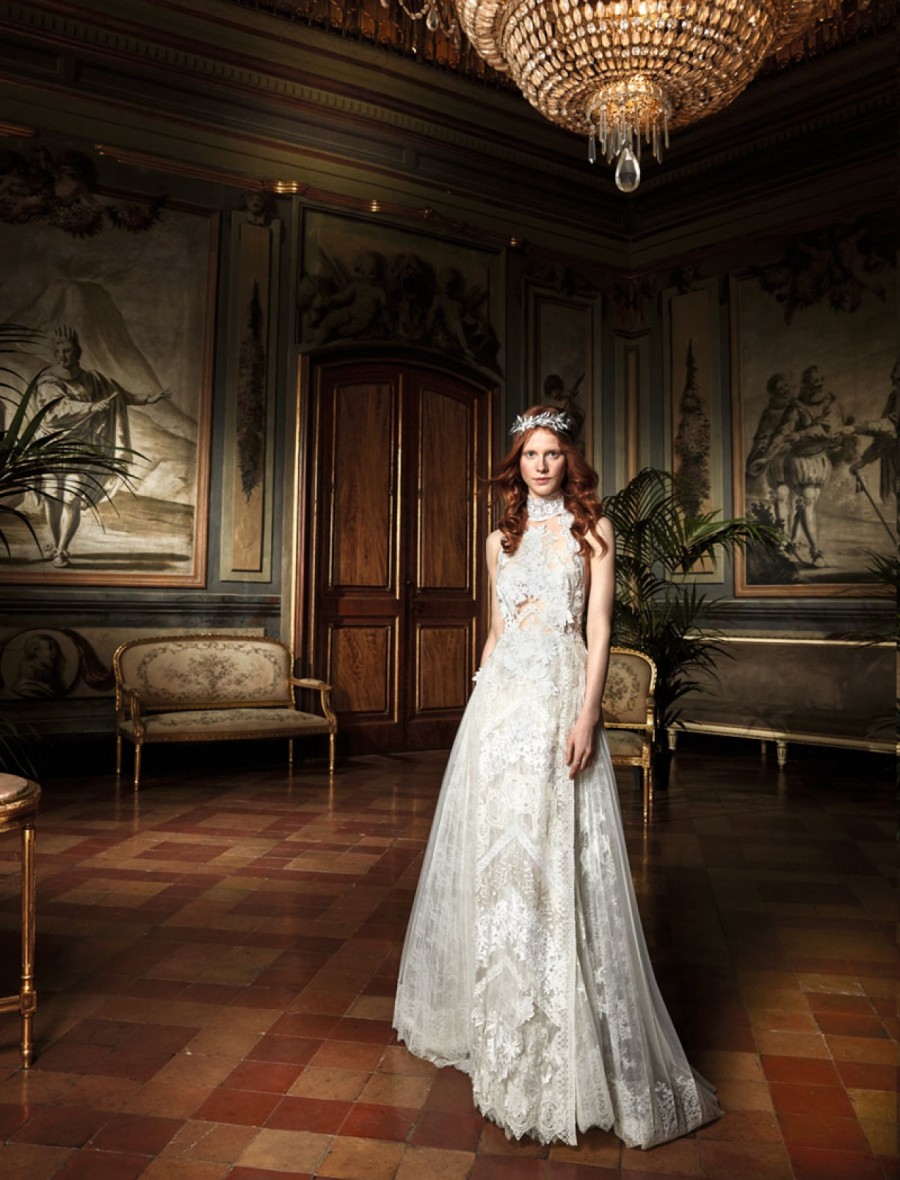 A beautifully exquisite gown with intricate detailing. The stunning bodice steals the show with its high neckline and sheer accents. This adds a sexy, chic appeal to the dress.
58.

Brezo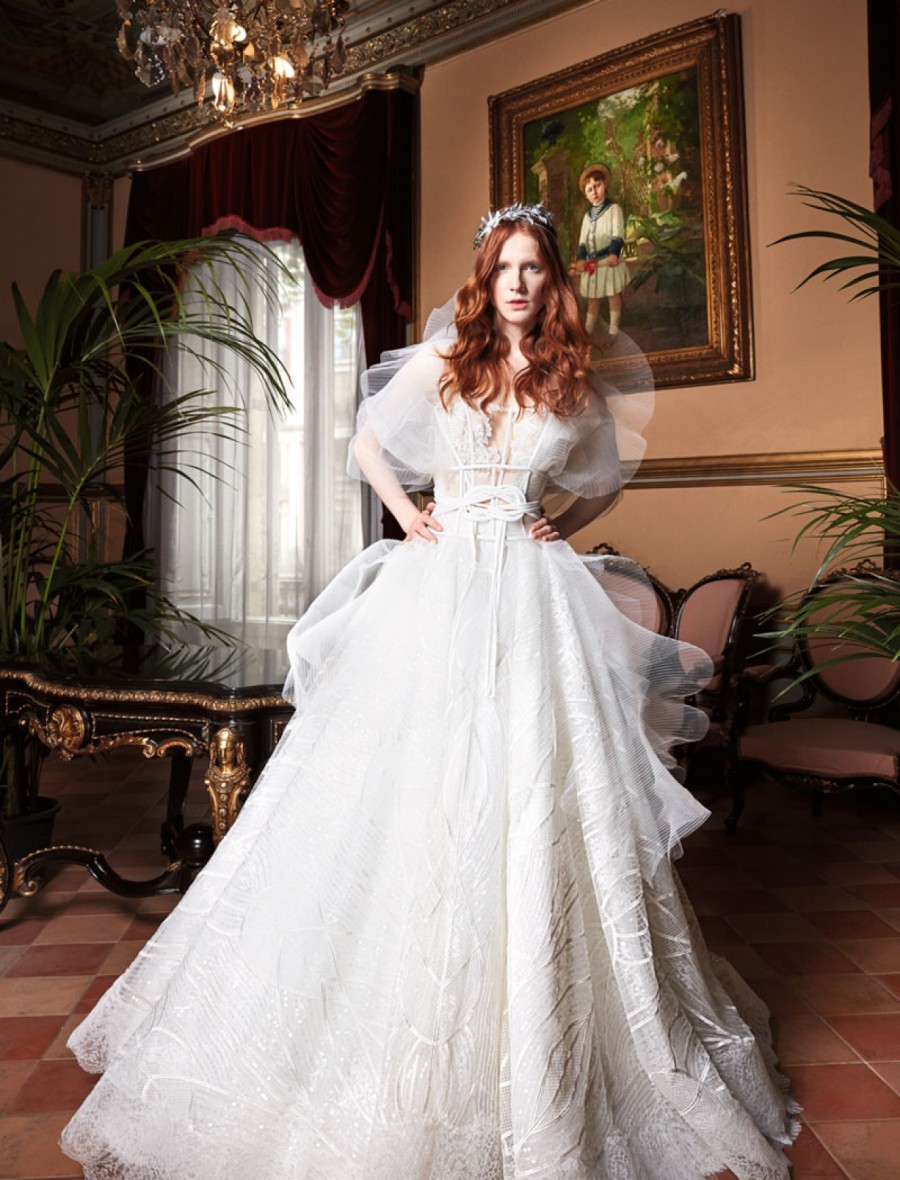 A modern two-piece ball gown for couture fashionistas. The upper bustier features dramatic boning which gives way to a full skirt with unique pattered embroidery for a bold modern look.
59.

Canela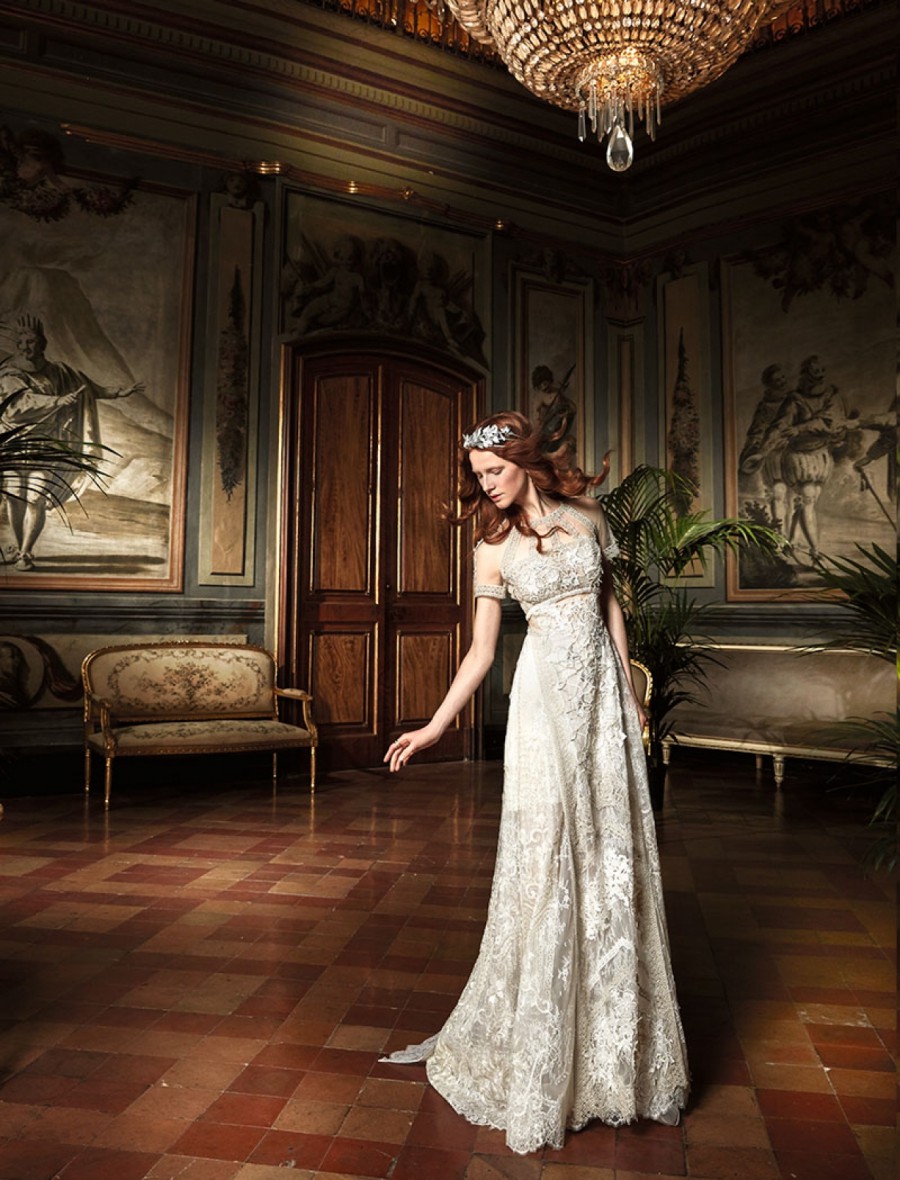 This romantic, full lace gown, has endless intricate detailing. The illusion neckline shows off a beautiful graphic effect with the dramatic cut out detailing. A mix of texture and pattern adds visual intrigue to this romantic, feminine style.
60.

Capuchina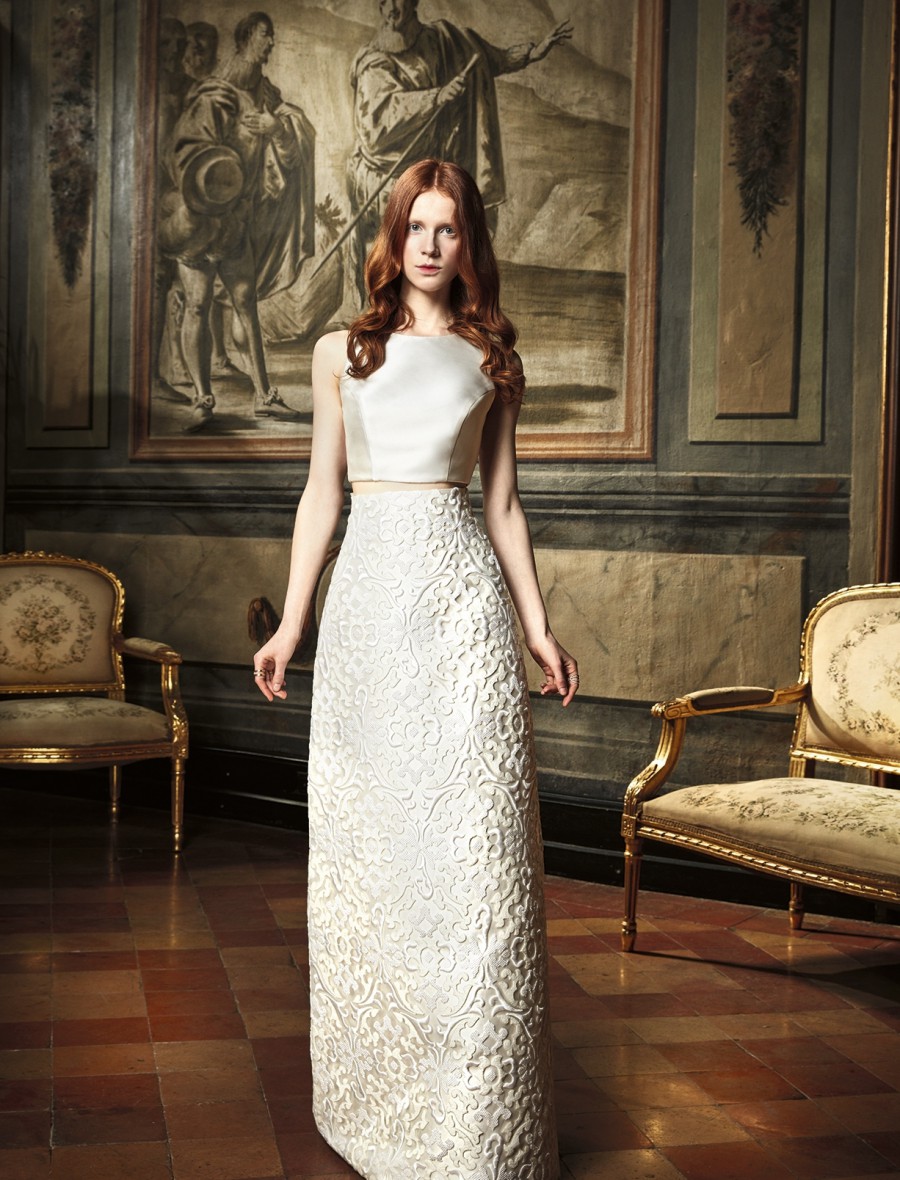 A simple, sleek style that plays off the soft contrast of the varying silk fabrics textures. The sleek top piece contrasts beautifully with the intricately designed skirt.
61.

Cardamomo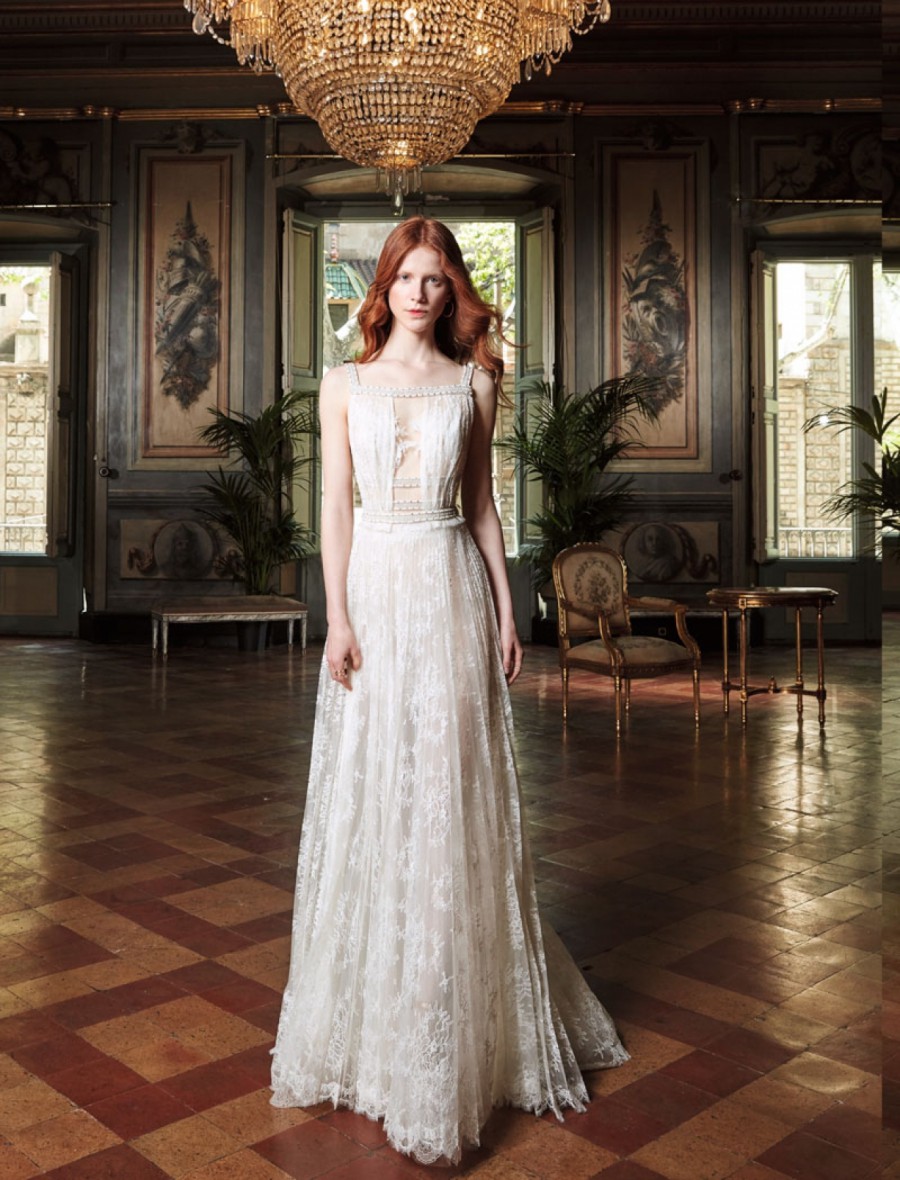 A romantic goddess style that will have you feeling like an ethereal Greek muse. The detailed bodice adds some sexy femininity with its fitted waist and front cutouts. This detailed top gives way to a flowing soft skirt of pleated delicate lace.
62.

Cerezo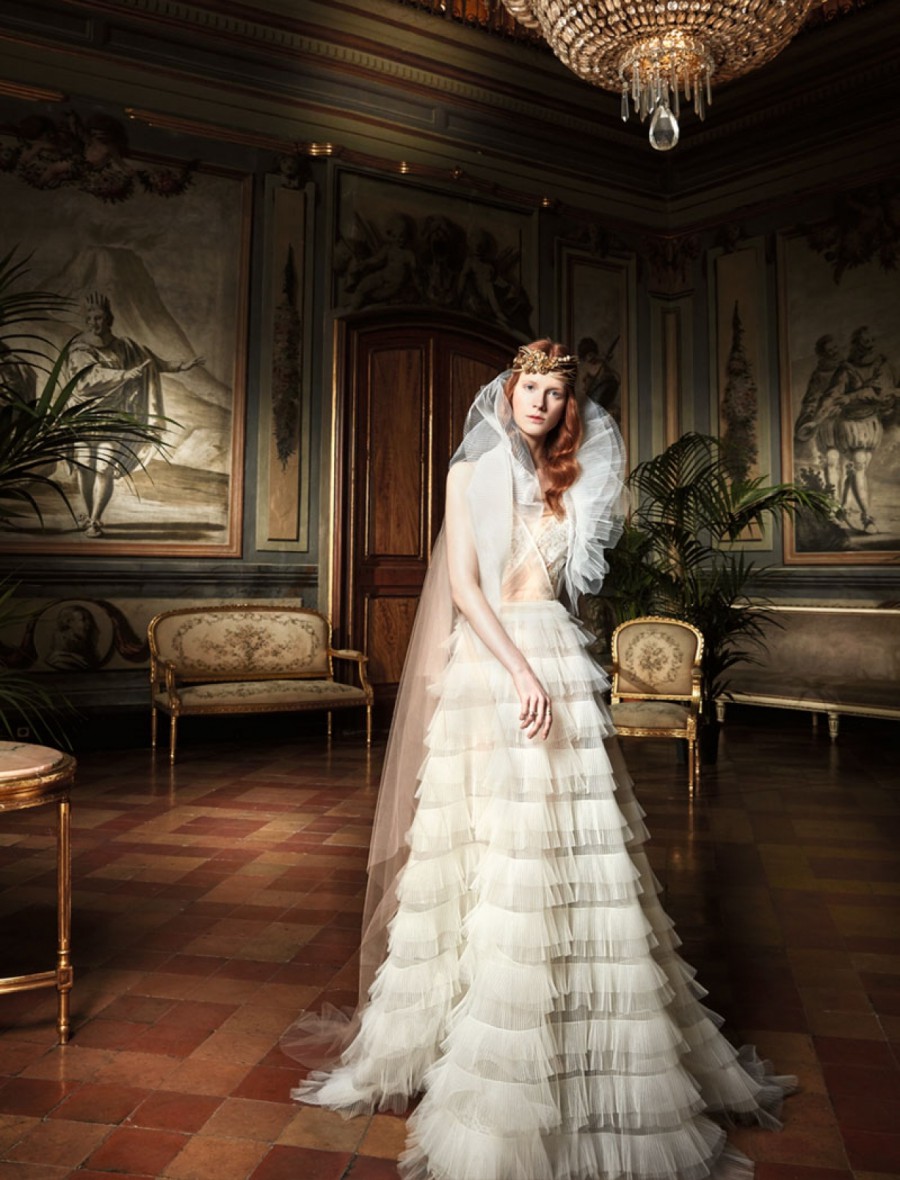 This layered tulle skirt adds unique texture and depth that plays with the viewer's eye. This simple intrigue makes this dress like nothing else. The crossed tulle and lace bodice is a soft feminine contrast to the elaborate skirt.
63.

Cipres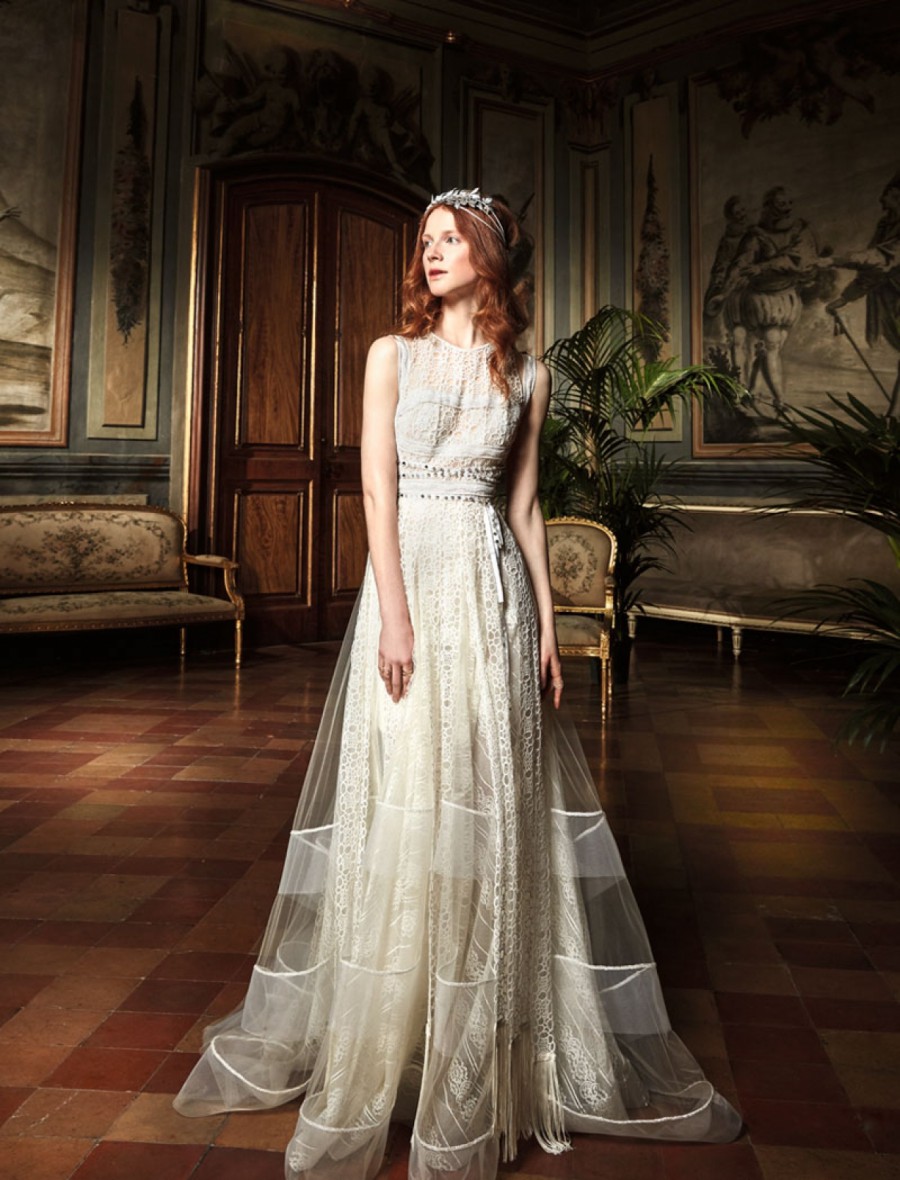 An eclectic styled gown mixing fine lace, crochet, fringe, and metal accents. A playful and eccentric look for a boho bride looking for a slight rockstar edge.
64.

Citronela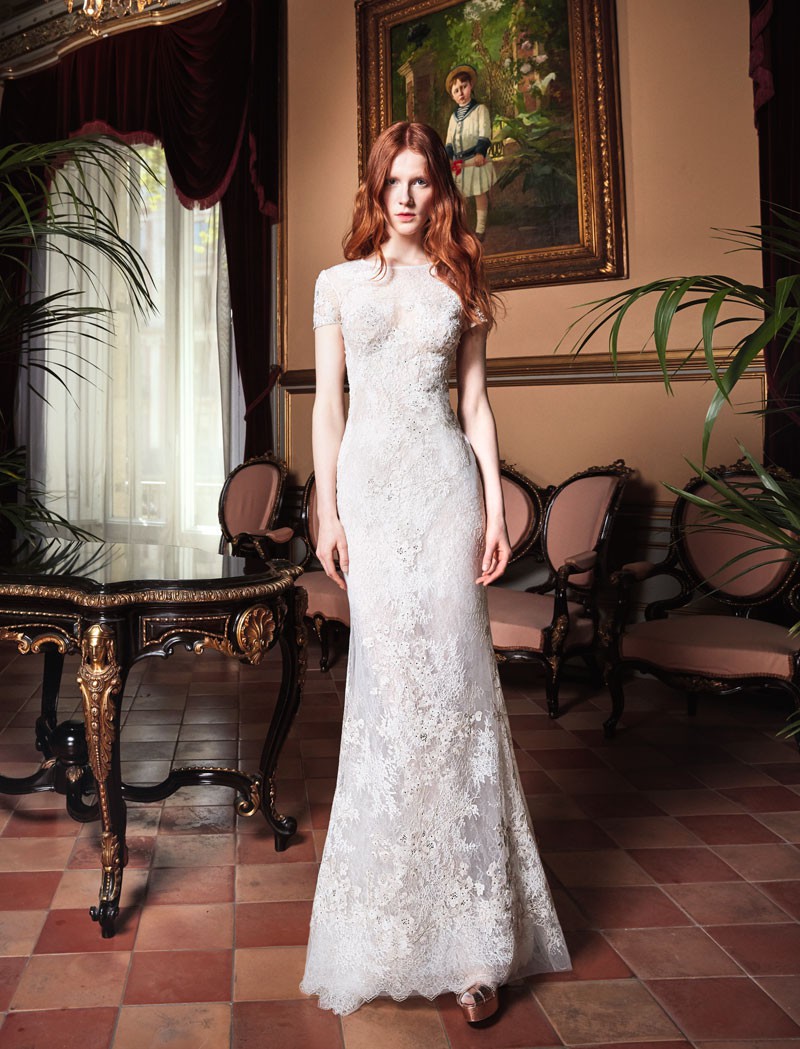 A sweet, form fitting dress that is elegantly simple. This romantic cap sleeve style features tulle fabric with lace and beading accents.
65.

Cinturon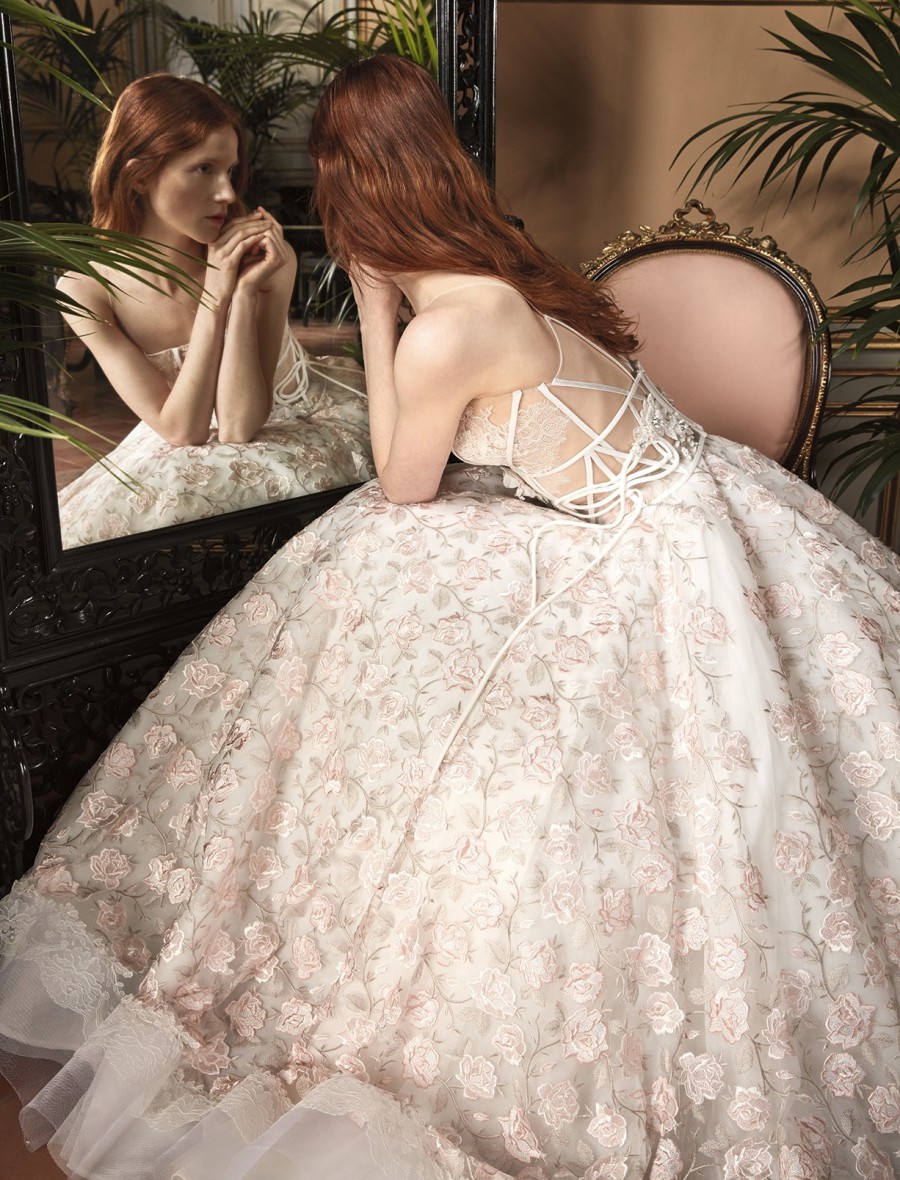 The floral ball gown of your dreams. This romantic and sensual style is a two-piece gown featuring a boned and transparent bustier bodice and dramatic pink floral skirt. Perfect for a bride looking for a unique princess ball gown style.
66.

Espino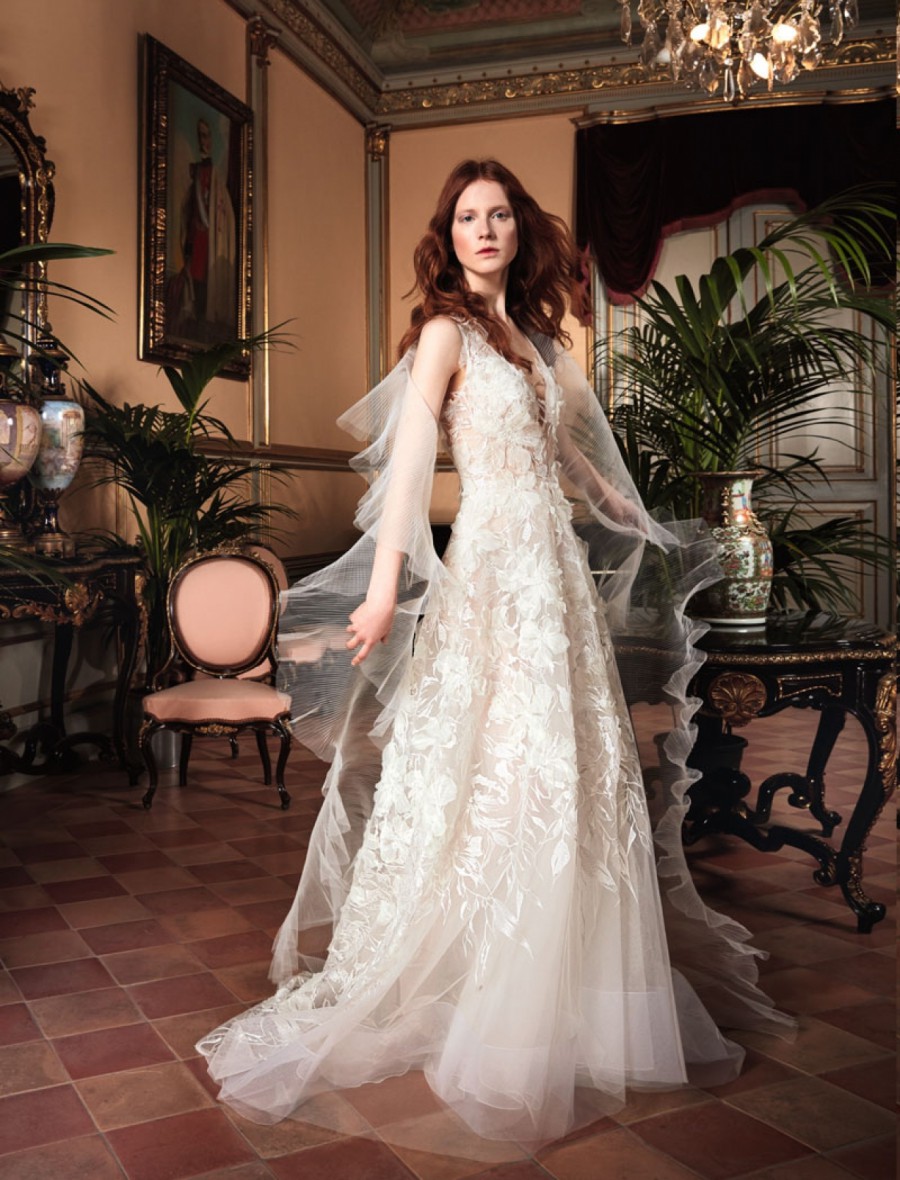 This stunning V neck dress features head to toe 3-dimensional organza flowers. The dimensional florals mix with printed florals covering the blushing tulle fabric. Perfect for a romantic garden wedding.
67.

Espliego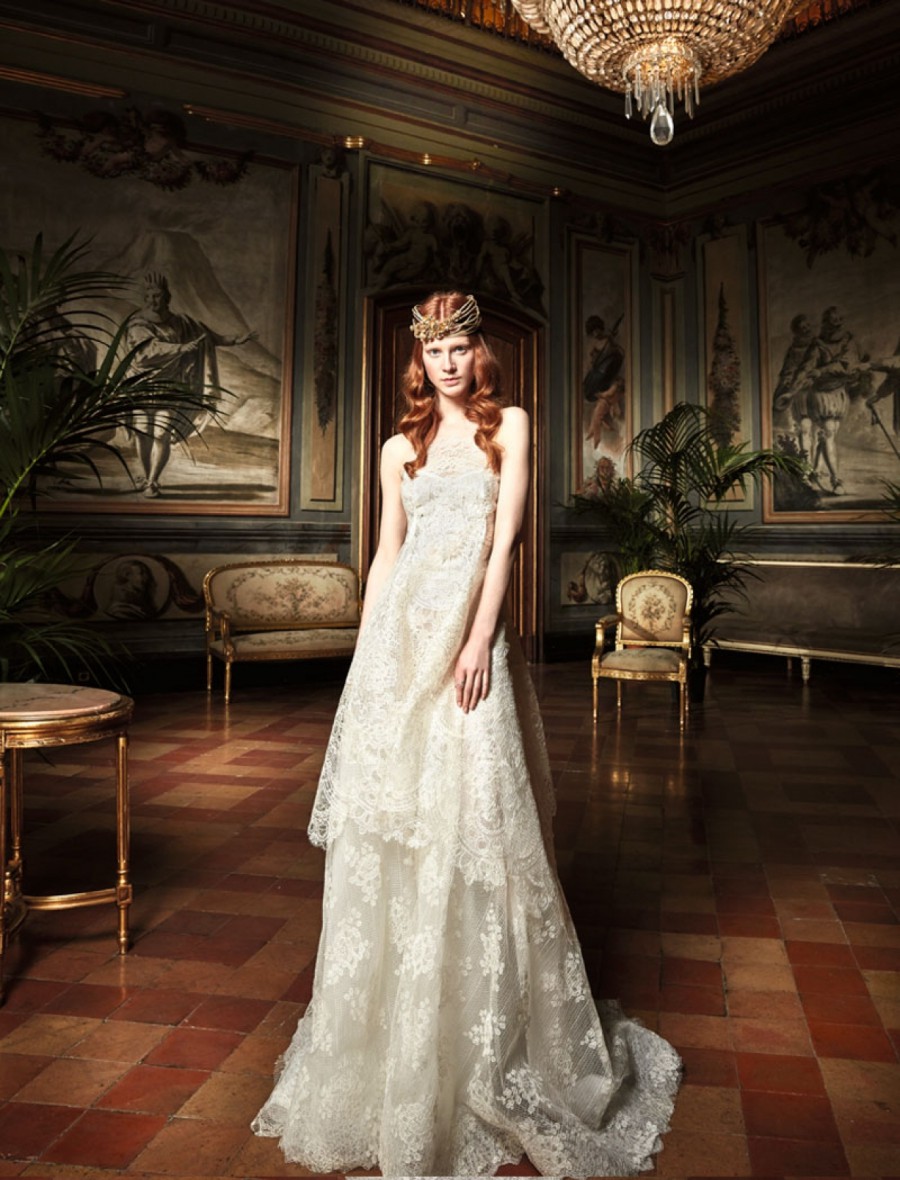 Get ready to fall in love with this romantic style made of the finest silk lace fabric. A feminine design that features an open back and small elegant train.
68.

Frambuesa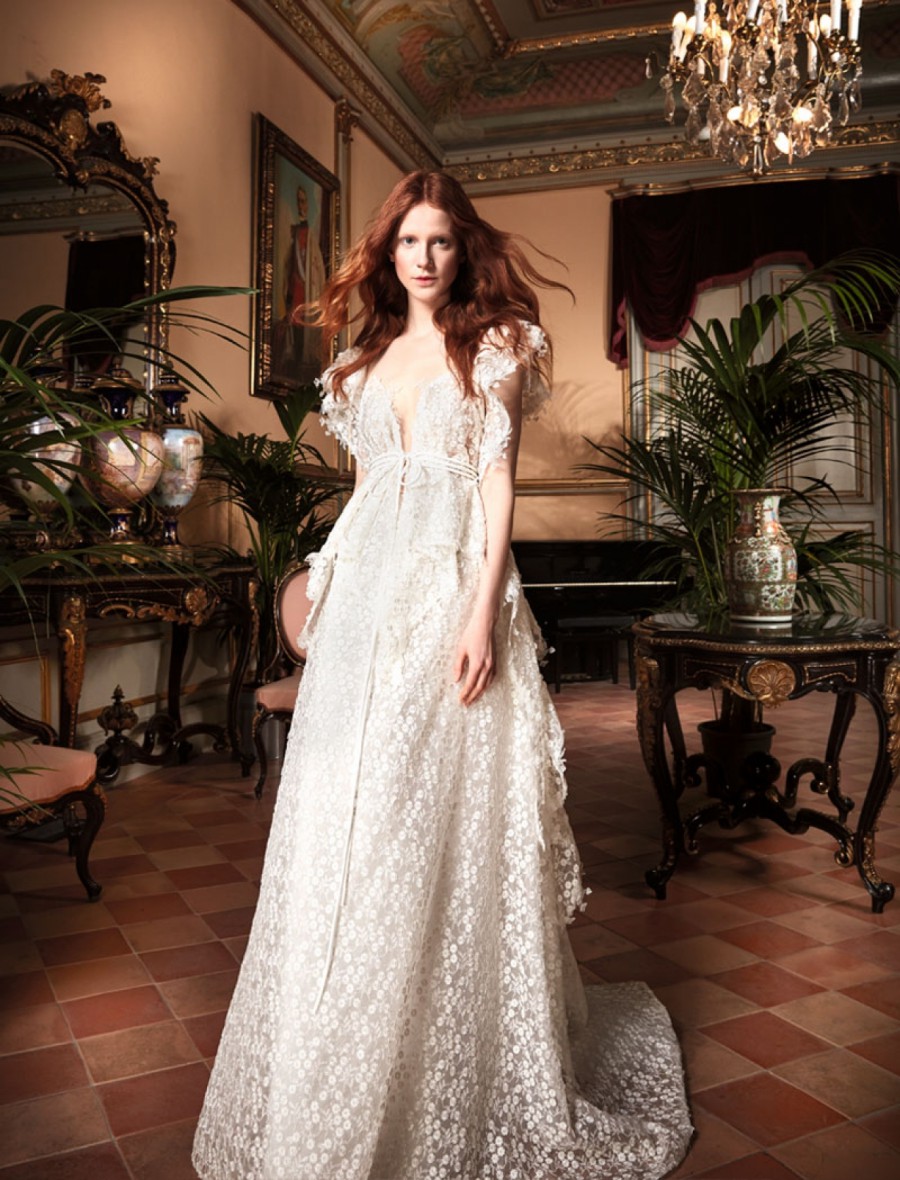 This beautiful gown starts with a sweetheart like neckline and soft bohemian inspired sleeves. Cinched at the waist with a delicate tie, this dress flows down to the floor with soft flower embroidered macramé fabric.
69.

Galio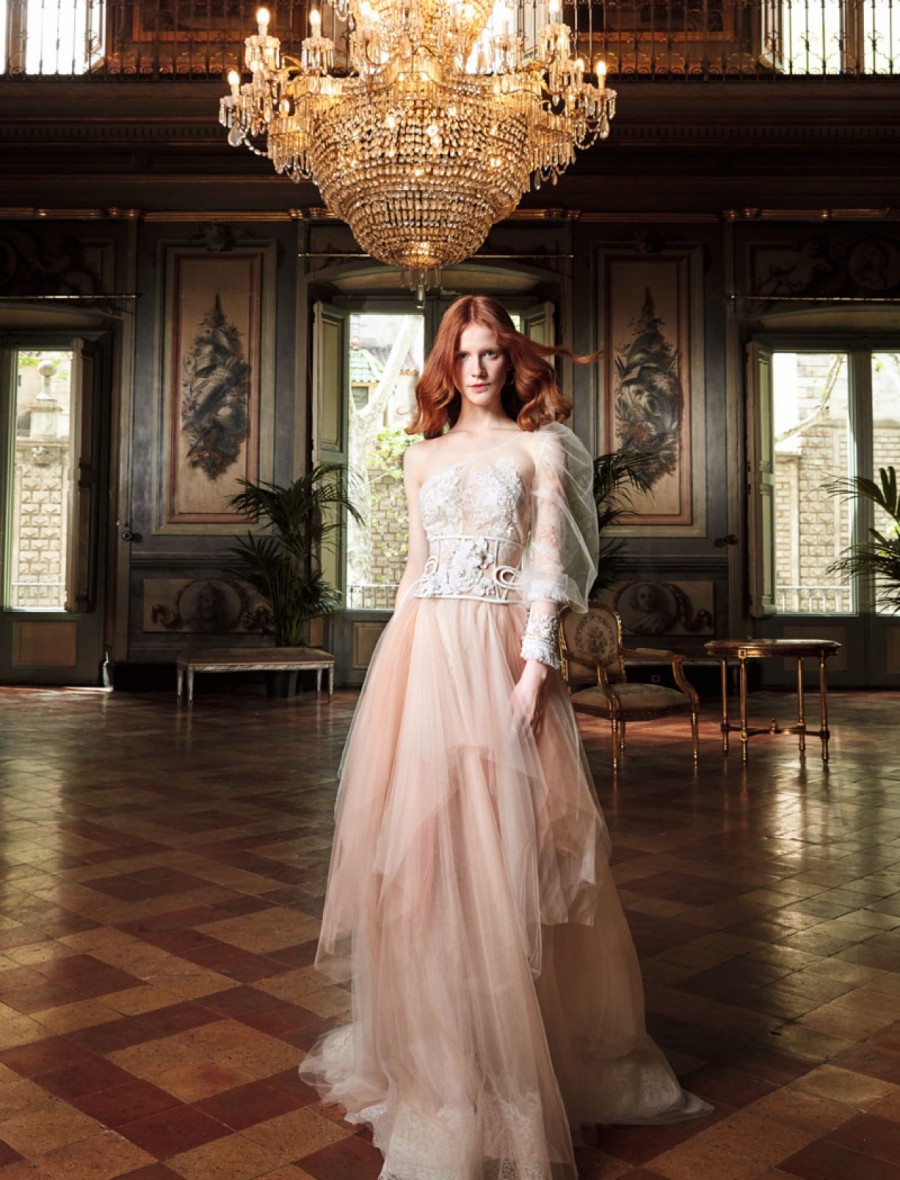 An asymmetrical wedding gown style is a stunning blush tone, and detailed bodice design. This modern tulle dress is truly like nothing else. You can see its Victorian influence with its one sided voluminous sleeve and lace accents. Cut and layered tulle pieces add some volume and interest to the skirt of this unique design.
70.

Haya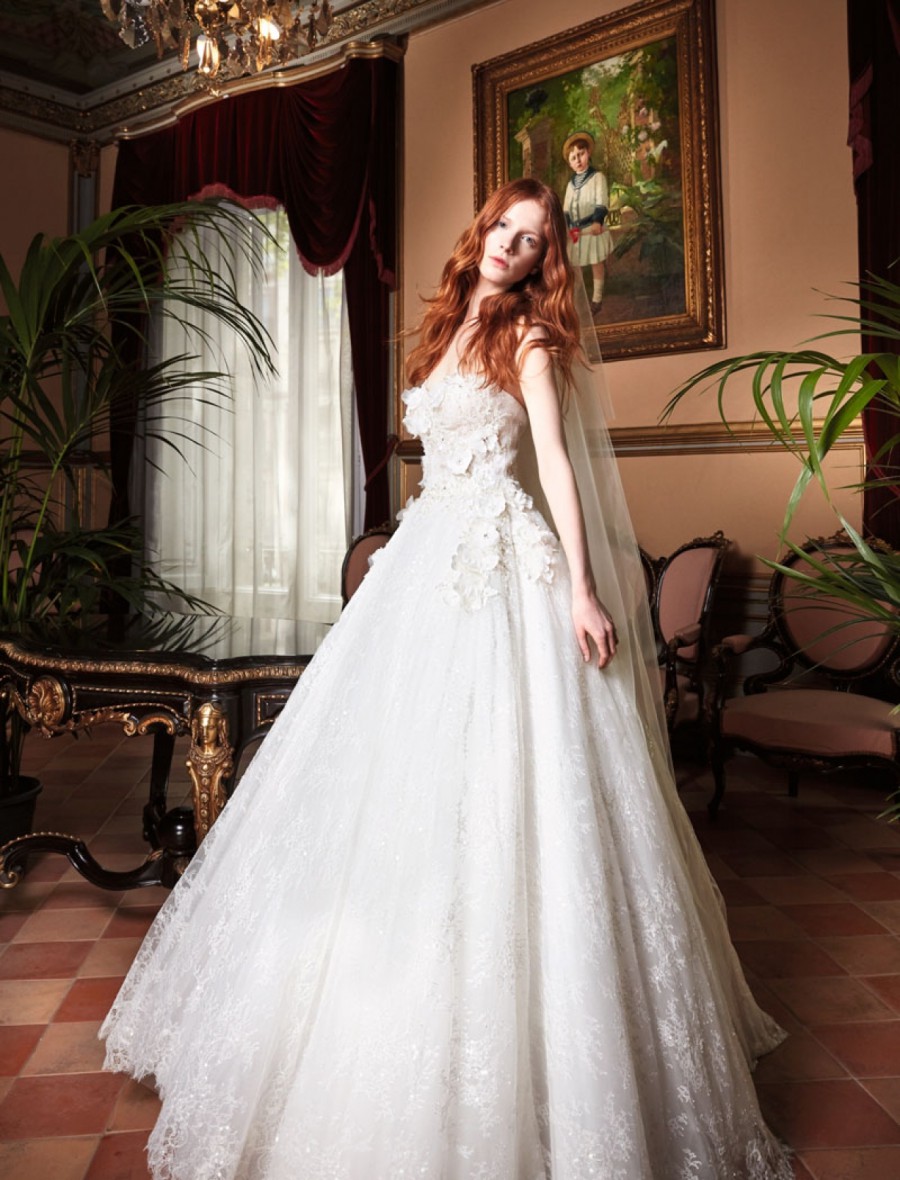 A classic strapless ball gown with beautiful floral applique. This dress is elegant, sophisticated and luxurious.
71.

Helecho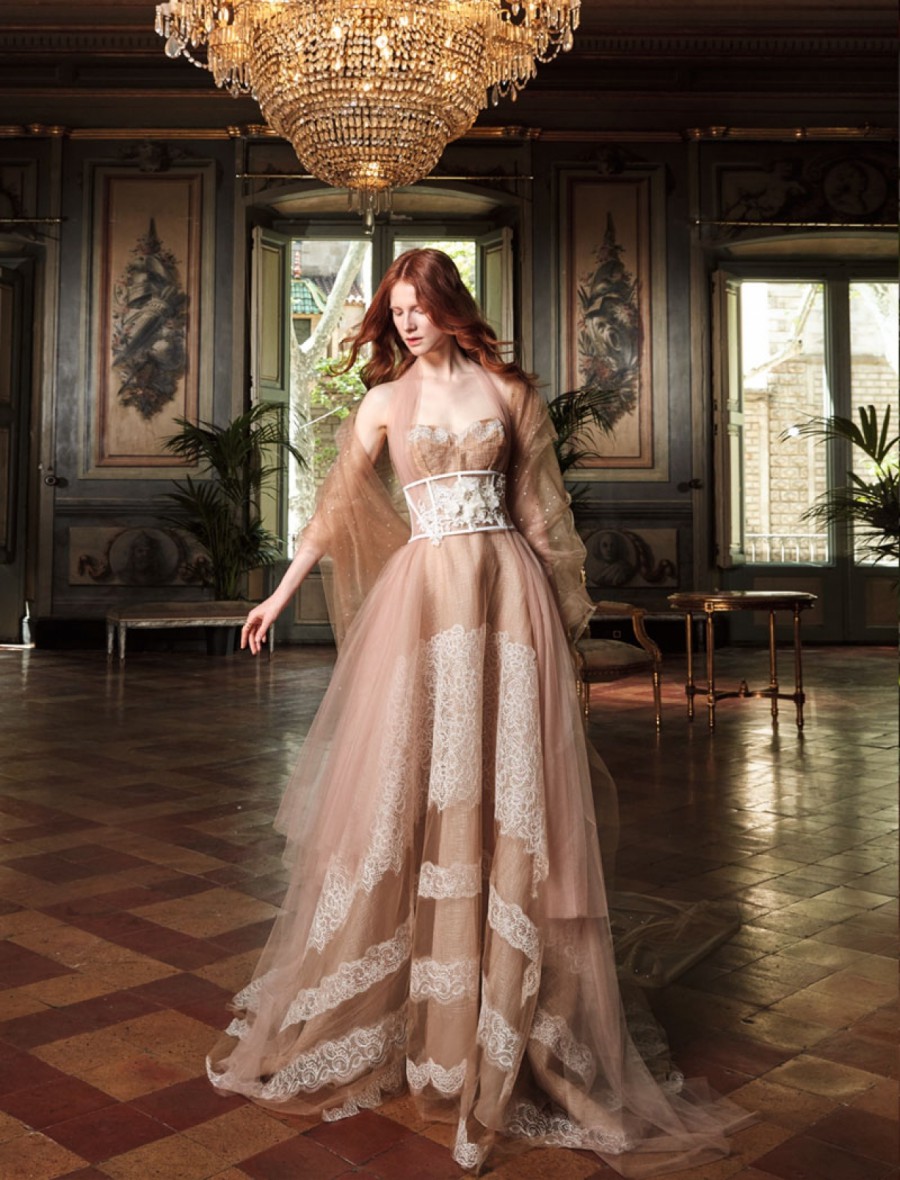 A sweetheart style with obvious antique inspiration. Layered blushing tulle and lace give this dress a beautiful vintage feel.
72.

Hibiscus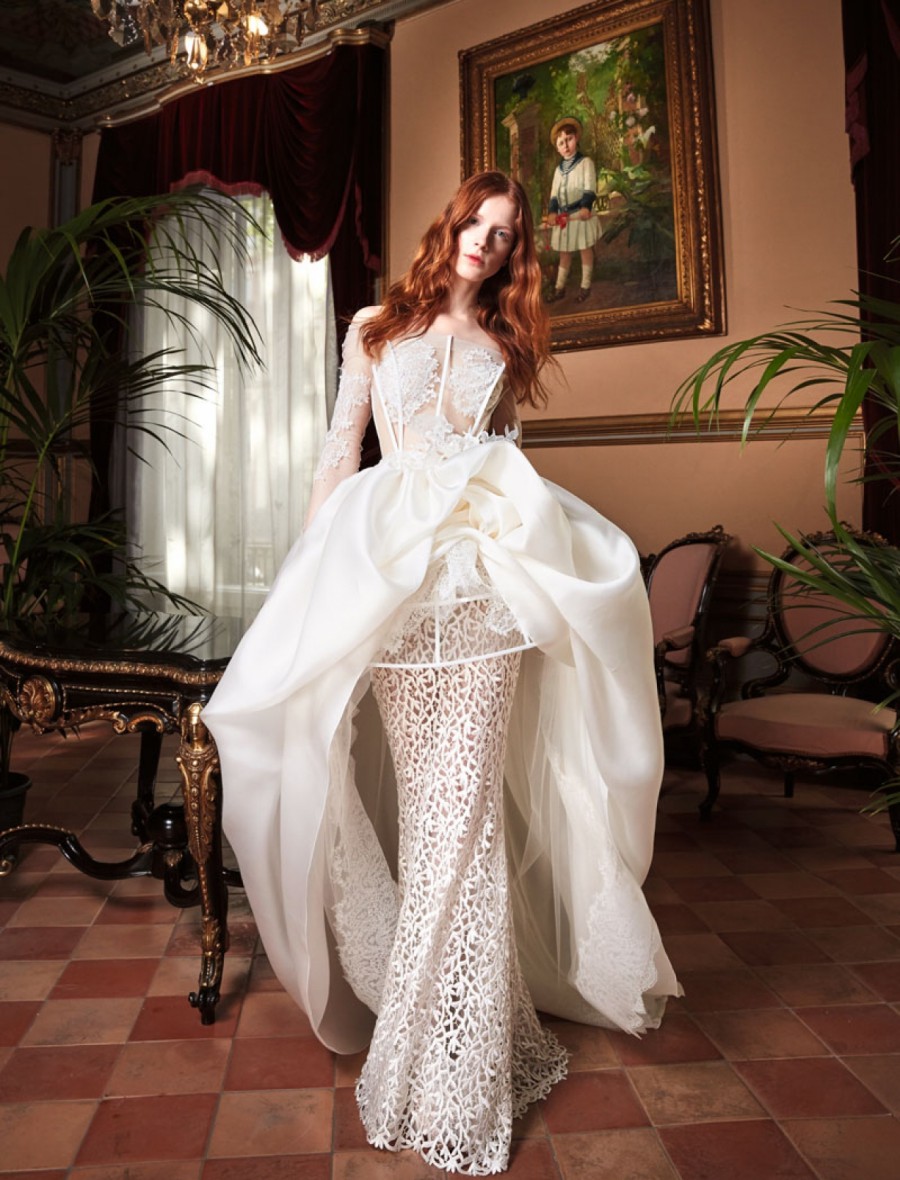 A truly unique style similar to that of the Abelia gown. Both dresses feature a fitted peplum style gown with upper bustier boning that gives way to a voluminous overlying skirt. The Hibiscus also features beautifully styled tulle and lace sleeves.
73.

Incienso
Get ready for a trip down the rabbit hole with this fantasy inspired gown. This midi length gown in strongly structured with crinoline for a voluminous look, with large floral appliques. This unique dress perfect for tea in an Alice in Wonderland fantasy land.
74.

Jenjibre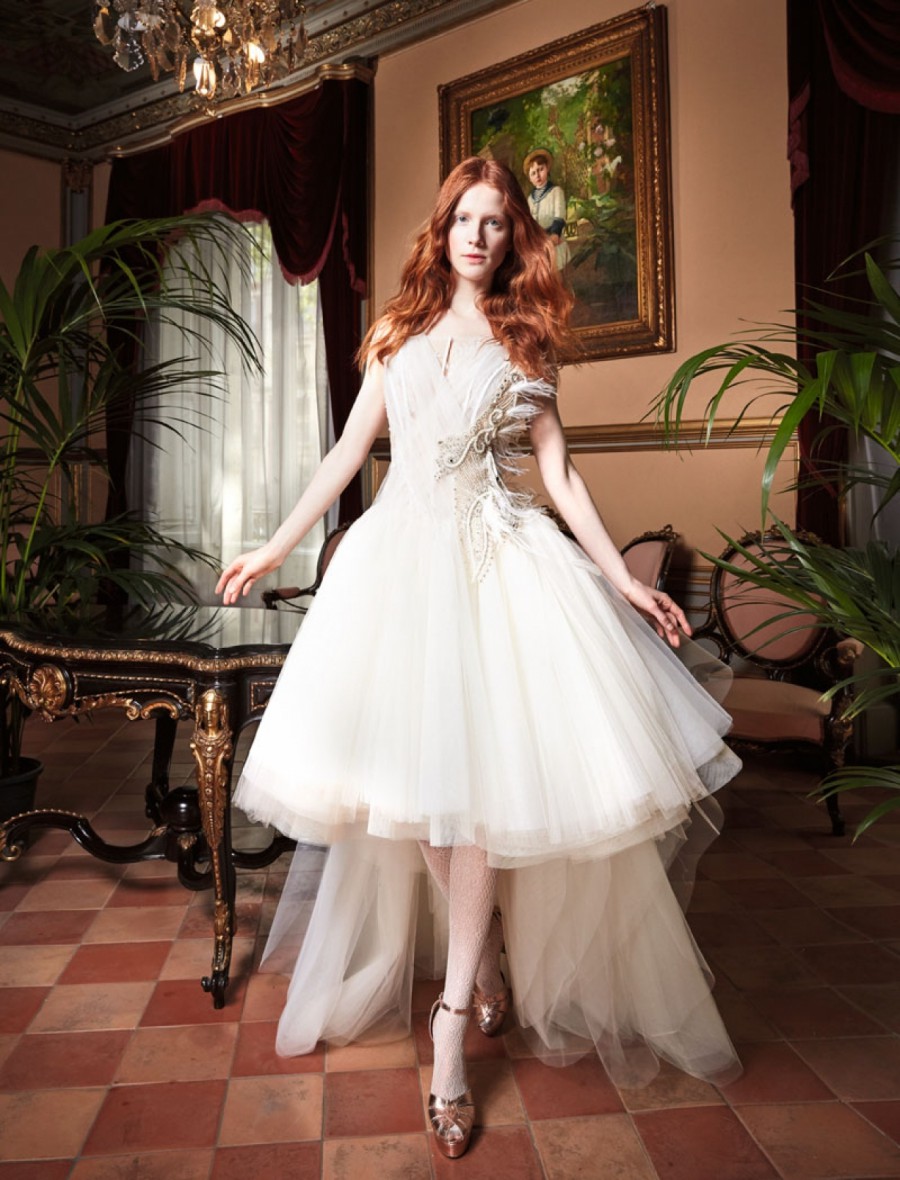 This asymmetrically shaped dress is reminiscent of the high-low style that is sweeping the fashion scene right now. The perfect style for a trendy sophisticated bride, looking for something a little less traditional. A beautiful focal point is positioned to the side of the dress with a delicate embellishment of feathers for a unique touch.
75.

Limonero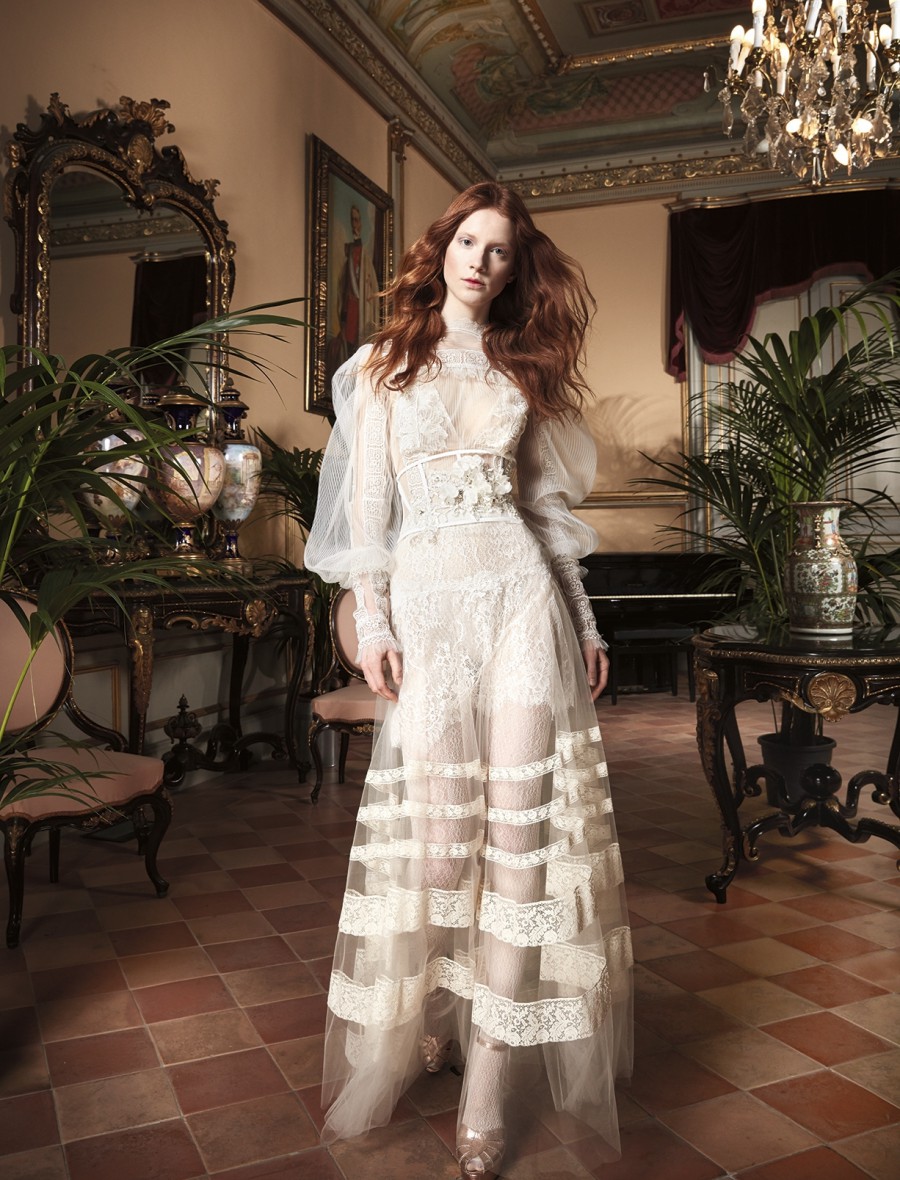 This uniquely styled two-piece wedding gown is very reminiscent of its Victorian era inspiration. Its delicately intricate blouse and transparent skirt make for an overall romantic, feminine style.
76.

Lino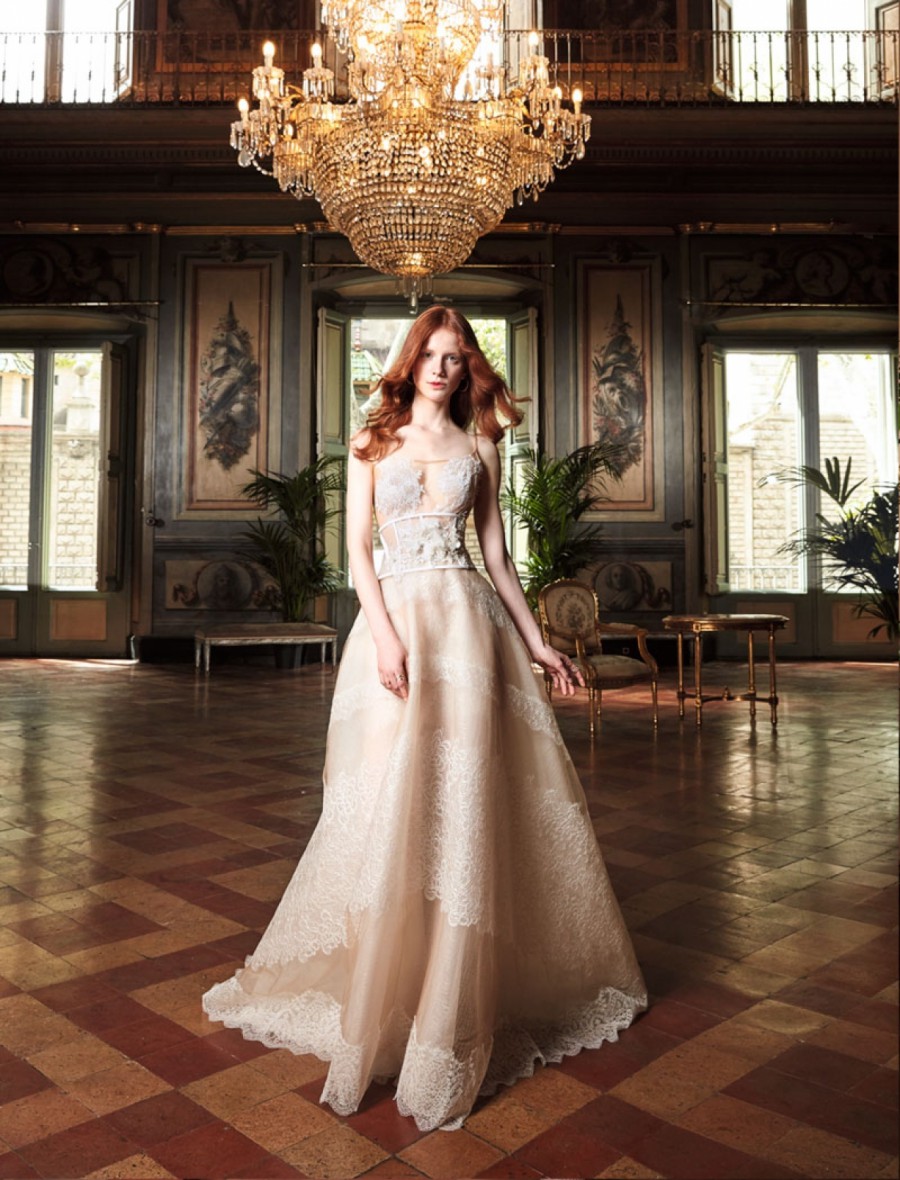 An elegant nude tulle gown with ivory appliques, adding beautiful detailing down the skirt of the dress. Sweet elegance at its finest.
77.

Madrono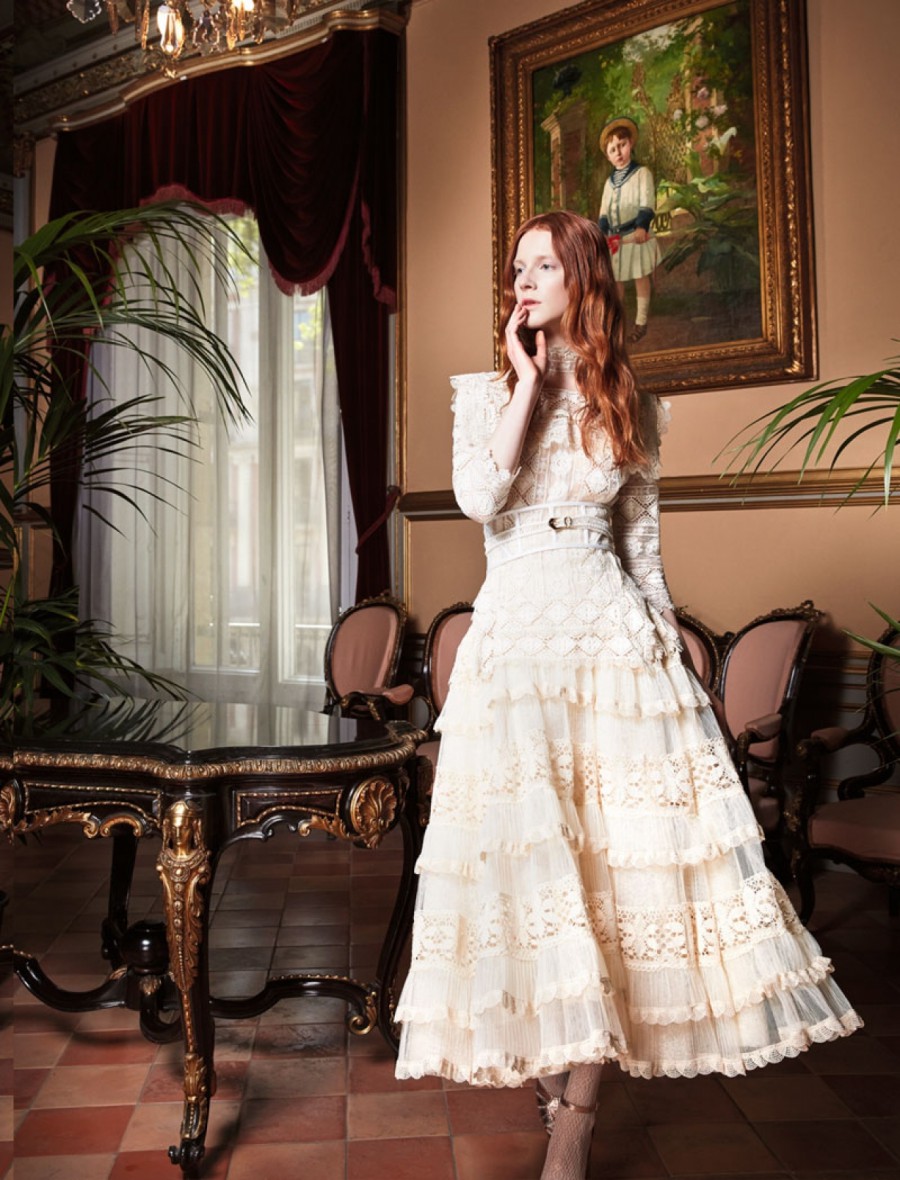 A mid length wedding down with delicate ¾ length sleeves. This beautiful gown features layers of tulle and lace with varying patterns throughout for an ethnically unique style.
78.

Musgo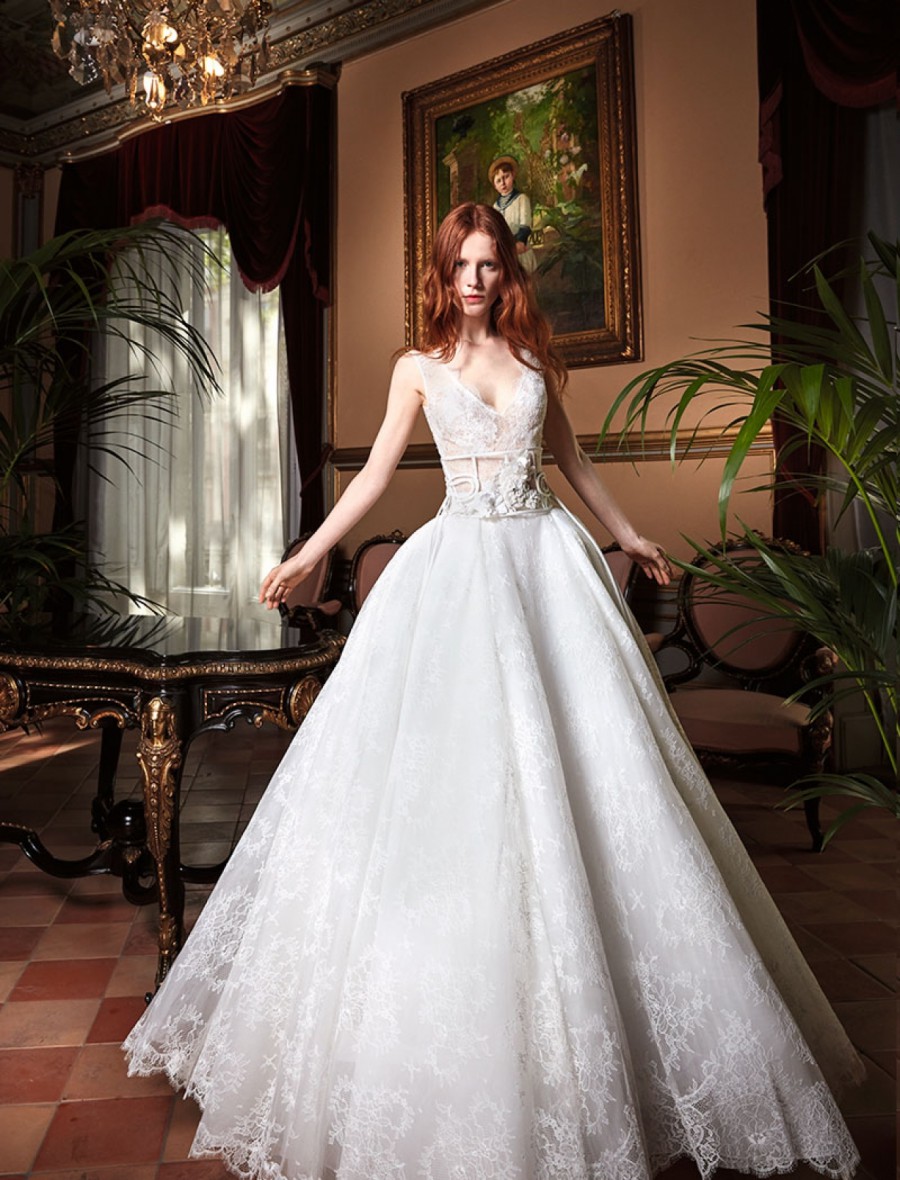 Calling all modern-day princesses, we have the perfect bridal inspiration for you! This two-piece style features a lace and boned bodice for a feminine look. The voluminous skirt is made of illusion tulle for a soft romantic style.
79.

Mussella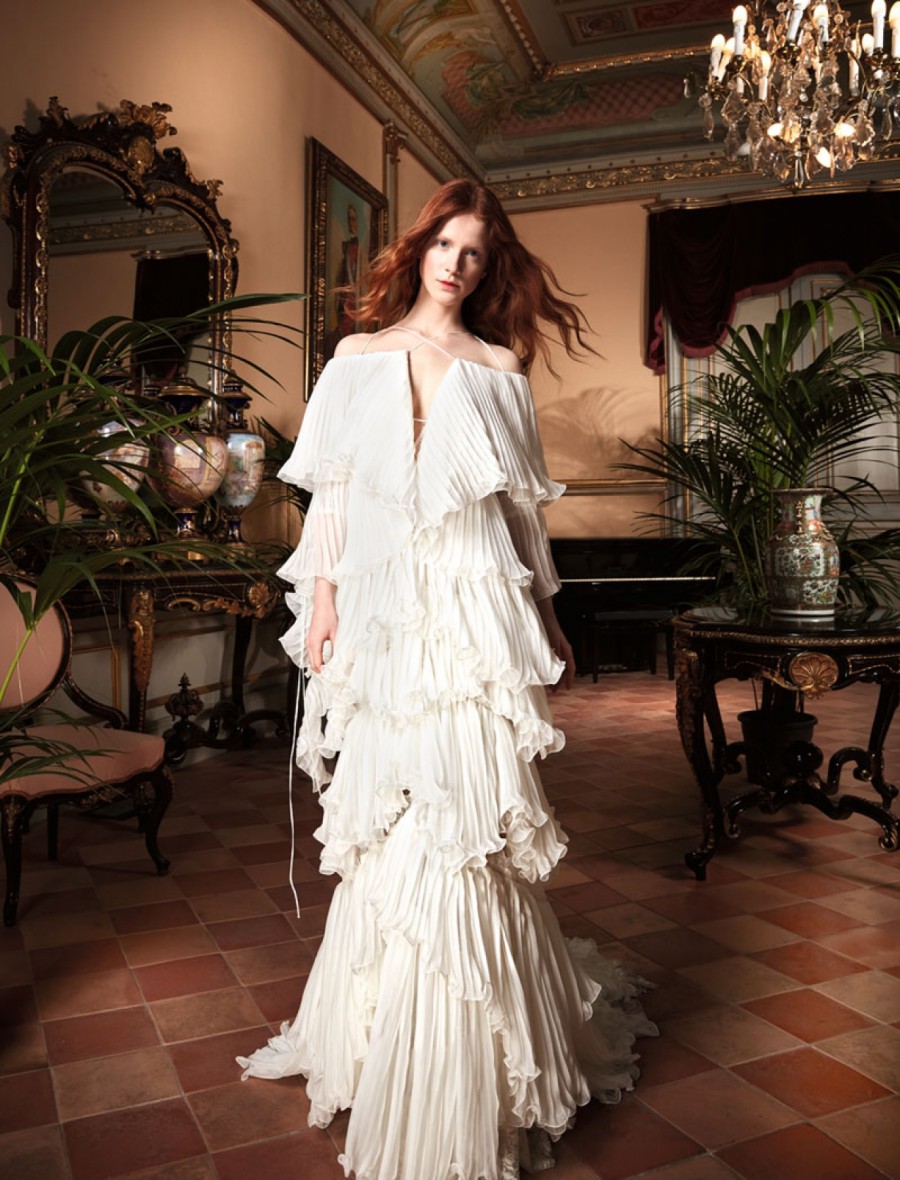 The cascading ruffle style of this gown is like nothing we have seen before in bridal fashion. A stunning modern look, with pleated fabric and a romantic off-the-shoulder style. This design is ethereal, feminine and otherworldly.
80.

Naranjo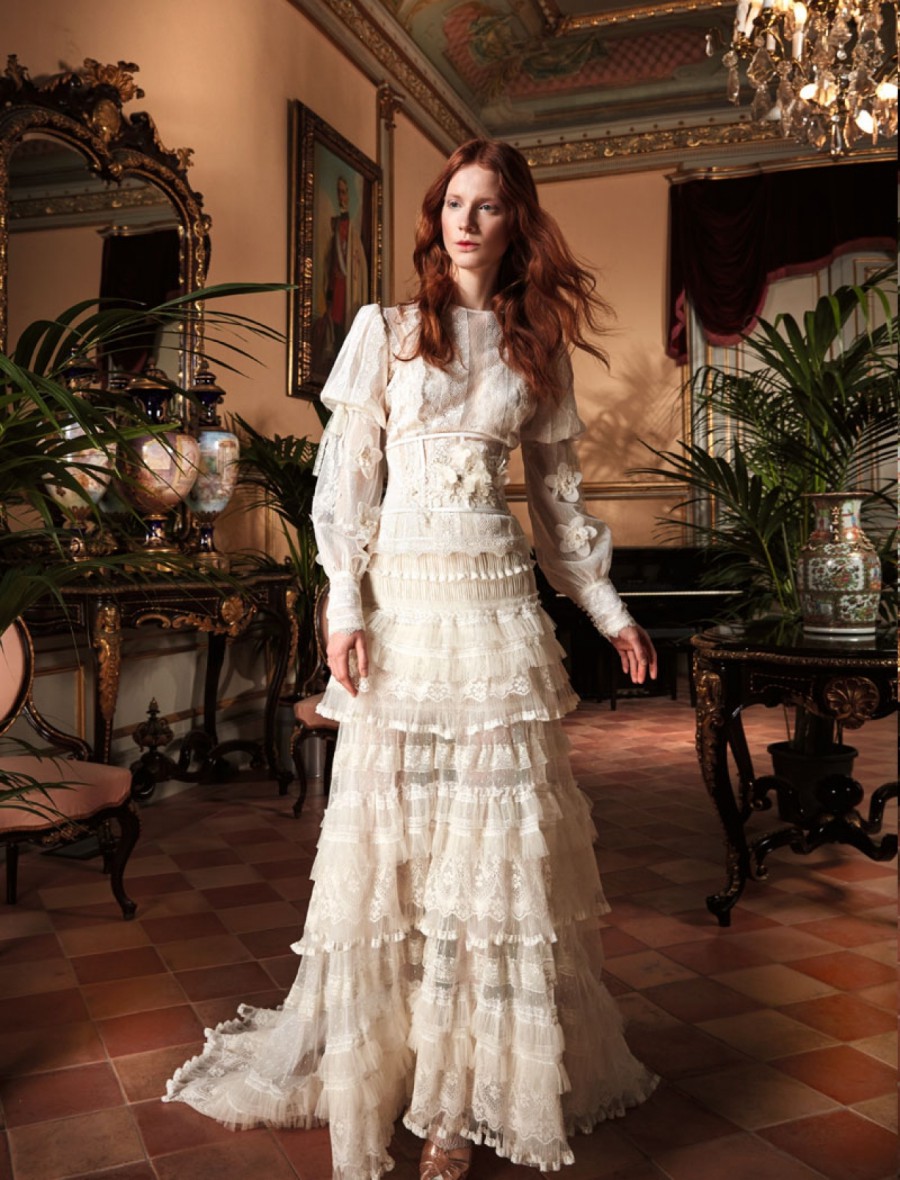 A two-pieced ruffled gown with Southwest influences. The style begins with a detailed blouse with voluminous sleeves and finishes with a fully ruffled skirt with alternating lace details.
81.

Olmo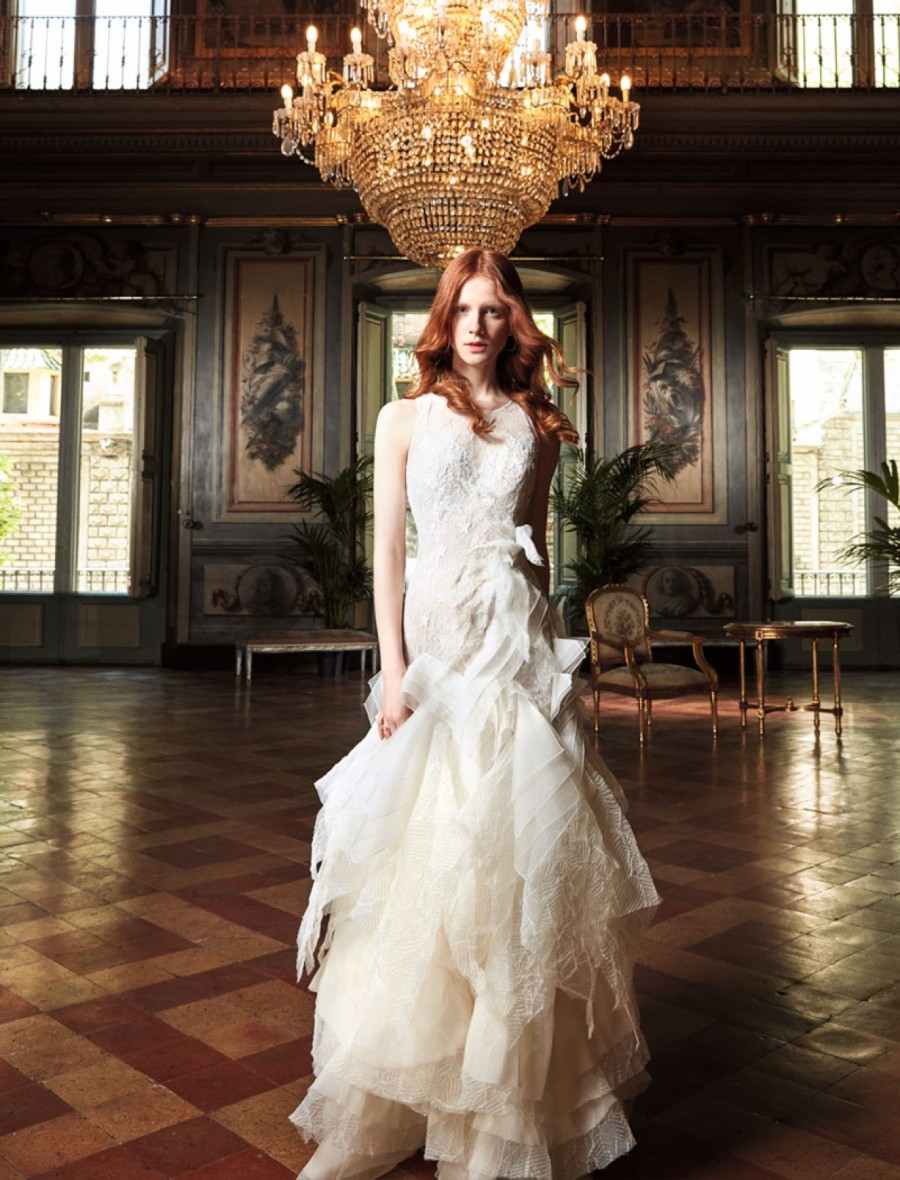 A beautifully bold style that fits in perfectly with modern wedding day trends. A high neck lace bodice gives way to a pieced skirt made of layered pieces of pleated organza and crepe, making for a uniquely asymmetrical effect.
82.

Poleo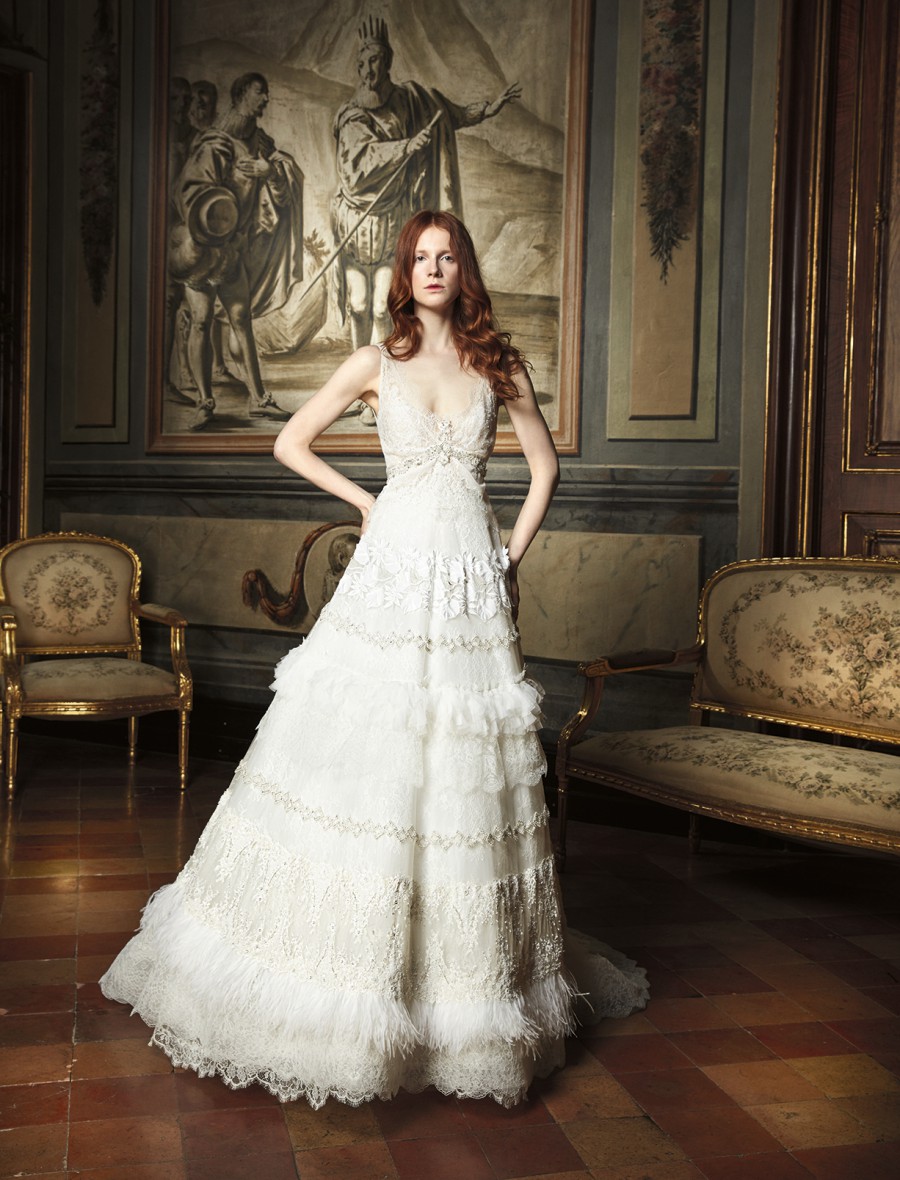 A lush, luxurious style that integrates jewels, feathers, and intricate florals. A simple, feminine style with chic, luxe detailing.
83.

Pomelo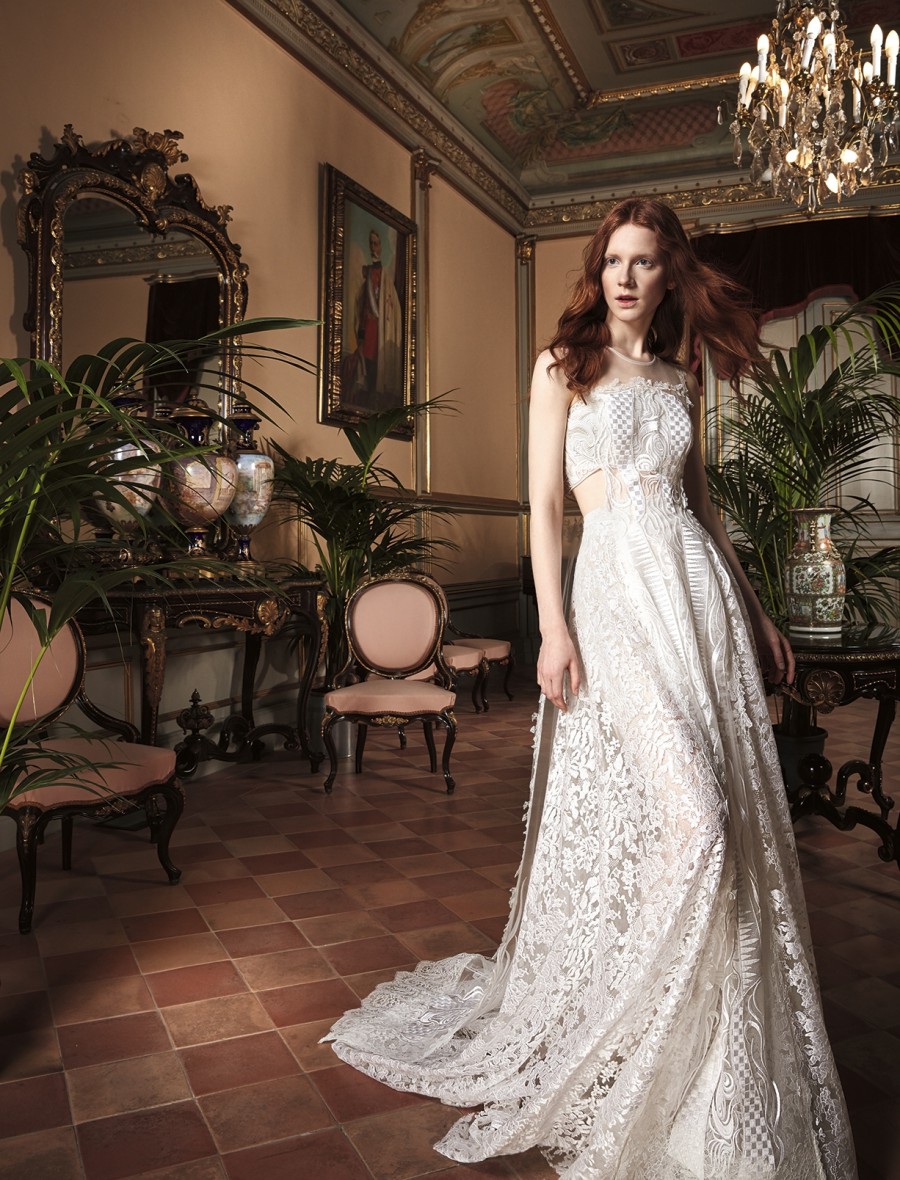 A uniquely styled gown that combines various modern designs, patterns and fabrics. The varying details keep the eye from piece to piece, giving viewers an overwhelming, tactile experience.
84.

Salvia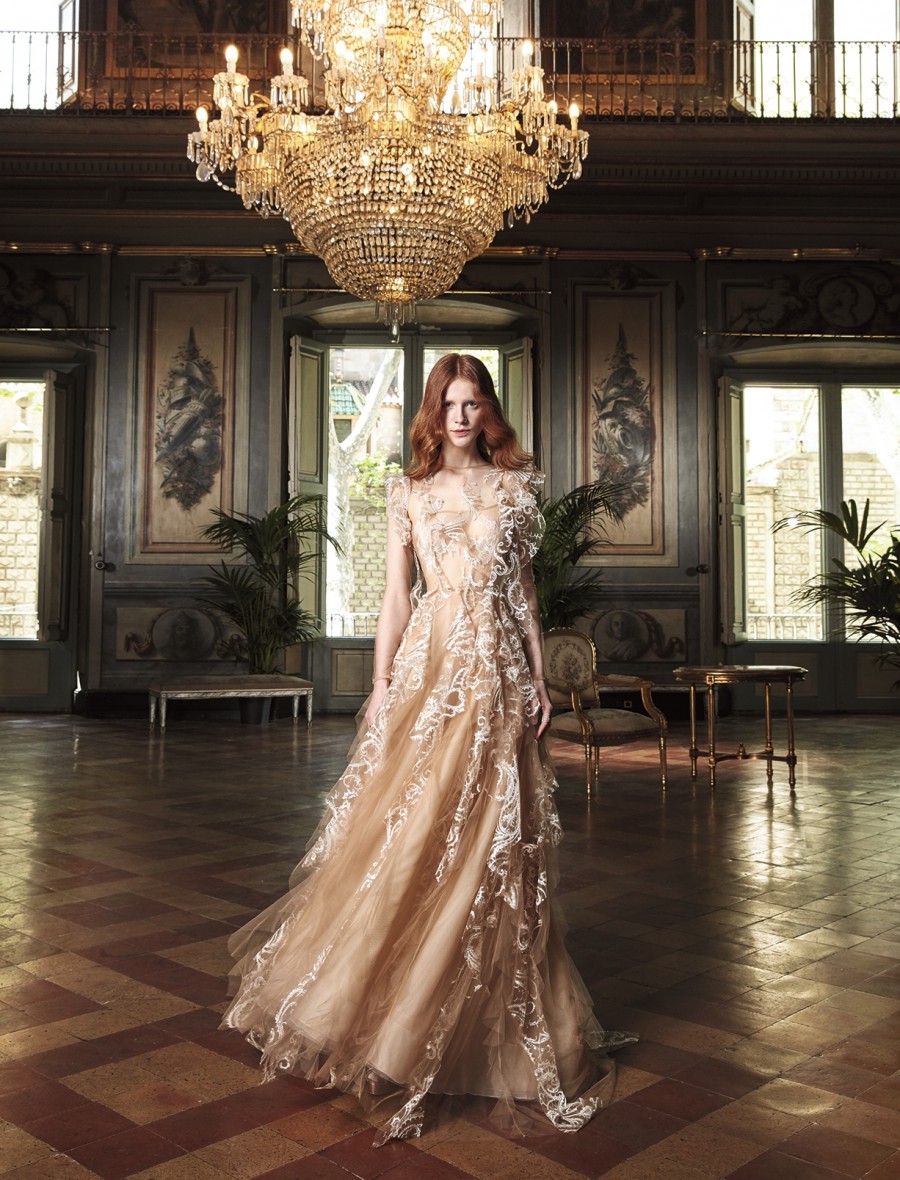 A unique 2017 style featuring a waterfall of tulle and ruffles in a unique copper color. Silver sequins pop against this decorative designed gown.
85.

Sesamo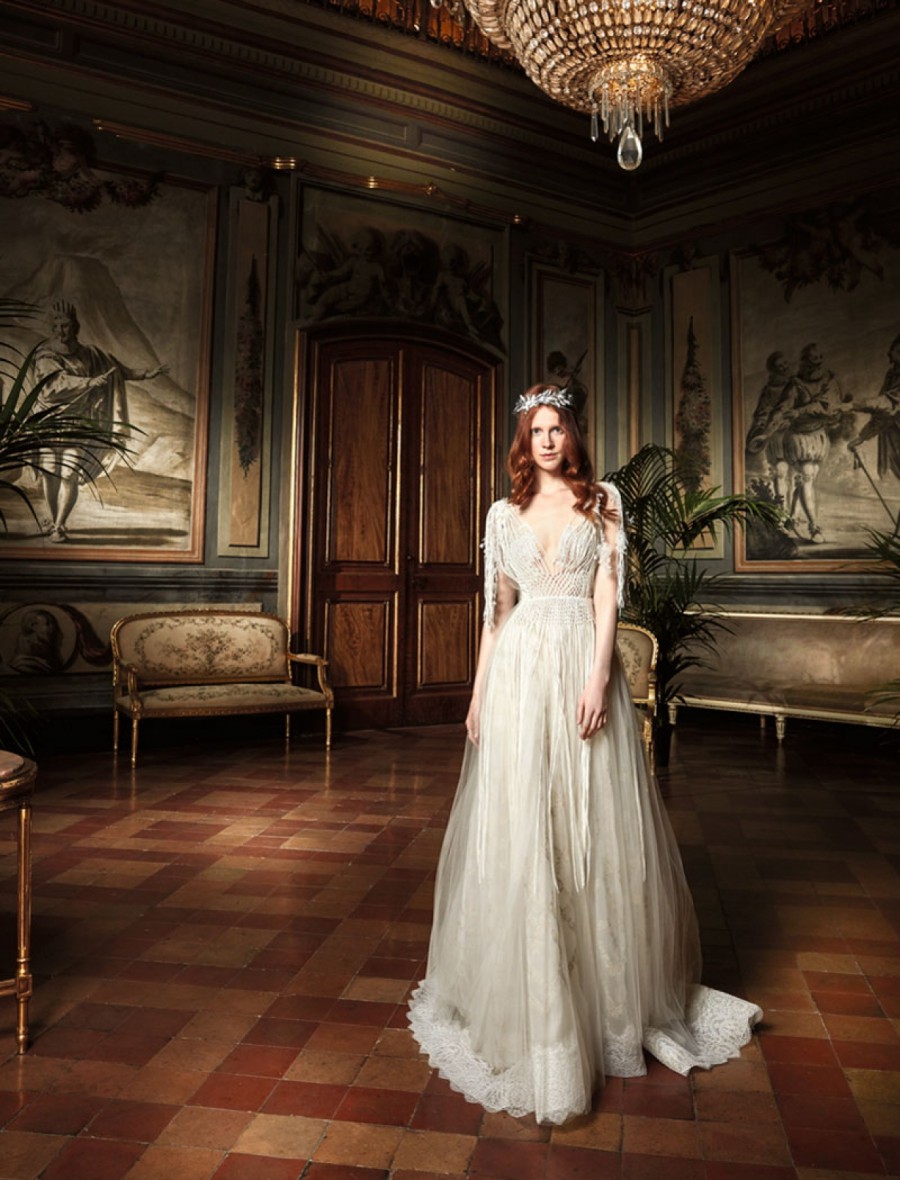 A fringed goddess style with soft detailing. The bodice of this dress is the focal point with its deep V neckline and fringe that hangs from each shoulder. The voluminous skirt is embroidered with the finest of golden thread to add a luxe finish to this look.
86.

Taray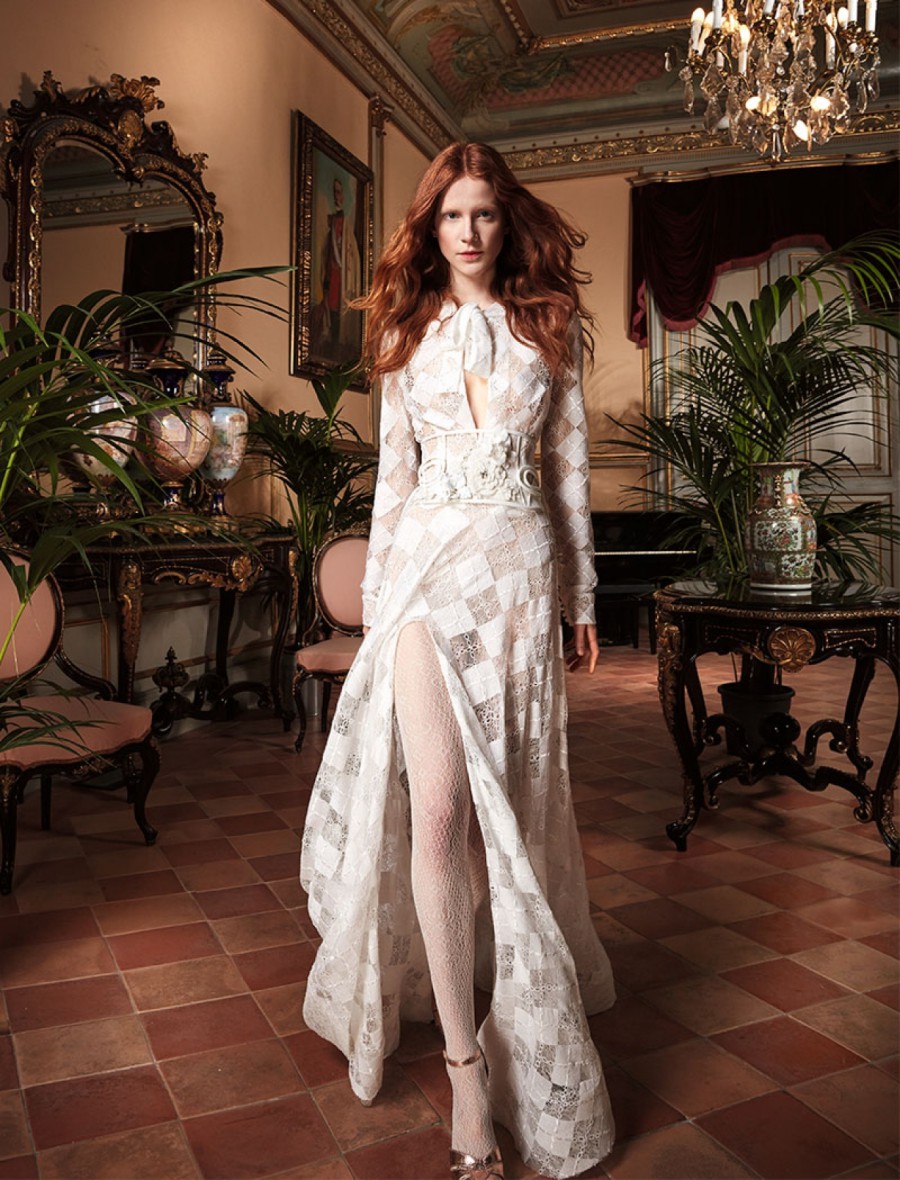 Yolan CrisYolan CrisThe unique checkered pattern we saw earlier in Yolan Cris's designs, is brought to life once again in the Taray dress. This two-piece gown shows its 70s influence with a keyhole neckline with tie, and deep front slit.

Shop Yolan Cris wedding dresses.

By Kathryn Schrotenboer