The wrap dress has been an iconic piece in women's fashion for decades. And the wedding scene is no different.
If you are looking for a comfortable, classic, flattering style - then a wrap wedding gown is what you want. We are bringing together our favorite wrap styles that are classic, classy, and so chic. From simple wrap styles, to modern twists on the traditional, we have everything you need to find the wrap wedding gown of your dreams.
01.

Beach Ready Wrap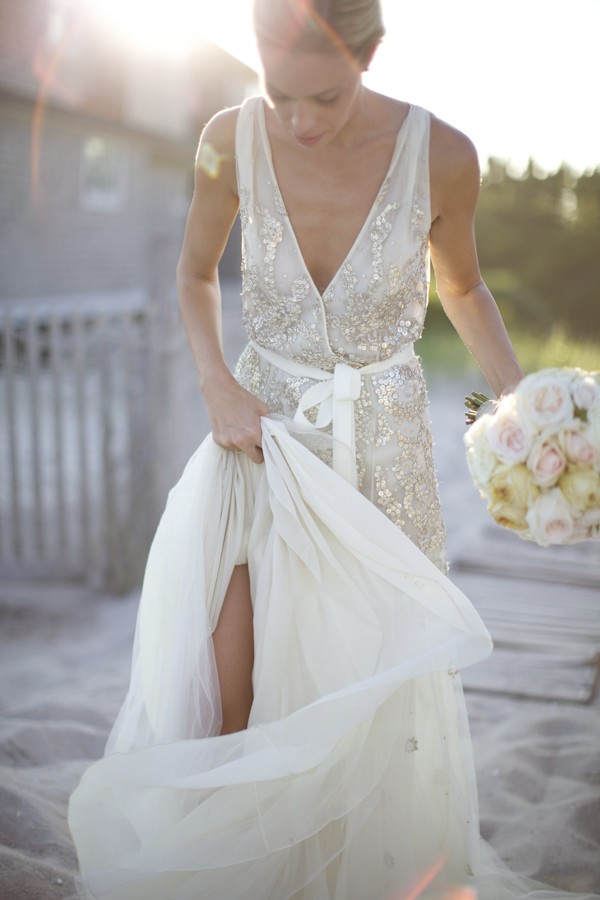 A sequin covered subtle wrap wedding dress style that is perfect for a sunny beach wedding day.
02.

Wrapped Simplicity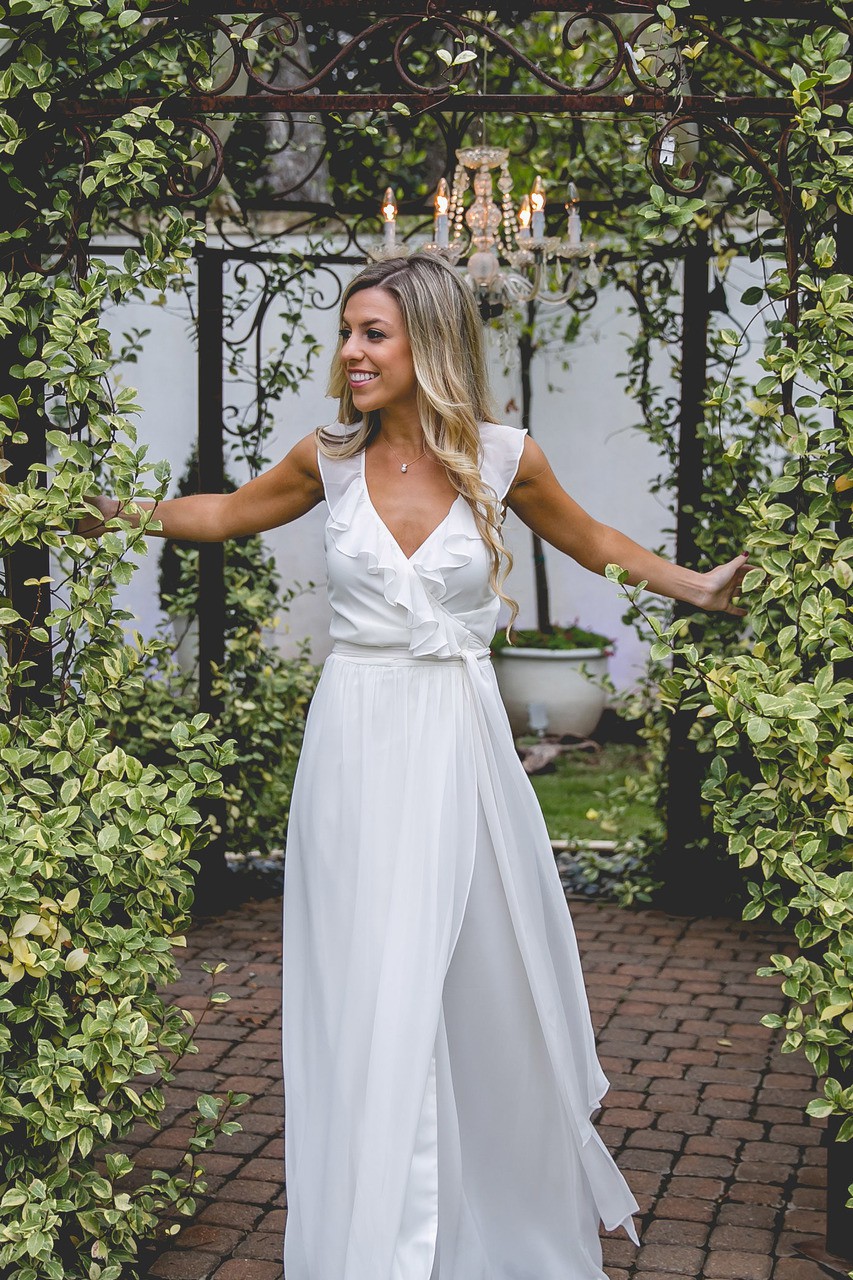 A simple summertime wrap wedding dress that is delicate and elegant. The perfect girl-next-door style that is both functional and fashionable for your big day.
03.

Sleek Modern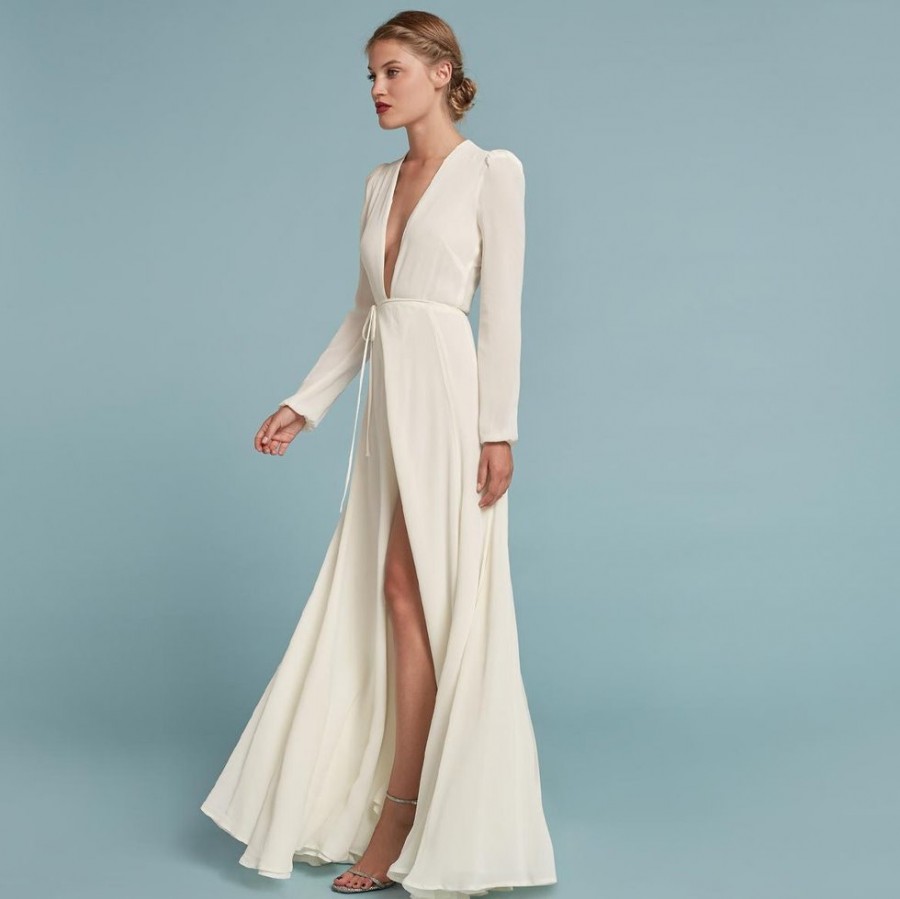 A sleek modern wrap style with deep v-neckline and high side slit. A sexy, modern take on the traditional wrap dress style.
04.

Casual Silk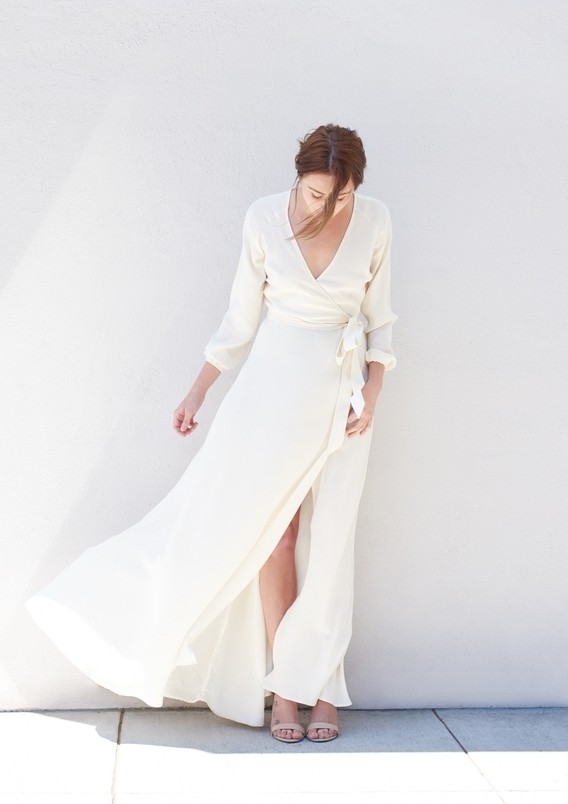 A casual silk wrap wedding gown that is classic and chic. The billowing full skirt is perfect for a breezy elopement getaway. Elastic cuffed sleeves are a gorgeous accent to this is classic style.
05.

Silk Satin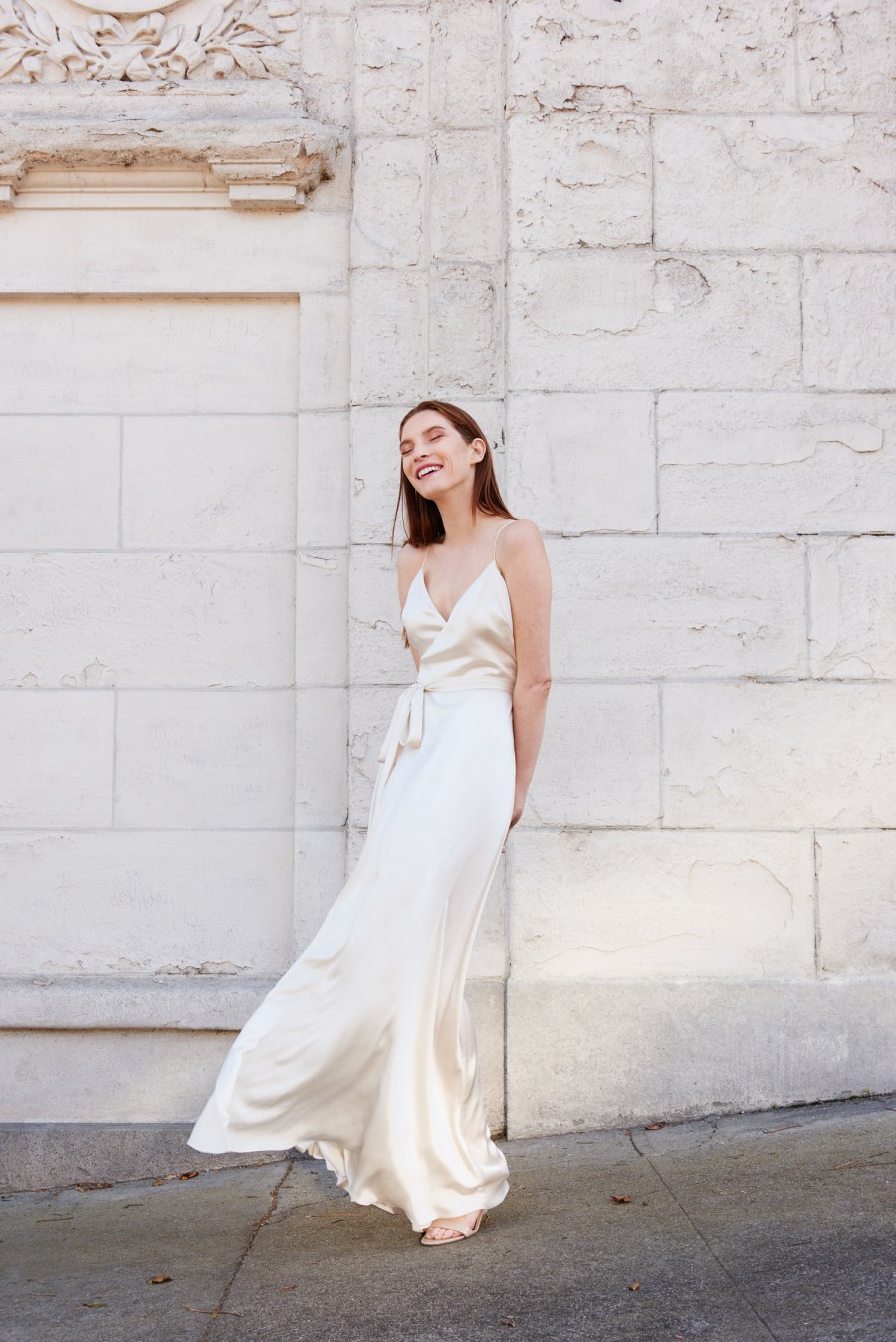 Another simple and classic silk satin style. Delicate thin straps and v-neck wrap neckline create a soft, feminine style perfect for a romantic laid back wedding day.
06.

Wrapped in Sparkles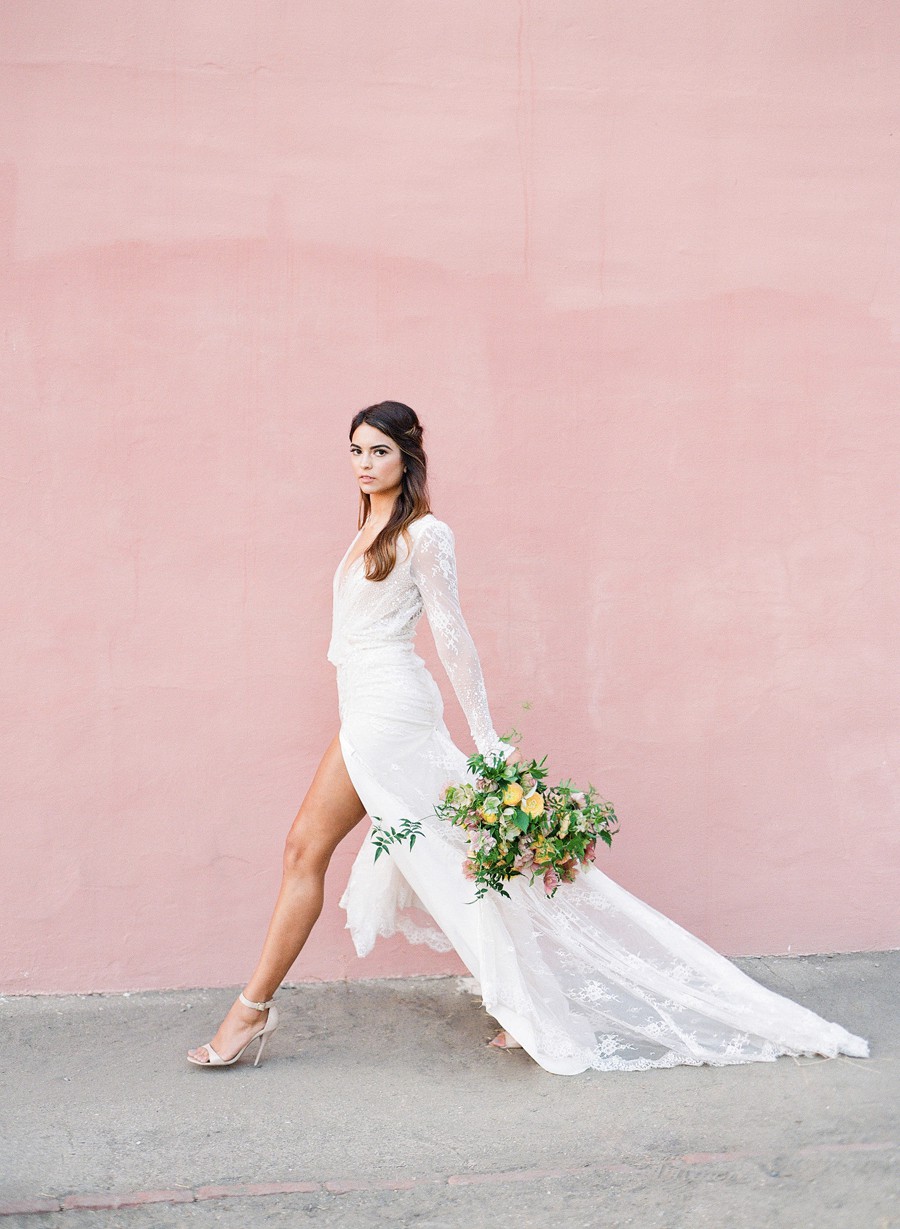 Lush, luxurious, and sassy. This chic wrapped gown is seemingly simple, but the detailing is absolutely gorgeous. Sheer sleeves, wrapped bodice, sparkle accents, and a deep front slit give you everything you could want to feel fashionable and feminine on your big day.
07.

Contemporary Wrap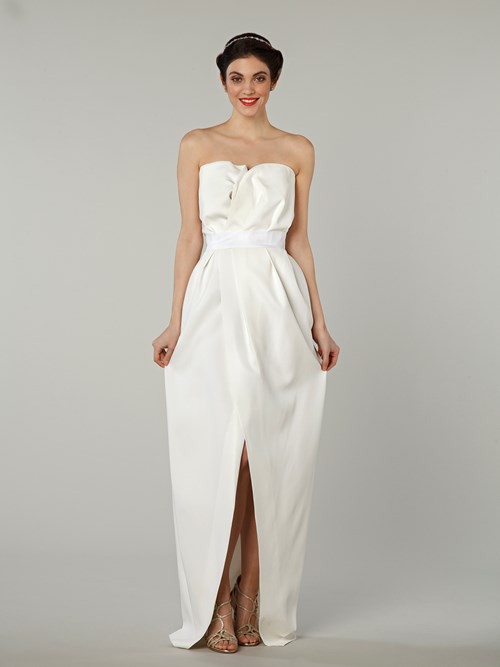 A gorgeous contemporary wrap style wedding gown that is both classic and modern. Simple, sleek, sophisticated and slightly unexpected.
08.

Strap Detailing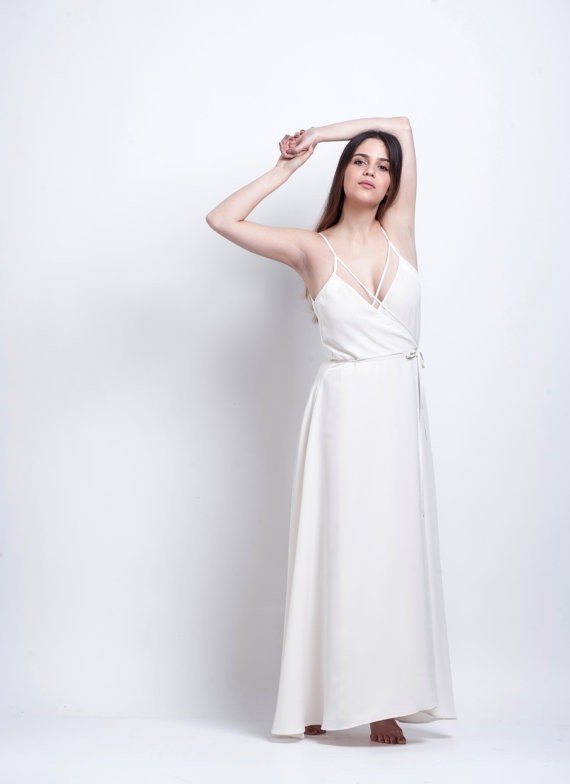 Bridal wear in it's simplest form. This sleek wrap wedding dress is an easy to wear style, perfect for a destination beach wedding. Easy to pack, and easy to wear. But this style is nothing to overlook. The subtle geometric strap detailing on this gown gives it a subtle wow factor that will have you feeling chic and sophisticated no matter where your wedding day may take you.
09.

Sassy Contemporary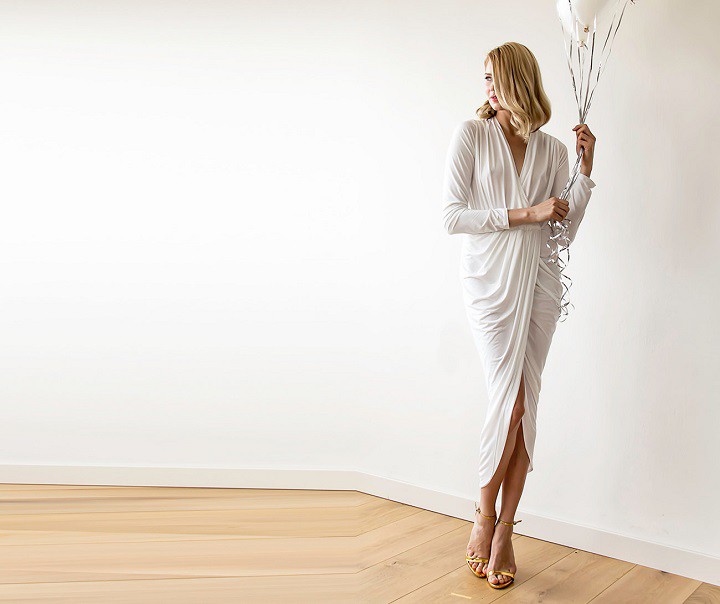 Feel like a contemporary vixen in this midi length wrap wedding gown. A no fuss, easy to wear style that will have you feeling sophisticated and sassy for your wedding day celebrations. Wear this for a more laid back ceremony, or for a sexy party dress.
10.

Multi-Tiered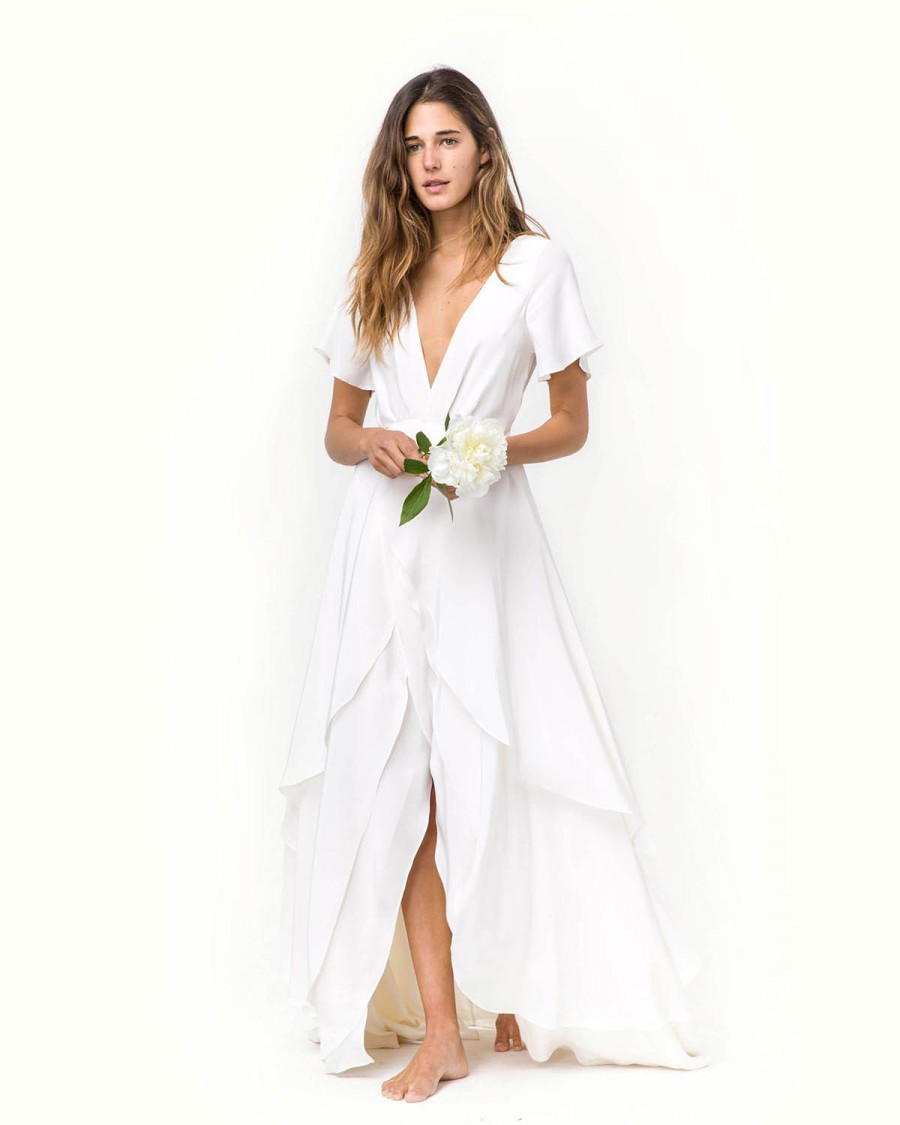 This beautiful multi-tiered wrap style wedding gown will have your swooning for a barefoot beach front wedding escape. Light weight tiers of flowing silk fabric and wispy cap sleeves are ready to blow in a warm beach breeze.
11.

High-Low Wrap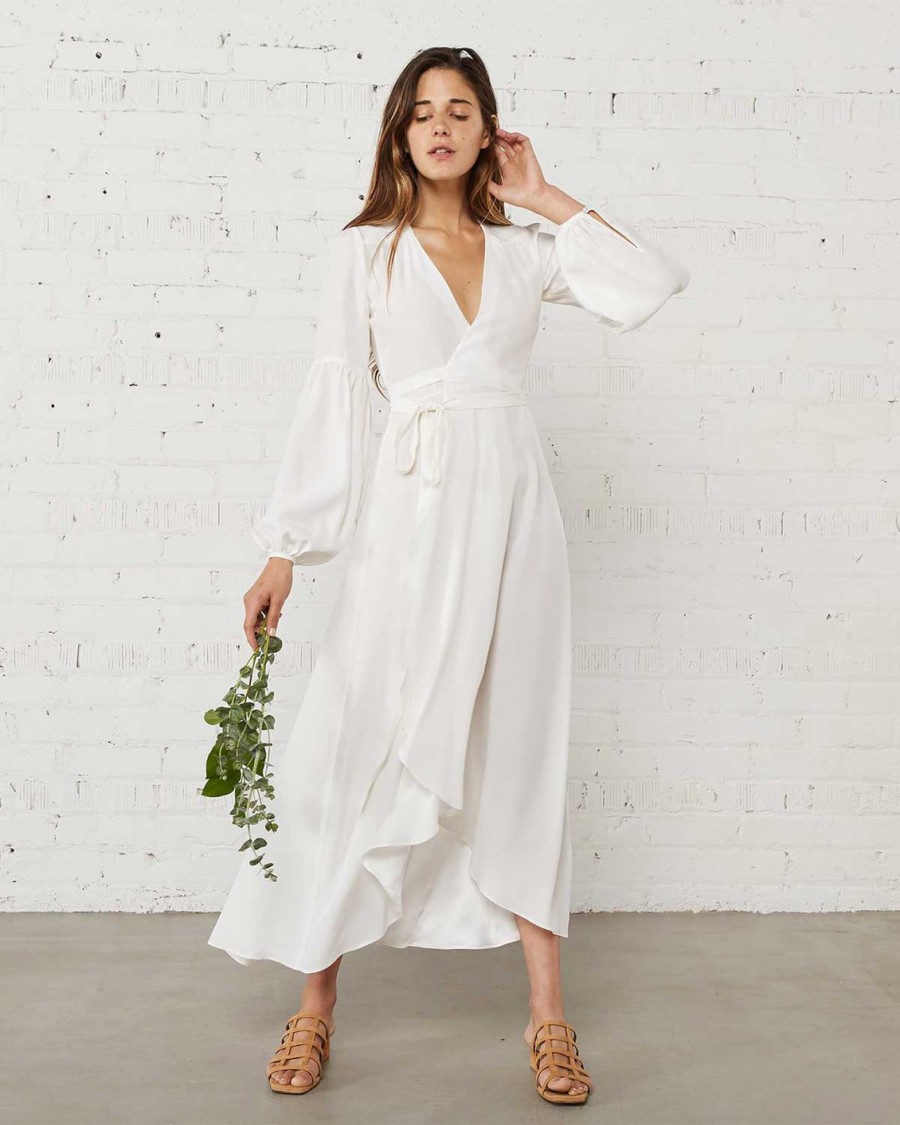 A breezy wrap style wedding gown with just a hint of bohemian flair. A slight high-low aline skirt and gathered bell sleeves make this a chic, classic contemporary wedding day look. Perfect for a bride looking for a no fuss, naturally beautiful wedding day style.
12.

Cap Sleeve Simplicity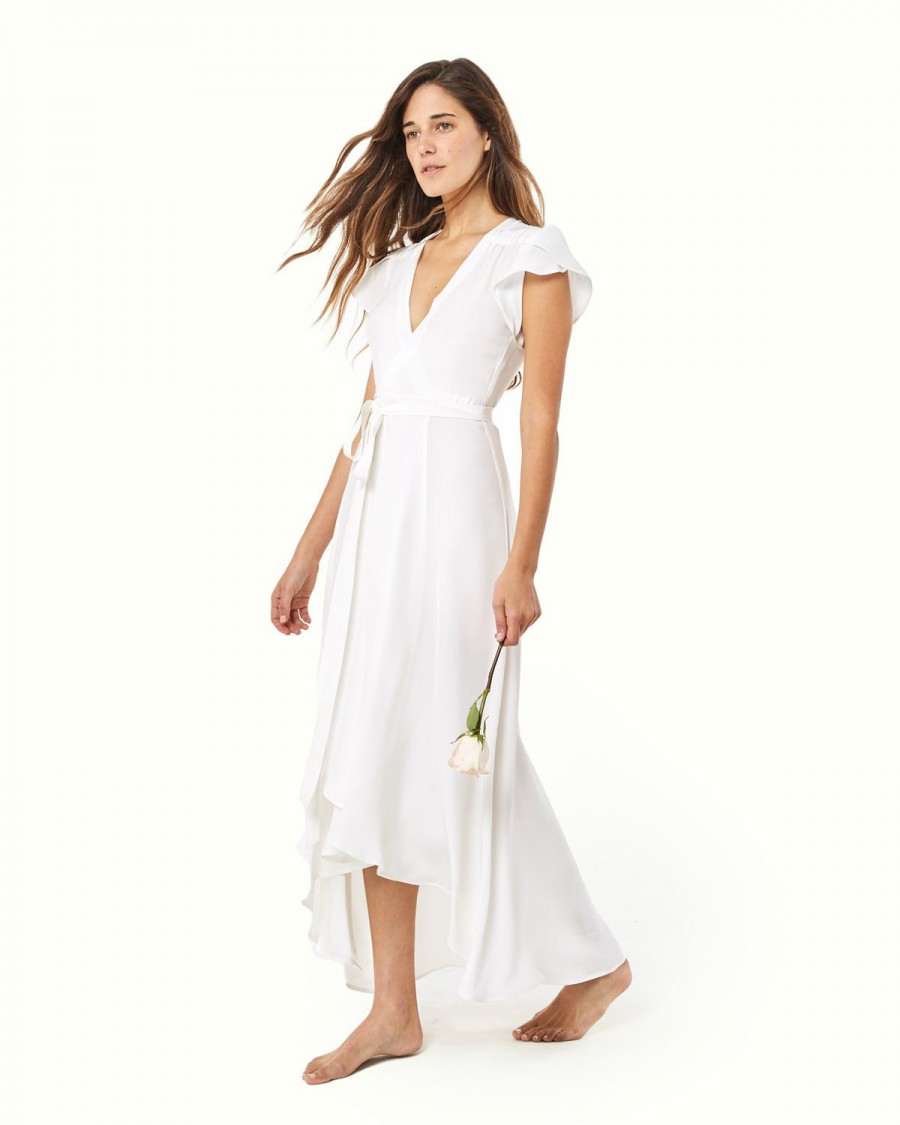 Another simple, classic wrap wedding gown style from Christy Dawn. More modern brides are opting for less formal wedding styles that are adaptable to exciting wedding day destinations. This classic, cap sleeve gown will flatter any body type, and even fit in a small carry-on suitcase.
13.

Vintage 1950's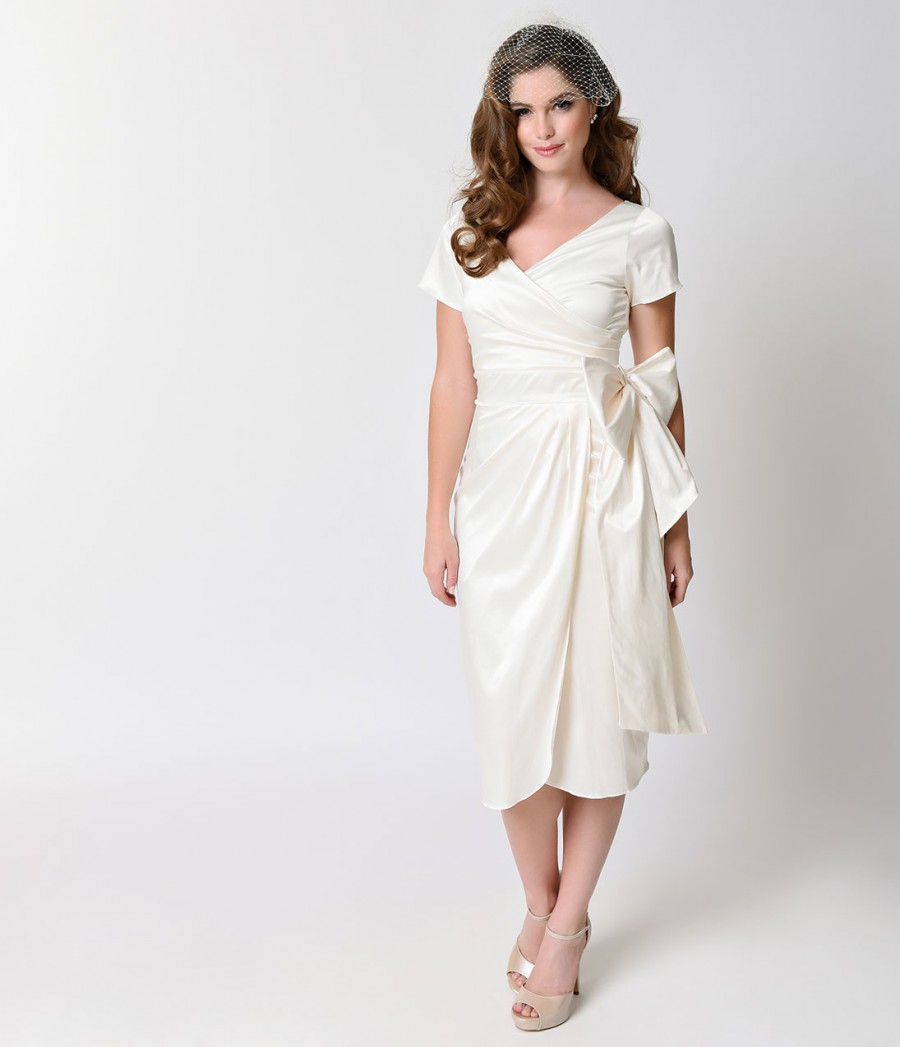 This girly 1950's inspired satin stretch wrap style wedding gown is absolutely adorable. Feel sweet and sassy in this simple, wrap dress style.
14.

Star Gazing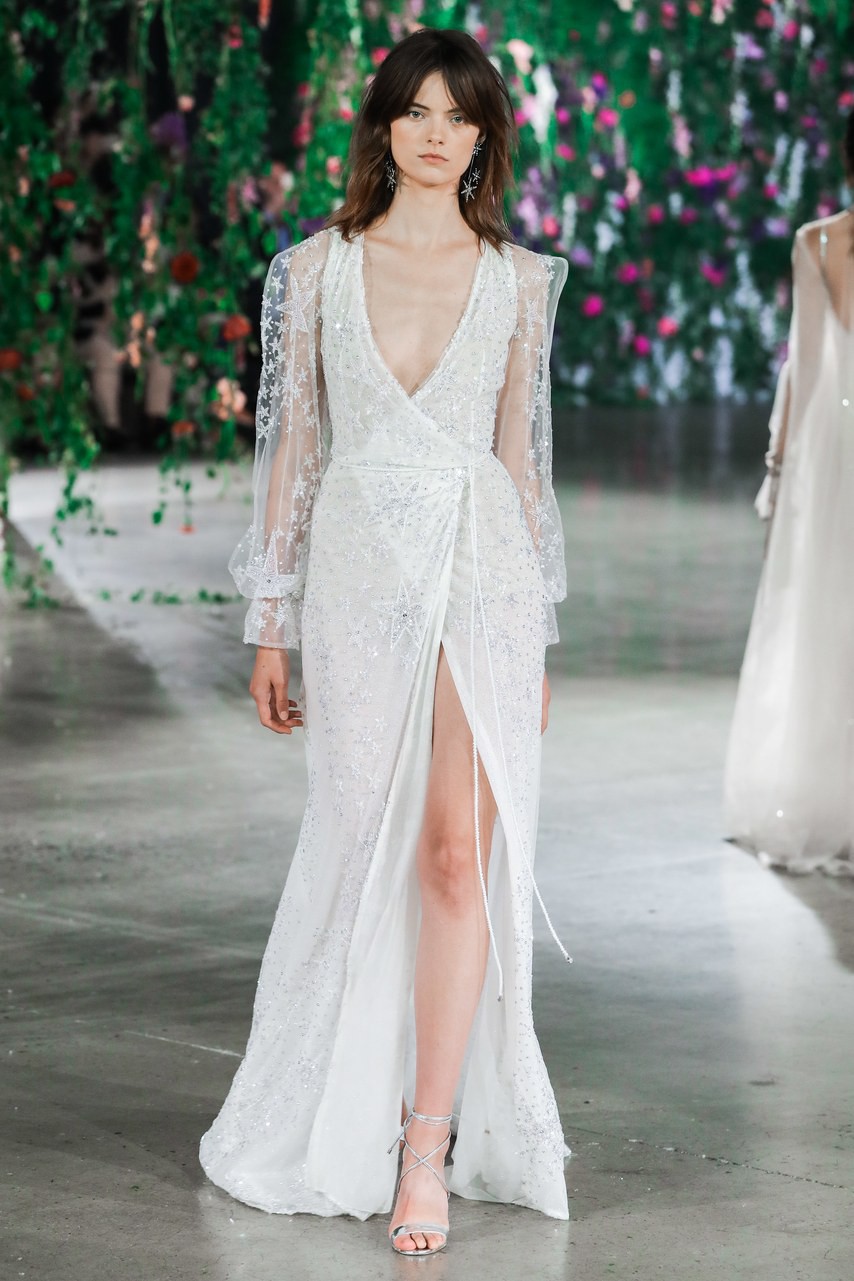 The most gorgeous celestial inspired wrap wedding gown from Galia Lahav. This sexy, semi-sheer style is perfect for a moonlit summer wedding under the stars. The glitter star detailing will have you glistening the night away under the summer moon.
15.

Lace Drama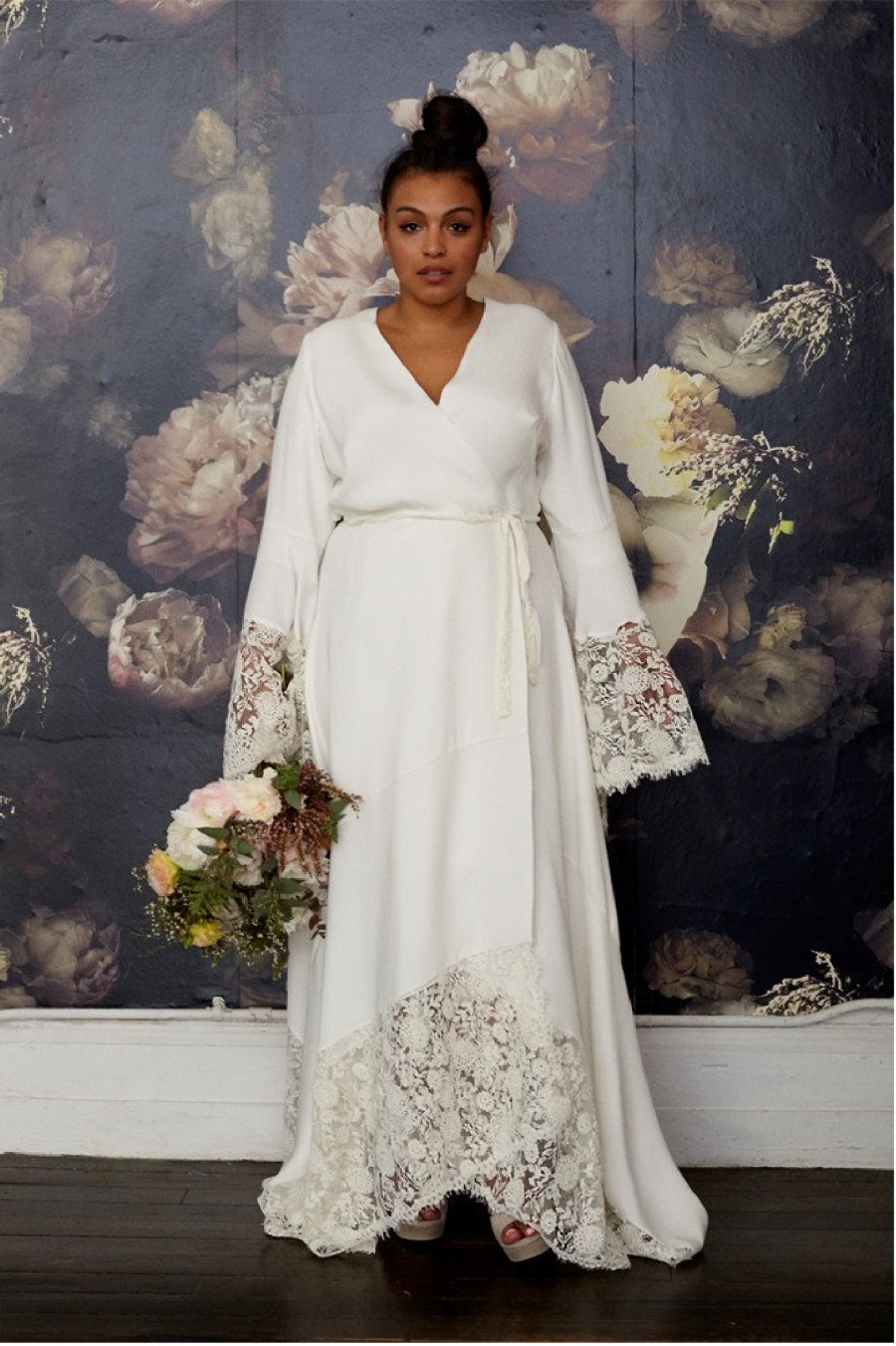 A simple, modern style for a contemporary bohemian beauty. This sleek white wrap wedding gown is accented with dramatic lace detailing at the sleeves and hemline, to add a dramatic feminine finish to the look.
16.

Ombre Rose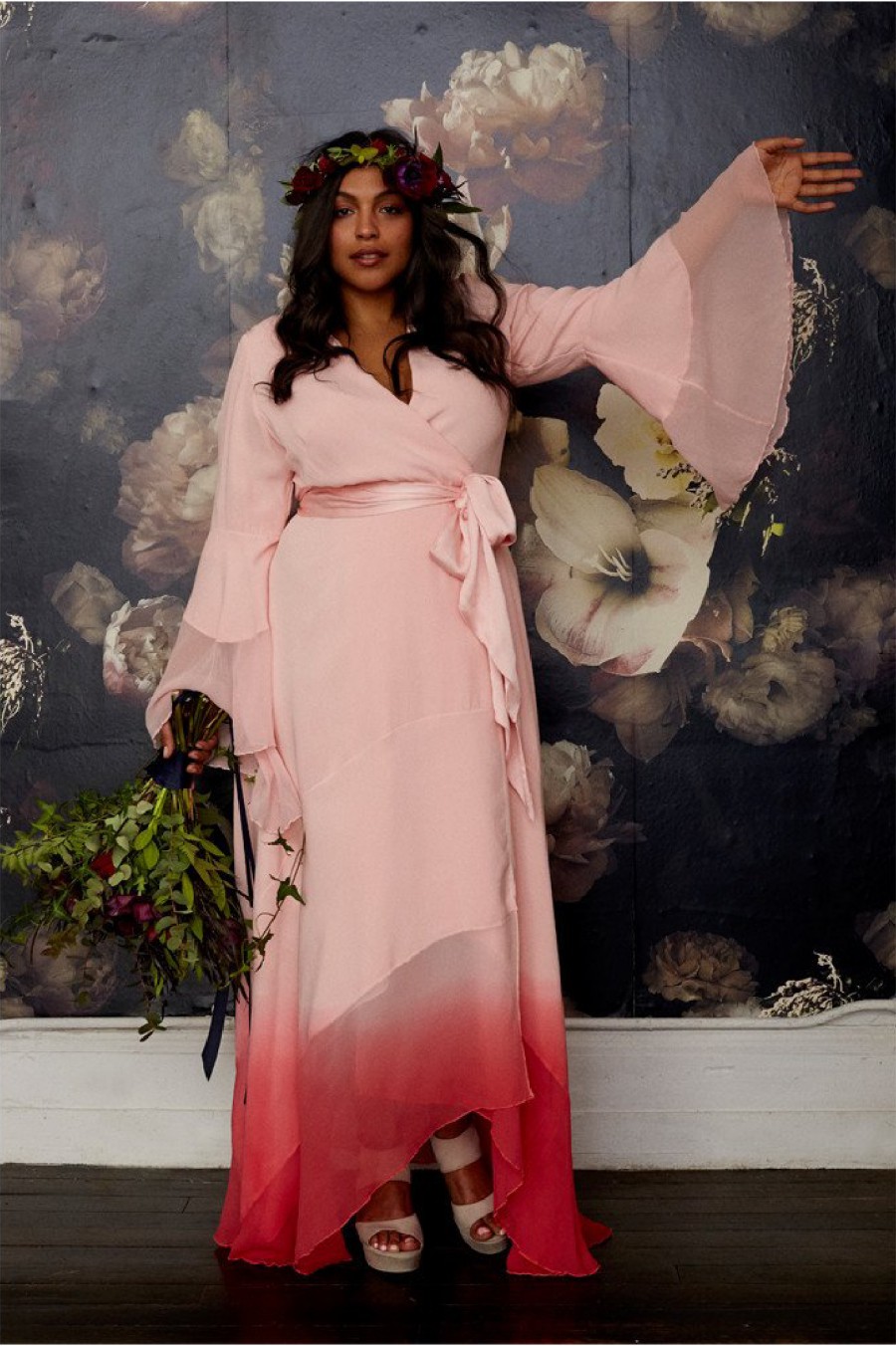 A completely untraditional wrap style wedding gown that we are head over heels in love with! This rose ombre dipped wrap wedding dress is straight out of a dream. Flowing, flattering, and so feminine.
17.

The Modern Wrap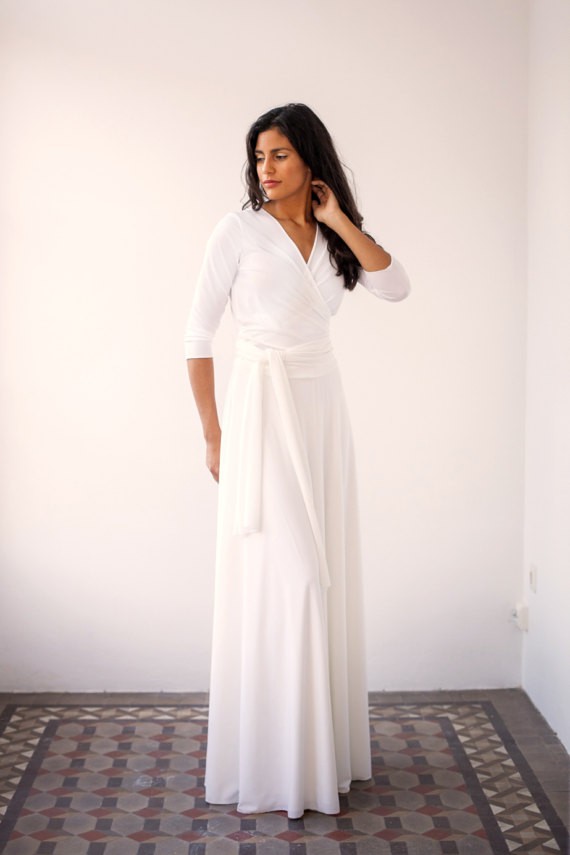 The perfect casual contemporary wrap wedding gown. It's style is so simple and so sophisticated at the same time. The perfect way to feel classic and comfortable at your laid back modern wedding.
18.

Weightless Silk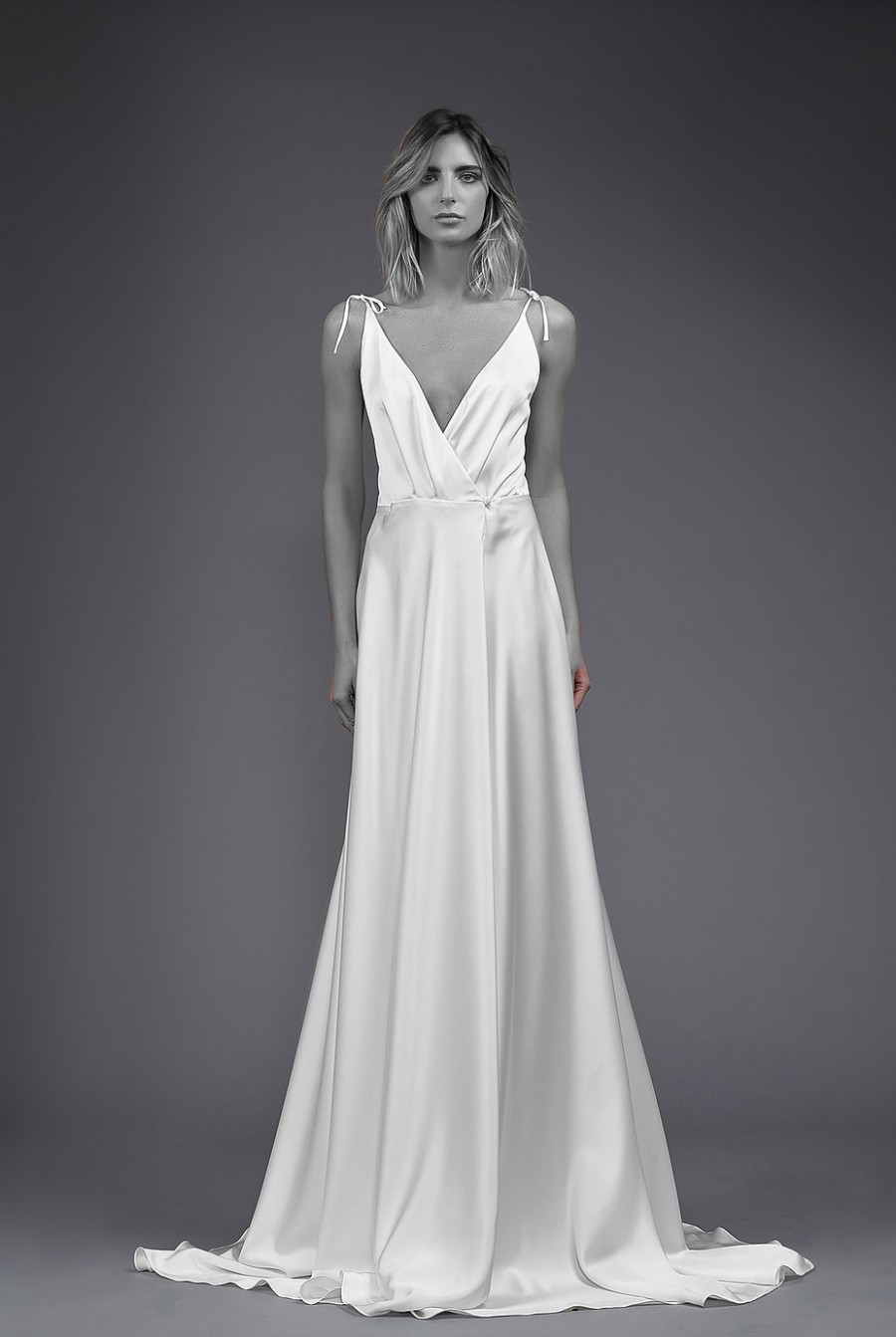 A seemingly weightless silk wrap wedding dress from Victoria KyriaKides. Delicate ties at the waist and shoulders create subtle detailing that is absolutely stunning. A classic, show stopper style.
19.

Belted Wrap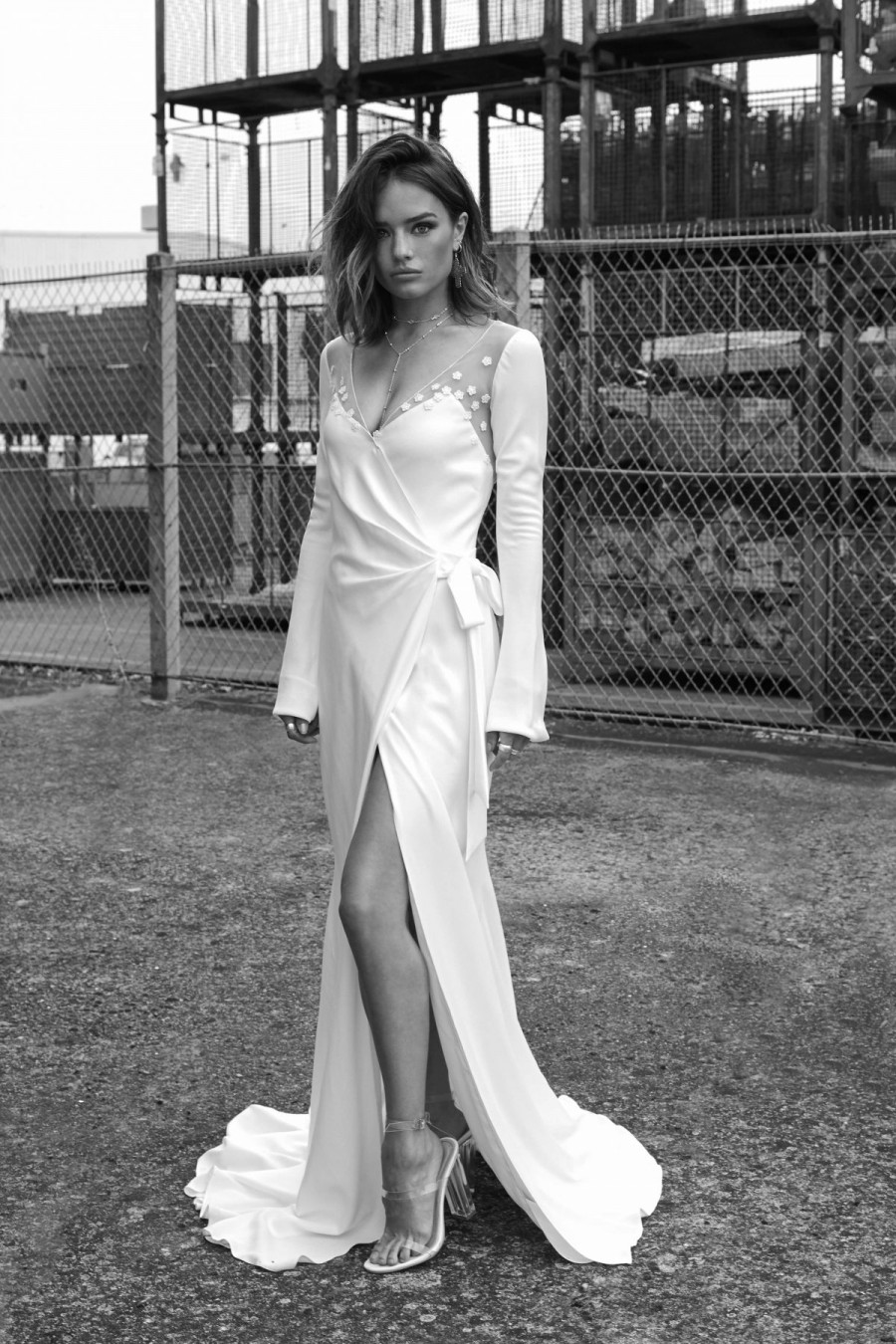 A sleek and sexy contemporary wrap wedding dress style with a belted side bow accent. Sheer open back and front shoulder panels create a stunning illusion effect that accent this sleek style perfectly.
20.

Robe Dress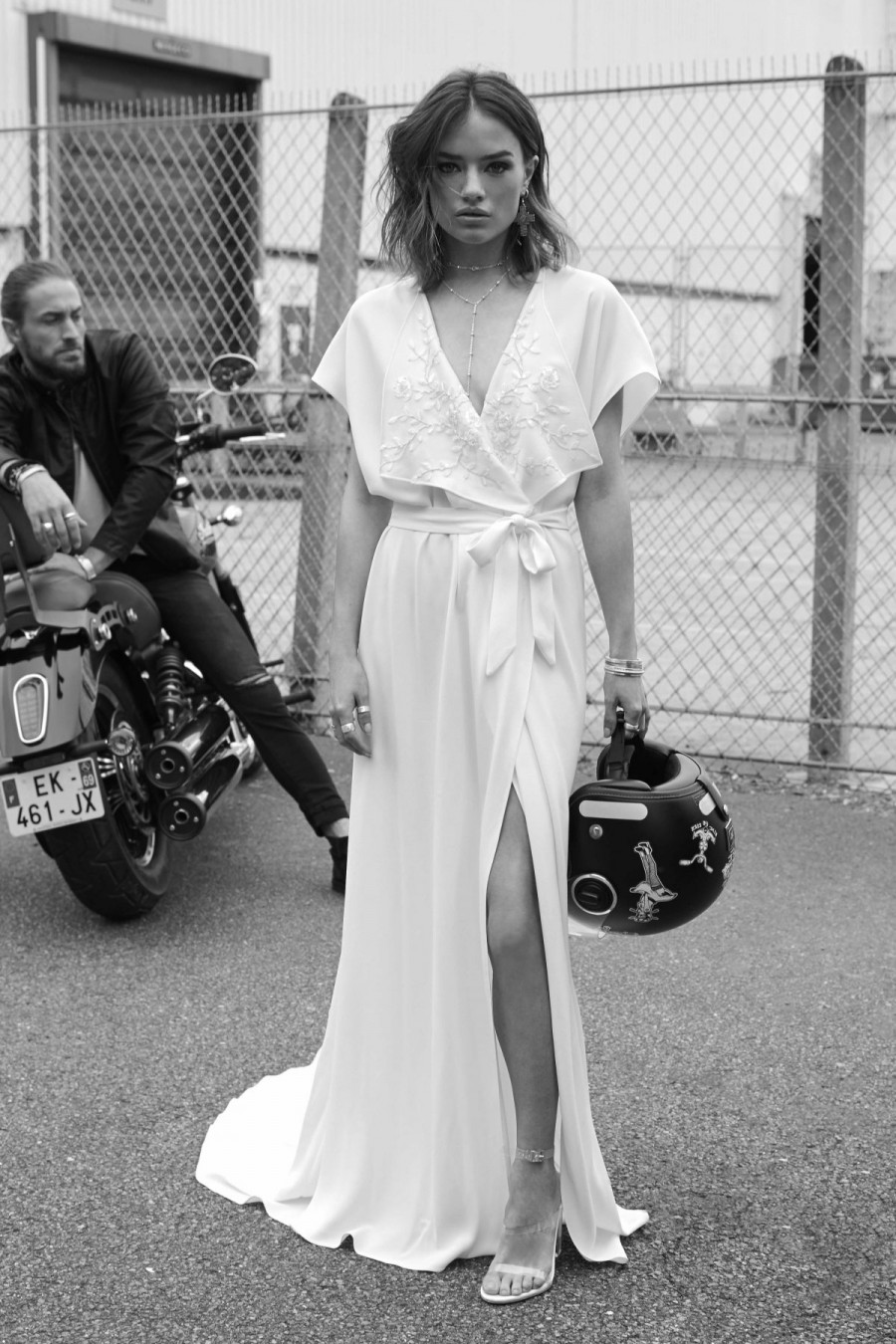 A robe-like coat wrap wedding gown that is a modern goddess's dream come true. Delicate hand embroidered floral tulle with sequins and silver thread create a chic feminine wrap style.

Shop wedding dresses now.

By Kathryn Schrotenboer