Ladies, here is your veil length 101 guide to help you navigate your way to the perfect wedding day look.
To veil or not to veil? Isn't that the questions? And if you are wearing a veil, how do you possibly choose what length? The wedding veil options in the modern wedding scene can leave a girl feeling completely overwhelmed. So we have complied a list to take you through all of the veil options available to brides. Going from shortest to longest we will take you through your options so you can choose the best option to complete your wedding day style.
Birdcage
Let's start off the list with the shortest and most dainty option when it comes to a wedding veil - the birdcage. Birdcage veils have a very vintage and timeless feel to them.
When to wear it: They are perfect for a bride who wants to have an antique inspired look on her big day. Birdcages are also perfect for the bride who wants to skip the long dramatic veil, but still wants a traditional feel.
Here are some looks we love:
01. Vintage Elegance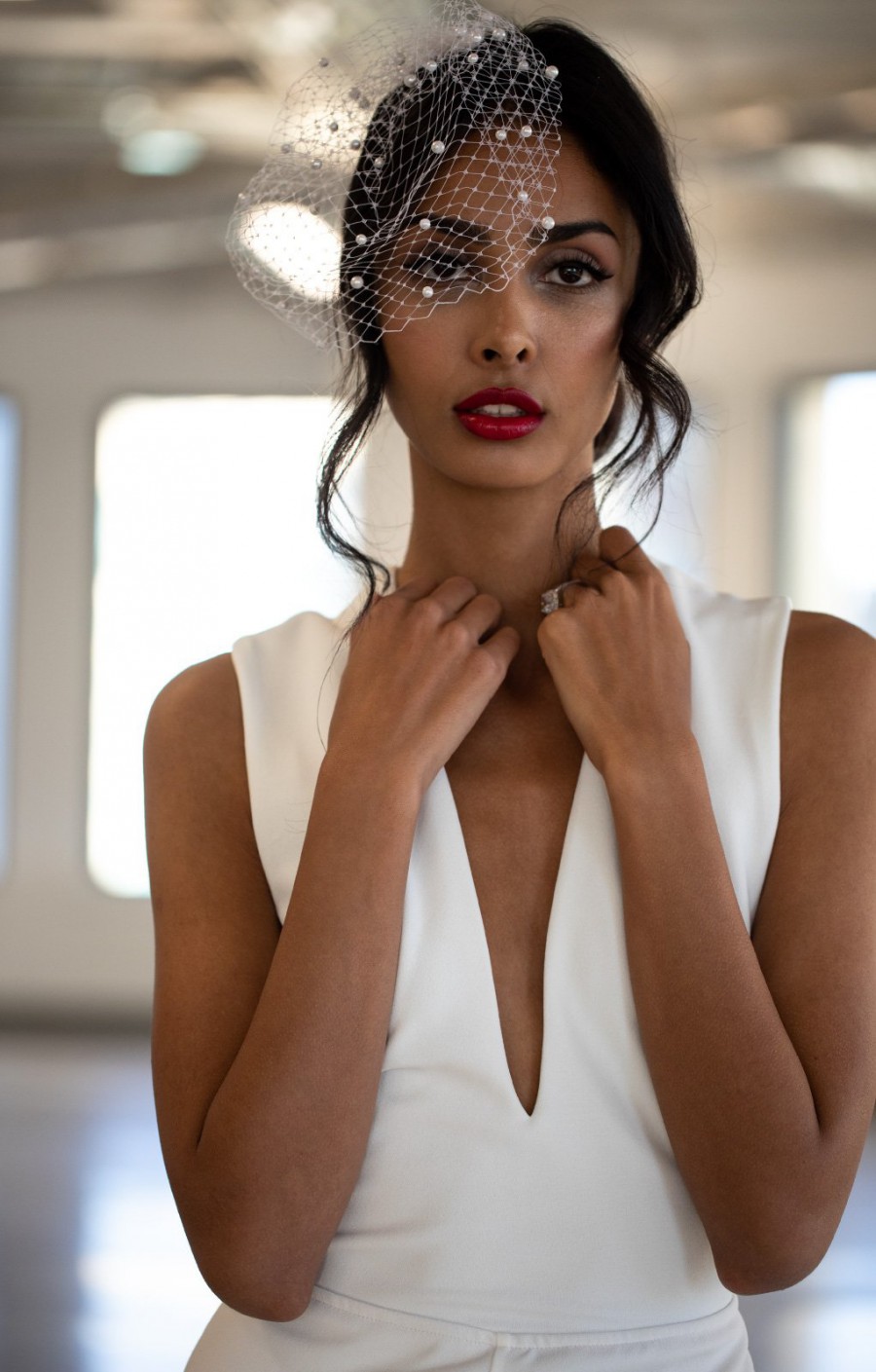 This vintage inspired birdcage is a stunning modern approach to a wedding veil. A birdcage like this design gives you the appearance and feel of a veil - especially during your ceremony - without taking away from the style of your gown.
02. Feminine Florals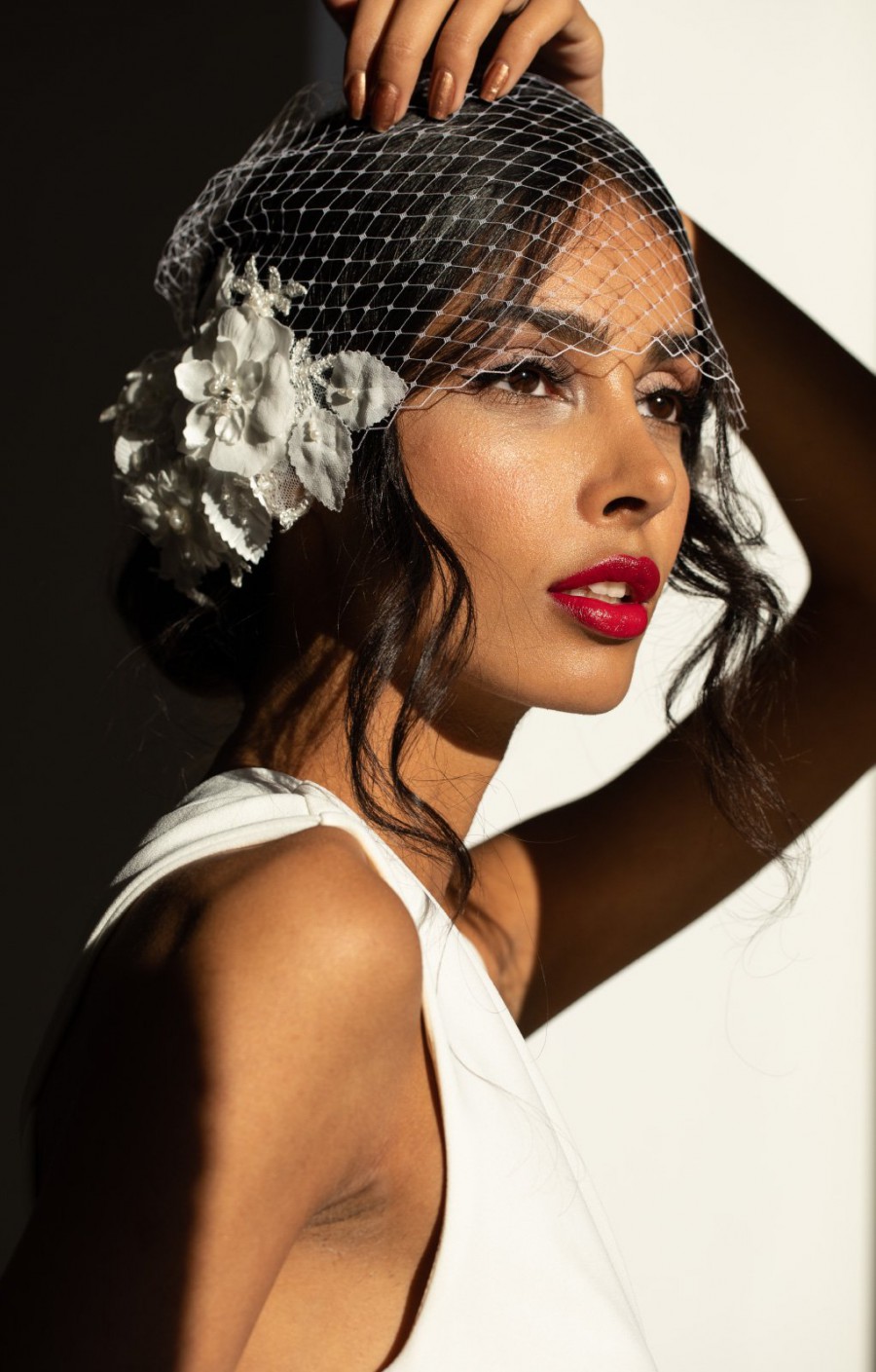 Daphne Newman brings us another stunning birdcage options with this floral, feminine design. This chic style is the perfect mix of a slight veil style, with floral hair accents.
03. Sleek & Simple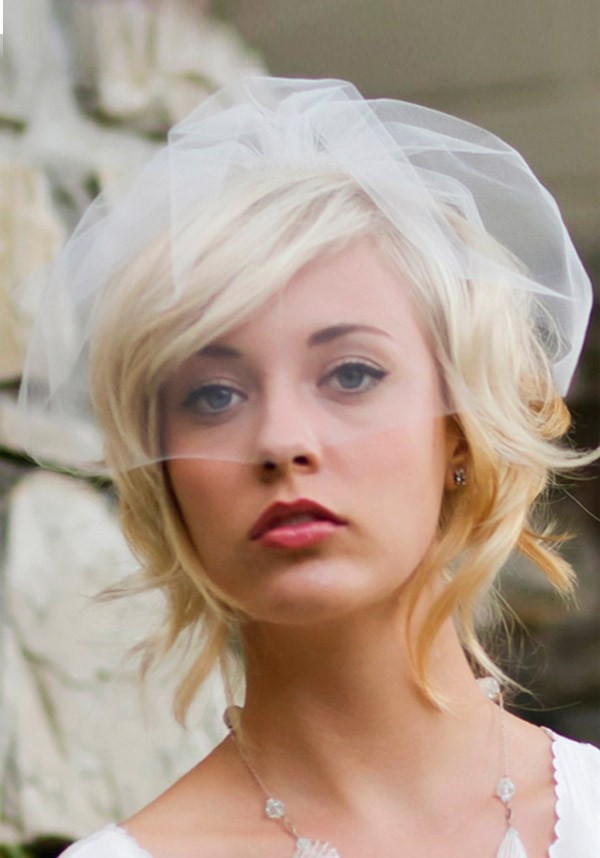 A lot of birdcage veil designs have a traditional, vintage inspired netting look to them. But we love the more traditional veil feel of this next birdcage design. It is soft, smooth and subtle like a more traditional veil, but with the cute short birdcage cut!
Blusher
Blusher veils are all about the big reveal. With front and back coverage, a blusher will conceal your face as you walk down the aisle. Some blushers are the same length all around, for a shorter veil feel. While others are short in front and long in the back.
When to wear it: Blusher veils are perfect if you want to surprise your groom, and they vary in style and length, so you can find just about anything to match your wedding day style.
Here are some looks we love:
01. Floral Blusher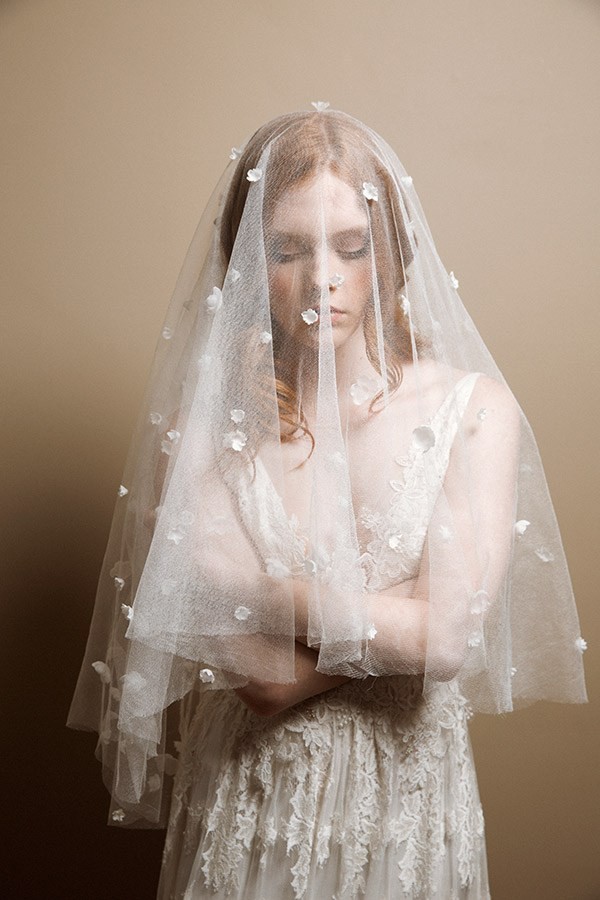 Blusher style veils can be so delicate and feminine and this one shows you just that. Its full coverage design will give you the reveal you are craving on your big day - but it's soft, semi-sheer style still feels feminine and delicate.
02. High Low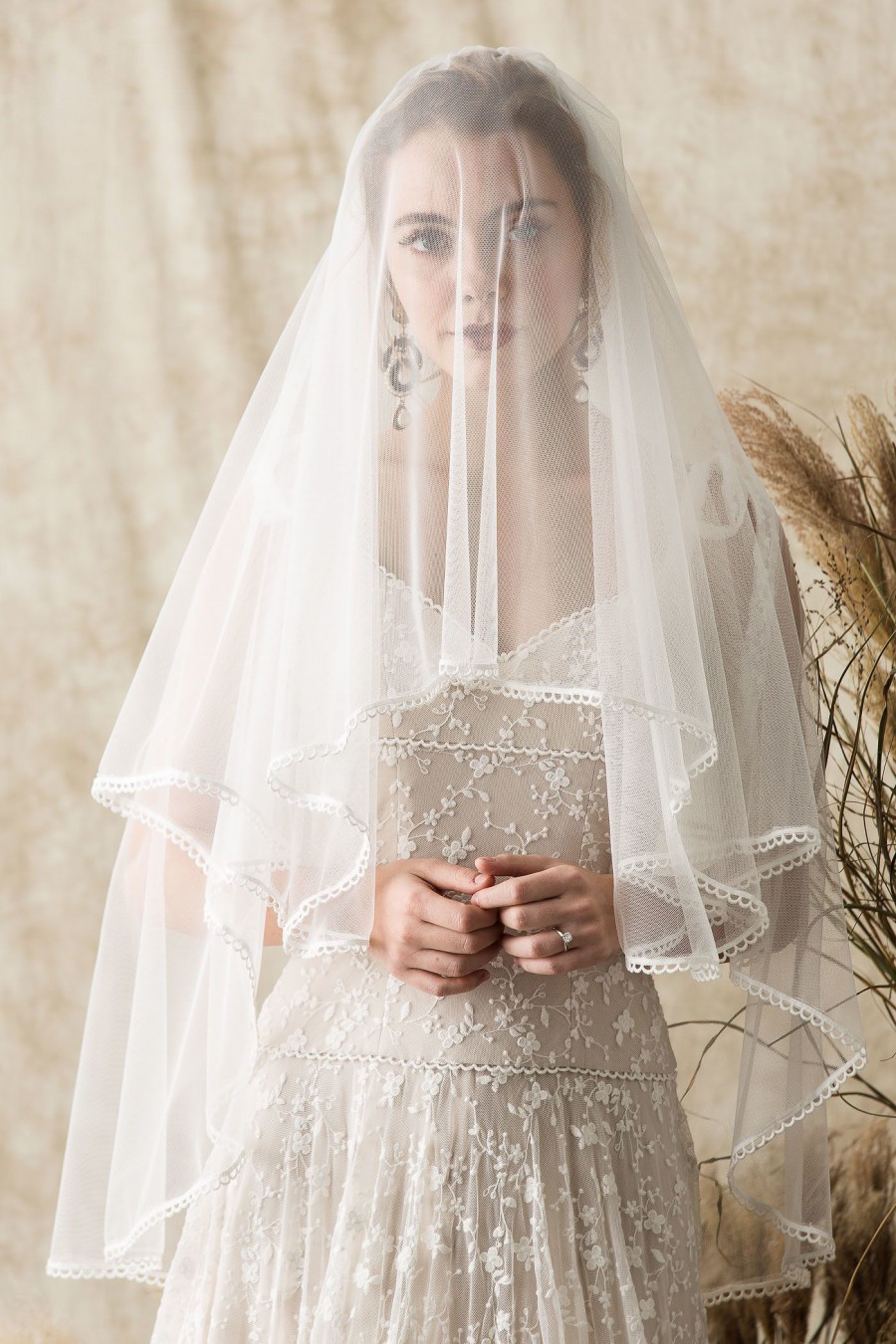 This next blusher veil style has more of a high-low feel to it with it's longer back cut. This veil adds traditional drama to any wedding day look, while still keeping the veil style short overall.
03. Pleated Edge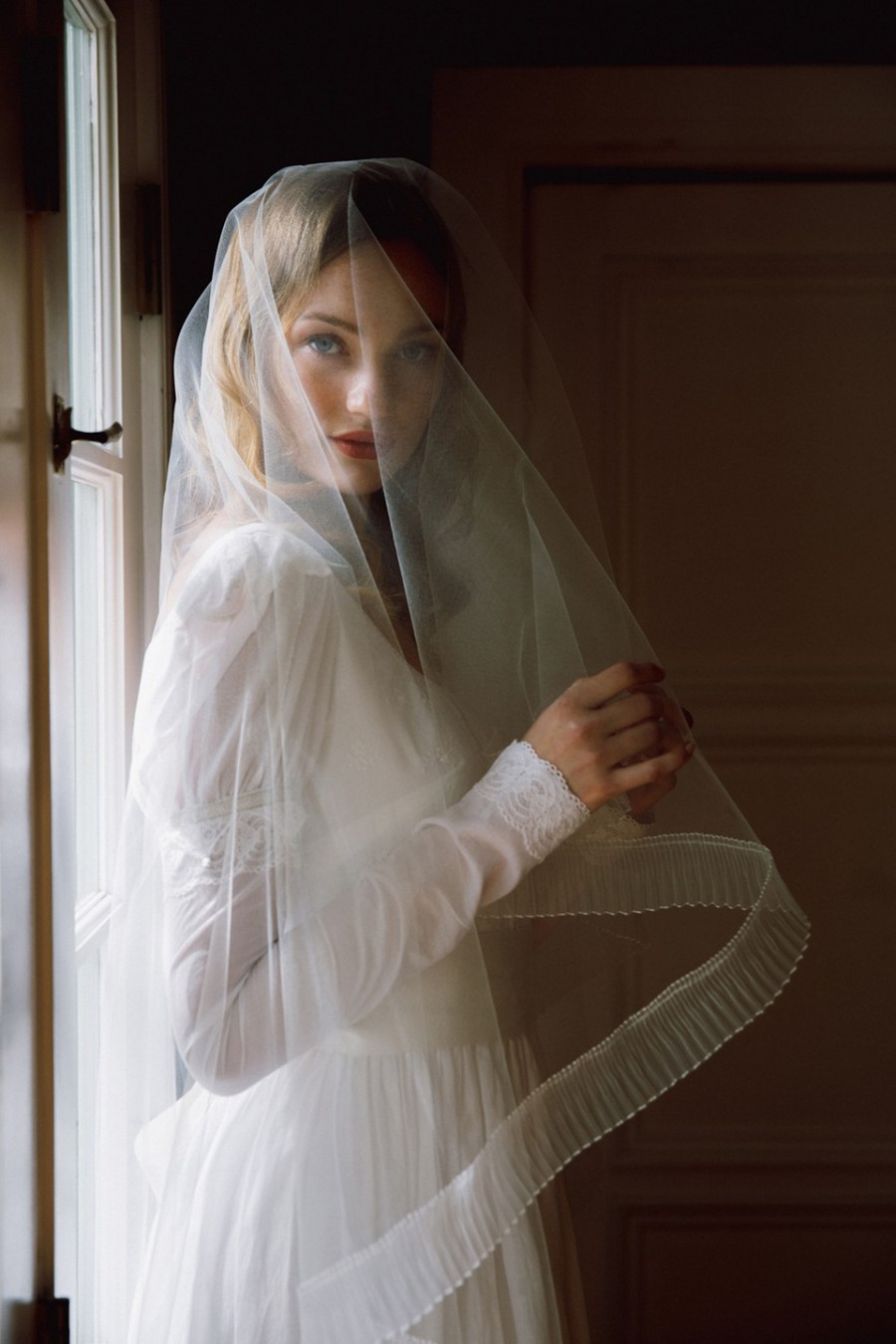 We just can't get enough of this next blusher style, with its unique pleated trim design. The pleating adds an exciting touch to an otherwise traditional veil.
04. Chapel Blusher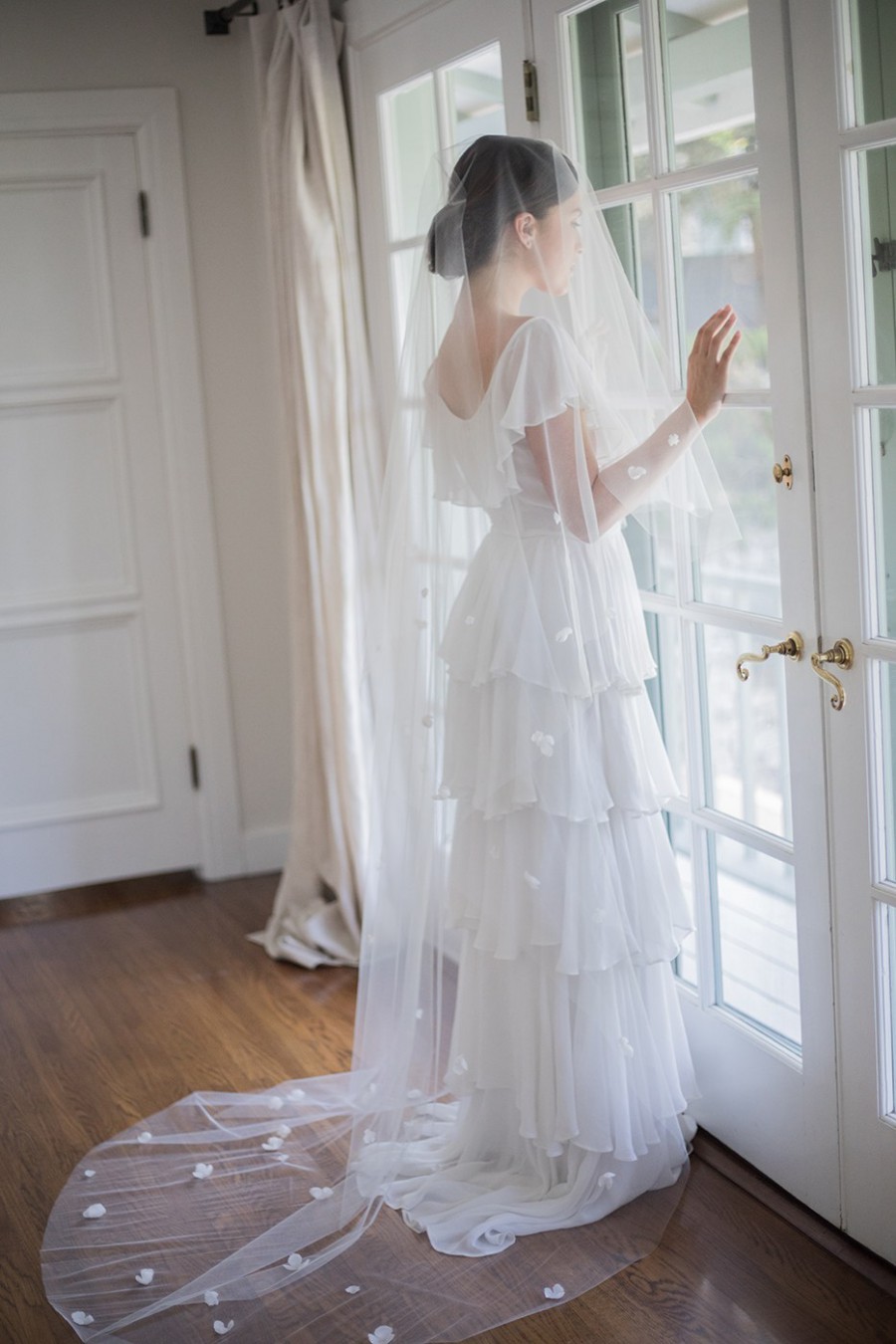 This next blusher veil shows how you can have your cake and eat it too - with the short blusher cut in front, and a longer chapel length in the back.
Mid Length Styles
For this next section, we are grouping together all of your mid length wedding veil options. Starting at shoulder length, your veil can extend to your elbows, fingertips or even down to your shins like with a Waltz cut veil.
When to wear it: When it comes to mid length wedding veil styles, it is really about personal preference and dress design. You want something that is going to compliment your gown, while giving you the look and dramatic effect that you are going for. Remember that there is such a wide range of mid length veil cuts, that you will have no problem finding the right one for you. And as a big plus, since these styles do not hit the floor and beyond, you do not have to worry about bustling or dragging on the floor.
Here are some looks we love:
01. Shoulder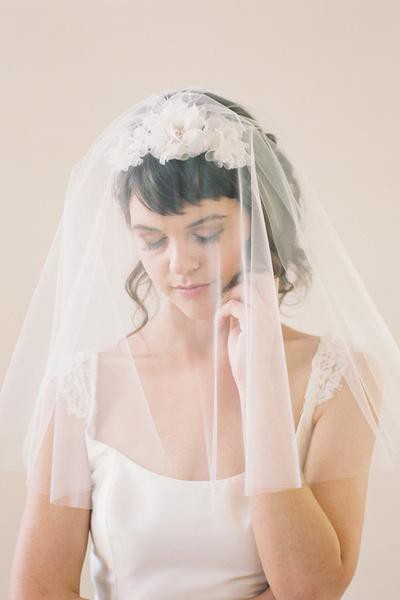 Shoulder length veils have a very 1950's style feel to them. These short veil styles are playful and girly. They will add a little extra something to your wedding day hairstyle, without taking away from your gorgeous gown.
02. Elbow Cut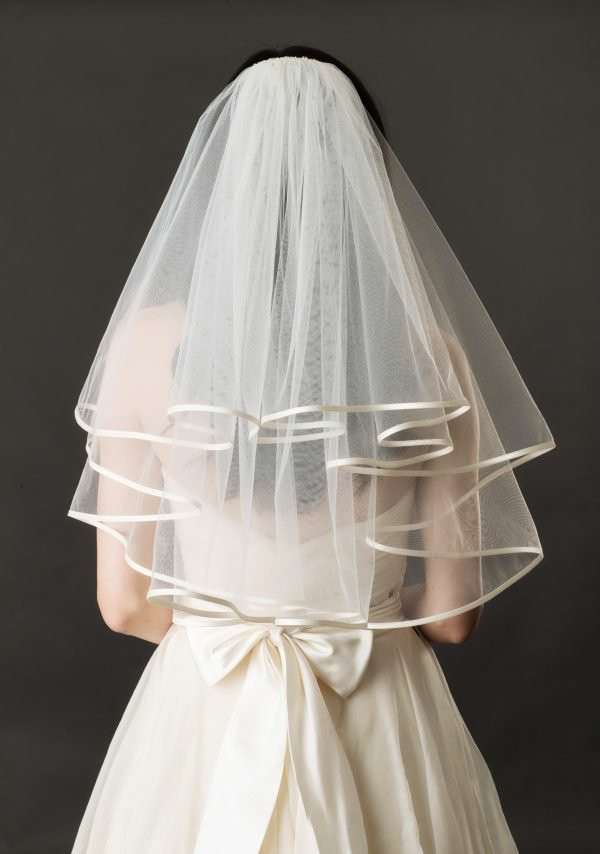 Elbow cut veils are going to hit right around elbow length. They are the perfect feminine accent to any wedding day style. We love this ribbon trimmed tulle veil. It is soft, feminine and sophisticated.
03. Fingertip Traditional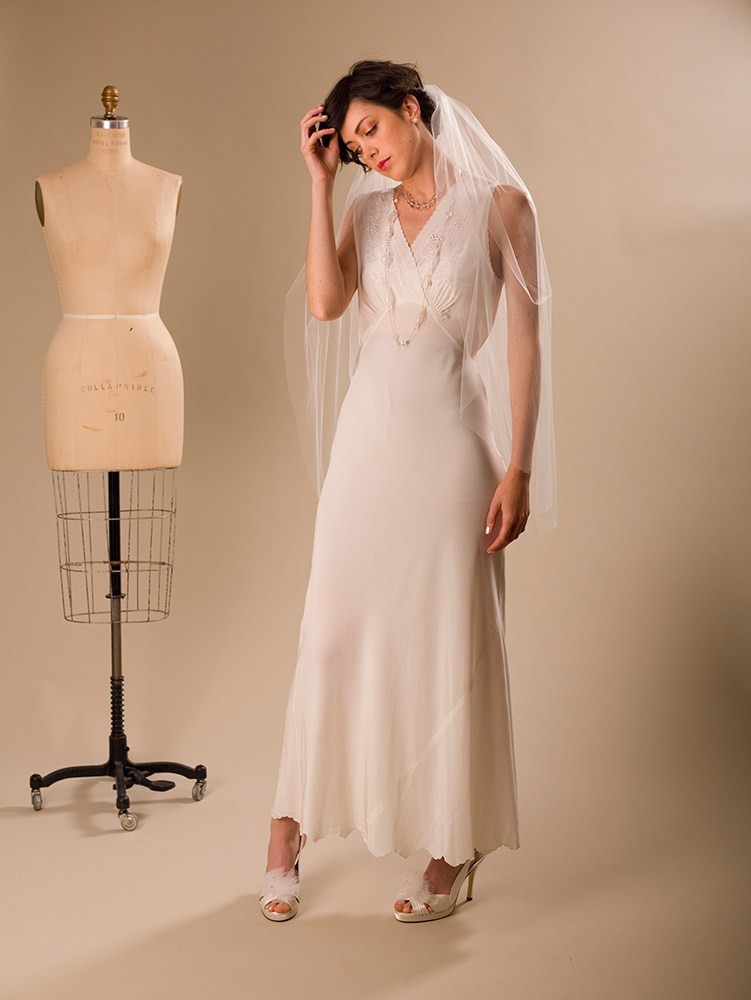 A fingertip length veil is just as it sounds, landing somewhere around where your fingertips rest at your sides. This cut is perfect if don't have a long wedding gown, or if you are wanting to show off the base of your gown.
04. Fingertip Bohemian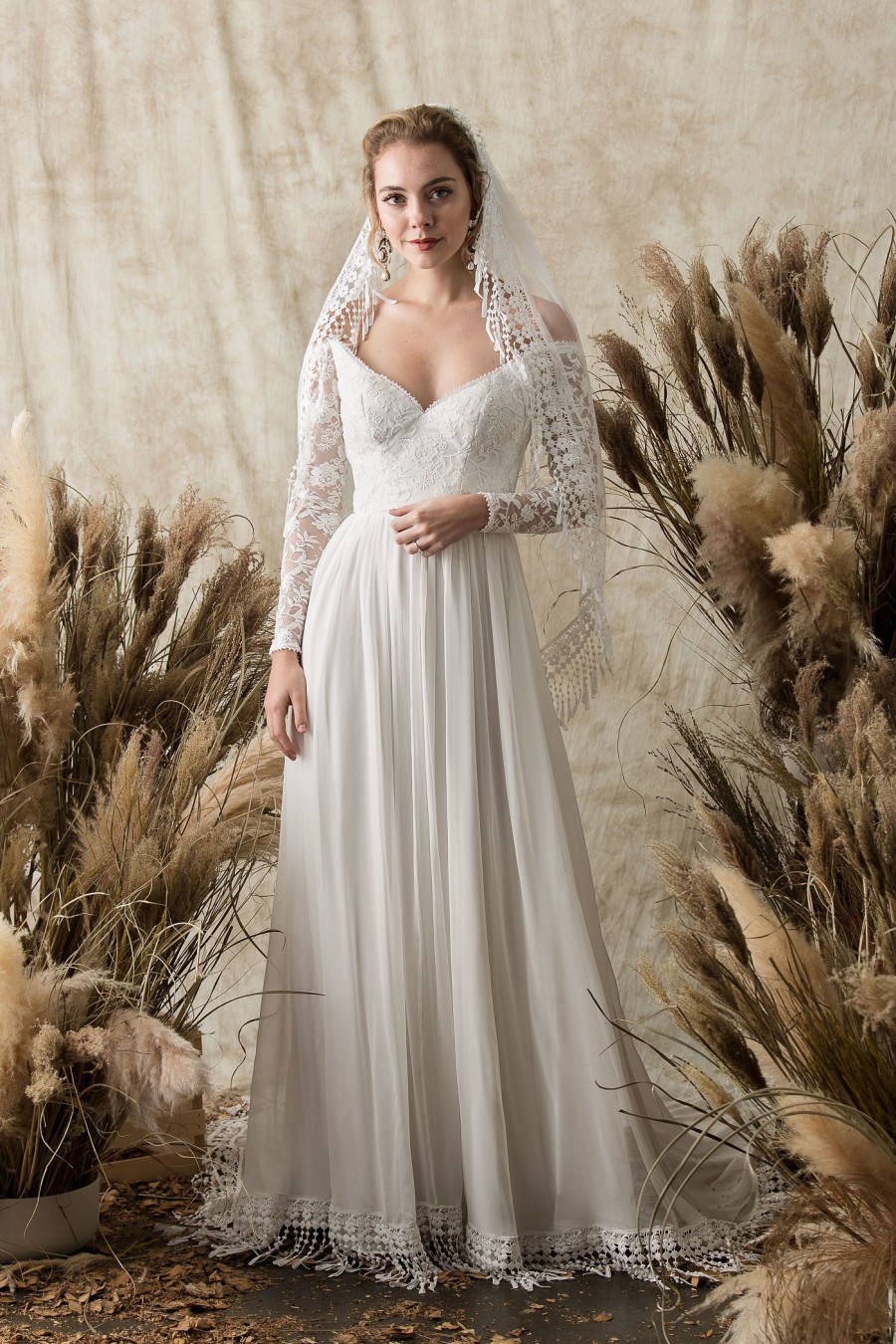 We can't help but love the more Bohemian feel of this next fingertip length wedding veil. With it's lace and fringe trim, it will really add something special to your wedding day style.
05. Knee Length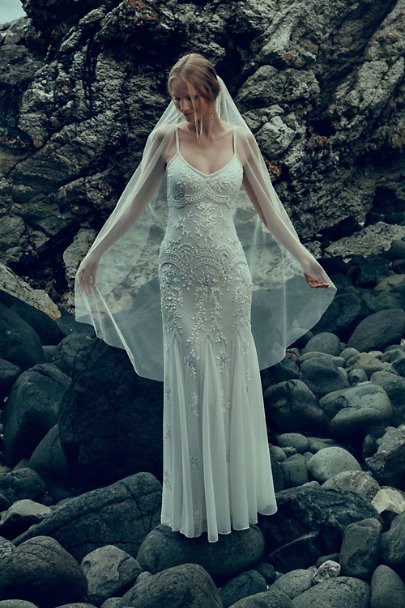 A knee length style veil is going to hit right at or around the brides knees. As you start getting into the longer mid-length styles, the veil is going to feel more traditional, while still keeping things simple.
06. Waltz Style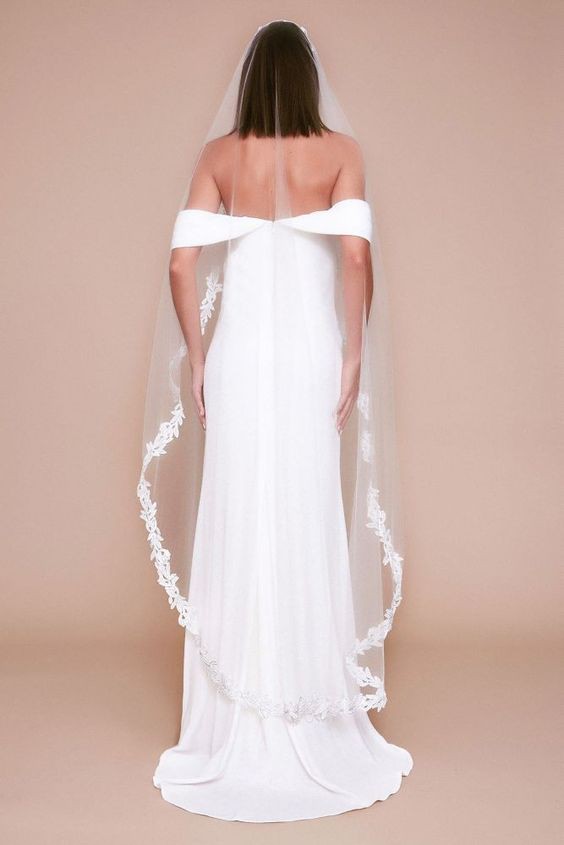 Waltz styled veils typically hit at about mid-shin on a bride. These styles are named this because their length allows for the bride to still dance (waltz) without having her veil get in the way! So these are going to be longer than knee length, yet shorter than a floor length style.
Sweep or Floor Length
Now let's start getting into the longer veil cut options. Our next style is a sweep or floor length veil. This style is going to barely brushes the floor - just like the names imply.
When to wear it: Floor length styles will give you the feel of a full length veil, without having to worry about it dragging behind you. This veil will have you feeling traditional and will add the perfect touch of drama to your day.
Here are some looks we love:
01. Barely There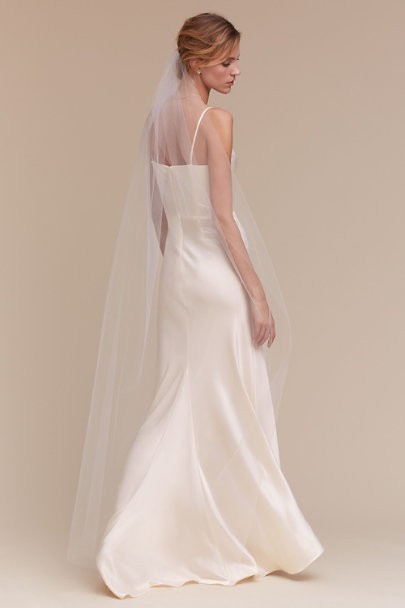 We just love the barely there appearance of this floor length veil. It adds a soft ethereal appearance that in no way takes away from the beauty of the bride or her dress.
02. Ethereal Florals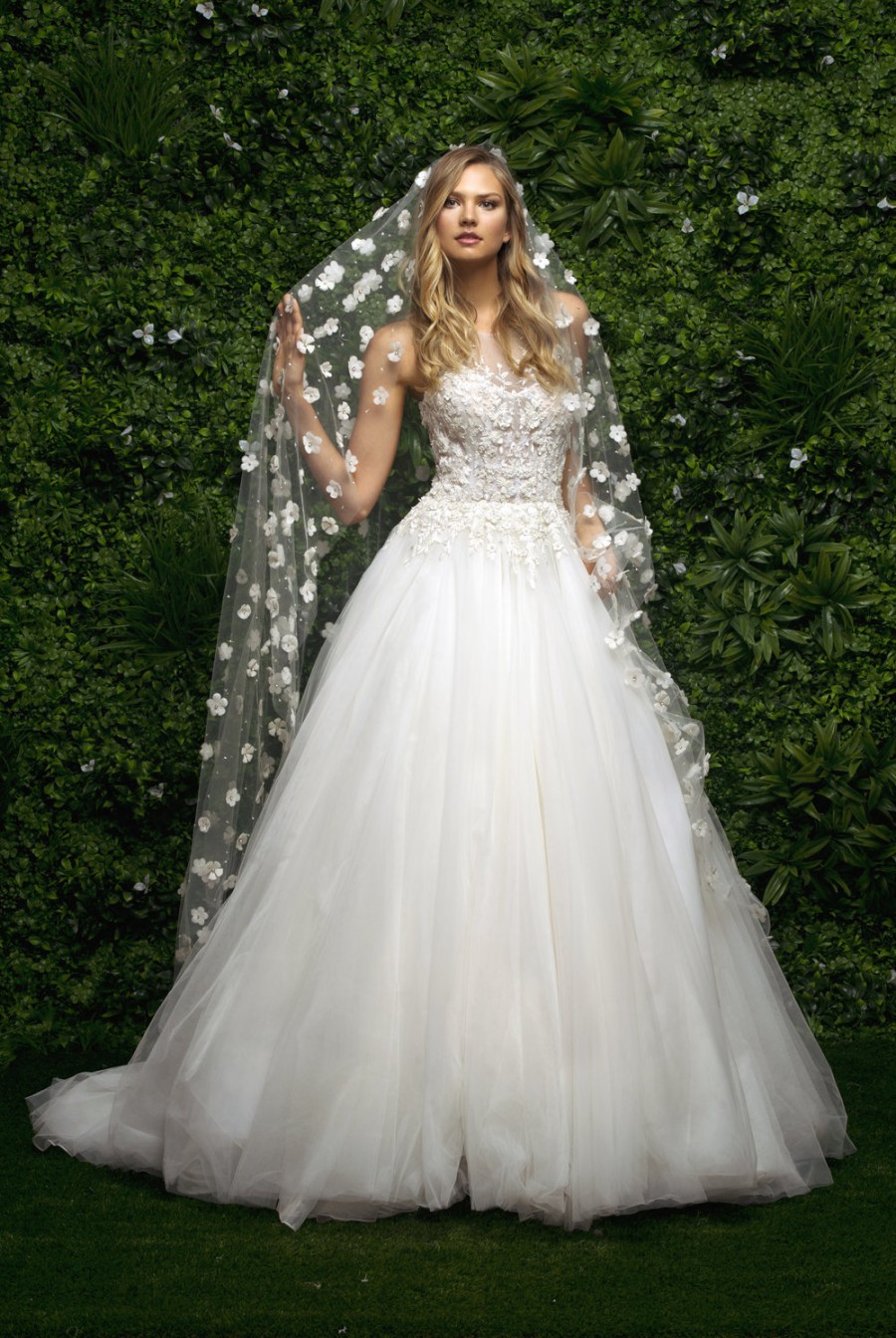 We just love the floral appliqué style of this next veil. It adds just a playful, feminine pop to this wedding day style. Perfect for our girly, floral loving brides out there. And, eve being a more drastic veil, you still don't have to worry about bustling or carrying with its floor length cut.
Chapel
A chapel length wedding veil extends slightly longer than floor length. This gives the appearance of a train, without all of the hassle of having to bustle or carry your veil around all night.
When to wear it: Chapel veils are perfect for the bride who is craving just a bit of drama when it comes to her wedding day style. A chapel veil will add just a slight train to any look, without all of the fuss.
Here are some looks we love:
01. Ombre Chapel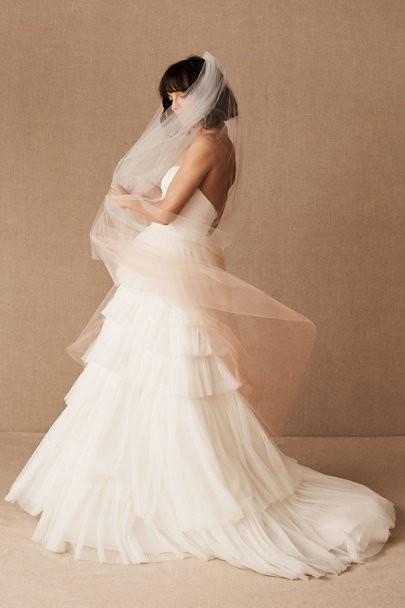 We just love the blush ombre design of this chapel length veil. It will give any wedding day style a girly pop, without being in the way on your big day.
02. Lace Skull Cap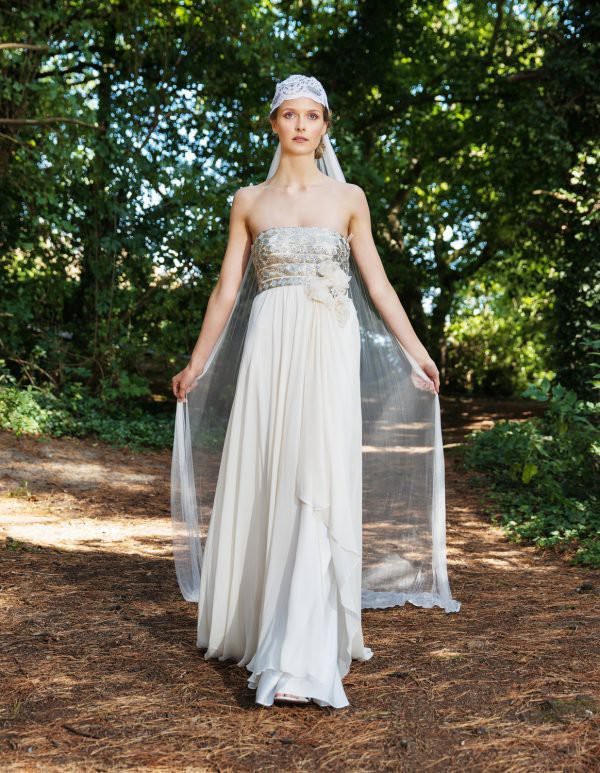 This next chapel length veil style is truly unique with its lace skull cap design. The unique skull cap really adds to this otherwise simple veil.
03. Soft Chapel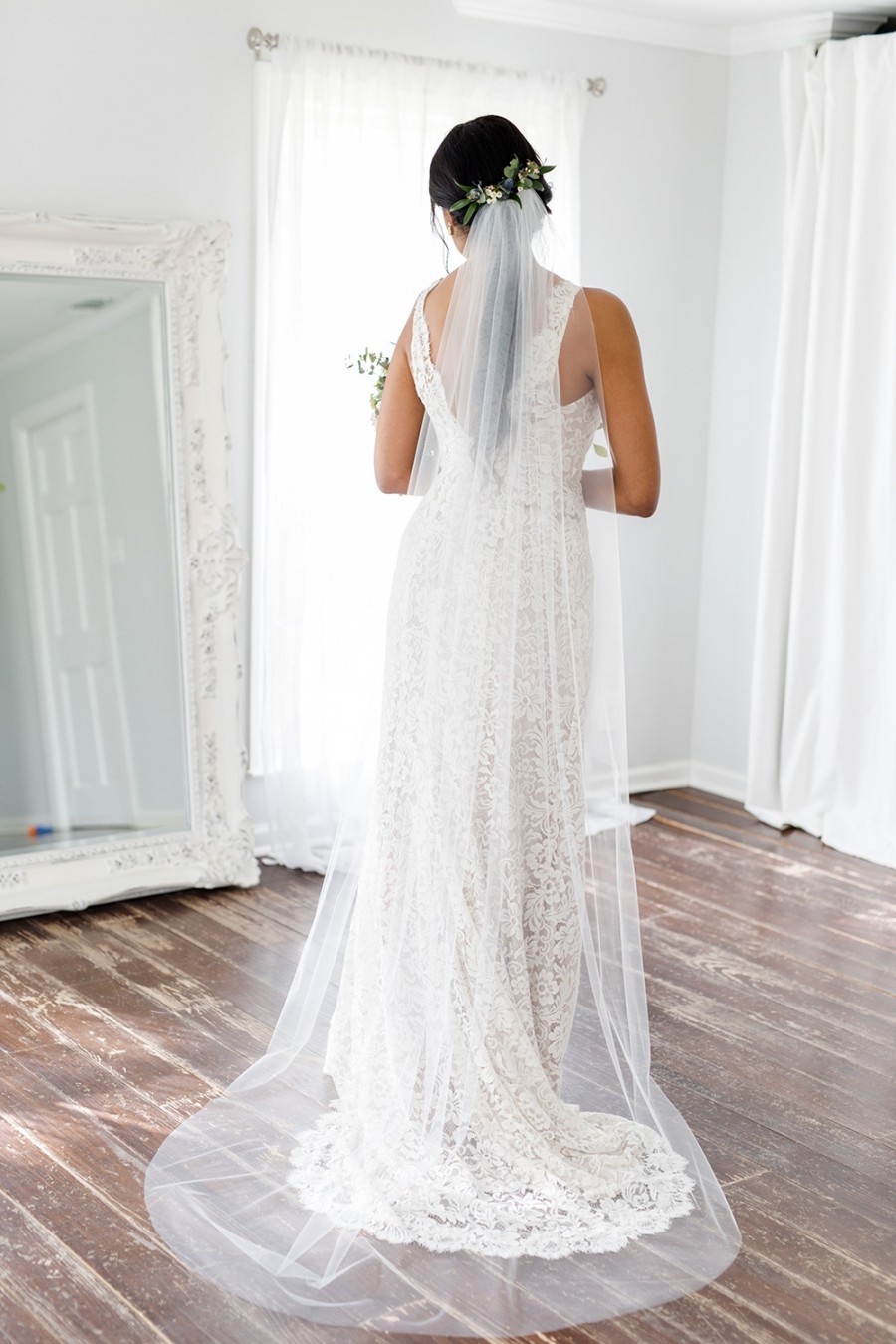 It is hard to go wrong with a soft, delicate, chapel wedding veil. This feminine and traditional style is sure to never go out of style. Its sheer appearance adds an ethereal touch, without taking away from the stunning style of the gown.
Cathedral
Wanting to make a bigger entrance on your big day? Then go with the longer, cathedral length veil. These veils typically come in at about around 120 inches long, extending them about 3 feet behind the bride.
When to wear it: Cathedral length veils are perfect if you are getting married in a larger church (which is where the name comes from). This length will give you the extra drama you are craving.
Here are some looks we love:
01. French Lace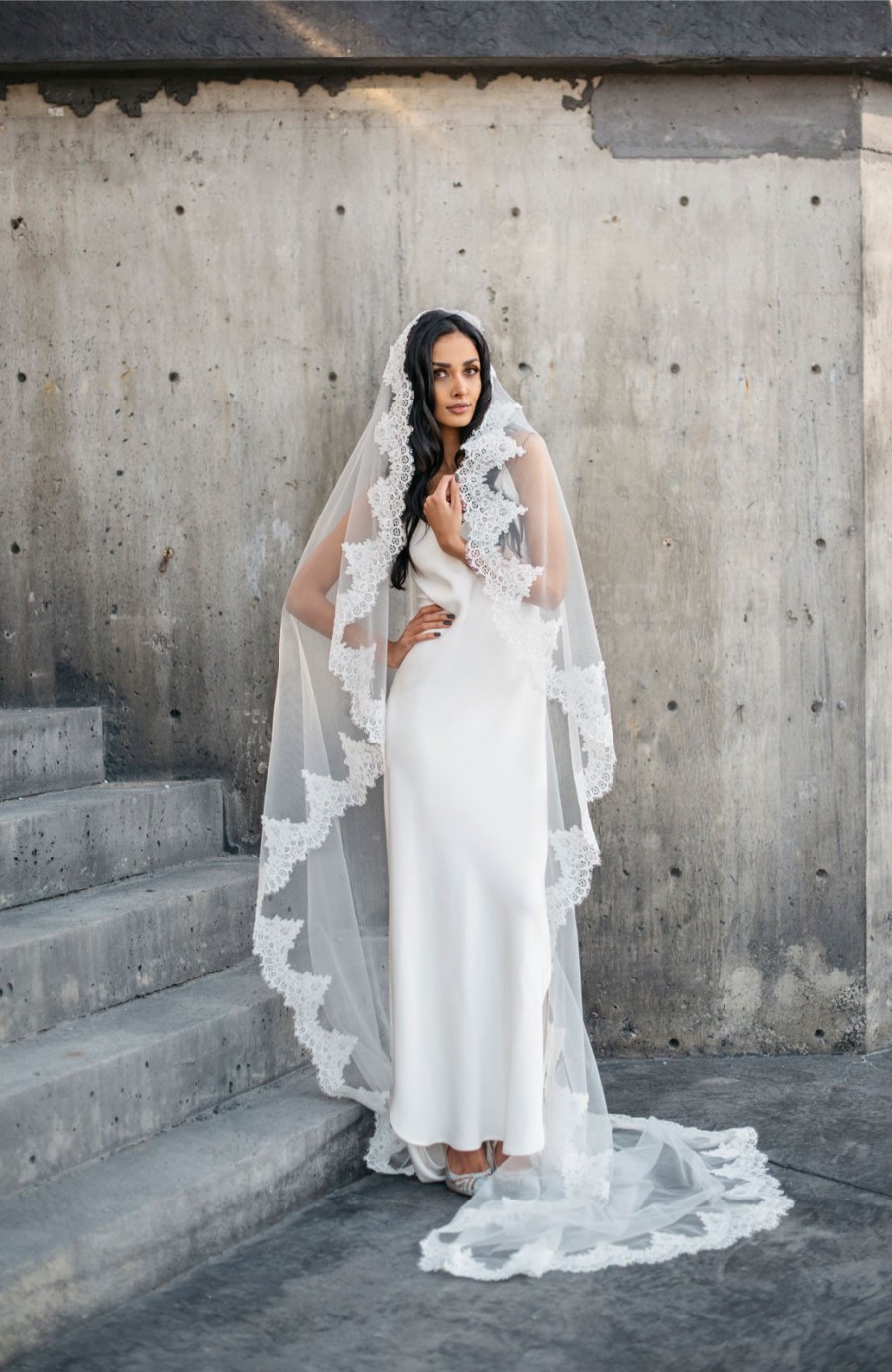 This first cathedral length veil features scalloped French lace around the edges of the style for a feminine and dramatic feel. We love how this veil adds a touch of drama to a more traditional slip styled wedding gown.
02. Classic Cathedral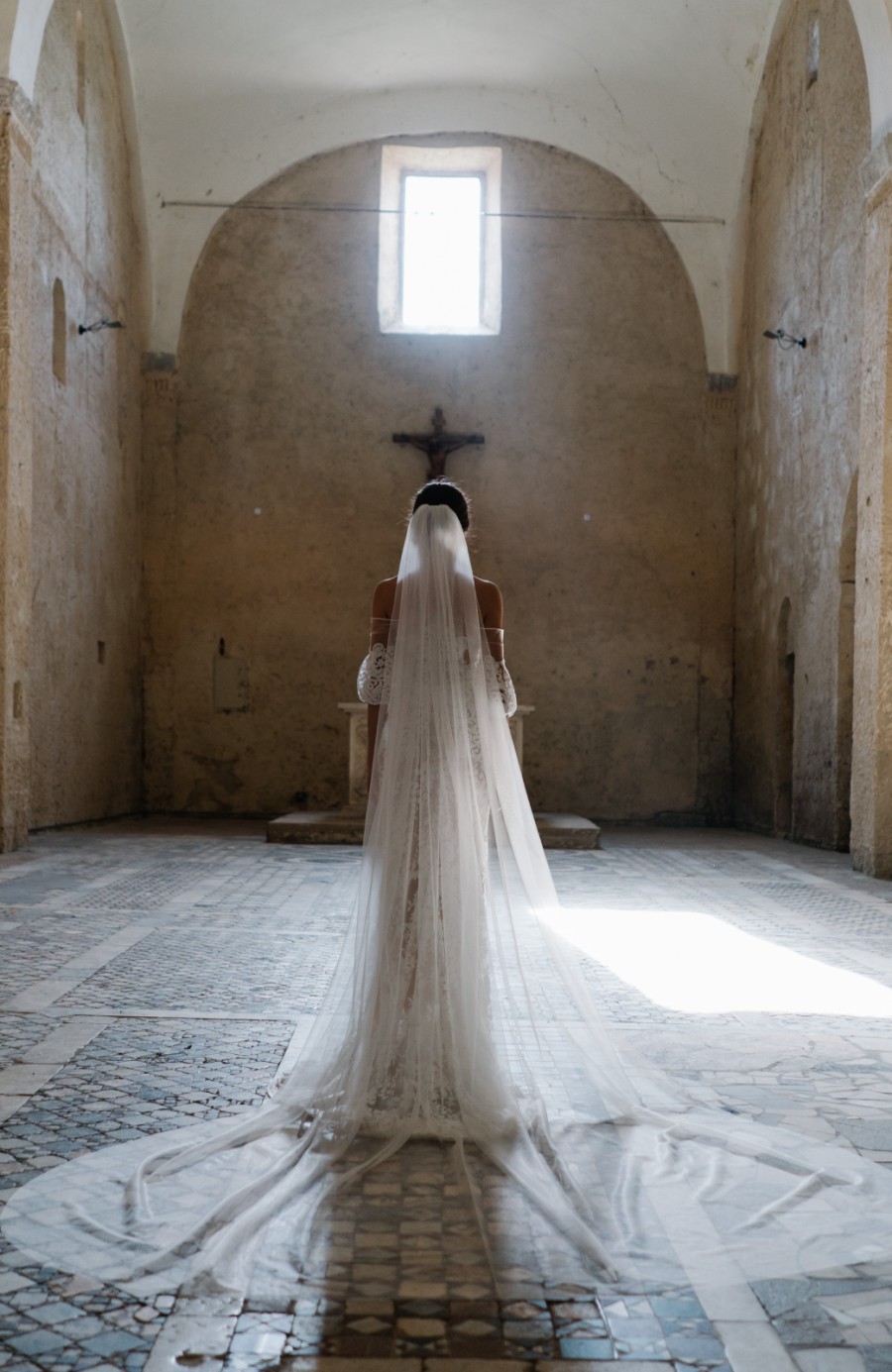 If you are looking for something a bit more traditional, you can't go wrong with a classic styled silk tulle veil. The cathedral length adds drama to your look, but the classic tulle styling is effortless and understated.
03. Floral Appliqué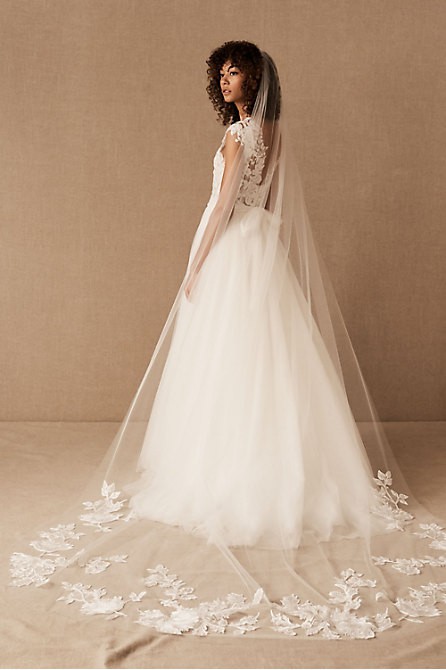 Keep things simple with just a single layer tulle cathedral length veil with a pop of floral appliqué at its base. With the soft, sheer design of the single layer tulle, the florals will appear to be floating behind the bride.
Royal
Ready to really amp up your style? Then you may want to consider a royal length wedding veil. Royal length veils can extend around 10 feet behind the bride. So it is safe to say that this style is not for everyone.
When to wear it: For a bride with a big, dramatic, royal worthy wedding day, a royal length wedding veil can add even more drama to her style. What bride wouldn't feel like a queen in one of these?
Here are some looks we love:
01. Dramatic Details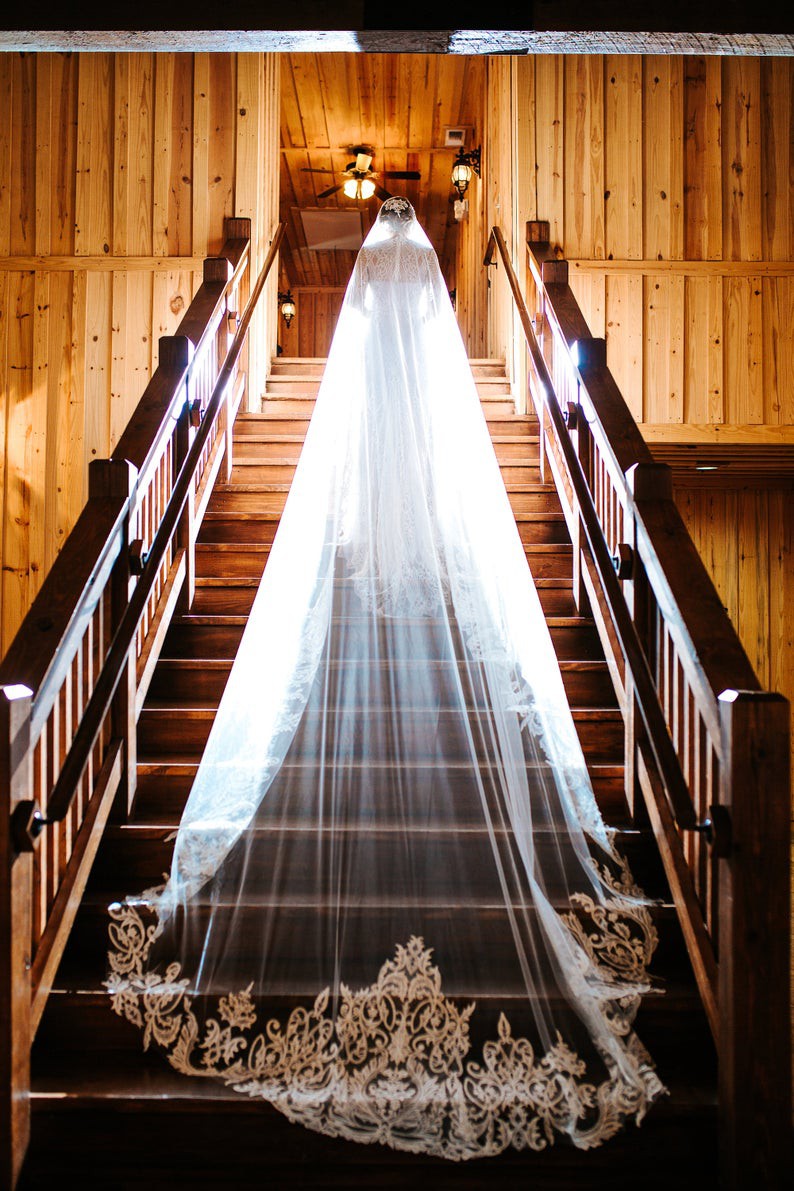 Get ready for some dramatic wedding day photos with this royal length veil. This veil goes to show that royal length veils are not for everyone. But for our drama seeking brides out there, looking to make a big statement on their wedding day - a royal length wedding veil is the perfect way to leave all of your guests in awe.
02. Royal Ethereal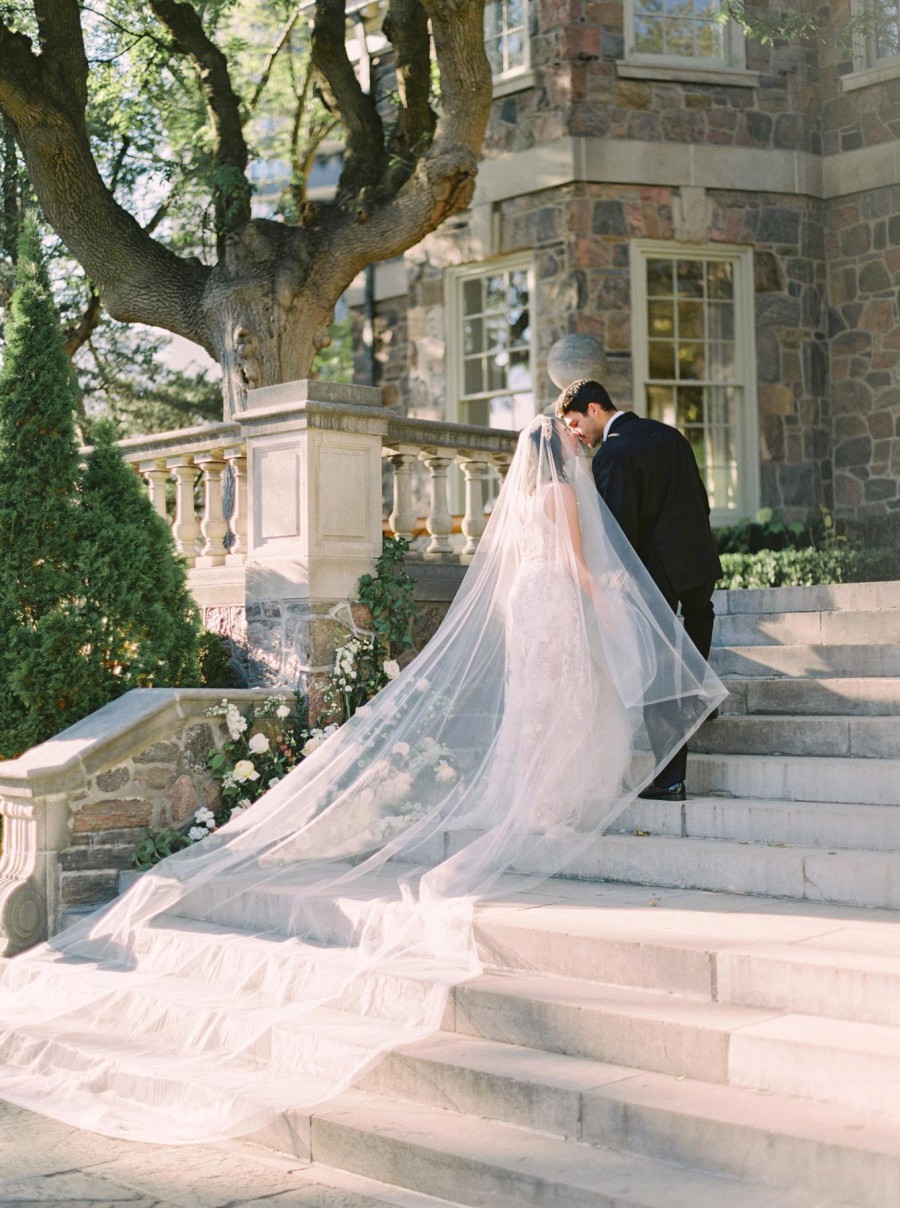 Add some ethereal drama to your wedding day look with this single layer, sheer tulle veil. The royal length of this veil takes it from traditional and ordinary to dramatic and extraordinary.

By Kathryn Schrotenboer