You've picked your ideal wedding date and selected the most beautiful venue, but you still have one very important decision to make: what to wear under your wedding dress!
Bridal fashion has taken a daring turn in the recent years and brides these days are opting to break many of the old wedding traditions by choosing dresses with cutouts, plunging necklines and curve-hugging styles. If you have found yourself in love with one of these modern silhouettes, you probably already figured out that your usual bra and panties won't do the trick. From clingy fabrics to open backs, we've got the answers to your undergarment dilemmas.
For a classic strapless neckline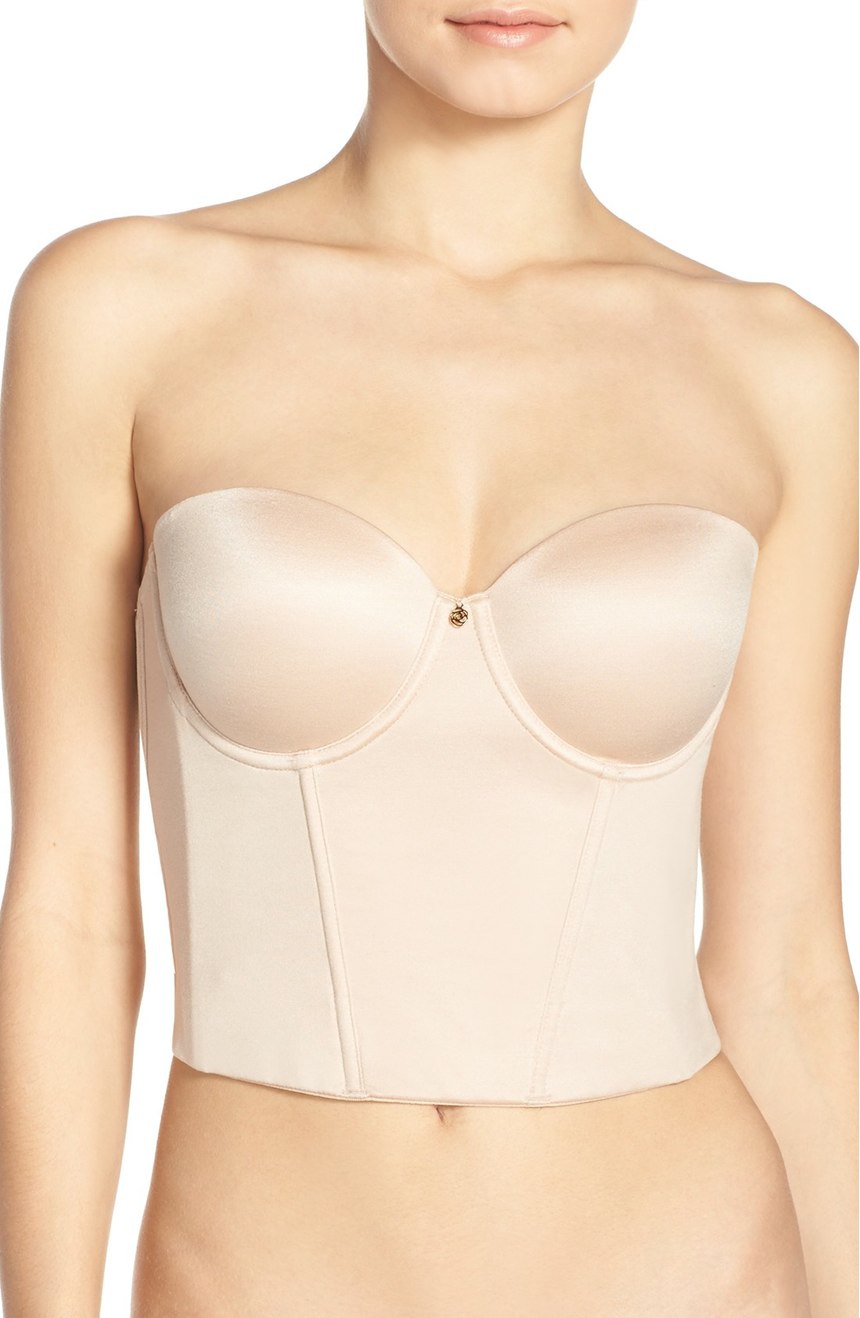 Strapless bras are great in theory, but you don't want to pull your dress up every time your undergarment is slipping — especially if you're a C-cup or over. Instead, opt for a bustier or body suit that can better grip your body and support your chest without slipping. You can never go wrong with simple lingerie that will reveal no lines underneath, like the Betsey Johnson Forever Perfect Convertible Underwire Bustier. This bra is smooth and strapless for the slinkiest of dresses.
For a sexy open back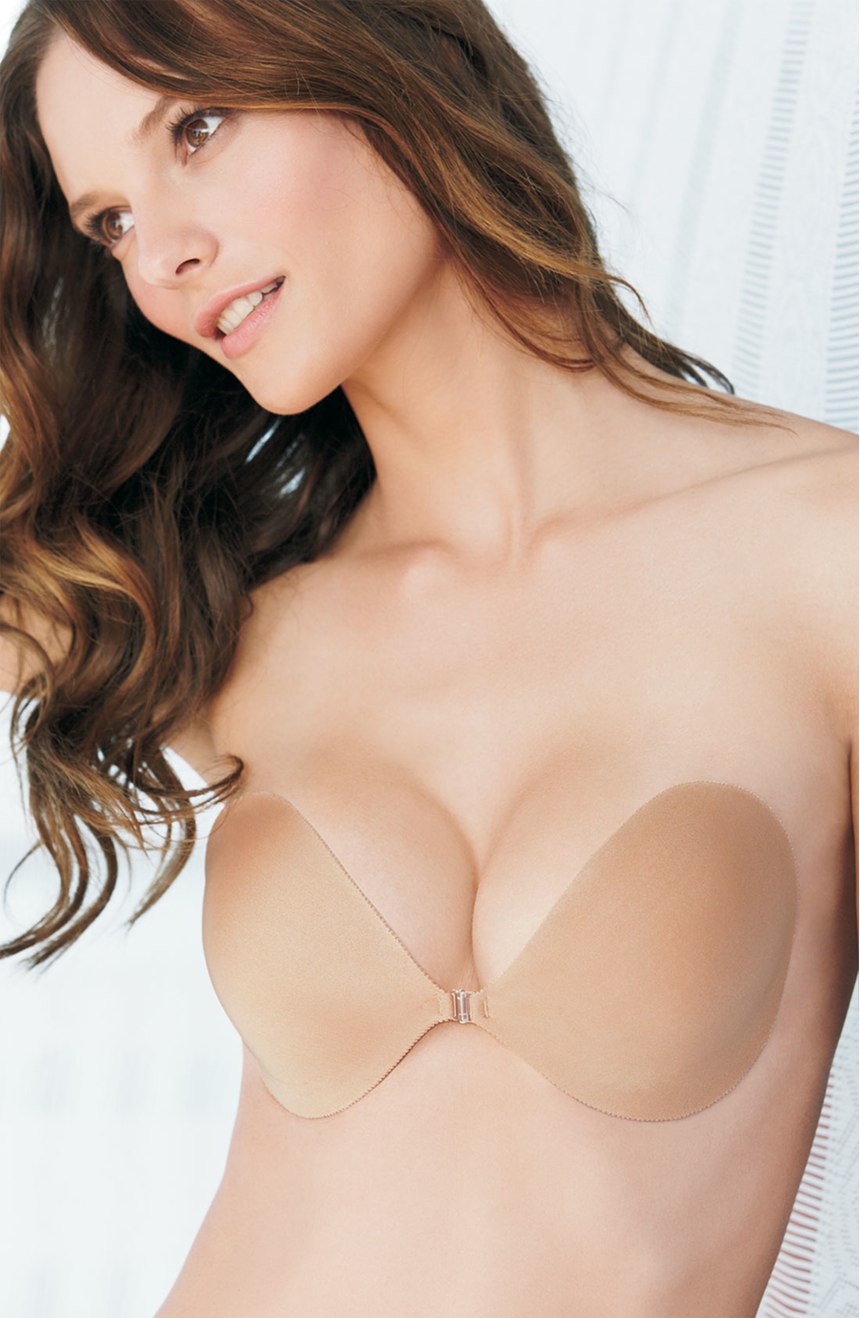 A strapless stick-on bra will be your go-to for that dreamy backless gown of yours. You'll want to watch out for stick-on bras that are made out of 100% silicone, though, since they usually weigh your breasts down and makes them look saggy. Instead, try Nordstrom's Lingerie Shaping NuBra, which is super thin and lightweight. It won't do much for you in terms of lifting, but it's perfect for keeping you covered and creating a little cleavage in your barely-there dress.
For a flatter stomach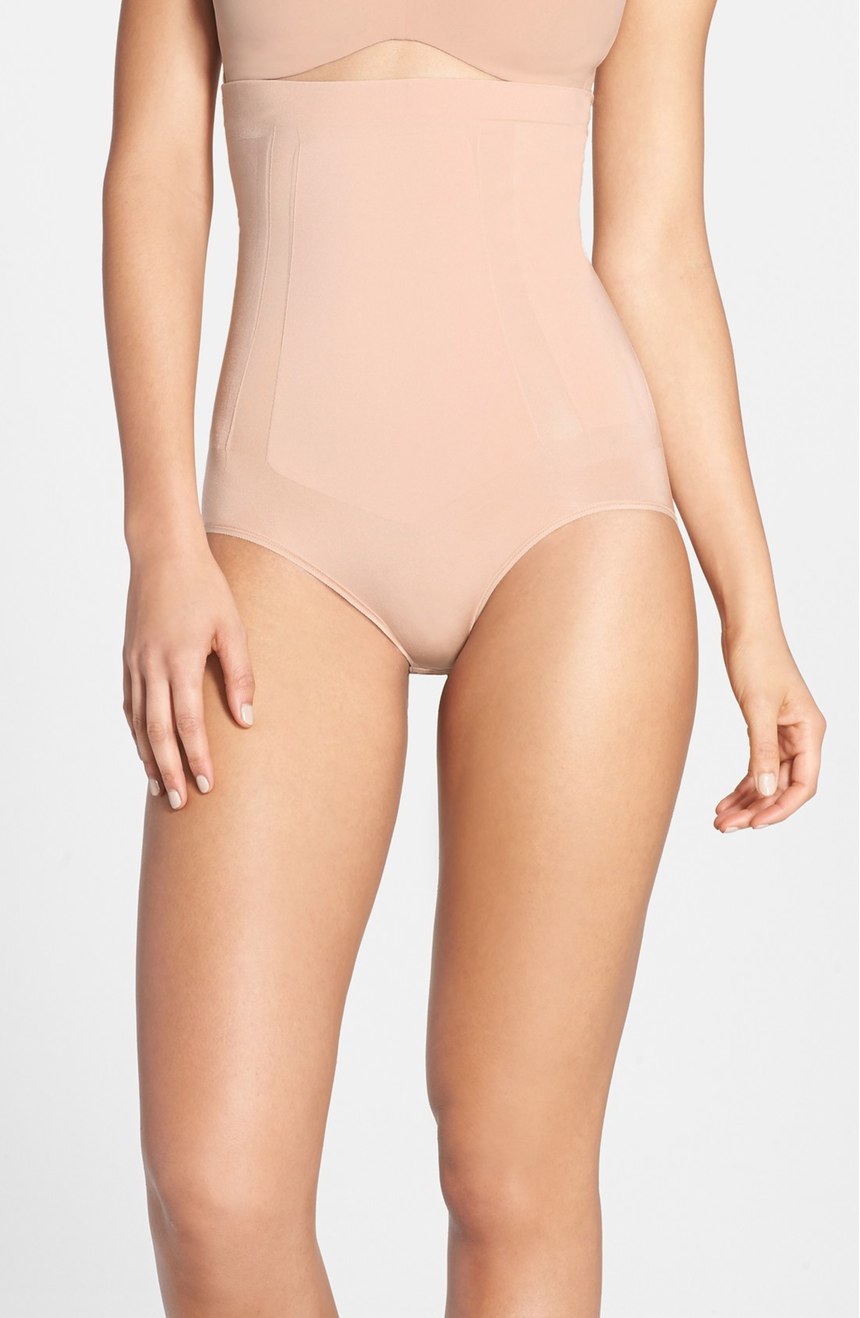 If you're looking to flatten your tummy and give your waist some shape, opt for Spanx 'Slim Cognito' High Waist Shaping Briefs. Not only does it allow you to stick with your bra of choice, but this simple piece come with a reinforced panel that compresses your tummy area and give you a flat-stomach look all day long. Best part? It comes in nude and there are lacier versions for you to glam it up a bit too.
For a perky rear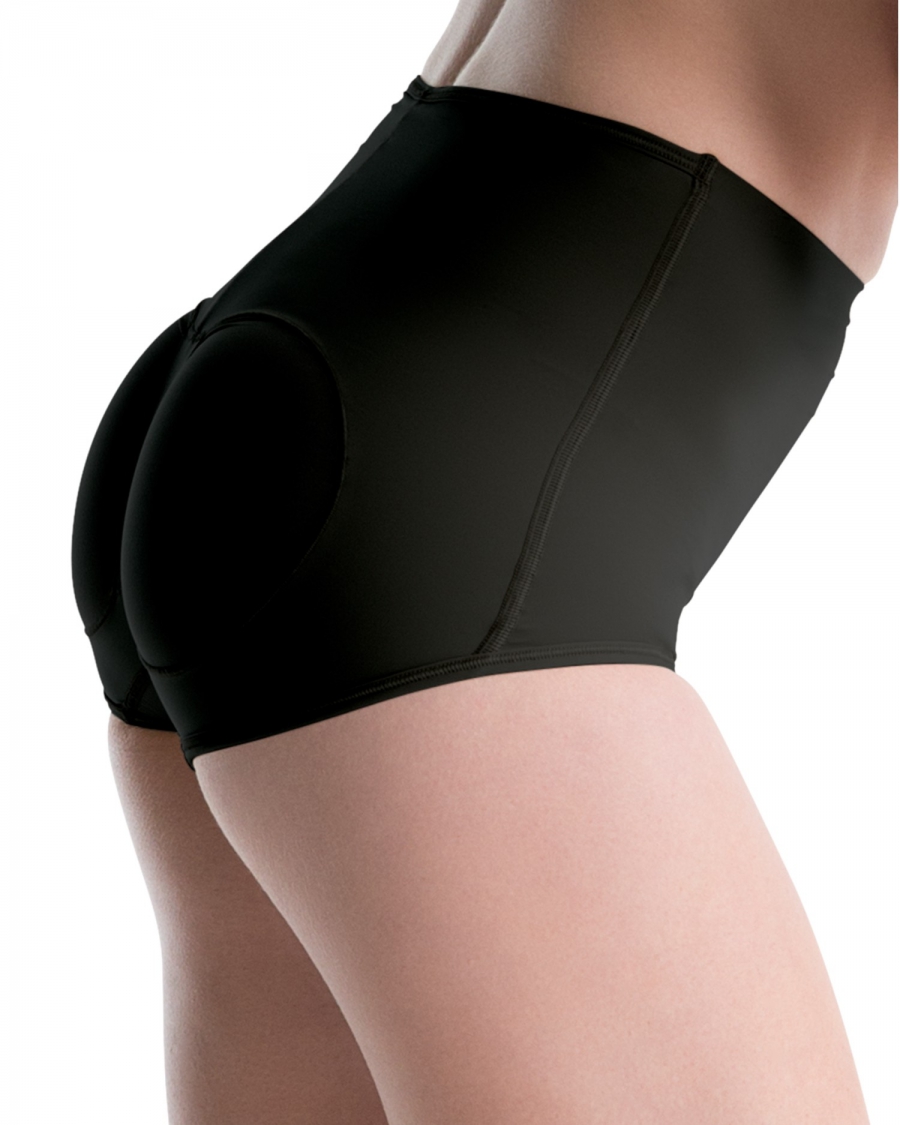 Go behind the scenes and add a little drama to your wedding wardrobe with butt-enhancing pads. To find a pair of these one-of-a-kind booty shapers that can give your behind an extra boost, look for padding that looks and feels ultra natural like Spanx Thinstincts Booty Bra, which are super smooth and will keep your behind perky and separated. Your guests will never know you're getting some booty help!
For an ultra-deep V-neckline
A Hollywood-style dip doesn't mean you have to go without support on your Big Day. If you've chosen a gorgeous dress with a plunging neckline, a long-line u-shaped plunge bra like Nordstrom's 'Uplunge' Backless Strapless Underwire Bra will do the trick. Not only will it help with the low-cut neckline, but it's also backless and has padded plunging cups that will create an enhanced cleavage with minimum coverage.
For overall smoothness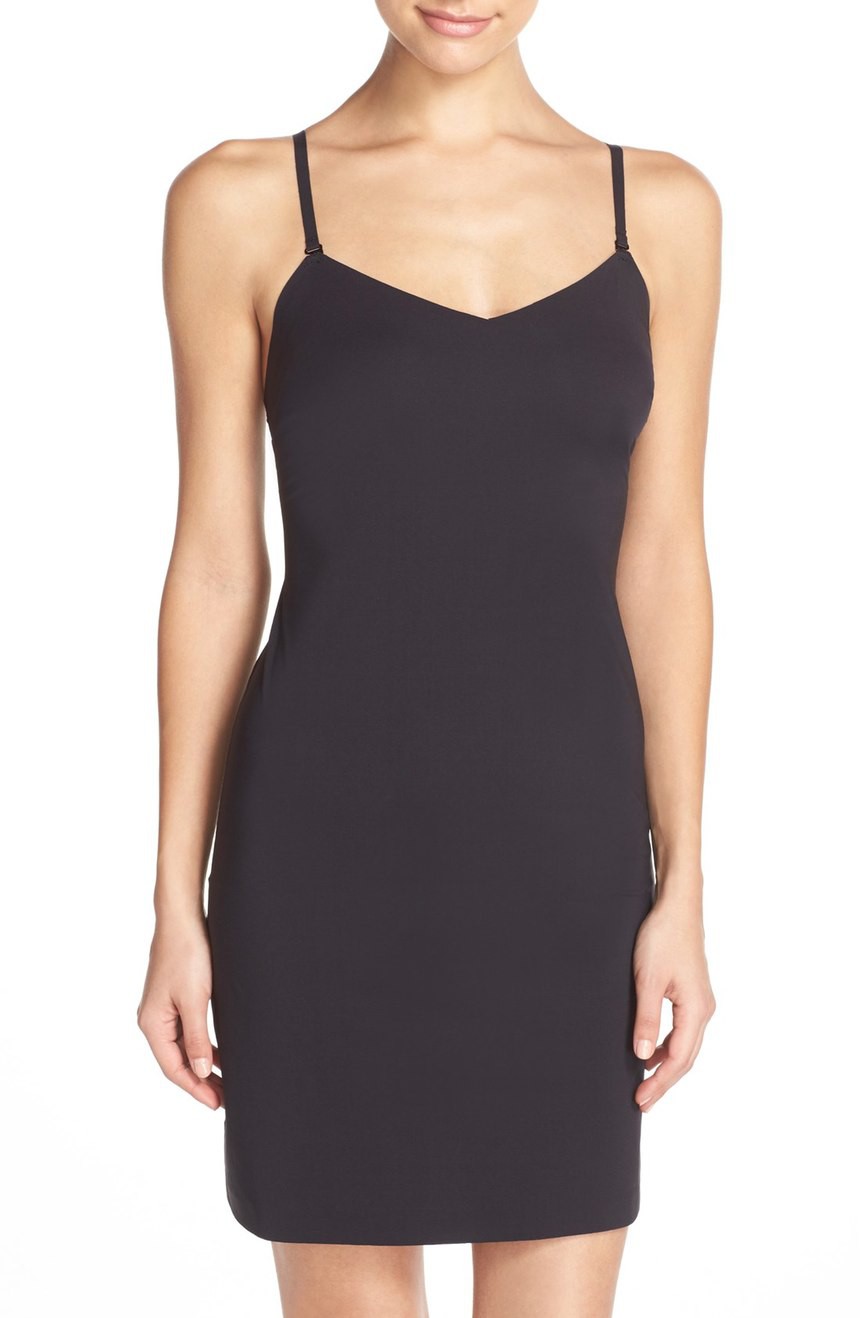 Ban the dreaded bulge with an upper-body undergarment that will smooth out your front and back. Though the fabric of your gown will determine whether you can wear embellished, lacy or smooth undergarments, you can never go wrong with simple lingerie that will reveal no lines underneath like Spanx Thinstincts Convertible Shaping Slip that comes with convertible straps so it can work with your gown regardless of whether it's strapless, one-shoulder or halter.

What type of dress do you plan on wearing for your Big Day? Share with us in the comments below!

By Melissa A. Paniagua