Bridal separates are everywhere! And they are breaking all the rules of traditional wedding fashion.
These unique wedding day looks are chic, sexy and modern. With bridal separates you can have two pieces that combine to create a more traditional wedding day look - or mix and match for a completely un-tradtional and un-expected wedding day style. Bridal separates are fun and playful. And lets be honest - don't we all like breaking the rules?
01.

Open Back Bows
Our first wedding dress style seems modest and traditional from the front, but once the bride turns around, it takes your breath away. This open back, three bow style is truly one of a kind. The back styling of this gown takes a traditional style and makes it contemporary and sexy.
02.

Lace Crop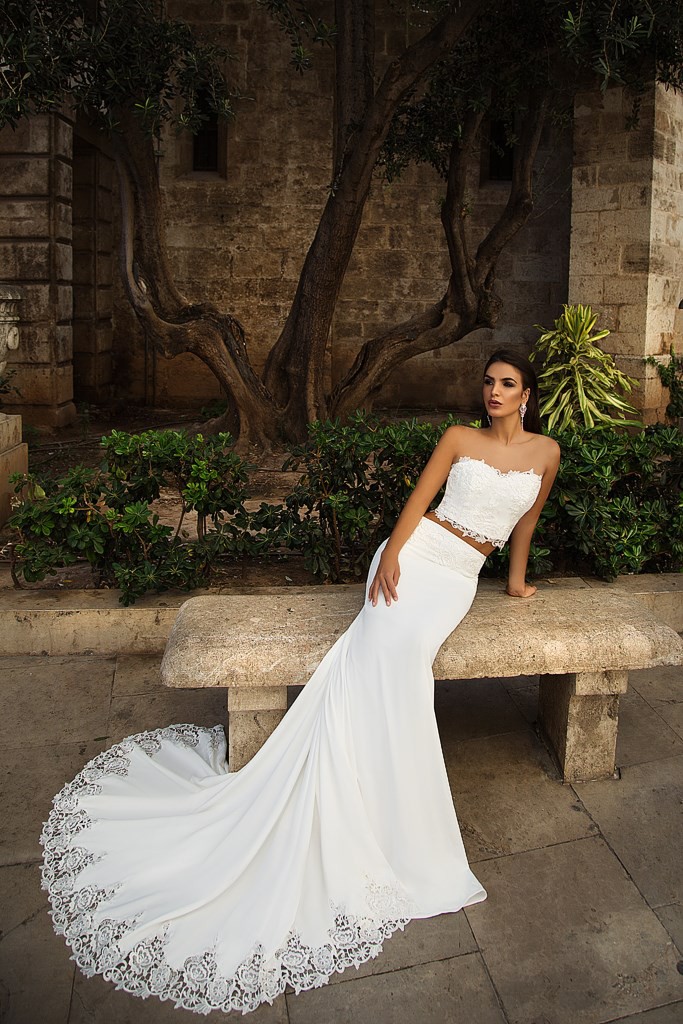 A bold bridal separates style that will make a big statement with its sexy lace crop top and dramatic skirt.
03.

Sweet and Playful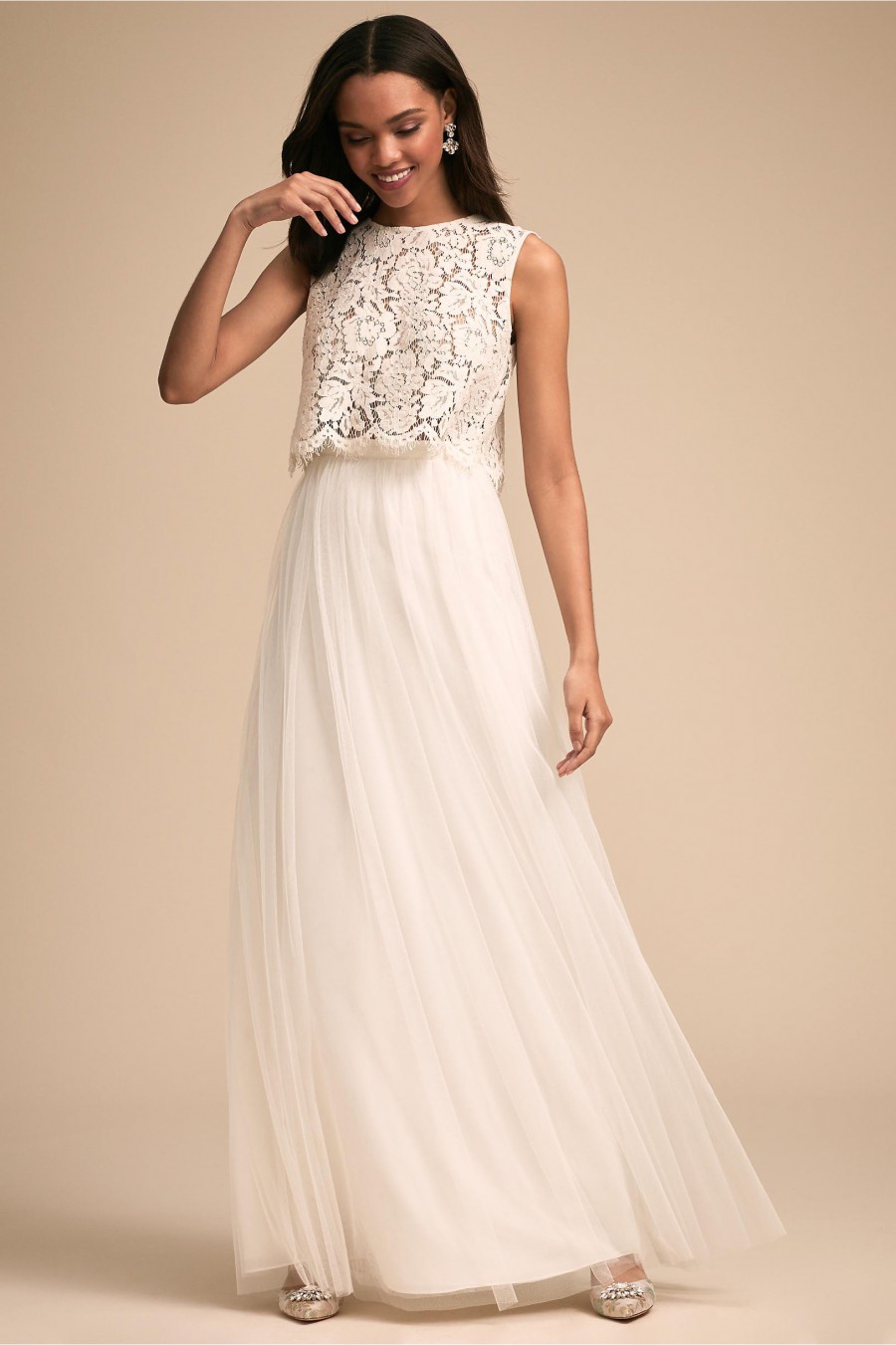 Craving classic crocket lace and playful layered tulle on your big day? This wedding separates style will be perfect for you! A delicate and playful tulle top is paired with a layered tulle skirt for a sweet, and slightly less formal wedding day look.
04.

Mini Separates
A sultry untraditional bridal style featuring a crop top and mini skirt that is sure to leave everyone a bit speechless. Although this is a very untraditional bridal day look, the skirt includes a sleek overskirt, that when standing, gives the appearance of a more traditional full skirt. You can feel a bit more traditional during the ceremony, and then playful and sexy as you dance the night away.
05.

Peplum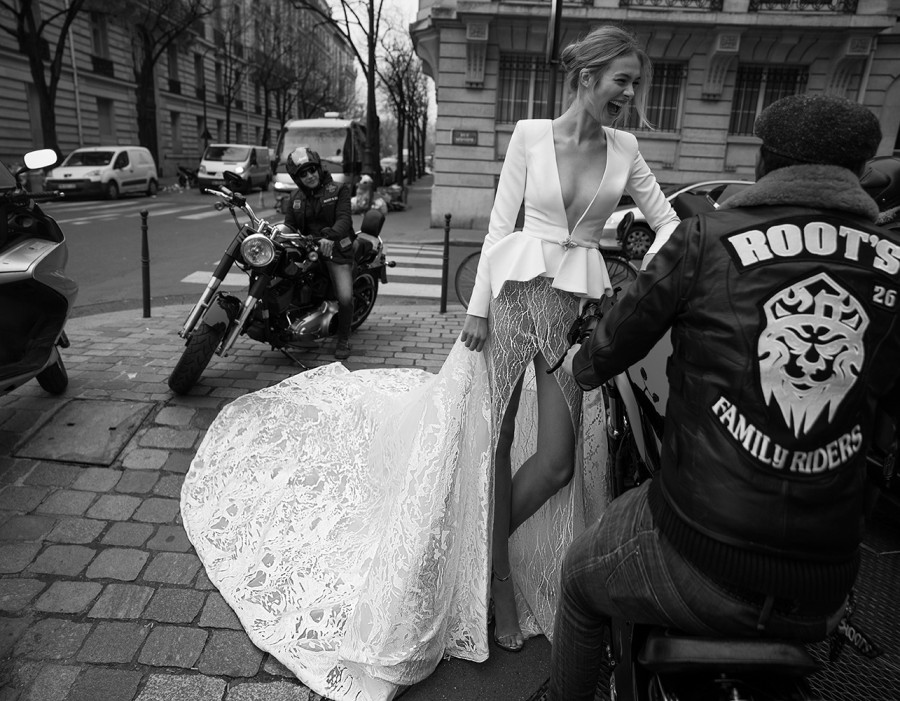 A stunning contemporary bridal separates combination. A sleek and sexy peplum top pairs unexpectedly with a dramatically detailed skirt. These pieces are so different, but pair beautifully together. This wedding style shows how fun and versatile wedding separates can be!
06.

Ruffled Texture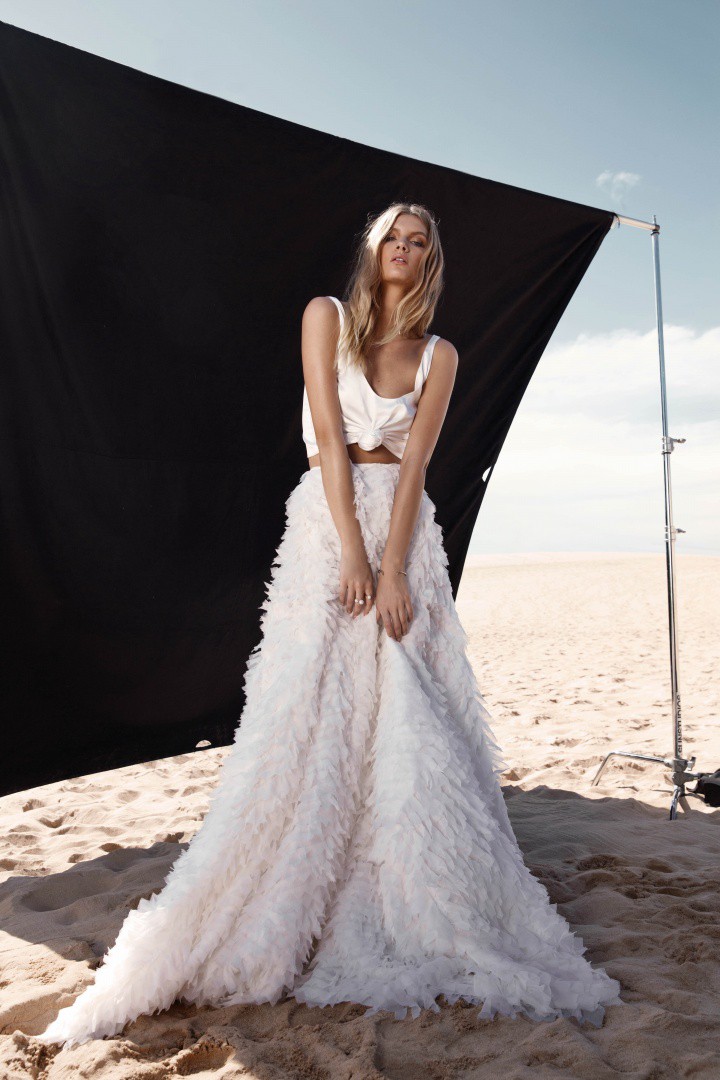 This next separates combination is all about texture. A soft ruffled organza skirt is paired with a classic silk cami. This look is effortless, feminine and playful!
07.

Sassy Separates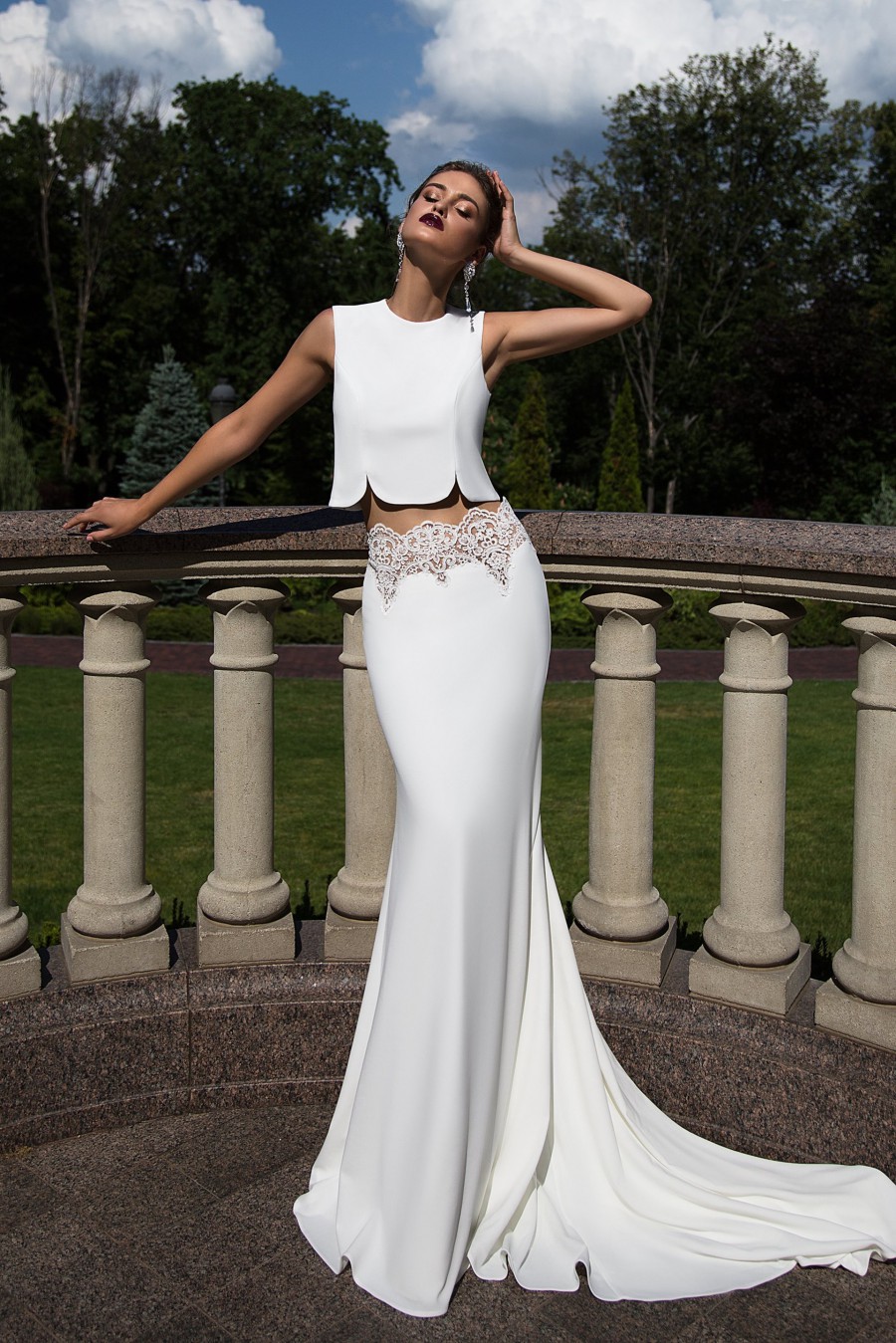 A sassy, separates wedding style that is all about accentuating the brides waist. Where do we even begin with this gorgeous gown? The slight crop top is contemporary and structured, with delicate scallop like accenting at the hemline. That mimics the lace scalloping at the top of the sleek white skirt. A beautiful mix of traditional lace, with modern structure.
08.

Floral Texture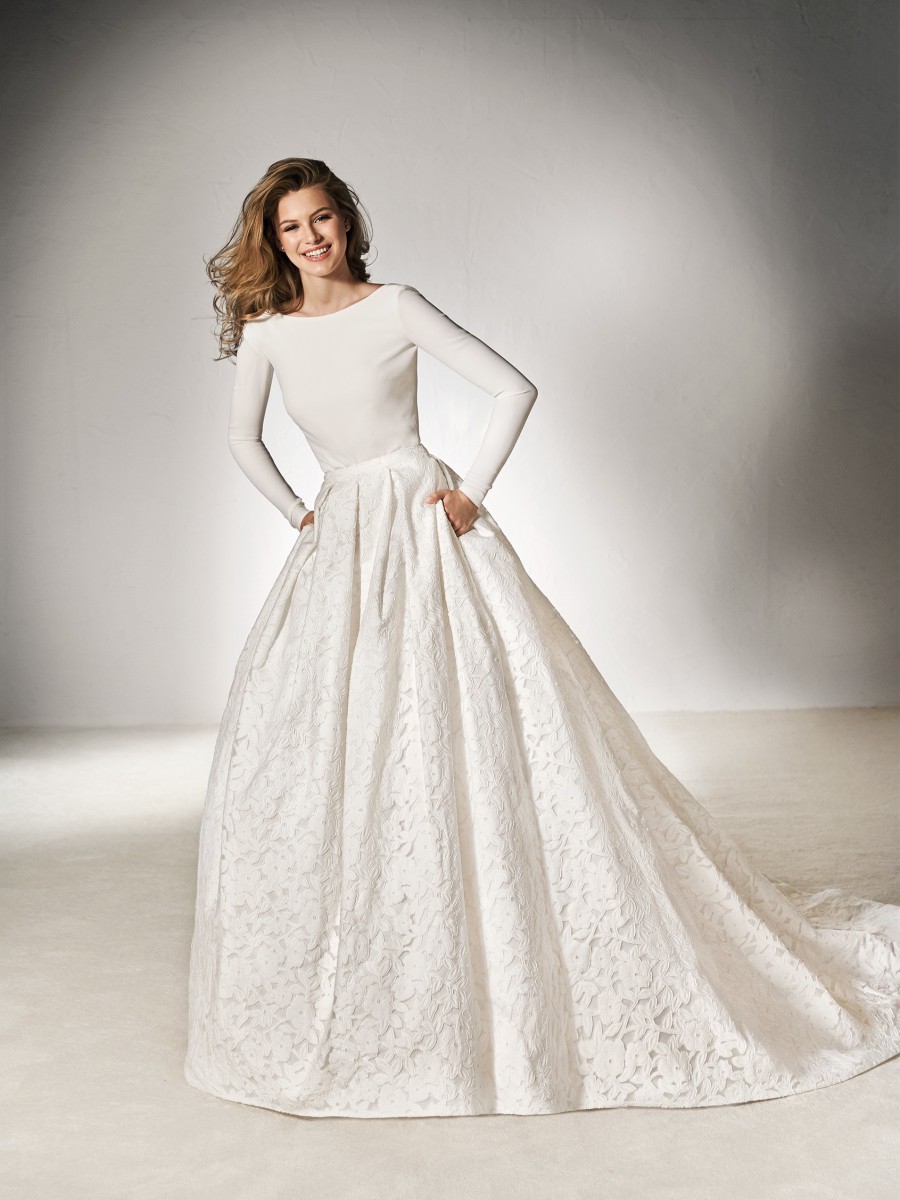 Pronovias brings us our next stunning wedding separates combinion. The voluminous textured ball gown skirt (with pockets!) is absolutely captivating. It is paired with a sleek classic top that doesn't take away from the beautiful texture of the skirt. A gorgeous combination!
09.

Festival Boho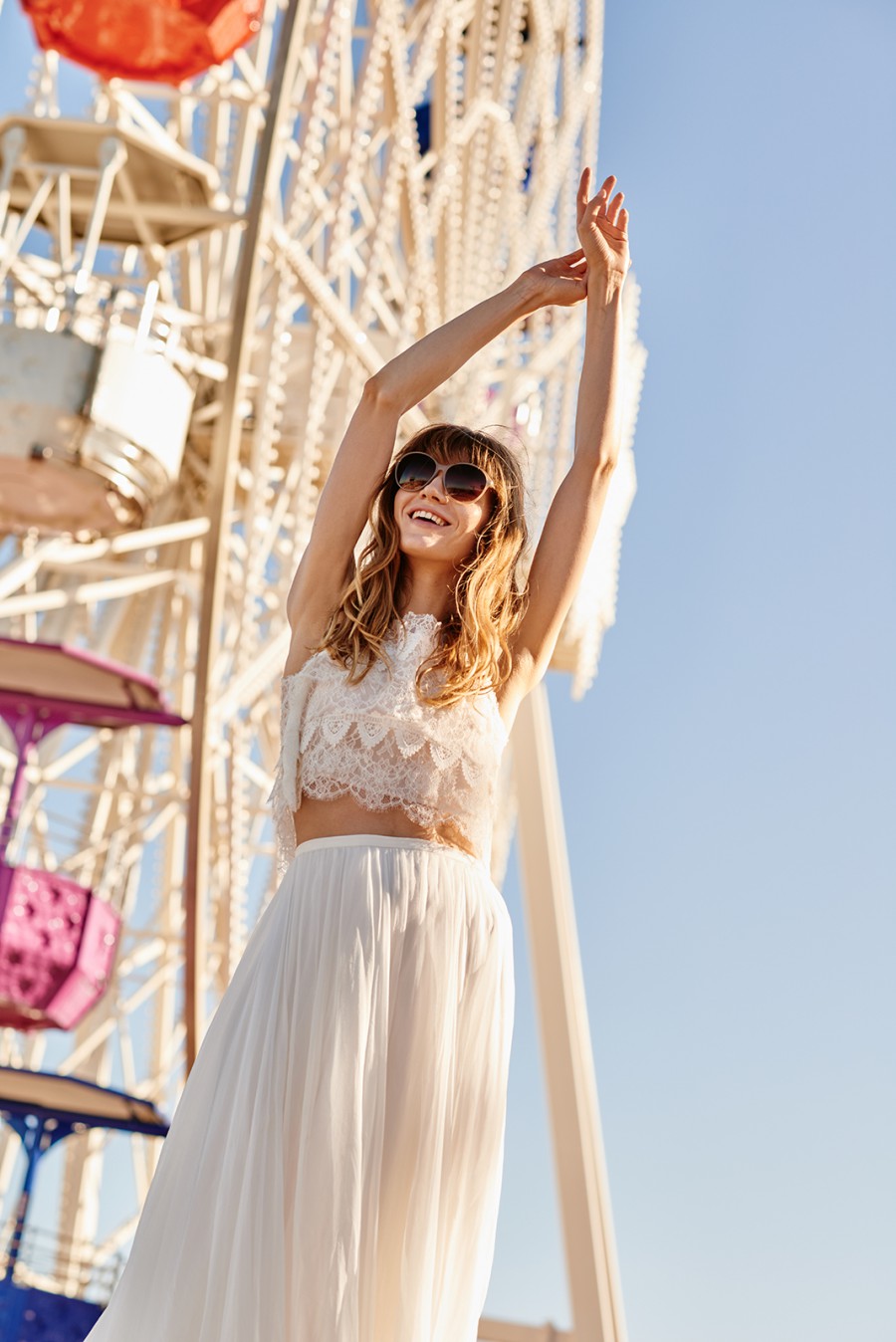 A playful, festival ready bridal separates style for all the laid back, bohemian brides out there. This style is comfortable, easy to wear, and perfect for a hot summer wedding day. Get ready to party the night away in this bridal separates wedding style.
10.

Jacket Top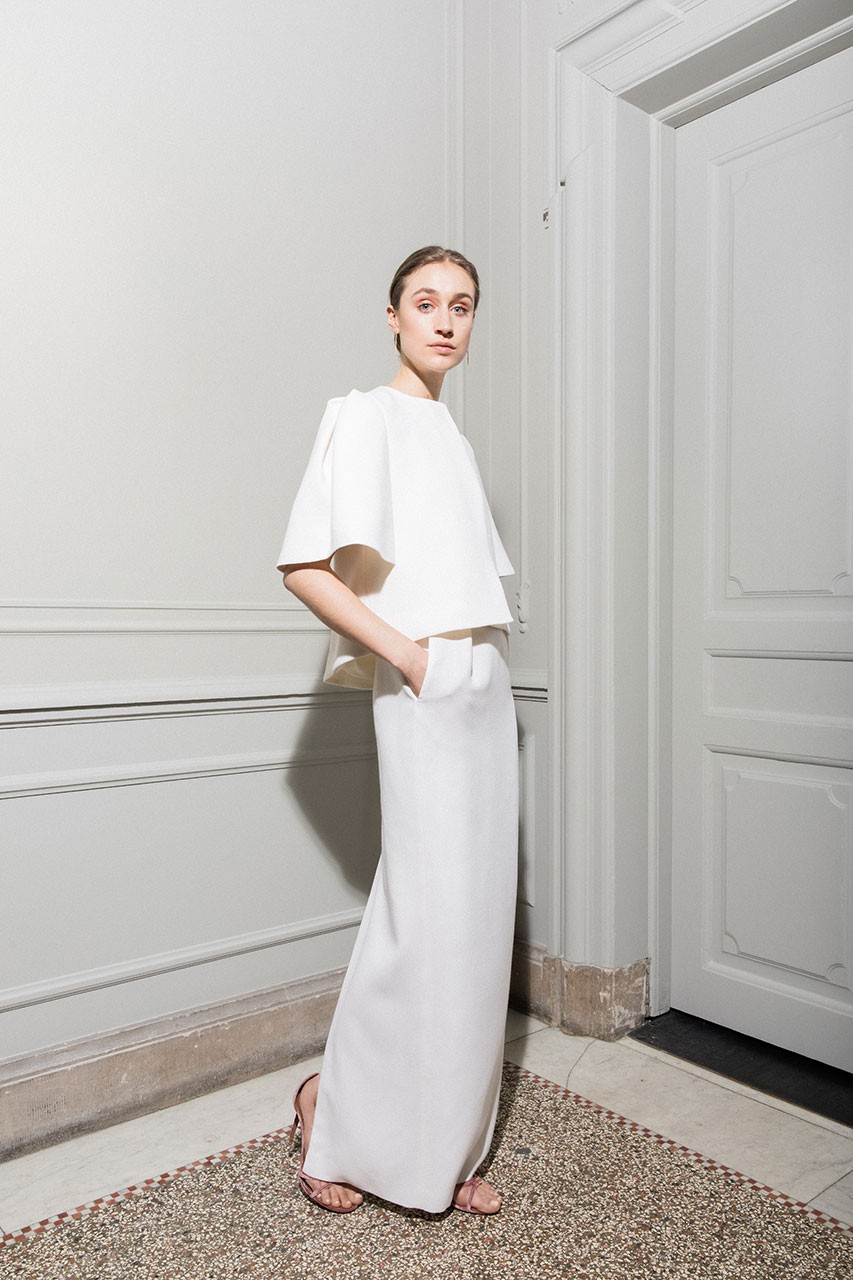 Our next bridal separates look is for a contemporary bride looking to make a less-that-traditonal statement on her big day. This sleek white combo includes a simple column skirt, and a jacket like top that has an almost cape-like appearance. An untraditional bridal option that is so chic and fashion forward.
11.

Wear the Pants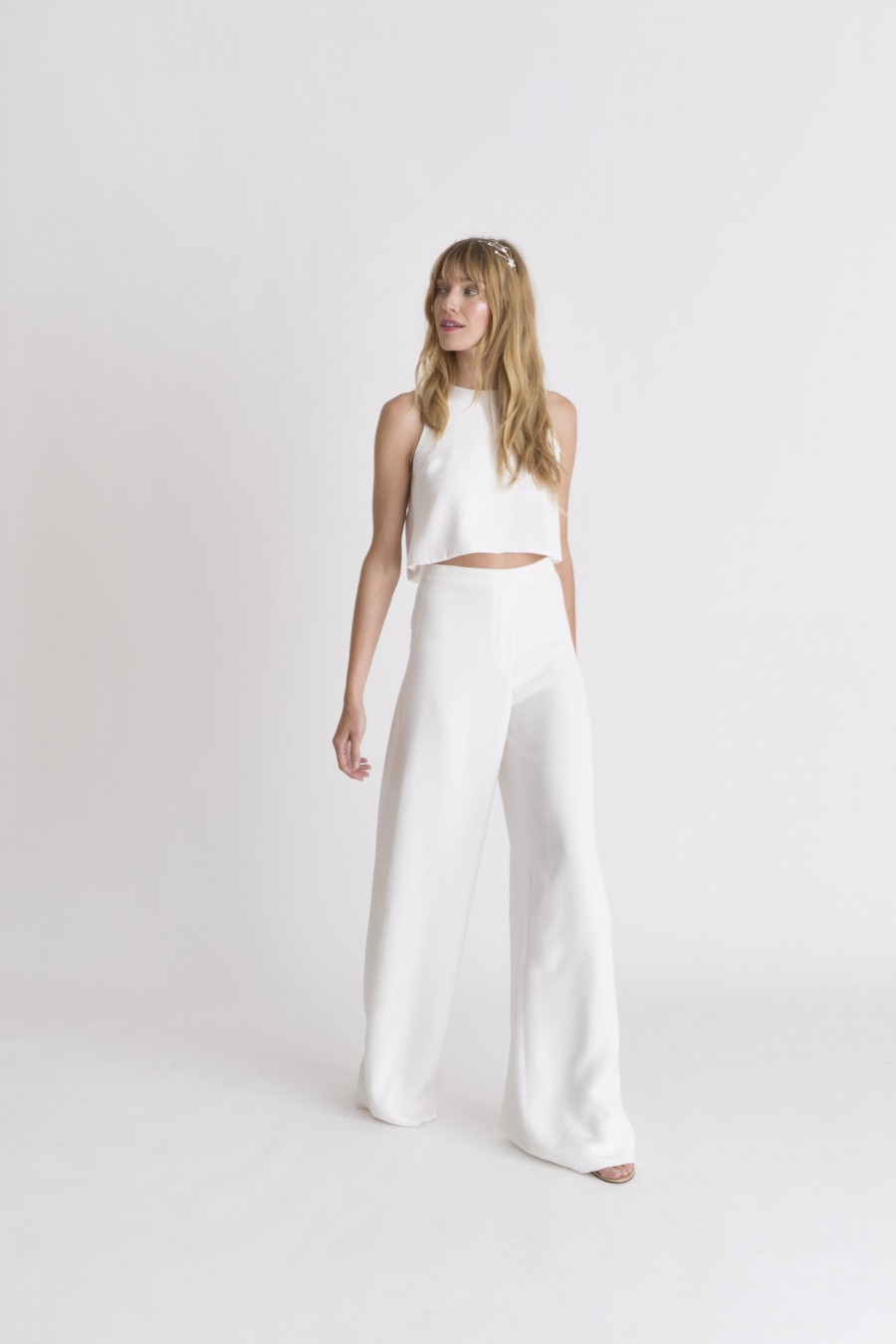 A great way to incorporate bridal separates into your wedding day look is with a mix-and-match worthy pantsuit. You can even swap our different tops for the ceremony and reception! The possibilities are endless!
12.

Versatile Tulle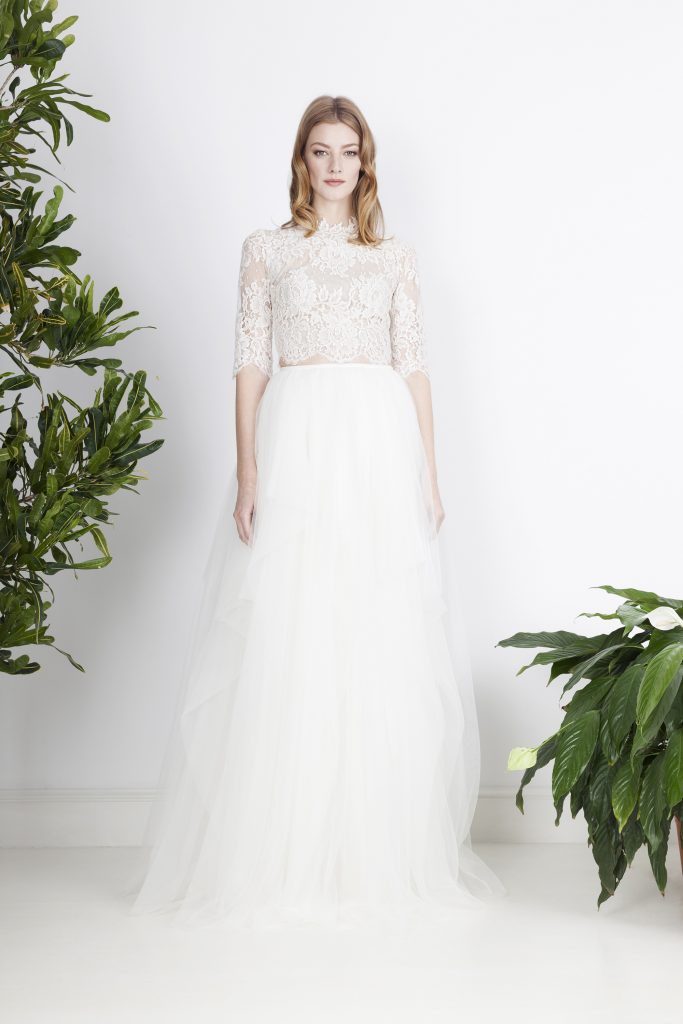 A voluminous tulle skirt can pair with just about any top when it comes to mixing and matching bridal separates. But we love this combination with a vintage inspired lace crop. These textures pair so beautifully together!
13.

Breezy Separates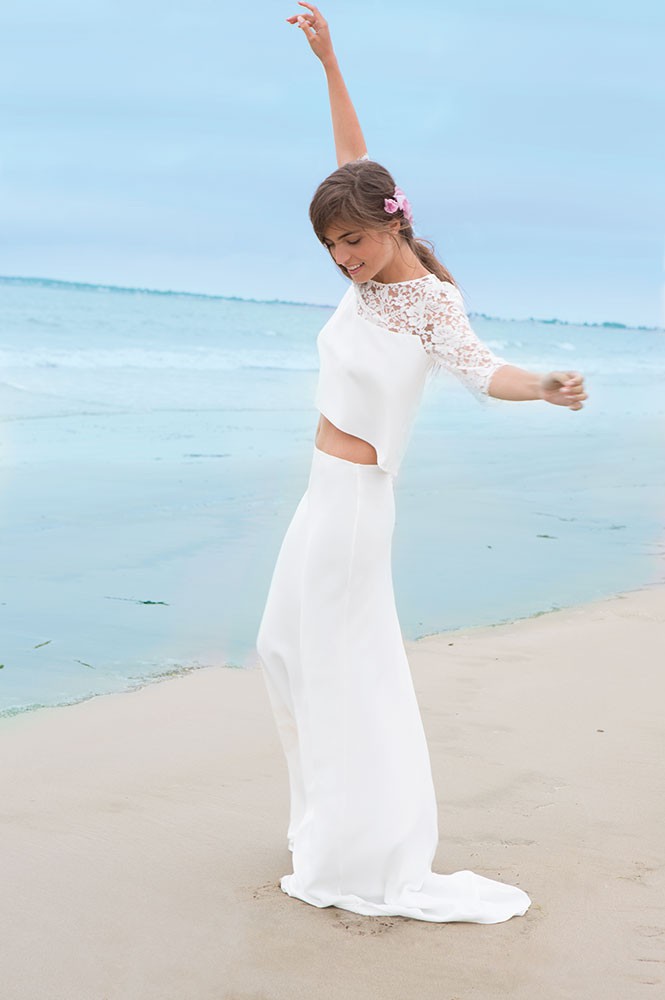 A chic and casual bridal separates style that is easy and breezy! This adorable style is perfect for a casual seaside wedding day. This matching combination is playful and delicately feminine.
14.

Futuristic Fashion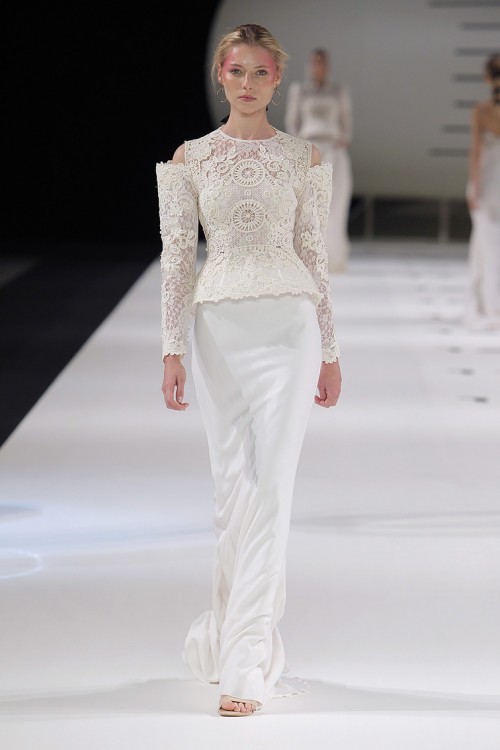 Yolan Cris brings us a futuristic bridal separates style that is truly one of a kind. The lace peplum top has antique influences, but is transformed into a completely modern look when paired with a sleek white skirt.
15.

Golden Glitz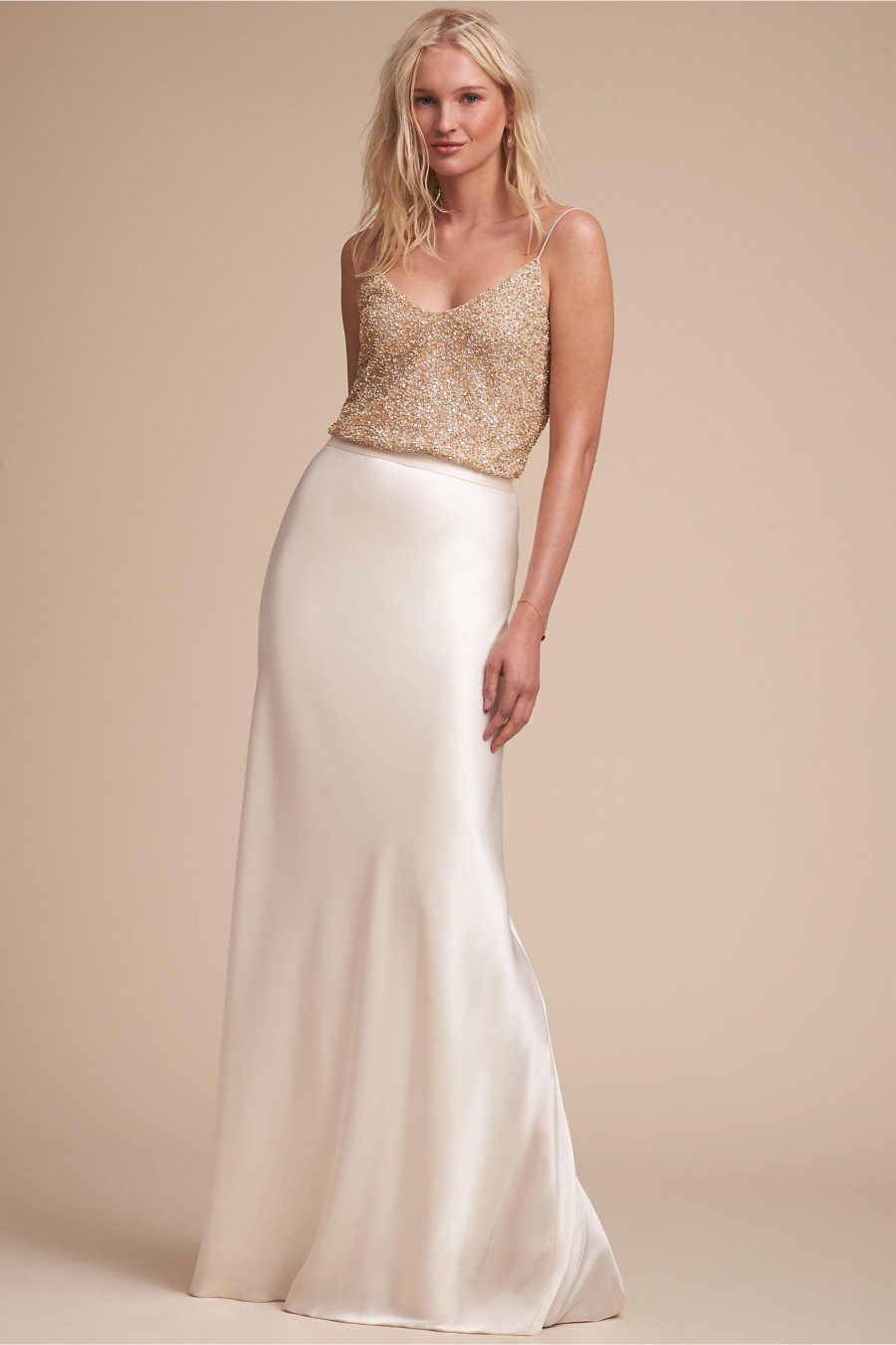 Add some golden glam to your wedding day look with this next wedding separates style. A slick silk skirt pairs with a golden sequin party top for a playful, chic wedding day style!
16.

Embellished Palazzos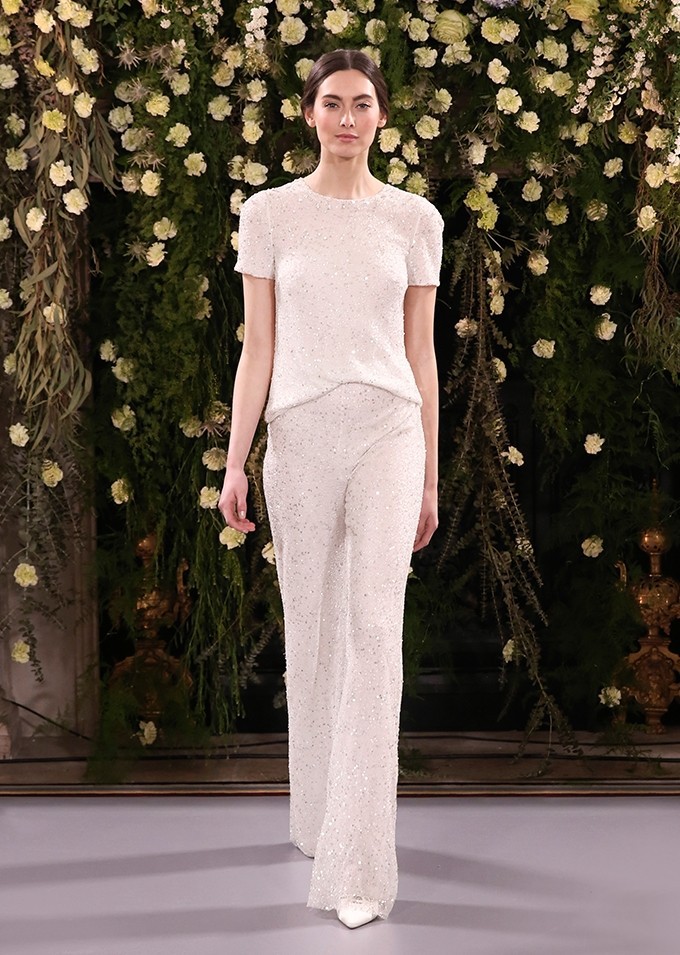 We are breaking all bridal boundaries with this next bridal separates style from Jenny Packham. Matching embellished top and breezy palazzo pants are chic and trendy. This bridal style is completely untraditional, but we just can't help taking a second look!
17.

Silk and Satin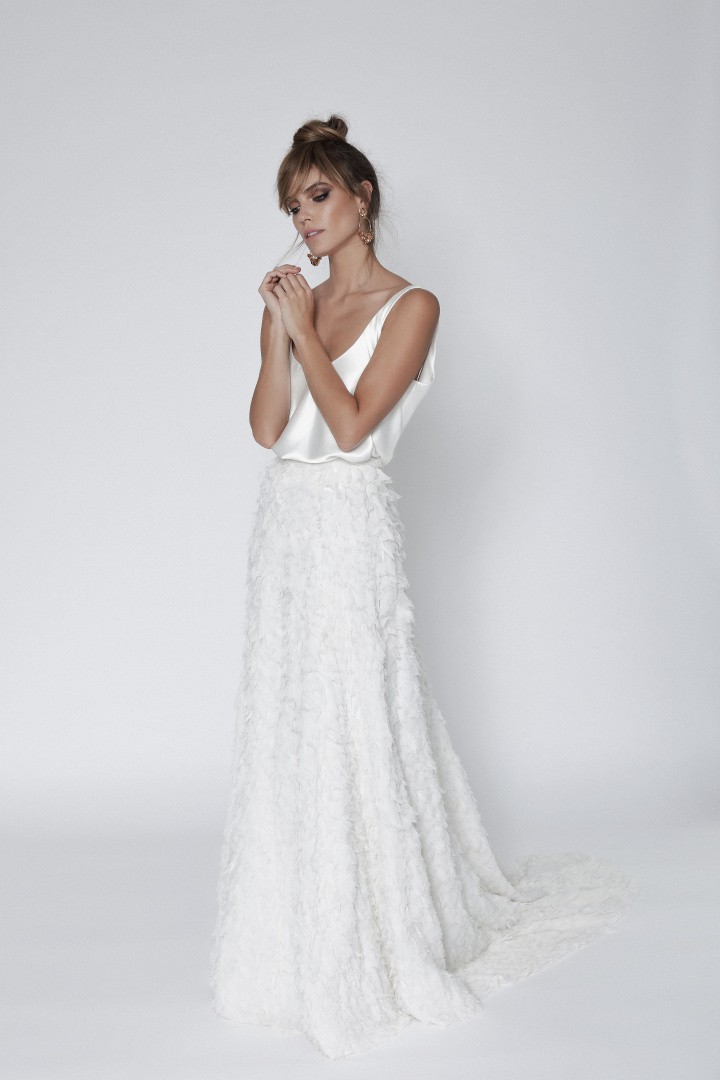 A beautiful combination of silk and satin. Our next bridal separates style combines a luxurious satin top with a ruffled silk skirt. This very different textures look absolutely dreamy together. We are in love!
18.

Sassy Bandeau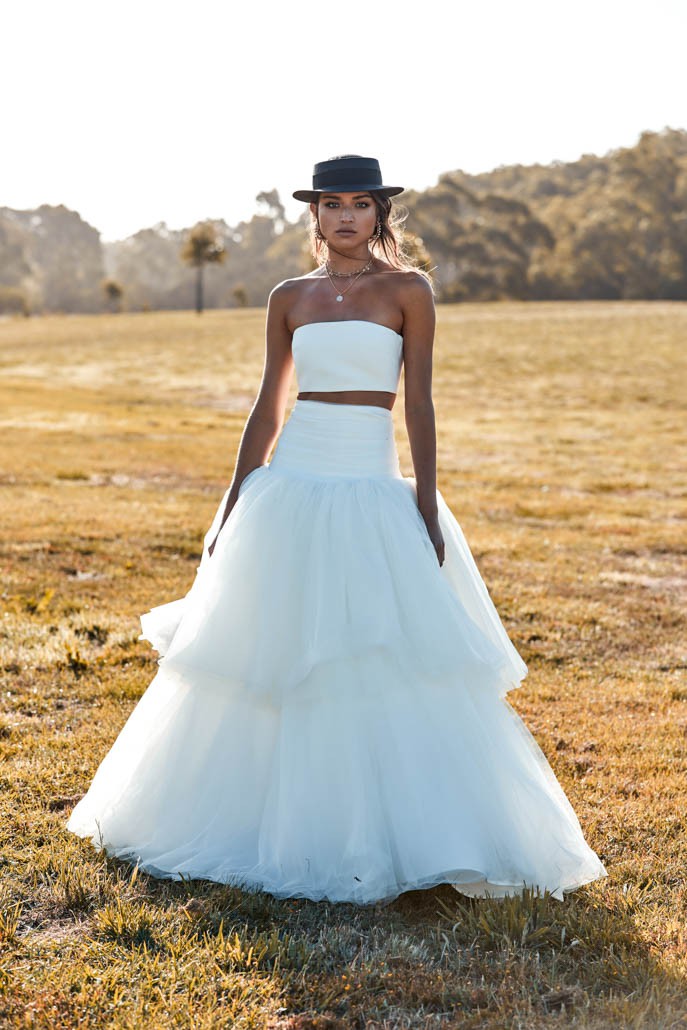 Our next bridal separates combination is sassy and sexy. A simple white bandeau top is paired with a two tiered, drop waist tulle skirt. A stunning combination for an untraditional, eclectic bride.
19.

Menswear Inspired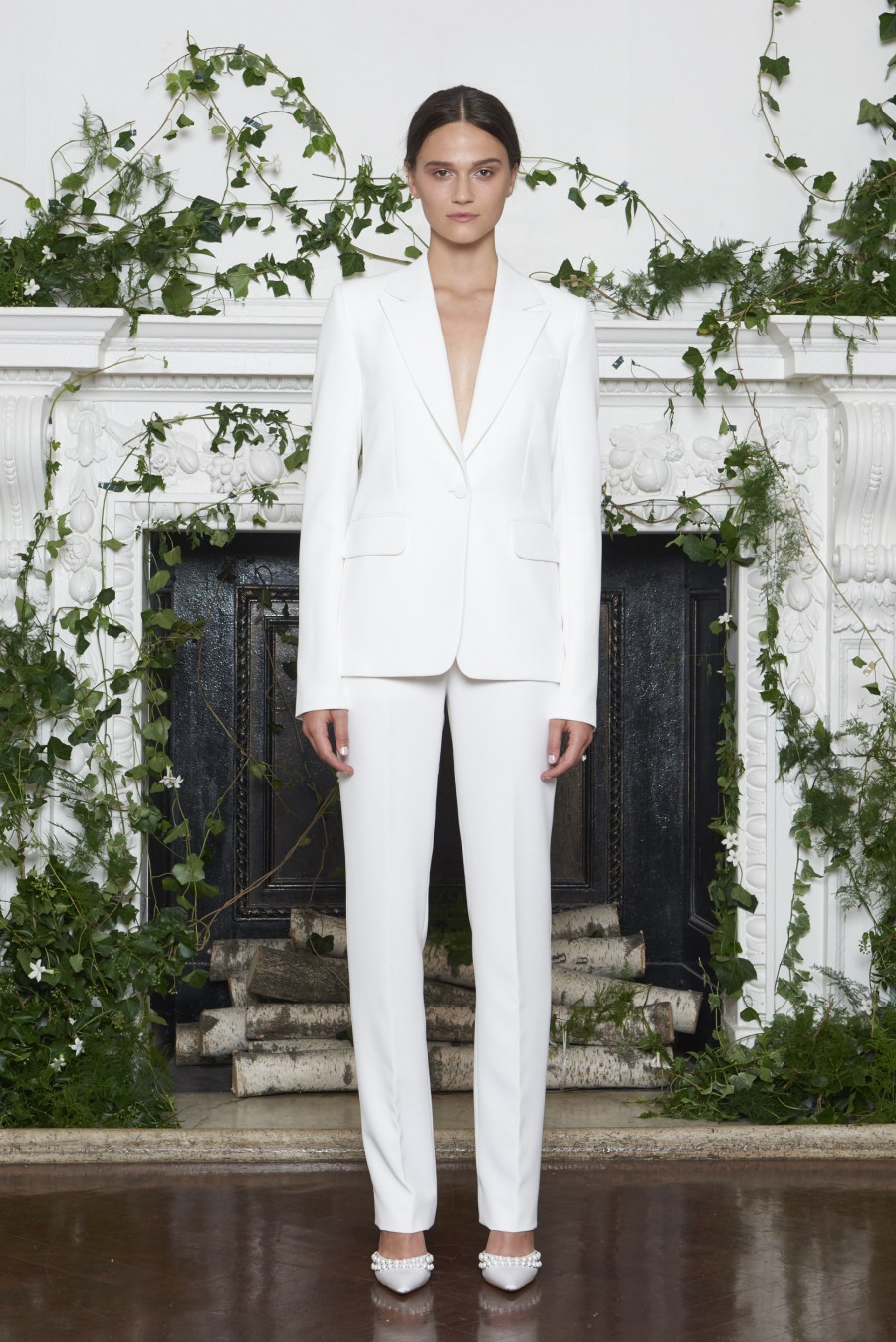 A bridal pantsuit is a versatile wedding separates style that you can mix and match depending on your occasion. A great option for a more casual wedding day celebration - or a chic option for a city hall elopement. A fierce wedding style that is definitely breaking all of the rules!
20.

High Low High Fashion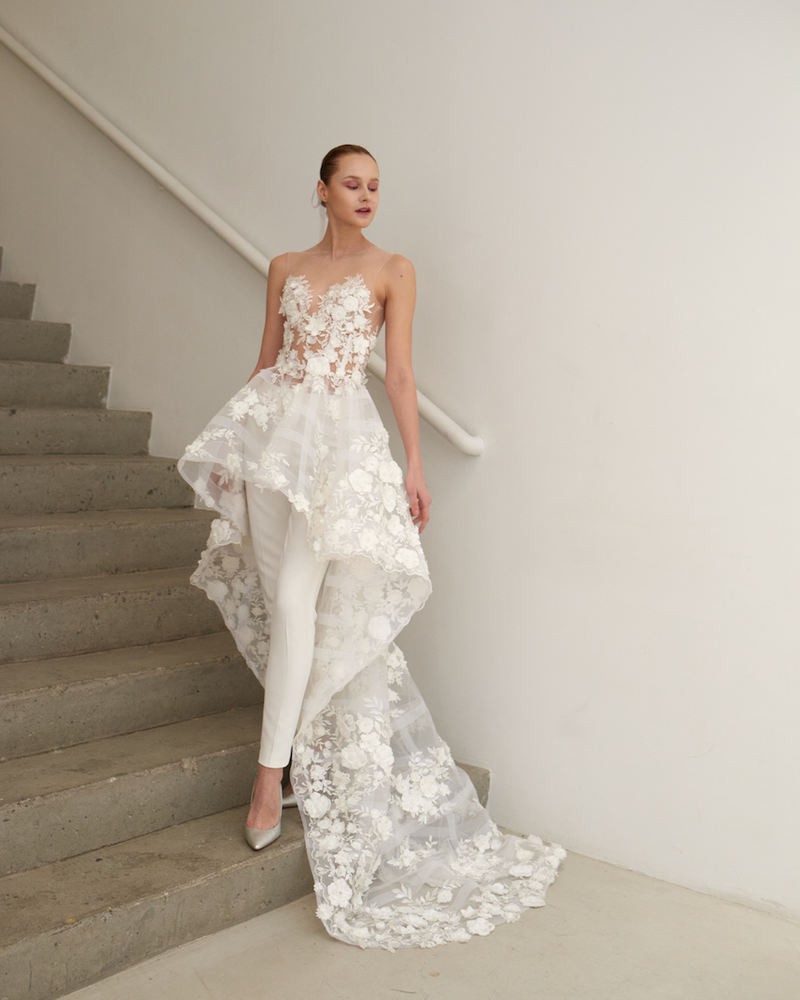 We are a bit speechless by how stunning this next bridal separates style is. Slim pants are paired with a completely unique semi-sheer high low top that slightly mimics that of a more traditional wedding dress. A truly one of a kind bridal separates style that we are absolutely swooning over!
21.

Blushing Bride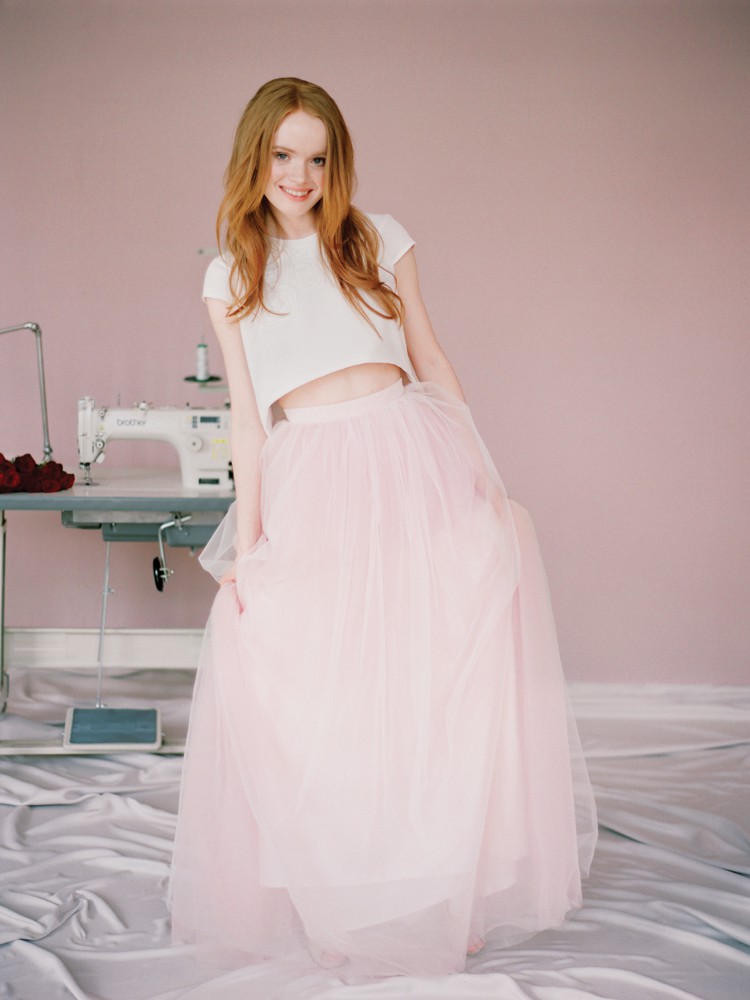 Are you a pink loving bride looking to incorporate some blushing color tones into your big day? Then this next bridal separates style is for you. A playful blush tulle skirt is paired with a cap sleeve crop top for a girly and feminine wedding style.
22.

Watercolor Lace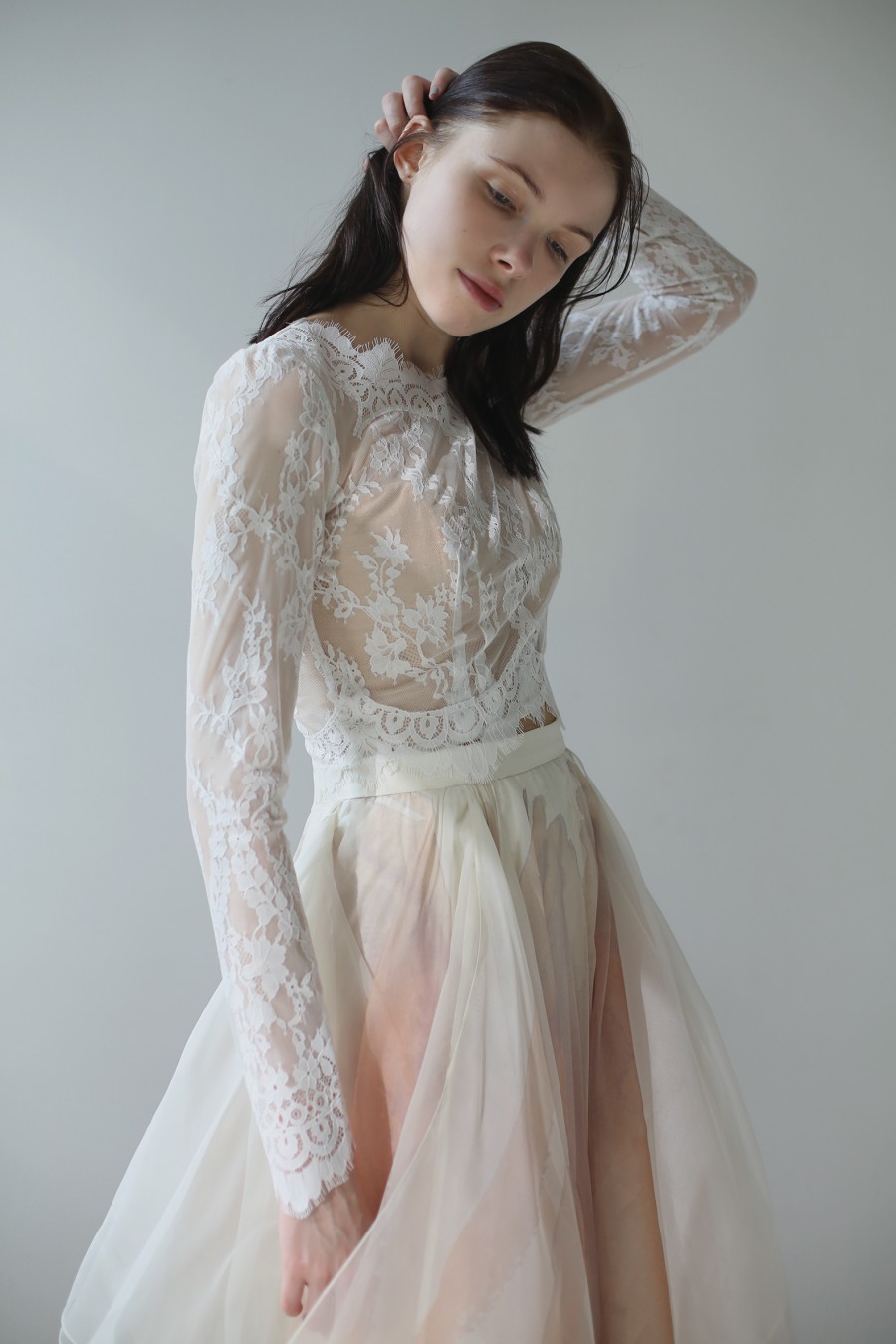 For our more artistic brides out there, you are going to love this next bridal separates pairing. A delicate scalloped lace top with traditional antique influences is paired with a contemporary watercolor accented skirt for a truly stunning match. A one of a kind bridal look that is sure to leave everyone breathless.
23.

Black and White Botanicals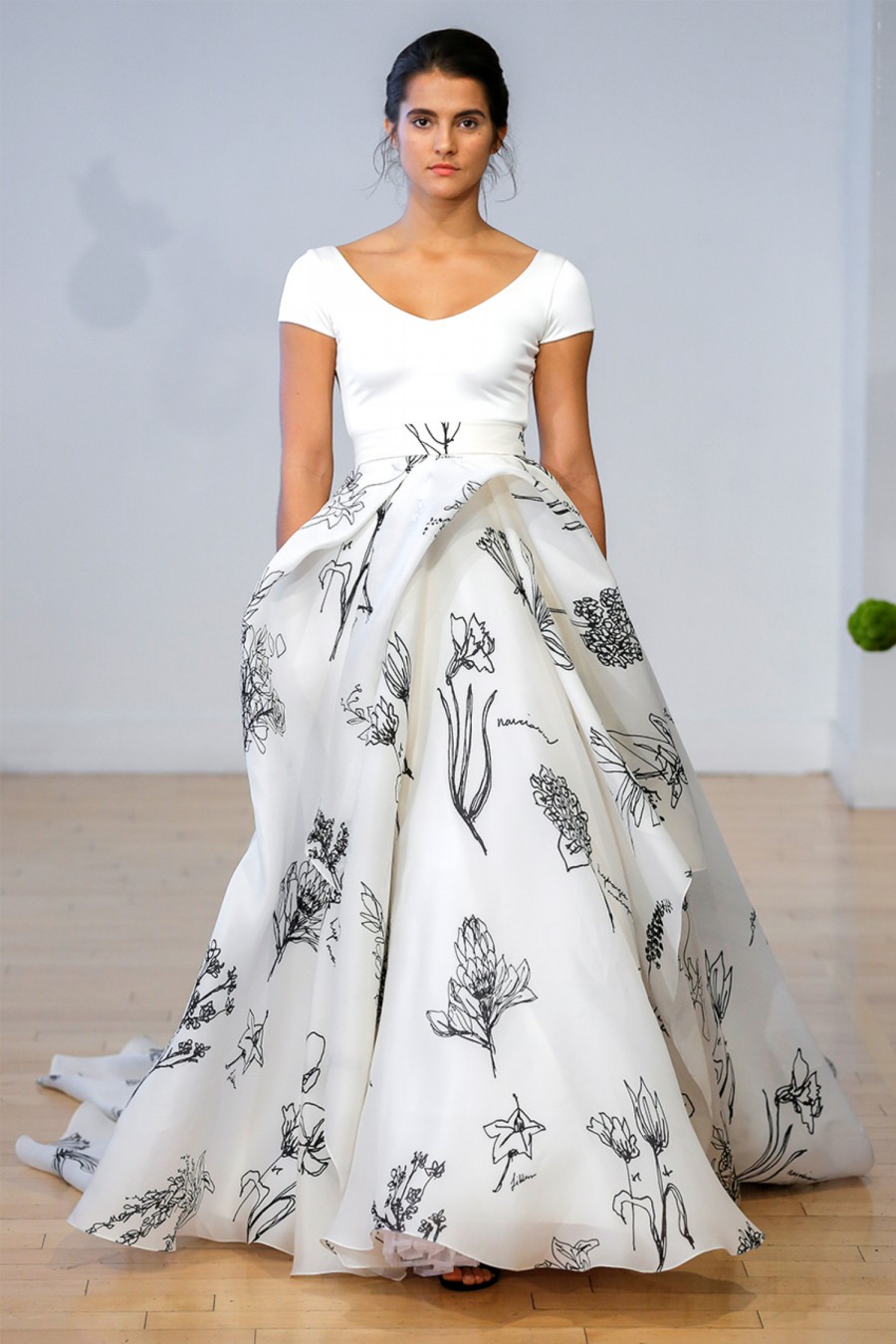 Carol Hannah is breaking free from traditional wedding fashion with this stunning black and white design. This gorgeous draped silk skirt is covered with delicate black botanicals for a truly one of a kind wedding day floral dress design. This stunning skirt is paired with a classic silk jersey tee, making this one of the most comfortable wedding day styles on our list!
24.

Girl Next Door Casual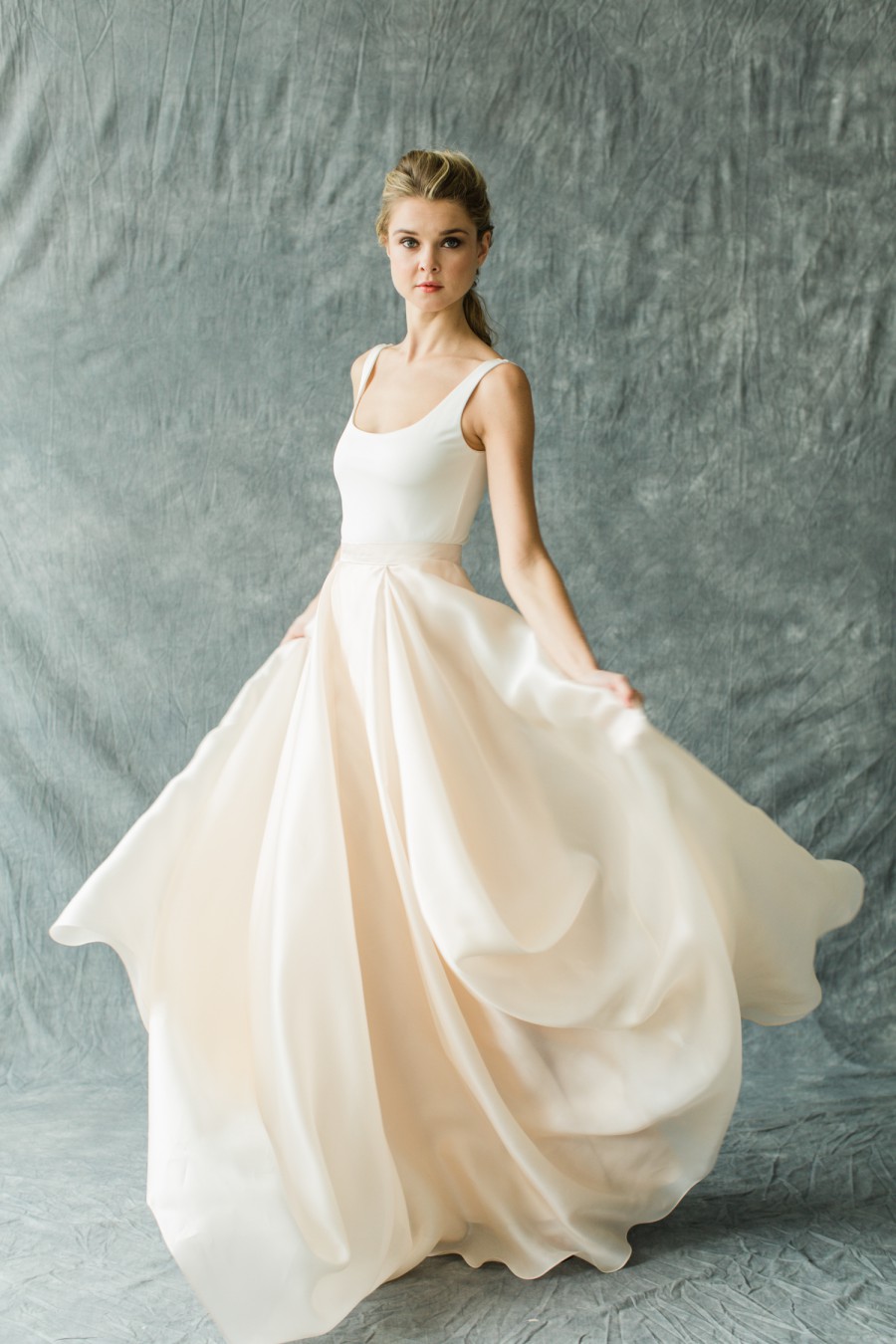 Our next bridal separates style is perfect for a more casual girl-next-door type of bride. This combination looks gorgeous, but is versatile and comfortable to wear all day long! A silk stretch jersey tank is paired with a blush silk satin skirt for a soft, flowing wedding day style.
25.

Sweater Weather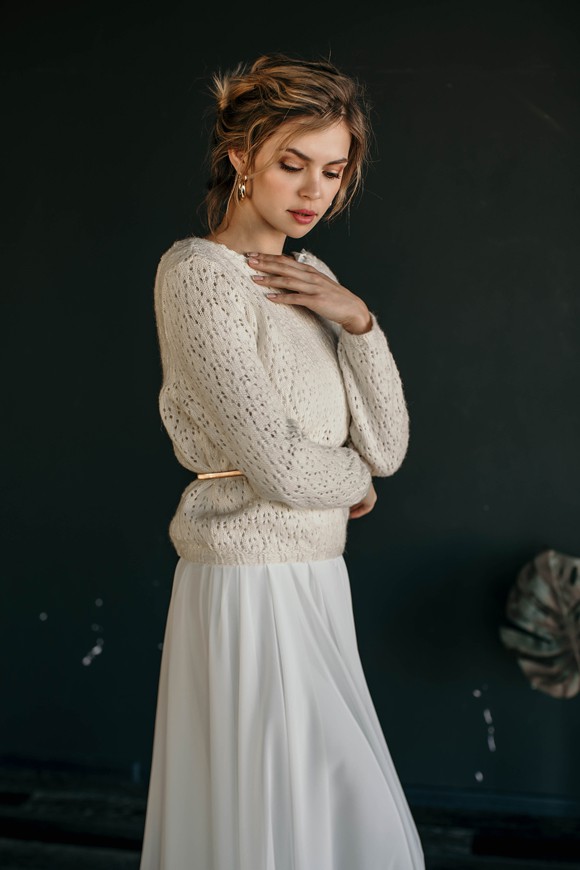 A sweater may not be the first thing you think of when planning your wedding day style - but this next bridal separates look really is quite lovely. A sleek silk skirt is paired with an intricate knit sweater for a casual winter-ready wedding day style!

By Kathryn Schrotenboer