Can you guess what one of our favorite playful, modern wedding fashion trends is? Pockets!
What is better than a chic, fancy, fashionable wedding gown with pockets? The pocket trend is sweeping the wedding scene and we can understand why. Brides to be are clambering for these playful styles with extra hidden storage for their big day. So check out our favorite pocket wedding gown styles to add some playful, cheeky fun to your wedding day look.
01.

Elegant Architecture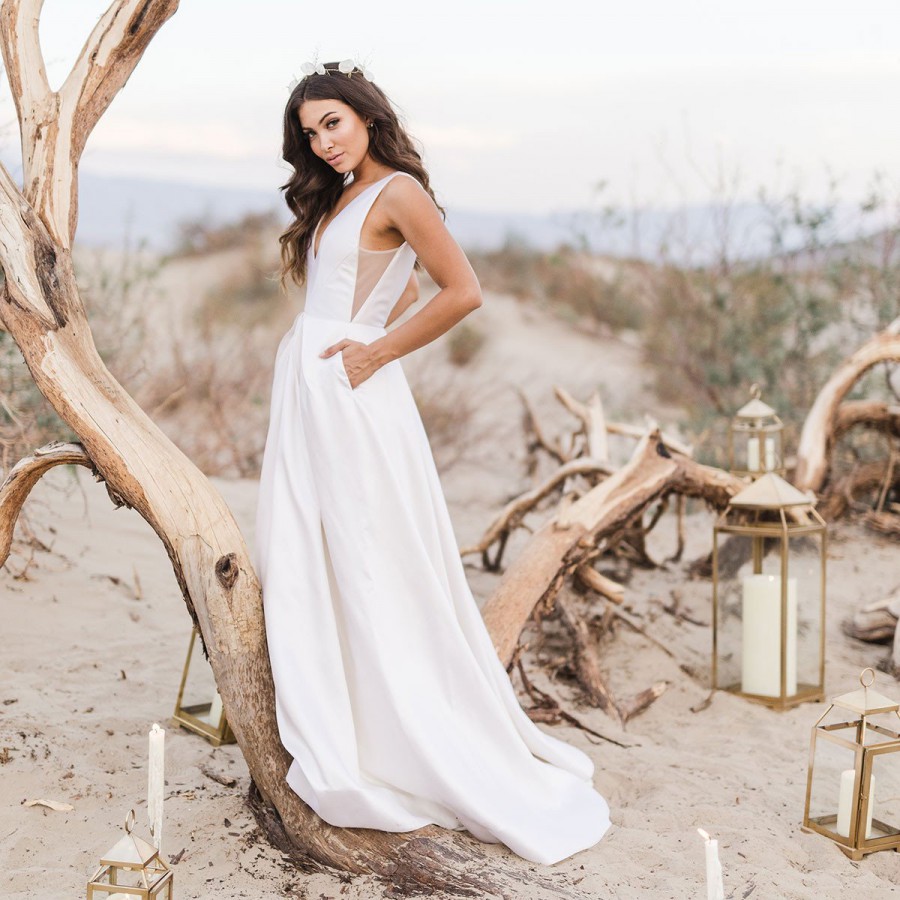 An elegant, architectural structured wedding gown with sleek, chic side pockets and sheer side panels for a unique finish.
02.

Hot Summer Nights
This sexy silk skirt and lace corset top combo will have you ready for a hot summer night wedding.
03.

Feminine Glitz
A feminine beaded bodice paired with a soft flowing silk organza skirt, with subtle side pockets for a sweet girly style.
04.

Low Bow
An elegant key hole cut open back gown with a delicate oversized low set bow and sleek side pockets for an elegantly modern look.
05.

Low Pocket Lace
A chic, contemporary lace two-piece wedding gown, with hidden low set pockets for a playful finish to this fantastic look.
06.

High Low Satin
A fresh fashion find for the contemporary bride. Satin high low skirt is paired with an open back crop top for a sassy look. Playful side pockets to finish off this trendy style.
07.

Sheer Pockets
An elegant ballgown style featuring sheer pockets. A stunning, romantic wedding style.
08.

Ballgown Buttons
A classic satin ballgown, adorned with top-to-bottom buttons down the back of the dress. Side cut pockets are hidden into the natural folds of the satin skirt.
09.

Textured High Low
Stunning textured high low gown with side pockets to finish off this chic, modern look.
10.

Modest and Modern
A modern, modest high neck style with a subtle line design to make this an elegant classic for the contemporary bride. Soft side pockets lay delicately into the natural folds of the skirt.
11.

Lace Detailing
We are in love with this stunning lace dress. Feminine deep-V neck style, delicate rose lace and subtle line detailing. Not the mention the gorgeous sheer pockets!
12.

Classic Contemporary
A simple classic cut gown with subtle seam pockets for a contemporary edge to a classic style.
13.

Classic Glam
Classic, romantic glamour. With subtle concealed side pockets.
14.

A Modern Romance
A modern take on romantic bridal wear. Lace crop top and voluminous silk skirt with hidden side pockets pair beautifully for a contemporary bridal style.
15.

Side Split Pockets
A stunning low and wide v-neckline wedding gown featuring a softly wrapped skirt with deep side slit and pockets that hide beautifully into the natural folds of the dress.
16.

Gypsy Lace
A stunning gypsy bohemian lace wedding gown with intricate baroque sleeves and simple sheer pocket accents.
17.

Textured Lace Tea Length
A textured lace tea length wedding gown with full length sheer sleeves and simple sheer side pockets.
18.

Belted Bow
A simple contemporary V-neck style with a gorgeous belted bow waist accents. A fashion forward bridal statement with built in side pockets
19.

Butterfly Garden
Modern bridal romance. This butterfly inspired gown with dimensional appliqué has one of the most beautiful bodice designs we have seem in contemporary bridal fashion. Hidden sheer side pockets finish off this show stopping style.
20.

Polka Dot Pockets
A unique polka dot wedding gown style, with playful pockets. Feminine and simply beautiful.
21.

Textured Style
A sophisticated, polished wedding style featuring gorgeous textured fabric and thin delicate straps - and of course, subtle cut side pockets.
22.

Contemporary Front Pockets
A futuristic wedding style with uniquely designed front pockets.
23.

Voluminous Pockets
Most of the pocket wedding gown styles we have seem so far have featured subtle, side cut pockets that blend beautifully into the overall style. But this next contemporary cut gown is anything by subtle. Voluminous pockets are a bold, front facing statement that add drama to this modern look.
24.

Shirt and Tie
A modern bridal design made up of a button up, collared bodice and voluminous ball gown skirt. And of course, hidden side pockets.
25.

Form Fitting Cape
A contemporary form fitting capped wedding gown style, with small slit front pockets for a dramatic modern flair.
25.

Barely There Neckline
A sexy deep-V, barely there neckline style in the most stunning of feminine fabrics. And of course, some hidden side pockets that lay beautifully into the folds of the dress.
26.

Two Piece Pockets
A flirty two piece wedding gown with a voluminous silk skirt with simple slit side pockets.
27.

Southern Comfort
A stunning traditional wedding gown, that is a southern bell's dream. And don't forget the adorable side pockets to add just a touch of modern fun!
28.

Modern Tuxedo Pantsuit
Viktor Rolf is challenging traditional bridal fashion with this bold modern pantsuit style. Including side slit pockets!
29.

Sleek Contemporary
A sleek contemporary ball gown featuring pleated fabric and delicate side pockets.
30.

Collared Bridal
This stunning modern take on bridal fashion is absolutely fabulous with its collared neckline and side set pockets.
31.

Textured Modesty
A beautiful modern ballgown featuring a unique textured fabric, a modest neckline and deep side pockets.

Shop wedding dresses now.

By Kathryn Schrotenboer