Contemporary fashion is bringing us some of the most exciting necklines to hit the bridal scene in years.
It is no longer strapless necklines that lead the way. In modern bridal fashion we have seen it all. From contemporary criss-cross, to plunging deep V's - we are seeing bridal necklines that are daring and unexpected. With so many styles to choose from, you can find a cut that accents your body in just the right ways, and fits the setting of your perfect wedding day. Here are nine of our favorite necklines hitting the wedding scene now!
01.

The Front Keyhole

We all love a sexy semi-open back keyhole look - but a front keyhole neckline? That is a surprising contemporary style that we absolutely love!
Plunging Keyhole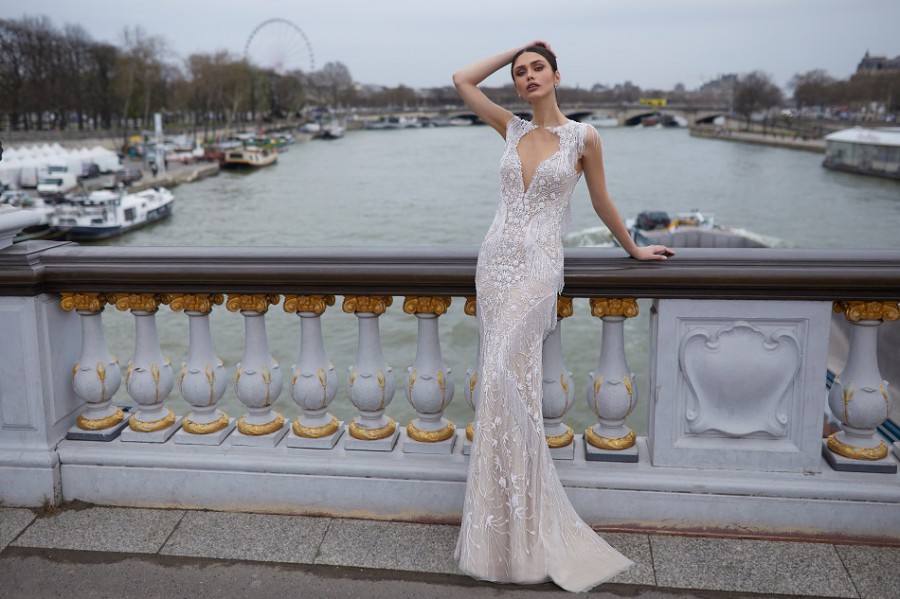 This gorgeous wedding gown kicks off the list with its open, plunging front keyhole neckline. This sexy design is the perfect mix between a sexy plunging V and a classy high neck style.
Slim Drama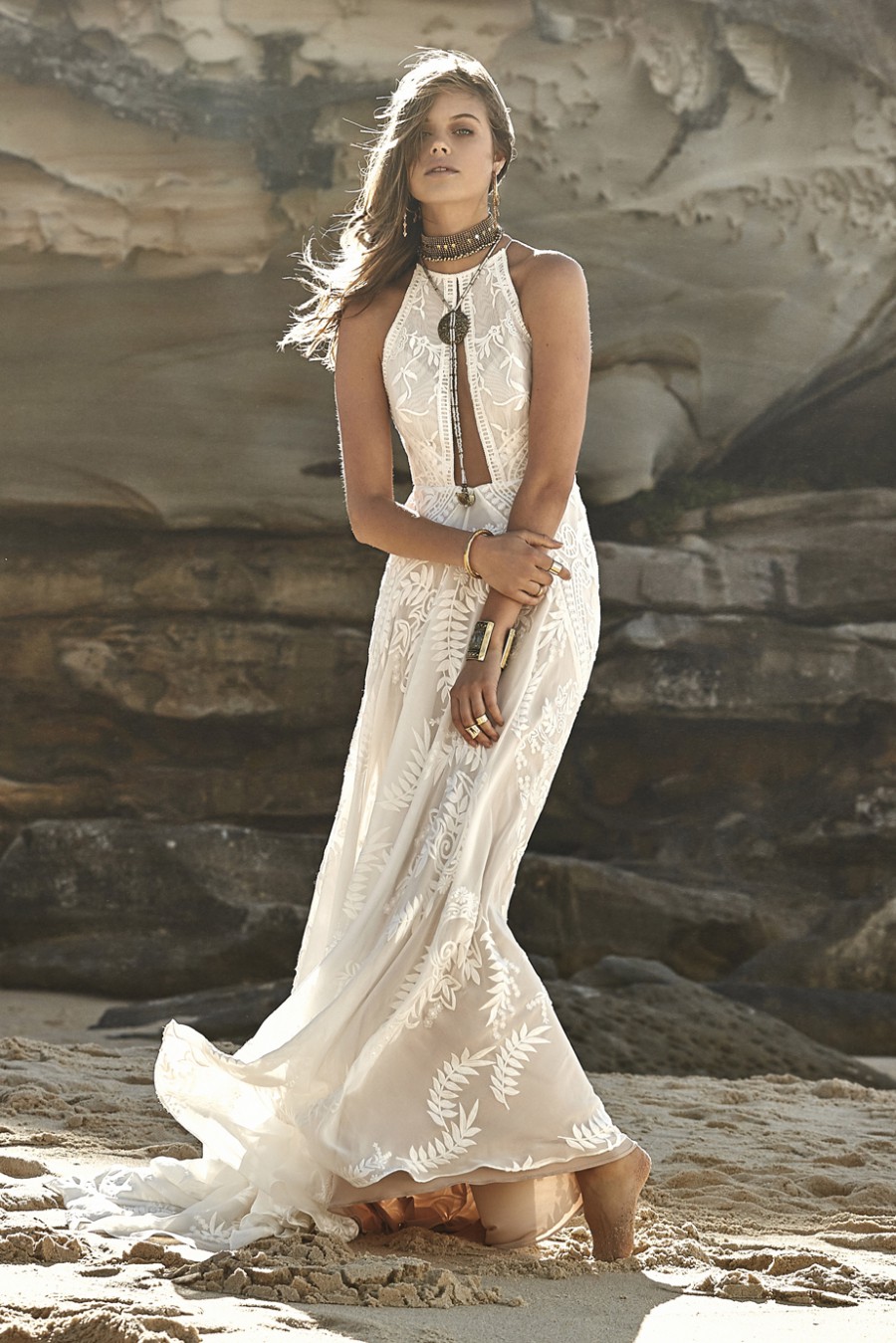 Rue de Seine brings us a stunning bohemian wedding style which features a deep plunging keyhole neckline that steals the show. A sexy accent to this high neck wedding dress design.
02.

Reverse Halter

An inventive contemporary neckline that is surprisingly enticing...
Criss-Cross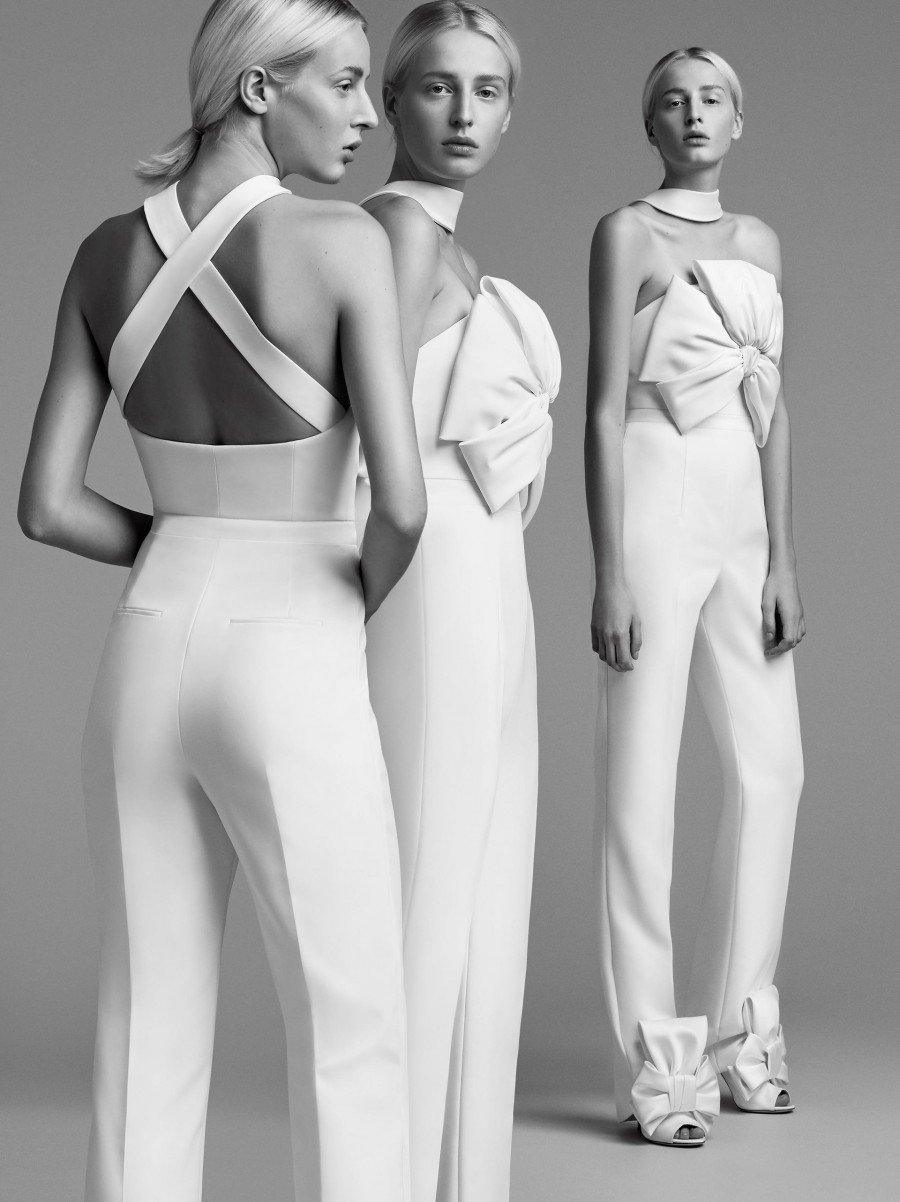 We would expect nothing less from Viktor Rolf when it comes to pushing the boundaries with contemporary bridal fashion. And this reverse halter neckline is no exception. Criss-cross back straps wrap around the neck forming a reverse halter style that is absolutely captivating.
03.

Very High Neck

High neck wedding styles are gorgeous modern, modest fashion statements. But what is we take that high neck style just a little further?
Classy Crochet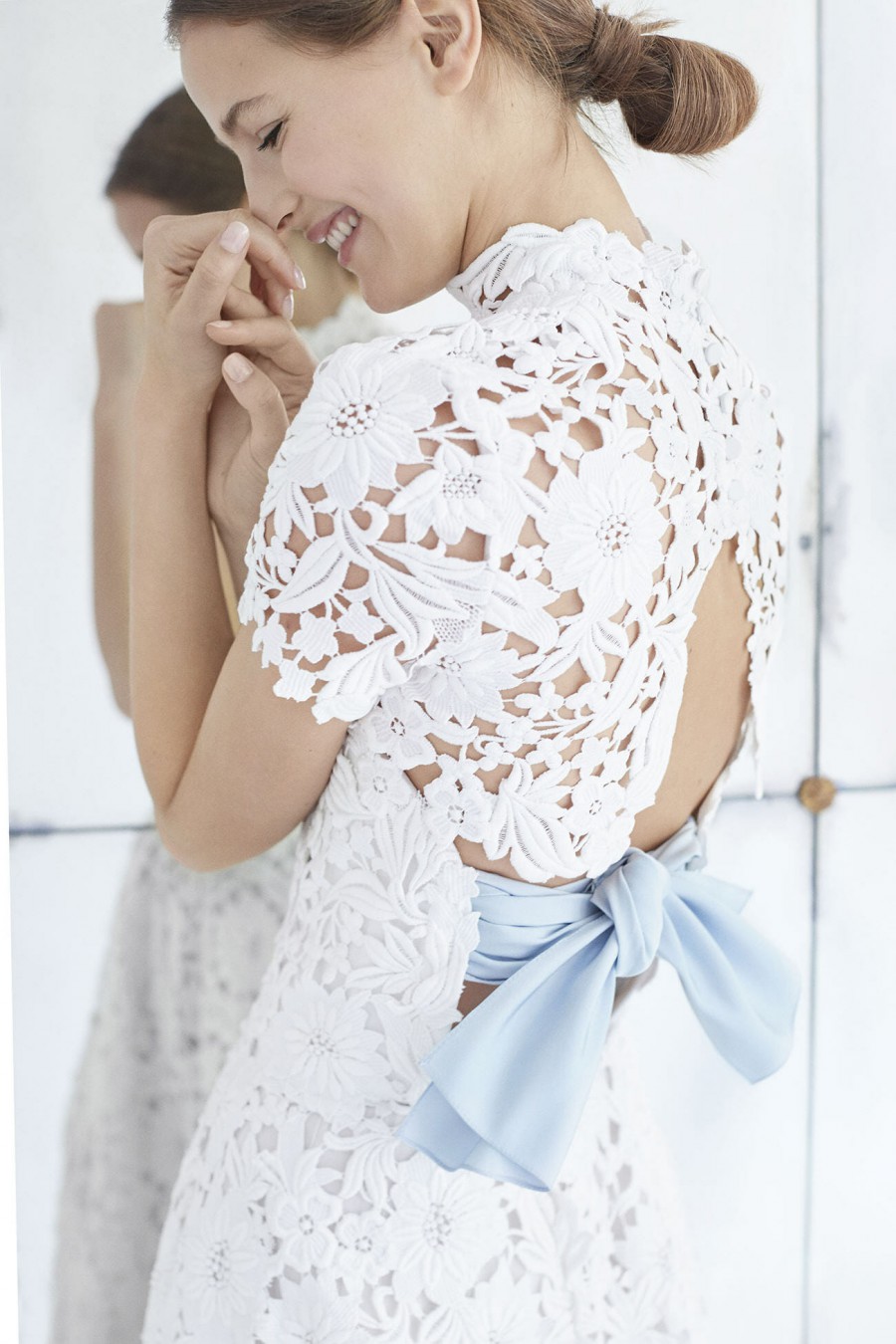 A modest yet sexy wedding style from Caroline Herrera. This gorgeous floral crochet wedding gown is finished with a very high, collar like neckline to add a modest yet contemporary finish to the look.
Regal & Modest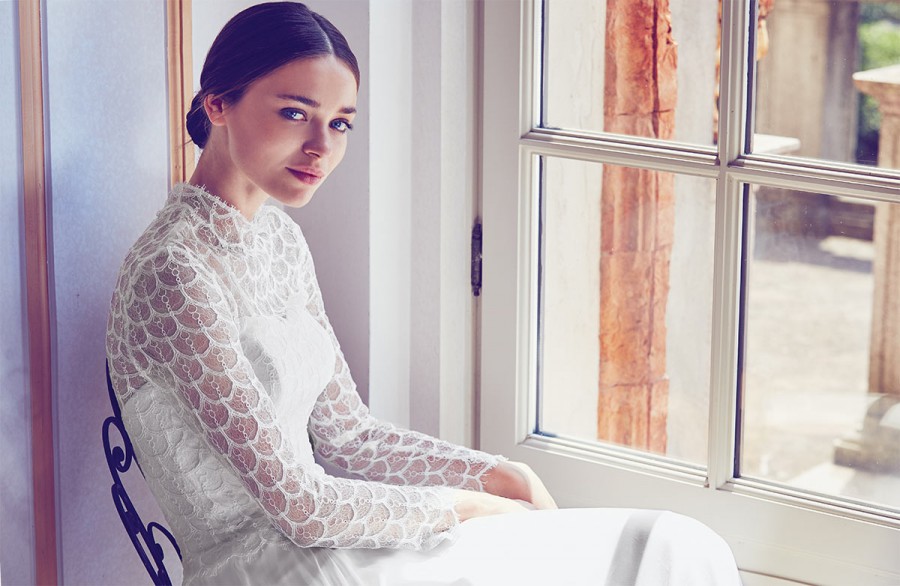 A modest, yet regal wedding style from Giuseppe Papini. This gorgeous one of a kind bridal style is finished with a very high neck cut that adds to the stately drama of the look.
Stately Collar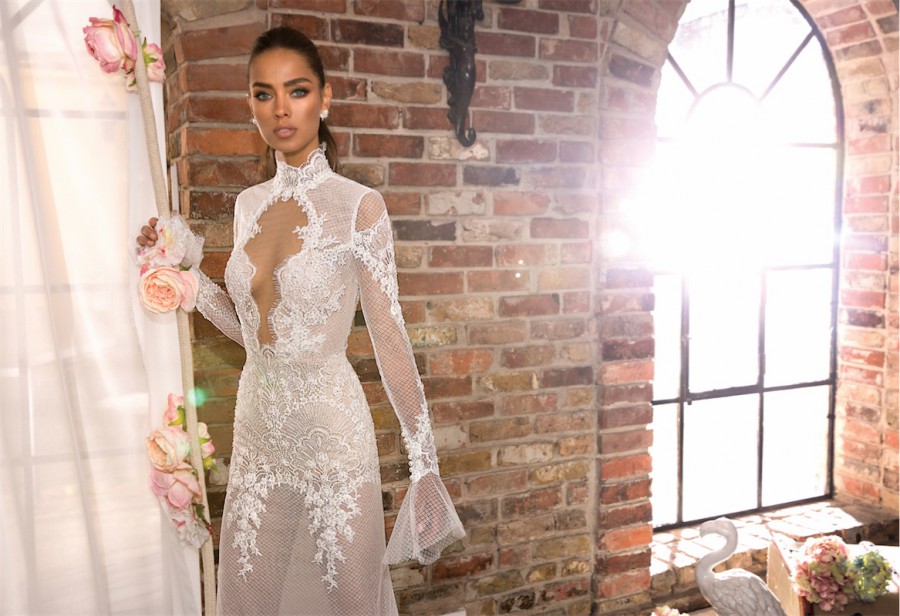 A stately antique inspired wedding gown with a gorgeous collar neckline.
04.

Off the Shoulder

Off the shoulder styles are hitting the fashion scene everywhere - and bridal is no exception. The off the shoulder neckline trend is sweet, sassy and sexy - everything a modern day bride could want.
Classy Eclectic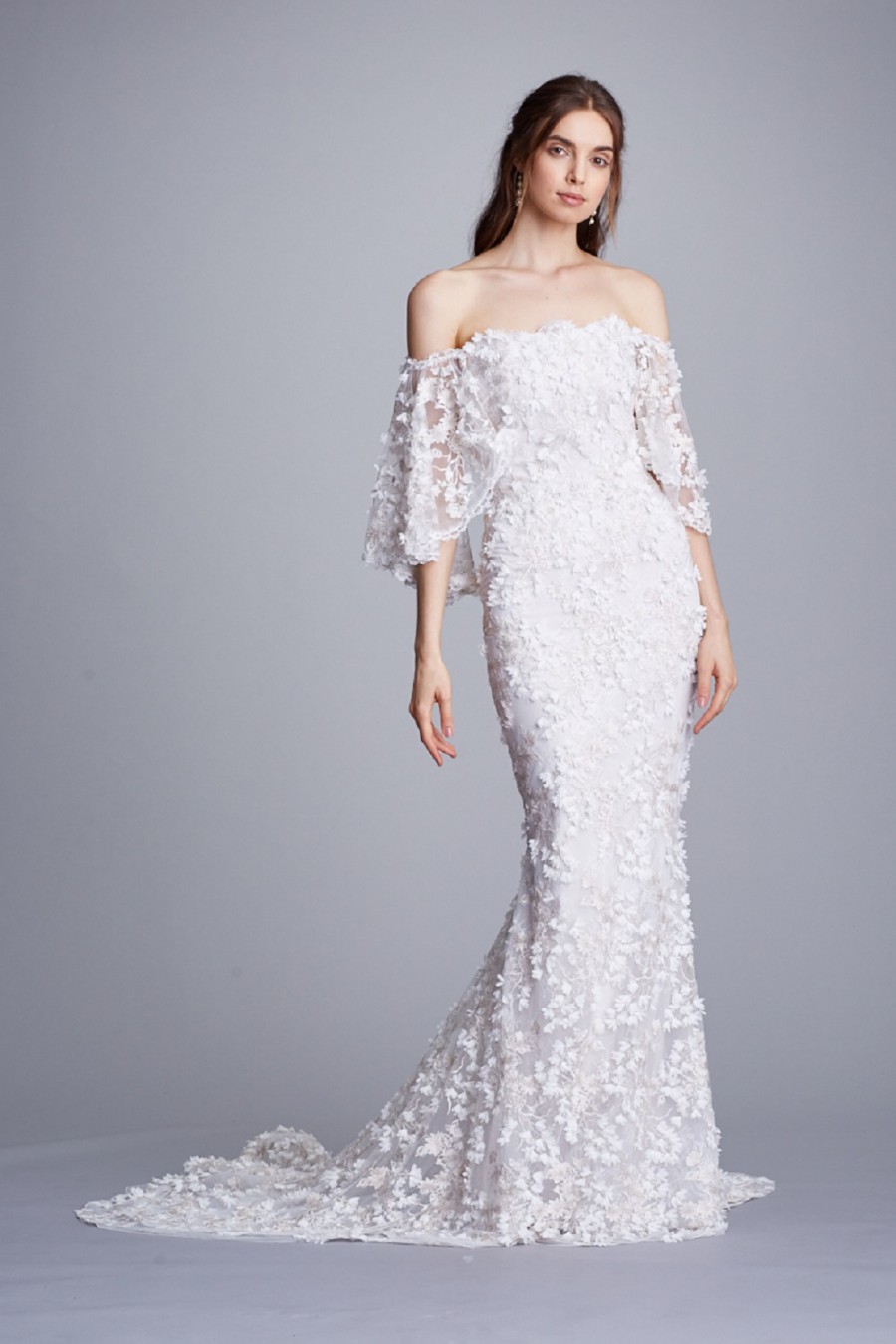 A classy, contemporary wedding style for a slightly eclectic bride. The loose flowing off the shoulder neckline completely defines this wedding style by Marchesa. Without the exposed shoulders, and dramatic draped sleeves, this style wouldn't be nearly the showstopper it is.
Classy Contemporary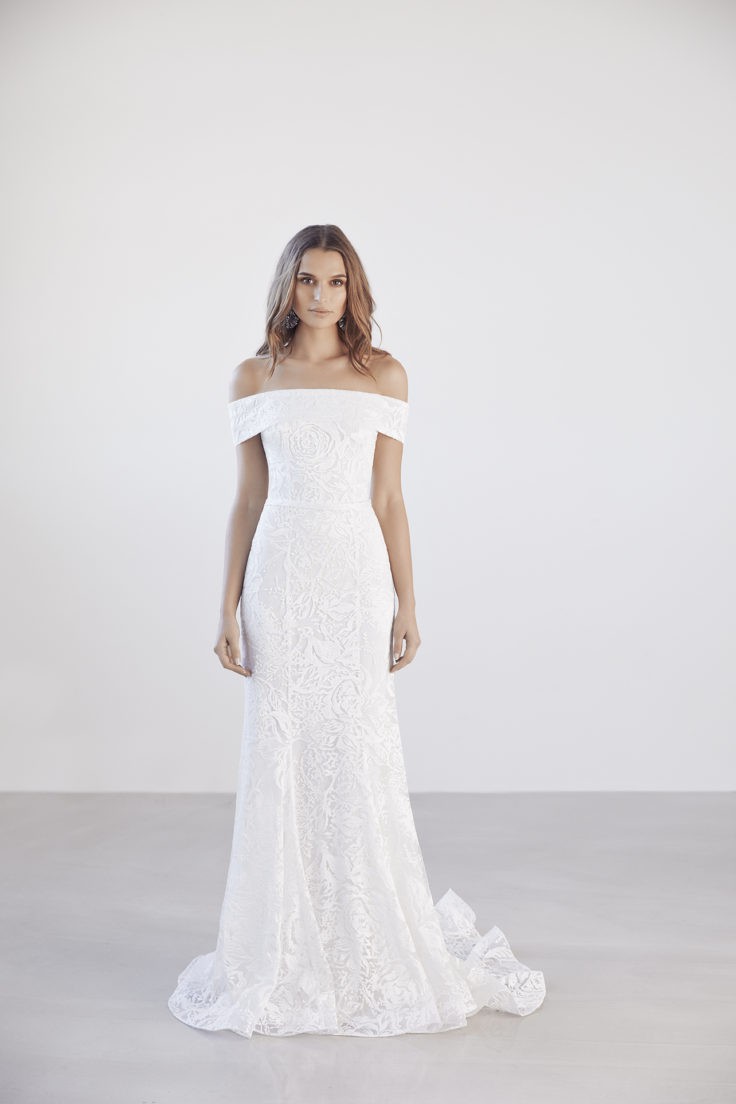 A sleek, classy off the shoulder style from Suzanne Harward. This gorgeous gown is regal and elegant. An instant classic with just the right touch of sexy appeal with its subtle off the shoulder neckline.
05.

The Deep V

The ever so popular neckline that has taken the bridal scene by store in the past few years - the deep V neck. Need we say more?
Sultry Plunge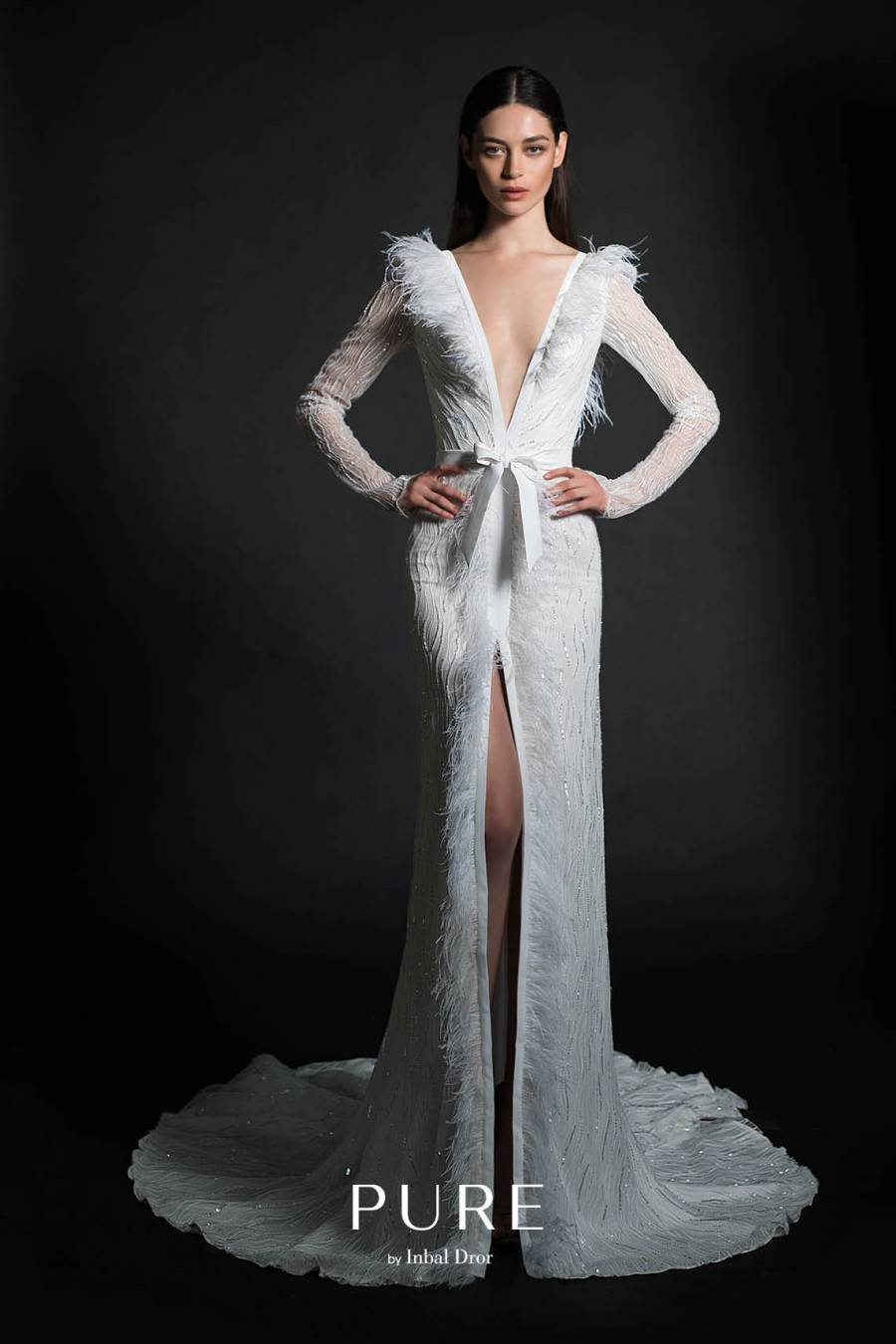 An absolutely captivating deep V neckline that plunges down the front of this bridal style. The dramatic neckline on this gown from Inbal Dror makes this a unique and sultry style that is sure to leave guests breathless.
Ultra Modern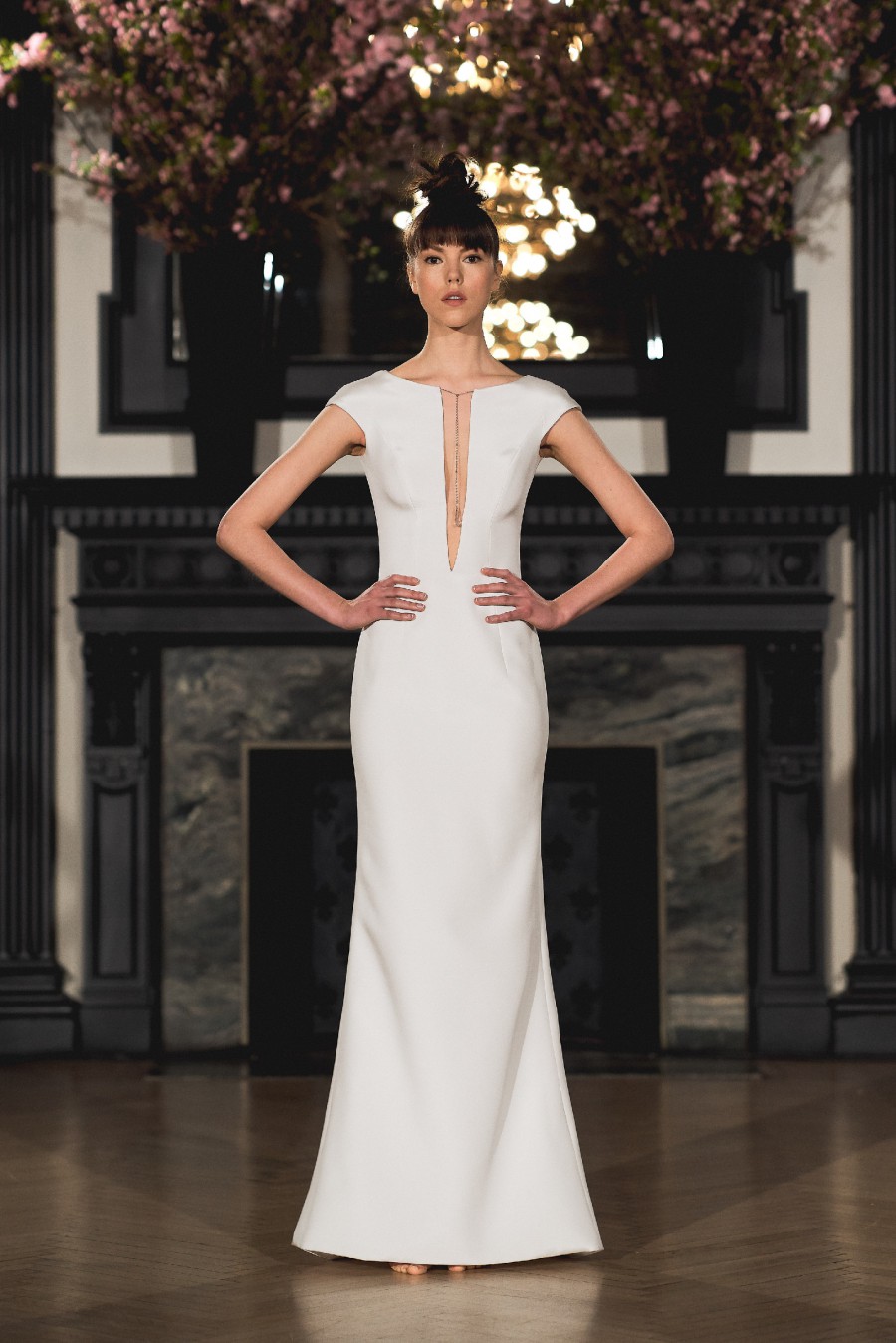 A sleek modern gown in a form fitting, statue like design. The show stopping feature of this gown is the plunging neckline finished with a draped tie accent. A breathtaking contemporary wedding style.
Strapless V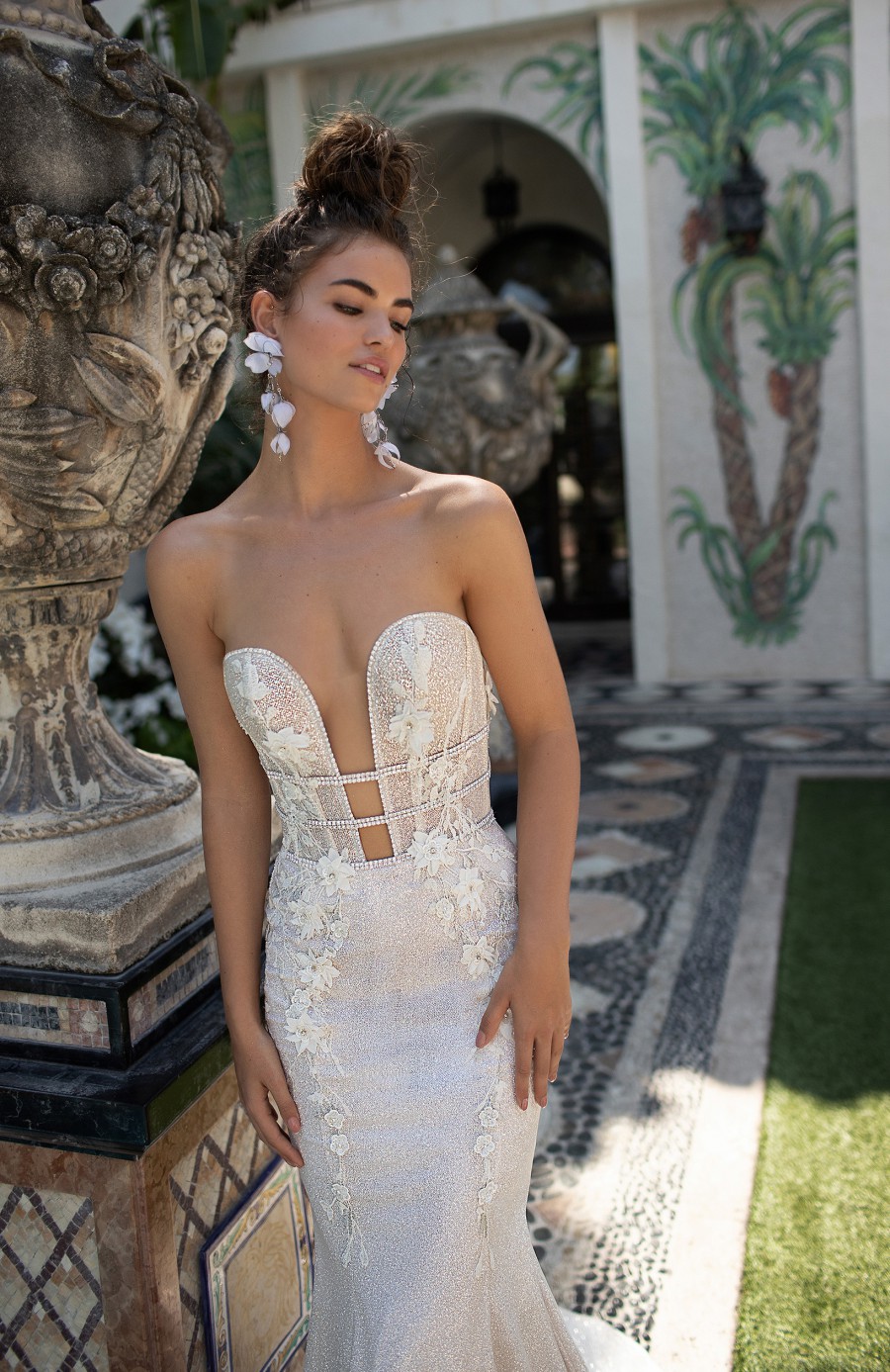 Berta shows us that the deep V neckline isn't just for sleeved wedding styles. This strapless gown embraces the plunging trend in a sultry, feminine way.
06.

Asymmetric One Shoulder

A classy asymmetric neckline that will stand the test of time. One shoulder wedding styles have been around for years, and we anticipate seeing many more of them in future contemporary wedding trends.
Single Shoulder Princess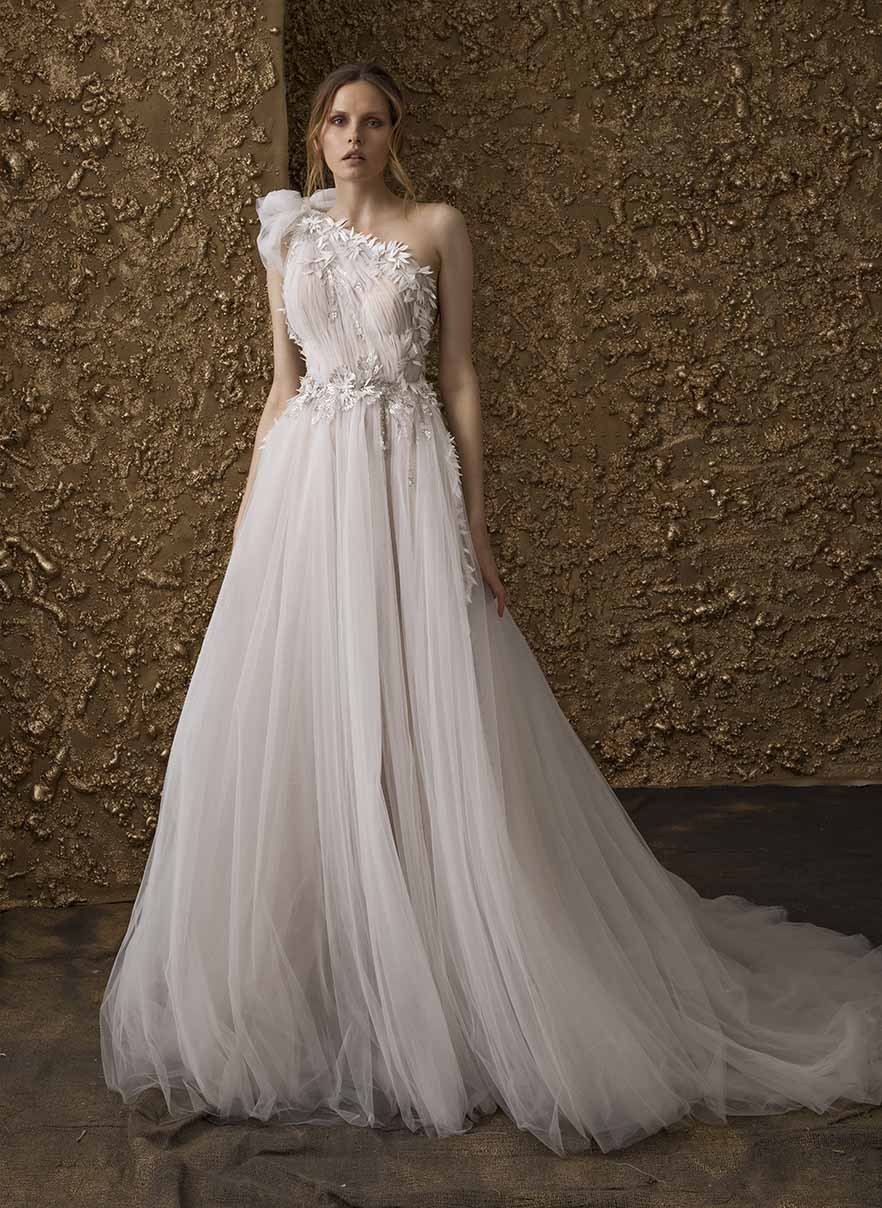 A breathtaking one shoulder gown that creates a effortless asymmetric neckline. The one shoulder style is accentuated even further with the tulle box accent at the top. A gorgeous alternative for a bold modern day princess.
Beach Bohemian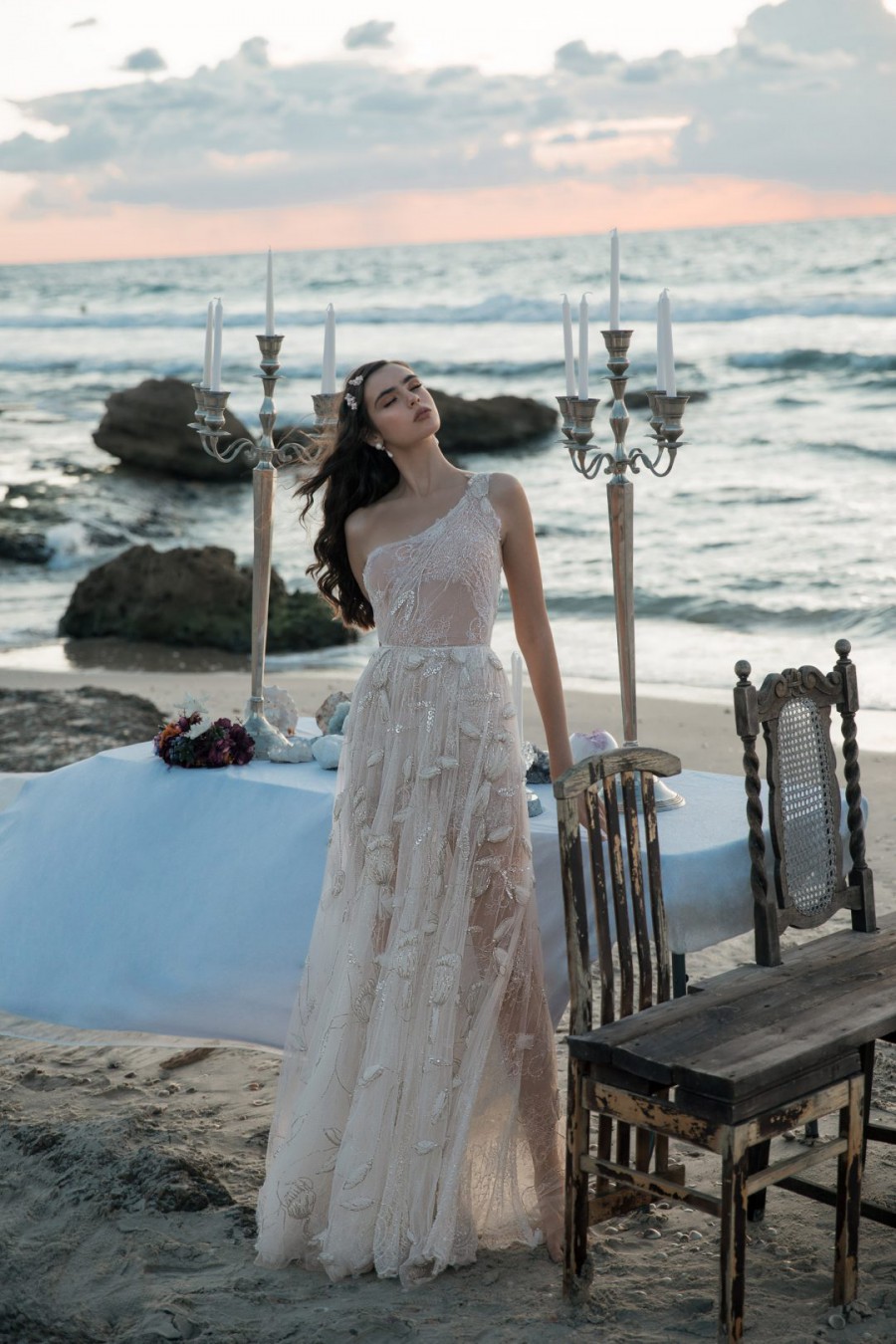 A stunning nude illusion wedding gown that has a gorgeous swooping one shoulder neckline. A gown that is both ethereal and feminine. A whimsical beach ready style with a unique one shoulder neckline cut.
One Shoulder Illusion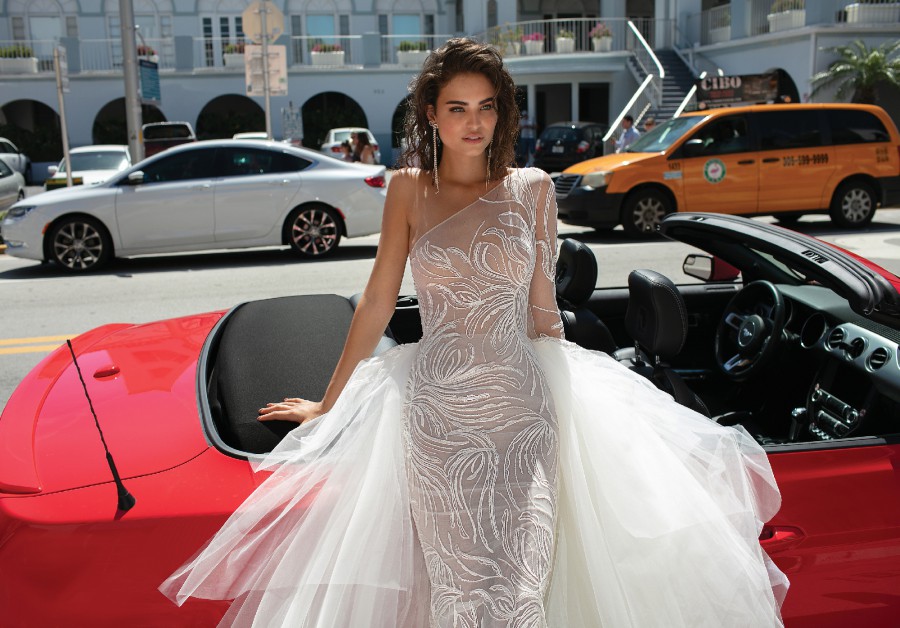 A jaw dropping contemporary wedding gown from Berta. This style is both sleek and modern while also being chic and whimsical. Sheer illusion fabric with a one shoulder neckline is accented with a whispy design for a one of a kind bridal style.
07.

Illusion

It is all about the illusion neckline right now. This barely-there style is sexy and contemporary.
Floating Florals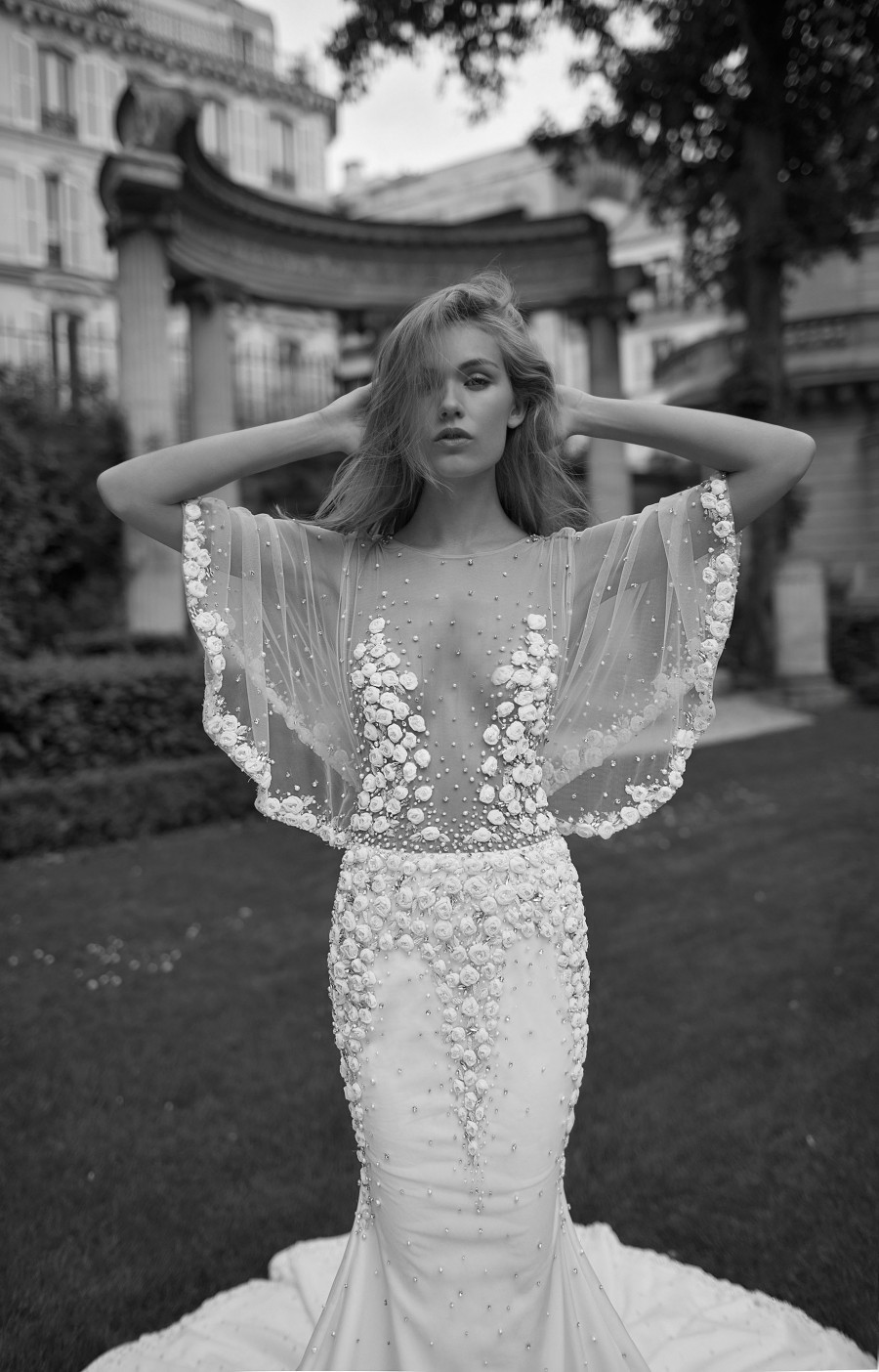 Sheer tulle fabric gives the illusion that the floral, crystal and pearl accents are floating against the brides bodice. A sexy, whimsical neckline style.
Geometric Illusion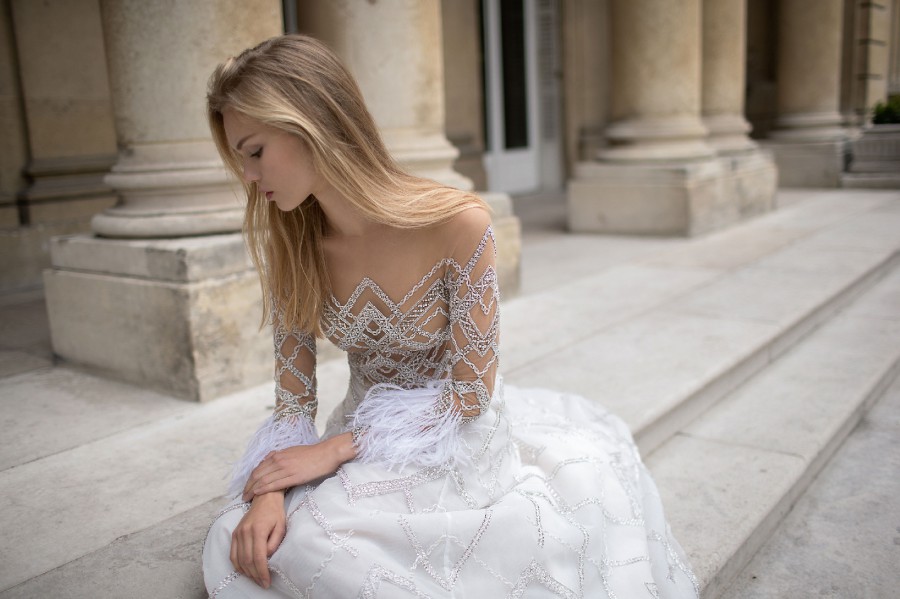 A stunning geometric accented wedding gown, that features a full illusion neckline. This gives the appearance that the bodice design is painted on the bride, rather than a separate piece. It is a playful trick that creates a truly one of a kind modern design.
08.

High Neck Halter

A contemporary twist on the traditional halter top we all love from the 1970's.
Halter Crop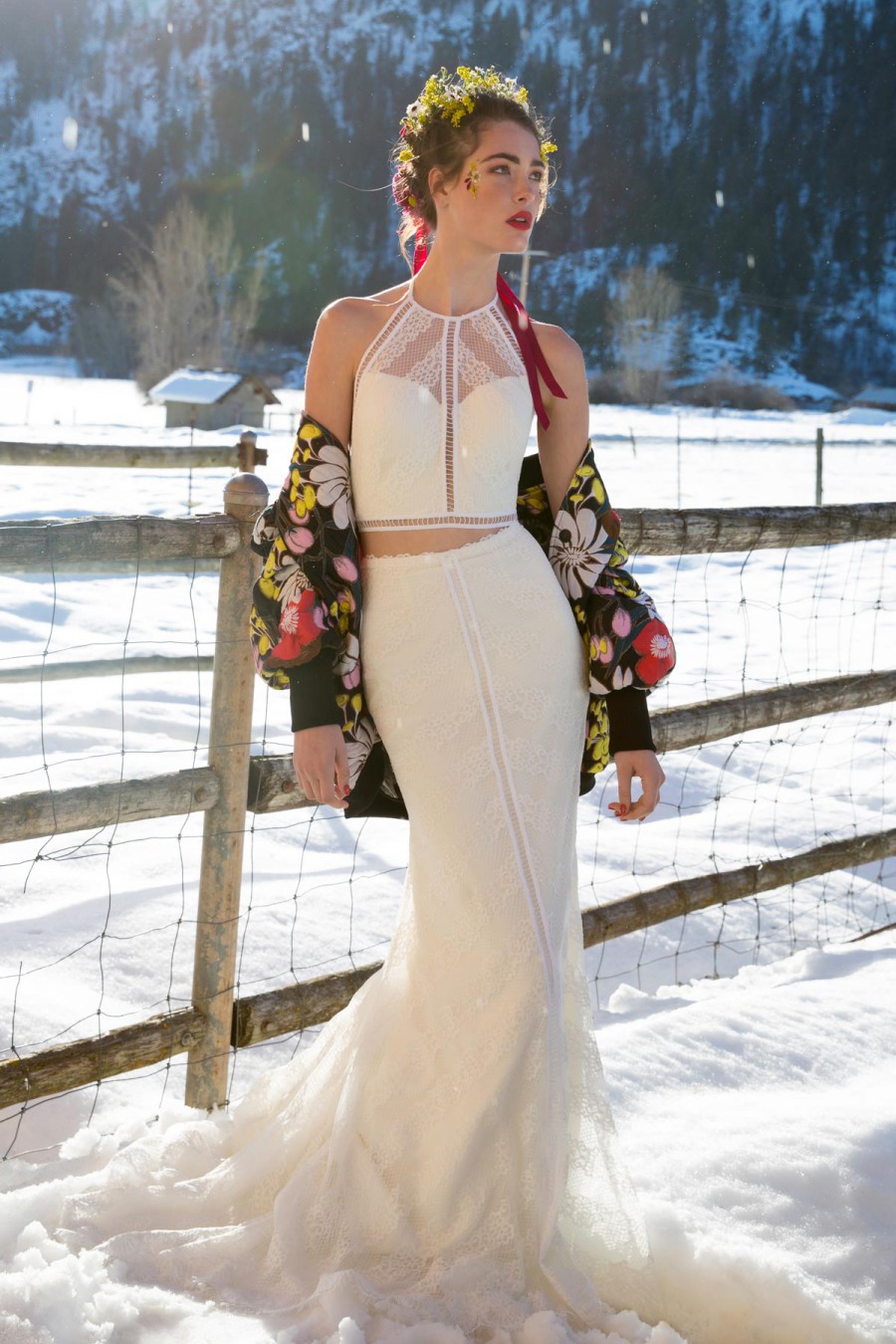 This high neck halter tie neckline is chic and fashion forward. A high neck style that is till girly and sexy.
Breathtaking Detailing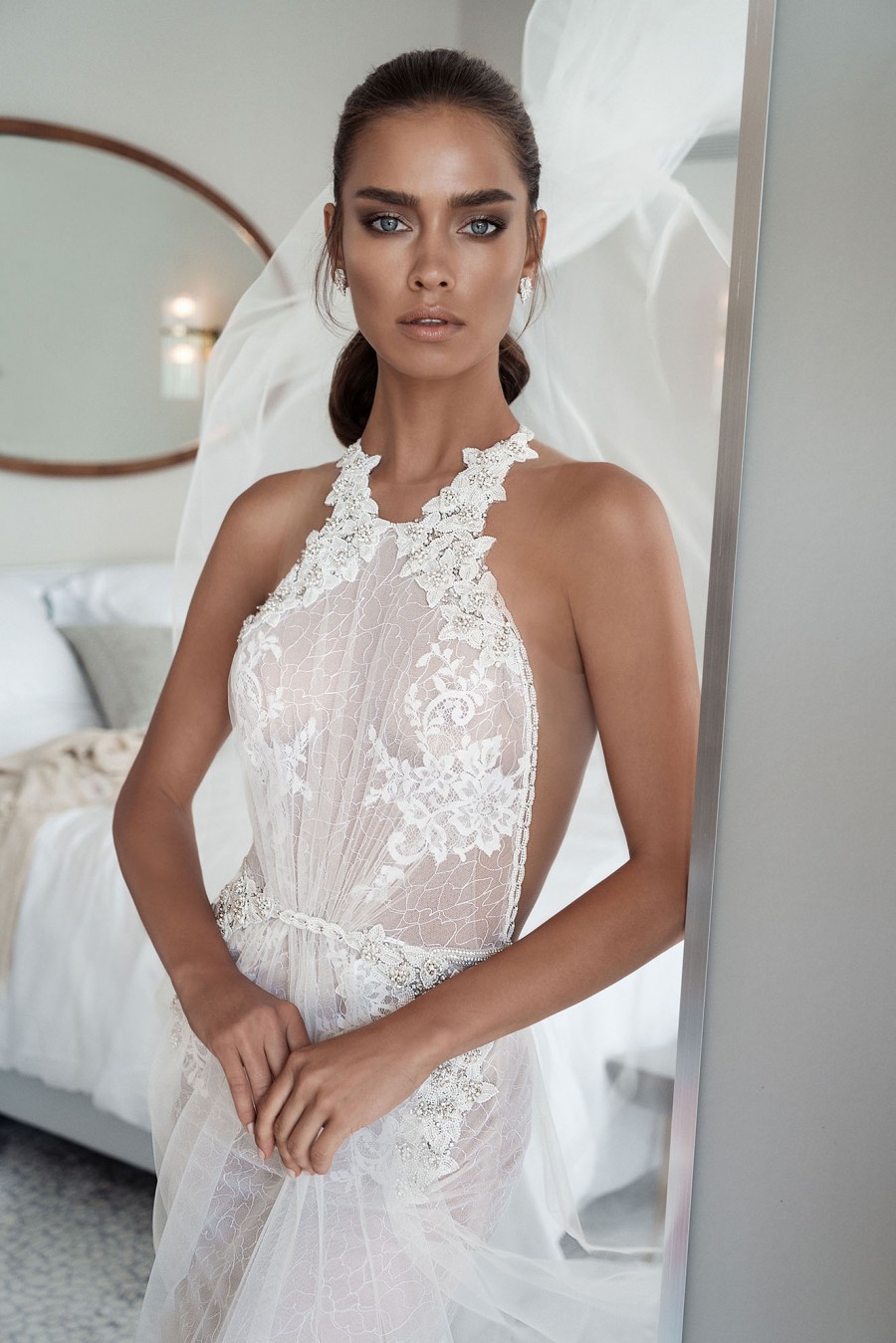 This next gown from Elihav Sasson has us a bit speechless. This stunning one of a kind style is all about the details. What really steals the show is the unique halter style high-neck neckline that is beautifully accented with floral appliqué.
09.

Criss Cross

Criss Cross necklines are an exciting alternative to all of the high neck styles hitting the wedding scene. You still get the chic modesty that a high neckline offers, but in an exciting and unexpected way.
Glitz and Glam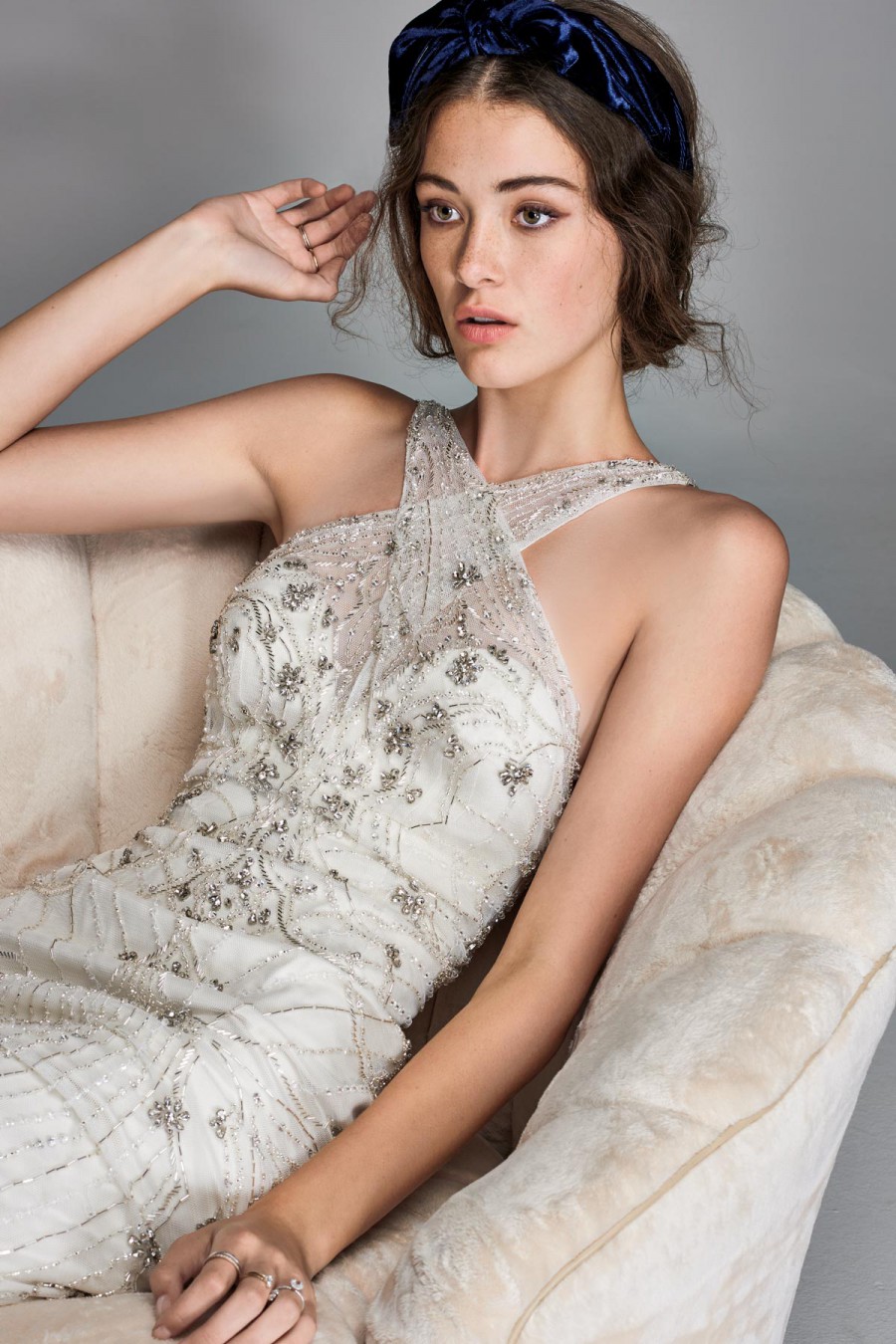 A stunning glam wedding gown style that features a completely unique criss cross neckline. This beautiful neckline is surprising and shows off the brides shoulders and neck in a ultra glamorous way.
Bohemian Beauty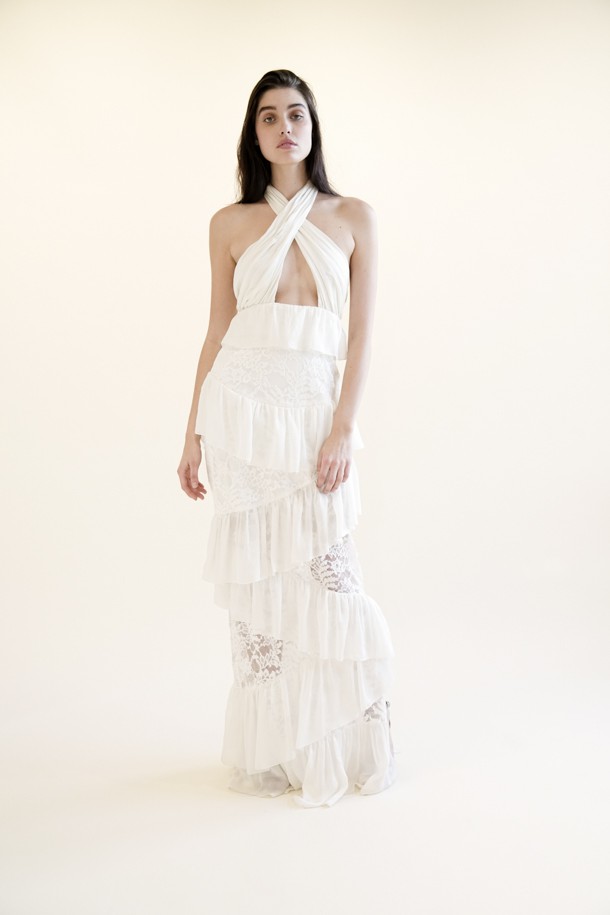 A sexy bohemian wedding gown that features a stunning criss cross neckline design for a truly one of a kind style. A sexy goddess-like take on this criss cross neckline trend.

By Kathryn Schrotenboer