Before you say "I do" you need to find the perfect backdrop where you will say your vows.
Backdrops range from simple to elegant and can be adapted to fit into the theme of your wedding. Use this list as an inspiration to find your wedding ceremony backdrop!
01.

Romantic crystal backdrop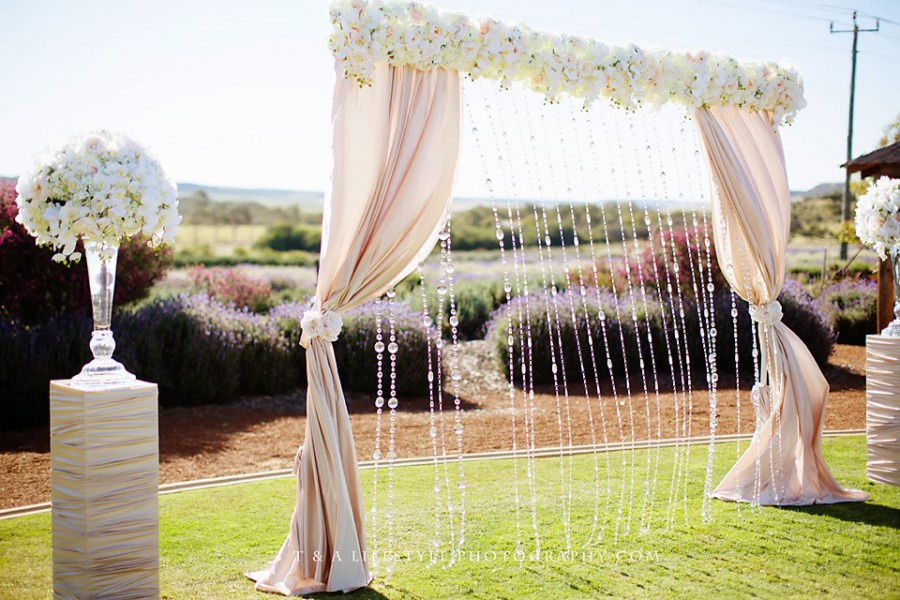 A crystal backdrop is ideal for a day or evening wedding. Imagine the light shimmering on the beautiful crystals. You can choose crystals that match your wedding color scheme, or clear ones like in the photo above. Tip: This is something you can DIY if you are on a budget. The crystals could be attached to a frame that would match your wedding theme.
02.

Flower wall backdrop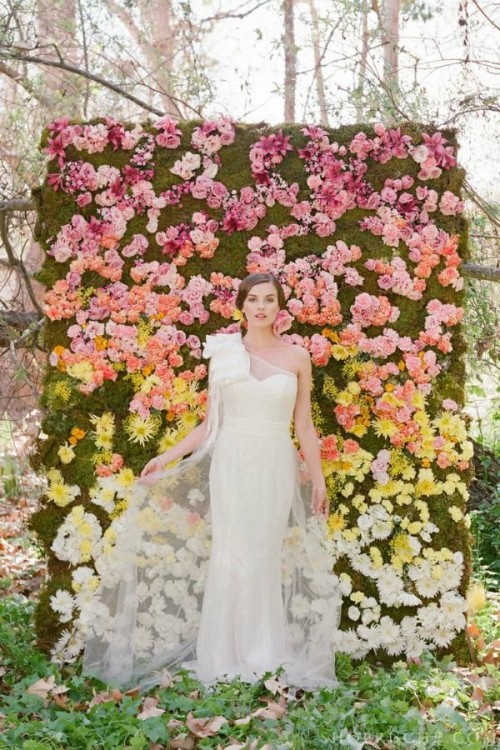 Imagine having this gorgeous flower backdrop at your outdoor wedding. It would look lovely in photographs and would certainly impress your guests! You can use as many flowers as you would like, depending on your budget. The wall of the backdrop can easily be adapted to match the theme of your wedding. One idea would be to create an ombre effect using your favorite flower.
03.

Rustic door backdrop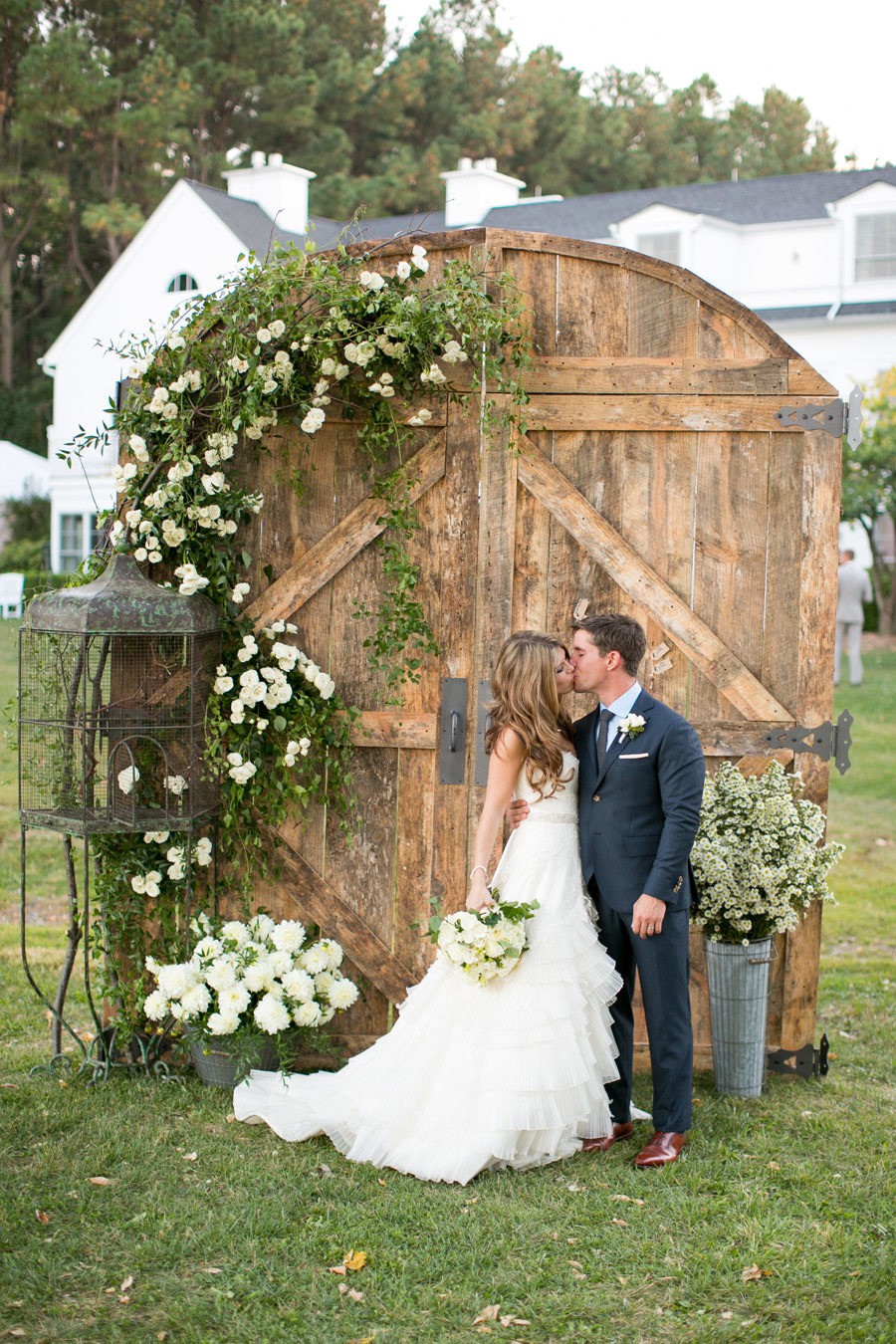 Having a barn or backdoor wedding? Then a rustic door backdrop is a great option for you. This backdrop can be created by combining several doors together and adding details of your choosing. Adding flowers like in the photo above is a wonderful way to accent the doors. Another idea would be to hang icicle style lights from the top of the door, which would be perfect for an outdoor summertime wedding.
04.

Whimsical ribbon backdrop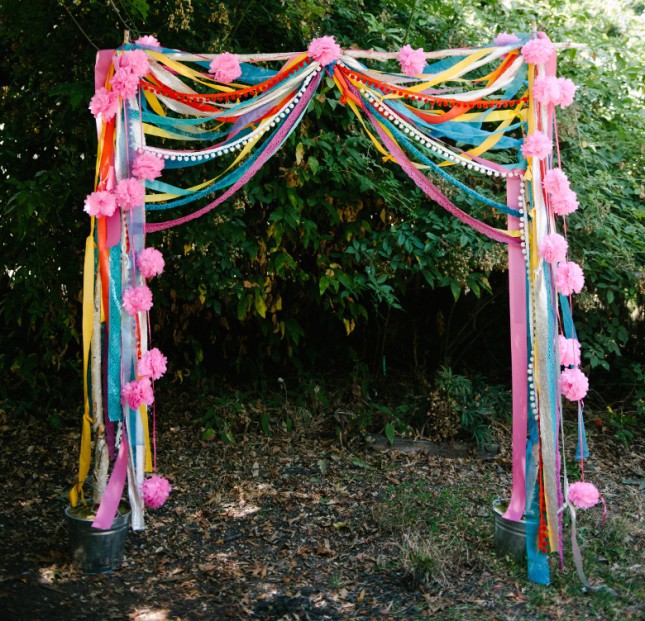 A ribbon backdrop is a cute way to add a playful touch to your wedding. This is an easy DIY project if you are on a budget. You can get as colorful and creative as you want with this one. You could also use ribbons in accent colors to your wedding's color theme.
05.

Lovely lace backdrop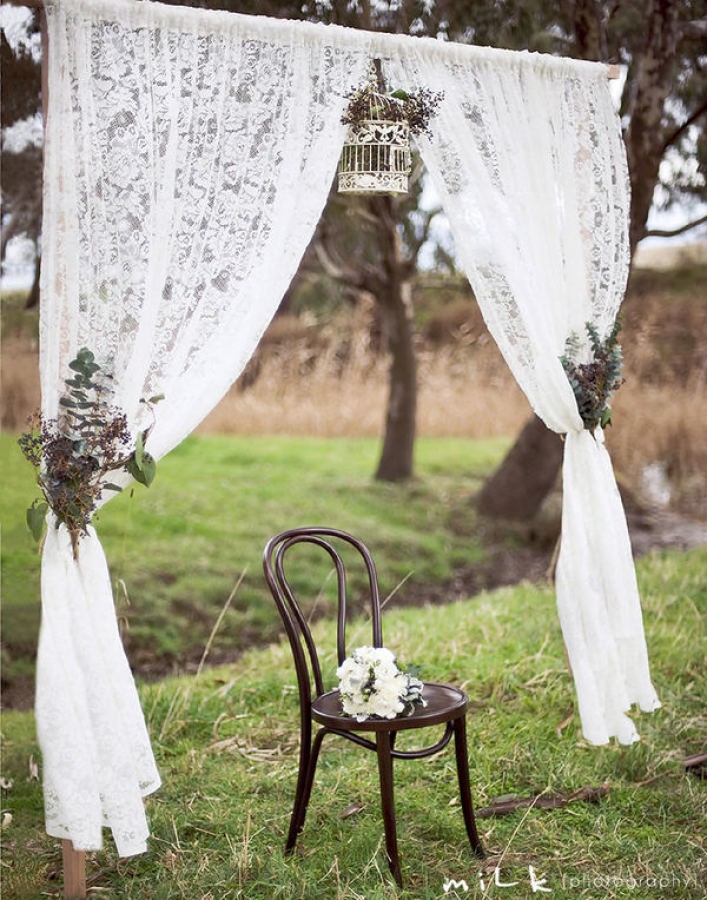 Using lace is a beautiful choice for your wedding. Various styles of lace can be used to achieve your perfect backdrop. Choose a delicate white like in the photo for a romantic look. Or you can get creative and choose color lace to match the season or theme of your wedding.
06.

Wonderful words backdrop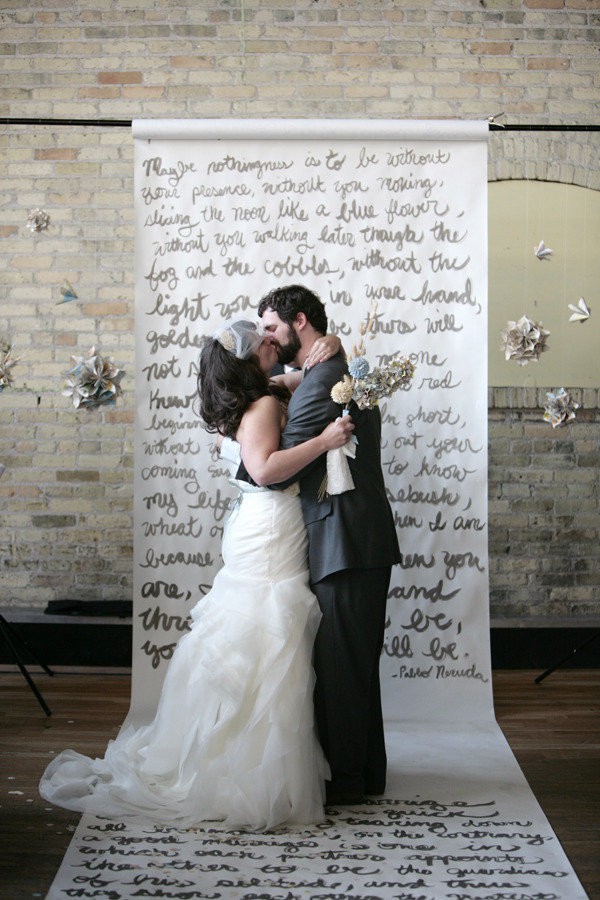 If you are looking for a really unique backdrop, then this is the way to go. Enlist the help of an artist to create this backdrop using your favorite poem, song lyrics or passage from a book.
07.

Cozy light and candle backdrop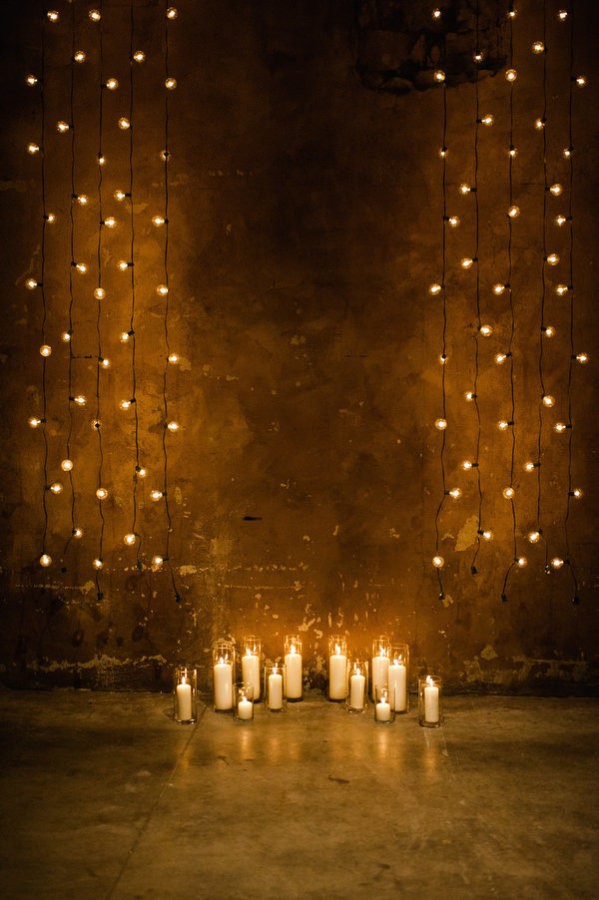 This backdrop is simple yet chic. It would look breathtaking at a cozy winter wedding. This is an ideal choice for a bride on a budget.
08.

Woodsy tree and frame backdrop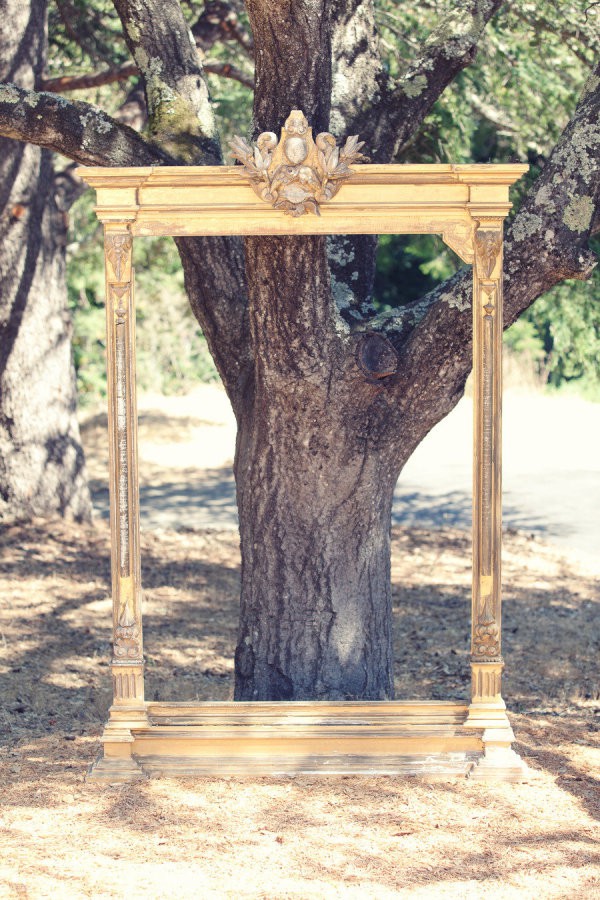 Why not incorporate nature into your backdrop? Spring or summer weddings would be the ideal time to use this. Adding a vintage looking frame adds a touch of glam for a fun backdrop set in nature.
09.

Green garland backdrop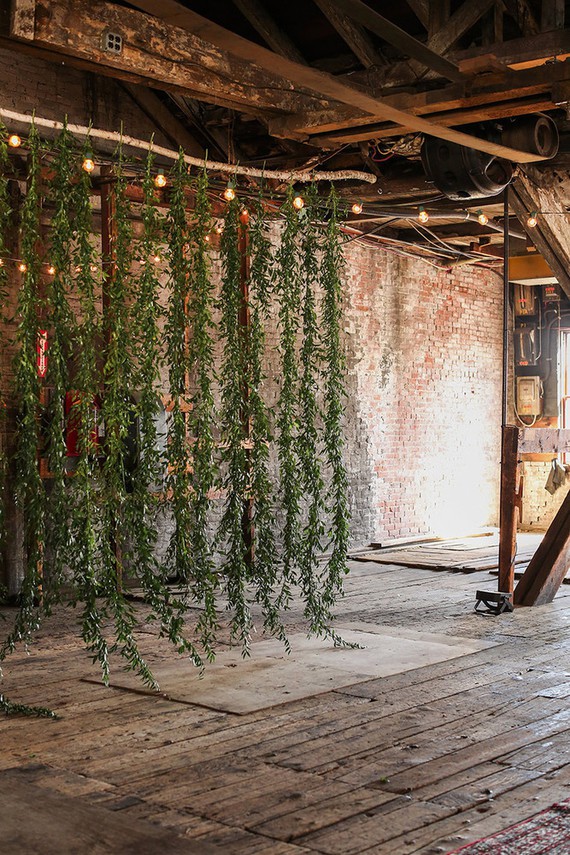 This backdrop can be customized entirely to your liking. You can buy green garland from your local florist in order to create the look like the above photo. If you are a DIY lover, you can create this backdrop by using various craft supplies like green crepe paper and gluing it onto a string of your choice.
10.

Ombre wall heart backdrop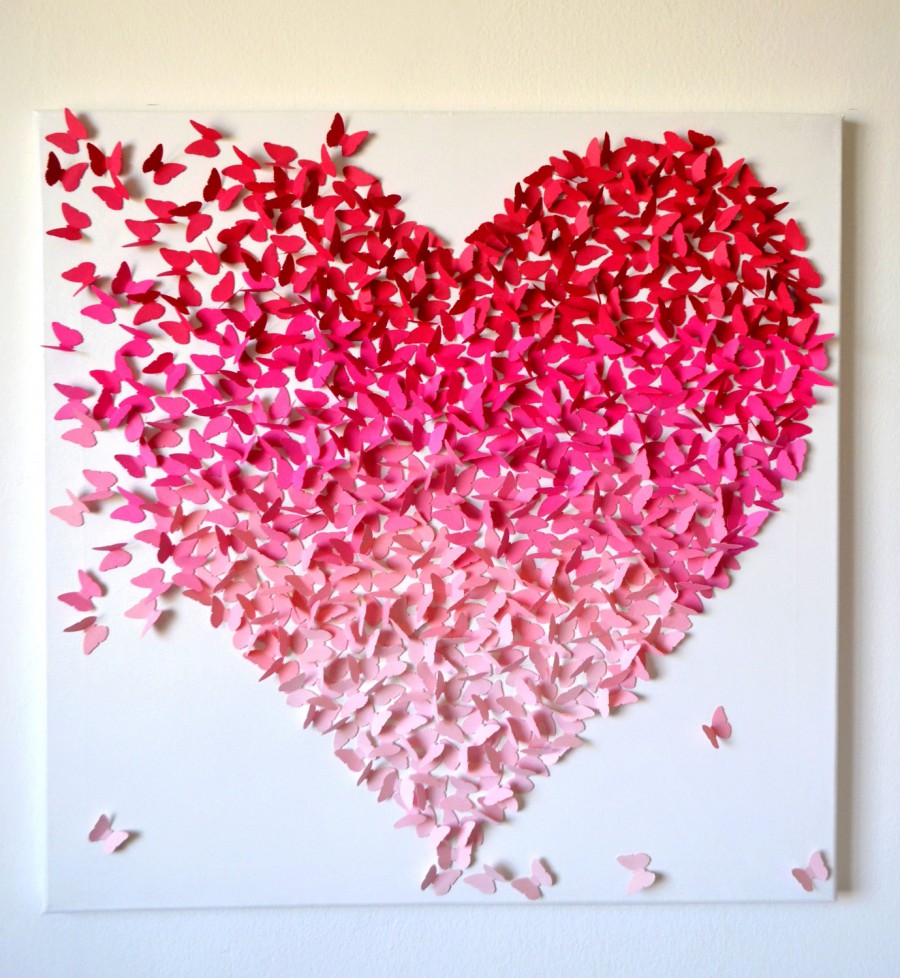 This sweet backdrop is a made to order and would look great at a wedding in any season. The canvas is filled with hundreds of butterflies that can be customized to the color scheme of your wedding.

What backdrop do you plan on choosing for your big day? Let us know in the comments below!

By Anna Alapatt