You've spent months trawling Instagram, Pinterest and wedding blogs to hunt down your perfect wedding dress. Once you have it, it will be time to find its ultimate partner-in-crime: Your veil!
If you've decided to wear a veil on your wedding day, you may have already sussed out that there is a huge array of options to choose from. But before you get completely swept away with details of lace, beading and comb placement, take a moment to set the foundations and understand the main shapes you'll be choosing from.
While there are many elaborate variations, popular modern veils fall into one of six shapes.
01.

Drop Veil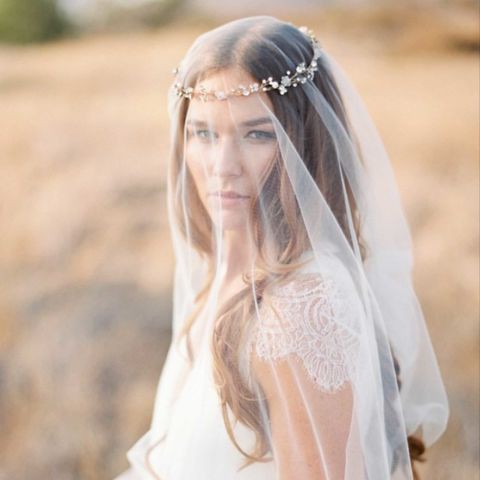 A drop veil is an oval-shaped veil that gets its name because it's as though it's been "dropped" on the crown of your head (don't worry, it's discreetly attached with a comb!). The front part forms a "blusher" that covers the face, and this can of course be pushed back at the right time in the ceremony. (Photo via Sarah Kate Photo / Cosmopolitan Bride)
02.

Single-Tier Veil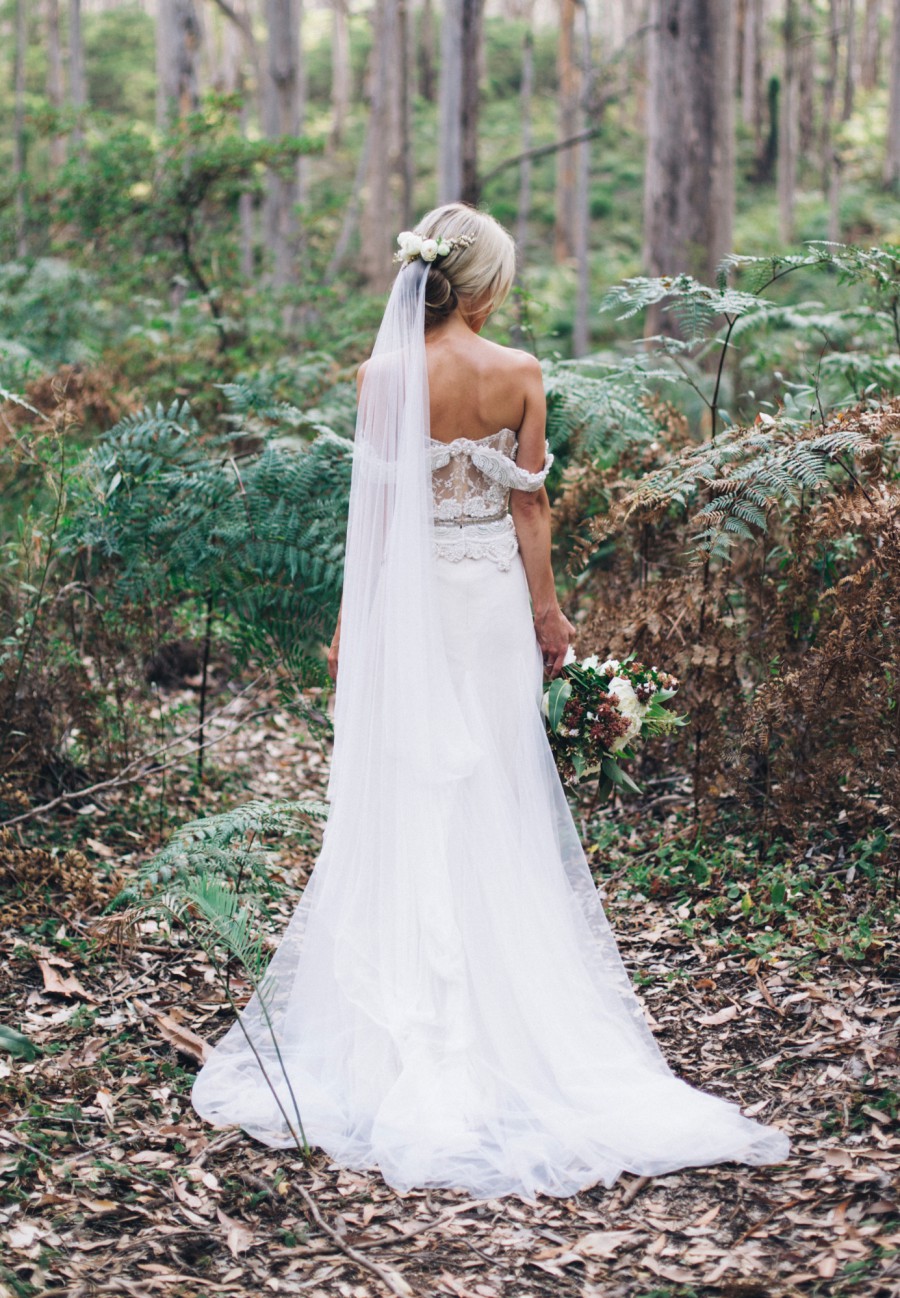 A Single-Tier Veil is quite literally a single layer of tulle, silk or net that sits at the back of the head. It's perfect for a bride who wants a relatively minimalist veil, and wants her face open at all times.
03.

Double-Tier Veil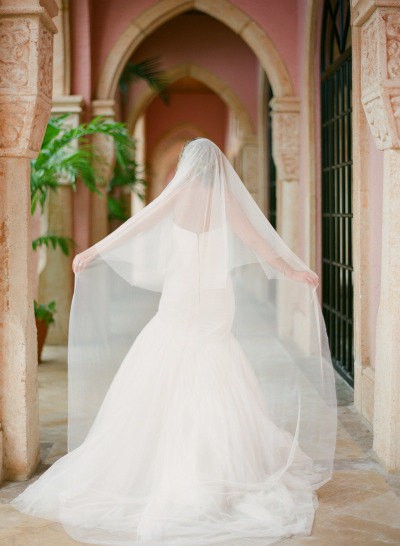 A Double-Tier Veil (or a two-tier veil) is for brides that aren't afraid of a bit of volume. They can be worn with the top tier in front of the face, or with it pulled back to add extra height. When worn over the face, they look a little different from drop veils in that they cut a clean, straight(ish) line across the waist (drop veils tend to have a softer wave). If you'd like the drama of a double-tier veil without the 80s pouf factor, choose a veil made from silk or English net veil, rather than a traditional tulle, which is stiffer. (Photo via Justin DeMutiis Photography / Style Me Pretty)
04.

Mantilla Veil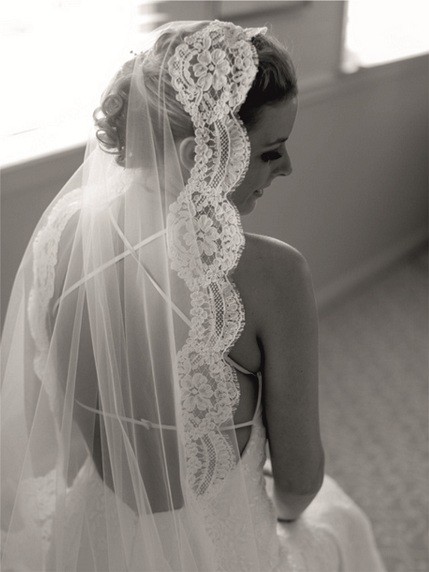 A Mantilla Veil is either full-lace or has a wide lace trim. Classically, it's worn so that the lace frames the face closely. Depending on how you style it, Mantilla veils can either lend an old-world mystery or exotic bohemian feel to your aesthetic.
05.

Cap Veil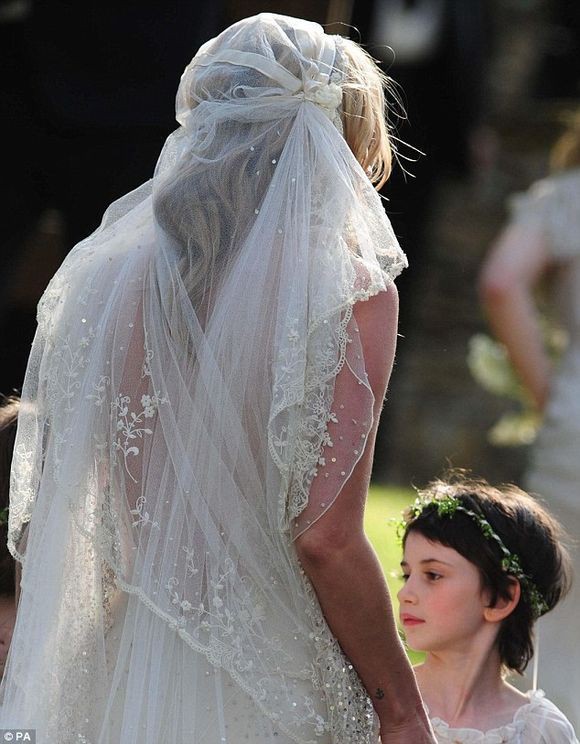 A Cap Veil (also called a Juliet Cap Veil) makes the shape of a cap on the head, and bunches either at one side or both sides of the face. Kate Moss wore one on her wedding day. We say no more...
06.

Birdcage Veil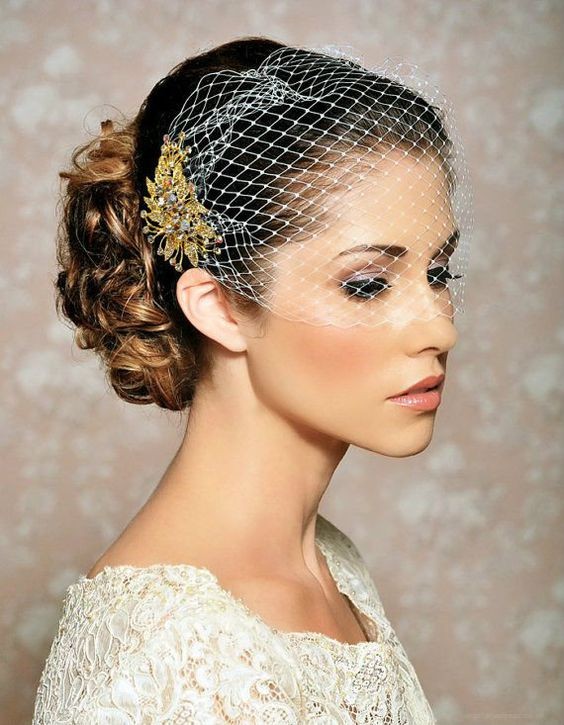 A Birdcage Veil may not the most Instagrammed shape right of the moment, but there's no denying it adds a confident, mysterious touch to a bridal outfit. Birdcage veils are often made with a wide net fabric - but they don't have to be. To ensure your birdcage veil is sleek and modern, choose one that sits close to your face and team it with a structured, figure-hugging gown.
Like we said, there are lots of options! Still with us? Once you've got your head (pardon the pun!) around the different shapes, the three other important elements are length, colour, and fabric.
Length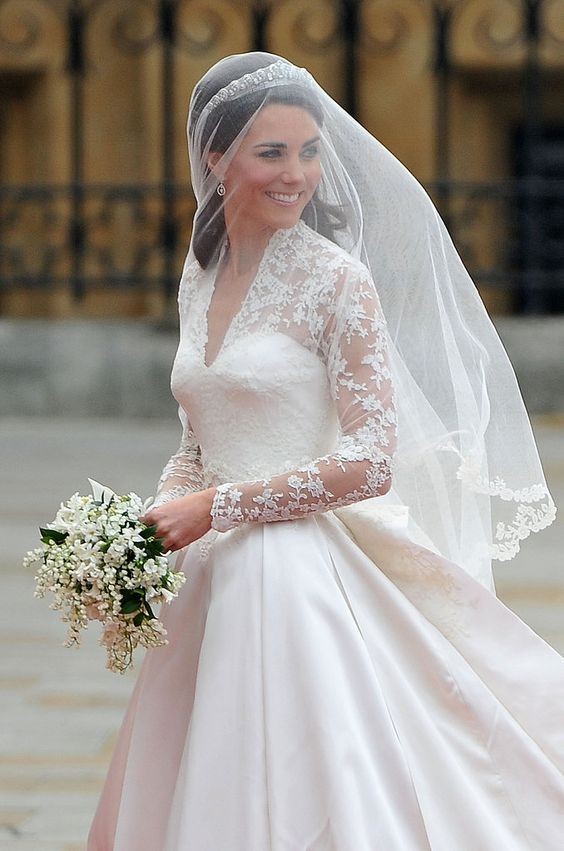 Birdcage veils aside, the shortest veil cut is shoulder-length, and the longest is "cathedral" - up to 120" or 300 cm. Our favourites? A "chapel" or floor length veil that provides just a very slight train at the back, and a fingertip veil, which is the length Kate Middleton chose.
Colour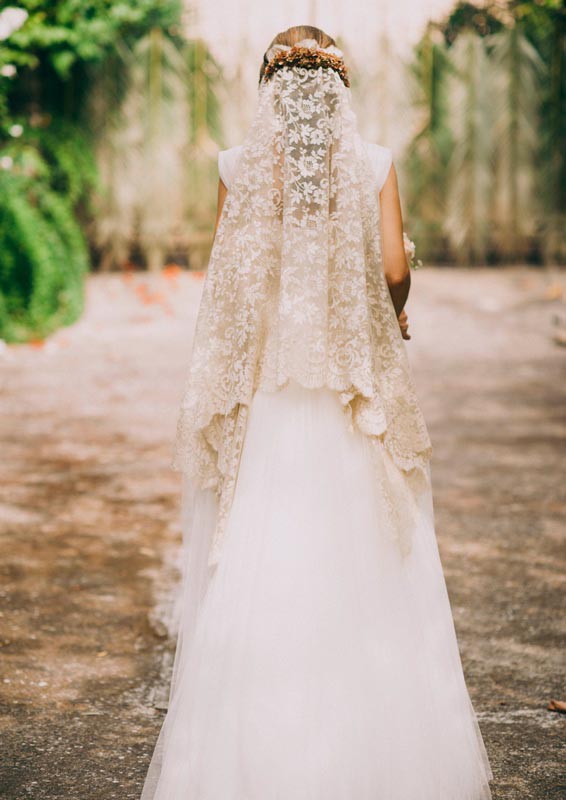 A simple, yet oh-so-important rule: Make sure your veil is at least as dark as your wedding dress. Wearing an ivory dress with a white veil will make you look more like a nurse than a bride, and will leave your dress looking positively yellow. Adventurous brides could consider wearing a darker veil to their dress, which can lend an old-worldly feel.
Fabric
You can design the shape, length and colour of your veil to perfection, but the factor that often leaves a veil looking different from the Pinterest board of inspiration you've been dreaming about is fabric. Typically, veils are made with a fabric known as bridal illusion tulle, which is very sheer and photographs beautifully. However, if you're after a veil with very little volume or "pouf", and you'd rather something that falls down the back like water rather than catching the wind easily and bouncing around, opt for an English net or a silk tulle veil. English net is more affordable but is also slightly more opaque; silk tulle is the most luxurious choice - delicate and silky to the touch, and absolutely zero volume.

What veil are you wearing on your wedding day? Let us know in the comments below or join in the chat on the Still White forum!

By Helen McMurdo