Move over James Bond, modern day brides are rocking tuxedo inspired styles like never before.
Classic menswear styles continue to influence modern day bridal fashion and we are loving the tuxedo inspired bridal pantsuits and gowns that are challenging traditional bridal wear.
We have gathered some of our favorite tuxedo inspired bridal styles that are bold, playful and contemporary. These looks are untraditional and they all show how sexy and feminine a menswear tuxedo inspired bridal look can really be.
01.

Silk Bridal Suiting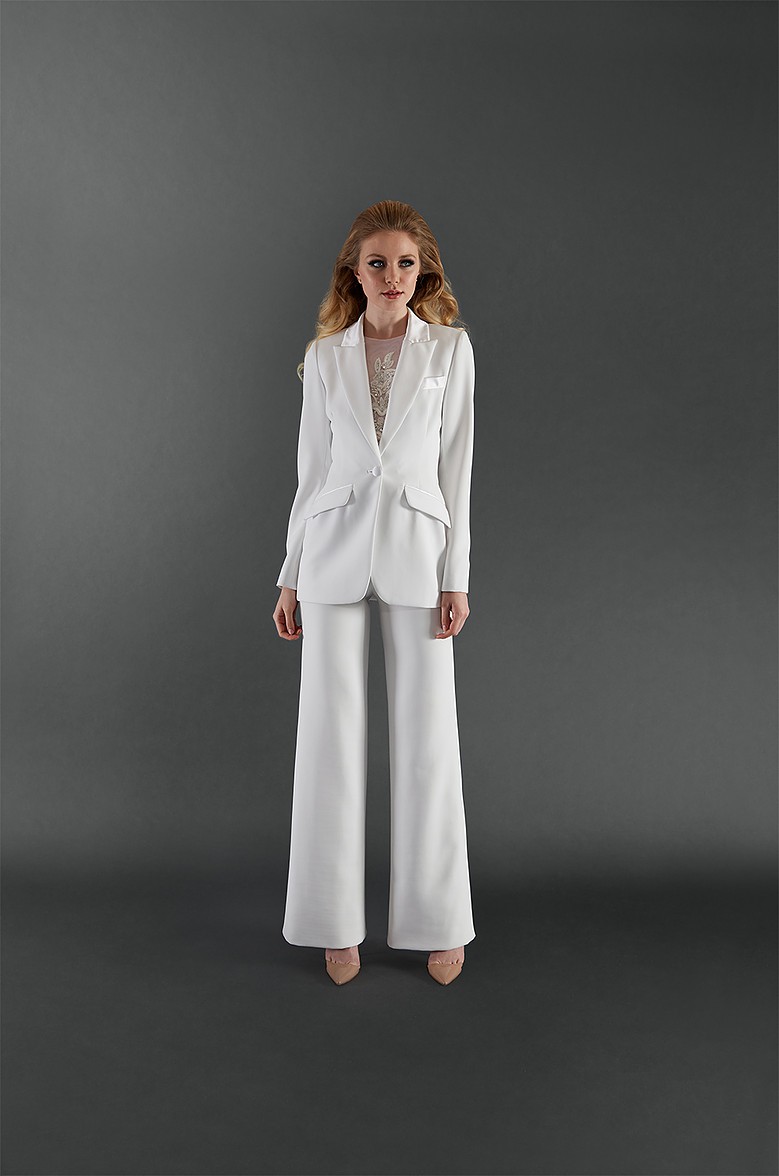 A stunning silk tuxedo inspired bridal suit that will give your groom a run for his money on your big day. A chic, powerful style for our boundary pushing fashionistas out there.
02.

Old Hollywood Tuxedo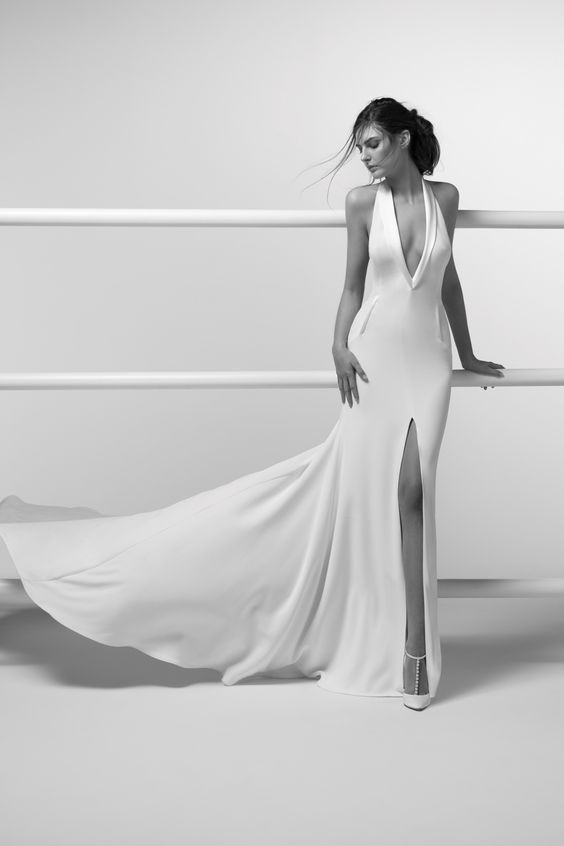 A stunning old Hollywood glam inspired tuxedo wedding style that is sexy and sophisticated.
03.

Sleek Bridal Suit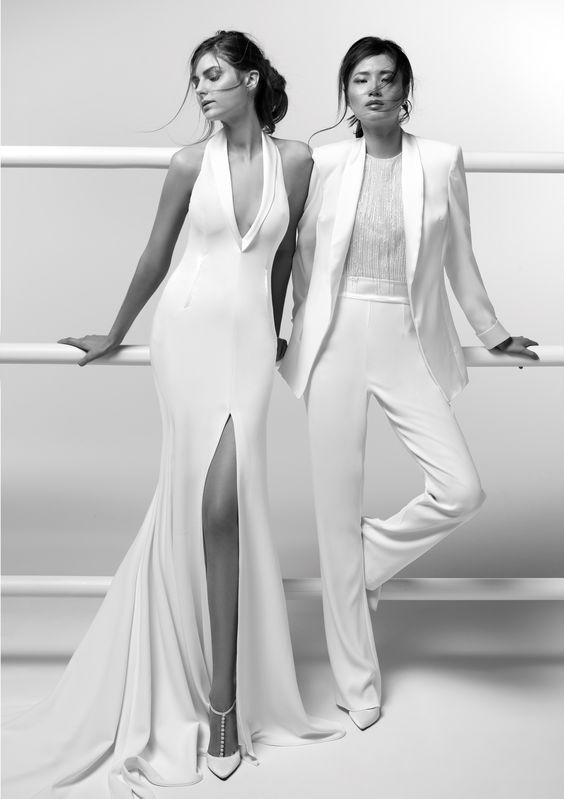 Bridal suits are popping up everywhere and we are in love with this chic silk satin tuxedo inspired combo. This structured bridal style will have you feeling sophisticated, feminine and powerful on your big day!
04.

Tuxedo Peplum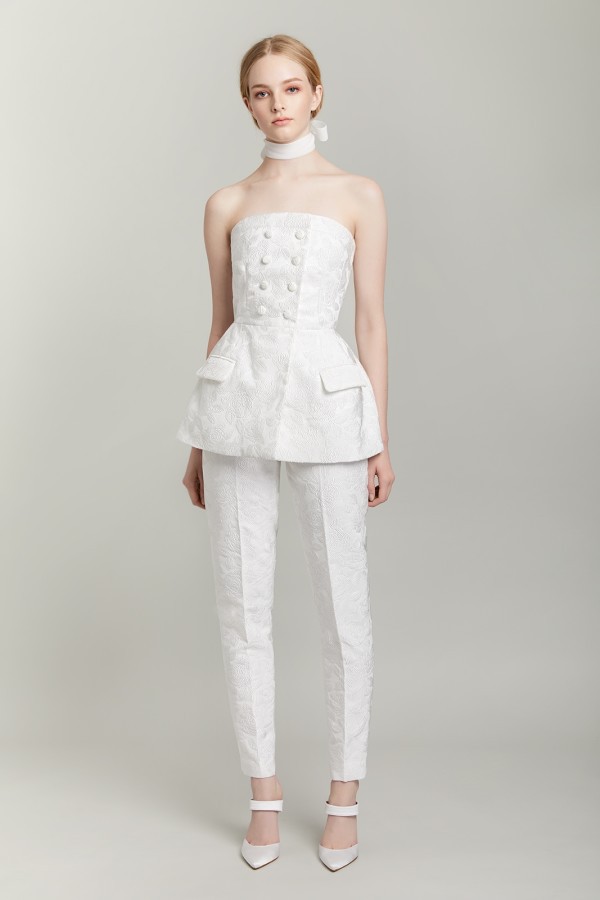 A completely unique tuxedo inspired wedding style that is so chic! This separates bridal look features a strapless buttoned peplum top and slick cigarret pants. The adorable peplum bodice is even complete with pocket flaps!
05.

Sheer Feminine Jacket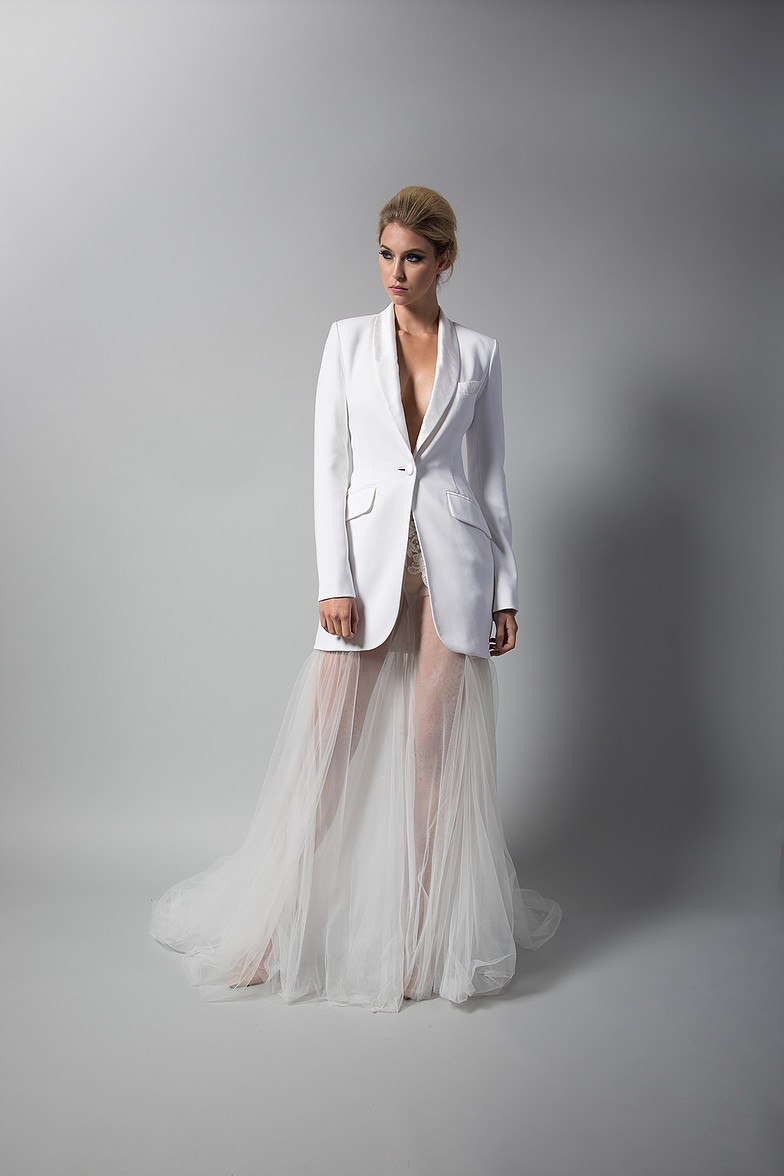 Randi Rahm brings us a boundary pushing, untraditional wedding style that is perfect for a bold modern bride looking to embrace this tuxedo inspired fashion trend.
06.

Feminine Ringmaster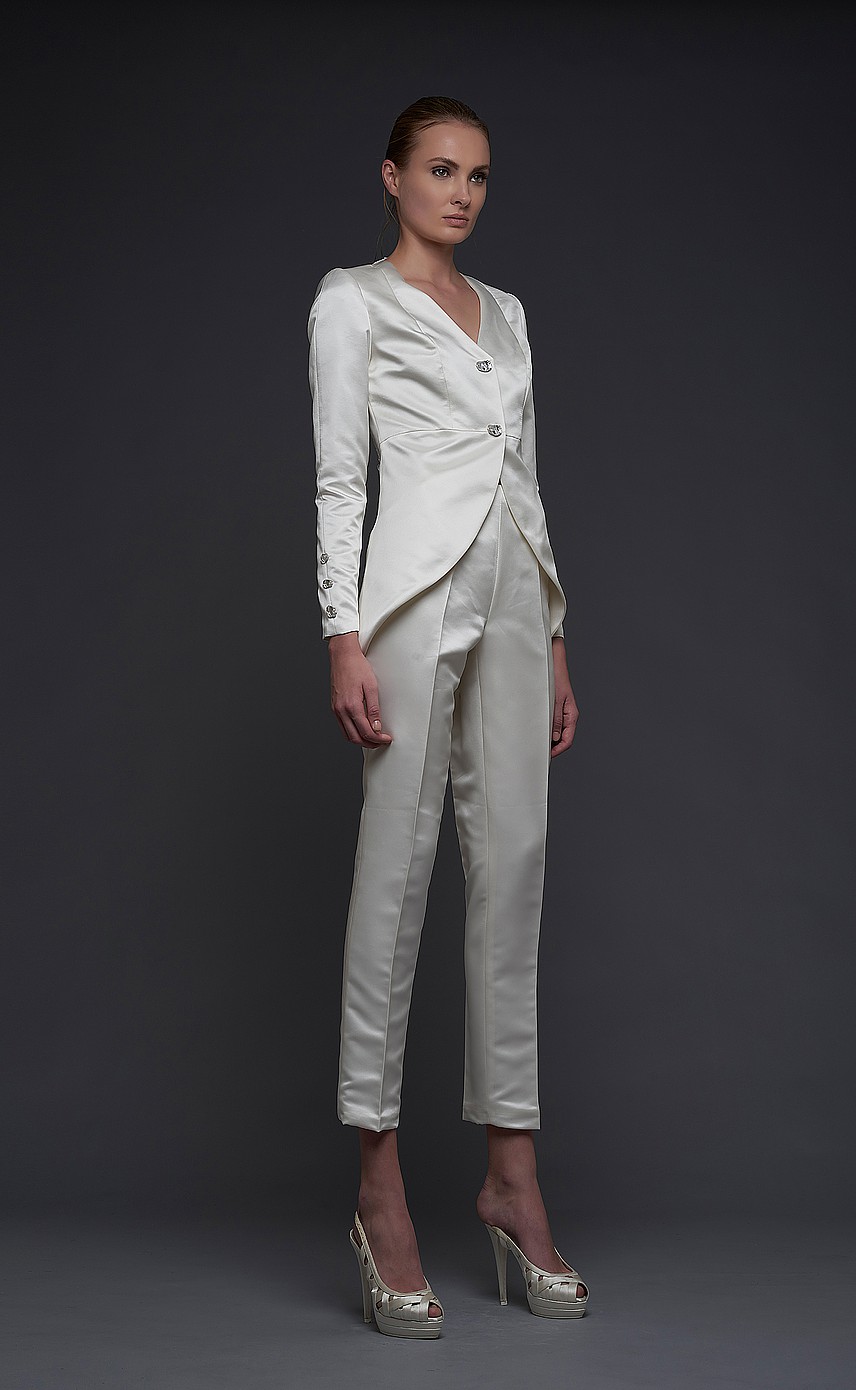 A very circus ringmaster inspired bridal look that embraces this tuxedo trend in a big, bold way. A completely untraditional bridal style for a bride looking to push the boundaries of fashion on her big day.
07.

Lace Coattails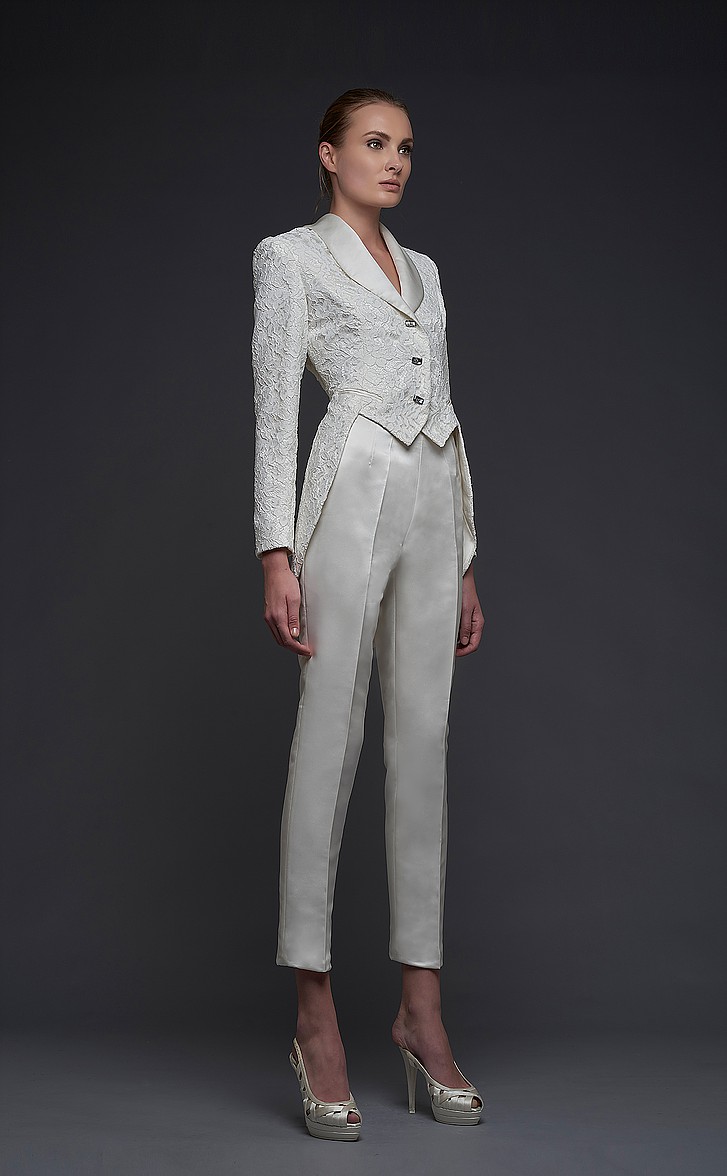 If you are loving the bridal suit style from above - you are going to love this next look. The same sleek, satin ankle suit pants but this time paired with a lace jacket with coattails that drape down the back of the bride.
08.

Graphic Bow Tuxedo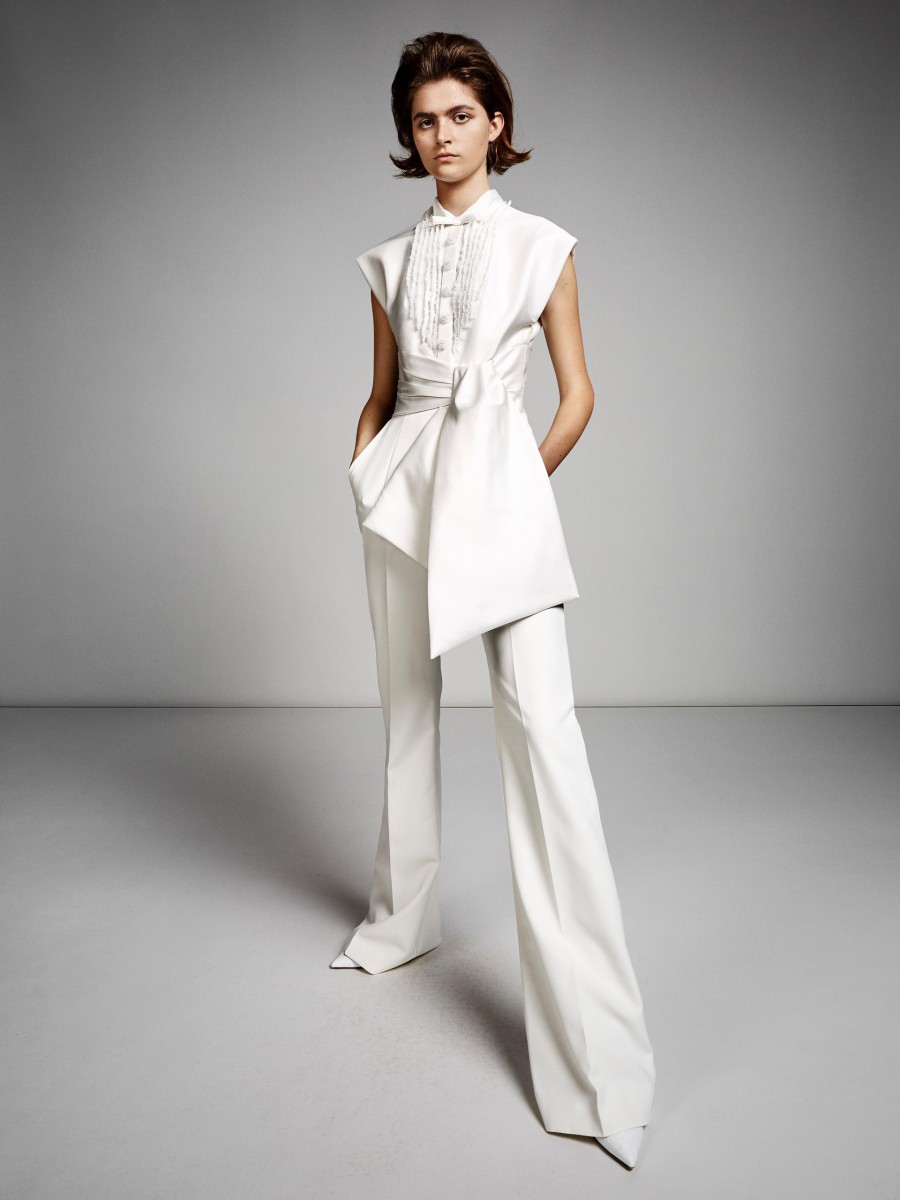 Viktor Rolf give us his artistic interpretation of this tuxedo trend. This modern bridal pantsuit combines classic tuxedo inspiration with a contemporary twist. What really pops with this style is the oversized graphic bow. This detail really makes this look stand out from the crowd when it comes to modern bridal pantsuit designs.
09.

Tuxedo Ball Gown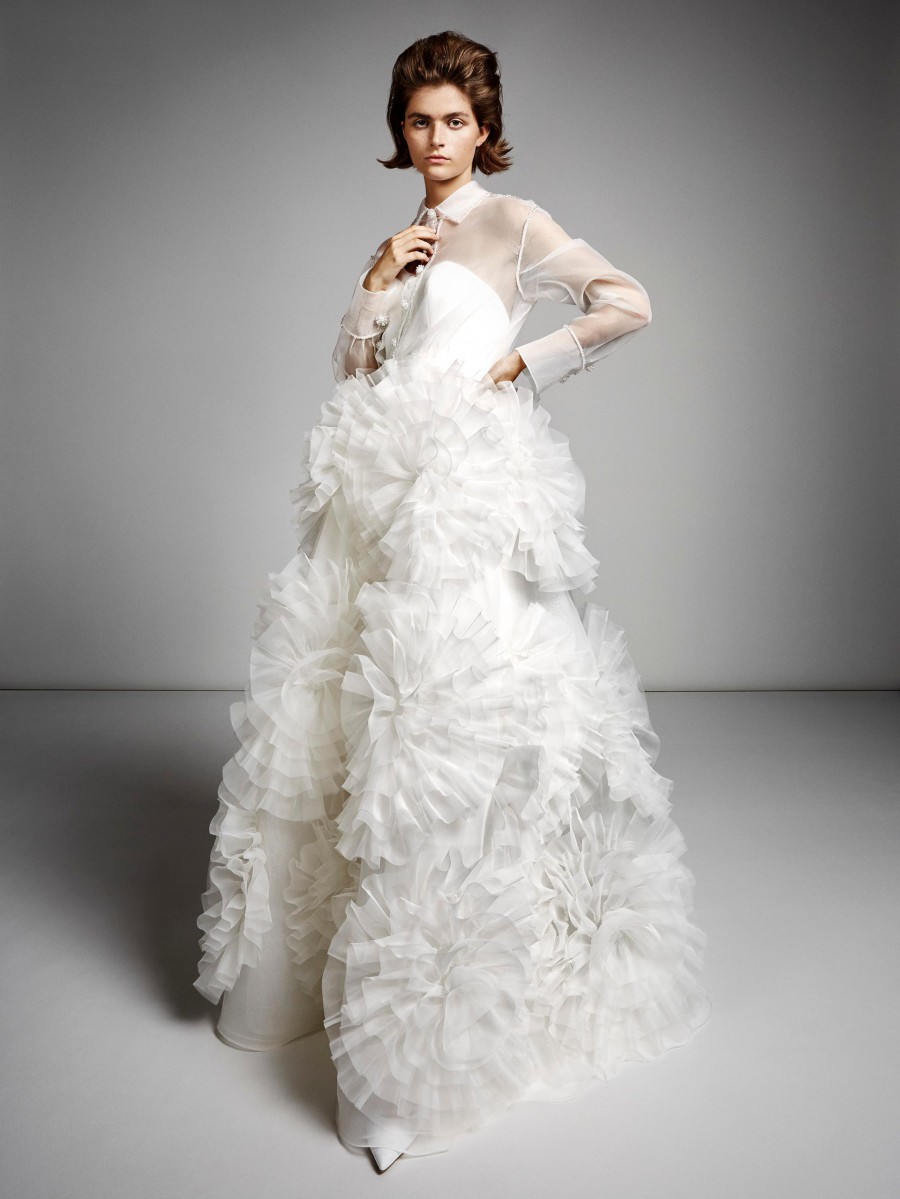 Viktor Rolf brings this same tuxedo inspiration into a contemporary ball gown design. A classic tuxedo shirt bodice is combined with a mesmerizing graphic skirt for a truly one of a kind modern wedding day look.
10.

Modern Bridal Suit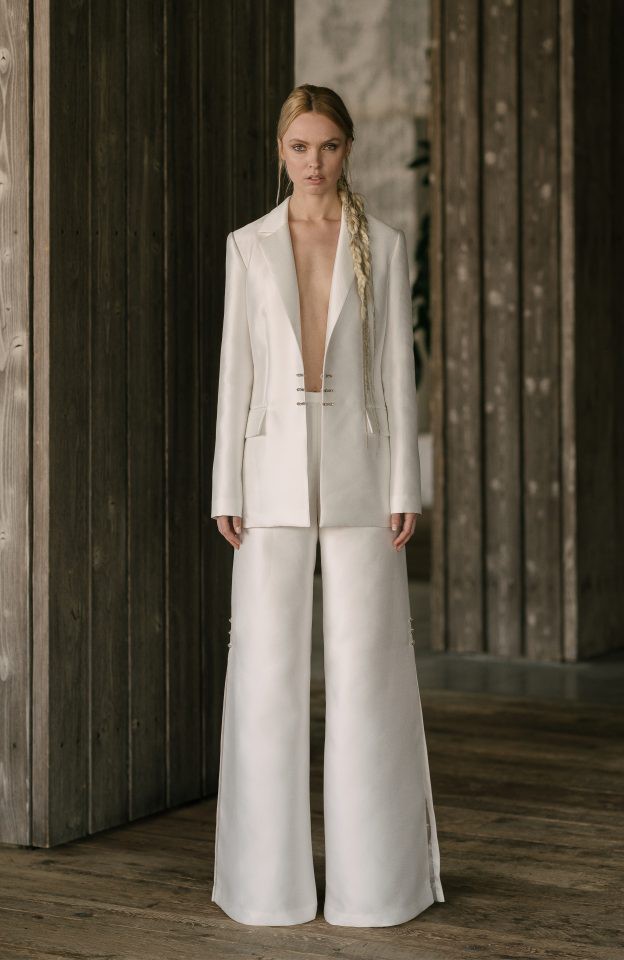 Our next modern bridal pantsuit comes from Rita Vinieris. This look combines wide leg silk pants and a dramatic cut v-neckline tuxedo inspired jacket that is sexy and fierce. A contemporary power suit style for our bold modern brides out there.
11.

Jacket Gown
Danielle Frankel brings us a tuxedo inspired wedding jacket gown like nothing else. This menswear and outerwear inspired look is perfect for a sophisticated fall wedding day.
12.

Tuxedo Jumpsuit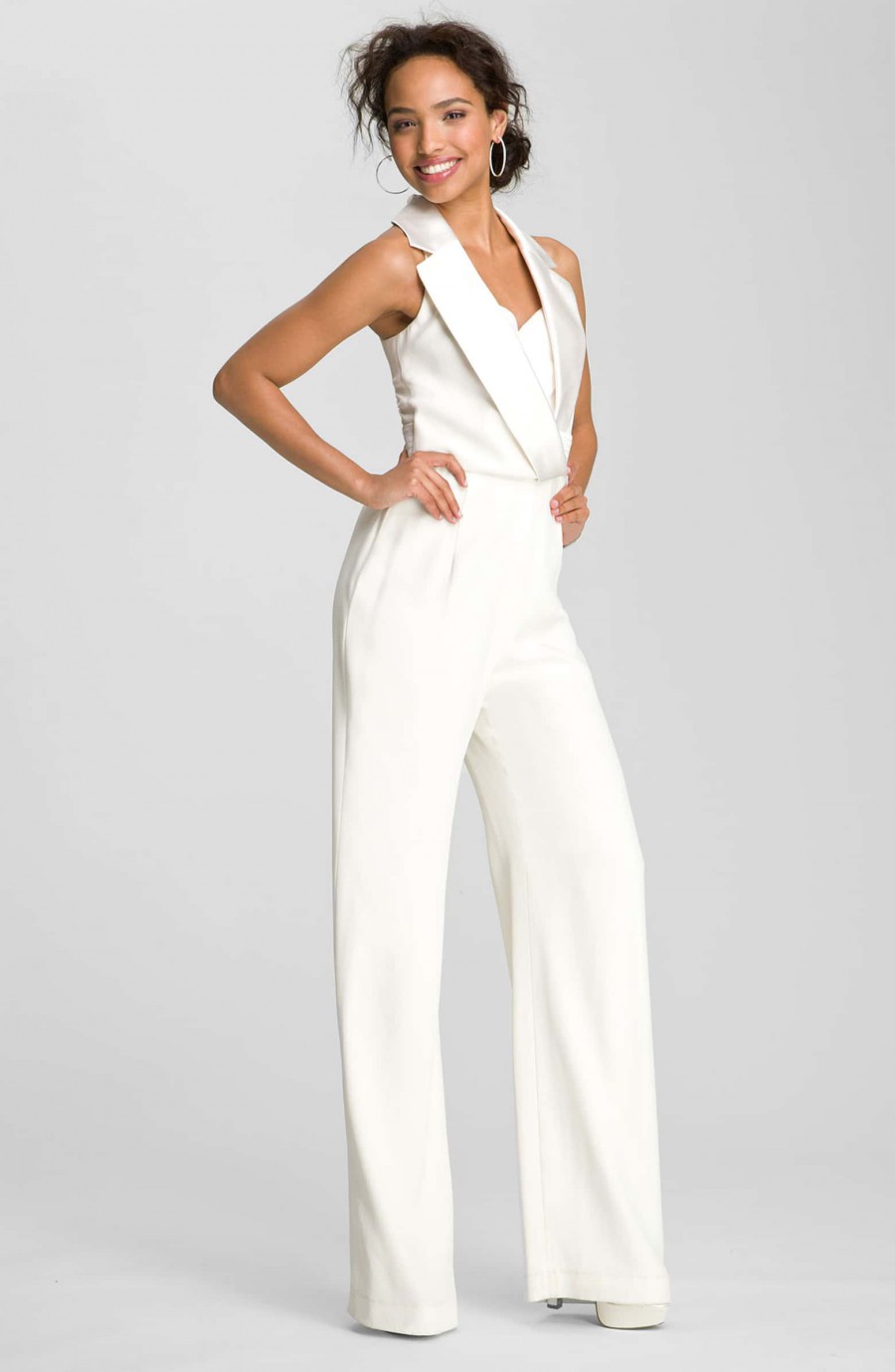 A playful bridal jumpsuit with clear tuxedo influencing in the sleeveless suit jacket bodice design. A fun way to combine menswear inspiration with modern feminine detailing.
13.

Quirky Bridal Suit
A fun and quirky bridal jumpsuit that embraces tuxedo influencing in the most playful of ways.

By Kathryn Schrotenboer