Get ready to channel your inner Grace Kelly with this list of 22 timeless glam wedding dresses.
There is a reason that Old Hollywood Glamour inspired bridal looks just seem to always be in style. These looks have a timeless and romantic feel to them which allows them to always be irresistibly on-trend. So if you are a fan of the romantic glamour fashion styles of the past, and are looking for your own wedding dress that is sure to stand the test of time - then you don't want to miss this list!
01.

Grace Loves Lace: Modern Yet Timeless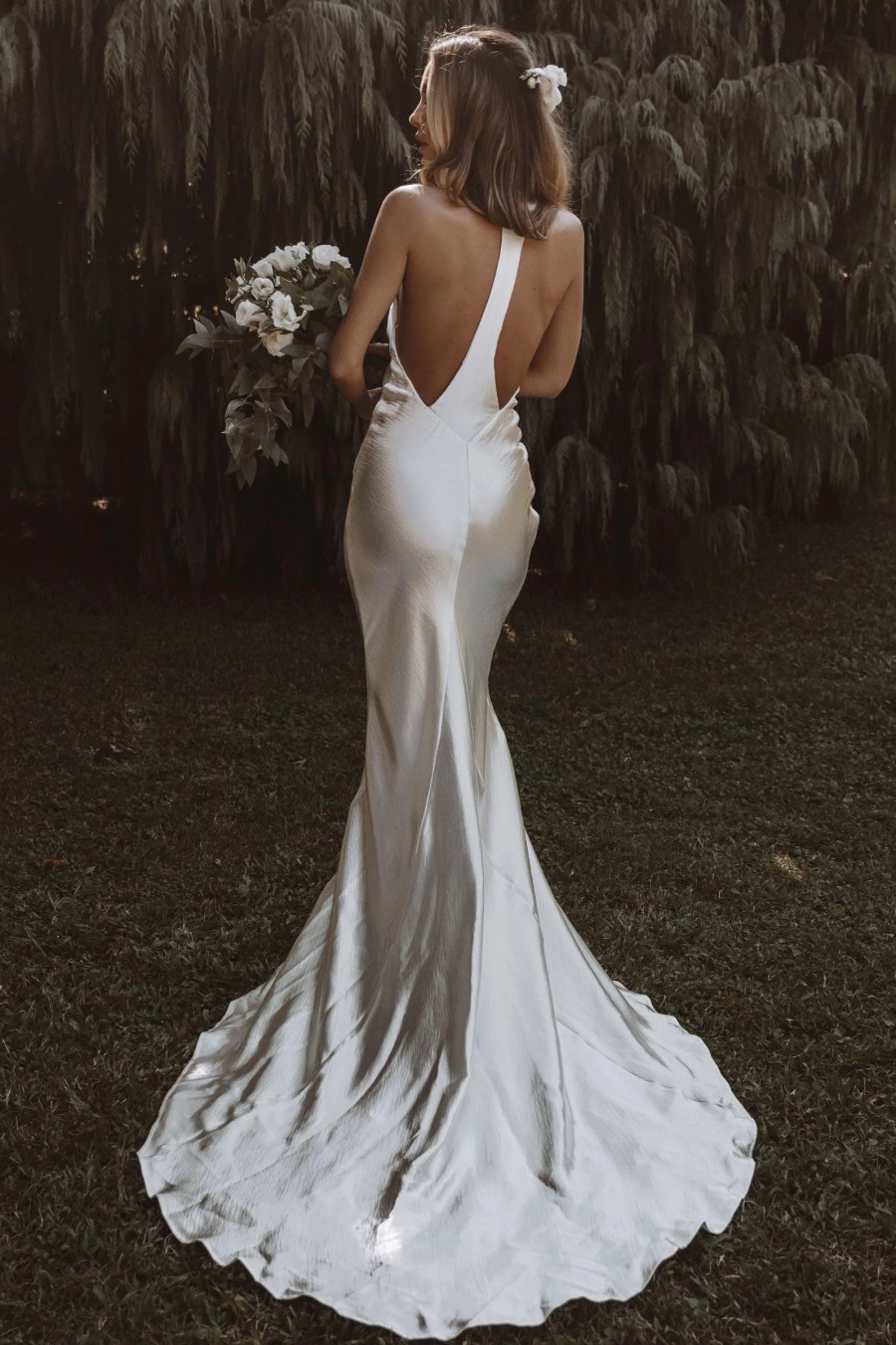 With all of the effortless glam of Grace Kelley, but with the unique confidence of a modern bride. This first glam wedding dress from Grace Loves Lace is the perfect combination of timeless and modern. With its sophisticate high neckline and dramatic racer back - this gown is sure to stand the test of time, while still making any bride feel so on trend and chic.
02.

Flora Bride: Luxe Glam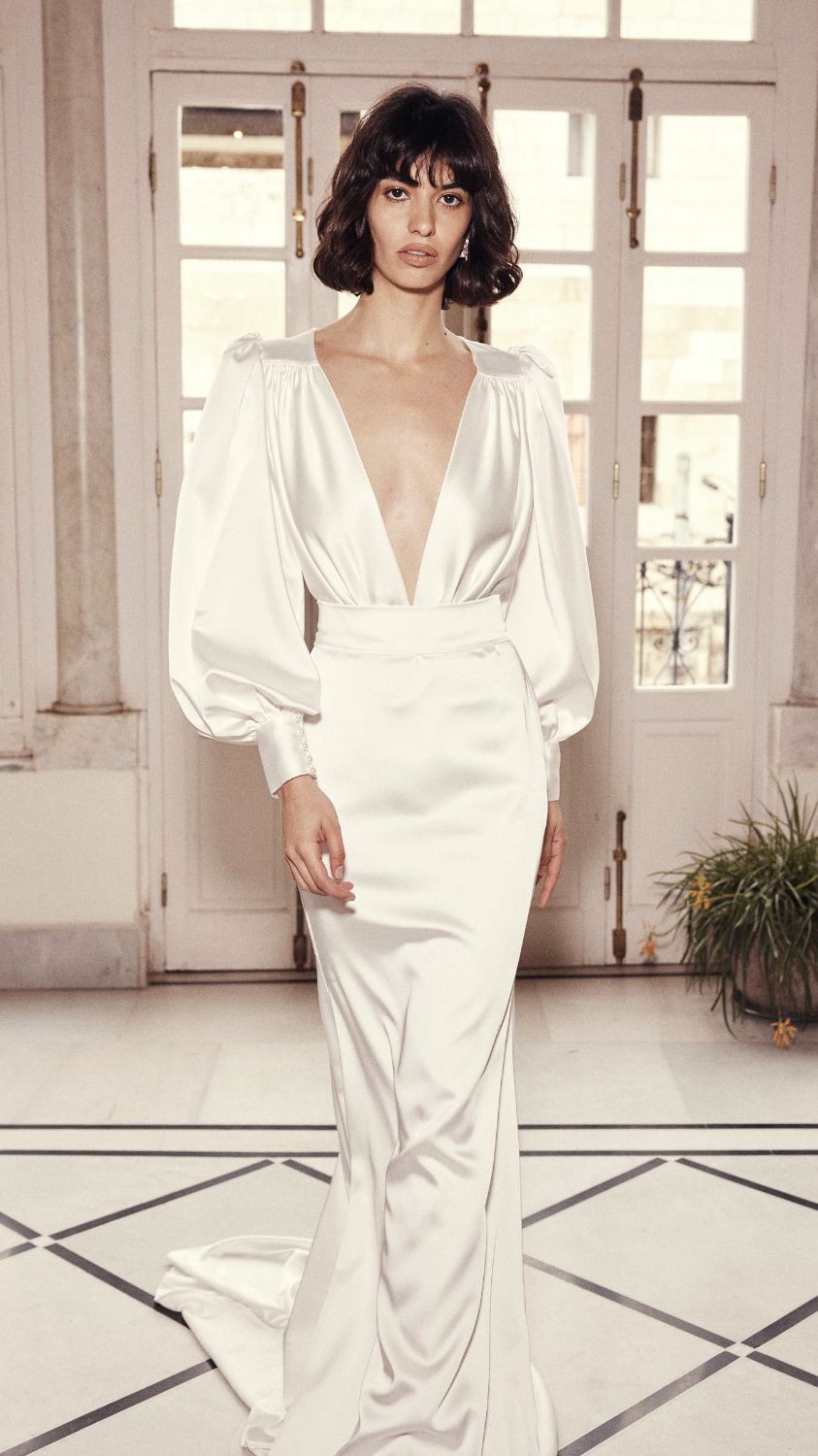 We are just loving the bold, glamours feel of this next bridal style from Flora Bride. You can see the Old Hollywood Glam inspiration from the luxe satin fabric to the vintage button cuffed sleeves. To add a bit more of a modern feel this stunning gown features a plunging neckline that is effortlessly captivating.
03.

Half Penny London: Red Carpet Drama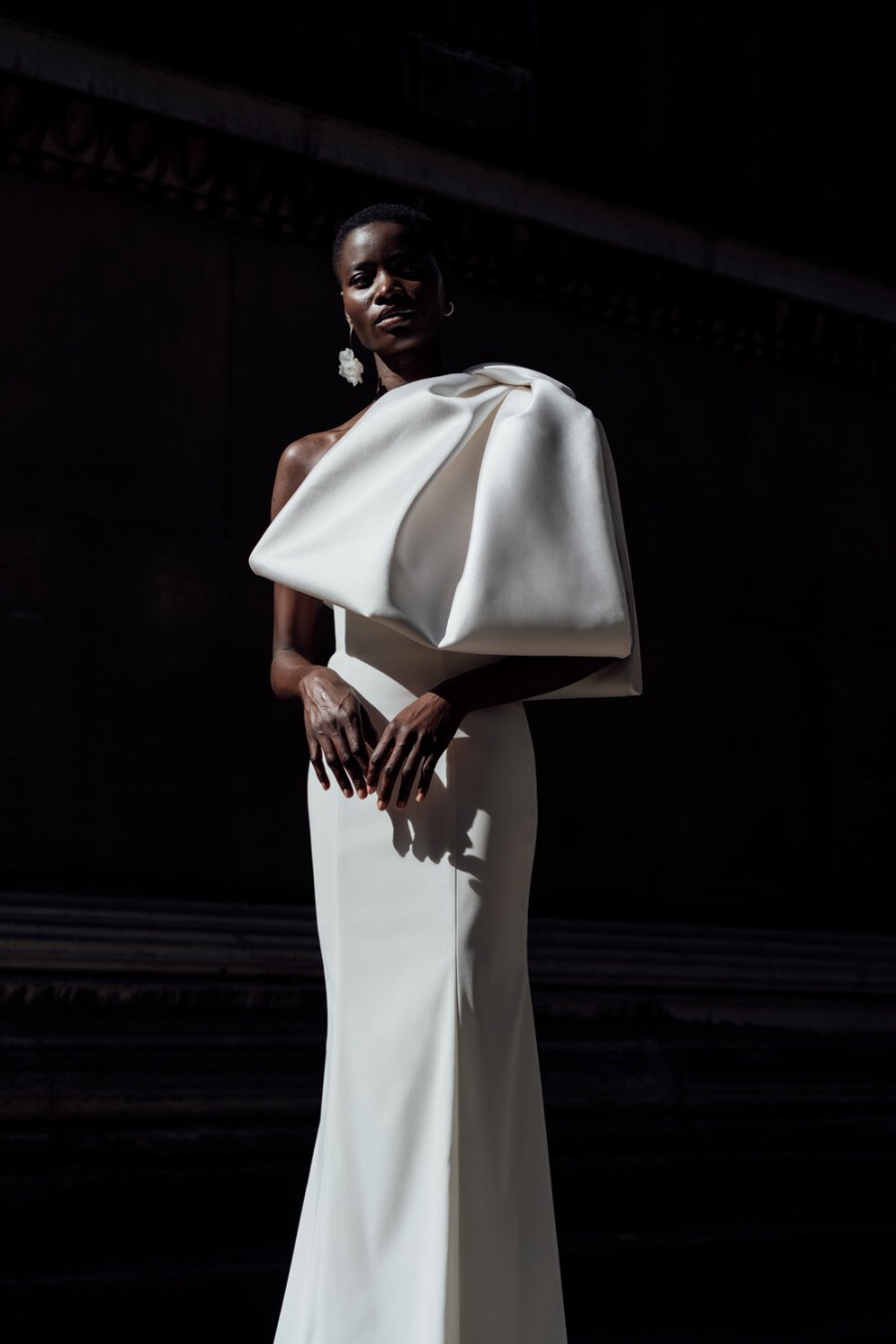 Fit for a red carpet affair, this next timeless glam wedding dress comes from Half Penny London. A classic fitted gown with clean lines and an effortless silhouette. But to add a contemporary touch, this gown features an oversized single shoulder bow that still feels so classic and elegant.
04.

Jenny Packham: Great Gatsby Glam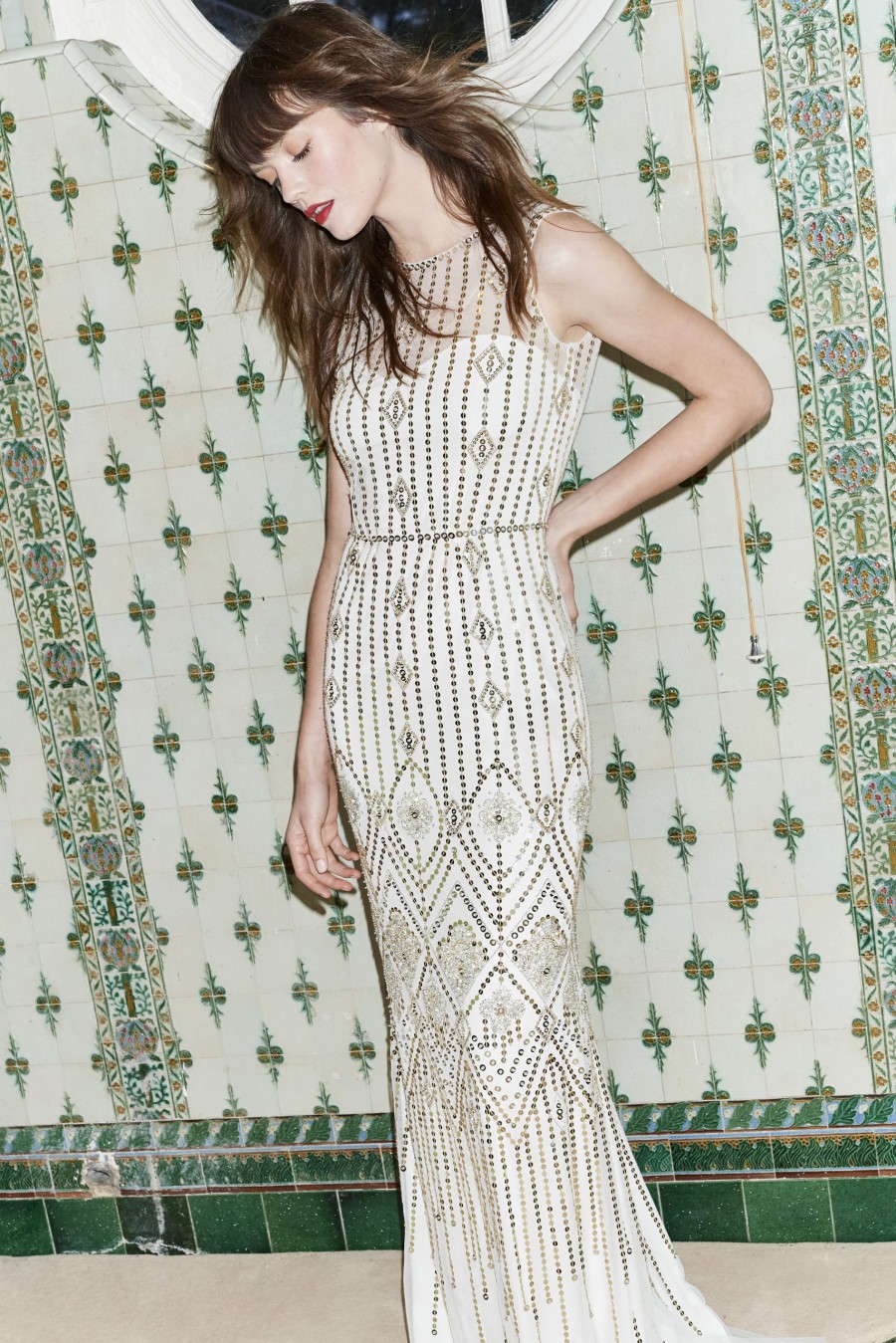 Channel your inner Great Gatsby glamour with this next timeless glam wedding dress from Jenny Packham. This gown has a very 1920's Art Deco feel to it. The sleek silhouette of this gown features head to toe gold sequin detailing that pops in contrast to the white base of the gown.
05.

Jenny Yoo: Chic Silhouette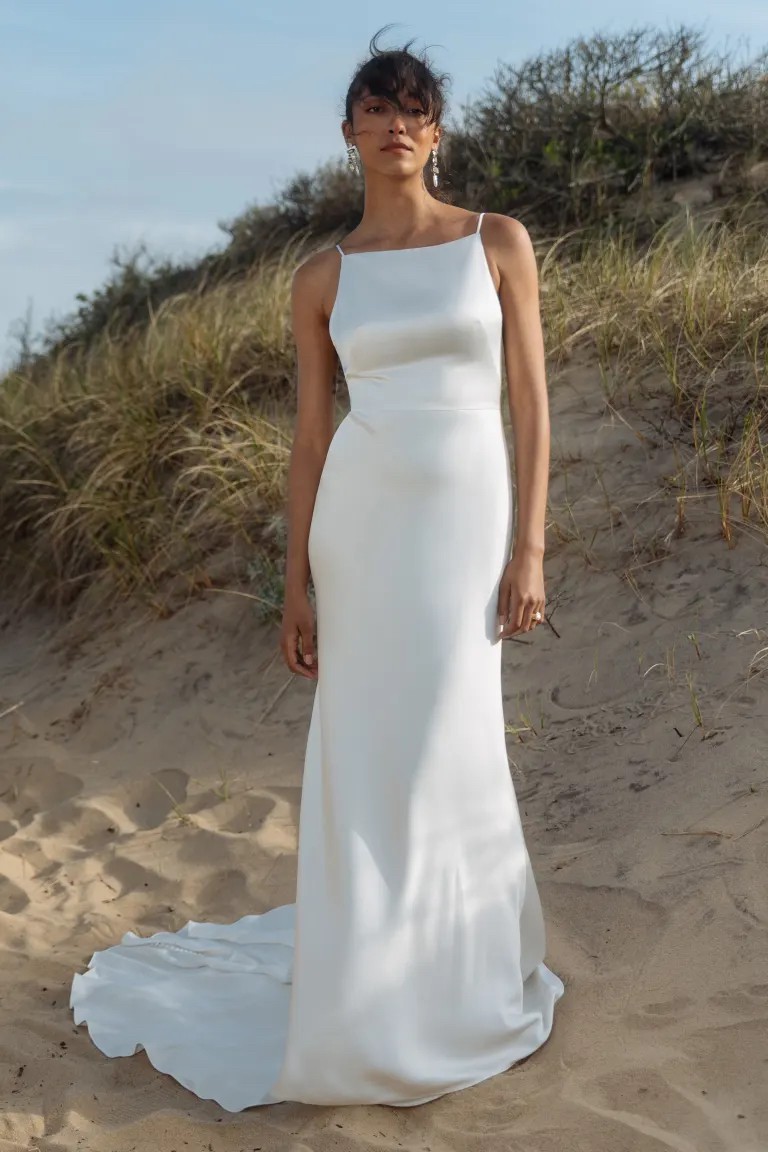 As chic as it is timeless, this next wedding dress from Jenny Yoo is absolutely irresistible. Featuring a clean apron neckline, delicate spaghetti straps and a sultry open back. The fitted bias cut skirt hugs the curves of the bride while still keeping things elegant. And it is hard to resist that luxe satin fabric which is effortlessly glamourous.
06.

Viktor Rolf: Sophisticated Glam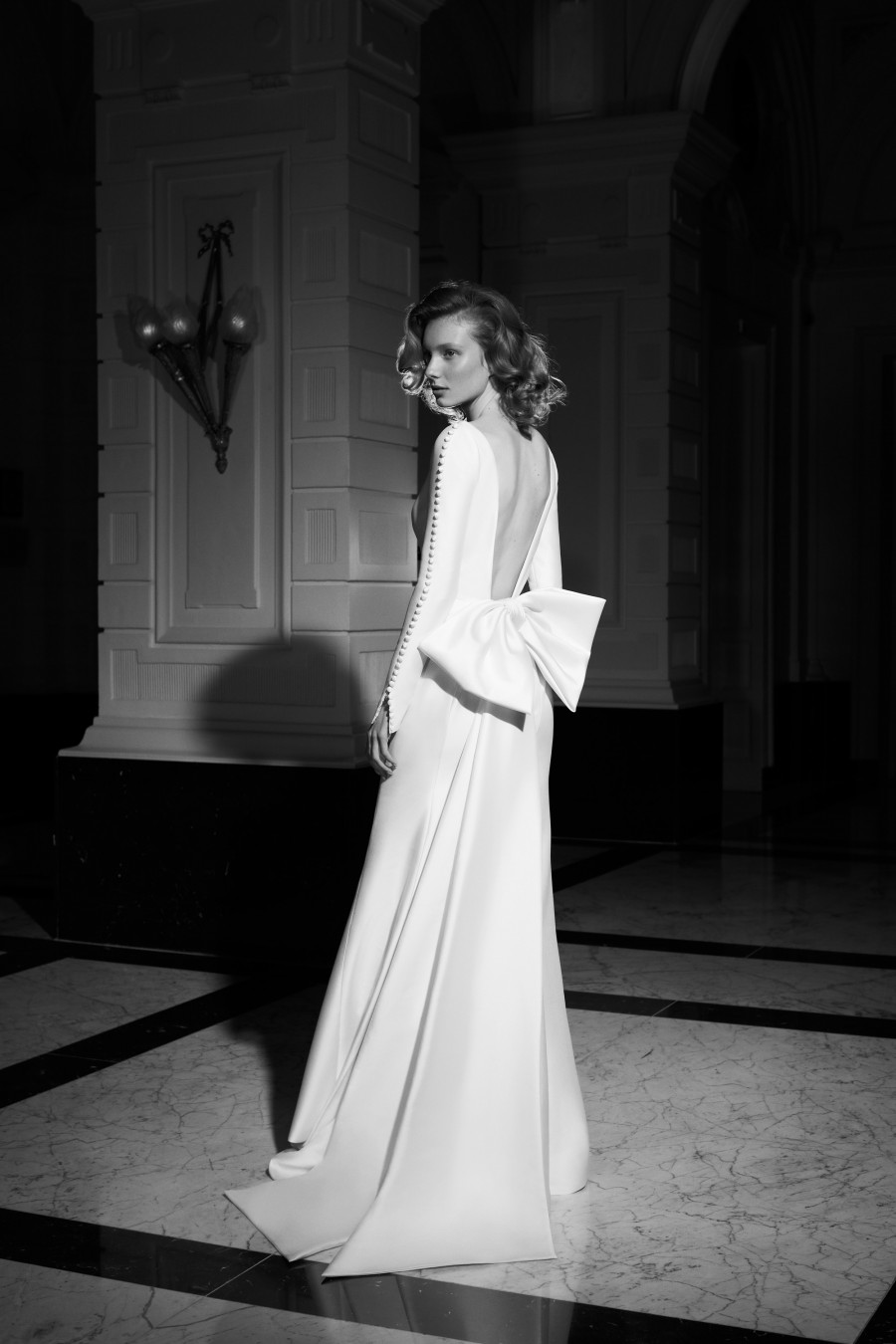 This effortless gown from Viktor Rolf features a stunning long sleeve slim silhouette with a dramatic low, open back. To accentuate the drama of the low back even more, this look features an oversized bow which drapes down to the floor. The delicate buttons along the sleeves give this look even more of a timeless, glam feel.
07.

Galvan London: Old Hollywood Glam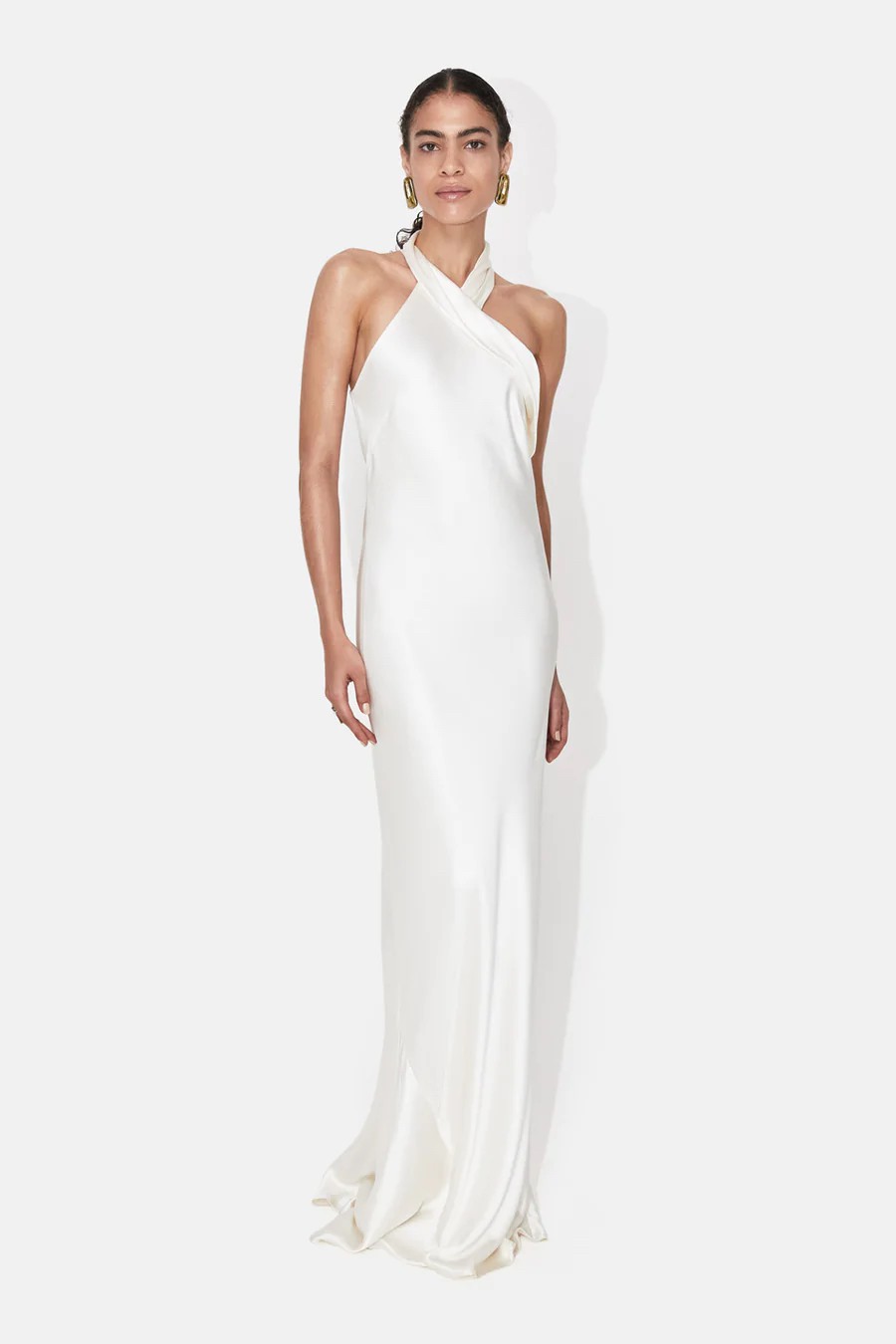 Channeling Old Hollywood Glam at its finest - this next timeless wedding dress comes from Galvan London. A chic liquid silk satin slip dress which features the most alluring asymmetric wrapped neckline. This look is simple and timeless, yet so luxe and glamorous.
08.

Lihi Hod: Sophisticated Strapless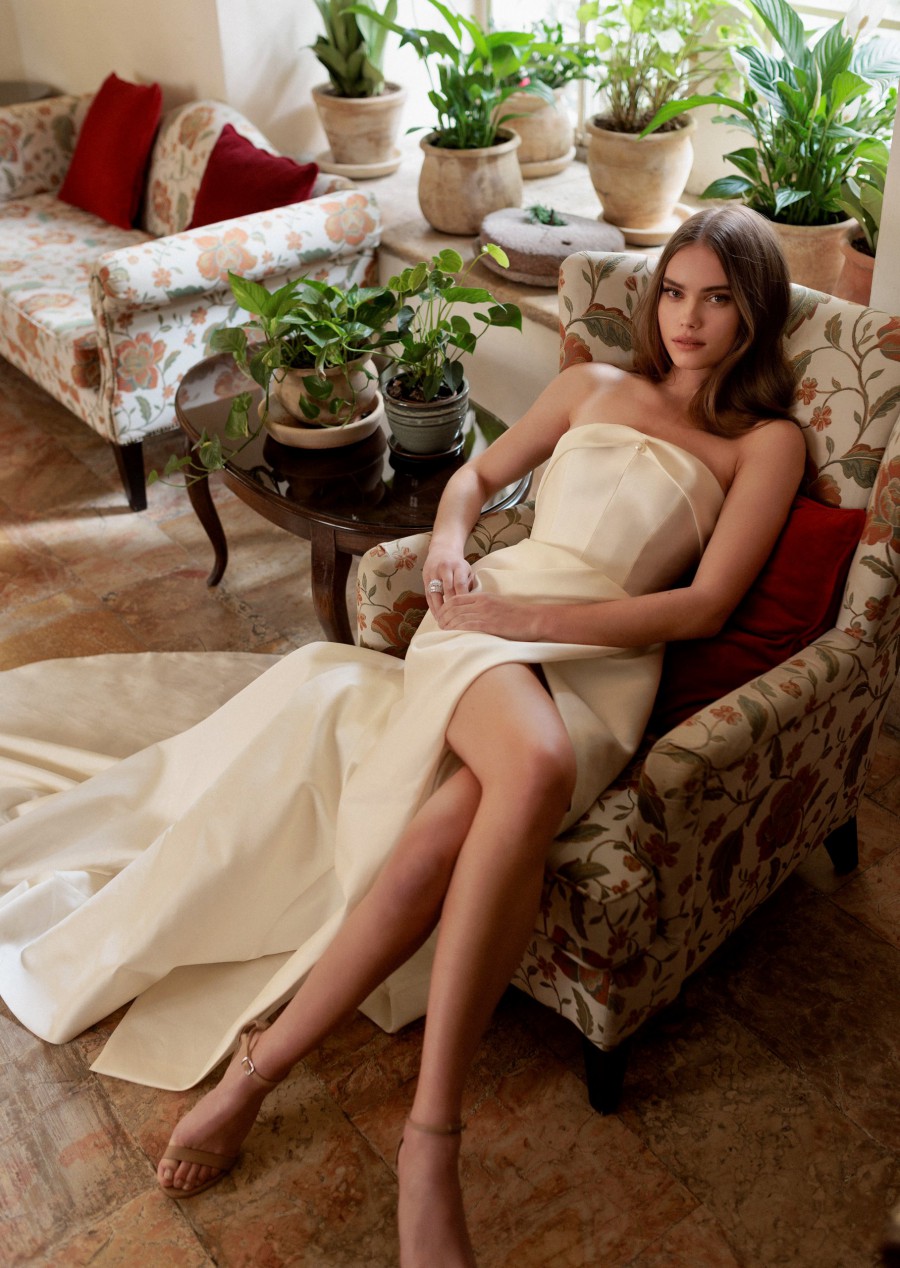 Seemingly effortless and ultra glamorous. This next wedding gown comes from Lihi Hod. A chic strapless gown with a folded neckline and structured bodice. And the wrapped skirt of this gown is simple, yet dramatic at the same time.
09.

Flora Bride: Timeless Silhouette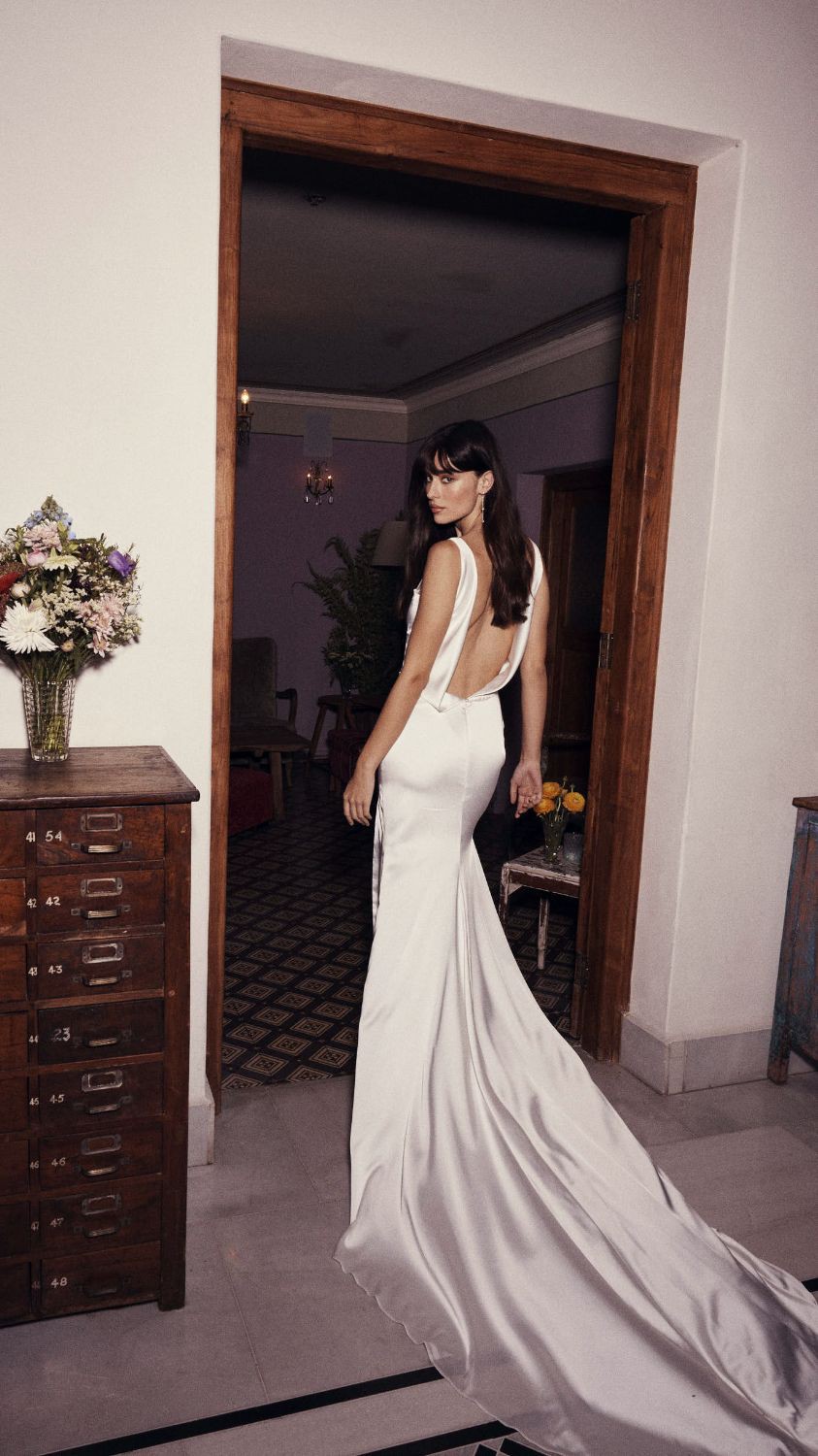 Our next timeless glam wedding dress comes from Flora Bride. The silhouette of this gown is familiar and effortless. This look draws inspiration from Old Hollywood Glam styles with its luxe fabric and cowl draped open back. To add a bit of a contemporary feel, this dress features a dramatic high front slit that is sure to captivate everyones attention.
10.

Jenny Yoo: Classic Glamour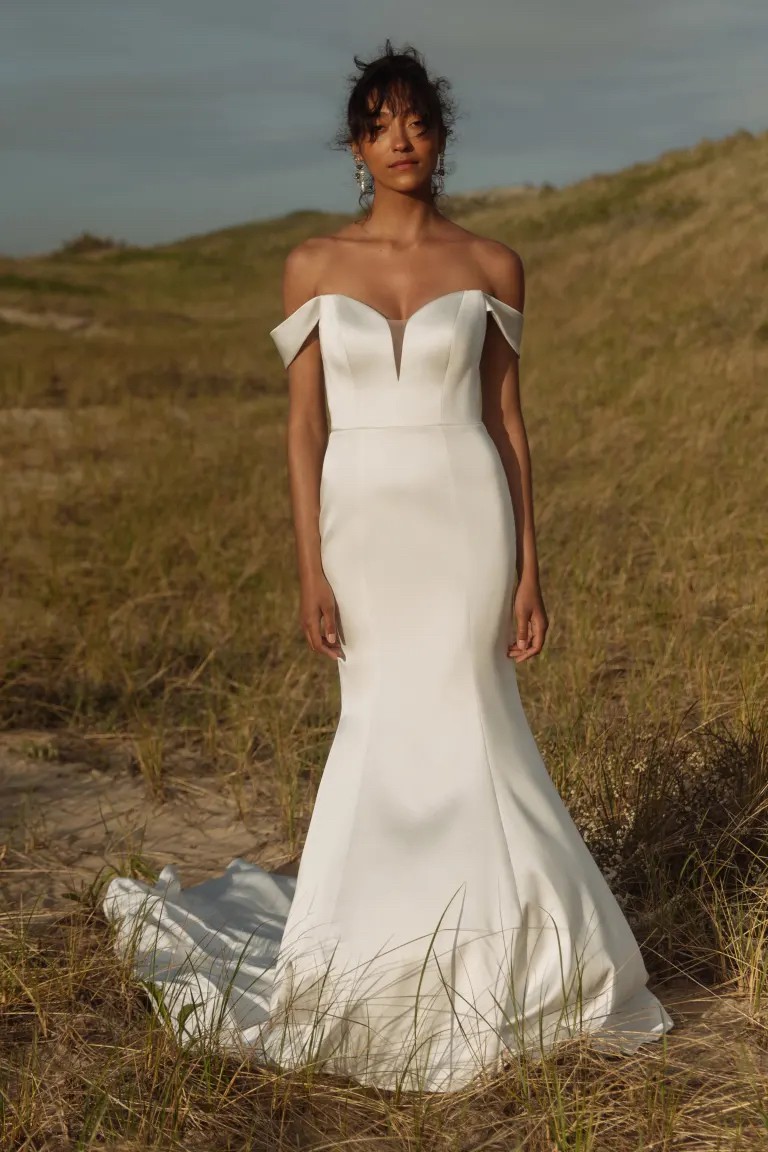 There is just something so romantic and timeless about a chic off-the-shoulder wedding dress. And the "Juliette" gown from Jenny Yoo shows us why. A classic, yet modern looking gown which is made from luxe stretch satin fabric and features a chic, structured silhouette. And the delicate off-the-shoulder sleeves add a feminine and romantic finish to the style.
11.

Grace Loves Lace: Make An Entrance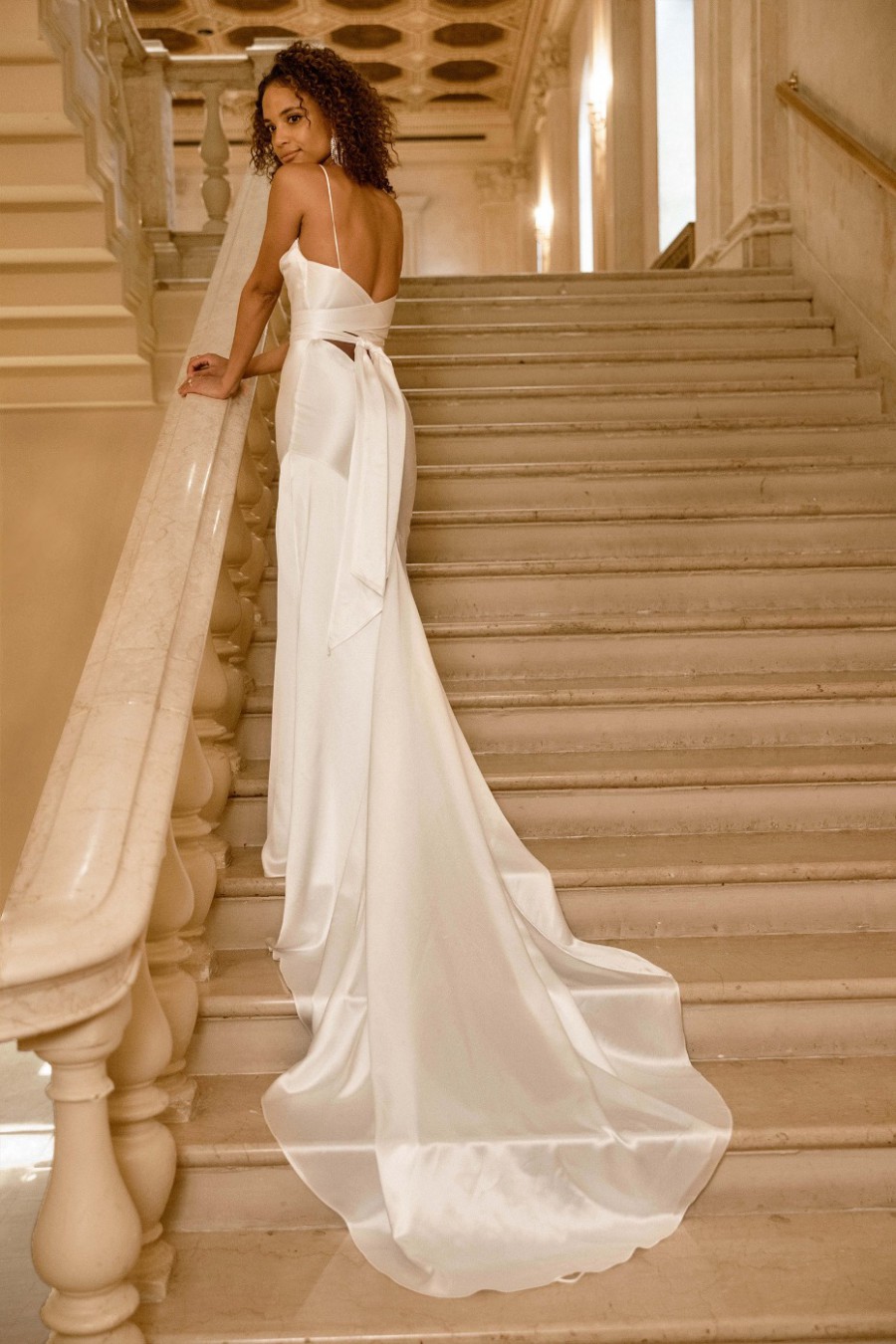 If you are looking to make a big entrance on your big day - then you don't want to miss this next wedding gown from Grace Loves Lace. An ultra glamorous and timeless wedding gown that will have you feeling red carpet ready on your big day. This liquid satin gown features an effortlessly draped skirt with a high front slit and dramatic train. And to add even more drama to the back of this gown, there is a cut out at the base of the back which is accentuated by the wrapped tie.
12.

Elizabeth Fillmore: Vintage Glam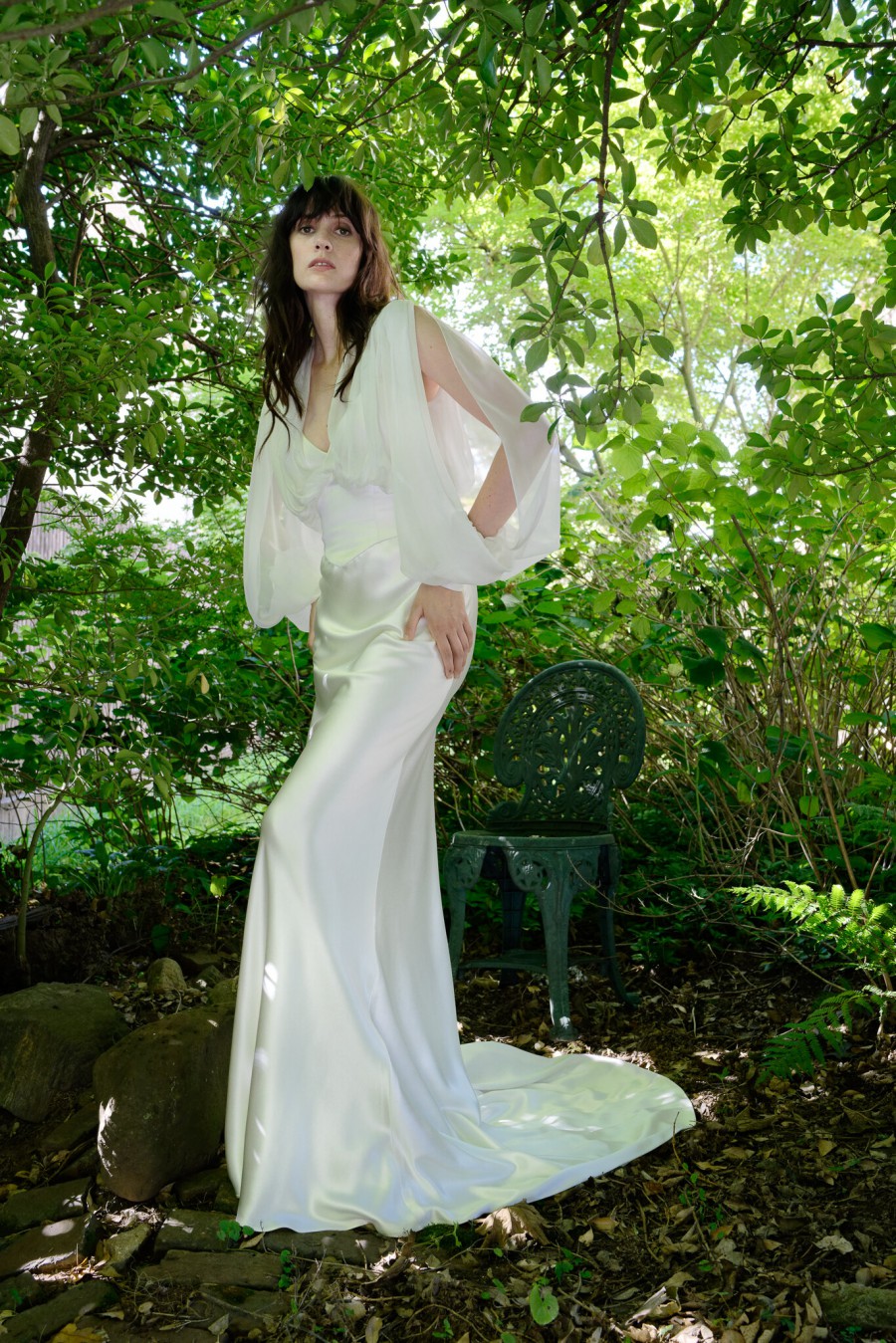 A very vintage inspired, glam wedding gown from Elizabeth Fillmore. This satin charmeuse bias sheath gown features billowing satin chiffon draped sleeves and a striking fitted corset bodice. This gown has a timeless elegance to it.
13.

Half Penny London: Satin Princess
Straight out of a glam fairytale - this next timeless wedding dress from Half Penny London is giving us some major princess vibes. The corseted bodice and flowing A-line skirt are as classic as they come when it comes to bridal fashion. And our favorite feature of this gown has to be the off-the-shoulder sleeves that wrap around and tie in the back of the gown. This subtle feature is stunning and effortless.
14.

Flora Bride: Modern Glamour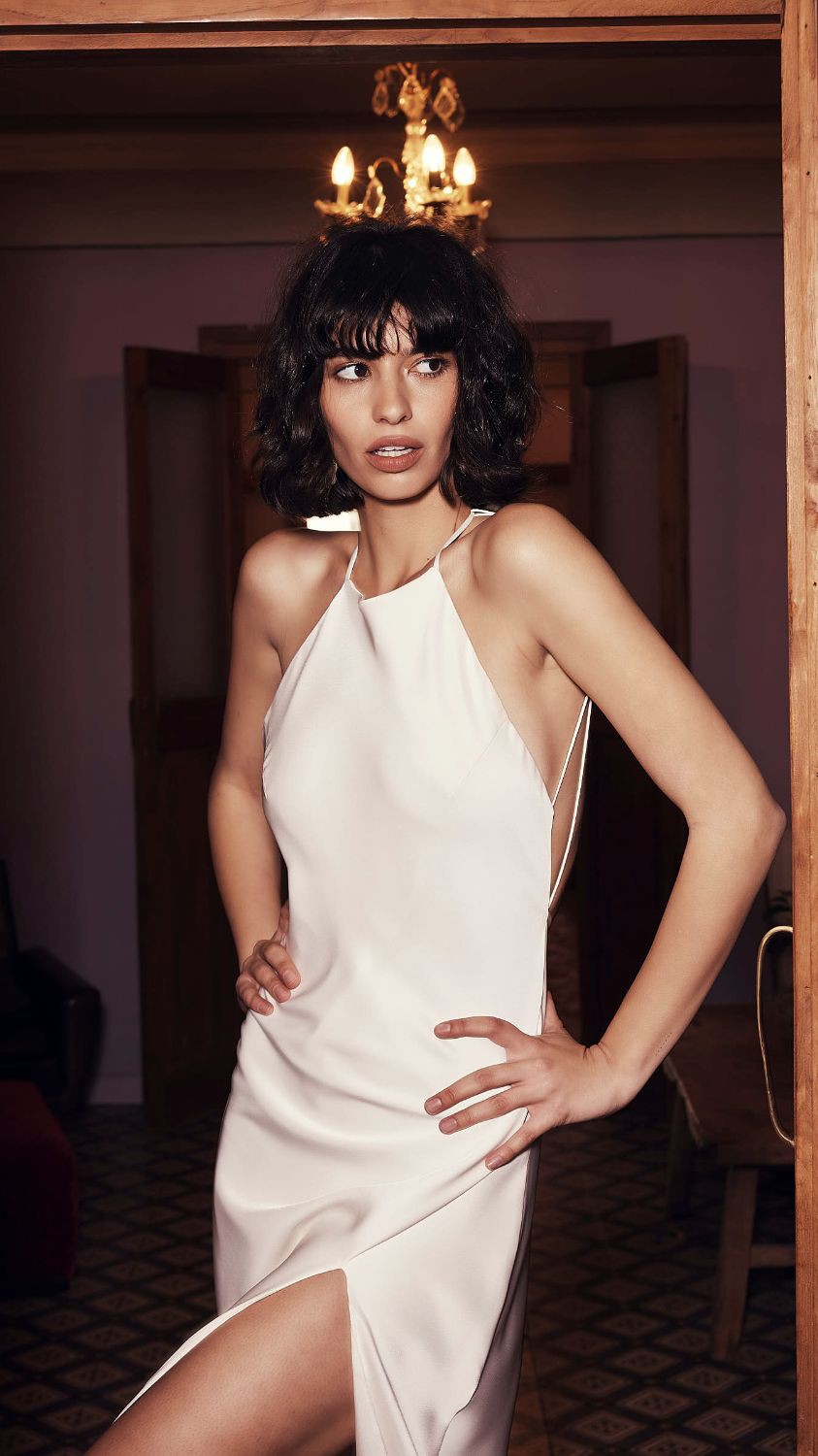 What we love about this next wedding dress from Flora Bride is that it is a very modern style which pulls influence from the effortless and timeless nature of classic slip dress. This look takes all of the elegance and simplicity from an Old Hollywood Glamour inspired satin slip dress - but packages it in a new and modern design.
15.

Sarah Seven: Venus Glam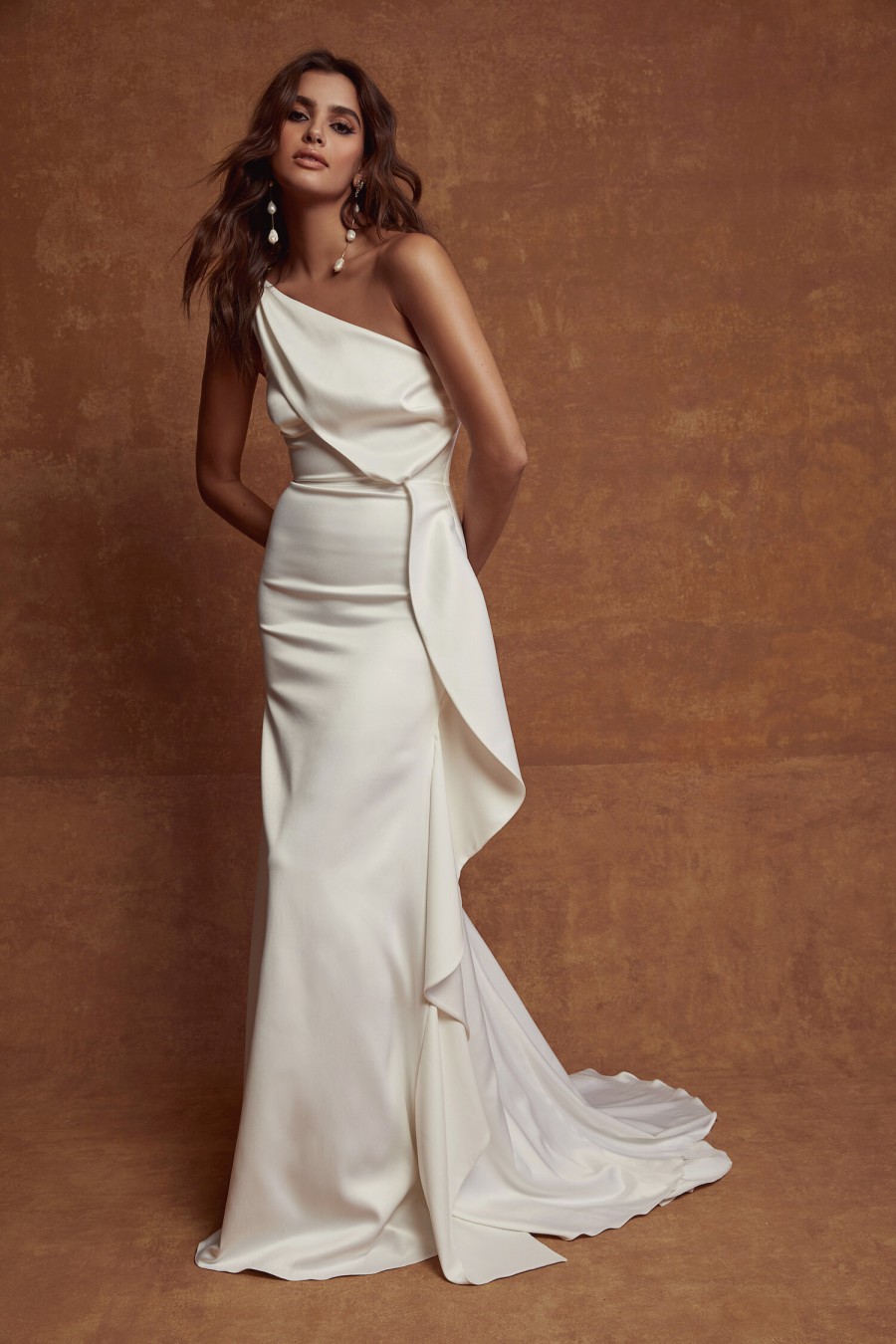 Fittingly named "Venus," this dress from Sarah Seven is worthy of a modern day goddess. Its captivating single shoulder style and slim silhouette feels effortlessly glamorous and timeless. And this dress features a dramatic modern accent with the draped fabric that cascades down the side of the gown.
16.

Sarah Nouri: Strapless Glam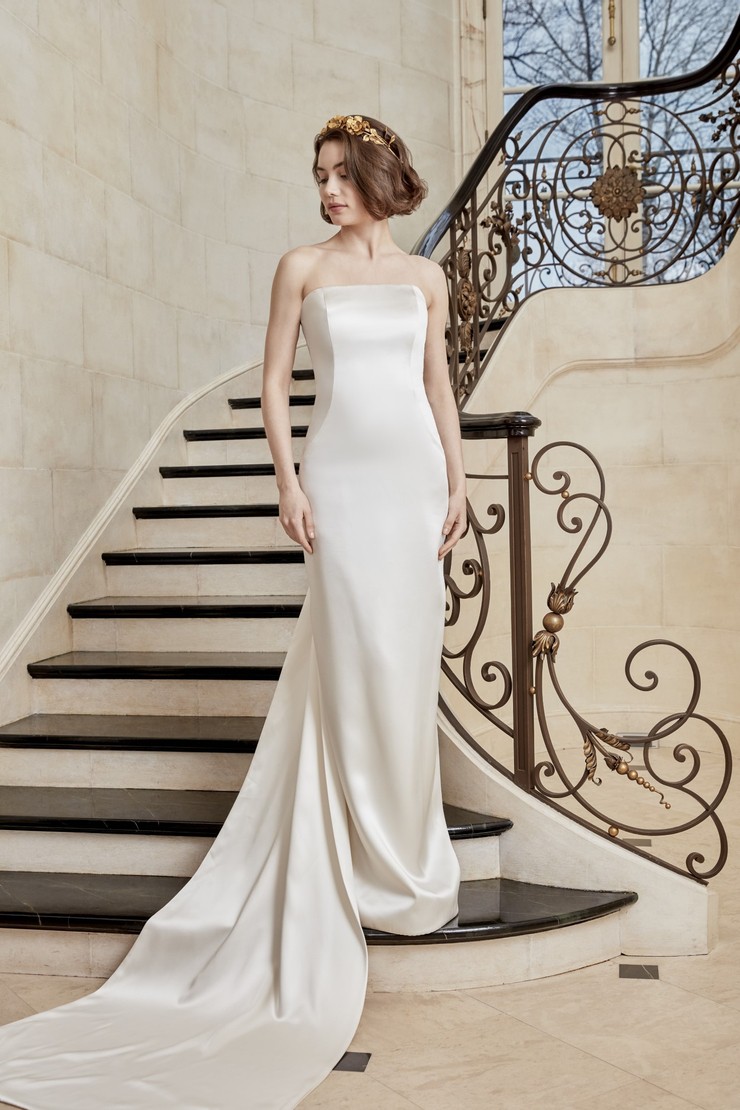 This next wedding dress is understated and elegant. Designed by Sarah Nouri, this gown features a straight edge neckline and a fitted column silhouette. But to add a little more glamorous drama to the style, this gown features a long, thin train that drapes elegantly behind the bride.
17.

Julie Vino: Dramatic Glamour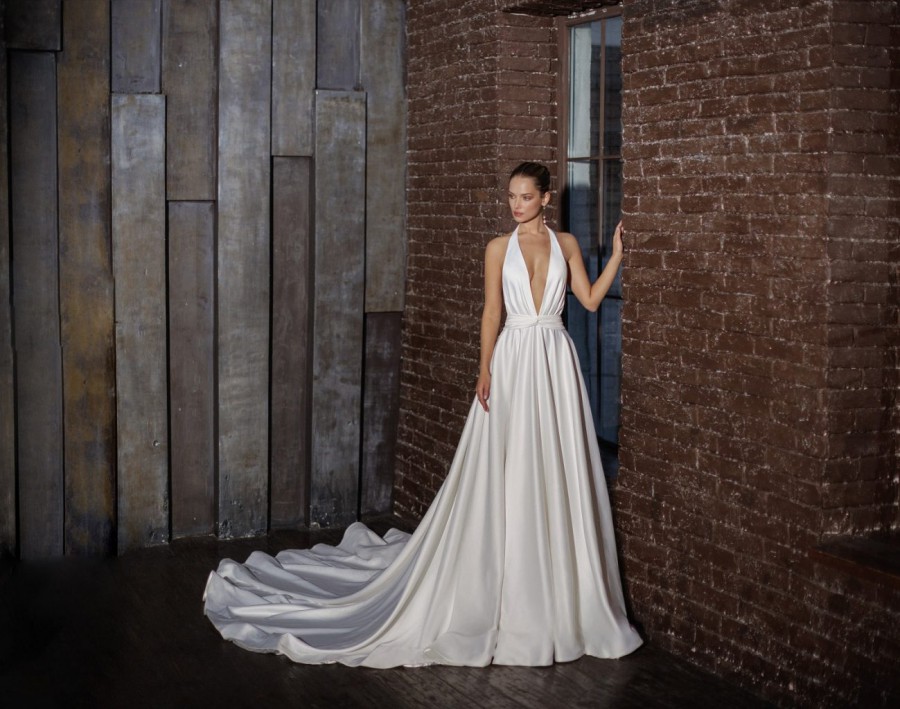 Make a bold, glamorous statement in this next wedding dress from Julie Vino. Pulling inspiration from timeless styles of this past, this gown is all about classic Hollywood Glam. Featuring a plunging V-neckline with a halter tie. This gown is sure to leave everyone speechless.
18.

Grace Loves Lace: Satin Slip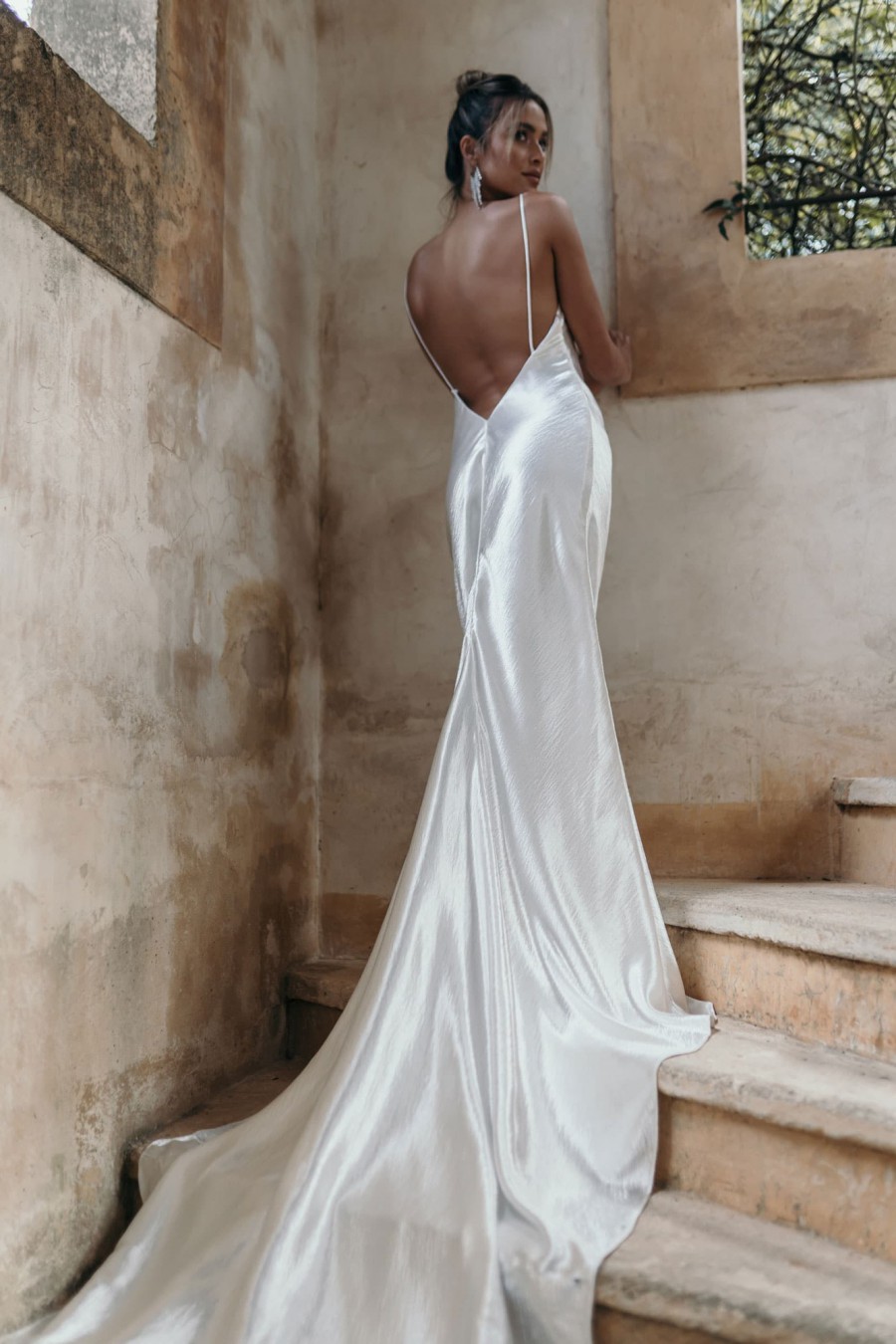 When it comes to finding a glamorous and timeless wedding dress, it is hard to beat the classic satin slip. And "Oceania" from Grace Loves Lace is sure to have you falling in love - hard. This ultra glamorous gown is made from luminescent, textured satin. Our favorite features of this gown has to be the dramatic open back which is accented by the thin long straps and of course the liquid flowing train.
19.

Peter Langner: Timeless Fairytale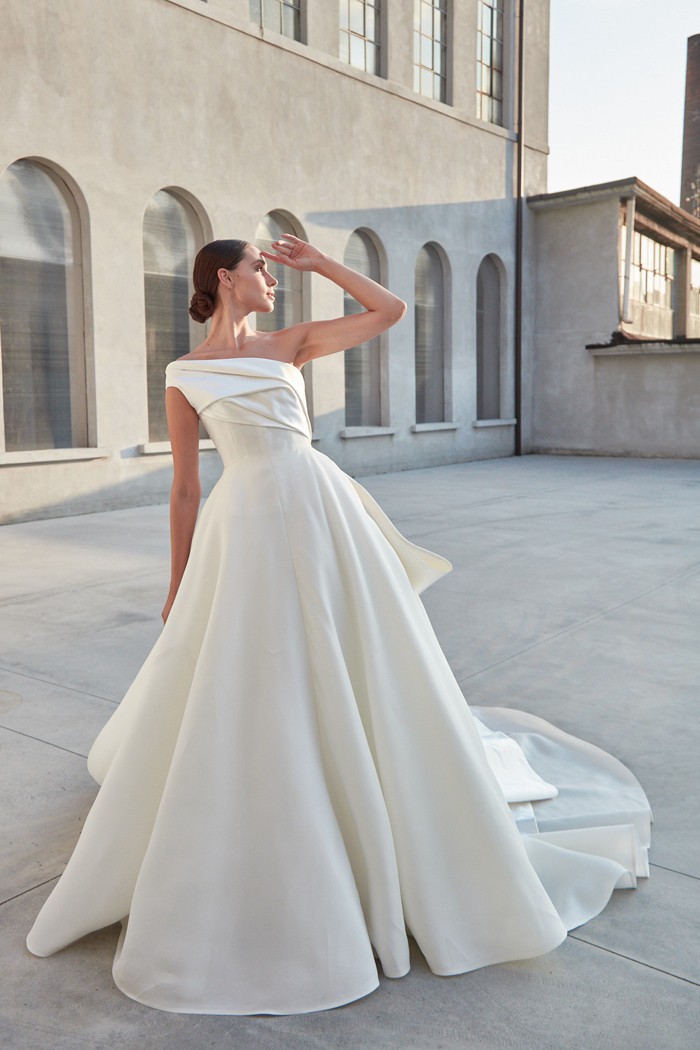 This timeless ball gown from Peter Langner has us dreaming of a far away fairytale. Fit for the most glamorous princess among us, it is hard to resist the draped single shoulder silhouette and the luxe silk satin fabric.
20.

Half Penny London: Wrapped Satin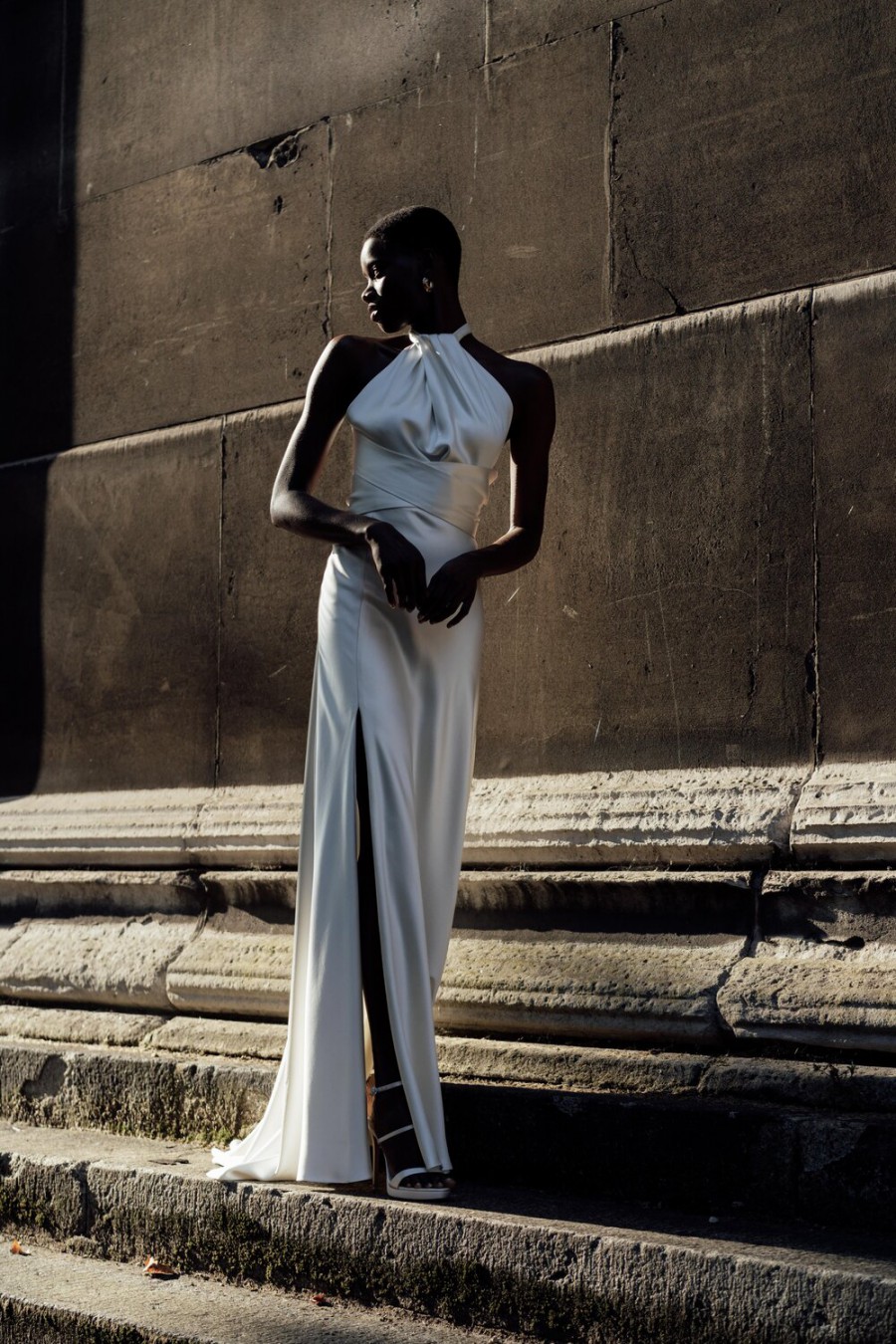 This gown may seem like a simple slip inspired silhouette at first. But upon longer observation - the dramatic details of this gown are sure to amaze you. From its high halter neck to its wrapped bodice - this gown is full of subtle yet dramatic surprises. This gown has the most timeless and elegant silhouette. And it is hard to resit the almost liquid metallic look of the satin fabric.
21.

Loho Bride: Luxe Italian Silk Satin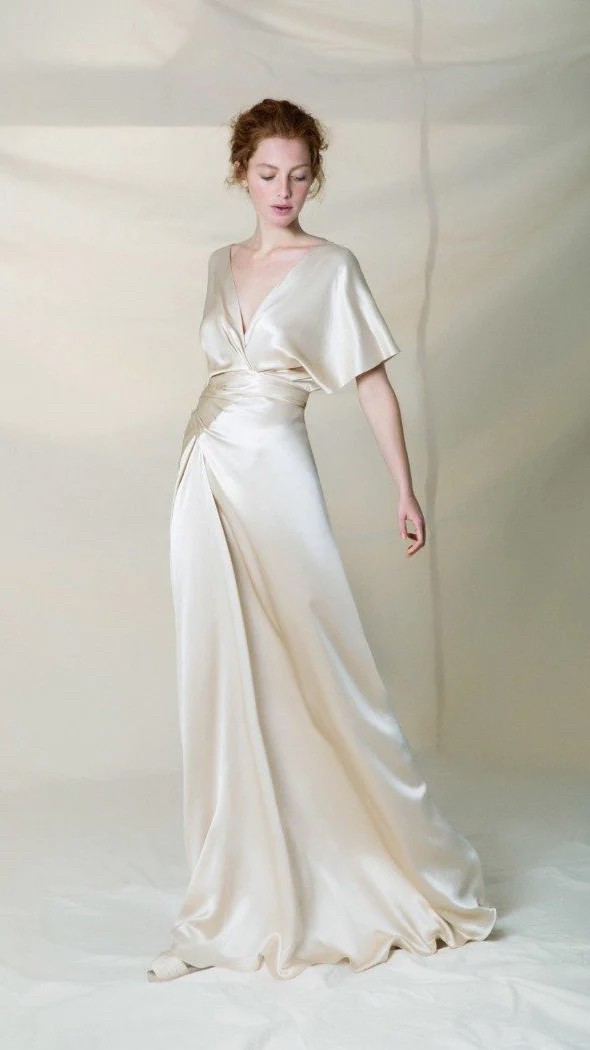 Made from this most luxe Italian silk satin, this next timeless glam wedding dress comes from Loho Bride. This flattering gown features a tied waist and flowing batwing sleeves. For a look that is so elegant and so effortless.
22.

Flora Bride: Effortless Sparkle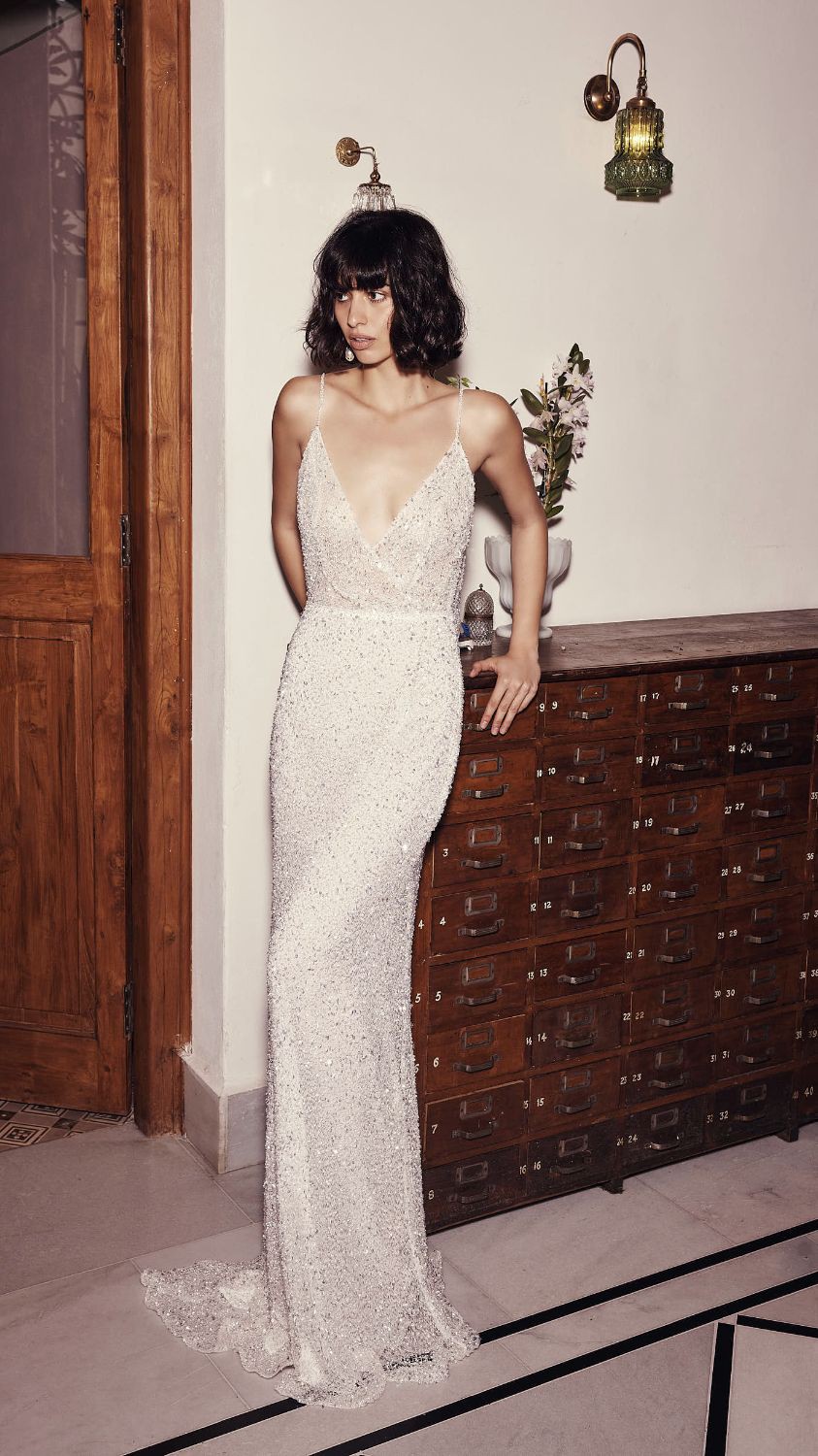 Daring sparkles, in a timeless style. We are loving the dramatic, yet elegant feel of this next timeless glam style. This gown features an alluring slim silhouette, wrapped V-neckline, thin straps and an effortless cowl open back. If you are looking for a wedding dress that is sparkling and ultra glam, while still having an elegant and lasting style - then you are sure to love this look.

By Kathryn Schrotenboer