What bride doesn't want a little glitter and glam when it comes her wedding day style?
We have gathered a list of our favorite glittery, glammed up bridal styles that you are sure to love. Crystals, beading, sequins - you name it. This list is sure to have you feeling glittery and girly on your big day. Because lets be honest...can there really be too much sparkle?! Definitely not!
01.

Sassy Glitz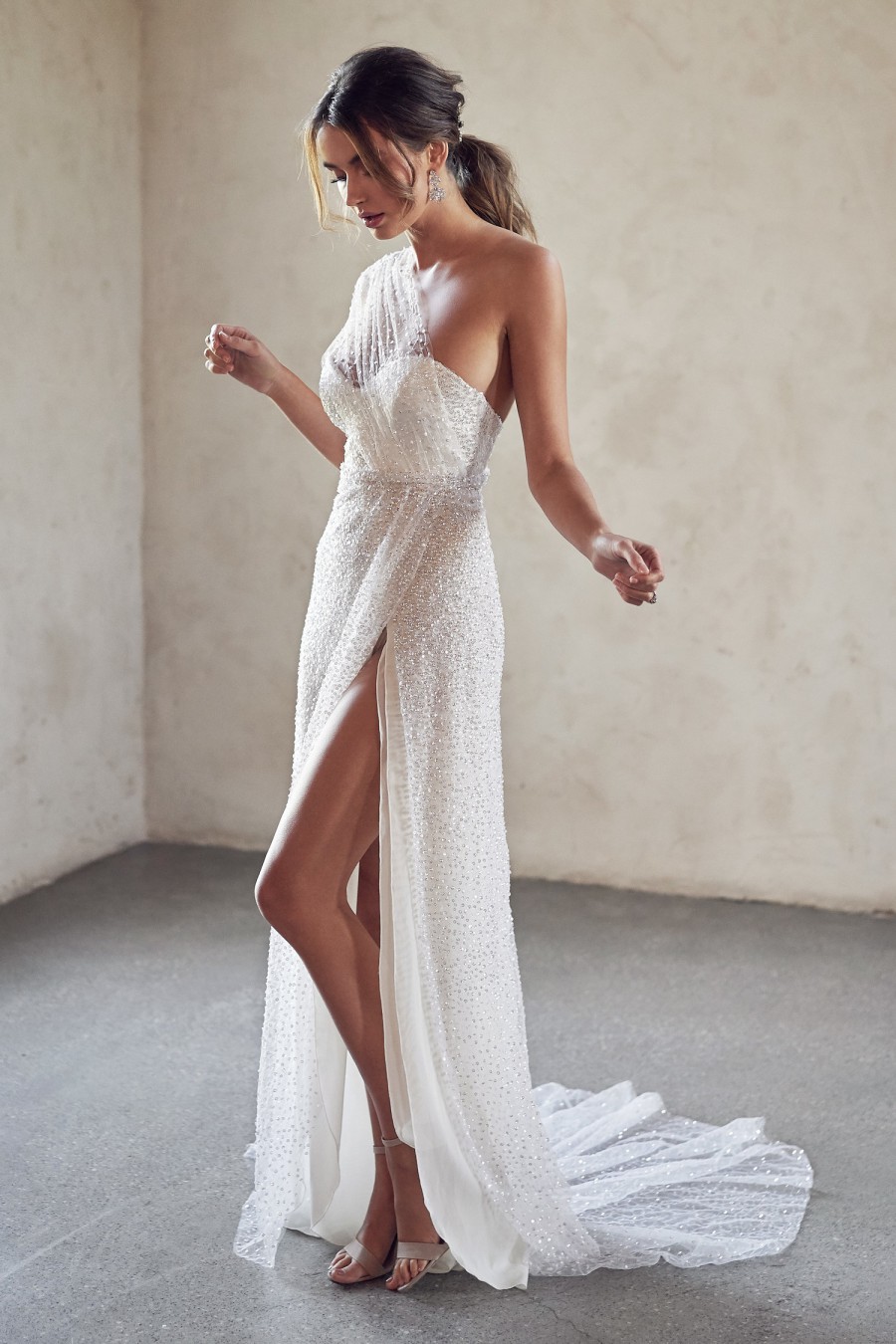 Girly, glitzy, sexy and just a little bit sassy...what more could a girl want on her wedding day?
02.

Sequin Embellished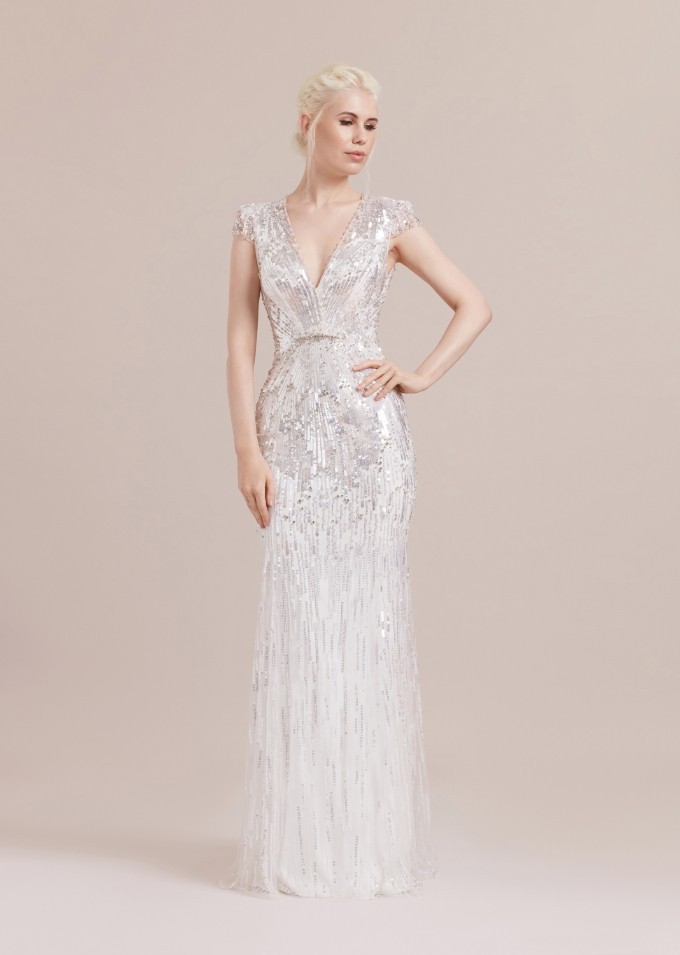 This next sparkling, sequin embellished wedding gown from Jenny Packham has a very Roaring 20's feel to it. It is luxe, lavish, and completely irresistible.
03.

Simple Sparkle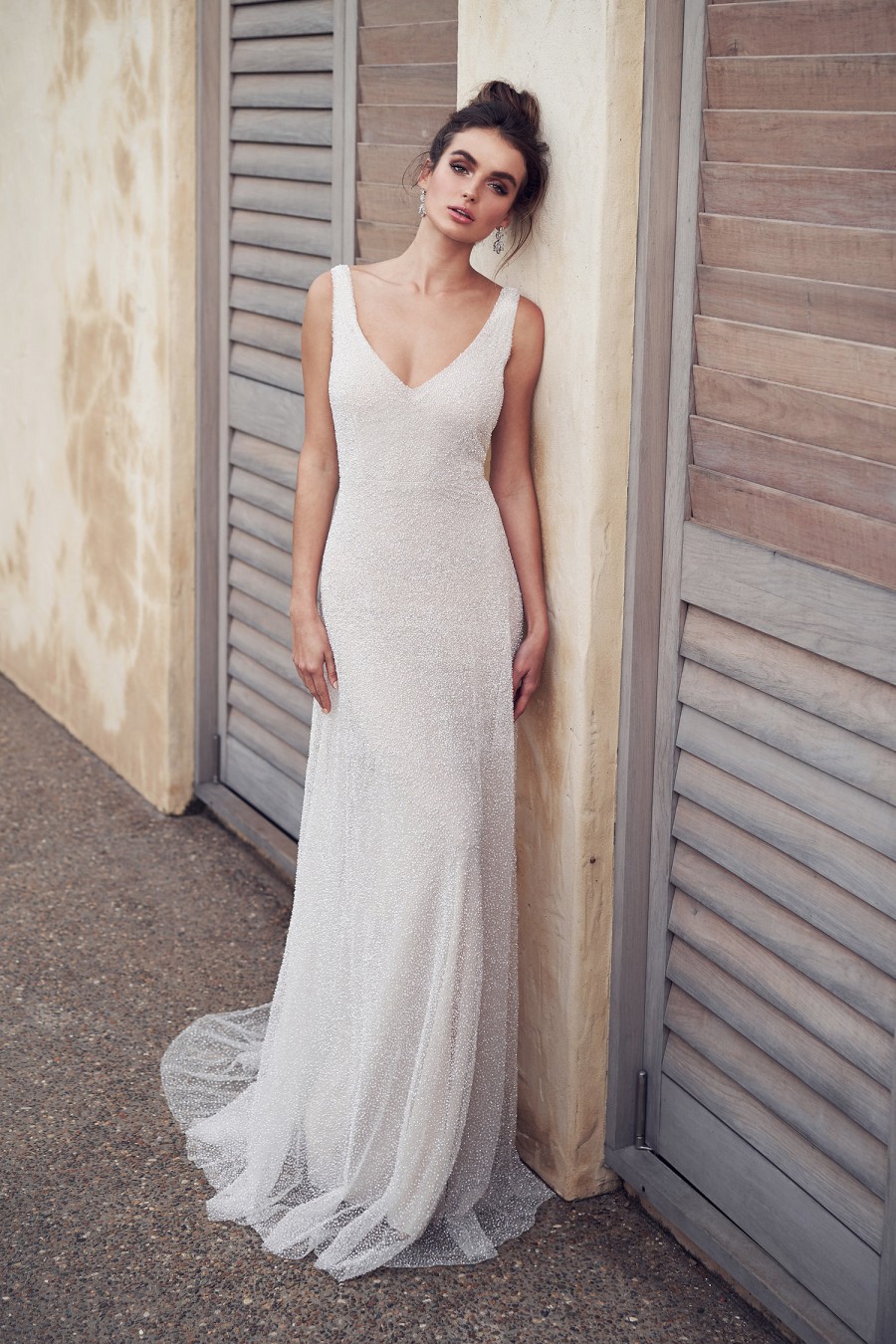 A sophisticated, classic wedding style with all over glass beads, sequins and pearls. The perfect mix of luxe glamour and timeless styling.
03.

Belted Sequins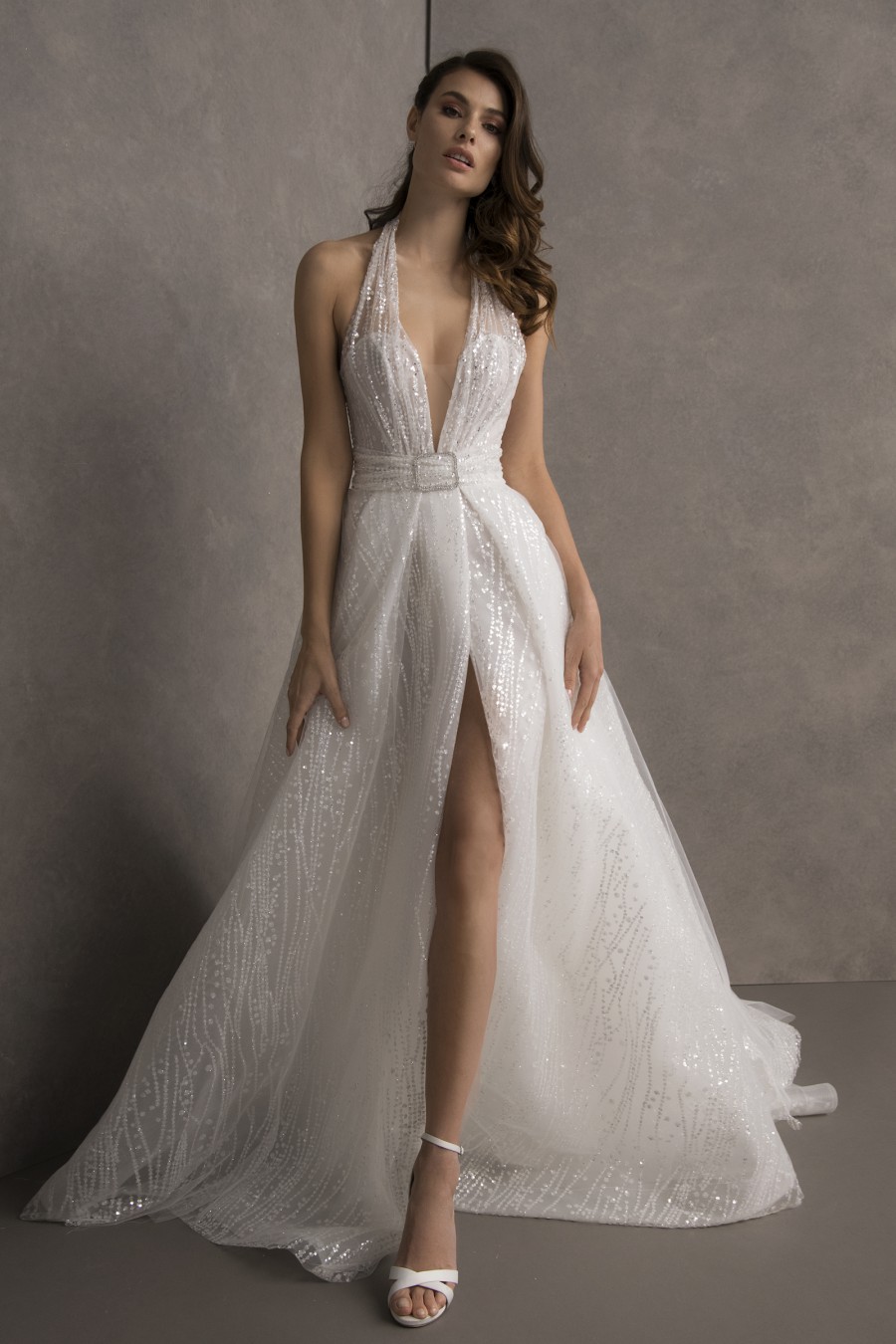 Ultra glam and chic. We love this belted, high slit wedding gown from Valentini Spose with all over sequin accenting. This will have you feeling like a dazzling princess all wedding day long.
04.

Couture Glam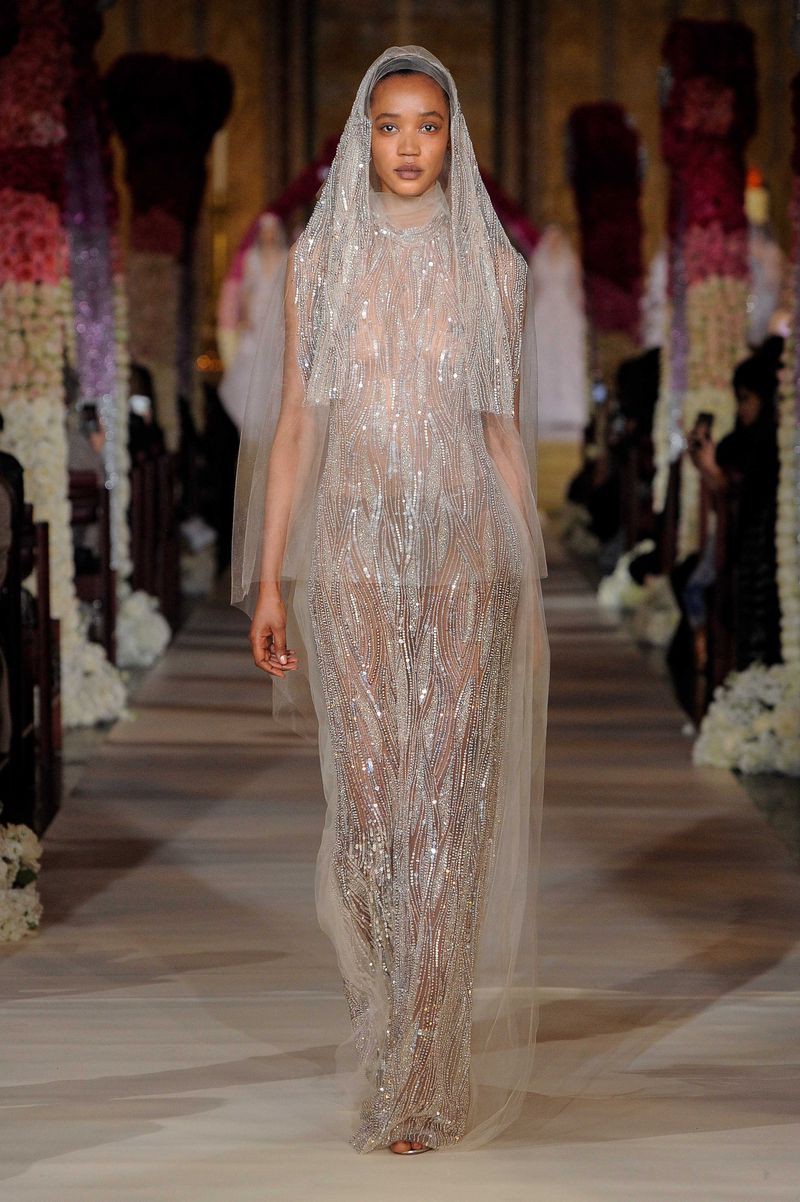 Reem Acra brings us a couture, ultra glam sparkling wedding style that is sure to make a big statement. The semi-sheer nature of the gown puts this style over the edge.
05.

Golden Glitter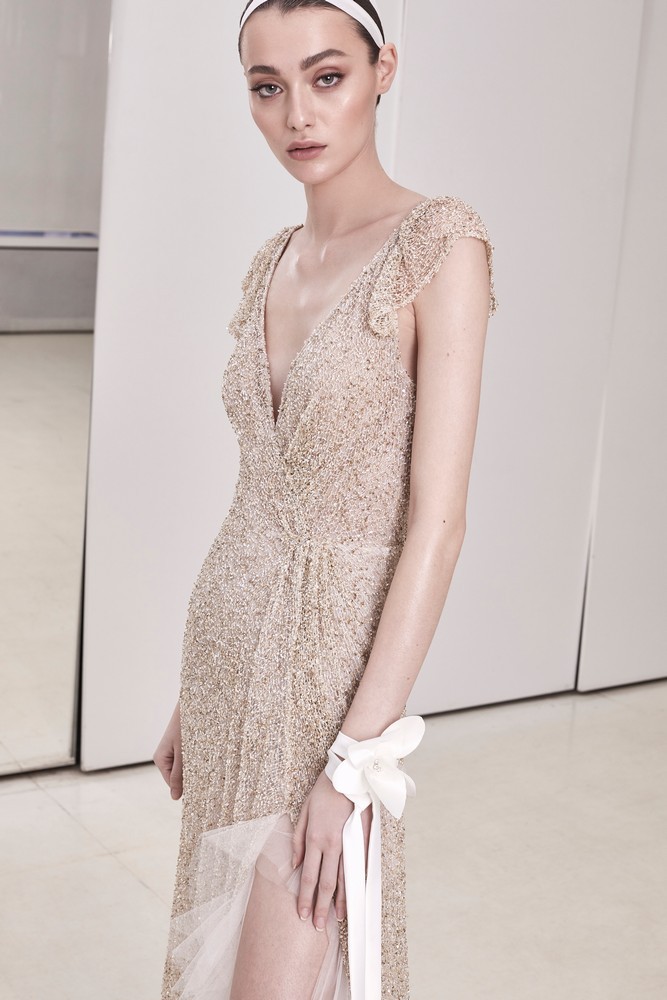 We love the golden glitter feel of this next sparkling wedding gown. A sexy and sophisticated way to sparkle on your big day.
06.

Nude Sparkle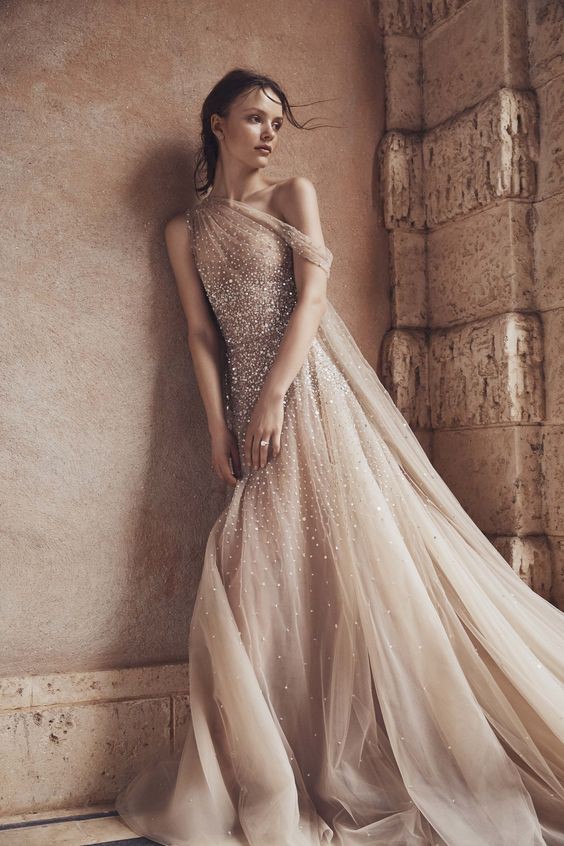 We love the very on trend feel of this next nude, sparkle wedding gown from Monique Lhuillier. An ultra glam, fashion statement.
07.

Shimmering Mermaid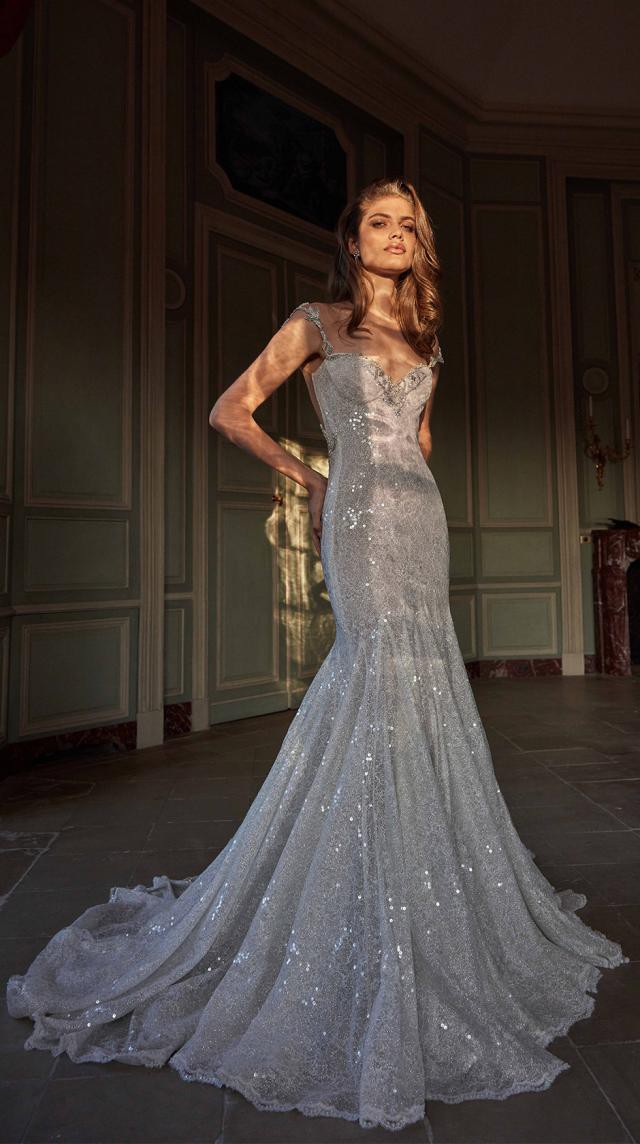 Galia Lahav brings us this ultra glam, soft mermaid wedding dress featuring layers of stunning sparkling tulle.
08.

Glam Corset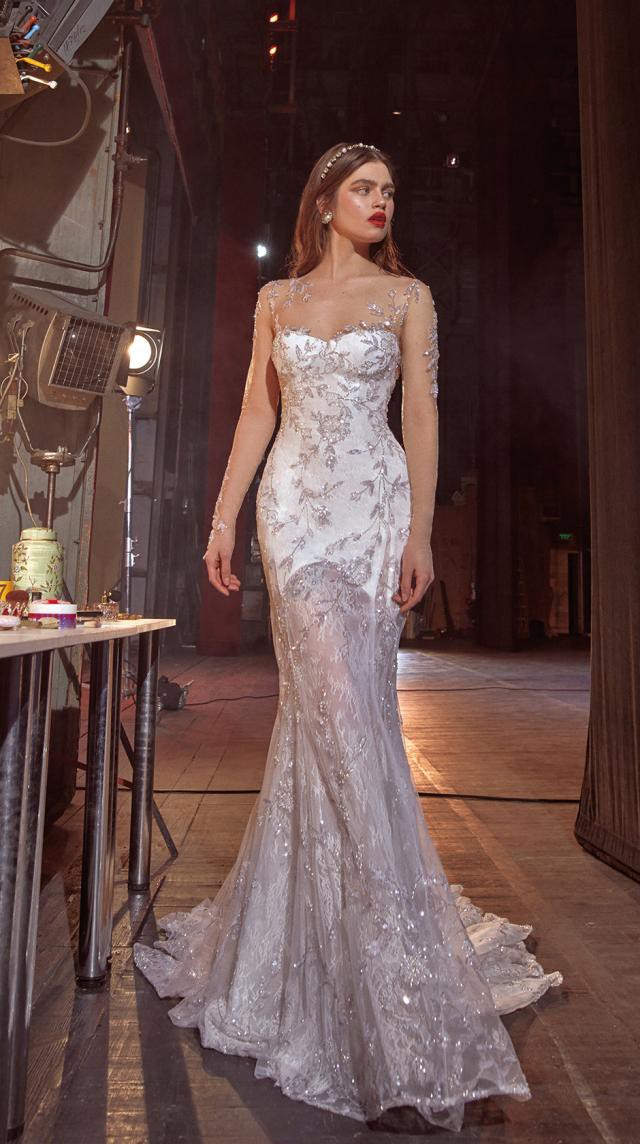 Next we have a glamorous corset gown from Galia Lahav with all over sparkle detailing. The most stunning feature of this gown are the full length illusion sleeves with matching detailing.
09.

Polished Sparkles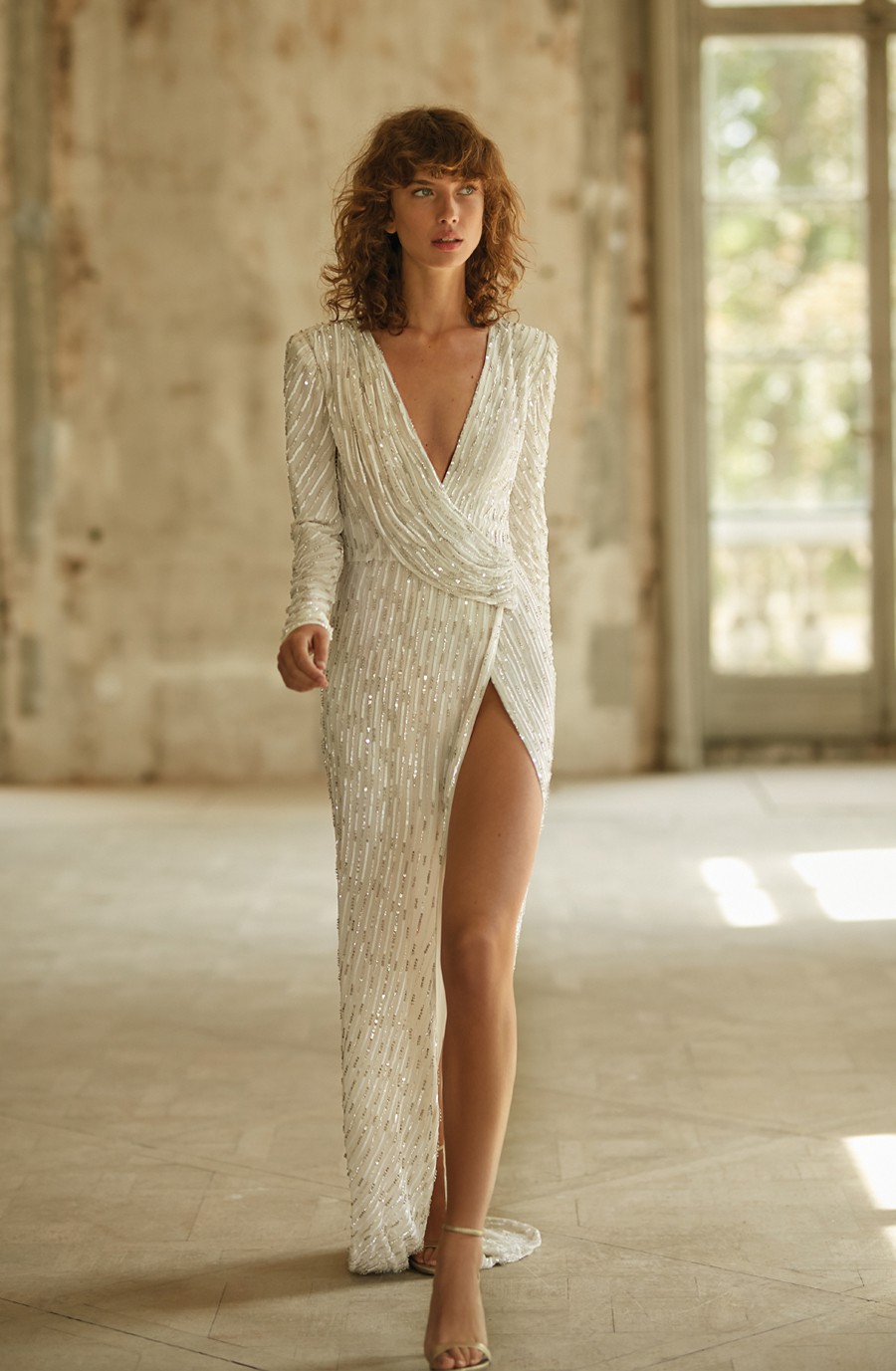 Strut your stuff in this polished sparkle wedding gown from Dana Harel. This gown has a very suit inspired feel to it. A sultry and powerful wedding day look.
10.

Sparkle Detailing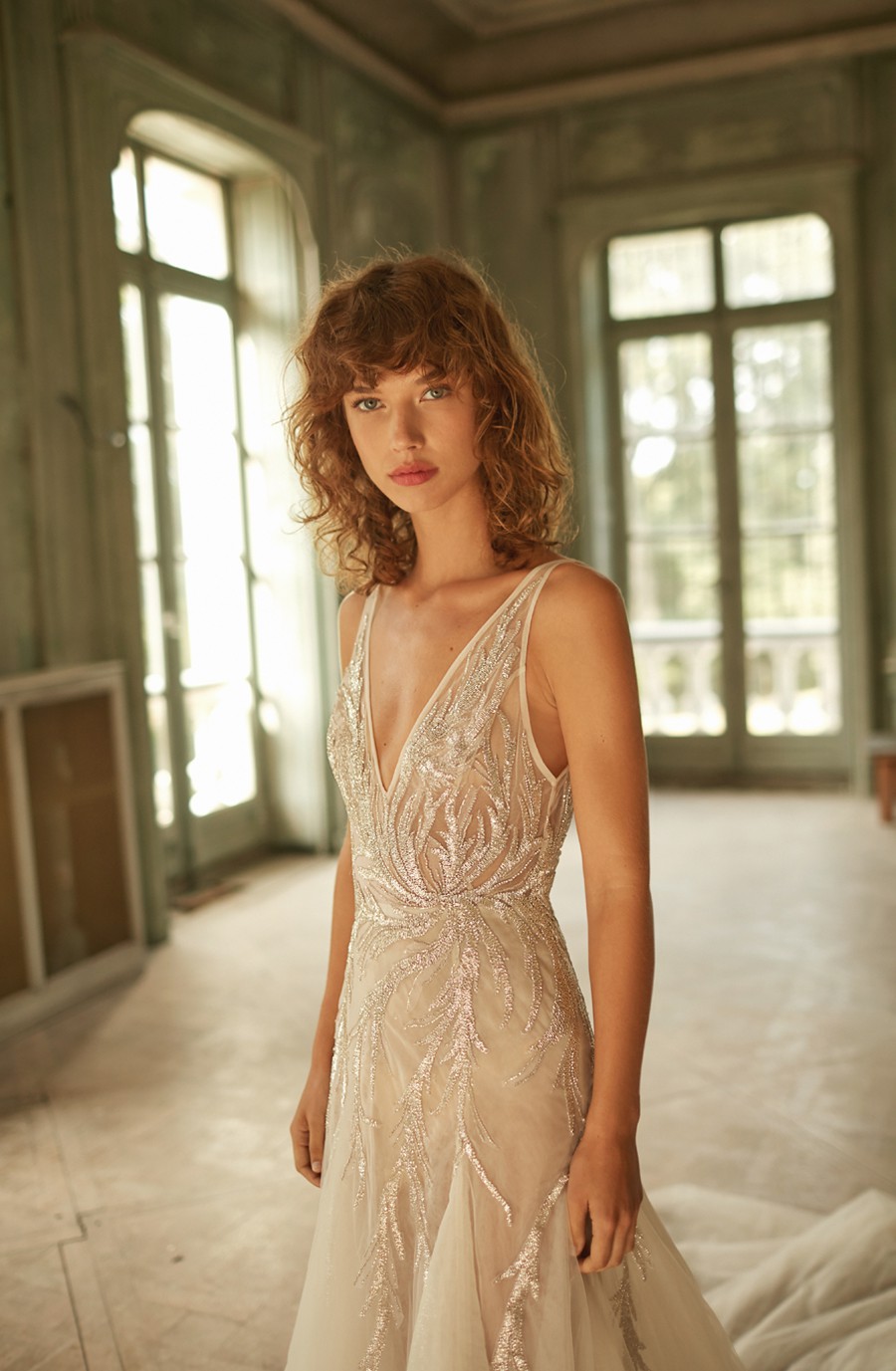 The sparkle detailing on this tulle gown takes it to an entire new level.
11.

Chic Sequins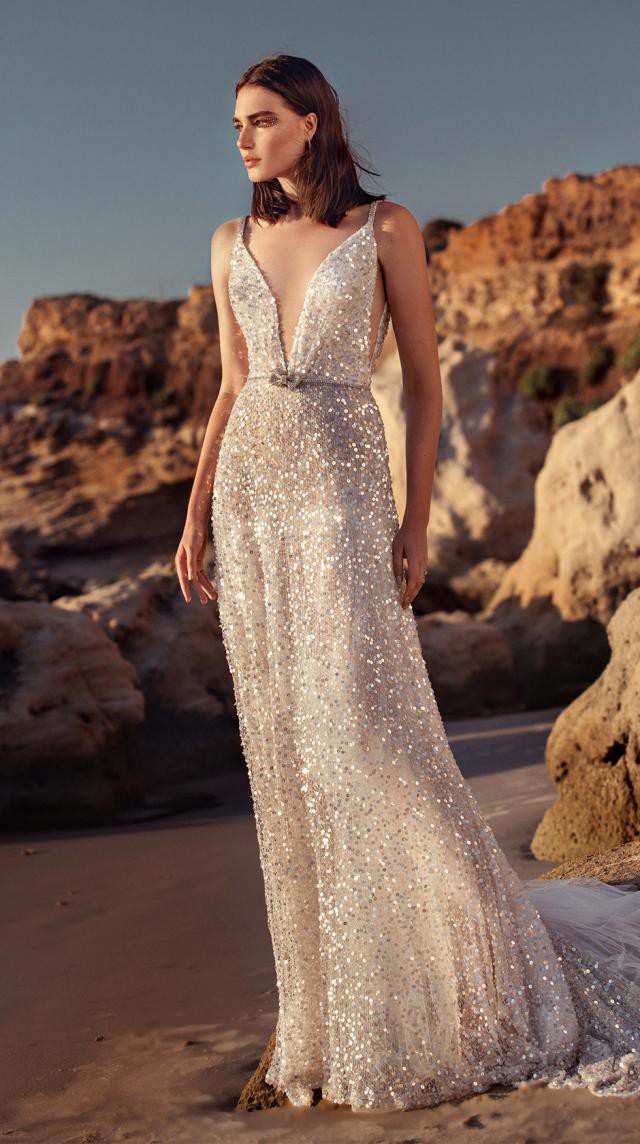 Get ready to glimmer the night away in this gorgeous all over sequin style from Galia Lahav. The most stunning features on this gown are the low v-neckline and matching side cuts.
12.

Asymmetric Glamour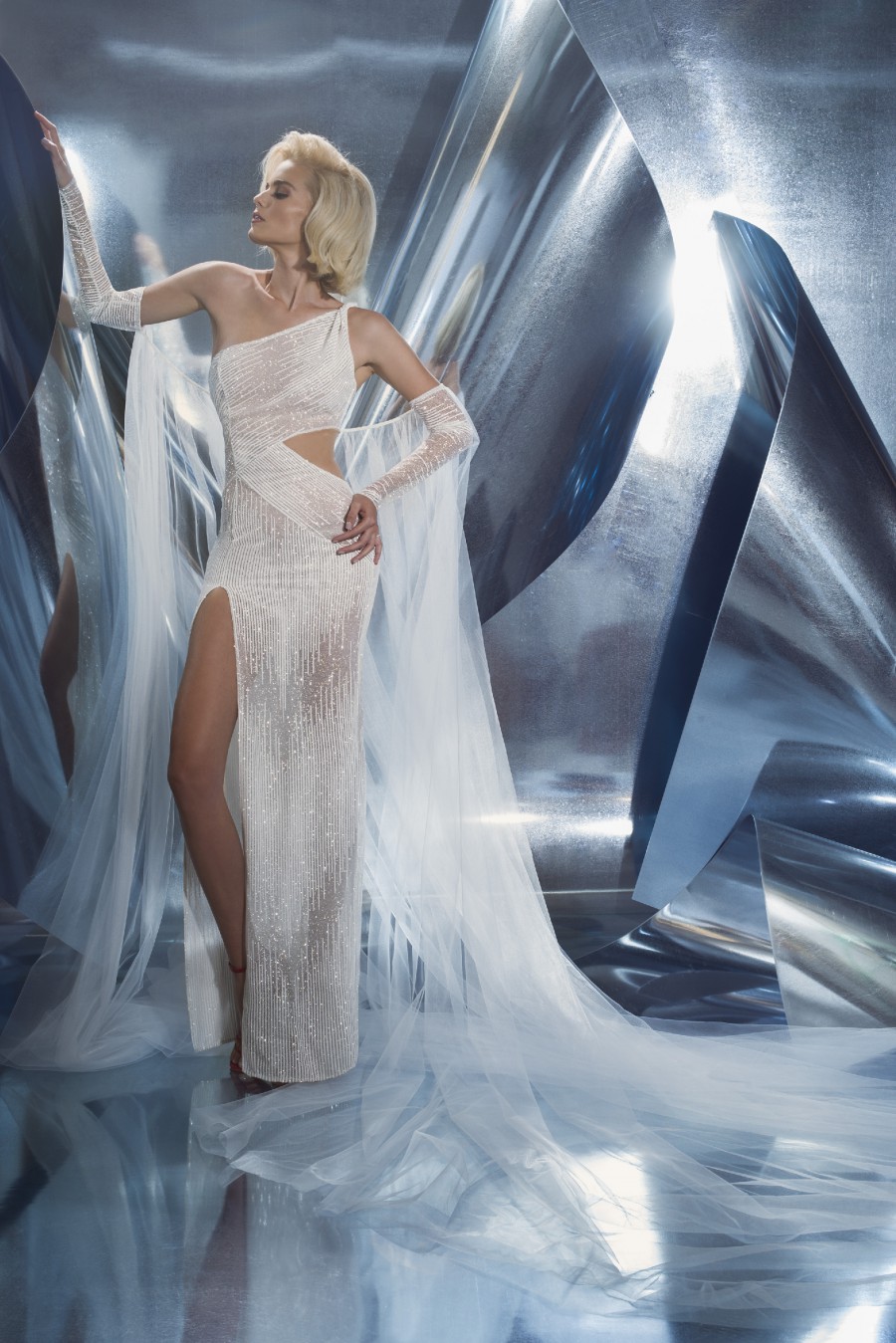 A sultry asymmetric wedding dress that may just have you craving a little more sparkle on your big day.
13.

Glitter Florals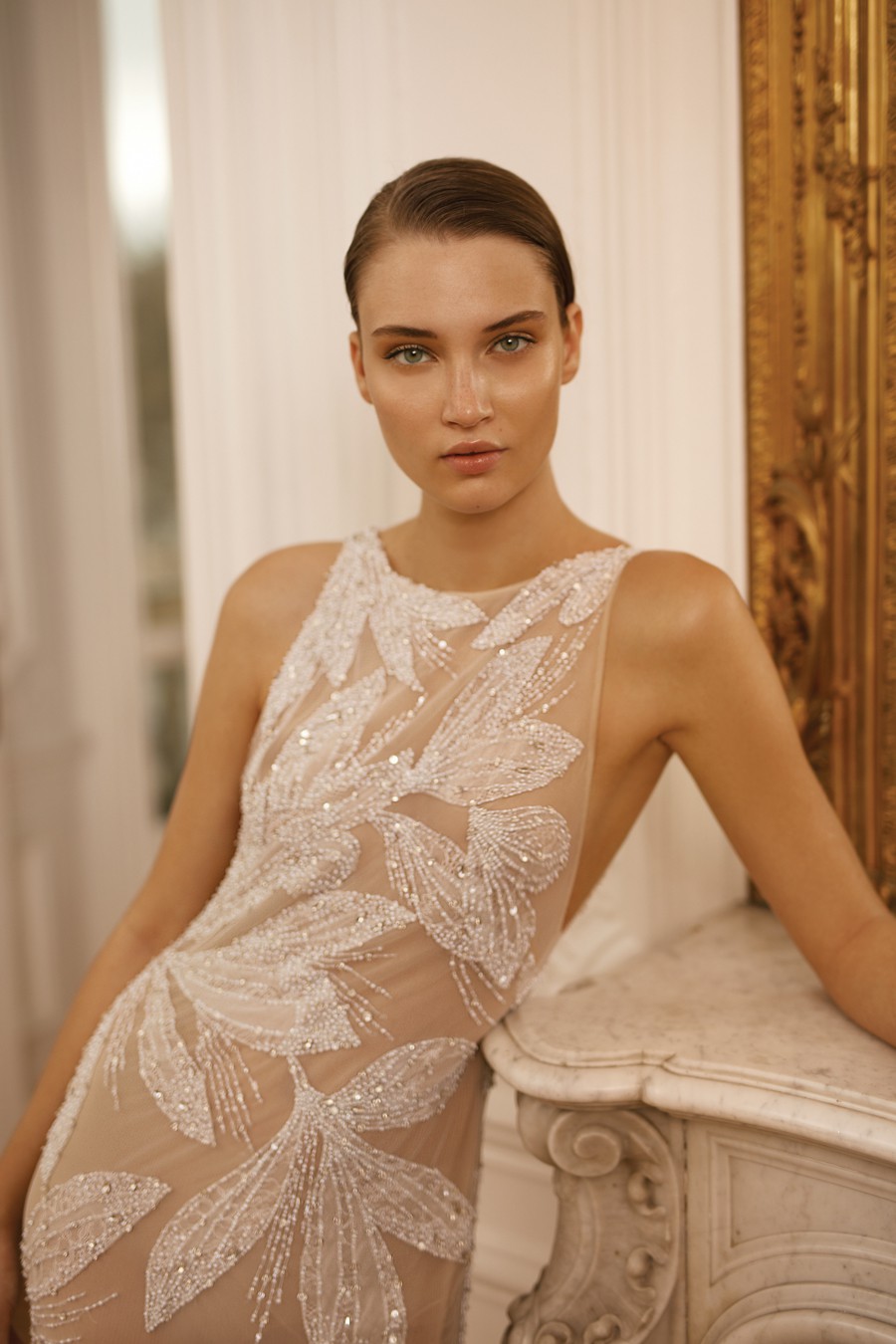 An ultra polished and sophisticated wedding style featuring all over sparkle beaded floral detailing from Dana Harel. We love the mix of feminine florals on a clear contemporary silhouette.
14.

Shimmering Ball Gown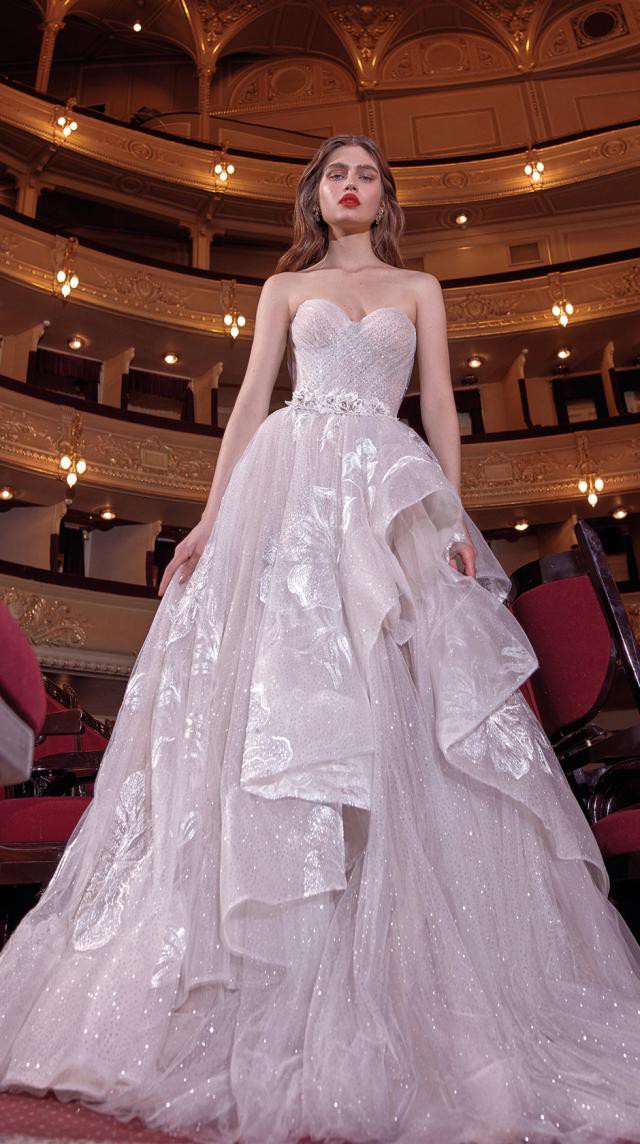 This shimmering asymmetric ball gown is sure to stop everyone in their tracks on your wedding day. Absolutely breathtaking from every angle.
15.

All Over Embellished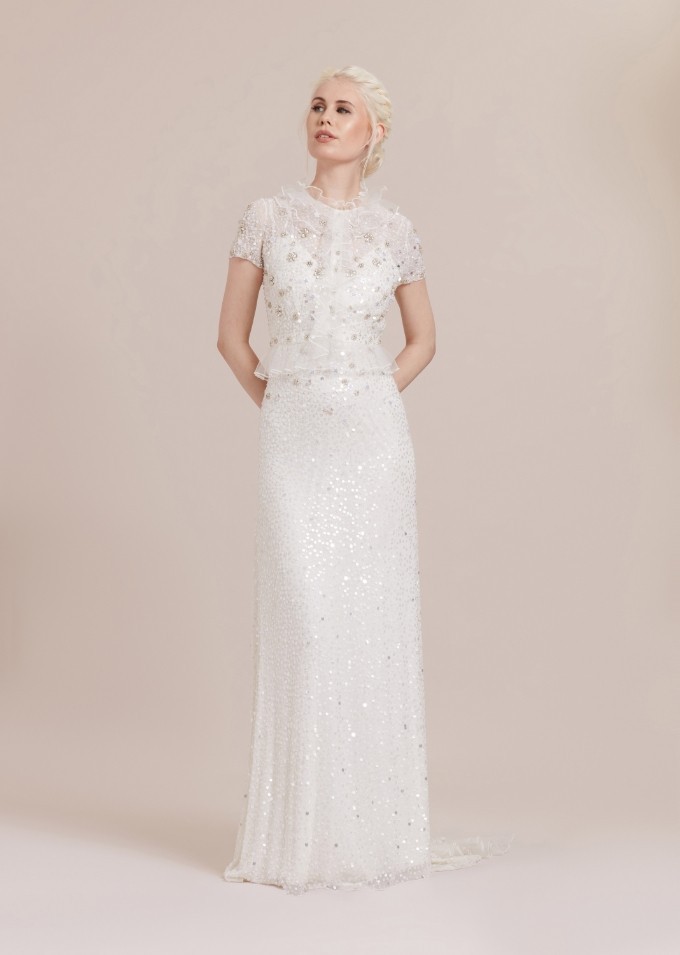 A chic and sophisticated all over sequin and embellished gown that will make all of your sparkling bridal dreams come true!
16.

Sparkling Embroidery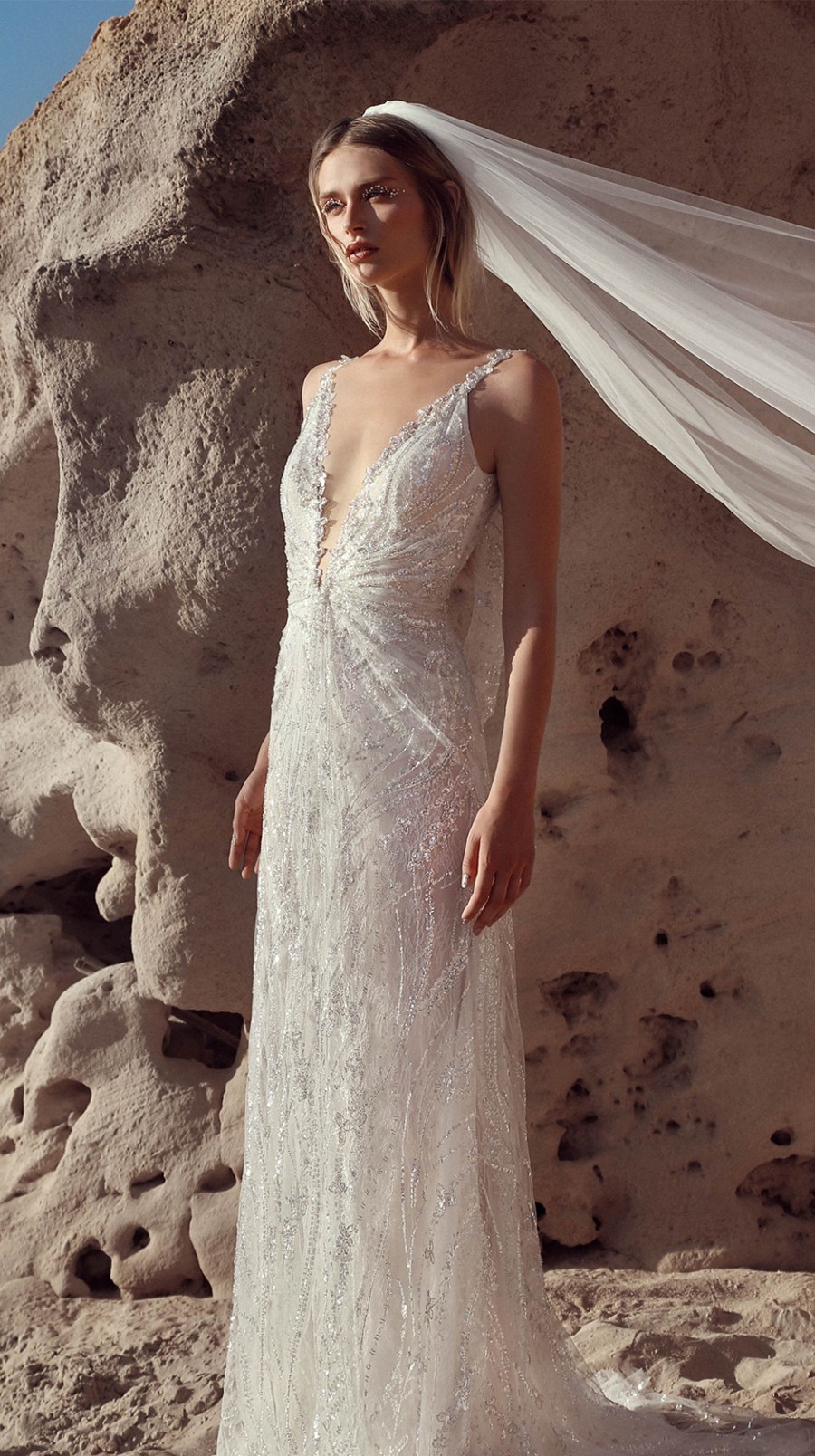 The sparkling embroidery on this next gown is absolutely stunning. A style that is perfect for a sunny summer wedding day. You will be glistening all day long.
17.

Glam Couture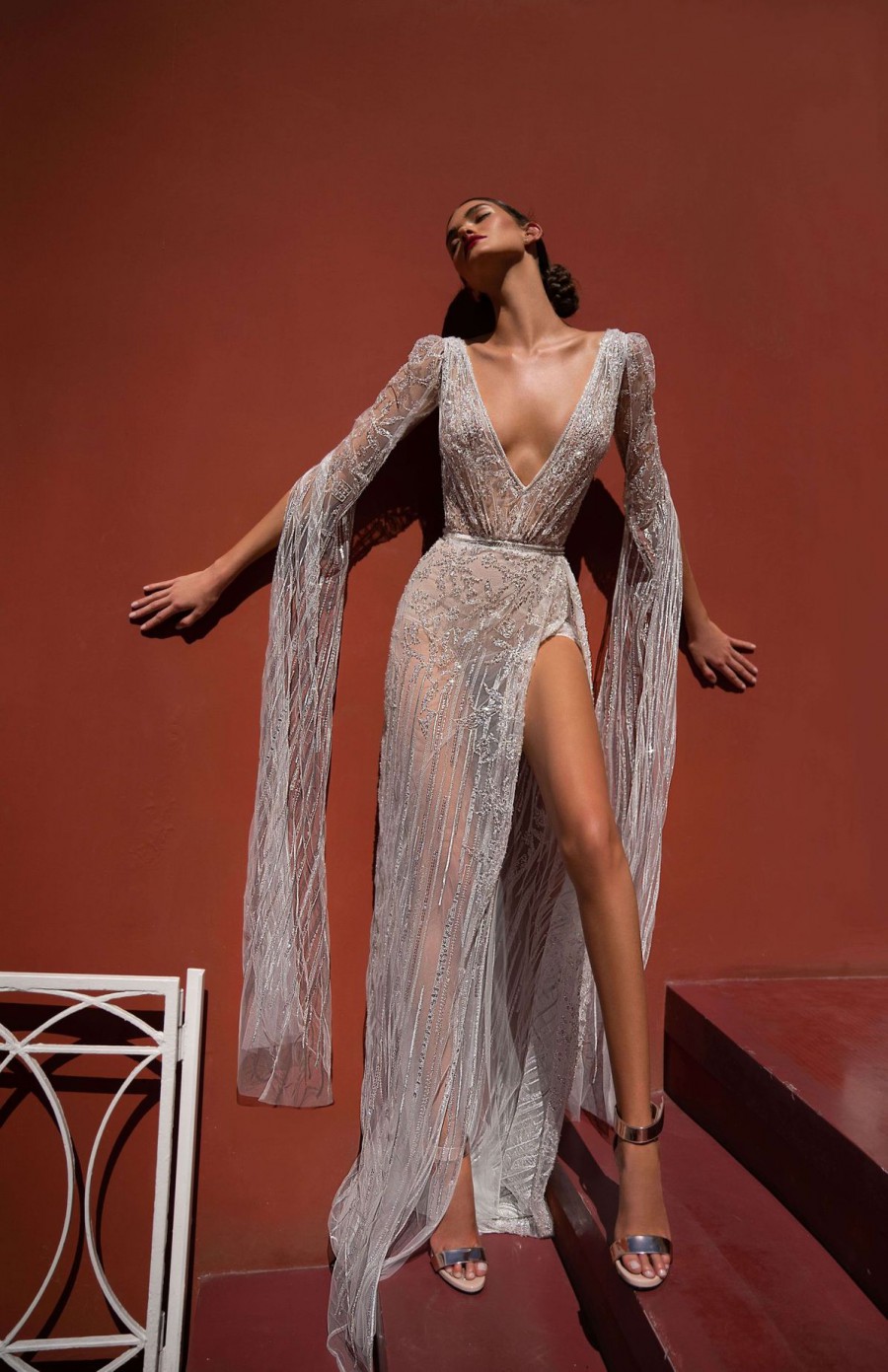 This next ultra glam, sparkling wedding gown come from Inbal Dror. If you are ready to take risks with your wedding day style, then you will love this sassy couture style.
18.

Embellished Tulle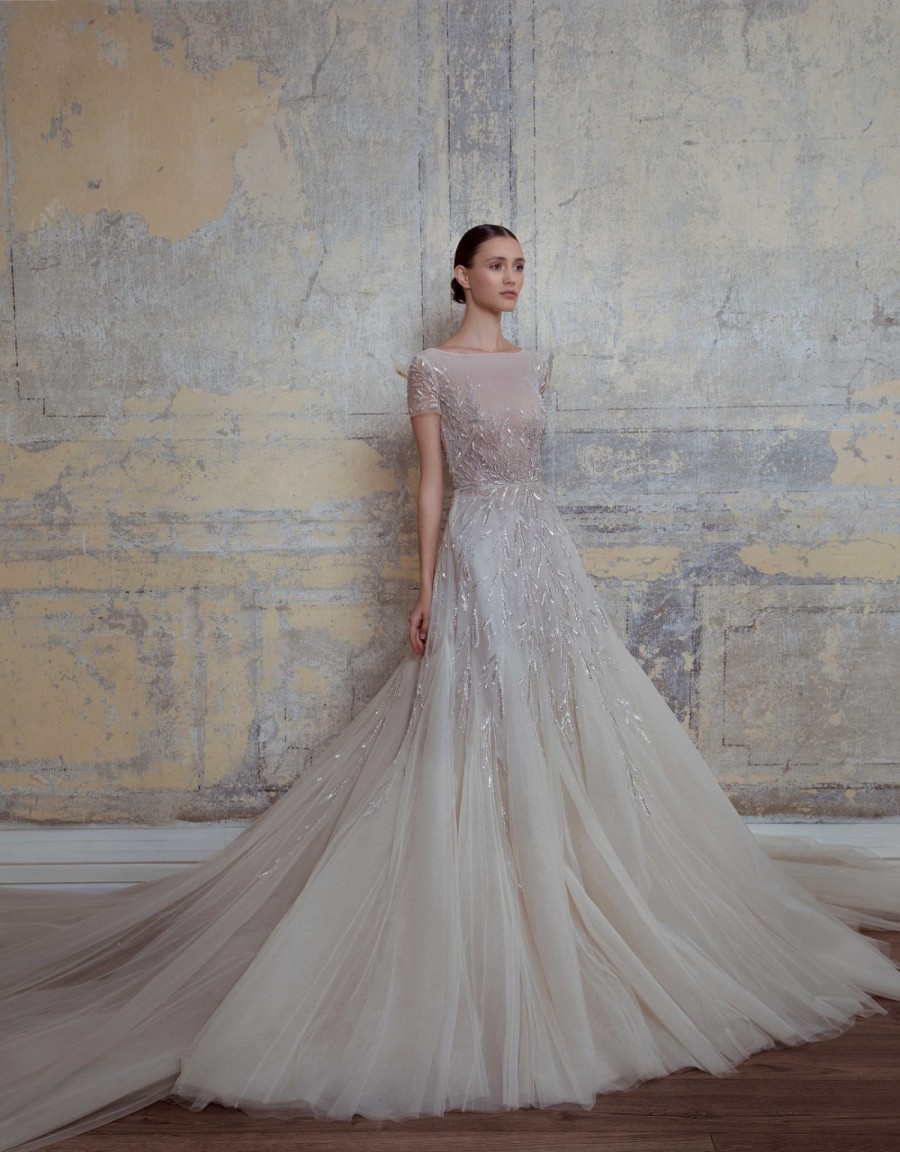 George Shobeika brings us a glamorous tulle wedding gown with intricate sparkling embellishment. This gown will have any bride feeling like a glittering princess.
19.

Sultry Shimmer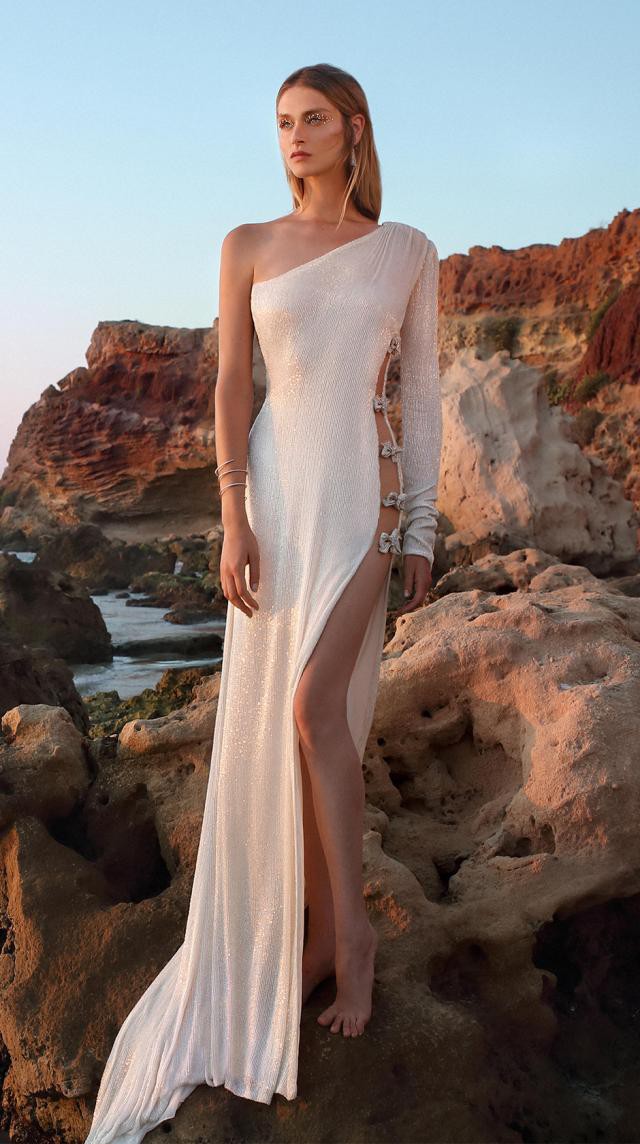 This next fully hand beaded gown is not for the faint of heart. This sultry gown features a side slit held together with crystal embellished bows. This sparkling gown is perfect for a glamorous moonlit beach wedding day.
20.

Sparkling Princess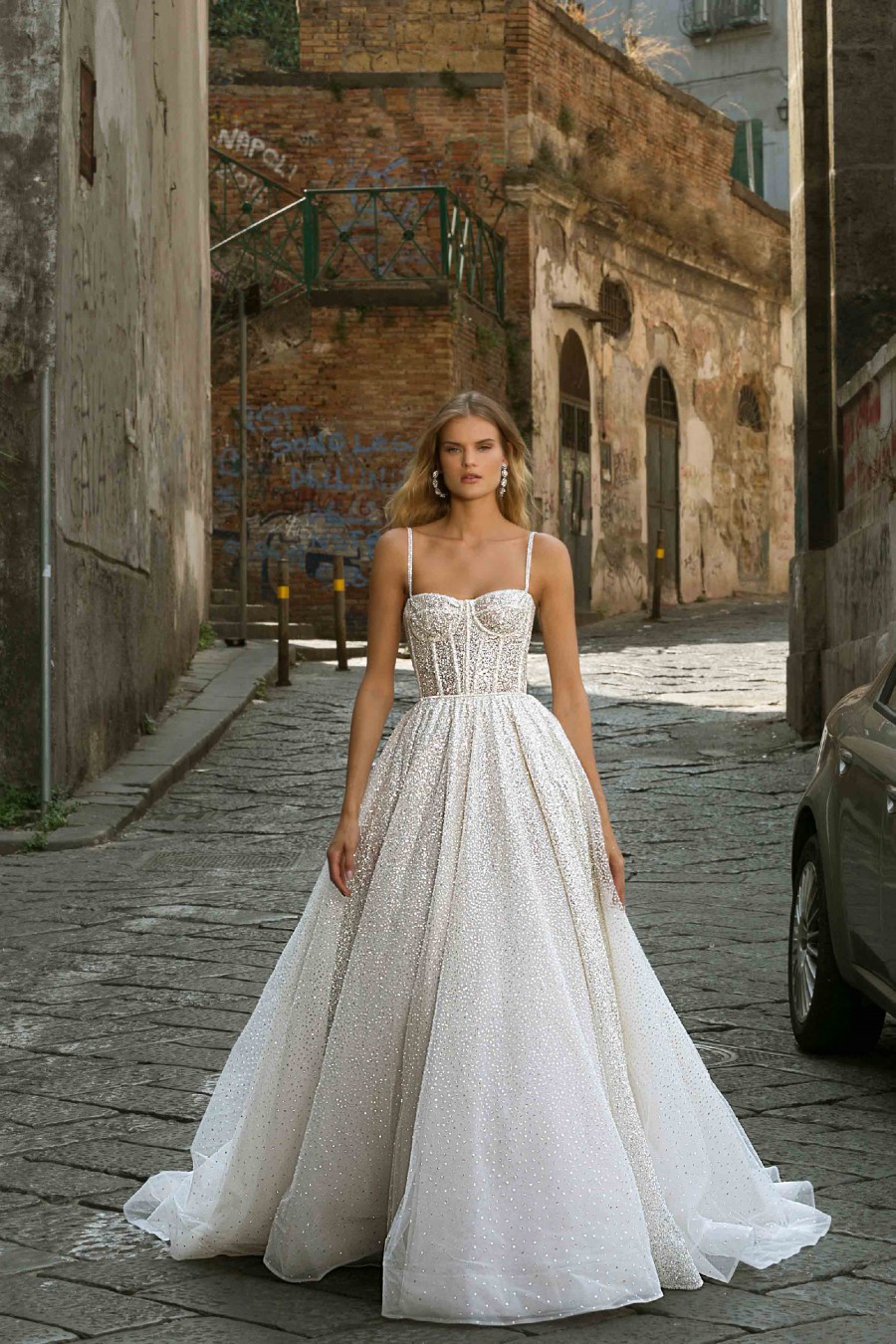 I mean come on ladies, who doesn't dream of looking like a sparkling princess on their wedding day?
21.

Illusion Diva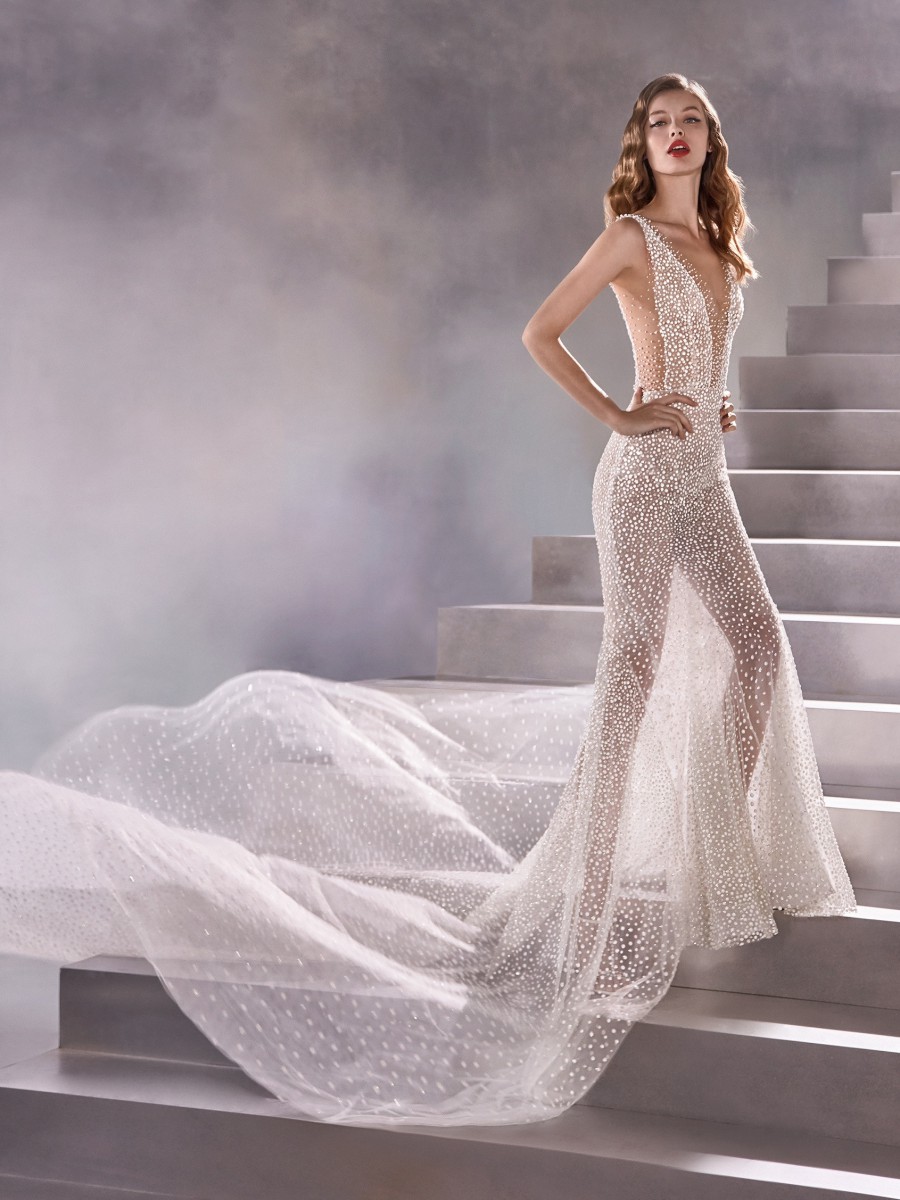 Starry dots spread across this stunning illusion tulle mermaid for a true diva feel. Feel confident and sexy as you strut down the aisle in this gown.
22.

Second Look Sparkles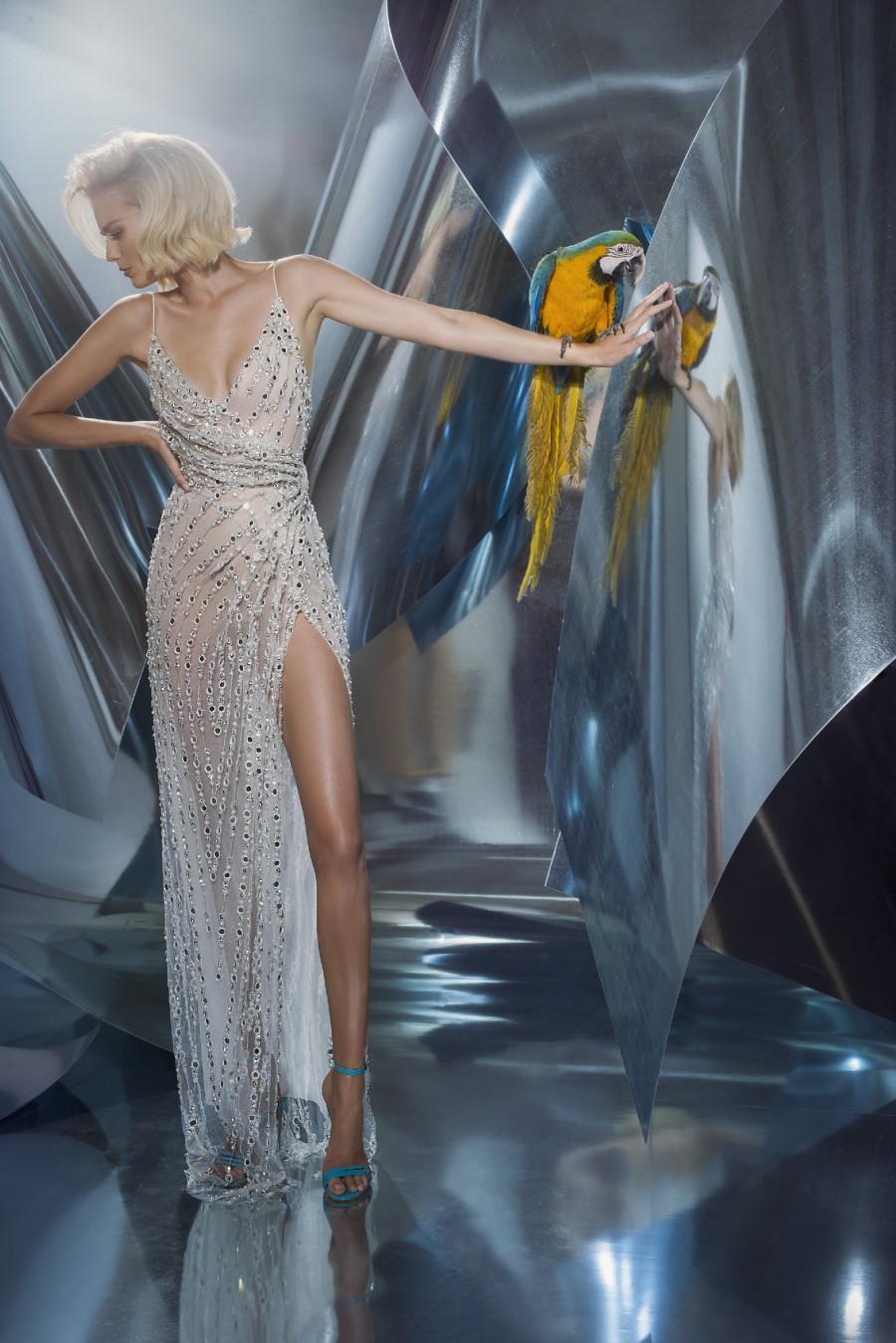 We love the idea of a gown like this for a wedding day second look. A sparkling gown like this is perfect for a party-ready reception look.
23.

A Touch of Sparkle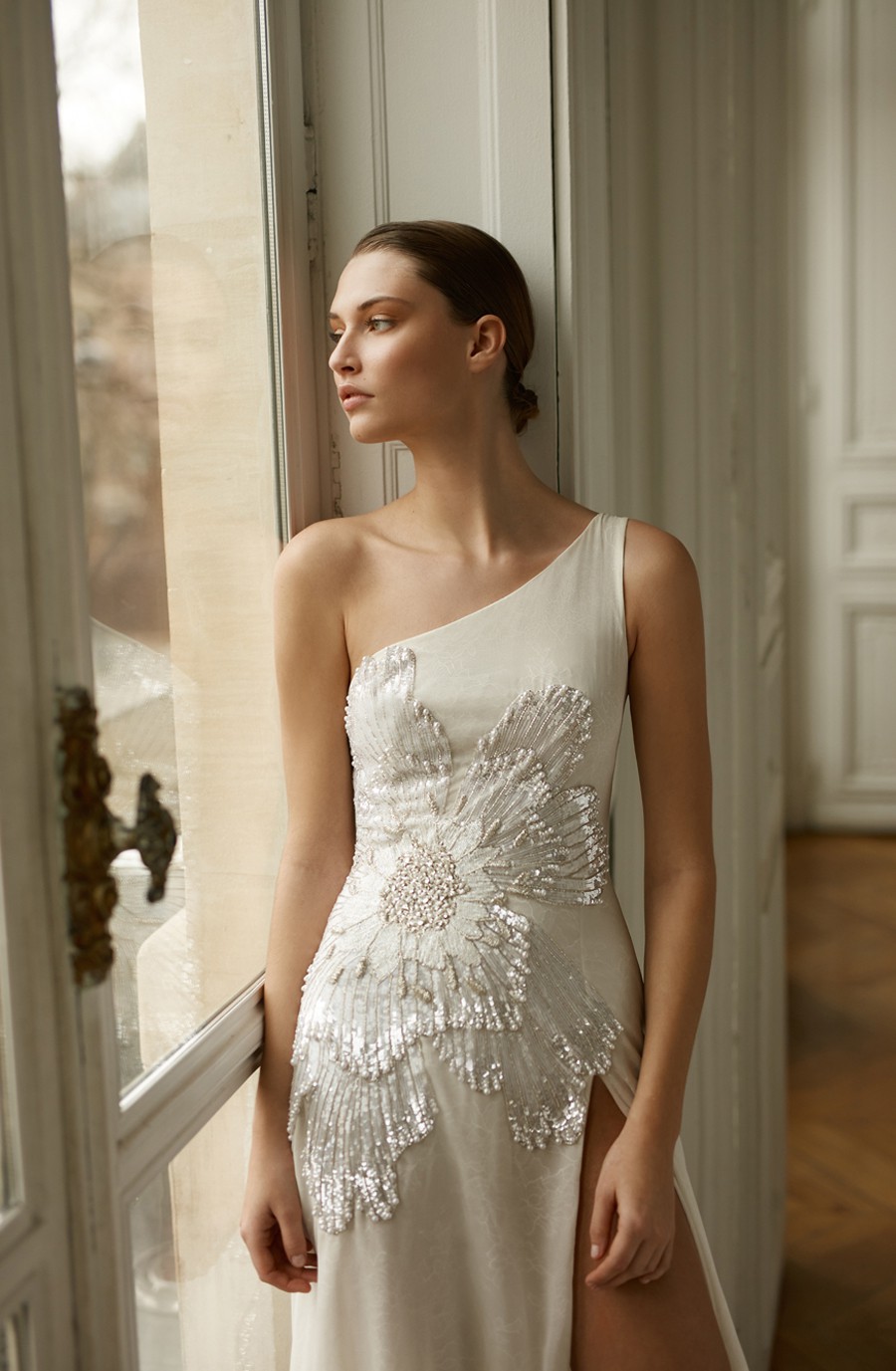 Dana Harel brings us a gown that features just a touch of sparkle, but in a bold way. This sleek single shoulder gown features a intricate oversized floral embroidery that is stunning.
24.

Girly Glitter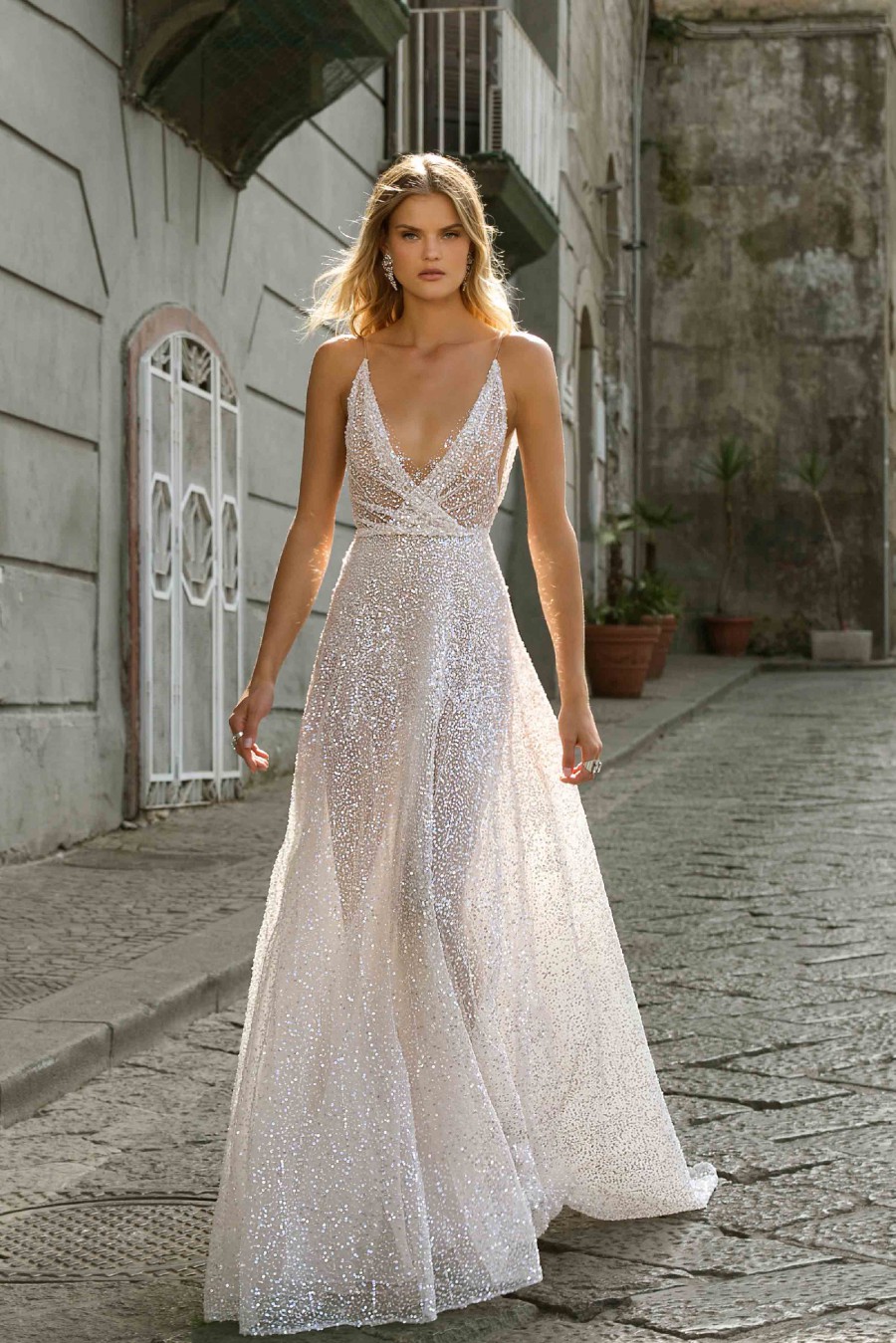 Feel ultra girly in this all over feminine sparkle wedding gown from Berta.
25.

Party Ready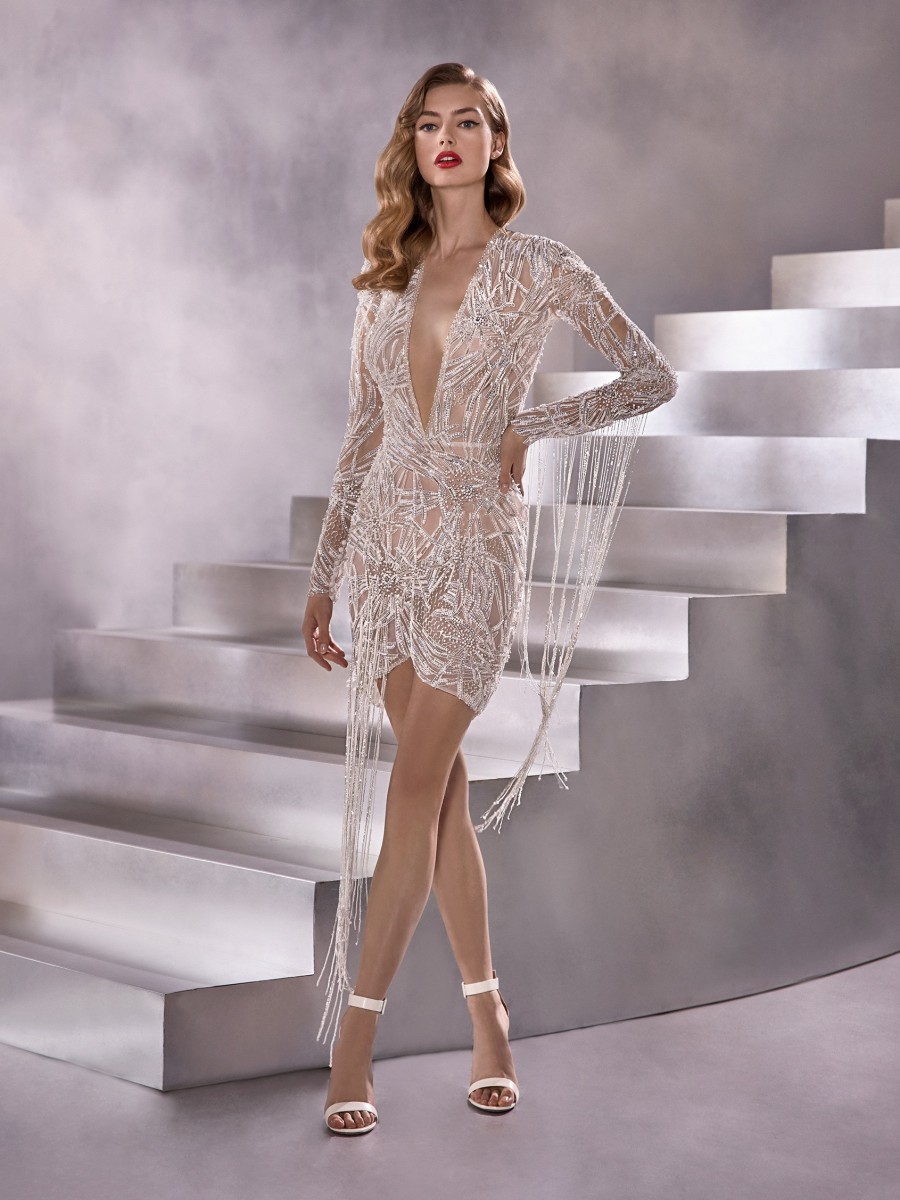 Looking for a sparkling party-ready second look? How about this sultry style?
26.

Dancing Queen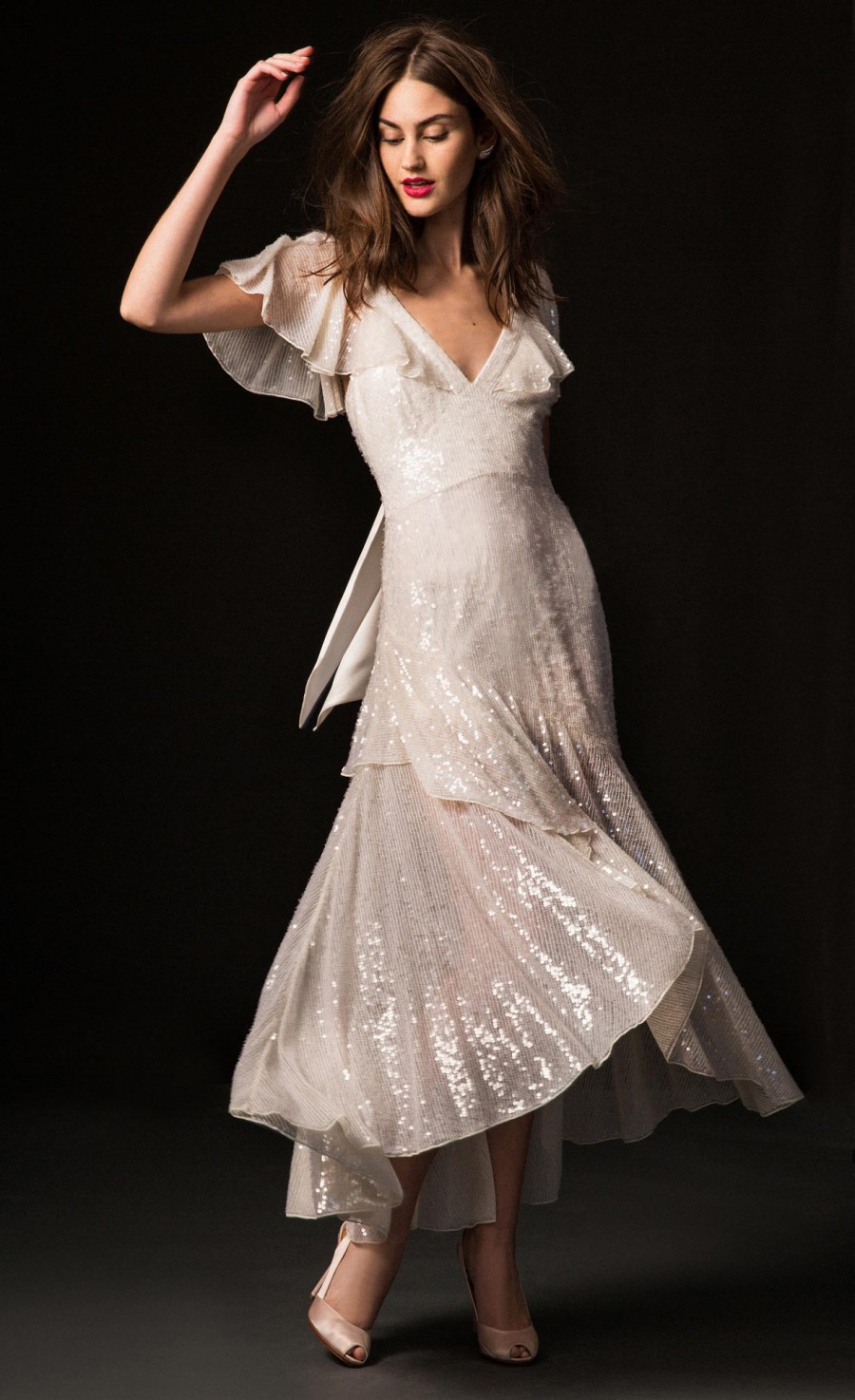 Girly, feminine and just a bit sassy. We love this party ready style with all over opalescent sequins that will have you wanting to dance the night away.
27.

Off-the-Shoulder Glam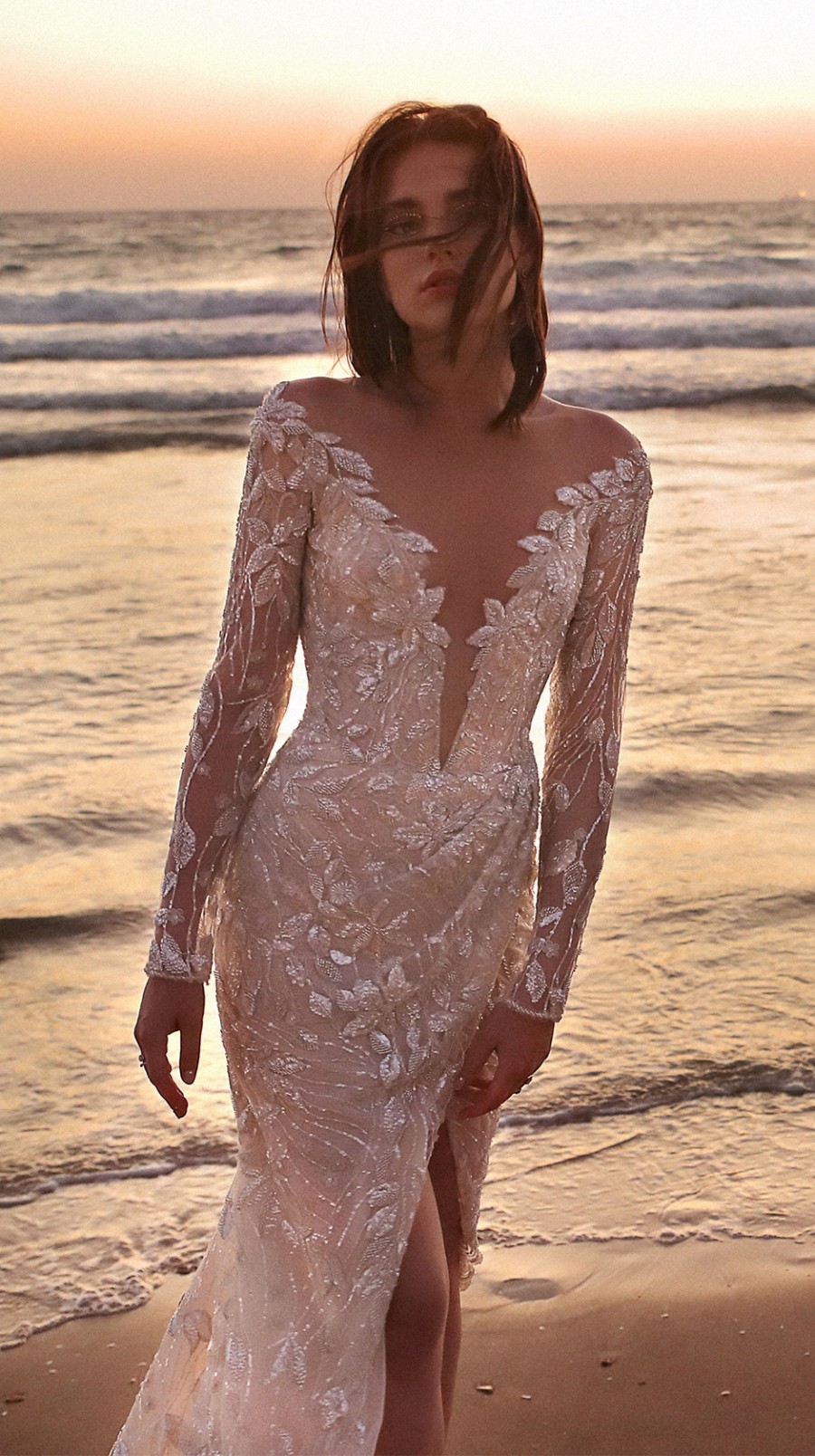 This off-the-shoulder glamorous gown has us a bit star struck. A sultry style for a romantic wedding day.
28.

Diva Party Dress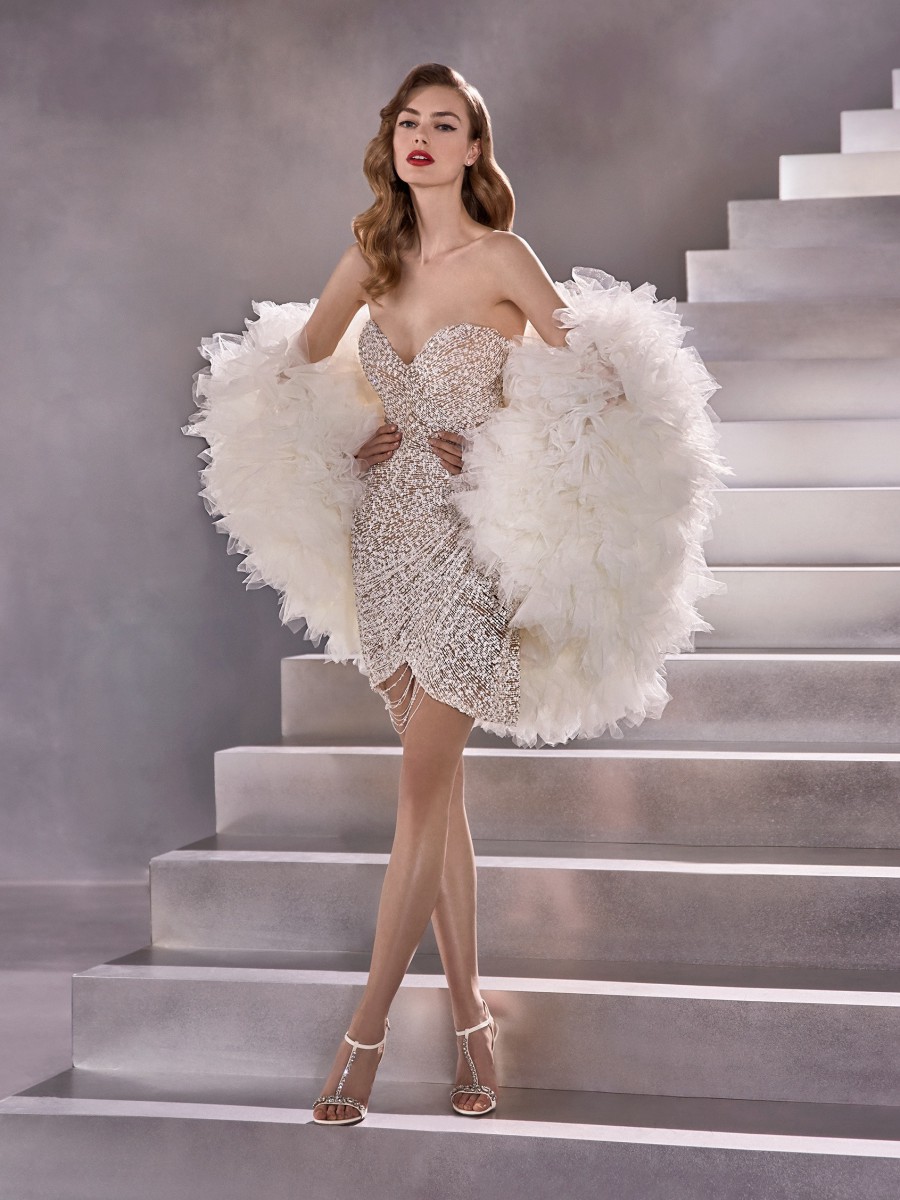 Having just one wedding gown for your big day is so out of style. More and more brides are craving a party ready reception look. And we just love this sexy, diva approved style.
29.

Pearlescent Sequins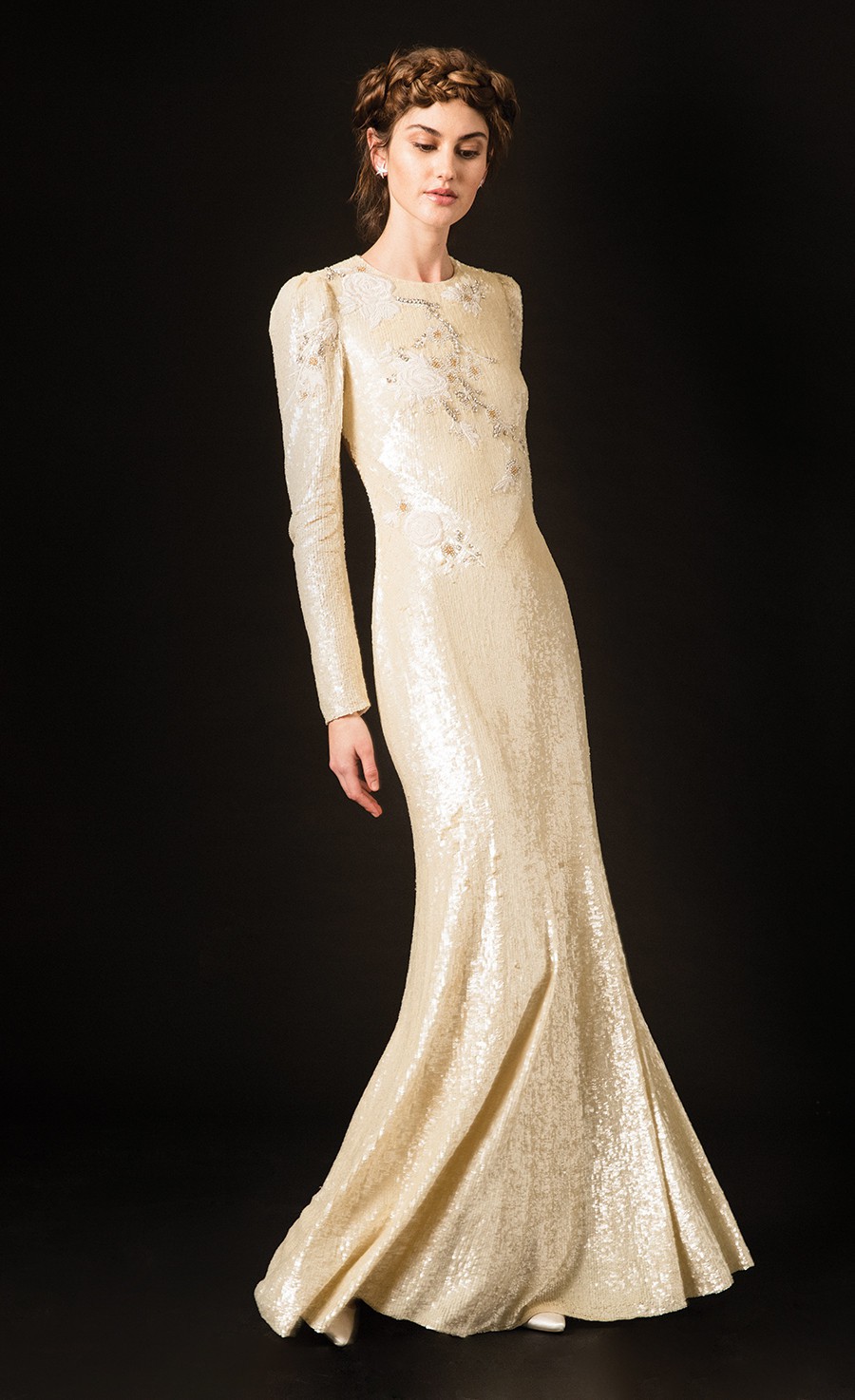 An all over pearlescent sequin gown that has a very antique feel, but in a stunning contemporary style. This flattering silhouette is absolutely dreamy - and perfect for a wedding in colder months!
30.

Feminine Metallics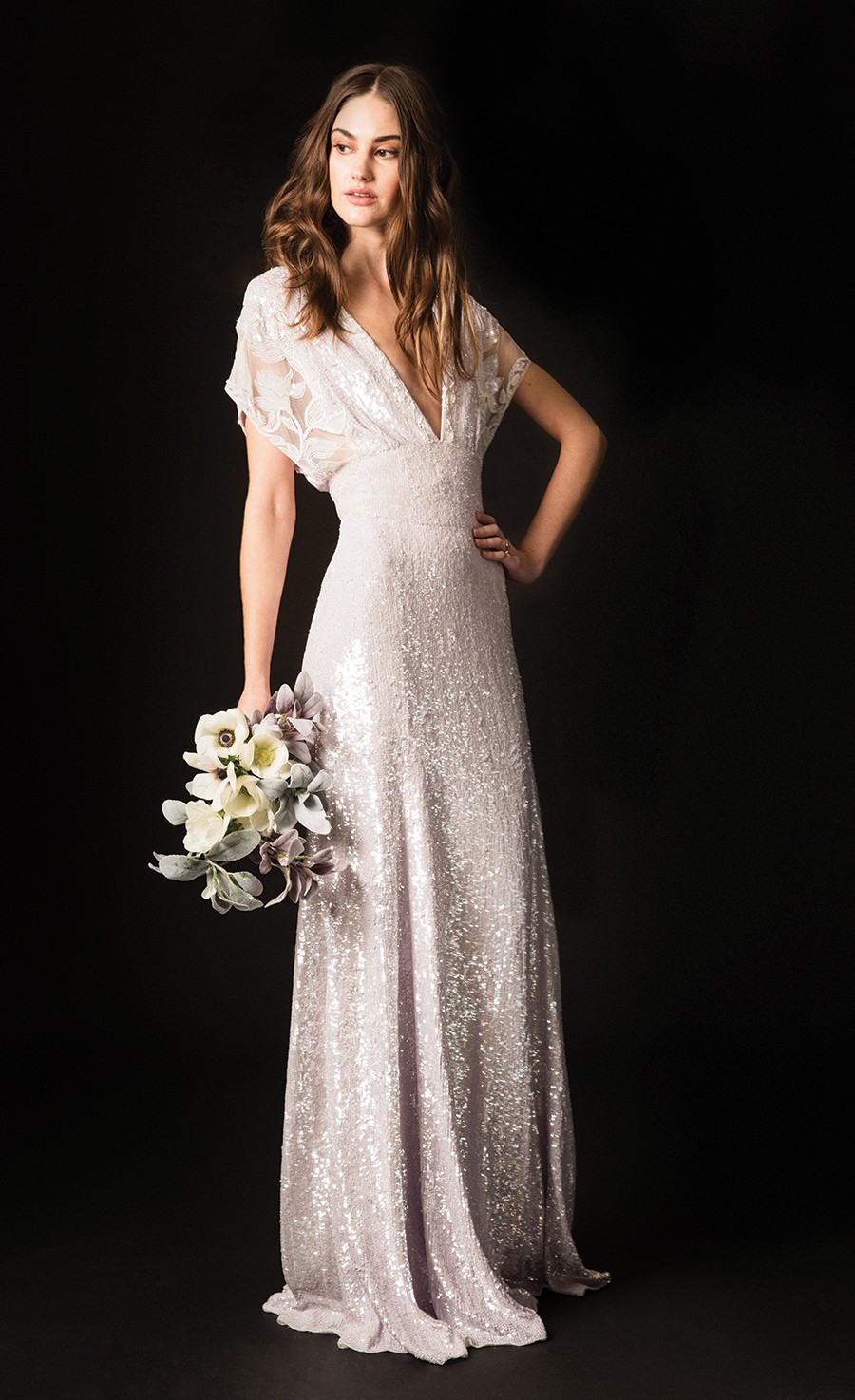 Next we have a 1940s inspired empire waist gown from Temperley London. The mix of the fully sequined skirt and lavish embroidered top is just stunning.
31.

Whimsical Glam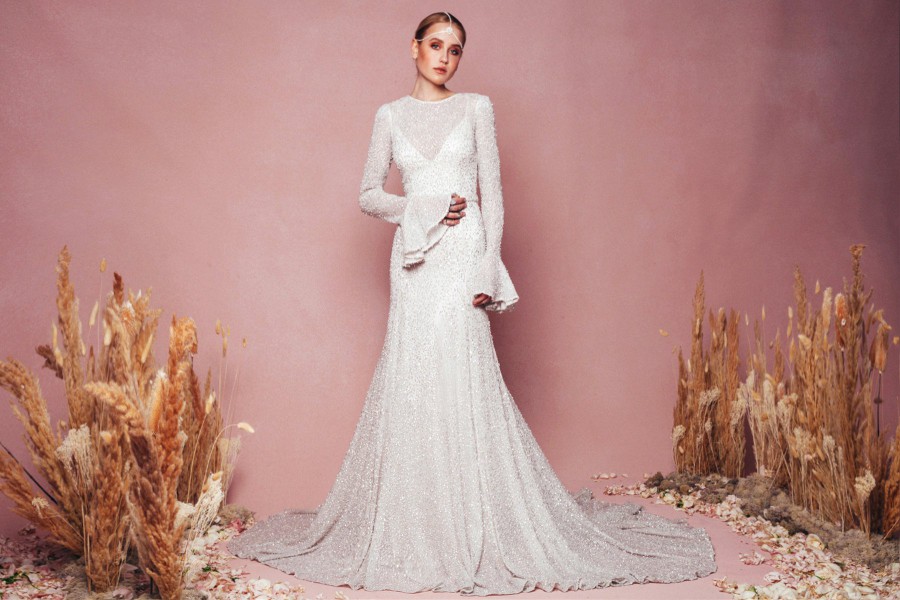 This next dreamy sparkling wedding gown is hand beaded and sequined from head to toe. We love the soft illusion neckline and bell sleeves.
32.

Modern Sequins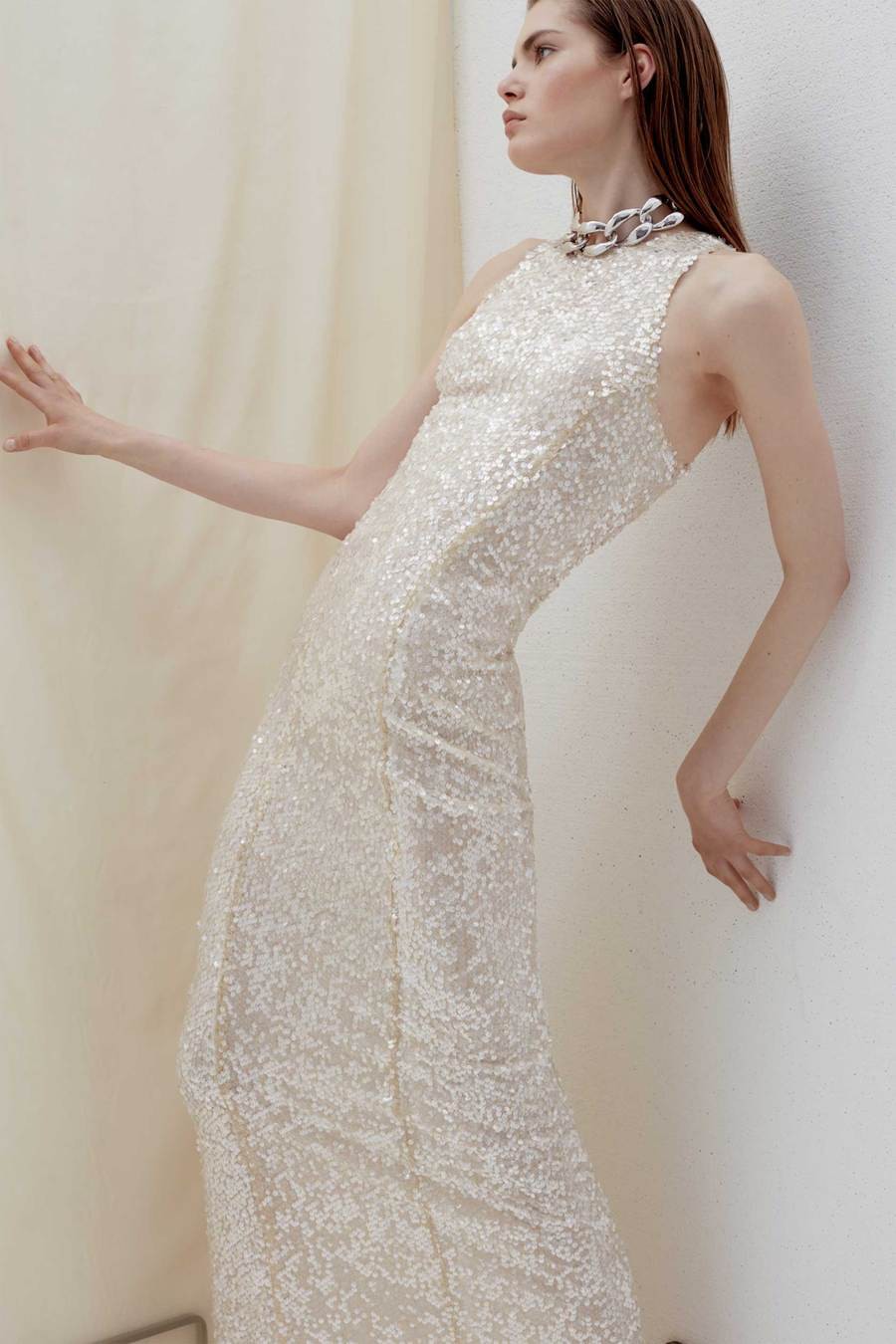 We are loving the very modern feel of this next sequined wedding style from Galvan London. A clean, sophisticated silhouette, that makes a big sparkling statement.
33.

Silver Streaks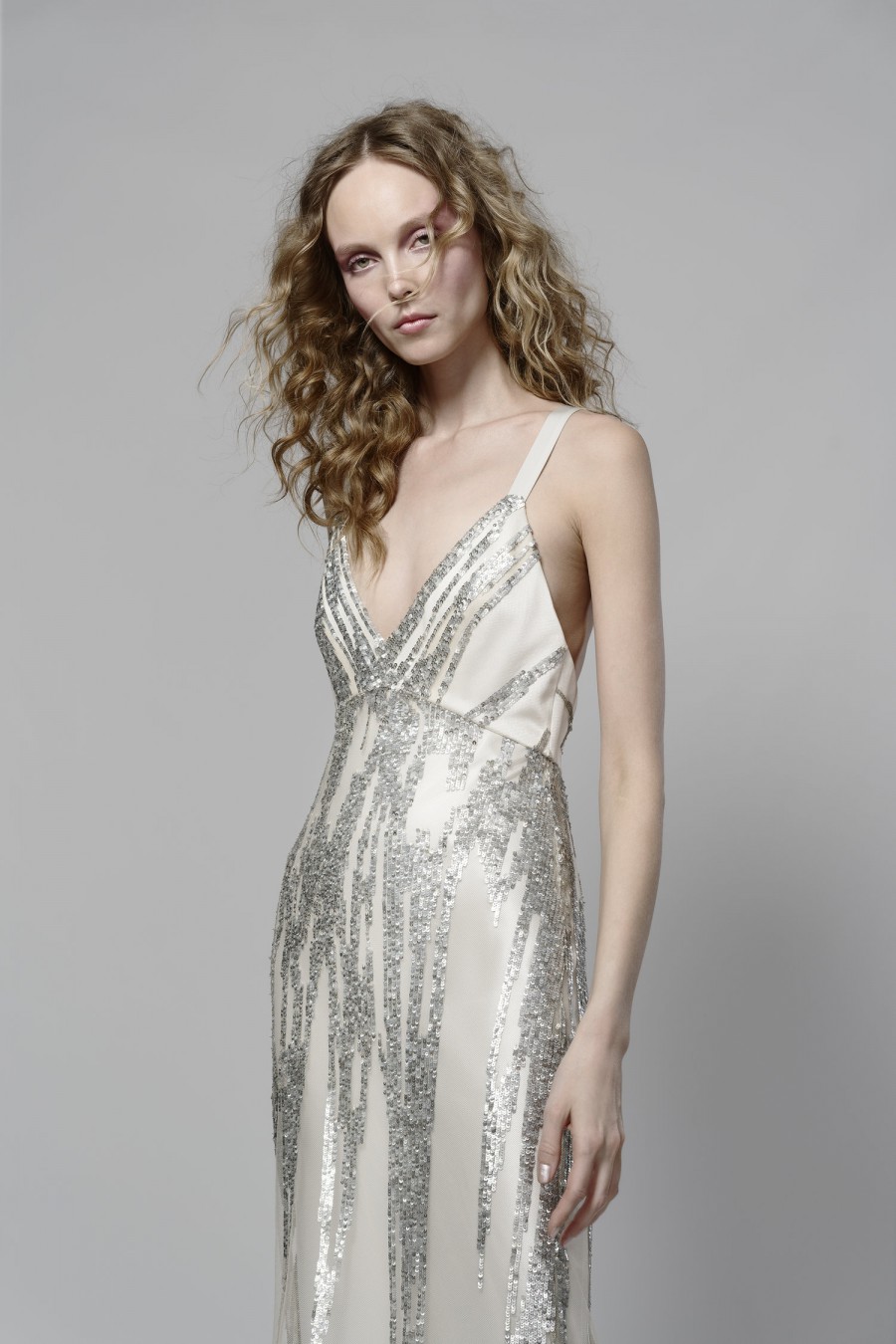 This sleek slip dress from Elizabeth Fillmore looks like it has been dipped in silver with its streaking sequin design. We just can't get enough of this gown!
34.

Hand Beaded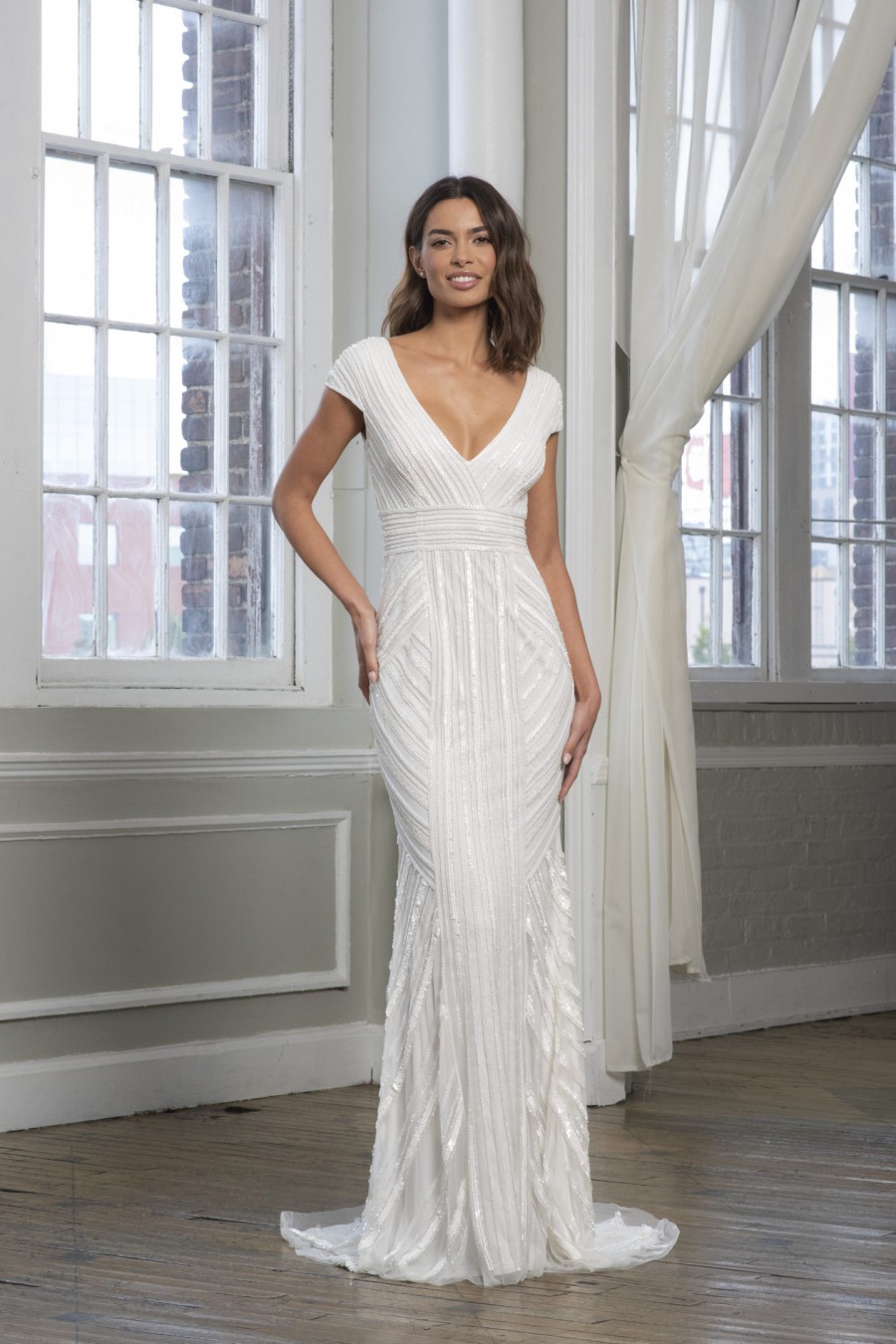 Theia brings us a stunning hand beaded gown in the most flattering cap sleeve silhouette. This gown looks as sexy as it does comfortable.
35.

Wrapped Beading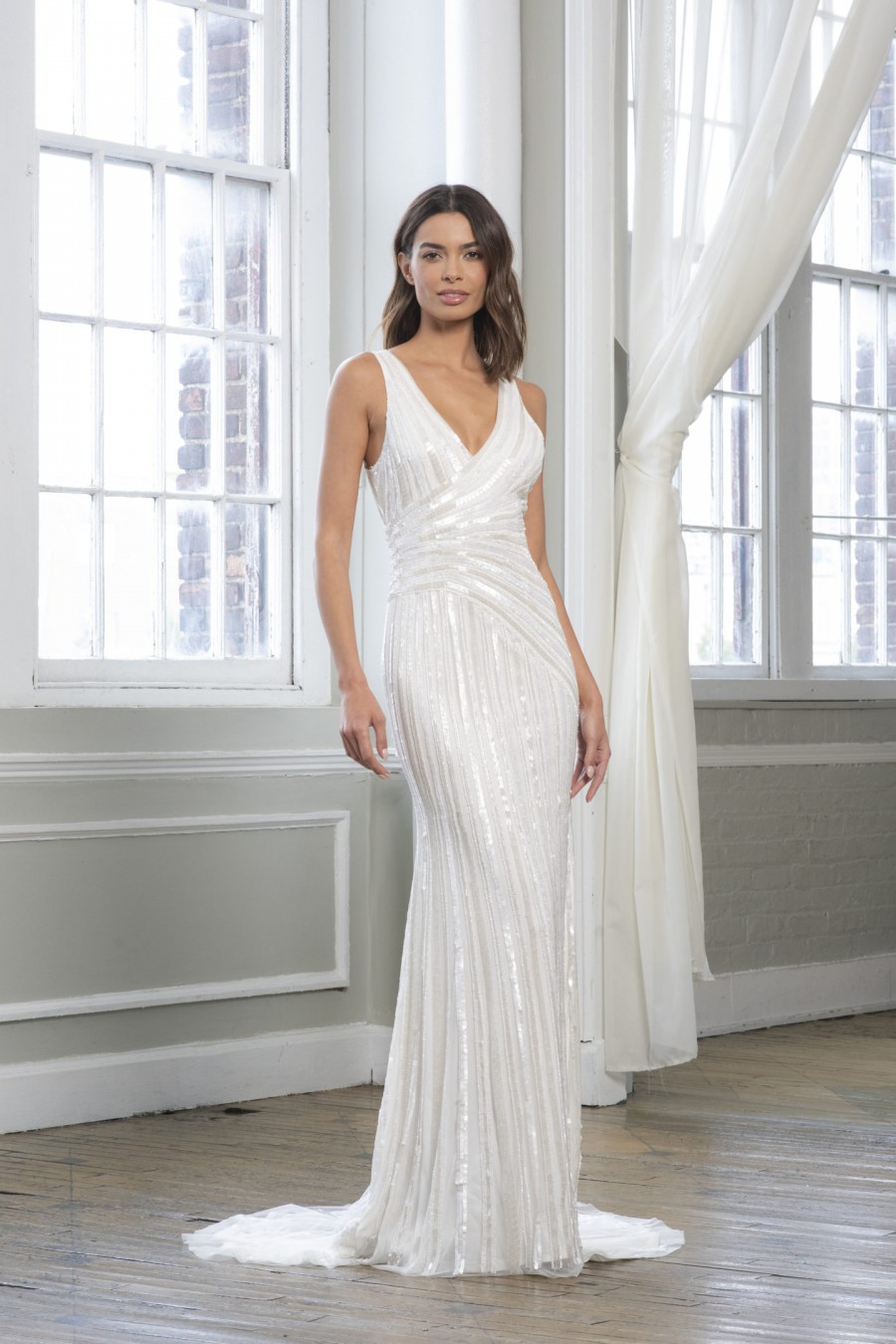 Love the hand beaded style from Theia from above? Then check out this next one. Similar styling but in a sleeveless silhouette. And we just love the wrap effect that is created by the beading design - so stunning and flattering!
36.

Plunging Sequins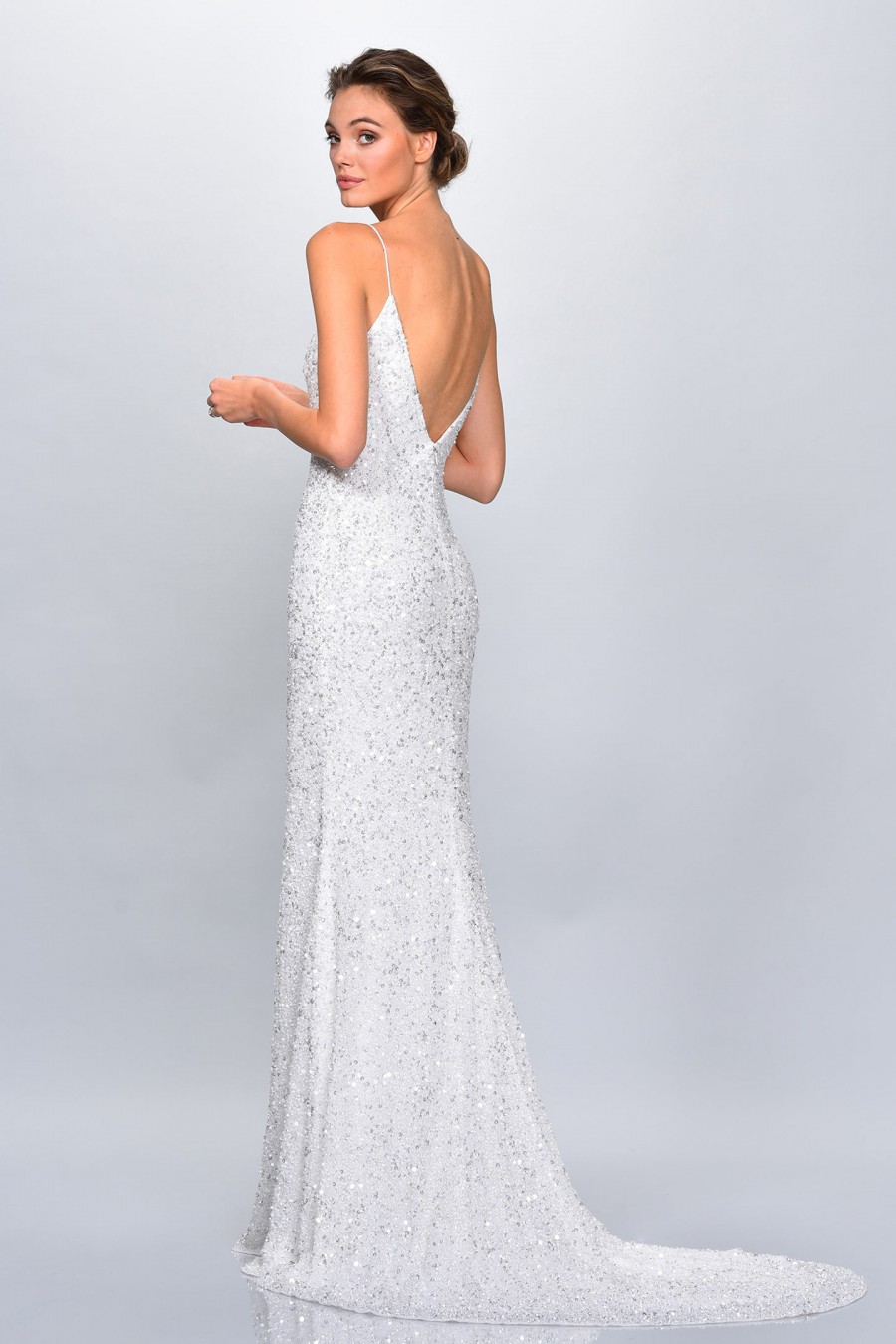 An absolutely irresistible plunging slip dress with head to toe sequins. And ultra glamorous, feminine style that is effortless.
37.

Sheer Sparkles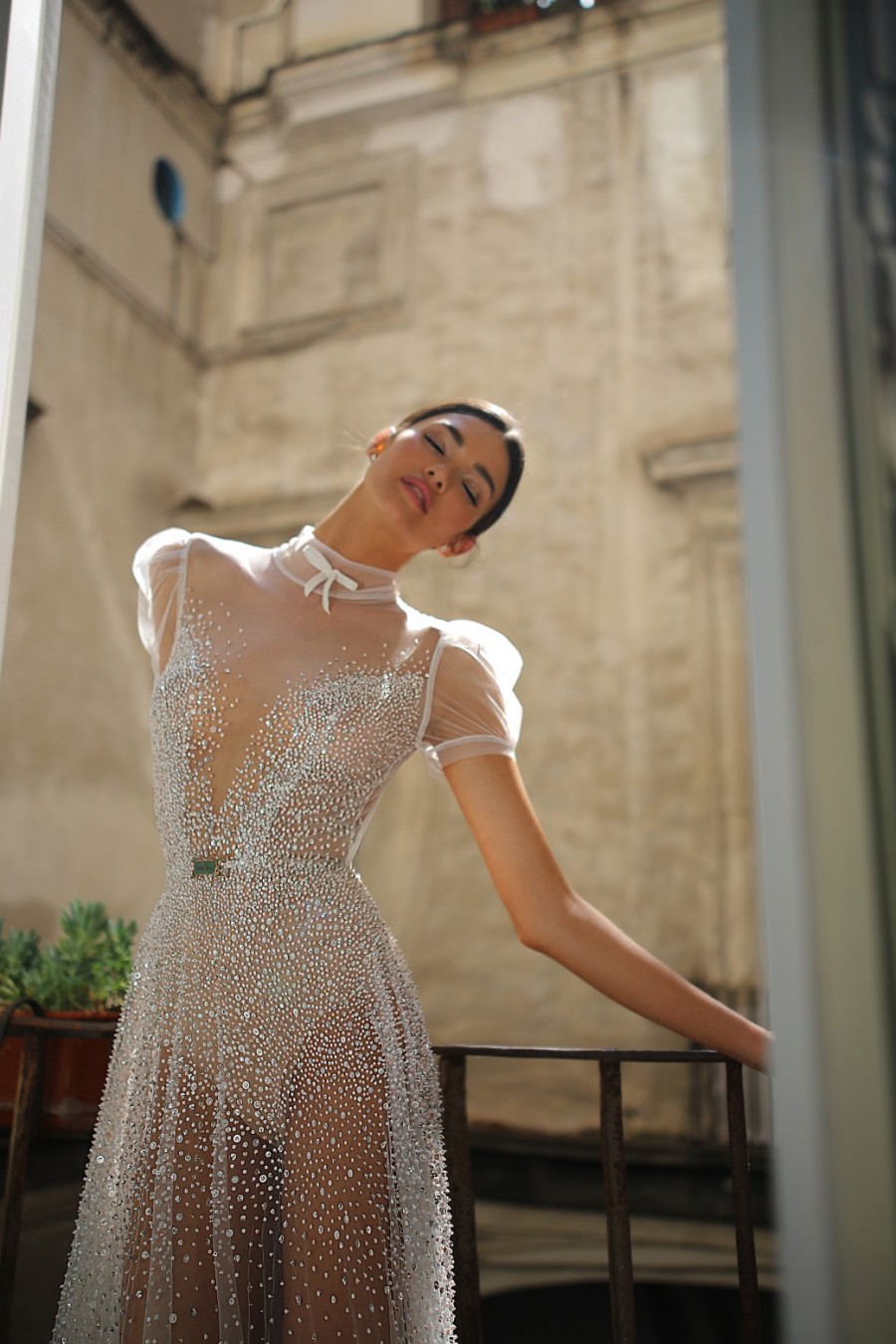 This sheer sparkle wedding gown from Inbal Dror is slightly irresistible. A gorgeous mix of contemporary edginess and luxe couture.
38.

Iridescent Glamour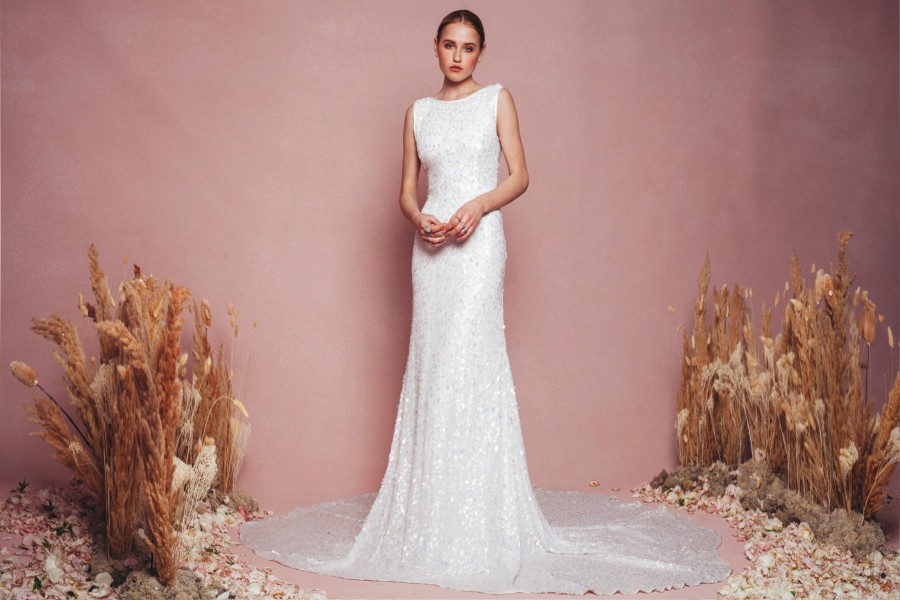 Odylyne the Ceremony brings us a stunning, sophisticated sparkling wedding gown that features all over iridescent detailing. The high neckline and slim silhouette creates a polished, luxe style.
39.

High Neck Sparkle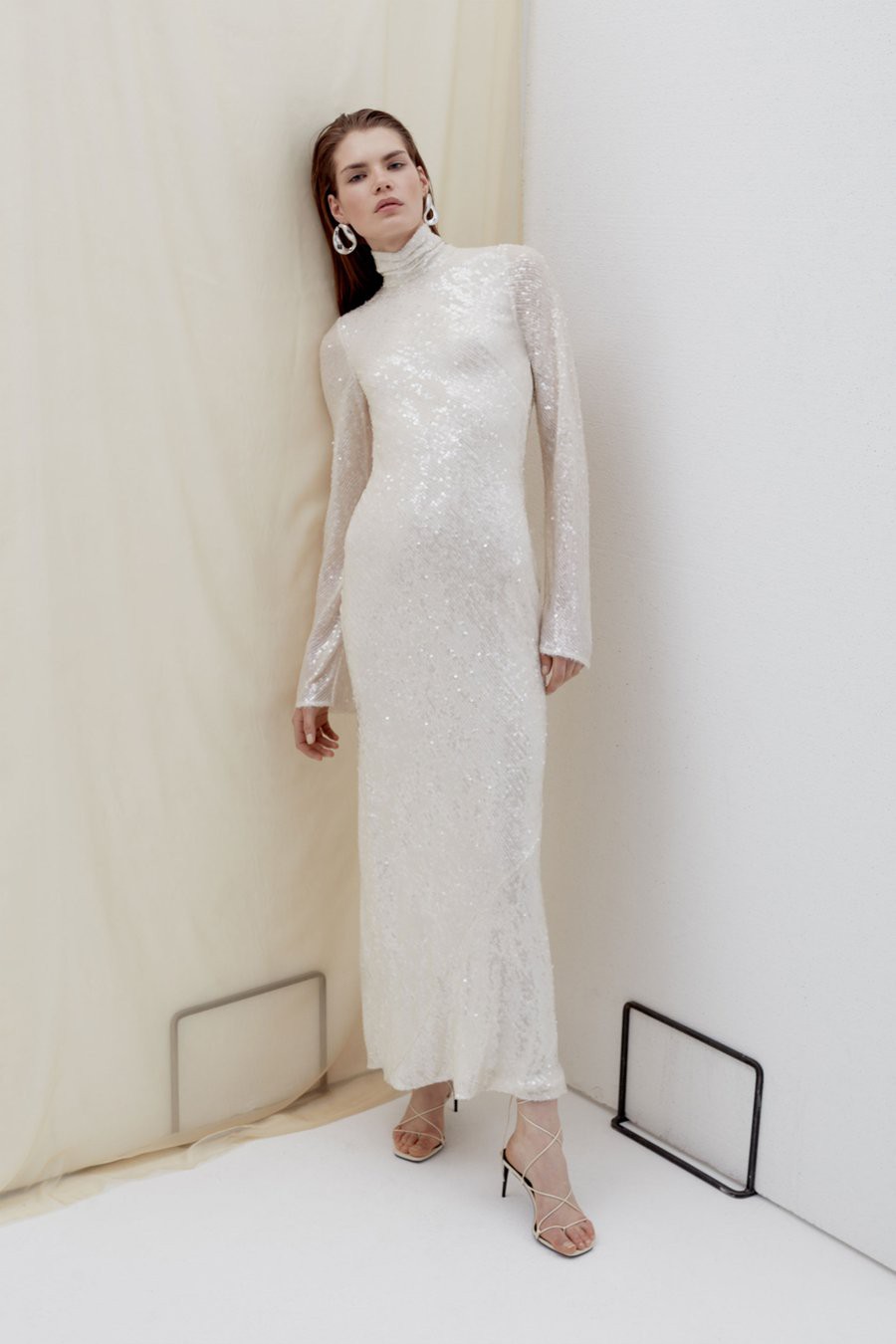 We are loving the trendy ultra high neck style of this next all over sparkling wedding gown from Galvan London. Perfect for a less formal ceremony, or for your second look style!
40.

Back Detailing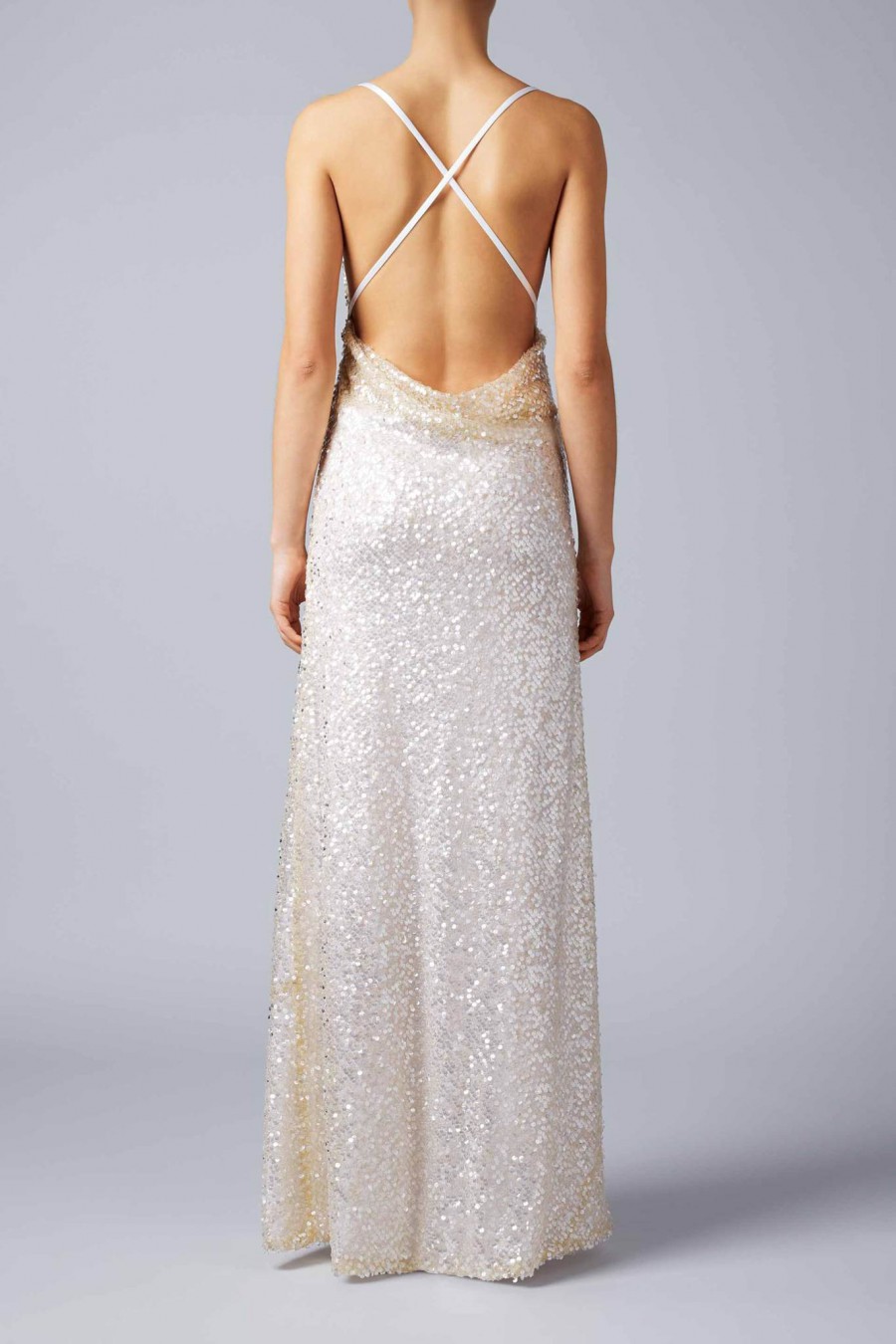 The back of this sparkle glam slip dress absolutely steals the show. Simple, yet completely captivating.

By Kathryn Schrotenboer