We are taking metallic bridal accents to the next level with these platinum silver styled gowns.
These looks are dramatic, daring, and ultra glamourous. From all over silver to platinum accenting, we have gathered our favorite silver metallic wedding gowns - and we have a feeling you might just love them as much as we do!
01.

Platinum Chic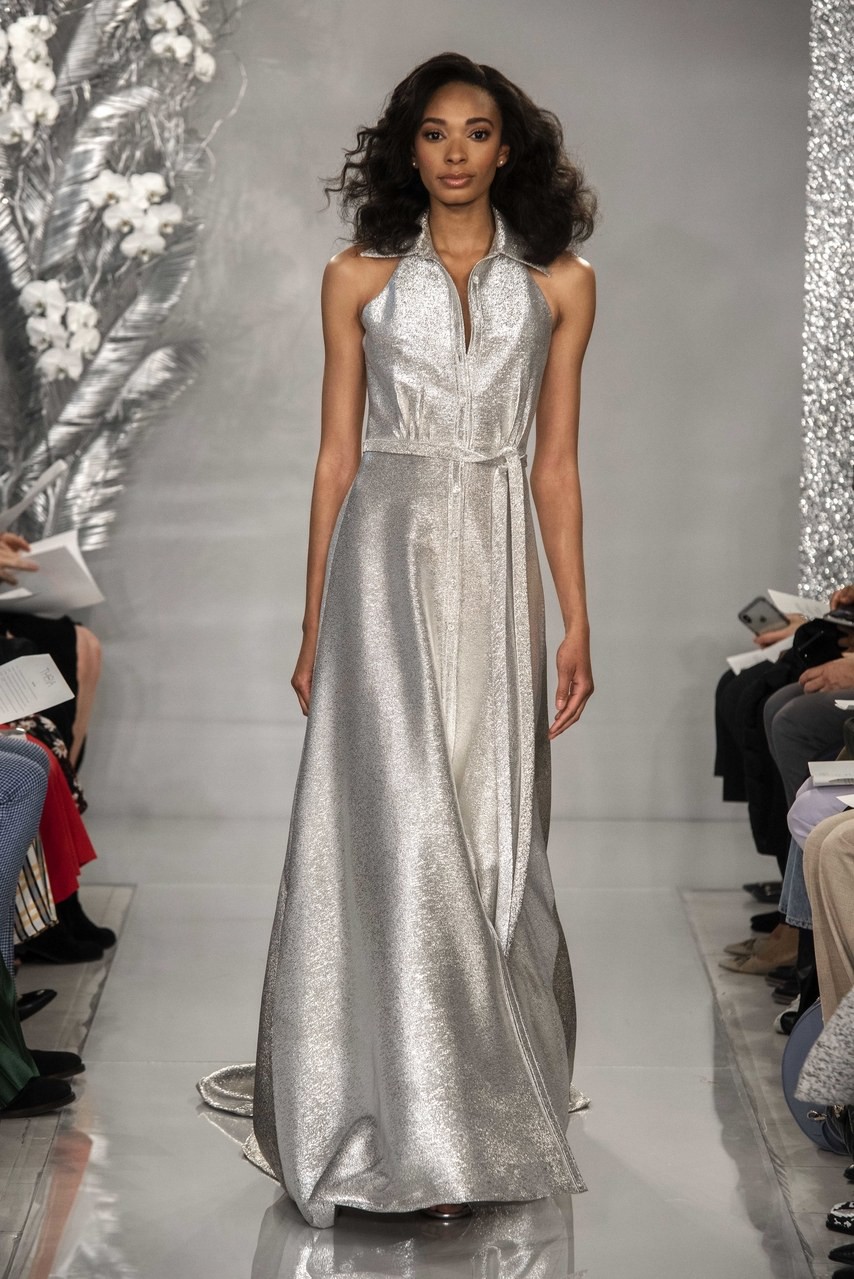 We are starting off the list in a big way with this head to toe platinum silver wedding gown from Theia. This stunning modern look may just have you thinking twice about white on your big day.
02.

Silver Crystals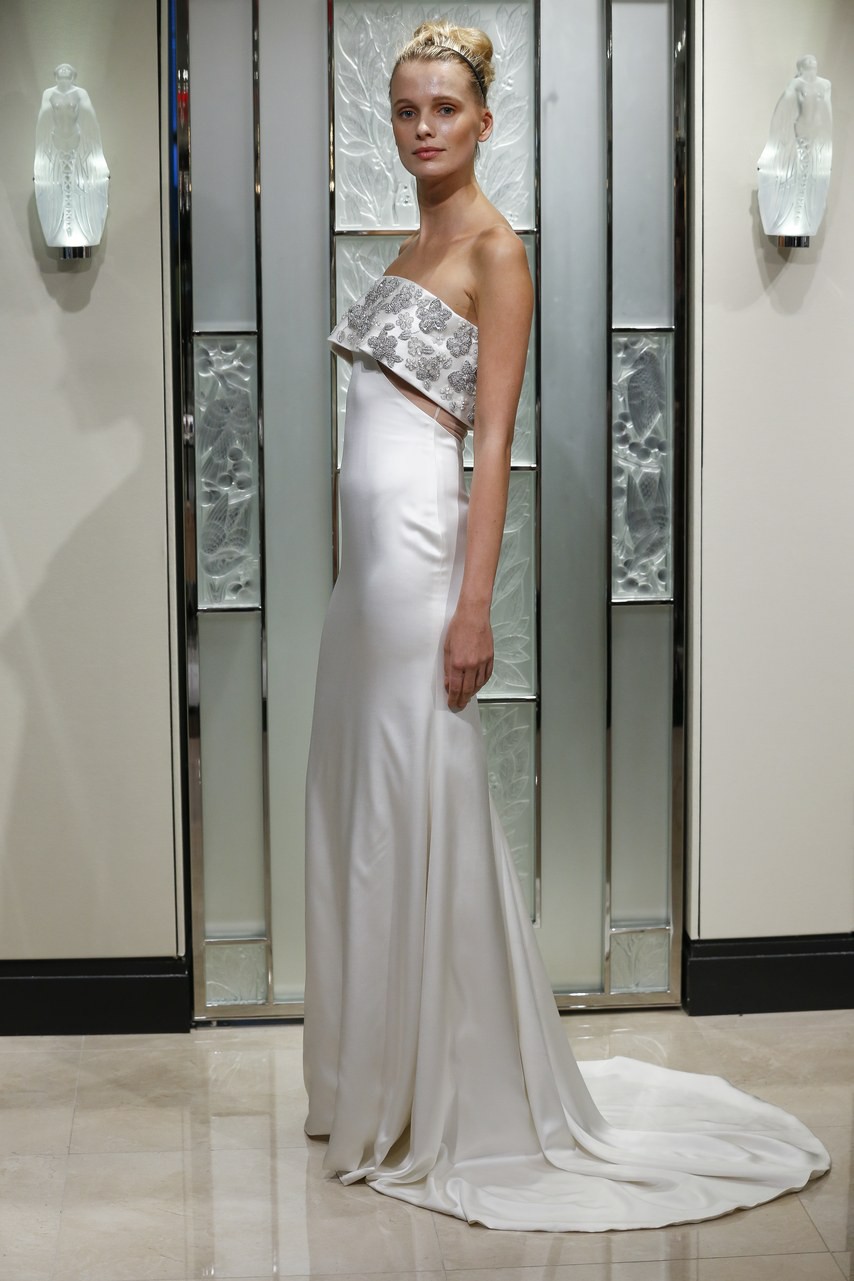 Gracy Accad brings us a stunning silk mermaid gown that features a banded neckline encrusted with silver crystal floral detailing.
03.

Platinum Glam
This next platinum silver styled wedding gown from Theia features all over detailing in crystals, glass beads and silver sequins.
04.

Silver Screen Glam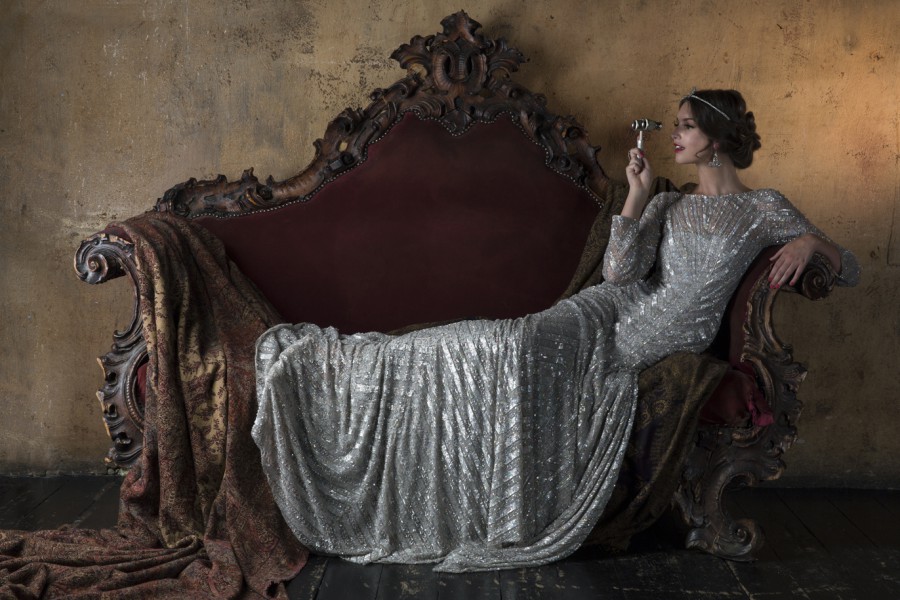 We are in love with this head to toe silver glam wedding style. This ultra glam looks is dramatic and is sure to grab everyone's attention!
05.

Abstract Painting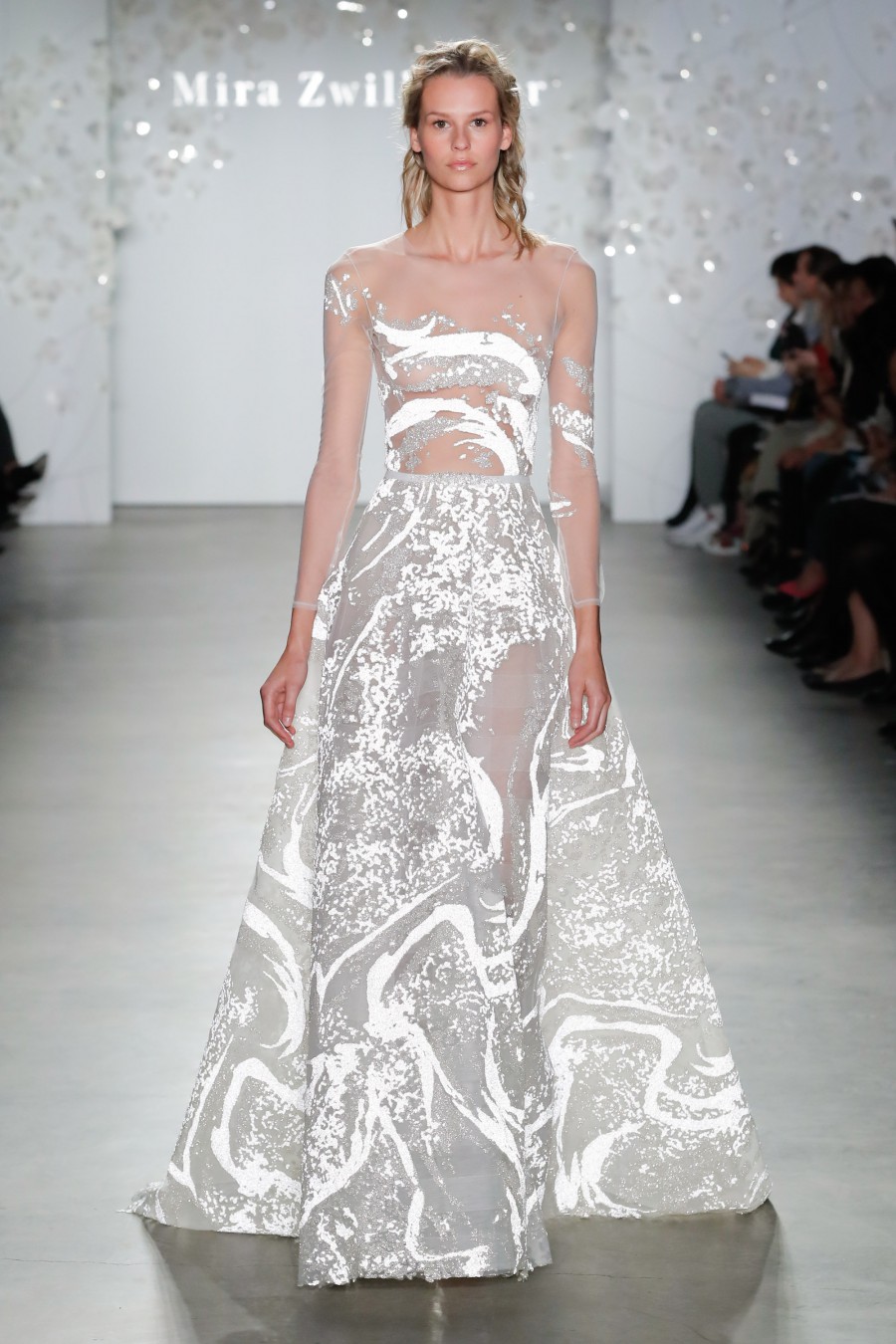 Mira Zwillinger brings us a one of a kind modern bridal style featuring an all over white and silver brushstroke design that is contemporary and captivating.
06.

1940's Platinum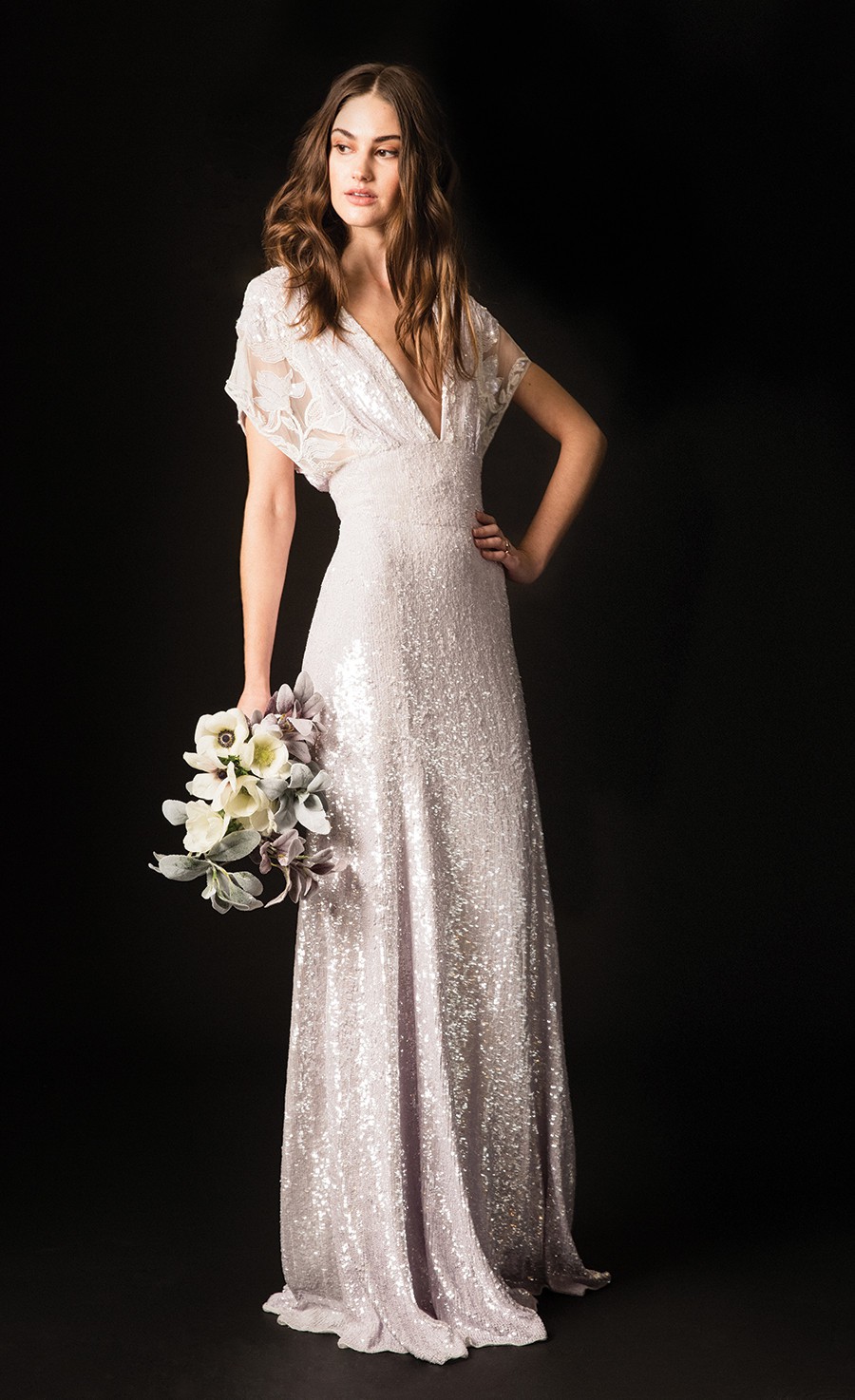 Temperley London brings us a stunning 1940's inspired empire waist draped gown featuring all over metallic platinum sequins. Being both feminine and glamorous, this look is absolutely stunning.
07.

Silver Party Dress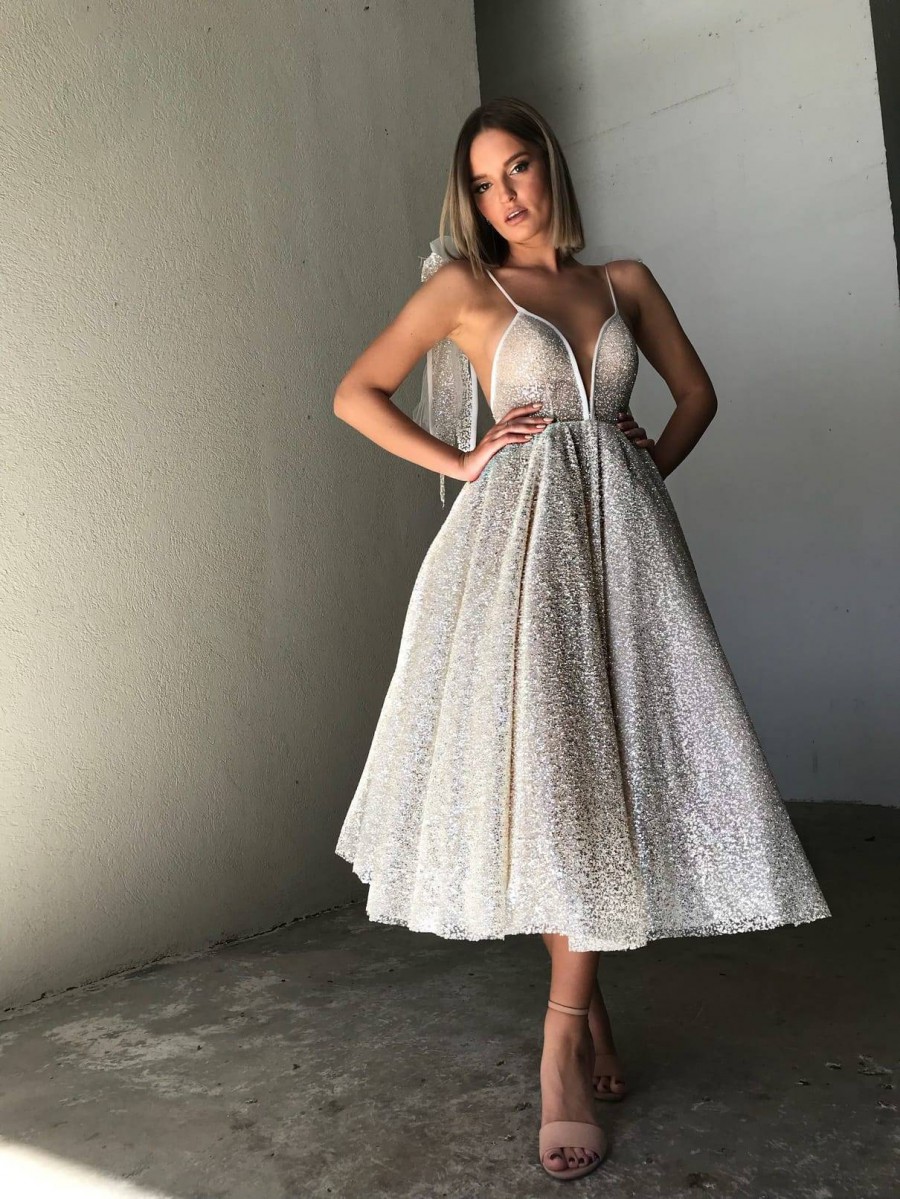 This silver sequin bridal party dress is just too adorable to resist. Its adorable glitzy design would make it the perfect reception party dress for our girly glam brides out there!
08.

Silver Sequins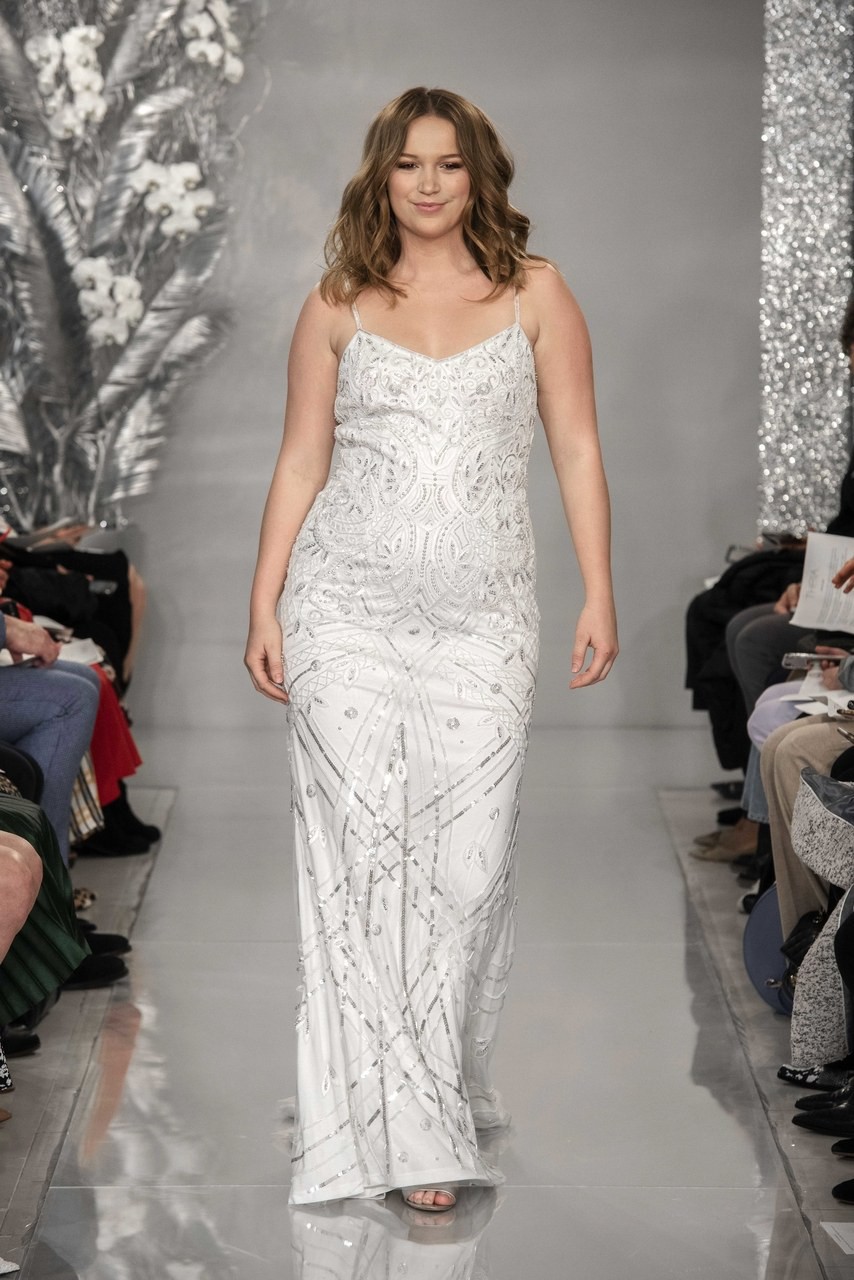 Add just the right touch of platinum silver detailing with this stunning slip dress from Theia. This seemingly simple gown features all over silver sequin designs that are sure to steal the show.
09.

Silver Swirls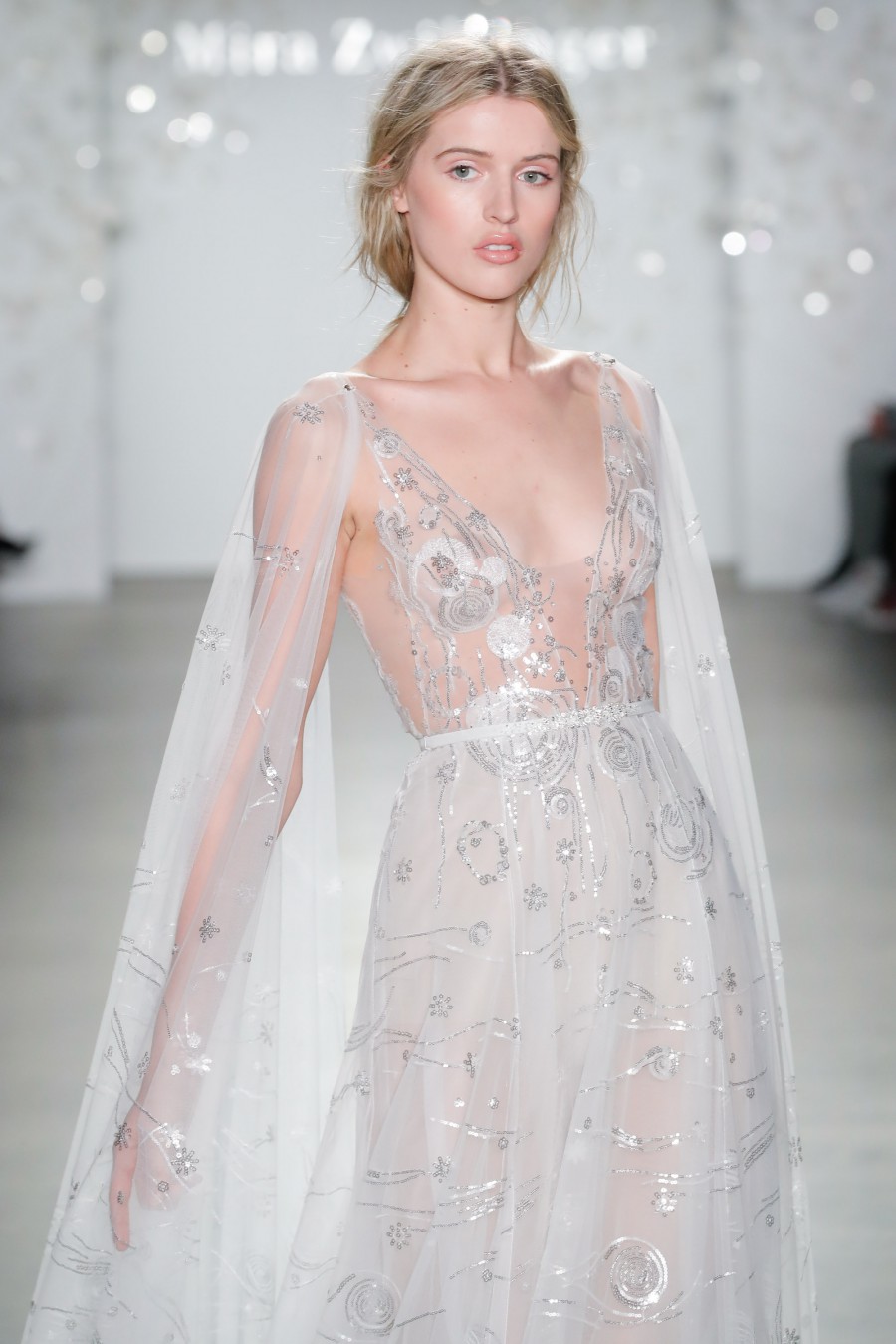 Mira Zwillinger brings us another stunning modern silver wedding gown with this semi sheer tulle style featuring all over silver swirl and floral sequin detailing. This look is both contemporary and chic, while also being childlike and playful.
10.

Moon and Stars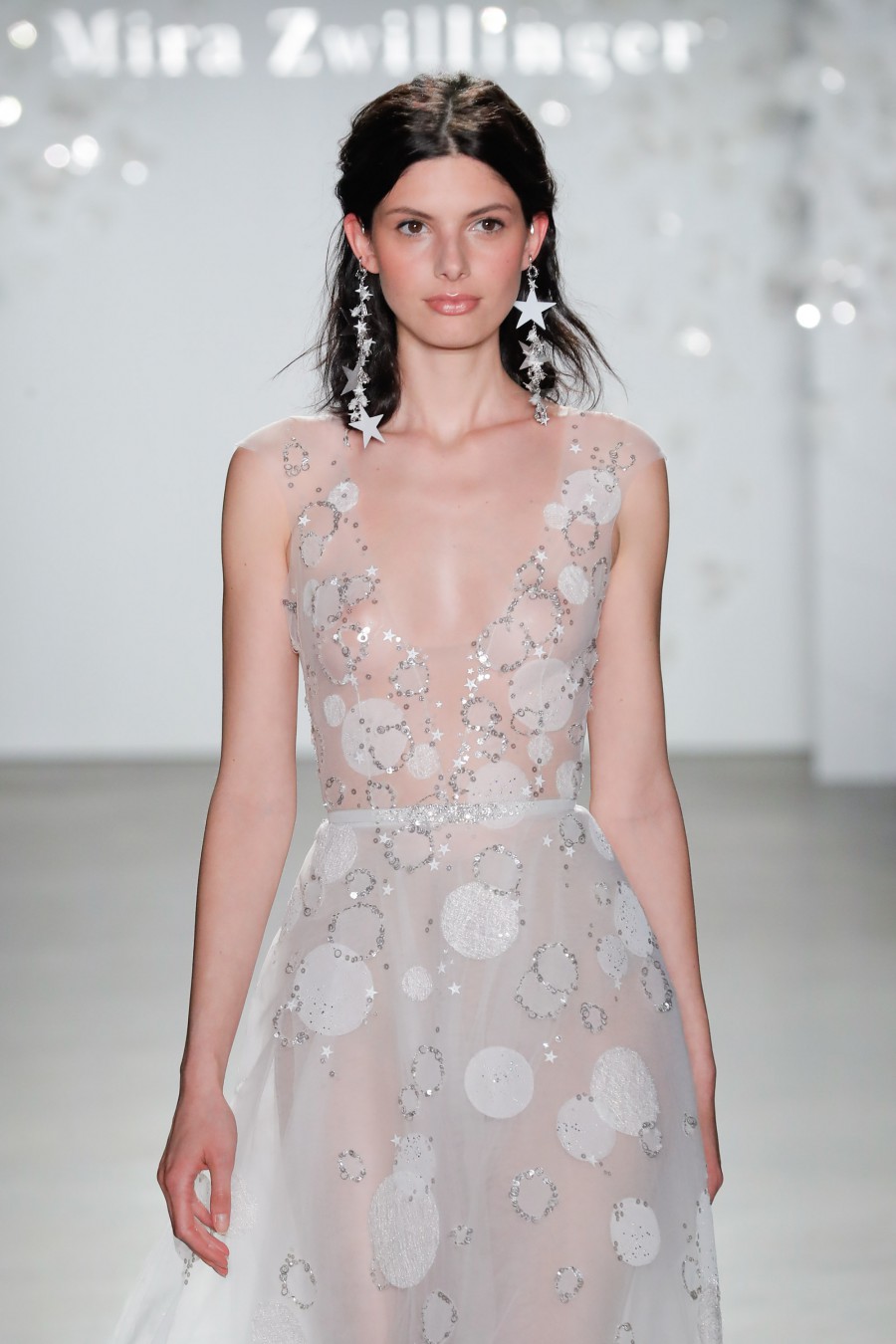 A moon and stars motif seems fitting for a silver accented wedding gown. This stunning semi sheer tulle gown features all over moon and star detailing in metallic silver sequins.
11.

Metallic Mirrors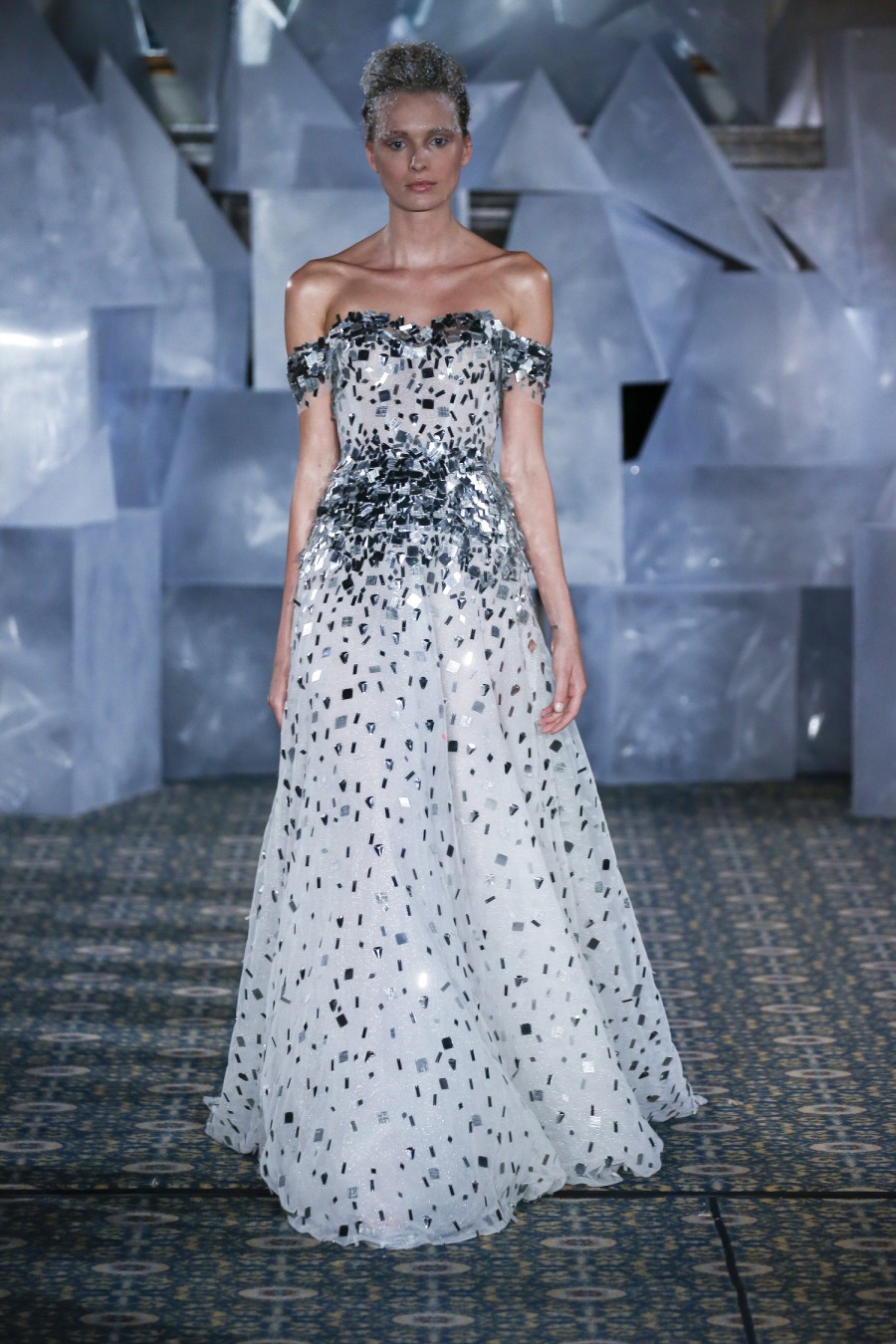 This truly one of a kind gown from Mira Zwillinger features all over mirror accenting for a platinum style like nothing else!
12.

Silver Streaks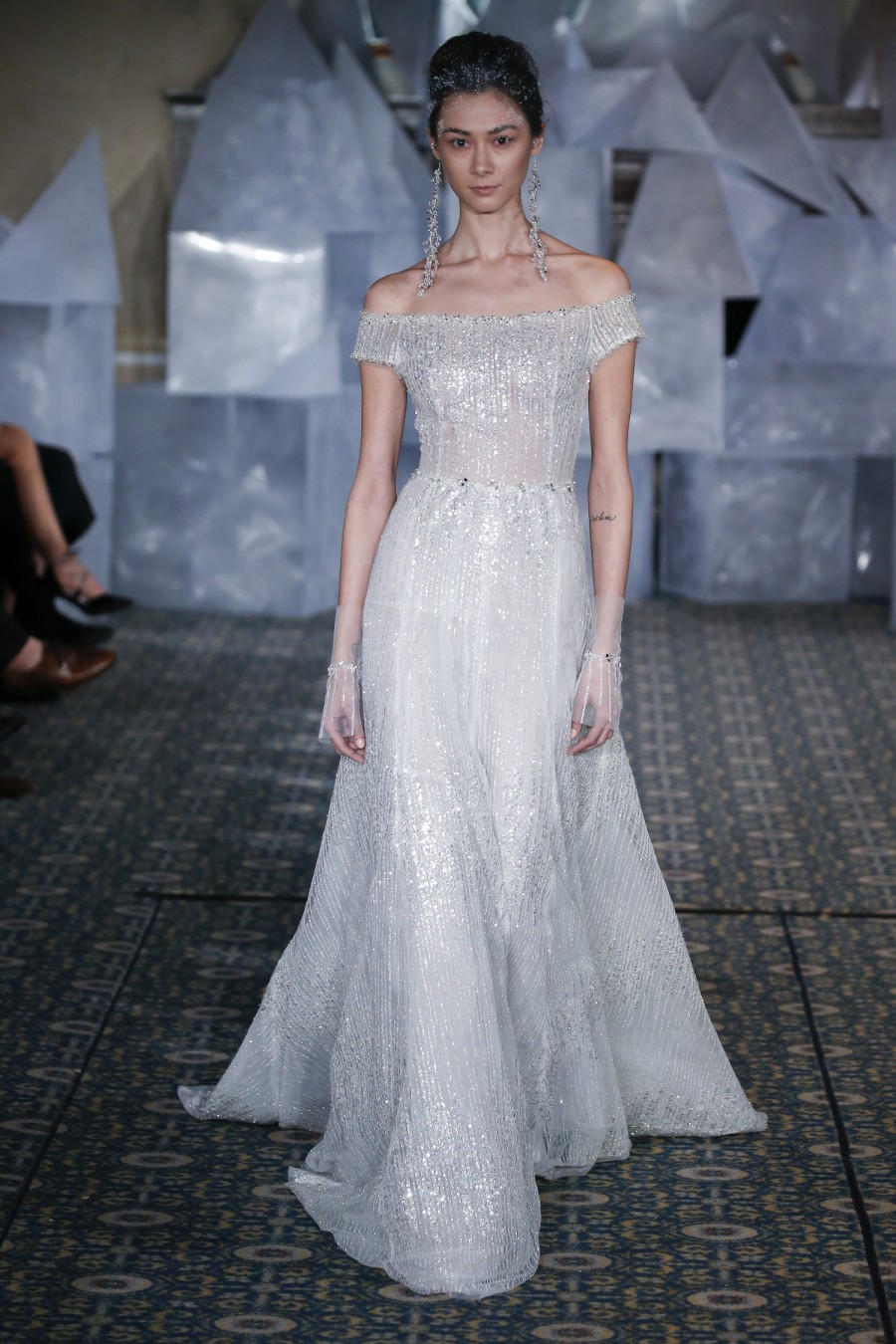 Our next silver styled wedding gown features lines of platinum sequins that run down that entire gown from head to toe. These silver streaks create a dramatic, glamorous style.
13.

Antique Platinum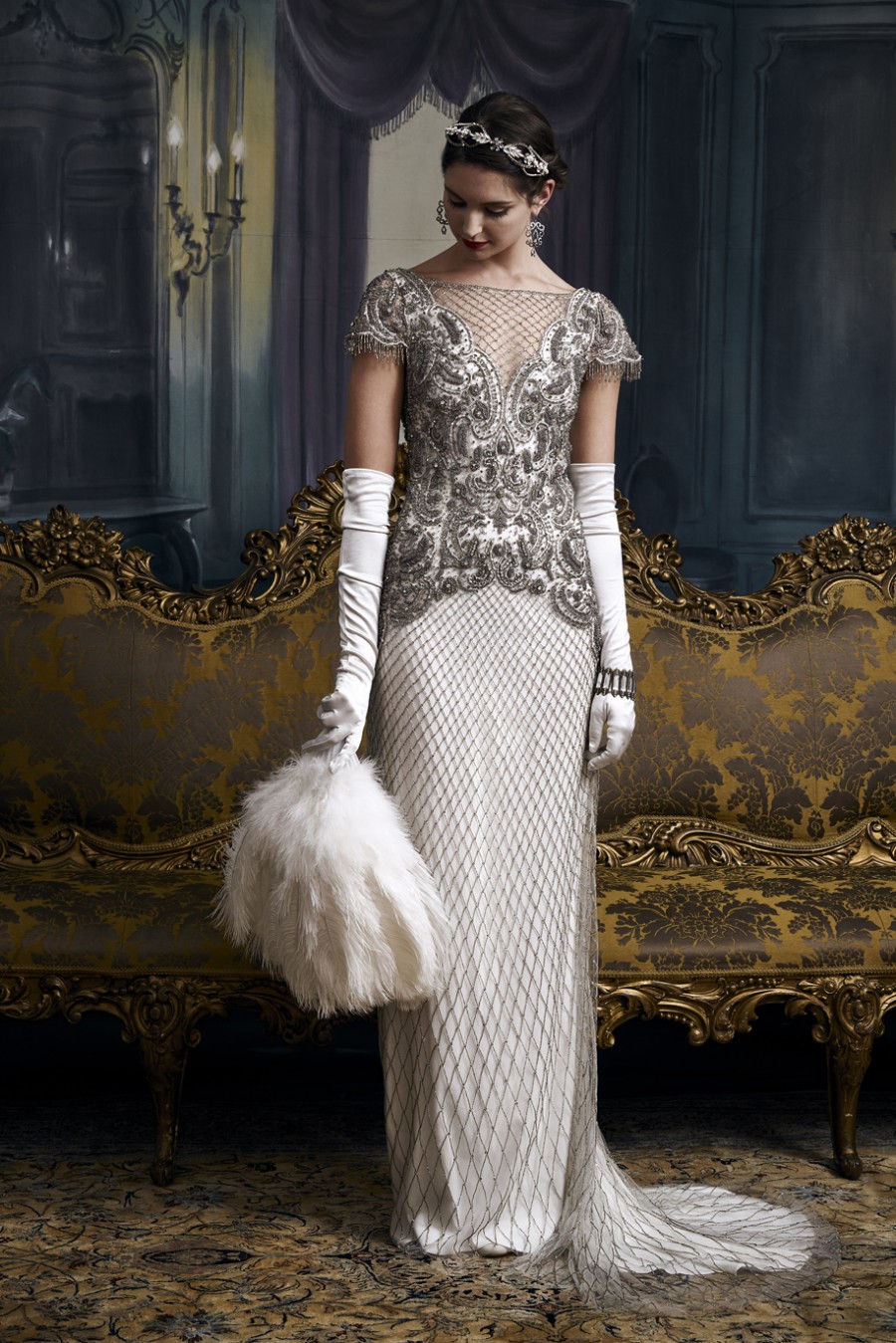 Our next platinum silver wedding gown is a breathtaking antique inspired gown from Eliza Jane Howell. The all over intricate platinum beading is captivating and creates a truly one of a kind wedding day style.
14.

Silver Jumpsuit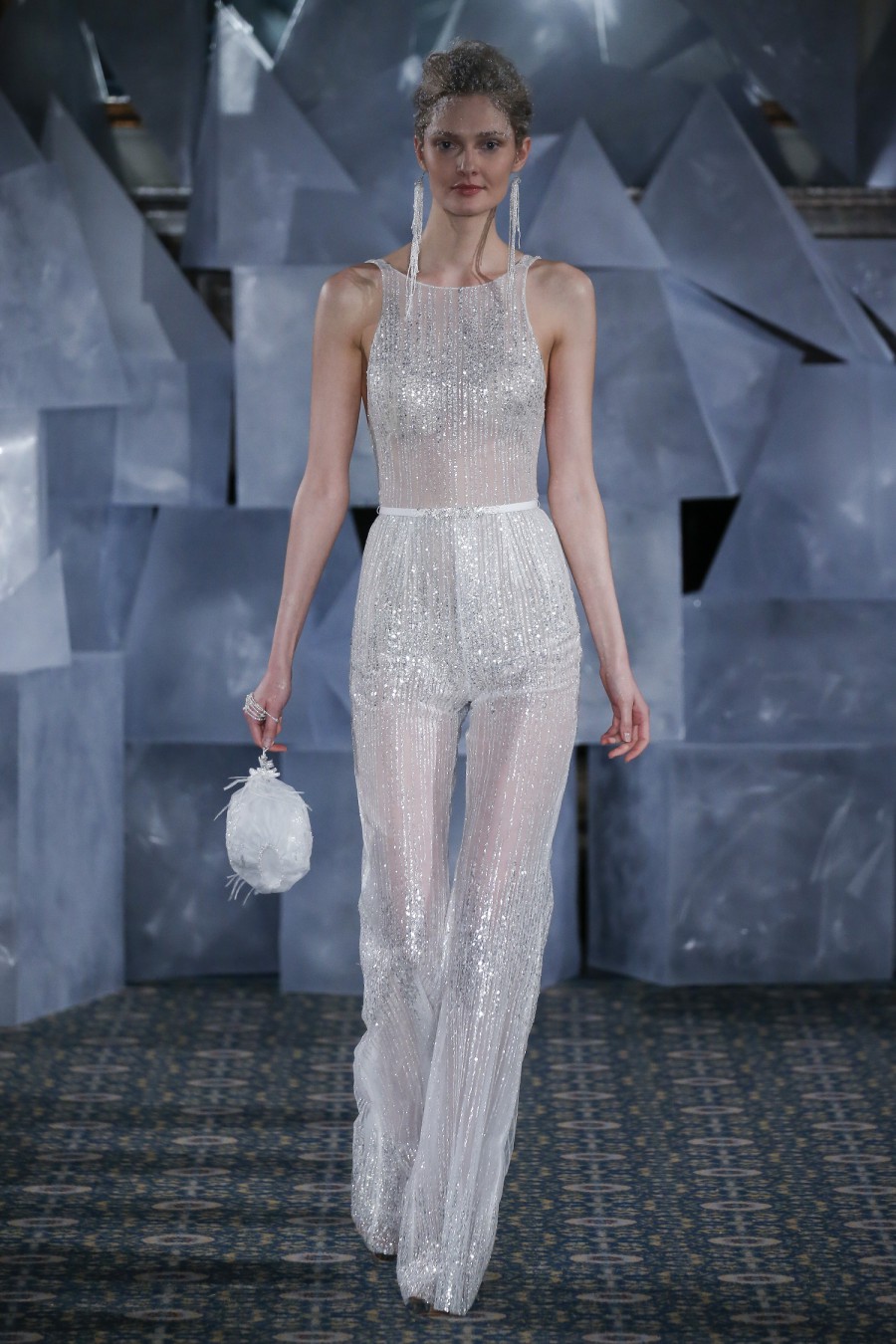 Loving the silver sequin streaking design from above? Then lets take things to the next level with this metallic glam jumpsuit!
15.

Star Dust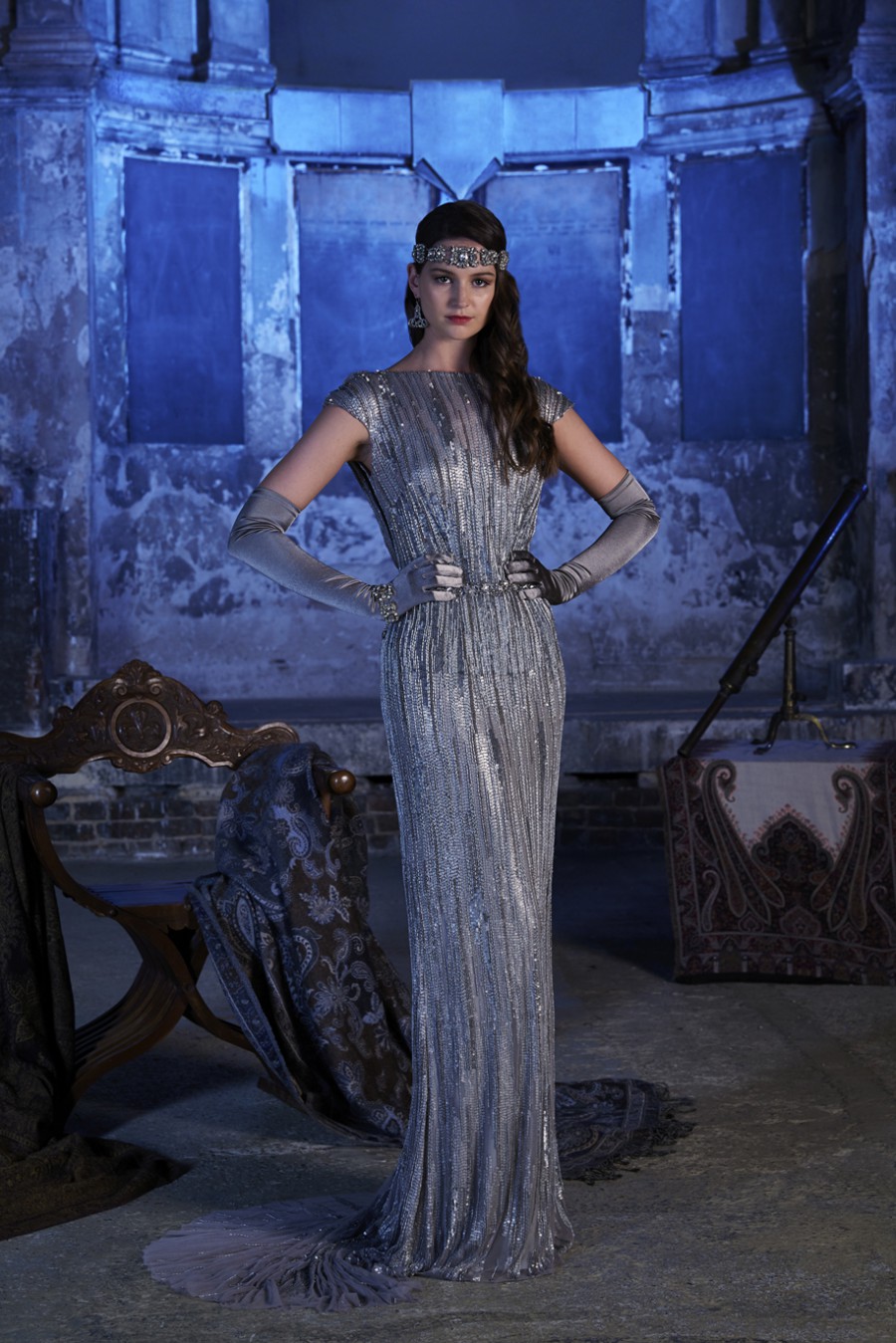 This next wedding gown features a head to toe platinum style that is dramatic and bold. This celestial inspired gown has both a contemporary star dust and traditional antique feel to it. If you love this dress, check out the next two below!
16.

Platinum Dreaming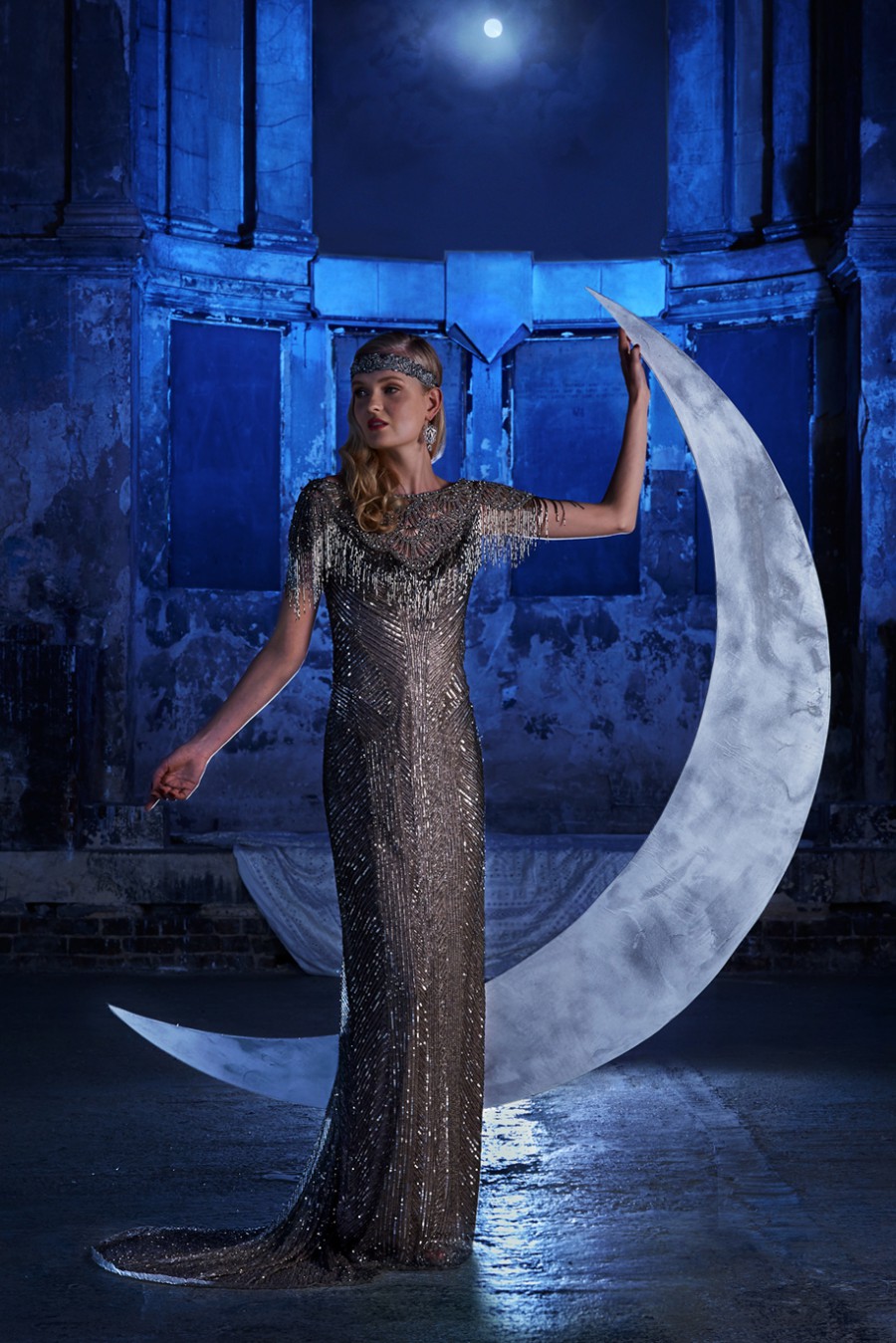 This next all over platinum beaded wedding gown would be prefect for a black tie New Years Eve wedding. Or a romantic wedding under the stars. This ultra glam gown is gorgeous!
17.

Platinum Sparkle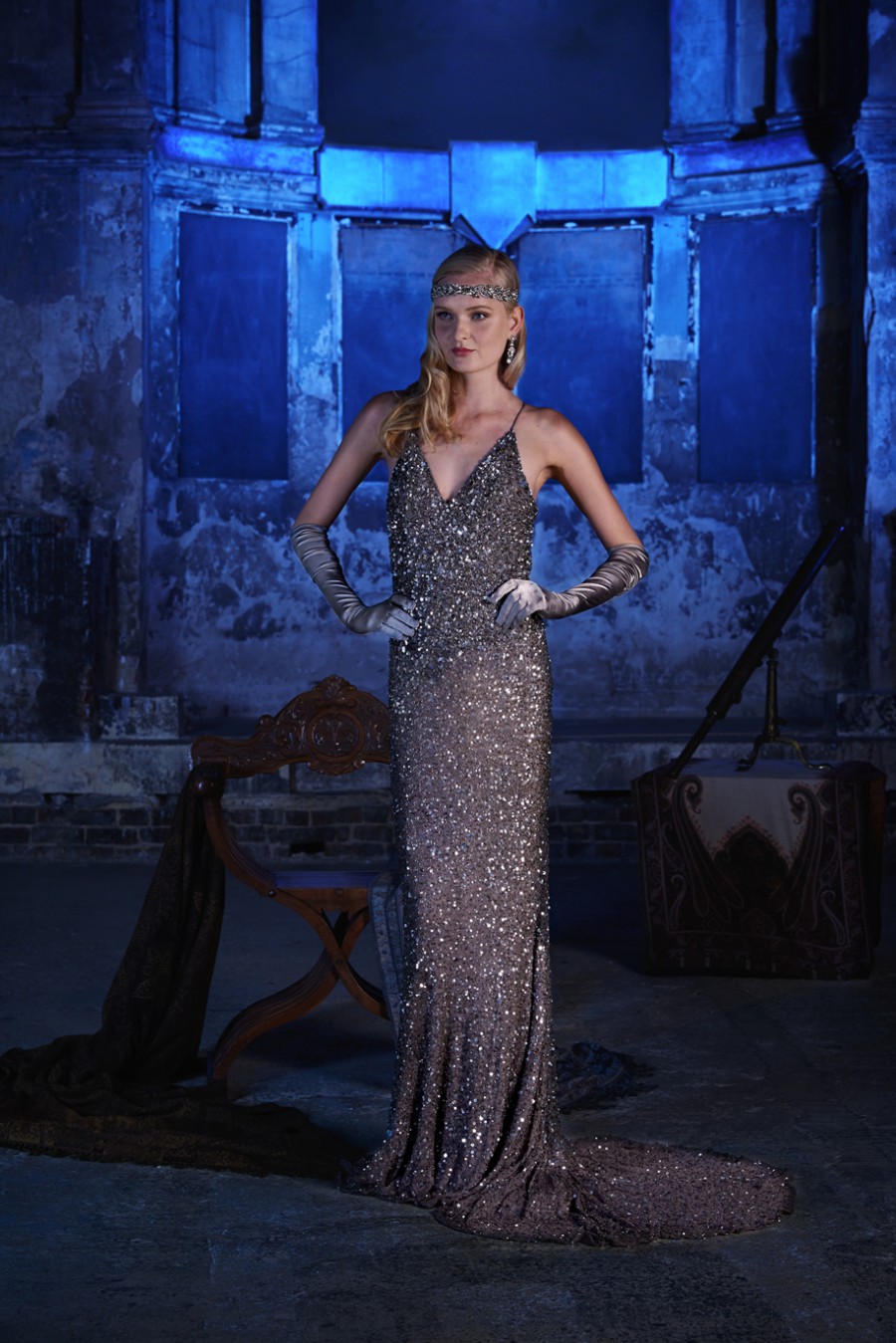 Another all head to toe platinum silver wedding gown from Eliza Jane Howell. This look features top to bottom sequins for a playful sparkly style. What wedding day is complete without at least a few glistening sequins?
18.

Ice Queen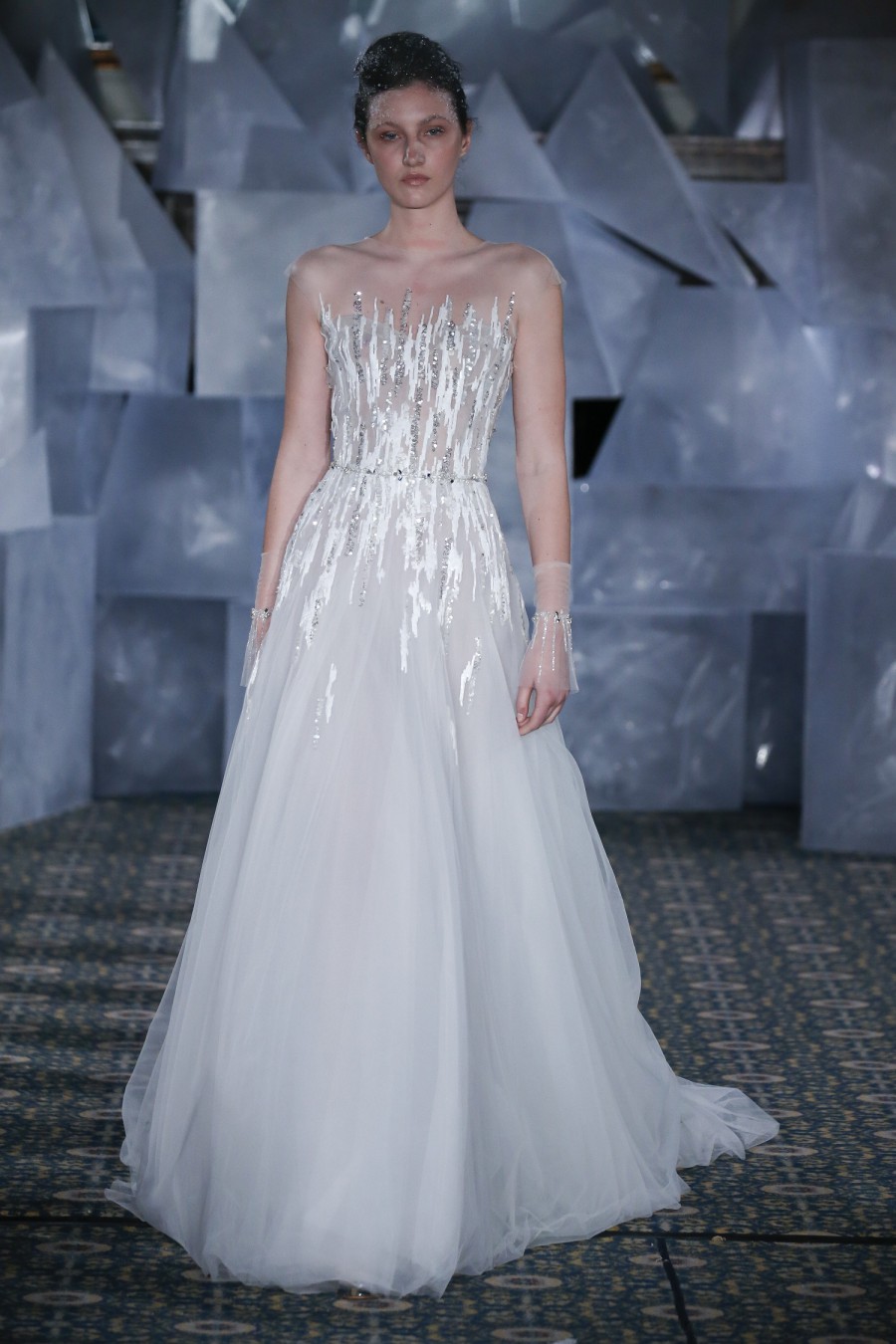 We are definitely feeling the Ice Queen vibes with this next platinum silver styled wedding style. Vertical jagged strips of white and silver sequins create an edgy, one of a kind wedding style.
19.

Silver Stars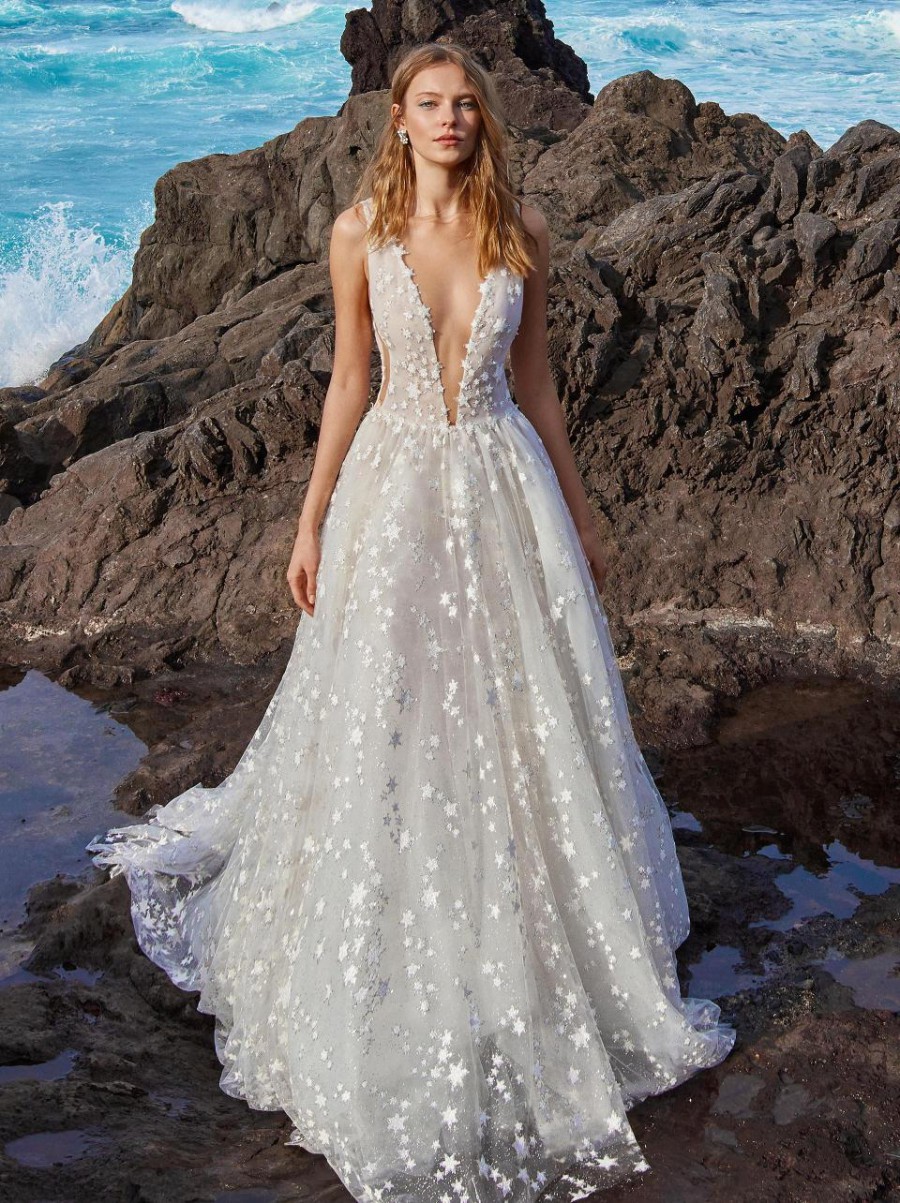 What better way to incorporate this platinum silver styling trend than with an all over star detailed wedding gown? This celestial wedding gown is absolutely dreamy with its all over silver star design.
20.

Intricate Silver Detailing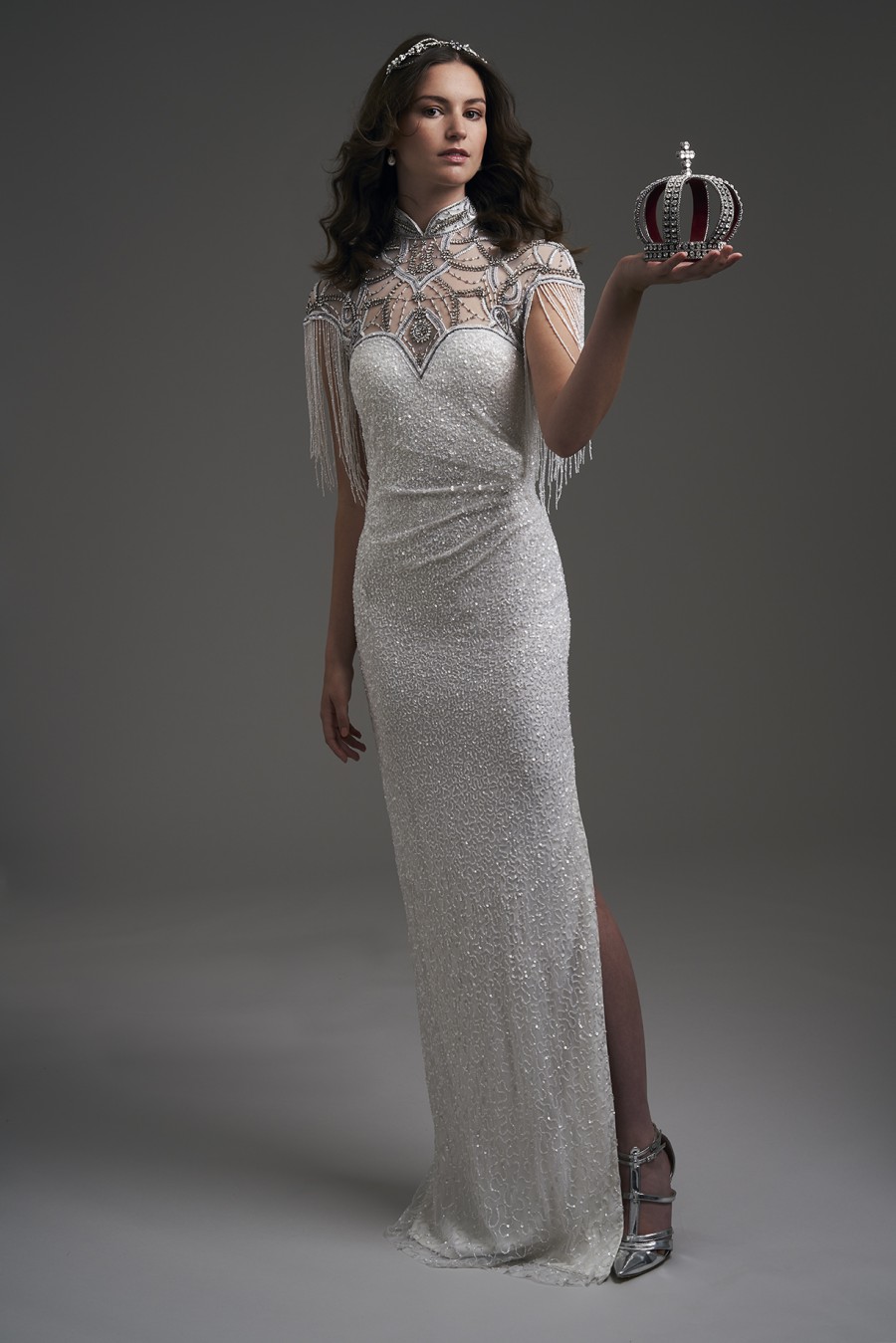 Our next platinum silver gown comes from Eliza Jane Howell. This gown comes from a collection inspired by the Roaring 20's. This gown features all over silver detailing that makes this a truly one of a kind style.
21.

Silver Lace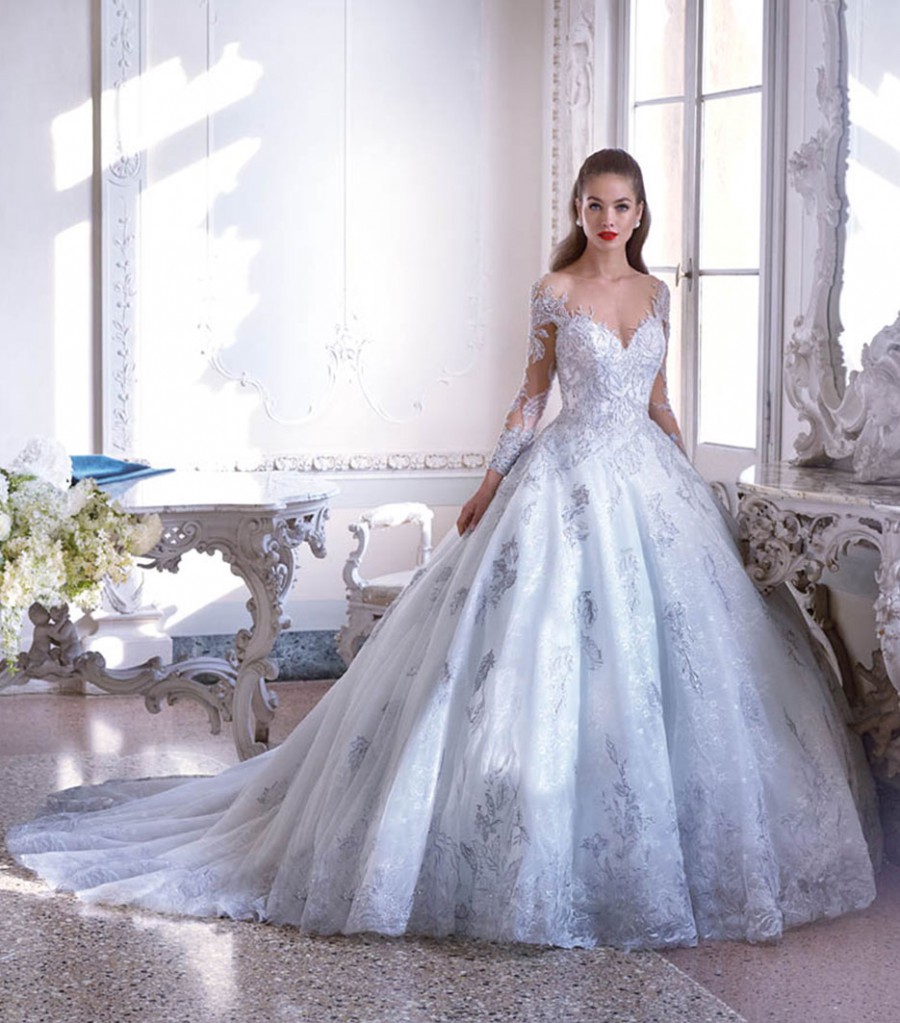 This next platinum wedding gown features silver lace accenting for a gorgeous, one of a kind wedding style. The metallic accenting adds even more drama to this already big ball gown style.
22.

Sexy Silver Sequins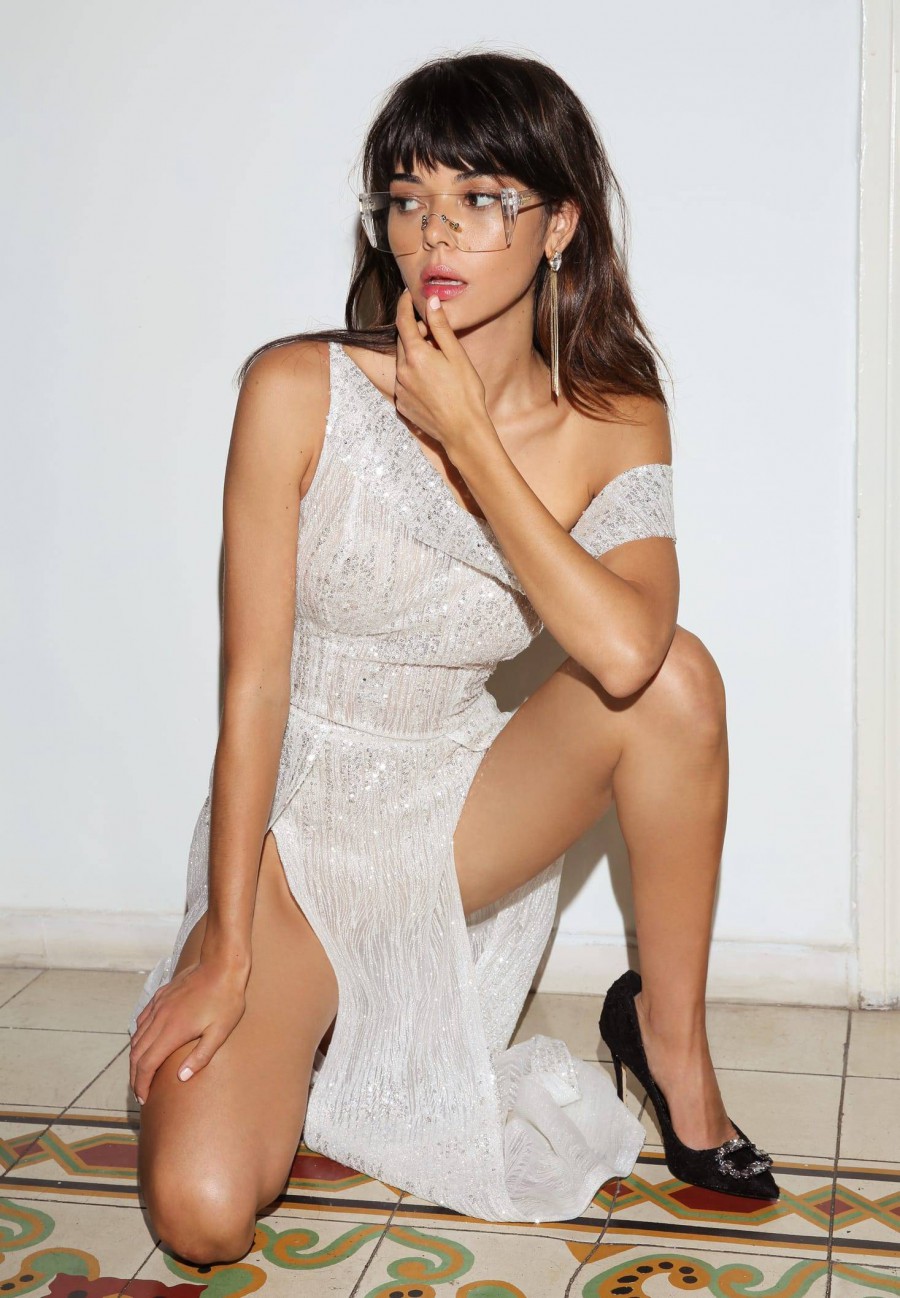 This next gown features all over silver sequins for a party ready, sexy platinum wedding style. Perfect for a reception party gown!
23.

Platinum Florals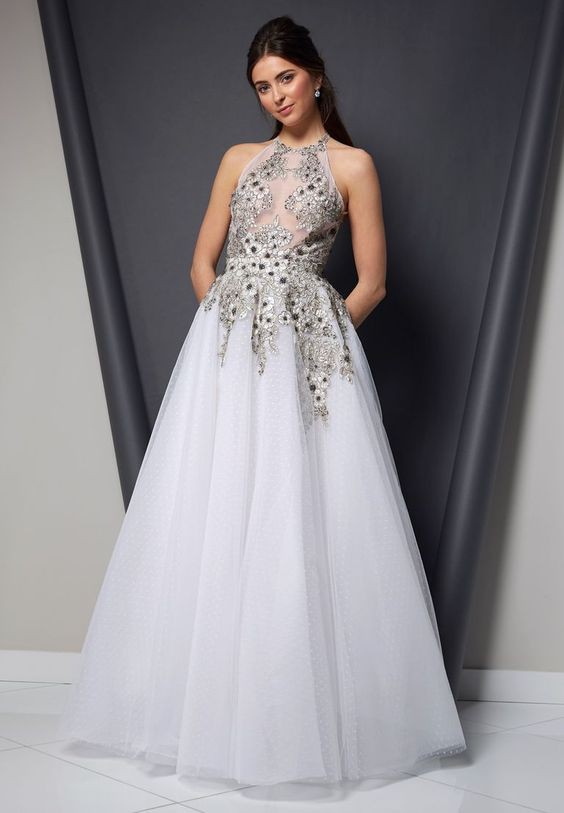 Randi Rahm brings us a stunning modern gown that features platinum silver florals that seem to melt down the bodice and skirt of the dress. A style that is feminine and flirty, with just the right amount of drama.
24.

Platinum Florals Party Look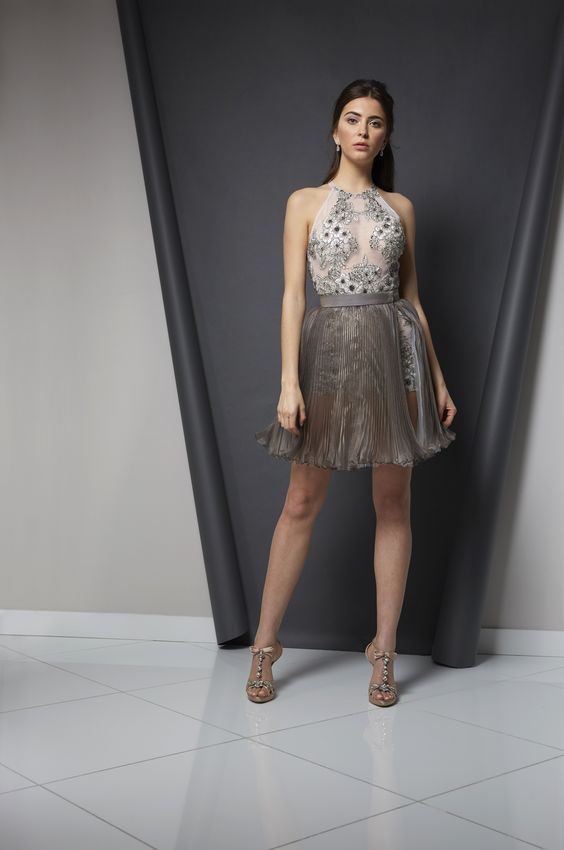 If you love the platinum floral wedding gown from above - then you are sure to love this matching party dress. The perfect reception look to follow up a stunning reception style. And did we mention this look is a romper cut with an optional overskirt?
25.

Silver Sparkle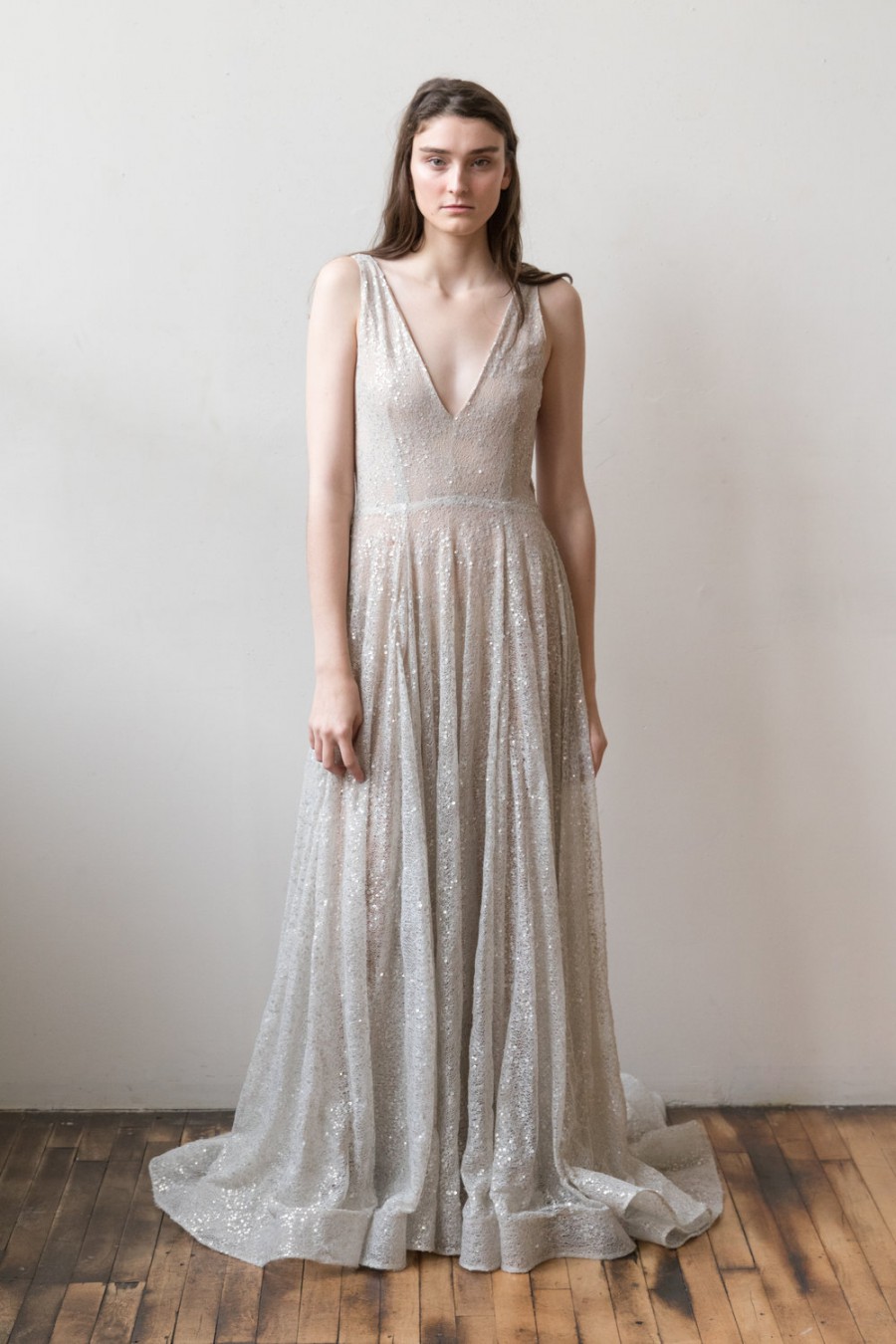 What girl can resist a sequin wedding gown? We love the simplicity of this all over silver sequin gown. An easy to wear, flattering fit that is ready for you to party the night away!
26.

Simply Silver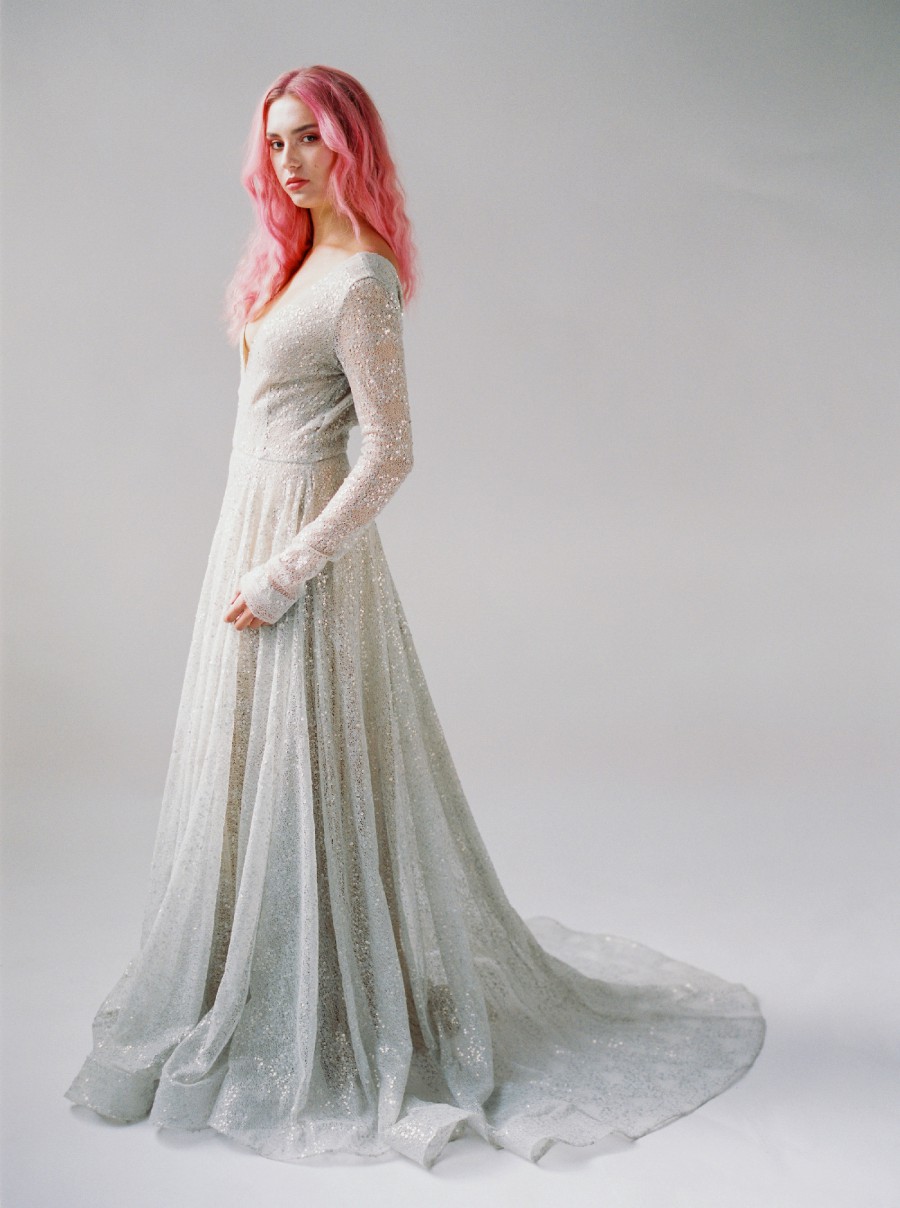 If you love the feminine simplicity of the previous style, then check out this next silver sequin gown from Claire la Faye. A similar relaxed feminine style with head to toe silver sequin coverage. But the full length sleeves on this style make it perfect for a wedding in cooler months.
27.

Platinum Slip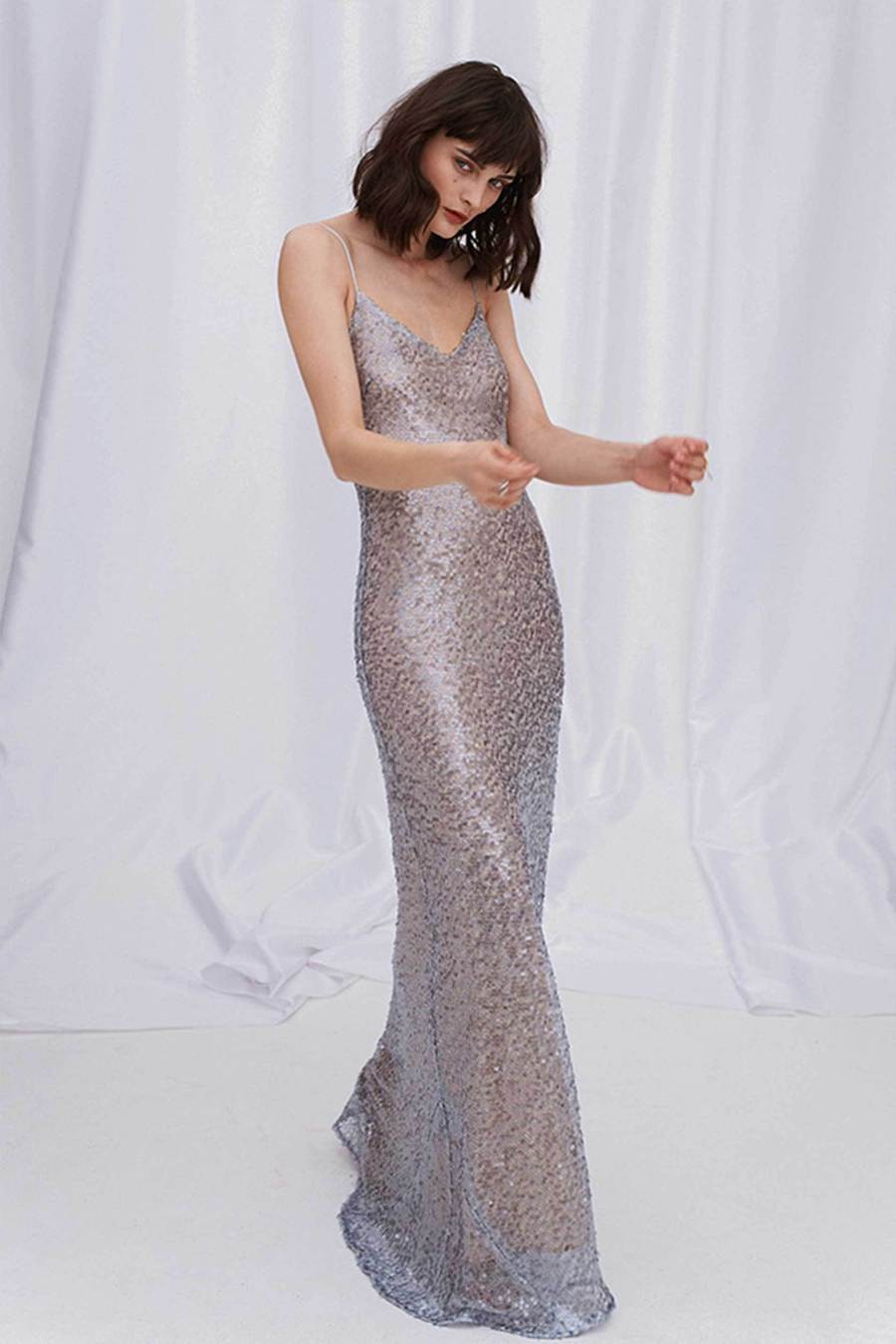 Our next platinum silver wedding gown is a sexy sequined slip dress that would be absolutely dreamy for a New Years Eve wedding day!
28.

Platinum Slip Cap Sleeve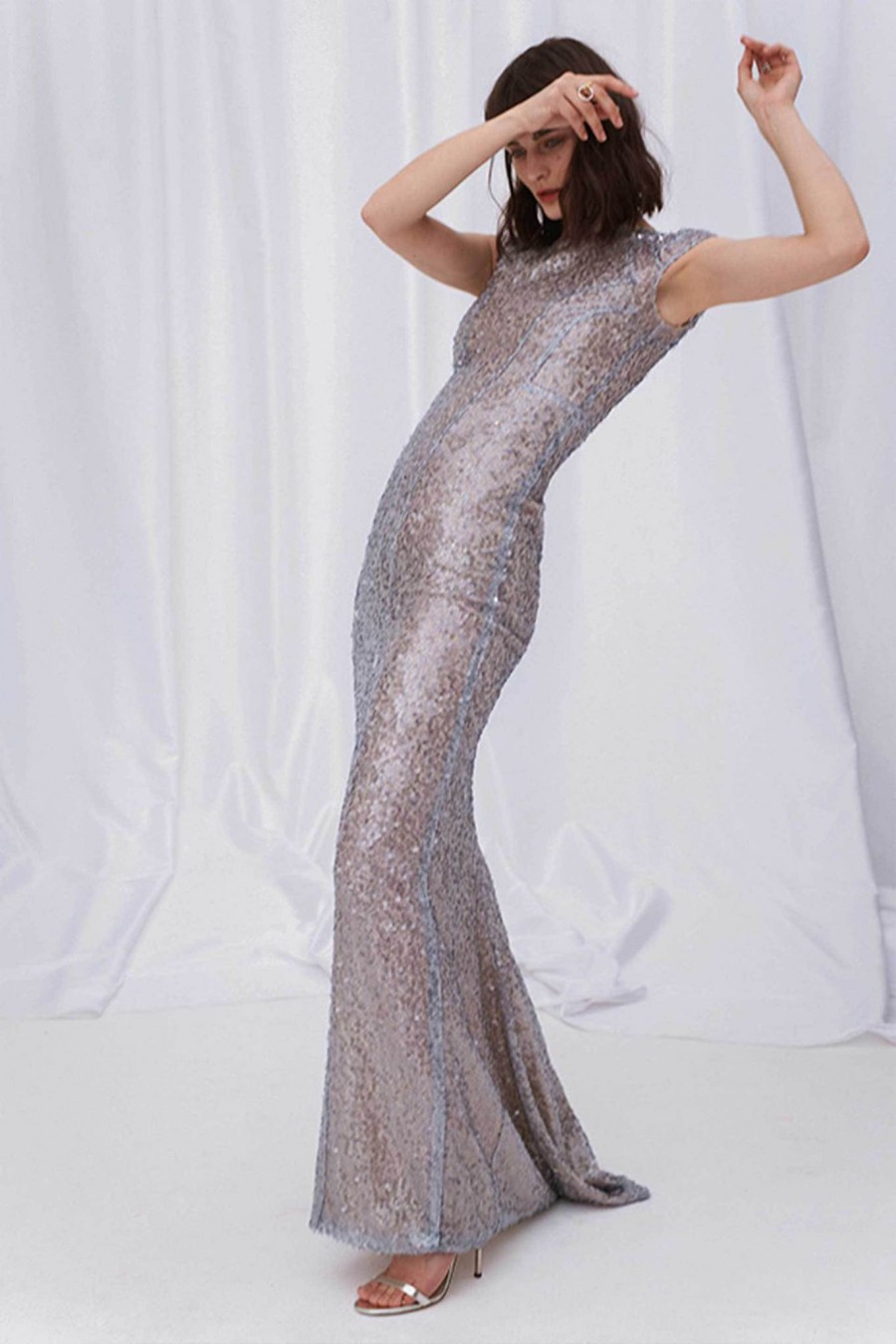 If you love the previous platinum sequin slip gown from above, then you are going to love this car sleeve version that features figure flattering line detailing!
29.

Chic Modern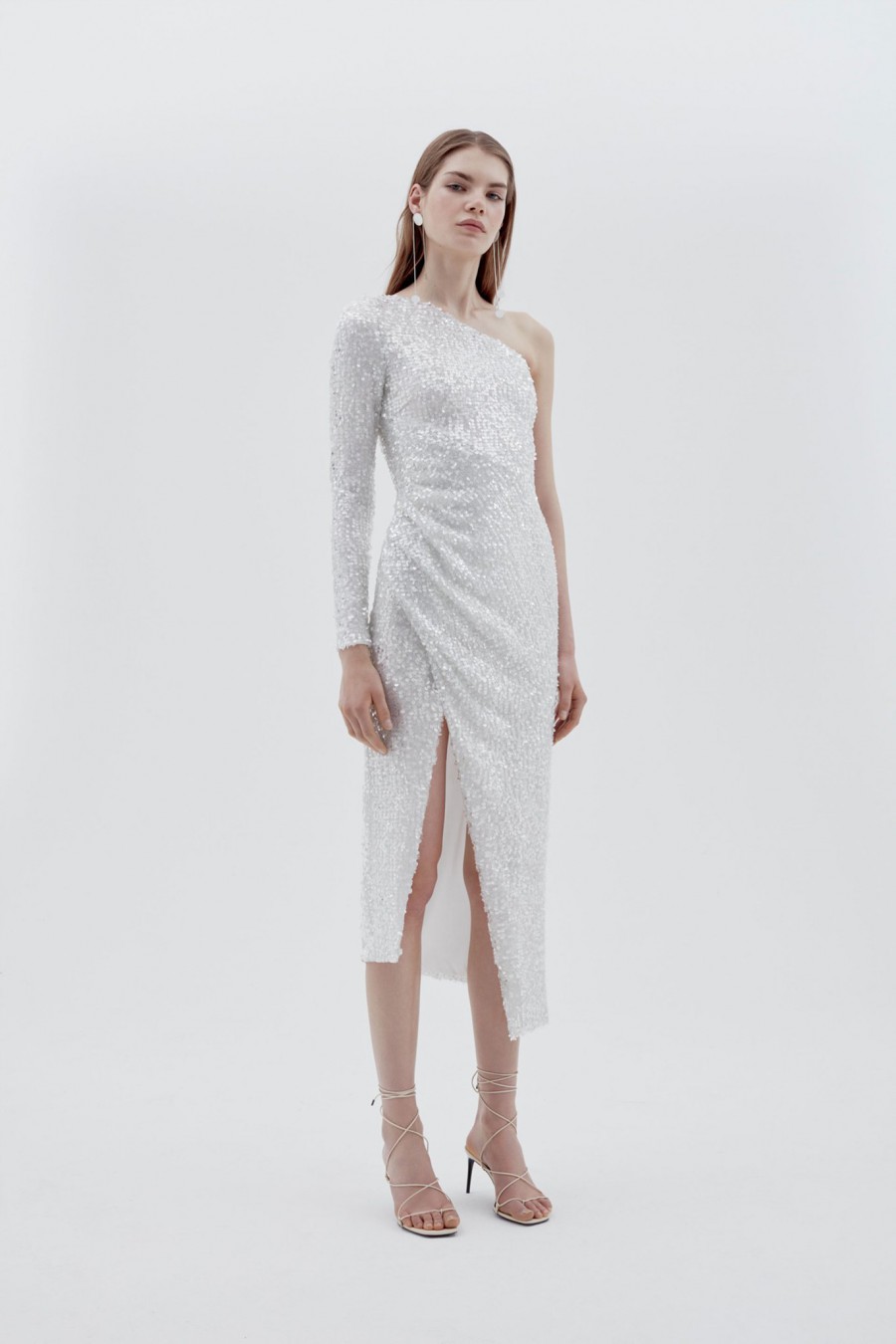 We are just in love with the look of this chic silver sequin party dress. Perfect for a slightly less formal wedding day. Or this look would make a perfect reception party dress to cap off you wedding day looks!
30.

Modern Midi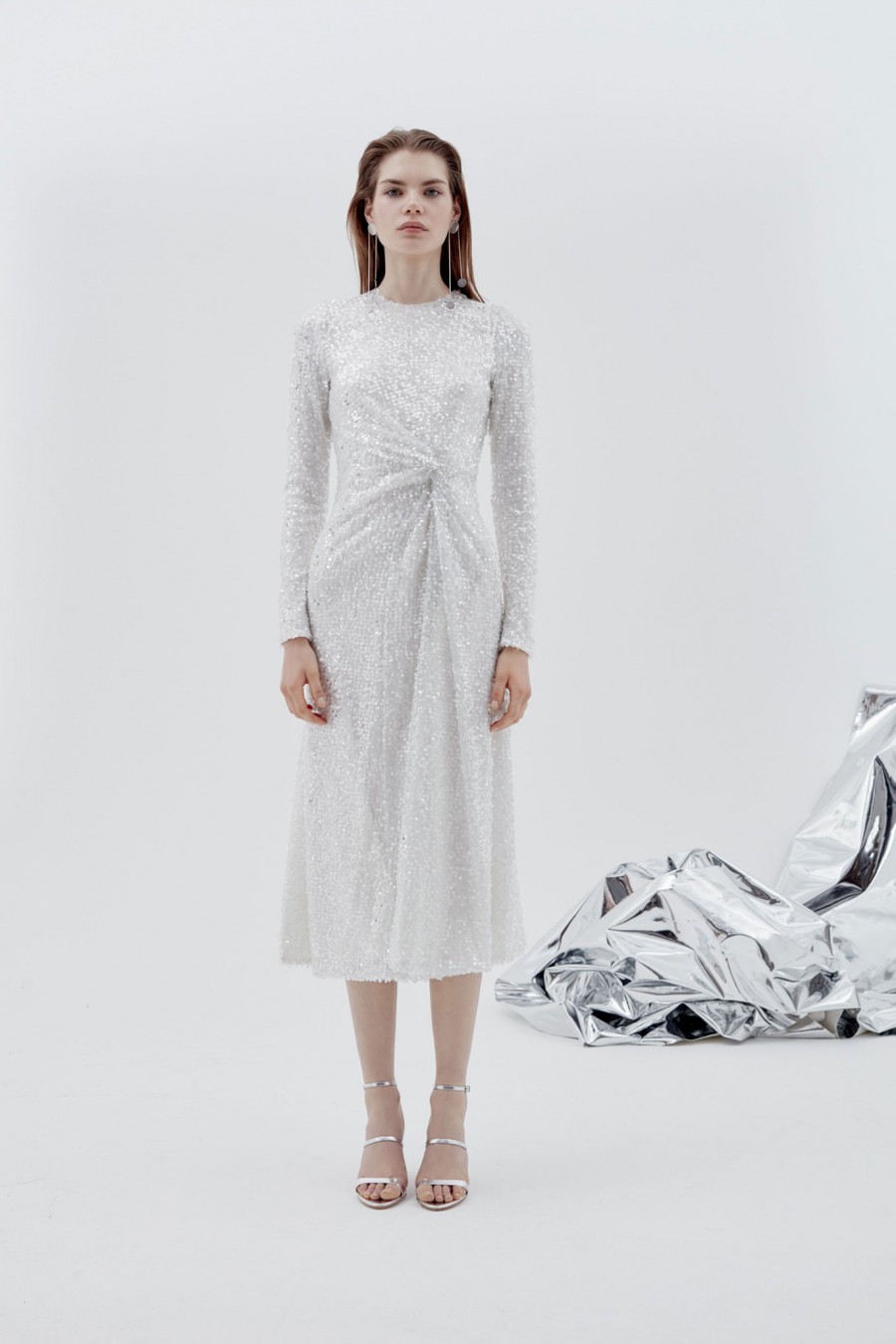 We love the same party ready charm from the previous look with this stunning modern mid length wedding gown. This all over silver sequin gown is classy, contemporary and so glamorous!

By Kathryn Schrotenboer