Short is the new long when it comes to bridal fashion. From midi to mini, short length gowns are trending, and we just can't get enough of them!
You may have always dreamed of walking down the aisle in a long training ball gown like Cinderella. But modern brides are beginning to crave something different. They want to be able to move on their wedding day. They are beginning to value comfort over drama. And short wedding styles are in higher demand than ever before. These versatile gowns can take you from ceremony to reception and beyond! So check out this list...you may just be dreaming of a shorter bridal style by the end!
01.

Metallic Mini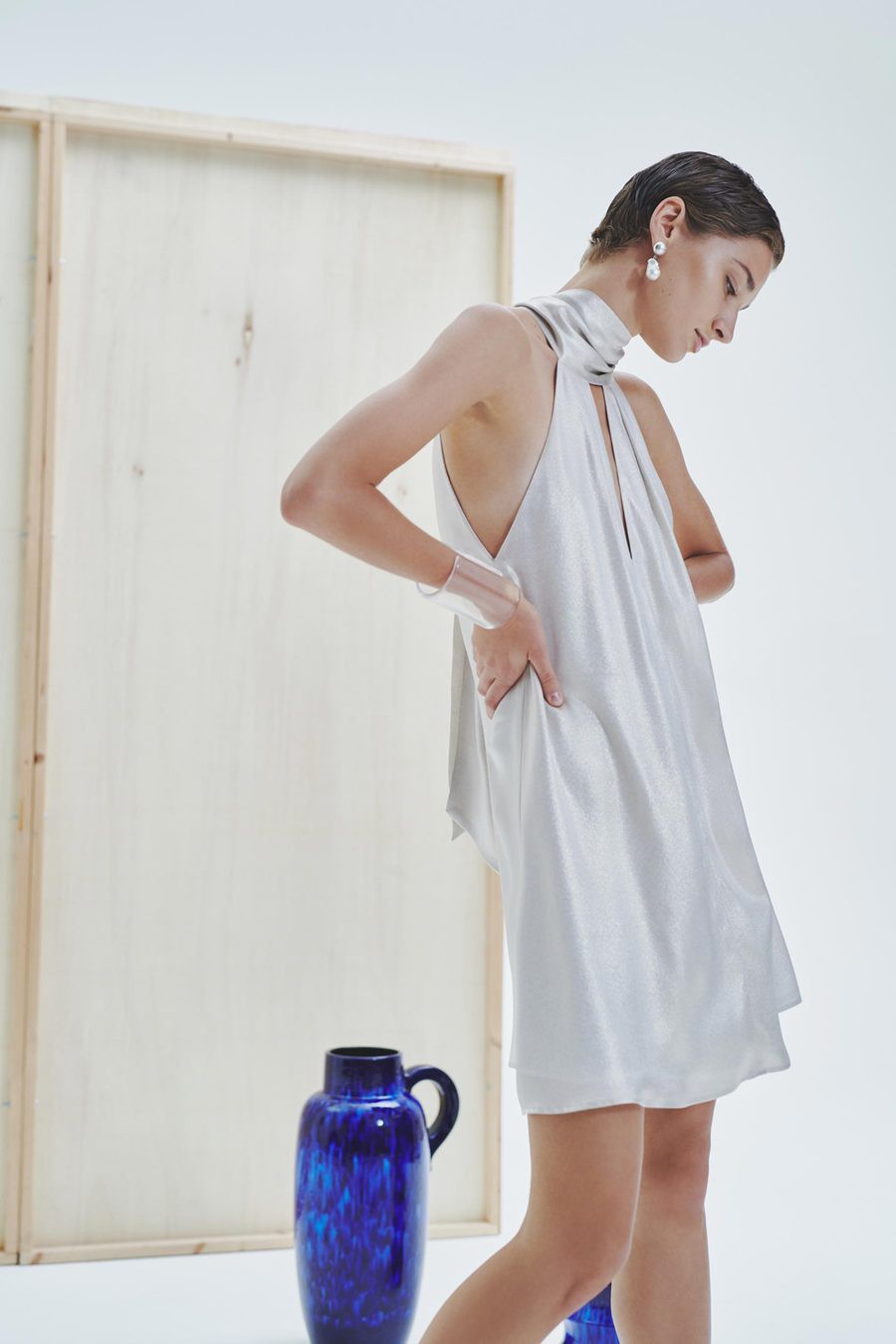 Any bride is sure to feel so on-trend with this ultra chic metallic mini dress. The perfect party-ready second look for your reception! Or a ceremony look for a more contemporary ceremony!
02.

Bridal Romper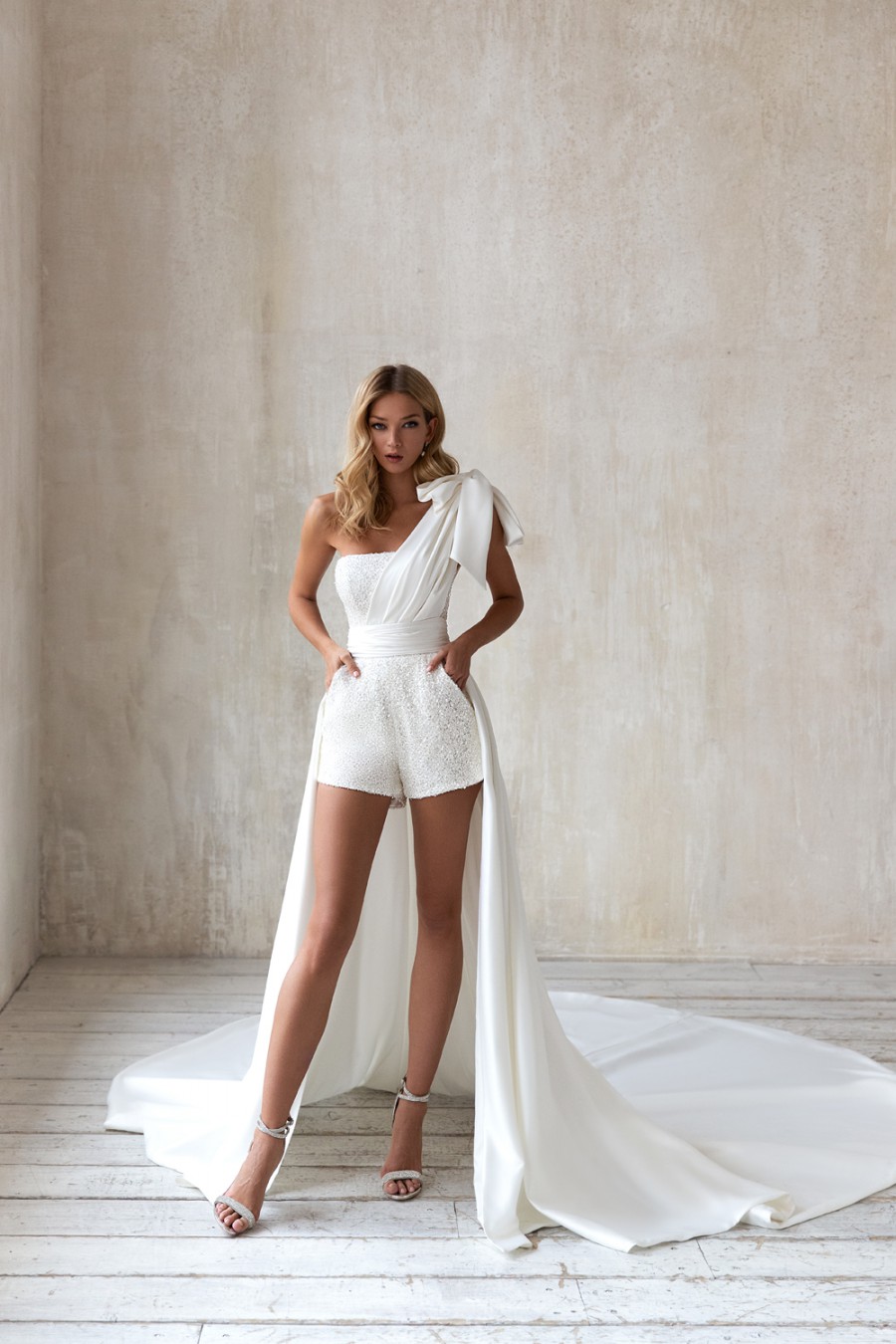 Who is sassy enough to pull off this bridal romper from Eva Lendel? This may not be a short wedding style that you were expecting, but we honestly can not get enough of it! This look is feminine, contemporary and is sure to turn heads on your big day.
03.

Fringed Modern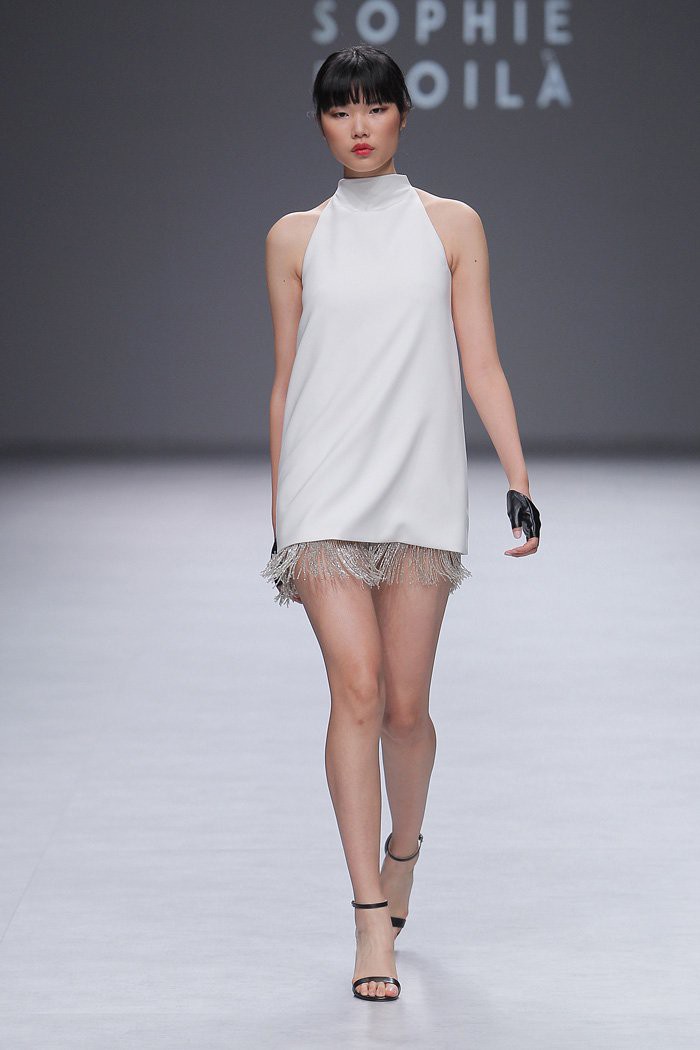 An ultra modern short bridal gown from Sophie et Voila that is minimal and chic. A short gown like this will have any bride feeling couture and party ready. Because let's be honest, big wedding gowns just aren't for everyone.
04.

Festive Folk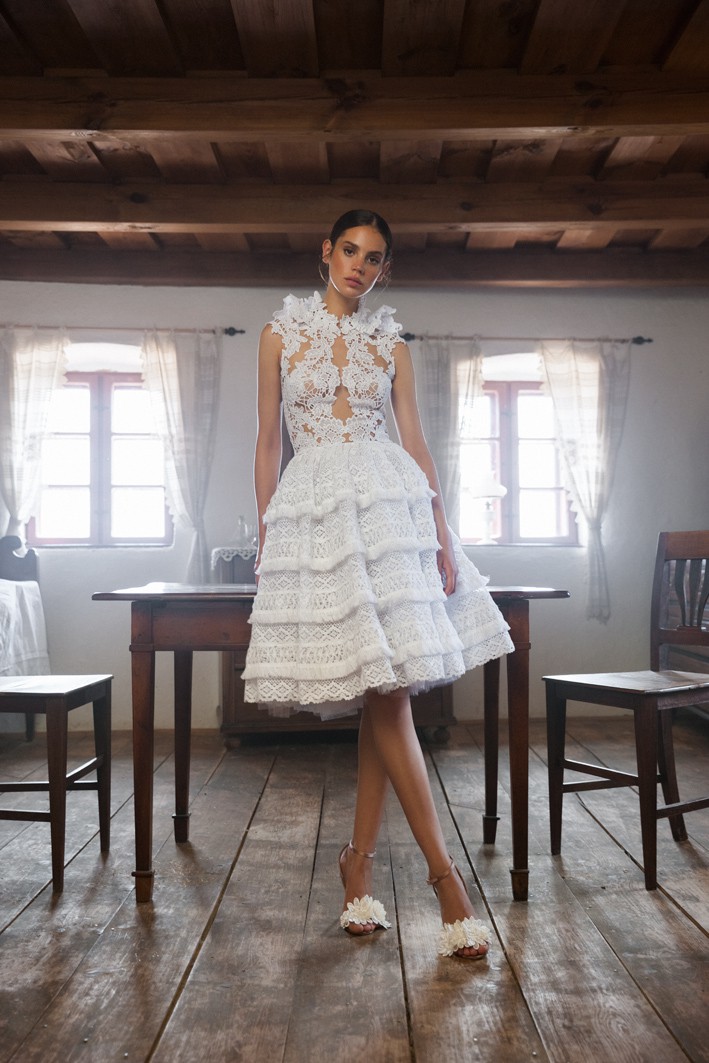 A festive, folk inspired short bridal style that has us all dreaming of a country inspired wedding day. Chic, sassy and absolutely irresistible. This gown packs a dramatic punch even in its more compact size.
05.

Embroidered Flirty Mini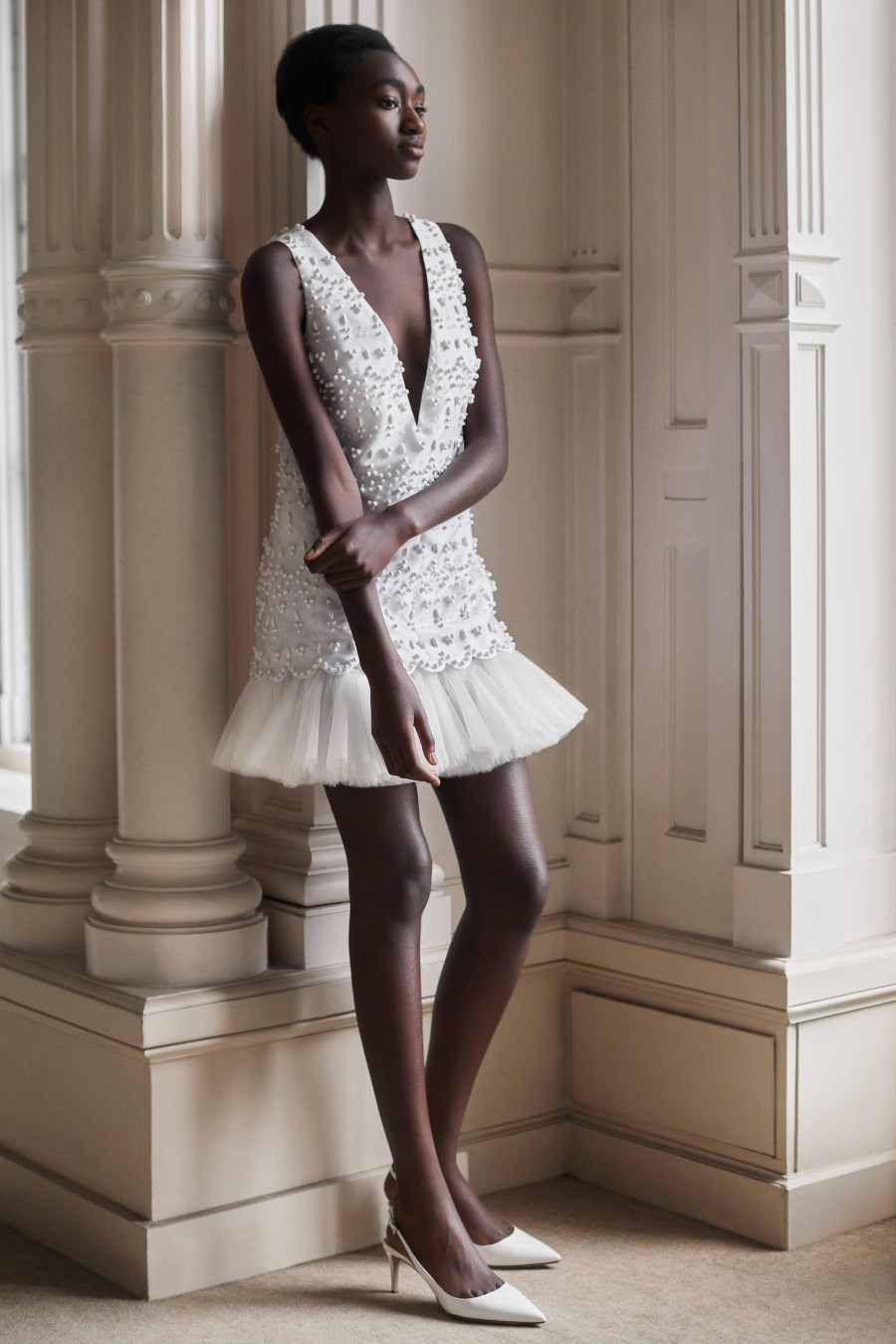 Are you searching for a flirty bridal mini dress, whether it is for the main event or a chic reception style? Then you will love this contemporary gown from Viktor Rolf. Chic, edgy and ultra feminine.
06.

Flirty Ruffles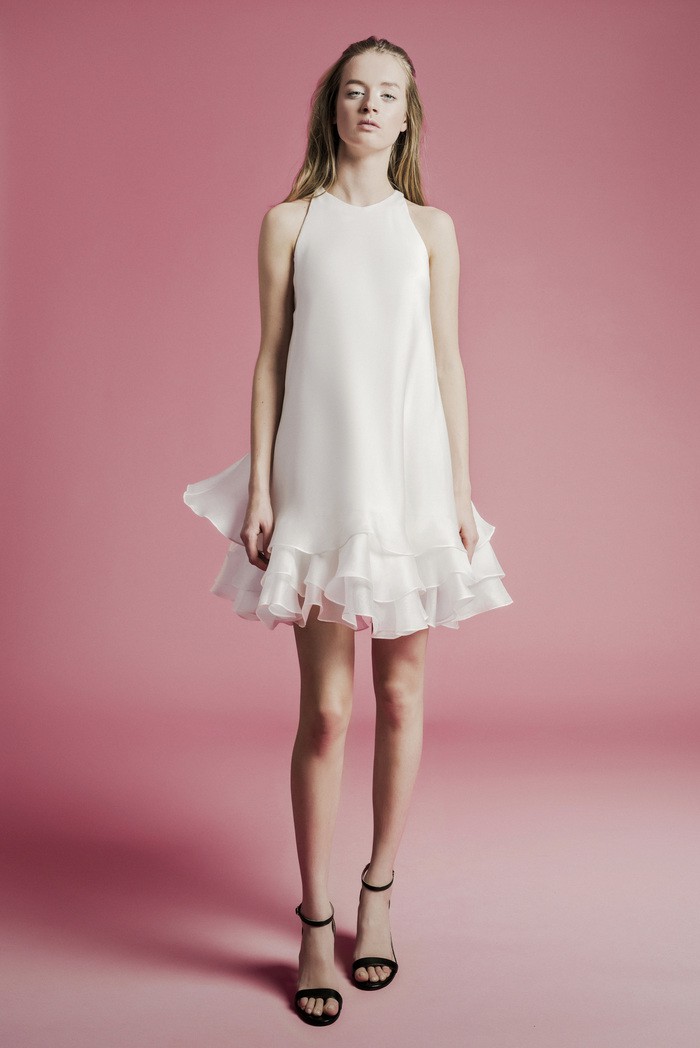 Sophie et Voila brings us our next chic short wedding style with this flirty ruffled mini. The perfect party ready reception style that feels effortless and sophisticated.
07.

Couture Puff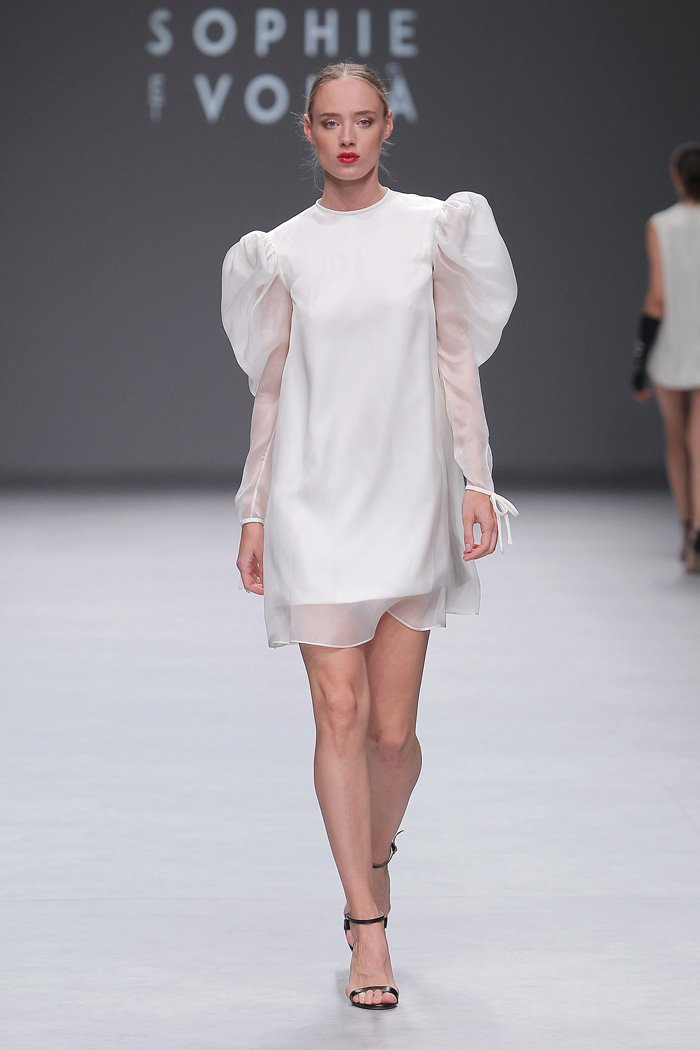 Minimalist, contemporary and couture. This next short wedding style comes from Sophie et Voila. And we just can not get enough of the semi-sheer puff sleeves! This look feels very modern and edgy.
08.

Trained Minis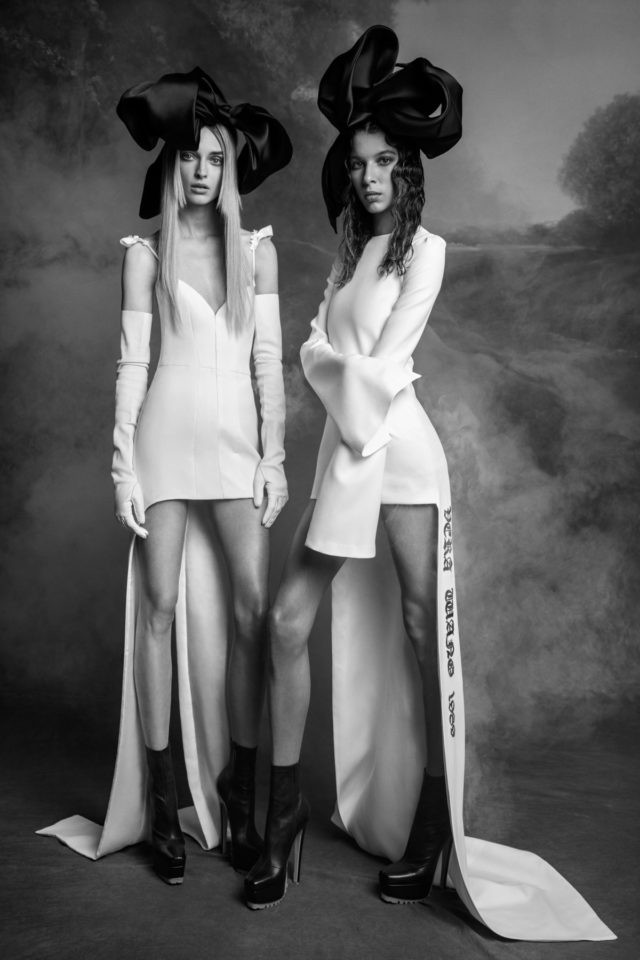 Looking for a short bridal style that still has the drama of a full length gown? Then you are going to love these high-low minis from Vera Wang with full floor length trains. Mini dress in the front, but the long train you are craving in the back. These gowns really give you the best of both worlds!
09.

Couture Puff Mini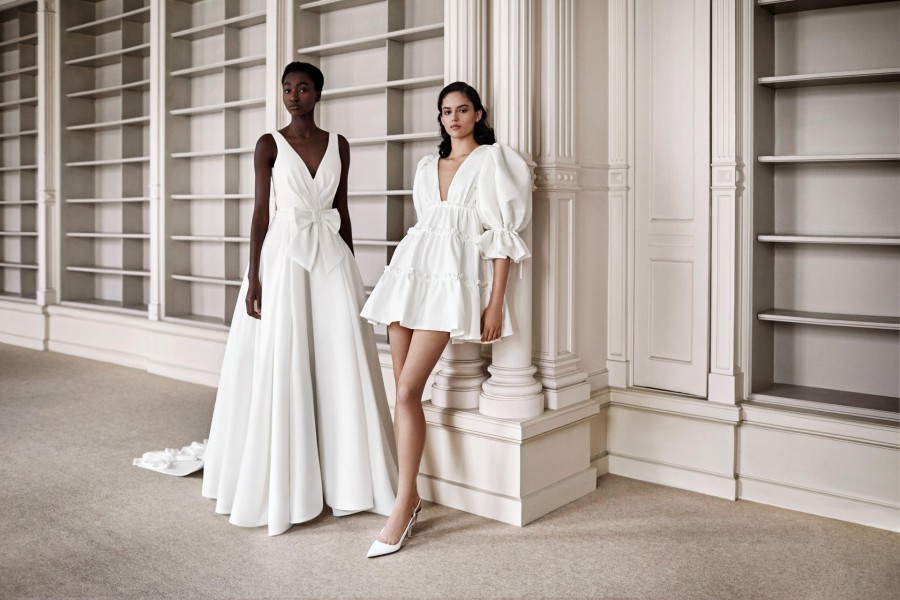 For our couture, fashion-forward brides out there, you are going to love this next short bridal style from Viktor Rolf. A mini v-neck petticoat styled dress with large puff sleeves and an open back. Flirty, couture and utterly irresistible.
10.

Tulle Contemporary Bow Mini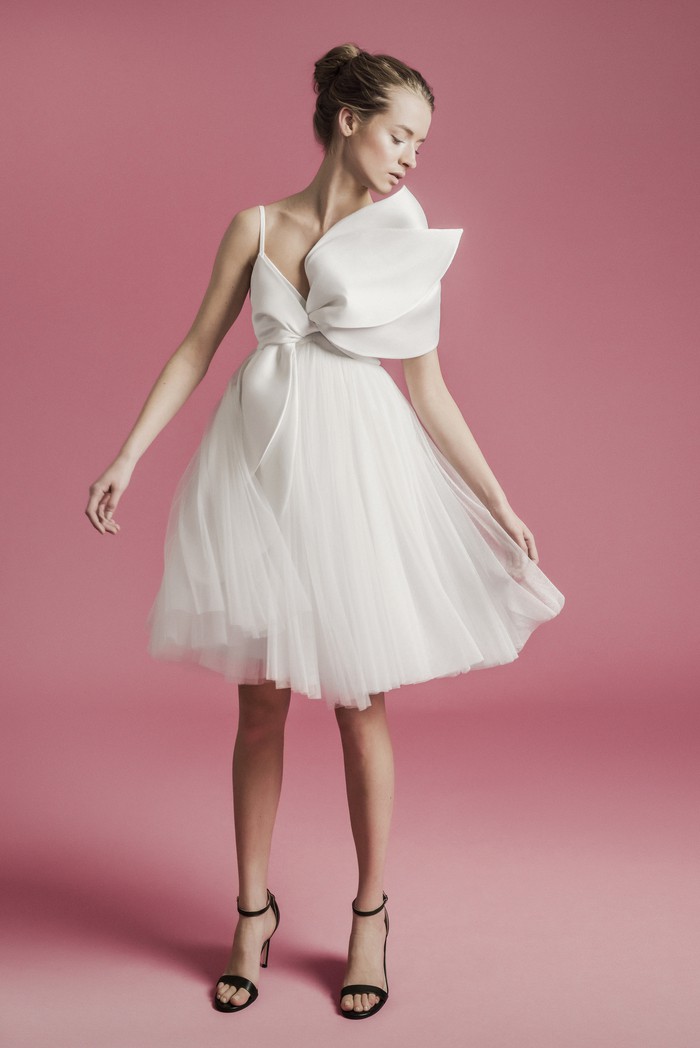 This next chic short bridal gown is absolutely adorable. A flirty tulle skirt is paired with a more edgy oversized bow bodice to create a look that is both contemporary and playful.
11.

Flirty Feminine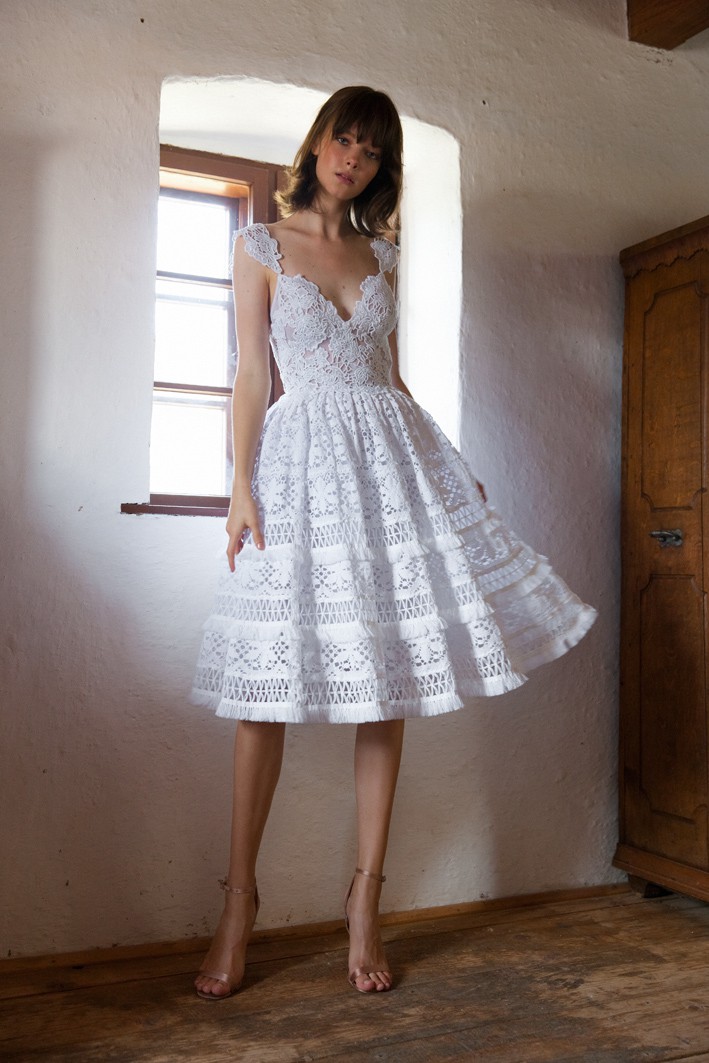 A flirty, feminine wedding style that may just have you rethinking a short wedding day look...
12.

Chic Shirtdress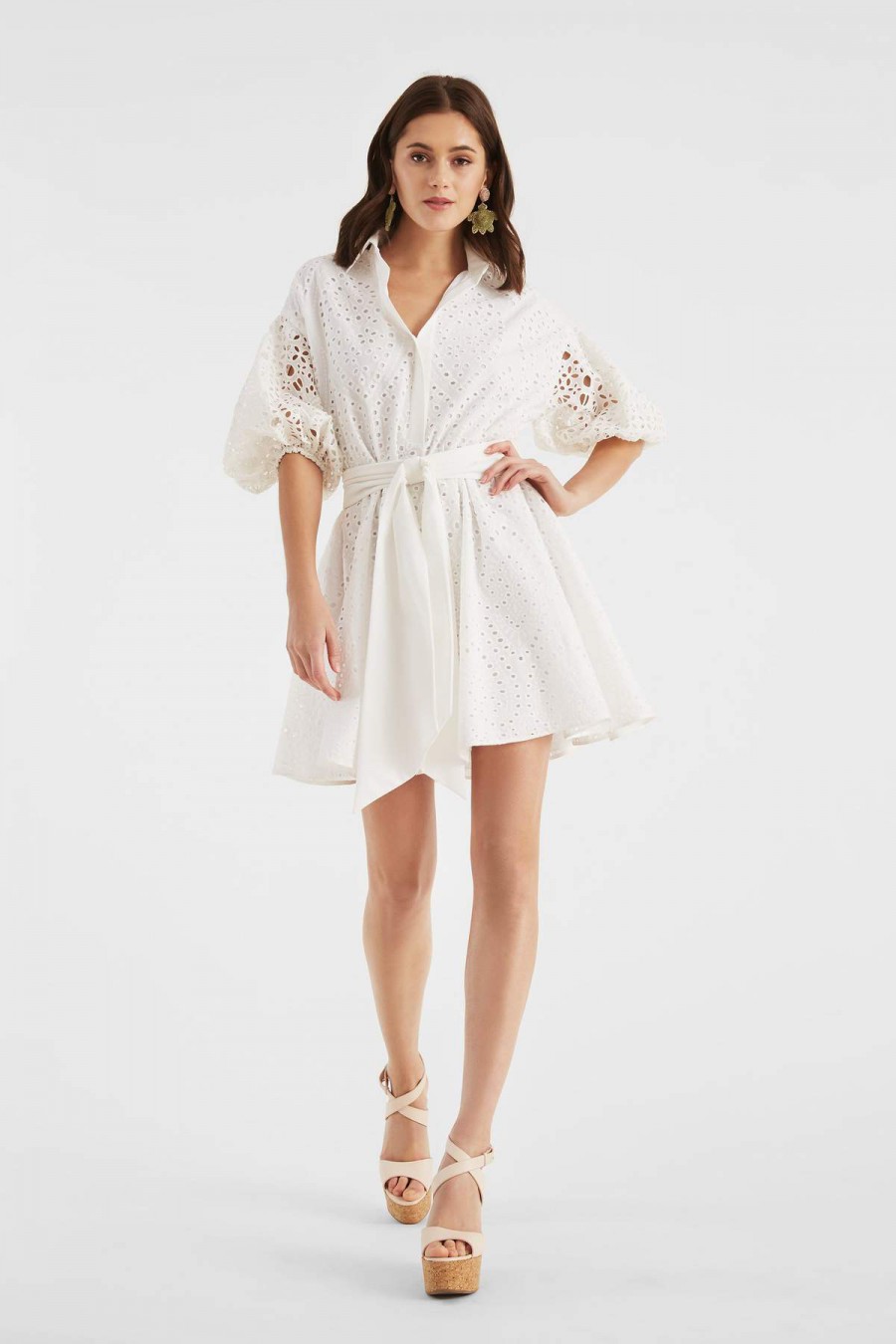 We are loving this ultra chic, flirty shirt dress bridal style. Perfect for a casual summer wedding, bridal shower, or reception look. Modern brides are loving more casual wedding styles and this is absolutely adorable!
13.

Glam Mini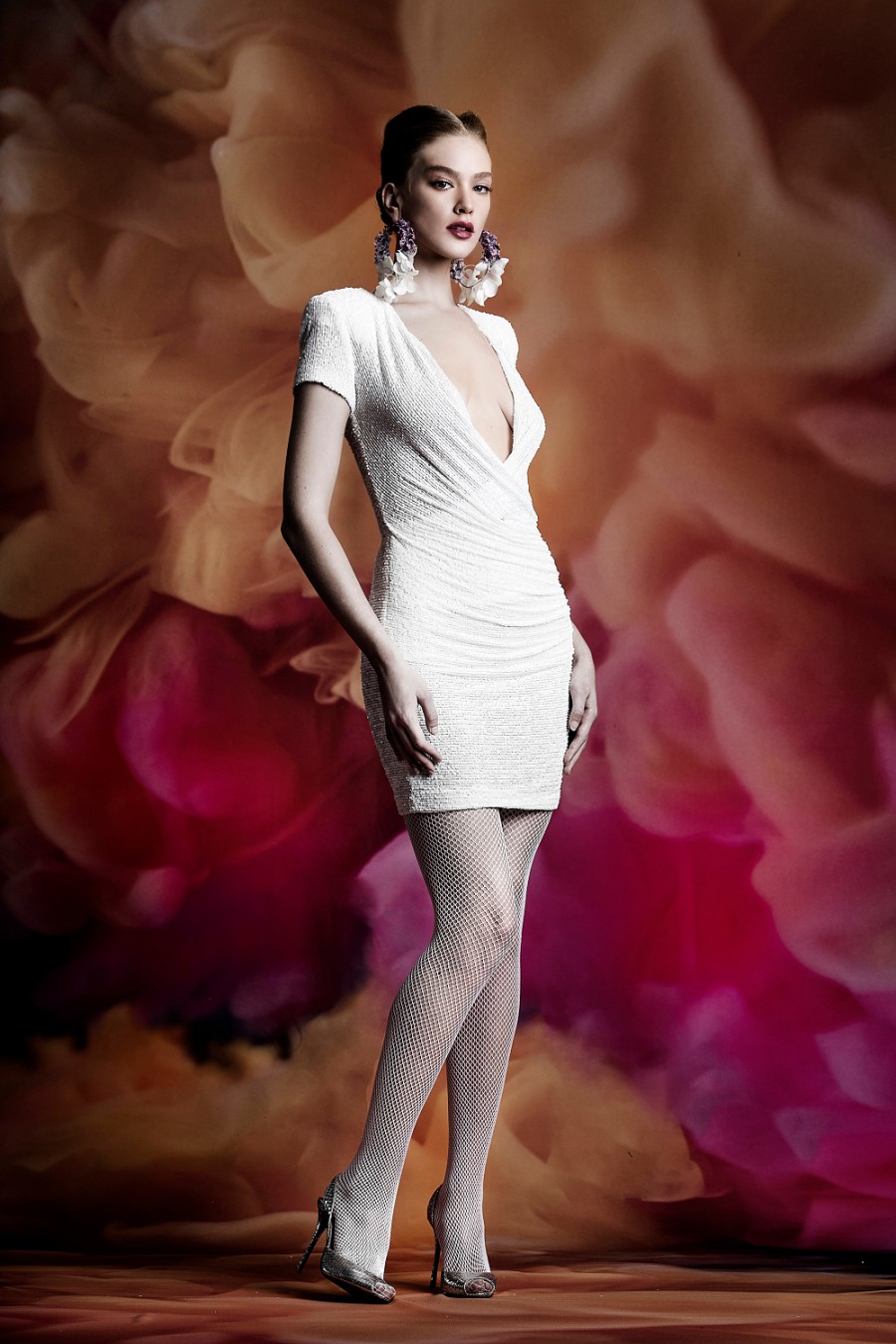 Feel ultra glam and sensual in this sparkle bridal mini from Naeem Khan. A sexy party-ready bridal style that will have any bride feeling feminine and irresistible on her big day.
14.

High Neck Florals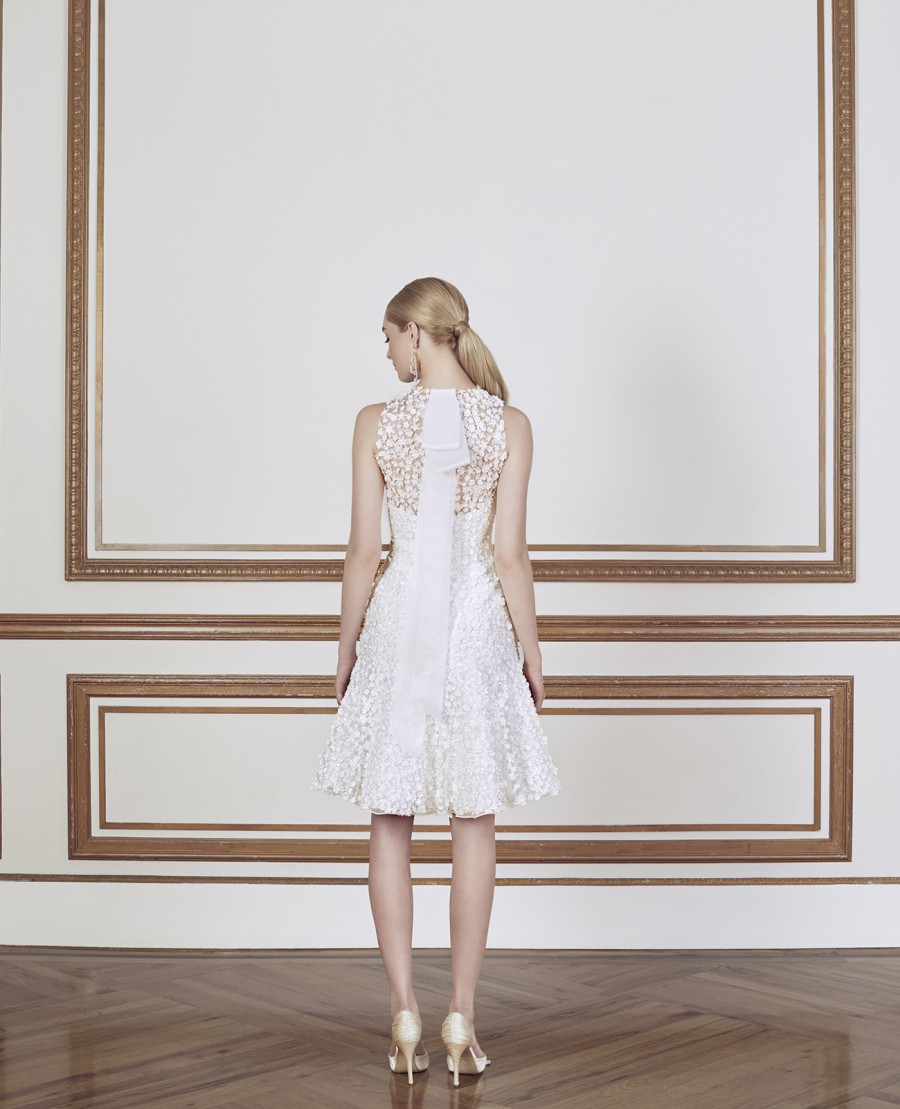 We can't get enough of the adorable design of this next chic short wedding gown from Sareh Nouri. This high neck floral embroidered gown is flirty and feminine. And the look is finished off with a modern bow in the back. So sweet and girly!
15.

Flirty Bell Sleeve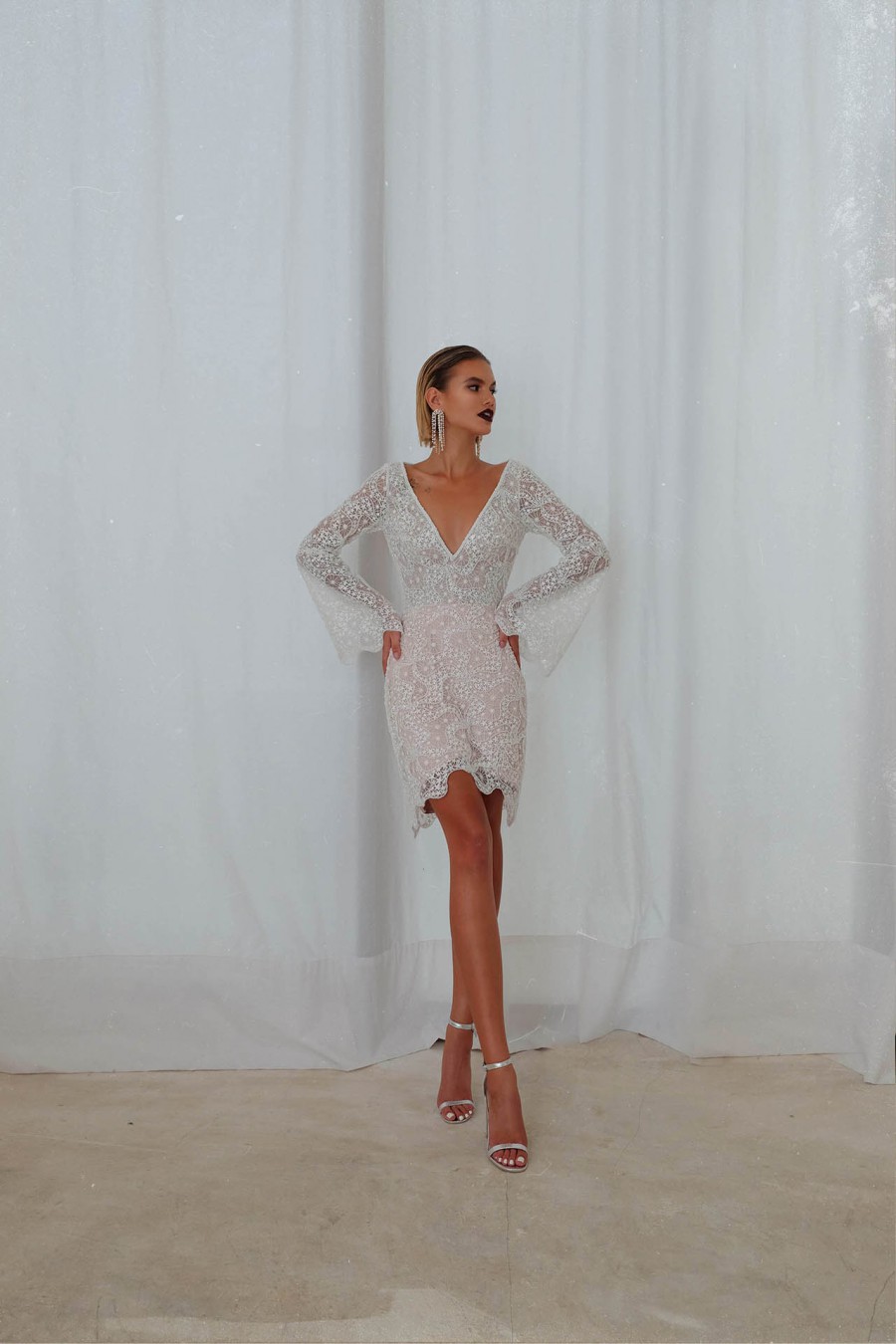 Next up we have a fun and flirty bell sleeve mini made of gorgeous beaded and embroidered tulle. This chic short wedding gown feels ultra lavish and bridal - but in a shorter style!
16.

Super Short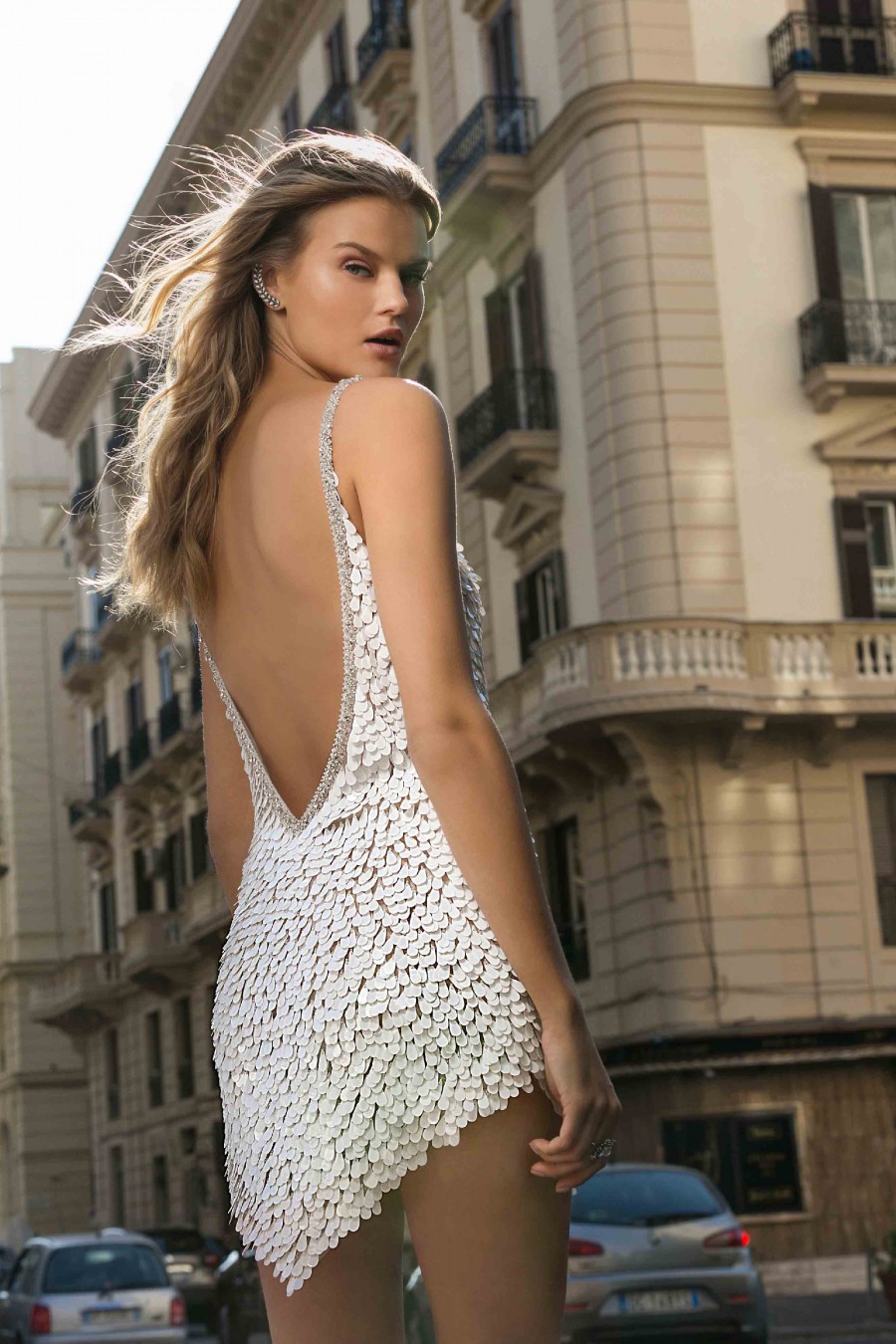 How short are you willing to go when it comes to finding your perfect short wedding style? Berta brings us a party-ready cocktail dress that is only for the bravest of couture brides out there.
17.

Single Shoulder Couture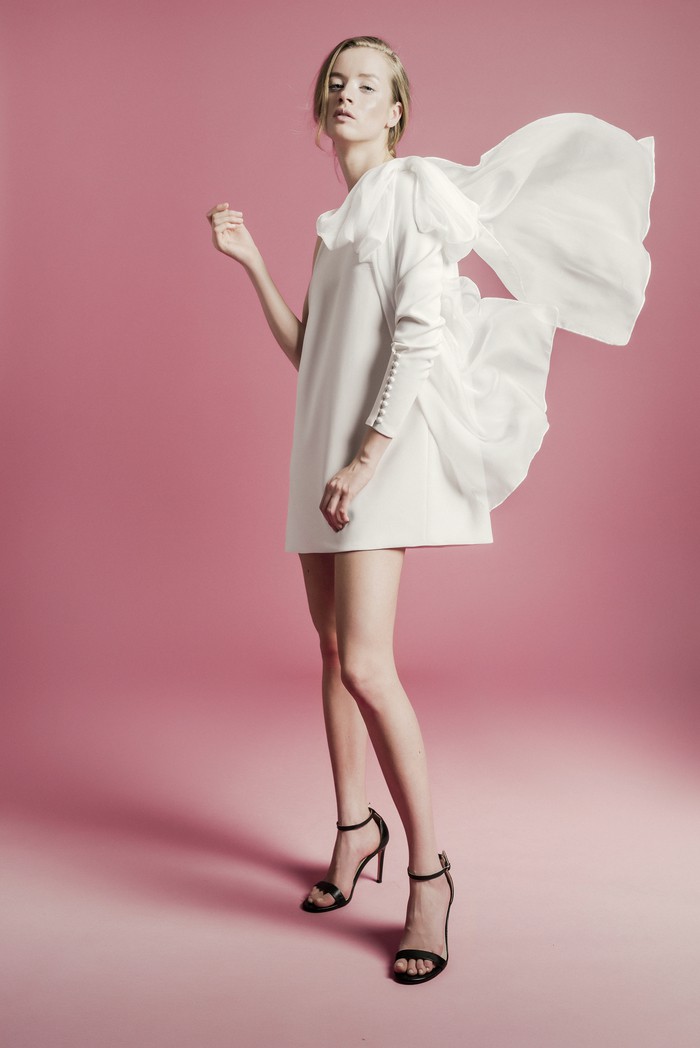 Couture, feminine and just a bit edgy. We are loving this chic short wedding style from Sophie et Voila. Everything a contemporary bride could ask for!
18.

Bell Sleeve Beauty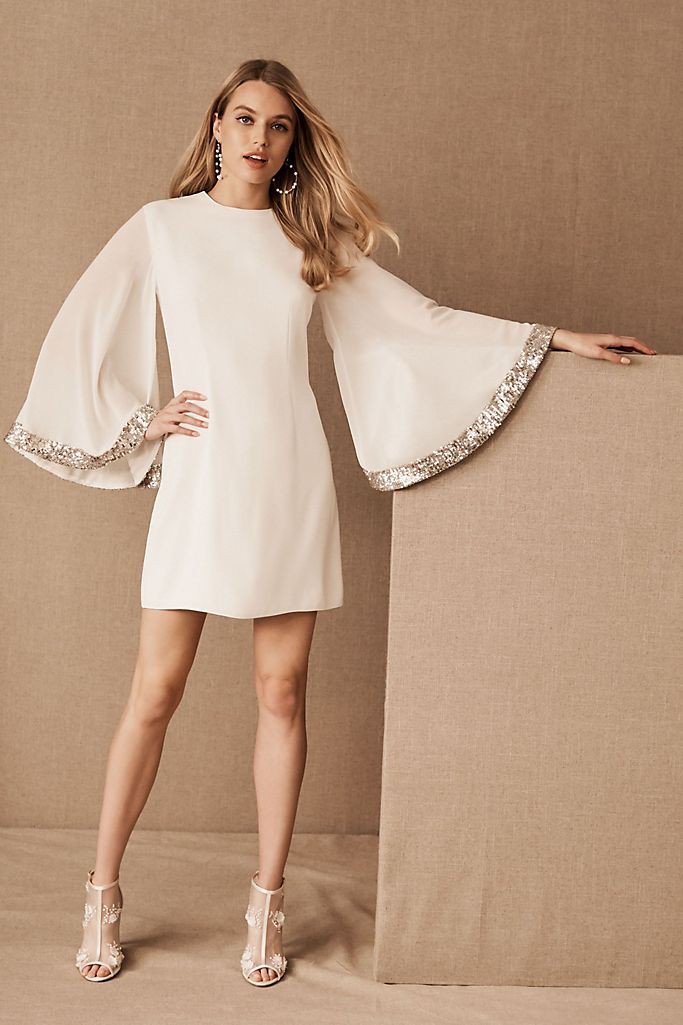 How about a chic, girly, bell sleeve mini for your short wedding day look? This would be the perfect party-ready reception style. Or the perfect dress for a less formal wedding day. The versatility of a short bridal style is what so many brides are craving!
19.

Chic Ballerina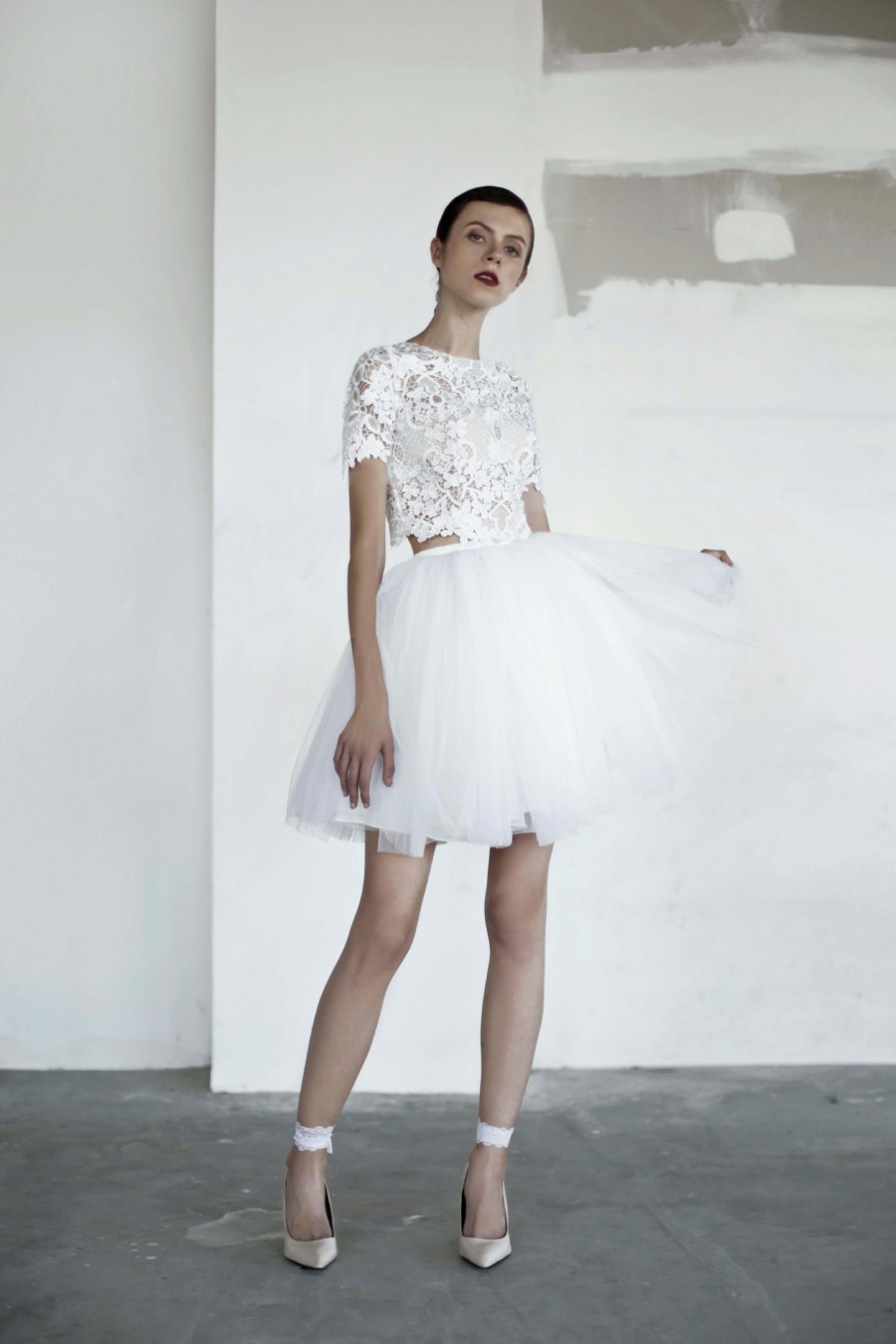 What bride hasn't dreamed of being a ballerina at some point in her life? Well with this chic mini, now is your chance! We love the pairing of a voluminous tulle mini skirt and lavish lace crop top. So girly and playful, with just a touch of sassiness!
20.

Glitter Mini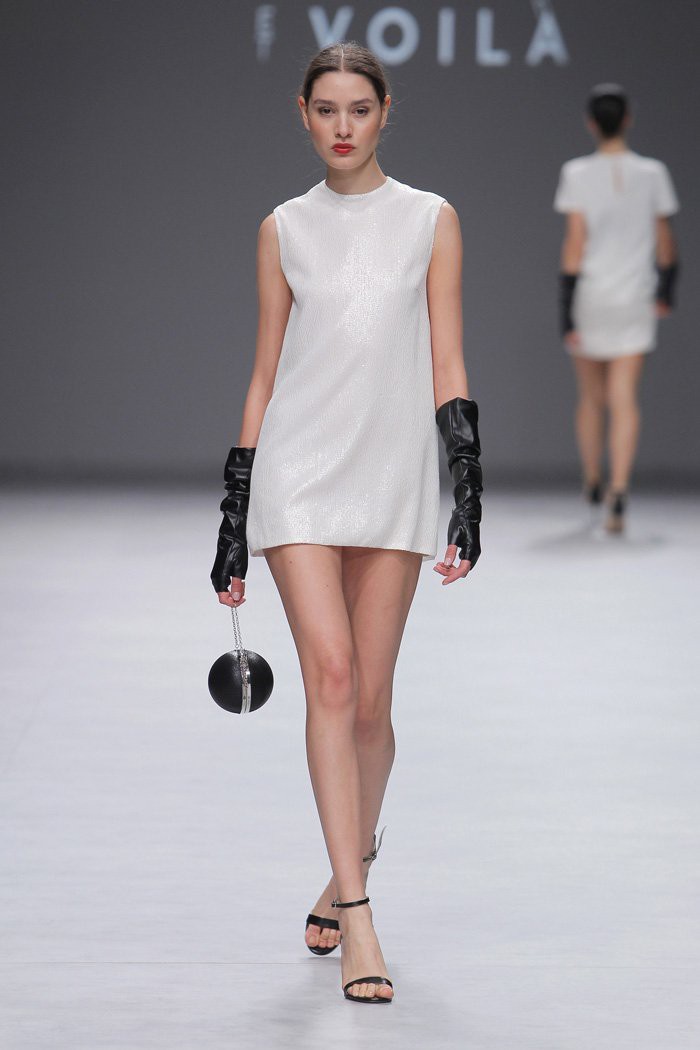 A big traditional wedding gown is not the right fit for every bride. Some brides need something as sassy as they are - like this chic glitter minis from Sophie et Voila.

By Kathryn Schrotenboer