A big fashion statement hitting the bridal scene are sheer, illusion bridal gowns and accents.
From just a sheer touch, to almost completely transparent - sheer bridal styles are everywhere. These sexy, romantic, ethereal looks are contemporary, edgy, and feminine. And they don't have to just be to turn heads as you walk down the aisle. These may be perfect for a bridal afterparty or for some beautiful getting ready photos during hair and makeup!
01.

Butterfly Bodysuit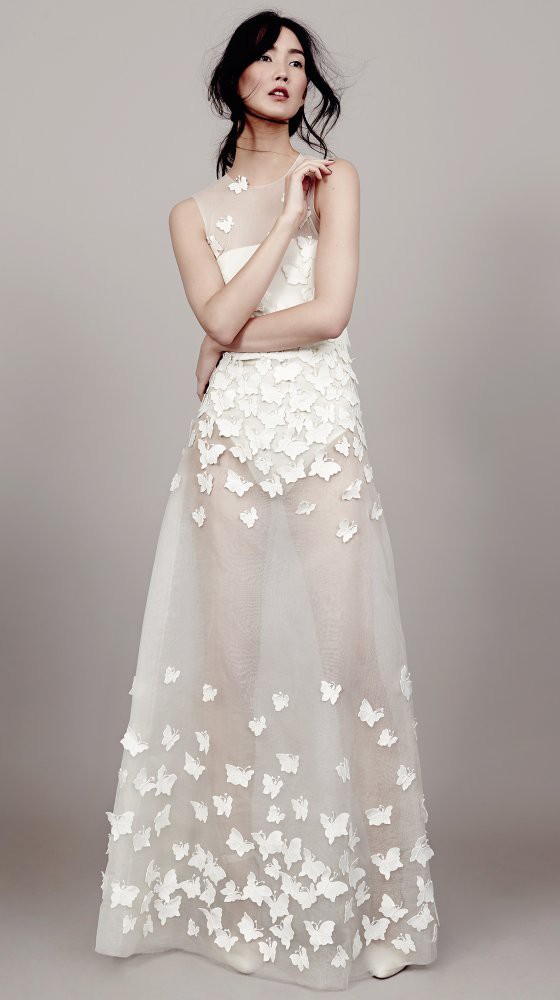 A jaw-dropping almost completely sheer bridal style with dimensional butterfly accents and bodysuit underlay. A contemporary bridal look for a bold bride looking to show off long legs on her wedding day.
02.

Sheer Bottom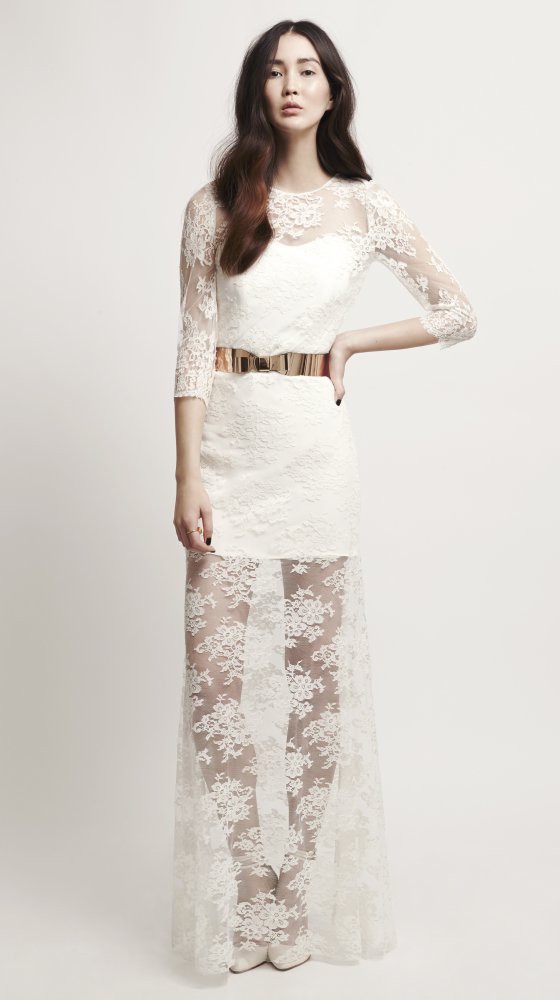 A sweet, girly wedding dress style with sheer lace bottom and 3/4 length sleeves. Show off some leg, without giving up the full length of a traditional wedding gown.
03.

Sheer Tulle Finish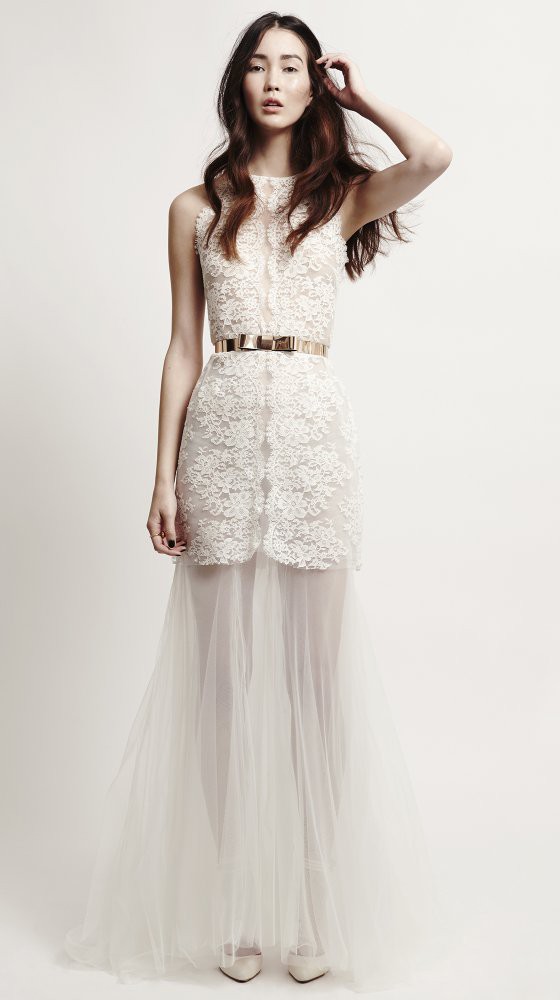 Voluminous flared tulle finishes off this gorgeous contemporary style for a bold sheer statement.
04.

Multi Layered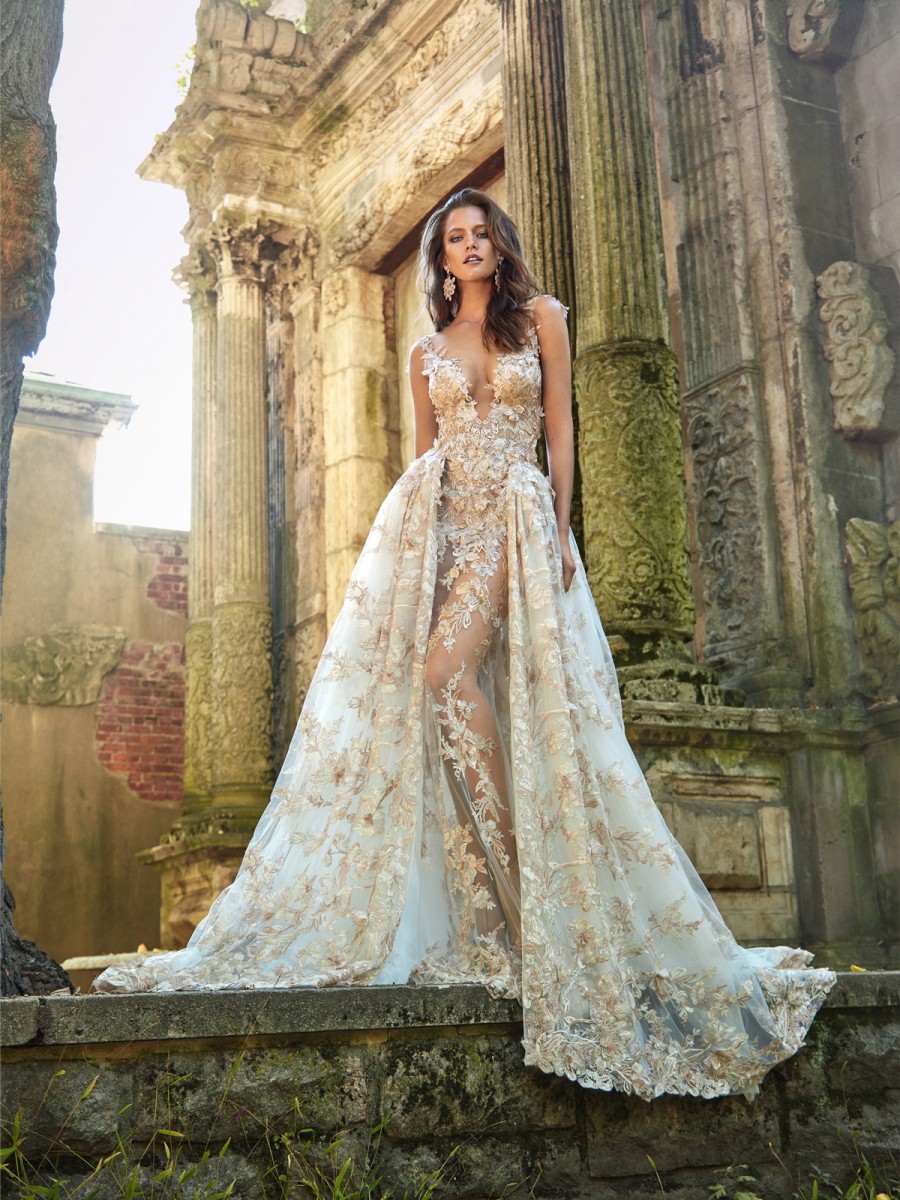 A stunning multi layered floral appliqué gown by Galia Lahav. A sheer mermaid cut under layer is topped with a ballgown like overskirt. An artistic twist on modern wedding fashion.
05.

Crystalized Net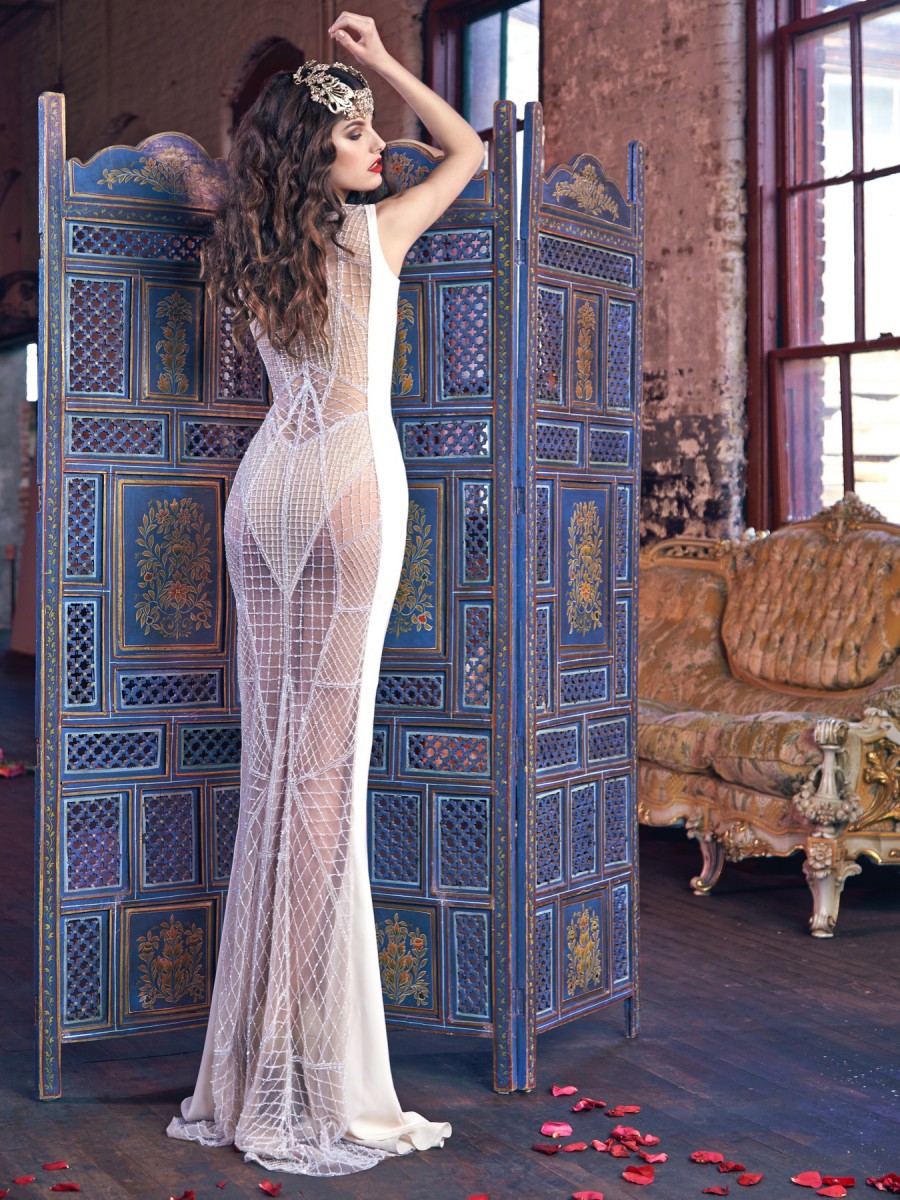 A seemingly classic, modern silk crepe dress catches viewers by surprise with its completely sheer back. The back is made up of a intricately designed crystalized netting that is completely risqué and gorgeous. A style for only the boldest of modern day brides.
06.

Sheer Bodice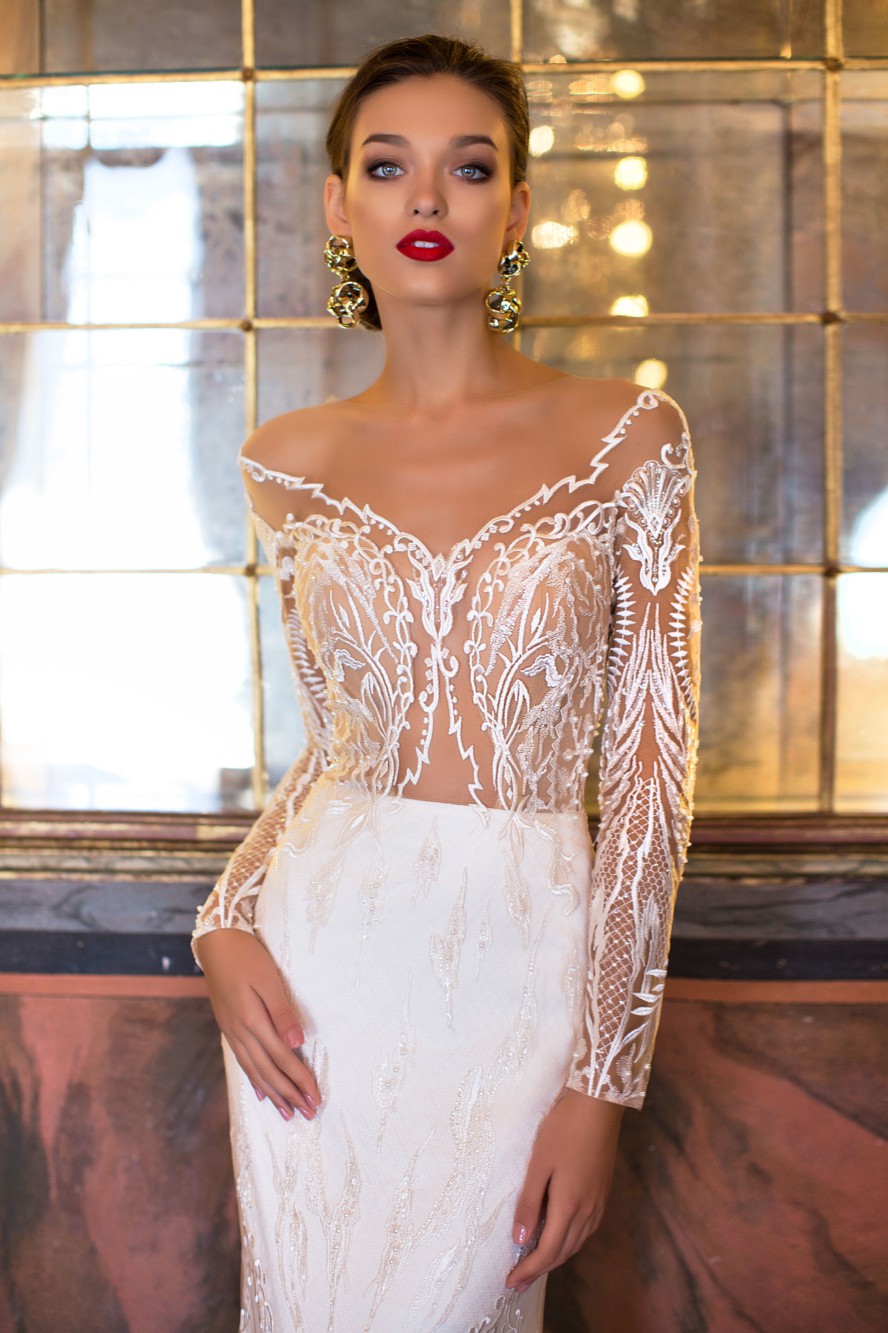 A sexy sheer, intricately designed bodice with a wide neckline for added drama.
07.

Sheer Overlay
Elegantly sheer from head to toe. Starting off with a delicate lace bodice that leads into a form fitting mini shirt covered by a gorgeous sheer overlay. A chic, daring take on this sheer trend.
08.

Sheer Feminine Lace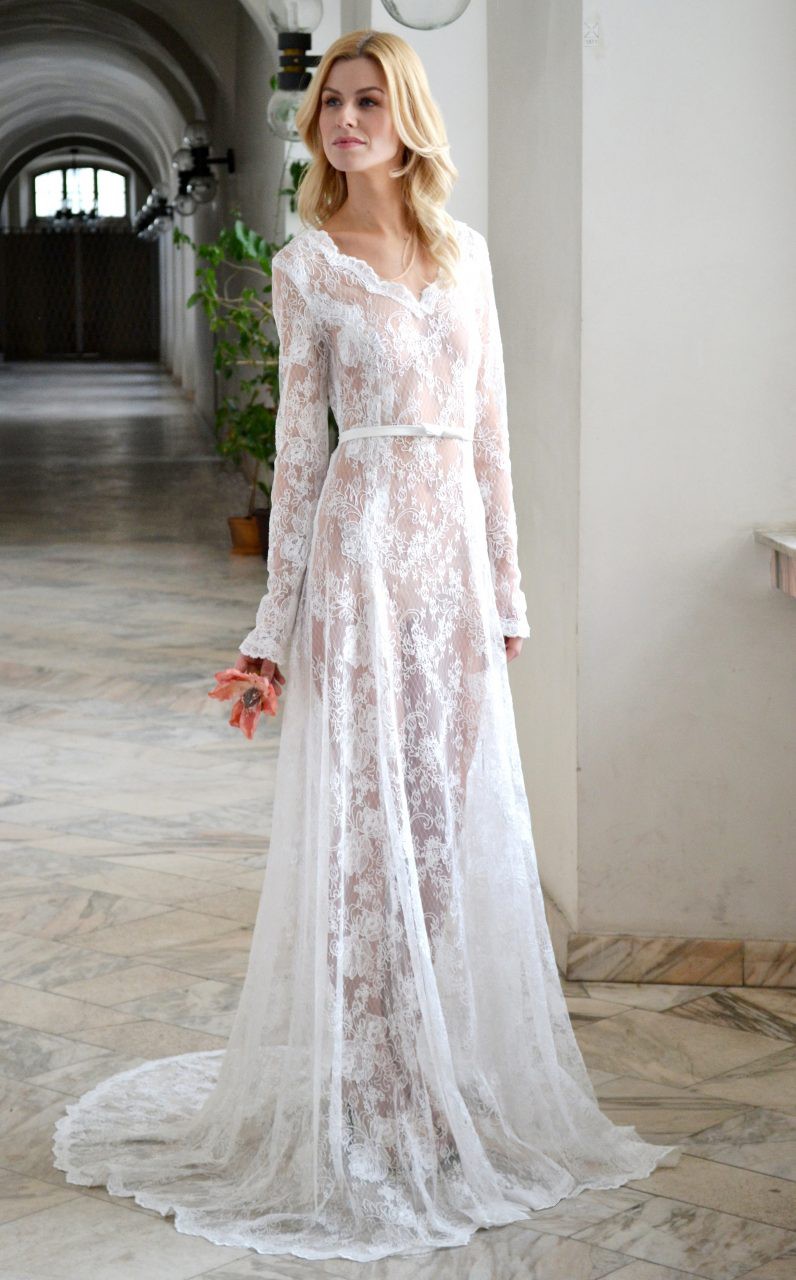 An absolutely stunning head to toe lace wedding gown that features a mostly sheer style, for a barely there look!
09.

Intricate Lace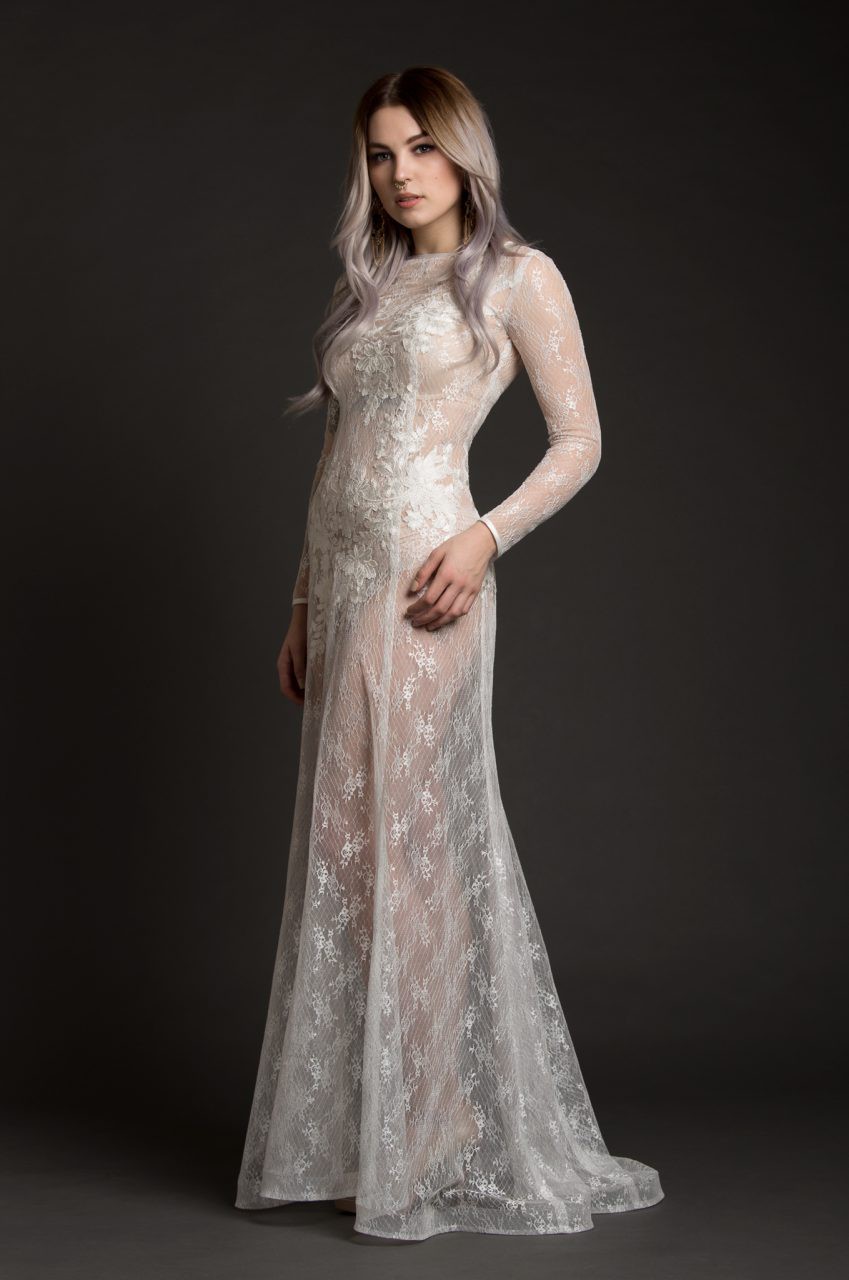 Another gorgeous, intricately designed sheer lace gown. A sexy modern alternative, to a traditional classic look.
10.

Sheer CutOuts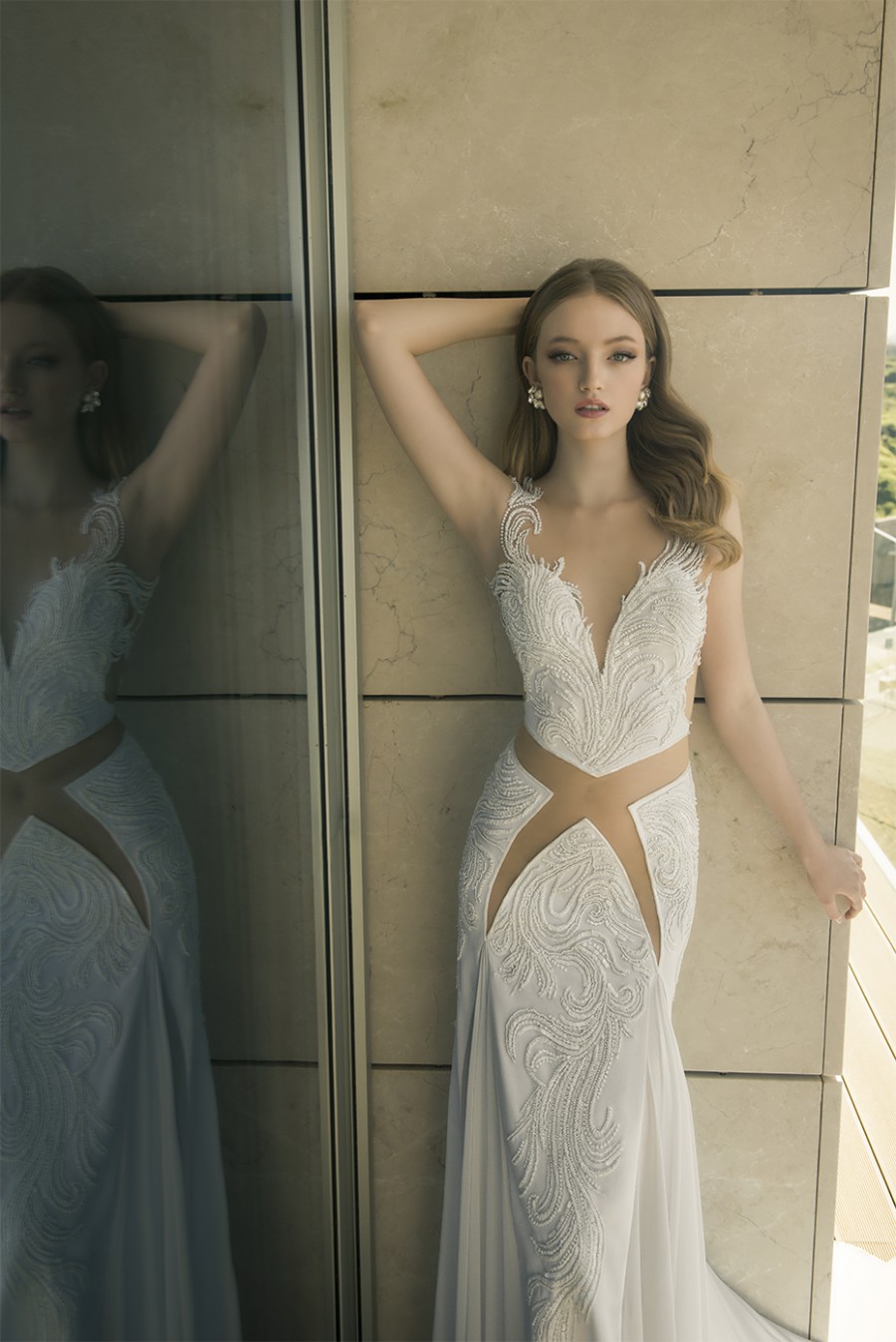 Sexy sheer cutouts for a sensual modern wedding style.
11.

Sheer Glitz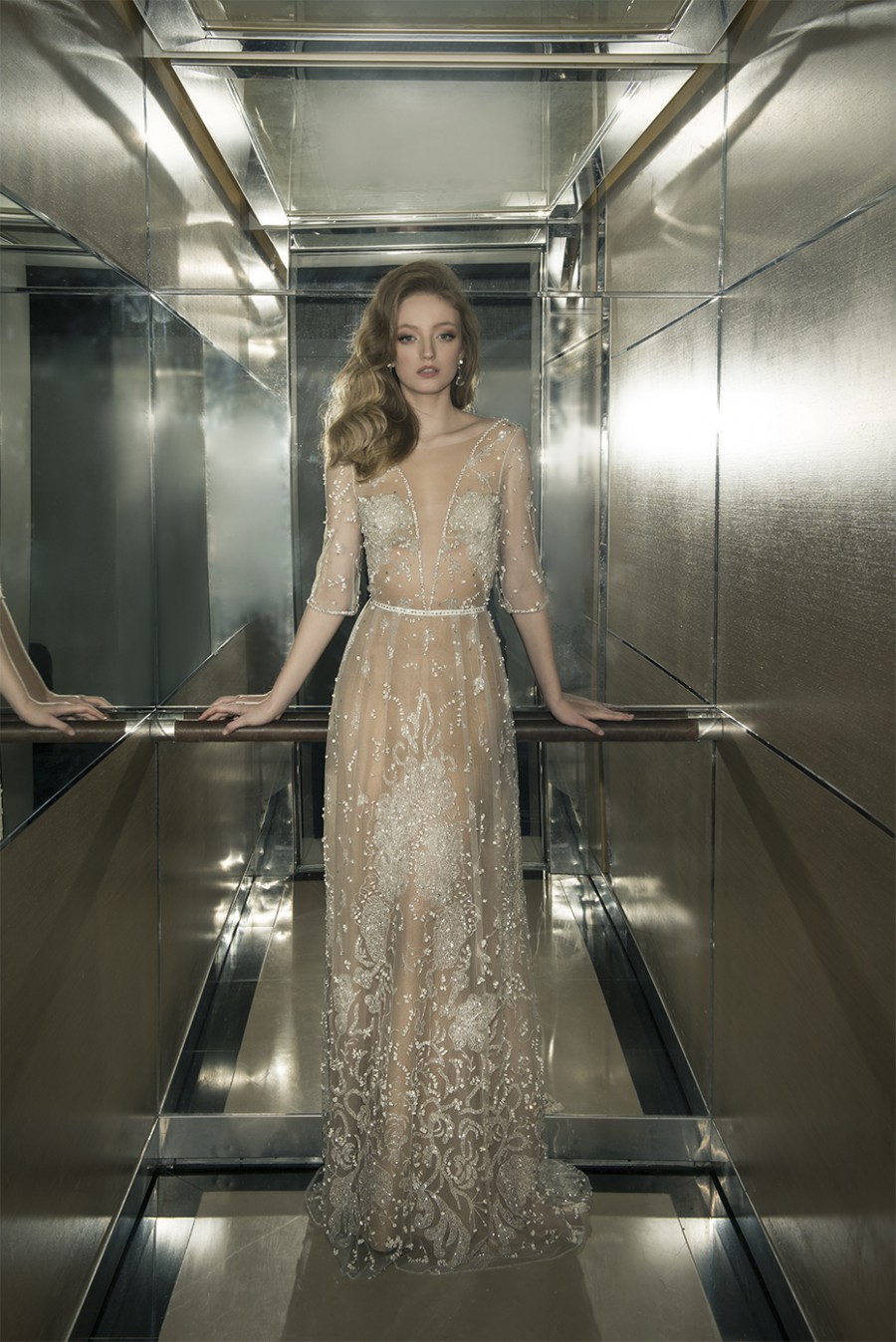 A glitz and glam semi sheer wedding gown that is sure to turn heads all night long.
12.

Sheer Legs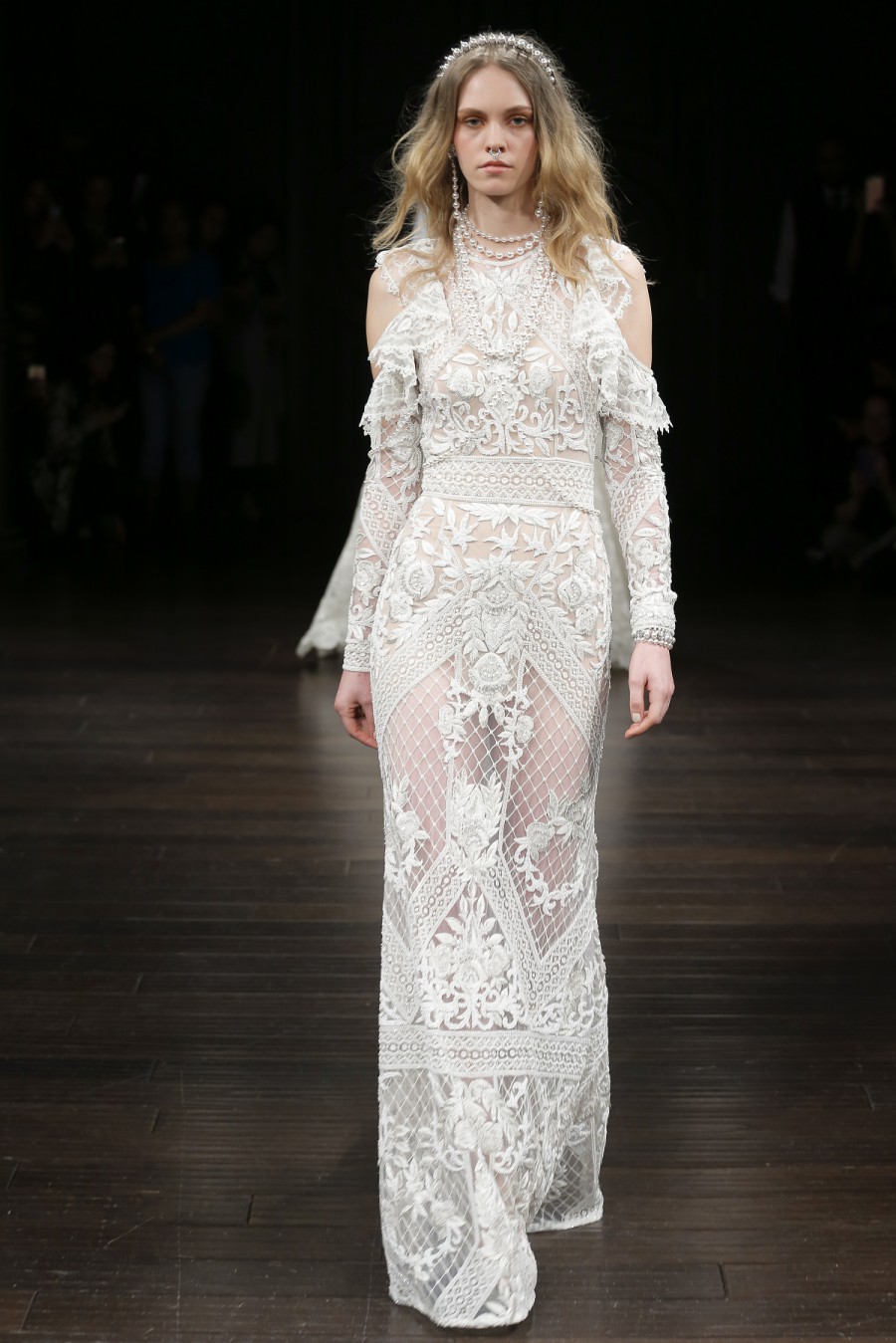 This completely one of a kind style could be no other than Naeem Khan's. A uniquely cut, embroidered dress features sheer leg panels to top off this bold contemporary style.
13.

Floating Dots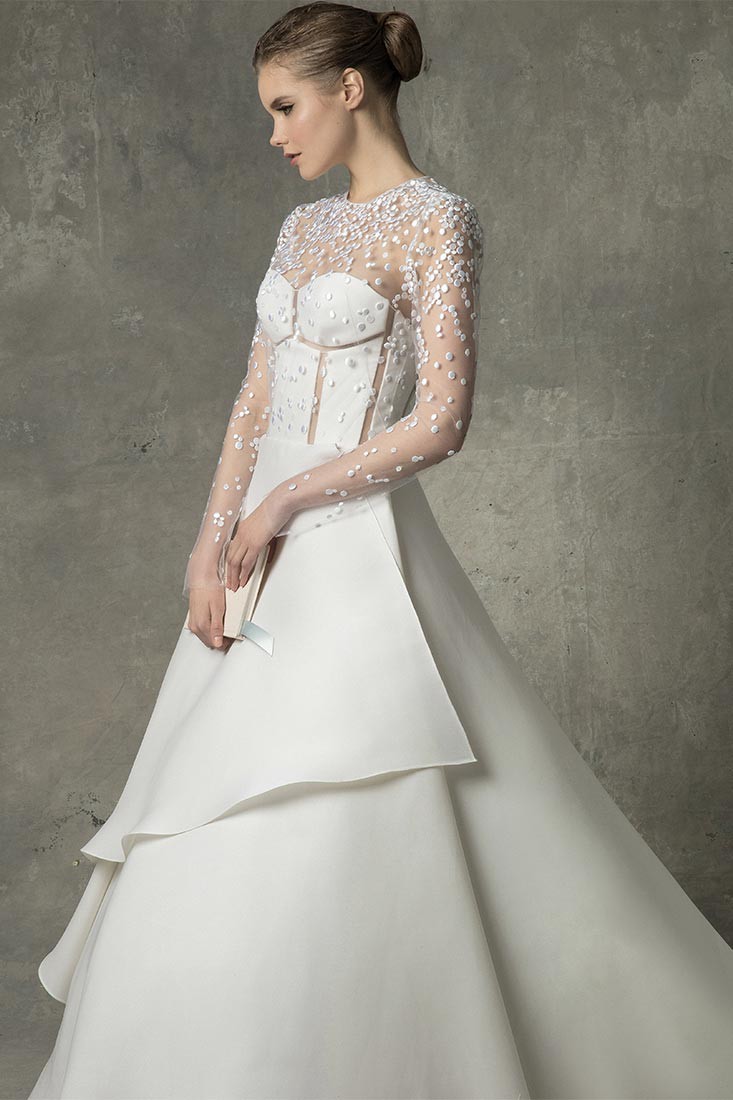 A beautiful contemporary ball gown style with paneled bodice and sheer dotted overlay. The sheer overlay gives the illusion of abstract floating dots across the brides bodice and arms.
14.

Futuristic Cape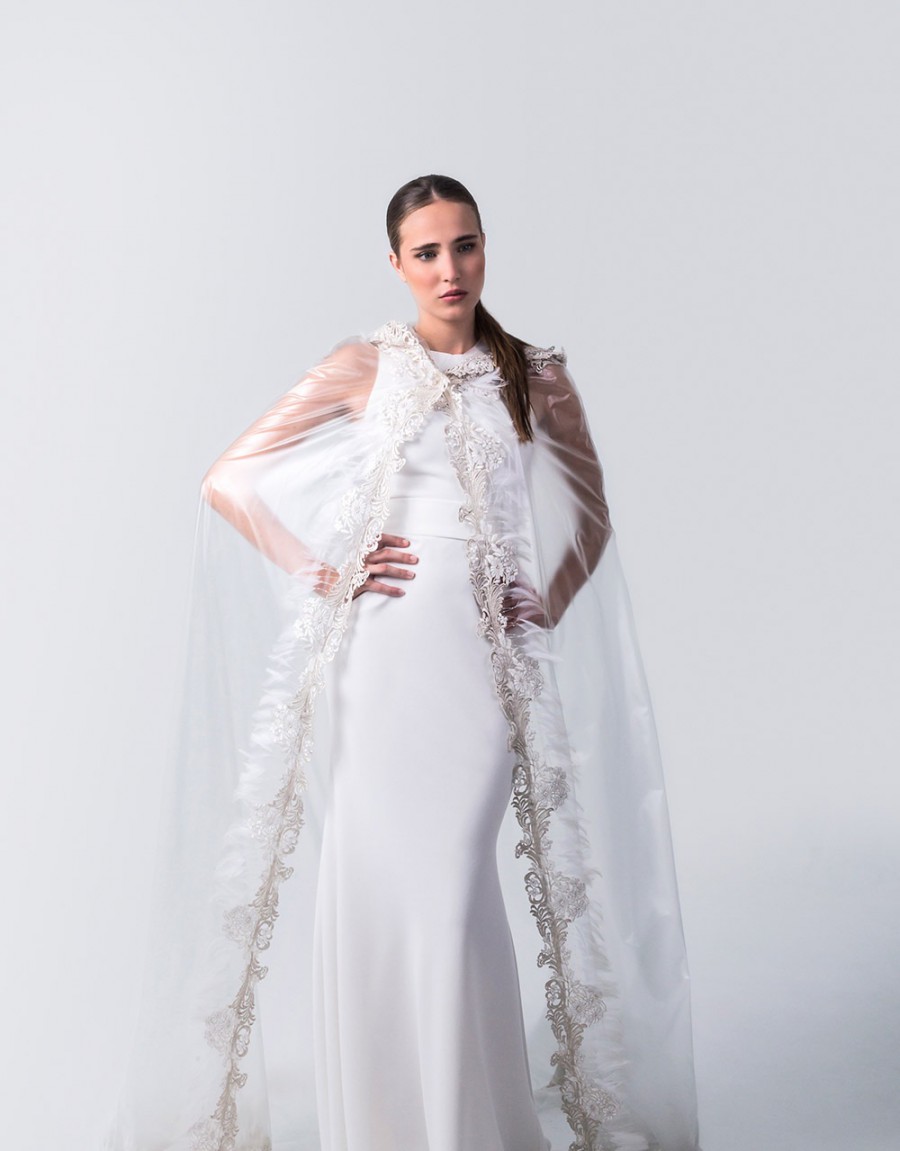 A futuristic see-through cape is definitely one of the most unique transparent bridal styles we have seen! A bold, contemporary wedding statement.
15.

Sheer Lace Finish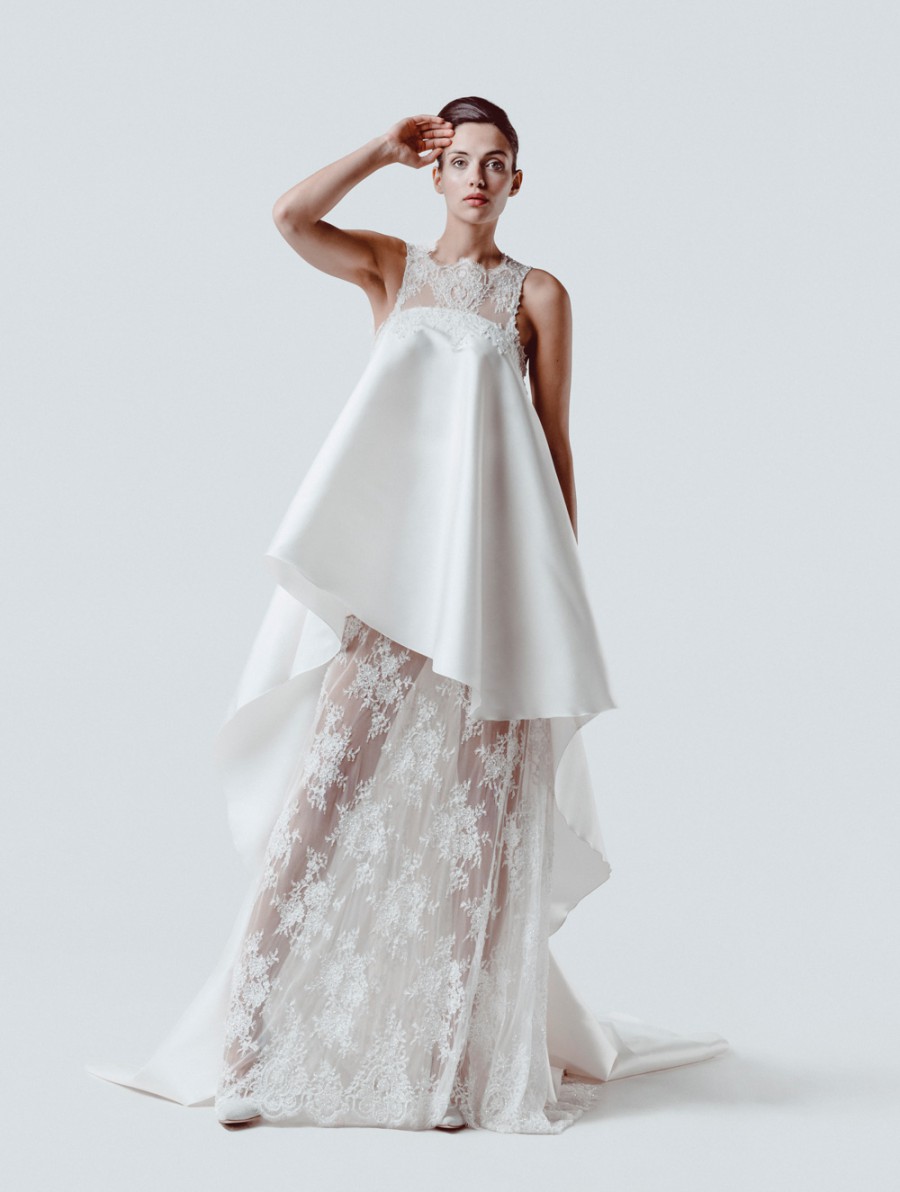 A contemporary high-low cut silk gown is finished with a bottom skirt of sheer lace. A beautiful combination of fabrics.
16.

Cut Outs
A modern cutout design featuring an almost completely sheer skirt. Sexy and futuristic for our high fashion brides out there.
17.

Polka Dots and Embroidery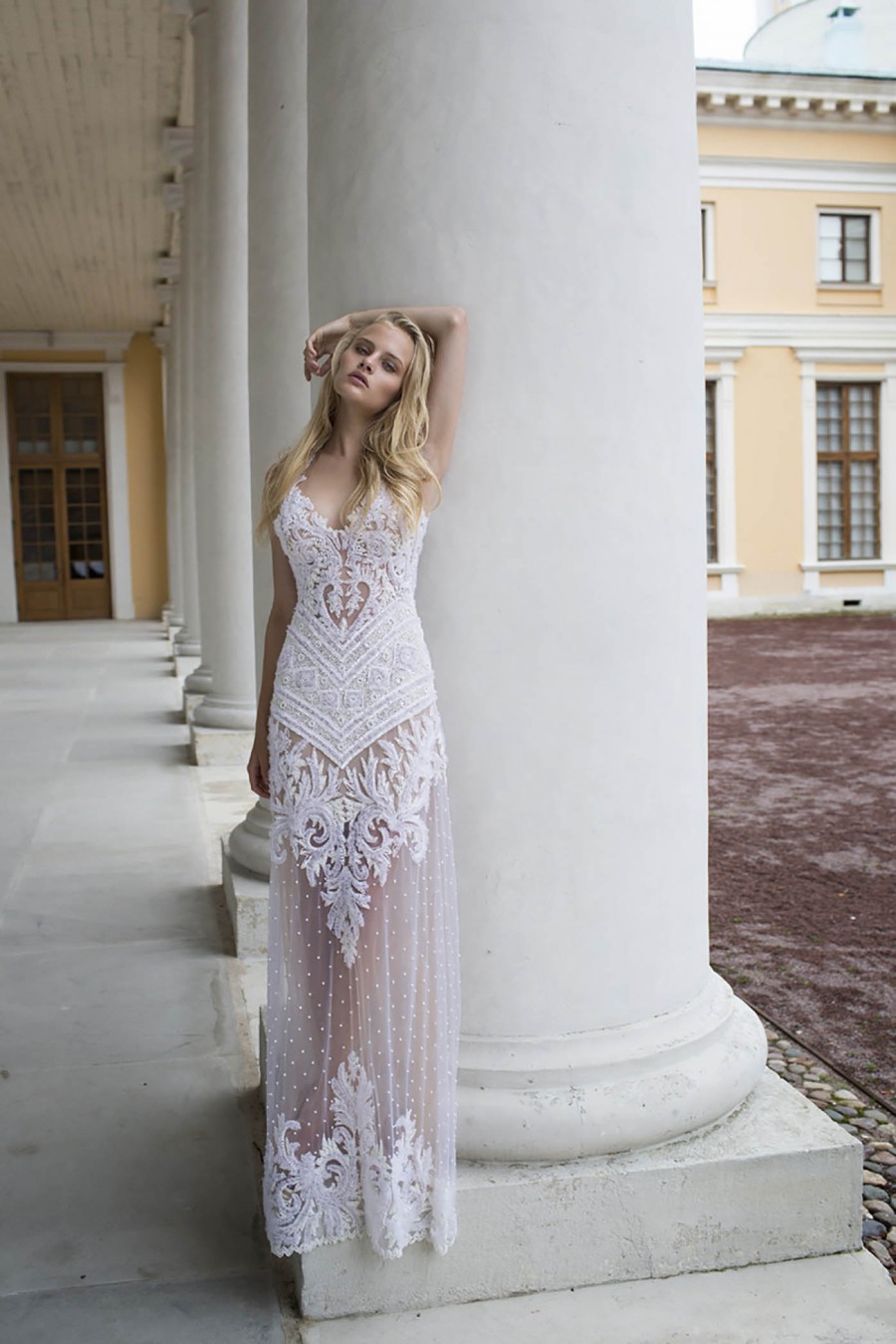 An intricately designed embroidered bodice gives way to a sheer polkadot skirt, for a sexy, feminine wedding style.
18.

Feminine Sensuality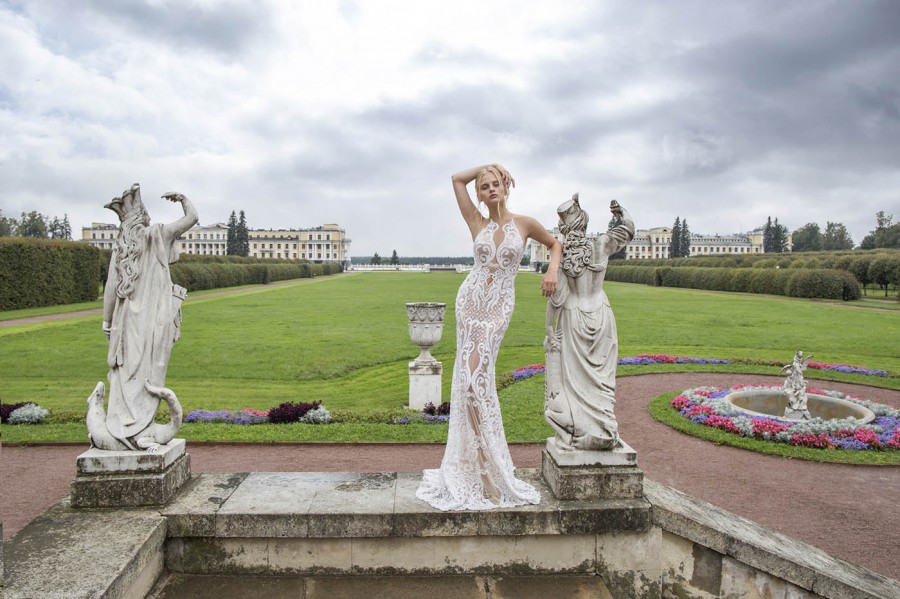 If you are looking to feel completely feminine and sexy on your wedding day, this next style is for you. The intricate design and embroidery of this dress will leave your guests in awe. And it's semi-sheer design will have you feeling sexy all day long.
19.

High Neck Fashion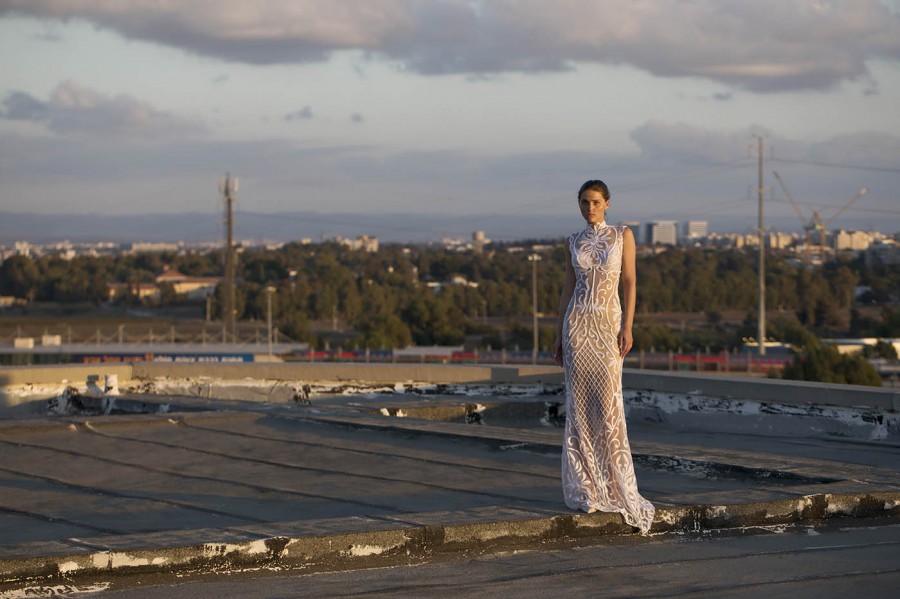 A beautiful high fashion, high neck wedding gown style with sheer bodice and skirt for only the boldest of modern fashion forward brides.
20.

Catch the Sun
A contemporary sheer bridal style that has us awestruck. A glistening, semi-sheer bottom layer is vested with a soft, flowing top layer for a breezy, ethereal look.
21.

Sheer Tulle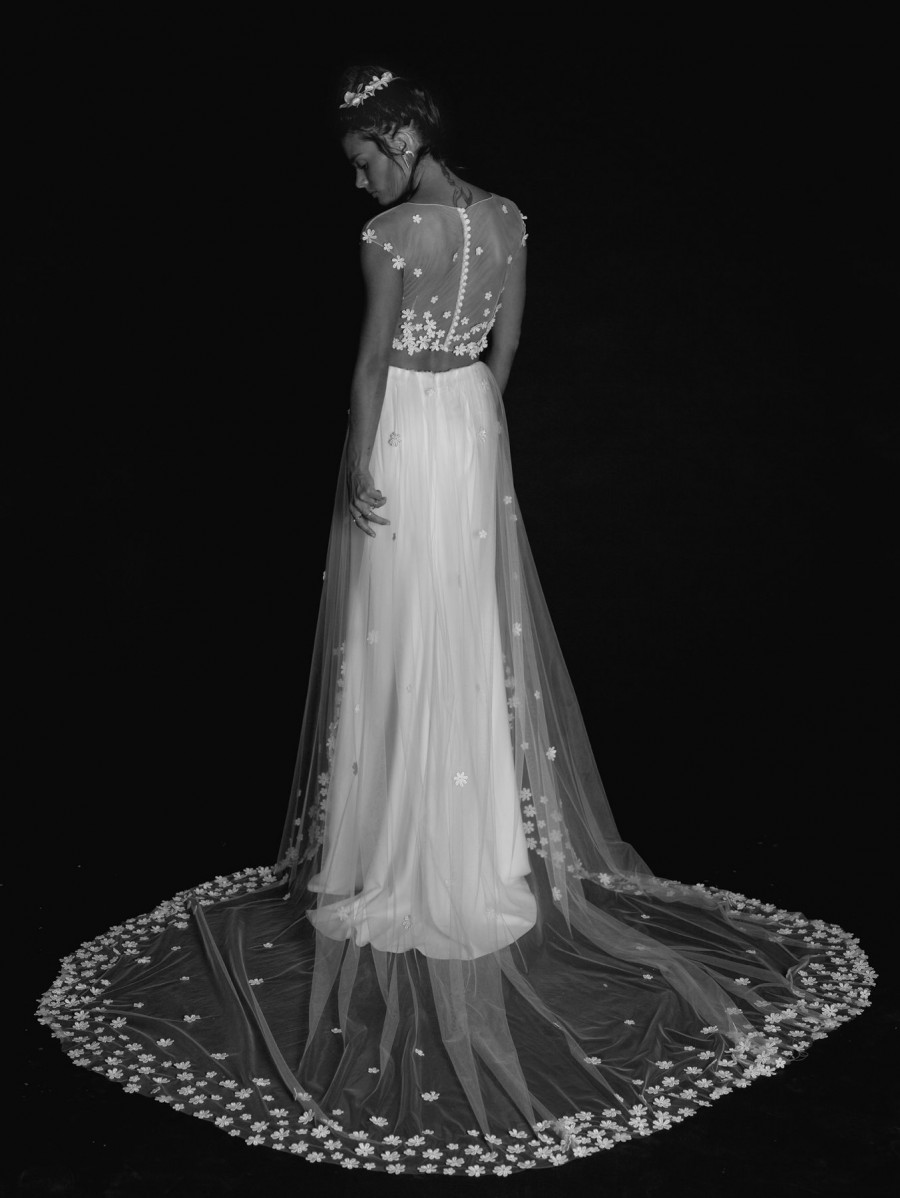 A romantic two piece bridal style featuring sheer tulle top and overskirt with flirty embroidered florals. This dress is perfect for a moon lit garden wedding!
22.

Revealing Tulle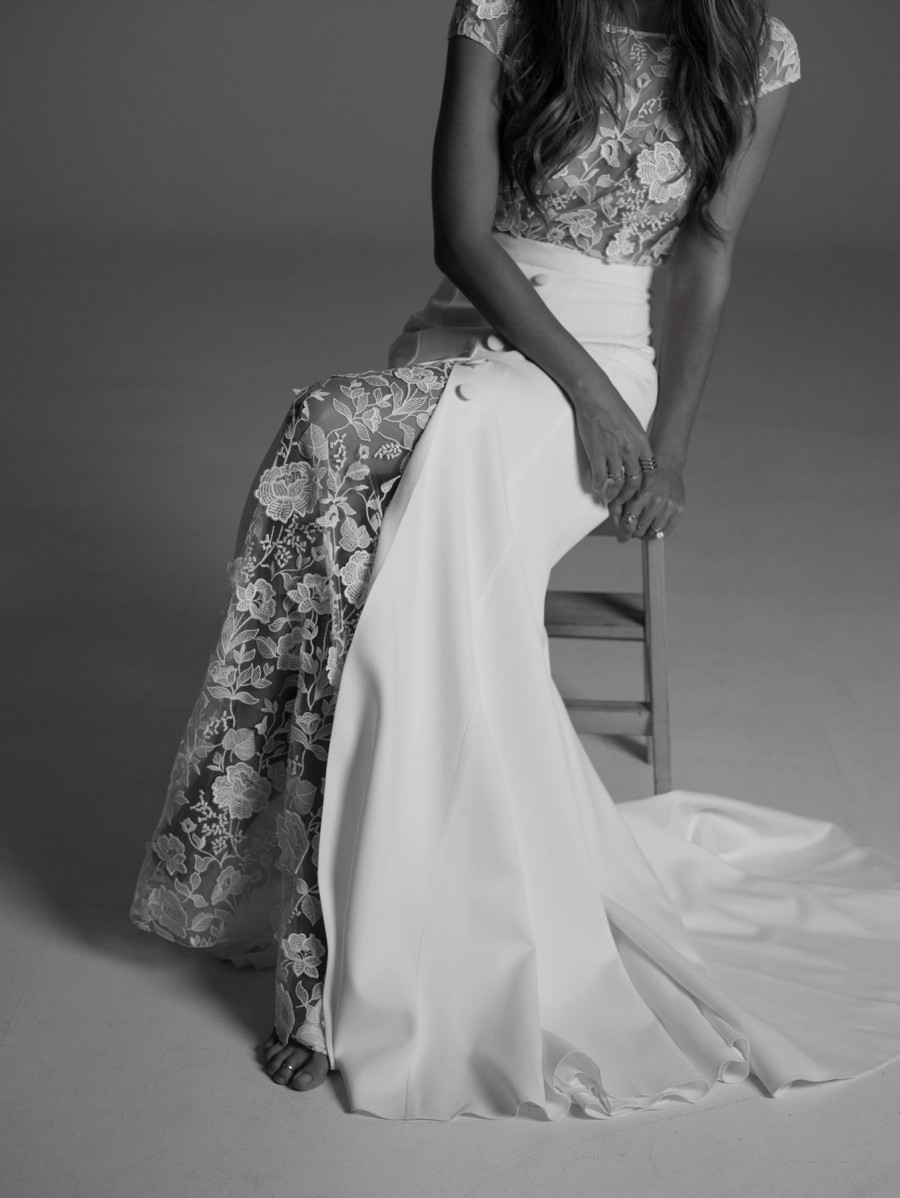 A high waisted button up skirted dress with revealing embroidered tulle.
23.

Sexy Siren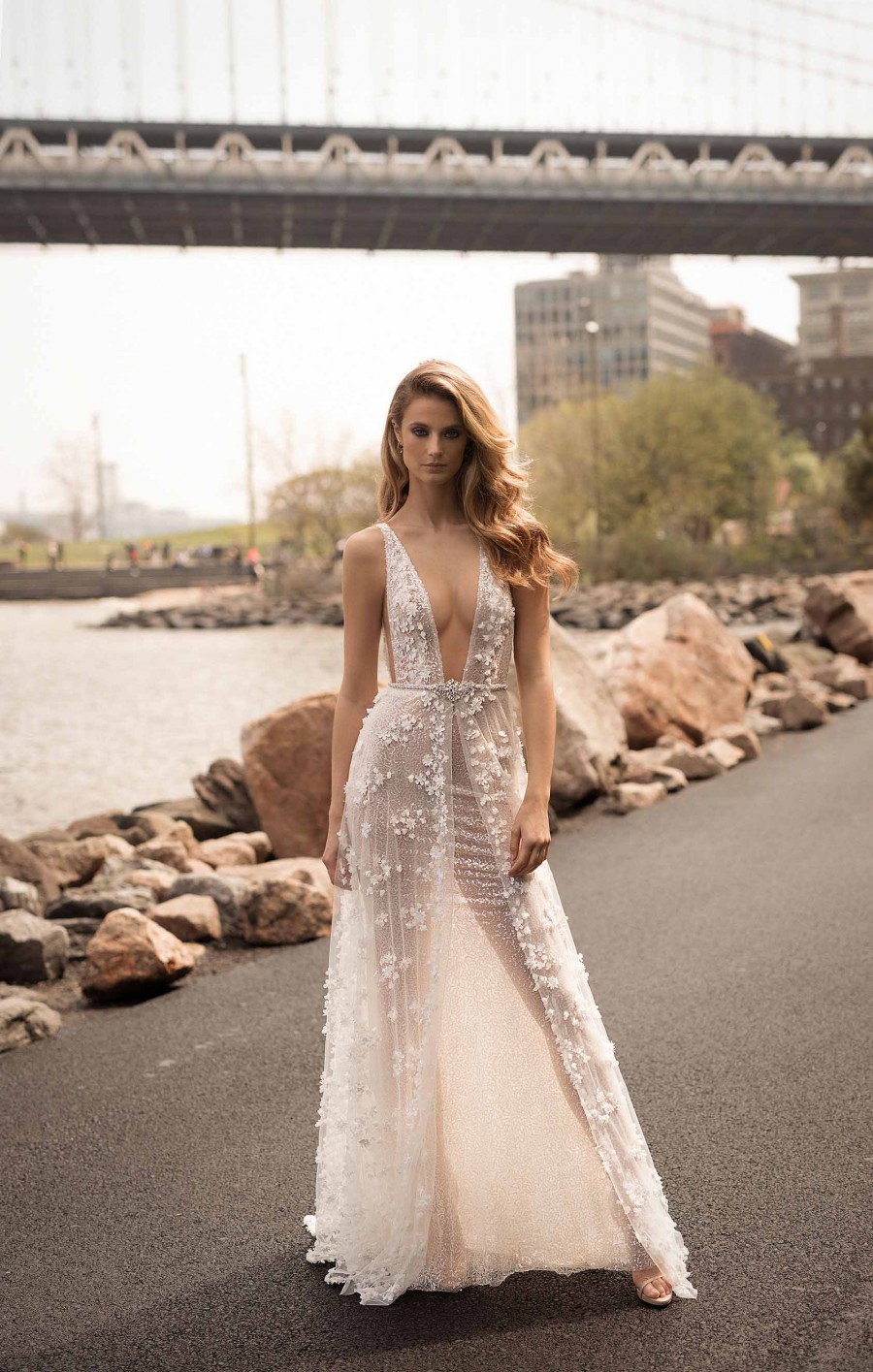 A bold and sexy semi sheer style from Berta. This barely there wedding gown would be perfect for a summer garden wedding.
24.

High Neck Sophistication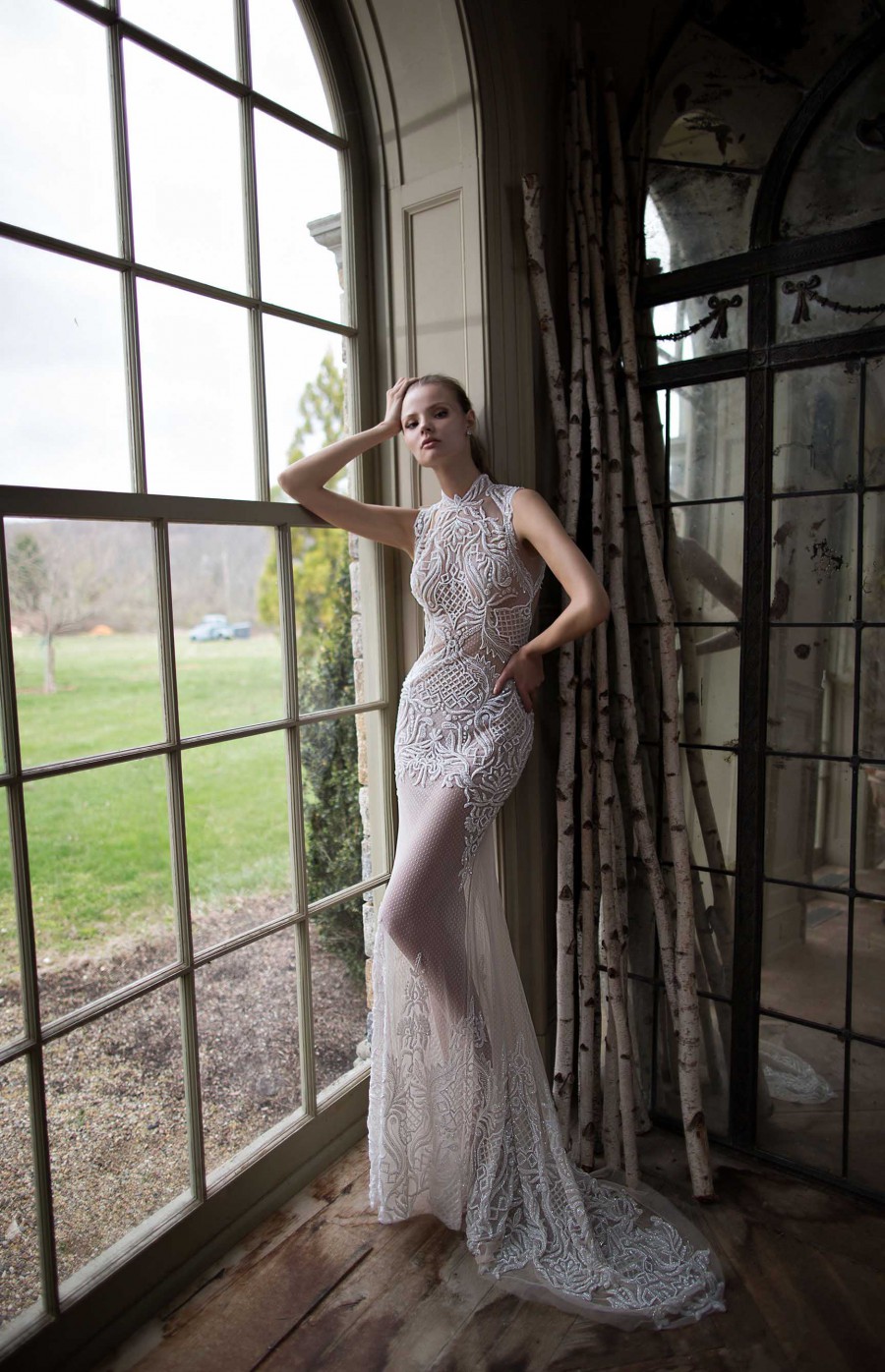 For a polished, fashion forward bride who is craving something unique and sexy on her big day. This gorgeous high neck embroidered gown is finished with a semi sheer skirt for an edgy finish.
25.

Sheer Geometric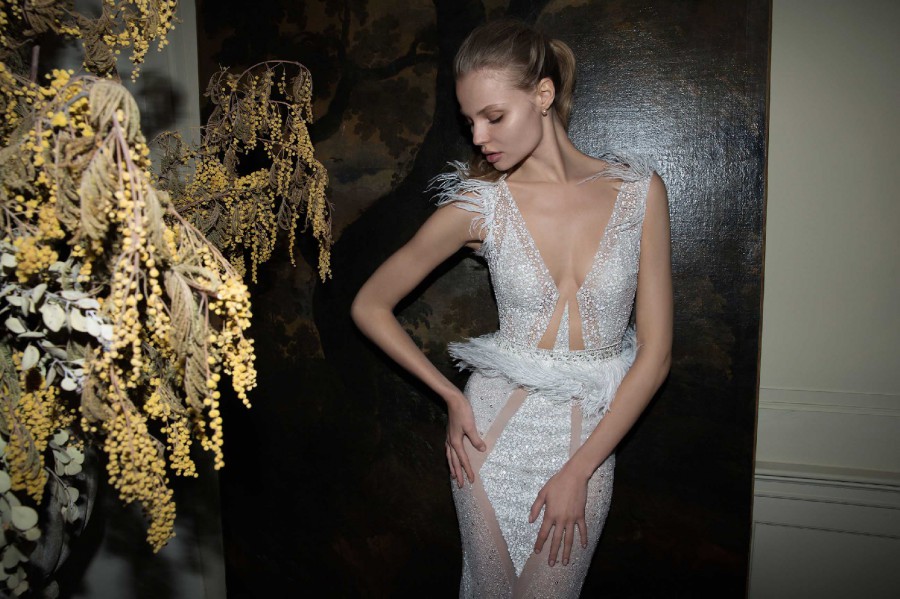 Hard geometric lines define the sheer panels of this next one of a kind gown. This gorgeous gown features moments of barely there fabric that give it just the right touch of sexy appeal.
26.

Zebra Inspired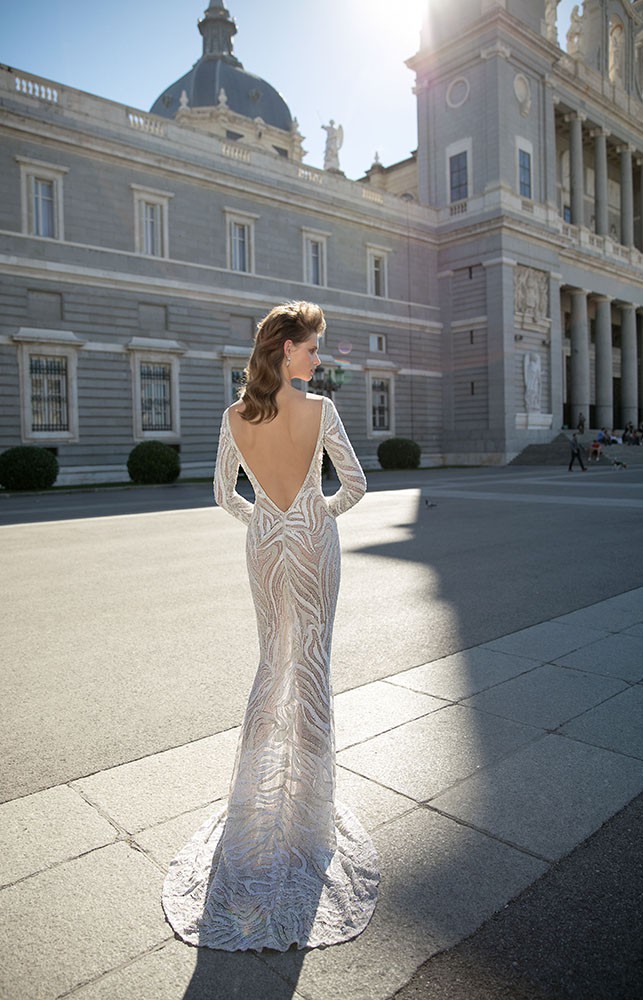 An eye catching zebra-like inspired pattern covers this entire form fitting, low back gown. When in the light, you get a sexy semi-sheer effect that is absolutely stunning.
27.

Seaside Sheer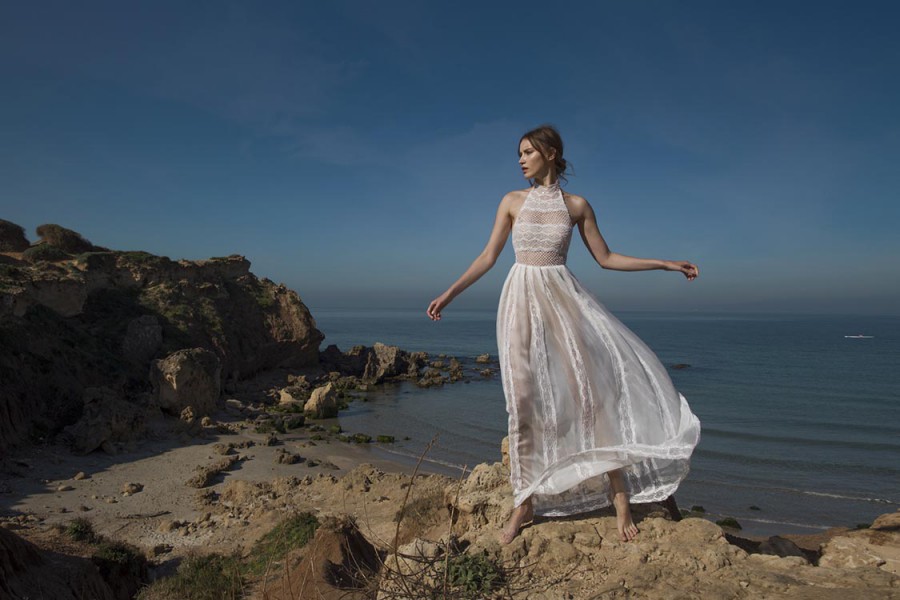 A sea worthy semi-sheer style perfect for a beach day wedding elopement!
28.

Sheer Slip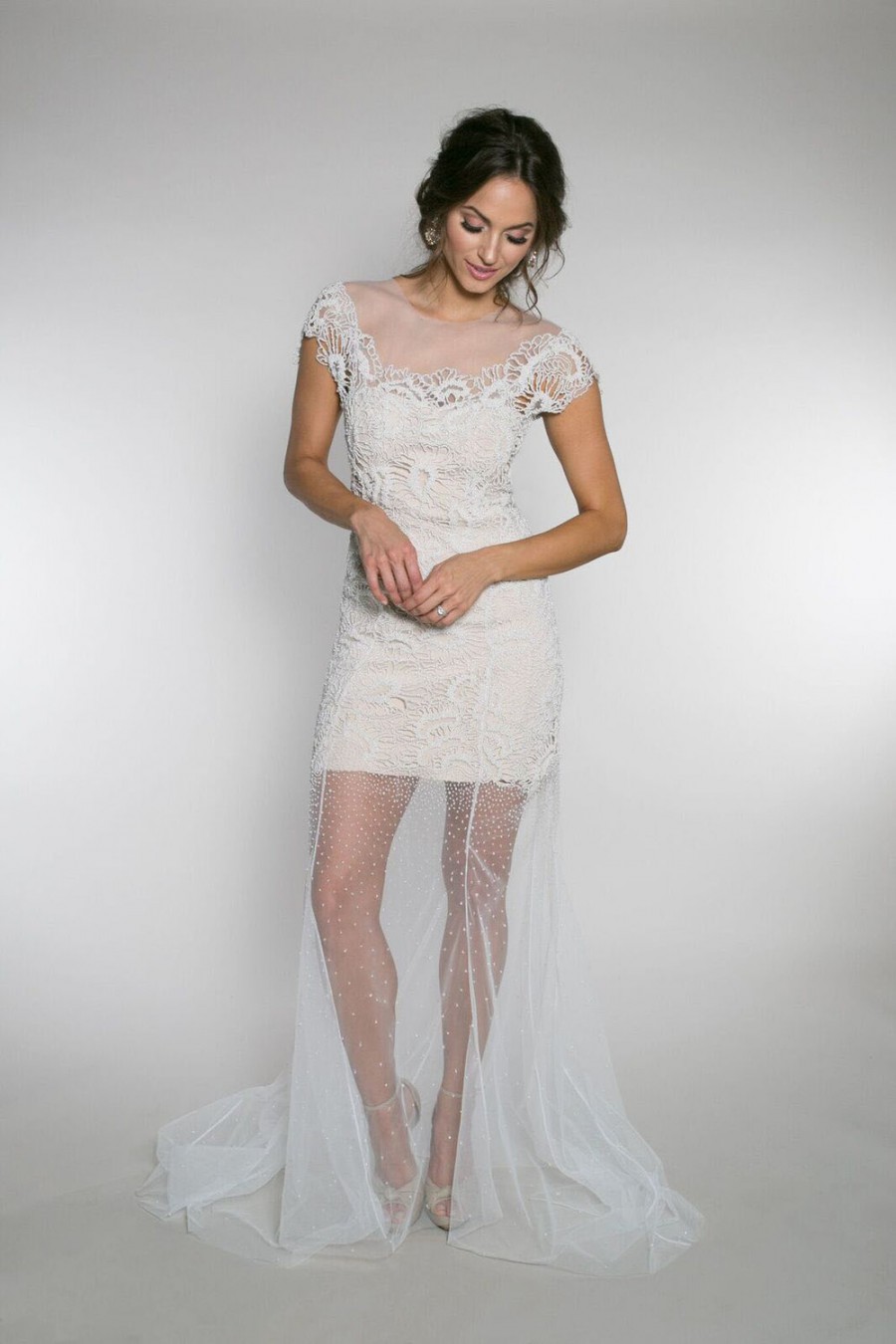 A girly sheath wedding gown style with a sheer slip to show off your sexy wedding ready legs!
29.

Sheer Crinkled Chiffon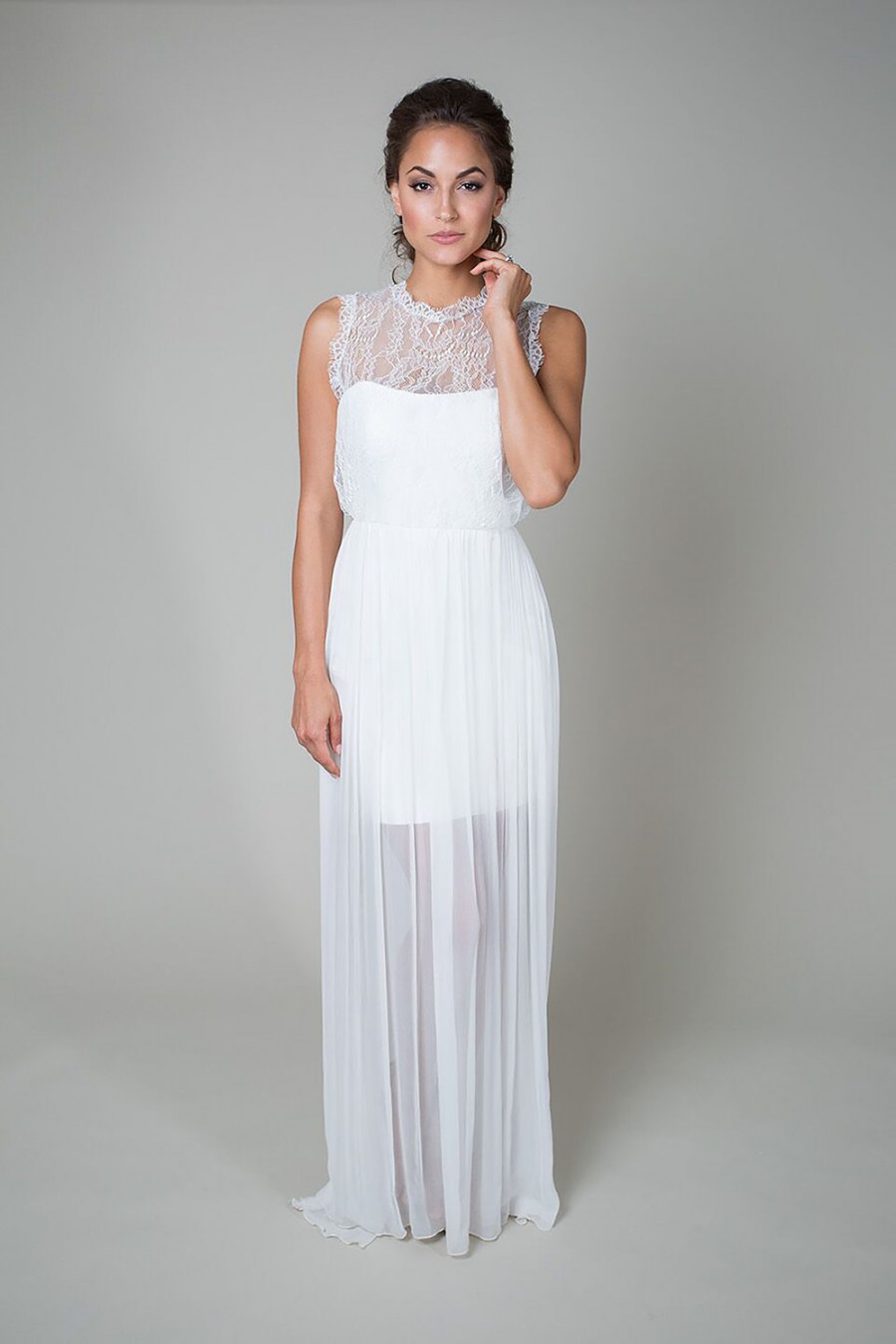 A modern bohemian wedding dress style with a delicate sheer crinkled chiffon overlay.
30.

Sheer Fairy Tale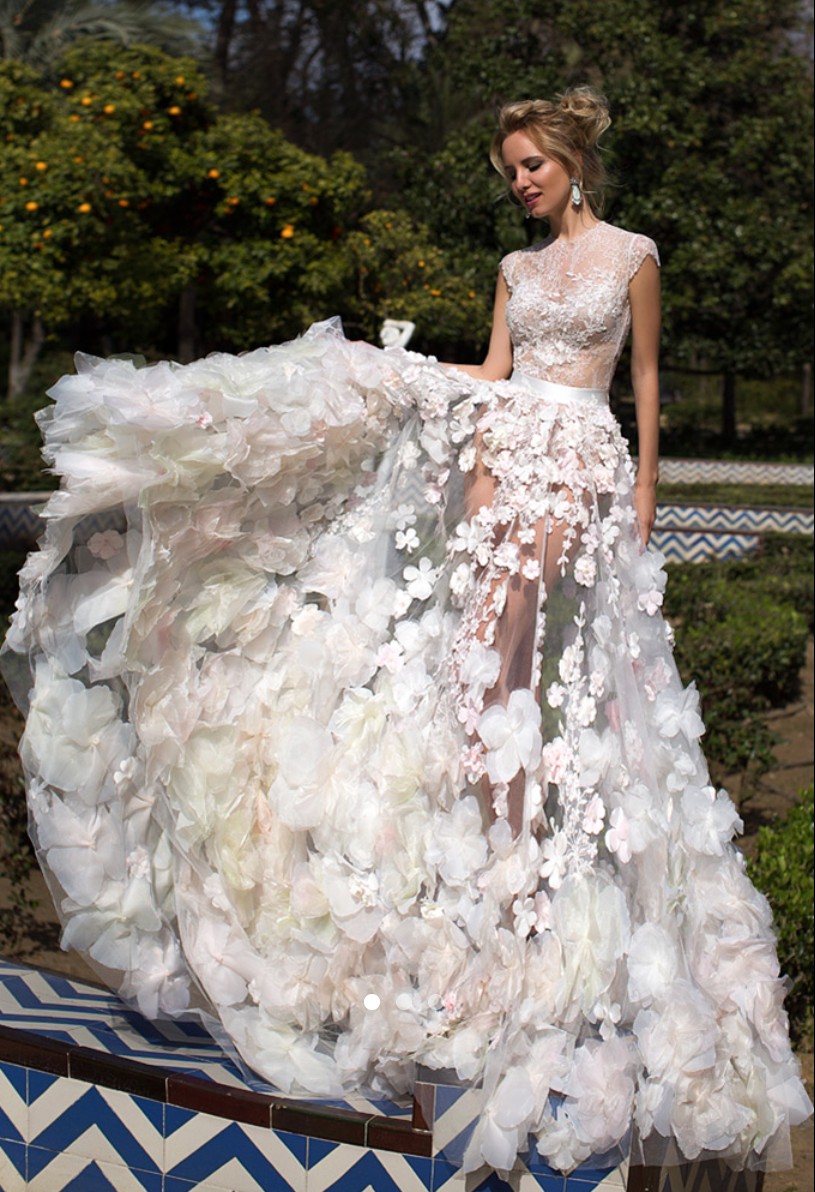 A sheer, barely there wedding gown style fit for a fairytale princess.
31.

Translucent Lace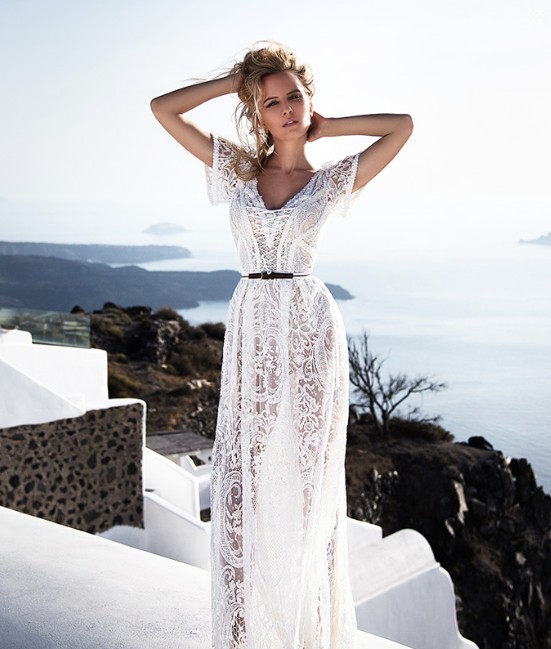 This translucent lace dress is fit for a modern day greek goddess. Perfect for a destination beach elopement.
32.

Sheer Train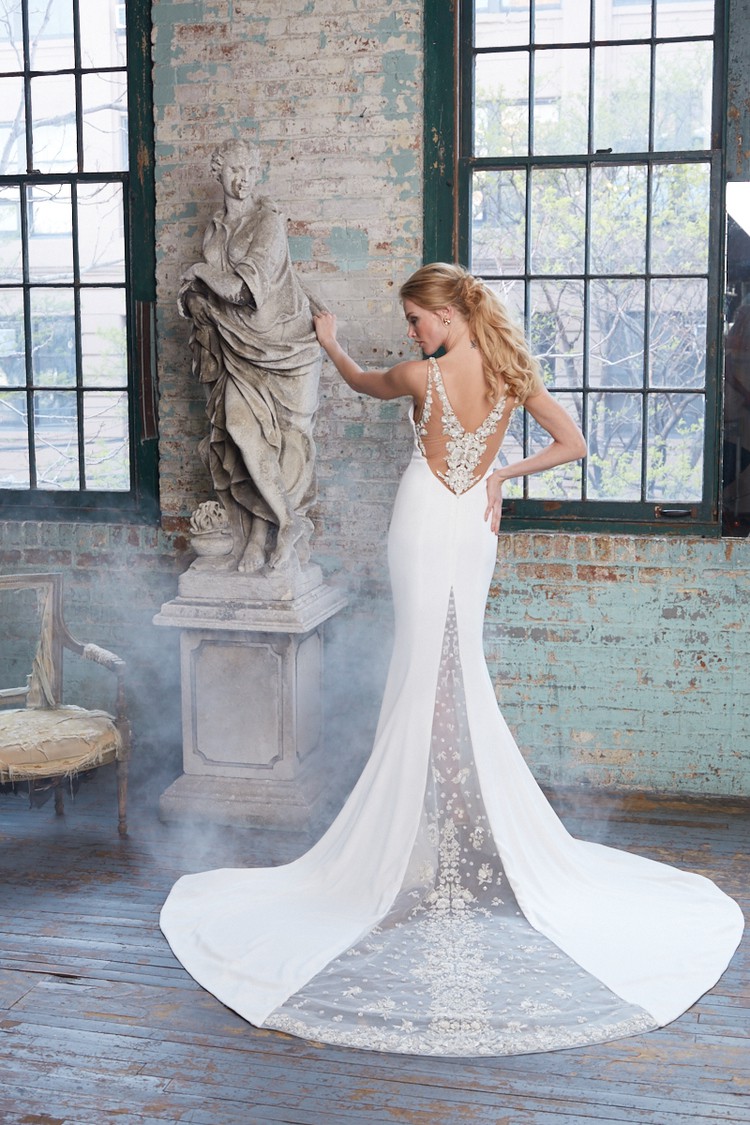 This sheer embroidered train adds a stunning feminine touch to the back of this gorgeous gown. A beautiful take on this trending sheer wedding gown style.
33.

Golden Lace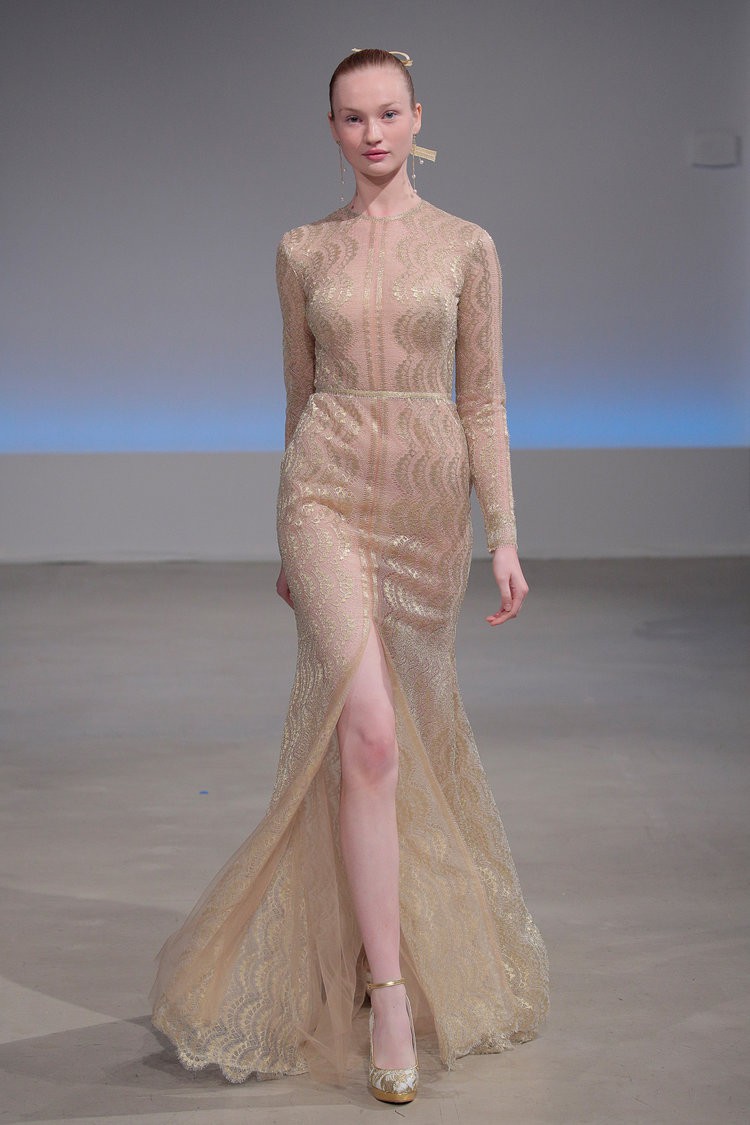 Get your nude bodysuits ready ladies, because this sheer wedding gown is worth a second look. A gorgeous golden Chantilly lace wedding gown made of semi-sheer fabric from head to toe.
34.

Sheer Front Slit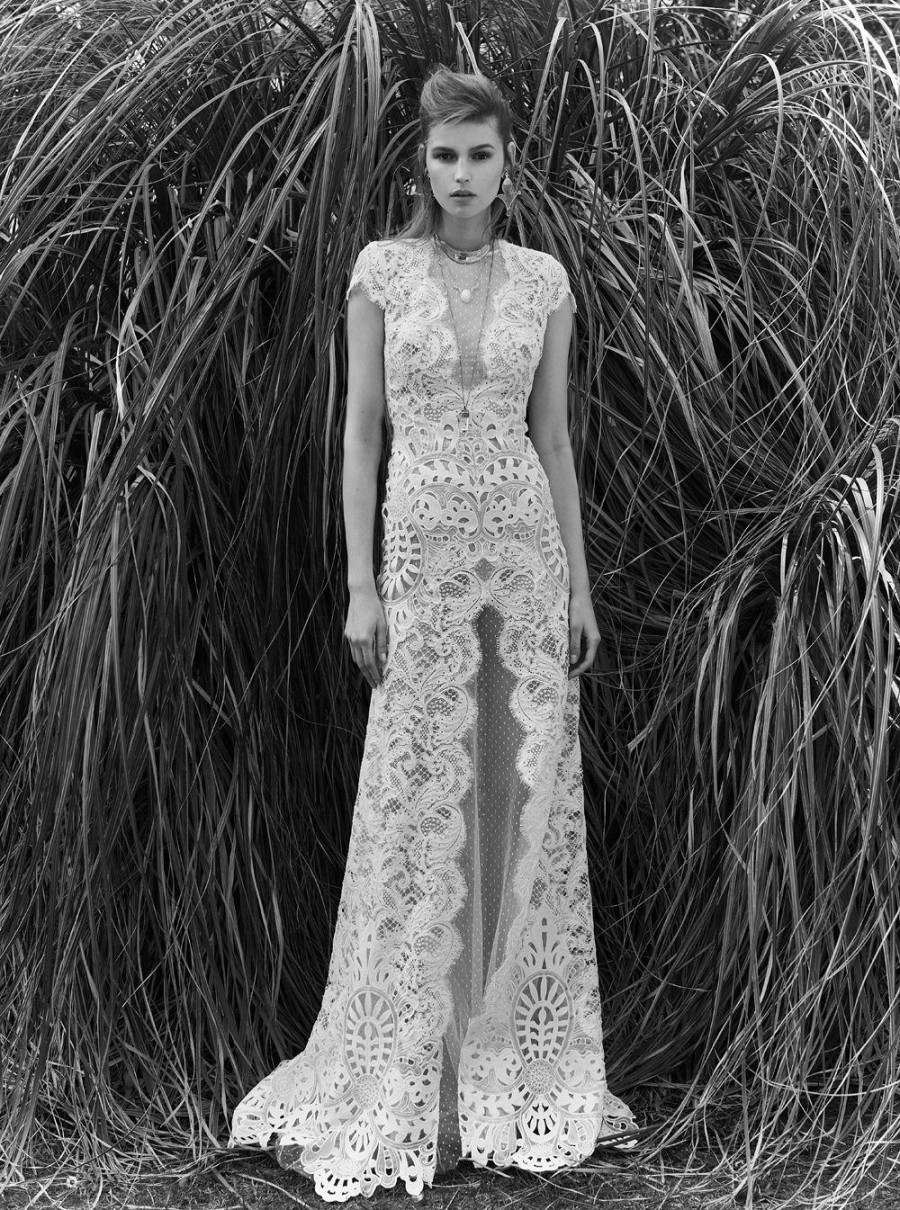 A bohemian princesse's dream dress. Intricately designed lace with a deep front slit of sheer dotted tulle. A look fit for a sensual bohemian goddess.
35.

Airy Lace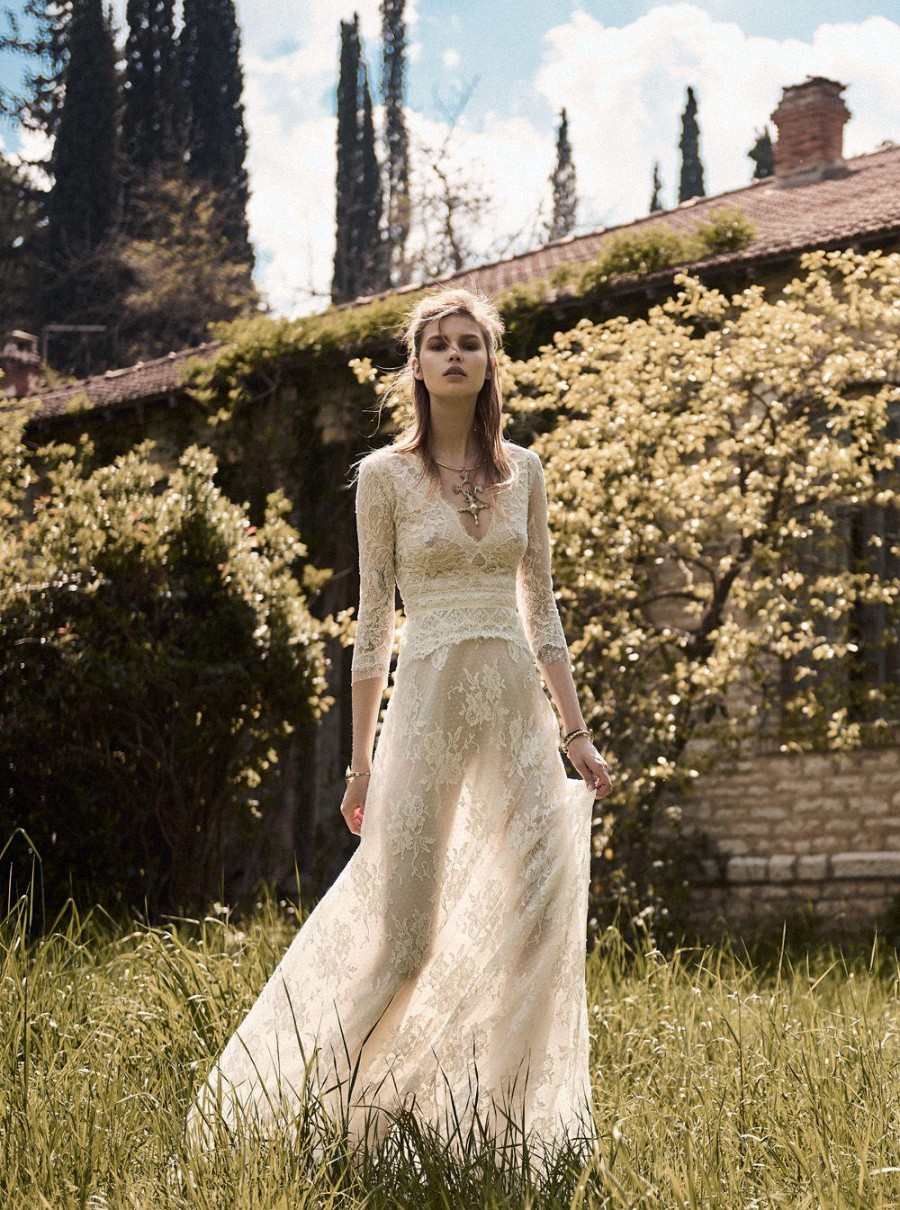 An airy, semi-sheer Chantilly lace wedding gown. A sexy sheer wedding gown style, without being completely see-through.
36.

Fashionably French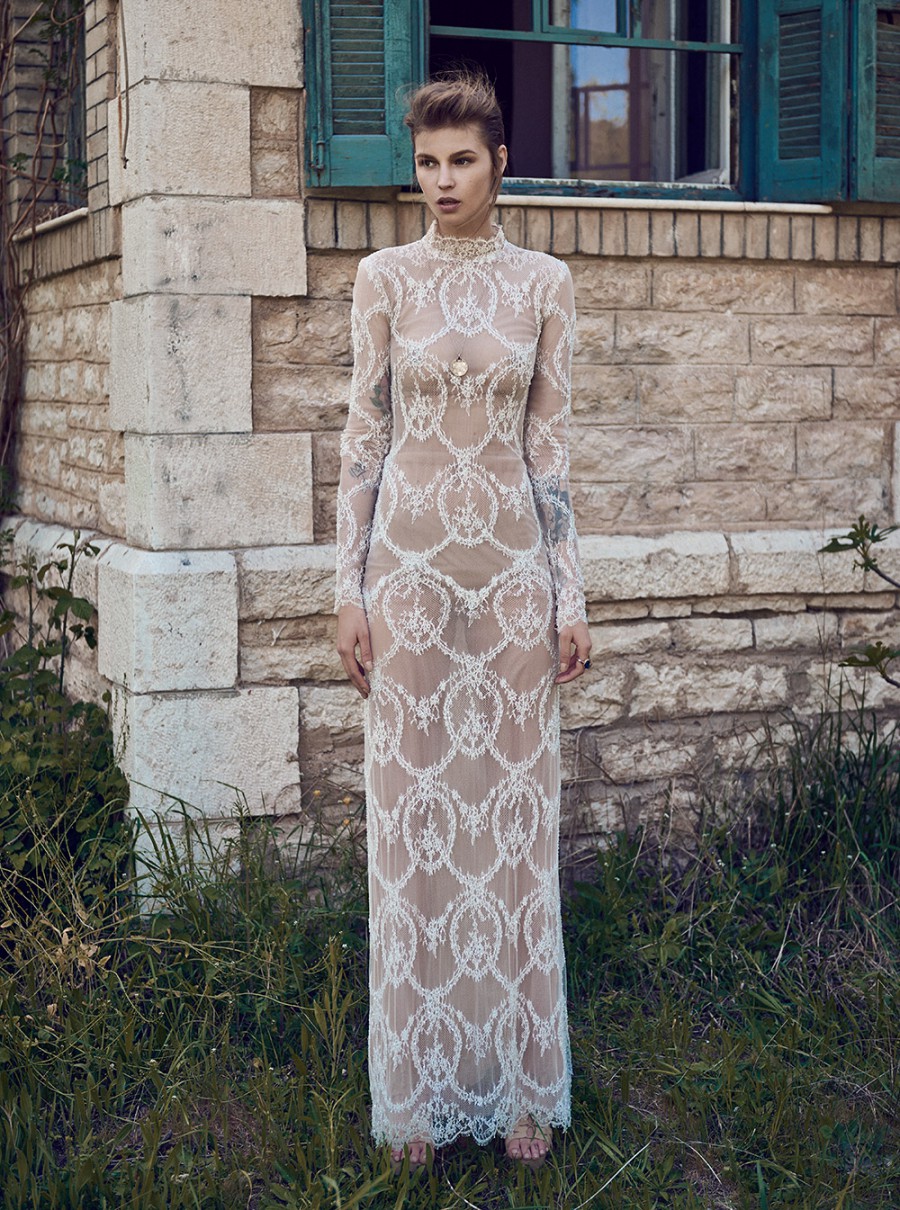 A fashion forward sheer French lace wedding gown for only the boldest of modern brides.
37.

Swiss Dots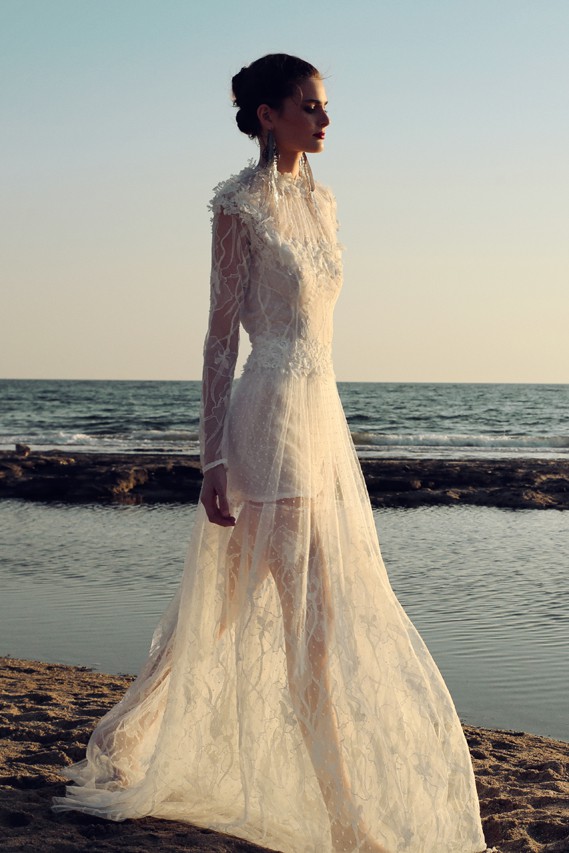 A truly one of a kind sheer wedding gown style. Embroidered lace swiss dot gown with sheer sleeves and skirt.
38.

Sheer Embroidery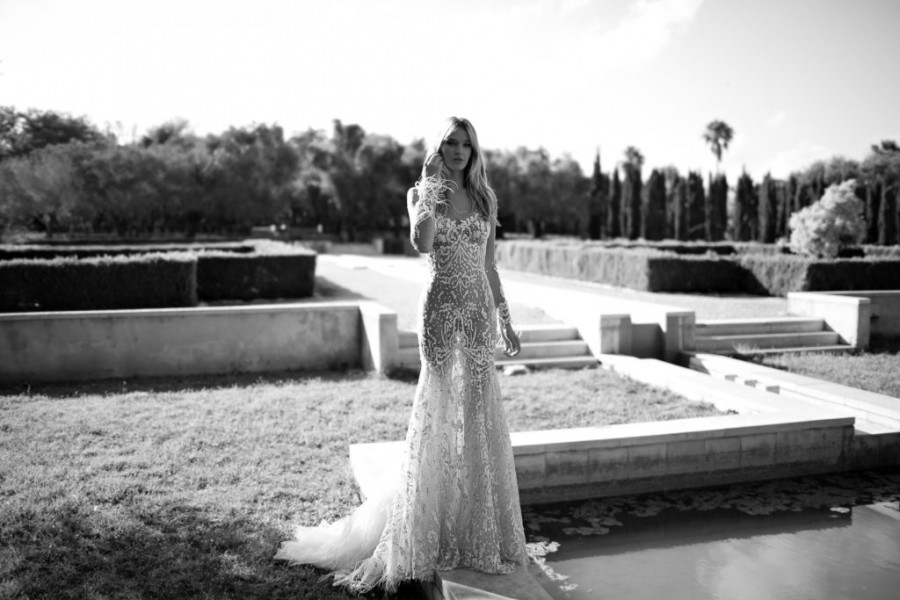 Sheer, form fitting embroidered gown with dramatic train and feather accents, for a barely there look like nothing else.
39.

Thigh High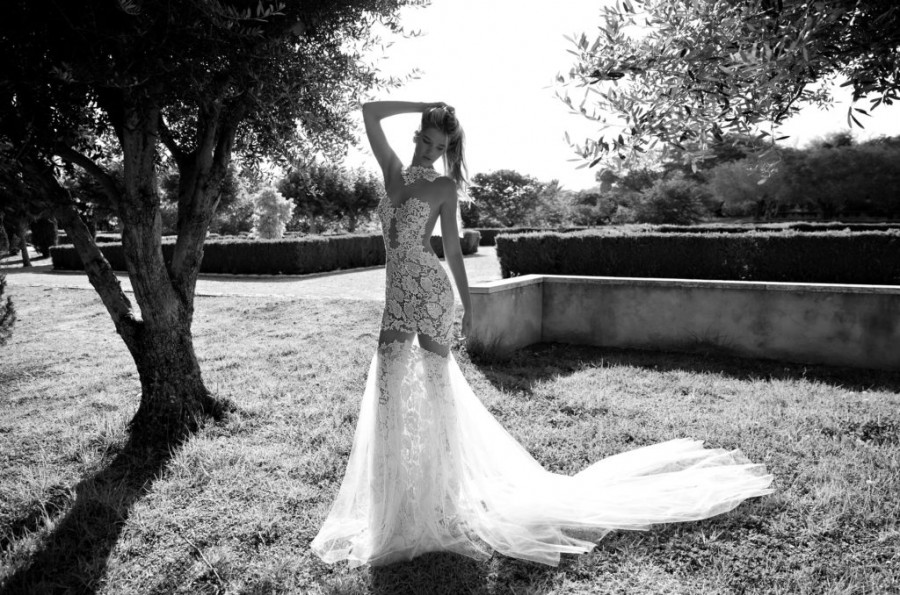 A very different take on this sheer wedding gown trend. Sheer paneling at the thigh breaks up the design of this dress in the most interesting of ways. A truly unique wedding day look.
40.

Floating Bows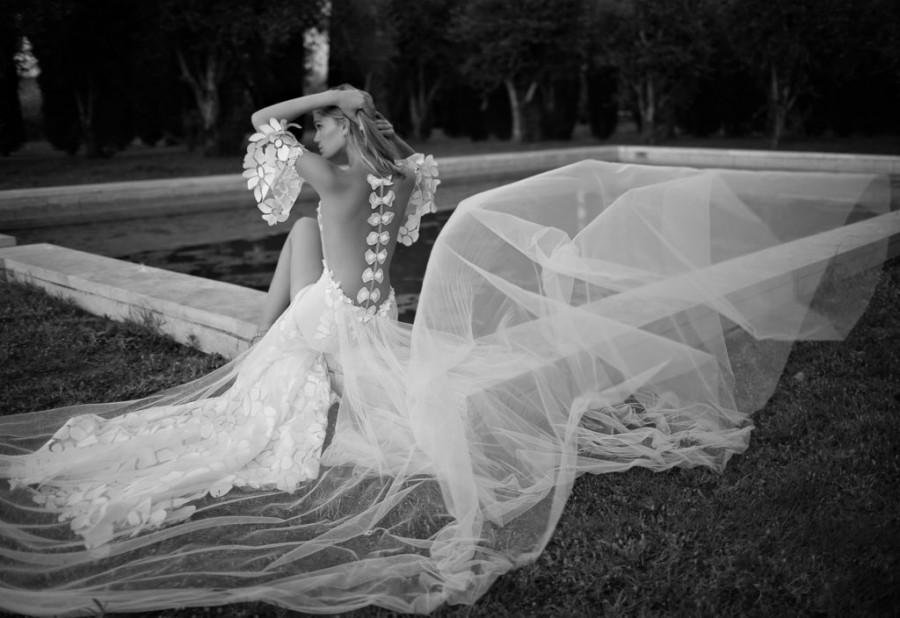 This next sheer look plays tricks on our imagination. It appears that a spine of bows are floating down the back of this bride. But it is all held together by a form fitting completely sheer fabric. Absolutely stunning.
41.

Flutter Sleeve Florals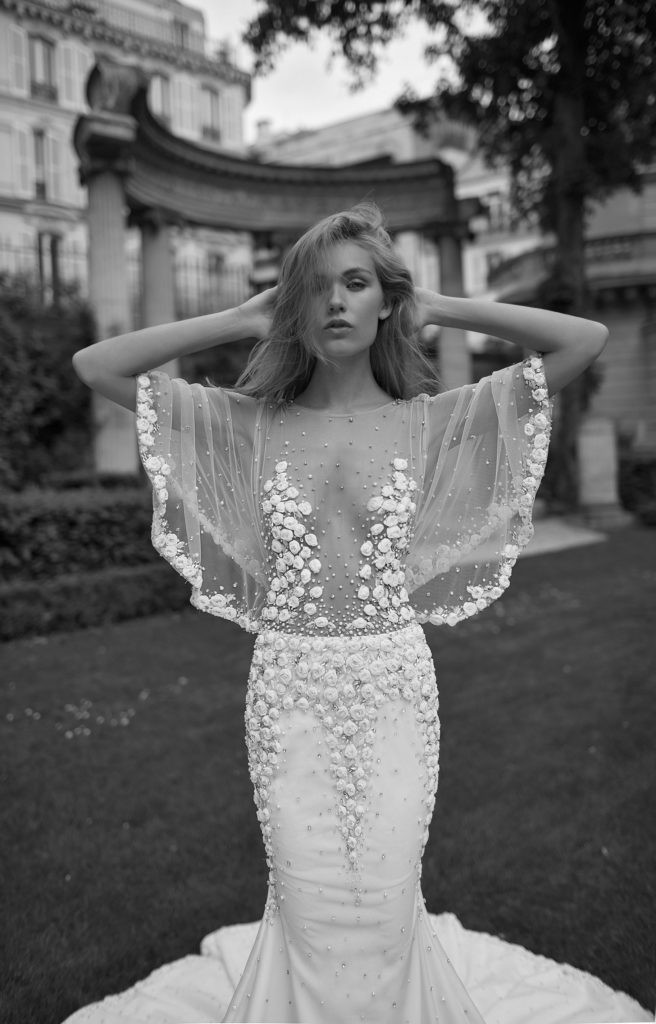 A sexy sheer top floral inspired gown. A bold risqué style for a romantic garden wedding.
42.

Peplum Pantsuit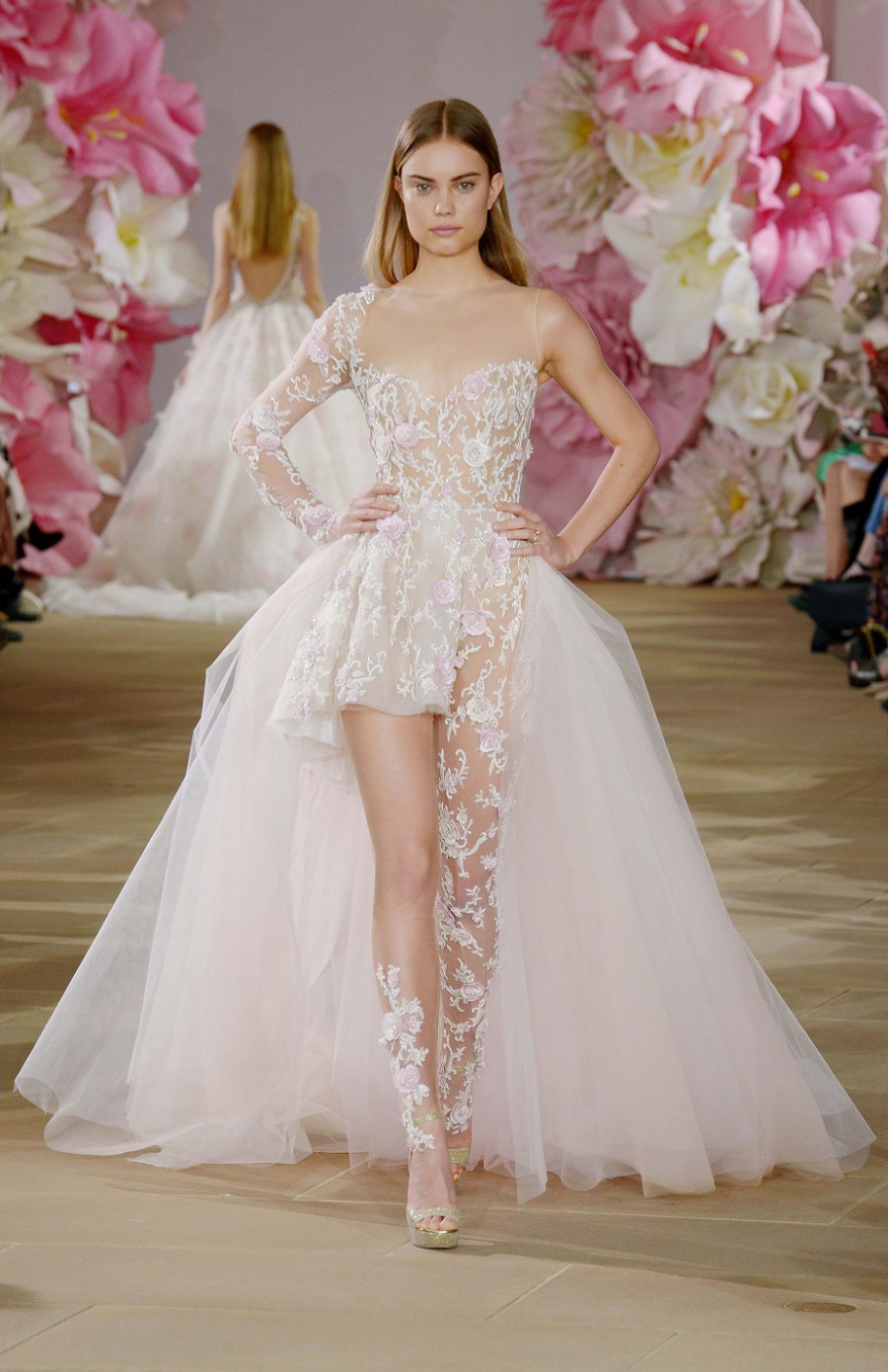 A sheer floral asymmetric peplum pantsuit. Did we leave anything out? This look really has everything for a modern off beat bride.
43. High Neck Fashion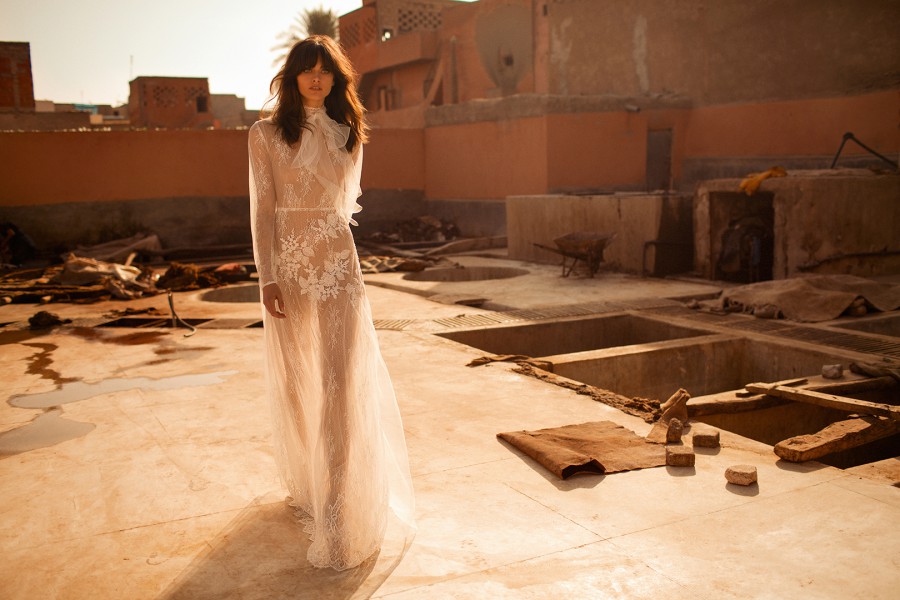 High neck, high fashion. This semi-sheer wedding gown look is a true beauty.
44.

Sheer Slip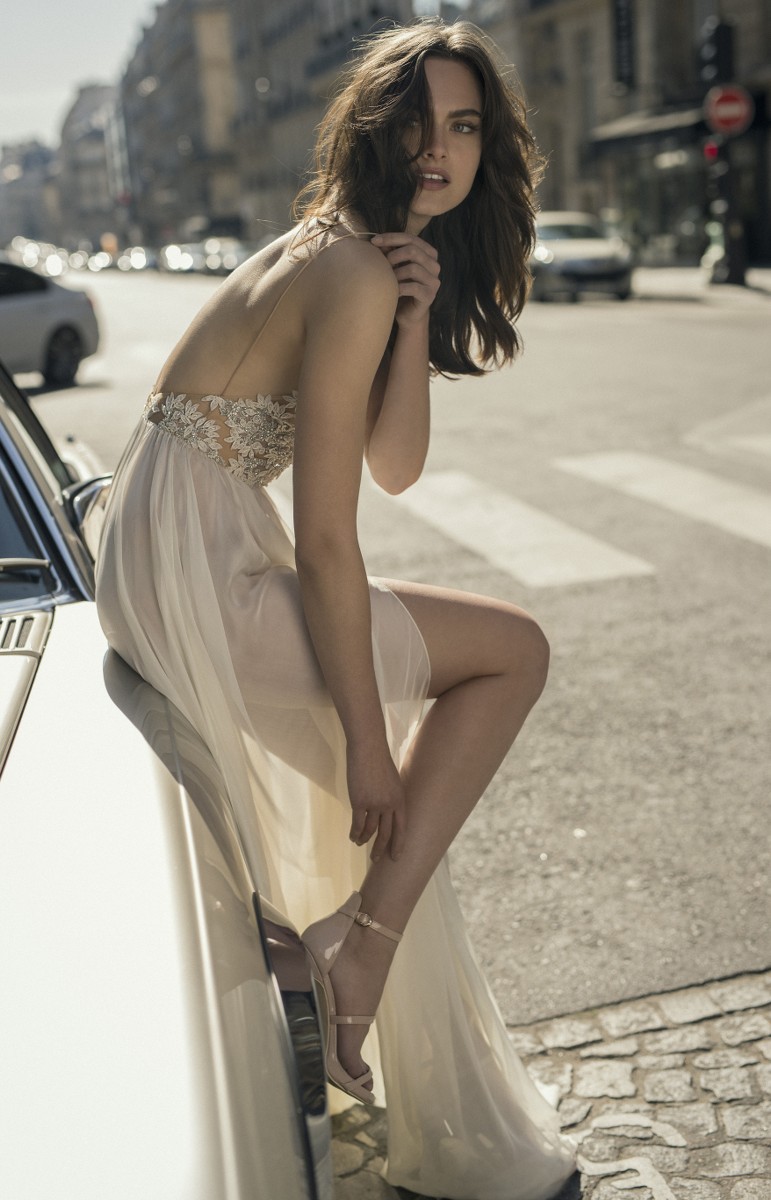 A sexy semi-sheer slip dress may be just what you need for a fun bridal afterparty, or for some beautiful getting ready photos during hair and makeup!
45.

Polished Luxury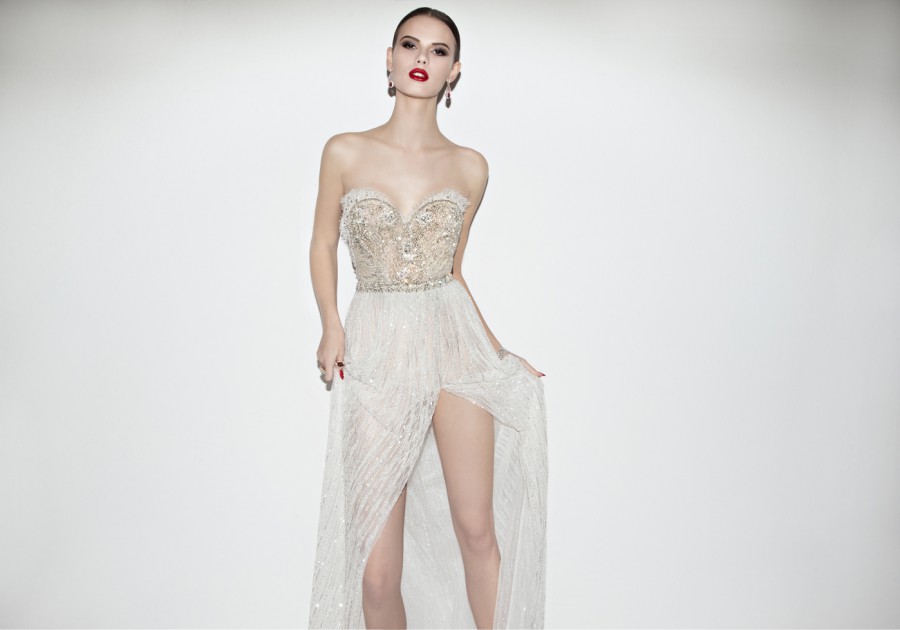 A sassy, luxurious wedding style. This glitz and polished wedding gown features a semi-sheer skirt for a sexy sheer finish.
46.

Bold Bohemia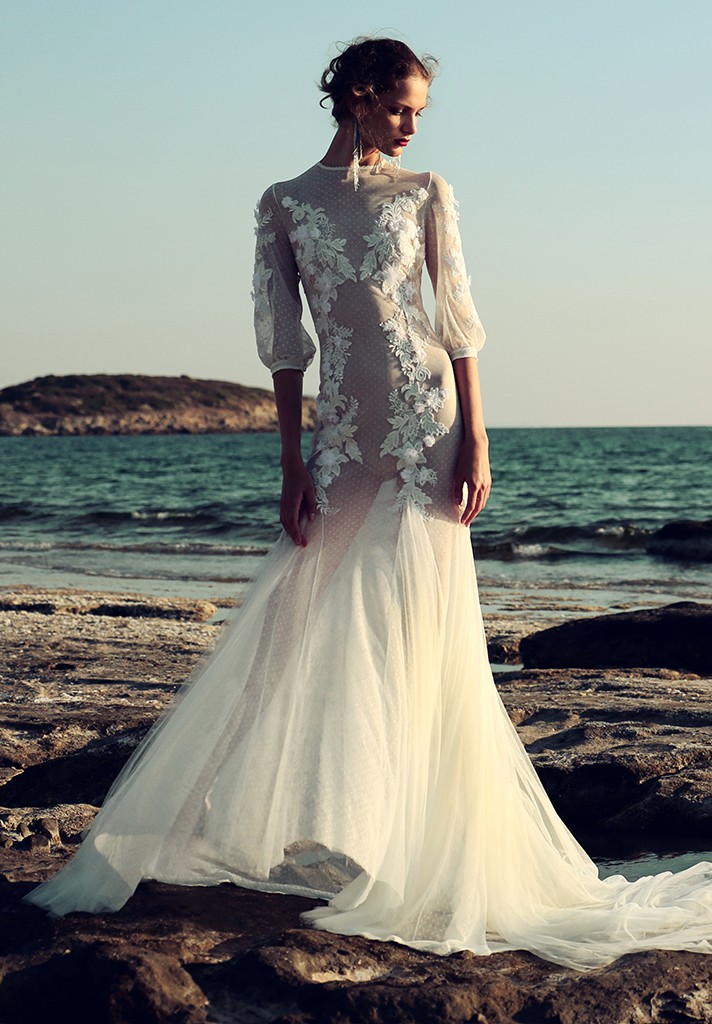 A bold sheer wedding day style with bohemian inspiration. Perfect for a off-beat boho bride looking to make a big statement on her wedding day.
47.

Garden of Eden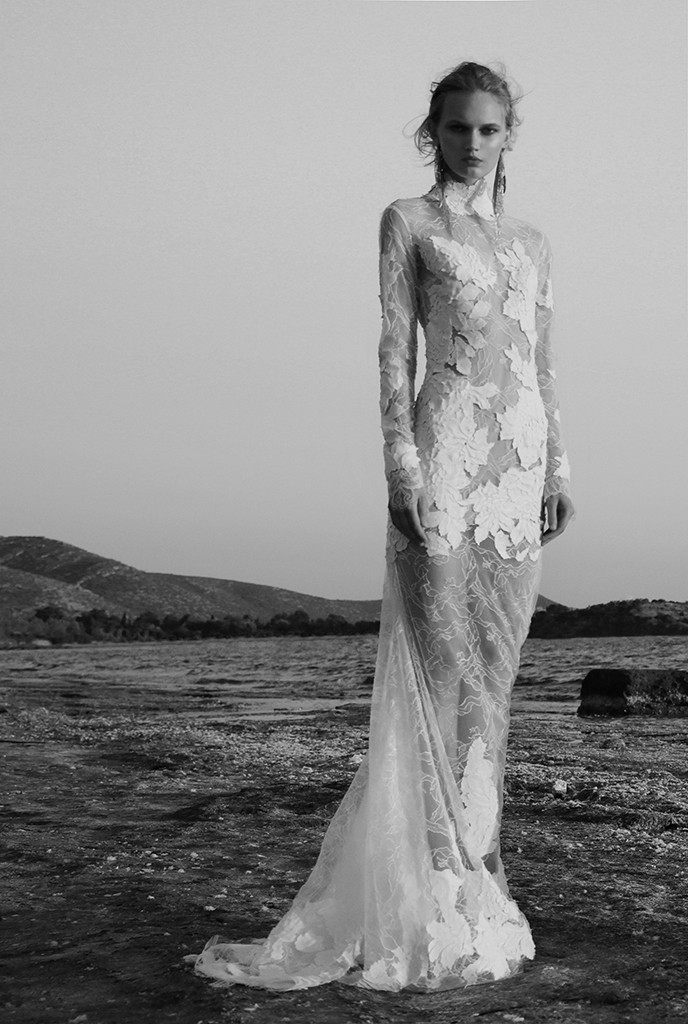 A stunning high fashion sheer wedding style. Completely covered in sheer fabric, this style seems to cover just the brides bodice with gorgeous foliage embroidery for a one of a kind garden of eden inspired look.
48.

Edgy Contemporary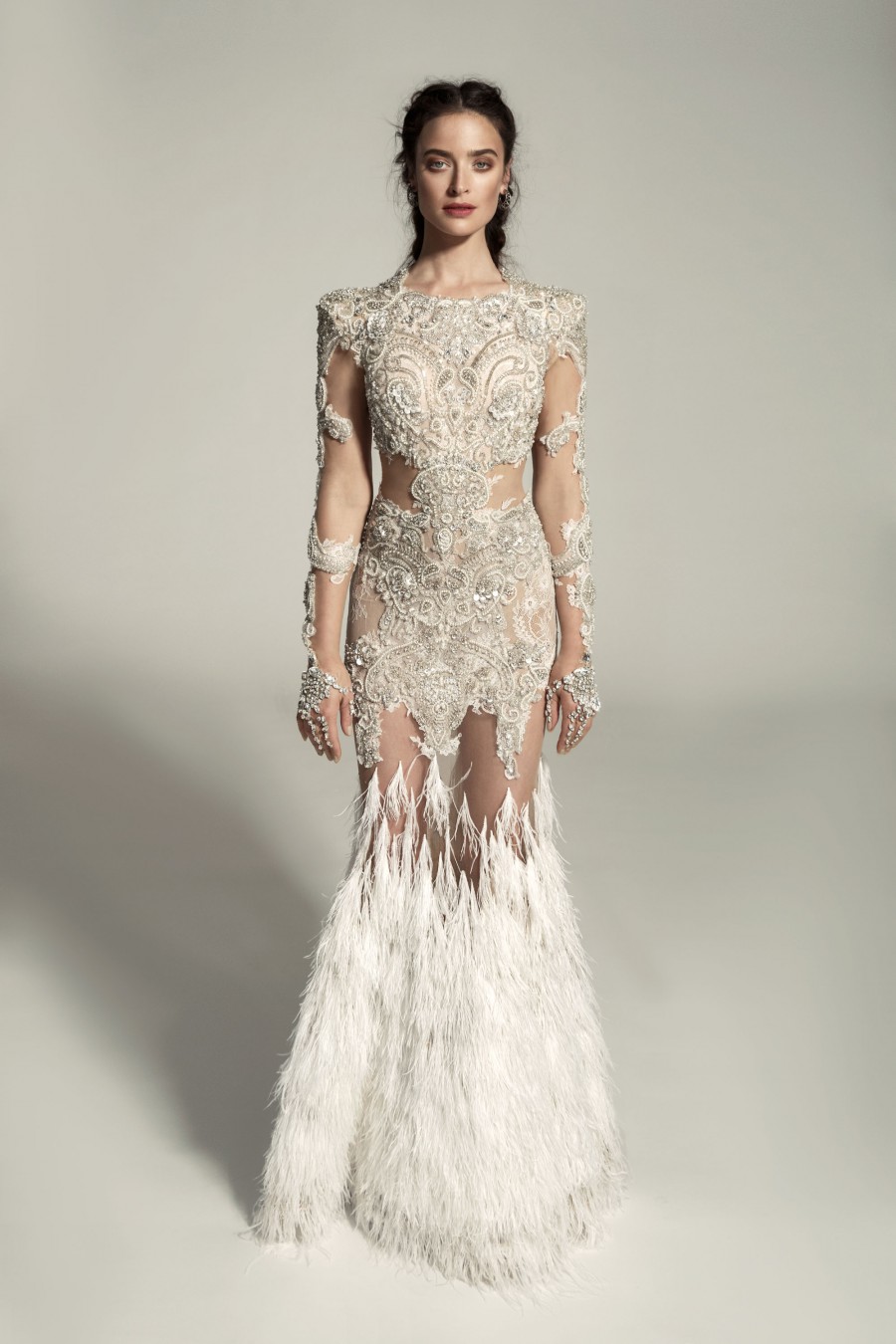 An iconic piece of bridal fashion. Starting with a base of illusion tulle fabric that is embroidered with crystals and lace, and finished with ostrich feathers. A stunning contemporary sheer bridal style.
49.

Sheer Cape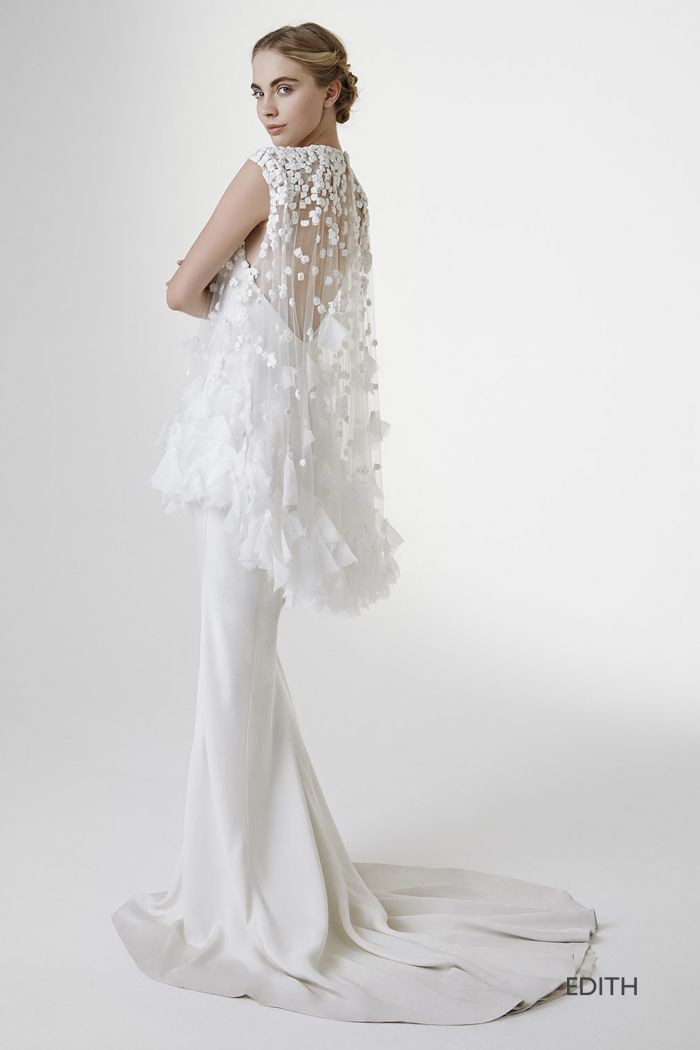 A sleek clean bridal style is complemented with a contemporary sheer cape that is truly a piece of abstract modern art. Add a contemporary flair to a sleek classic style with this cape look.
50.

Simple Strapless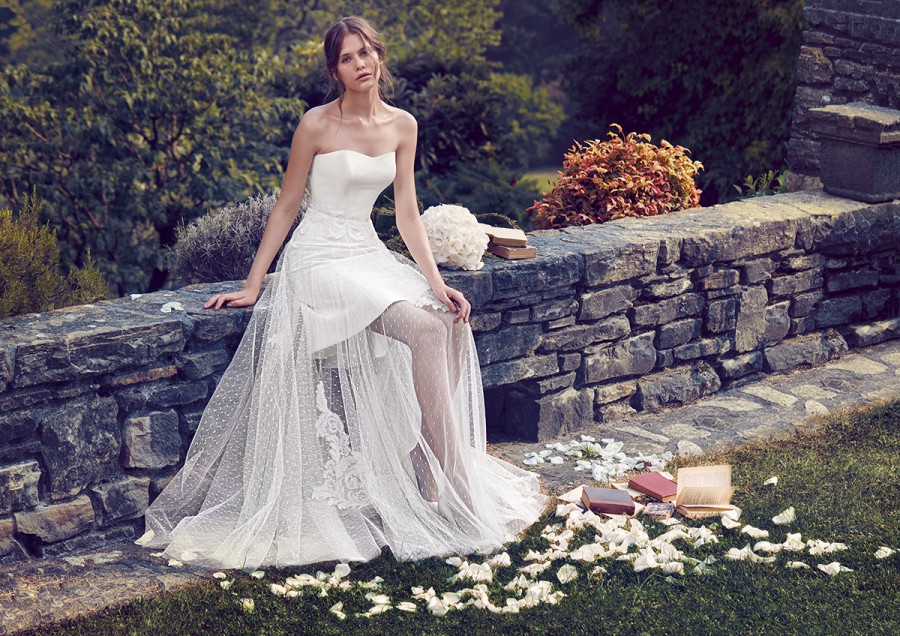 A simple strapless mini dress with gorgeous sheer overlay, for a twist on a classic style.
51.

Sheer Bodysuit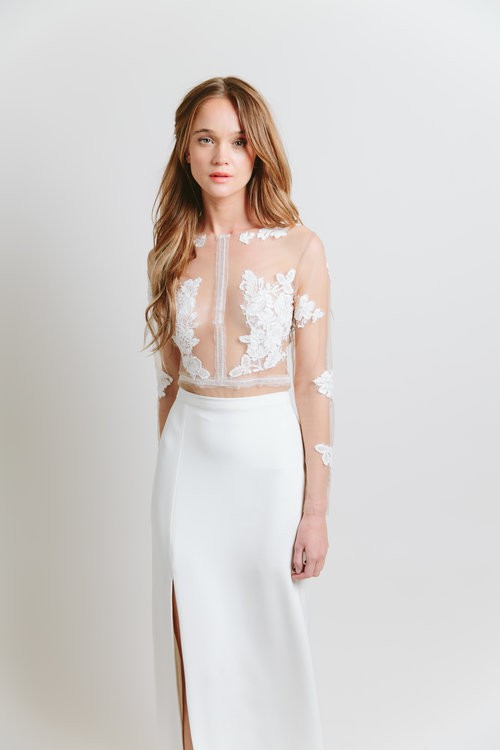 A stunning two piece bridal style by Sarah Sevens. A beautiful combination of her sheer Salano bodysuit and Utopia skirt. The sheer top and sleek white skirt complement each other beautifully.
52.

Sassy Sheer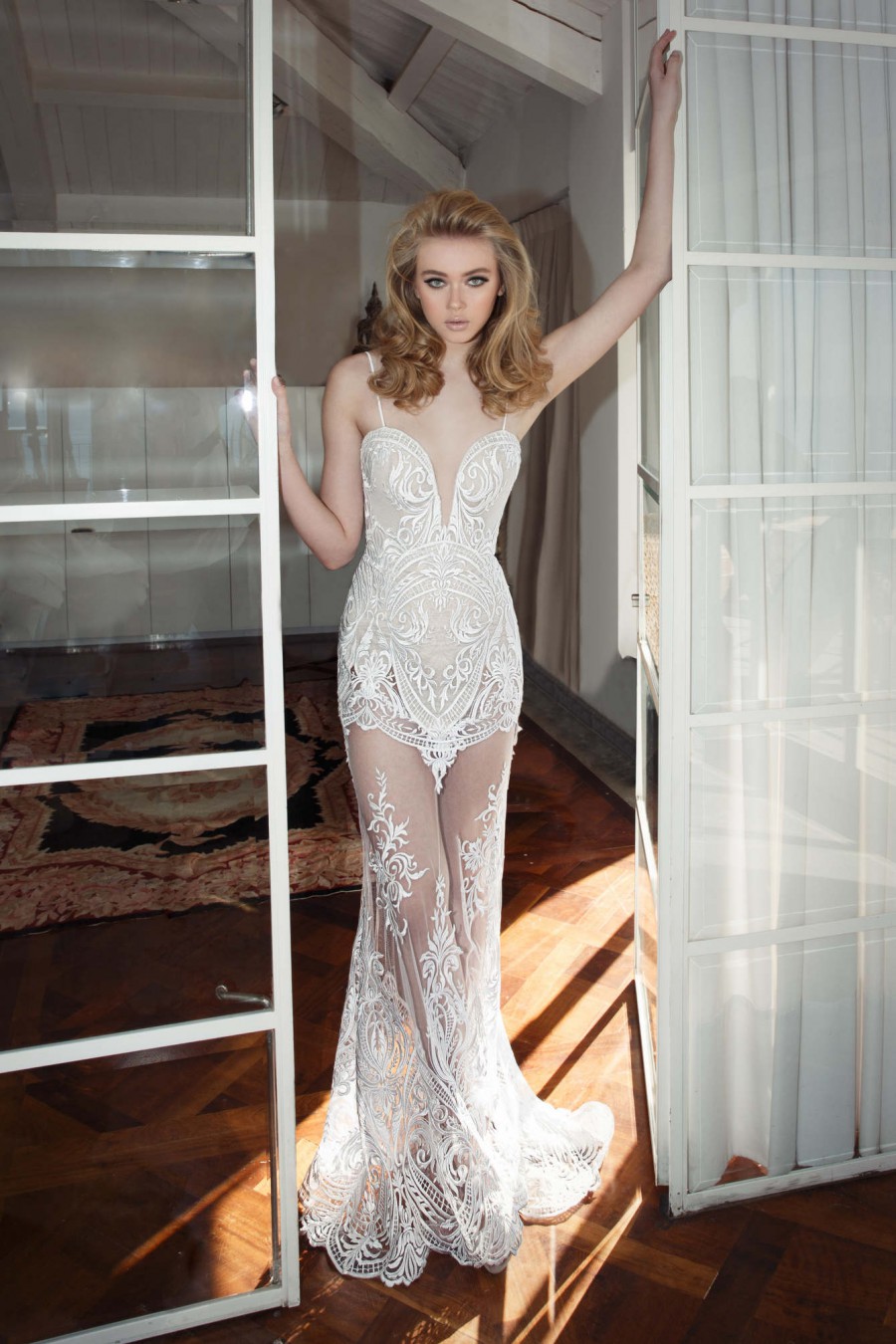 Sexy and sassy. The detailing on this partially sheer wedding gown is absolutely breathtaking.
53.

Contemporary Cinderella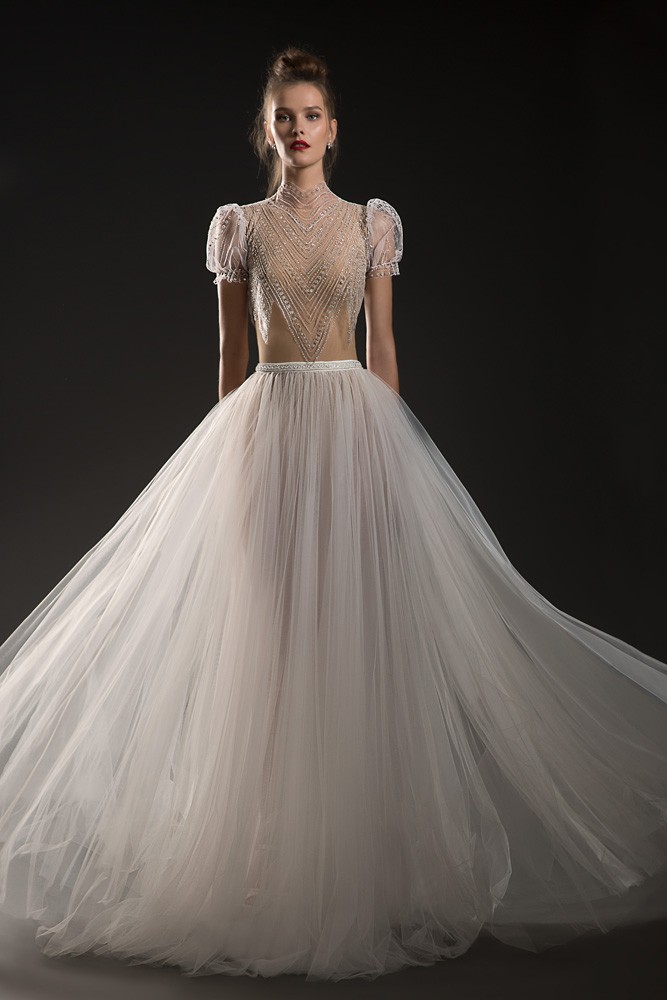 Fairytale Cinderella has nothing on this contemporary princess ball gown style. A voluminous tulle skirt is paired with a sheer beaded bodice and flouncy Cinderella cap sleeves for a modern day fairytale style.
54.

Silk and Tulle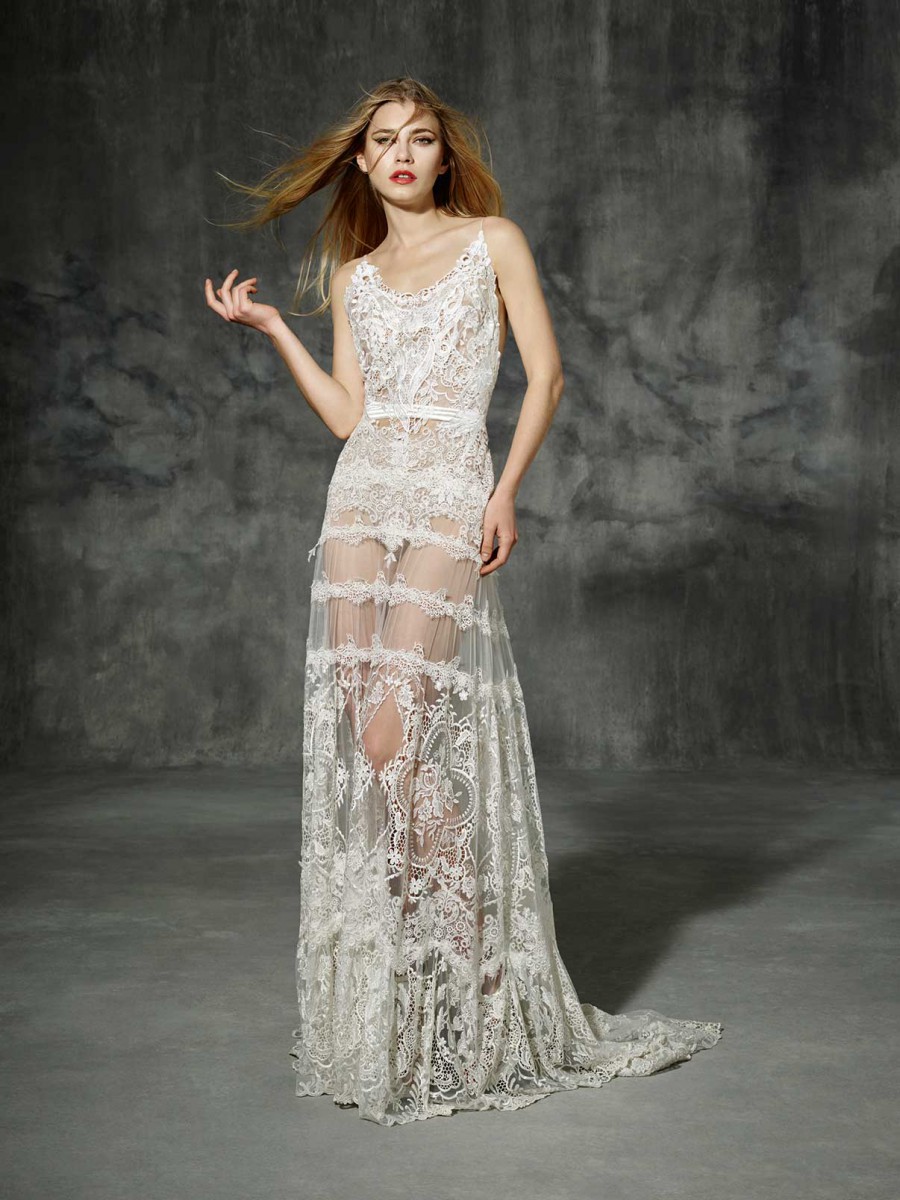 A stunning silk embroidered sheer tulle gown by Yolan Cris. Exquisite detailing in the delicate silk embroidery.
55.

Couture Lace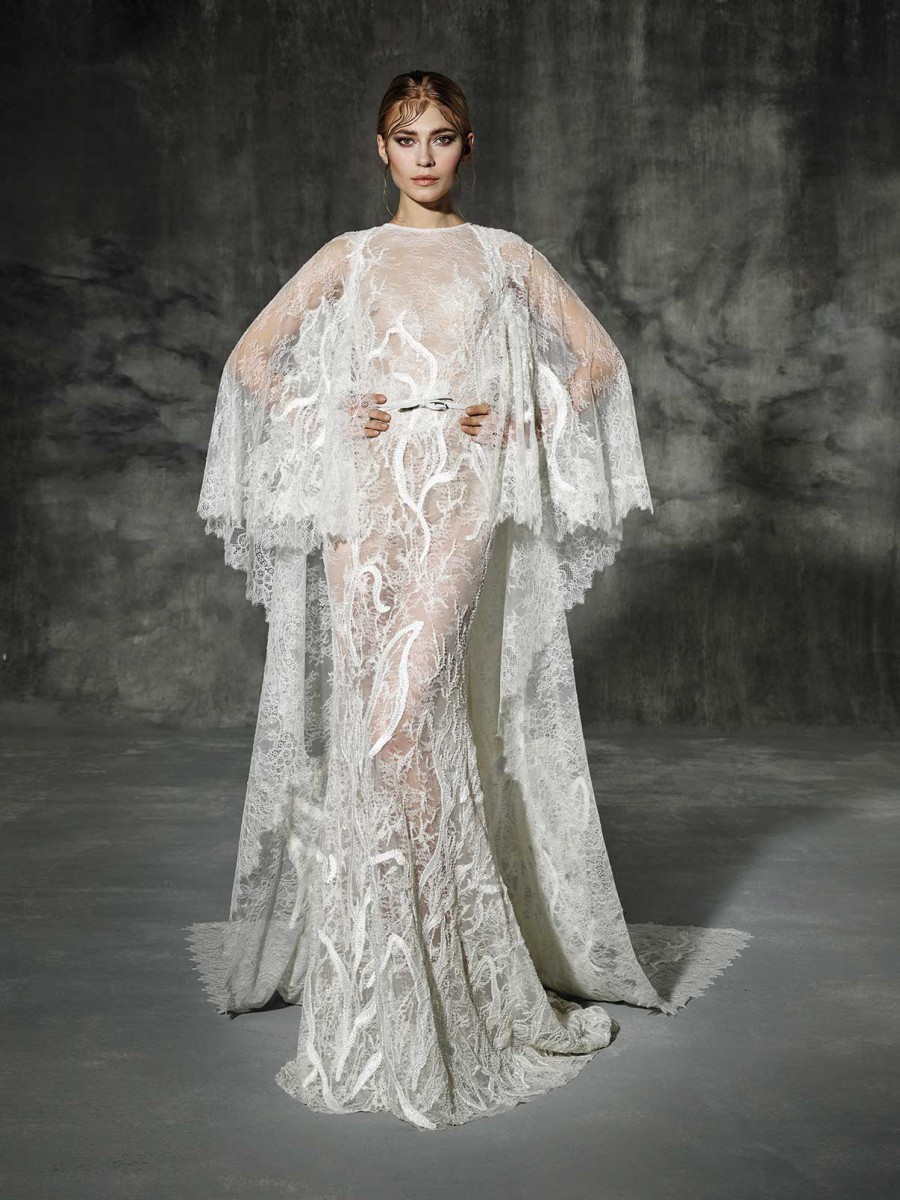 A couture lace semi-sheer wedding gown that is a true modern masterpiece. Feel absolutely fierce in this French lace gown.

Shop wedding dresses now.

By Kathryn Schrotenboer