You may have thought ruffles died in the 80's along with big hair and puff sleeves - but modern day bridal fashion had something to say about that...
Loud, textured, voluminous ruffles are making a big comeback in fashion - and we are seeing them everywhere on the bridal scene. But ruffles don't have to be over the top and loud. They can be clean, modern accents that are stunning on even the most contemporary of brides. So if you are brave enough to give ruffles a second glance, then take a look at our favorite contemporary ruffled wedding gowns.
01.

Mini Gathered Ruffles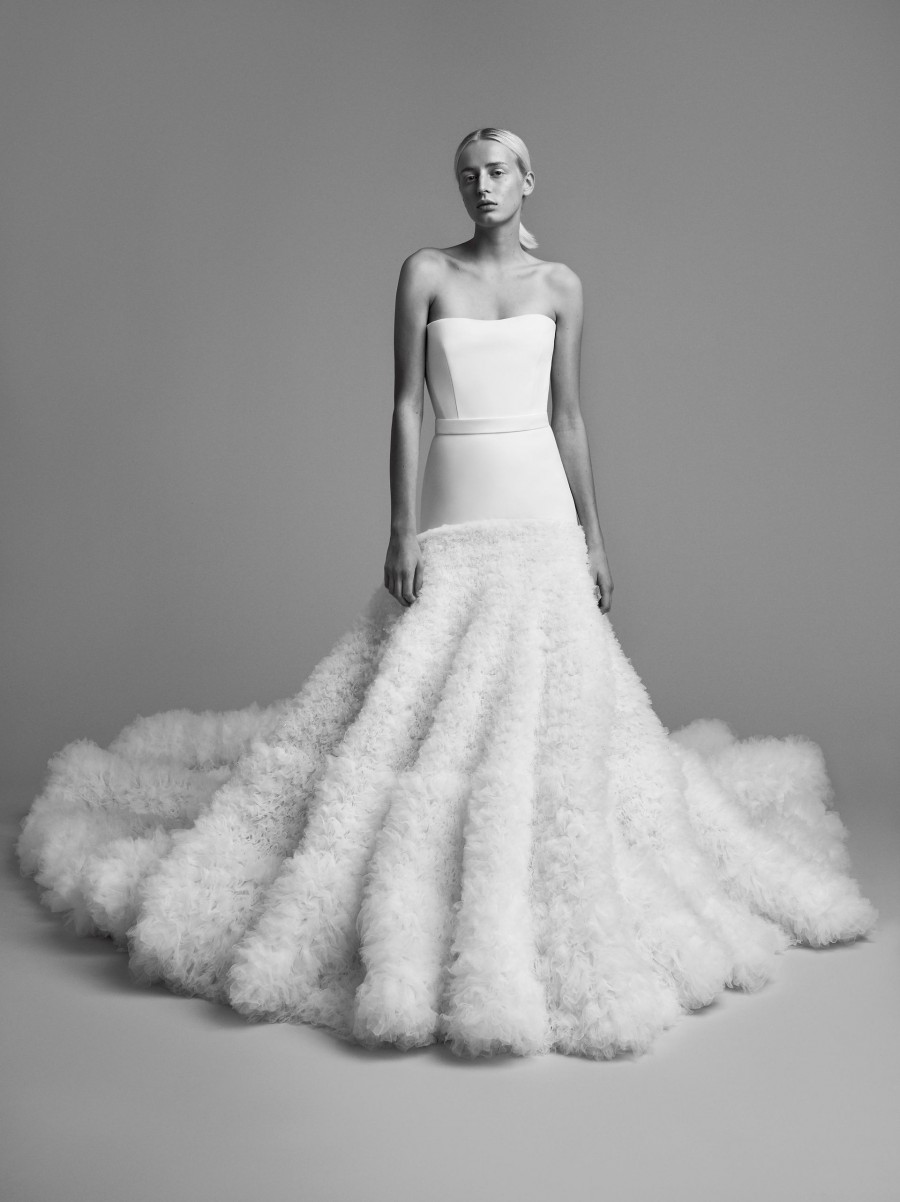 Viktor Rolf shows us how to use ruffles in a unique and contemporary way. This stunning modern gown starts off sleek and simple, but gives way to a voluminous skirt and cathedral train made up entirely of small gathered tulle ruffles. A contemporary way to use ruffles to create a one of a kind bridal texture.
02.

Modern Bohemian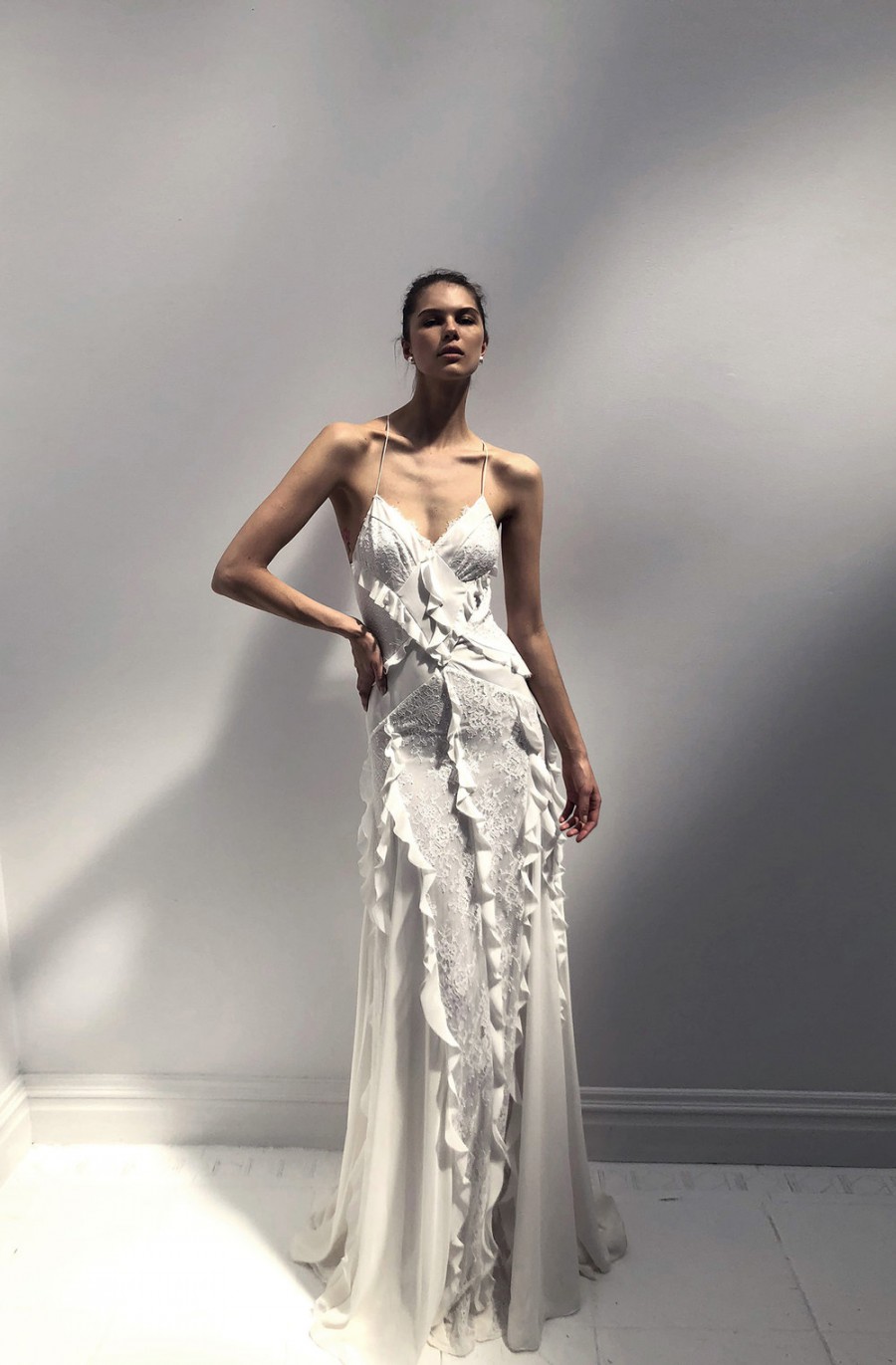 Livne White brings us a boho-inspired wedding gown that features all over cascading ruffles. These ruffle accents are delicate and feminine, while also being modern and playful.
03.

Love Cloud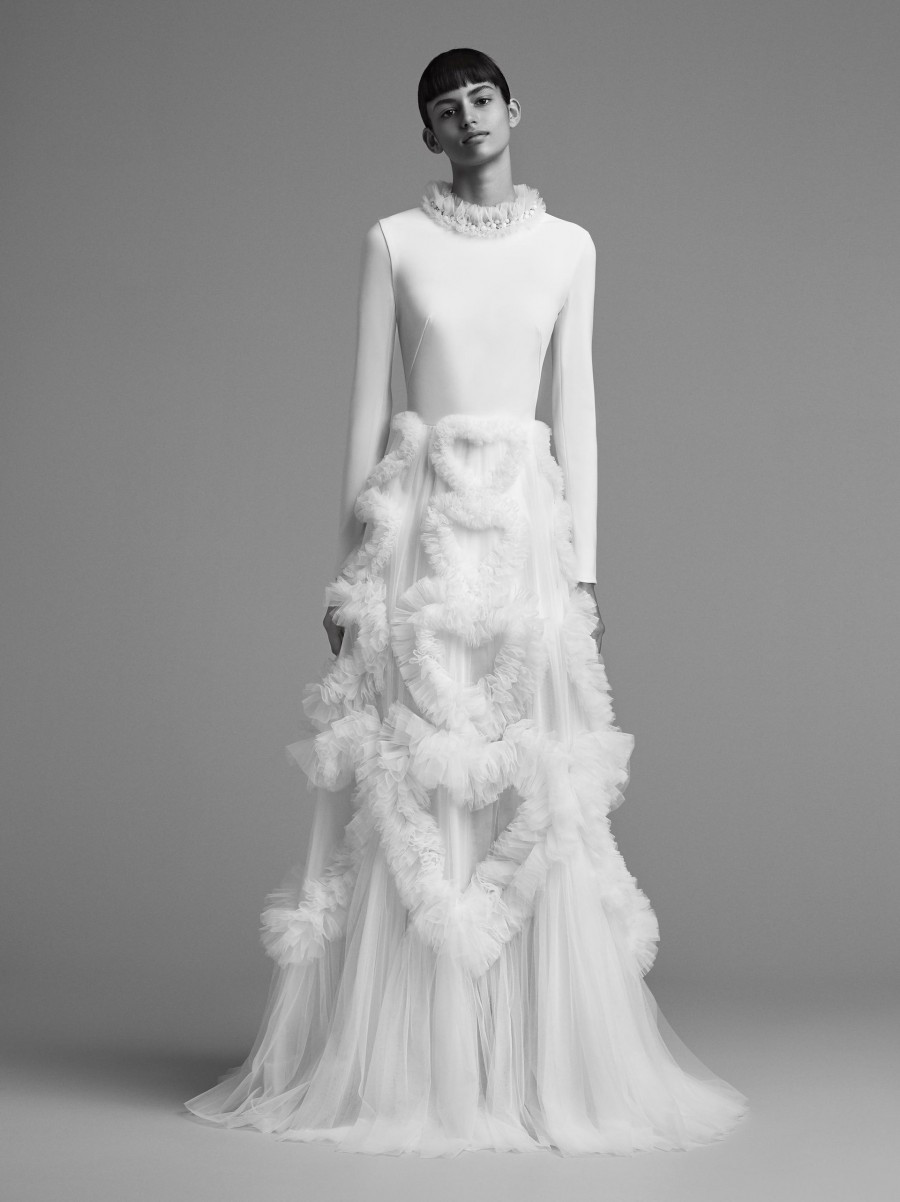 We can't get enough of "Love Cloud" from Viktor Rolf. This look is only for the bravest of modern brides. But if you think you can handle this untraditional ruffled wedding style - you will be sure to make a lasting impression on your big day. Heart shaped ruffled cloud-like accents are what steal the show on this one of a kind gown.
04.

Glam Ruffles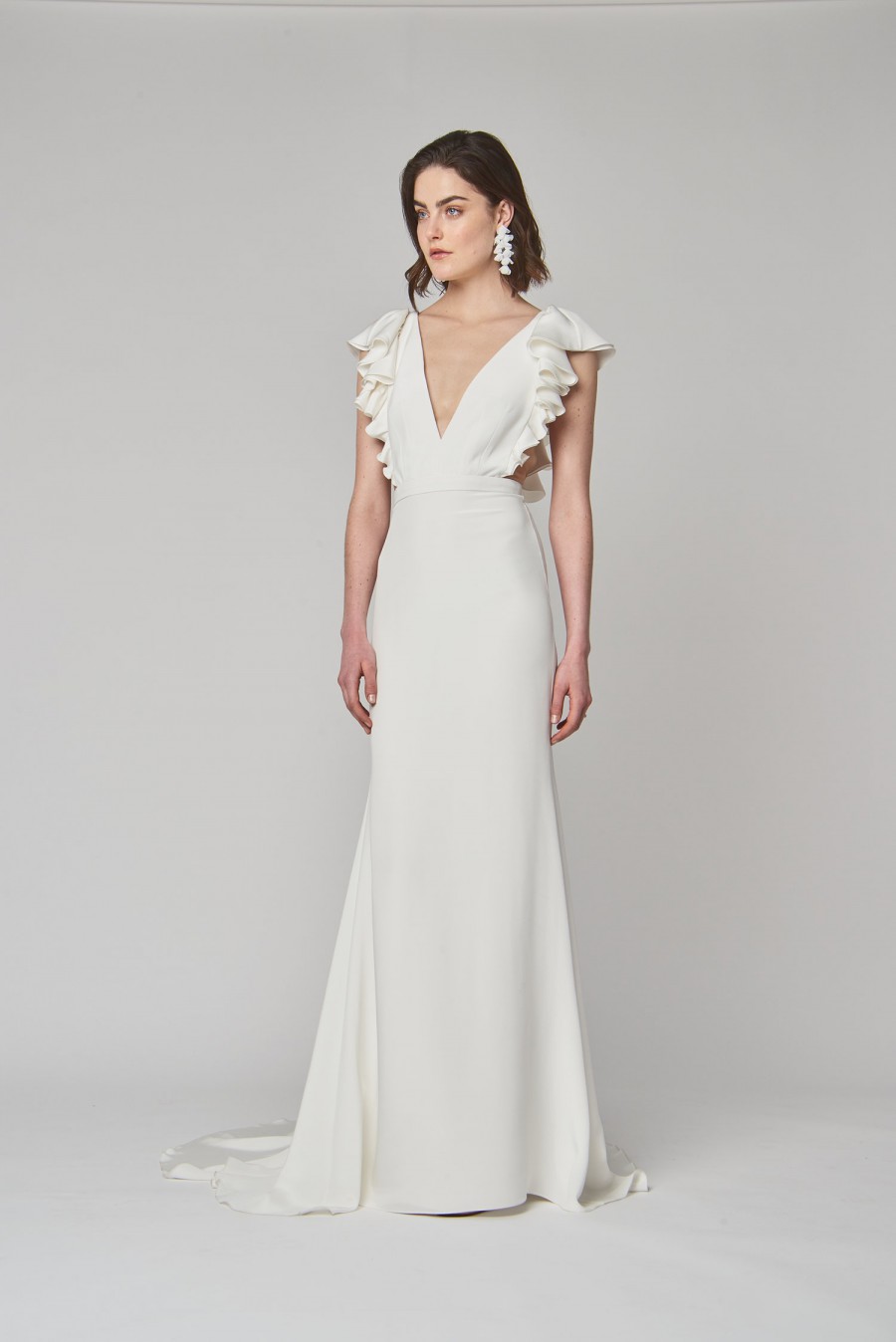 A feminine glam style from Alexandra Grecco that is all about the subtle ruffle accenting. Subtle, understated, and so chic.
05.

Jumpsuit Ruffles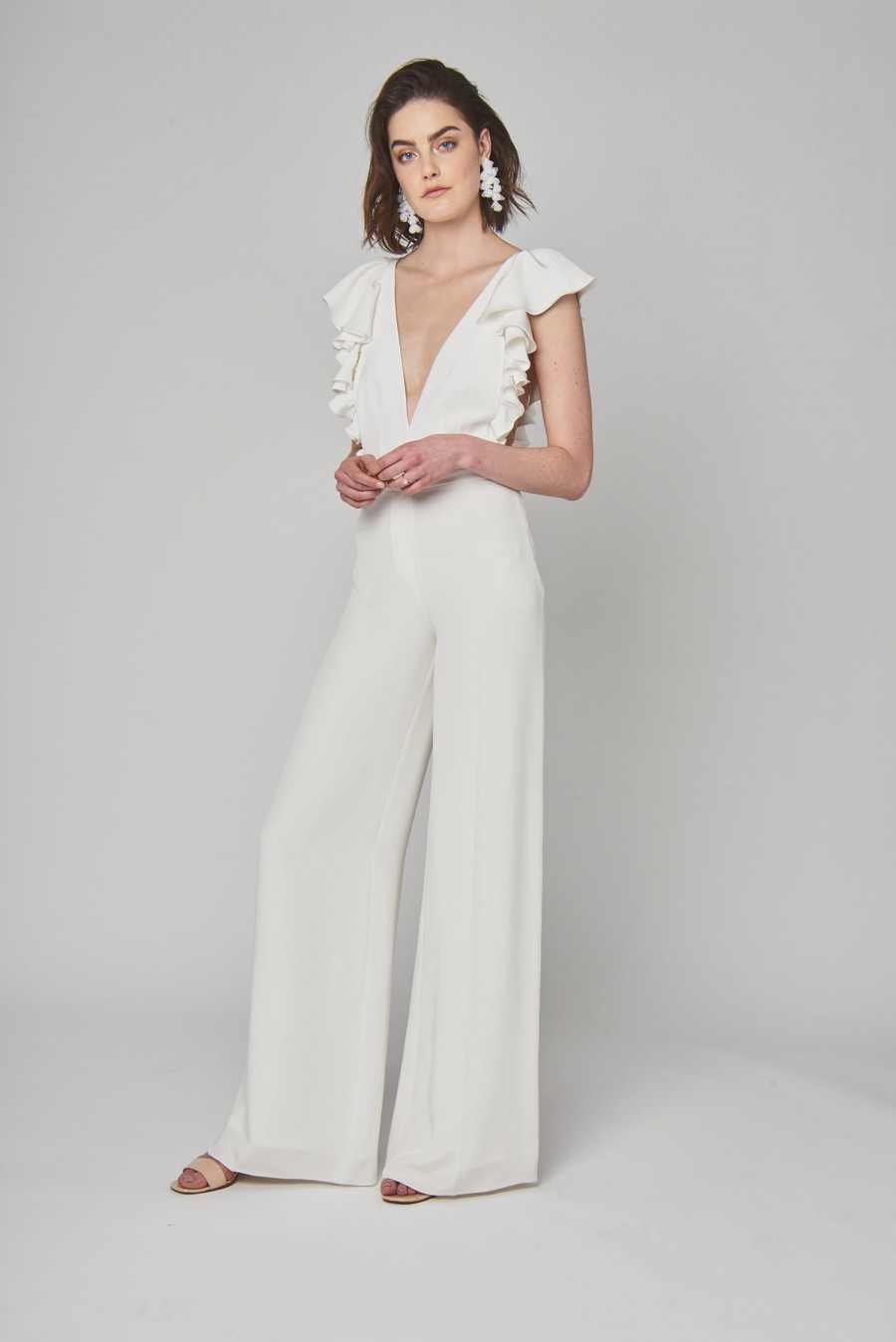 Are you loving the previous style, but want something just a bit edgier? How about almost the same cut, but in a jumpsuit?! This look has the same glam, chic feel as the previous dress, but in a stunning fashion forward jumpsuit style. And we absolutely love it!
06.

Modern Silk Ruffles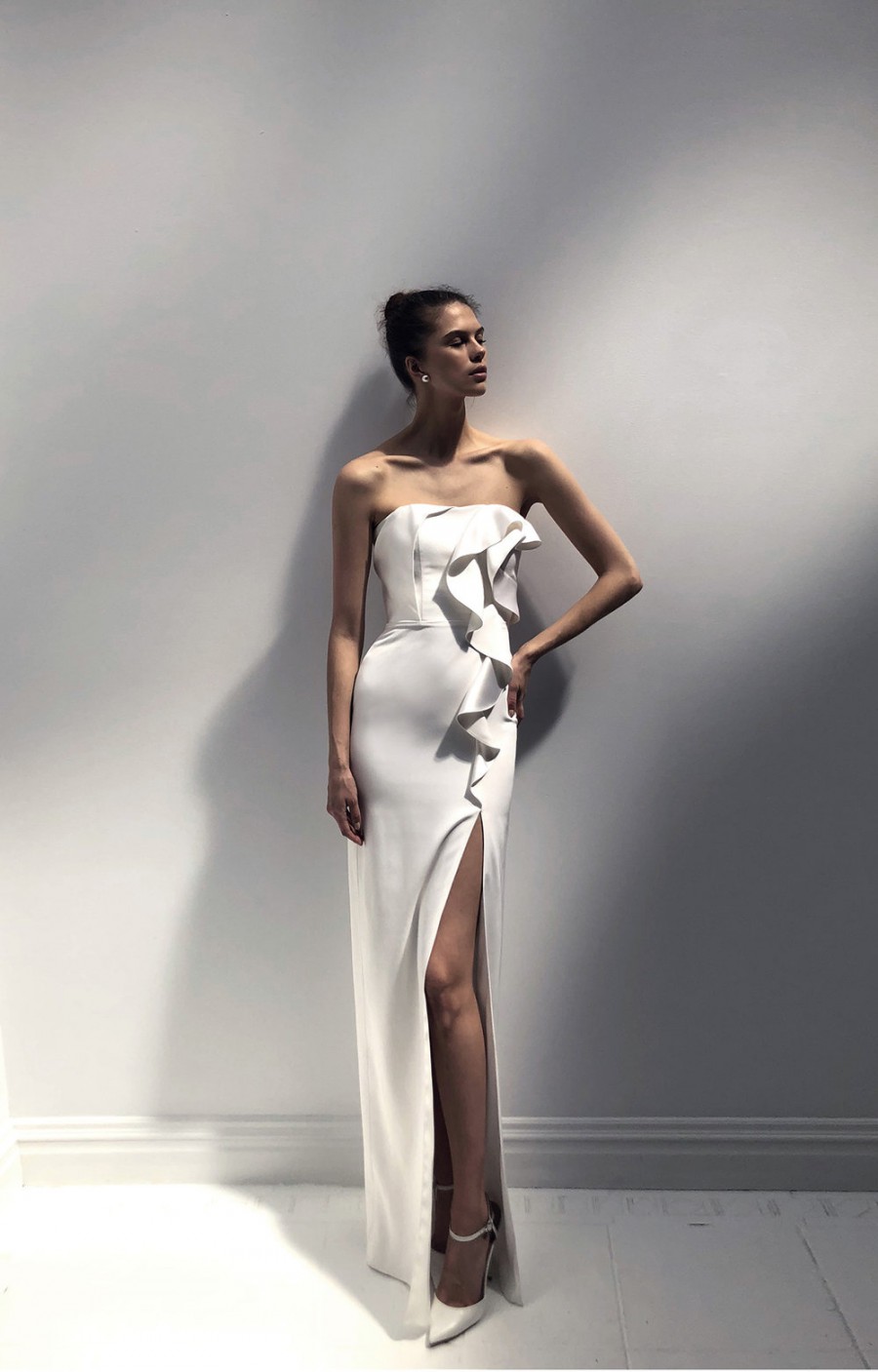 A modern silk wedding gown that shows just how chic and contemporary ruffles can be. Need we say more?
07.

Structural Stunner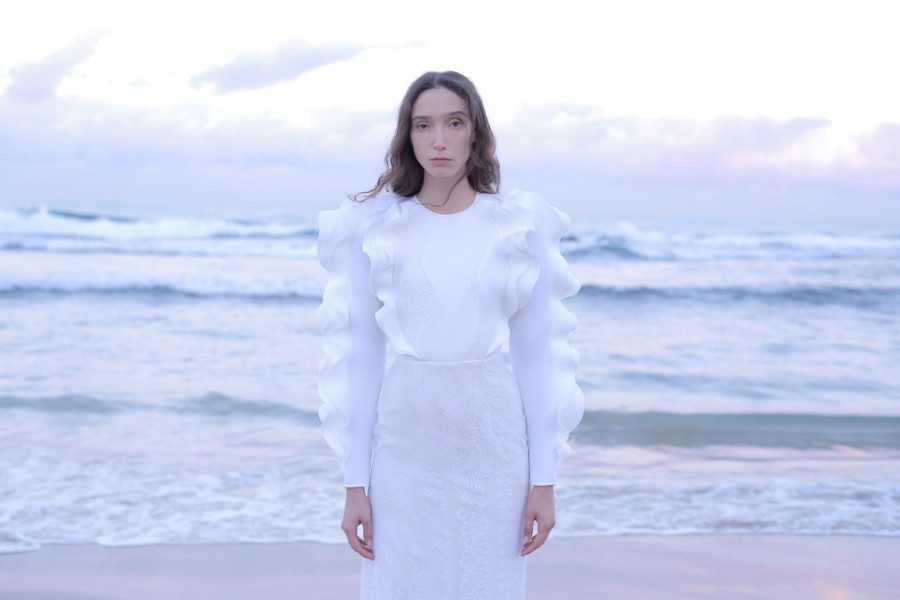 This next ruffle accented wedding gown really is stunning. Whether from beauty or disbelief - you can be the judge. This one of a kind style is completely captivating with its structurally designed ruffle sleeves. This is sure to be a show-stopping, jaw-dropping look on your big day.
08.

Sunny Day Chic Ruffles
This next ruffled wedding gown will have you dreaming of a sunny vineyard wedding day escape. Featuring alternating fabrics for a truly one of a kind feel - without being too over the top. The ruffle accenting just below the hips adds just the right touch of playful volume to the look.
09.

Tulle Ruffle Cape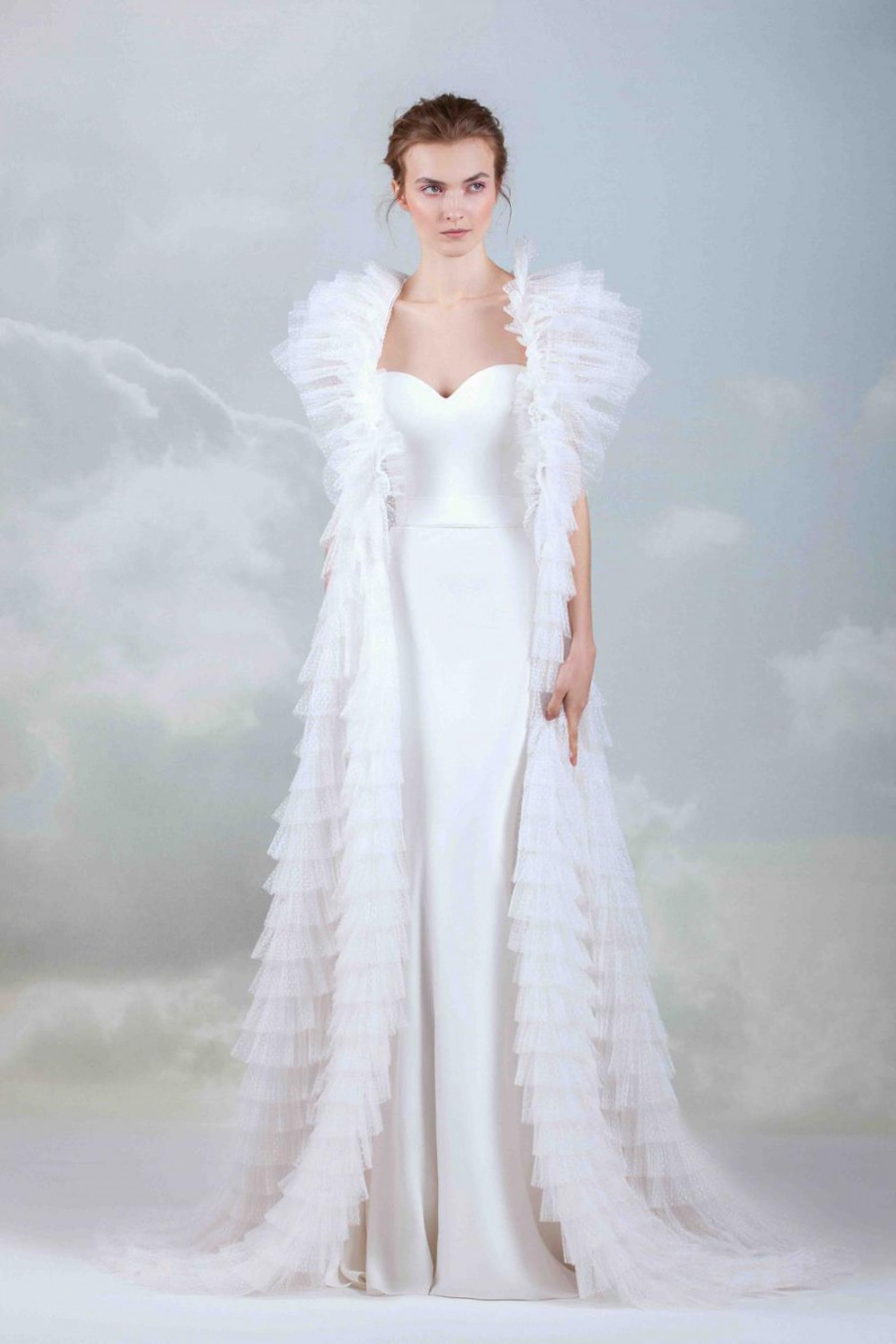 Gemy Maalouf brings us a completely unique take on this ruffle trend with a layered tulle ruffled cape. A stunning one of a kind contemporary wedding day look.
10.

Simply Silk Ruffles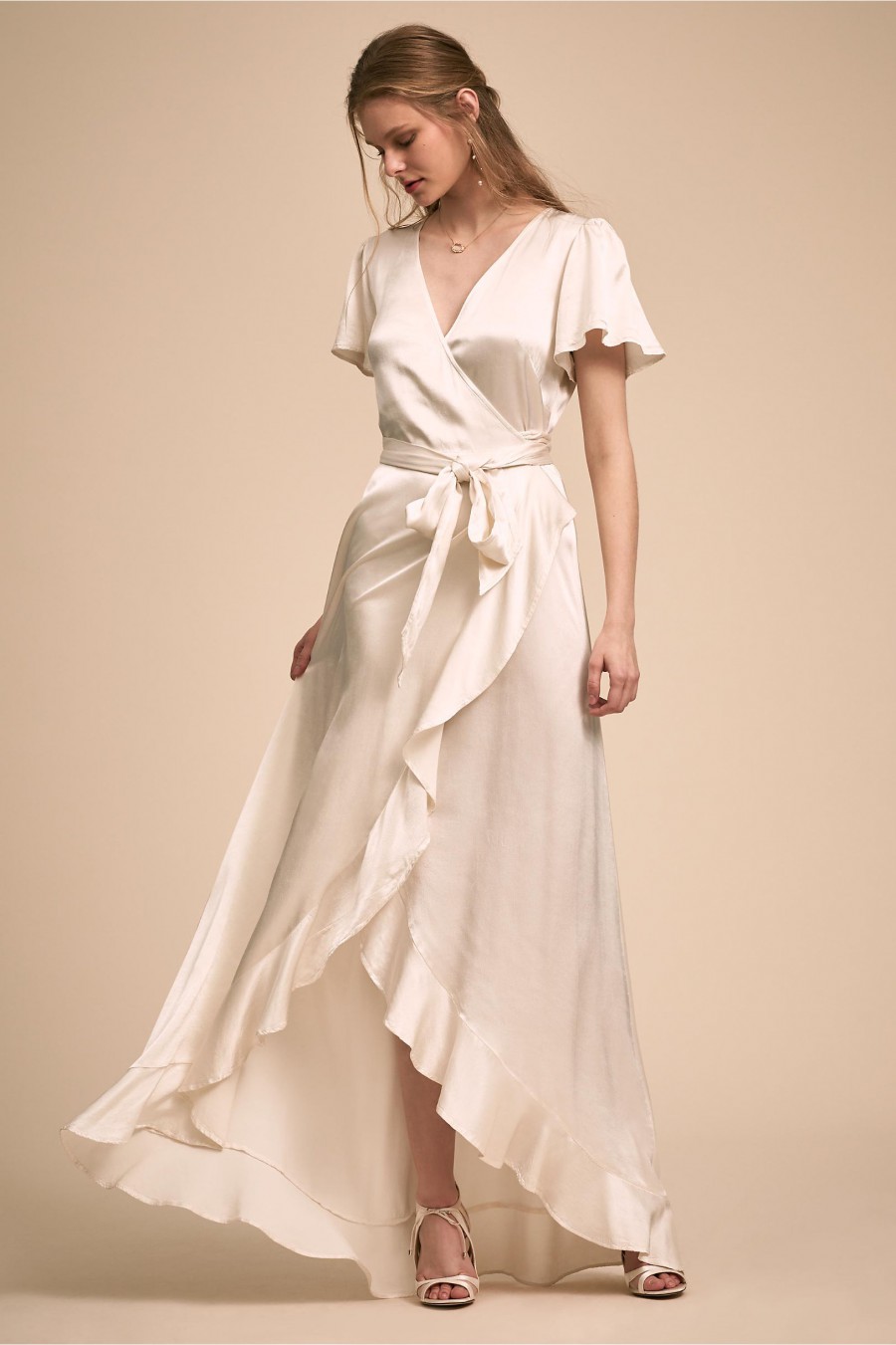 A simple silk wrap wedding dress that is turned into a playful, feminine wedding style with its added ruffle trim. This dress just wouldn't be the same without its subtle ruffle detailing.
11.

Wrapped Ruffles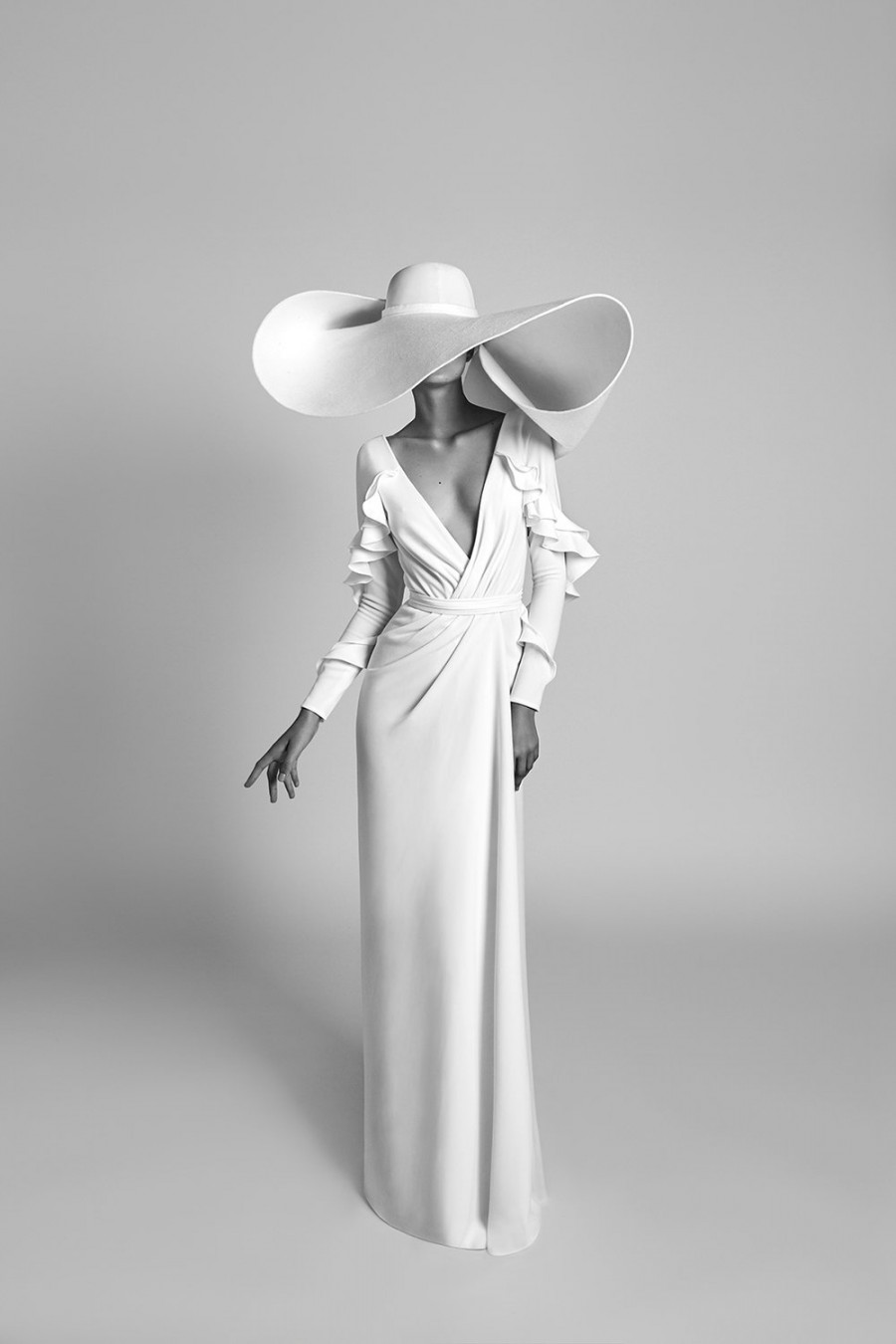 Our next ruffled wedding style is a chic wrap style wedding gown. The ruffle accenting on the arms of this gown really set it apart from the rest. And is the look really complete without that oversized hat?
12.

Blushing Tulle Texture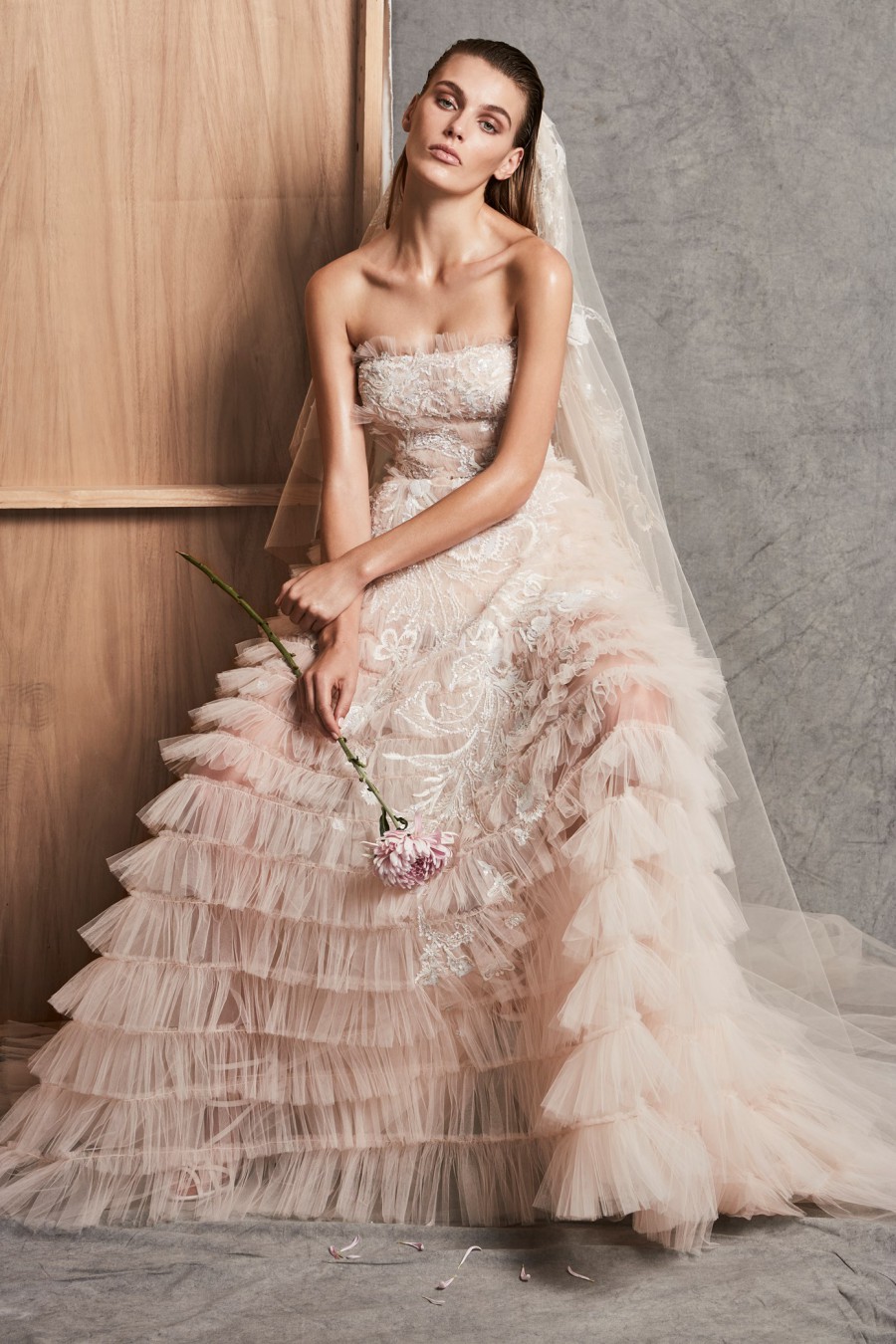 A truly one of a kind blush bridal style that steals the show with its skirt of gathered tulle ruffles. A subtle way to use this re-emerging ruffle trend as a eye catching contemporary texture.
13.

Off the Shoulder Ruffles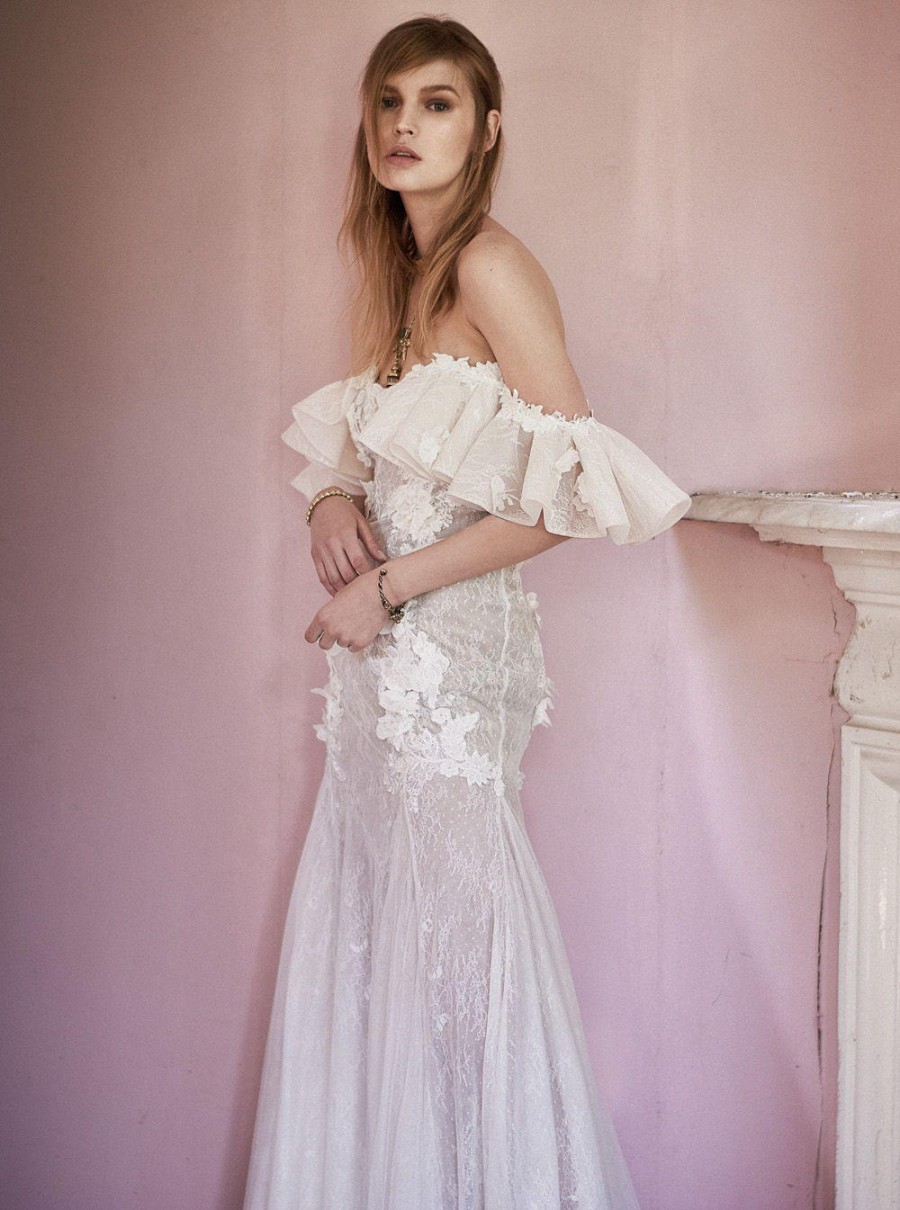 Some off the shoulder ruffles to add just the right amount of feminine sassiness to your wedding day style.
14.

Ruffle Minis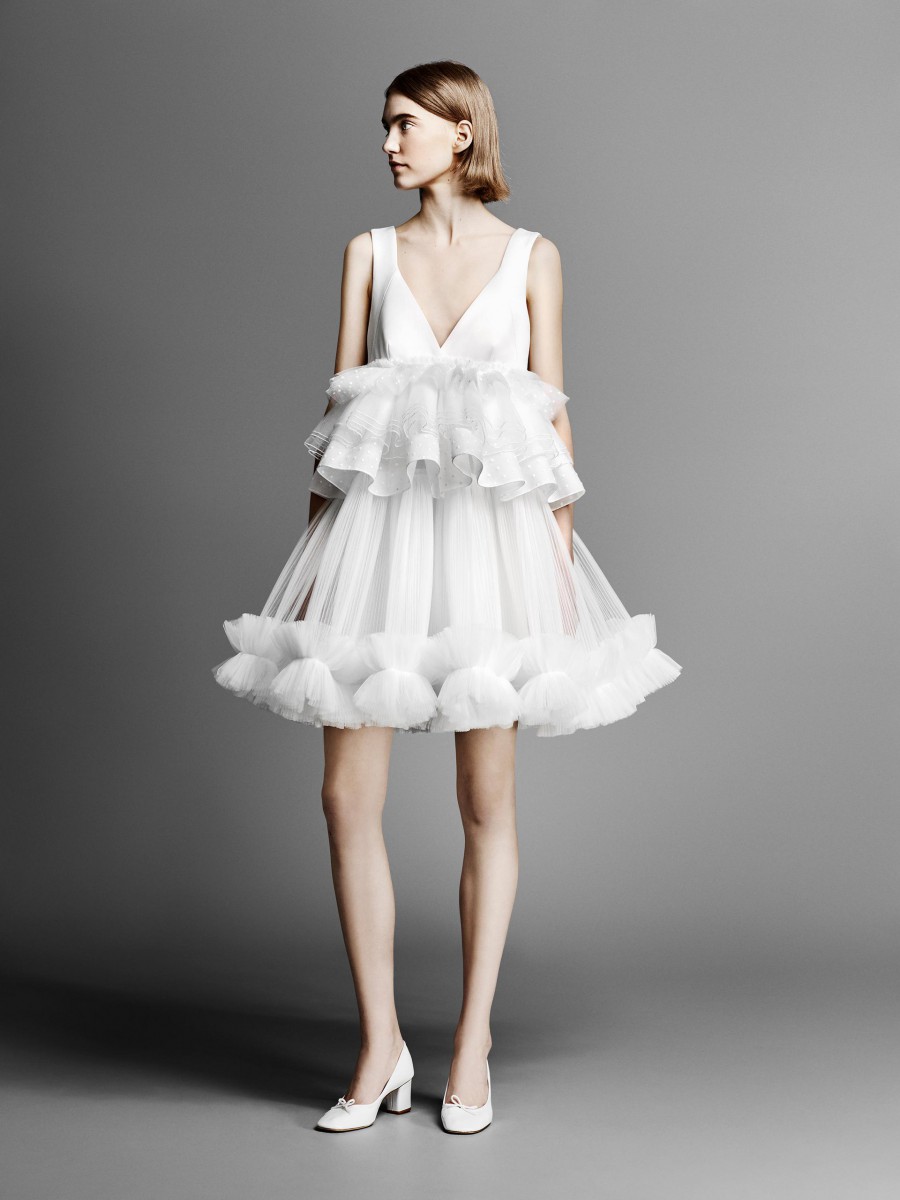 Some playful mini ruffles from Viktor Rolf for a girly bridal party dress! A fun, contemporary reception dress to party the night away.
15.

Festive Ruffles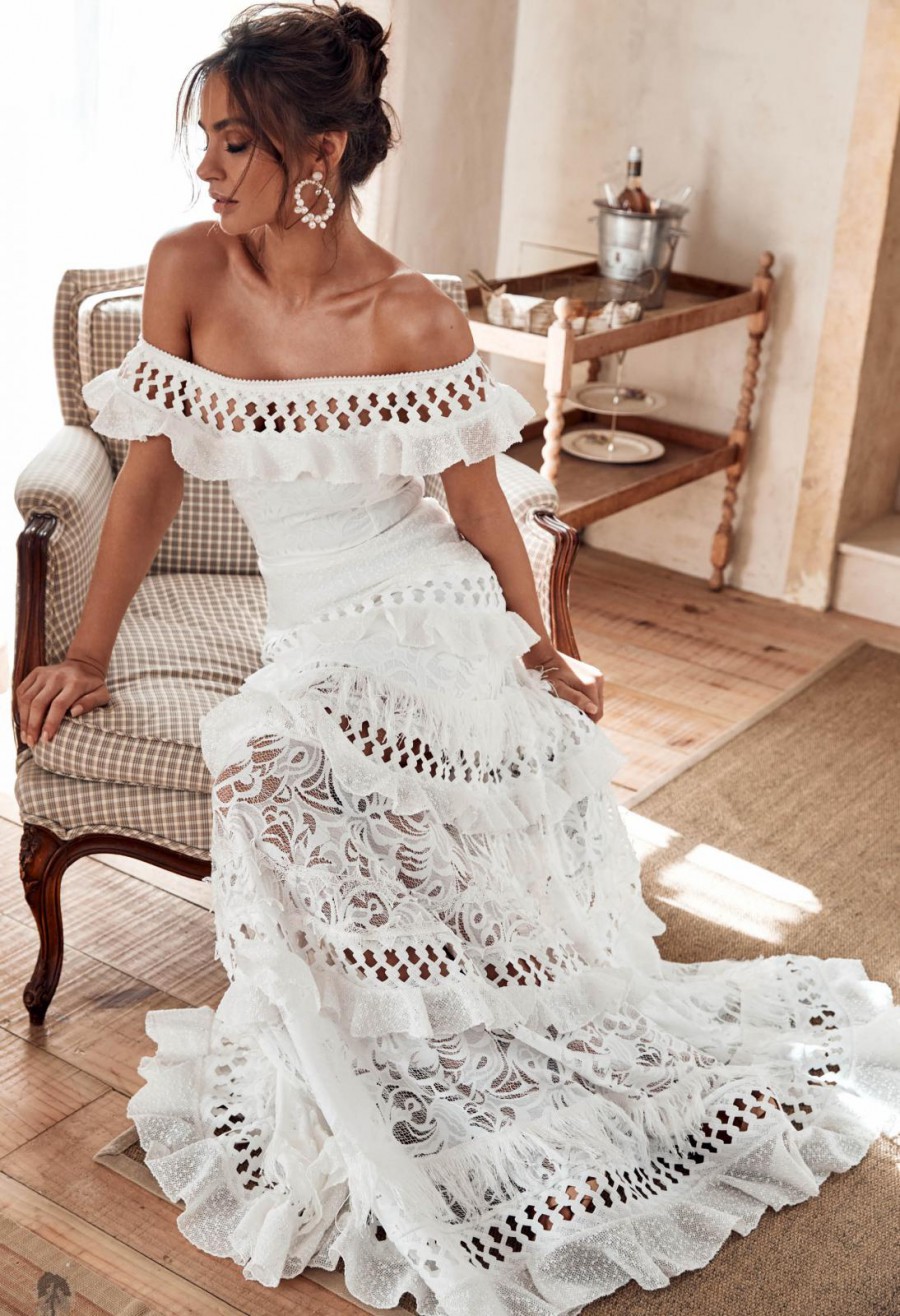 A festive ruffle accented wedding style for a bold, confident bride. This bohemian inspired style is effortless and sophisticated. The silhouette and varying fabric styles of this gown are sexy and captivating.
16.

Breezy Ruffles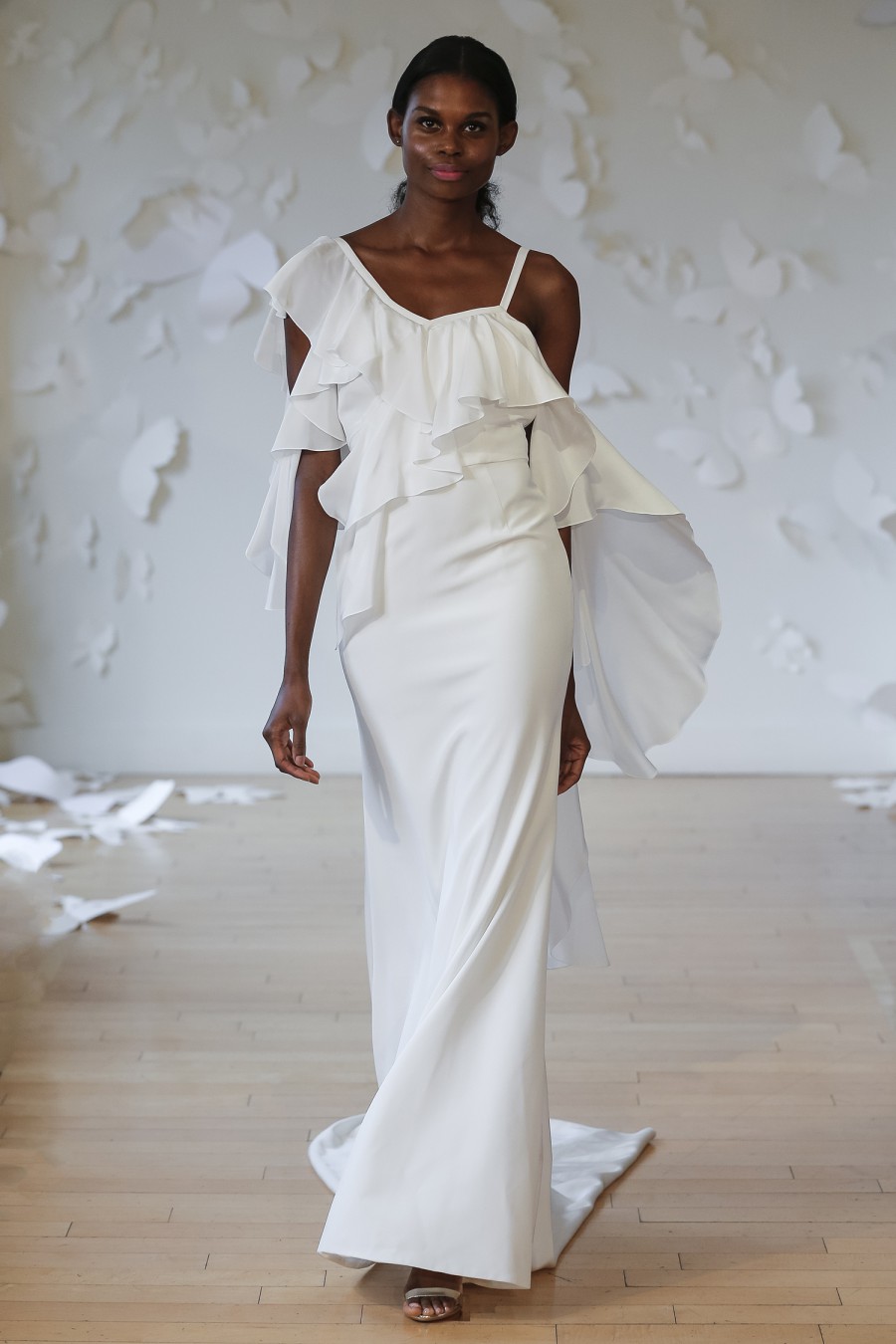 Carol Hannah brings us an asymmetric ruffle accented gown for a modern ethereal vibe. Feel like a wispy modern day muse in this look.
17.

Trimmed in Ruffles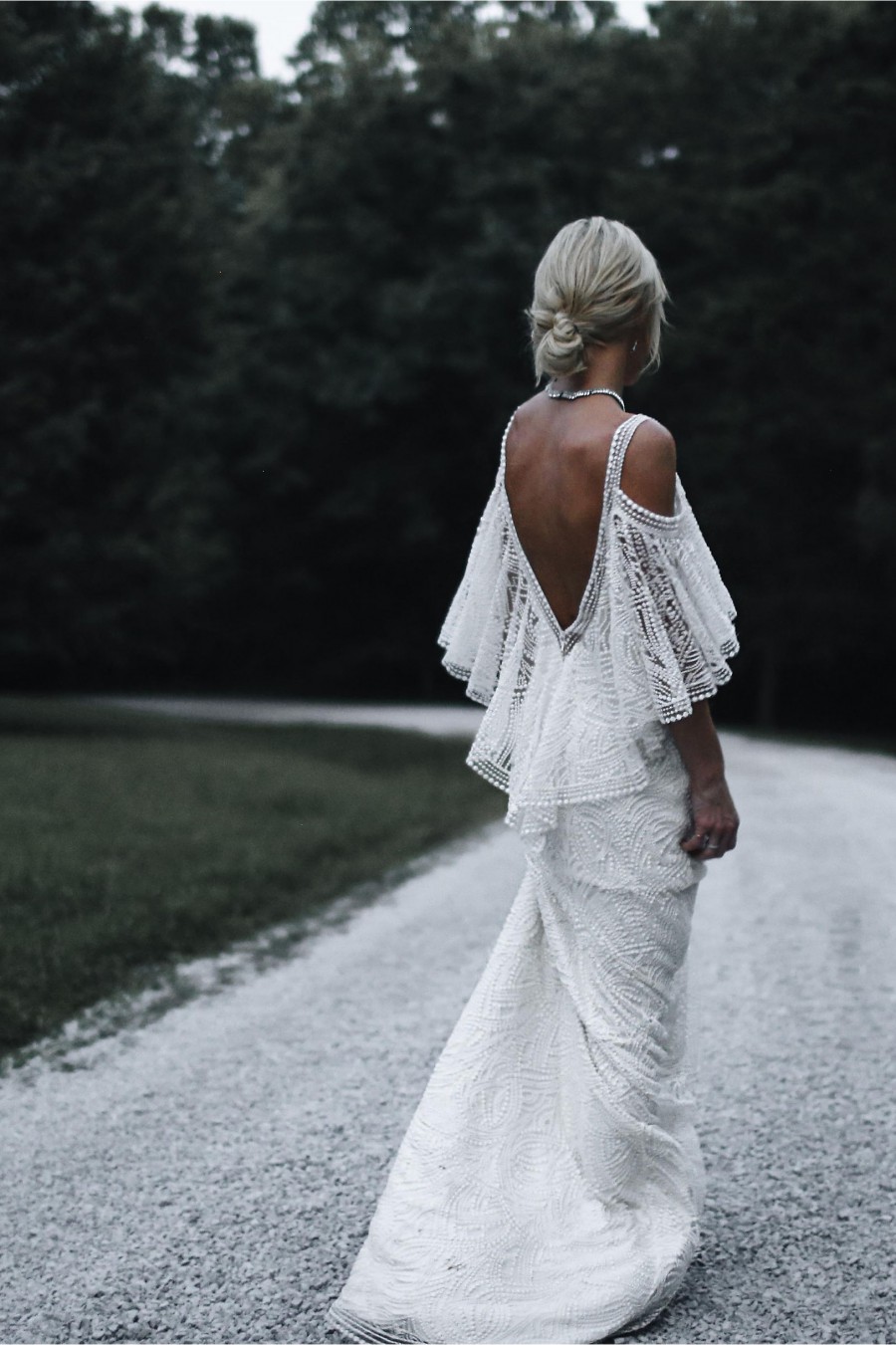 Next we have a breathtaking modern bohemian wedding gown that steals the show with its off the shoulder ruffle detailing. The off the shoulder, and deep-V back are trimmed with dramatic ruffles. This playful style is festive and fun for your big day!
18.

Chic Sophisticated Ruffles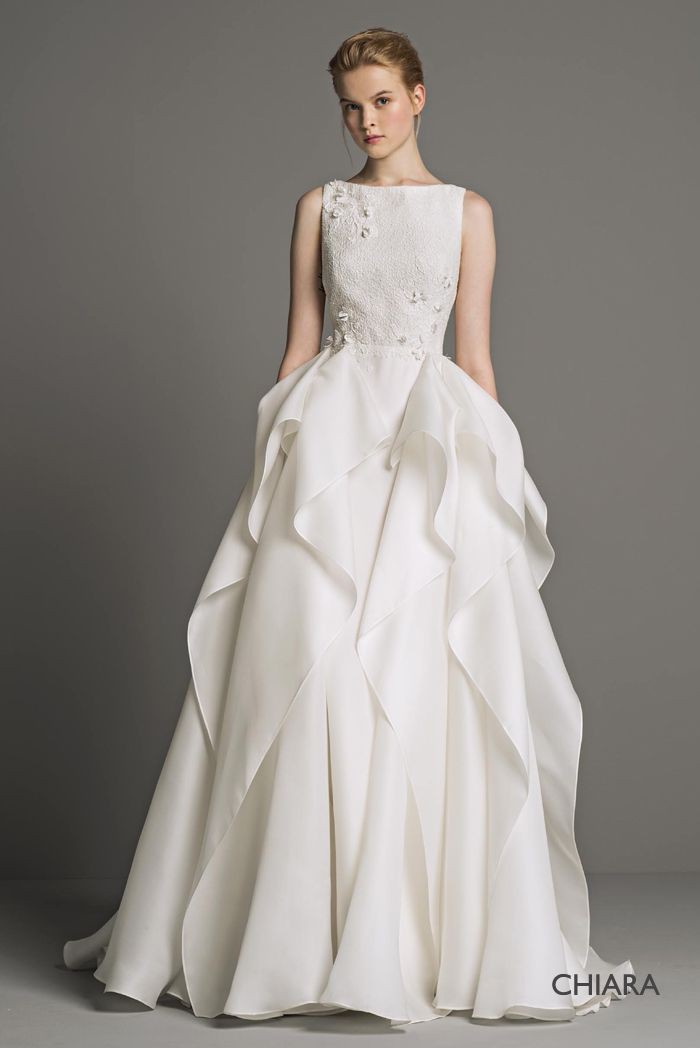 Here we have a chic, sophisticated wedding style that features a effortless ruffled skirt. Delicate cascading ruffles create soft, ethereal movement as the bride walks down the aisle.

By Kathryn Schrotenboer