You may have thought puff sleeves died with 80's fashion - but these voluminous accents are making a come back in the contemporary wedding scene.
Now don't worry ladies - are aren't exactly talking about 80's prom dress puff sleeves here. But these modern designs definitely pulled influences from those beloved over-the-top styles. We are loving the come back of the puff sleeve design - so we have gathered all of our modern favorites. Get ready to indulge in some lavish contemporary puff sleeve wedding gown designs!
01.

Gathered & Sheer
Maybe not exactly what you were thinking when you were picturing an 80's fashion come-back. But these sheer, gathered puff sleeves are a stunning contemporary accent to this one of a kind gown. A way to add some pop to a sexy modern wedding day look. And if you love the big sleeves - why not compliment the look with a big hat?
02.

Puff Princess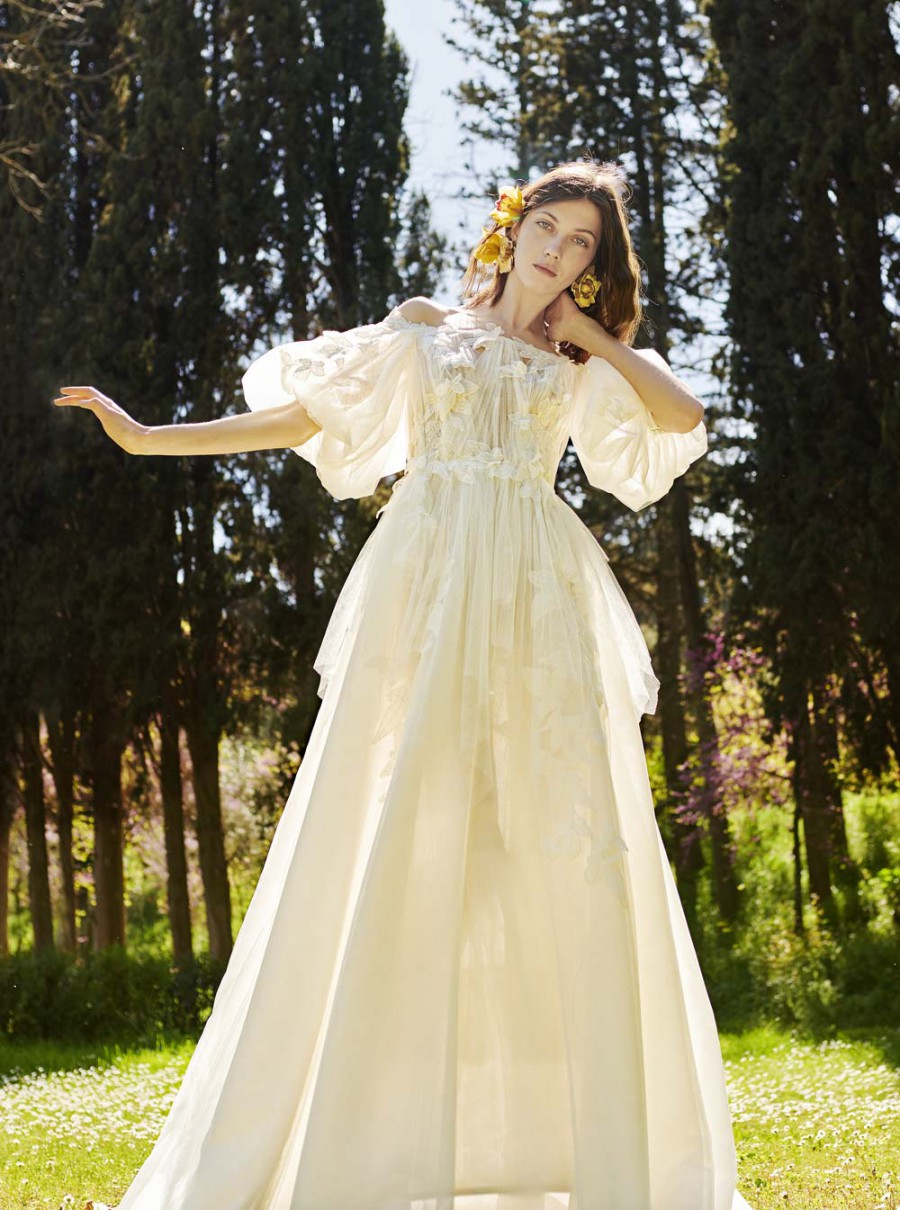 An ethereal tulle ball gown fit for a fairy tale wedding day. This whimsical style is complimented by off the shoulder puff sleeves to add some magical airiness to the look.
03.

Contemporary Cinderella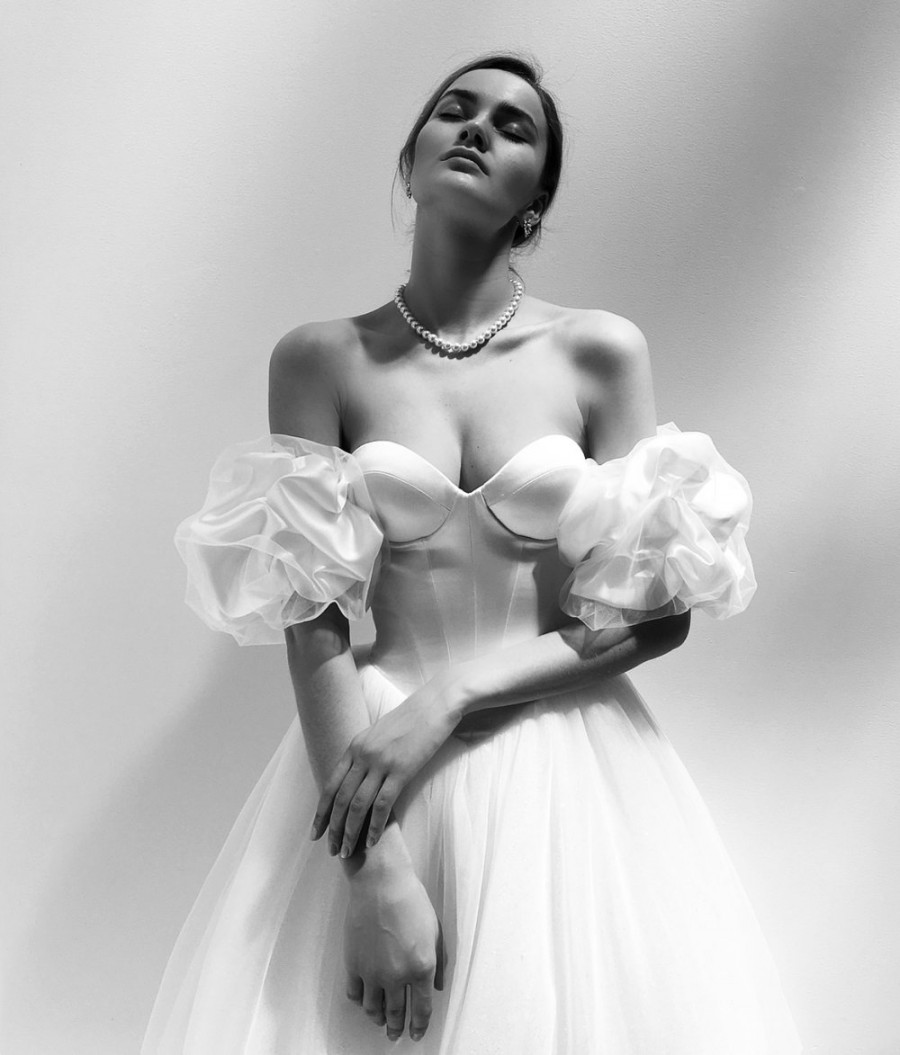 Alon Livne brings us a contemporary princess ball gown worthy of a modern day Cinderella. Stunning silk puff sleeves compliment the sleek corset ball gown style in the most beautiful way.
04.

Oversized Sheer Lace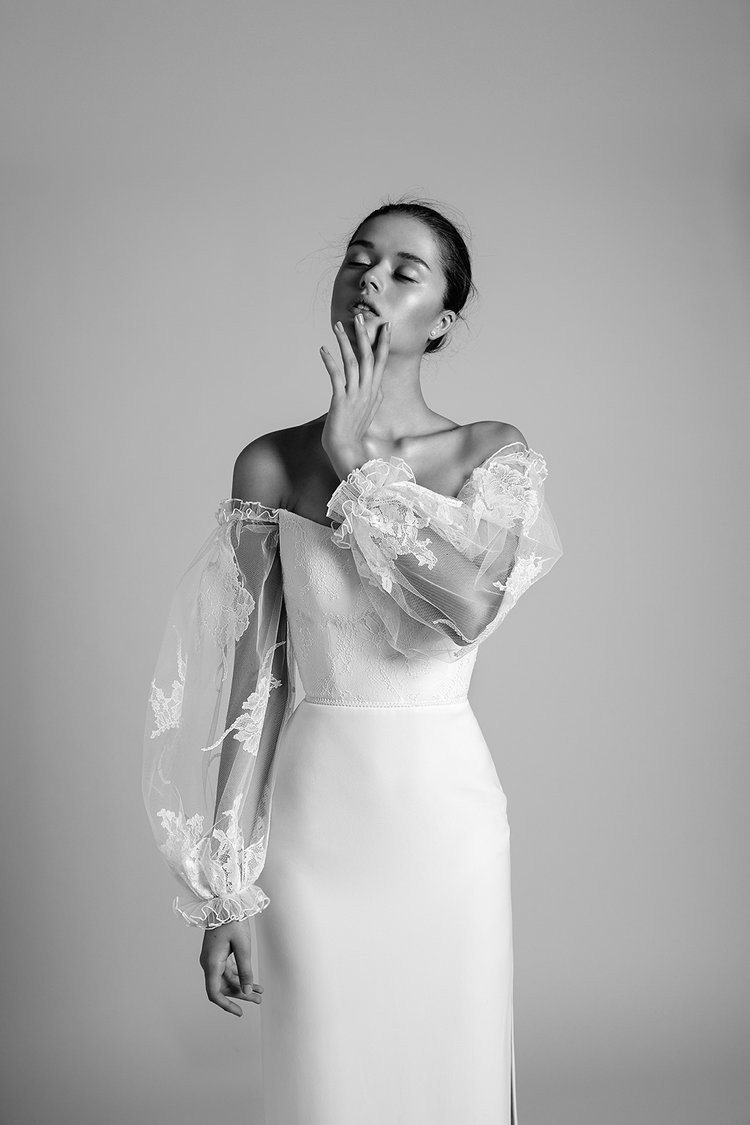 Next we have a chic, fitted gown that features some very unexpected oversized sheer lace puff sleeves. These added accents steal the show and take this sleek simple contemporary gown to an entirely new level!
05.

Ultra Glam Volume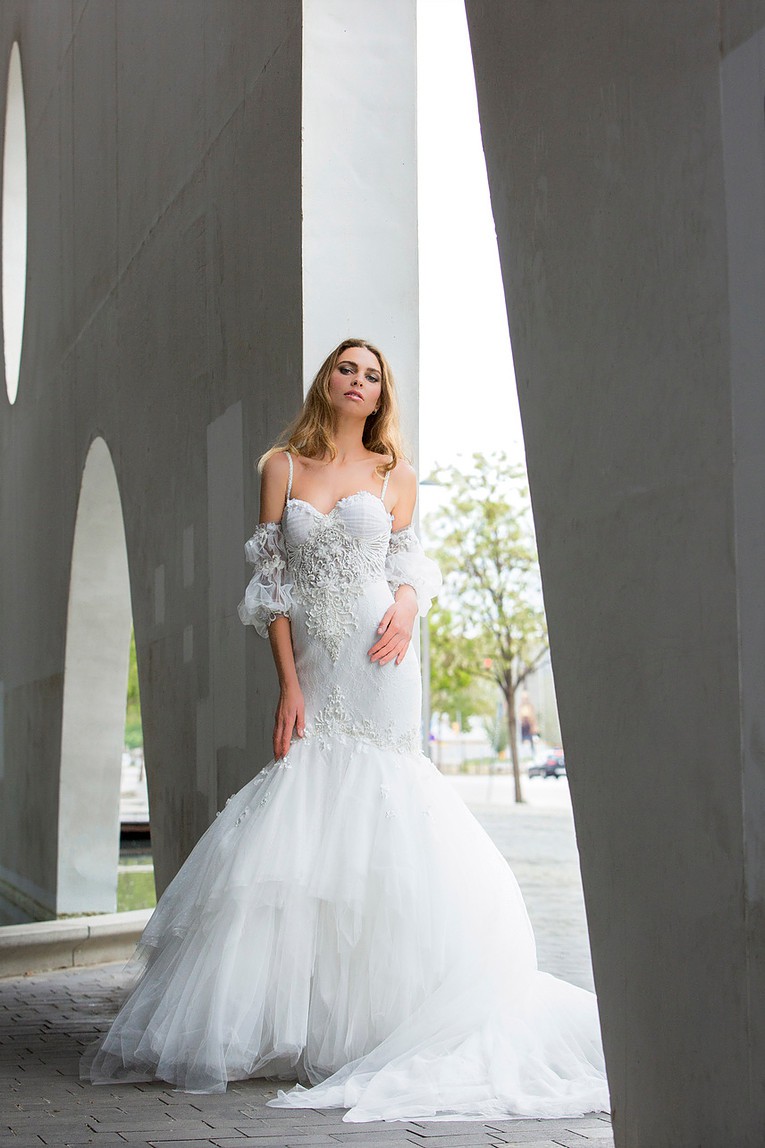 An ultra glam wedding gown style for our bold, outgoing brides out there. This dress is sure to make a big statement on your big day. For added drama, this dress features puff sleeve add-on accents.
06.

Cinderella Blue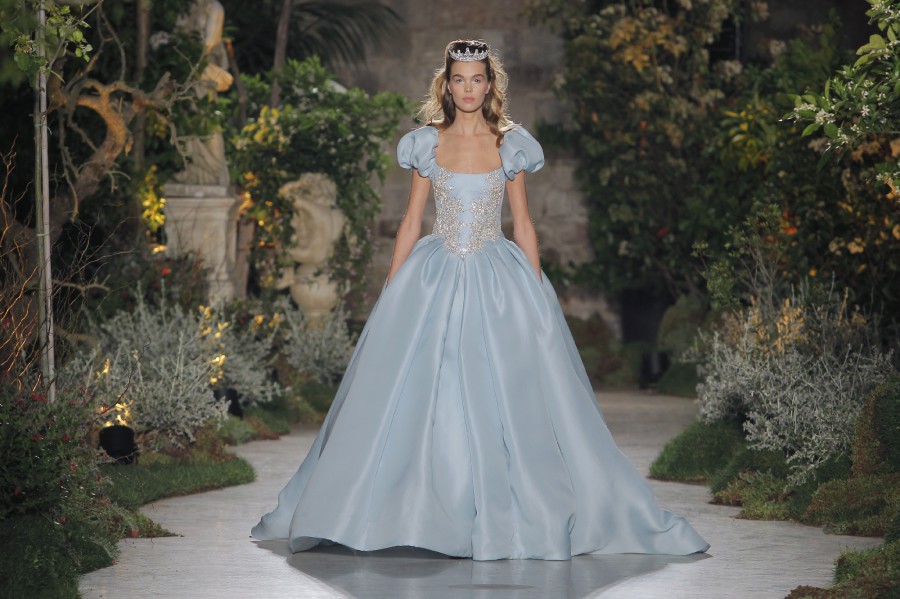 You don't get much closer to looking in Cinderella on your wedding day than with this stunning blue ball gown from Reem Acra. Even including classic Cinderella approved puff sleeves!
07.

Contemporary Bohemian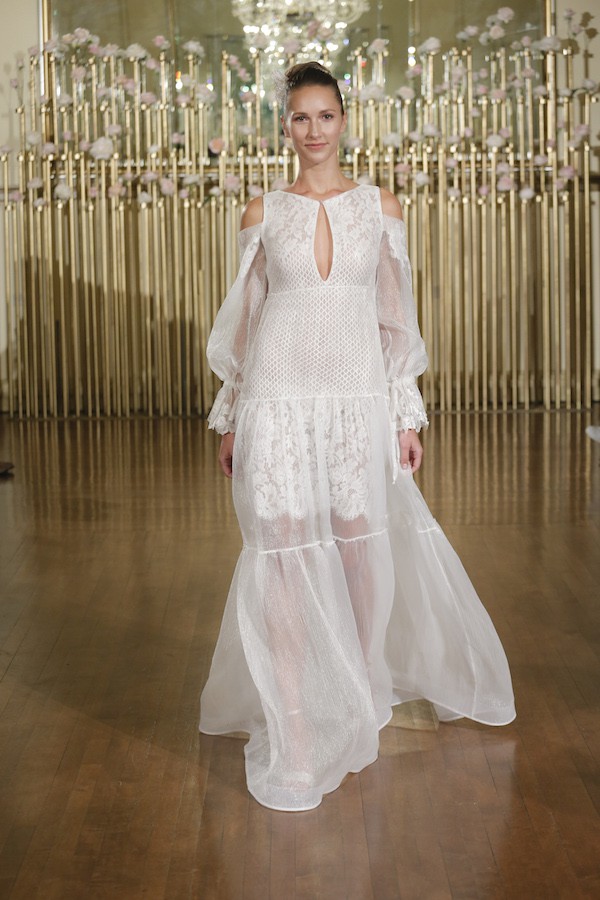 A completely unique contemporary bohemian style complete with off the shoulder sheer sleeves with lace accenting. A unique mix of classic materials and contemporary style to create a bold modern boho look.
08.

Into the Garden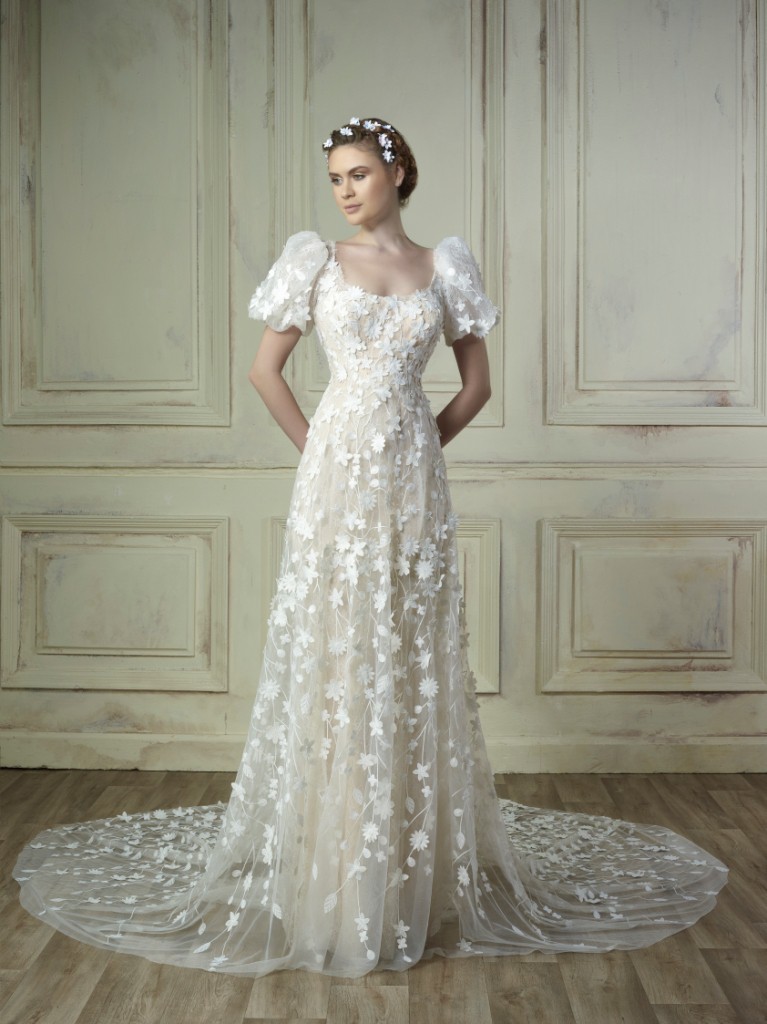 A pretty and proper, garden ready wedding style with delicate puff sleeves. This beautiful gown is ethereal, whimsical and feminine.
09.

Lady Luxe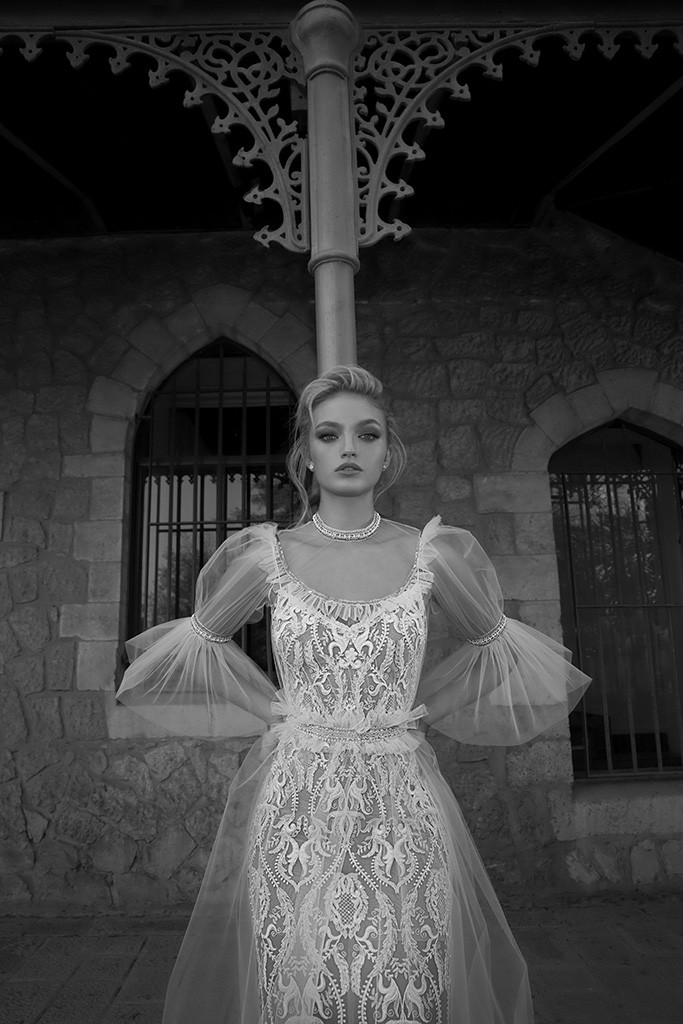 A luxe, feminine wedding style for only the most proper and fashion forward of brides. Featuring cuffed puff sleeves in a sheer tulle fabric. The voluminous tulle accents create volume in a subtle and modern way.
10.

Optional Add-Ons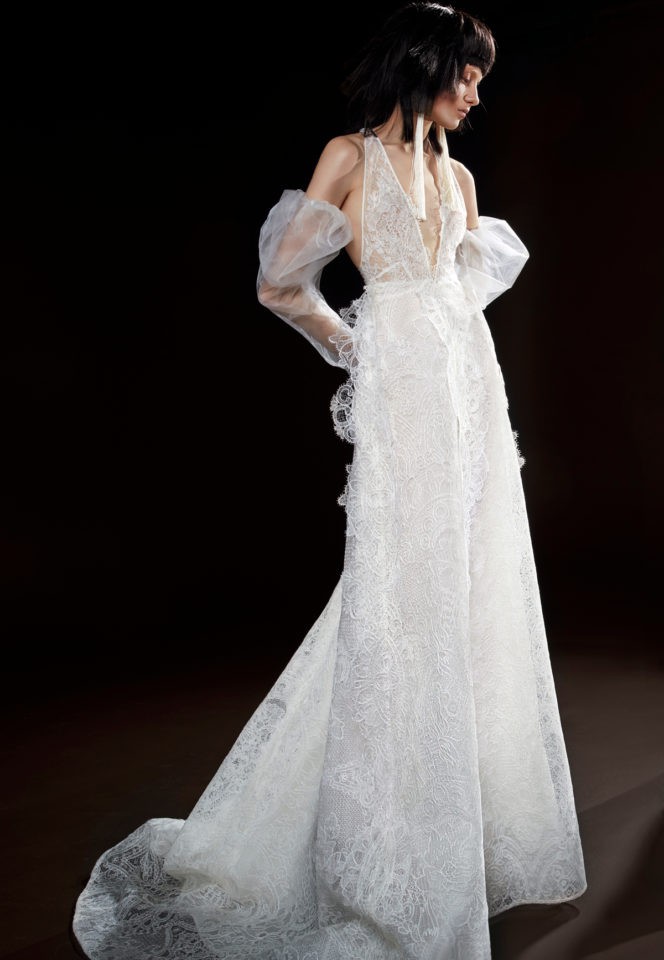 Vera Wang brings us a different take on this freshly emerging puff sleeve trend with voluminous slide on sleeve accents. These sheer optional ad-ons create additional drama to this already stunning contemporary style.
11.

Modern & Modest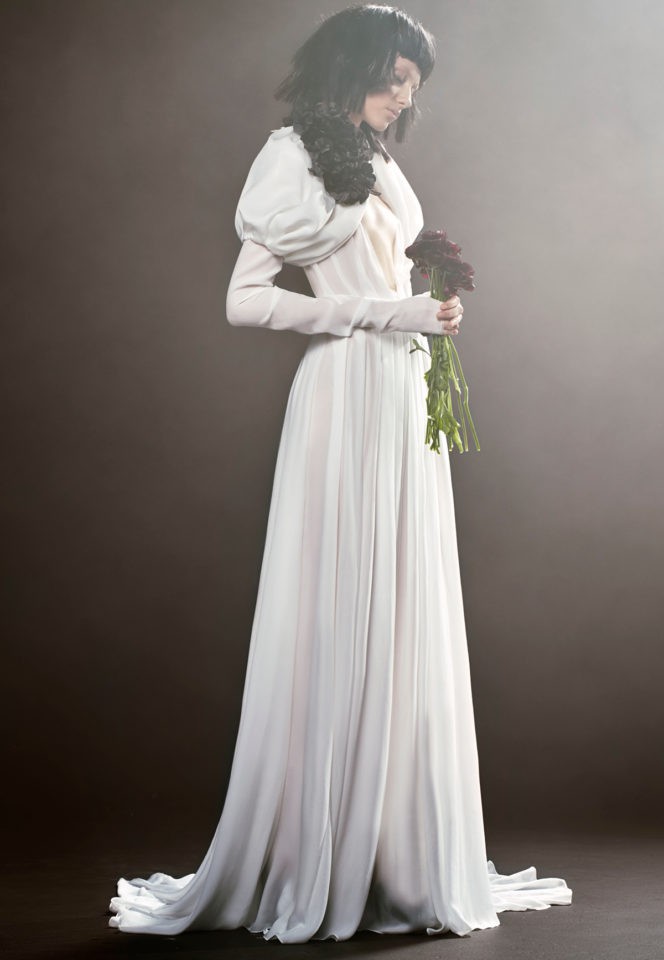 A modern, yet modest wedding style that features puff balloon sleeves like nothing we have seen before. The puff sleeves give this modest look a contemporary edginess.
12.

Off the Shoulder Illusion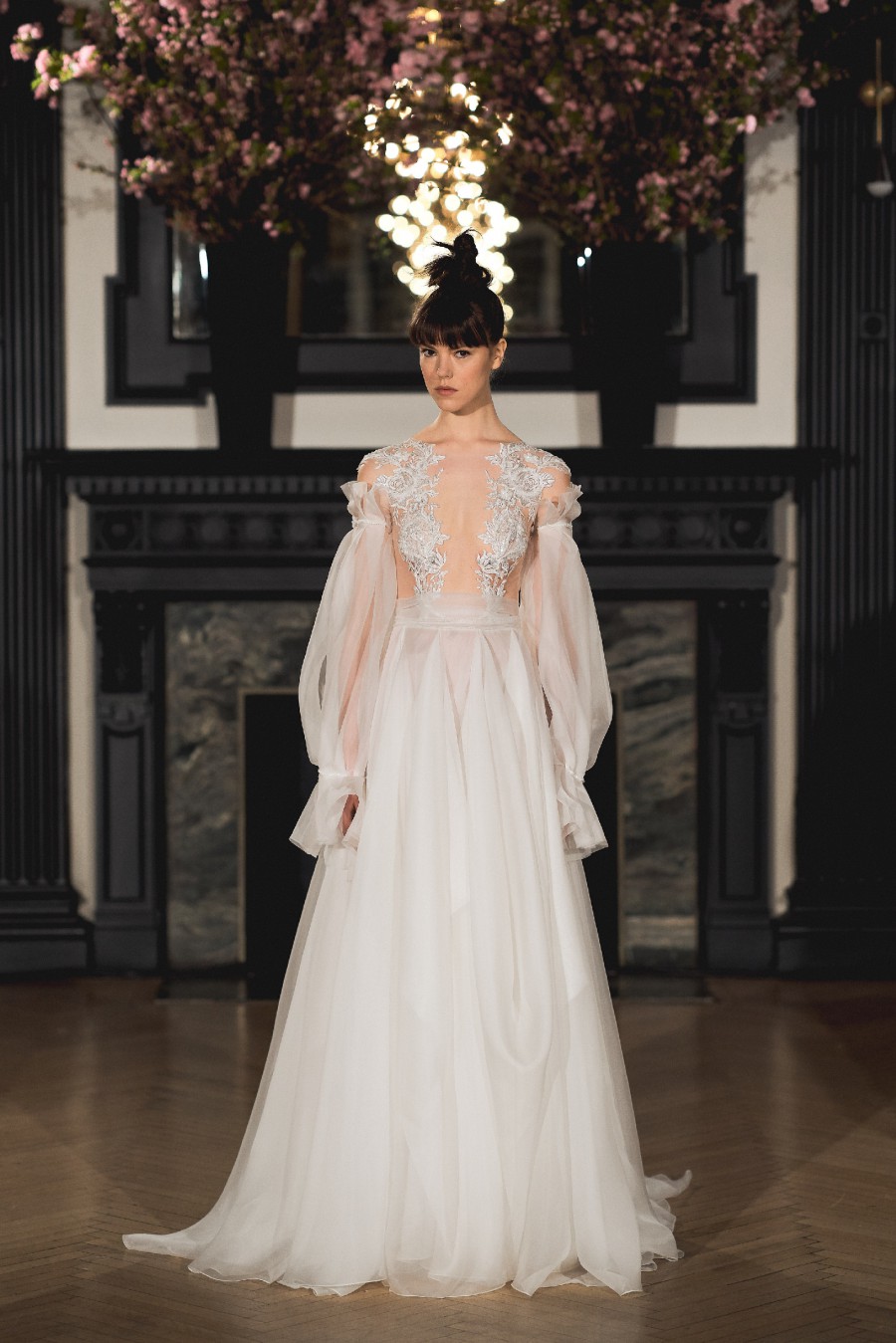 A stunning off the shoulder style from Ines Di Santo with illusion accents and billowing puff sleeves that add so much drama to the look!
13.

Puff Illusion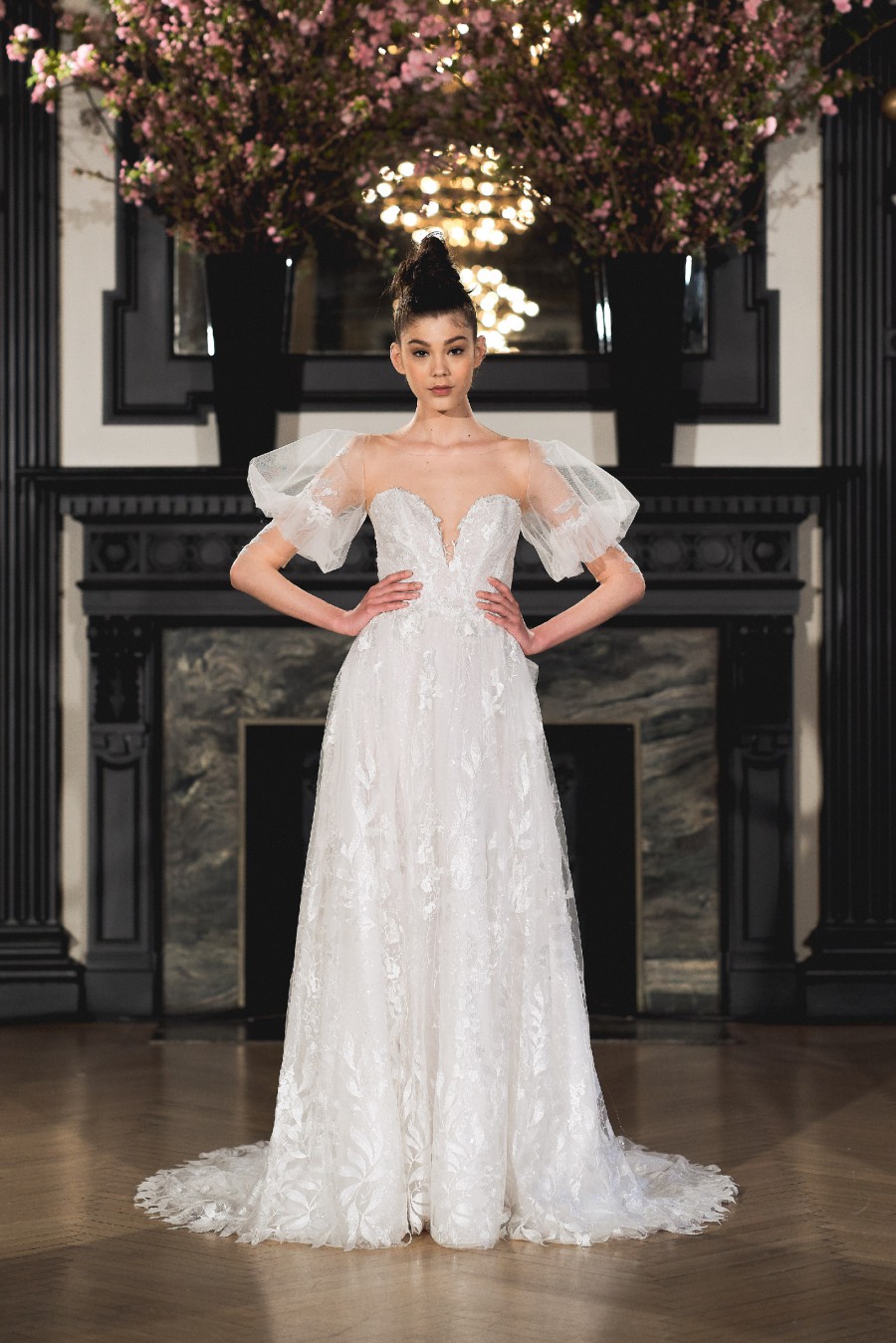 Puff sleeves that have a barely-there feel with their sheer tulle fabric. These sleeves add unique volume and dimension to and otherwise classic strapless gown. A stunning, ethereal feeling addition to this feminine wedding style.
14.

Romantic Volume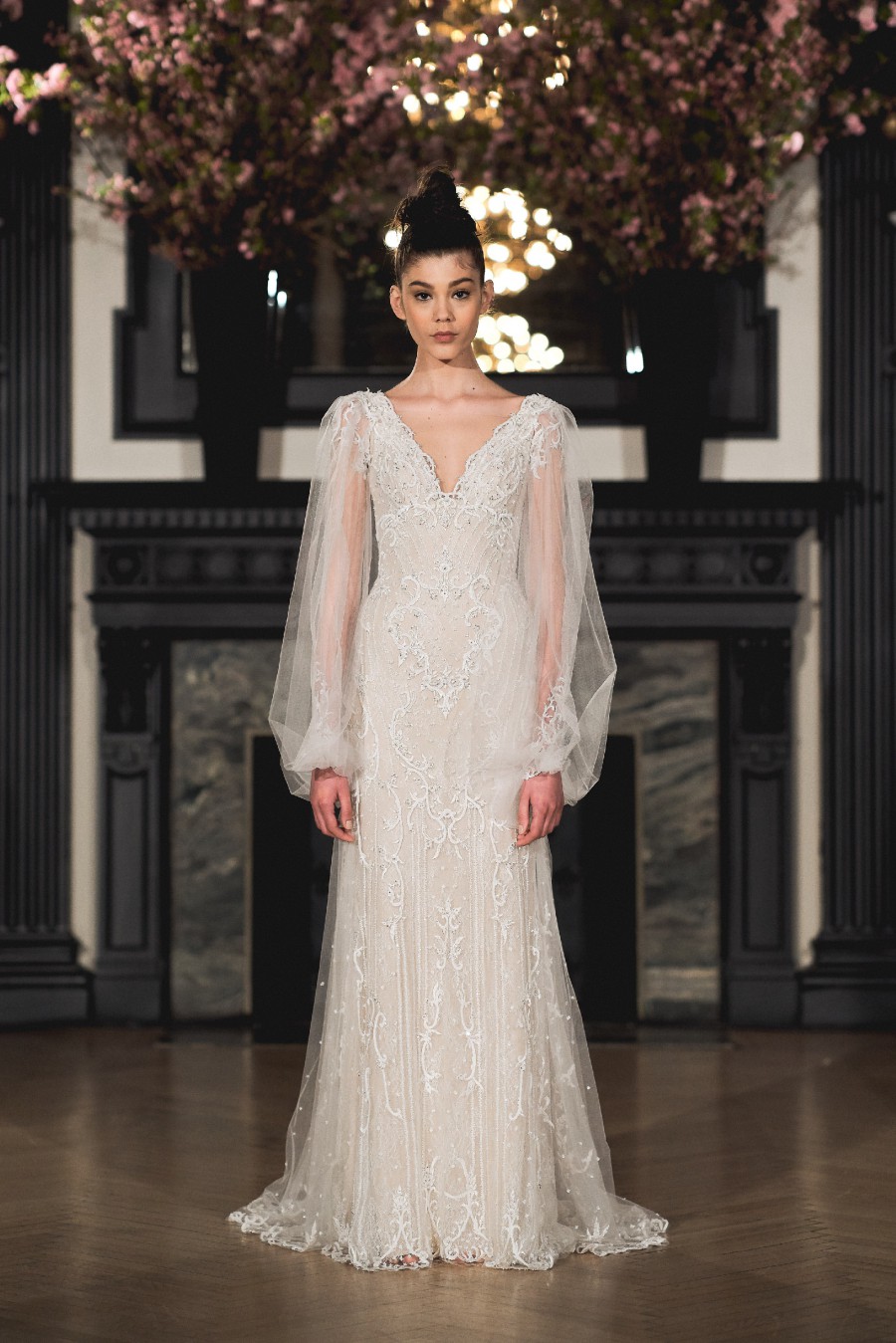 Our next puff sleeves are detachable - to give the bride the choice of wearing them or not on her big day. These long billowing sleeves add drama and romance to this stunning sheath style. They would be perfect for a big ceremony - then lose the sleeves to party the night away!
15.

Modern Eclectic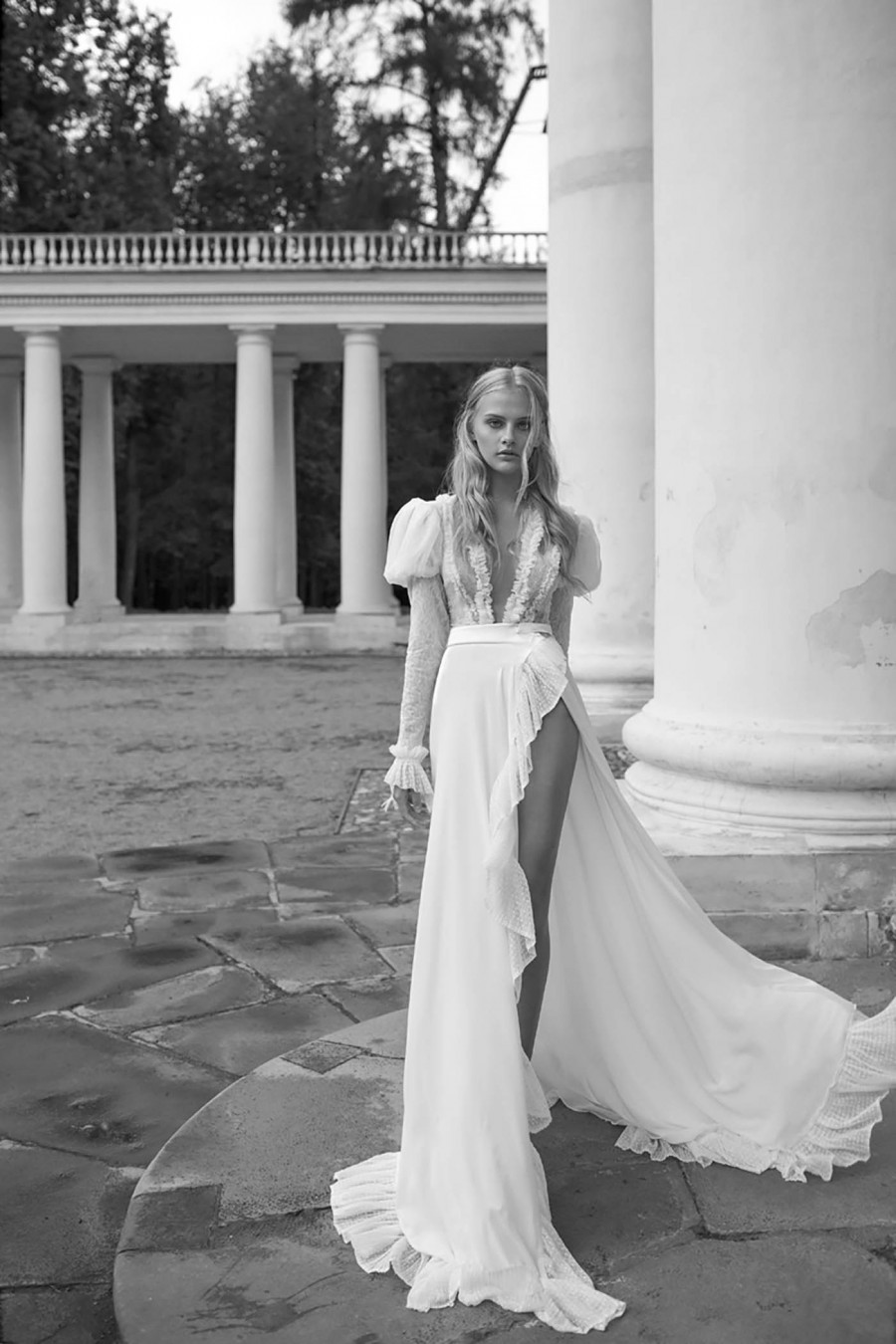 An eclectic, modern take on this puff sleeve bridal trend. This one of a kind wrap dress is surprising from every turn. From its dramatic slits, to it ruffle accents - puff sleeves seem like just the thing to finish off this dramatic style.
16.

Off the Shoulder Feminine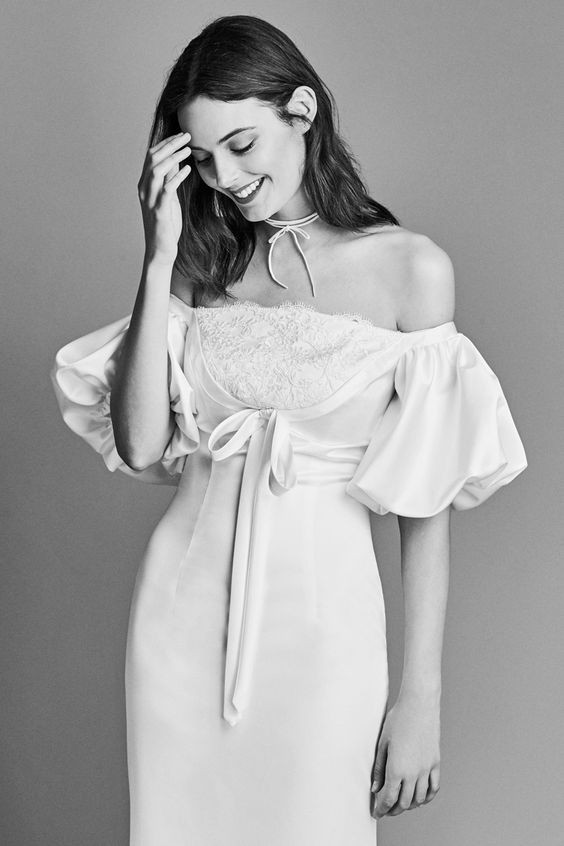 Next we have a feminine, modern off the shoulder gown from Sebastien Luke. The off the shoulder puff accents add a bit of modern playfulness to this chic wedding day look.
17.

80's Influence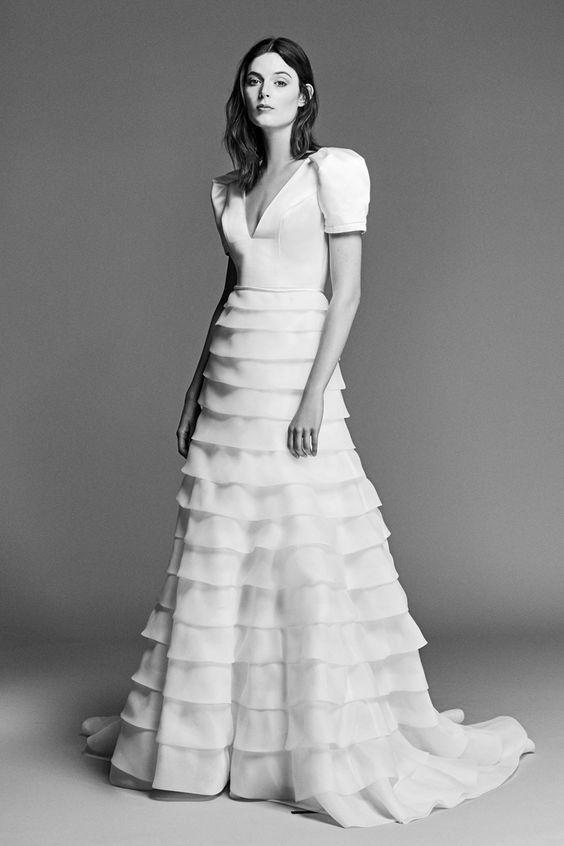 A stunning structured and tiered wedding gown with clear 80's influence with its puff cap sleeve design. This look is feminine, yet powerful - just like a 1980's power suit!
18.

Darling Diva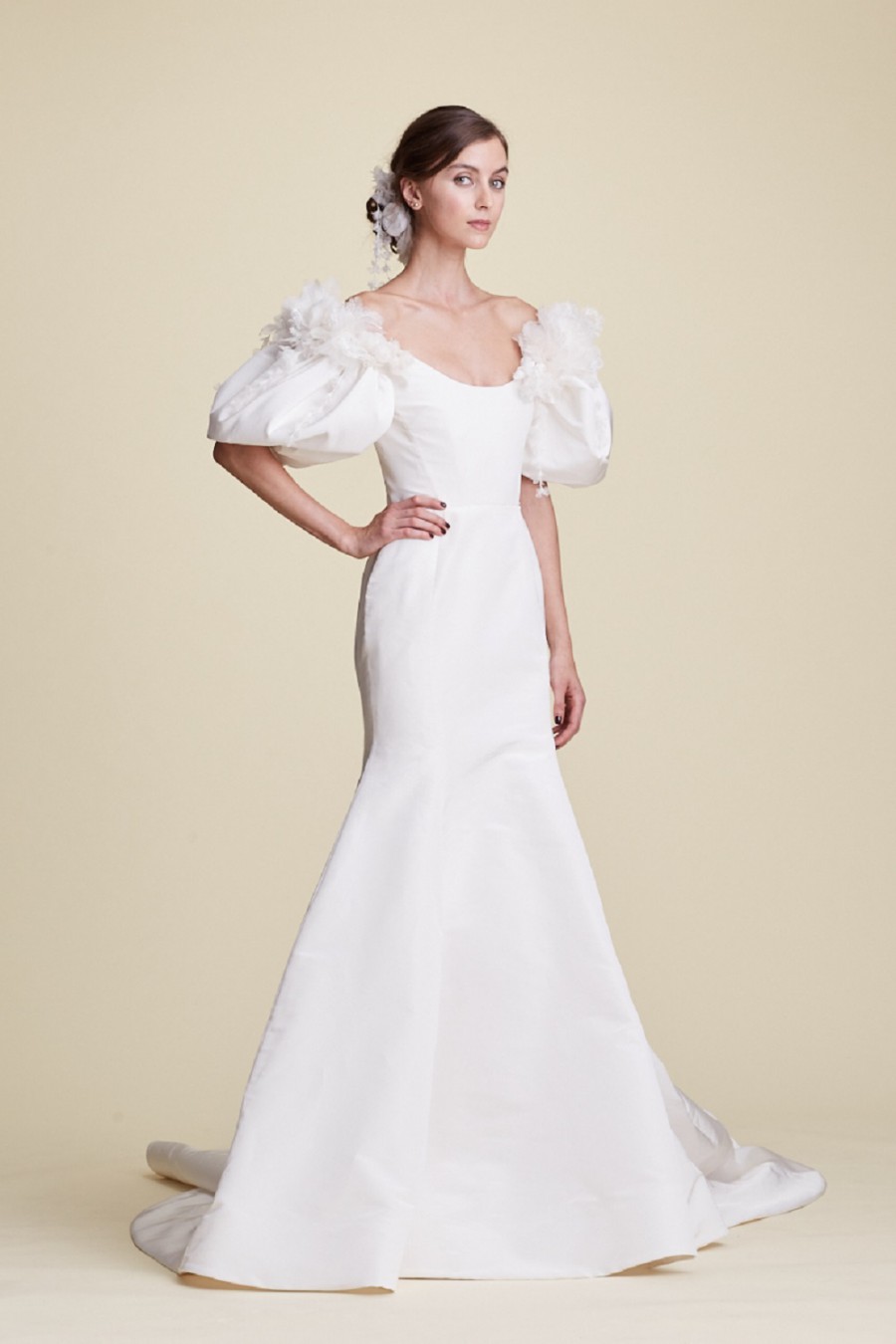 This next puff sleeve wedding gown is from Marchesa. This style is for all of our sassy divas out there. Make a statement as big as your personality with this stunning puff sleeve gown.
19.

Bohemian Lace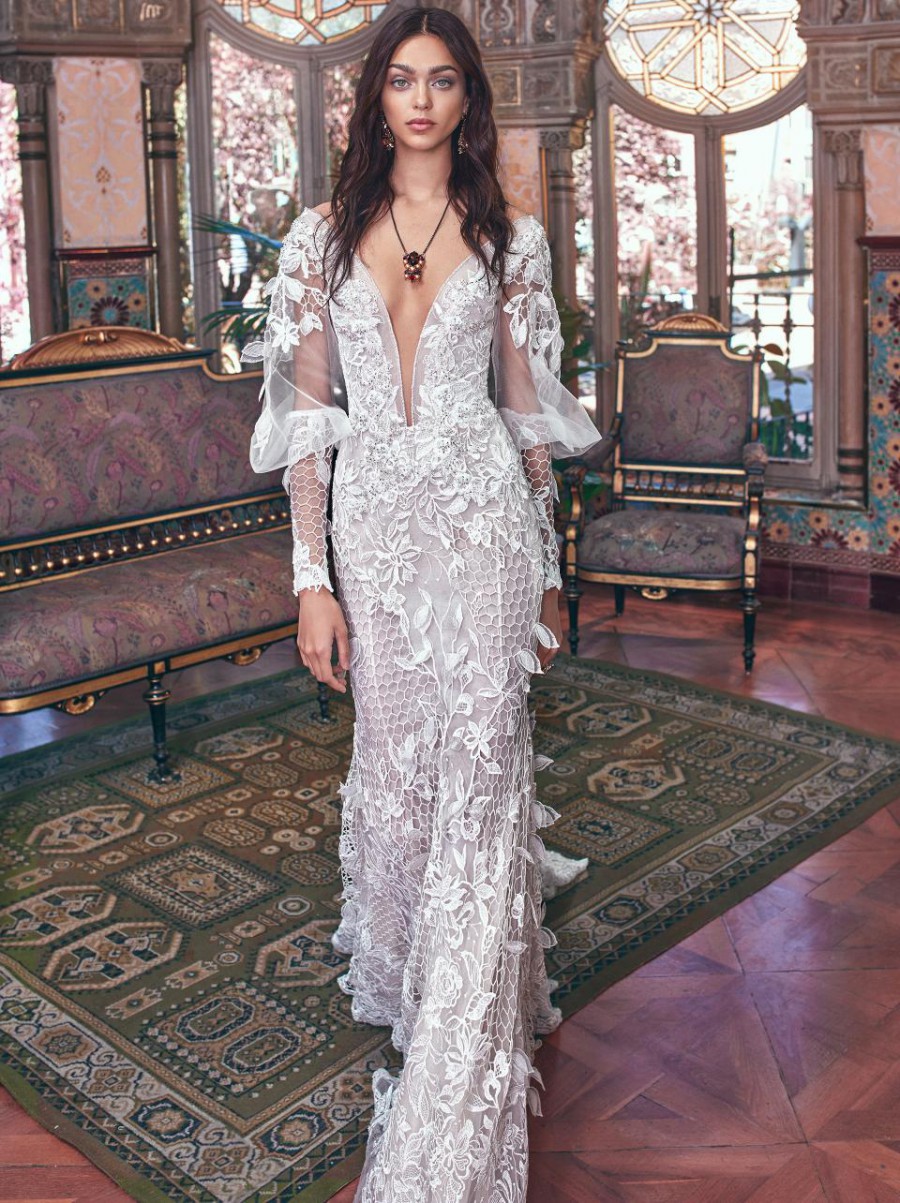 A stunning one of a kind bohemian gown from none other than Galia Lahav. This all over lace and netting look features full length sleeves with sheer puff accents.
20.

Victorian Princess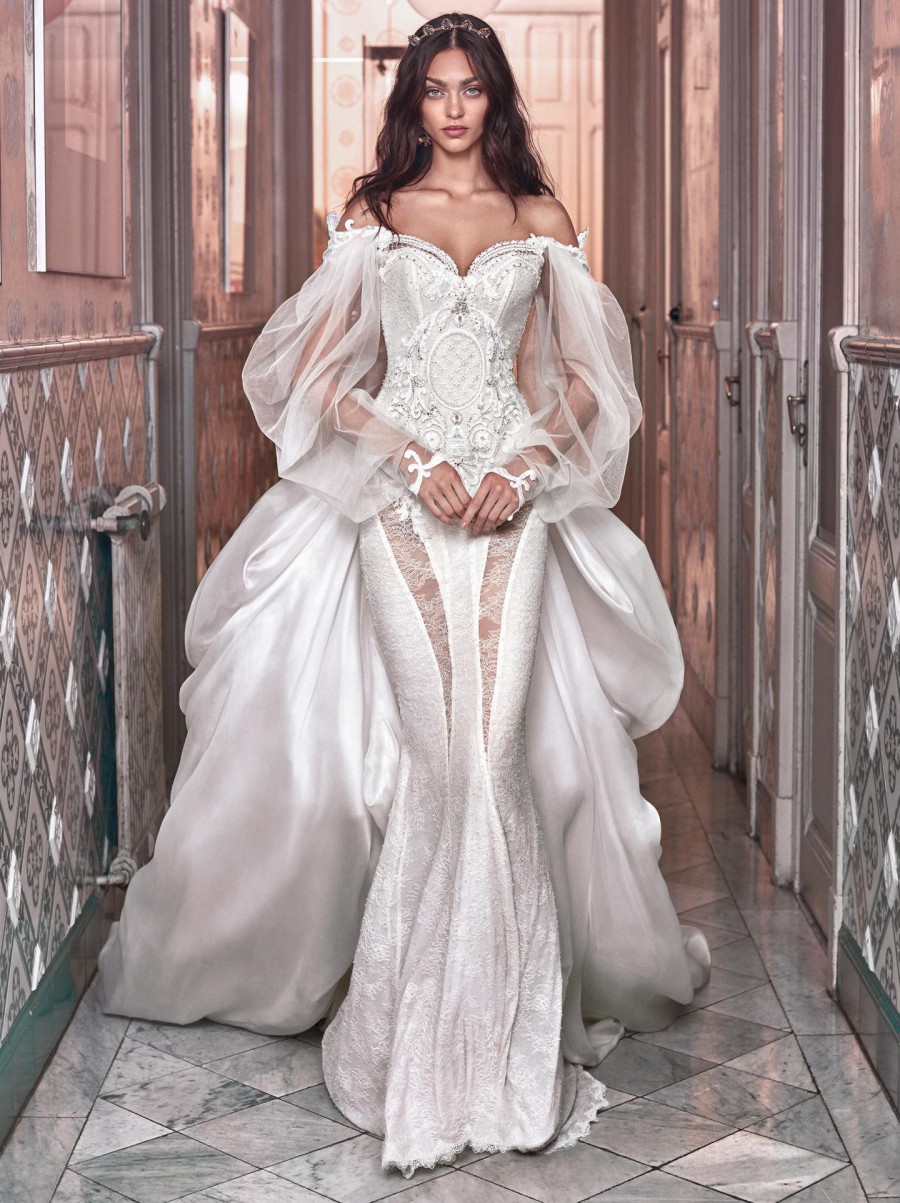 This next puff sleeve gown is bold and powerful. A Victorian inspired wedding dress with stunning oversized tulle puff sleeves that are sure to leave your groom and guests alike absolutely breathless.
21.

Puff Jacket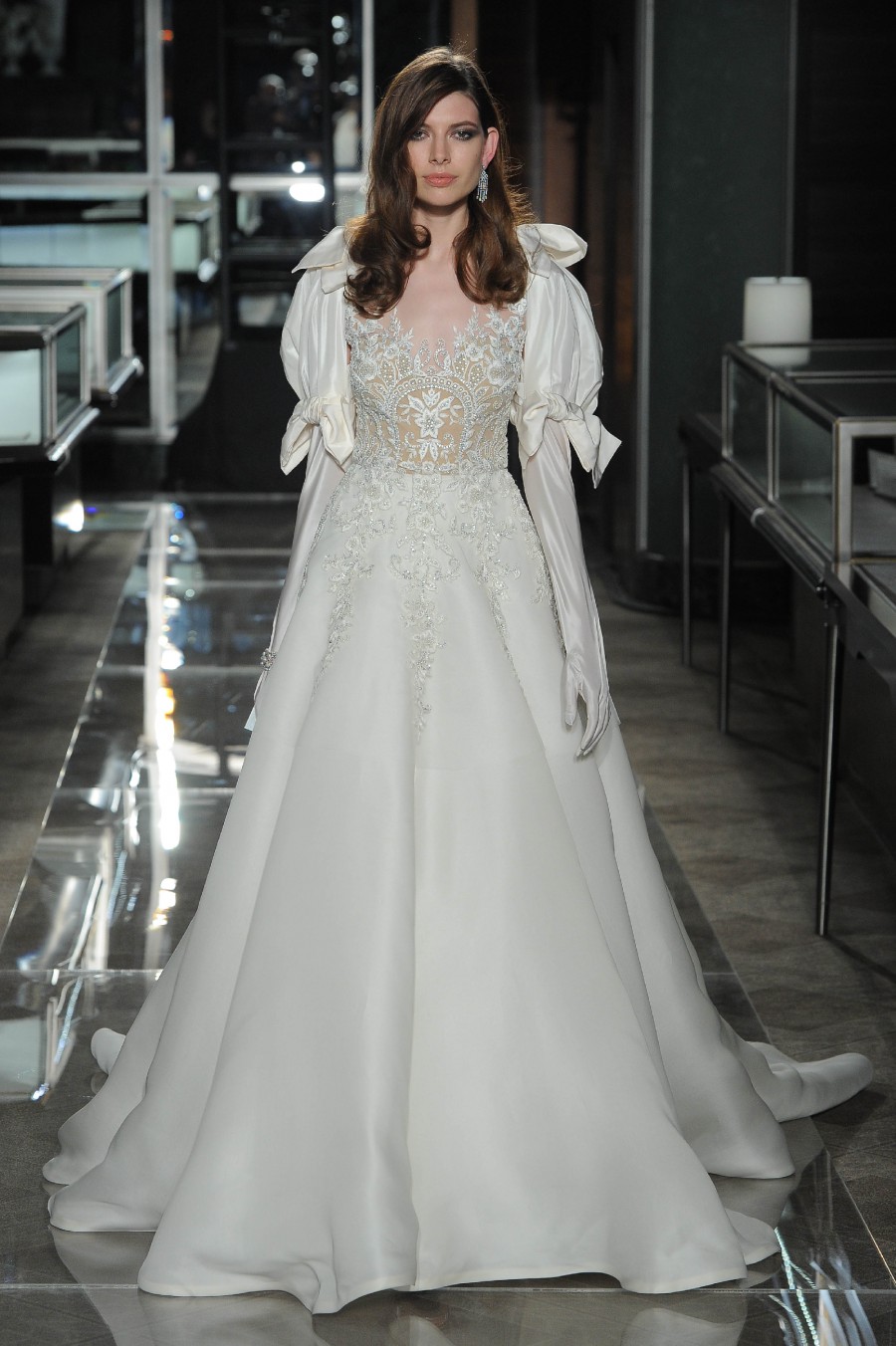 Reem Acra brings us a bridal style like nothing else. This jaw dropping modern gown has clear vintage inspiration and captivates the audience with its full coverage puff sleeve jacket.
22.

Victorian Blouse
A Victorian inspired gown with a puff sleeve blouse like design. A bold style for our vintage loving brides out there.
23.

Proper French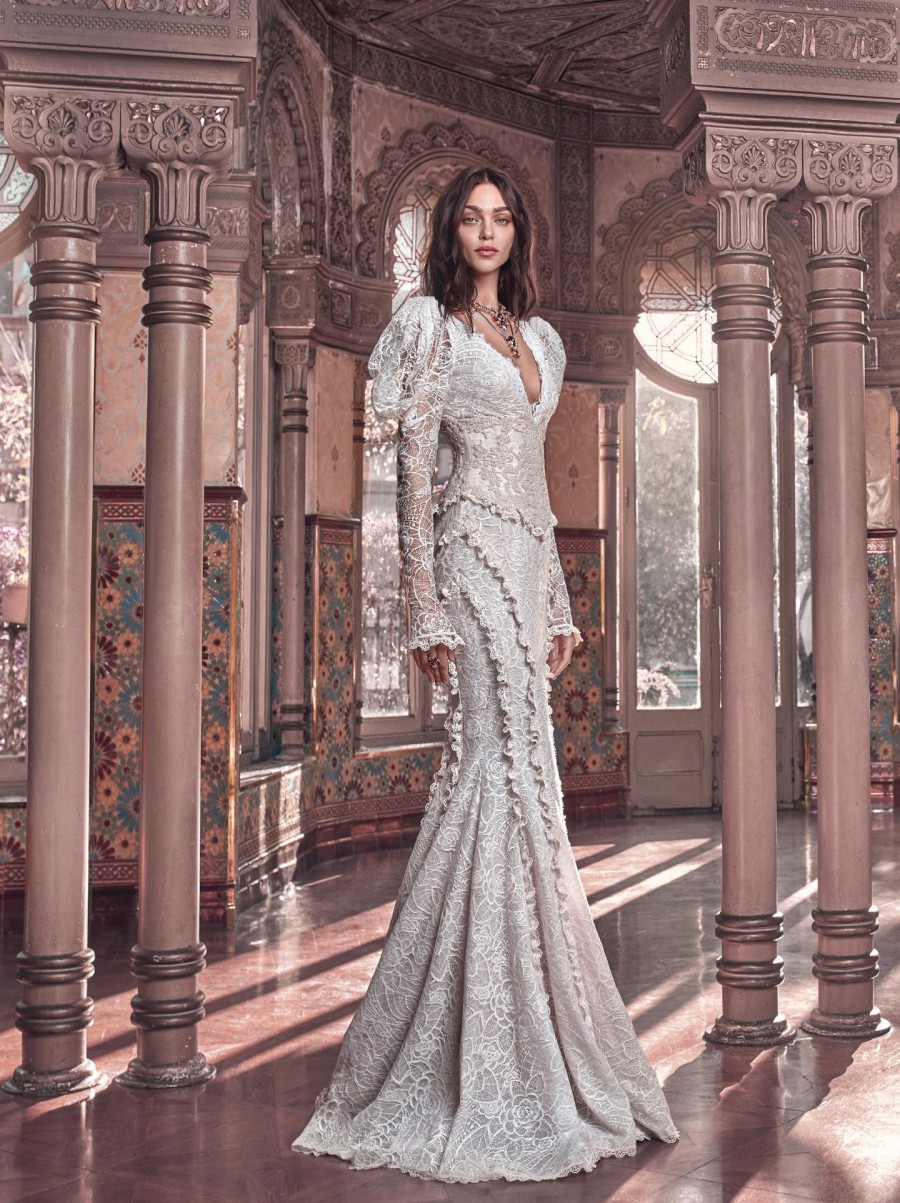 A proper French lace mermaid gown featuring delicate puff lace sleeves. This all over lace design is feminine and fearless.
24.

Queen Worthy Volume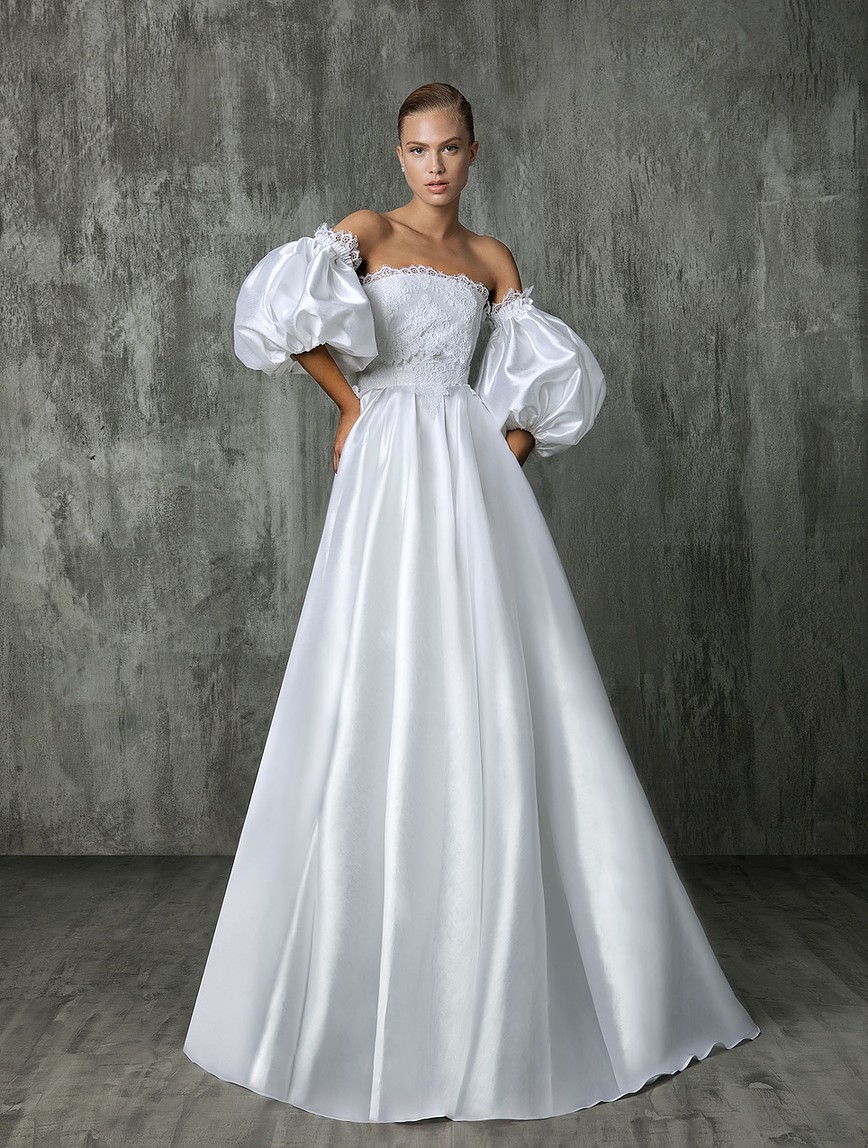 Get ready to make a bold statement with this queen worthy puff sleeve wedding style. This stunning silk gown features puff sleeves like nothing else! These accents will add all the drama you are looking for on your big day.
25.

Floral Optional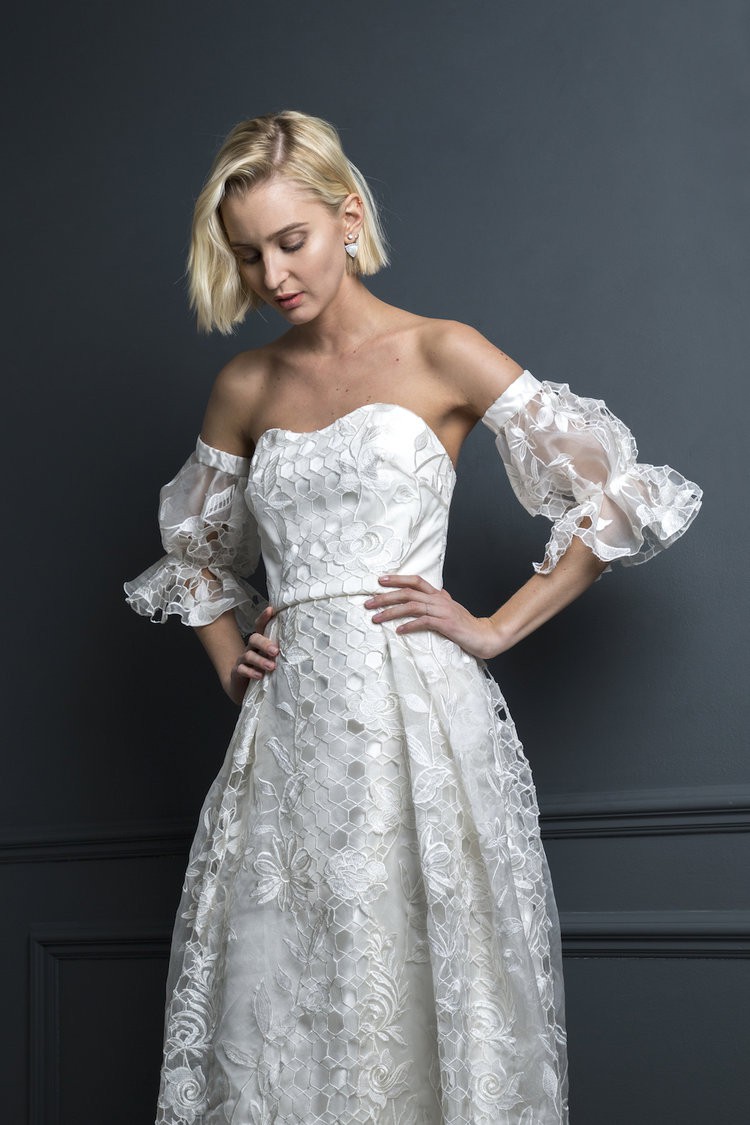 We love a good set of optional puff sleeves that a bride can choose to embrace or ditch for her big day. These floral accented puff sleeves are the perfect compliment to this stunning contemporary floral wedding gown.
26.

Dotted Feminine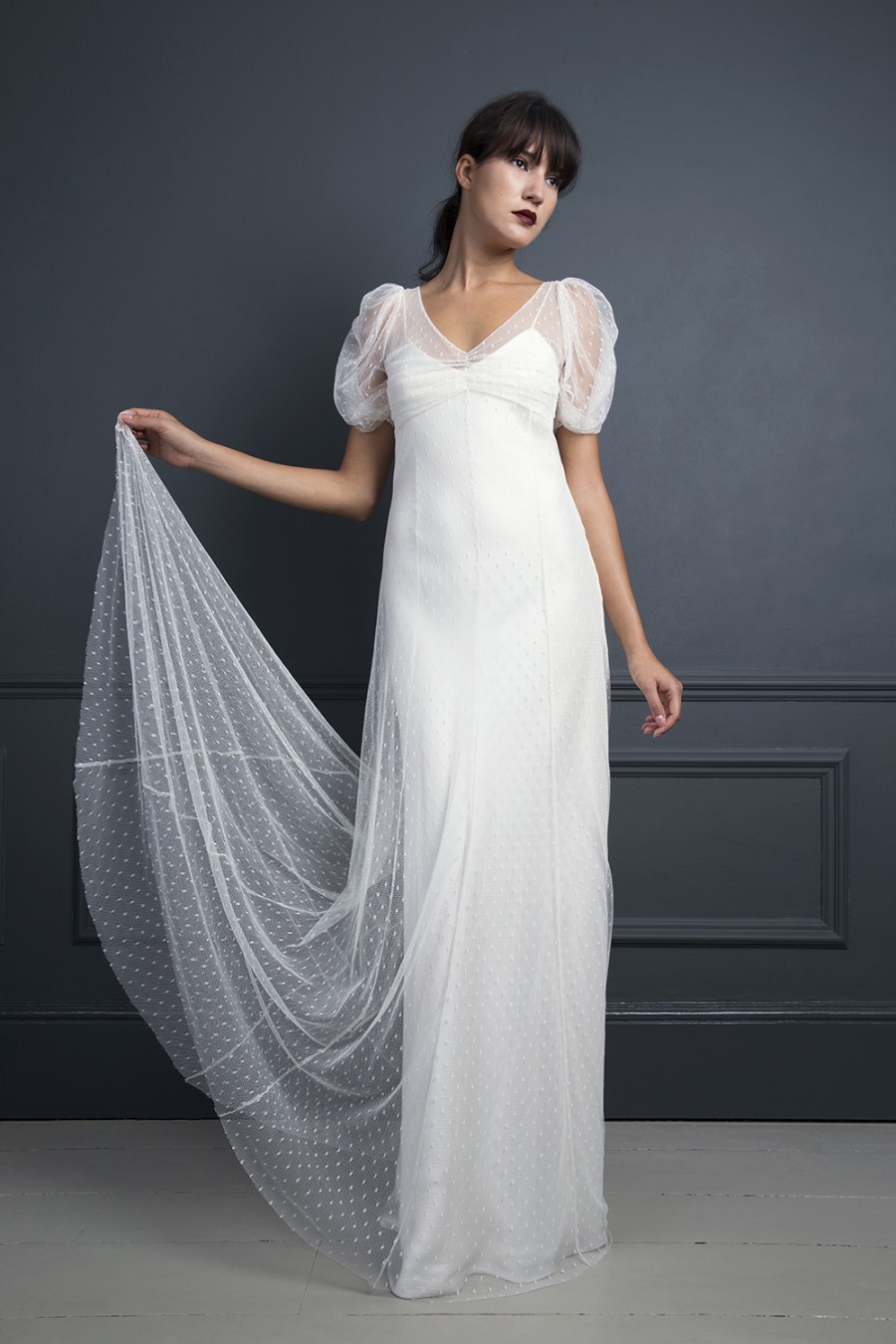 The most delicate, feminine wedding gown featuring soft dotted tulle over a silk slip dress. This sweet dress features soft and subtle puff sleeves that add just a touch of volume to this otherwise soft draping style.
27.

1985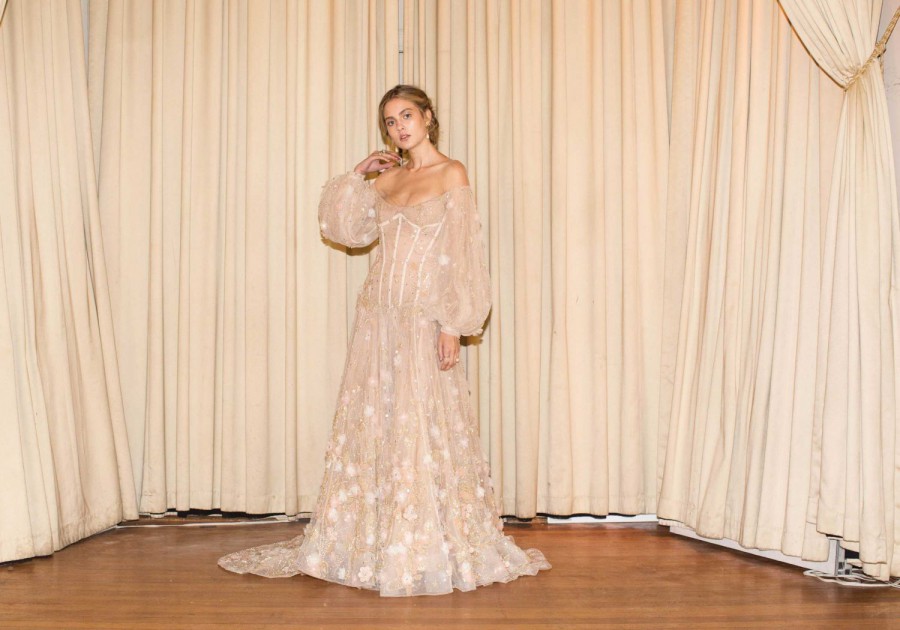 One Day Bridal is taking their influence right from the 1980's with this next one of a kind wedding gown. This off the should gown features full length puff sleeves that add extra drama to this already captivating gown.
28.

Classy Contemporary Glam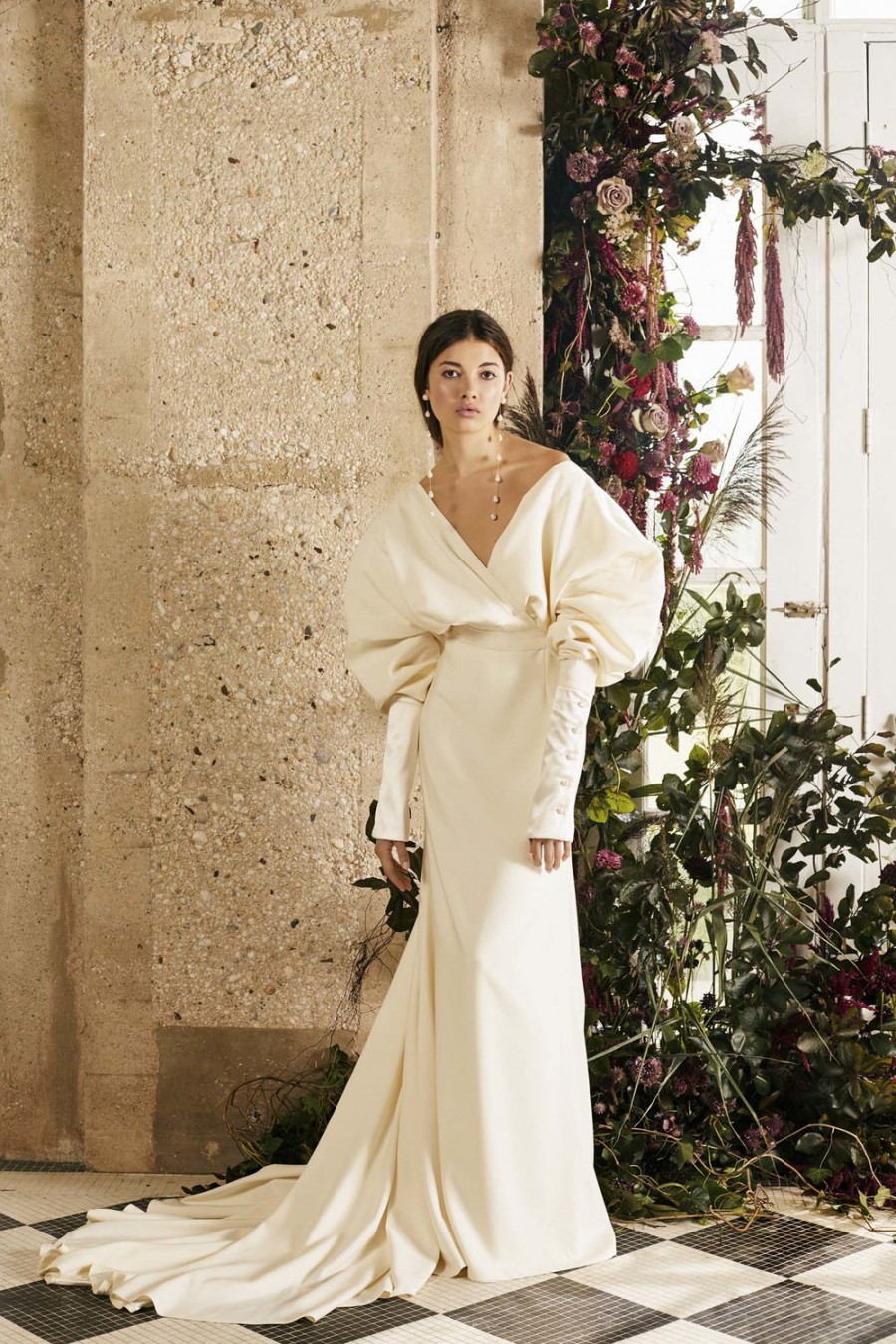 Danielle Frankel brings us a unique puff sleeve bridal style that is classy, contemporary and sophisticated. The oversized sleeves of this look absolutely steal the show and transform this dress into a modern masterpiece.

By Kathryn Schrotenboer