"Every bride needs the perfect gown on her wedding day." Renowned Australian designer, Karen Willis Holmes, brings us a dreamy plus size bridal collection to fit and flatter every woman.
These gowns are effortlessly feminine, sophisticated and chic. Everything a modern bride could ever dream of. The Heaven is a Place collection - part of the Wild Hearts Curve Line - will take your breath away and leave you wanting more!
01.

Adina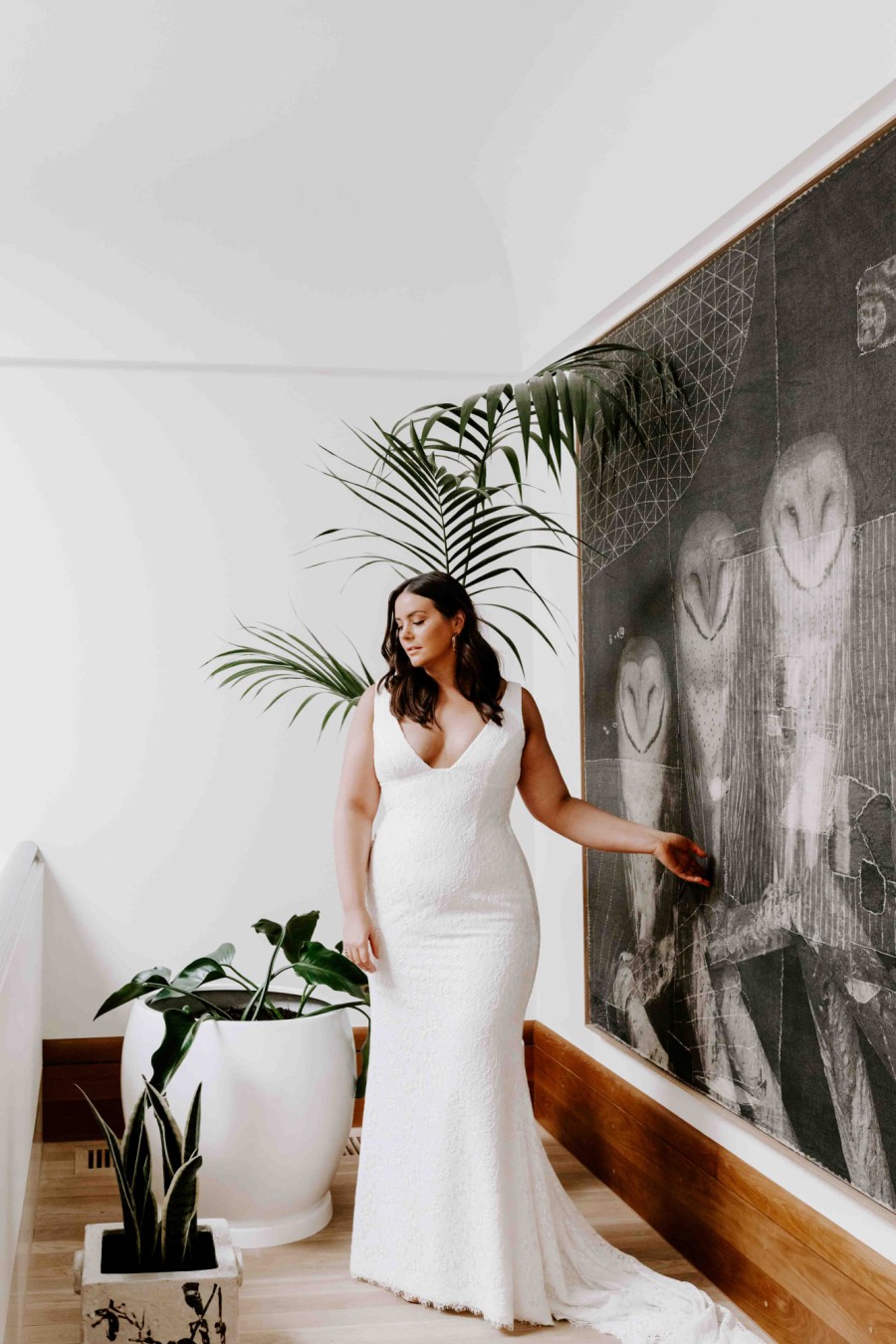 Adina starts off the collection with a stretch lace empire waist design. A dramatic deep v-neckline is revealing and captivating. The plunging neckline in front is complimented with a similar low back cut. A soft flowing train finishes off this effortless style.
02.

Bobby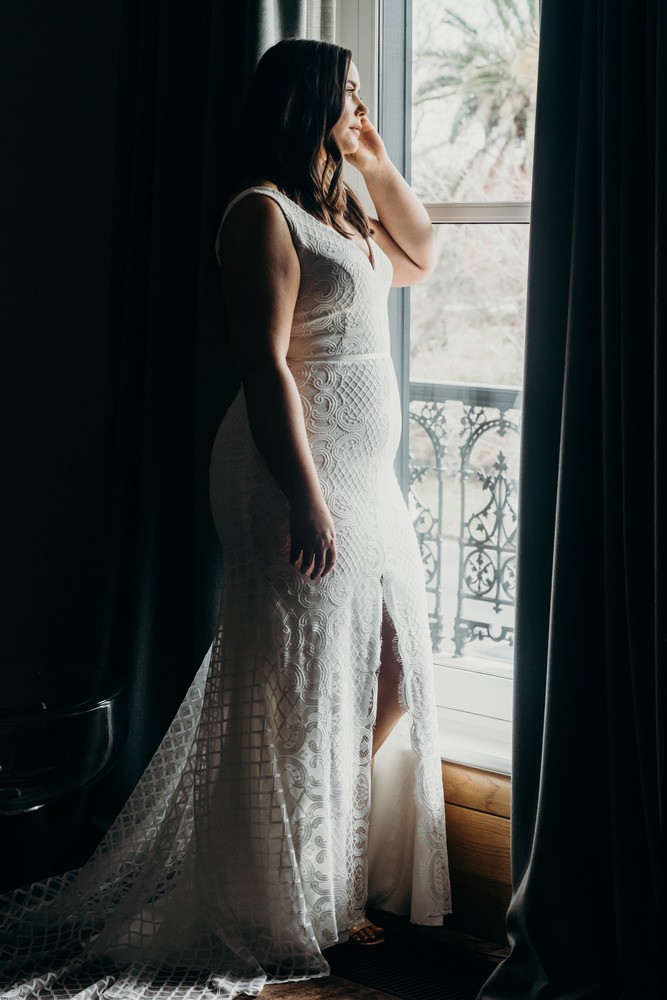 Bobby brings us luxurious texture with its lattice lace design. A v-neckline is complimented by a deep front slit. The beautiful texture continues as it flows behind the bride in a delicate train. We just can't get enough of that detailing!
03.

Greta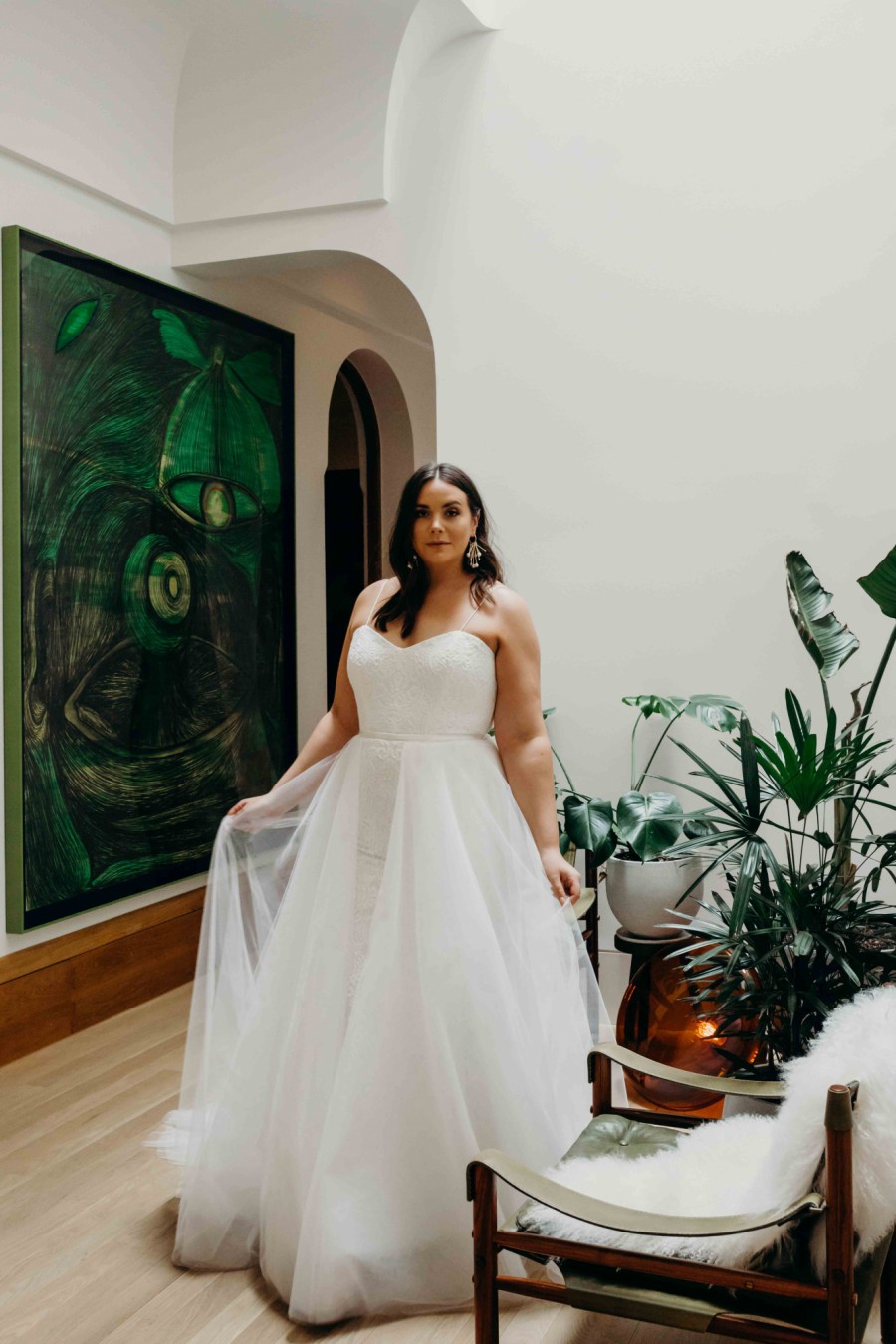 Greta is a stunning lace gown with delicate spaghetti straps. It features a romantic sweetheart neckline and a slim cut skirt to hug your curves in all the right places. If you are looking to add a bit more volume - add on the optional tulle overskirt. This adds even more romance and whimsy to your wedding day style.
04.

Karina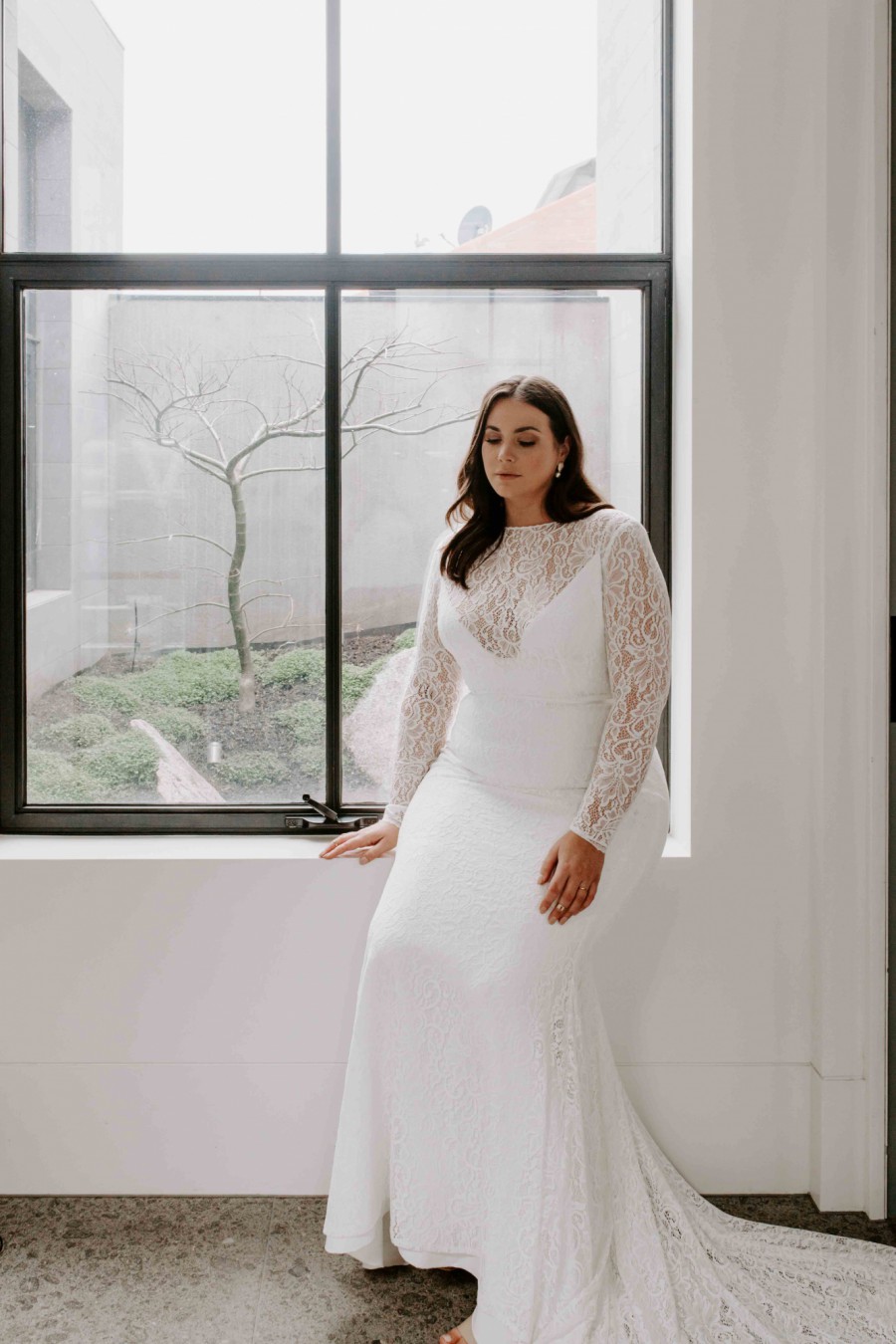 Karina will take your breath away. This timeless style is chic and effortless. A stretch lace overlay is complimented by the U-neckline base gown. The gorgeous lace detailing is emphasized on the full length sleeves. The high neckline gives way to a deep V-back cut. The look is finished with a delicate silk belt with gold clasping for a classic and luxurious finish.
05.

Nadia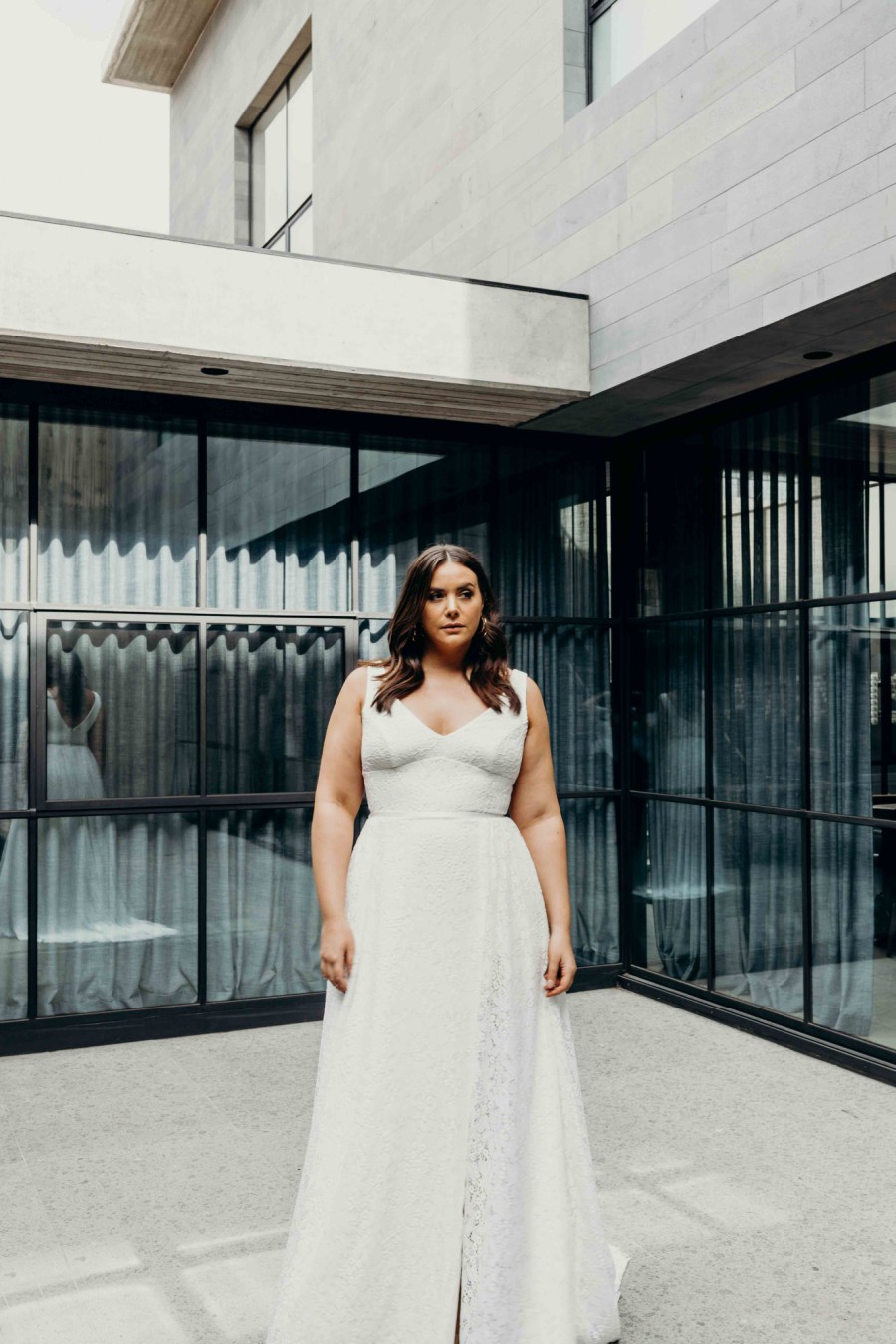 Next we have a stunning stretch lace gown with a classic cut v-neckline and wide set straps that sit right at the edge of the brides shoulders. The empire waist and full skirt are so flattering on any figure. To add just a touch of feminine sex appeal, the look features a side front slit.
06.

Nikki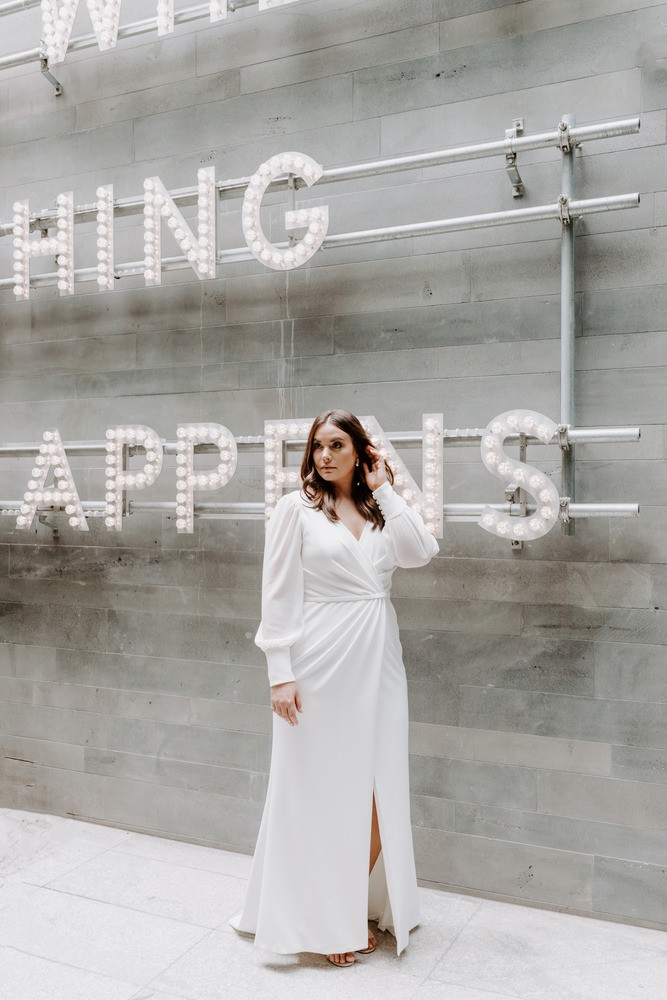 Nikki is a gorgeous wrap style gown that is modern and elegant. This is definitely one of our favorite looks in the collection! This chic gown is completely effortless and undeniably flattering! The perfect v-neckline is complimented by elegant laying waist tucks that lay perfectly against the silhouette of the bride. To finish off this style we have long length semi-sheer georgette bell sleeves. These beautiful ethereal sleeves gather into a slim cuff to finish things off in the most sophisticated of ways.
07.

Valencia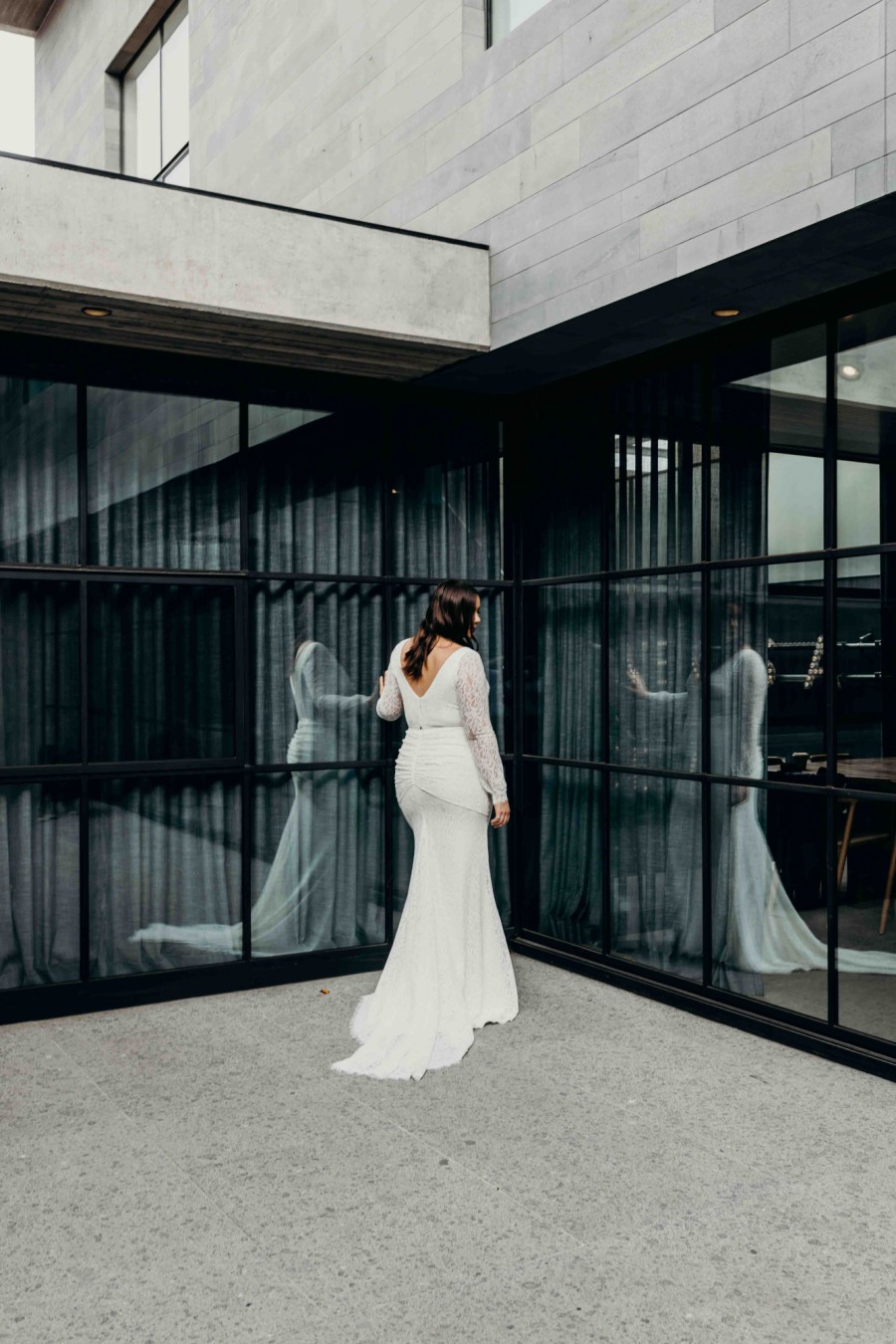 The Valencia gown is all about elegant detailing. This stunning v-neck stretch lace gown has so much more to offer than initially meets the eye. The fitted skirt offers soft ruching over the backside that accents the curves of the bride in a soft, sophisticated way. This ruching detailing is such an elegant accent, and the dress just wouldn't be the same without it. The feminine bell sleeve gather into fine scallops at the wrist. To make these sleeves even better - the bride has the option to remove them! The bride can wear these stunning sleeves for a more formal ceremony and then take them off when she is ready to party the night away. This gives the bride the option of two stunning styles in one dress!
Overall, Karen Willis Holmes Curve collection is fierce, feminine, and romantic. Stunning contemporary bridal styles that are timelessly elegant and sophisticated. This line really proves that every bride should look and feel absolutely stunning on her big day!