Sexy. Modern. Fierce. Plunging V necklines are a must have modern wedding dress style.
Plunging neckline wedding gowns are hitting the fashion scene more than ever. This sexy cut neckline adds a sassy femininity to any wedding day look. These necklines are bold, daring, and absolutely stunning. Check out our list of 60 must have plunging V neckline wedding gowns!
01.

Modern Princess
A fairytale princess worthy style with a subtle off the shoulder cut, and of course the must have plunging V neckline that we just can't get enough of. A sexy finish to a classic princess style.
02.

Sheer Layers
Princess meets Ballerina with this next style made up of delicately layered sheer fabric. An elegant and whimsical style that is accented by its plunging neckline and deep side cuts.
03.

Glitter and Tulle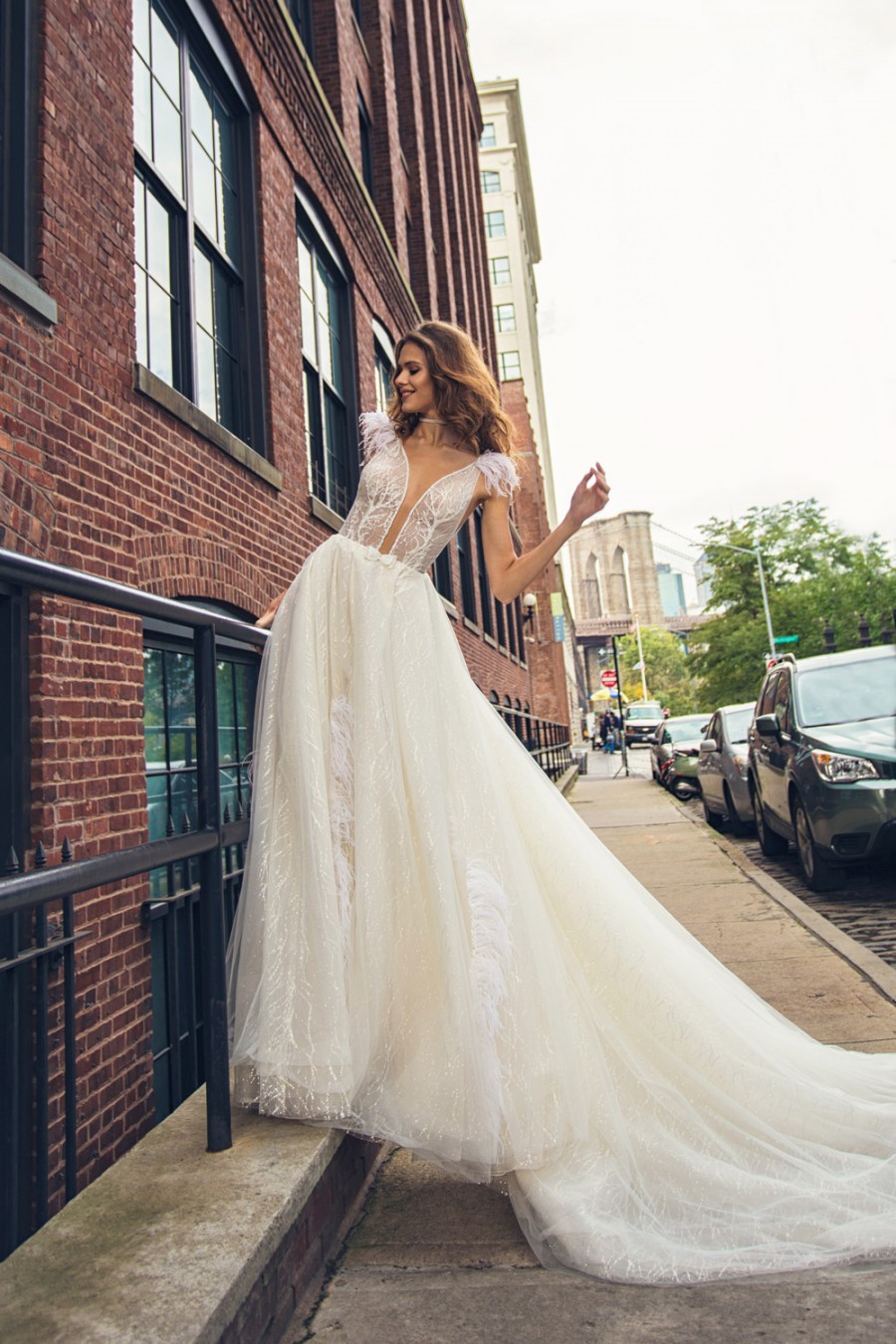 This next stunning style is modern day whimsy at every turn. Layers of tulle seem to glitter at every move beneath a silver overlay.
04.

Classy Lace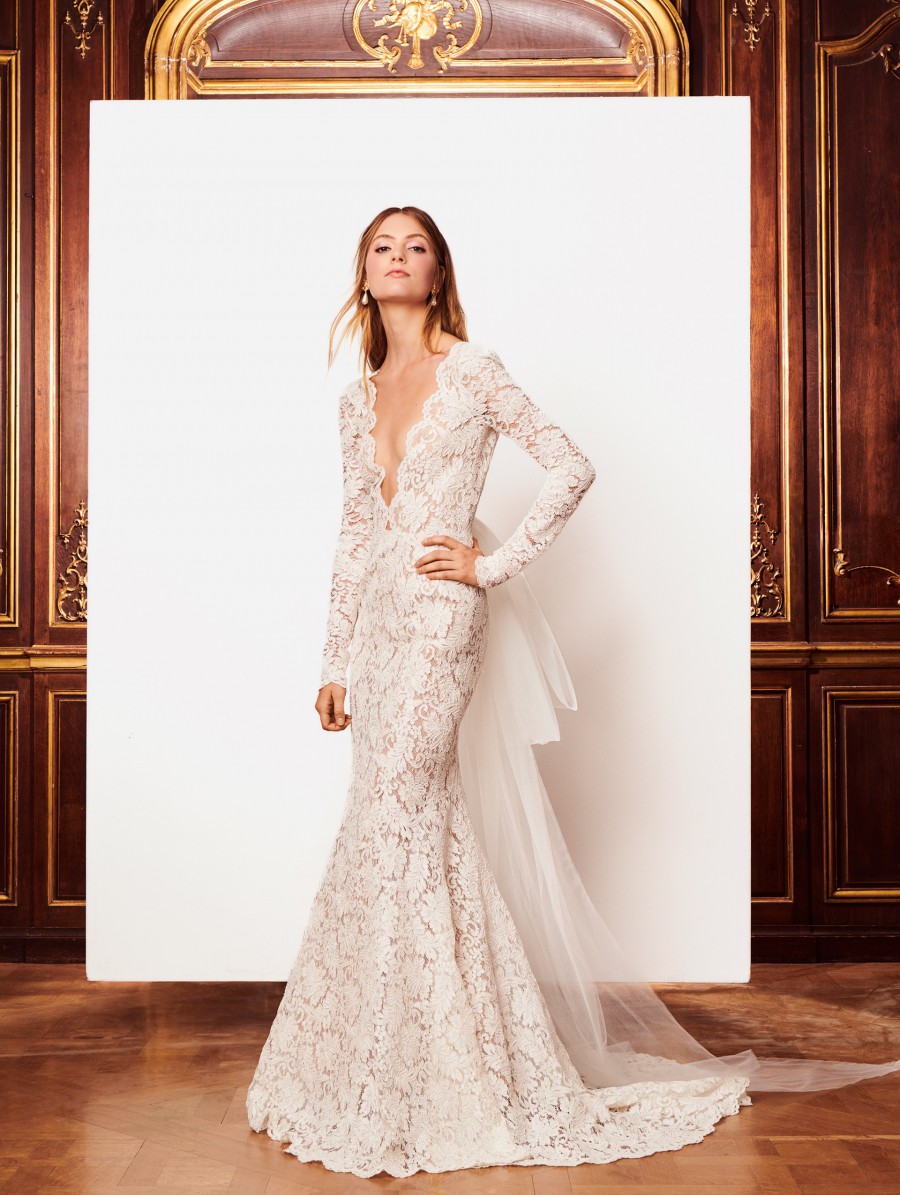 A classy full length sleeve lace wedding gown, with a contemporary plunging V neckline. A touch of vintage, a touch of bohemian, and a touch of classic glam all in one gown!
05.

Elegant Lace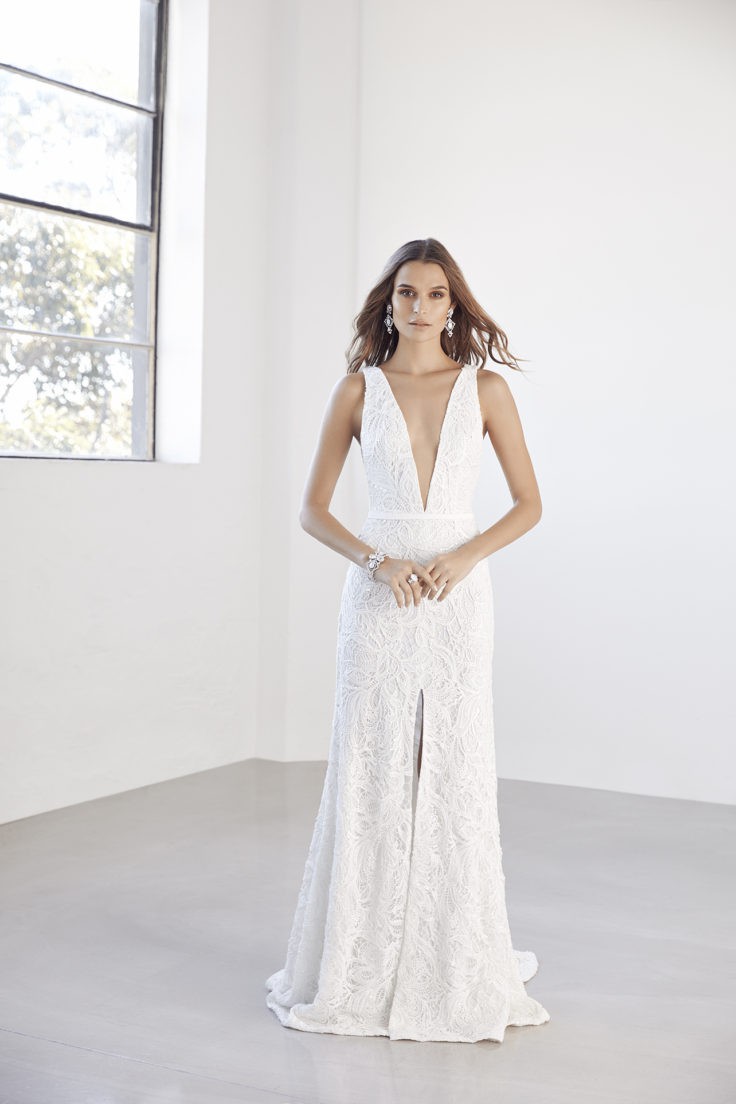 An elegantly classic lace gown is finished with a sultry deep V neckline for a modern finish to an elegant style. This gorgeous wedding style proves that even a simple dress can be be an absolute show stopper.
06.

Feminine Accents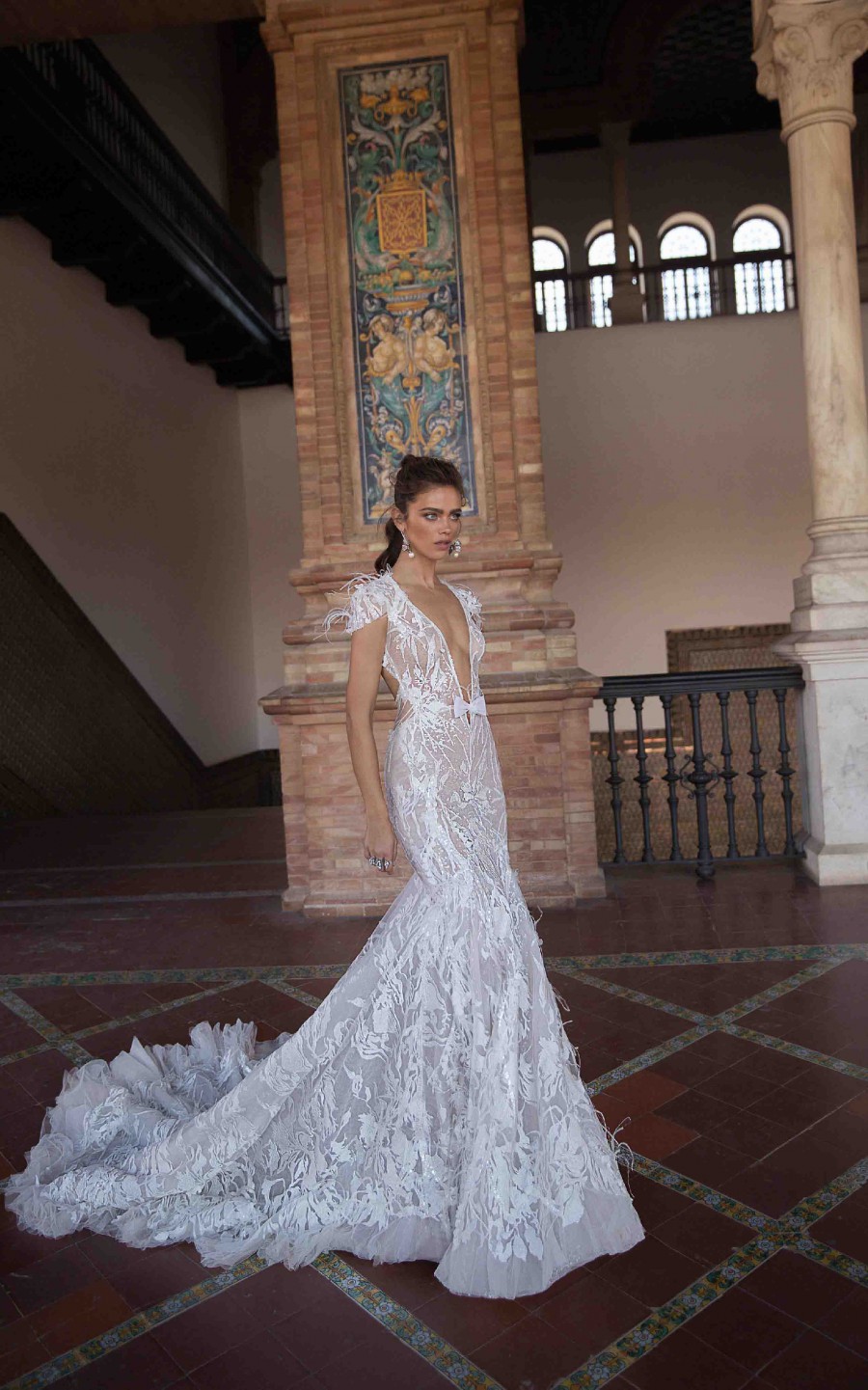 Berta never disappoints when it comes to bold, feminine wedding fashion. This plunging neckline style is no exception! Every detail was considered with care, and this gown is sure to surprise from every angle.
07.

Feathered Princess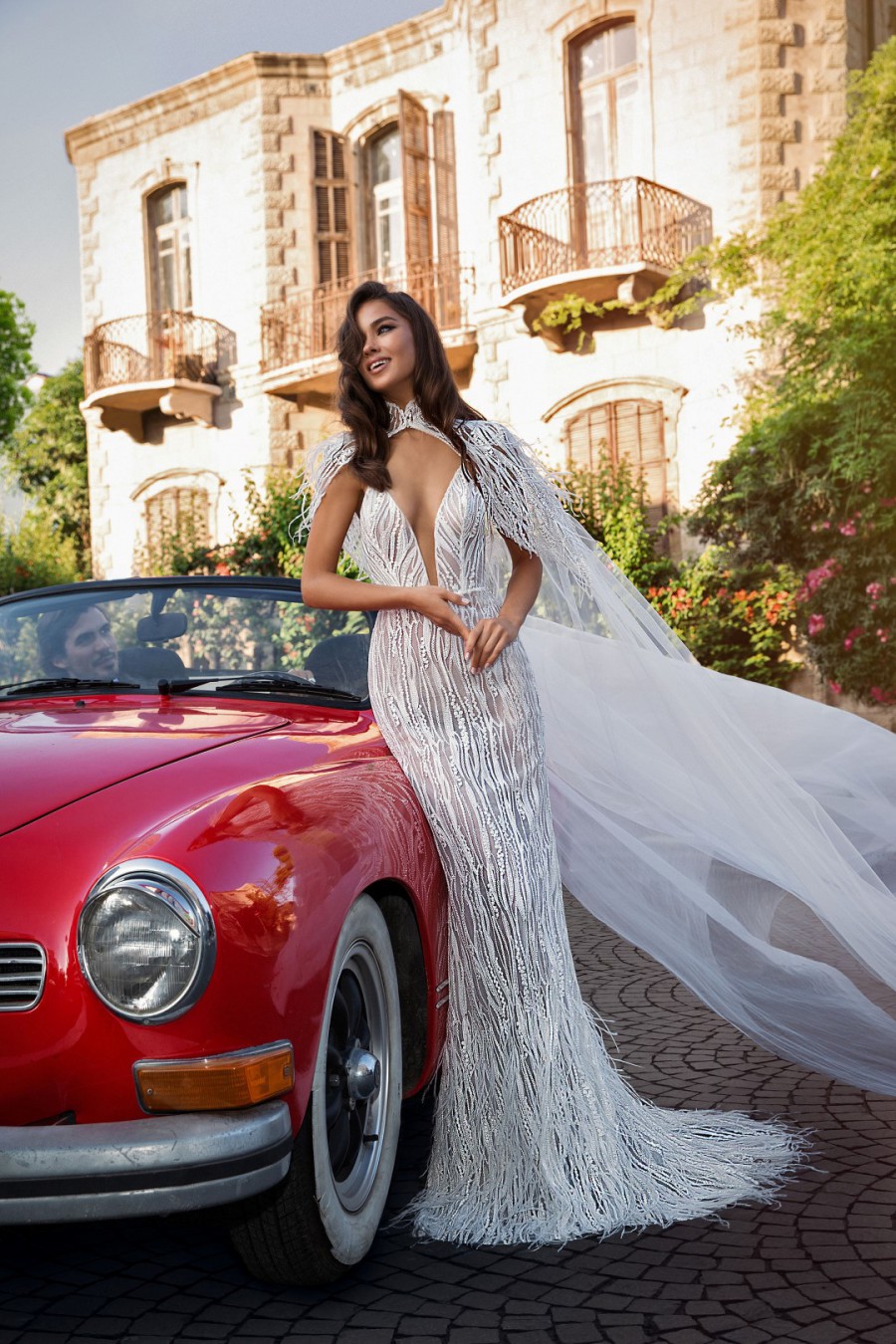 A sexy style fit for a modern day glam goddess. This plunging V neckline gown isn't complete without its intricate detailing, feathered base, and matching princess cape.
08.

Sheer Florals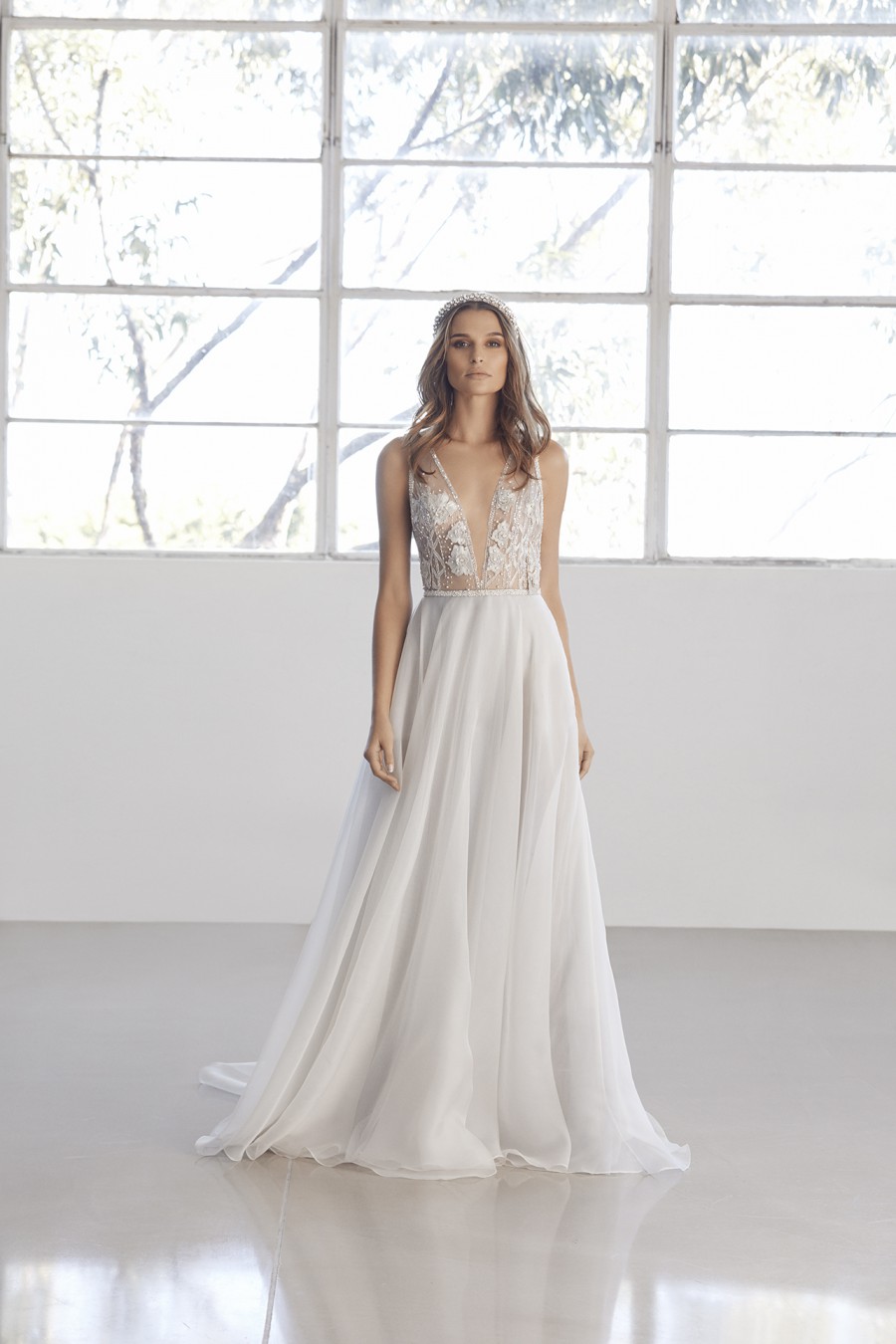 A feminine, whimsical wedding style that features a semi sheer plunging neckline bodice with beautiful floral accents.
09.

Glistening Sand Dollars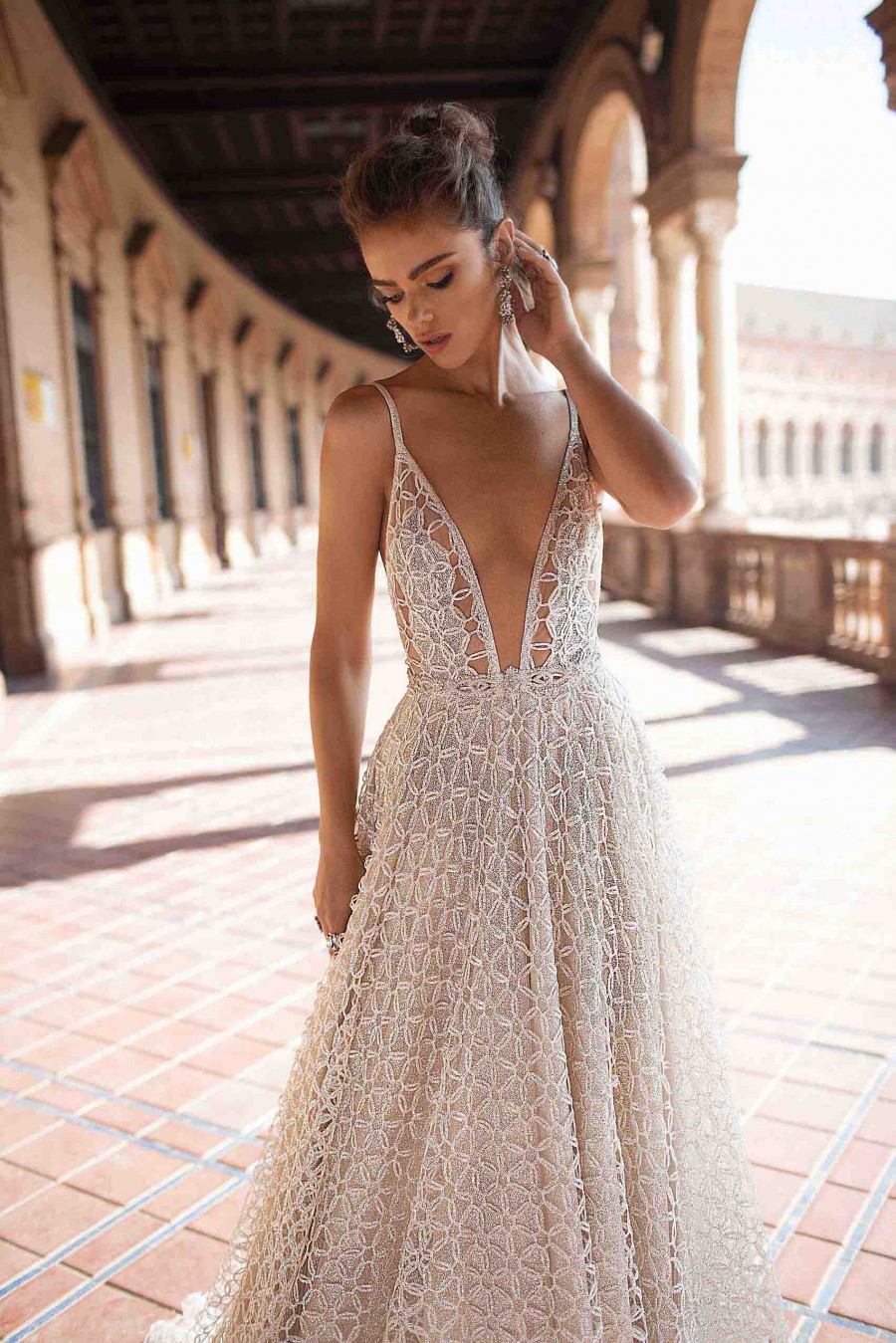 We are seeing stars from this next dreamy wedding gown from Berta. This gown is covered from top to bottom in a delicate sand dollar looking design that is absolutely breathtaking. A barely there plunging neckline finishes off this look in a sexy and dramatic way.
10.

Hollywood Classic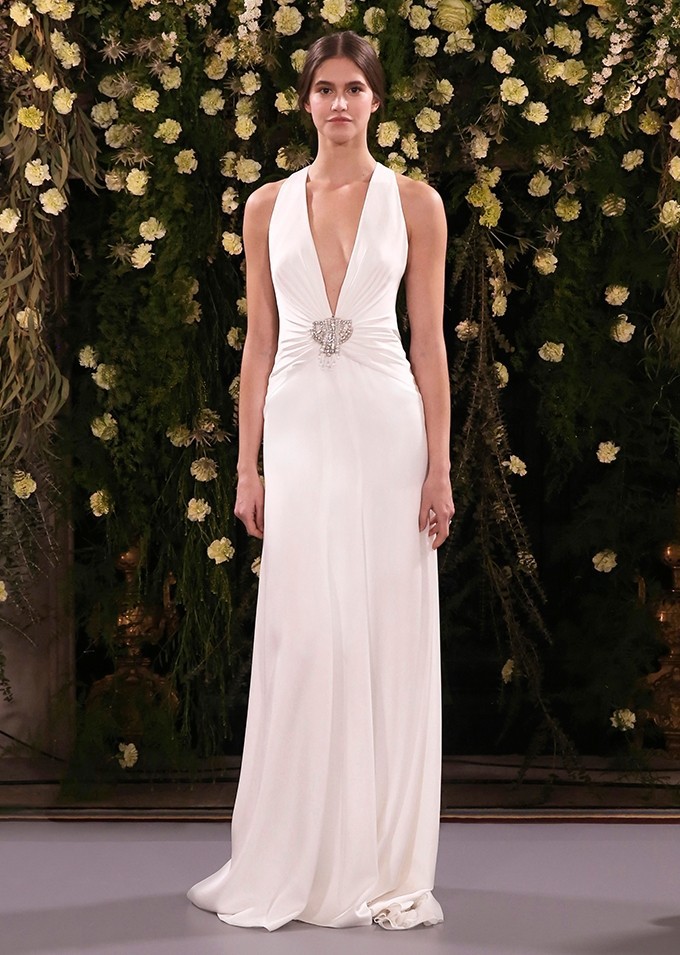 Jenny Packham brings us a classy, classic old Hollywood inspired gown, that is taken to a completely new level with its stunning deep V neckline cut.
11.

Crochet Detailing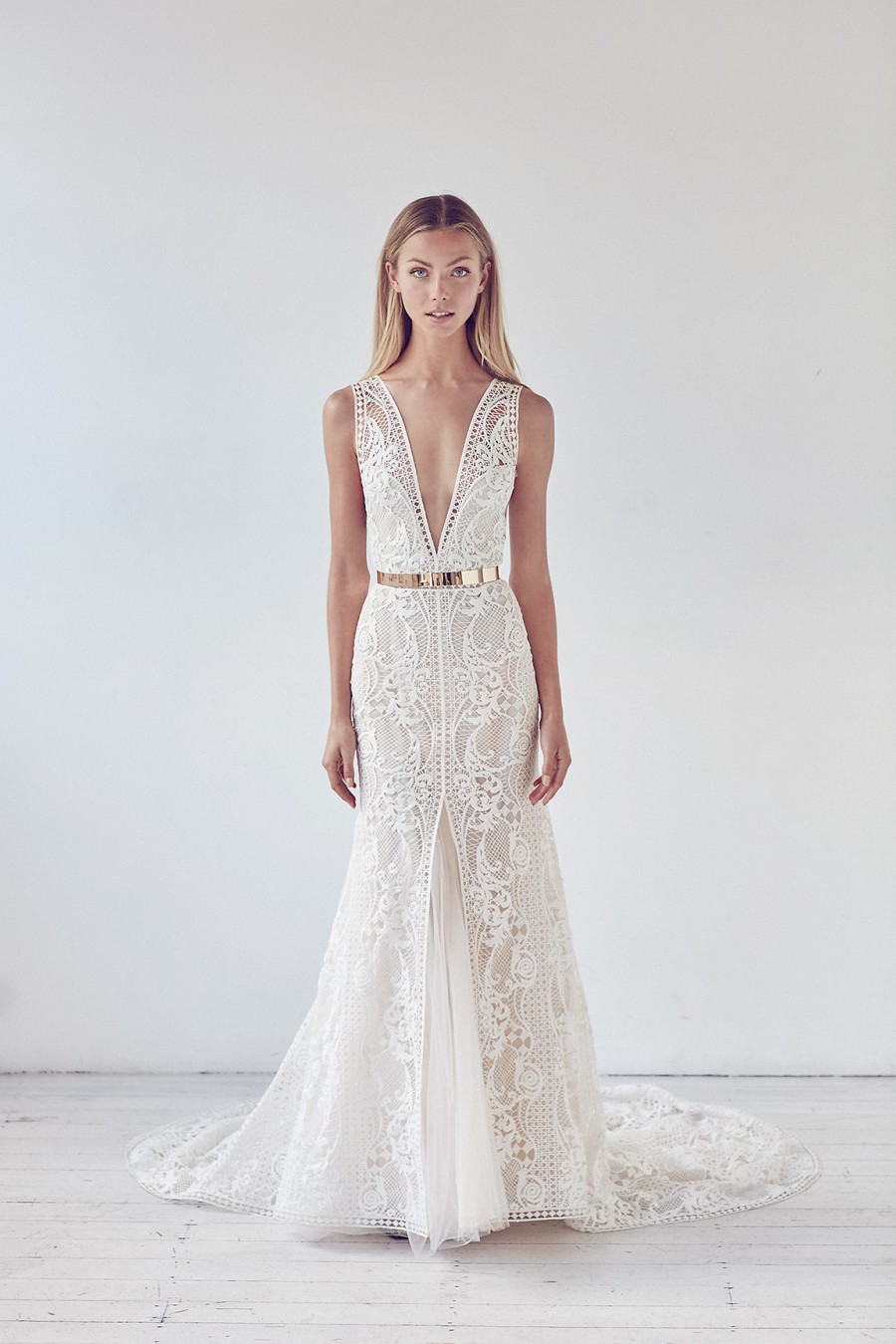 A completely one of a kind crochet lace wedding gown that is finished with a plunging V neckline and bold metallic gold belt. Chic, sexy, and classy.
12.

Garden Scene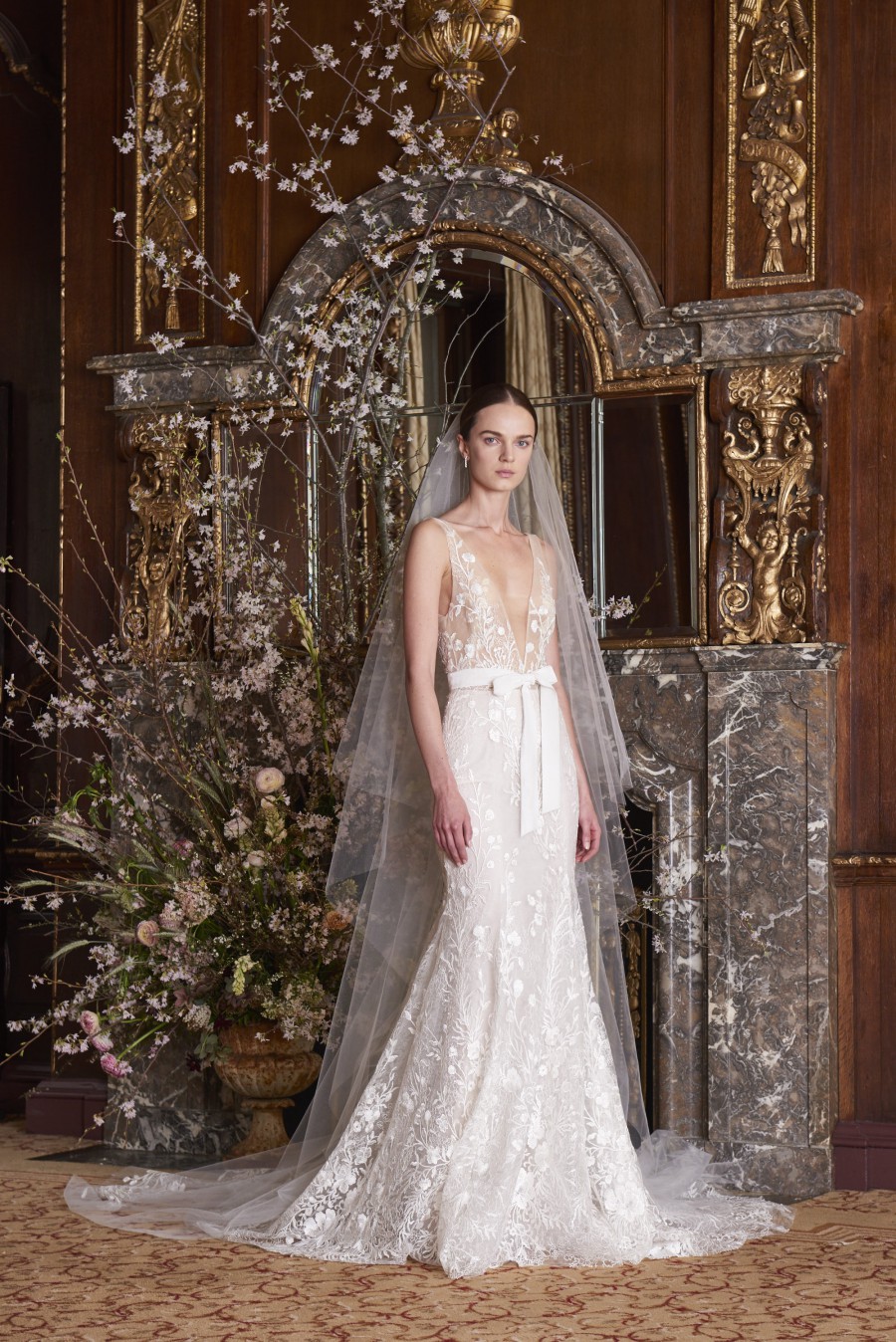 A stunning plunging neckline wedding gown from Monique Lhuillier. This gorgeous feminine style is perfect for a romantic summer garden wedding ceremony.
13.

Sleek White Sophistication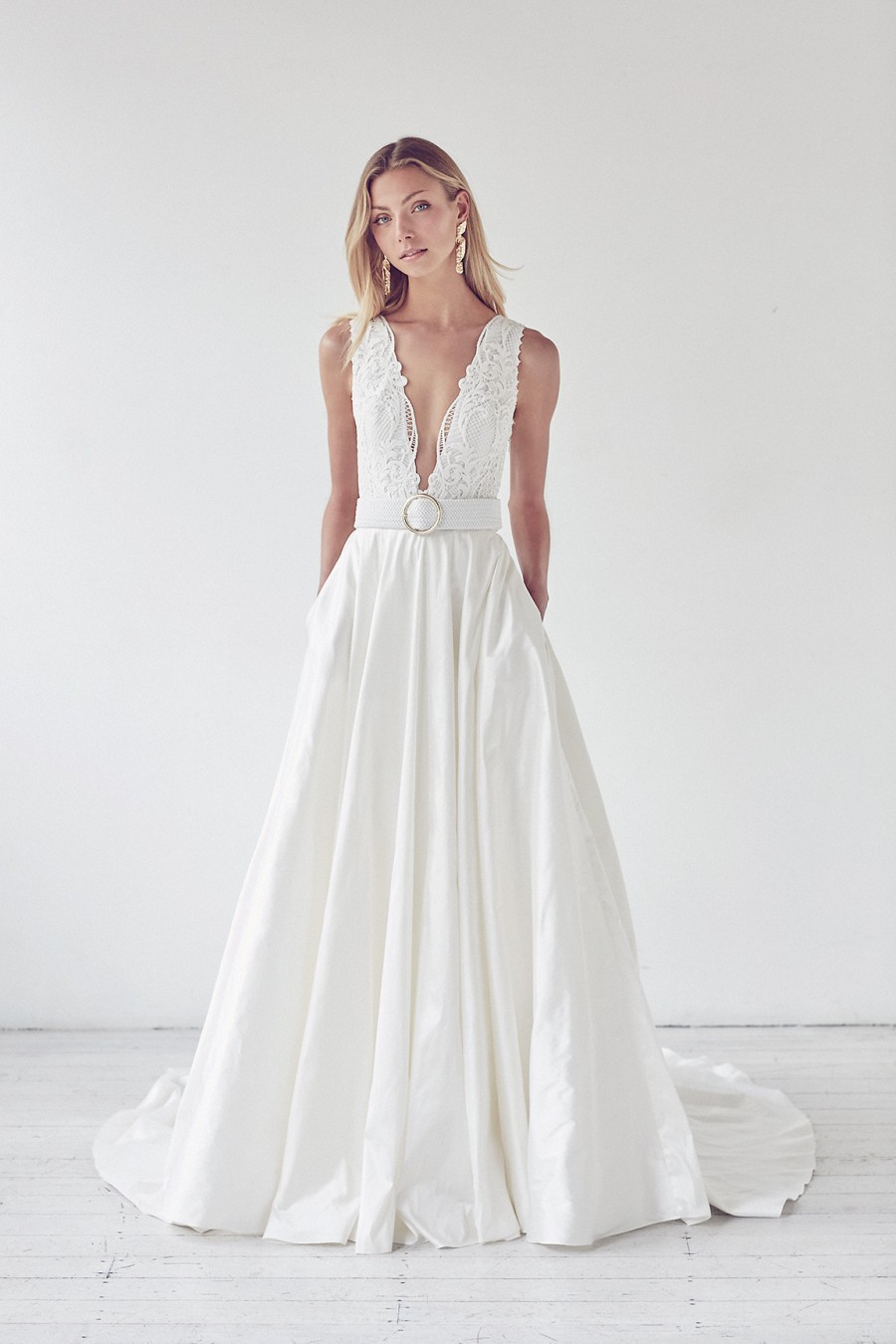 A gorgeous white wedding style that is sweet and sophisticated. A sleek white shirt is paired with a intricate plunging V neckline bodice. To finish off this jaw dropping contemporary wedding style is a wide woven belt.
14.

High Collar Drama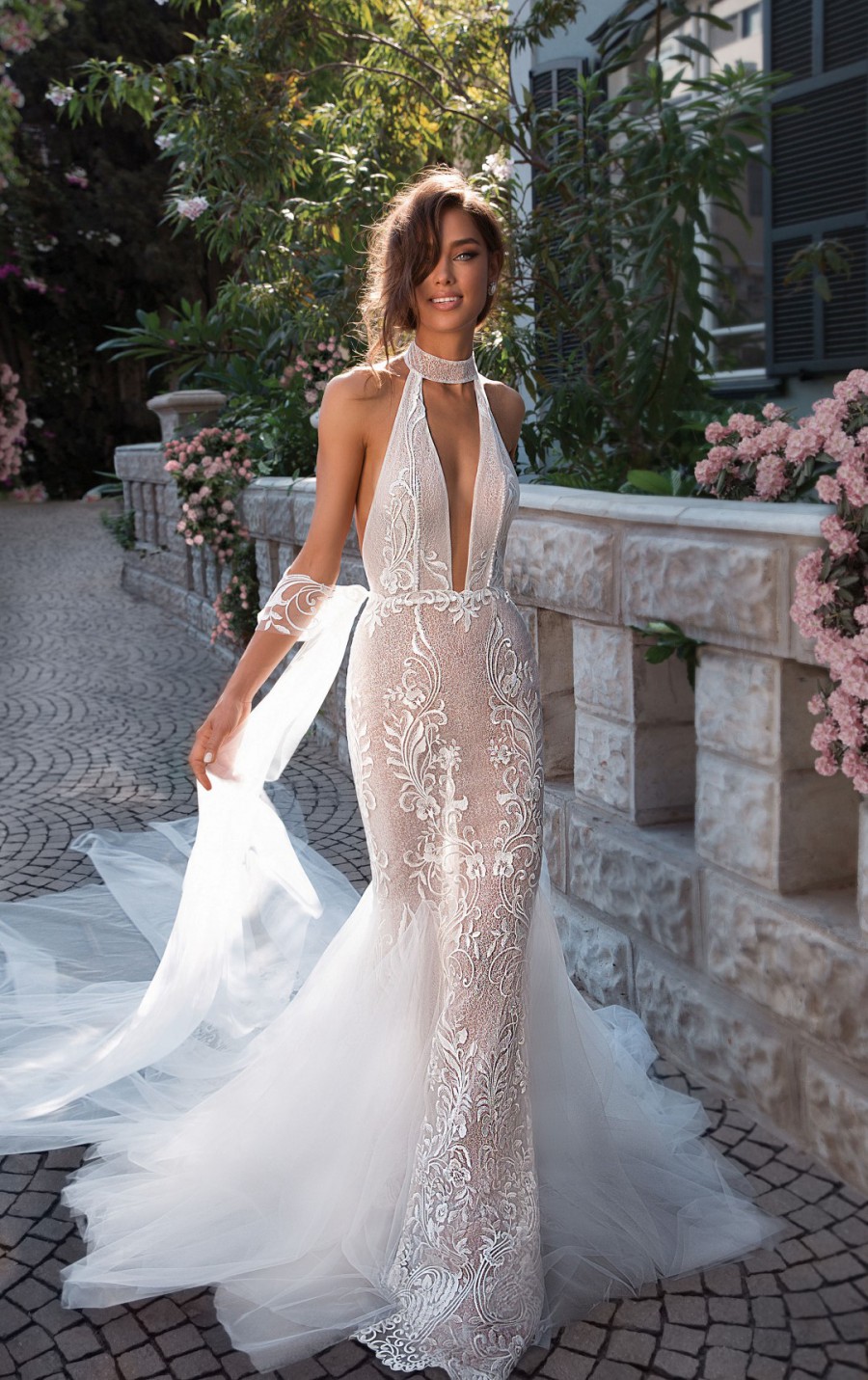 The unique high neck collar and plunging V neckline if this next gown create a gorgeous bodice design that is completely unique and jaw dropping. This daring fashion forward style finishes with dramatic tulle train accents.
15.

Garden Goddess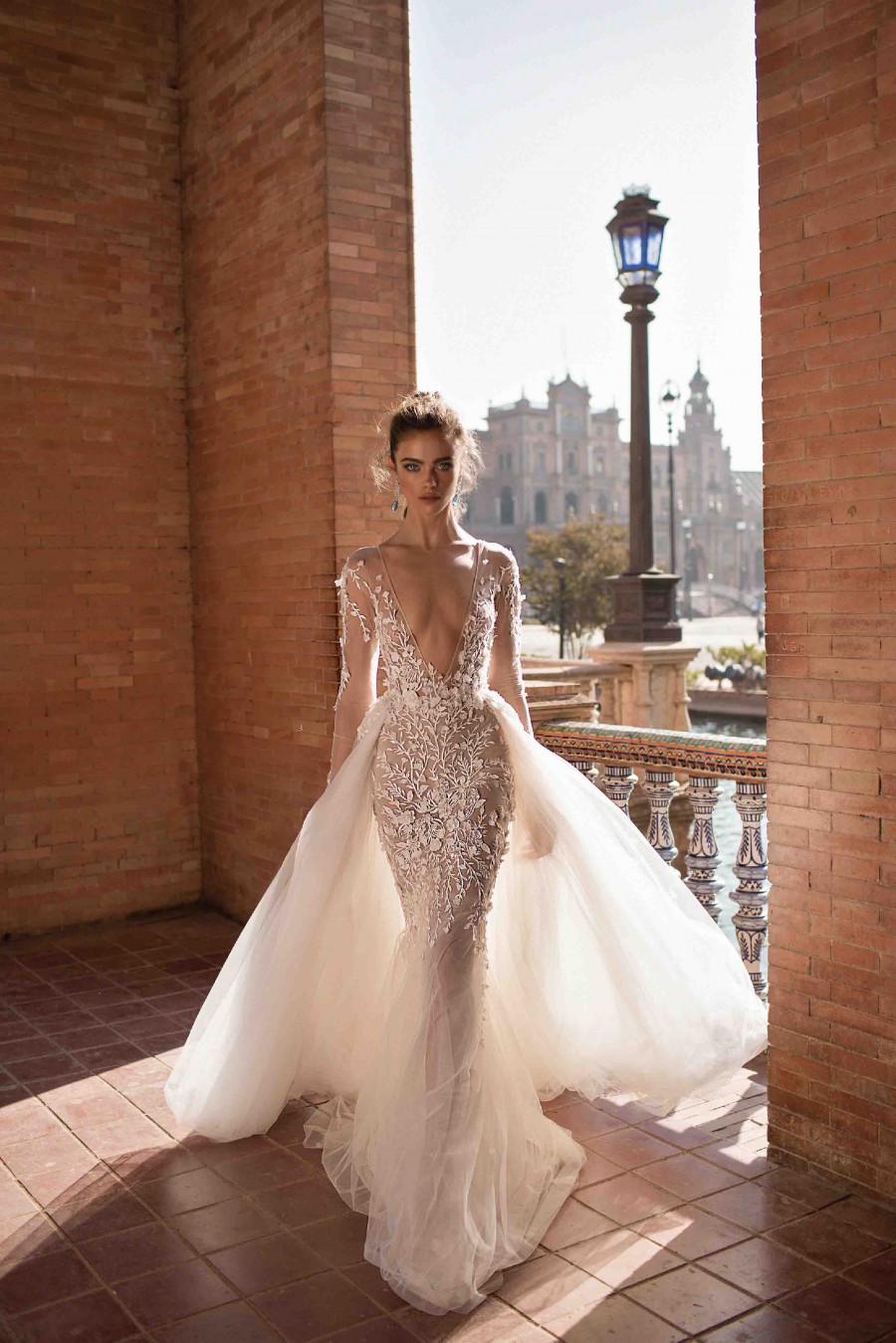 Berta brings us our next plunging neckline wedding style. This look is a dreamy, whimsical gown fit for an elegant black tie garden wedding. The barely there bodice is sensual and mesmerizing.
16.

Sleek Bohemian
A sleek bohemian inspired lace wedding gown that is all about intricate detailing. This one of a kind lace design is jaw dropping from every angle. A plunging neckline finishes off this style with a sexy, bold touch.
17.

Ruffles and Lace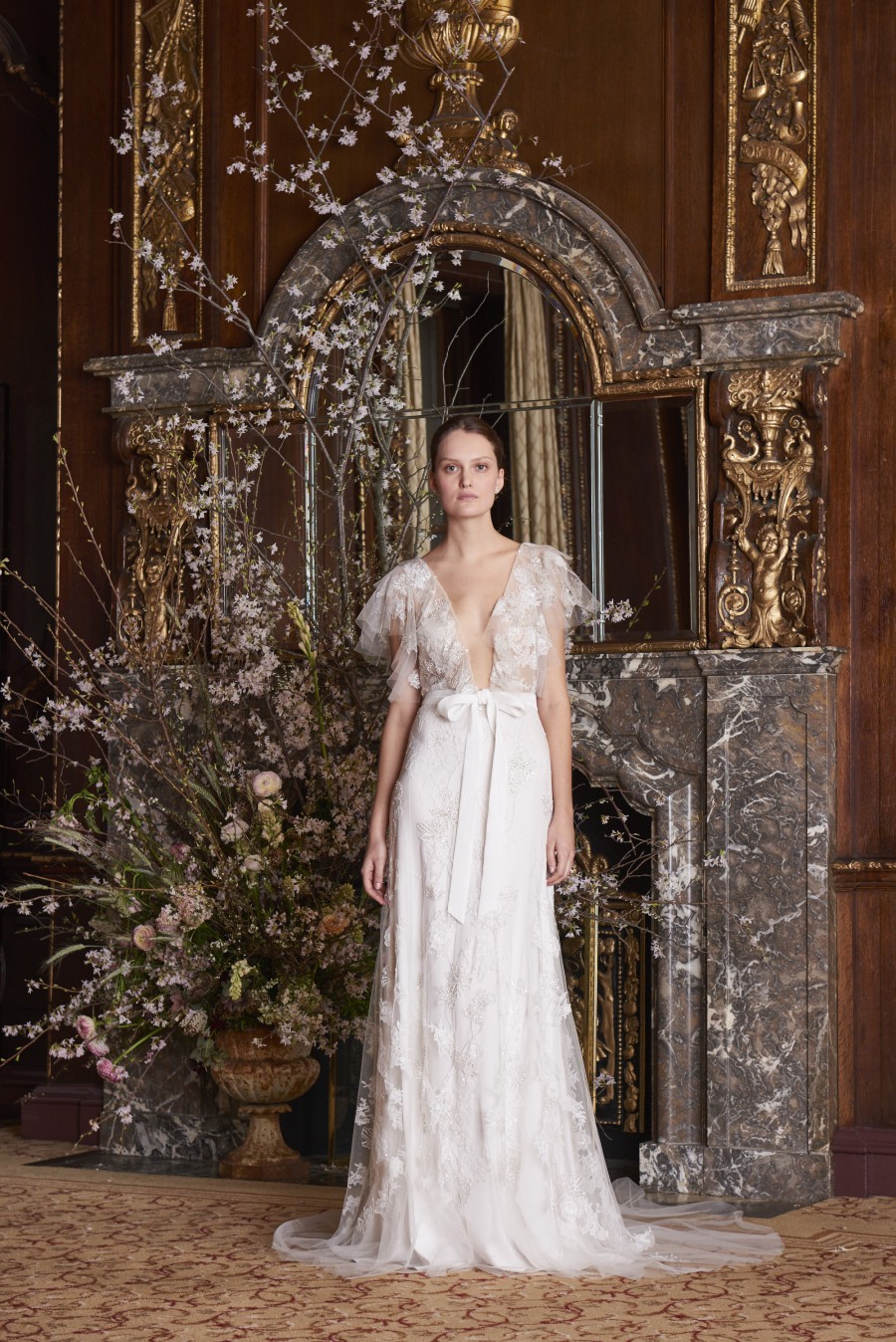 A breathtaking feminine wedding style featuring a plunging neckline bodice with with layered tulle flutter sleeves that are eye catching and absolutely stunning.
18.

Blushing Beauty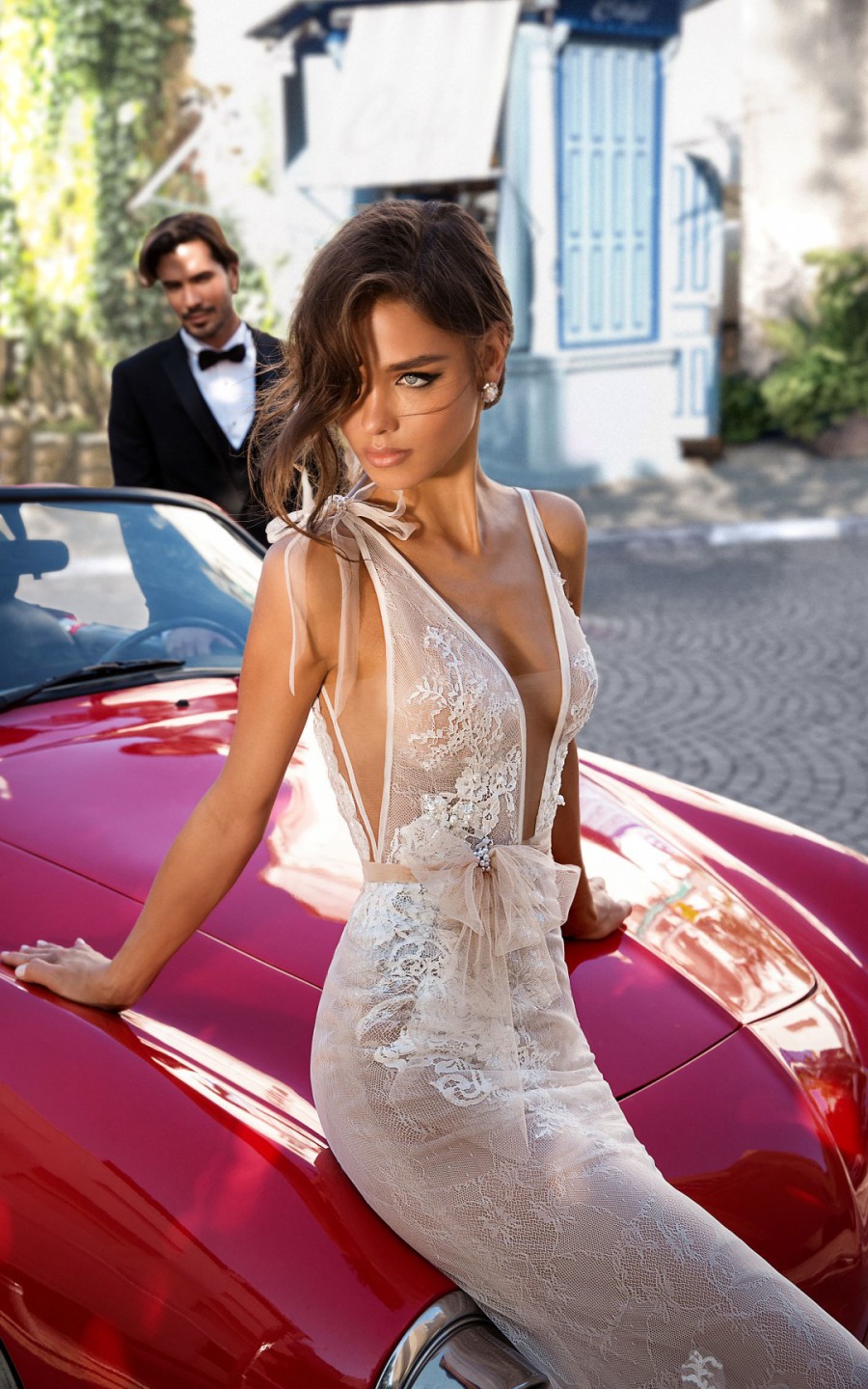 An elegant, and vintage inspired blush gown that is anything but traditional. This gorgeous lace gown features a plunging neckline, with matching side cut accents. Finished with a single shoulder tie bow, and tulle waist tie to add some finishing volume to the look.
19.

Contemporary Princess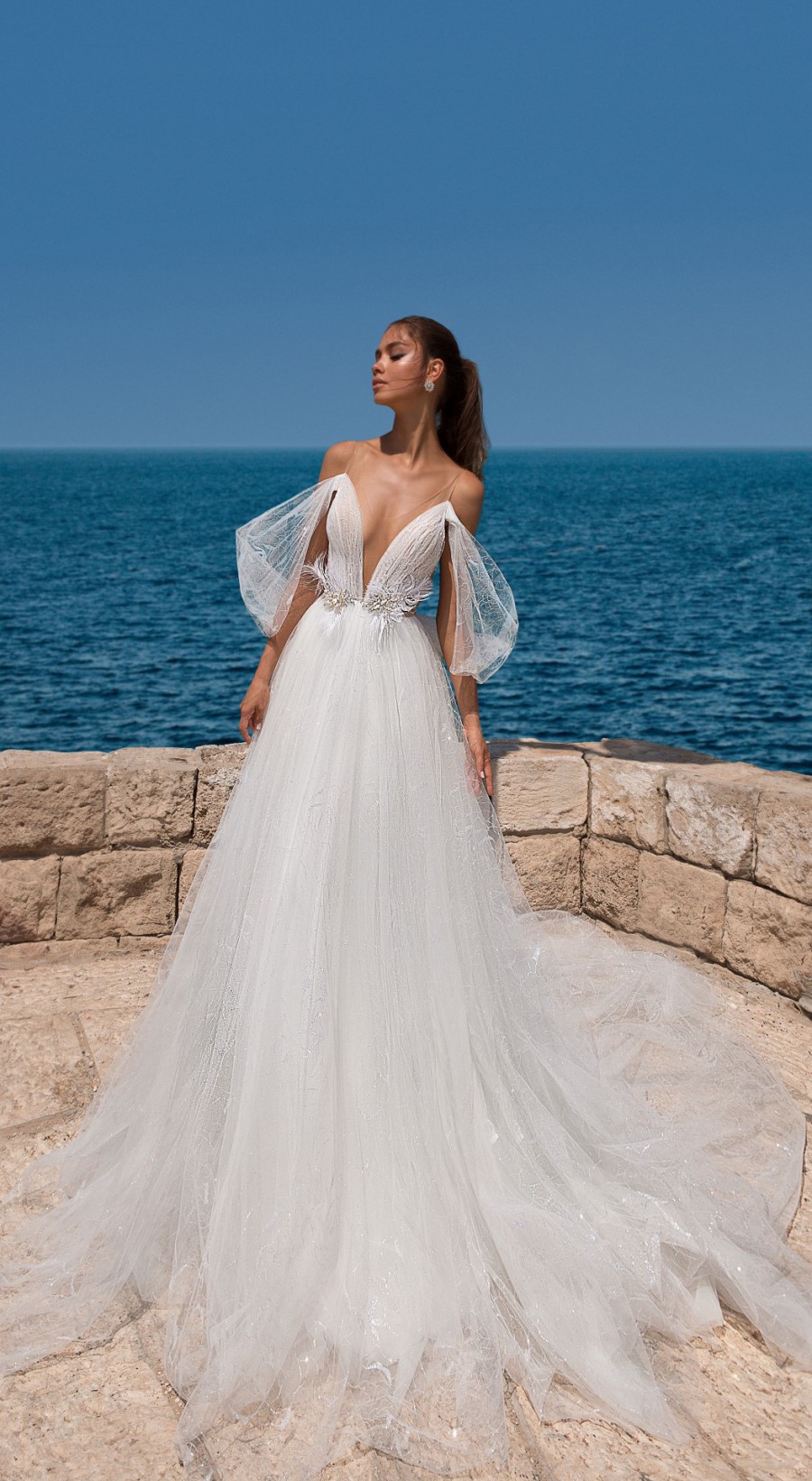 Craving a castle worthy wedding day style? This plunging neckline contemporary ball gown is just what you need! Finished with voluminous off the shoulder accents, this princess gown is truly one of a kind.
20.

Contemporary Jumpsuit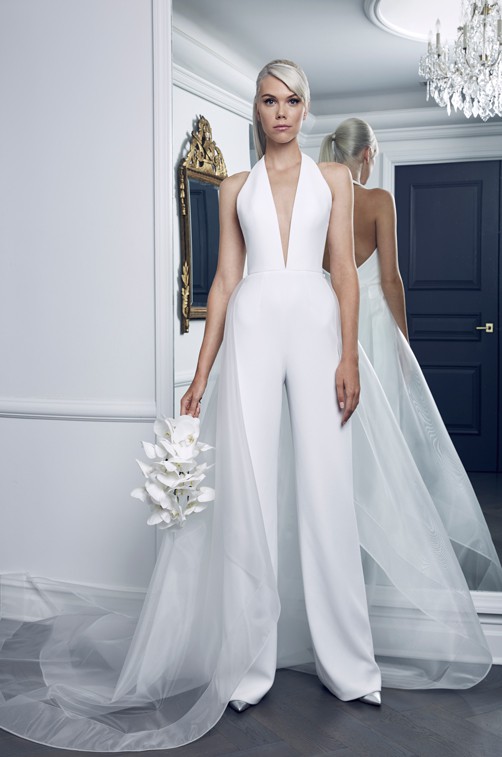 A sleek, modern, menswear inspired wedding day jumpsuit that is still completely feminine and elegant. The deep plunging neckline and open back add a sassy feminine touch to this contemporary look.
21.

Encrusted in Jewels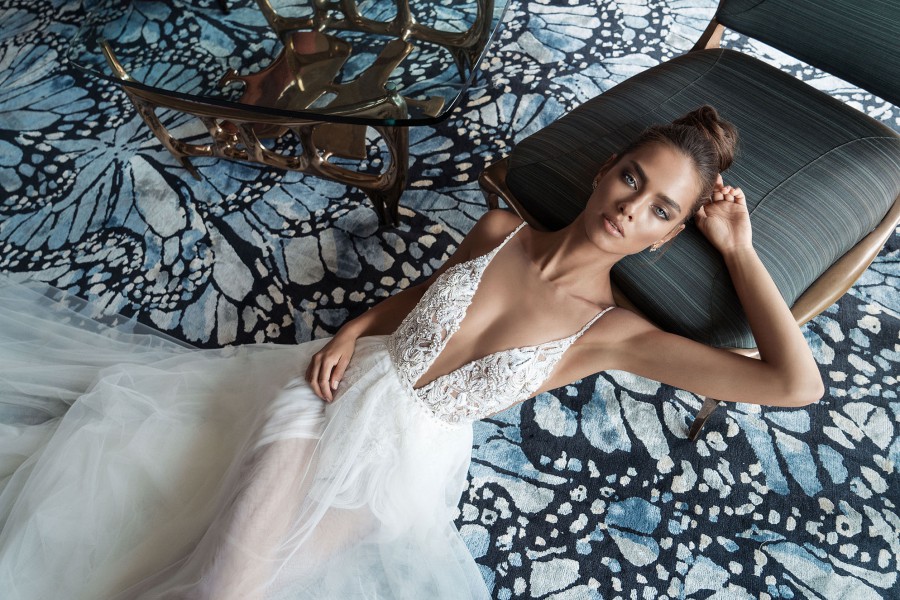 This next plunging V neckline wedding style features a heavily encrusted bodice that absolutely steals the show. This jeweled design is paired with a lightly layered tulle skirt, to create a truly magical design.
22.

Classy Contempoary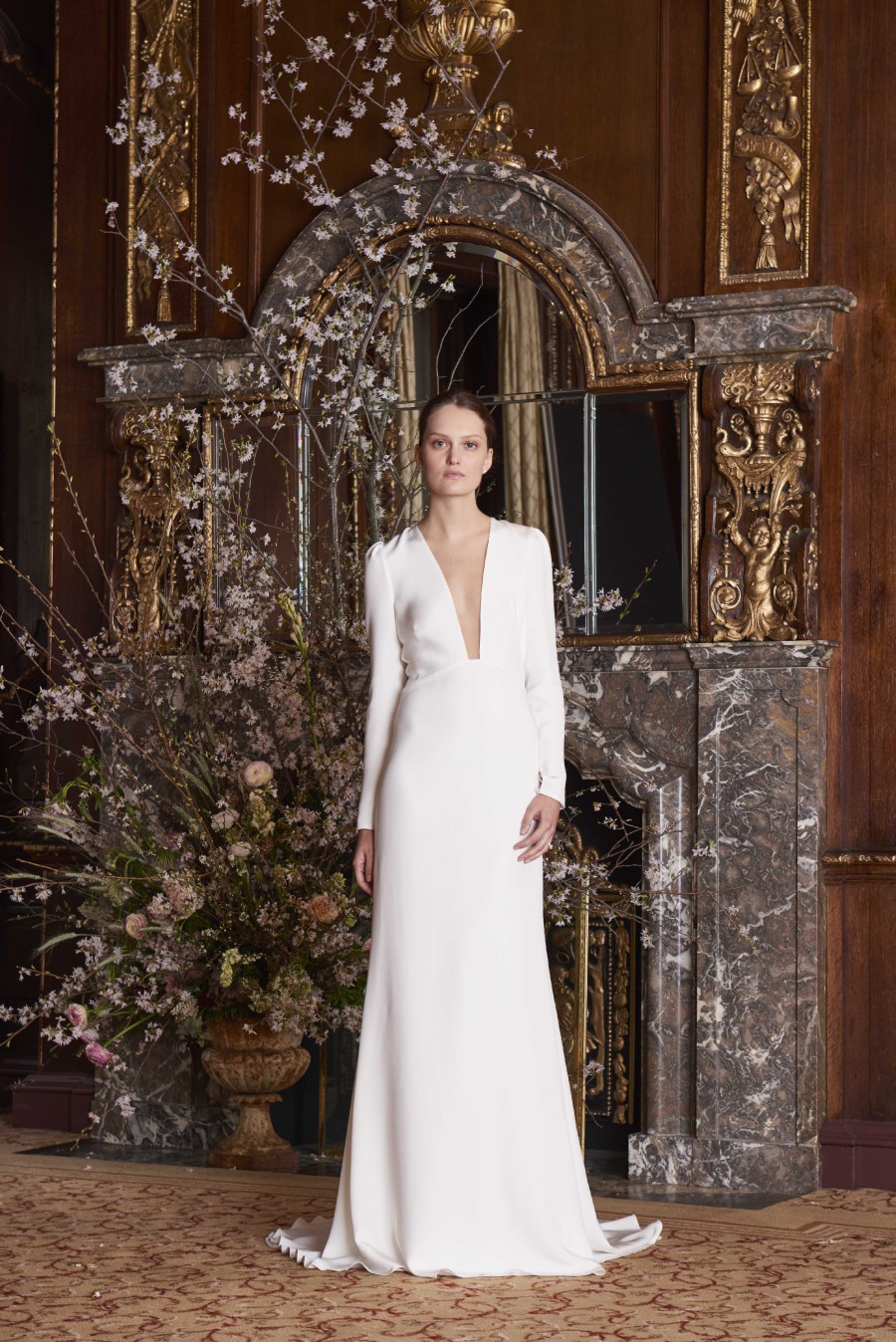 A sleek white contemporary wedding gown with full length sleeves. The plunging neckline of this style really breaks up the full coverage style of the gown. This modest dress is completely transformed with the choice to add in a deep V cut at the neck.
23.

Cap Sleeve Glam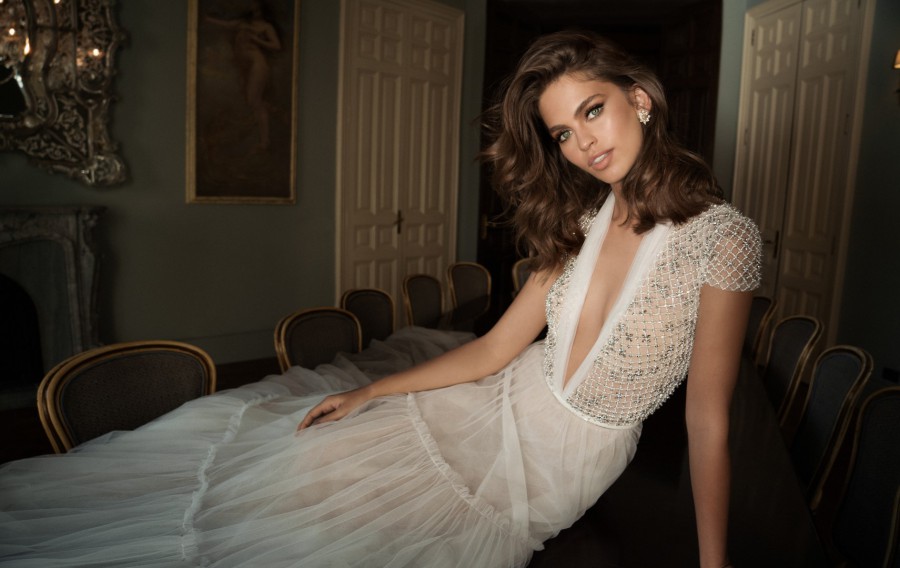 This next style is completely unique when it comes to plunging neckline wedding styles. The bodice of this style is jaw dropping with its intricately beaded cap sleeve style. This seemingly modest contemporary gown is finished with a deep V neckline cut, for a sassy and sexy finish.
24.

Sleek Silhouette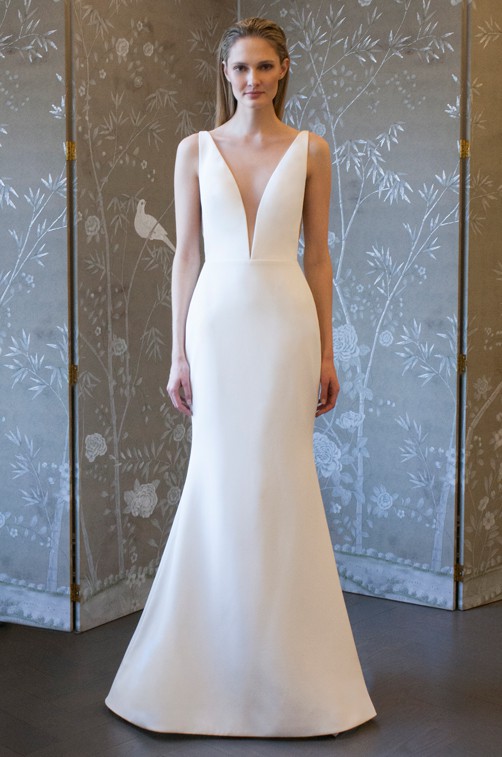 Ramona Keveza brings us another sleek white wedding style with a dramatic plunging neckline that is absolutely captivating. The silhouette of this gown is architectural, and almost figurine-like with its perfectly smooth lines.
25.

Contemporary Greek Goddess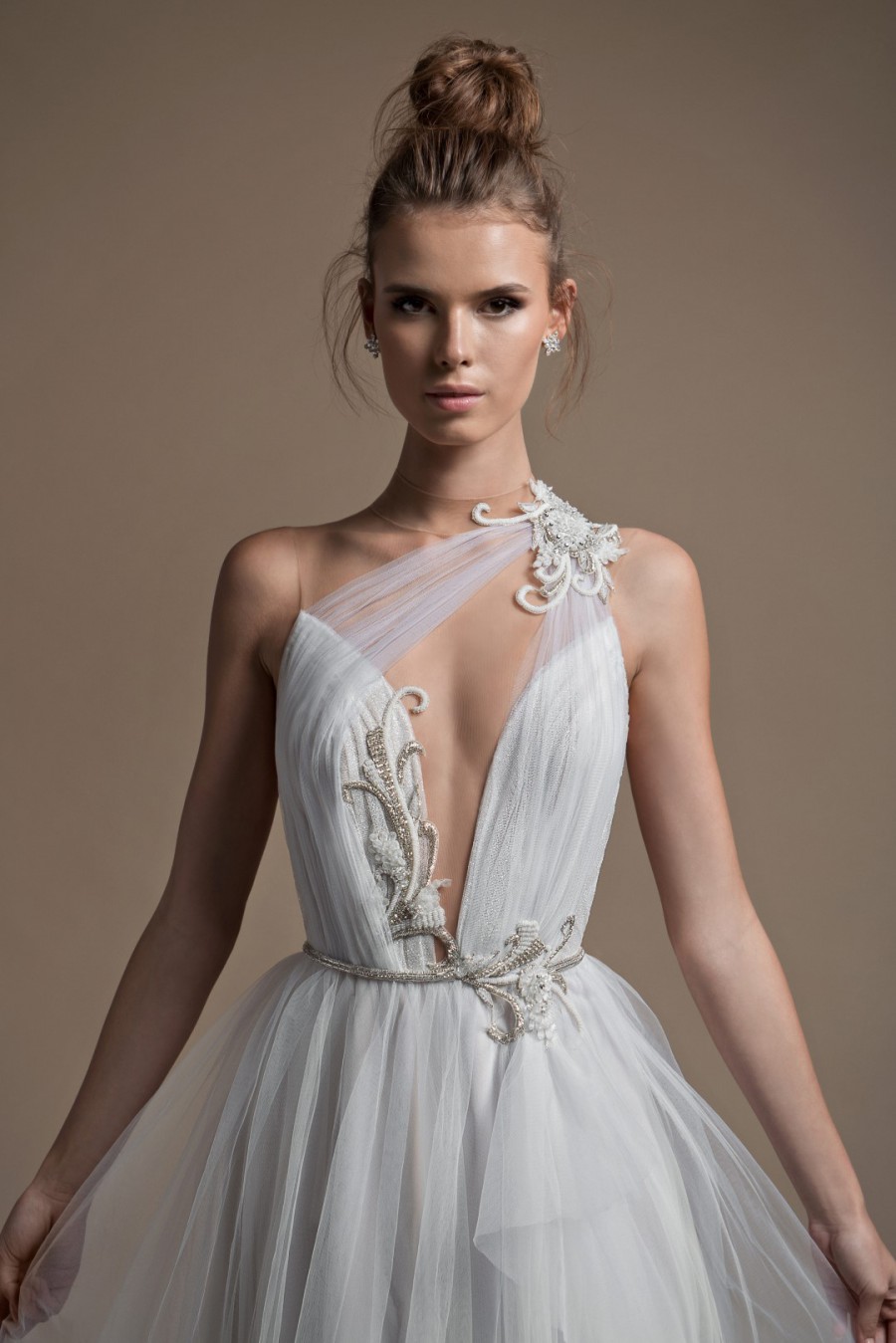 This next plunging neckline style is fit for a modern day Greek goddess. Delicately layered tulle is accented by a plunging V neck and whimsical beaded accents.
26.

Sequins and Florals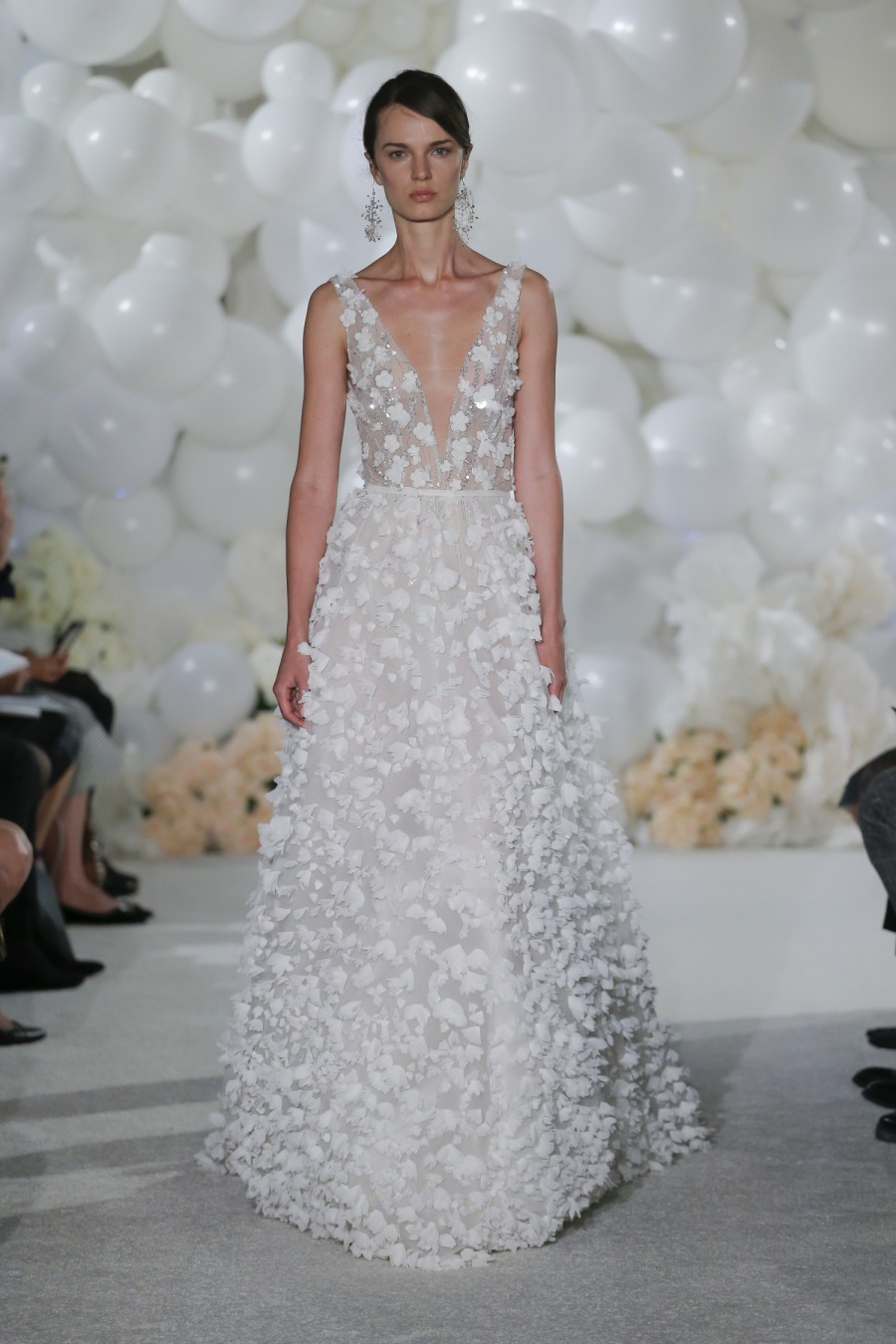 This next plunging neckline wedding gown is all about eye catching texture. Covered from head to toe in delicate sequin beading and dimensional florals - this look is whimsical and feminine.
27.

Tea Length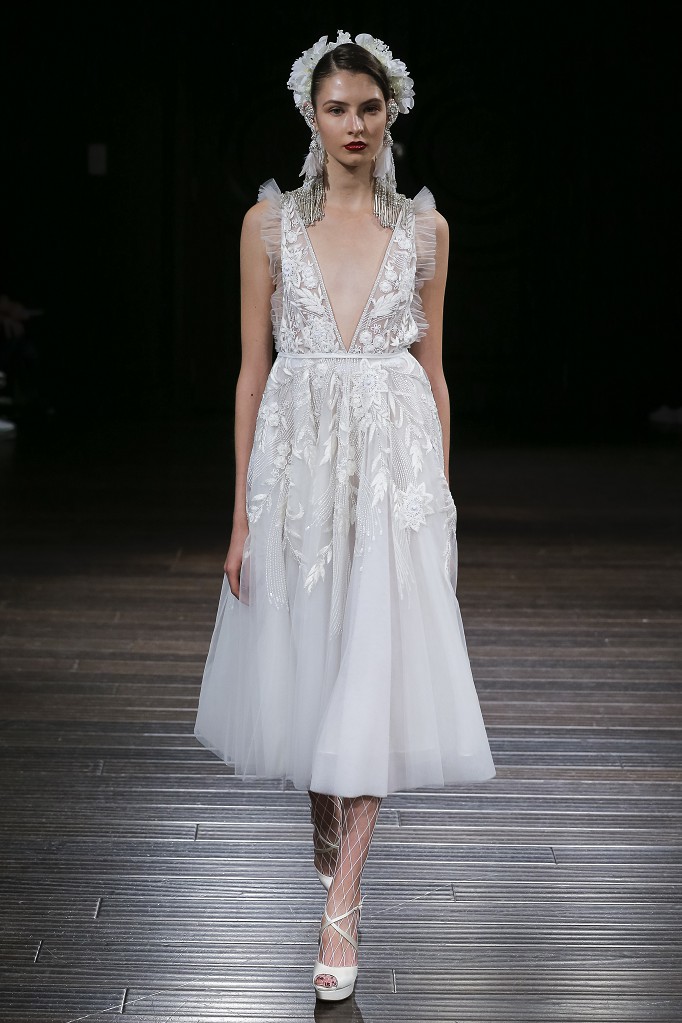 Naeem Khan brings us our next plunging V neck wedding gown - with this beautiful tea length, floral accented design. Sweet, feminine and completely unique.
28.

Structured Plunge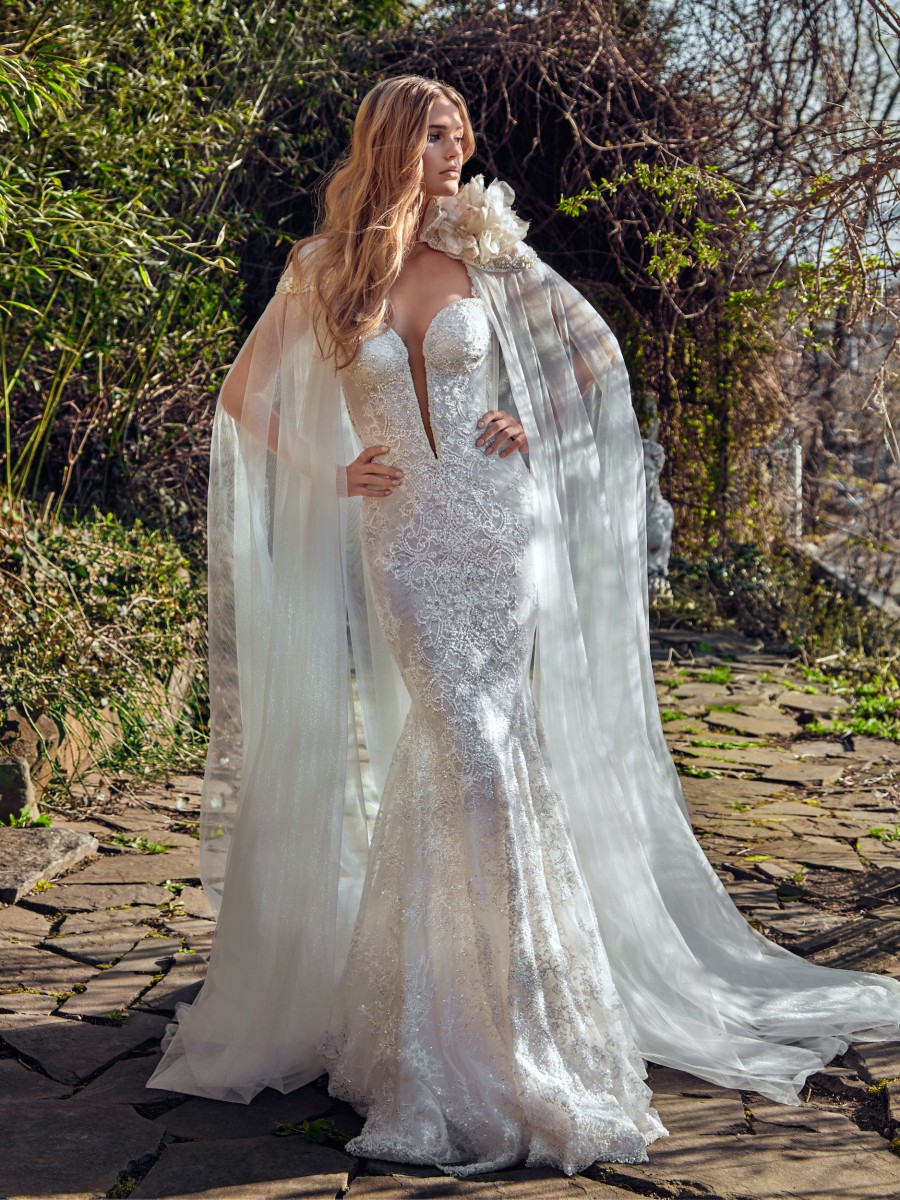 Move over Cinderella - make way for this stunning modern princess style. The structured bodice of this figure flattering gown features a dramatic, yet thinly cut plunging V. Top this look off with its dramatic princess cape, and you are ready to walk down the aisle to your very own Prince Charming!
29.

Dimensional Florals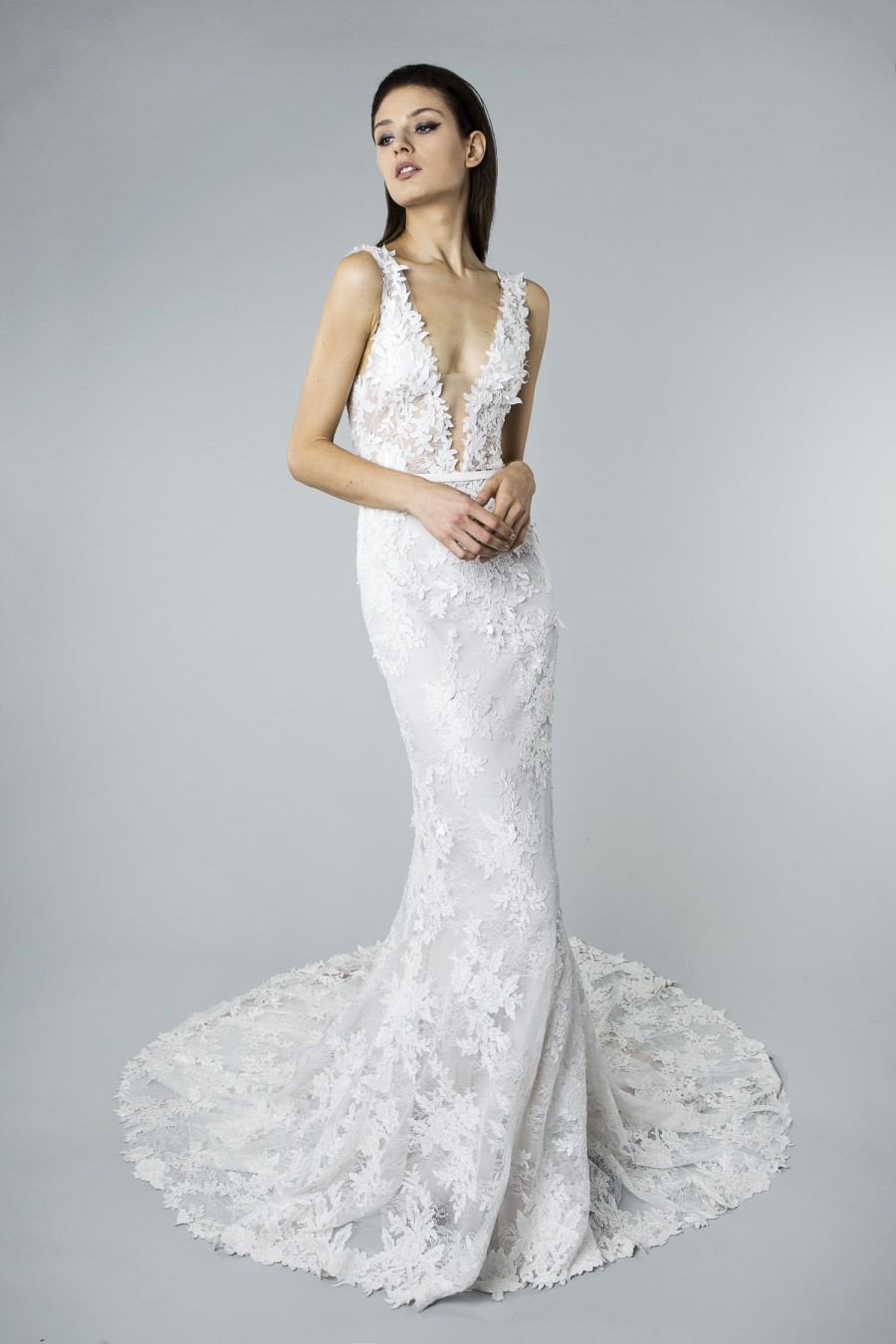 This next plunging neckline wedding style has a sleek and sexy silhouette, accented with a delicate train, and dimensional florals.
30.

Textured Lace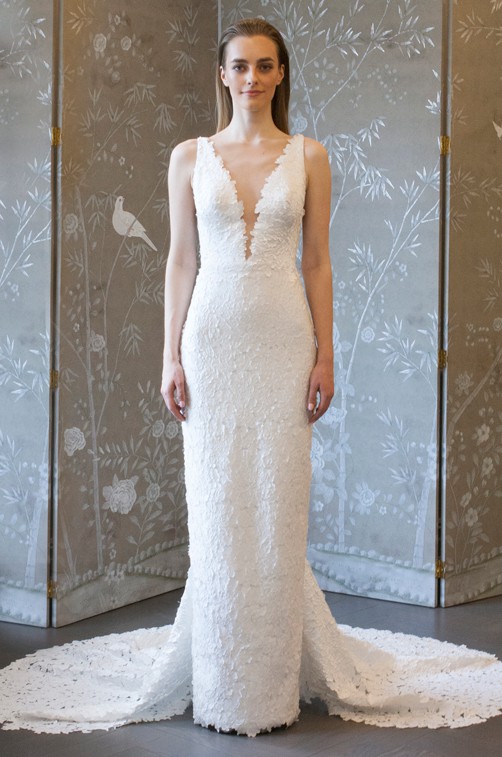 A completely stunning textured lace wedding gown that is both modern and classic. This classy style features a simple hip hugging silhouette, and of course, a plunging neckline. The neckline of this gown adds a sassy finish to a classically elegant wedding gown.
31.

Adorned Mermaid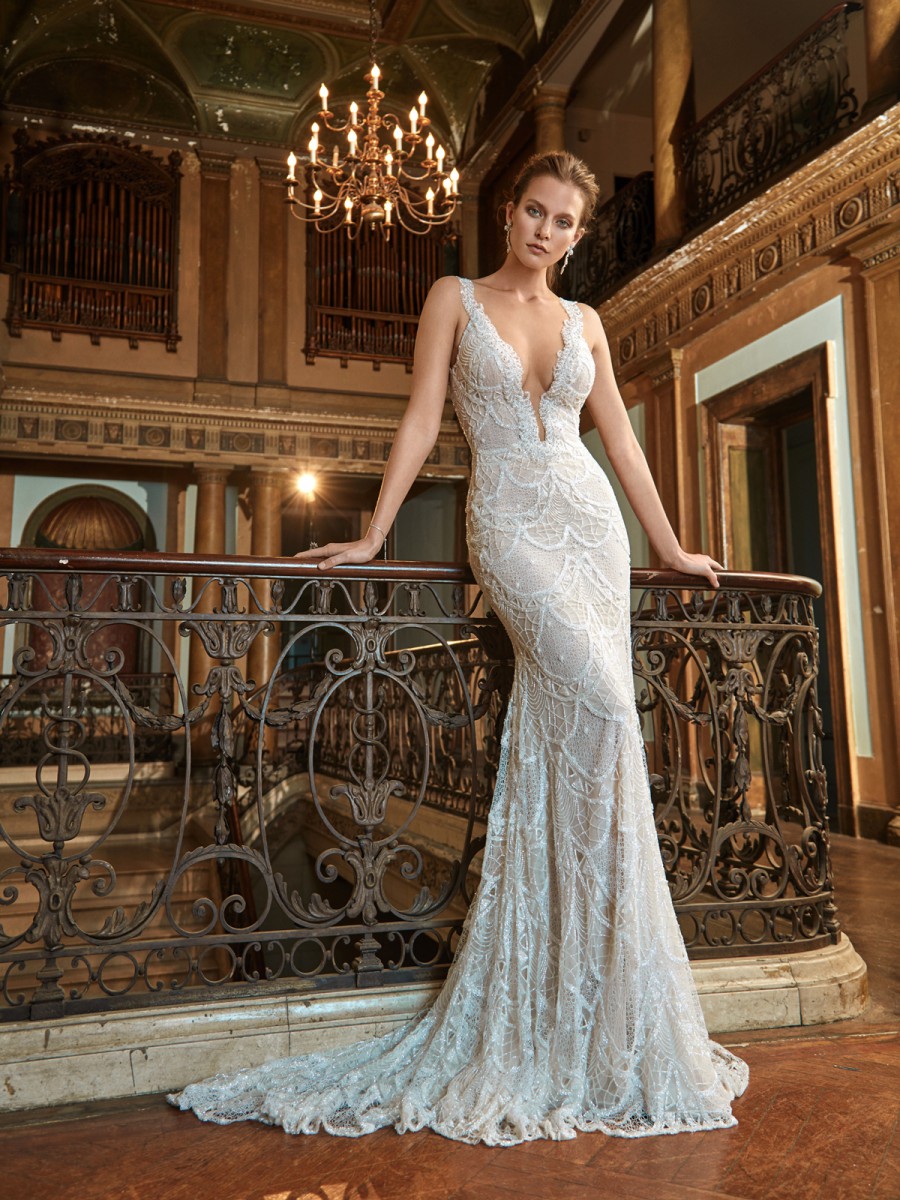 An absolutely stunning sexy mermaid cut wedding gown from Galia Lahav. The plunging neckline of this gown adds additional sensual detailing to this gorgeous look. And we just can't get enough of the unique hand beaded adornment down the entire dress. A stunning one of a kind design.
32.

Eclectic Flair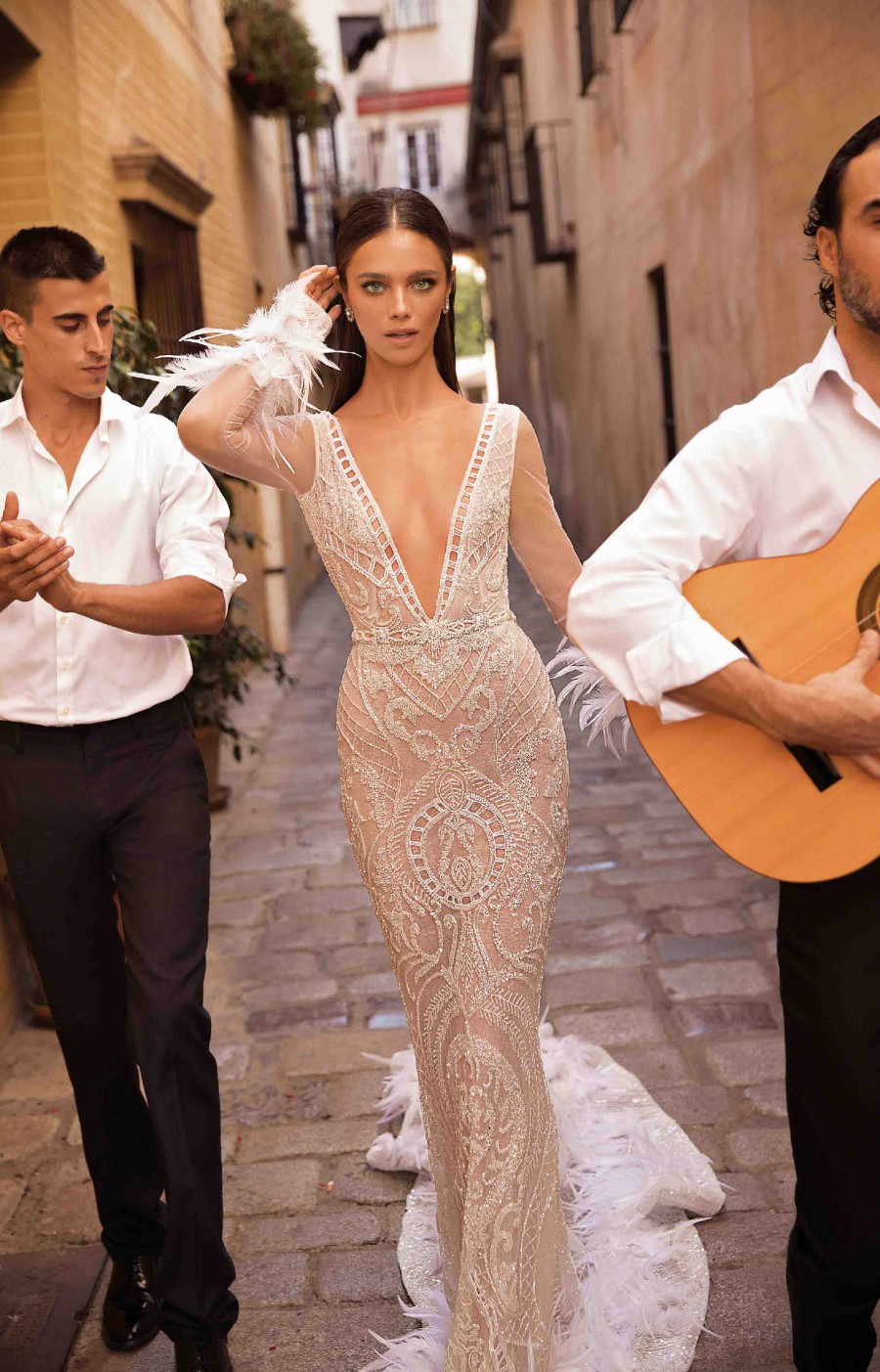 This next wedding gown is mesmerizing and festive. This almost full coverage gown feels barely there with is plunging neckline and sheer sleeves. The intricate beading is unique and luxe. And just to add a bit more drama, the dress features feathered accents on the sleeves and train.
33.

Modern Modest Ruffles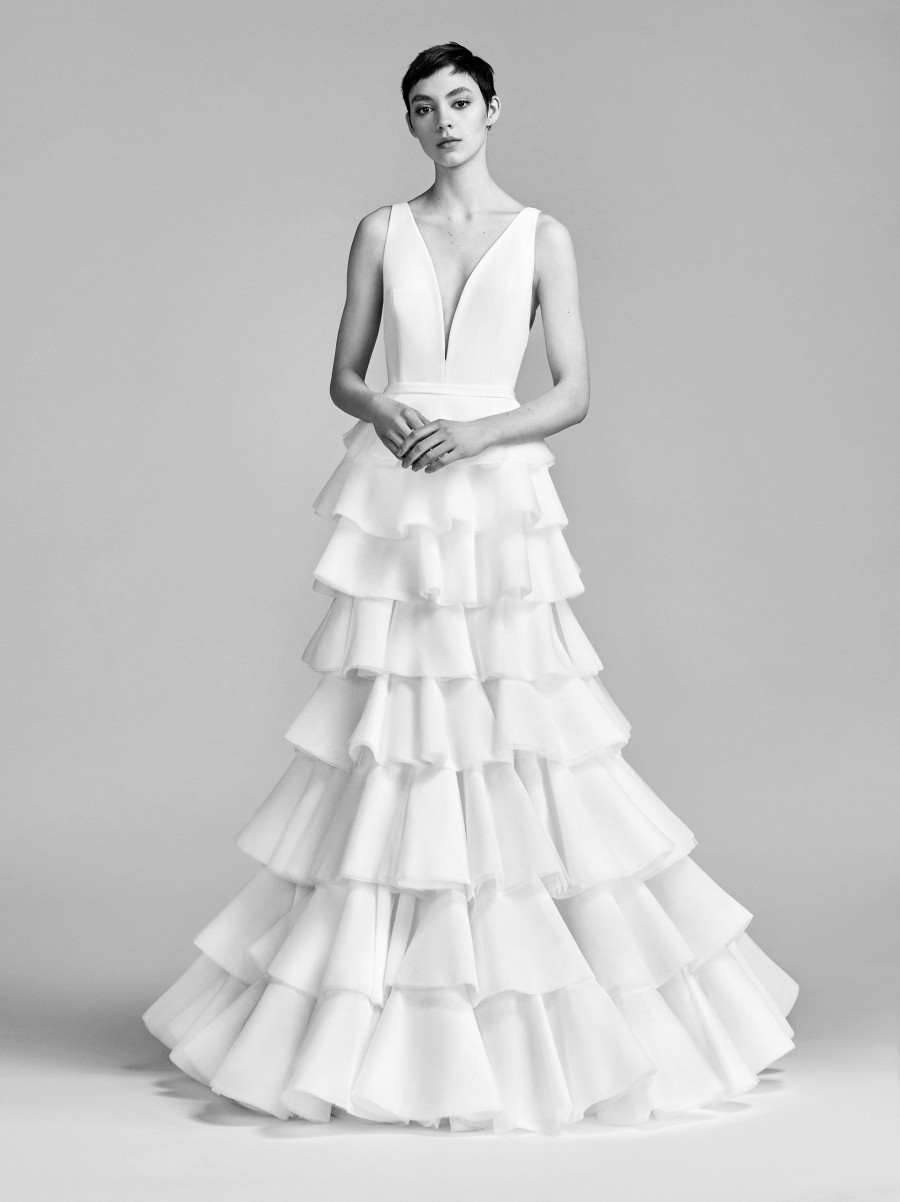 Modest may not be the first thing that comes to mind when thinking about Viktor Rolf's bold modern wedding designs - but in comparison to many of the plunging styles we have been looking at so far, this look really does seem on the more modest side of things. This stunning contemporary ruffled gown is paired with a sleek, deep V cut bodice and we absolutely love the combination!
34.

Classy Column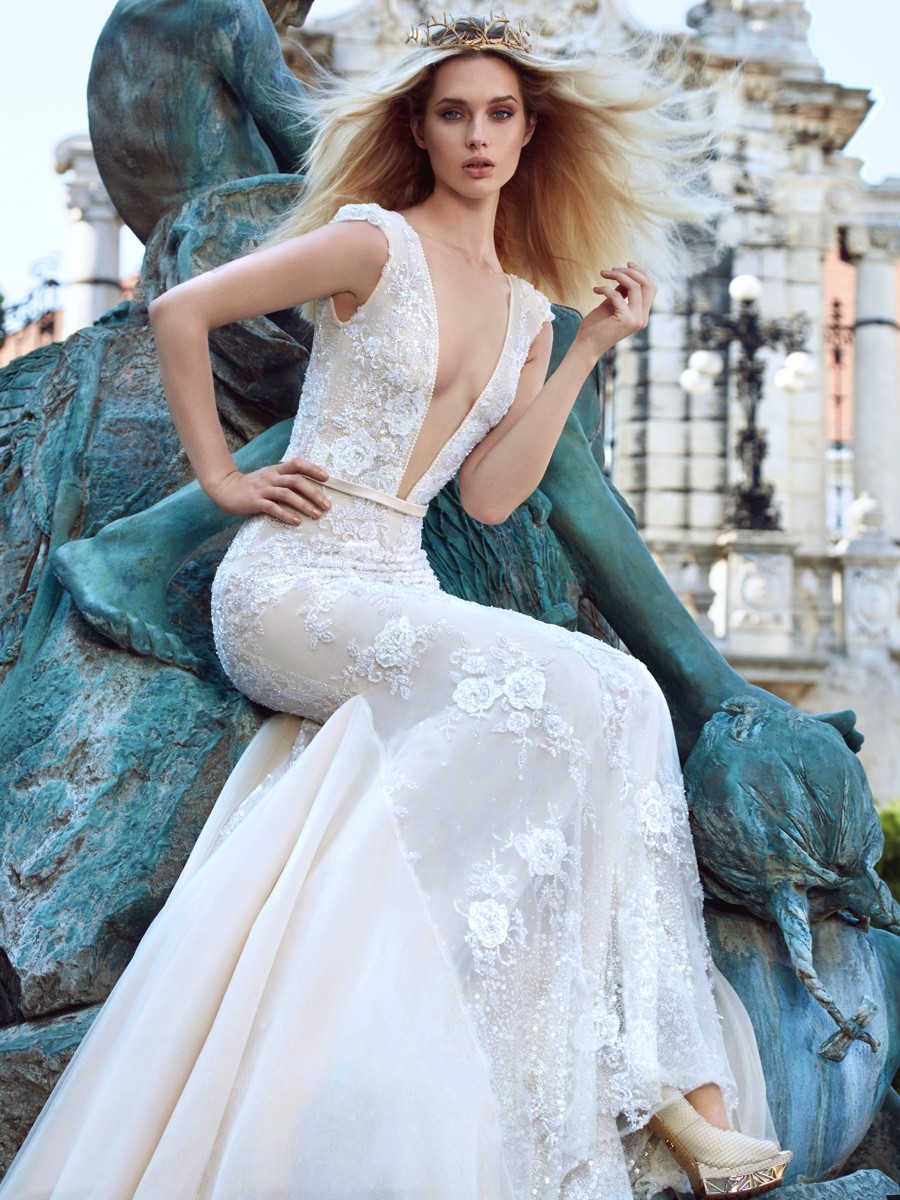 A sensual, yet classy column plunging neckline wedding gown. This gown has everything a classy, sassy modern bride is craving in a wedding day style. A stunning figure flattering cut, slight cap sleeves, a beautiful mix of fabrics, and a sexy plunging neckline.
35.

Barely There Beading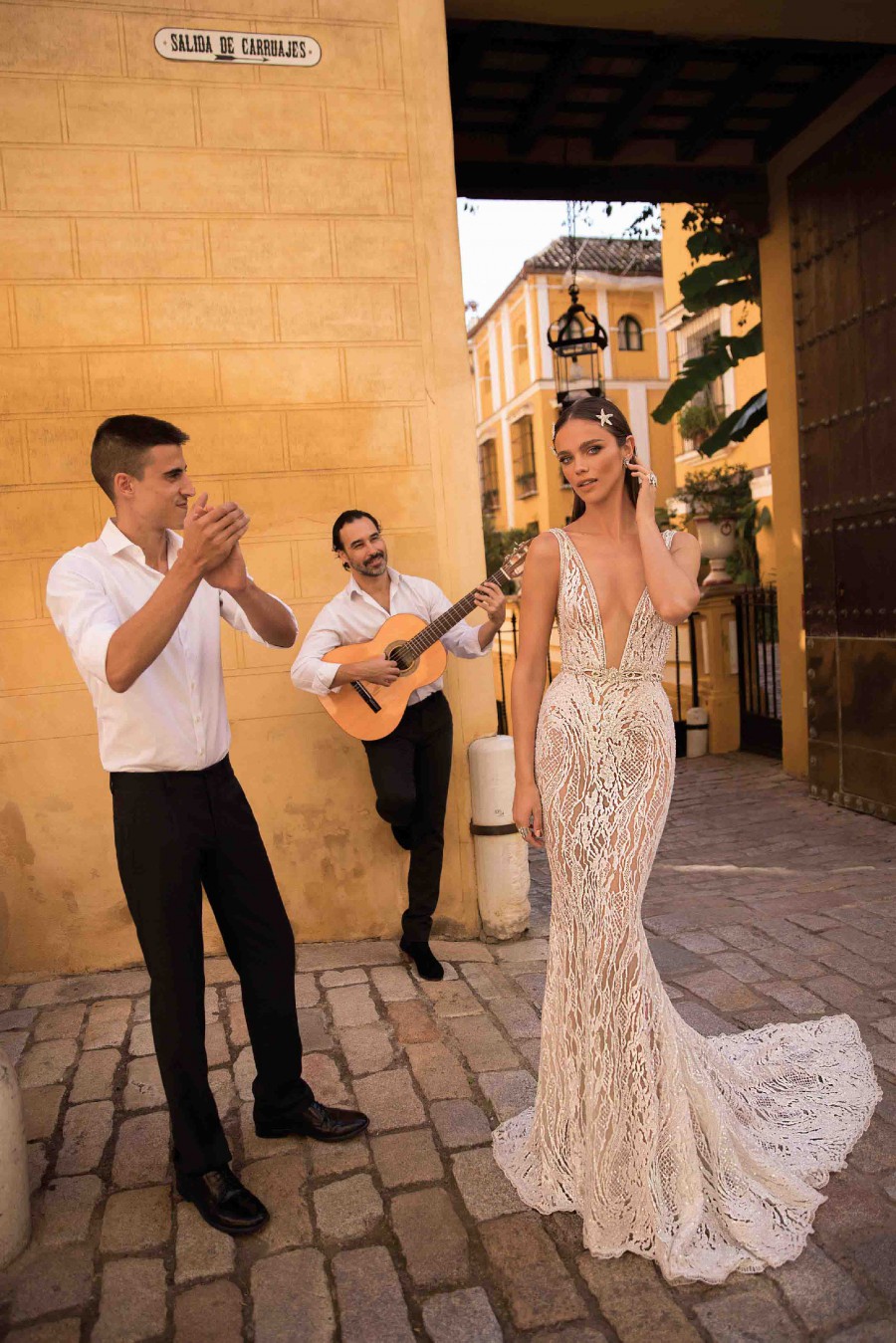 This heavily beaded, semi sheer wedding gown has a barely there feeling, even with so much detailing. The plunging neckline adds even more drama and sexiness to this contempoarty wedding day look.
36.

Nude Illusion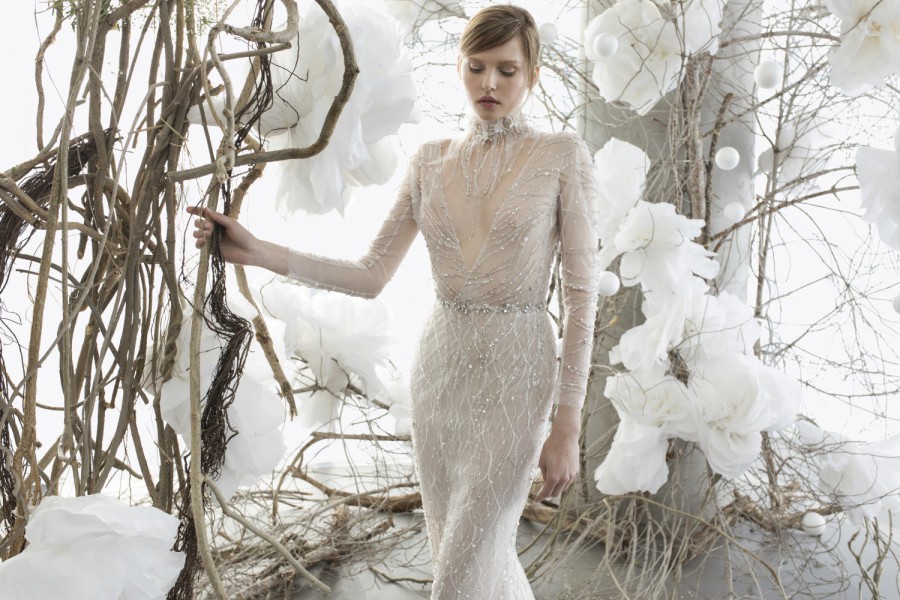 This next style has us a bit breathless. A nude long sleeve sheath gown with intricate beading and embroidered tulle. A magical, ethereal plunging neckline wedding gown.
37.

Bridal Pant Suit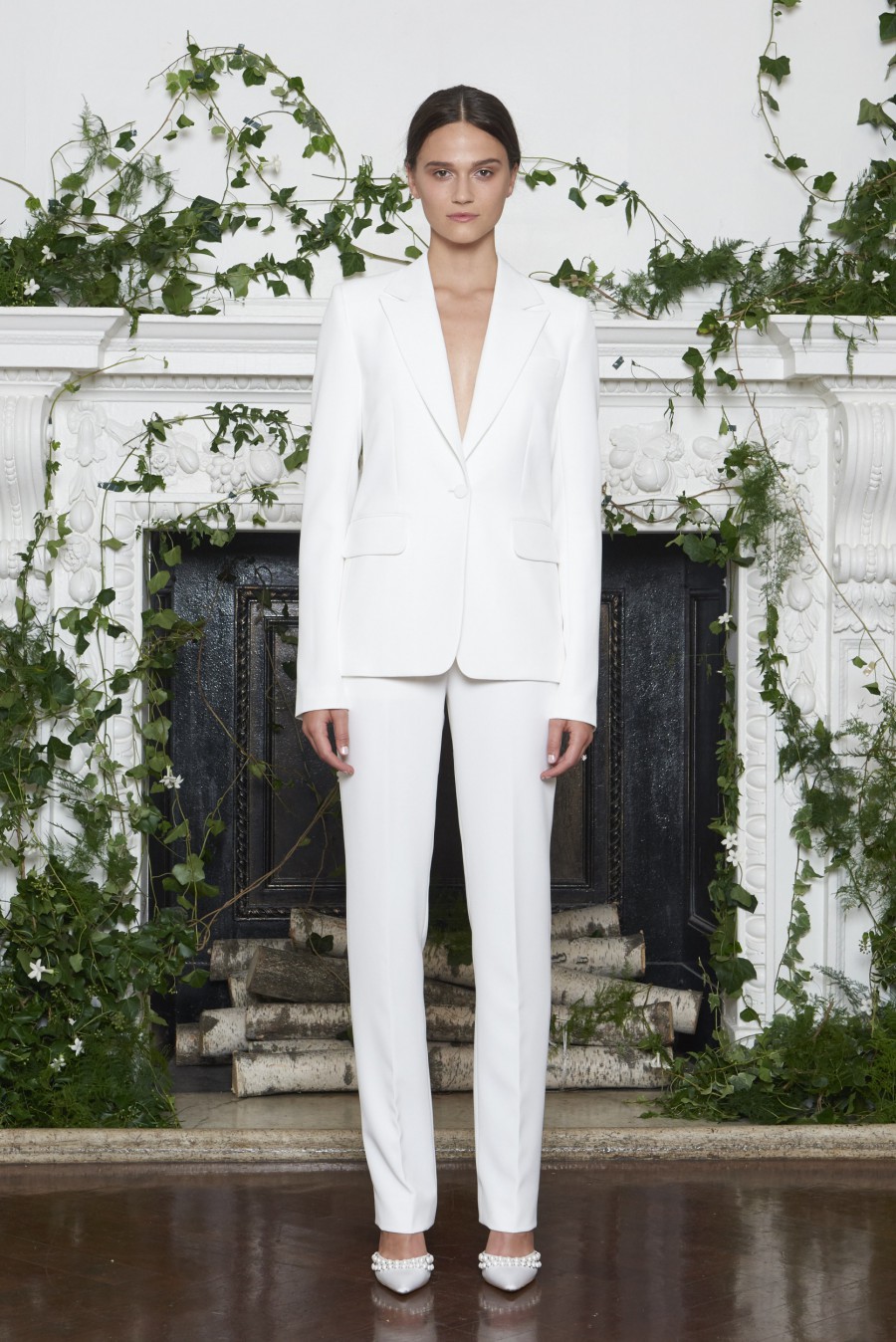 Monique Lhillier styles the plunging V neckline trend into this sleek bridal pant suit. A modern menswear inspired wedding day style that is still sexy and elegant.
38.

Strapless Plunge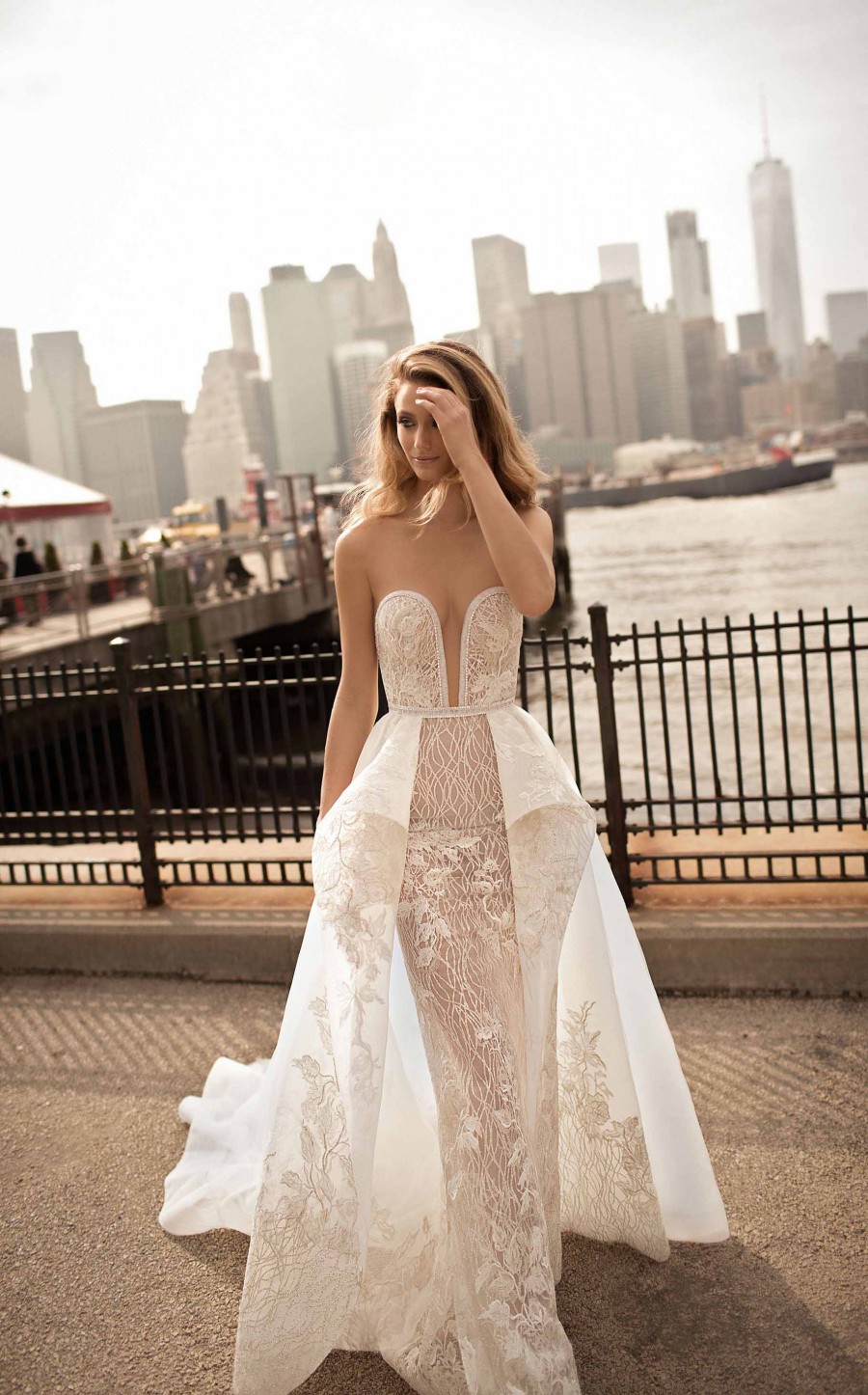 With this next style, Berta shows us that you can still have the classic strapless wedding gown we all crave, while also incorporating this trending plunging V neckline cut.
39.

Powder Blue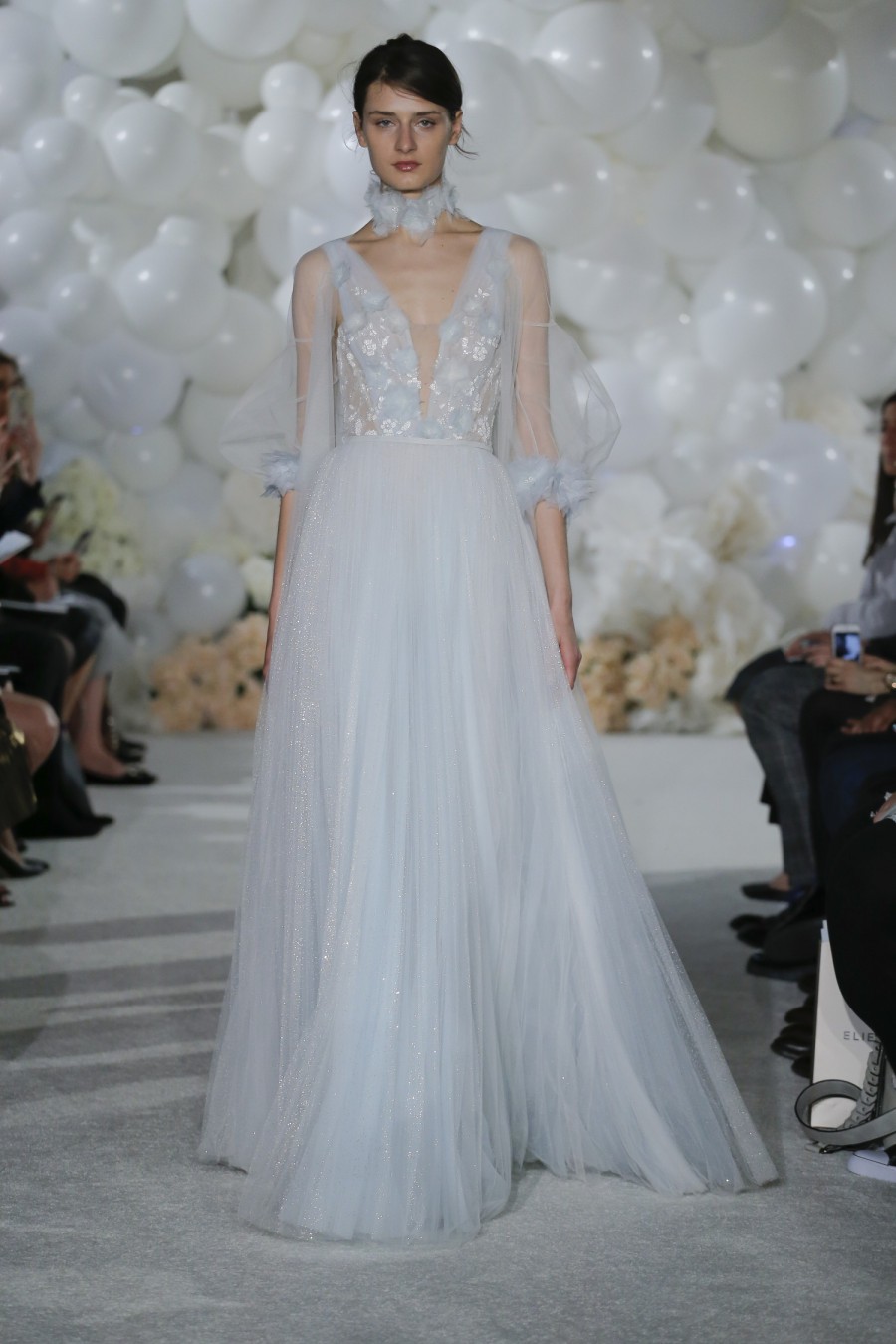 We have your "something blue" covered with this next plunging V neckline gown. This powered blue, tulle beaded gown is glittery, ethereal, and absolutely dreamy. A bold, contemporary princess style wedding look.
40.

Sheer Florals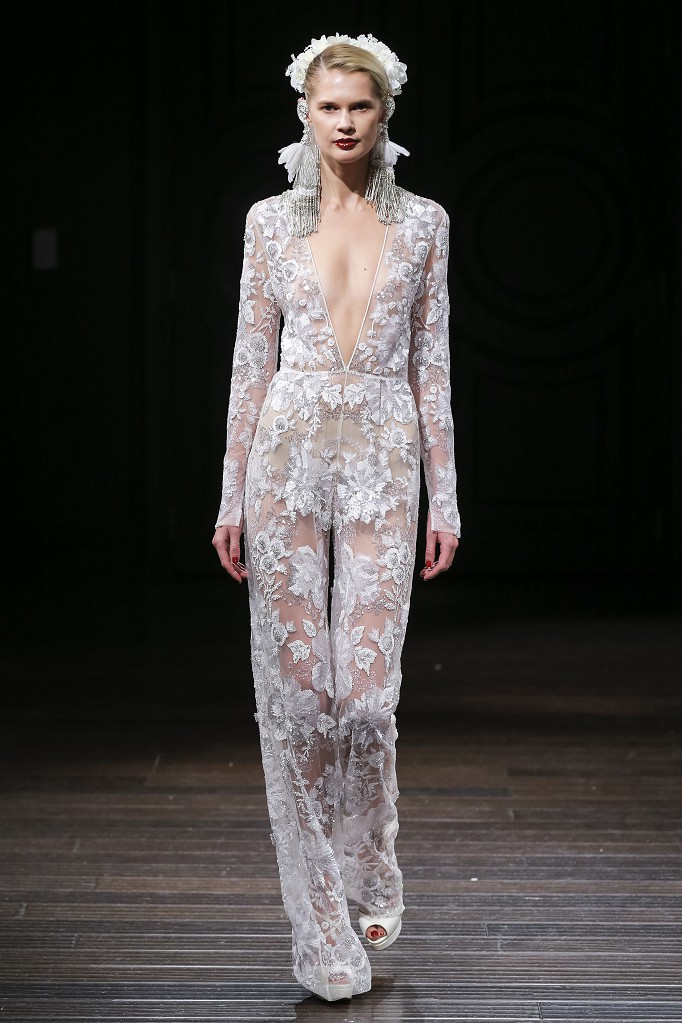 Naeem Khan always seems to take bold bridal trends to an unexpected level - just like this next wedding day look. A sheer floral jumpsuit is finished with a dramatically cut plunging V neckline to create this one of a kind tulle wedding design.
41.

Whimsical Silk Chiffon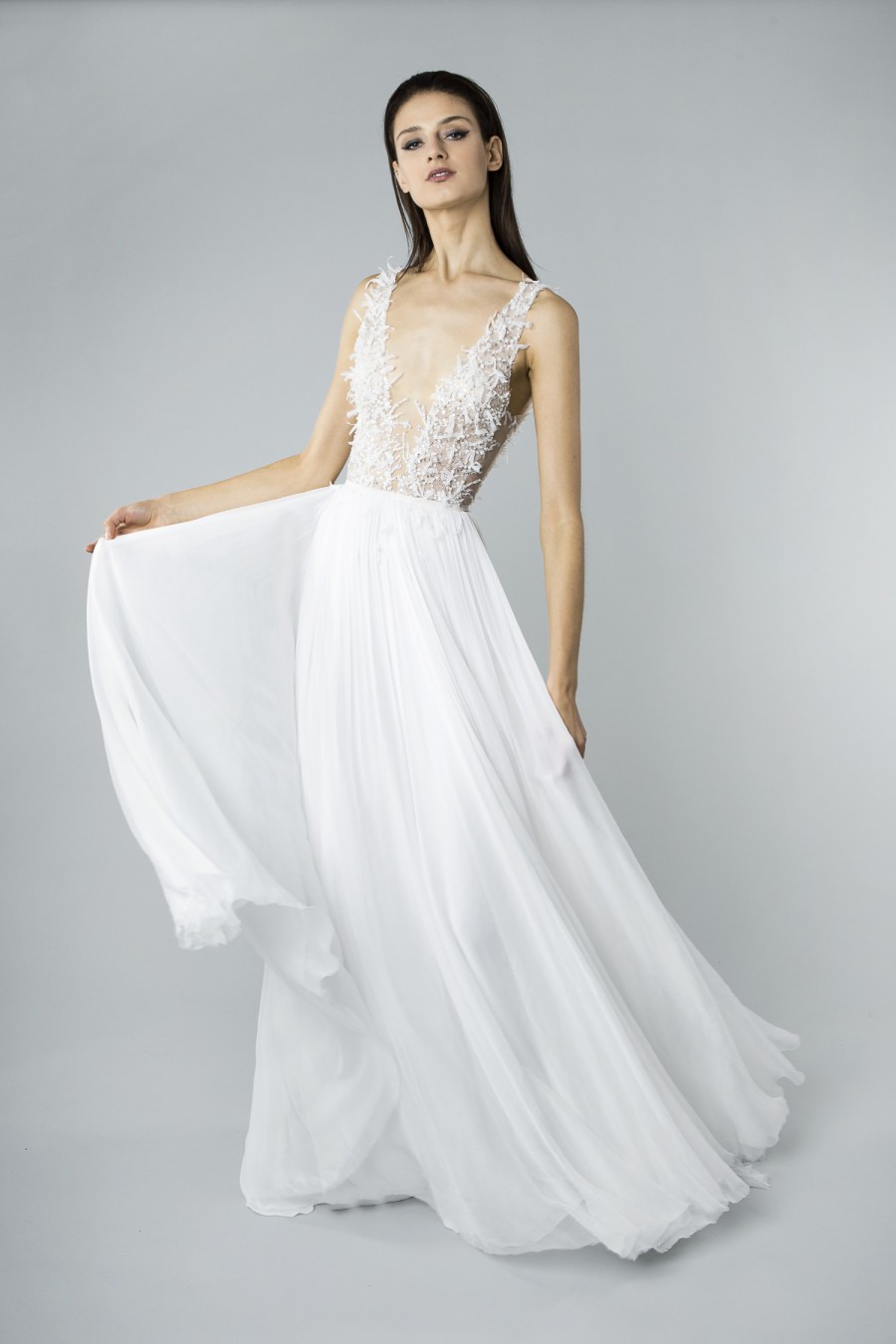 A soft and elegant design with a classic silk chiffon skirt. What steals the show in this style is the plunging neck bodice with bead and feather accents.
42.

Blushing Blossoms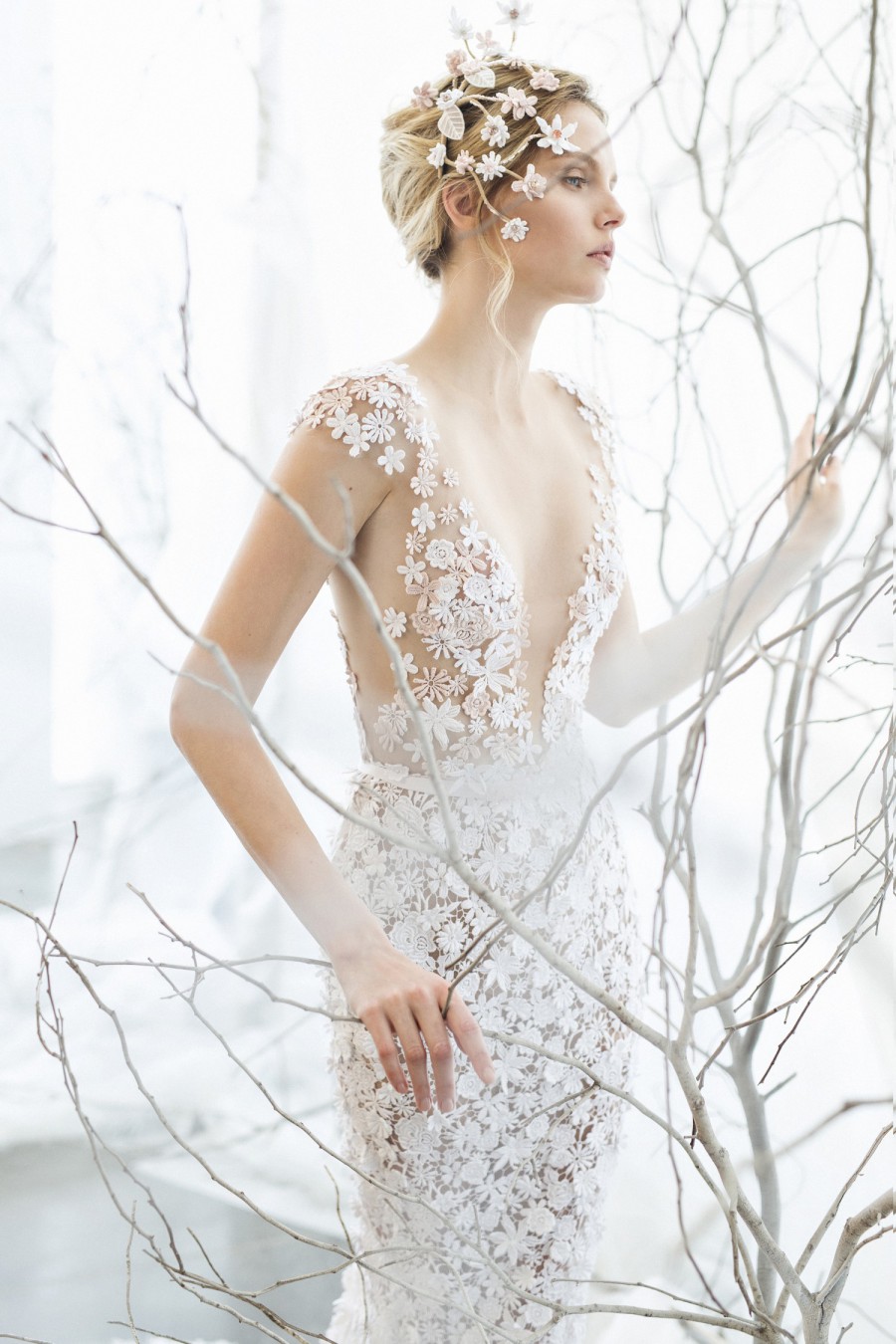 A style fit for a garden goddess. This next plunging V neck style features all over embroidered florals that are a mixture of ivory and blush coloring. A beautiful, feminine wedding style that is just begging to be worn to a gorgeous garden wedding.
43.

Sequin Sheath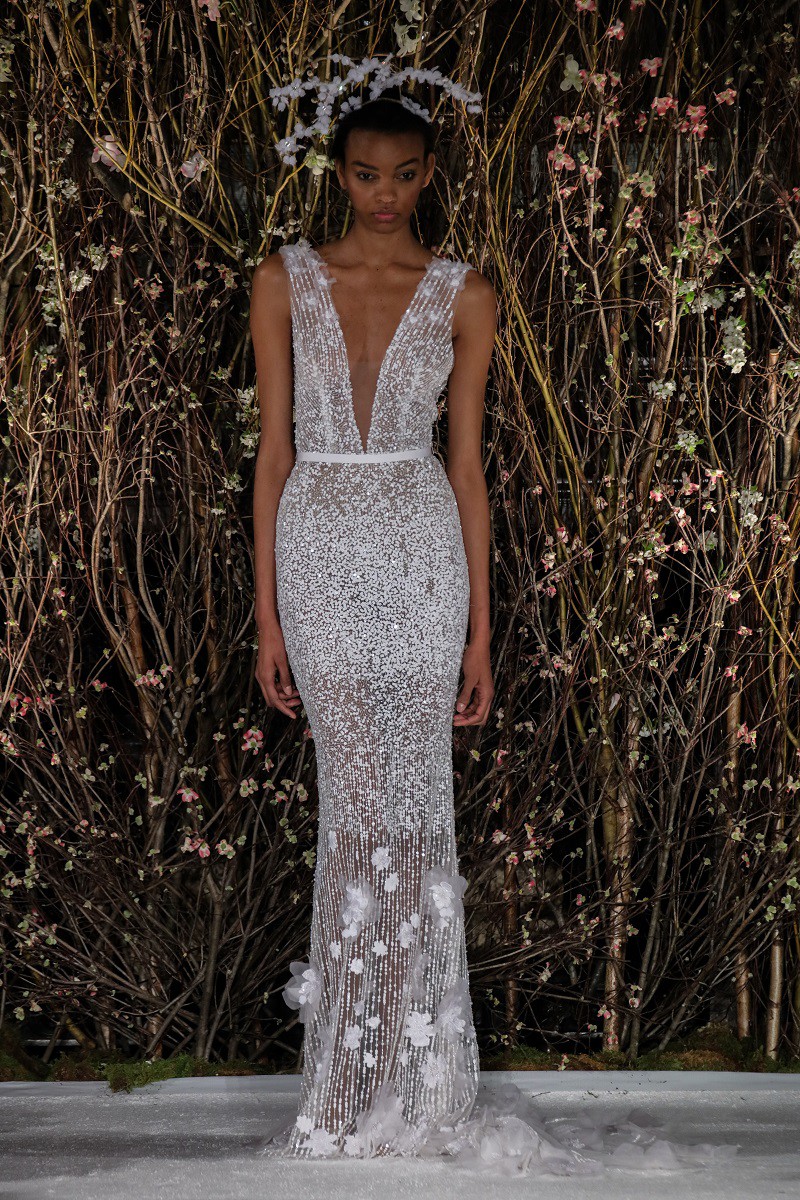 Top to bottom sequin coverage for this plunging neckline sheath wedding gown. A stunning style that is absolutely magical.
44.

Bold Beauty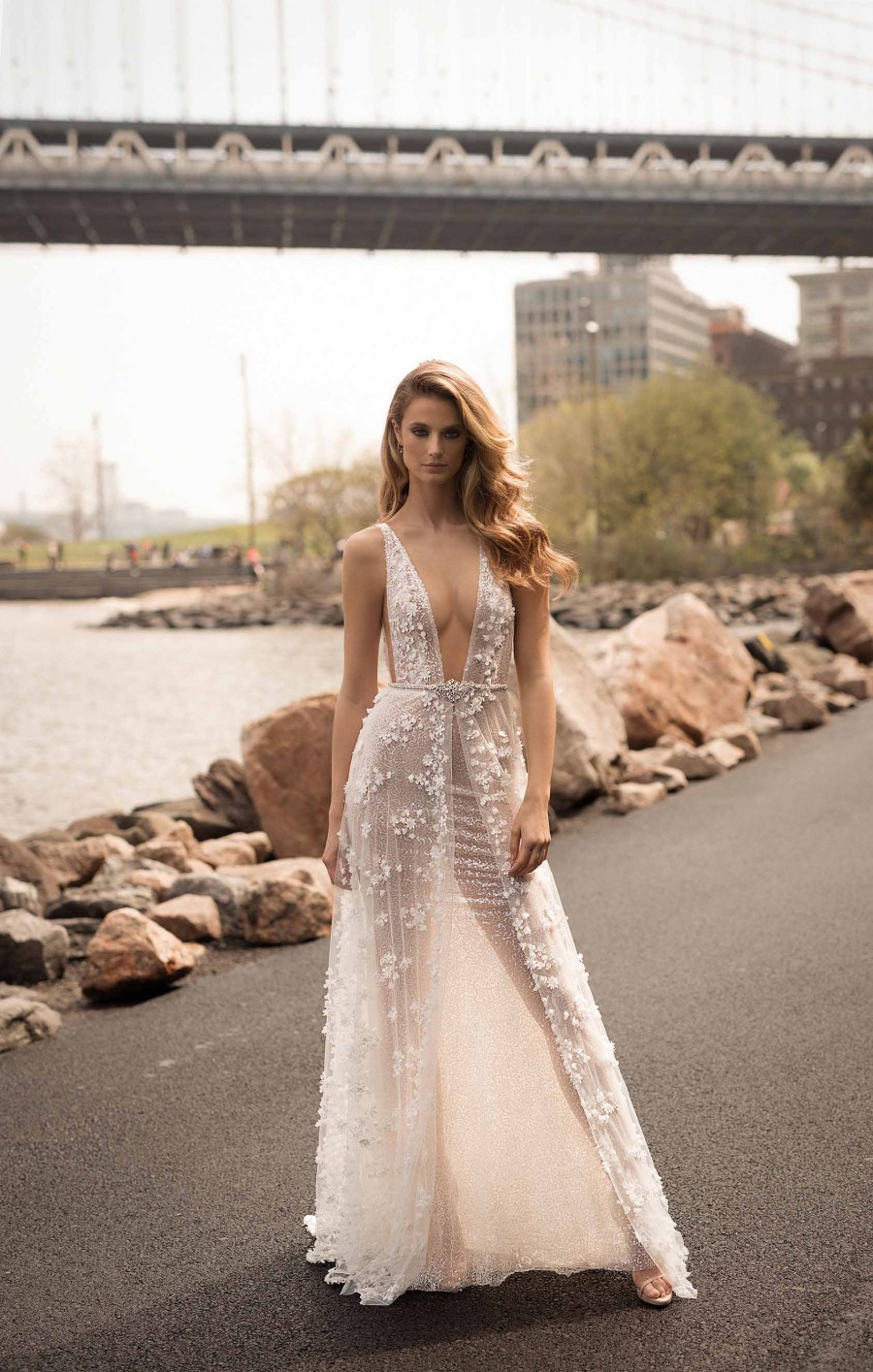 A bold, sexy semi sheer wedding style that just wouldn't be complete without its plunging V neckline. A sensual, fashion forward gown that is not for the faint of heart.
45.

Stardust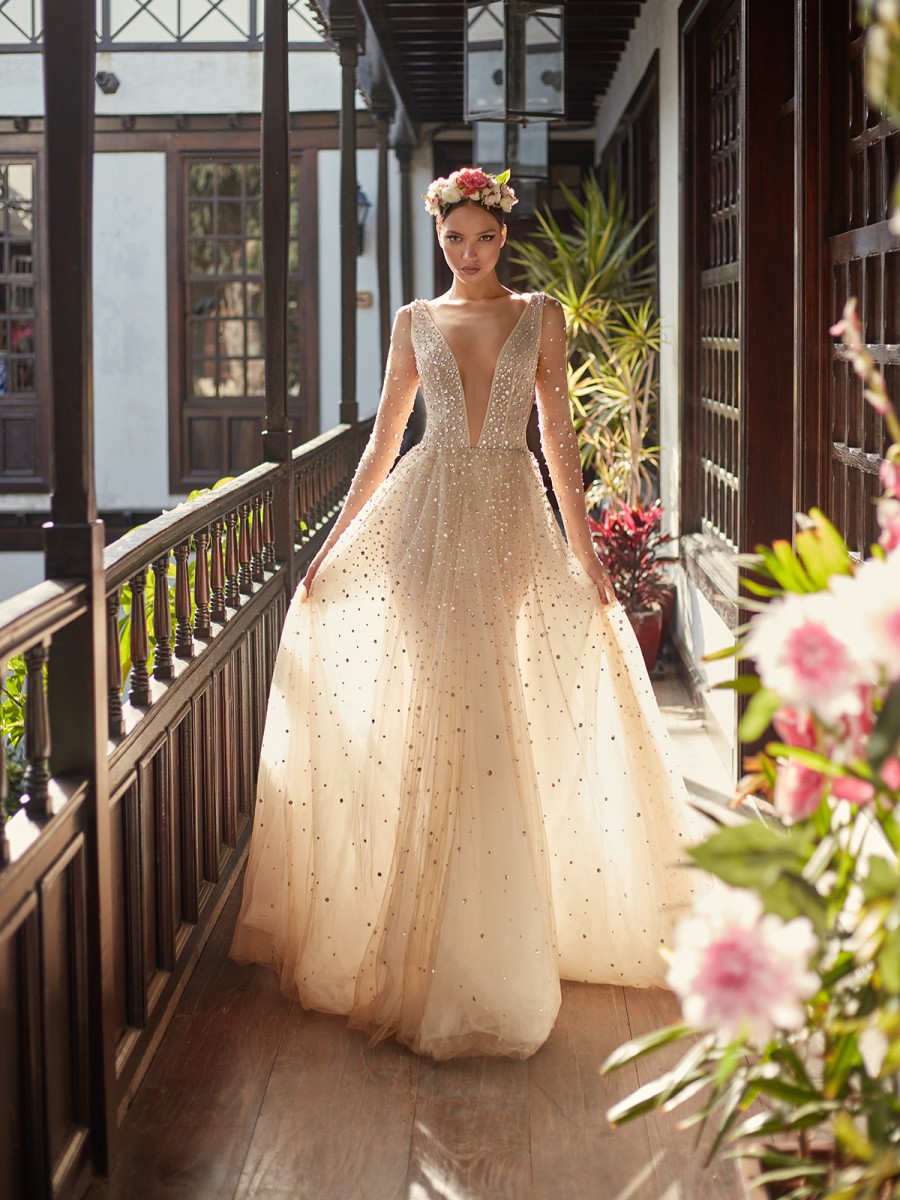 Our next wedding style has a dramatic plunging neckline on this head to toe Swarovski crystal covered gown. The all over sparkle creates a celestial stardust effect.
46.

Plunging Kimono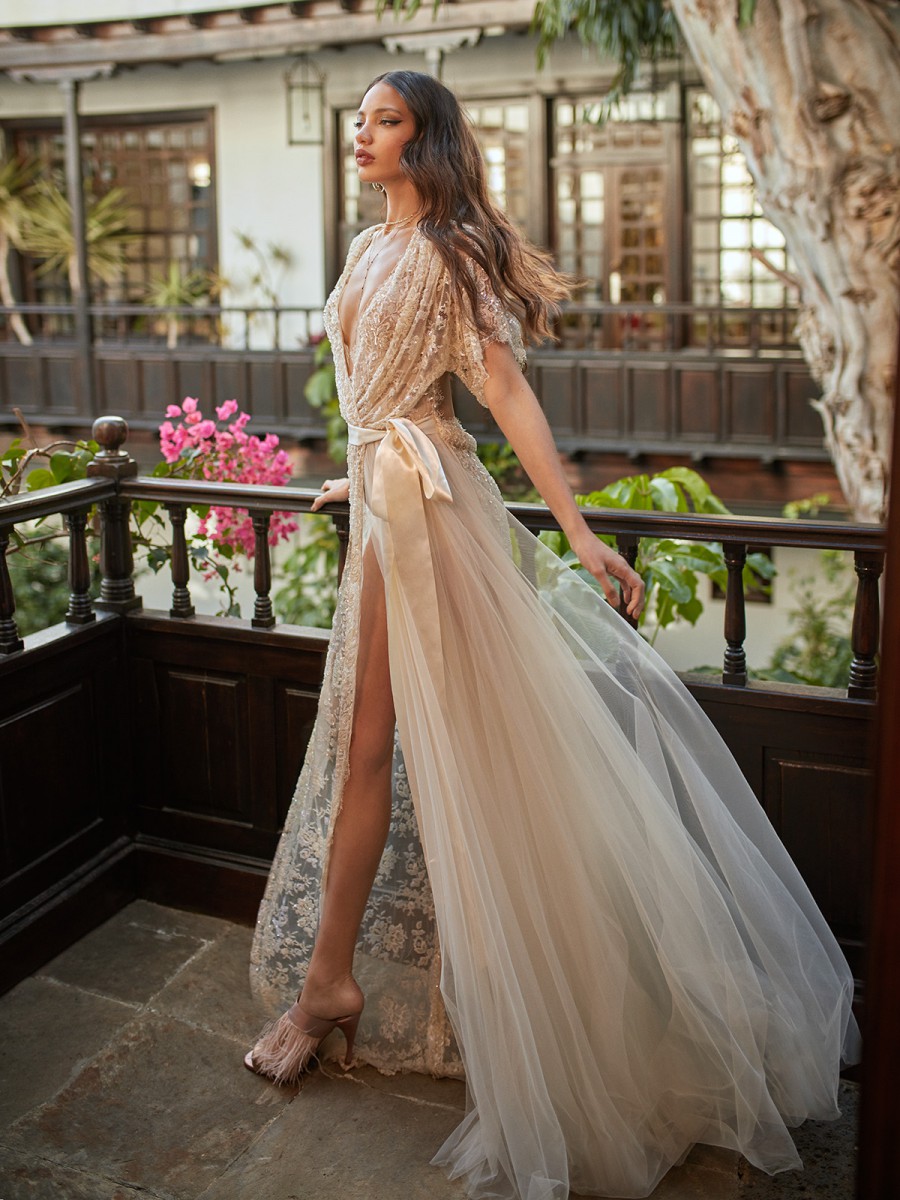 A truly one of a kind wrap kimono wedding gown. This stunning fashion forward style is complete with a draped plunging neckline. An absolutely breathtaking wedding gown.
47.

Plunging Keyhole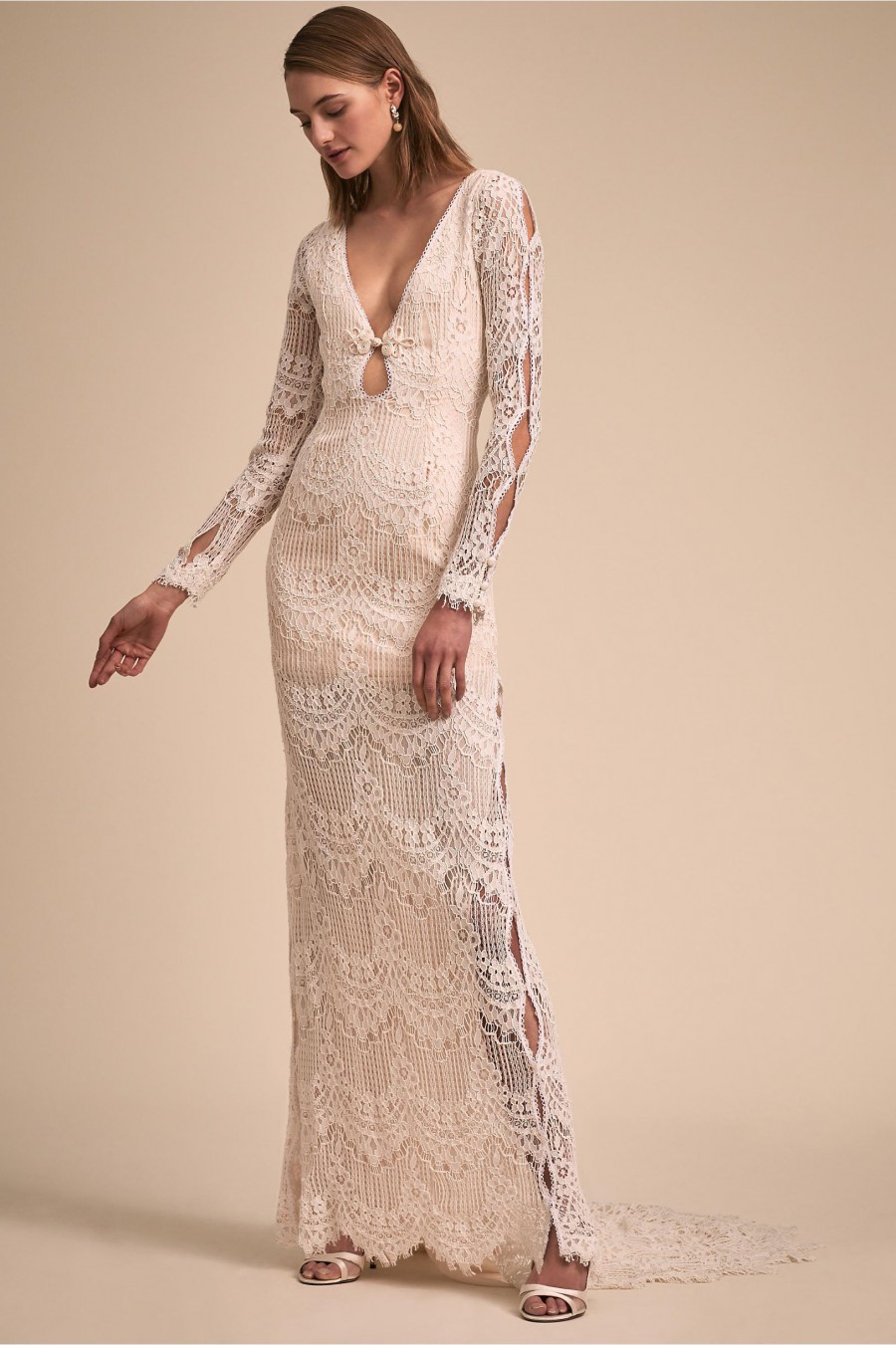 This next style from BHLDN has a completely unique take on the plunging neckline trend. A deep V neckline has a keyhole detail that is absolutely captivating.
48.

Irregular Tiers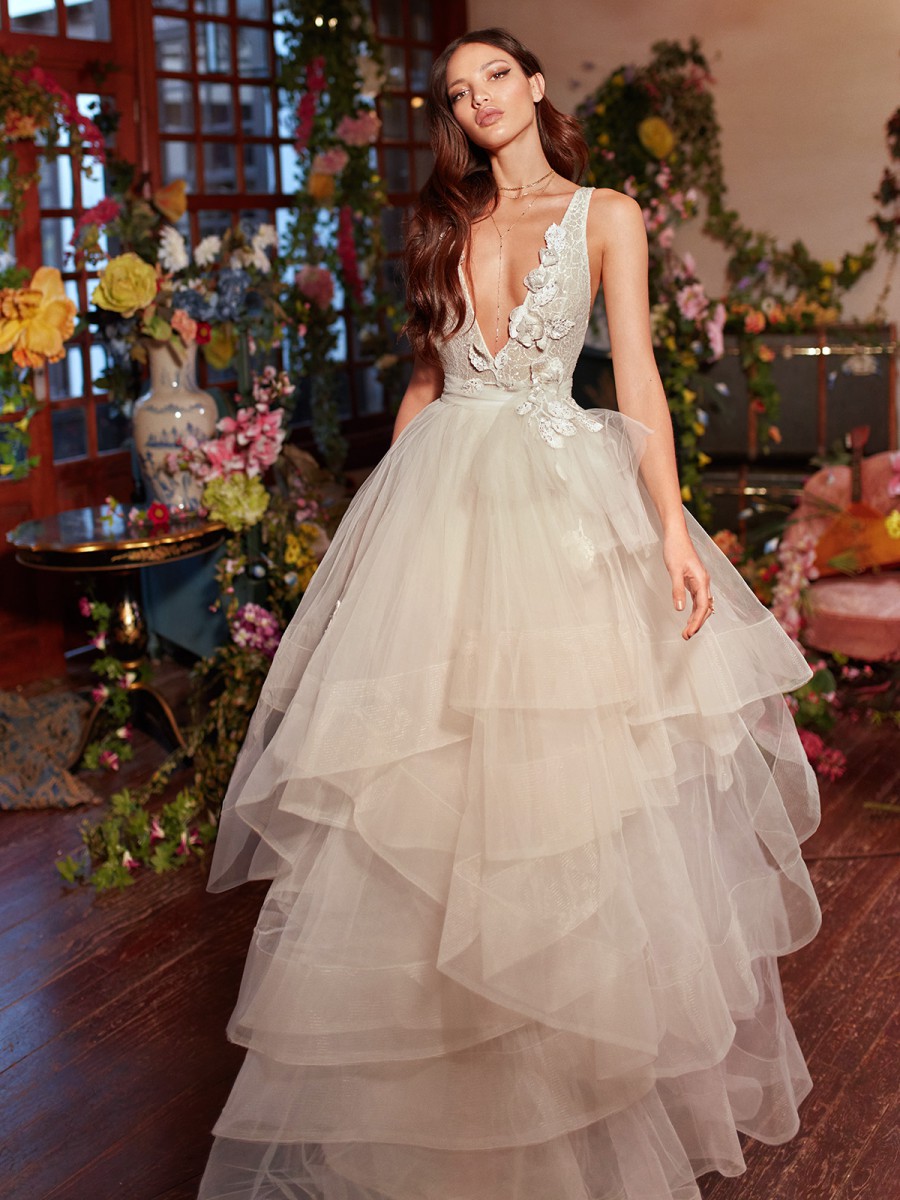 An absolutely gorgeous tulle dress featuring an irregular tiered skirt and of course - a sexy plunging neckline accenting with stunning dimensional florals.
49.

Unique Vintage
A completely unique silk tulle gown that is all about the neckline and sleeves. Billowing lace accented tulle sleeves are complimented by a collar and plunging V neckline. A line of illusion pearls seem to float down the plunging neckline of this one of a kind style.
50.

Plunging Macrame Lace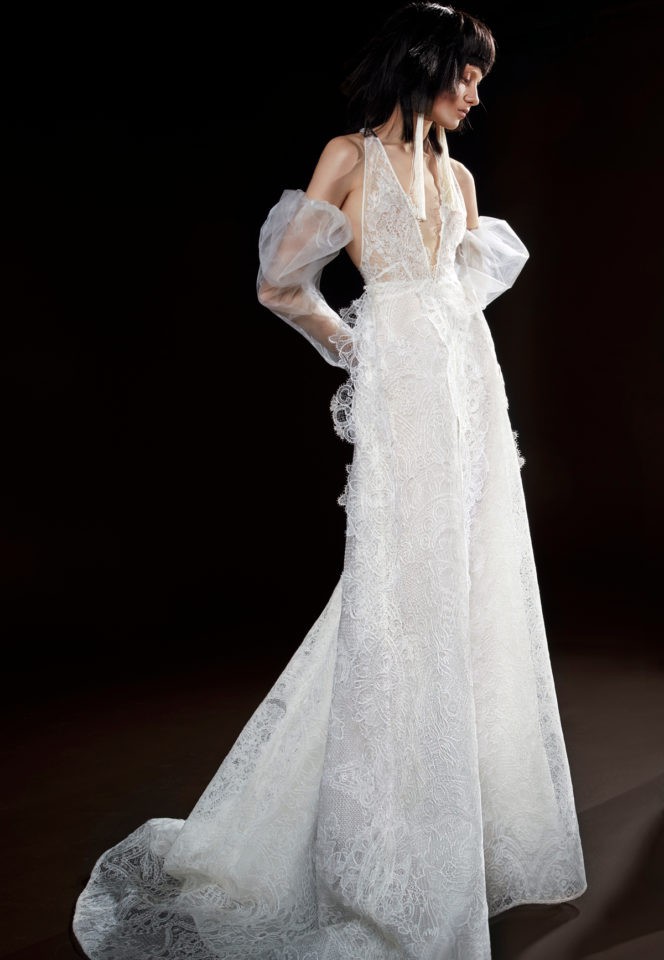 The perfect mix of vintage and modern. This delicate macrame lace gown by Vera Wang isn't complete without its bold plunging neckline. The optional billowing sleeves add a modern finish to this stunning style.
51.

Bold Ballerina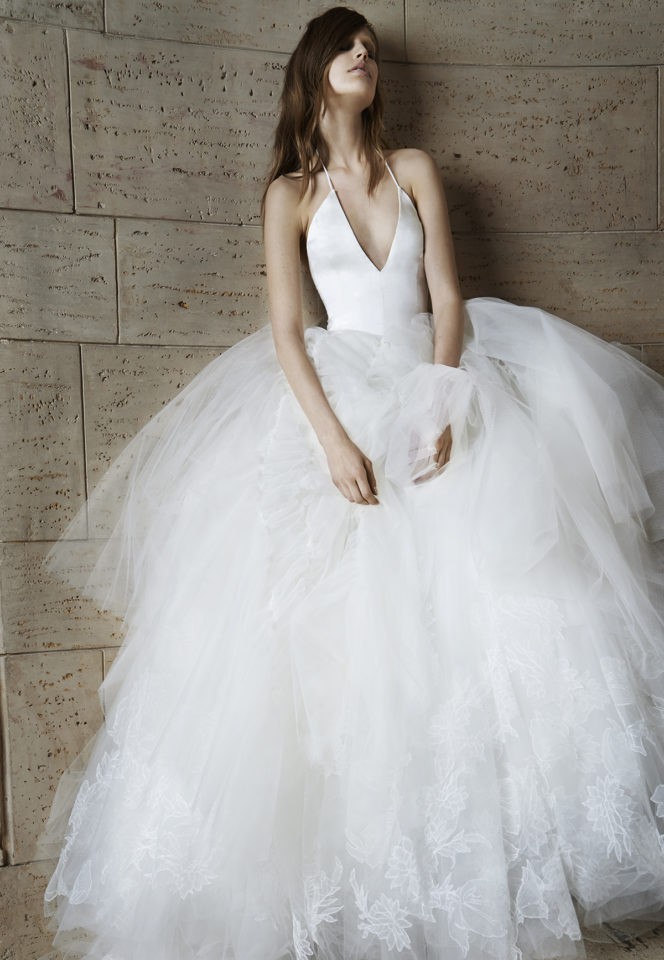 This next style from Vera Wang has ballerina influences in a big way. Voluminous layers of tulle make up the eye catching skirt. The bodice is a plunging deep V silk halter. The sleek bodice and voluminous skirt are a beautiful pairing.
52.

Plunging Pearls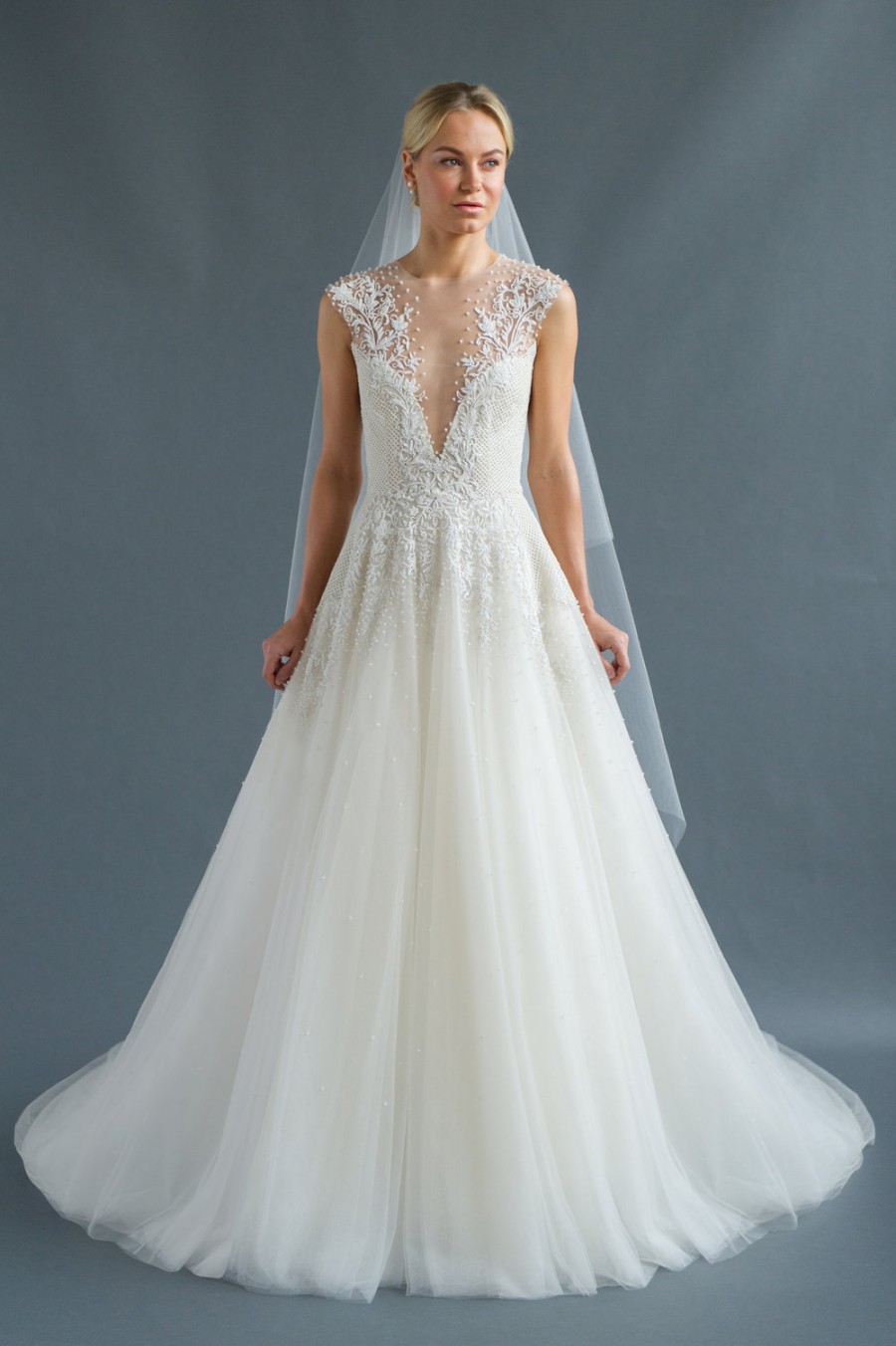 This more traditional A-line tulle wedding gown takes you by surprise with its intricate, plunging neckline design. Sheer illusion lace and delicately placed pearls cascade down the deep cut neckline for a sexy and feminine finish to this elegant wedding style.
53.

Plunging Silk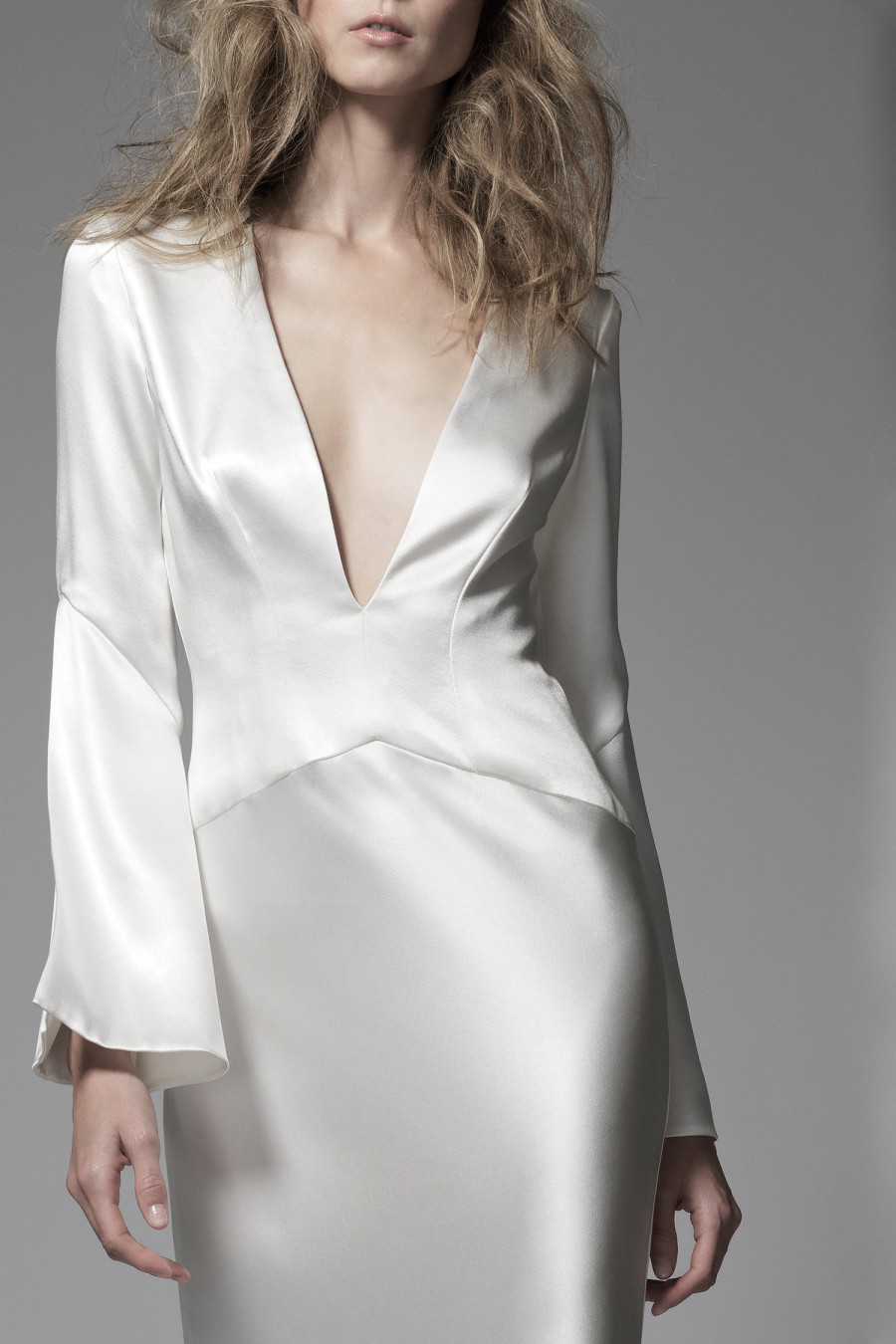 Elizabeth Fillmore brings us a chic silk plunging V neckline wedding gown. This gown absolutely takes your breath away. Sleek and simple - yet with unbelievable contemporary detailing. Sexy and so sophisticated.
54.

Tiered Illusion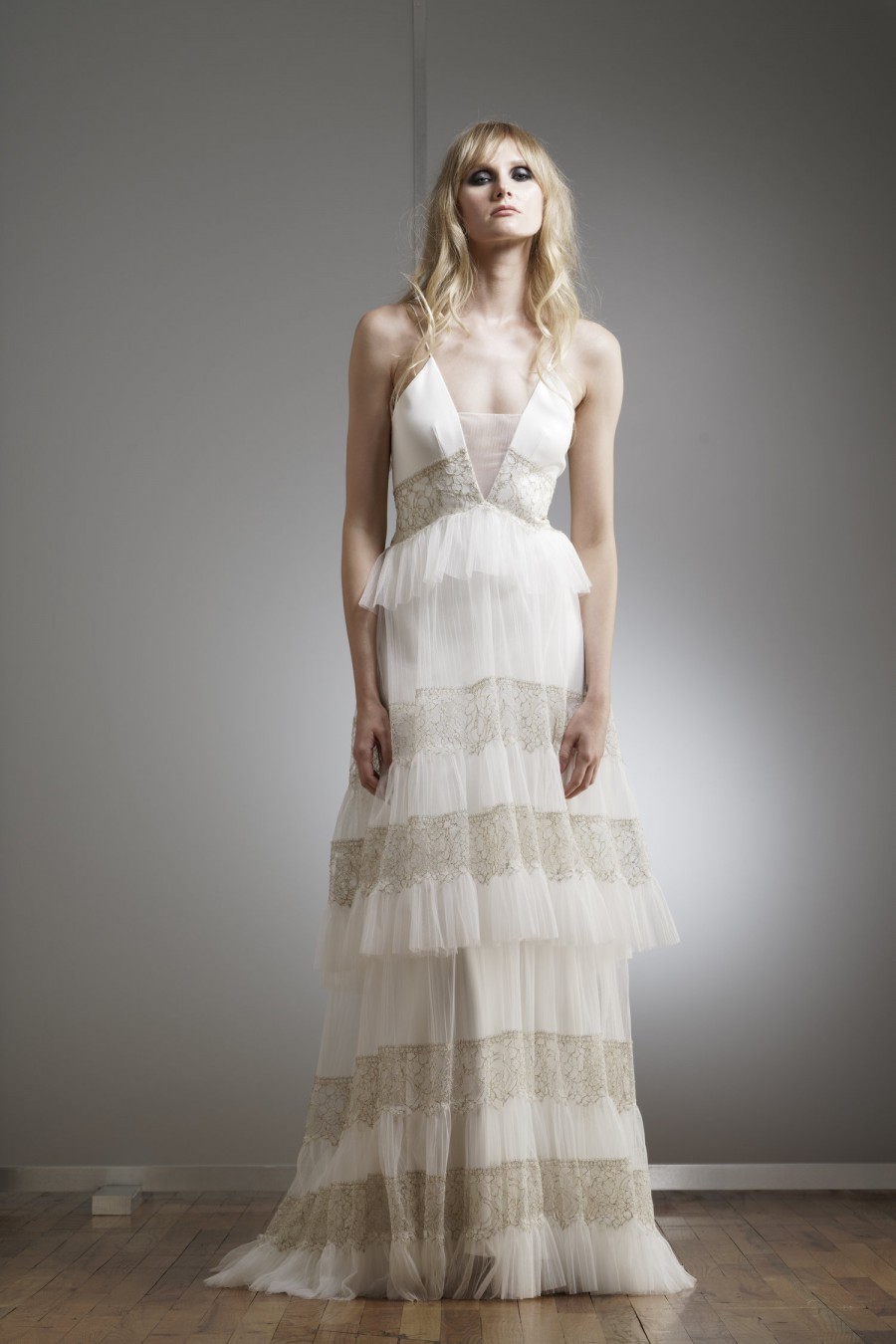 Next we have a stunning one of a kind tulle and lace tiered wedding gown featuring an illusion plunging V neckline. A sexy finish to this untraditional wedding style.
55.

Hidden Lace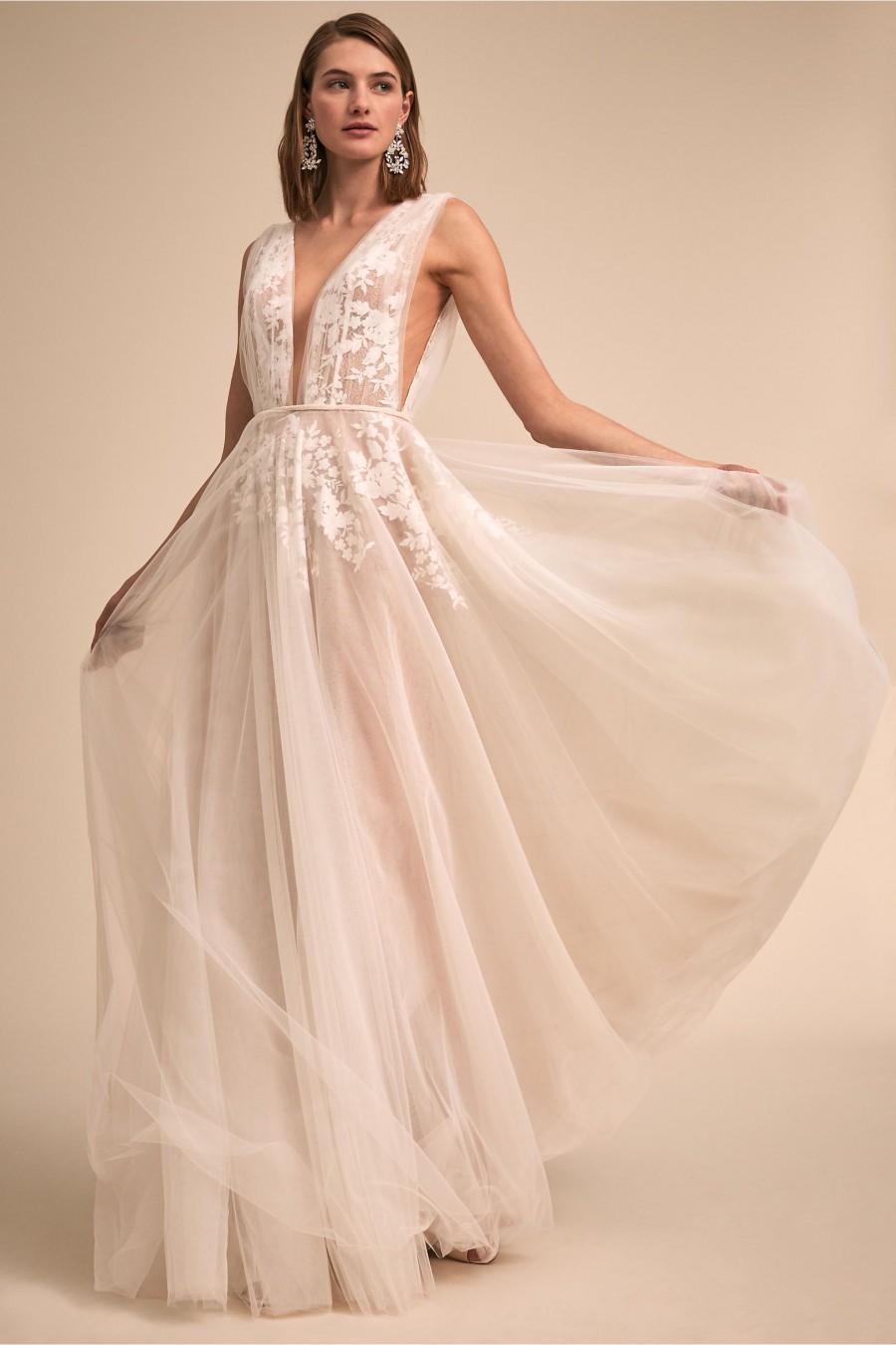 A goddess worthy plunging neckline tulle wedding gown. Pops of gorgeous lace are hidden under layers of sheer tulle for just a slight feminine touch to this gorgeous wedding look.
56.

Ethereal Florals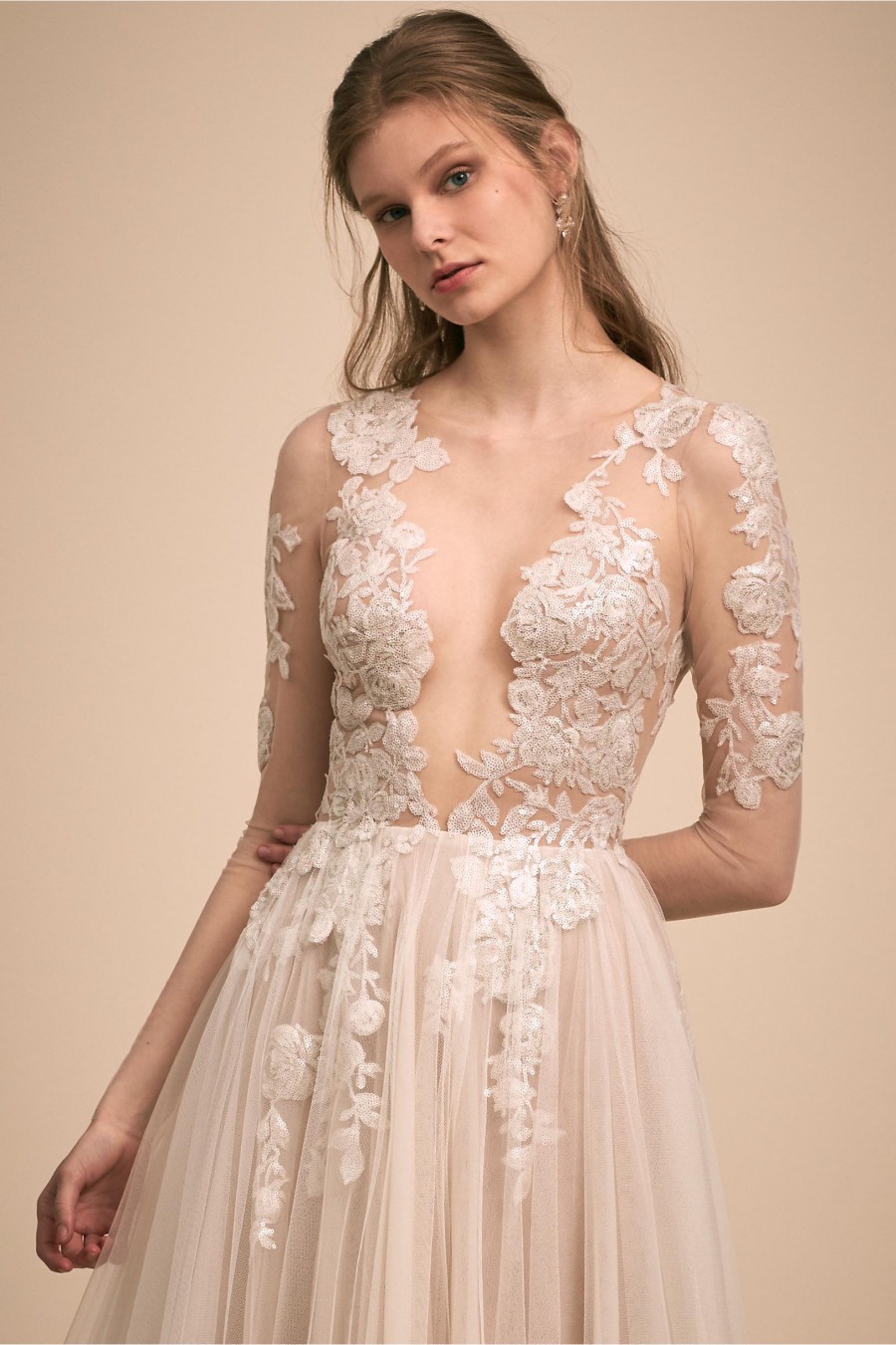 A gorgeous ethereal tulle and floral lace gown that features a deep V plunging neckline to add some feminine sensuality to this magical style.
57.

Ready for Brunch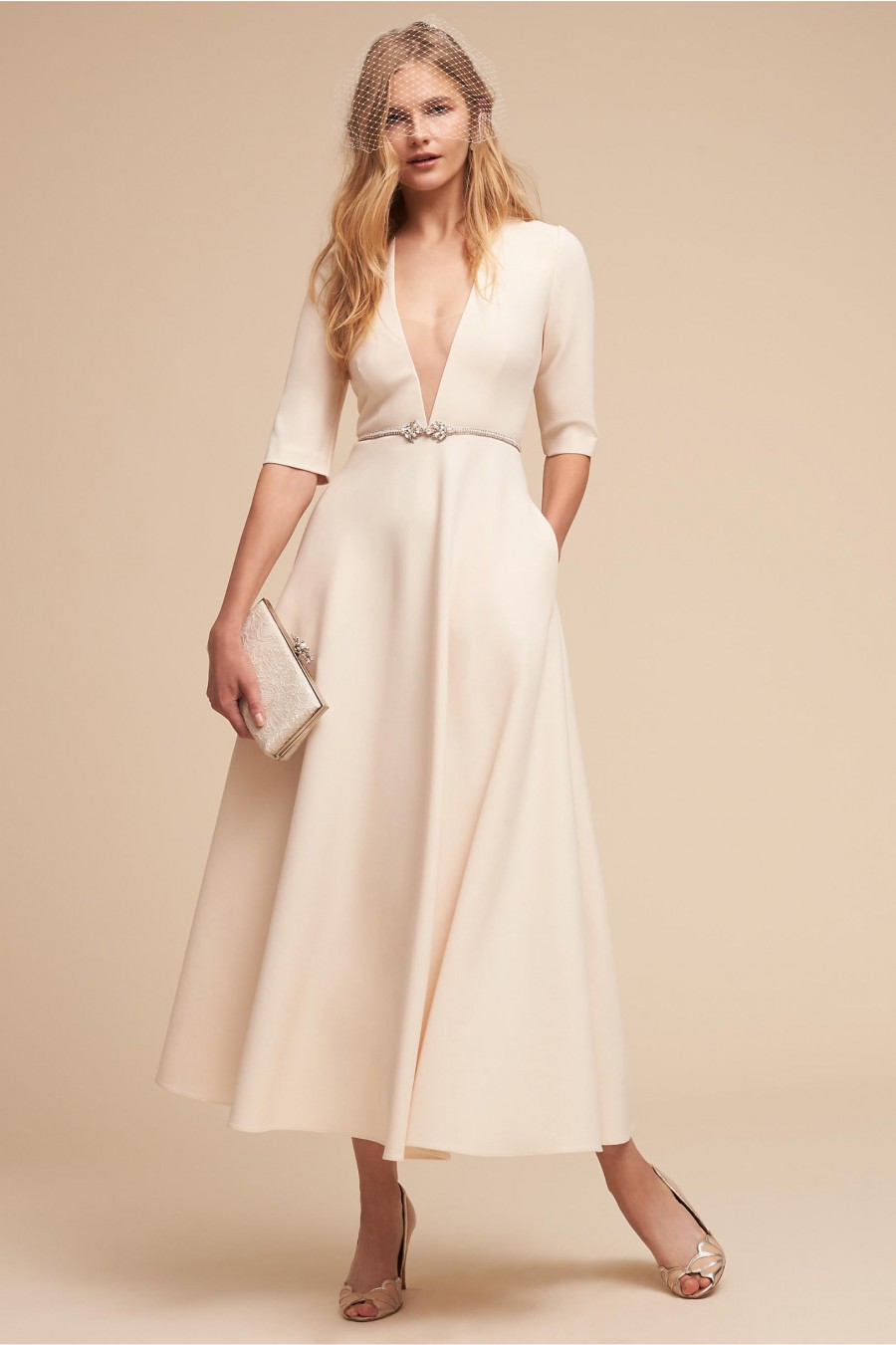 This next deep V neckline wedding gown is classy, classic and a bit more casual. The perfect dress to wear to a wedding day brunch. Feel sophisticate, and sexy with the bold neckline cut on this traditional gown.
58.

Geometric Florals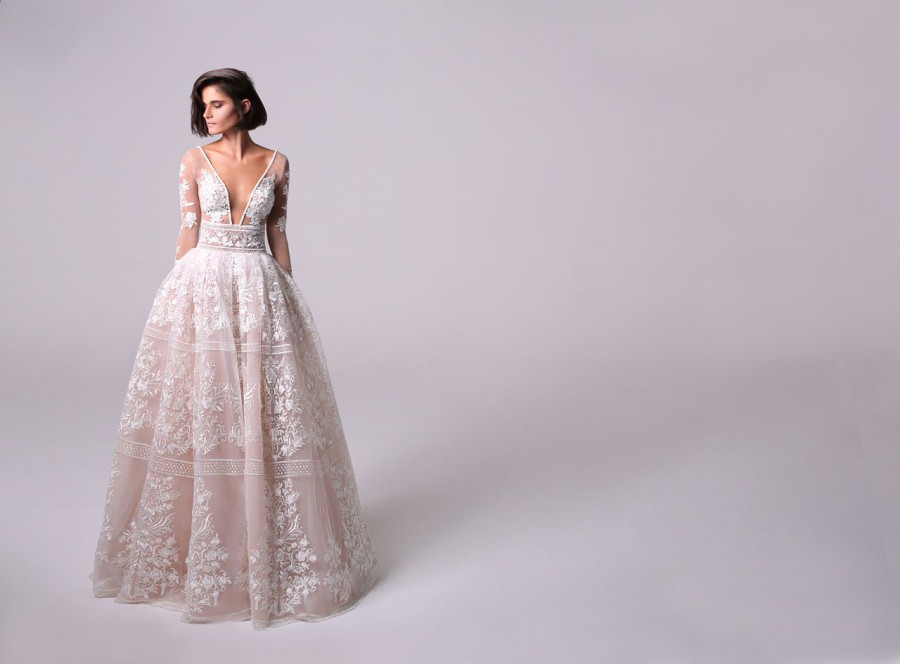 Our next plunging neckline wedding gown is a one of a kind princess ball gown that features a dramatic sheer Petticoat design with geometric and floral lace detailing. A gorgeous mix of antique and modern influences.
59.

Sexy Classy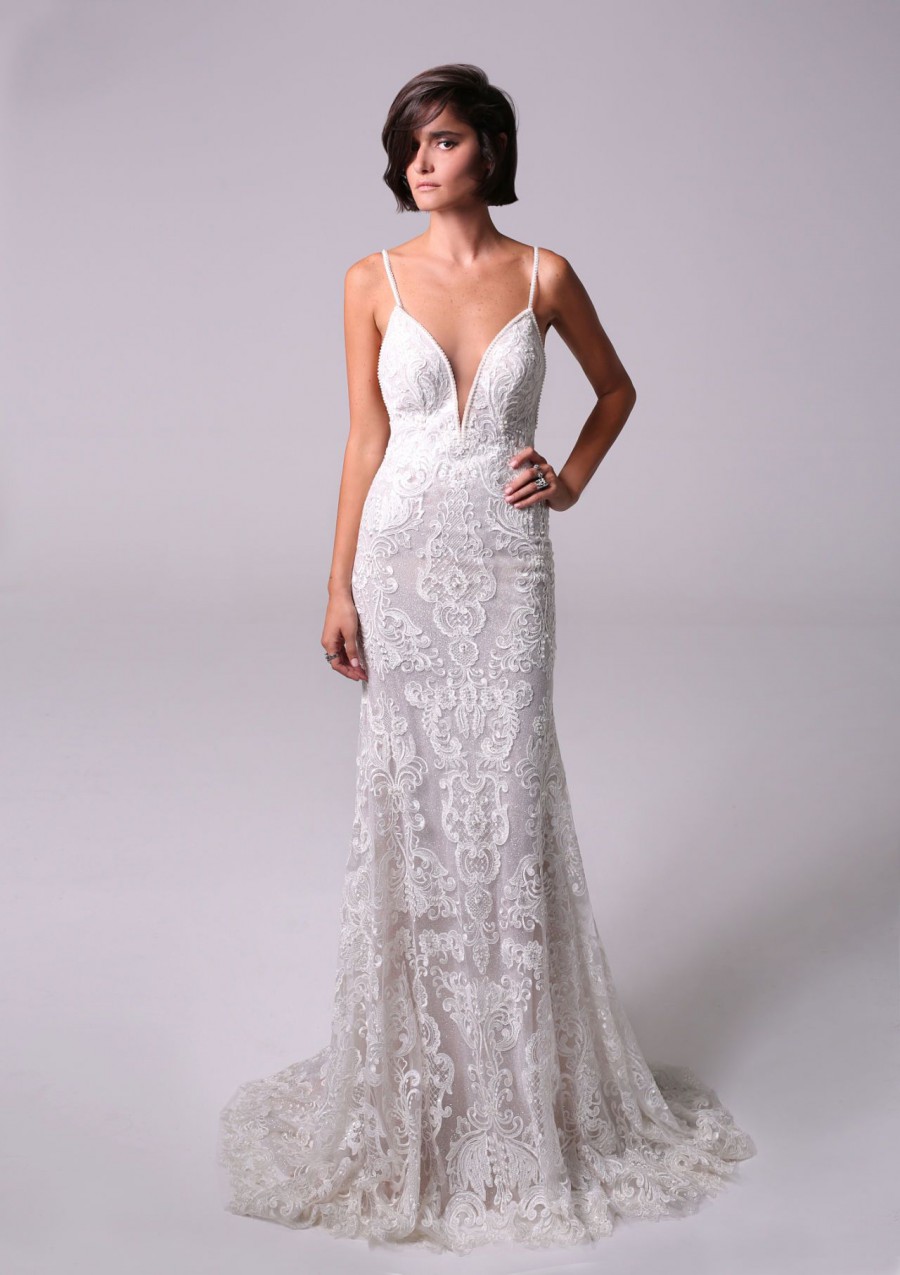 Michal Medina brings us a sexy cut mermaid fitted gown that just wouldn't have the same dramatic effect without its deep V neckline. Thin beaded straps mimic the same beading that outlines the plunging neckline of this gown to create a gorgeous detail.
60.

Pearls and French Lace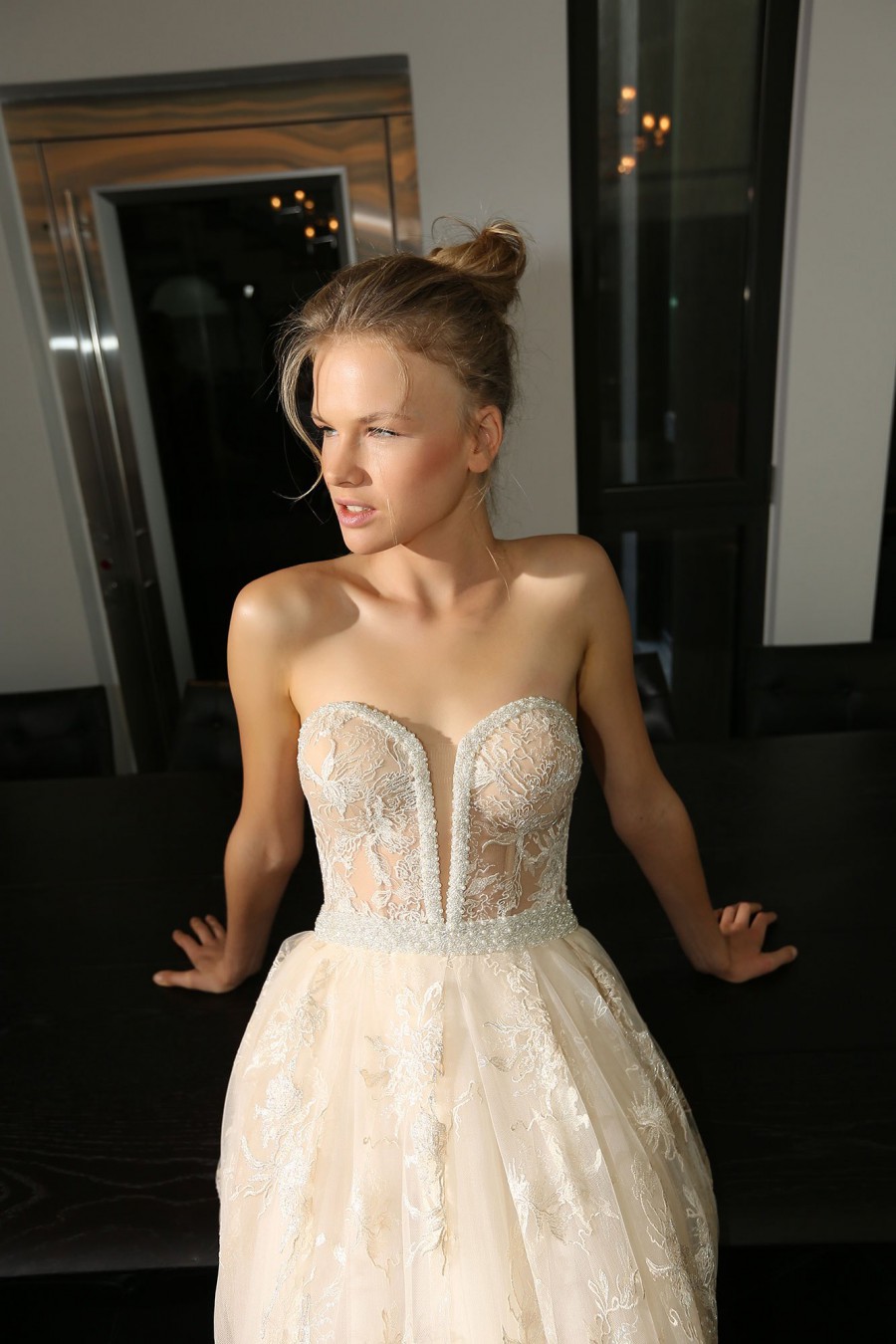 Lets finish up our plunging V neckline wedding dress list with this gorgeous strapless gown from Michal Medina. What steals the show for this French lace gown is the uniquely designed corset bodice that features delicately placed pearls which outline the plunging neckline and waist.

By Kathryn Schrotenboer