What is the sassy, trendy wedding dress cut that we just can't get enough of?...The single shoulder neckline!
The one shoulder neckline wedding dress has been around forever. It is a staple, a classic on the wedding scene. But modern day bridal trends are taking this classy cut to the edge. Styles are getting sassy, sultry, and more surprising than ever. We have gathered some of our favorite single shoulder cut gowns for you - but only you can decide whether this traditional, yet edgy bridal style is right for you!
01.

Modern Lines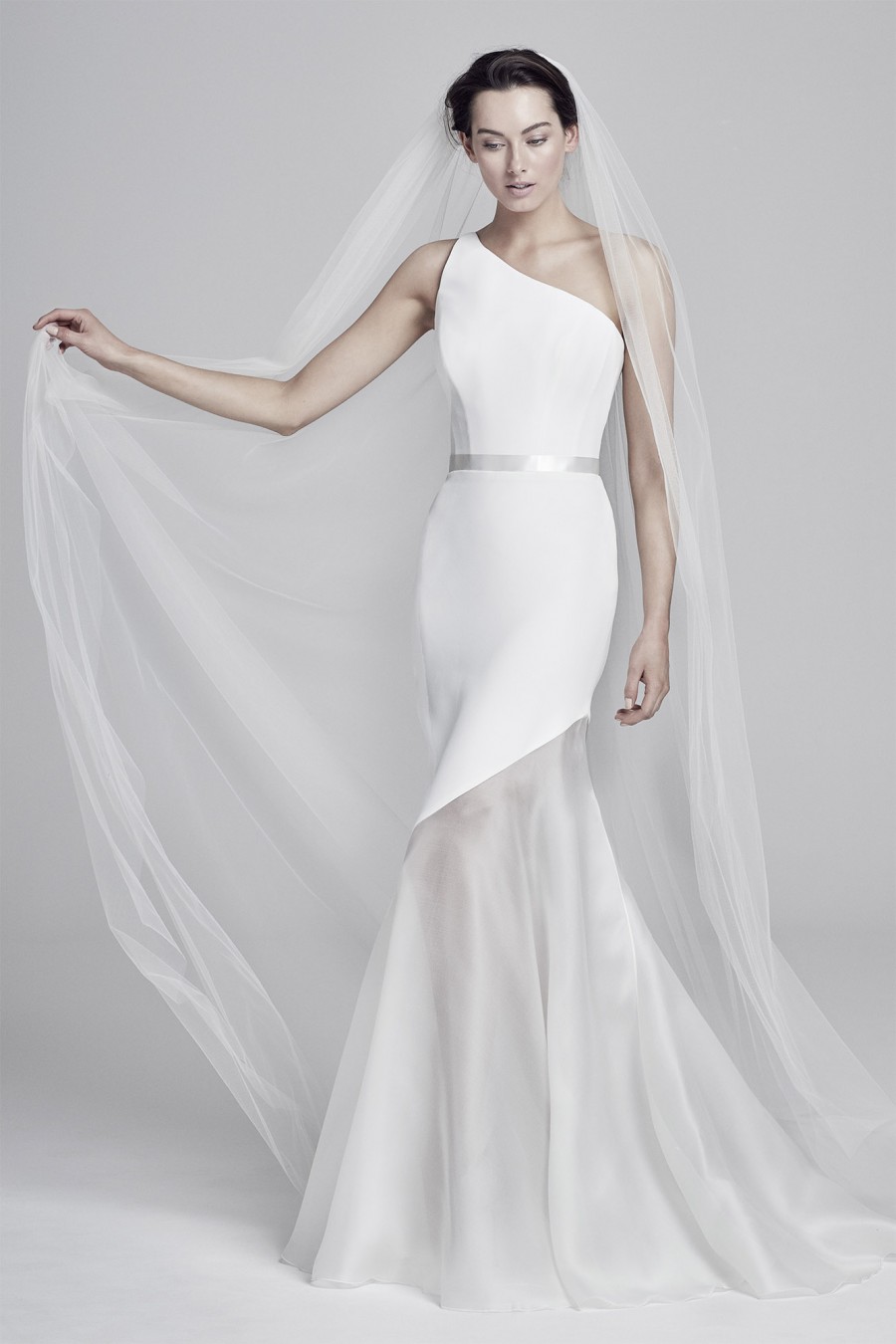 A clear, contemporary one shoulder wedding gown that is elegant and edgy. The asymmetric cuts and mix of semi-sheer and white fabrics create a truly one of a kind bridal style.
02.

Contemporary Drop Waist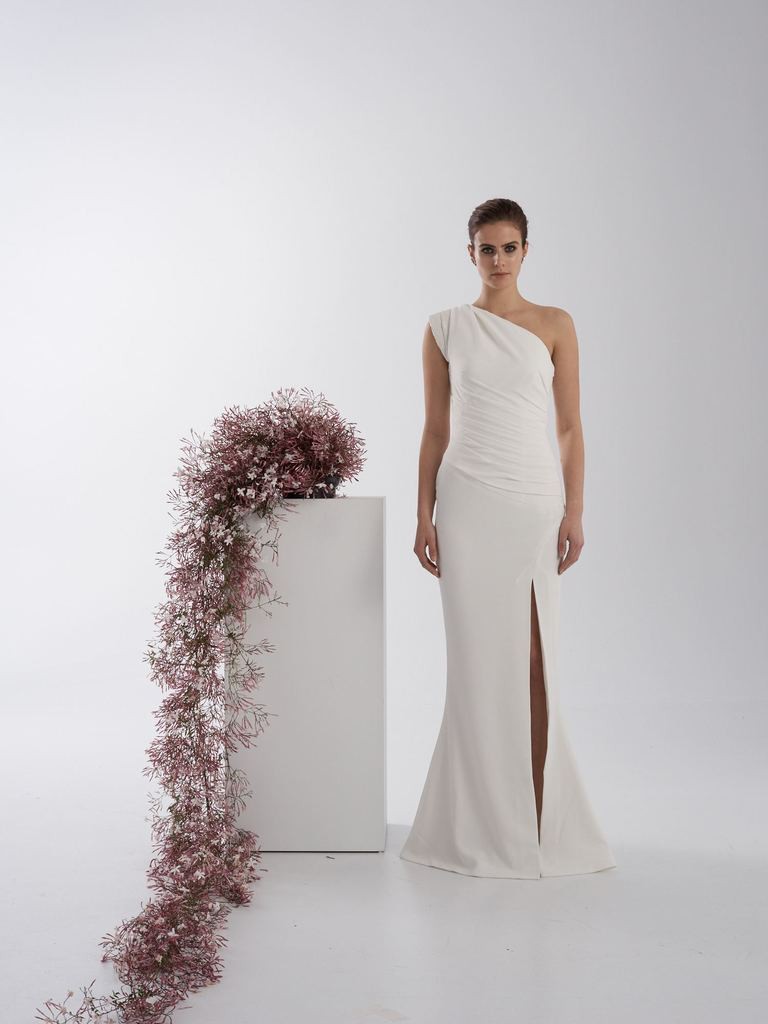 A contemporary drop waist single shoulder bridal style from Rachel Gilbert. A perfect style for our sleek and simple modern brides out there.
03.

Sheer Glamour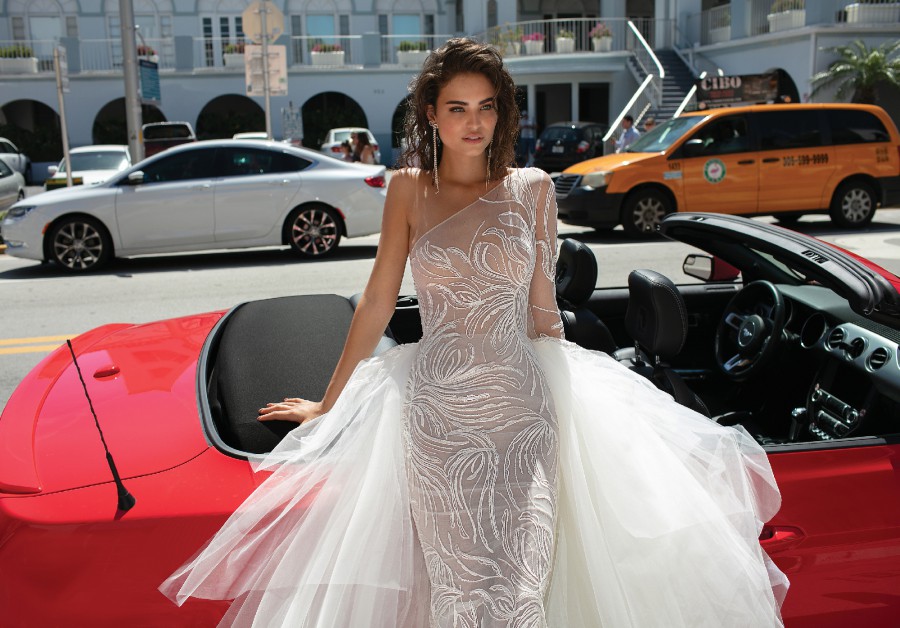 We are heating things up a bit with this fitted single shoulder glam design from Berta. A show stopping style that is luxe and dramatic.
04.

Futuristic Bow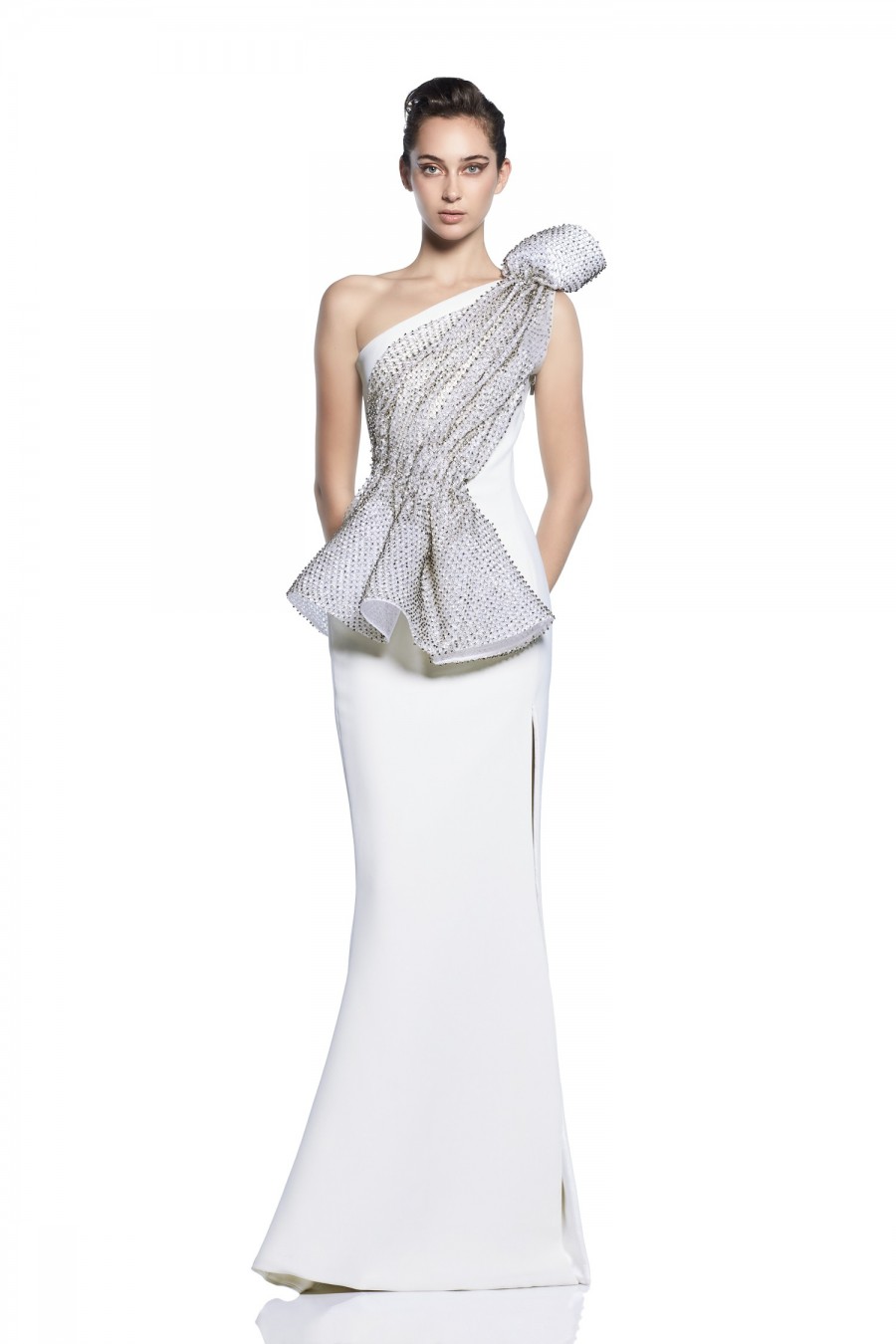 For our bold modern brides out there - how about this one should futuristic wedding gown? You will be sure to turn heads in this bold wedding day style.
05.

Polished Column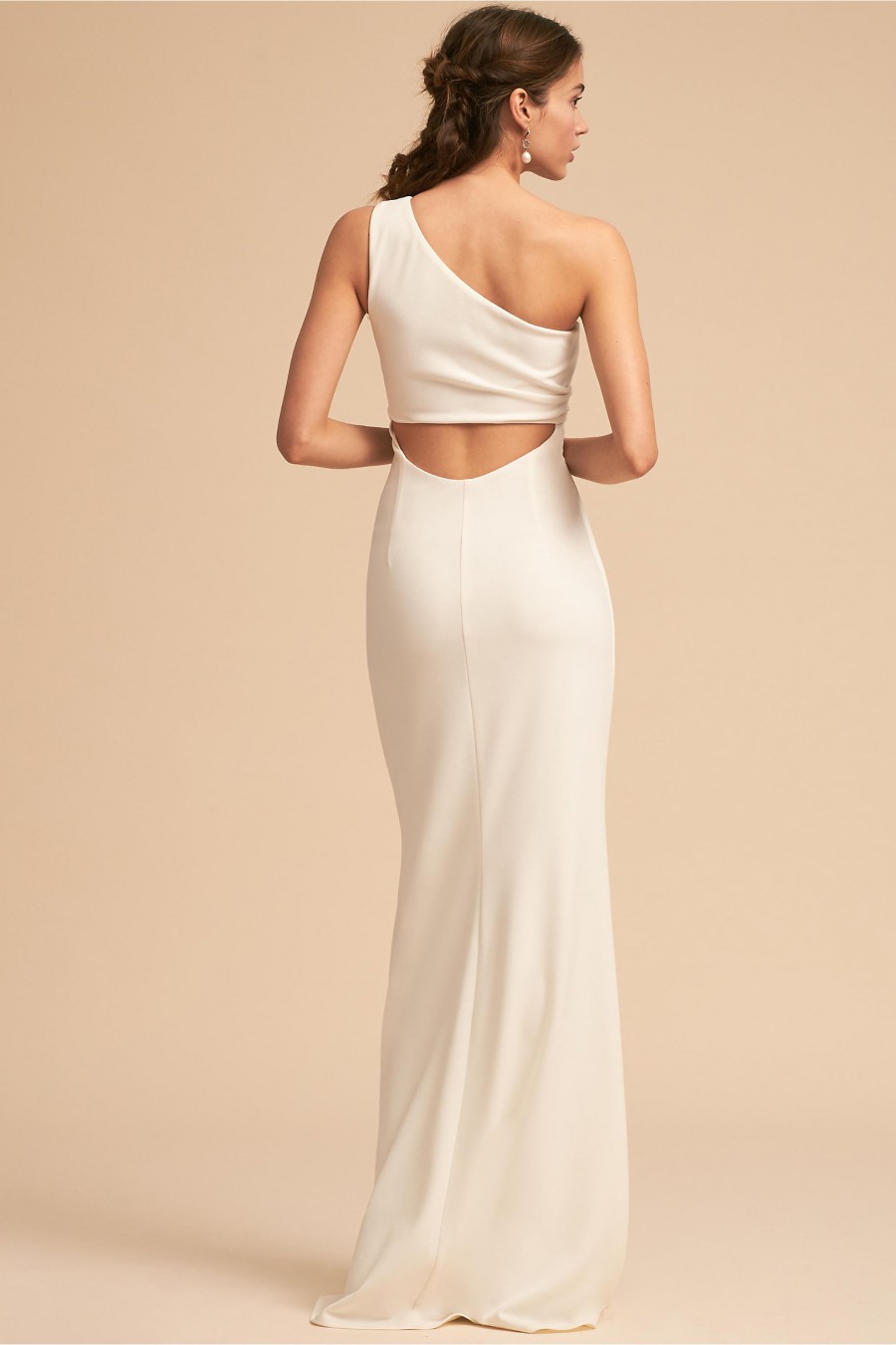 A polished one shoulder column dress that is classic and classy. An effortless wedding day style.
06.

Layered Two Piece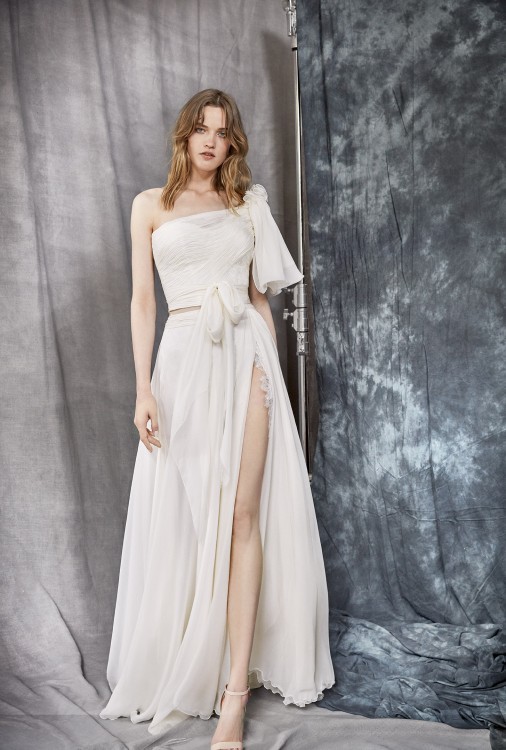 A delicate layered chiffon two piece single shoulder wedding gown. A simple, yet unique wedding day look.
07.

Diamond Diva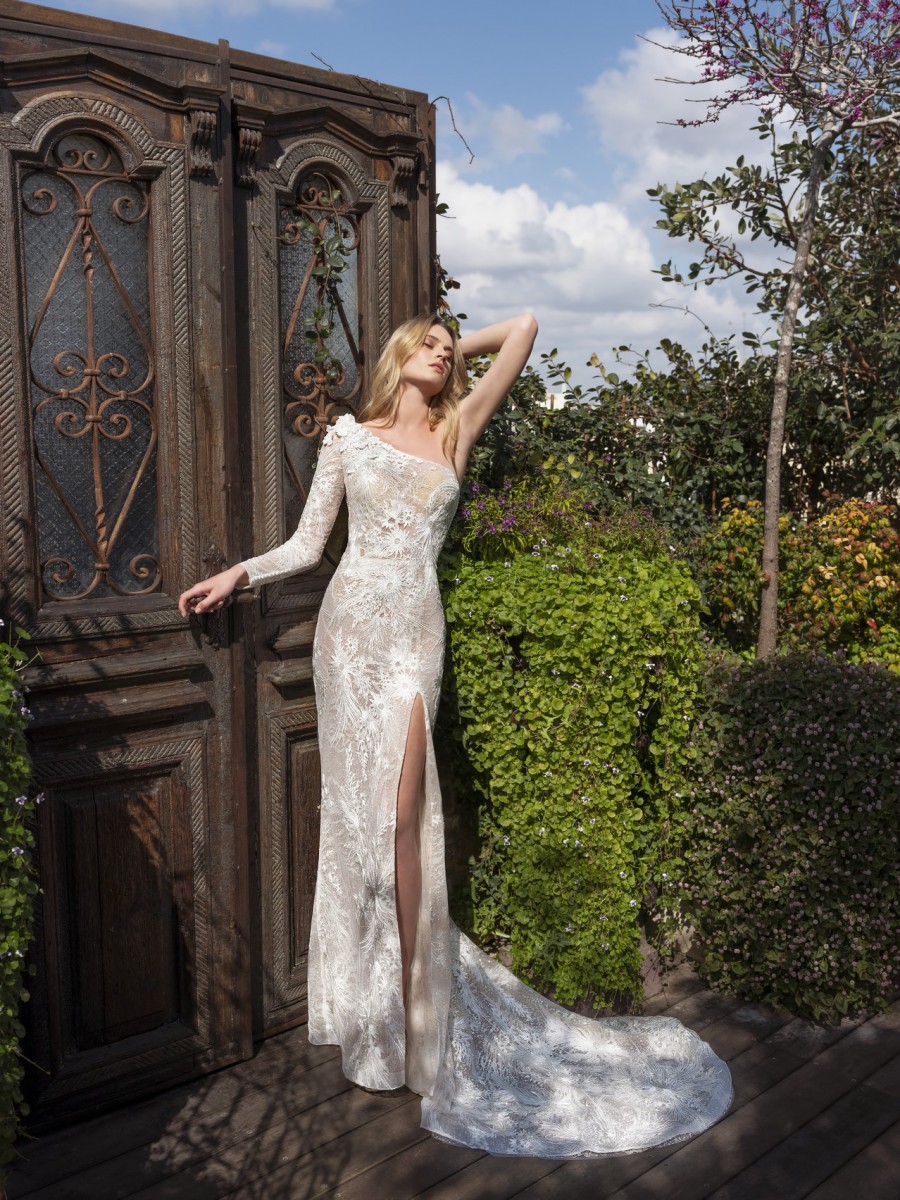 A gorgeous diva worthy one shoulder wedding gown from Riki Dalal's Diamond collection. A luxe, glamorous wedding style.
08.

Strapped Ball Gown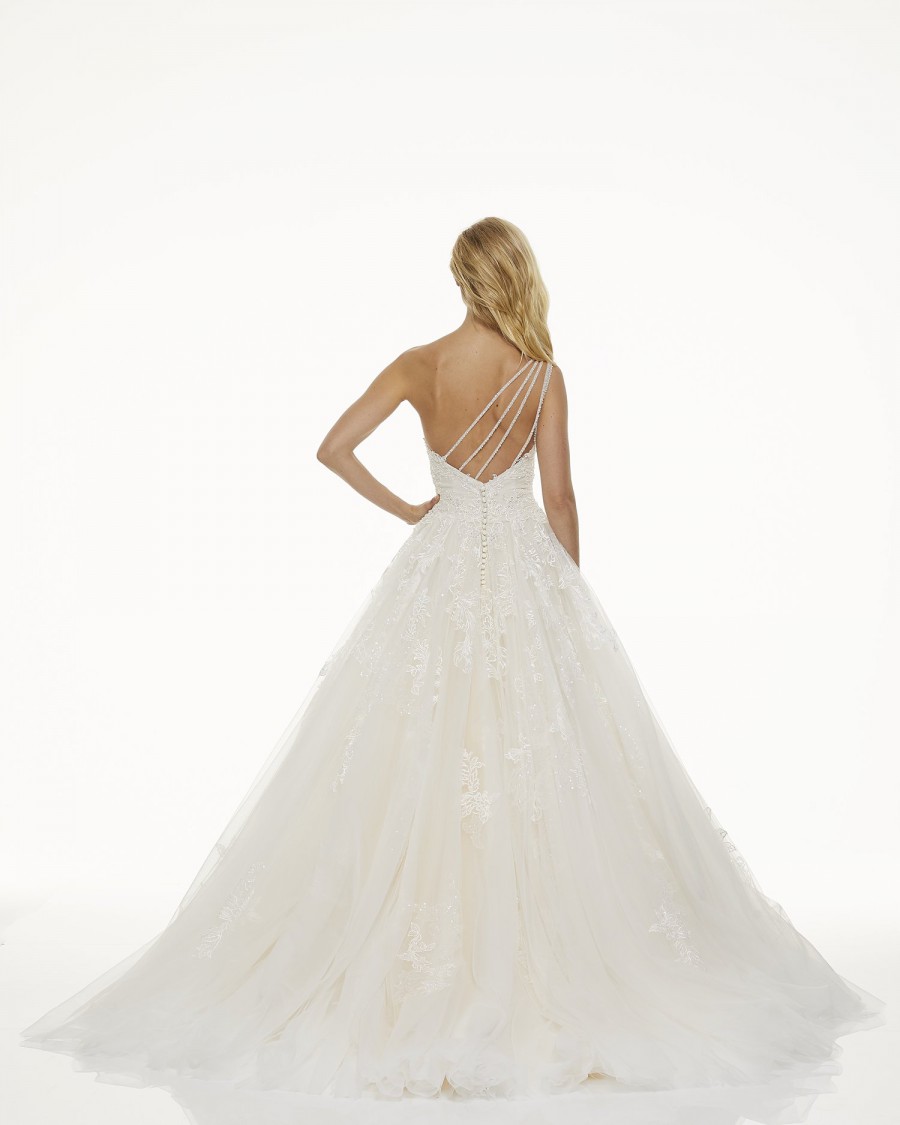 The one should cut of this ball gown from Mark Zunio leads into a multi-strap back cut that is simply beautiful. A stunning accent to this already gorgeous gown.
09.

Luxe Texture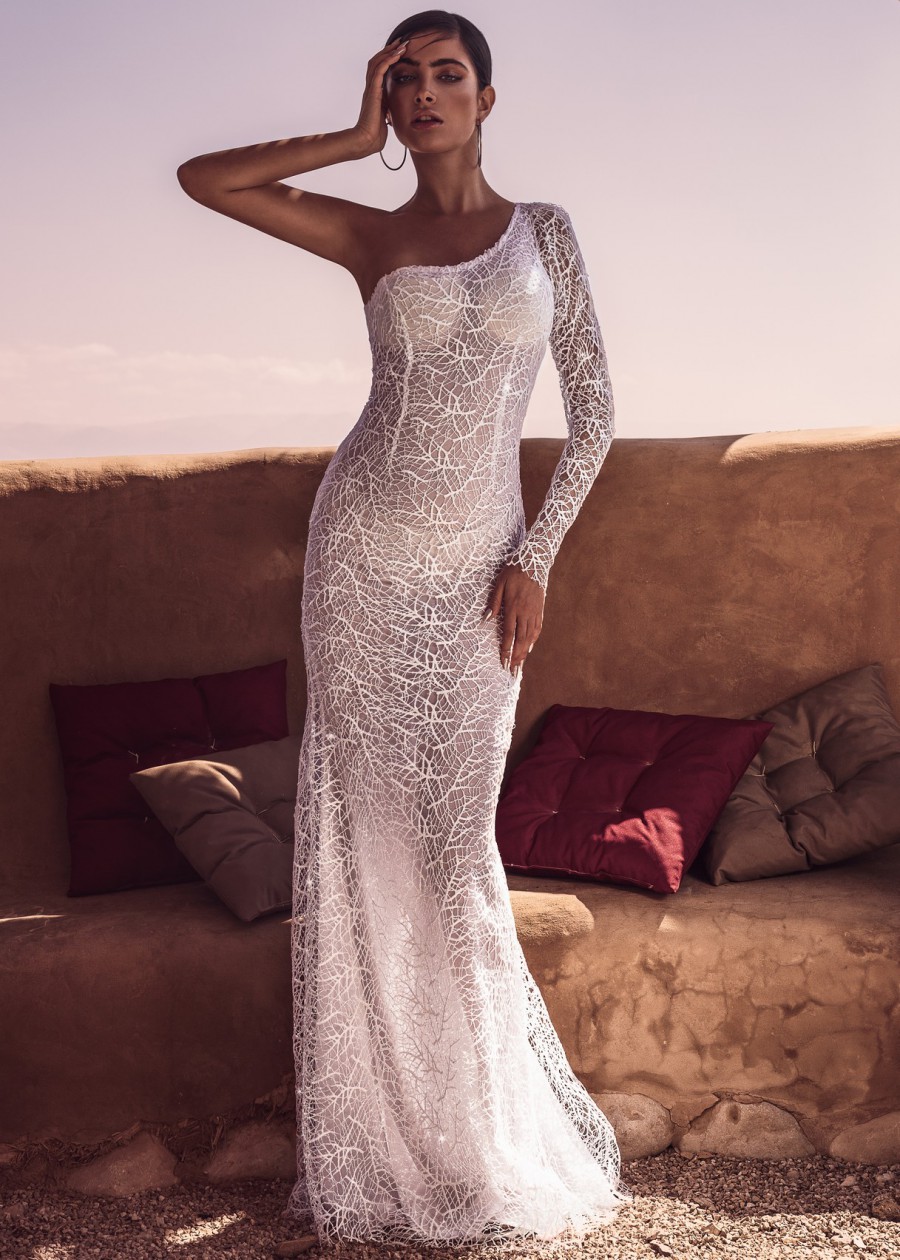 Another one shoulder wedding style from Riki Dalal that has a beautifully unique texture design. A luxe, one of a kind wedding style.
10.

Barely There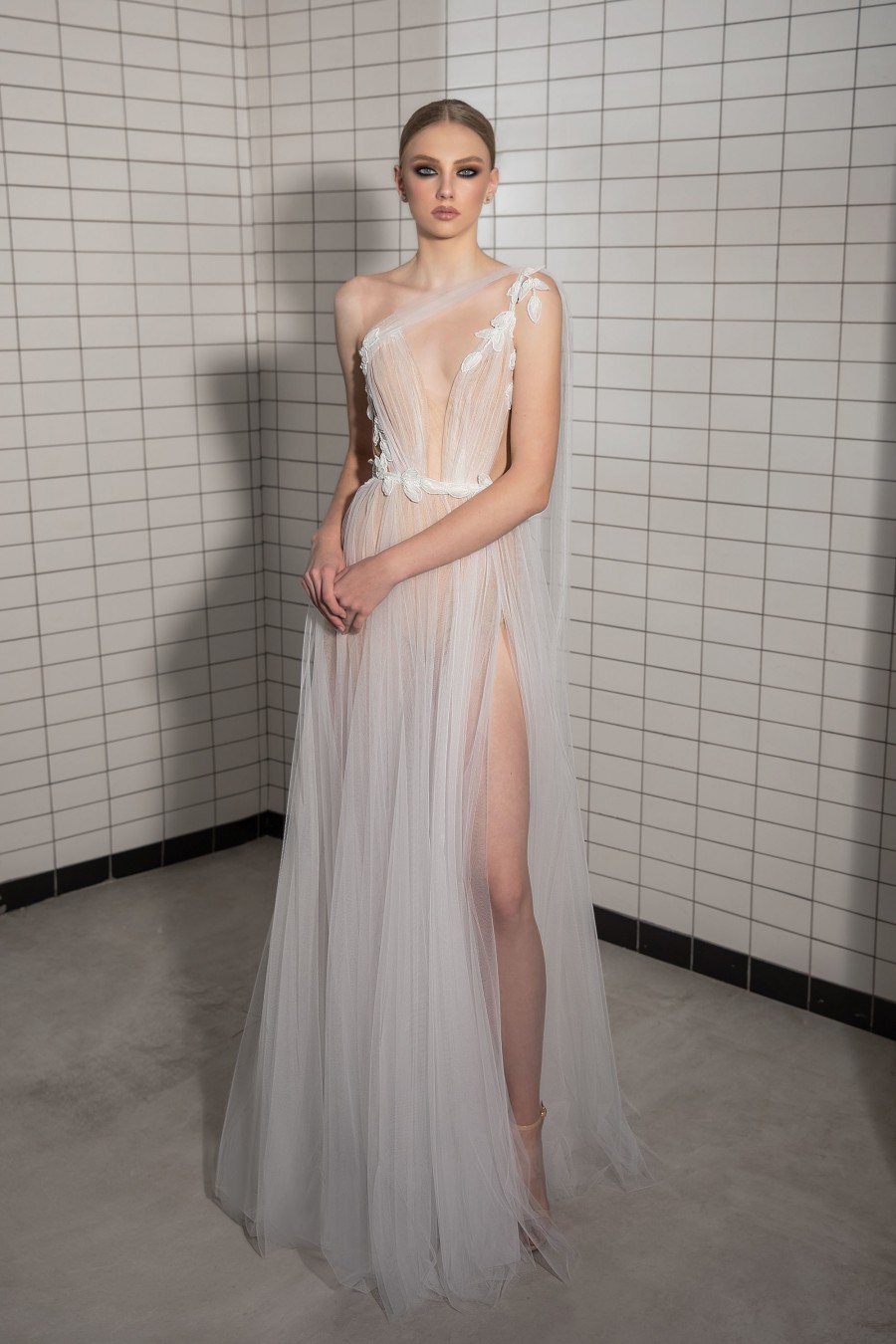 A gorgeous tulle gown from Charchy with a barely there single shoulder cut that is sultry and feminine.
11.

Single Shoulder Bow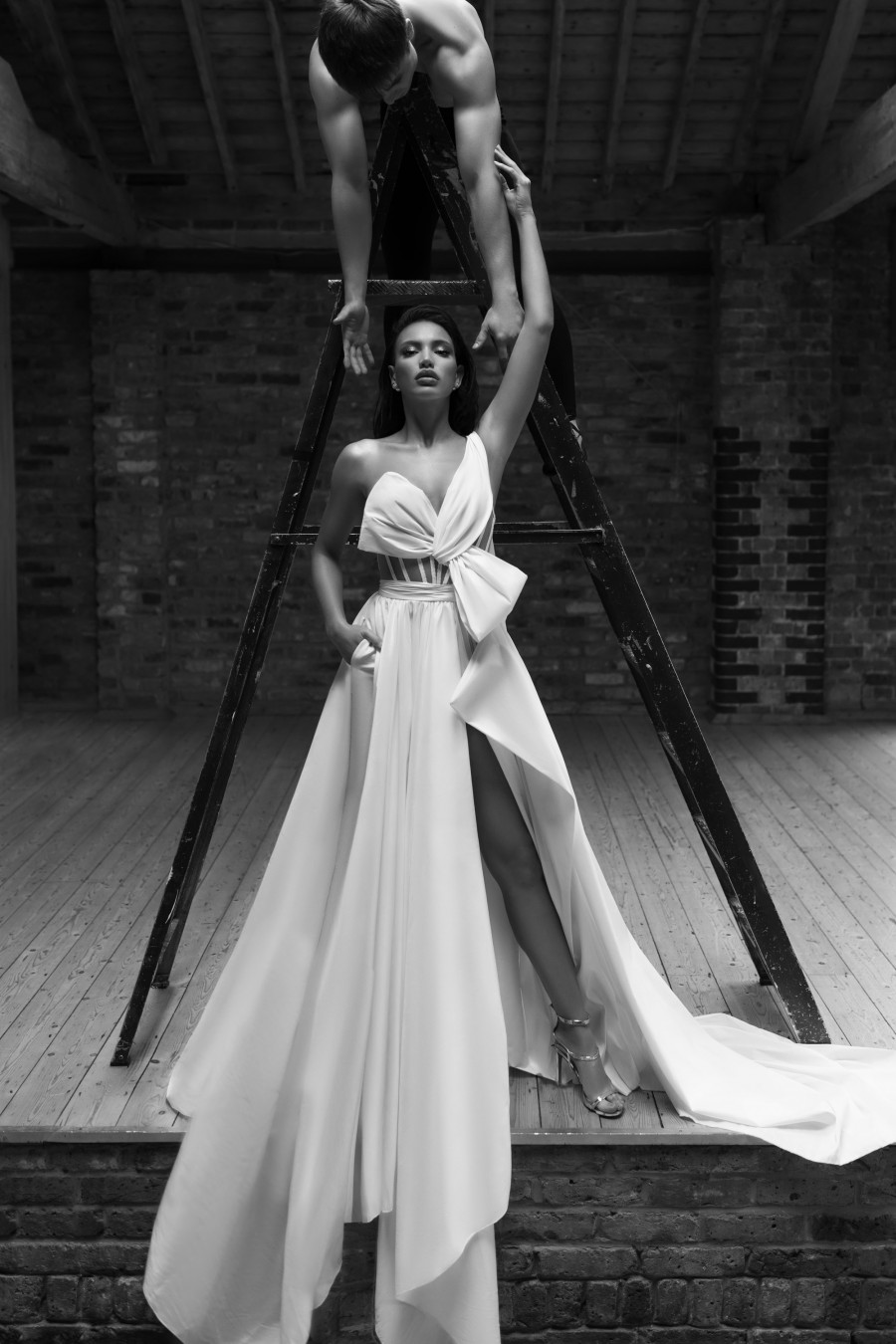 An ultra luxe, glamorous one shoulder style from Charchy. An oversized bow accent makes up the majority of the bodice, for a sexy design. The high slit and draping of the skirt make for a dramatic finish to this gorgeous gown.
12.

Single Off the Shoulder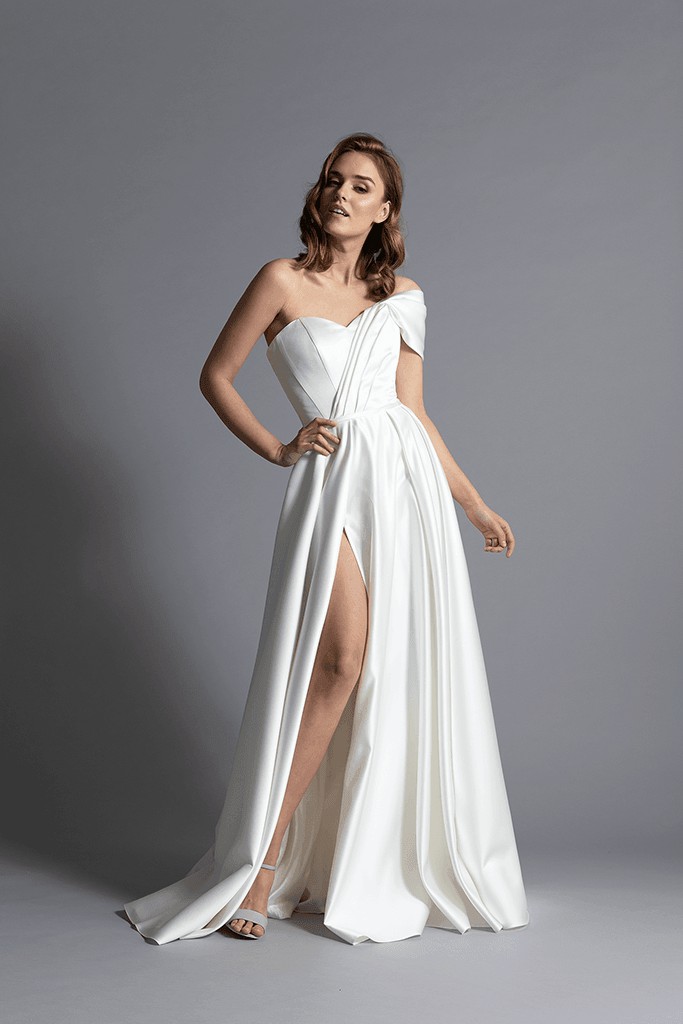 A sleek and sophisticated one shoulder, off the shoulder wedding gown style. A relaxed and luxe wedding style that is so effortless!
13.

Luxe Satin
How about a luxe satin one shoulder gown that is glamorous and polished? This gorgeous gown has stunning ruffle and layered accents and is absolutely effortless.
14.

Wear the Pants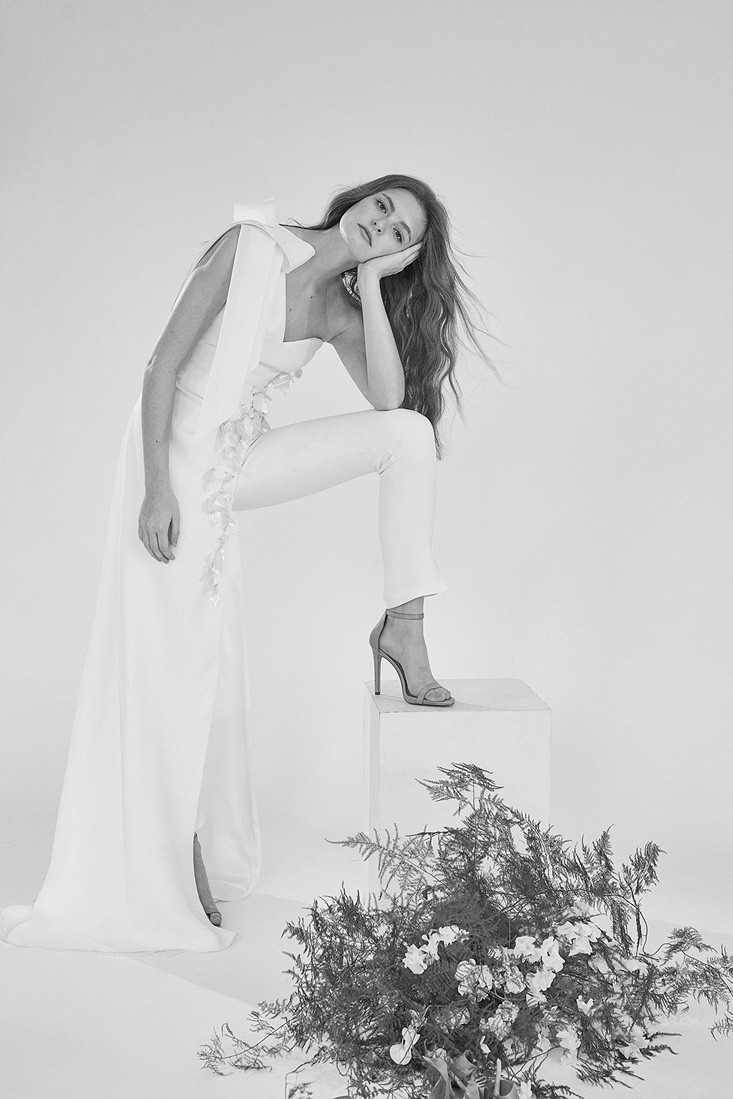 We are absolutely gushing over this single shoulder bridal pantsuit. The training bodice design makes this the perfect mix between pantsuit and dress for your bridal day style.
15.

Sleek and Chic
A sleek and sophisticated one shoulder wedding gown with elegant modern details. We especially love the sheer, boning detailing on the back of the gown. An elegant option for our classy contemporary brides out there.
16.

Back Appeal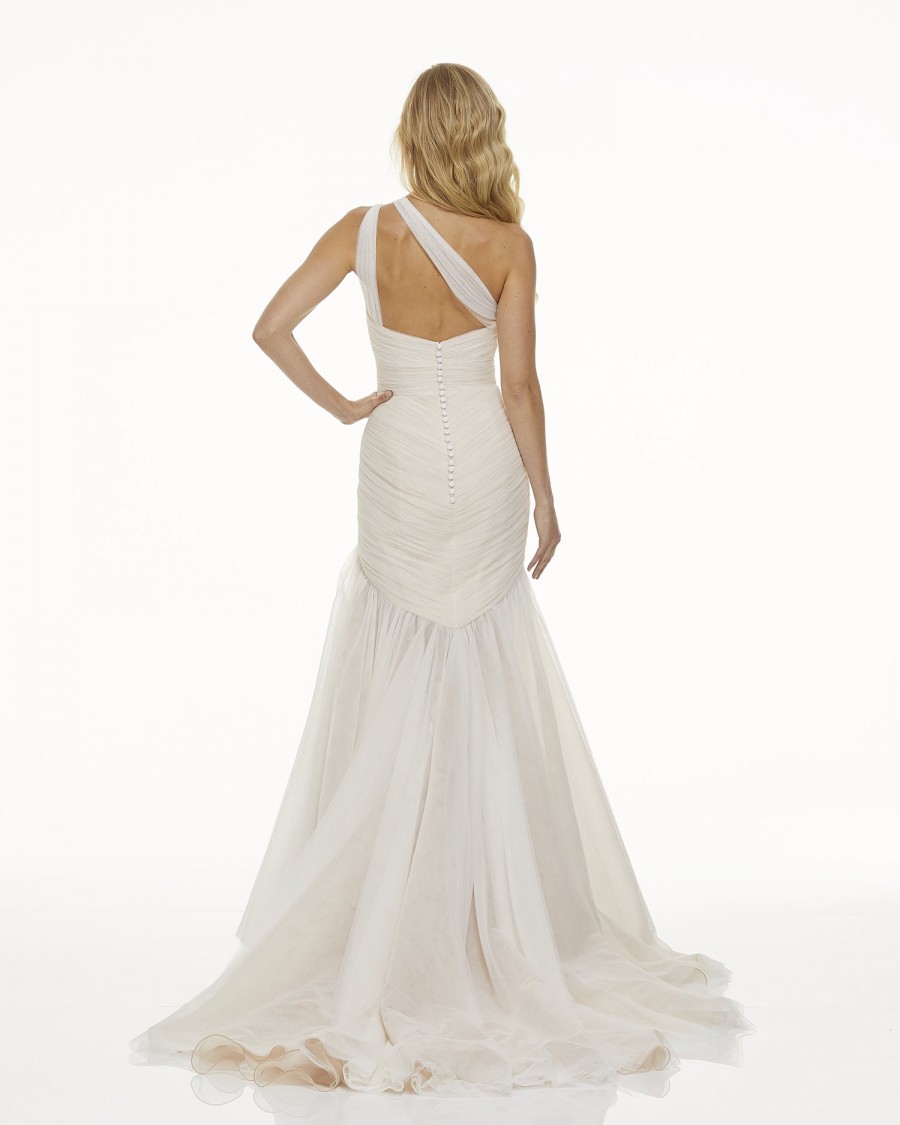 This next single shoulder bridal style has a back design that is sophisticated and simple - yet absolutely to die for! The cut of this gown creates a unique back style that is sure to turn heads.
17.

Short & Sassy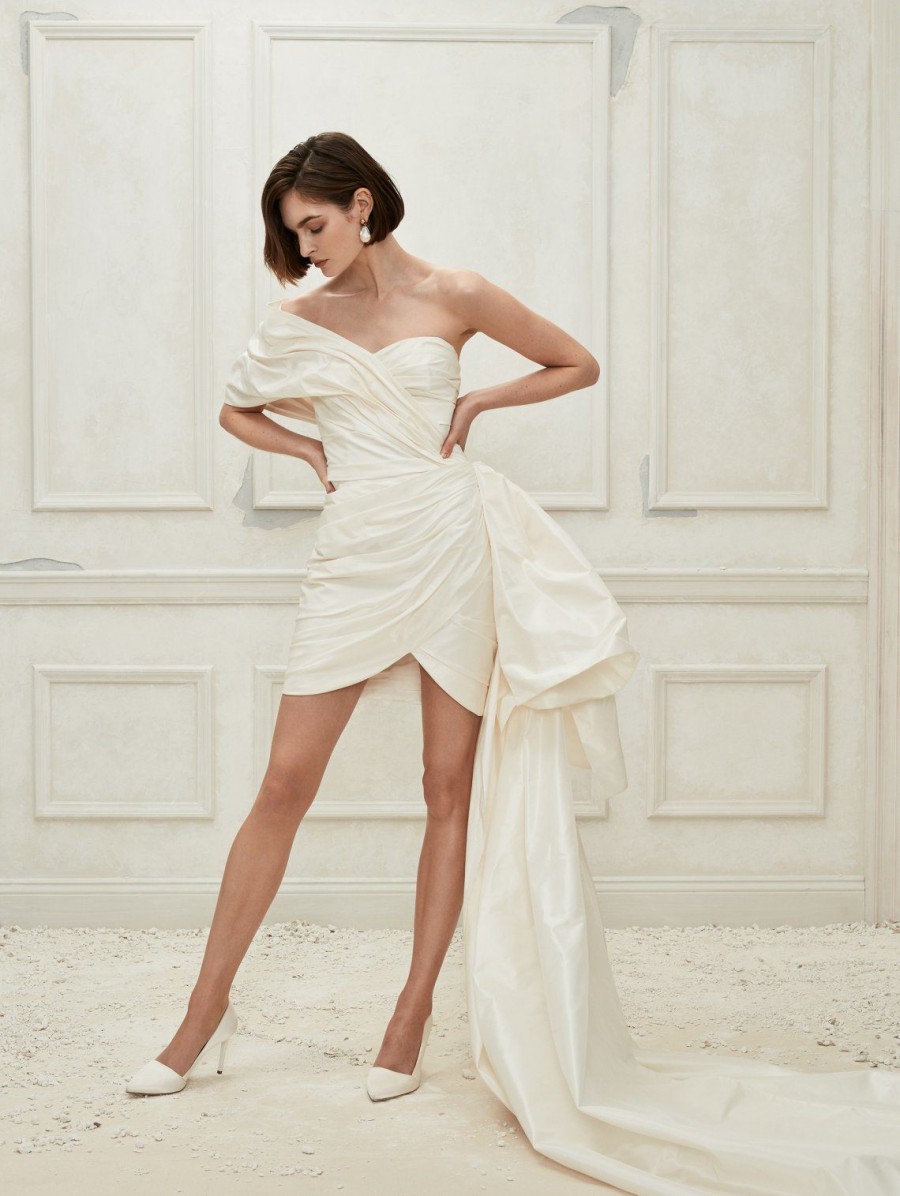 What better way to rock this single shoulder look than with this short and sassy style from Oscar de la Renta? Chic, sassy, and we absolutely love it!

By Kathryn Schrotenboer