Netting and Mesh typically aren't the first fabrics you envision when designing your dream wedding dress. But these stunning styles might have you thinking differently.
These contemporary wedding styes are proving that netting and mesh fabrics are for so much more than sports jerseys or catching fish. These unlikely fabrics are creating some of the most elegant and fashion forward designs that we are seeing in modern day wedding fashion. Check out our favorites!
01.

Beaded Netting
A sophisticated, contemporary wedding day style in an unlikely fabric. This completely beaded net wedding gown is jaw dropping and truly one of a kind. Netting seems like an unlikely design for such a sophisticated look - but it is working, and we just can't get enough of it!
02.

Glam Mermaid Netting
An ultra glam mermaid styled wedding gown made up of sparkly beaded net fabric. This stunning net fabric is accented with modern accents of lines and roses. A beautiful mix of classic glam, and modern design influences.
03.

Modern Mesh
This sleek & simple white wedding style takes viewers completely by surprise with its completely mesh overlay. An unlikely fabric to be paired with such a stunning style. And we absolutely love it.
04.

High Neck High Low
If you are loving the previous Suzanne Harward style, then you will love this! Another sleek and contemporary mesh style - but this time in a high neck, high low cut. An extremely modern wedding style, this is also feminine at the same time.
05.

Mesh and Lace
Loving these styles, but need just a bit more of a feminine touch? This is the dress for you. The same contemporary mesh style, but with intricate lace detailing. The perfect mix of modern fashion and classic detailing.
06.

Delicate Lace Netting
A more subtle net lace wedding gown. Underneath a sheer tulle overlay lies a mesh and lace accented layer that is delicate and feminine. A subtle way to include delicate net fabric.
07.

Woven Sequin Mesh
A unique woven sequin mesh wedding style. To add even more detailing to this one of a kind style we have a ruffled hemline and rose gold zipper that cascades down the entire front of the gown.
08.

Glitz Netting
We are absolutely loving the illusion effect this glitzy netting mesh is giving to this gorgeous wedding gown. Illusion netting overlays a sexy strapless plunging V cut bodice. This gives us the perfect mix of sexiness and modesty. With this gown you get both a trending plunging V neck, and also a fashion forward high cut neckline.
09.

Net Accenting
These next two gowns from Lior Charchy are all about net panel accents. These gowns both combine different thicknesses and weaves of netting in various places throughout the dress to create an absolutely captivating dynamic.
10.

Sheer Crystalized Netting
Next we have a barely there sheer crystalized net wedding gown from Galia Lahav. The back of this net gown is completely sheer and absolutely mesmerizing. A sensual, untraditional gown, for a bold contemporary bride looking to make a big statement on her wedding day.
11.

Two Piece Netting
A one of a kind net styled two piece wedding gown. This style really has it all. The ever growing popular two piece style, unique net material, a modern high neck cut with sleeves and finished with delicate lace hem accents.
12.

Sheer Netting
This next net wedding day style is a beautiful mix of contemporary and classic. A sleek and classic silk skirt is paired with a completely netted bodice with delicate lace and beading details. An elegantly classic style with subtle modern influences.
13.

Victorian Netting
Galia Lahav never seems to disappoint when it comes to stunning, unique wedding designs. This Victorian inspired tea gown is made entirely of French fish net lace. Netting is such an unlikely fabric, but in this gown, it looks absolutely sophisticated and antiquely elegant.
14.

Delicate Two Piece
A gorgeous two piece wedding gown that starts with a base of tight knit netting mesh. The cap sleeves and collar neckline give the bodice a dress shirt type of feel. This unique style is finished with beautiful appliqué florals down the gown.
15.

Dimensional Netting
Our next wedding style is defined by sheer and 3D lace elements. One of the most eye catching elements of this gown is the wide netting fabric. Netting is such an unexpected fabric to mix with the delicate sheer and lace elements of the rest of the dress - but it works in such a lovely way!
16.

Antique Vintage Netting
An absolutely breathtaking antique vintage inspired wedding gown made up of bold netting. This fabric pops off of the sleek fitted silhouette of this gown - to add dimensional texture to this sensual wedding style.
17.

Modern Traditional
So many brides are craving both traditional and modern influences when it comes to their wedding day style. And we keep seeing more and more dresses hit the scene that incorporate both. This is one of those dresses. We get classic vintage influences from the delicate lace accents, but a touch of modern with the unique beaded netting. A unique combination of vintage and contemporary.
18.

Glit and Glam
Berta brings us another glitz netting wedding gown with this next style. This ultra glam look is elegant from head to toe. Add some sexy sparkle to your big day, with a touch of modern netting.
19.

Classic Lace Netting
A traditionally elegant take on this modern netting trend. This net and floral lace gown is an elegant statement for any wedding day.
20.

Fit for Royalty
A modern day wedding gown fit for royalty. This stunning one of a kind style features illusion mesh accenting on the bodice and arms, that add a sensuality to this full coverage gown. This look finishes with a long dramatic train.
21.

Nude Netting
A unique nude based gown is covered with a stunning overlay layer of intricate netting and floral embroidery. A beautiful off beat wedding day style.
22.

Net and Ruffle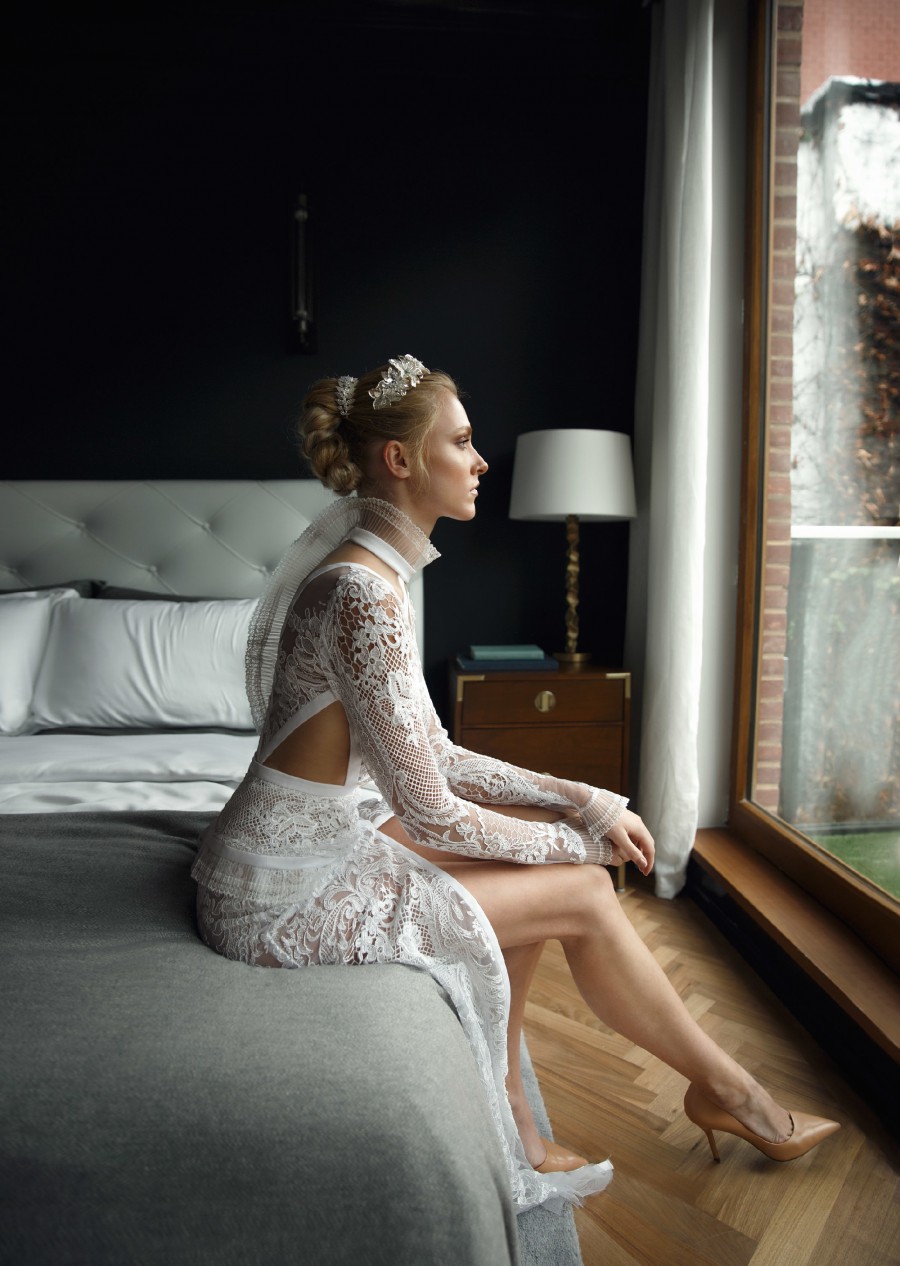 A one of a kind bridal style featuring net fabric and dimensional ruffle accents. An unexpected and lovely combination of fabrics to pair with delicate and intricate lace detailing.
23.

Sheer Modernism
This truly unique semi sheer mesh wedding gown features slight bell sleeves and stunning lace detailing on the bodice. A gorgeous modern net wedding gown.
24.

Thick Netting
A less delicate take on using mesh and net fabric as a base for a wedding gown. This dress is made up of thick cut net material that is accented with more delicate elements of lace detailing. An absolutely stunning modern combination.
25.

Texture Detailing
This next stunning gown from Tali & Marianna is all about the texture detailing. From dimensional appliqué to sheer netting - this gown is so captivating.
26.

Net Cape
A stunning net based wedding gown with a matching cape. An absolutely gorgeous combination. And just a touch of feathers to add an even more mesmerizing finish to this gorgeous gown.
Kathryn Schrotenboer