Are the 80's coming back in style? Or are modern wedding designers just reclaiming the puff sleeve trend like never before?
Voluminous, scrunched, architectural and down right puffy! We are seeing the voluminous sleeve trend that dominated the 80's bridal scene coming back in style. But don't worry, we aren't talking about oversized shoulder pads like from your mom's generation. This time, the trend is coming back with a modern twist. Brides are craving shoulder and sleeve drama, and contemporary bridal designers are delivering. So what do you think...are you brave enough to pull off the rejuvenation of this trend that we all thought was left behind in the 80's?
01.

Glam Jumpsuit
We are starting off the list with this chic jumpsuit from Eva Lendel. Featured an embellished bodice with puff shoulder sleeve accents, it is safe to say this look is not from the 80's. Paired with sleek, white wide leg trousers - this look is stunning!
02.

Couture Puff Sleeves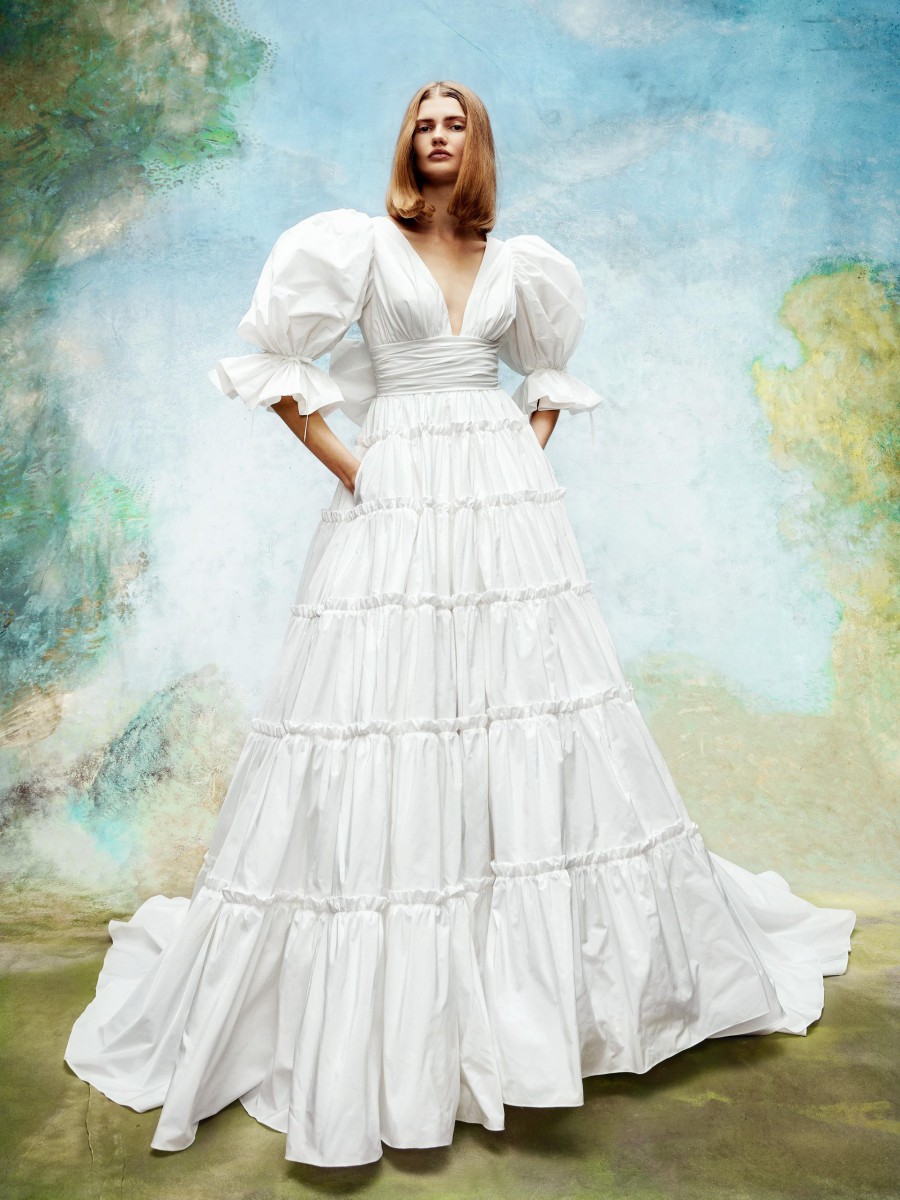 Who is brave enough to sport this couture look from Viktor Rolf? This taffeta gown features chic puffy sleeves and a dramatic tiered skirt.
03.

Feminine Volume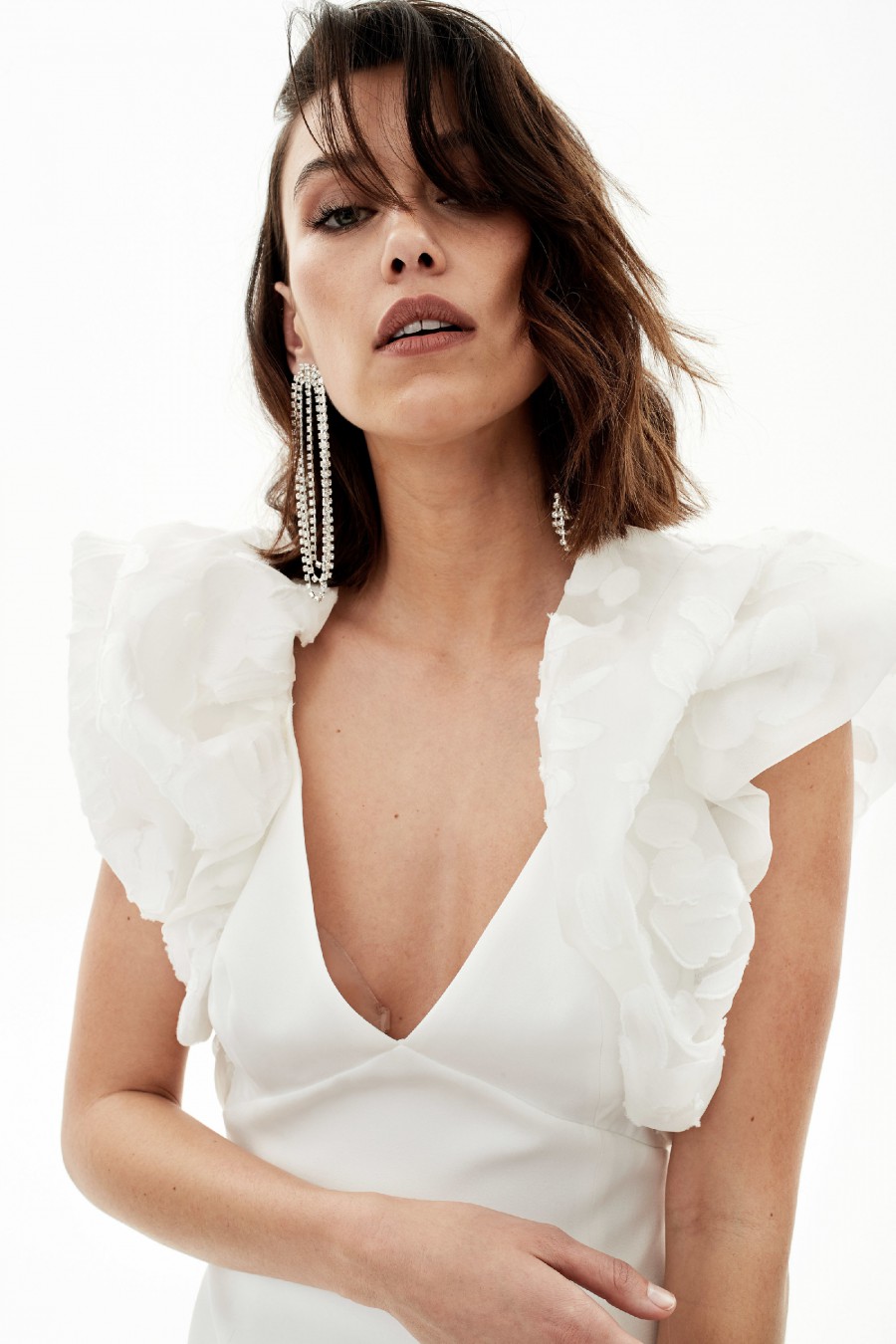 Things are heating up with this feminine puff sleeve style from Rime Arodaky. This look is girly, chic and just a bit sassy. A beautiful modern interpretation on the once popular puffy sleeve bridal style.
04.

Clean and Classy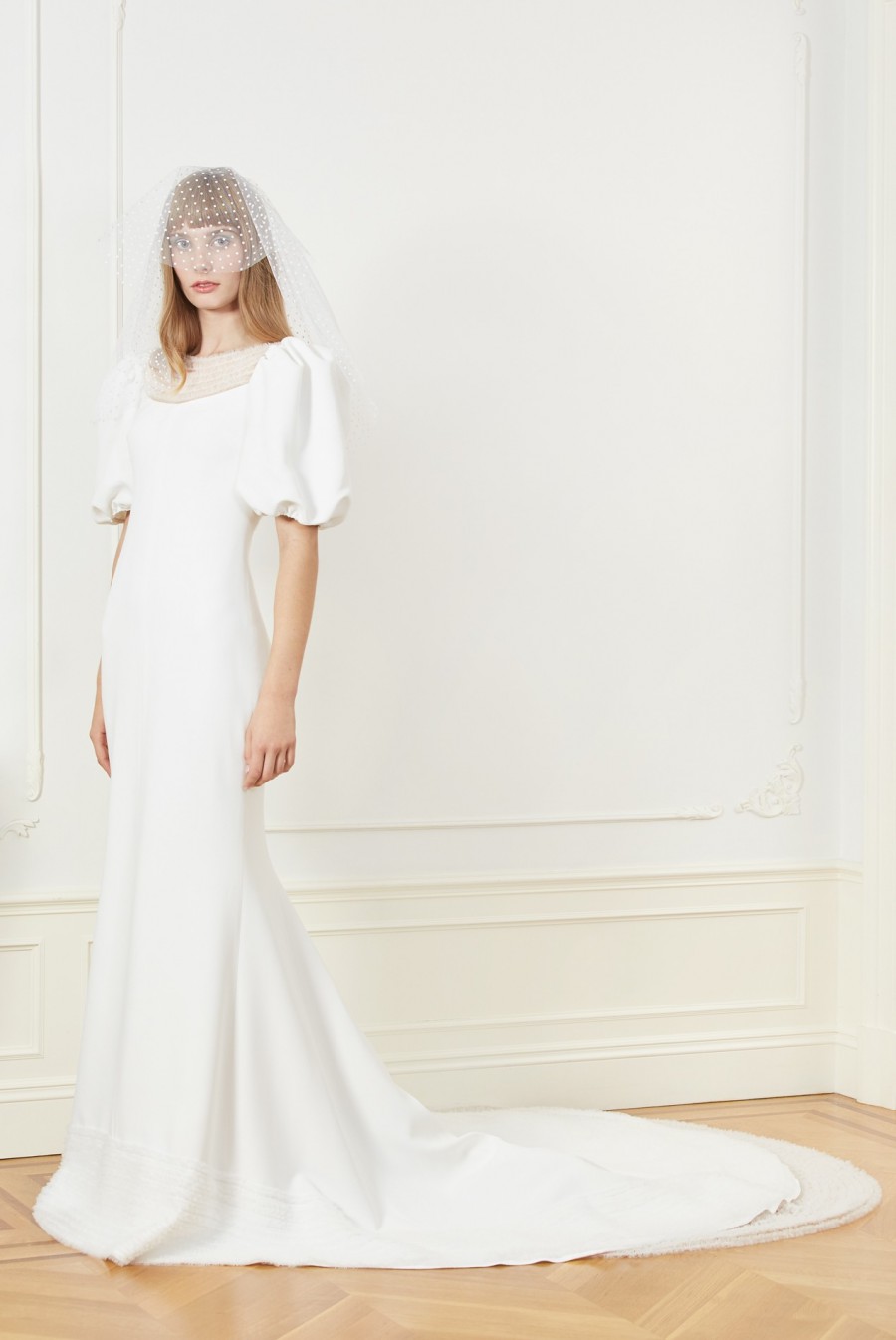 Check out this next clean and classy puff sleeve wedding gown, that has just the right touch of drama to finish off this stunning contemporary style.
05.

Sassy Chic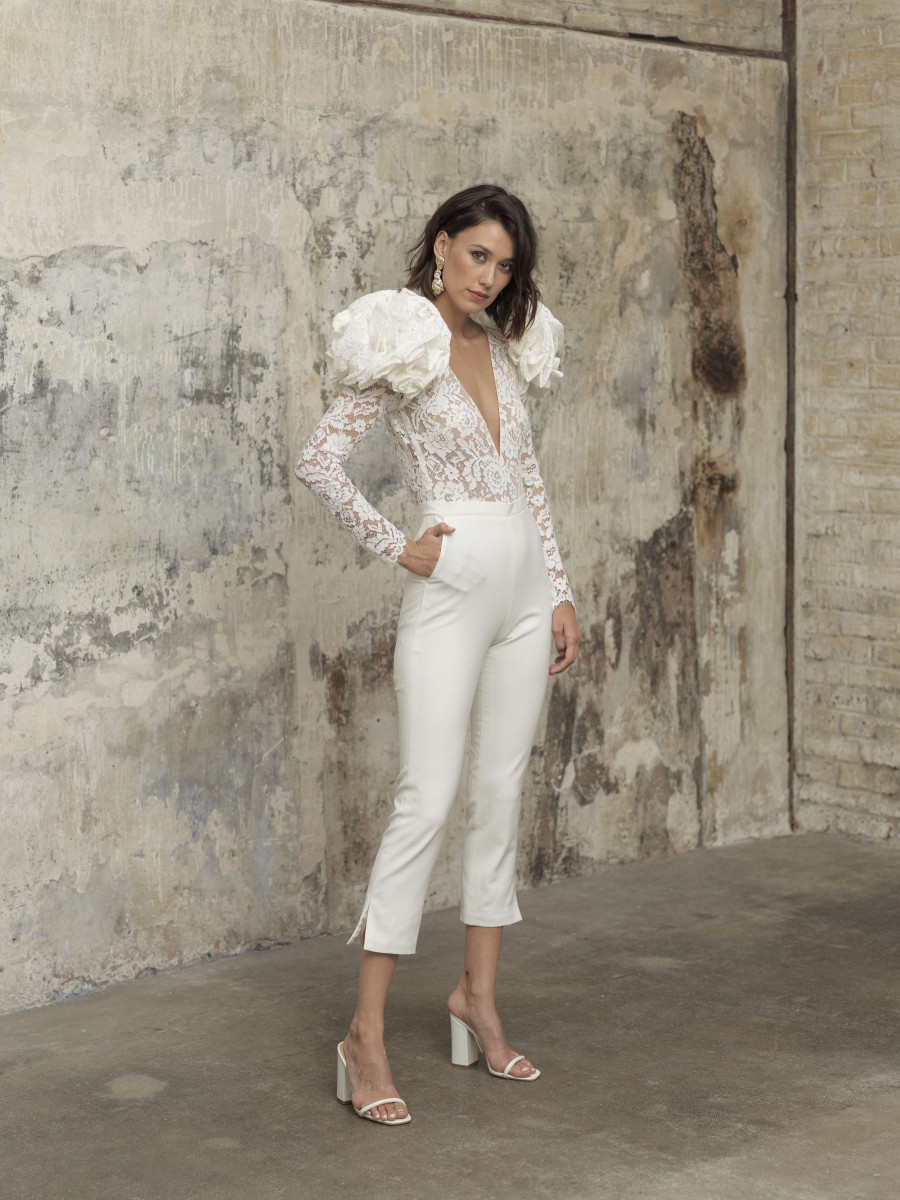 Where are our sassy bridal babes out there who are looking to make a big statement on their wedding day? How about this ultra chic bridal jumpsuit from Rime Arodaky? We are absolutely swooning over the dramatic gathered puffy shoulder accents on this wedding day look. This could also be your perfect second look!
06.

Asymmetric Volume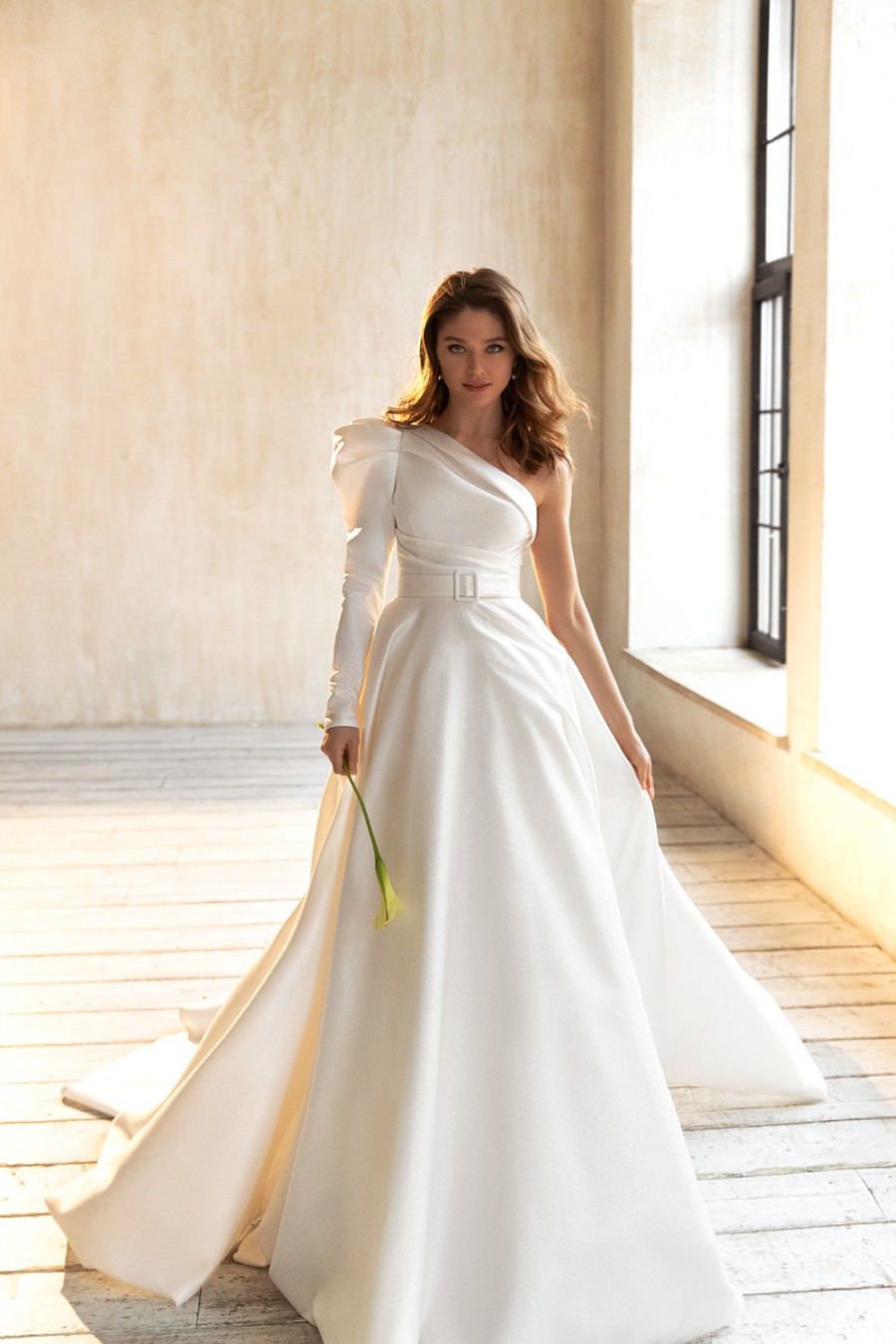 We are loving the contemporary drama from this next bridal style. This gown by Eva Lendel features a unique asymmetric bodice design. With a single puff sleeve accented style - this gown is truly one of a kind.
07.

Sheer Embroidered Puff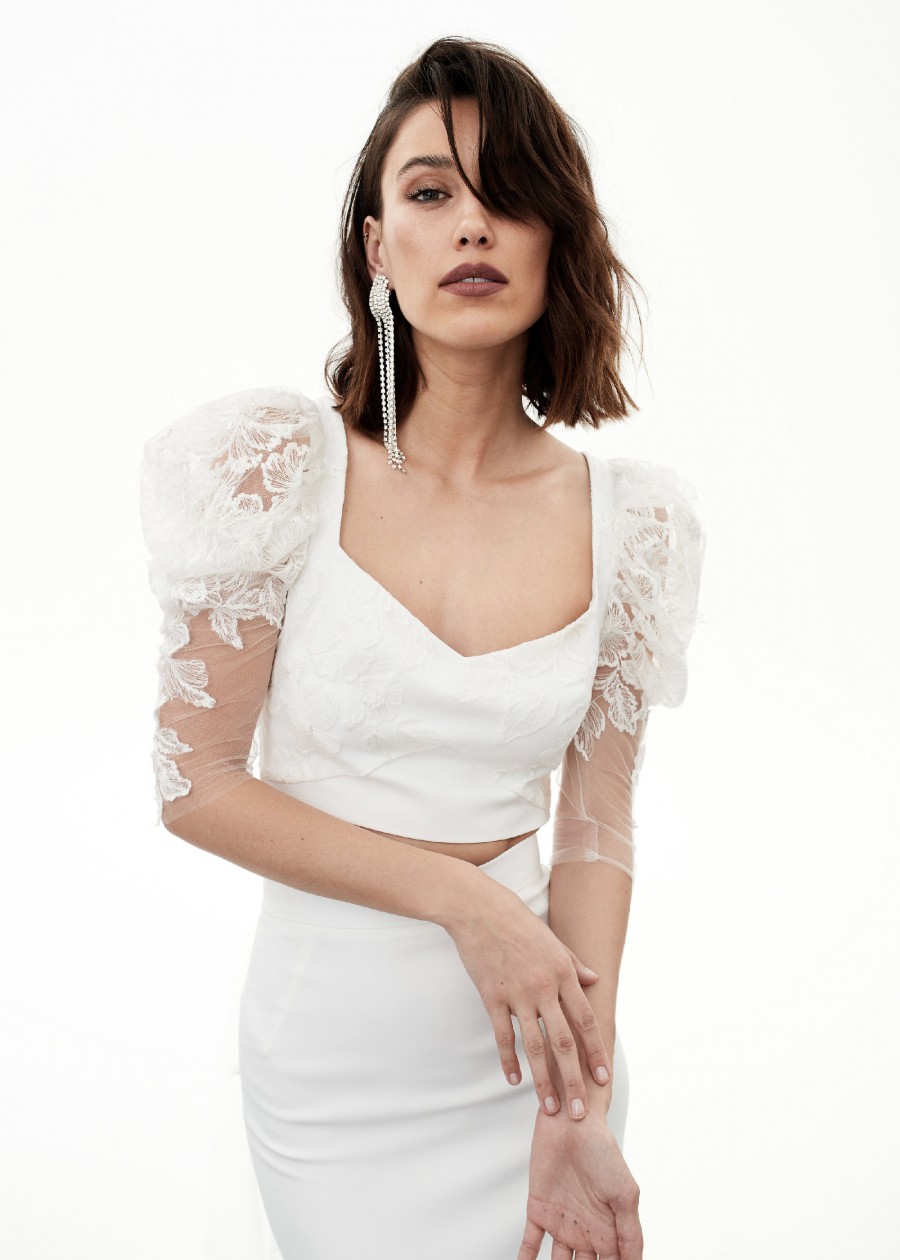 We are absolutely in love with this chic two piece bridal style from Rime Arodaky. The crop top bodice features sheer, embroidered puff sleeves that are absolutely gorgeous. This stylish look is edgy, yet feminine and is just what contemporary brides are craving.
08.

Clean 80s Vibes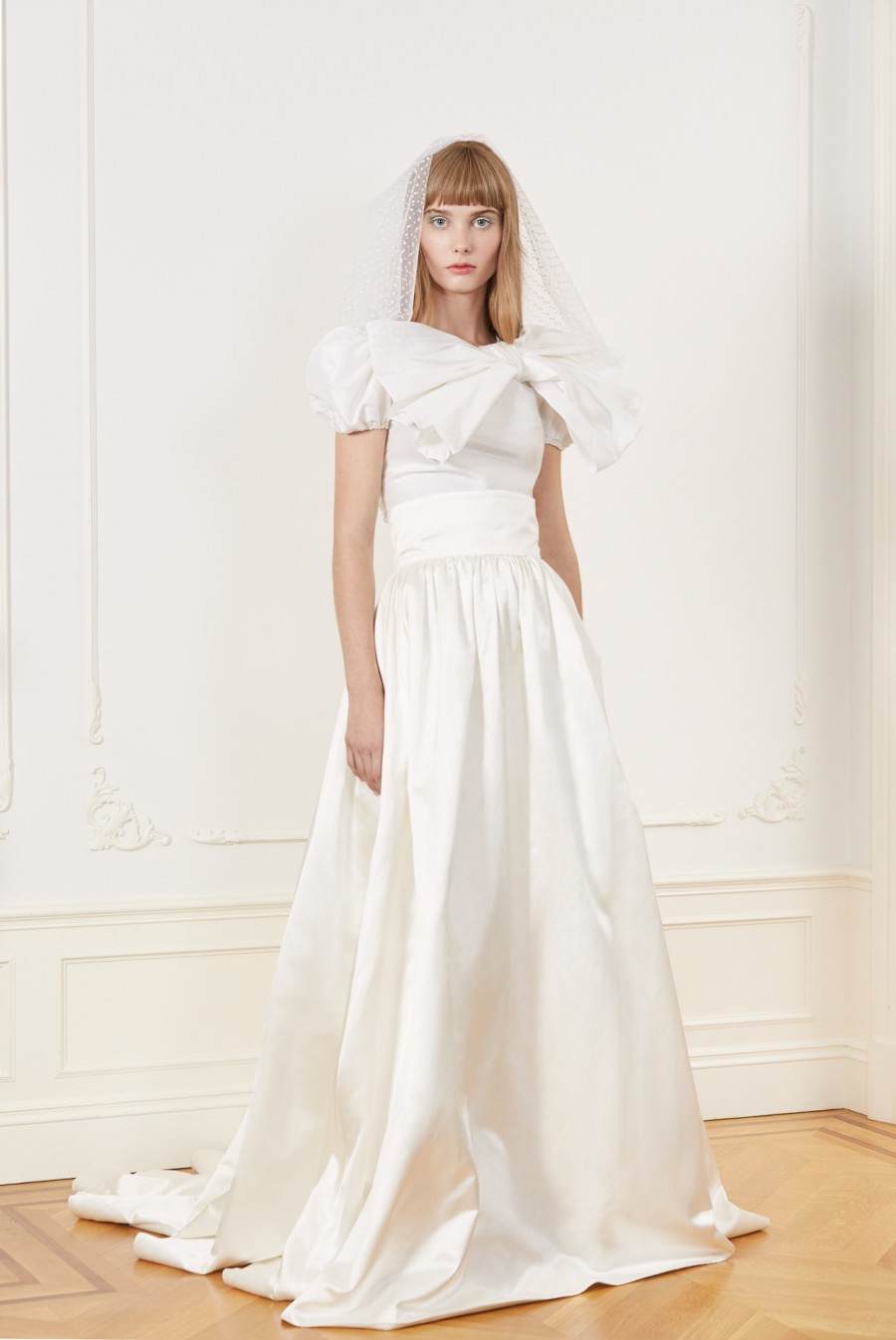 We are feeling the 80s influences in this next silk ball gown. With short puffy sleeves and oversized front bow accent, this look is sure to make a big statement.
09.

Off-the-Shoulder Puff Sleeves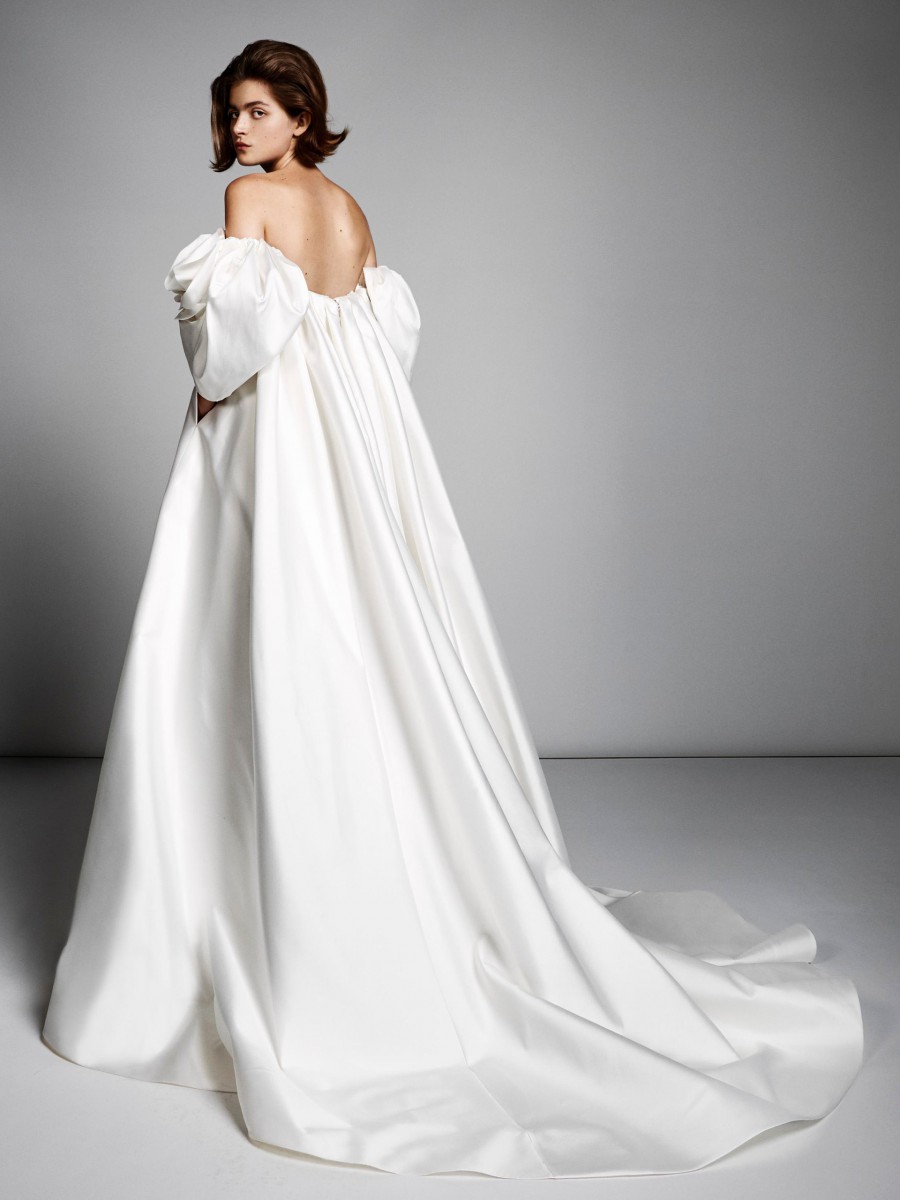 Viktor Rolf being us our next modern puffy sleeve wedding style with this gorgeous off-the-shoulder gown. A playful, contemporary twist of the dramatic puff sleeve trend of the 80s!
10.

Draped Volume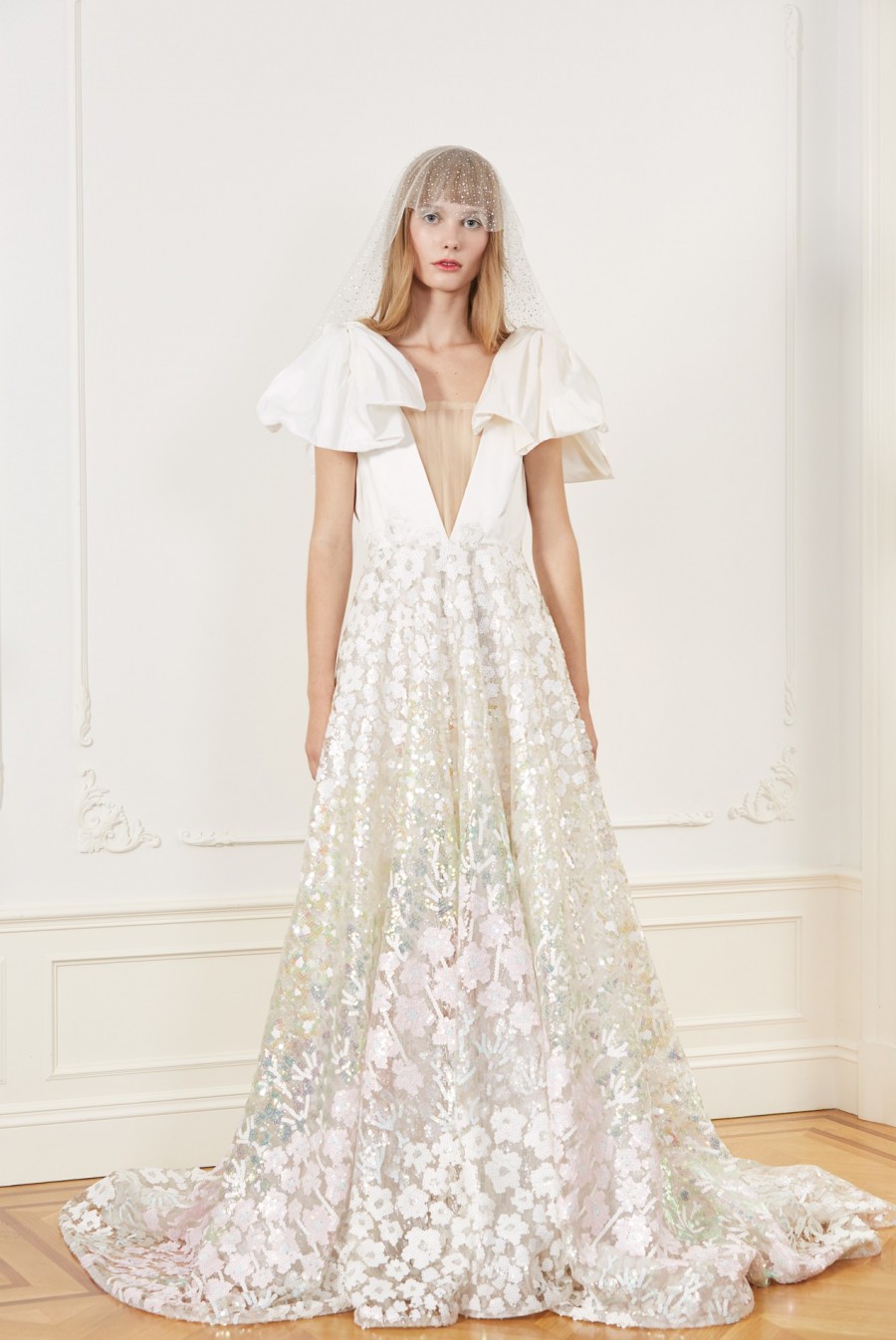 This next gown features a very unique cut and design. The draped puffy sleeves add a bit of dramatic volume to this truly unique gown.
11.

Bold Black Bridal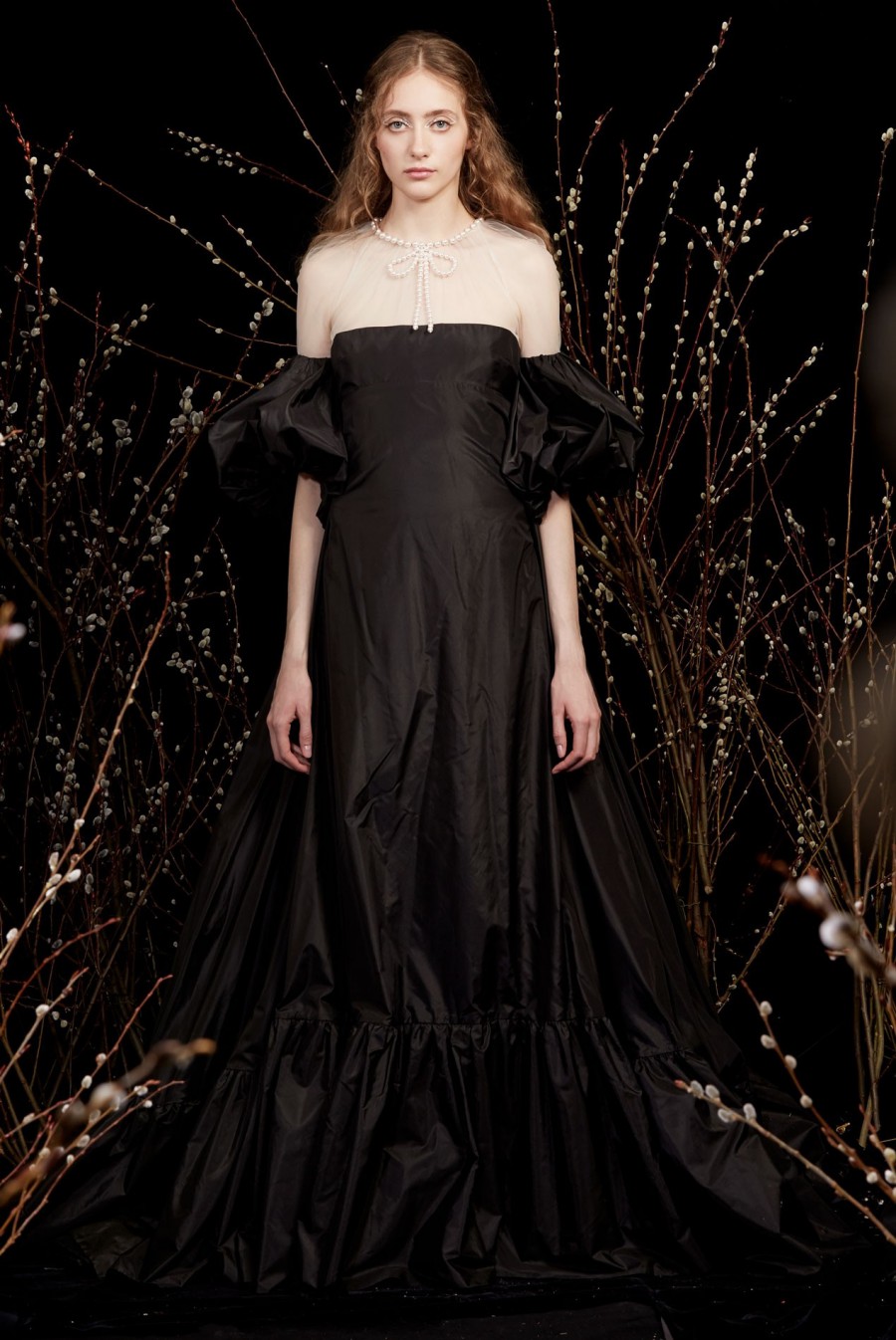 Which of our edgy brides are bold enough to pull off a black wedding gown on their big day? We absolutely love the illusion neckline with pearl accenting on this gown. And of course, don't forget about the edgy black off-the-shoulder puff sleeves!
12.

Contemporary Princess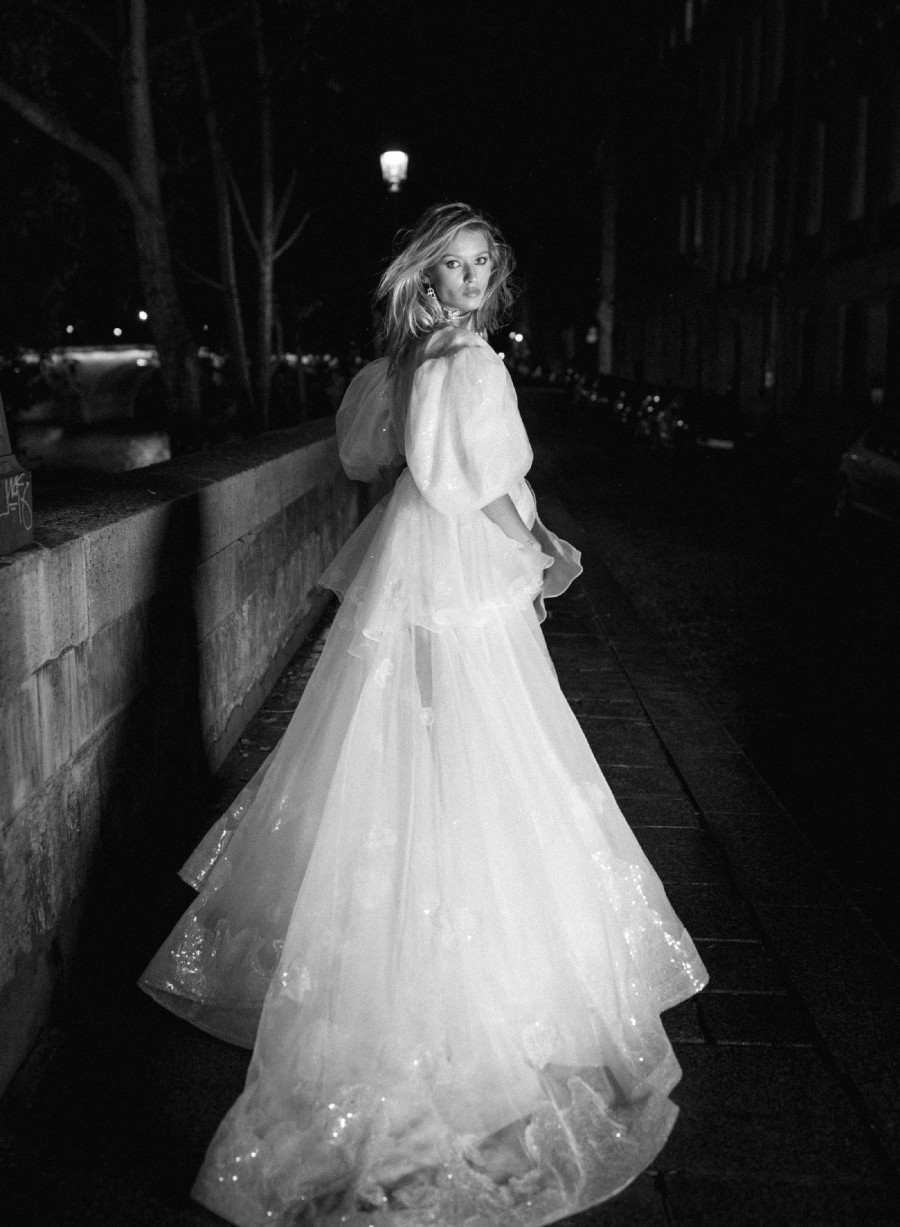 What bride doesn't want to feel like Cinderella on their wedding day? This ultra glam princess worthy gown (puffy sleeves included!) is just what you need to feel like royalty on your big day!
13.

Not-Your-Mother's Shoulder Pads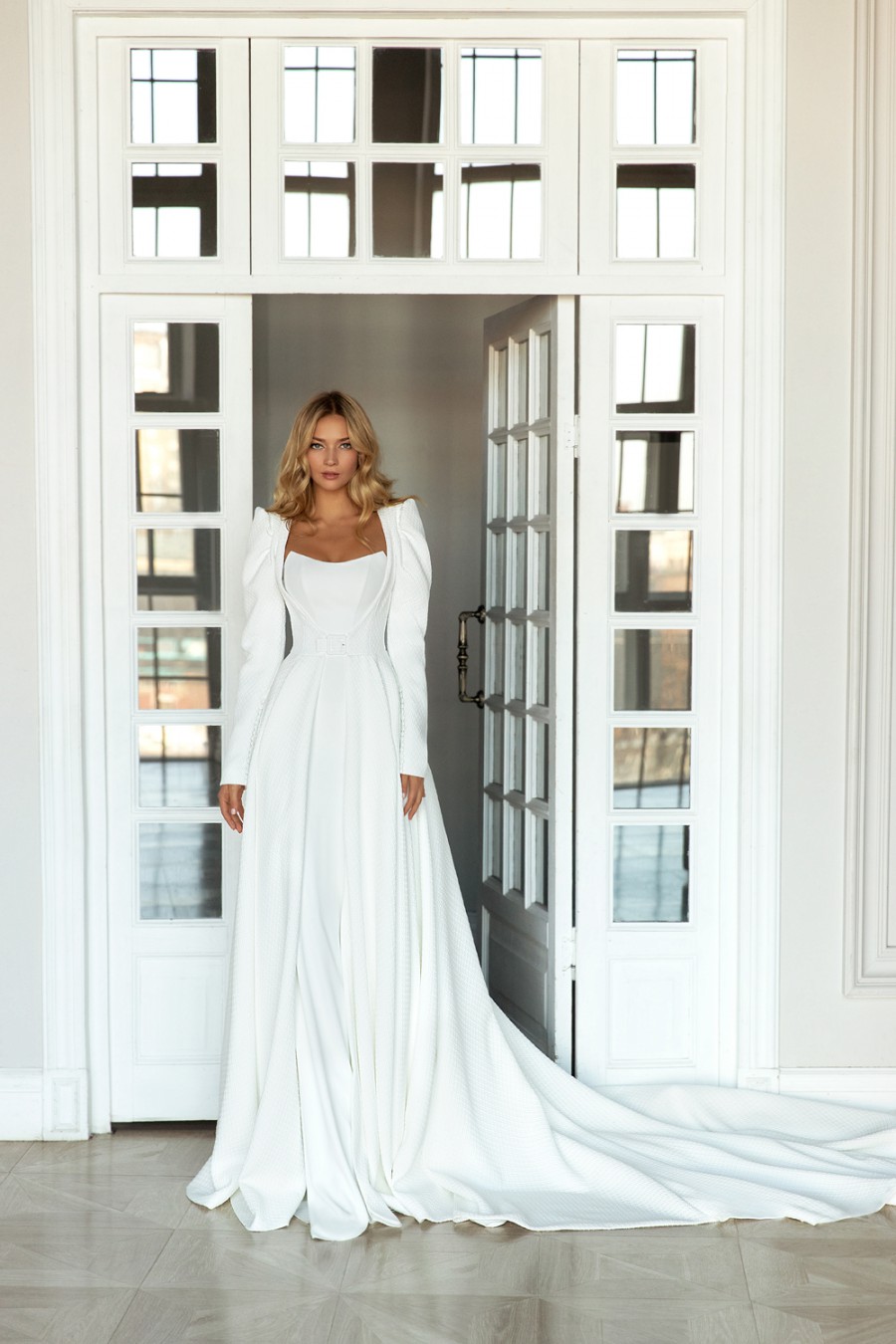 This next multi-piece wedding style comes from Eva Lendel. Featuring an optional long sleeve jacket that has a very blazer-like design. The jacket features iconic architectural shoulder accents, that are far more chic than the shoulder pads of the 80s.
14.

Modest Contempoary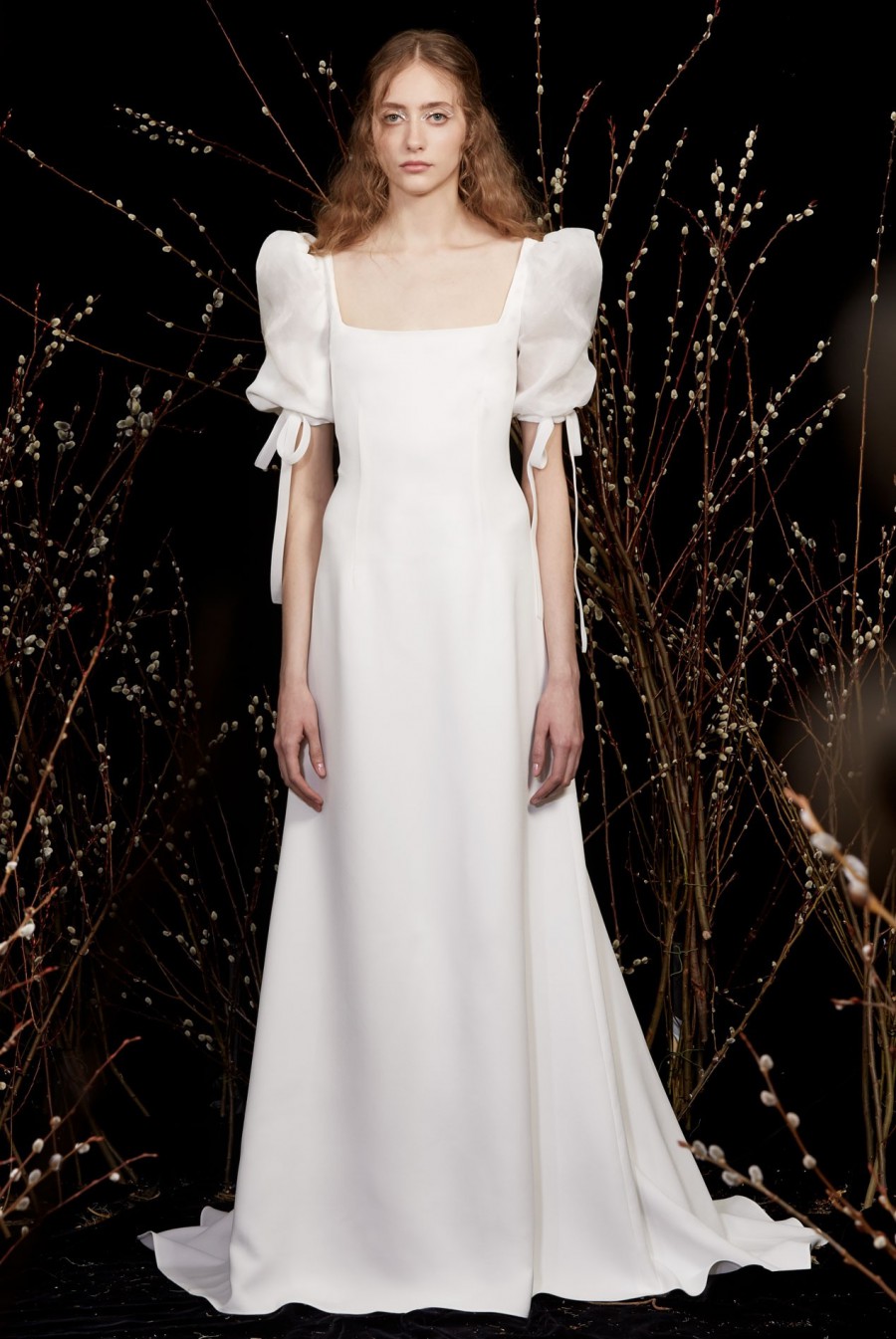 This next puff sleeve wedding style is a uniquely cut square neck design that is simple and modest. A no-nonsense wedding look for a minimalist modern bride.
15.

Vintage Ruffles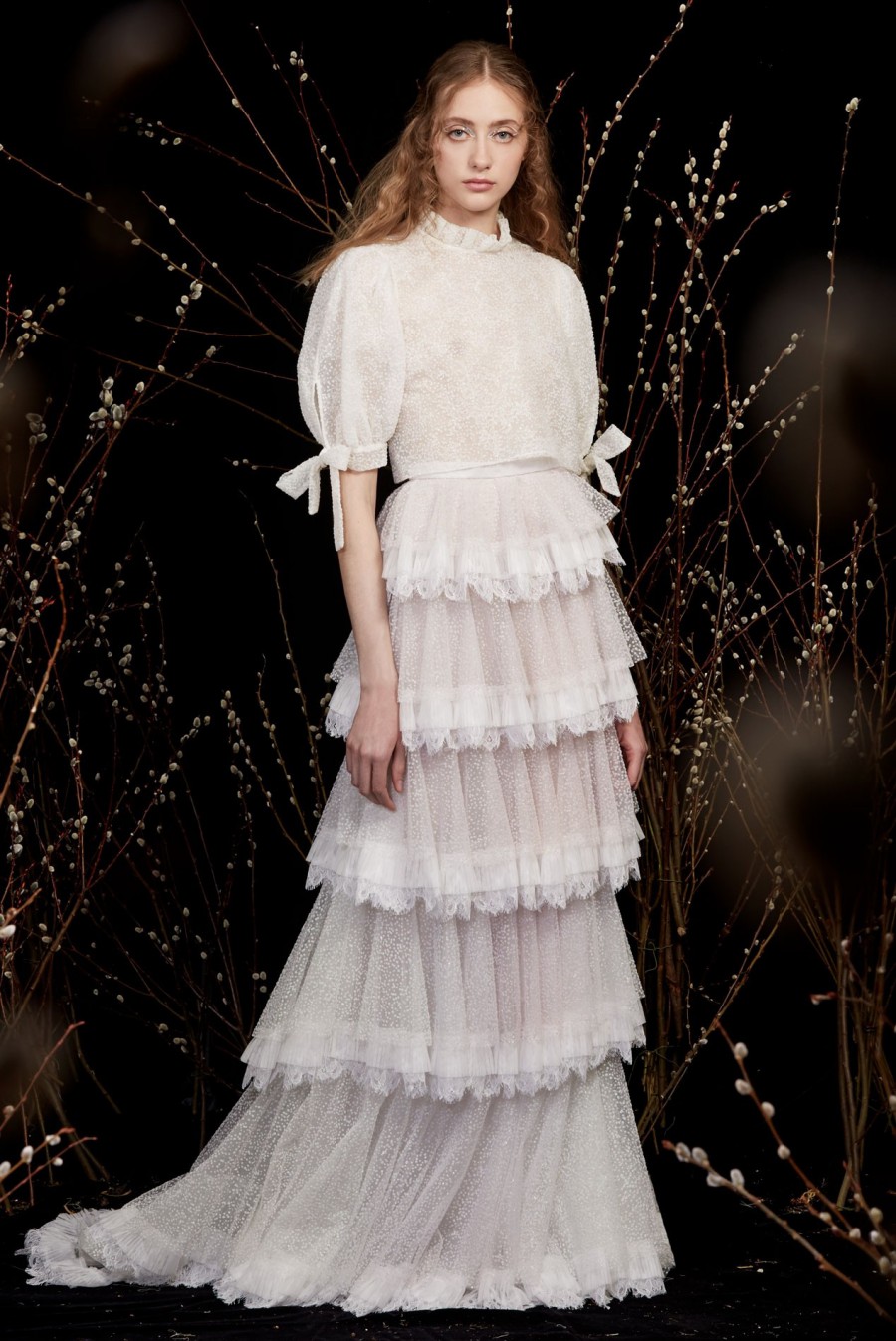 This wedding gown has some vintage Victorian influences with its ruffled and tiered design. A modest high collared neck is complimented by subtle puffy sleeves that are adorably tied off on either side.
16.

Slouchy Puff Sleeves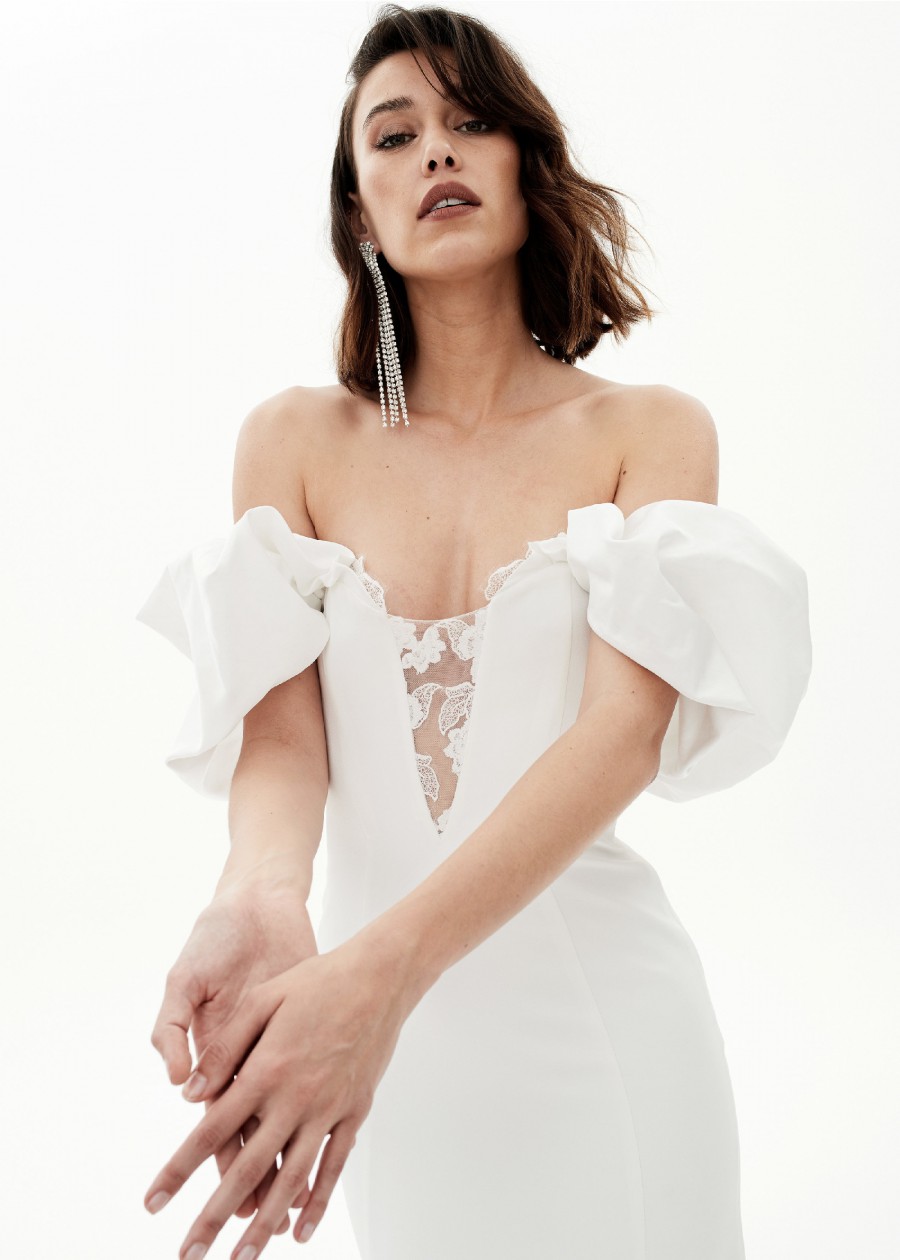 Next up we have another stunning off-the-shoulder puff sleeve style from Rime Arodaky. We absolutely love this chic style that combines the sexy and feminine look of an off-the-shoulder neckline, with the gorgeous drama of puffy sleeves.
17.

Opera Coat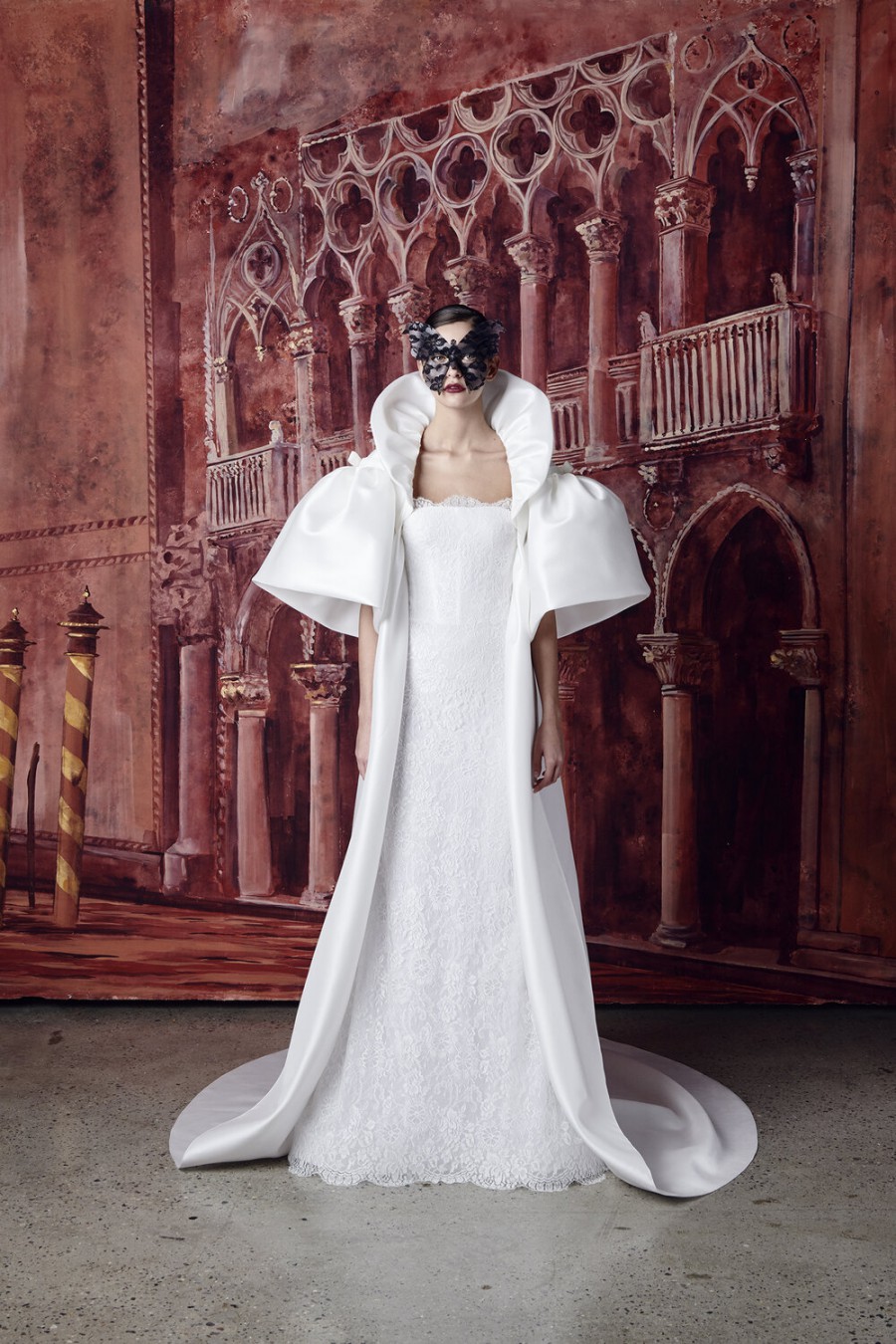 Feel couture and opera ready with this bold wedding style from Isabelle Armstrong. This look features a bold opera coat accent piece with modern puff sleeve design.
18.

Vintage Folk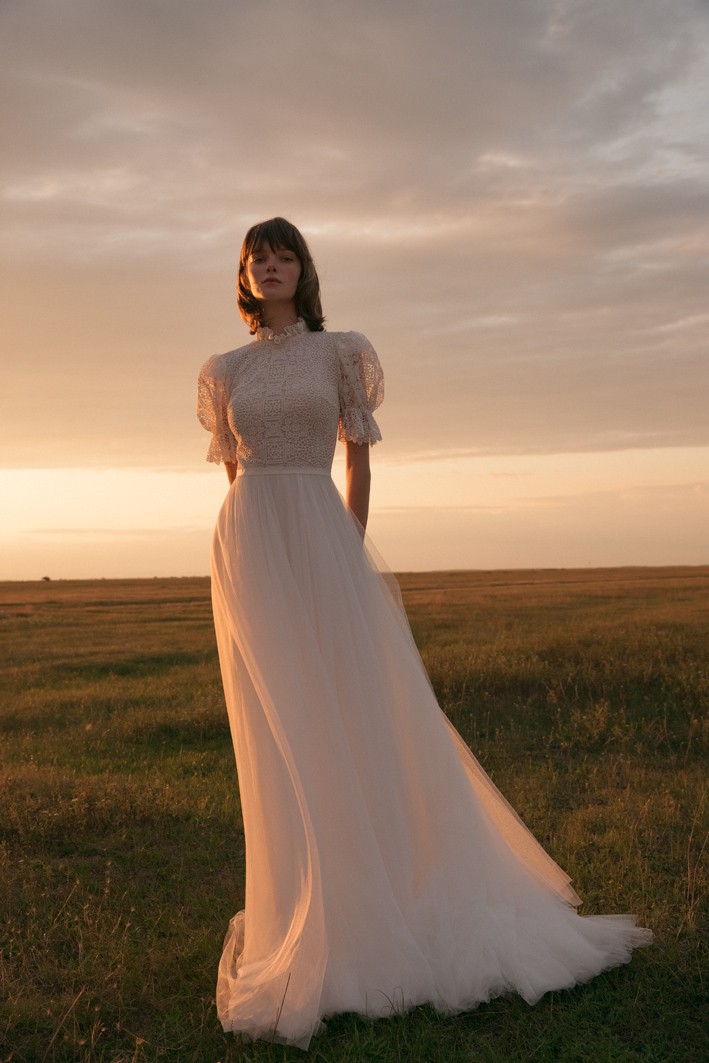 We are in love with the very vintage-folk feel of this next bridal style. A look that has clear antique influences, yet in a sleek, modern design that contemporary brides just can not resist.
19.

Single Sleeve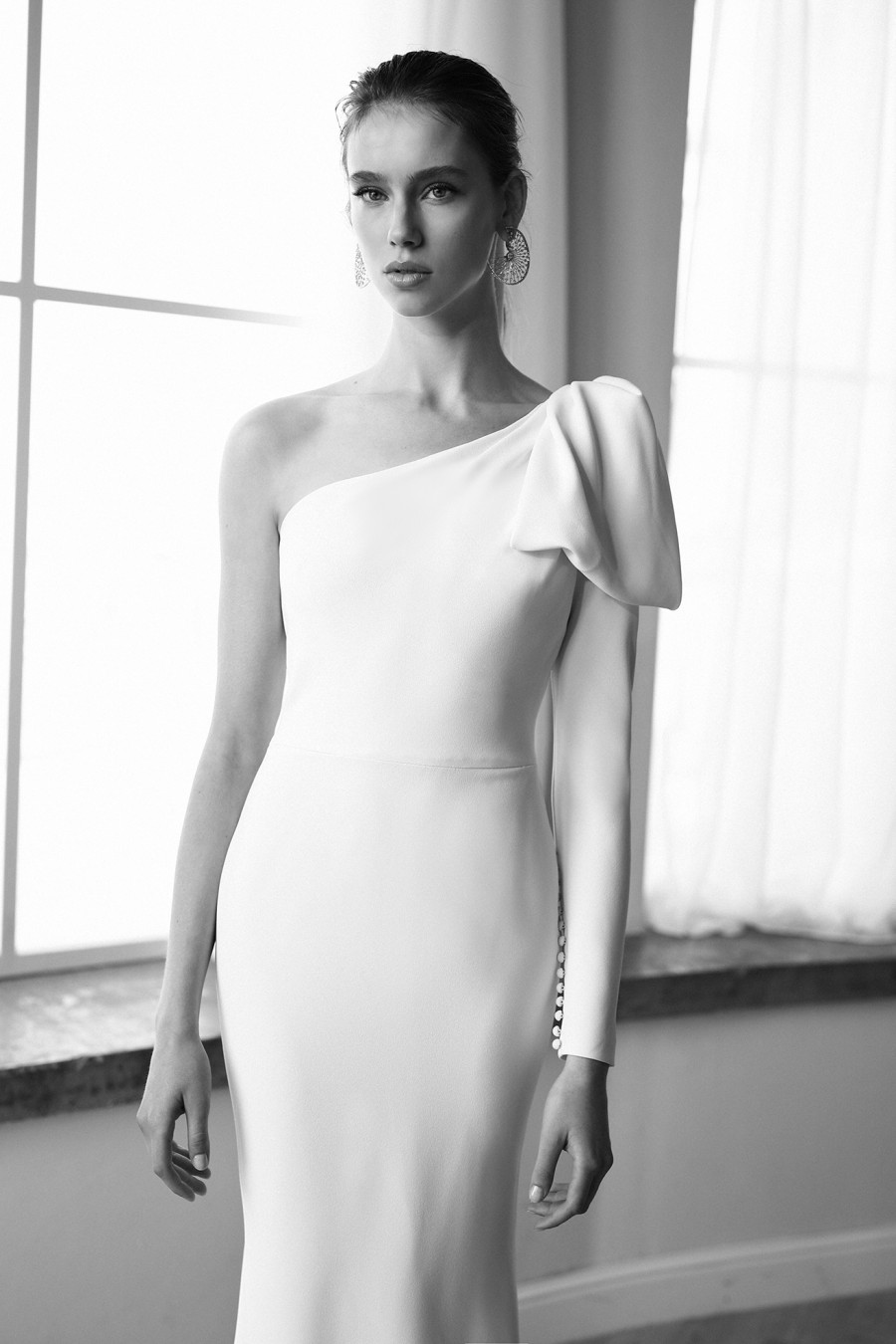 We are loving the subtle single sleeve interpretation of this contemporary puff sleeve trend. An ultra modern and sleek version of this revised trend.
20.

Galm Puff Mini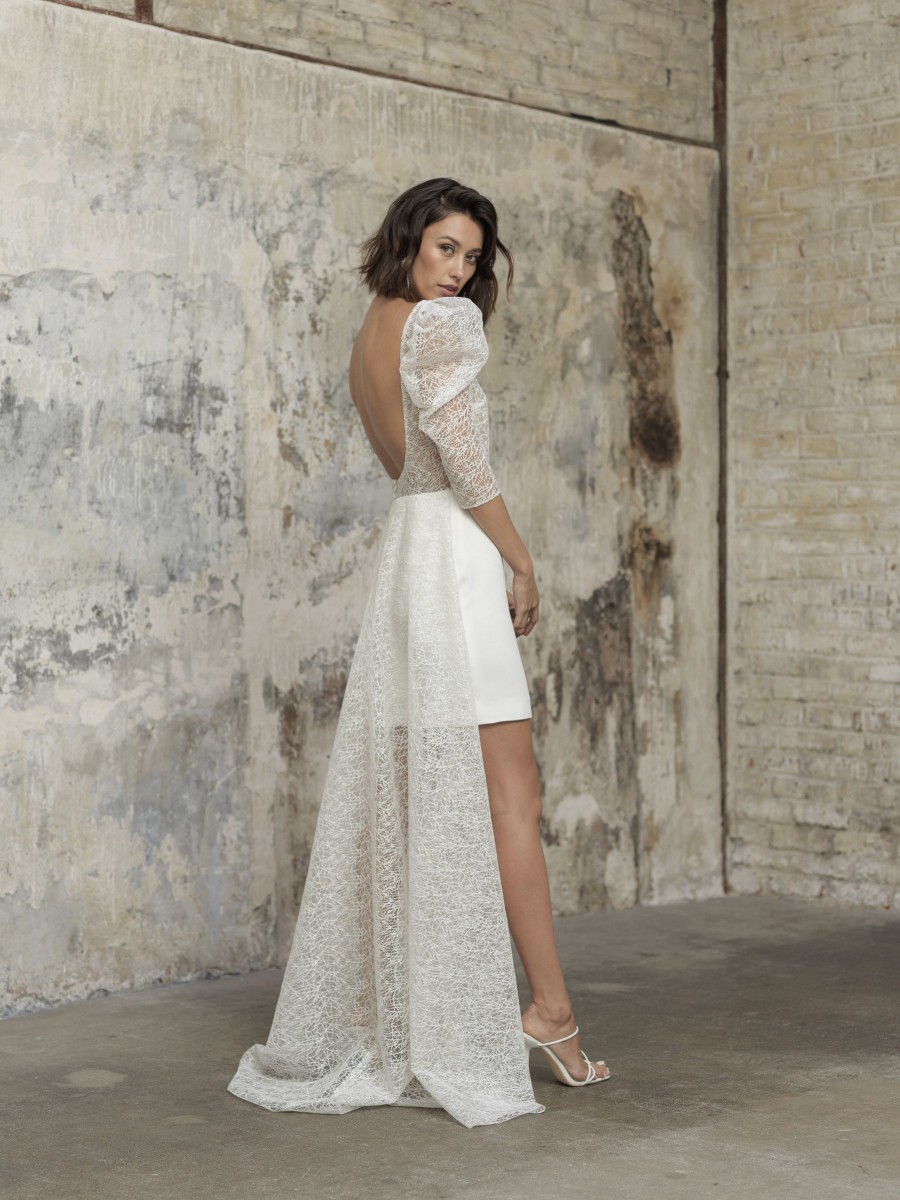 Where are our glitter loving glam brides out there? This adorable bridal mini is for you. Featuring a glittery semi-sheer bodice with puffy sleeves and a floor length train. Paired with an adorable white skirt. This would be a super chic second look, or just a slightly less formal wedding day style.
21.

Modest Contemporary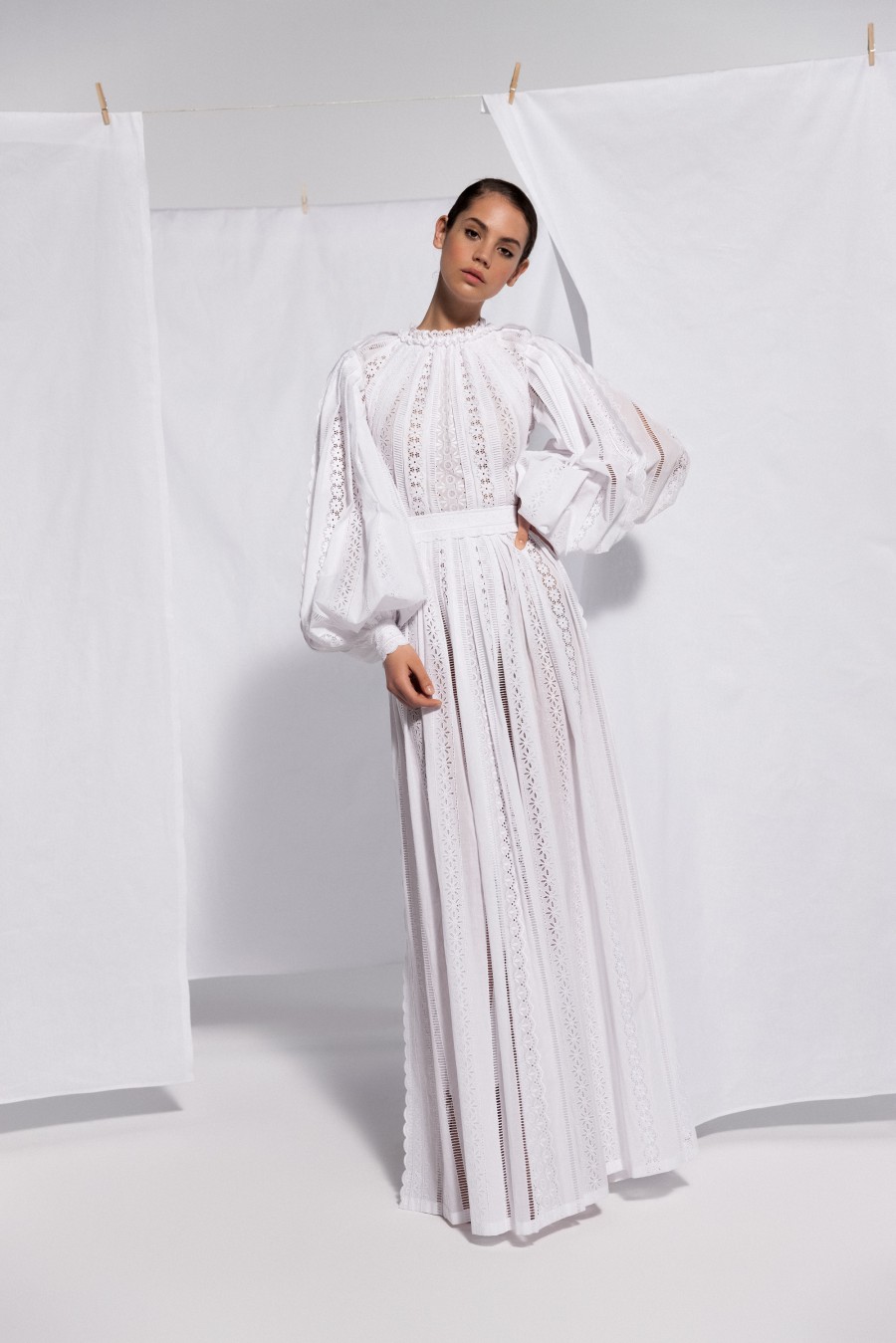 A modest, modern masterpiece. Who is chic and couture enough to pull off this unique puff sleeve wedding style?
22.

Modern Accented Mermaid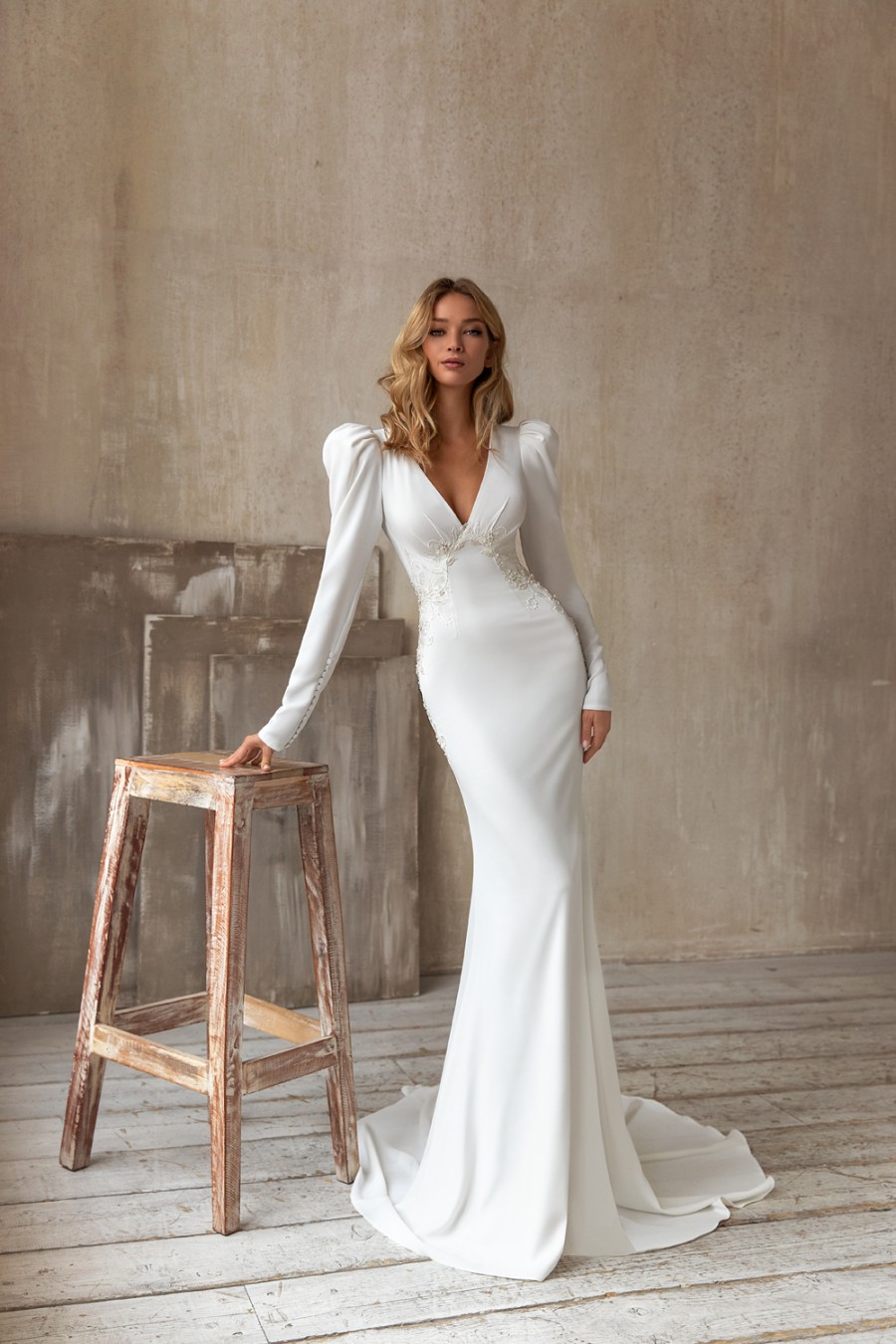 Next up we have a stunning contemporary accented mermaid that of course features our ever-so-popular modern puff sleeve accents. The gathered shoulder design packs a punch of drama. And we just can't get enough of this chic style!
23.

Tea Length Drama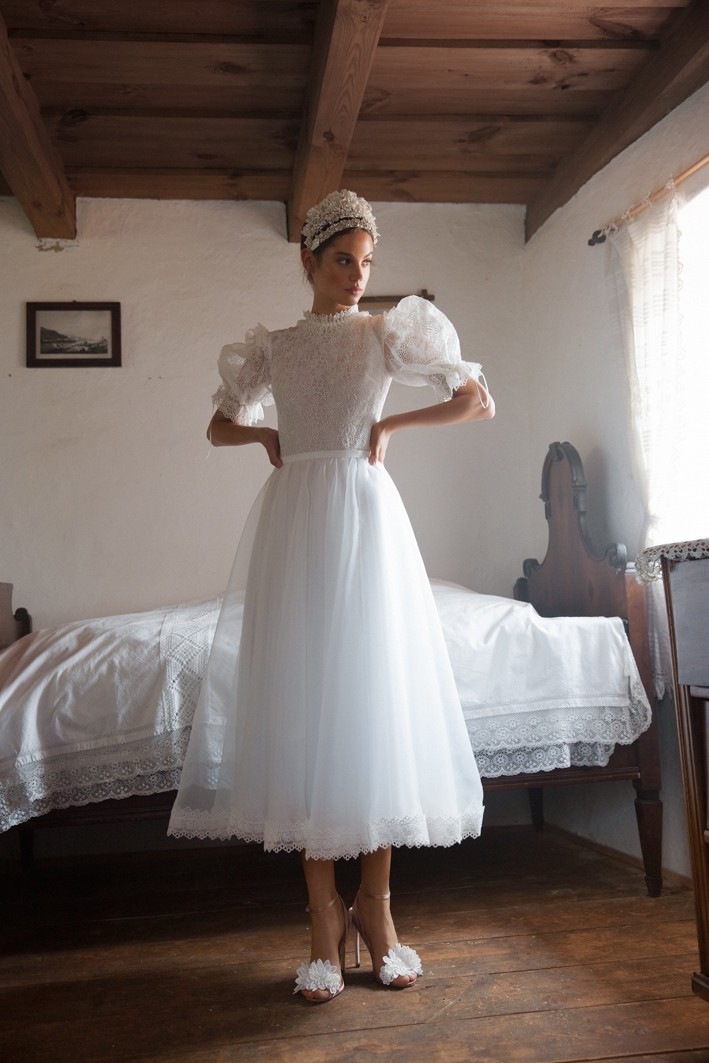 A chic, trending tea length wedding style with clear vintage influences. This modest, yet feminine puff sleeve wedding style is truly something to admire.
24. Semi-Sheer Contemporary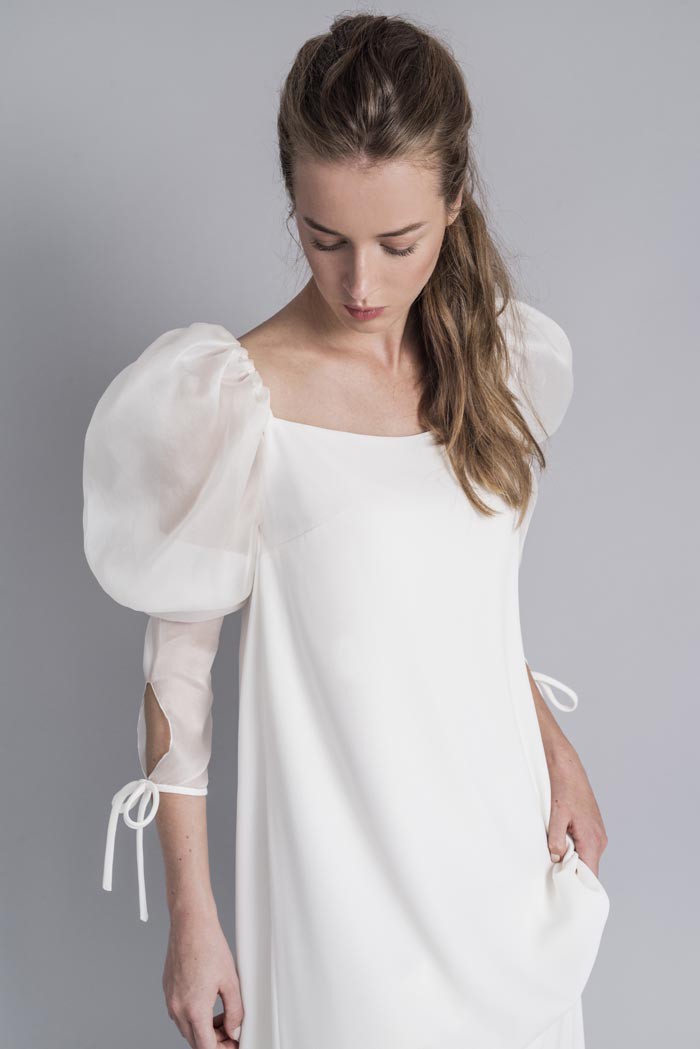 Sophie et Voila brings us our next modern puff sleeve bridal gown. This ultra contemporary style is sleek, clean and chic. A look that any contemporary minimalist bride will love.
25.

Delicate Feminine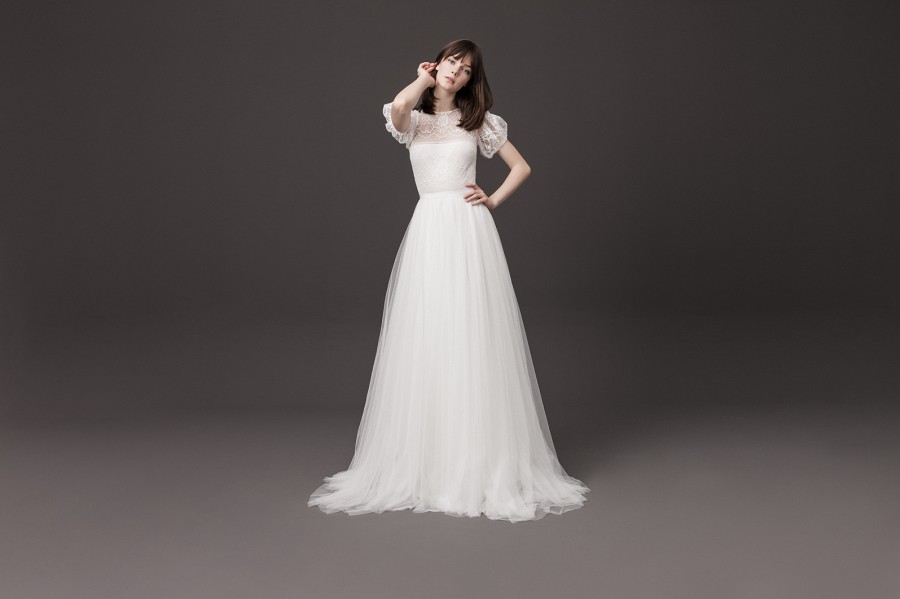 We just can't get enough of the delicate puff cap sleeve design of this next wedding gown. A soft, feminine style that is irresistible.
26.

Regal Drama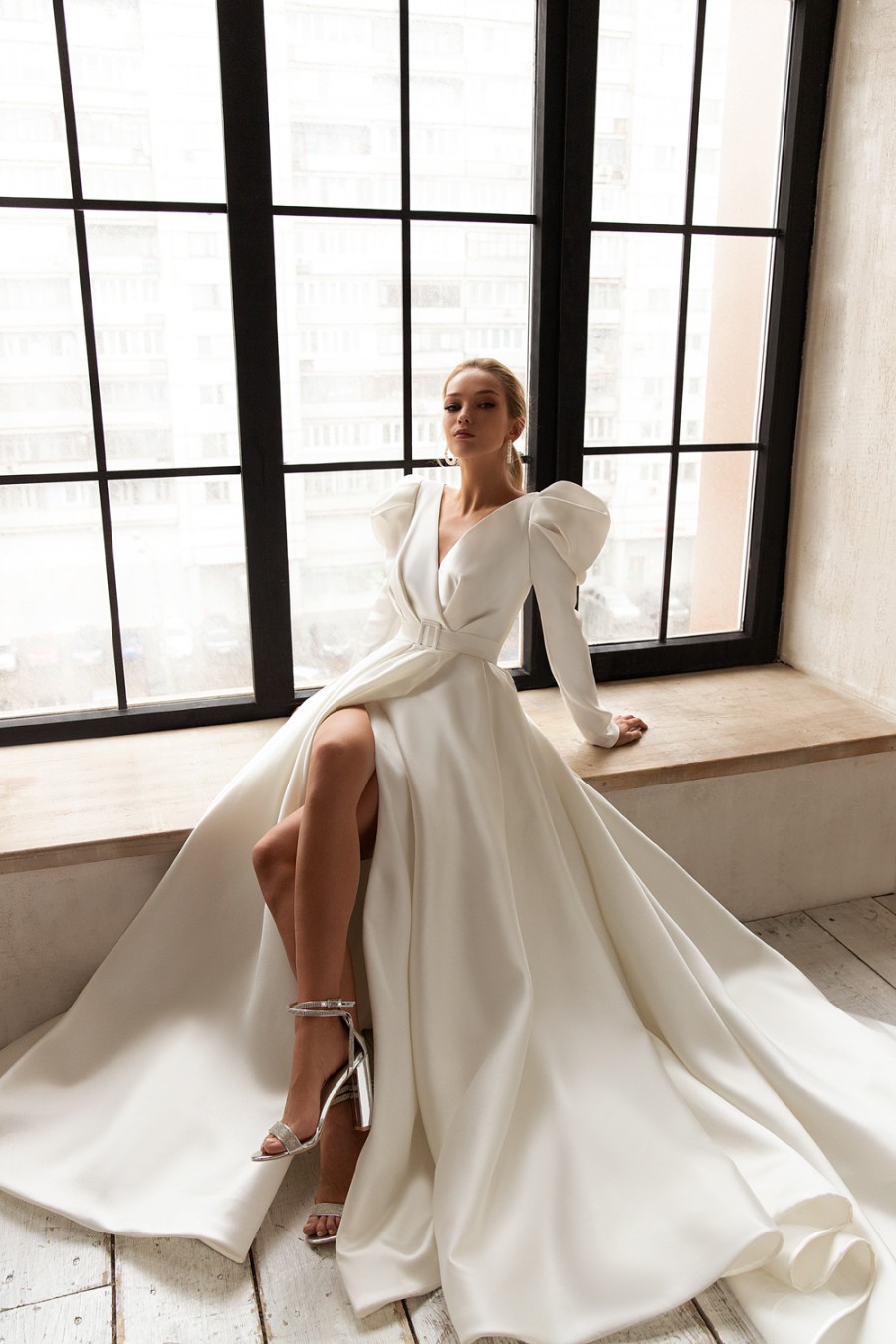 Any bride is sure to feel stately and bold is this next royal-worthy wedding gown. This chic wrap gown features bold puff sleeve shoulder accents, a belted waist, and high front slit. This look is worthy of any contemporary diva bride out there!
27.

Vintage Contemporary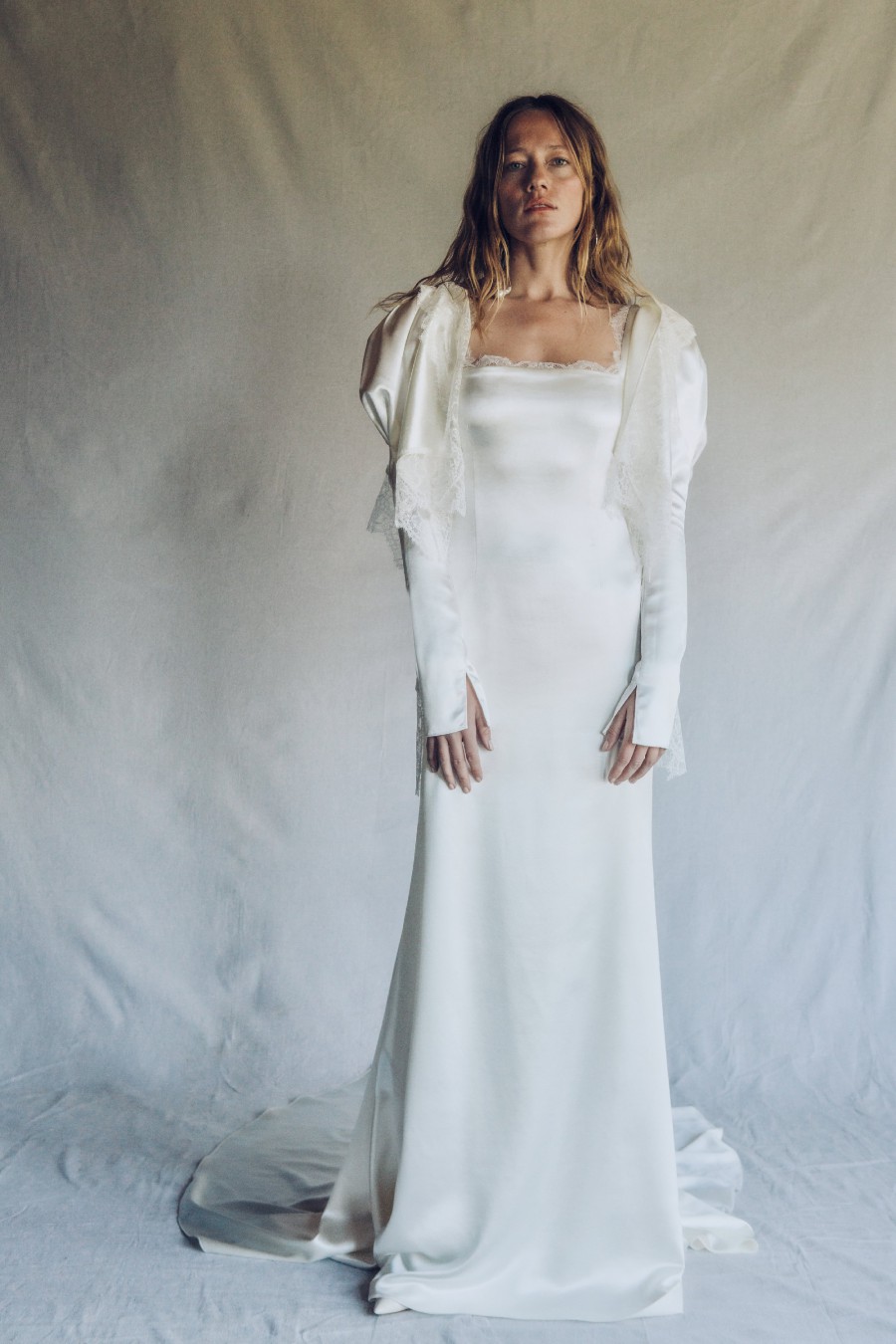 We are loving the very vintage-contemporary feel of this next puff sleeve wedding gown from Danielle Frankel. A chic contemporary style with vintage lace touches.
28.

Couture Blazer Dress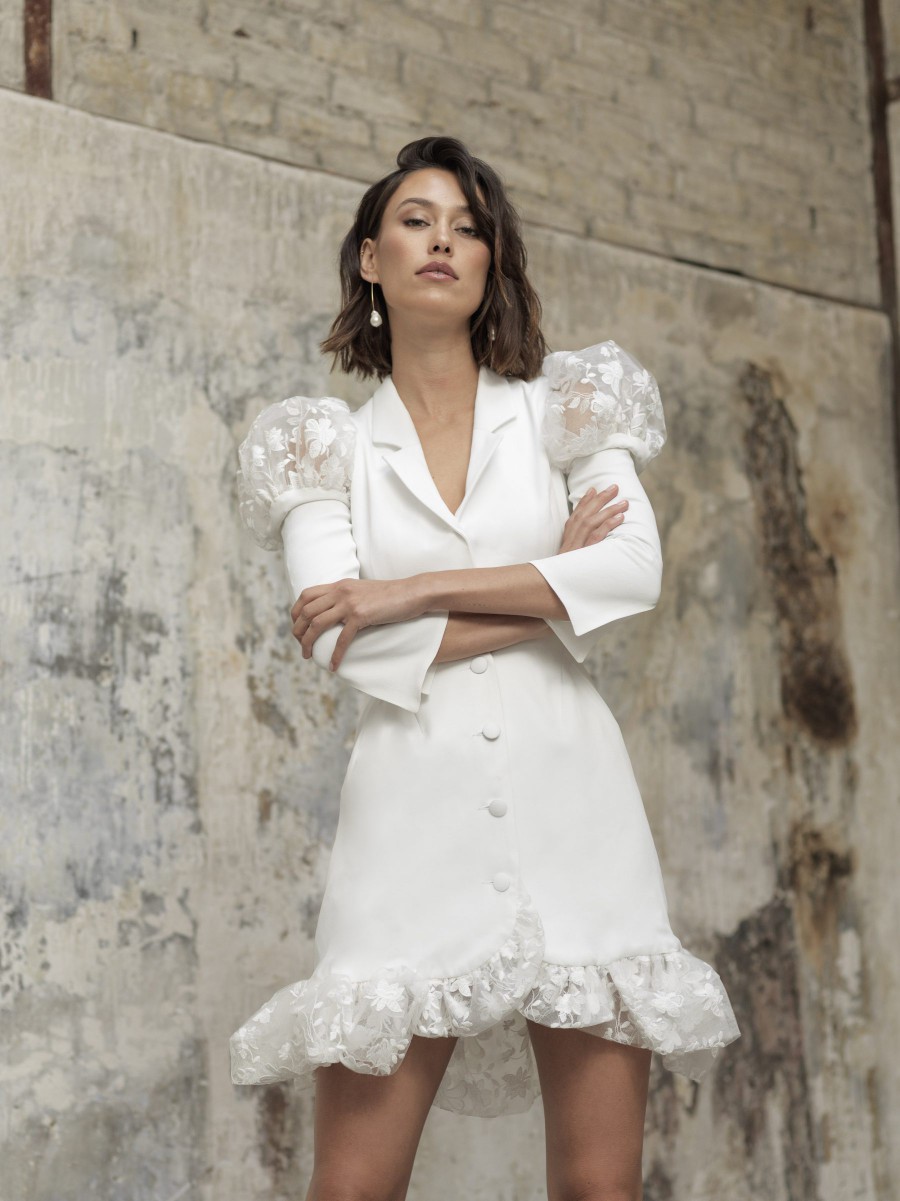 We just can't get enough of this ultra chic, blazer inspired bridal mini. The sheer embroidered puffy sleeves and ruffled hemline just add a whole other layer of drama to the look. Who else is craving this style for their second look?
29.

Draped Puff Sleeves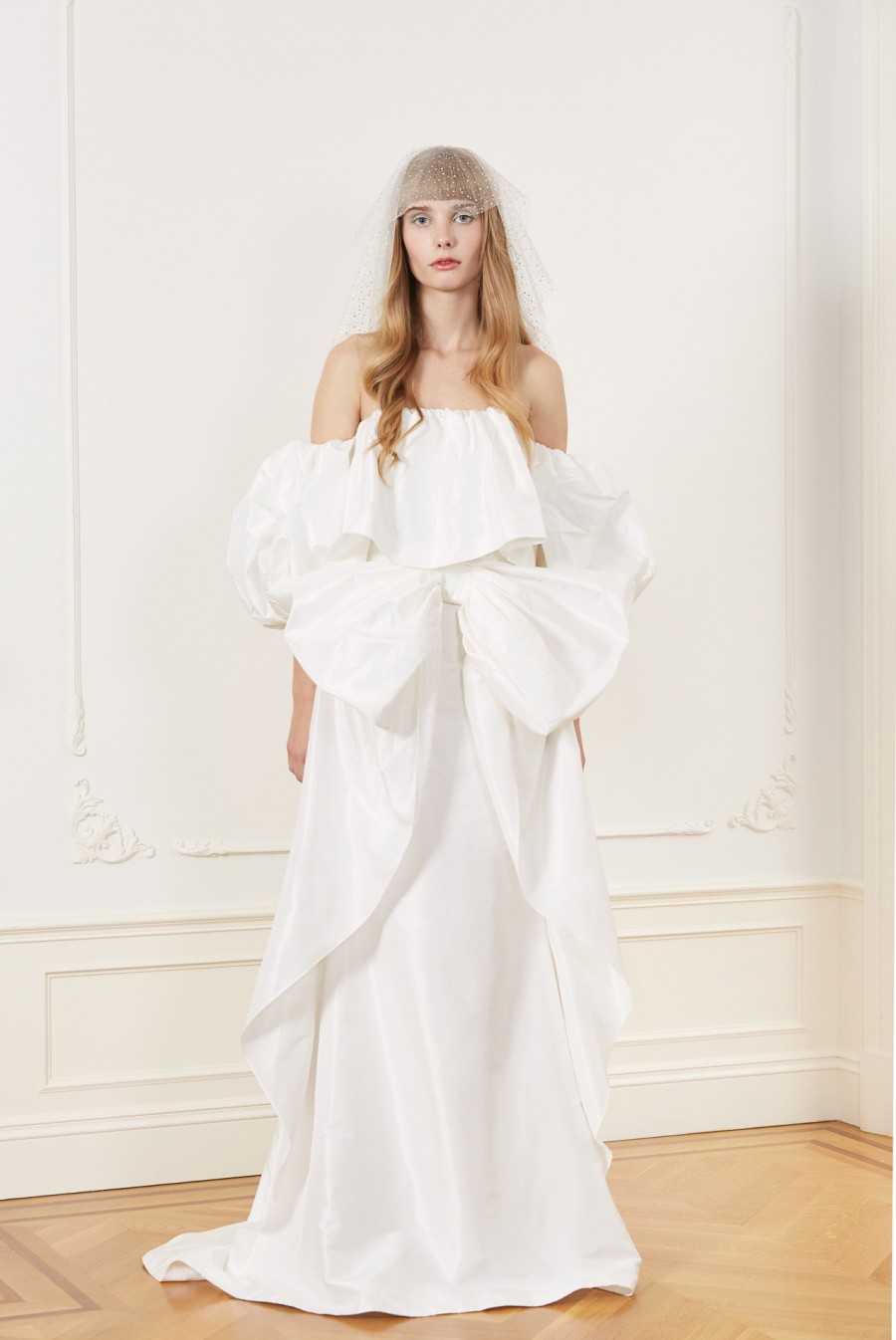 This ultra couture silk taffeta wedding style features draped off-the-shoulder puffy sleeves that add a dramatic touch to this one of a kind style.
30.

Rose Mini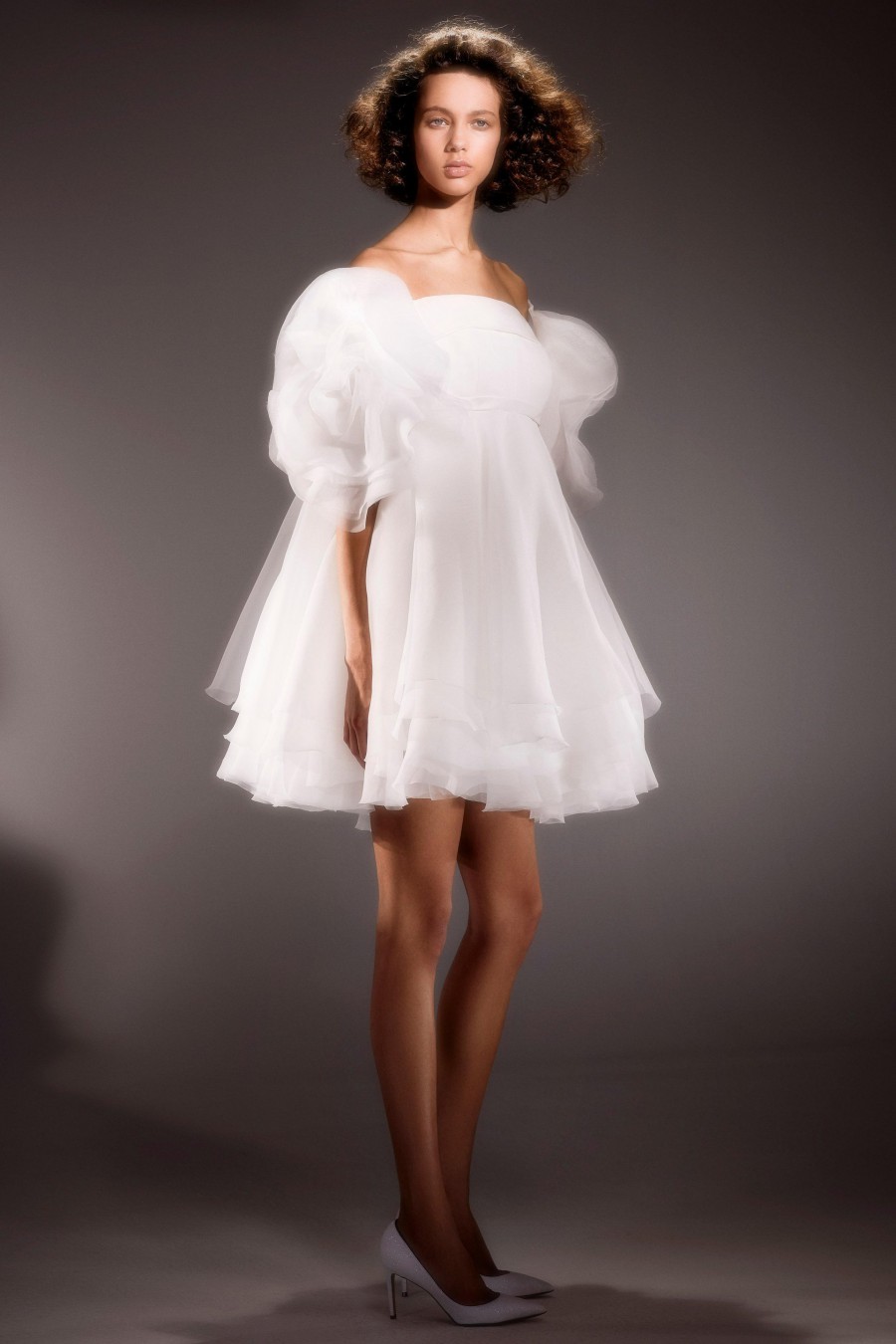 How about a playful, 80s inspired mini for your wedding day look? Or perhaps for a party-ready reception style? We love the puffy rose sleeve accents of this stunning one of a kind bridal mini. So chic and unique!
31.

Modern Ball Gown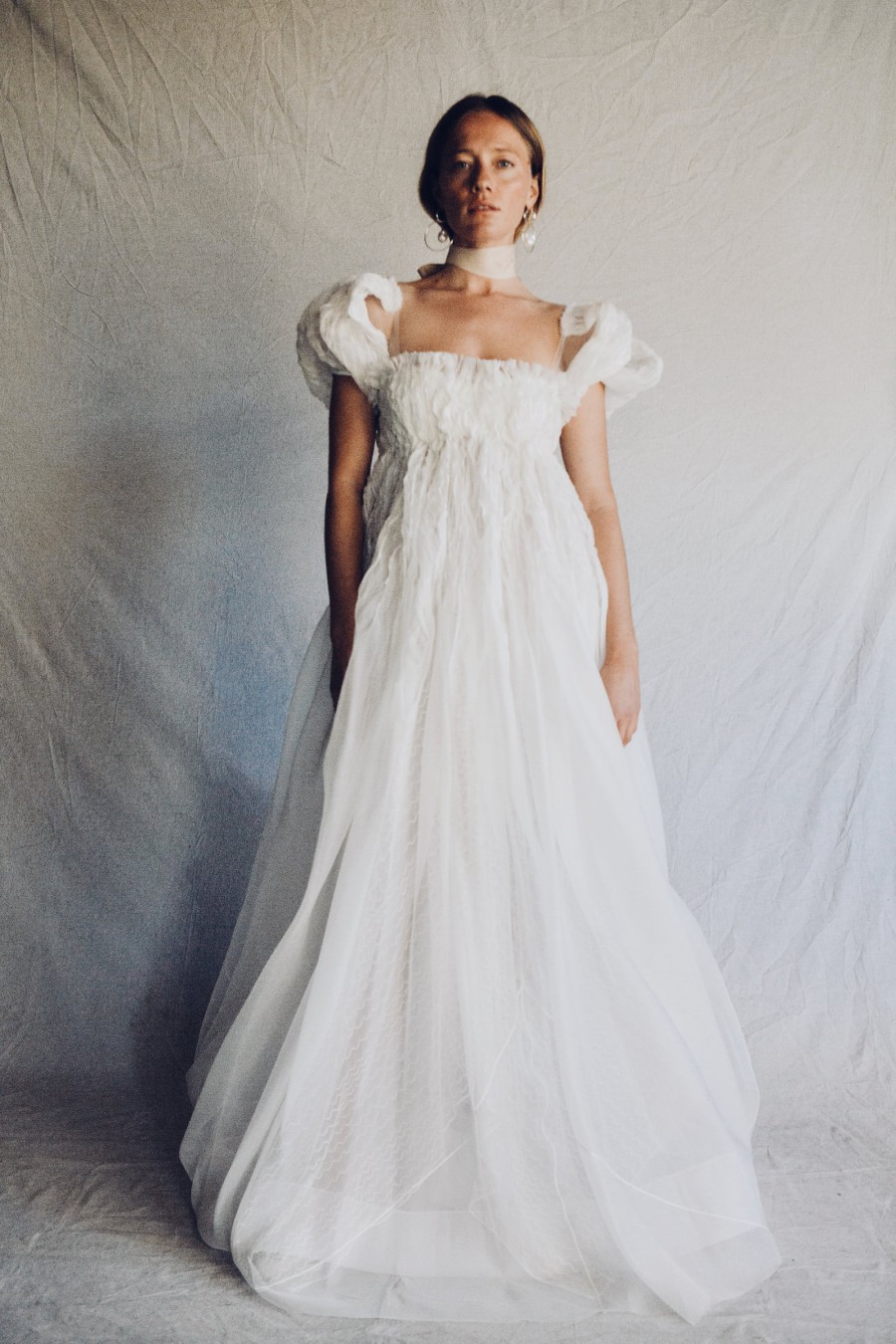 Next up we have a contemporary designed puff sleeve wedding gown from Danielle Frankel, that still feels very traditional. A look that beautifully meshes styles of "then" and "now."
32.

Subtle Shoulder Accents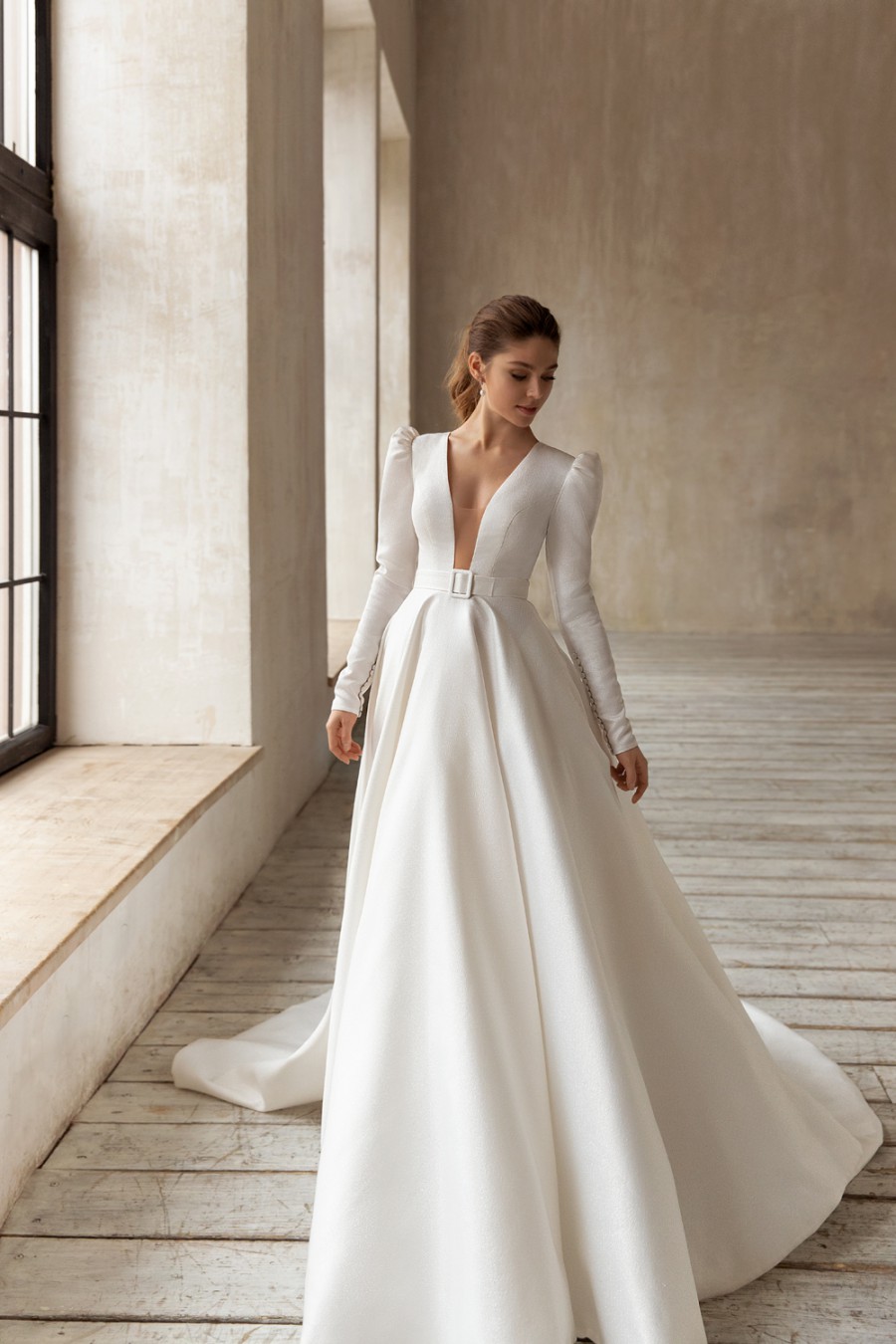 We love how soft and subtle the shoulder accents are on this next puff sleeve ball gown. Just the right touch of volume to finish off a gorgeous wedding day style!
33.

Moder Shoulder Drama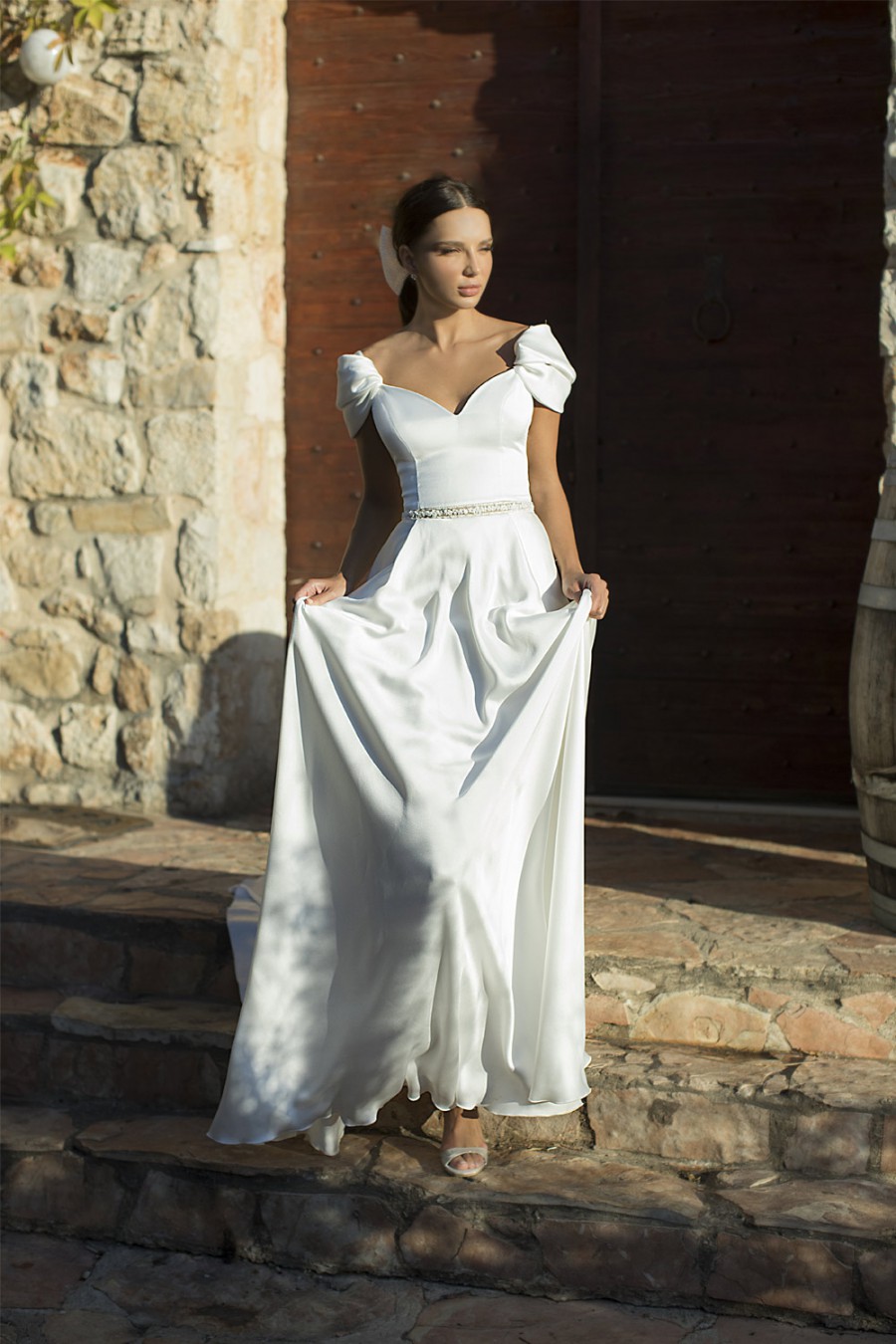 Solomerav brings us a modern puff sleeve style that I made for a contemporary princess. And what bride doesn't want to feel like Cinderella on her big day?
34.

Stately Puff Sleeves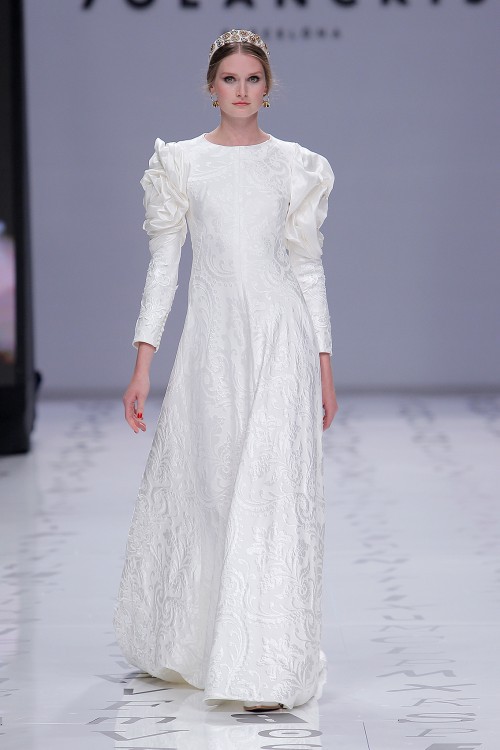 A puff sleeve bridal style fit for a queen. This look is influenced by decades of the past, but presented in a clean, contemporary design.
35.

Bold Shoulder Mini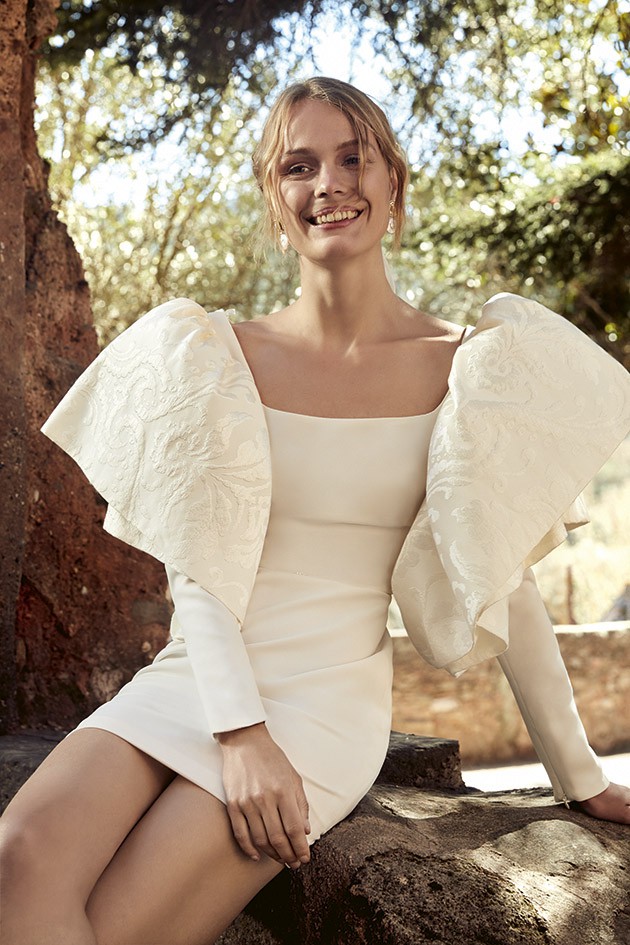 Watch out 1980's - puff sleeves may have dominated your bridal styles but this modern mini is coming to steal the show. This couture fitted mini cranks up the drama in a big way with its voluminous sleeve design.

By Kathryn Schrotenboer