Clean, simple, modern design. Minimalism is sweeping the fashion and design industries We have 11 great minimalist inspired wedding day styles to incorporate into your big day.
The idea of less is more is becoming an ever growing trend. The same minimalism is taking the wedding scene by storm this year. Less is always appealing when planning a wedding with an ever growing expense list. So how can you do more with less? Clean and simple color palettes, and décor a like. These are so inspiring, you may just leave believing a clean simple design may be just what you need for your perfect dream wedding day.
01.

Clean White with a Floral Pop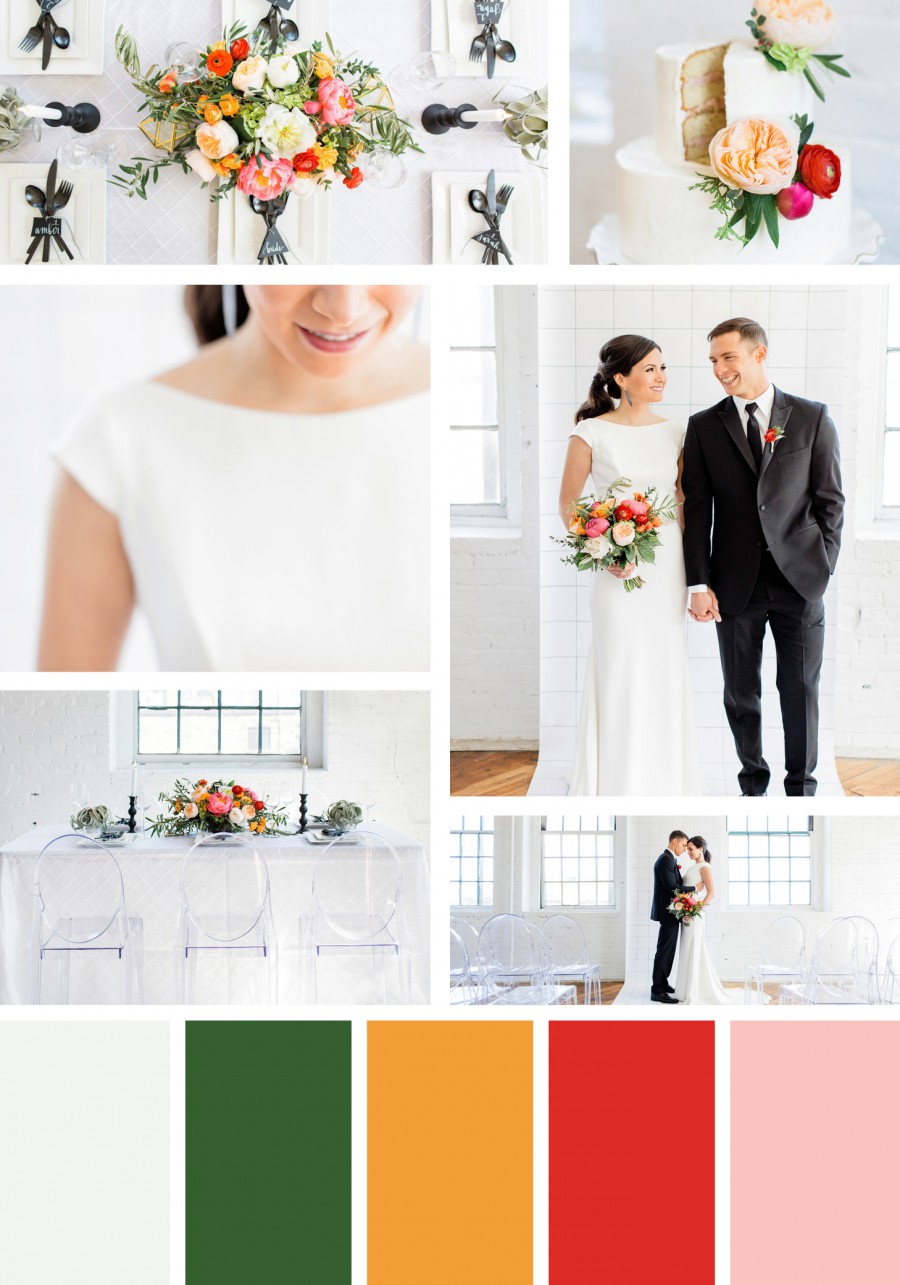 No one said minimalism meant a lack of color. This clean white style, pops with the addition of bright florals. White linens and acrylic chairs are a blank canvas for the beautiful bright flowers. A simple, clean style, with your fun edgy flair. A simple, yet classic wedding gown style is perfect to finish off this big day look.
02.

Deserted Minimalism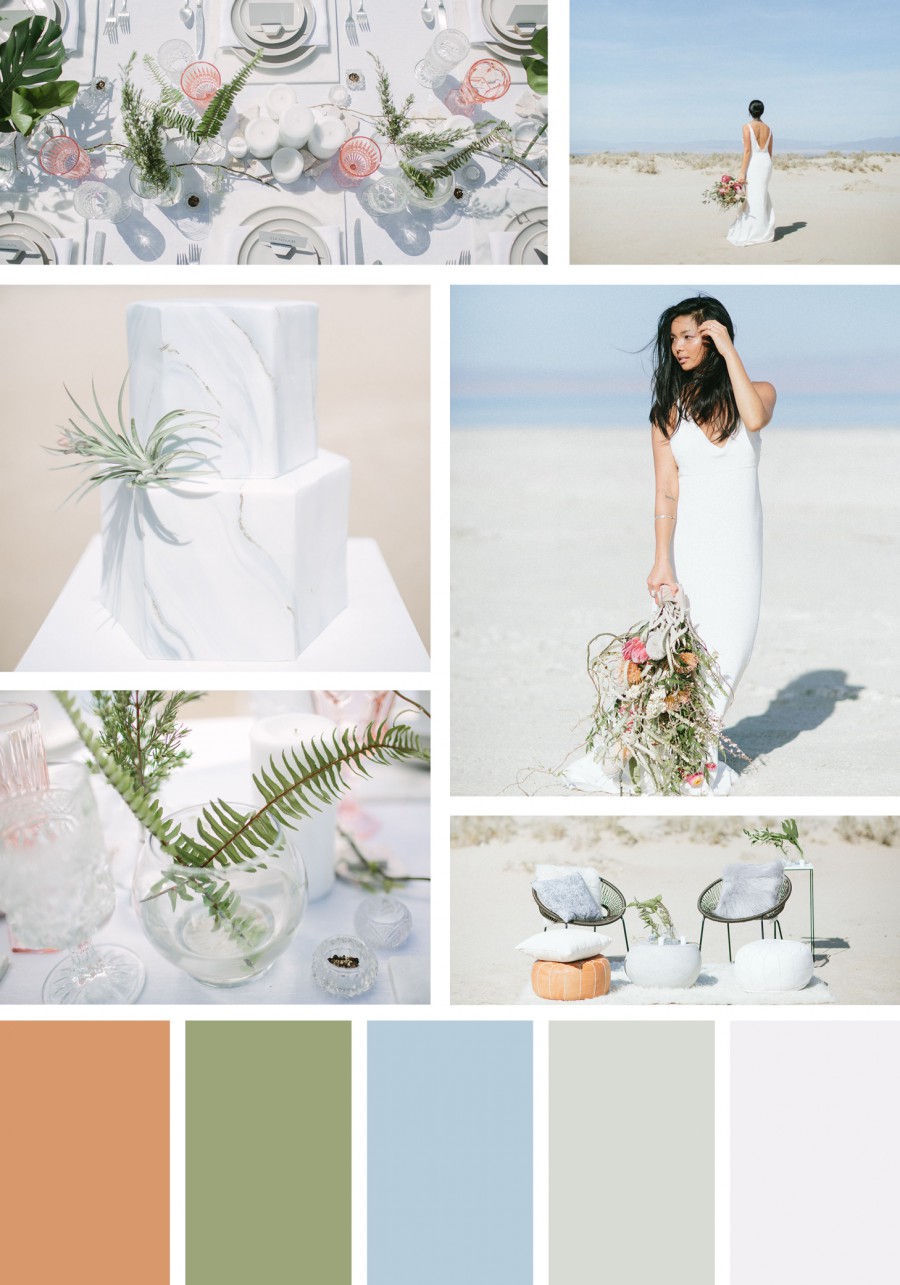 Inspired by light pastel tones of the desert. A soft sandy base, with pops of natural tones to add a simple, yet chic feel to the look. This style is modern, with a bright bohemian twist. Great for a casual sunny wedding day celebration. Feel natural and light with this modern minimalist style.
03.

Simple Elegance
This next look goes to show that simple can still be stunningly elegant. Simplistic whites, paired with natural wood and metallic textures, with just a pop of greenery to finish off this sophisticated style. This minimalistic wedding day look can pair perfectly with a casual affair, or be dressed up a bit more for an elegant evening under the stars. The brides simple, yet classic cut dress fits perfect with the quiet elegance of the minimalist wedding day theme.
04.

Industrial Minimalism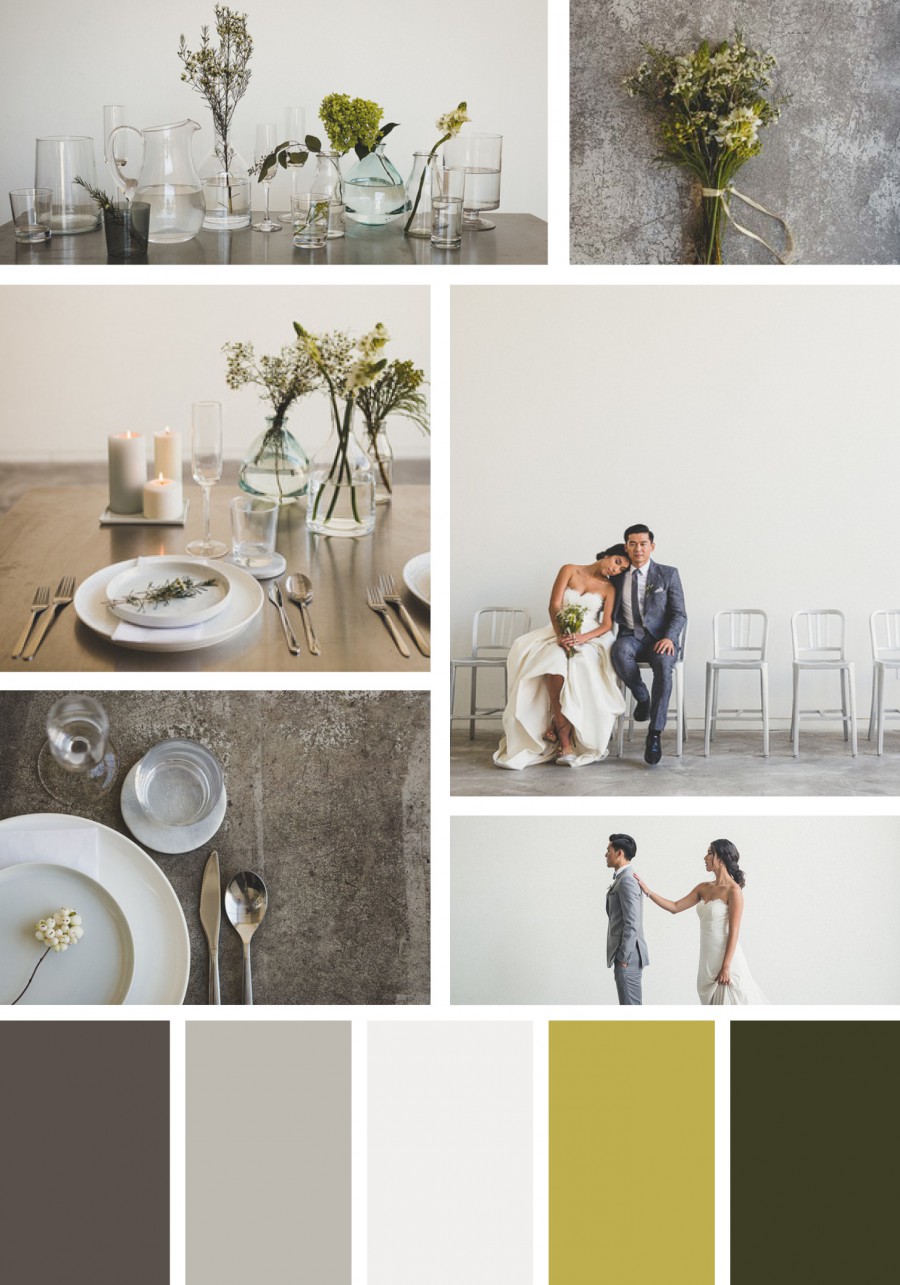 A more modern, industrial feel with our next minimalist wedding style. Cool concrete, white metals and light glass accents, give this minimalist wedding look a modern, edgy feel. Other than the pops of natural greens, this look is a clean slate full of cool neutral tones.
05.

Woodland Warehouse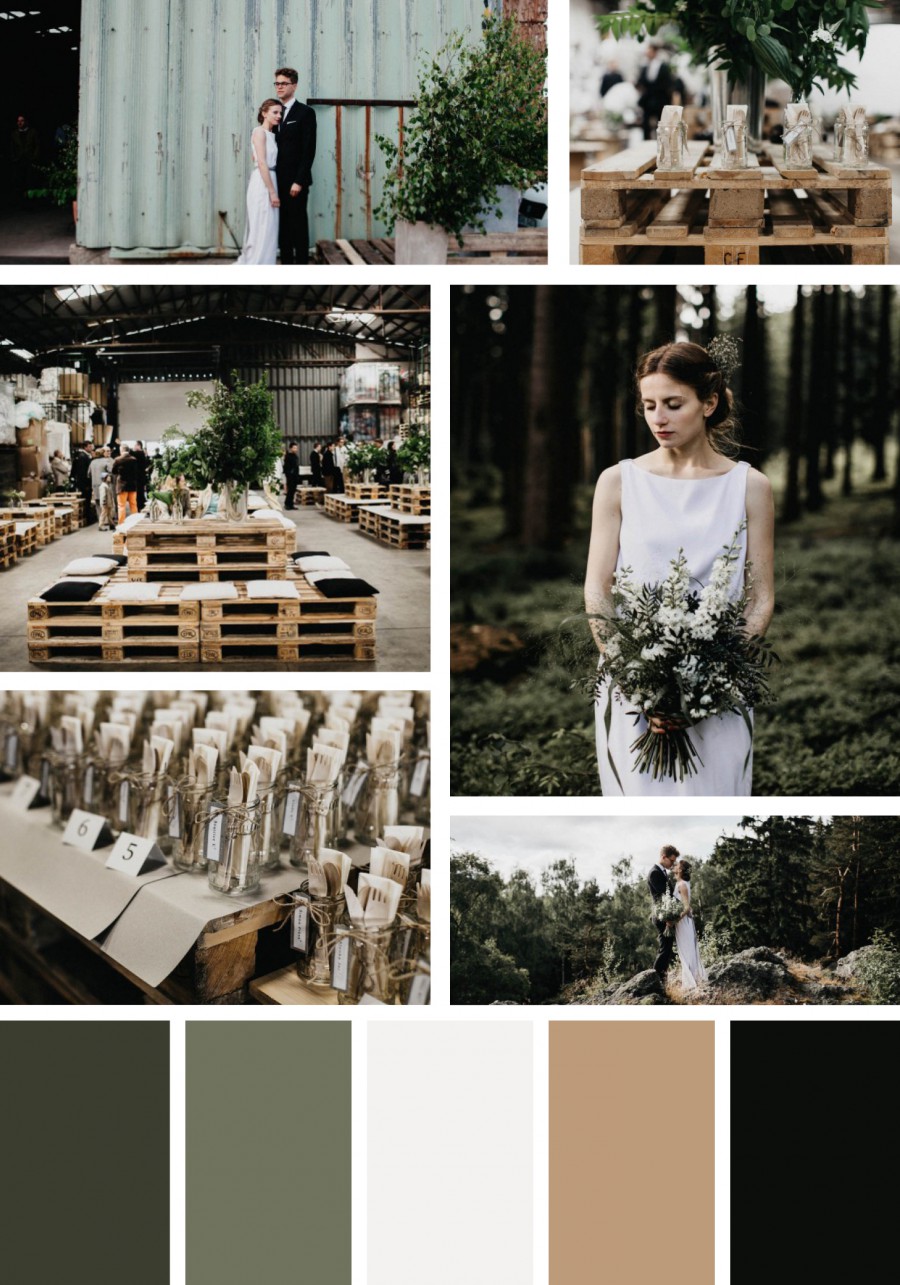 Ever dream of having your big day in an old warehouse in the woods? Probably not. But this natural minimalist wedding day style may just change your mind. The beautiful woodland setting is a cool contrast to the open, industrial warehouse. The bride and groom take typical industrial products like wooden pallets and glass mason jars, and give them a chic twist to add a modern, yet natural feel to this minimalistic inspired wedding day. Consider incorporating natural materials that are native or common to your wedding day setting.
06.

Simply Sand Dunes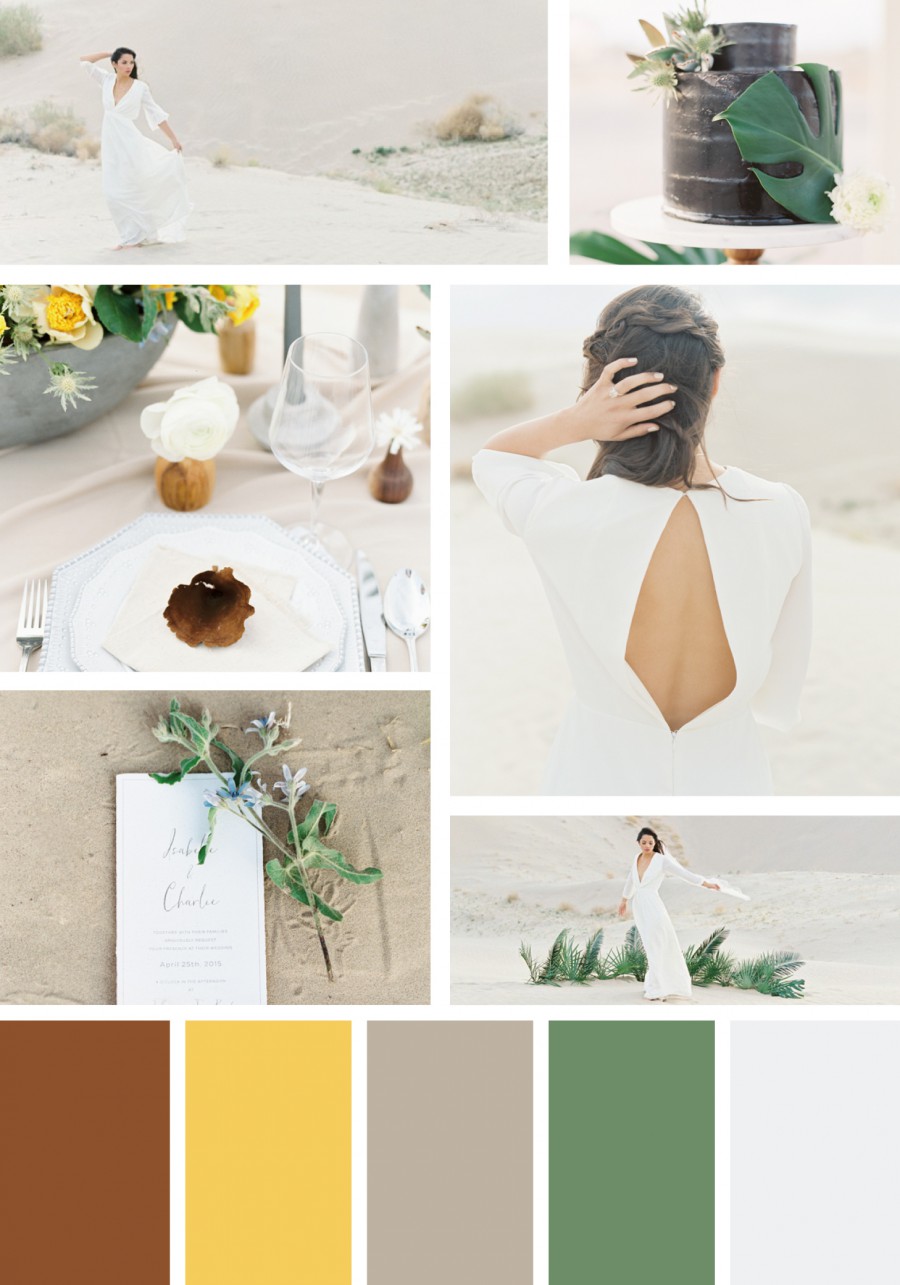 Another beautiful sand inspired modern minimalist wedding style. Natural sand tones paired with native woods and greenery, finished with a slight pop of sunny yellow florals. The brides airy, modern dress style fits in perfect with her sand swept scenery. Let the natural elements of your surroundings inspire your minimalist wedding style.
07.

Modern Minimalism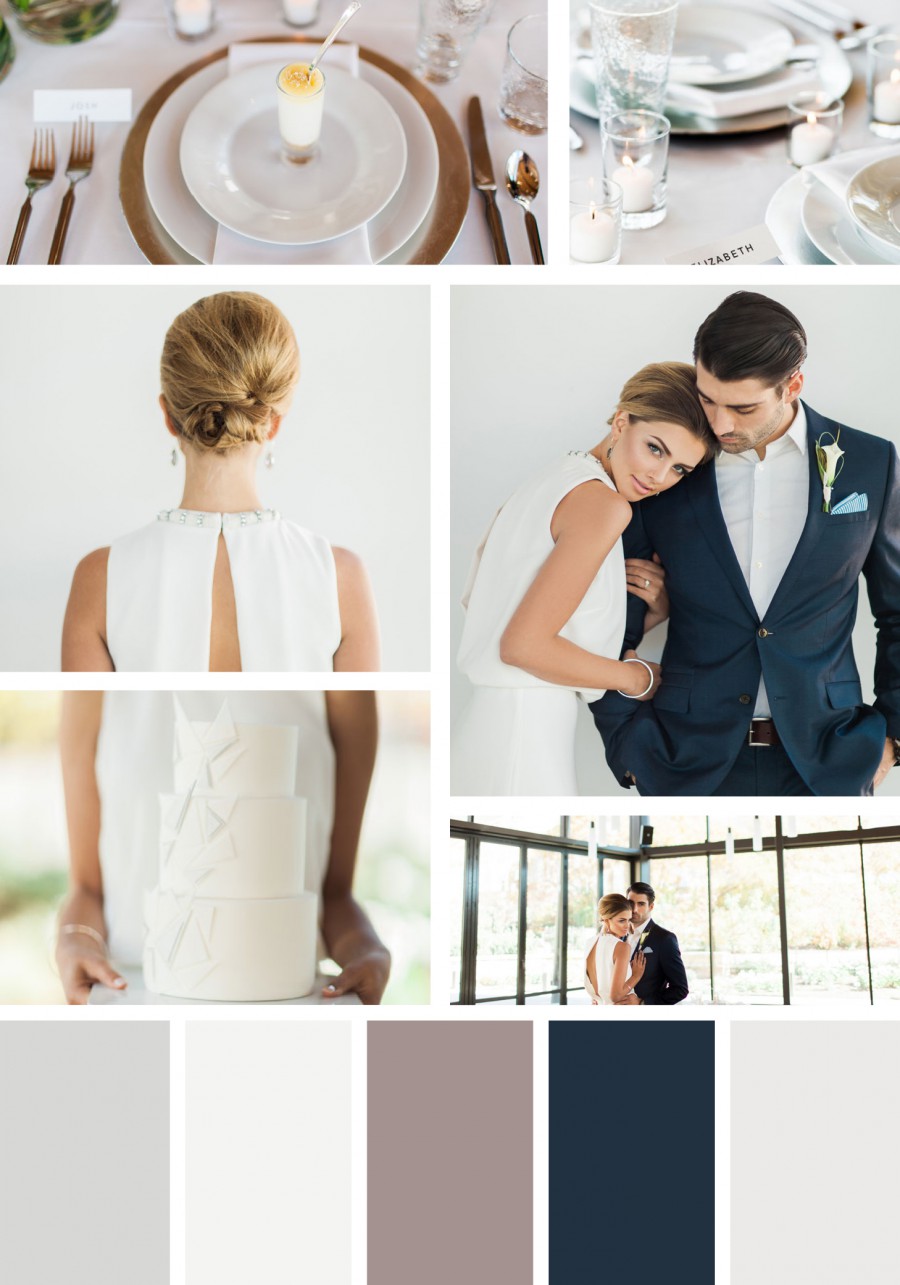 Modern minimalism at its finest. This wedding day look starts with bright white linens, with the slightest pop of silver metallic and glass accents for a more dynamic look. This wedding style is so simple, but looks so luxurious. A modern, high neck fashioned gown makes the bride look absolutely stunning among her polished, minimalist wedding day surroundings.
08.

Ethereal Barn Simplicity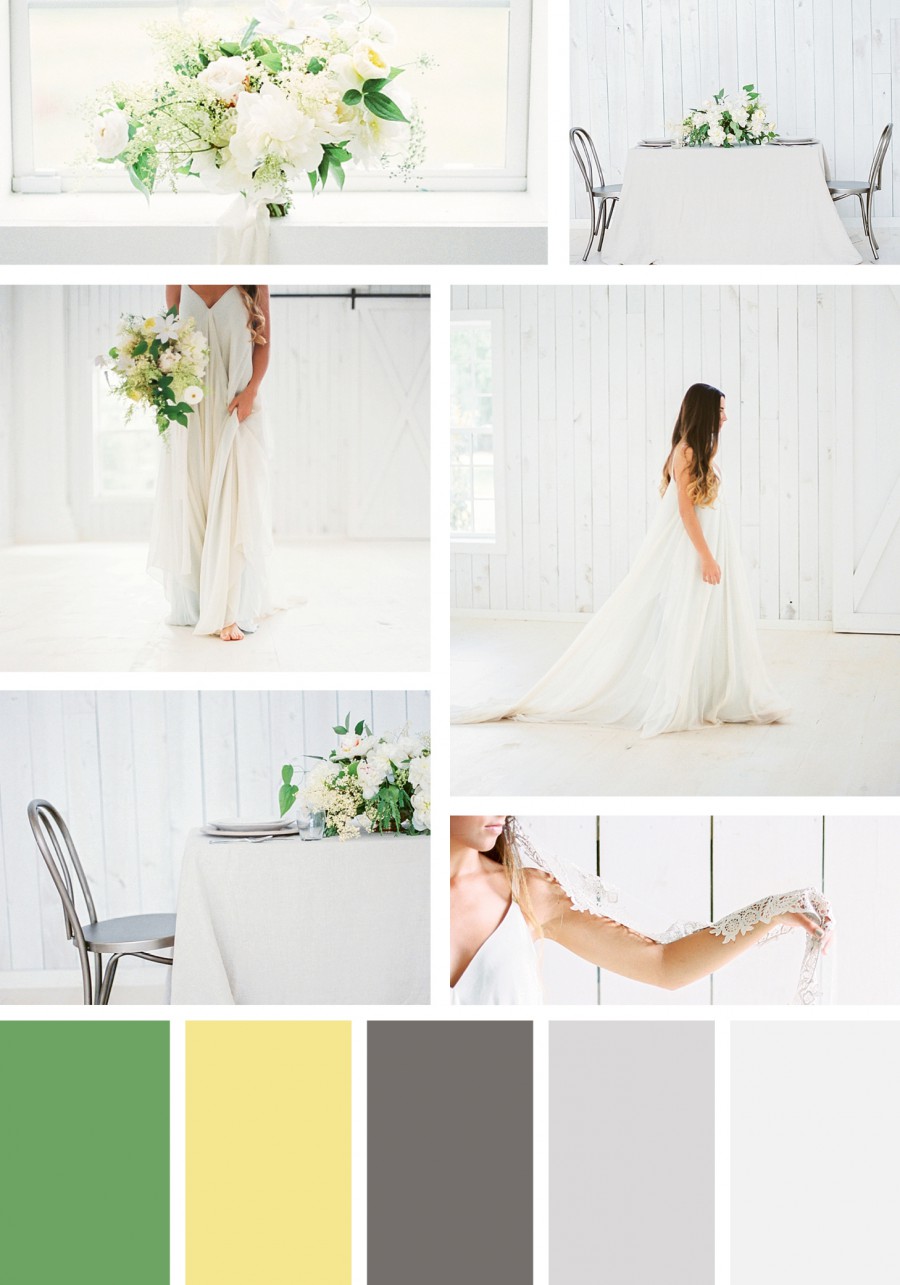 This next minimalist wedding style is bright and white, just like the barn that it is set in. Flowy white fabrics and white and green florals, make for easy decorating. But the end result is stunning. If you want to feel like a sunny barefoot beauty on your big day, this bright minimalist wedding style is perfect for you!
09.

Simple in the City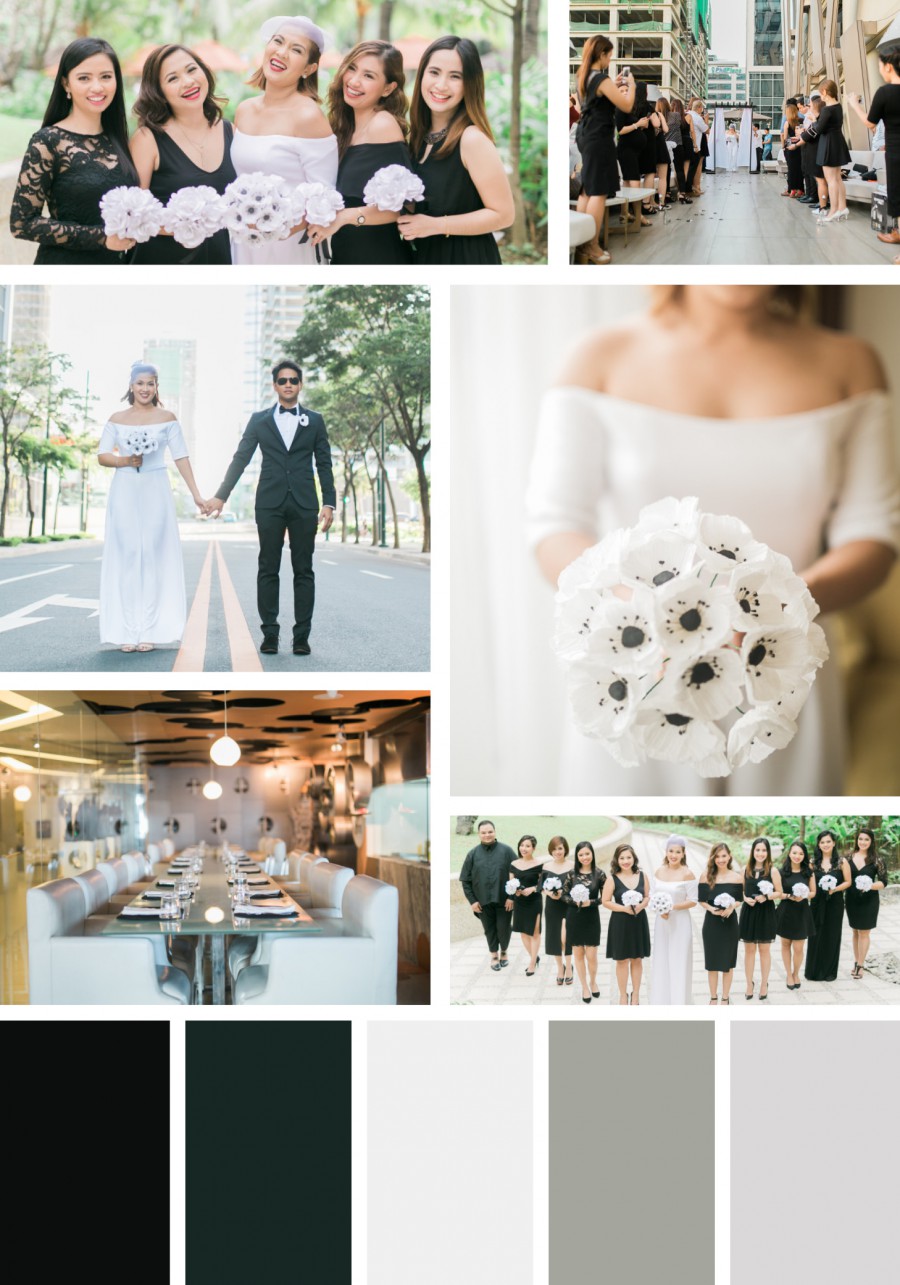 Even a big city wedding can be trendy and stylish with a minimalistic theme. A black and white wedding day look is simplistic modernism at its finest. The sleek simplicity of this style give the day a fancy finished look! Not to mention the gorgeous off the should wedding dress to add a breath taking focal point to this modern minimalist wedding day.
10.

Backyard White Wedding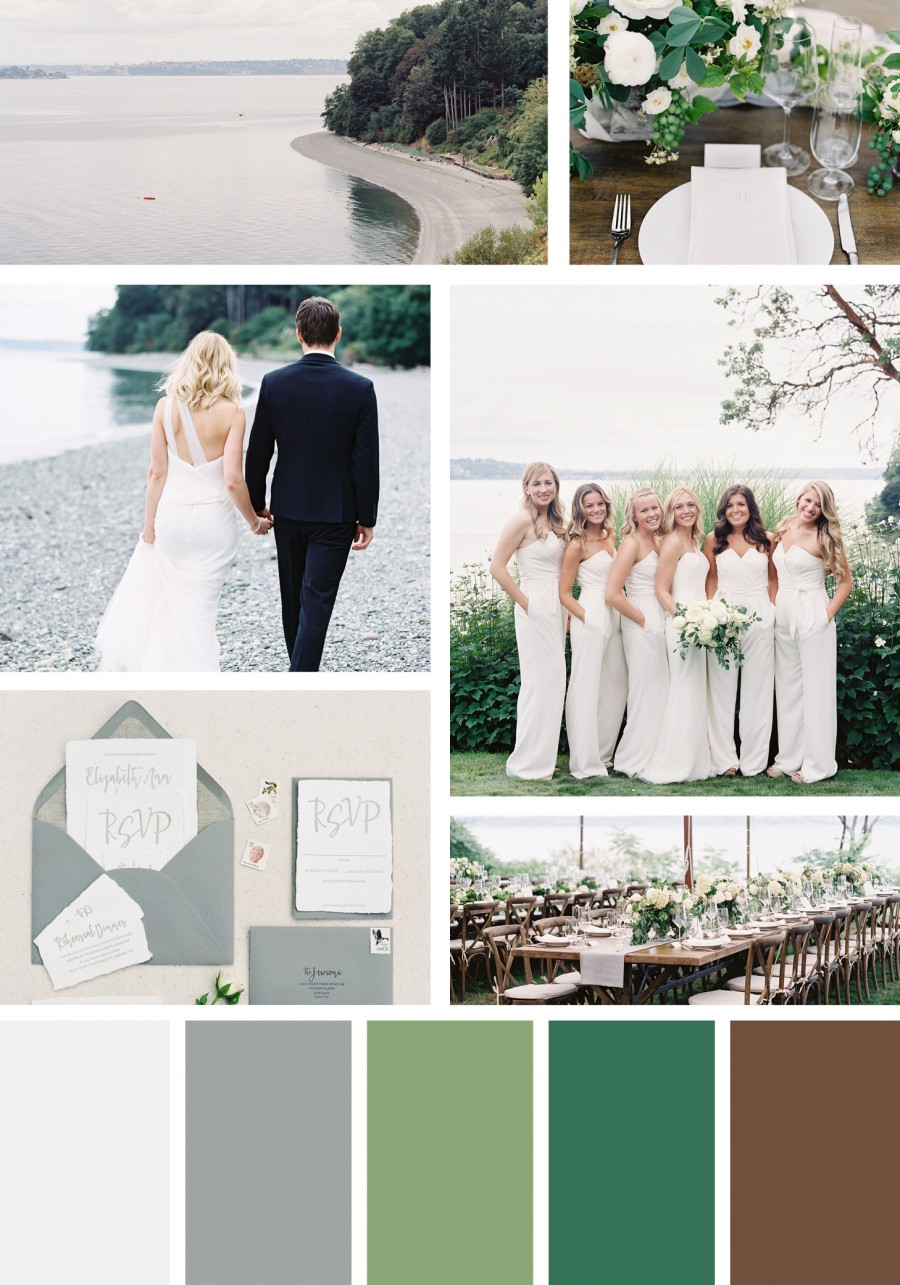 Such a simple, yet sophisticated backyard minimalist inspired wedding. Natural wood tables, with light white accents are simple, yet elegant. This style really proves that you can do so much with less. And who would have thought of white strapless jumpsuits for your bridesmaids wedding day look? Modern, sleek, and comfortable to party the night away!
11.

Simple and Refined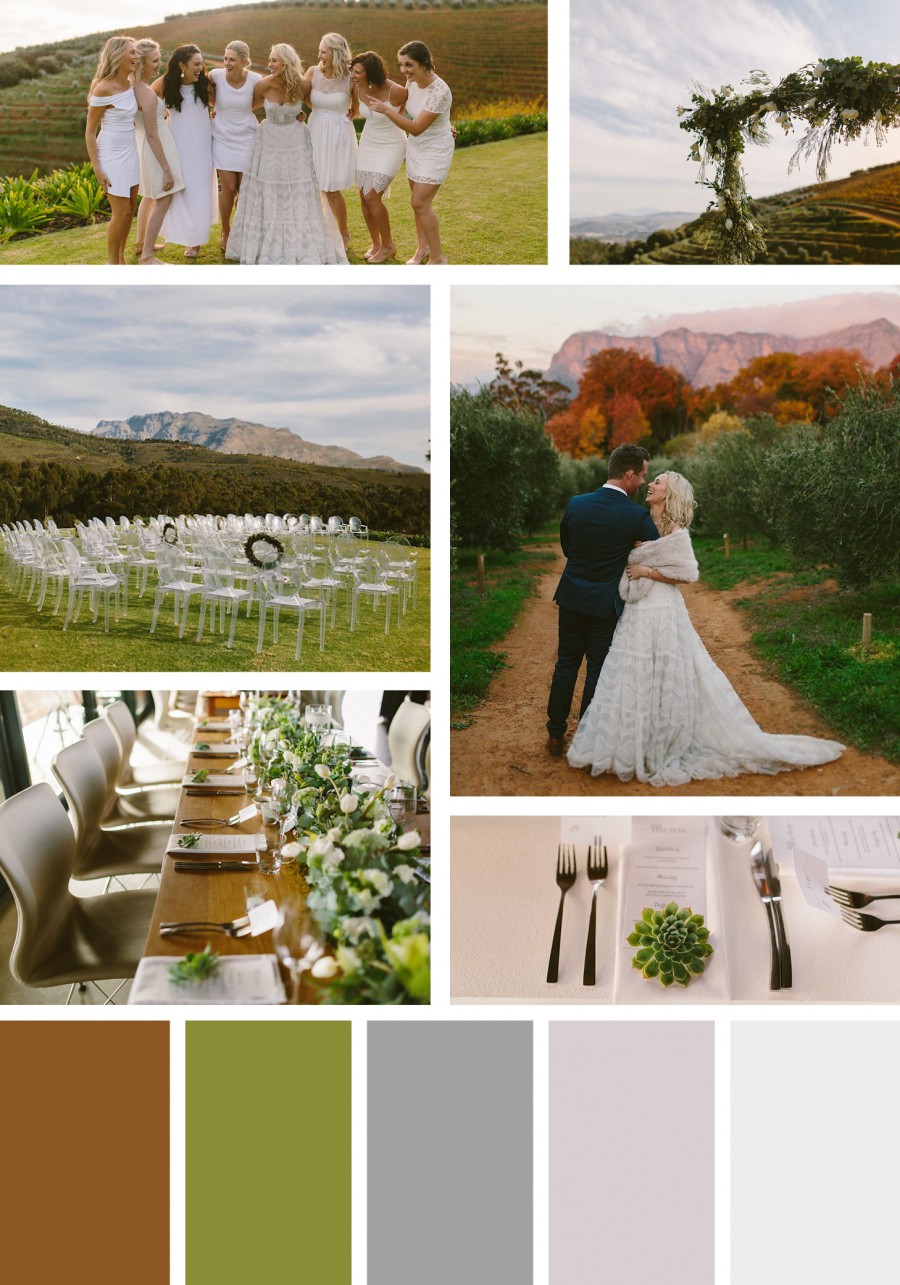 Refined and sophisticated, just like a perfectly aged wine. This elegant wedding is inspired by the gorgeous winelands that it is set within. It is what is lacking that makes this simple wedding style utterly breathtaking. Classy elegance is found in embracing the natural surroundings, and letting everything else fall into place with a modern minimalist simplicity.

By Kathryn Schrotenboer