The minimalistic mindset and lifestyle has swept the world by storm, and now we are seeing more minimalist bridal styles to match this growing trend.
If you are a minimalist loving bride, there is no reason you can't carry this "less is more" style into your big day look. We have gathered our favorite minimalist worthy wedding styles that will show you how less can really be so much more! These looks are sleek, sophisticated and timelessly effortless.
01.

Minimalist Glam Goddess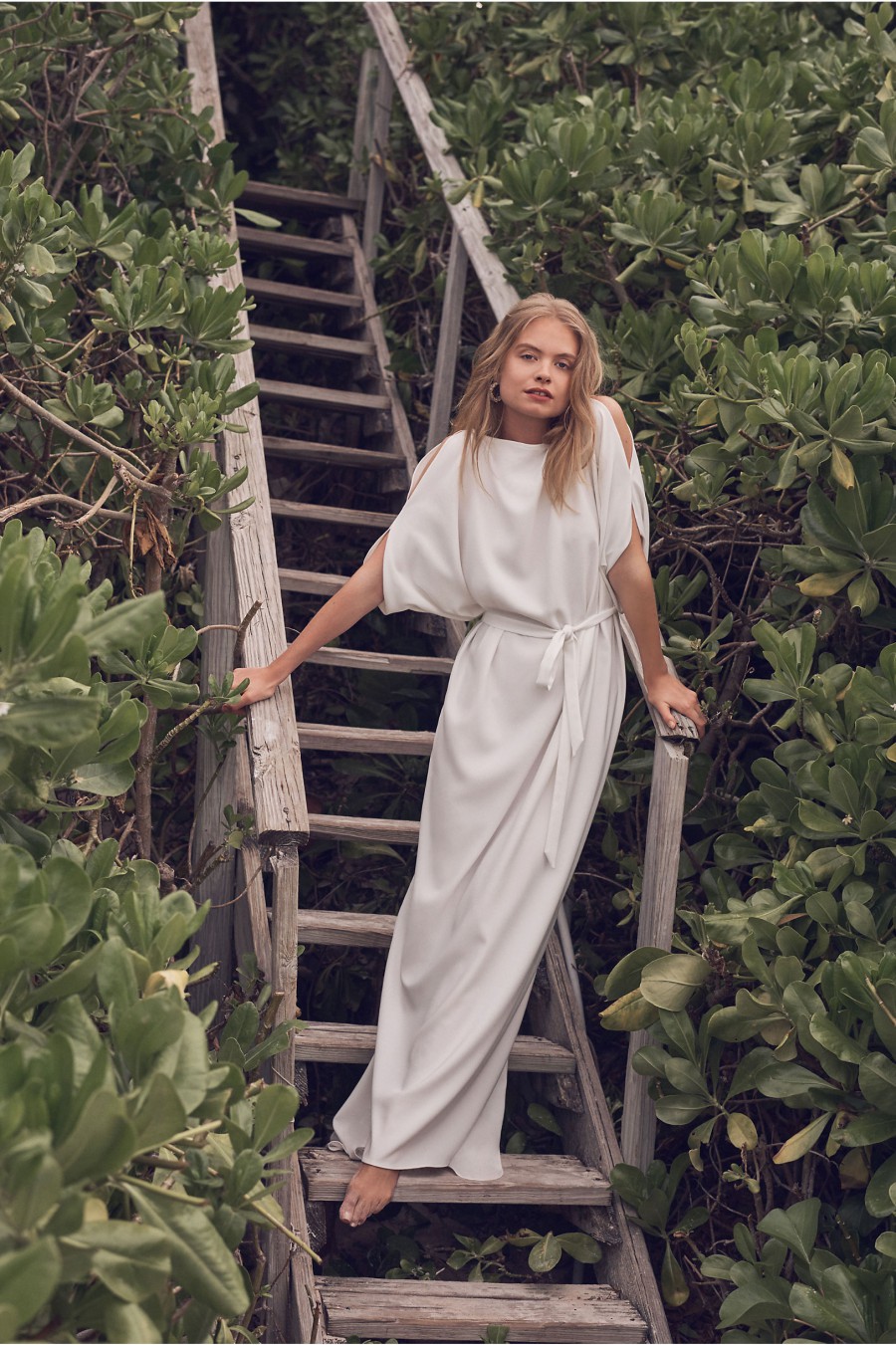 An ultra minimalist, glam wedding style for a modern day goddess. This simple look is effortless with its waist defining sash, shoulder cutouts and a modern low cut back.
02.

Silk Satin Slip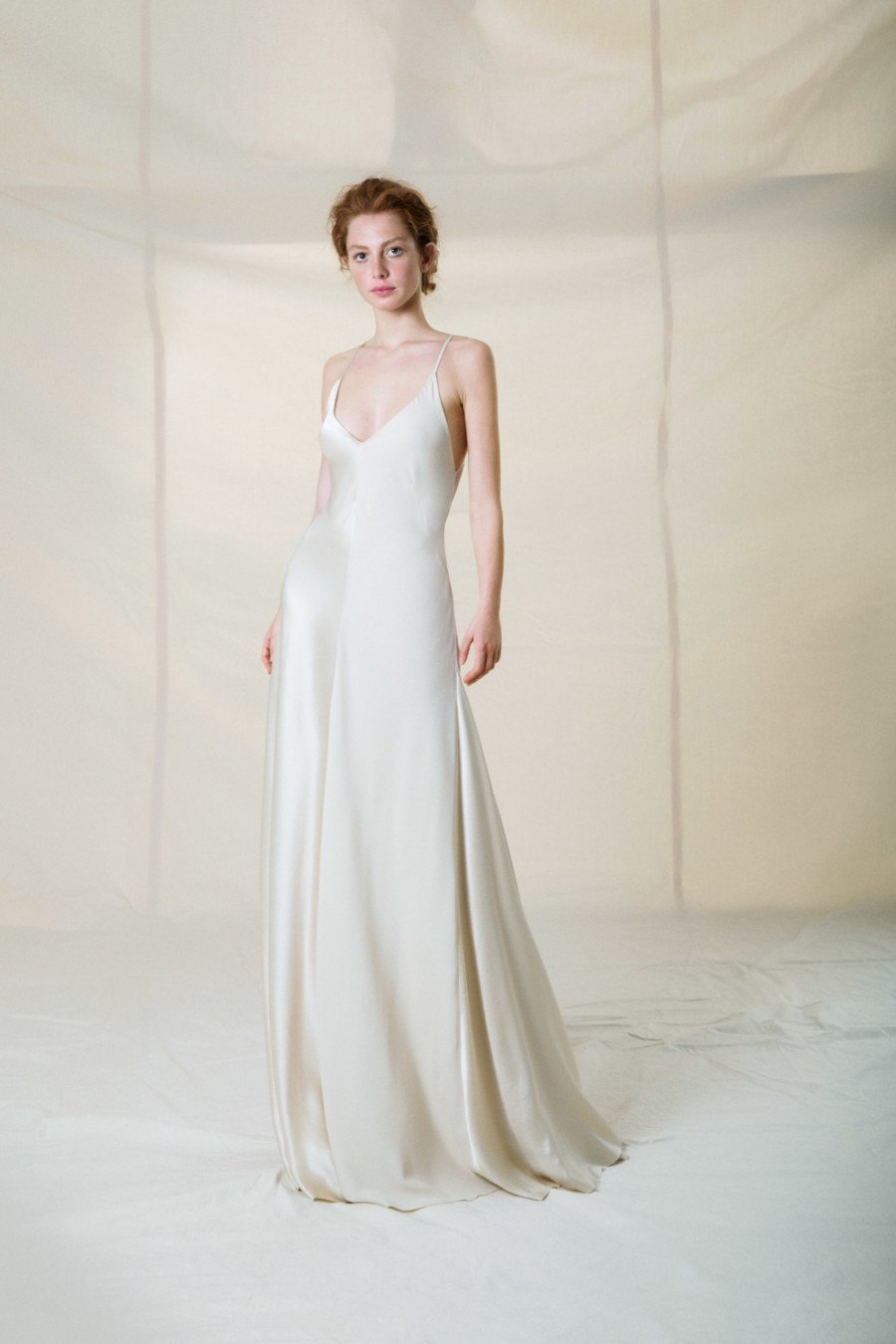 Nothing quite says minimalist like a sleek silk satin slip dress. This classic wedding gown style is unassuming and completely easygoing. A timeless look that will satisfy your minimal fashion cravings.
03.

No Fuss Sophistication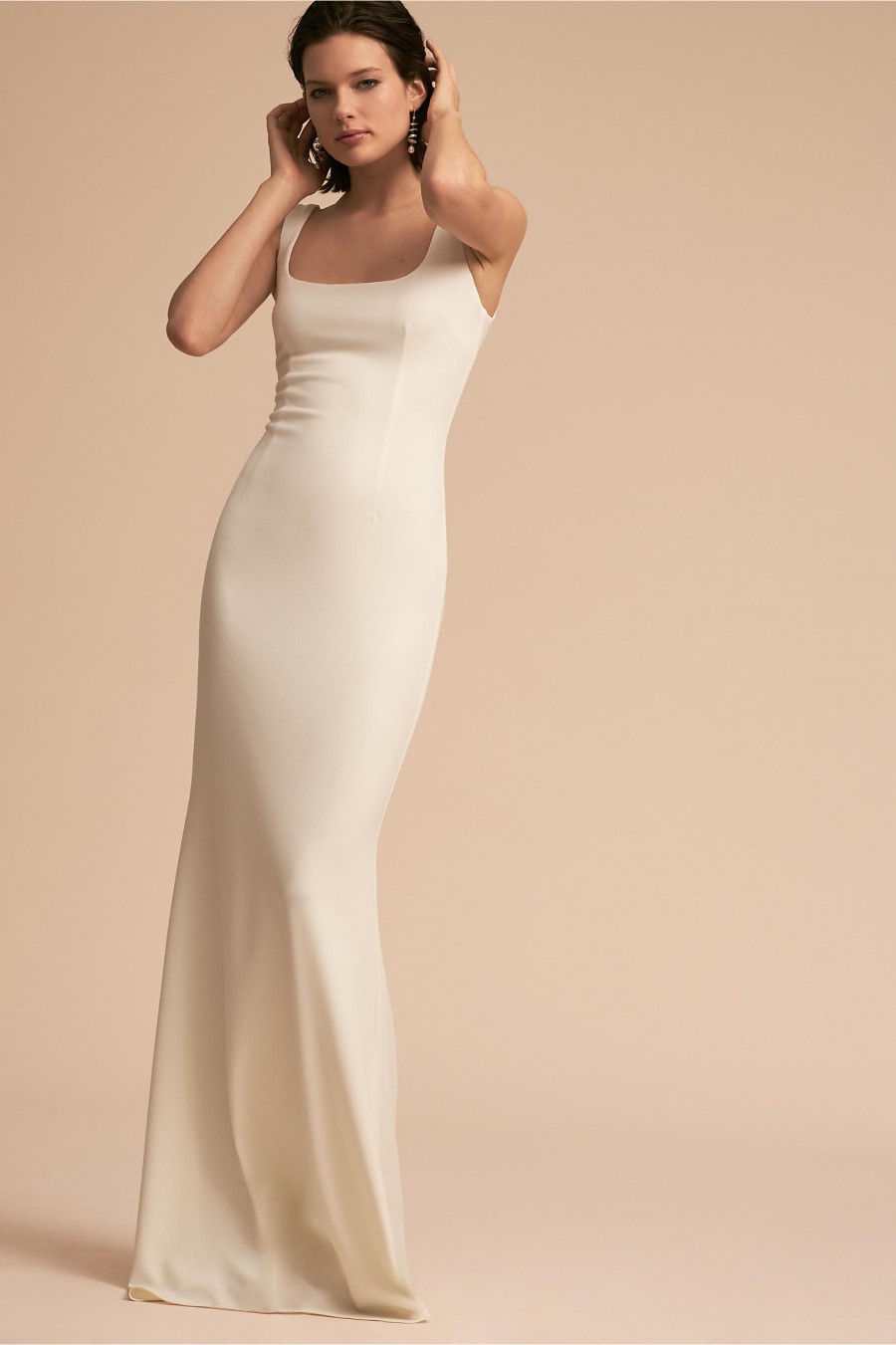 This no-fuss minimalistic wedding style is sophisticated in the most unassuming way. A look that feels almost pared down to the bare bones of a wedding gown. The soft scoop neckline, figure defining seams and curve hugging silhouette of this gown are both feminine and fierce.
04.

Clean & Classic Lines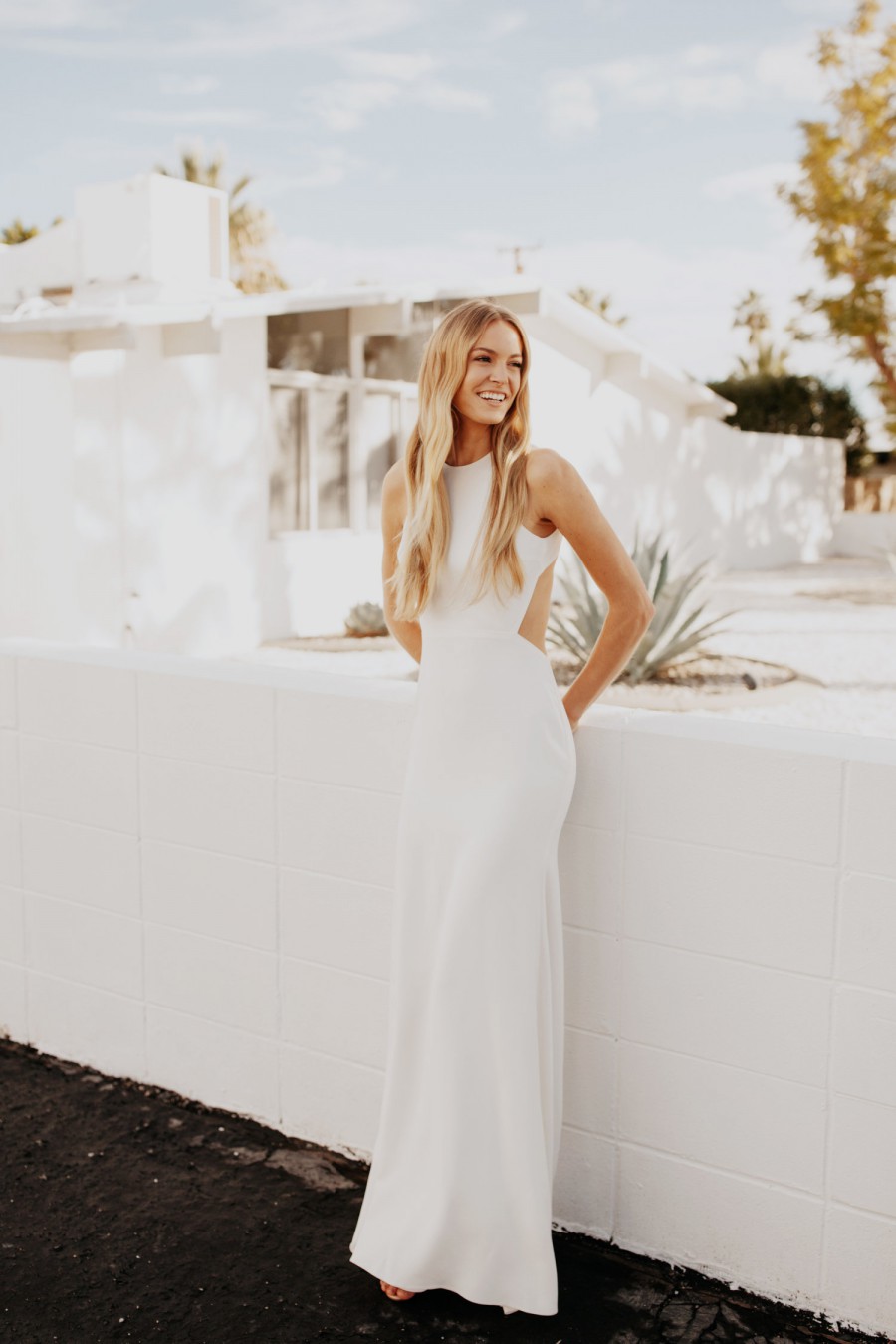 A sophisticated cutout wedding gown that features a classic cut and clean lines. This modern, minimalist wedding style is chic and breathtaking.
05.

Minimalist Flutter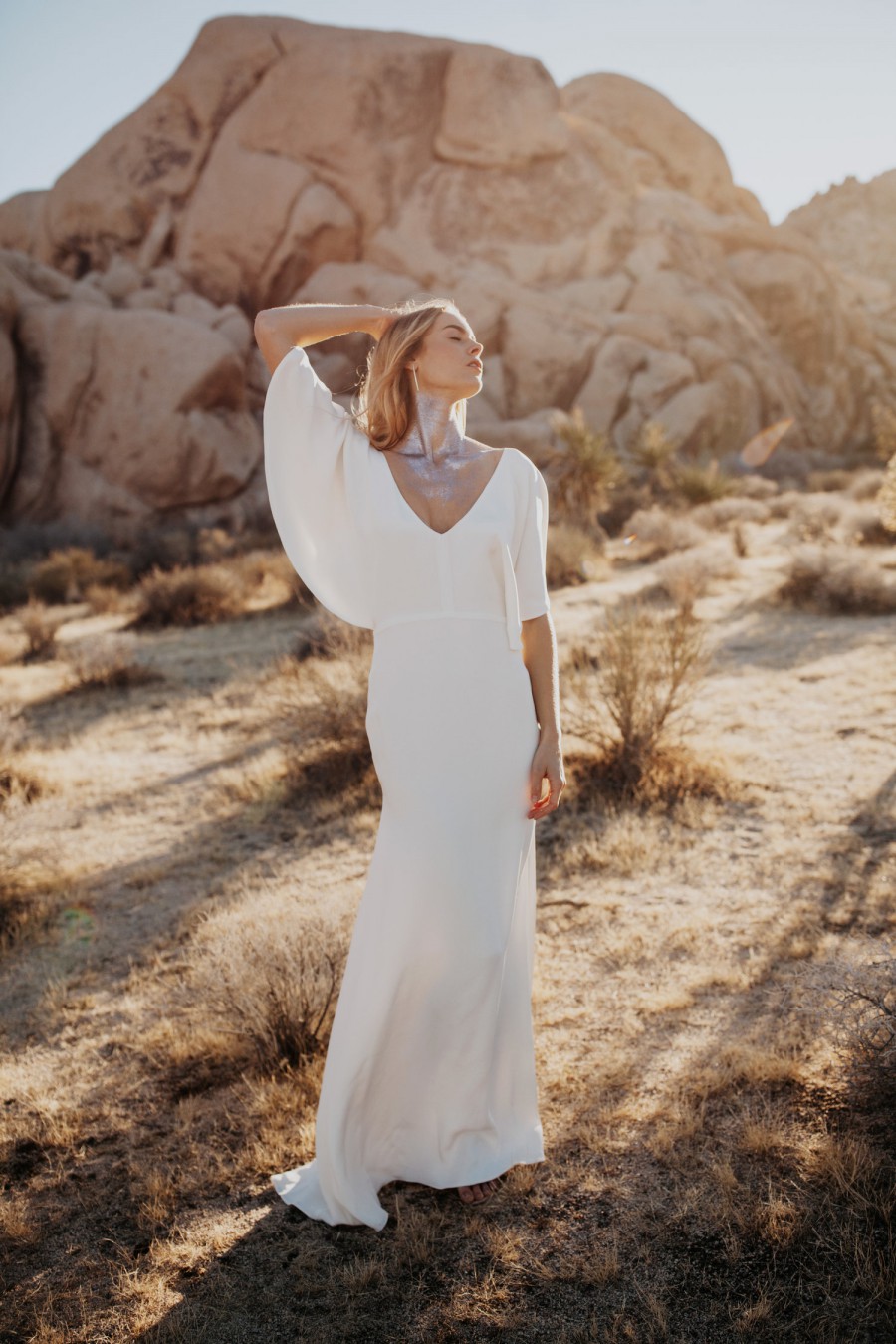 Just because you like clean minimalism, it doesn't mean that you still can't add a little pop to your wedding day look. This stunning gown by Sarah Seven features soft exaggerated flutter sleeves that add just the right touch of movement and volume to this otherwise clean, minimalist wedding style.
06.

Sexy and Sophisticated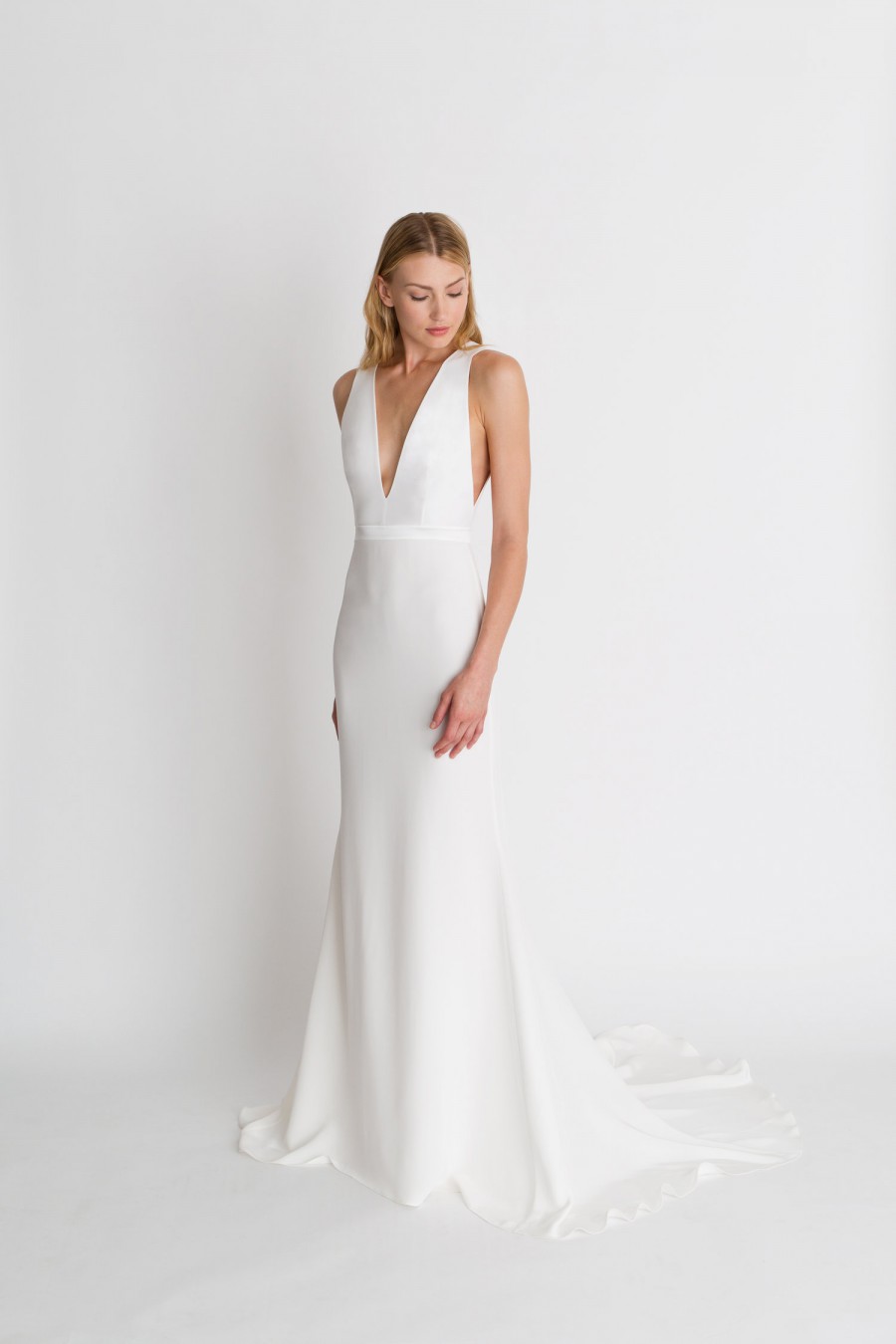 This next minimalism inspired wedding gown goes to show that you can look both sexy and sophisticated on your big day. An effortless combination that we love!
07.

T-Shirt Love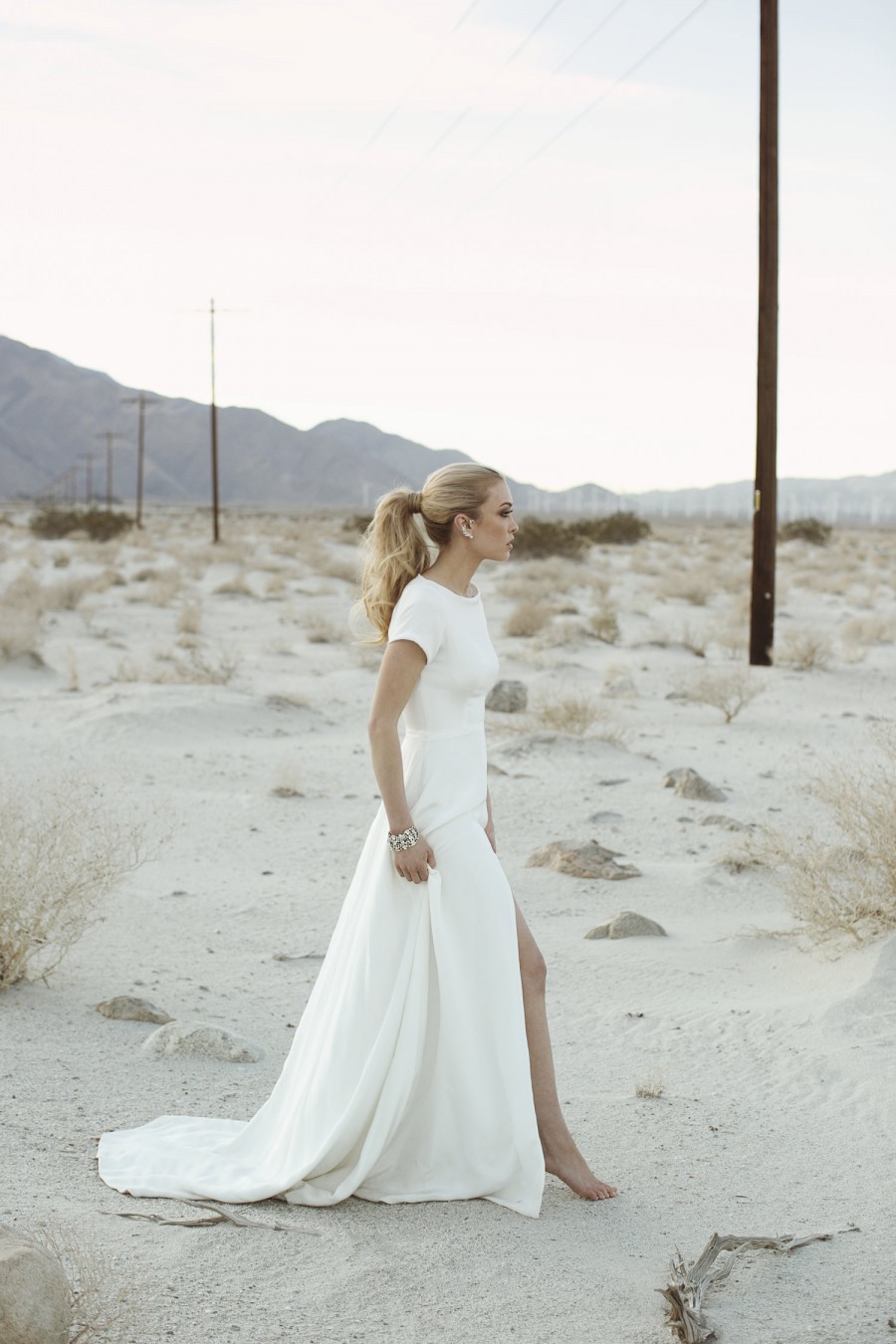 A classic t-shirt style dress for our cozy minimalists out there. Just because it is your wedding day - it doesn't mean you have to sacrifice classic comfort. This t-shirt dress will have you feeling chic and cozy all day long.
08.

Clean Strapless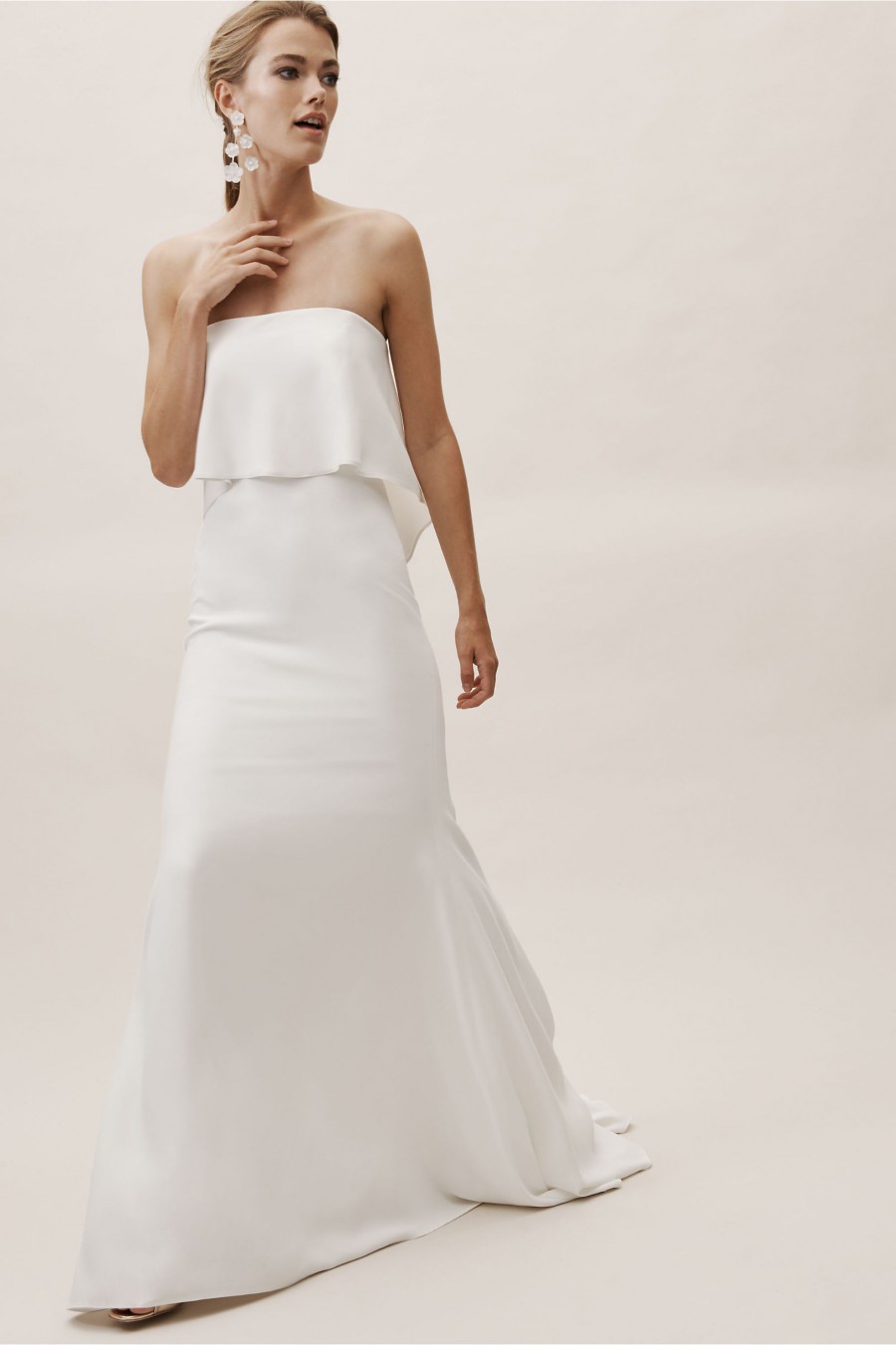 A clean strapless wedding gown that our minimalistic style diva's out there are sure to love. This sleek style features just enough movement with its flowing overlay detailing.
09.

Meghan Markle Approved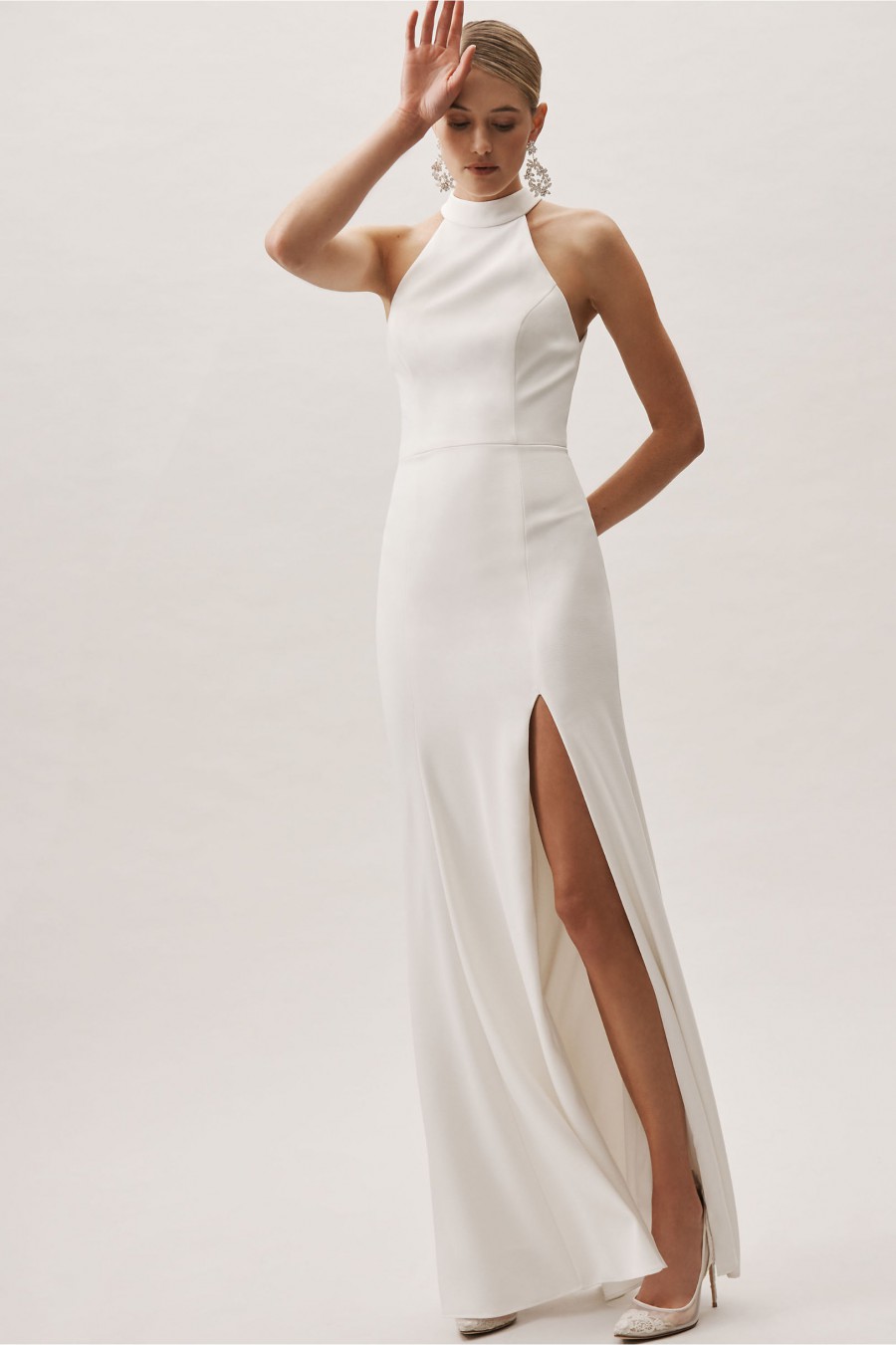 A Meghan Markle approved minimalist wedding gown that is all about simple sophistication. We love the high neck collar cut of this gown!
10.

Bold Minimalist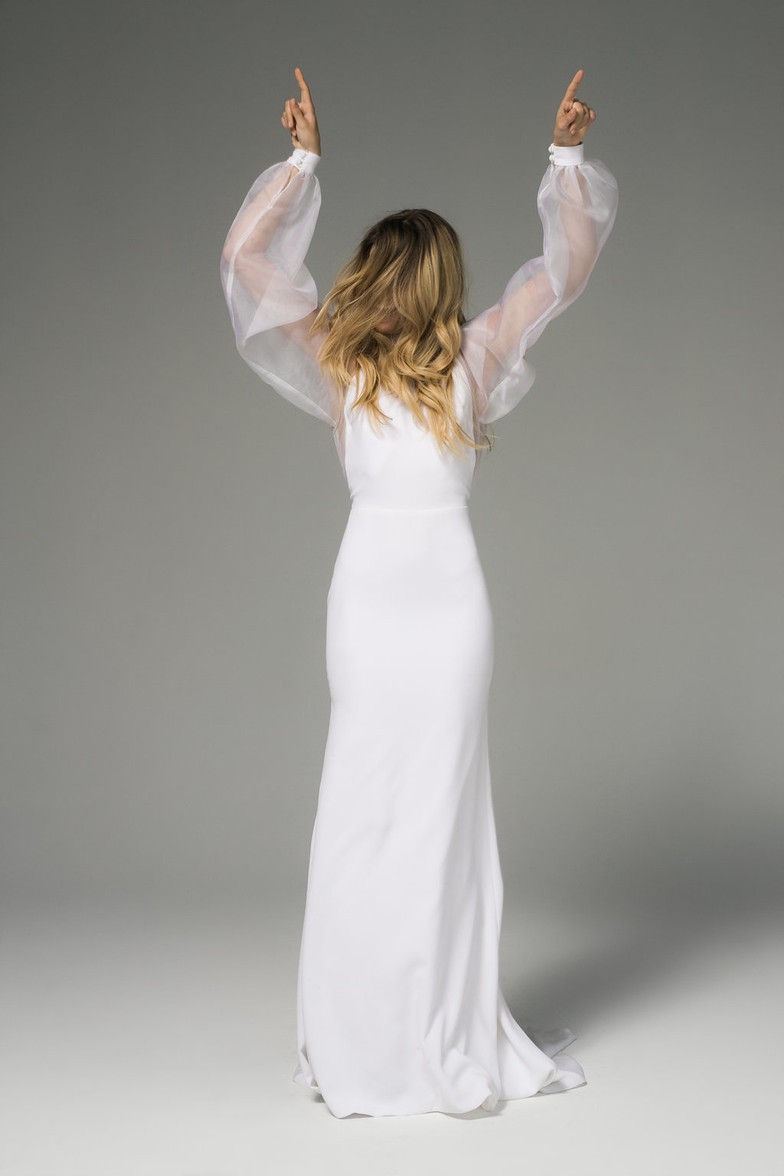 Lets take this minimalist wedding trend to the next level with this simple, yet bold style. This simple white silhouette of your dreams is accented with voluminous sheer sleeves. Still keeping things clean and minimal, but in a bold, modern way.
11.

Single Sleeve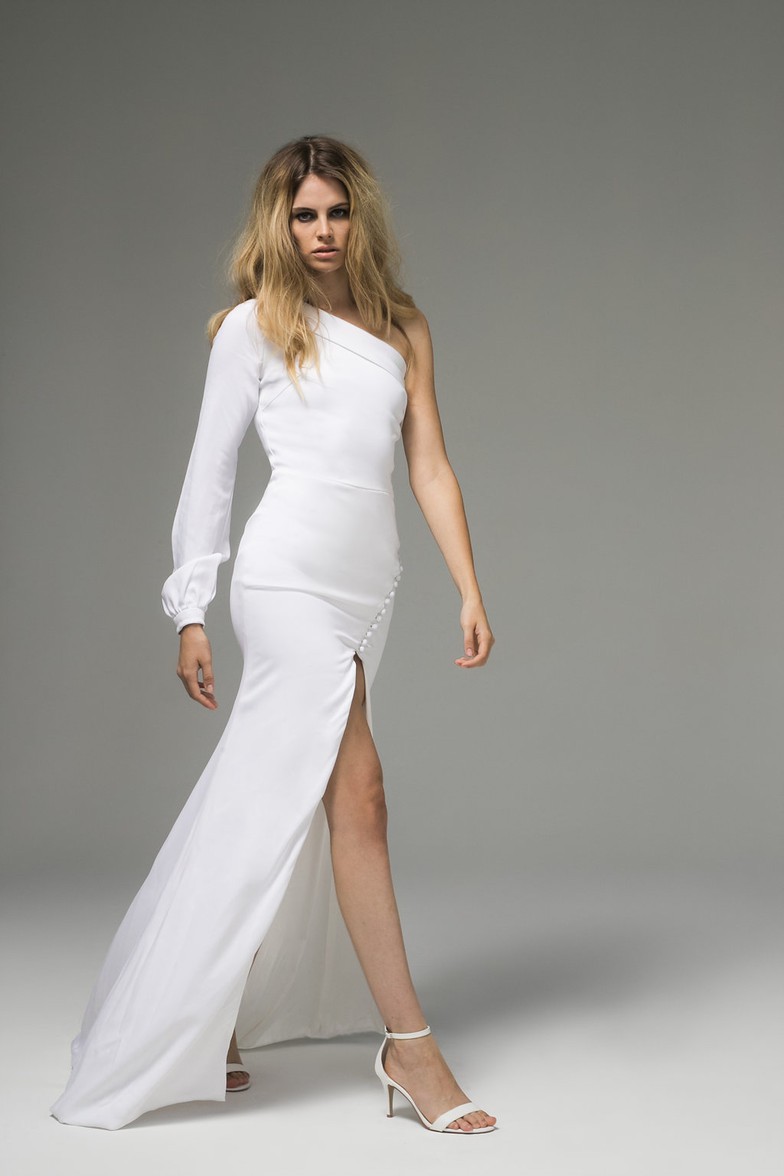 Another loud, yet minimal wedding gown that we love! This single full length sleeve design is contemporary and bold.
12.

Button Up Classic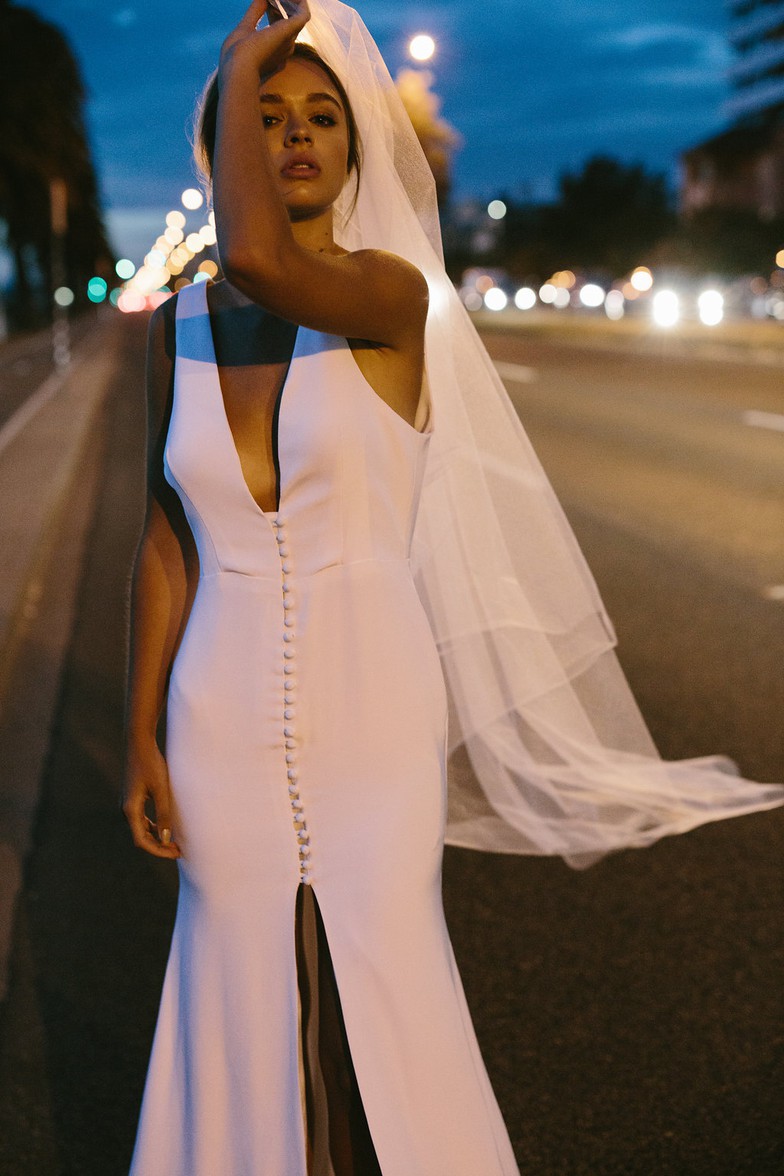 A clean silhouette with a front button up design for all of our sexy minimalist loving brides out there. You can still keep things simple and classic, while also bringing in some sassy sex appeal.
13.

Chic High Low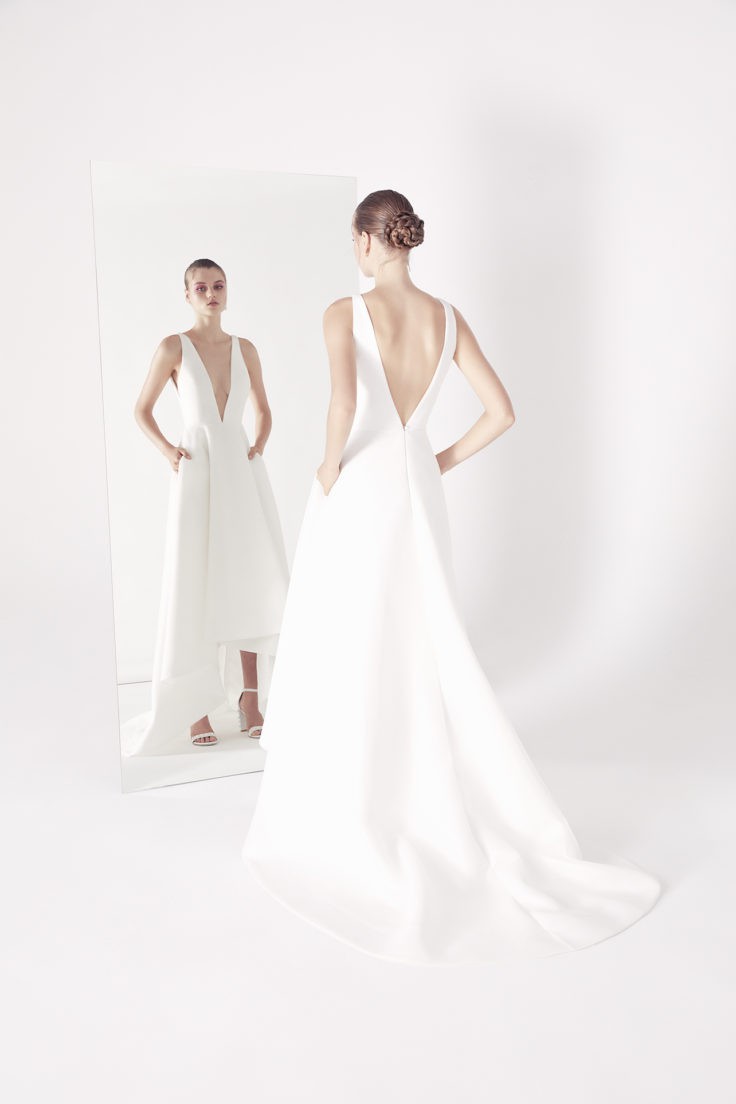 A chic high low wedding style that is sexy and sleek for our bold modern minimalist brides out there. A contemporary statement in minimalistic wedding fashion.
14.

Cold Minimalism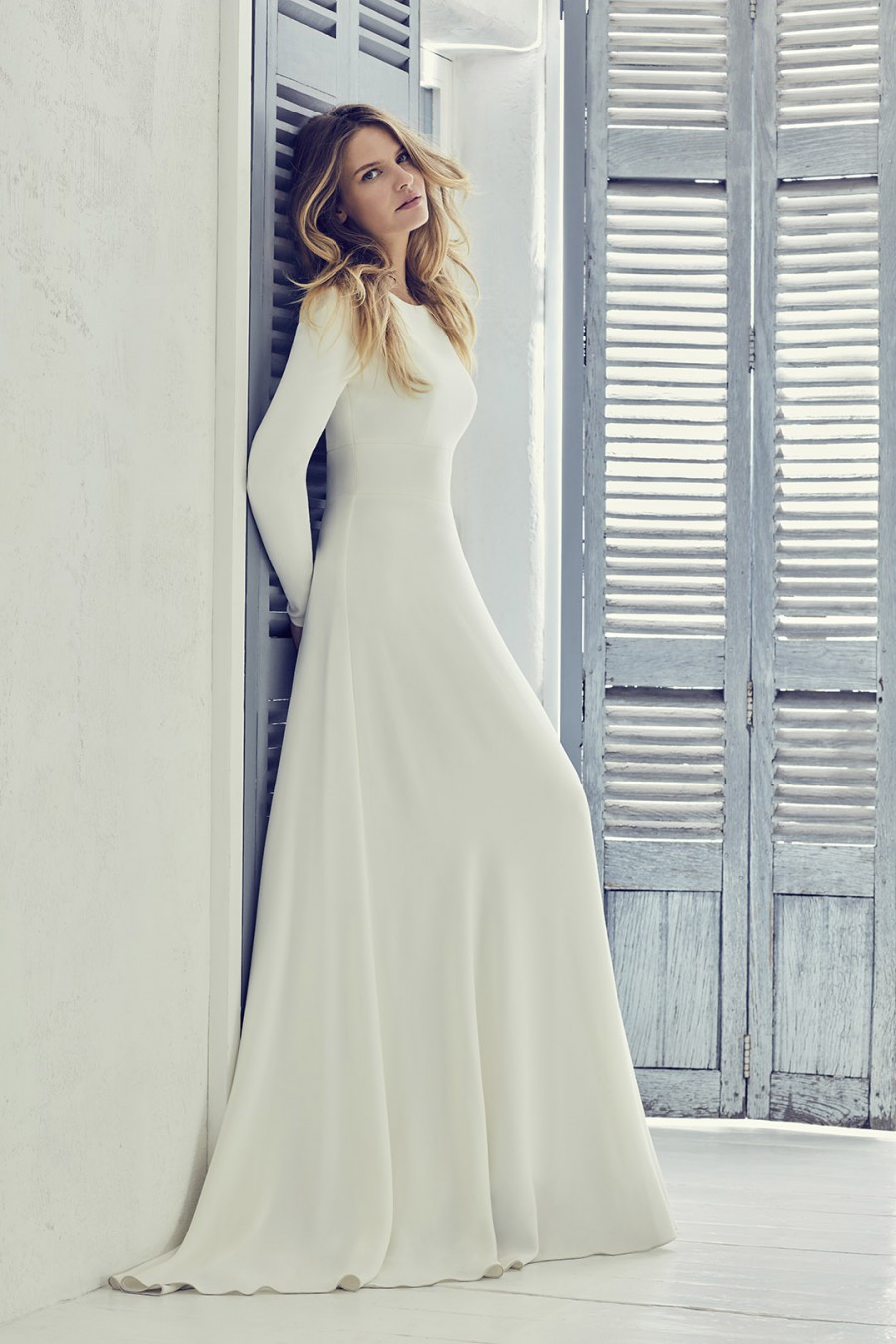 The perfect minimalistic wedding gown for the colder months. Effortless and classic in every way. It even looks cozy and comfortable!
15.

Minimal Pleats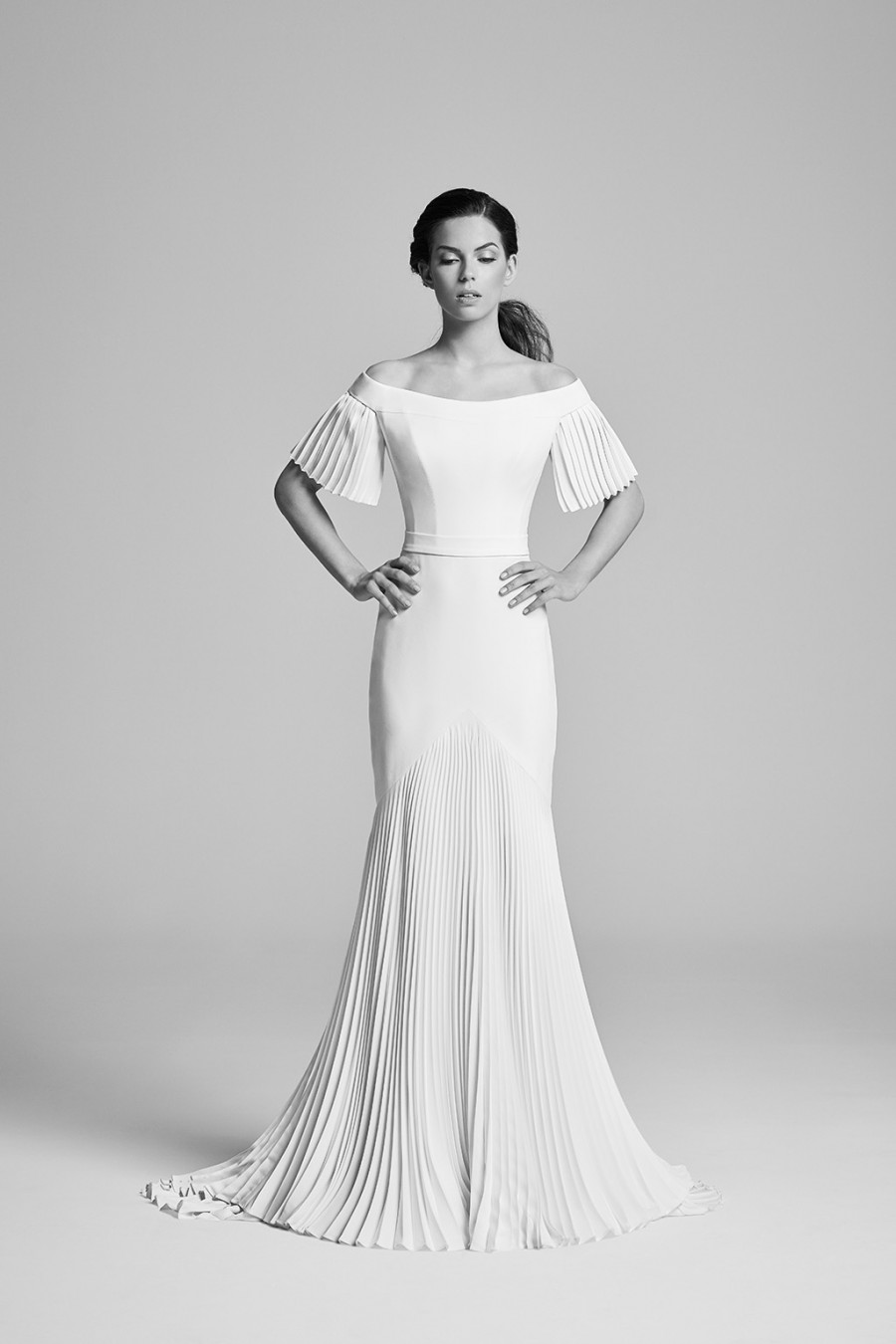 This next pleated minimalist wedding gown from Suzanne Neville has us head over heels in love! A sleek, sophisticated silhouette that features just the right amount of clean pleated detailing to really make this style pop.
16.

Modern Princess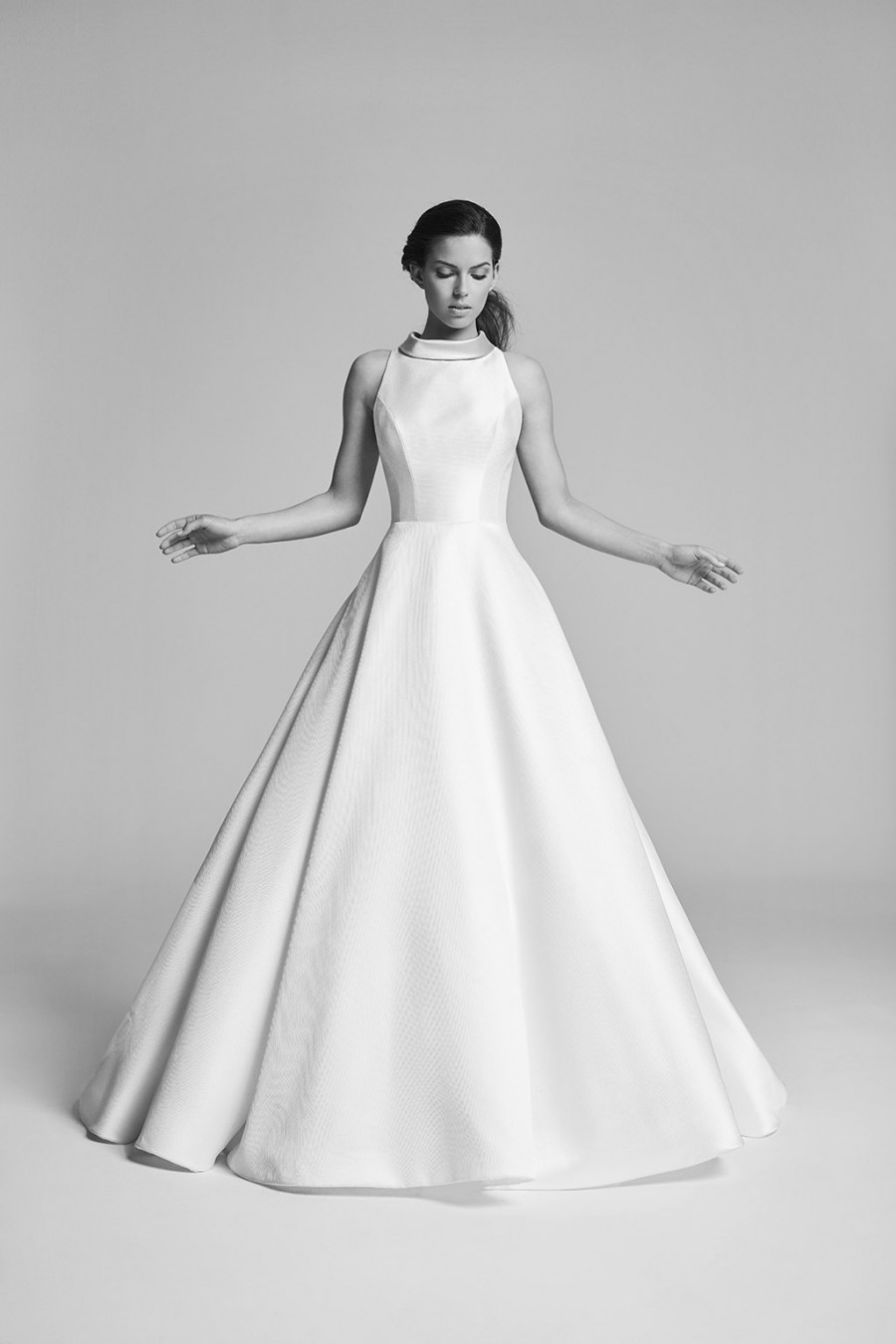 Just because you love minimalistic style doesn't mean you can't still dream of looking like a princess on your big day. This sleek ball gown is perfect for a minimal, modern princess.
17.

Minimal Mermaid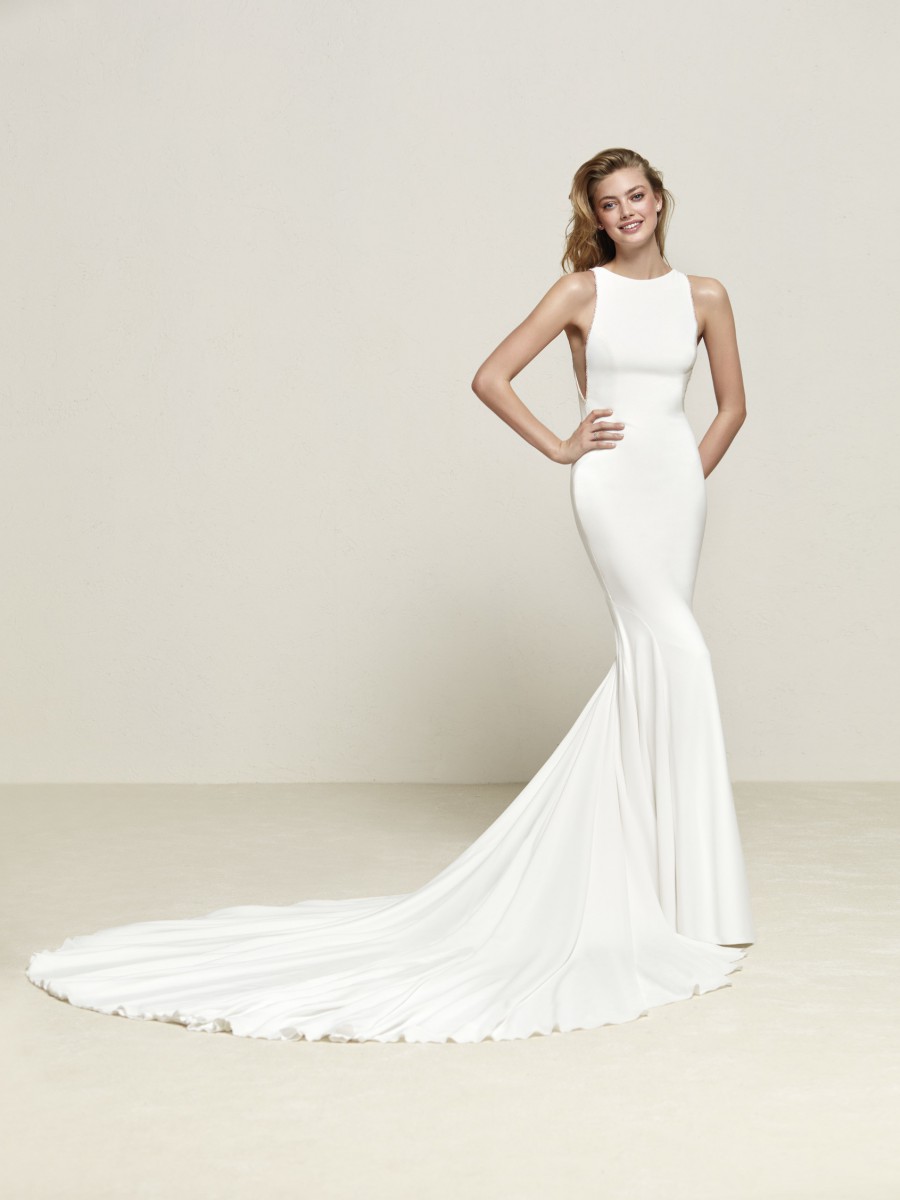 A sleek minimalist approved mermaid wedding gown that will leave everyone speechless. This jaw dropping design is clean and sophisticated.
18.

Off the Shoulder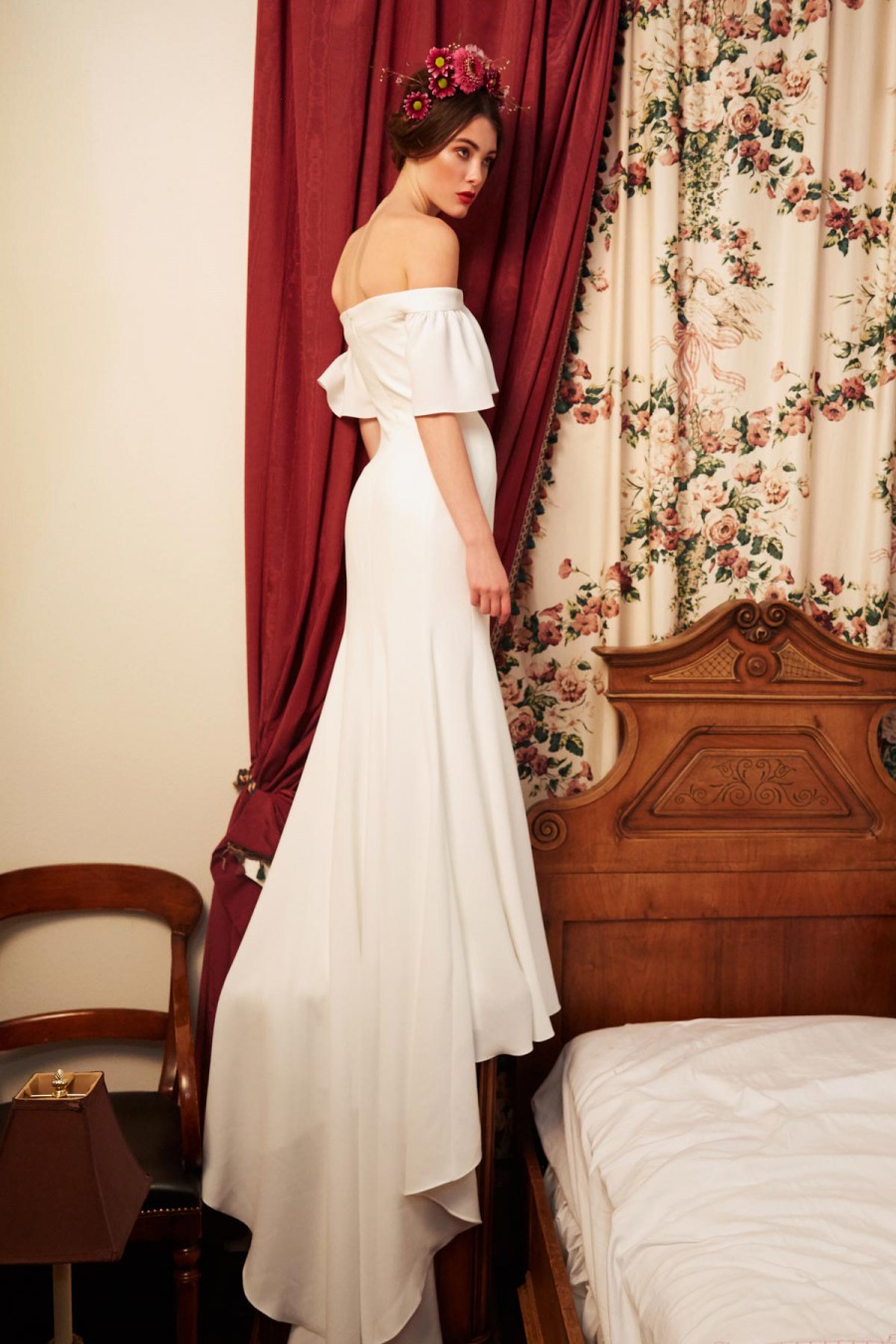 A minimalist inspired off the shoulder wedding gown that is both festive and sleek. A clean yet playful way to embrace the minimalist wedding trend.
19.

Bodysuit Bridal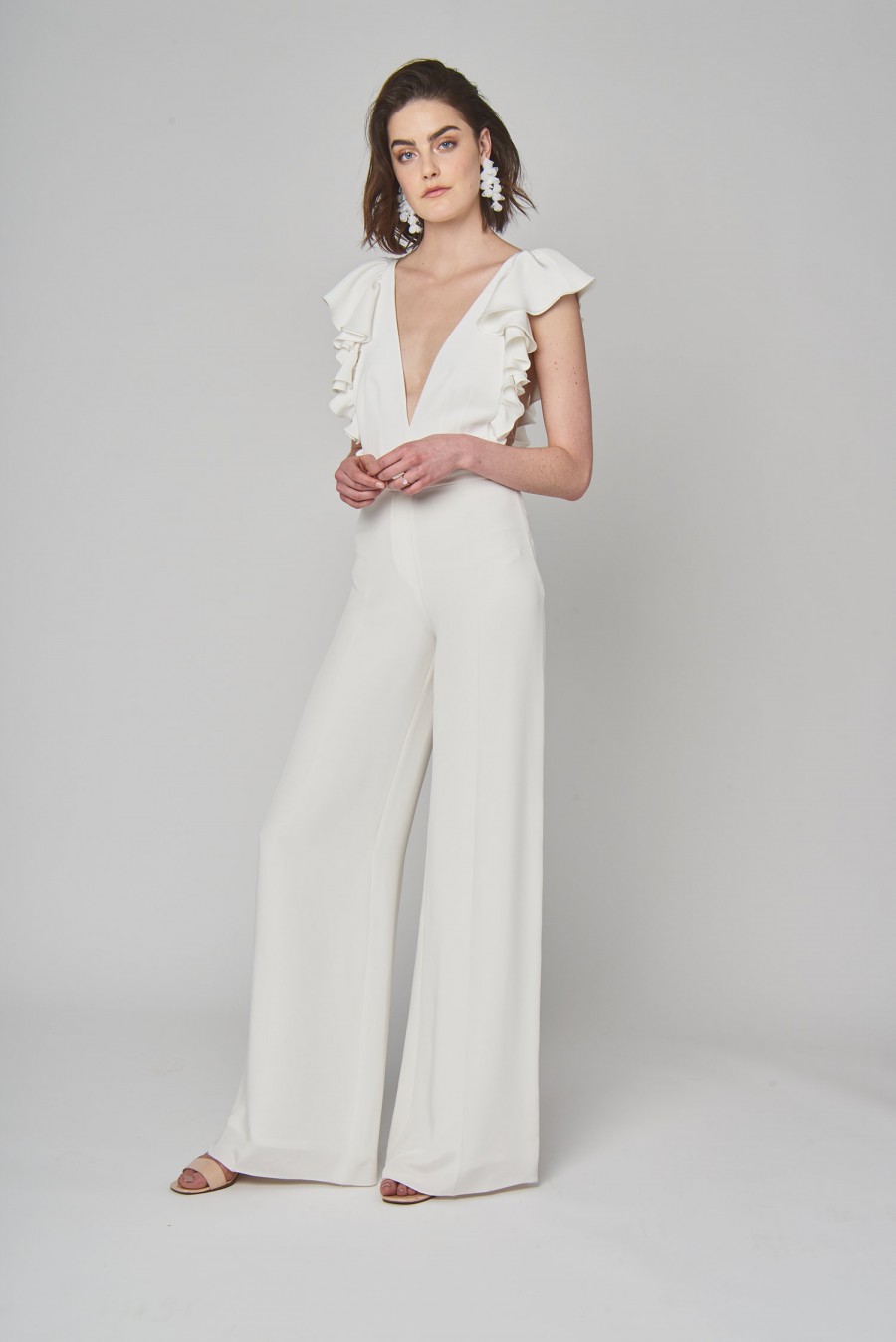 Alexandra Grecco brings us an unconventional bridal style that our modern minimalist brides will love. A sleek, sexy and ruffled body suit is paired with breezy wide leg pants for a contemporary wedding style like nothing else!
20.

Plunging Classic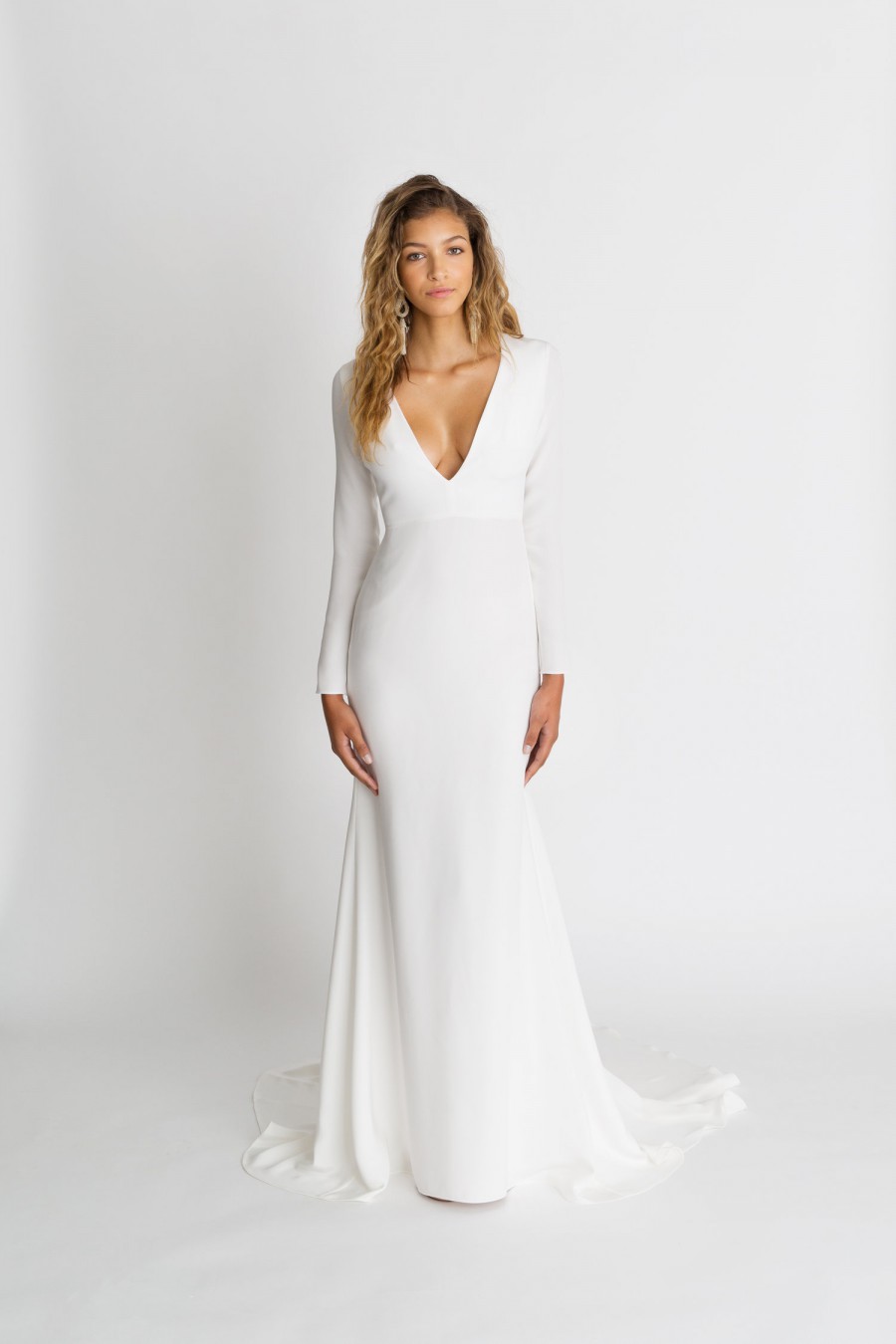 The Celine gown from Alexandra Grecco is an instant bridal classic and a look that is sure to be at the top of the list for our modern minimalist loving brides out there.
21.

Caped in Minimalism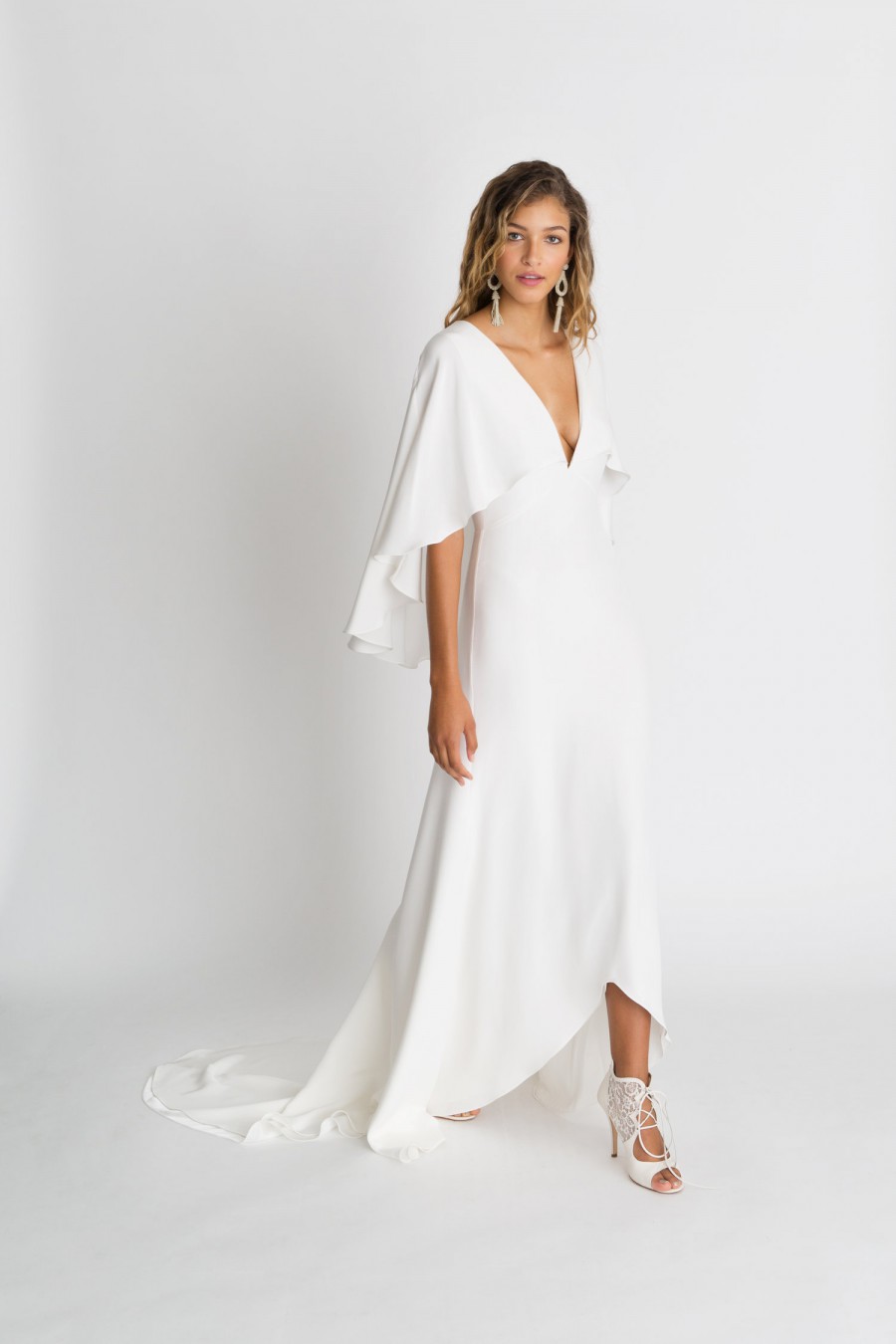 Are you a minimalistic bride looking to make a statement on your big day? Give this faux cape gown a try! A completely unique wedding style that is sure to turn heads on your big day.
22.

Draped High Low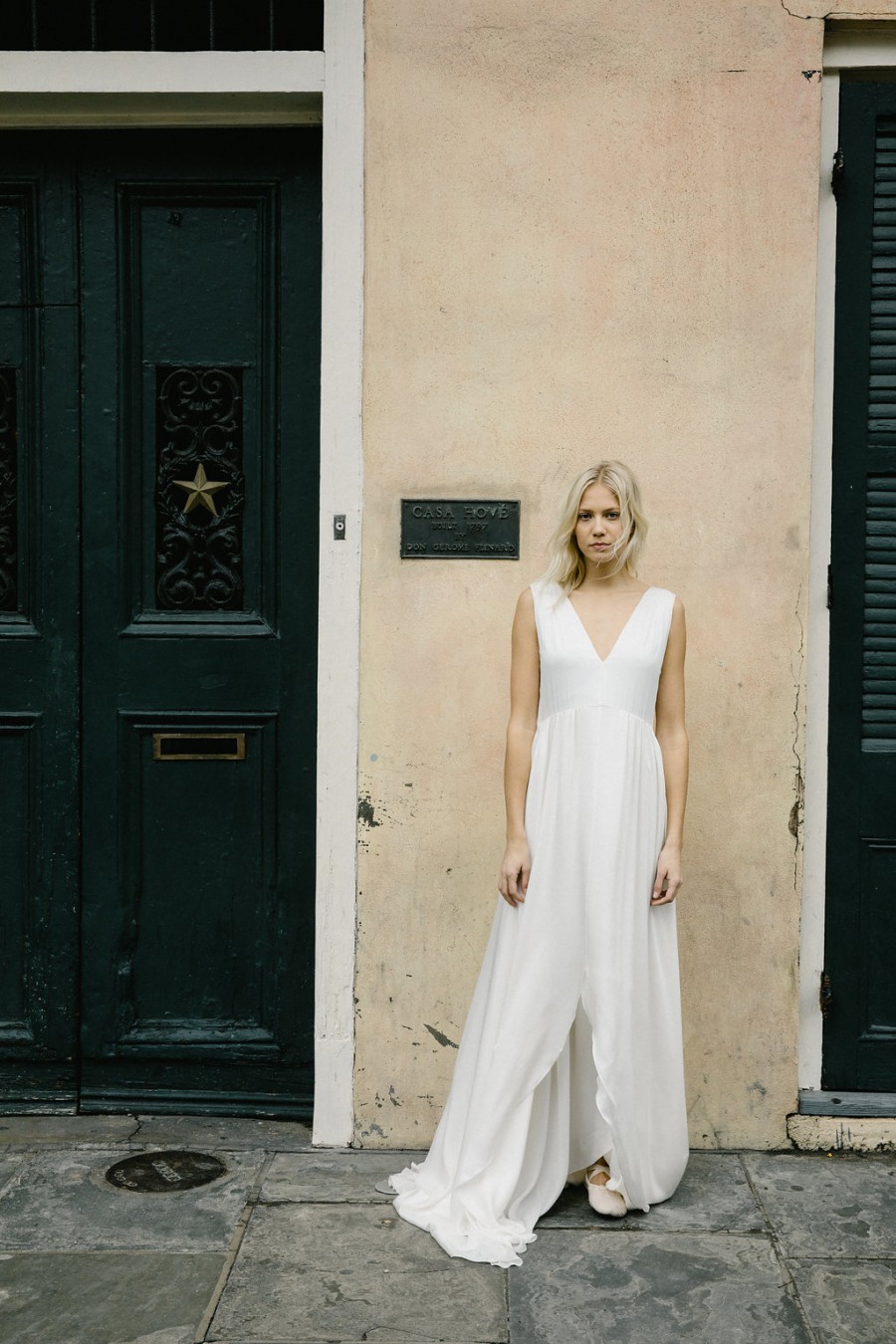 A casual fitting draped high low wedding gown that is completely effortless. The soft layers to this minimalistic look give it an almost ethereal feel.
23.

Split Train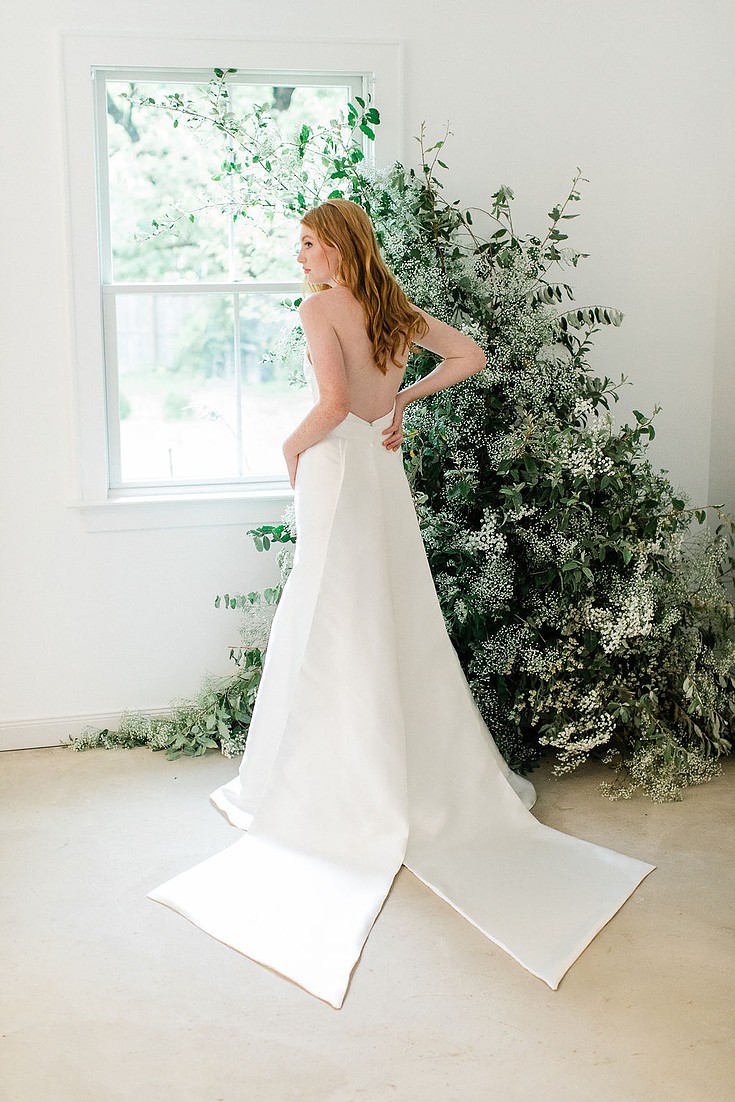 The slick fit and flare gown of your minimalist dreams! And did we mention that stunning split train that cascades down the back of the bride? A unique accent that completely makes the gown!
24.

Double Strap Slip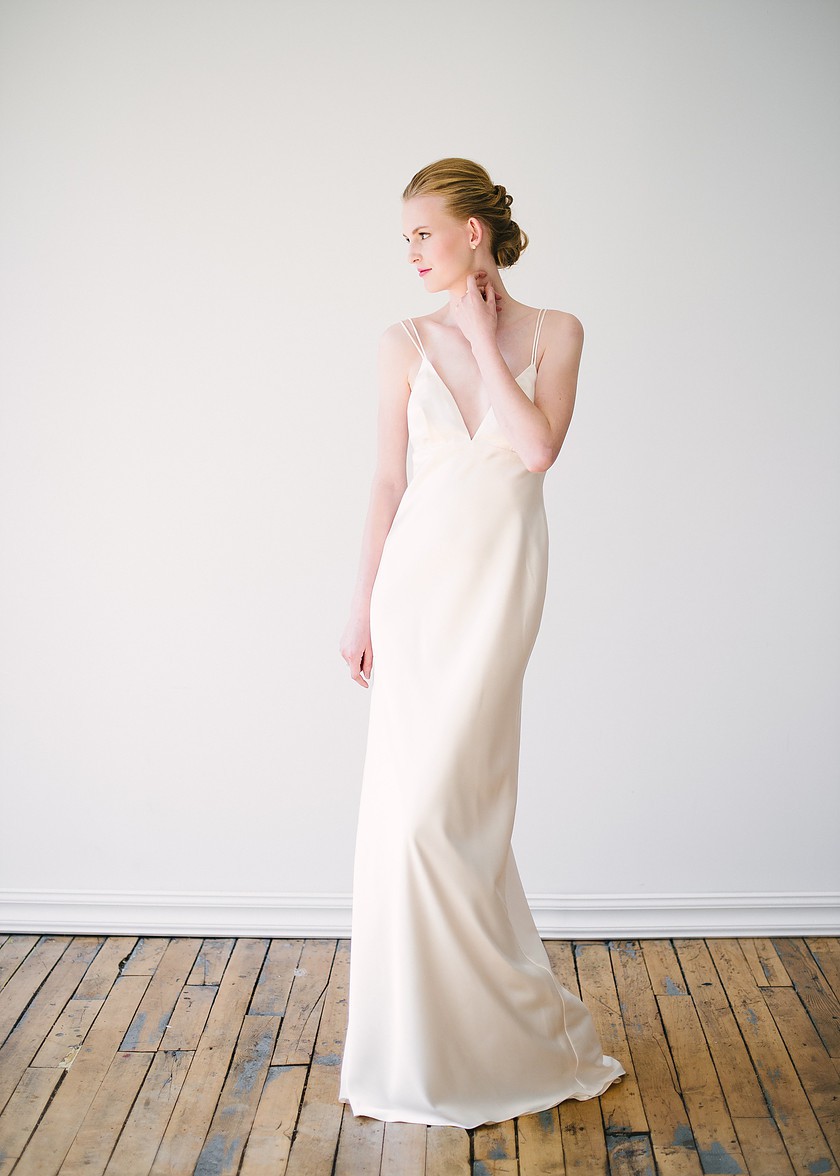 A minimalistic slip dress that drapes delicately to the floor. This simple, classic cut gown is accented with the most delicate and feminine detailing - a slight deep V-neckline and thin double straps. This simple detailing around the neckline absolutely steals the show.
25.

Sophisticated Simplicity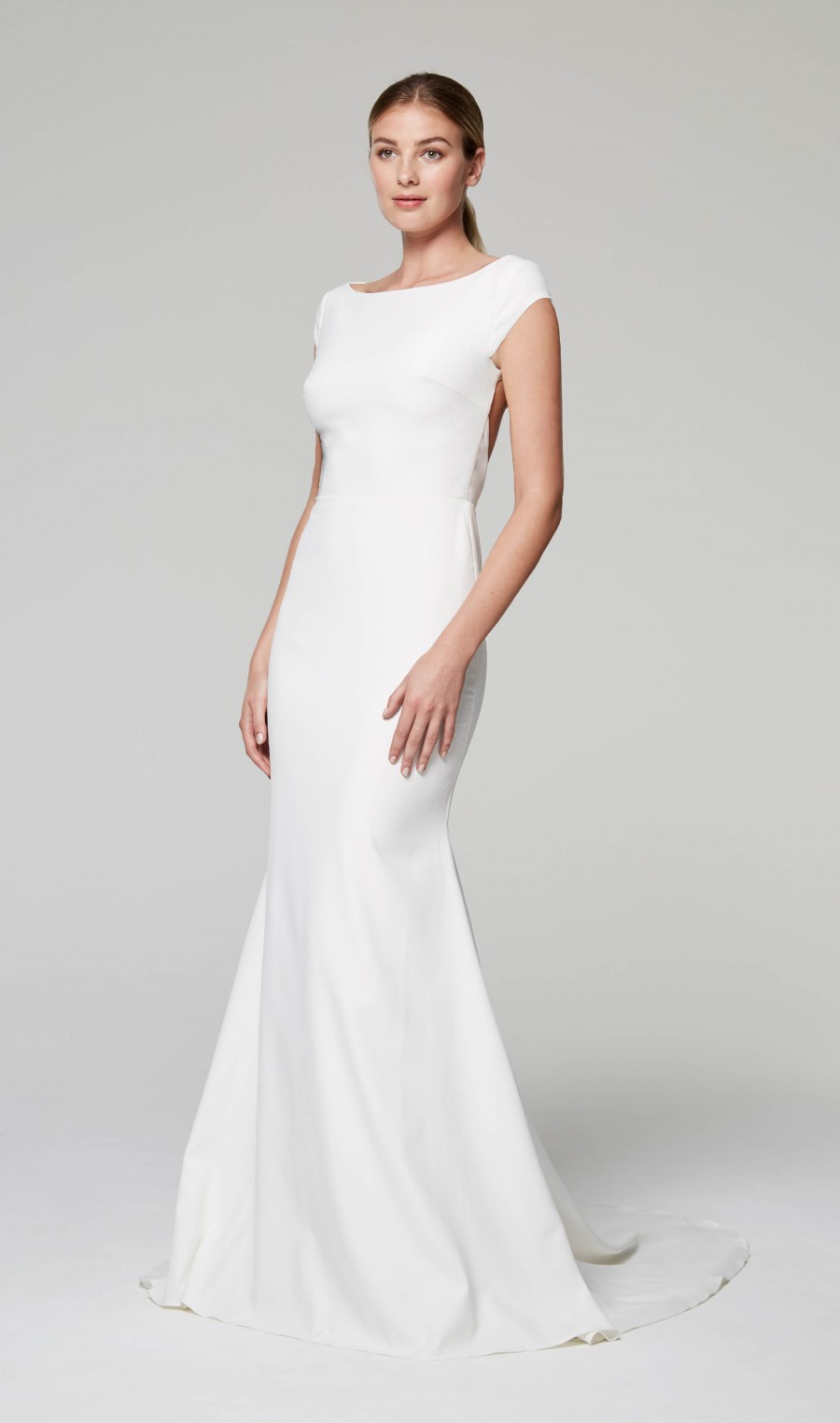 Anne Barge brings us a bridal style that is simple and sophisticated. A representation of pure feminine beauty. A classic minimalist wedding style.
26.

Silk Minimalism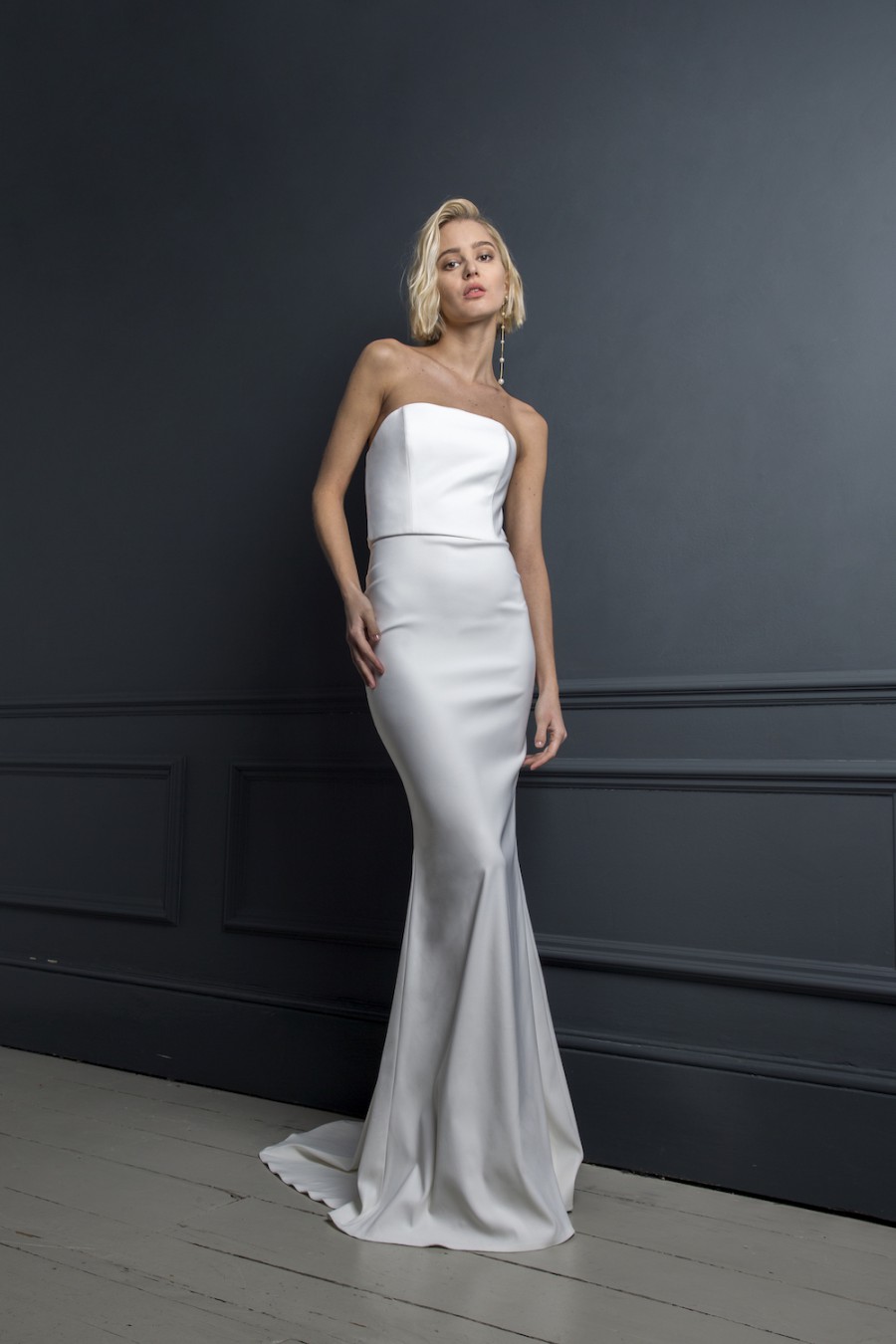 A sleek silk wedding gown that is pure modern minimalism. A classic, curve hugging style that is sexy and timeless.
27.

Sweater Weather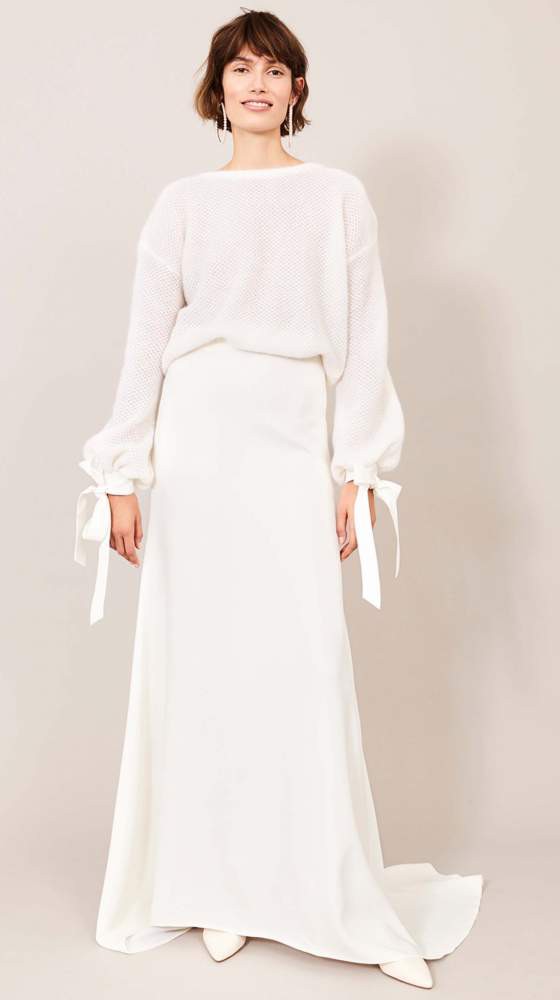 For you sweater weather loving minimalist brides out there - get ready for this one of a kind wedding style. Featuring a skirt and sweater combination that will make a bold, untraditional statement on your big day.
28.

Silhouetted Curves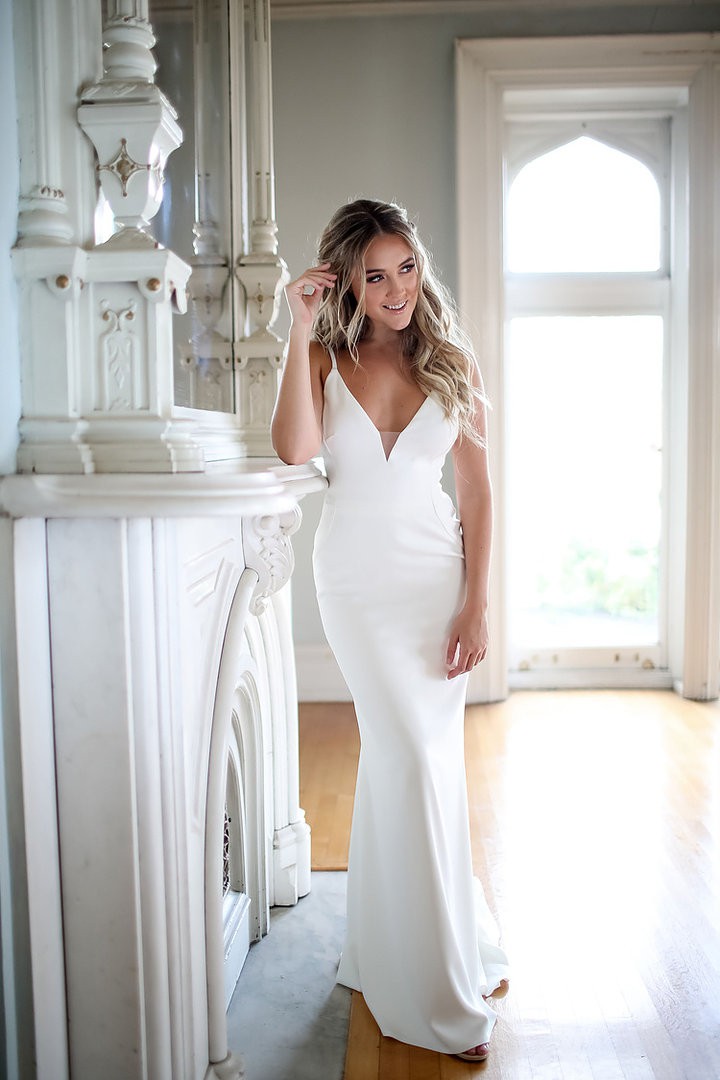 This sleek, minimalist wedding gown creates a sexy figure hugging silhouette that is absolutely stunning. The sheer tulle detailing on the deep V-neckline is subtle and captivating.
29.

Kimono Jumpsuit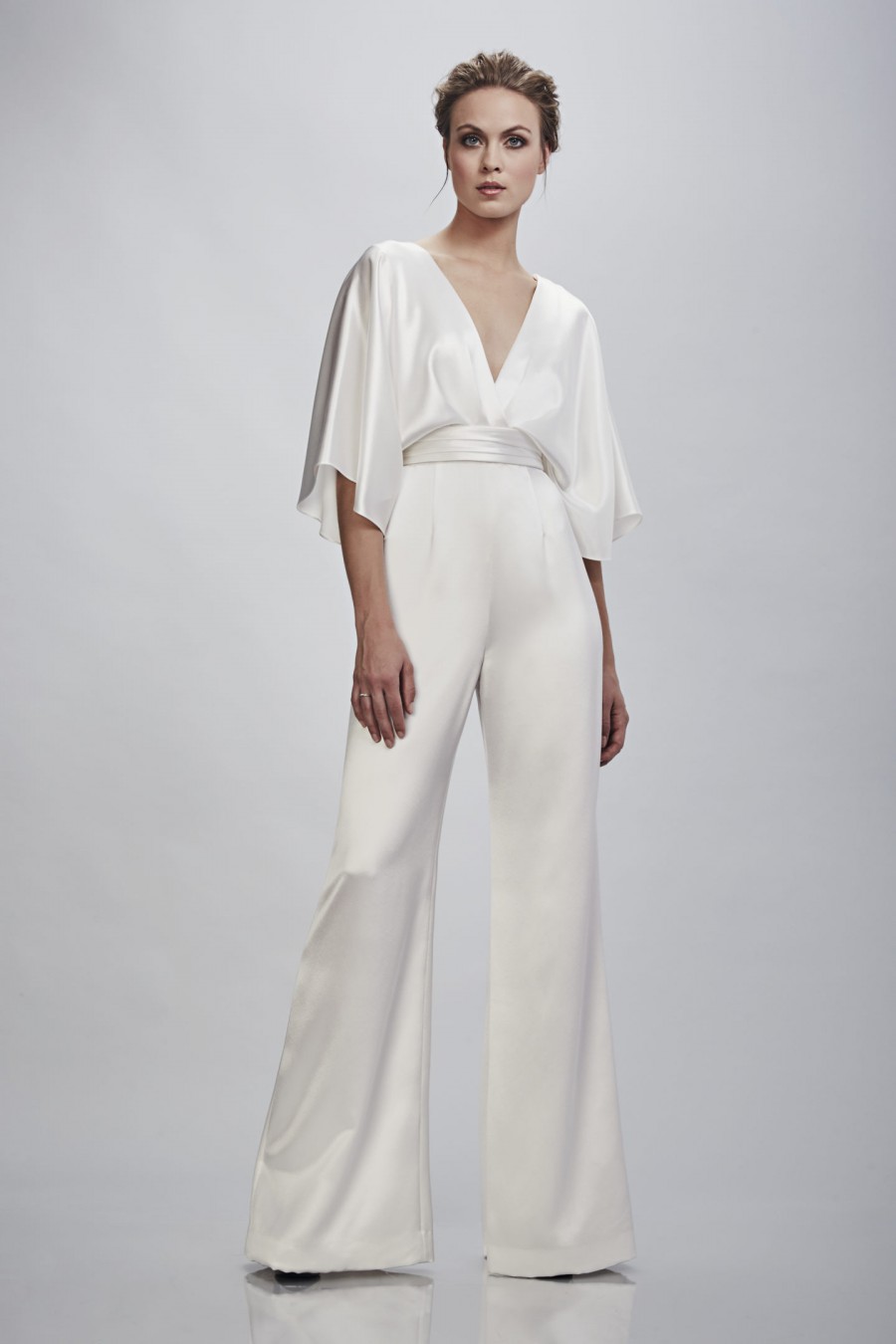 Keep things chic and simple with this satin kimono sleeve bridal jumpsuit. A jumpsuit is a great way to keep things minimal for your wedding day style.
30.

High Neck Minimal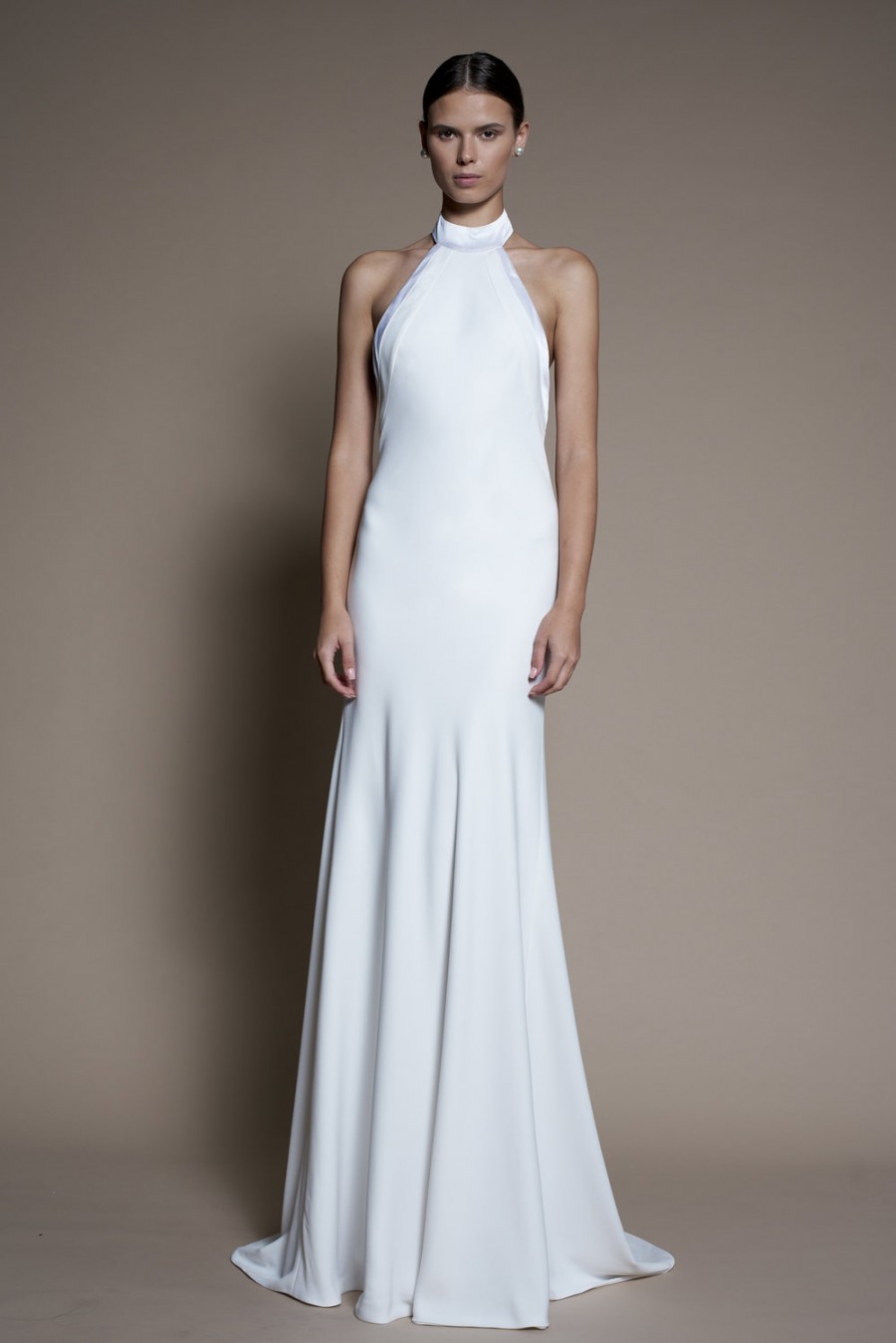 A super fashionable, chic minimalistic wedding style that is absolutely stunning. Modern sophistication at it's finest.
31.

Modern Column Goddess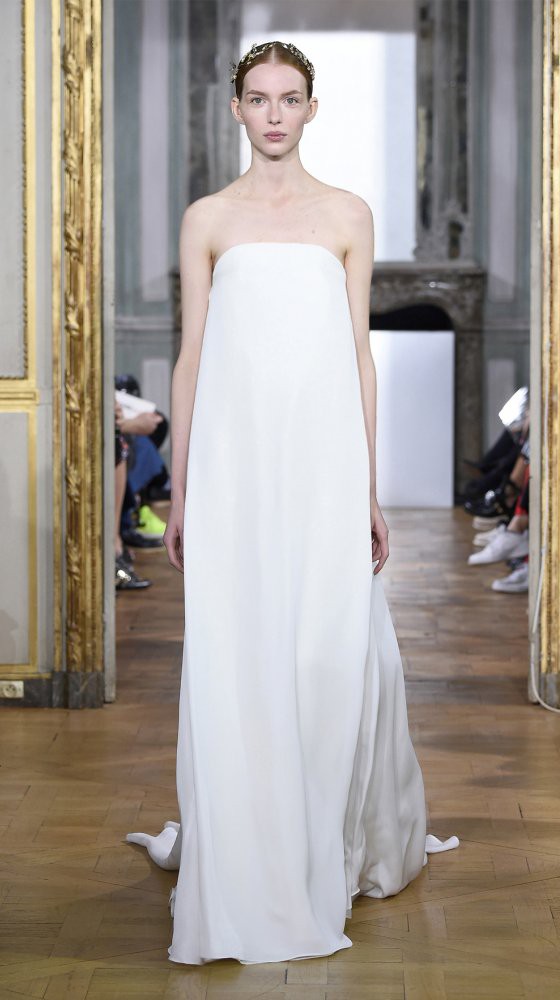 A simple and slick column gown for our minimalistic modern brides out there. This beautiful gown delicately cascades down from the bust to the floor. A simple design that will still make a bold statement.
32.

Less is More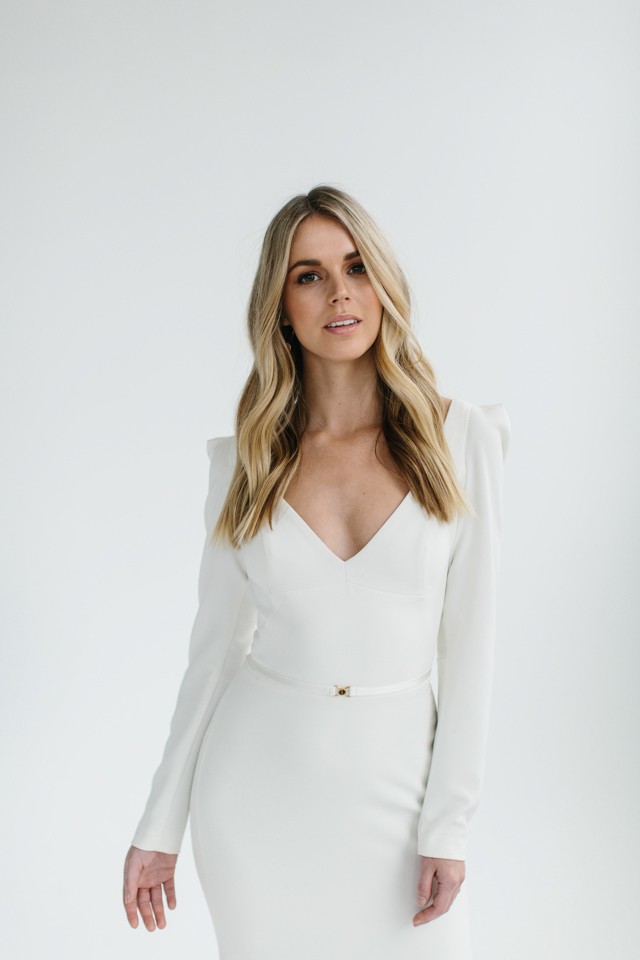 Karen Willis Holmes proves that less can be so much more with this stunning understated gown. The stretch fabric of this gorgeous v-neck gown will hug your curves effortlessly. Subtle puffs to the shoulders and a sleek belt finish off this modern minimalistic style.
33.

Sleek Side Cut Outs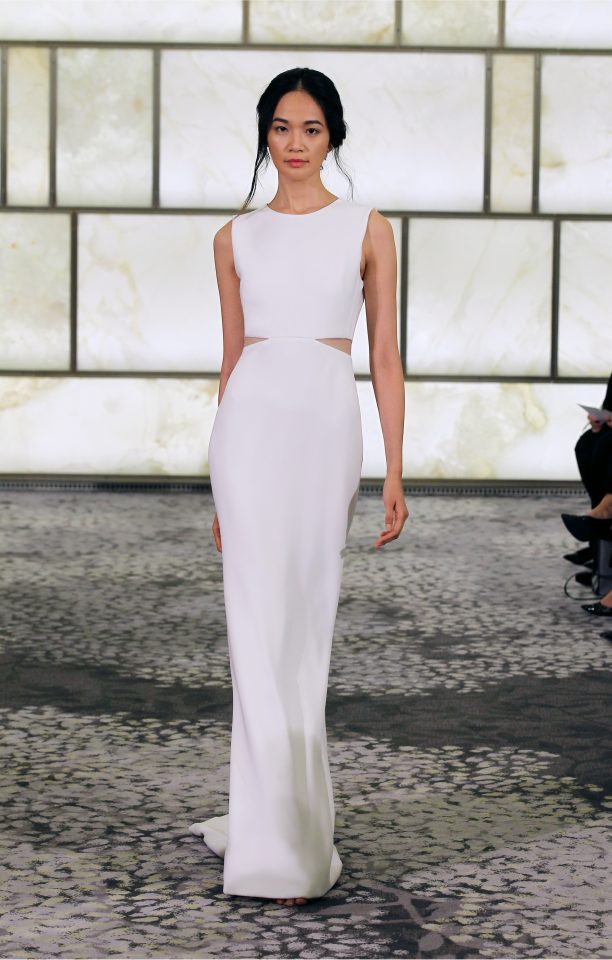 Chic minimalism at its finest. This next bridal gown is slick and simple. Its high neck design and form hugging silhouette is complimented by sexy side cut outs.
34.

Futuristic Minimalism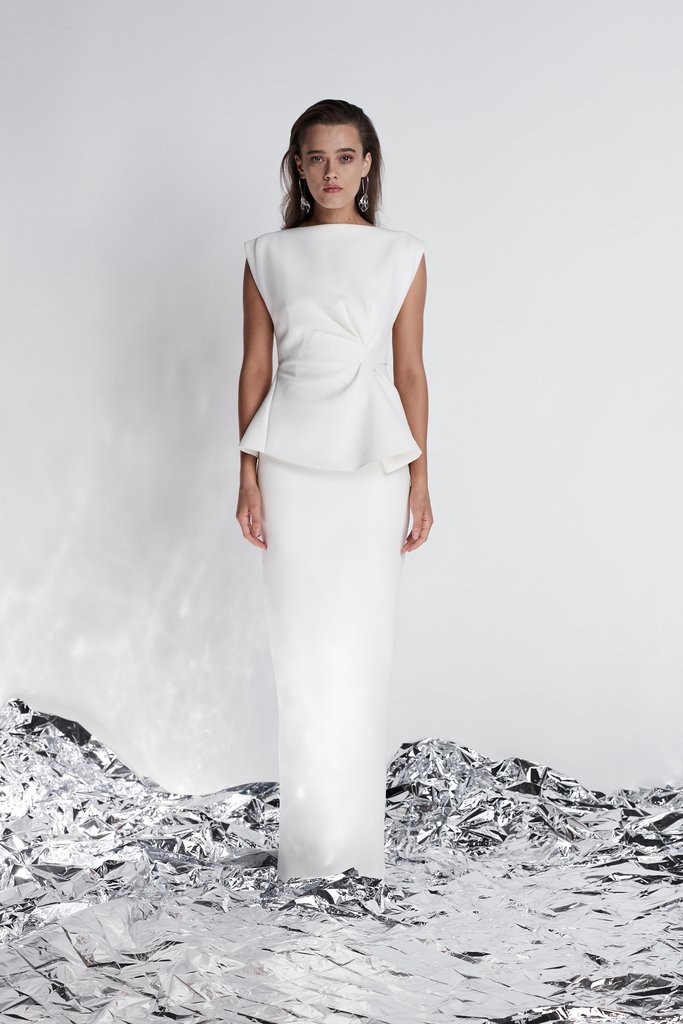 Our next minimalistic wedding gown is contemporary and futuristic. The hard lines and gathered detailing create an ultra modern design that is bold and completely unique. Perfect if you are looking for a minimal wedding style that is going to push the boundaries into futurist fashion.
35.

Clean Lines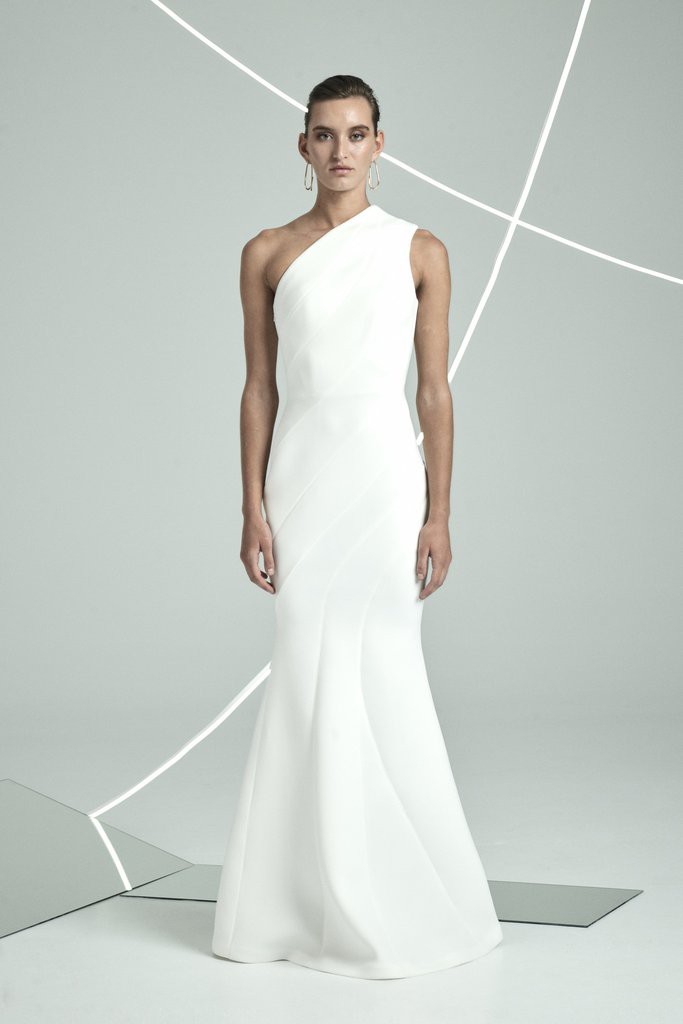 A slick one shoulder minimalist design that is clean and flattering. The detail that is most captivating with this style are the subtle seam lines that wrap down the silhouette of the gown. Some minimalist worthy detailing that is gorgeous.

By Kathryn Schrotenboer