If you are a minimalist bride looking for an effortless and timeless style, then a classic slip wedding dress is for you!
A slip dress is one of the most classic and timeless styles a bride can wear on her big day. These no-nonsense gowns show off what matters most - you! And if you are a bride who loves a minimalistic look, this is the perfect gown for you. Elegance and simplicity all in one.
01.

Draped Cowl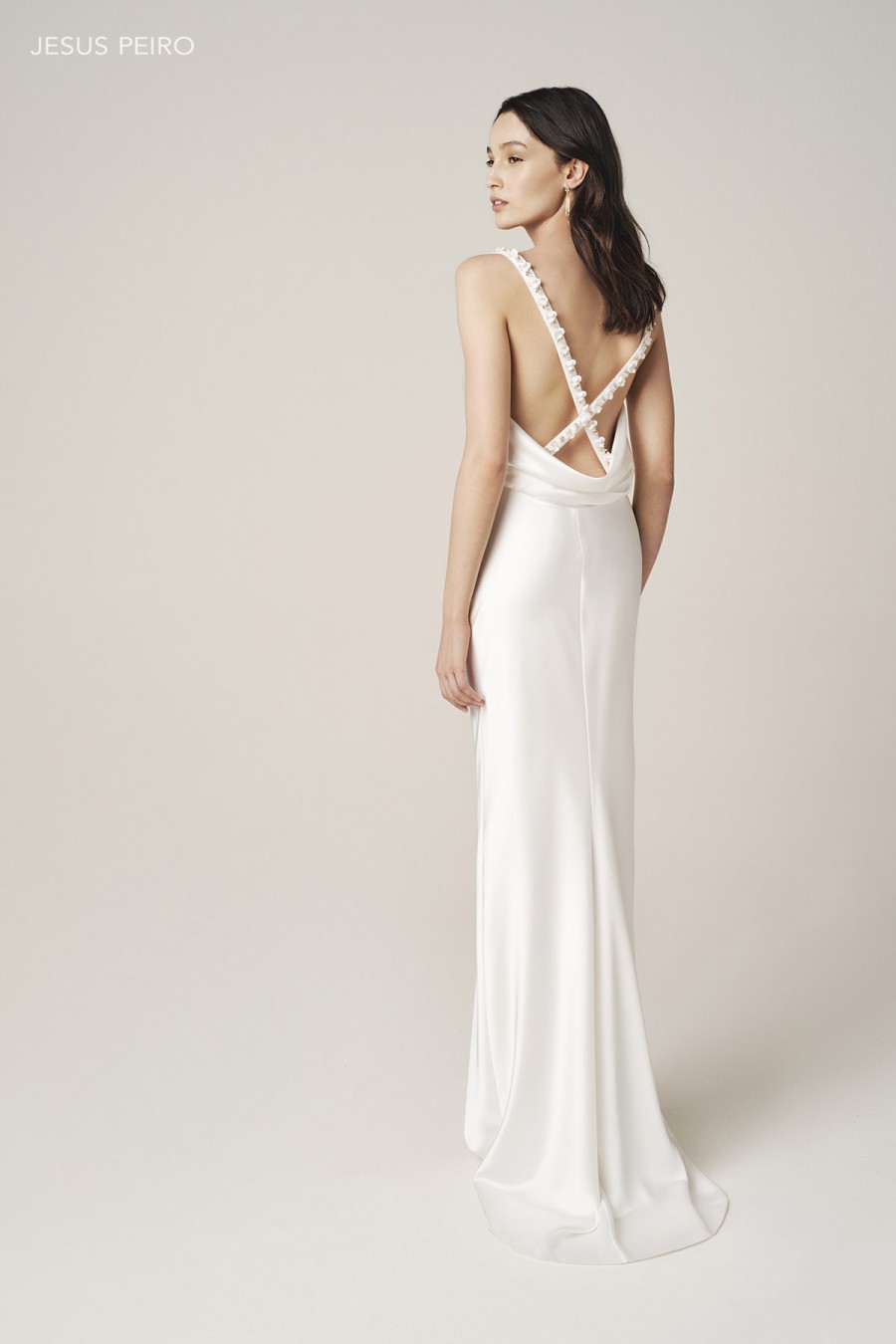 We are swooning over this first minimalist slip dress from Jesus Peiro. A classic cut, with a few surprises. The draped cowl back style is stunning and the adorned cross straps add just a touch of texture to the look.
02.

Simple Silk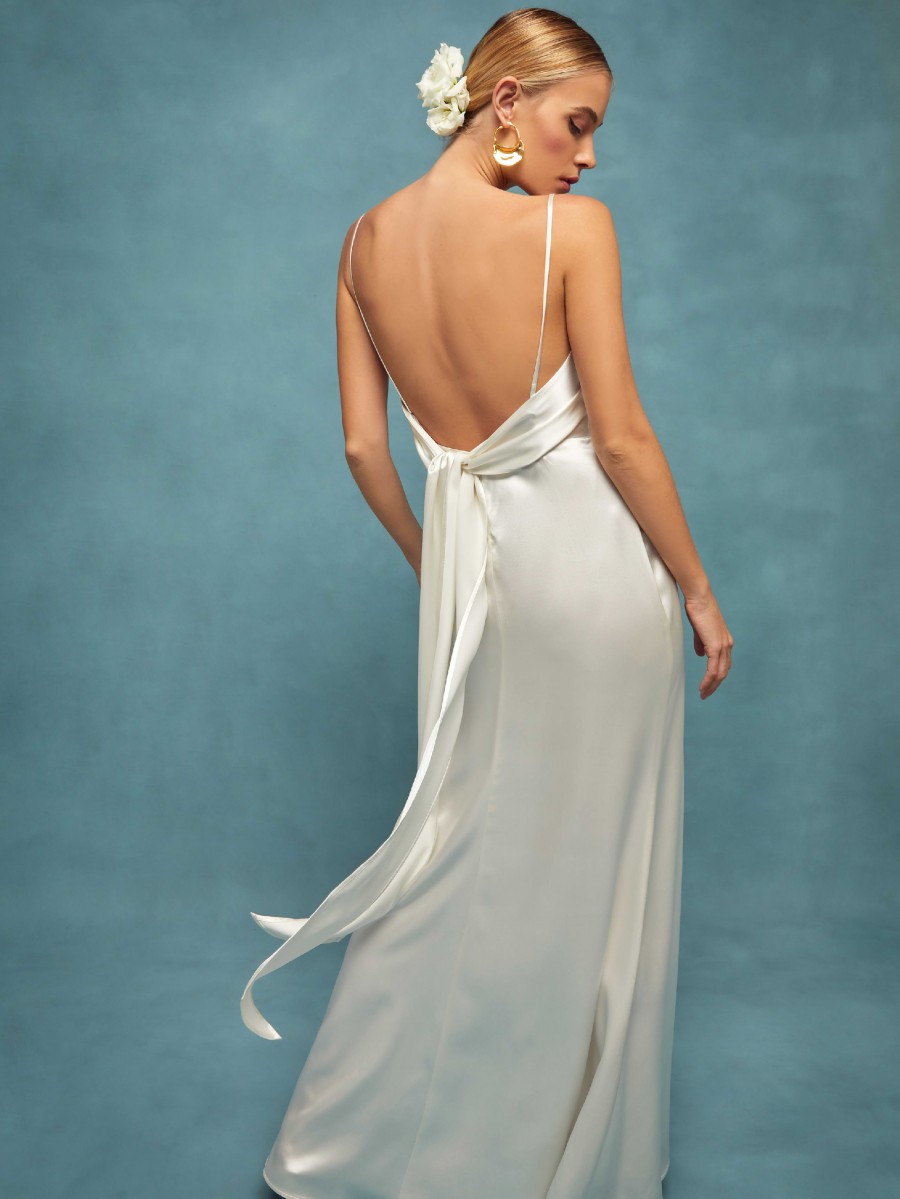 This next minimalist slip dress from The Reformation is an instant classic. Our favorite feature is the delicately draped center tie at the base of the open back.
03.

Simply Irresistible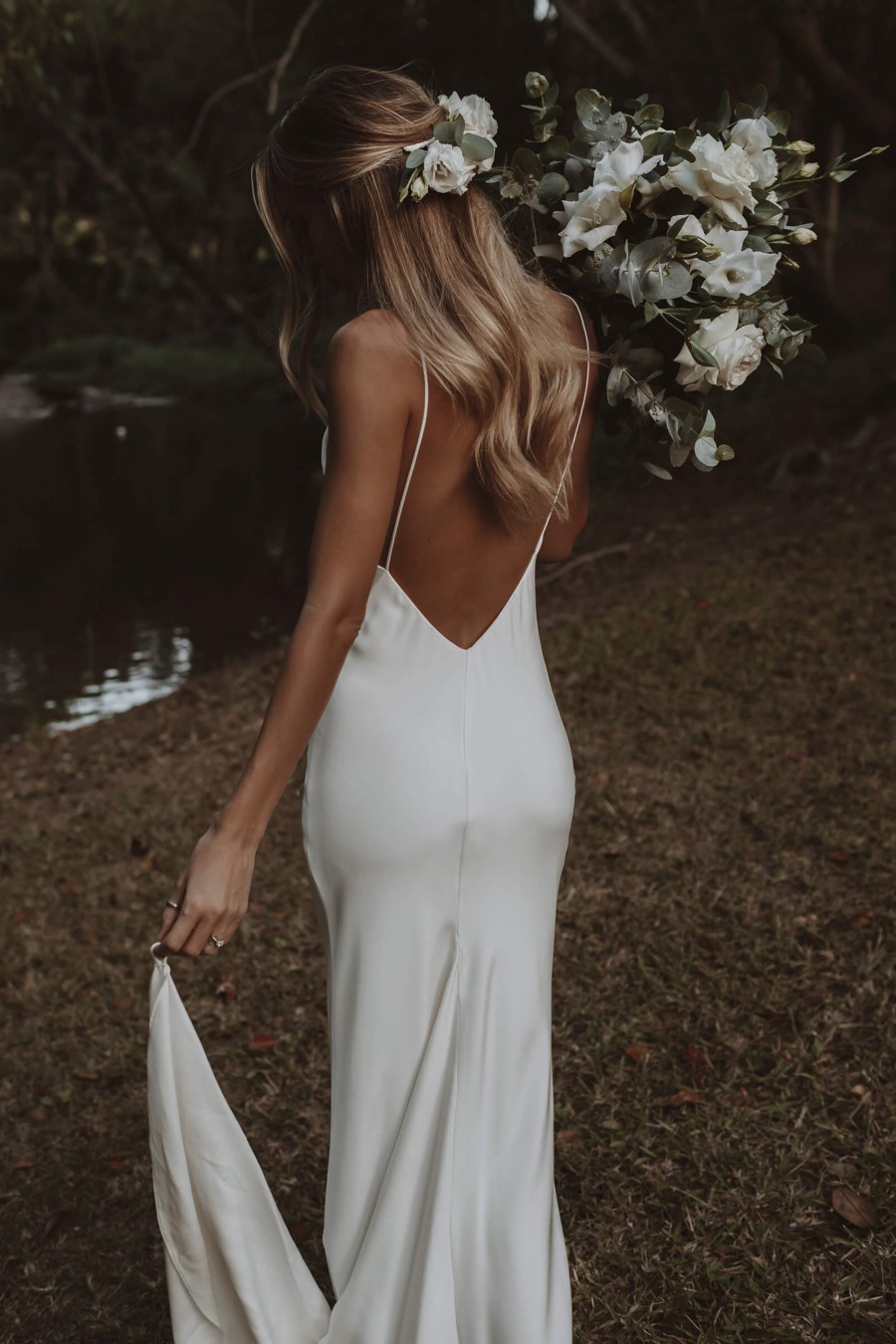 This next slip wedding dress from Grace Loves Lace shows how less can be so much more. An effortless and elegant silk gown that will have our minimalist loving brides falling in love.
04.

Floral Slip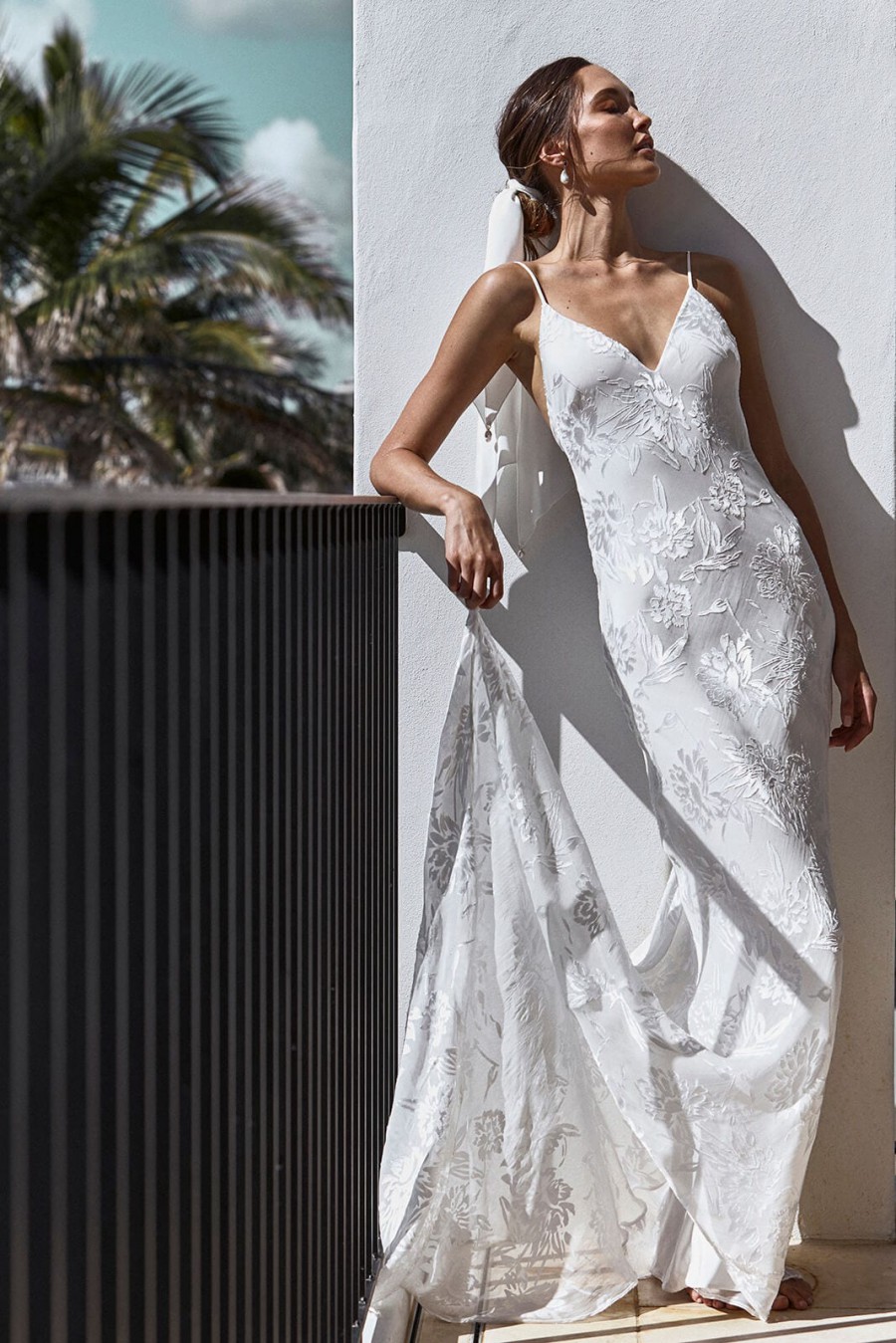 Grace Loves Lace adds a bit more drama to a traditional slip dress with this silk floral designed gown. Combine your desire for a minimal wedding day look, with your love for florals!
05.

Back Detailing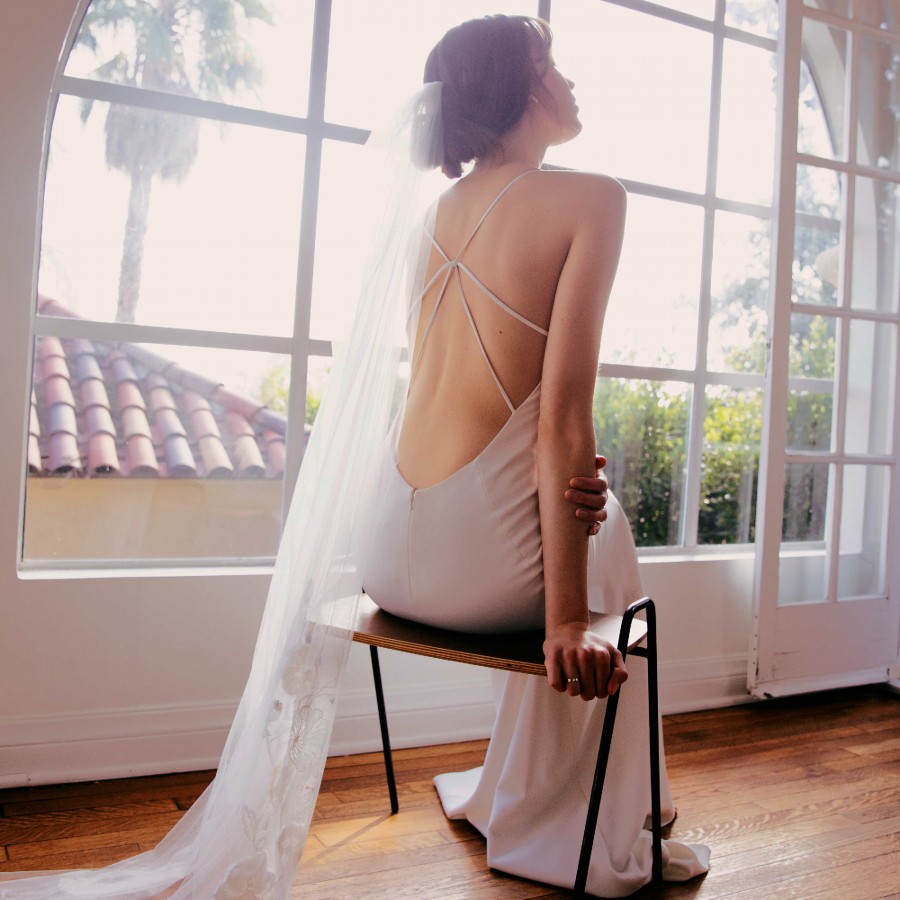 This next minimalist slip wedding gown comes from Floravere. And this gown is all about the back detailing. The delicately crossed straps create a captivating style that everyone will be swooning over.
06.

Slinky Slip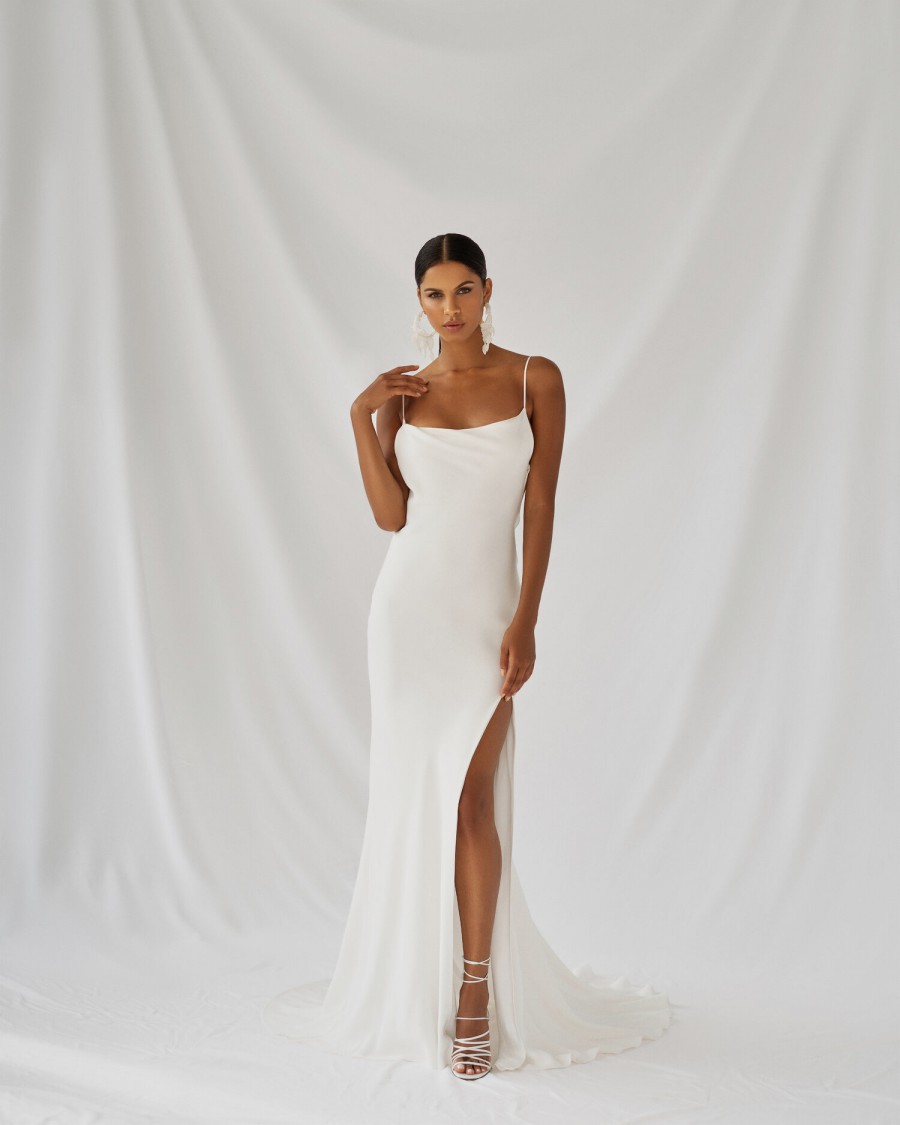 Slip into this next effortless slip dress from Alexandra Grecco. This wedding gown is breathtaking. With a draped cowl back and high front slit, this gown is anything but simple. But it is sure to be a favorite among our minimalist brides.
07.

High Slit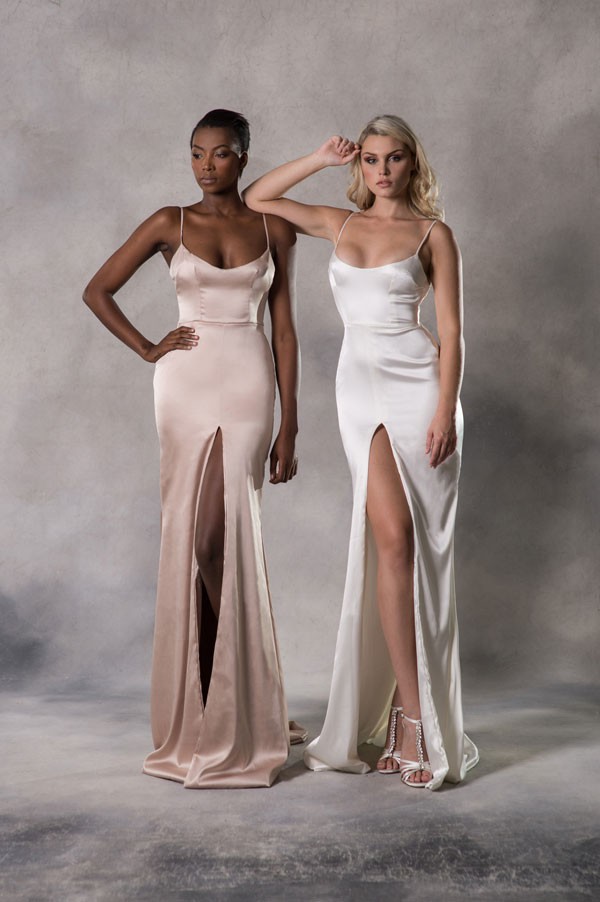 We are heating things up with this next sultry slip dress from Anna Georgina. An ultra minimal bridal style that is sexy and effortless. And we are loving the blush color alternative!
08.

Slim Fit Slip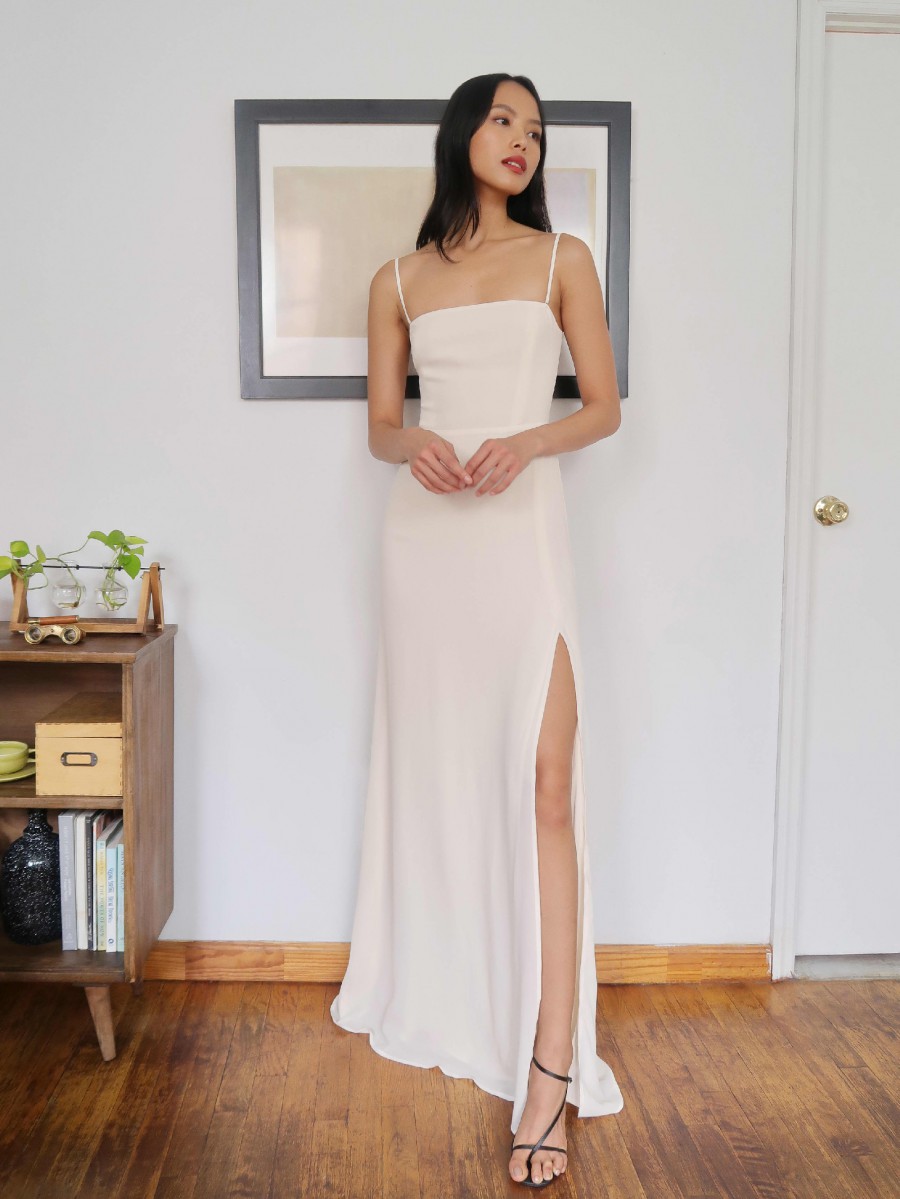 This slim fitting slip dress is simple yet sultry. An effortless silhouette that will hug your curves in all the right places, and show off a little extra leg with the deep front slit.
09.

Lace Inserts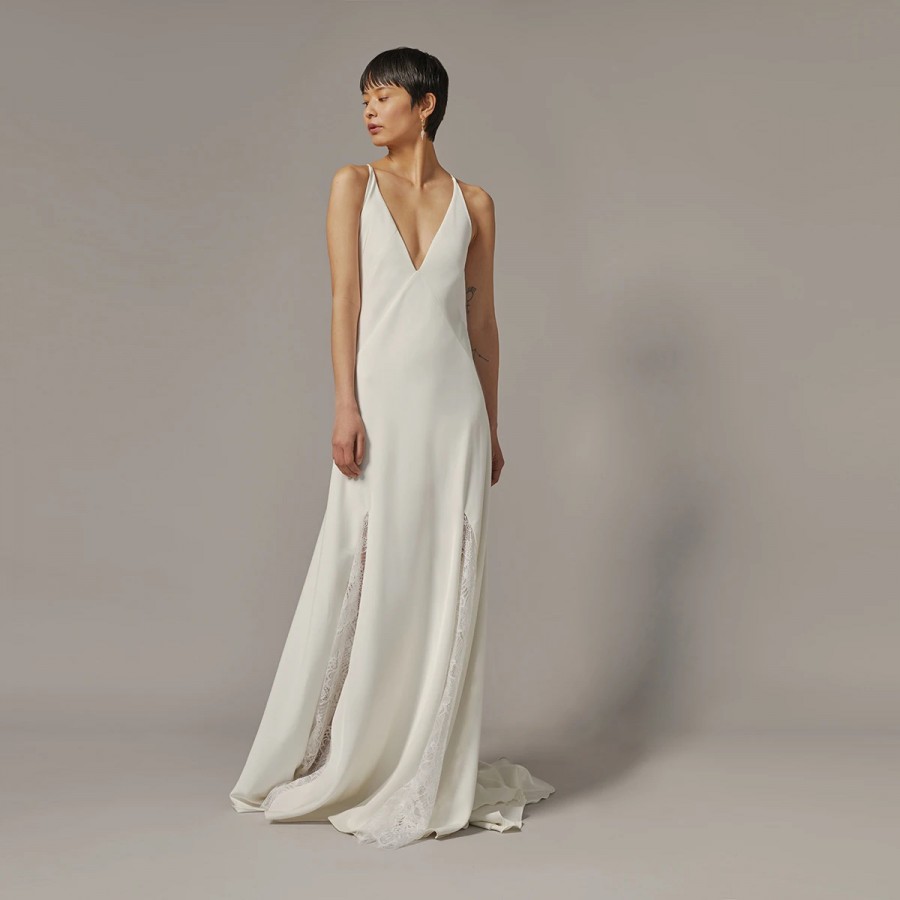 This is not your average slip dress. Featuring delicate lace inserts, the mix of fabrics in this gown are irresistible. This is a great way to keep your style minimal, while also incorporating your love for lace.
10.

Romantic Lace Slip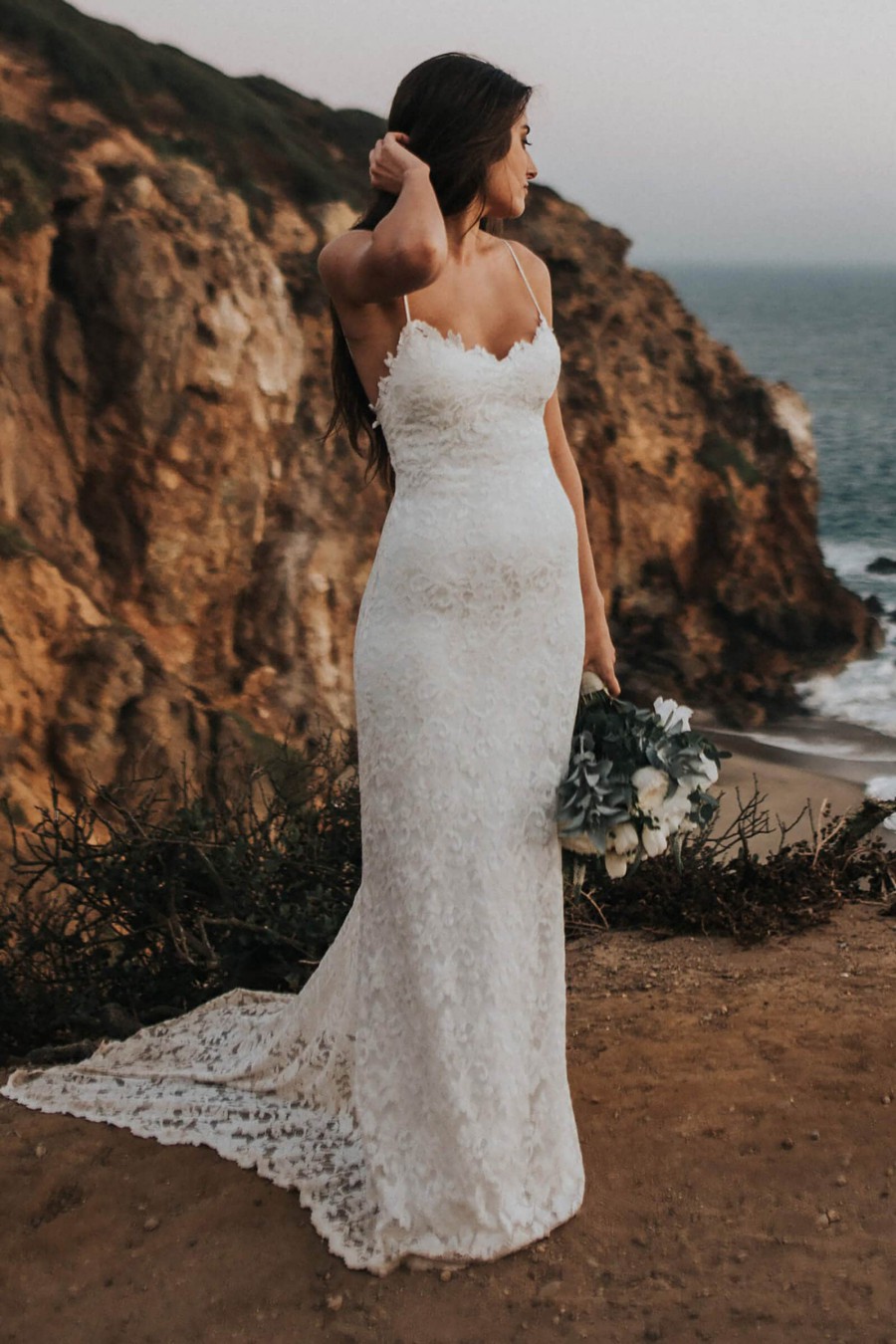 Just because you are looking for a more minimal wedding style, that doesn't mean you have to eliminate lace as an option. Grace Loves Lace shows us how a simple lace slip dress can be so elegant and timeless.
11.

Midi Slip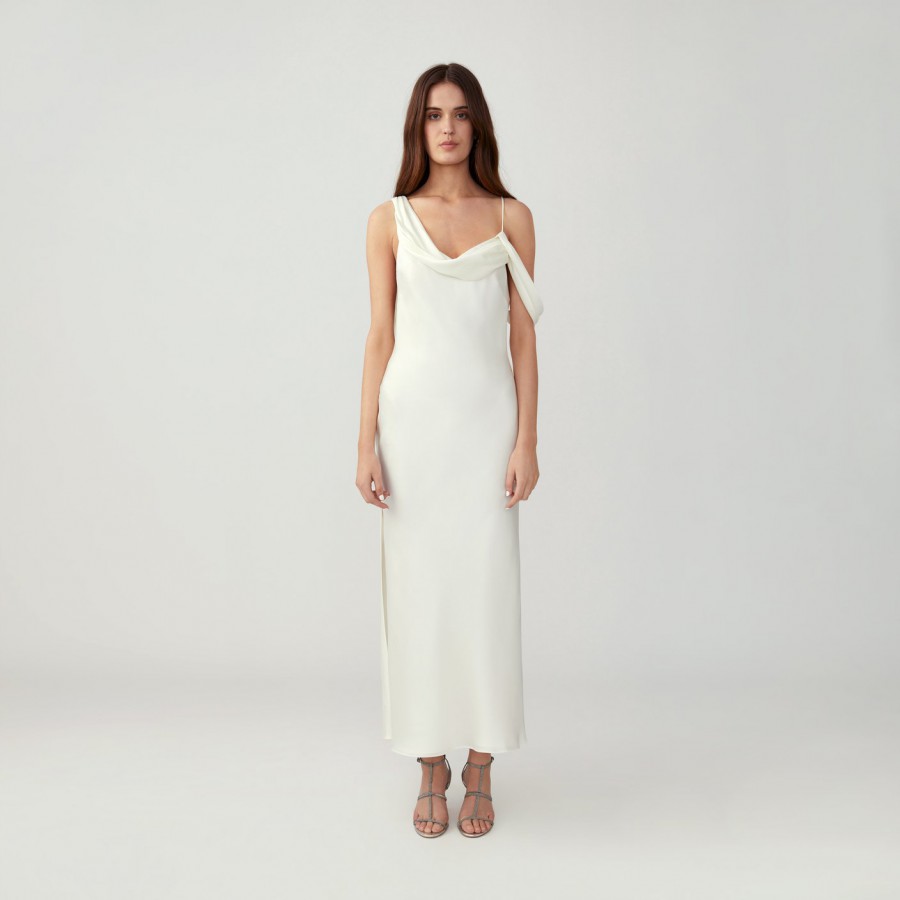 Midi cut wedding gowns are so on trend right now. We love the mix of timeless and modern from this next minimalist slip bridal gown from Fame and Partners.
12.

Silk Wool Slip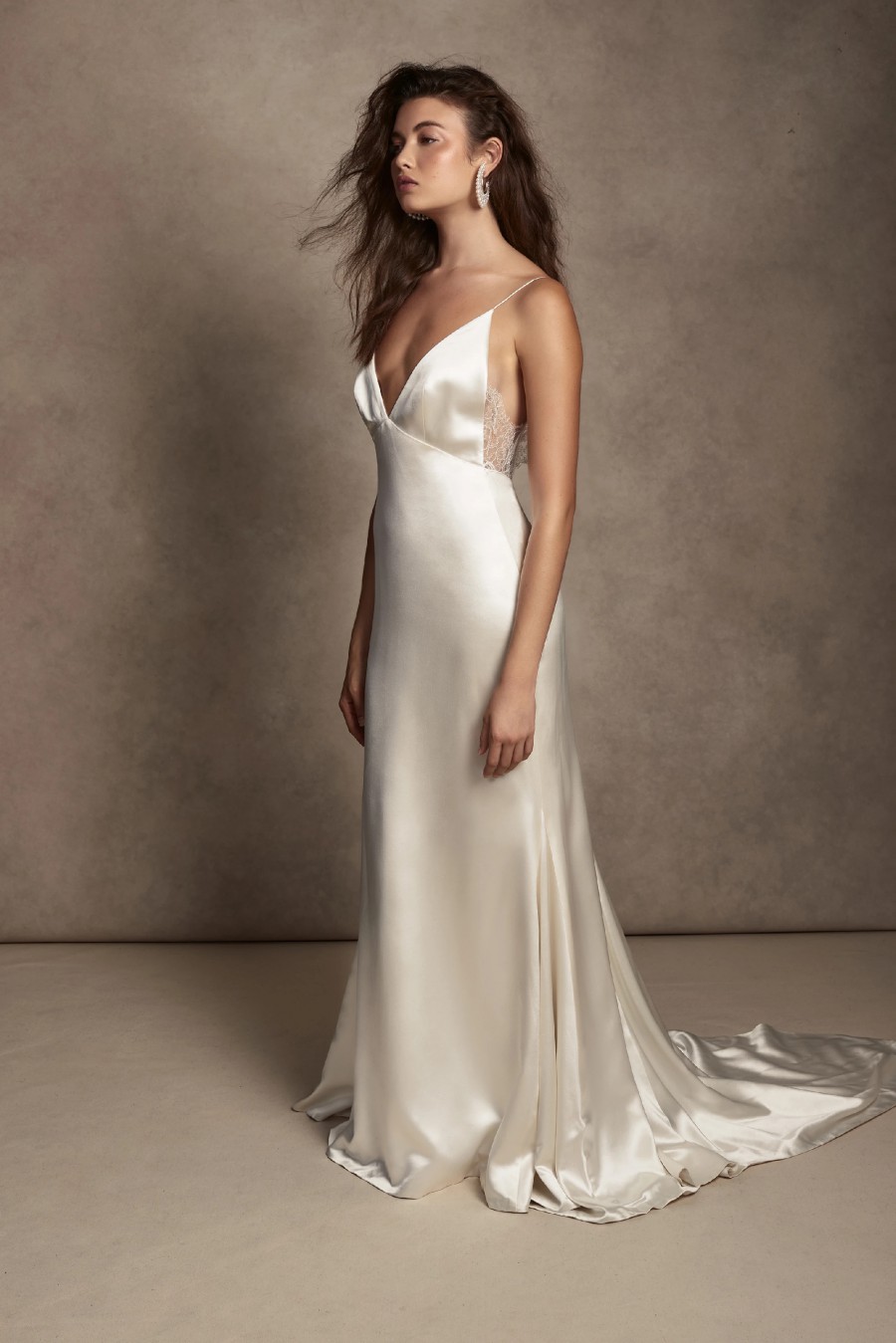 Danielle Frankel brings us our next minimalist slip wedding dress. This unique silk wool gown features delicate lace trim detailing that is effortless and feminine.
13.

Hem Detailing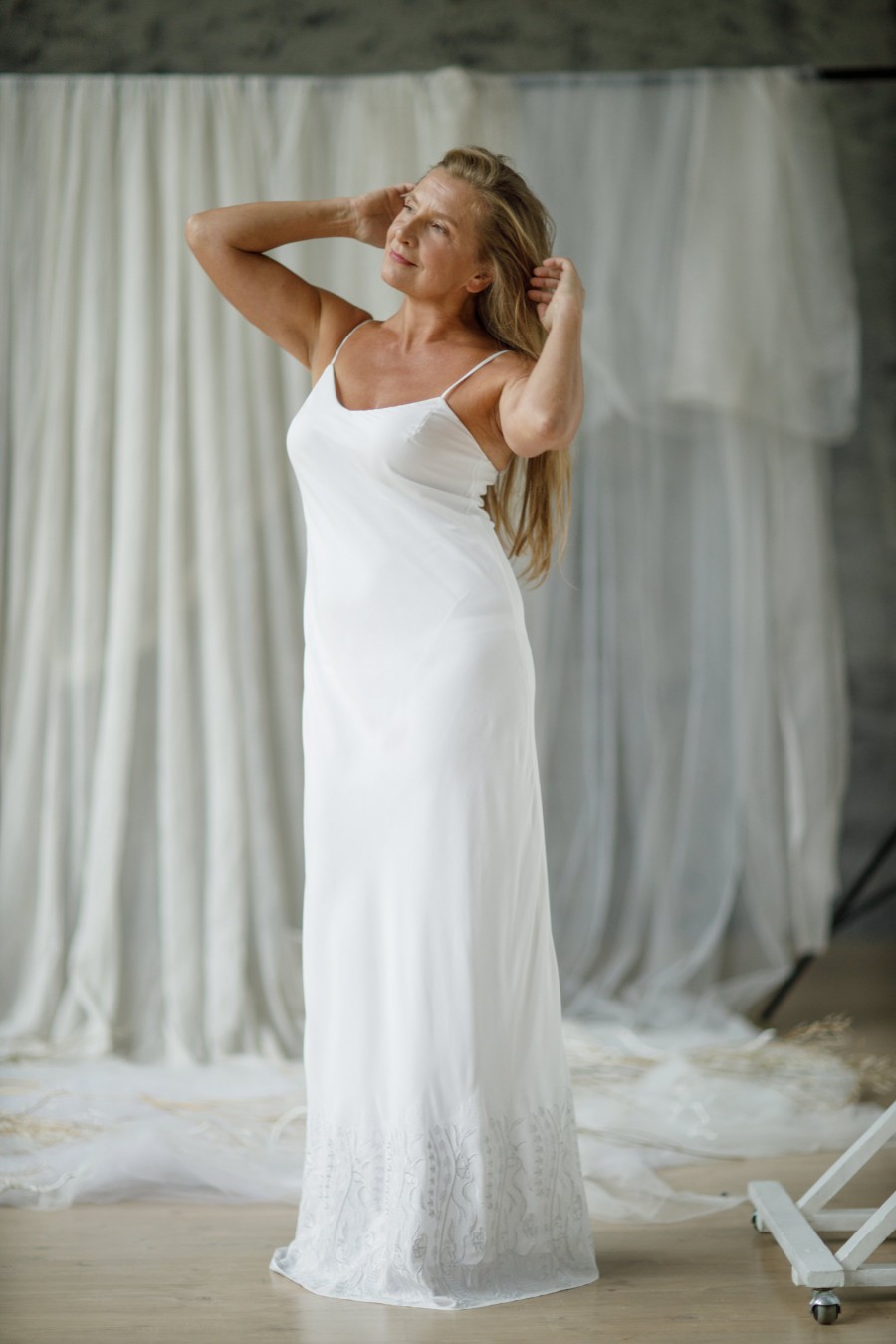 Cathy Telle brings us our next minimalist slip wedding dress with this simple, yet surprising style. This may seem like an ultra simple slip dress at first glance, but the intricate hem embroidery adds a touch of surprising femininity.
14.

Single Shoulder Midi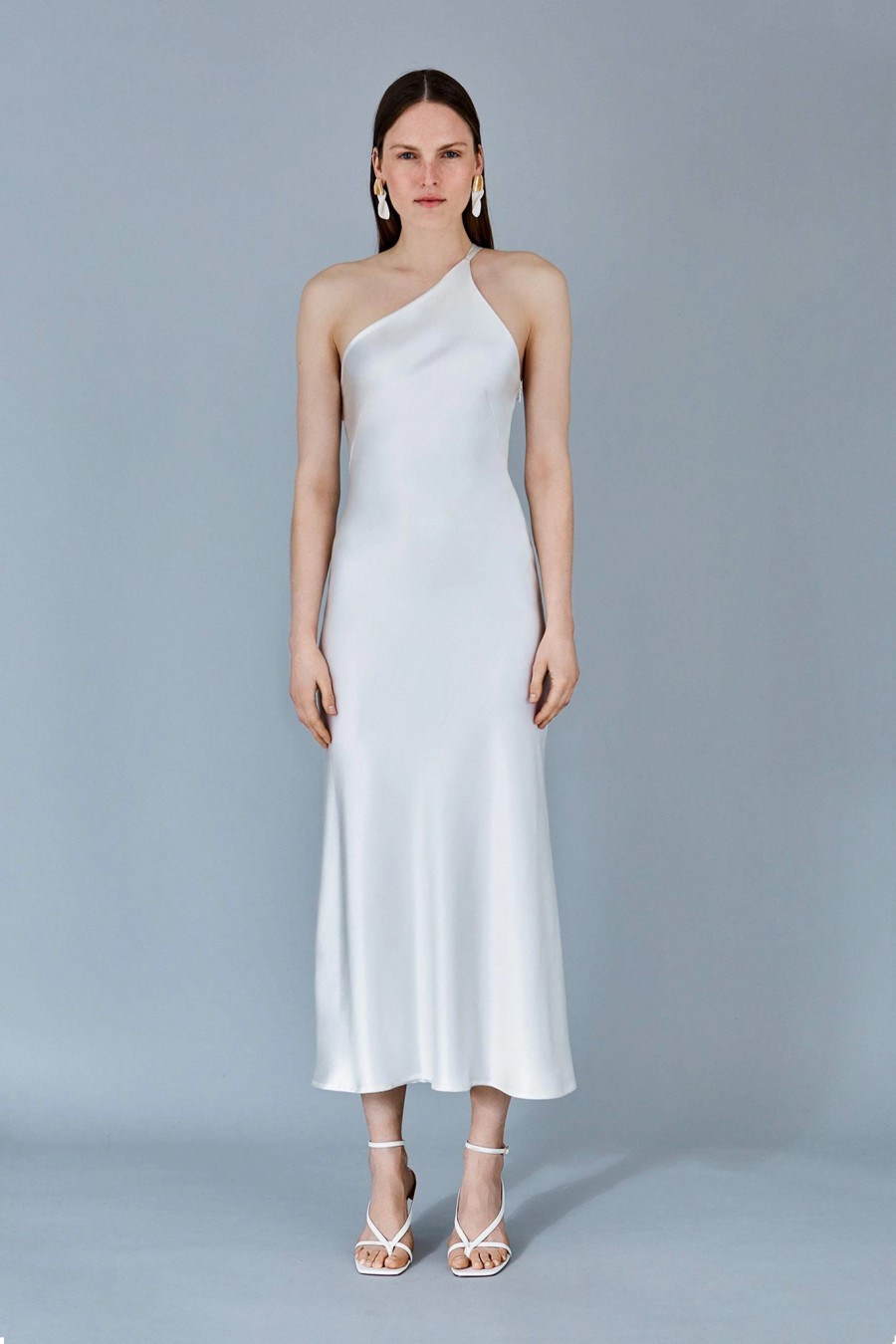 Our contemporary minimalist brides out there are going to love this sleek single shoulder midi dress from Galvan London. A simple, yet elegant bridal gown perfect for a less formal wedding day.
15.

Textured Sequin Slip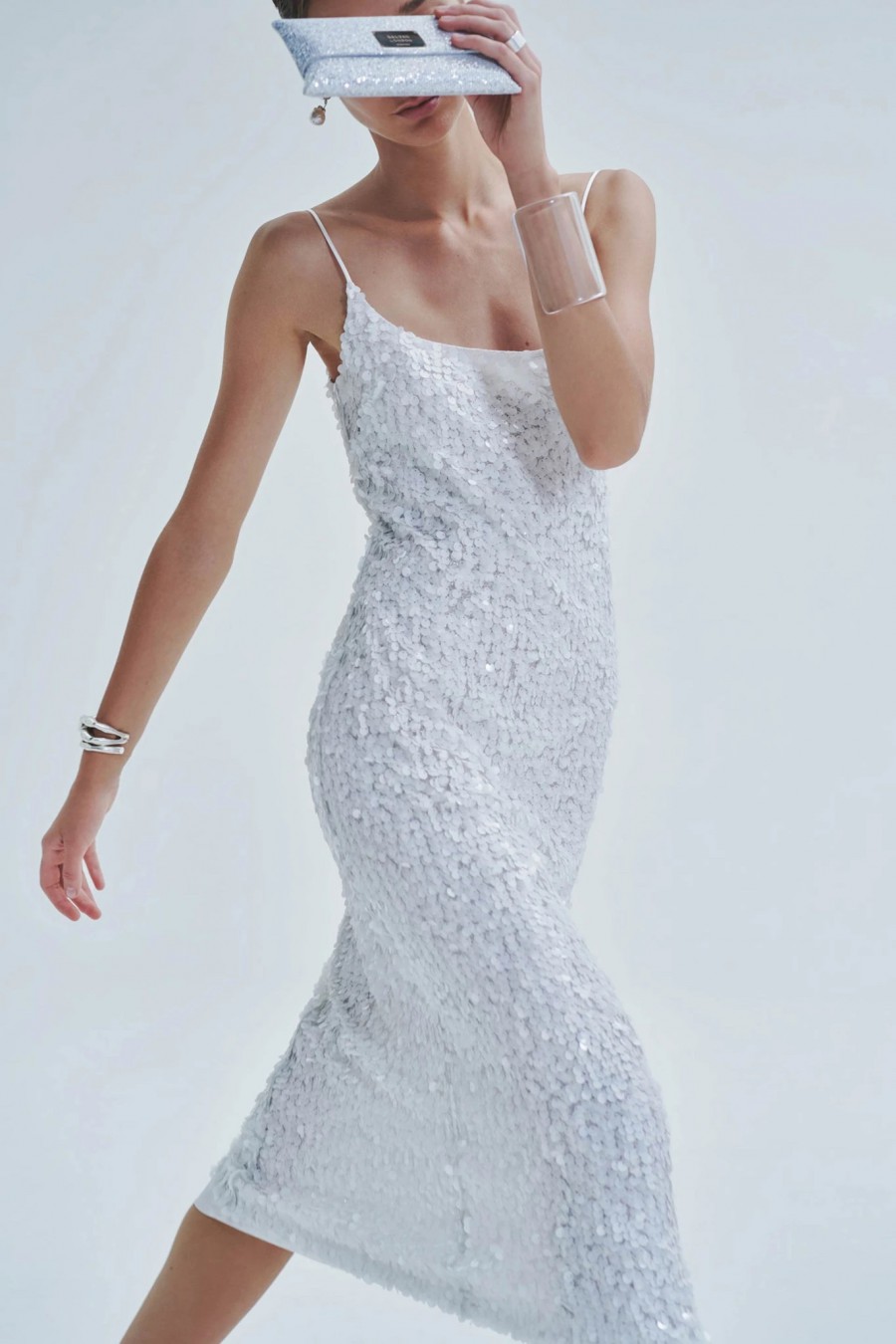 If you are looking for a less formal wedding day look that is still ultra glamorous and luxe, then you are going to love this midi wedding gown from Galvan London. This minimal slip style has the most beautiful textured sequin pattern that will have you feeling ready to party the day away.
16.

Fringe Slip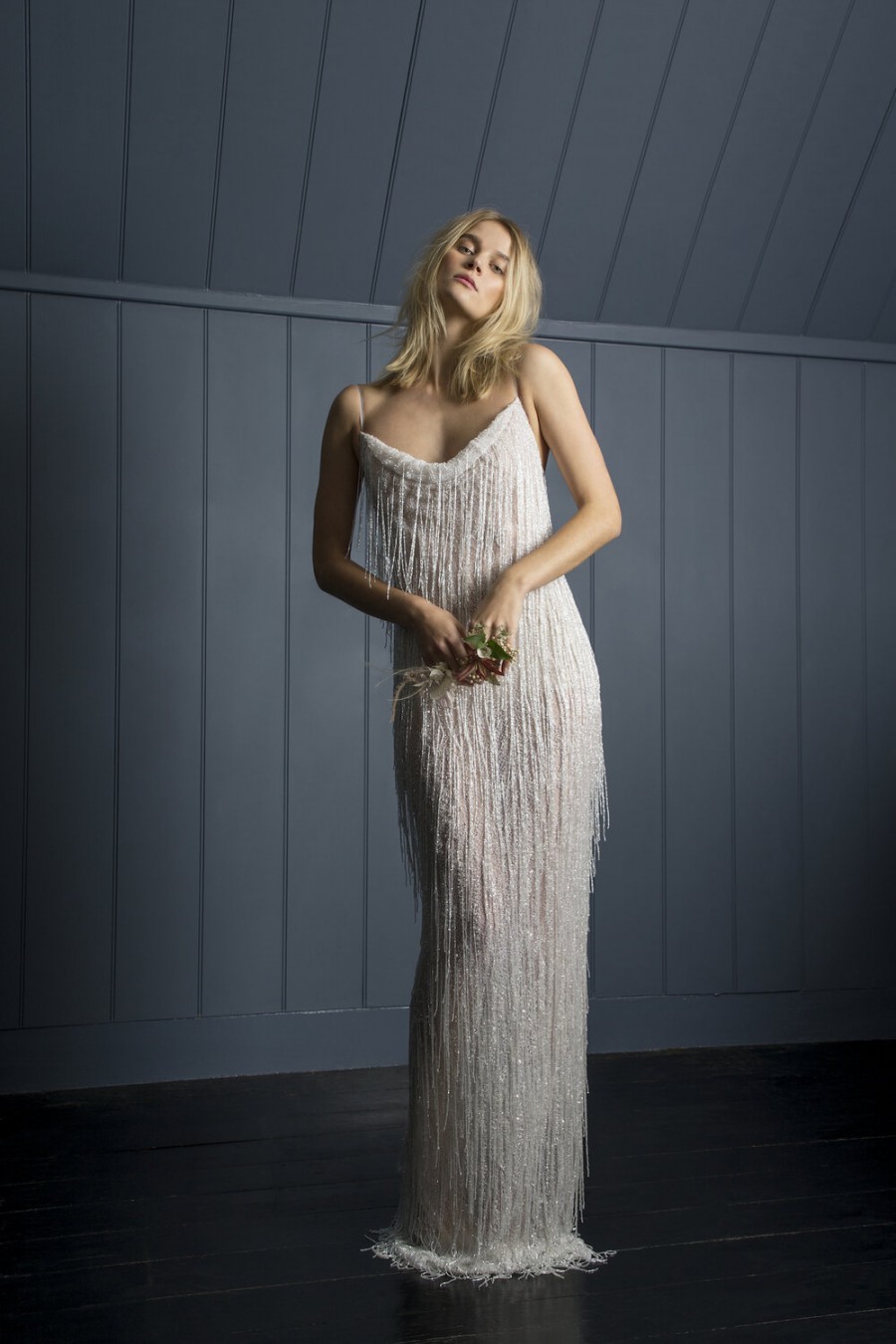 Keep things simple and minimal, yet playful and unique with this fully fringed slip dress from Half Penny London.
17.

Blushing Slip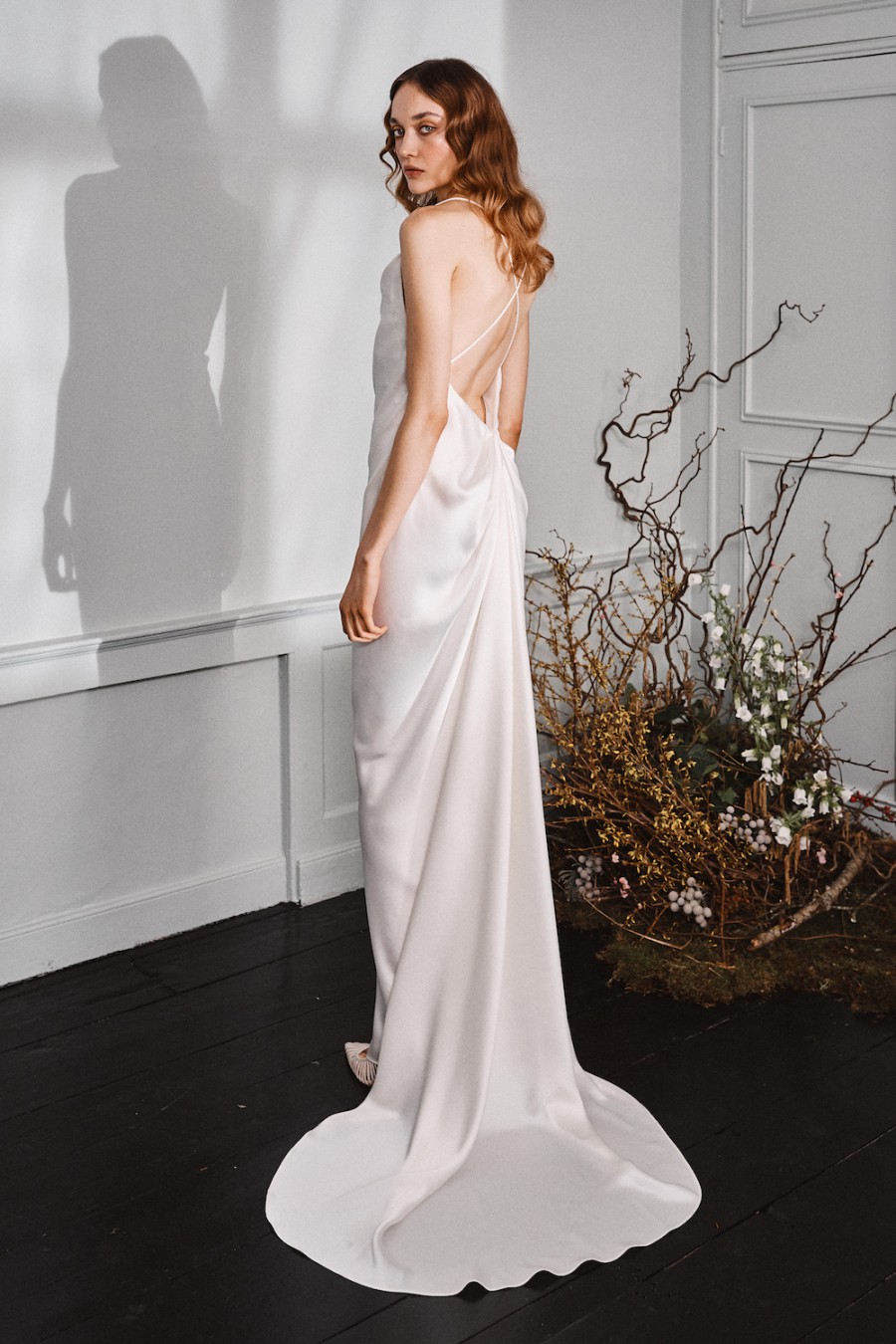 This next blush colored minimal slip dress from Half Penny London has a very Old Hollywood Glam feel to it. Luxe, sophisticated, and completely irresistible.
18.

V-Neck Slip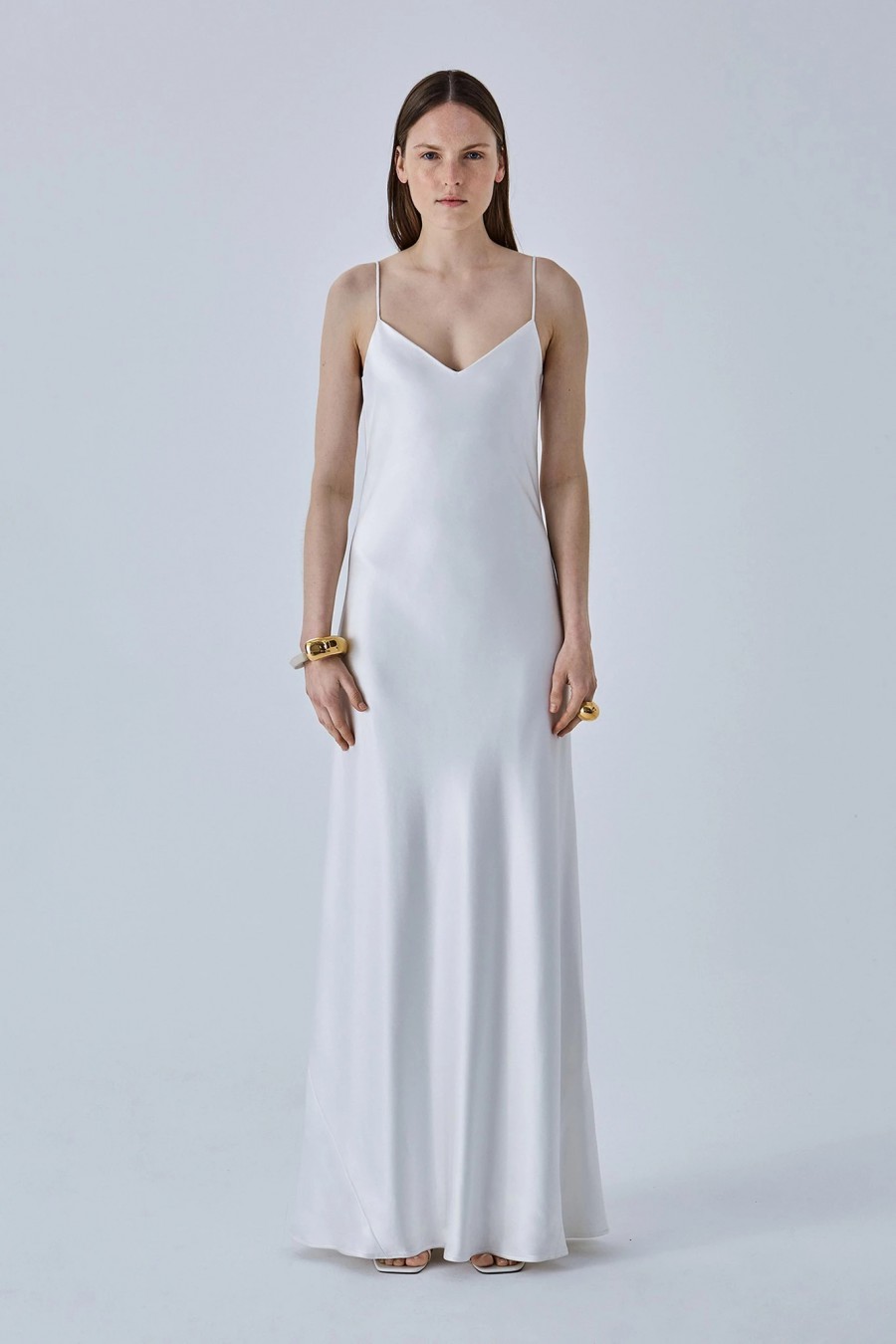 Galvan London shows us how less can be so much more with this ultra minimal slip dress. A timeless style that is all about showing off your unique beauty.
19.

Oversized Bow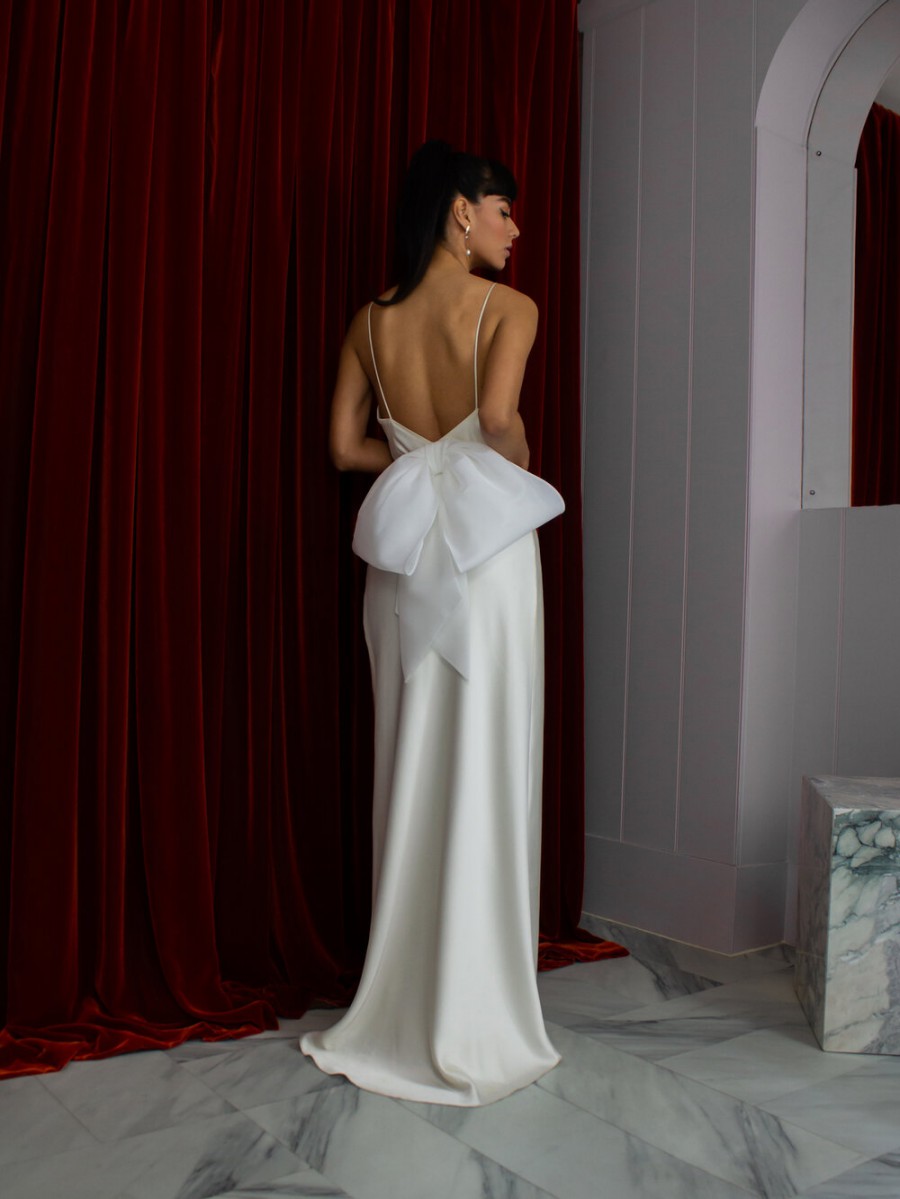 This next sultry silk slip dress from Half Penny London features a chic oversized bow that adds a beautiful feminine finish to this otherwise minimal bridal style. An oversized bow is a great way to add a little extra pop to any slip dress style!
20.

Glitter & Glam Slip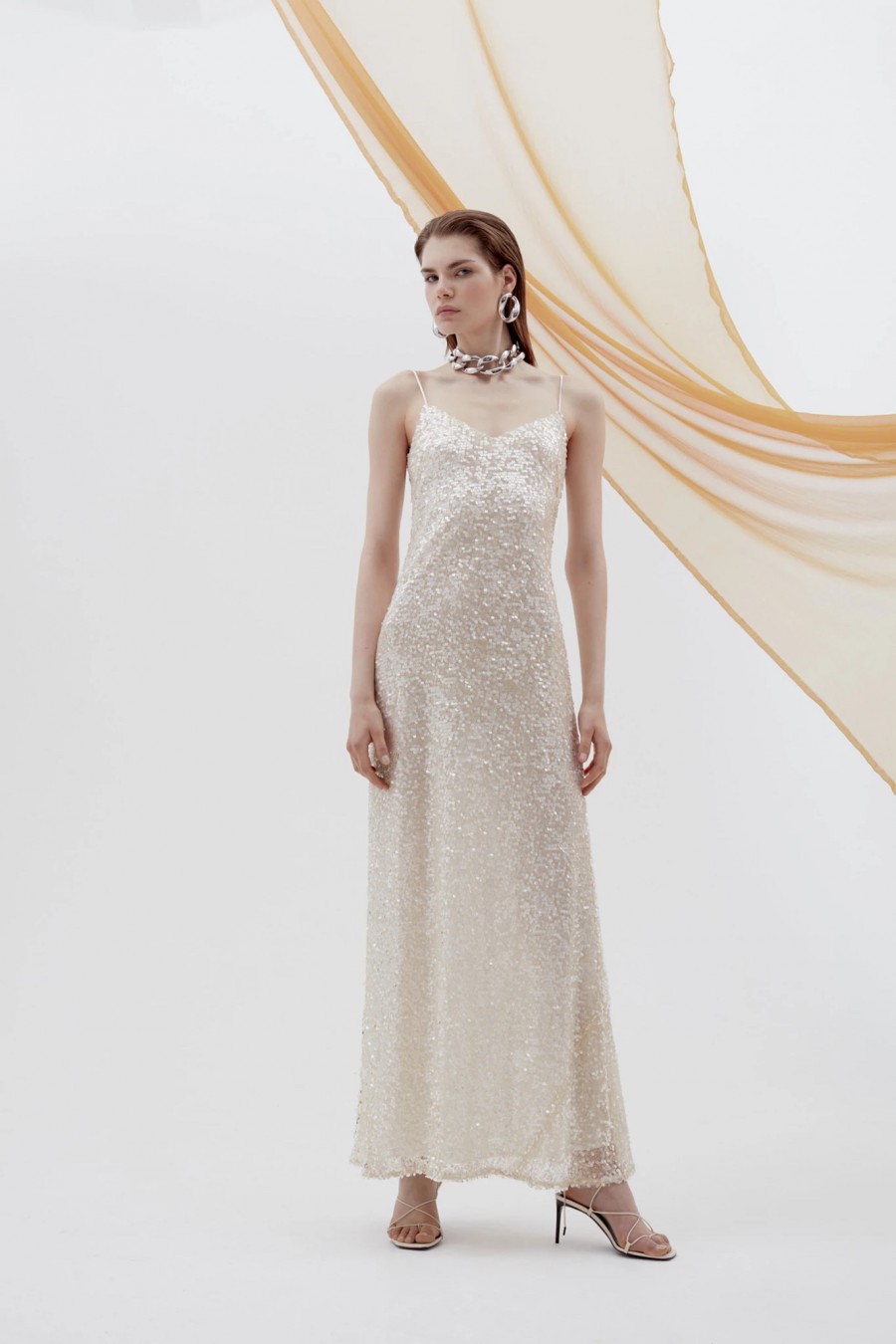 Even if you are looking for a more minimal wedding style, that doesn't mean you can't embrace a little sparkle. This glam slip style from Galvan London timeless and simple, yet luxe and glamorous.

By Kathryn Schrotenboer