If you love millennial pink, then you are going to love these pink wedding gowns styles!
Millennial pink has taken over the fashion scene, and wedding gowns are no exception. We have put together our favorite millennial pink wedding styles that may have you craving something a bit less white for your wedding day.
1.

Bowed Peony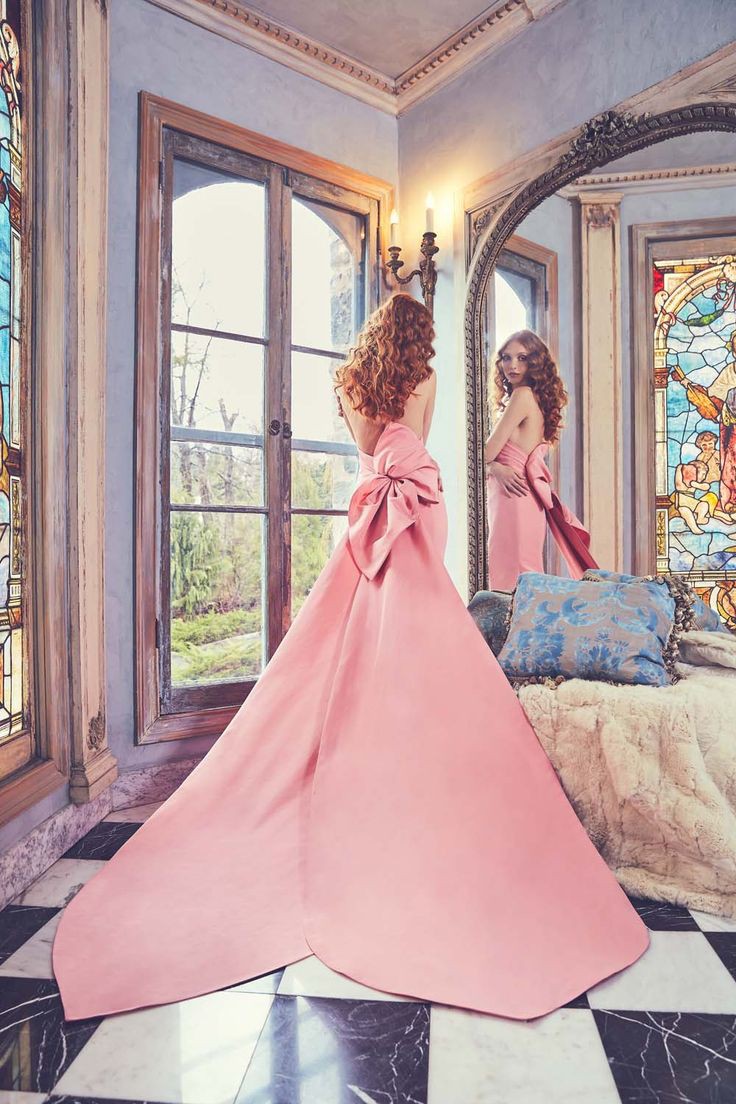 A beautiful strapless trumpet gown in a bold millennial pink color. The back of this gown will leave you speechless with its detachable oversized bow that elegantly trains behind the bride. A style the is both elegantly classic and boldly contemporary.
02.

Rosey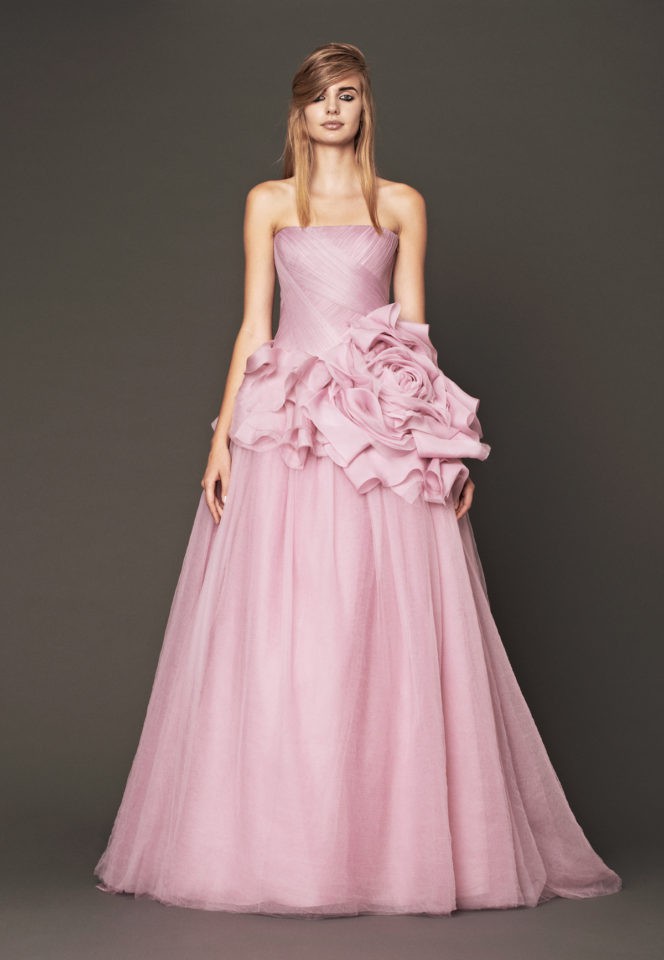 A stunning silk ball gown by Vera Wang featuring an oversized rose accent to make this millennial pink bridal style feel even girlier. This look may be girly, but only a bold fashion forward bride can pull it off!
03.

Dreamy Lace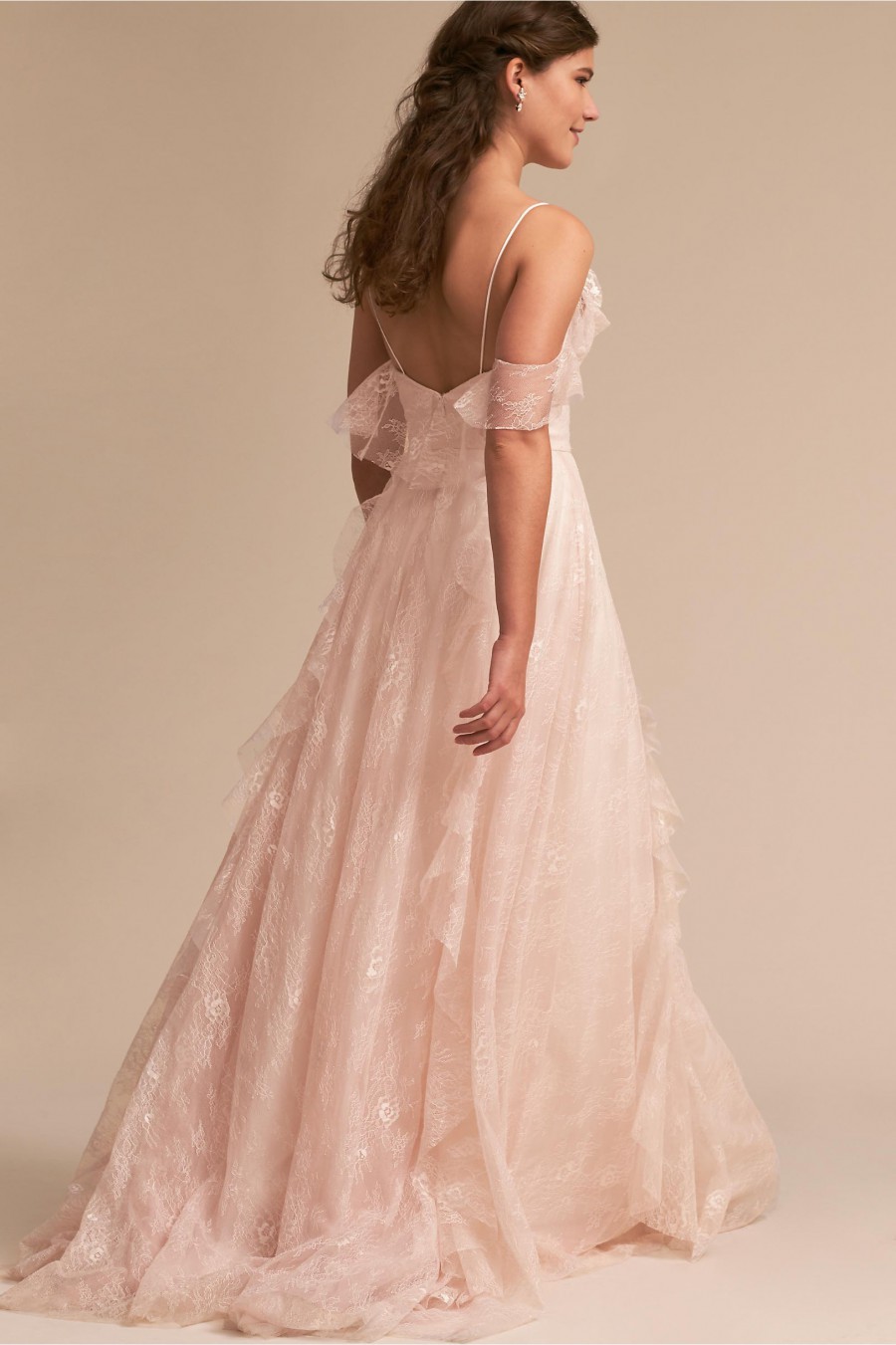 A fairytale worthy pink lace wedding gown that is delicate and feminine. This blushing pink gown is perfect for a romantic garden wedding.
04.

Victorian Pink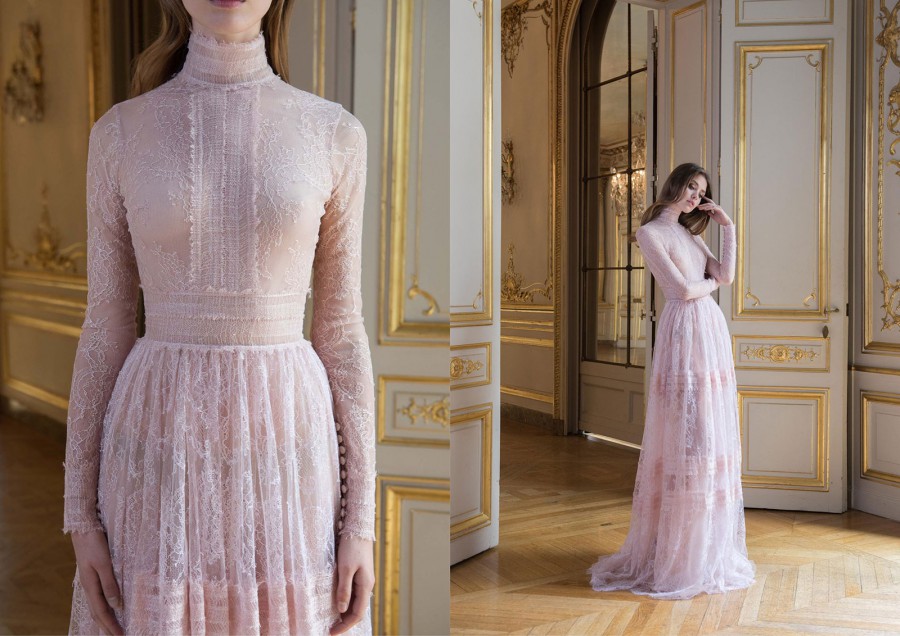 A gorgeous, and delicate Victorian inspired blushing millennial pink gown by Paolo Sebastian. A modest, antique take on modern wedding fashion.
05.

Pink Up Top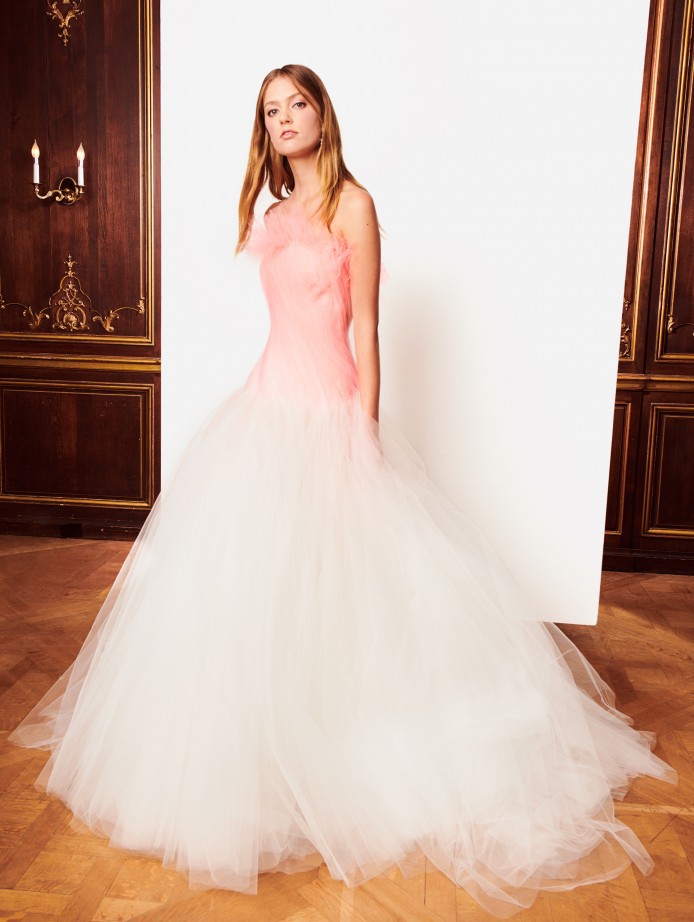 Oscar de la Renta brings us a gorgeous millennial pink wedding style that has a slight ombre effect. A solid pink bodice fades into a traditional white tulle skirt. Include your love of pink, without totally giving up a white wedding style.
06.

Side Double Bow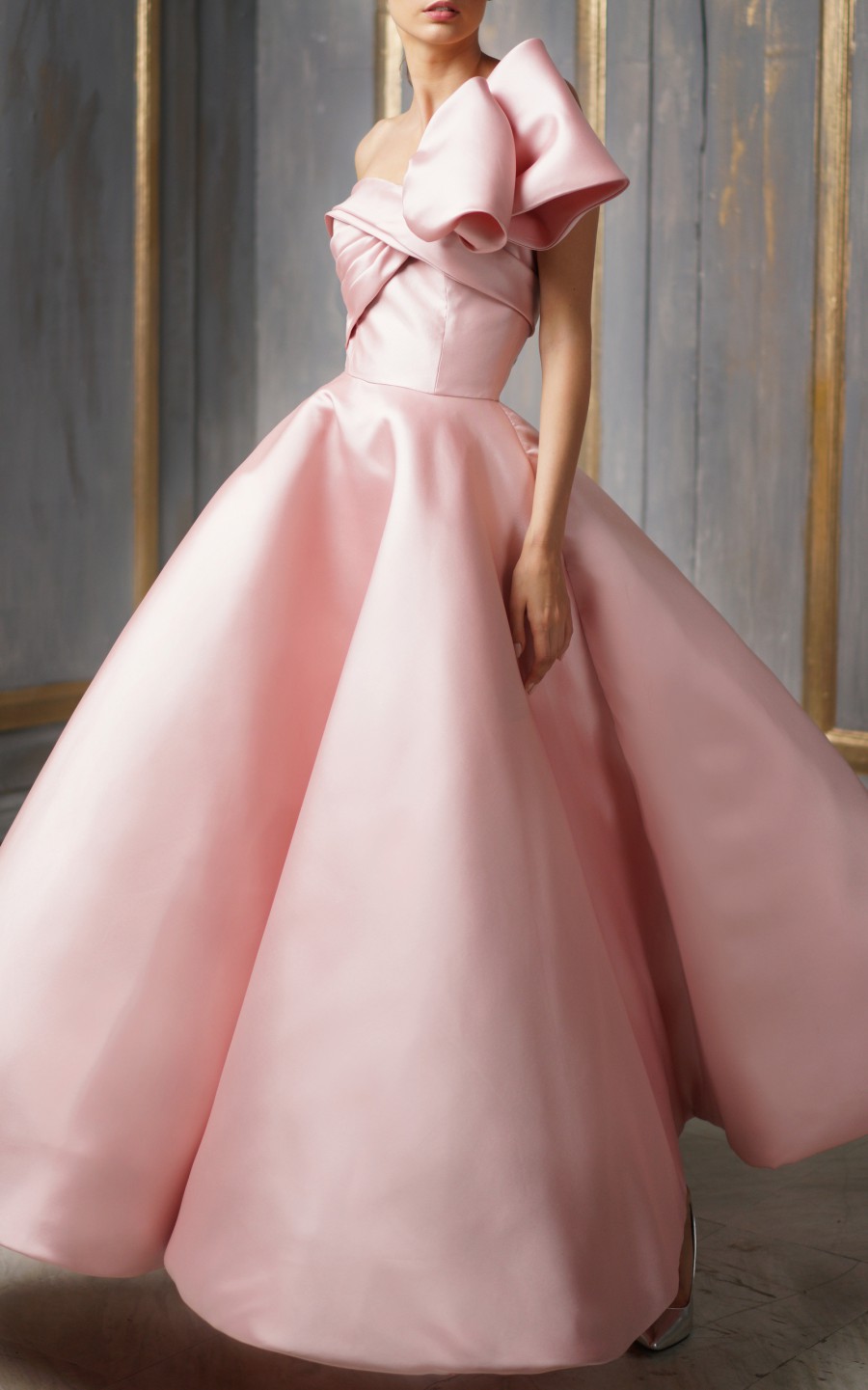 Ready to ditch the idea of an all white wedding style? Us too. This silk millennial pink gown has it all. Featuring a voluminous one-sided bow accent for a sassy style to match your bold personality.
07.

Draped in Pink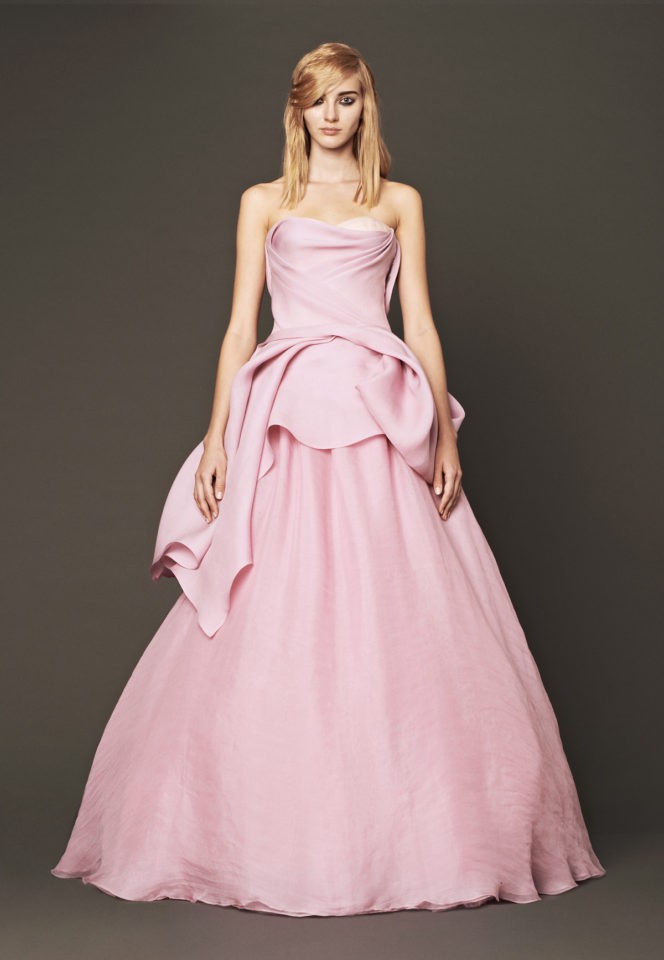 A gorgeous contemporary ball gown by Vera Wang. This millennial pink dress features delicately draped fabric for a one of a kind look. Both girly and modern.
08.

Floral Glitz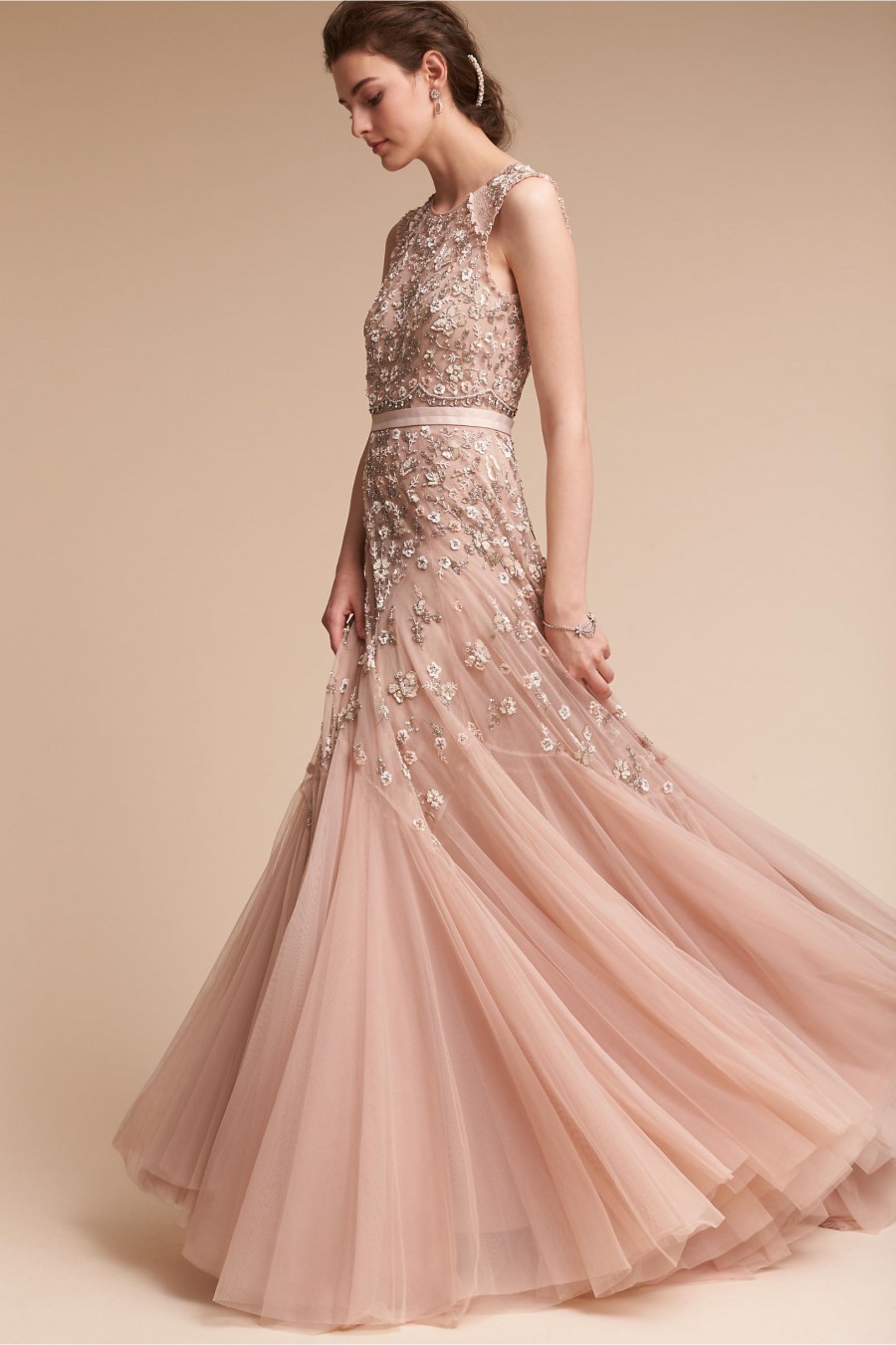 Our next blushing millennial pink wedding style is by BHLDN. This feminine tulle gown is embellished with gorgeous floral accents for a glitzy feminine wedding style.
09.

Millenial Glitz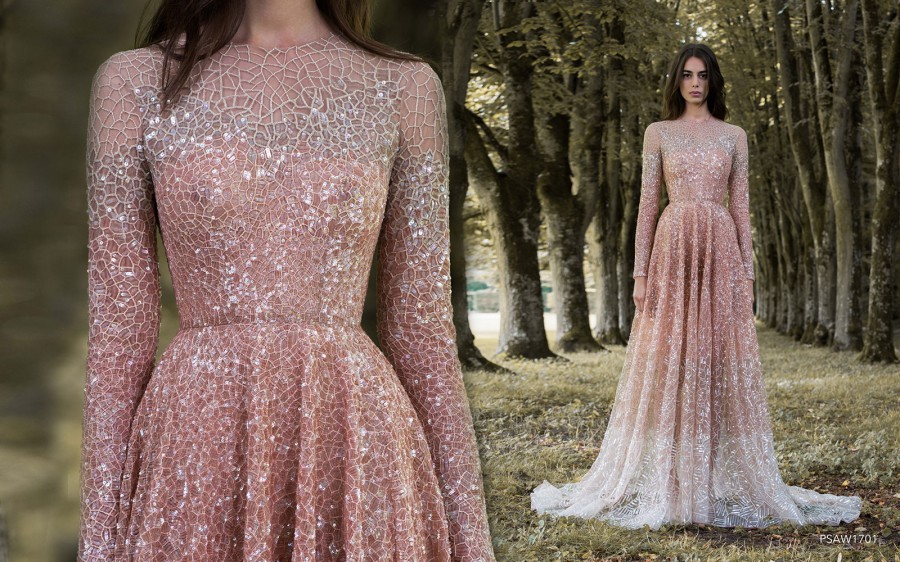 A glitzy millennial pink wedding style for only the most glamorous of modern brides. This all over glitz style is both ultra modern and feminine.
10.

Romantic Glam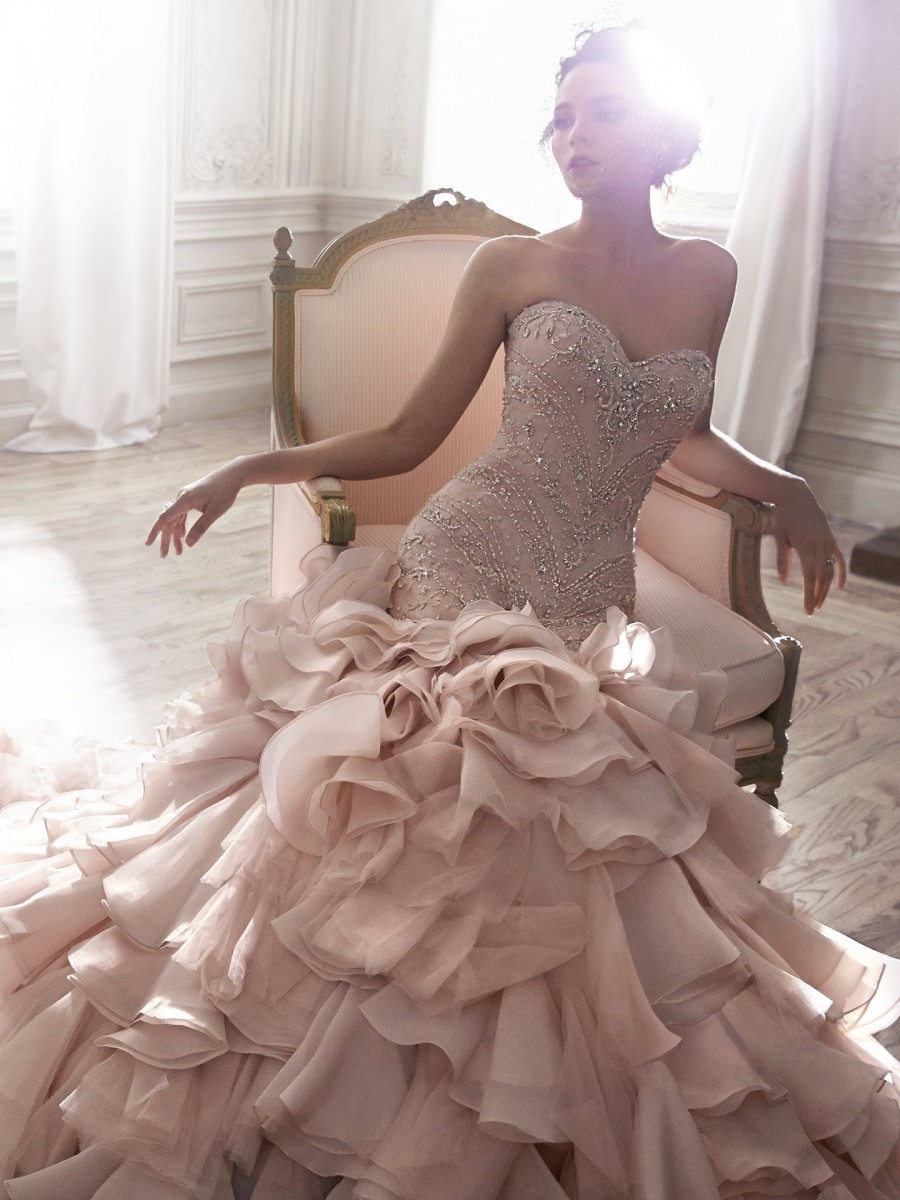 An absolutely stunning blushing pink style from Maggie Sottero. Fitted, Swarovski crystal covered bodice merges with a voluminous layered tulle and organza skirt. Romantic and feminine.
11.

Floral and Pearl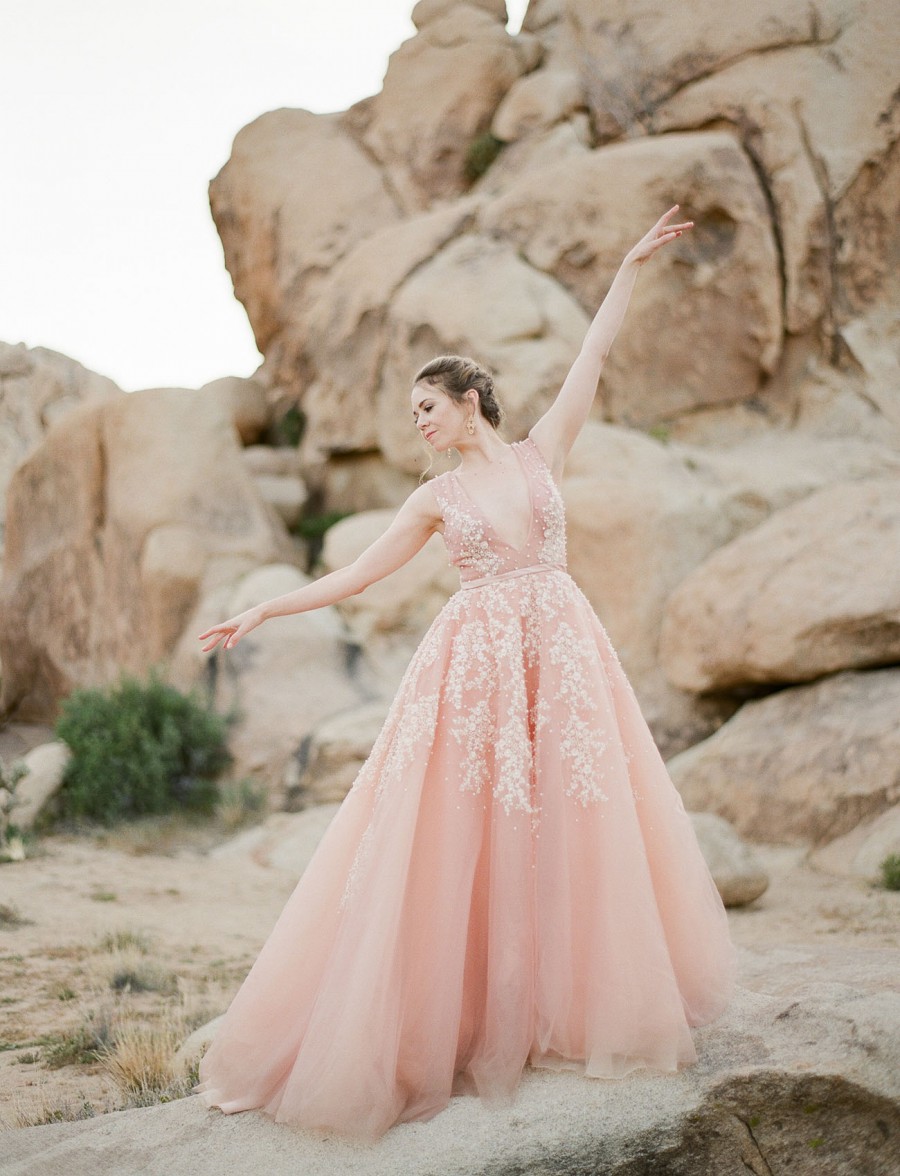 Our next millennial pink wedding gown is a feminine style embellished with florals and pearl accents. A delicate and girly wedding day look.
12.

Orange Blossoms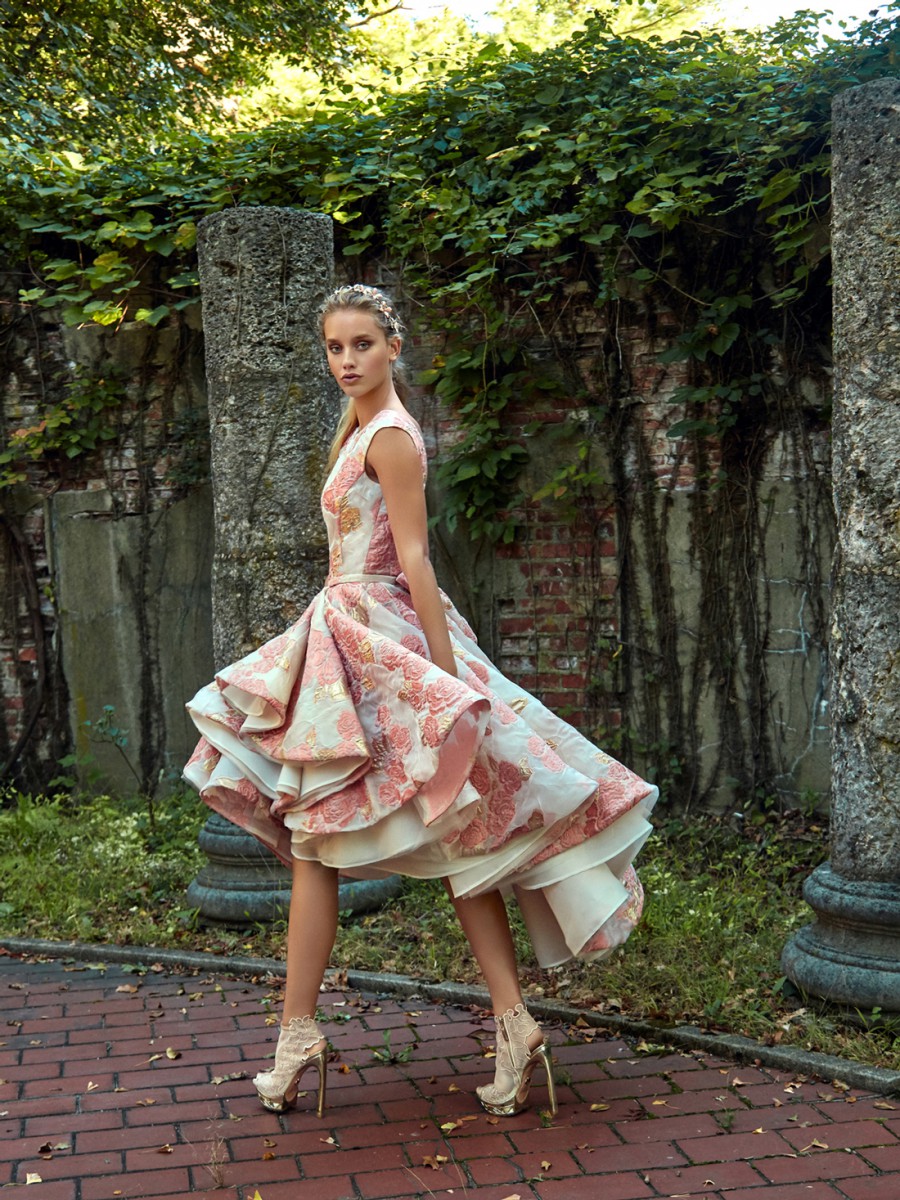 For an untraditional bride looking to add some bright pink to her wedding day - this orange blossom gown by Galia Lahav is a must see! This could also be there perfect party dress for a pink loving bride!
13.

Pink Princess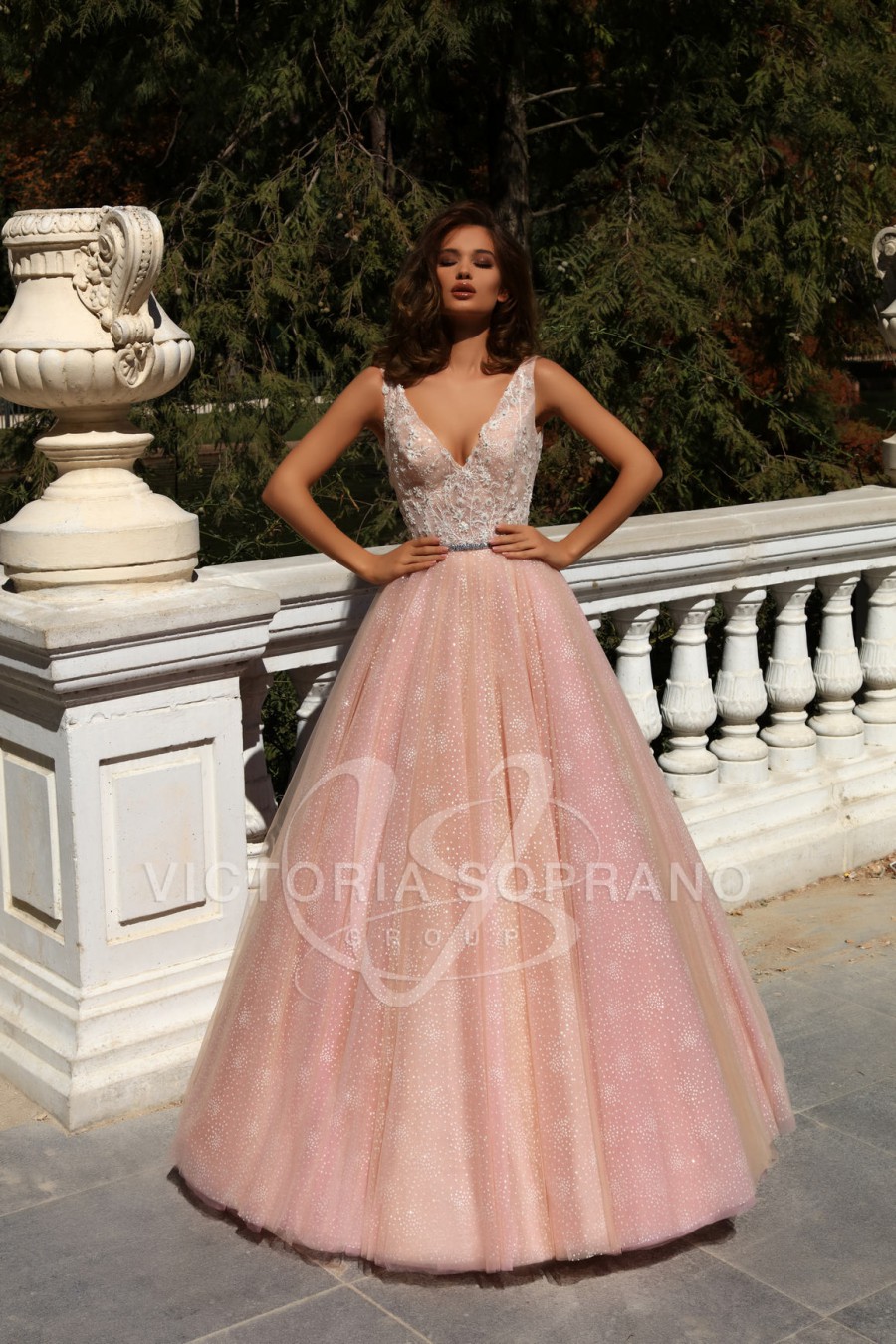 The perfect, princess ready millennial pink wedding gown. Girly, feminine and oh-so fun! Because every girl wants to feel like a princess on her big day.
14.

Floral Ombre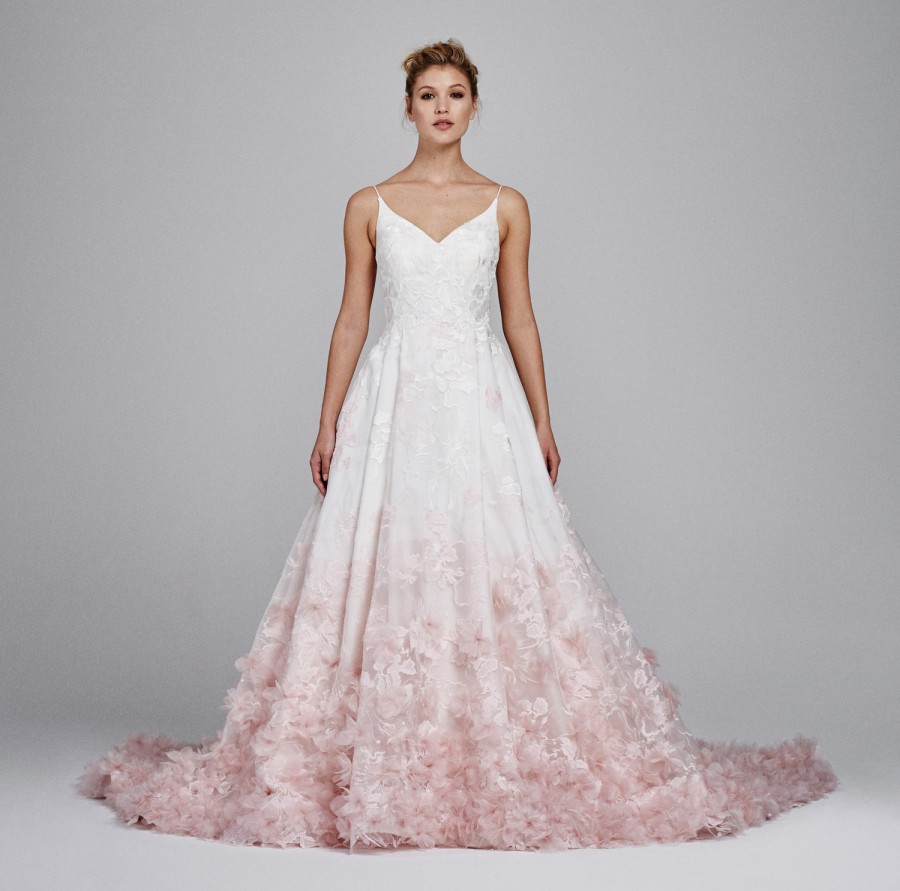 Our next wedding gown features just the right touch of millennial pink accenting with a dipped, ombre style skirt. For those brides who love pink, but still do not want to sacrifice having a traditional white wedding day look.
15.

Pink Tulle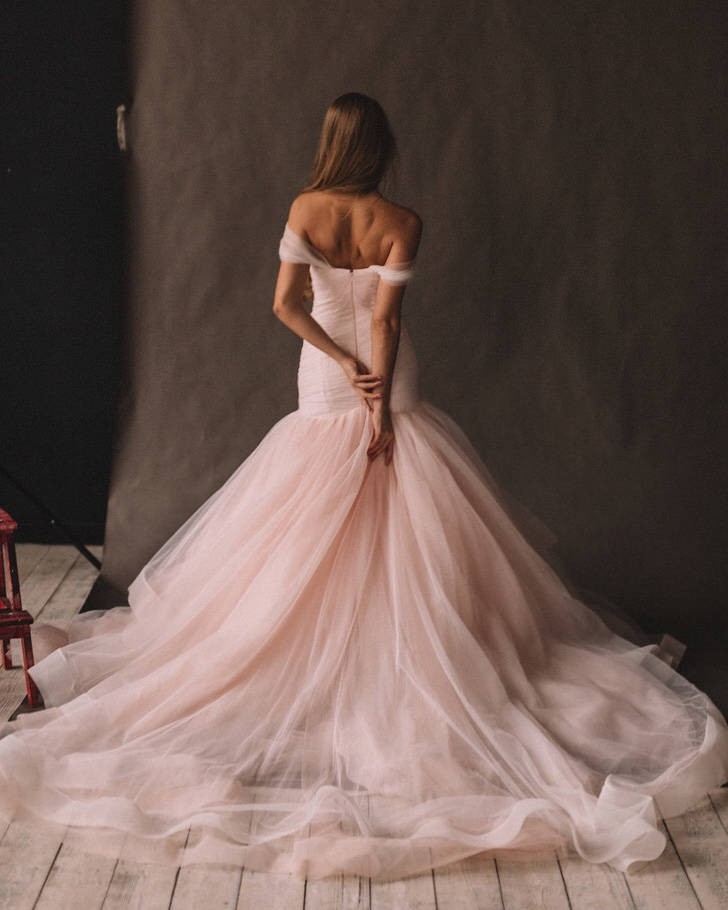 For all of the brides out there who danced around in pink tulle tutus when they were little - this is the millennial pink wedding dress for you. This stunning layered tulle gown is both playful and sophisticated.
16.

Golden Butterflies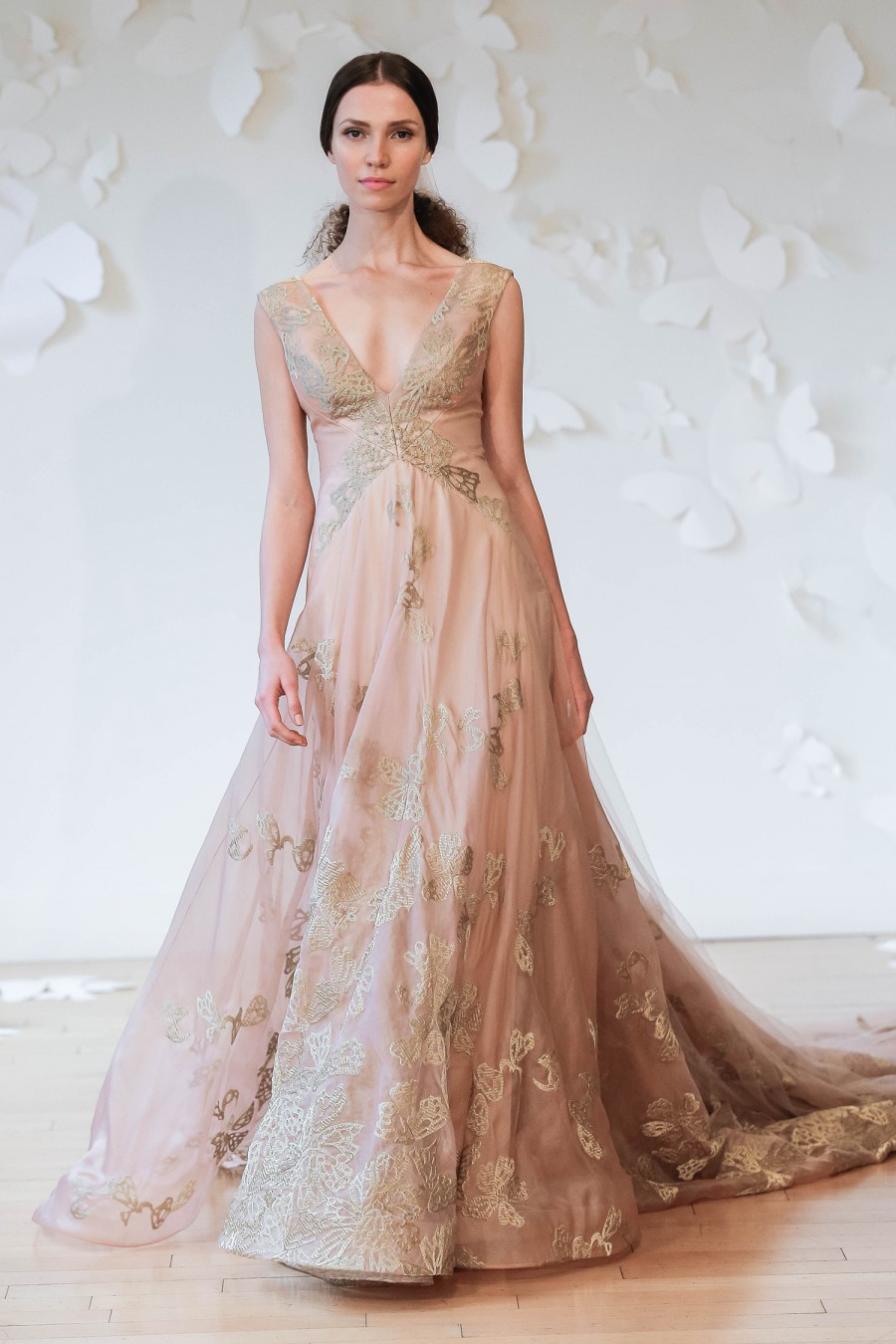 This gorgeous drop waist pink wedding gown is one of the more unique styles we have for our millennial pink loving brides out there. This soft pink gown is accented with golden embroidery that mimic that of a butterfly.
17.

Effortless Silk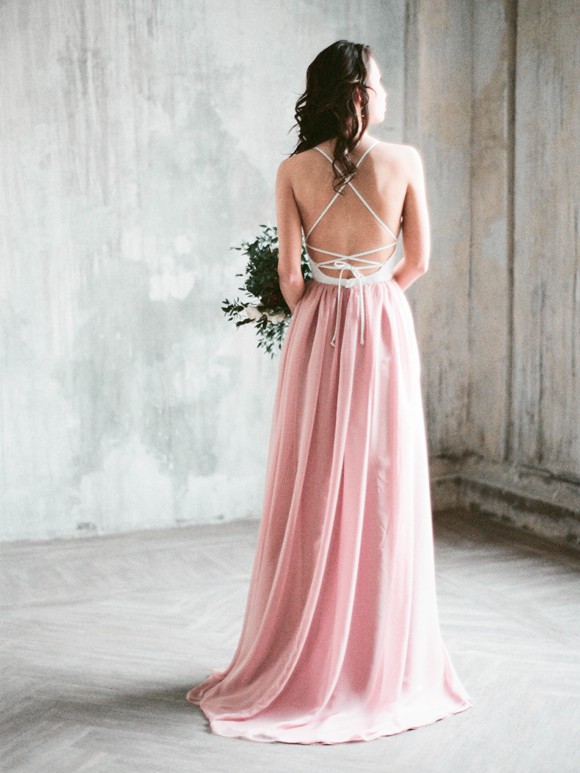 An effortless silk chiffon wedding gown featuring a delicate millennial pink skirt. A style that is both simple and feminine. This millennial pink look would be perfect for a summer garden wedding.
18.

Transparent Tulle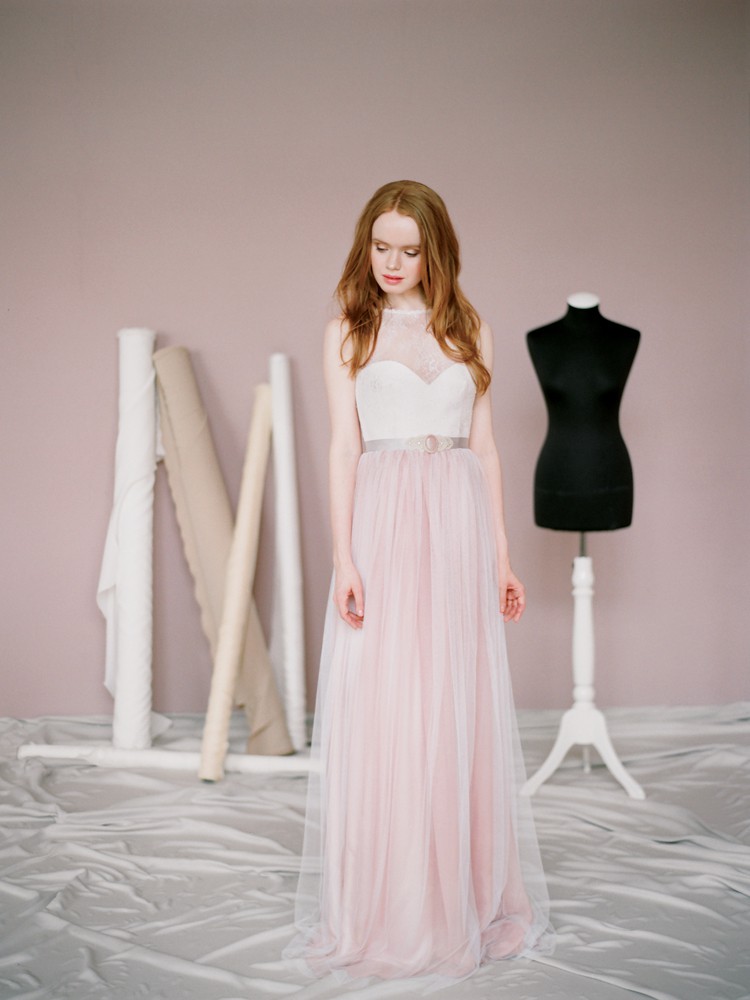 Looking to tone down a millennial pink wedding style? This next style is for you. A pink chiffon skirt is layered with a semi-sheer tulle fabric that mutes the bright pink color tone just enough. Still have your bold pink wedding day look, in a more subtle way.
19.

Two-Piece Pink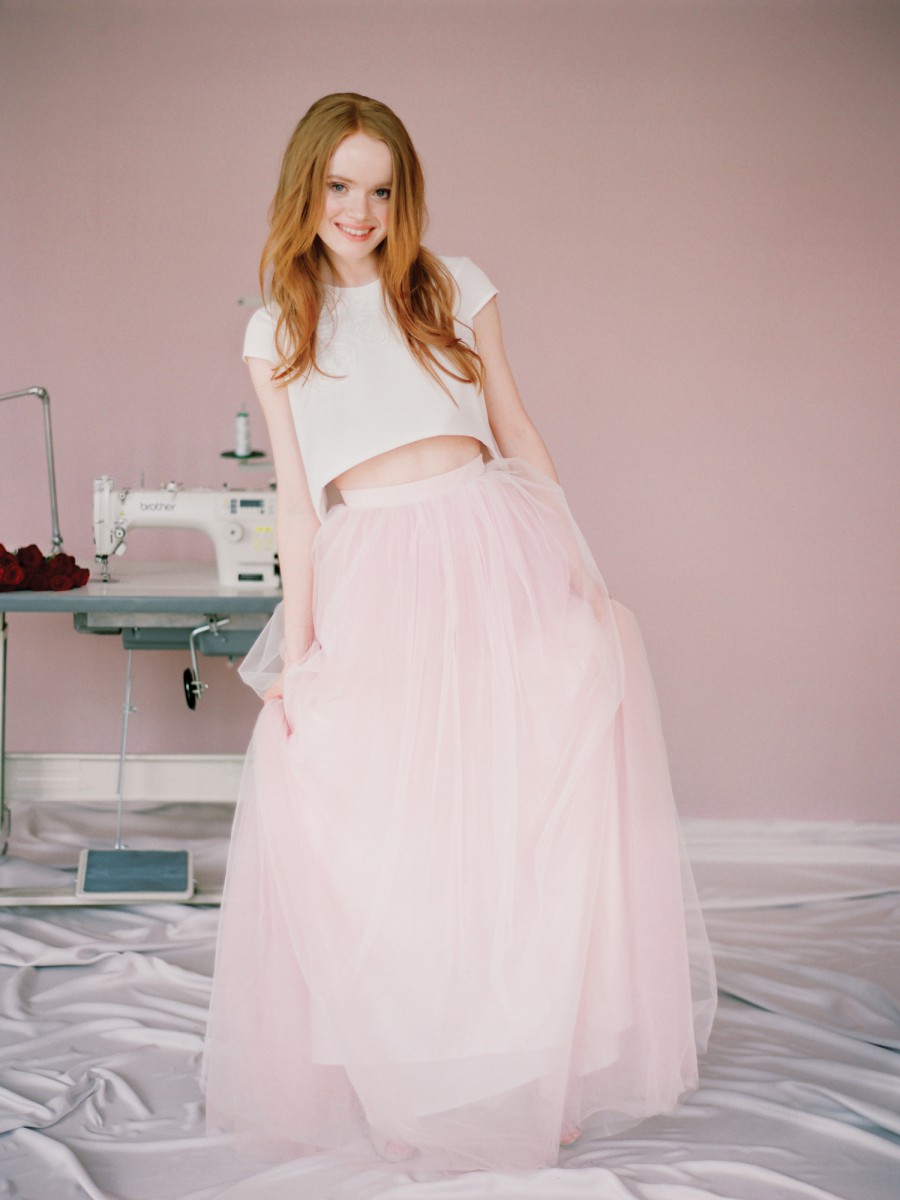 A girly, two-piece millennial pink wedding style that we are just smitten with! Sweet, sexy and slightly off-beat. Everything a contemporary bride could want in her wedding day look.
20.

Futuristic Blush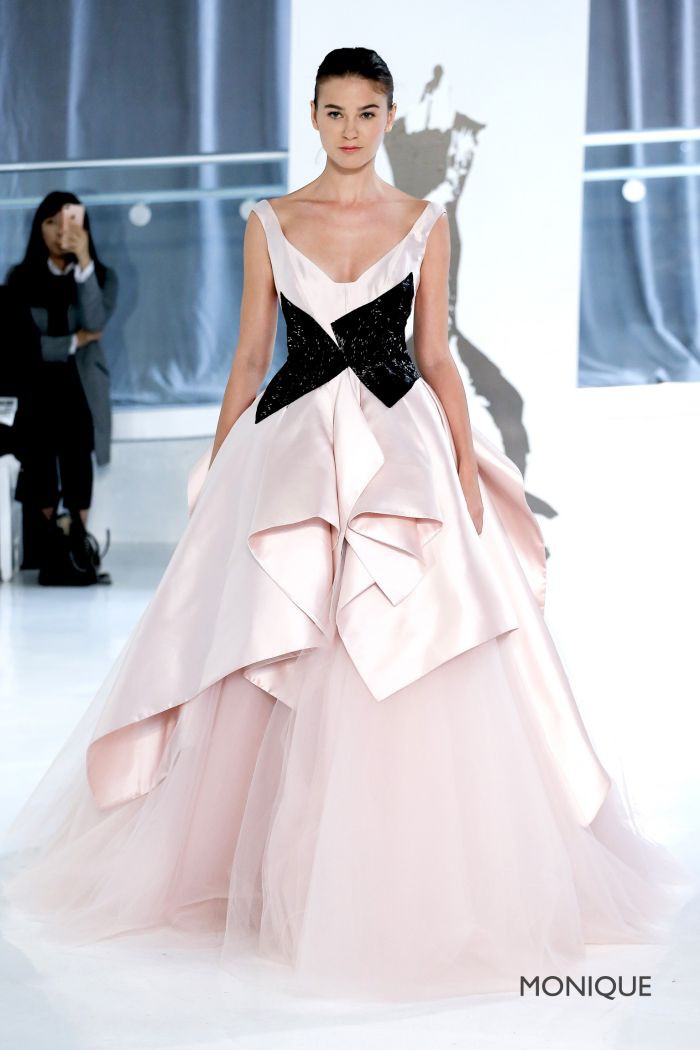 Our next blushing wedding style has bold futuristic influences. A completely unique ball gown for a millennial pink loving modern bride.
21.

Modern Embroidery
Possibly the most untraditional wedding style we have seen yet on our list of millennial pink gowns. This semi-sheer, floral embroidered gown is perfect for a bold modern garden wedding.
22.

V-Cut Goddess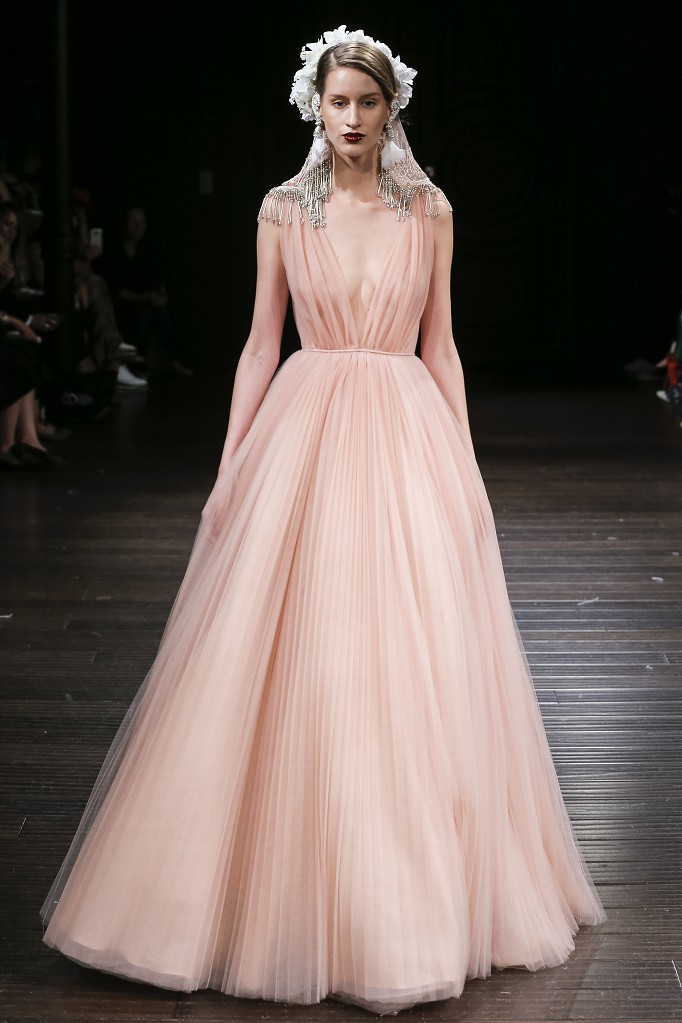 Our next blushing bridal style features a deep v-neck bodice cut that accentuates this goddess like ball gown style. Classic and contemporary all in one gown.
23.

Millennial Pink Florals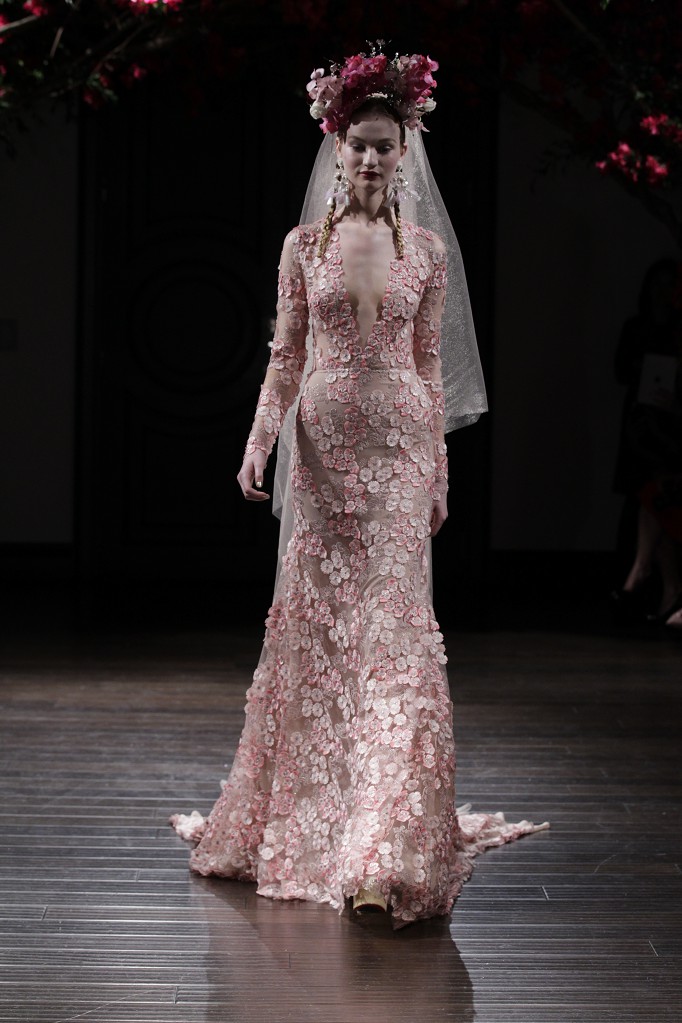 Naeem Khan is always pushing the boundaries of modern wedding fashion - and this pink wedding gown is no exception. The dimensional floral design adds bold accenting to this already surprising millennial pink colored gown.
24.

Pink Train Drama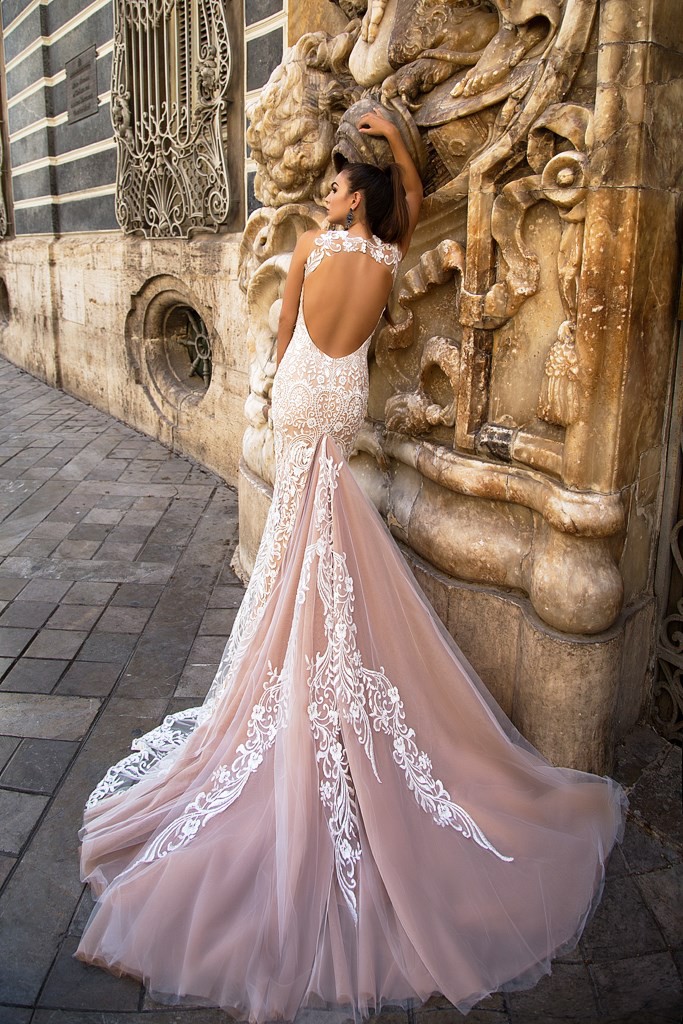 For a fashion forward bride looking to add some millennial pink drama to their wedding day look. This dramatic pink train is girly and fashionable.
25.

Millennial Tulle Ball Gown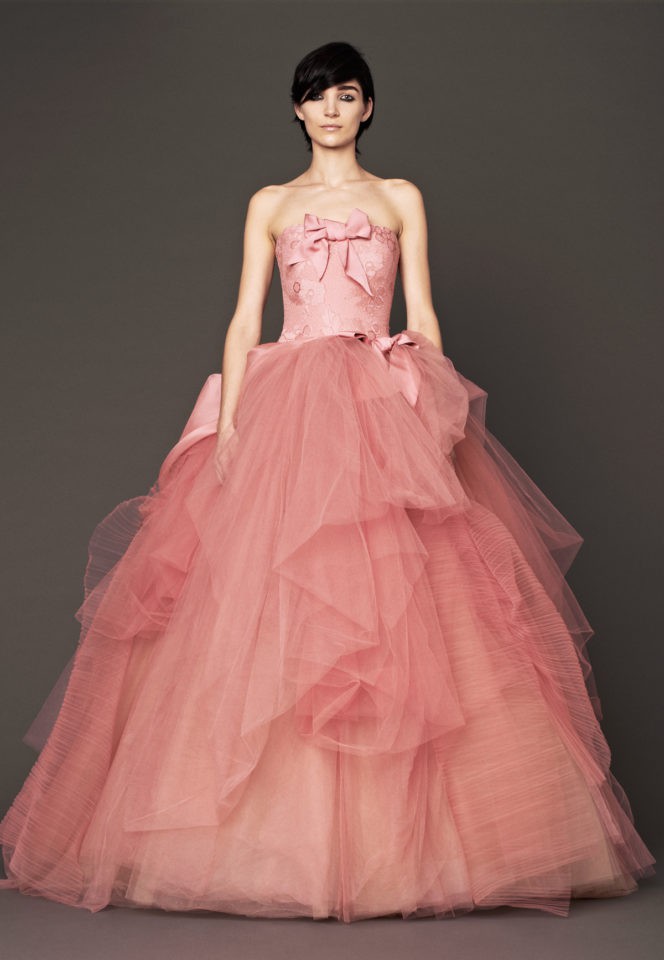 If you are ready for a completely over the top millennial pink wedding style, then this next ball gown is for you! Pink, girly, and fashion forward. Everyone will be in awe as you walk down the aisle is this beautiful pink gown.

Shop wedding dresses now.

By Kathryn Schrotenboer