Not too long and not too short, midi length bridal gowns are just right. And they are trending in a big way right now.
There are so many things to love about a midi length wedding gown. First off, since it is cut slightly above the floor, it allows you to move about on your big day with ease. Secondly, with a gown that hits around or above your ankles, you can show off those adorable bridal shoes! Third, a midi length gown gives you versatility. It can be dressed up or down depending on your wedding day theme. And lastly, since midi length bridal gowns tend to be a bit more casual, it is more likely that you will wear them again after your wedding day! So take a look and see what you think about these chic and trendy midi length bridal styles.
01.

Lela Rose: The Tuileries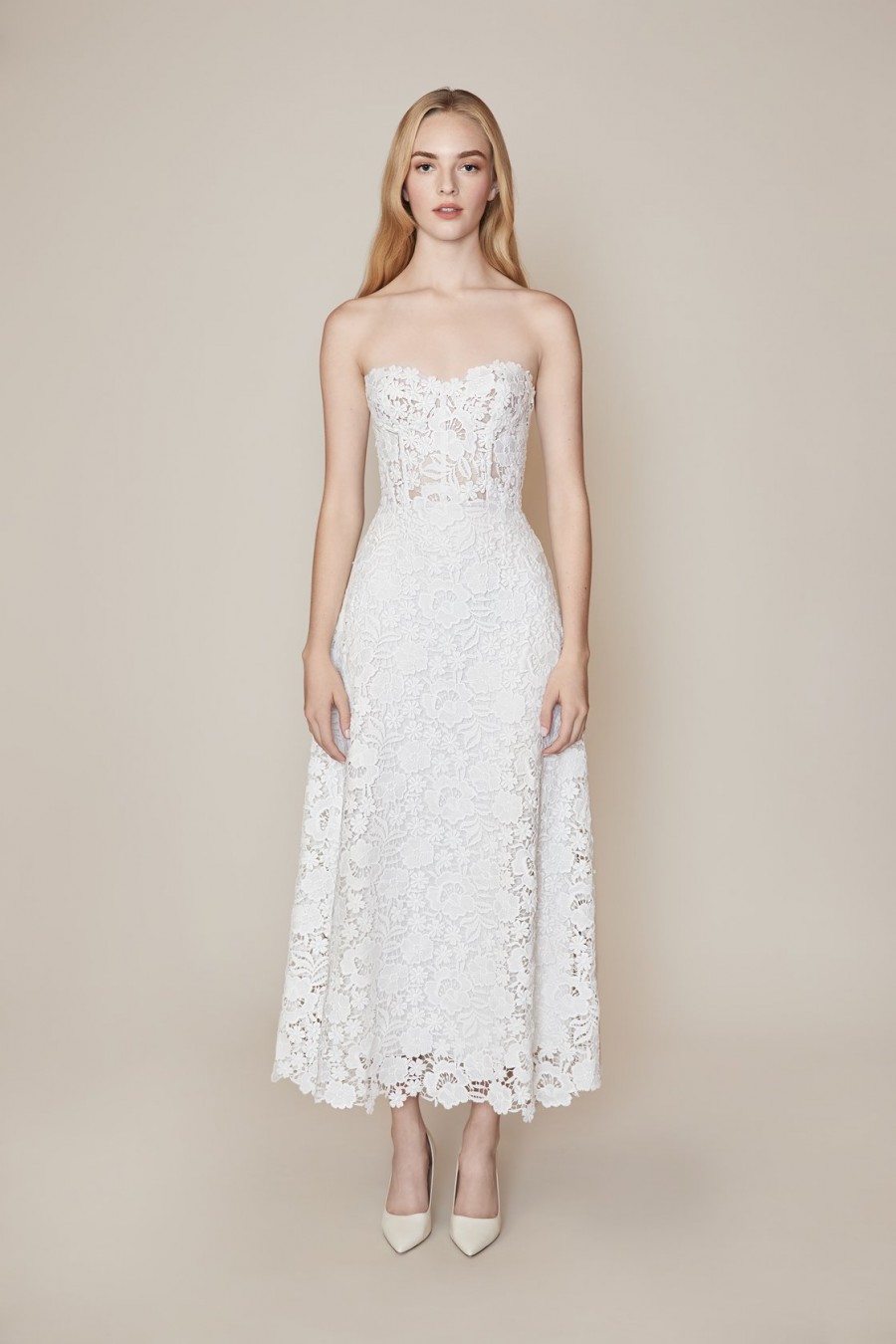 It is hard not to fall in love with this first midi length bridal gown from Lela Rose. A ladylike strapless floral guipure lace gown with a bustier bodice and chic button detailing in the back. A gown like this can be dressed up with a dramatic veil and crystal accented heels or dressed down with more casual accessories.
02.

Eisen Stein: Wonder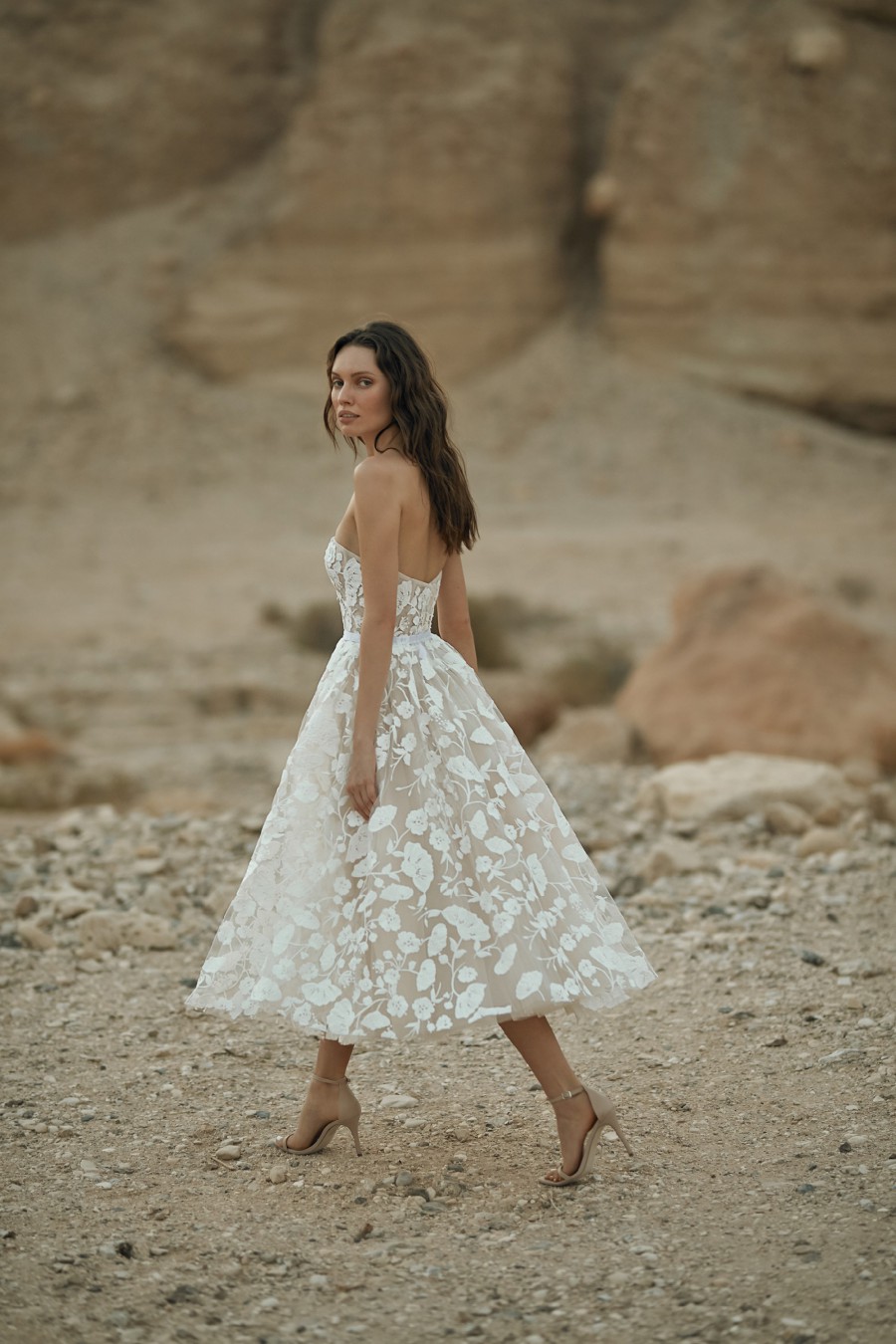 Next up we have the floral midi length bridal gown of your dreams. This beautiful dress comes from Eisen Stein. Layers of semi-sheer tulle fabric create effortless volume. And the all over floral design is absolutely irresistible.
03.

Alexandra Grecco: Leila Dress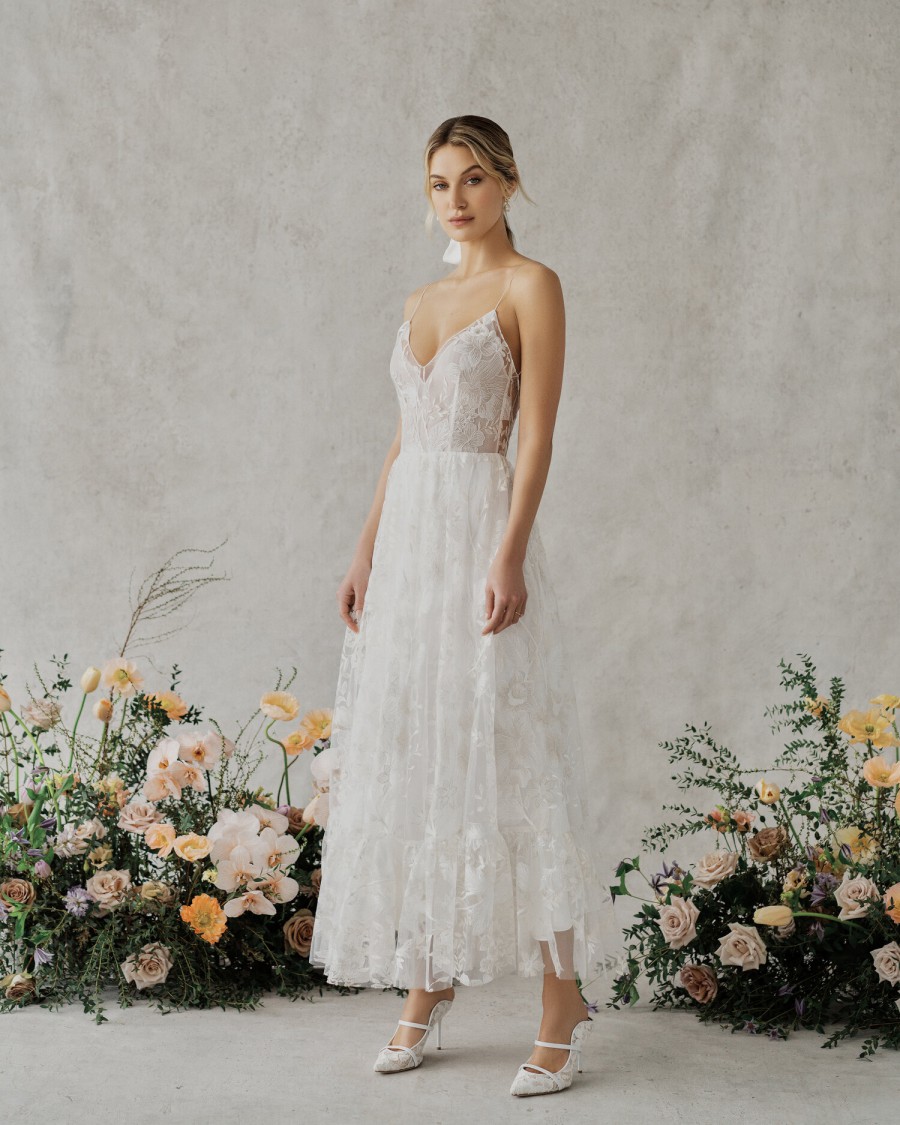 We are absolutely swooning over this midi length bridal style from Alexandra Grecco. This ultra flattering V-neckline gown with A-line cut skirt is classic and irresistible. A modern, easy to wear floral lace gown with an adorable ruffled hem. This gown also comes in a satin mikado fabric for a clean, contemporary option.
04.

The Reformation: Limoncello Dress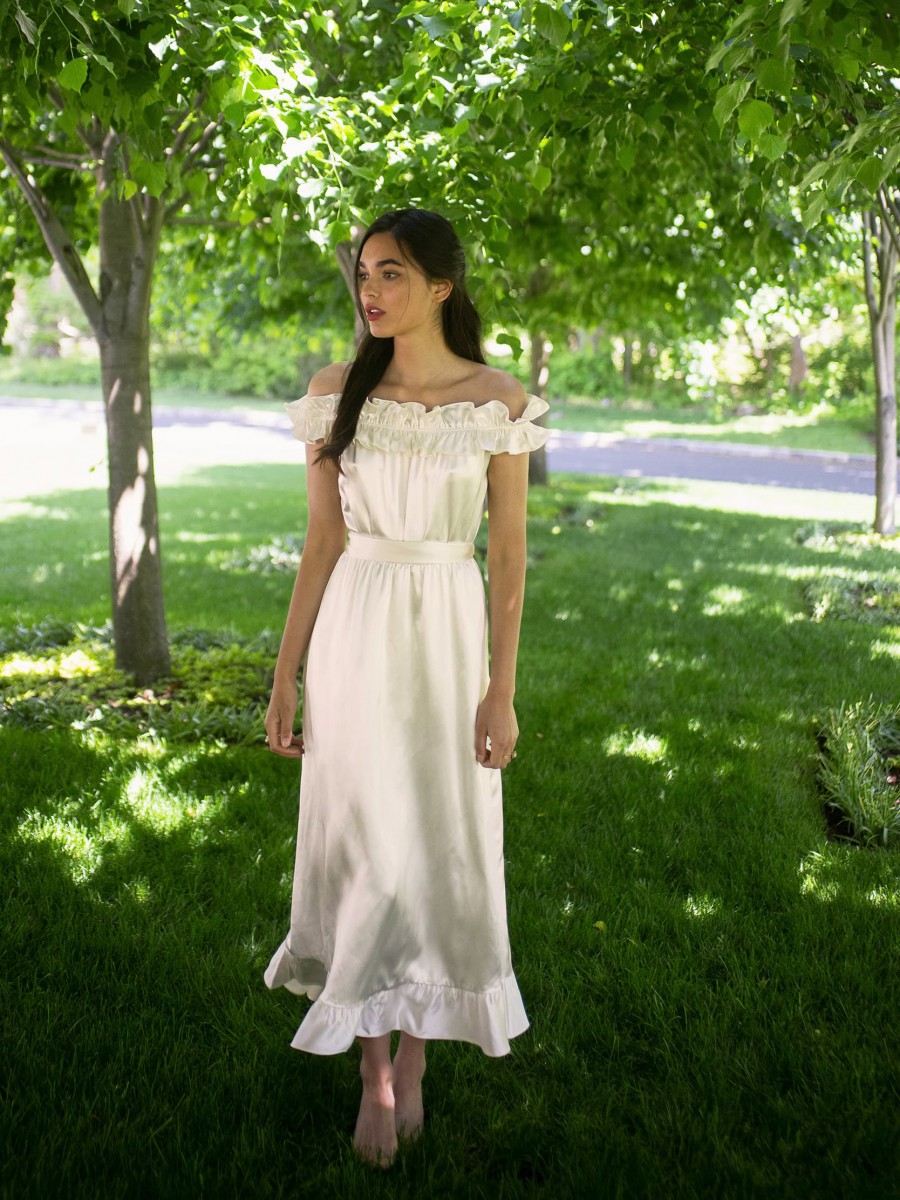 This next midi bridal style is fit for a modern day fairytale wedding day. This dreamy 100% silk charmeuse gown features an elastic ruffle off-the-shoulder neckline that we just can not get enough of. A matching silk belt and subtle ruffle hemline finish off this beautiful style.
05.

Lela Rose: The Westminster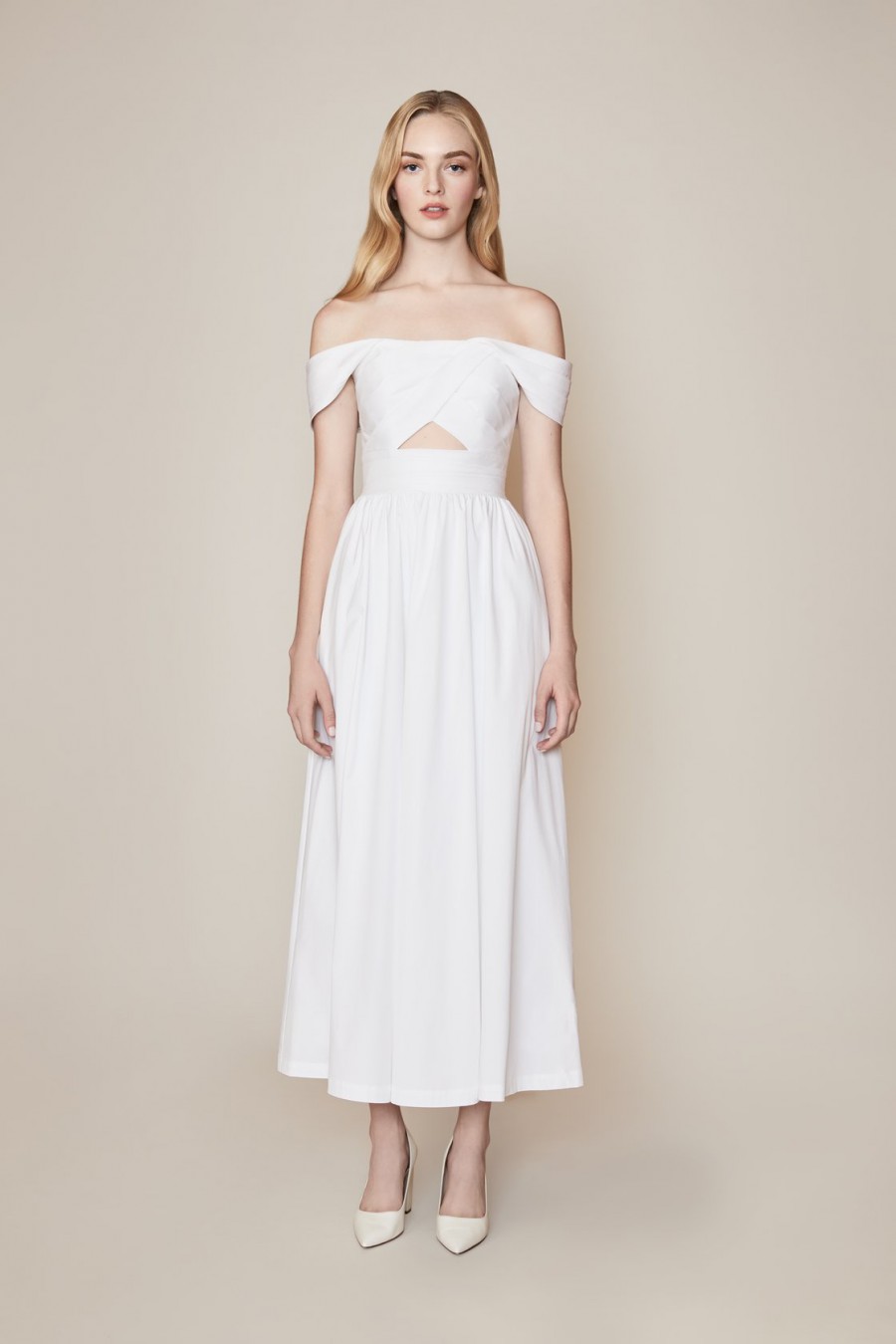 The bodice design of this next midi length wedding gown is absolutely stunning. This cotton poplin dress features off-the-shoulder sleeves, and a hand draped bodice with triangle cutout. The perfect midi length bridal style that is contemporary while still being romantic and feminine.
06.

Markarian Artemis White Silk Dress with Feather Detailing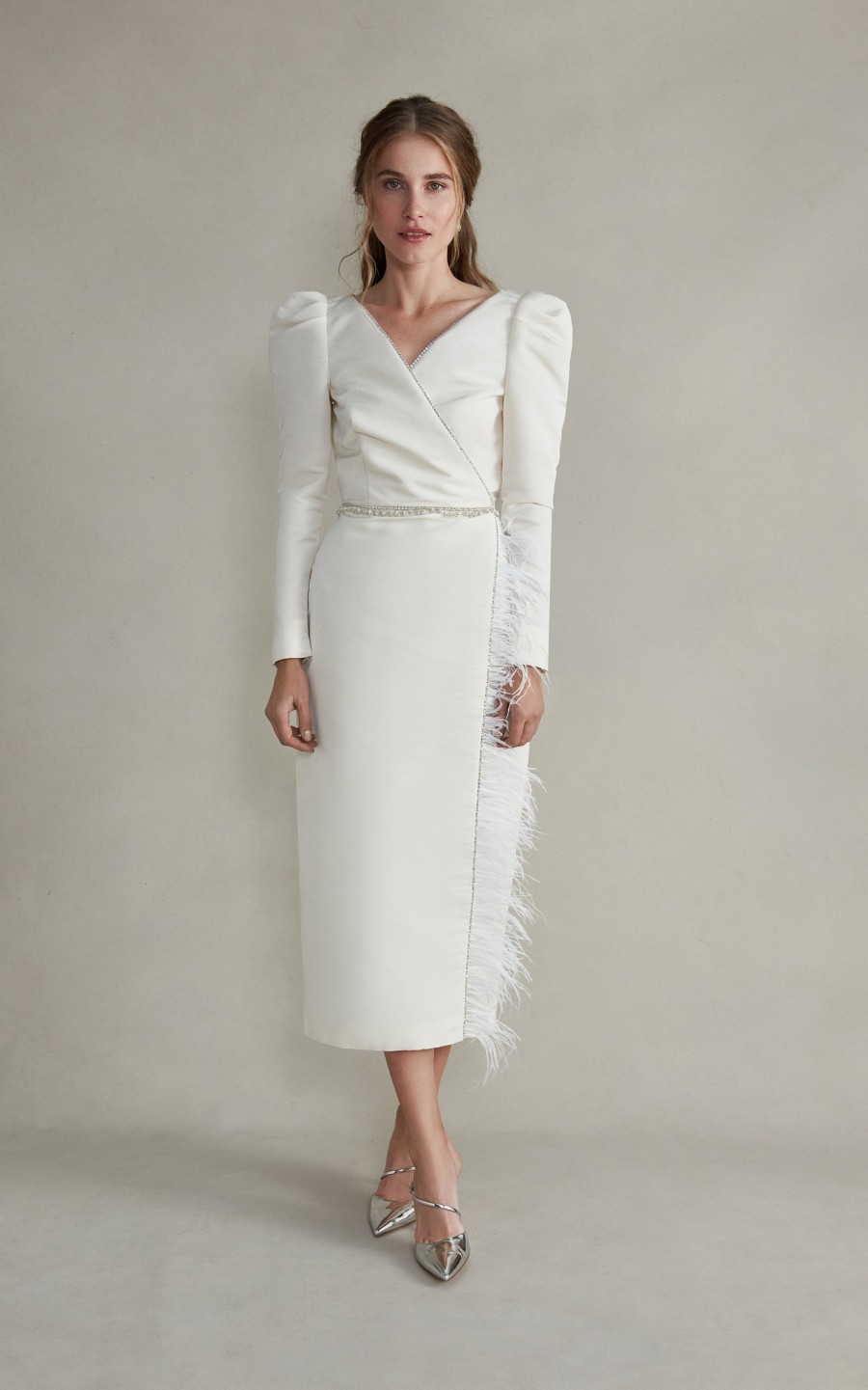 Markarian brings us this next exciting couture midi bridal style. A structured wrap silk dress with full length puff accented sleeves and lavish feathered detailing.
07.

The Reformation: Colleen Dress
Chic, sophisticated and so on trend. We are loving this no-nonsense midi length bridal gown. The perfect packable gown for a destination wedding day. The fitted bodice with elastic and ruching detailing is definitely the defining feature of this gown.
08.

Roland Mouret: Lashford Dress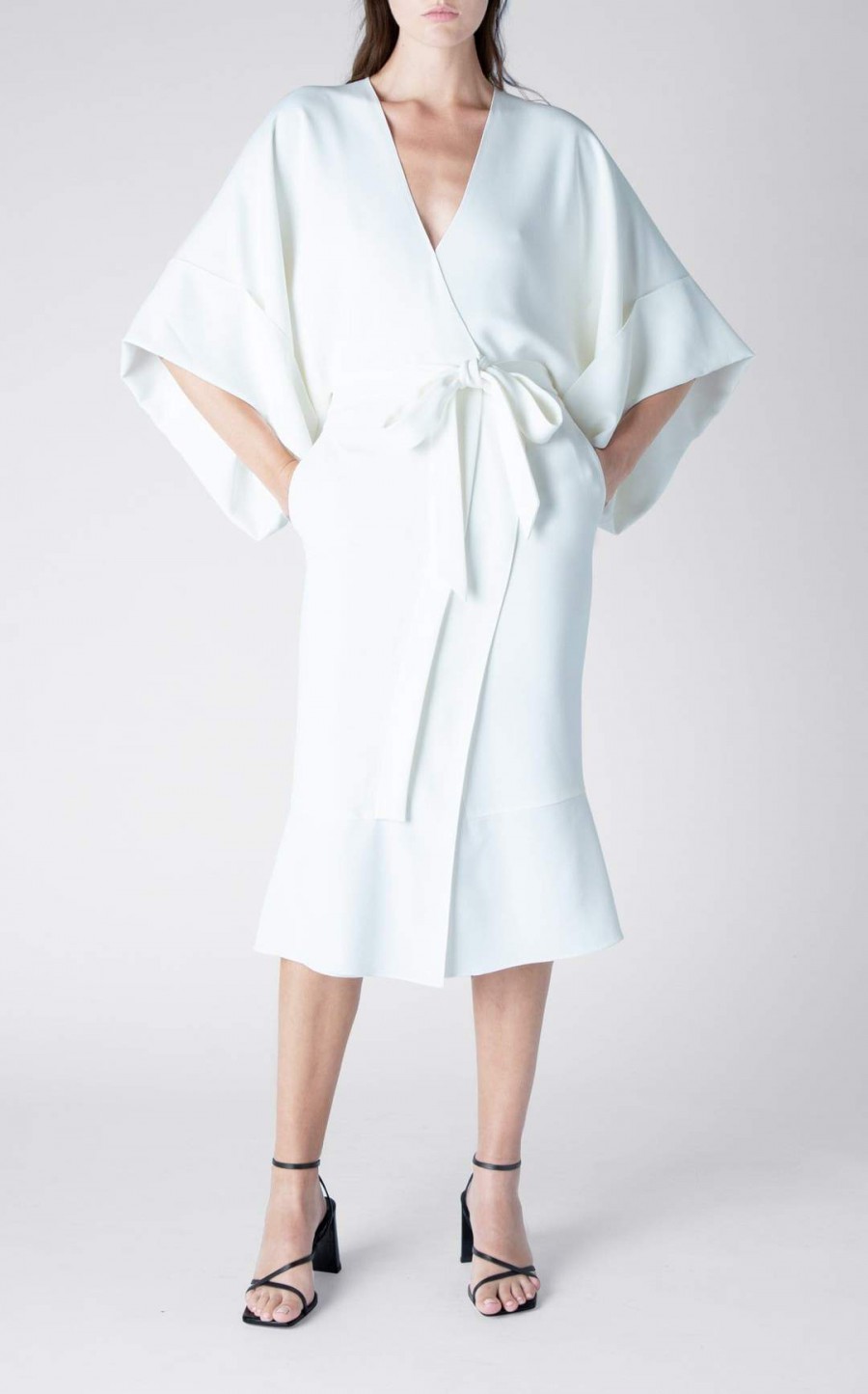 We love the minimalist and contemporary feel of this next midi length bridal style from Roland Mouret. Featuring a flattering wrap silhouette and wide, billowing sleeves. This look is easy to wear, while also making a minimalist modern statement.
09.

Alexandra Grecco: Odette Midi Dress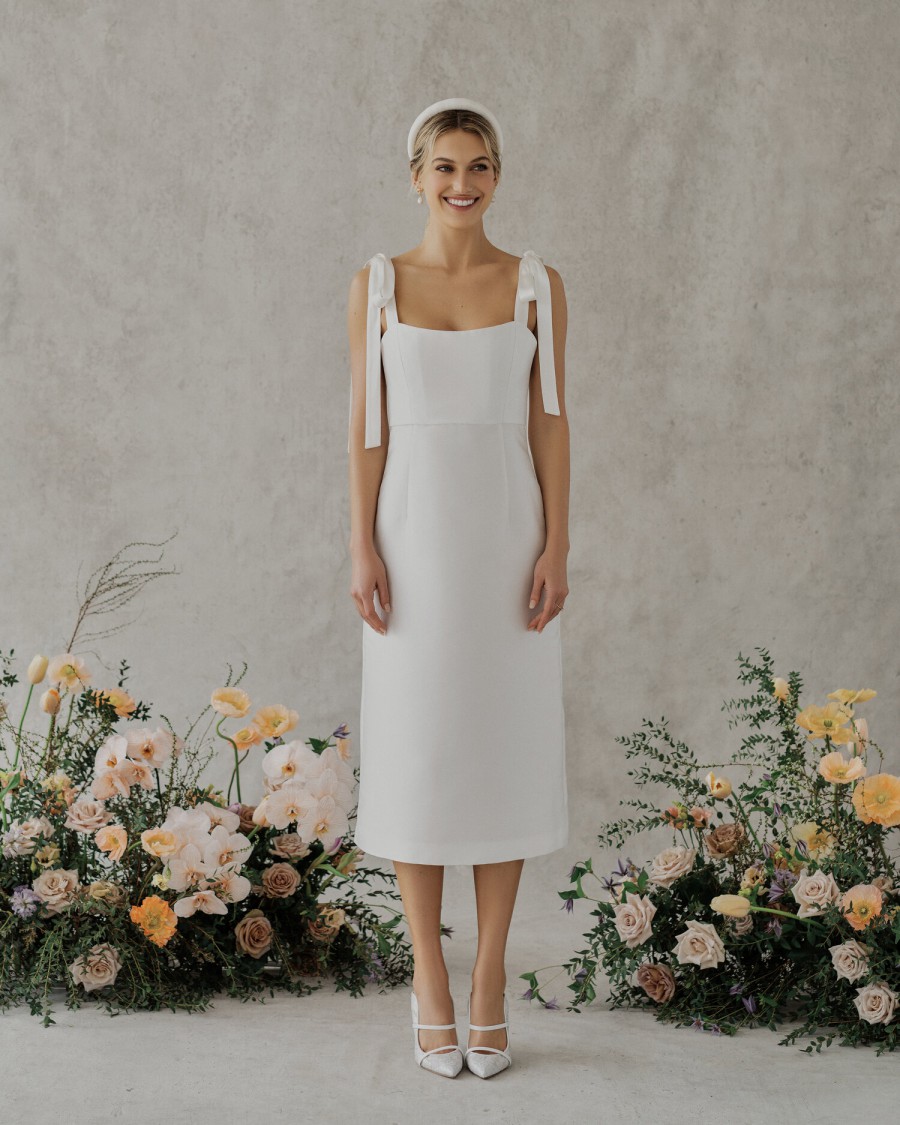 This next midi length bridal gown is clean and proper. A chic and sophisticated look that is timeless and absolutely effortless. This gown features a straight and structured bodice, with clean lines. And our favorite feature of this gown has to be the silk satin bow straps. They create the most beautiful feminine finish.
10.

Galvan London: Valencia Bridal Dress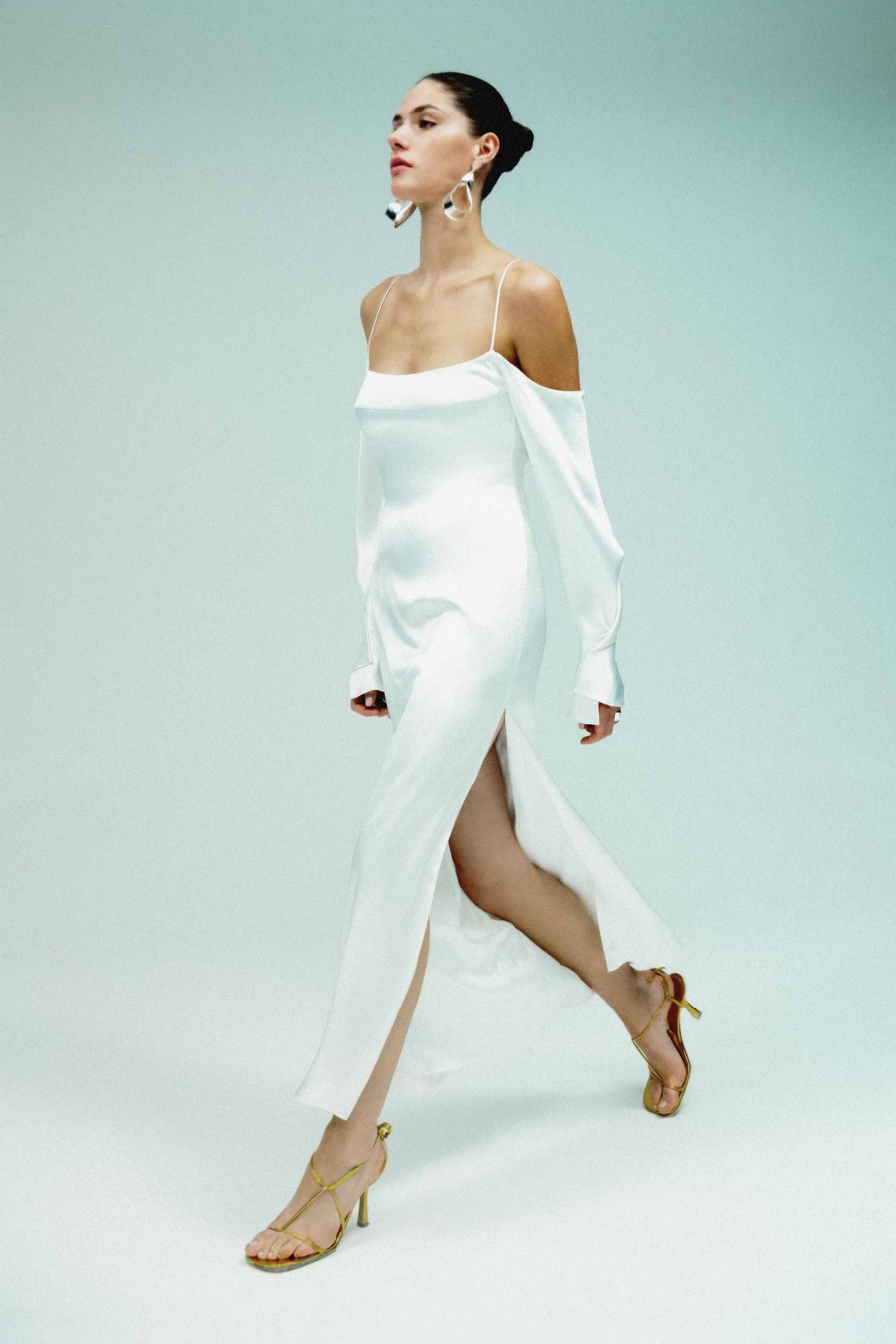 A minimalistic style that features effortless off-the-shoulder sleeves and a chic high side slit. This next midi length bridal style from Galvan London is all about modern romance.
11.

The Reformation: Savona Dress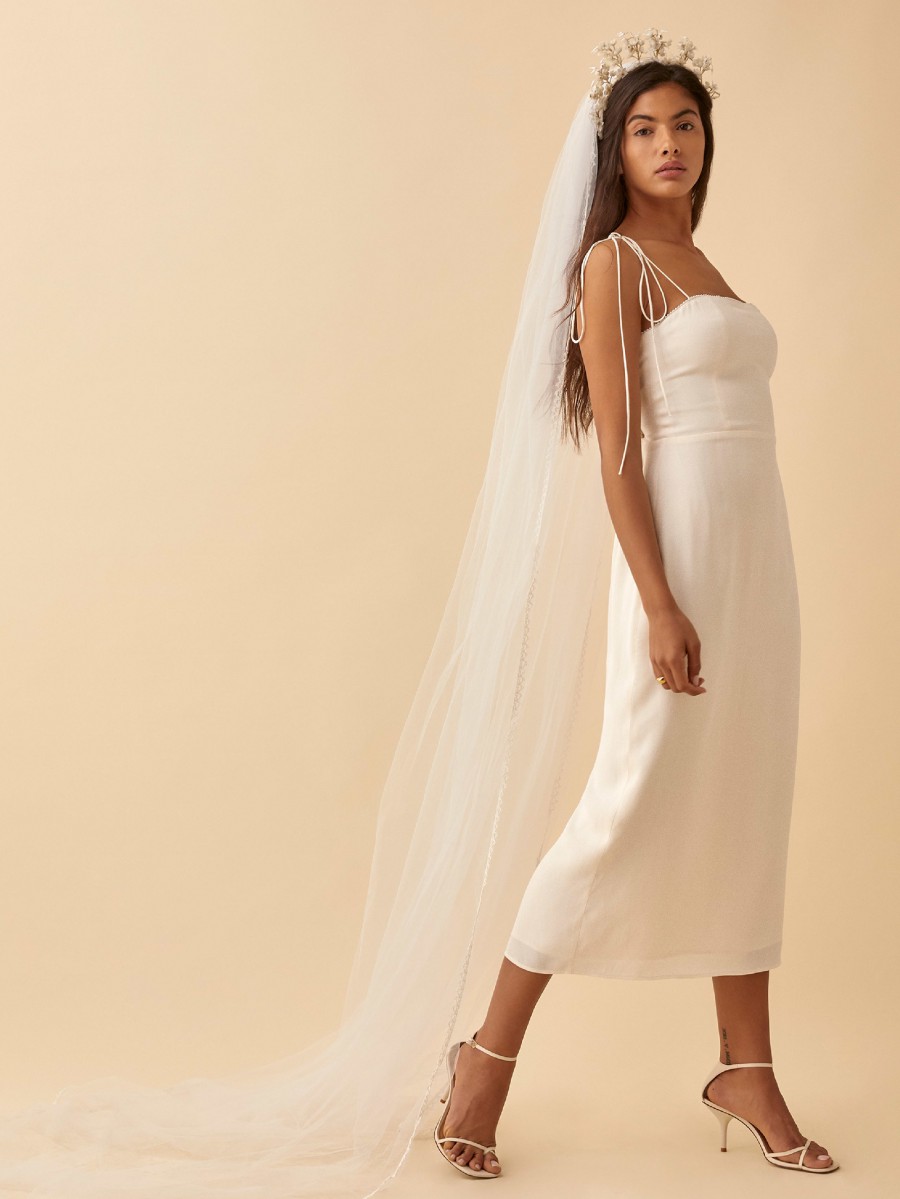 We are loving this next midi length wedding gown from The Reformation. An ultra chic silhouette featuring a smocked back, center back slit, tie straps, and chic pearl trim around the neckline. Plus, this is a fantastic budget friendly bridal style.
12.

Galvan London: Cropped Florence Bridal Dress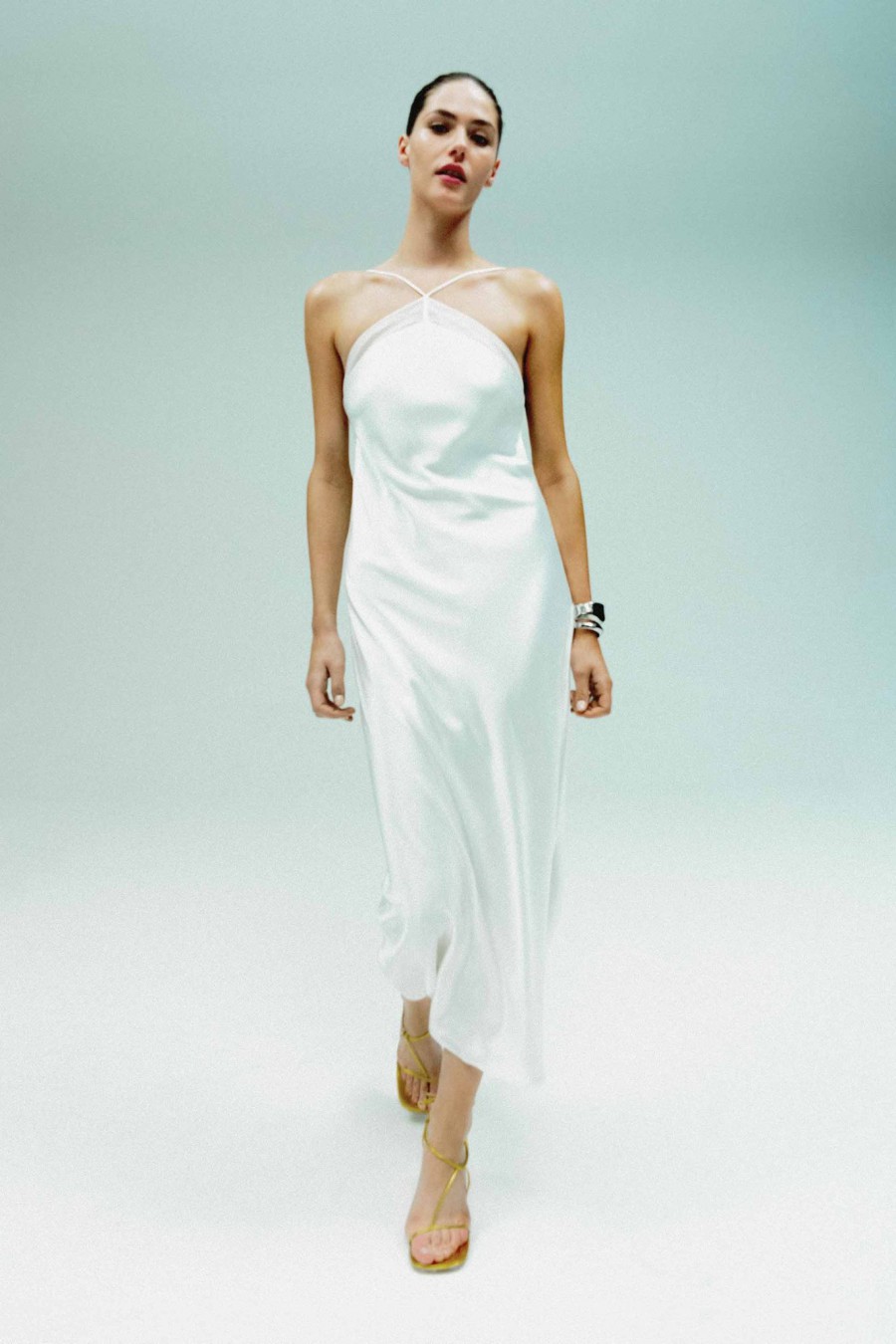 Made from the most lavish glossy satin, this next bridal midi gown is hard to resist. A clean slip silhouette that features a chic halter neckline and open back.
13.

Viktor Rolf: Lace Flower Tea-Dress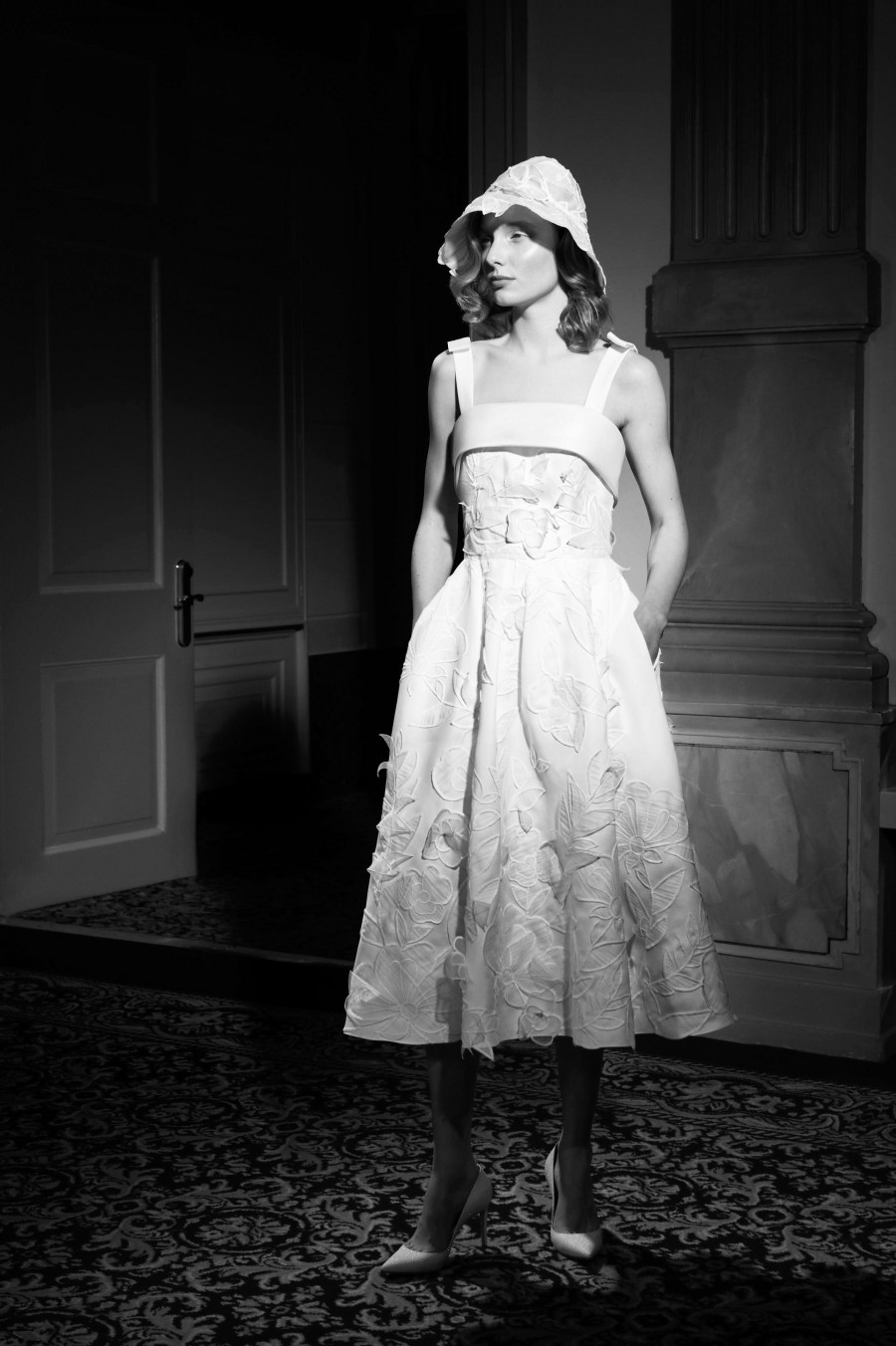 Viktor Rolf brings us our next midi length bridal style with this ultra feminine and chic gown. This lady-like gown features dimensional floral detailing that gives this timeless gown a more modern feel.
14.

The Reformation: Ronan Dress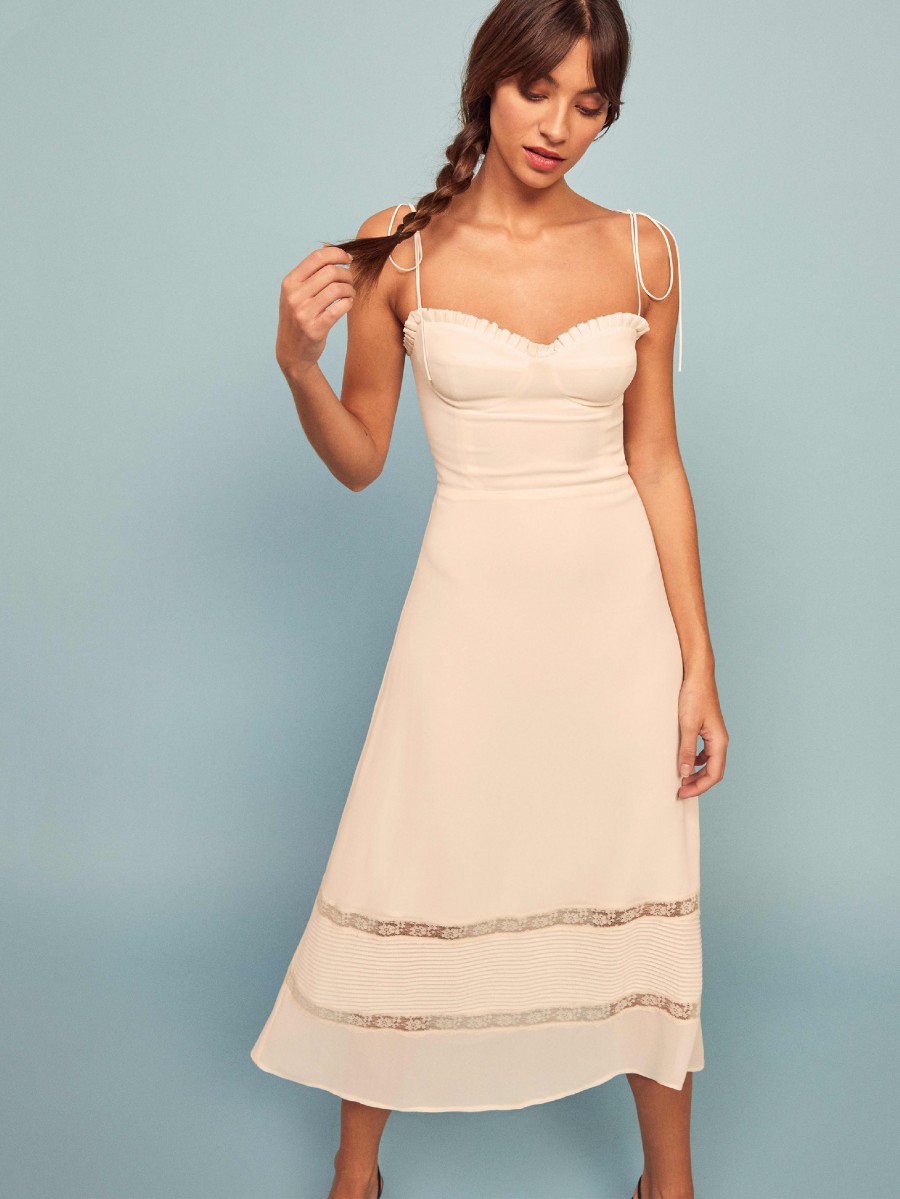 Perfect for that chic European destination wedding day. This next midi length bridal gown from The Reformation is so dreamy. We love the ruffle edged neckline and lace detailing on the skirt. A dress like this one could be worn again during your honeymoon, and for years to come after that!
15.

Markarian: Celeste White Silk Gown With Train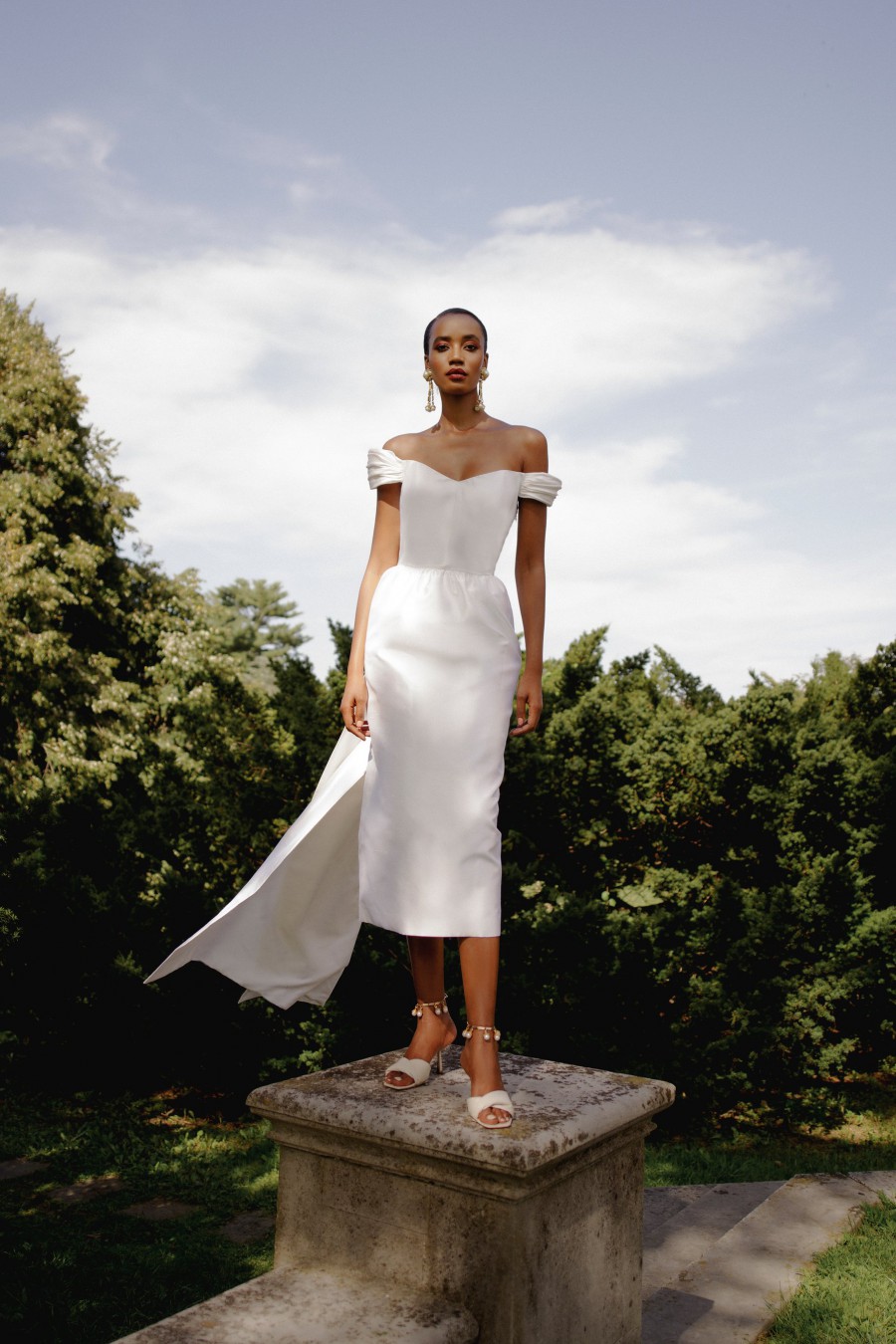 What we love about this next midi dress, is that you get the shorter silhouette in front to show off those killer wedding shoes, but the built in train gives you the longer drama in the back that a more traditional wedding style has.
16.

Azeeza: Rory Raw Silk White Dress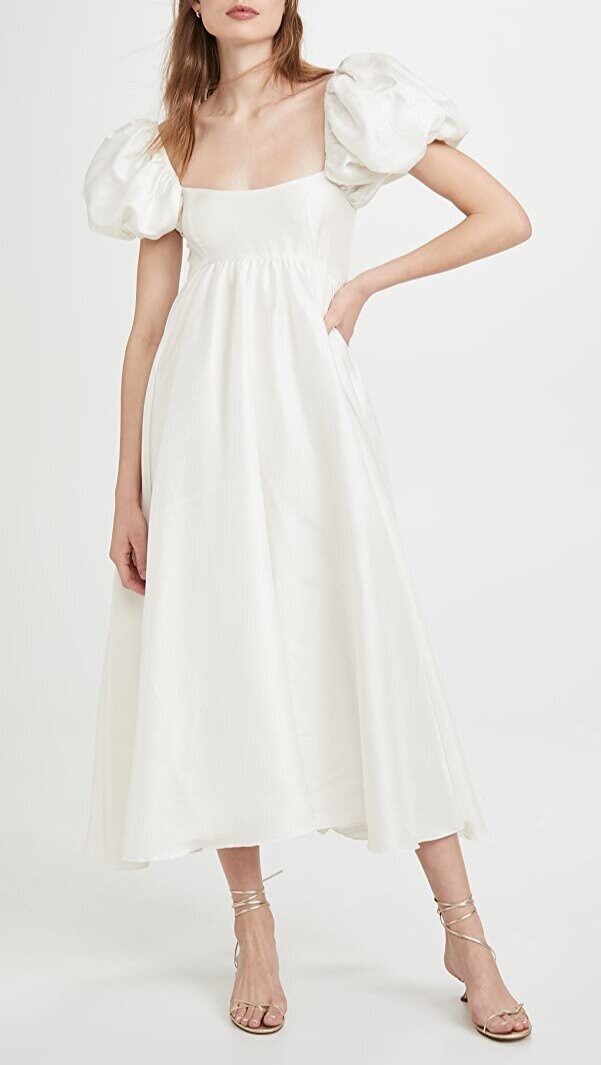 Featuring chic puff sleeves and an ultra flattering empire waist bodice, this next midi length bridal gown is so adorable and dreamy. We love this trending gown paired with strappy metallic sandals.
17.

The Reformation: Evangelina Dress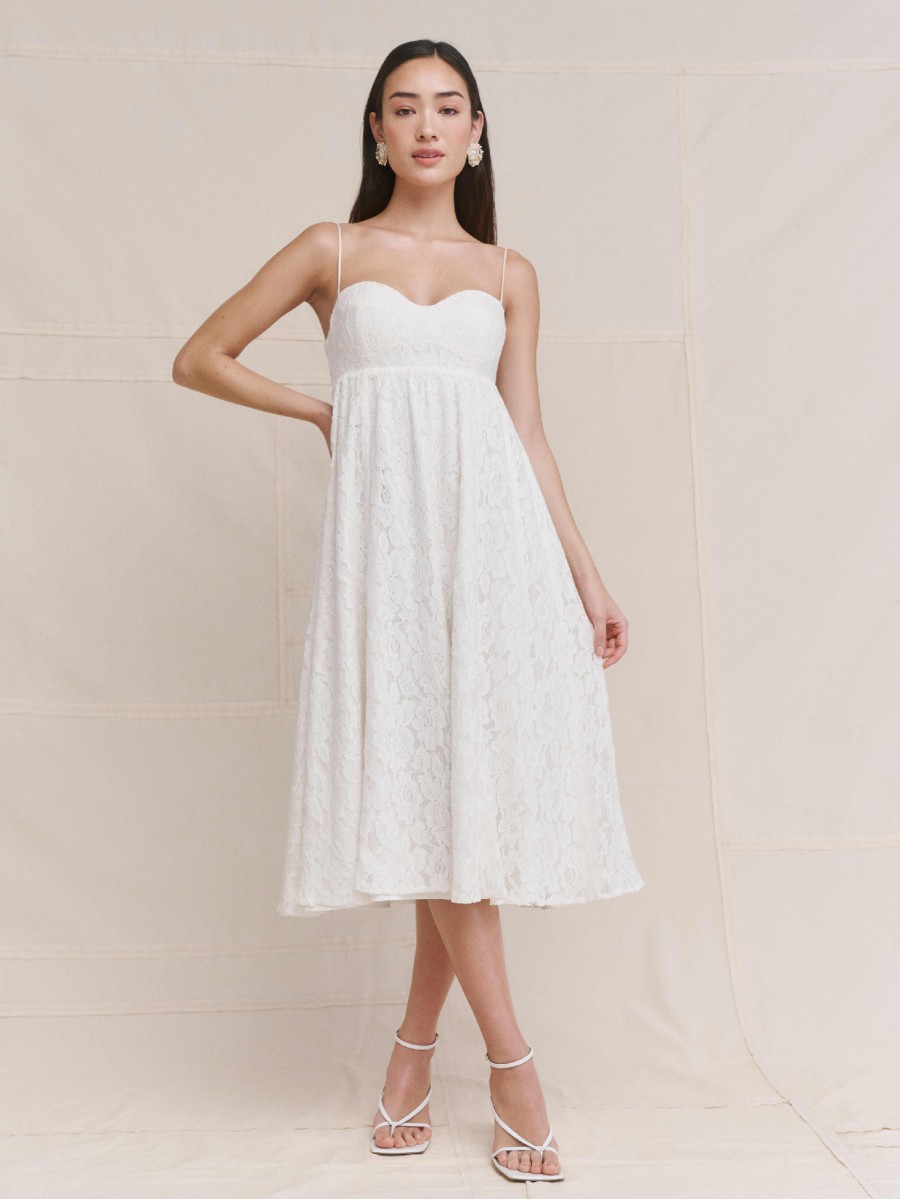 The sweetest little midi length lace bridal dress! We love this look for a casual summer wedding day. Featuring a flattering babydoll silhouette, thin straps and a fitted bust.
18.

Leanne Marshall: Arden Dress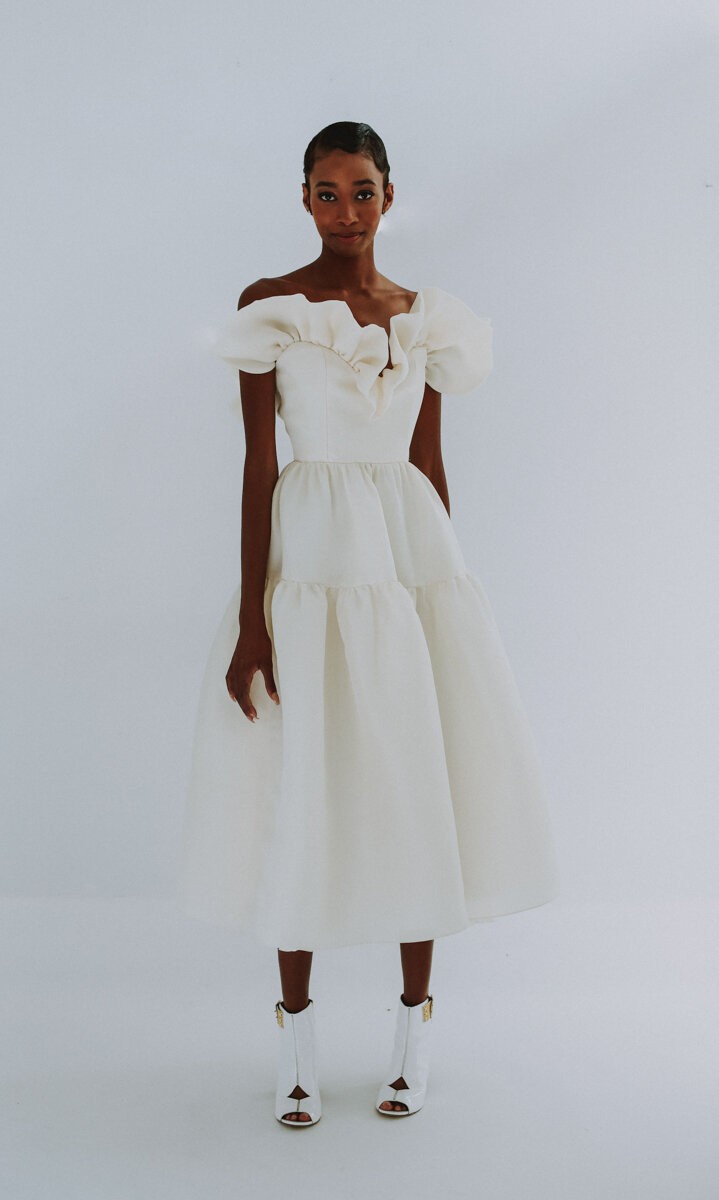 This cream colored midi dress from Leanne Marshall features the most beautiful structured ruffled bodice. And the panel gathered A-line skirt adds more ruffled texture to the dress. This midi bridal style is so chic and so on trend.
19.

The Reformation: Butterfly Dress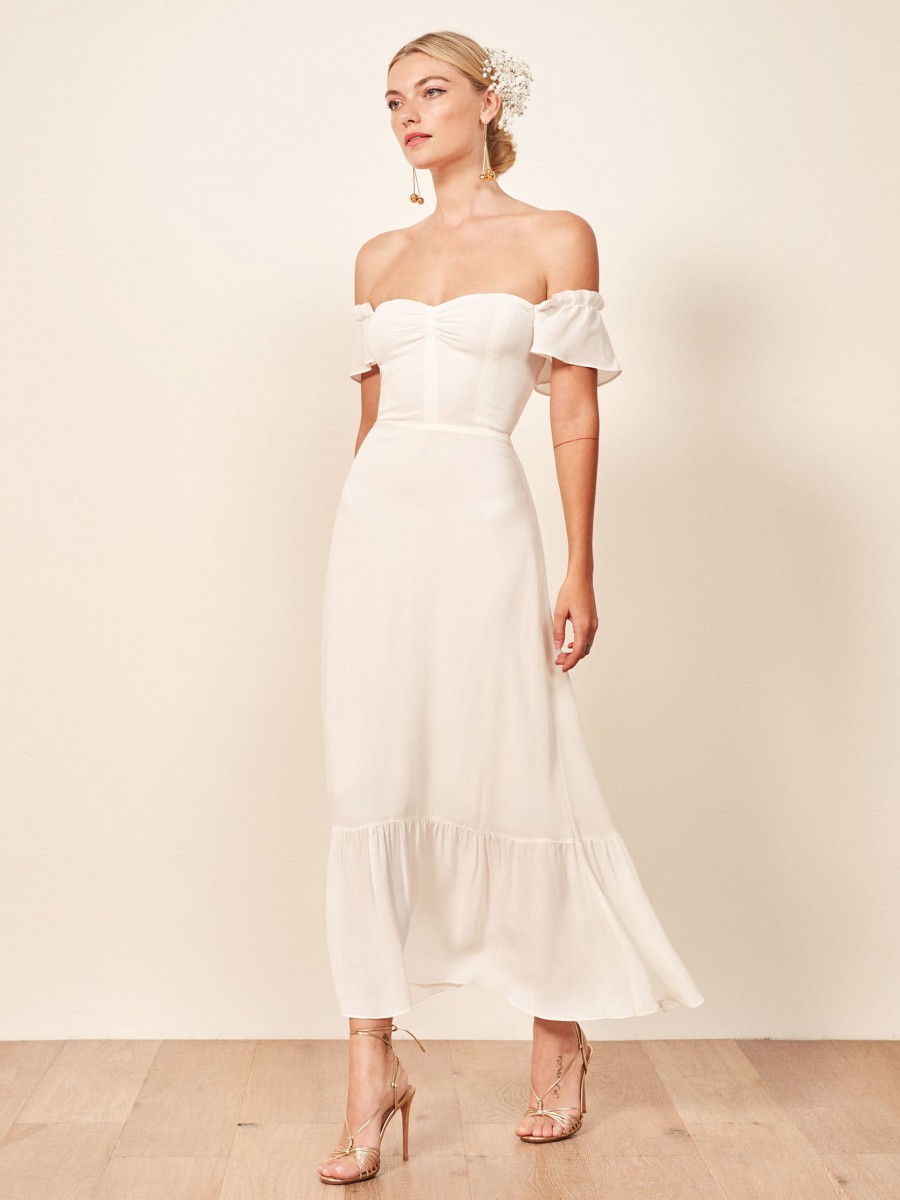 This next midi bridal gown from The Reformation is all about chic romance. A simple gown that is irresistible. Featuring off-the-shoulder ruffle sleeves and a relaxed ruffled hem.
20.

Markarian: Cecelie Halter Dress with Bow Arm Detail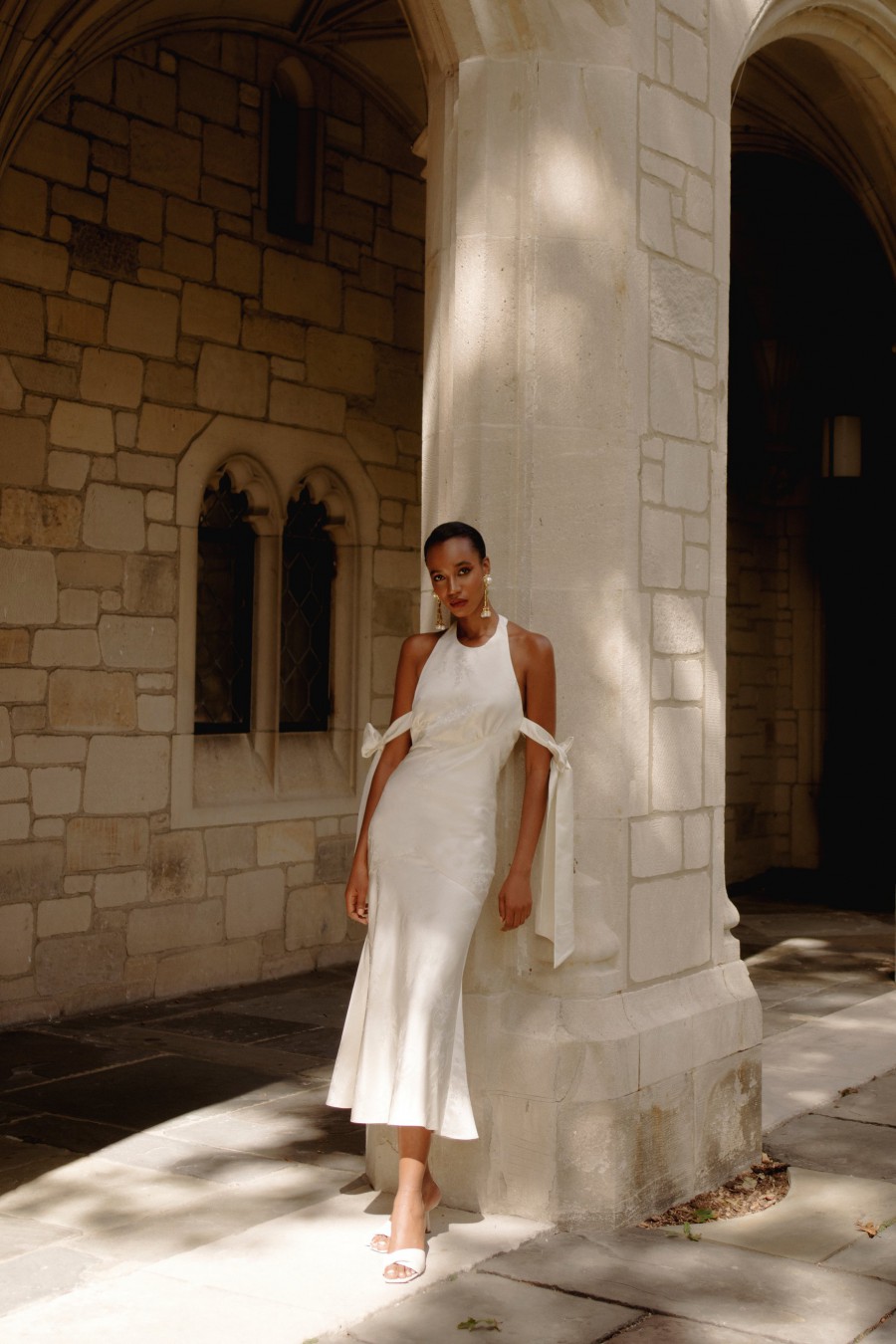 Timeless sophistication is what you will get from this next bridal midi dress. An effortless silk halter gown with bias cut skirt. And to add a little contemporary drama to the look, this dress includes unique bow arm details.
21.

Alexandra Grecco: Imogen Top & Imogen Pants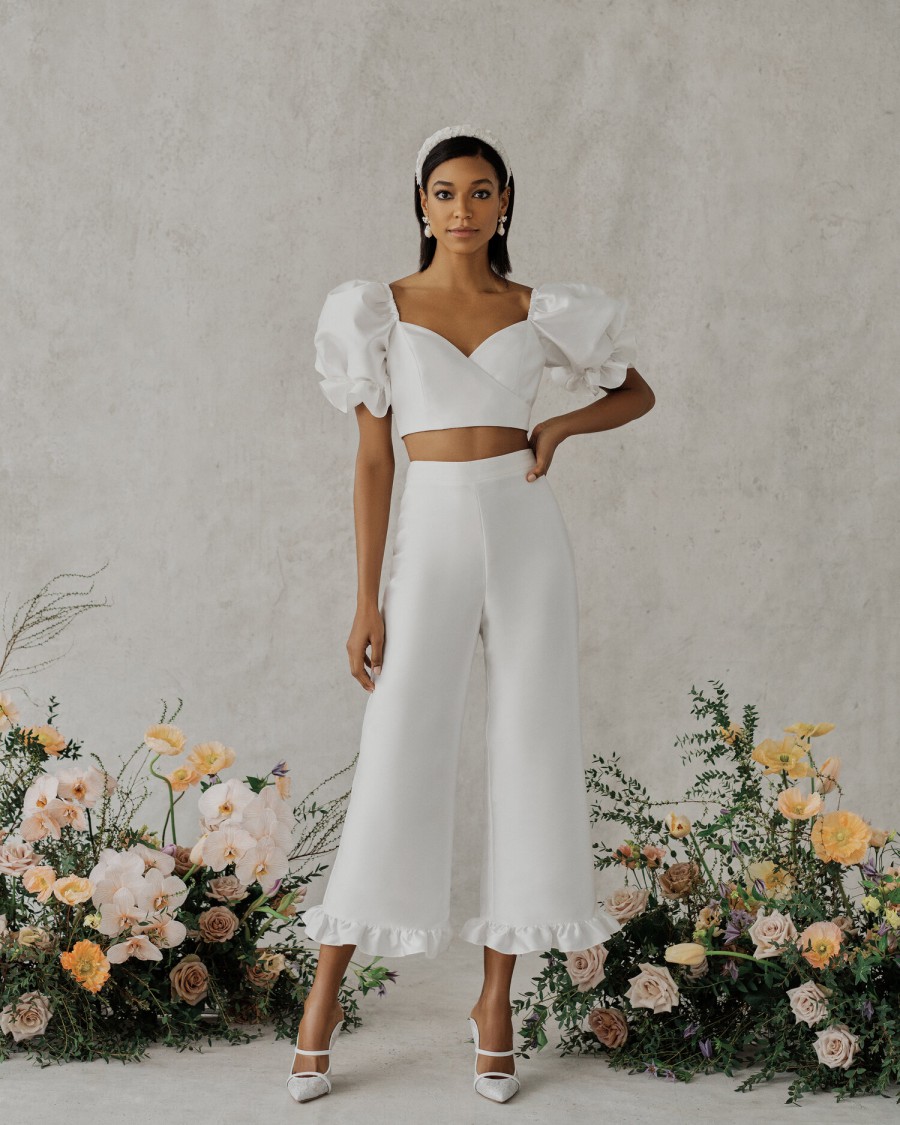 Looking to make a chic, unique statement on your wedding day? Then you will love this next midi length bridal style. This is definitely not your average wedding day look, but we are totally in love with it. Featuring chic midi length ruffle hemmed pants paired with a crapped puff sleeve top - who can resist this edgy bridal look?
22.

Grace Loves Lace: Dominga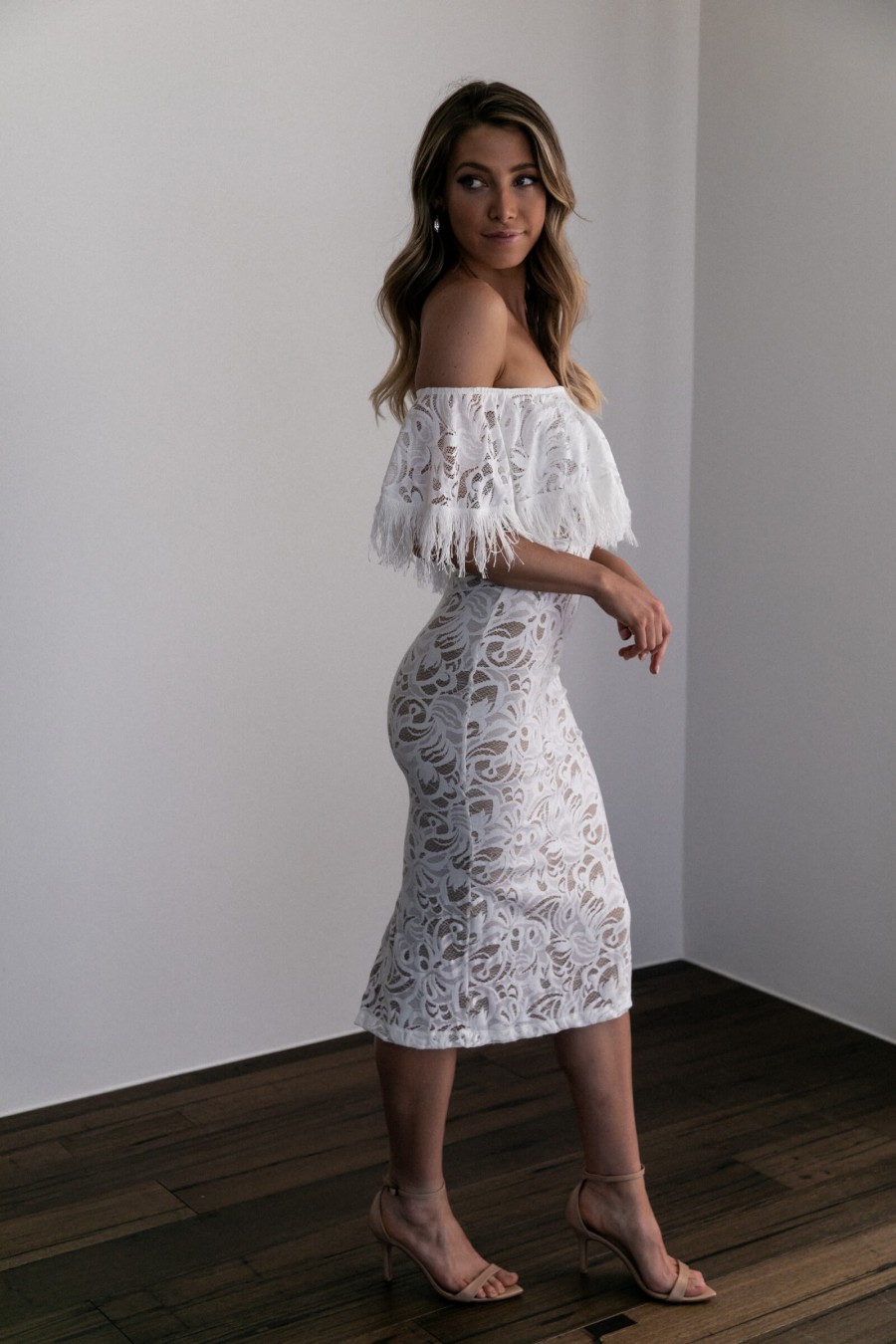 Show off your sassy personality and feminine curves with this next midi length bridal gown from Grace Loves Lace. We love this dress for a romantic, tropical destination wedding day.
23.

Elizabeth Fillmore: Isadora
This next midi length bridal gown is a lavish Victorian inspired style. We are loving now this gown feels both vintage and modern. It is perfect if you are looking for something truly unique.
24.

Sarah Seven: Georgia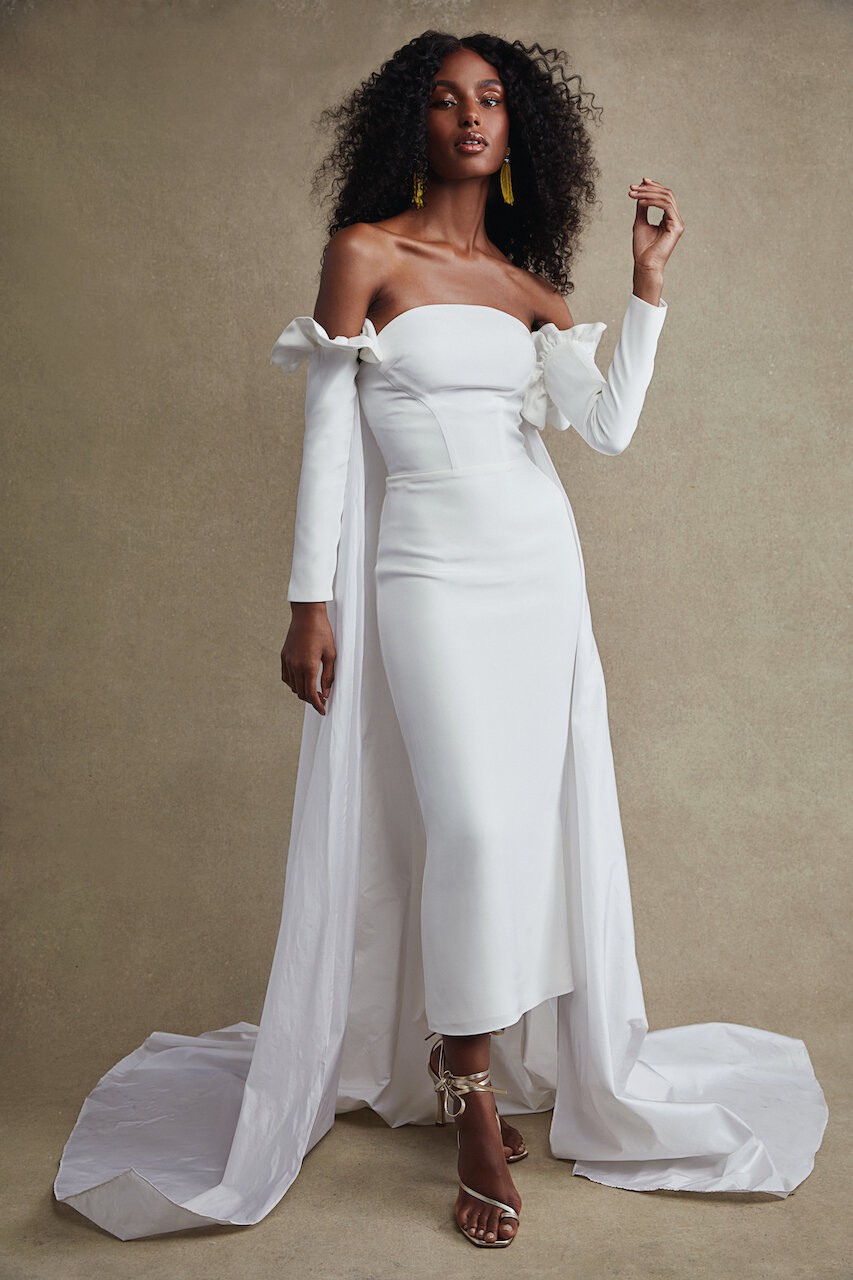 Where do we begin with this stunning bridal style from Sarah Seven? A strapless midi length gown with a training cape detail and chic removable sleeves. By simply adding or removing the optional sleeves, you can completely transform this style. And the cape detailing gives you the feel of a long, traditional bridal gown, but you still get to show off those strappy metallic sandals up front!
25.

Sarah Seven: Isabelle Midi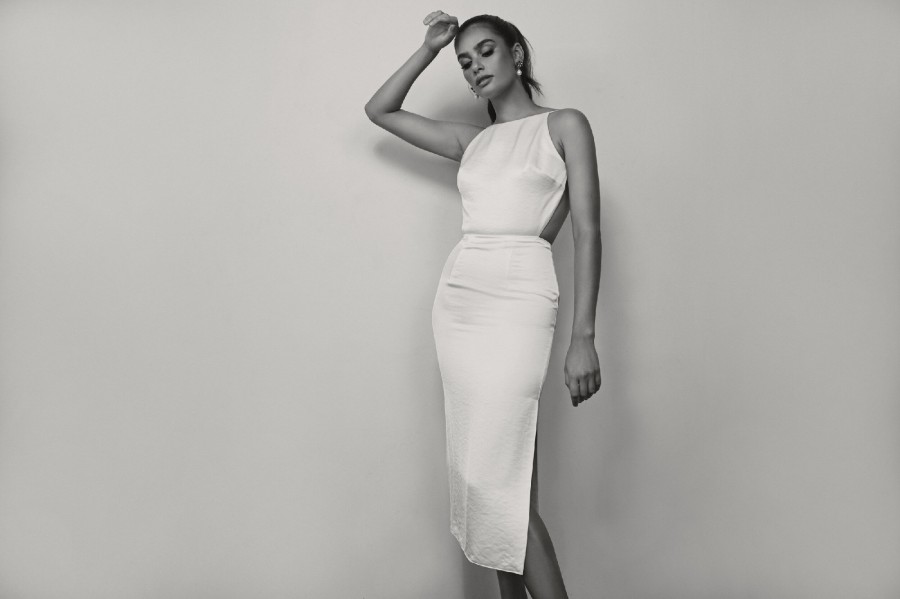 The Isabelle Midi dress from Sarah Seven is stealing our hearts. This effortless gown features a chic high neckline, open back and sultry side slits. Perfect for a sophisticated, less formal wedding day.
26.

Markarian: Francesca Embellished White Silk One-Shoulder Dress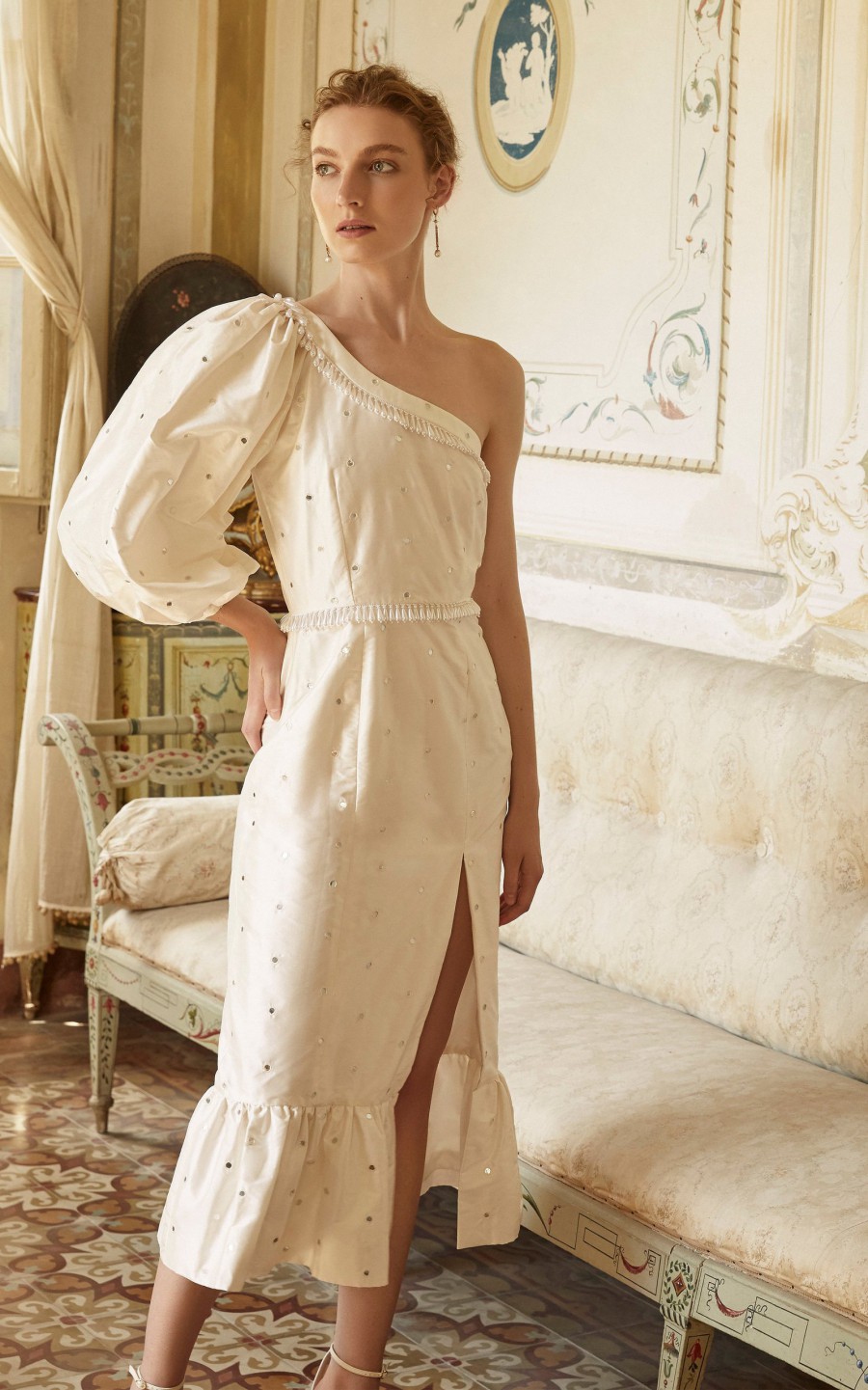 If you love unique couture bridal styles, then you will love this next midi dress from Markarian. A chic single shoulder silhouette with one dramatic puff sleeve and delicate pearl tear drop detailing around the neckline and waist.

By Kathryn Schrotenboer