If you are looking for a lavish wedding style with a little extra glam, then you don't want to miss this list of luxe embellished wedding dresses.
We are talking beads, sequins, crystals, and all of the sparkle a girl could want on her big day. It you are craving an ultra luxe wedding day look with lavish embellishment, then you came to the right place. These confident, glam styles know how to take things to the next level. And let's be honest, who doesn't want a little extra sparkle on their wedding day? So dig into this list, and see if a luxe, embellished wedding dress is what you have been waiting for.
01.

Dana Harel: Beach Ready Embellishment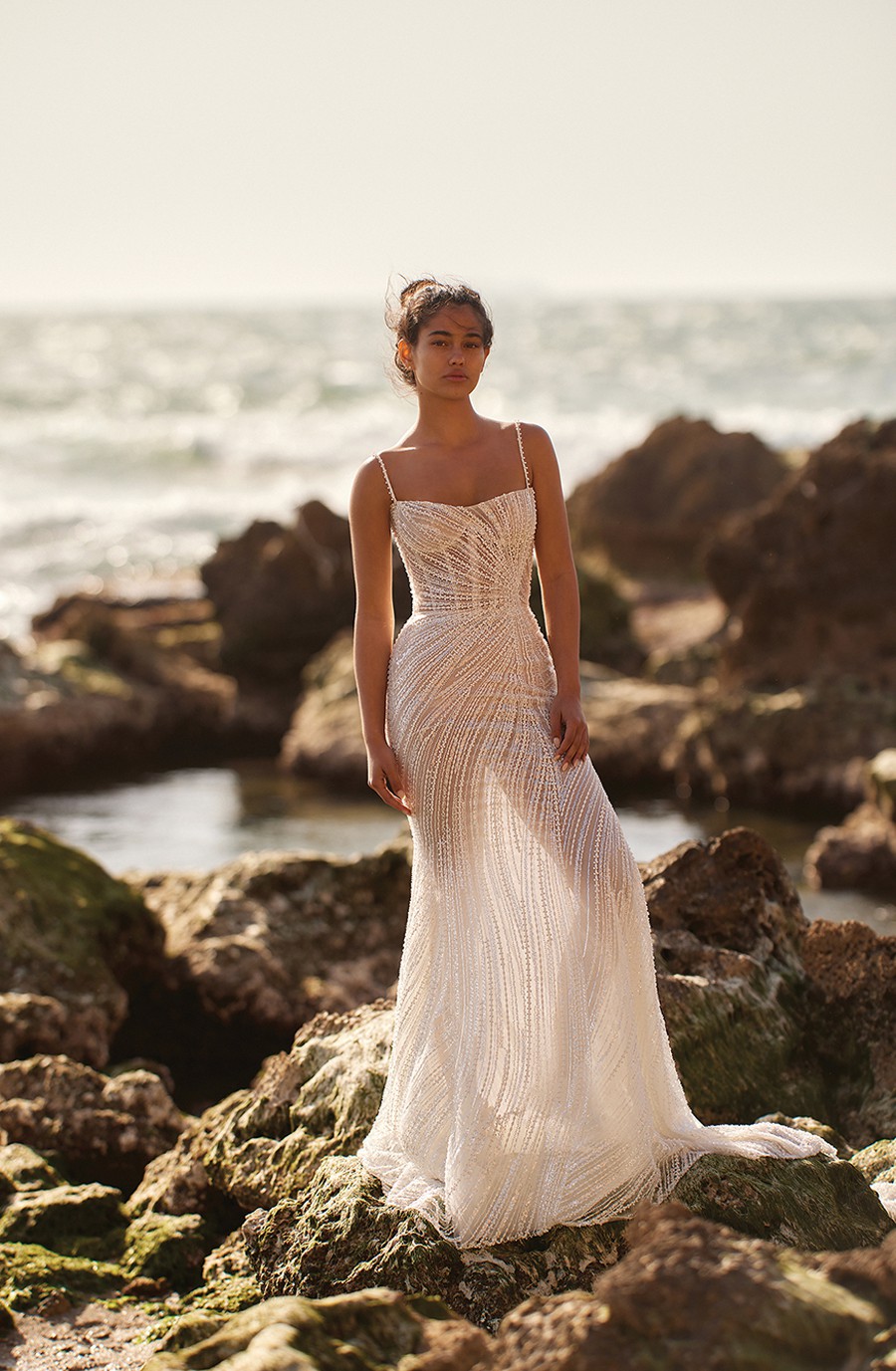 The soft mermaid silhouette and all over sequin and pearl embellishment on this gown has us dreamy of a luxe beachfront wedding day. Featuring a bodice with exposed boning, pearl accented spaghetti straps and dramatic back train.
02.

Anna Campbell: Embellished Florals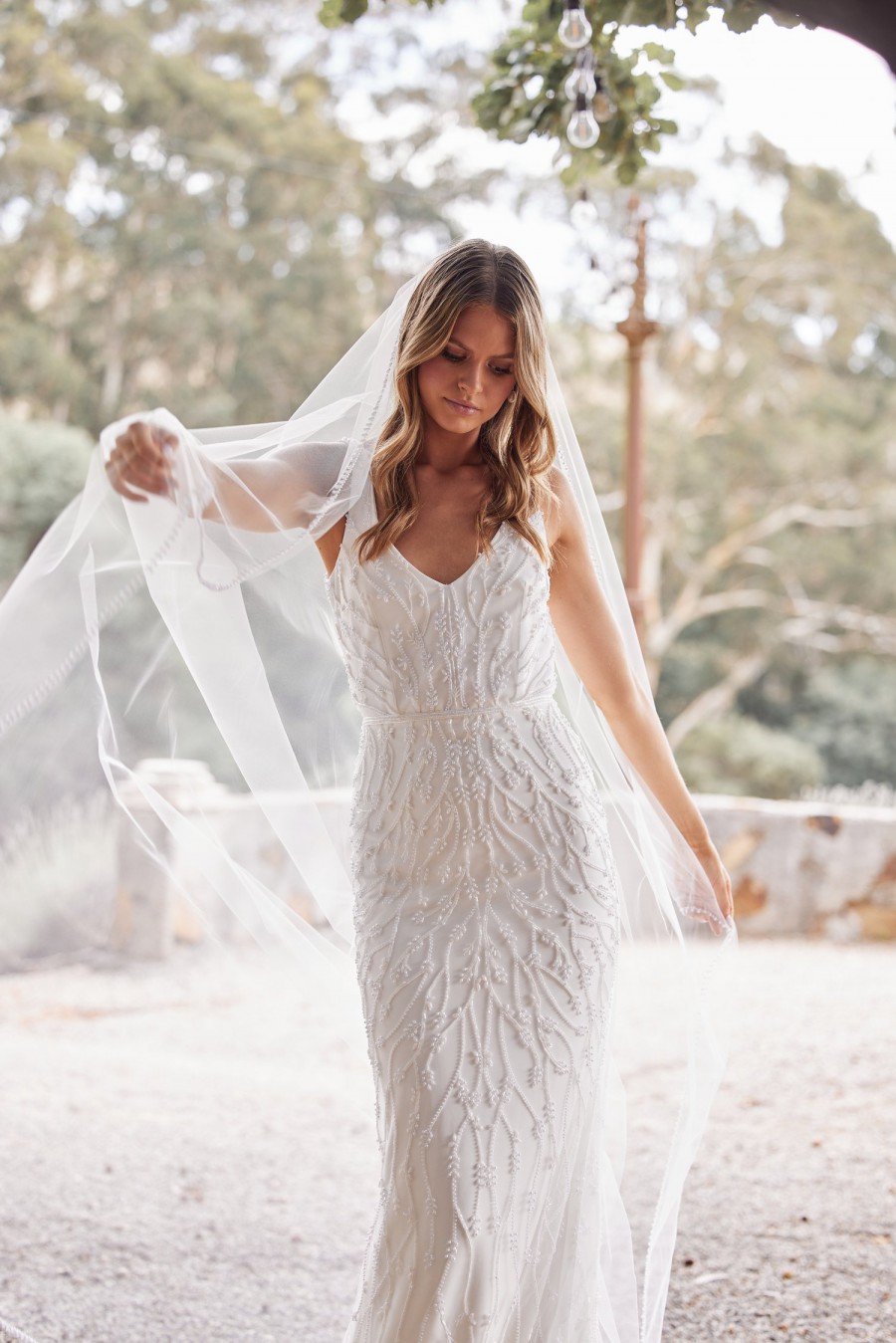 Anna Campbell is one of the queens of embellishment in bridal fashion. Her looks are always covered from top to bottom in the most stunning and intricate embellished designs. And this dress is no exception. This gown is delicately embellished with floral inspired ivory beading, which creates the most captivating design.
03.

Tony Ward: Embellished Ball Gown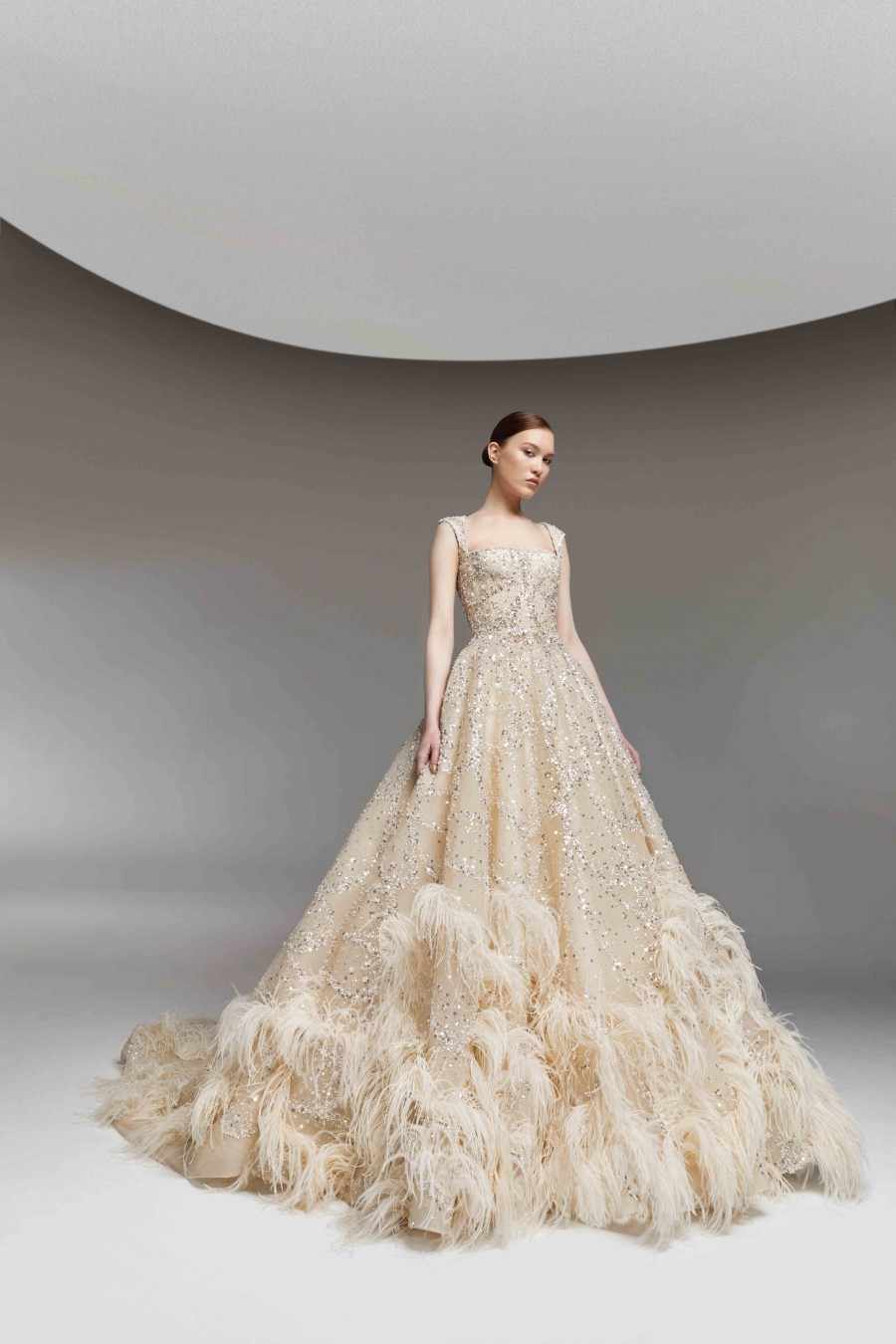 It is safe to say that Tony Ward knows how to make an entrance when it comes to luxe, embellished bridal looks. This breathtaking off-white tulle ball gowns features all over silver sparkling embroidery. And as if that isn't enough, the gown is finished with dramatic feathers at the base of the skirt.
04.

Galia Lahav: Ombre & Crystals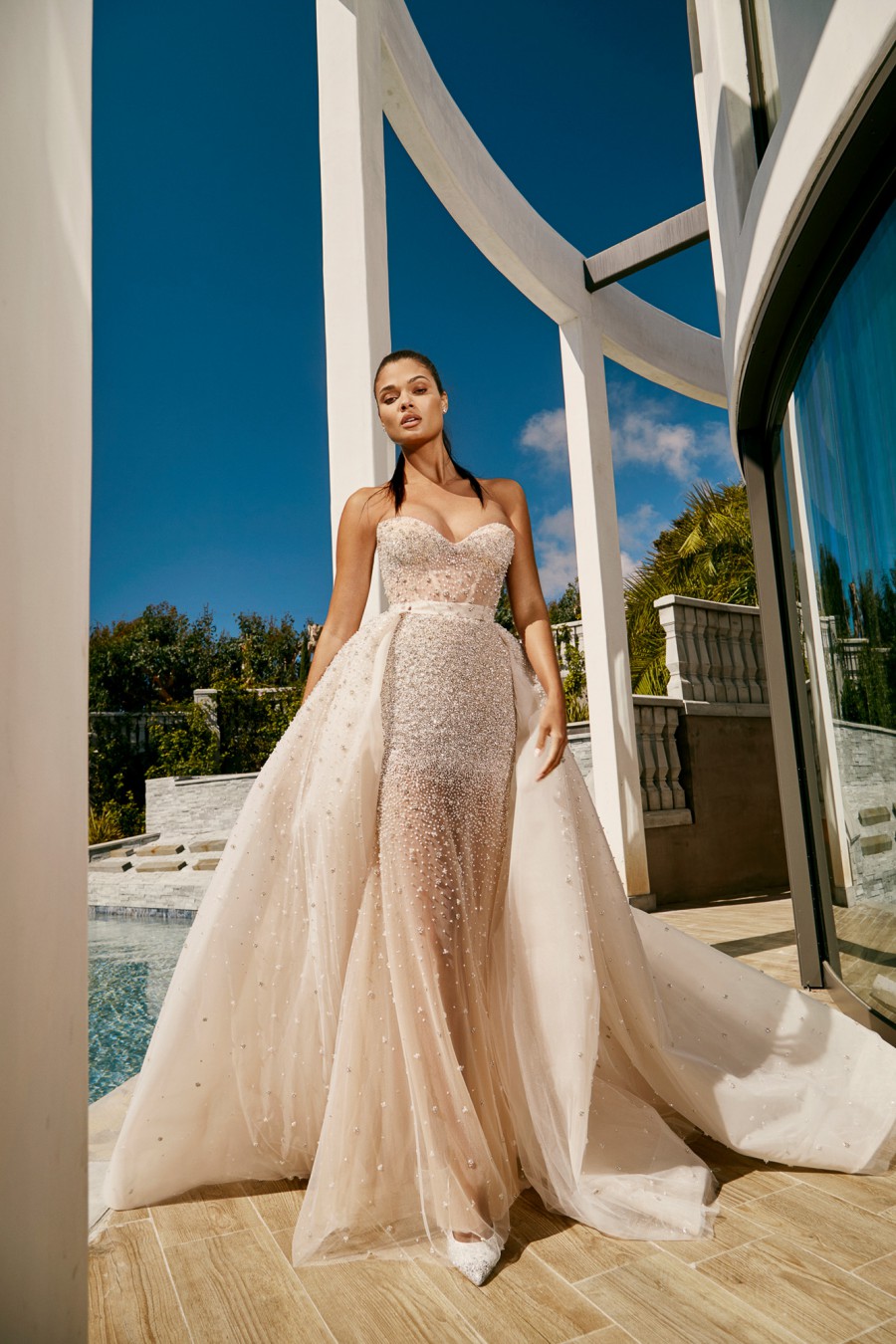 If you are looking for a luxe, embellished bridal gown, then Galia Lahav is sure to not let you down. Galia Lahav's lavish styles are everything a glam loving bride could dream of. This gown features an ombre design of luxe crystals. And the sweetheart neckline, mermaid silhouette and voluminous over-skirt add even more drama to this look.
05.

Eva Lendel: Embellished Lace Sheath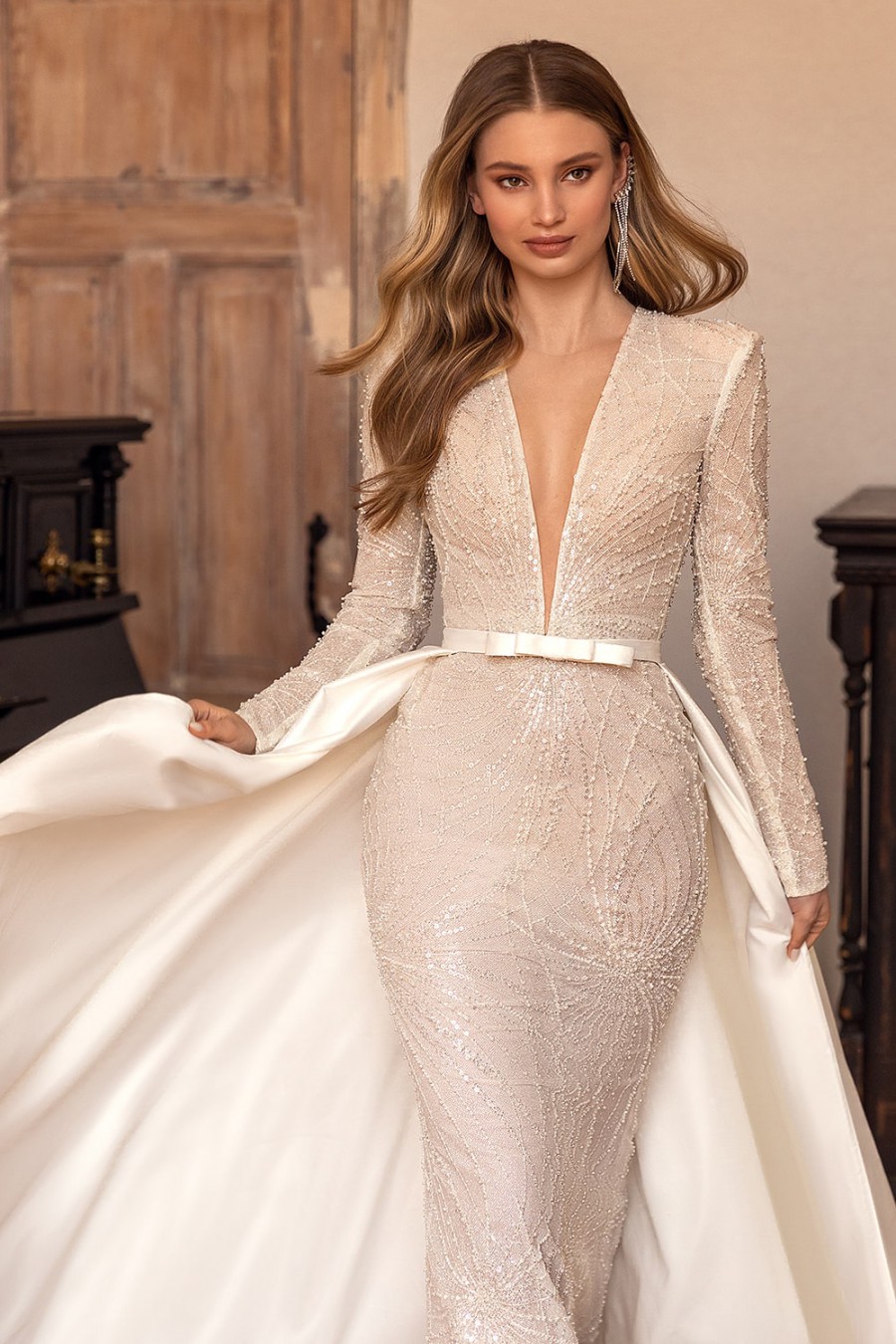 The dramatically embellished lace of this next luxe gown is absolutely breathtaking. This sheath is decorated with beads and sequins that create a unique cobweb pattern. The drama of the all over embellishment is further accented by a plunging neckline, slim silhouette and lavish satin overskirt.
06.

Lihi Hod: Illusion Embelistment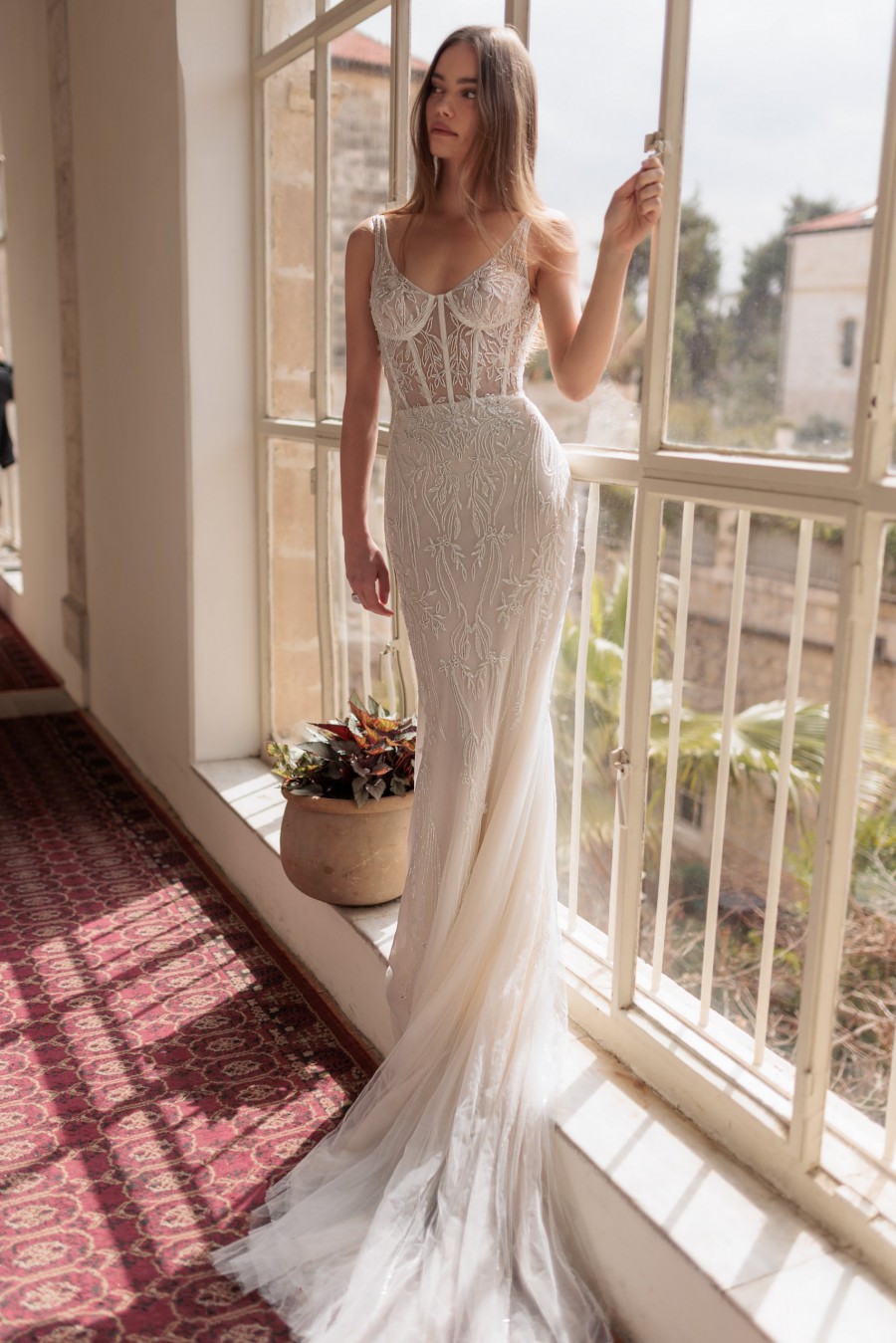 The illusion effect on the bodice of this gown is just stunning. With exposed boning and embellished semi-sheer fabric, this gown is a show-stopper. The same floral inspired embroidery cascades down the skirt of the gown for a truly stunning effect.
07.

Dana Harel: Sultry & Sophisticated Wrap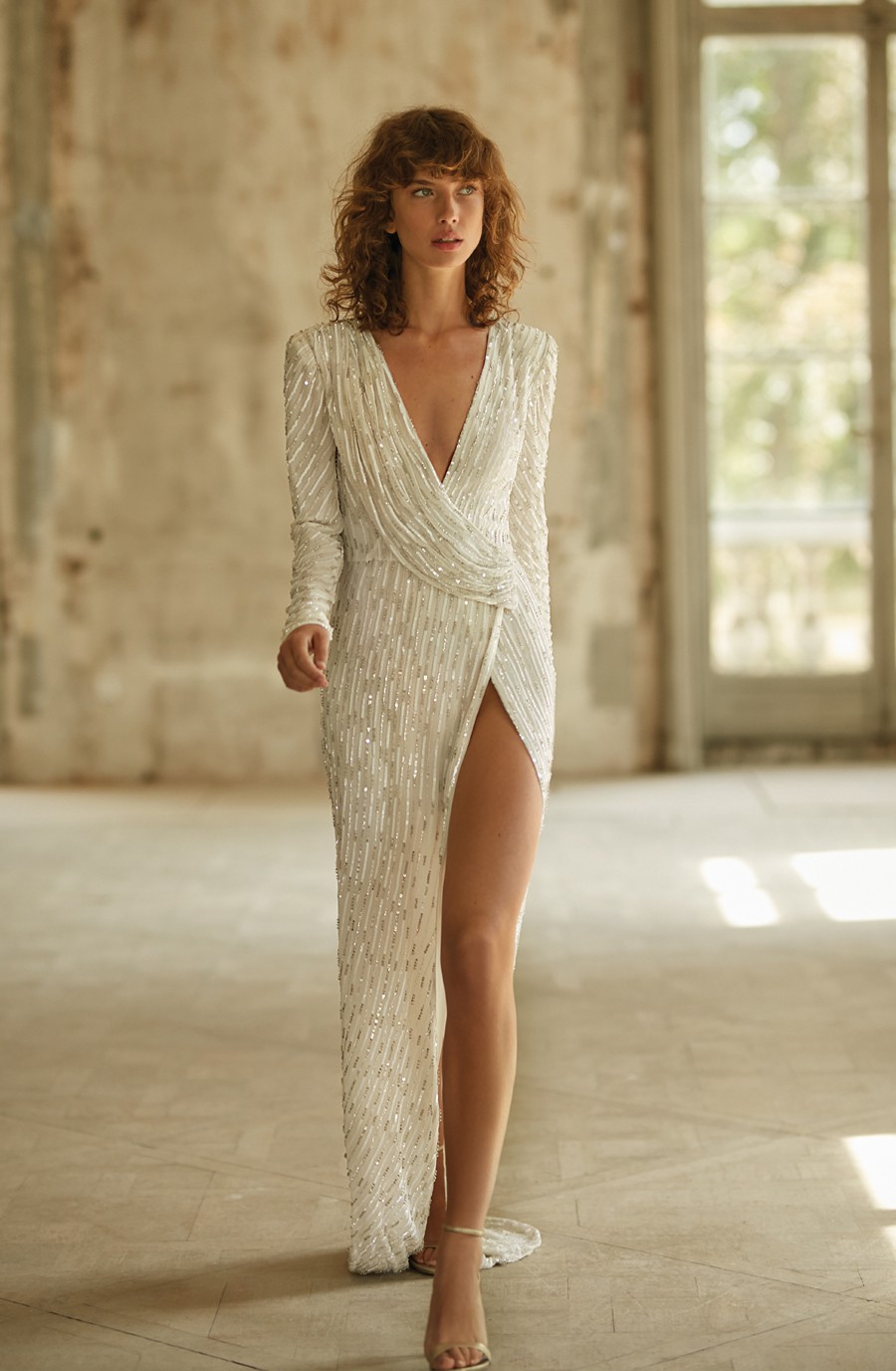 This next embellished wedding gown comes from Dana Harel. Its long sleeve, wrapped silhouette feels so fierce and sophisticated - and then the dramatic high front slit adds a sultry finish to the look. But our favorite features has to be the lines of sequin embellishment that create a captivating and glam design.
08.

Galia Lahav: Ultra Luxe Modern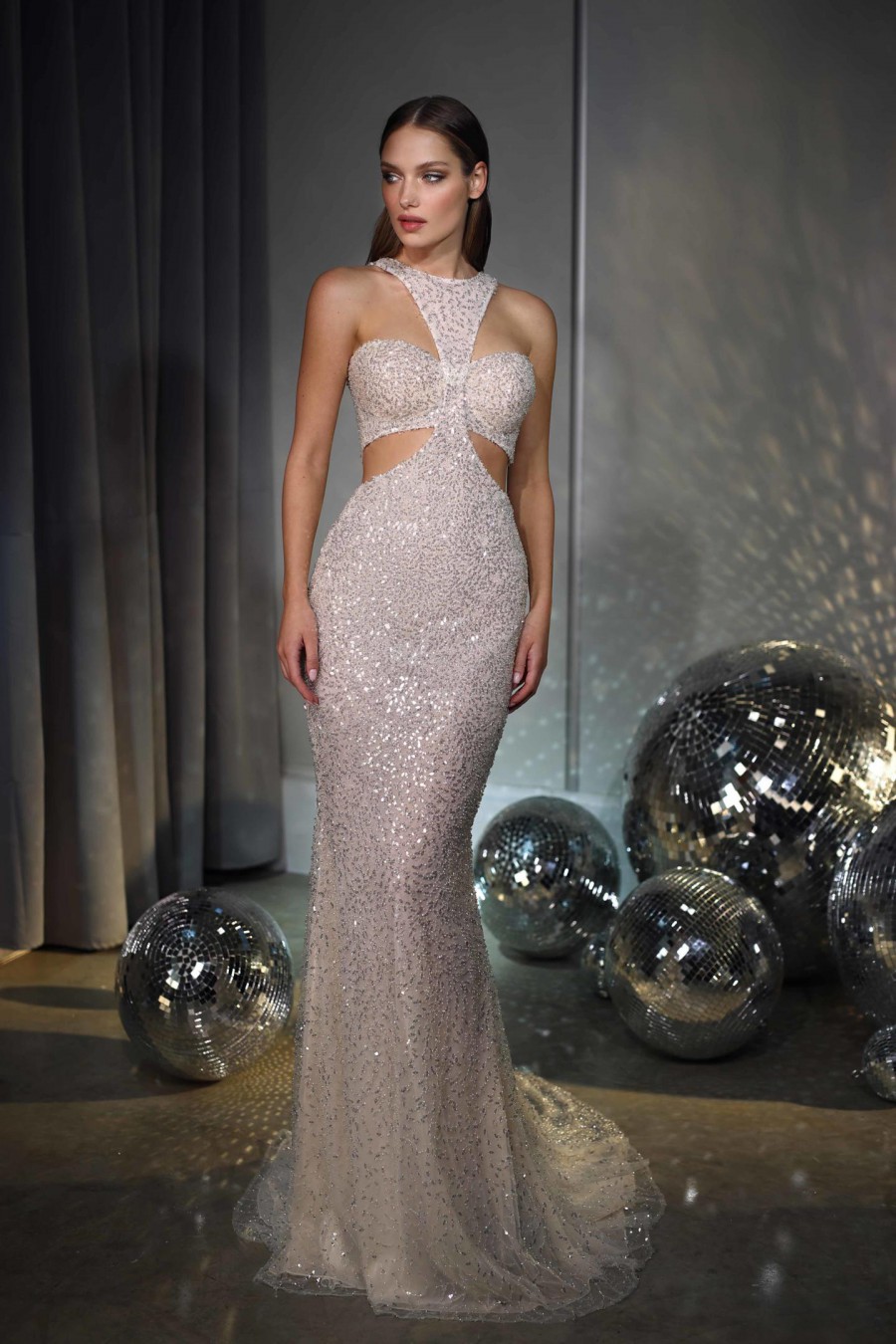 Contemporary and ultra glam. This next embellished wedding dress is definitely not your average bridal style. With its ultra modern cut-out neckline and all over beaded netting design - this gown is sure to be the star of the show. If you are looking for a blinged out, statement making bridal look, then this should do it.
09.

Maggie Sottero: V-Back Embellished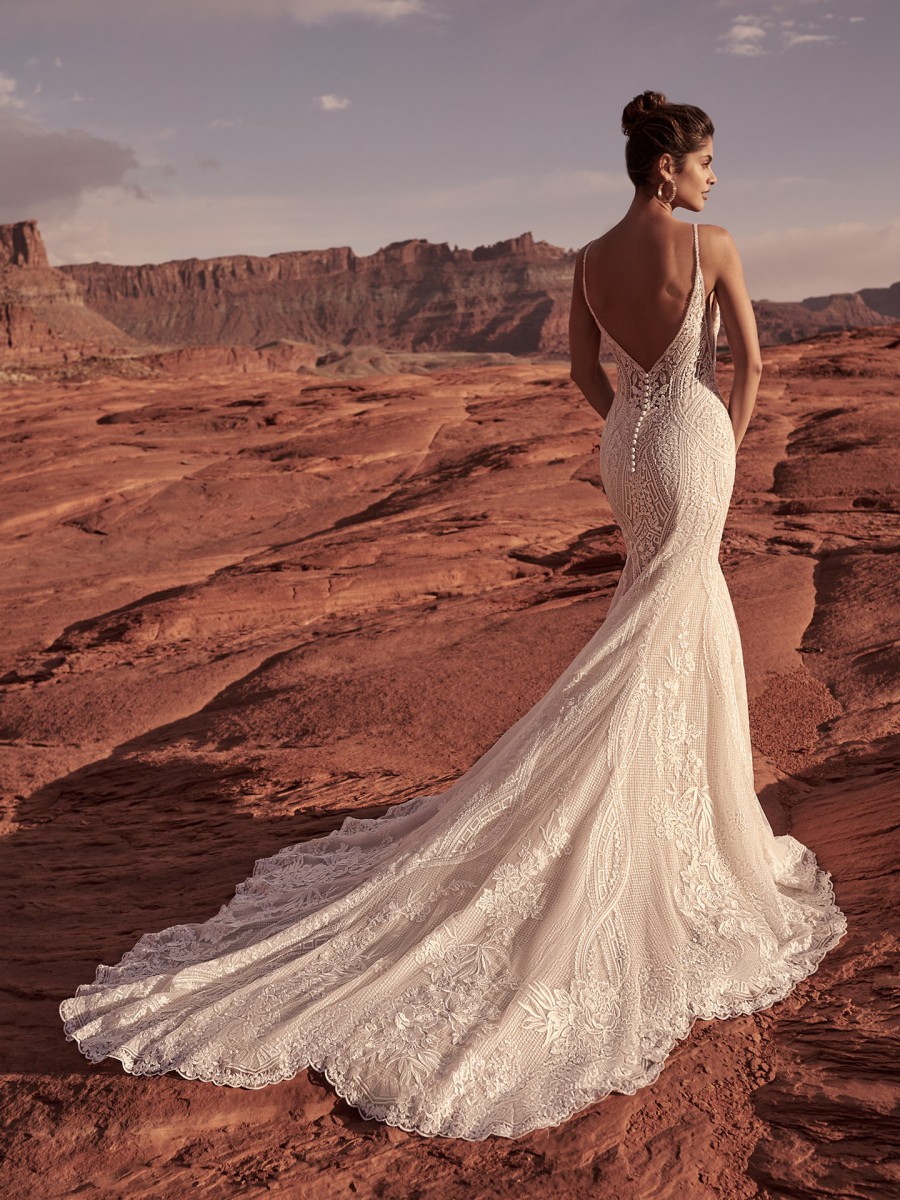 This sexy V-back gown features a stunning fitted silhouette with a long dramatic train. And to add even more breathtaking drama to this look, the gown features all over embellished embroidery that adds a luxe boho feel.
10.

Ida Torez: Embellished Illusion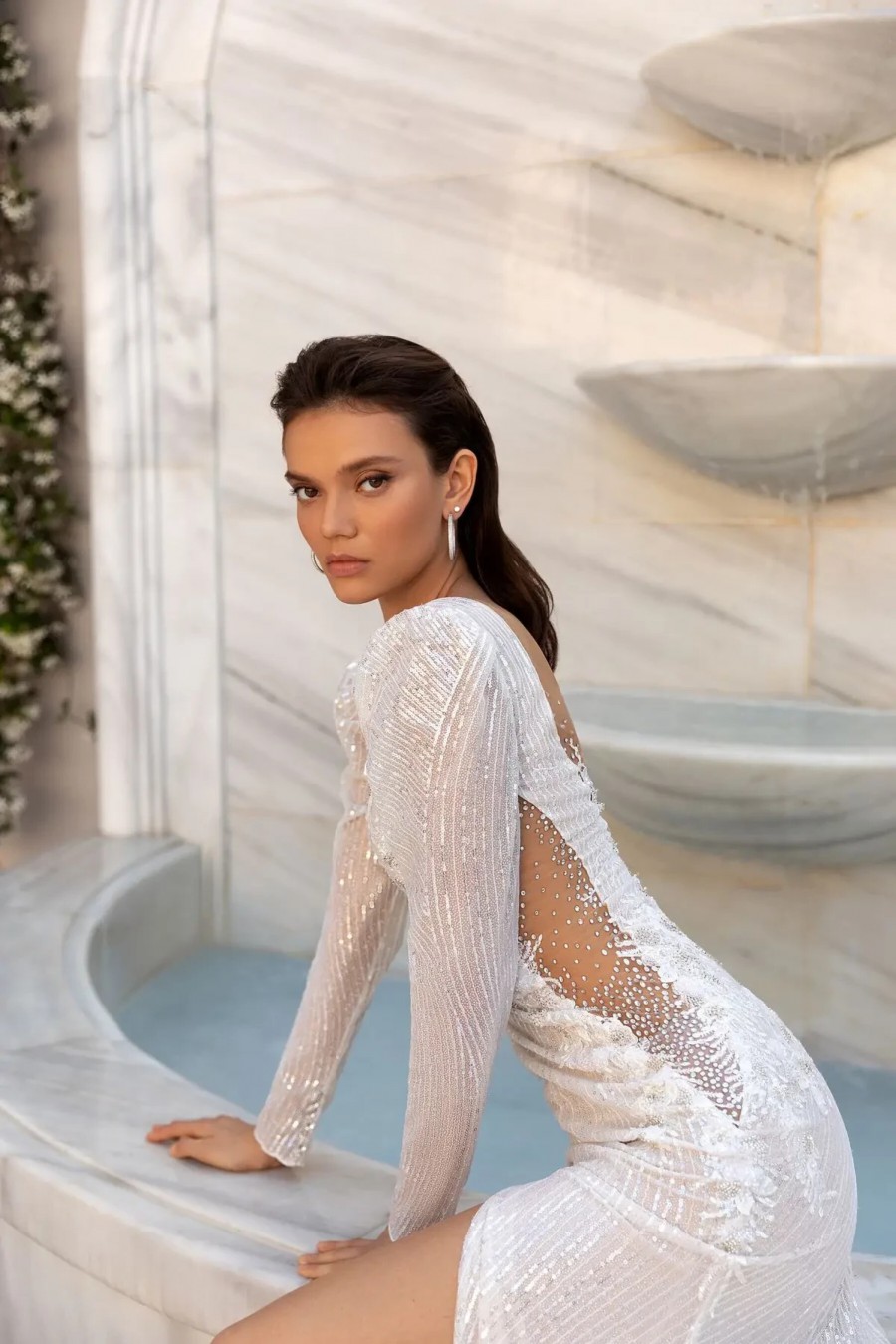 Ida Torez brings us this next ultra luxe embellished bridal look. A slim silhouetted gown that features a dramatic plunging neckline, high front slit and full length sleeves. The lace fabric of this gown is fully embellished with sequined crystal accents. But the main feature of this gown has to be its illusion side panels which are accented with dramatic crystal accents.
11.

Eva Lendel: Embellished Confidence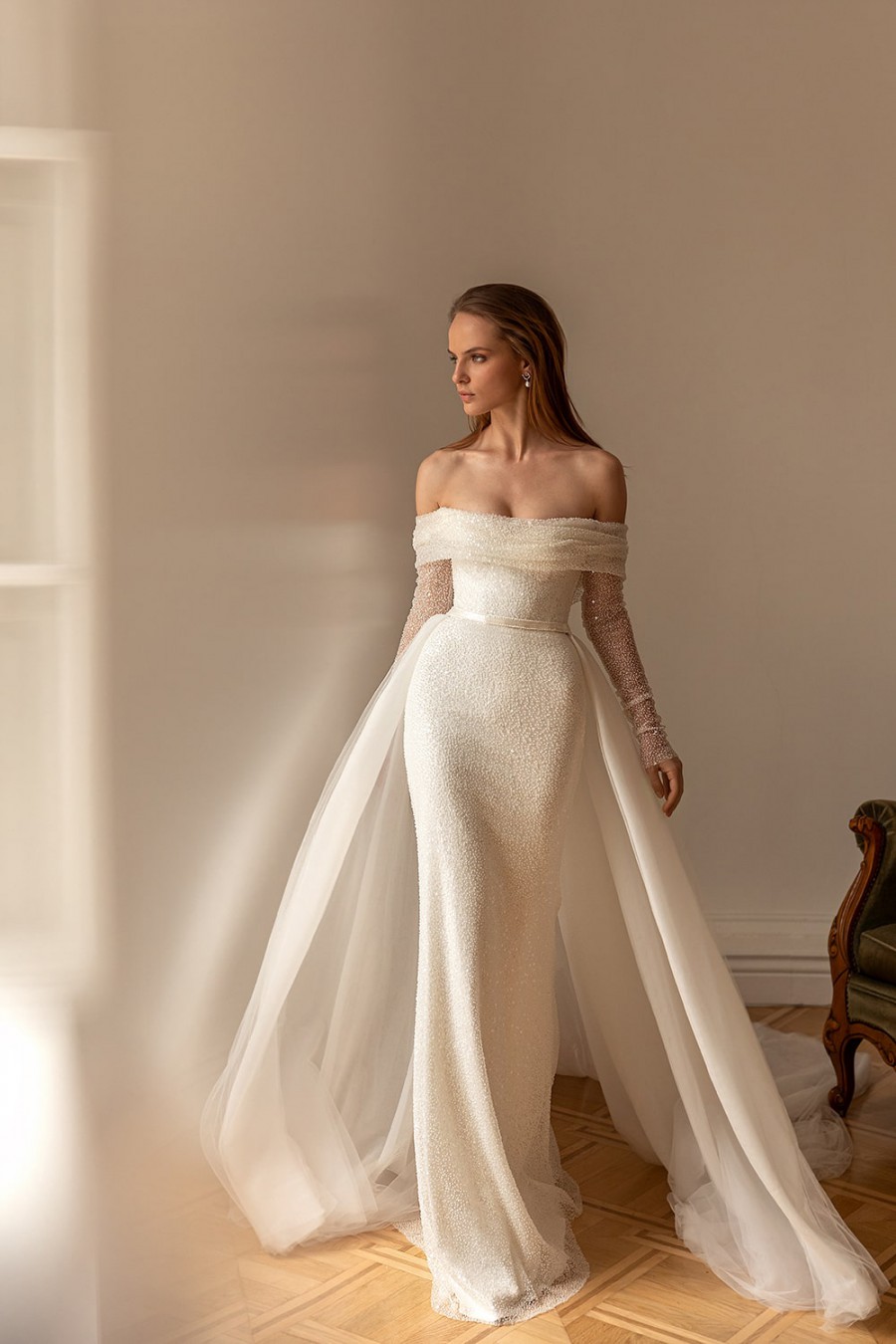 If you are a confident bride who is ready to make a statement on your big day, then you don't want to miss this next embellished wedding gown from Eva Lendel. This chic sheath gown features all over bead and sequin embellishment that makes it sparkle from every turn. And we are loving the draped off-the-shoulder neckline with long semi-transparent sleeves.
12.

Dana Harel: Dramatic Glam Mermaid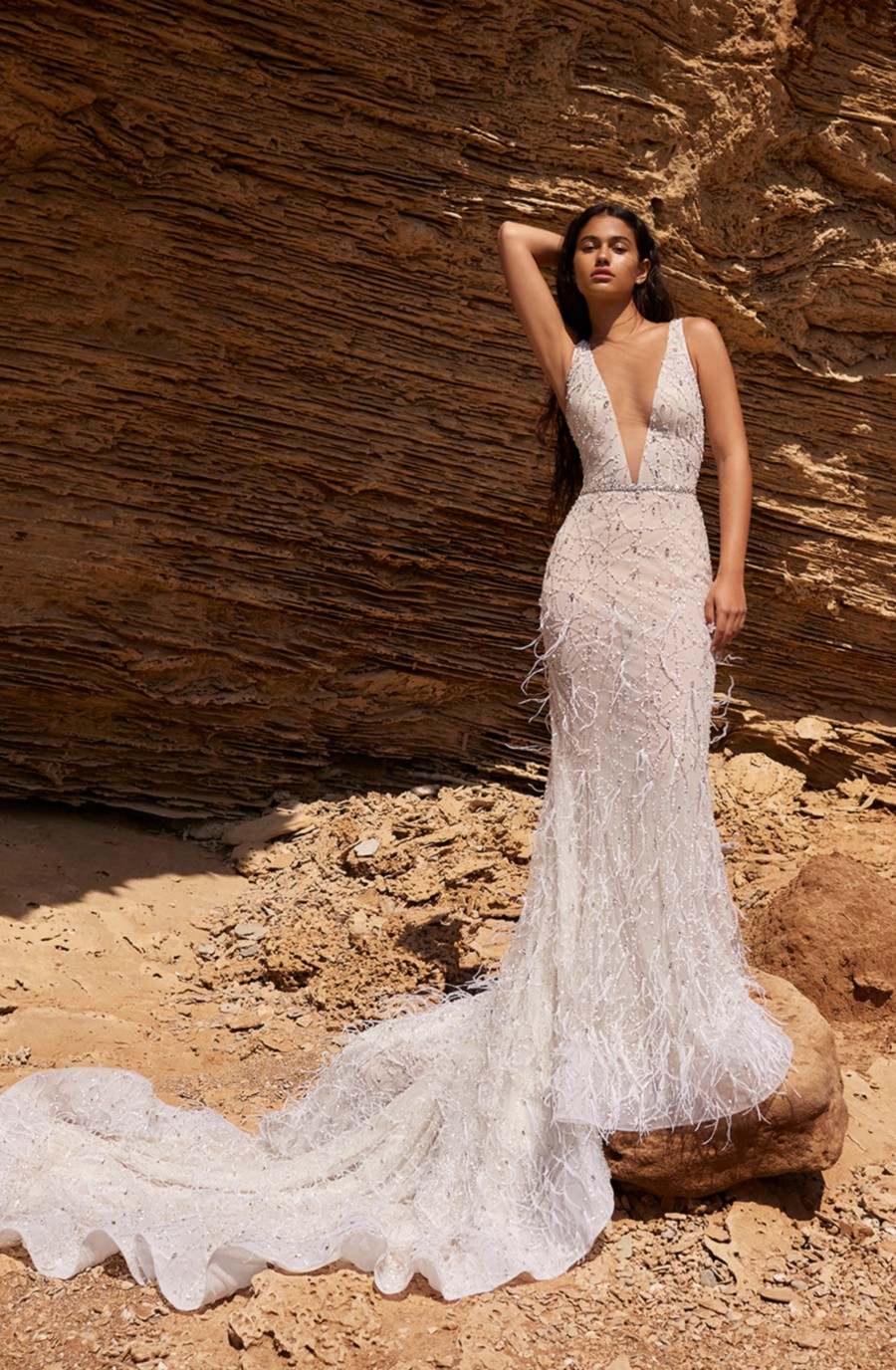 Dana Harel brings us this dramatic, ultra glam, mermaid cut bridal gown. Featuring all over ivory glass bead and feather embellishment that add so much texture to the look. The silhouette of this gown features a dramatic plunging neckline and a long train.
13.

Luce Sposa: Embellished Nude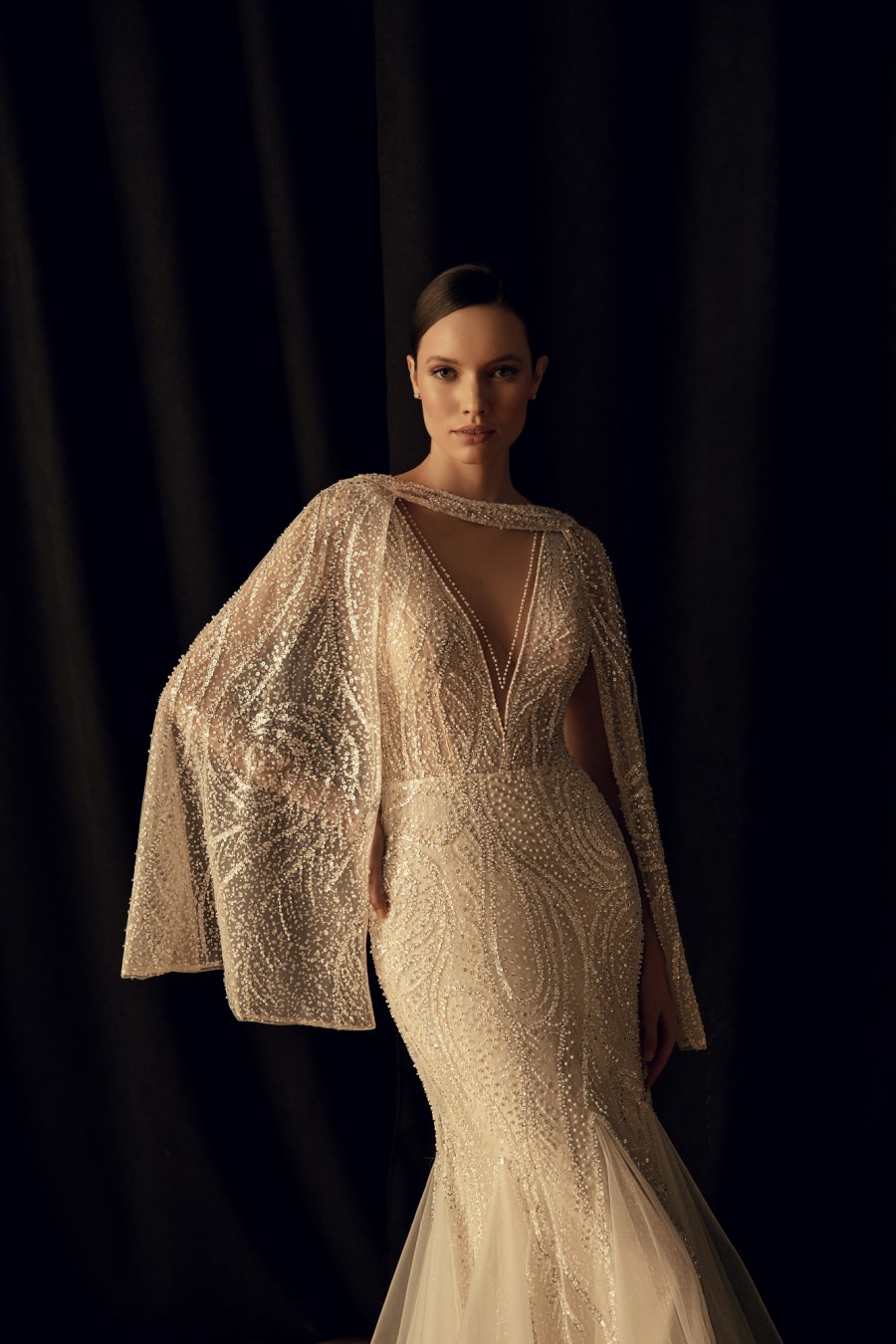 The nude color of this next luxe embellished bridal style is just stunning. This color would be so flattering on a wide range of skin tones - plus it is a slight departure from classic white if you are craving something different. This dress is made of glitter mesh and beaded lace. Some of our favorite features include the mesh gussets on the skirt that add so much texture and movement. Along with the optional matching cape that has the same embellished look.
14.

Julie Vino: Painted On Glam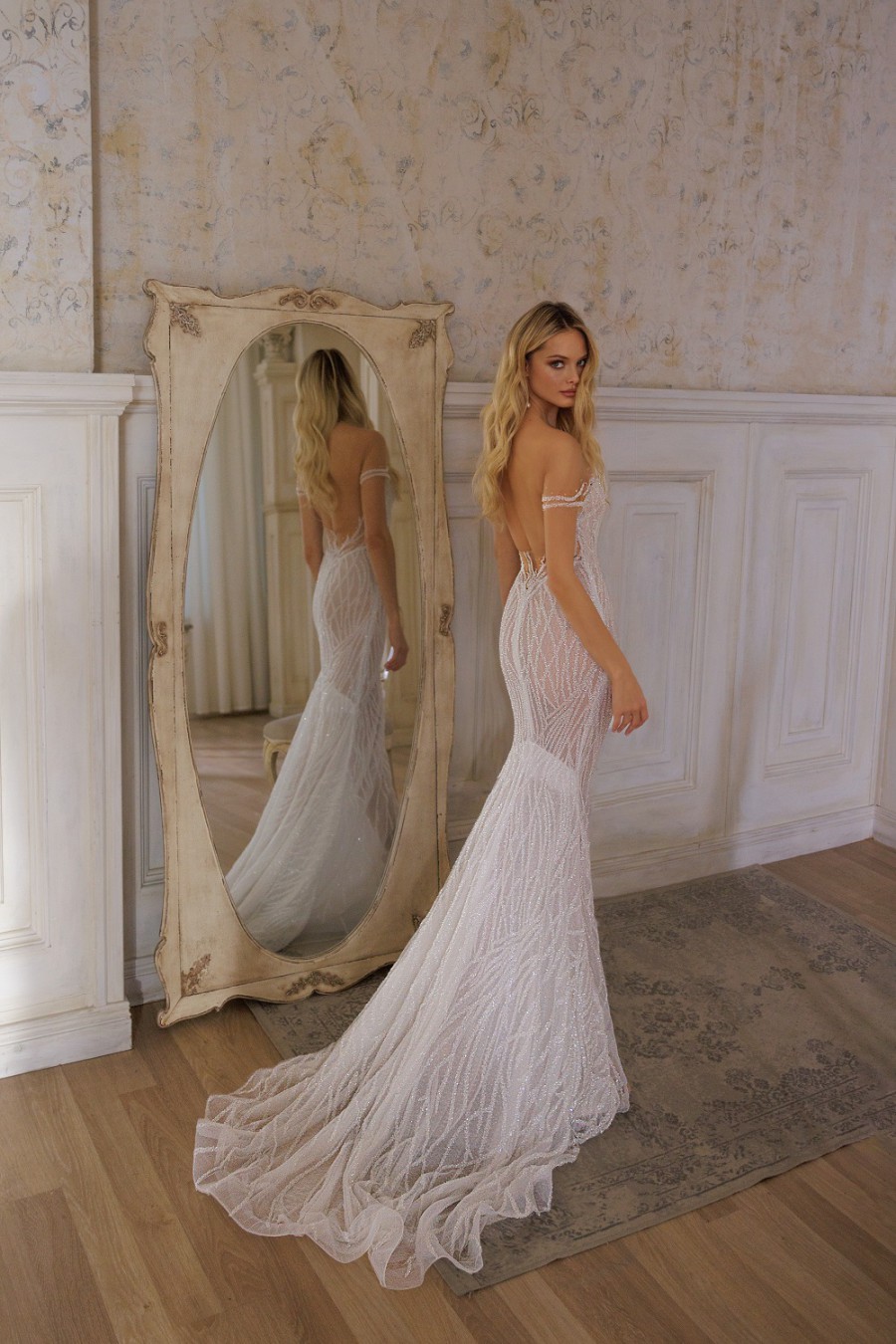 The fitted silhouette of this next luxe embellished wedding dress has an almost painted on look to it. Fully beaded and sequined layers of semi-sheer fabric create an alluring and effortless look. And we are just loving the barely-there illusion sleeves that finish the look off.
15.

Tony Ward: Vine Embellishment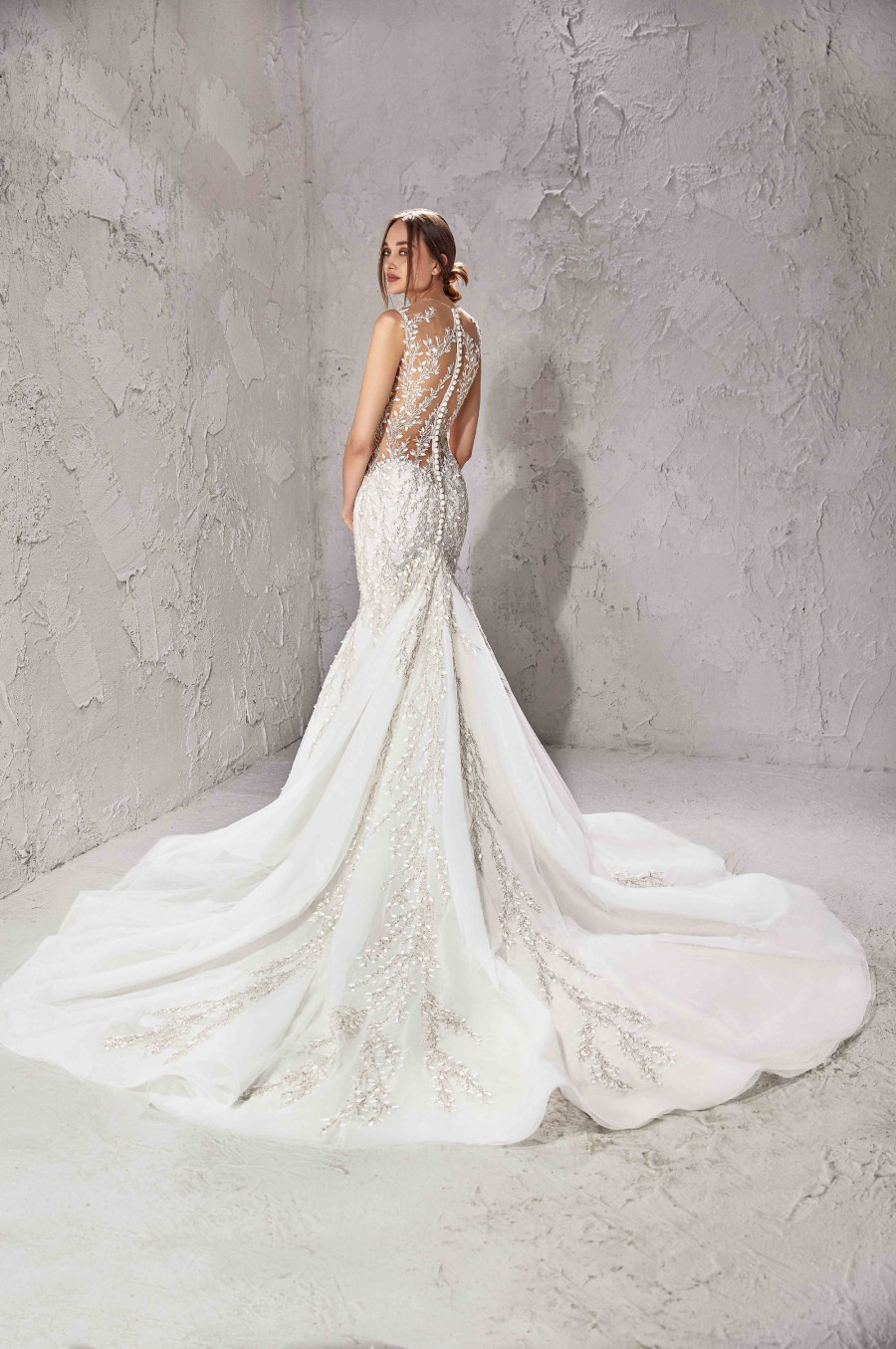 We are really loving the vine inspired embellishment on this next bridal gown from Tony Ward. This stunning macramé mermaid dress features a sultry sheer back panel that has the same lavish vine embellishment that winds down the full length of the gown like real life vines.
16.

Anna Campell: Embellished Lines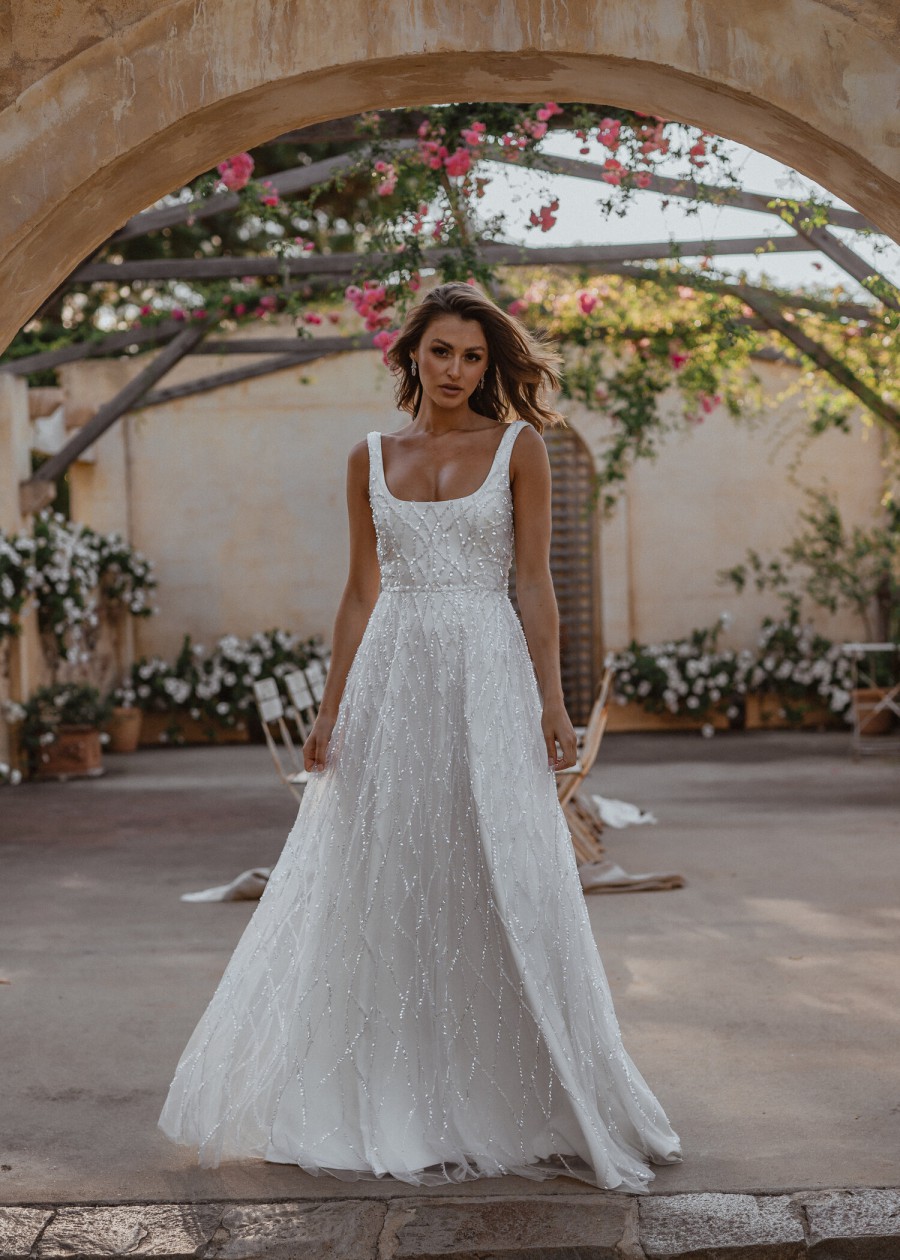 Anna Campell brings us this next embellished wedding dress. A chic A-line gown that features the most stunning intricate hand beaded design. Lines of embellishment create a very geometric, yet organic design. We love that this dress has a very classic A-line silhouette, yet with luxe modern embellishment.
17.

Galia Lahav: Sheer Drama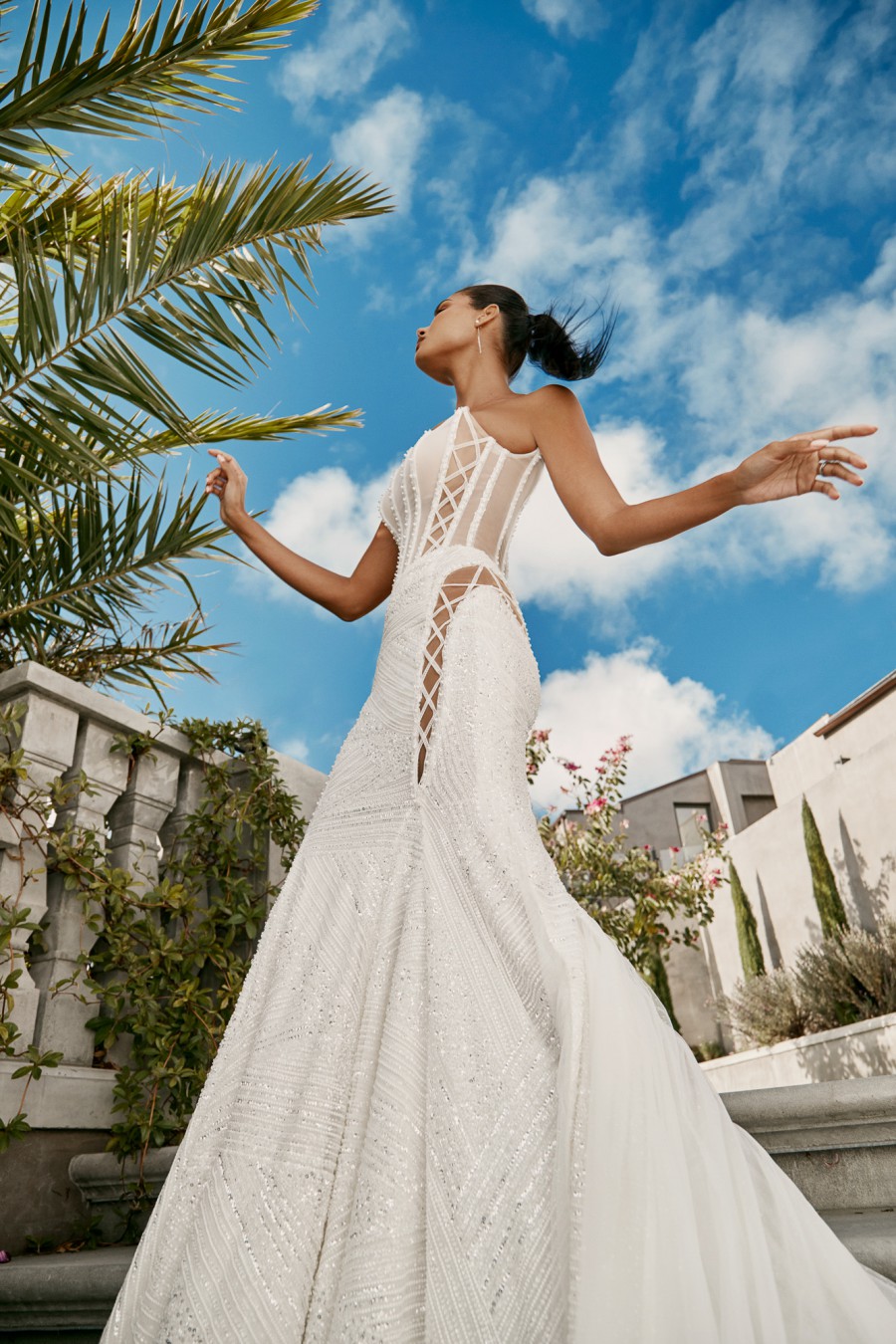 This next luxe embellished wedding gown from Galia Lahav is like nothing else. This gown features a pointy square scooped neckline, sheer corset top with exposed boning, and pearl-embroidered piping. But what is most surprising about this dress is the geometrically beaded skirt with sheer sparkled tulle godets and exposed laced up side cutouts. If you are looking for unique, lavish glamour - this is your dress.
18.

Julie Vino: Lavish Glamour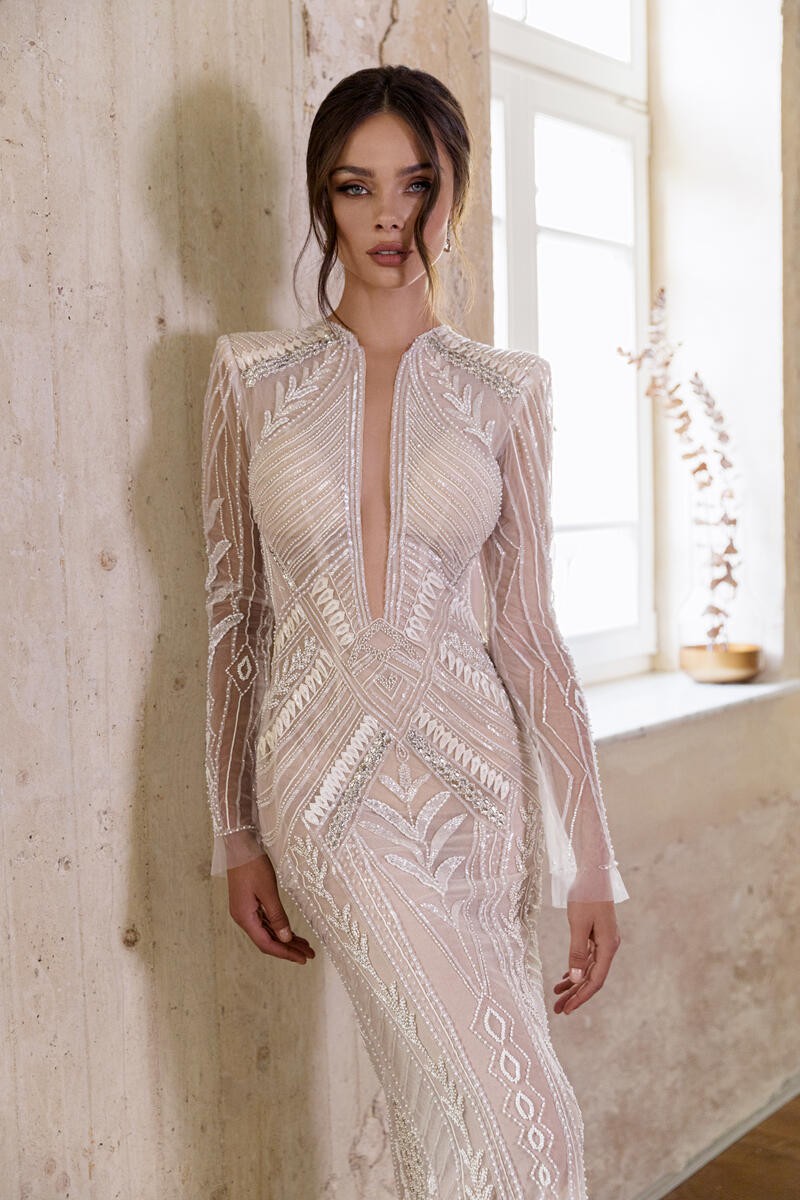 You are not a normal bride. You are a glamours bride who is craving a lavish wedding day look that fits your luxe personality. And Julie Vino has you covered with this next bridal gown. A breathtaking sheath gown that features long, embellished semi-sheer sleeves and a high neckline with plunging accent. But what we can't get enough of, is the intricate beadwork on this dress that surprises you from every angle.
19.

Luce and Sposa: Lavish Beads and Sequins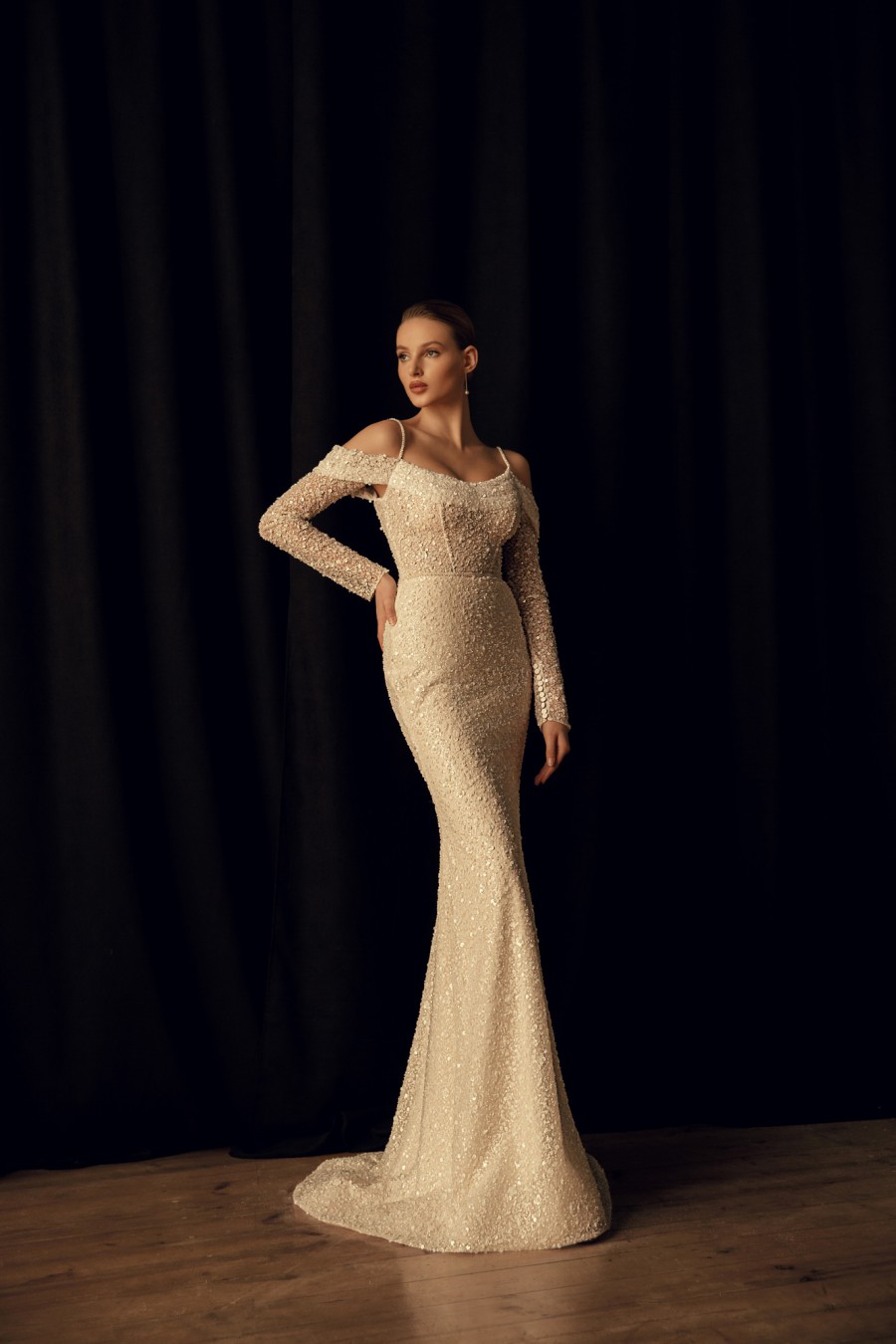 Luce and Sposa brings us this next luxe embellished bridal gown. This gown is made from glitter mesh and lace which is embroidered from top to bottom with beads and sequins. Featuring a stunning nude color tone, fitted silhouette and a corseted bodice with exposed boning. But one of the most exciting features of this gown has to be that the full length sleeves are detachable. So you can add or remover the sleeves to completely switch up your look!
20.

Berta: Glitter and Glam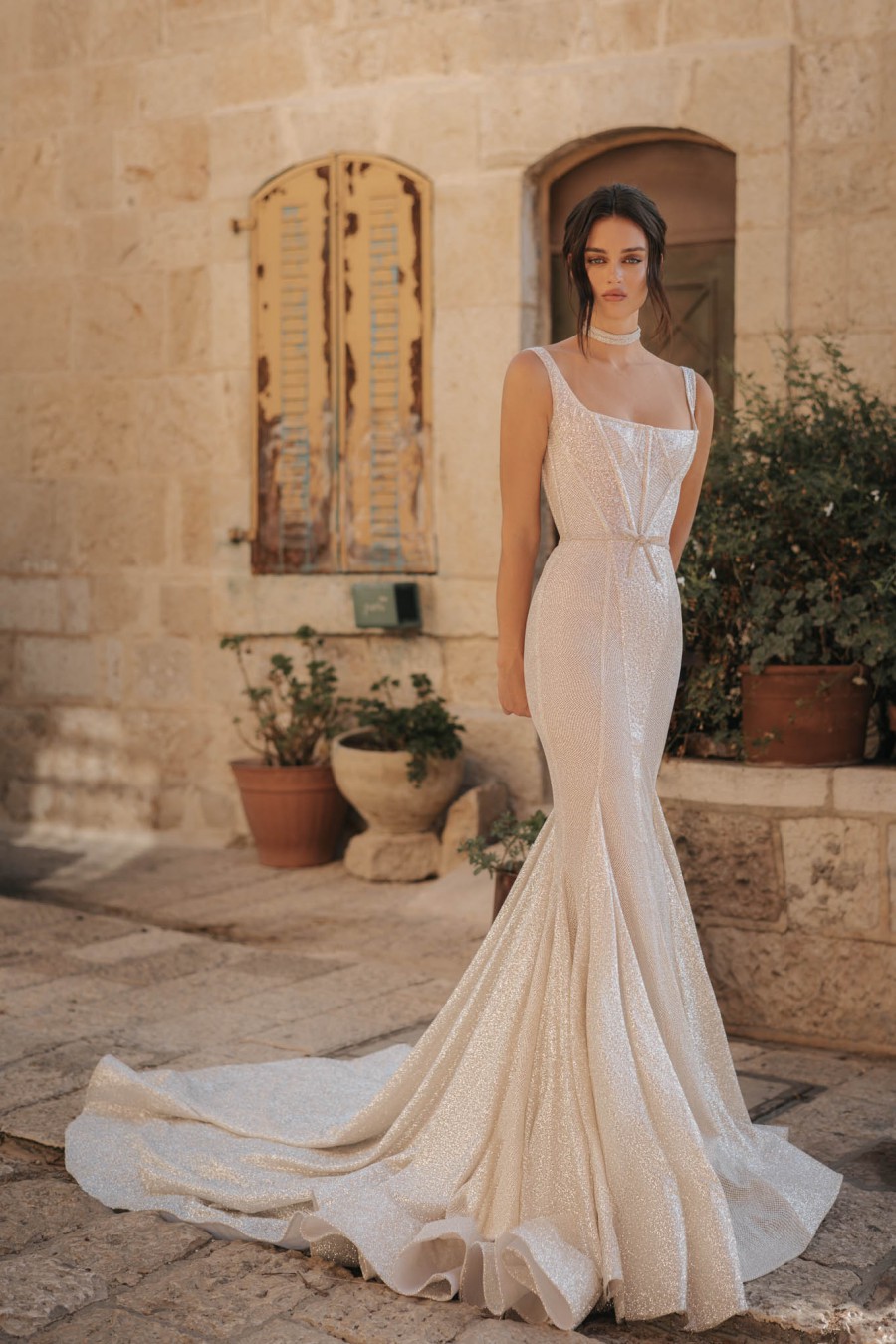 This fully embellished glitter gown from Berta is all about statement making glamour. Featuring a chic squared neckline, dramatic seamed line detailing and a delicate bow accent at the waist. But out favorite feature of this gown has to be its gathered mermaid skirt that leads into a dramatic train.
21.

Justin Alexander: Illusion Bodice Embellishment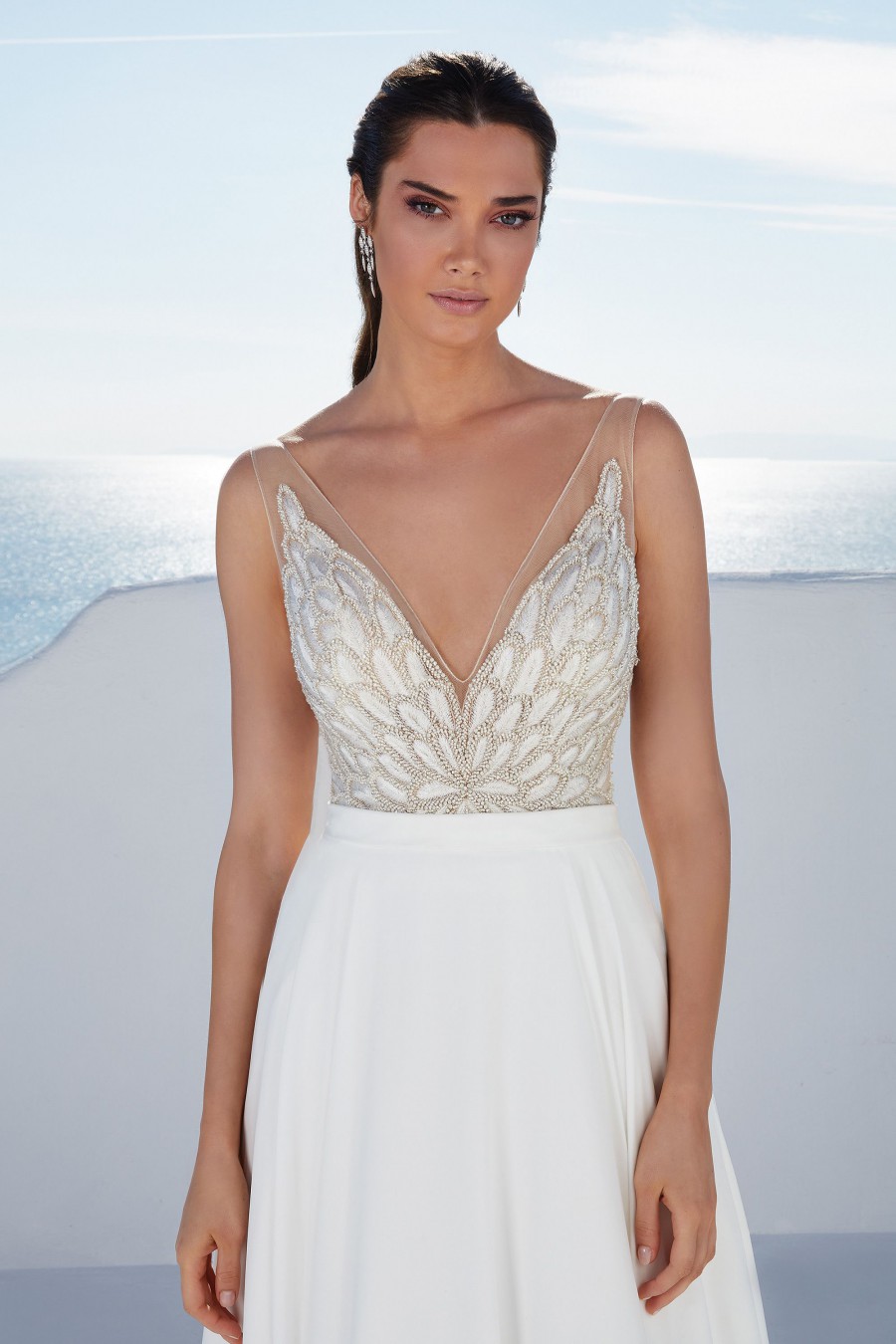 Now this next gown from Justin Alexander may not have the same all over lavish embellishment as some of the dresses on our list. But we just could not pass up the beaded illusion bodice of this gown. Featuring the most dramatic feather-like embellished design, that pairs with a sleek chiffon skirt that makes it pop!.
22.

Galia Lahav: Sparkle Tulle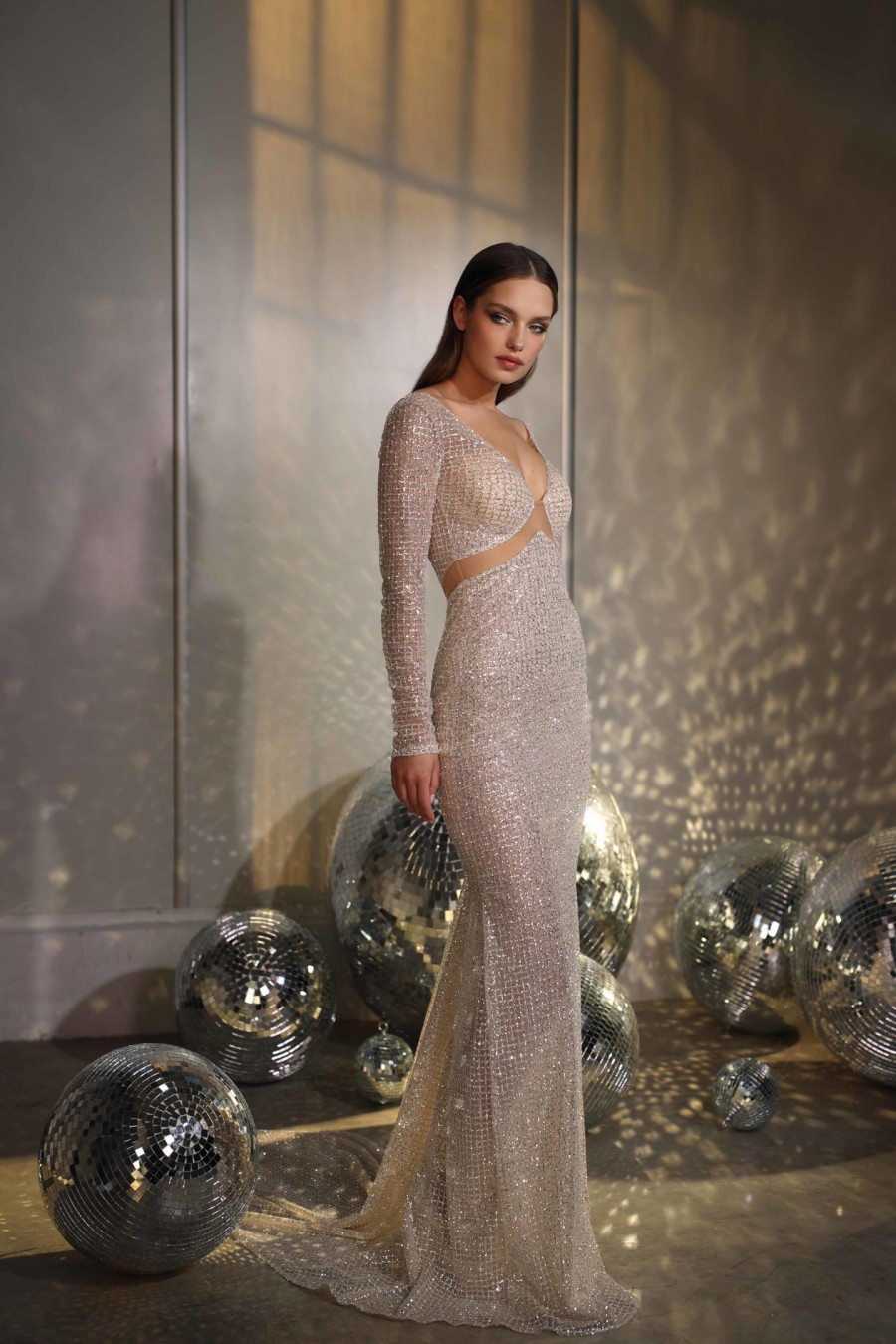 Modern glamour. This next gown is made from fully embellished sparkle tulle fabric that has it looking like a modern disco ball. This gown features a V-neckline with an illusion cut-out underbust detail, full length sleeves and a slim mermaid silhouette.
23.

Dana Harel: Pearl Lines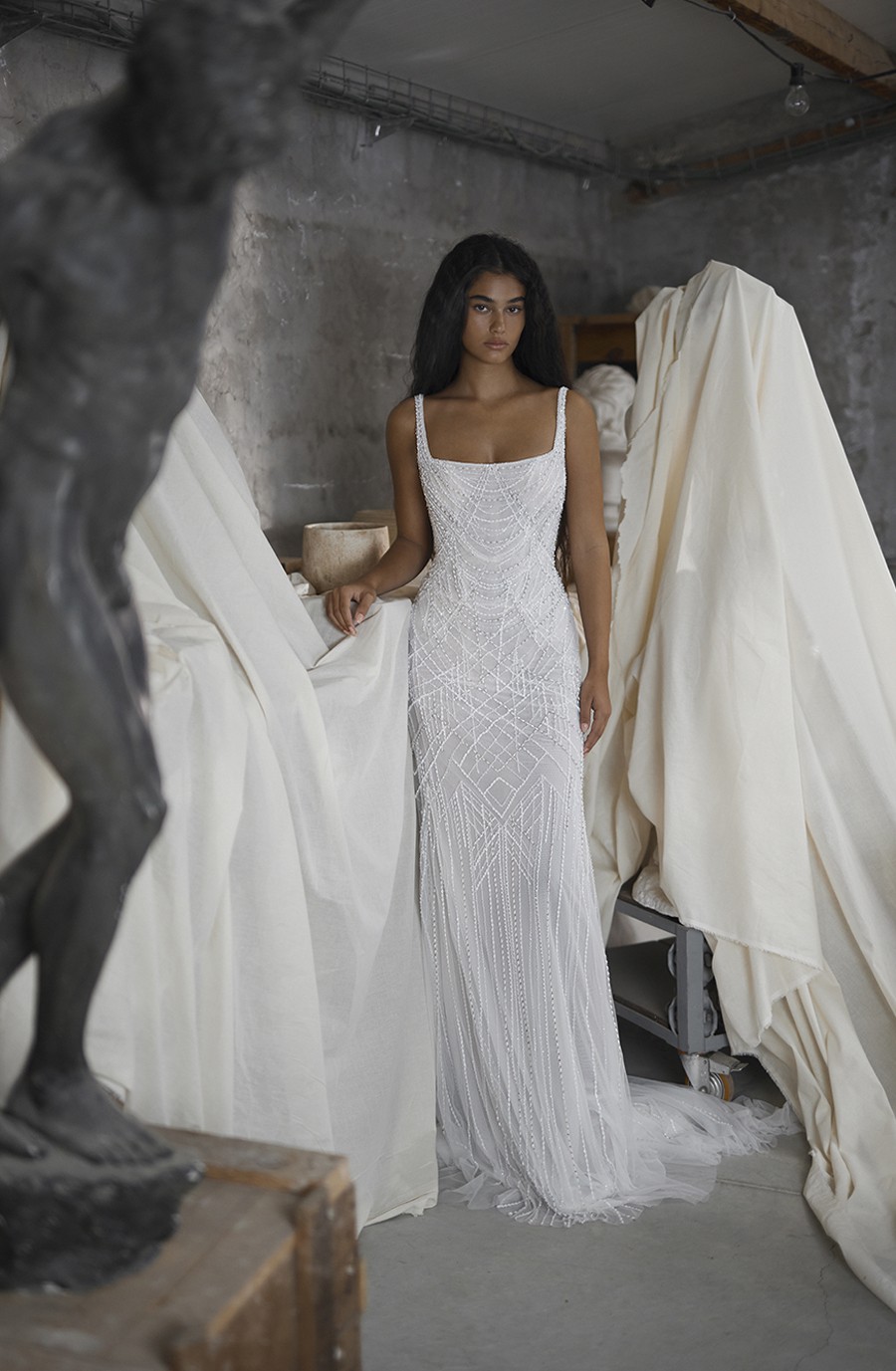 Dana Harel creates an embellished bridal masterpiece with this next gown. This gown starts out with a very classic square neckline and slim silhouette. But what takes it to the next level is the gorgeous design of pearl and beaded embellishment. This detailing gives the gown a very lavish, modern Art Deco feel.
24.

Pollardi: Asymmetric Embellishment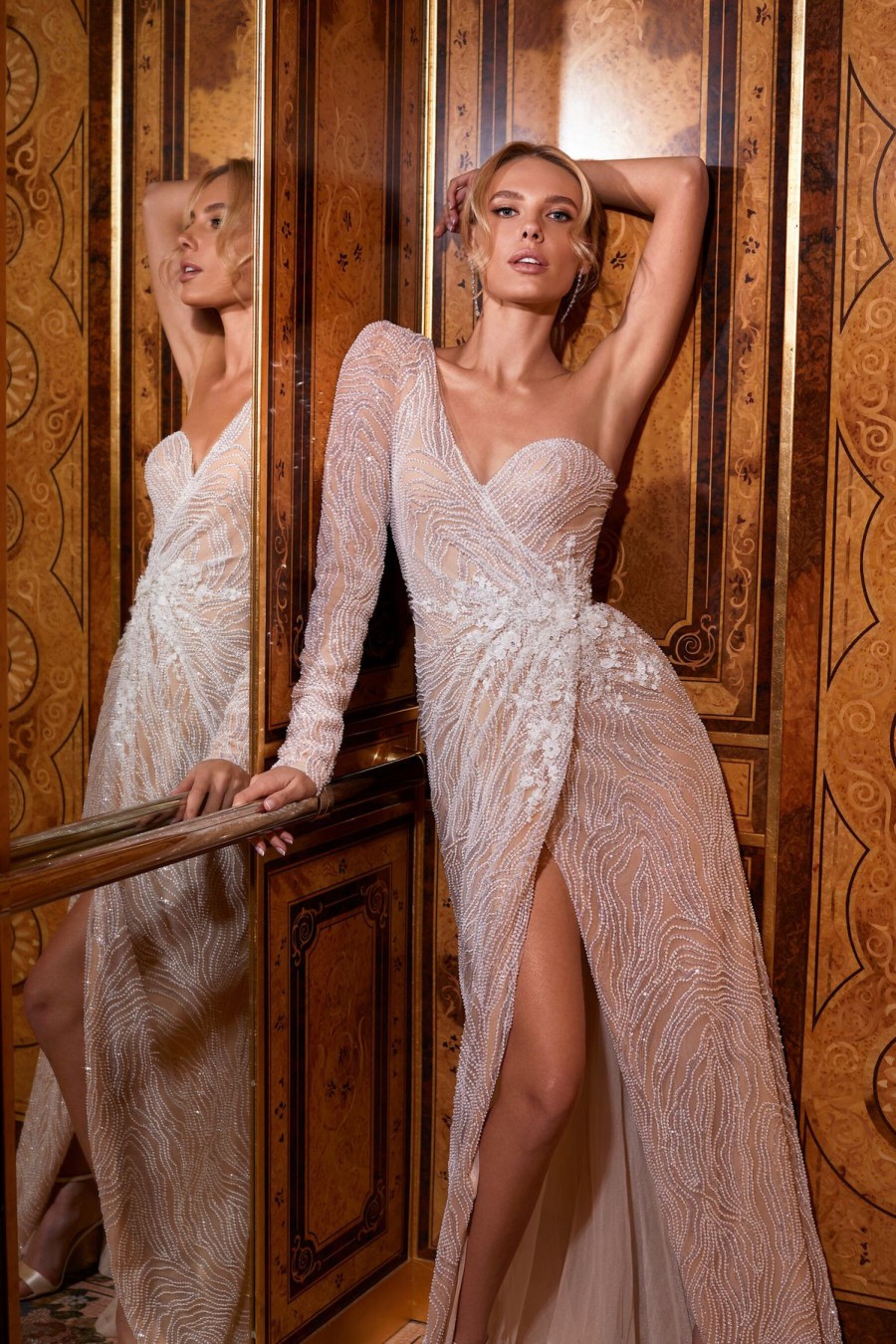 Luxe and lavish. This next embellished bridal gown is sure to make a big statement. Featuring a chic asymmetric silhouette with one full length sleeve and an opposing wrapped slit. This gown has a stunning peach color to it which is fully embroidered with a white beaded design. The white beading has a topography look to it that creates a truly one of a kind style.
25.

Rosa Clara: Transparent Back Embellishment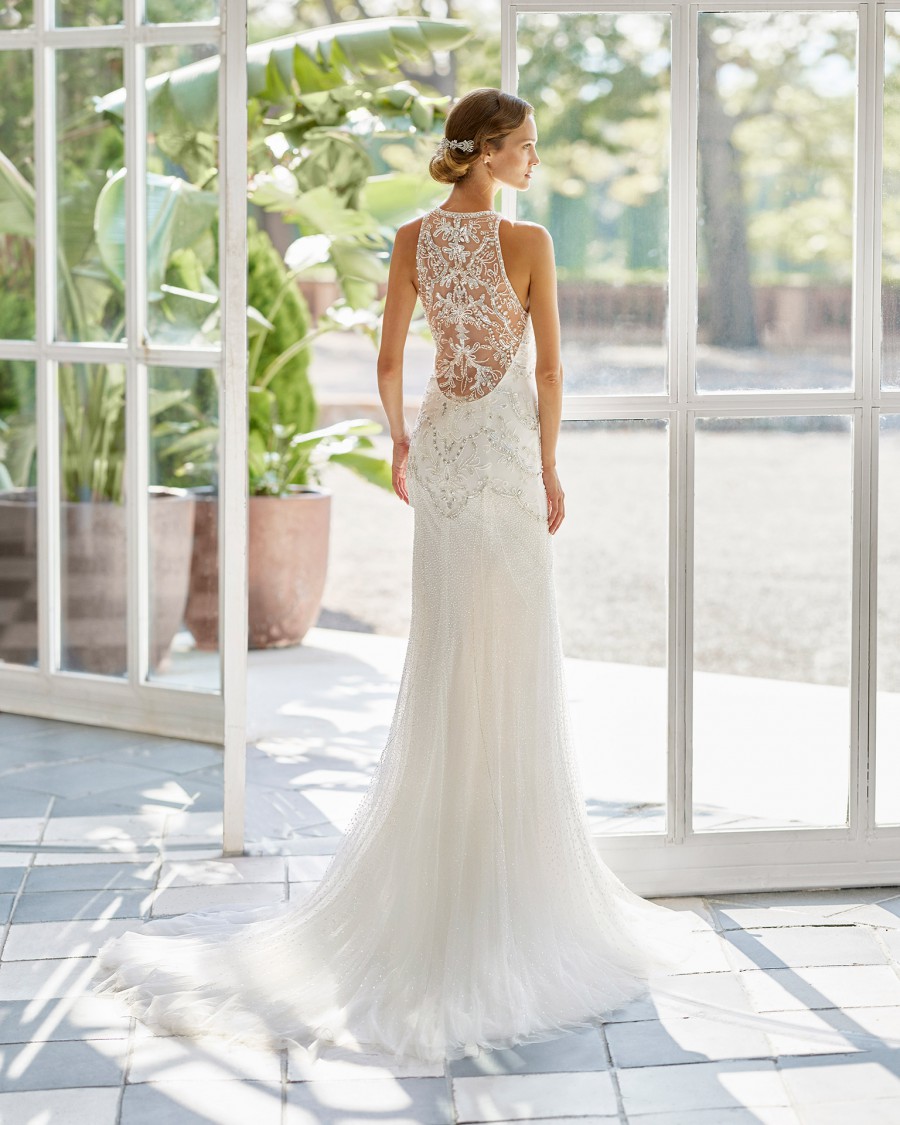 The transparent embellished back of this next wedding dress has us is awe. This mermaid dress features a fully embellished bodice which wraps around the back of the dress onto the transparent back panel. This captivating embellishment fades down into the delicate flowing skirt.
26.

Limor Rosen: Geometric Beaded Lace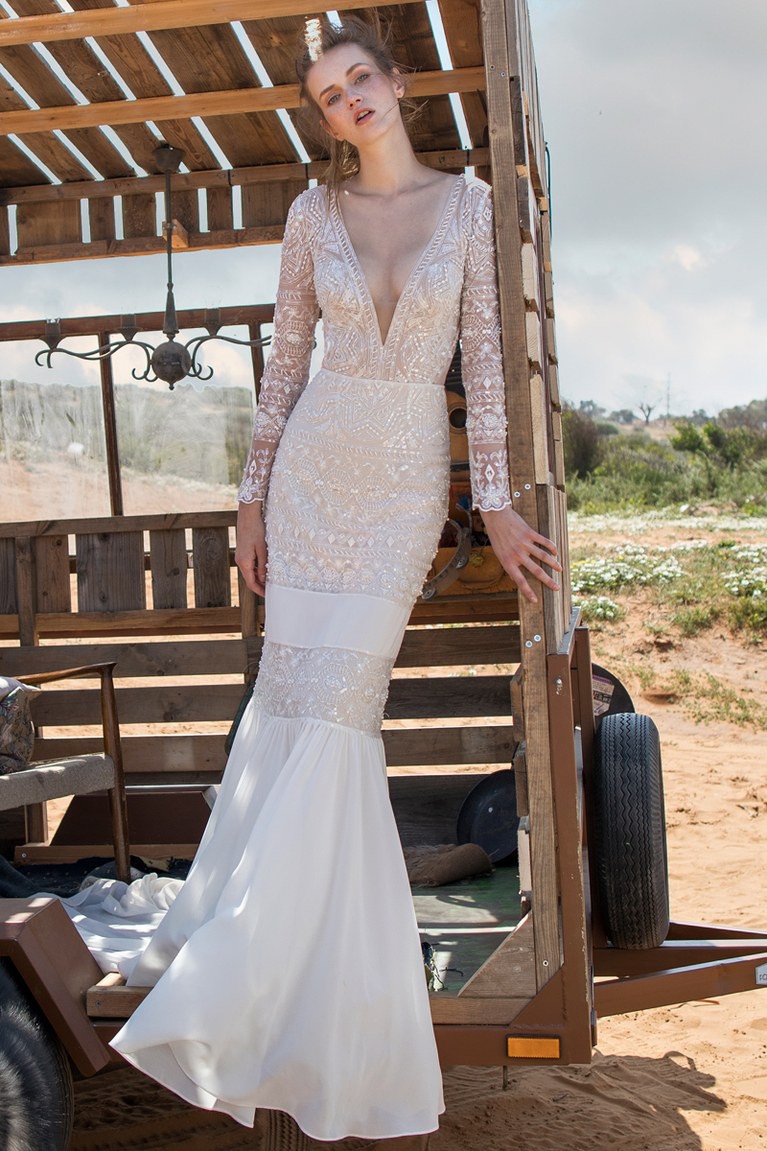 We are just loving the geometric design of this next embellished wedding dress from Limor Rosen. The beaded lace bodice of this gown is mixed with delicate chiffon at the skirt to create a beautiful contrasting design.
27.

Berta: Luxe Glitter
If you love all things that glitter, then you don't want to miss this next luxe embellished wedding dress from Berta. The neckline and bodice of this gown are just breathtaking. Featuring a plunging V-neckline that is interrupted by lines of crystal accenting with delicate bow details. And the entire gown features the same abstract glitter design that is just so captivating.
28.

Rosa Clara: Gatsby Inspired Glam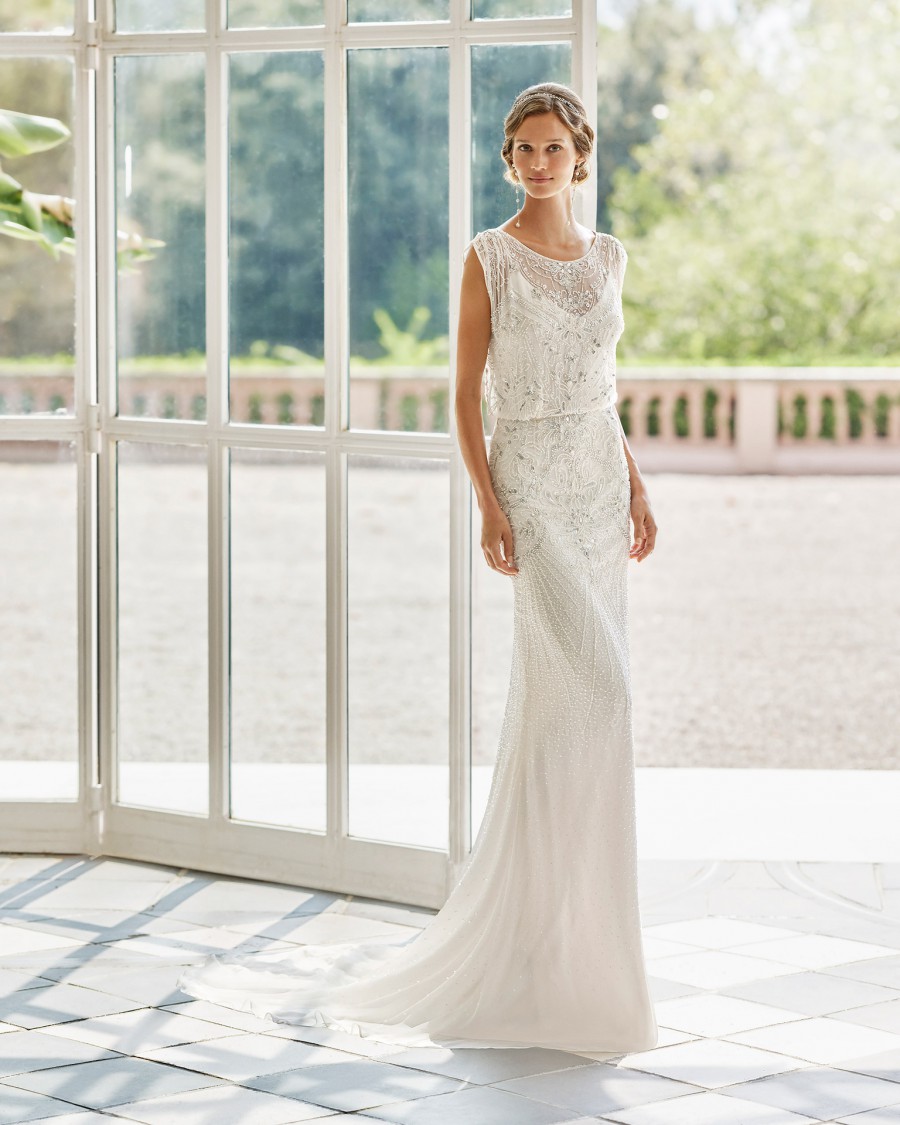 We are getting some major Great Gatsby inspired vibes from this next luxe embellished wedding dress. This gown features a flattering bloused bodice and straight cut skirt. And the gorgeous semi-sheer layer of this gown is fully embellished with lavish bead and sequin embroidery.
29.

Dana Harel: Modern Glam Florals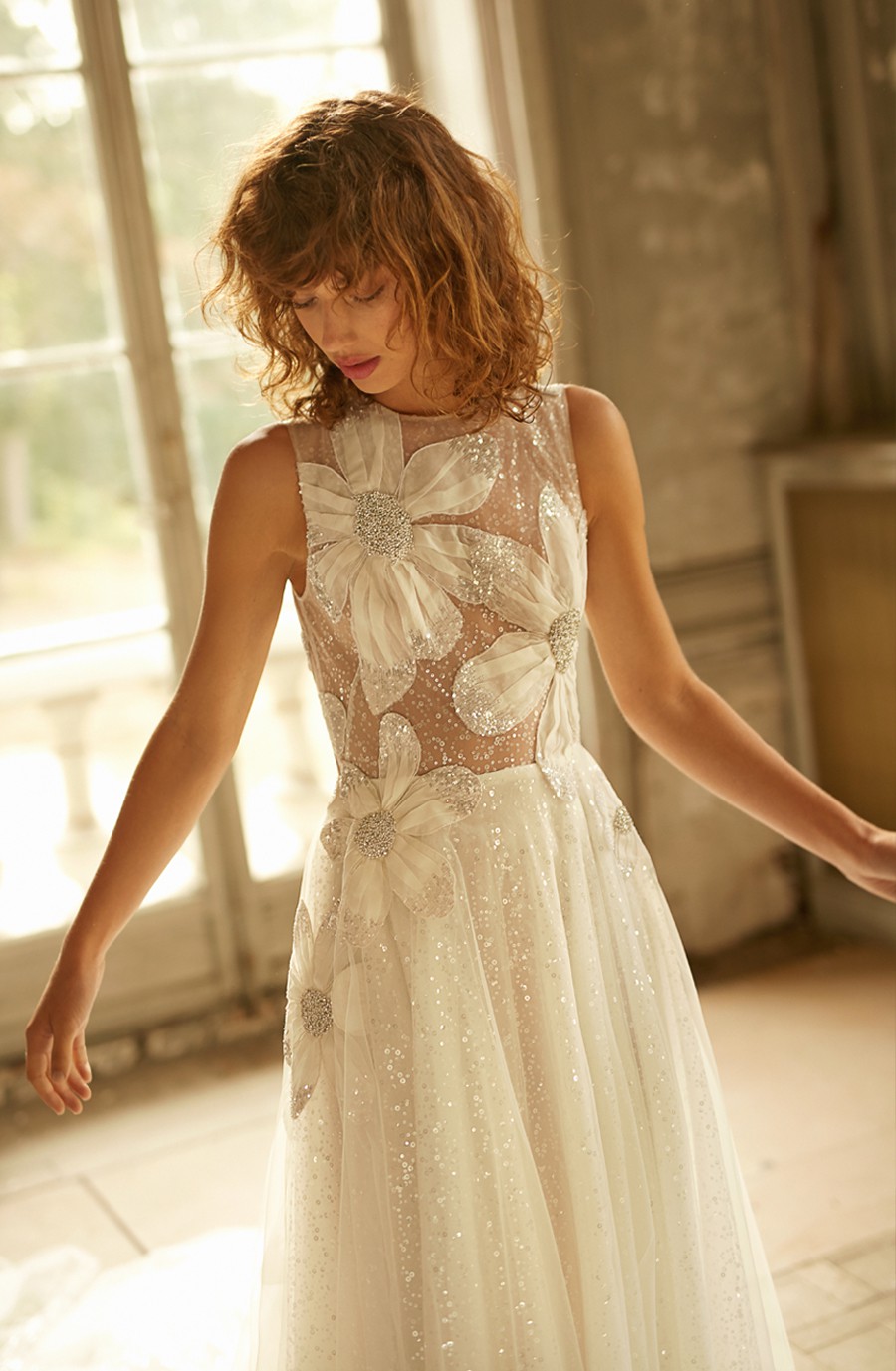 Now this dress might not be as embellished as some of the others on our list, but we just can't get enough of it. A style fit for a modern day IT girl. This high neck tulle gown features oversized floral accents and all over sequined embellishment.
30.

Luce Sposa: Lavish Sophistication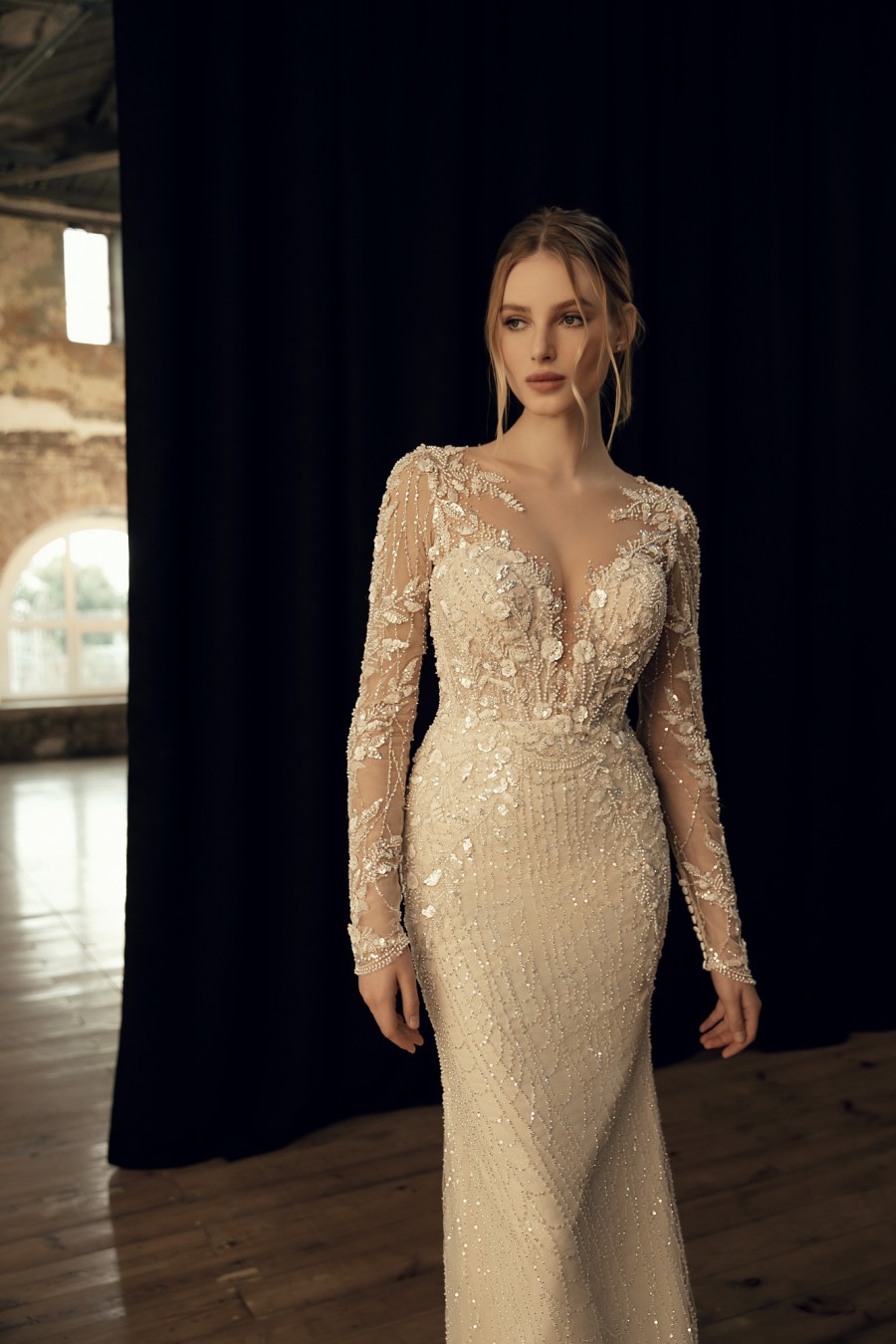 Our last luxe embellished bridal look has a very lavish feel to it with its all over beaded design. Yet it also feels very sophisticated and elegant. This fitted dress features an illusion plunging neckline and semi-sheer embellished full length sleeves. The gorgeous ivory-nude fabric of this gown is full embroidered with a bead and sequin design that is sure to take everyones breath away.

By Kathryn Schrotenboer