If you've been considering the non-traditional look of long sleeves for your wedding day (with their unexpected chic factor, who wouldn't?), trust us, after seeing the dresses we've found, you'll be falling deep in love with the long sleeve trend.
From the modern to the downright gorgeous, scroll on and swoon all over (or just go on and pre-order) some of the most coveted, pinned and favorited long-sleeved wedding dresses below!
01.

Alex Mearing Sequin Wedding Dress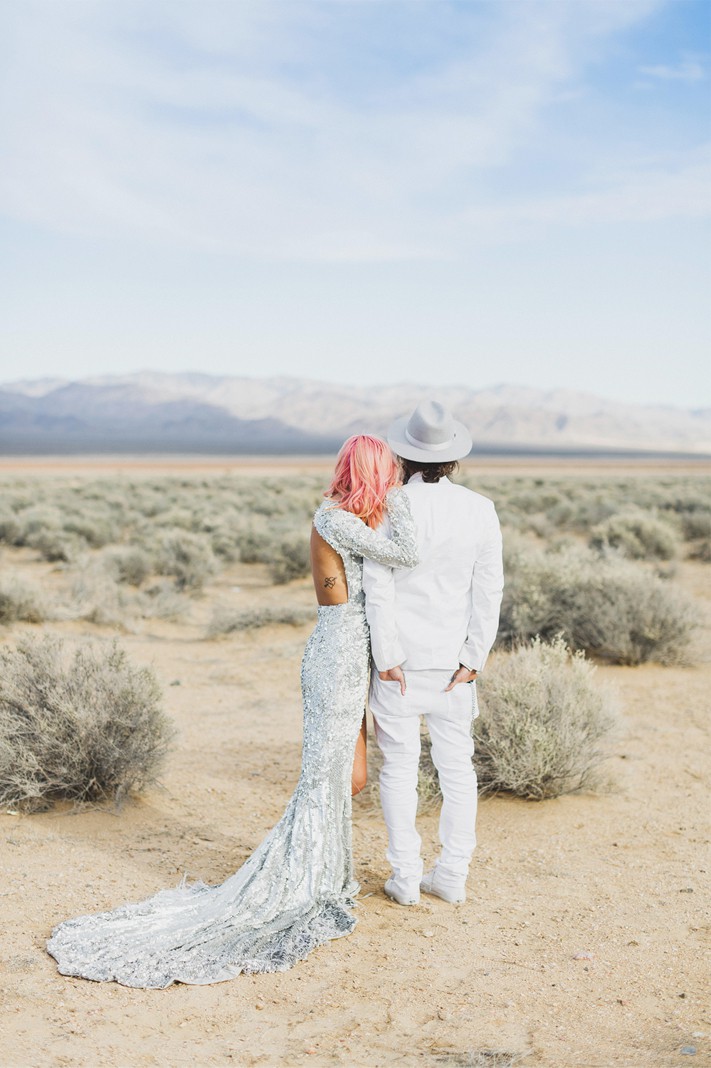 Talk about an epic (and stylish) elopement! This alternative bride shows how it's done with a beautiful sequined wedding dress, bright pink hair, and a pair of ol' Converse sneakers.
02.

3-D Floral Appliqué Dress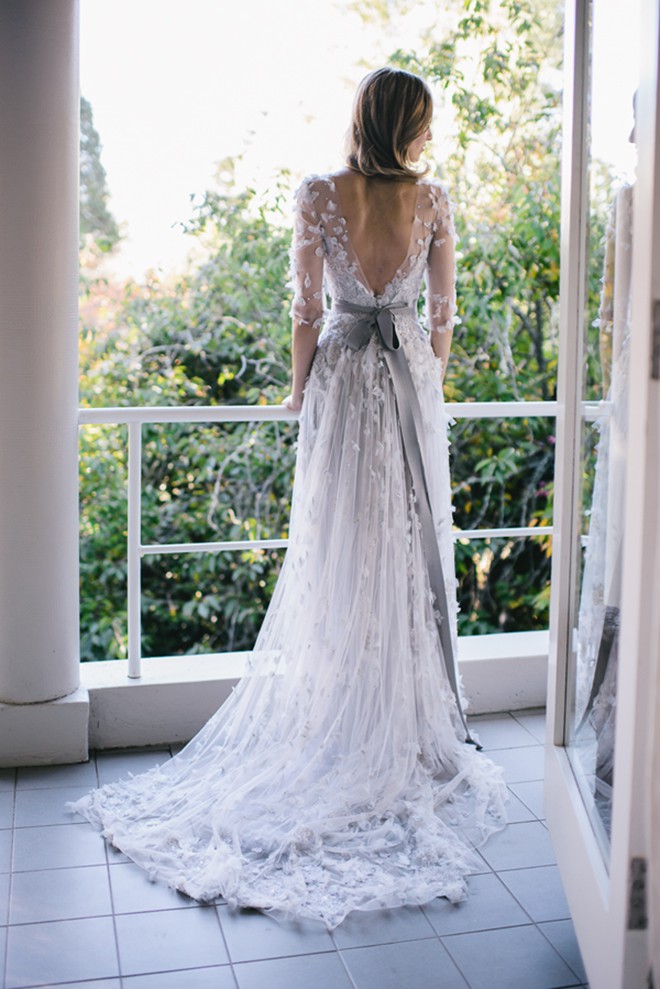 This custom, Elie Saab-inspired wedding dress features long sleeves and one of our favorite bridal trends — 3-D floral appliqués! For a gorgeous long-sleeved wedding dress, we couldn't think of one that's more memorable or stunning.
03.

Alexander McQueen Flounced Long-Sleeve Dress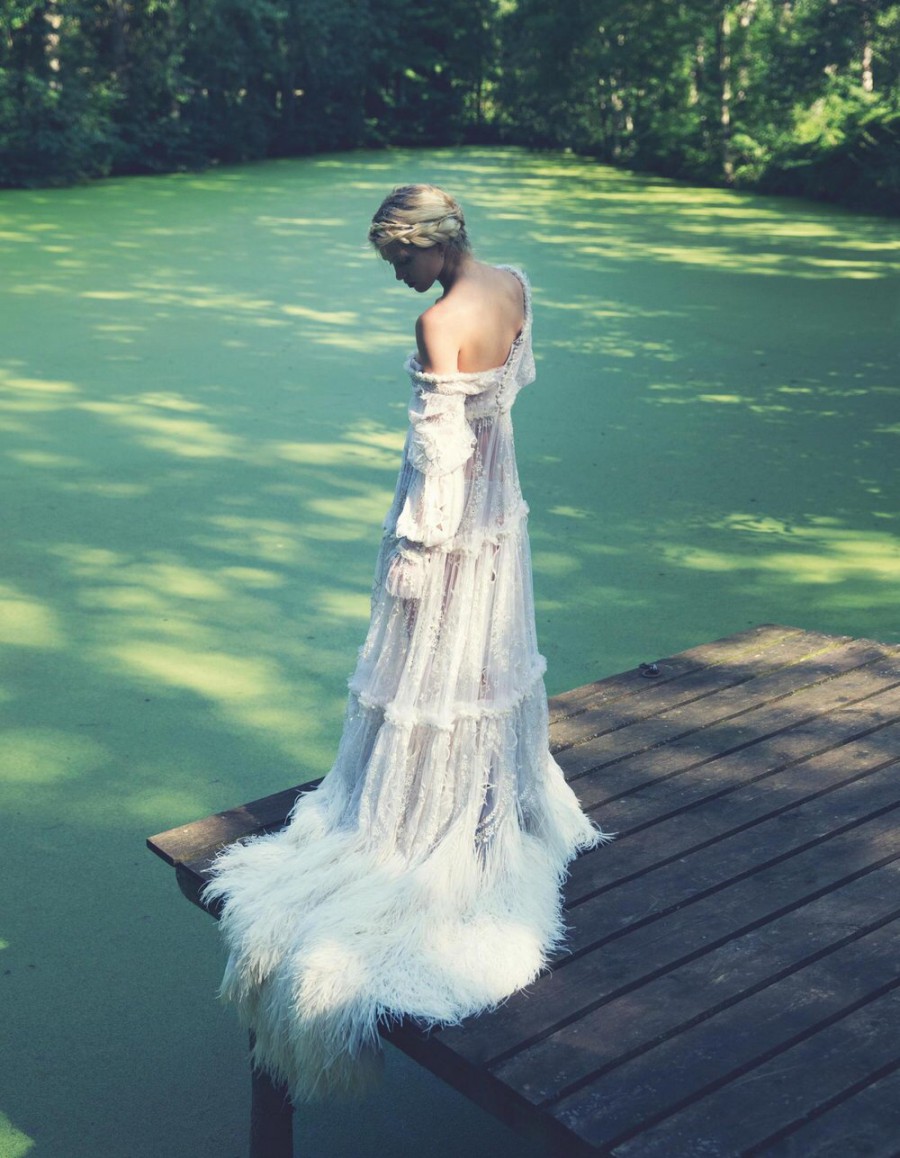 If you're all about the non-traditional wedding dress, look no further than this beauty designed by Alexander McQueen! With fine tulle, flounced long sleeves, pagan moon embroidery, and ostrich feathers, this is the quintessential cool-girl dress.
04.

Luisa Beccaria Wedding Dress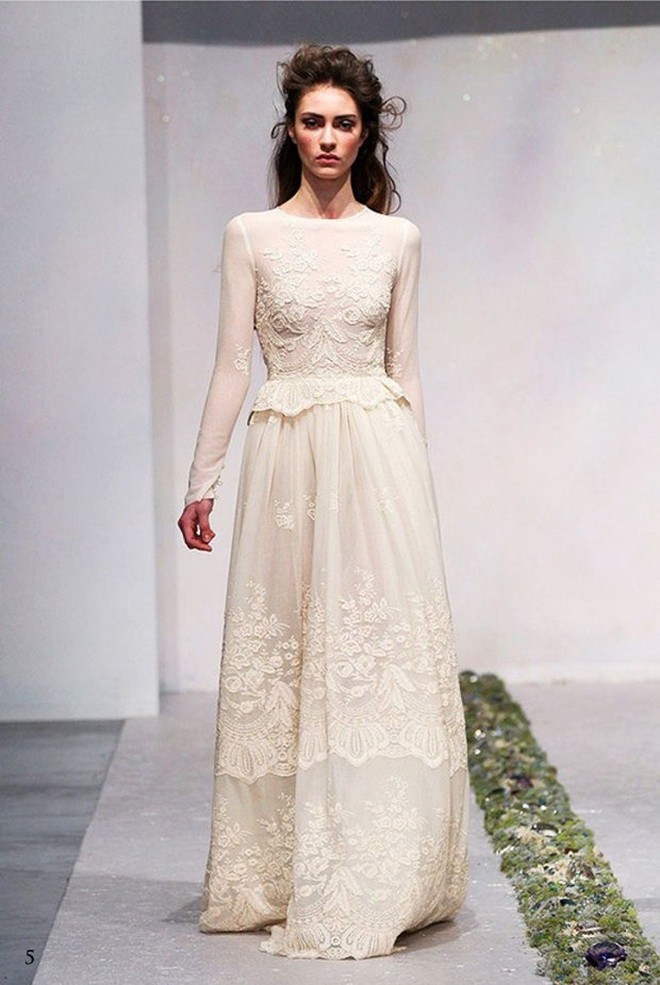 Add a bit of Mediterranean glamour to your wedding day look with Luisa Beccaria's romantic bridal dresses. With couture-like lines and delicate embroidered detailing, this wedding dress designer might have the ultra feminine dress for you.
05.

Katie Shillingford's Gareth Pugh Wedding Gown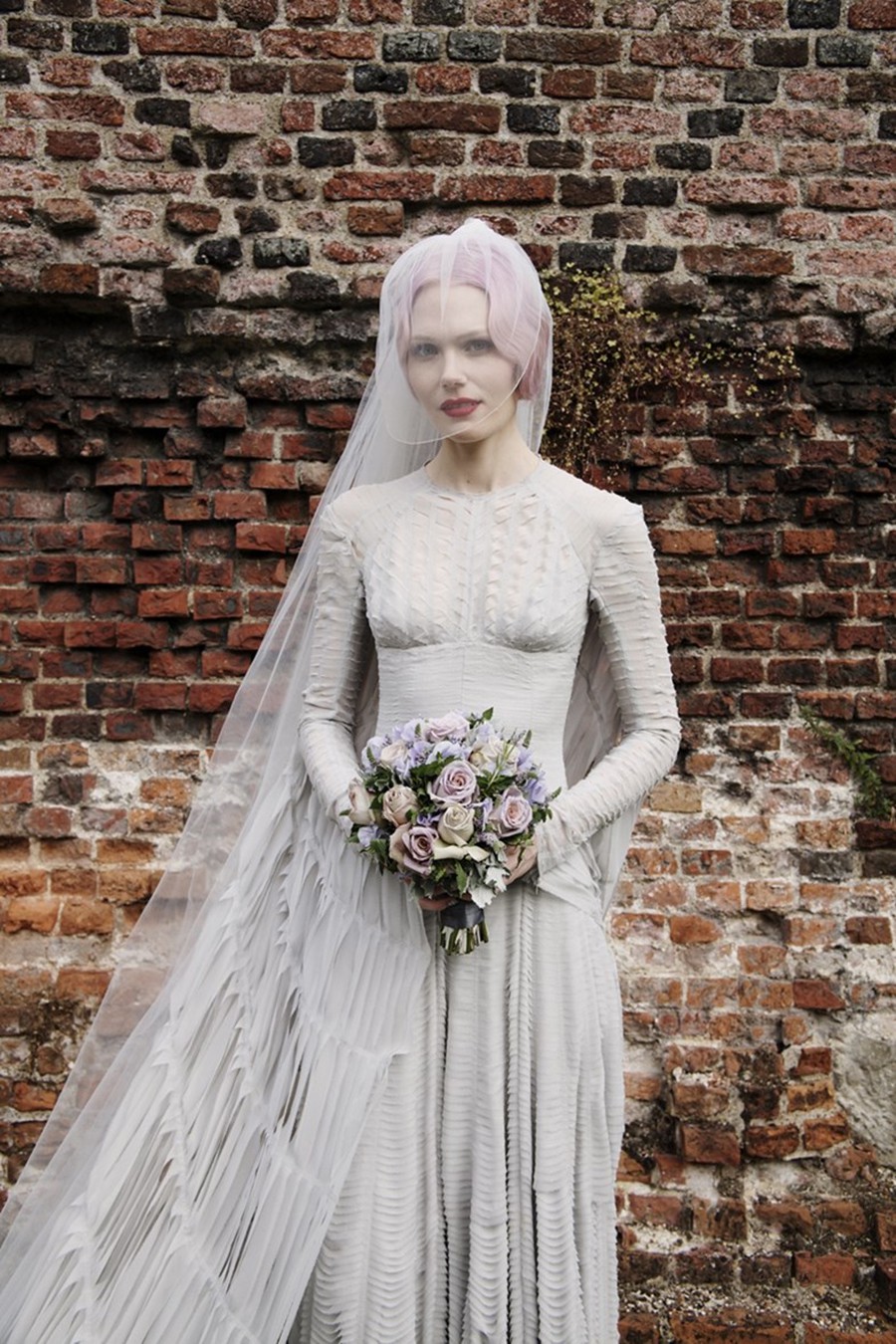 Romantic, traditional, and just a little bit goth, we'd expect nothing less gorgeous for Dazed & Confused Fashion Editor Katie Shillingford. Designed by Gareth Pugh, her gown featured a custom pale gray fabric, slashed chiffon, and of course those traditional long sleeves that all came together to create an iconic couture wedding dress.
06.

Houghton Contessa Wedding Gown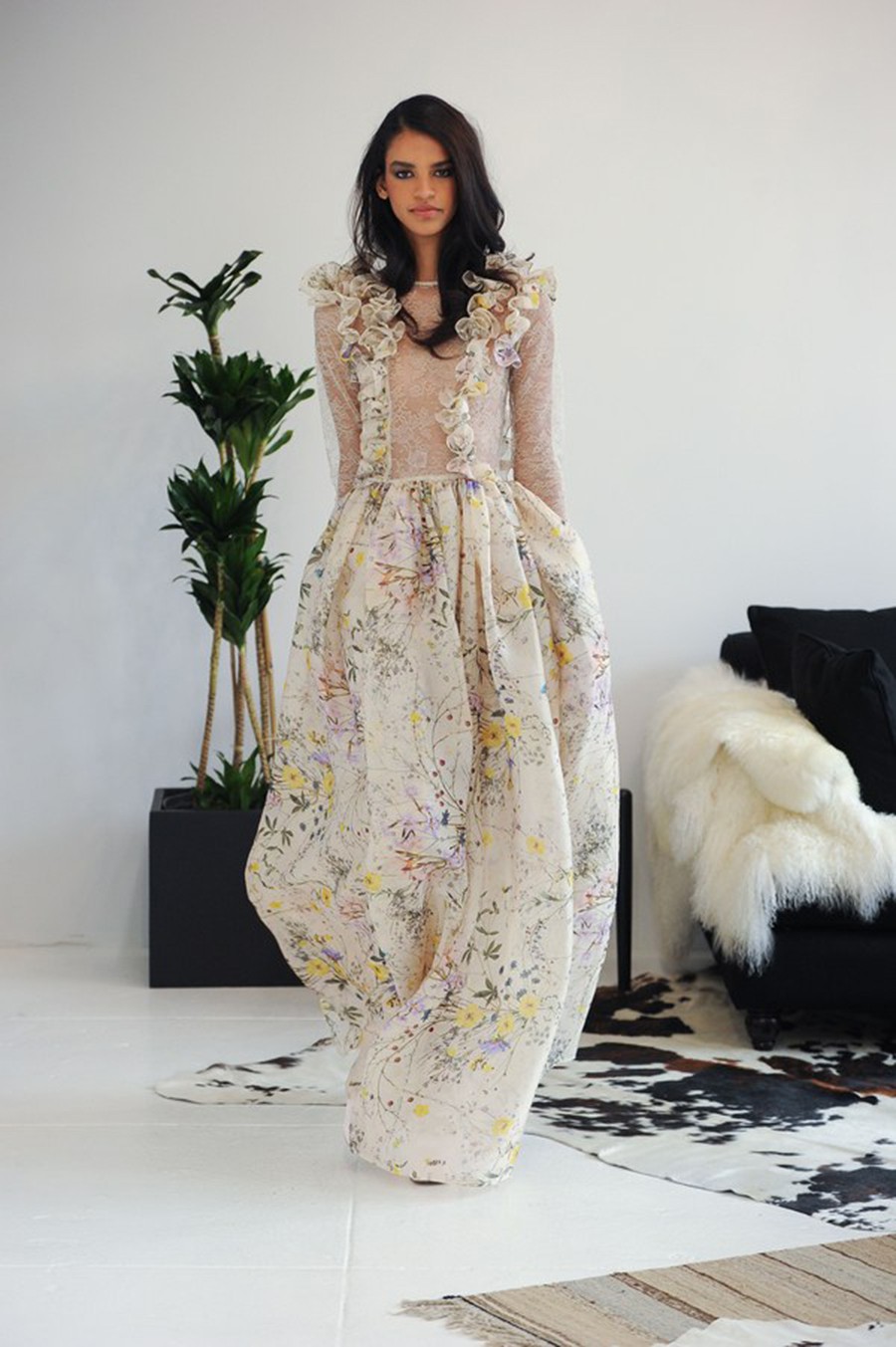 Full of pastel floral patterns, femininity, and edge, the Houghton Contessa dress is a spring dream reminiscent of Poppy Delevigne's Emilio Pucci wedding dress color palette. We couldn't think of a dress more statement-making for the girly yet alternative bride.
07.

The 1960's Tailored Style Gown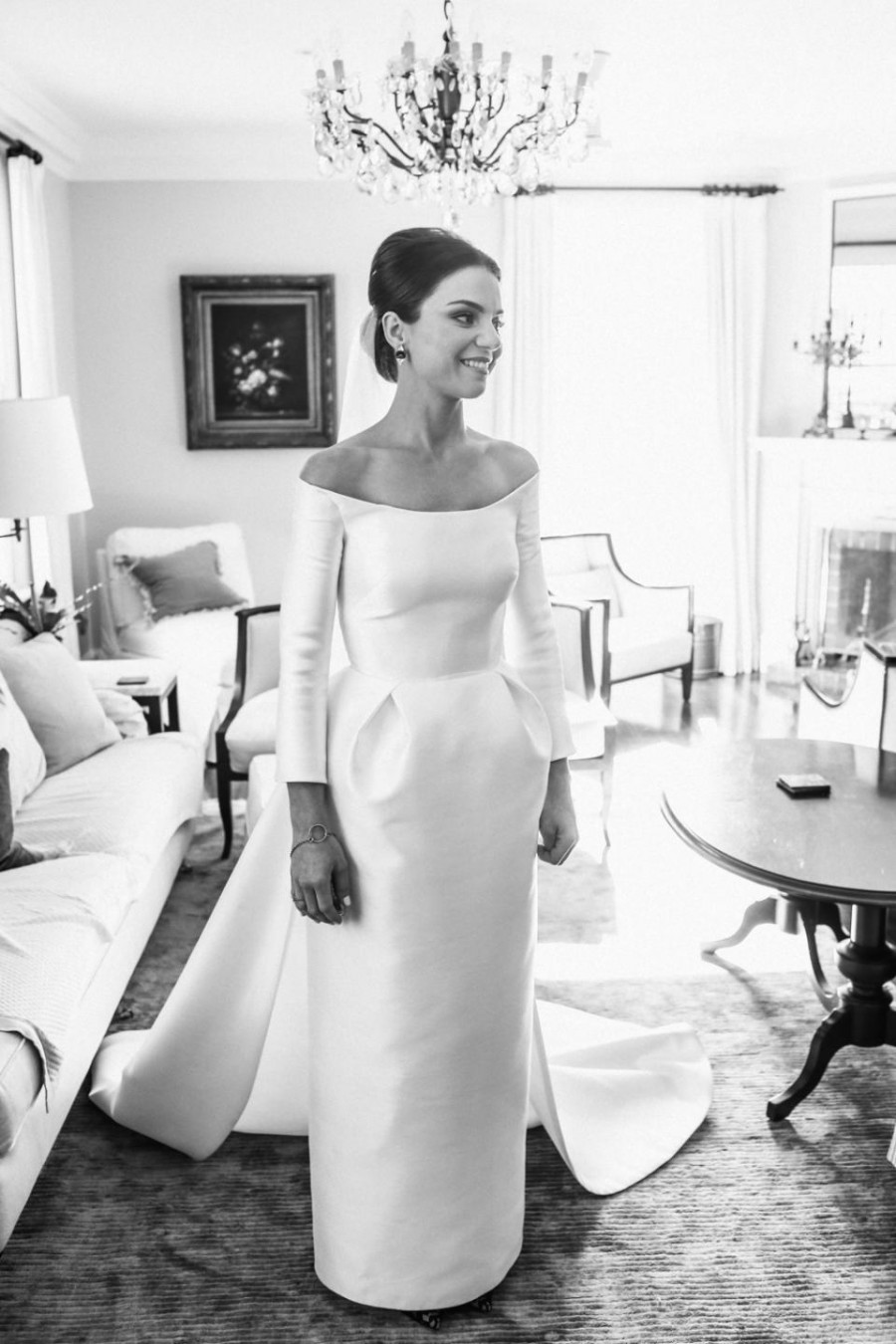 This winter bride wore a beautiful 1960's style gown made of a heavyweight silk fabric with a tailored waist and fitted off-the-shoulder sleeves — a stunningly sleek yet traditional look to admire!
08.

Lover Solstice Wedding Dress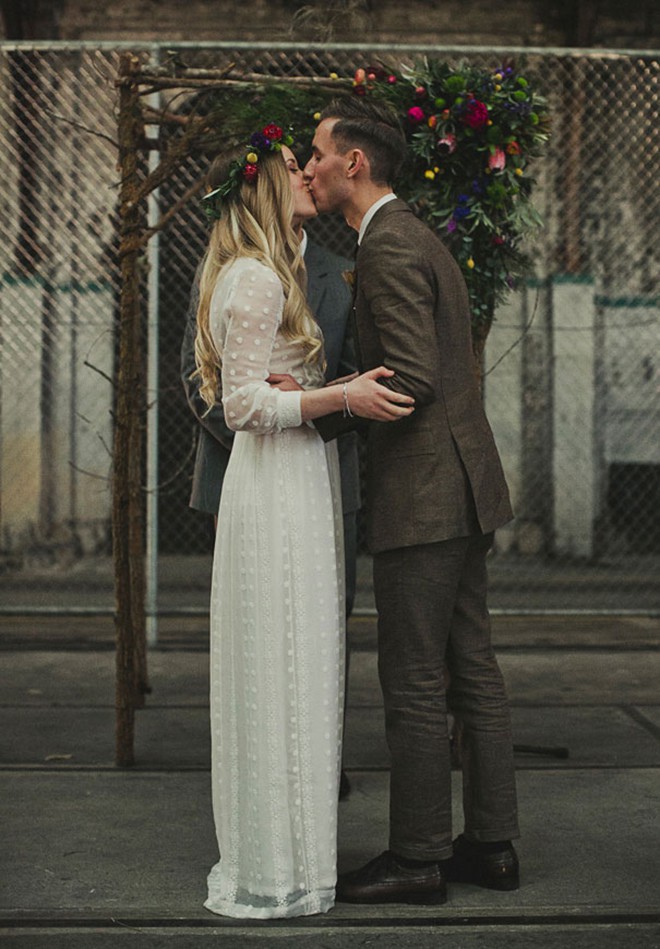 The beauty of a long-sleeved wedding dress is that the style works with every type of wedding, including a boho-themed one. The Lover Solstice wedding dress combines the label's signature delicate fabrics with traditional details like long sleeves and a high neckline.
09.

Aje Liberty Wedding Dress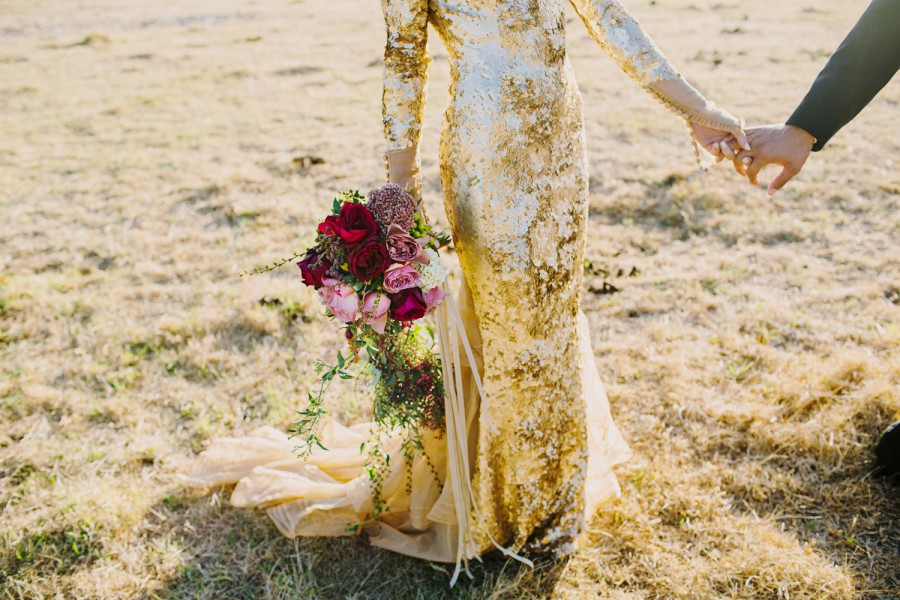 Decadent, long-sleeved, and embellished with gold sequins, this absolutely stunning Aje dress will make you seriously rethink wearing white on your special day.
10.

Katya Katya Shehurina Esta Dress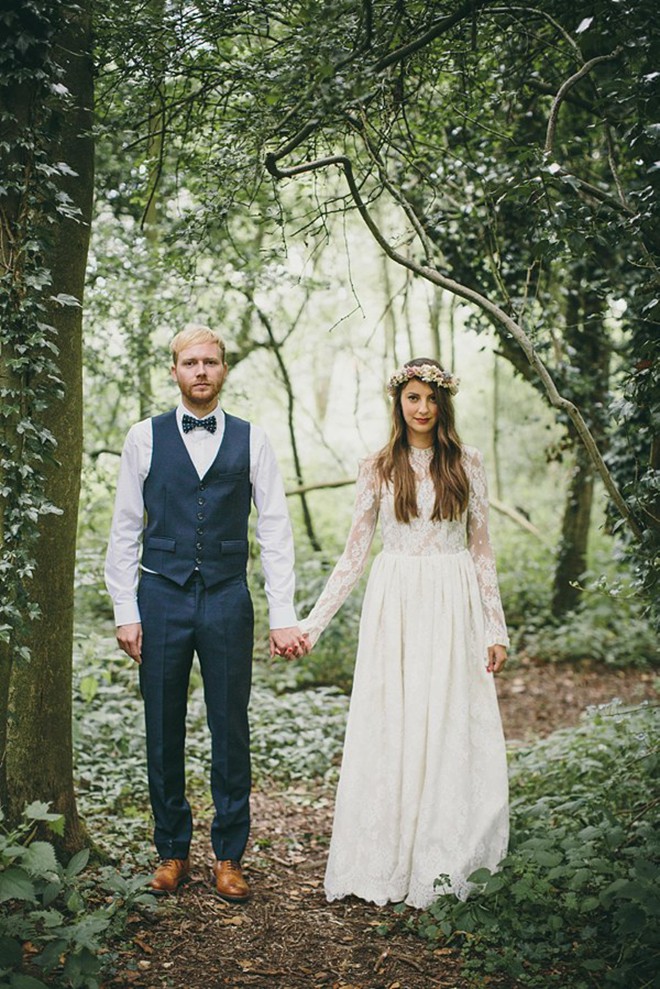 We love the romantic, woodland look of this custom Katya Katya Sherhurina Esta long-sleeved lace dress. Paired with a floral crown and you've got a royally whimsical wedding day 'fit.
11.

Reem Acra Sheer Lace Wedding Dress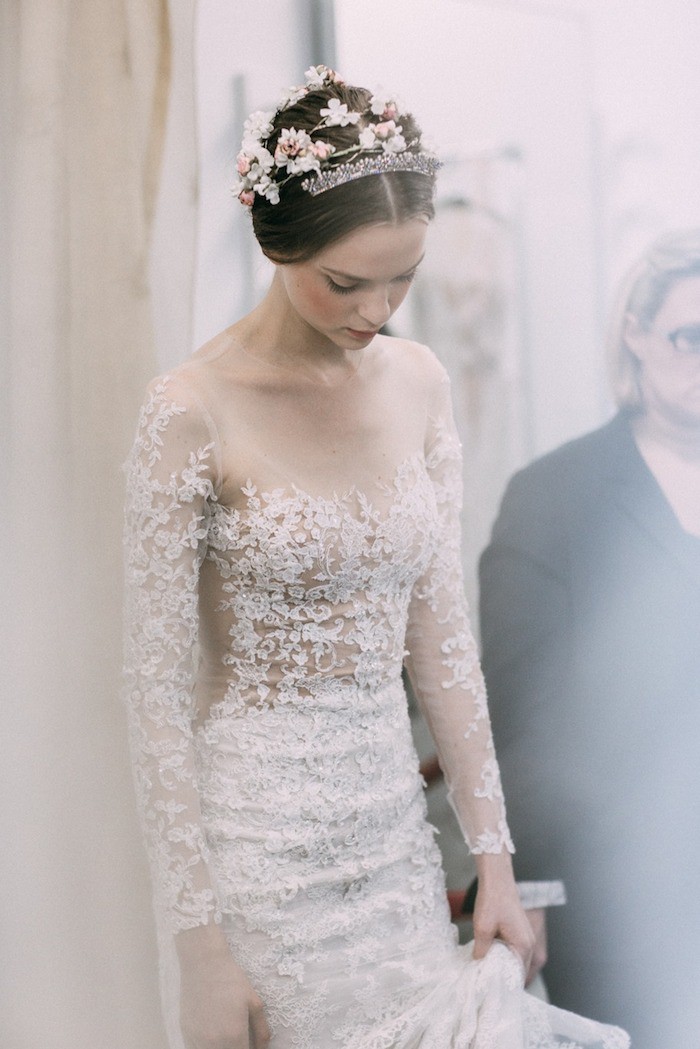 Of all the bridal designers, you can always count on Reem Acra to have an elegant and romantic selection of wedding dresses. Take a look at her dreamy Fall 2015 collection and you'll be in absolute awe.
12.

Low Back Boho Dress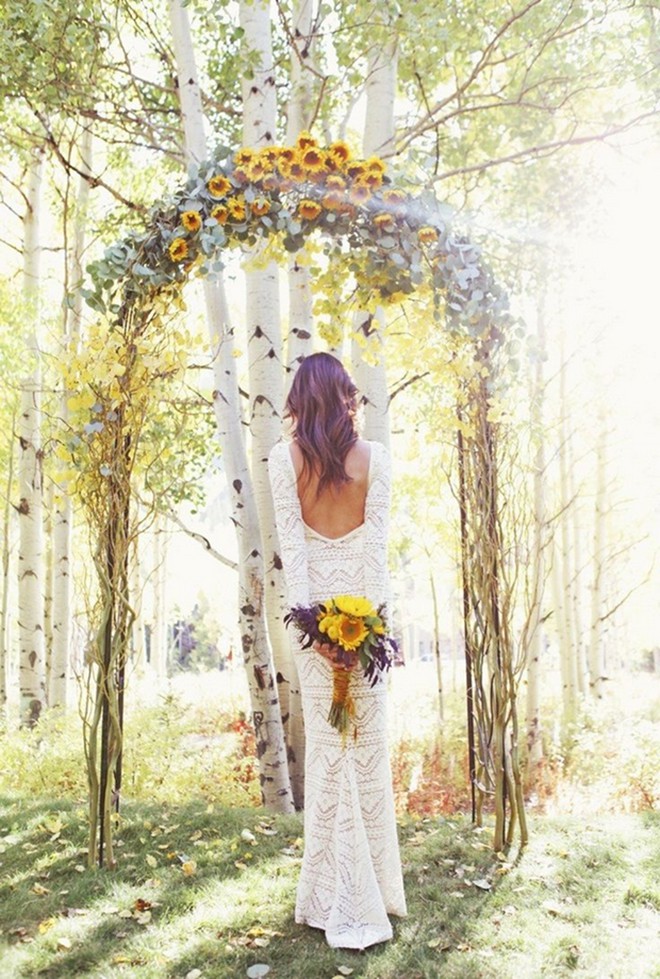 Can you say jaw-dropping? This pretty bohemian dress proves that long sleeves can be sexy — just make sure you've got a low cut back to provide some eyecandy!
13.

Sparkly Silver Sequin Dress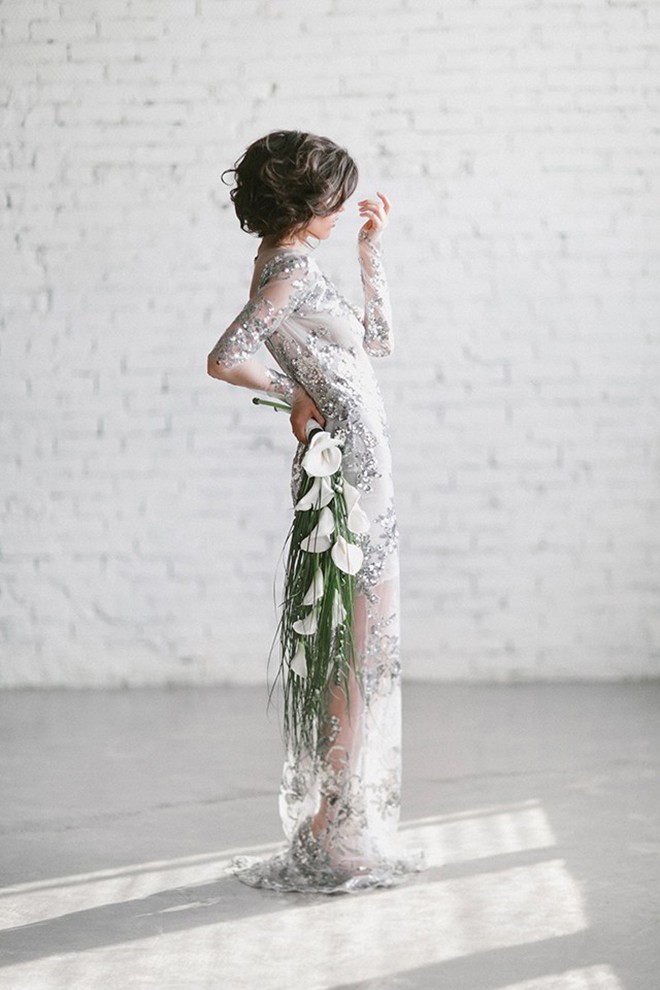 If you're looking for gleam and sheen on your wedding day, try a sequin dress like this number. From the ethereal sheer fabric to the sparkly silver sequins, this dress is a stunner.
14.

Houghton Angie Dress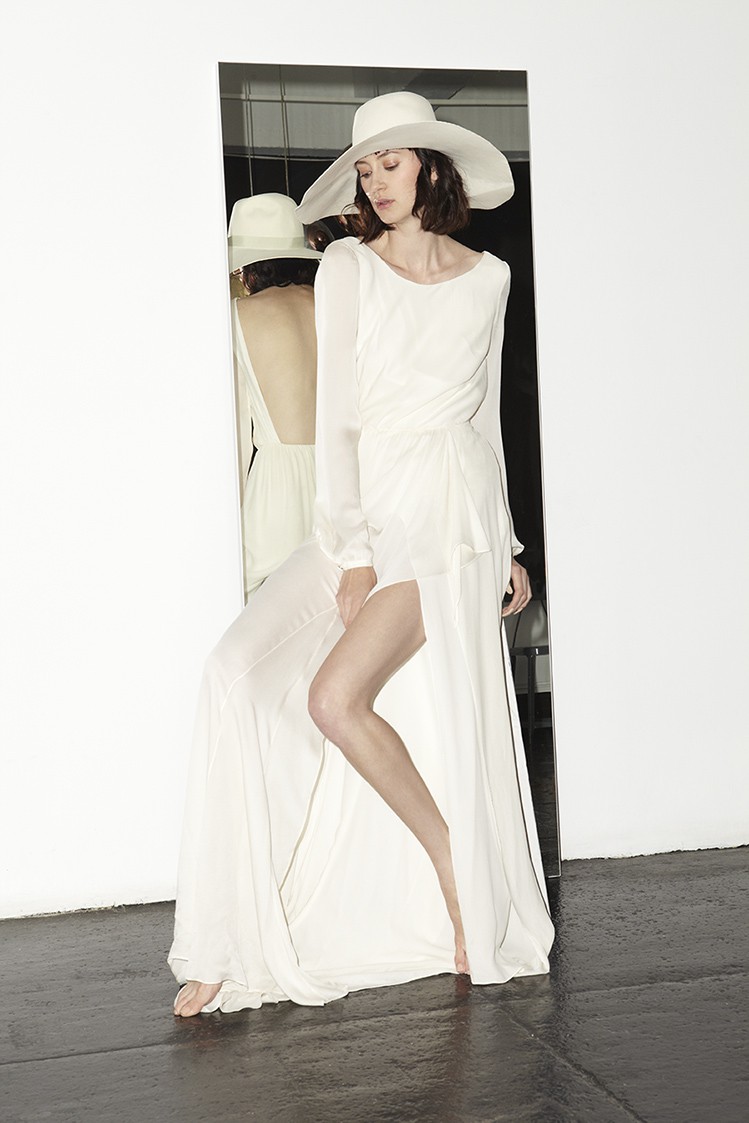 Long-sleeved wedding dresses don't have to be boring or safe. If you want a piece of that edgy, cool-girl look on your wedding day, the Houghton Angie wedding dress, with its sexy low back and high slit, is a sleek and modern choice.
15.

Custom 1970's Bohemian-Inspired Dress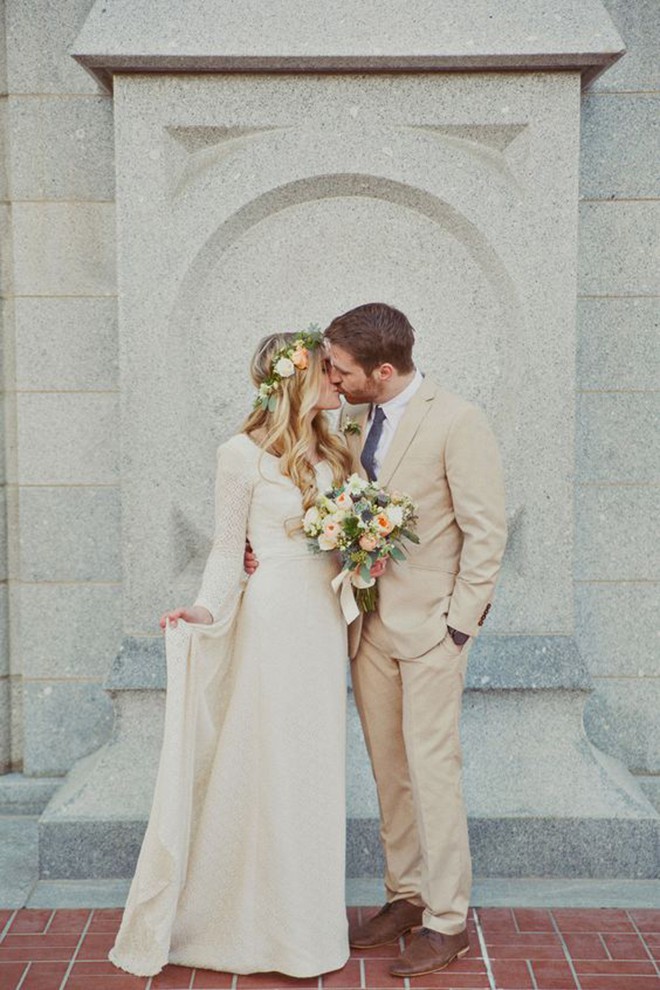 With that '70s vibe, this custom bohemian dress proves that the classic long-sleeved look is just as stylish today as it was back in the day.
16.

Caroline Trentini's Olivier Theyskens Wedding Gown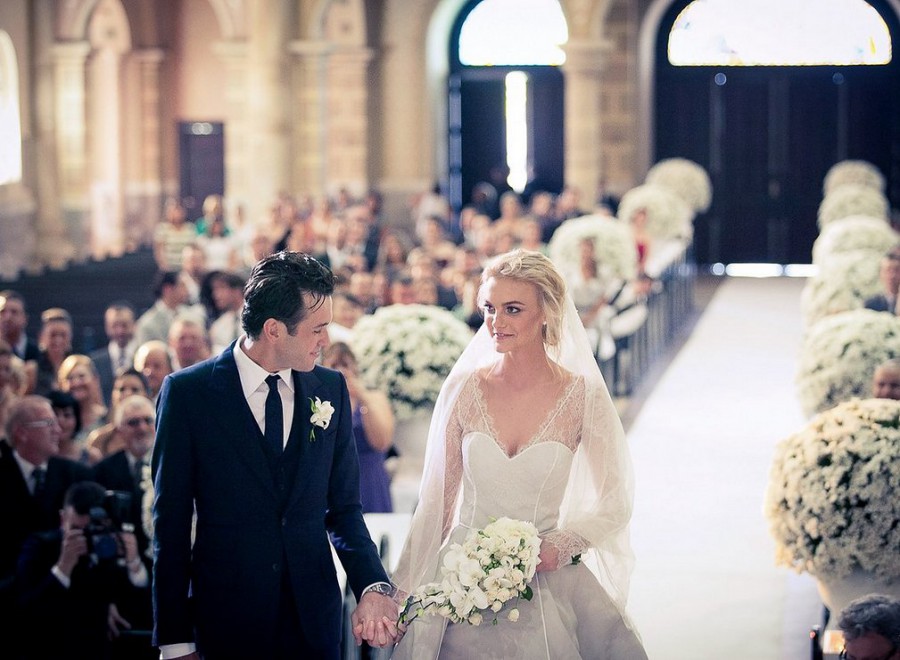 Did you love Kate Middleton's wedding dress? So did we — and just like the Duchess Kate's royal wedding dress, we're in love with fashion model Caroline Trentini's Olivier Theyskens-designed gown.
17.

Sareh Nouri Princess Gown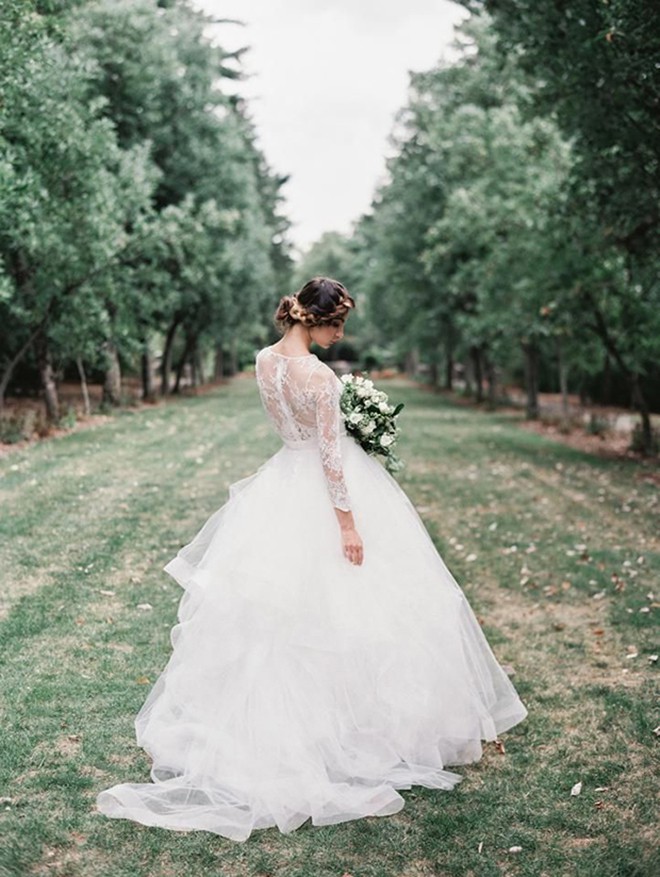 This one's straight out of a fairytale. The princess ball gown gets a modern makeover in Sareh Nouri's wedding dress from her Fall 2015 collection.
18.

Delphine Manivet Fall 2015 Gown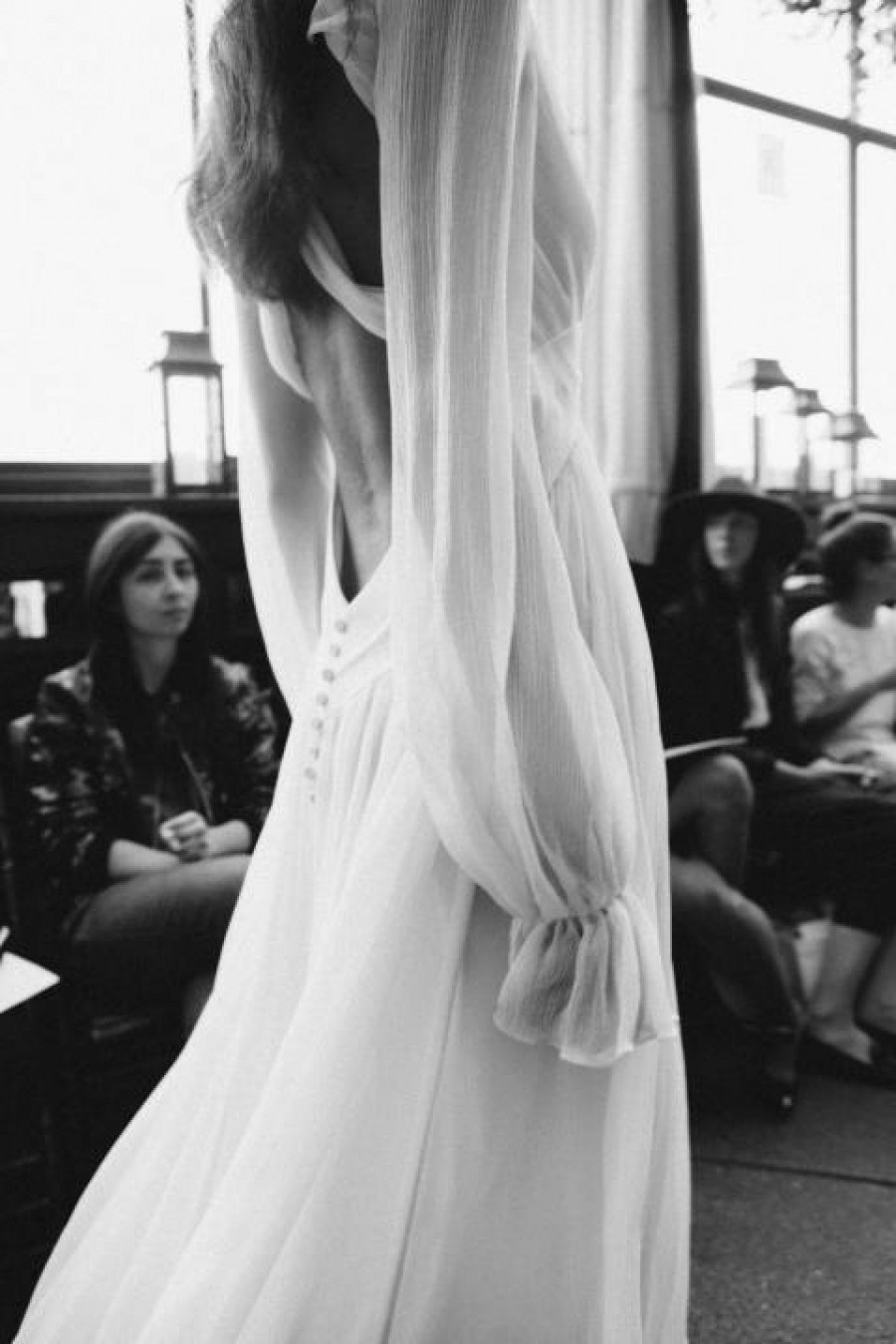 Want to add some French elegance into your wedding day? Start with French designer Delphine Manivet's Fall 2015 collection, chock-full of beautiful wedding gowns with dramatically flowy long sleeves!
19.

Modern Minimalist Wedding Dress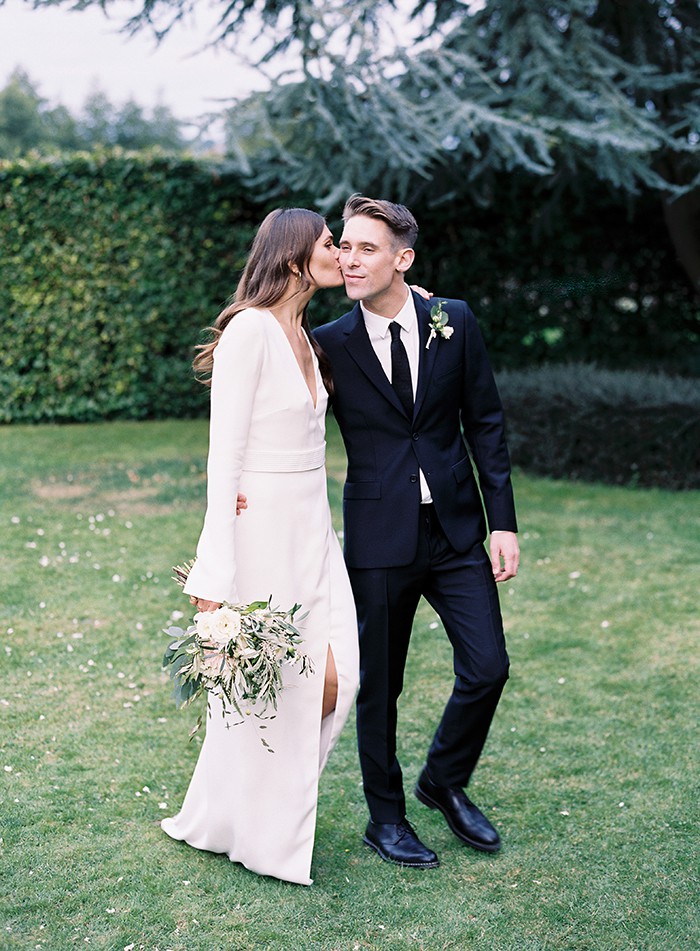 There's something about a minimalist long-sleeved wedding dress that just screams modern elegance. The sleek silhouette and flared sleeves of this dress would give any bride serious style.
20.

Elizabeth Dye Dunaway Wedding Dress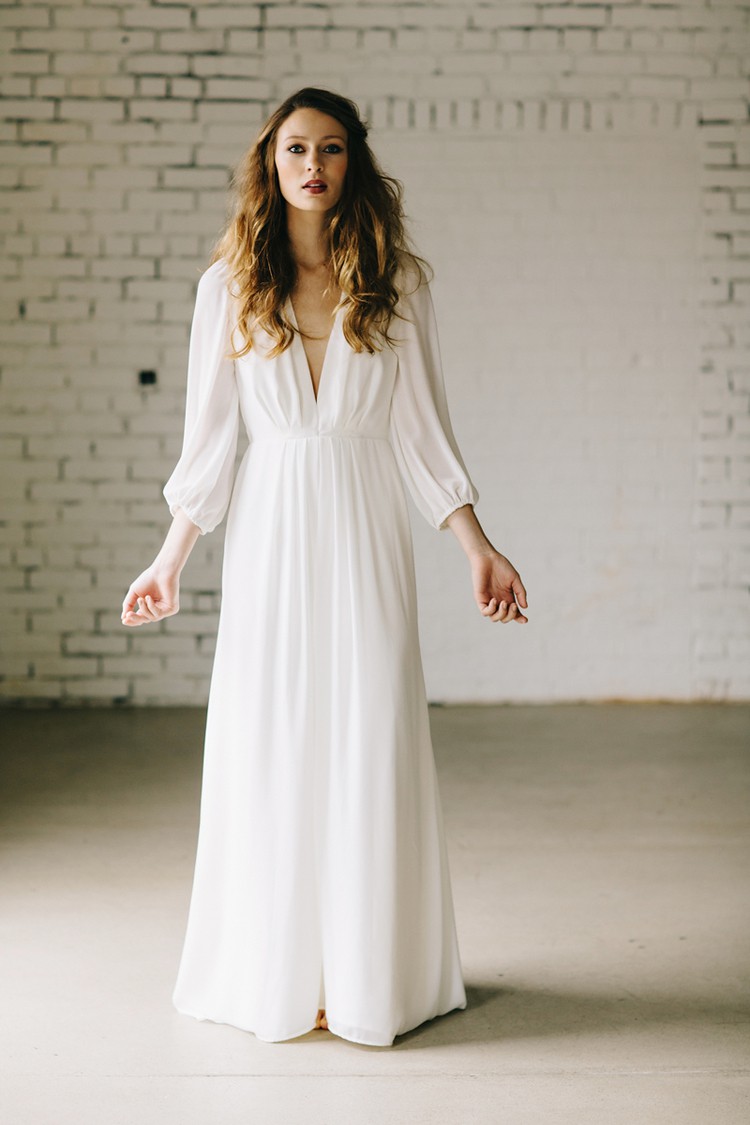 For a simple yet refined look on your wedding day, this Elizabeth Dye Dunaway number is absolutely perfect. The deep-V, loose sleeves, and soft fabric create a relaxed and elegant look for the no-fuss bride wanting just a hint of sexiness on her big day.
21.

Valentino Floral Appliqué Long-Sleeved Dress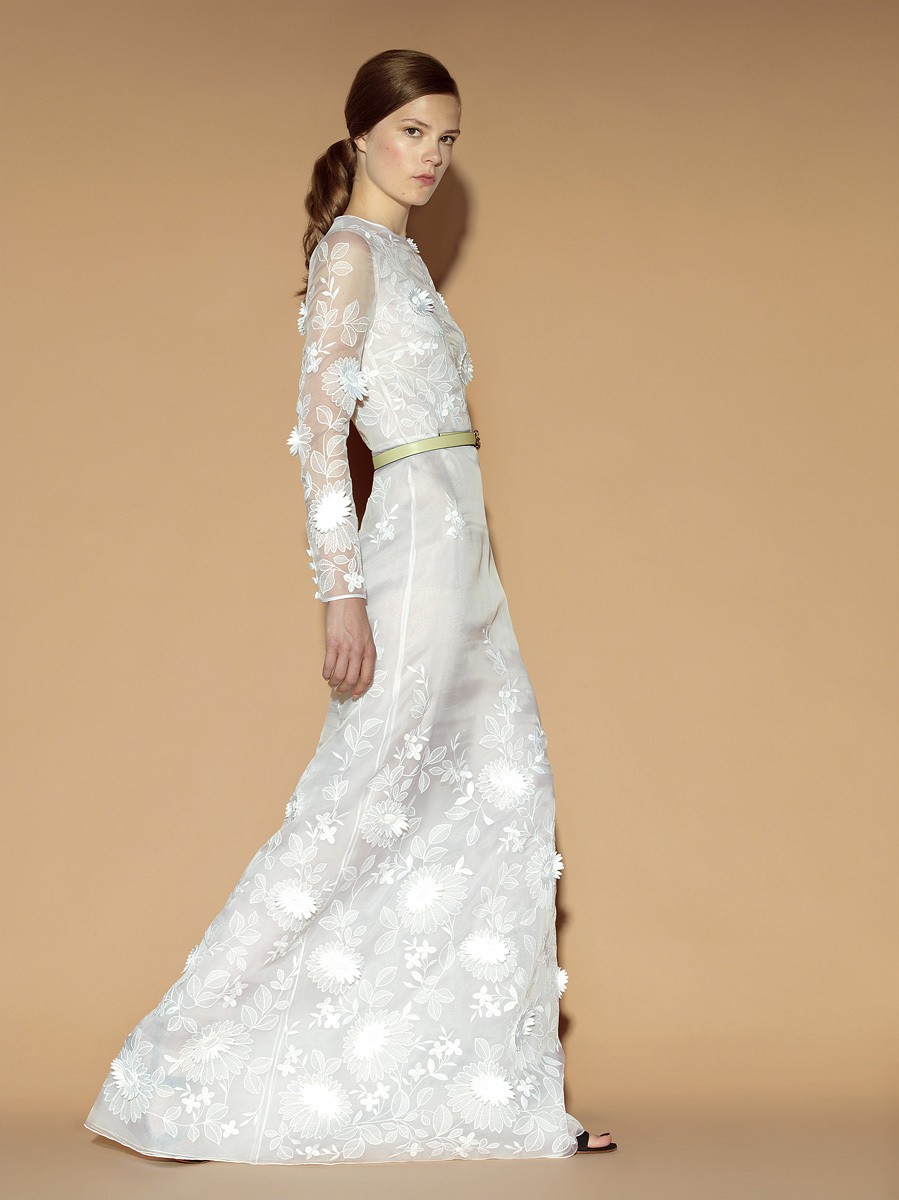 The dreamy floral appliqués and classic silhouette heighten the vintage romance of this Valentino dress.
22.

Olivia Palermo's Carolina Herrera Wedding Outfit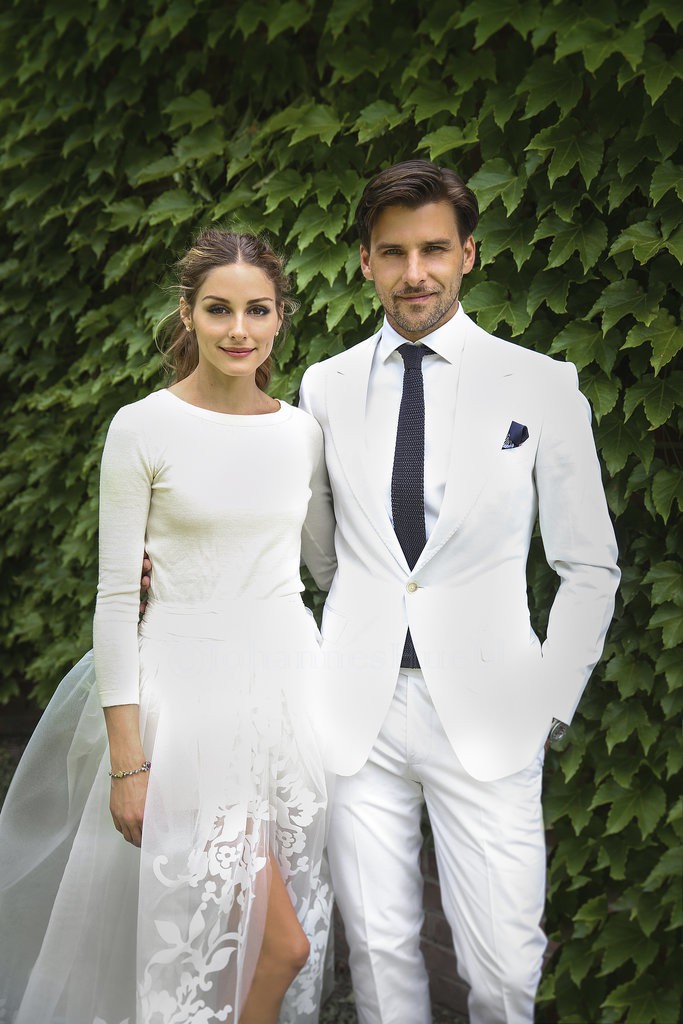 Aren't two piece wedding outfits just the best? Socialite and style icon Olivia Palermo wore a unique two piece outfit that shows a sweater and poofy skirt combo can create a pretty chic look for your nuptials.
23.

Lihi Hod Wedding Dress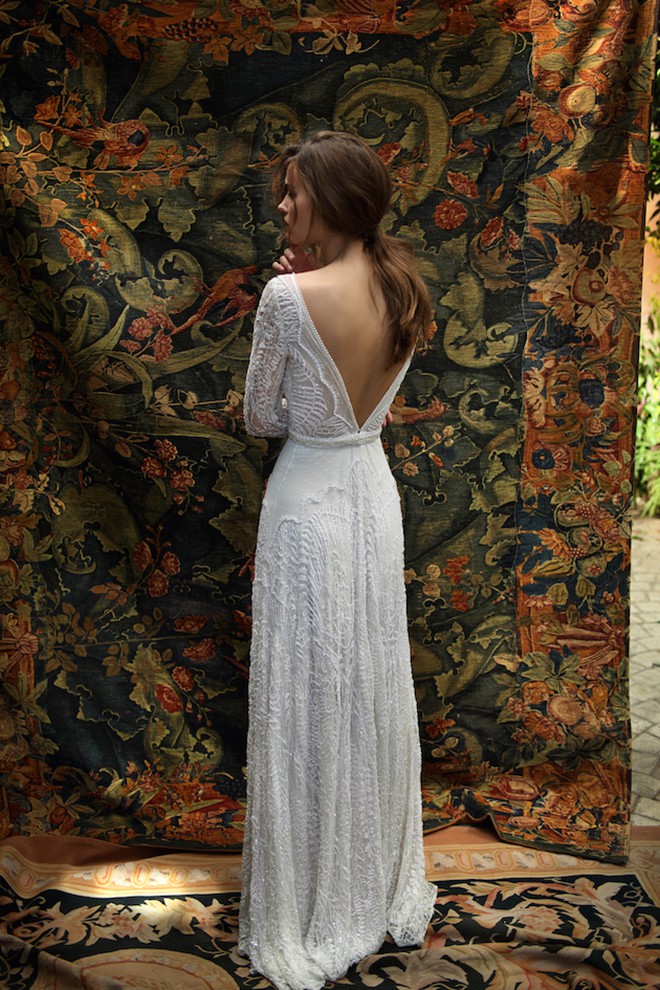 What's more classic than a beautifully beaded wedding dress and more modern than a sexy low cut back? Old world meets modern, this Lihi Hod dress marries old and new styles perfectly.
24.

Alexandra Grecco Simone Wedding Gown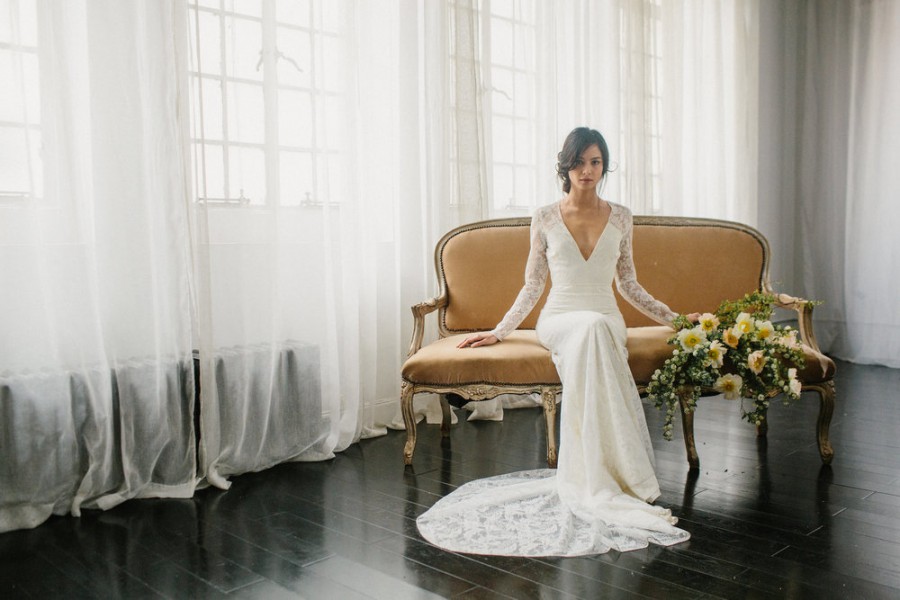 Talk about gorgeous. The Alexandra Grecco Simone gown has all the things you'd ever want in a traditional wedding dress: form flattering, delicate lace, and an elegant deep-V.
25.

Houghton Bordeaux Two Piece Wedding Dress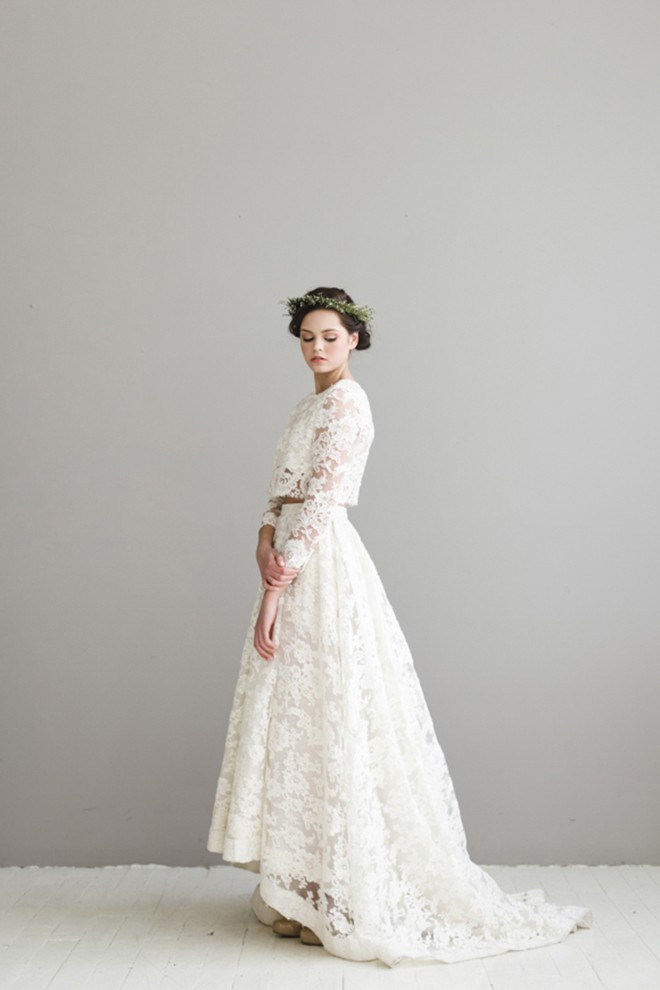 Combining traditional lace with a modern skirt and crop top combo makes the Houghton Bordeaux a beautiful choice for alternative brides. Plus, the two-piece wedding dress is one of the biggest bridal trends to try this year — what's not to love?
26.

Grace Loves Lace Inca Wedding Dress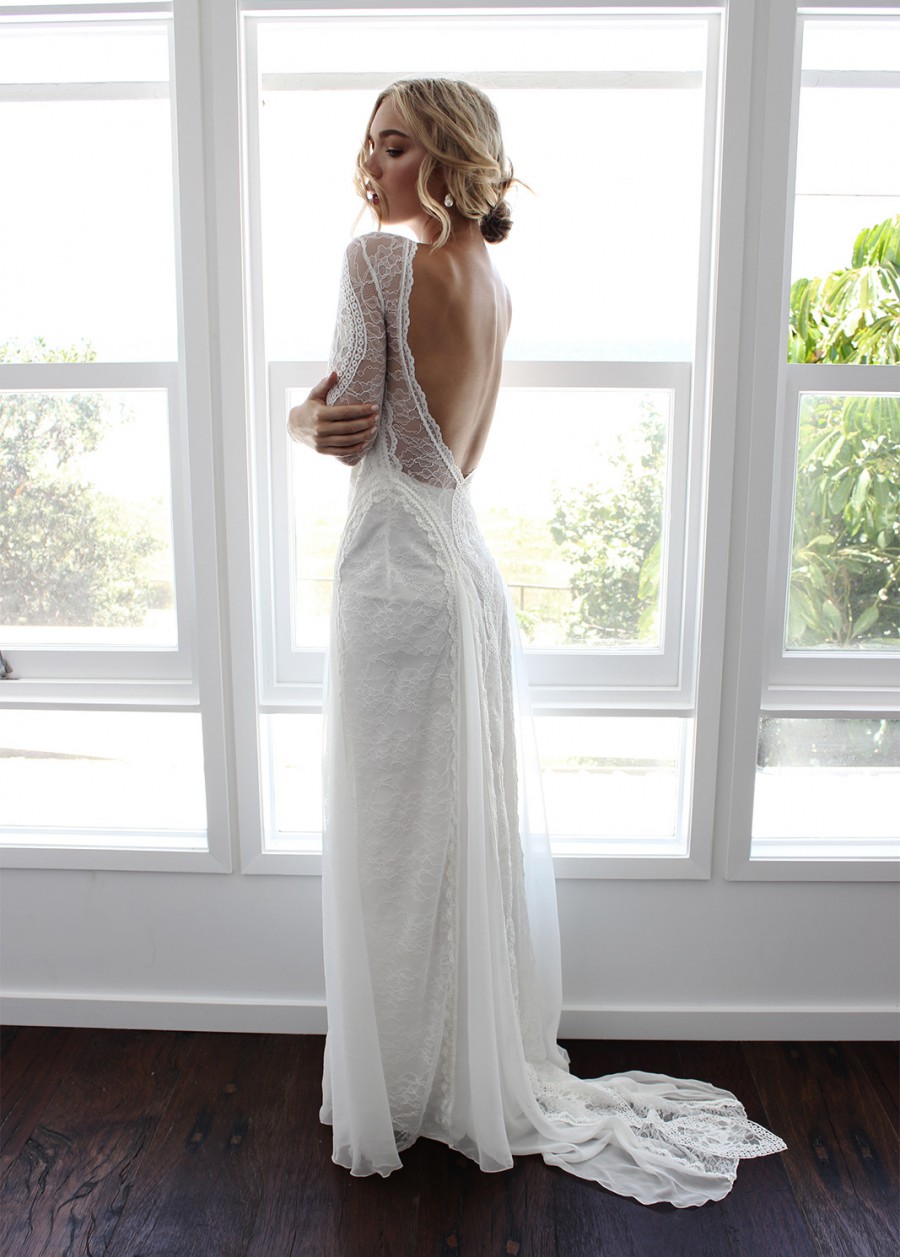 No one does French lace like Aussie brand Grace Loves Lace. With delicate French lace, a beautiful low cut back, and an airy train, this simple yet romantic wedding dress can work for a traditional wedding, boho look, and everything in between.
27.

Billowy Voluminous Long-Sleeved Dress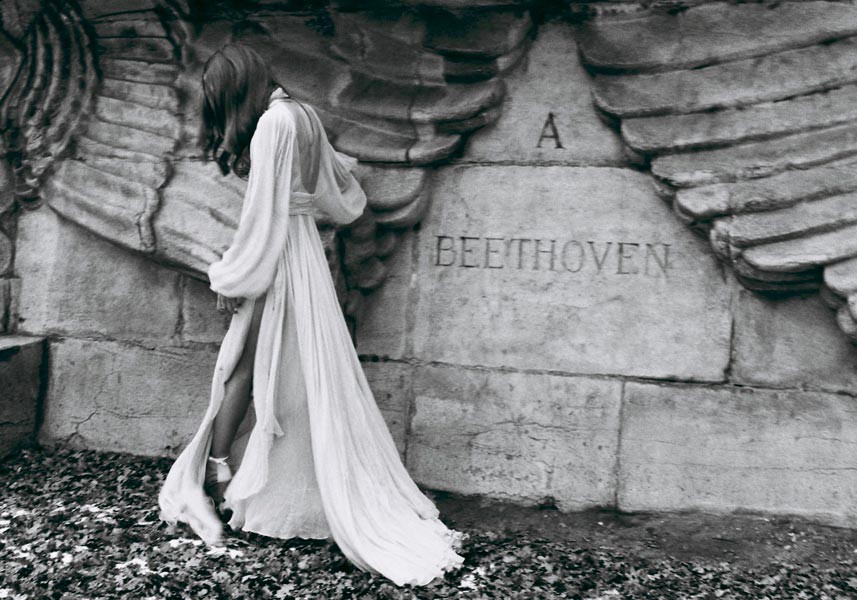 This one's got everything you'd ever want in a dress. If you want to create a romantic and elegantly refined wedding day look, you might want to look to this classic photo for inspo!
28.

Inbal Dror Regal Wedding Dress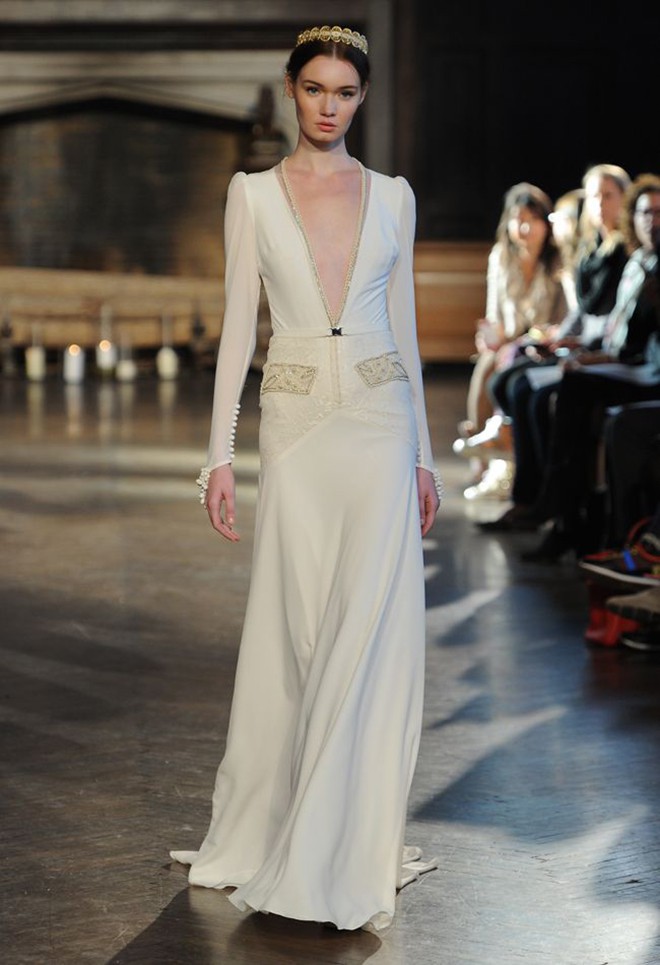 For regal glamour on your special day, Inbal Dror has *the* wedding dress. Think: romantic lace details and a one-of-a-kind silhouette that you could only find with a couture gown.
29.

Elie Saab Fringe Dress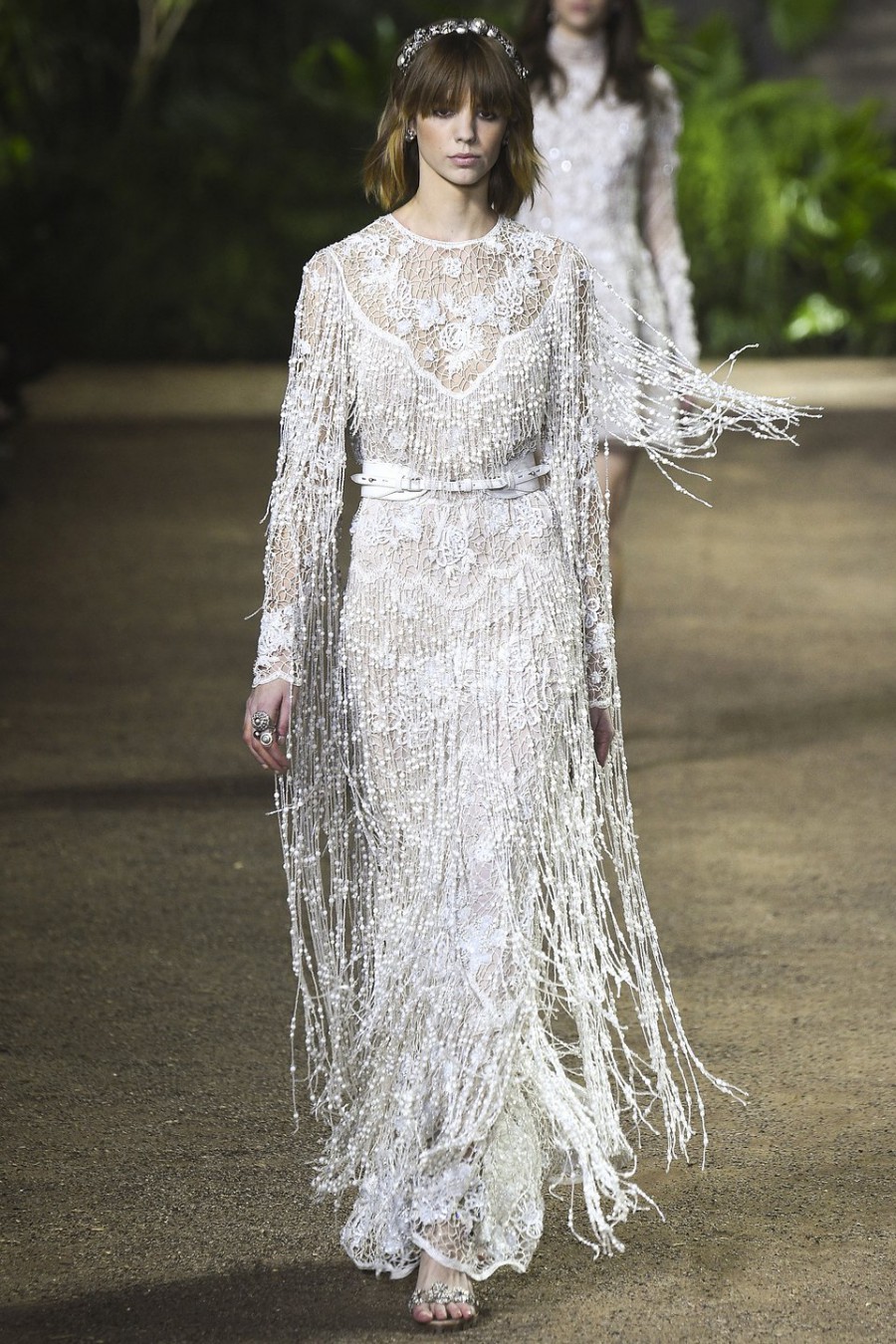 Can we talk about how rad fringe is?! Glam-rock-chic — whatever you want to call it, a fringe wedding dress tops our list of wedding goals.
30.

Prabal Gurung Minimalist Dress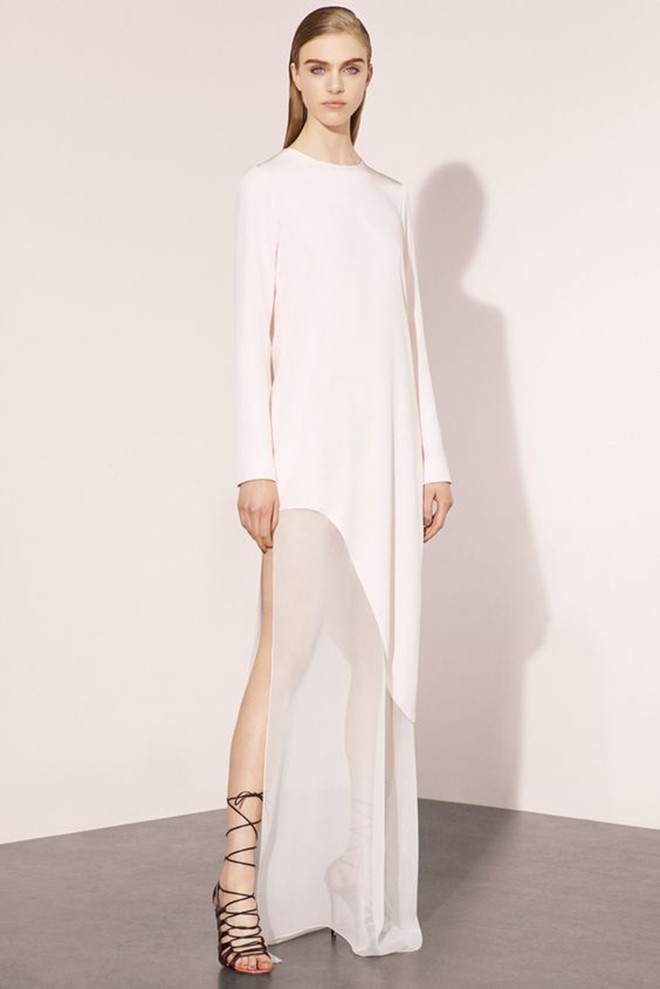 Minimalism meets modern with this Prabal Gurung dress. The combination of long sleeves with sheer detailing make this a sleek dress for any bride willing to show off some leg.
31.

Odylyne The Ceremony Lilian Wedding Dress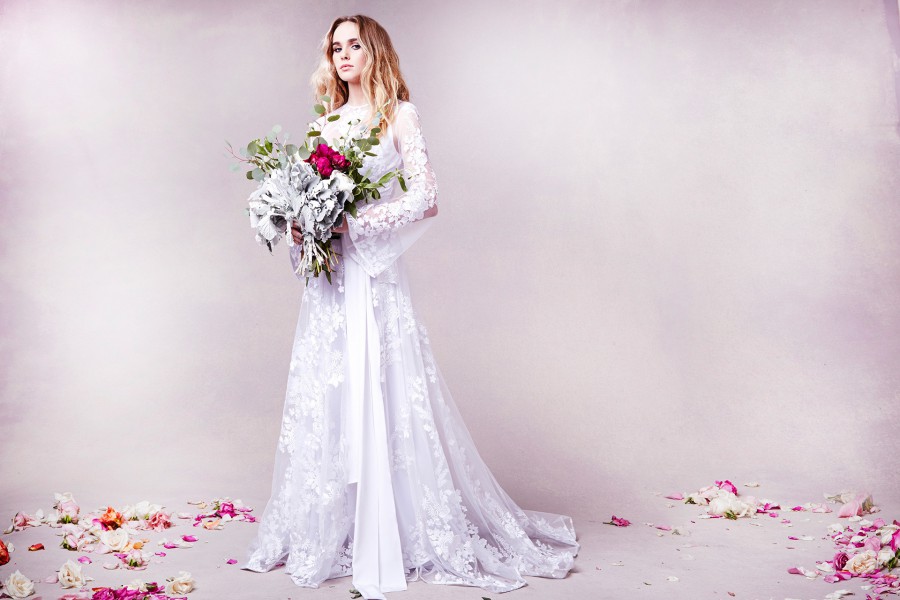 This stunning all embroidered lace number is the bohemian dress of your dreams. The Odylyne Lilian dress comes with dramatic bell sleeves and a skirt that falls beautifully for a show-stopping look.
32.

Elie Saab Embroidered Couture Gown
Elie Saab always designs the dreamiest, lust-worthy gowns. Who wouldn't want to get married in one of his ultrafeminine and totally glamorous embroidered couture dresses?
33.

Vera Wang Rock 'n' Roll Wedding Dress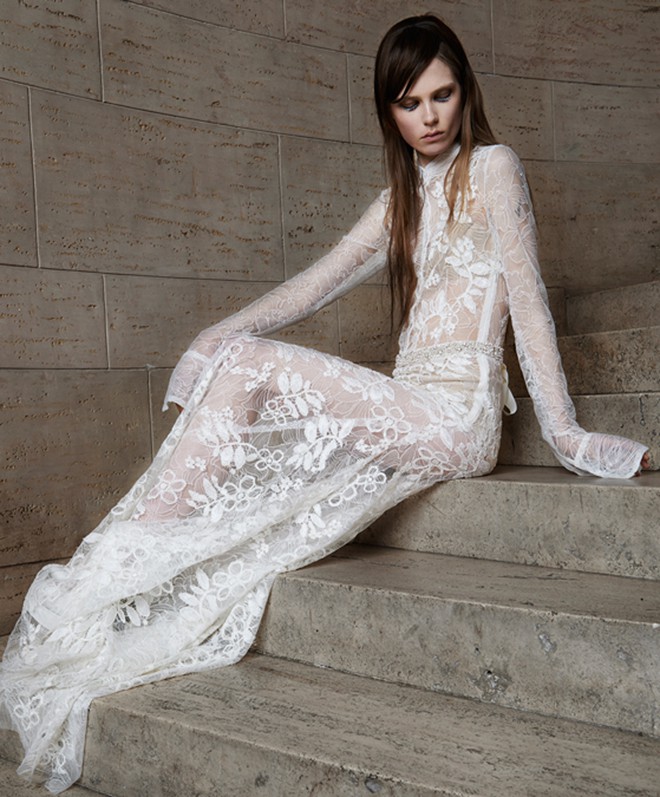 If you love rock 'n' roll, or you're looking for something that doesn't follow the girly fashion trends, check out Vera Wang's glam rock wedding dresses with high necklines and dramatically long sleeves.
34.

Valentino Cape Dress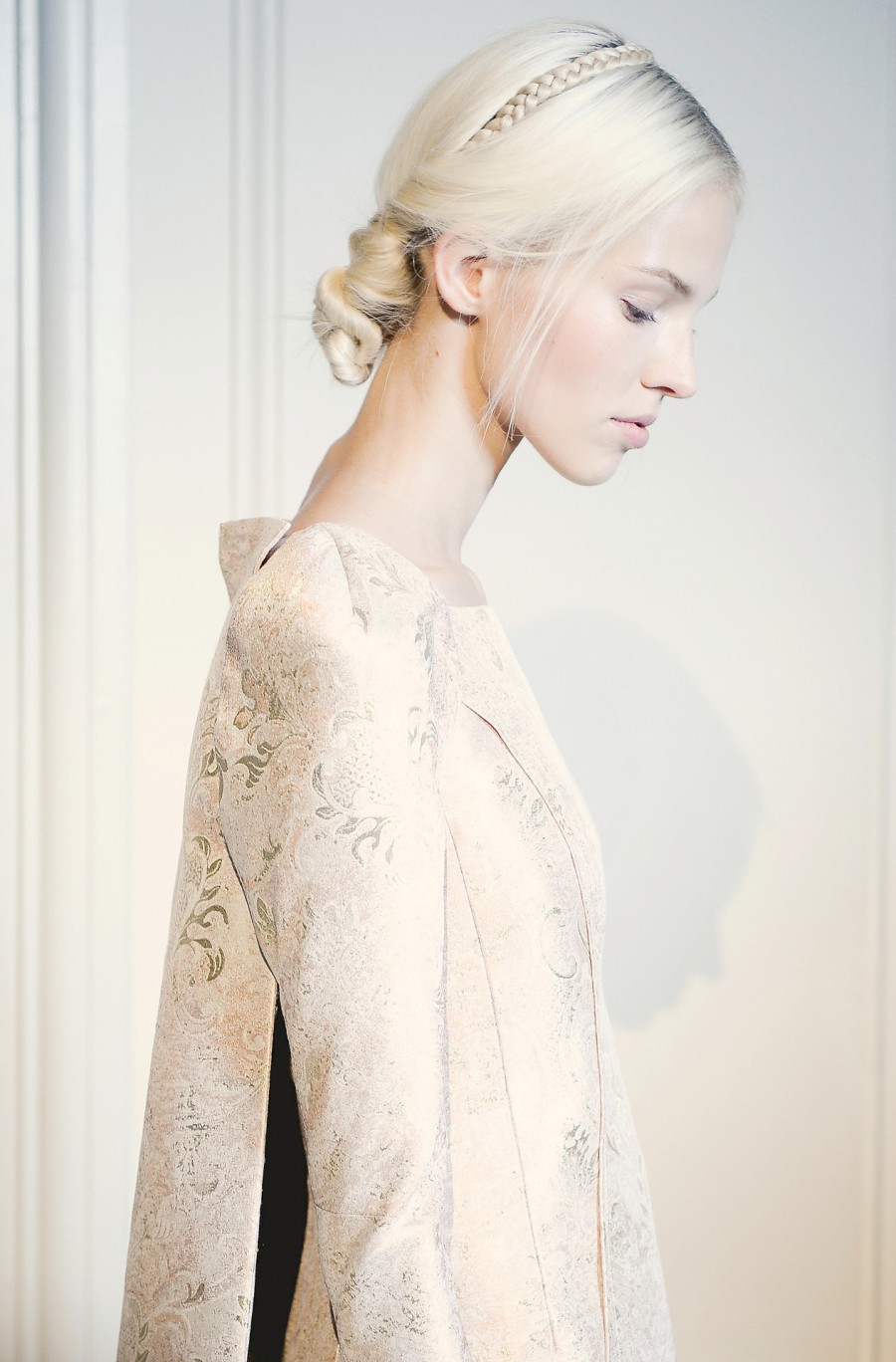 Have we mentioned that we LOVE capes? This Valentino dress comes with long sleeves underneath a glamorous and dramatic cape in a beautiful floral pattern. Talk about gorgeous.
35.

Houghton Galina Wedding Dress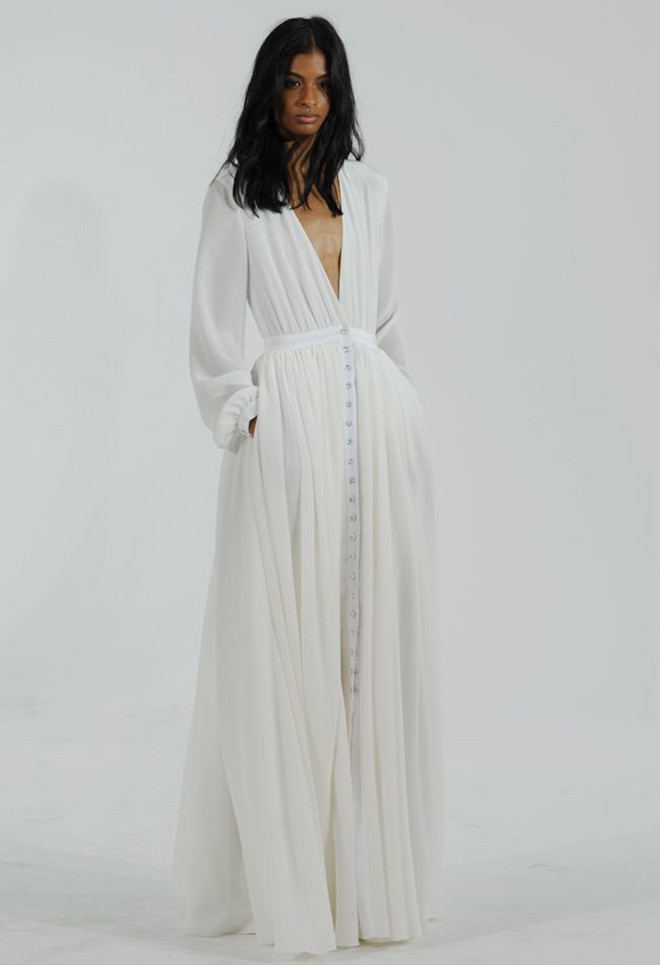 Minimalist brides, rejoice! The Houghton Galina dress has beautiful, flowy sleeves, a sexy deep-V, and the luxe addition of Swarovski crystal buttons for a chic and effortless wedding day look.
36.

Stone Cold Fox Alabama Gown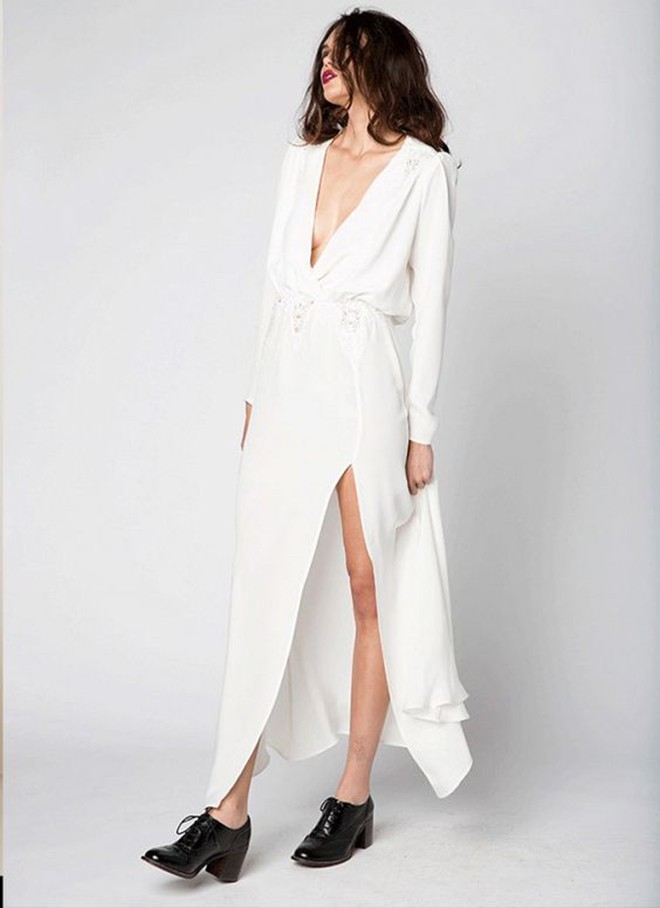 A modern and budget-friendly dress like the Stone Cold Fox Alabama gown is perfect for the everyday bride with tons of style.
37.

Delphine Manivet Fall 2015 Wedding Gown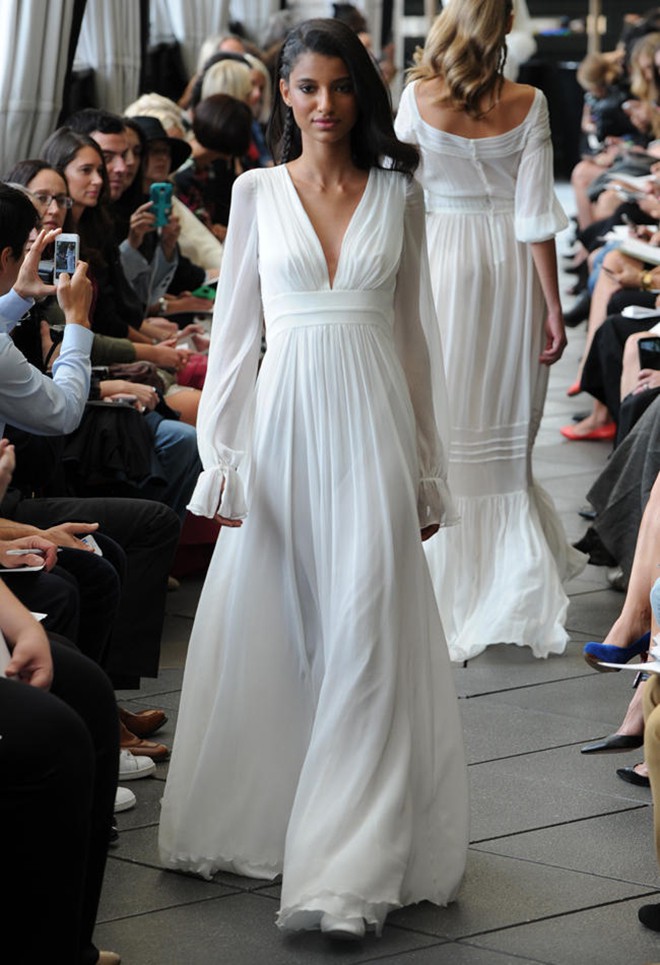 We know, we give a lot of love to French designer Delphine Manivet. But seriously, her long-sleeved wedding gowns are just gorgeous! The flowy fabrics are enough to make any bride swoon.
38.

Alberta Ferretti Spring 2014 RTW Dress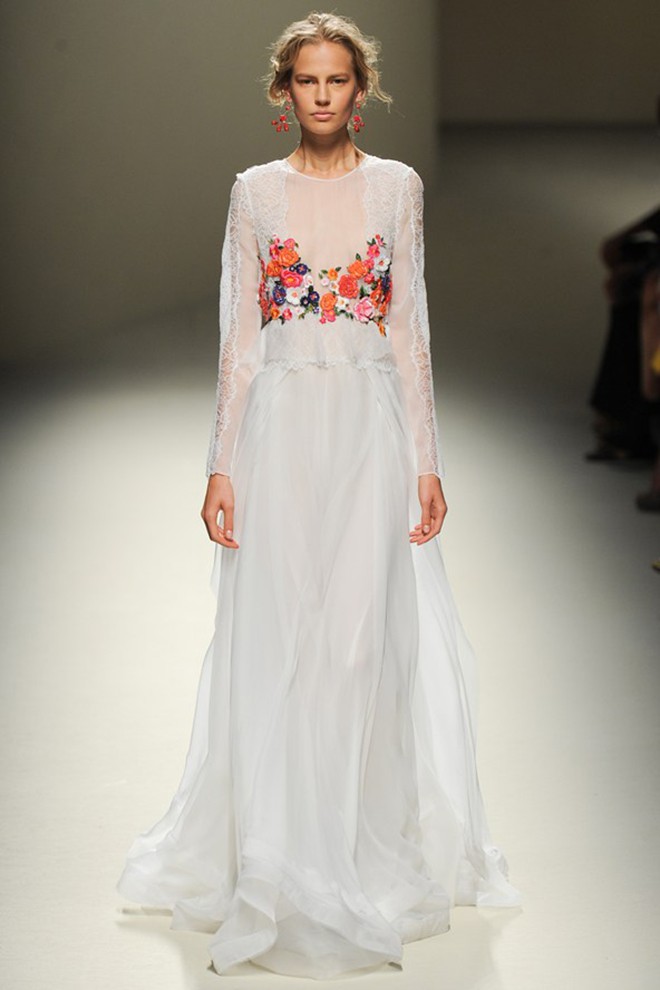 With a little bit of multicultural fiesta and flamenco flair, this Alberta Ferretti dress is sure to inspire one fun and stylish bride's wedding day ensemble.
39.

Blush Fashion Oscar Wedding Dress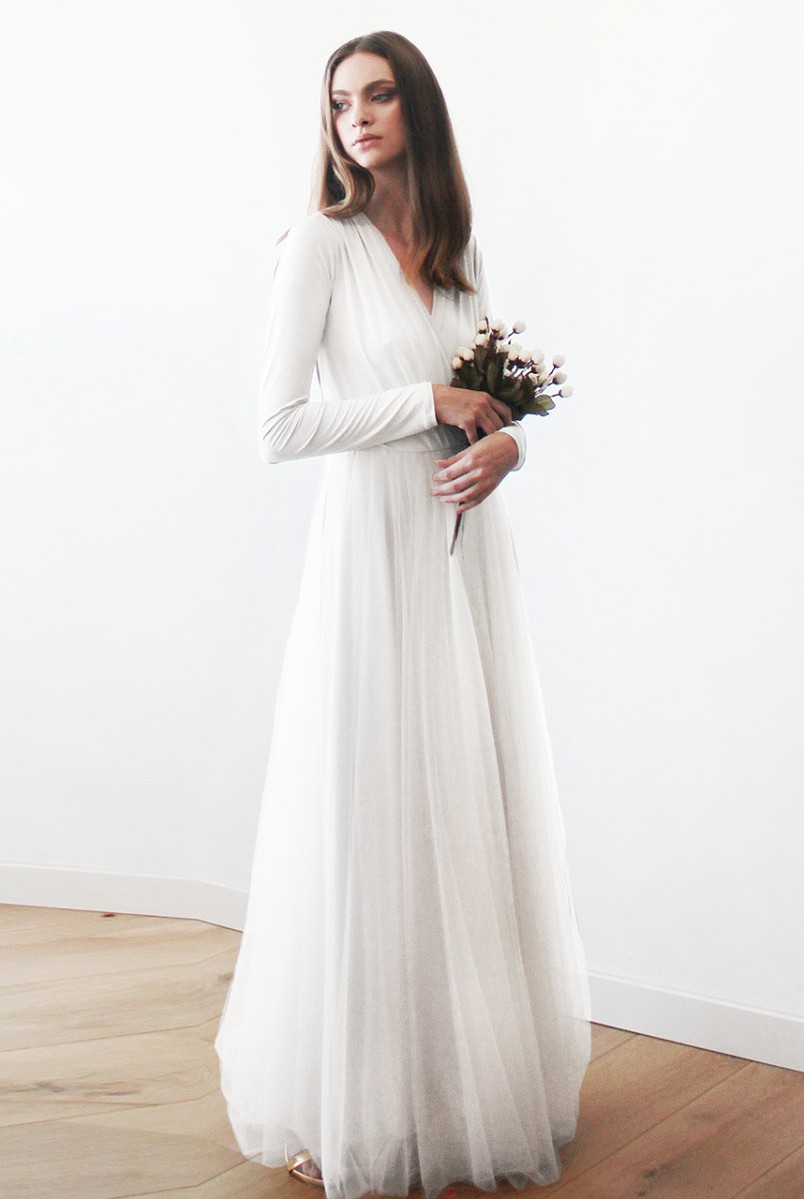 If a chic dress on a budget sounds like a smart idea, you might want to check out the dresses by Blush Fashion. The Oscar dress is under $150 USD (we know, crazy right?) and has customizable options too!
40.

Delphine Manivet Cyrus Wedding Dress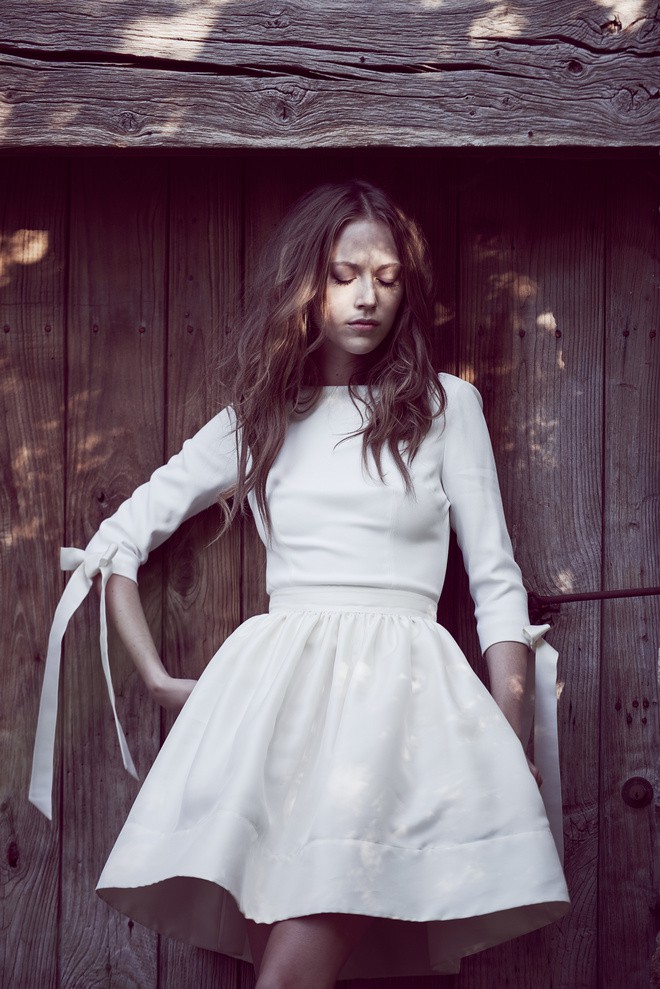 Getting hitched at City Hall? Try this crepe top and short silk skirt combo by French designer Delphine Manivet for a wedding day look that's totally playful and très chic.
41.

Roland Mouret Ella Dress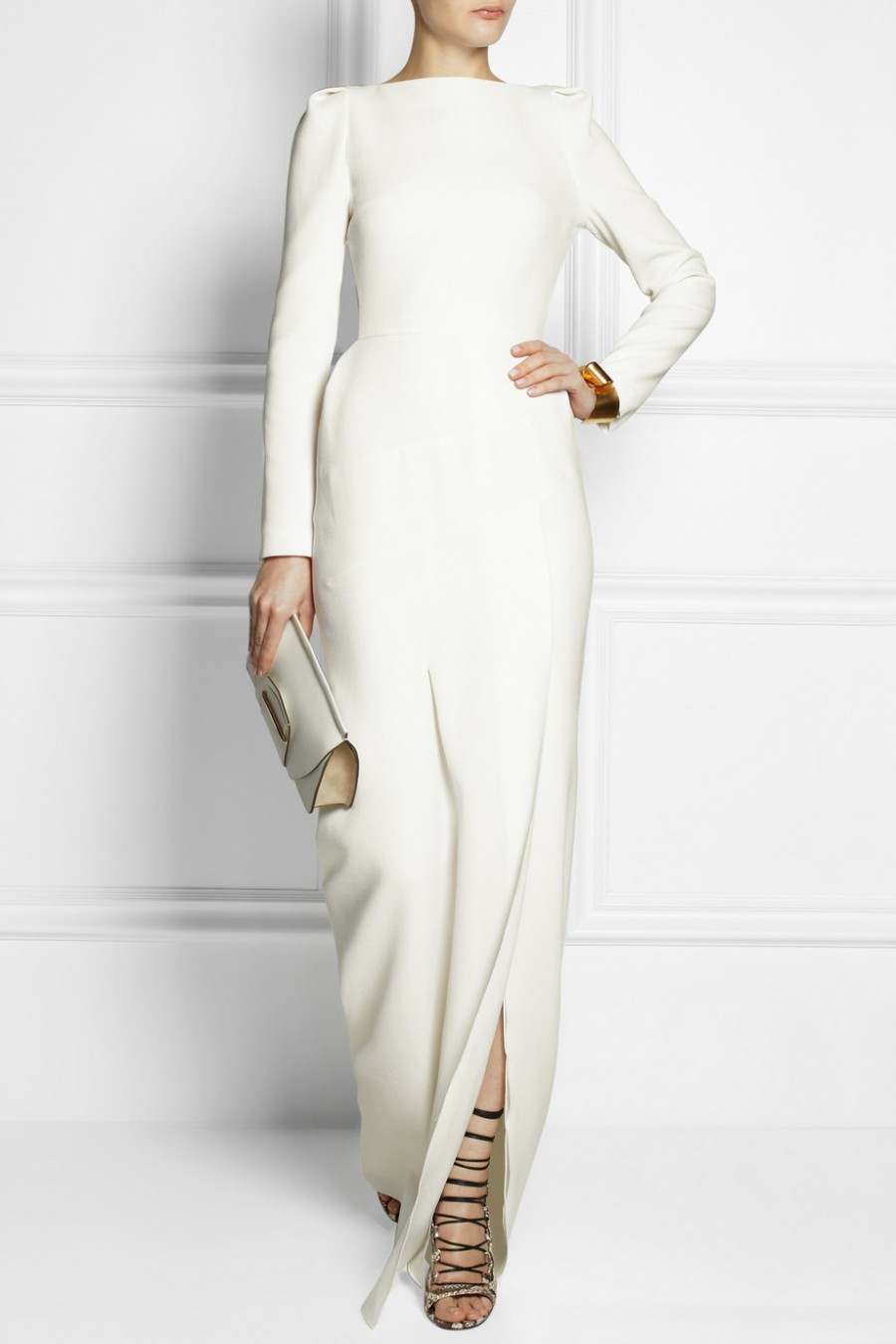 All about classic minimalism? The luxe Roland Mouret Ella dress only needs a few metallic accessories and your outfit is complete.
42.

Rue De Seine Zeppelin Gown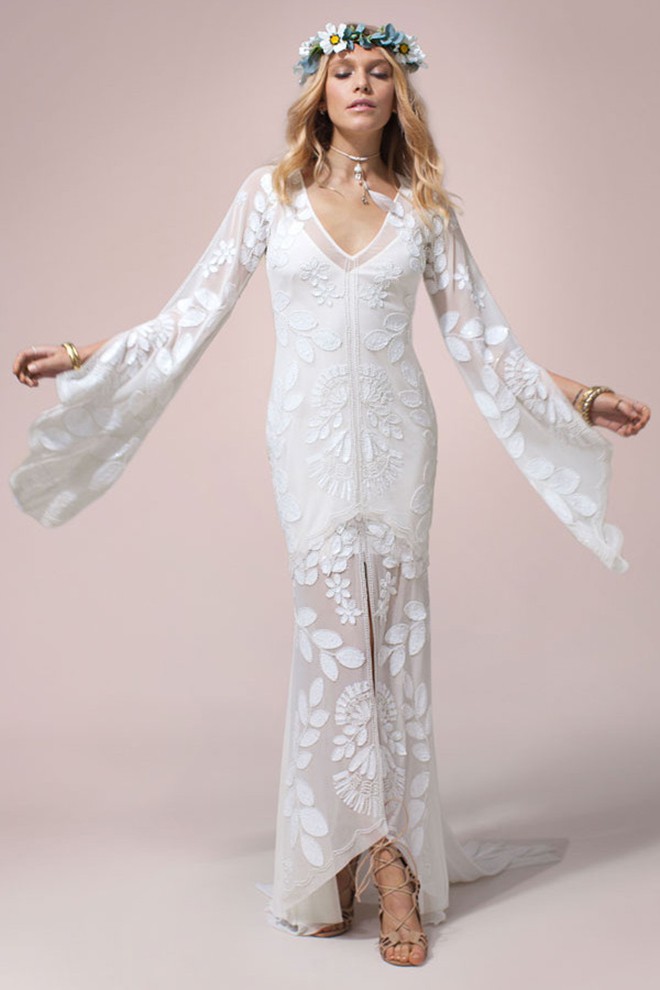 Want to channel a '70s flower child? Rue de Seine lends to a beautifully beaded and bohemian wedding dress.
43.

Whitney Port's Custom Ashi Studio Wedding Dress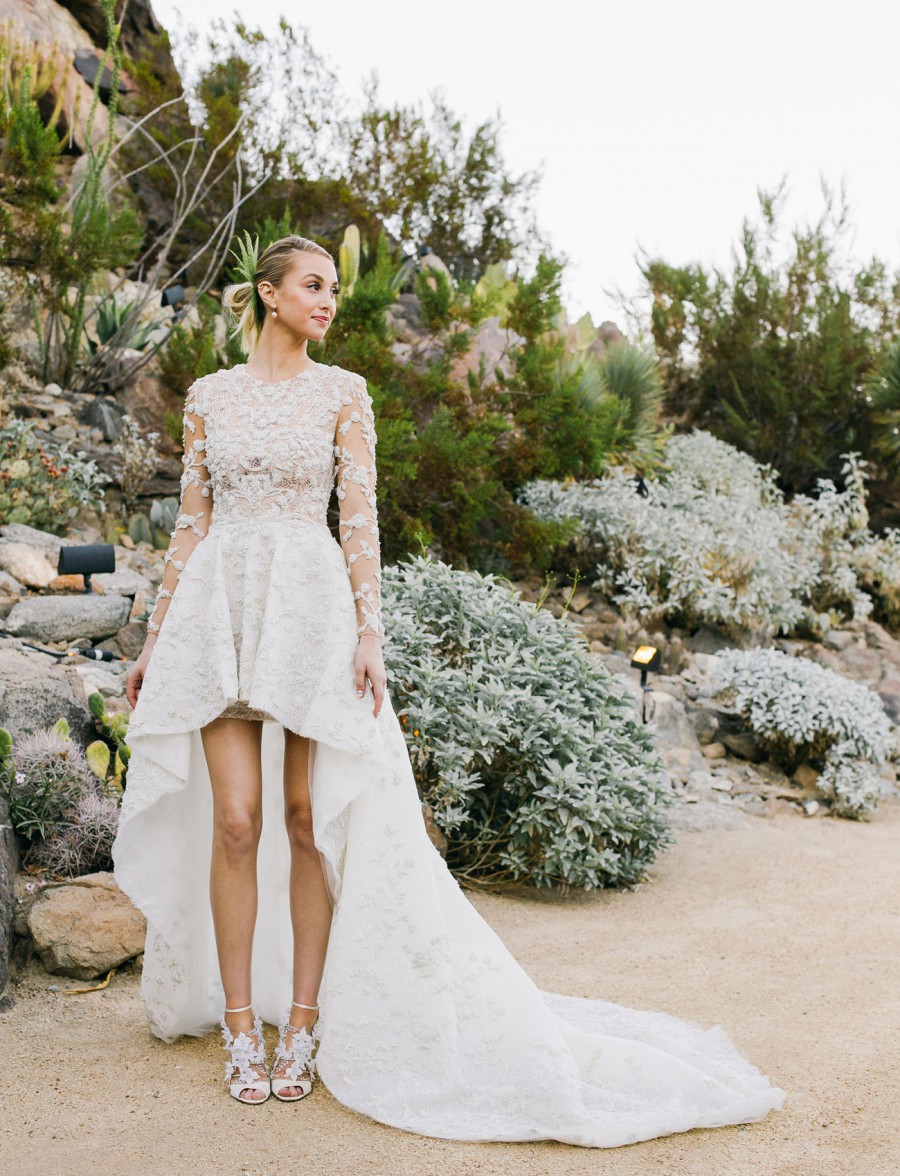 Here's another celeb proving that the long-sleeved look can be totally cool and modern. We're just in love with Whitney Port's fully floral, high-low wedding dress that she designed with Ashi Studio.
44.

Alex Perry Courtney Dress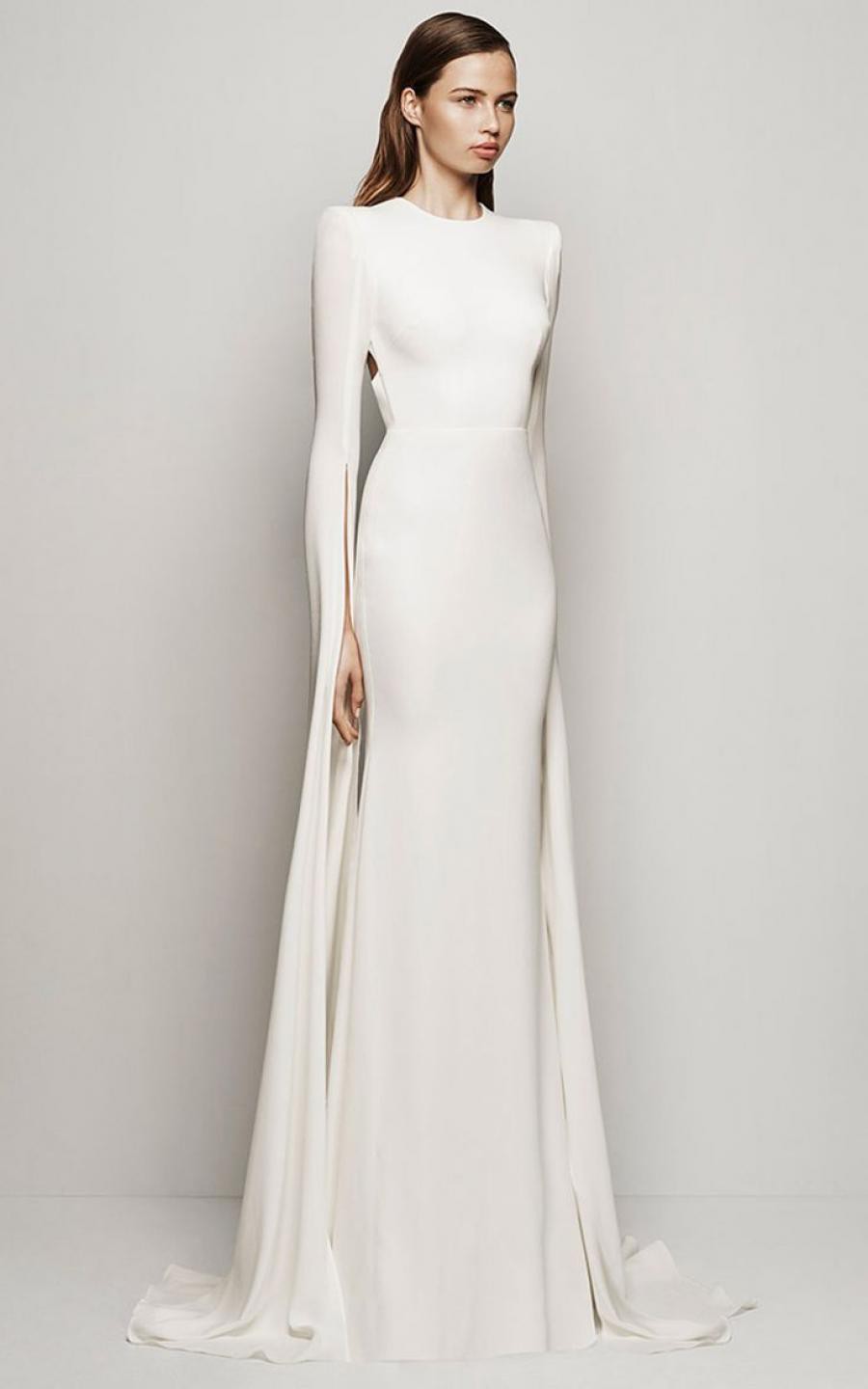 This is just textbook minimalism here, brides! From the sleek silhouette to the totally awesome (and super) long sleeves, we think this is the chicest minimalist dress yet.
45.

Lace Boho Wedding Dress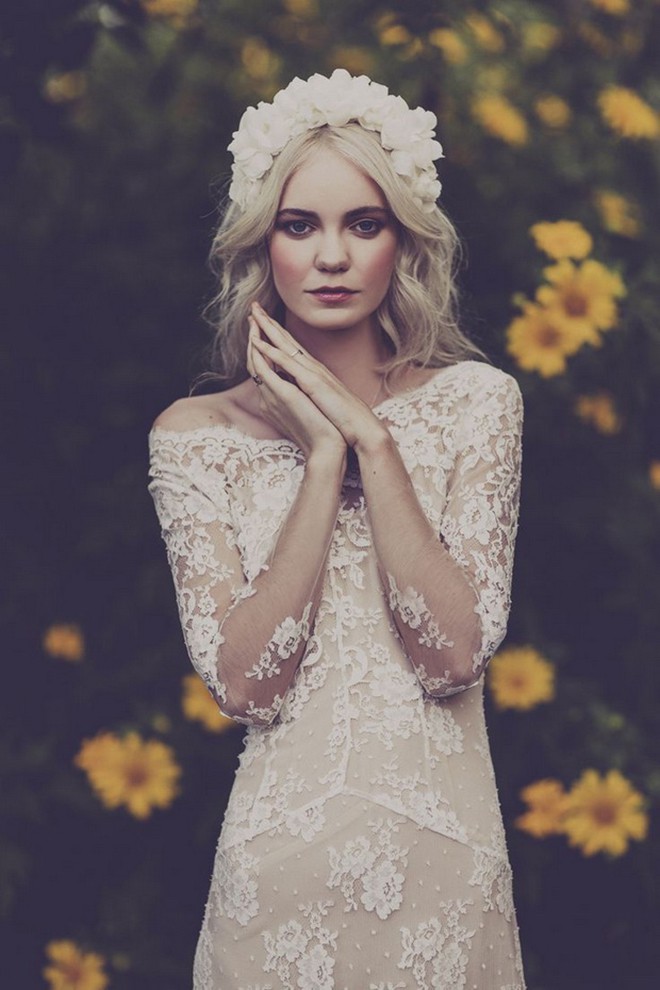 Try an off-the-shoulder lace wedding dress with a nude slip underneath for a romantic, ethereal wedding look.
46.

Shades of Sienna Vintage Dress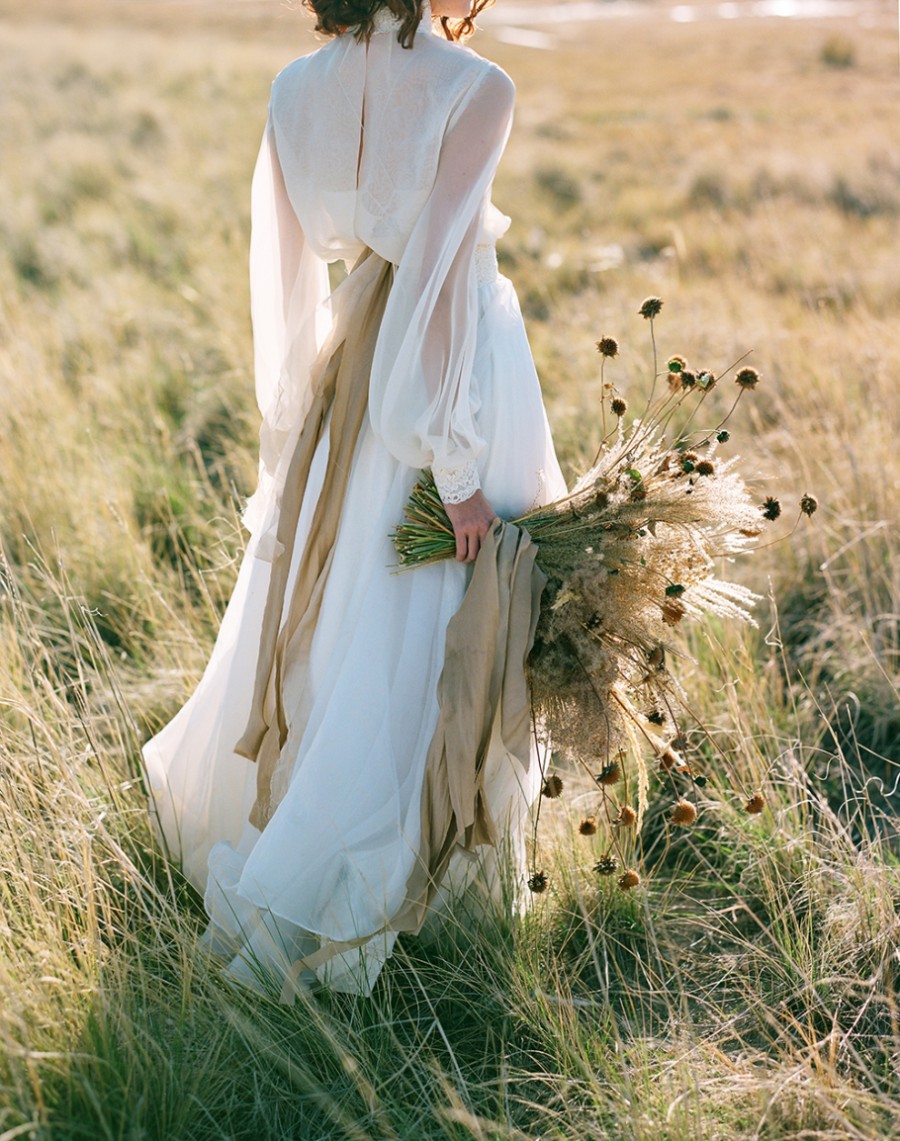 If you're a pro at thrifting or you're looking for a "something borrowed" for your wedding day, you might want to consider vintage shopping. We're in love with this stunning sheer dress from thrift store Shades of Sienna.
47.

Garden Barn Custom Wedding Dress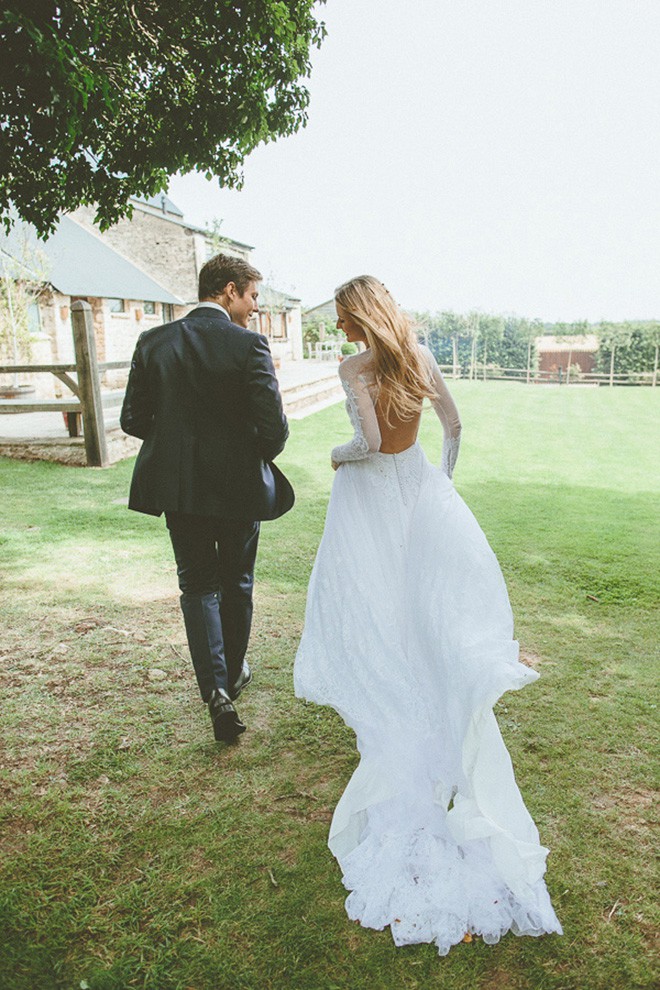 Talk about admirable (and gorgeous)! This custom wedding dress was designed by the bride herself, with a beautifully long train, keyhole back and lace long sleeves.
48.

Custom Wedding Dress With Shu Hsien Ryu and Dream Creations
Is white just not your color? We love how this bride collaborated with bespoke designers to create a lace dress in a barely there skin-tone palette that's modest yet eye-catching.
49.

Stone Cold Fox Boho Dress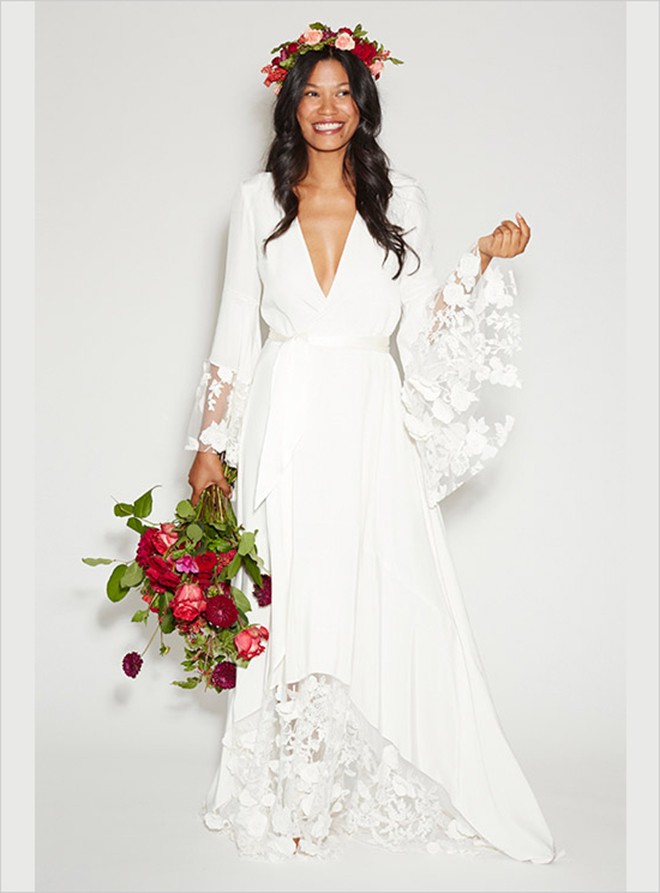 Planning a destination wedding in the tropics or on the beach? Stone Cold Fox has the sweetest selection of summery, beach-ready wedding dresses.
50.

Christie Chanthakhoun Wedding Dress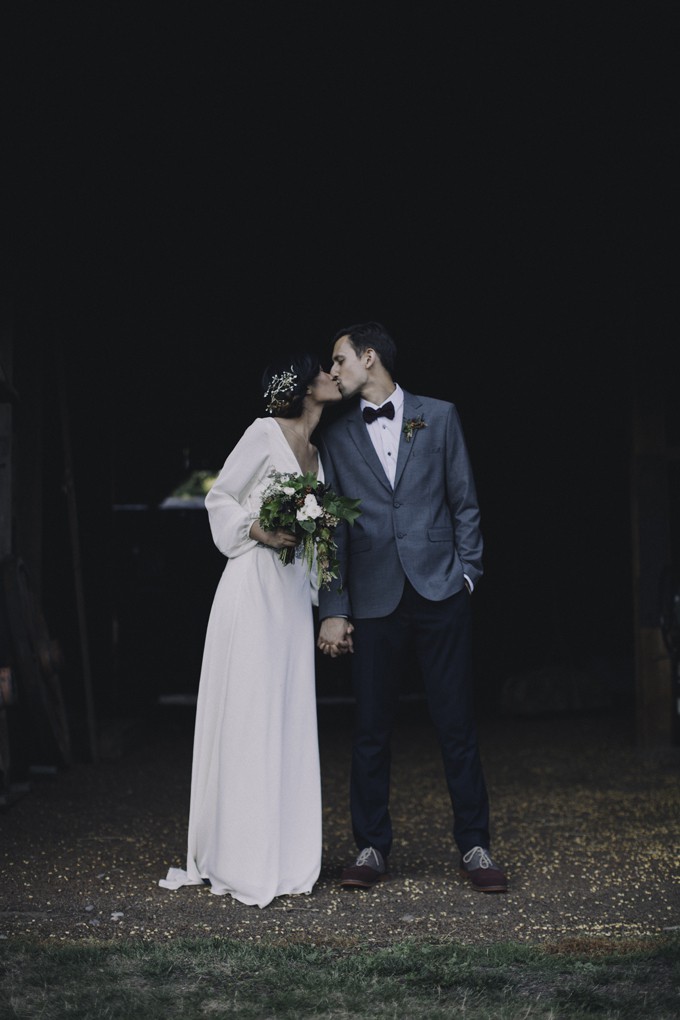 For a relaxed and elegant look fit for a barn style wedding, try Christie Chanthakhoun's simple white wedding dress with a loose fit and flowing long sleeves.

Have a favorite long-sleeved wedding dress? Tell us about it in the comments below — or, better yet, turn your once-loved wedding dress into another bride's something borrowed by posting it on Still White! Selling your wedding dress is easier than you think with Still White's simple flat fee!

By Amethyst Wang-Hoyer