Brides are absolutely obsessing over the resurgence of traditionally inspired long sleeve wedding gowns.
With the variety of statement making sleeve designs that are trending now, how can a bride resist? Long sleeves are no longer just for traditional, modest brides. But rather, these contemporary styles are captivating modern brides of all kinds. So what do you think? Should full length sleeve bridal gowns remain a memory of the past? Or are you loving this trending style?
01.

Drop Waist Silk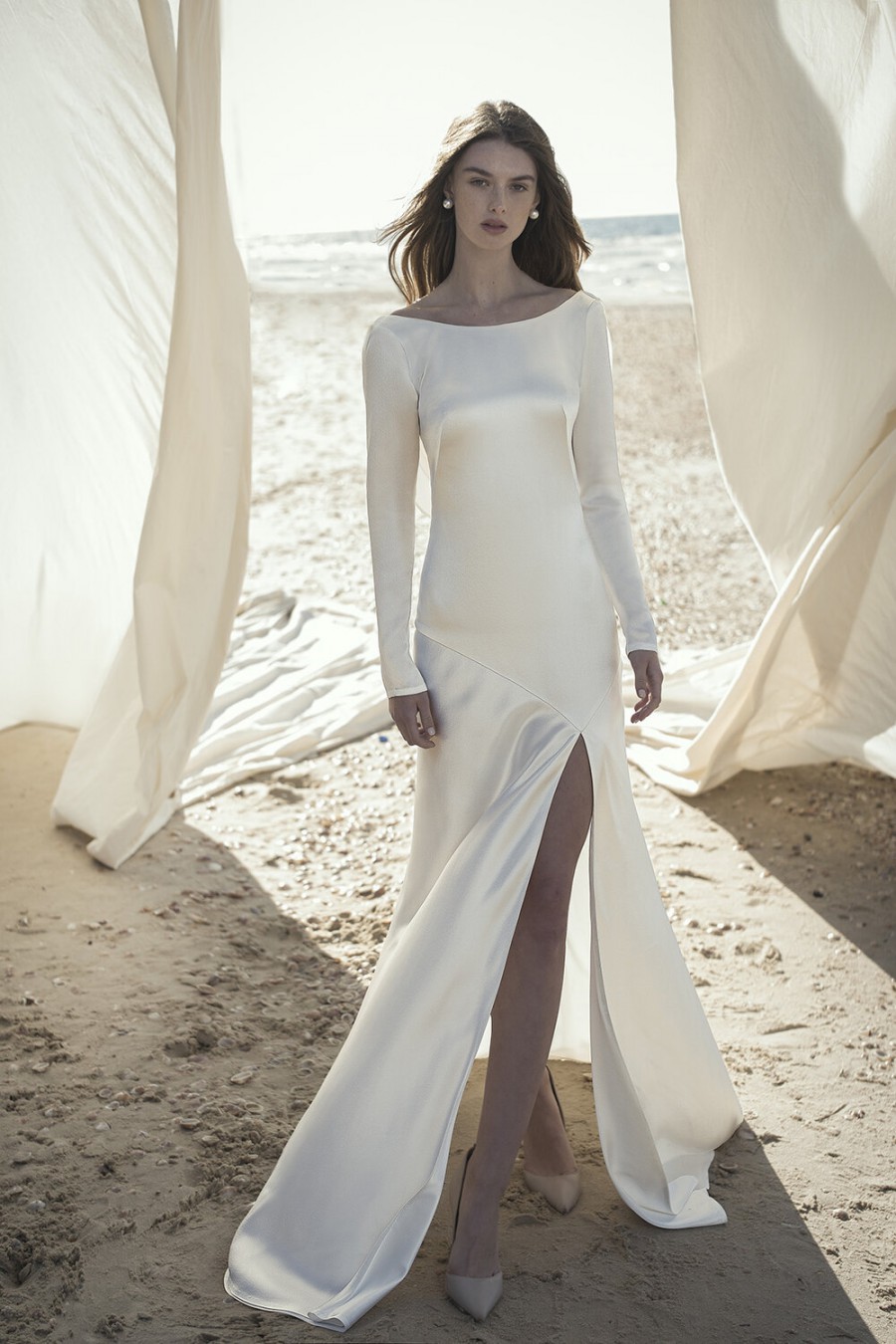 Let's start things off with this gorgeous silk gown from Alon Livne with a sophisticated boatneck, asymmetric drop-waist, high slit, and open back. This look is minimalist and simple - yet ultra glamorous and chic.
02.

Chic Lace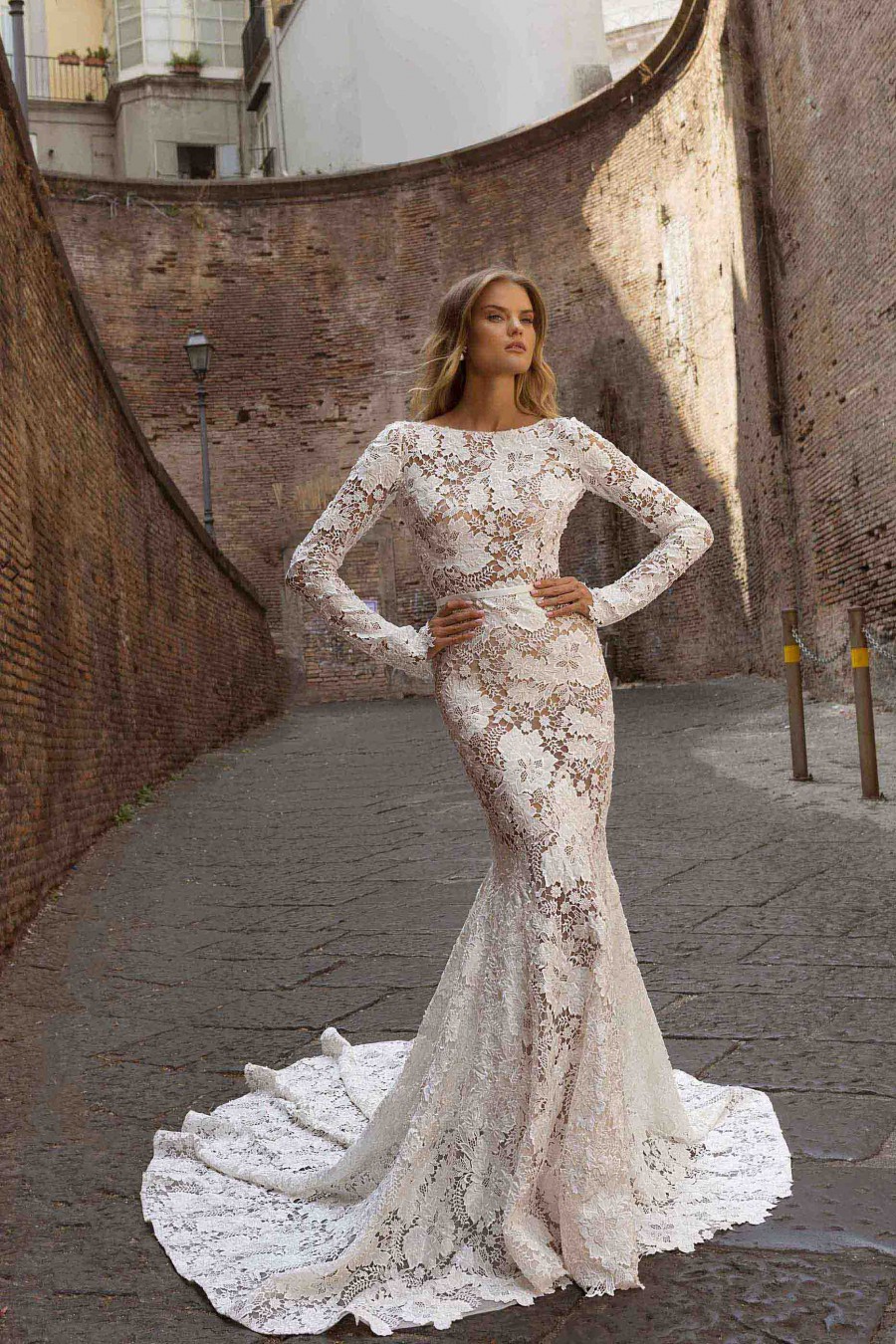 Berta brings us an ultra chic lace gown with full length sleeves. This look may have traditional influences, but it is sexy, chic and contemporary - and we just love it!
03.

Glam and Girly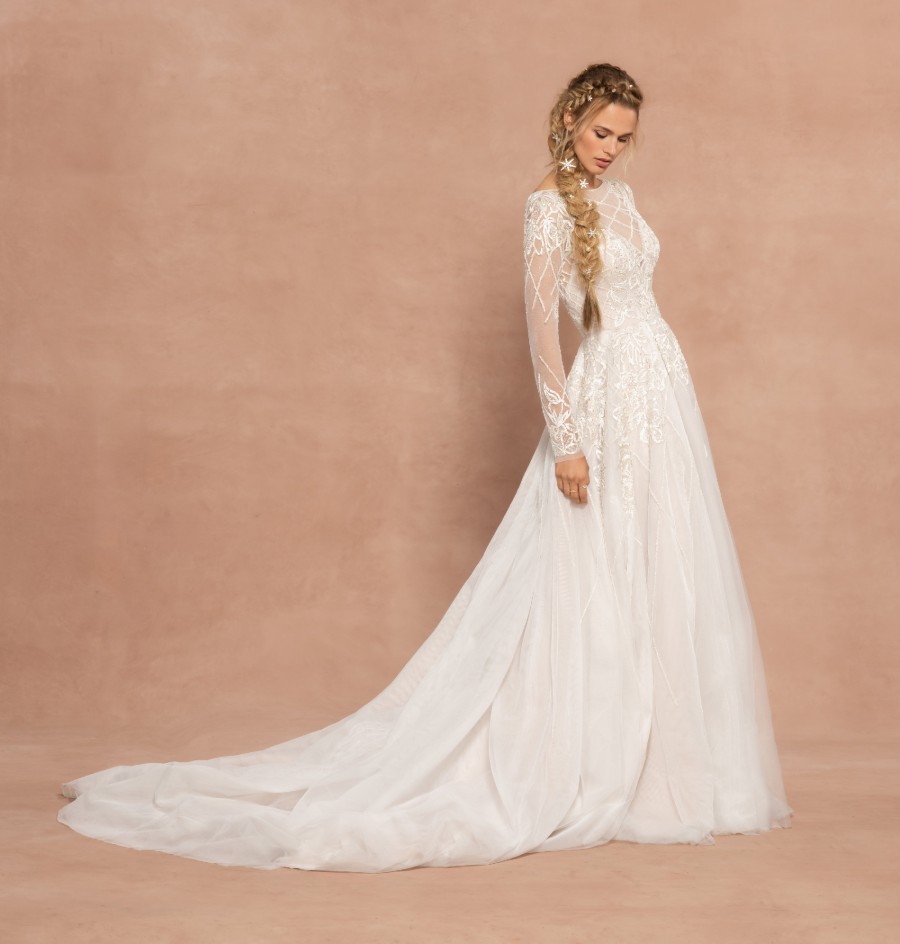 Hayley Paige brings us a gorgeous full length sleeve gown with stunning details. This ivory embroidered tulle gown features full length illusion sleeves and bodice, with geometric and floral embroidery with pearlescent accents. Absolutely dreamy!
04.

Girly in Pink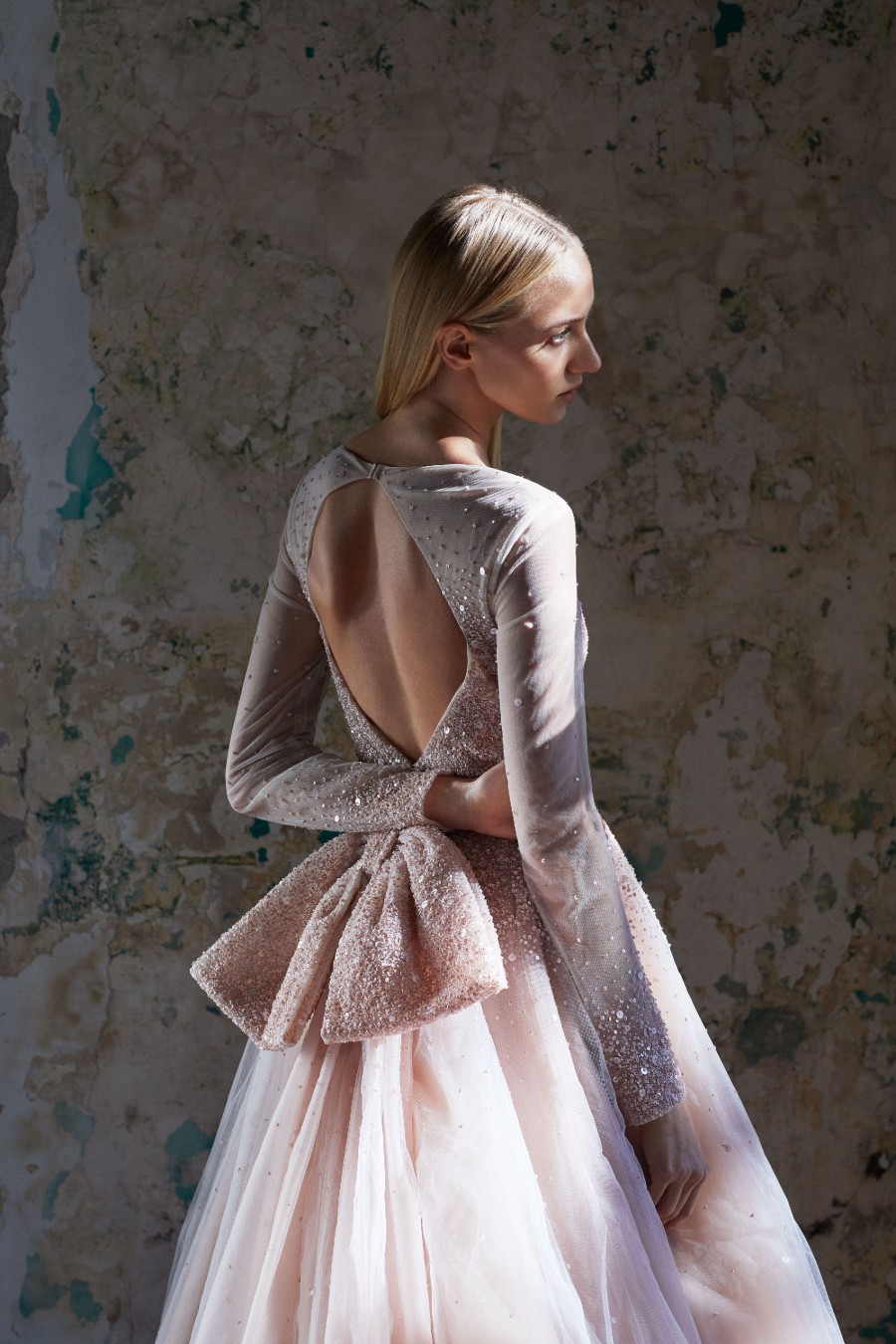 Where are our pink loving girly-girl brides out there? We know you will absolutely love this stunning gown from Allison Webb. Blush tulle fabric features all over glittering accents and an adorable encrusted back bow detail.
05.

Flirty Florals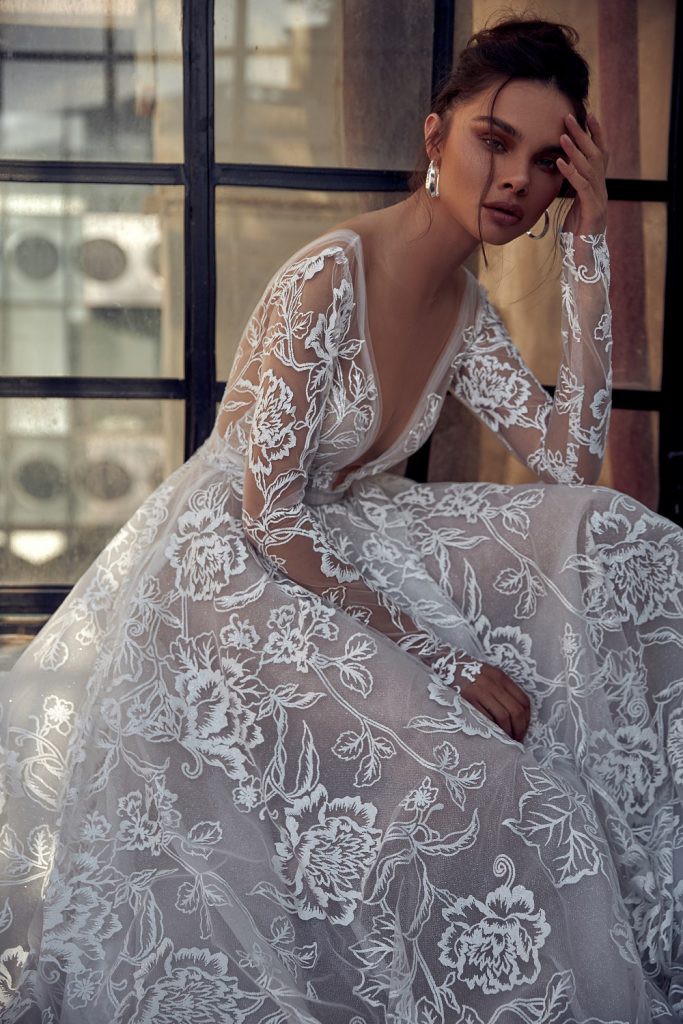 We are just in love with this gorgeous floral gown from Julie Vino. The intricate floral detailing on this tulle gown is absolutely stunning. A bold, feminine statement.
06.

Sequined Kimono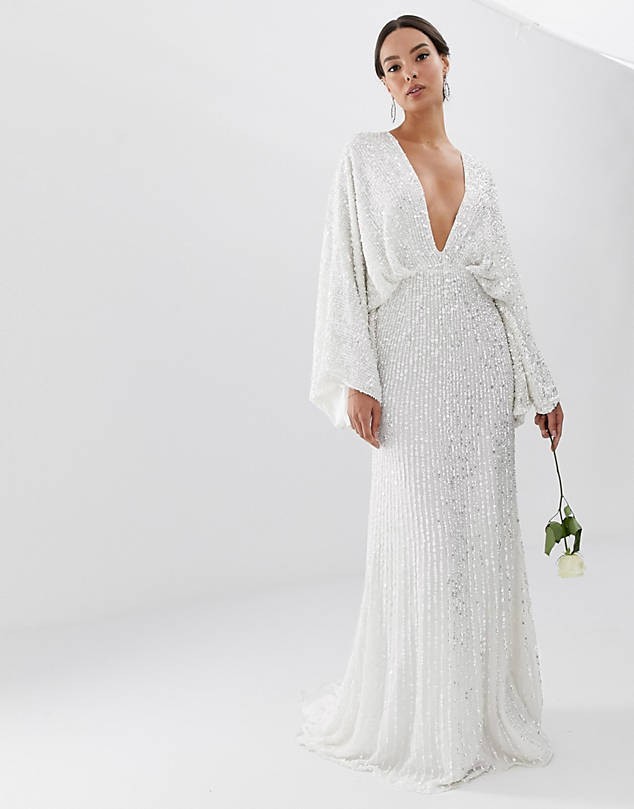 This next long sleeve style from Asos is absolutely dreamy. An all over sequined kimono sleeve gown that is simple, sexy and so on trend!
07.

Deep-V Neckline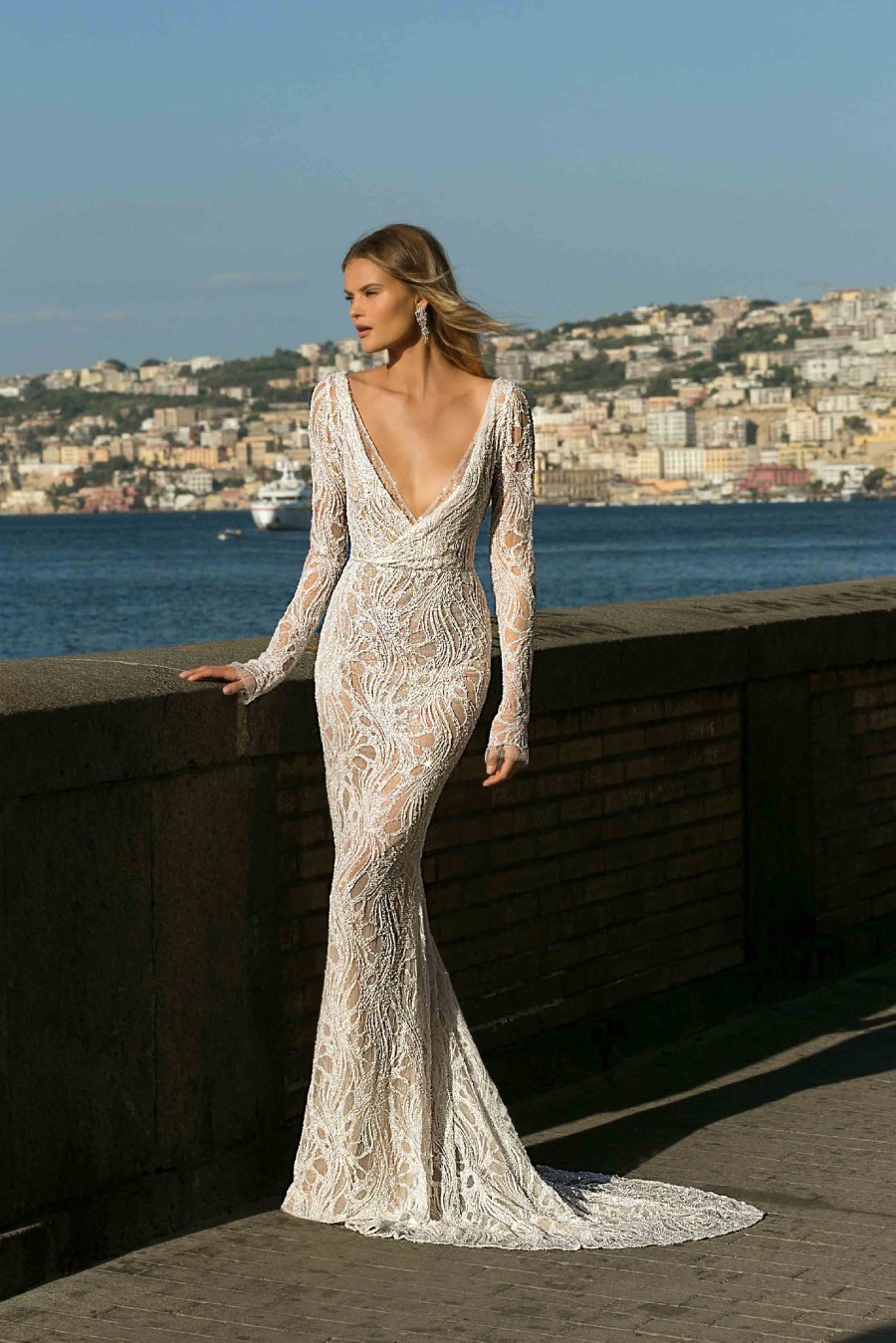 There is a common misconception that full length sleeves are traditional and modest when it comes to bridal fashion. But this gown from Berta shows how that is not the case. With its deep-V neckline and hip-hugging silhouette, this gown is sexy and sophisticated.
08.

Removable Off-the-shoulder Sleeves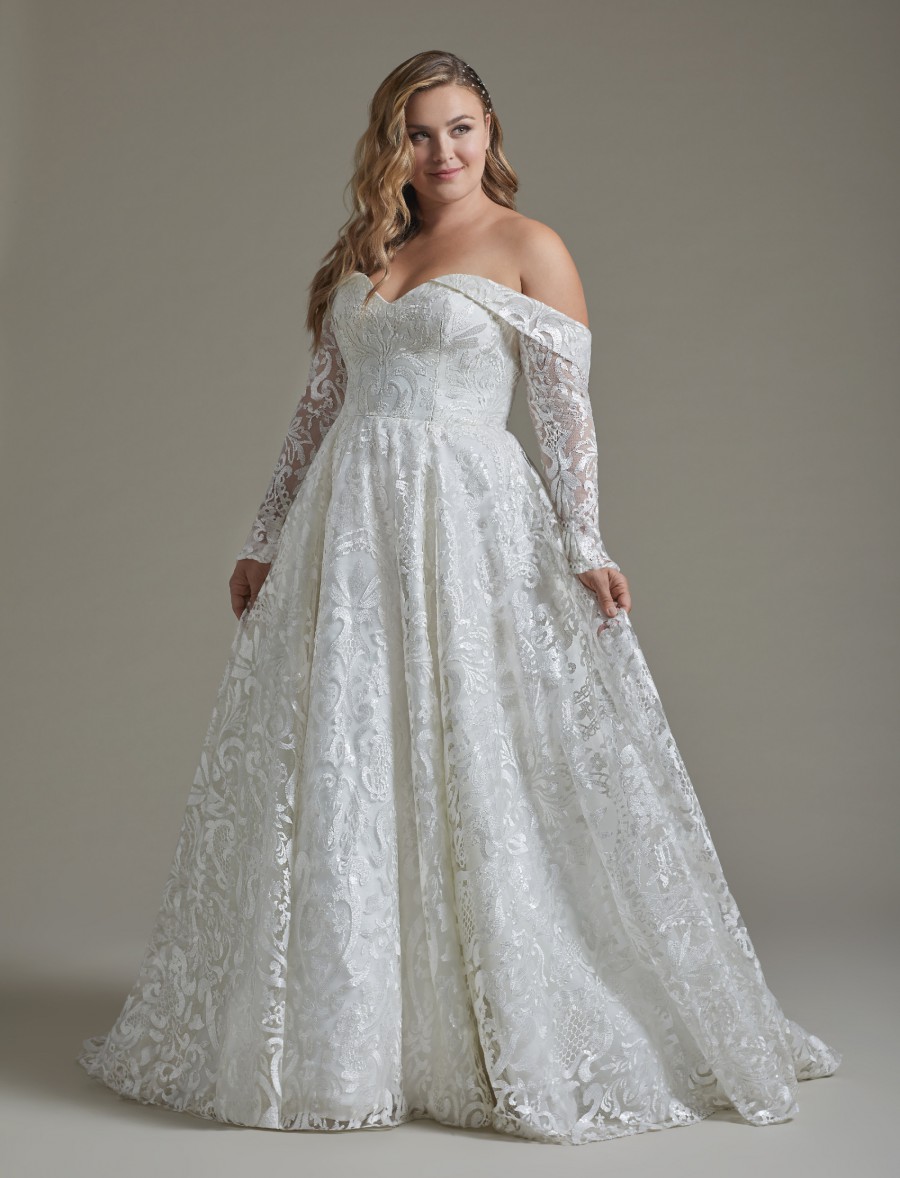 This look from Hayley Paige features gorgeous of-the-shoulder full length sleeves that have a fun surprise...they are removable! So you can remove them at any time throughout the day to transform the look into a strapless wedding gown style. The perfect way to transition from ceremony to reception!
09.

Detached Poet Sleeves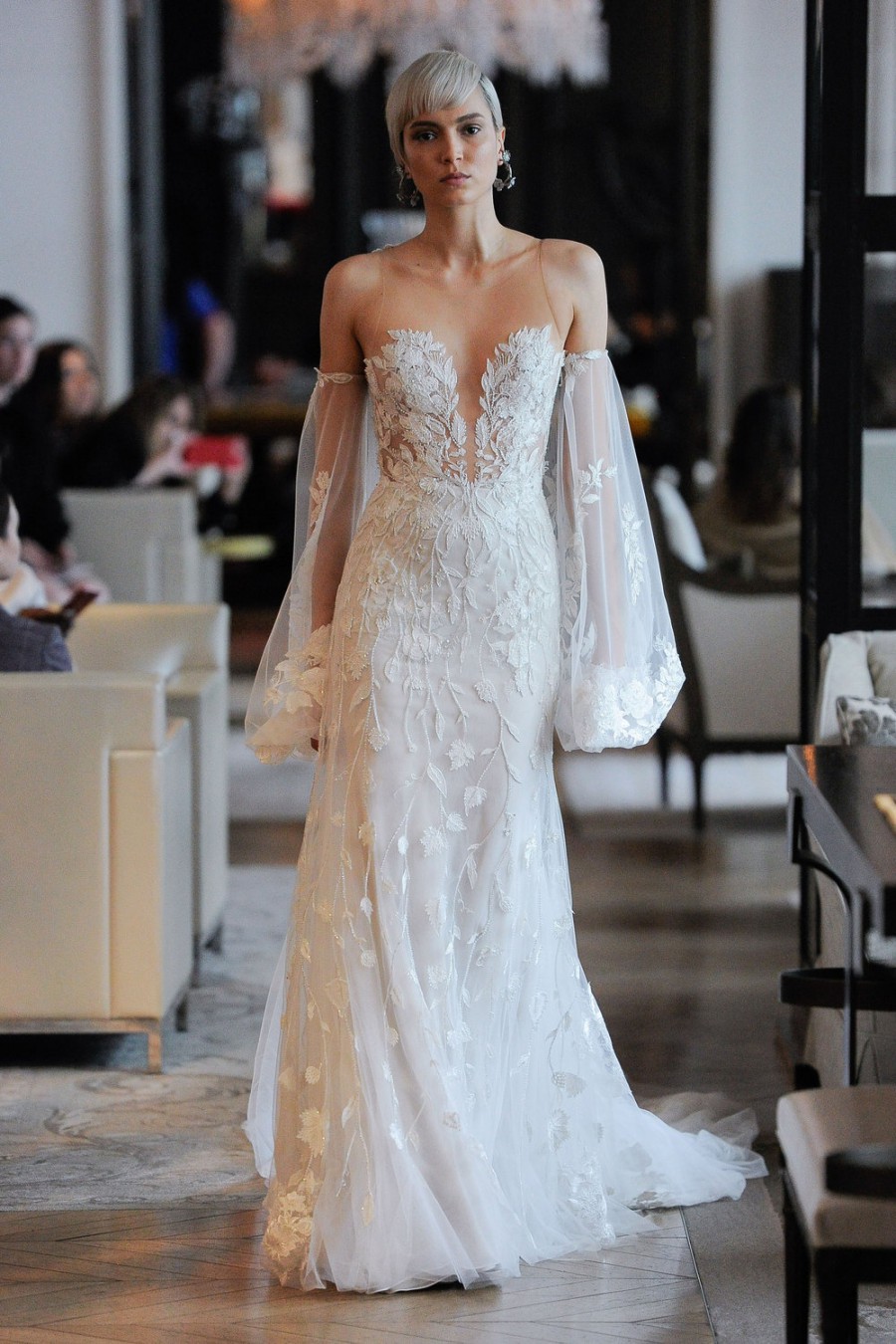 Loving the idea of detached sleeves? Then check out this style from Ines di Santo with gorgeous detached poet sleeves. A chic, fashion forward accent, that is also optional!
10.

Wrapped Satin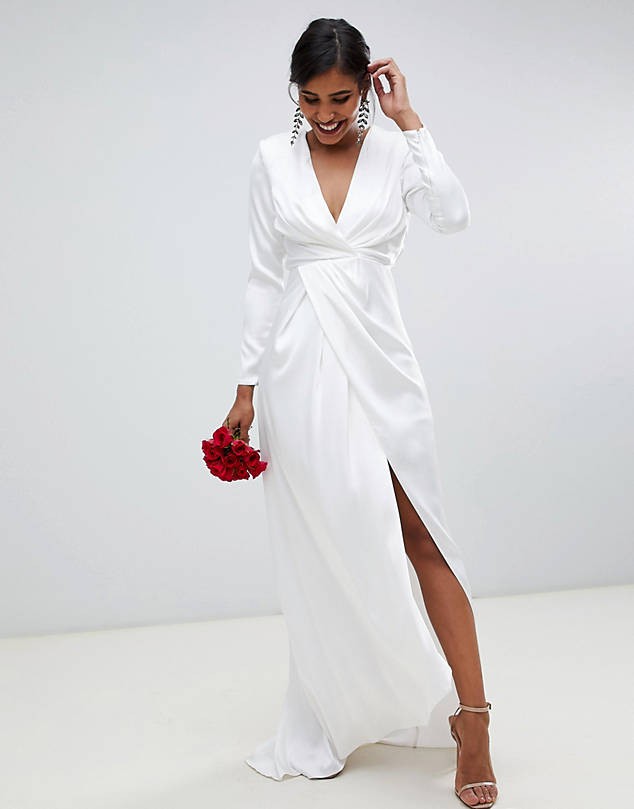 It is hard to go wrong with this wrapped satin long sleeve gown from Asos. Simple, flattering and even packable for a romantic wedding day elopement!
11.

All Over Illusion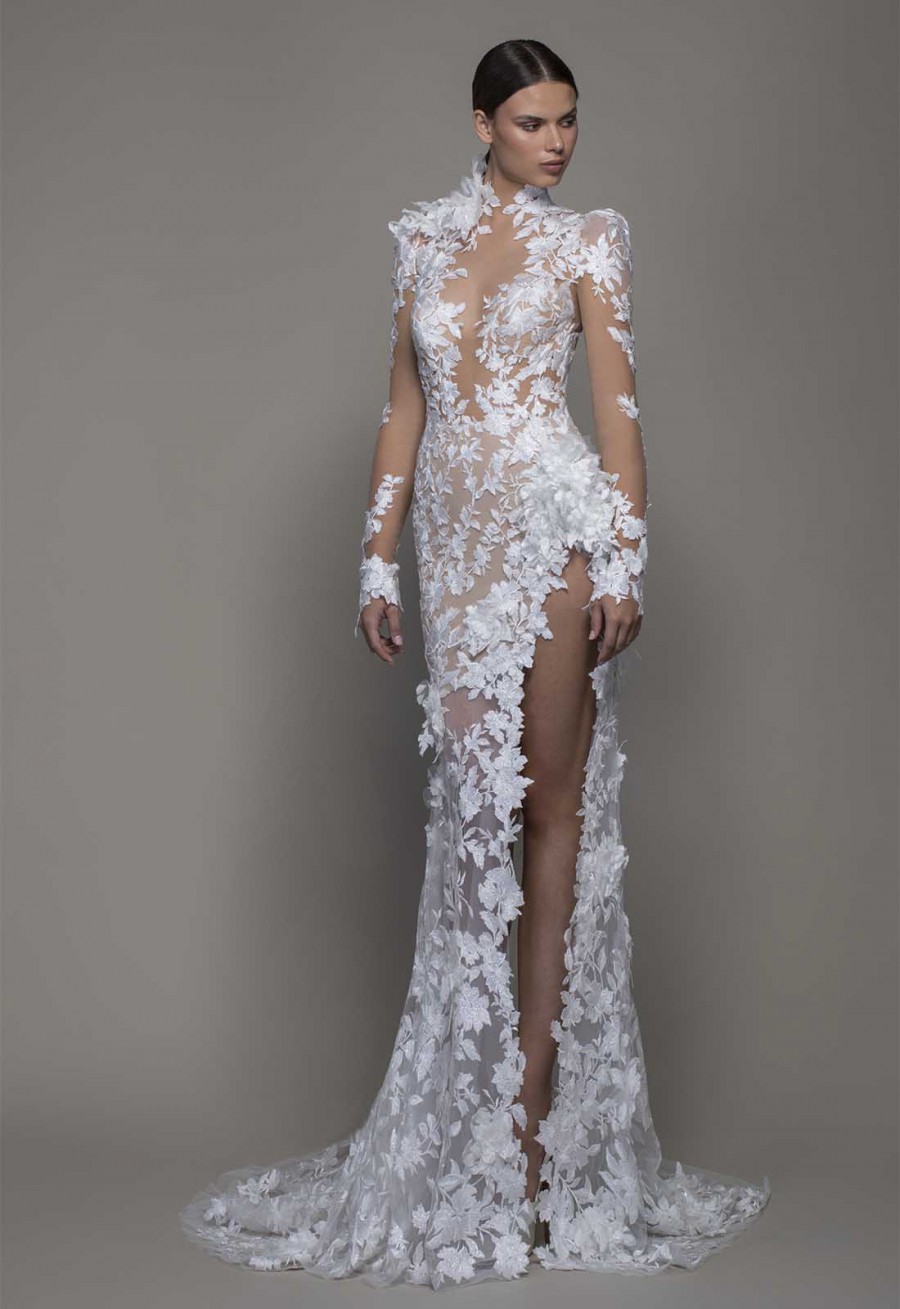 Bring on the sassy sex appeal with this next all over illusion floral gown from Pnina Tornai. The sheet long sleeves are a stunning illusion.
12.

Sophisticated Satin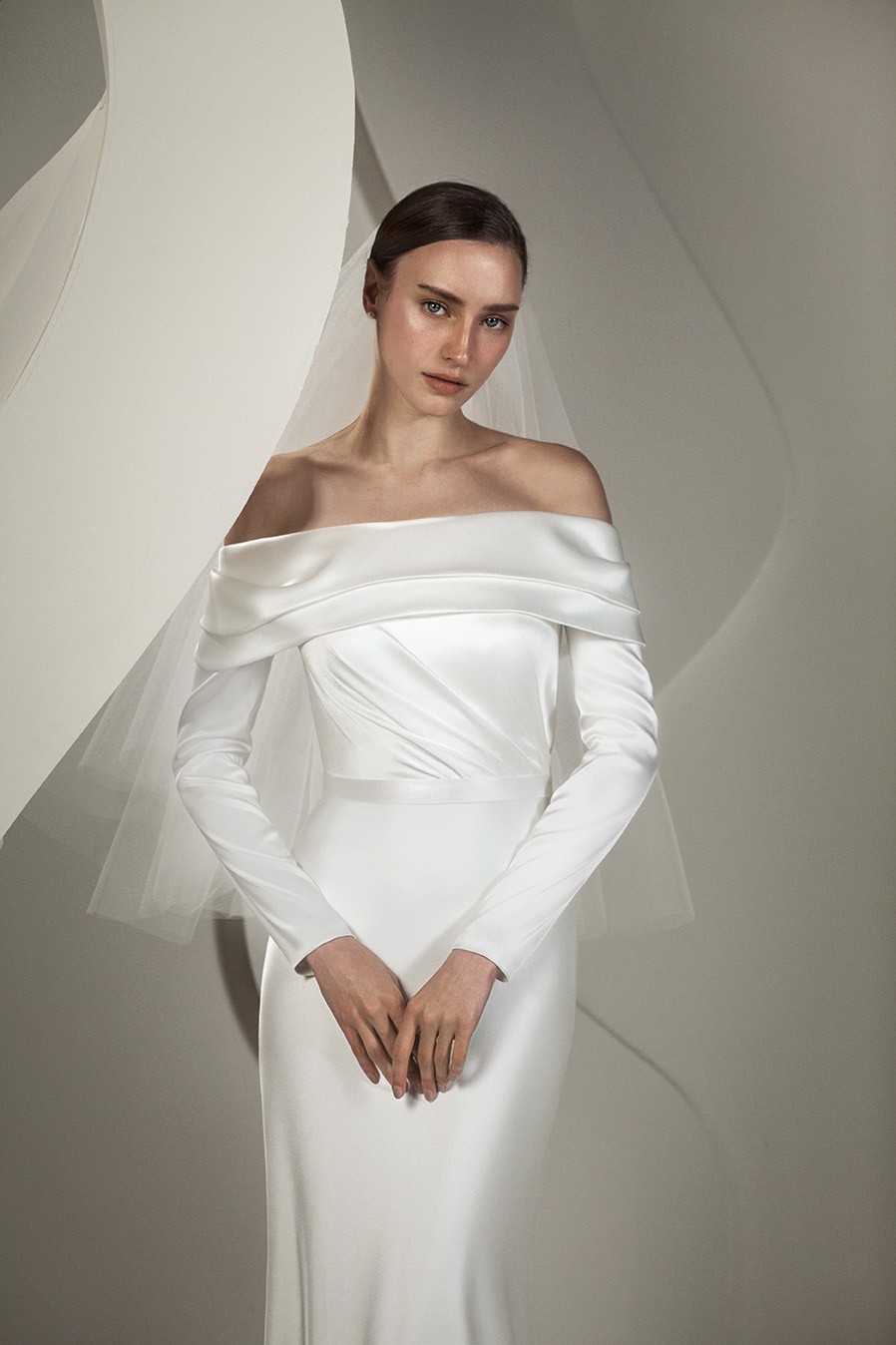 Who else is swooning over this satin, off-the-shoulder long sleeve gown? A look that has traditional influences, but with a clean modern design.
13.

Sheer Off-the-Shoulder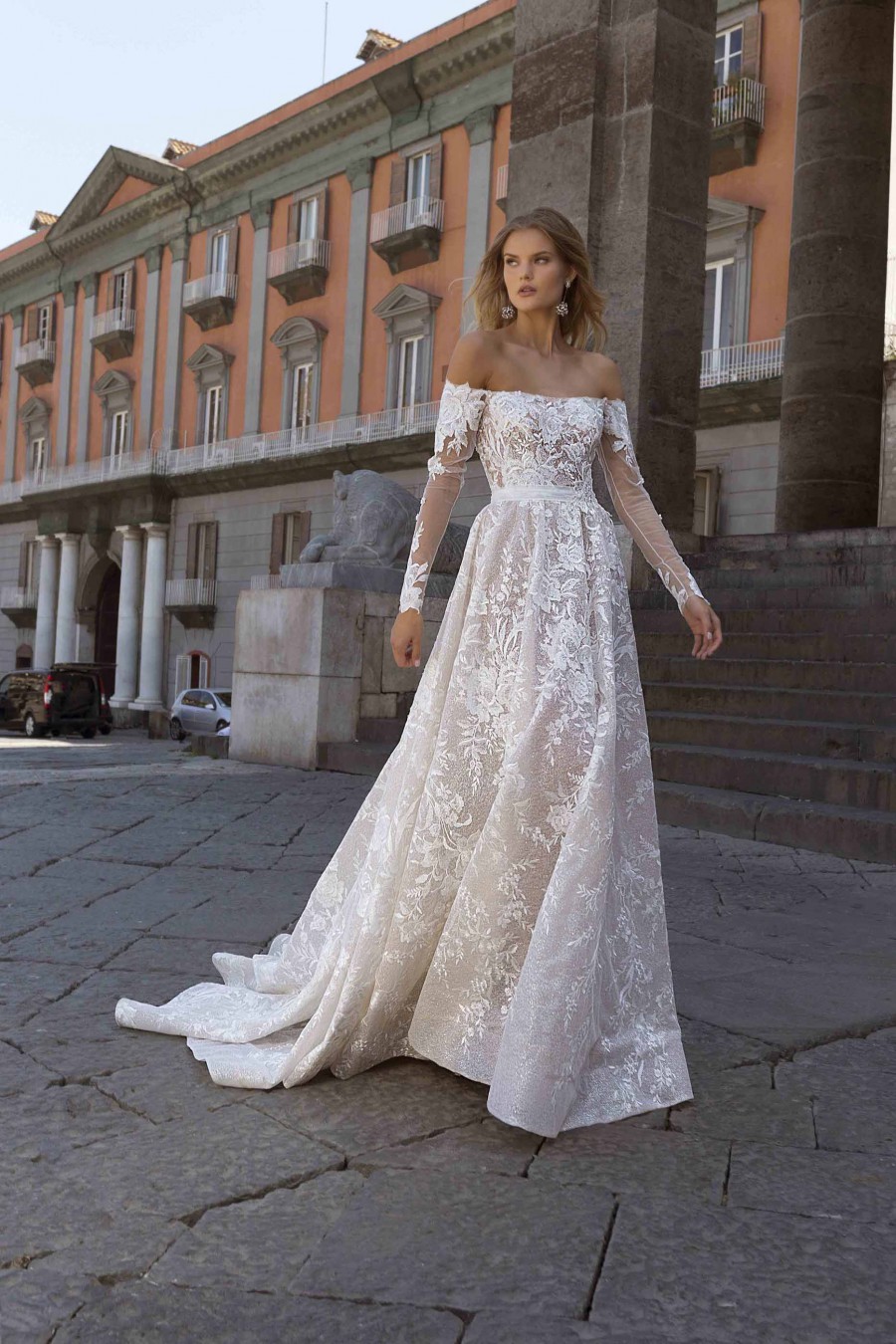 We just love the unique design of this off-the-shoulder gown from Berta. Featuring semi-sheer full length sleeves, this look is sure to turn heads.
14.

Feminine Florals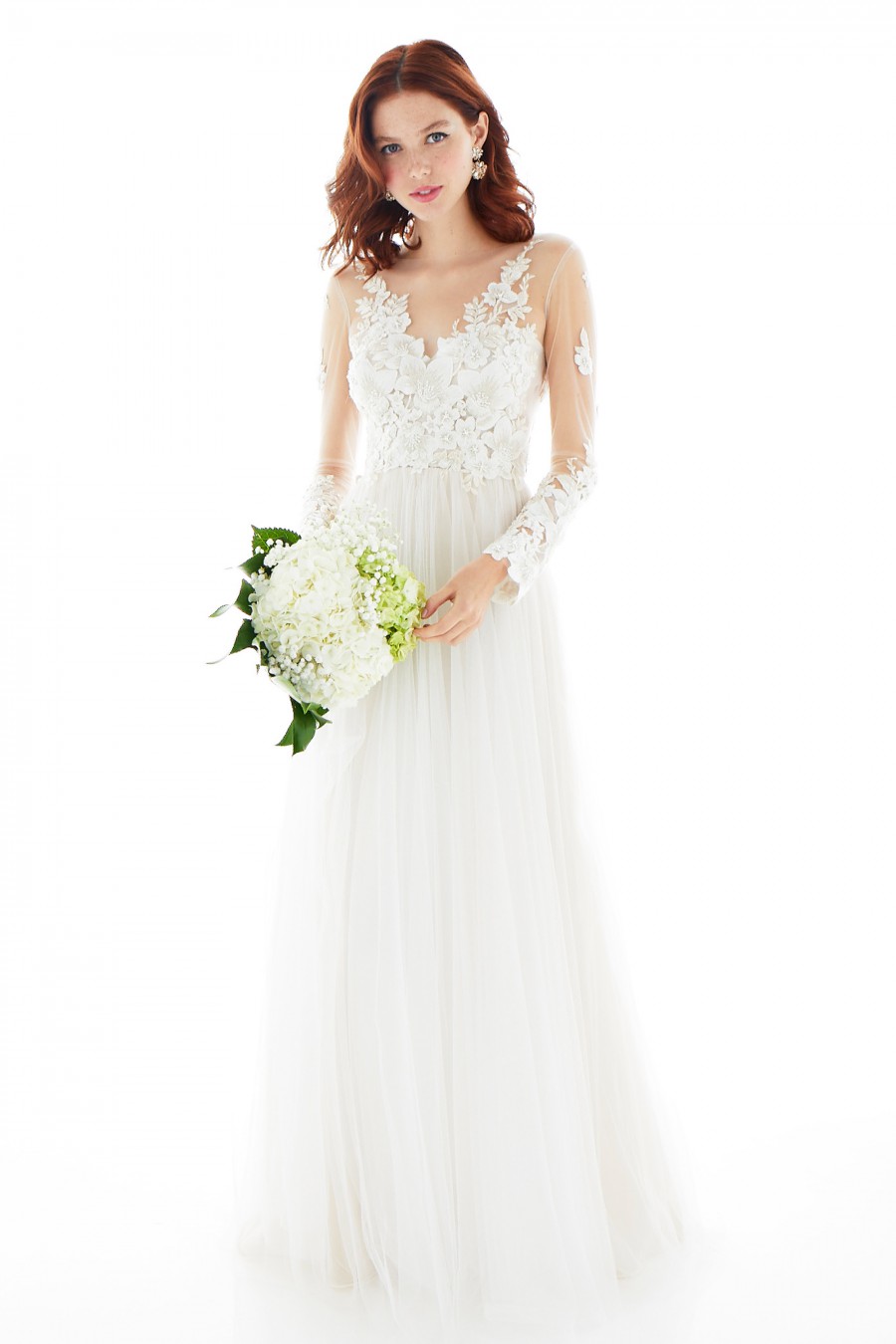 Who else is dreaming of a romantic garden wedding day after seeing this beautiful gown from Lea Ann Belter? The soft, sheer floral accented sleeves are just gorgeous.
15.

Futuristic & Modist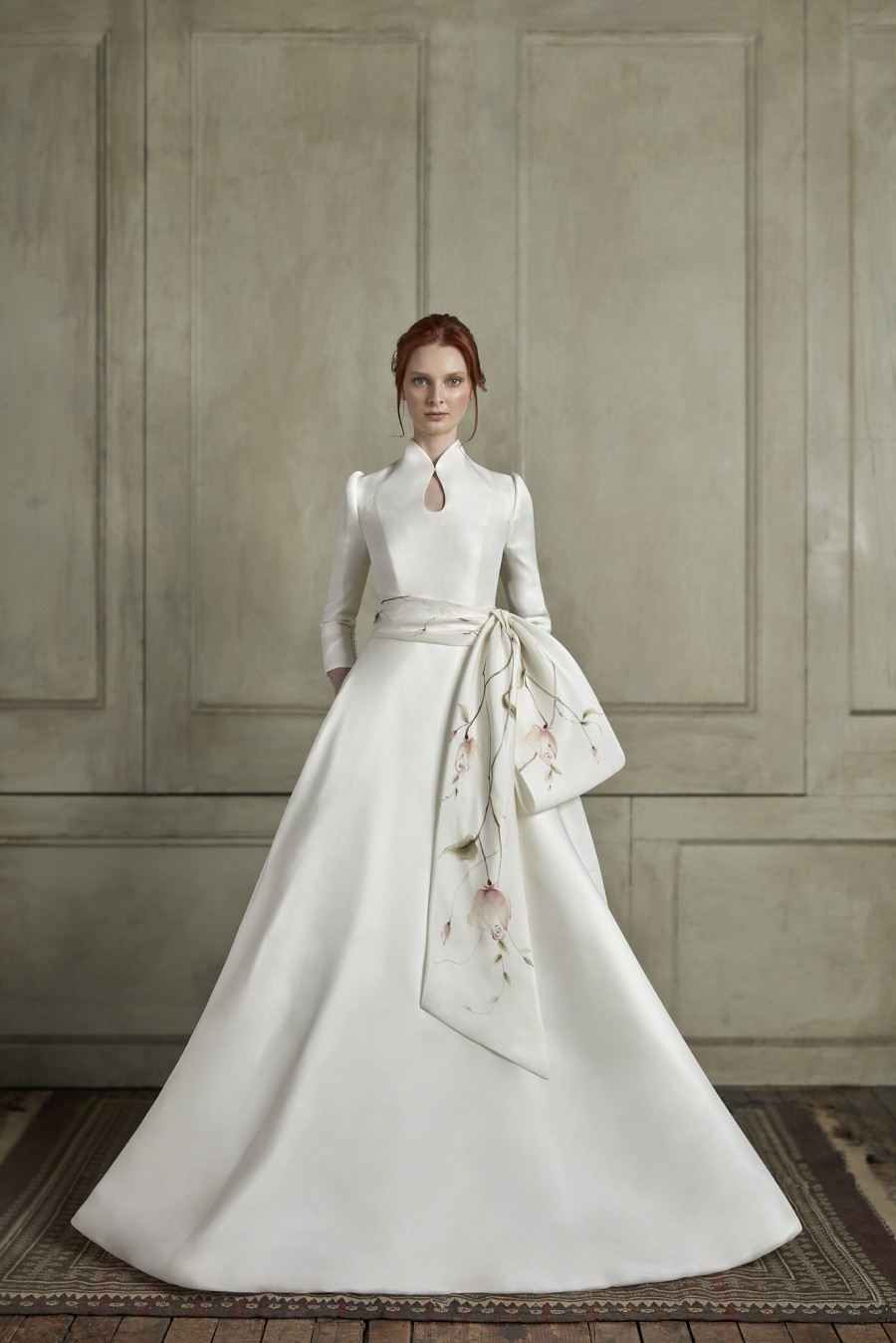 Looking for a bridal style that is nothing like you have seen before? How about this modest, futuristic design from Sareh Nouri?
16.

Blazer Bridal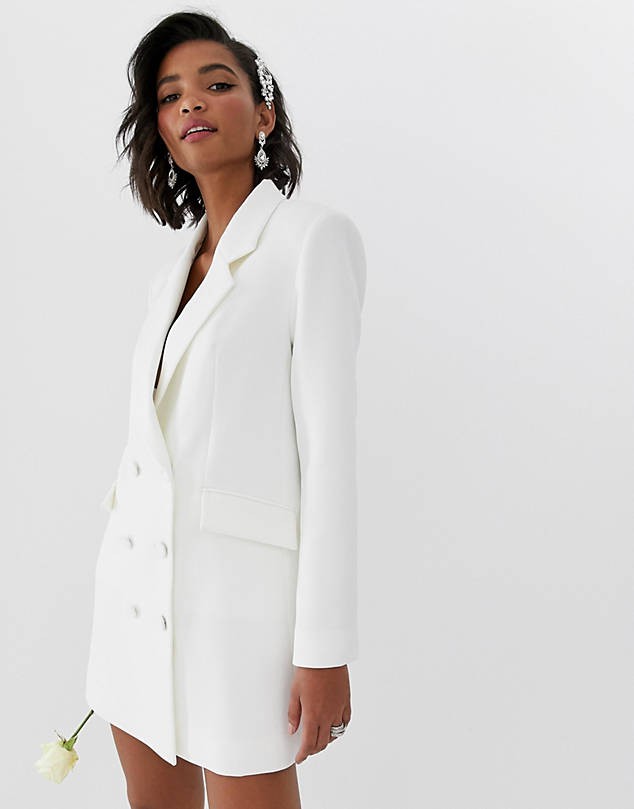 Who is fashion forward enough to pull off this short, long sleeve blazer bridal style? This would be perfect for a trendy less formal wedding day. Or for your second look style!
17.

Added Volume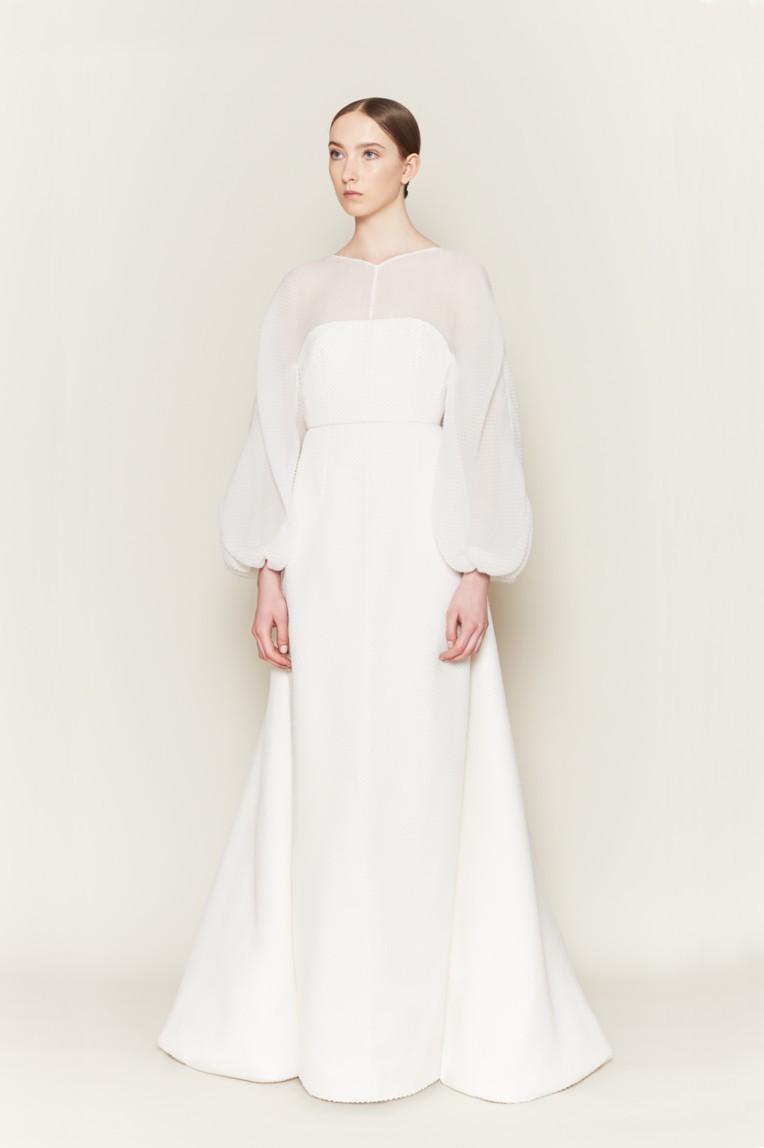 This clean, modern wedding gown from Emilia Wickstead features some added volume with the full length balloon sleeves. A chic, minimalist wedding style.
18.

Draped Bell Sleeves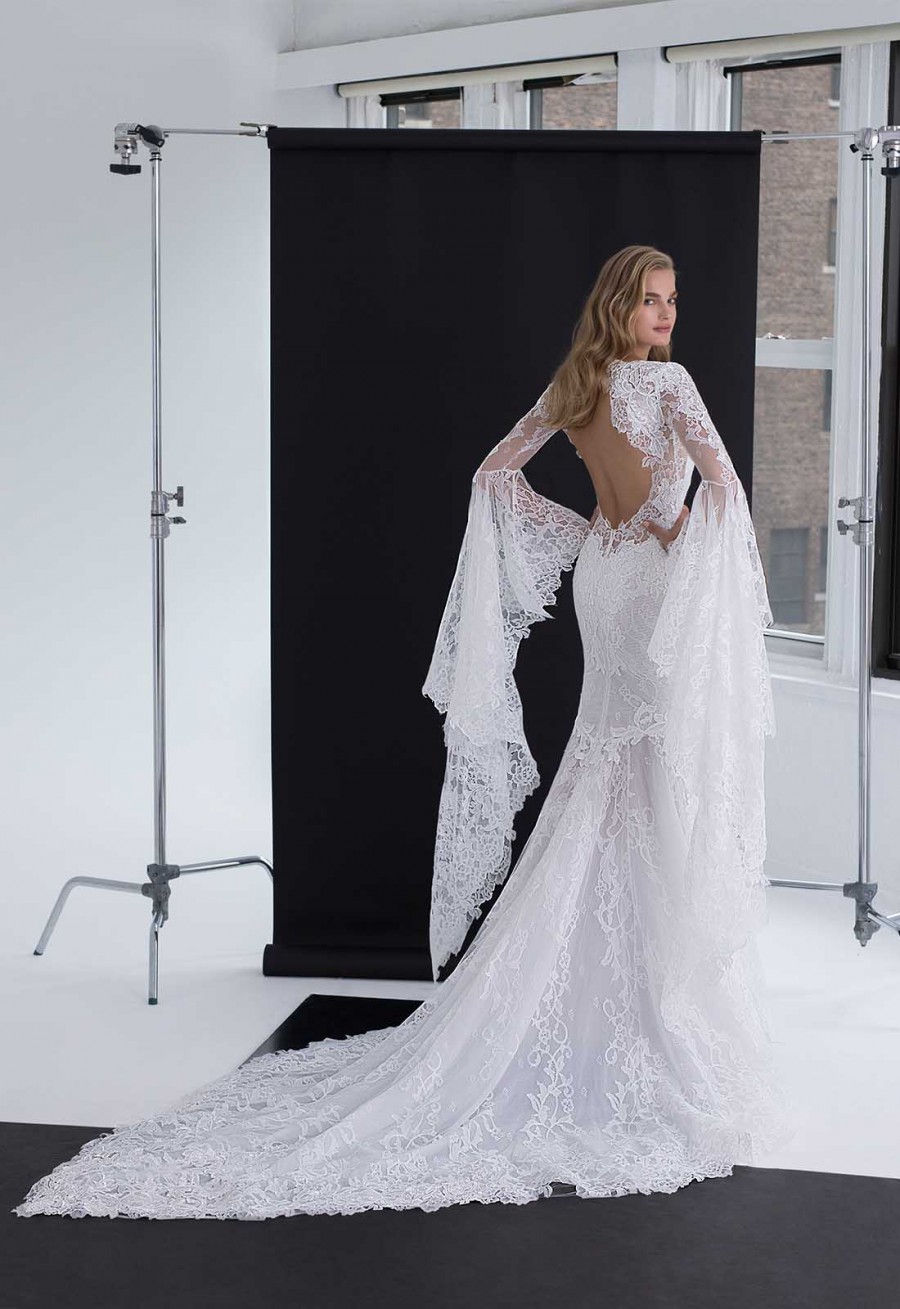 Where are our chic boho loving brides out there? You are going to love this draped bell sleeve style from Pnina Tornai.
19.

Flashy Single Sleeve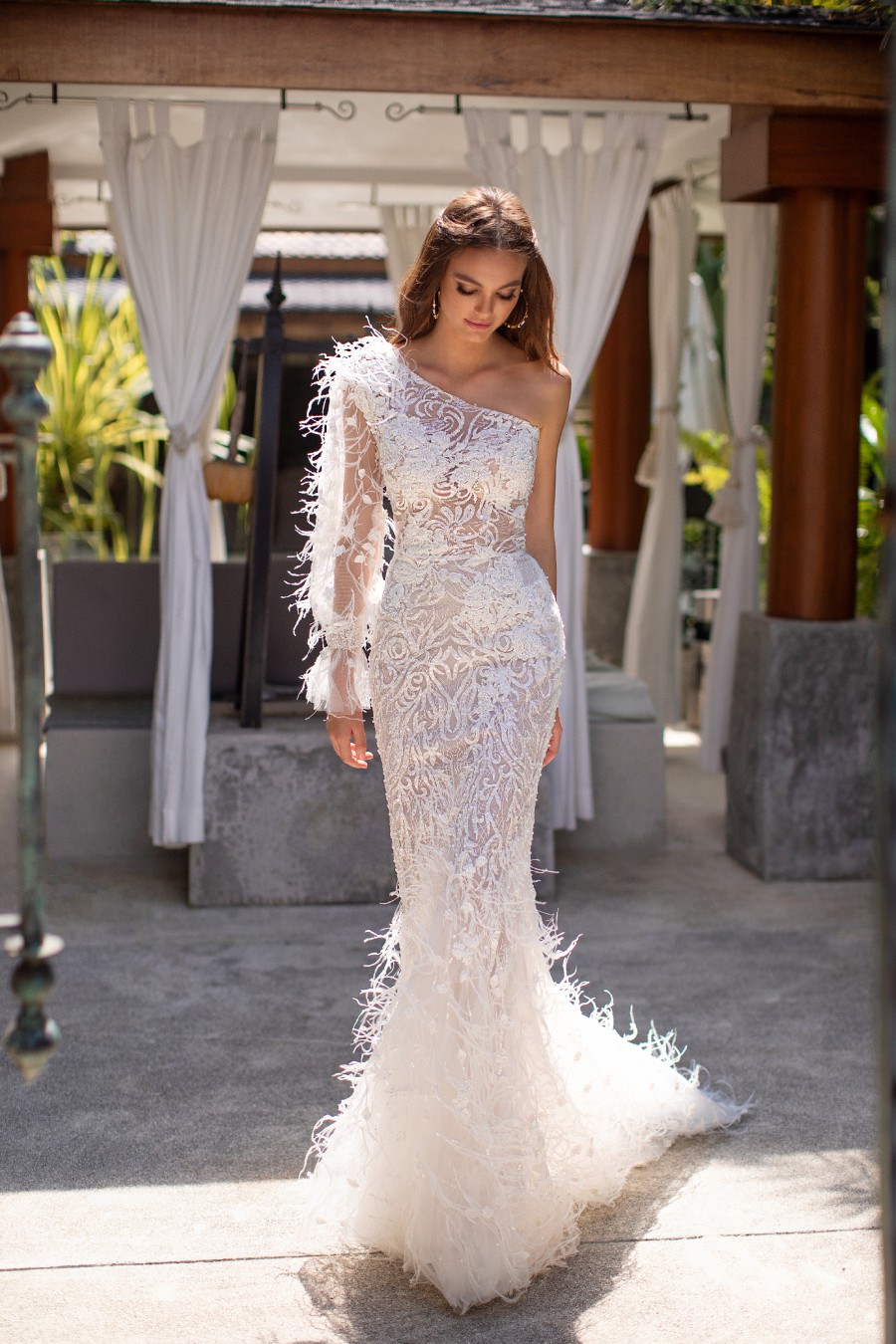 How about a flashy, single long sleeve style like this from Lorenzo Rossi? A great way to have the both of best worlds!
20.

Boho Bells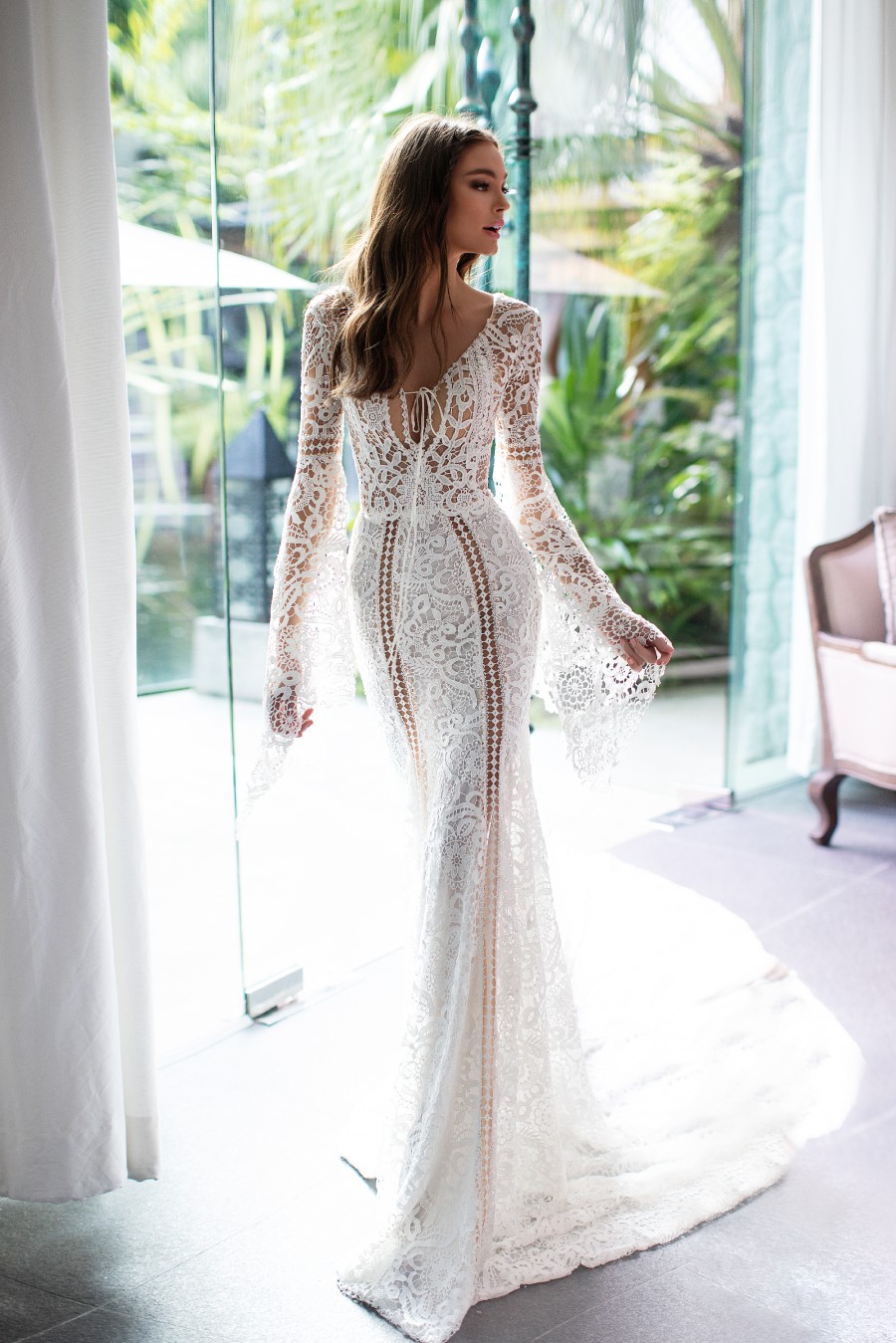 This next long sleeve wedding gown is for our chic, free spirited brides out there. A lavish lace gown with luxurious bell sleeves - this gown is a bohemian brides dream come true.
21.

Feminine Menswear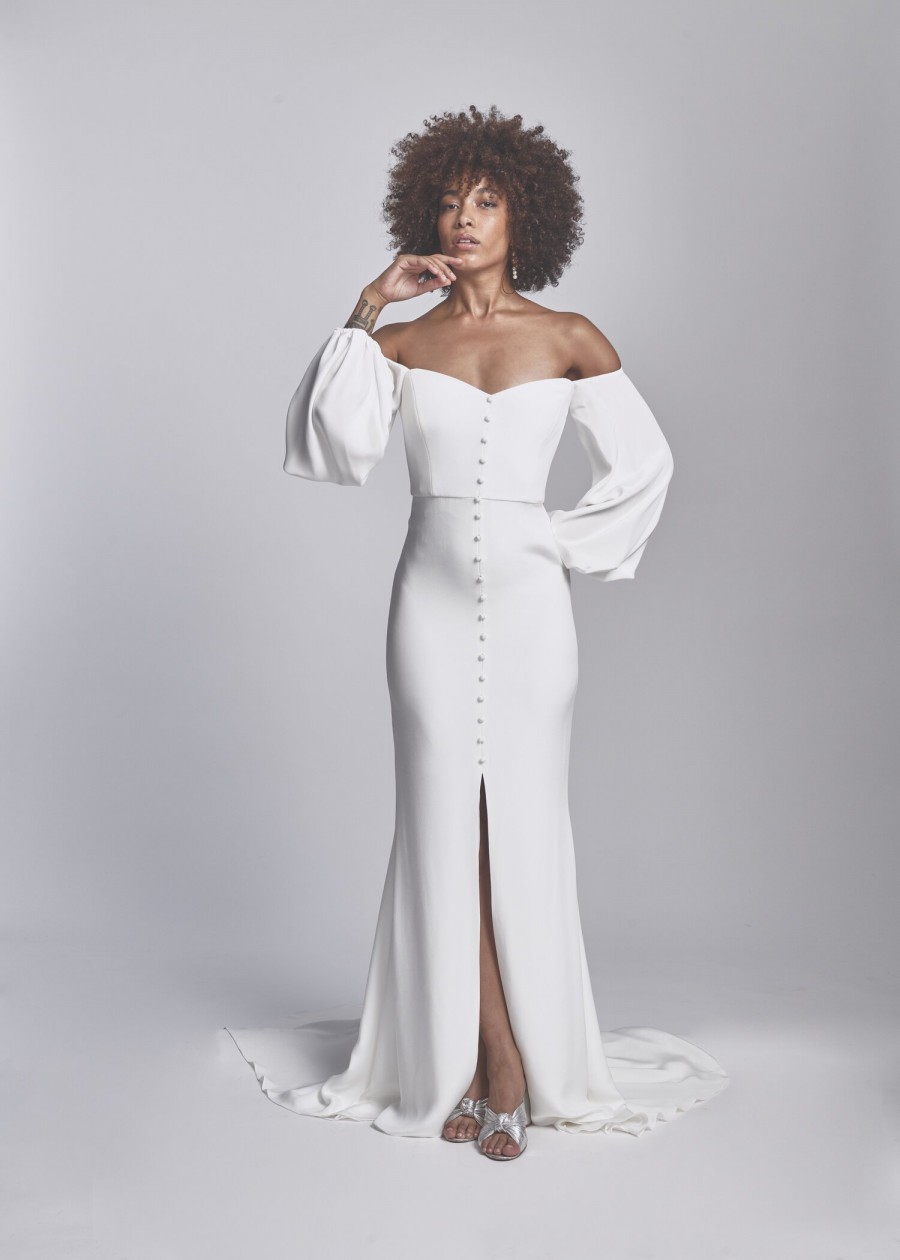 Alexandra Grecco brings us a truly gorgeous fitted long sleeve wedding gown. This fitted, off-the-shoulder style has a feminine sweetheart neckline with slightly voluminous bubble sleeves. And we just love the menswear inspired button detailing that is sure to make a big statement!
22.

Victorian Rose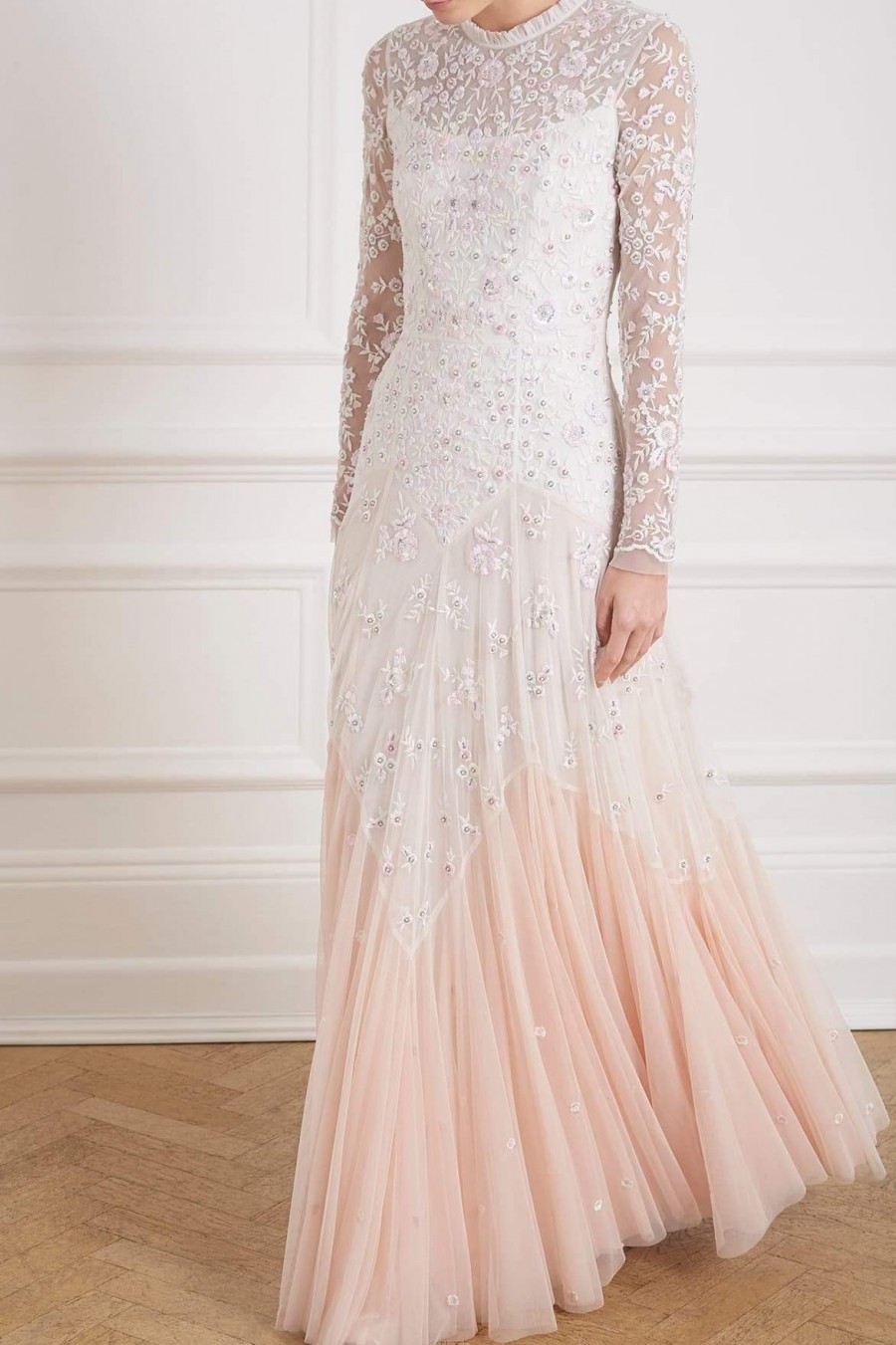 This Victorian influenced long sleeve bridal style from Needle and Thread is absolutely dreamy. Featuring all over intricate embroidery and a soft pink ombre fade at the bottom. So feminine and chic!
23. Ruffle Ballgown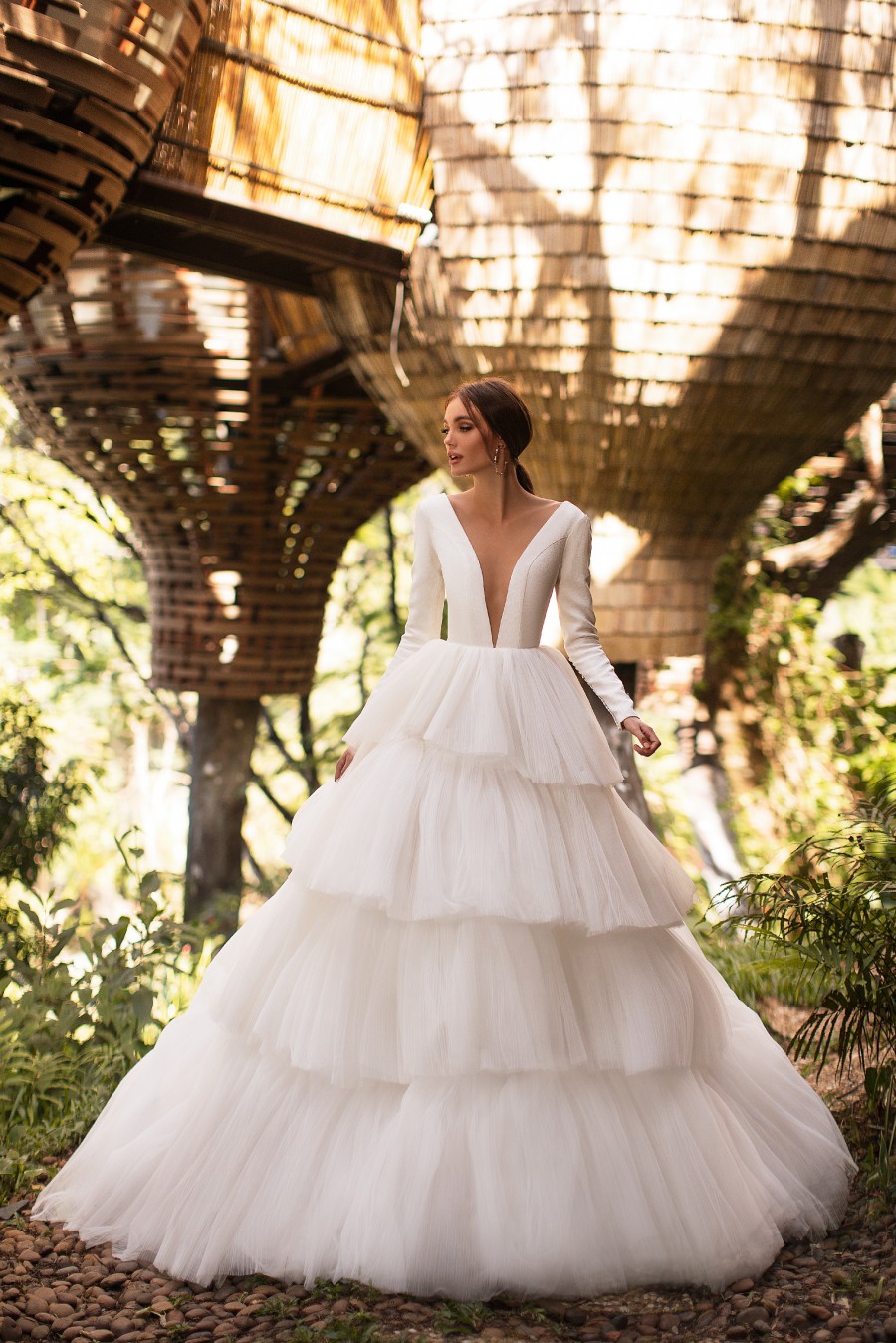 We can't get over how much we love this next long sleeve wedding gown from Lorenzo Rossi. This look is clean and modern - yet chic and dramatic.
24.

Illusion Details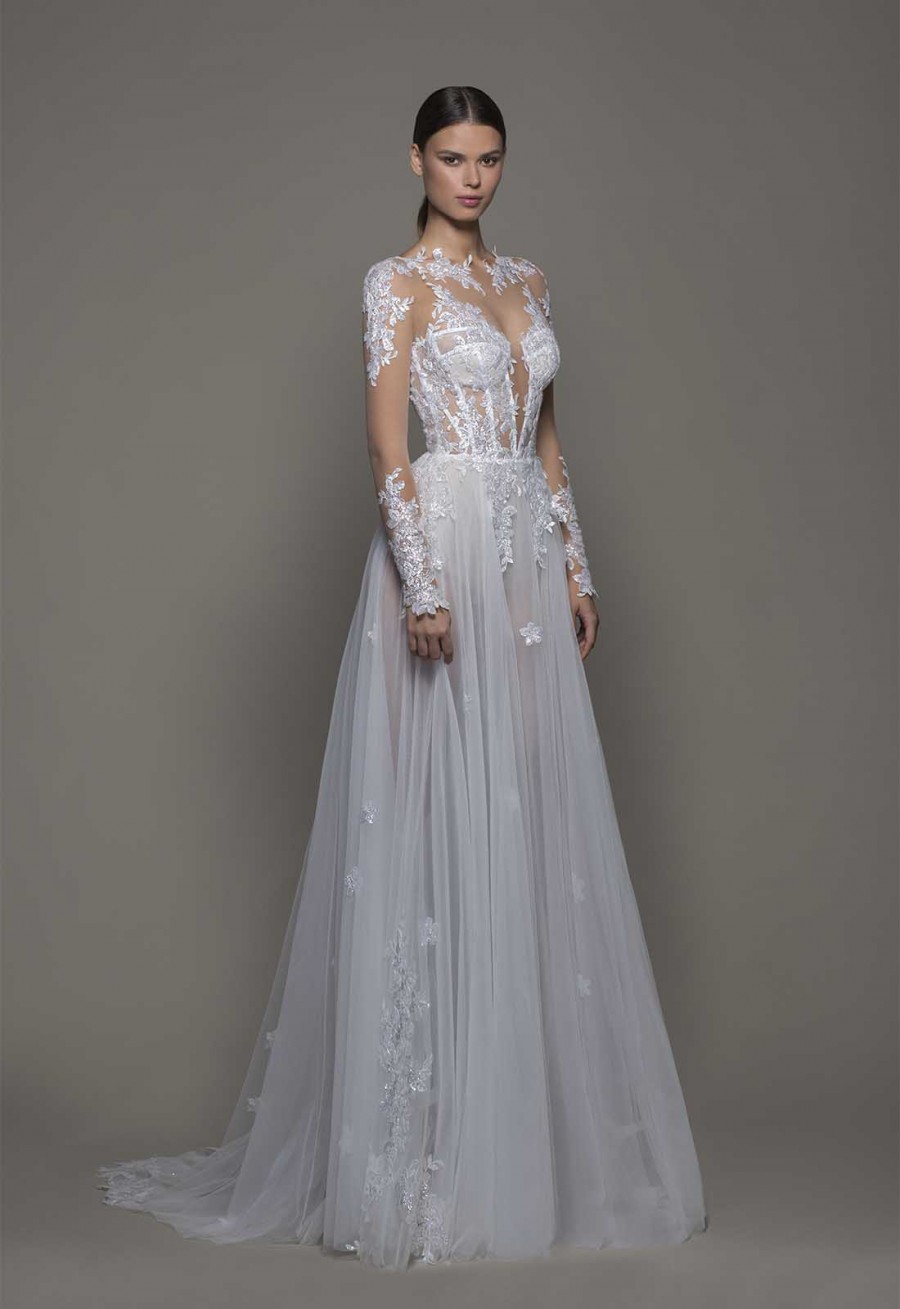 Wondering if you want to go with a full length sleeve style or not for your big day? This look from Pnina Tornai gives you the best of both worlds with illusion sleeves.
25.

High Neck Lace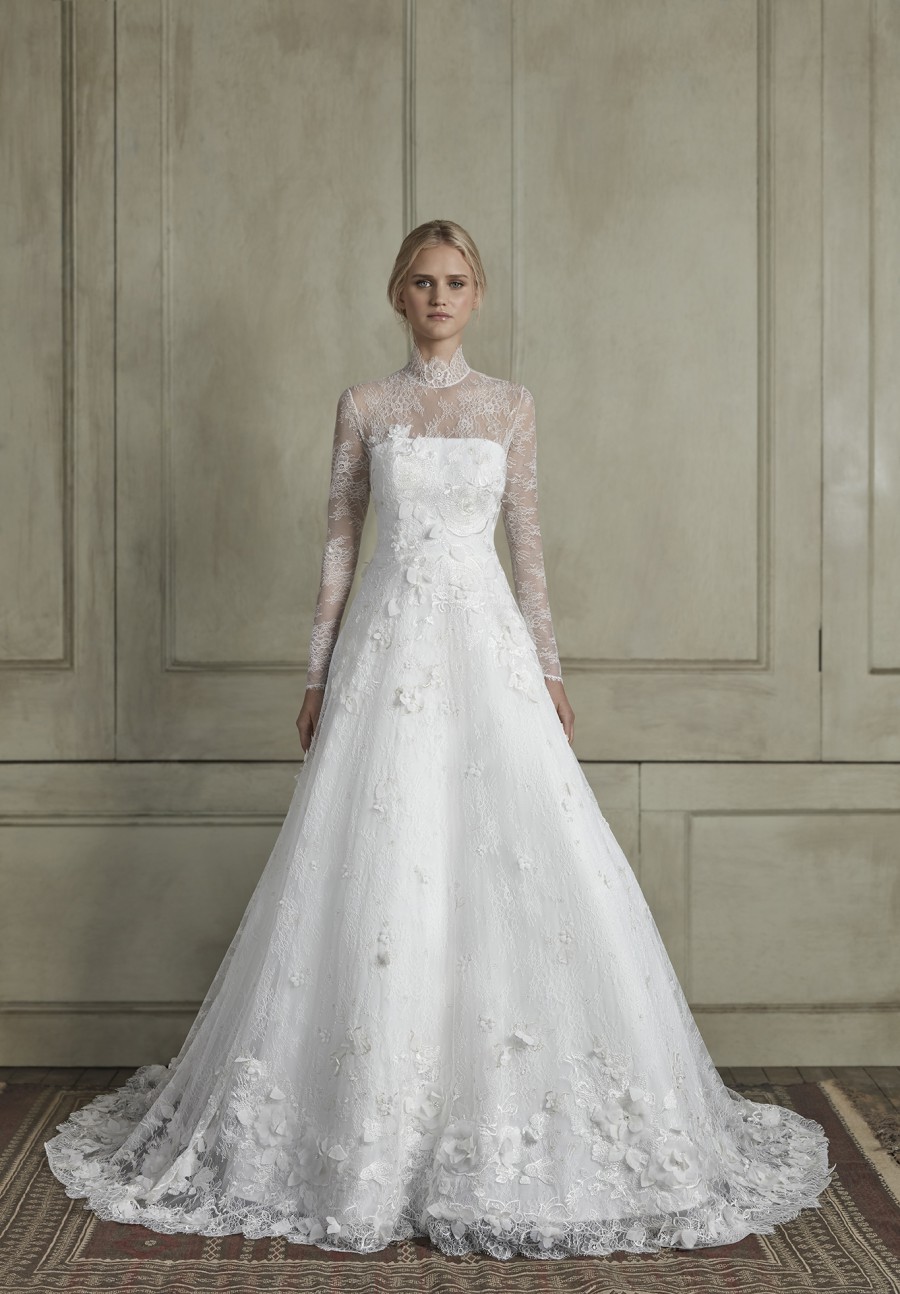 The collared, high neck lace design of this gown has a very Victorian era feel to it. But semi-sheer detailing and floral appliqué give this gown a beautiful contemporary twist.
26.

Playful Polka Dots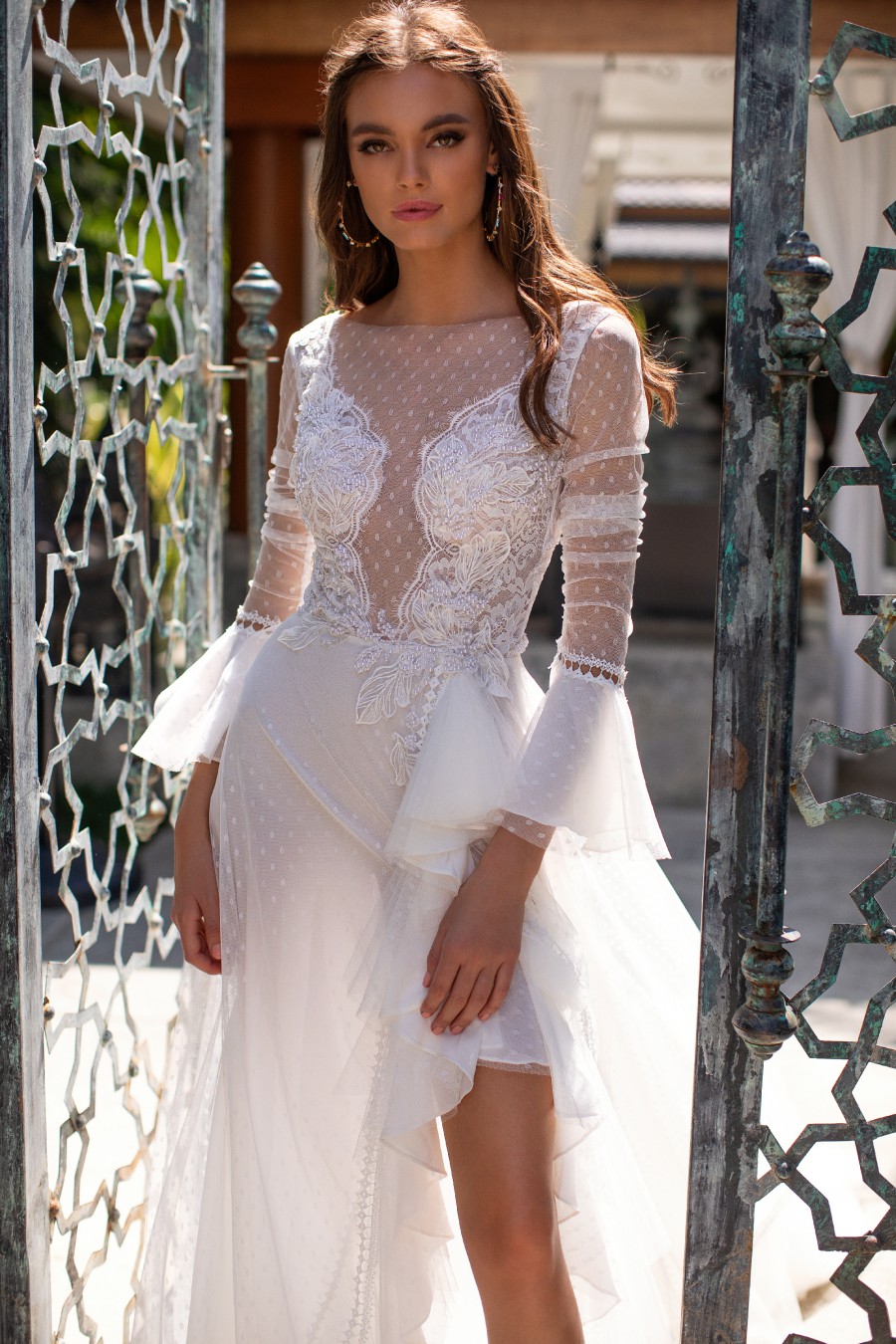 We love the playful nature of this next sleeved wedding style from Lorenzo Rossi. These semi-sheer polka dot sleeves with mini bell accents are absolutely adorable and chic. How can you not be in love with this gown?
27.

Ultra Luxe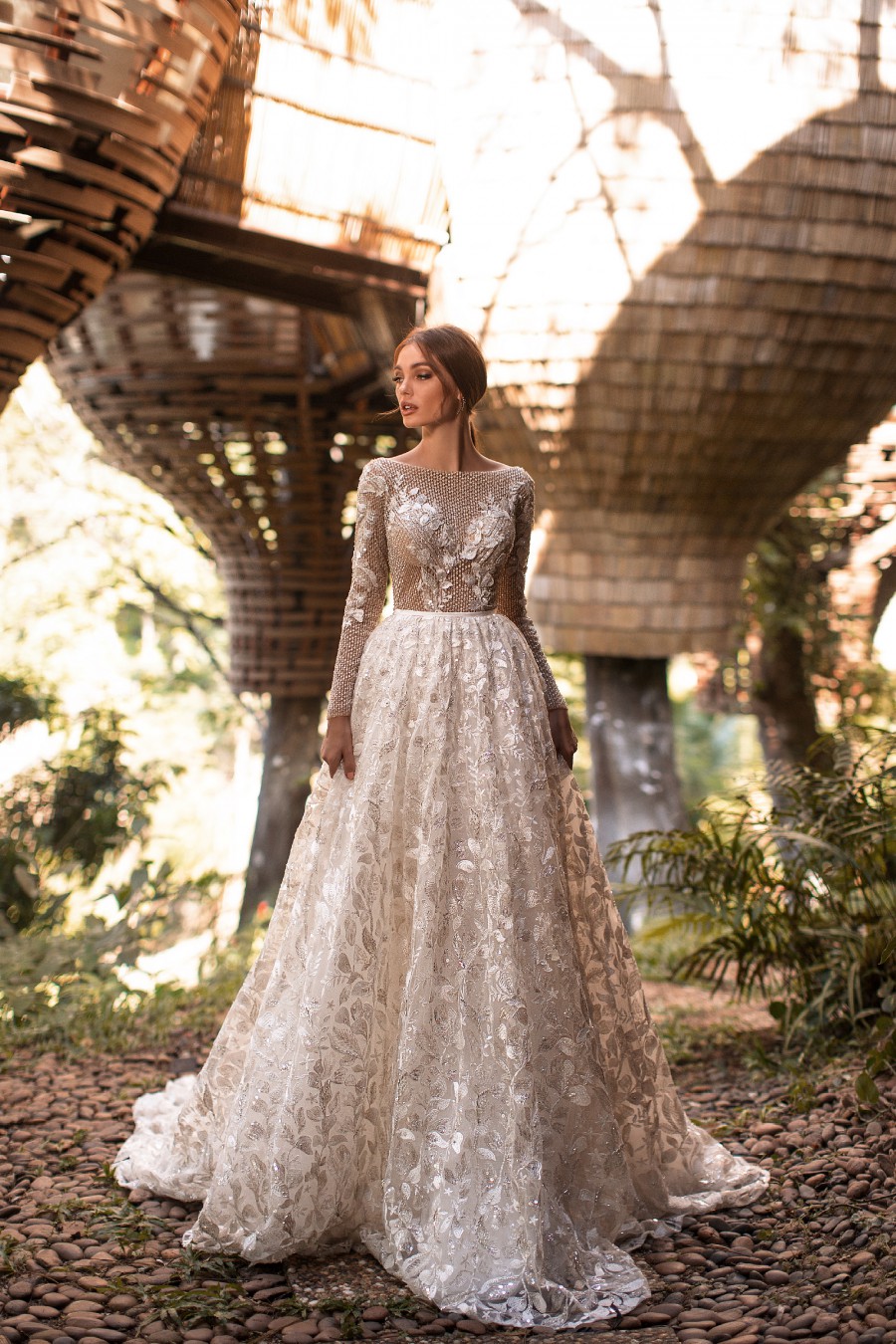 Things are getting ultra luxe with this next long sleeve wedding style. This look is definitely not what your mother wore on her big day. This dramatic, contemporary wedding style is for our girly brides out there who are ready to make a big statement on their big day.
28. Luxe Sleeves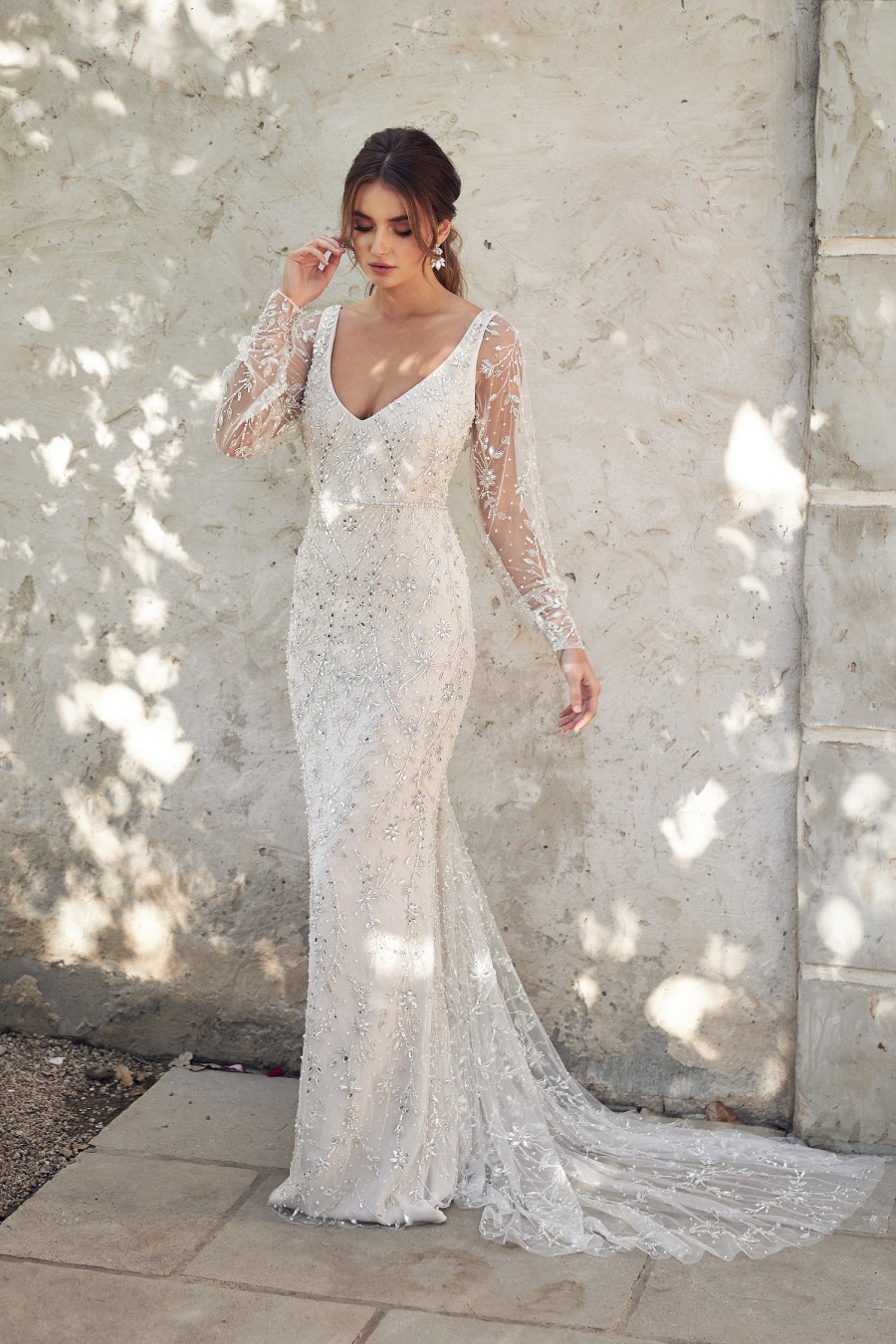 Anna Campbell brings us our next long sleeve bridal style with this luxe, gem accented gown. Sheer sleeves feature all over gemstone accenting for a truly lavish style.
29. Sultry Short Jumpsuit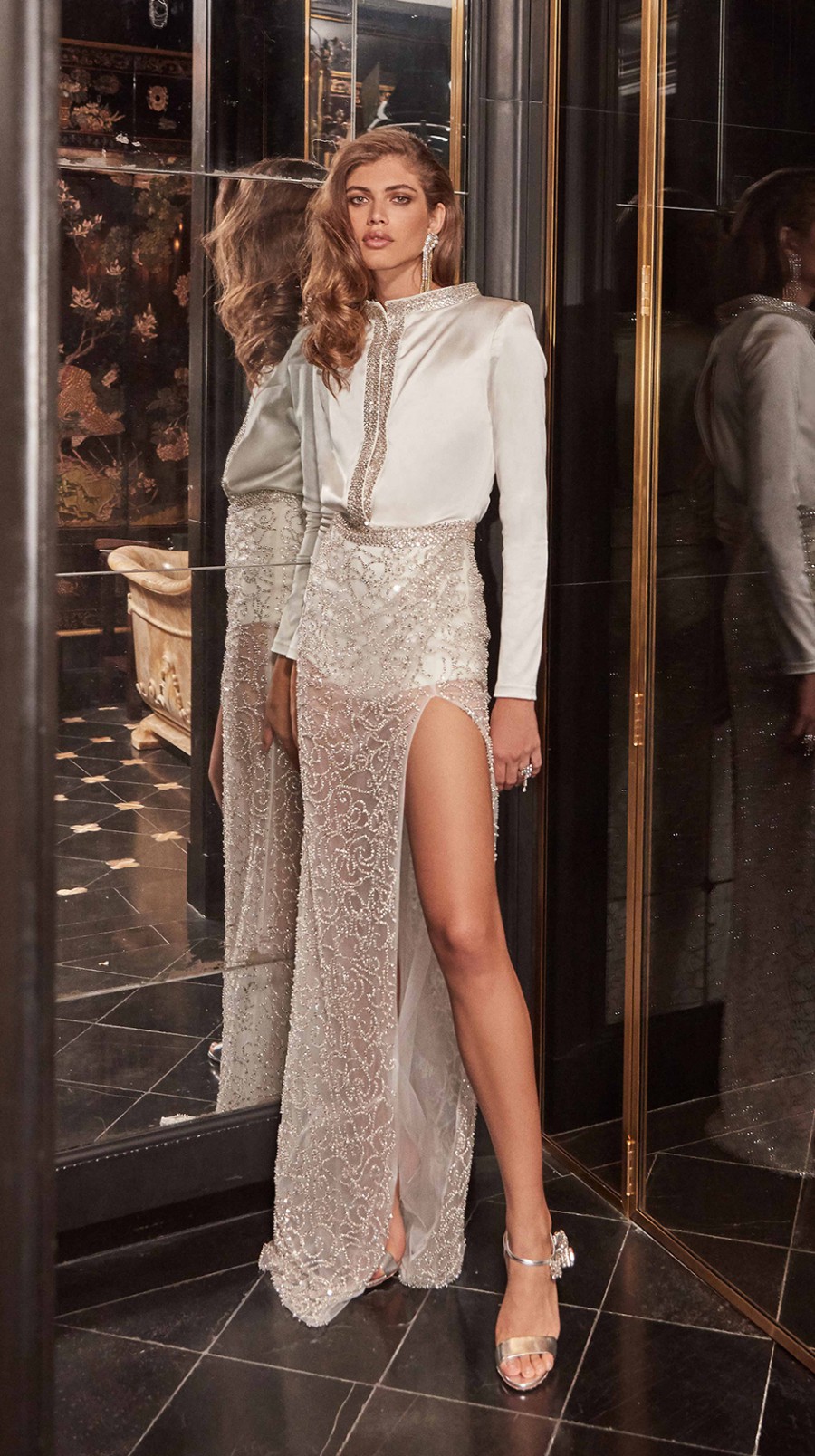 Galia Lahav brings us this next full length sleeve wedding style - and this look packs quite a punch. A short jumpsuit style with semi-sheer crystal encrusted skirt create a one of a kind style that is hard to miss.
30.

High Waisted Polka Dots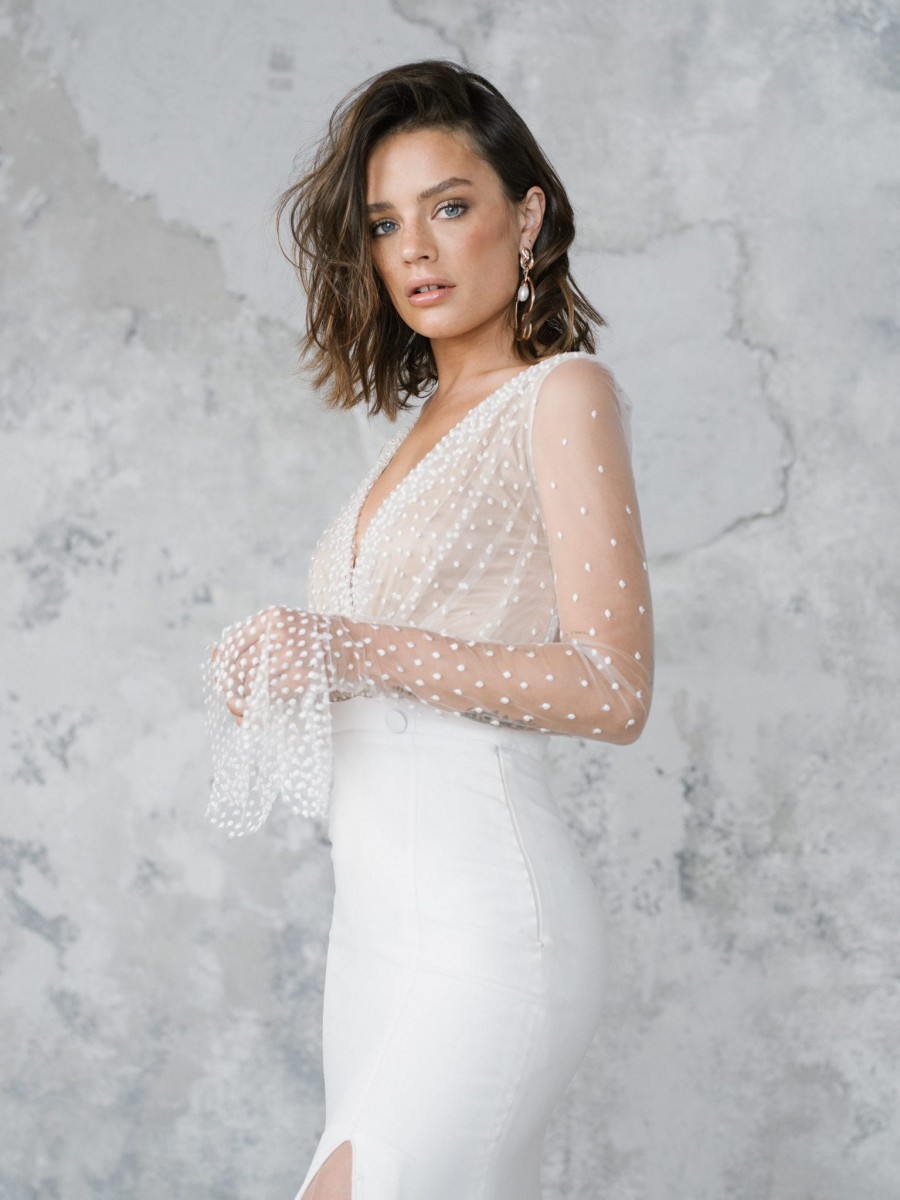 We are in love with this chic high waisted gown from Rime Arodaky. A clean, form fitting modern skirt pairs beautifully with a more feminine full length sleeve bodice in a gorgeous sheer polka dot design.
31.

Buttoned Up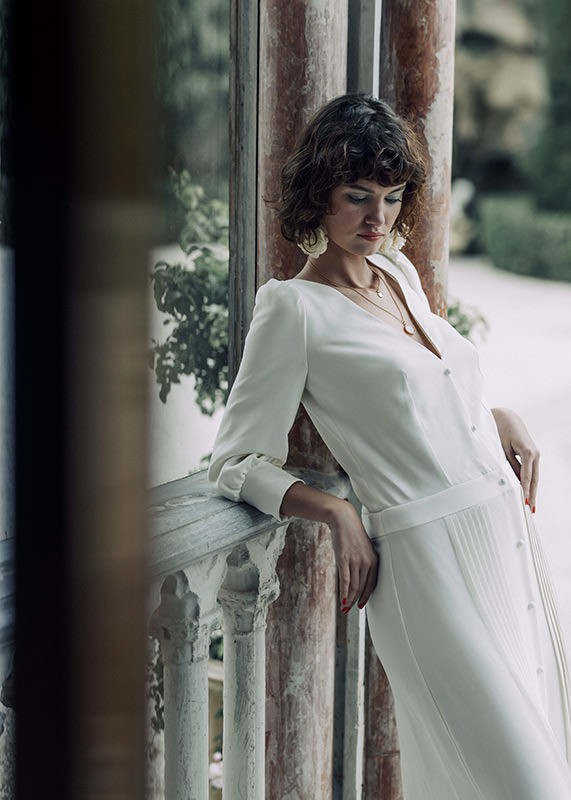 This buttoned up shirtdress inspired wedding gown is simple, yet so chic. A sophisticated long sleeve wedding style that has both antique and modern inspiration.
32.

Mixed Media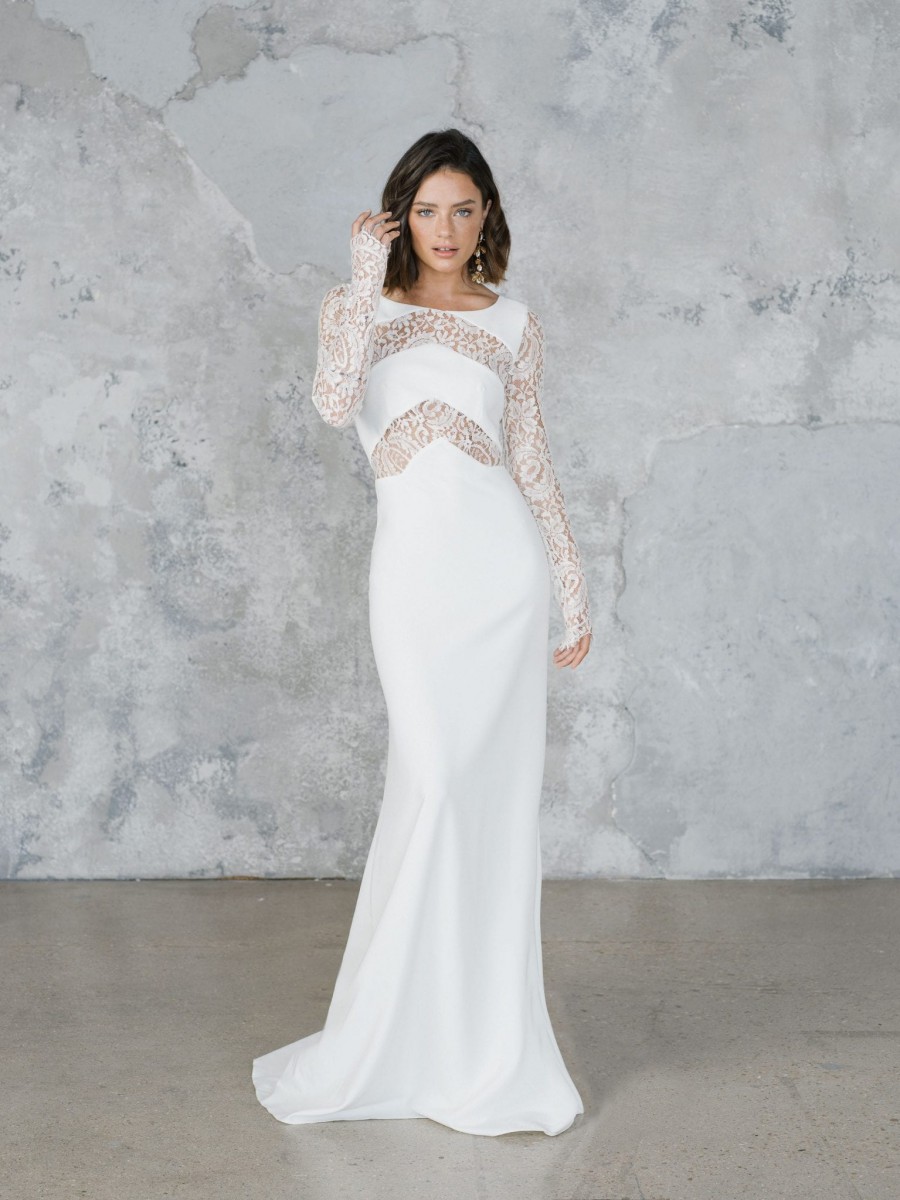 This graphic crepe and lace dress has the most stunning mixture of textures. The perfect mix of feminine and modern.
33.

High Neck Fishtail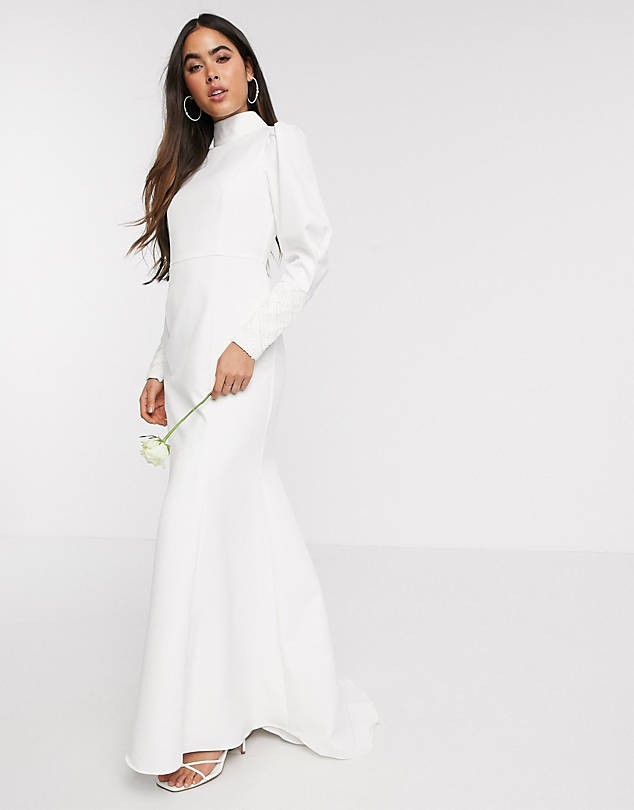 A look that feels both modest and couture all at once. This high neck, fishtail cut features stunning puff sleeves with embellished cuff accenting.
34.

Tea Length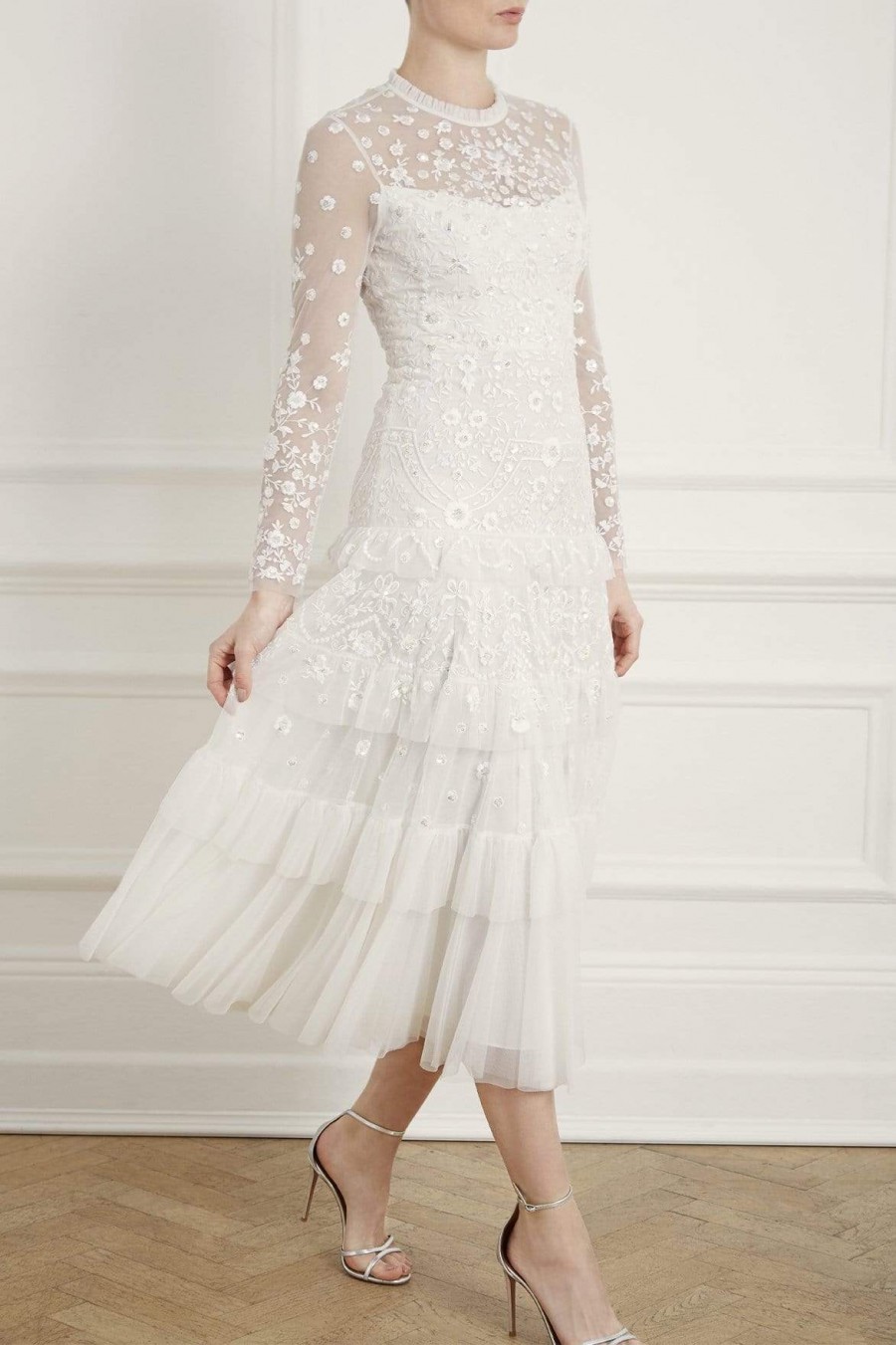 Tea length bridal styles are so on trend right now. And we love the Victoria influence of this gorgeous long sleeve style from Needle and Thread. A stunning mix of antique traditional and contemporary influences.

By Kathryn Schrotenboer