Long sleeve wedding gowns have been a classic look for centuries, but now modern brides are craving these looks more than ever before.
It is safe to say that long sleeve wedding gowns are having a moment. And they are hitting the wedding scene in new and modern ways that we could have never expected. Long sleeve wedding gowns are not just modest styles to give brides more coverage or for cold winter wedding days anymore. Modern bridal designers are embracing full length sleeves to add contemporary drama to gowns and create unique modern silhouettes. So whether you are looking for the timeless elegance that a long sleeve wedding gown will give you, or you are looking to make a modern statement with your wedding day style - this list has it all!
01.

Sarah Seven: Effortless Off-the-Shoulder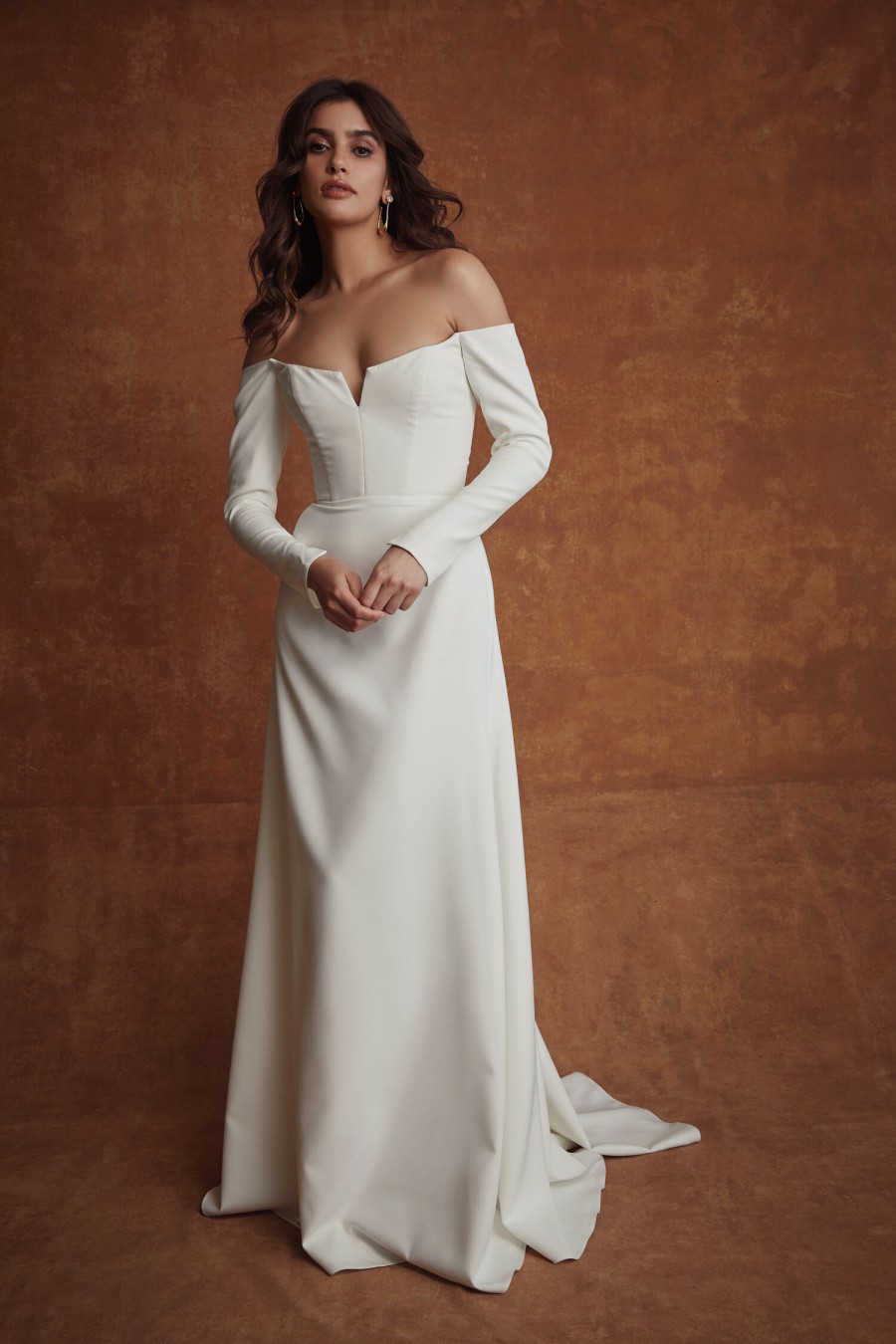 Sarah Seven creates a chic and effortless wedding gown with this long sleeve, off-the-shoulder bridal look. Featuring a structured bodice with a V-cutout neckline and gorgeous slim off-the-shoulder full length sleeves.
02.

Viktor Rolf: Tiered Floral Lace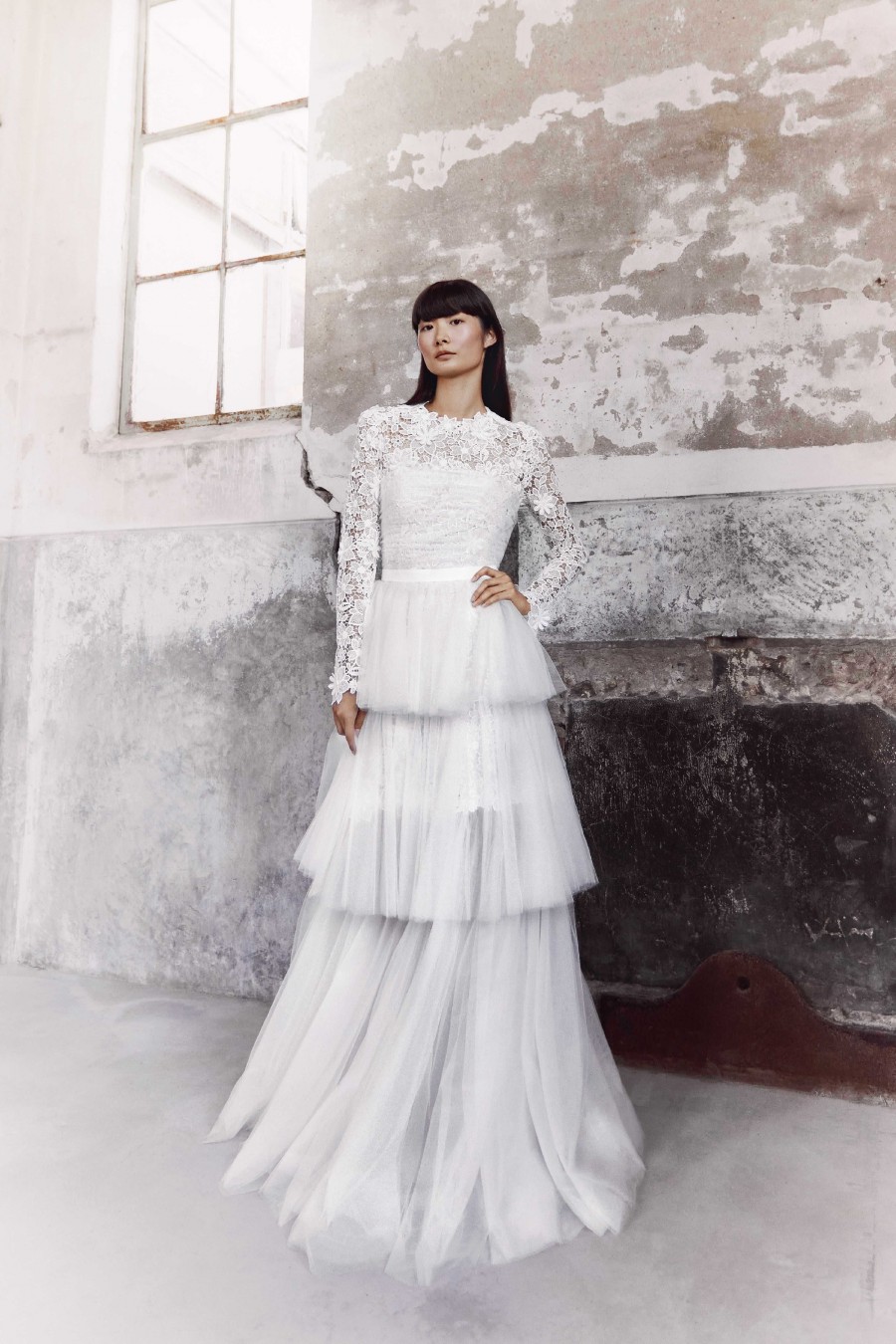 Our next long sleeve wedding gown is a blooming lace tiered style from Viktor Rolf. This long sleeve gown is crafted out of graphic Guipure lace with a gorgeous illusion neckline with a strapless draped tulle overlay. The delicate waistband gives way to a lavishly tiered airy tulle skirt, that adds so much contemporary drama to the style.
03.

Galia Lahav: Sheer Fairytale Sleeves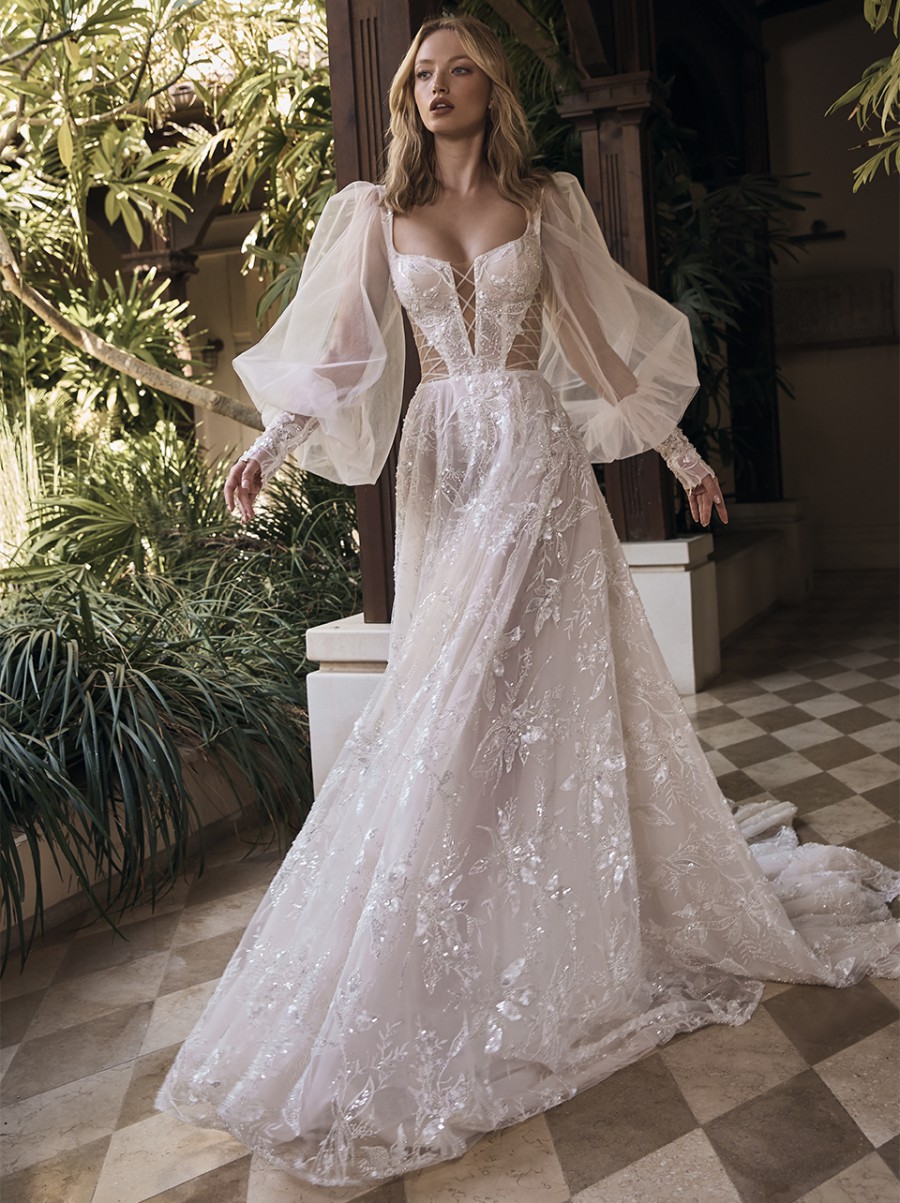 Long sleeve wedding dresses are not just reserved for colder months. This romantic, fairytale worthy bridal gown from Galia Lahav would be perfect for a warmer weather wedding day. Featuring the most captivating sheer balloon sleeves and a corseted bodice with bold cut-out accents. Finished with sparkling details, this gown is fit for a princess.
04.

Sarah Seven: Elegant Pearls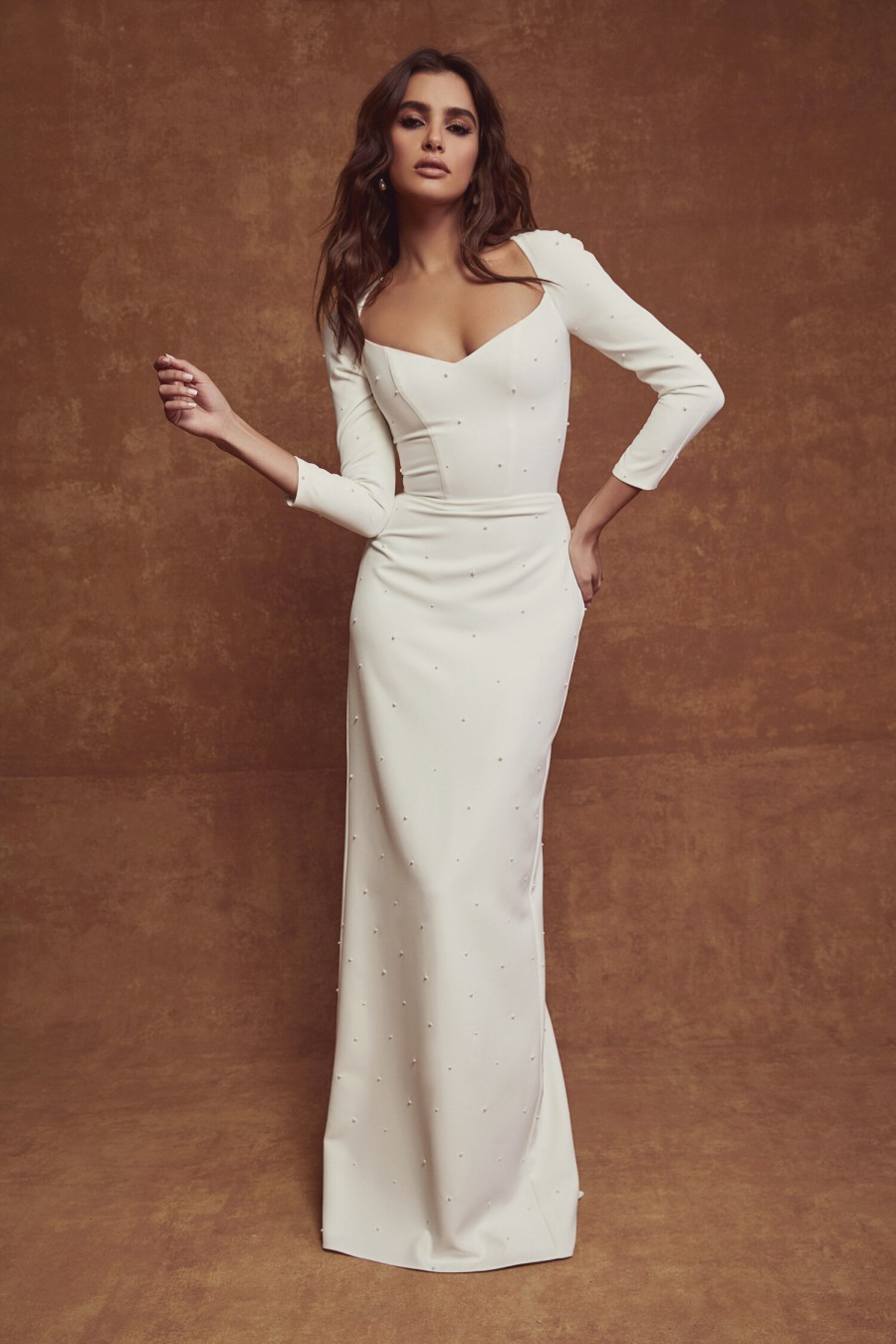 A fitted crepe gown dotted with delicate pearl accents, that is minimal and unique. This next long sleeve wedding gown is all about clean, sultry elegance. And the sleeves are the perfect 3/4 length.
05.

Essence of Australia: Modern Glam Boho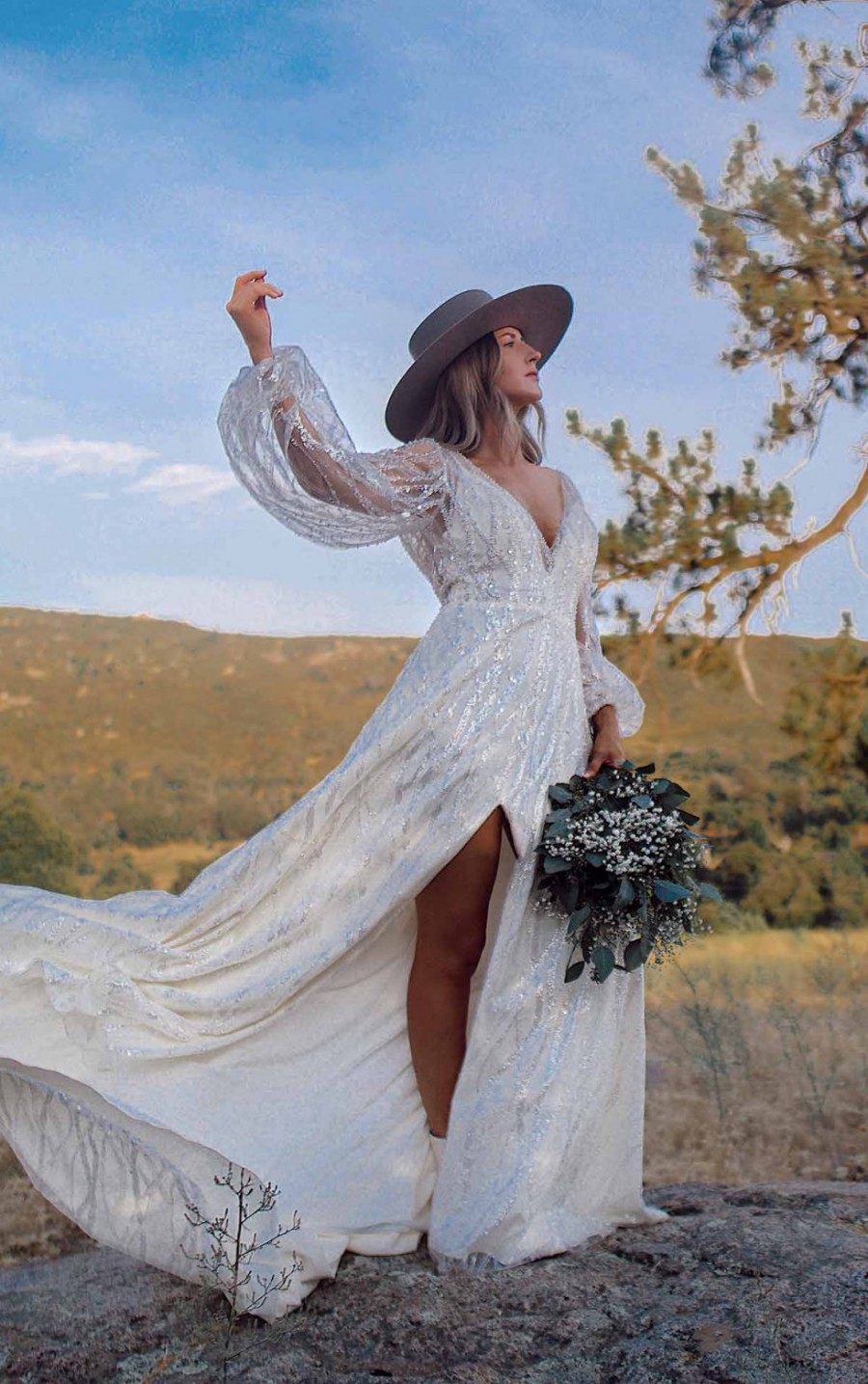 An ultra glam modern bohemian wedding gown that features lavish sheer balloon sleeves and a dramatic high front slit. The all over shimmering sequin details of this gown add an irresistible glam feel to this luxe long sleeve wedding look.
06.

Galia Lahav: Modern and Minimal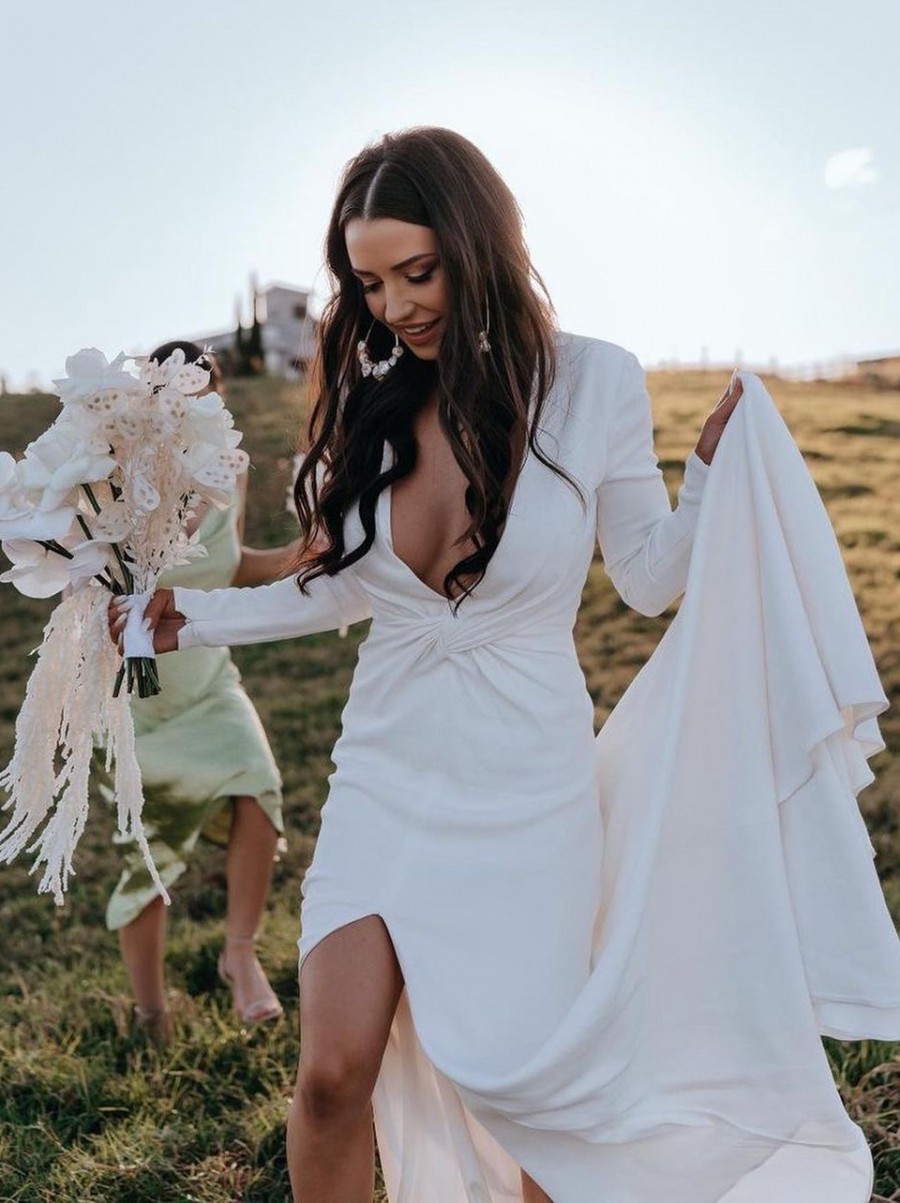 This modern and minimal long sleeve wedding dress from Galia Lahav shows that less can be so much more. With its plunging V-neckline, twisted detail, and high front slit - this alluring long sleeve stretch crepe dress is sure to steal the hearts of our modern brides out there.
07.

Lela Rose: Long Sleeve Lace Cut-Out Gown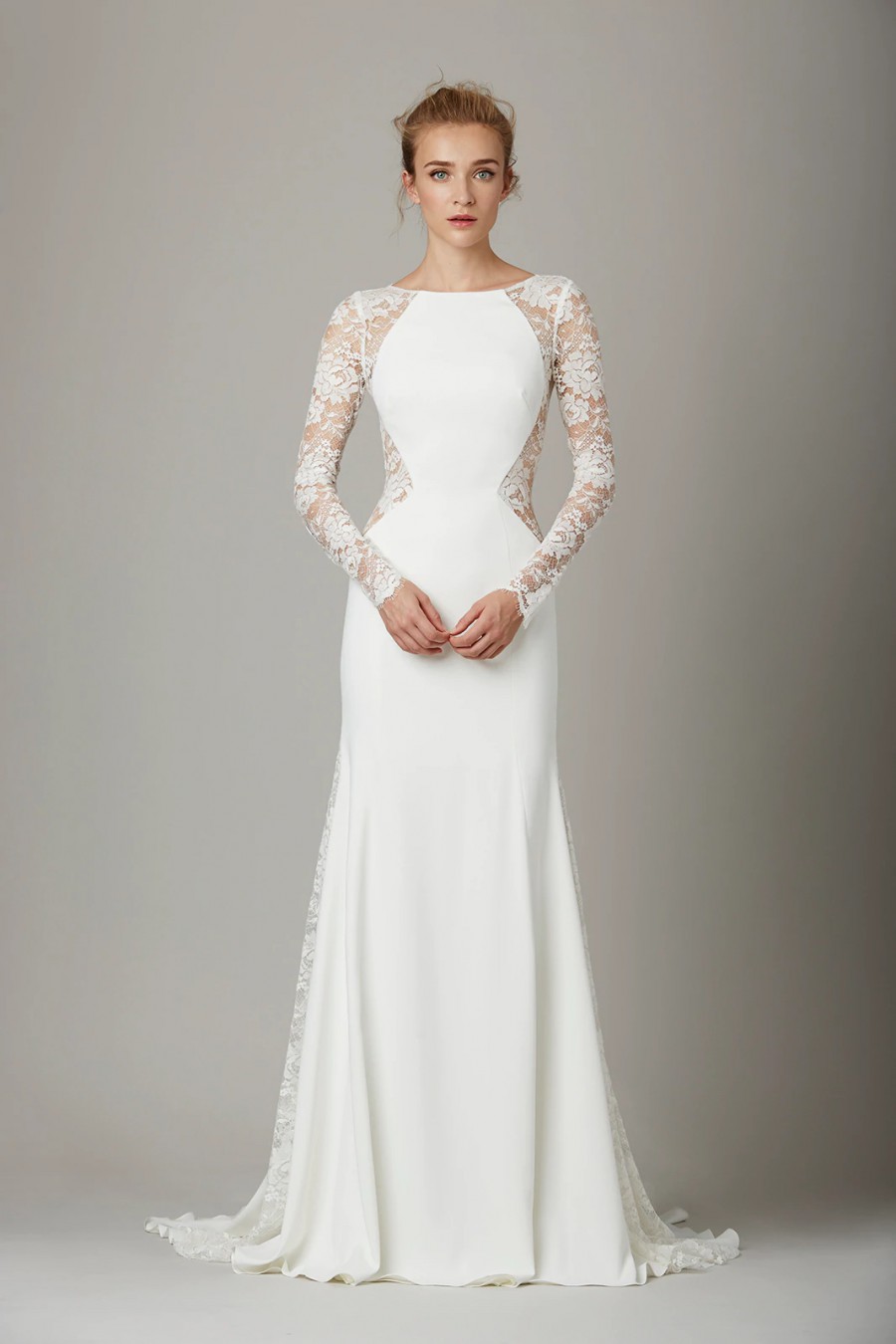 The unique silk crepe and lace cut-out combination of this next long sleeve wedding gown is absolutely stunning. Semi-sheer lace wraps around the back of the gown for a semi open back look, and again in panels down the sides of the gown. This gown is elegant and modest, yet bold and modern.
08.

Sarah Seven: Square Neck Elegance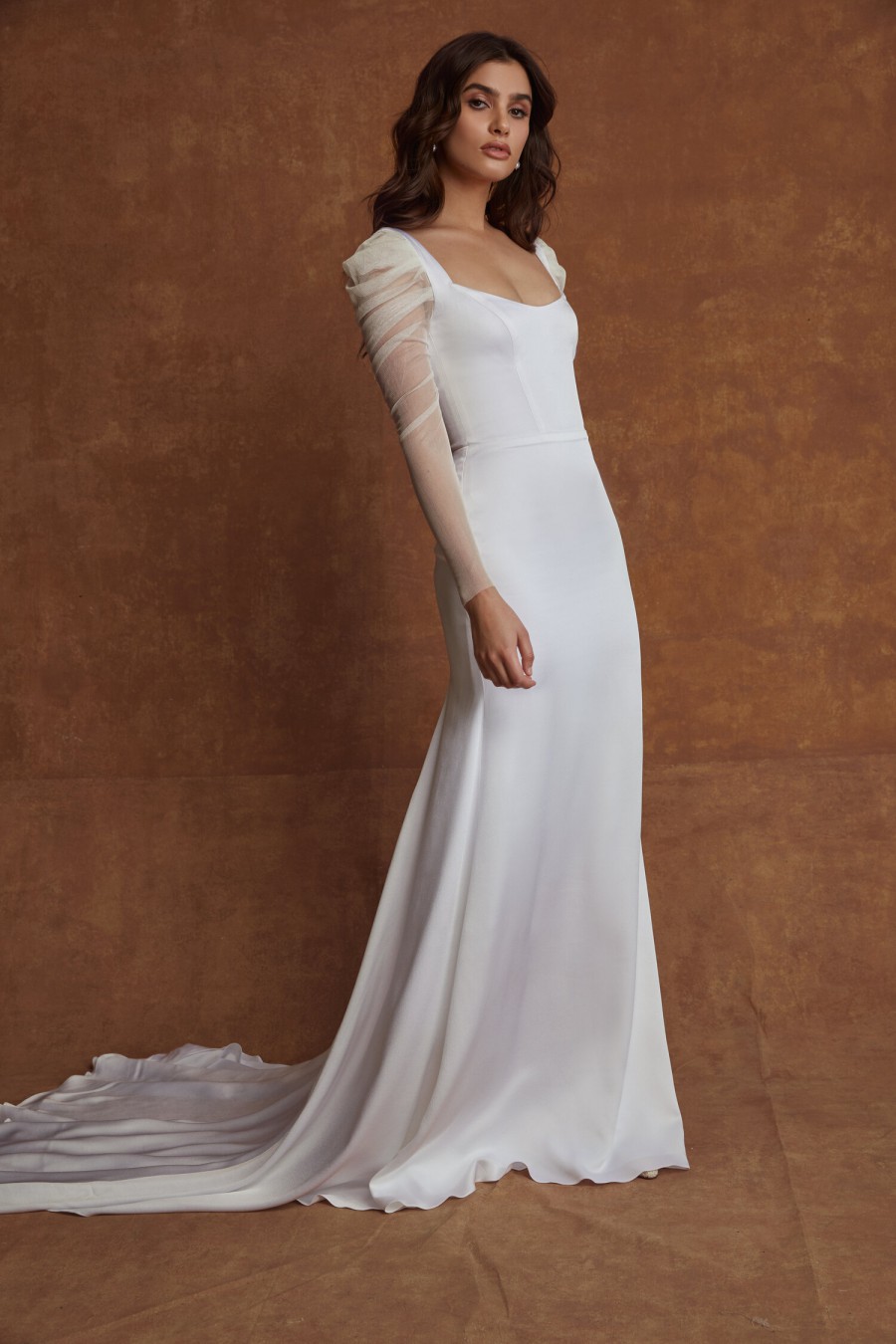 We are loving this next gown from Sarah Seven. A flatting square neckline, effortless silhouette and the most captivating semi-sheer gathered full length sleeves. Effortless and contemporary - this gown in simply stunning.
09.

Galia Lahav: Romantic French Lace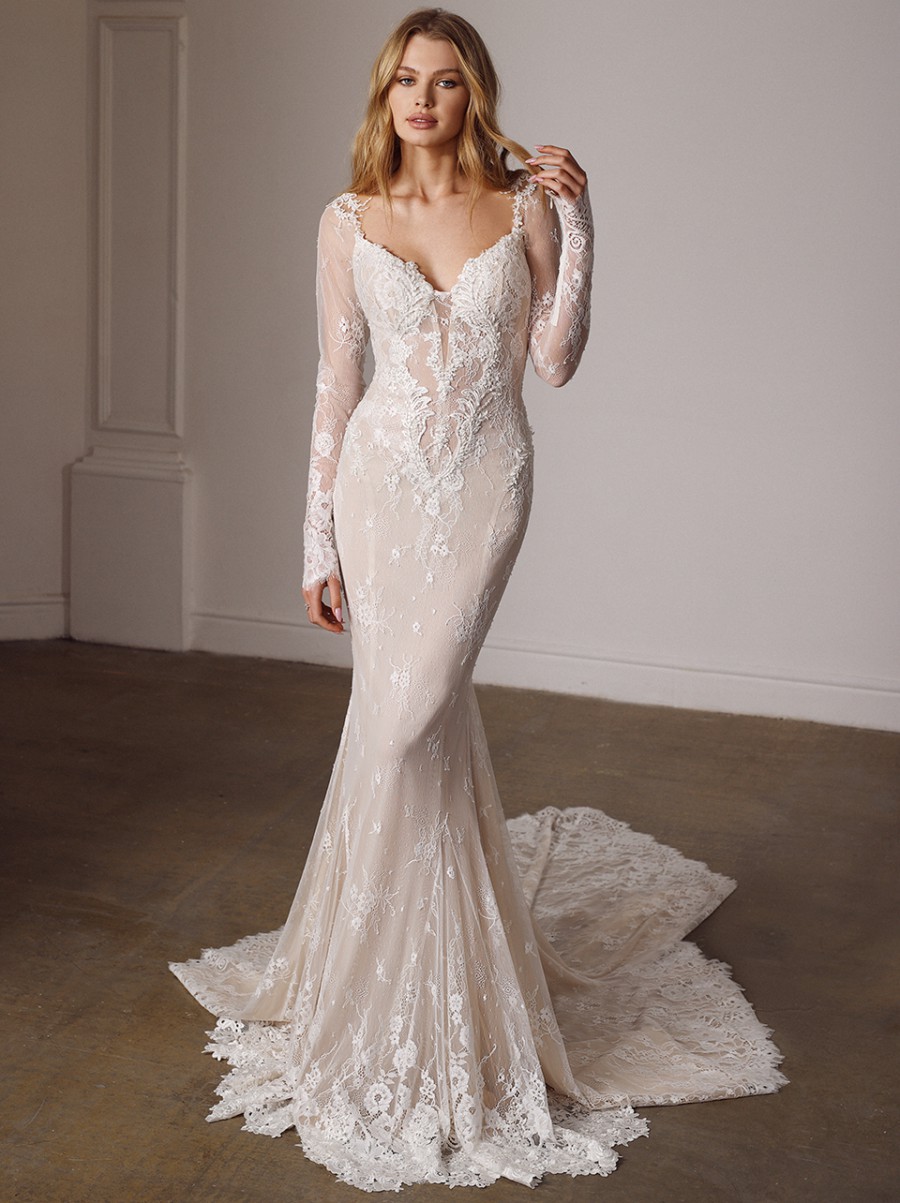 Crank up the sultry romance with this next long sleeve wedding gown from Galia Lahav. This alluring French lace and tulle gown is anything but modest, even with full length sleeves. Featuring a fitted silhouette, low neckline and open back. What makes this dress even more appealing, is that the sleeves are optional, which gives you the choice to switch up your look. Perfect if you are getting married during months when the weather is more unpredictable.
10.

Vera Wang: Winter Wedding Ball Gown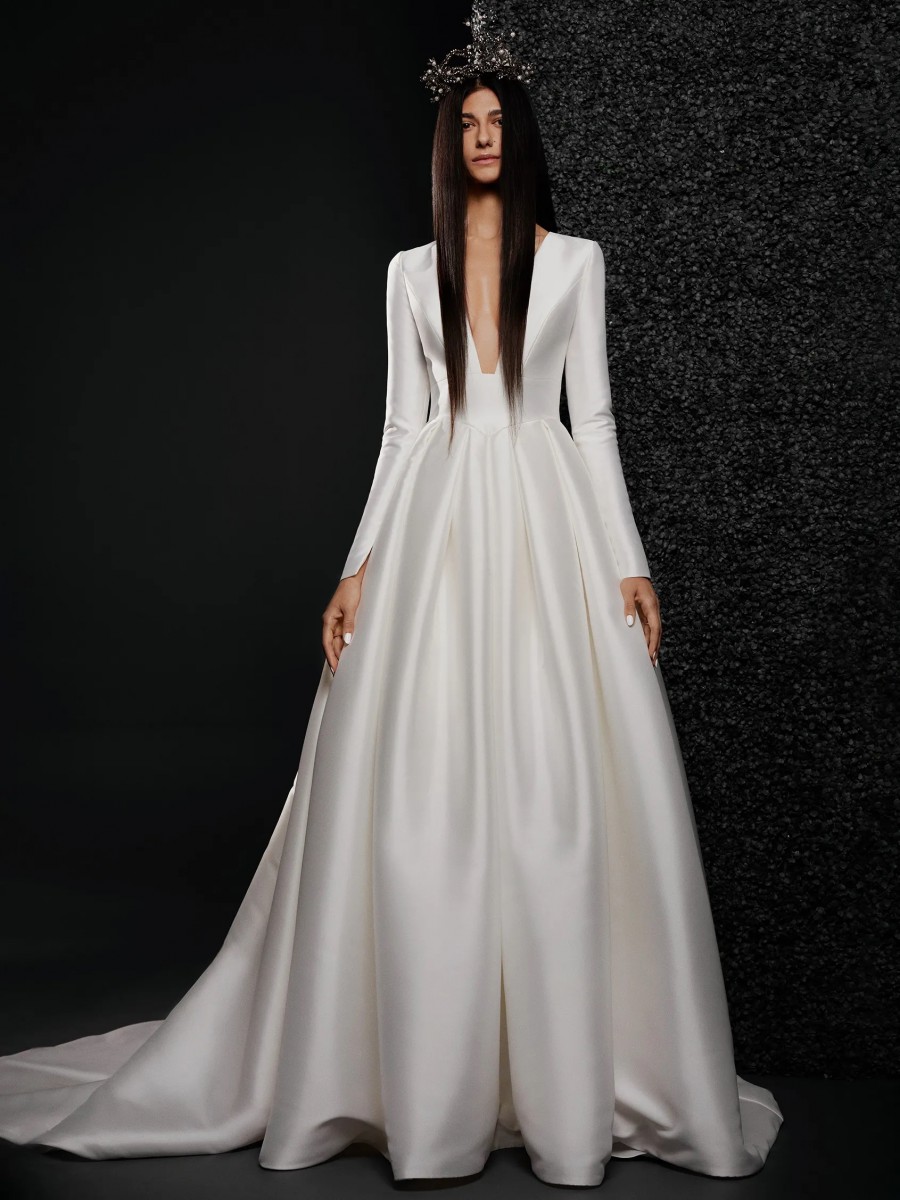 A long sleeve ball gown perfect for a romantic winter wedding day. This modern gown features a dramatic V-neckline, a slightly dropped waistband, and a full ball gown skirt.
11.

Costarellos: Folk Inspired Lace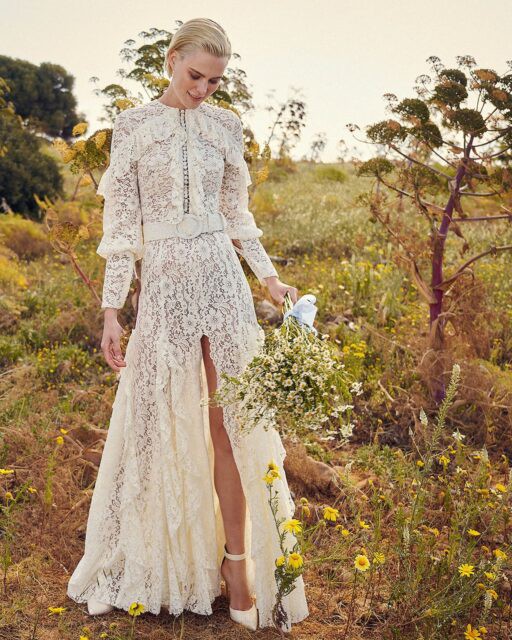 We are just loving the folk bohemian feel of this next long sleeve wedding dress from Costarellos. Featuring a modest high neckline, ruffle accents and cuffed sleeves that have a very vintage feel to them. And the high slit of the ruffled skirt adds a sexy finish to this look.
12.

Galia Lahav: Off-the-shoulder Column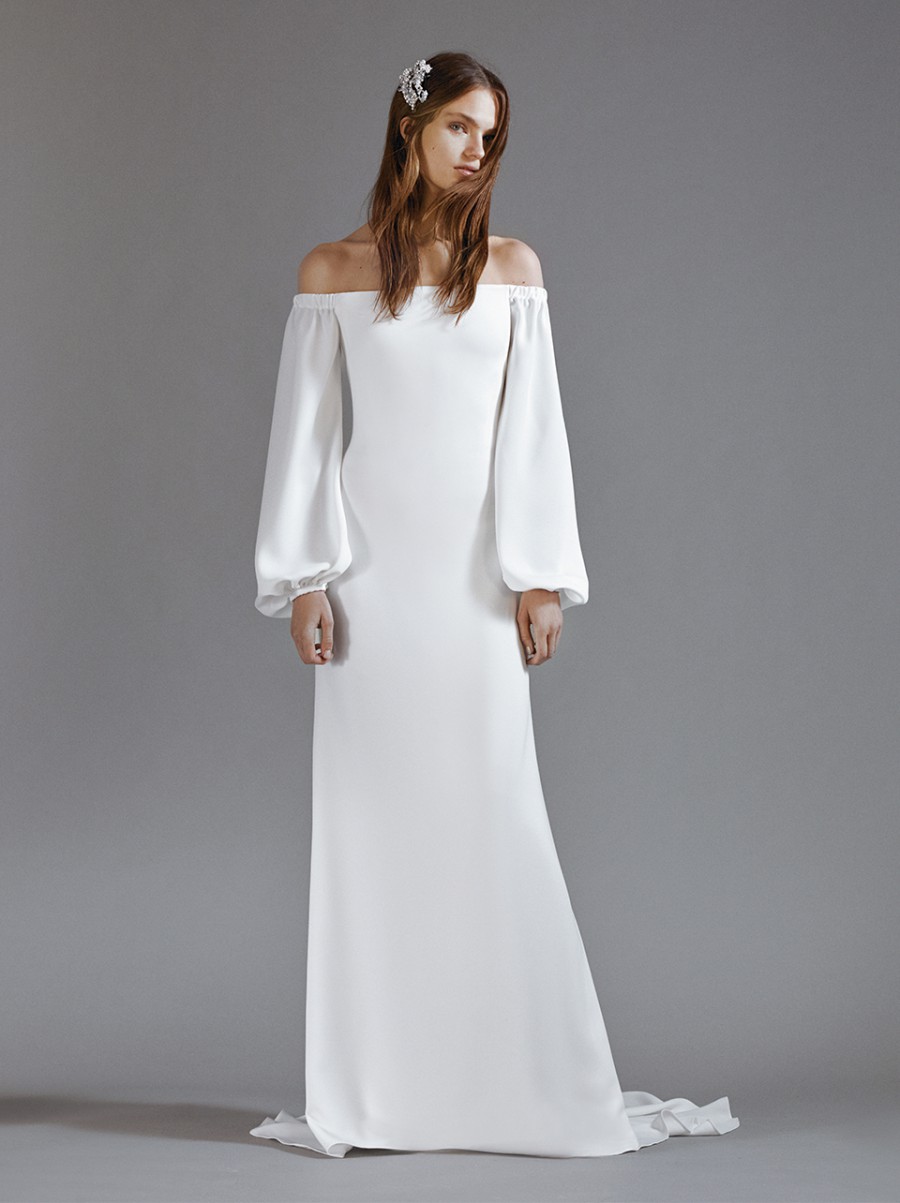 A refreshing, modern interpretation of the more tradition column silhouette. This clean, modest gown features exciting off-the-shoulder long sleeves that add some feminine romance to this otherwise contemporary and minimal look.
13.

Elie Saab: Modern Silver Accenting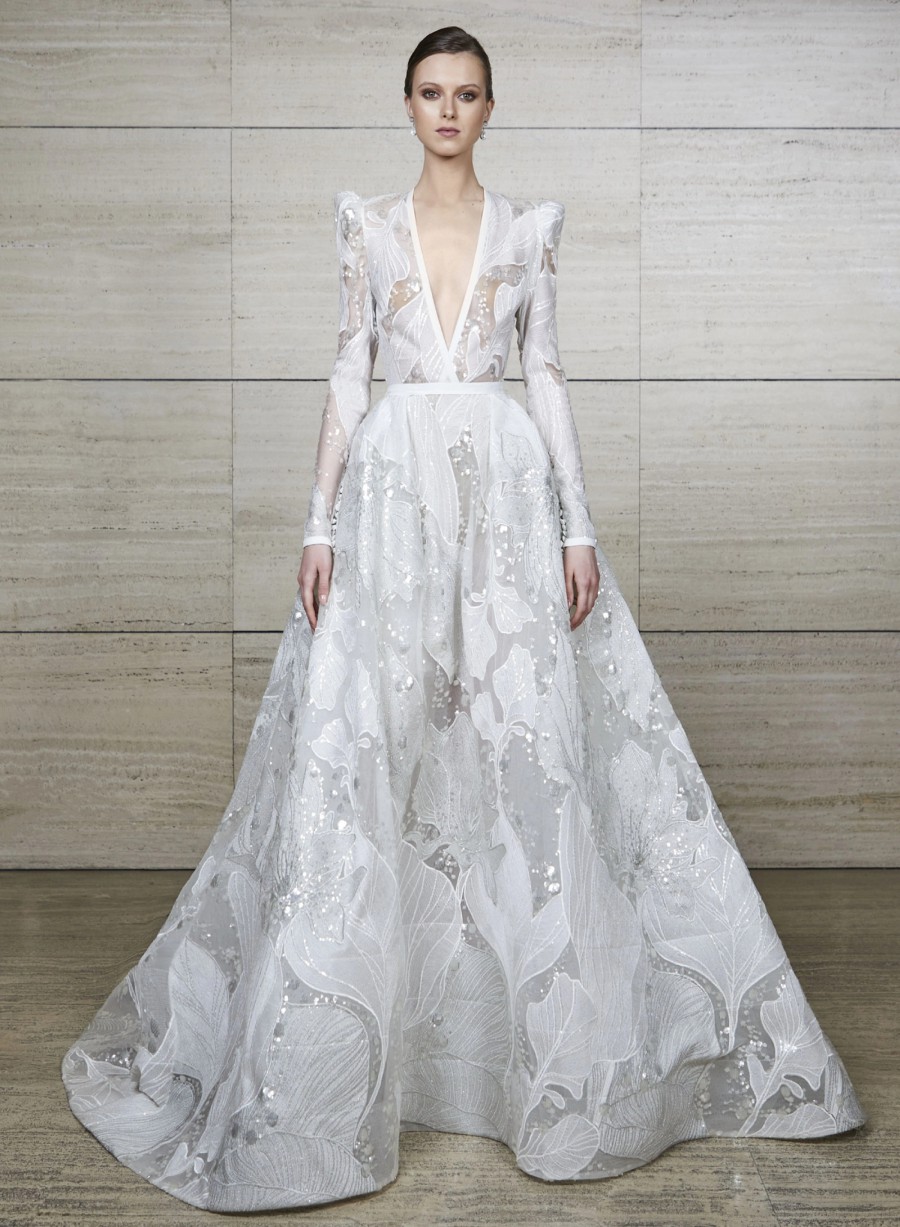 We are loving the bold and contemporary feel of this next long sleeve bridal style from Elie Saab. An A-line silhouette that features a dramatic V-neckline, floral motifs and sequin and silver thread accenting. And we love the slight puff at the shoulders that accents the full length sleeves.
14.

Galia Lahav: Airy Tulle Fairytale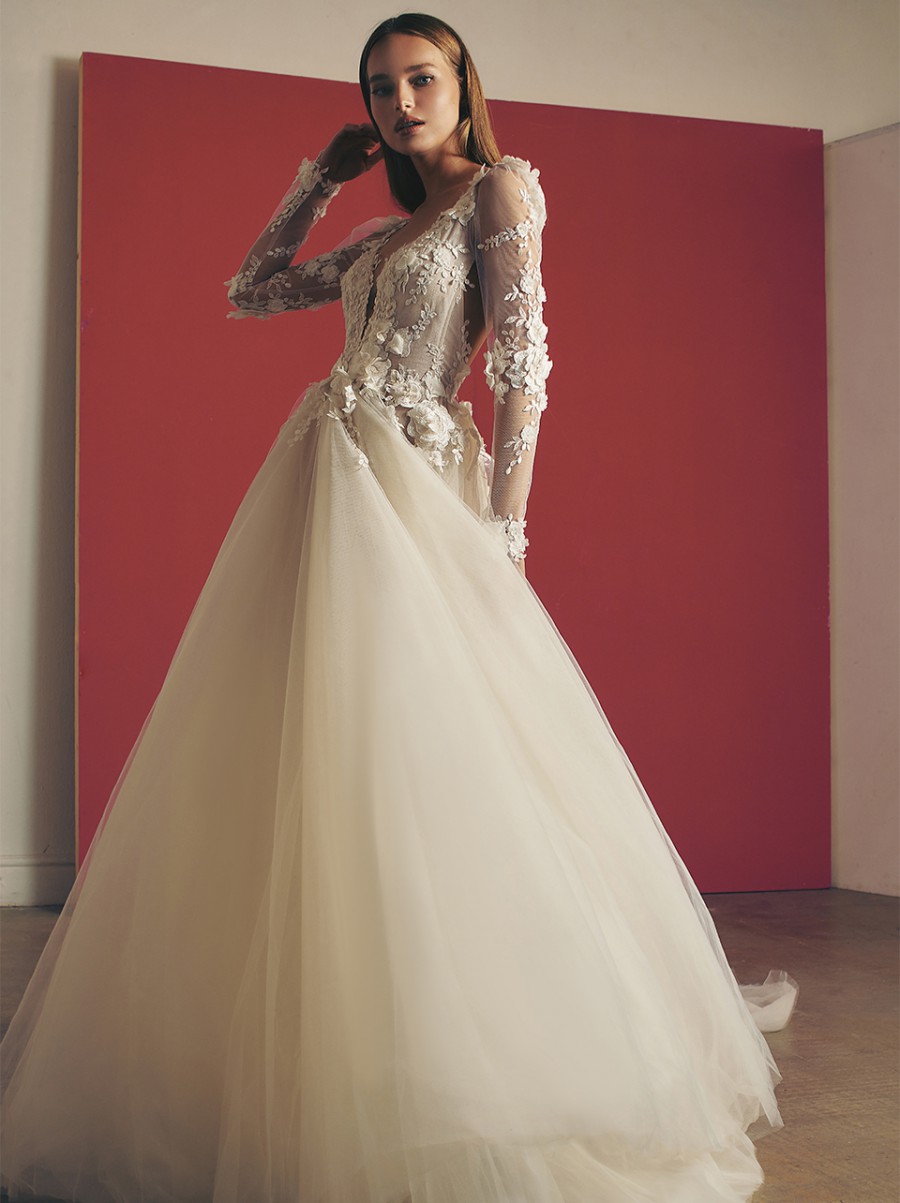 "Where the fashion fairy nymph meets ultimate glamour." We couldn't say it better ourselves. This ultra luxe wedding gown looks like it stepped straight out of a fairytale. Made from lavish and airy tulle in blush and ivory color tones, this gown is effortlessly captivating. But the floral accented sheer long sleeves have to be our favorite features of this stunning gown.
15.

Sarah Seven: Slouchy Off-the-Shoulder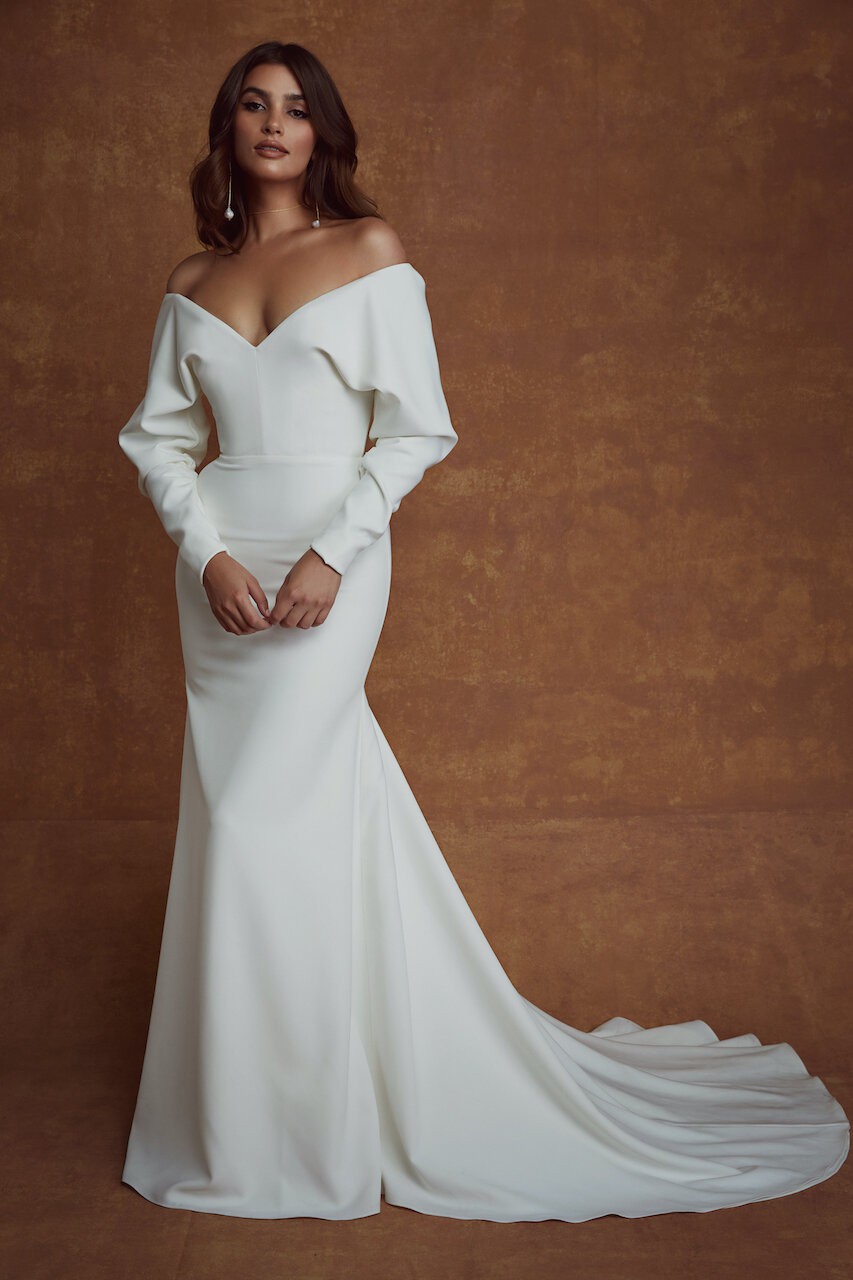 Sophisticated and luxe, while also looking as cozy as your favorite oversized sweater. We are in love with the slouchy off-the-should cut of this next long sleeve wedding dress from Sarah Seven. A sultry and romantic wedding gown that is still ultra minimal, and that has an almost laid back elegance to it.
16.

Galia Lahav: Flirty French Lace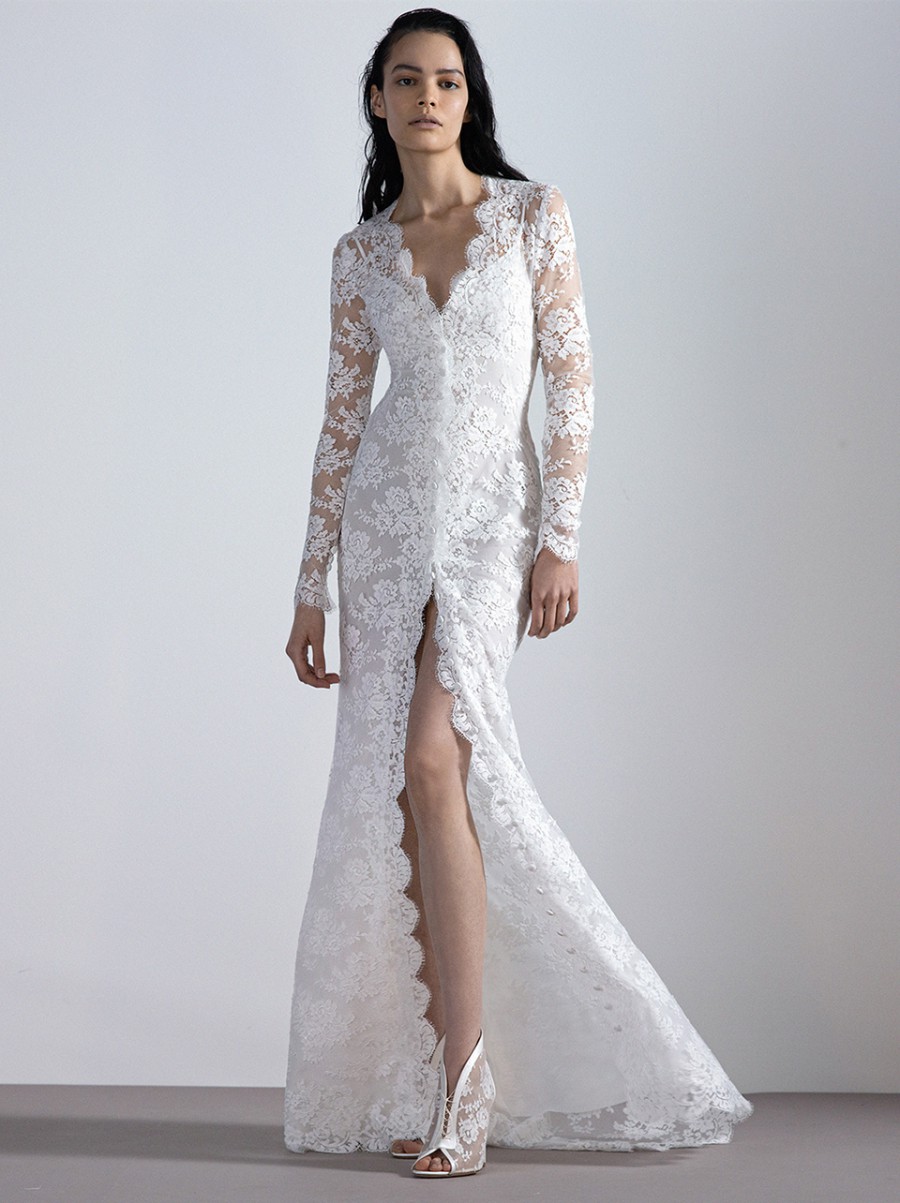 The next long sleeve wedding gown is a flirty French lace dress from Galia Lahav with the most beautiful scalloped edging. Accented with lace covered buttons and a short court train, this gown is feminine and effortless. This is another style, that although it has full length sleeves, would be perfect for a warmer weather wedding day.
17.

Viktor Rolf: Long Sleeve Glamour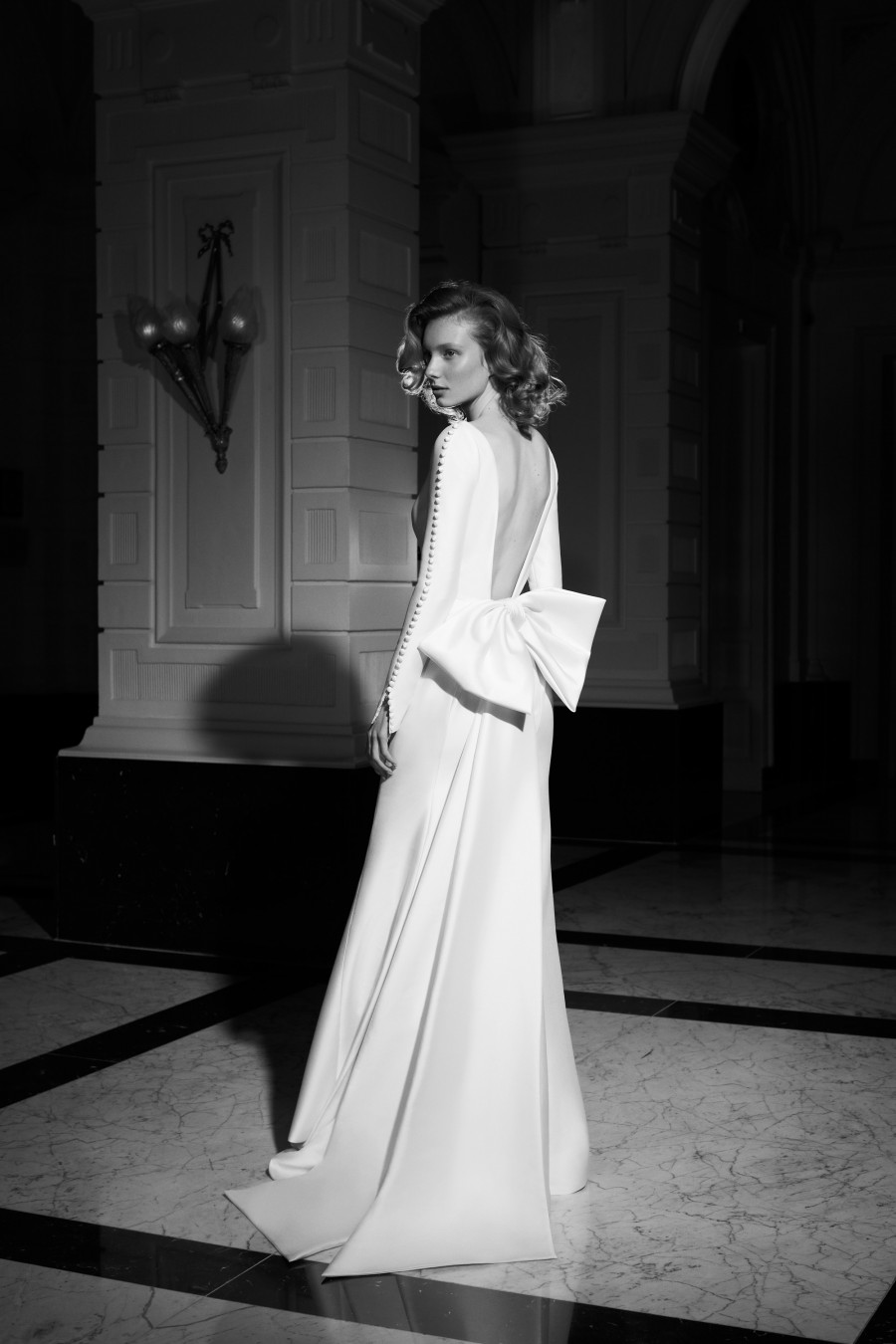 The perfect mix of modern and Old Hollywood Glam. This plunging bow back mermaid is sure to steal your heart. An effortlessly romantic wedding gown that features delicate button accents down the full length of the sleeves. The oversized bow that accents the back of this gown drapes down to the ground to for a stunning train.
18.

Essence of Australia: Graphic Lace Long Sleeves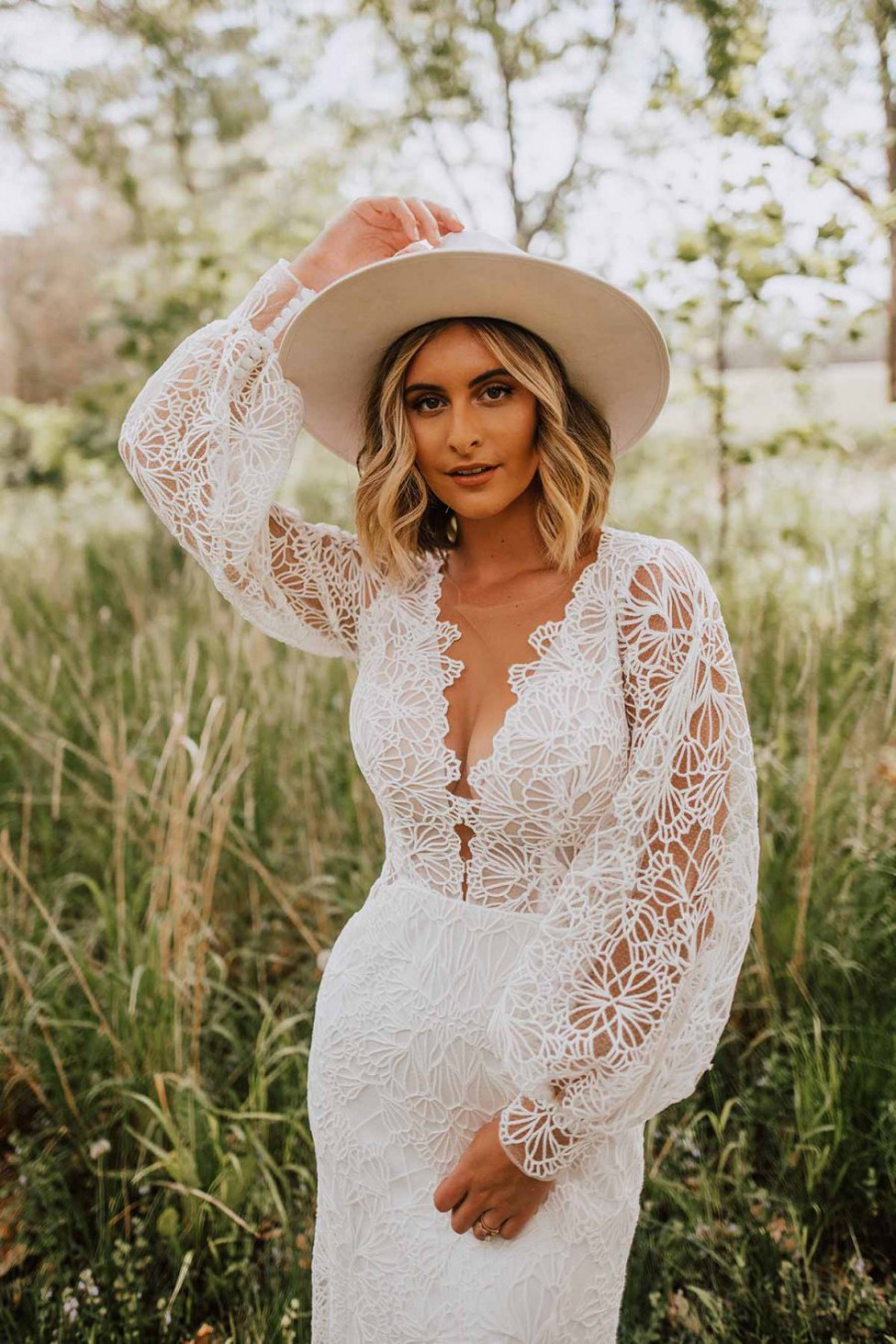 We are absolutely swooning over the sleeves of this next wedding gown from Essence of Australia. Designed from the most captivating graphic lace, the puff sleeves of this gown are stunning. The same graphic lace cascades down the plunging neckline and fit-and-flare skirt.
19.

Galia Lahav: Luxe Long Sleeve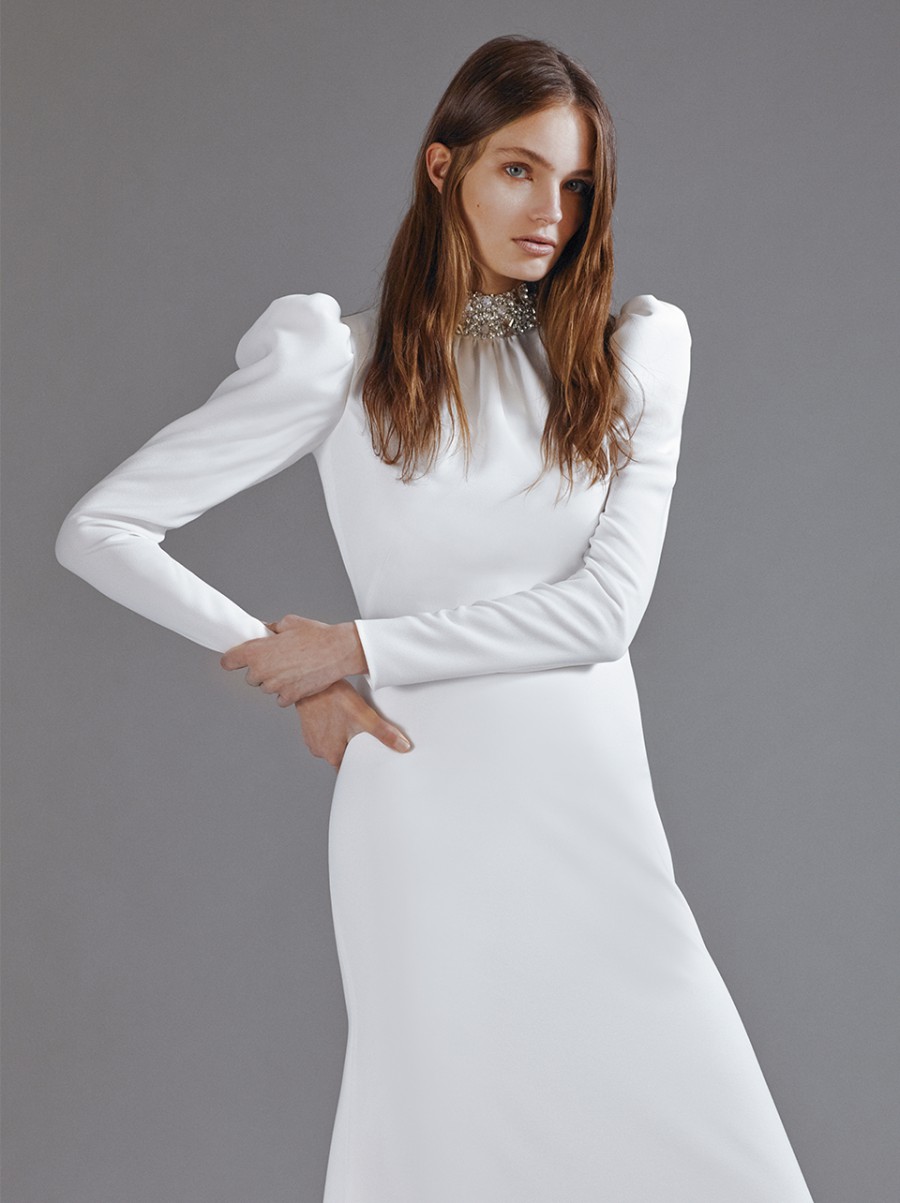 Galia Lahav brings us this next ultra luxe long sleeve wedding dress. With Victorian inspired puff sleeves and a chic crystal-embellished high-collar gathered neckline - this gown may seem simple at first, but it is anything but. Luxe, contemporary and sophisticated.
20.

Vera Wang: Dreamy Lace Fit-and-Flare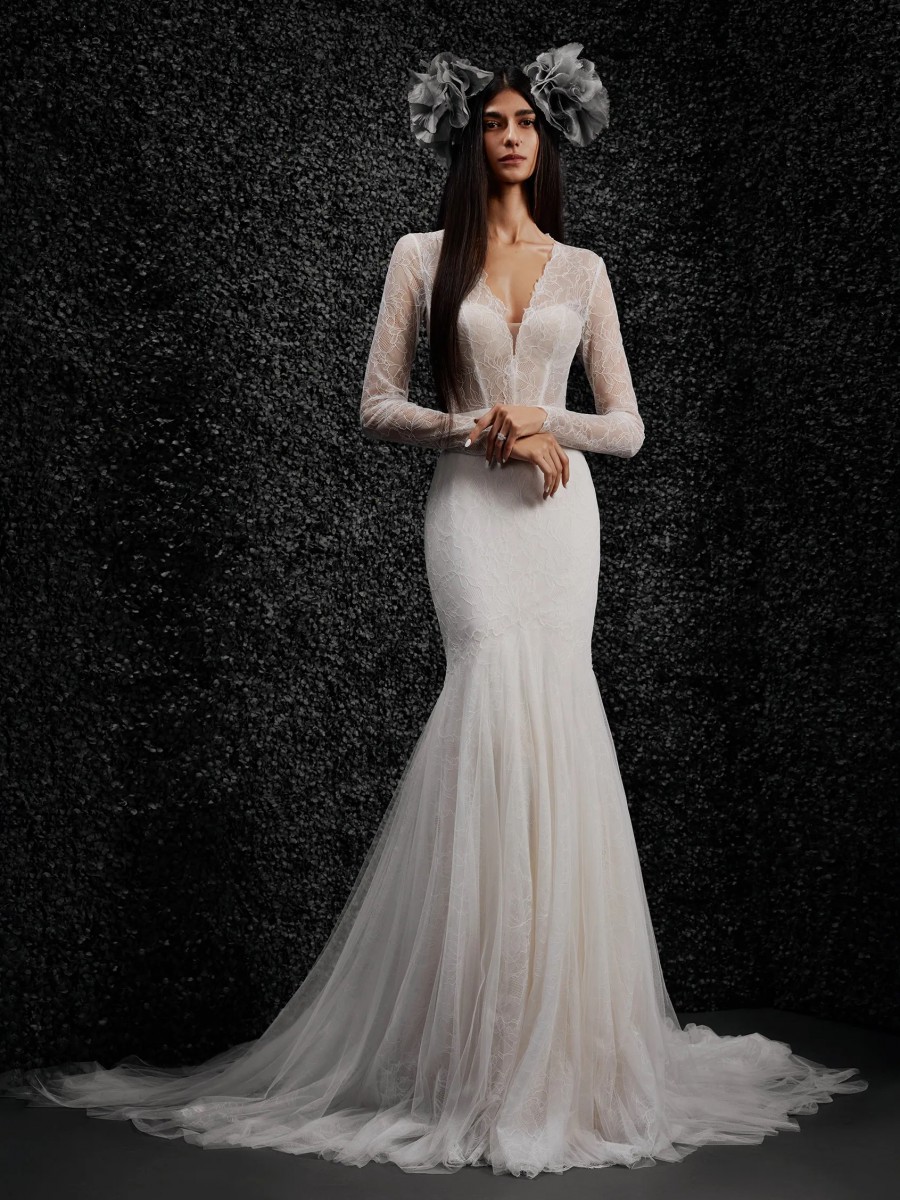 This dreamy Chantilly lace and tulle fit-and-flare comes from the lovely Vera Wang. This romantic long sleeve gown features a transparent style corseted bodice and a delicately scalloped neckline that is mimicked at the end of the full length sleeves as well. And the gently layered and flowing skirt is just effortless.
21.

Sarah Seven: Banded Column Gown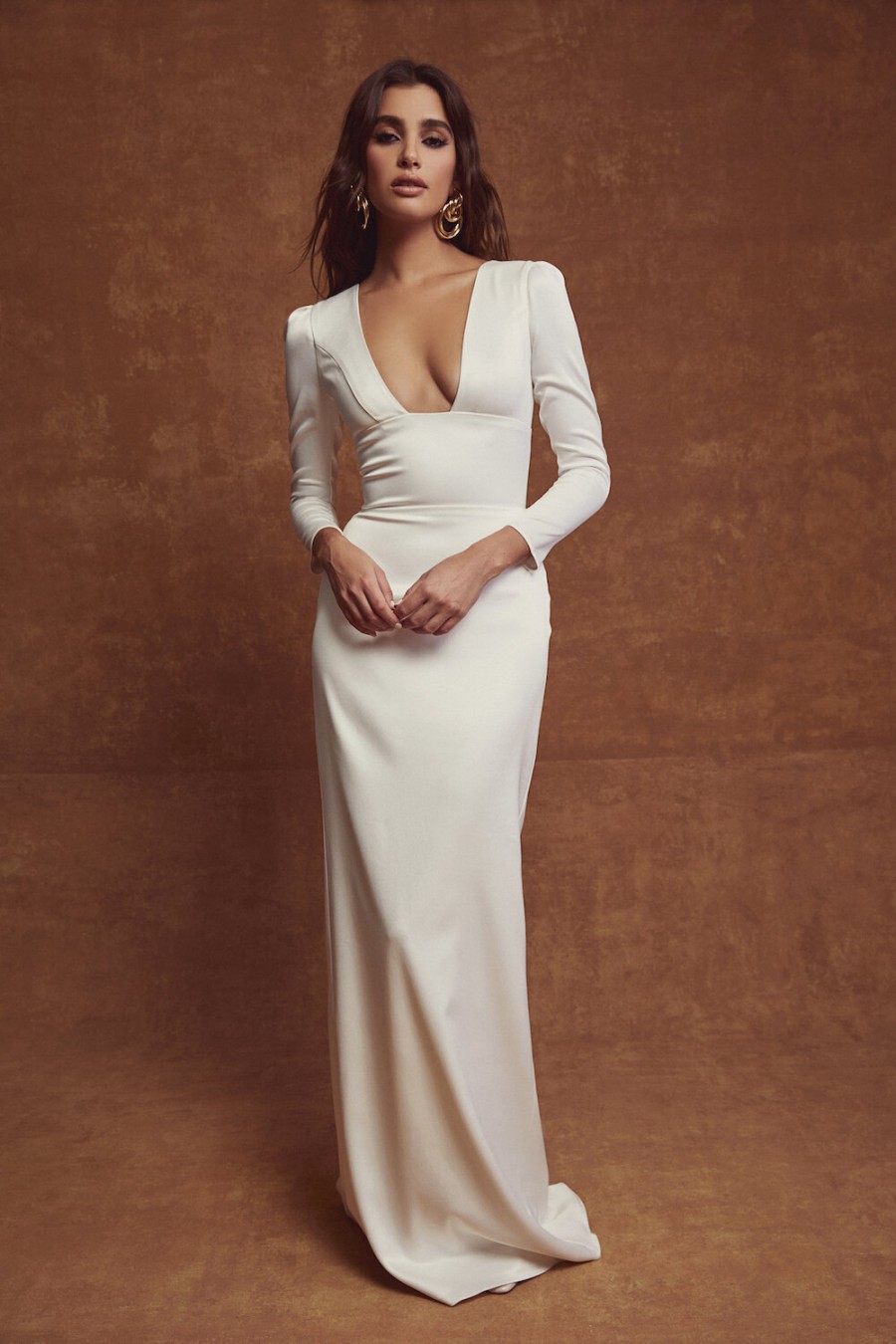 The silhouette of this next long sleeve wedding gown is absolutely stunning. With a column-like design, this gown also features a fitted banded waist and a plunging neckline. And the long sleeves further accent the luxe, elegant feel of this look.
22.

Vera Wang: Iridescent Beaded Tulle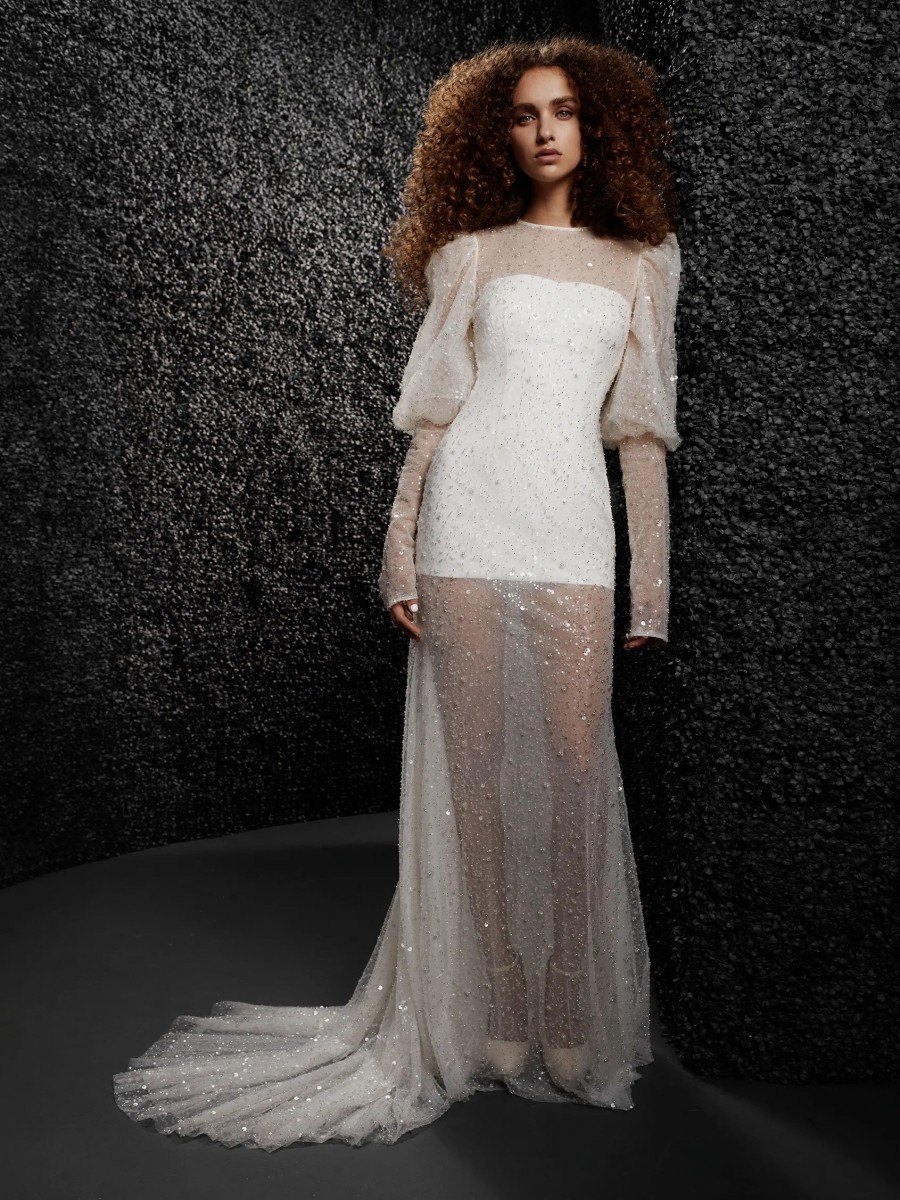 This next look is an iridescent gown in beaded tulle with a mini-dress lining from Vera Wang. This style is so chic with its statement Juliette sleeves with deconstructed cuffs and overall semi-sheer appearance. This gown gives you the chic sassiness of a mini dress, but with the full coverage of a long sleeve wedding gown.
23.

Sarah Seven: Effortless Minimal Elegance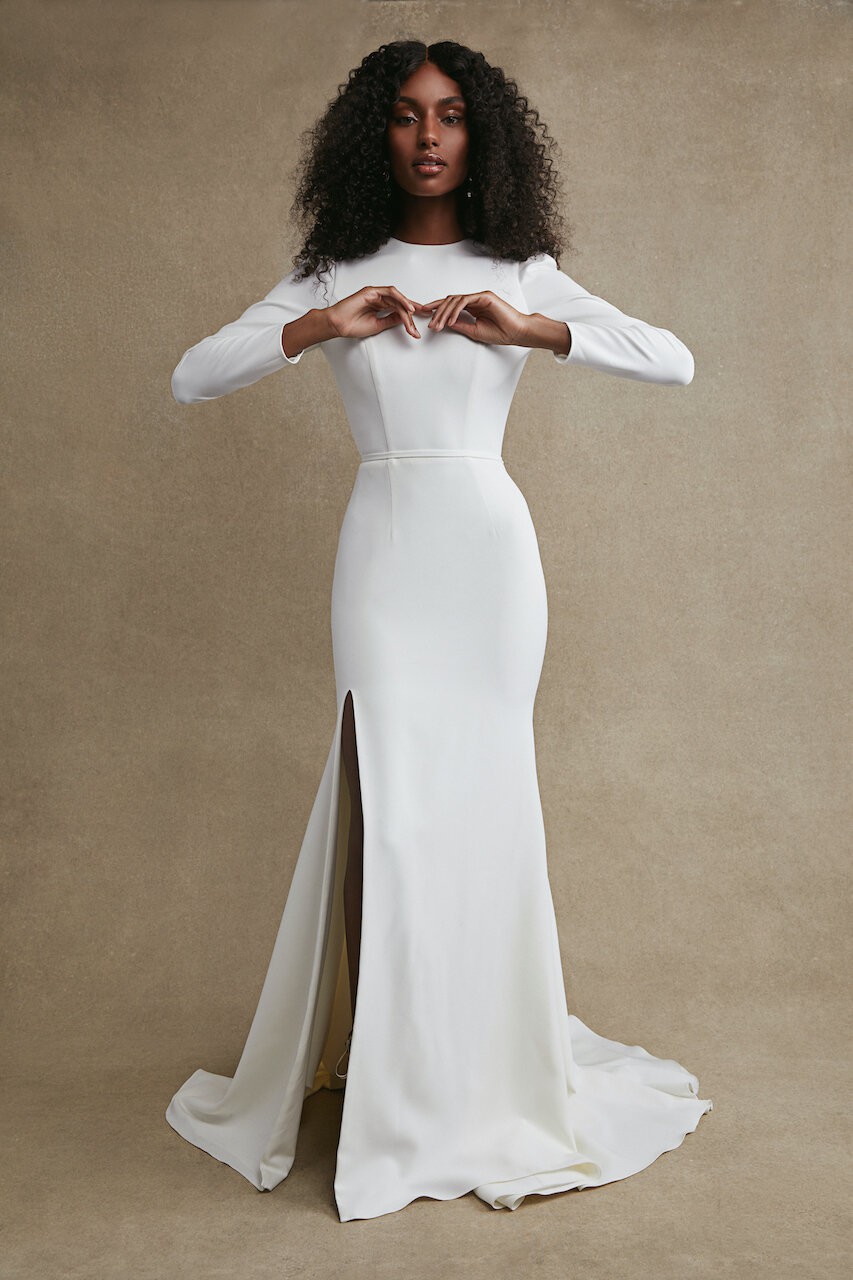 This next long sleeve bridal style is effortless, minimal elegance at its best. A seemingly simple gown that has surprises at every angle. A structured bodice is accented by sleek long sleeves that have subtle puff shoulder detailing. And the skirt of the gown drapes effortlessly to the ground with a dramatic front slit.
24.

Lela Rose: Romantic Long Sleeve Lace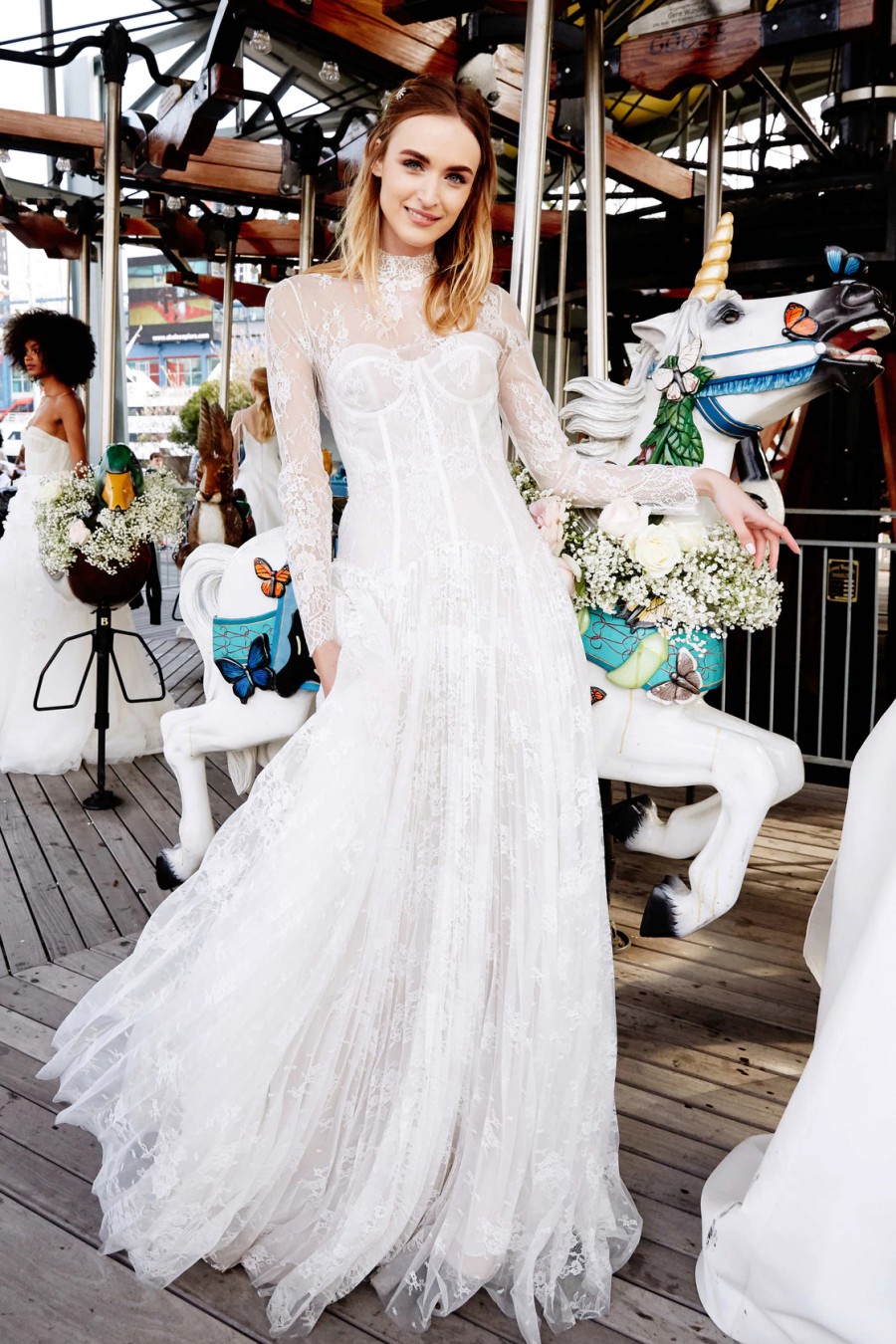 A dreamy pleated Chantilly lace gown from Lela Rose that features a gorgeous collared neckline and effortless full length sleeves. This gown has some unique features including its structured bustier bodice and lavishly pleated skirt.

By Kathryn Schrotenboer