Jumpsuits are taking over the wedding scene. And what better way to combine your love for classic bridal fashion, and modern design, than with a lace bridal jumpsuit?
And can we just say - if you aren't on the bridal jumpsuit train yet, this list might just convert you! These lace jumpsuits are sexy, sassy, untraditional, and everything a playful contemporary bride could want on her big day! And lets be honest...we all like to break the rules every now and them. And bridal jumpsuits are breaking traditional bridal fashion rules in a big way!
01.

Bold Bohemian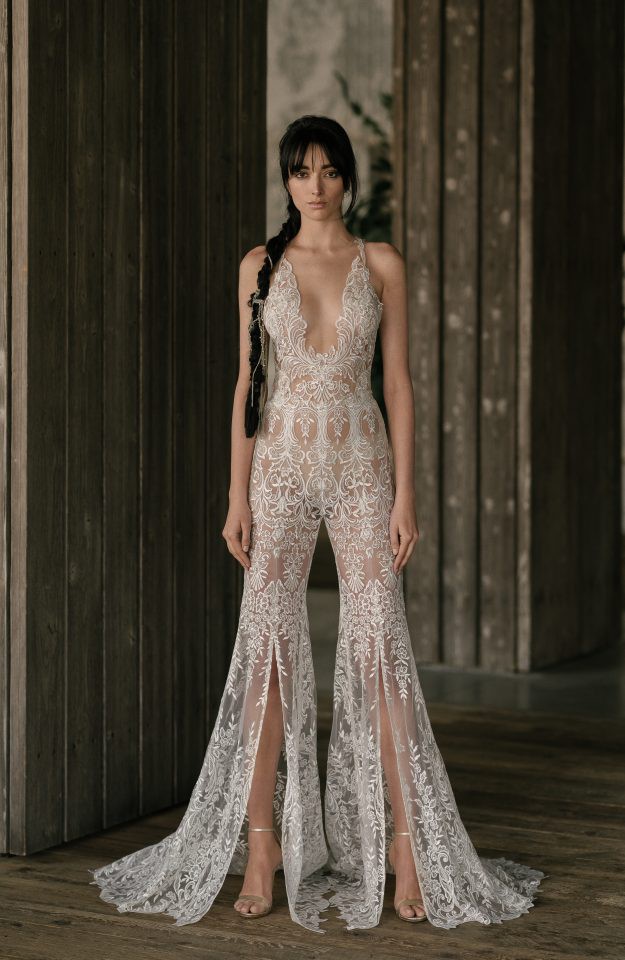 A sexy, barely there lace bridal jumpsuit that will combine your love of antique designs and modern bohemian style.
02.

Tattooed Lace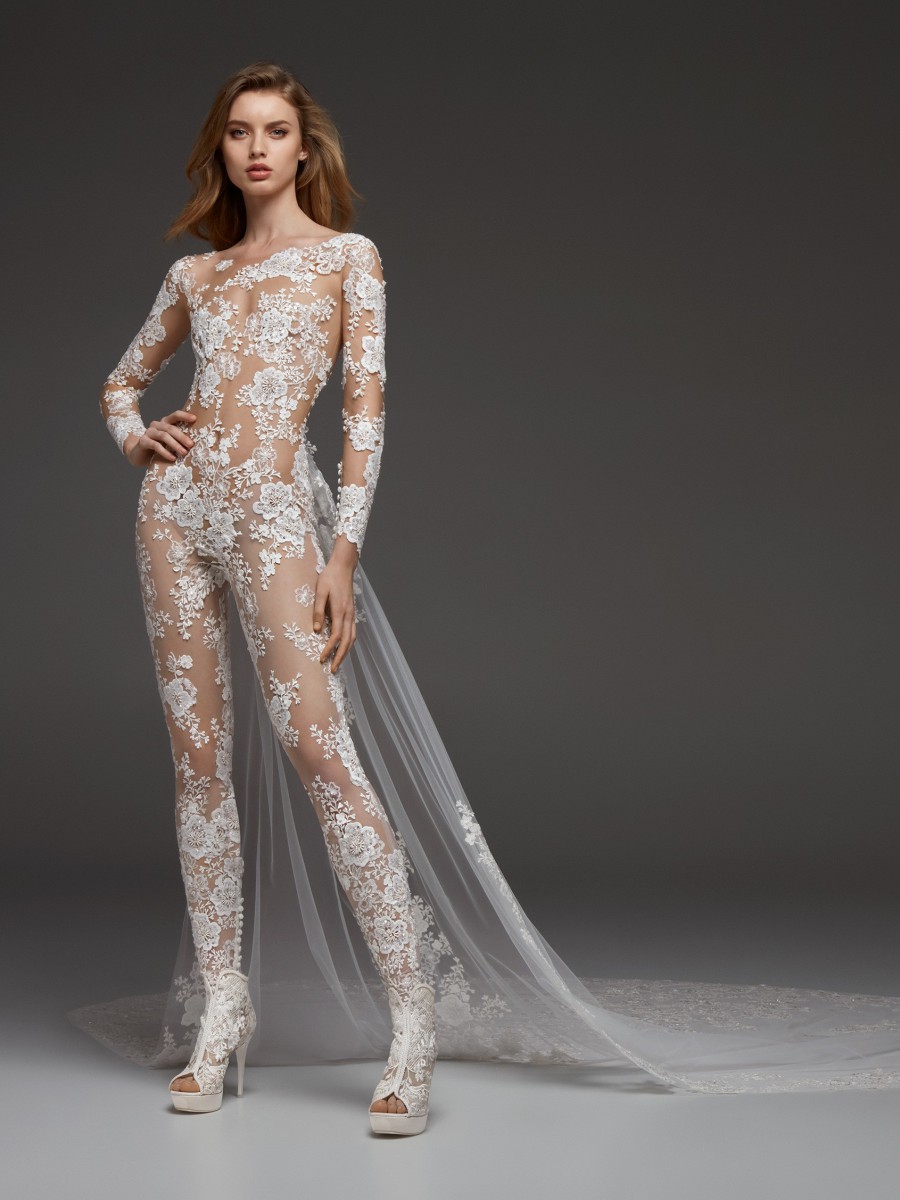 A one of a kind bridal style that is sure to turn heads on your big day. The semi-sheer, fitted style of this lace bridal jumpsuit gives an almost tattoo like appearance.
03.

Chic Lace & Tulle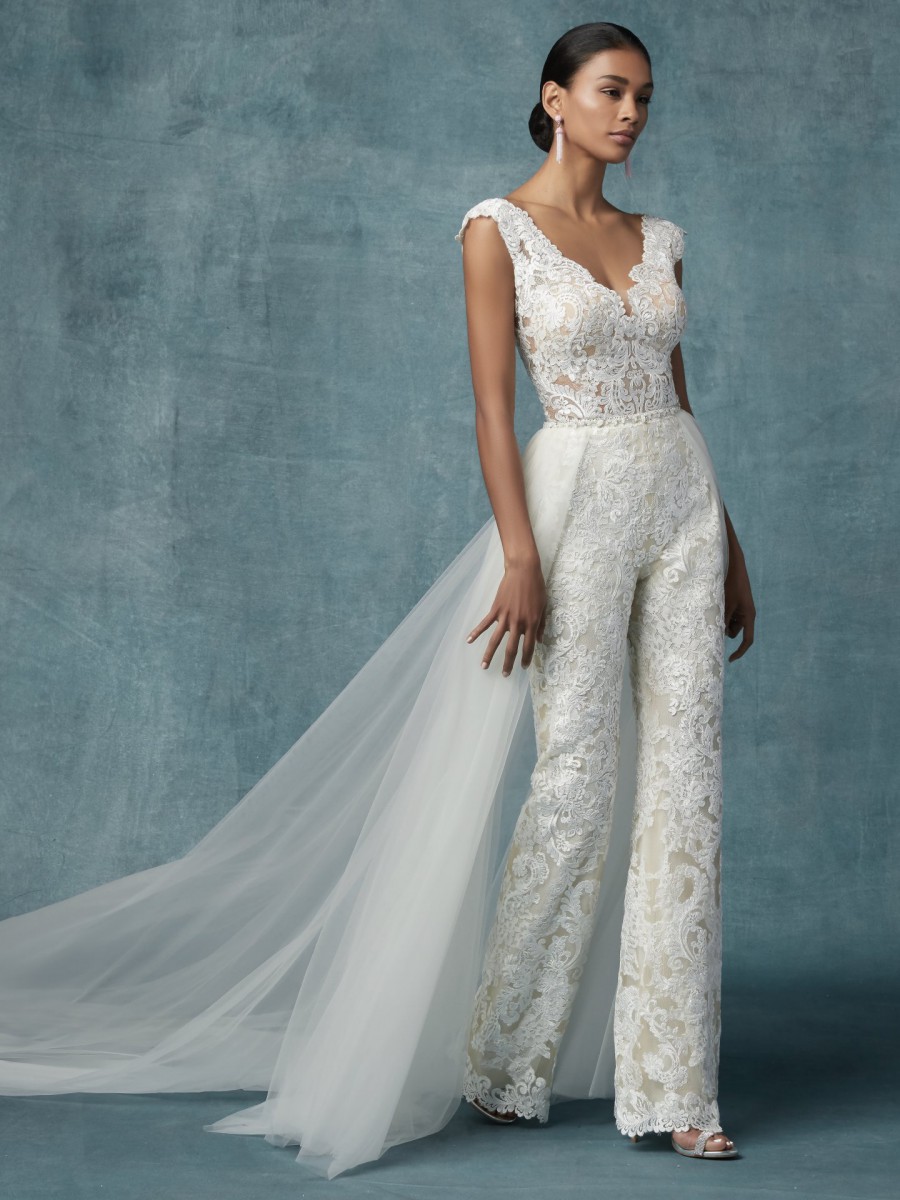 Lace. Tulle. Jumpsuit. What more could a modern bride possibly want?
04.

Sexy and Sleek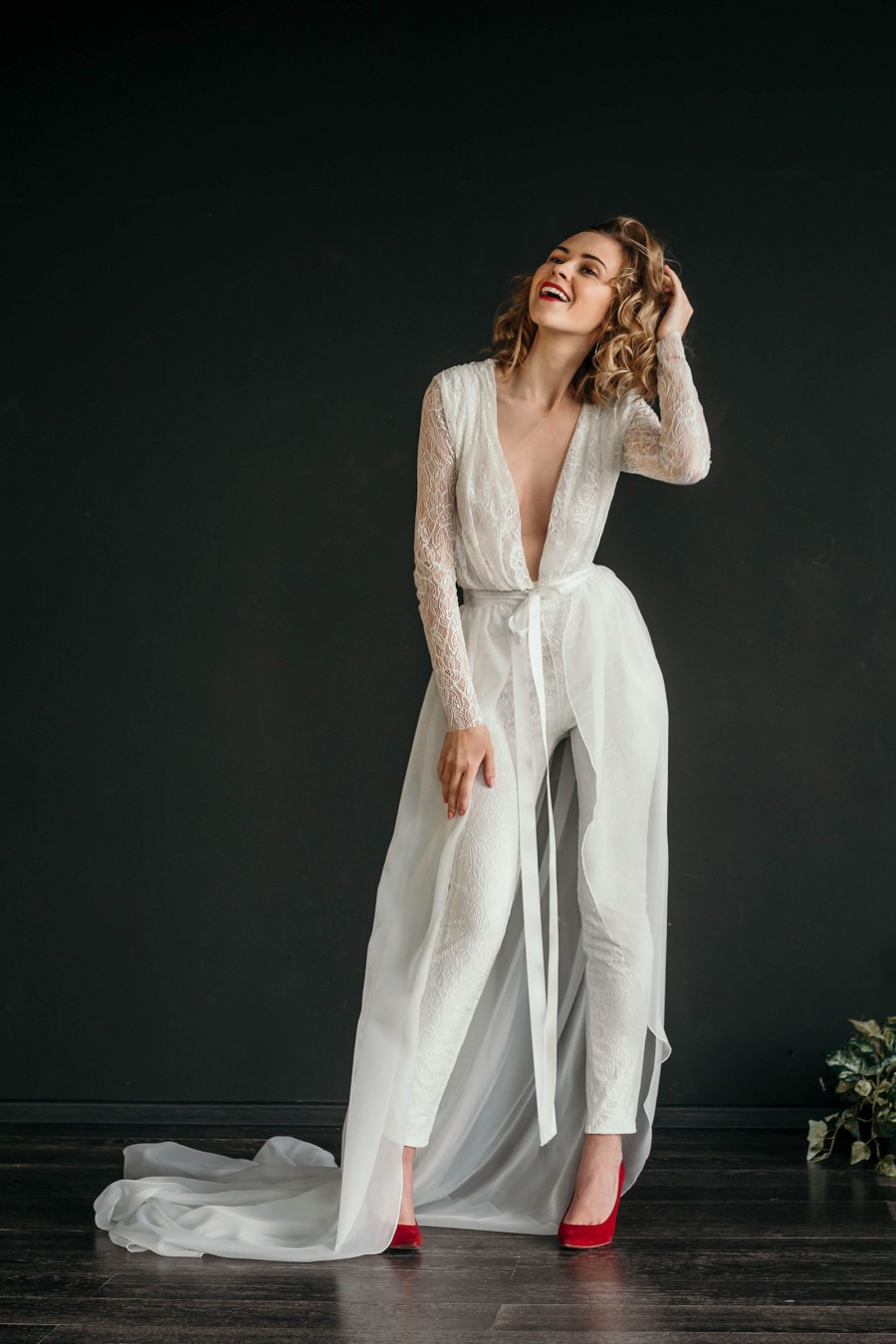 A sleek and sexy lace bridal jumpsuit that is so feminine and chic! The soft deep V-neckline and skinny leg pants create a gorgeous silhouette. Add a bit more drama to the look with the detachable overskirt for a soft, ethereal feel.
05.

Intricate Bohemian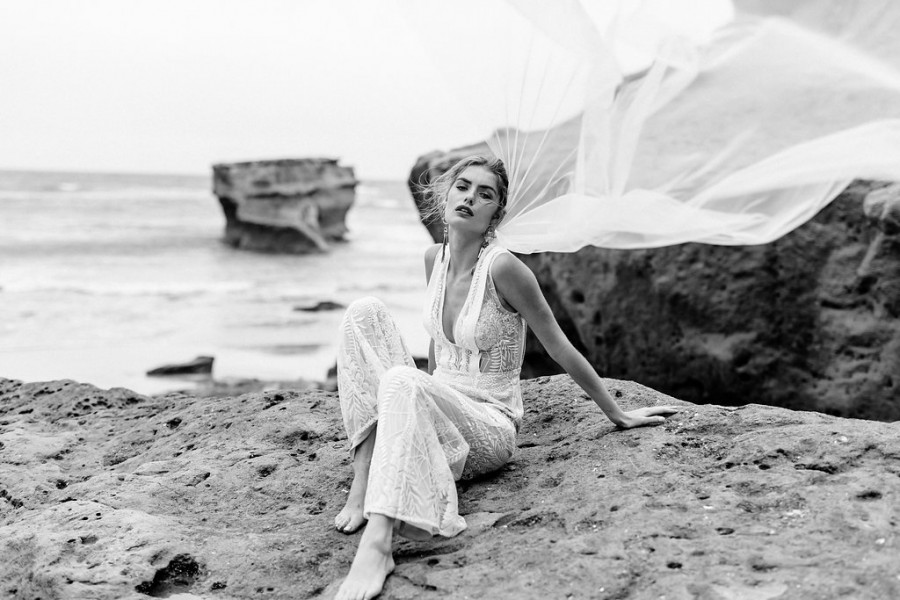 Next we have an intricately designed lace jumpsuit from Georgia Young. This style seems simple at first glance, but there is so much stunning and unique detailing to take in with this look. This lace jumpsuit is a playful bohemian bride's dream!
06.

Sweetheart Ruffles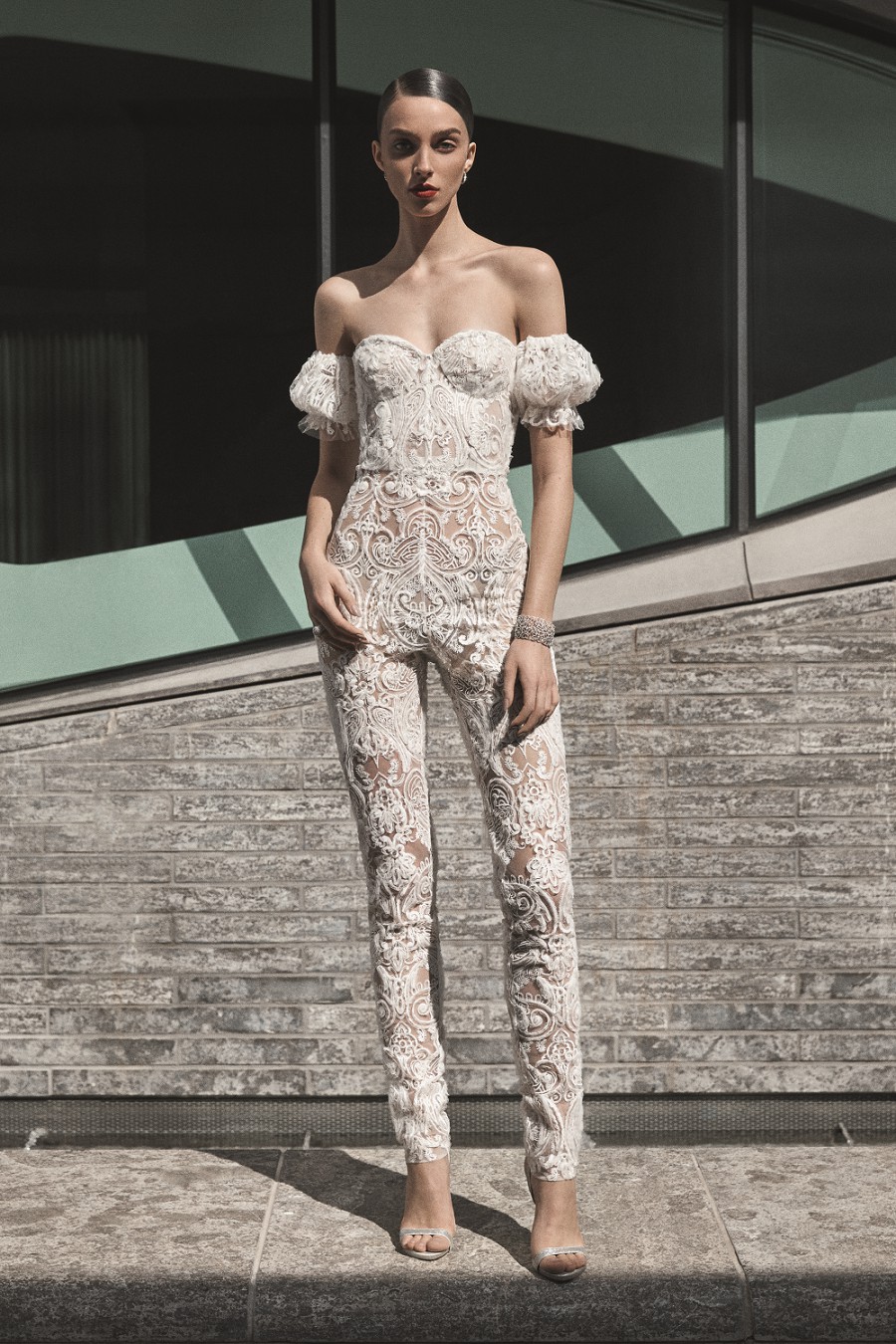 A gorgeous form fitting lace jumpsuit from Naeem Khan that features a classic sweetheart neckline and detachable ruffle sleeves. Make a bold, and unexpected entrance on your big day with this one of a kind lace jumpsuit!
07.

Barely There Embroidery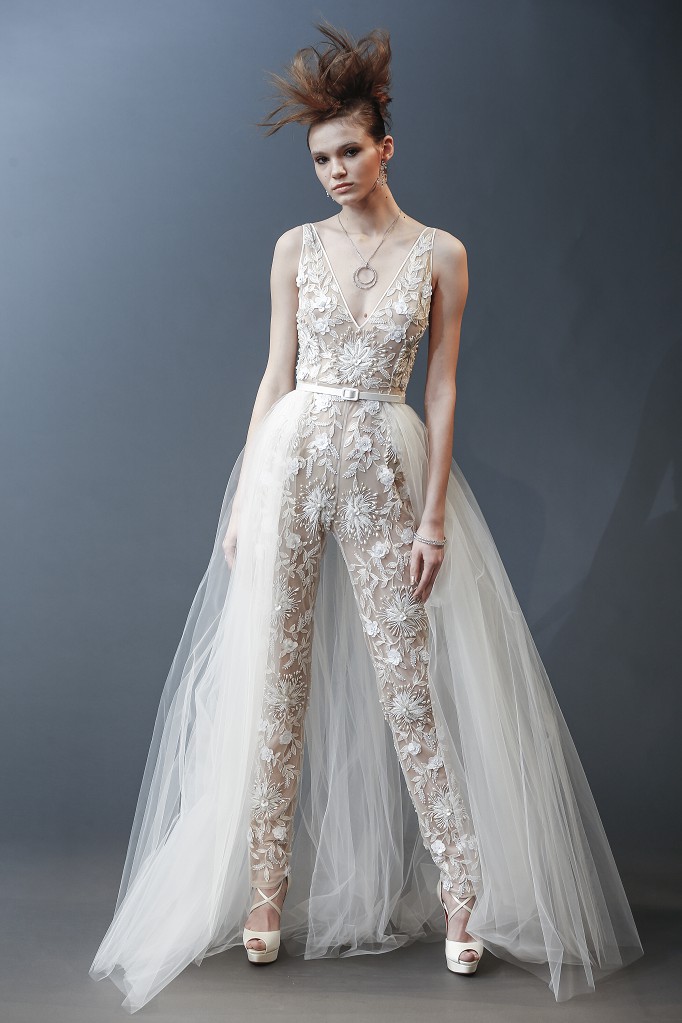 This next bridal jumpsuit gives the illusion of lace detailing with its all over floral embroidery design. An intricate jumpsuit design that is absolutely mesmerizing.
08.

Shimmering Detailing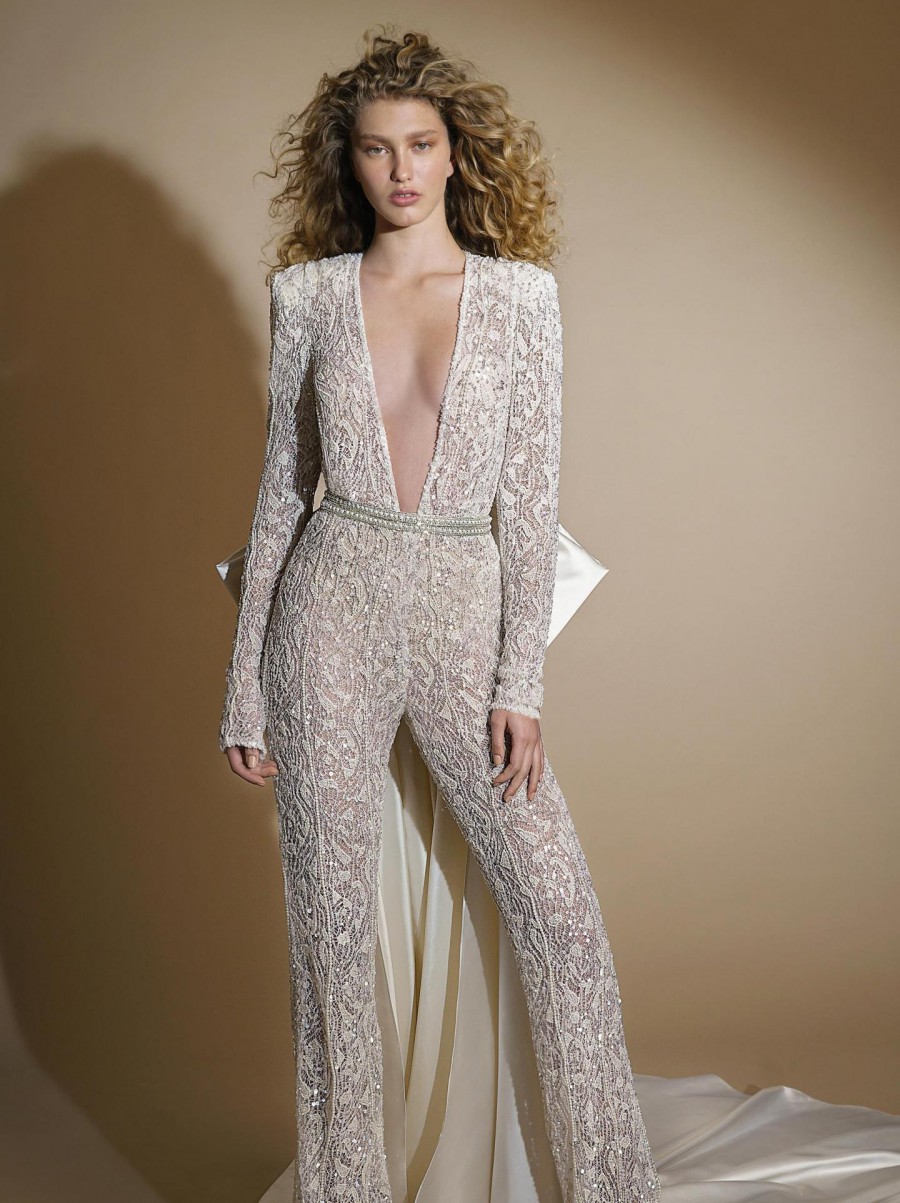 A shimmering beaded lace jumpsuit that will steal the spotlight on your wedding day. The plunging deep V-neckline adds even more drama to this dazzling style.
09.

Illusion Jumpsuit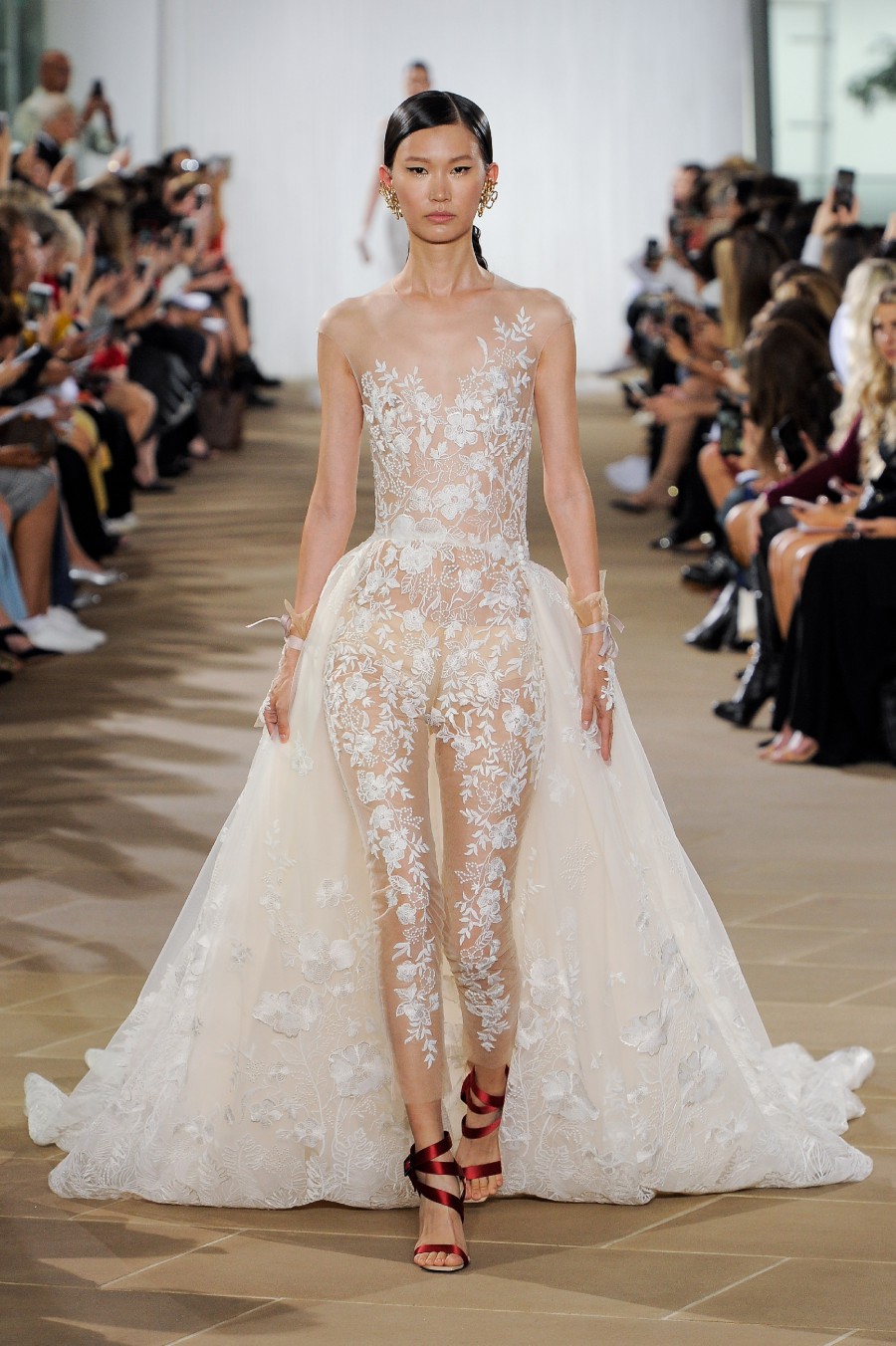 This illusion lace jumpsuit gives off an almost painted on appearance that will show off all of your beautiful curves. To add some drama to this barely-there style is a detachable exaggerated cathedral train. Sport the train for your ceremony, and take it off when you are ready to dance the night away.
10.

Lace Kimono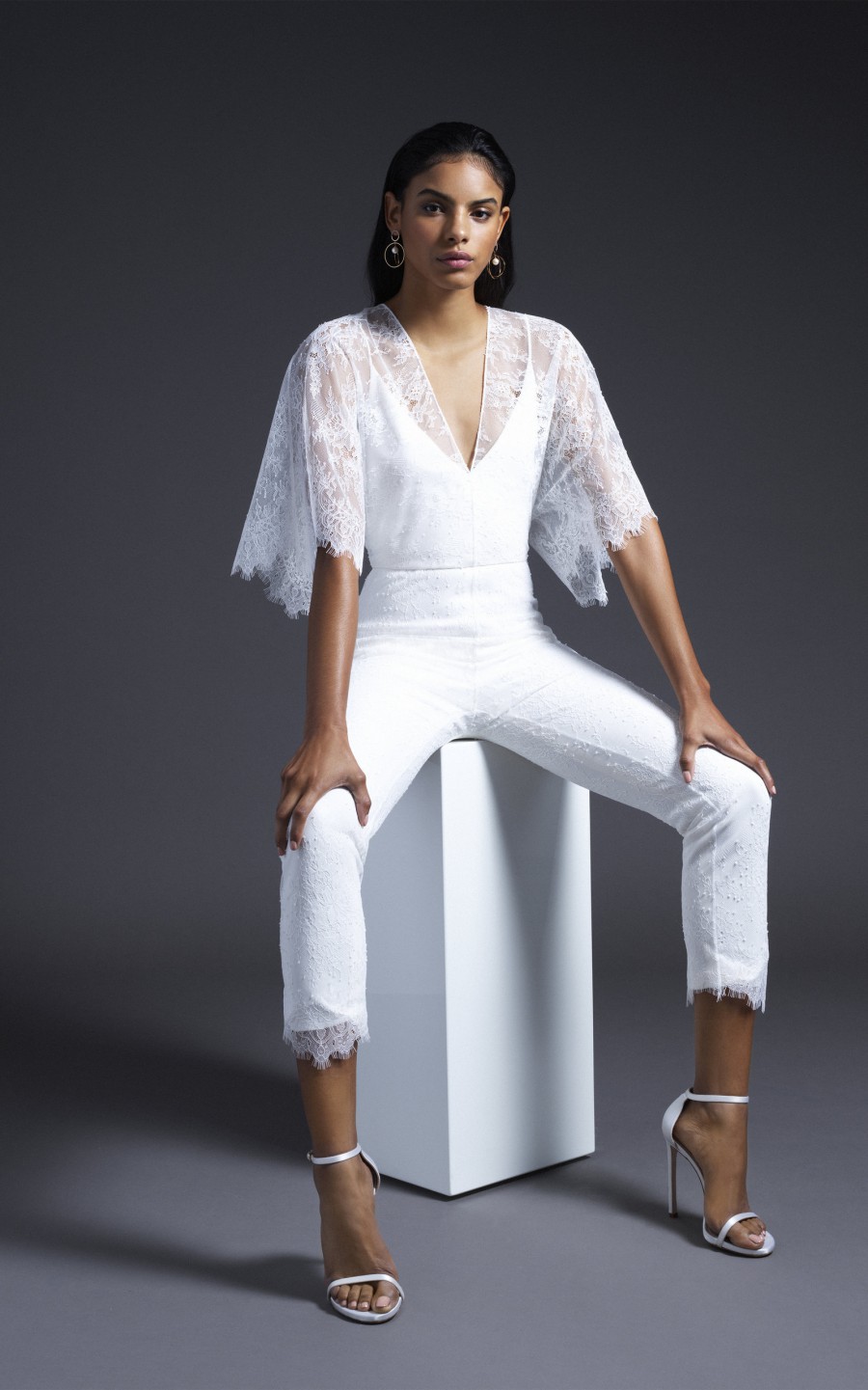 A chic contemporary lace jumpsuit. This fitted style features delicate lace kimono sleeves that are absolutely gorgeous! A less formal, laid back bridal style.
11.

A Touch of Lace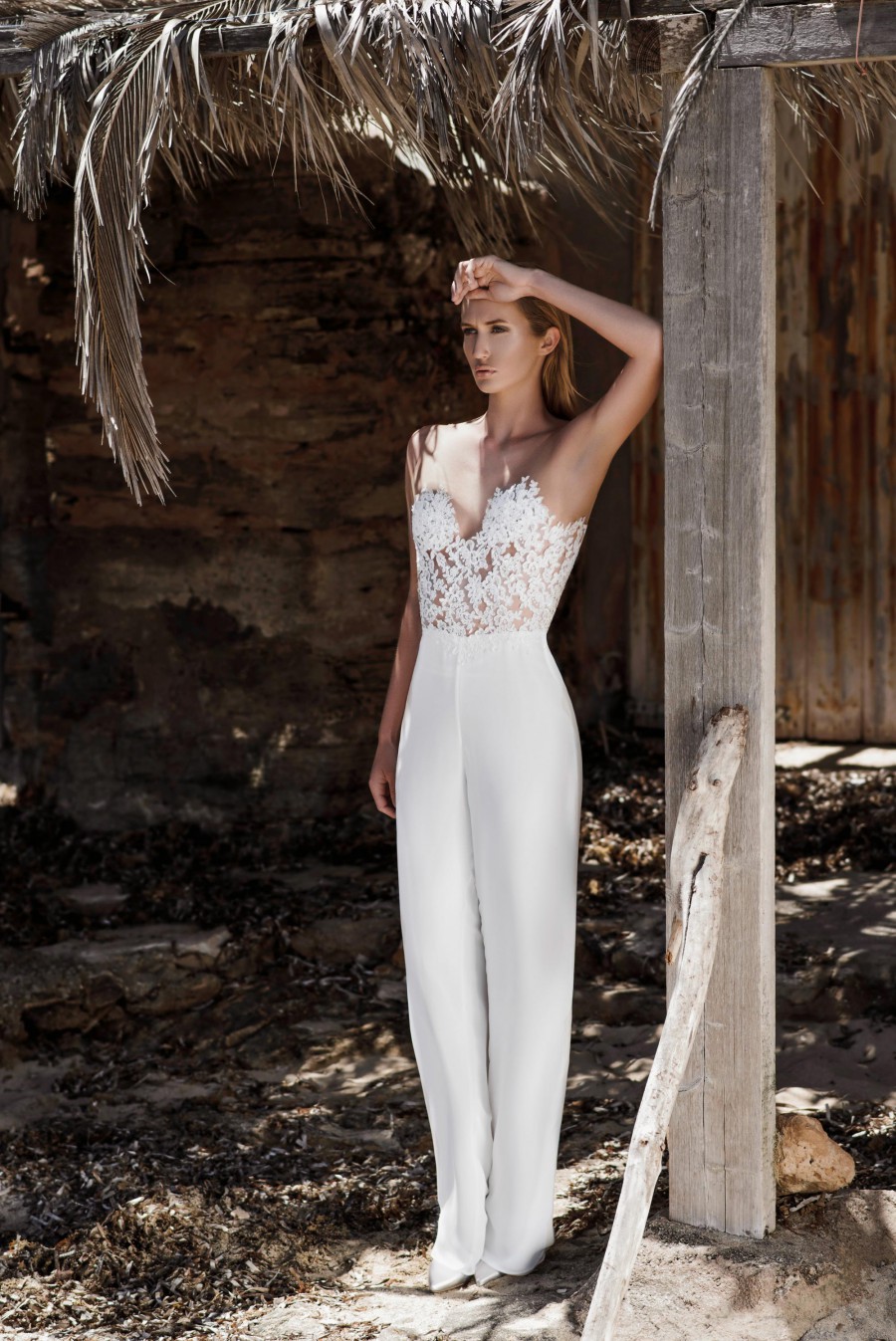 Our next lace jumpsuit bridal style embraces a little less lace than some of the previous styles. This look features an illusion lace bodice that leads into soft silk pants. A gorgeous combination.
12.

Pretty in Pink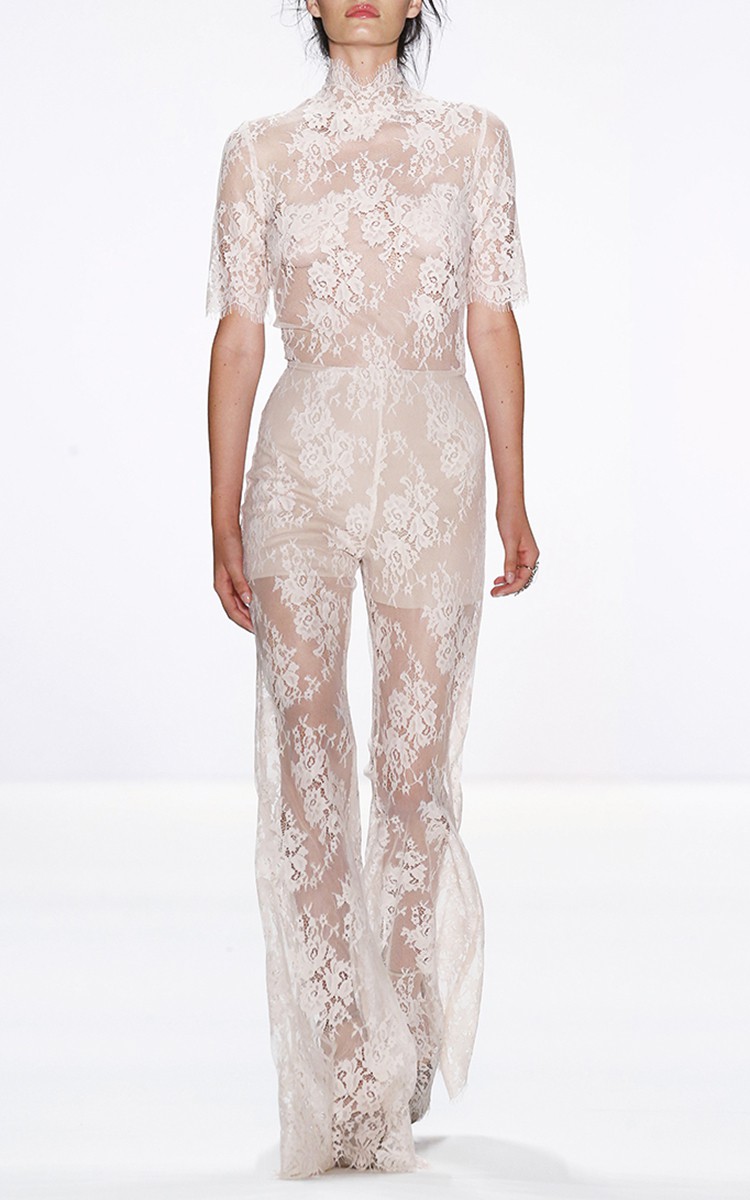 Our next lace bridal jumpsuit is completely unconventional and we absolutely love it! This semi-sheer, pink lace jumpsuit is feminine and bold. It has traditional & antique bridal influences, while being a completely daring contemporary wedding day look.
13.

Low Back Lace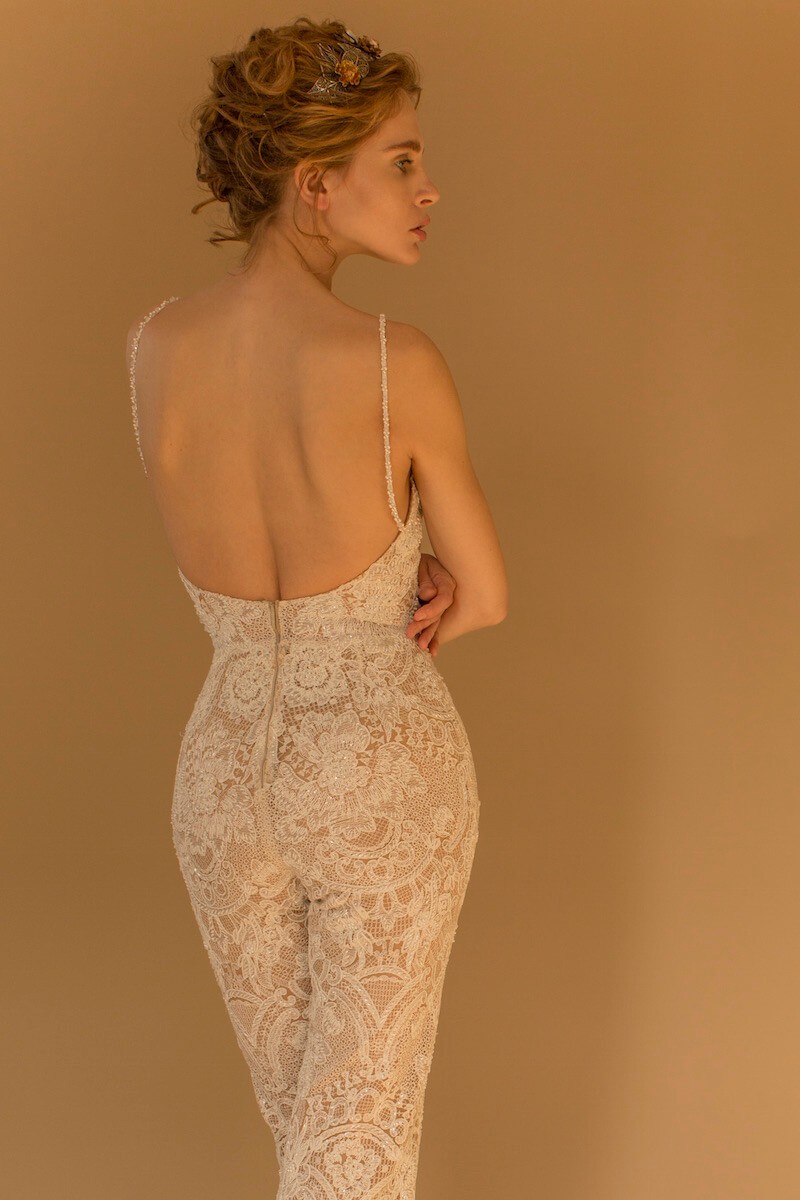 A stunning form fitting lace jumpsuit from Francesca Miranda. The hip hugging silhouette, thin straps and low back create a sexy feminine style that is absolutely dreamy!
14.

Edgy Bohemian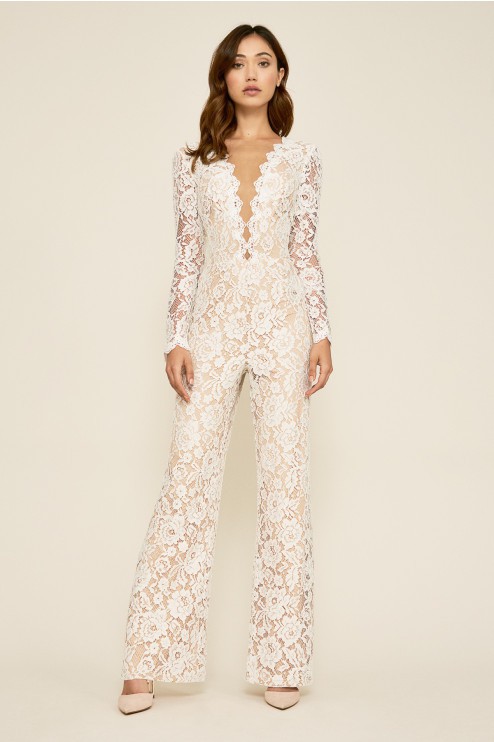 An edgy bohemian lace jumpsuit that is sassy and chic! A fitted silhouette, deep V-neckline and wide leg pants. Everything a fashionable modern day hippie could want!
15.

Classic Lace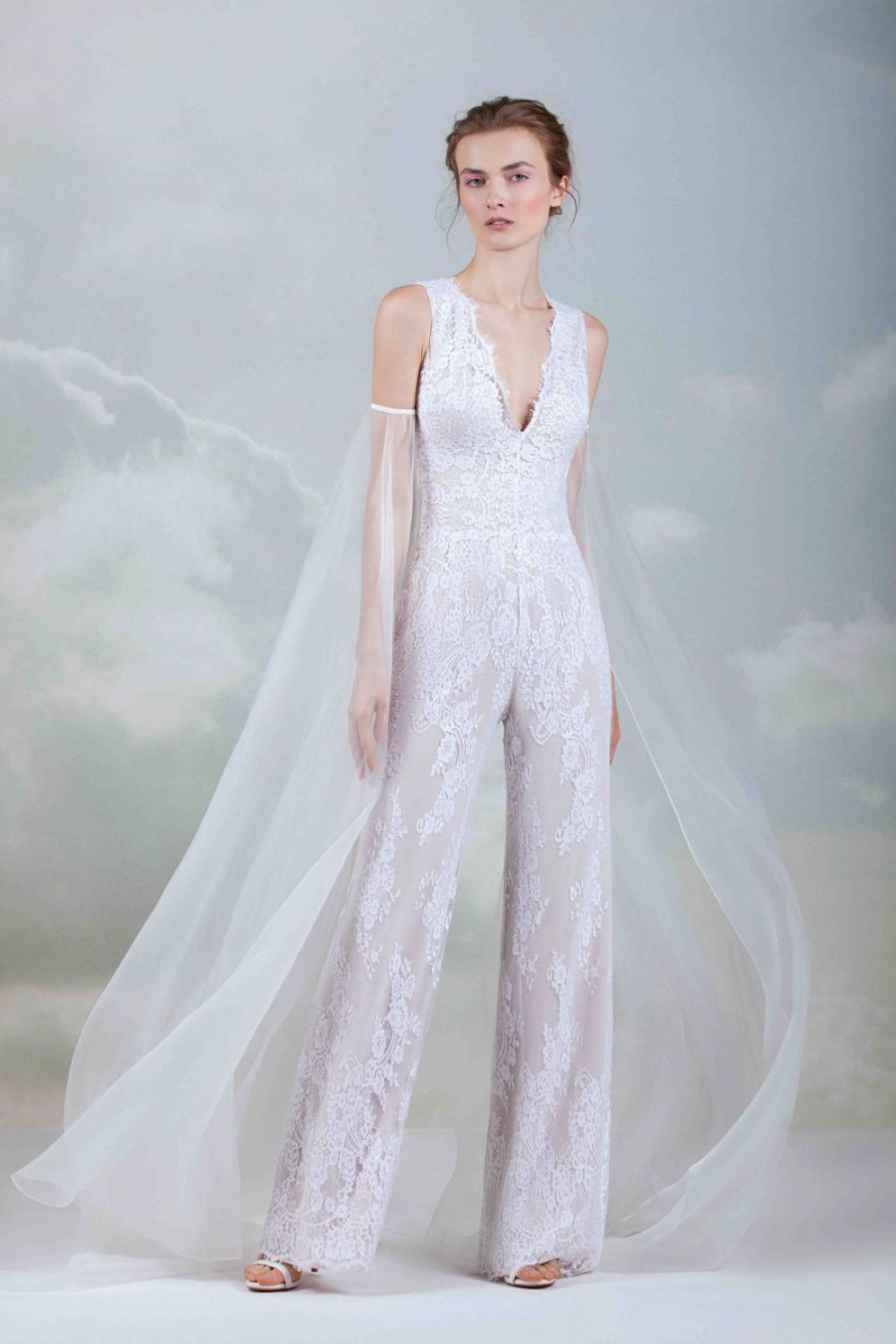 Gemy Maalouf brings us a classically inspired lace bridal jumpsuit that is feminine and flattering. A great way to wear a jumpsuit on your wedding day, without making too bold of a statement.
16.

Simple Ivory
A simple, and feminine ivory lace jumpsuit that is so easy going and flattering. This unassuming style is absolutely gorgeous down to every last detail - like the delicate scalloped lace around the bottom of the pants.
17.

Sheer & Chic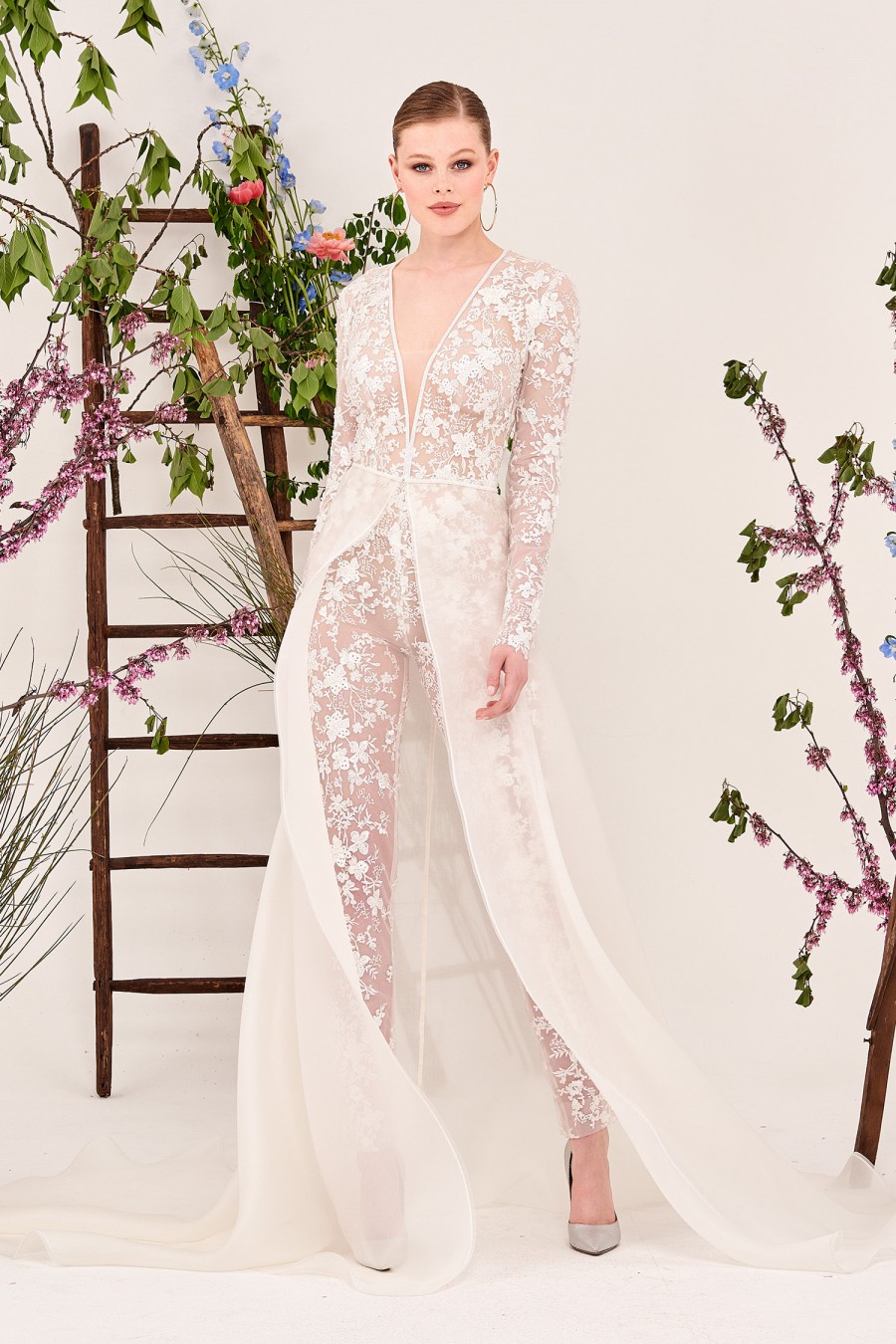 A fashion forward sheer tulle and embroidered lace bridal jumpsuit that is fierce and feminine. The subtle silk organza skirt adds a soft finish to this beautiful style.
18.

Black Lace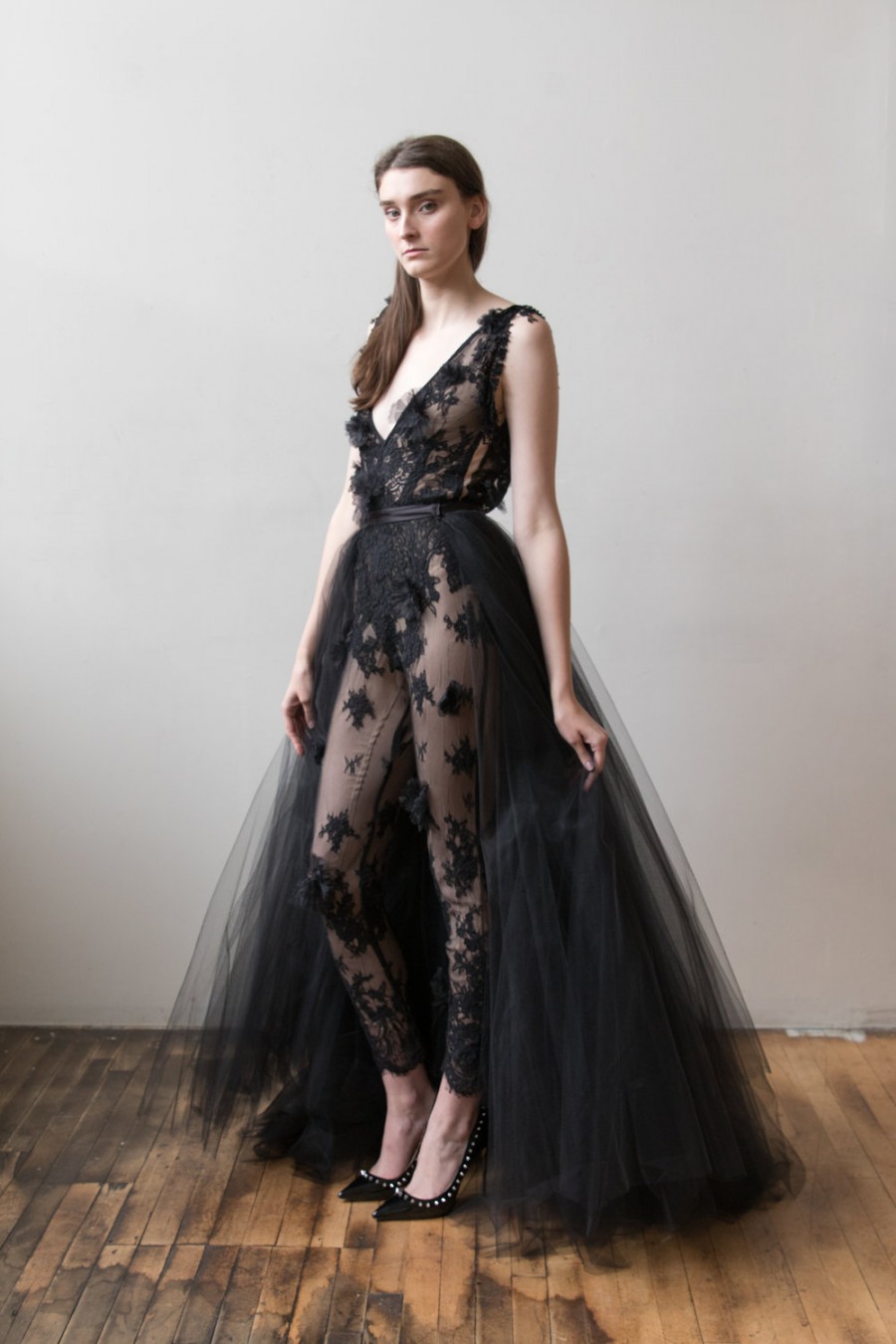 It seems fitting to finish up this rule breaking list with the biggest rule breaker of them all - a bold black lace bridal jumpsuit. This edgy bridal look features a layered tulle overskirt to add more volume to this bold style. Nothing quite breaks away from tradition like an edgy black bridal style.

By Kathryn Schrotenboer