Make a bold, sultry wedding day statement with these trending high slit wedding gowns.
Slits are sexy, feminine and ultra chic. And now more than ever, high slit styles are hitting the wedding scene like never before. This trending detail is the perfect way to make a bold, feminine statement on your big day. So what do you think...are you brave enough to pull off this high slit styles, and show a little extra leg?
01.

To Daring Heights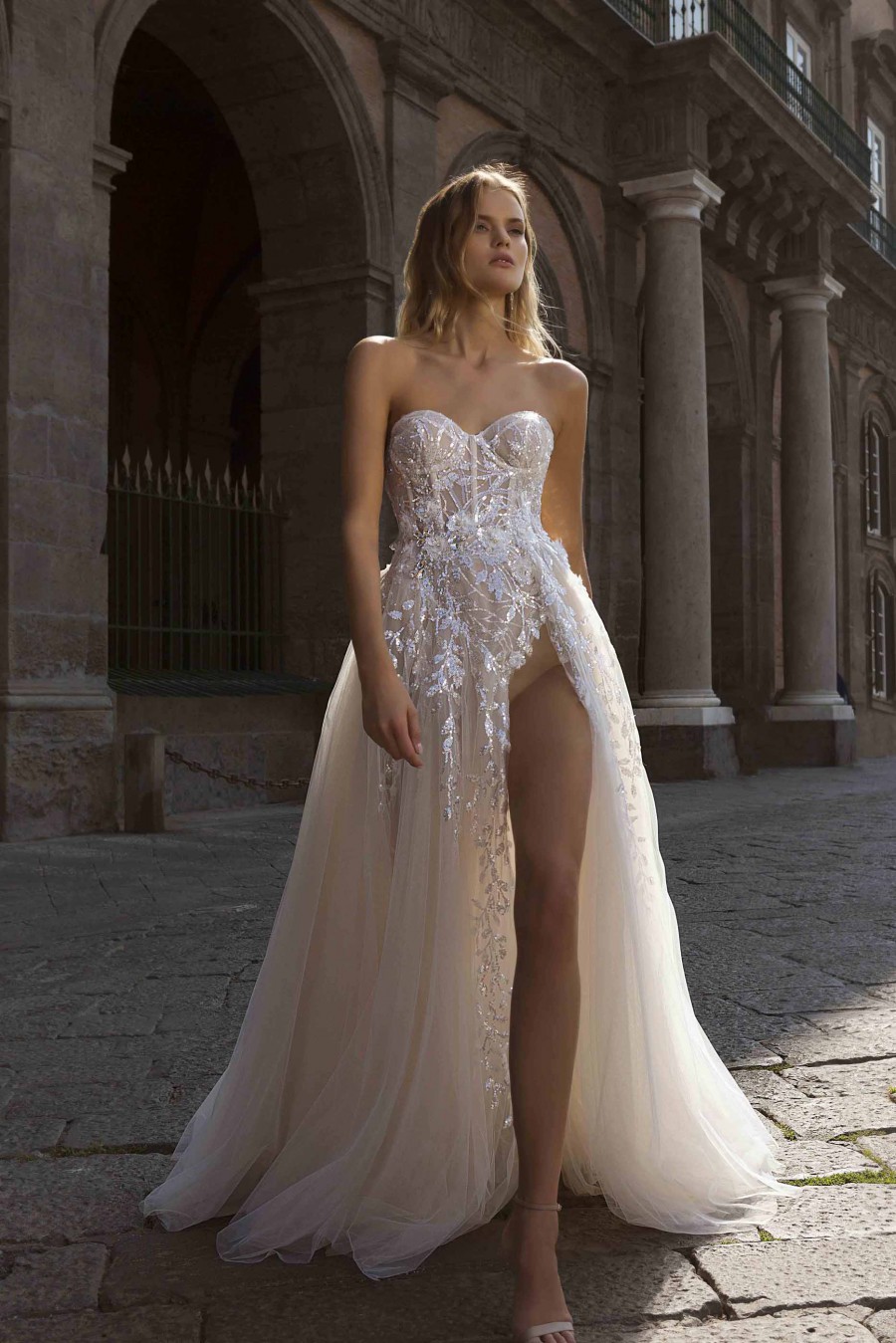 Berta starts off the list with a dress that is really pushing the boundaries of this high slit trend. With a front slit that runs all the way to the bodice - this look is daring and sexy.
02.

Floral Goddess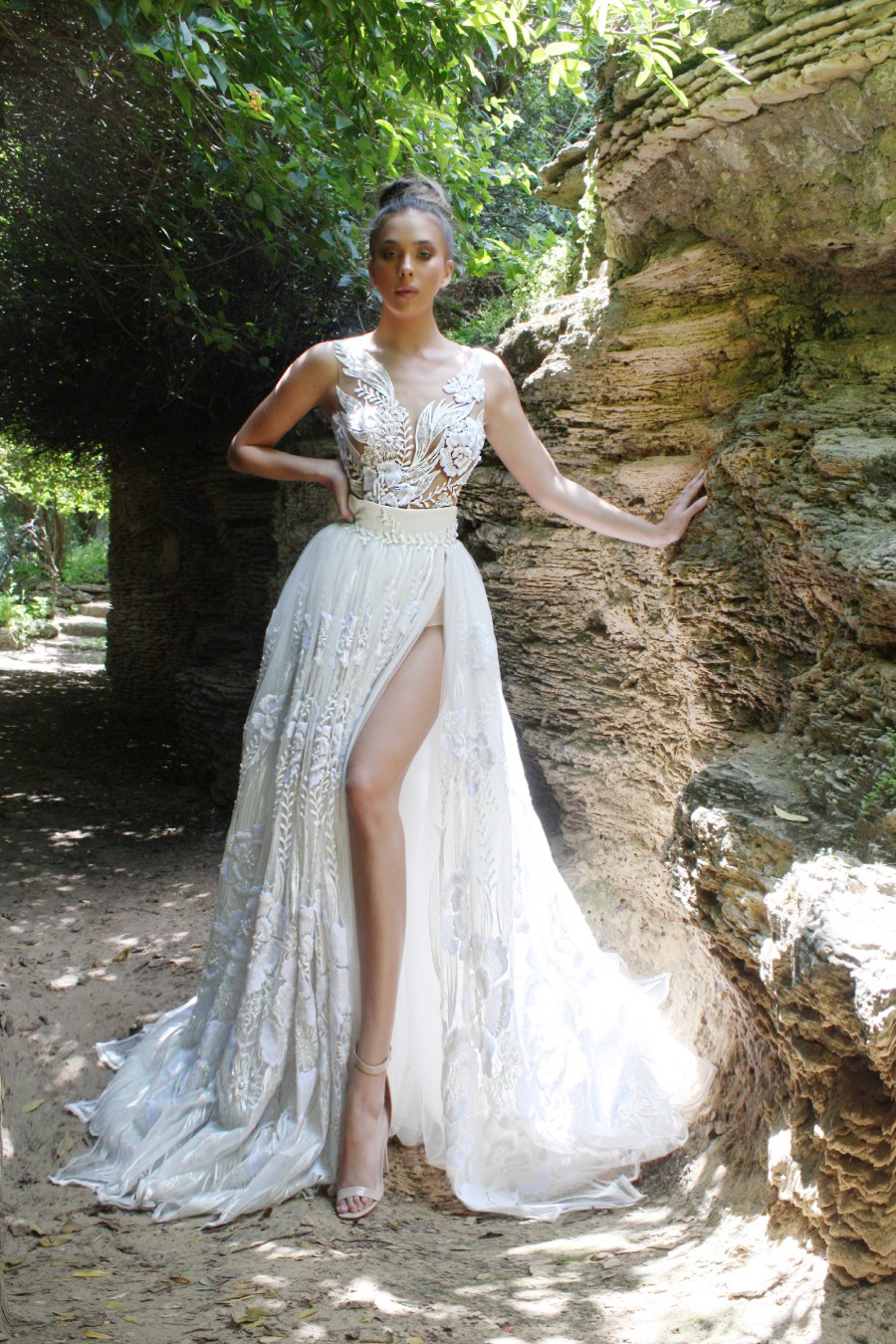 Dany Mizrachi brings us this next lush floral accented wedding gown with another deep front slit detail. This sultry and feminine look would be perfect for an outdoor garden wedding day.
03.

Sultry Silk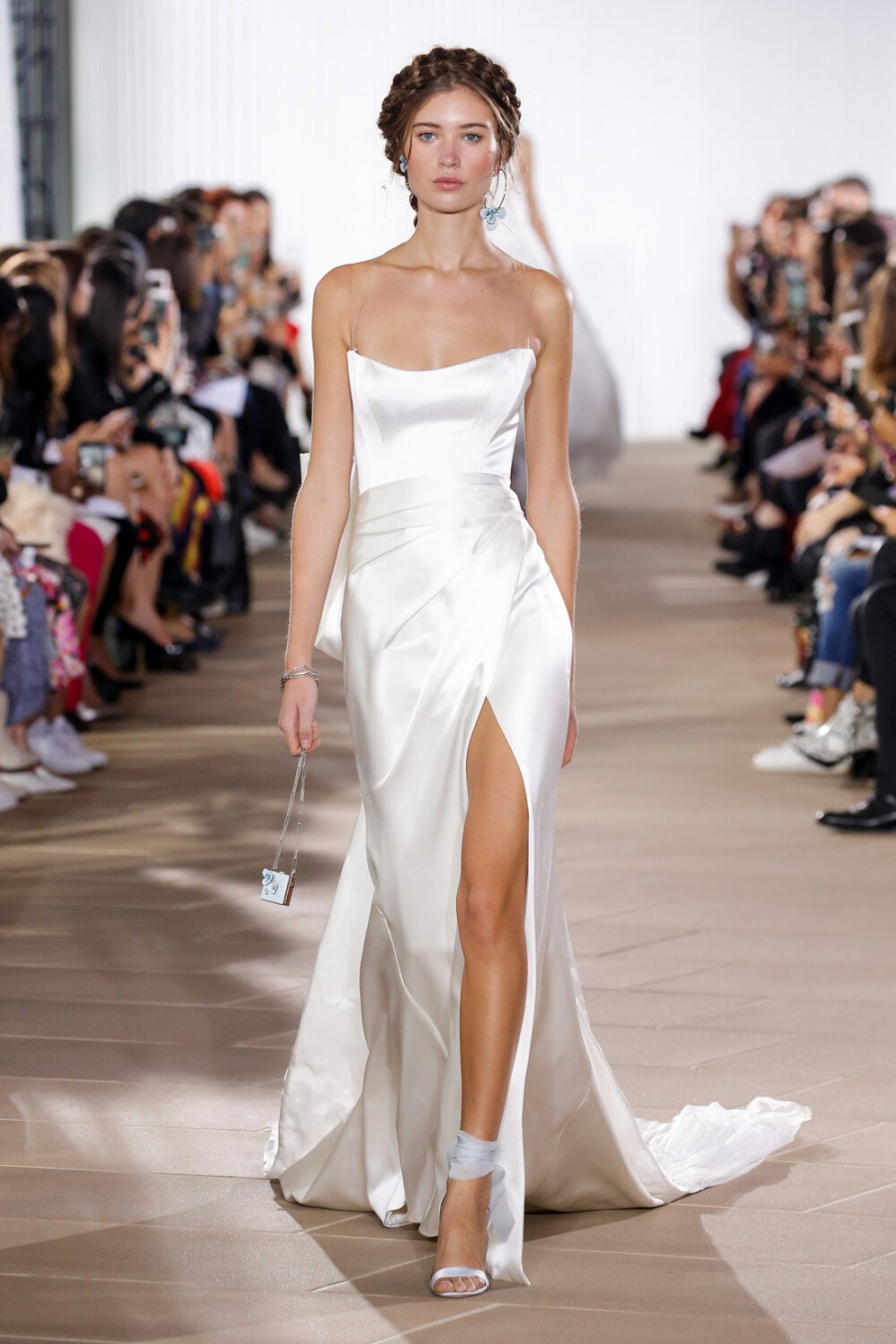 Ines di Santo brings us an effortless silk wedding gown with a stunning illusion neckline and deep wrapped front slit.
04.

Couture Glam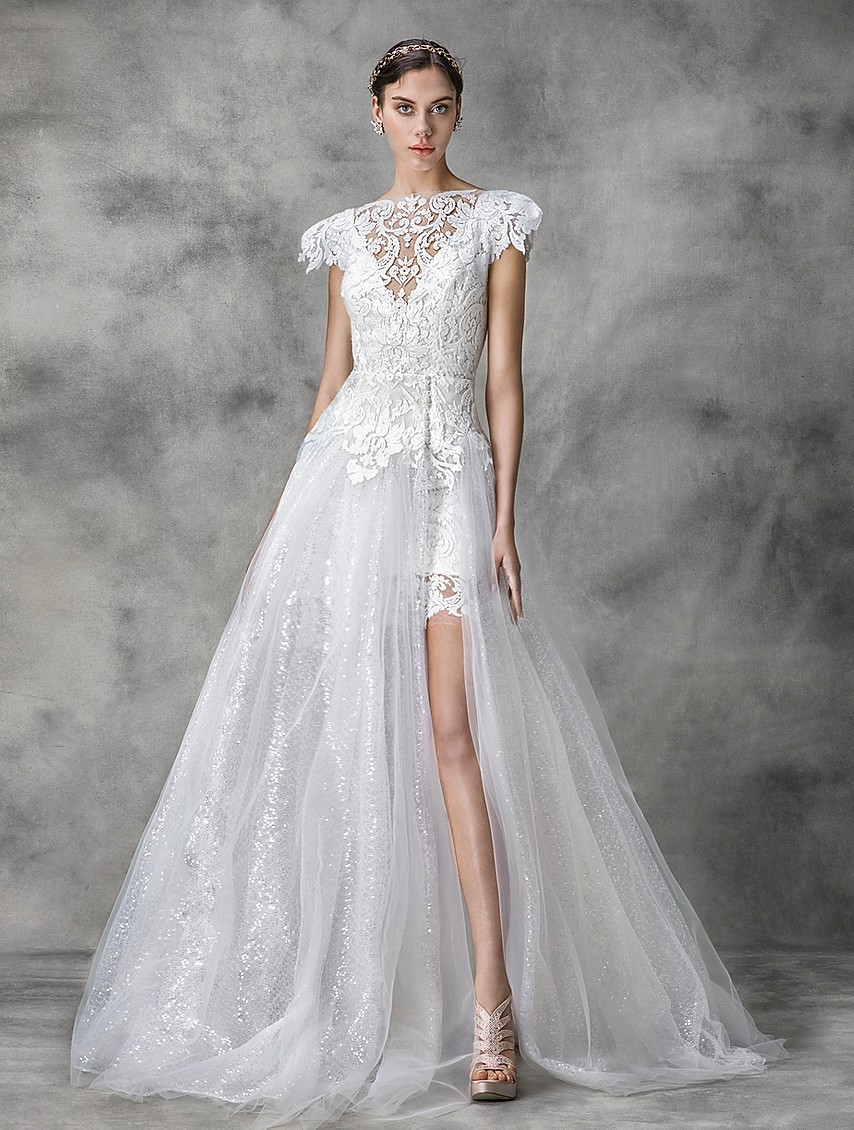 Victoria Kyriakides is bringing us some couture glamour with this next high slit accented wedding gown. The different layers and fabrics of this gown work beautifully together in an exciting way.
05.

High Slit Ball Gown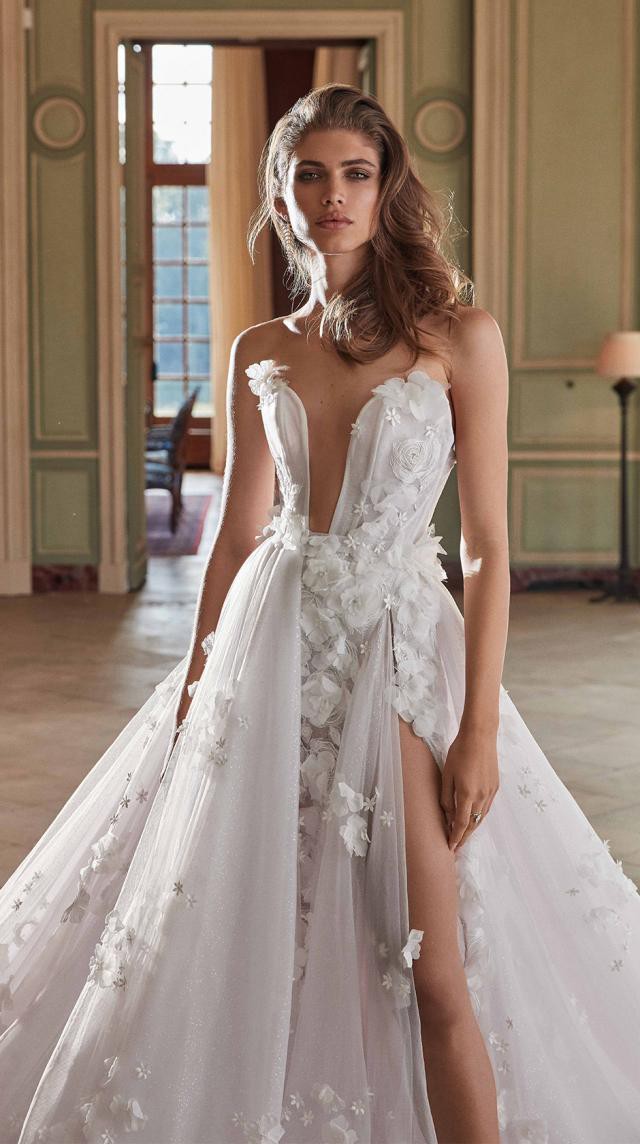 Are you craving a ball gown, but also loving this high slit trend? This stunning style from Galia Lahav gives you both!
06.

Dramatic Diva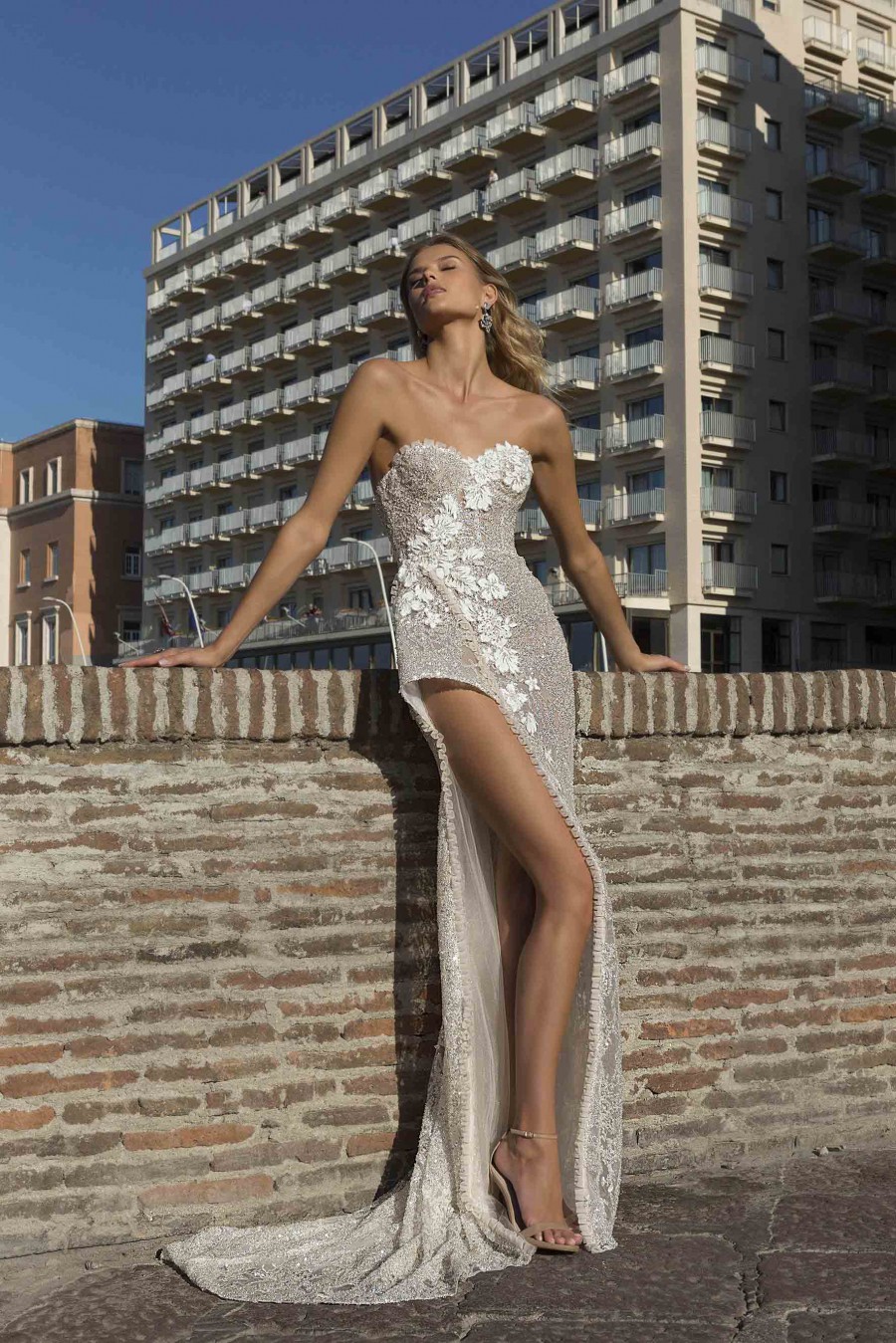 Can't decide whether you want to go with a long or short dress on your big day? This high slit trend may just let you have the best of both worlds - like with this dramatic, diva-approved gown from Berta.
07.

Slit Slip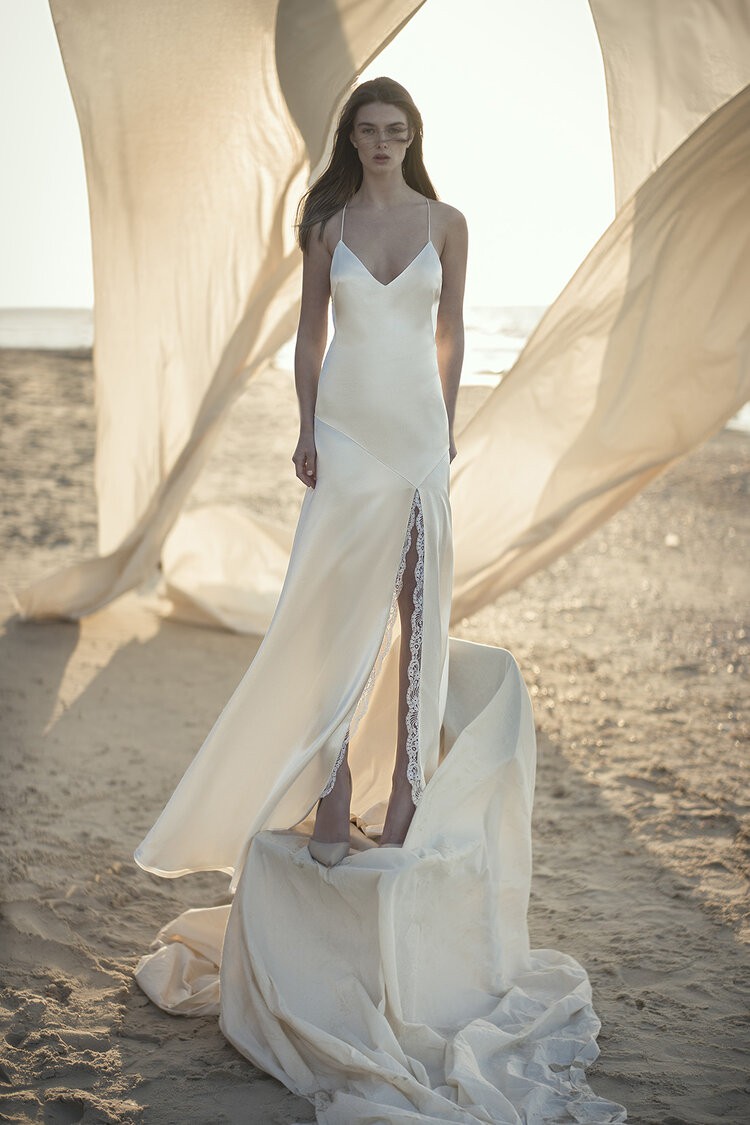 Where do we start with this dreamy wedding gown? This stunning silk slip dress features a high slit, accented with scalloped lace. Simple, understated and so effortless.
08.

Back Drama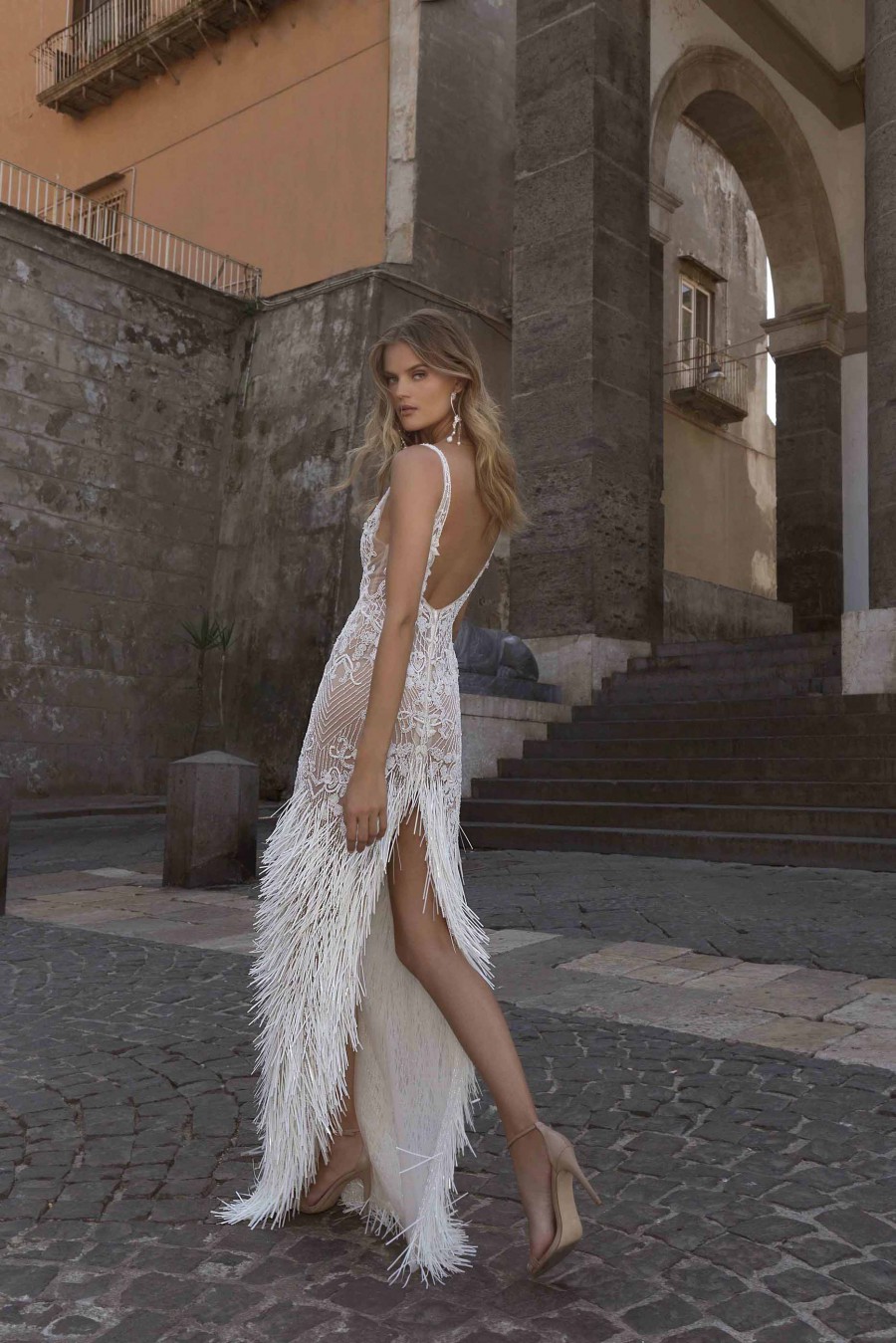 High slits aren't just for the front of wedding gowns. How about this back slit accented dress from Berta? A dramatic detail from behind that will have everyone in awe as you walk down the aisle!
09.

Wrapped Glam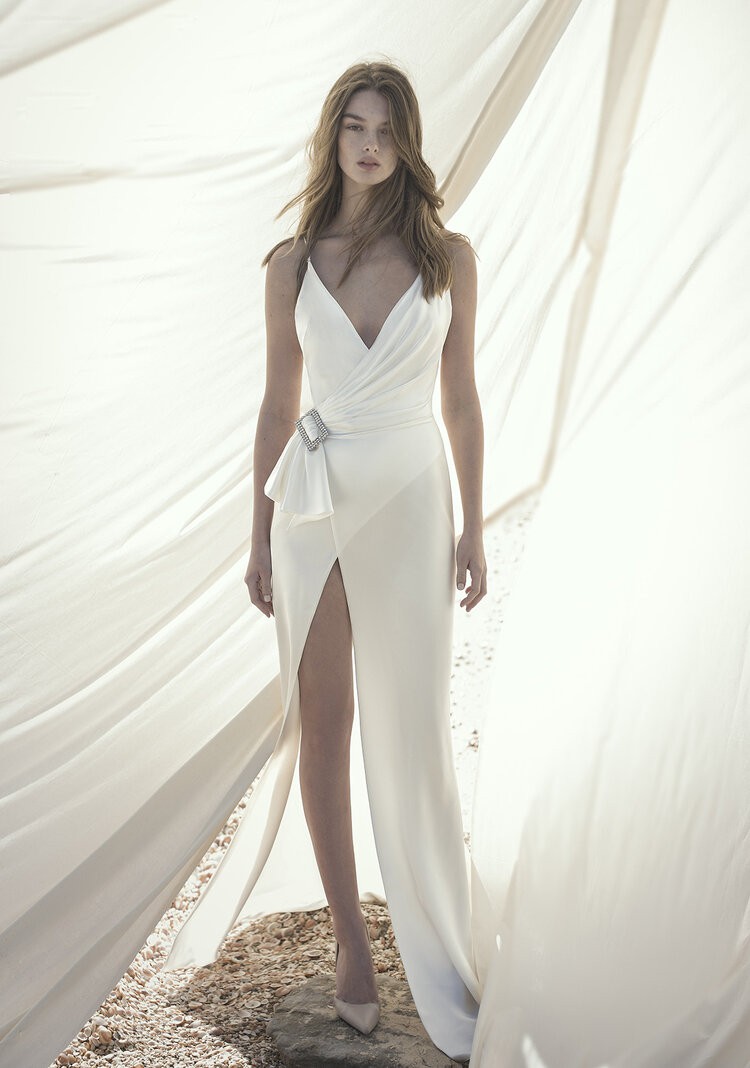 This effortless wrapped slip gown features a high overlapping slit for a sultry, sophisticated feel.
10.

Show Some Leg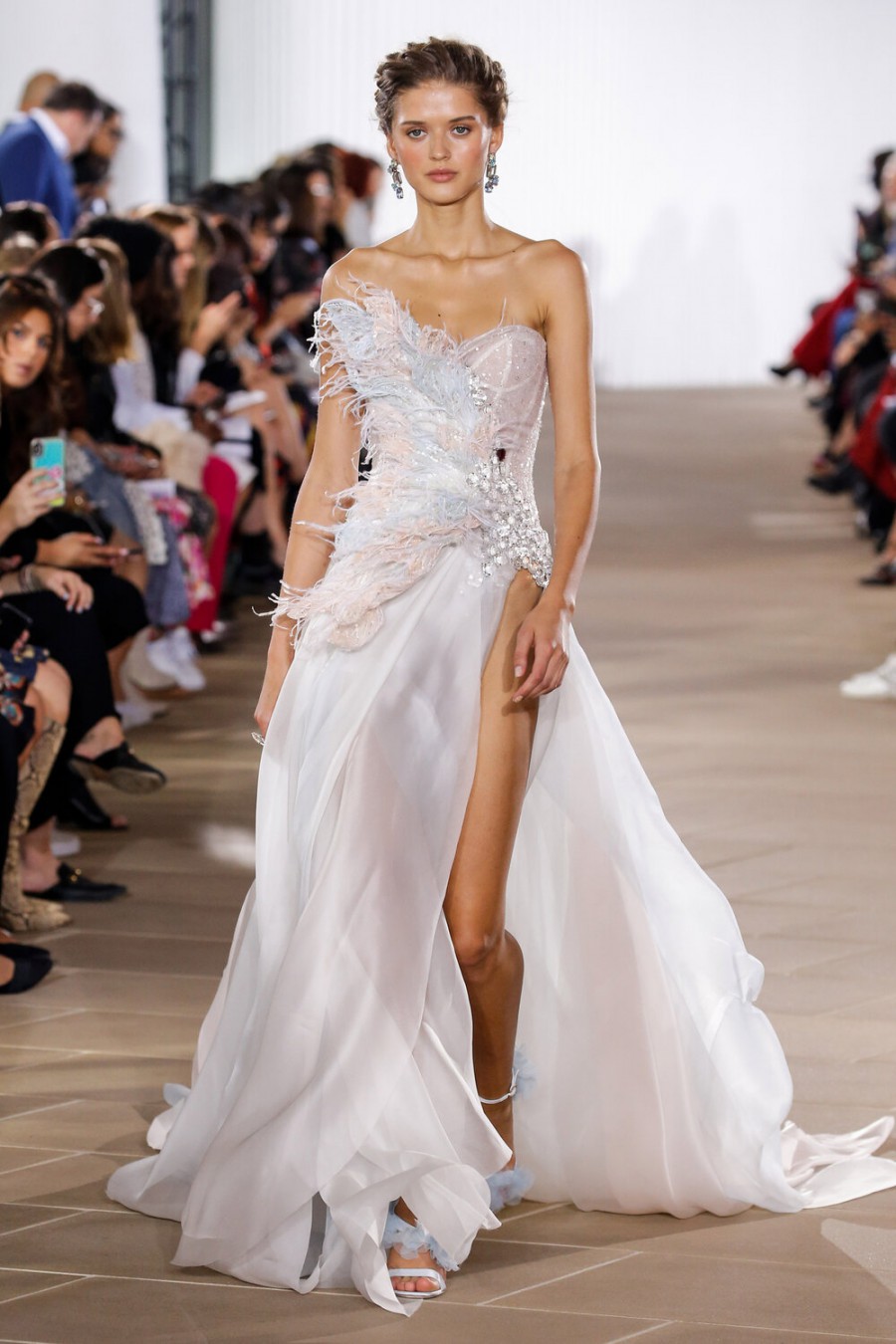 Get ready to show some extra leg with this next wedding gown from Ines di Santo. This stunning pastel feather accented gown features an ultra high slit for a sultry and feminine feel.
11.

Sultry Slit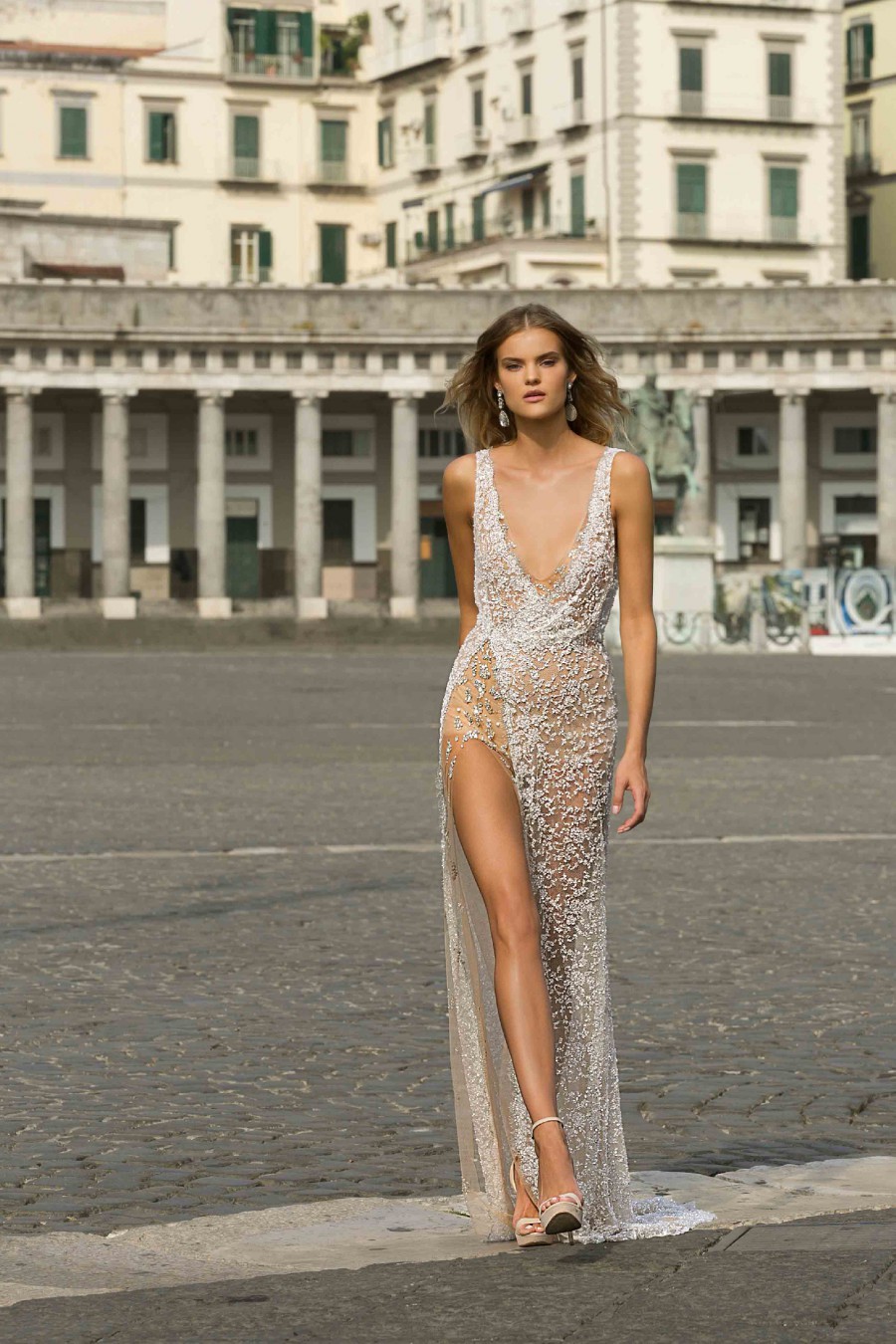 The high slit trend makes for a sultry wedding day look. Are you daring enough to pull off a look like this one from Berta?
12.

Ethereal Diva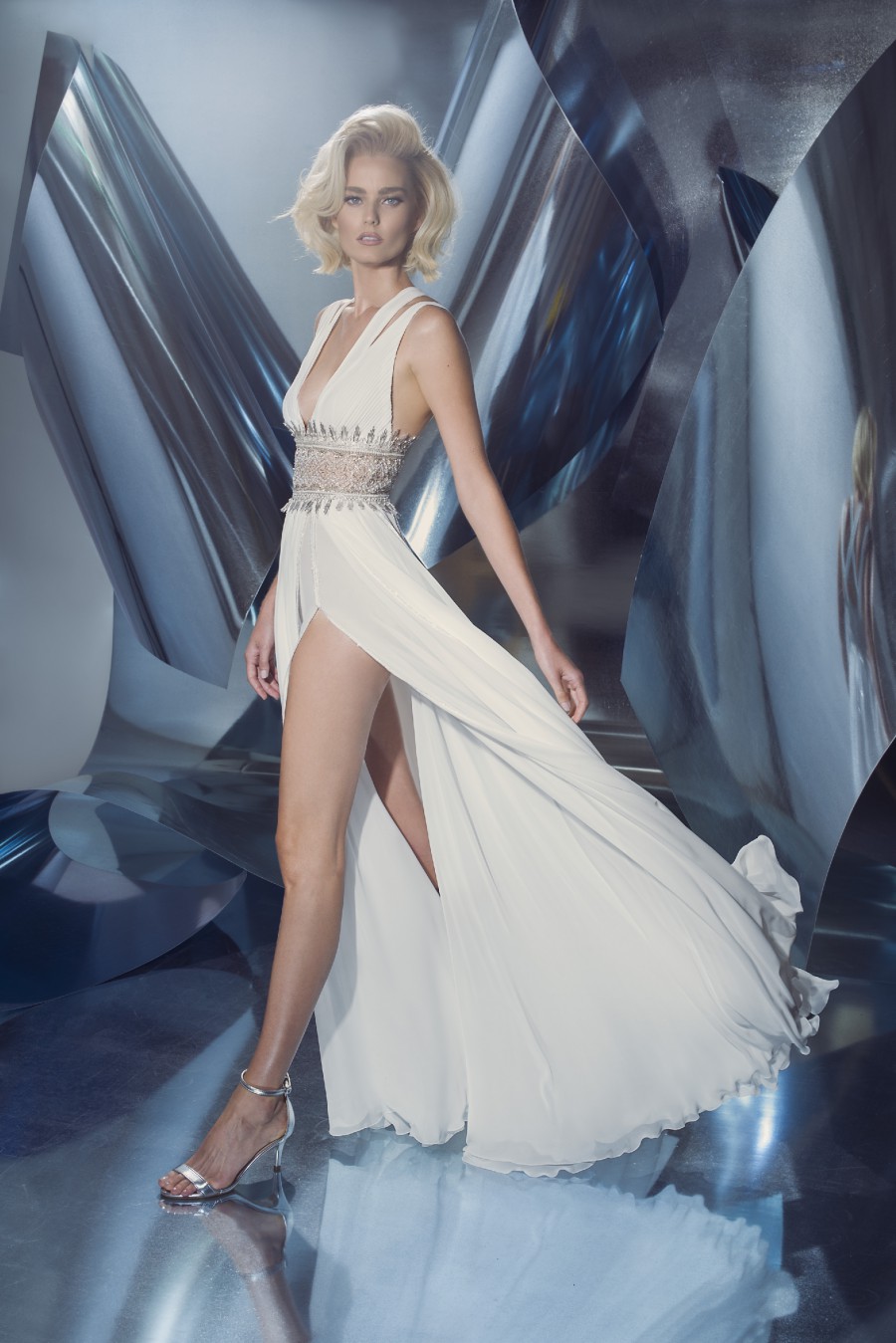 This next diva-worthy high slit wedding gown has a very airy, ethereal feel to it. This look has a bit of a Marilyn Monroe feel. Cue the fans for your photos with this one!
13.

Simple Satin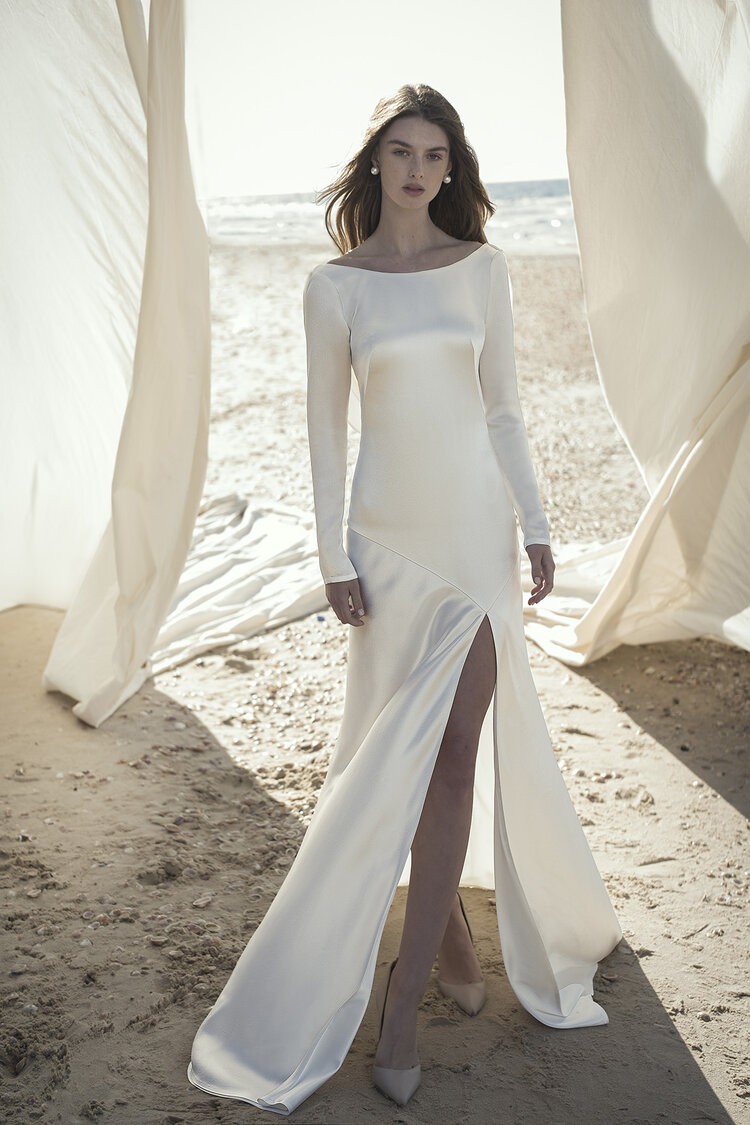 This modest satin boatneck wedding gown is balanced out beautifully with an asymmetric high front slit. This look is the perfect balance of sexy and modest.
14.

Scalloped Elegance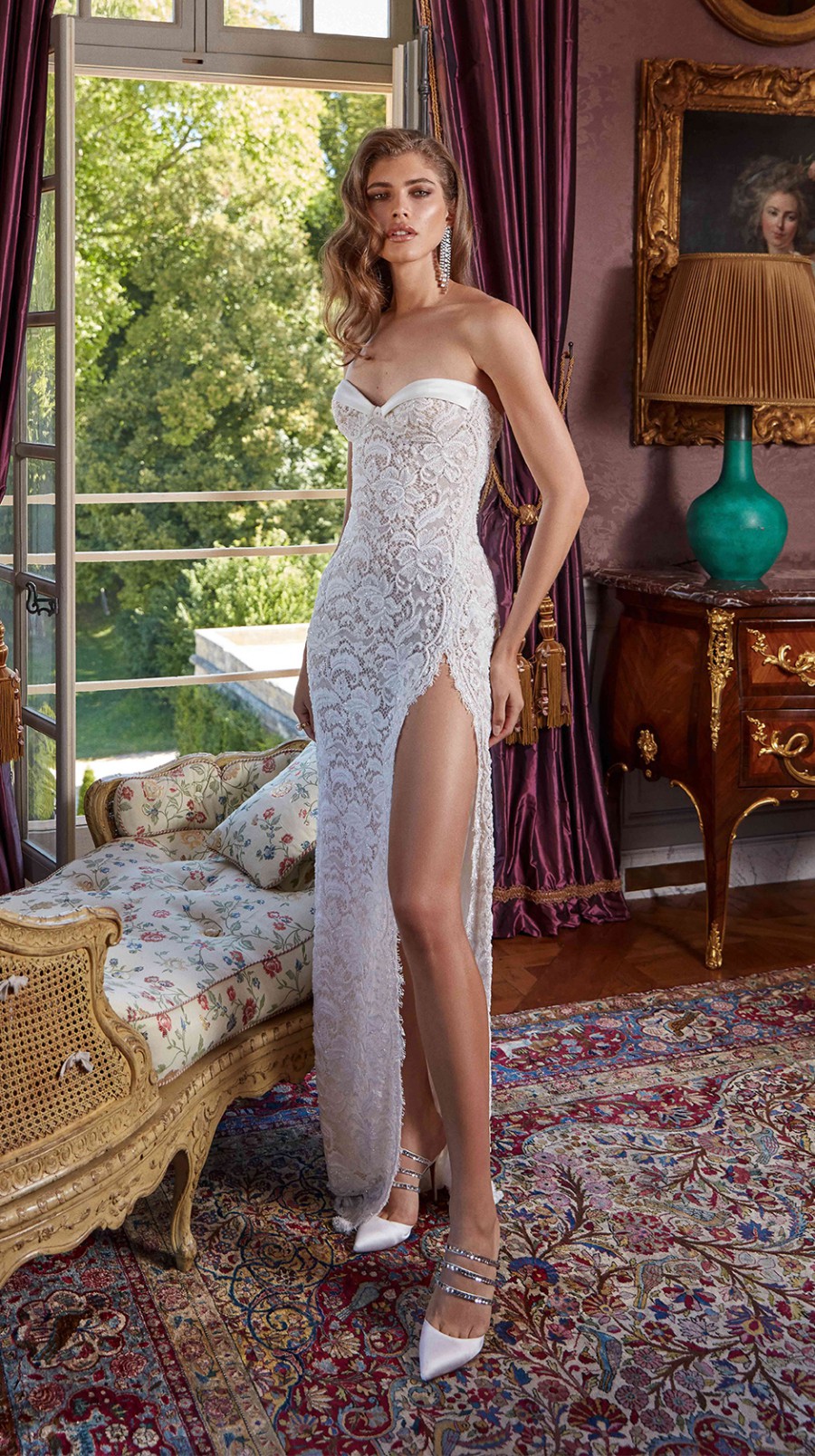 This next high slit wedding gown from Galia Lahav is elegant and sultry. The scalloped edge and collared accent at the sweetheart neckline show that this look is all about the details.
15.

Chic Short Jumpsuit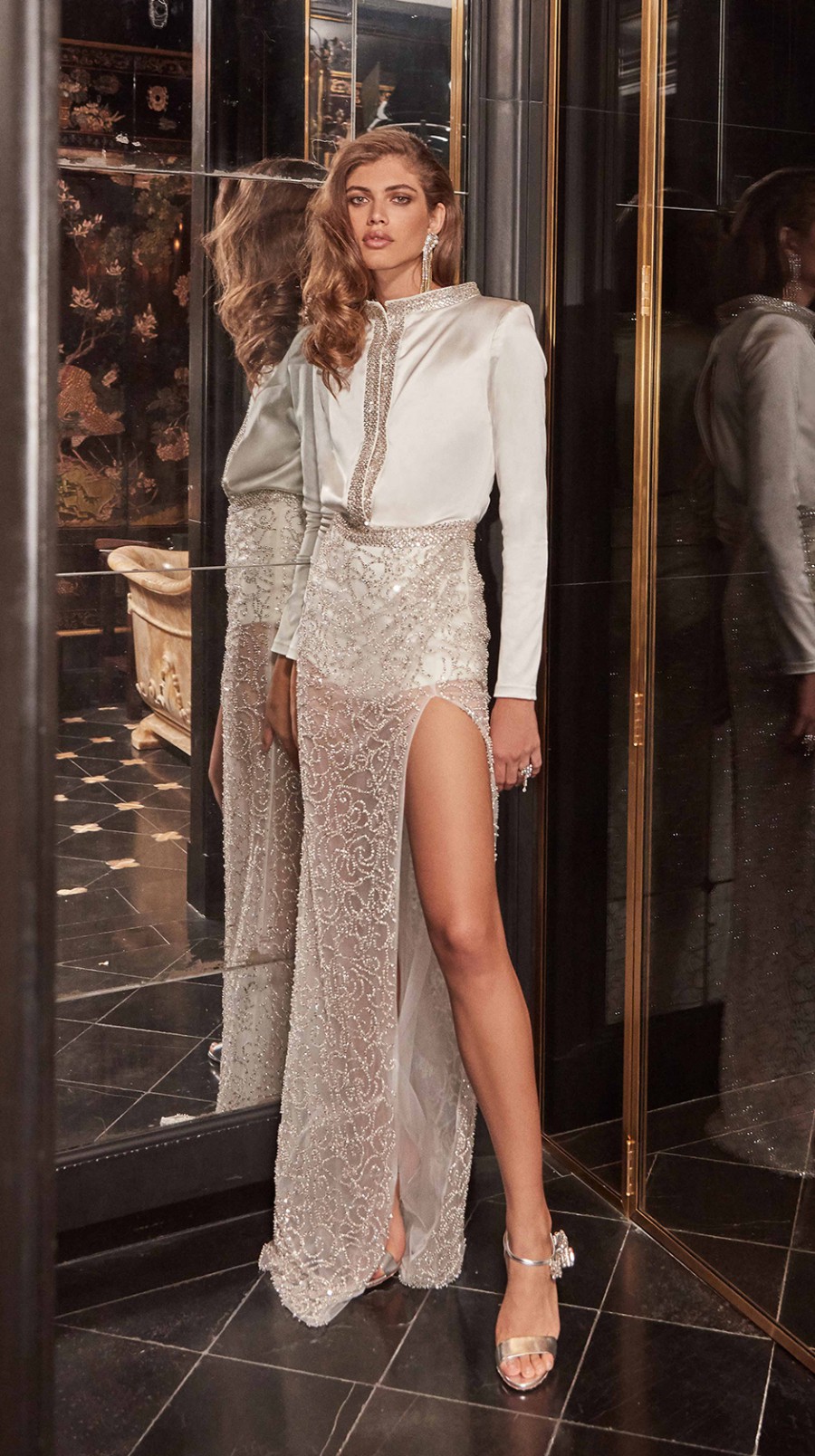 This next short jumpsuit wedding style is ultra chic. The sheer, crystal covered skirt features a high cut slit to add even more drama to this style.
16.

Modern Sparkle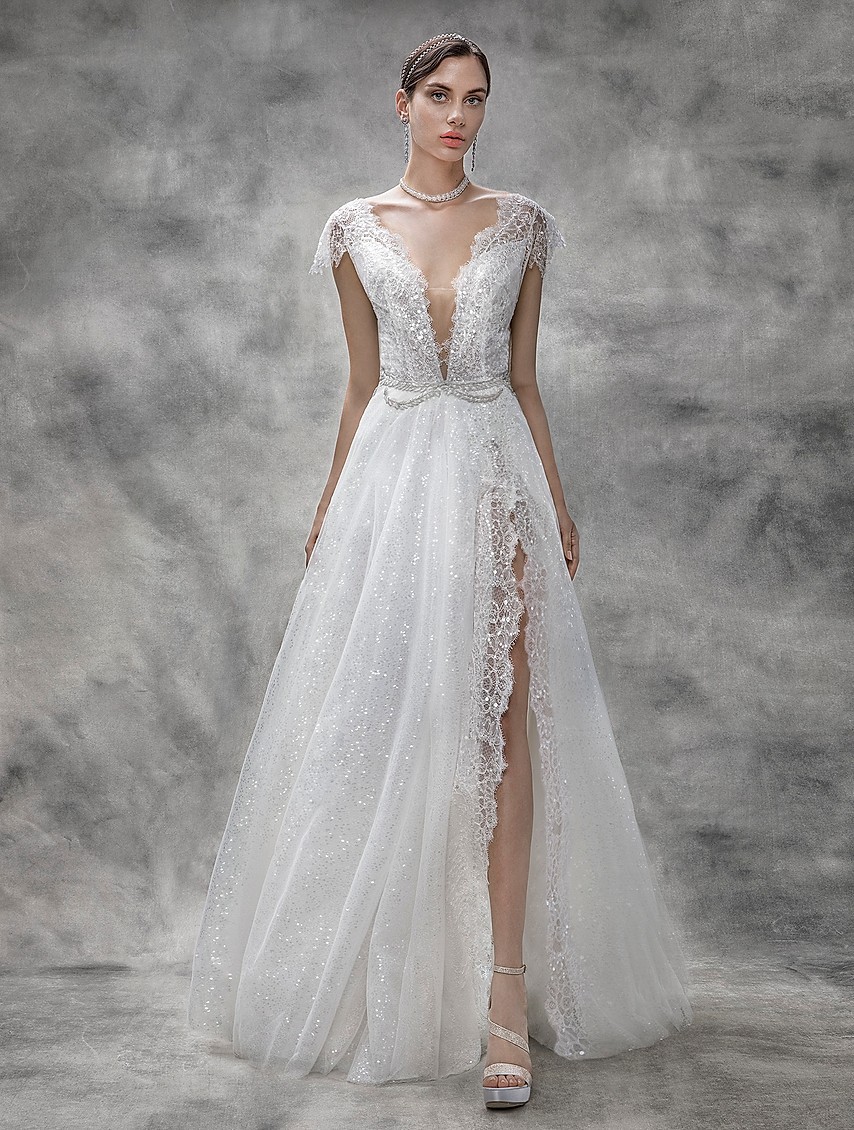 We just love the scalloped edges of this next high slit wedding gown. This look is modern, but with antique influences and it is beautifully feminine.
17.

Elegant Column Gown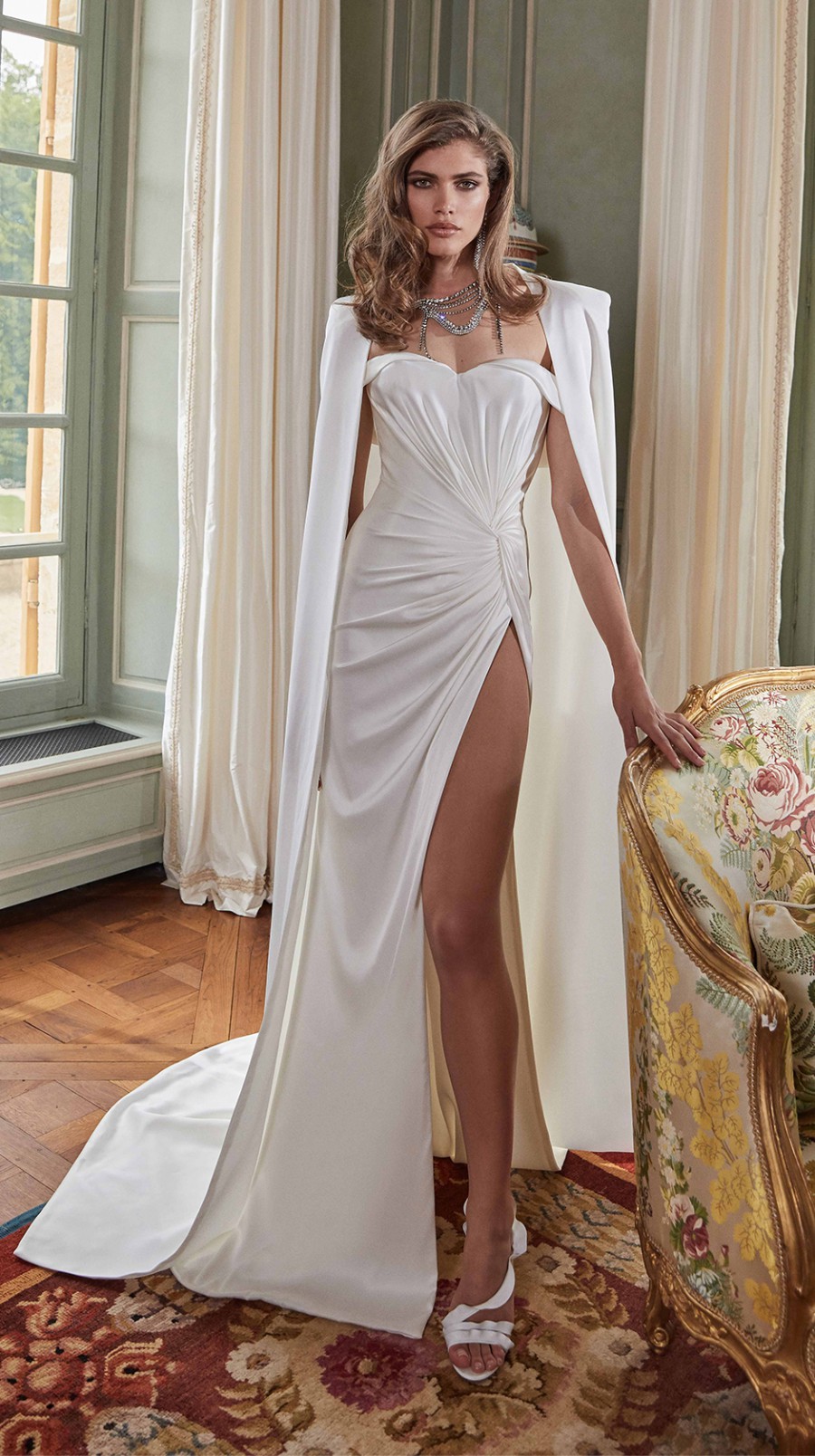 Own your power with this next elegant high slit gown from Galia Lahav. Sophisticated, yet sultry. This look is all about showing off your powerful feminine spirit.
18.

High Slit Princess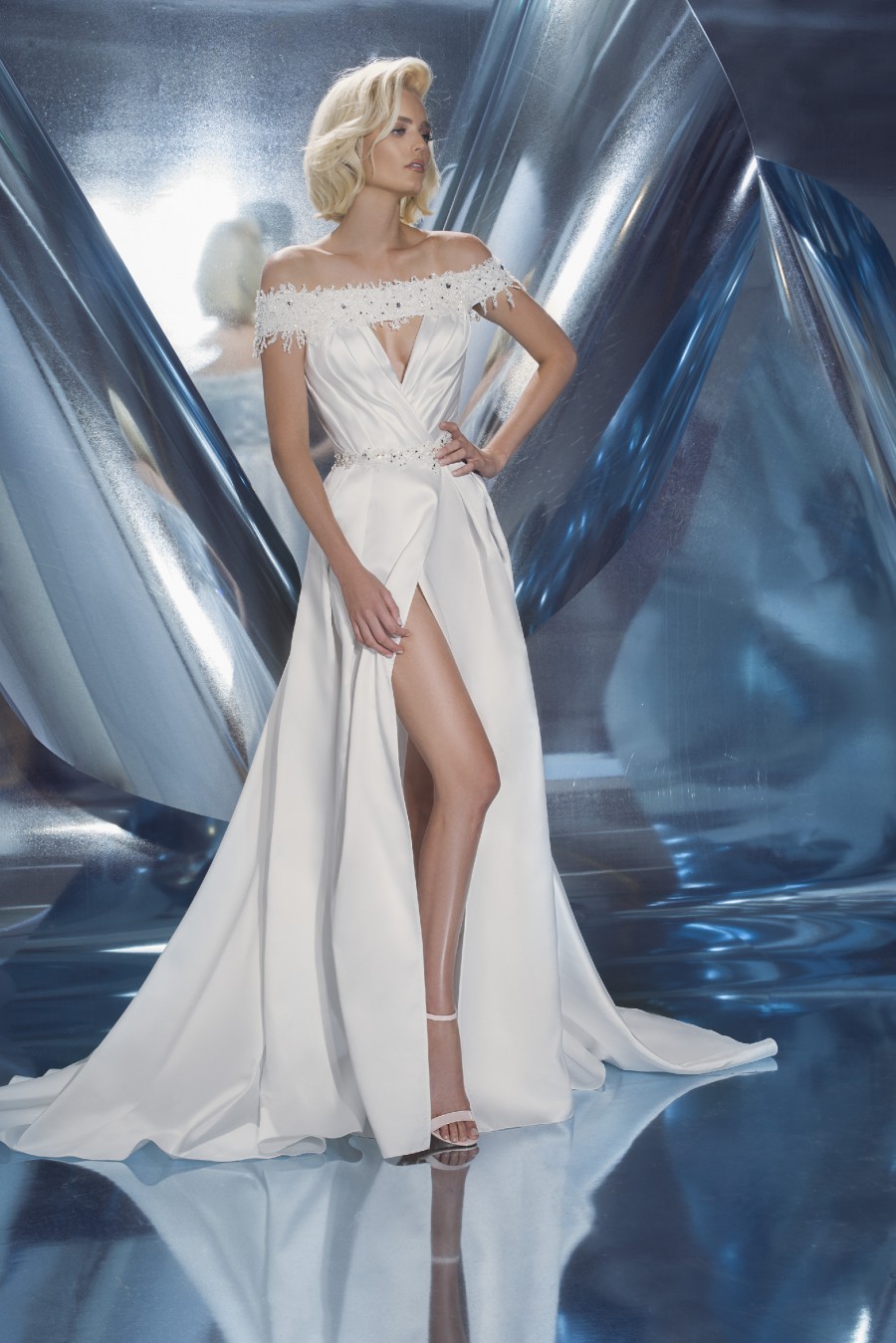 This next look is not for your average princess. This sultry high slit style from Dany Mizrachi, has a very modern ball gown feel to it.
19.

Slit & Bows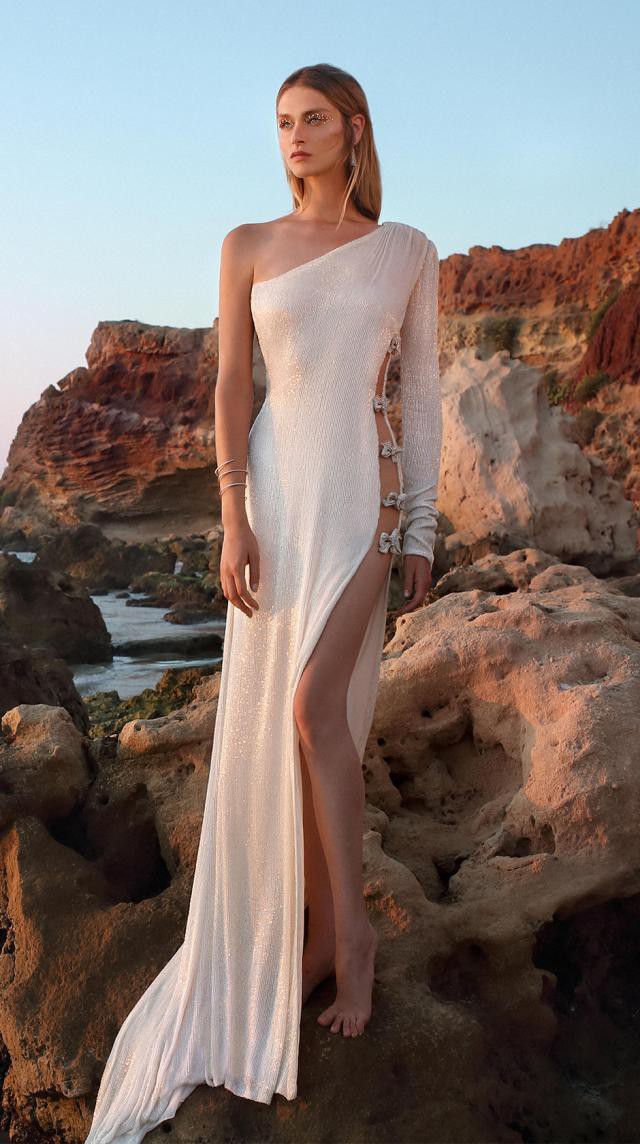 Our next high slit wedding style comes from Galia Lahav. This gown features an ultra high sultry slit that cuts all the way up the bodice of the gown and is connected by embellished bow details. Who is brave enough to give this one a try?
20.

Modern Couture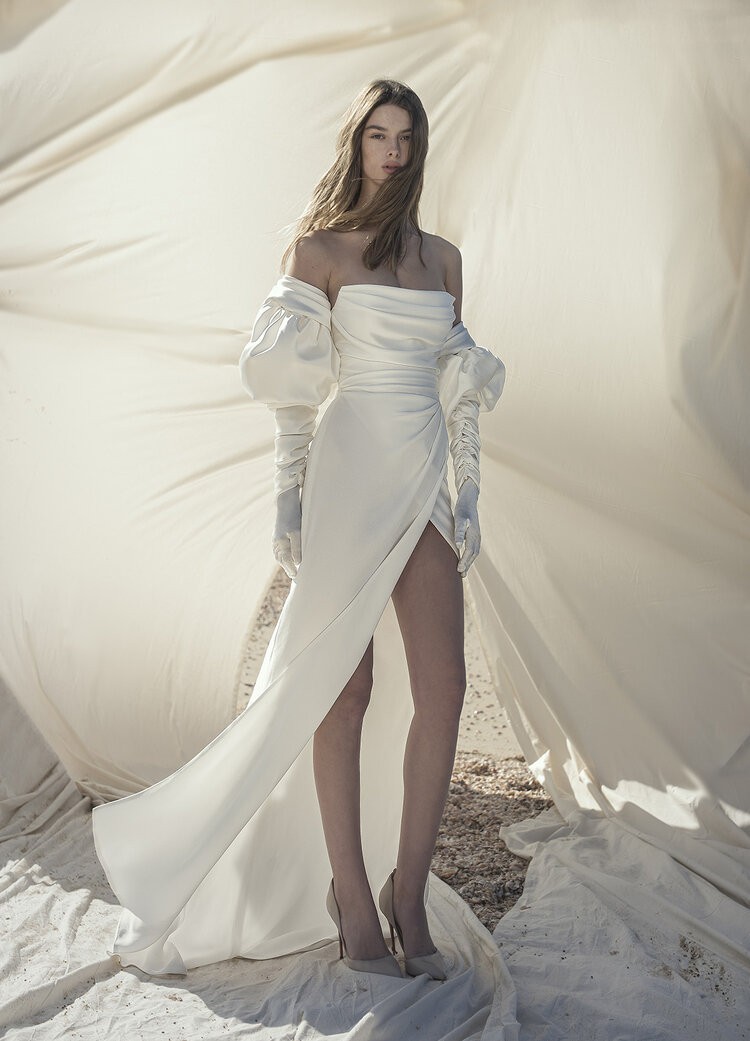 We love the look of this next high slit accented wedding gown. The unique off the shoulder puff sleeve bodice is balanced with a simple slip dress skirt. A clean, yet contemporary style with the added drama of a high cut slit detail.
21.

Off-the-Shoulder Elegance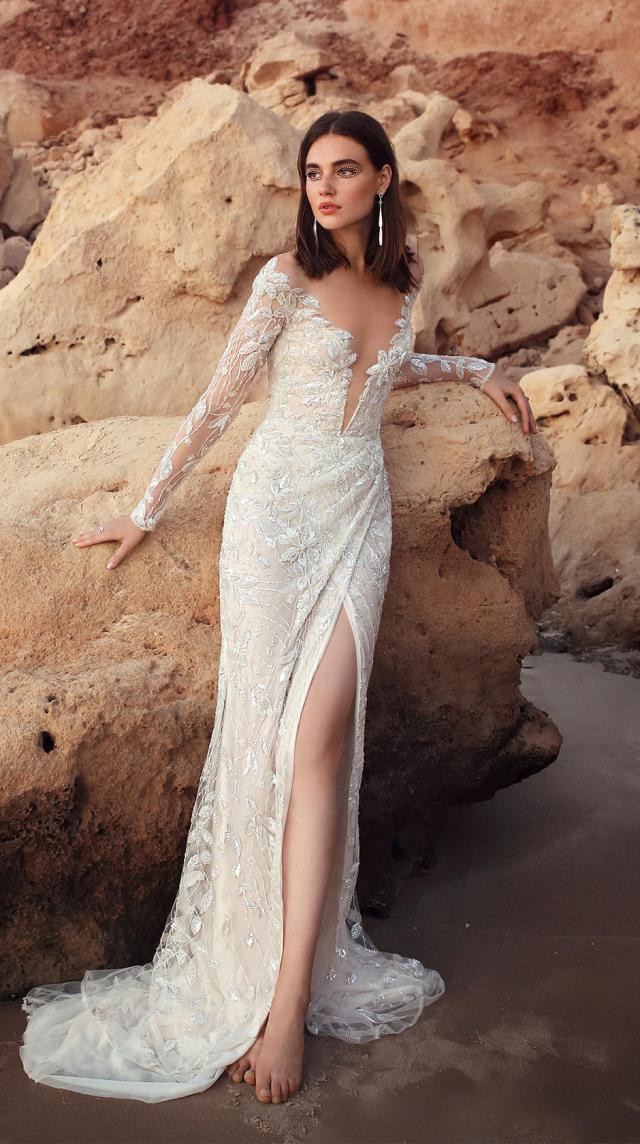 This next gown is ultra glamorous with its off-the-shoulder cut and plunging neckline. The soft wrap cut and dramatic high slit offer the perfect mix of sultry and sophisticated.
22.

Ruffled Slit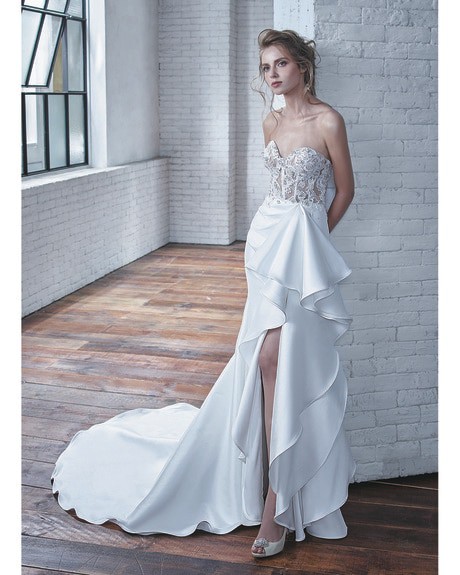 Badgley Mischka brings us our next high slit wedding gown with this stunning ruffled silk dress that is absolutely dreamy.
23.

High Slit Volume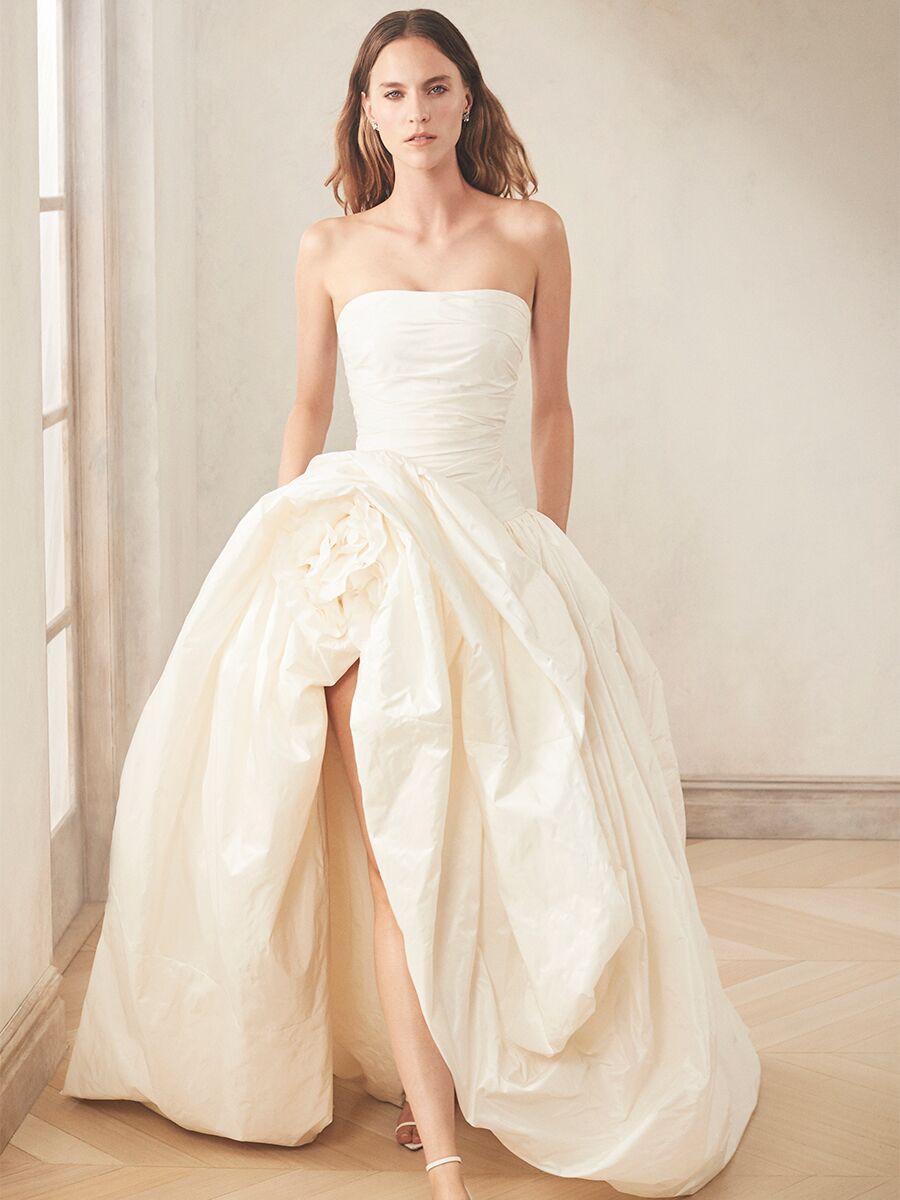 We are loving the voluminous high slit of this next wedding gown from Oscar de la Renta. This unique style is simple and sophisticated, yet chic and modern.
24.

Lingerie Inspired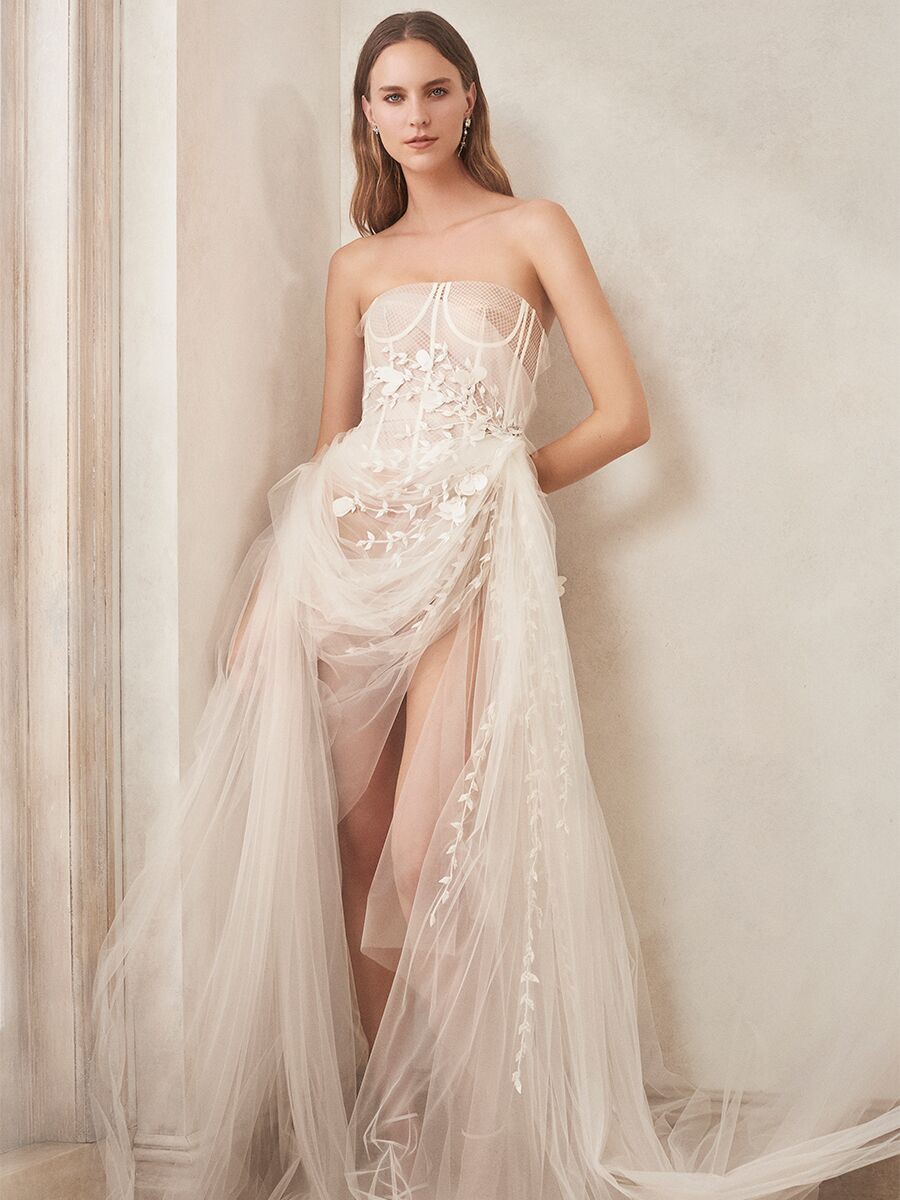 This next high slit wedding gown has a very lingerie inspired feel to it. We are loving the unique feel of this stunning strapless column gown.
25.

Floral Chic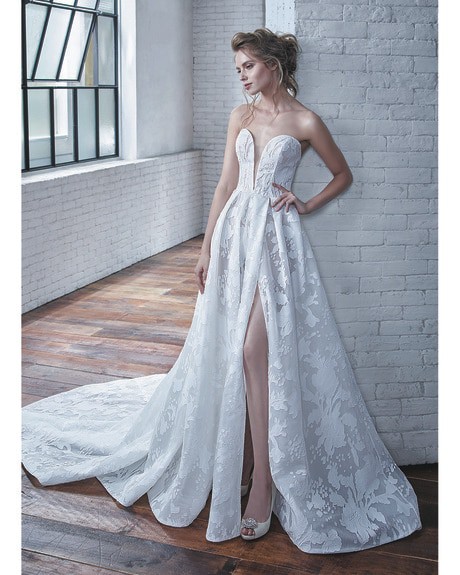 Flirty, feminine and ultra fashionable. We are loving this chic, floral high slit gown from Badgley Mischka.

By Kathryn Schrotenboer