High-Low bridal silhouettes are sexy, playful and irresistible. Not to mention they are one of our favorite trends to watch for.
If you are looking to show off your sassy, feminine personality on your wedding day, a high-low wedding gown might be what you are looking for. Plus, they are basically two styles in one. Shorter in the front, longer in the back. You can satisfy your want for both a short bridal style, along with a dramatic long train. High-low silhouettes have been trending for some time, and there is no sign of them slowing down any time soon! And did we mention this silhouette lets you show off your chic wedding day shoes more? What bride can resist that?
01.

Floral High-Low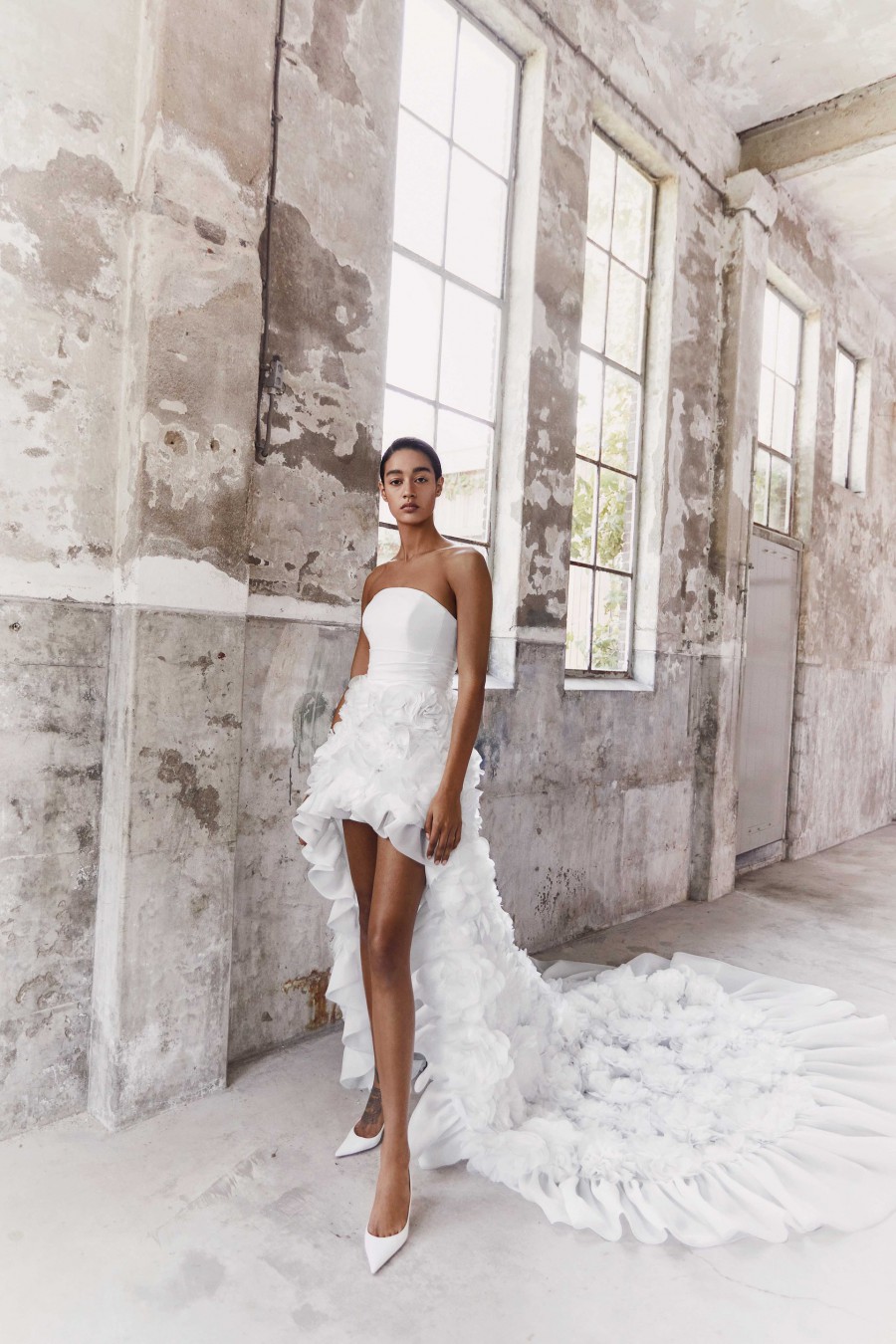 Our first high low comes from Viktor Rolf. This striking style embraces the high-low style in a big way. Mini in the front, and dramatic train in the back. This look is sure to make a BIG statement.
02.

Folk Art Inspired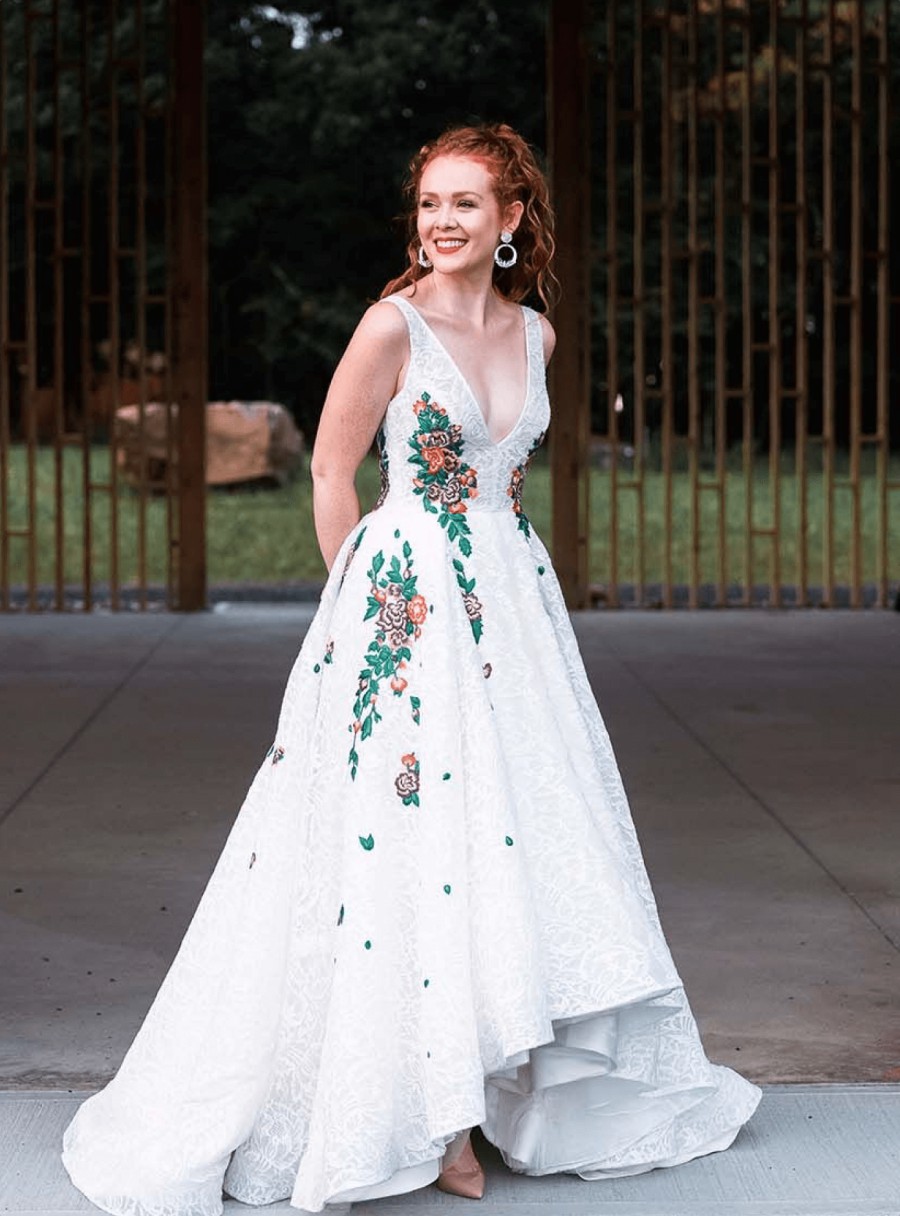 We are loving this Folk Art inspired high-low bridal gown from Rebecca Schoneveld. The playful colorful embroidery is the perfect way to add a bit more color to your wedding day look, while still keeping things classy with a white dress.
03.

High-Low Romper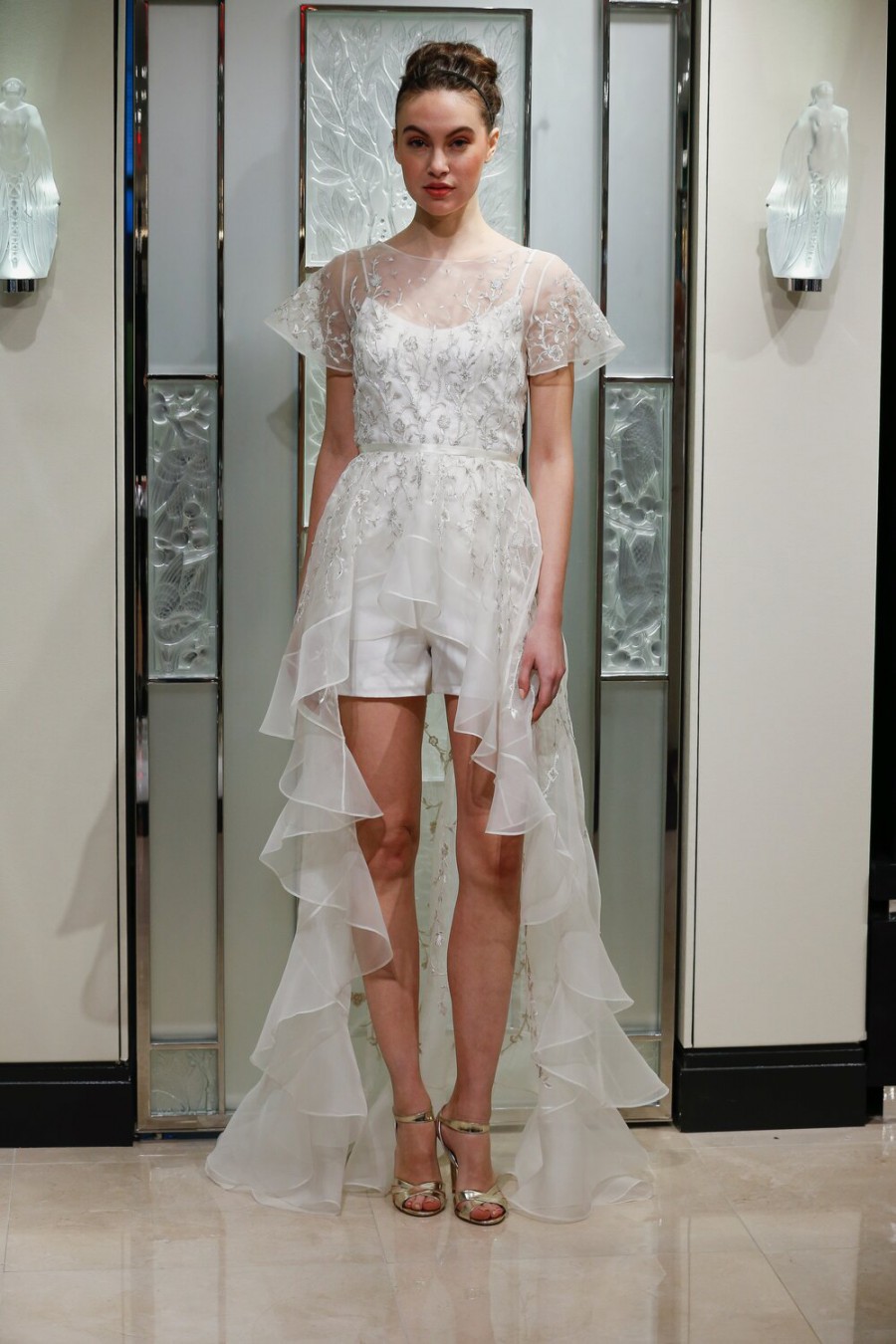 You read that right ladies, a bridal romper! We are loving this trendy, yet feminine wedding style. Featuring a minimal bridal romper with the most gorgeous high-low tulle overlay!
04.

High-Low Princess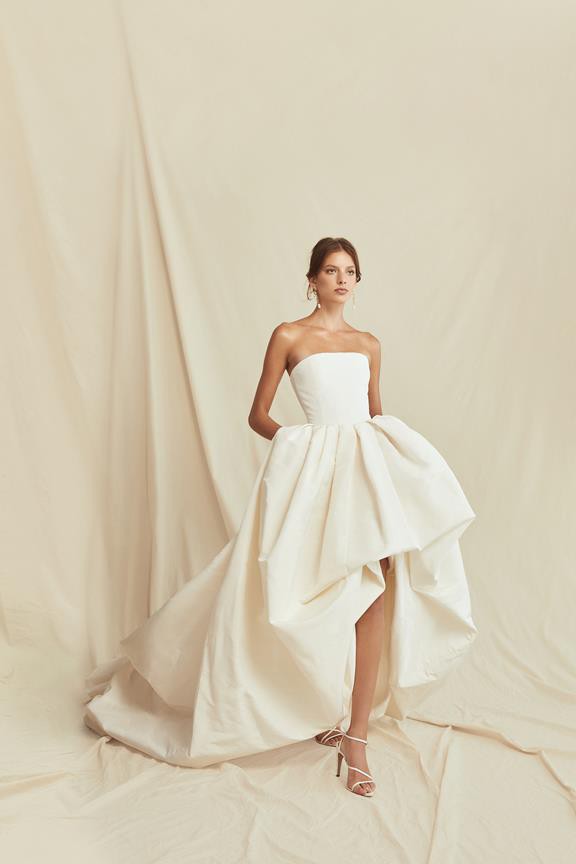 Oscar de la Renta shows how you can embrace a high-low cut wedding gown, without having to give up the voluminous feel of a ball gown. The perfect trending combination.
05.

Sultry Corset High-Low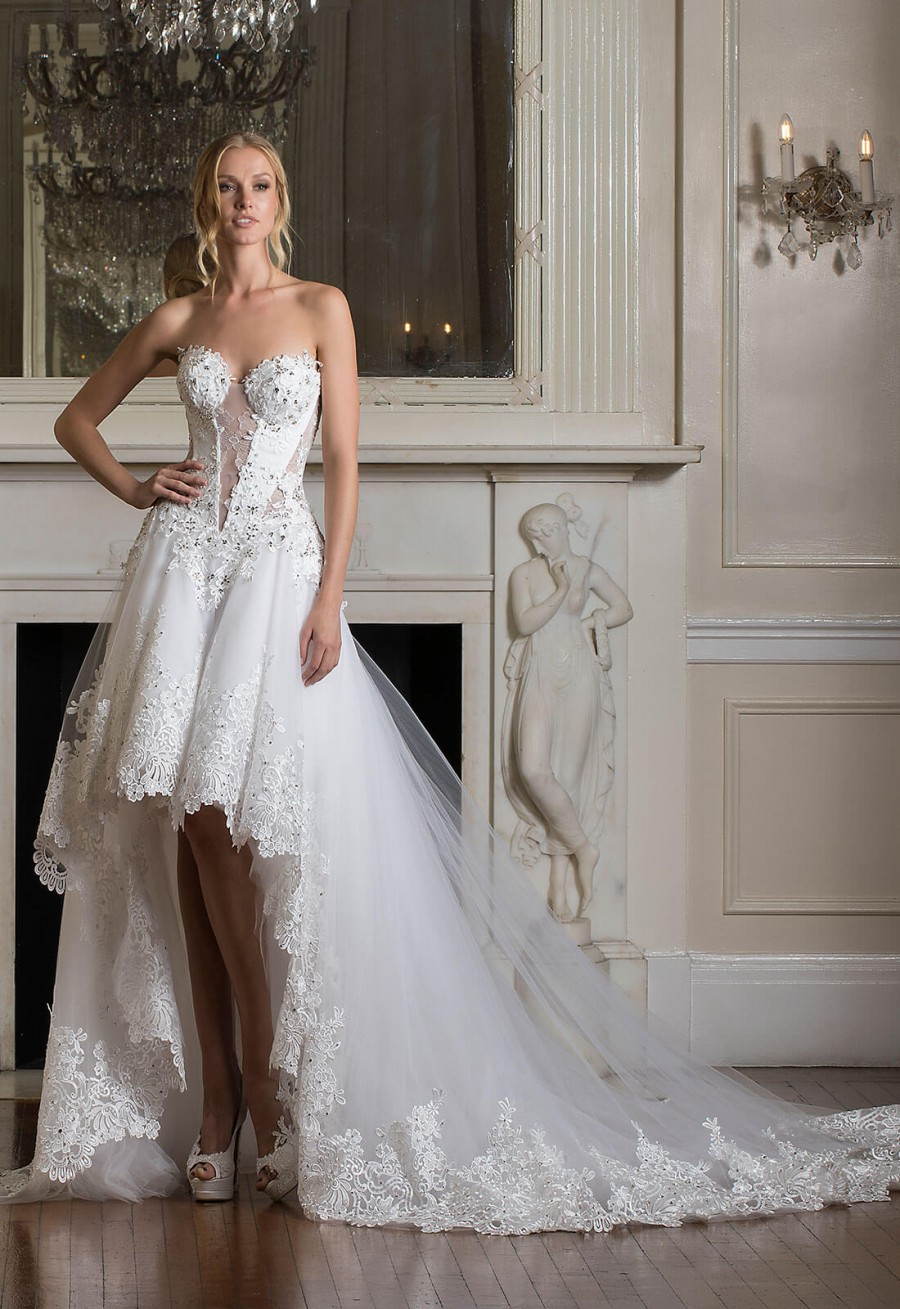 Crank up the sultry drama with this sexy corset high-low wedding gown from Pnina Tornai. Featuring the most gorgeous bodice with sheer panels and floral appliqué. And the lace hemmed tulle skirt is dreamy and romantic.
06.

Polka Dot Tulle
Check out this cute and chic polka dot tulle high-low wedding gown from Jenny Packham. This wedding gown is absolutely adorable. And to top it off, it features feather accenting around the neckline, for a sassy finish!
07.

High-Low Bubble Skirt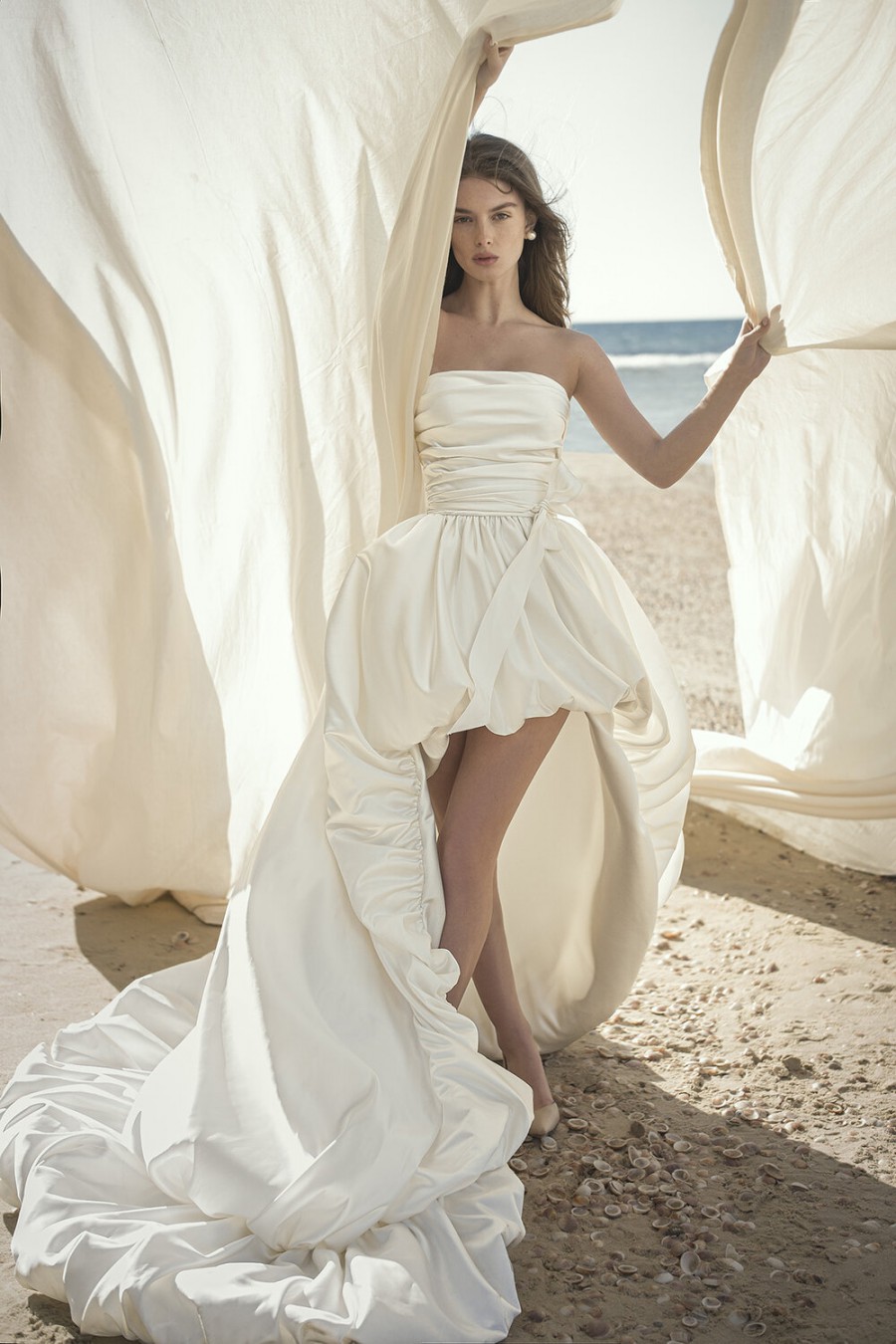 Alon Livne brings us this next stunning high-low wedding gown. The gathered design of this gown has a bubble skirt feel to it. With stunning volume and the perfect mix of a mini cut in the front and dramatic train in the back.
08.

Classic and Sophisticated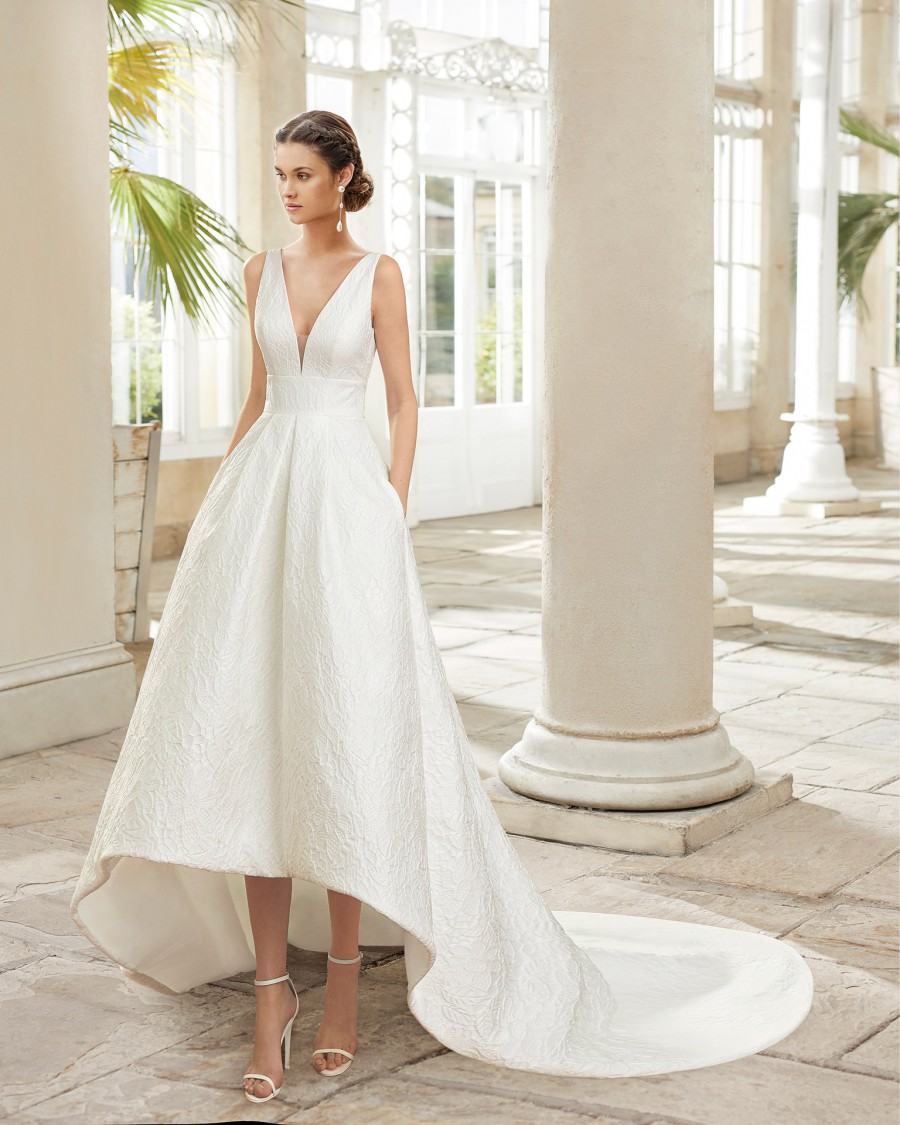 If you are looking for an on-trend wedding style that is still timeless and traditional, then you don't want to miss this high-low cut gown from Rosa Clara.
09.

Subtle High-Low Two-Piece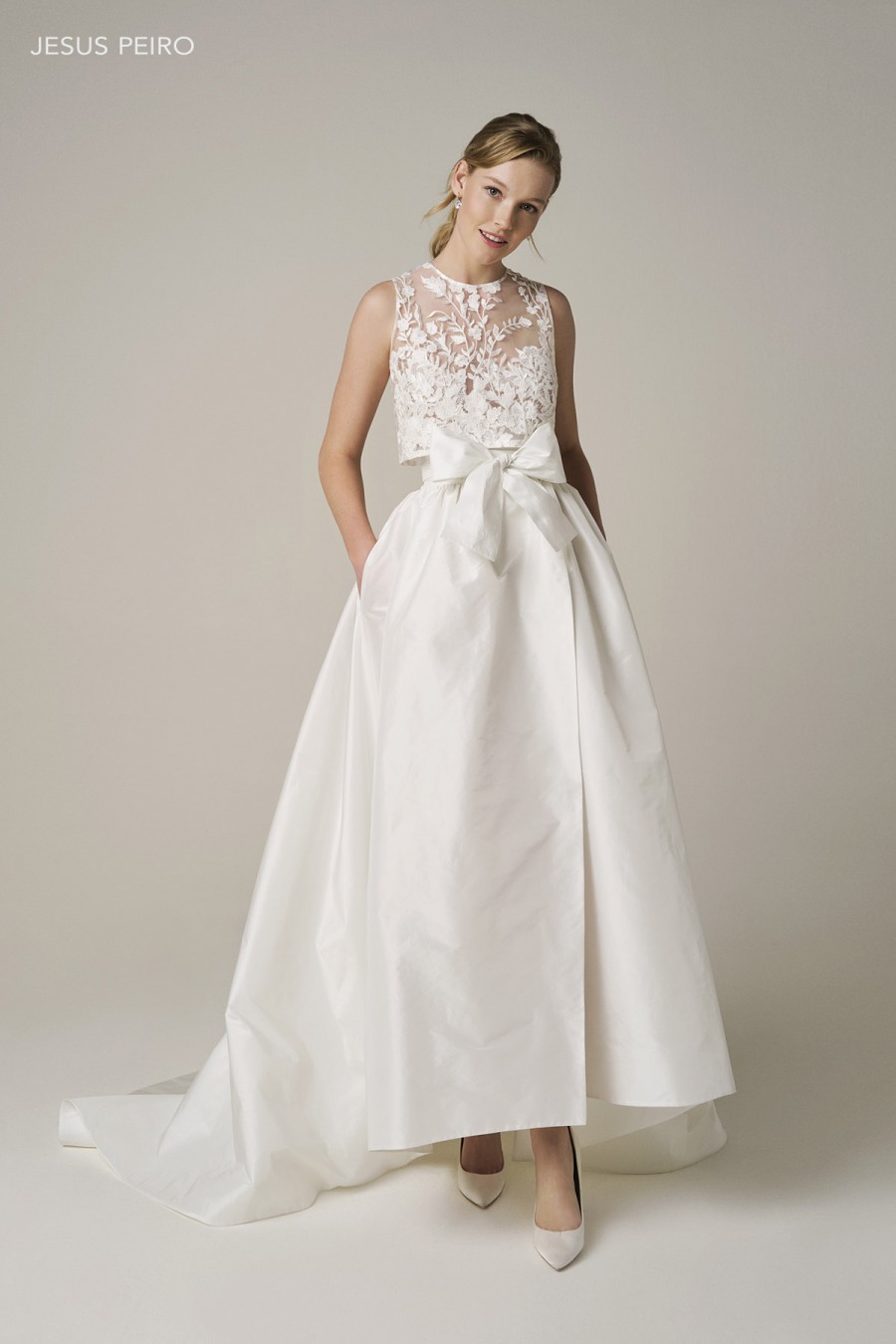 Such an on-trend combination! A chic two-piece bridal style, with a subtle high-low skirt cut. The most irresistible, feminine wedding style!
10.

Training High-Low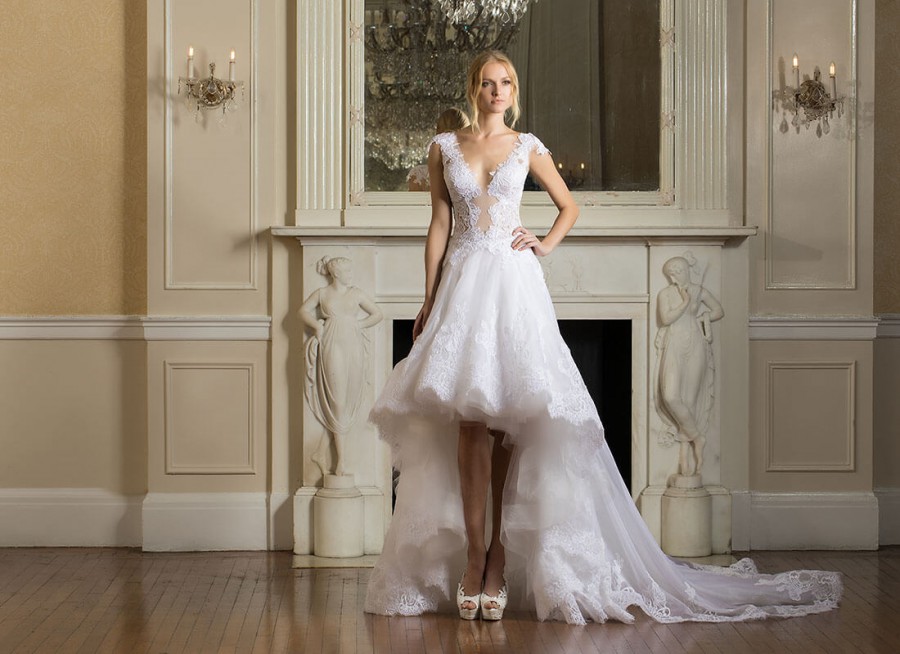 Craving a bridal mini style, yet also dreaming a dramatic train on your big day? This high-low wedding gown from Pnina Tornai gives you both!
11.

Blushing High Low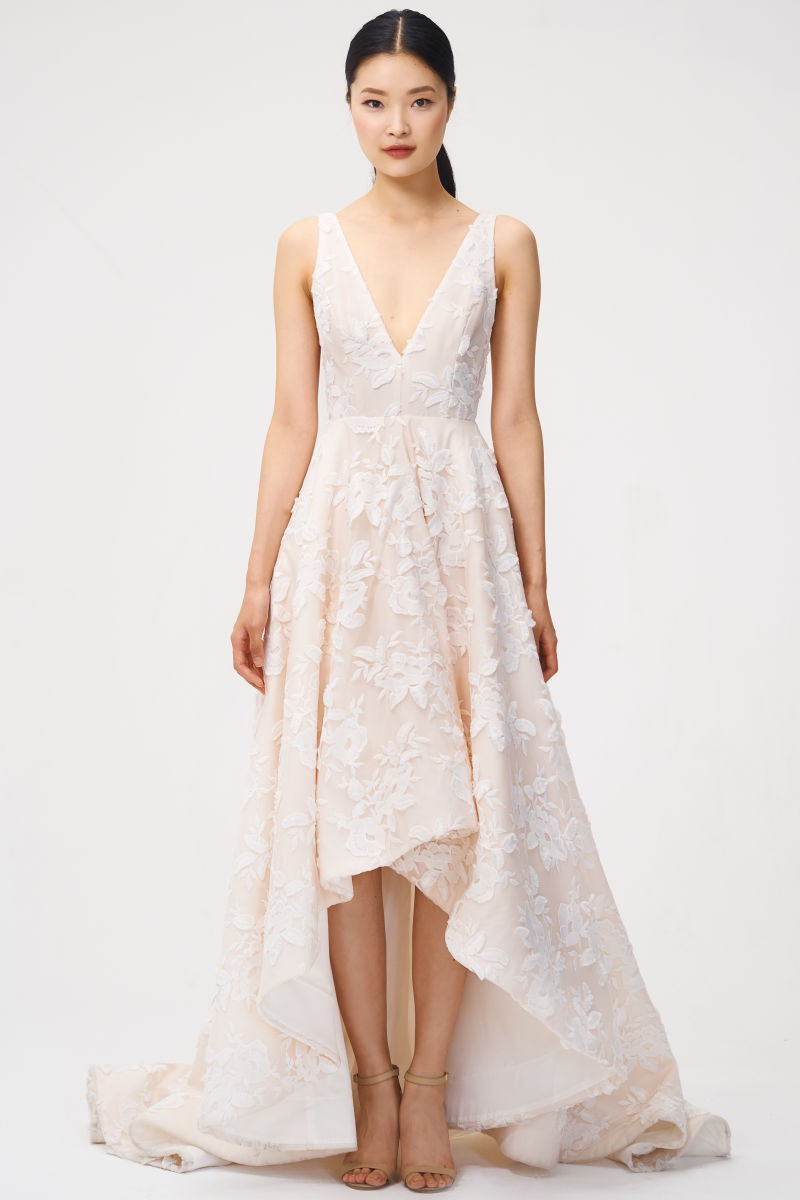 Calling all of our girly blush loving brides out there - you don't want to miss this floral embroidered tulle high-low gown from Jenny Yoo. Plus, you can show off those adorable wedding shoes with this gown!
12.

Floral High Low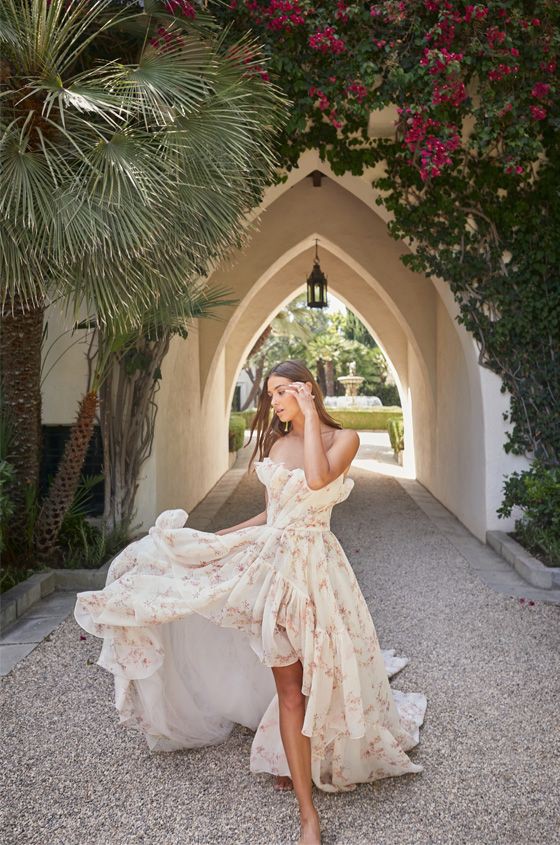 The most adorable, spring ready high-low wedding dress we have ever seen. This beautiful pastel floral wedding gown is so feminine and dreamy!
13.

Draped High-Low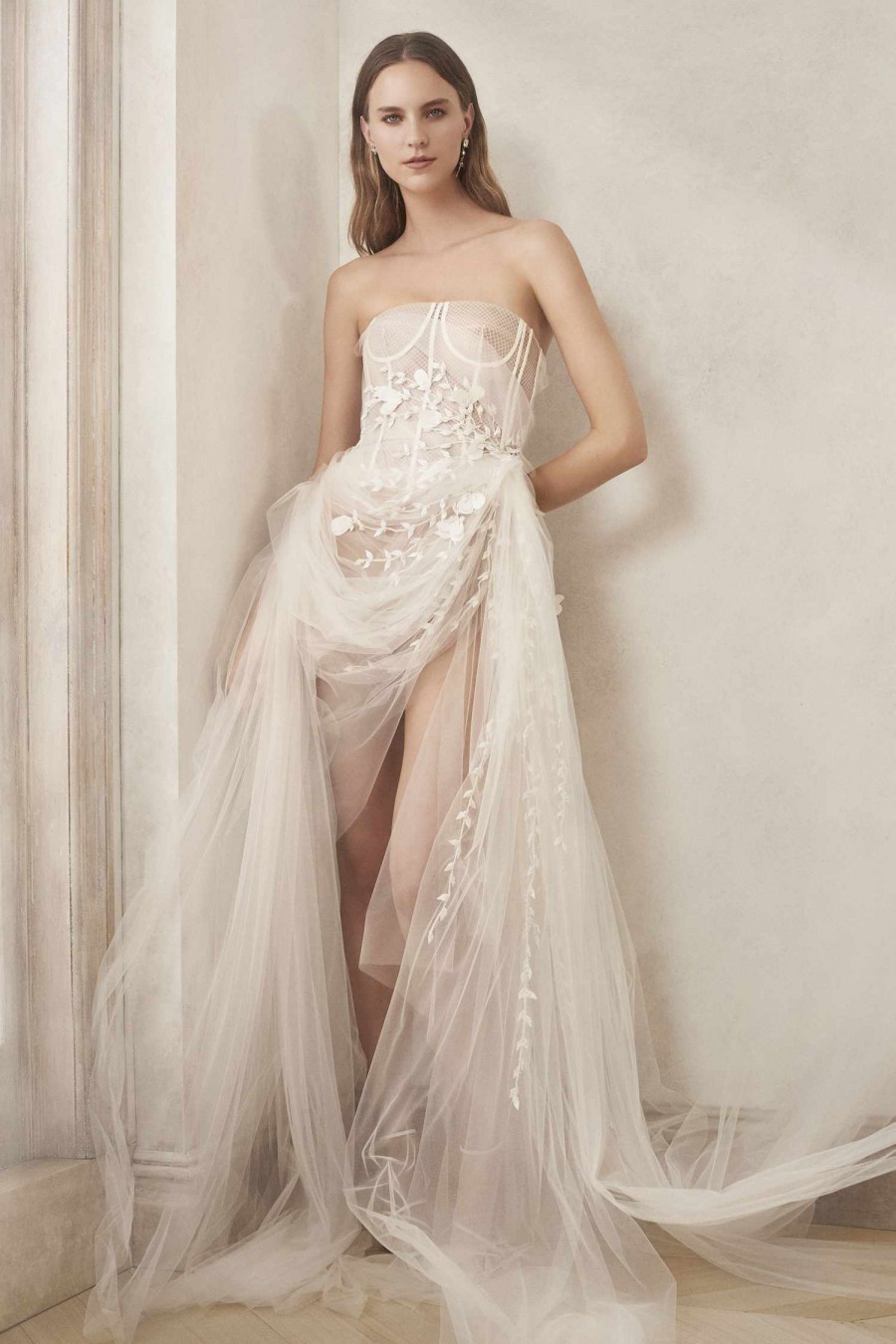 This draped tulle bridal gown from Oscar de la Renta embraces a unique high-low design. Unique, feminine and sultry.
14.

Embellished High-Low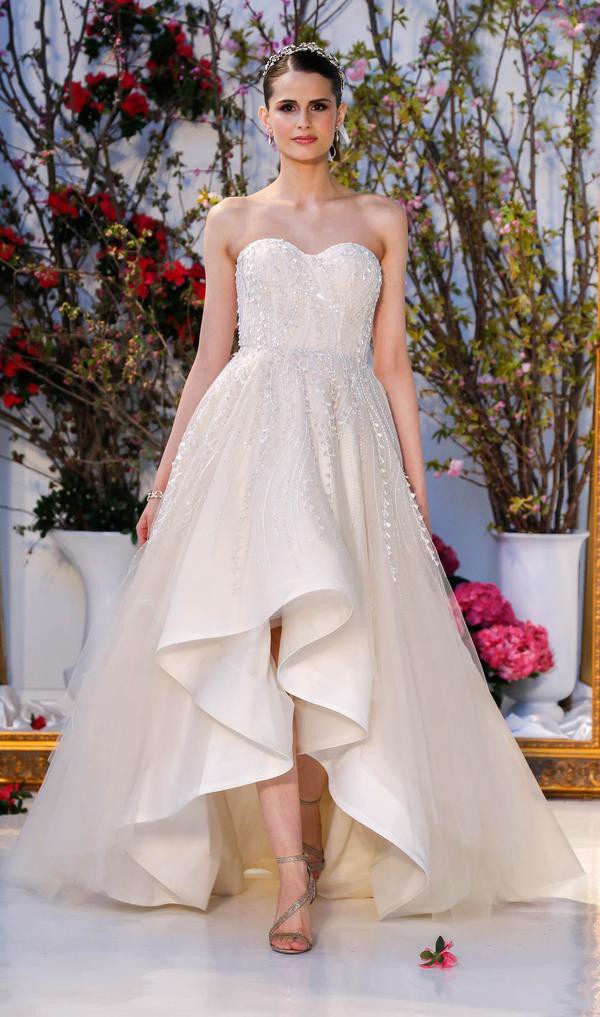 Our next high-low wedding gown is a dreamy embellished style from Anna Barge. Vine-like embellishment cascades down the bodice and skirt of the gown in a feminine and romantic way. This dress would be perfect for a romantic garden themed wedding day.
15.

Ruffled Couture High-Low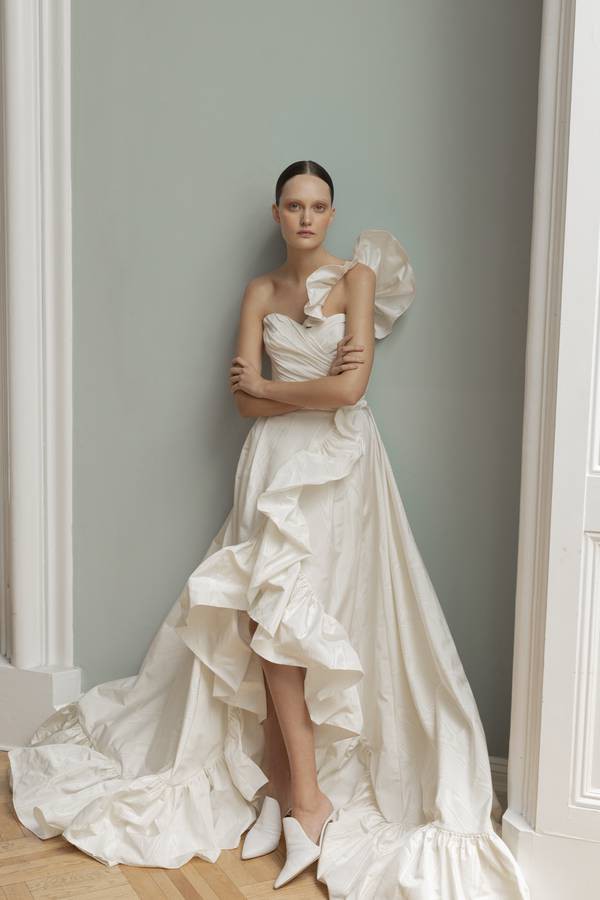 We are loving this couture ruffle trimmed high-low wedding gown from Francesca Miranda. Chic, feminine and just a touch edgy for our contemporary loving brides out there!
16.

Feathered High-Low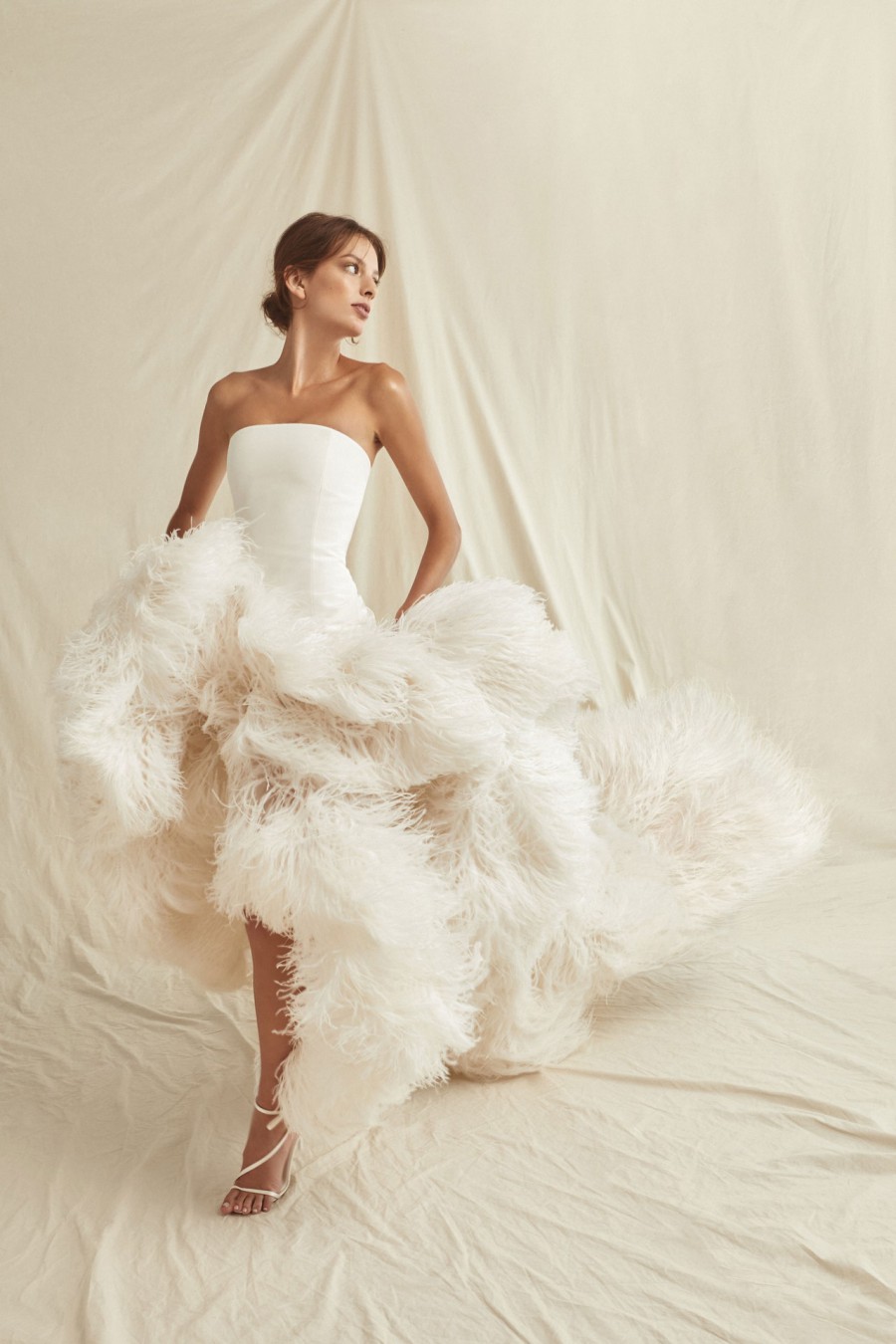 Nothing quite says "sassy" like a feathered high-low bridal gown. And we are loving this luxe couture style from Oscar de la Renta. A playful bridal style that is also so luxurious and elegant.
17.

High-Low Mermaid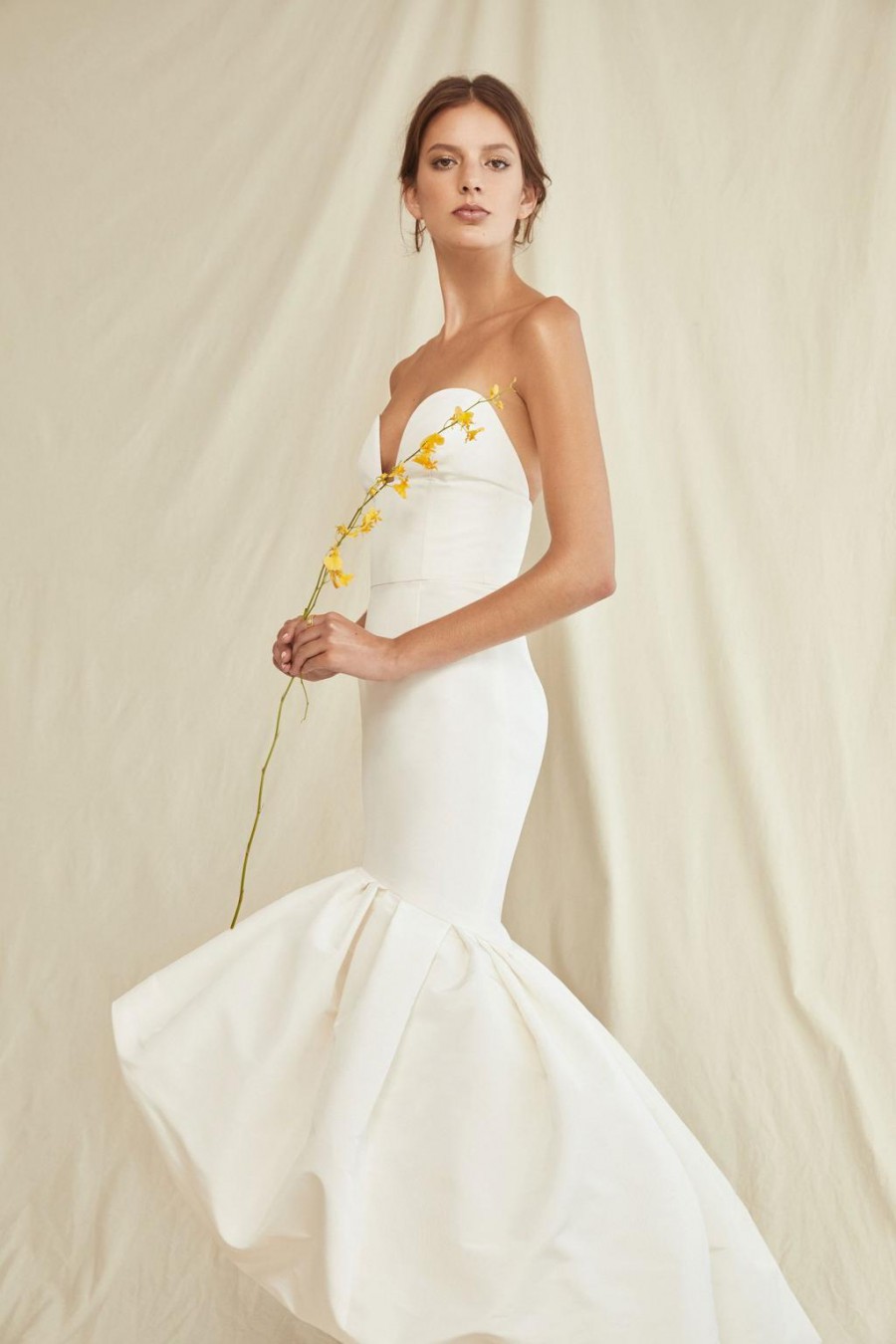 We are swooning over this high-low mermaid from Oscar de la Renta. Such a unique style that is so sleek and elegant. Not to mention you can show off those stunning wedding shoes!
18.

Tulle Bubble Dress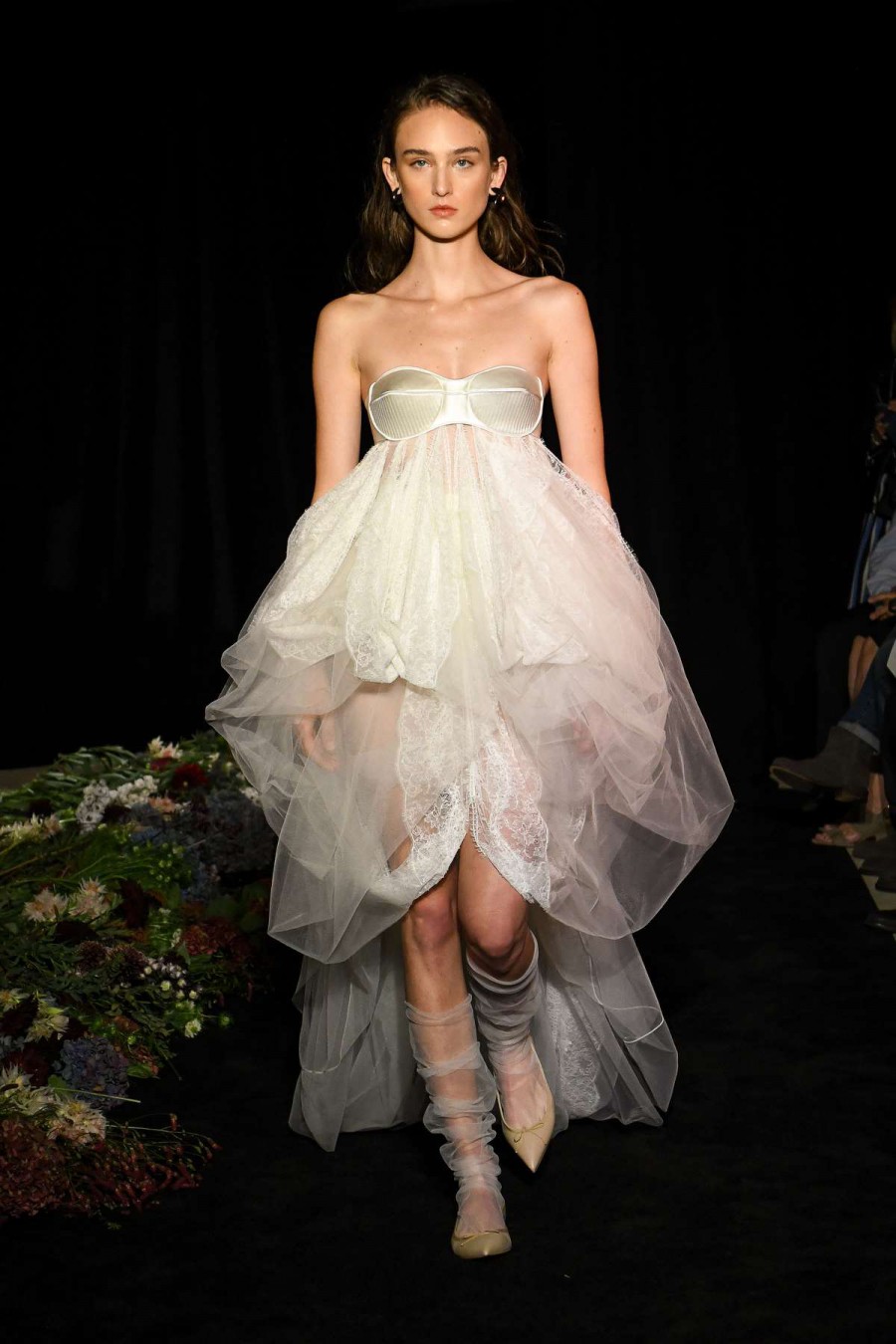 Alright ladies, who is brave enough to pull off this ultra modern high-low gown from Danielle Frankel? An almost futuristic, contemporary piece of art - this couture style is not for the faint of heart!
19.

High-Low Floral Ball Gown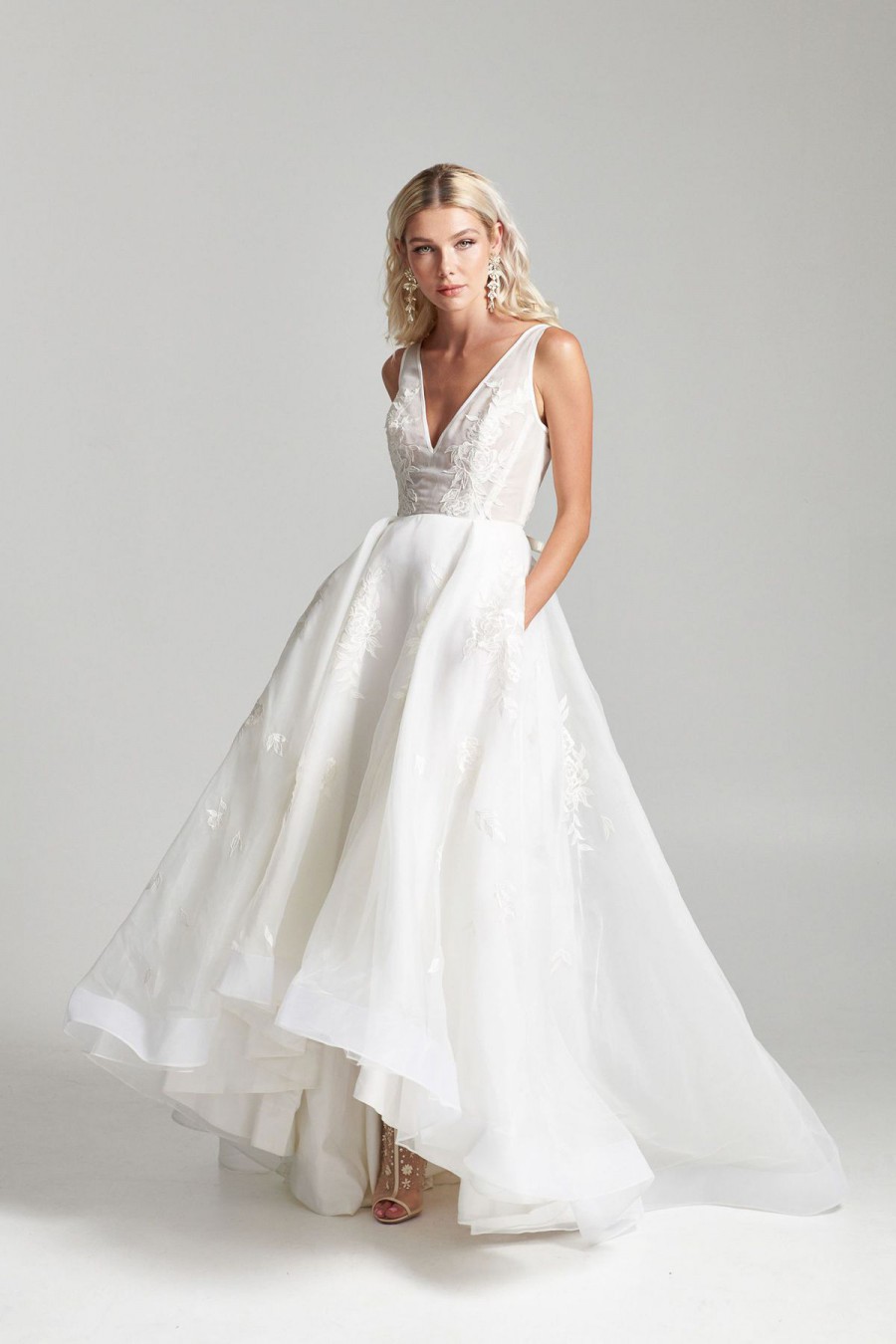 Rebecca Schoneveld brings us the most beautiful high-low ball gown. Featuring all over floral embroidery that is absolutely dreamy. This is the perfect way to make your princess dreams come true with a ball gown - while still being able to show off this killer wedding shoes!
20.

Clean and Classy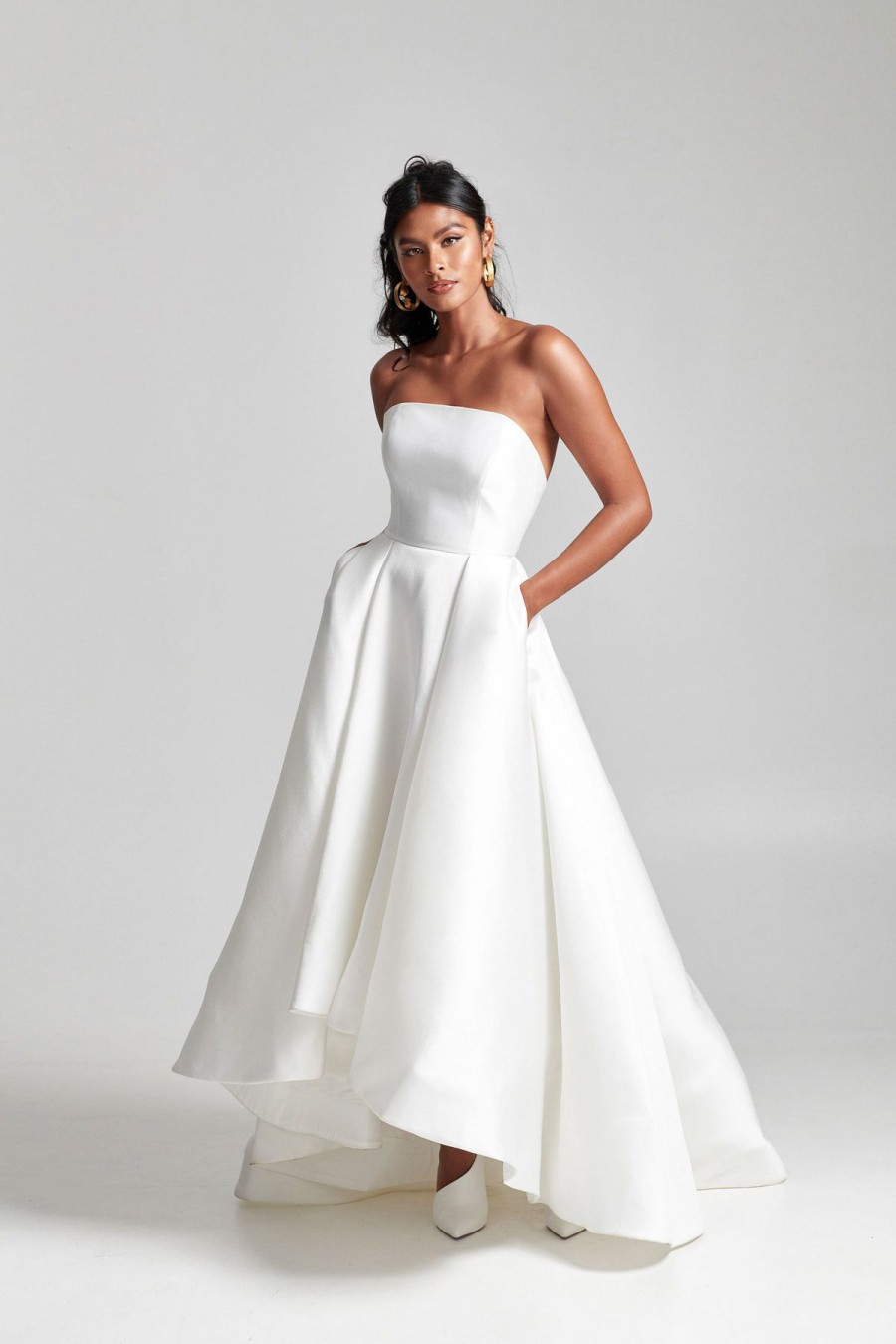 The clean and classy high-low ball gown that will steal your heart. This minimal wedding gown is so captivating. And did we mention it has pockets? What bride doesn't love a dress with pockets?

By Kathryn Schrotenboer