Champage. Beige. Nude. Gold. Is classic wedding day white on its way out? And let be honest, what bride can resit a stunning gold gown?
Untraditional colors are taking over the bridal scene, creating some of the most enticing looks out there. And for our flashier brides out there - who wouldn't want a ultra glam, golden wedding gown on their her day? So we have gathered our favorite golden gowns hitting the wedding scene right now!
01.

Chic and Sassy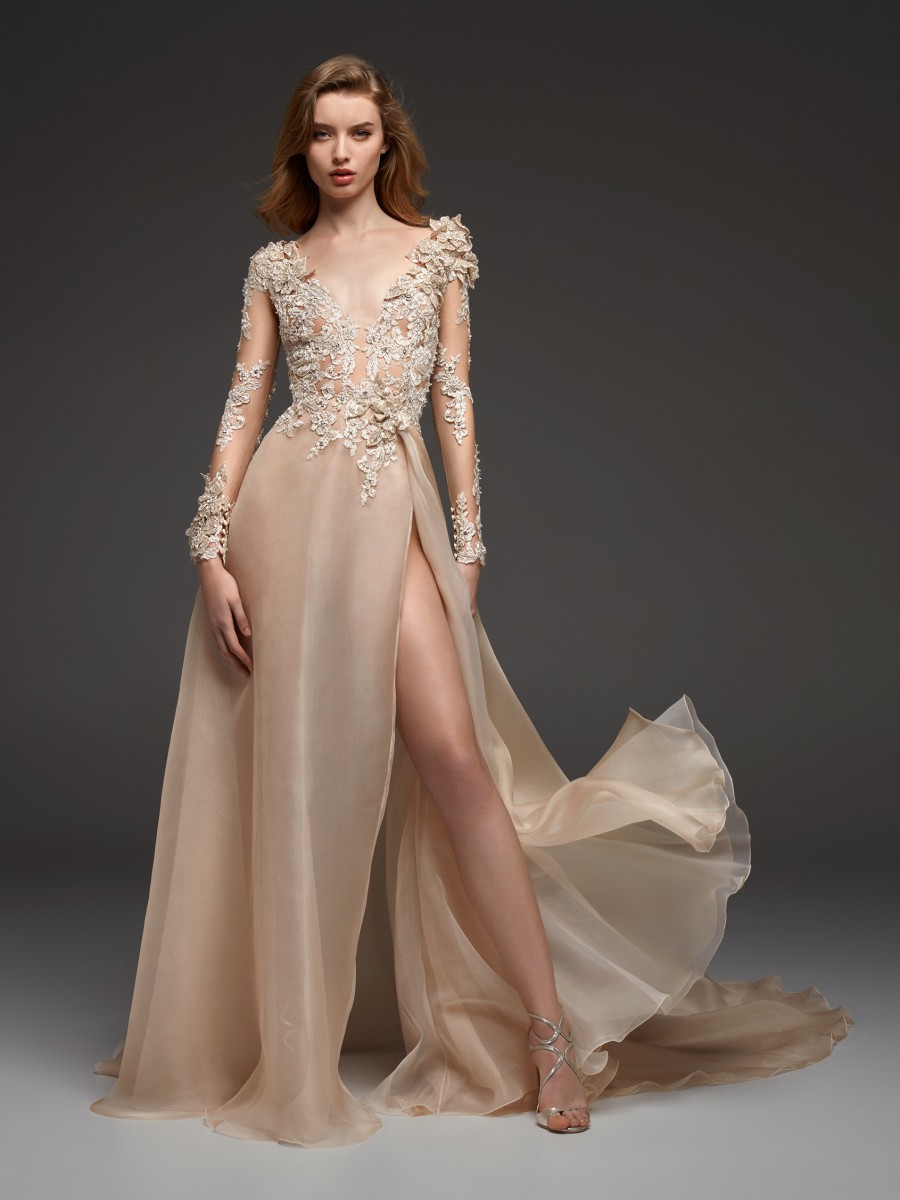 A stunning golden champagne colored gown from Pronovias that stunning and seductive with its high cut front slit. A sexy, yet fashion forward way to wear gold on your wedding day.
02.

Golden Untraditional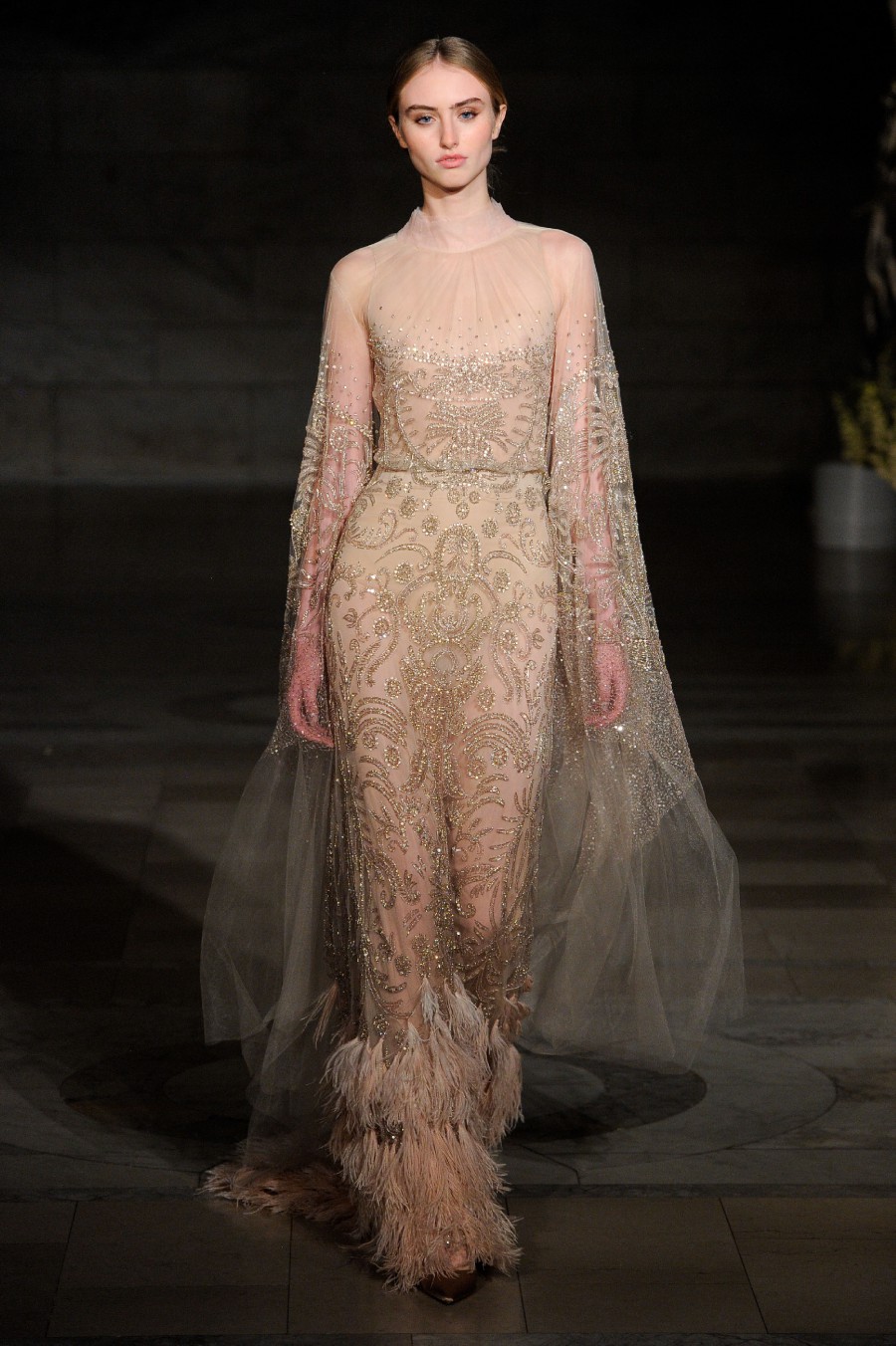 A completely untraditional gold bridal style, with gorgeous beaded accents, that is sure to turn heads on your big day. This one of a kind design features intricate beading, feather base and a matching dramatic cape.
03.

Golden Champagne Cinderella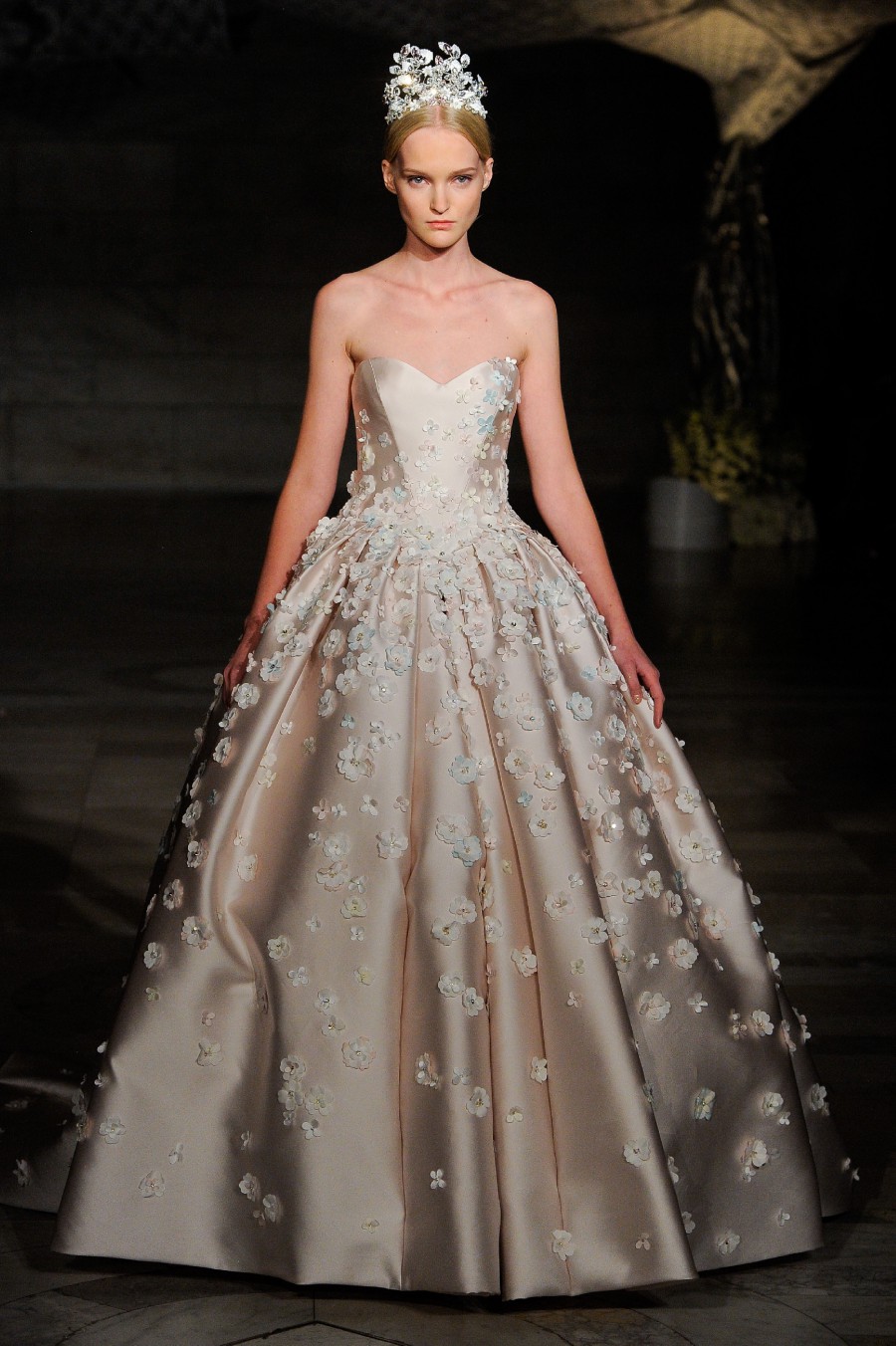 Reem Acra brings us a dreamy Cinderella worthy golden wedding style. This gorgeous gown mixes modern metallics, untraditional coloring, and classic floral appliqué in the most beautiful of ways.
04.

Silken Champagne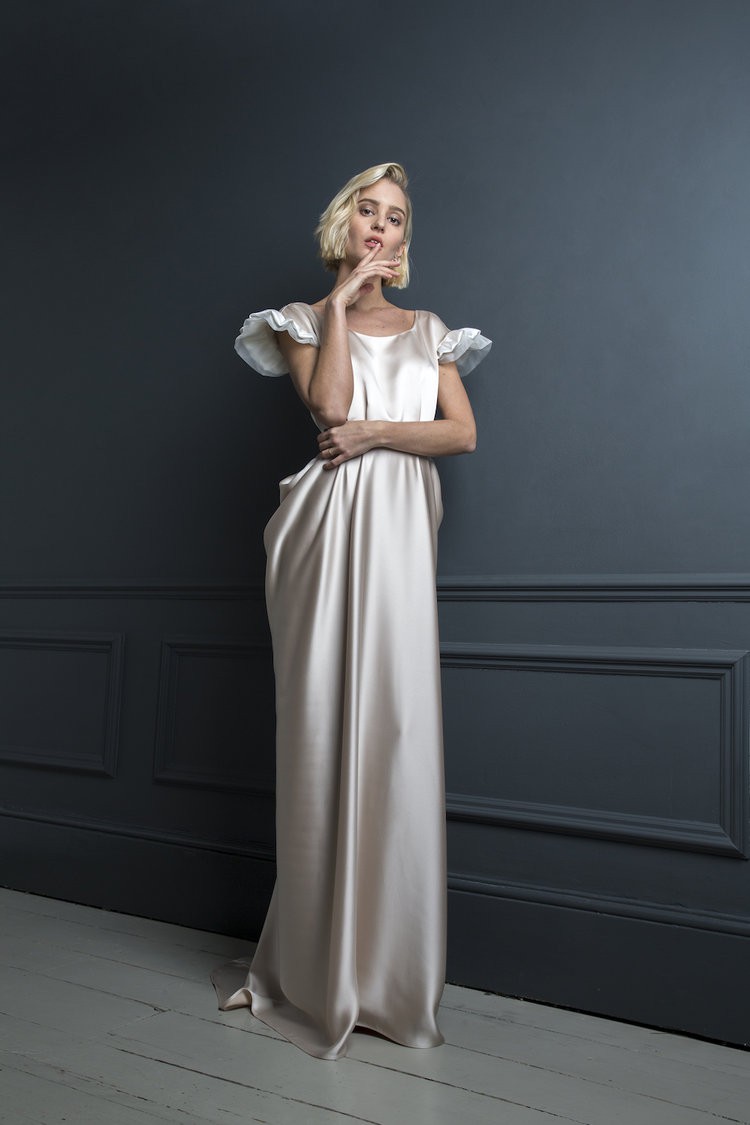 The most beautiful soft blushing gold color tone with this next gorgeous gown from Half Penny London. This simple, yet modern chic gown is absolutely dreamy if you are looking for a slightly less white wedding day look.
05.

Subtle Underlay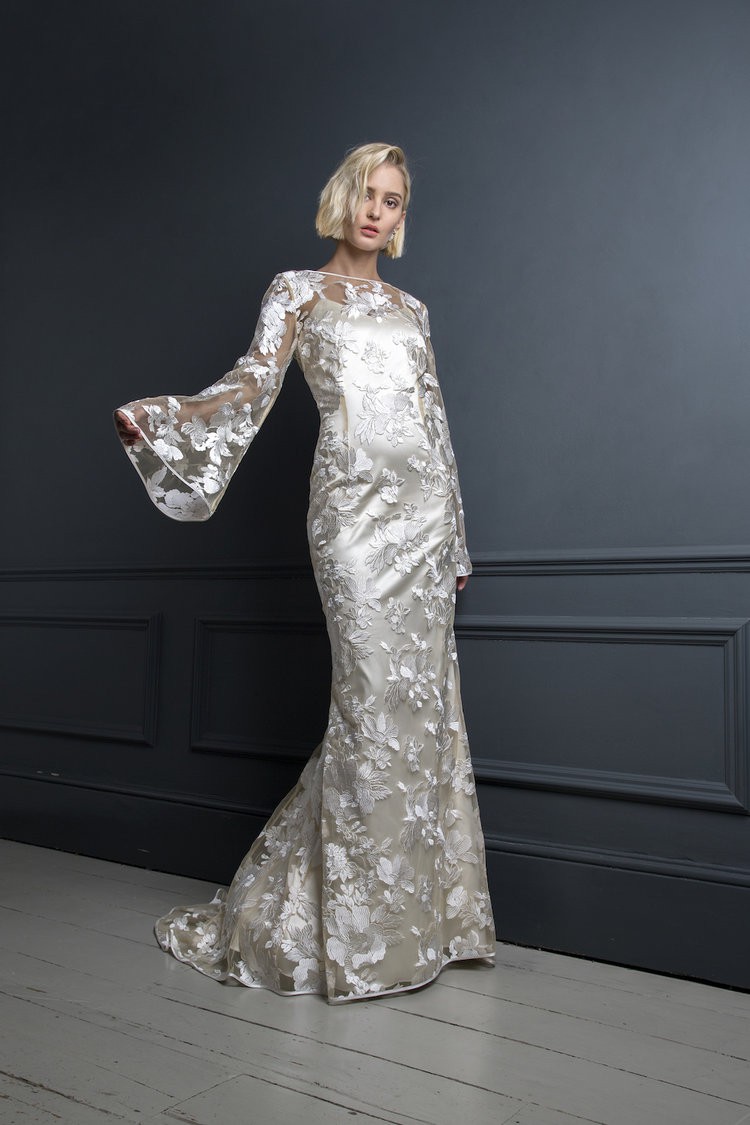 This soft golden underlay is absolutely stunning when paired with a sheer tulle gown with intricate white floral embroidery. The white florals really pop off of the golden backdrop. A beautiful mix of contemporary and traditional with this wedding gown.
06.

Golden Geometry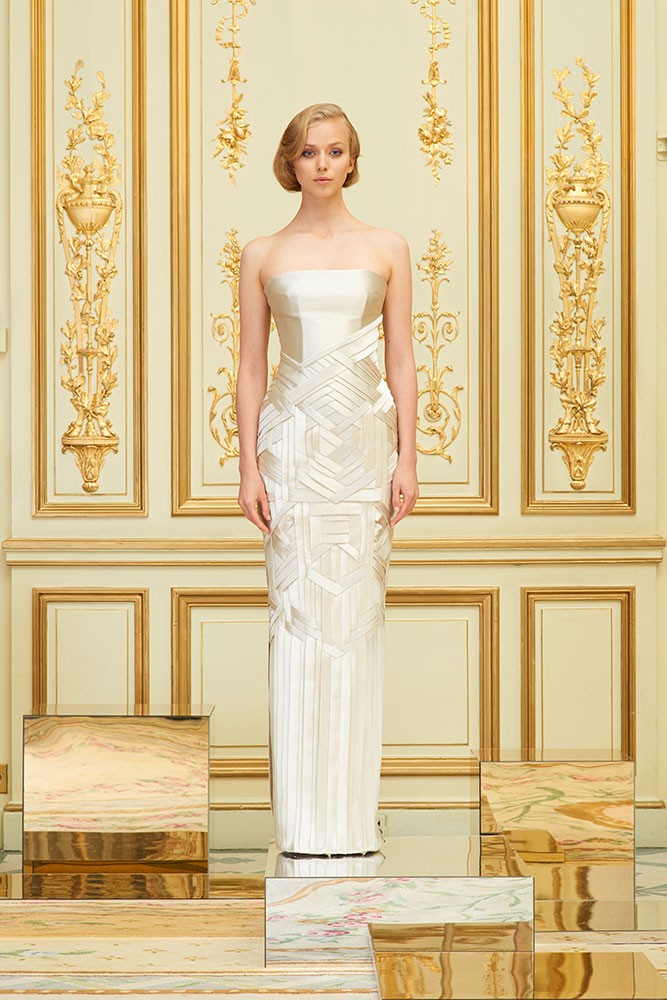 A stunning golden wedding gown from Rami Al Ali with bold geometric designing, that has a very Art Deco flair to it. This slick contemporary design is breathtakingly beautiful.
07.

Golden Beading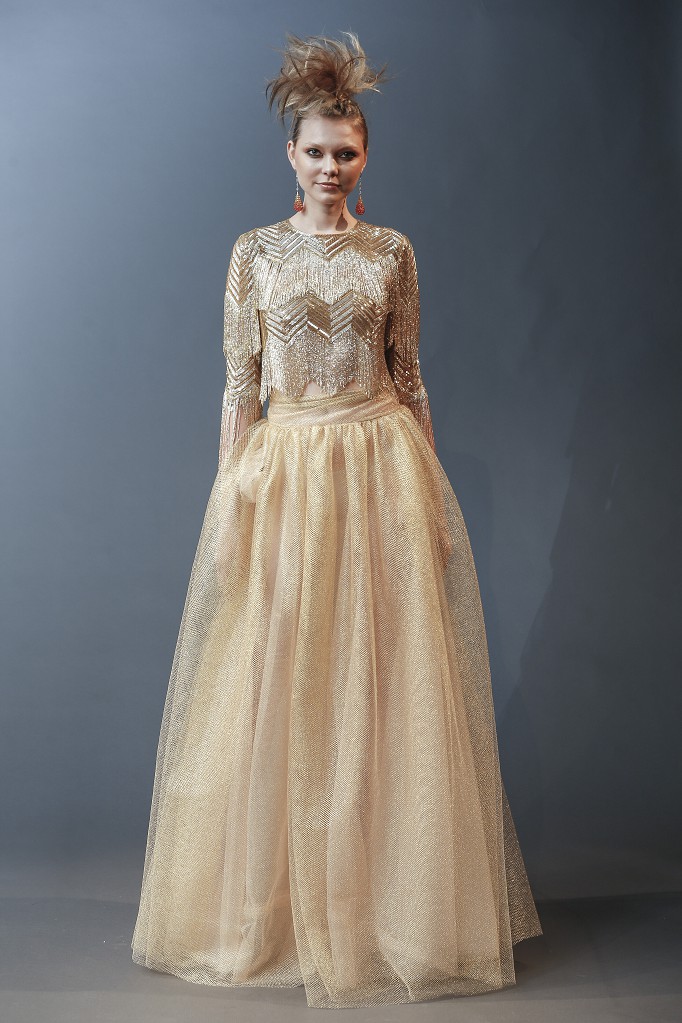 An absolutely captivating golden bridal style like nothing else! The hand beaded gold top is playful and festive, with its beaded fringe layers. And what girl can resist a gold, sparkle netted skirt?
08.

Sequin Jumpsuit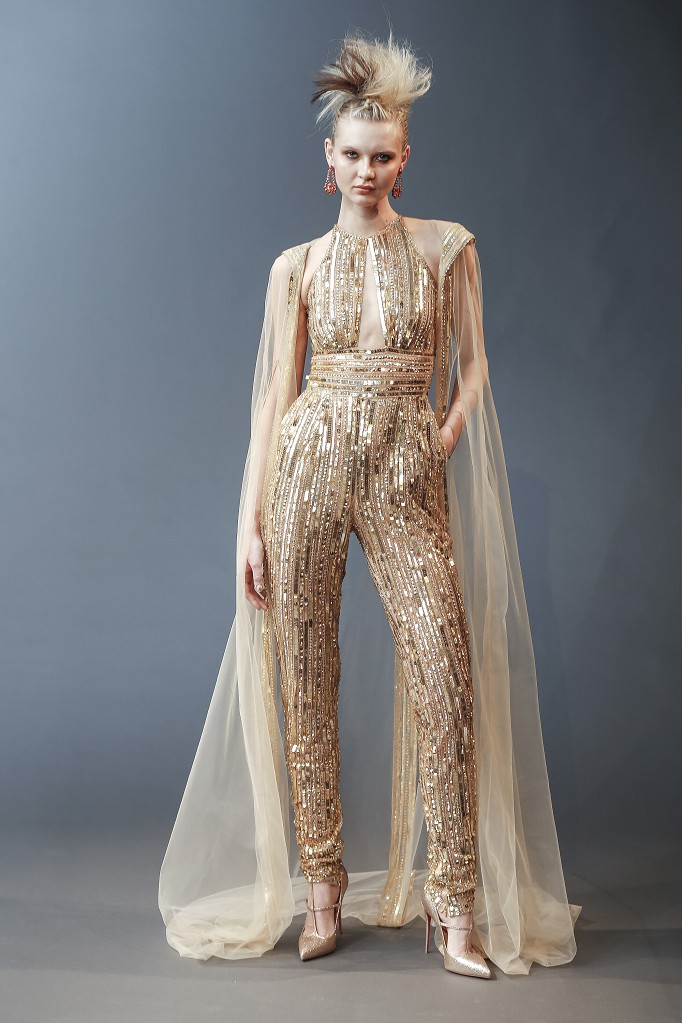 Loving the golden style from above but looking to make an even bigger statement on your big day? We have just the daring style that you are craving!
09.

Golden Pleats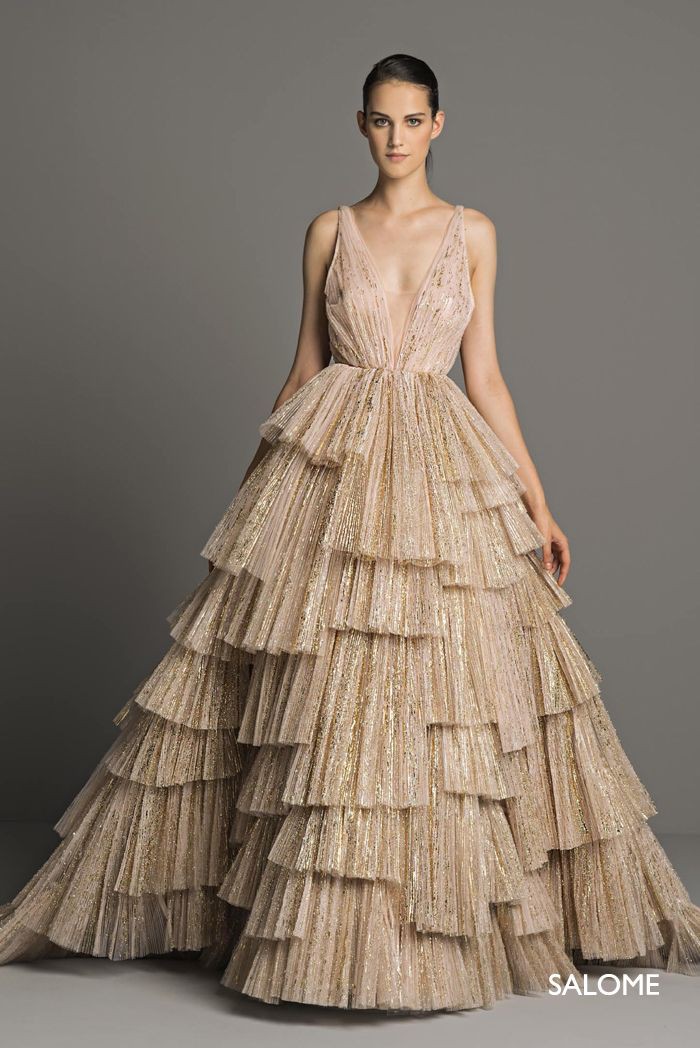 A stunning gold bridal gown from Peter Langner. This unique style features layers of pleated tulle to create one of the most unique ball gown skirts we have seen. Big, bold, and undeniably beautiful.
10.

Golden Goddess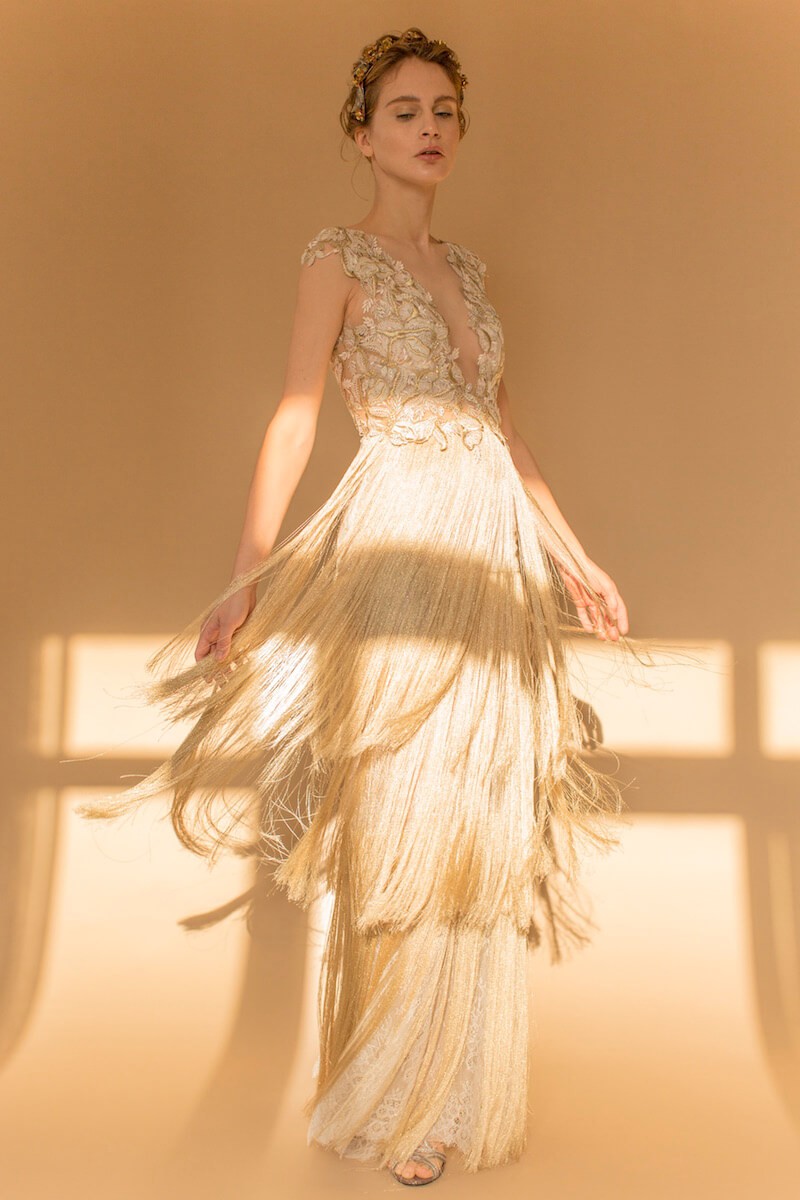 A golden wedding style for a fringe forest goddess. This glam, yet ethereal style is really something else. A festival ready glam look for a rule breaking bride.
11.

Diva Glam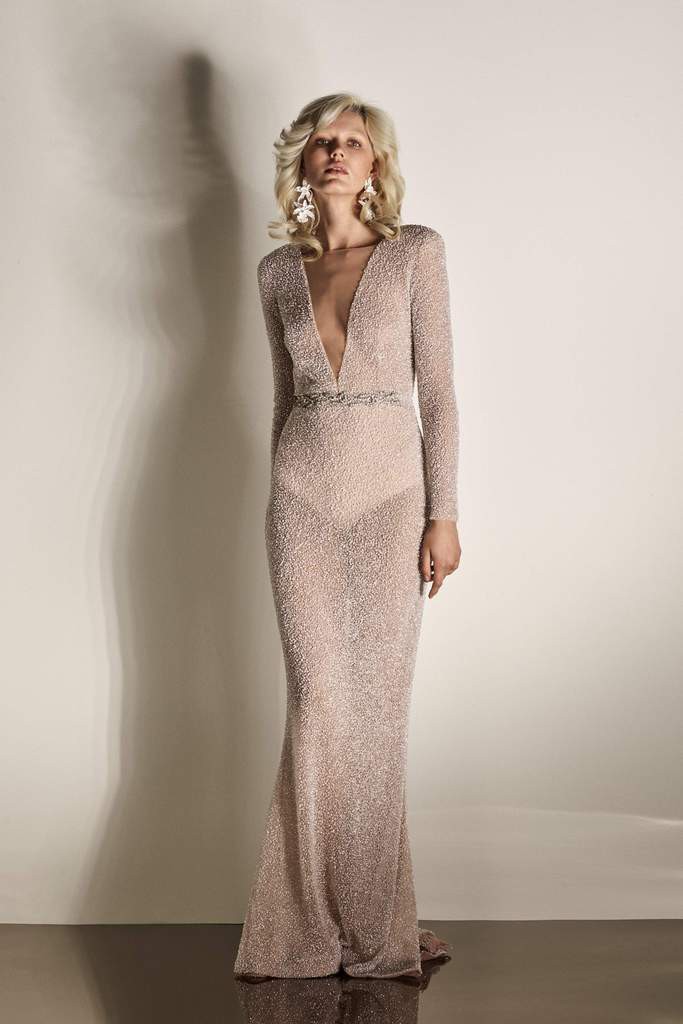 A subtle golden wedding gown in a slight rose color tone. This simple, yet striking gown, is sultry and fit for a modern day diva.
12.

Party Dress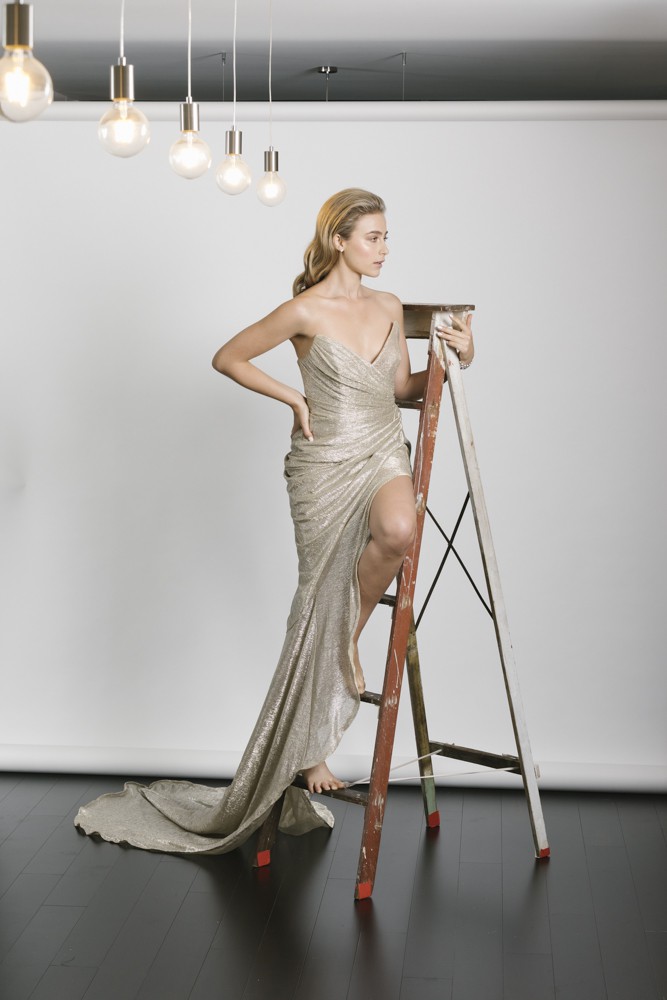 A chic, glamorous golden gown that would make for the perfect party dress on your wedding day! This golden wedding dress is sexy, playful and festive to party the night away.
13.

Laser Cut Leather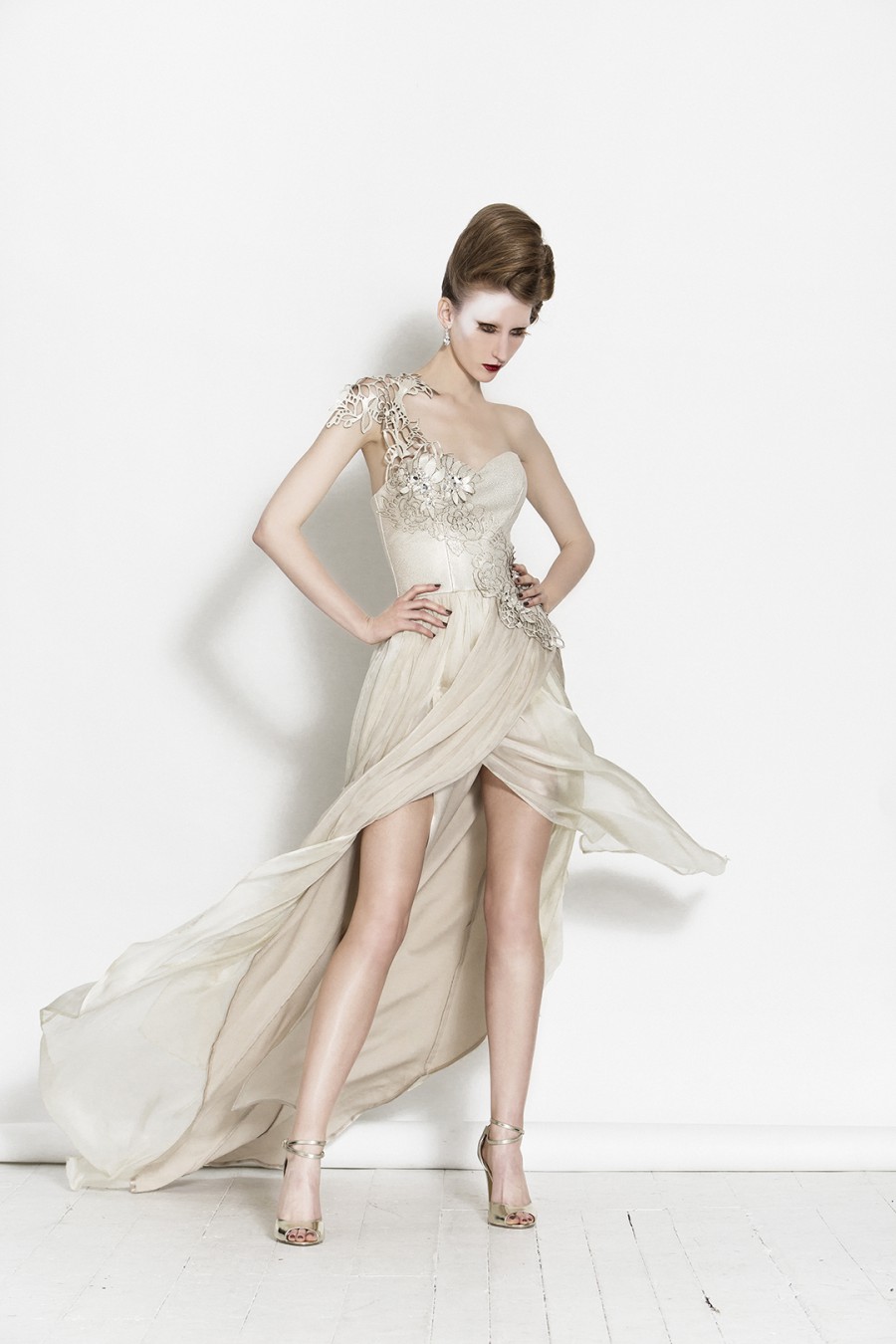 A golden wedding style fittingly named "Diva." This stunning chiffon gown features a laser cut leather corset that is mesmerizing. A style fit for a true contemporary diva.
14.

Fashion Forward Gold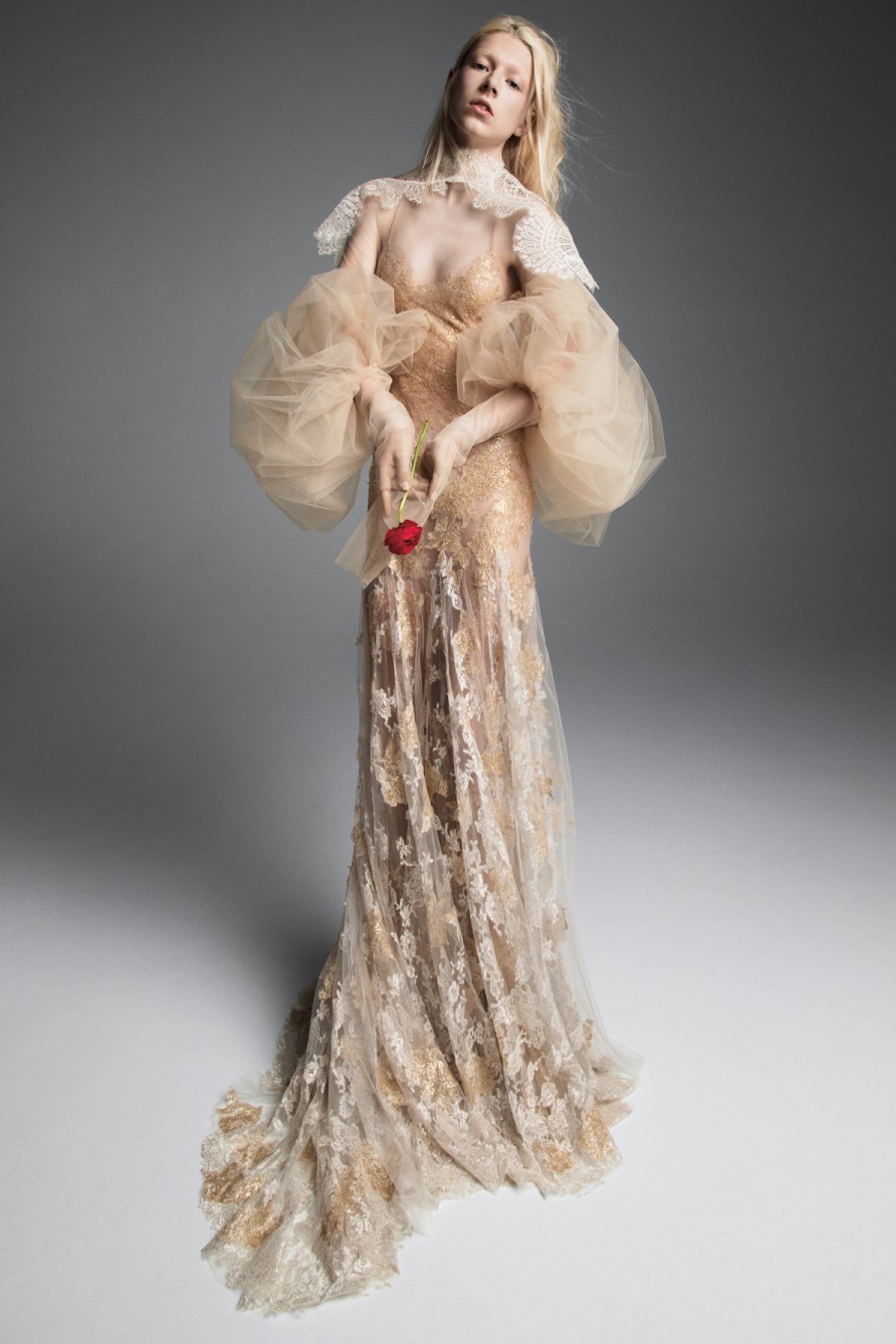 A bold, fashion forward gold wedding gown from Vera Wang. The dramatic golden lace covers the sheer tulle of this eye catching gown. A beautiful mix of antique influences, and contemporary design.
15.

Beaded Embroidery
An absolutely breathtaking nude tulle gown with intricate gold beading that you won't be able to help but fall in love with. The nude and gold combination of this gown is chic and right on trend.
16.

Stardust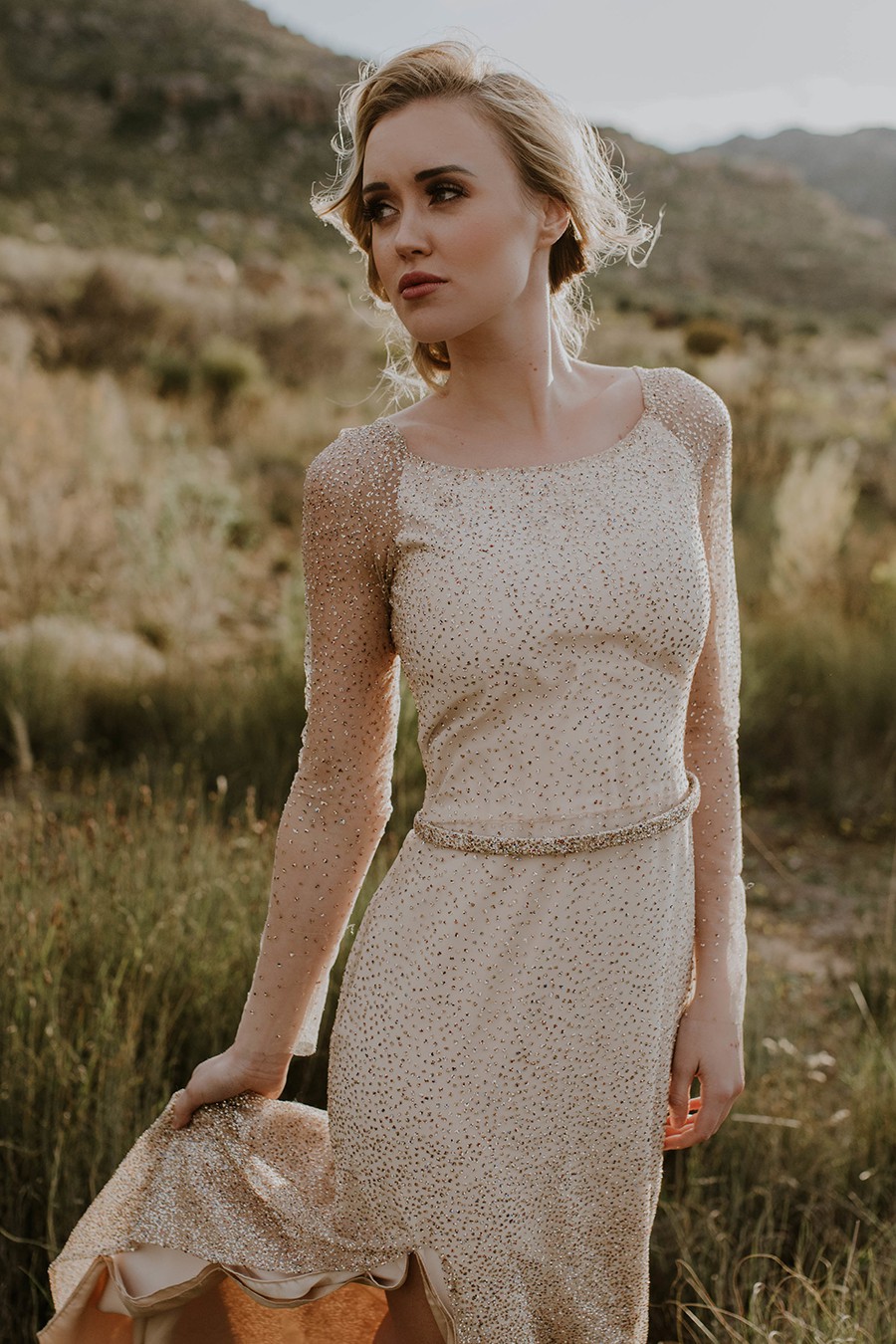 This next festive golden wedding gown is delicate and feminine with its dotted gold accenting. This gold dotting gives the look an ethereal stardust appeal. Perfect for a celestial themed wedding day!
17.

Written in the Stars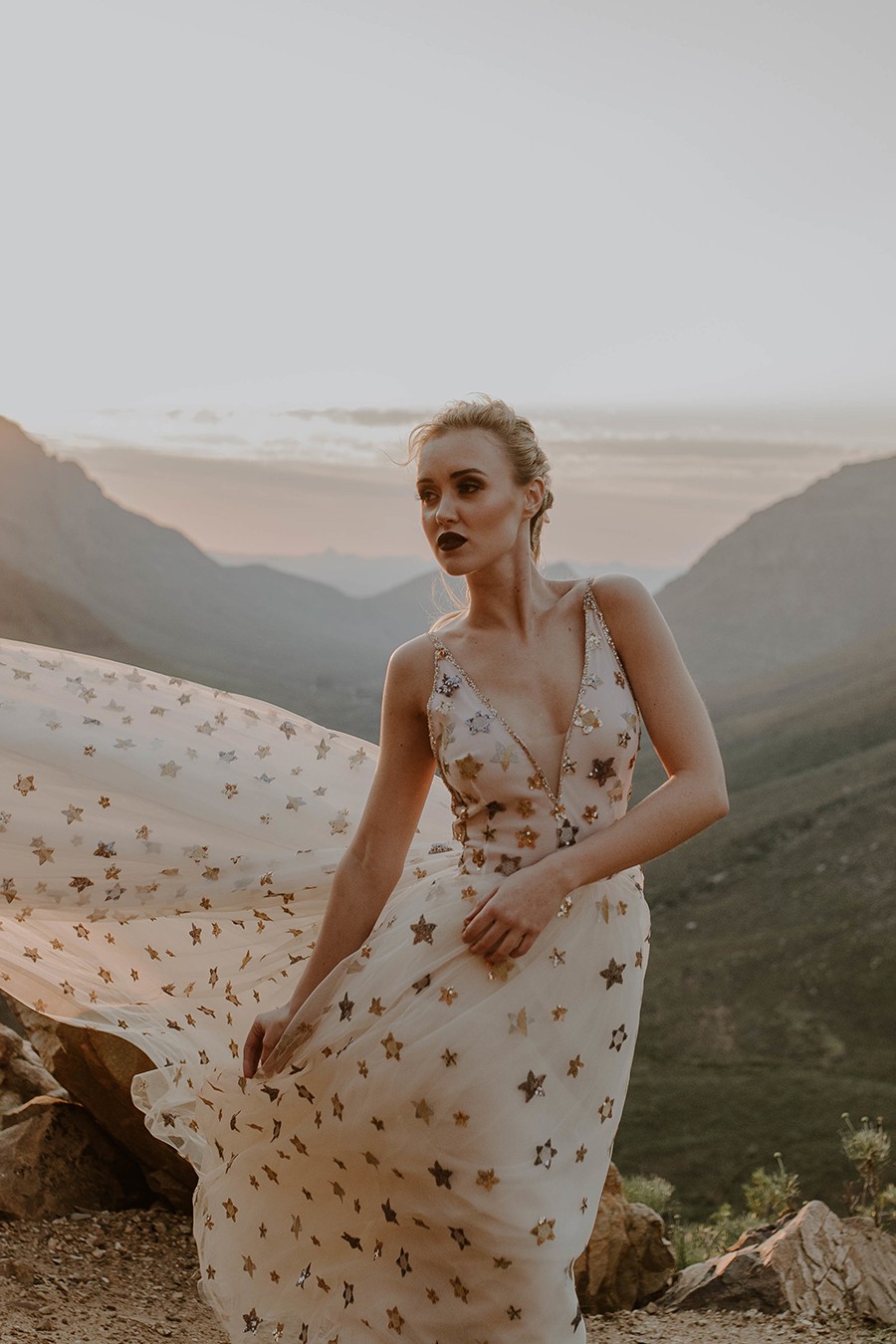 If you are really looking to embrace a celestial theme on your wedding day - then you are going to love this next golden wedding gown. This classic cut gown is covered from top to bottom with metallic gold stars for a playful modern wedding day style that we absolutely love!
18.

Golden Column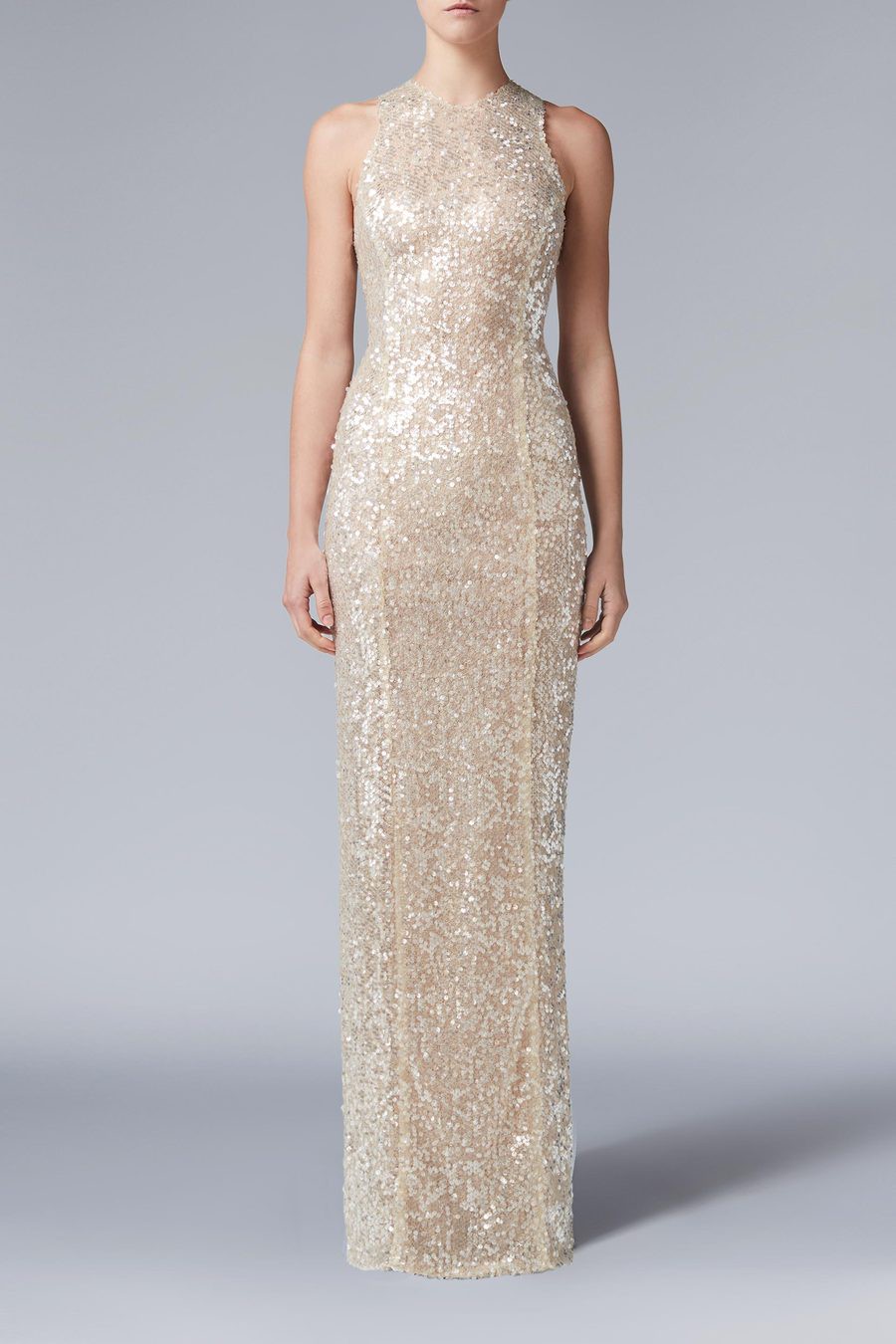 A classy gold column wedding gown that is sophisticated and luxurious. This ultra luxe golden wedding style would be perfect for a New Years Eve black tie bridal affair!
19.

Golden Jumpsuit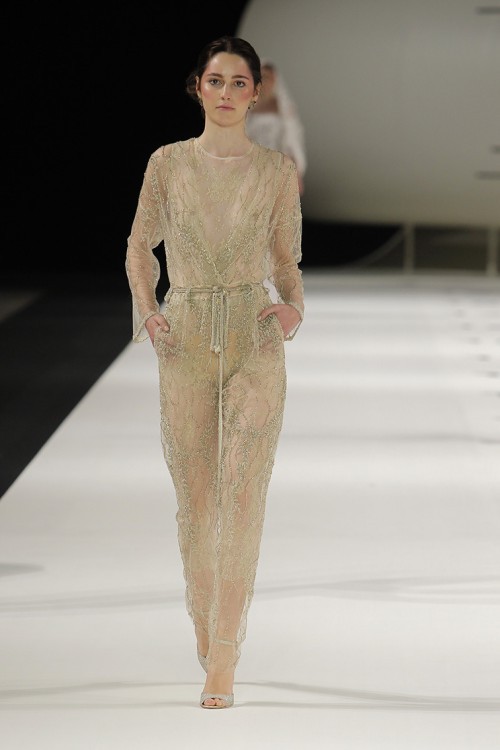 A stunning golden bridal jumpsuit from Yolan Cris that is anything but traditional wedding day wear. This one of a kind gold wedding day look will be sure to turn heads on your big day.

By Kathryn Schrotenboer