If there is ever a day to go all-out-glam, it is definitely your wedding day. And what better way than with a flashy sequined bridal style?
Sparkling, ultra glam gowns aren't just for the red carpet. If you are bride who loves flashy, glamorous gowns, then you don't want to miss this list of all-out-glam sequin wedding gowns. They are glitzy, the are glittery, and they are absolutely irresistible!
01.

Dana Harel: Captivating Sequin Lines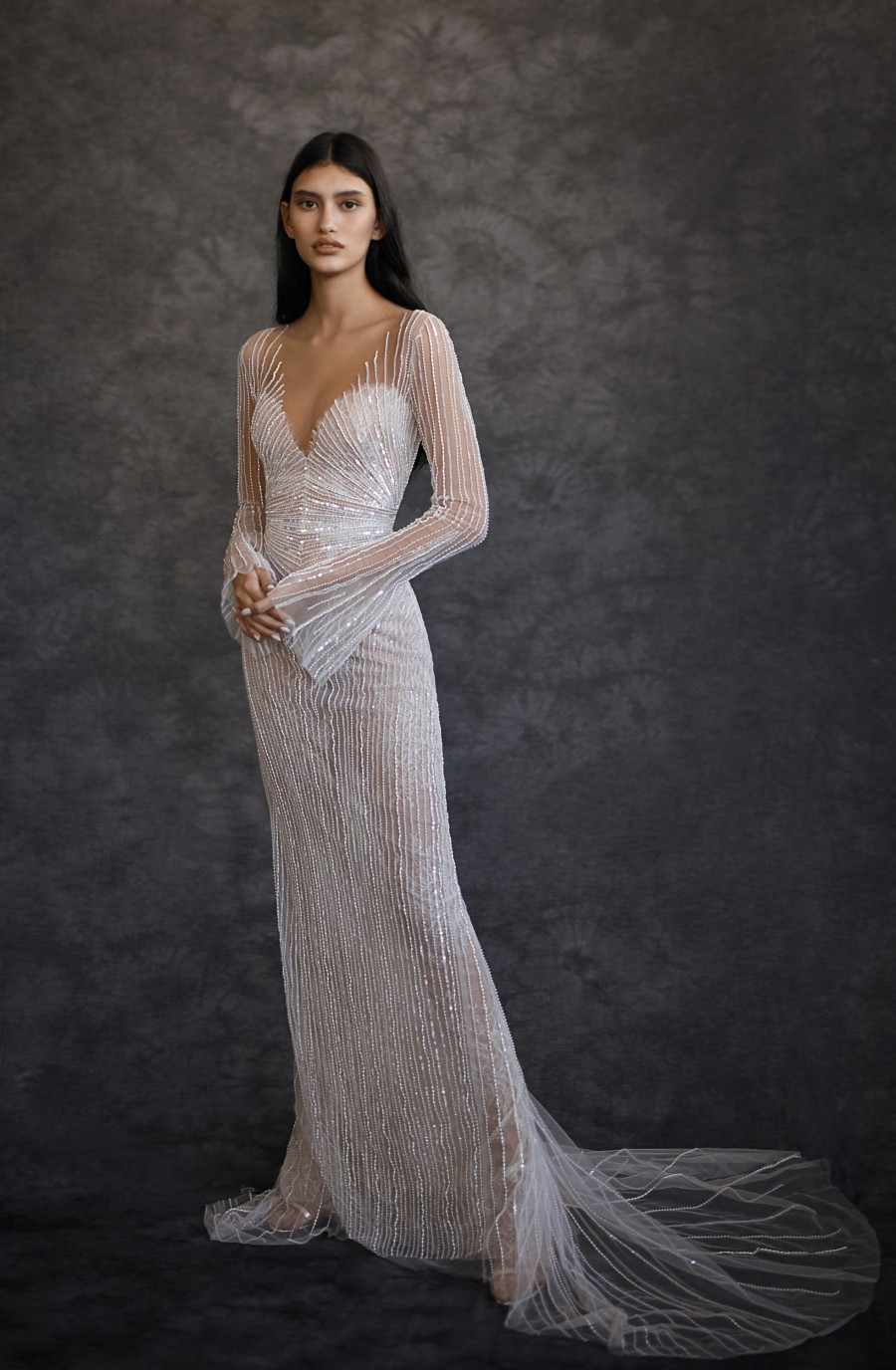 We are starting off the list in a big way with this all-out-glam sequined gown from Dana Harel. Lines of silver sequins create a flatting and captivating design that is hard to peel your eyes away from.
02.

Houghton: Modern Statement Sequins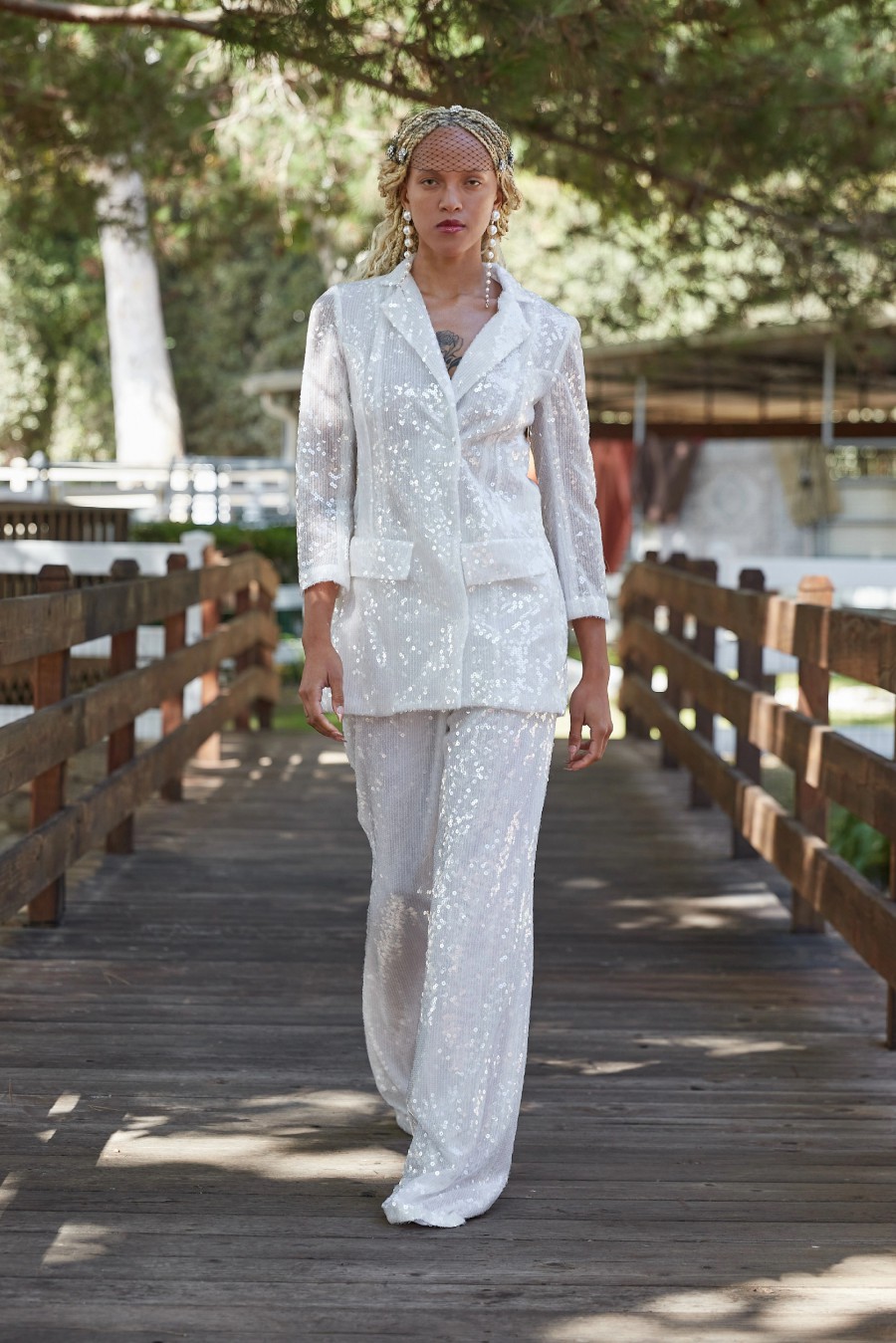 Make a bold, modern statement on your wedding day with this ultra glam sequined pantsuit from Houghton. Featuring a chic, double breasted suit jacket and trending wide leg pants.
03.

Kaviar Gauche: Flirty Glitter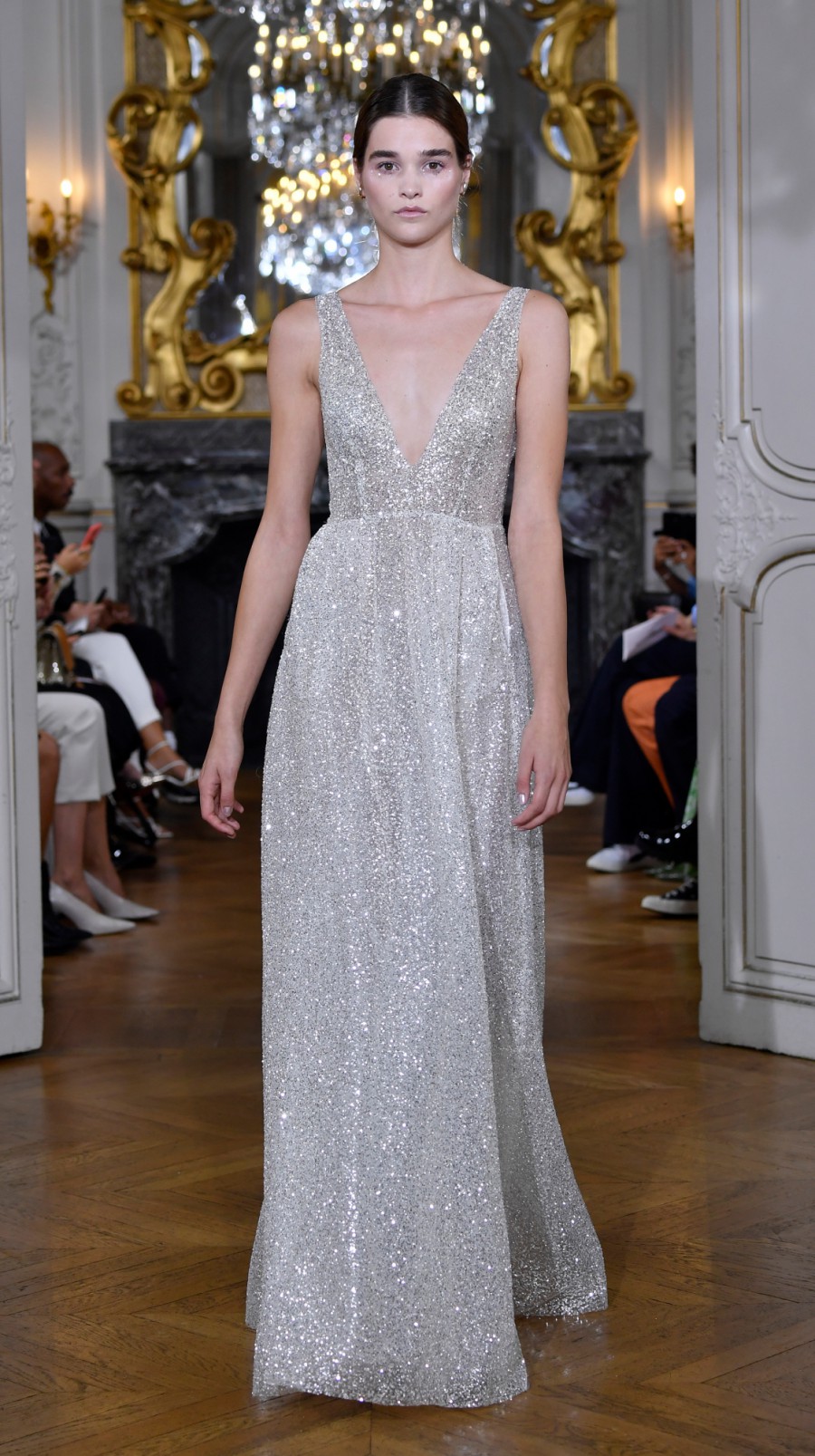 What is not to love about this all over glittering gown from Kaviar Gauche? This gown is whimsical and so glamorous with its head to toe sequin sparkle design. And we love the minimal, yet flattering and trending deep V-neckline silhouette.
04.

Naeem Khan: Head-to-Toe Sequins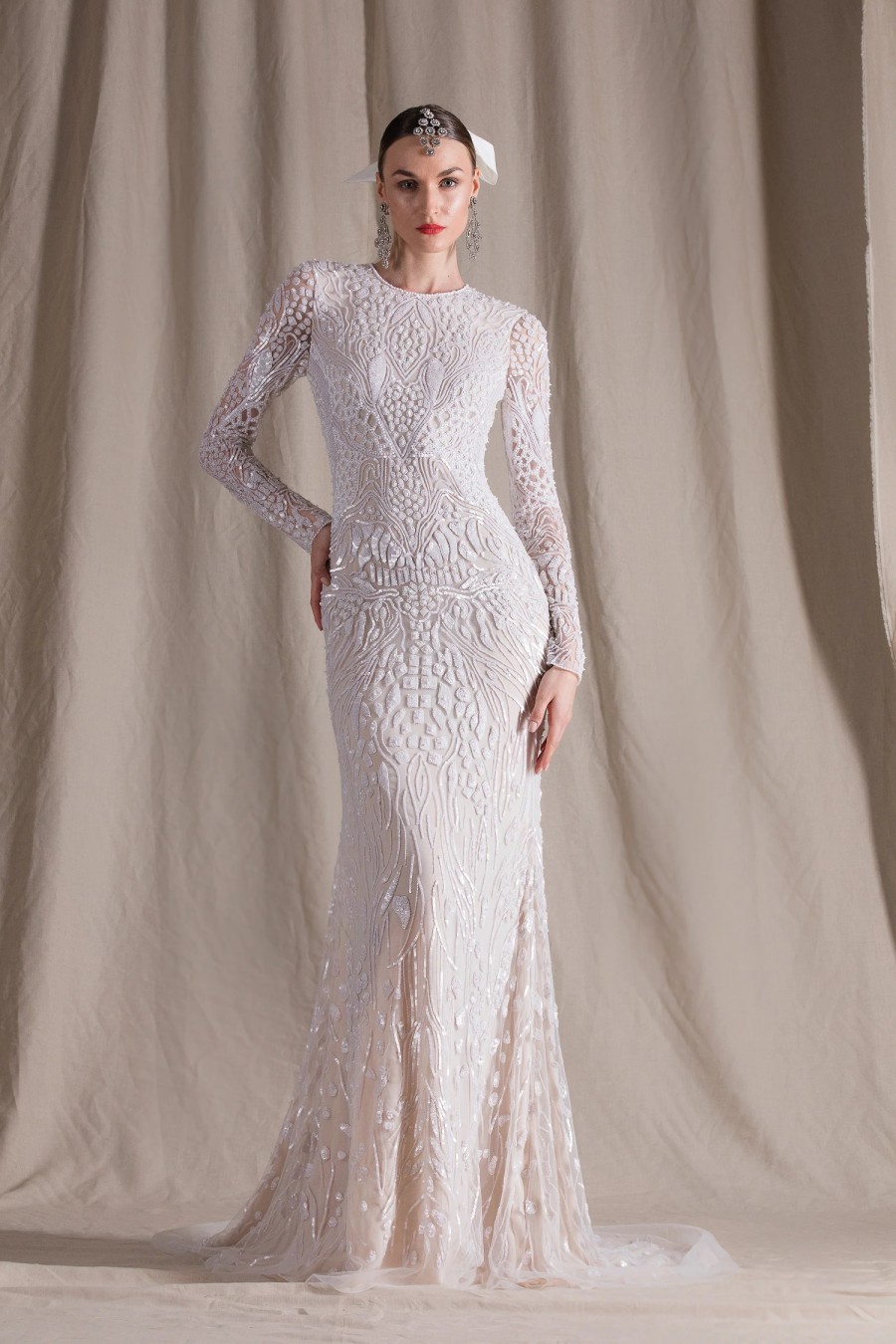 Nothing quite says glamour like head-to-toe sequin embellishment. This intricately designed gown from Naeem Khan is completely over the top, and we absolutely love it. A sophisticated, yet bold way to make a big statement on your wedding day.
05.

Naeem Khan: Embellished Jumpsuit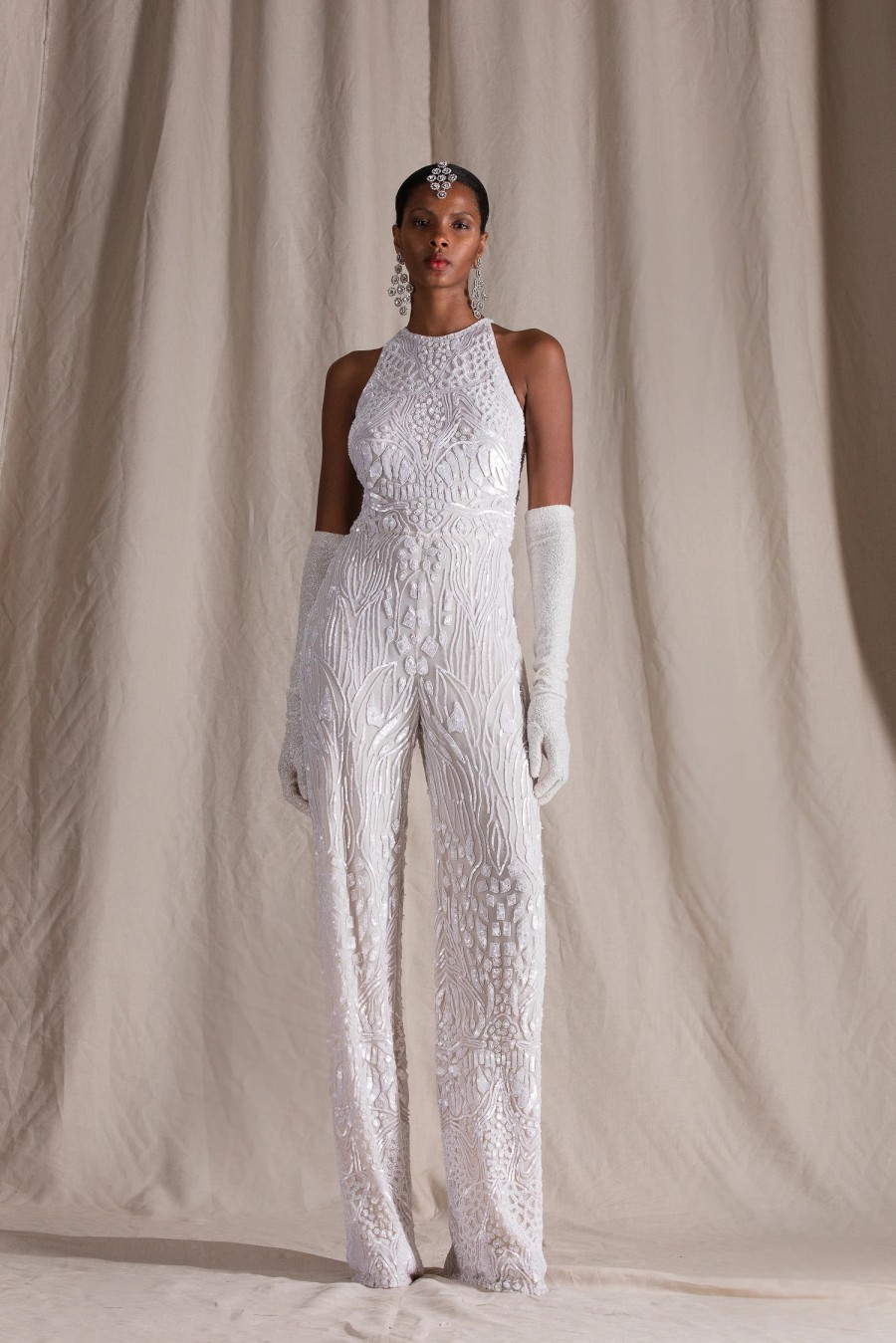 If you love the over the top sequin embellishment from the gown above, then you don't want to miss this matching jumpsuit. The same intricate, head-to-toe embellishment, but in a chic and modern jumpsuit.
06.

Katherine Tash: Sheer Sequin Glamour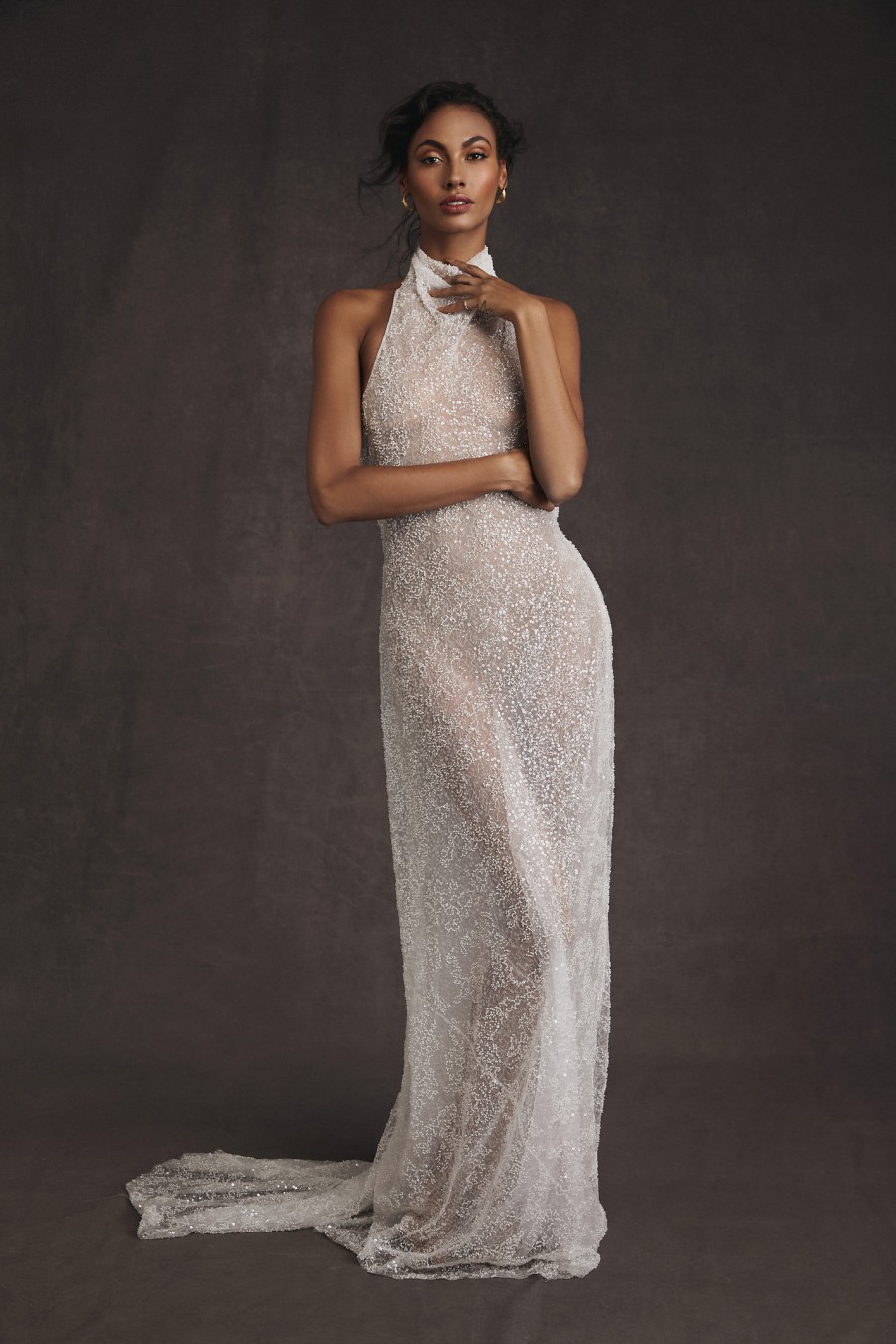 Katherine Tash brings us this next all-out-glam sequined bridal gown. This gown has a sophisticated colored neckline and slimming silhouette. But it packs a punch of drama with its semi-sheer appearance.
07.

Dana Harel: Silver Lining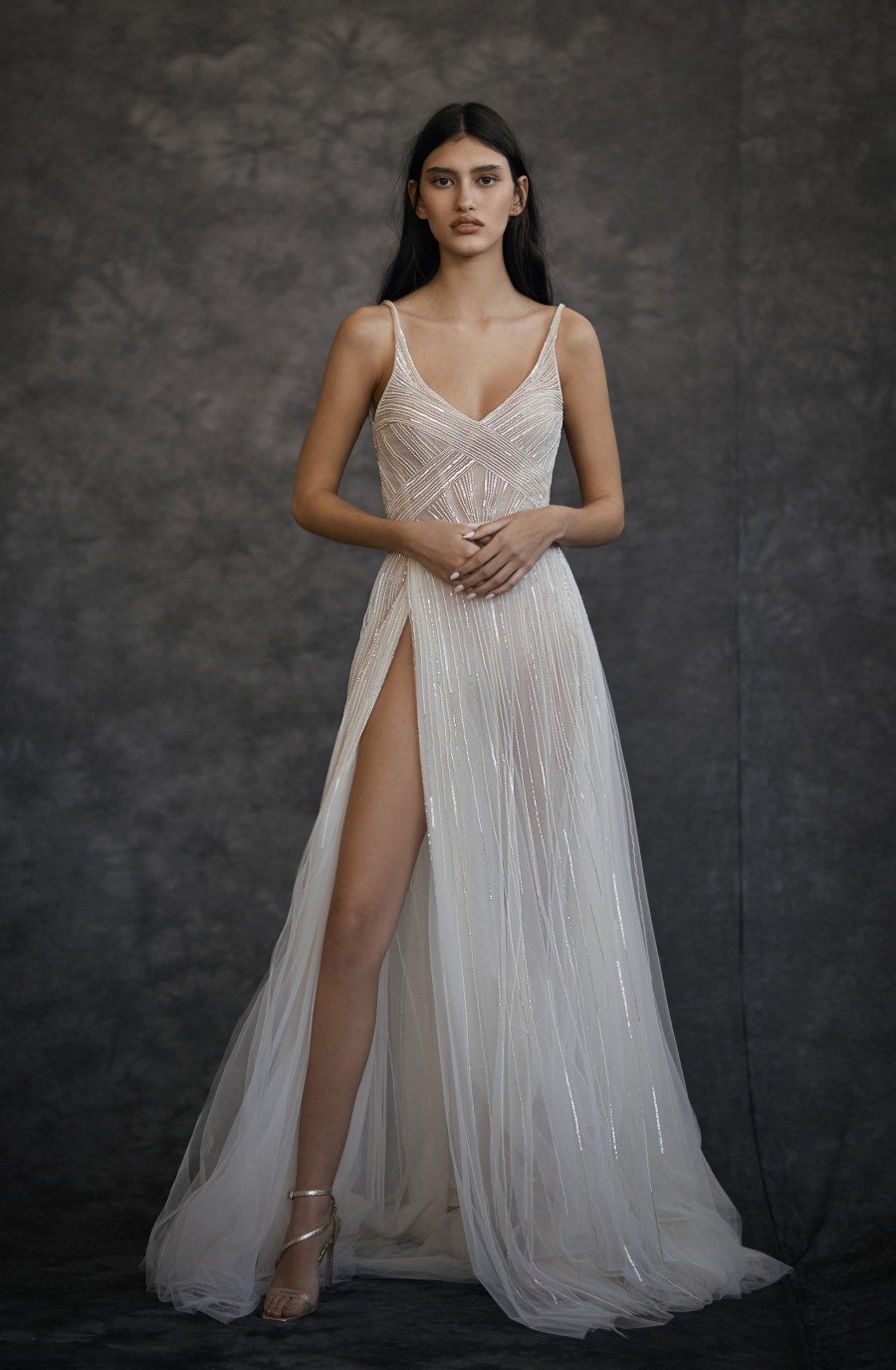 Dana Harel brings us another ultra glam sequin gown designed with captivating lines of silver sequins that create a gorgeous geometric pattern.
08.

Kaviar Gauche: Wrapped in Sequins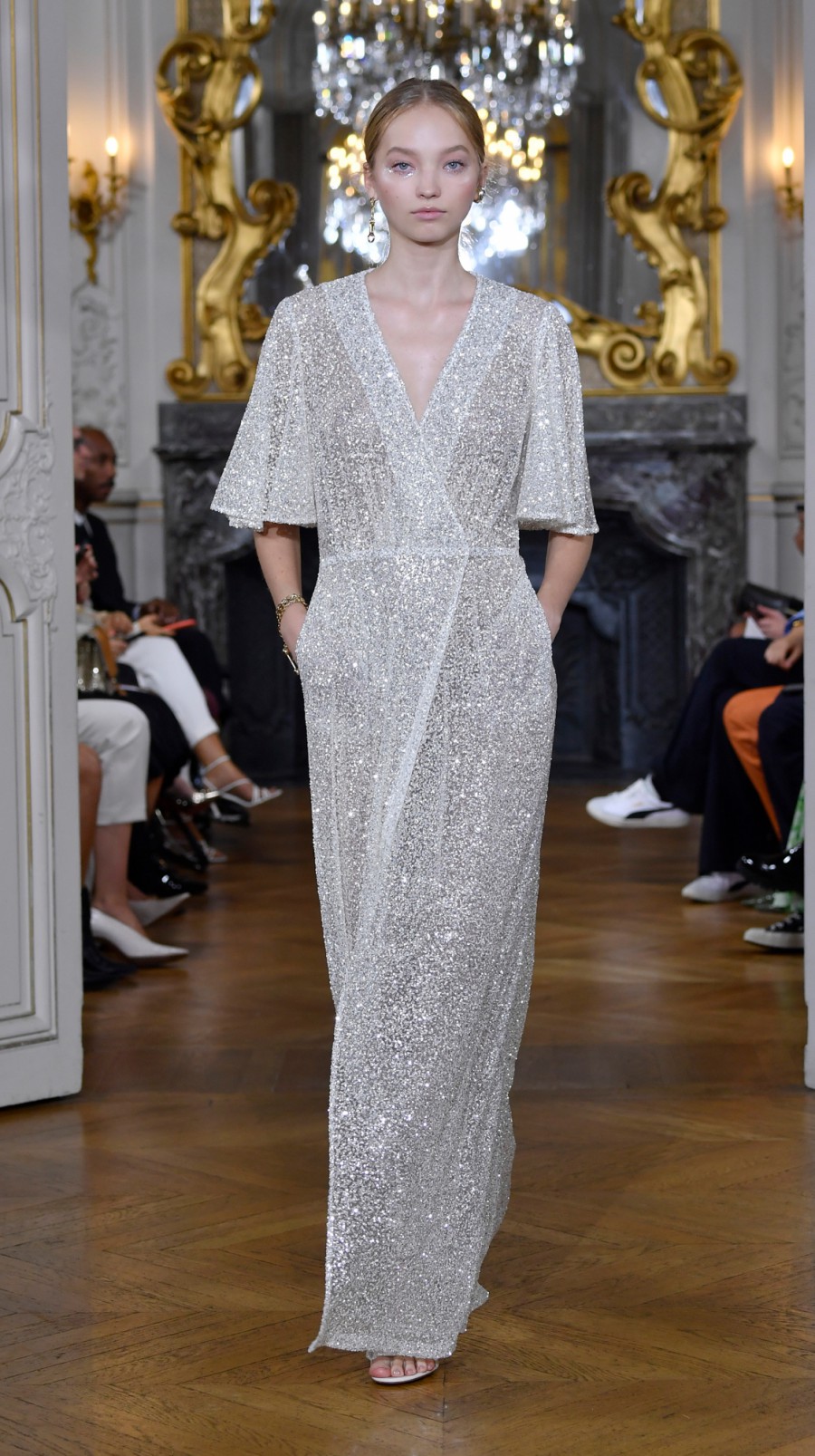 Sophisticated, glam and absolutely irresistible. This fierce, completely sequined bridal gown from Kaviar Gauche features a flattering wrapped silhouette with butterfly sleeves. We love how this gown feels all-out-glam, yet minimal at the same time.
09.

Naeem Khan: Fringed Sequin Mini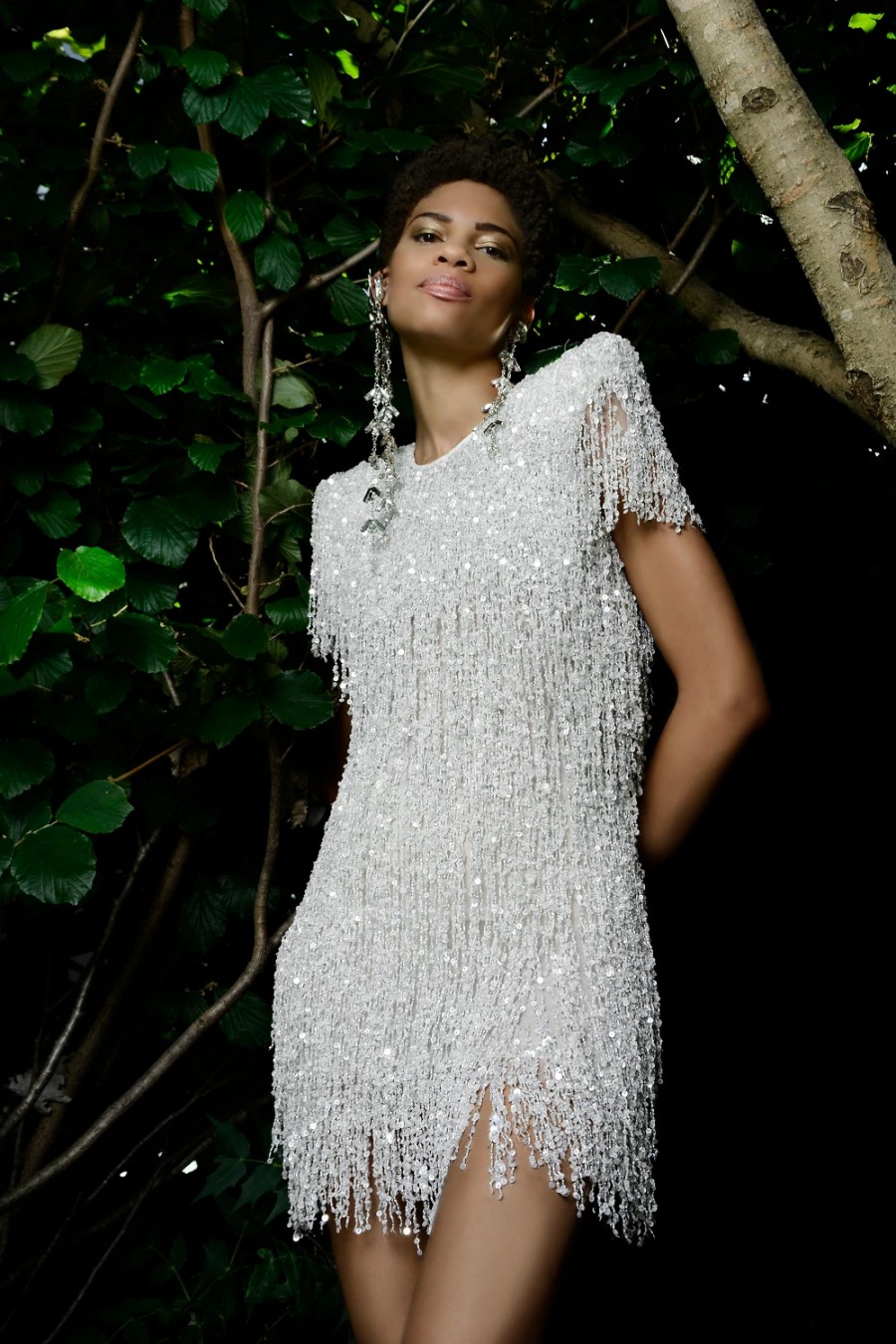 Short, sassy and everything a contemporary bride could want. Modern brides are loving less traditional, more casual bridal styles. And if it is something they can wear again after their big day, then even better. A sassy party dress like this is a playful, untraditional bridal look for a more casual wedding day, and it can be worn again for New Years Eve, a date night or any other party or black tie event after your wedding day.
10.

Markarian: White Sequined Column Gown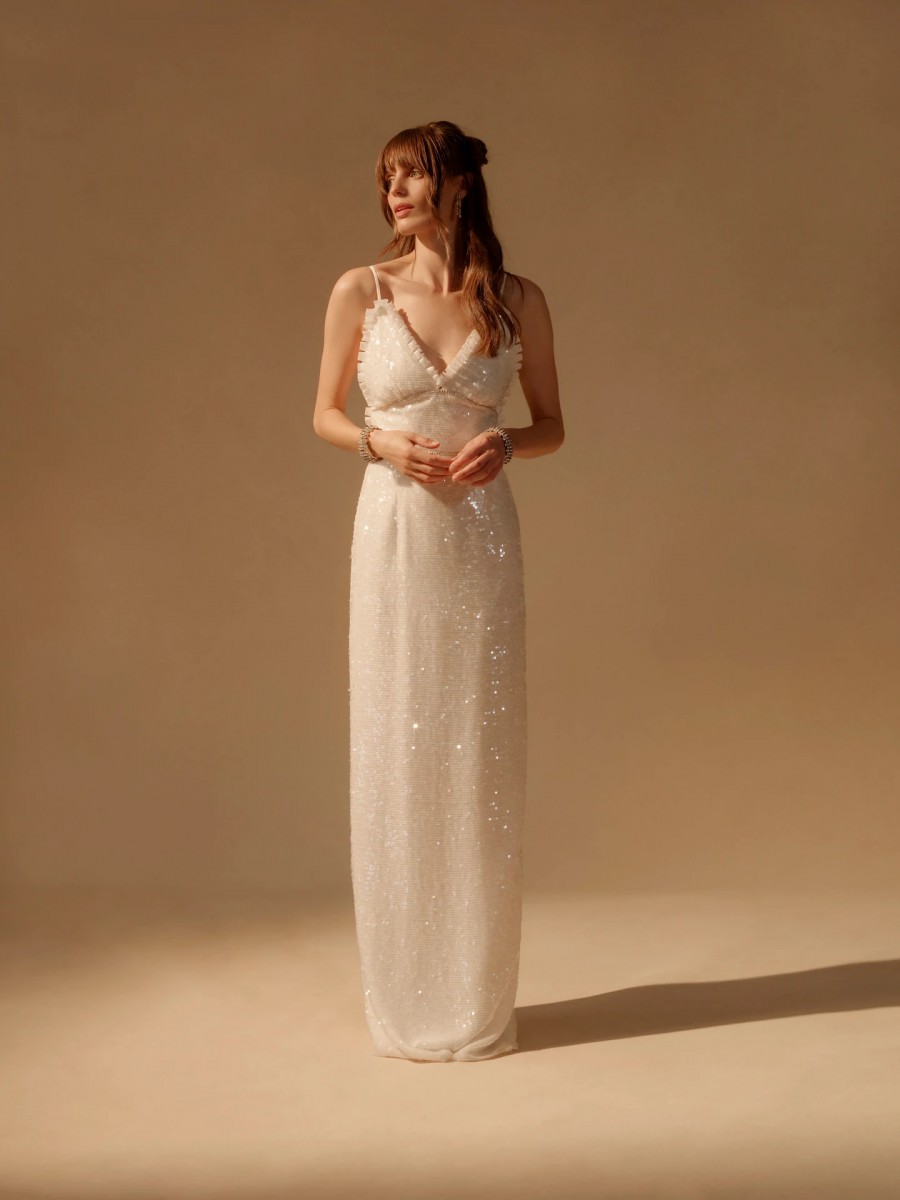 Subtle, yet ultra glamourous. This white sequin column cut gown features a gorgeous V-neckline bodice with ruffled trim and swarovski crystal accents. Minimal, yet so sophisticated and luxe.
11.

Naeem Khan: Roaring 20's Sequins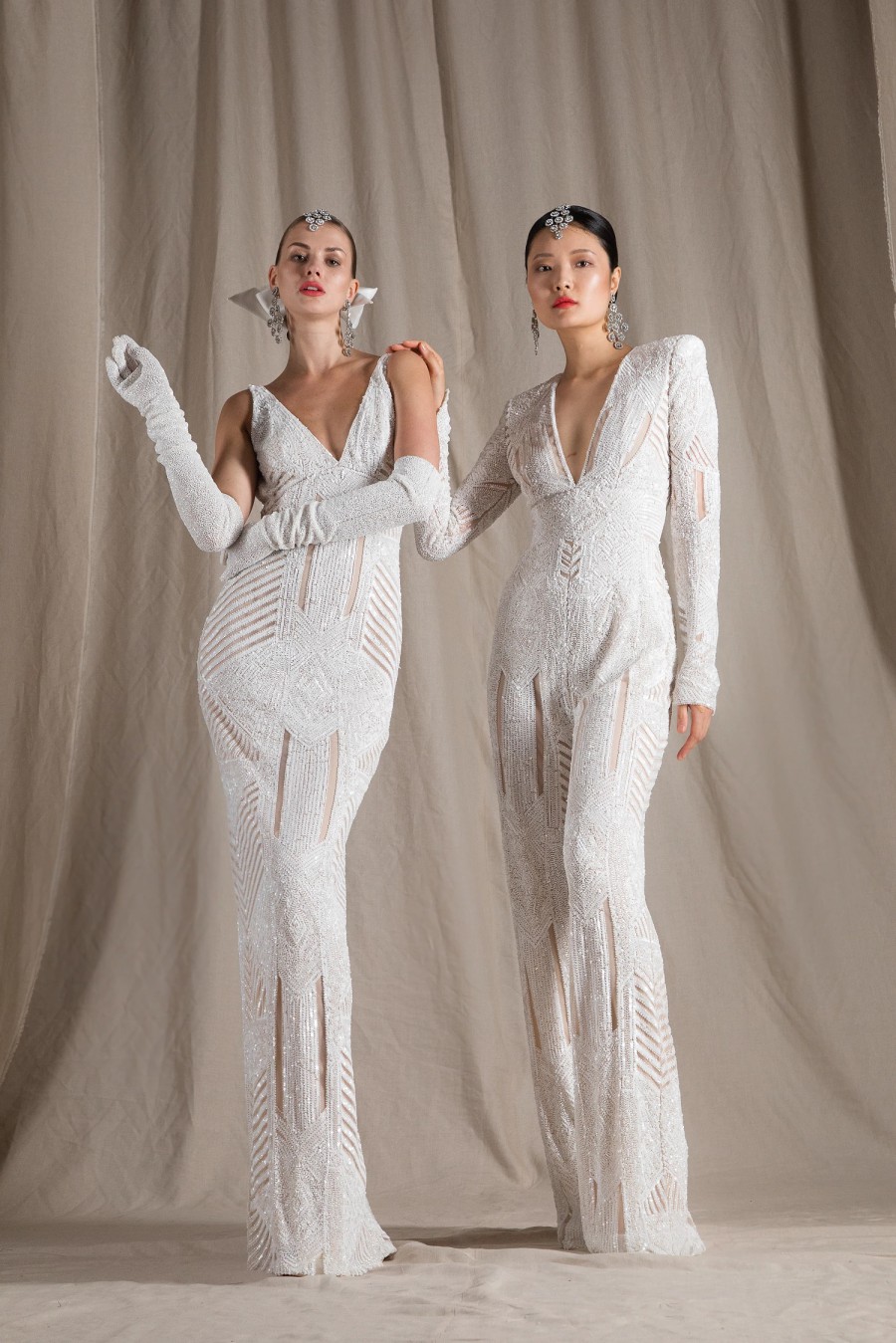 If you love the lavish and glam style from the Roaring 20's, then you don't want to miss these next sequin bridal gowns from Naeem Khan. Luxe, lavish and straight out of the ultra glam era of the Roaring 20's.
12.

Naeem Khan: Roaring 20's Mini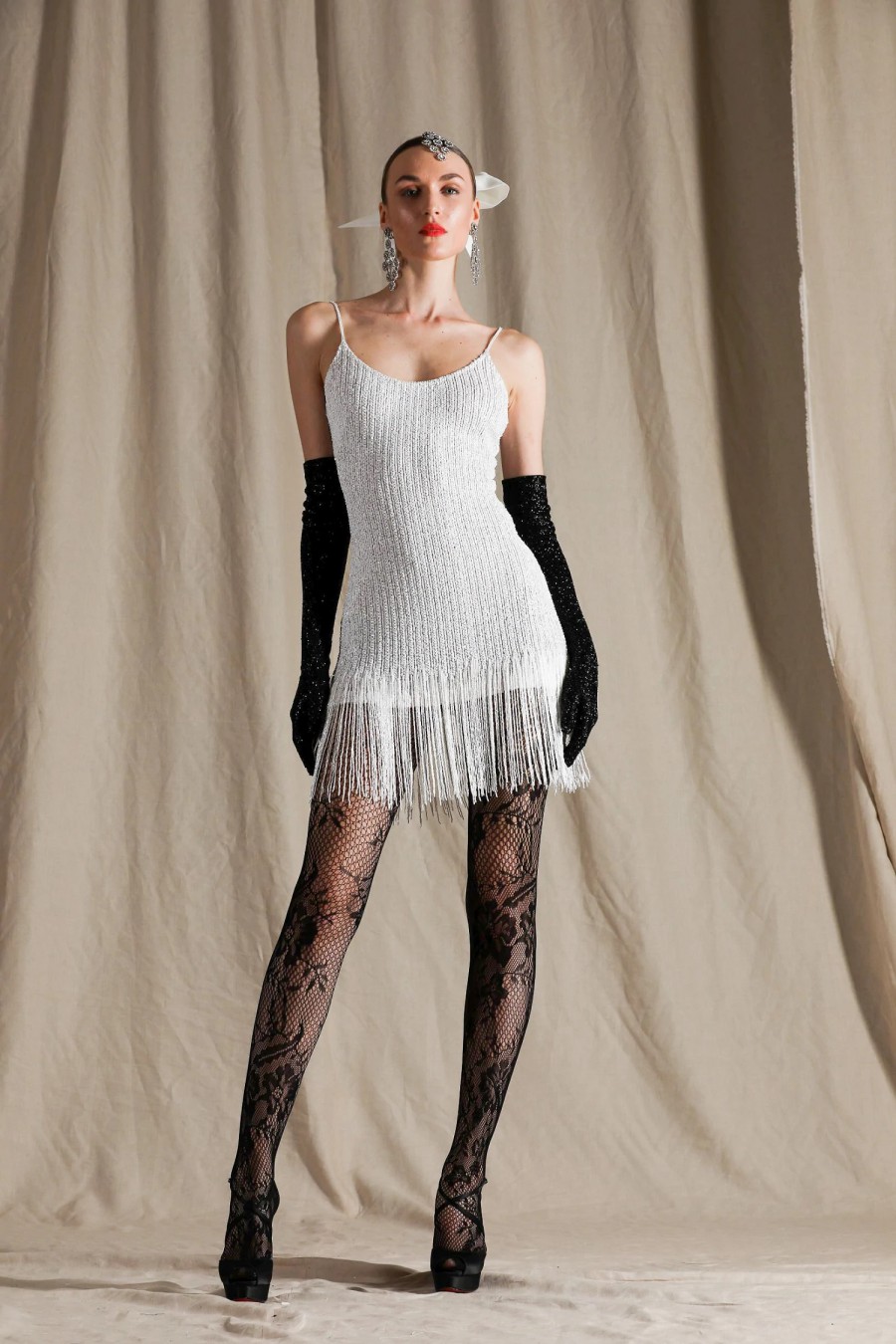 Love the roaring 20's vibe of the previous styles, but looking for a bridal mini for your reception style? Then this fringed sequin mini is for you! The perfect, party-ready second look.
13.

Galia Lahav: Fitted Feminine Sequins
Galia Lahav brings us this gorgeous fitted bridal gown with an all over sequined sparkle design. Featuring a flattering scoop neckline and sheer side panel accents.
14.

Naeem Khan: Chic Modern Sequins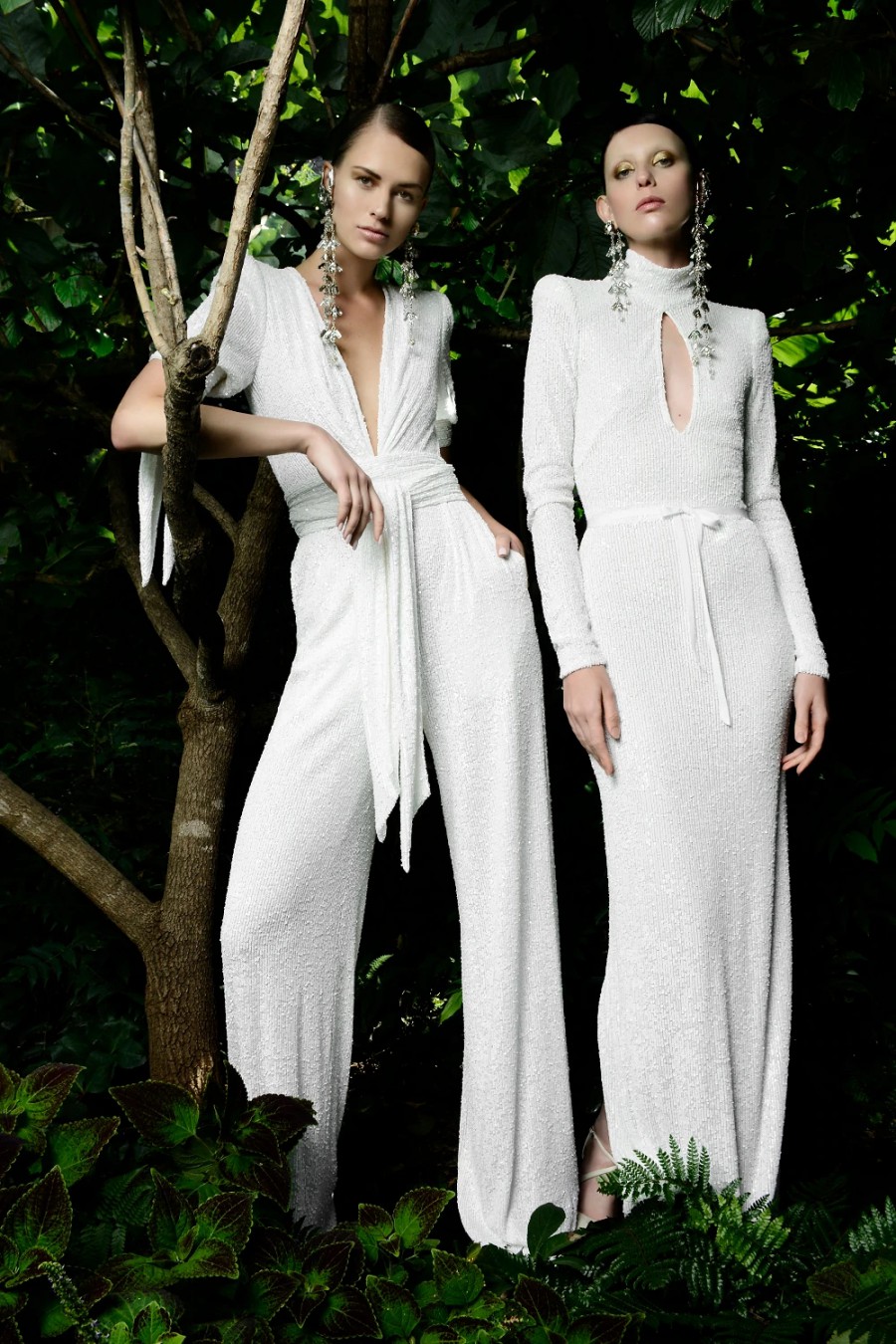 Next up we have two chic, modern sequined gowns that are all about minimal glam. These looks both seem simple, yet close up you can see the intricate, all over sequined texture. Our modern IT girl brides out there are sure to love these styles.
15.

Markarian: Lavish Sequins and Feathers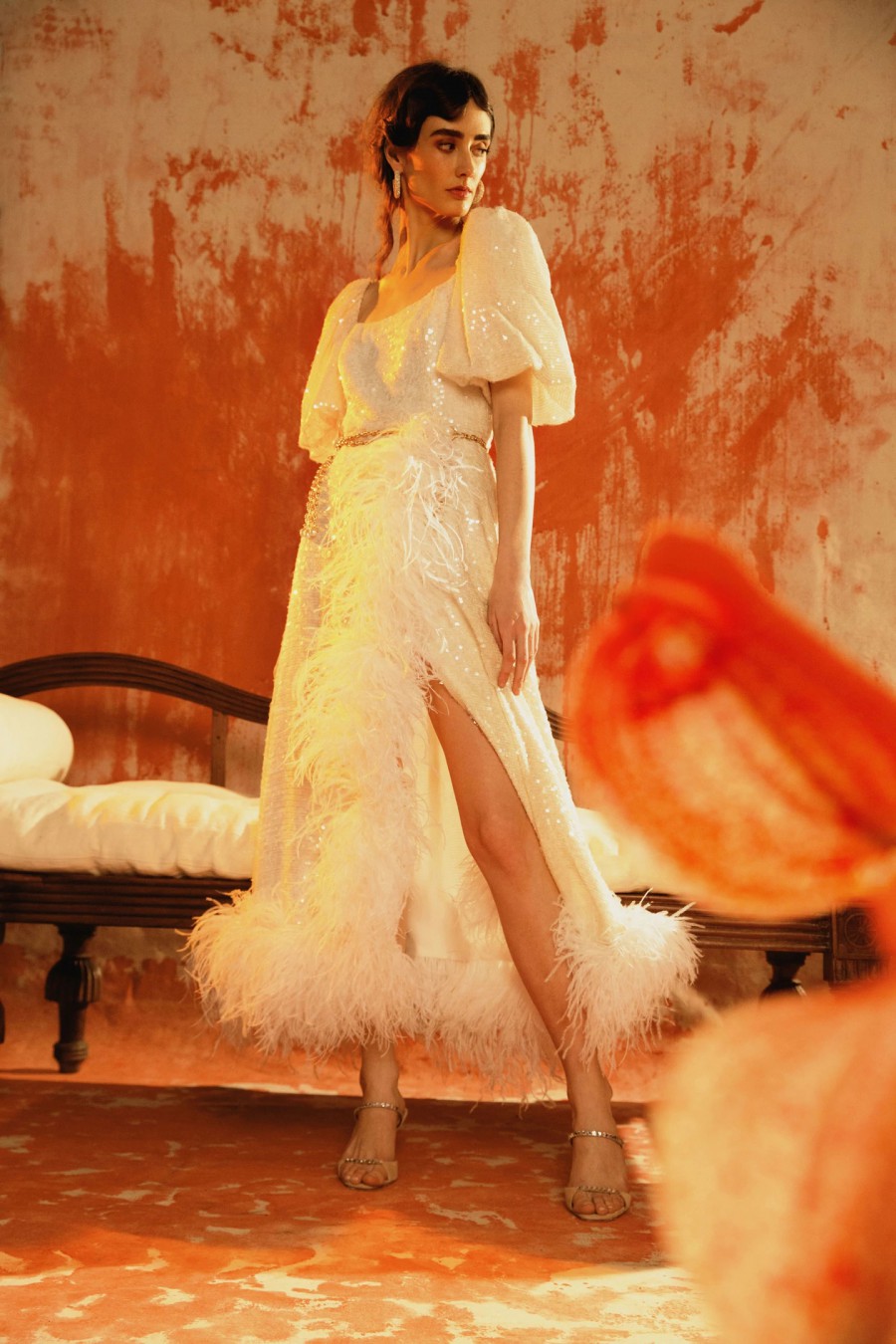 We are taking luxe to the next level with this next sequined bridal gown. A chic wrapped silhouette featuring puff sleeves and lavish ostrich feather embellishment. And we are loving the midi length and high front slit to show off those killer glam bridal shoes.
16.

Markarian: White Sequin Ankle Length Gown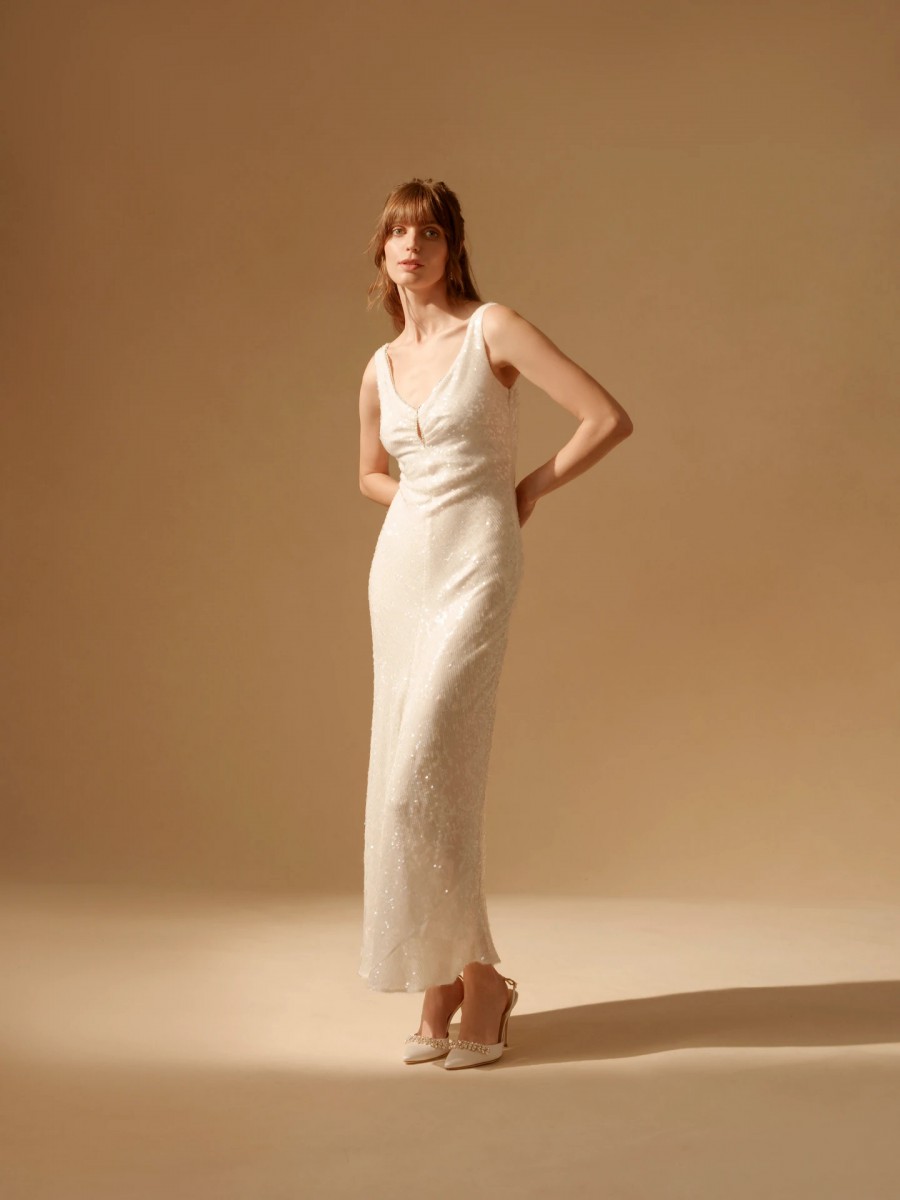 Our next sequined bridal gown is sure to be a hit with modern brides who are craving a more casual, wearable bridal look. This chic white sequin gown is made from 100% silk and features a flattering keyhole neckline. Its ankle length cut makes this gown more causal, and easy to wear.
17.

Naeem Khan: Contemporary Geometric Sequins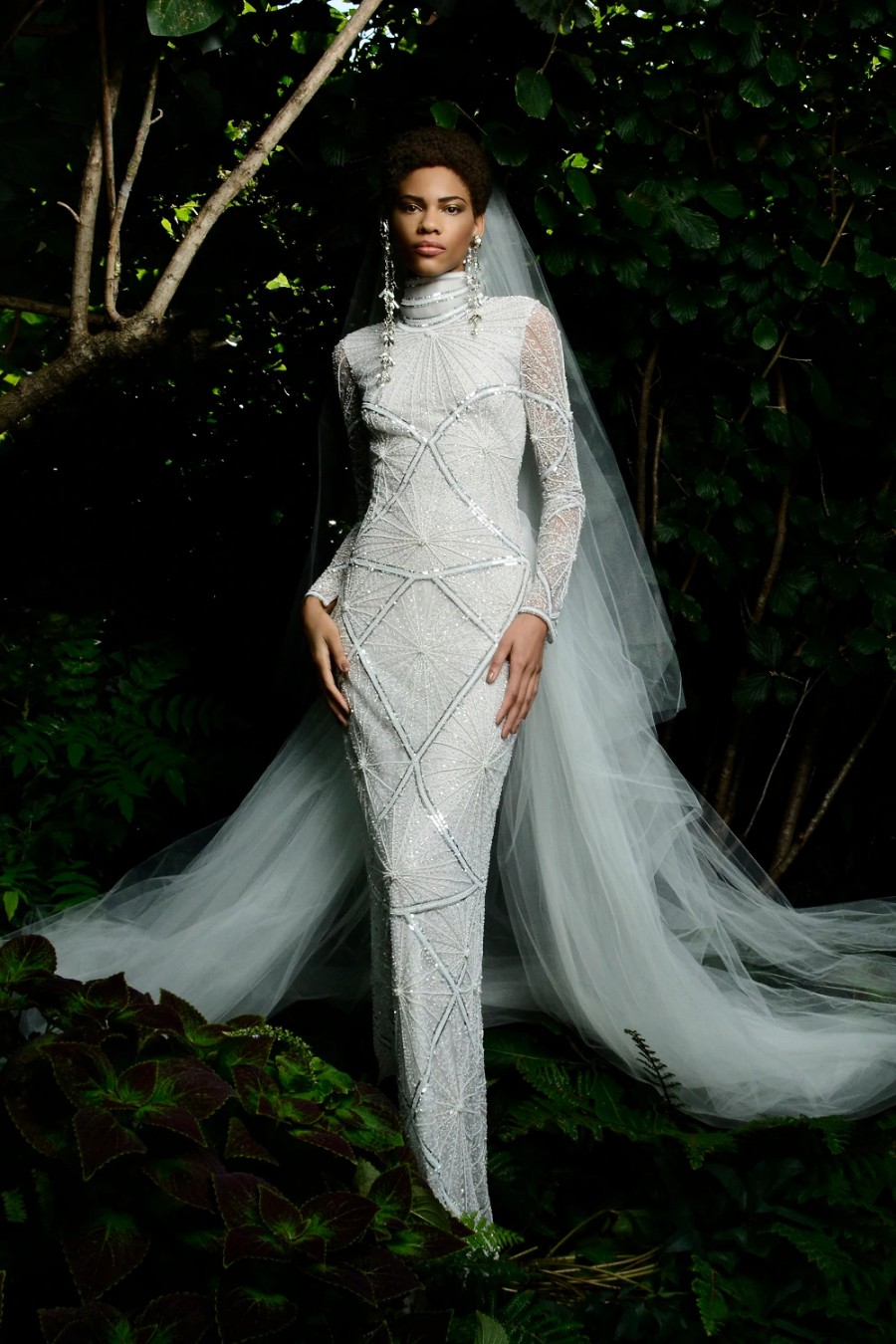 The design of our next all-out-glam sequined bridal gown is absolutely breathtaking. Luxe, intricate lines of sequins create starburst like accents that have a very Art Deco feel to them. And we are loving that chic, collared neckline.
18.

Kaviar Gauche: Trending Sequin Two-Piece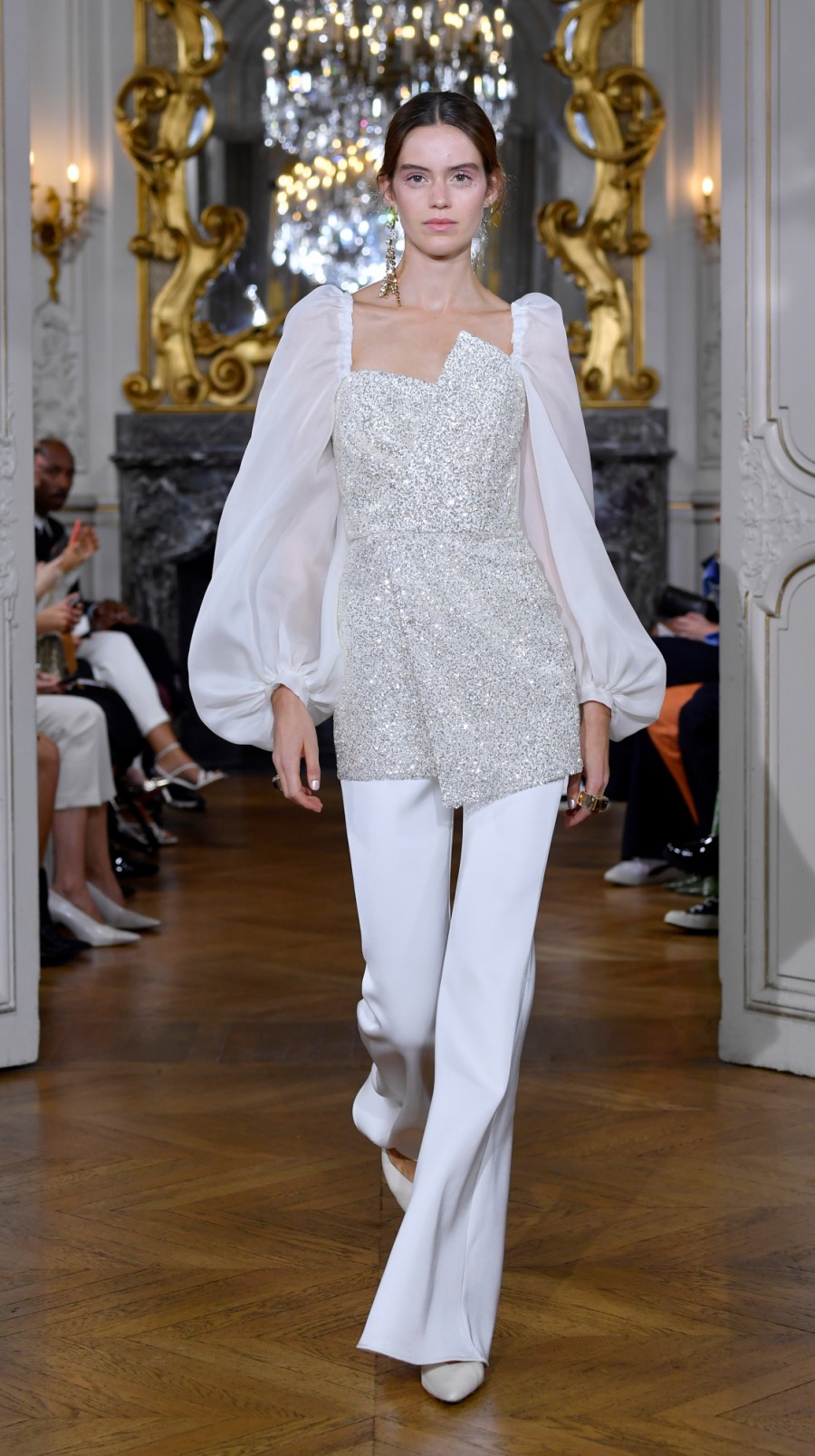 This next sequined bridal style from Kaviar Gauche is all about making a bold, contemporary statement. Our modern, fashion forward brides are sure to love this trending, untraditional two-piece style, featuring a unique sequined bodice with billowing sleeves and sleek bell bottom trousers.
19.

Galia Lahav: Sequin Party Dress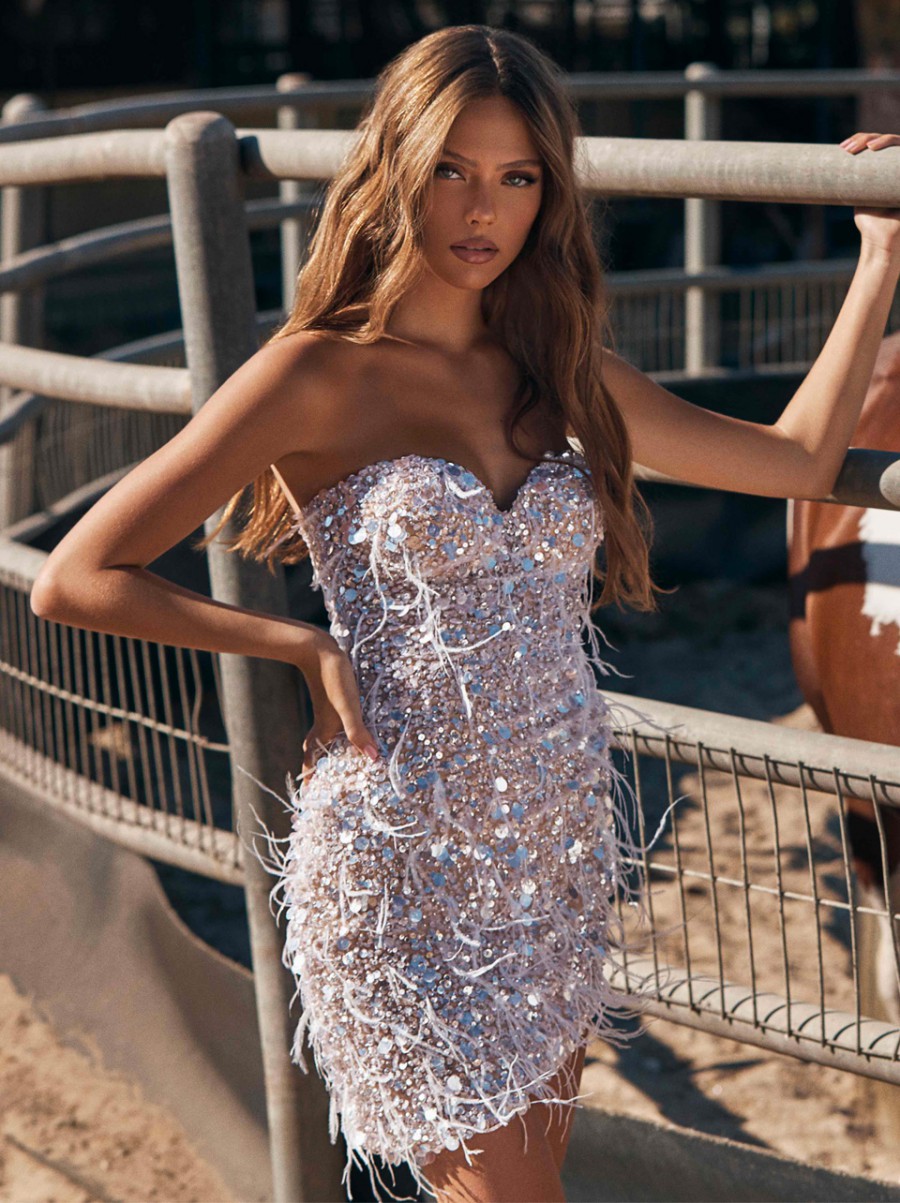 Looking for a party-ready gown for your second look? A sassy, ultra glam sequined mini dress is perfect. Wear a more traditional gown for your wedding ceremony, and then slip into a sassy party dress to dance the night away at your reception.
20.

Markarian: Contemporary Sequined Bridal Suit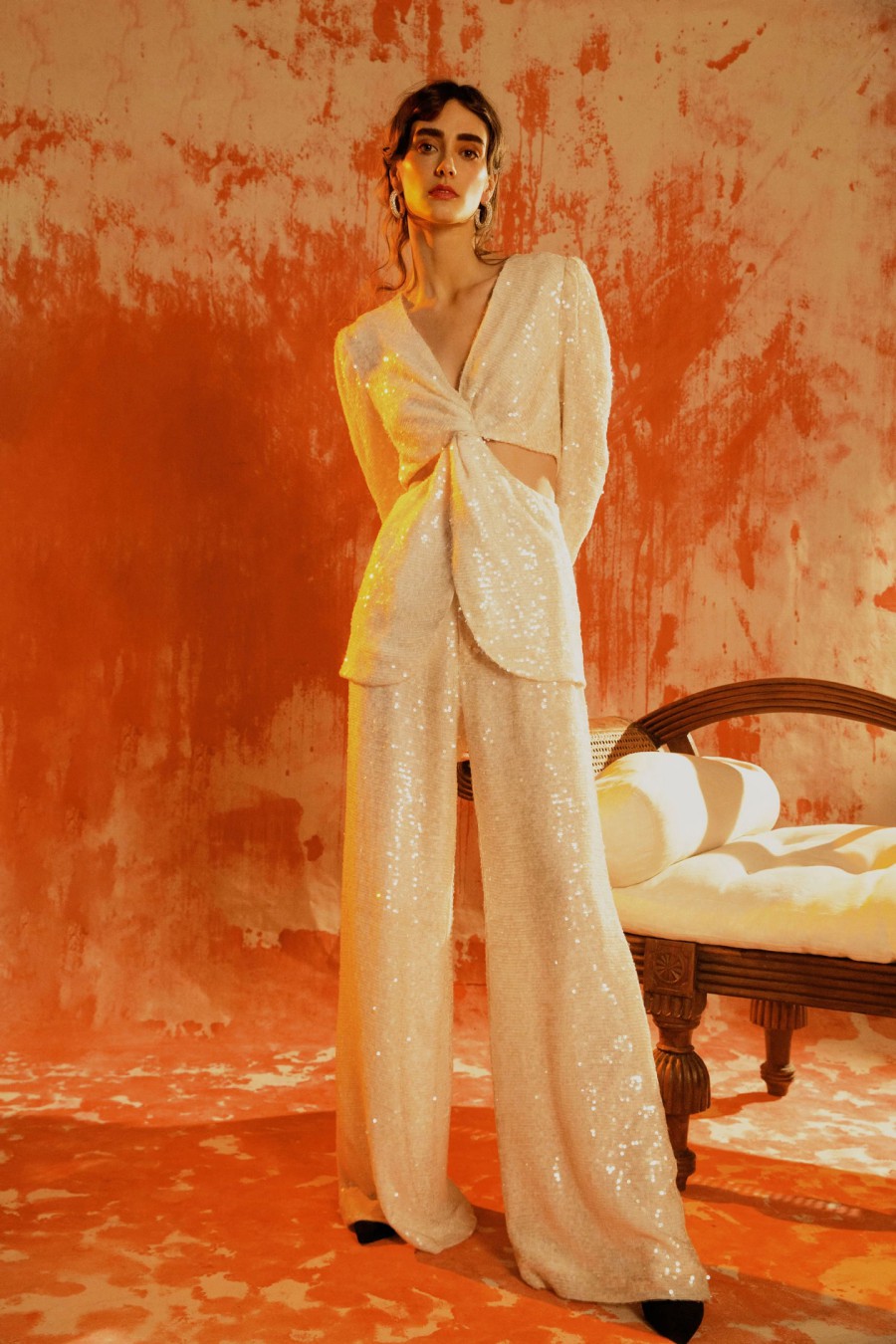 Untraditional, contemporary, and ultra glamorous. This next sequined bridal look is for our edgy, couture loving brides out there. This look features chic and trending wide leg trousers and a matching cut-out twisted top, both covered is lavish ivory sequins.
21.

Jenny Packham: Gold Sequin Flapper Inspired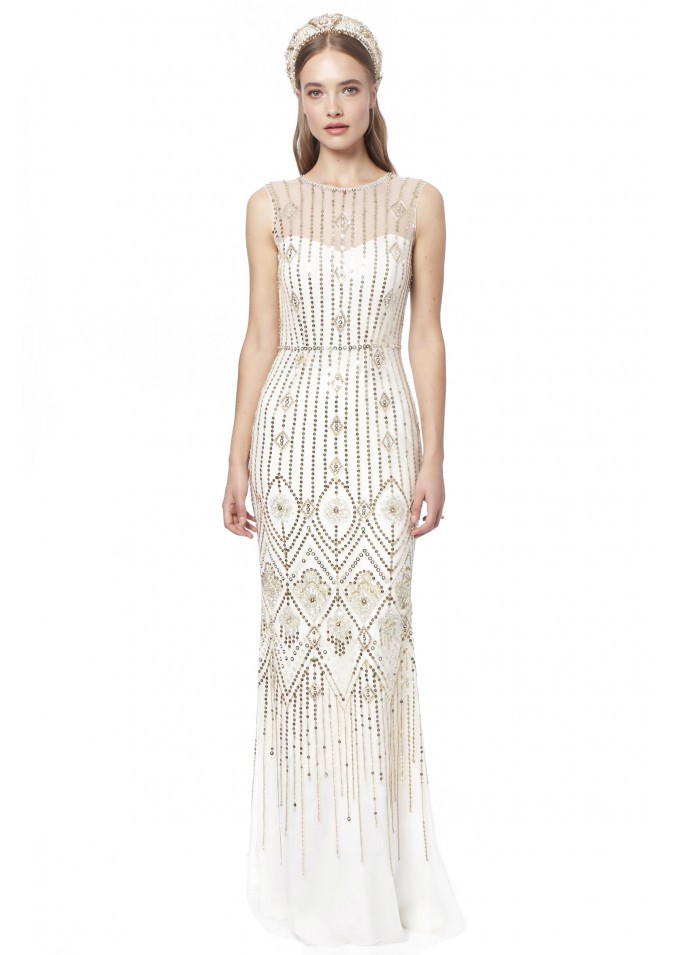 Jenny Packham brings us this next sequined bridal gown. Featuring an all over gold sequined design that pulls inspiration for the beloved roaring 1920's flapper dresses. Glamorous with a vintage feel to it, this gown is truly irresistible.
22.

Claire la Faye: Silver Sequined Glam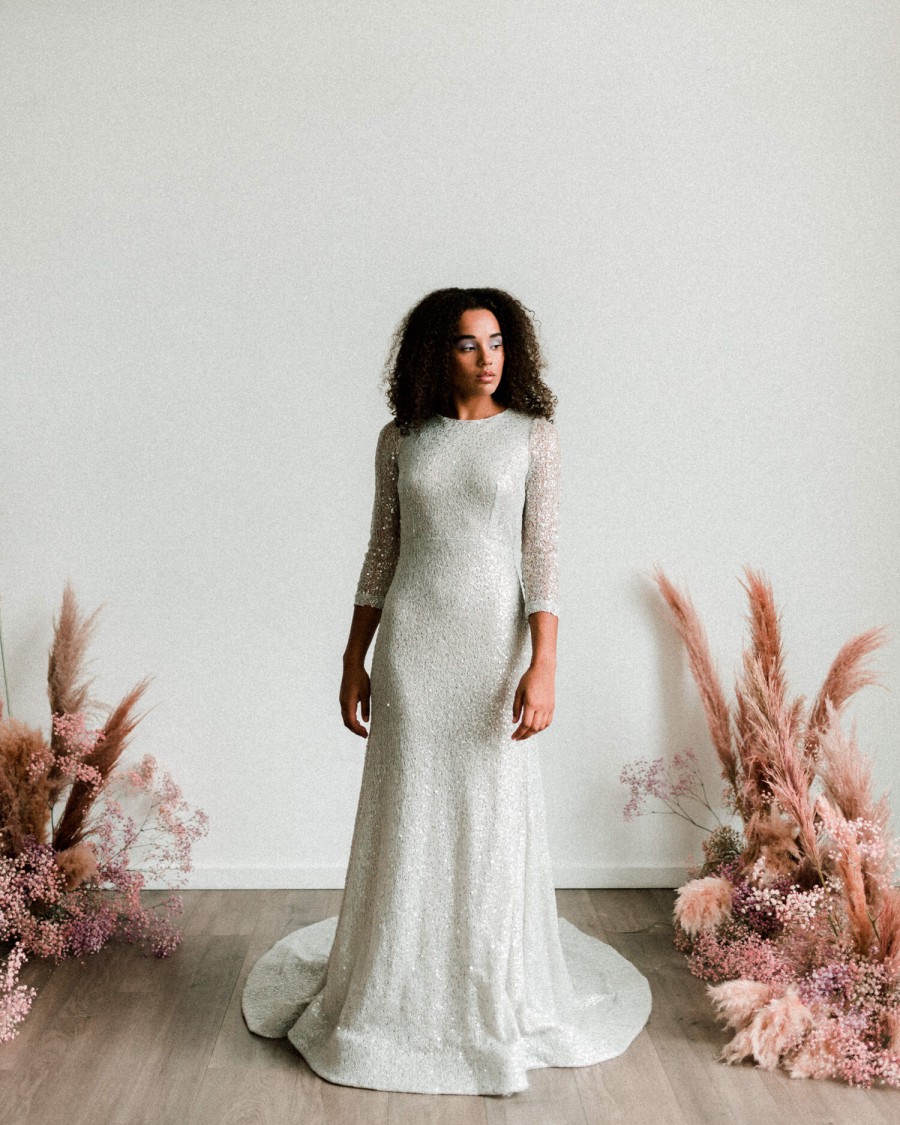 Are you a bride who loves metallic? What better way to incorporate metallics into your wedding day look, then with a silver sequined gown? This stunning wedding dress from Claire la Faye has a classic and modest silhouette, with a flashy, all over sequined design.
23.

Jenny Packham: Luxe Sequin Glamour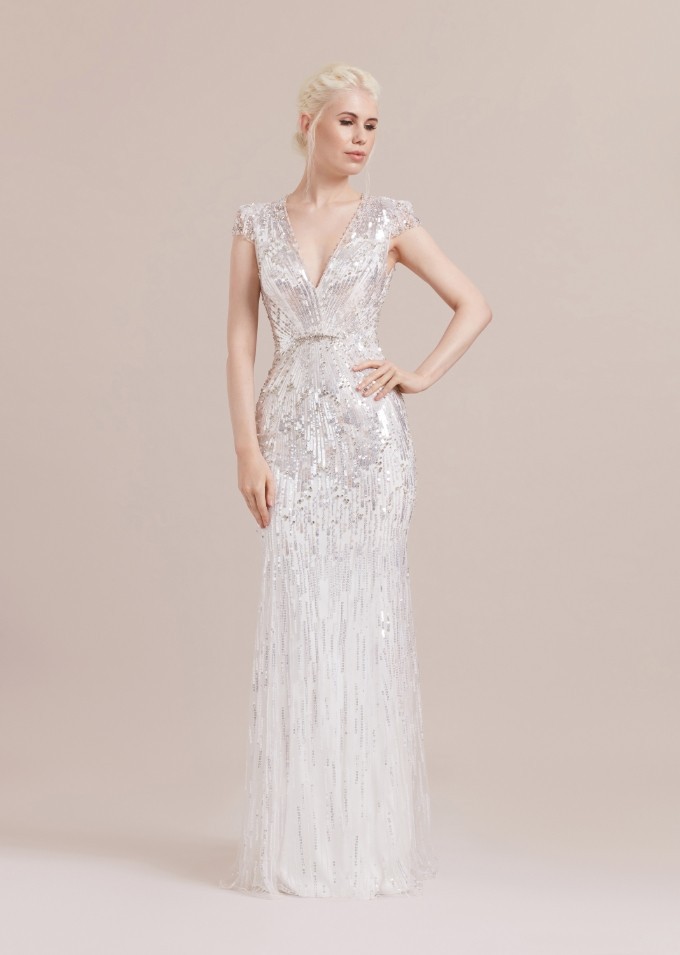 Luxe, lavish and a sequin loving bride's dream. We love the flatting silhouette of this wedding gown from Jenny Packham. Featuring chic cap sleeves, a flattering V-neckline and detailing at the fitted waist. This gown is sure to make any bride feel ultra glam on their big day.

By Kathryn Schrotenboer