If you are a boho bride who loves folk style, then this list is going to steal your heart.
Year after year we see more and more dreamy bohemian inspired bridal styles. But this list takes things even further. We have gathered up of favorite 20 folk inspired bridal styles that are going to have our bohemian loving brides swooning. These looks have stunning vintage influences, in chic contemporary silhouettes. They are bold, feminine and may just be what you have been waiting for.
01.

Ethically Designed Cotton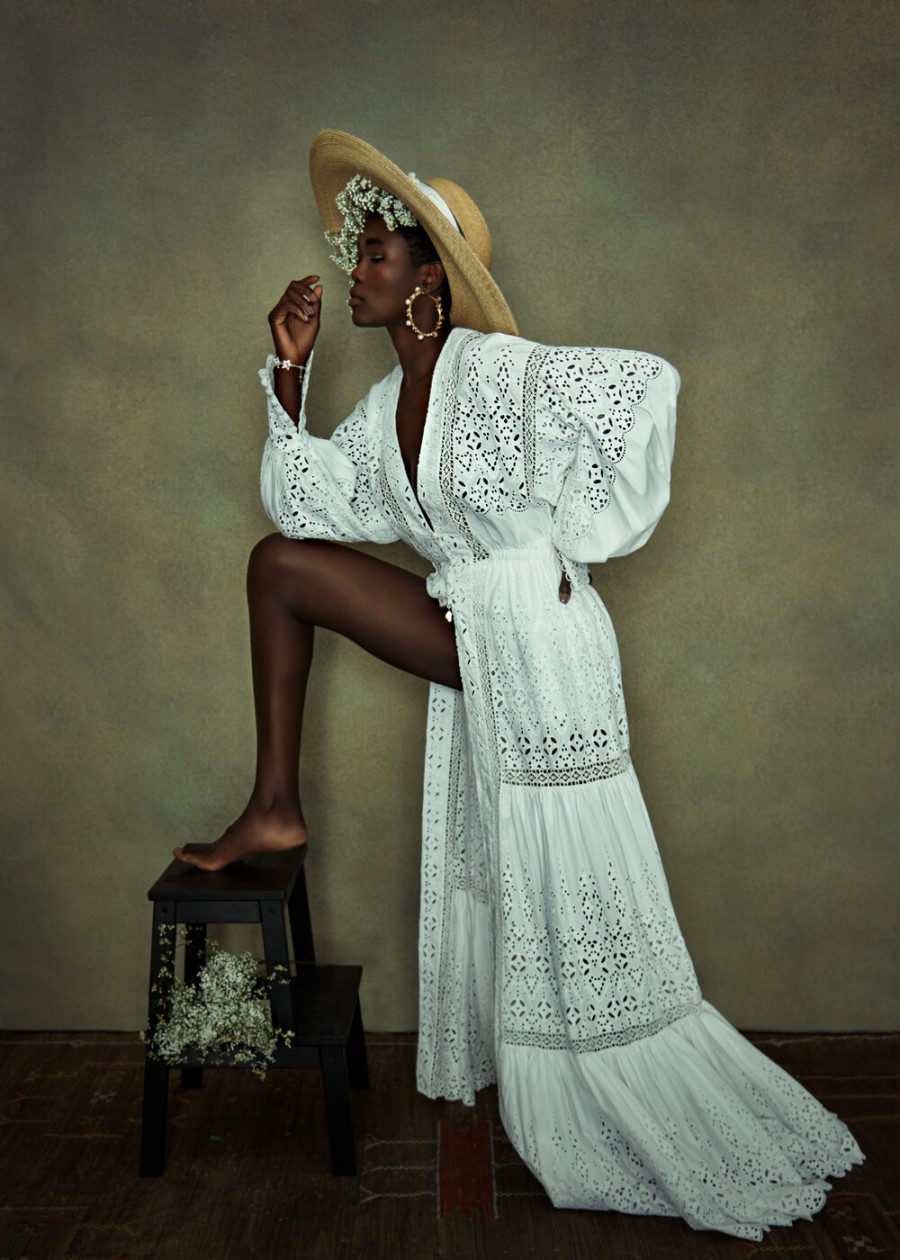 This stunning gown comes from Bowen Dryden who created an entire collection centered around sustainability. The gowns are made from organically grown cotton from ethically grown crops without pesticides. Not to mention the stunning boho folk design.
02.

Nude Satin Folk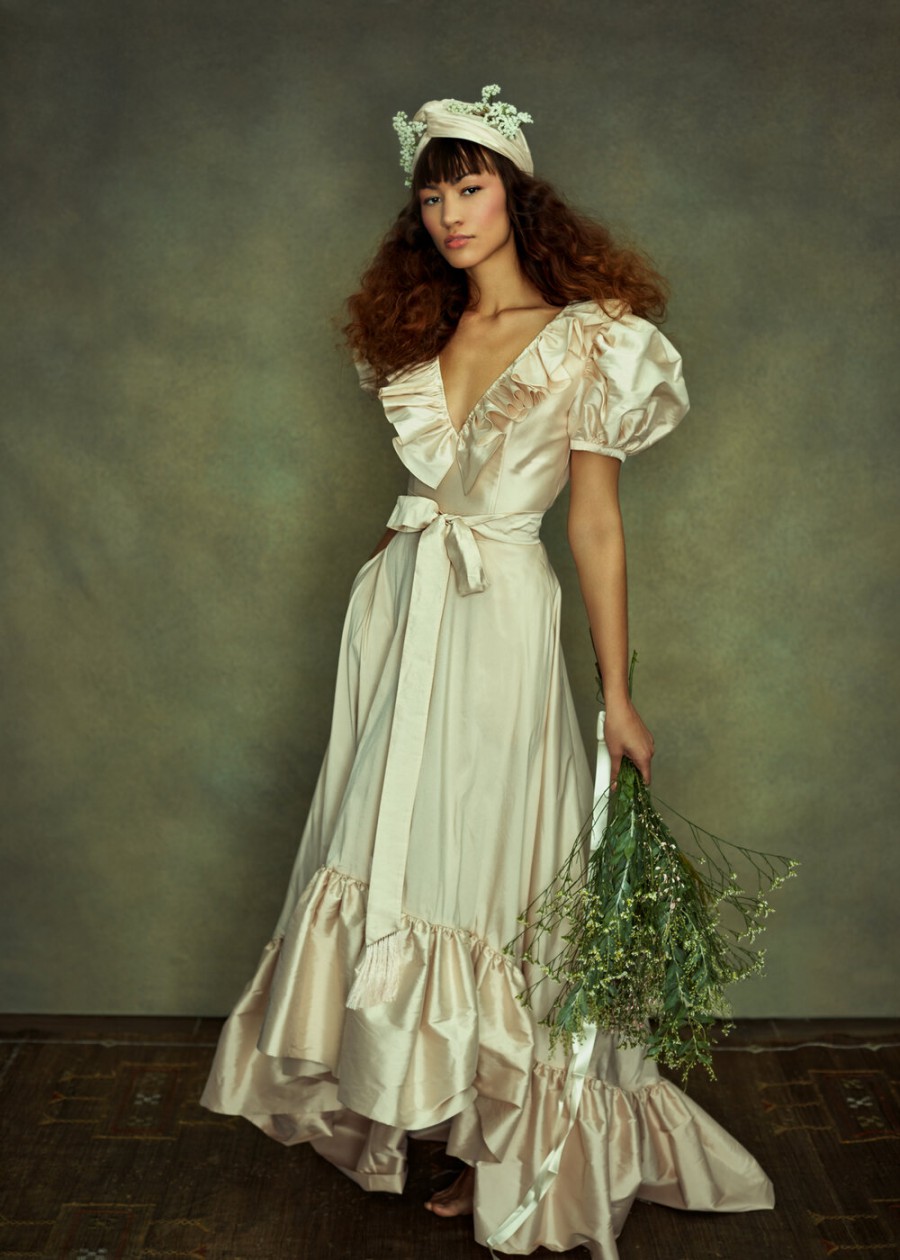 This next chic folk boho inspired bridal style combines vintage and contemporary styles beautifully. Featuring vintage inspired ruffles and puff sleeves and chic contemporary trends of nude coloring and a high-low cut.
03.

Casual Folk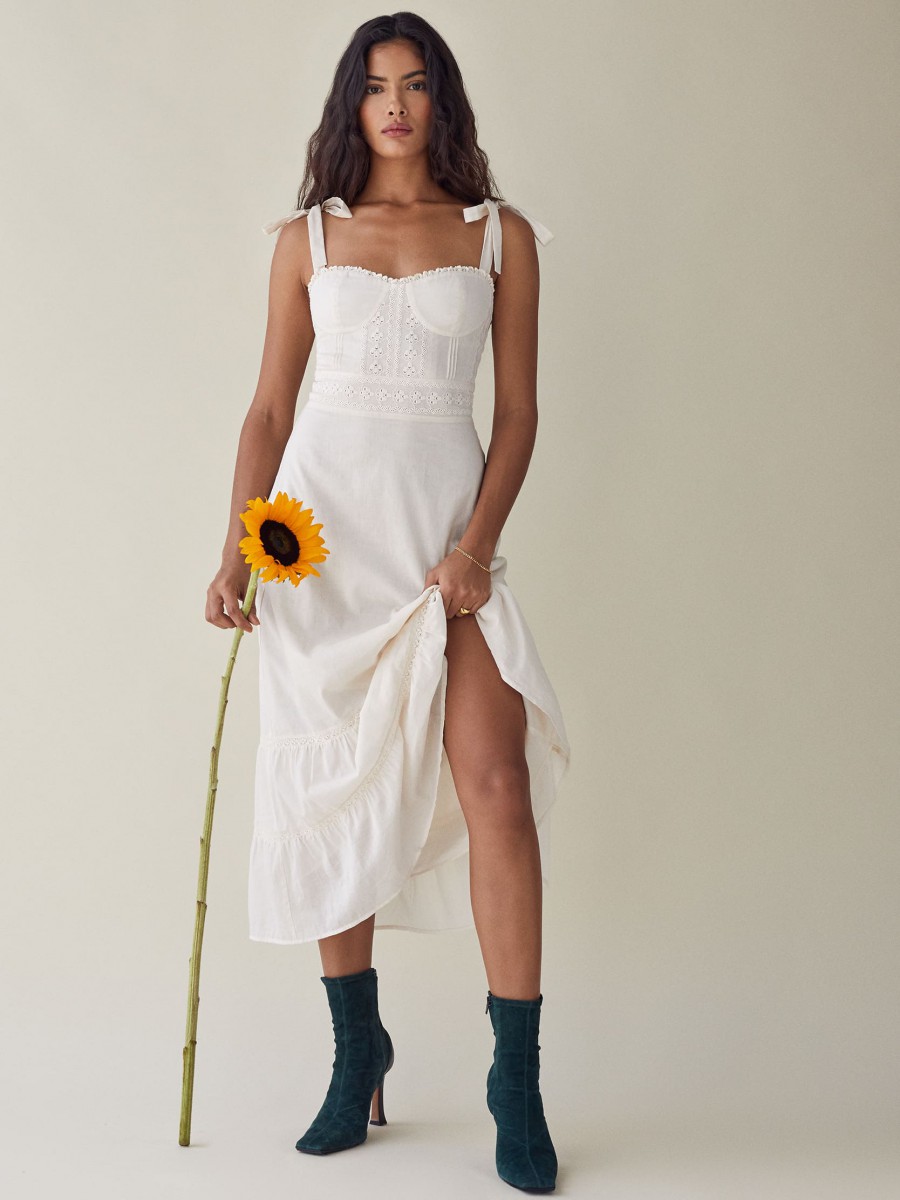 More and more brides are being drawn to less formal bridal styles as they are choosing smaller and more casual wedding day themes. And we are loving this folk boho look from The Reformation. A budget friendly style that would be perfect for a casual summer micro wedding.
04.

Folk Floral Accents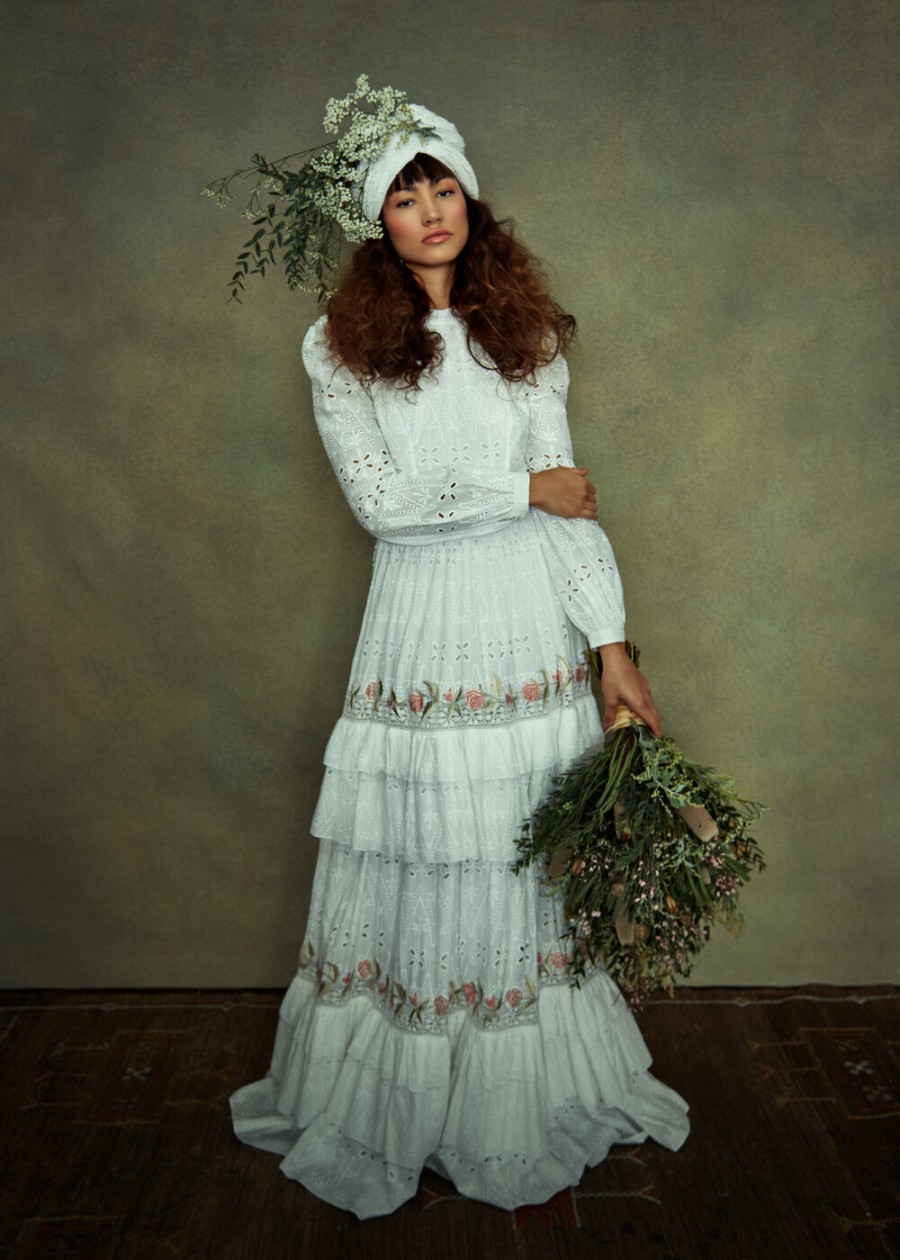 If you love florals, feminine styles, and folk designs - then you won't be able to resist this stunning boho style from Bowen Dryden. An ultra chic laser cut cotton gown with gorgeous colorful florals.
05.

Feminine Folk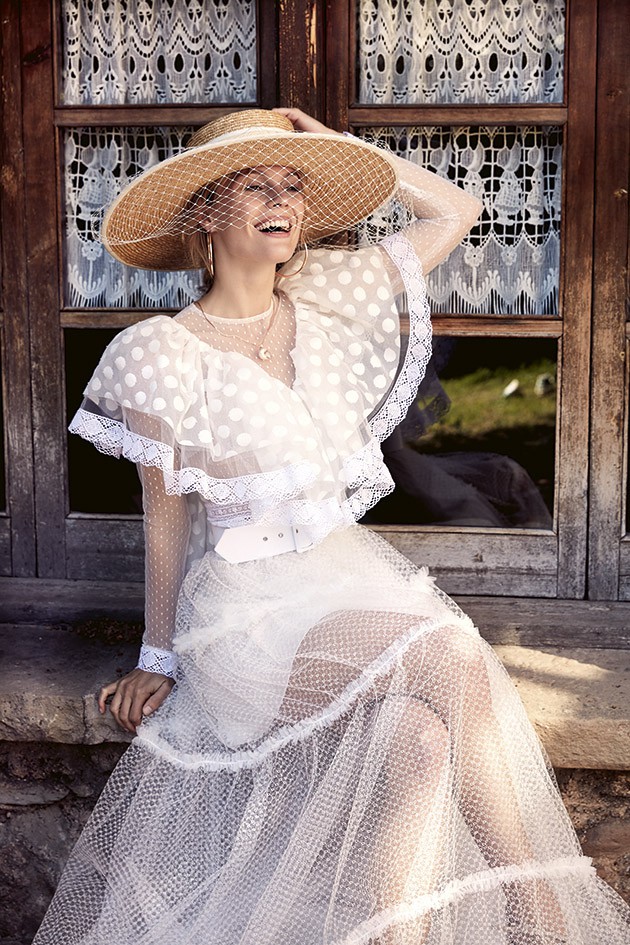 Next up we have the most dreamy, girly folk bridal style. Ruffles, lace, polka-dots, tulle. What more could a girl want?? This romantic style is sure to sweep you off your feet.
06.

Trending Folk Two-Piece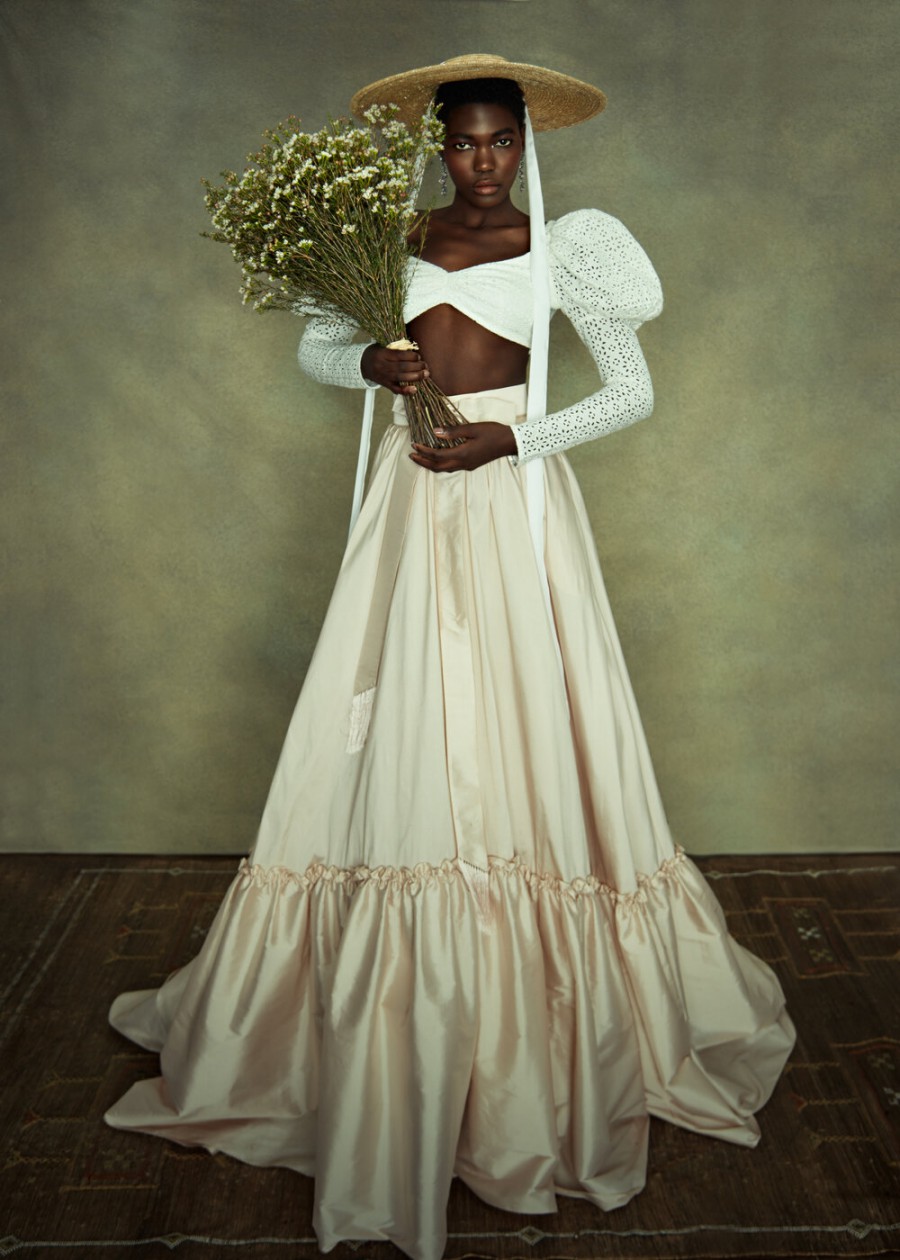 Two-piece bridal styles are so on trend right now. And this folky boho interpretation is so stunning. A minimal cotton crop top is paired with a bold satin skirt for a completely unique style that our boho brides are going to love.
07.

Bohemian Folk Two-Piece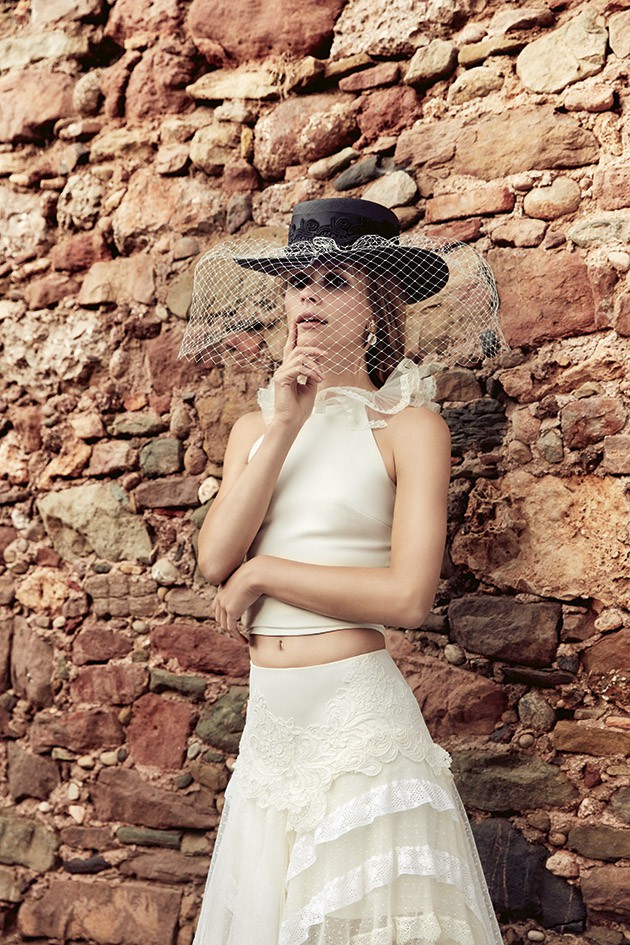 Yolan Cris brings us this next irresistible bohemian bridal style. Featuring chic folk accents like ruffles and lace trim. Perfect for the confident, boho loving contemporary bride.
08.

Modern Folk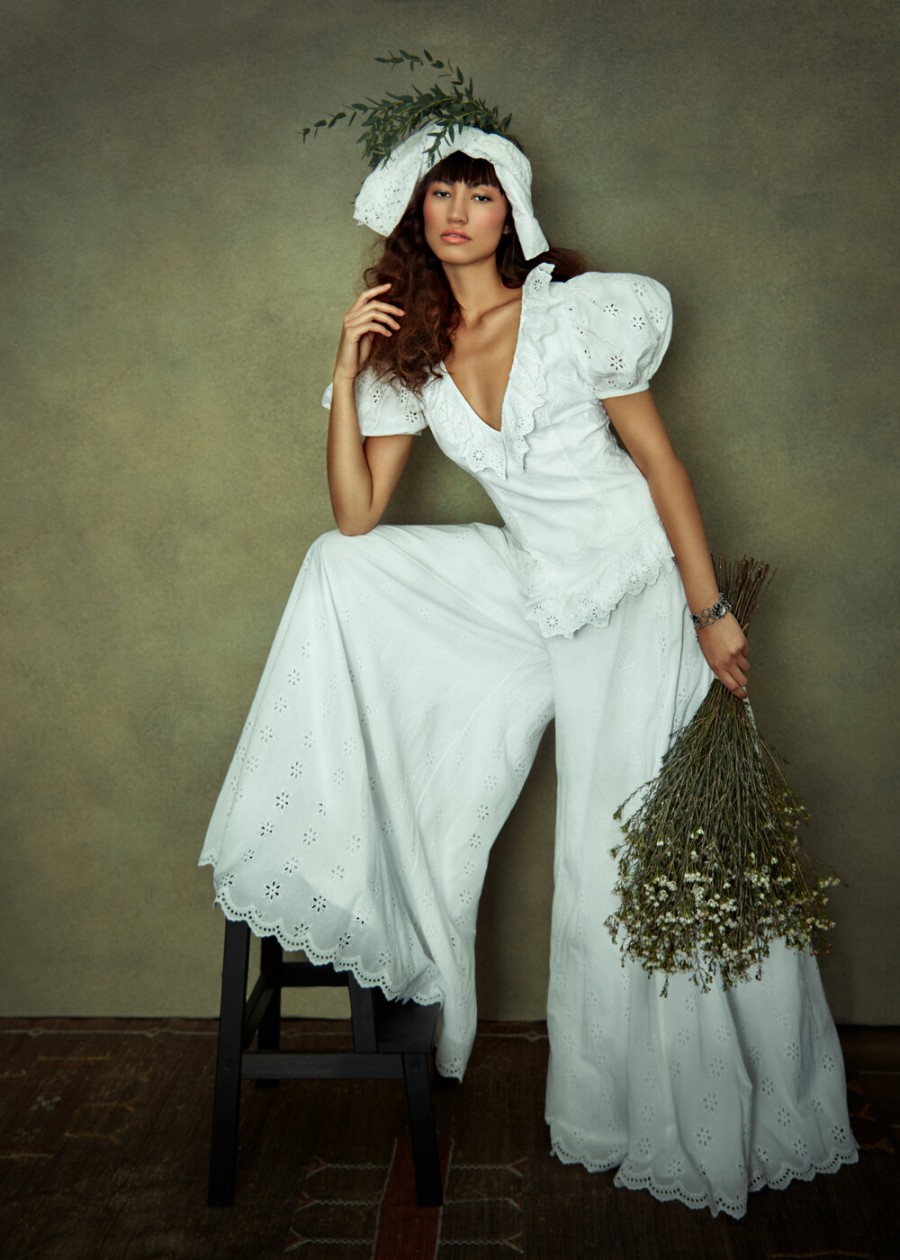 We love the mix of modern and vintage in this next folk inspired bridal style. A vintage folk inspired laser cut cotton design in a chic modern wide leg trouser silhouette. We are completely swooning over this look!
09.

Playful Folk Bohemian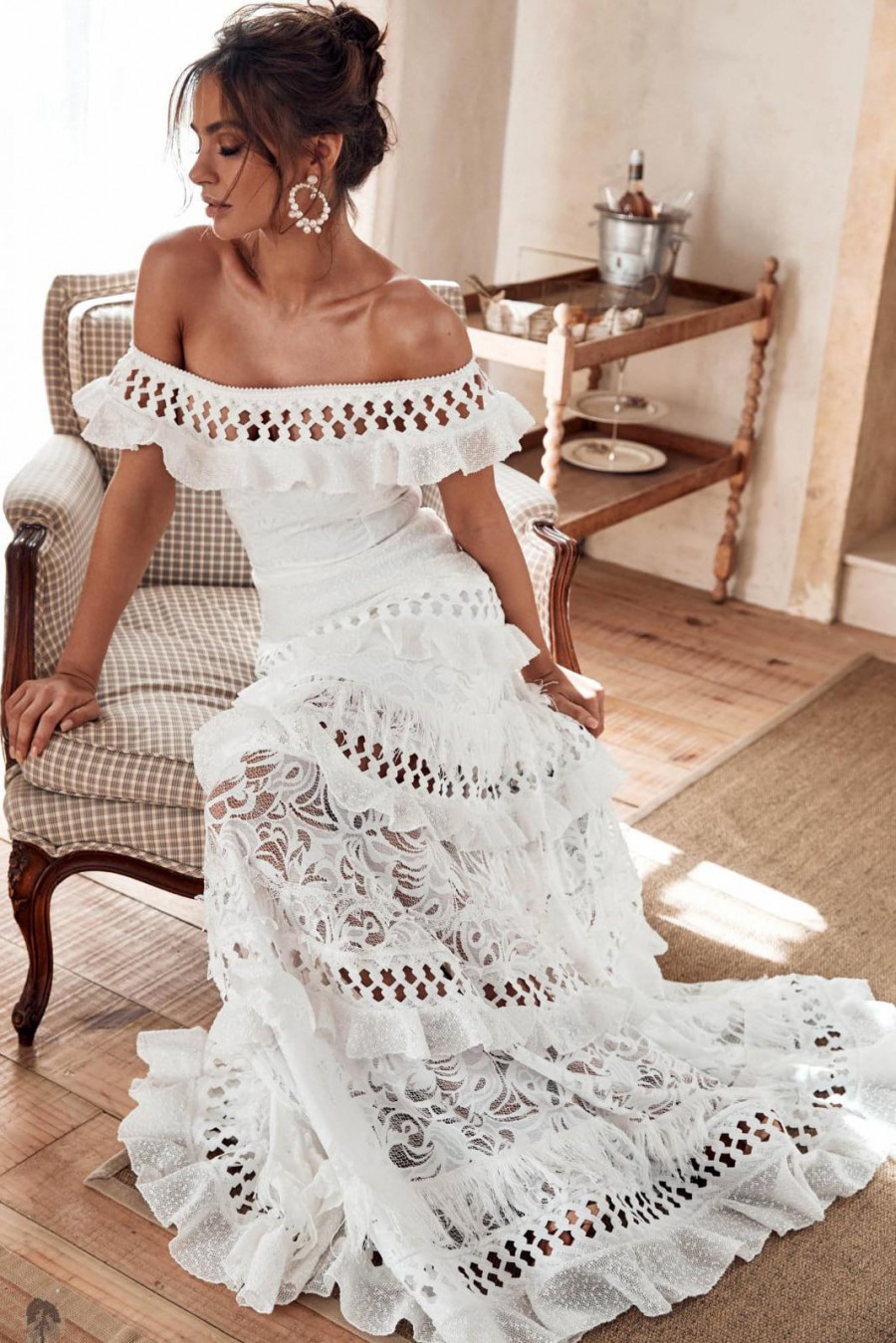 This completely irresistible gown from Grace Loves Lace is all about playful, feminine confidence. This folk inspired boho bridal style features a sexy off-the-shoulder neckline, tiered ruffles and delicate lace trim. This gown is exciting and surprising from every angle.
10.

Ruffled Two-Piece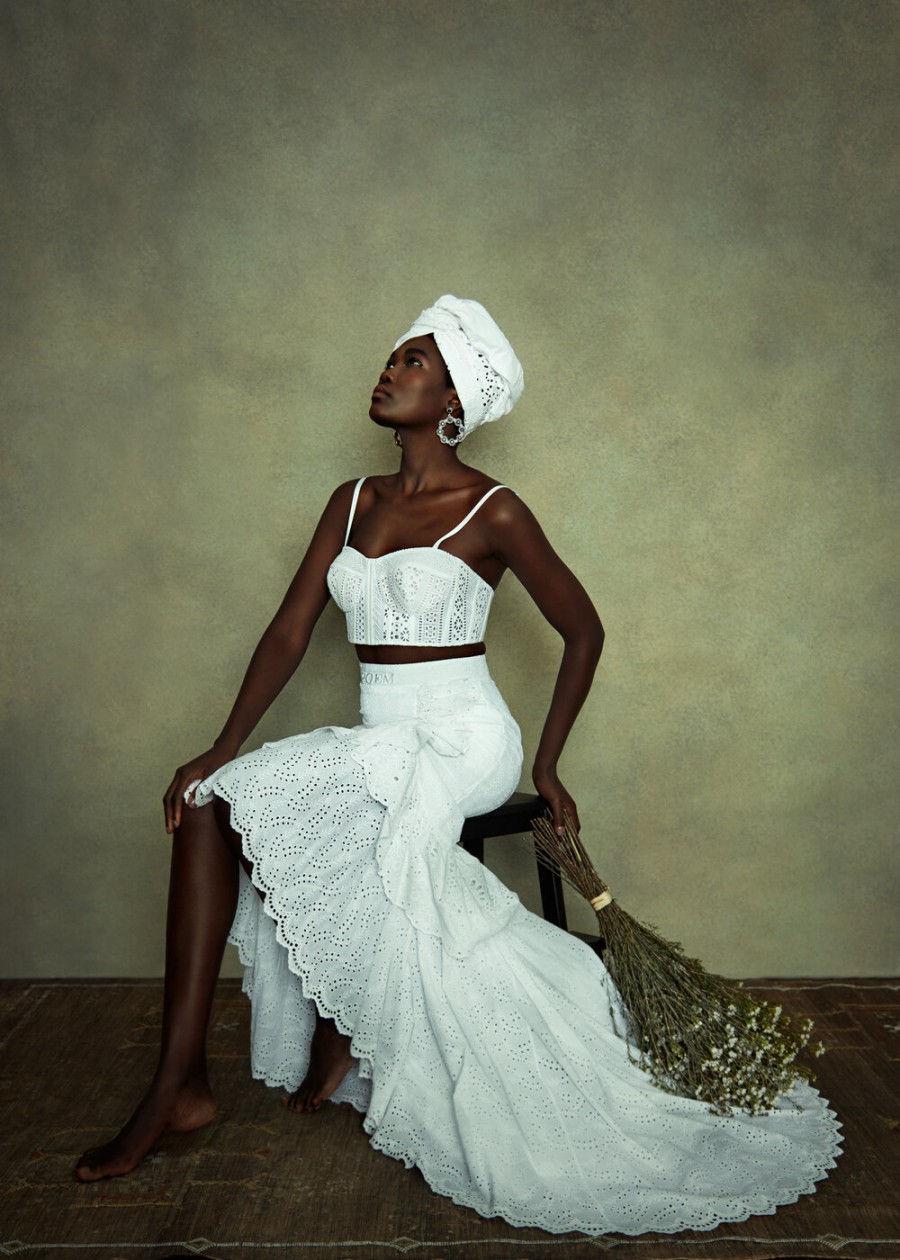 We are absolutely swooning over this next folk bridal style from Bowen Dryden. A chic cropped cotton corset bodice is paired with an asymmetric ruffled skirt. This dreamy style would be perfect for a hot summer boho wedding day.
11.

Contemporary Folk Lace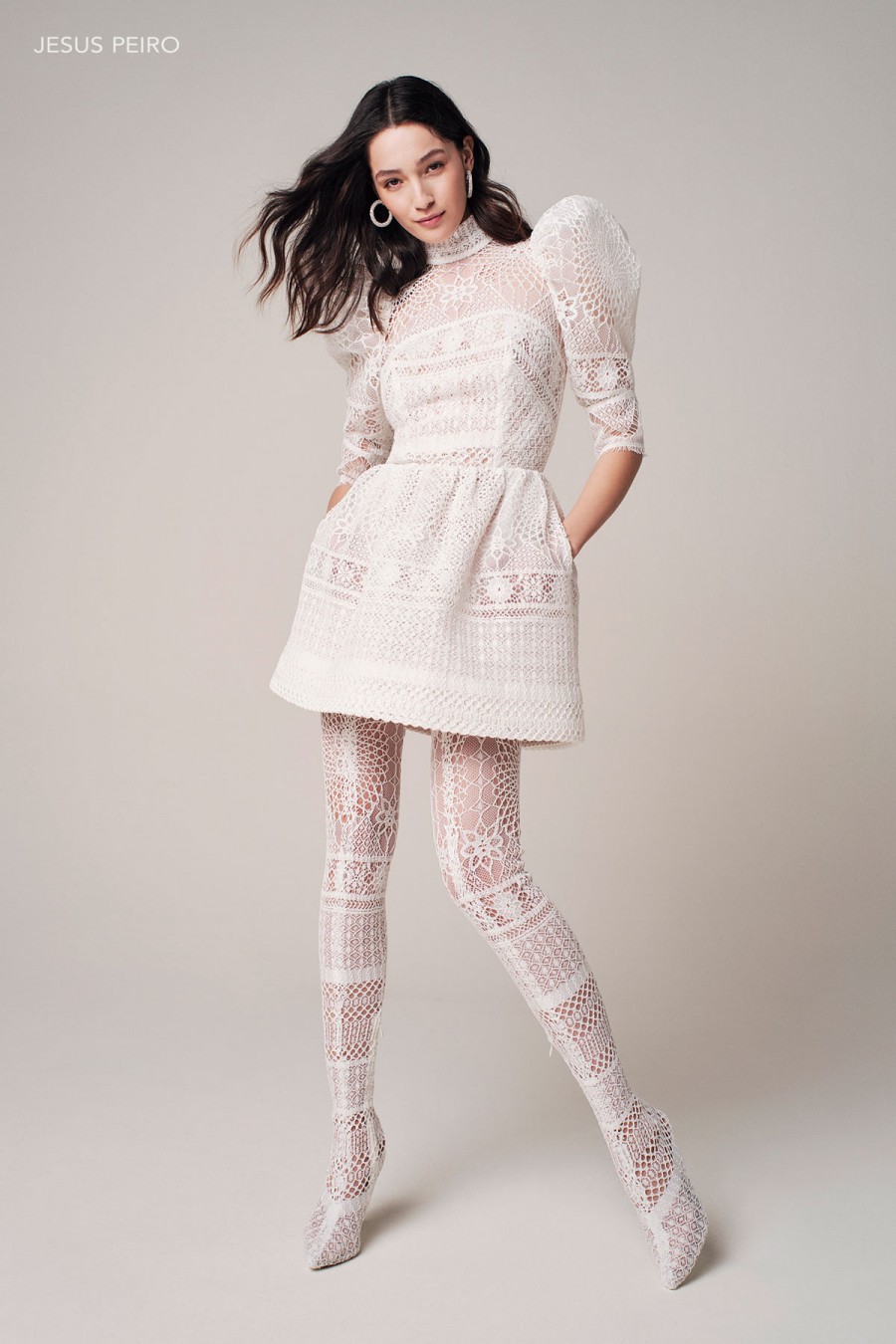 Our next folk inspire boho bridal style comes from Jesus Peiro. And this look completely takes our breath away. A completely one-of-a-kind mini dress made from cotton guipoure, featuring head-to-toe geometric and repetitive motifs that we can't take our eyes off!
12.

Ruffled Tulle Two-Piece Bridal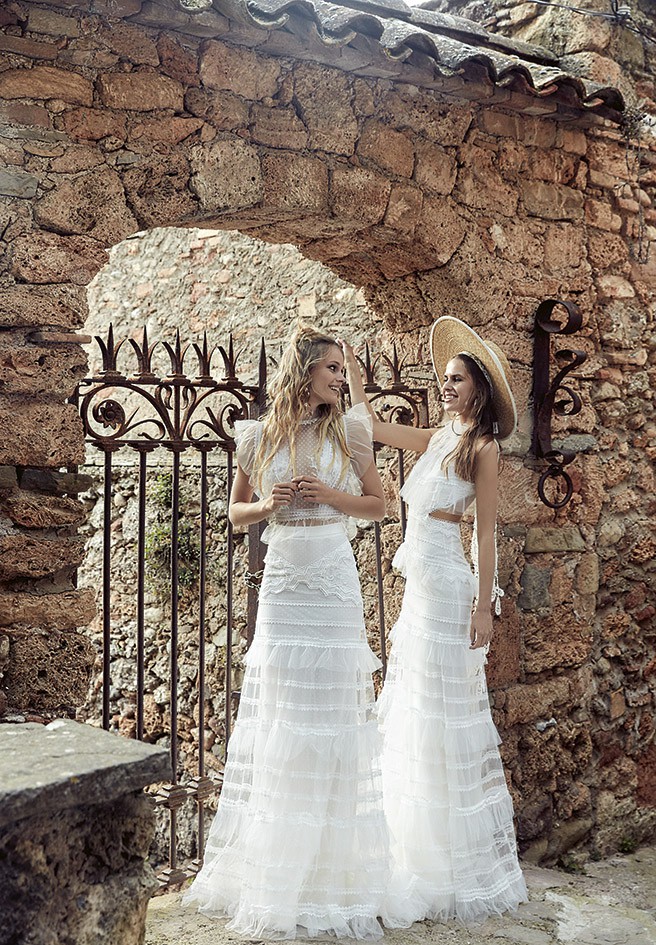 Next up we have two folk inspired two-piece boho styles from Yolan Cris. Featuring the most dreamy ruffled tulle design that mixes materials and textures in the most stunning way!
13.

Modern Folk Two-Piece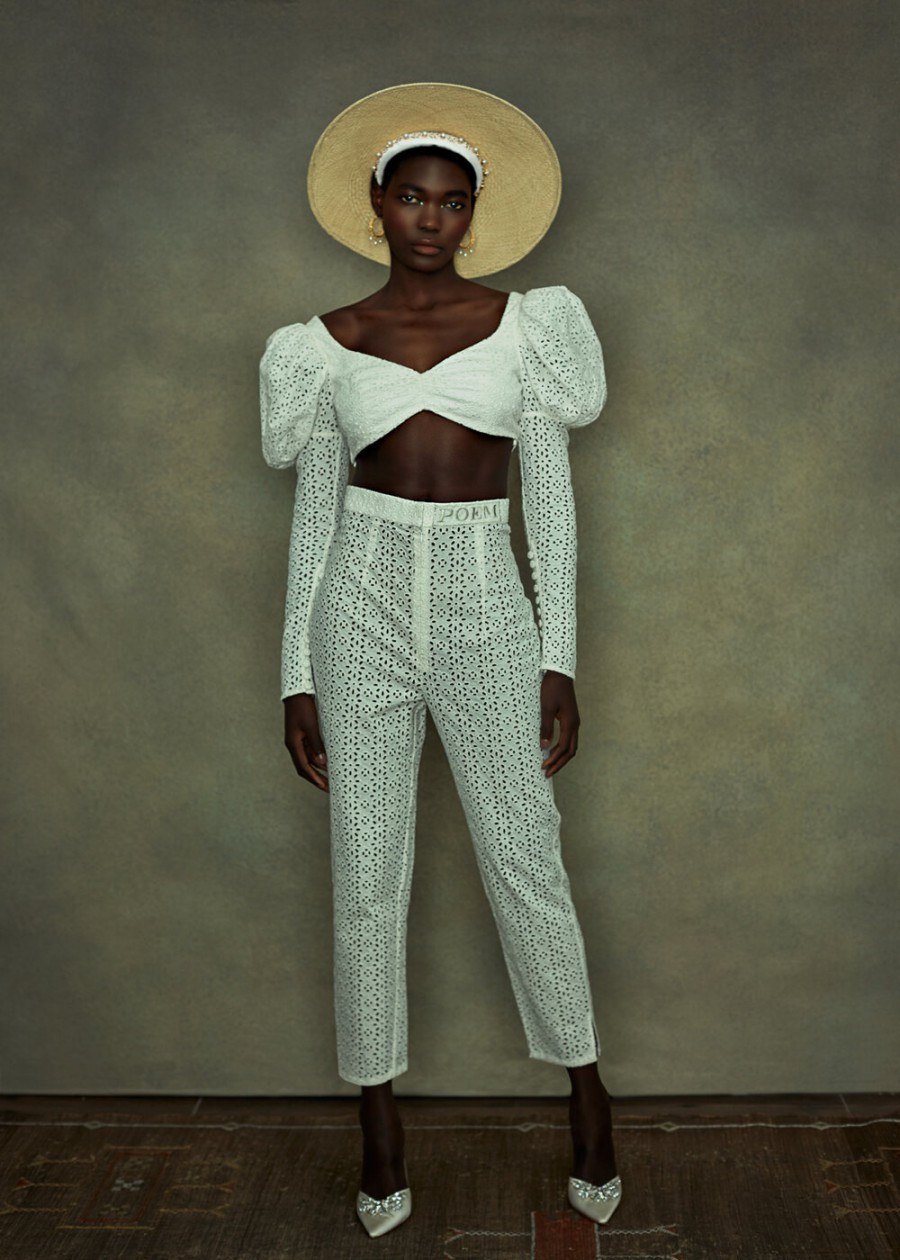 Who is ready to make a big statement on their wedding day? If that is you, then you don't want to miss this folk, boho inspired two-piece bridal style. Featuring an ultra chic puff sleeve bandeau stop and laser cut cotton pants. This would be a perfect fashion-forward rehearsal style or chic second look for your reception!
14.

Backyard Boho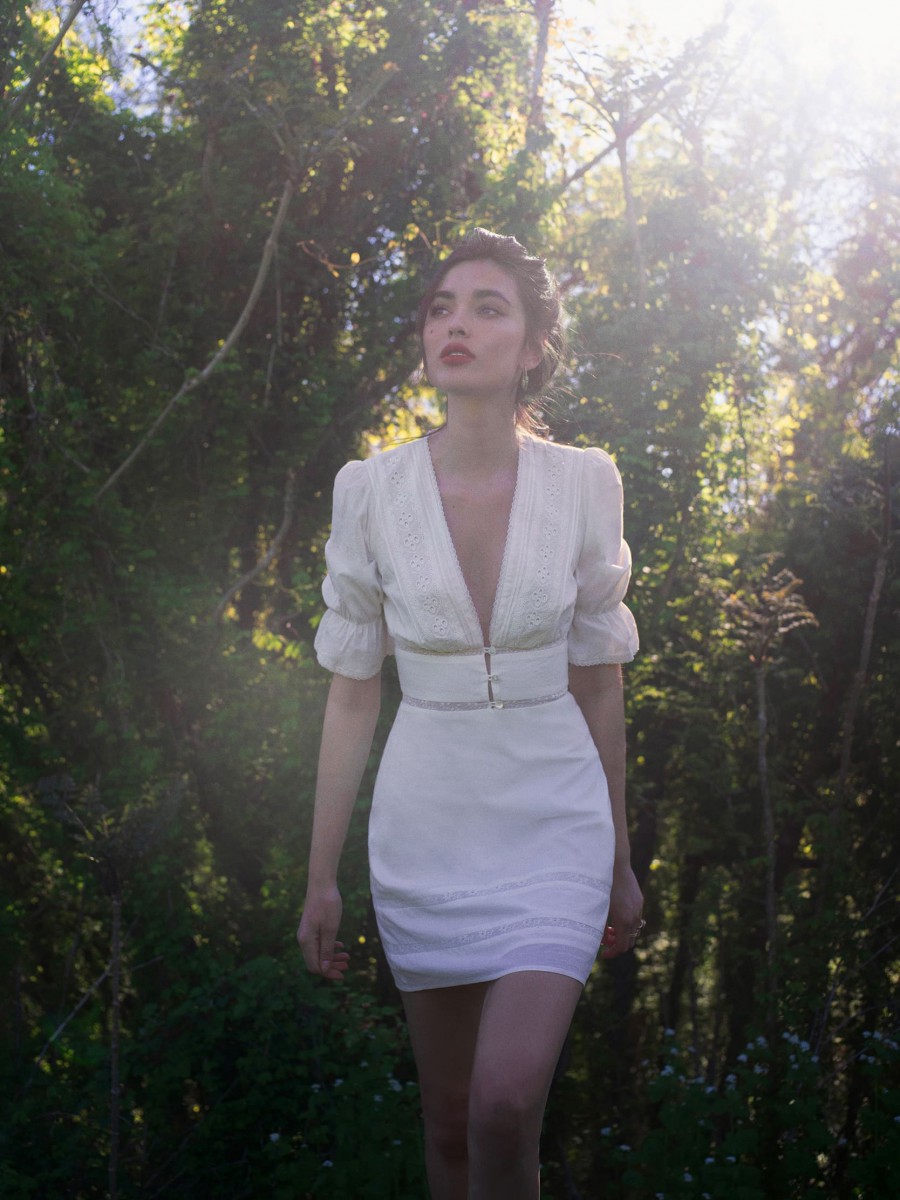 The perfect folk inspired bridal style for your intimate backyard wedding day. Featuring a slim silhouette, chic low cut neckline with delicate button accents and dreamy puff sleeves.
15.

Confident Sheer Boho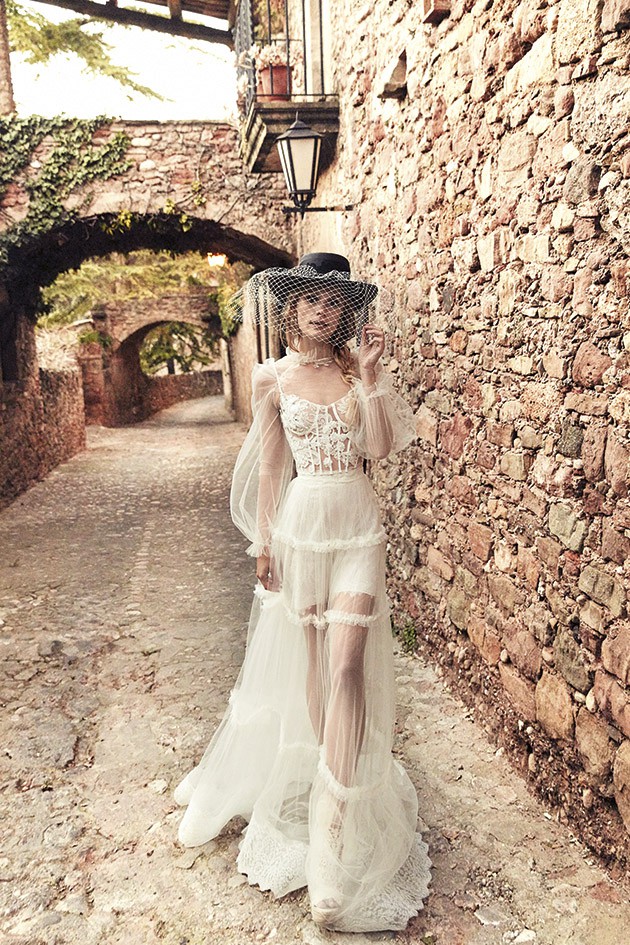 Confident, boho babes out there, get ready for this stunning semi-sheer bridal style from Yolan Cris. A bold folk inspired bridal gown that is sure to leave everyone speechless on your big day.
16.

Laser Cut Cotton Mini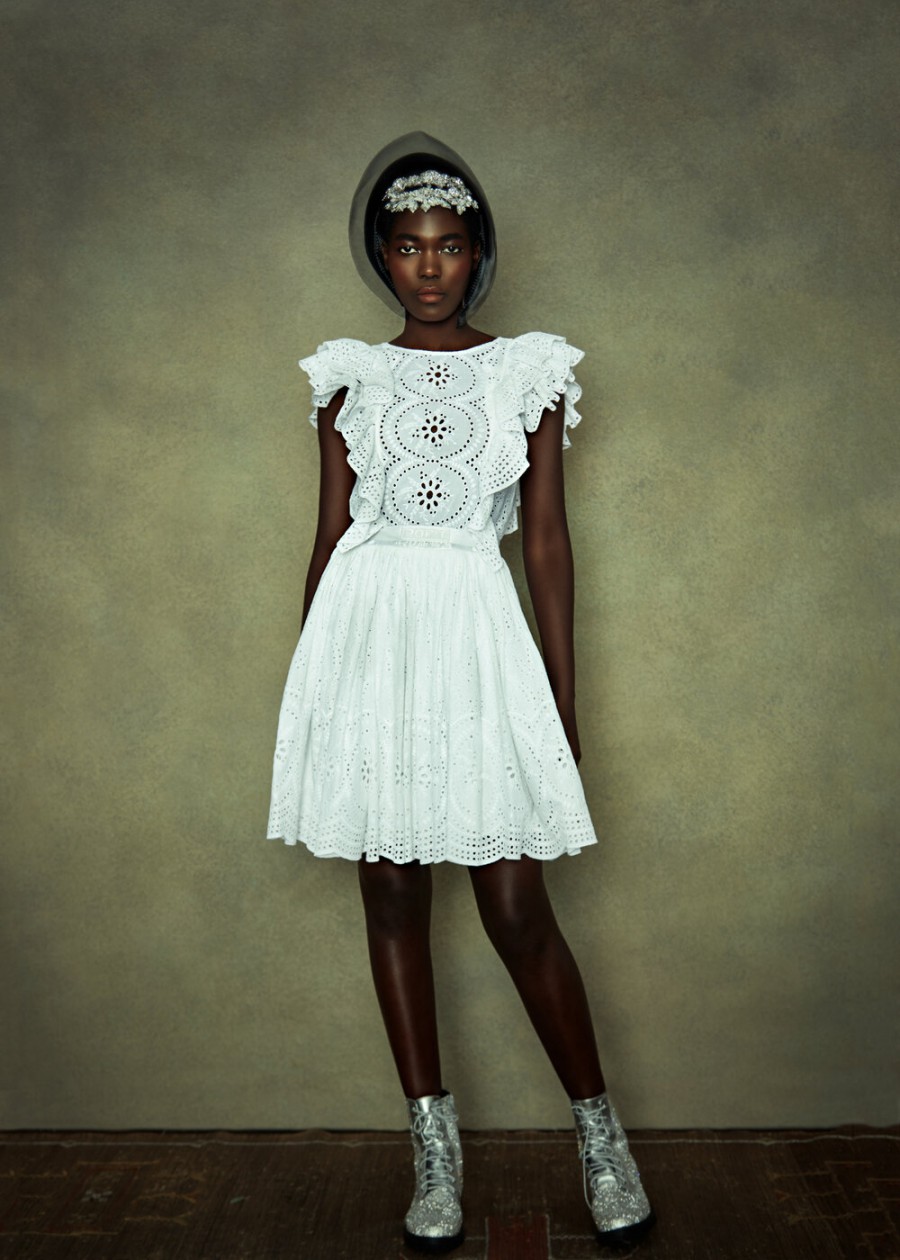 Do you love the folk boho styles but are in search for an ultra chic bridal mini? This is it. Whether you are looking for a less formal wedding day look or a casual reception style, this dress is irresistible.
17.

Vintage Folk Romance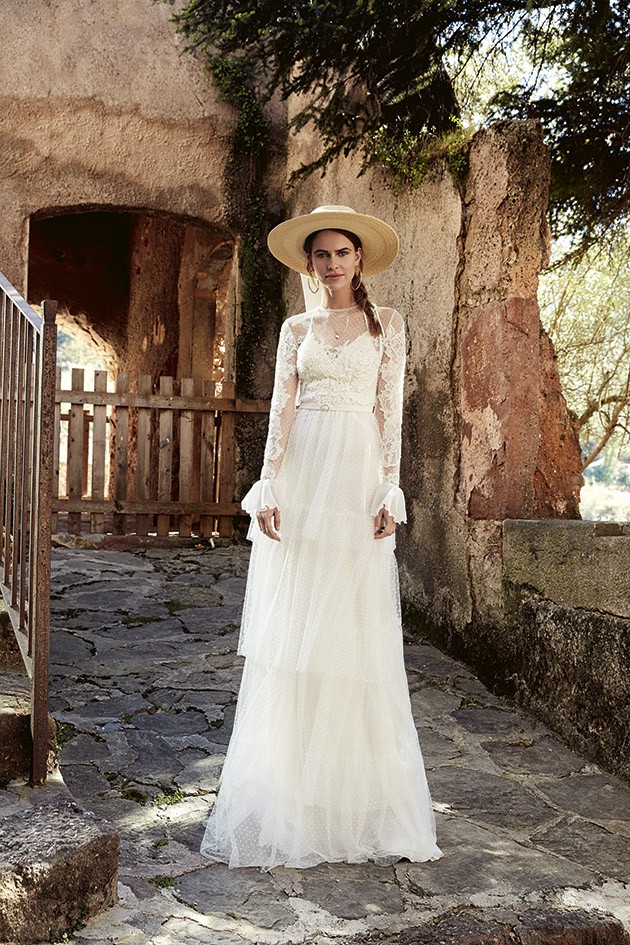 This next bridal style is vintage folk romance at it's finest. An irresistible bohemian style that will have you dreaming of your very own fairytale wedding day romance.
18.

Folk Goddess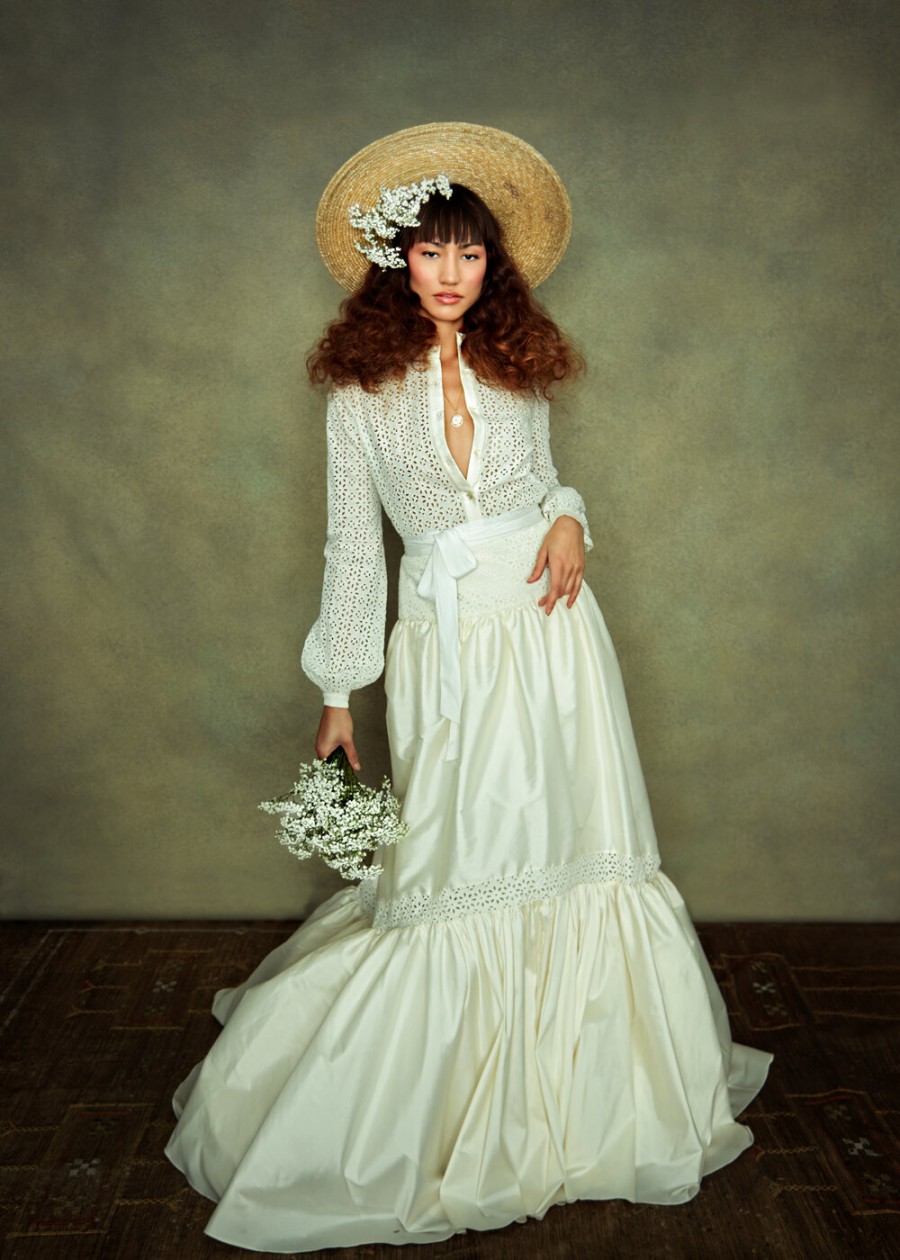 This next boho bridal gown will have anyone feeling like an absolute folk goddess. A siren worthy design that demands attention from every angle. We love the combination of a buttoned laser cut cotton shirt and luxe satin skirt.
19.

Casual Bridal Folk Mini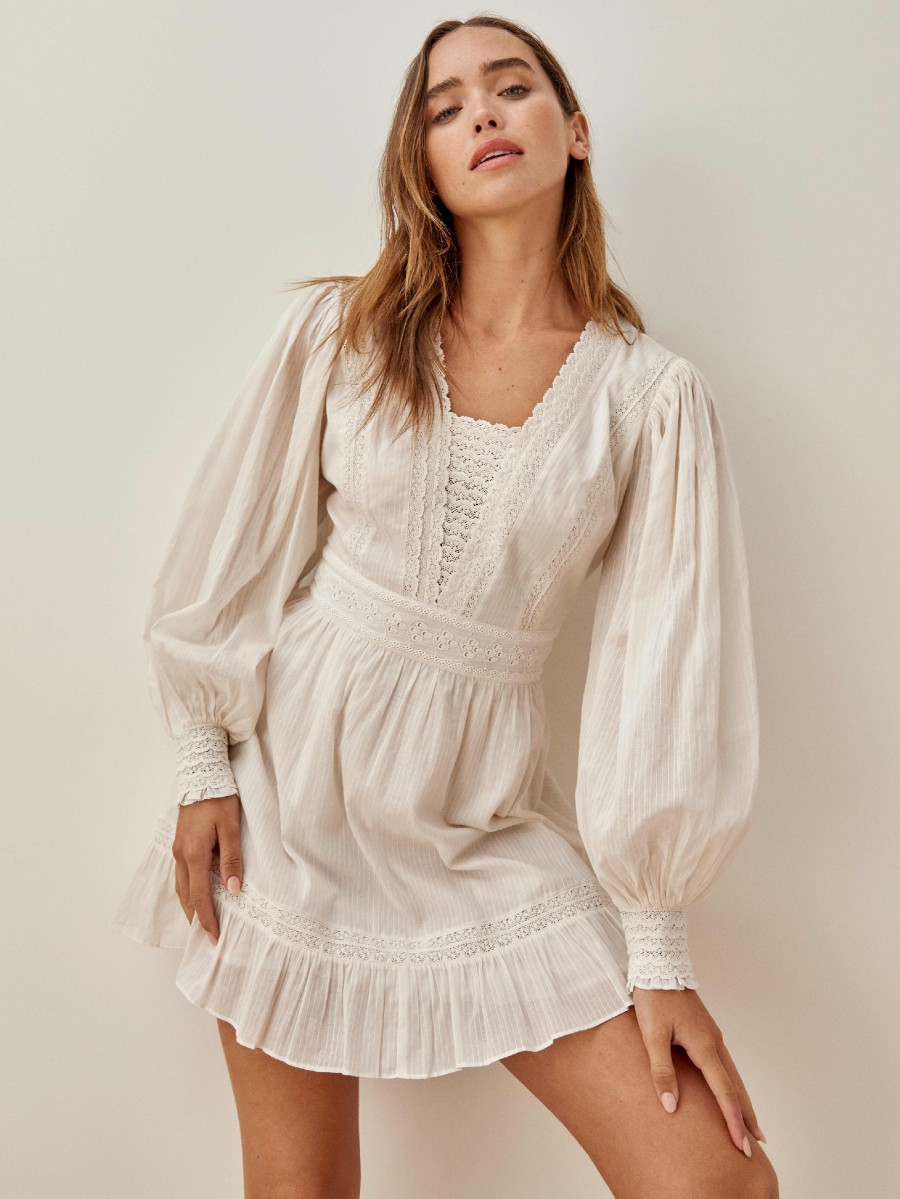 Are you a folk loving boho bride looking for a sexy, casual second look for your wedding day? Then you will love this lace detailed, puff sleeve mini from The Reformation.
20.

Folk Cotton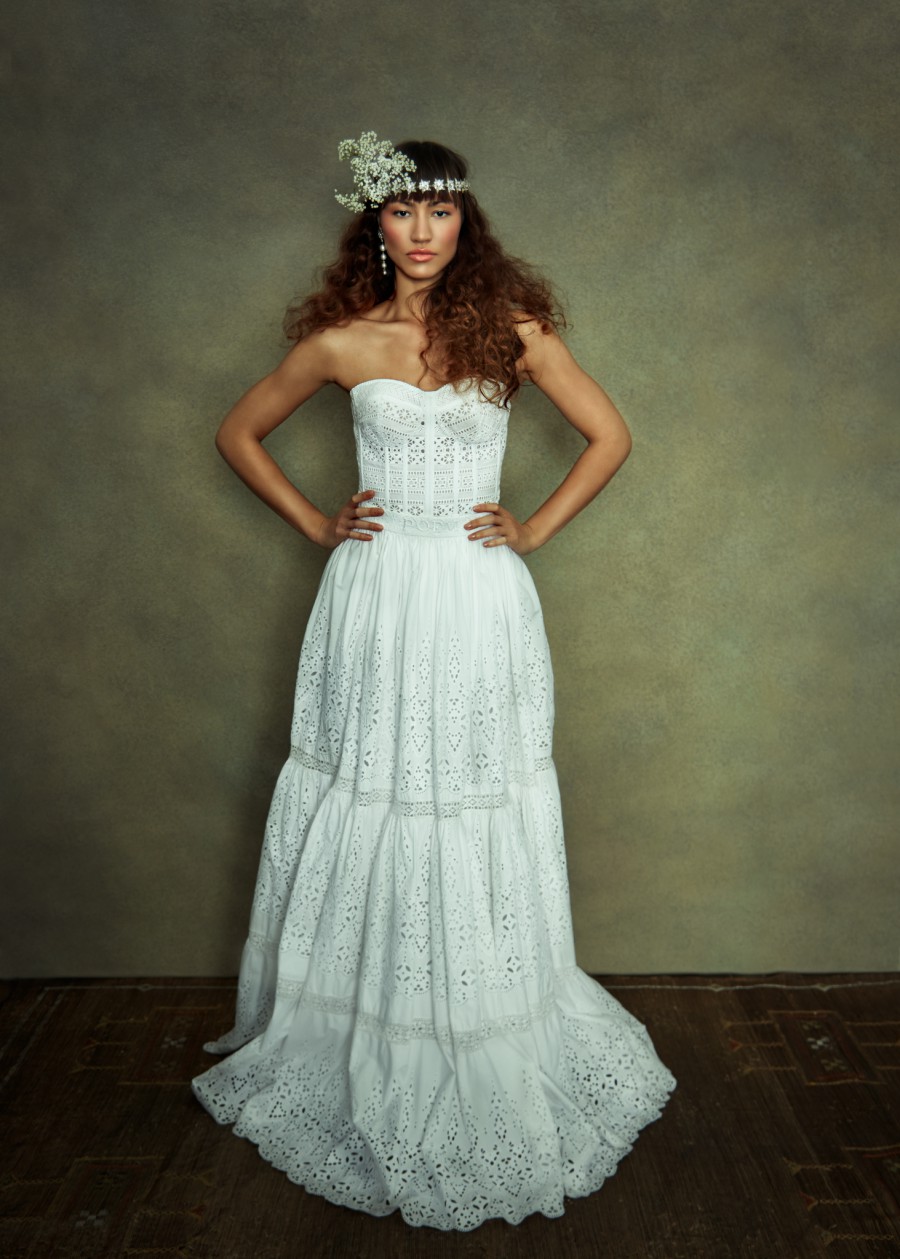 Bowen Dryden is going to make all of your summer boho wedding dreams come true with this chic strapless laser cut cotton gown. This is what bohemian bridal dreams are made of!

By Kathryn Schrotenboer