Get ready to fly away with these feather accented bridal styles that will add a luxe edginess to your wedding day look!
Feathers have always been a popular wedding day accent for any sassy bride - but these unique add ons seem to be taking off on the bridal scene! So what do you think ladies? Are you loving the luxe worthy look feather accents?
01.

Luxe Feathers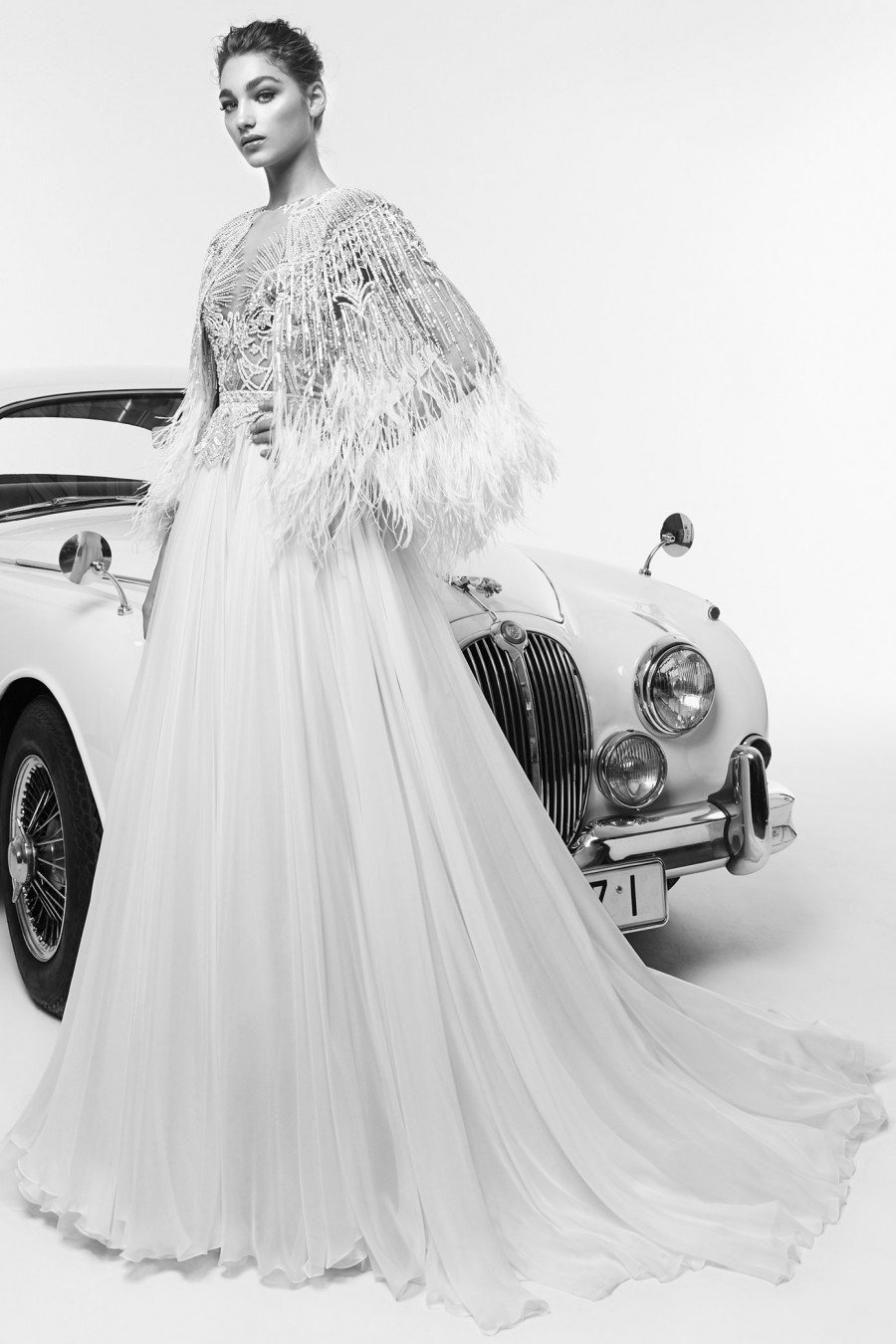 What could be more luxe than crystal glitz and cascading feather accents? This luxurious, glam style is a statement making piece of bridal fashion - and we just love it!
02.

Floral Shift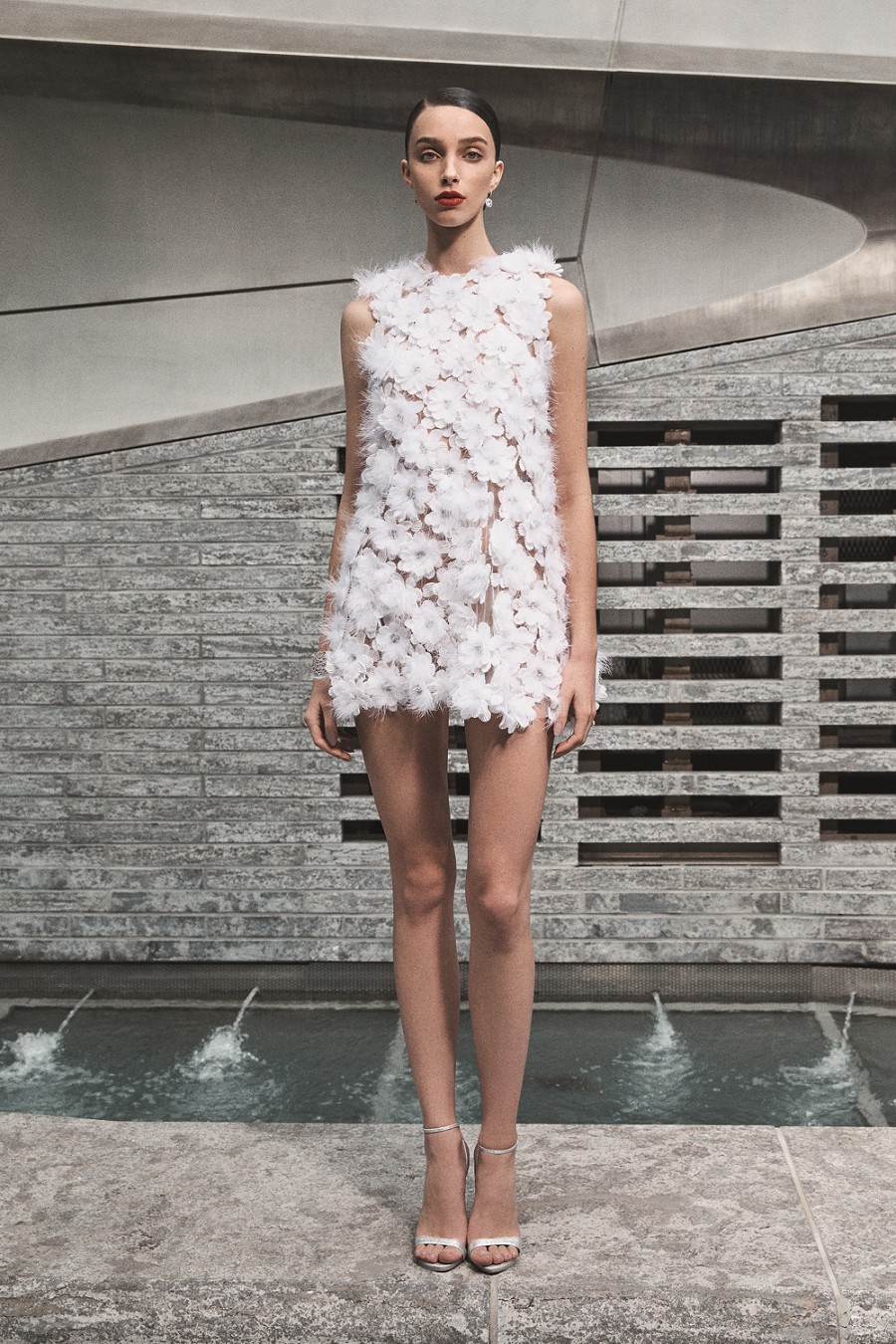 The most adorable and chic floral shift dress from Naeem Khan! This party ready style is finished off with feather accents to add even more drama to the look.
03.

Crystal Ostrich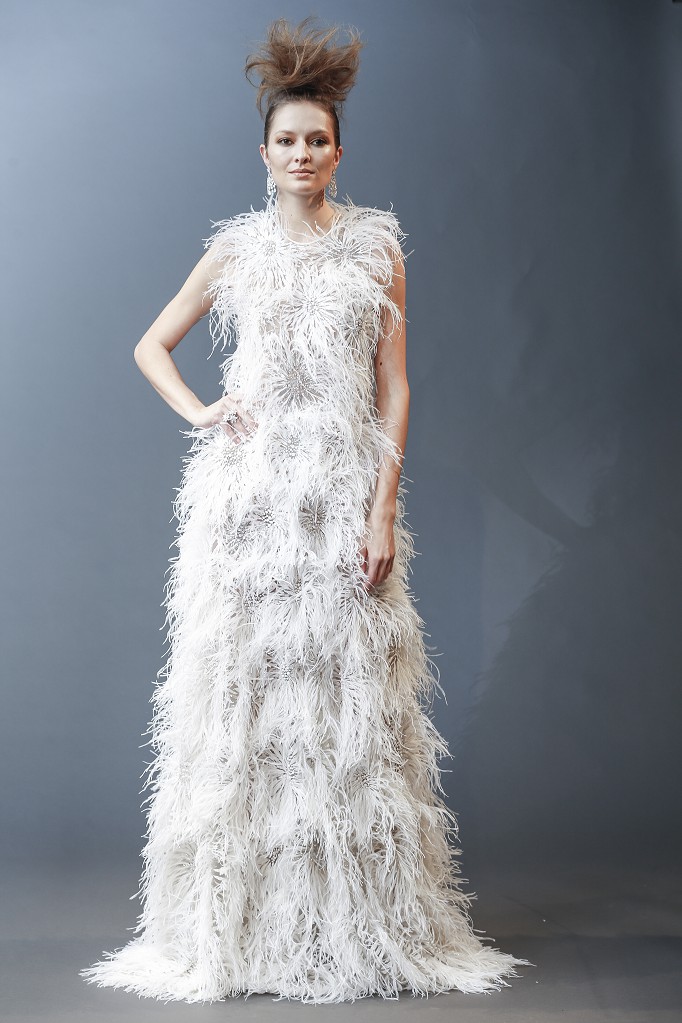 How is ready for this next, statement making feather wedding dress? Cue the jaw drops. This stunning gown features all over crystal florals and plush ostrich feathers. A wedding dress that you can help but want to touch!
04.

Feather on your Shoulder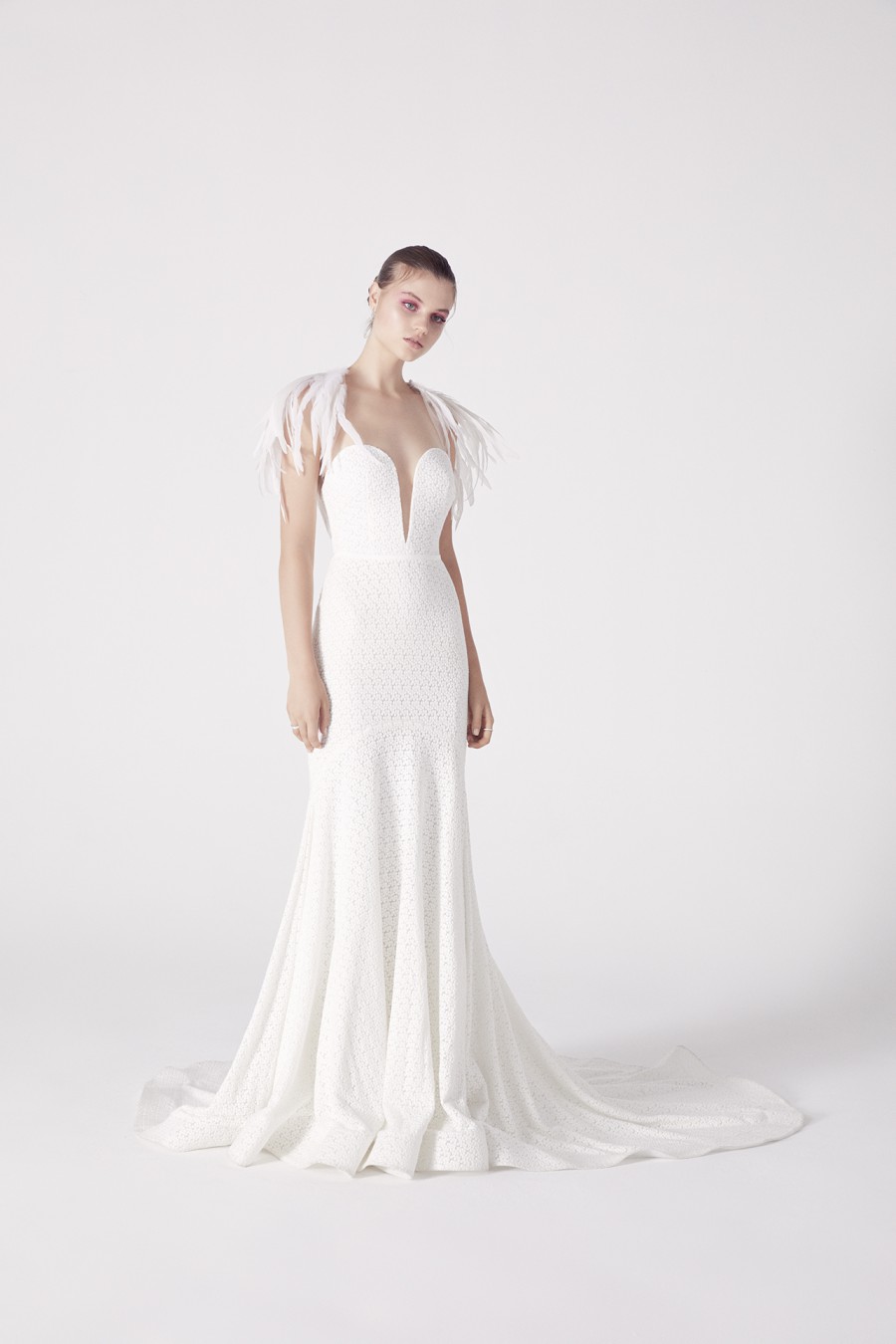 A seemingly clean and simple wedding gown from Suzanne Harward is transformed by the addition of a feathered shoulder accent.
05.

Rebel Feathers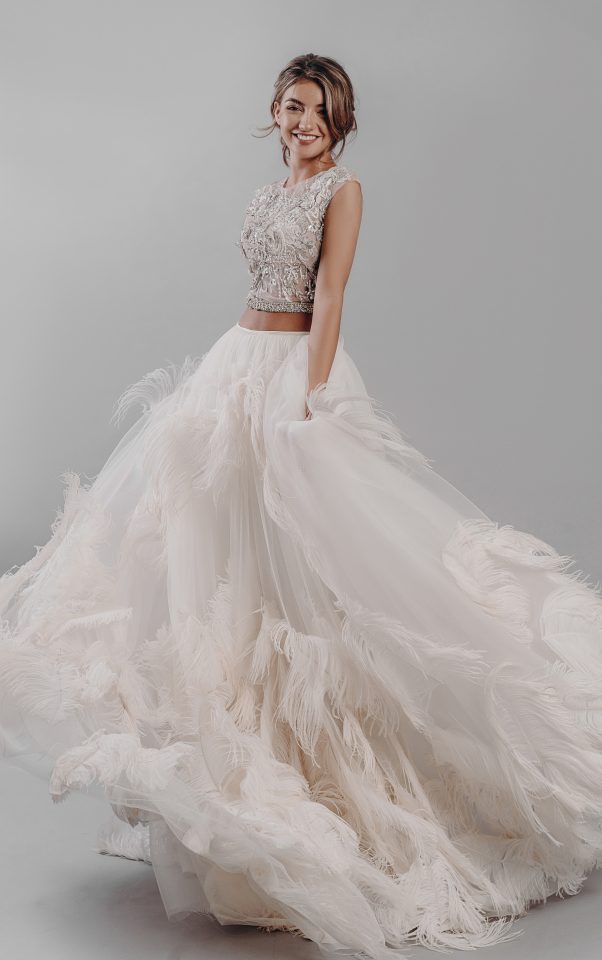 Rebels don't like the follow any of the rules - and neither does our next feather accented wedding gown. The embellished crop top and feathered skirt create a show stopping style like nothing else!
06.

Feathered Jacket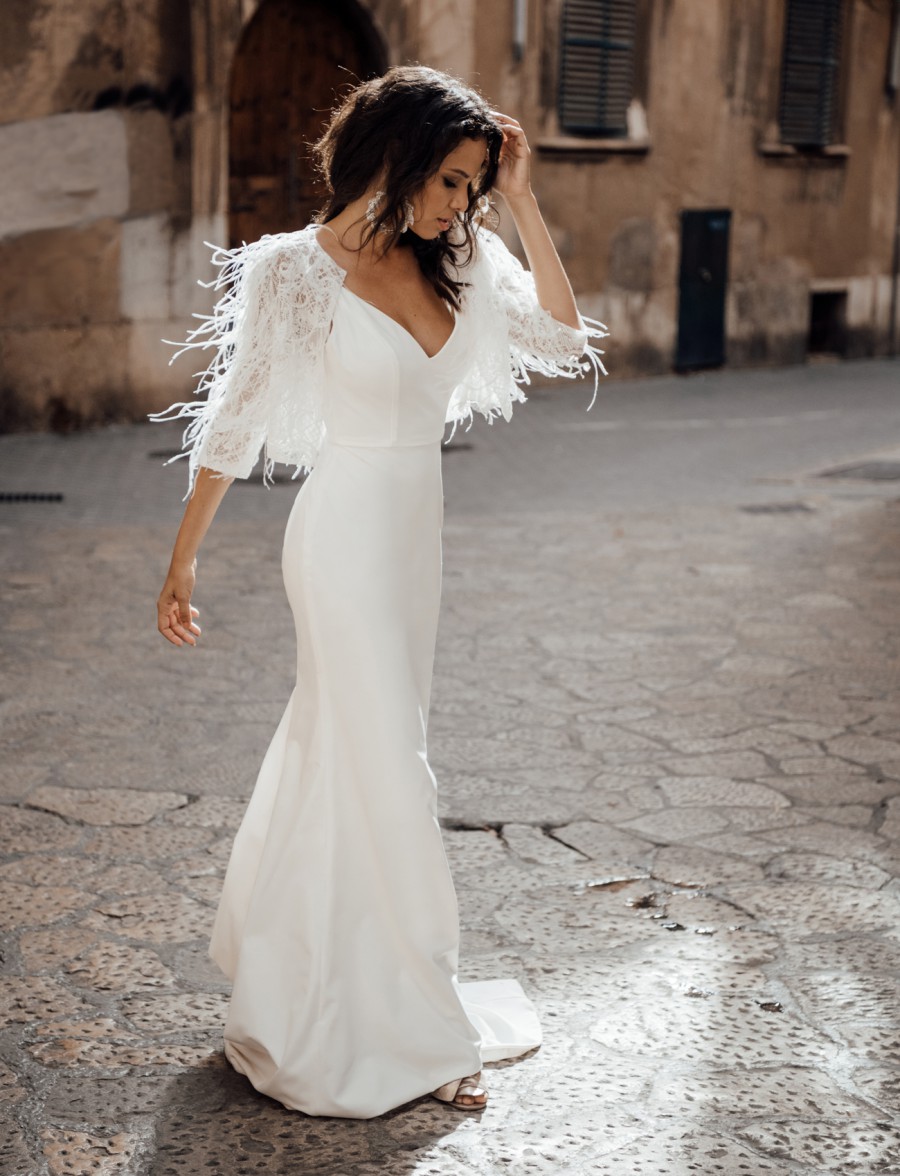 We are absolutely in love with this gorgeous wedding day look. This eccentric feathered jacket is the perfect accent to a sleek contemporary gown. Such a luxe, chic wedding style!
07.

Feather Embellishment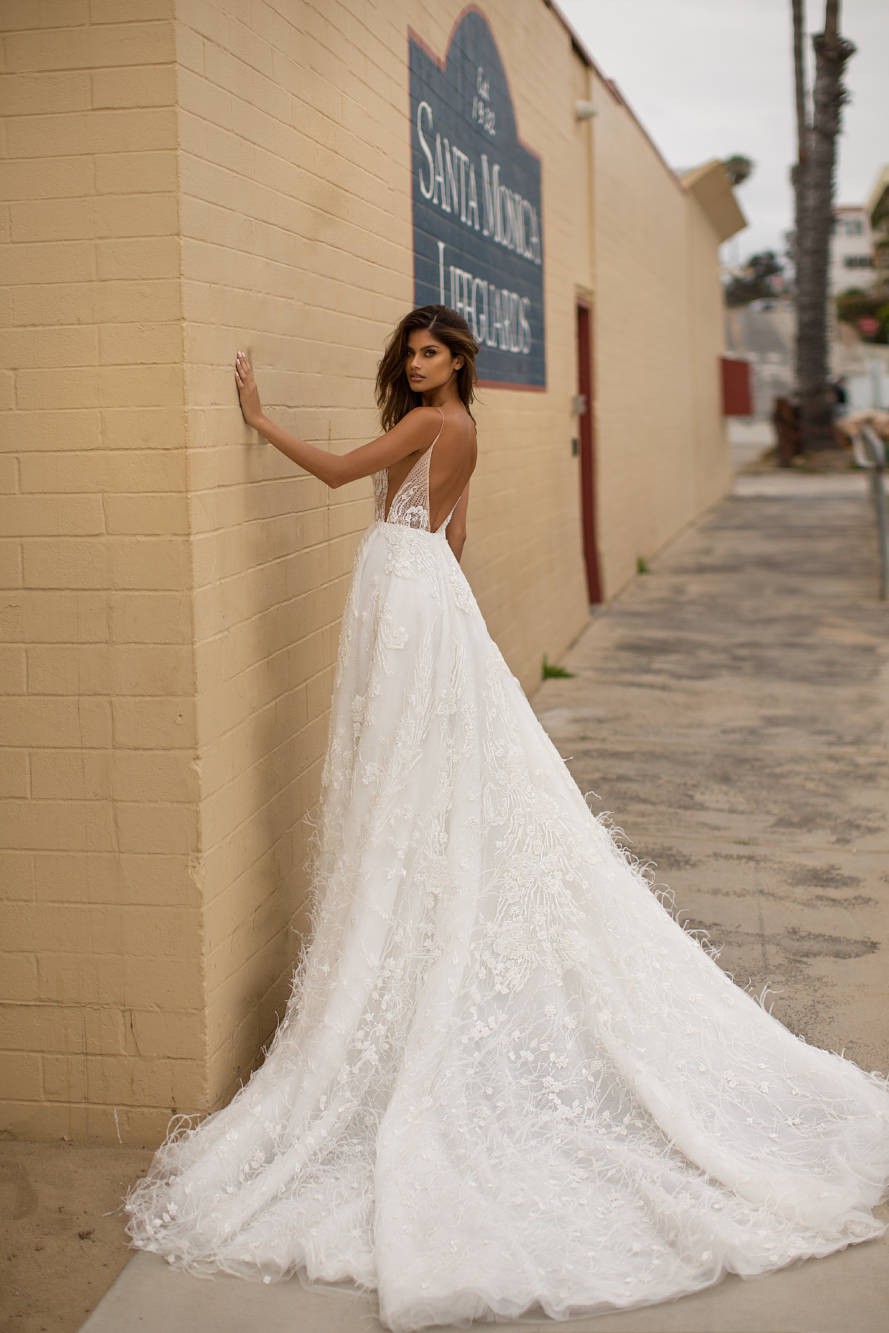 A stunning gown from Louvienne. This beautiful couture look features all over floral embellishment and feather accents. The combination of floral embellishment and feather accents gives this look a beautiful texture!
08.

Feathered Fishtail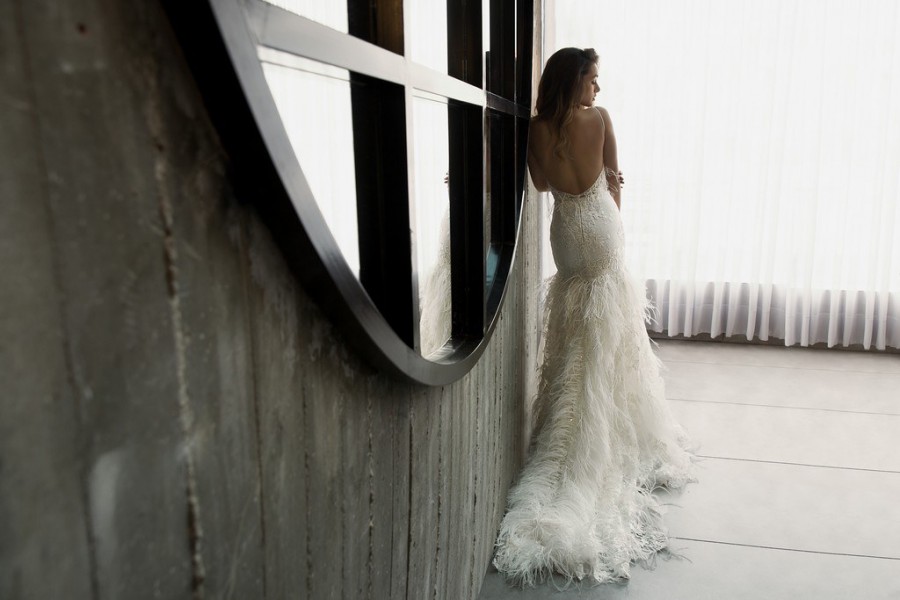 A dreamy feathered fishtail silhouette that is truly one of a kind. This rich, luxurious style is so sensual. The feathered accented are carried up into the bodice to add some wispy texture.
09.

Beyonce Worthy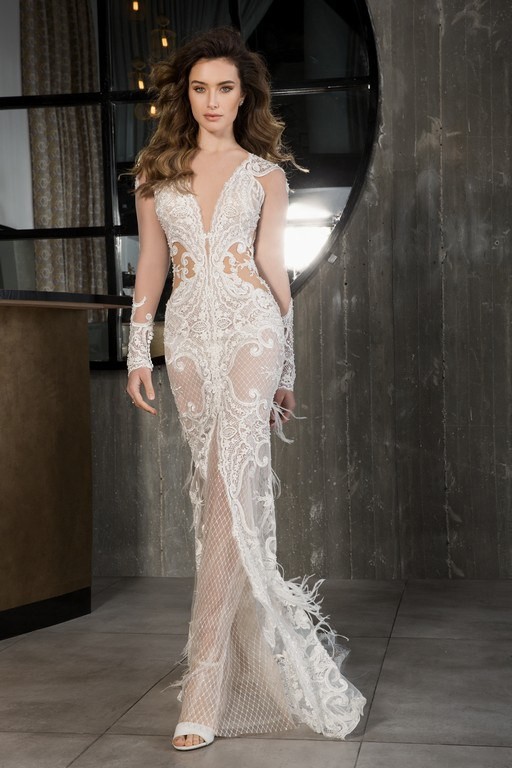 A gown from Riki Dalal fittingly named Beyonce. This look is fit for a sexy modern day Queen. The semi sheer silhouette of this design enhances the bride's feminine curves. To add some additional pop, the look features a few wispy feather accents to add beautiful variation in texture.
10.

Exotic Feathers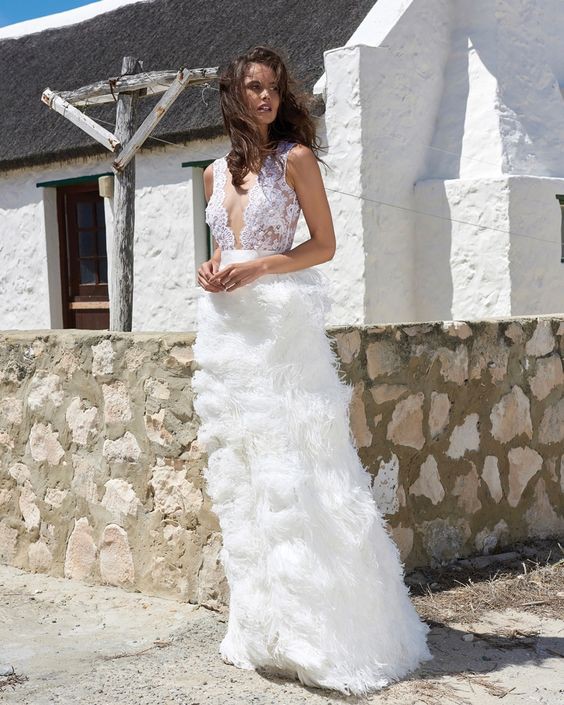 An exotic feather wedding gown that is striking! This gown is made up of a semi sheer lace, plunging neckline bodice and a fully feathered A-line skirt. Sexy, sassy, and beautifully feminine.
11.

Feathered Contemporary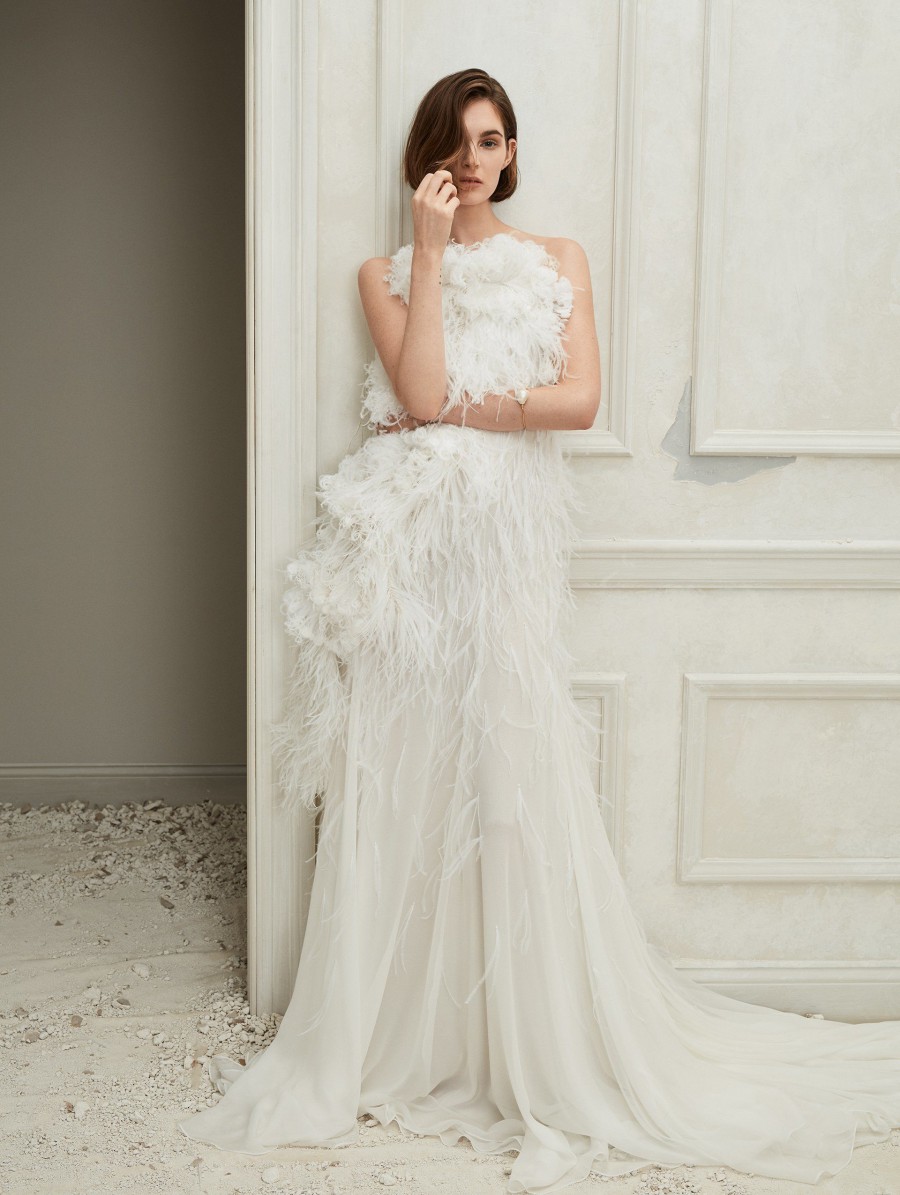 A contemporary bridal style from Oscar de la Renta that is all about the feather accents. This dress has such a stunning, tactile appearance that will be sure to turn heads all day long.
12.

Feathered Split Skirt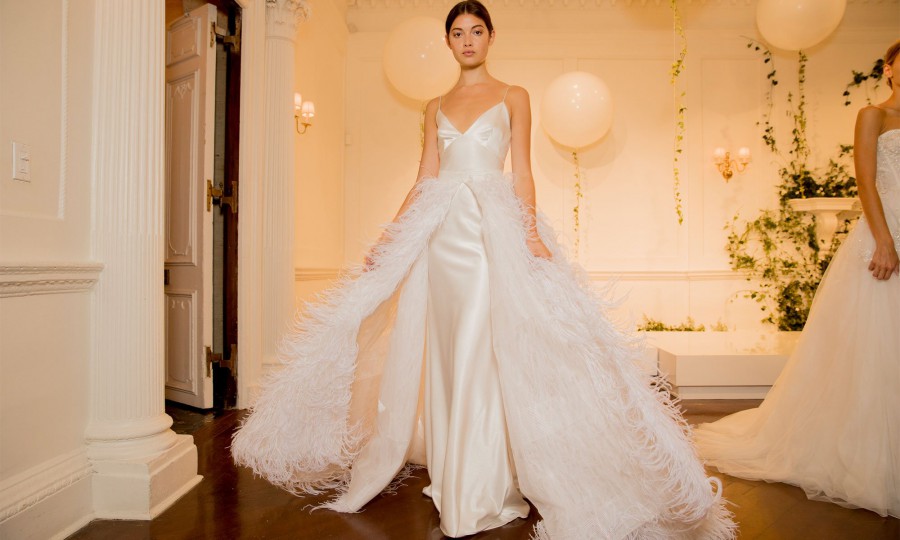 A luxe silk and feathered gown from Monique Lhuillier. This luxurious look has both drama and sophistication. A perfect balance of edgy and elegant!
13.

Feathered Cape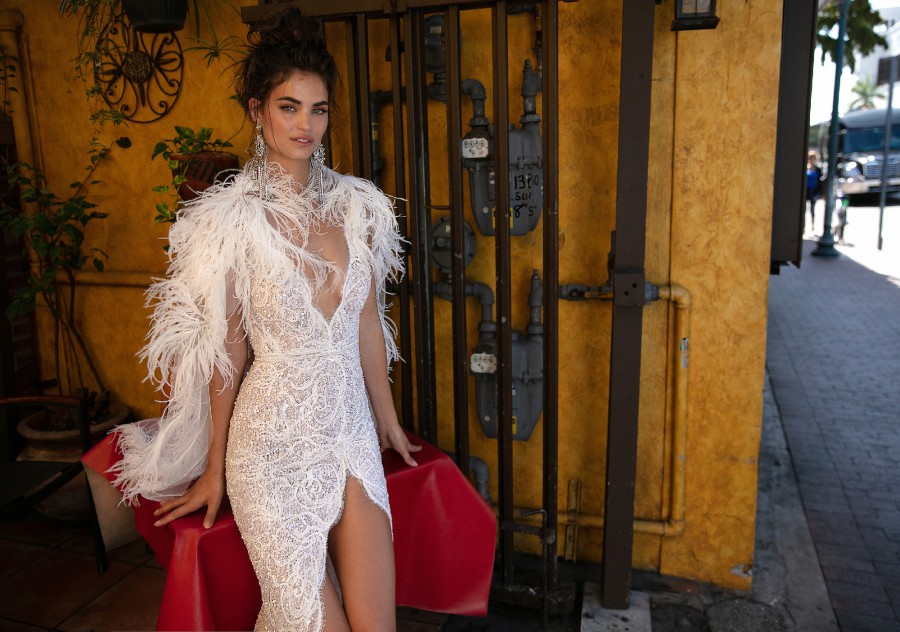 Alright ladies, who else is loving this sassy feathered bridal cape? Add some drama to your wedding day look with a striking feathered cape!
14.

Sheer Feathers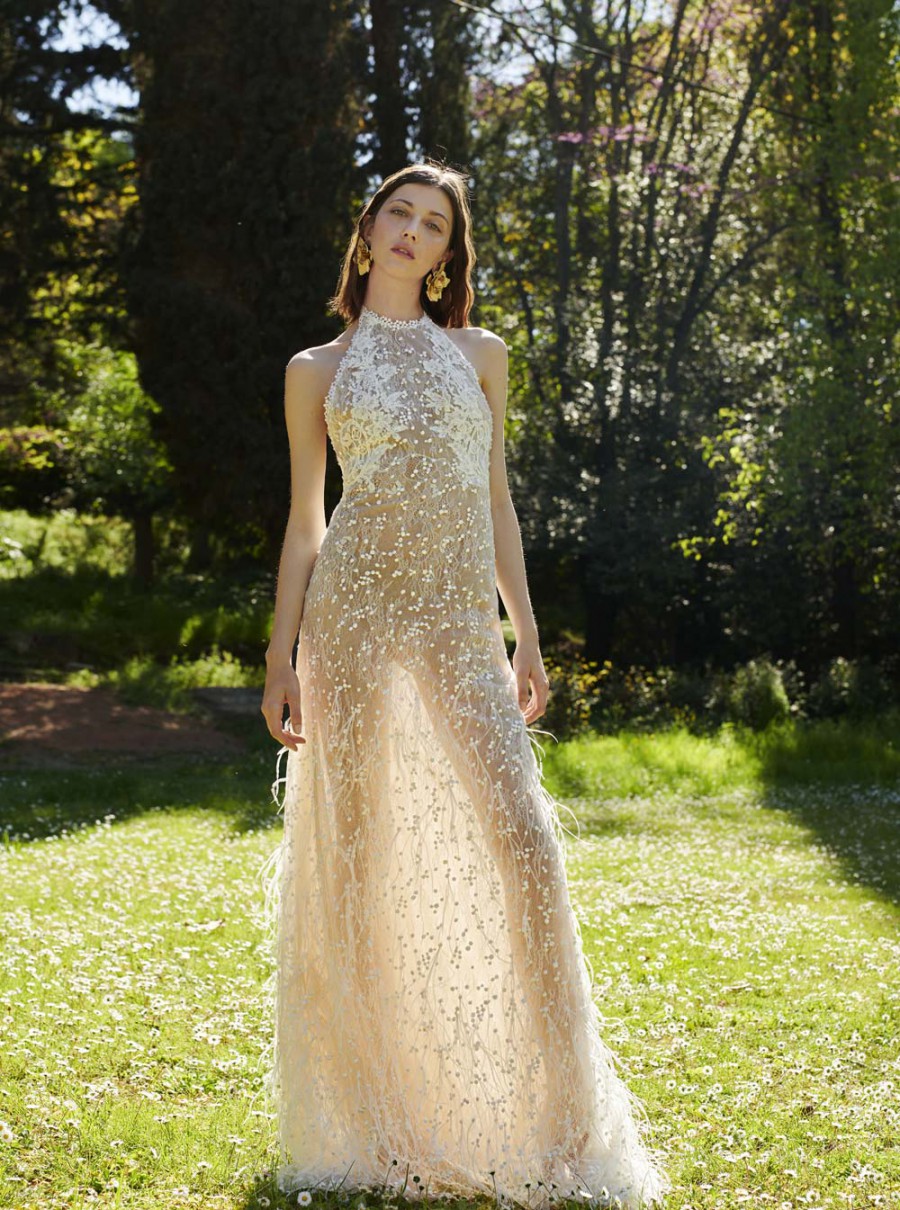 A captivating semi sheer wedding gown with all over sequin embellishment. To add even more drama to this look, the skirt features delicately placed feathers that add a gorgeous texture detail.
15.

Feathered Trumpet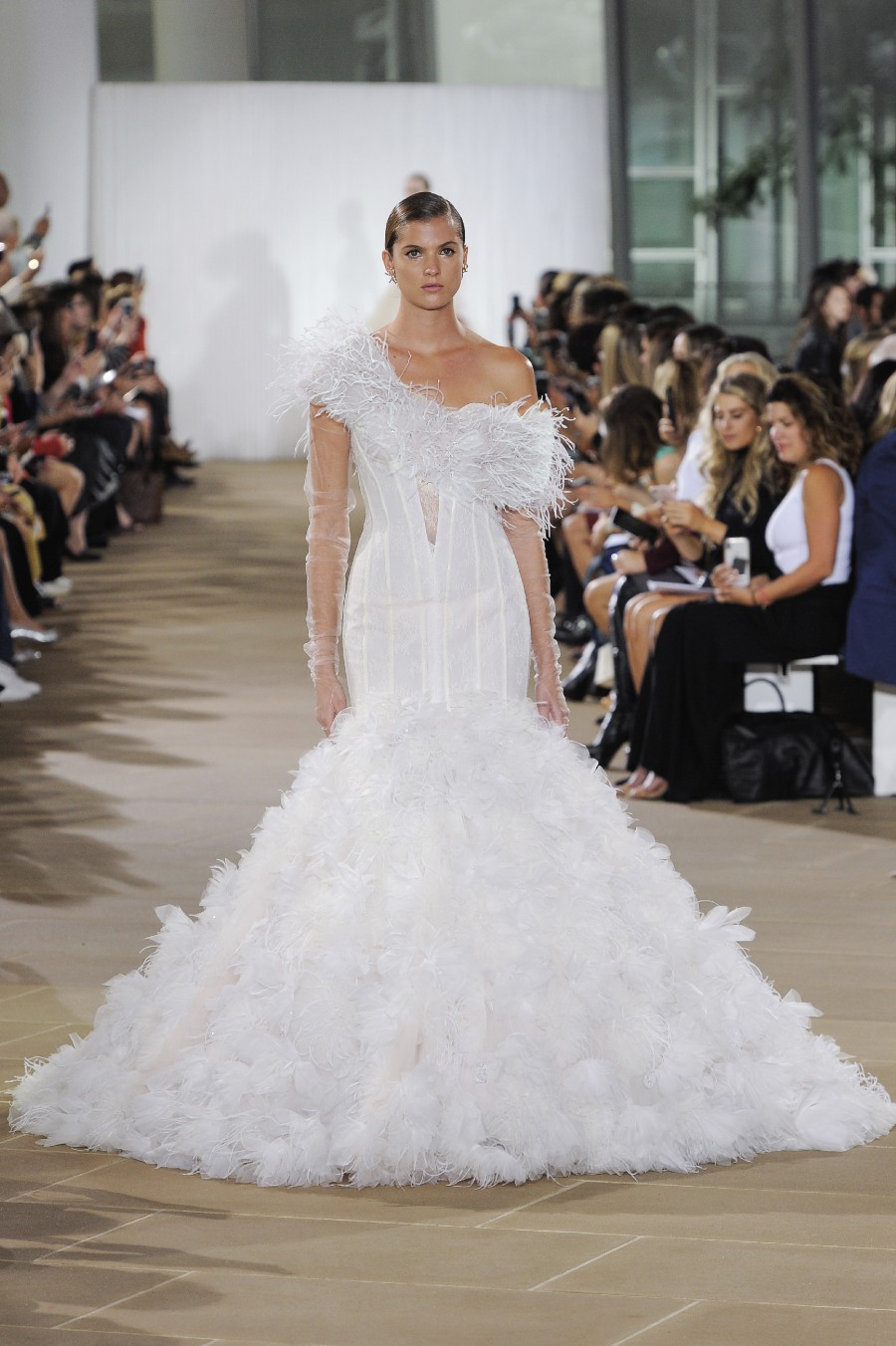 A truly surprising trumpet wedding gown from Ines di Santo. It is hard to know where to begin with all of the details on this gown. A figure flattering corset silhouette gives way to a feather accented trumpet skirt that is beautifully overwhelming with its intense texture. Feathers also accent the off the shoulder neckline that leads into full sheer sleeves. Wow!
16.

Couture Feathers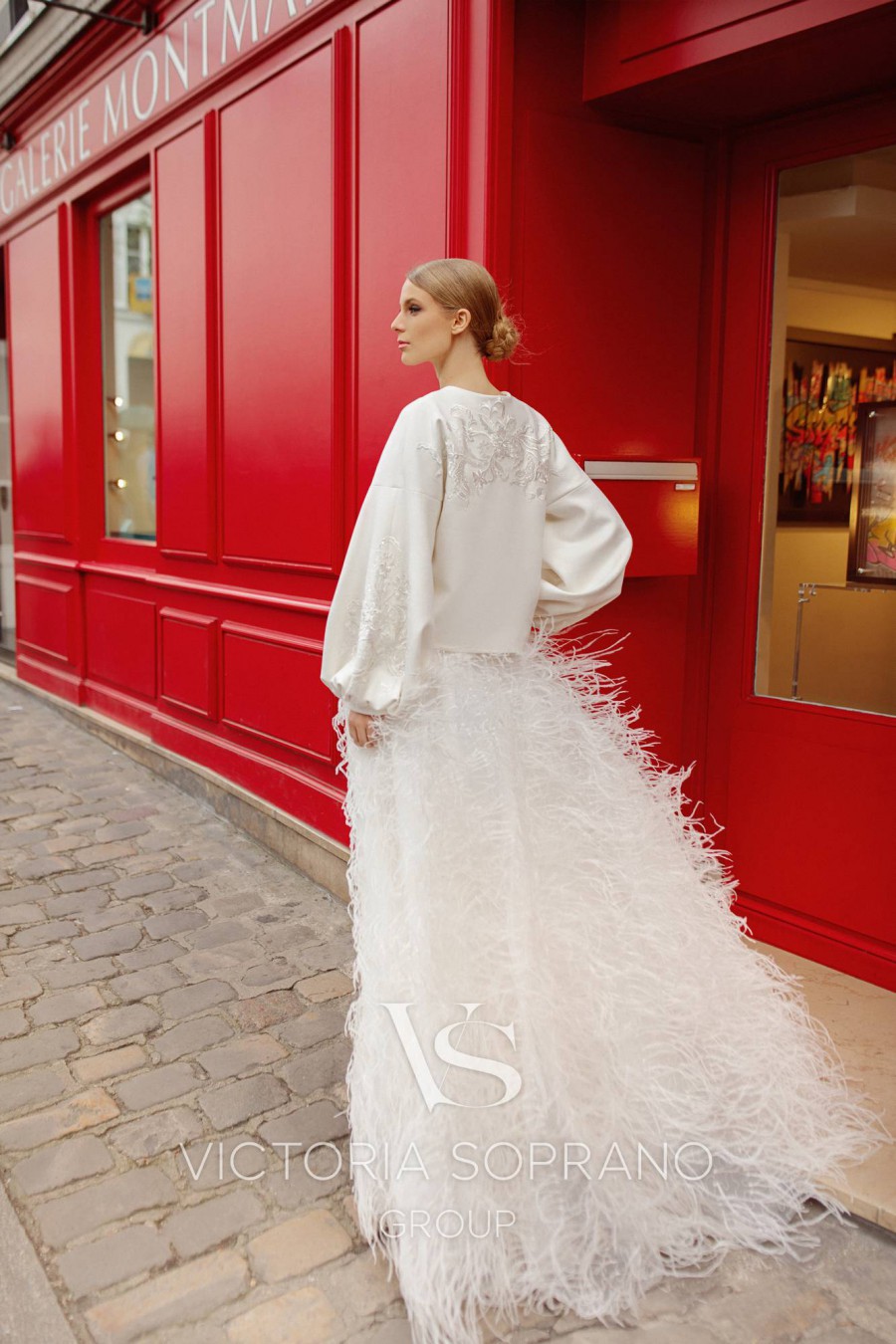 A ultra couture feathered wedding day look like nothing else! This bold embroidered bridal jacket and wispy feather skirt will have everyone in awe.
17.

Baroque Feathers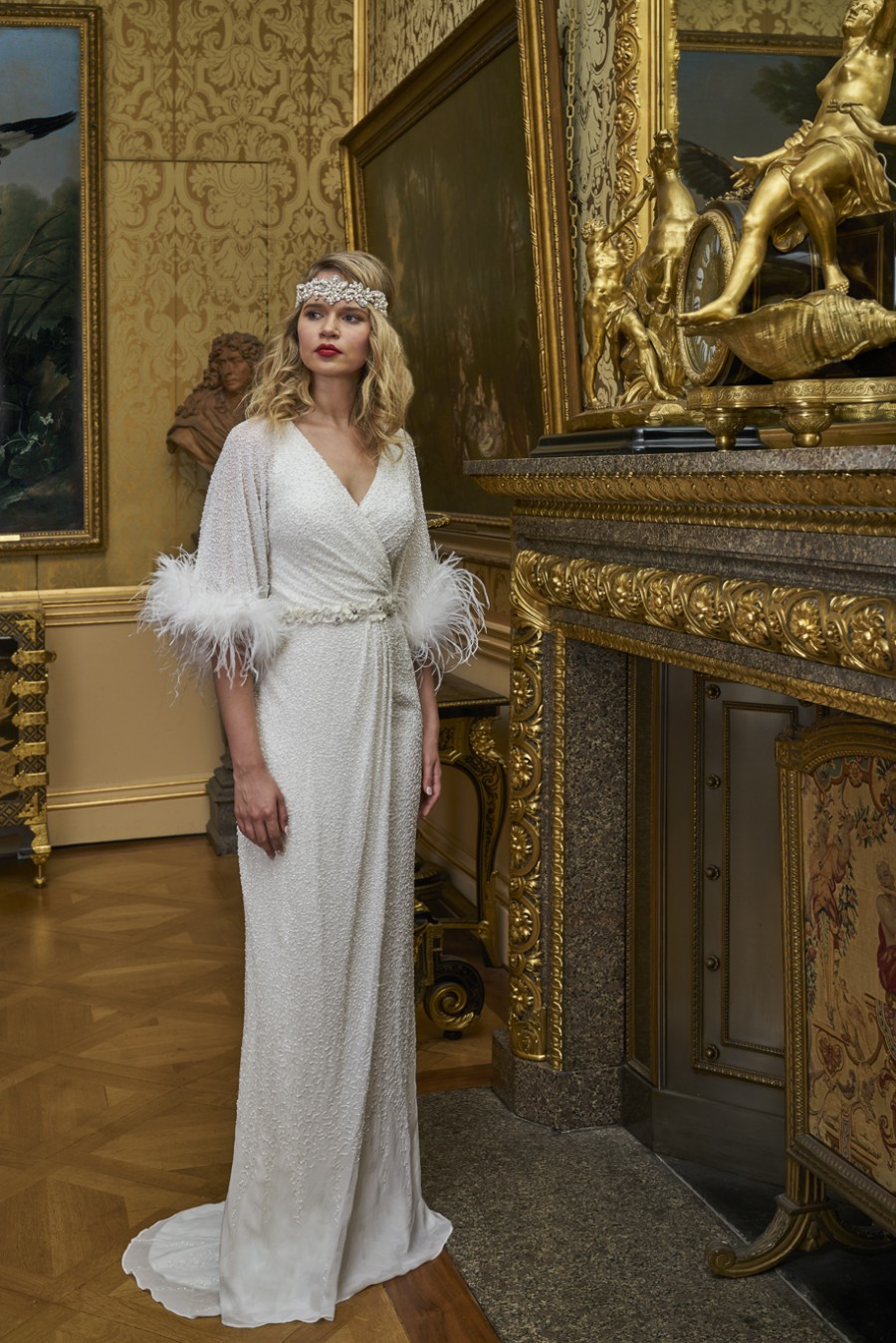 Eliza Jane Howell brings us a beautiful wedding style with stunning feathered sleeve accents. This gorgeous gown comes from her "The Grand Voyage" line, inspired by 17th and 18th century styles. This gown titled "Baroque" is the perfect mix of classic ideals and contemporary design.
18.

Bold Flapper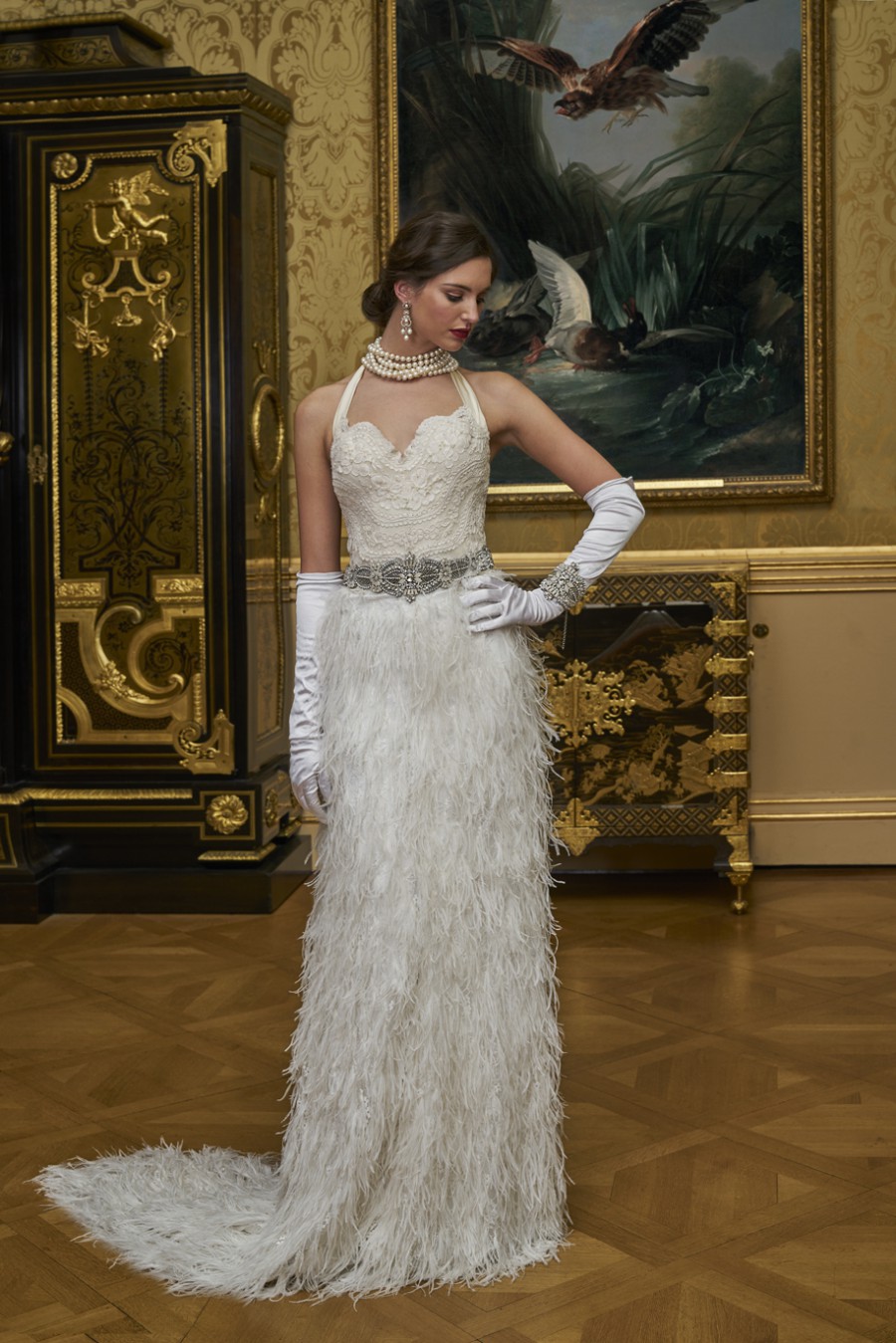 For our flapper loving brides out there, this next feathered wedding day style from Eliza Jane Howell demands attention! Intricate bustier bodice and fully feathered skirt create a stunning, vintage inspired wedding day style that is beautifully dramatic.
19.

Fully Feathered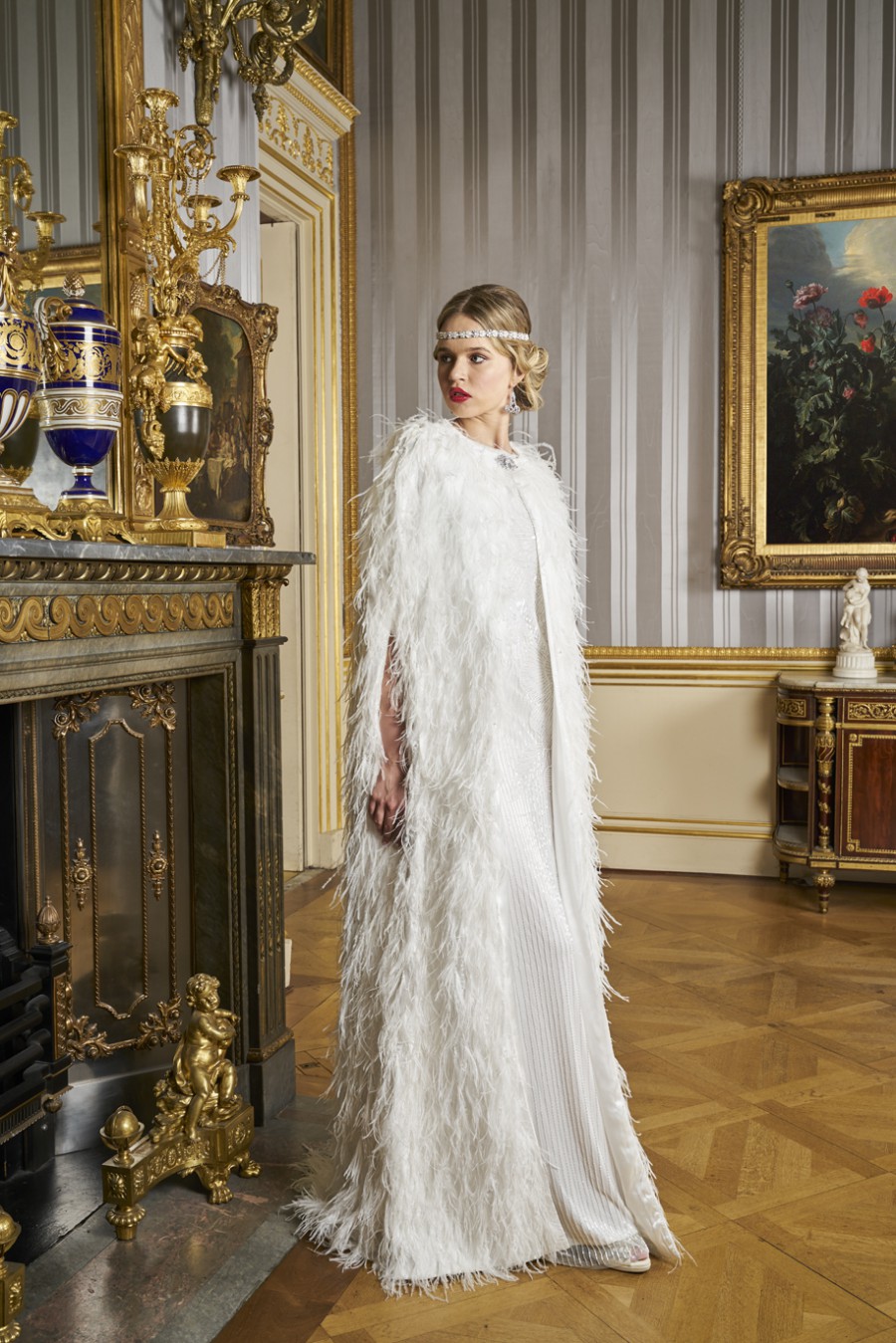 Let's take this feather trend to the next level with a fully feathered bridal cape. Move over Snow White - there is a new caped maiden in town!

By Kathryn Schrotenboer