If you are dreaming of a foliage filled fall wedding day - a traditional cut wedding gown just isn't going to cut it.
We have collected some of our favorite fashion forward fall ready wedding styles that will have you dreaming of chilly afternoons for your big day. These styles are bold, stunning, and you won't be catching any summer brides in these must have looks.
01.

Sexy Two Piece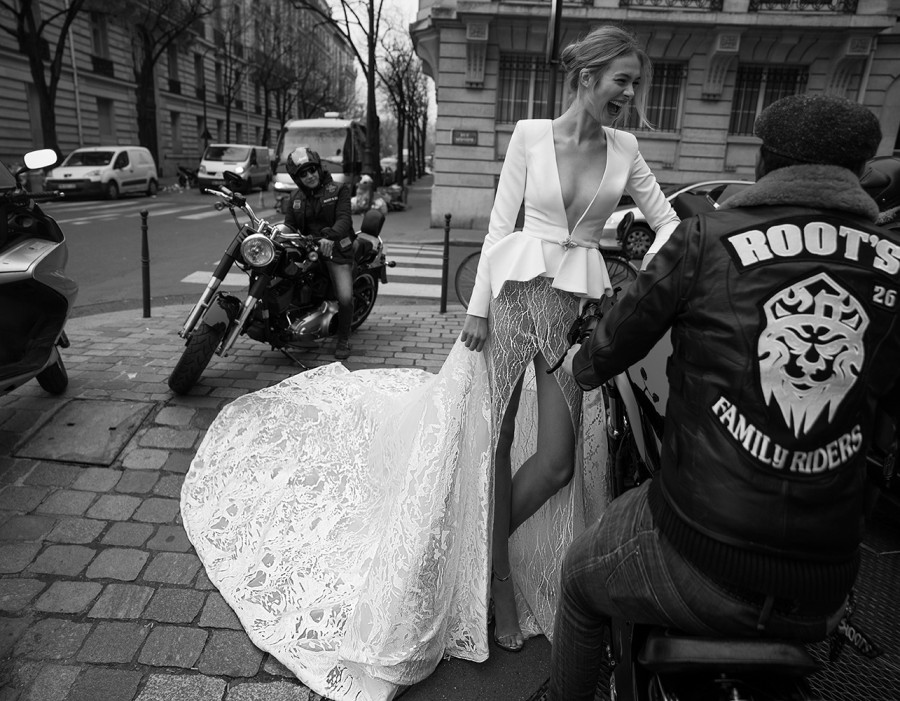 Kicking off the list with a sexy two piece wedding style from Inbal Dror. This fall ready wedding day look is far from traditional - but it is sure to turn heads on your big day.
02.

Floral Fall Foliage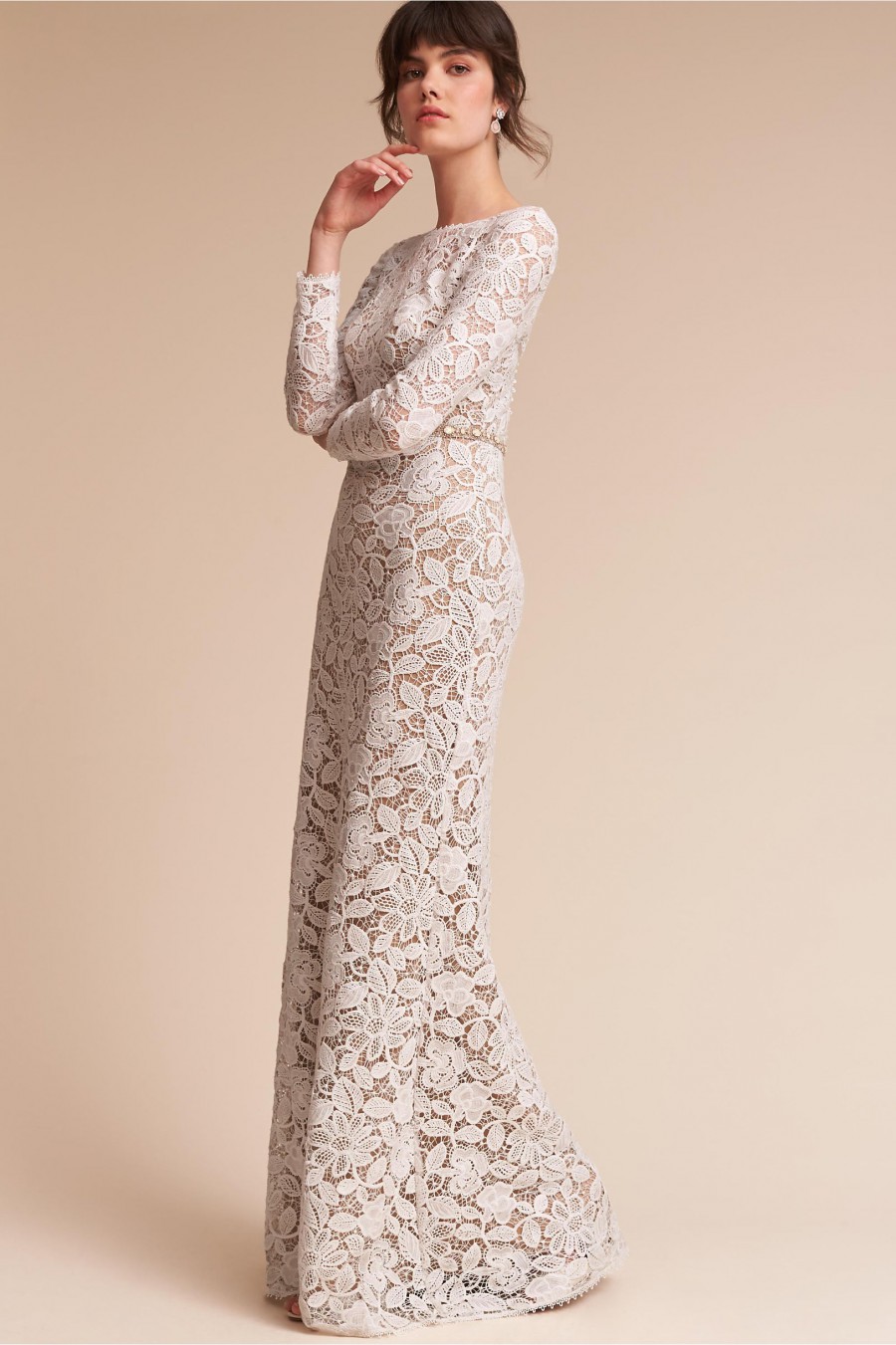 For our classy bohemian brides out there - this floral lace gown is a must see. Its intricate floral foliage design will be a stunning contrast to the changing red, orange, and yellow leaves around you on your chic autumn wedding day.
03.

Ultra-Modern Ballgown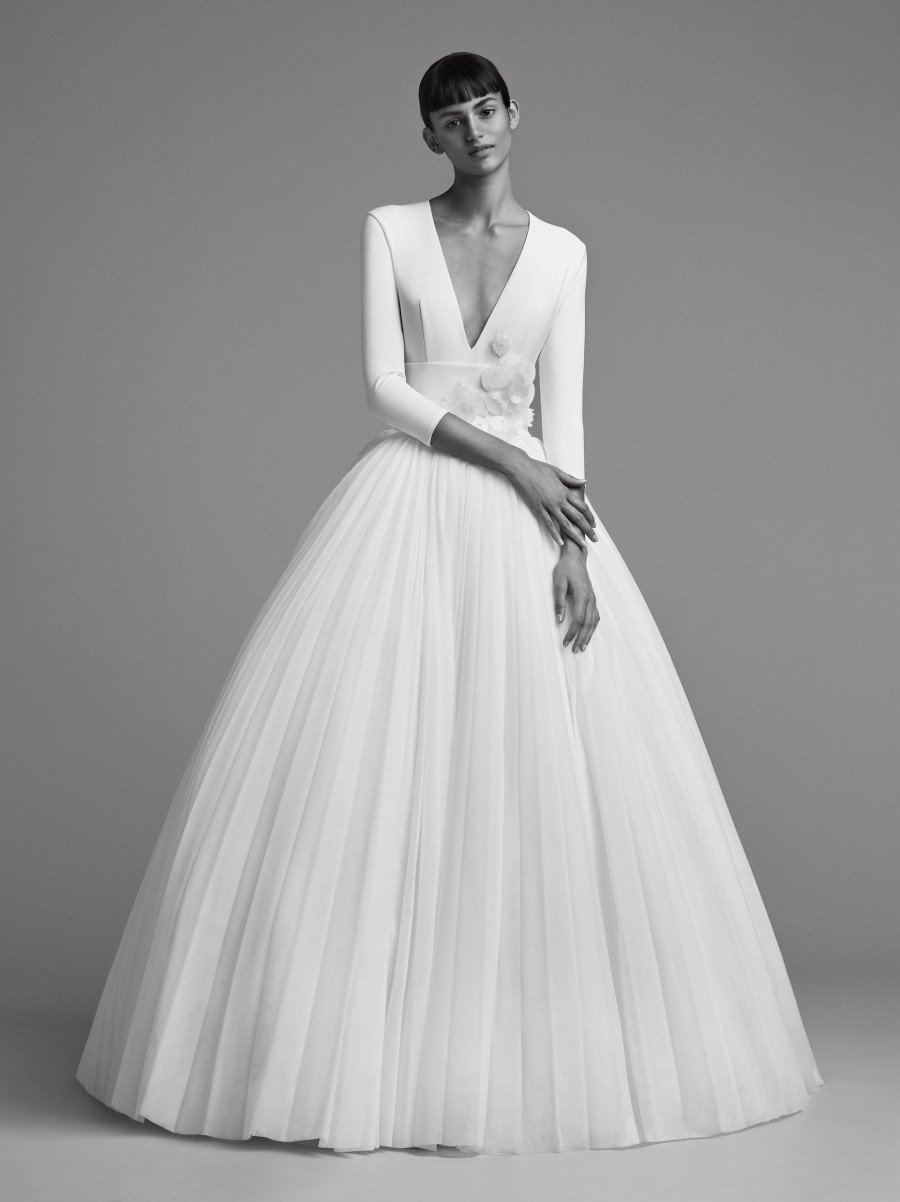 Are you an ultra modern bride craving a ballgown on your big day to make a lasting statement? This fall ready wedding style from Viktor Rolf is just the thing. This sophisticated ballgown has clean lines and modern accents that take it from traditional to artistic contemporary.
04.

Lace Sophistication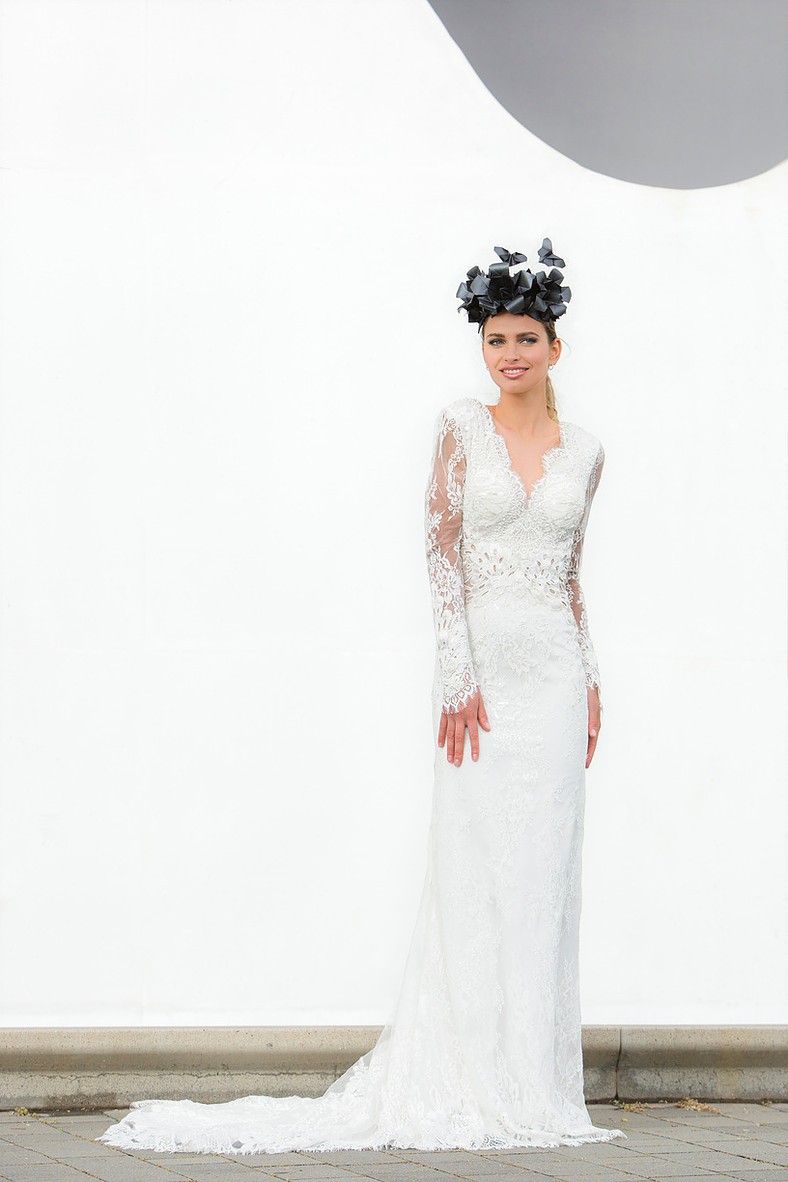 A stunning contemporary lace wedding gown that is absolutely breathtaking. This gorgeous, feminine style is perfect for a romantic autumn wedding day celebration.
05.

Vintage Chic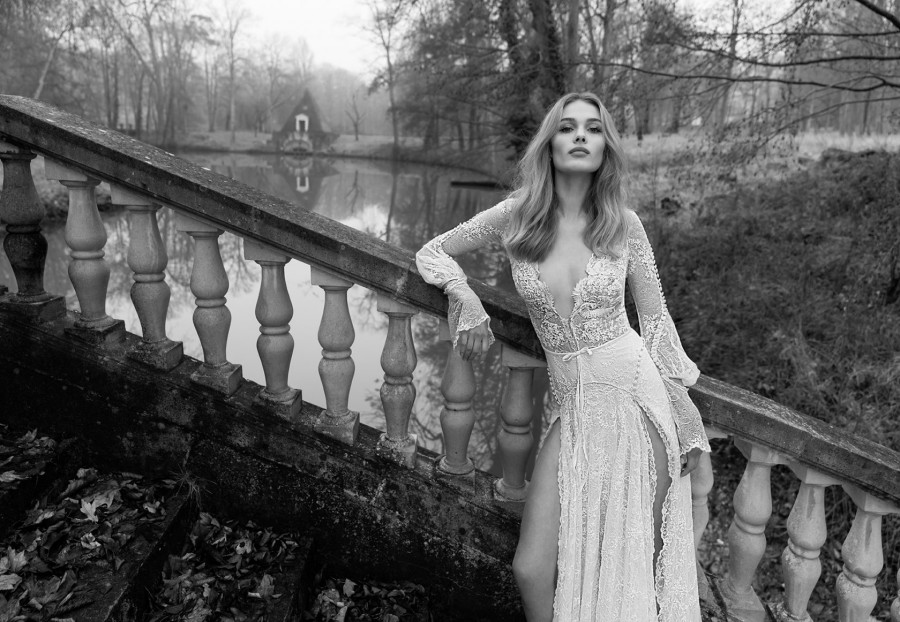 A sexy vintage chic wedding style like nothing you have seen before. This look is perfect for a moody fall wedding day.
06.

Contemporary Classic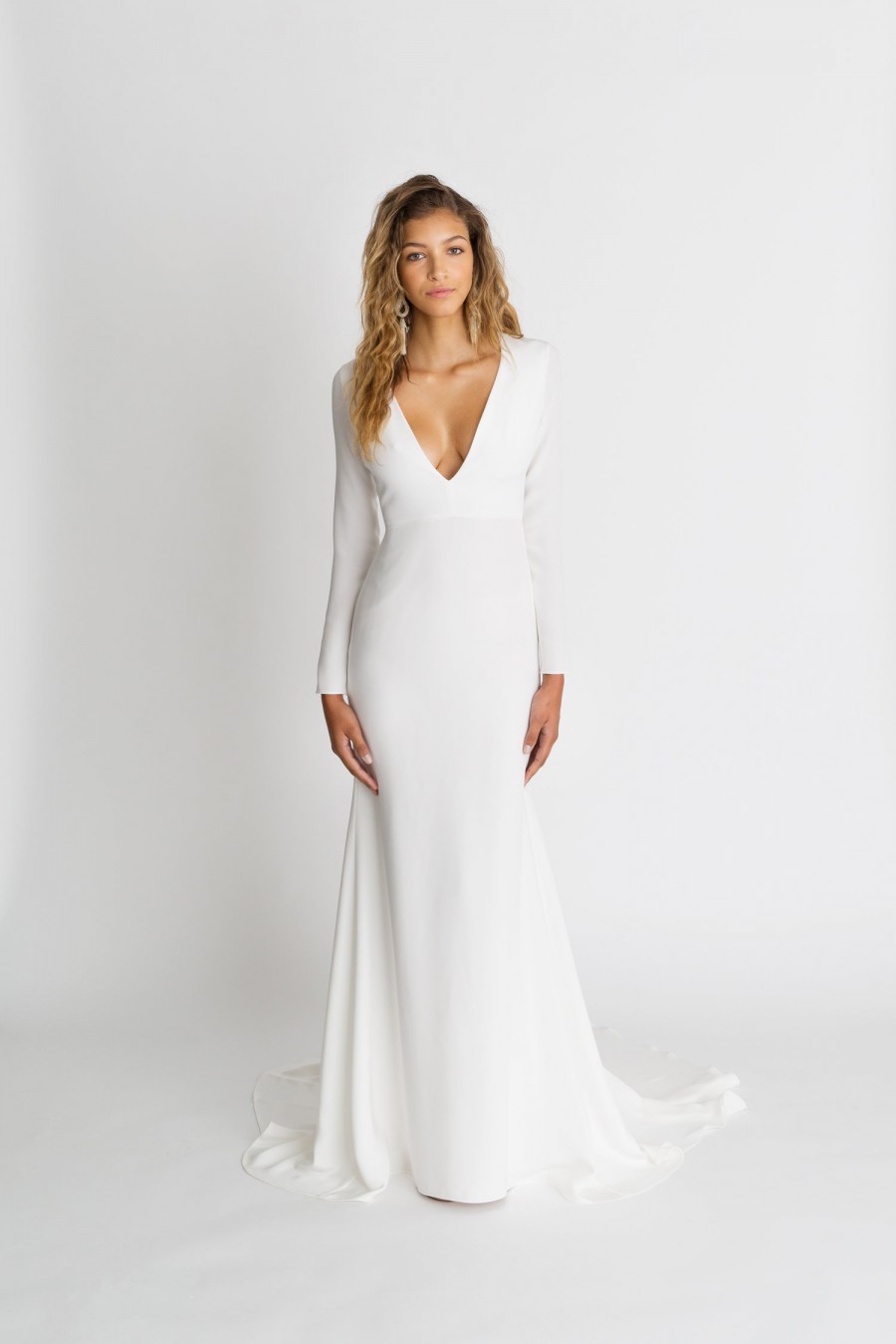 This sleek white wedding gown from Alexandra Grecco is a contemporary classic. It is the perfect wedding gown for any wedding day - especially in chillier weather. You are sure to feel sexy and classy in this gorgeous look.
07.

Fall for Nude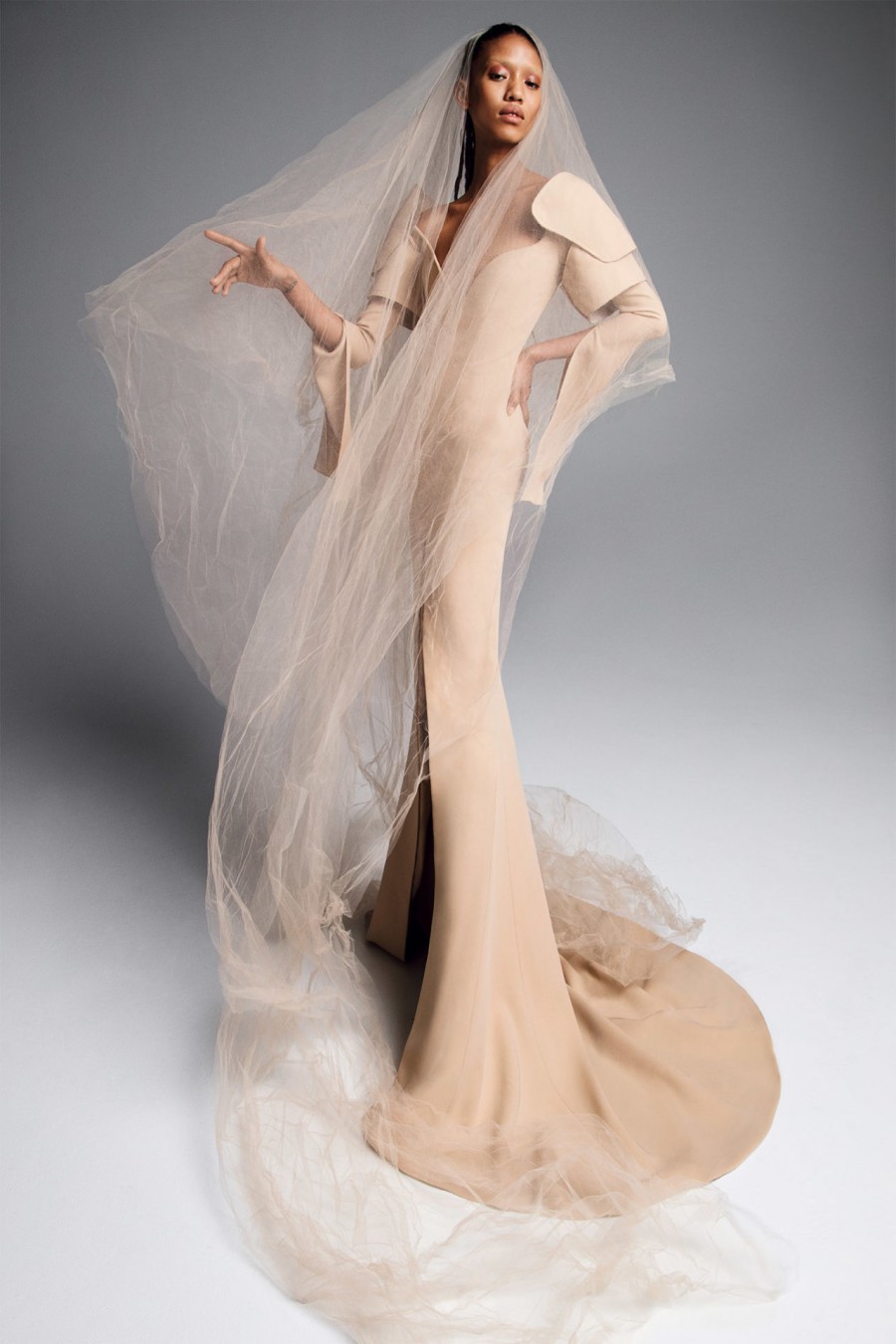 What better way to embrace the fall season than with a stunning nude wedding gown? Vera Wang's new line of nude wedding styles are perfect for a stunning Autumn wedding day. The nude is a gorgeous color to mix with the changing red, yellow and orange leaves. Natural, yet contemporary.
08.

Fall Worthy Netting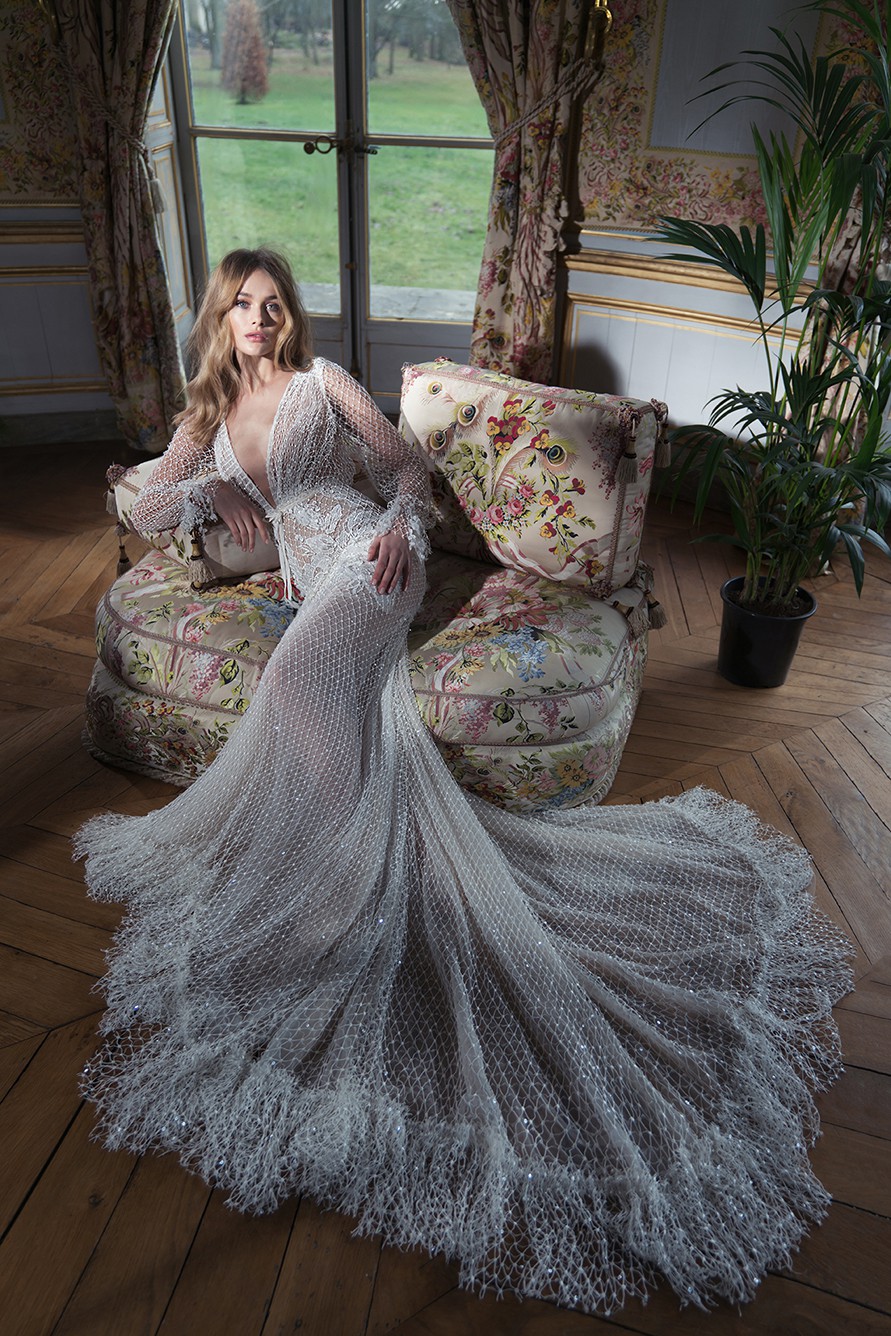 A stunning one of a kind net fabric wedding gown that is sexy and luxurious. The semi-sheer fabric and deep-V neckline will have you still feeling sassy and sultry in this fall ready long sleeve wedding style.
09.

Clean Modernism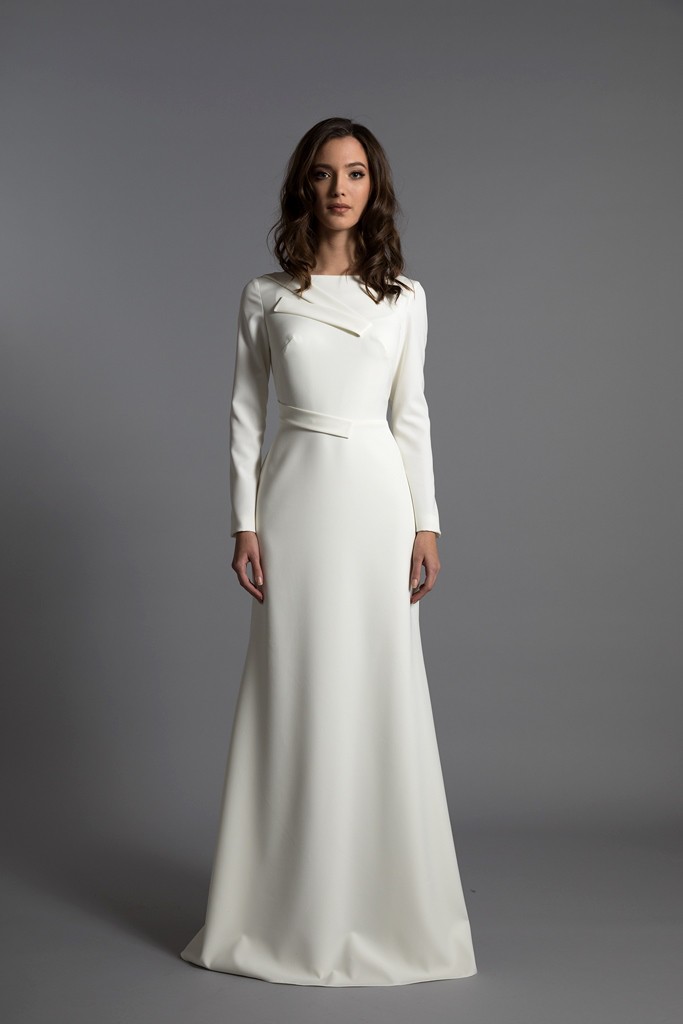 Out next fall ready look is for a contemporary bride looking to make a clean modern statement on her big day. This sleek silhouette is accented with asymmetric detailing for a simple, yet fashionably elegant look.
10.

Modest Sunbursts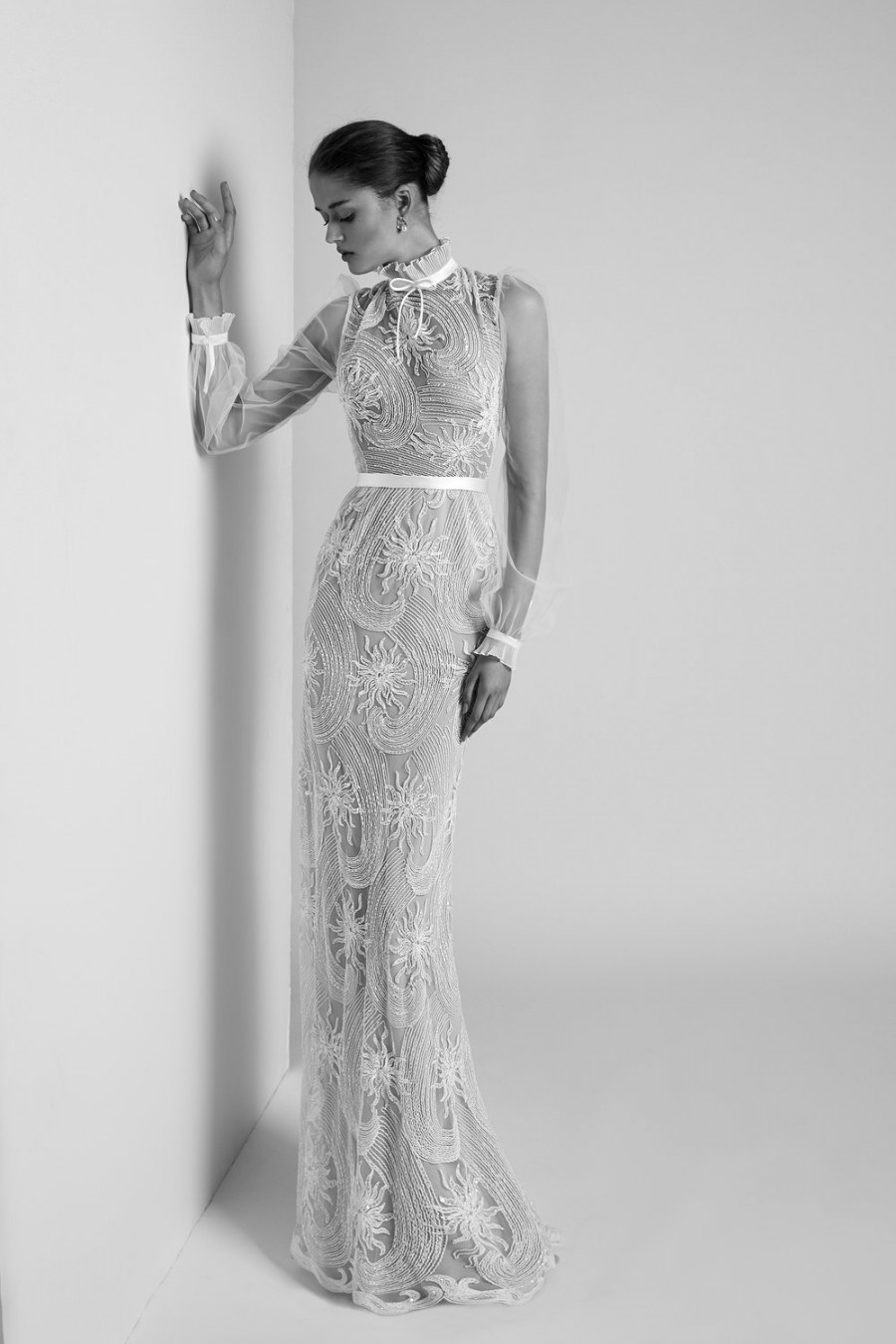 An intricately designed all over lace wedding gown that has an unique star burst design. A modest, yet contemporary wedding style that will steal the show at your fall wedding.
11.

Charcoal and Rose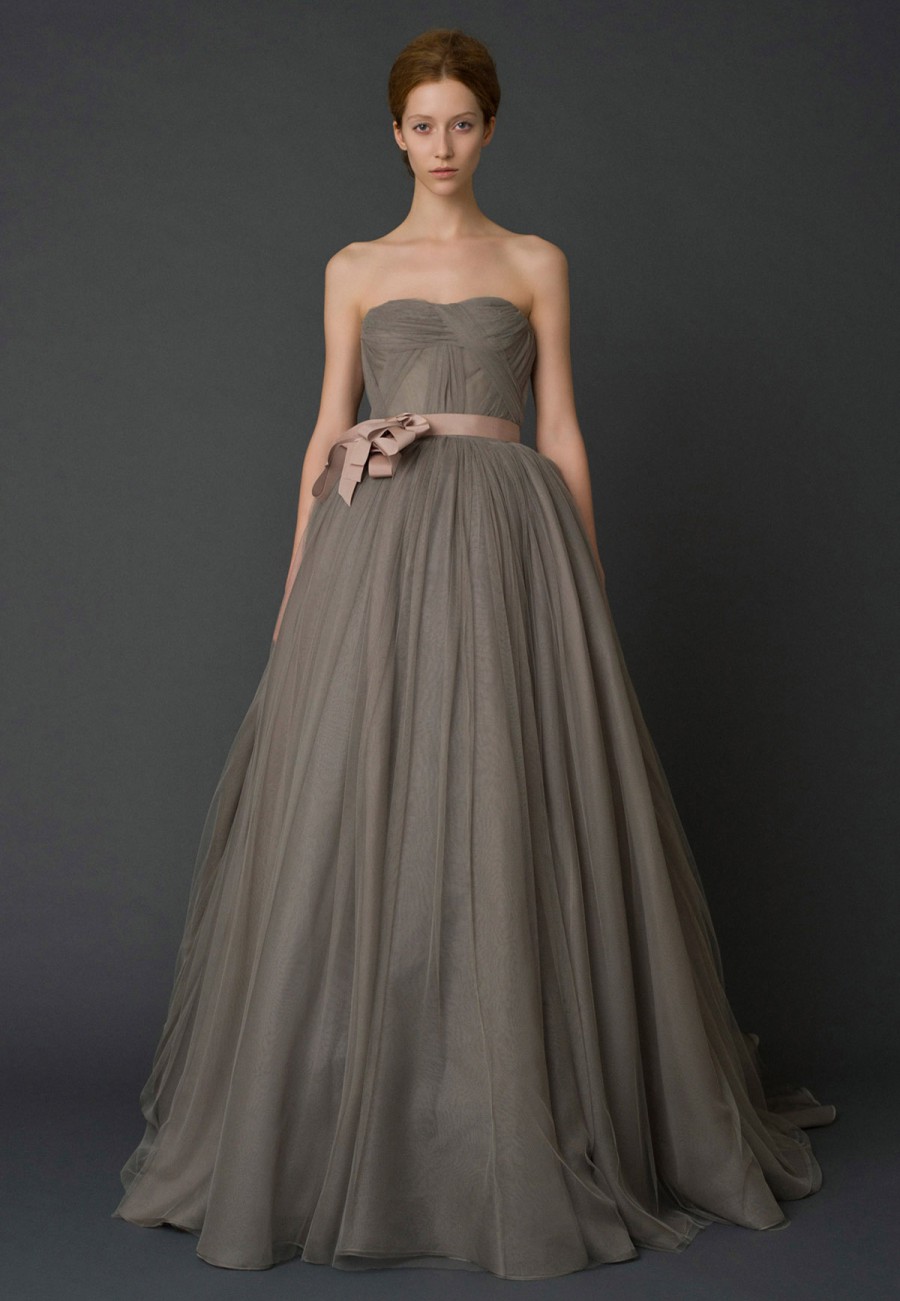 The fall season is a great time to embrace some not-so-white wedding styles. This stunning strapless ballgown from Vera Wang comes in a dusty charcoal color tone with a rose accent belt. A beautiful color combination to compliment your moody fall wedding day.
12.

Modest in Lace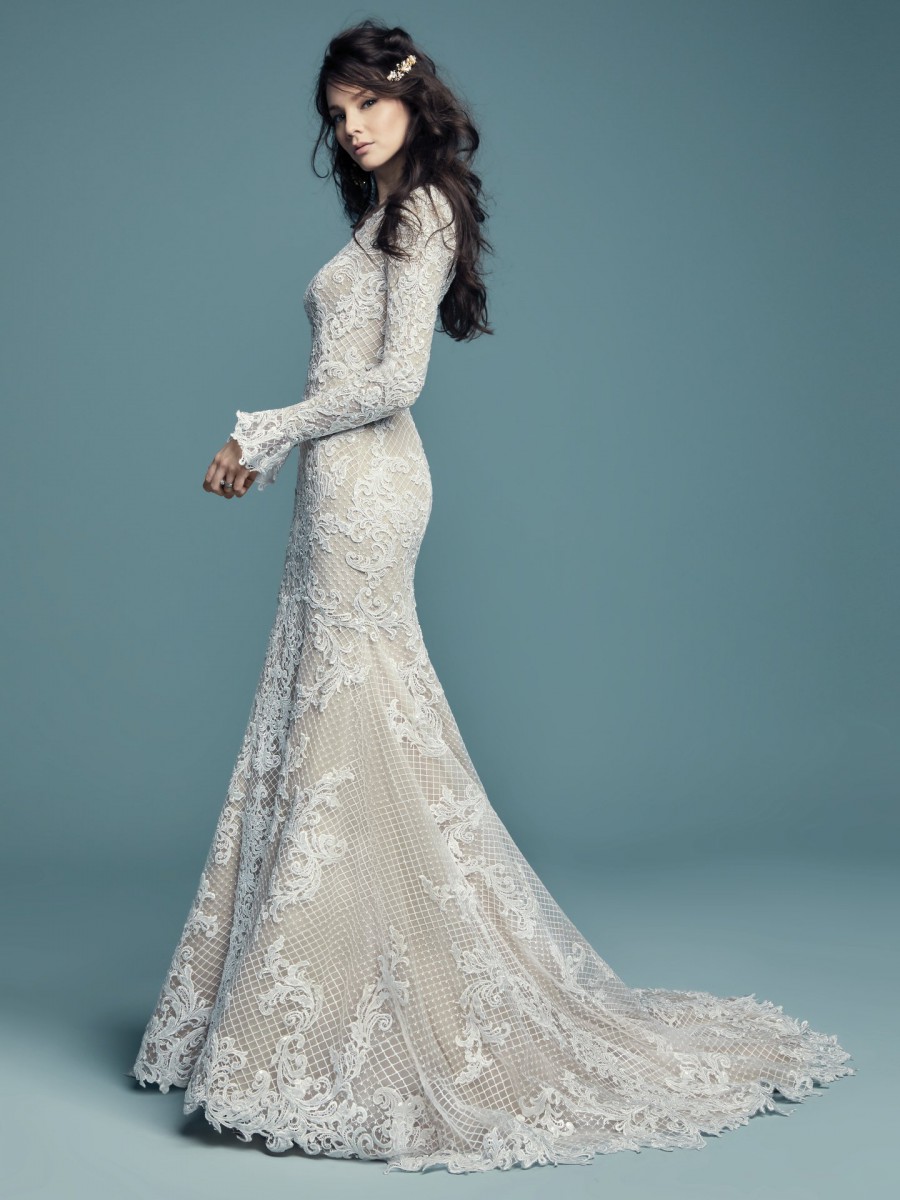 A jaw dropping modest lace wedding gown from Maggie Sottero. This sophisticated wedding gown is sure to turn heads on your autumn wedding day.
13.

Fall Florals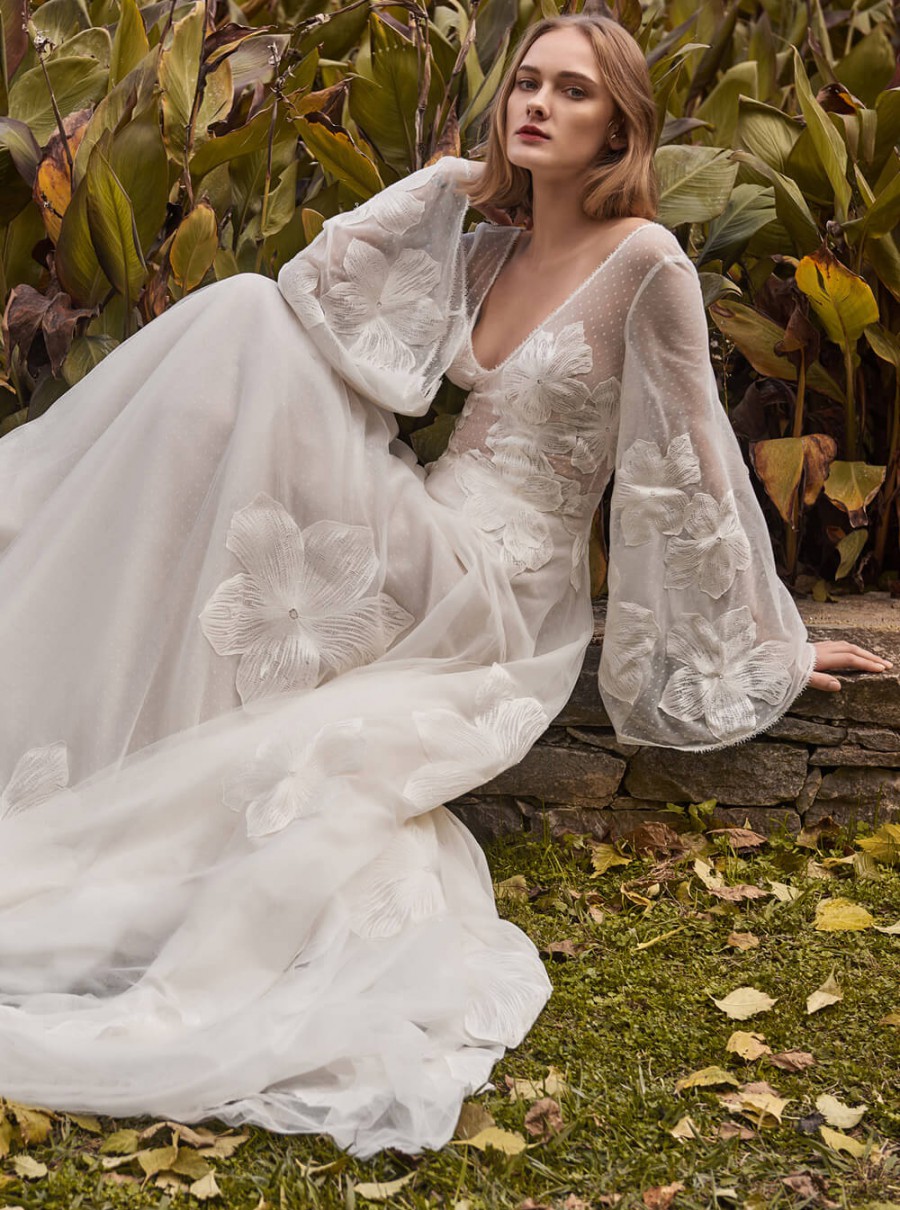 Just because you are having a wedding in the chillier months, doesn't mean you can't still embrace feminine florals. This captivating style from Costarellos is ethereal, feminine, and ready for a romantic fall wedding day.
14.

Coated Chic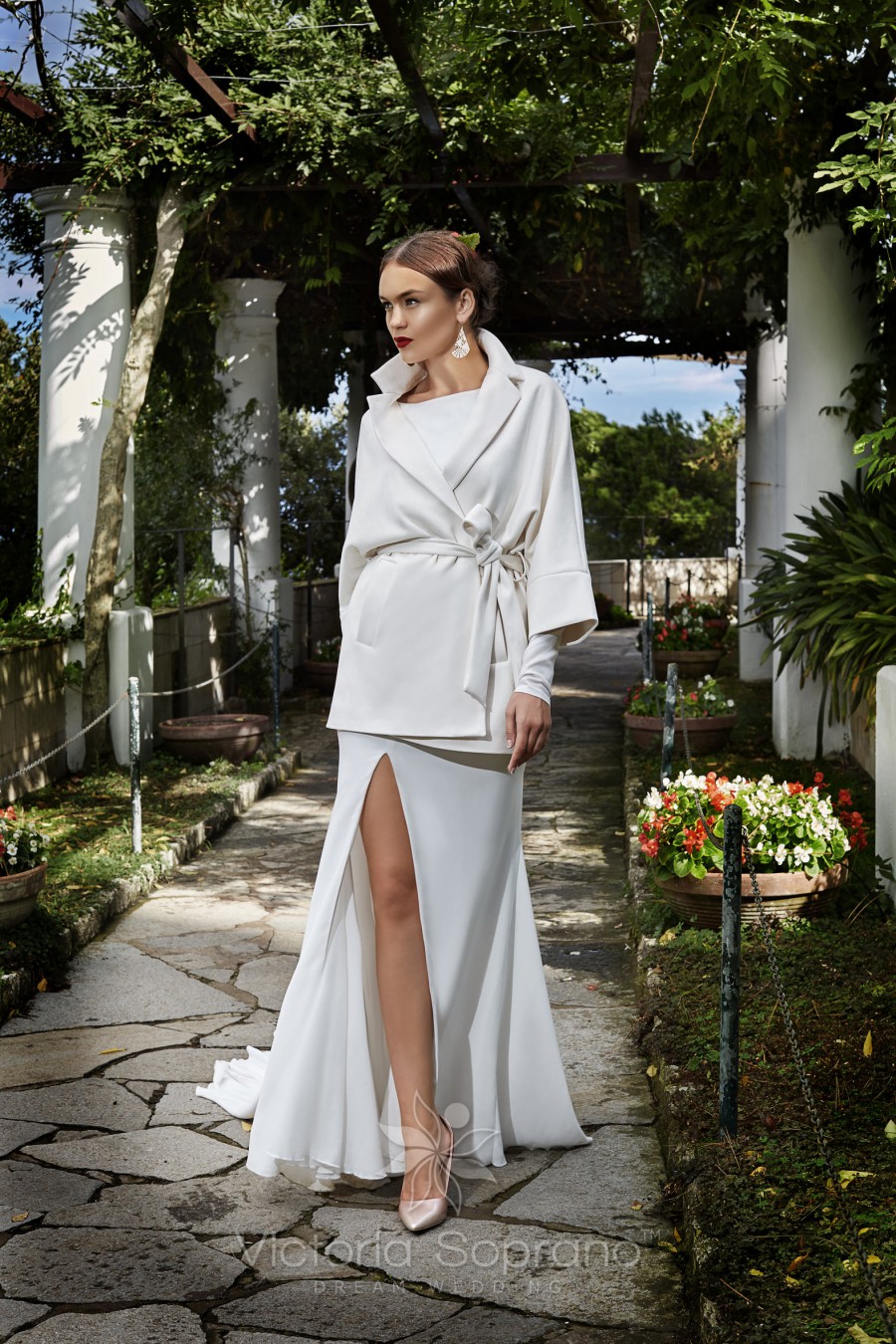 We all love when chilly weather first sets in because we get to break out all of our favorite jackets! So why should your wedding day look be any different? Look so chic with the bridal jacket style.
15.

Beauty in the Details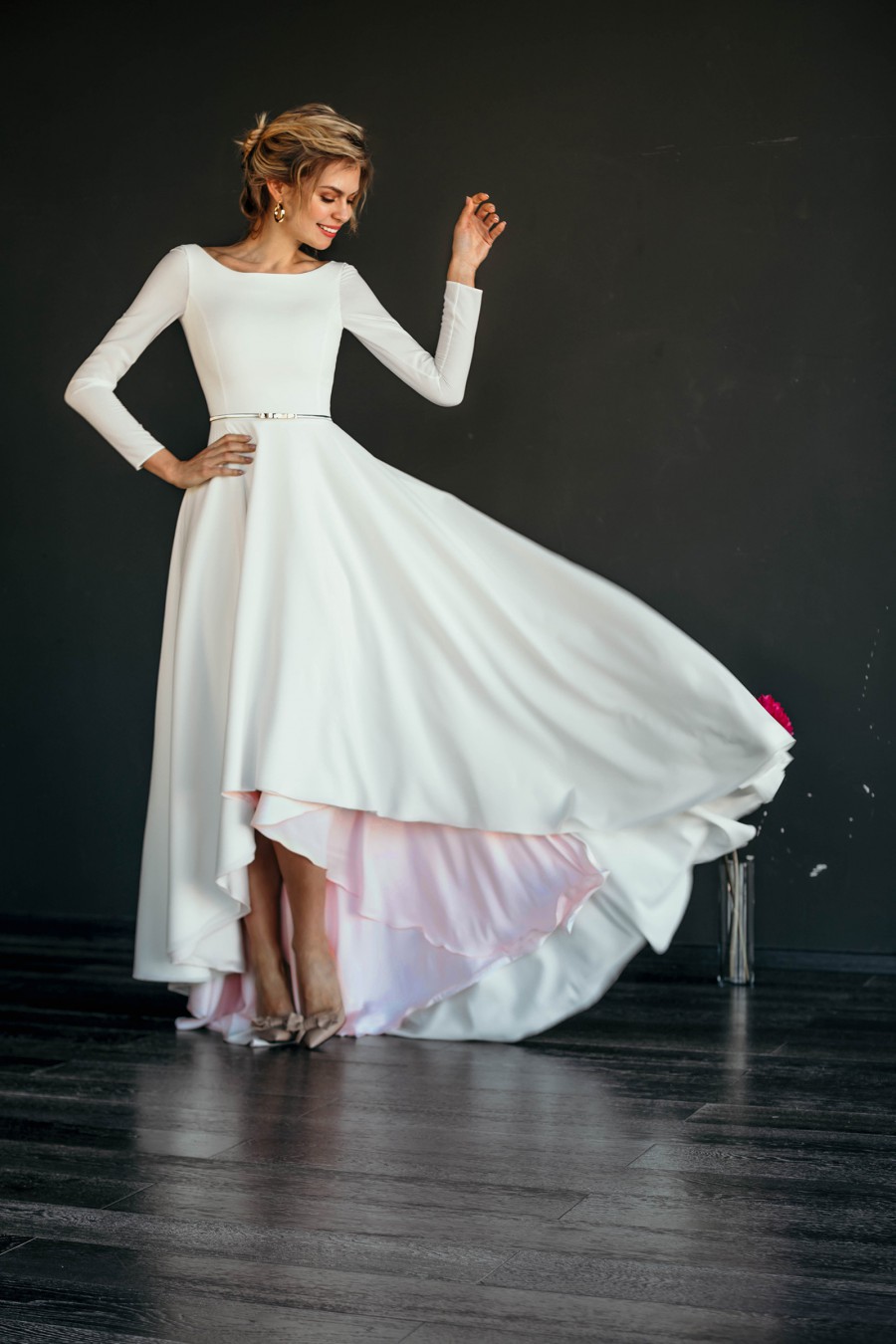 A seemingly simple contemporary wedding gown that is quite surprising. The slight high low cut is absolutely gorgeous - but what is more exciting about this look is the blush colored lining. Just the right touch of girly flair to your fall wedding day style.
16.

80's Lace Bohemian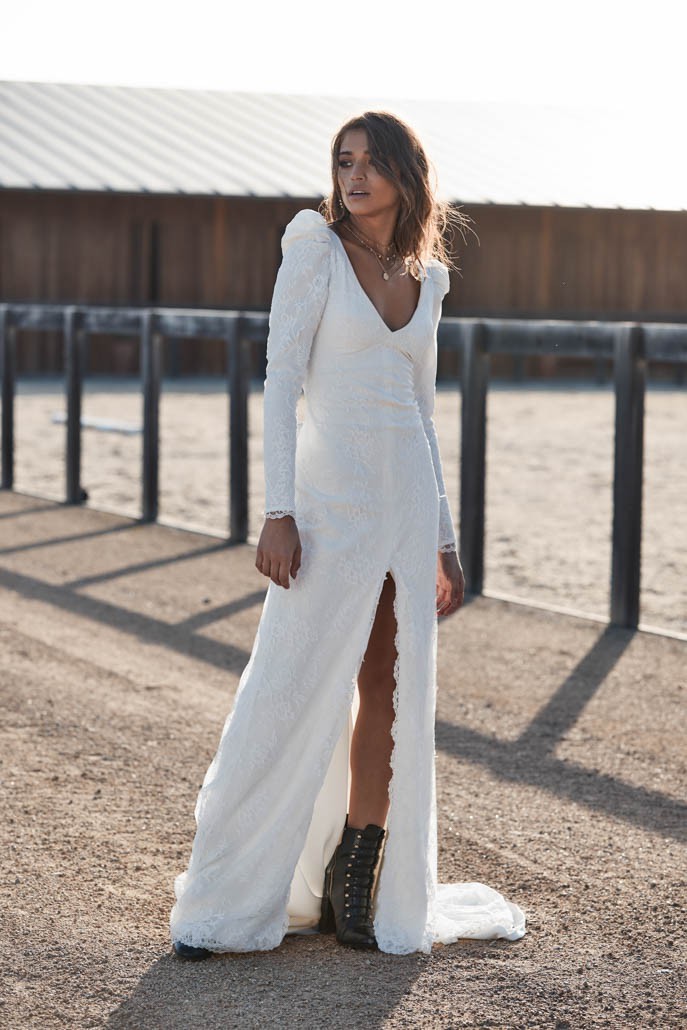 Our next fall ready wedding style has clear bohemian influences - with just a touch of the 80's with the subtle puff sleeve accents. The deep front slit adds a sexy finish to this full sleeve wedding gown.
17.

Rose Gold Untraditional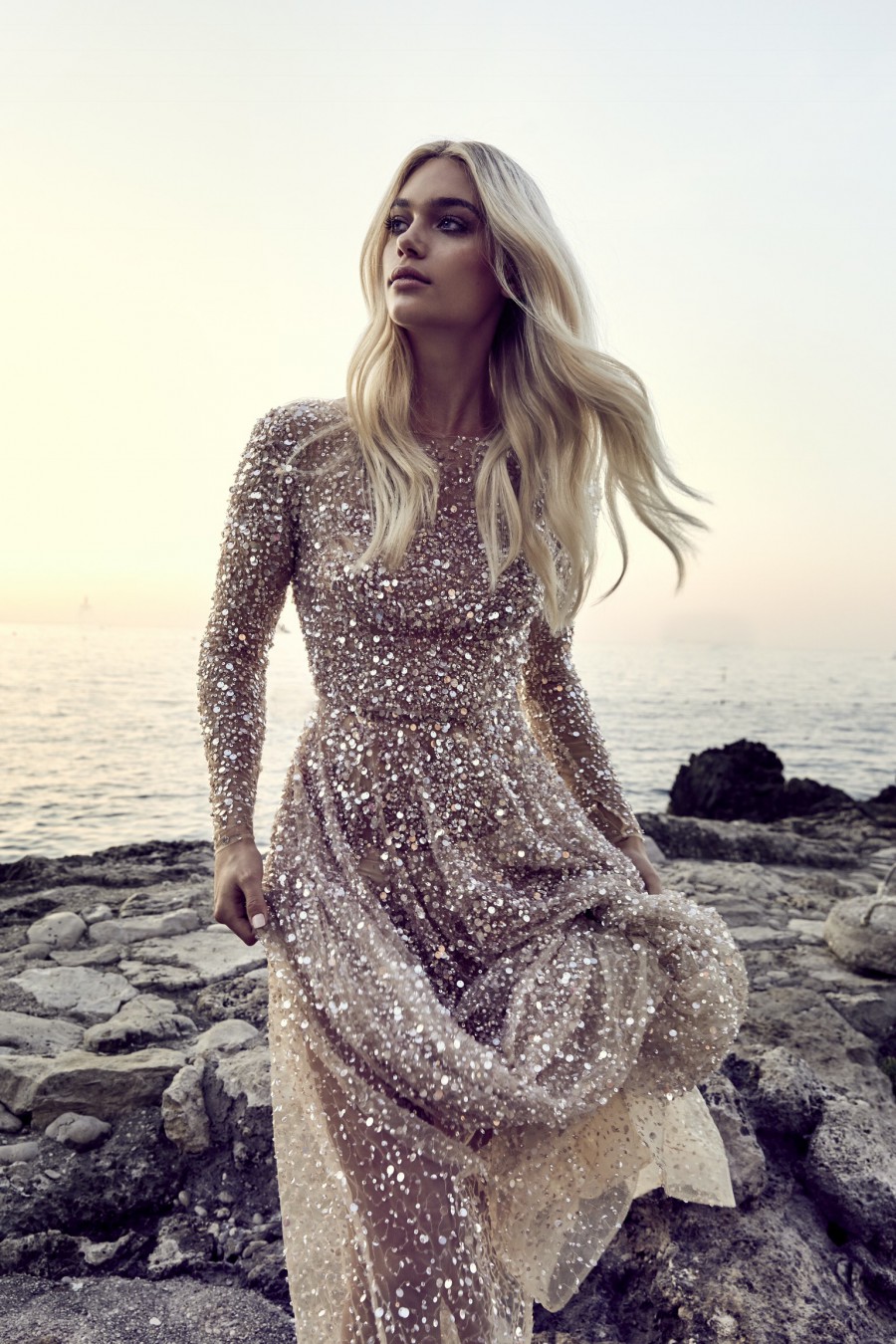 For you less than traditional brides out there - how do you feel about an all over sequin rose gold wedding gown? We absolutely love it, and especially for a romantic fall wedding day!
18.

Off the Shoulder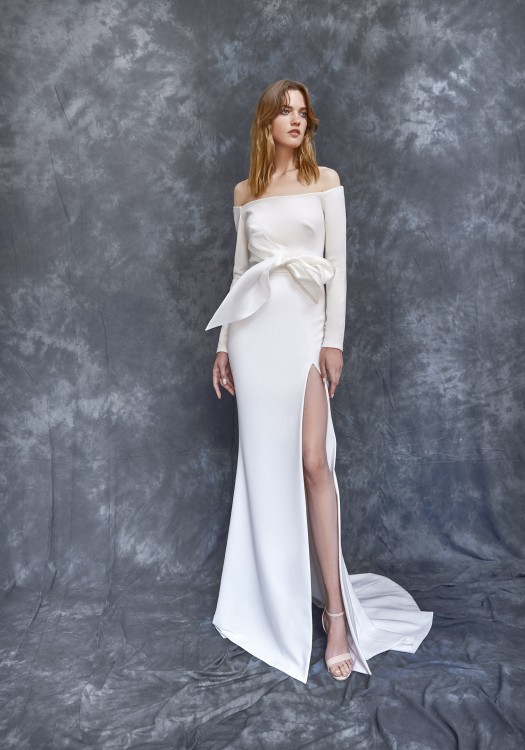 Bring the off the shoulder bridal trend into the chillier months with this sophisticated gown from Yolan Cris. This sleek look is finished with an oversized bow and deep front slit. A chic glam style for your glamorous black tie fall wedding day.
19.

Bell Sleeve Florals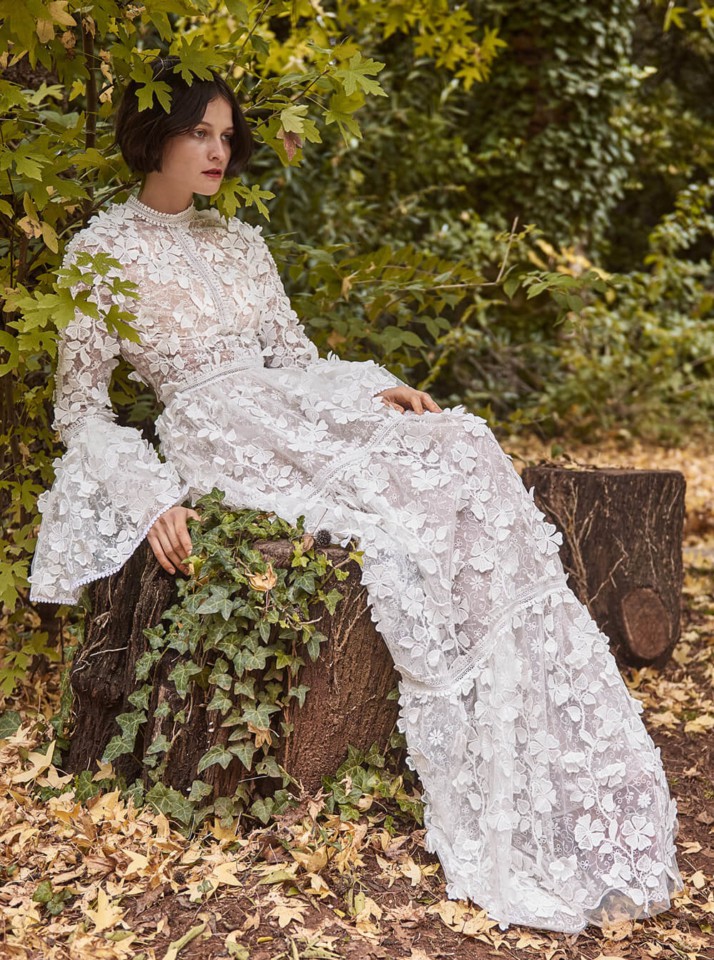 A fall worthy floral inspired wedding gown like nothing else! This long layered hem, bell sleeve gown is simple in its silhouette, yet captivating with its beautiful detailing.
20.

Clean Contemporary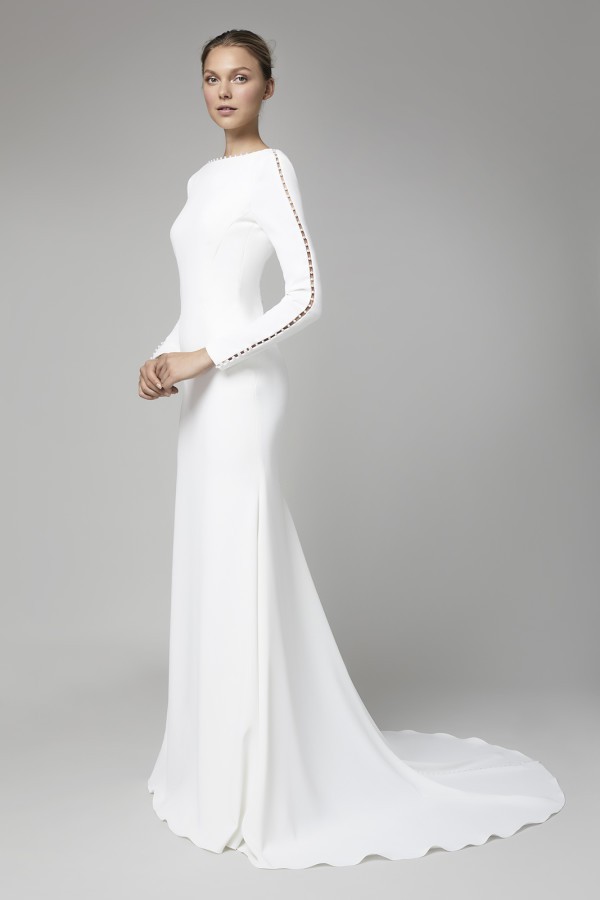 A clean, contemporary fall ready style that is a must see for sexy modern brides. This look is so chic and sophisticated and perfect for a cool weather wedding day.
21.

Feminine Lace Ballerina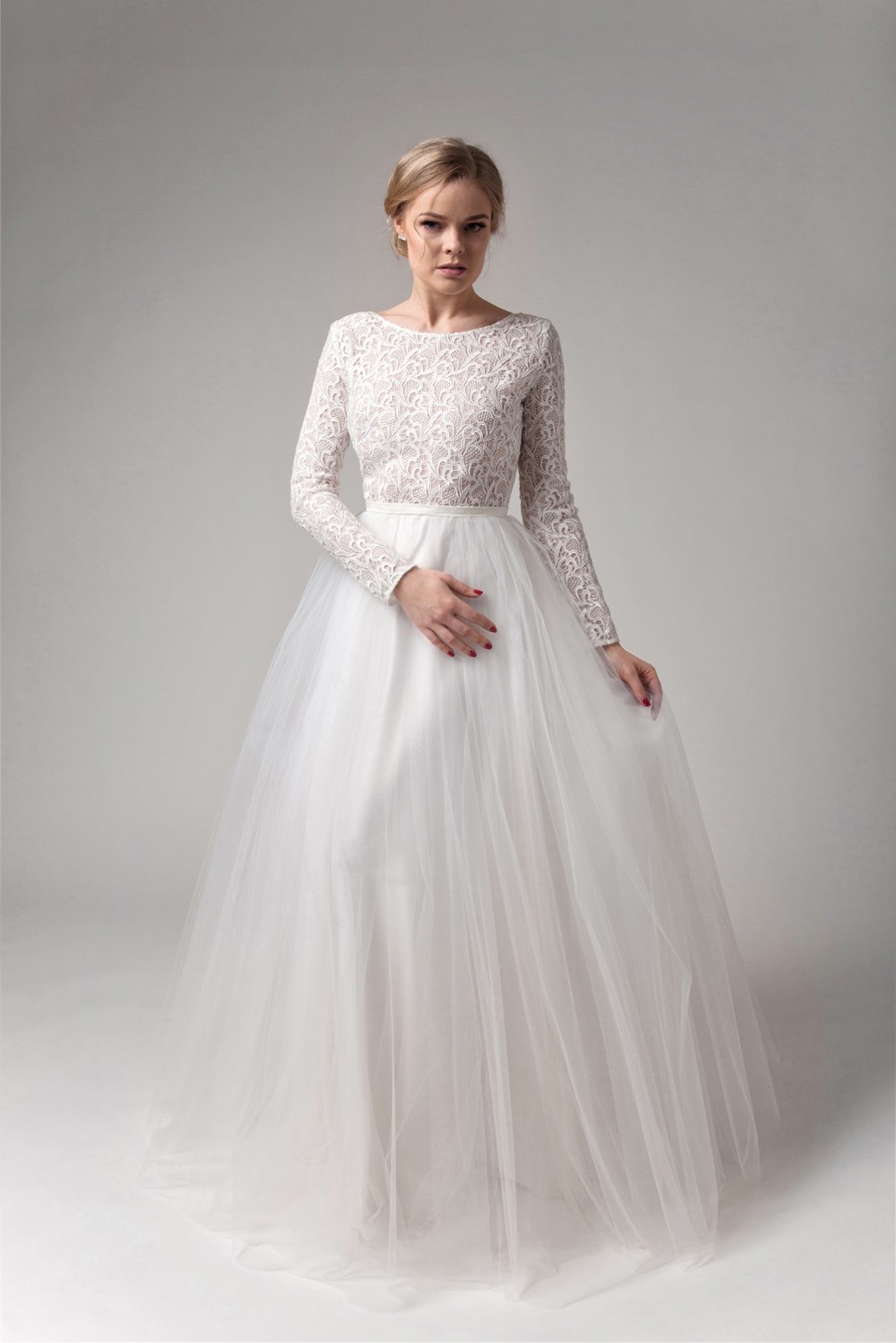 Our next fall wedding style is feminine and flirty. This reminds us of the ballerina dresses we all used to love wearing as little girls. A feminine lace bodice is paired with a layered tulle skirt for a girly look that is ready for the chilly fall months.
22.

Glam Statement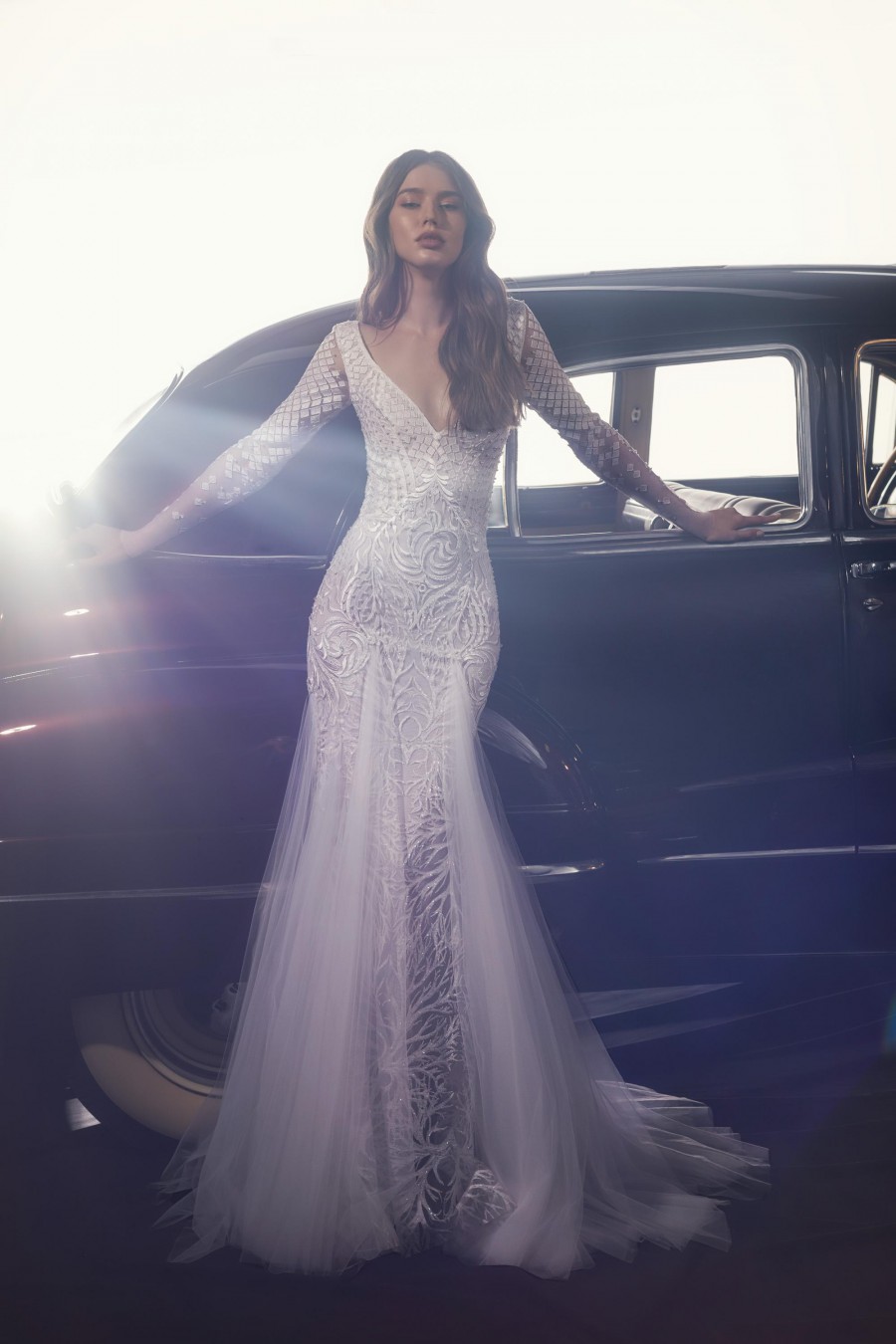 Make a big, glamorous statement on your fall wedding day with this chic gown from Dany Mizrachi. The detailing on this form fitting gown is absolutely mesmerizing. To add even more drama - the look is finished off with pieces of draped tulle that give it an almost mermaid-like effect.
23.

Embroidered Ball Gown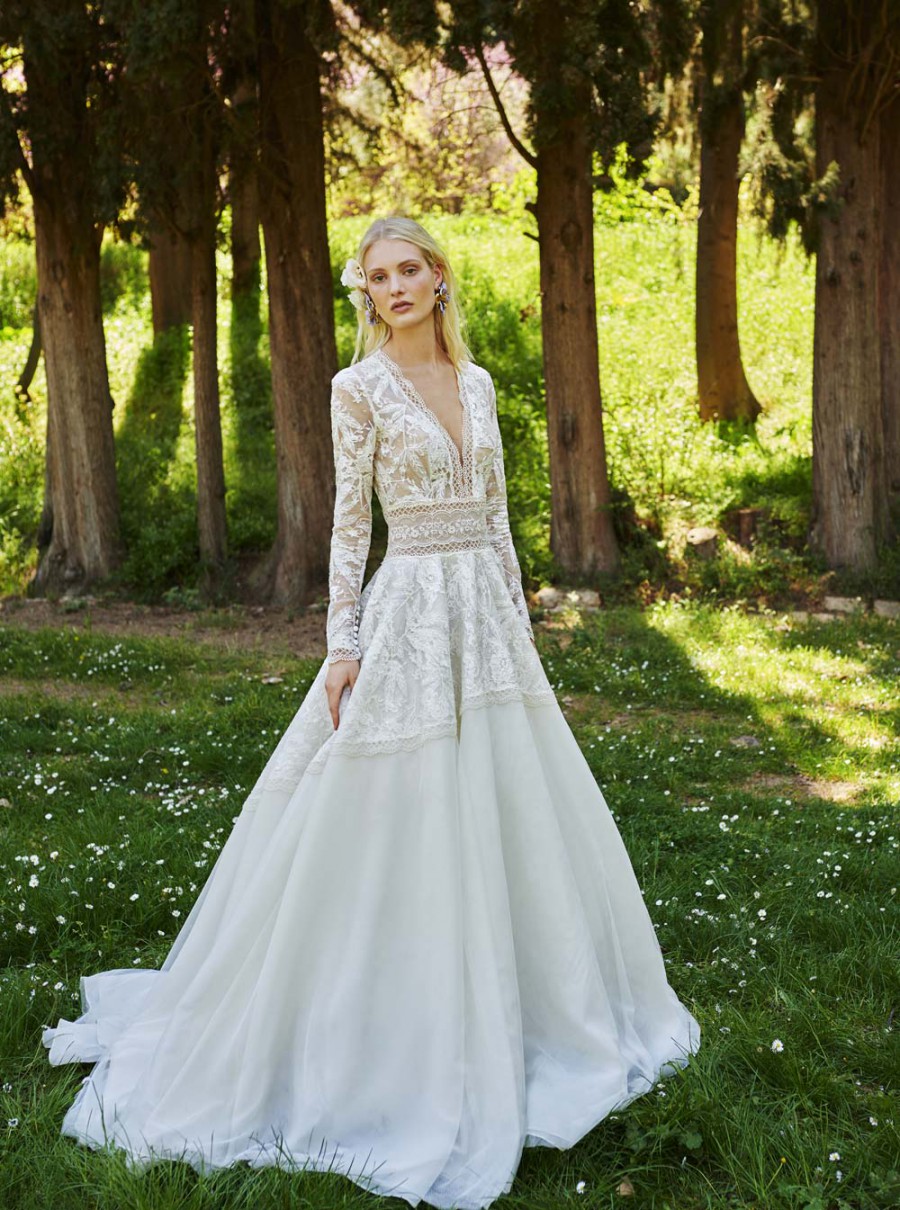 Costarellos brings us an eye catching embroidered ball gown that is just begging for an enchanting fall wedding day. The semi-sheer accenting on the bodice keep this look feeling light and feminine.
24.

Collared in Lace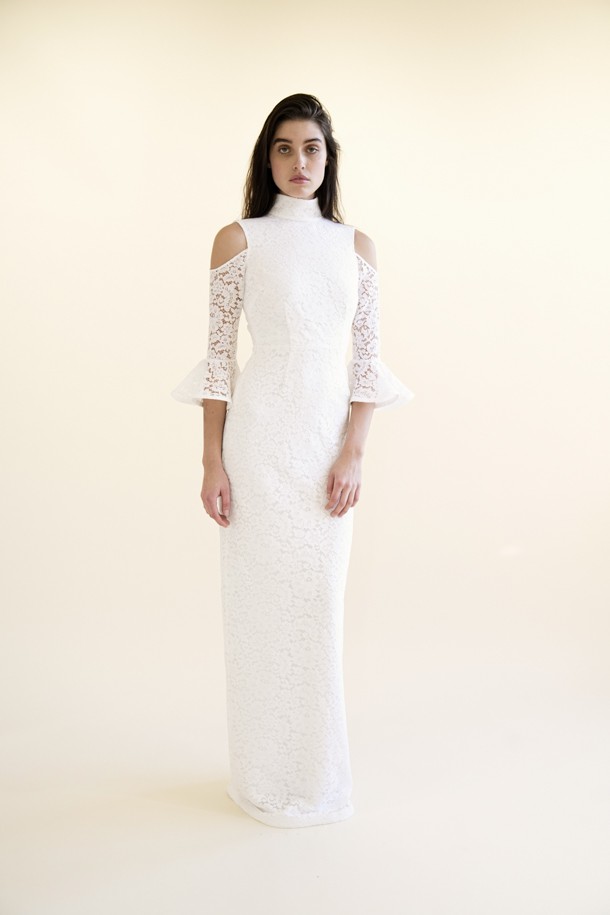 A one of a kind high neck, collared lace gown featuring exposed shoulders and baby bell sleeves. Perfect for the fall months - while still keeping things fresh and contemporary.
25.

Chic 70's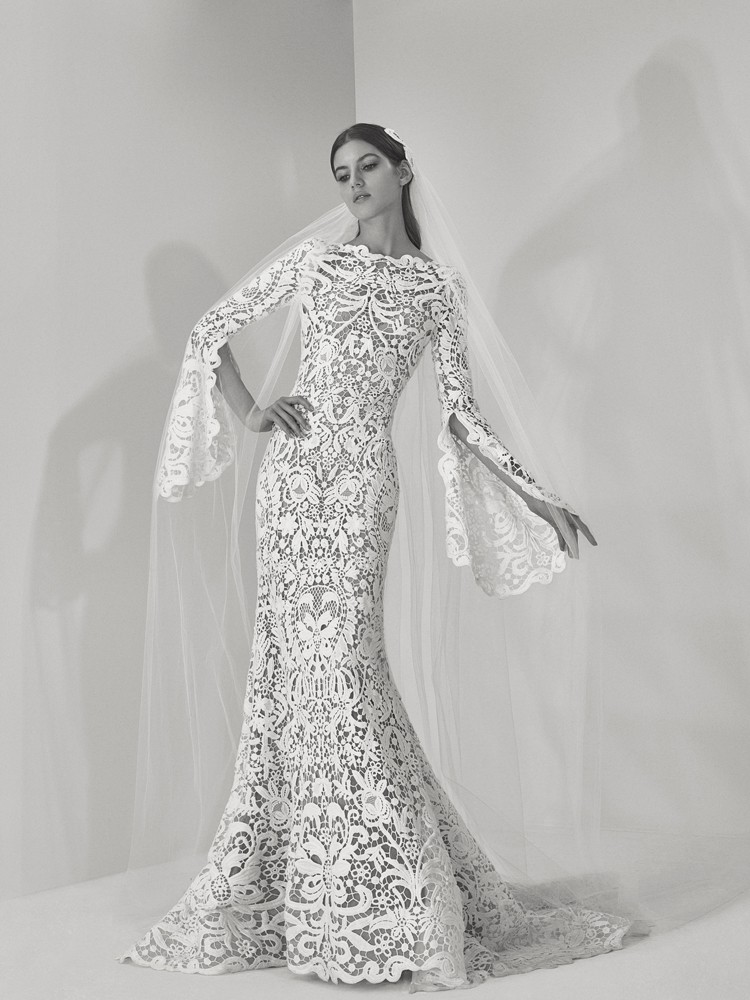 A chic, 70's inspired fall ready wedding gown that is bold and bohemian while still keeping things sophisticated and classy.

By Kathryn Schrotenboer