Ready to take off to a far away place for a romantic wedding elopement? Then we have just the list for you.
If you are a travel loving, adventure seeking bride, then a traditional home town wedding day might just not cut it for you. If you are dreaming of a romantic elopement on a far off beach, or in the historic streets of a foreign land - then you are going to need the perfect (and packable) elopement wedding dress.
Now, what exactly is an elopement dress? Honestly, it is anything you want it to be. And your style will likely depend on where in fact you are eloping. But on thing is key - you have to be able to pack it and bring it with you. Because of this, less-is-more bridal looks tend to make for the perfect elopement bridal styles. So, for all of our travel and adventure hungry brides out there, this list is for you. And even if you haven't considered eloping yet, this list is sure to have you ready to pack your bags and take off to somewhere you'd rather be...
01.

Jenny Yoo: Elopement Ready Midi Slip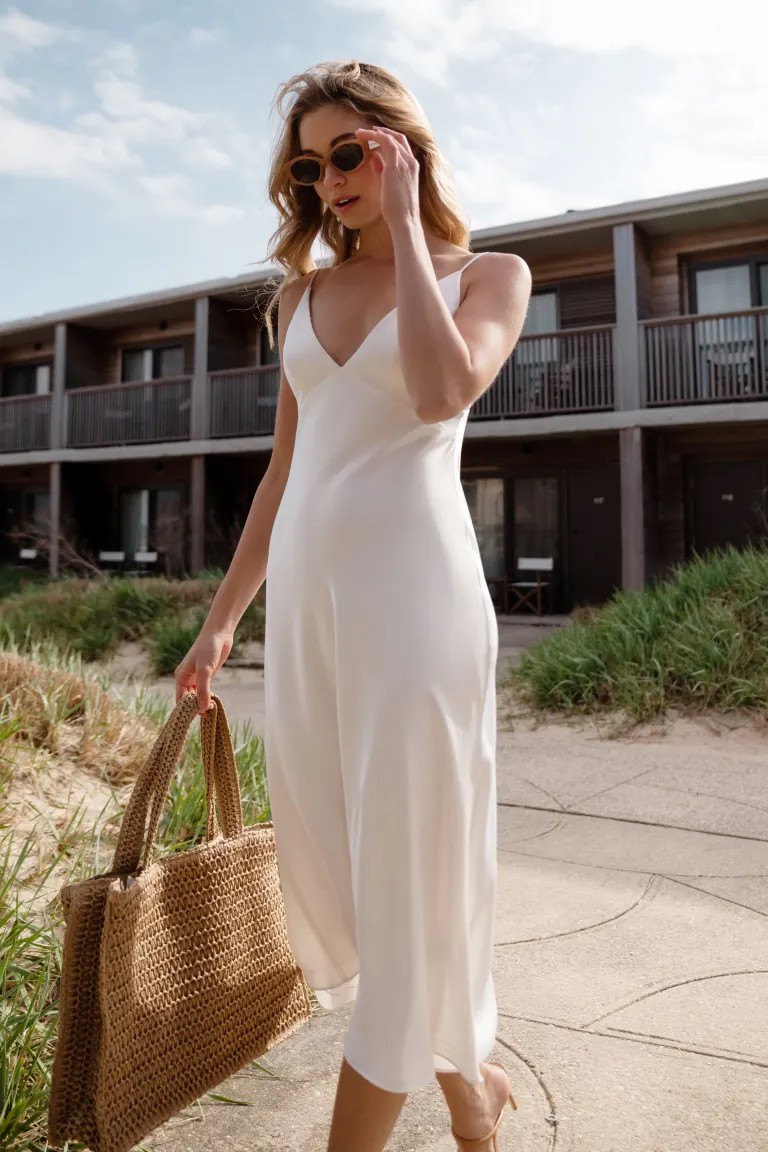 A slip dress is a classic, and obvious option when it comes to finding an elopement ready wedding look. Slip dresses are simple and minimal, which makes them easy to pack. Plus they can easily be dresses up or down. And we are just in love with this midi length slip dress from Jenny Yoo. So chic and effortless. This dress is so versatile. Plus, it can even be worn again after your wedding day!
02.

Grace Loves Lace: Free Spirit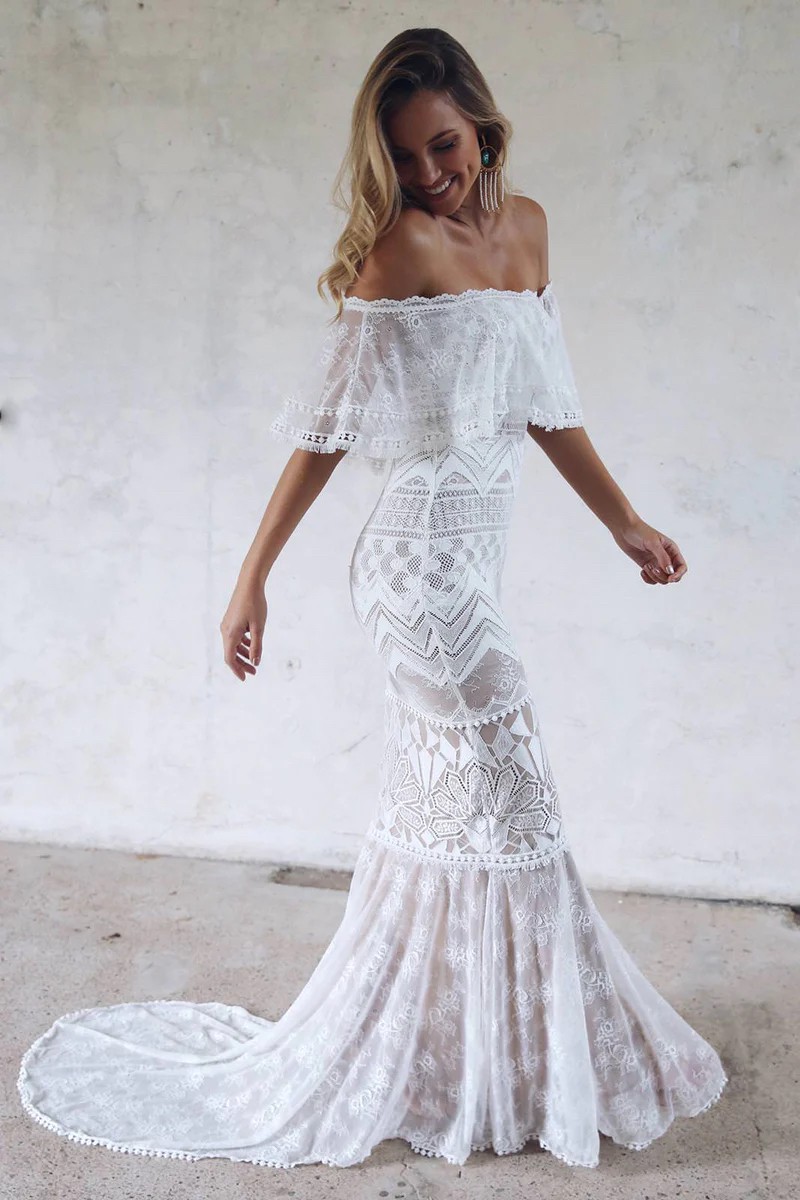 Satisfy your free-spirited, travel loving, gypsy soul with this elopement ready bridal gown from Grace Loves Lace. This confident wedding gown features lavish panels of French laces that are fused with contemporary geometric patterns and playful, exotic trim detailing. Pair all of this with the romantic off-the-shoulder neckline and this is sure to become the travel-ready boho wedding dress of your dreams.
03.

Bo and Luca: Beaded Two-Piece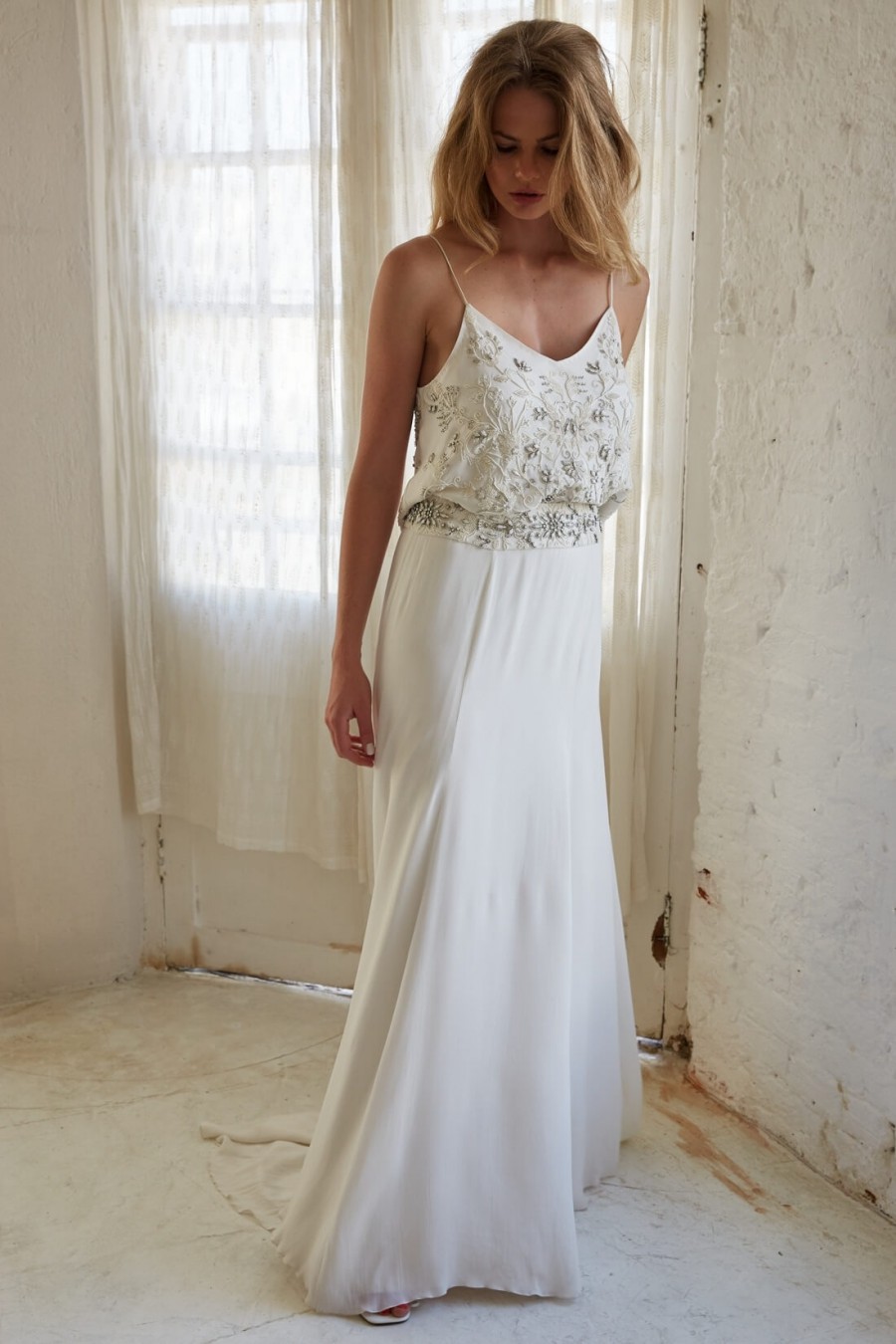 A beaded wedding gown can seem a bit intimidating at first when you are thinking about packing your bags to elope. But that does not mean you need to rule it out. This two-piece heavily beaded wedding dress is still very packable. The effortless fit and flare skirt features beading just along the waistband. And since the top is separate, you can easily pack these stunning pieces with ease and care. And an added bonus is that you can rewear this top after your wedding day for a chic date night look.
04.

Karen Willis Holmes: Ruched Silk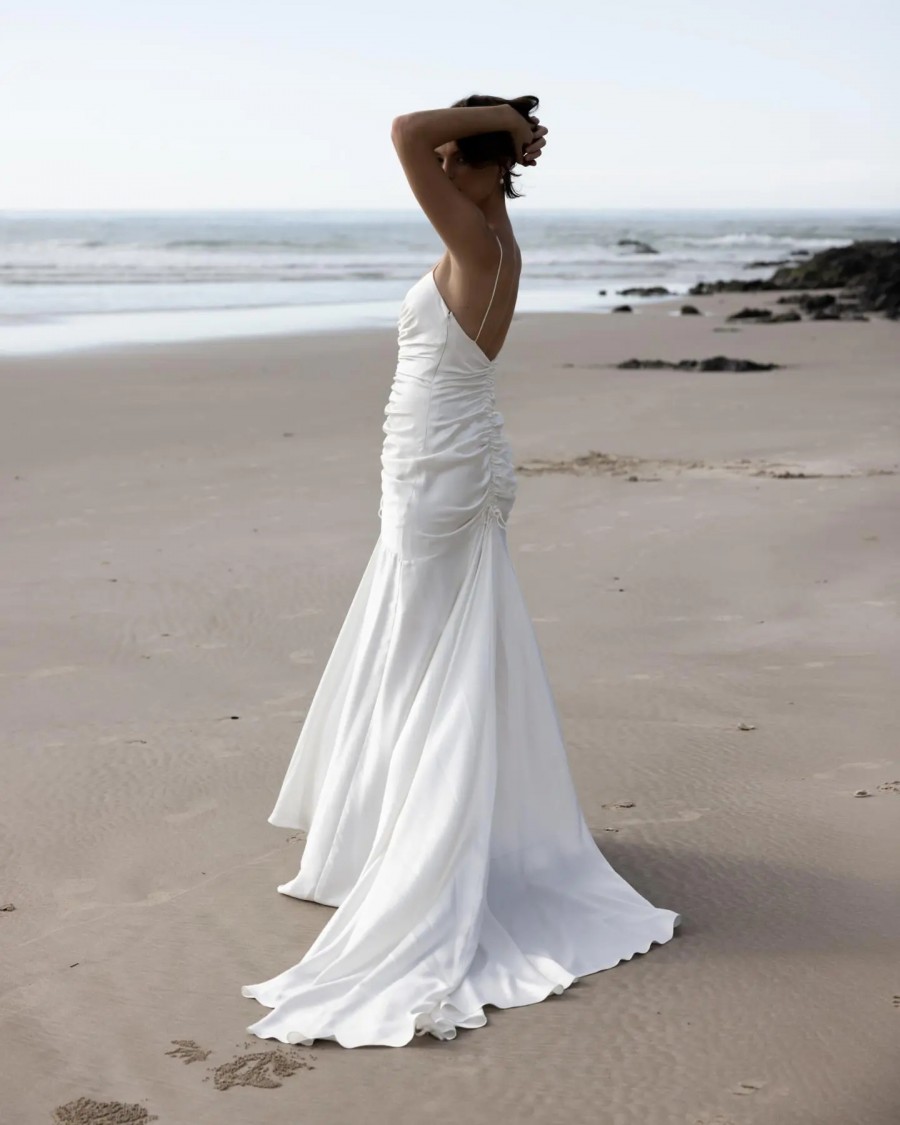 Get ready to fall head-over-heels in love with this stunning ruched silk elopement wedding dress from Karen Willis Holmes. This stunning gown is sure to make any bride feel like an absolute goddess. Featuring thin and feminine spaghetti straps, a sweetheart neckline and lavish ruching down the bodice and back of the gown.
05.

Jenny Yoo: Statement Sleeve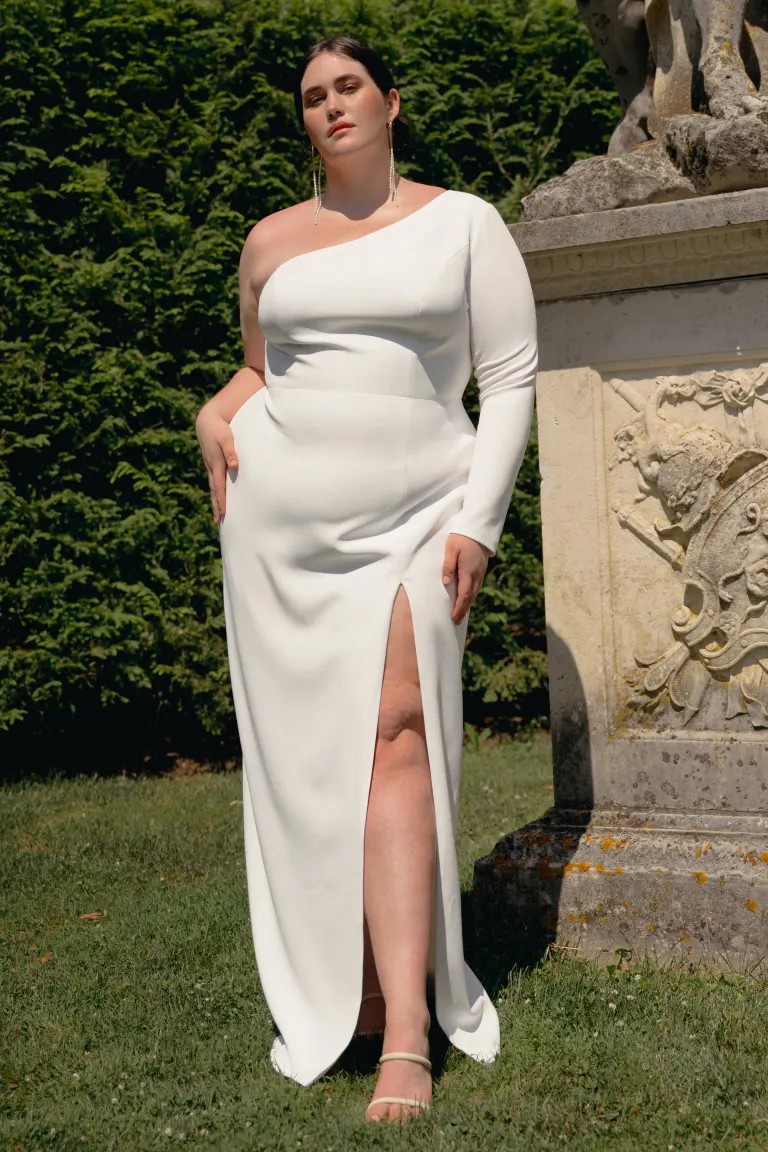 So chic and dramatic. This stretchy crepe wedding dress from Jenny Yoo is perfect to pack away as you sail off to your romantic elopement destination. With its asymmetric neckline and single full length sleeve - this gown is perfect if you are wanting to make a dramatic statement.
06.

Karen Willis Holmes: Effortless Elopement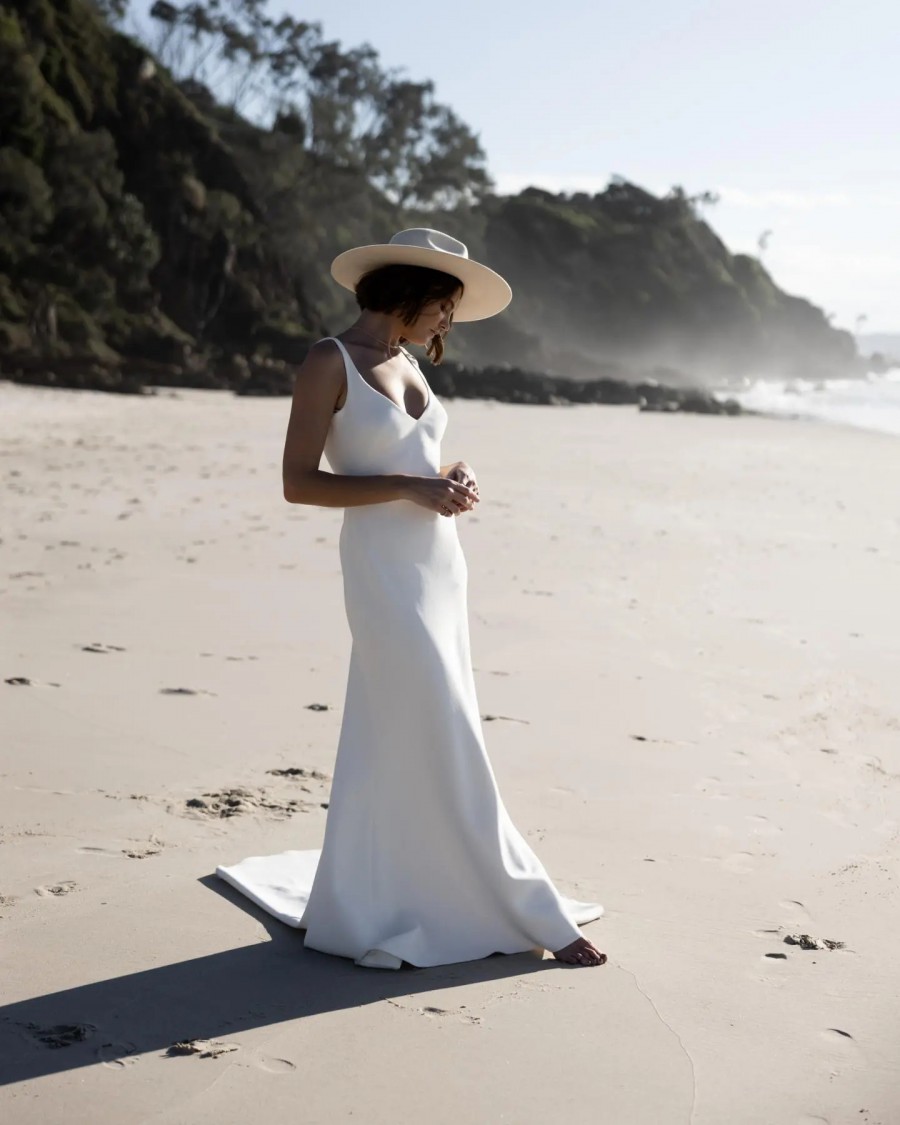 This next elopement wedding dress from Karen Willis Holmes is absolutely effortless. An elegant fit and flare style that truly embodies the less-is-more mentality. Featuring a gorgeous V-neckline, perfectly thick straps and a low back that is accentuated by the gathered train.
07.

Sachin and Babi: Romanic Satin and Lace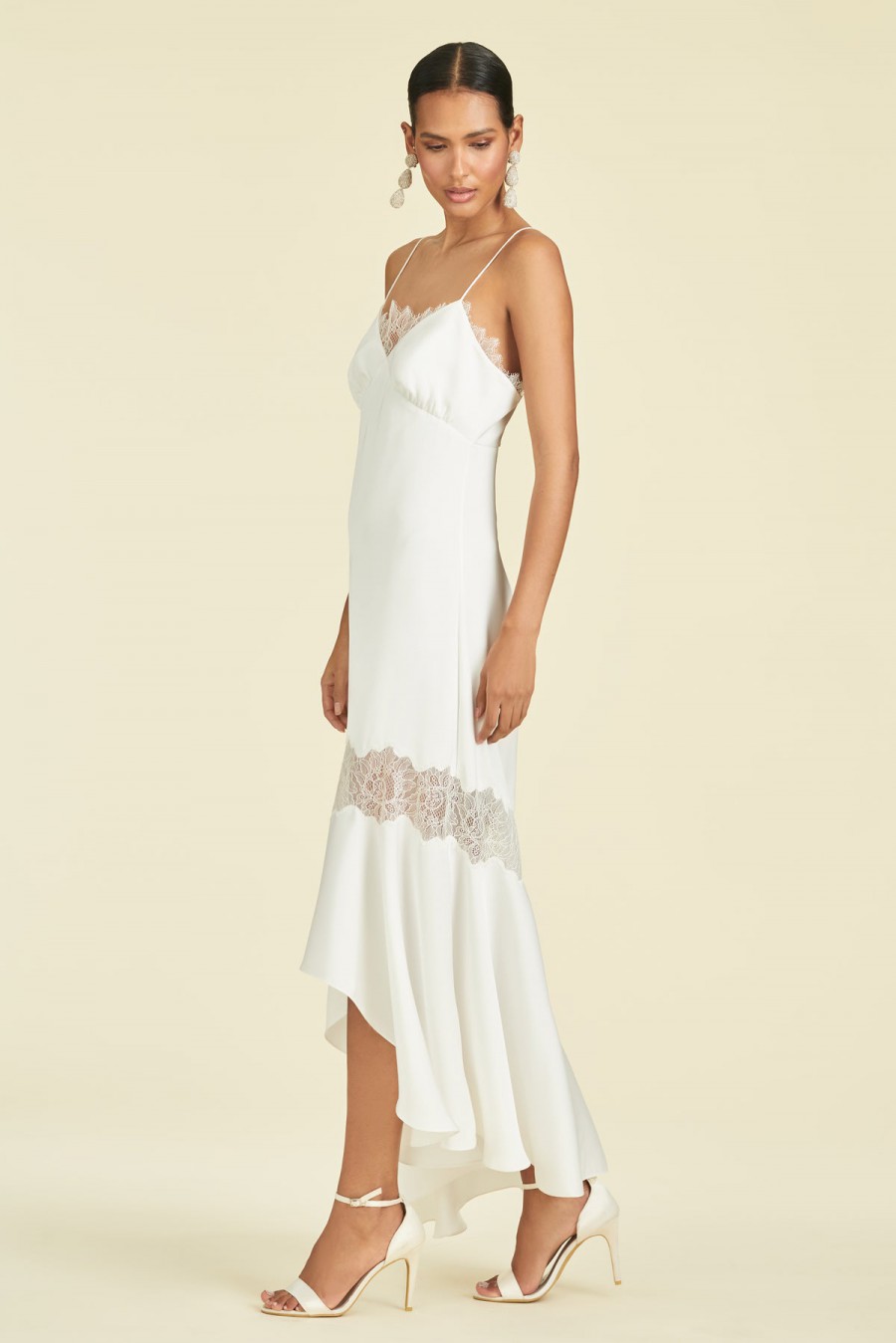 Sachin and Babi brings us this next elopement wedding dress. And it is effortlessly romantic. A simple slip style that will pack easily. This gown is made from luxe satin crepe with delicate lace detailing. Featuring a slight high-low hemline this gown is not too long, yet still has the drama of a full length gown.
08.

Amsale: Chic Single Shoulder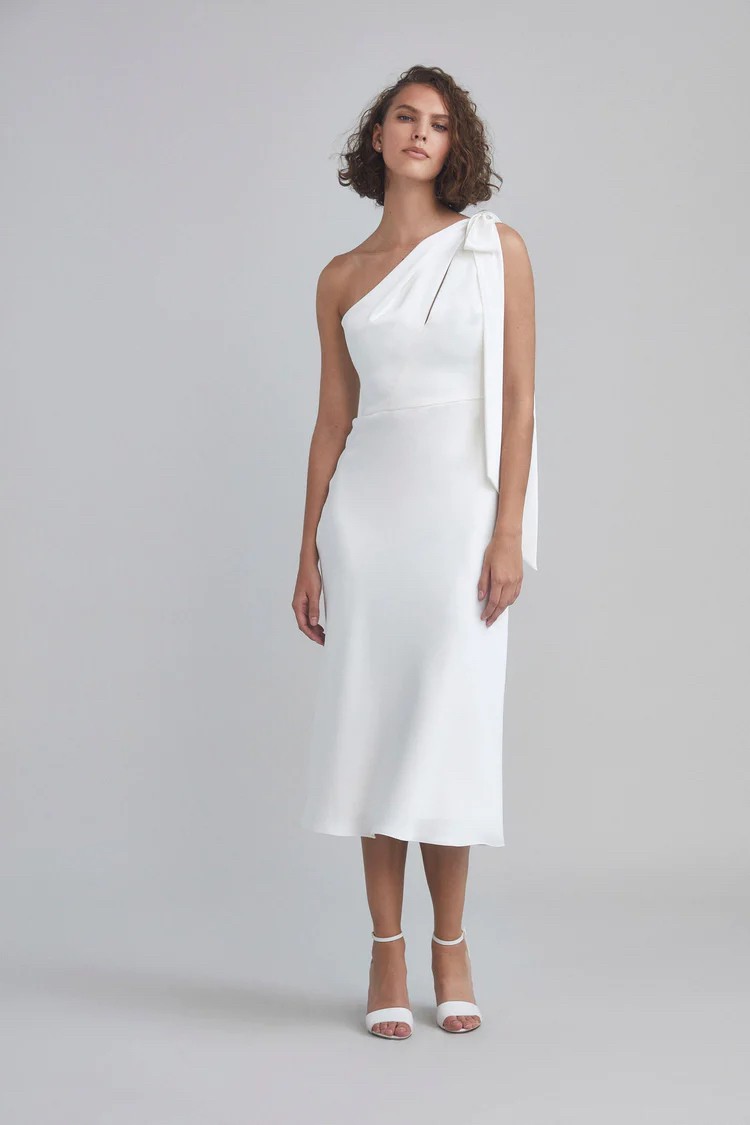 We are loving this next wedding dress from Amsale as an elopement look. So chic and elegant. And a dress like this can easily be dressed up for a non-beach front elopement ceremony.
09.

Maggie Sottero: Feminine Strapless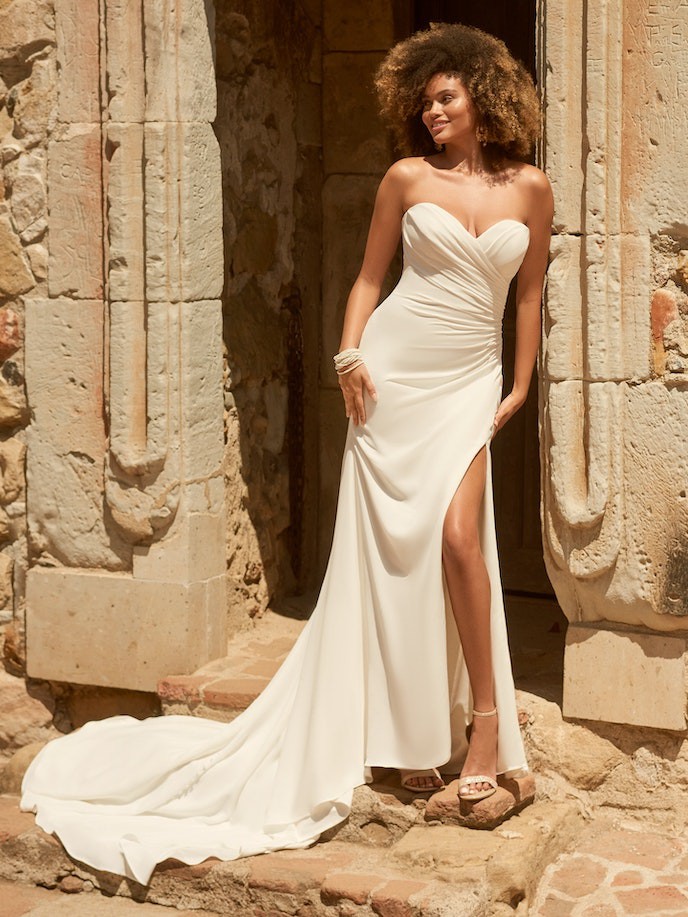 This figure-flaunting strapless wedding dress from Maggie Sottero is the perfect feminine glam elopement style. This gown is made from effortlessly lightweight fabric, which makes it perfect for those dreamy beach front destinations.
10.

Wear Your Love: Travel Ready Lace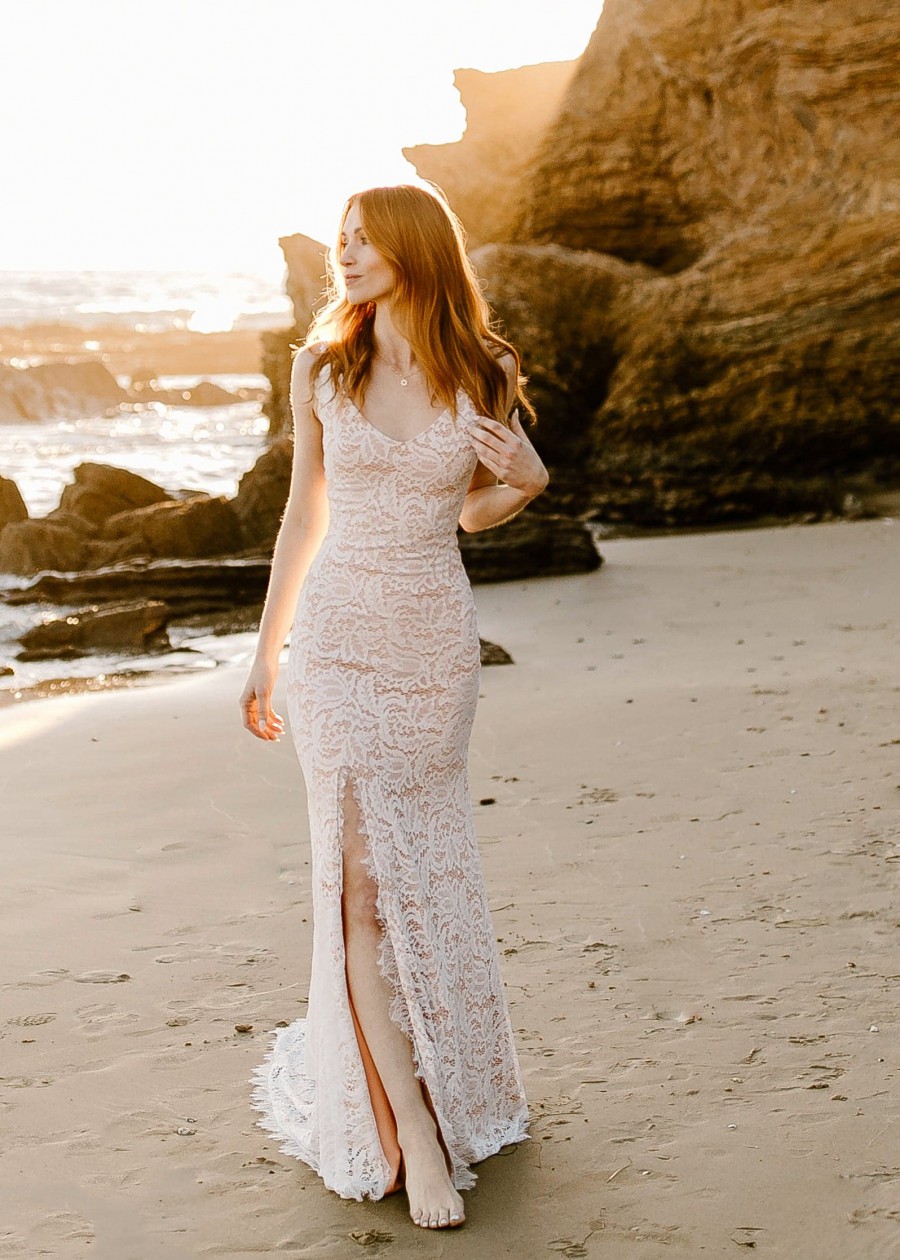 Dreaming of walking the sandy beach of a far away place in a stunning lace wedding gown? Then we have you covered with this next elopement look. This curve hugging lace gown features a flattering V-neckline, slit skirt and delicate eyelash lace detailing around the hem and train, which is just long enough to add some drama, without making this gown impossible to pack! And did we mention that gorgeous color underlay color? We absolutely love it!
11.

Karen Willis Holmes: Classic and Confident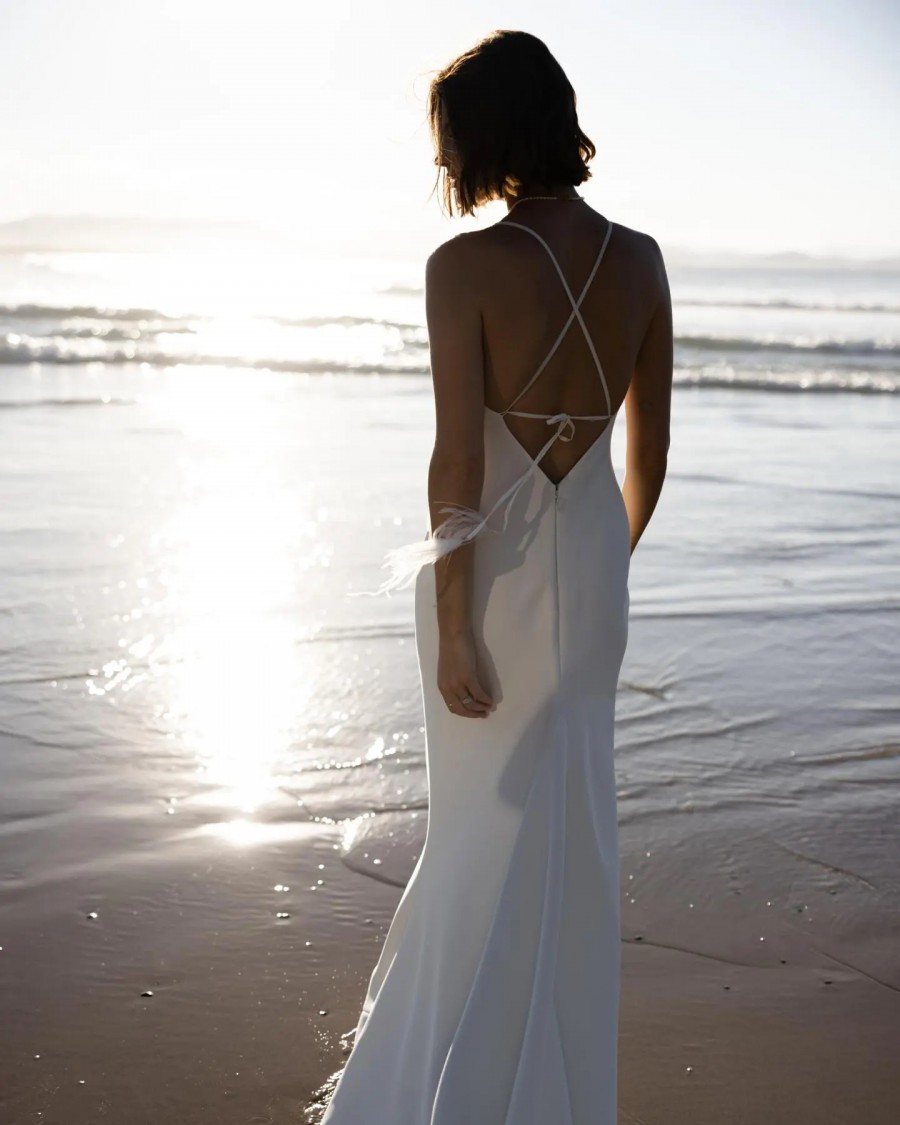 Next up we have a slip wedding dress from Karen Willis Holmes. These timeless, no-nonsense bridal looks are no-brainers when it come to finding your perfect elopement wedding day look. And this effortless crepe slip is all about classic styling and confident details. Featuring the most gorgeous back with delicate strap detailing and don't forget about those playful feather accents.
12.

V. Chapman: Chic Ruffled Midi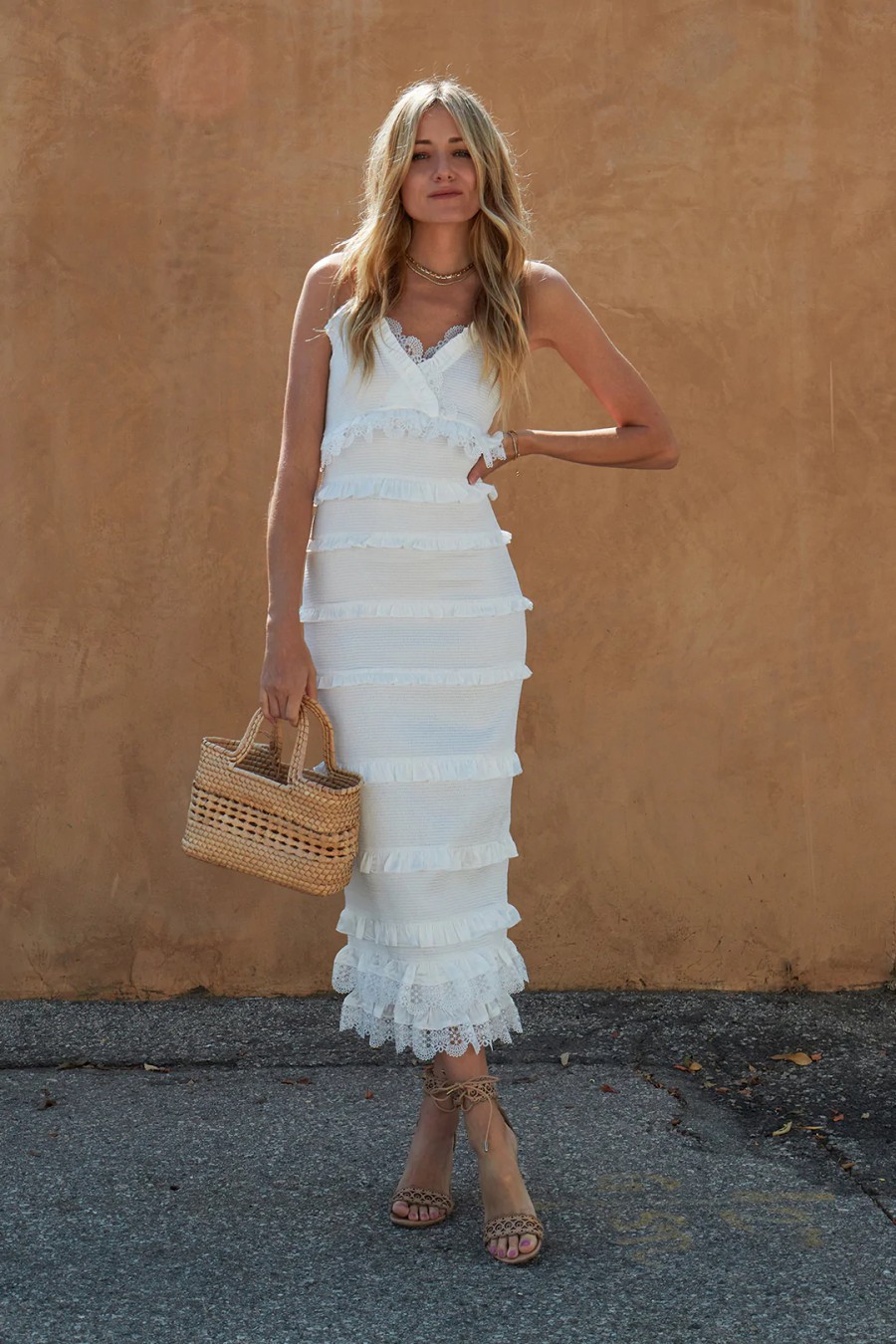 We are just in love with this chic ruffled midi length elopement wedding dress from V. Chapman. A midi length dress is the perfect compromise when it comes to a packable elopement look. It feels a bit more formal than a mini dress, but without all of the fabric of a full length gown. This playful style is ready for warm get-away, and it could be a look that you wear again and again long after your elopement wedding day is over.
13.

Bo and Luca: Boho Goddess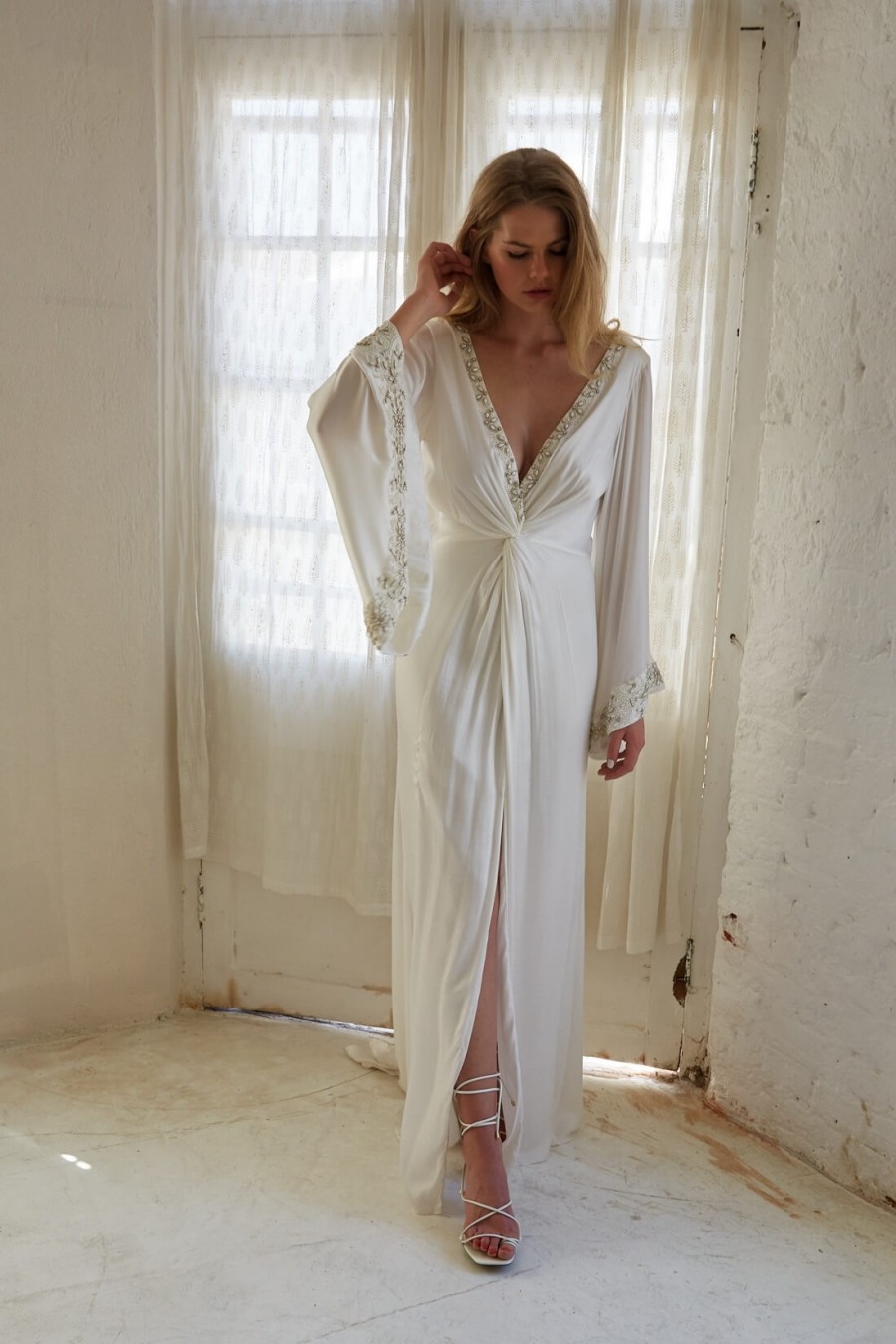 Made for the bohemian elopement wedding day of your dreams. We are just loving the goddess vibes that we are getting from this next wedding dress from Bo and Luca. This gown shows that just because you are traveling for your wedding day, that doesn't mean you have to opt for a sleeveless wedding gown. This gown is just as packable, yet it also packs a dramatic punch with its semi-sheer trumpet sleeves and delicately hand-beaded accenting.
14.

Grace Loves Lace: Statement Silk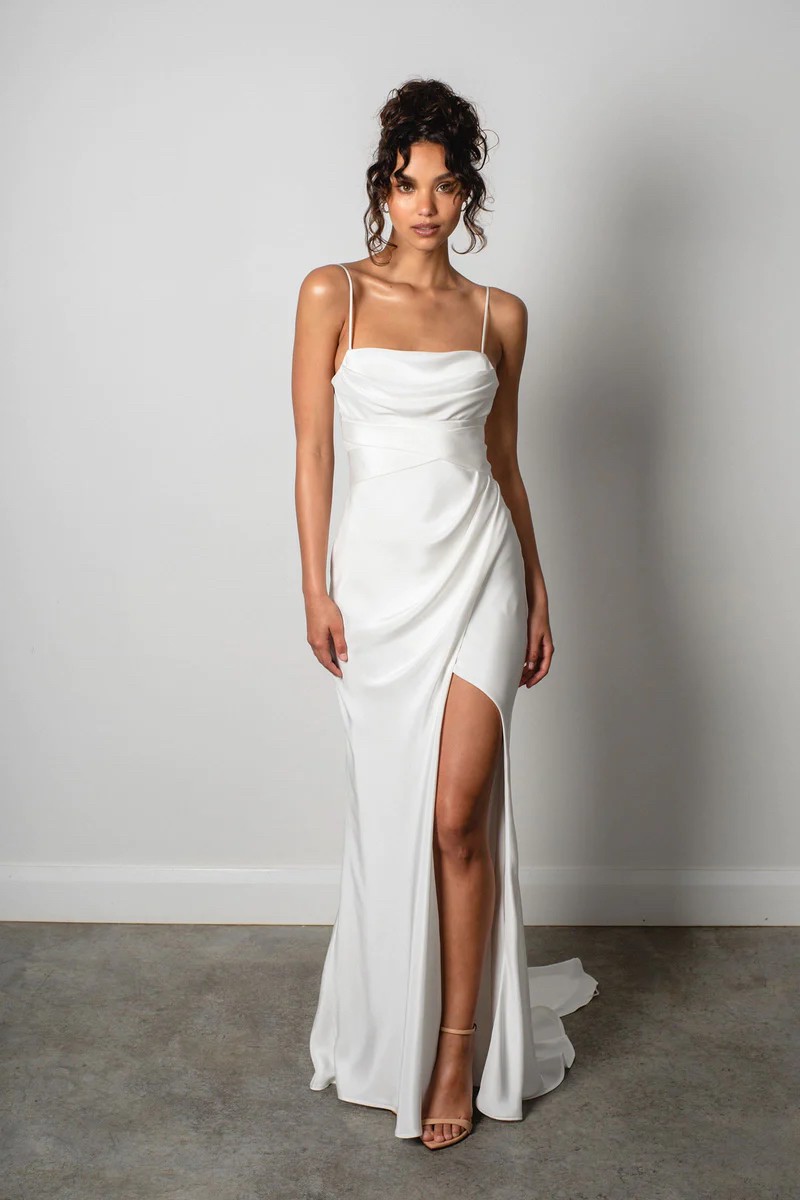 Just because you are eloping in a far away land, doesn't mean that you can't make a big statement with your wedding day style. This sultry silk gown from Grace Loves Lace features a straight neckline with gathered bust and wrapped bodice details that tie in double bows at the back of the gown. And we just love how the high front slit allows you to show off those killer shoes you have. Wear barefoot on a beach somewhere. Or dress this look up with ultra glam details.
15.

Show Me Your Mumu: Feminine Midi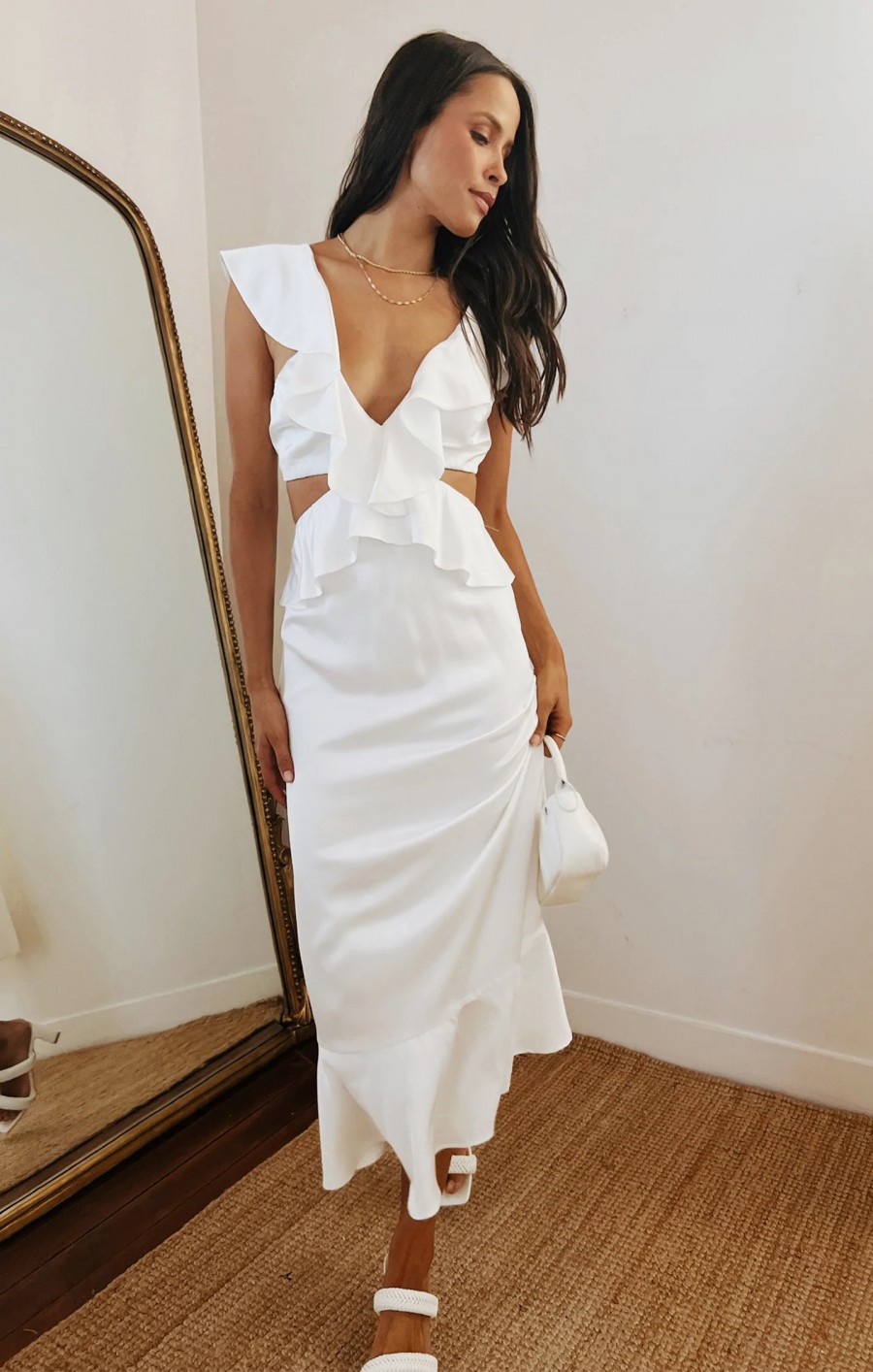 Playfully feminine and absolustly irresistible. This midi length elopement wedding dress from Show Me Your Mumu, is just too adorable to pass up. A perfect more casual elopement day look which features a crossed ruffled bodice with side cutouts and a midi length skirt with a ruffled hem.
16.

Karen Willis Holmes: Easygoing Strapless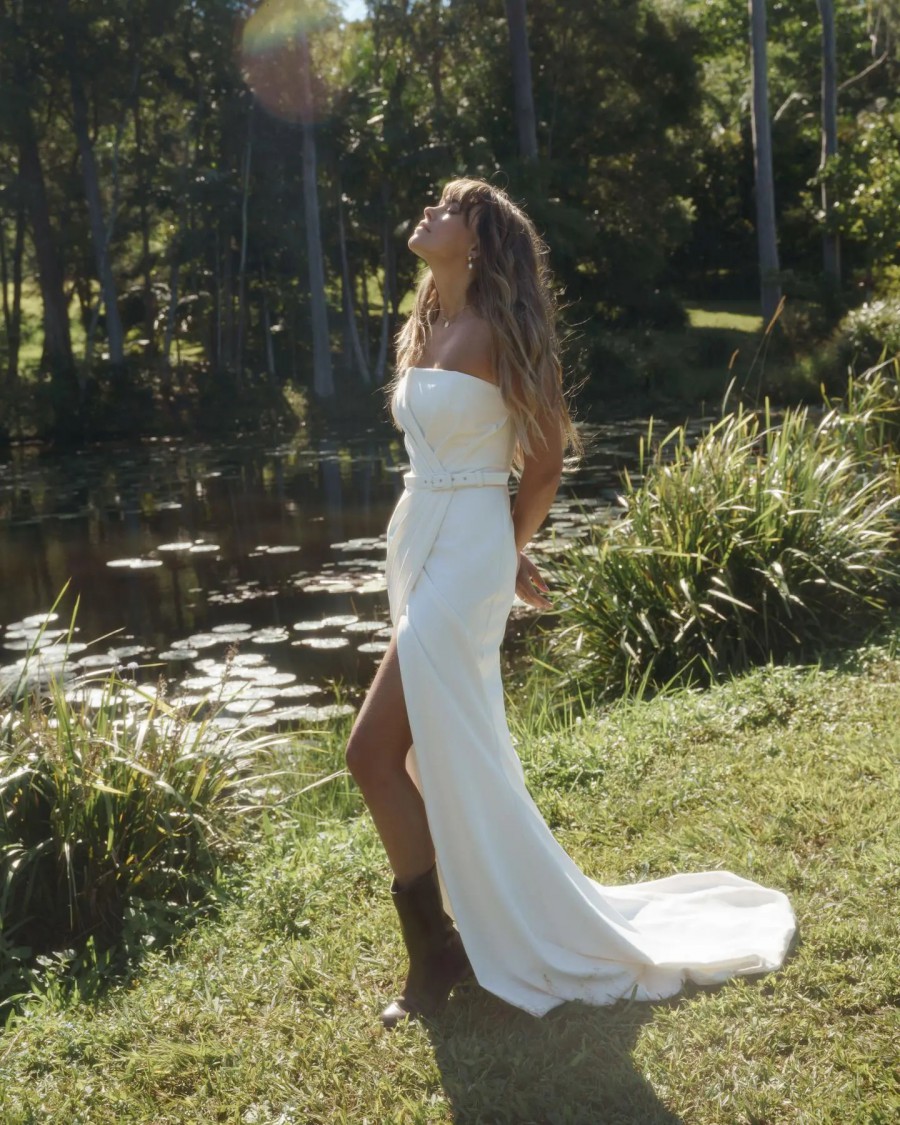 We are loving the casual, yet chic style of this next elopement ready wedding dress. This effortlessly simple gown features a classic strapless straight neckline and a flattering asymmetrical wrapped silhouette that creates an alluring high front slit. And we are just loving this gown finished off with the matching white belt.
17.

Jenny Yoo: Effortless and Elegant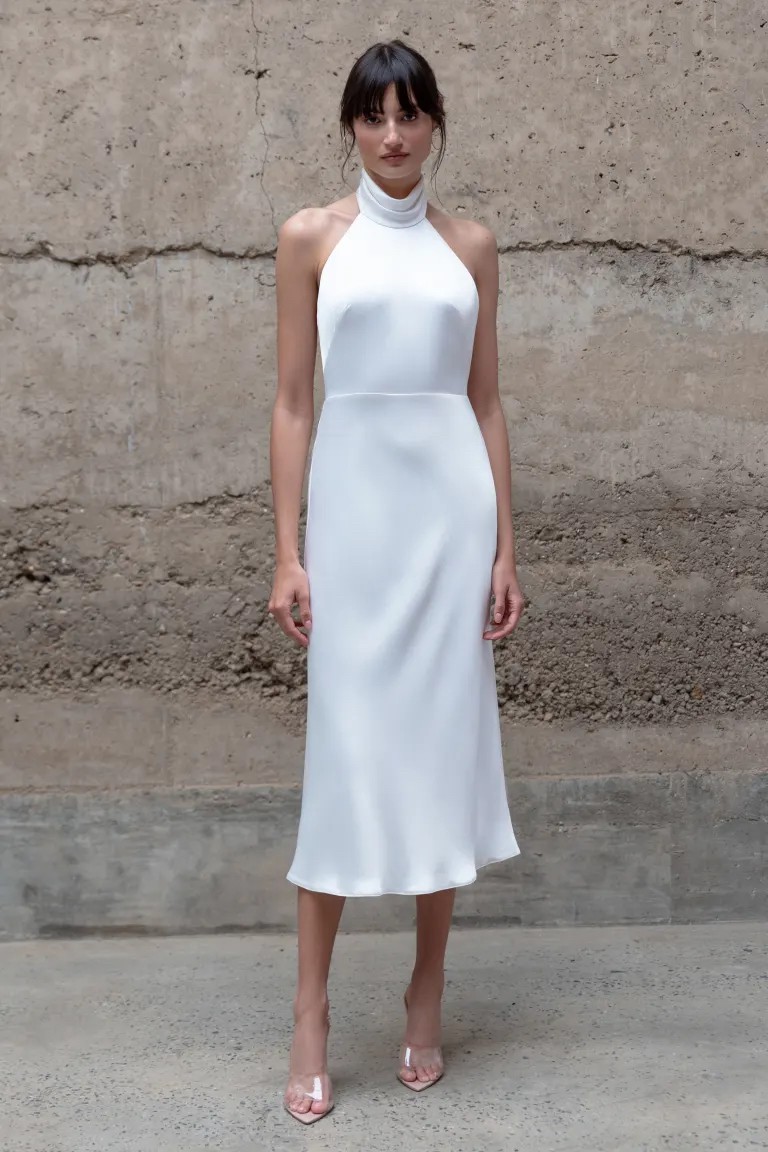 If you are looking for an ultra elegant, yet still minimal elopement wedding dress, then this next one from Jenny Yoo is for you. A clean, modern bridal gown made from the most luxe satin fabric, which features a chic draped halter neckline, open back and trending midi length cut.
18.

Sachin and Babi: Goddess Vibes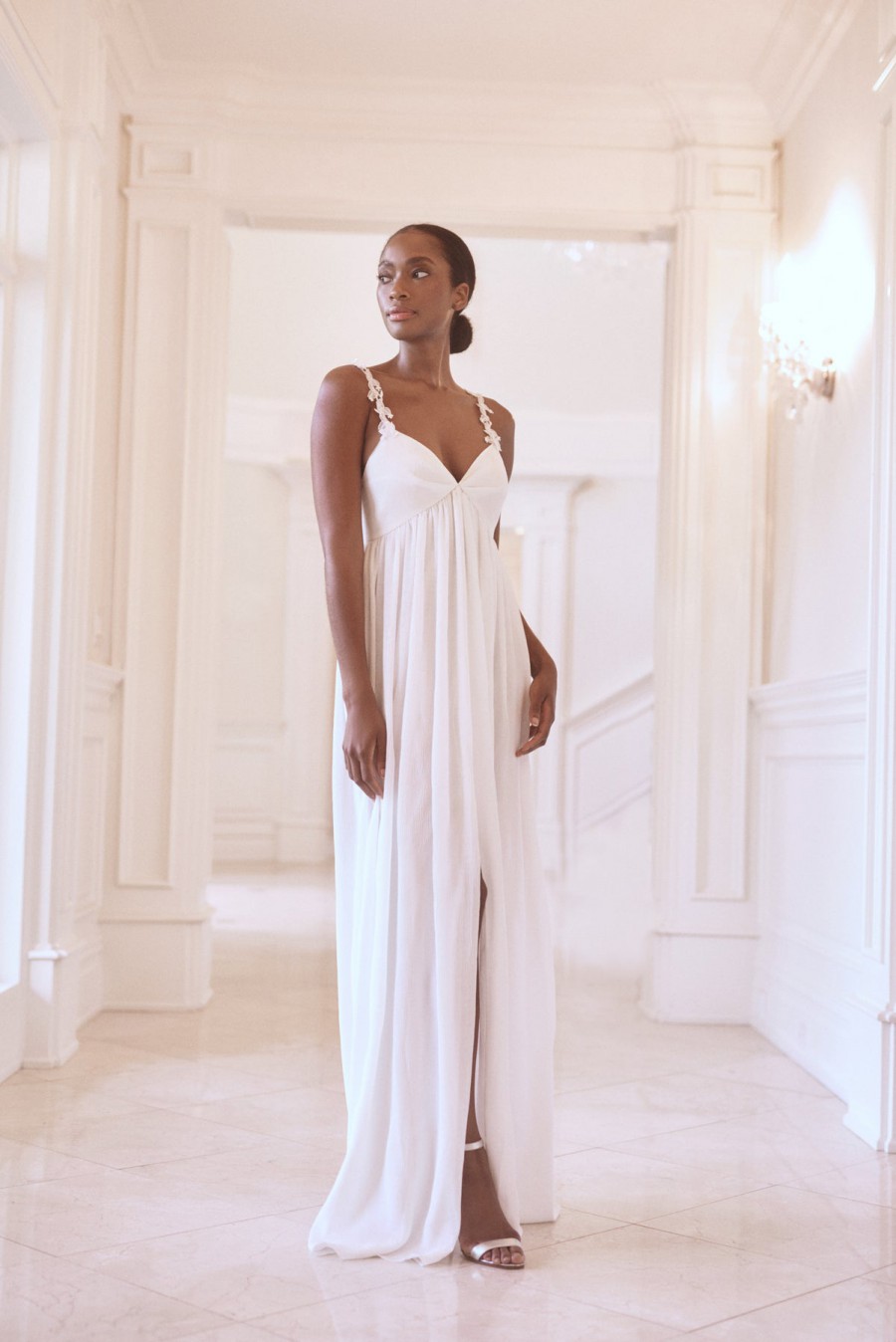 We are getting some major goddess vibes from this next elopement bridal gown. This delicate empire waist maxi dress is made from effortless textured chiffon fabric and has delicate embroidered floral straps that we just love. This gown would be stunning for a romantic beach front sunset elopement.
19.

Sarah Seven: Chic Elopement Mini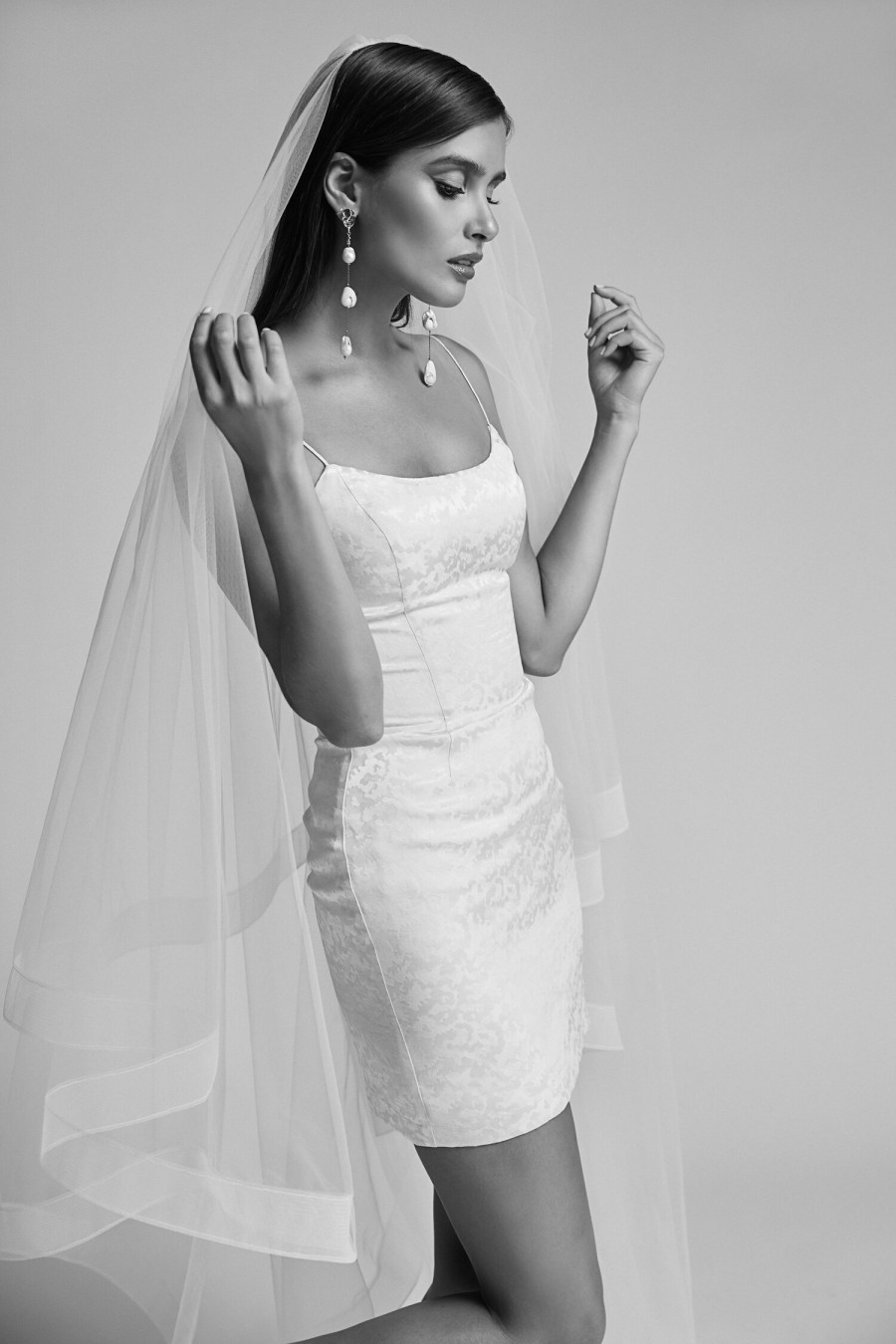 A bridal mini is always a good option when it comes to finding a packable elopement style. Less dress means easier to pack. Like this chic leopard print stretch stain mini from Sarah Seven. If you are looking to dress up a bridal mini for your ceremony, or add some more drama to it - pair it with a full length veil.
20.

Savannah Miller: Timeless Elegance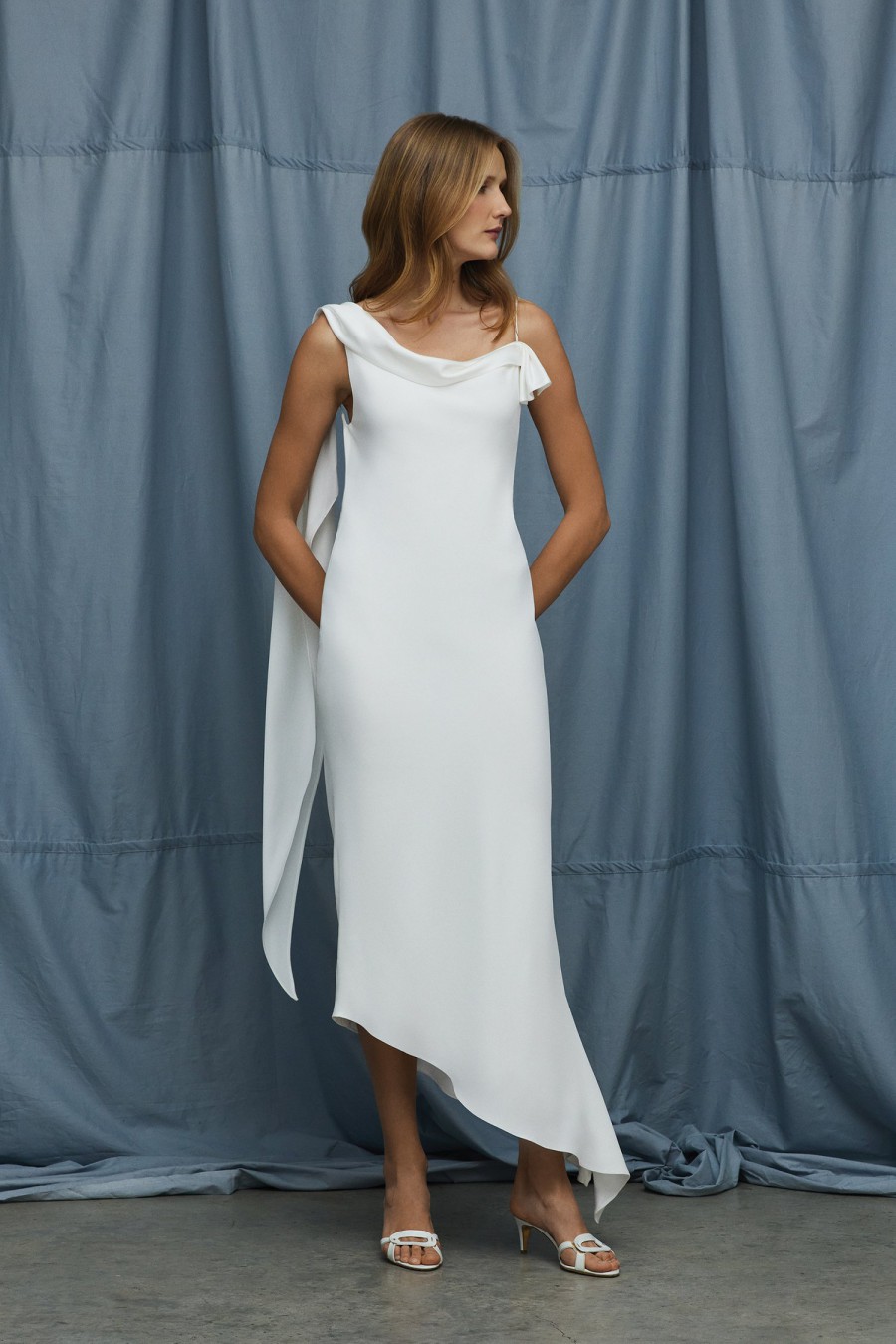 Timeless and elegant. This Italian satin midi-length gown is perfect for your romantic elopement. This gown features an elegantly draped cowl sash that sweeps over the shoulder to accent the open back silhouette. This gown has a timeless elegance to it and would be so versatile in many elopement settings.
21.

Macgraw: Cotton Crochet Lace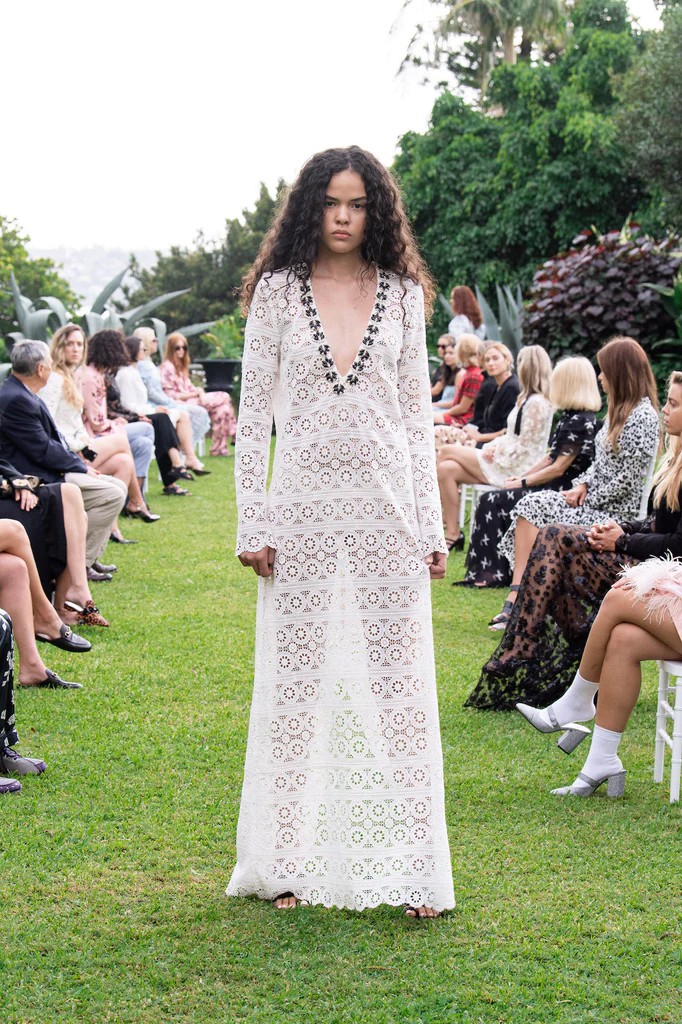 The cotton crochet lace style of this next elopement wedding gown from Macgraw has a very beach-ready feel to it. A no-nonsense style that is ready to hit the sand for your romantic beach front wedding day in a far away land.
22.

Karen Willis Holmes: Chic Pantsuit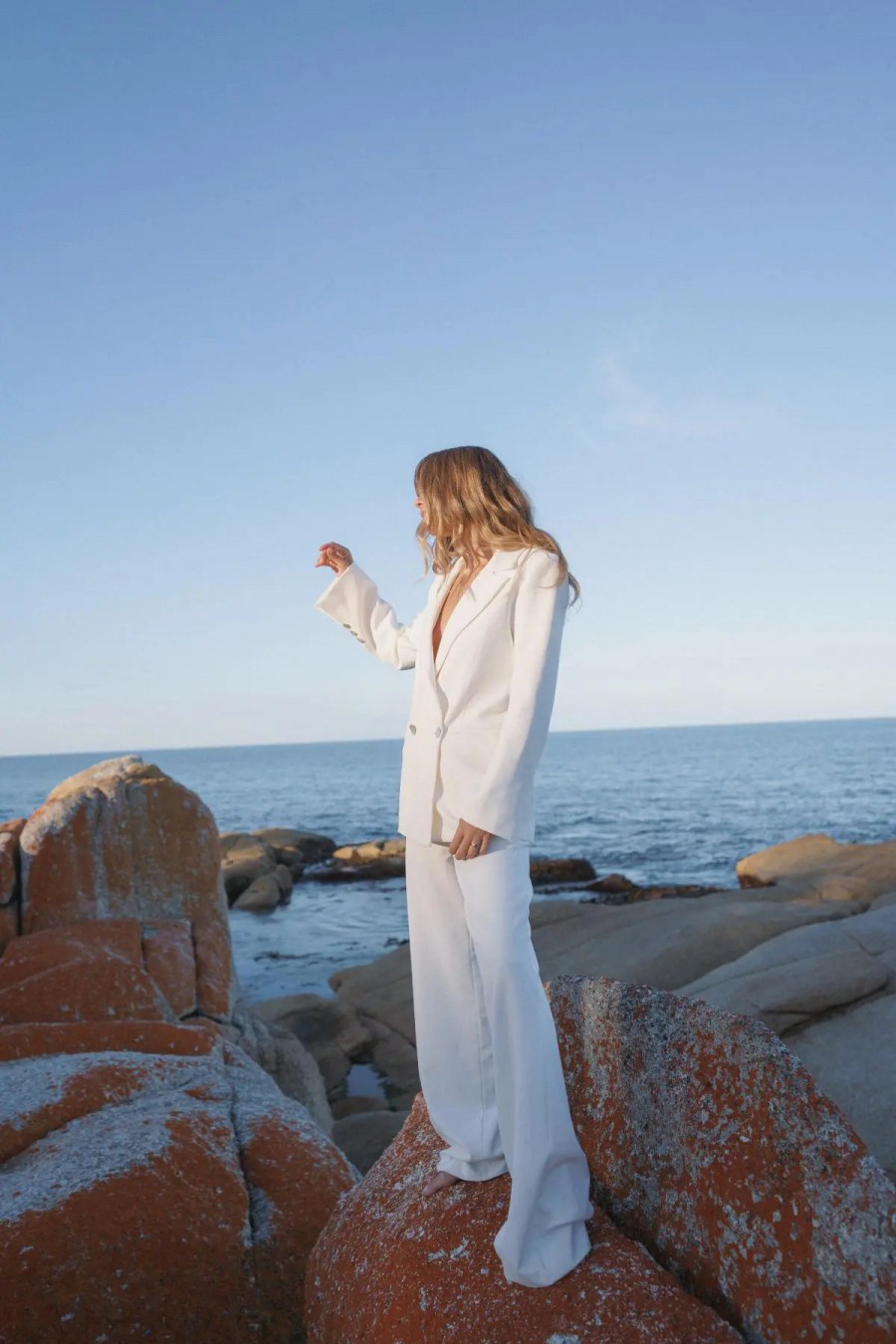 If you are looking for something a bit less traditional, yet just as easily packable - then we are loving the idea of a chic bridal pantsuit for your elopement day look. Easy to travel with, and so versatile. Bridal pantsuits are having a big moment right now, and depending on the destination of your elopement ceremony, it might be just the thing for a modern and unique bridal look.

By Kathryn Schrotenboer