We know our edgy, contemporary brides out there are craving something MORE when it comes to their wedding day style... They want something daring, unique and utterly dramatic.
So, we have gathered a list of our top trending styles that our edgy, contemporary brides are sure to love. Looks that are pushing the boundaries of wedding fashion, and breaking all the rules. So the real question is...who is brave enough to pull off these unconventional bridal styles?
01.

Modern Chevron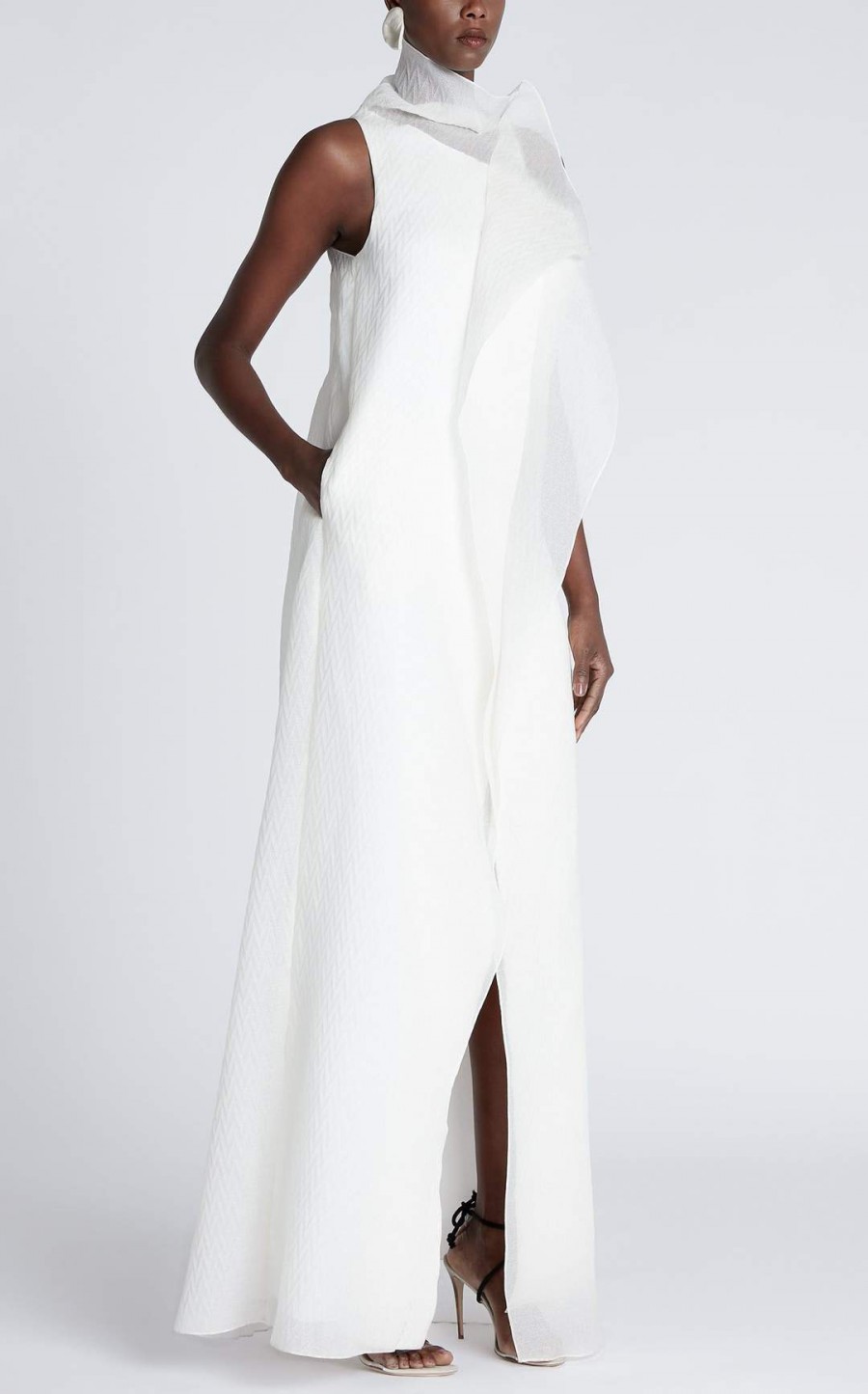 Roland Mouret brings us our first edgy contemporary bridal style with this ultra modern architectural gown. This gown speaks for itself when it comes to being edgy and unique. But one of the subtle features that we absolutely love is the chevron patterned organza fabric. A subtle detail that is so chic.
02.

Asymmetric Tulle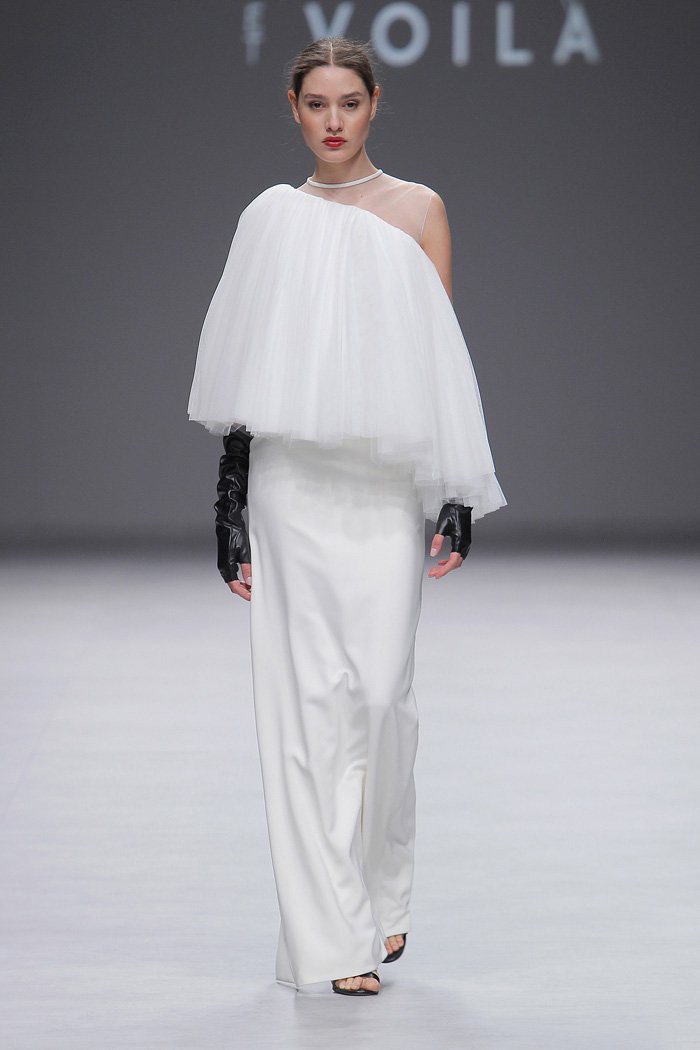 Sophie et Voila brings the contemporary drama with this next bridal style. A uniquely designed asymmetric tulle bodice with subtle high illusion neckline is paired with a sleek column skirt. This look is so surprising and to add even more drama, we love it paired with black shoes and black leather gloves. What edgy bride can resist this style?
03.

Dramatic Volume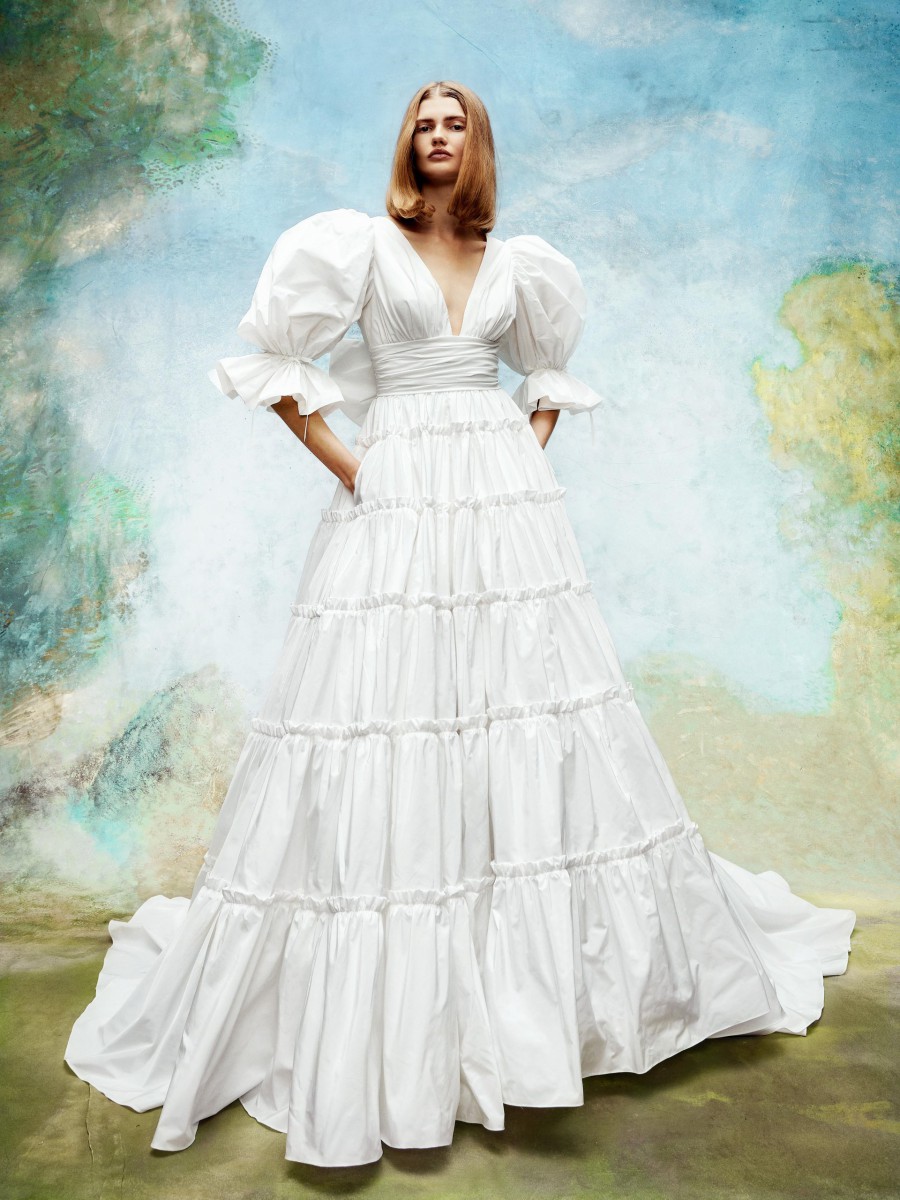 This dramatic taffeta gown from Viktor Rolf is constructed in a petticoat style to create a completely unique wedding gown. This look is all about volume and drama.
04.

Two-Piece Drama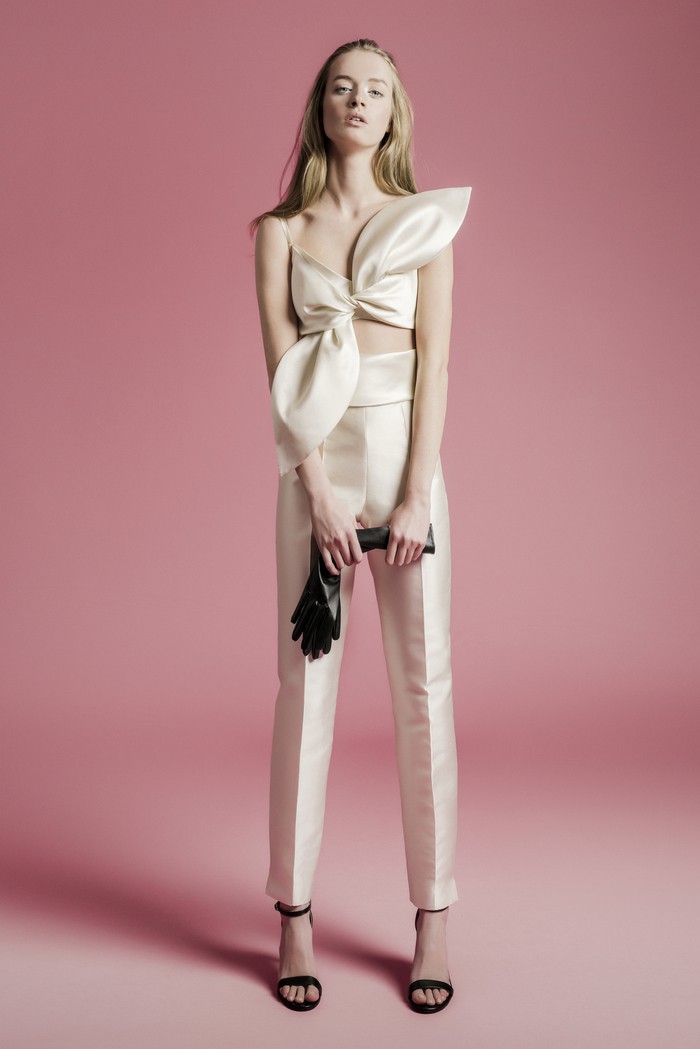 This edgy, and trending two piece bridal style is sure to have our contemporary loving brides on the edge of their seats. This bridal look may not be grandmother approved, but it is sure to turn heads on your big day!
05.

Menswear Reimagined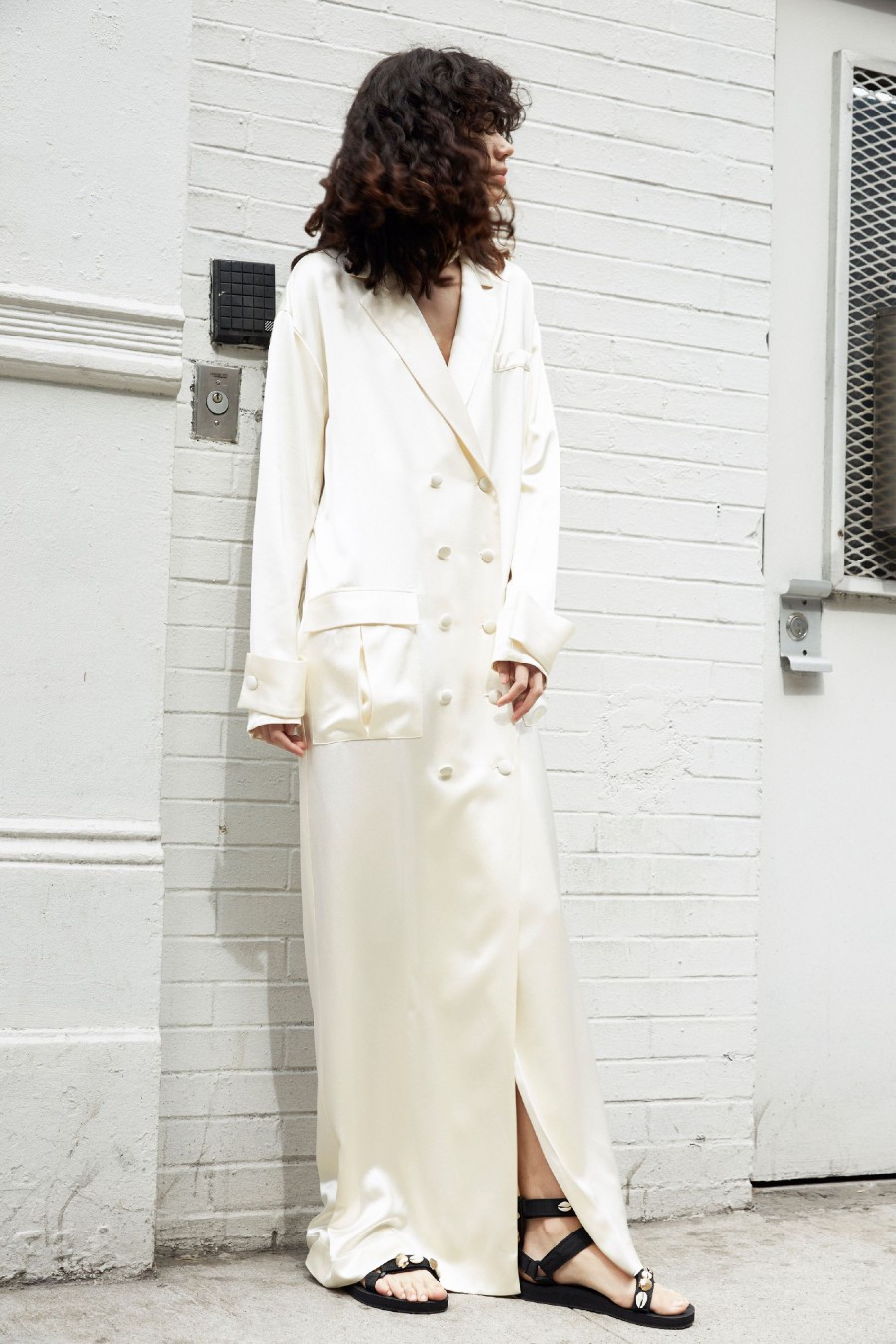 Next up we have a menswear inspired bridal look that is nothing shy of edgy. This ultra modern look pushes the boundaries of what we believe bridal fashion should look like. And it begins to blur the lines between feminine and masculine. This is a statement making bridal style.
06.

High Neck Fringed Crop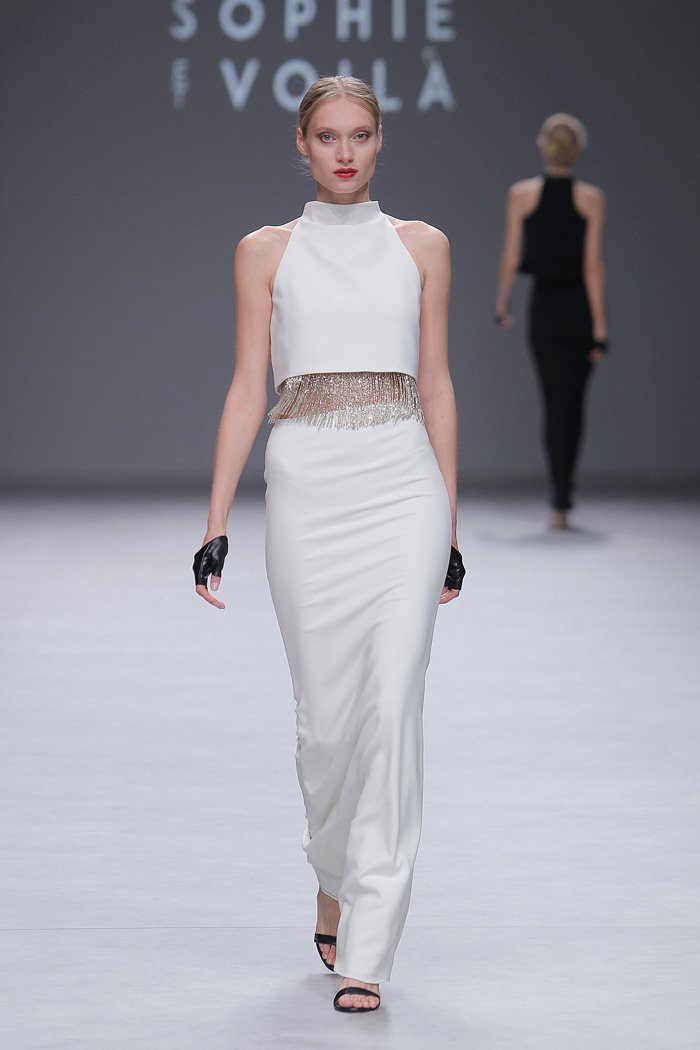 Two piece crop tops are so on trend right now. But this look from Sophie et Voila has a more contemporary edgy vibe to it. With a very couture high neckline and glitter fringe accenting, this look is absolutely stunning.
07.

Textured Tulle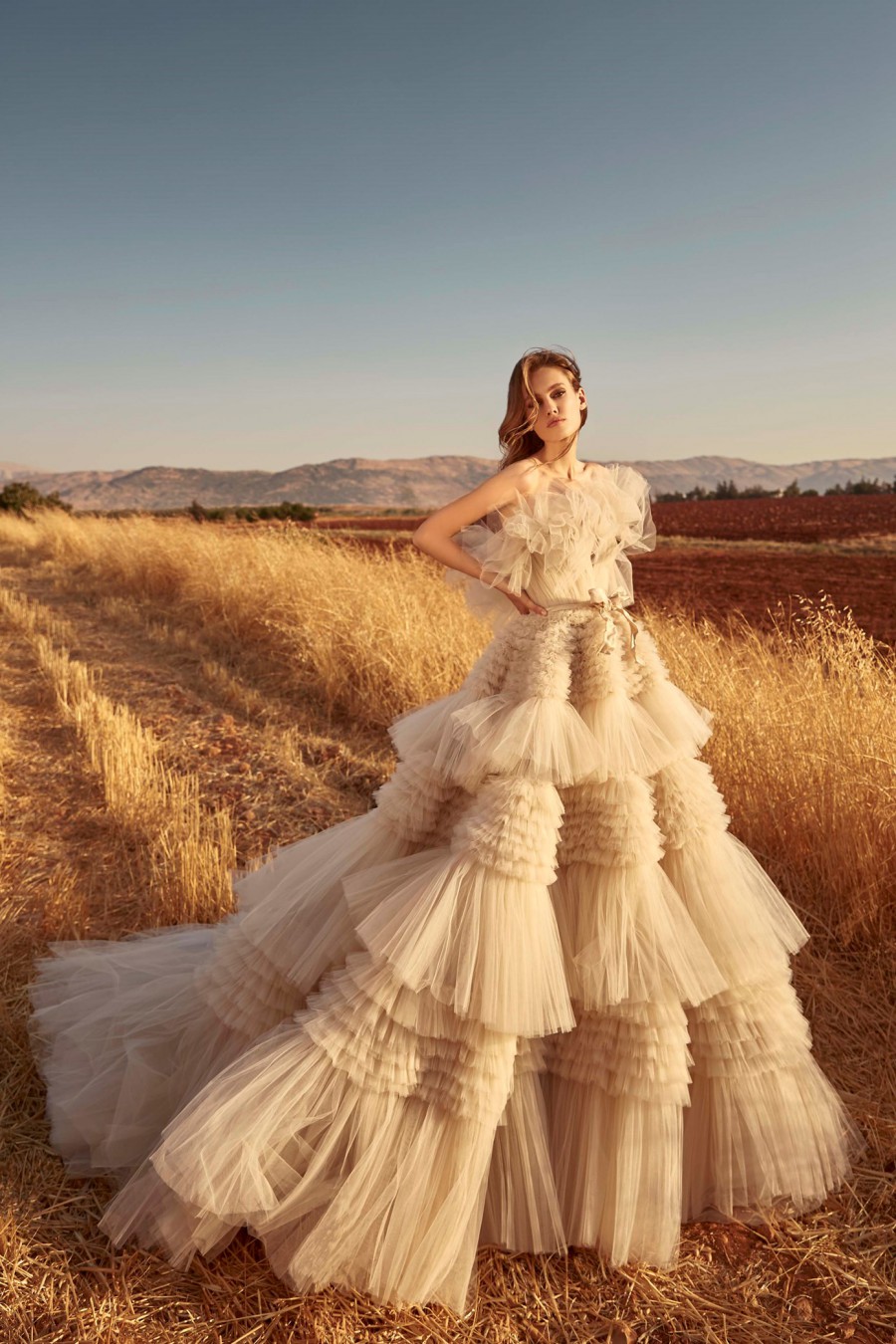 Zuhair Murad cranks up the drama with this contemporary textured tulle ball gown. This look may not be for Cinderella, but if you are a daring couture seeking bride, then you are sure to love this look!
08.

Edgy Feminine Cut-Outs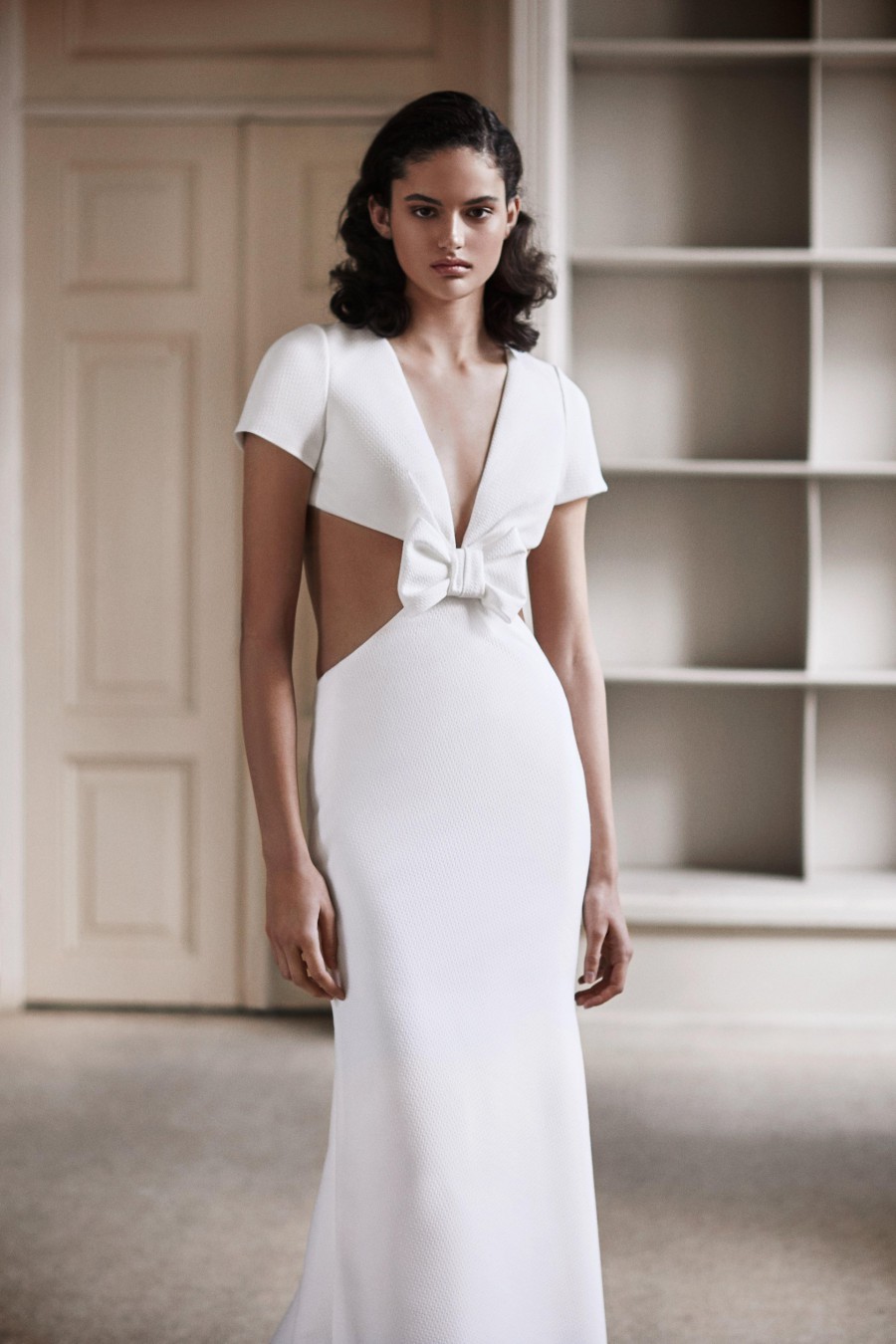 Viktor Rolf always delivers when it comes to edgy, boundary pushing bridal fashion. And this gown is no exception. This structured contemporary gown is both modern and feminine. Its bold side cutouts are balanced by a center bow that seems to pull the entire look together.
09.

Feather Flowing Jumpsuit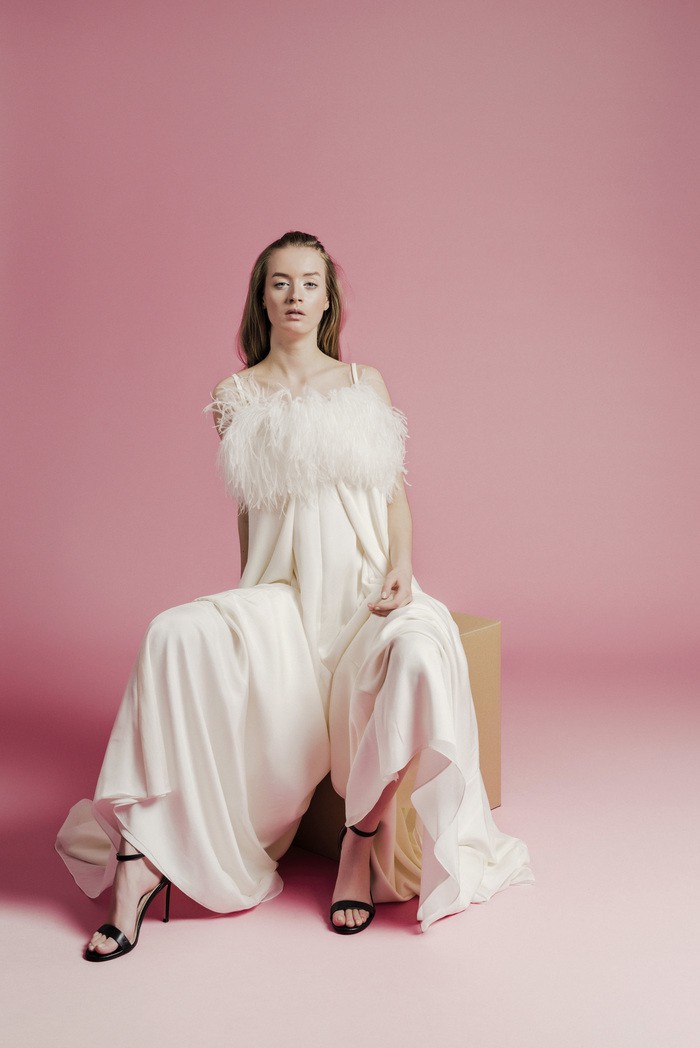 Bridal jumpsuits are all the rage right now. But who is brave enough to pull off this feather accented, flowing wide leg jumpsuit from Sophie et Voila? A style that feels both ultra contemporary and effortlessly feminine at the same time.
10.

Fearless Bridal Fashion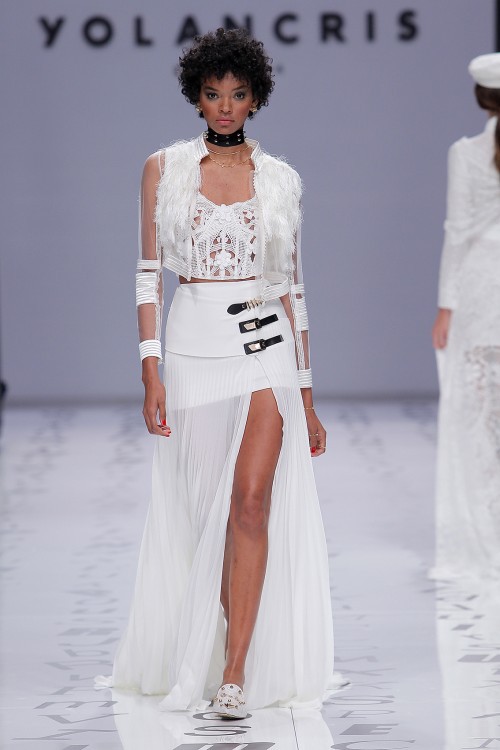 It only seems fitting that this next edgy bridal style comes from Yolan Cris's "No Fear" collection. This look is bold, dramatic, and only for the most fearless of brides.
11.

Eccentric Contemporary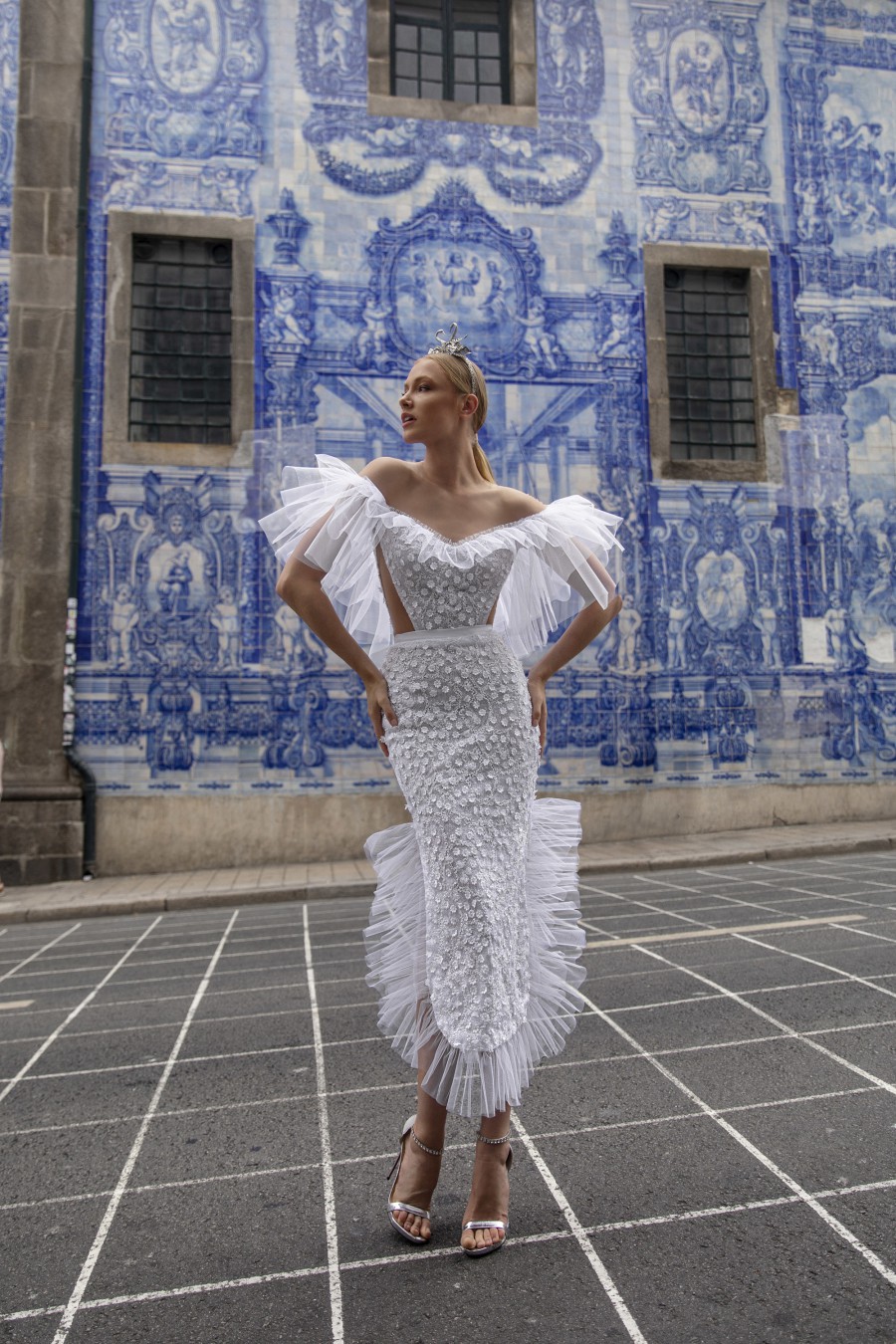 Charchy brings us our next edgy contemporary bridal style with this chic, couture midi gown. Featuring dramatic ruffled detailing and side cut-outs. This gown is edgy, while still feeling very feminine.
12.

Clean, Minimal Edginess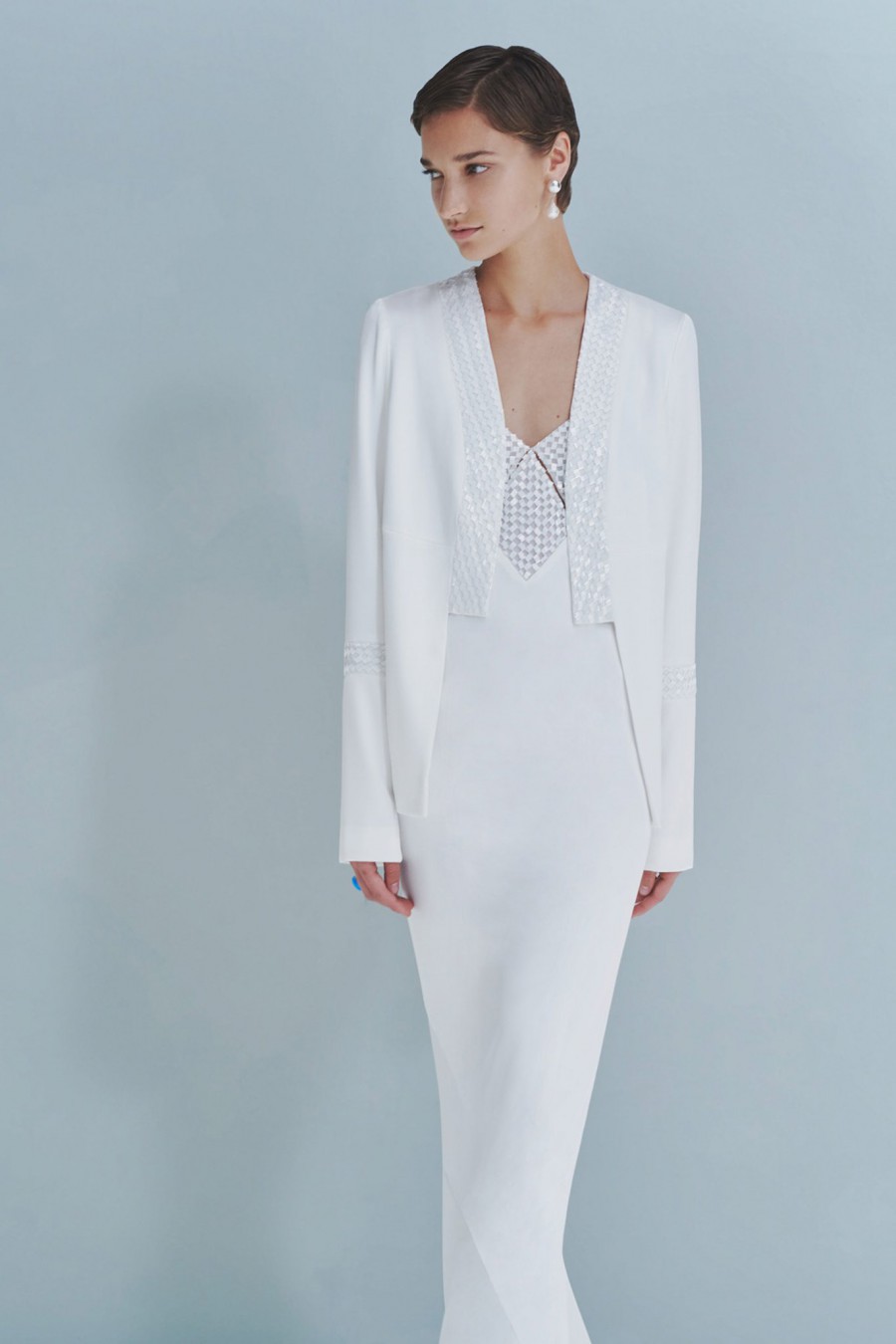 This next contemporary wedding gown is edgy but in a very clean and minimal way. We love how our brides that are craving a more no-fuss wedding look, can still embrace an ultra couture and unique design, like with this captivating gown and blazer pairing.
13.

Tulle Mane Mini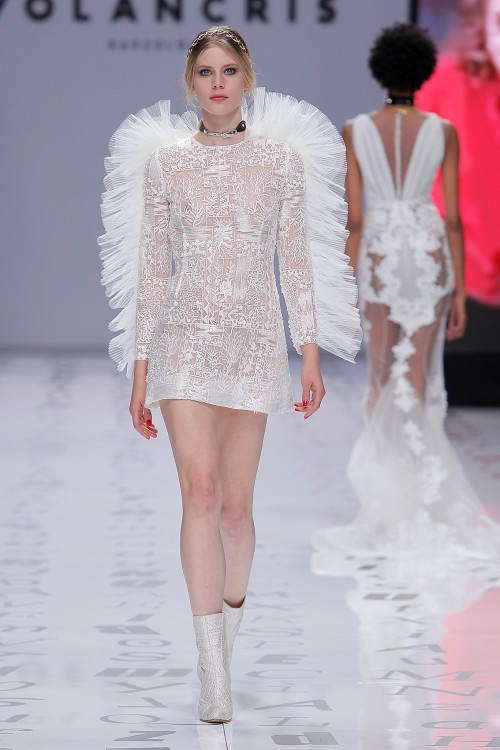 Let out your fierce feminine and make a big statement in this next edgy contemporary bridal gown. This fearless mini gown features a pleated tulle mane accent that sets it apart from anything else. A truly one-of-a-kind statement-making bridal style.
14.

High Low Shirtdress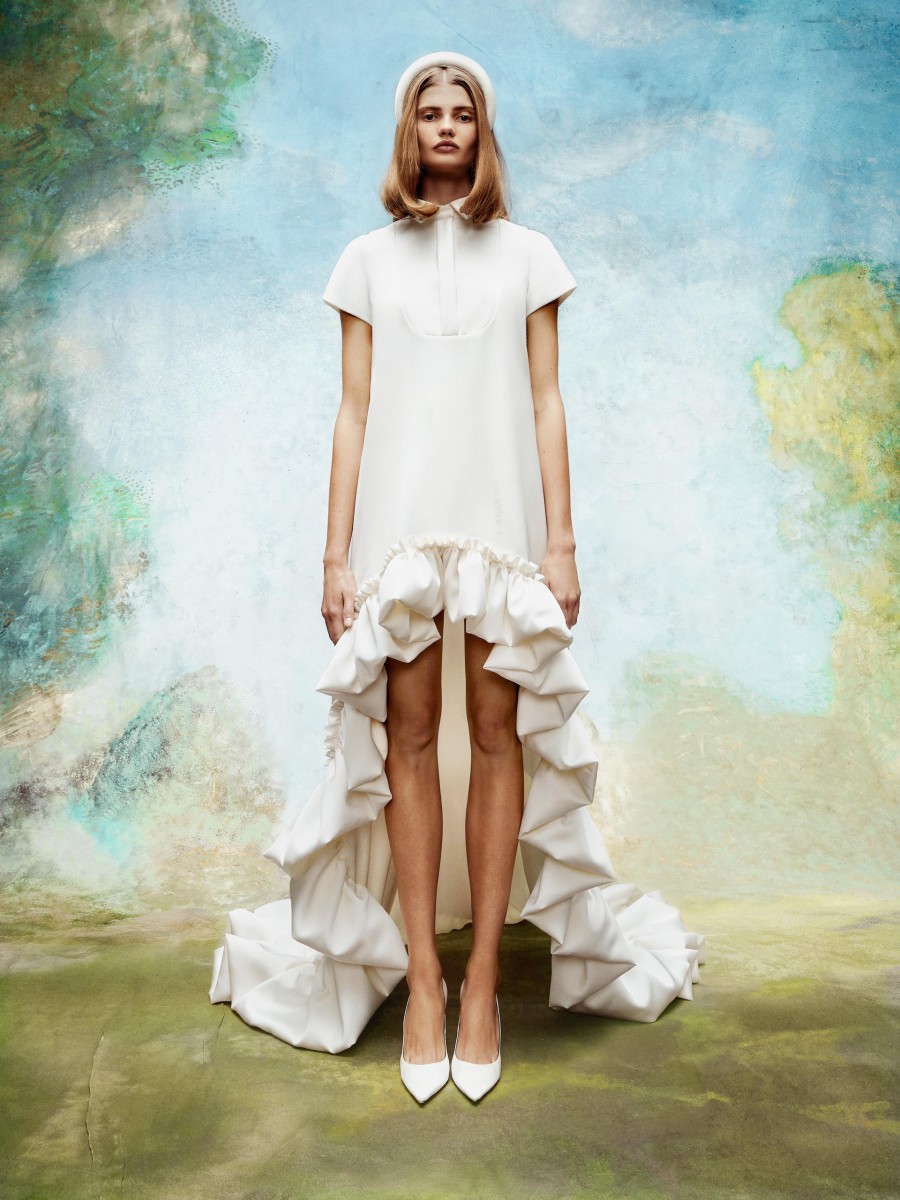 Our couture loving brides out there will love this next edgy contemporary bridal style from Viktor Rolf. An ultra chic high-low shirtdress that is exciting from every angle.
15.

Contemporary Column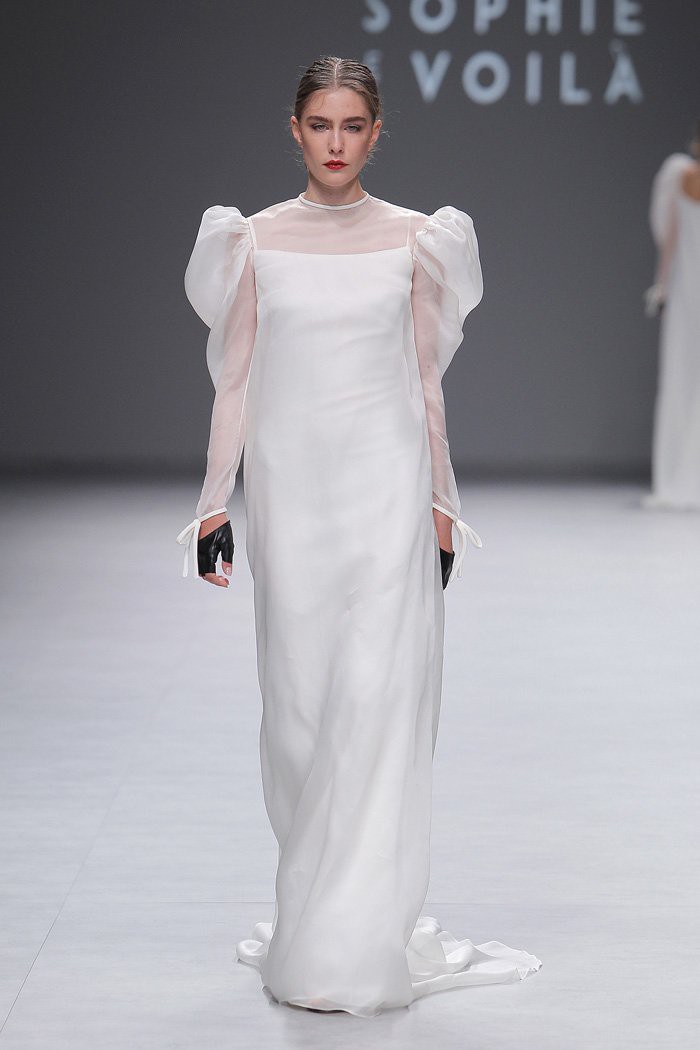 Sophie et Voila brings us our next contemporary bridal style with this modern constructed column gown. Puffy, semi-sheer sleeves and a straight cut silhouette create a simple yet dramatic feel.
16.

Sheer Accenting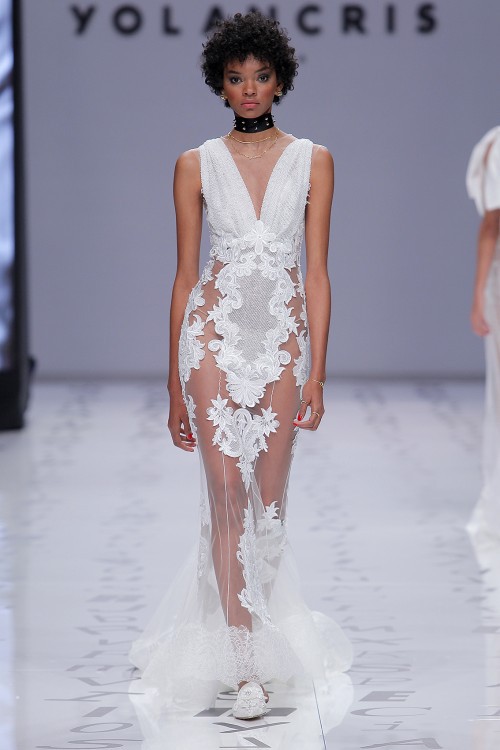 Any bride is sure to make a big statement in this one-of-a-kind sheer accented gown from Yolan Cris. Coming from the "No Fear" collection - this gown is meant to represent freedom and individuality. Plus, it is sure to show off your edgy, daring personality.
17.

Edgy Brunch Vibes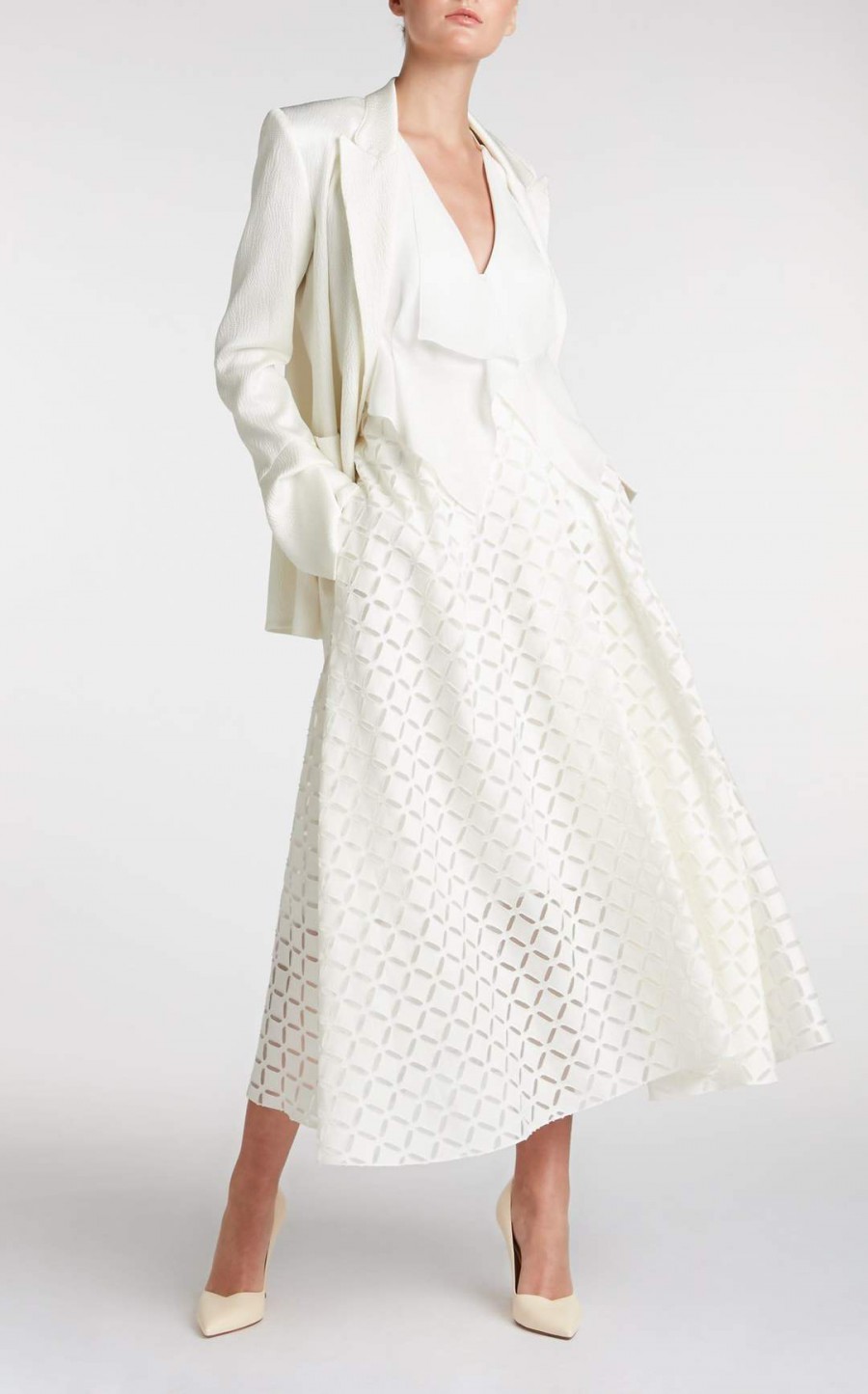 A contemporary bridal style that feels brunch-ready in an edgy off-beat sort of way. It is both ultra feminine and modern. A surprising style that can't help but be captivating.
18.

Vintage Contemporary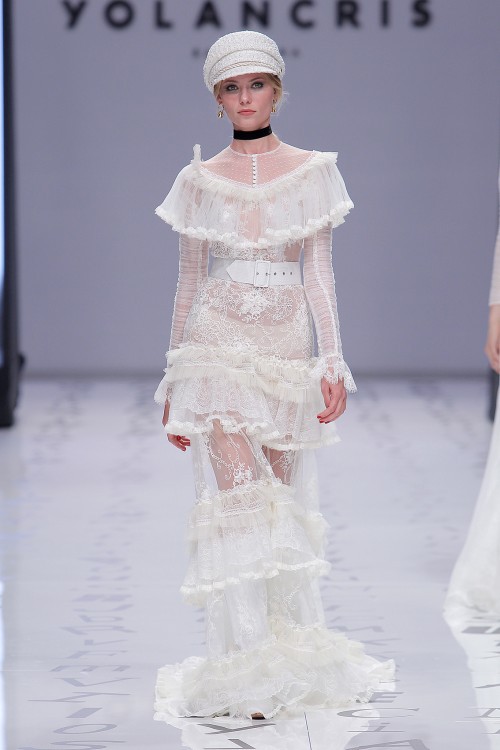 We love the mix of vintage and modern influences with this next edgy wedding style from Yolan Cris. Antique influences packaged in a very dramatic, contemporary way. This gown is truly a show-stopper.
19.

Modern Painting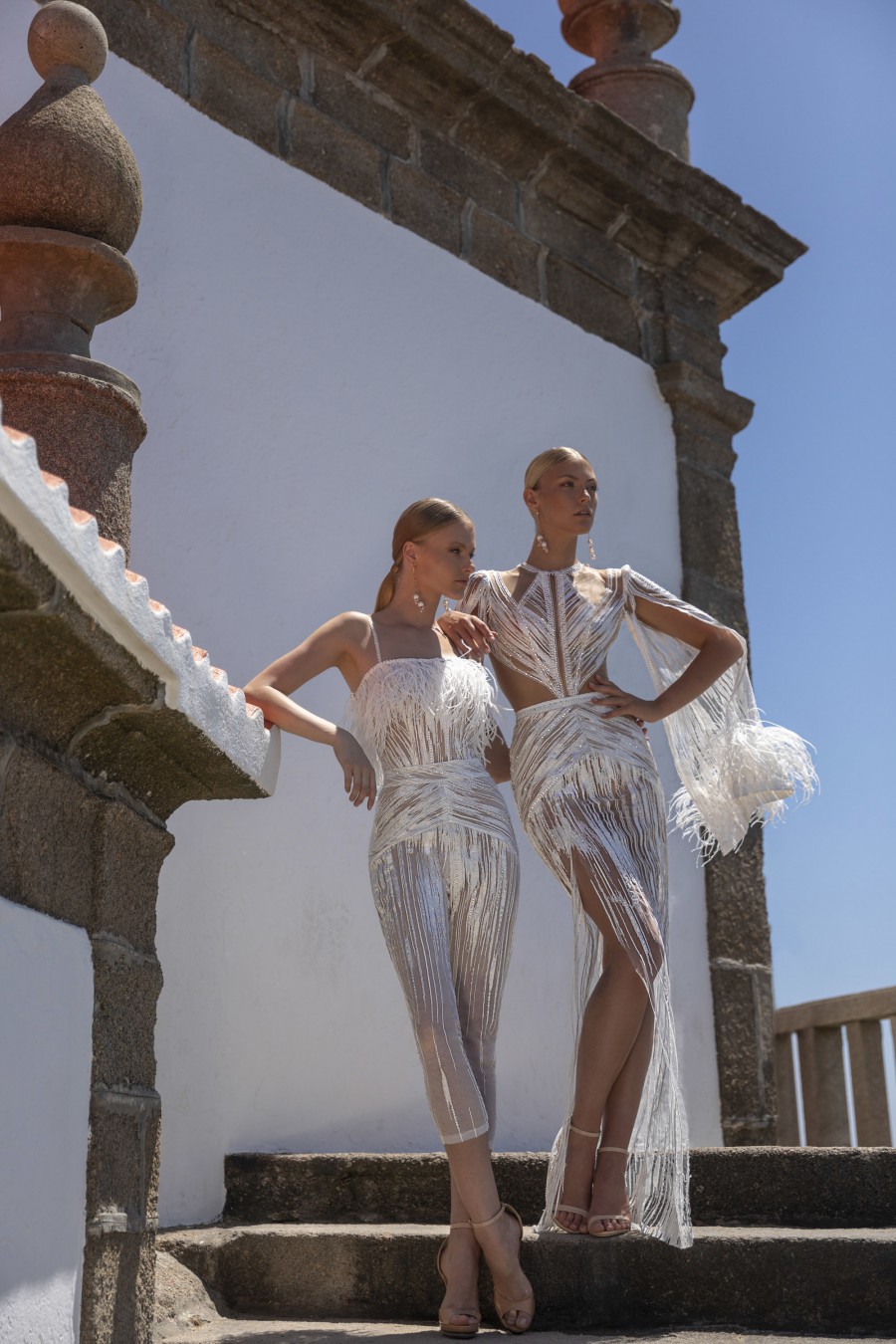 These next two bridal styles have a very painterly design to them. The edgy styling of these bridal looks gives them a very futuristic feel. If you are looking for something truly one-of-a-kind, these will definitely have your attention!
20.

Sheer Contemporary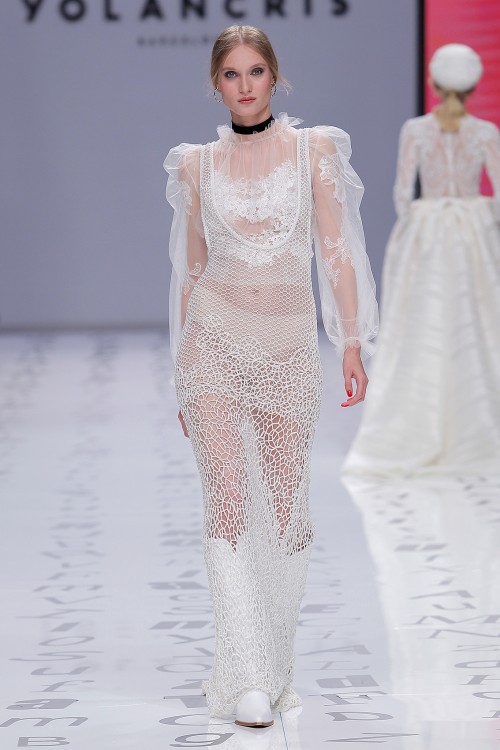 It doesn't get much edgier then an almost completely sheer wedding gown. But the question is...who is brave enough to pull off a bold contemporary style like this one?

By Kathryn Schrotenboer