Modern brides are looking for drama. And we are stepping up our game with some of the most dramatic trains in contemporary wedding fashion.
Whether you are looking for a gown to fit in with a large cathedral set wedding day, or simply looking to add jaw-dropping drama to your wedding day look - consider a gown with a long, dramatic train. These looks will set the stage for one of the biggest days of your life.
01.

Ruffled Tulle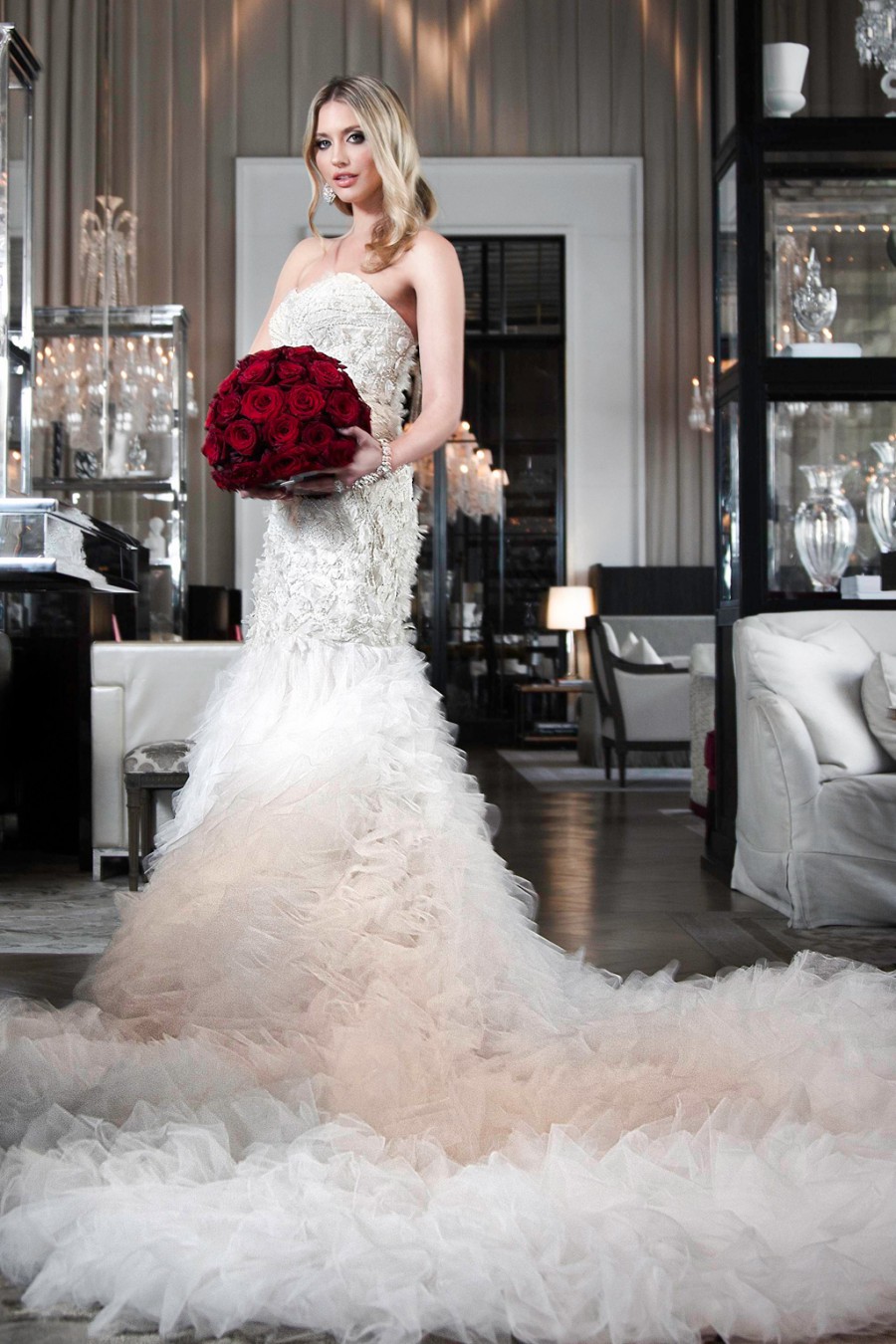 A dramatically elegant wedding gown that features an over the top waterfall train of ruffled tulle. Over the top texture, in a long dramatic train.
02.

Modern Victorian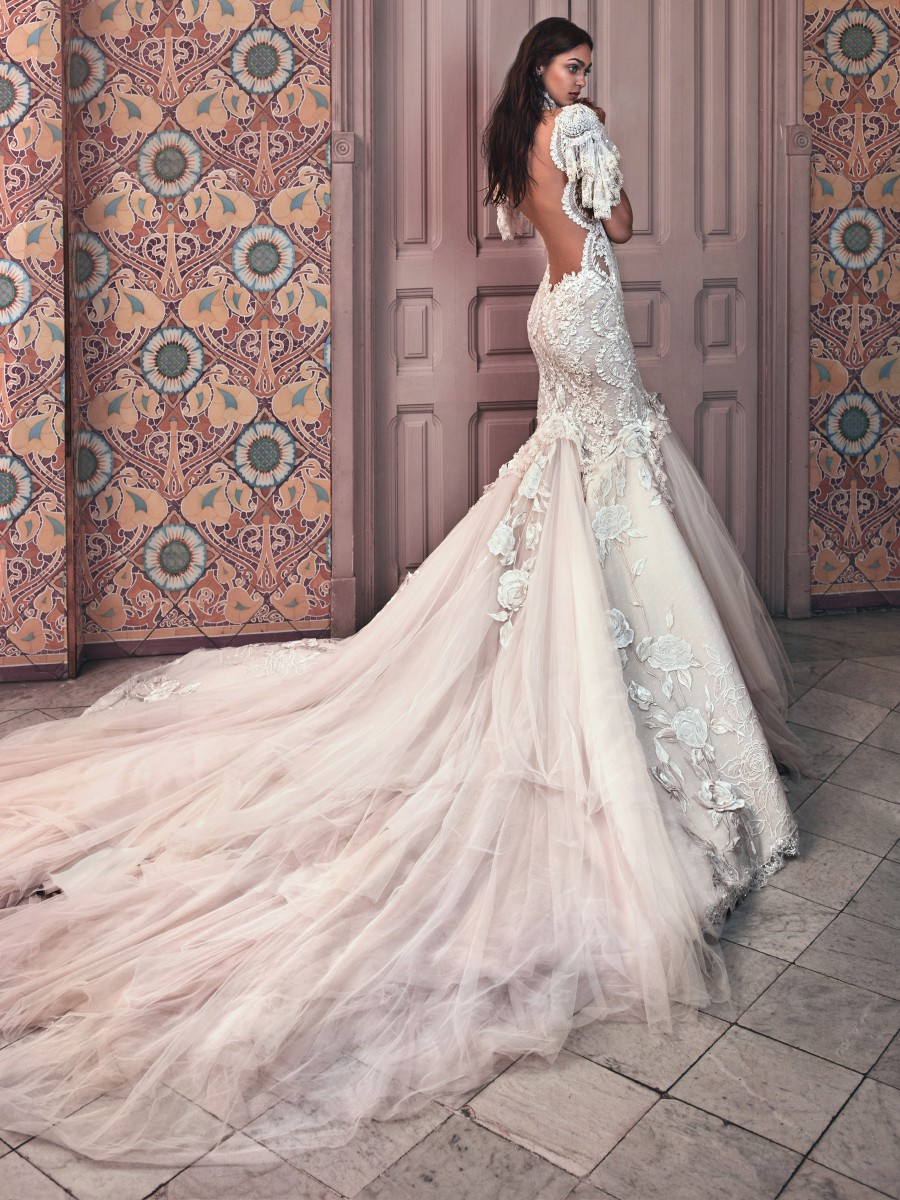 An over the top, modern Victorian inspired wedding gown. Featuring off the shoulder sleeves, fringe, pearl accents and dimensional florals. To top off this dramatic style is a long layered tulle train.
03.

Modern Bohemian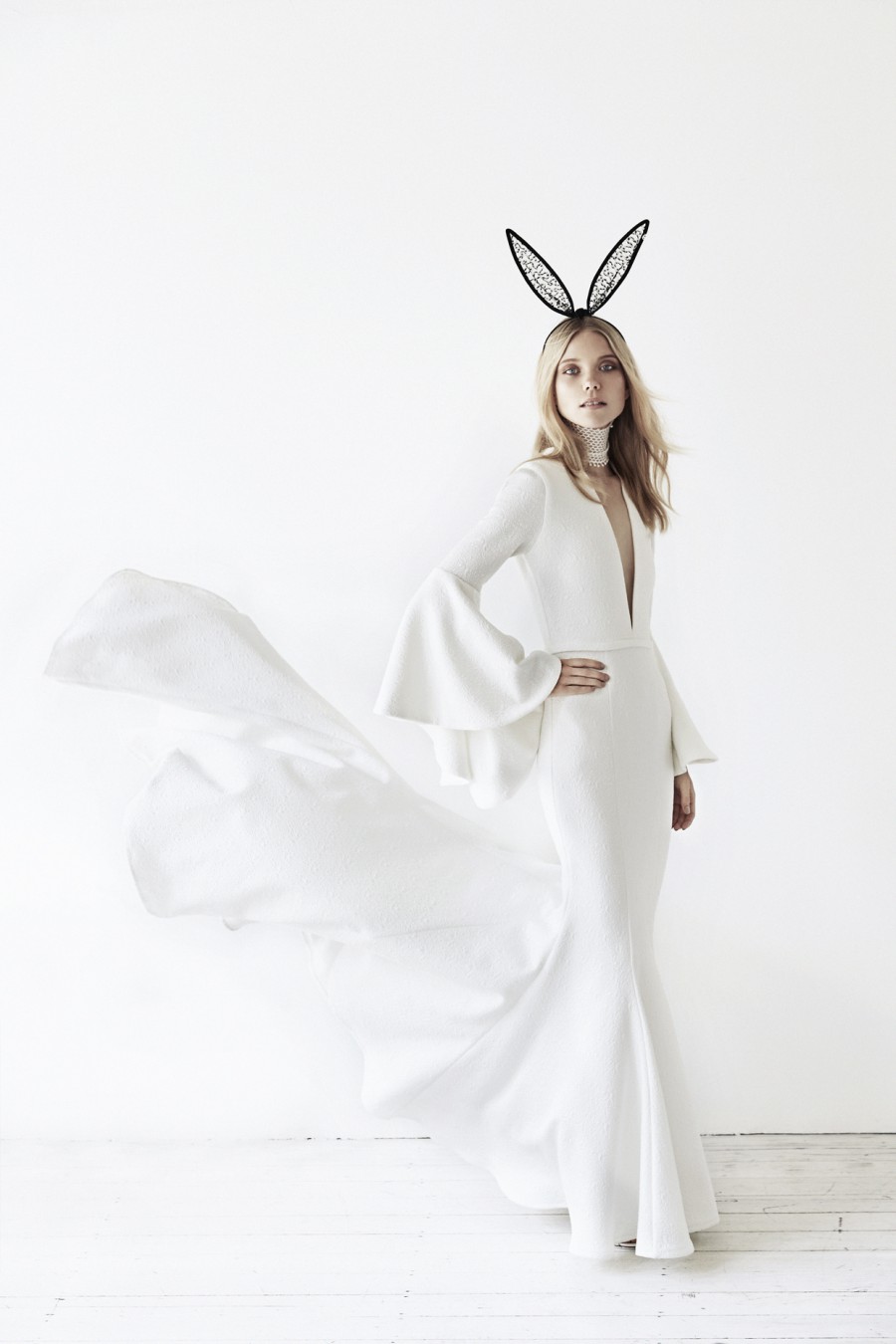 This gorgeous, chic contemporary wedding look has us a bit breathless. Deep V-neckline and voluminous bell sleeves accent this style. This finish off this modern look is a billowing white train.
04.

Swirled Train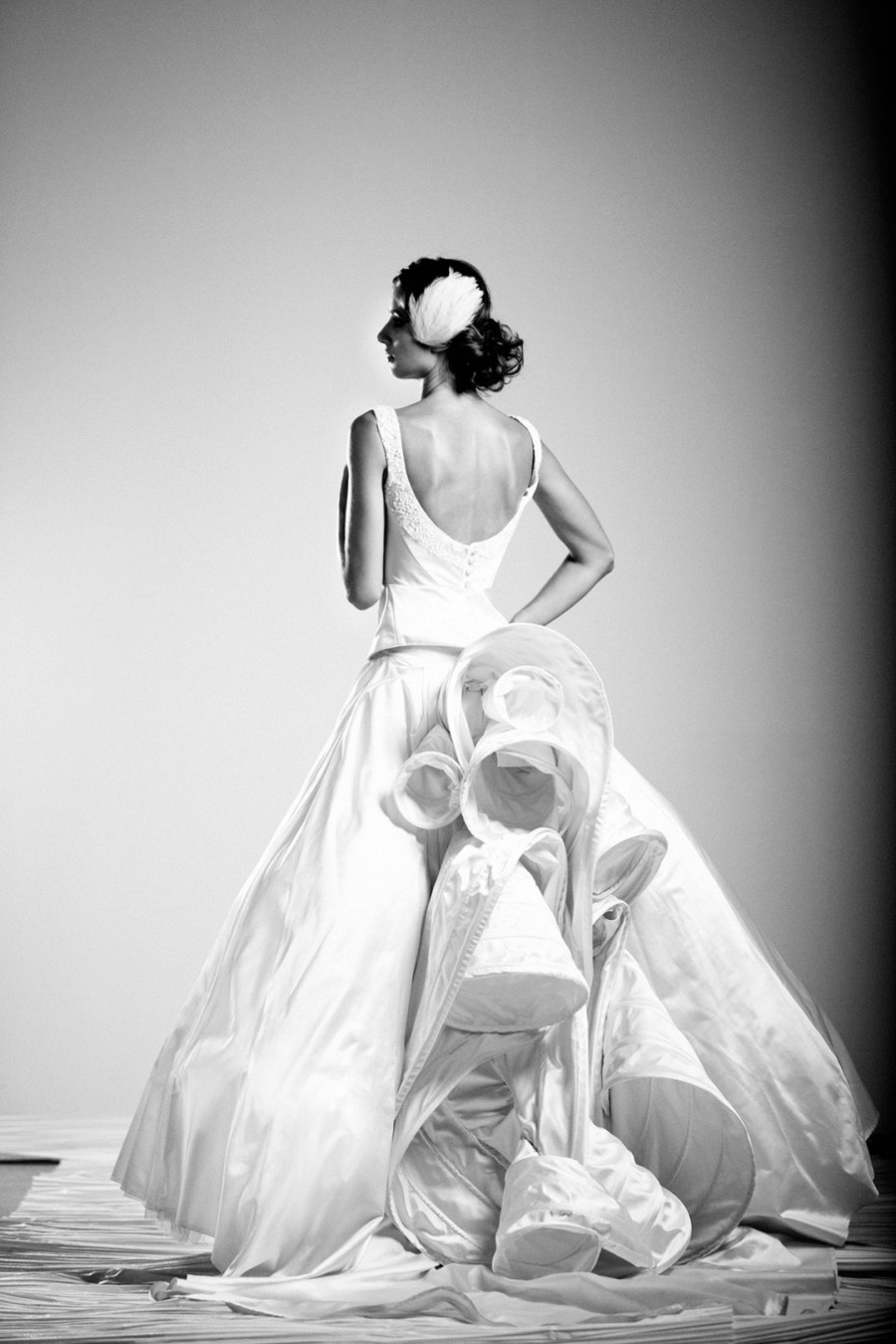 A beautifully traditional wedding gown that has a back bustle and train that is anything from ordinary. This swirled dramatic train is truly one of a kind.
05.

Asymmetric Layered Ruffles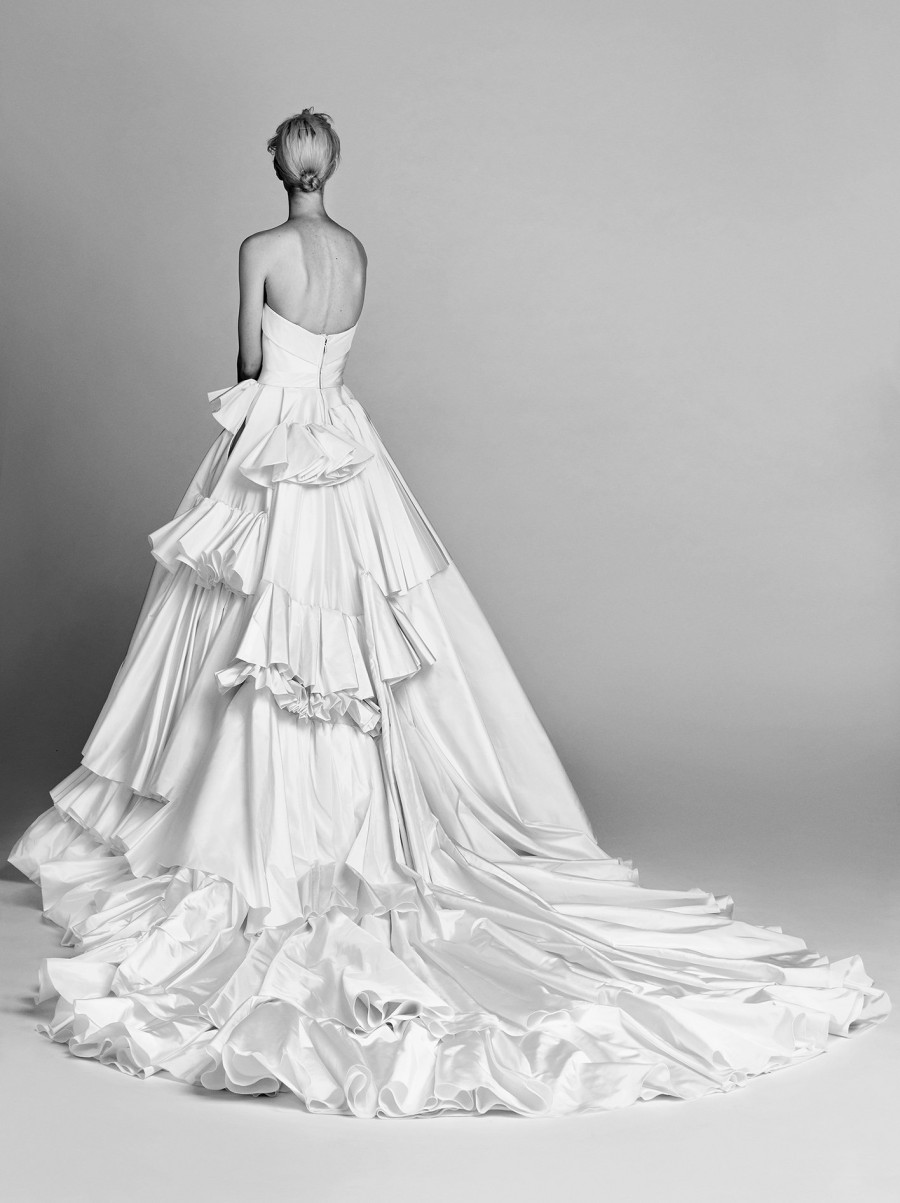 A completely unique ball gown for the bold modern bride. This gown features asymmetric layers of ruffled fabric and a long dramatic train.
06.

Lace Mermaid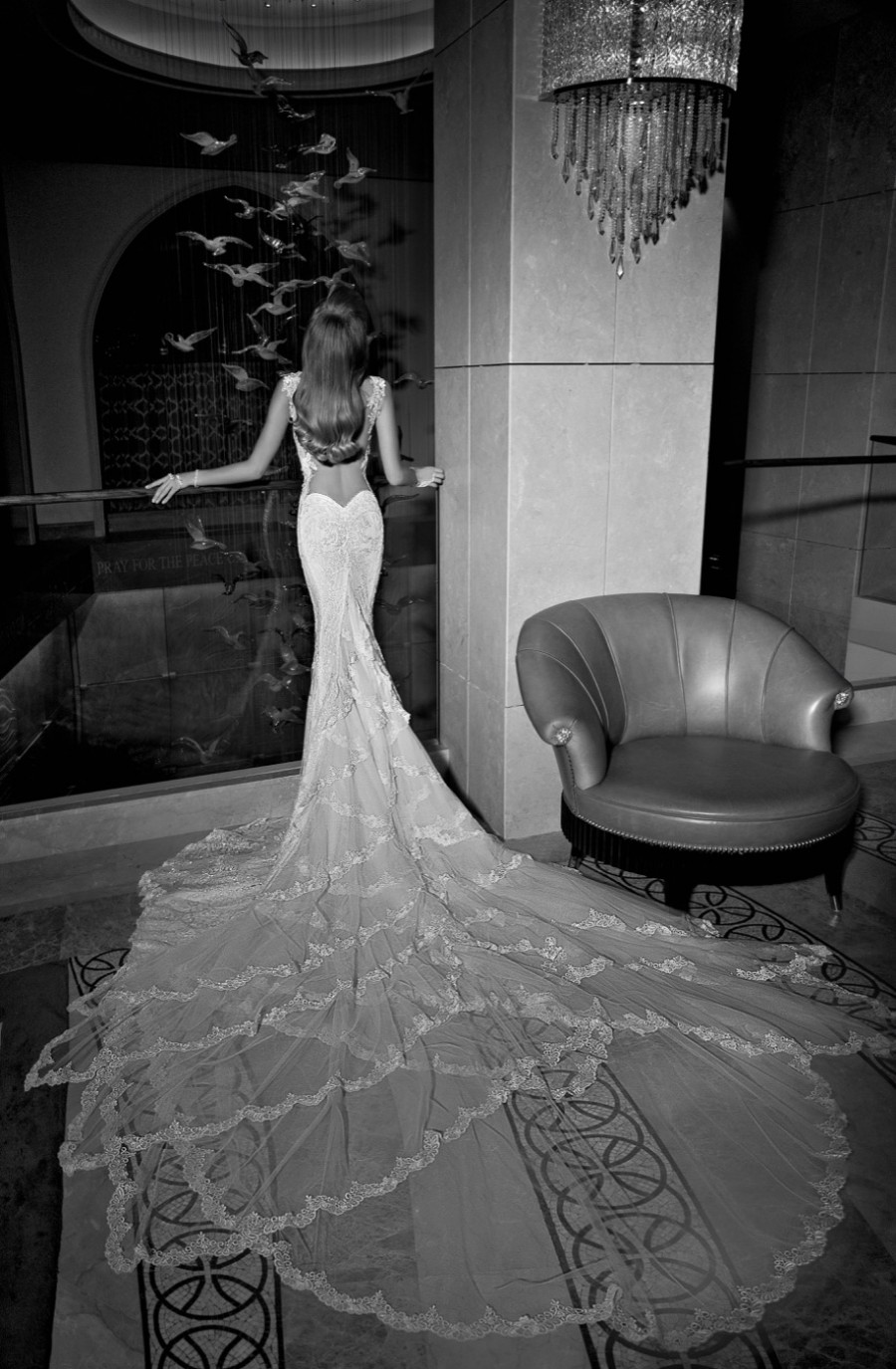 An elegant mermaid style gown that features stunning embroidered lace. The long dramatic train is made from layers and ruffles of tulle and vintage lace. Traditional elegance on a dramatic scale.
07.

Futuristic Style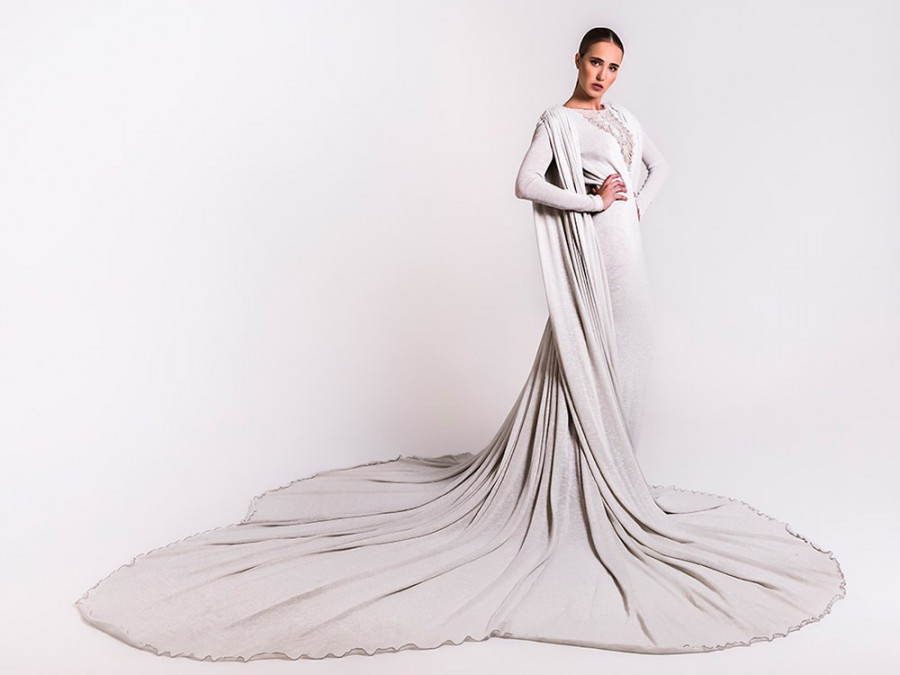 Isabel Zapardiez brings us a futuristic wedding style that is not complete without its dramatic train. A bold draped style that will turn heads for our daring modern brides out there.
08.

Art Deco Ruffles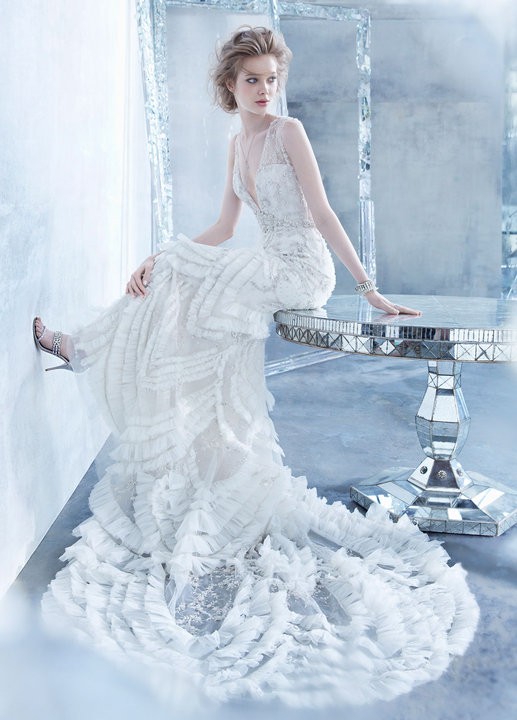 Lazaro brings us our next dramatic train wedding style with this beaded and embroidered Art Deco inspired slip gown. The gown features silk organza ruffles that accent the skirt, and down the cathedral train.
09.

Dramatic Tulle Florals
A sexy, feminine wedding style featuring tulle and floral embroidery for as far as the eye can see. This soft style trails on creating a gorgeous train to add a dramatic finish to this girly wedding style.
10.

Ethereal Fringe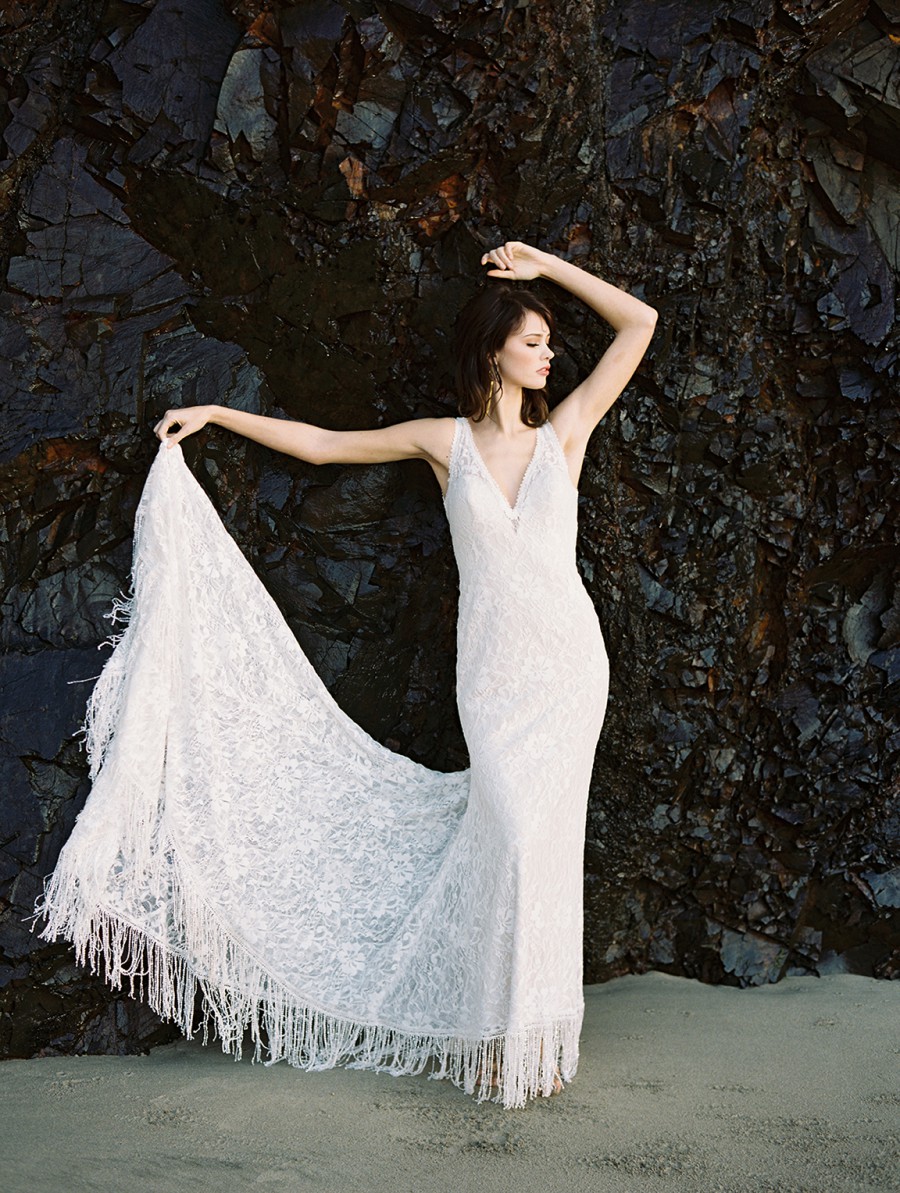 A retro-bohemian inspired wedding style with a long lace sheath train with a fringe trimmed edge. A dramatic train accent to a more simple bohemian wedding style. This look proves that you can have a dramatic wedding style, without all the added poof.
11.

Off the Shoulder Drama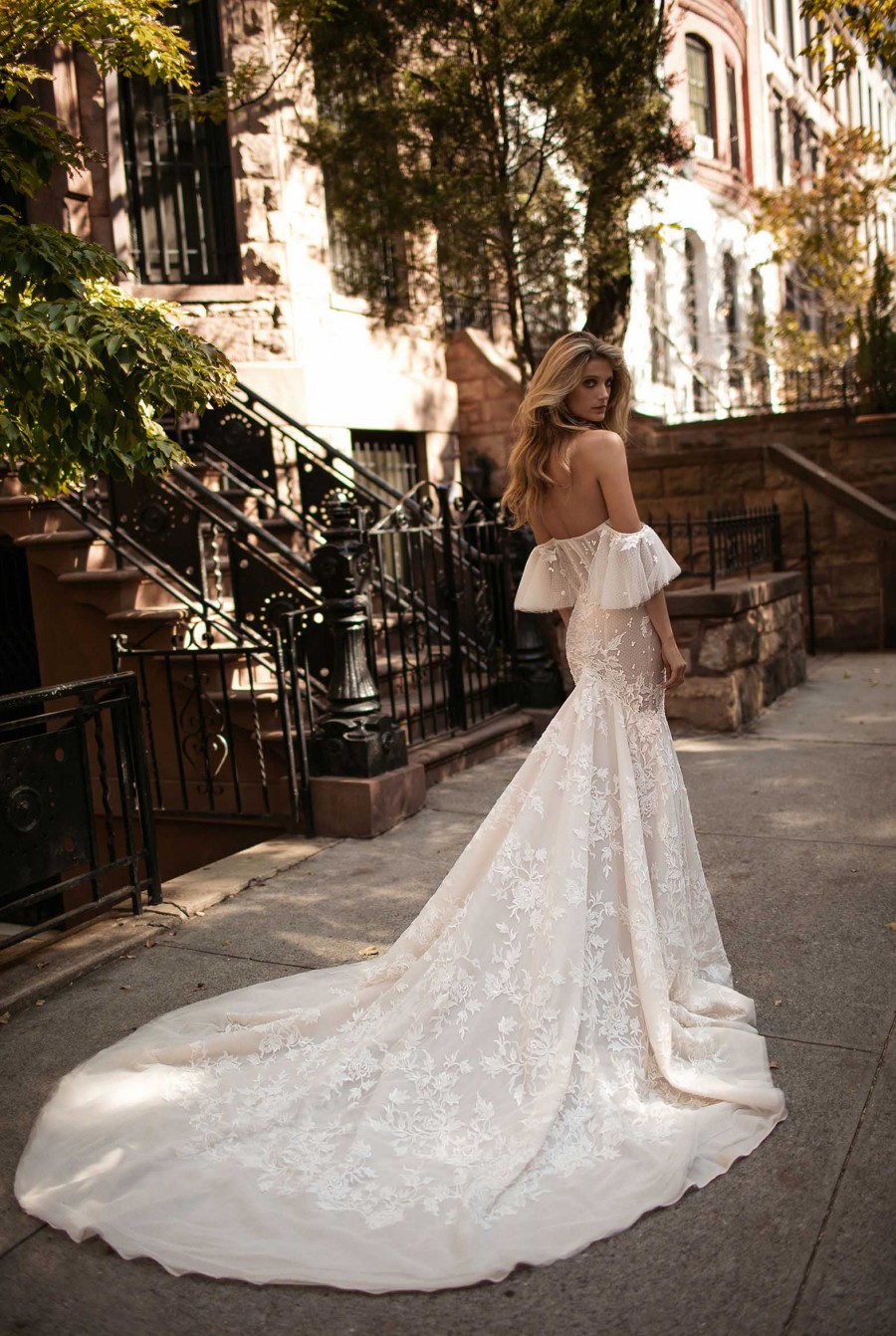 Berta is one of the best at creating elegant drama. And this off the should wedding style is no exception. Unique, sexy, and finished with a long dramatic train.
12.

Sheer Net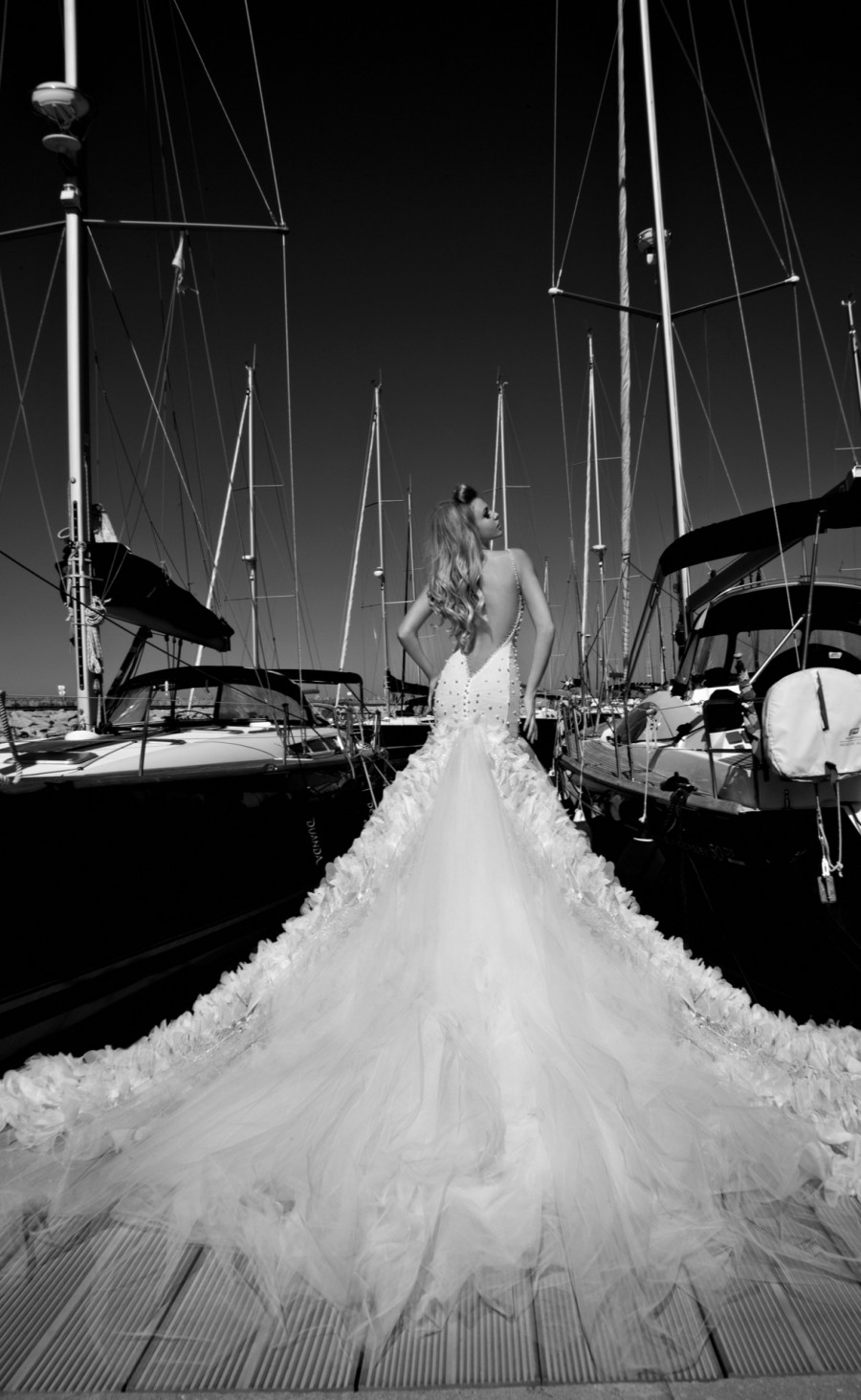 A dramatic train wedding gown that needs little introduction. This jaw-dropping gown by Galia Lahav speaks for itself. This sheer net dress has a train that seems to trail on and on.
13.

Dramatic Mermaid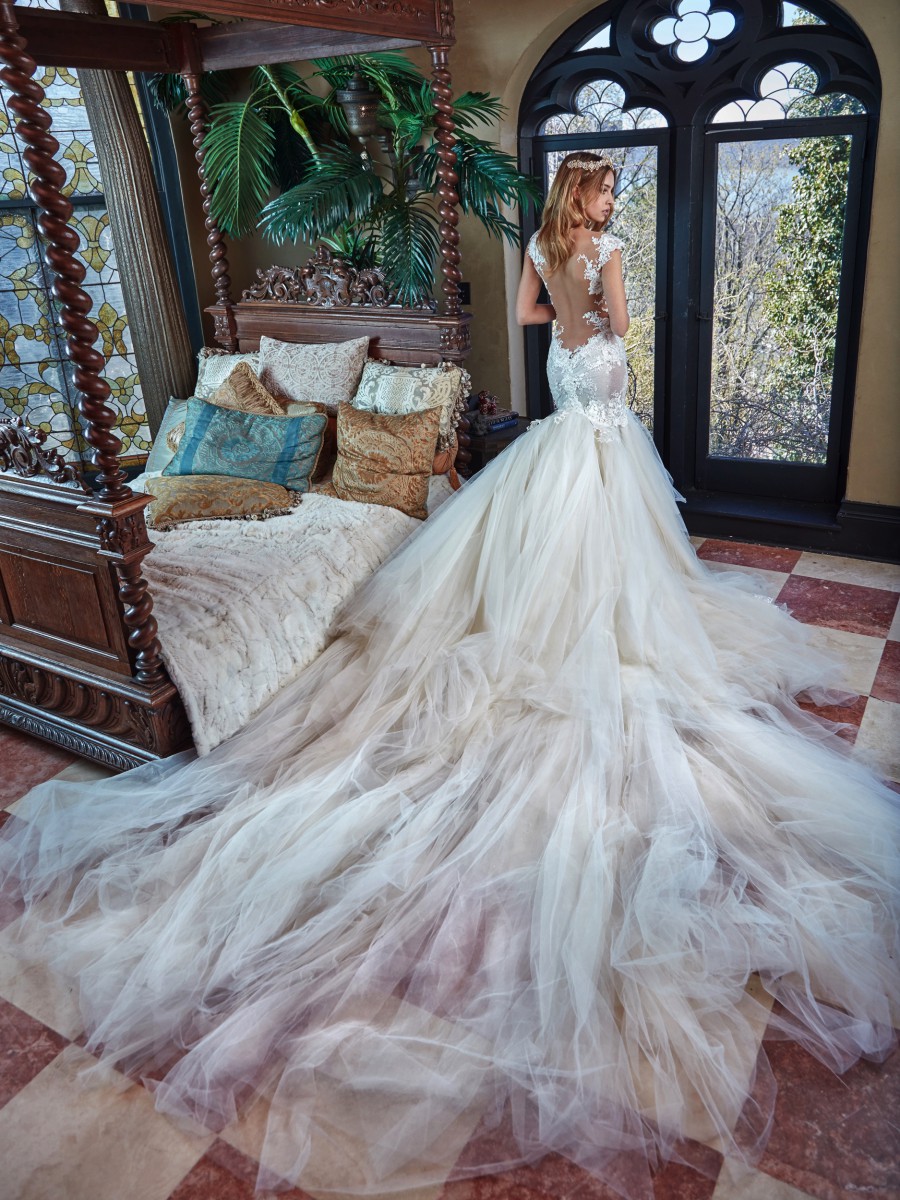 The structured cut of a mermaid style wedding gown is already so dramatic. But what could make this style even more eye catching? Perhaps with a long, layered tulle train that will have your wedding guests speechless as you walk down the aisle. Perfect for a large, cathedral ceremony.
14.

Antique Accents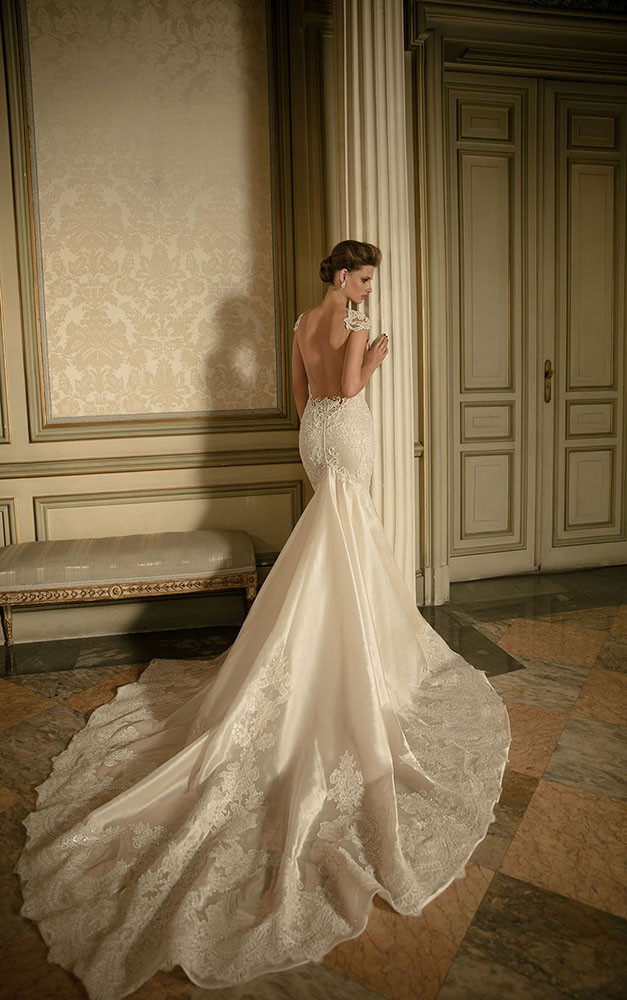 How about a little antique inspired drama for your big day? This stunning vintage looking gown is complete with a long train that features lace embroidery around the edges. Dramatic yet delicate.
15.

Ruffled Mermaid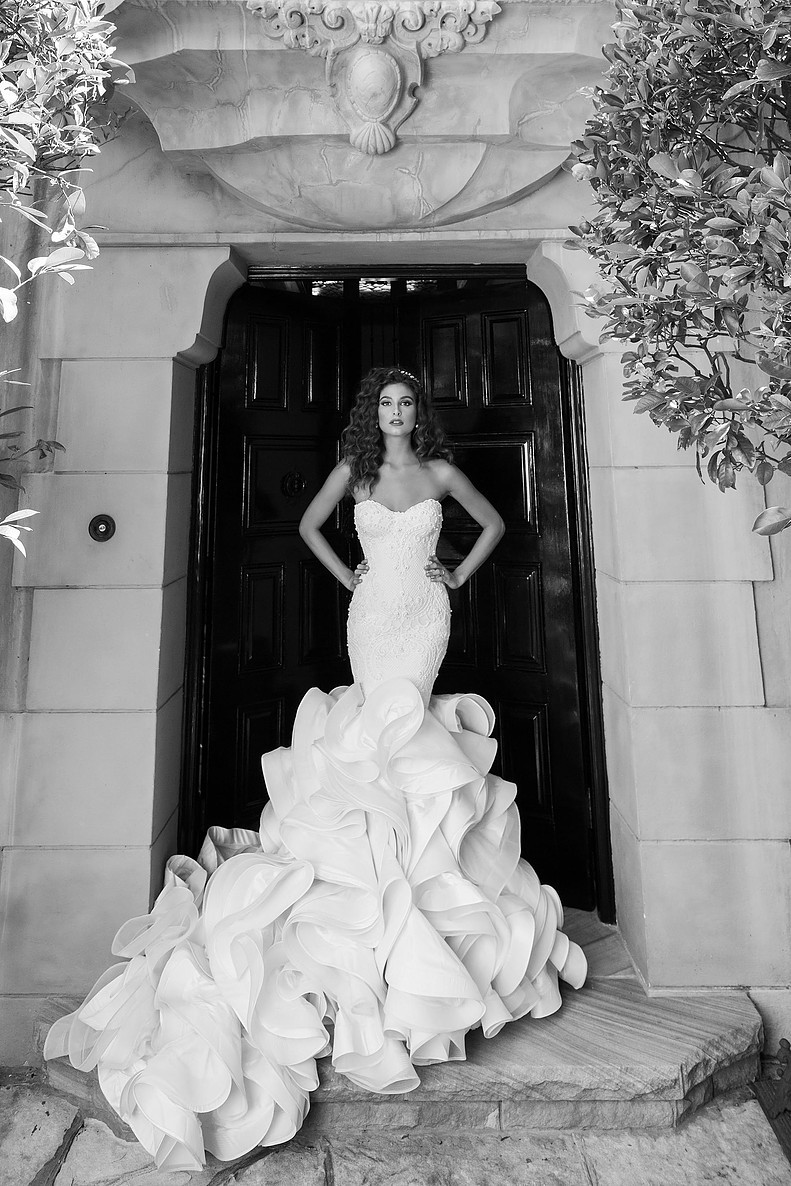 What better way to cap off an over the top, ruffled mermaid wedding gown style, than with a matching ruffled train. Large folds of fabric create a structural accent that trails down into a long train, full of movement and dimension.
16.

Corset Tulle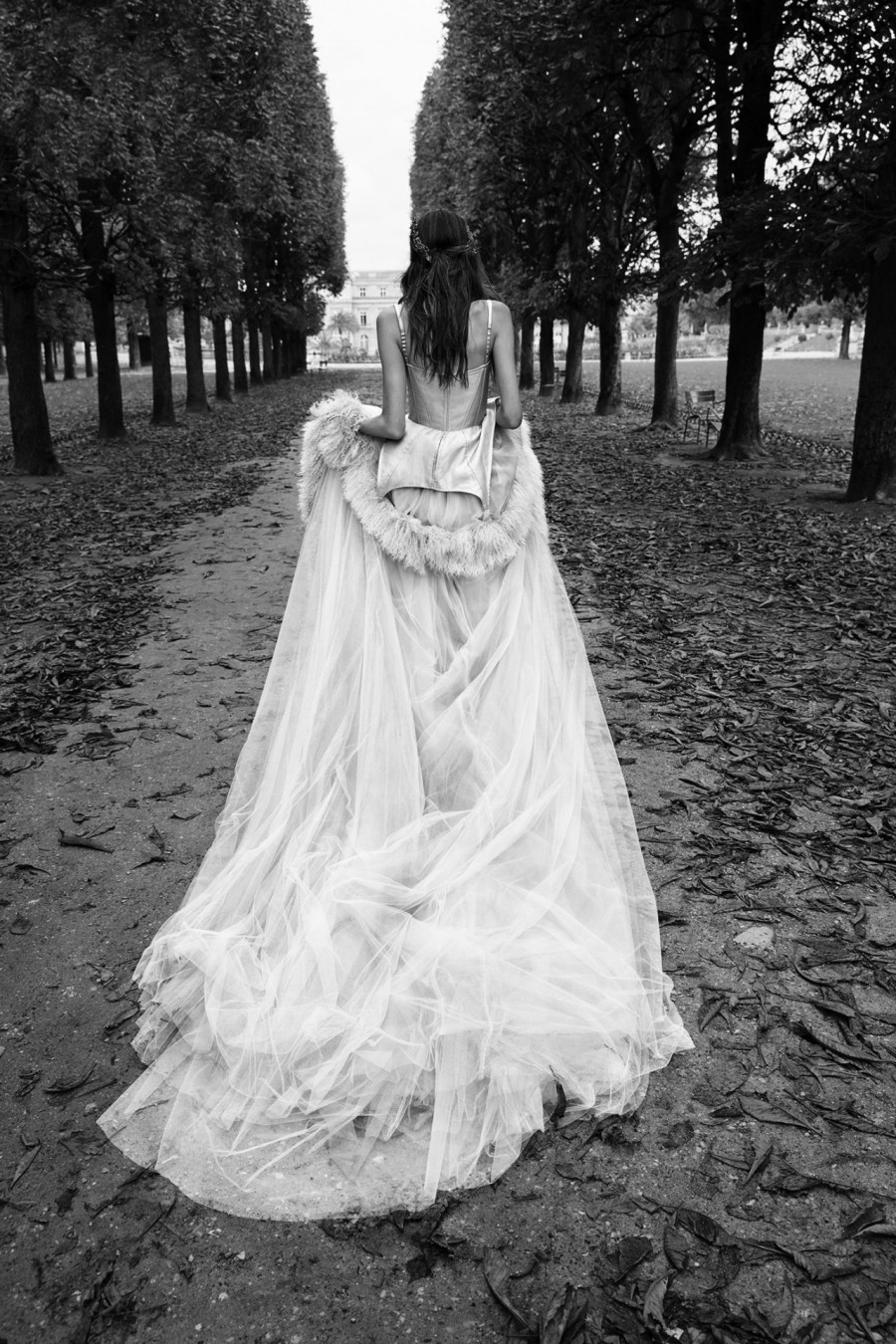 Vera Wang brings us a one of a kind silk corset top wedding gown with a layered tulle skirt that trails off into a long cathedral train. A gorgeous option for a modern bride that is looking for a tulle ball gown alternative.
17.

Layered Train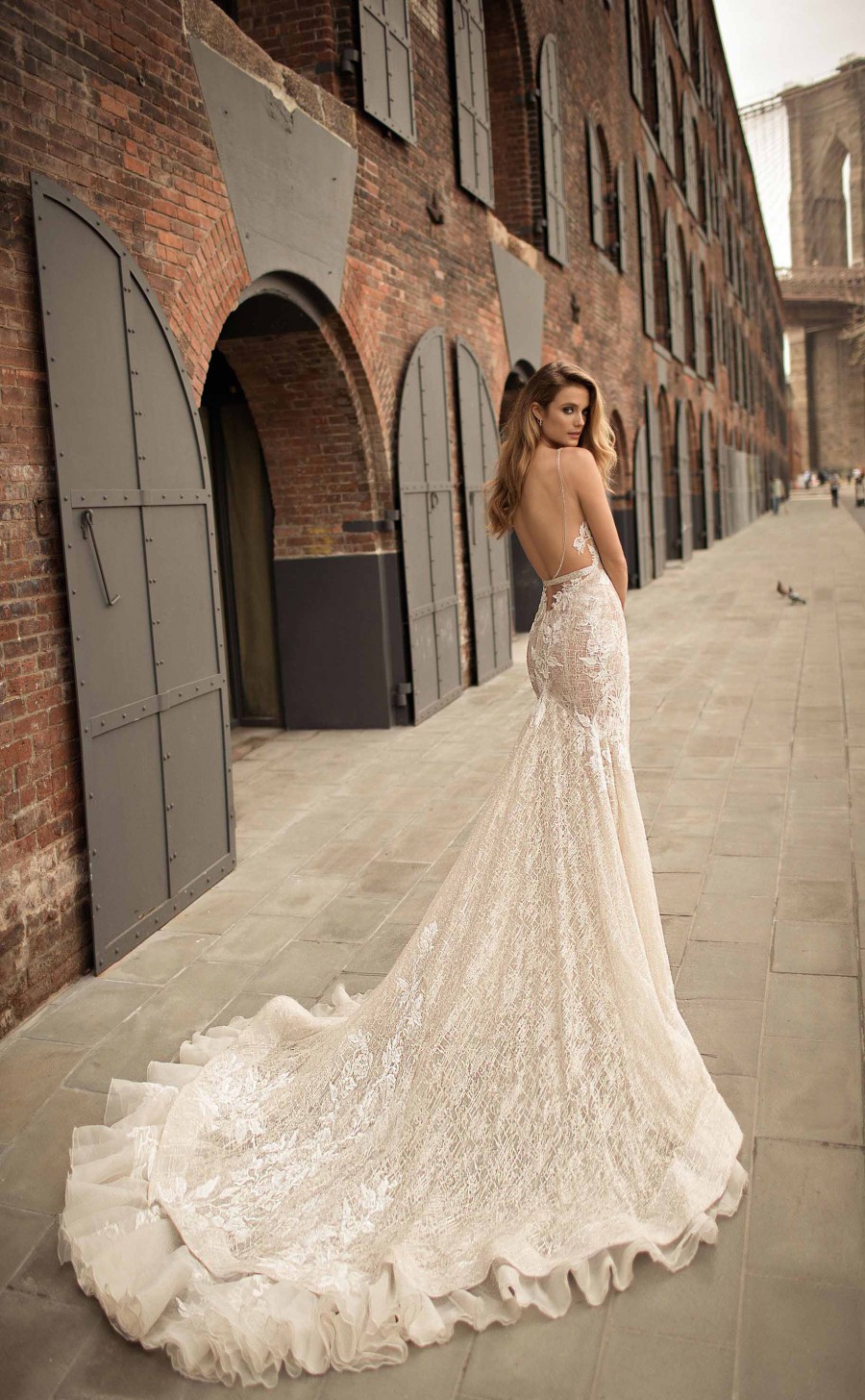 A form fitting wedding gown style that gives way to a long, cathedral train. The train features layers of beautiful fabric to create a dimensional, jaw-dropping style.
18.

Fit and Flare Cathedral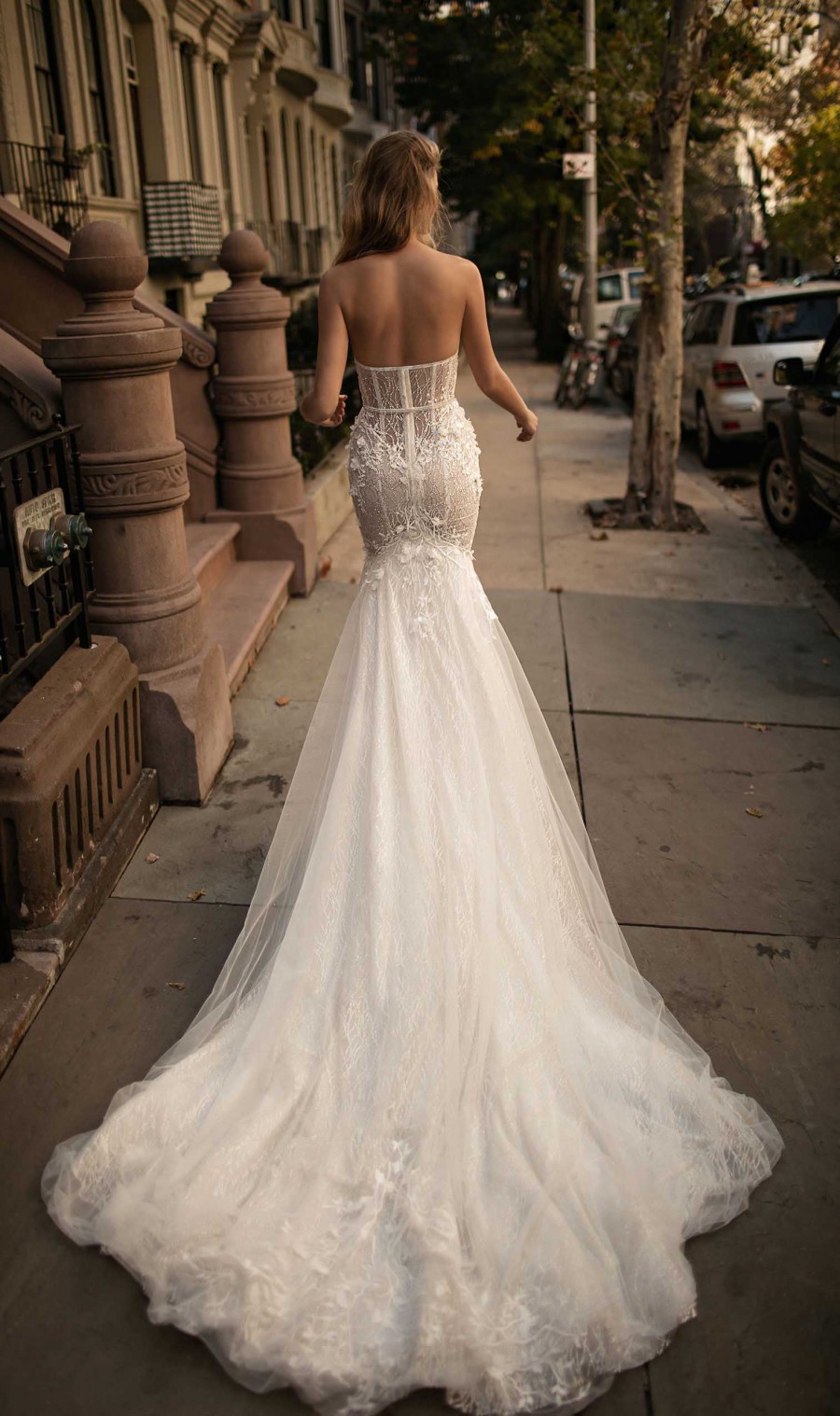 Our next dramatic train wedding gown comes from Berta. This sexy, form fitting corset-like fit and flare gown gives way to an absolutely stunning, voluminous cathedral train.
19.

Bubbled Volume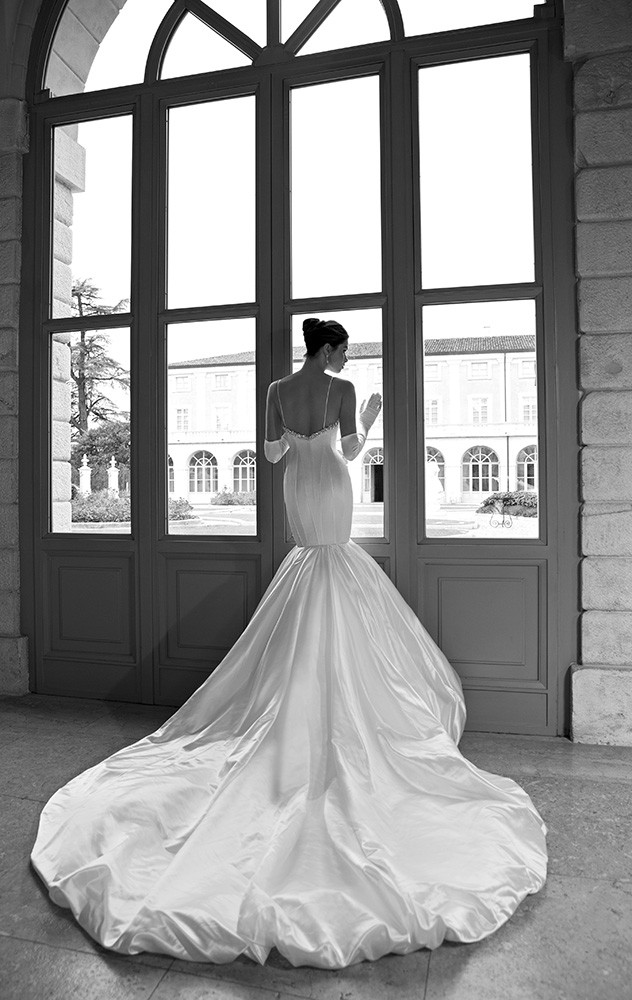 Our next dramatic train gives the appearance of an air filled bubble skirt. This stunning effect adds a great deal to this train. So stunning compared to traditional trains that delicately drape behind the bride.
20.

Tulle and Lace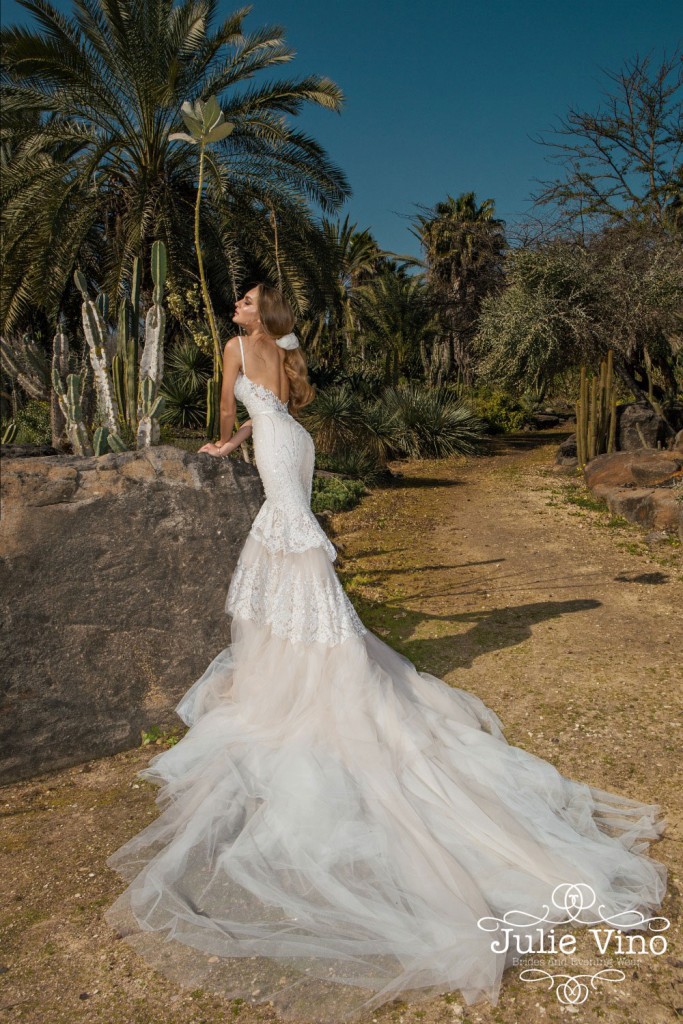 Layers of tulle and lace give this stunning dramatic train wedding gown a unique effect. Classic lace on top, unruly modern tulle on the bottom. A gorgeous combination.
21.

Long Lace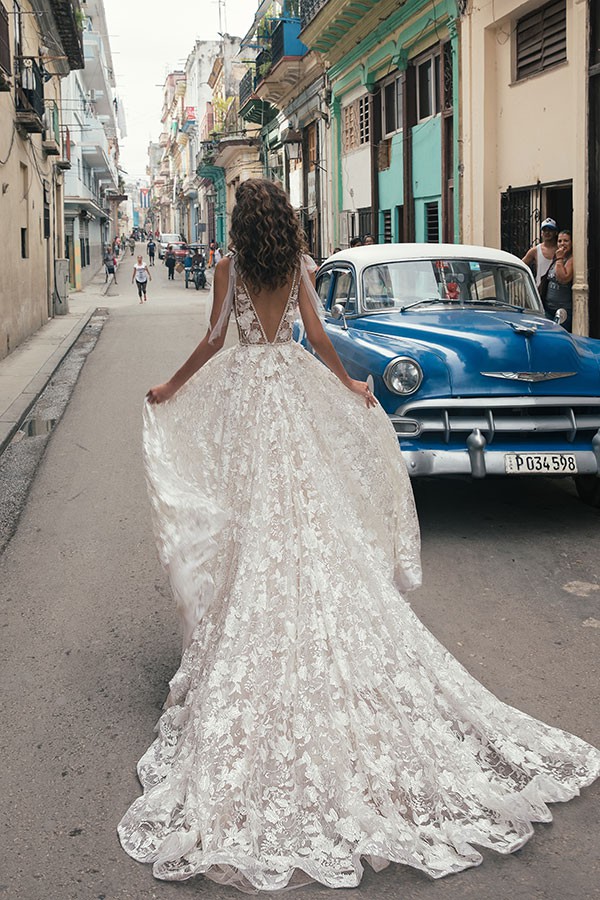 A long modern lace gown features a full cathedral lace train to match the entire look of the dress. A contemporary style that is light and airy, while also being traditional and dramatic.
22.

Sheer Lace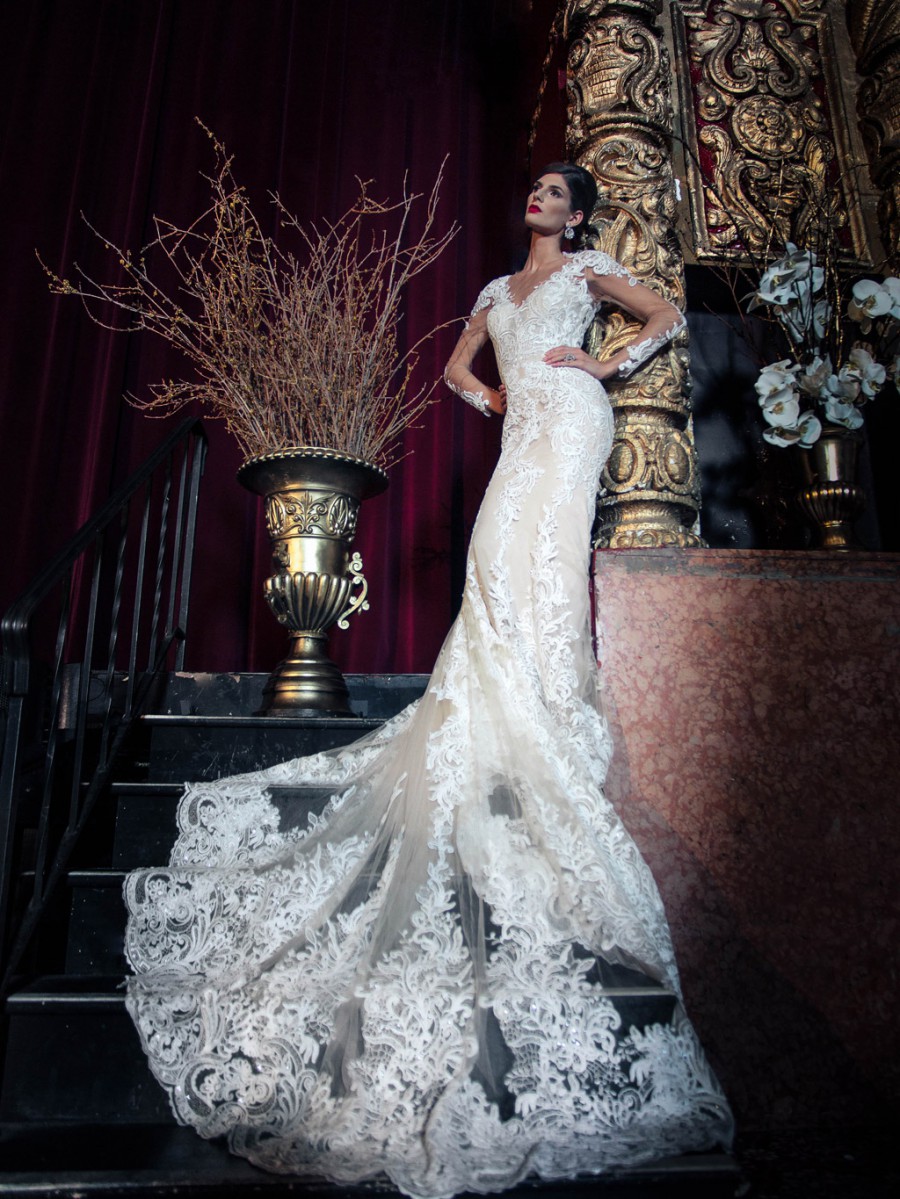 The long sheer train of this wedding gown with lace appliqué accenting, absolutely steals the show. It is delicate and dramatic. An absolutely elegant lace wedding style.

Shop wedding dresses now.

By Kathryn Schrotenboer