You read that correctly ladies, there is a Disney Princess inspired bridal collection, and you don't want to miss it.
Disney's Fairy Tale Weddings & Honeymoons is celebrating 30 years and in honor of this, they have paired up with Allure Bridals to create the Disney Princess Bridal collection of your dreams! Growing up you may have imaged yourself as one of these iconic princesses. And every bride dreams of feeling like a princess on her big day. And now, they can. So the only question is: Which Disney bridal princess are you??
Ariel: The Little Mermaid
Let's start off with everyone's favorite mermaid princess, Ariel.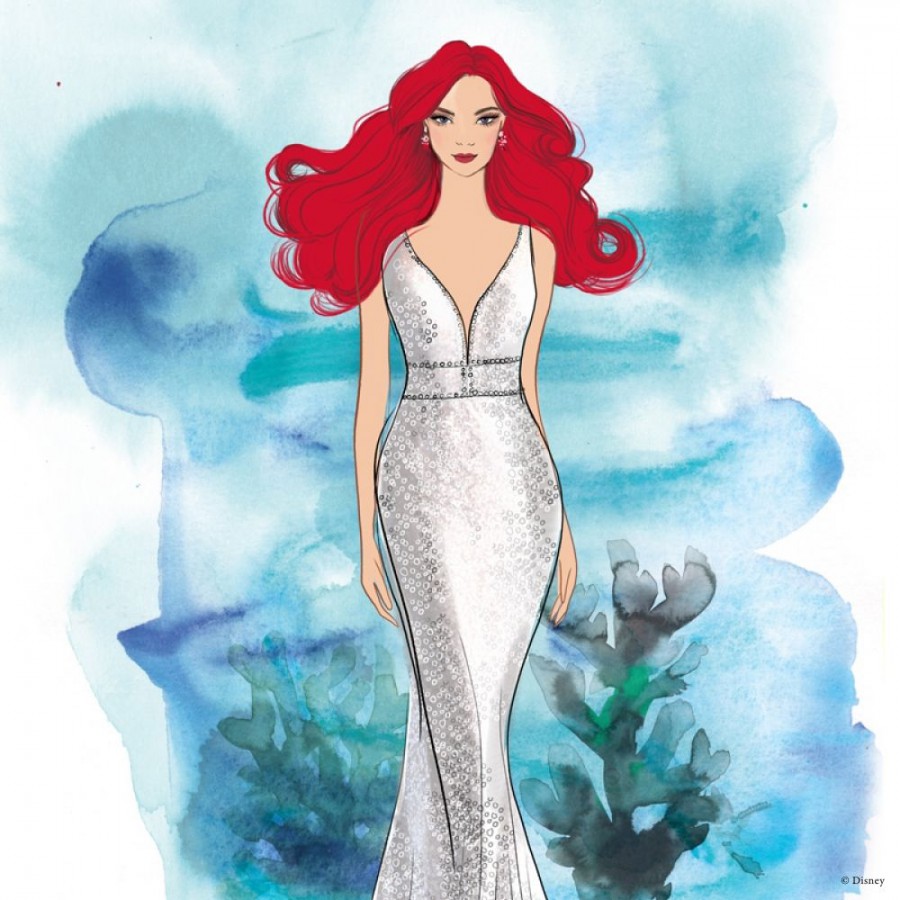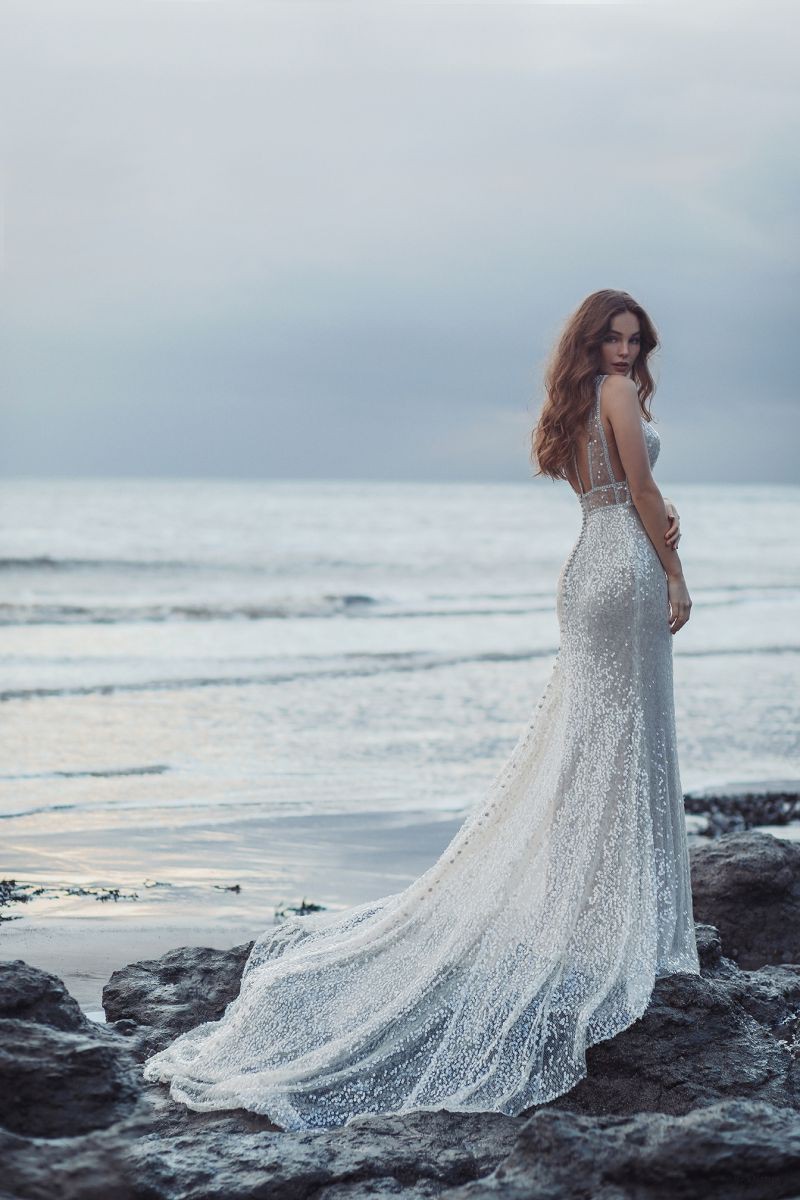 This Ariel inspired gown features an all over sequin style that has a dazzling water feel. And with just a slight flared train at the base that is reminiscent of a mermaid silhouette. This alluring gown would be perfect for a romantic moonlit wedding.
Click here for more Ariel inspired gowns in the collection.
Aurora: Sleeping Beauty
Aurora, better known as Sleeping Beauty, just needs a single kiss to make all of her dreams come true.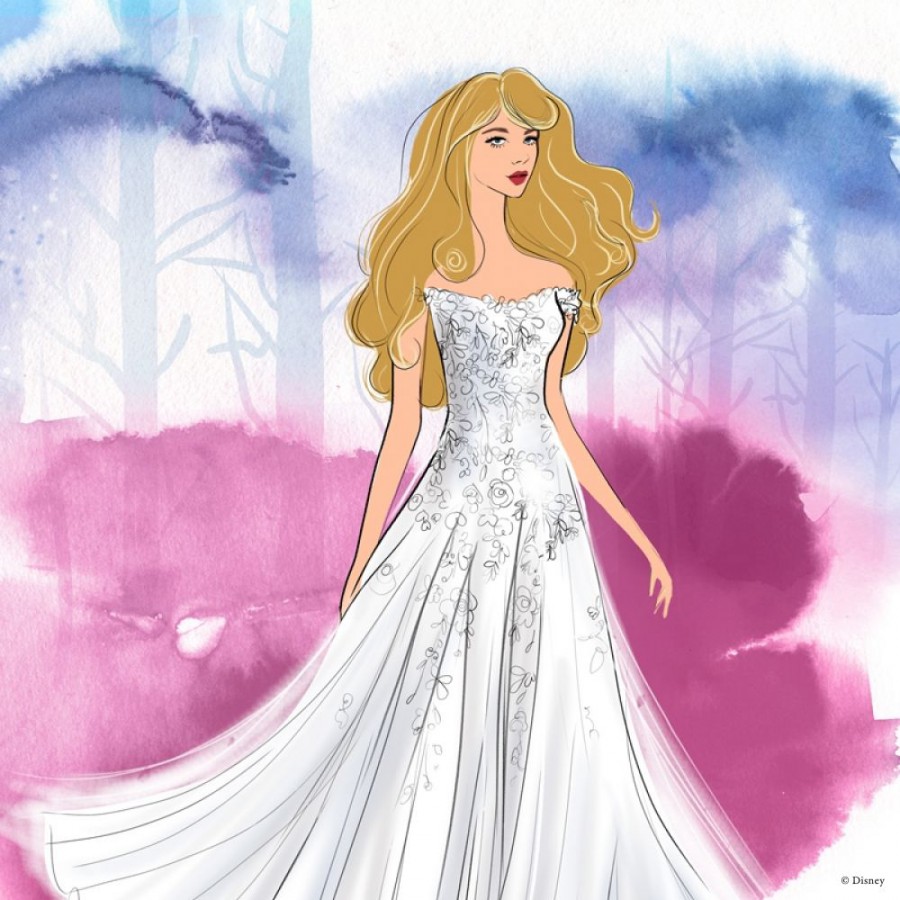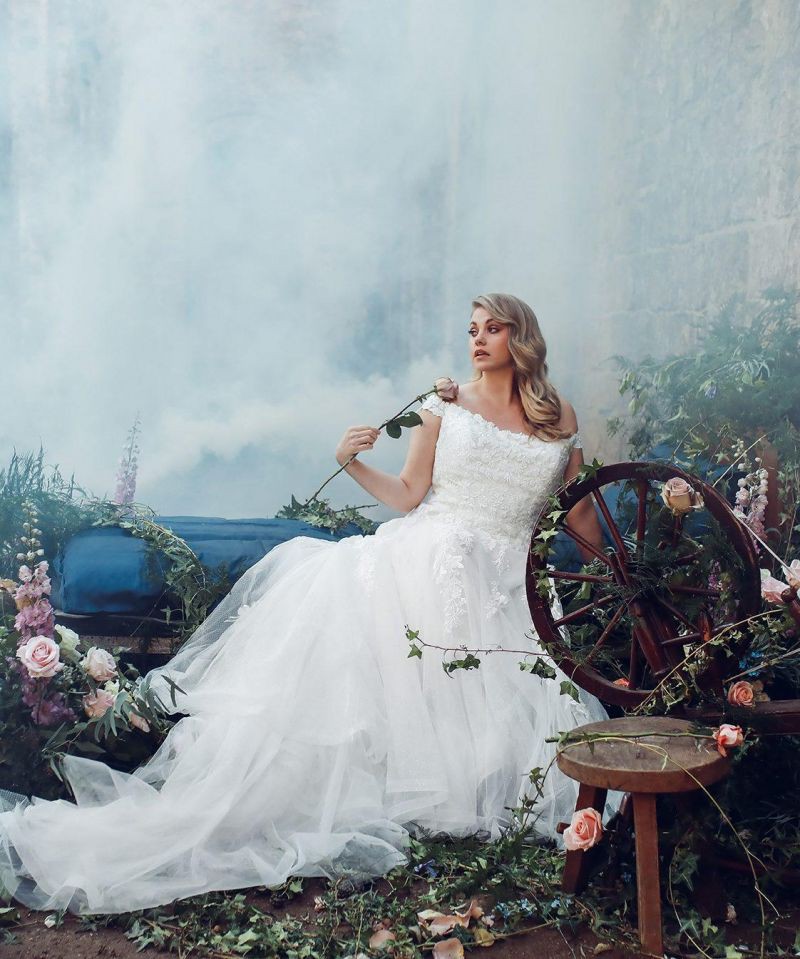 This Aurora inspired gown is a nod to her iconic basque waistline and feminine silhouette. A princess-worthy a-line that will have any bride eager to snag a kiss from her one true love. We are loving the romantic off-the-shoulder neckline and the mix of floral lace and tulle.
Click here for more Aurora inspired gowns in the collection.
Belle: Beauty and the Beast
Get swept away into a tale as old as time with this Beauty and the Beast inspired gown.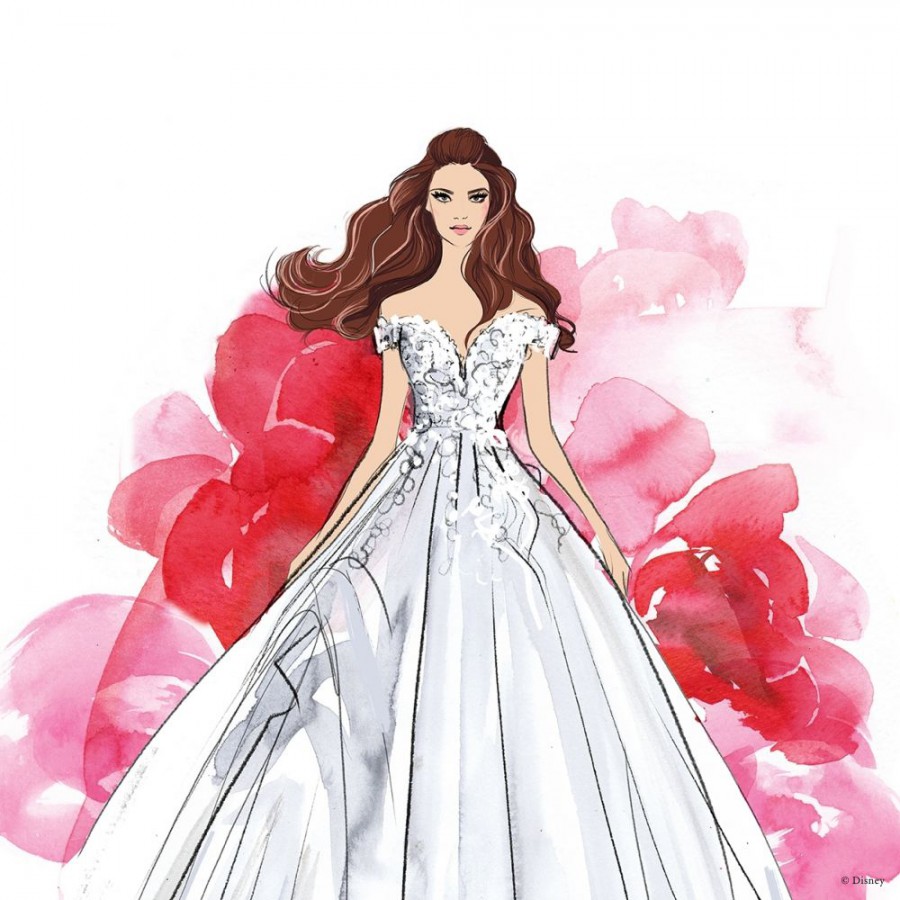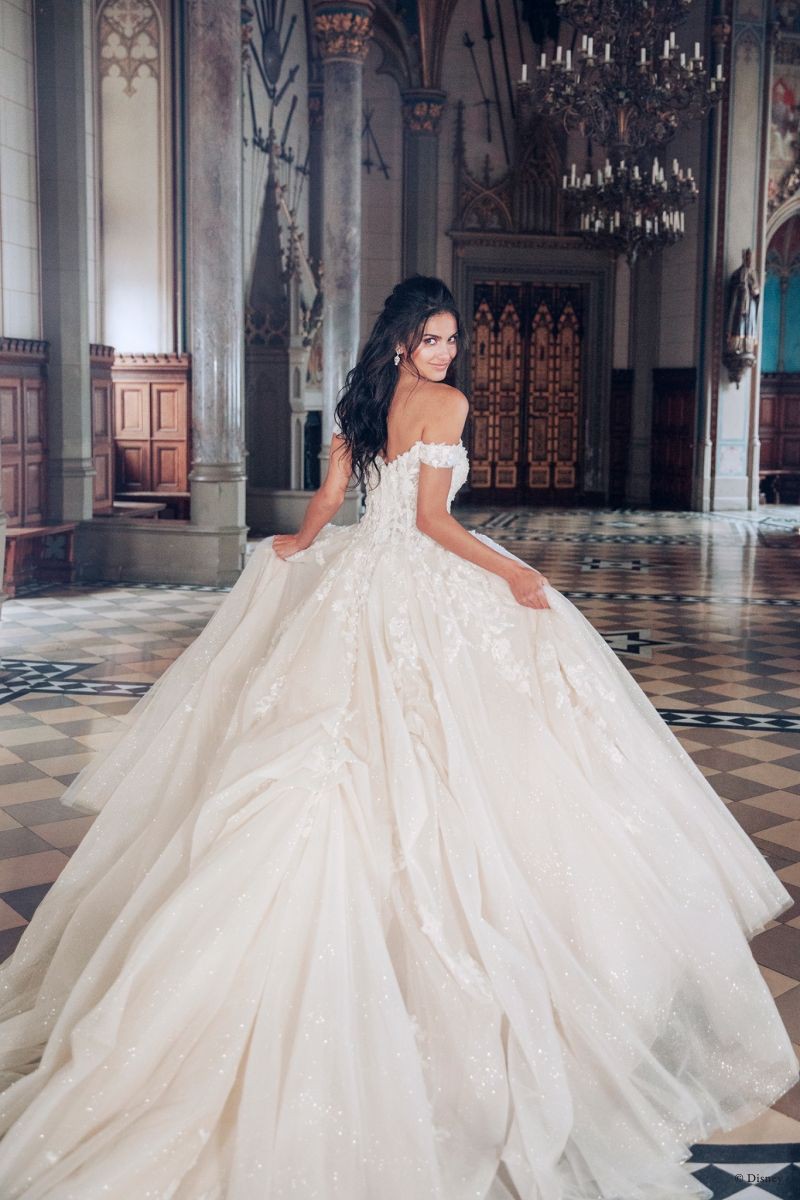 It may not be the iconic golden yellow of Belle's gown that we all remember from the movie, but it is just as dramatic and elegant. This captivating gown features lavish floral embroidered Venice lace and an all over glitter design. And don't forget about the effortless and feminine off-the-shoulder neckline. Any bride is sure to feel as gorgeous as Emma Watson from the modern movie remake.
Click here for more Belle inspired gowns in the collection.
Cinderella
No Disney princess list would be complete without the ultimate bridal princess inspiration: Cinderella.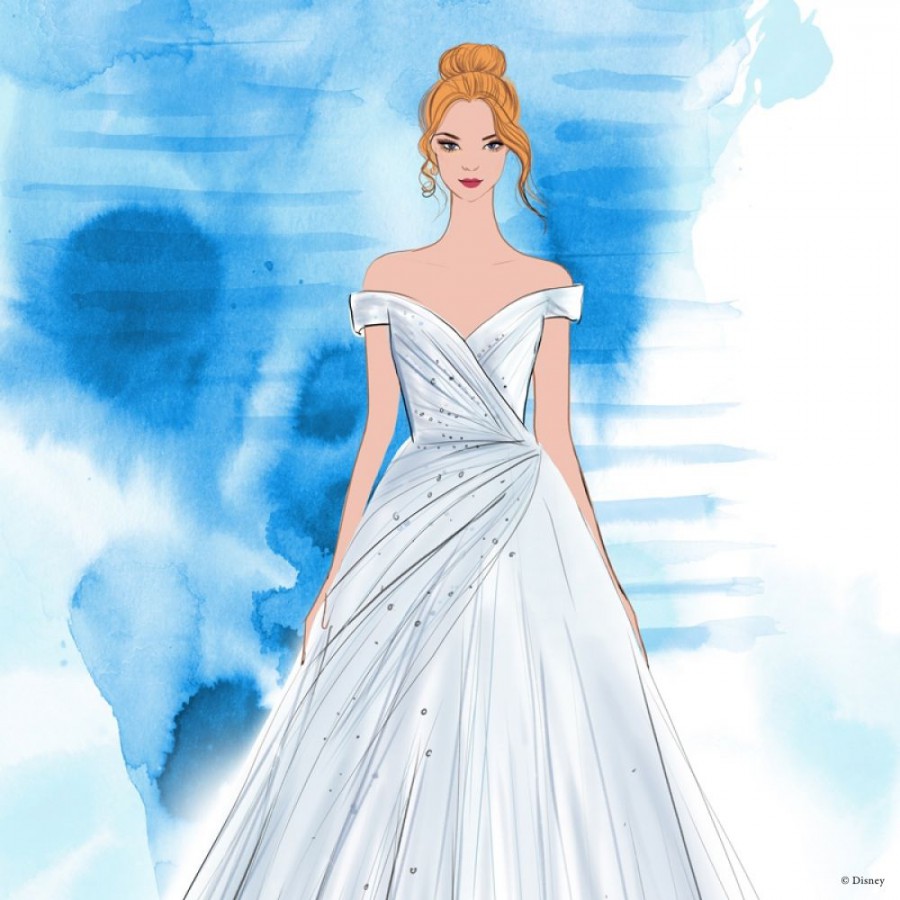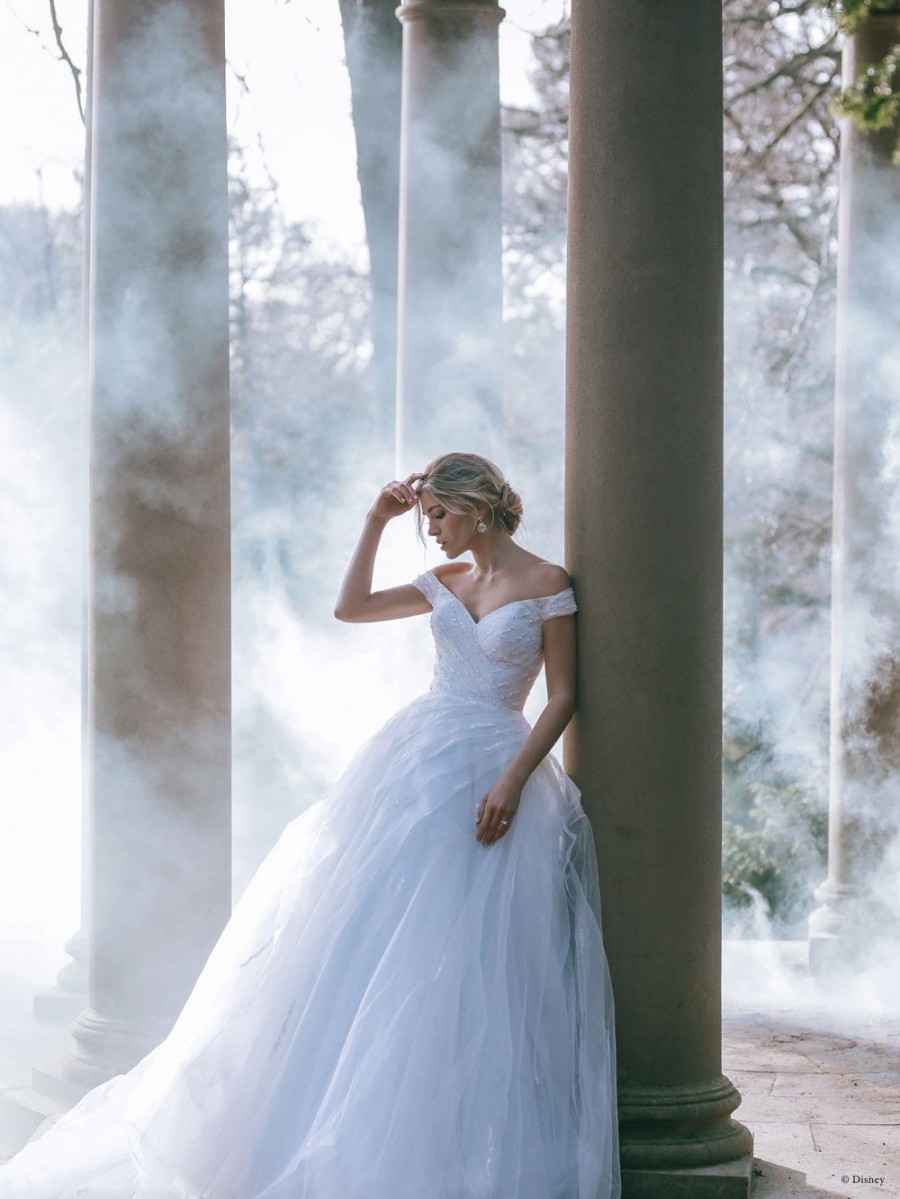 Every bride can image the magical transformation of Cinderella's iconic blue gown. And this dress is a stunning modern representation. Featuring ice blue colored tulle that is ethereal and airy. Accented with linear sequin and bead clusters, this gown is as magical as Cinderella's iconic look.
Click here for more Cinderella inspired gowns in the collection.
Jasmine: Aladdin
Jasmine is everyone's favorite bohemian princess, and the gowns inspired by her in this collection embody her bold and adventurous spirit.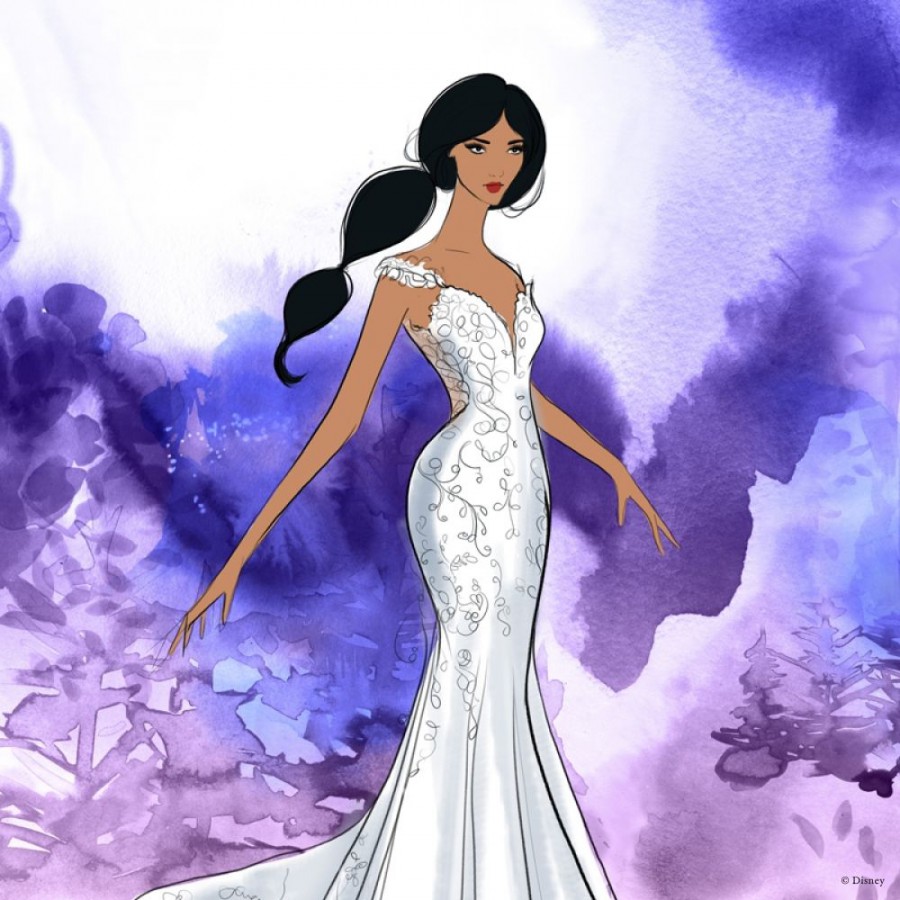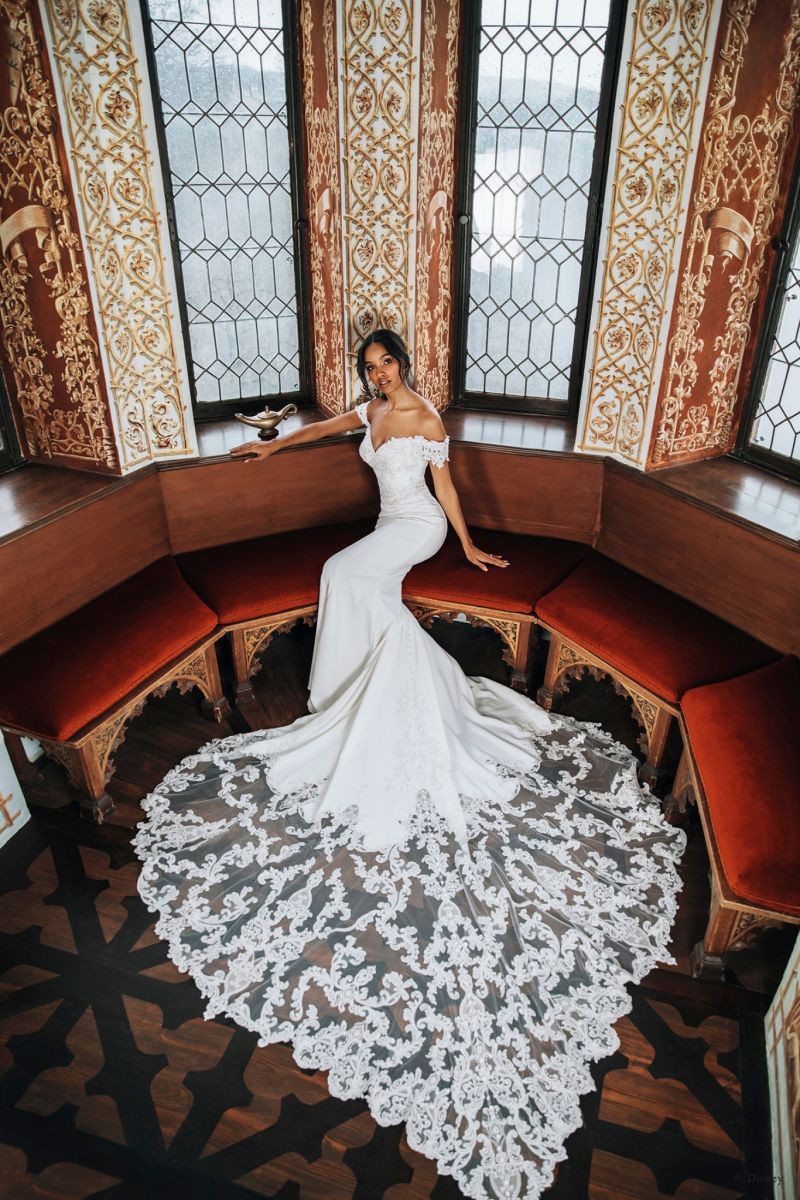 We are completely captivated by this Jasmine inspired bridal gown. An elegant gown that demands attention. The stretch crepe fabric of this gown provides a flattering, form fitted silhouette. And the lavish lace train is nothing short of an artistic masterpiece.
Click here for more Jasmine inspired gowns in the collection.
Pocahontas
Pocahontas is our most free-spirited Disney princess that is deeply in touch with the beauty of nature.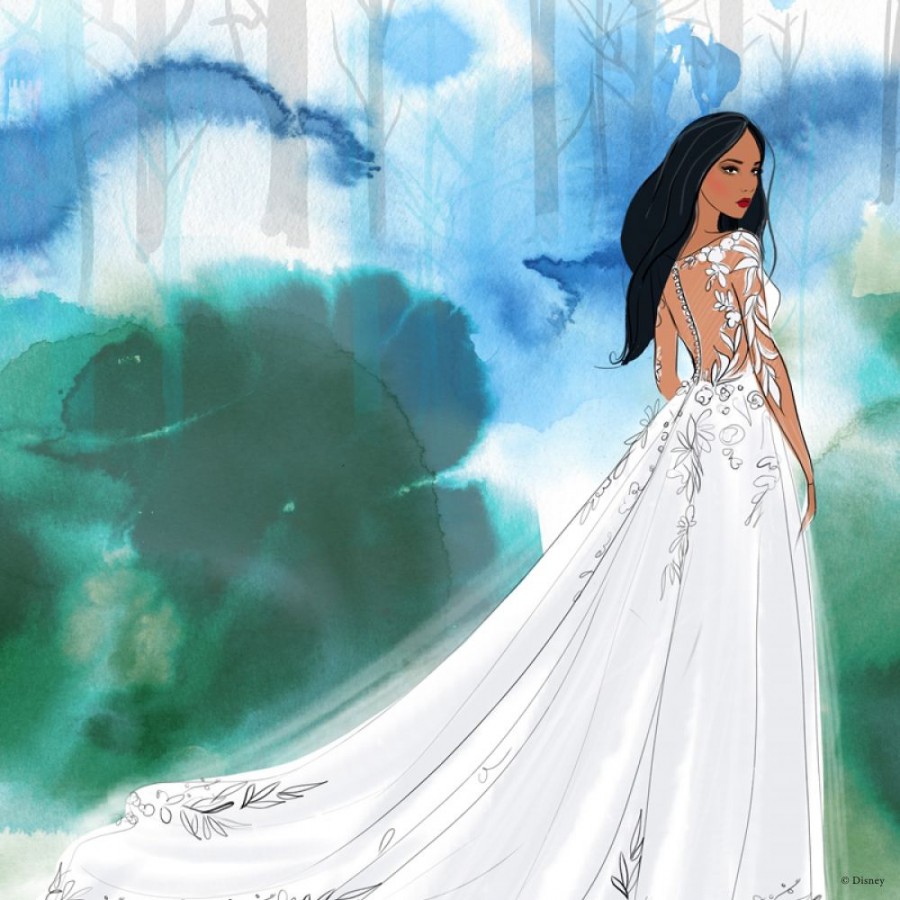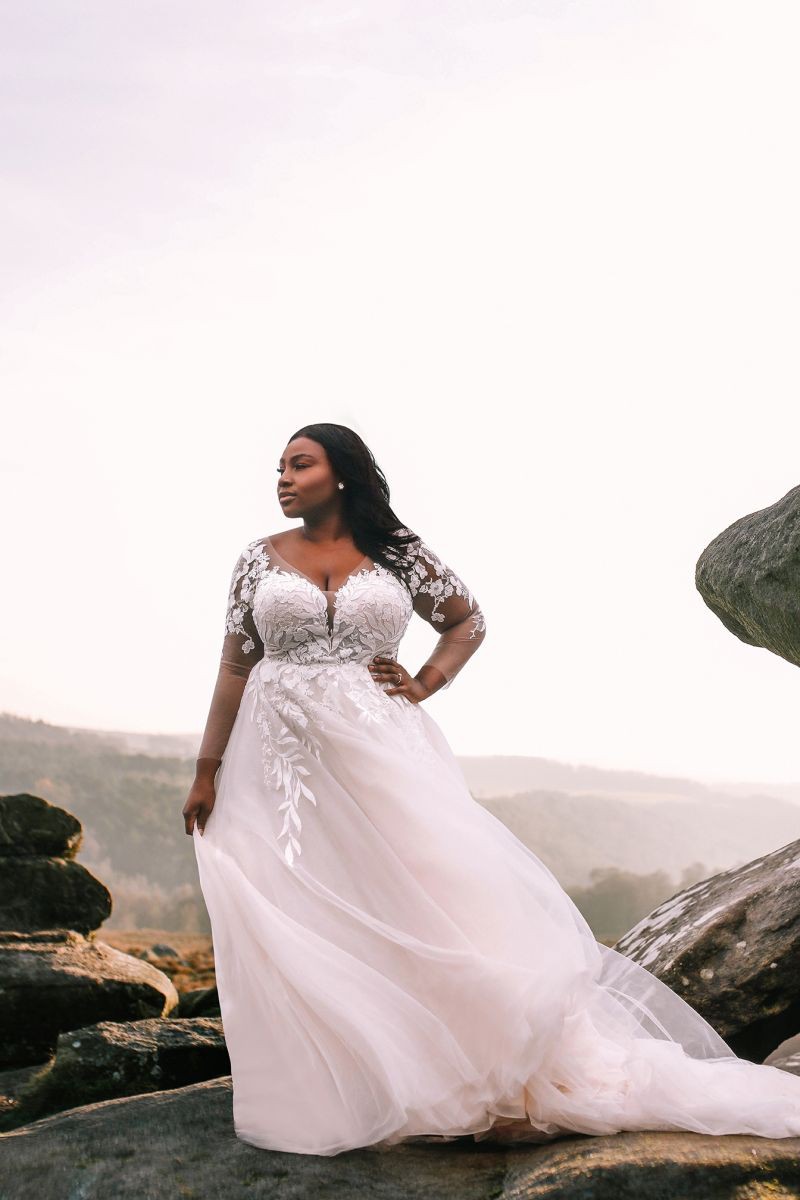 This stunning bridal gown pays tribute to the "Colors of the Wind" Pocahontas's iconic song. Featuring delicate floral and leaf appliqué that float down the bodice and illusion sleeves. This look is sure to steal the hearts of our feminine, nature loving brides out there.
Click here for more Pocahontas inspired gowns in the collection.
Rapunzel
Rapunzel is a spirited and curious Disney princess that is stunningly unique with her lavish, long locks of hair.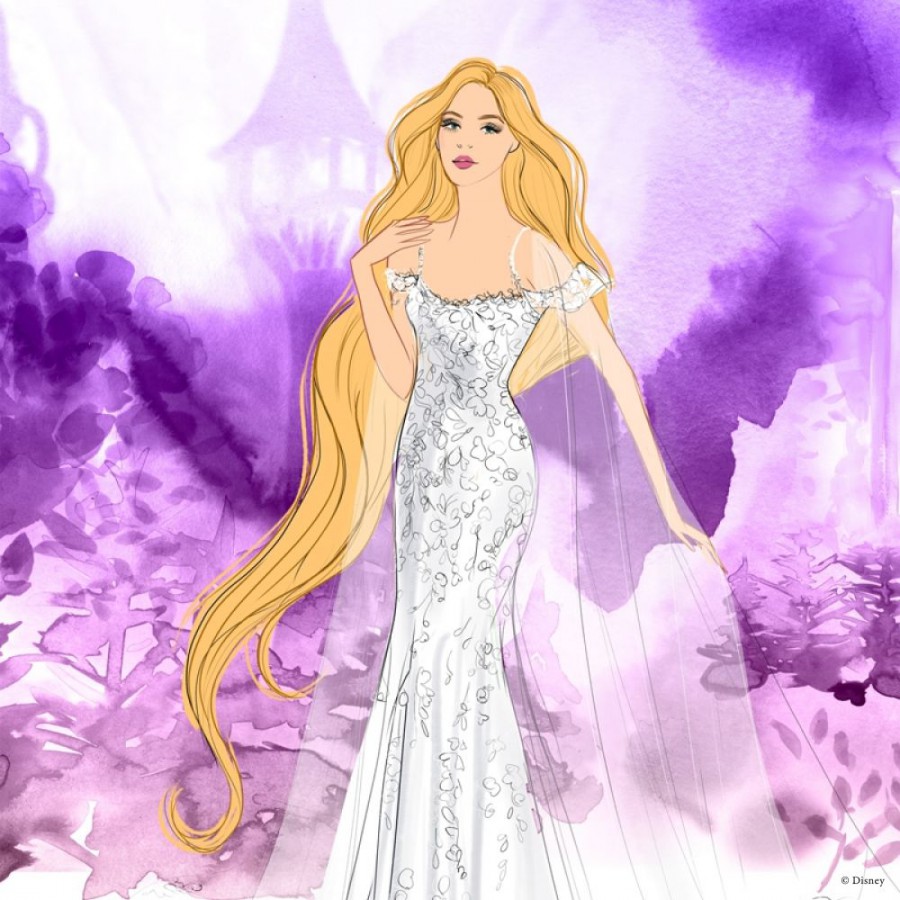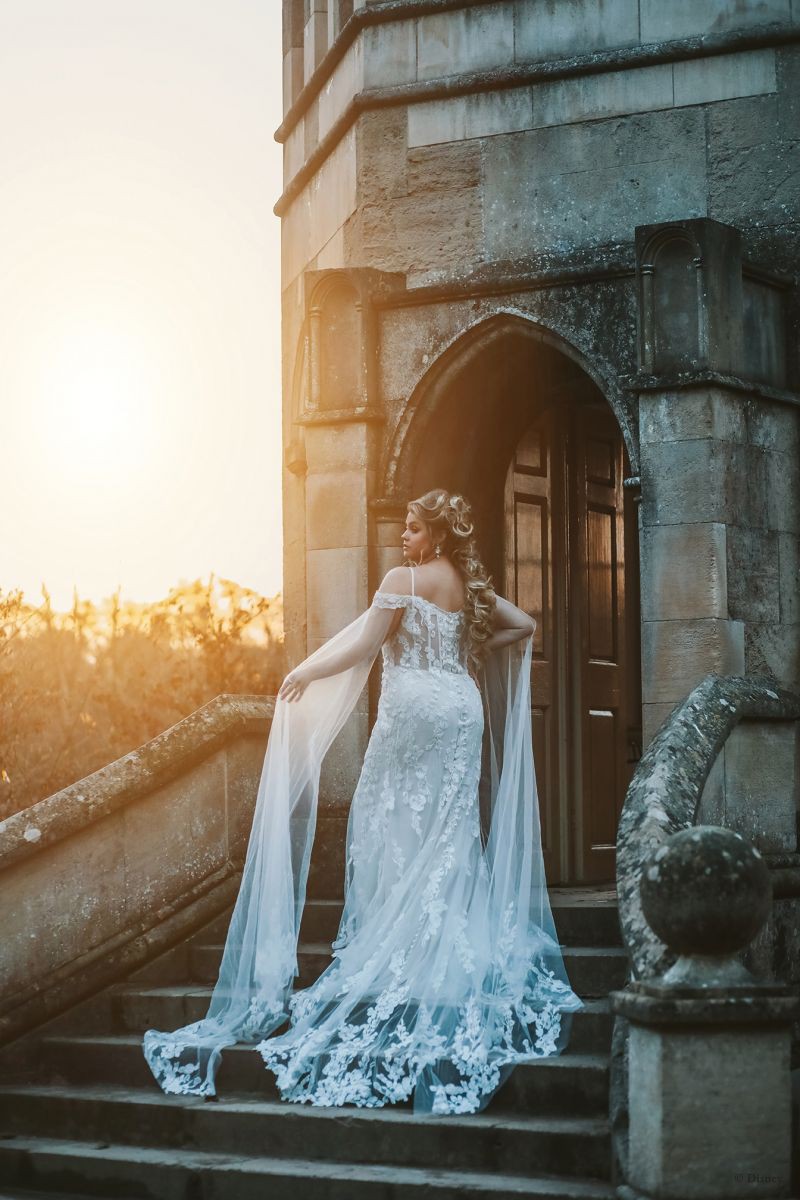 This unique bridal gown inspired by the iconic Rapunzel is absolutely captivating. Dual illusion capes cascade down both sides of the gown to mimic Rapunzel's long, lavish hair. Finished with floral accents, this gown is truly what dreams are made of.
Click here for more Rapunzel inspired gowns in the collection.
Snow White
Snow White steals our hearts with her gentle and feminine personality.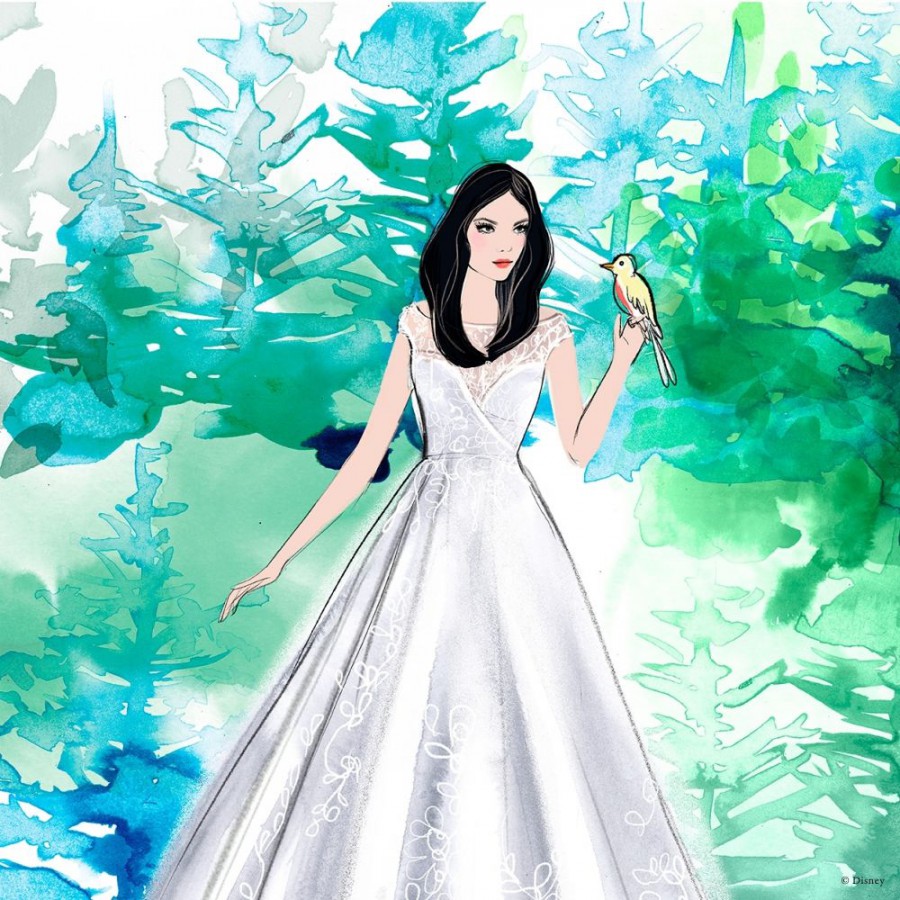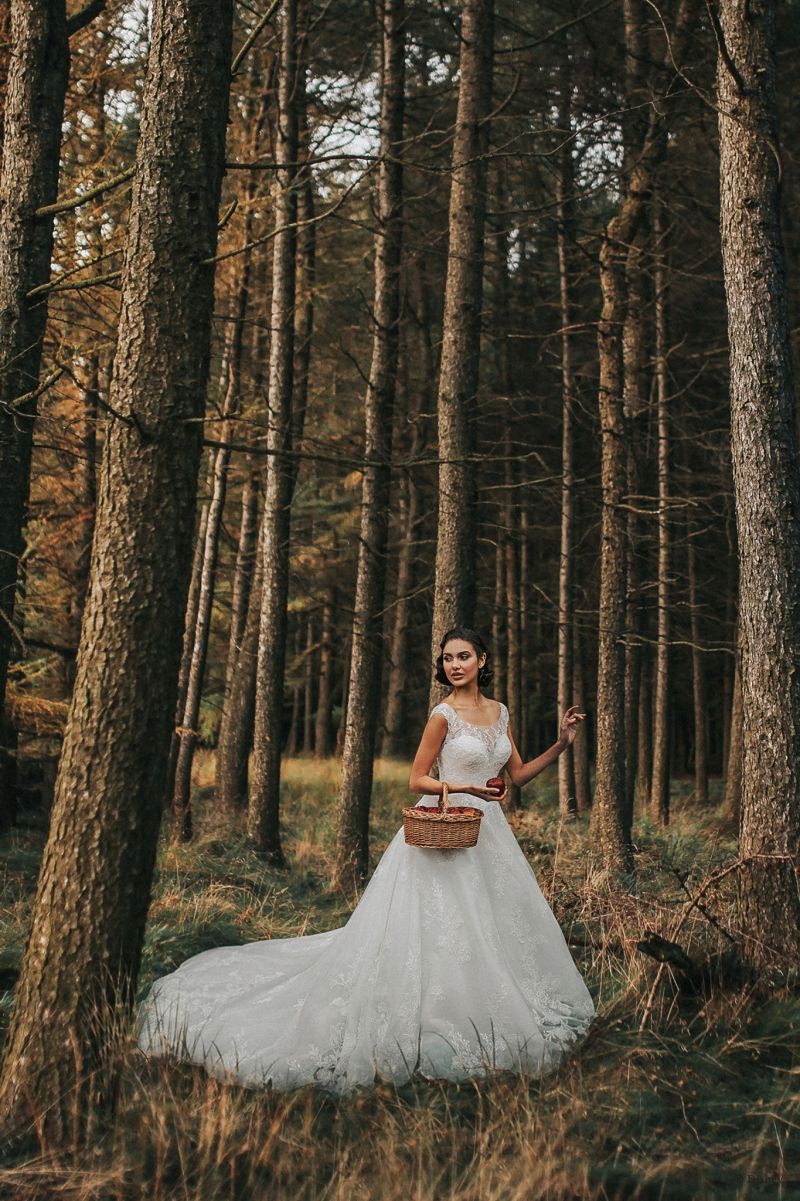 A traditional inspired wedding gown that captures Snow White's effortless beauty and innocence. We love the delicate scooped illusion neckline that shows off Snow White's love for nature with its elegant floral embroidery.
Click here for more Snow White inspired gowns in the collection.
Tiana: The Princess and the Frog
Tiana is a dreamer that creates her own destiny.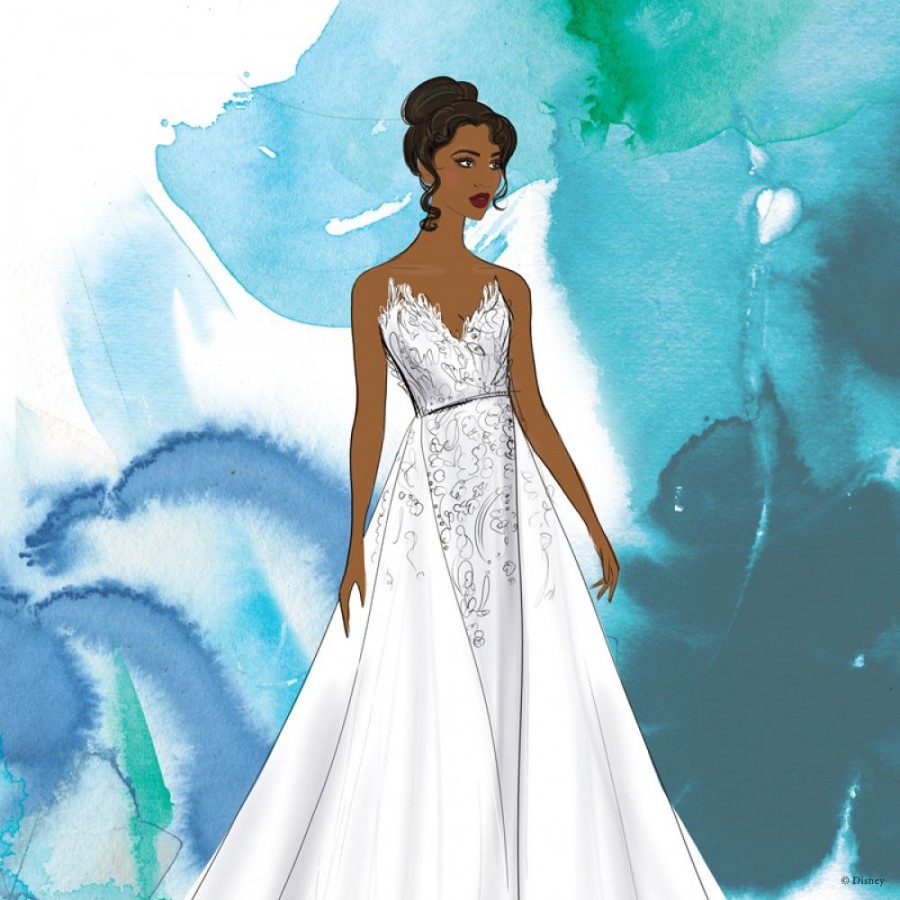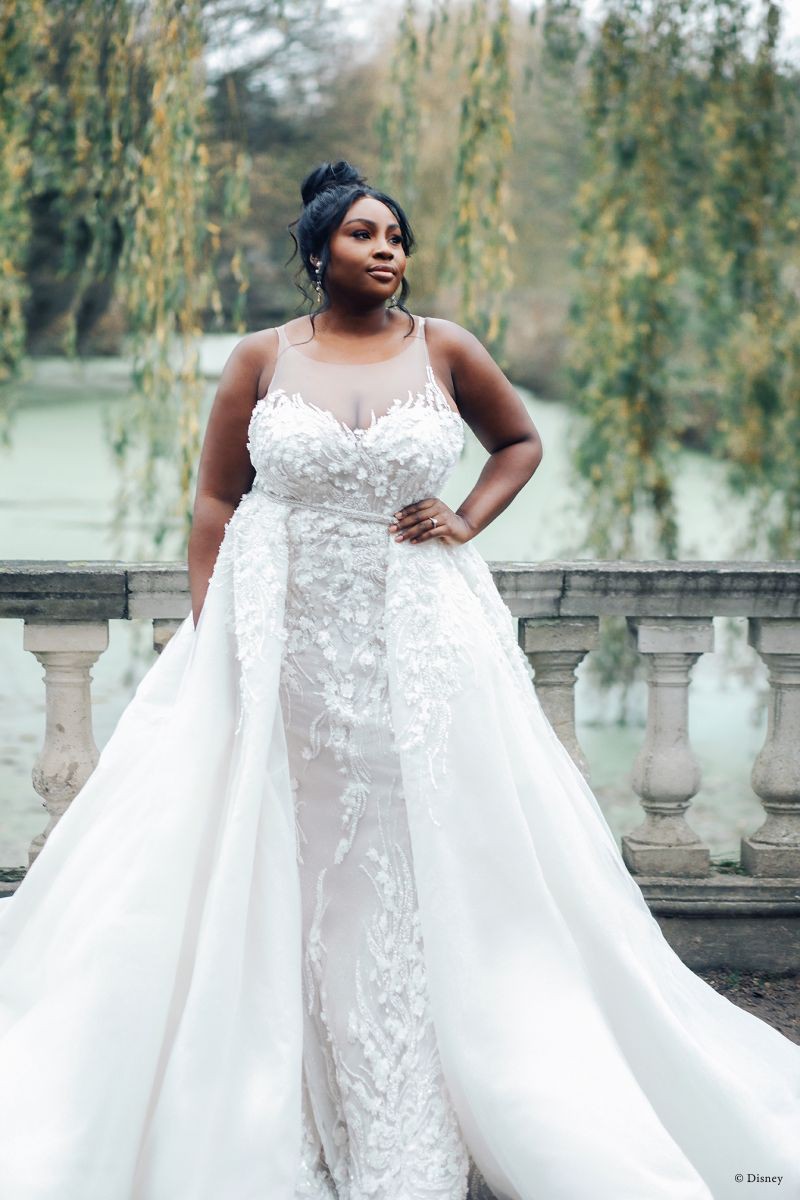 The Tiana inspired gowns in the collection embody her confidence and influences from the Jazz Age. This lavish sheath gown features crystal encrusted florals and vine accenting that are reminiscent of the bayou and the lavish styles of the time. This gown is confident, daring, and everything a modern day princess could want!

Click here for more Tiana inspired gowns in the collection.

By Kathryn Schrotenboer