Sleeves or no sleeves is a common question for modern day brides. But we think you should have both.
Detached sleeves are becoming a huge trend in contemporary wedding fashion. These optional accents can switch up the entire look of your wedding style in just seconds. From pull length sleeve add-ons, to subtle jeweled accents, the detached sleeve trend is a must see for modern brides.
01.

Training Sleeves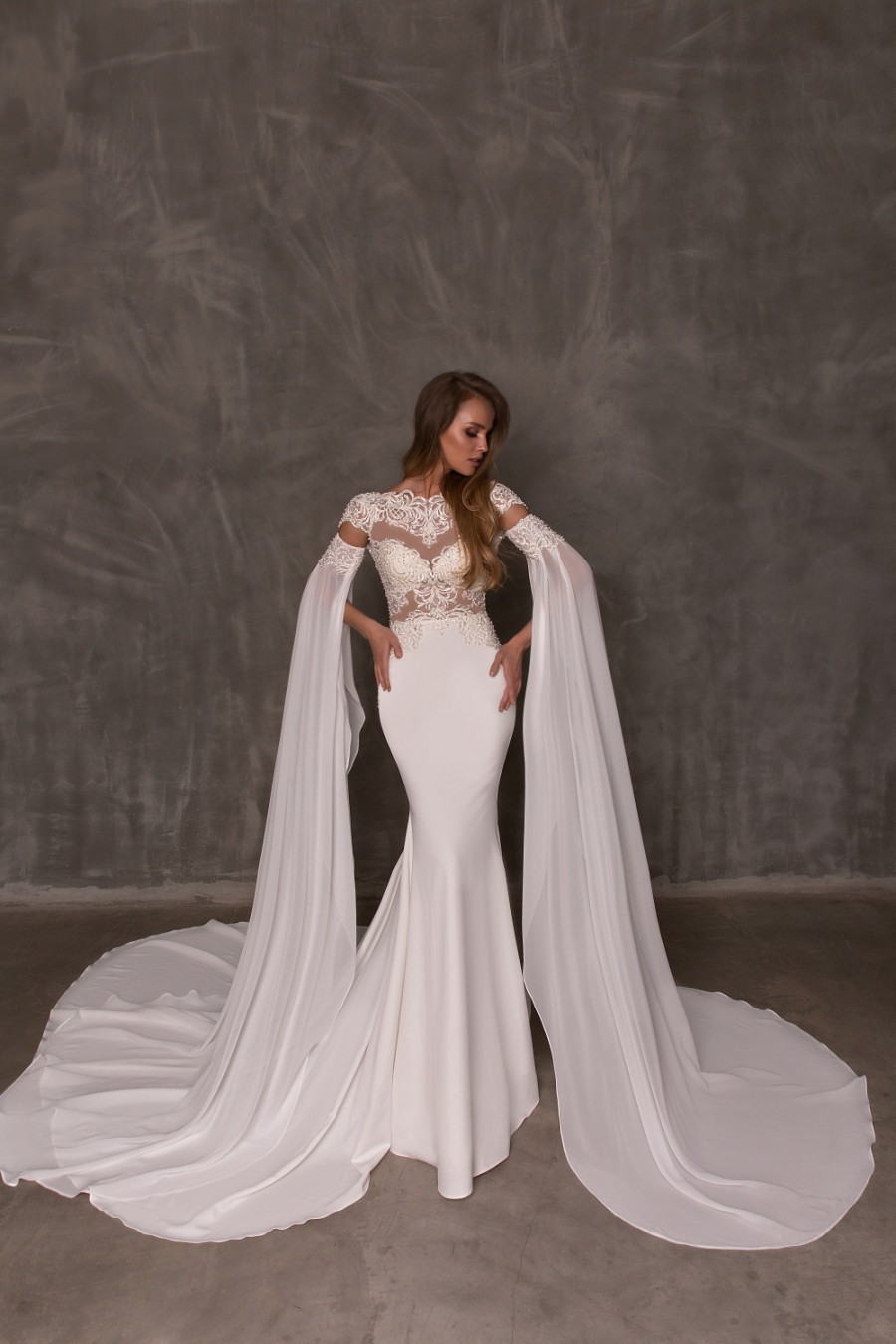 Eva Lendel starts off our list with a truly one of a kind bridal style. This look includes optional sleeves that feature long dramatic trains that drape down to the floor.
02.

Free Sprit Fringe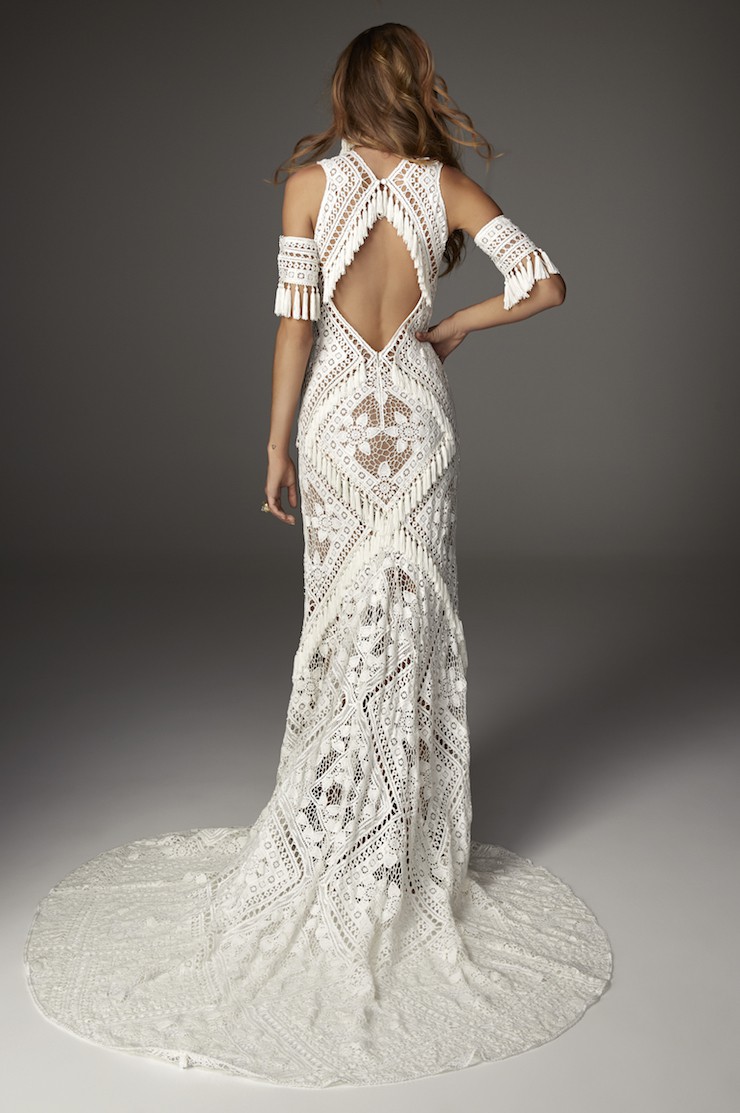 A free spirited festival ready wedding style featuring playful fringe accents. Detached sleeves mimic the same crochet lace fabric and fringe accents for a playful finish to this lovely bohemian wedding gown.
03.

Encrusted Ball Gown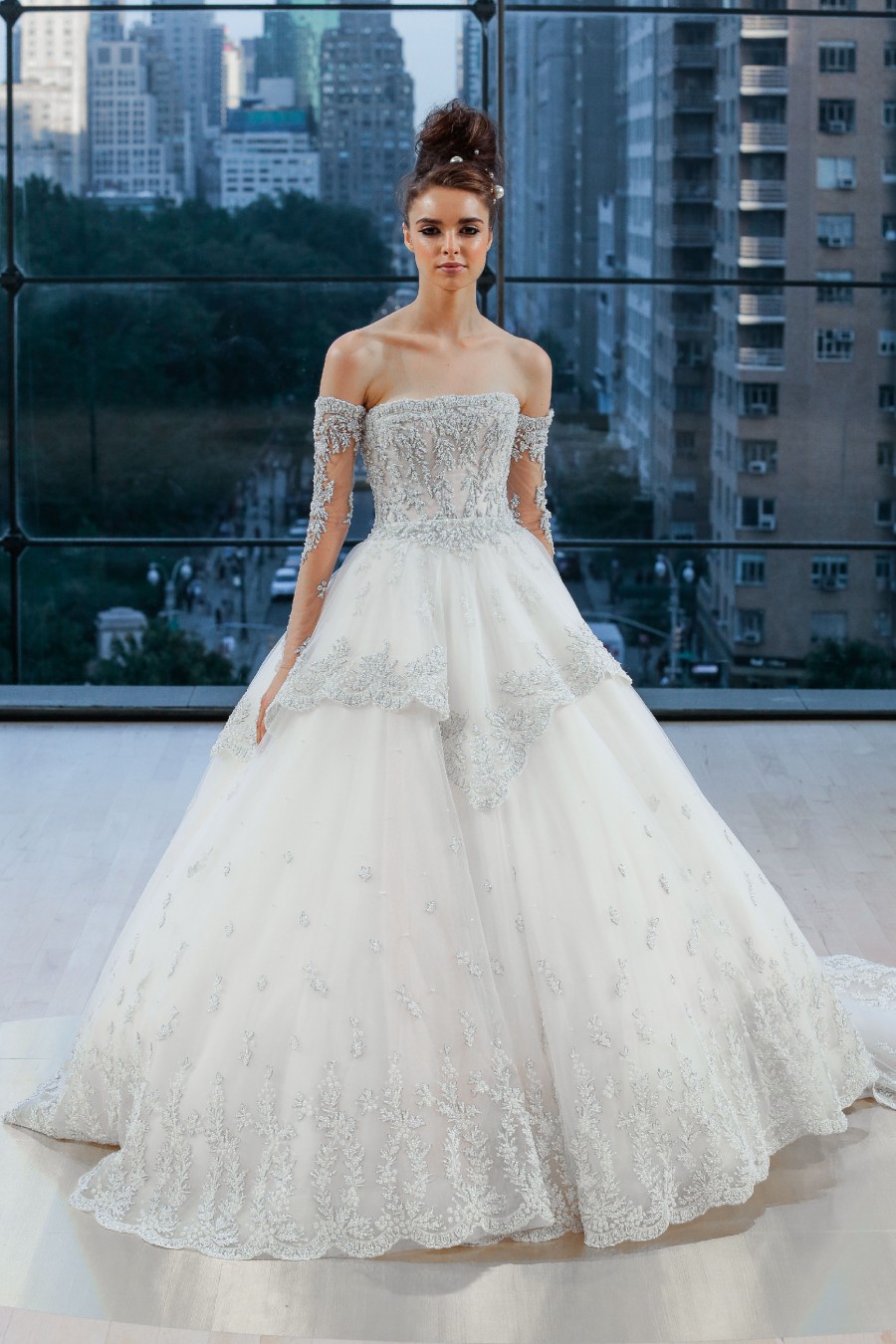 A stunning encrusted strapless ballgown for the modern day luxe wedding princess. To complete this style are detached sleeves to match the encrusting on the rest of the gown.
04.

Organza Puff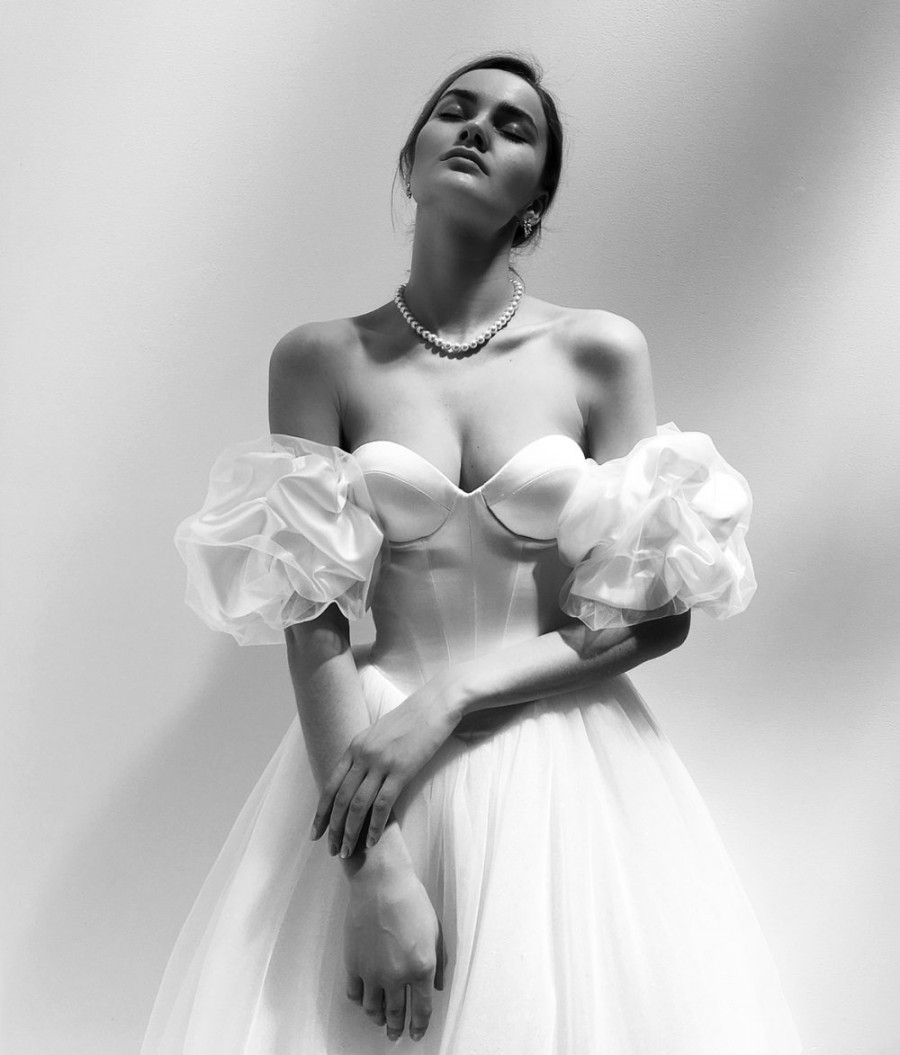 A modern sweetheart corset princess ballgown that takes us by surprise with its removable organza puff sleeves. A stunning modern interpretation for those dreaming of a voluminous 80s inspired wedding gown.
05.

Romantic Bohemian Goddess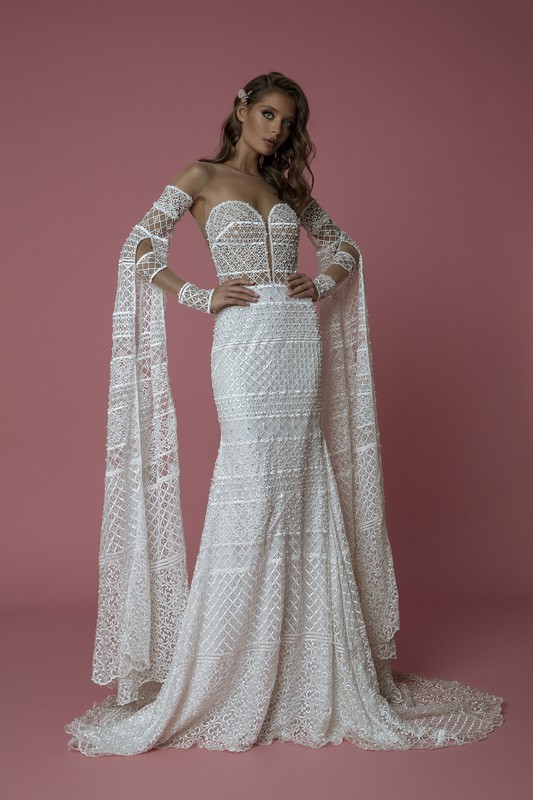 A stunning take on classic lace. This gorgeous bohemian goddess wedding dress style features dramatic detached lace sleeves that drape delicately down to the ground. A completely unexpected modern feature to this bohemian style.
06.

Luxe Princess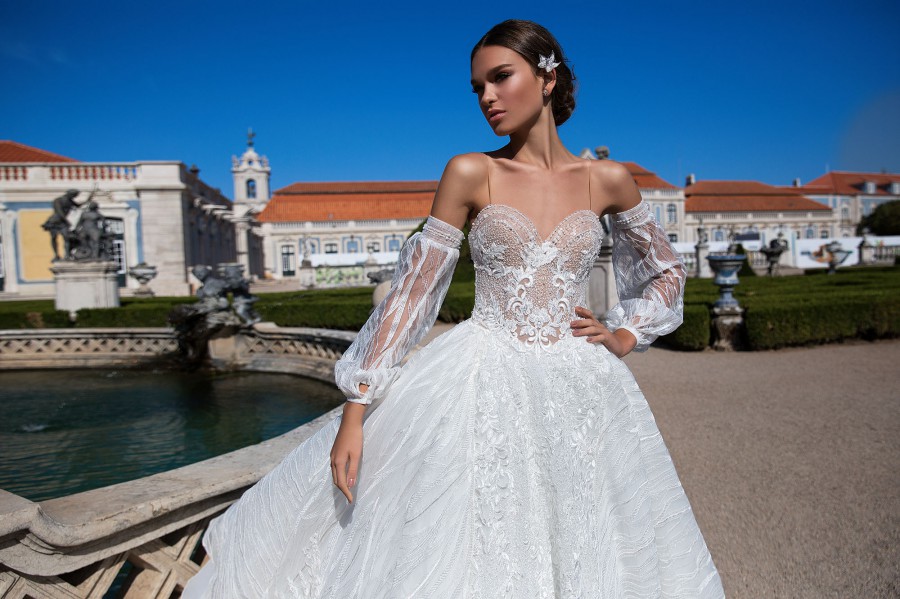 A gorgeous luxe modern day princess gown that features dramatic detached sleeves. Remove the sleeves for a more traditional princess ball gown look. Or add the sleeves back on for a unexpected modern trend.
07.

Sleek Satin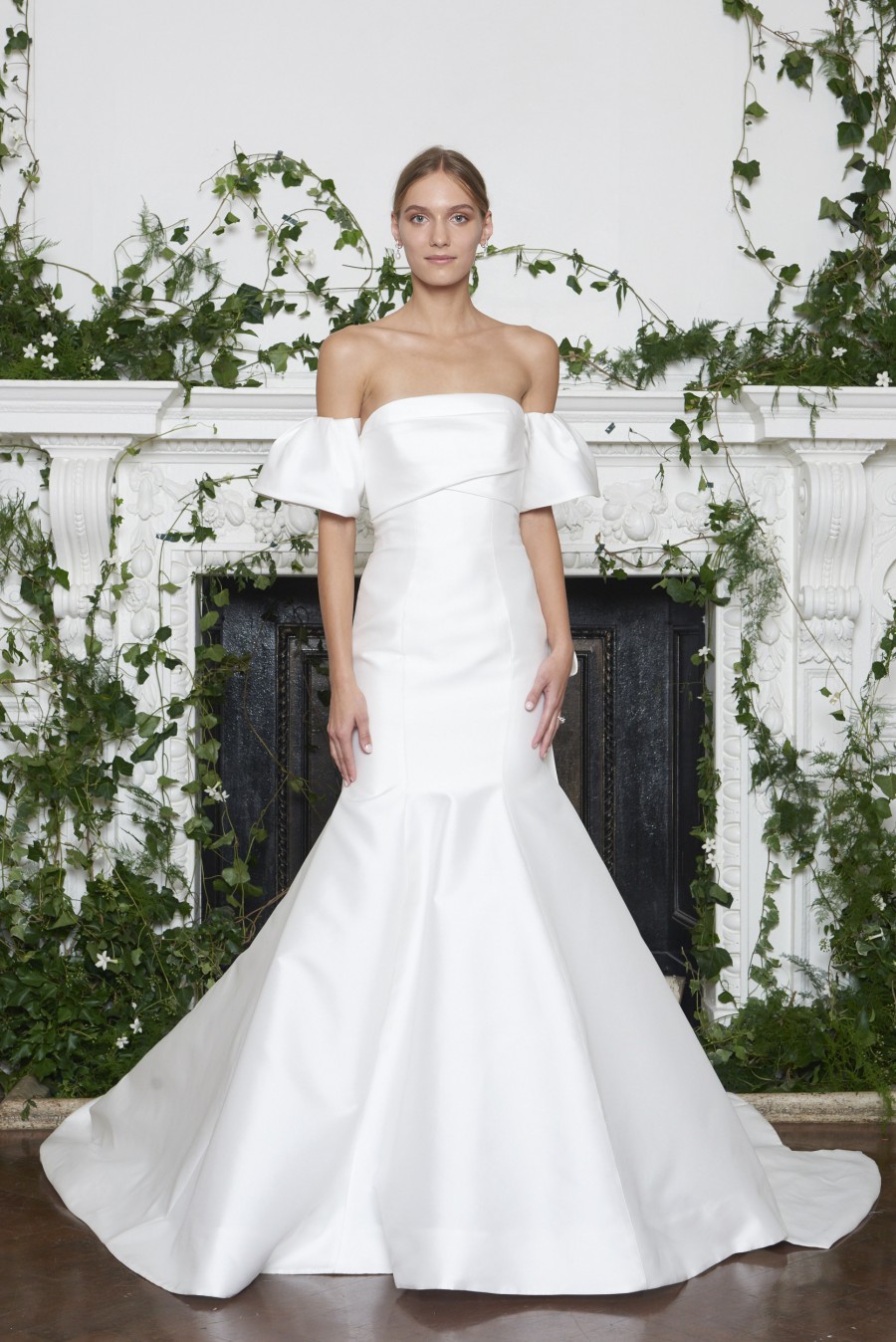 A sleek silk satin gown by Monique Lhuillier. This modern gown is finished with subtle flared sleeves that add gorgeous contemporary appeal this is sleek style.
08.

Lace and Mesh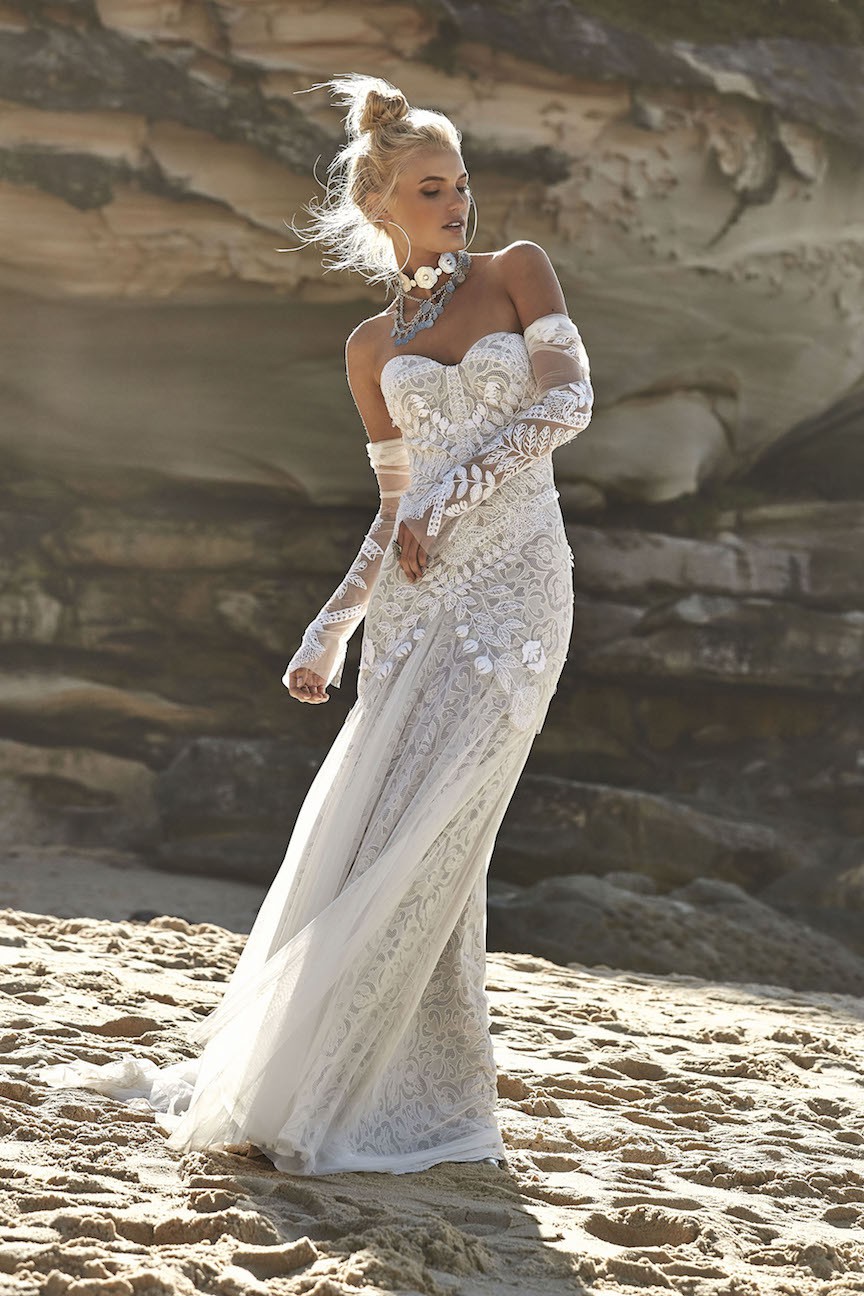 Our next detached sleeve wedding style combines various lace techniques and airy mesh fabric to create a gorgeous textured and layered bohemian look. Matching detached sleeves accented the detailed textures of this one of a kind gown.
09.

Matching Lace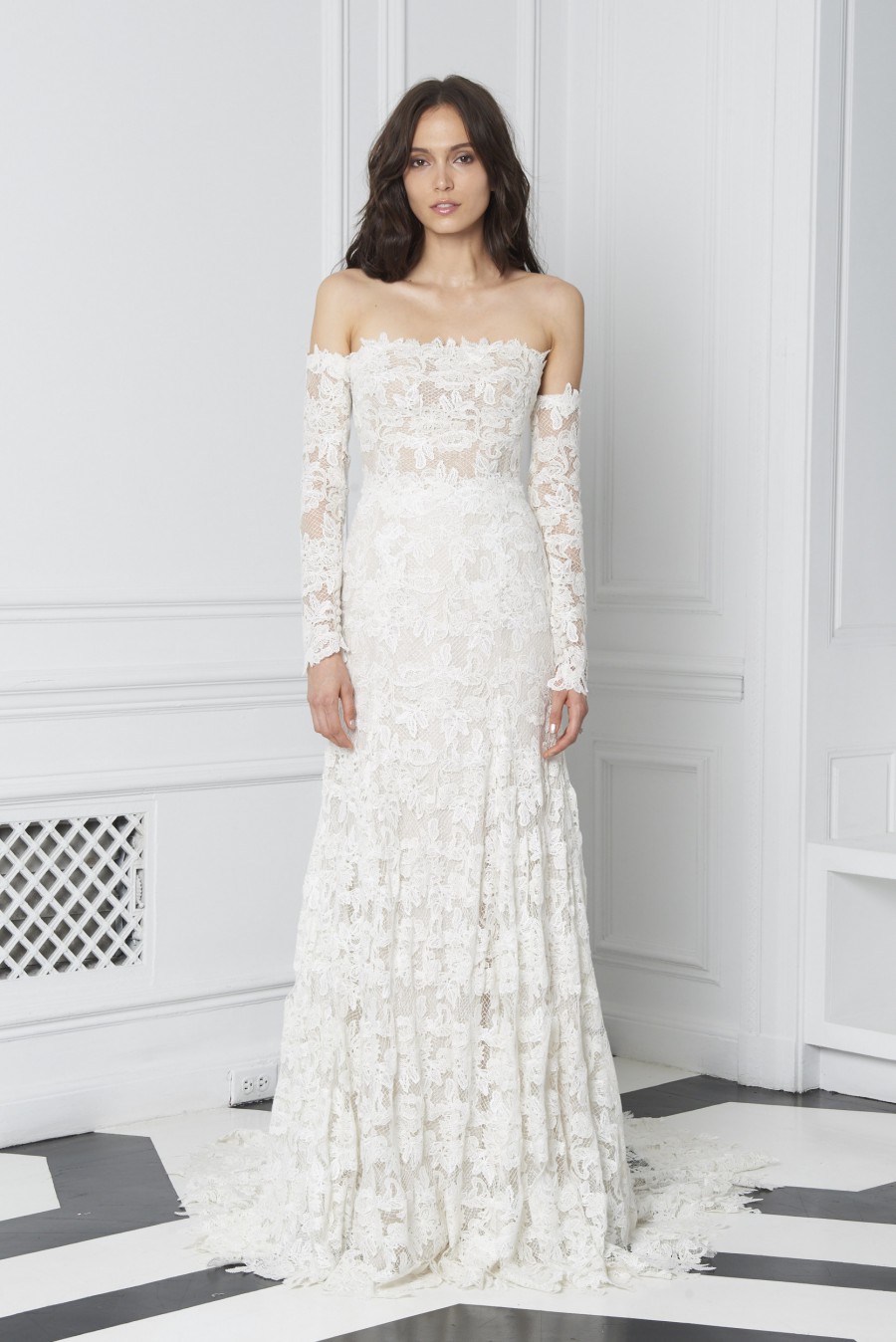 Matching all lace detachable sleeves are a subtle way to incorporating this stunning trend into your modern day wedding look. Wear them for a more full length sleeve wedding style, or remove them later on in the day for a classic strapless lace look.
10.

Dimensional Florals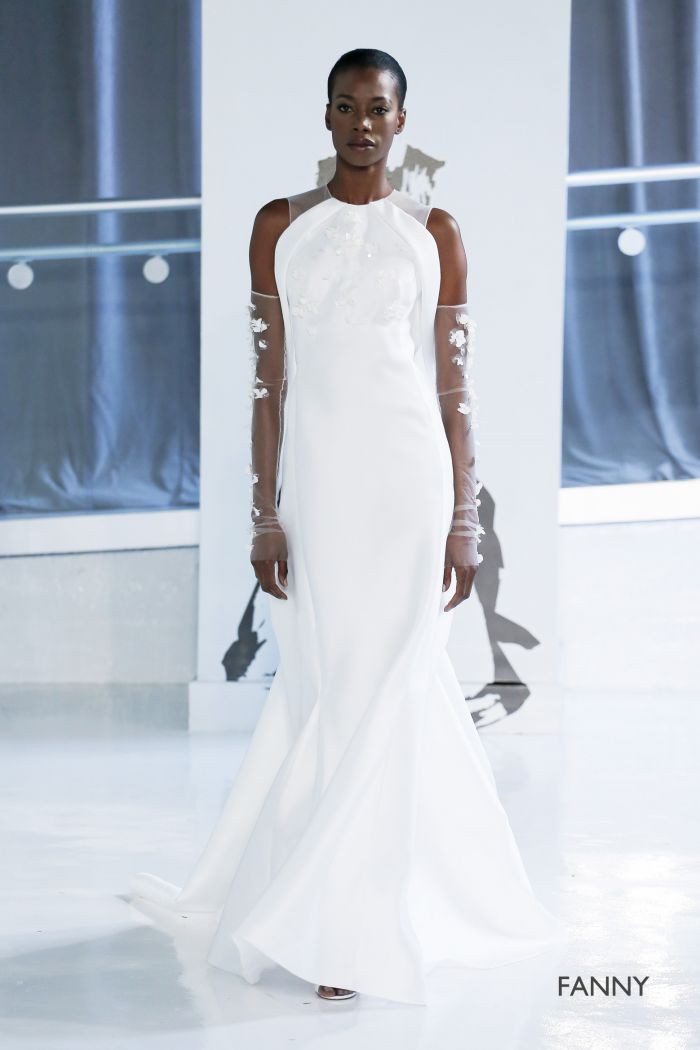 Peter Langner brings us our next detached sleeve wedding style. These sleeves mimic the sheer tulle used other places in the dress, and sport dimensional floral accents. These options sleeves add a dramatic modern finish to this contemporary wedding look.
11.

Billowing Bells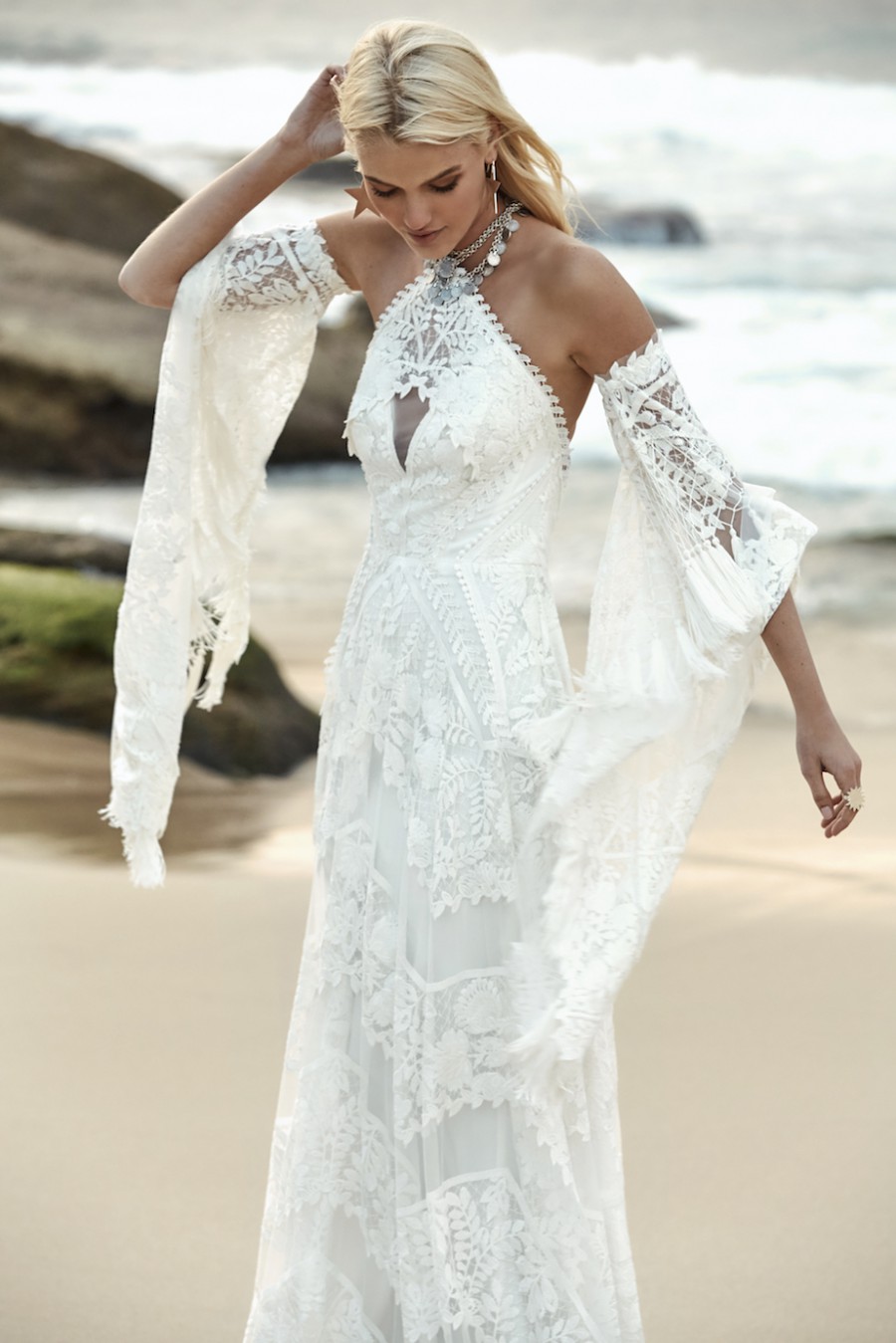 Rue de Seine creates a breathtaking contemporary bohemian wedding style that just isn't the same without its optional detached bell sleeves. These long billowing bell sleeves create unbelievable texture and movement that compliment this stunning halter cut wedding dress.
12.

Lace Bohemian
Heavy cotton lace, with a deep nude base make up the layers of this next bohemian wedding style. The same heavy cotton lace is used to create detached sleeves with long flowing bell openings. These optional sleeves take this modern boho style to an entirely new level when it comes to bold wedding fashion.
13.

Flowing Beaded Lace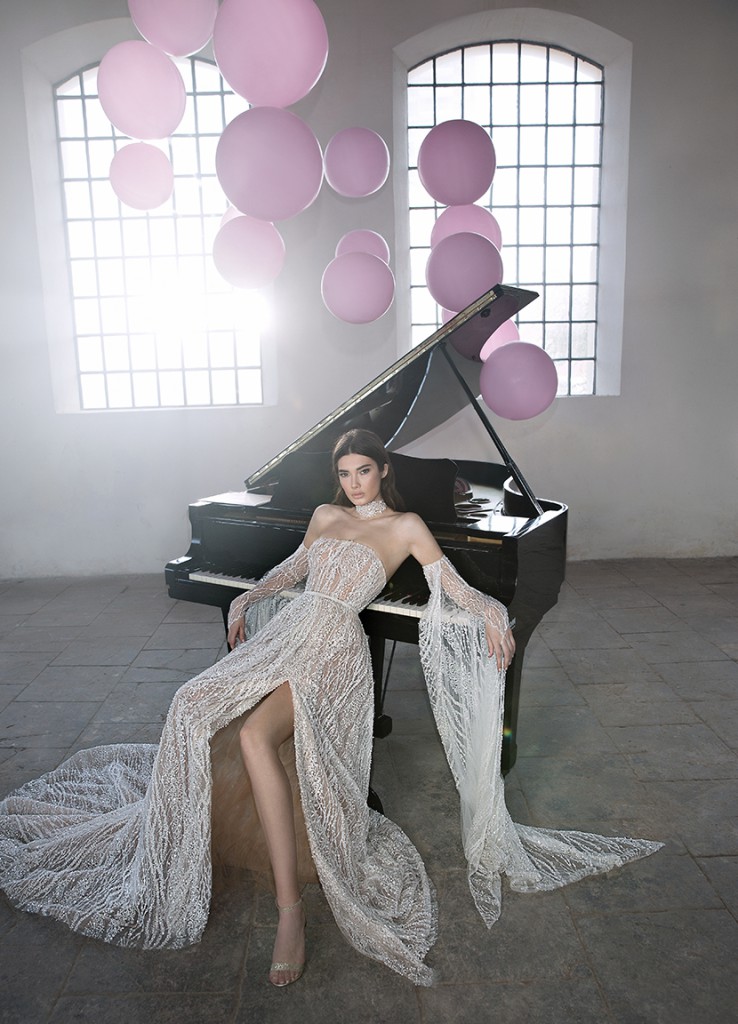 This completely unique lace wedding gown features all over beading that is mimicked in its matching flowing detached sleeves. Wear without for a classic contemporary strapless look - or put the sleeves on to give this style a bold modern edginess.
14.

Crystal Rose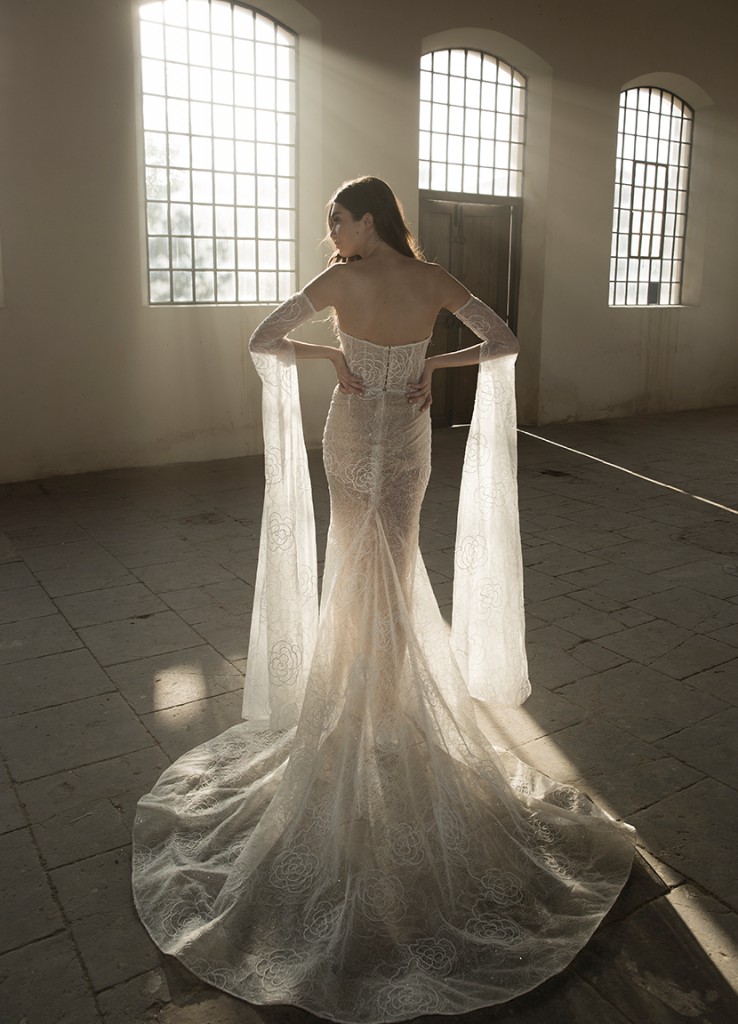 A unique lace gown featuring a large rose like pattern. This gown is covered from top to bottom in delicate crystal embroidery that has the rose lace design glistening. Paired with floor length detached sleeves for added drama.

Shop wedding dresses now.

By Kathryn Schrotenboer