Crochet wedding dresses are a trend that we can't get enough of. And this list will show you why.
Crochet styles have been a surprisingly chic trend in fashion, and we love that this trend is making its way into the bridal world. We love the beachy, vintage vibes that crochet naturally gives you. But now we are seeing crochet make its way into bridal fashion in bold, modern ways. This list has a perfect mix of bohemian crochet styles and chic contemporary alternatives. We know your are intrigued, so dig into this list of 14 trending crochet wedding dresses.
01.

BHLDN: Crochet Halter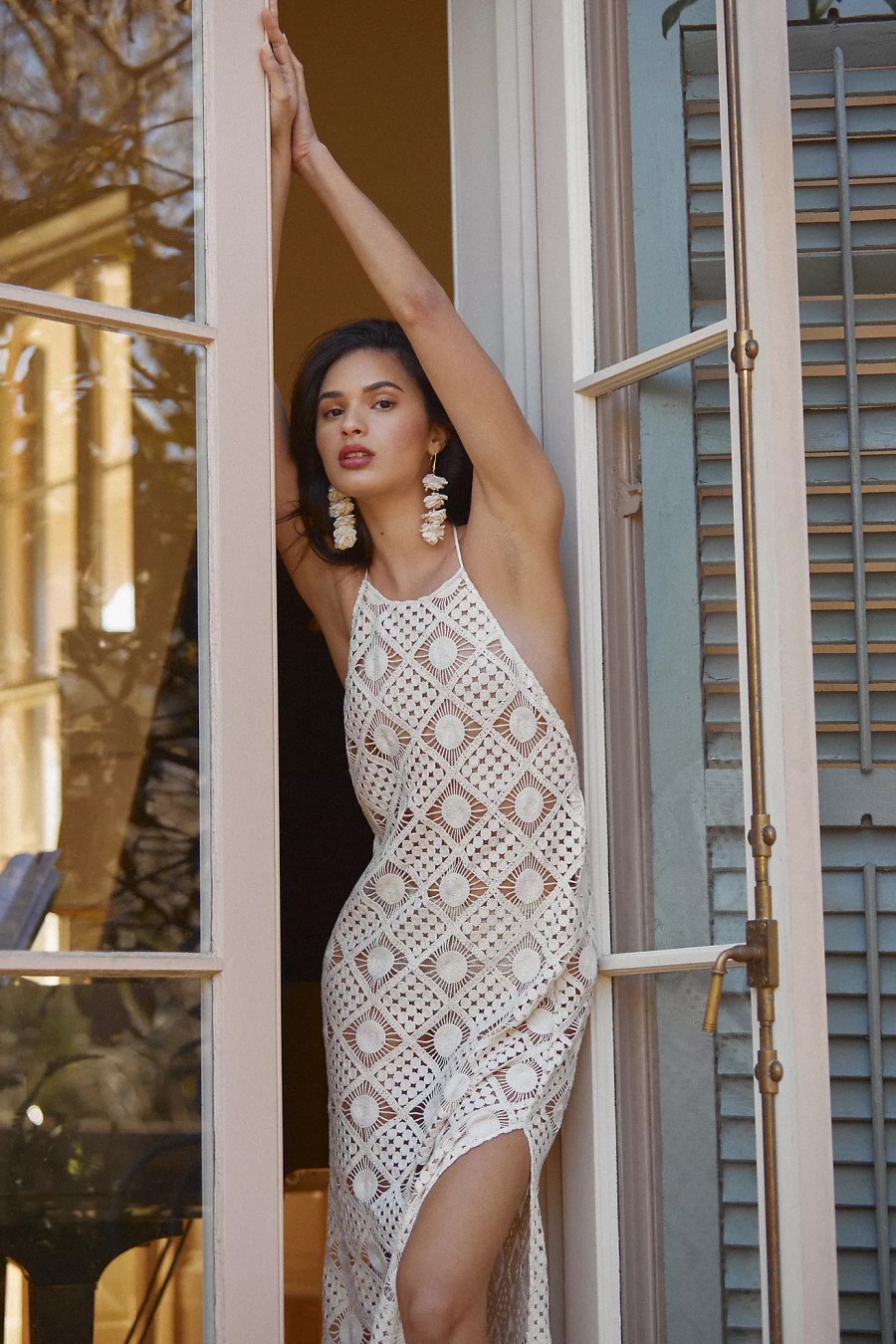 We are absolutely in love with this ultra chic and modern crochet wedding dress from BHLDN. Perfect for that more casual summer wedding day. This gown is has a very minimal silhouette, but the crochet pattern is so intricate that it is hard to take your eyes off it. Many crochet wedding gowns have a bohemian feel to them, but we love the contemporary design of this first gown!
02.

Daughters of Simone: Crochet Mini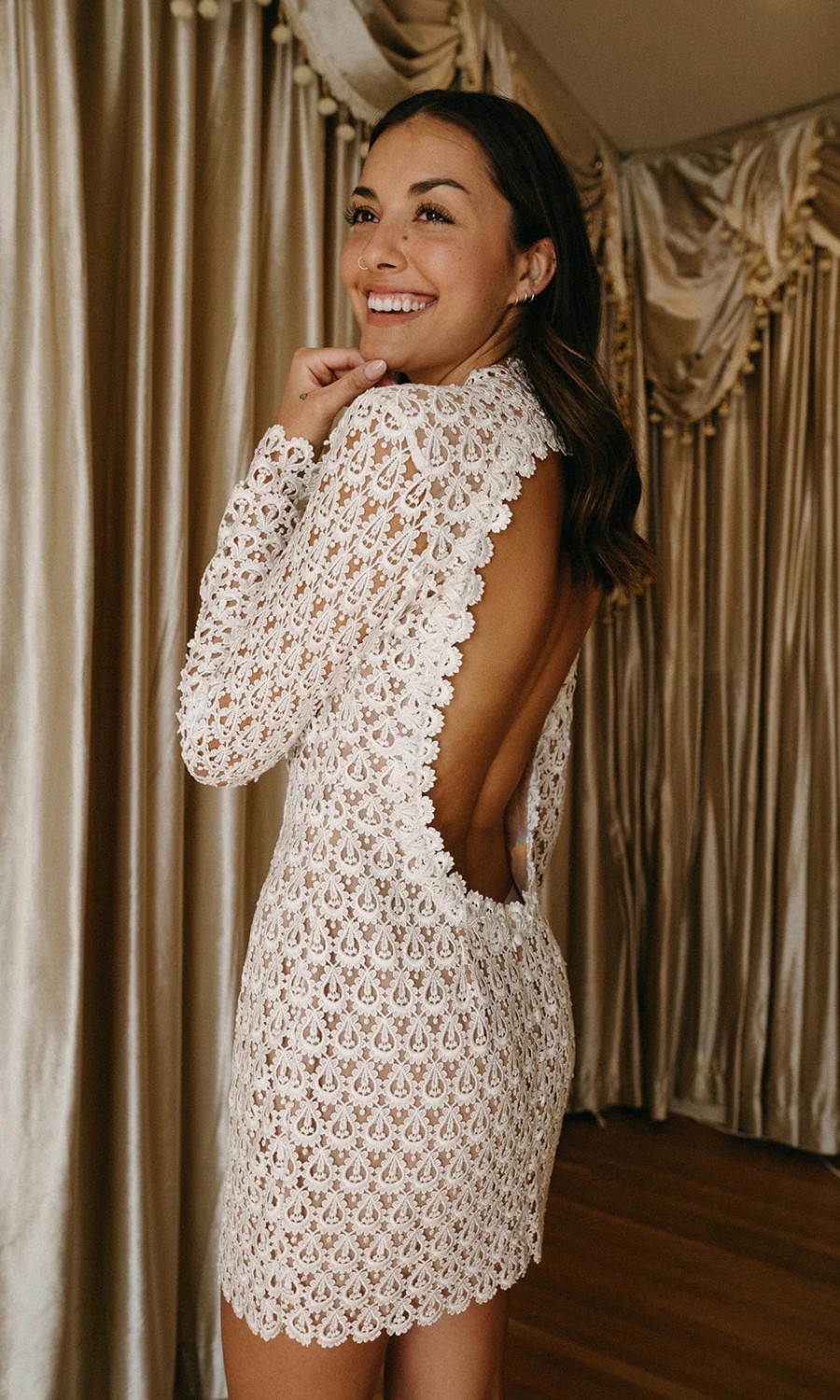 It is hard no to love this chic crochet mini from Daughters of Simone. This dreamy backless bohemian style is perfect for your second look or for a less formal wedding day style. And the scalloped backless design is just breathtaking.
03.

Dreamers and Lovers: Crochet Romance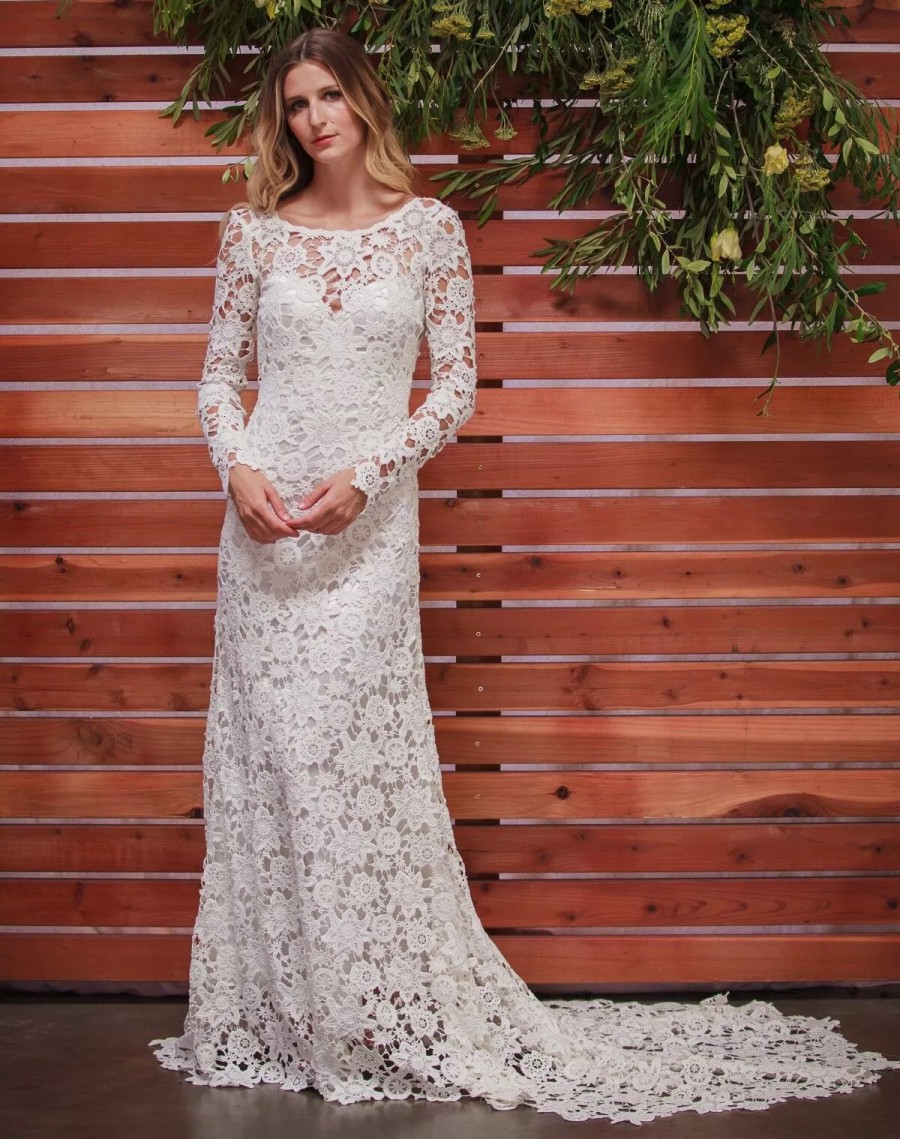 Effortlessly romantic, this next crochet wedding dress comes from Dreamers and Lovers. This vintage inspired bridal look features a chic high neckline with a plunging open back. Pair that with the delicate crochet full length sleeves and the scalloped crochet train and this gown is utterly breathtaking.
04.

Markarian: Feminine Pearls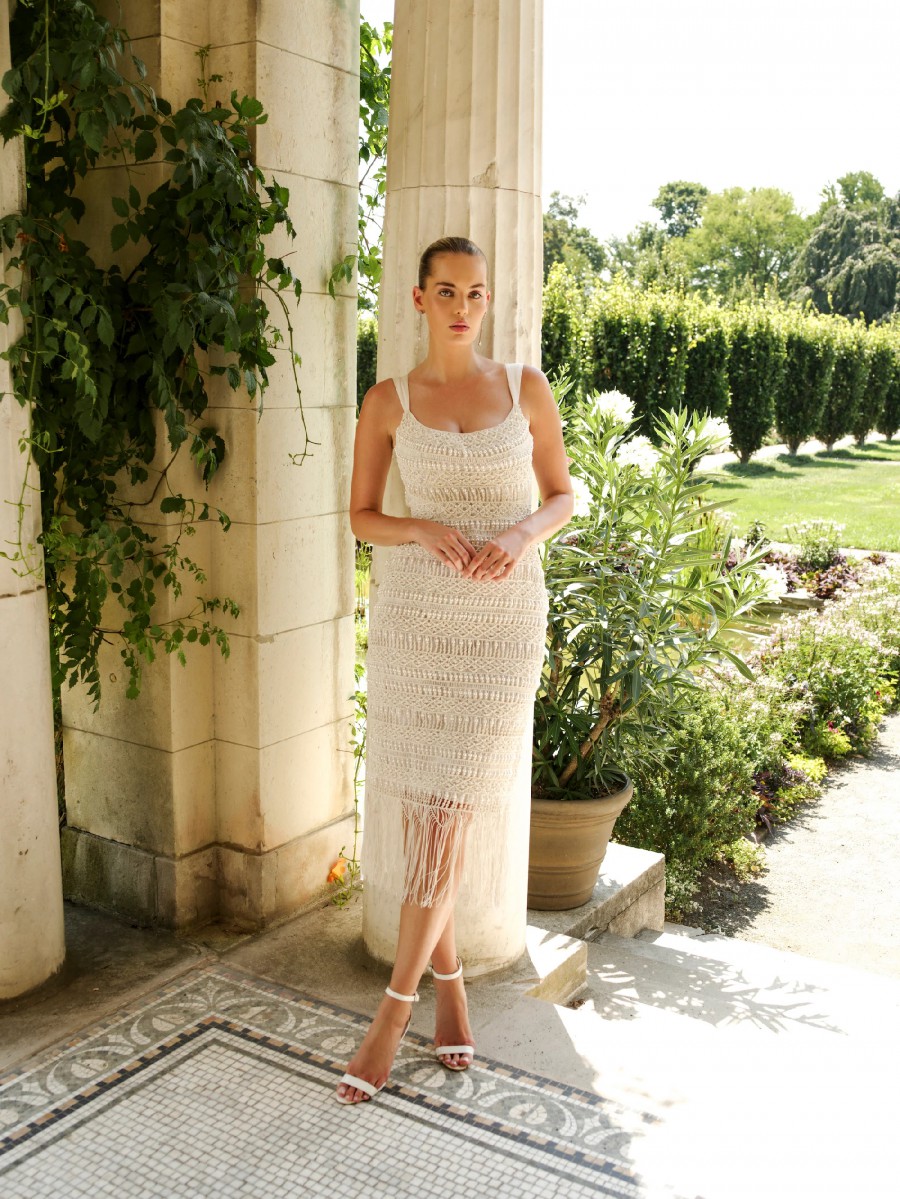 This next bridal gown is surprising from every turn. We are absolutely in love with the lines of large pearl accents and the dramatic fringe at the hem. This crochet wedding dress would be perfect for a romantic destination elopement!
05.

Doen: Hand Crocheted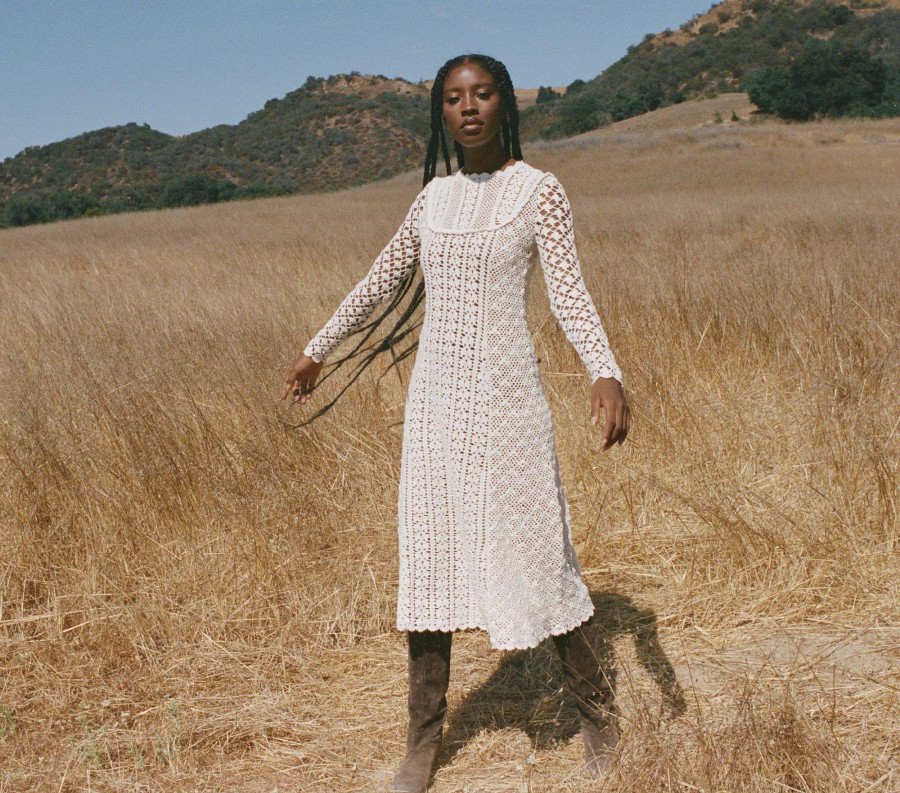 This fully hand crocheted wedding dress from Doen is absolutely stunning. This gown has some clear vintage influences, bit it also has an overall clean, modern design. Different crochet patterns create a dynamic look. This midi length wedding gown is perfect for modern brides who are craving less formal bridal looks.
06.

BHLDN: Slim Lace Crochet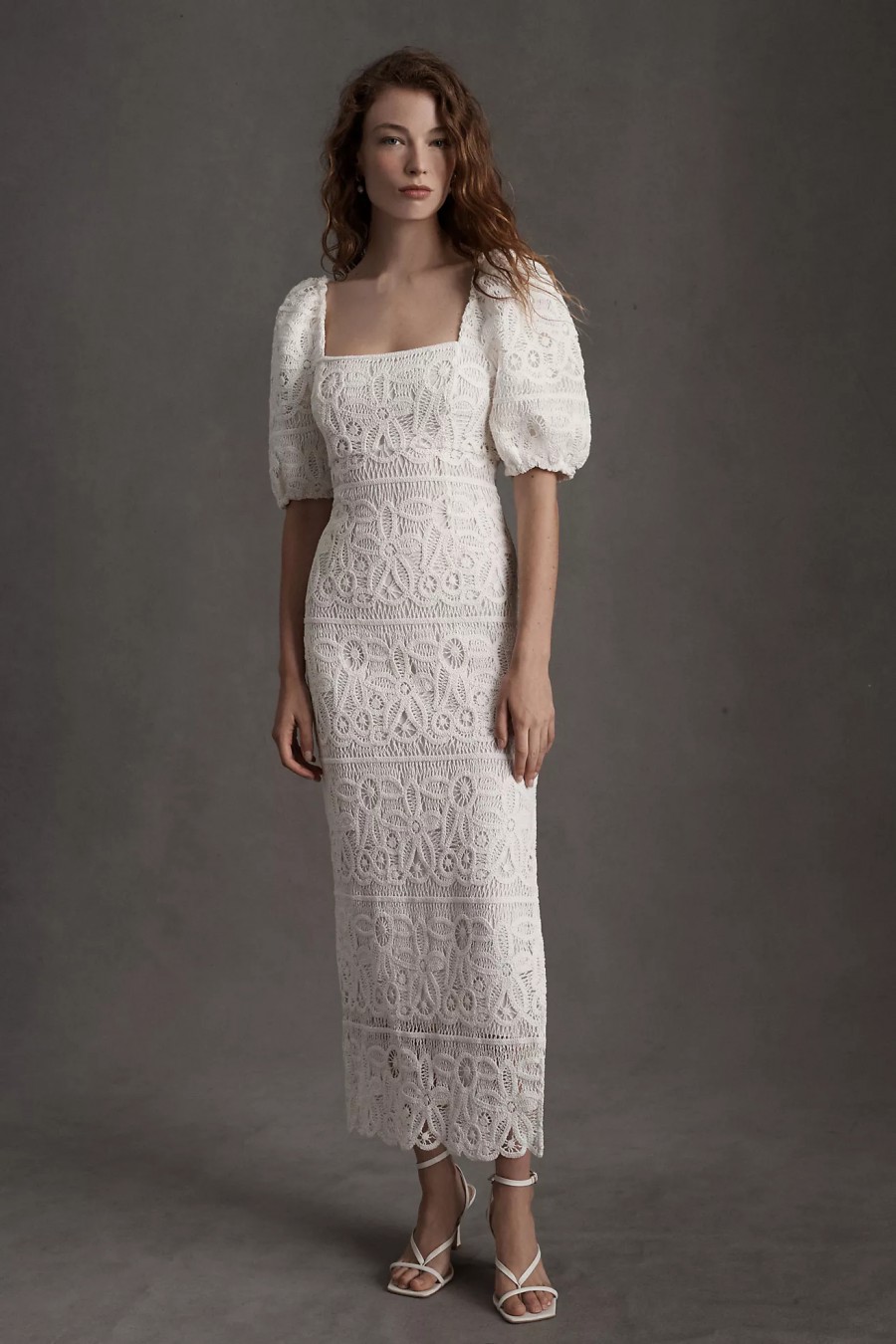 The intricate crochet lace fabric of this next wedding gown from BHLDN is absolutely stunning. This gown features a chic, slim silhouette with a flattering square neckline and romantic puff sleeve. And we are loving the trending midi length cut of this gown which shows off those chic bridal shoes!
07.

Daughters of Simone: Crochet Bohemian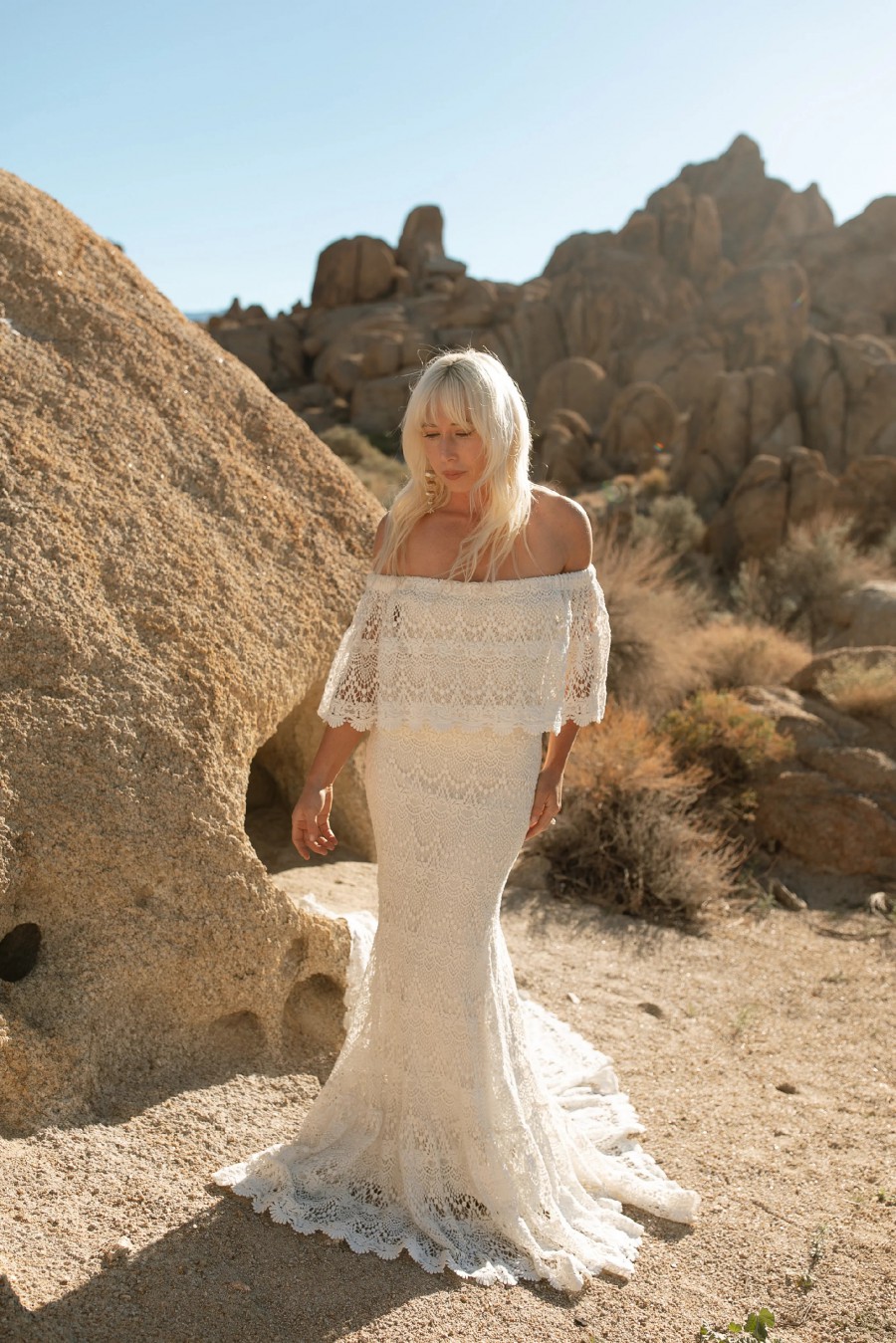 Our bohemian brides are sure to fall in love with this next crochet bridal gown from Daughters of Simone. This 1970's inspired gown features a dreamy off-the-shoulder neckline that is effortlessly romantic. And the scalloped design of the crochet lace is just stunning.
08.

Markarian: Untraditional Crochet Lace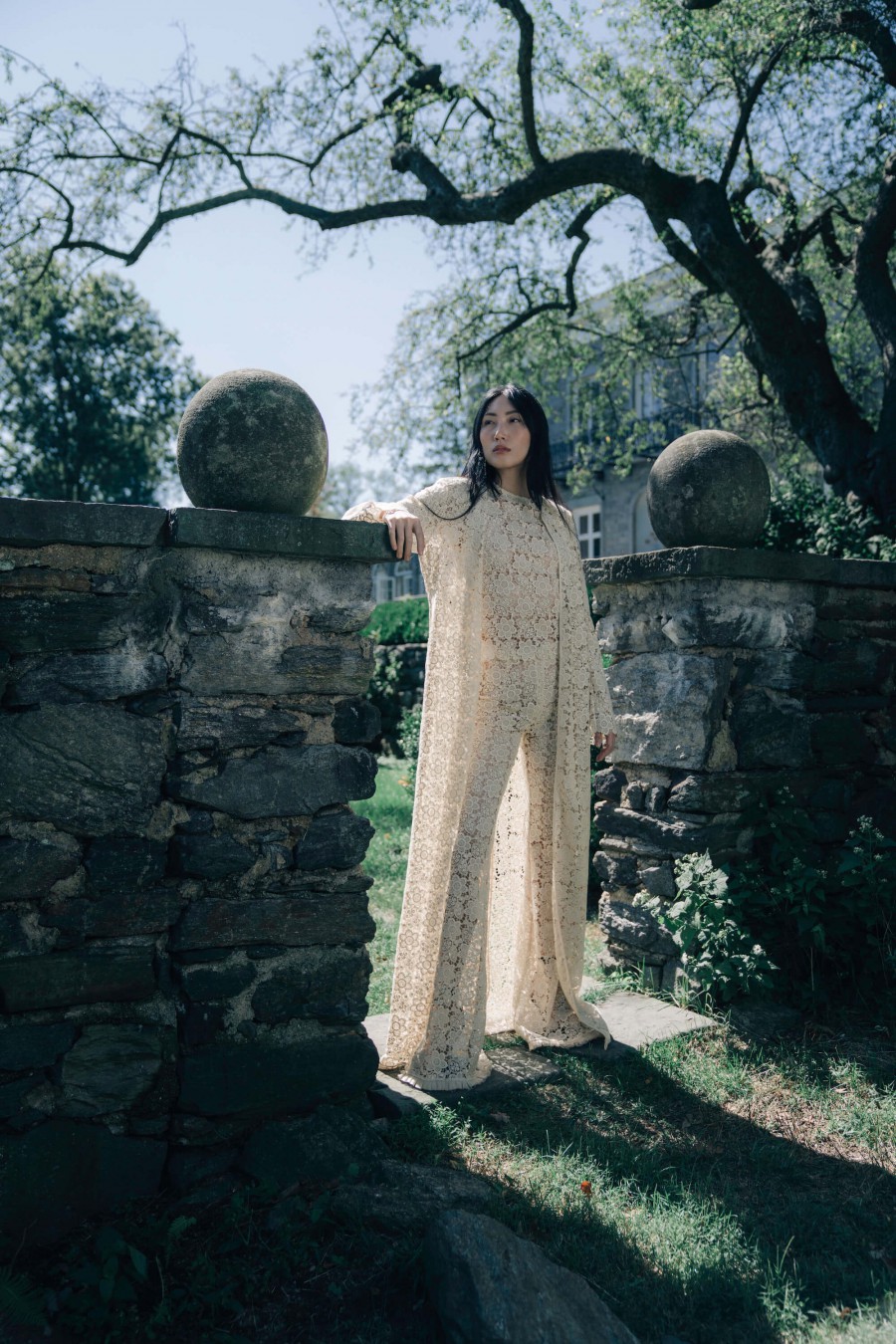 Untraditional bridal styles are everywhere right now, because modern brides are craving looks that are bold and unique. And we are loving this head-to-toe crochet lace bridal look from Markarian. This look features trending high waisted flared pants, a matching long sleeve top and a chic crochet lace duster. This look is perfect for our statement making modern brides out there.
09.

Dreamers and Lovers: Dreamy Boho Crochet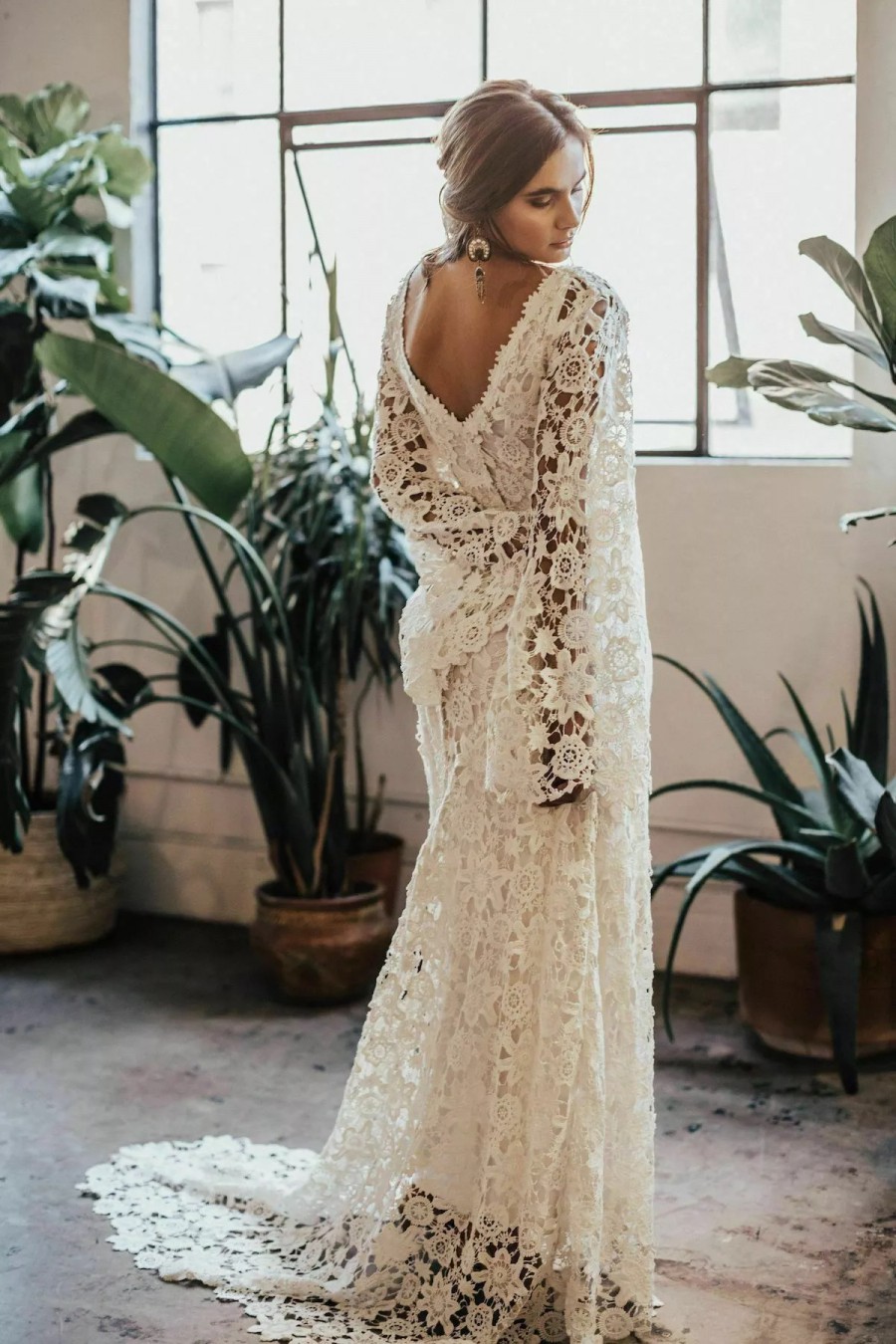 The bohemian crochet bridal gown of your dreams. This romantic wedding gown from Dreamers and Lovers features the most dreamy crochet bell sleeves and an allover alluring floral design. This cotton crochet wedding dress is an absolute dream.
10.

Daughters of Simone: Crochet Bridal Two-Piece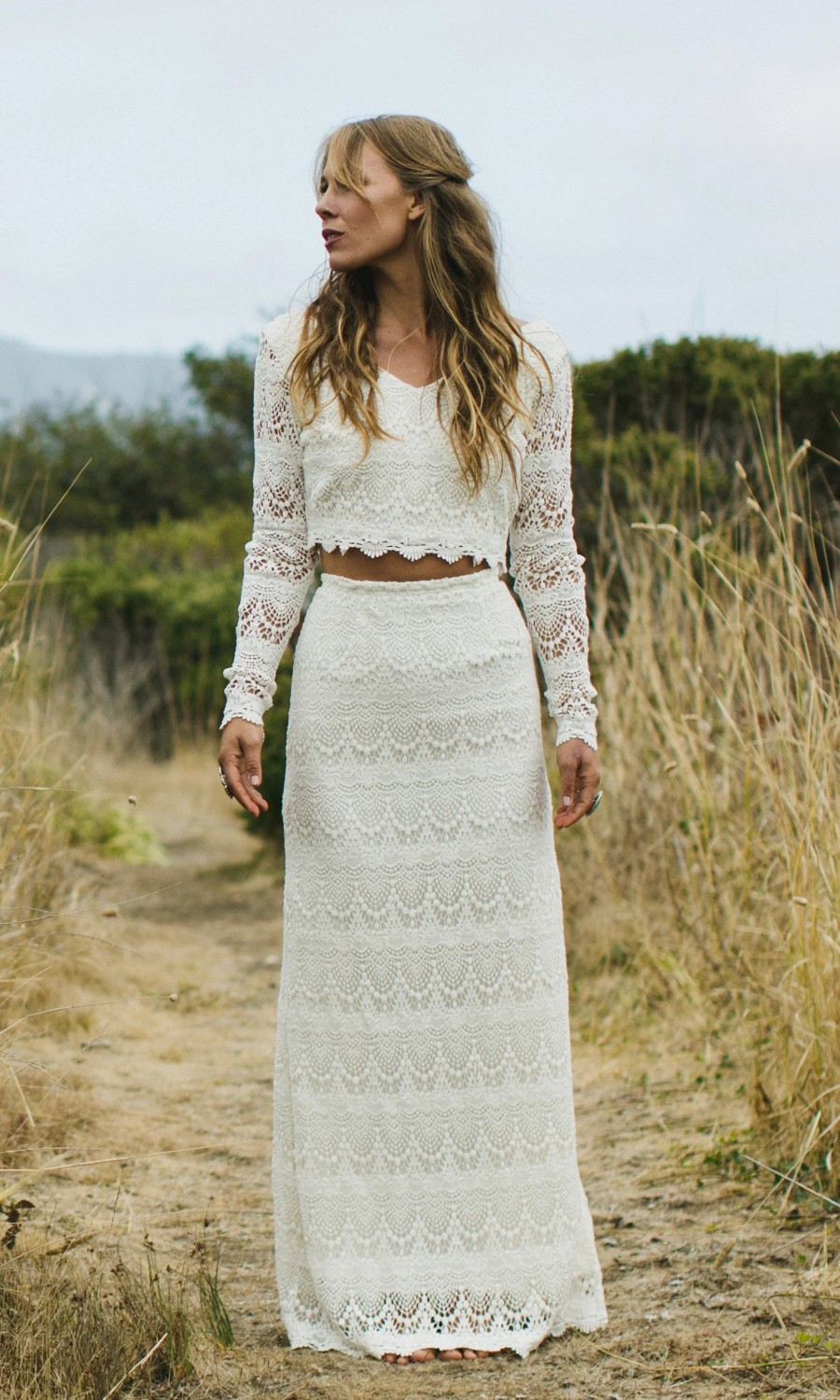 We can't get enough of all of the two-piece bridal styles right now. And this ultra chic crochet lace look from Daughters of Simone is no exception. This modern bridal two-piece features a cropped top with intricate crocheted full length sleeves. It is paired with a matching crochet lace skirt that is slim and flattering. These separates create a modern bridal style that is fresh and exciting.
11.

Anthropology: Bold Crochet Lace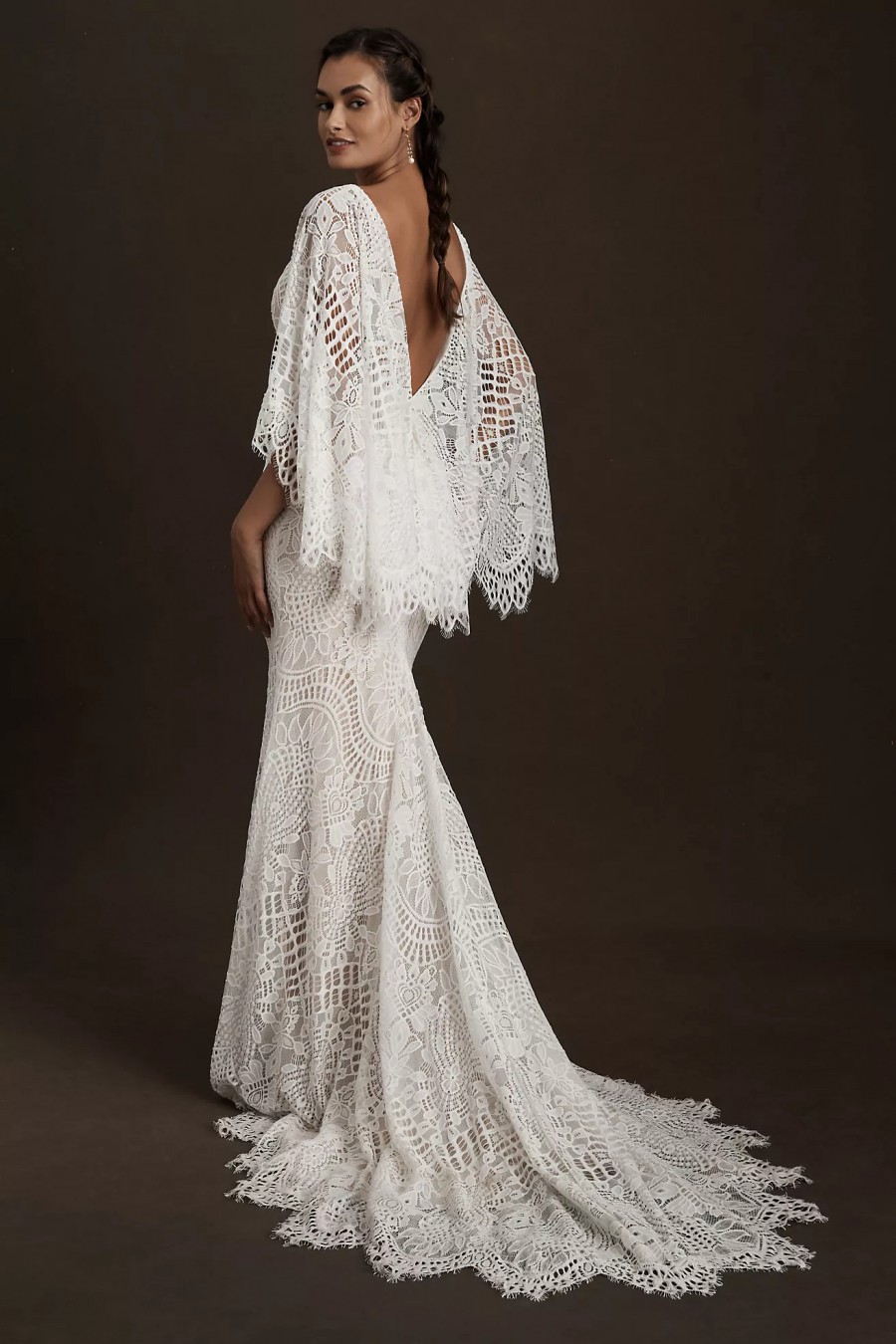 This next wedding gown from BHLDN is made from a bold graphic crochet lace fabric that feels both antique and modern. This dramatic gown features caped flutter sleeves and dramatic V-necklines in the front and back. And we just can't get enough of that scalloped train.
12.

Daughters of Simone: Vintage Vibes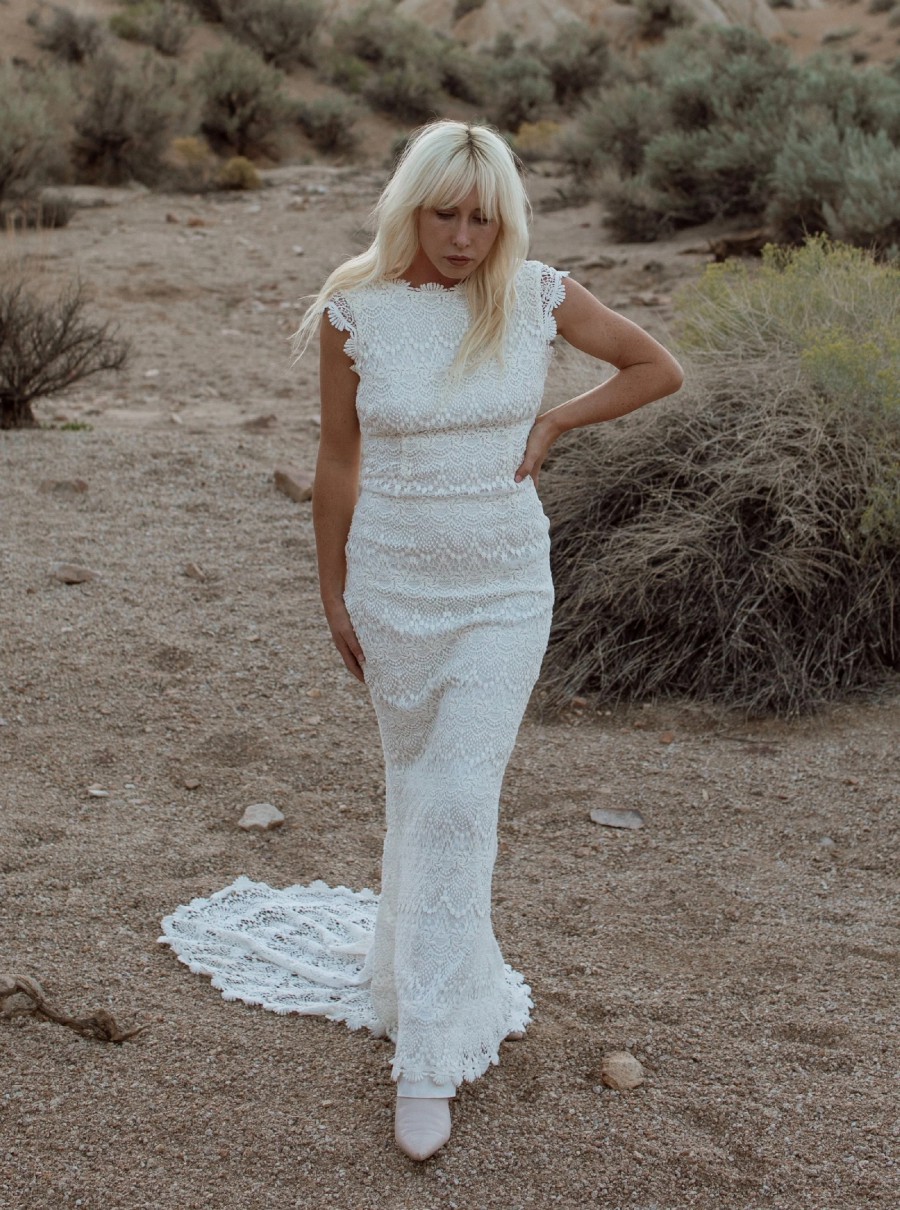 We are loving the 1970's vintage vibes from this next romantic crochet lace wedding gown from Daughters of Simone. This gown features a chic high neckline , a fitted silhouetted and a dramatic open back. The clean design of this gown is so captivating.
13.

Rue de Seine: Crochet Bell Sleeves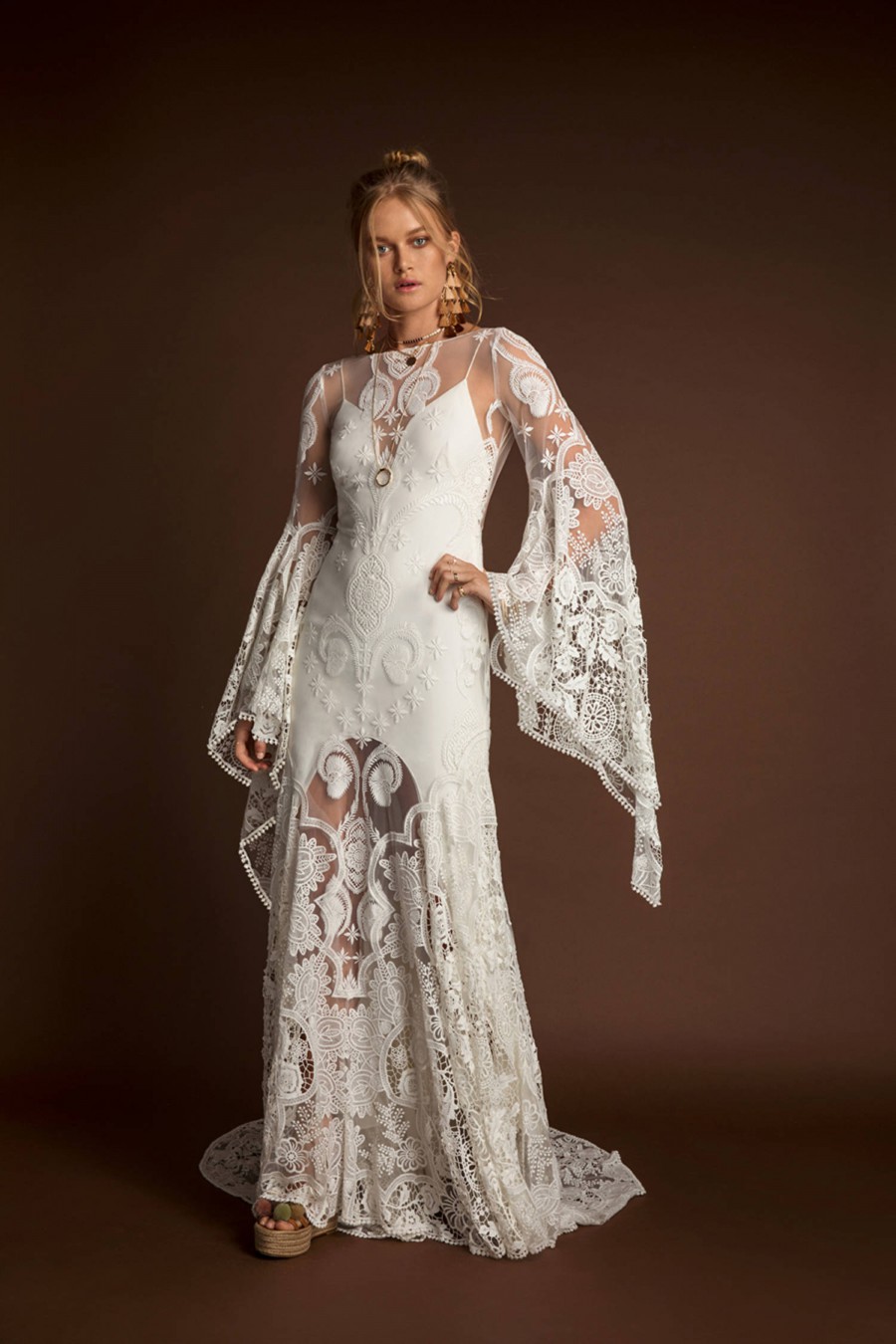 This bold and dramatic bohemian bridal gown comes from Rue de Seine. This gown combines embroidered mesh fabric with intricate crochet inserts. And our favorite features of this gown has to be the dramatic crochet bell sleeves that take this stunning bohemian bridal gown to an entirely new level.
14.

Markarian: Fitted Mini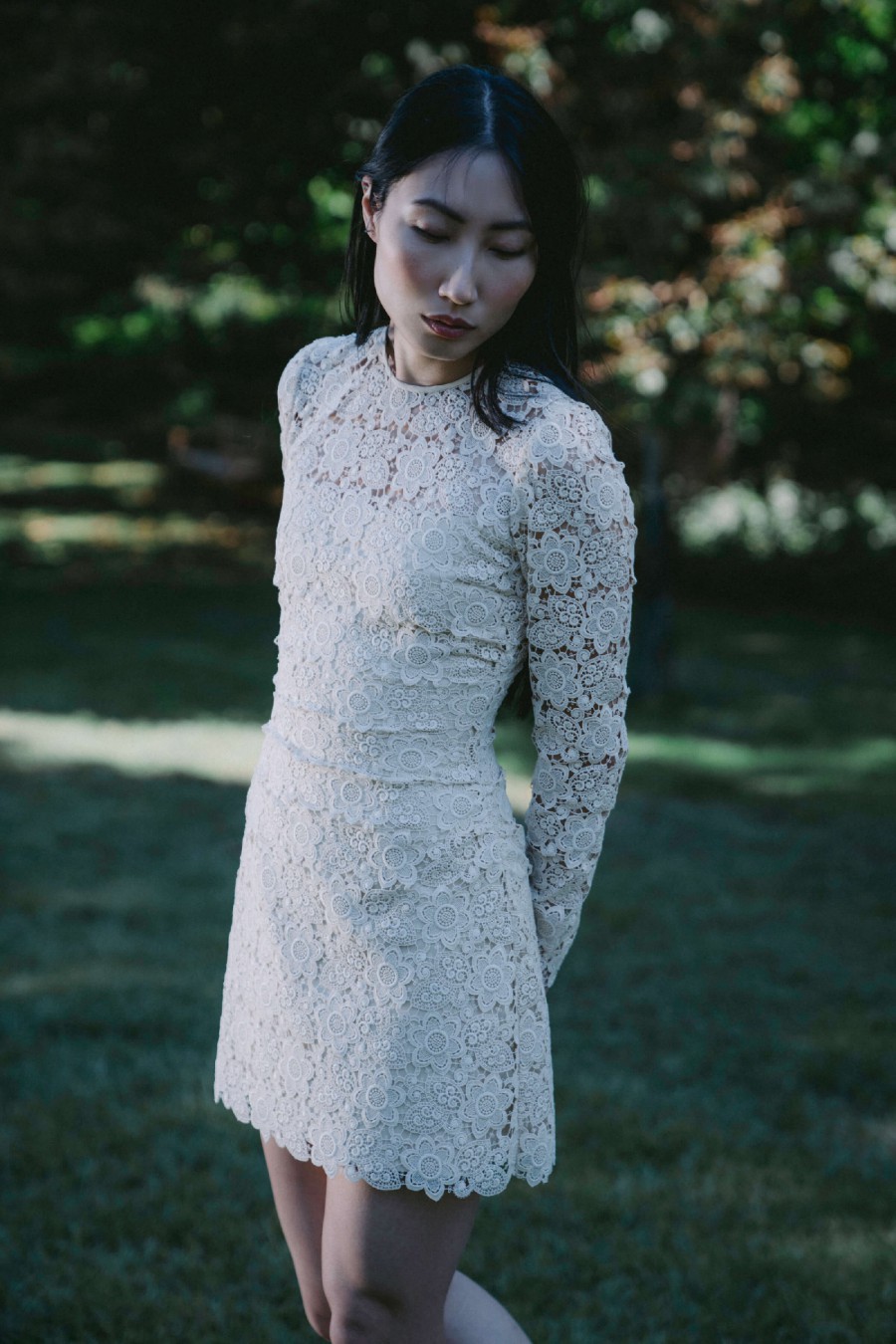 Next up we have another chic long sleeve crochet lace bridal mini from Markarian. These minis are giving us some major 1960's mod, twiggy vibes. And we just can't get enough of them! This fitted crochet mini features a high neckline, long sleeves and the most irresistible floral design.

By Kathryn Schrotenboer