The perfect combination between classic and modern - these contemporary lace wedding styles are a bridal must-have!
Lace has always been a fabric that represents vintage and classic influences when it comes to bridal fashion. These lace looks we have gathered take this typically antique infused fabric and bring it into the modern day age of bridal fashion. Feel both classy and contemporary in these stunning modern lace styles.
01.

Soft Romance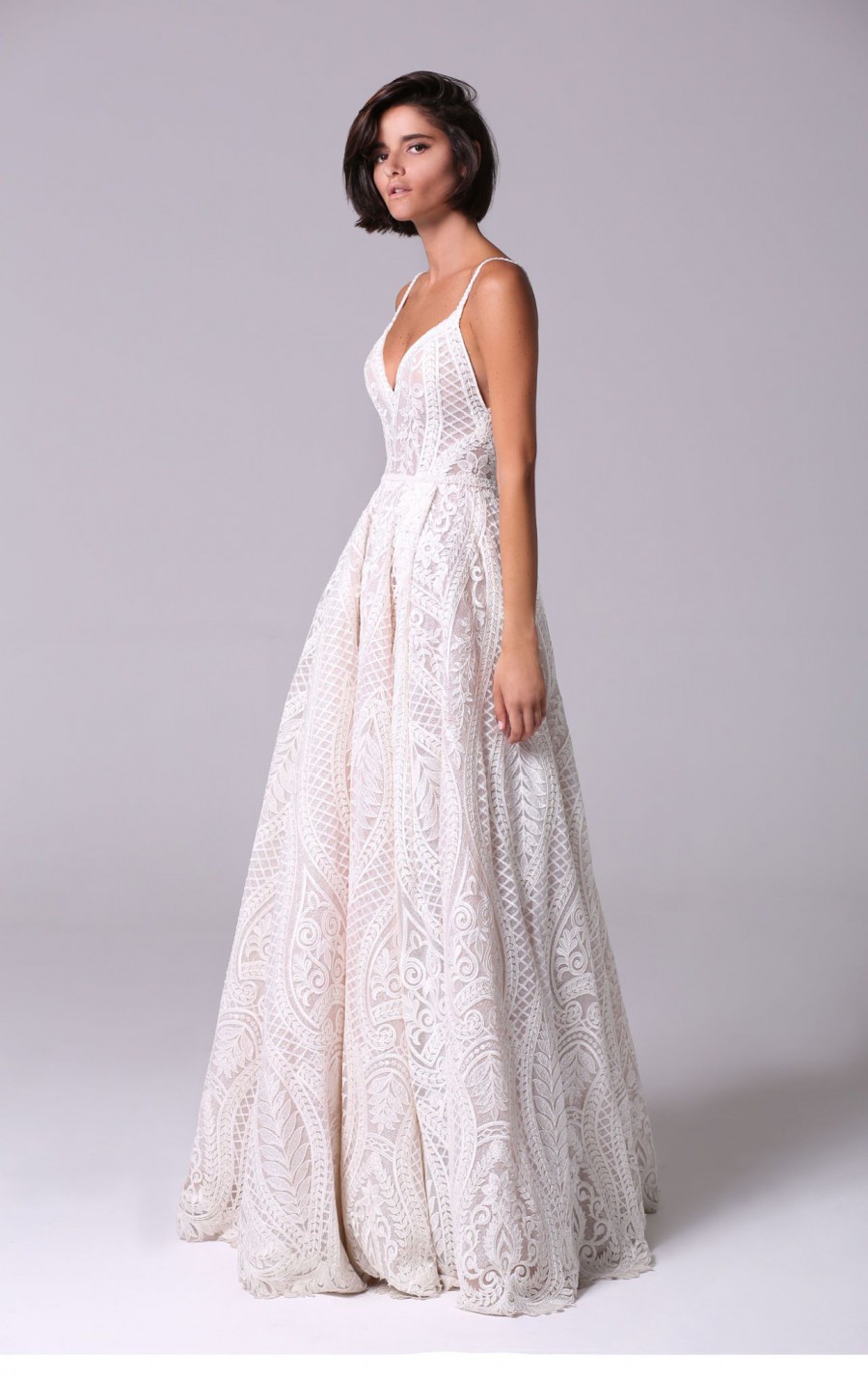 Contemporary vintage romance. This top to bottom lace crochet style is elegant and feminine. The skirt of sparkling net and silk tulle fabrics come in both a soft pink tone or ivory. The neckline is both classic and sexy - that will flatter any bride.
02.

Contemporary Crochet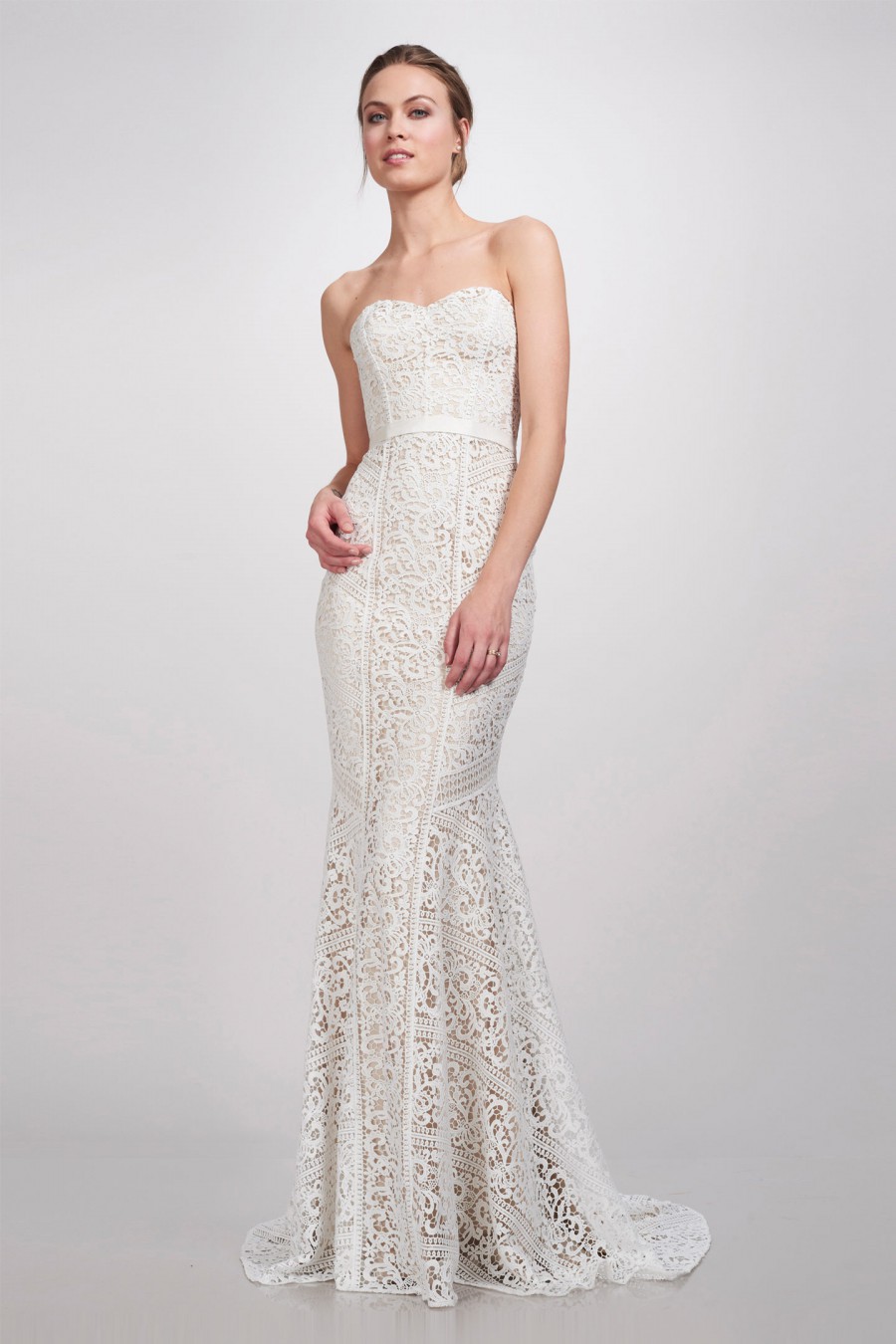 A stunning, form fitting, stretch contemporary lace wedding gown. A timeless, modern wedding day style.
03.

Black and White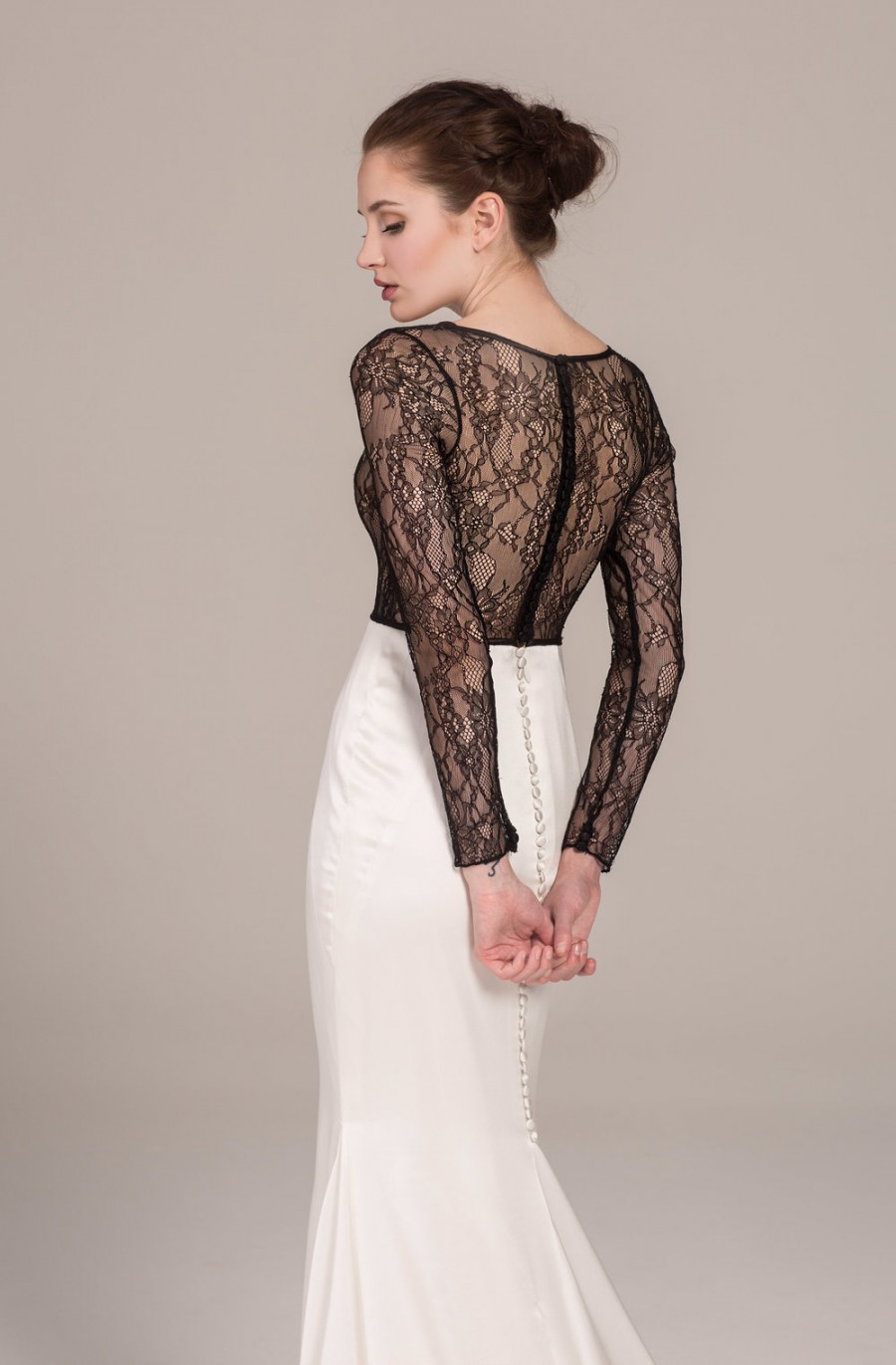 We are seeing more and more black styles creeping into modern day wedding fashion - and this contemporary lace gown styles black into the look in a stunning way. Sheer black lace is an unexpected modern way to incorporate lace into a fashion forward wedding day look.
04.

High Neck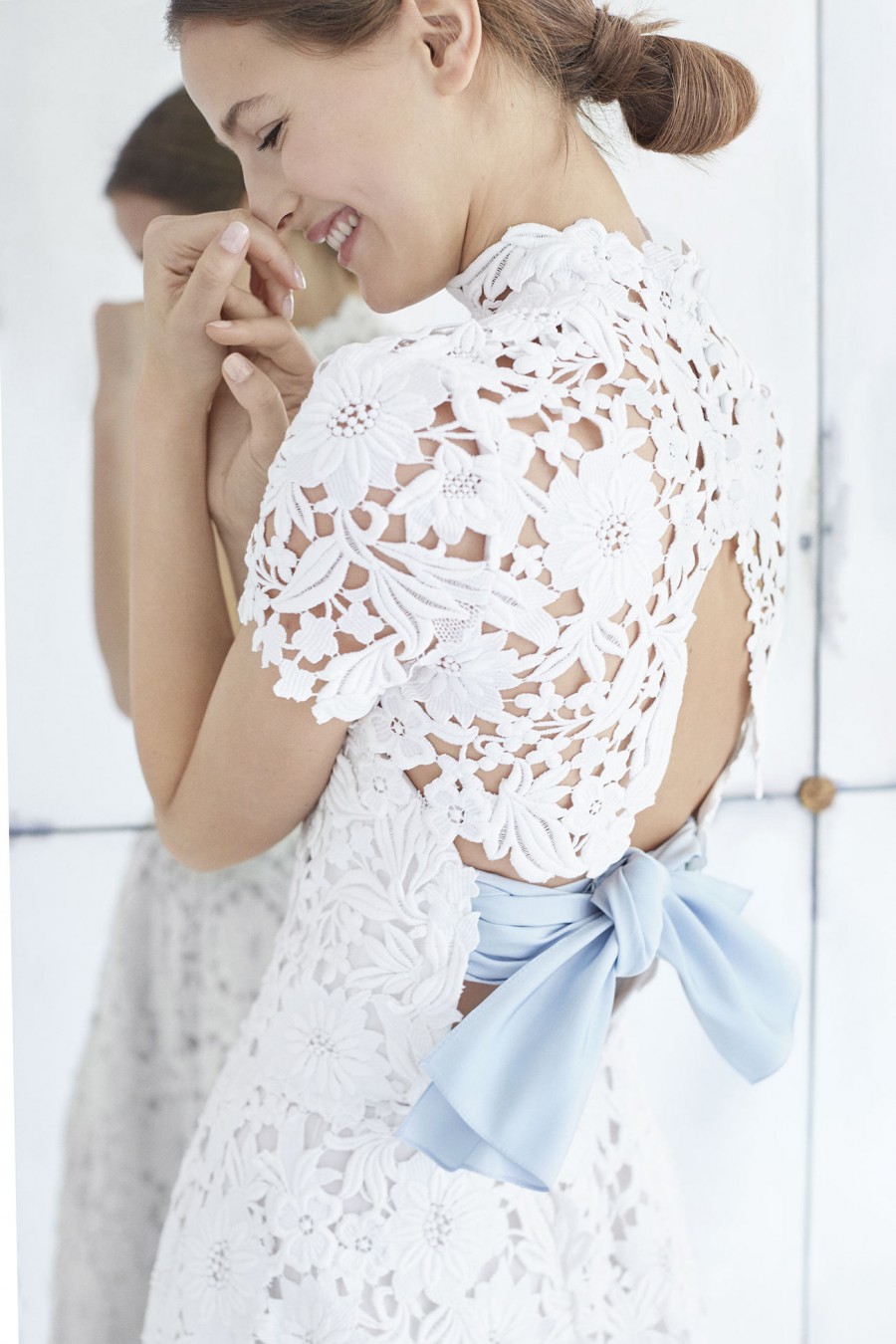 An intricately designed contemporary lace wedding dress with a stunning high neckline. The open back design and baby blue tie add a surprising modern detail from behind.
05.

Gypsy Spellbound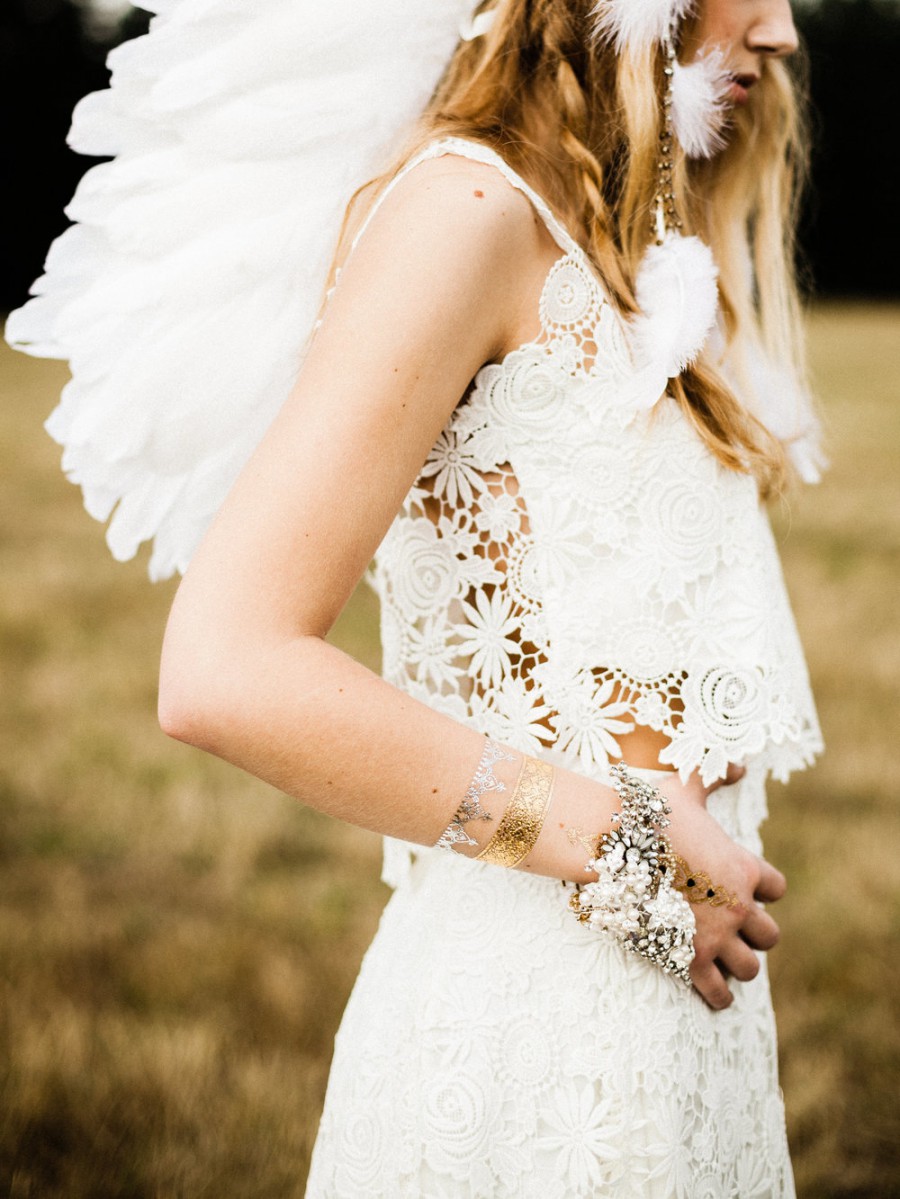 Spellbound is the perfect contemporary lace wedding gown for those brides out there with a gypsy spirited soul. This two piece style is delicately detailed, while being a simple fashion to wear all day long.
06.

Tea for Two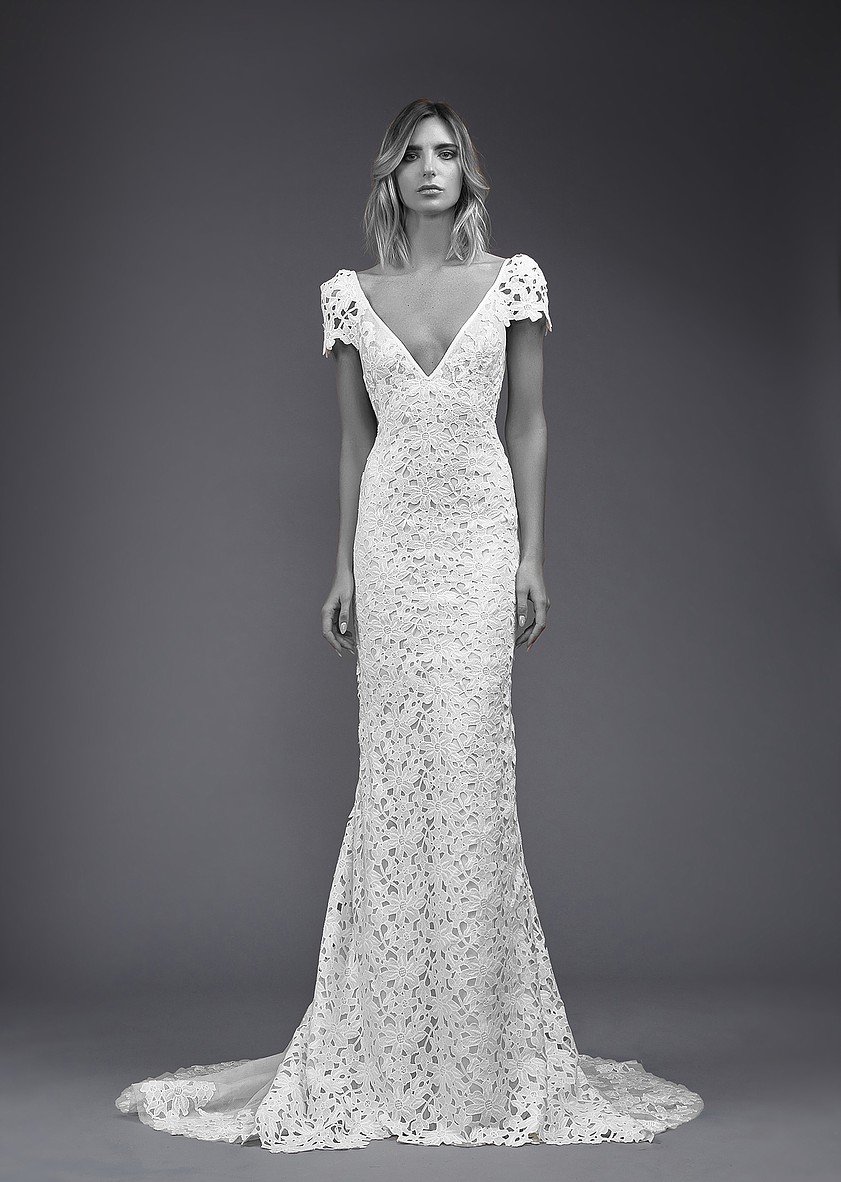 A flirty feminine contemporary lace wedding style that is classic and proper. Get ready for Sunday brunch or tea for two in this classy wedding day look.
07.

Contemporary Bohemian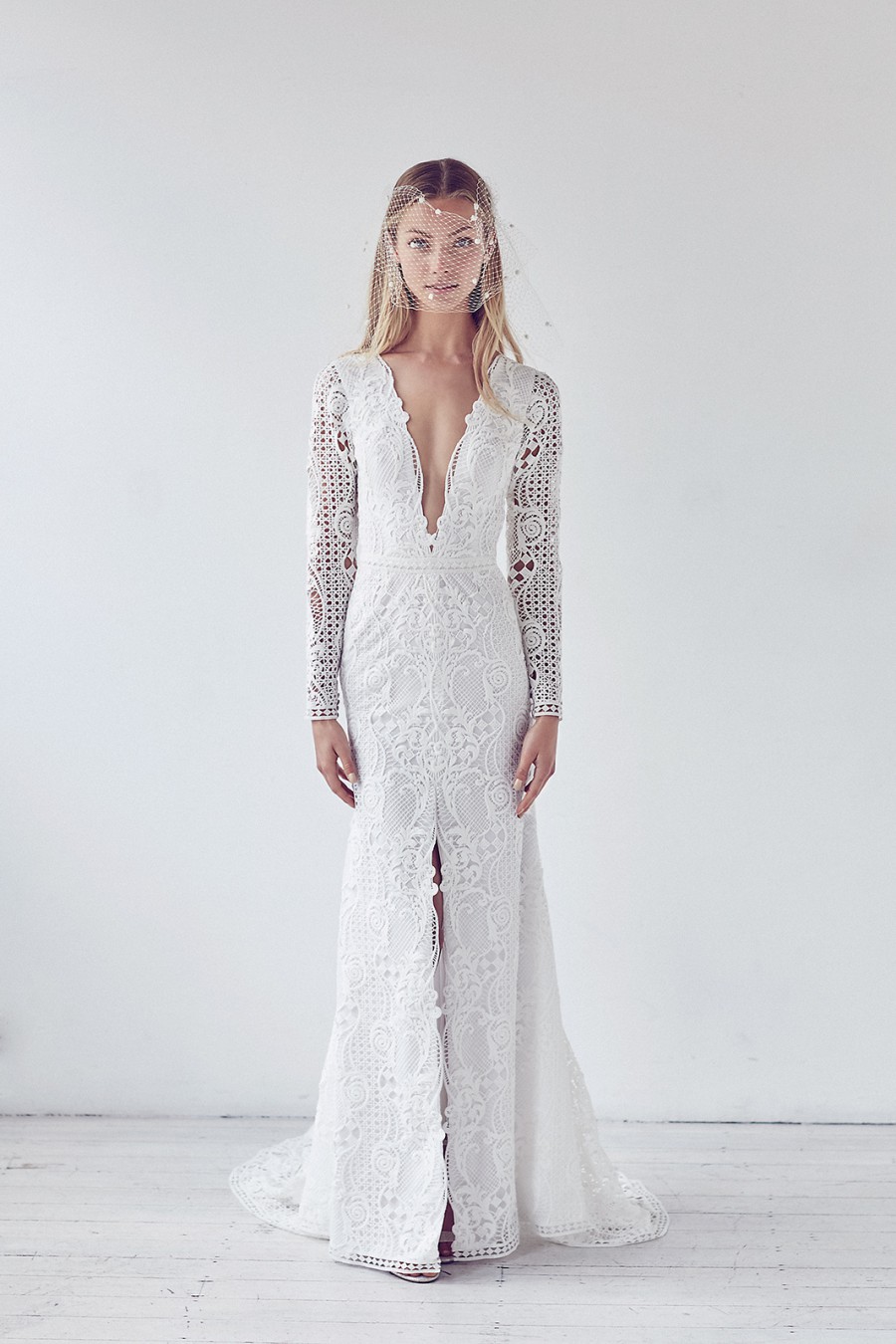 A long sleeve contemporary lace wedding style that mixes sleek modern with carefree bohemian. A perfect look for a sleek modern bride with a carefree spirit.
08.

Low Back Drama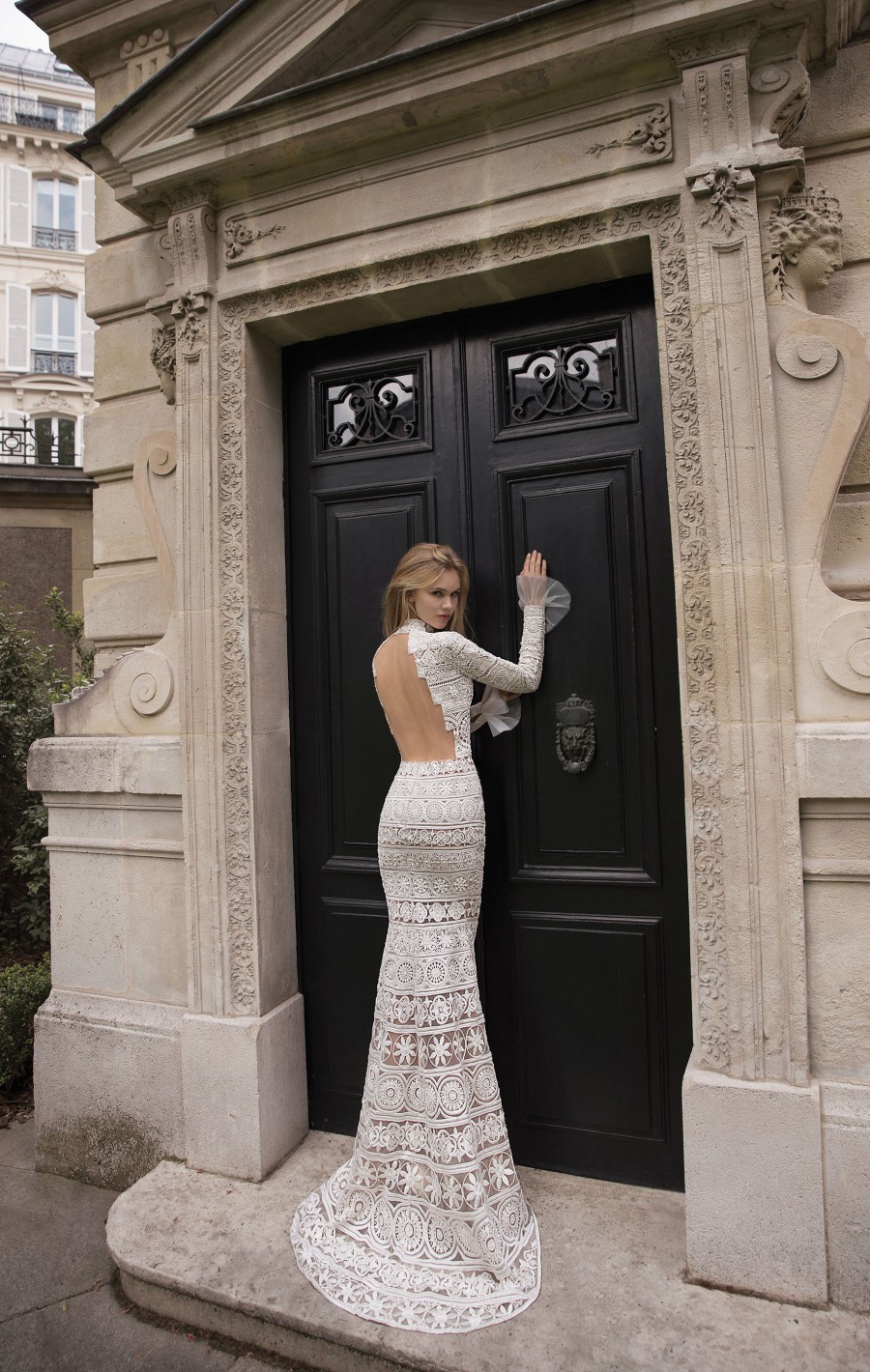 Modern lace patterned drama. This stunning high neck wedding style features sleek full length sleeves and a completely open back. The delicate lace patterning that changes down the entire dress is mesmerizing.
09.

Crochet Contempoary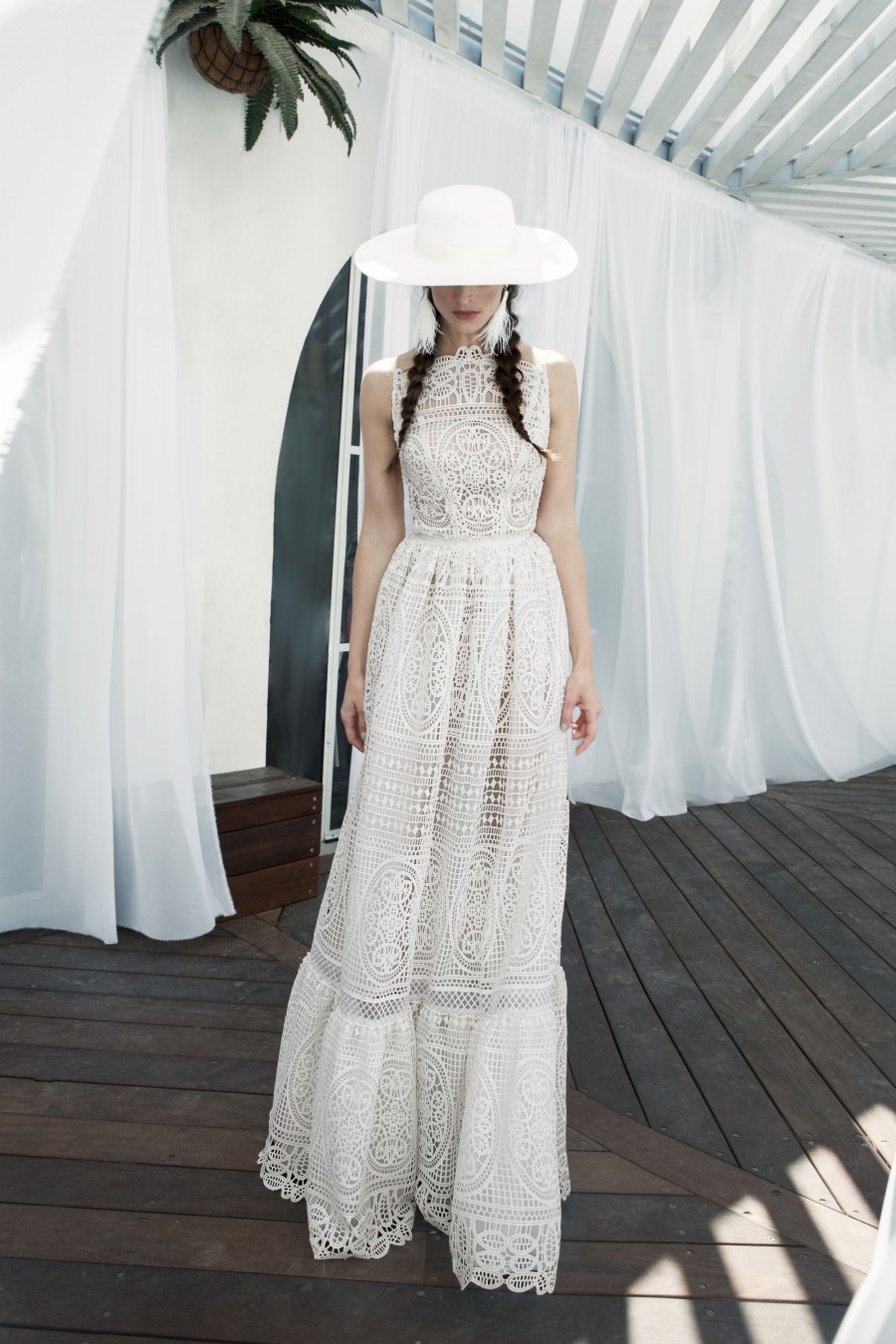 A contemporary crochet lace wedding gown fit for a hot summer day wedding. This gown has a slight transparent effect being built on top of an illusion lace and silk organza base. Sexy and cool for a summer day wedding affair.
10.

Sky Blue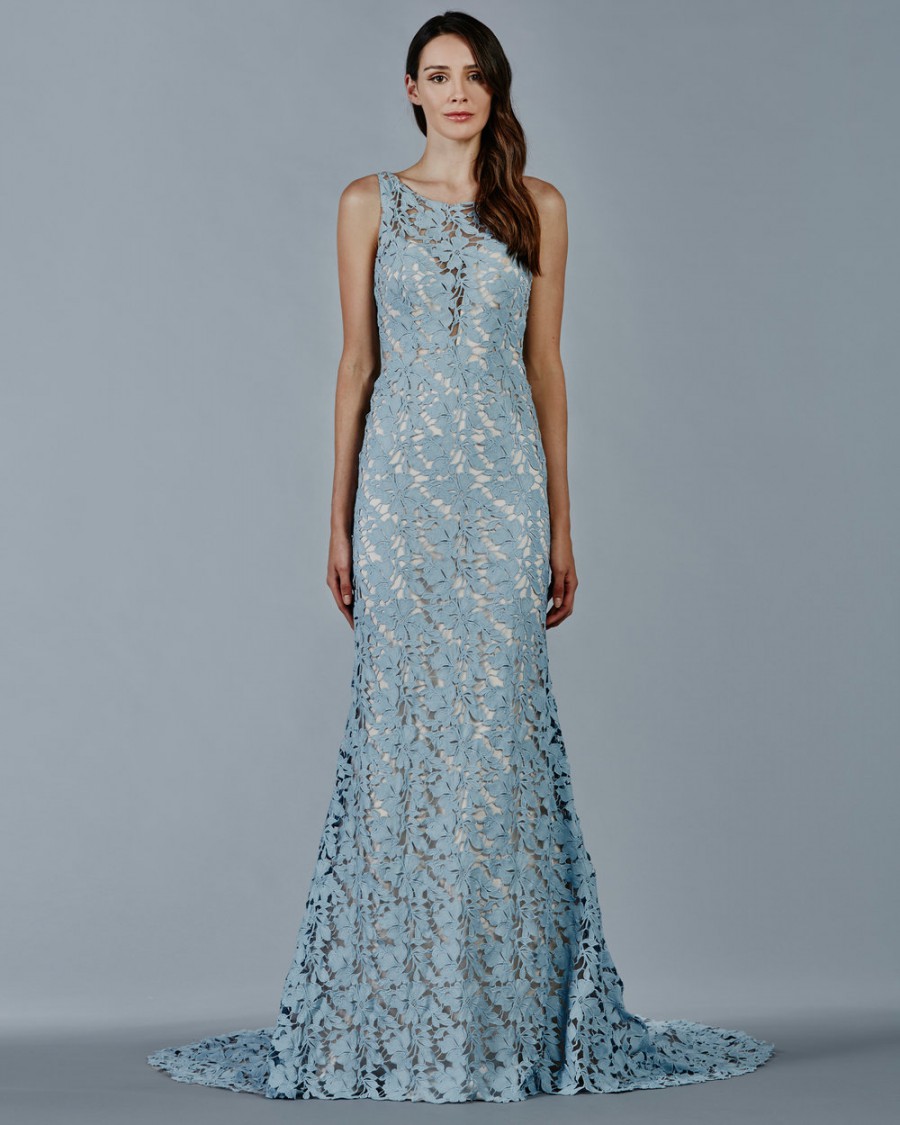 Something blue? If you are loving this Guipure lace style, don't worry it does come in ivory as well. But we are loving the blue coloring of this lace gown, with the ivory undertone. A classic style, in an unexpected contemporary color on your big day.
11.

Modern and Modest
A delicate modern and modest wedding style that features head to toe feminine lace. The perfect mix of antique modesty with bold modern bridal fashion influences.
12.

Back Appeal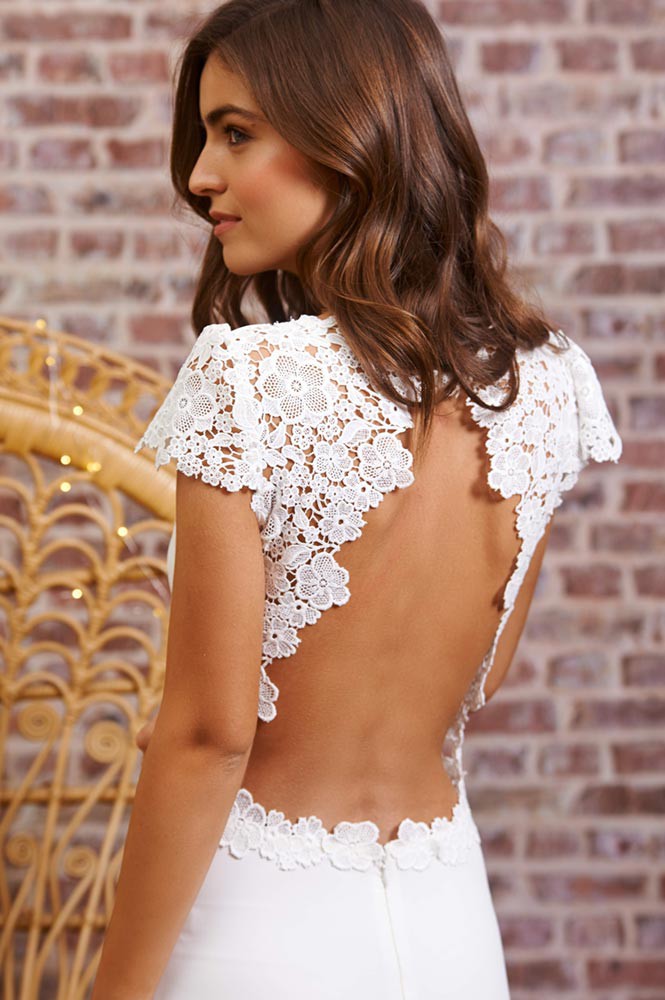 Delicate floral lace creates an absolutely stunning back detail on this open back contemporary style. A surprising finish to a mostly sleek all over white wedding style.
13.

Geometric Lace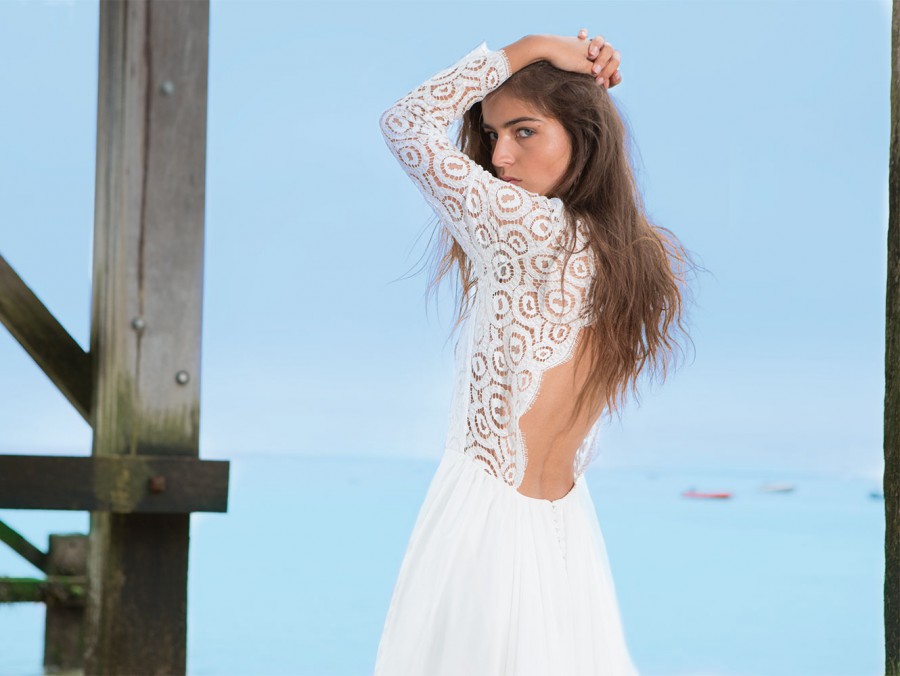 A uniquely designed contemporary lace pattern that gives this wedding gown a unique style. The lace has a circular, geometric pattern to it, much unlink the more traditional florals we see so often. A great way to integrate both modern and antique bridal influences.
14.

Front Slit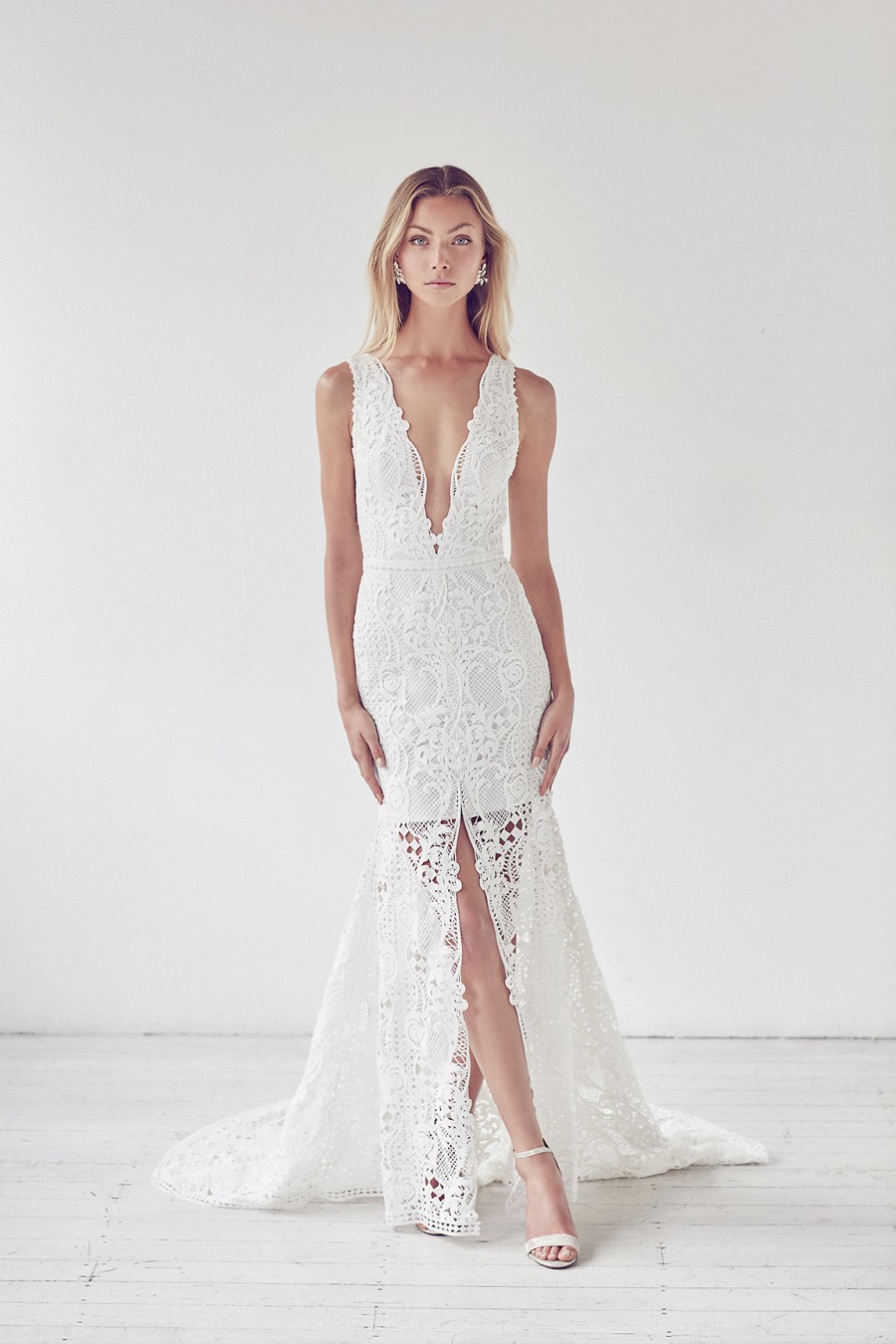 A stunning contemporary lace inspired wedding gown that features a mini under dress style with a delicate long lace overlay. A deep-V neckline is accentuated by the high front slit. A gorgeous mix of classic and modern.
15.

Laser Cut Lace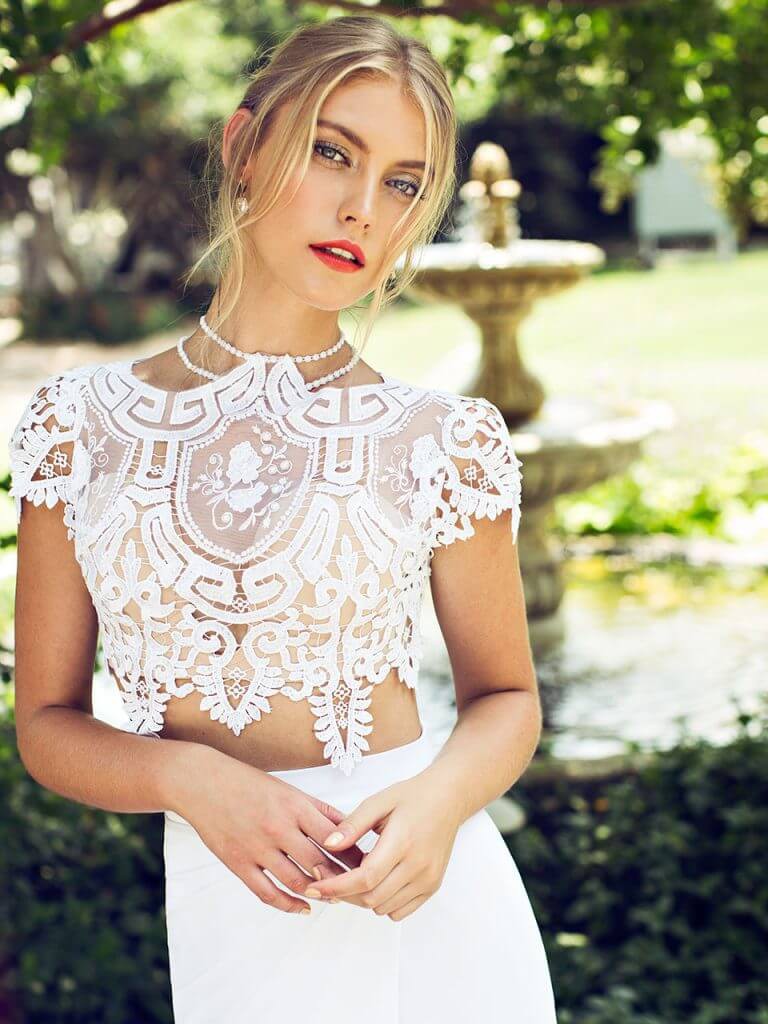 Nothing says contemporary bridal like a sassy two piece wedding gown with contemporary lace detailing. This two pieces gown features a sexy laser cut lace top, paired with a sleek white skirt. A stunning way to bring antique influenced lace into a modern wedding style.
16.

Modern Boho Brides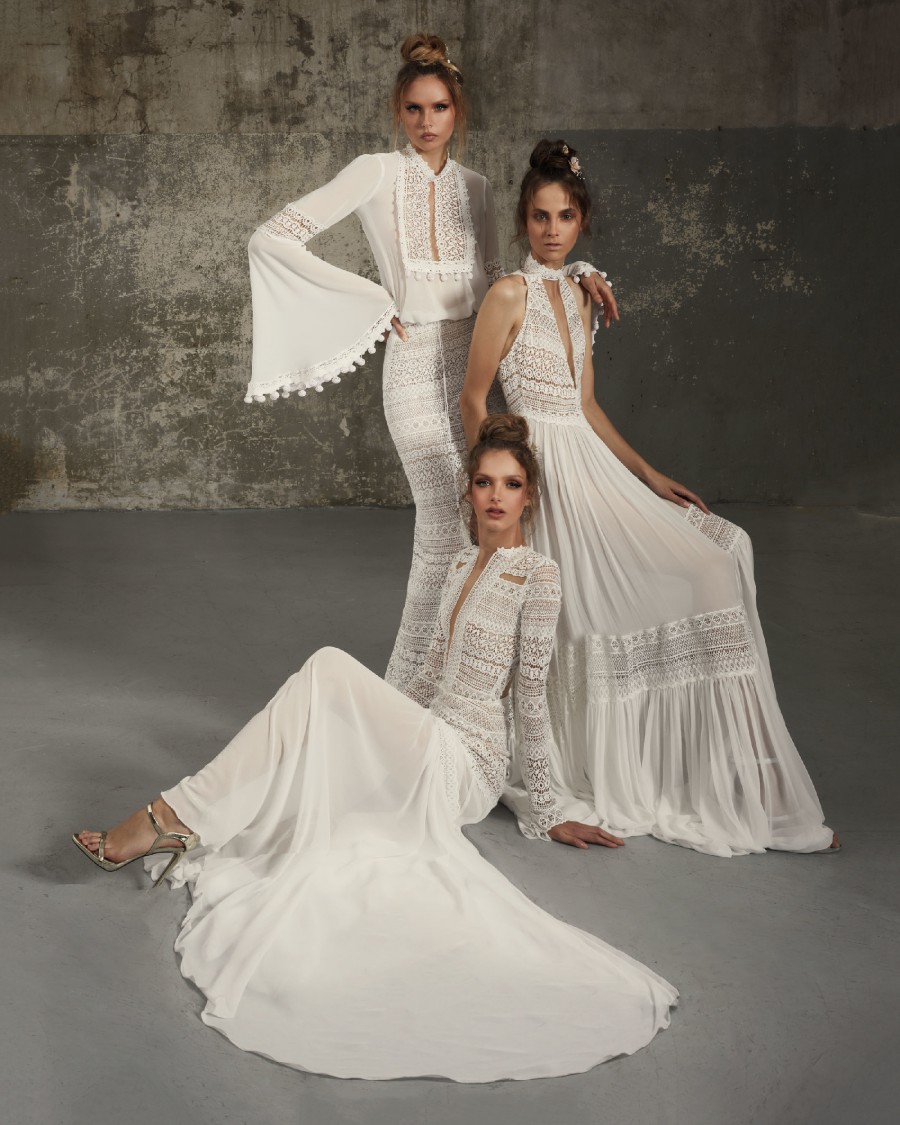 Next we have 3 stunning contemporary lace wedding styles from Lior Charchy. These breathtaking bridal styles are perfect for a modern day boho loving bride. Easy to wear bridal styles that are not lacking any detail or drama.
17.

Modern Design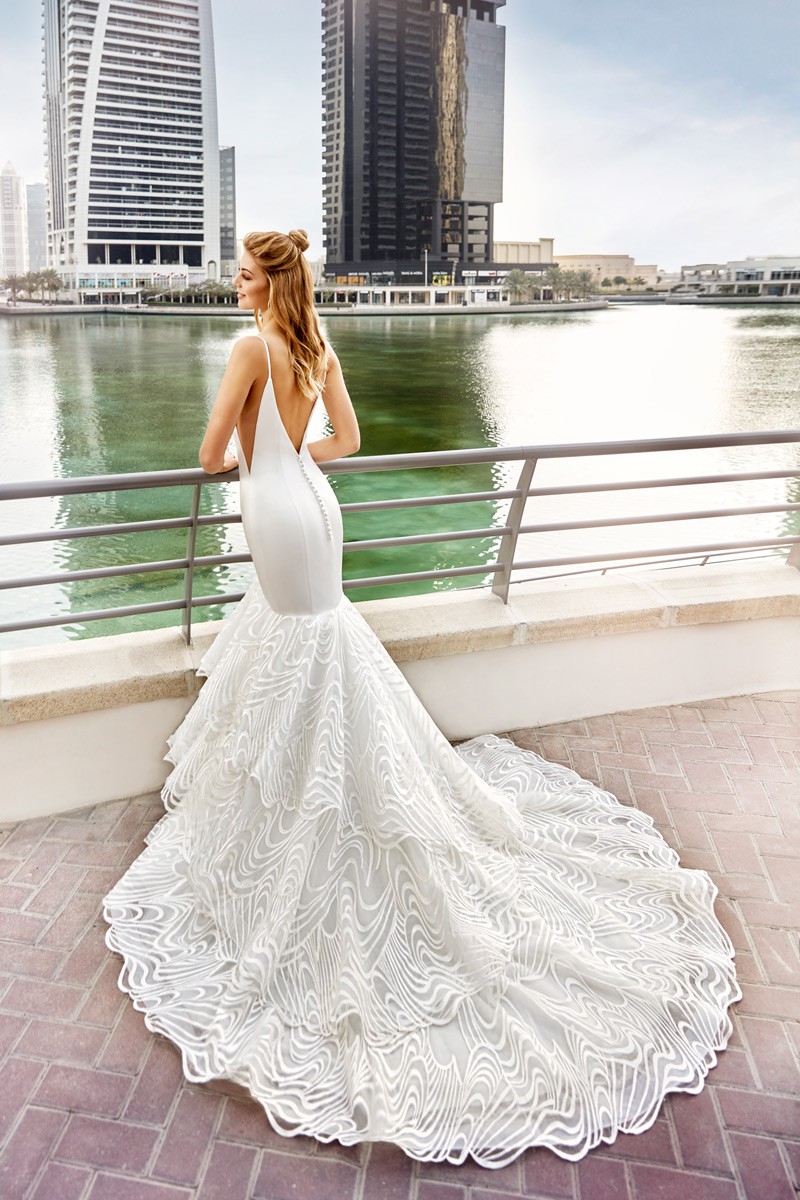 A modern lace design like nothing you have seen before. This contemporary lace mermaid gown features a wave like swirl lace design that is completely unique and mesmerizing.
18.

Open Work Lace
From Rue de Seine's Moonlight Magic collection - this next contemporary lace gown is fit for a beachside bohemian wedding day. The floral open work lace creates a gorgeous texture and lace pattern. Take off the matching bell sleeve blouse to reveal your beach ready strapless wedding gown.
19.

Off the Shoulder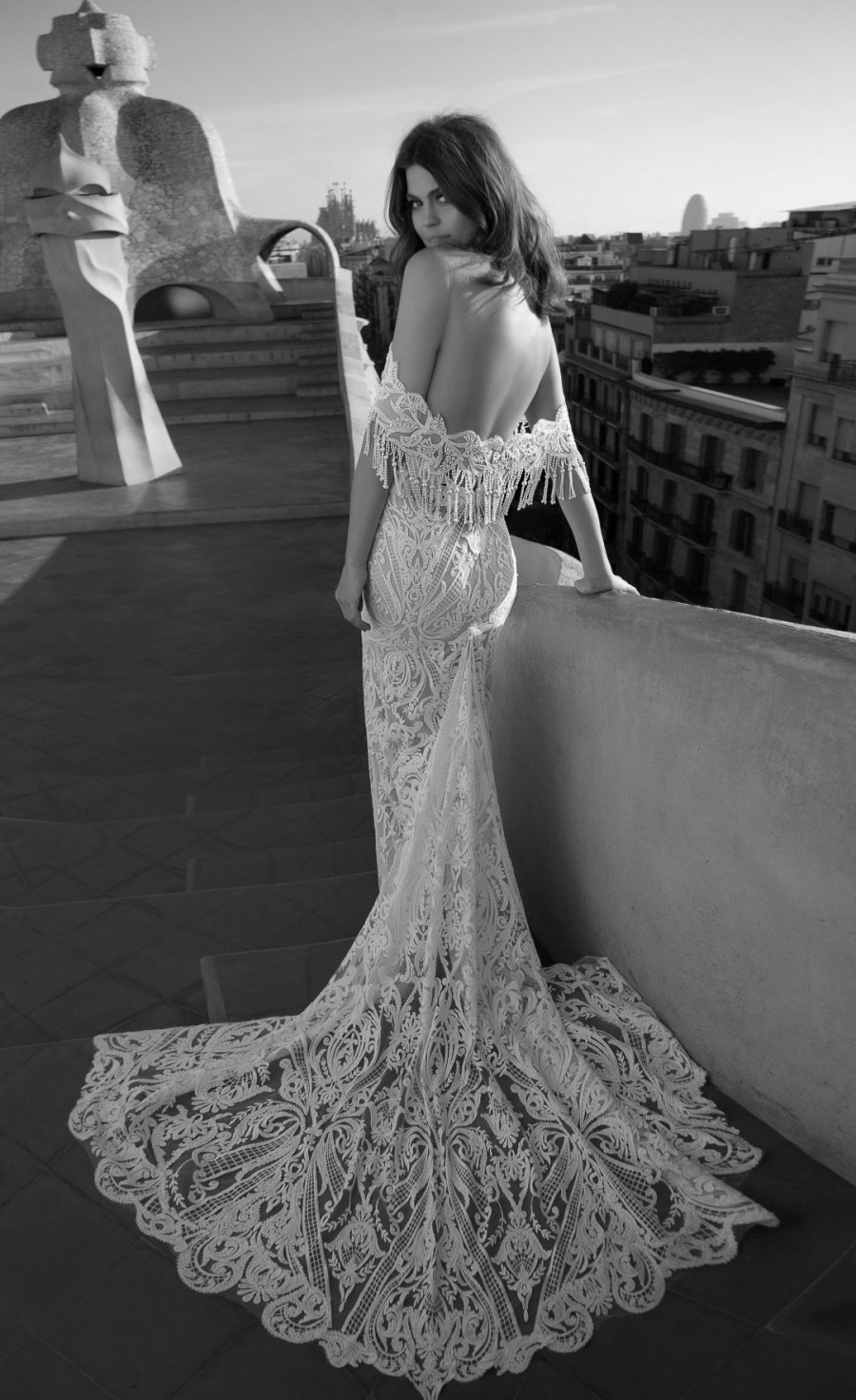 A glamorous off the shoulder lace gown is a perfect way to add a modern touch to a vintage inspired gown. Unique pearl fringe trim adds a vintage glam feel to the contemporary lace style.
20.

Contemporary Sophistication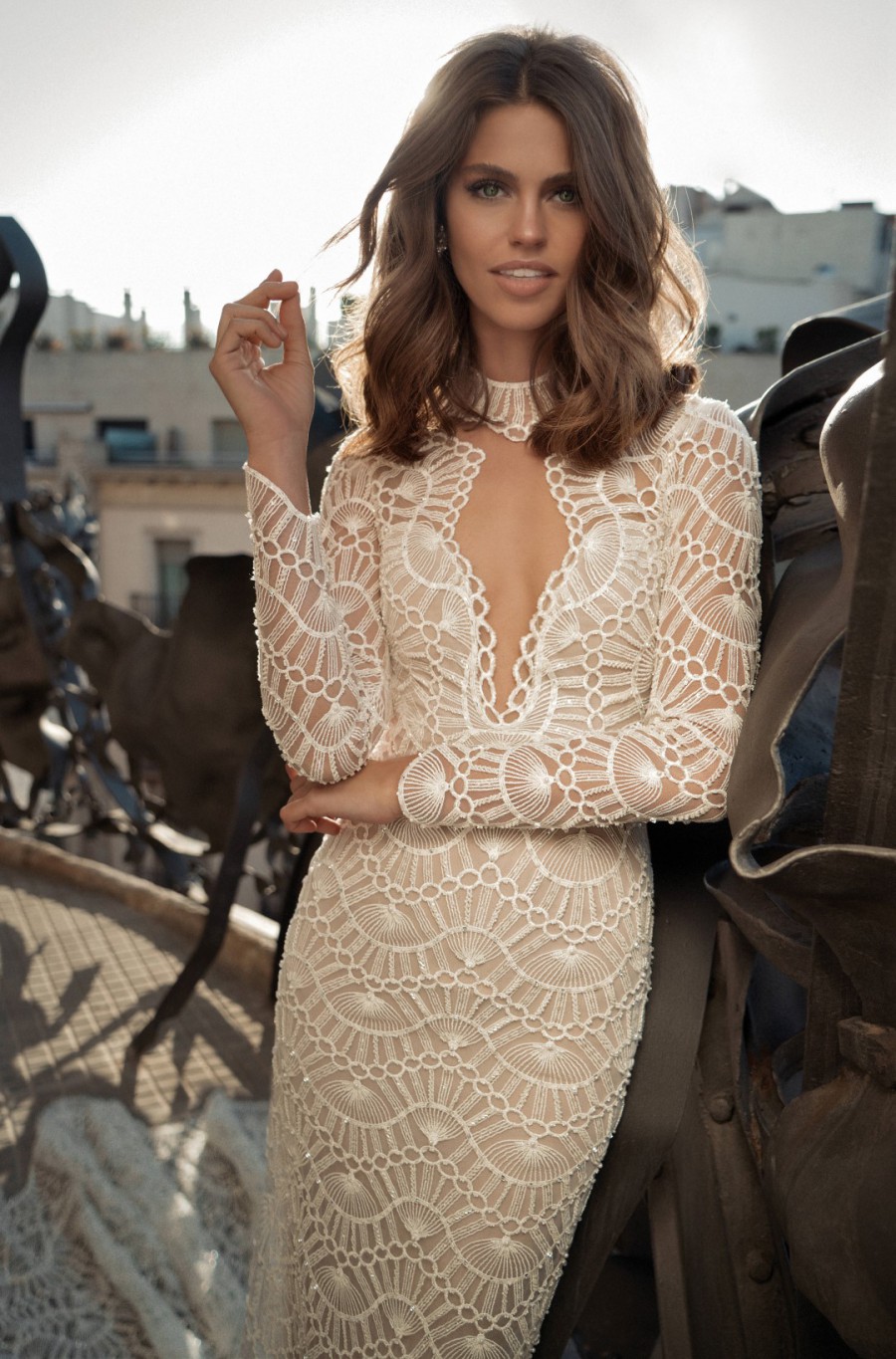 Another contemporary lace pattern that is a far cry from traditional floral lace detailing. This repetitive fanning wave pattern is sophisticated and mesmerizing to look at. A gorgeous contemporary take on a classy lace wedding style.
21.

Understated Details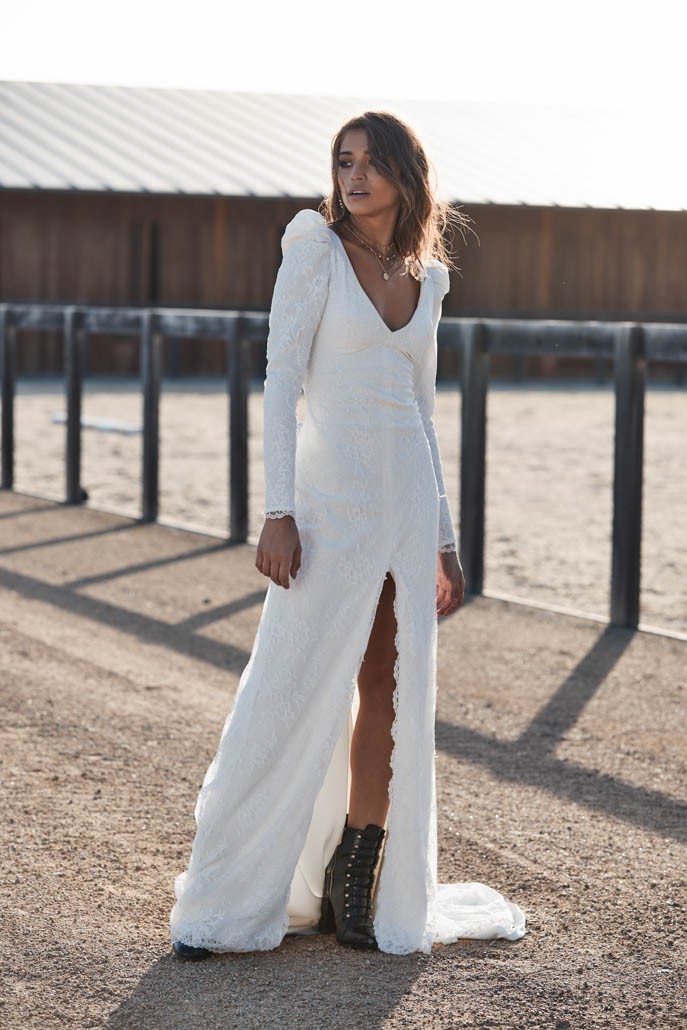 Our next wedding gown style is made from delicate fine lace. This seemingly simple contemporary lace gown has a surprising dramatic front slit, and ruffled shoulder sleeves that add a modern rock and roll vibe to the look.
22.

Lace and Dots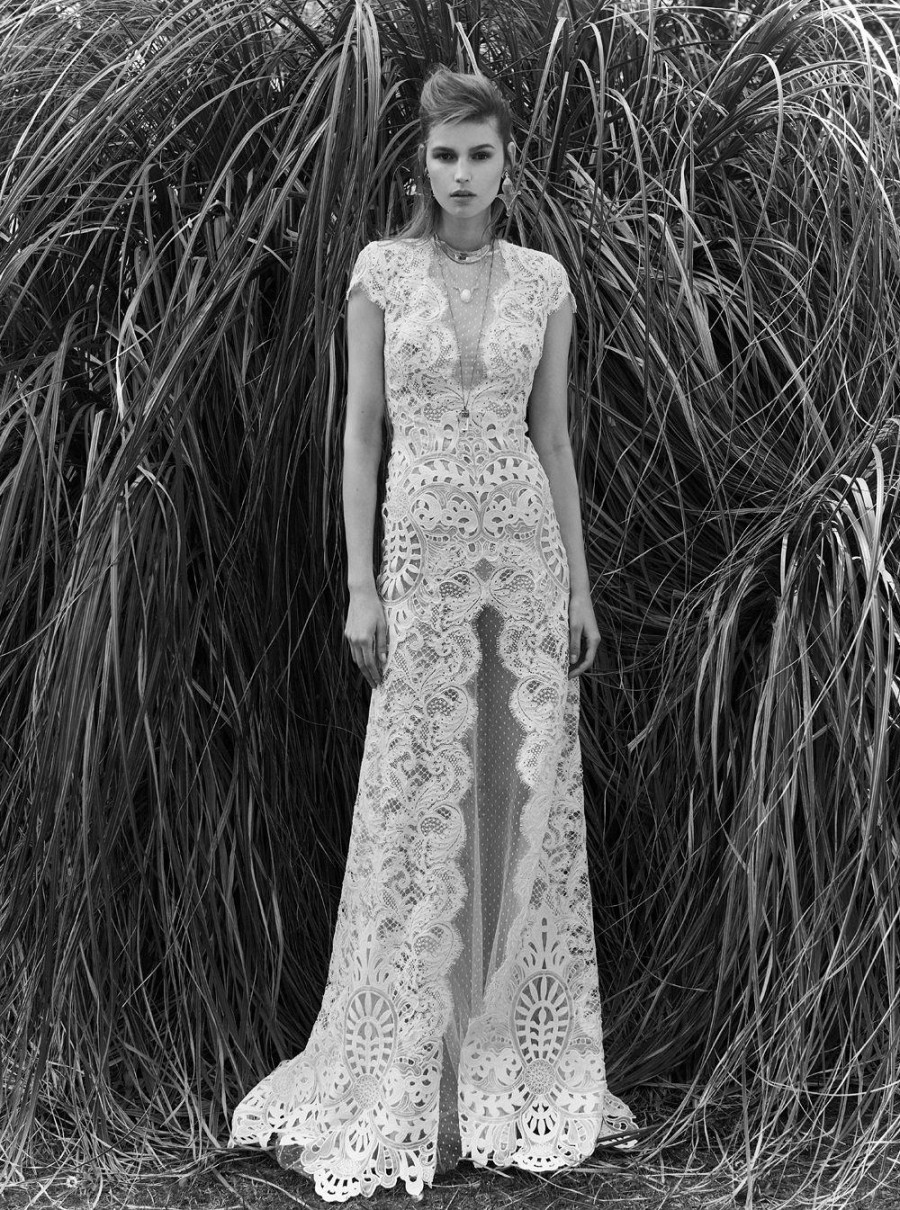 A gorgeous contemporary lace wedding gown that mixes different designs and textures of lace with sheer polka dotted tulle. The mix of patterns and textures gives this simple gown a bold modern edginess.

By Kathryn Schrotenboer