Every bride wants to feel like a princess on her wedding day. But a classic Cinderella style isn't going to cut it anymore for modern day brides.
These modern day ball gowns are big, bold, beautiful - and everything a contemporary Cinderella could want.
01.

Contemporary Fairytale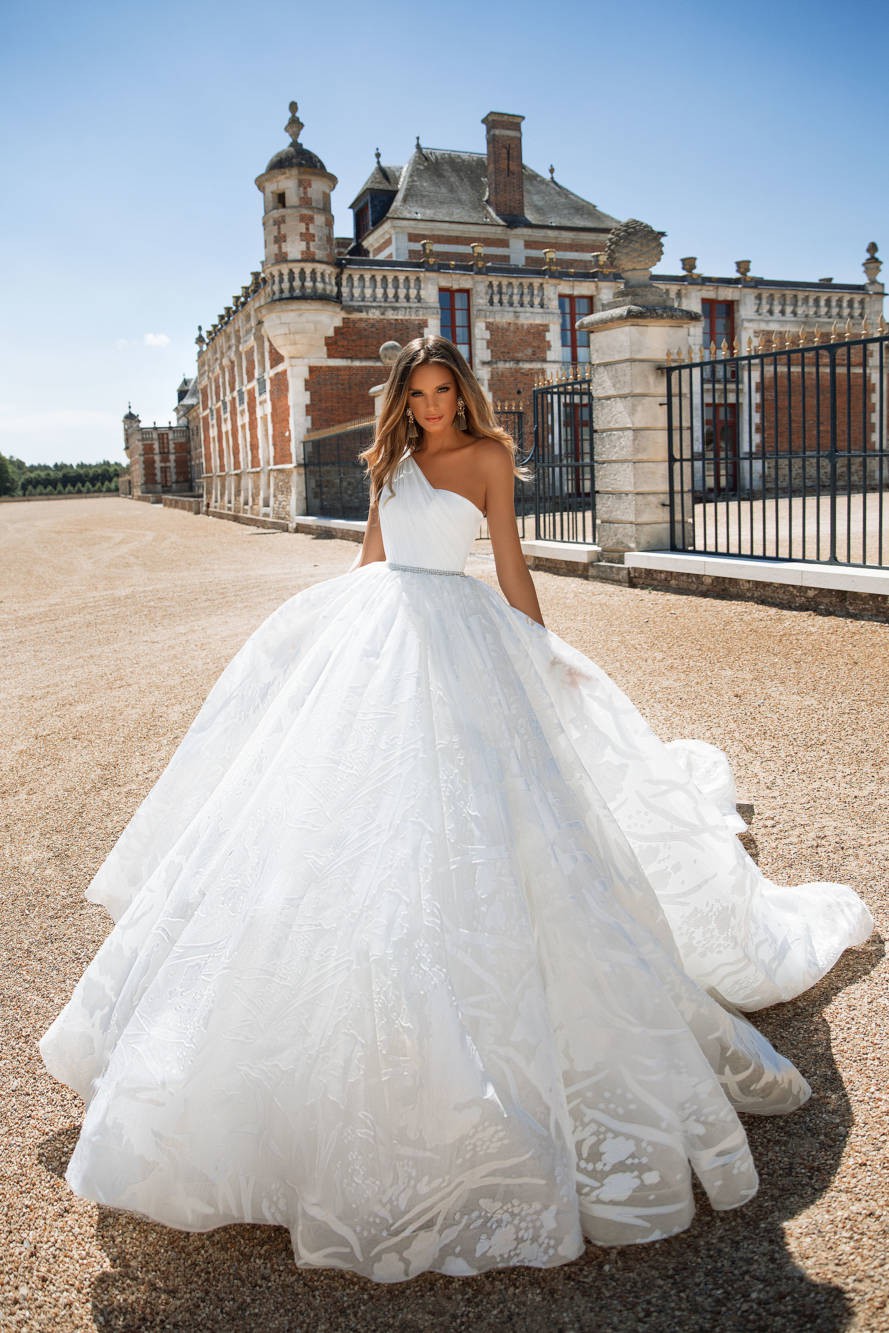 A contemporary princess worthy wedding style that will make a big statement on your big day.
02.

Peplum Ball Gown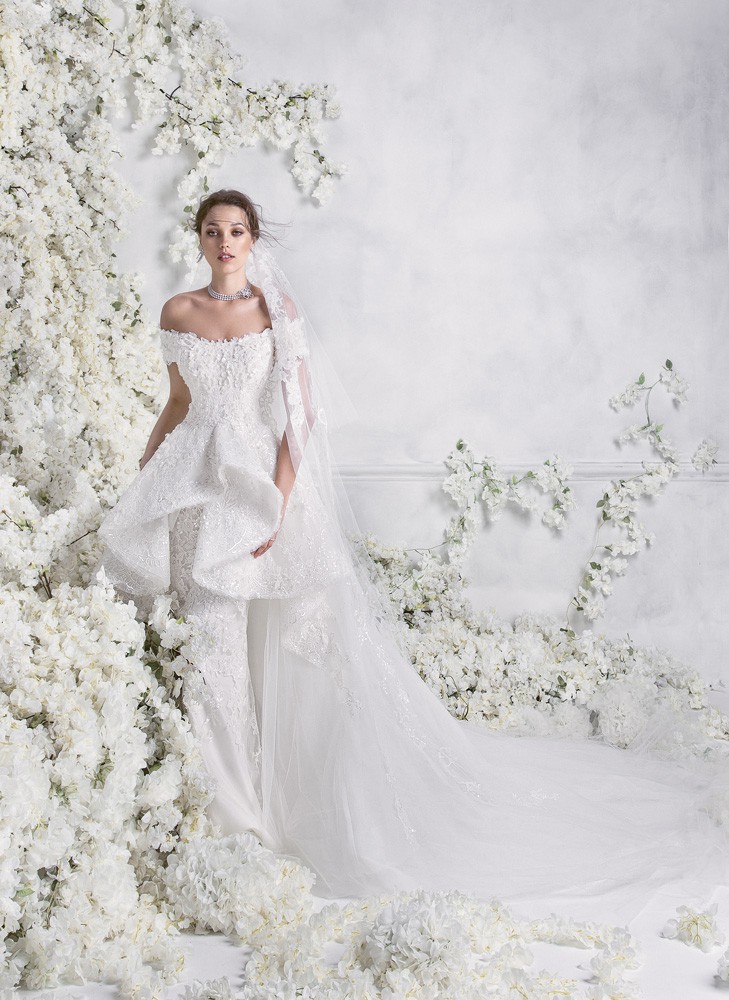 This next princess ball gown will leave everyone breathless. A unique peplum cut adds even more volume to this gorgeous ball gown. Glitz and textured details take the look to an all new level. Finished off with an off the shoulder cut for a sexy and sassy finish.
03.

Not Your Average Cinderella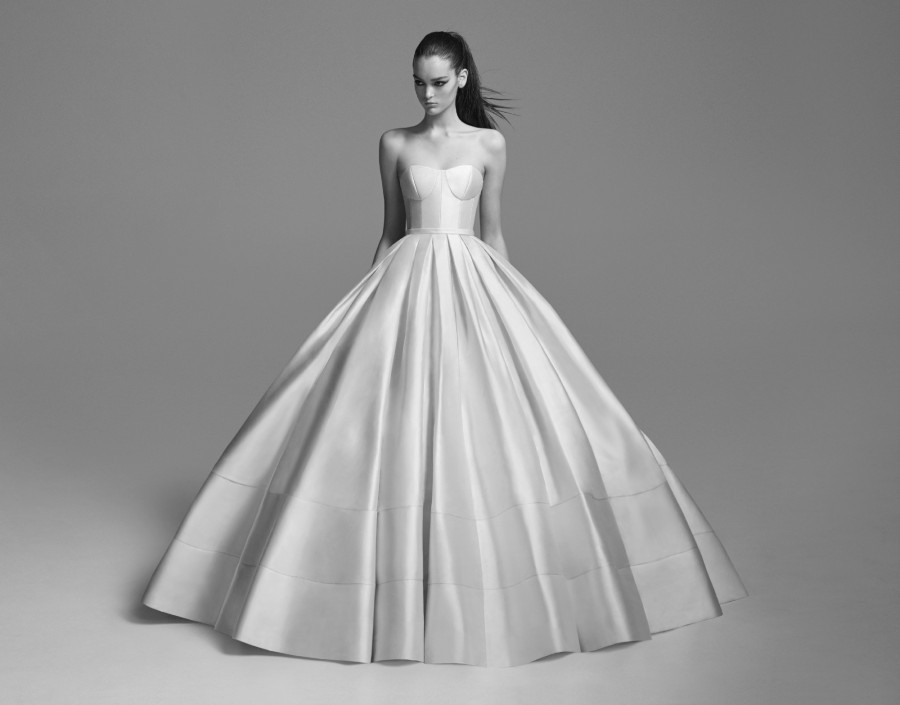 A structured corset ball gown that definitely isn't what we imagine a traditional Cinderella wearing off to the ball. But for a bold contemporary bride this princess style is absolutely mesmerizing.
04.

Queen Worthy Sophistication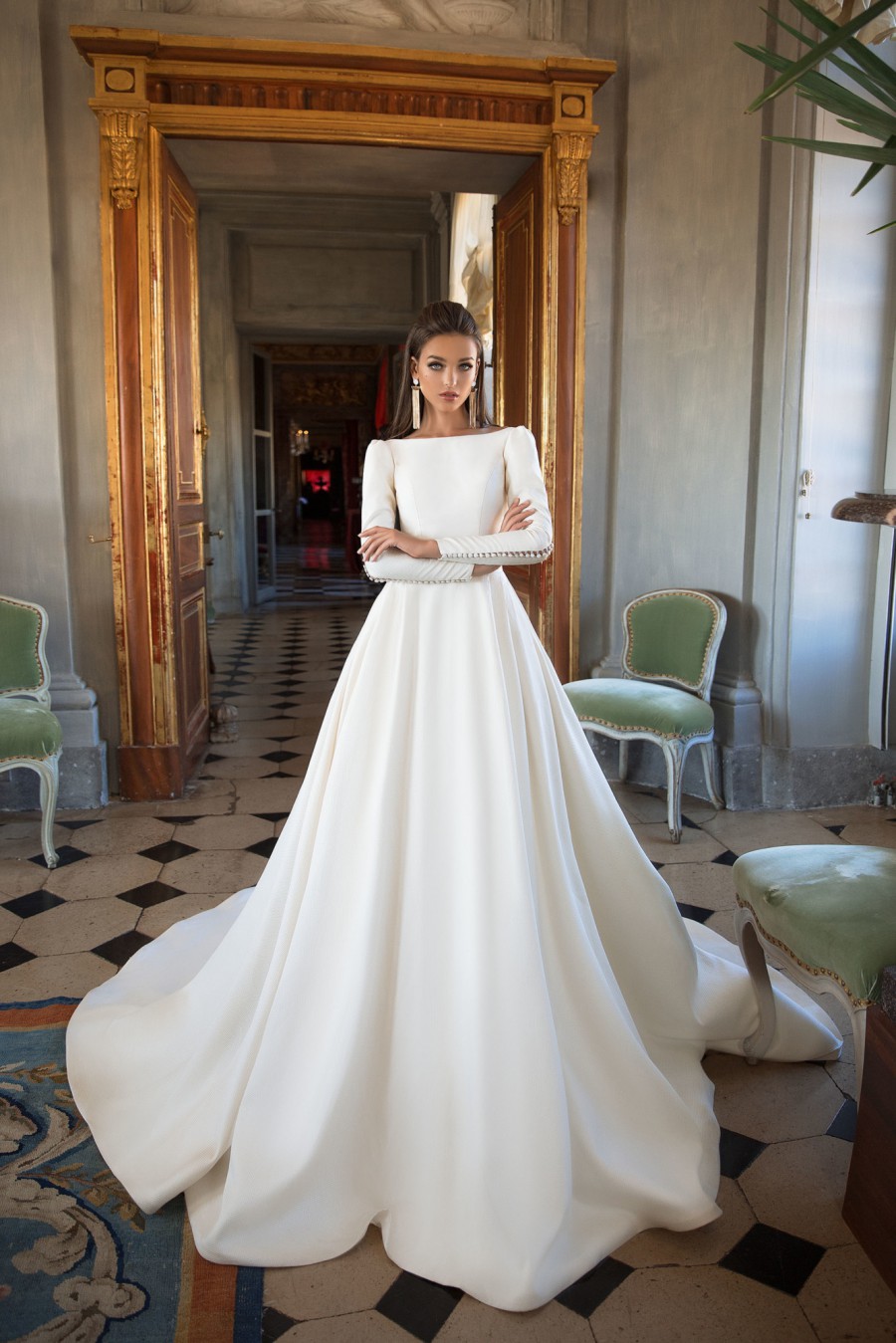 A sophisticated Cinderella wedding style fit for only the most regal of modern day brides. Who wants to look like a princess on her big day, when she can demand attention like a queen?
05.

Cinderella Illusions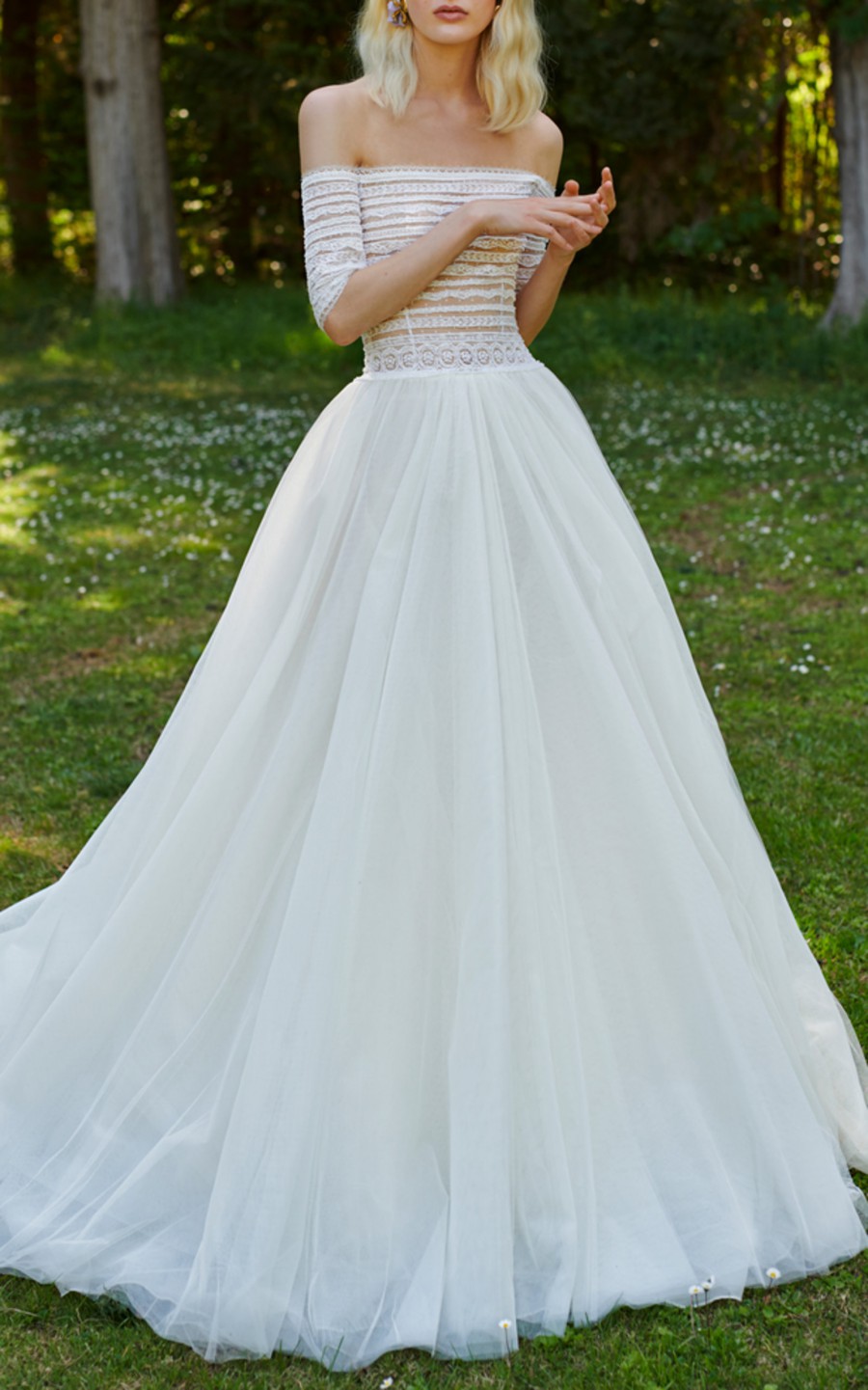 Modern day Cinderella brides don't follow any rules. Our next gown features an off the should bodice made up of delicate lace and illusion dotted mesh. This semi-sheer illusion design may not be something Cinderella would have wore - but we absolutely love it for our contemporary brides craving a princess gown on their big day!
06.

Clean and Modern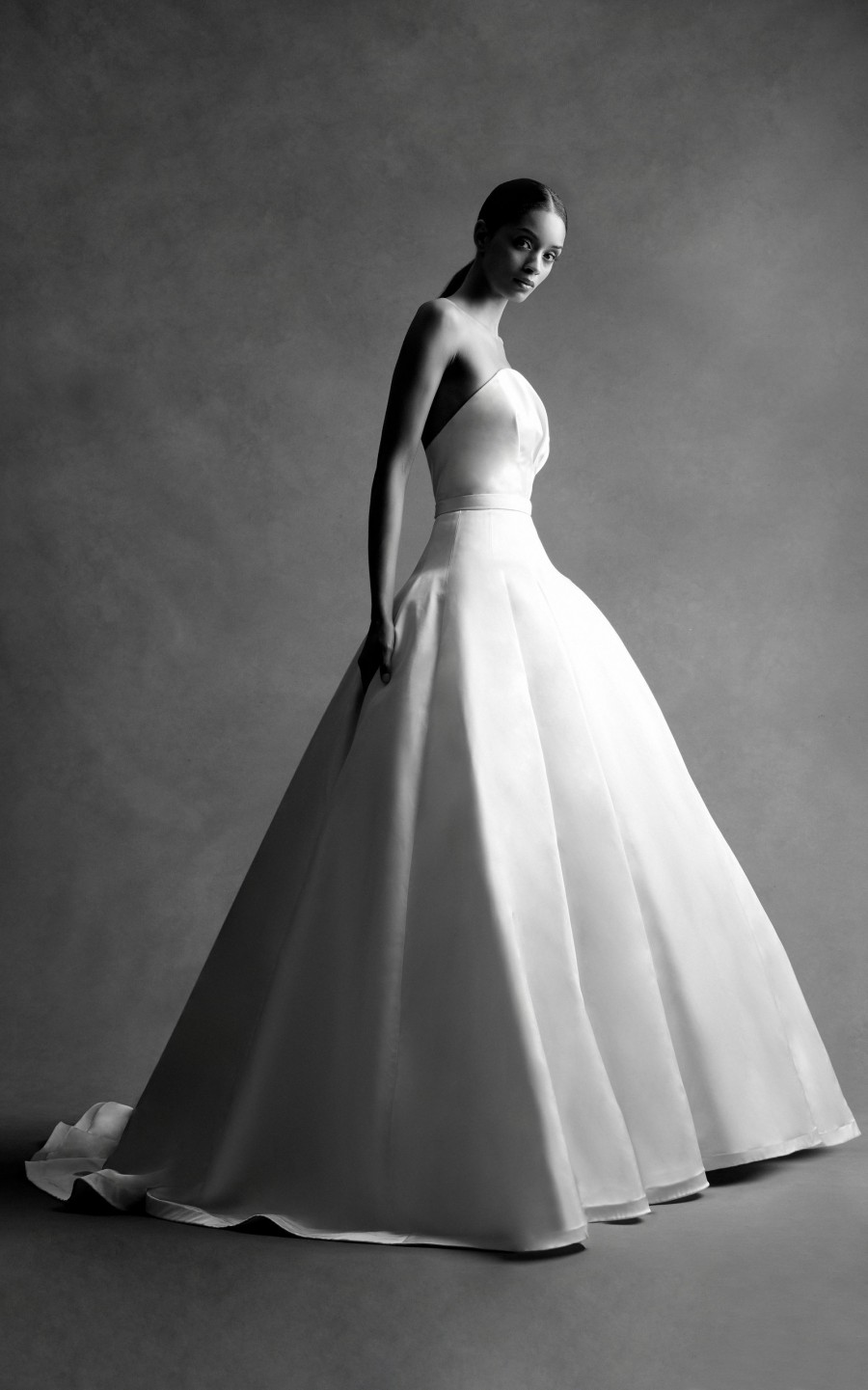 A clean, modern ball gown that our modern day Cinderella's out there will love. Clean lines and a sleek cut create a timeless style that is both contemporary and traditional.
07.

Stripes of Lace and Silk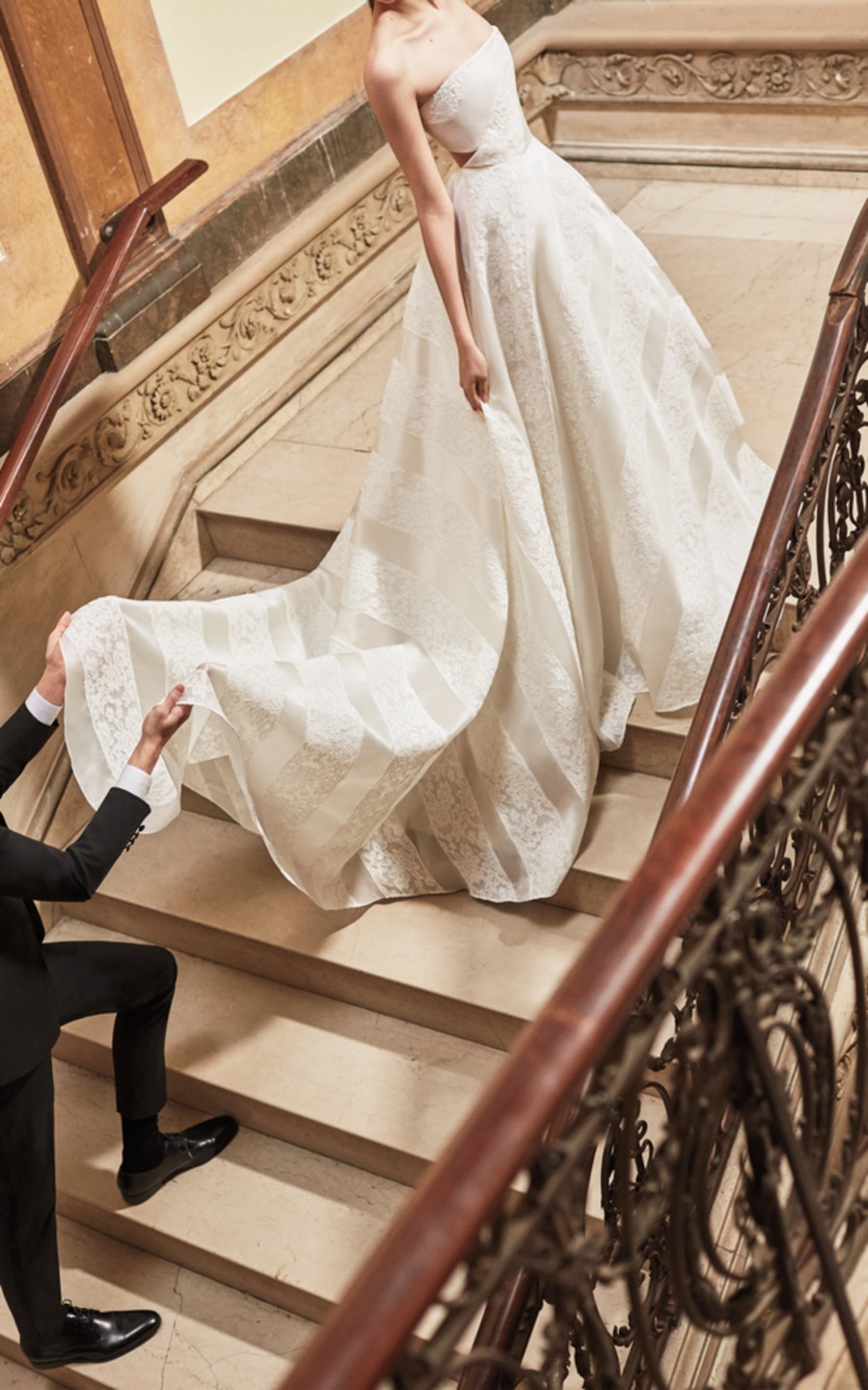 A stunning striped ball gown that incorporates lines of delicate lace and soft silk. A breathtaking style that is sure to sweep your Prince Charming off his feet.
08.

Modernism in the Garden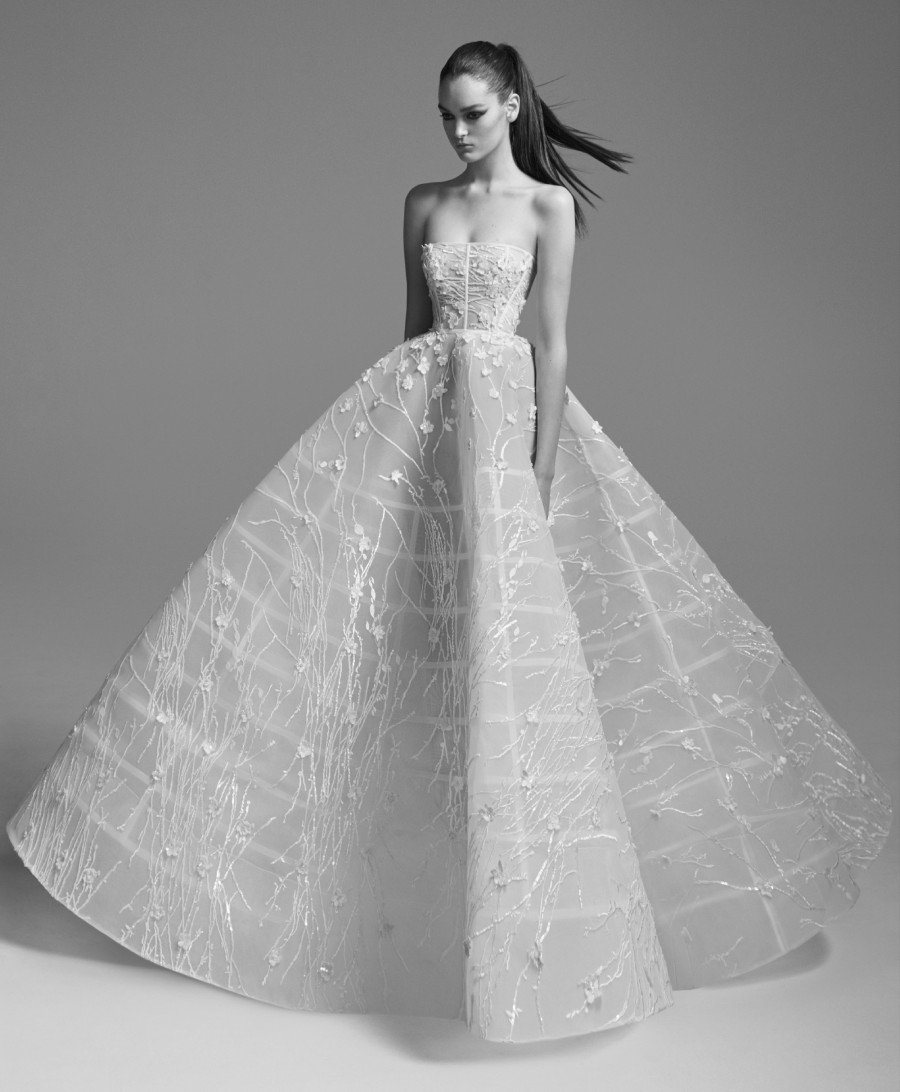 Get ready for a garden day celebration in this next modern day Cinderella bridal look. This semi-sheer fabric reveals the voluminous skirt caging and is accented with heavily beaded twig and floral designs.
09.

Structured Tiers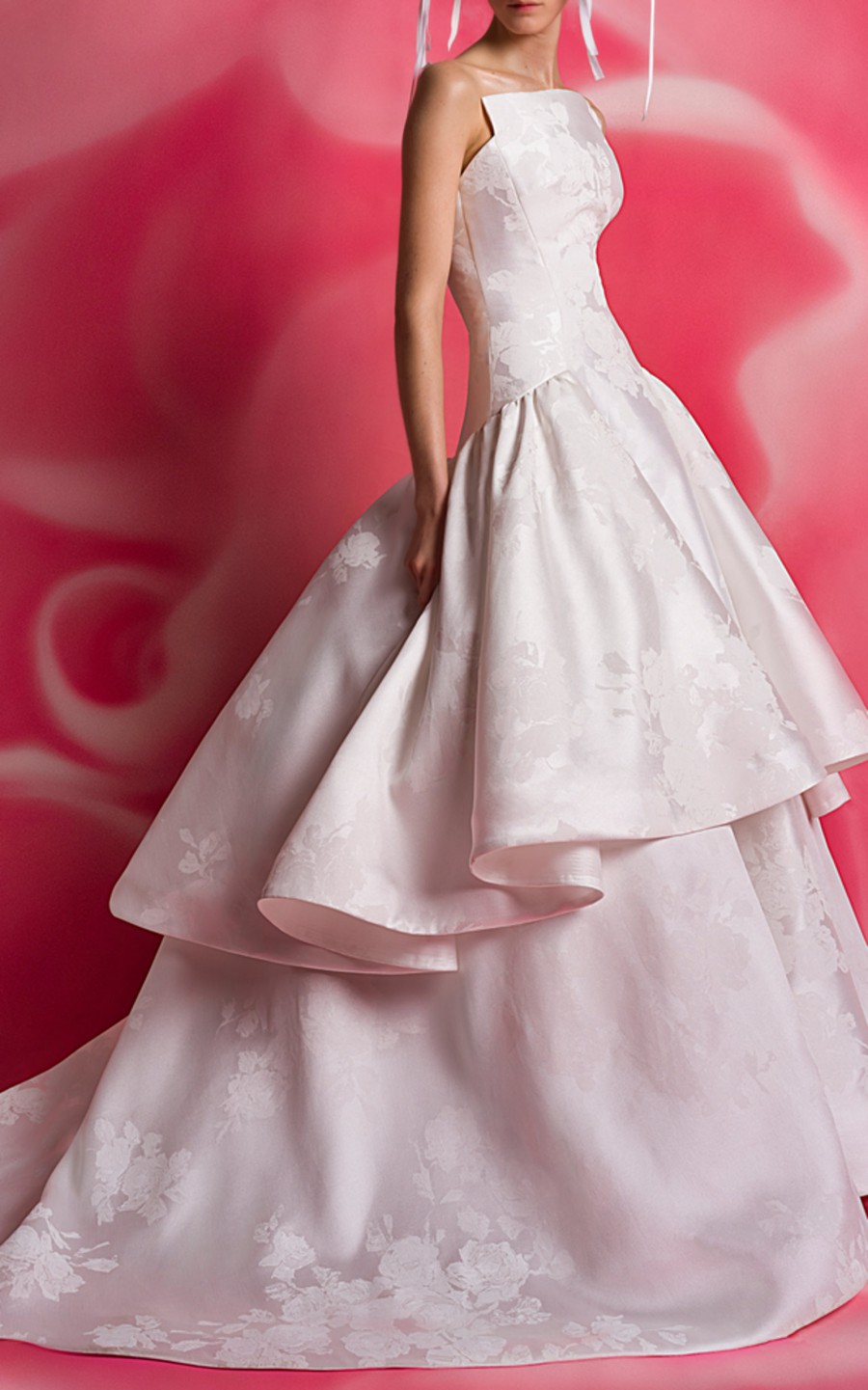 A contemporary ball gown with antique influences. This structured strapless gown combines a sloped waist, and tiered skirt for a perfect mix of structured and soft detailing. The floral patterning gives this modern ball gown a antique feel.
10.

Crystal Criss-Cross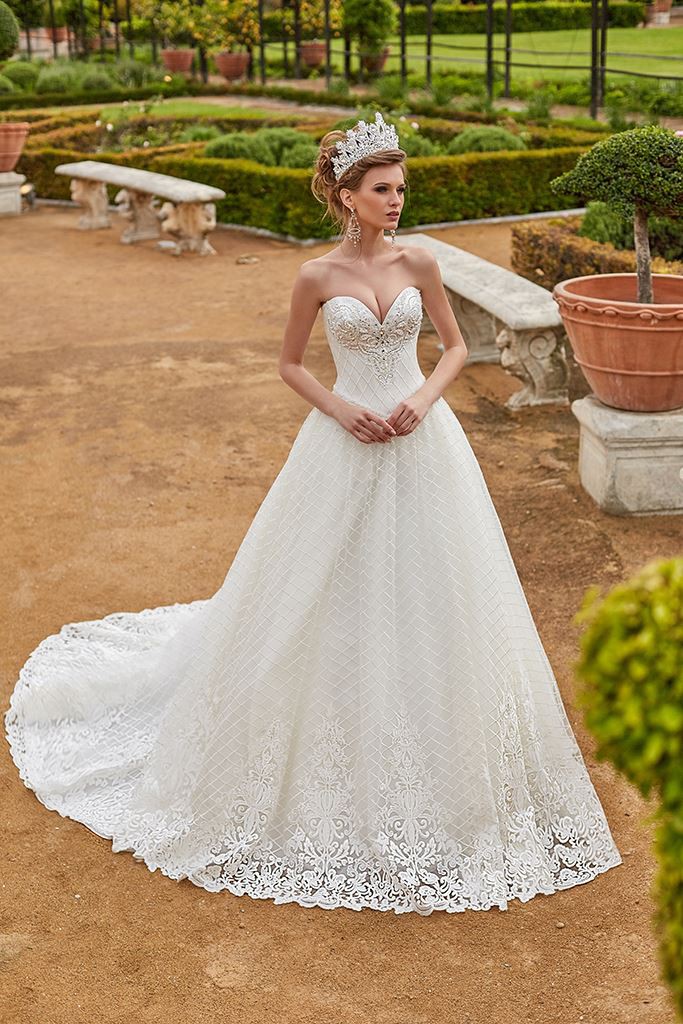 A crystal encrusted, criss-cross designed ball gown like nothing else! The intricate detailing on this gown is unmatched. It is striking and surprising from every angle!
11.

Lace Detailing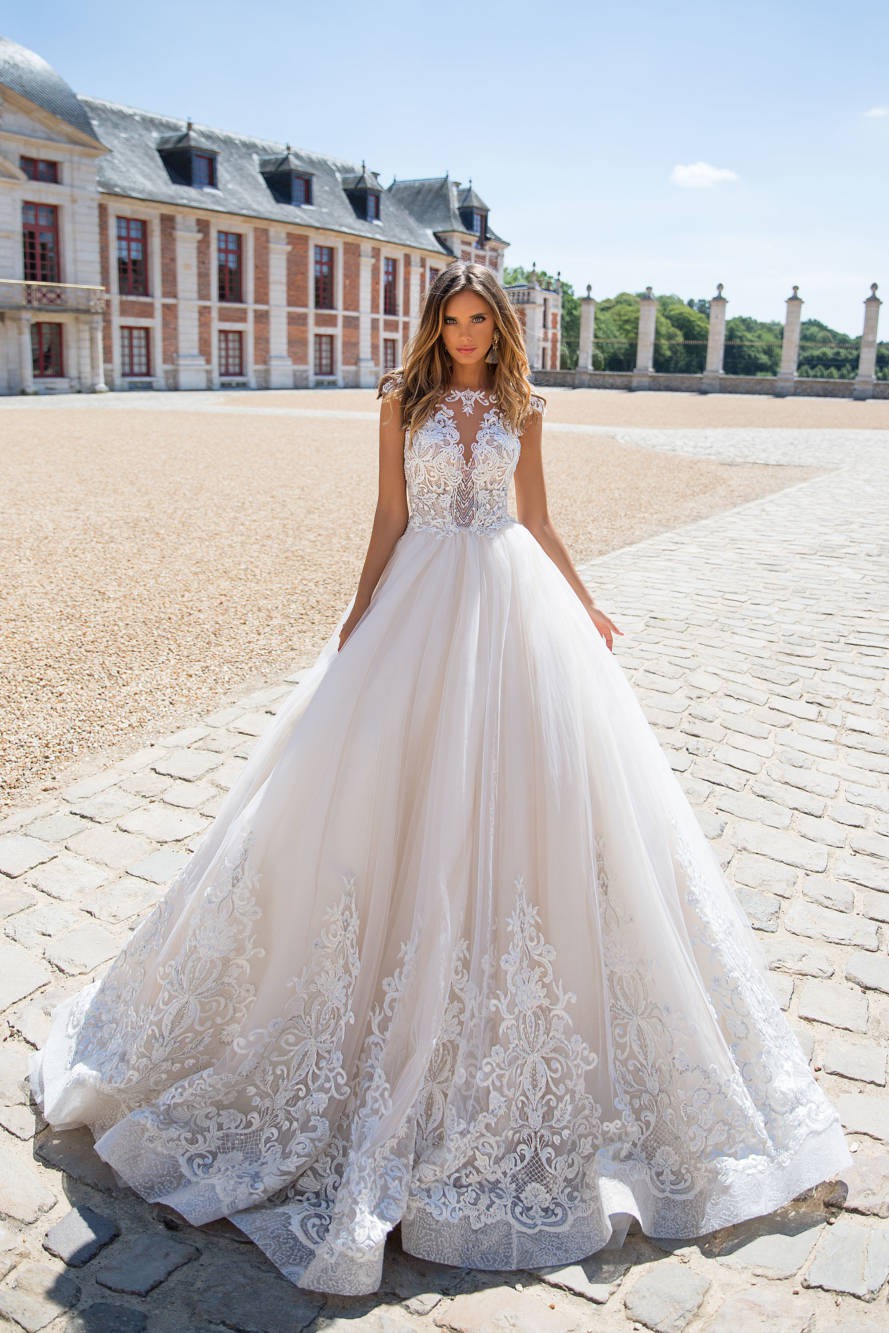 A regal high neck Cinderella ball gown that is all about the delicate lace detailing.
12.

Plunging Sweetheart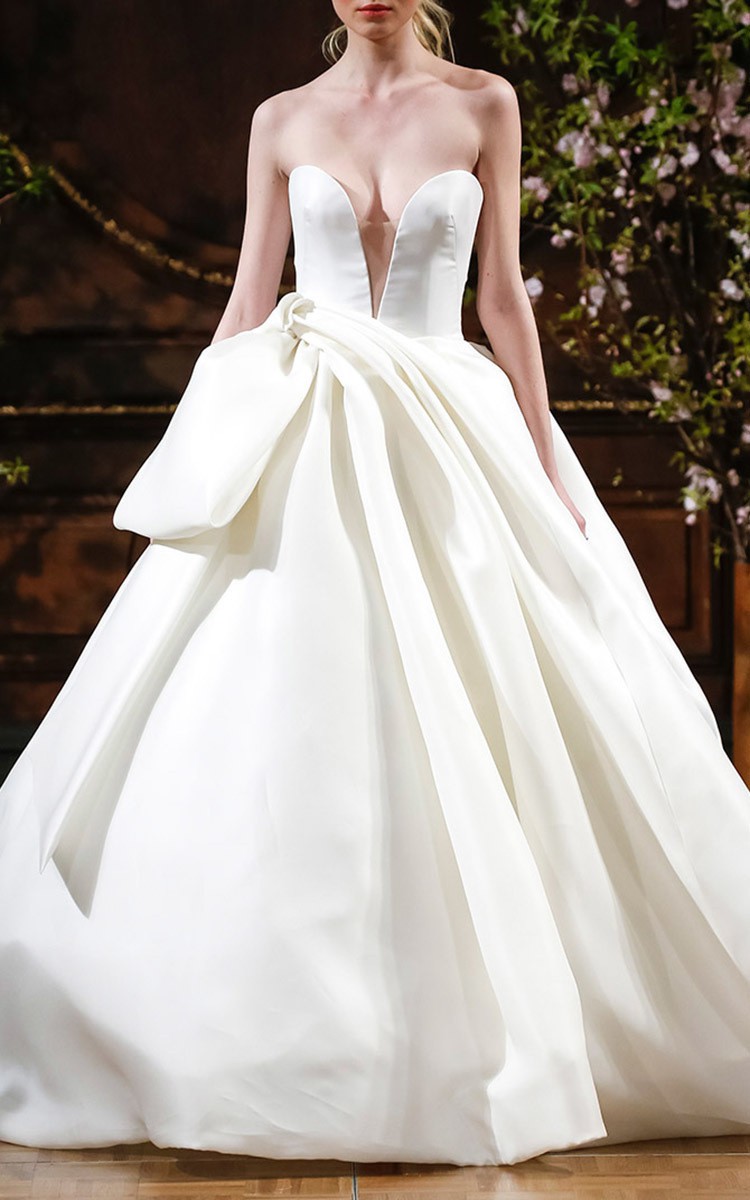 Our next Cinderella worthy ball gown has an unexpected neckline that will leave everyone breathless. We all love the traditional strapless sweetheart neckline style that graces so many princess worthy ball gowns. But this plunging neckline is a deep dive away from that traditional style. It is contemporary and sexy - and we absolutely love it.
13.

Cuffed Contemporary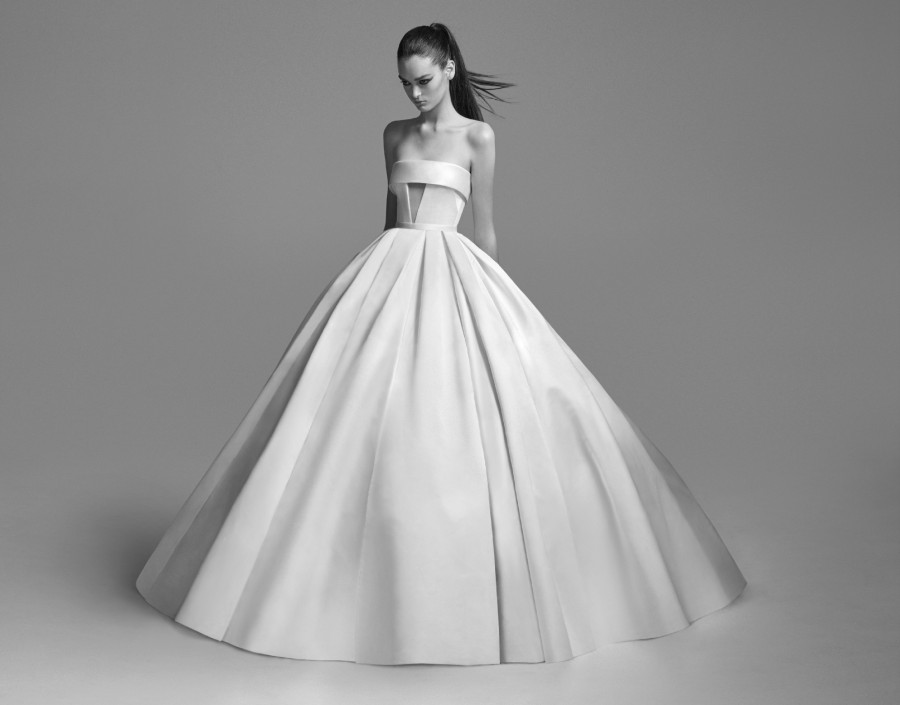 This next contemporary Cinderella ball gown features a stunning, one of a kind neckline design. A bust cuff and structured cut out create a ball gown bodice like nothing else.
14.

Fairytale Whimsey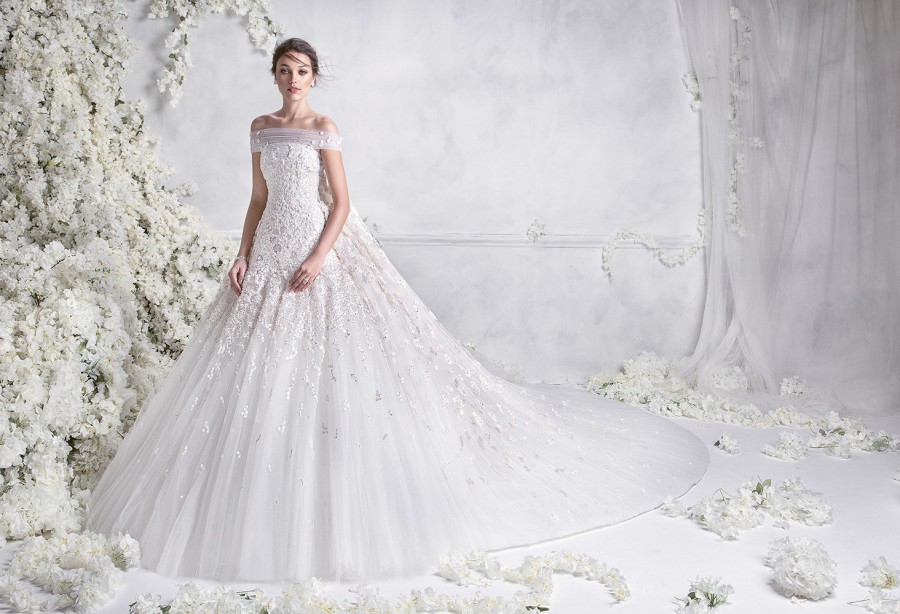 A Cinderella ball gown fit for a whimsical garden wedding day. This gown is stunning from every turn - but what really sets it apart is the delicate tulle off the shoulder neckline that makes this look so different from other strapless princess ball gowns.
15.

Multi-tiered Stripes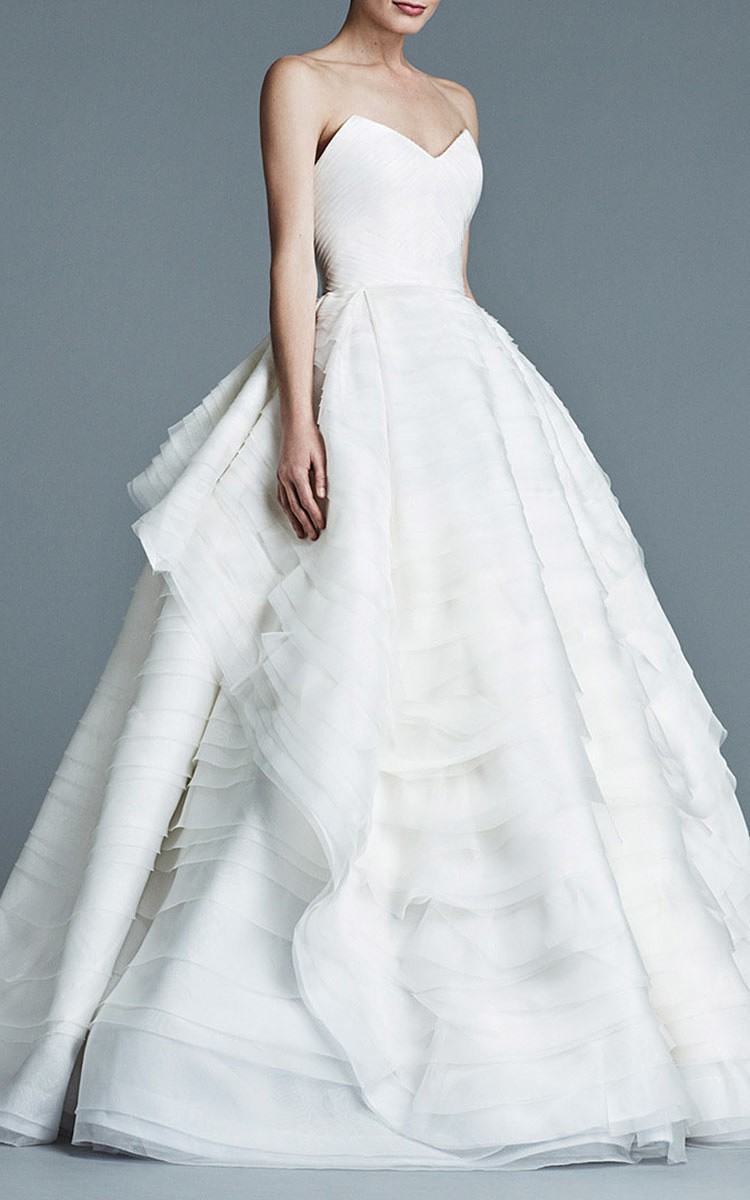 Our next princess ball gown style is from J. Mendel. This sleek contemporary design features striped, tiered layers of tulle that create a texture like nothing else.
16.

Tulle Patchwork
Viktor Rolf brings us a tulle patchwork gown that truly is a modern day Cinderella story. This gown is crafted out of intricate layers that utilize various tulle techniques - giving it a patchwork appearance.
17.

Ball Gown Bows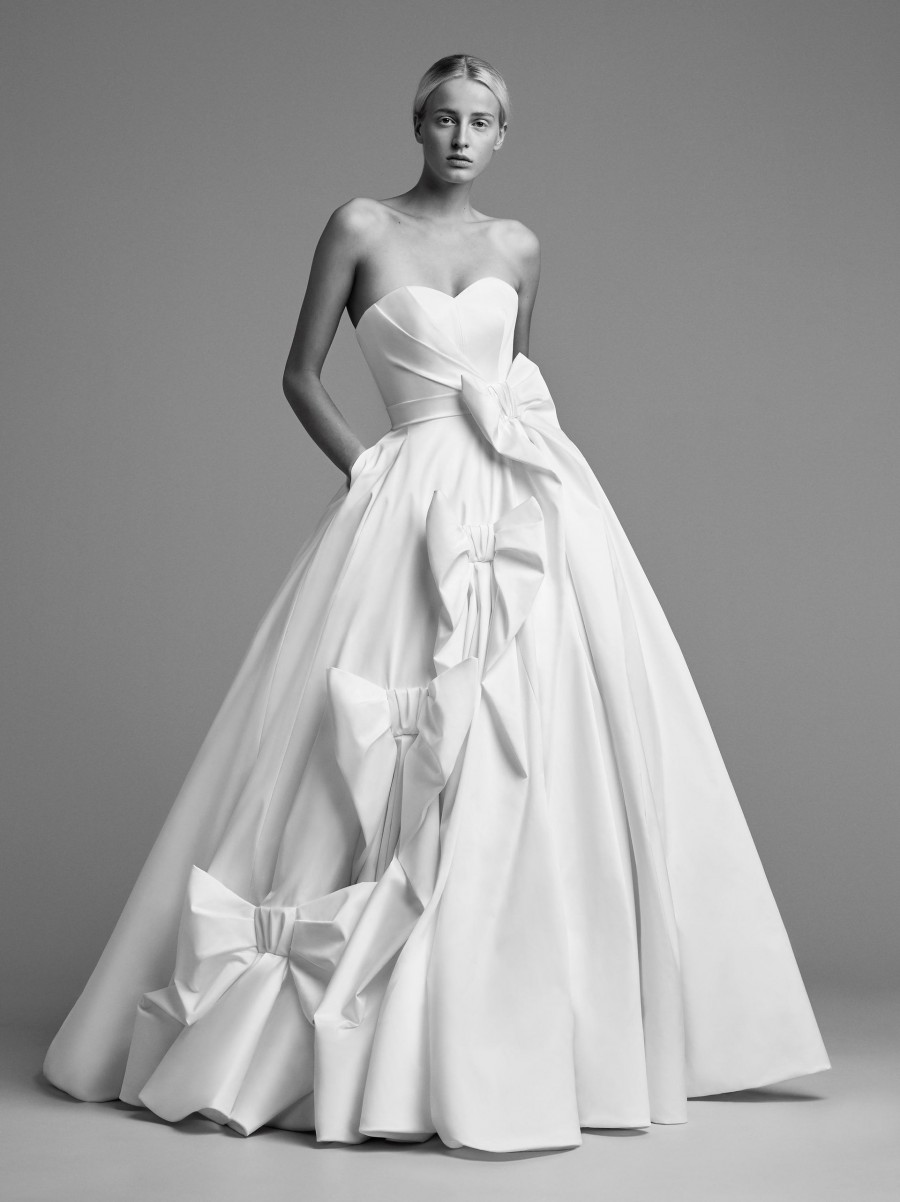 Reminiscent of Cinderella's ball gown before her fairy godmother arrives. This modern bowed beauty if fun and girly, while also being contemporary and classy. The perfect way for a modern day Cinderella to meet her Prince Charming.
18.

Floral Fairytale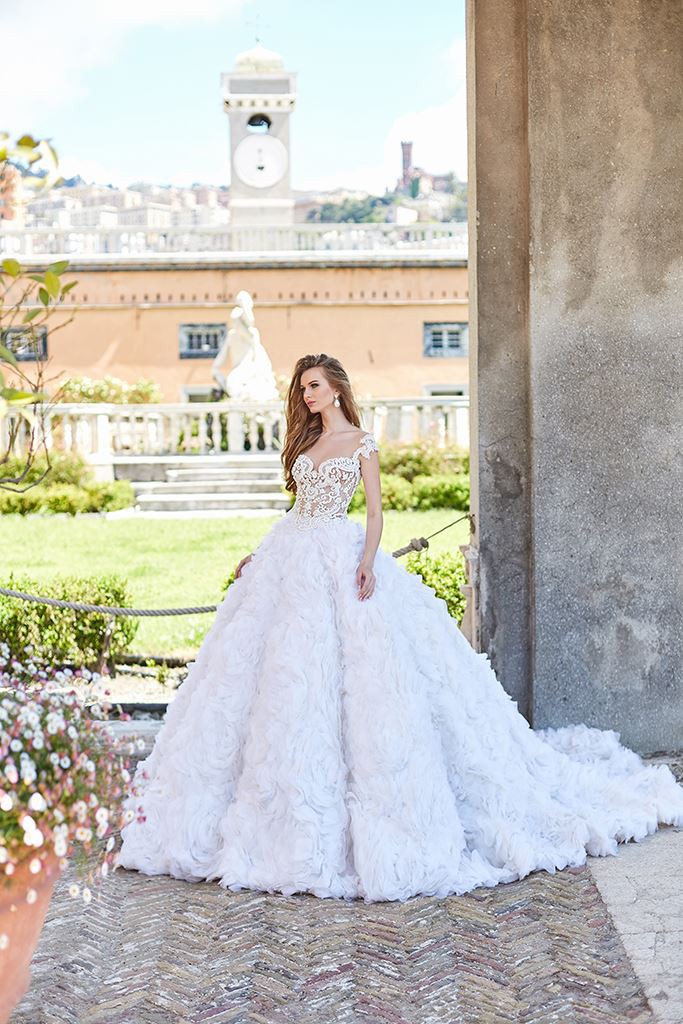 A completely over the top floral fairytale princess gown. This glammed up, floral textured gown is absolutely breathtaking. If you are having a big, regal ceremony for your wedding day - this dress is a must have!
19.

Antoinette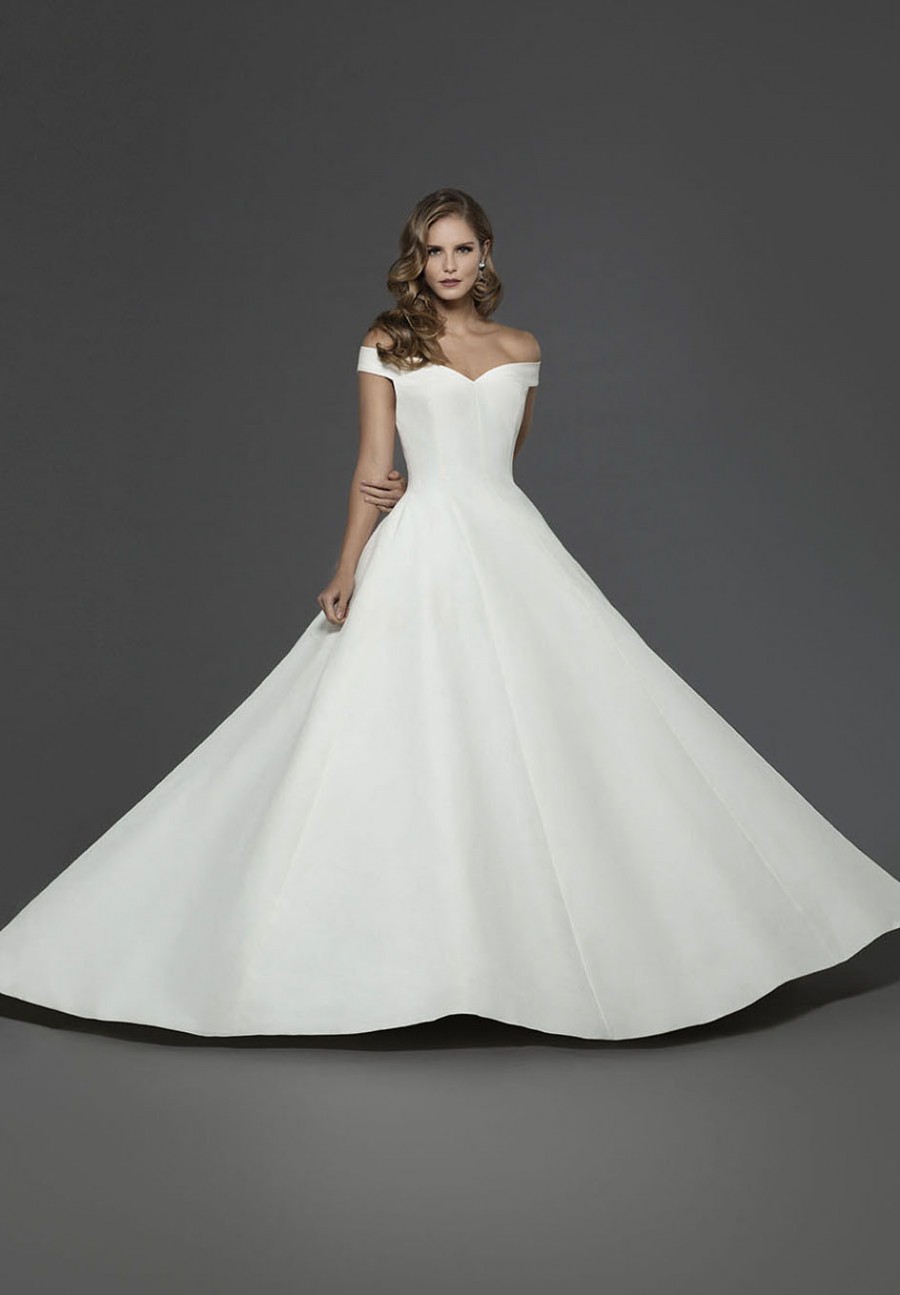 Fittingly names Antoinette - this regal ball gown demands attention. A clean silk design with bold volume and feminine lines. Everything a modern day Cinderella could ever want!
20.

Dramatic Florals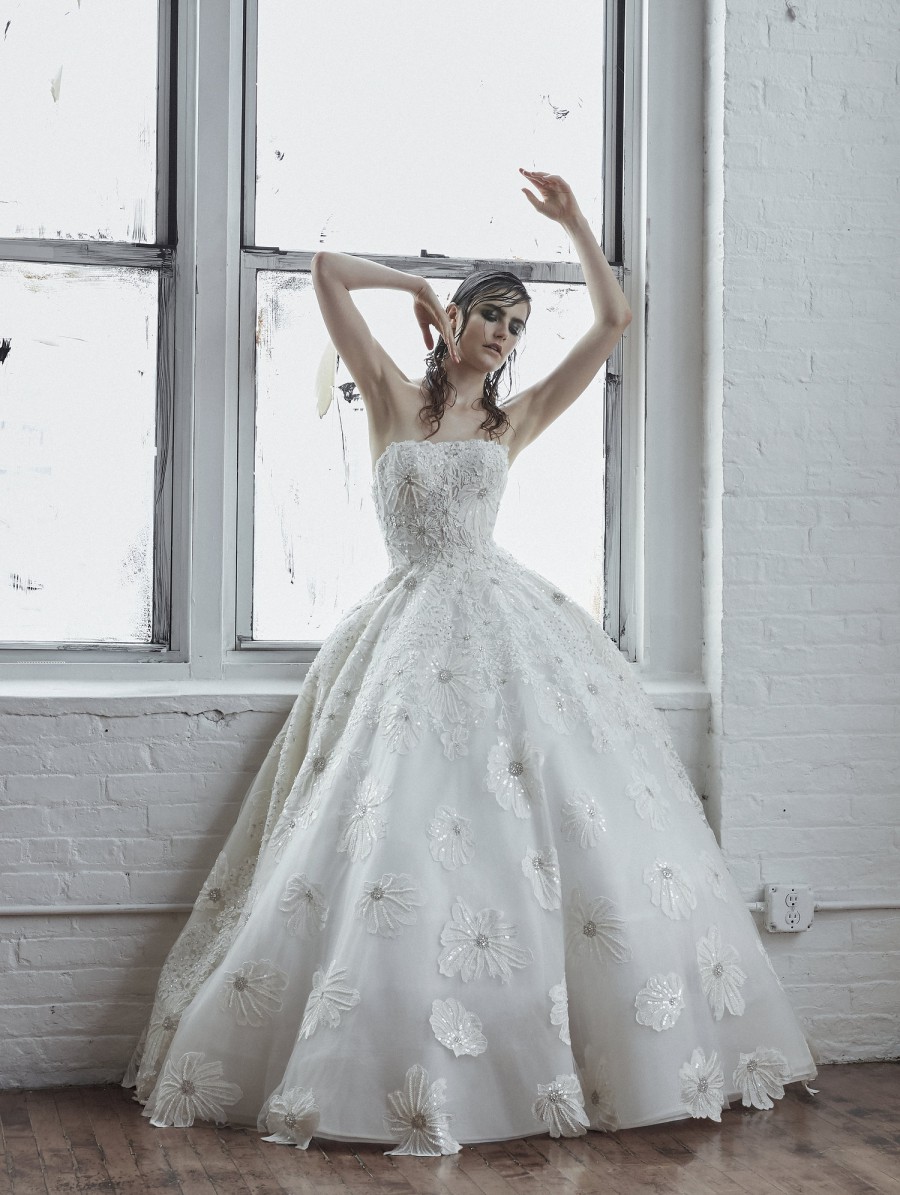 Isabelle Armstrong brings us a dramatic floral ballgown for a bold, cheeky modern bride. This may not be what Cinderella had in mind when she was headed to meet her Prince Charming - but for a bold modern bride, this is the perfect gown to make a chic statement.
21.

Tulle Texture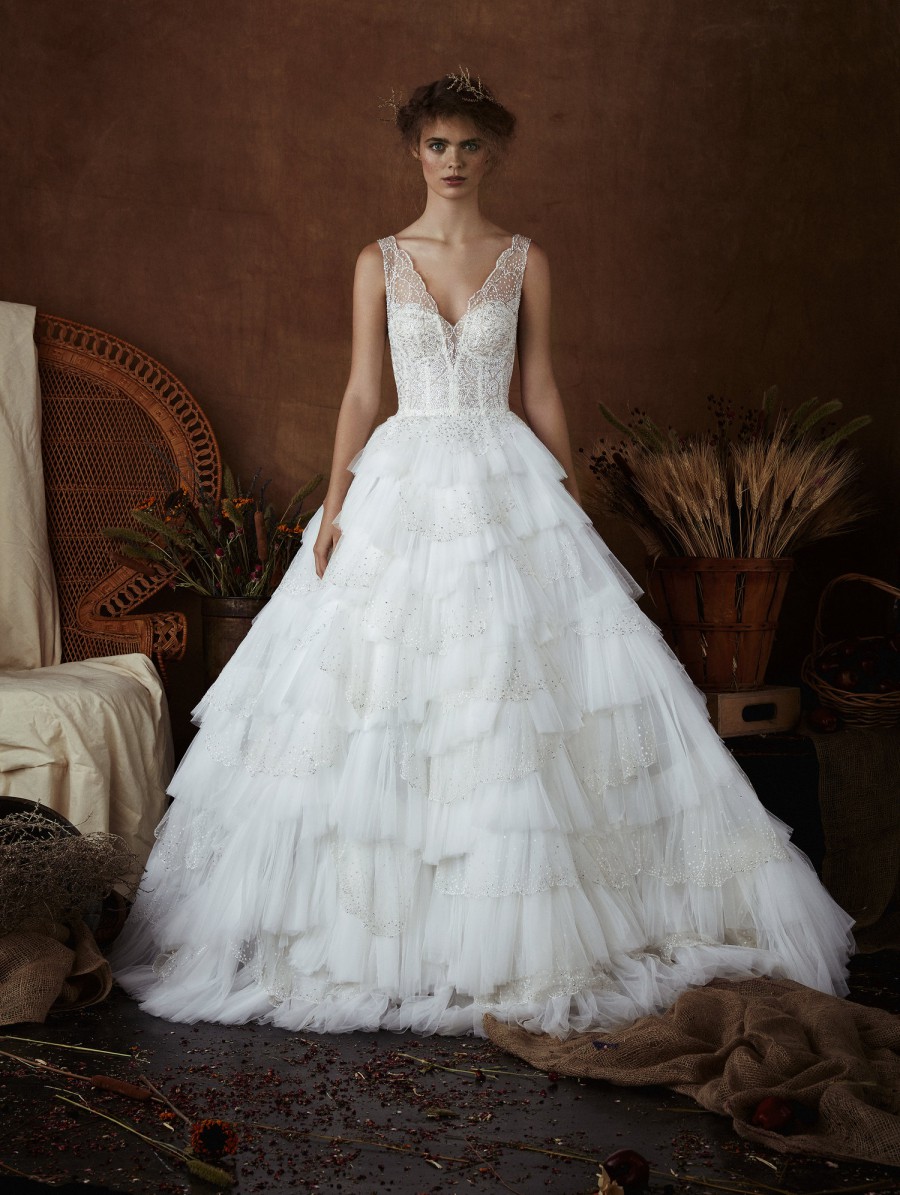 Our next contemporary Cinderella worthy wedding style is all about texture and detail. This layered and tiered tulle ball gown is accented with a richly beaded bodice and scattered sequin embroidery for an all over glittering style.
22.

Sparkle Florals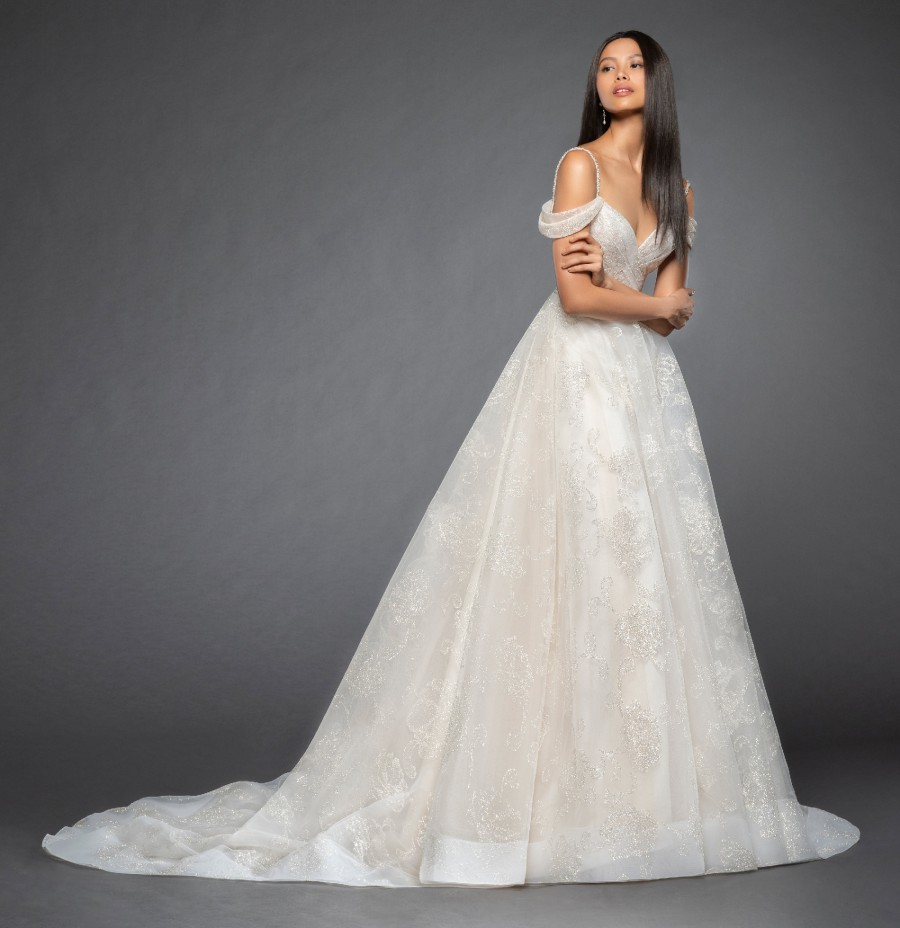 An ivory sparkle floral tulle ball gown from Lazaro. This glistening ball gown is perfect to dance the night away with your very own Prince Charming. It is feminine and sophisticated, while also keeping things girly and playful.

By Kathryn Schrotenboer