If you are looking to show off your curves in a minimalistic way - a column or sheath wedding style just may be for you.
Both column and sheath styles contour closely to the body for a very fitted look. These cuts are straight, with no waist, causing them to loosely lay along the bride's natural curves. If you really want to show off your shape on your big day - these gowns are definitely for you. The silhouette's may seem simple, even minimal, but they can make a big impact, without all of the loud volume. Thinking you are ready to try this modern silhouette on for size - then check out some of our favorites.
01.

Artistic Florals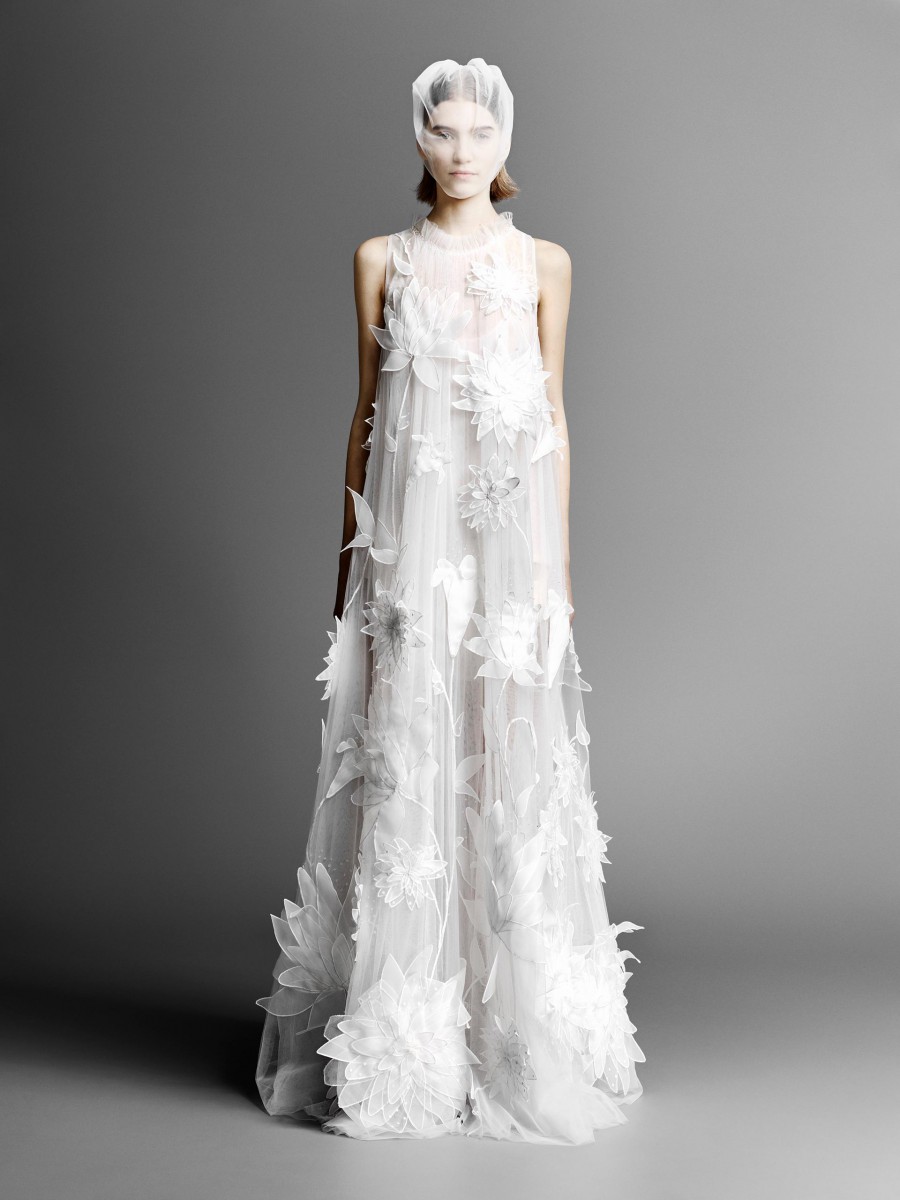 Viktor Rolf never disappoints with his contemporary, jaw dropping bridal styles. This ethereal sheath dress is no exception. Sheer airy tulle layers are topped with intricately crafted oversized flowers that will make a big statement on your big day.
02.

Cap Sleeve Column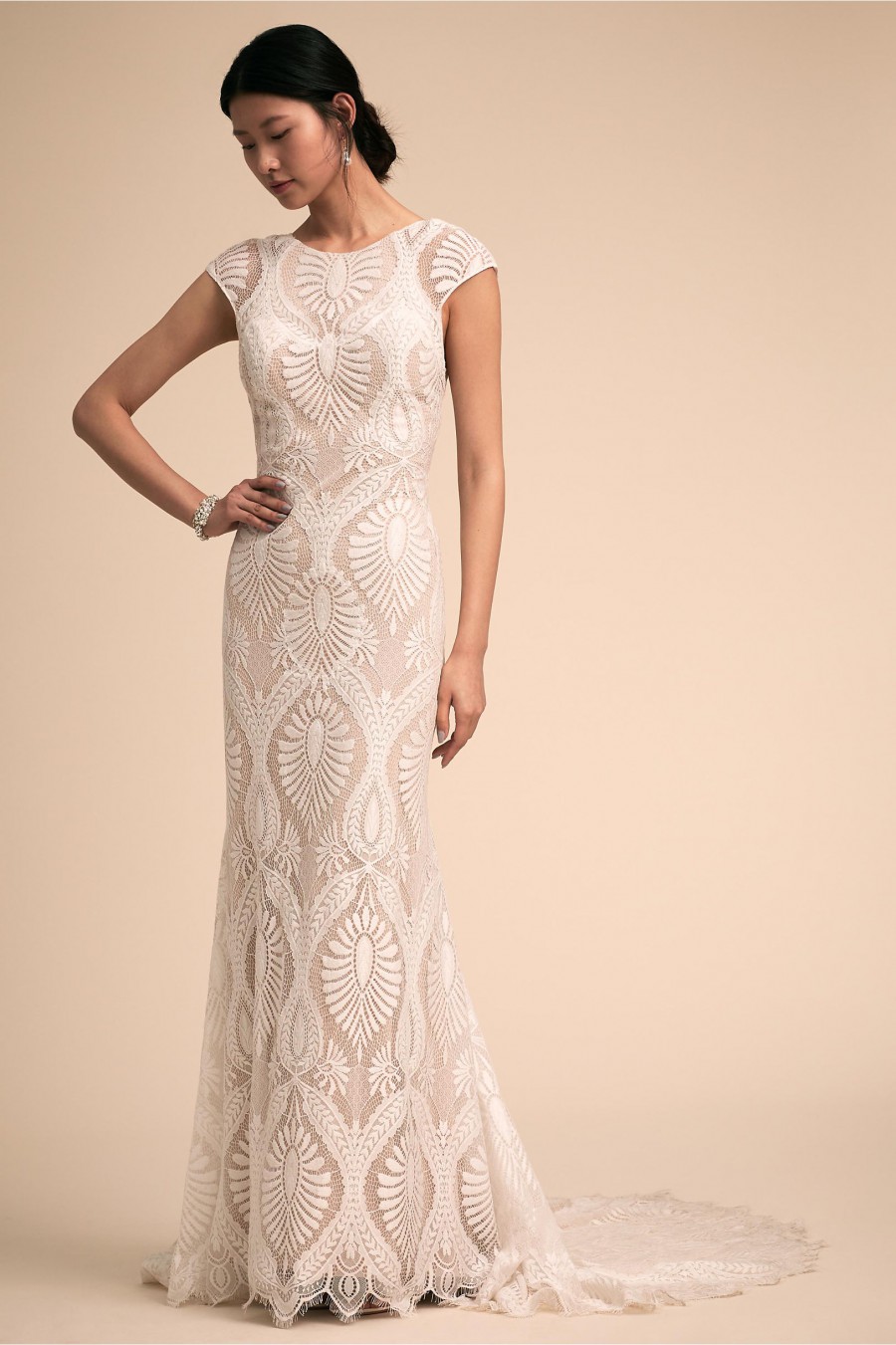 A captivating graphic lace column gown that is feminine, and utterly adorable with its high neck, cap sleeve cut. Simple, yet sophisticated for your big day.
03.

Bow Sheath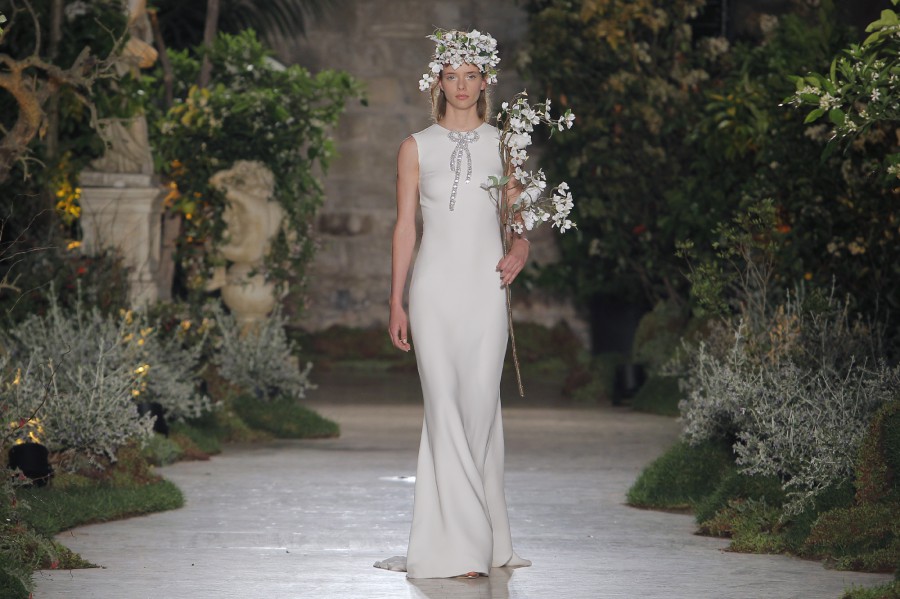 The silver beaded bow accent on this gown transforms this look from just a sleek sheath into a chic contemporary classic.
04.

Palm Leaf Sheath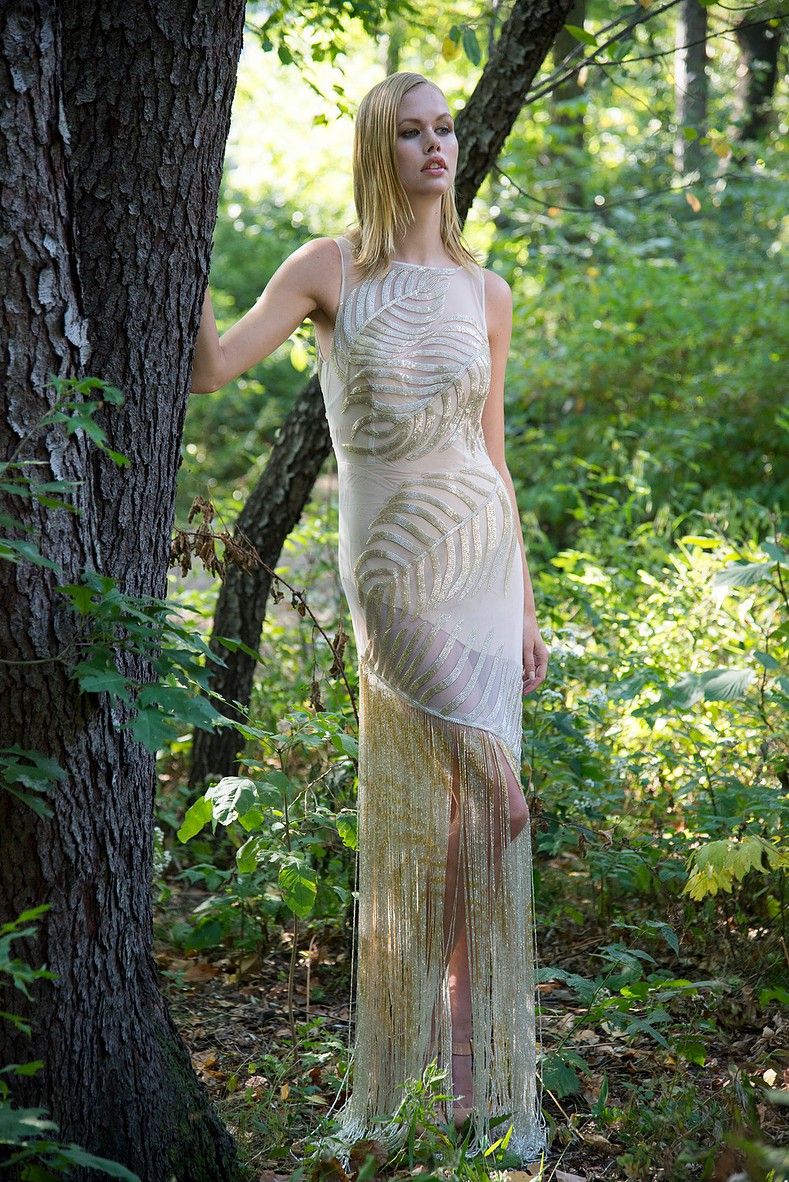 If you are looking for something untraditional for your hot summer wedding day - look no further than this palm leaf sheath wedding gown. A sleek one of a kind wedding dress featuring a golden palm leaf design and long flowing fringe. This just goes to show that not all sheath wedding gowns are classic and simple - they can be daring and bold!
05.

Vintage Sheath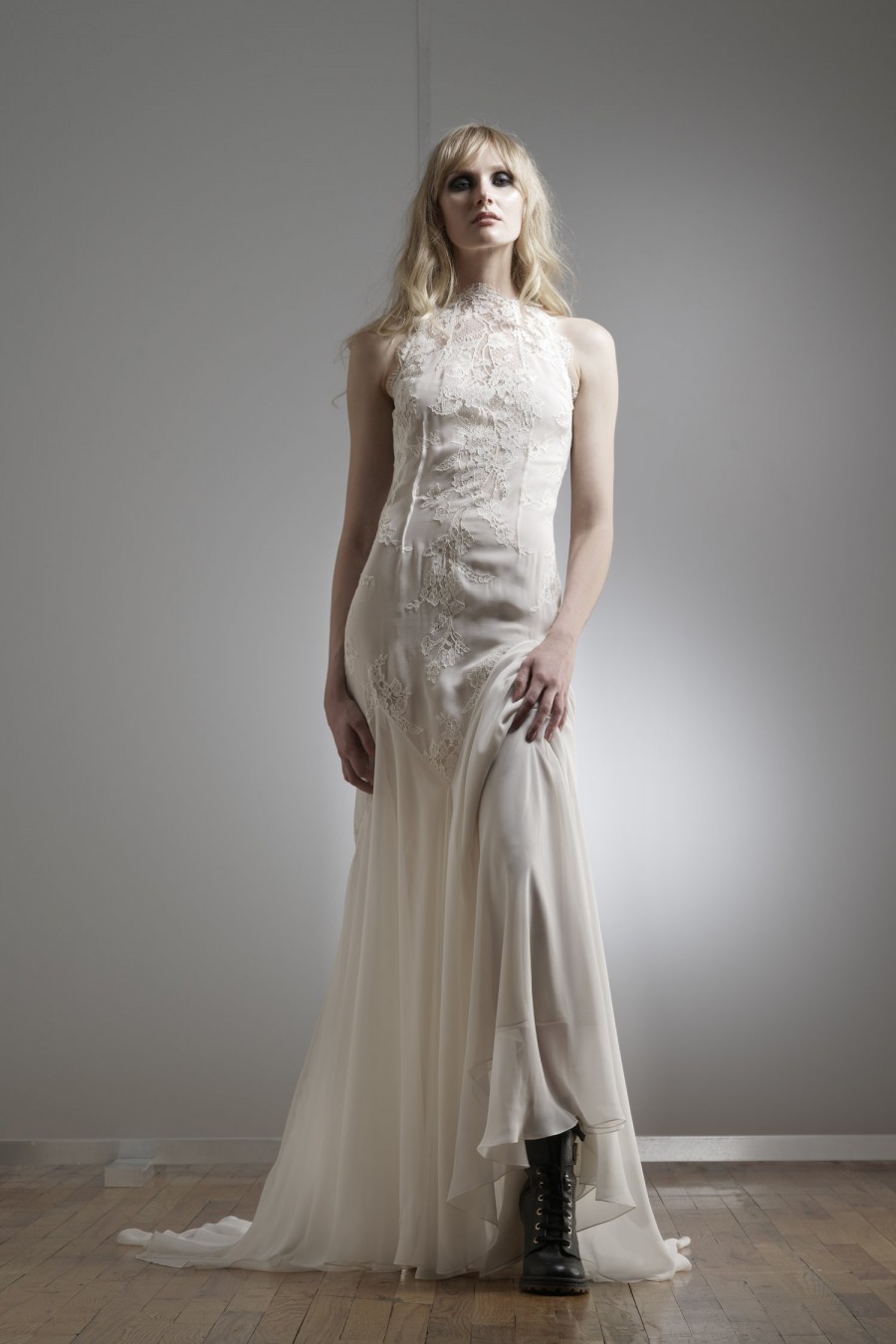 A vintage lace inspired sheath wedding gown featuring a high neck halter neckline. An edgy, contemporary take on a vintage inspired gown.
06.

Contrasting Column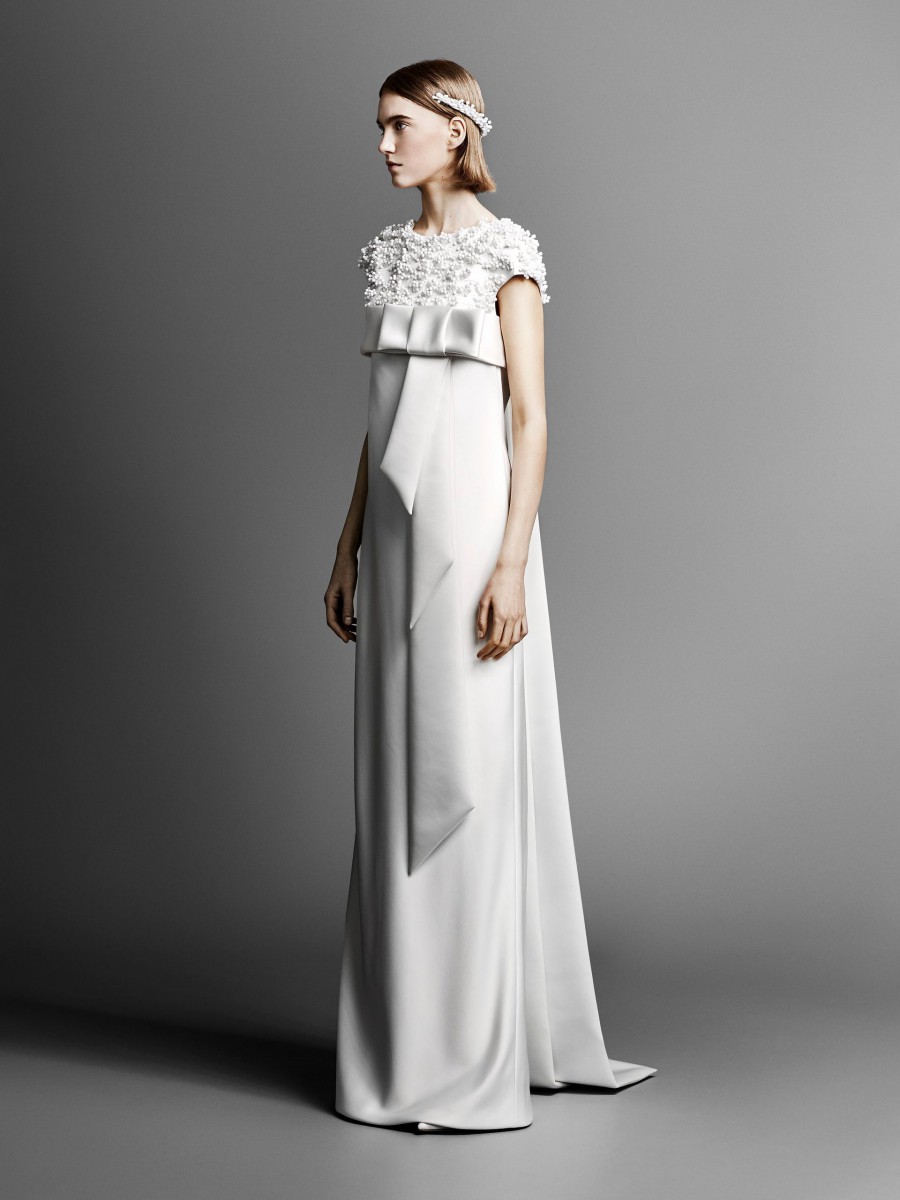 A uniquely designed bias-cut column wedding gown from none other than Viktor Rolf. We love the contrast on this sleek column gown. The upper bodice is fully embellished with textured beading - while the column satin skirt drapes quietly to the ground. The two contrasting sections are joined by Viktor Rolf's signature bow accent.
07.

Sheer Sheath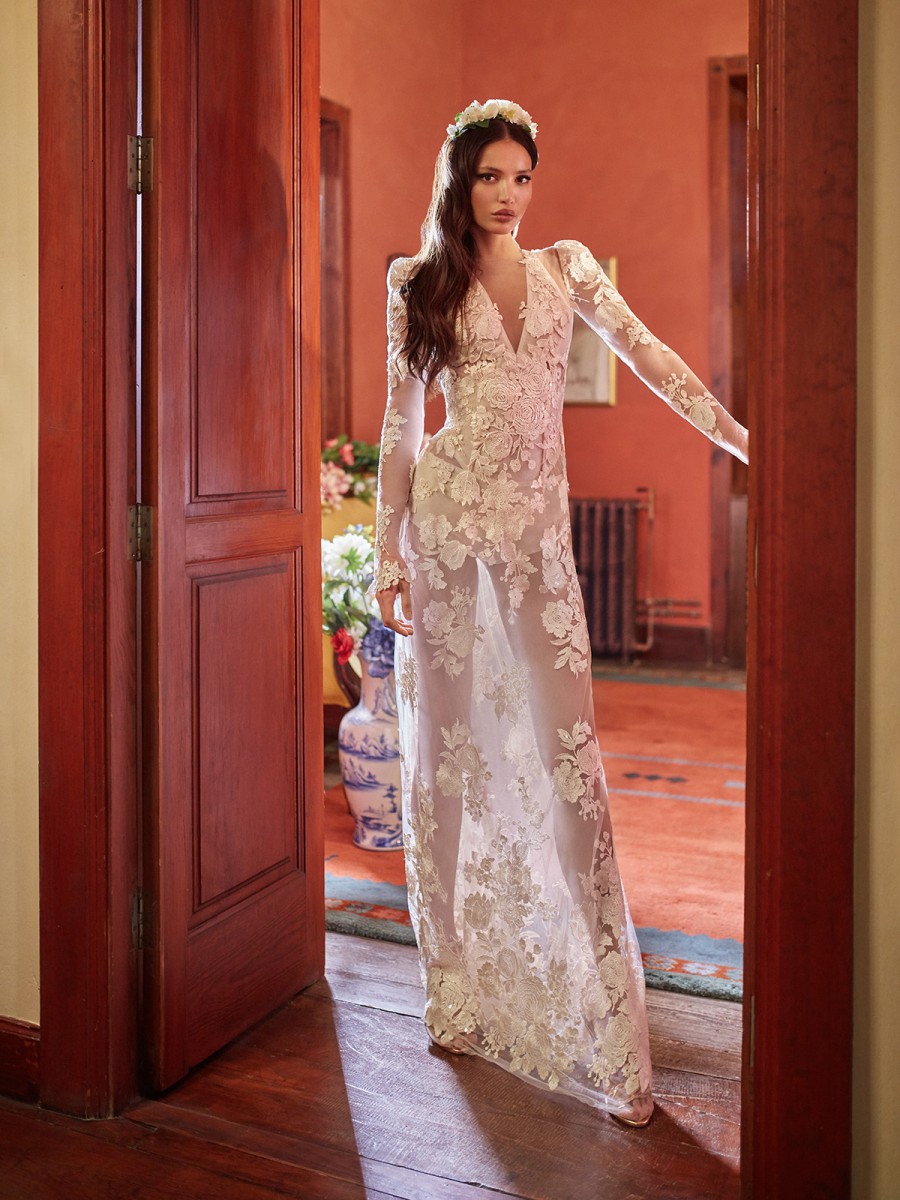 For our adventurous brides out there - how about a sheer column dress for your big day? A risky fashion choice that is sure to leave everyone breathless.
08.

Modern Bohemian Column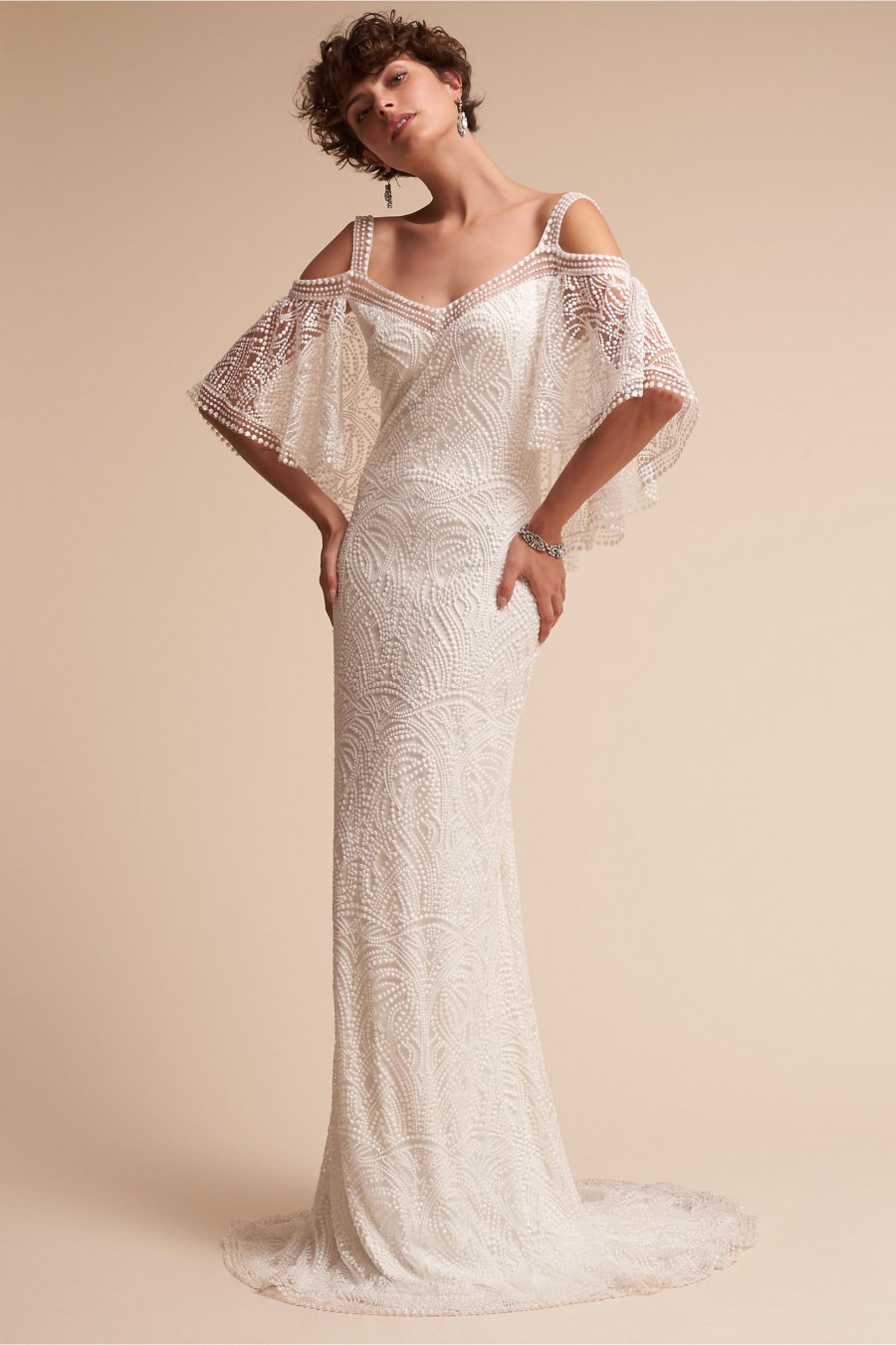 Column gowns may have simple, clean silhouettes, but that doesn't mean you can't make a big statement in them. This modern bohemian column gown does just that. Its off the shoulder, ruffle trimmed design is mesmerizing and chic. An artistic, yet sophisticated statement for you big day.
09.

Deco Beaded Column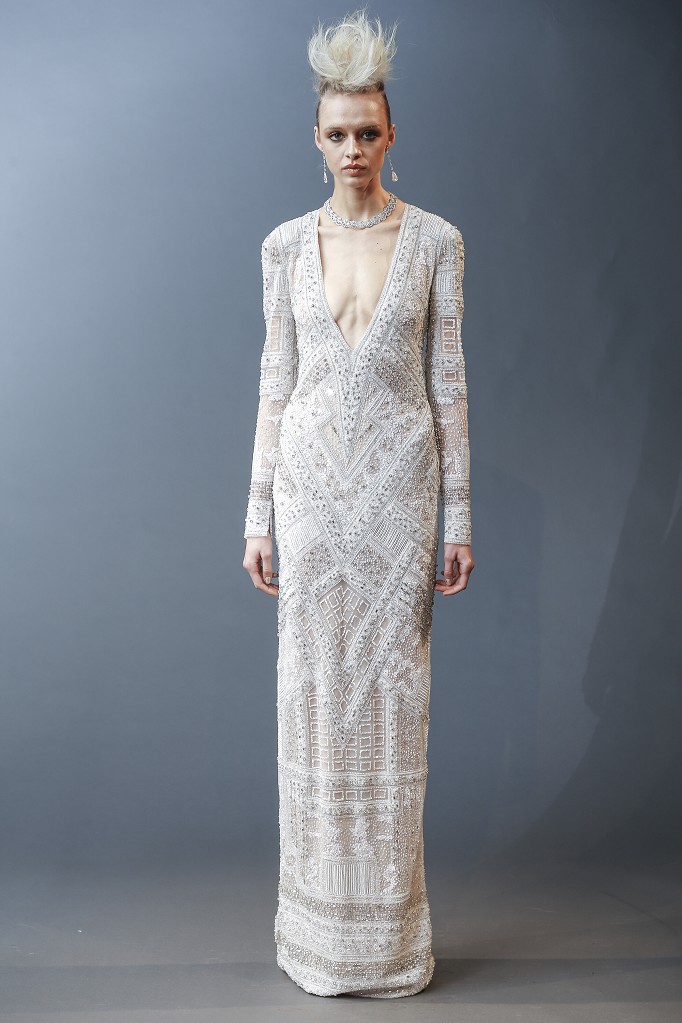 A very Art Deco inspired crystal beaded column gown that is absolutely dreamy. A chic, fashion forward way to rock this fantastic sheath trend.
10.

Something "Sky" Blue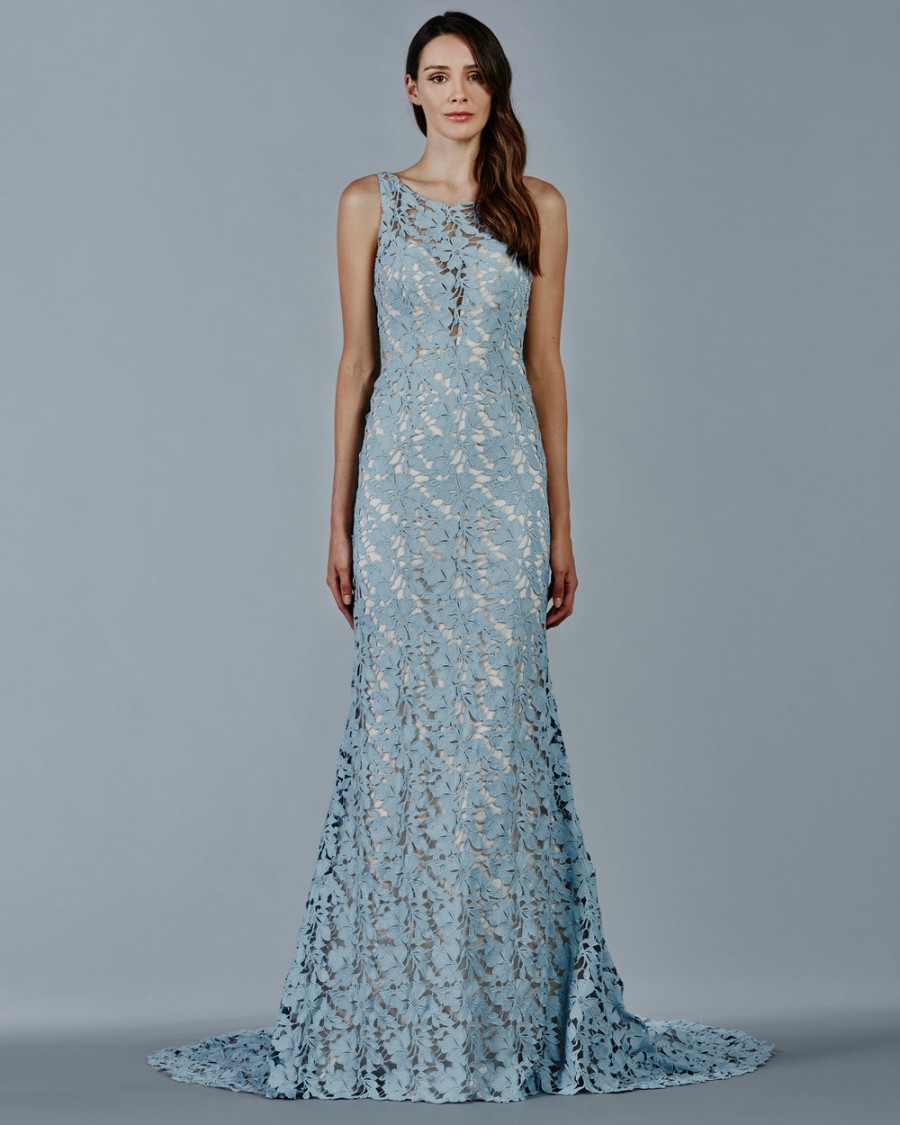 We have got your "something blue" covered with this sky blue crochet column gown from Kelly Faetanini. This stunning blue gown will steal the show for your big day. Make a not-so-white statement, while keeping things sophisticated and glamourous.
11.

Cap Sleeve Lace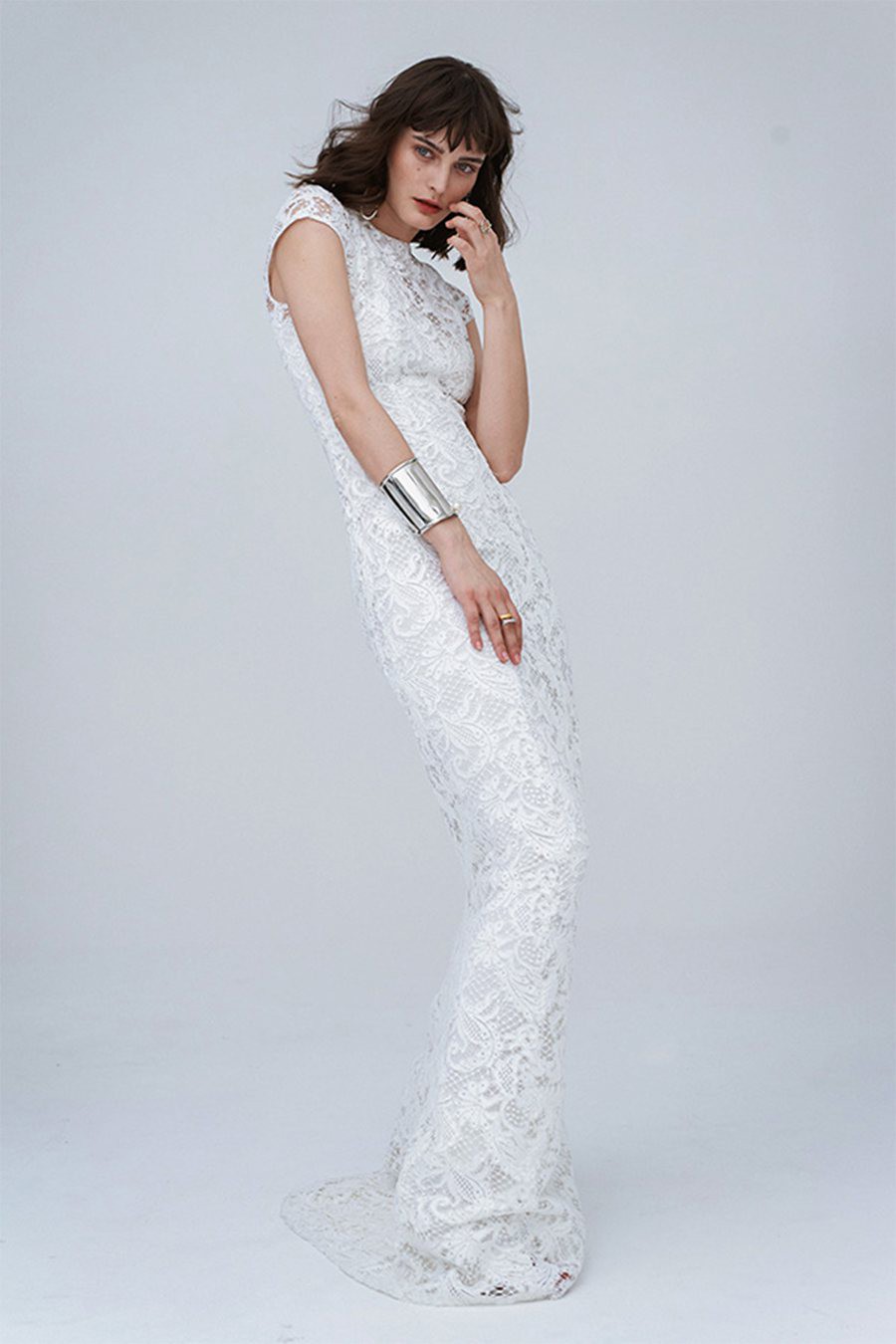 This luxe embroidered lace gown is everything you could want in a column wedding dress. Sleek, sophisticated, sexy, and polished.
12.

Tulle Embellishment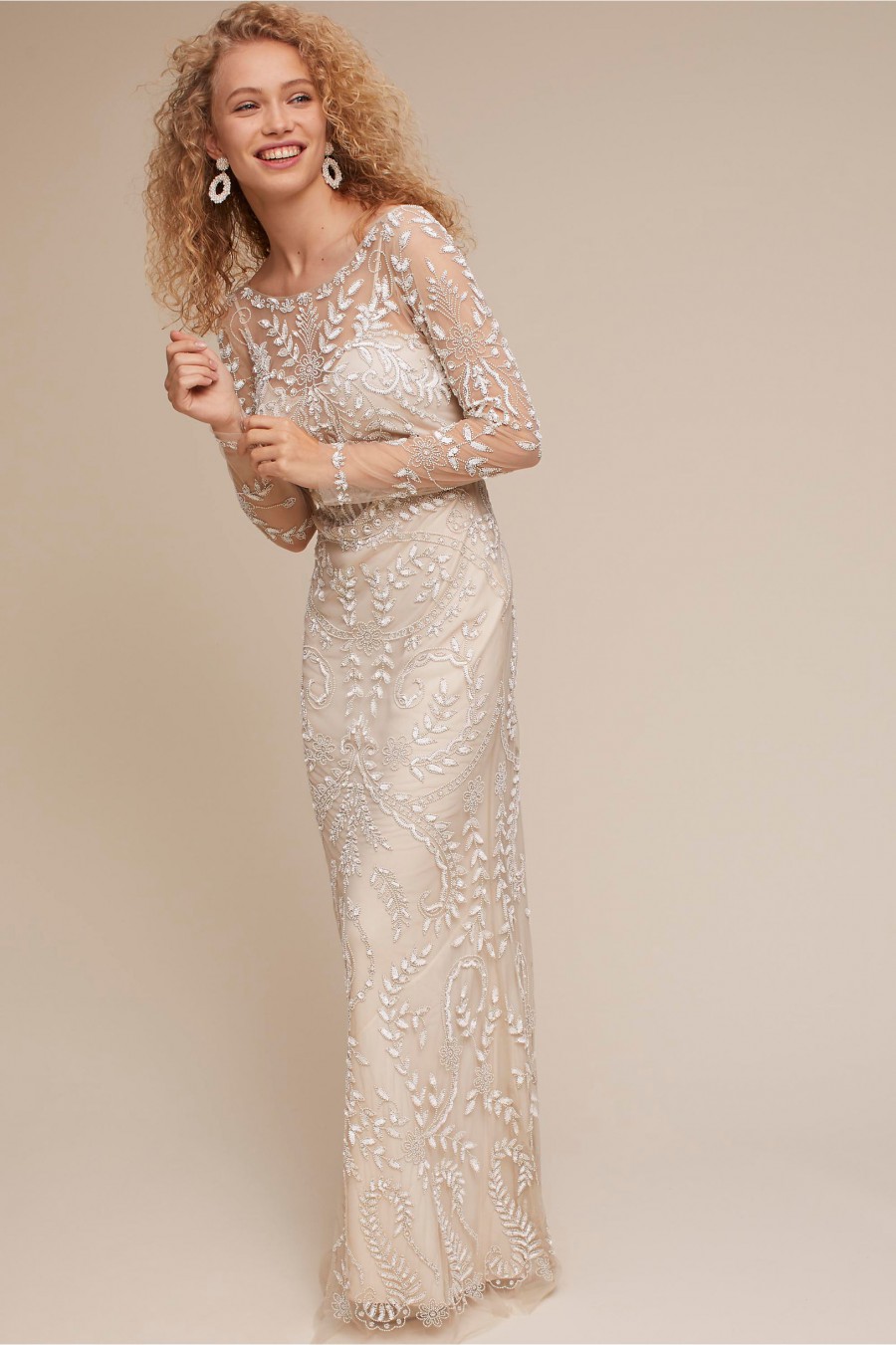 A gorgeous sheer sheath that is chic and feminine. A detached lining is topped with a sheer tulle layer that is embellished with all over sequin detailing. A chic, bohemian inspired wedding gown.
13.

Classy Lace Column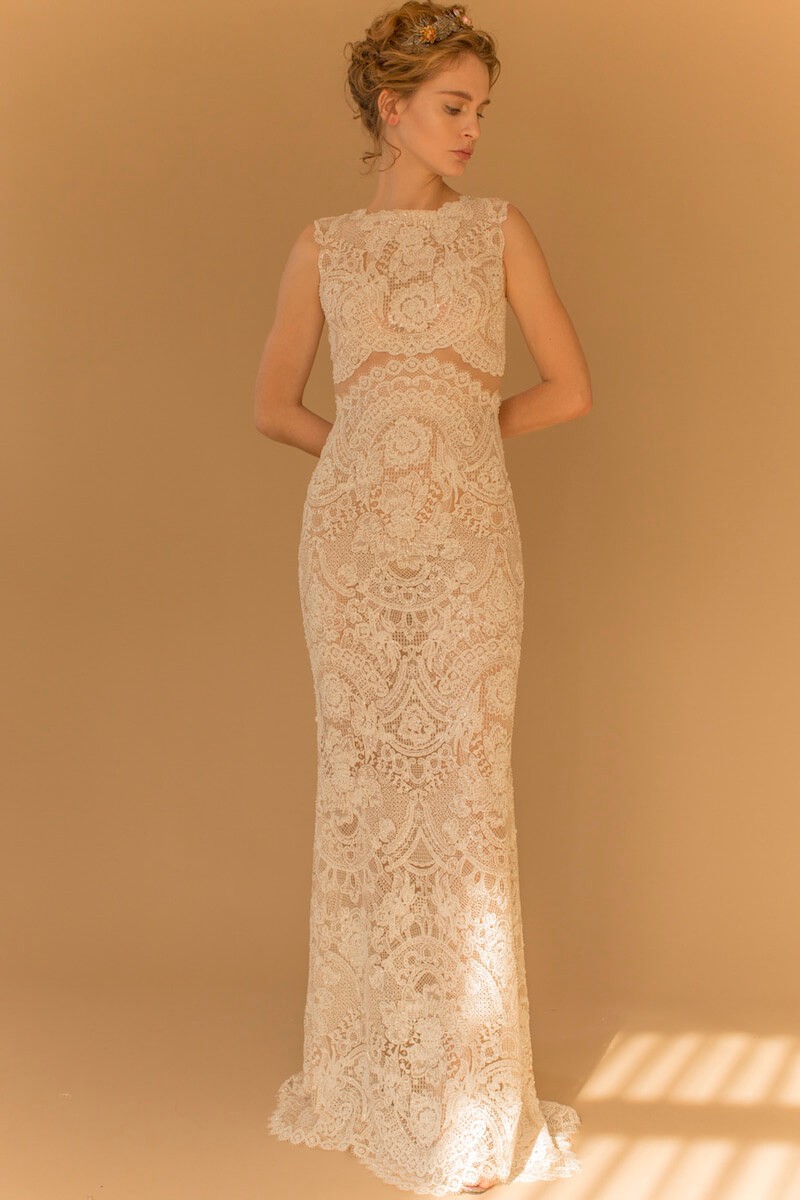 A chic, feminine column wedding gown that we are absolutely in love with. This seemingly simple sheath has delicate lace detailing and hugs the bride's curves beautifully.
14.

High Neck Sheath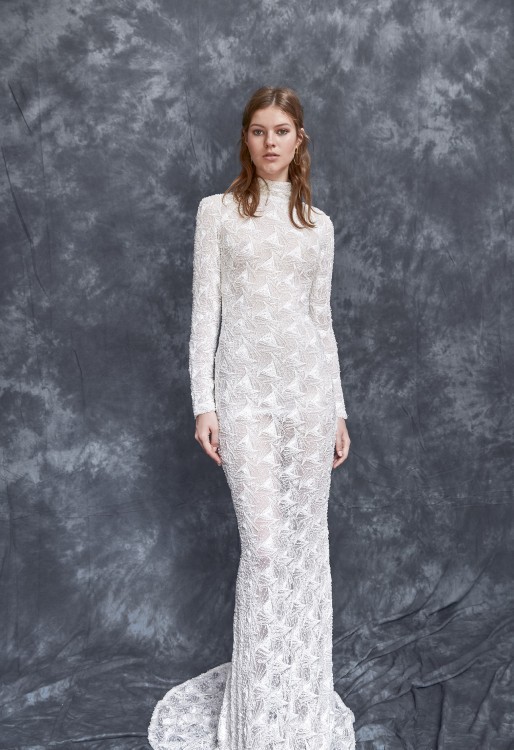 A modern, high neck, semi-sheer sheath from Yolan Cris. This dress may seem simple, but it is anything but traditional. Make a contemporary statement on your wedding day with this unique look.
15.

Slinky Beaded Sheath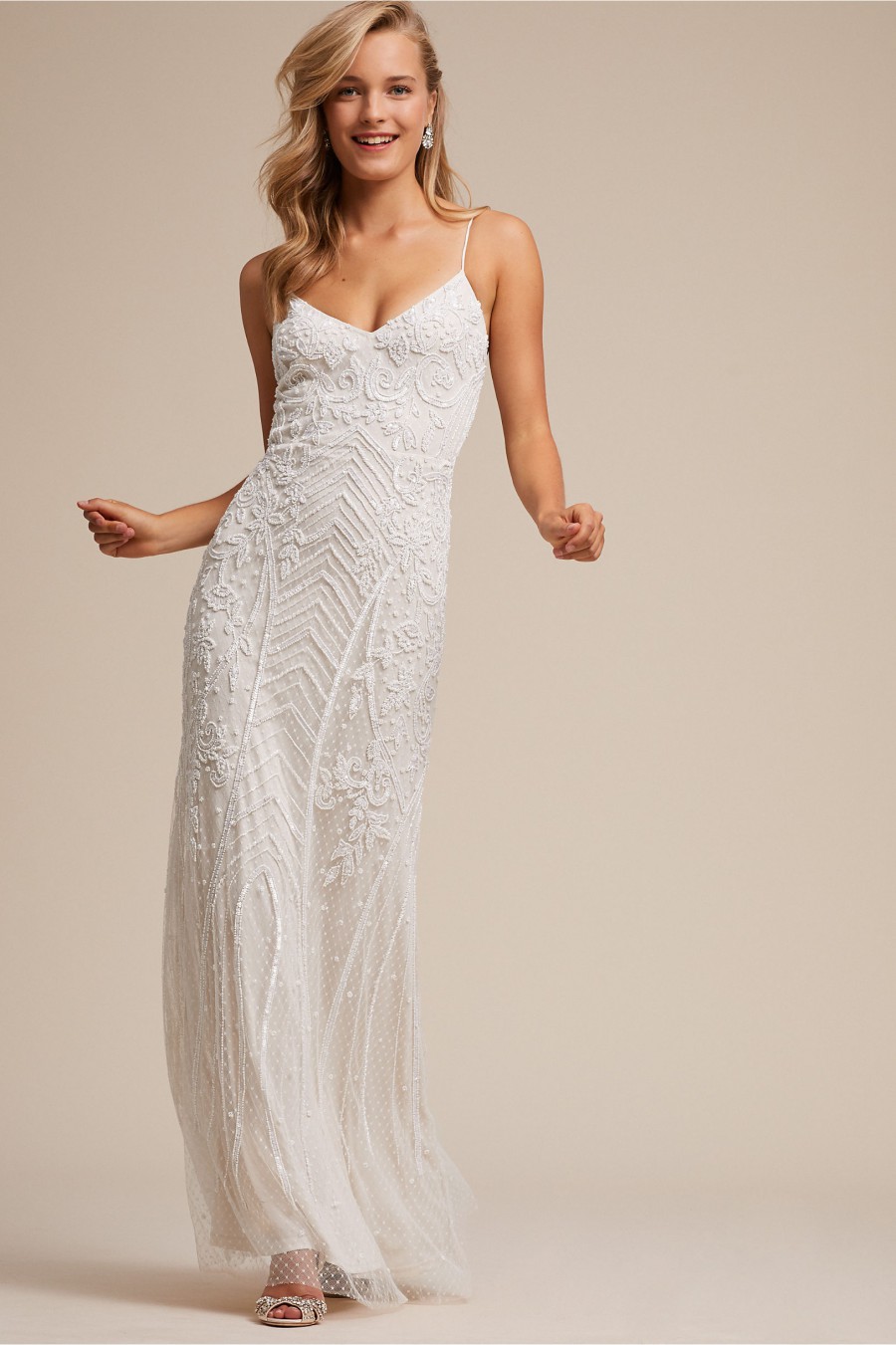 An absolutely effortless wedding style that is still ultra glam with its all over beaded design. This simple sheath silhouette is sexy, effortless and sophisticated.
16.

Festive Fringe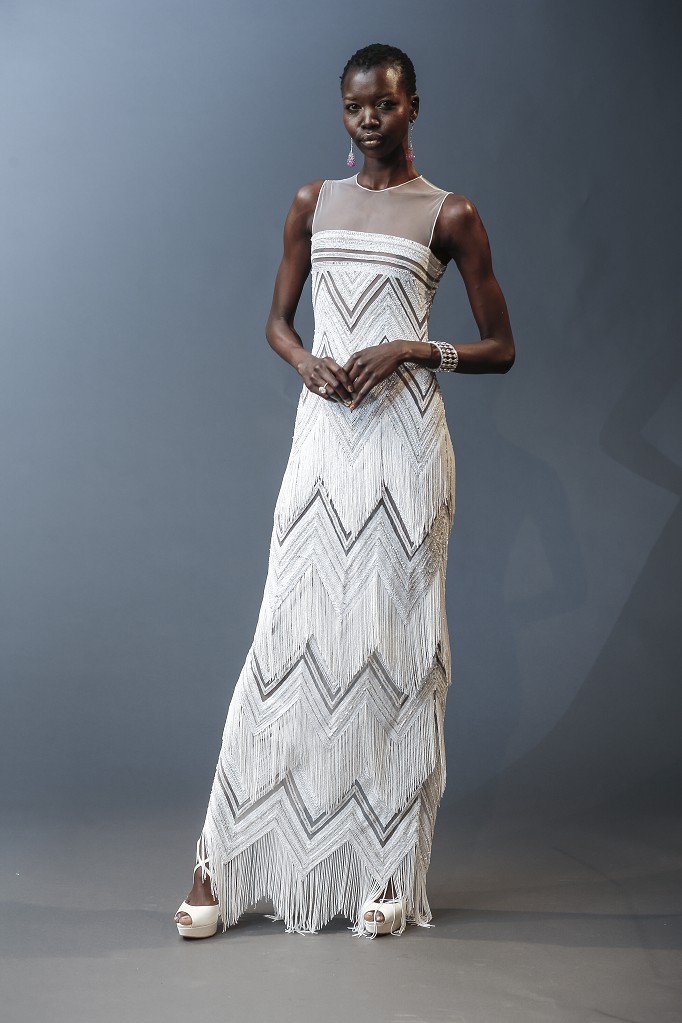 Our next look is a chic, festival ready sheath column gown that is absolutely mesmerizing. This breathtaking look features a zig-zag design of fringe and beaded embellishment. This wedding gown shows that you can make a big statement with a sleek silhouette.
17.

Cap Sleeve Bohemian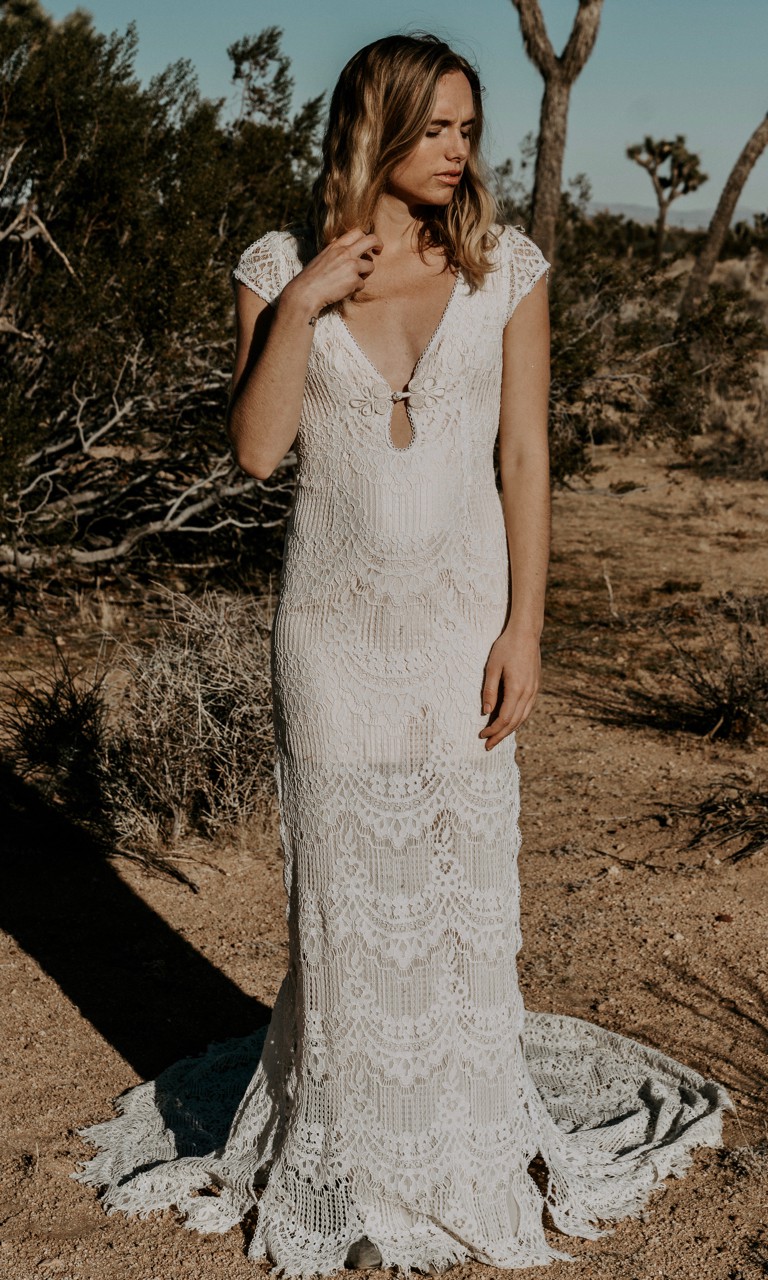 A sexy, cap sleeve bohemian sheath that drapes delicately to the floor, hugging the bride's curves. Our favorite feature on this dress is the deep-V keyhole neckline. Chic and sexy.
18.

High Neck Column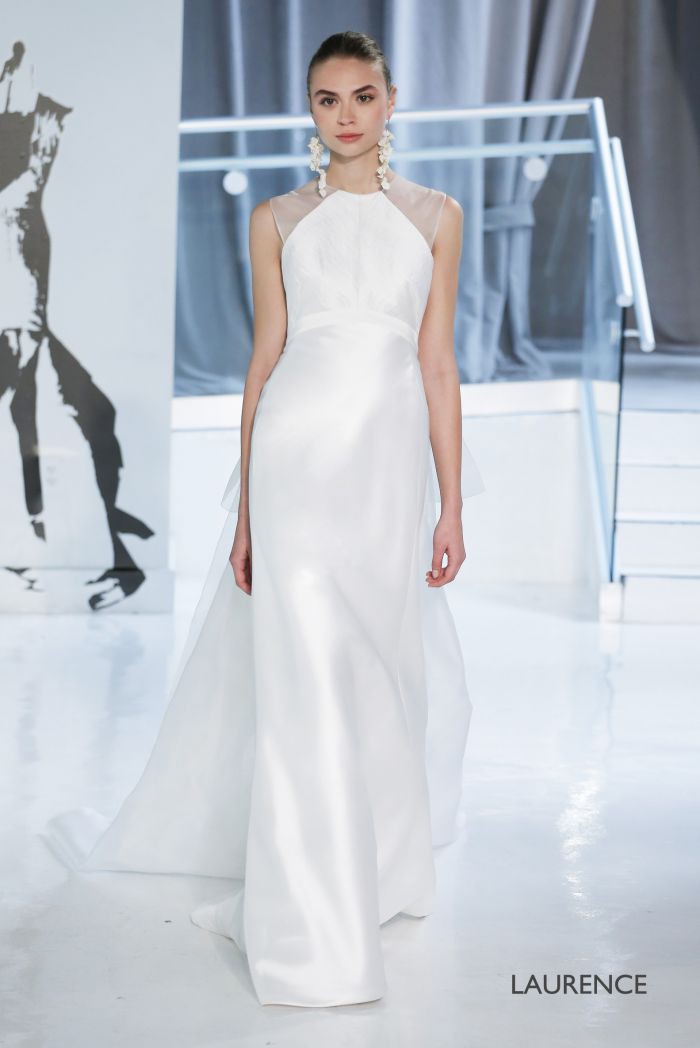 A contemporary high neck column gown with subtle sheer accents. This sleek gown will have you looking like a modern muse on your big day.
19.

Clean Strapless Column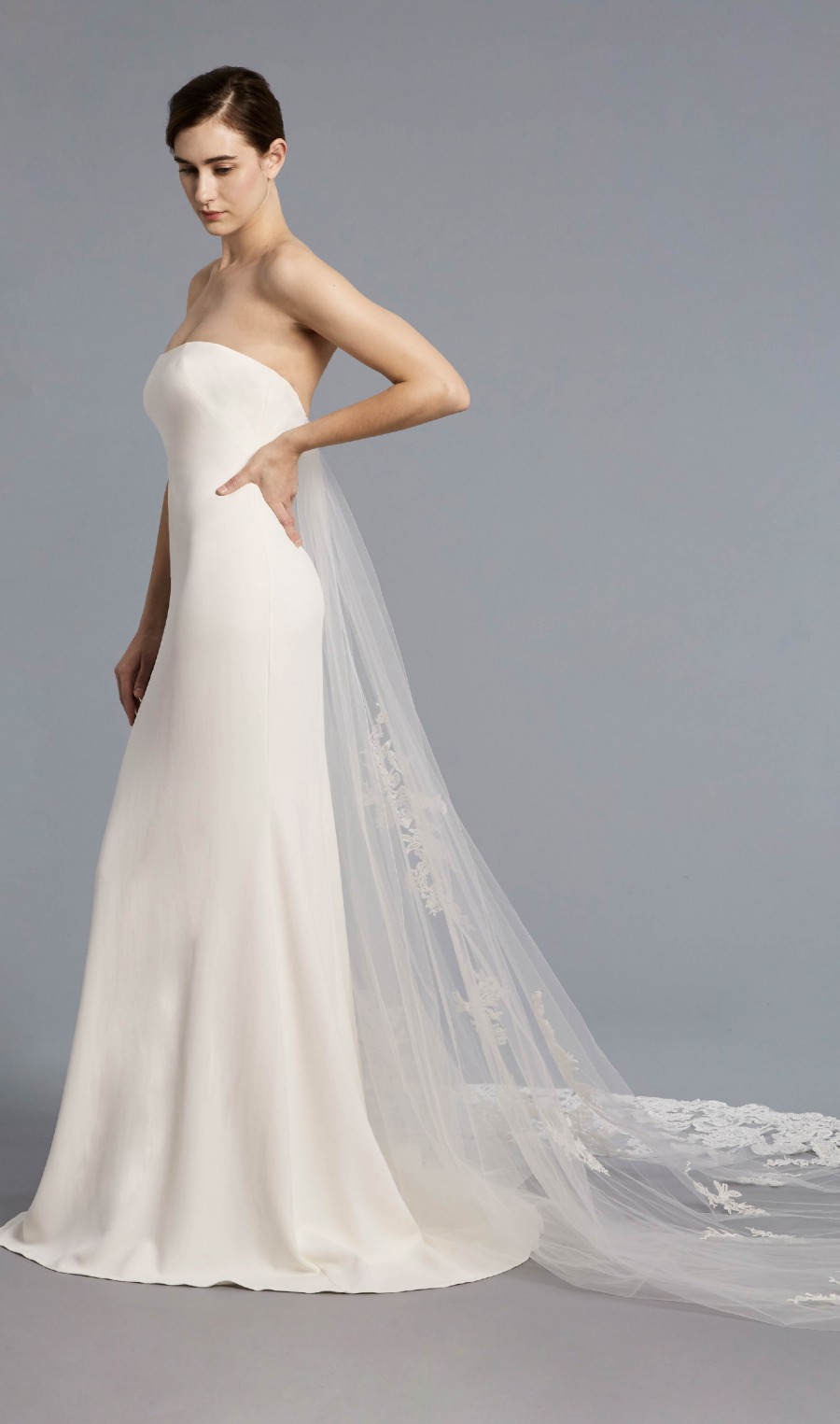 A cleanly designed, strapless column gown that is gorgeous and timeless. An absolutely effortless style for your wedding day.
20.

Drop Waist Sheath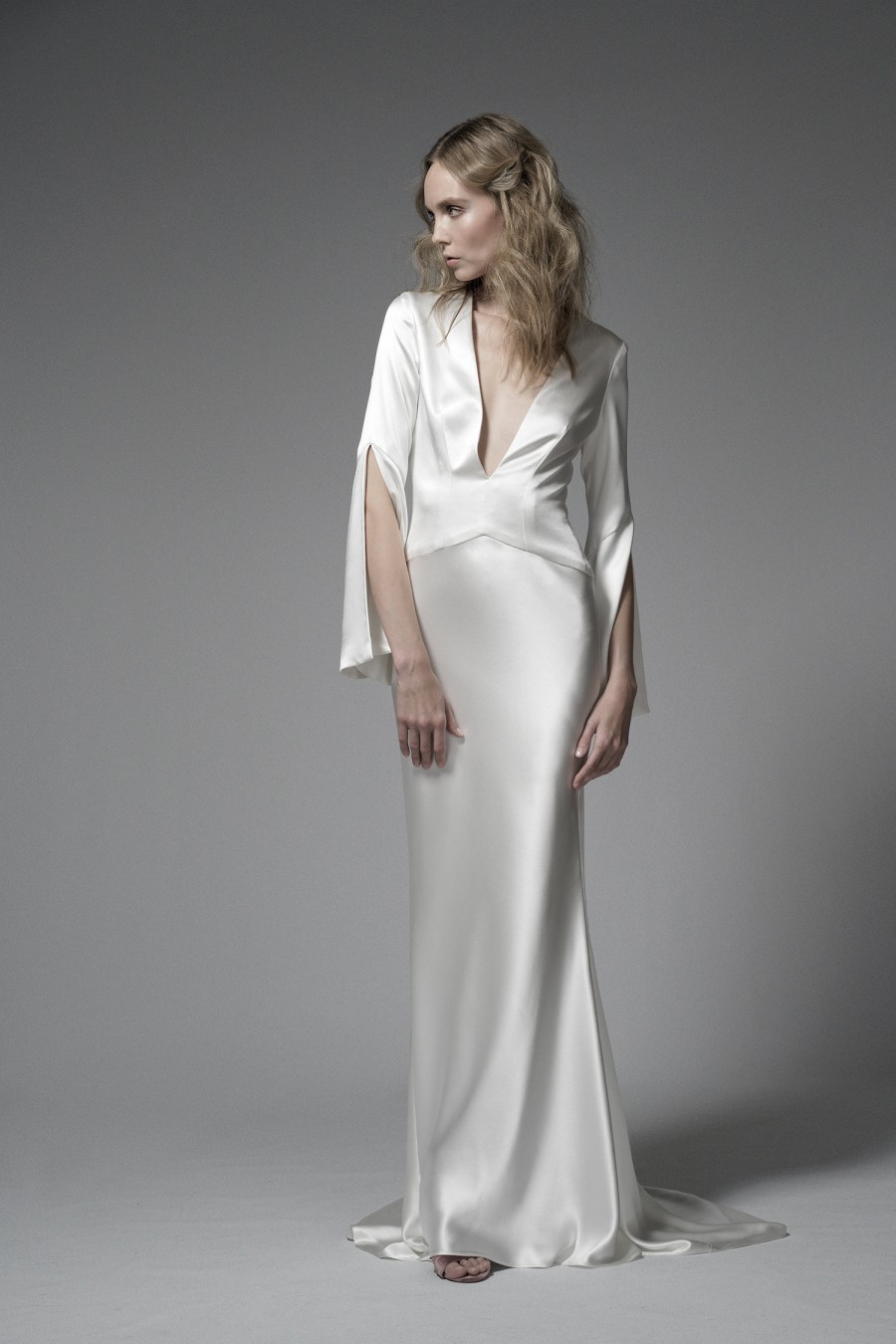 The chic, drop waist sheath dress of our dreams! This stunning silk gown from Elizabeth Fillmore is absolutely breathtaking. A sleek, drapped silhouette with gorgeous contemporary accenting.

By Kathryn Schrotenboer