Celestial inspired gowns and accessories are everywhere in bridal fashion right now. So we have gathered a list of our favorite moon and star inspired wedding dresses and accessories.
If you are a lover of the stars, or just want to add a touch of whimsy to your wedding day look, then you don't want to miss this list. These styles will have you dreaming of a romantic wedding day under the stars. So make a wish. And let all of your wedding day dreams come true!
01.

Starry Night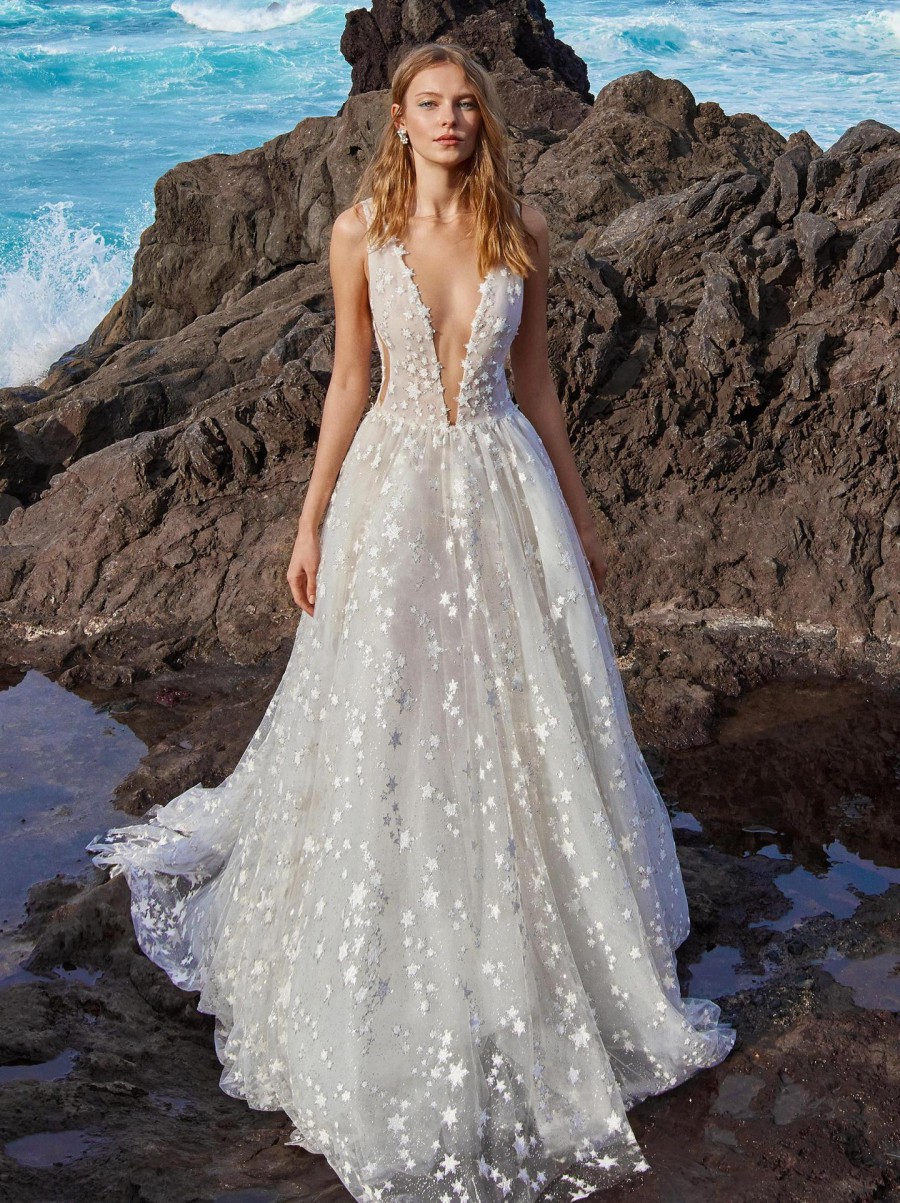 Get swept away into a whimsical fairytale with this all over metallic star accented bridal gown from Galia Lahav. This celestial themed gown is playful, while still being elegant and luxe.
02.

Astrological Accents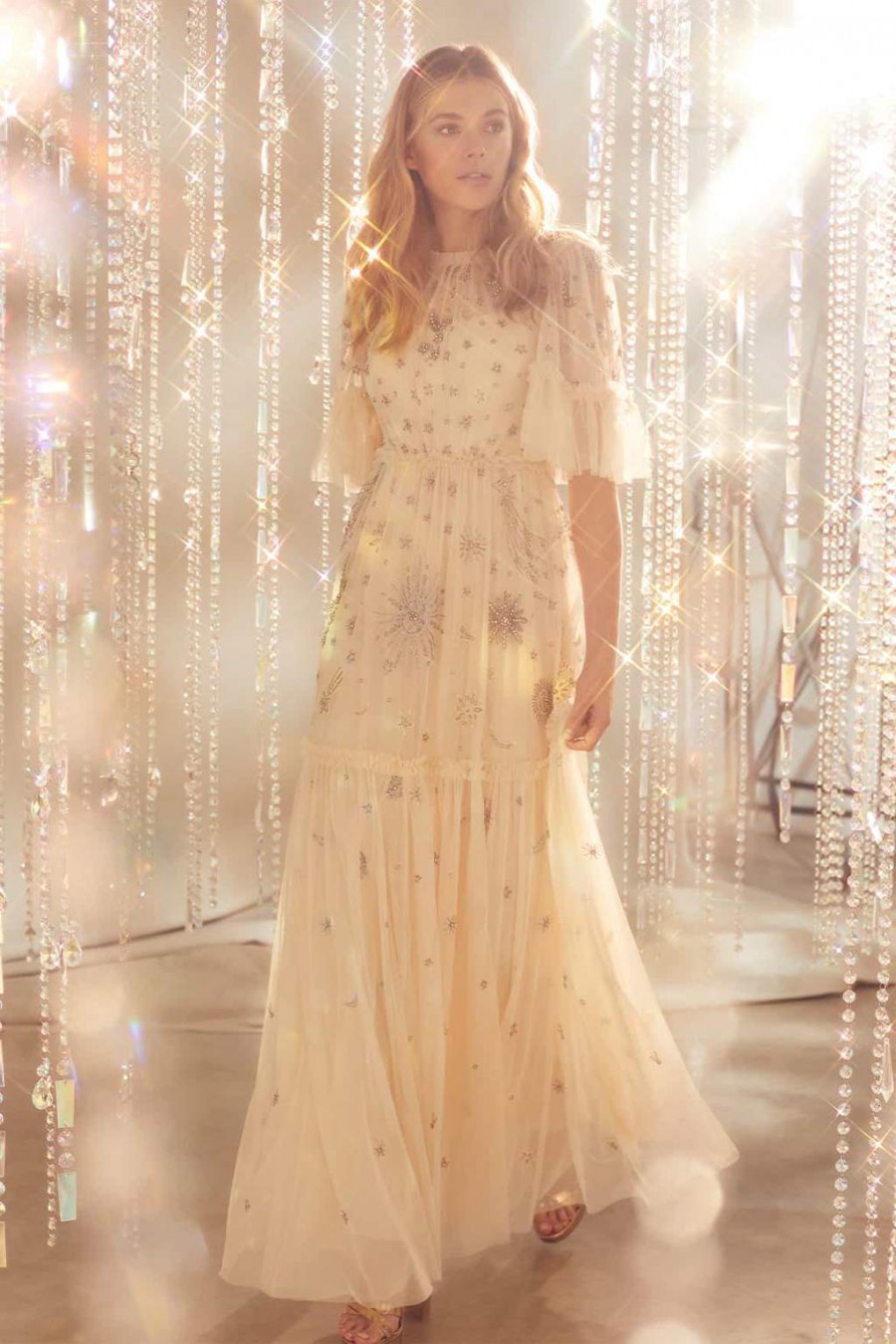 Needle and Thread always brings us some of the most unique wedding gowns for feminine brides that love lavish detailing. And this celestial inspired gown does not disappoint. Featuring metallic motifs of suns, stars, and moons scattered across the gown.
03.

Stars Align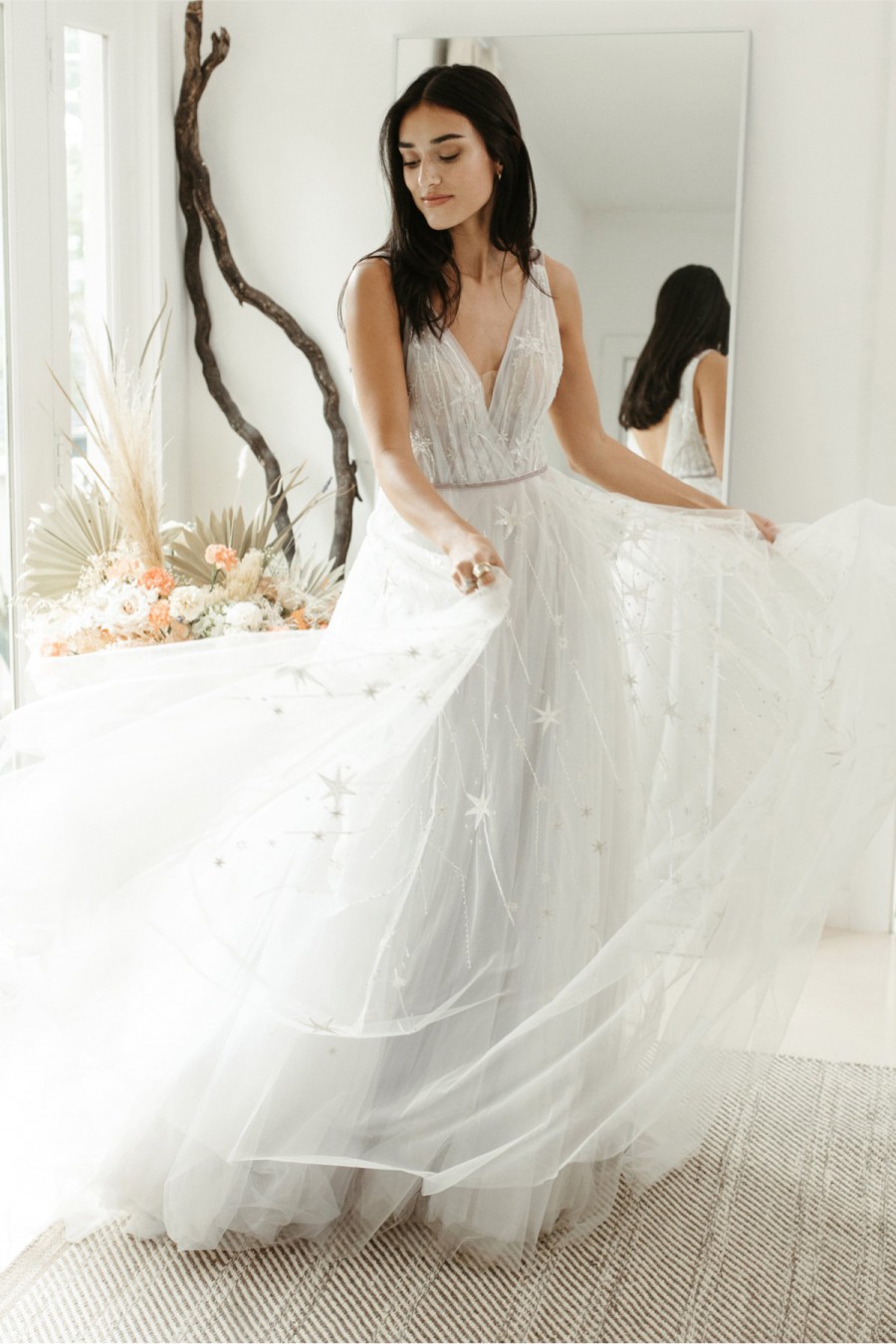 Next up we have a soft, feminine wedding style from Watters that features custom shooting star embroidery. This star detailing can be custom made in either silver or gold beading with clear sequins on top. This gown has a very romantic and ethereal feel to it.
04.

Starstruck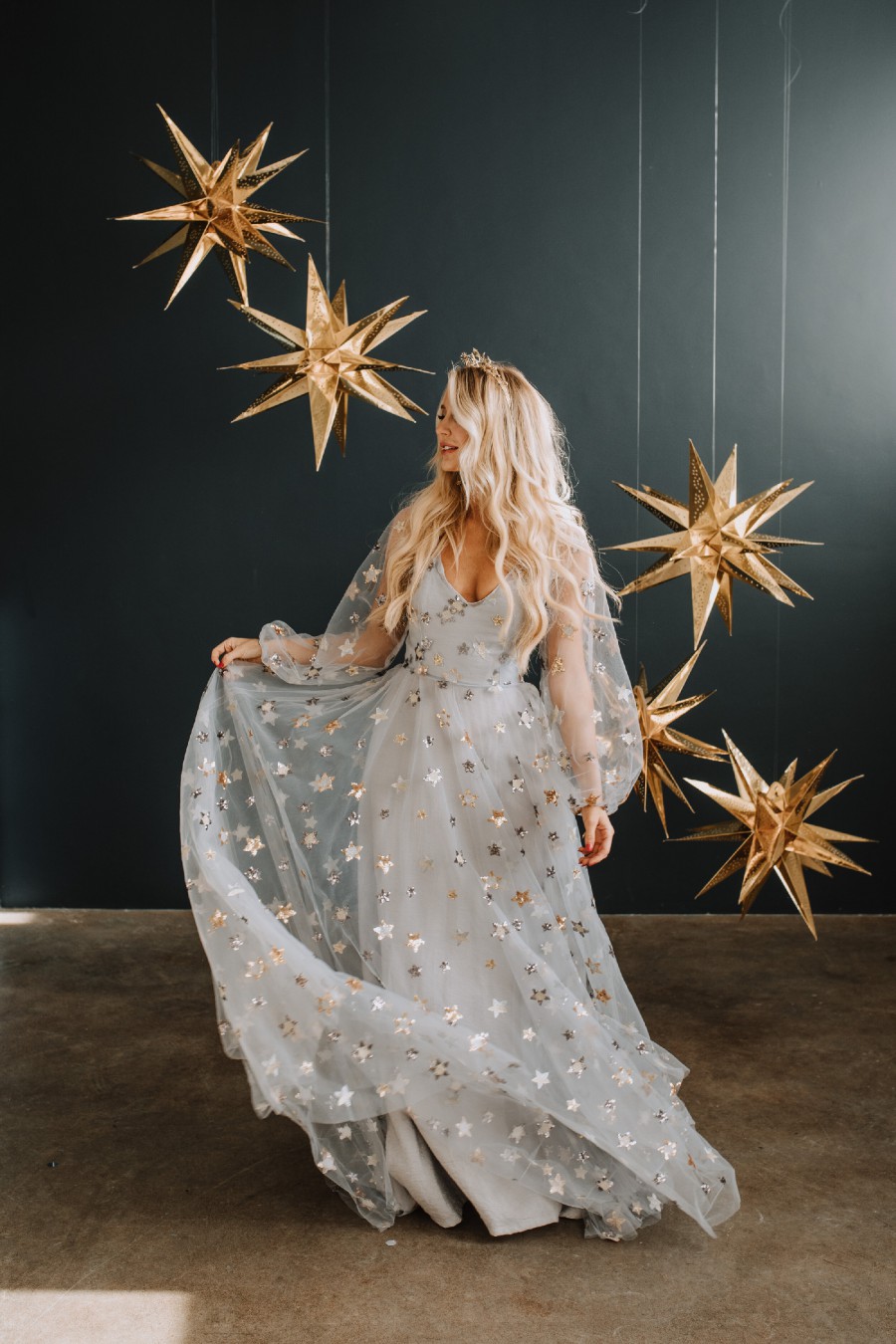 We are loving the light gray-blue color tone of this next celestial inspire wedding gown from Natalie Wynn. This stunning gown is covered with blue, silver and gold sequin stars for a look like nothing else. This dress would be perfect shimmering in the moonlight of a romantic nighttime wedding. Plus, you are covered when it comes to your "something blue."
05.

Lavish Lace Stars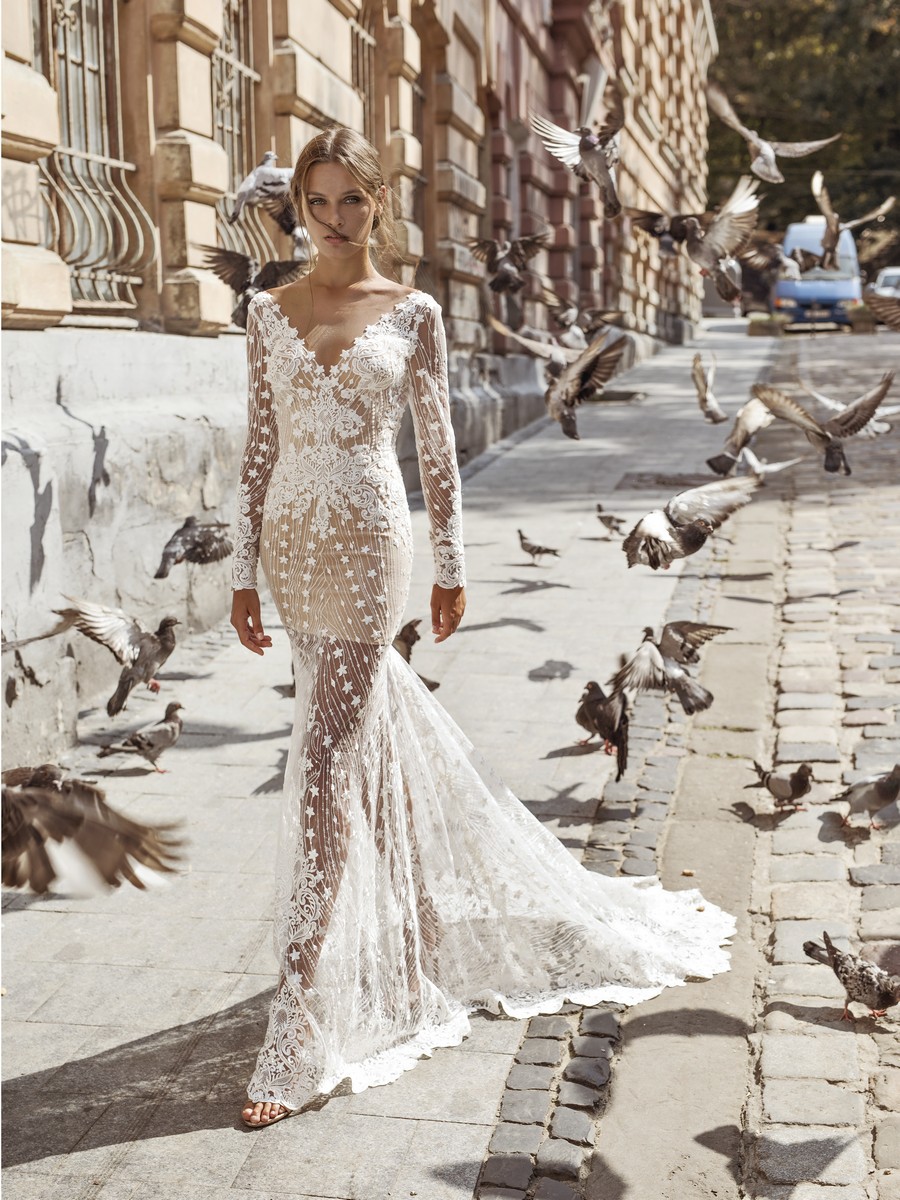 This next gown features the most delicate and lavish lace embroidery with star accents. This gown shows how to embrace this celestial theme in a more subtle way. But with no less of the drama!
06.

Wrapped in Stars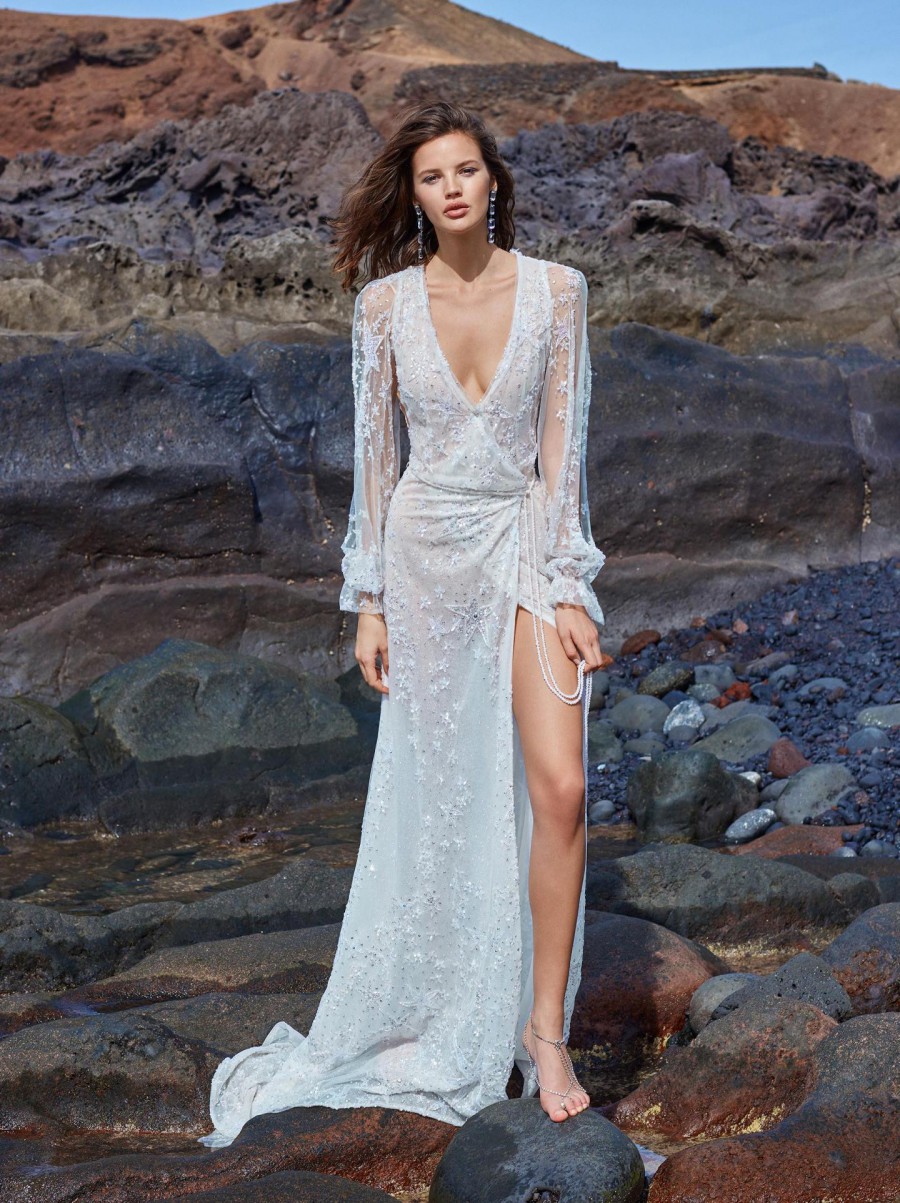 Galia Lahav brings us another metallic star accented wedding gown with this captivating wrap design. A show stopping celestial inspired style with a semi-sheer appearance and high front slit.
07.

Golden Stars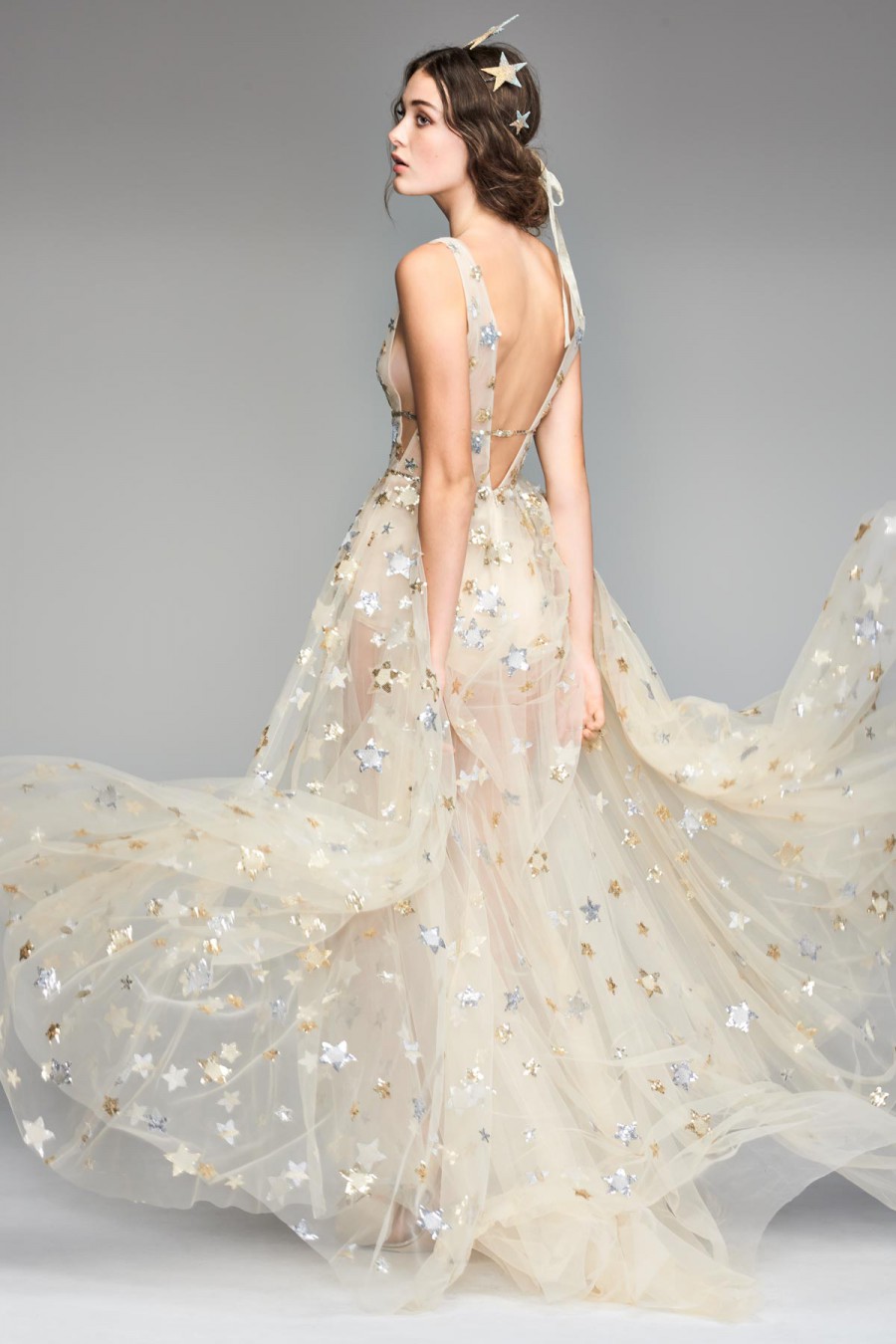 If you love celestial designs and metallic detailing, then you don't want to miss this next gown. A soft gold tulle gown covered with gold and silver metallic stars. This whimsical gown is worthy of a modern day fairytale wedding day.
08.

Astra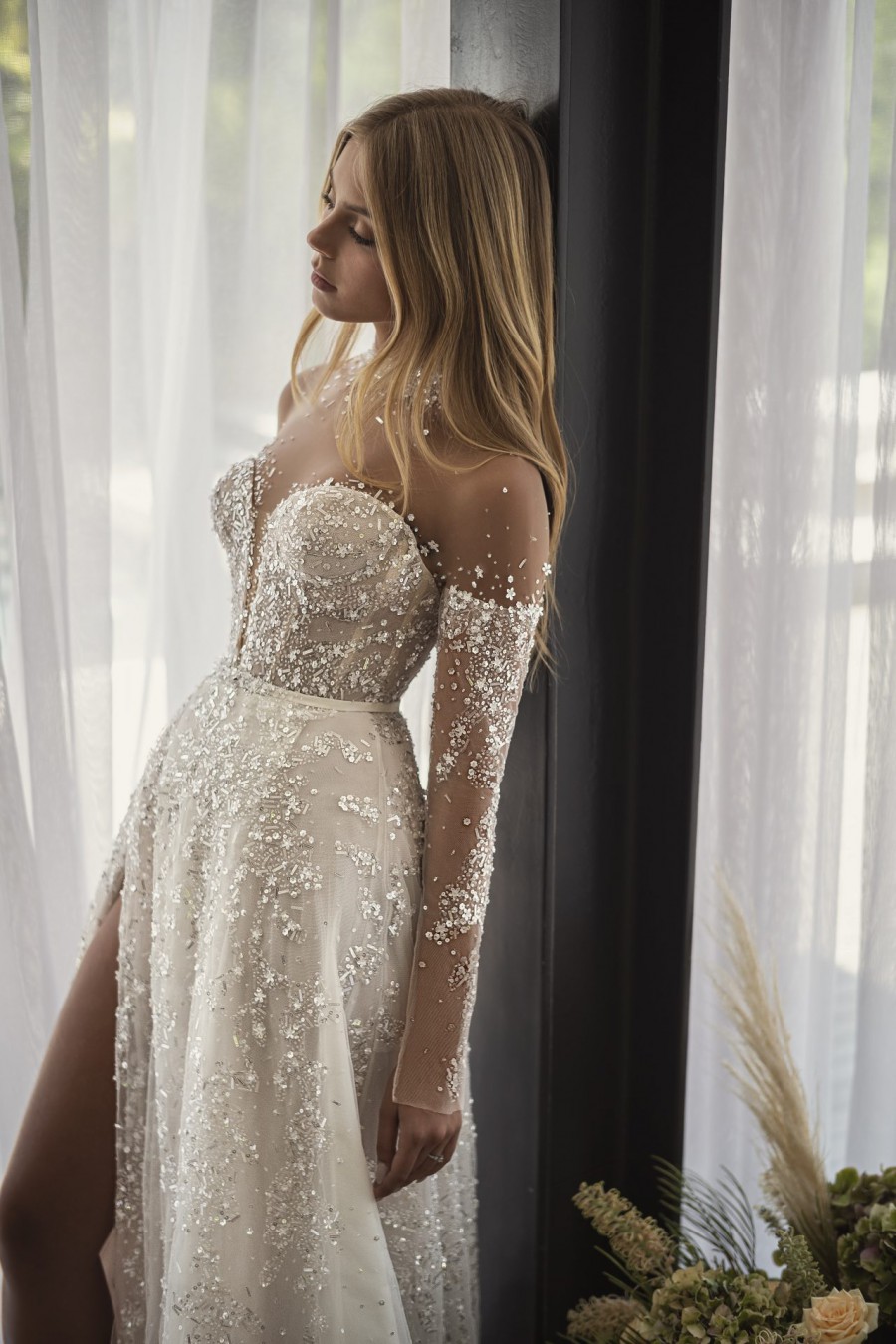 The Astra wedding gown from Lee Petra Grebenau features lavishly embroidered illusion tulle with celestial detailing. This gown is sure to dazzle under the moonlight.
09.

Celestial Boho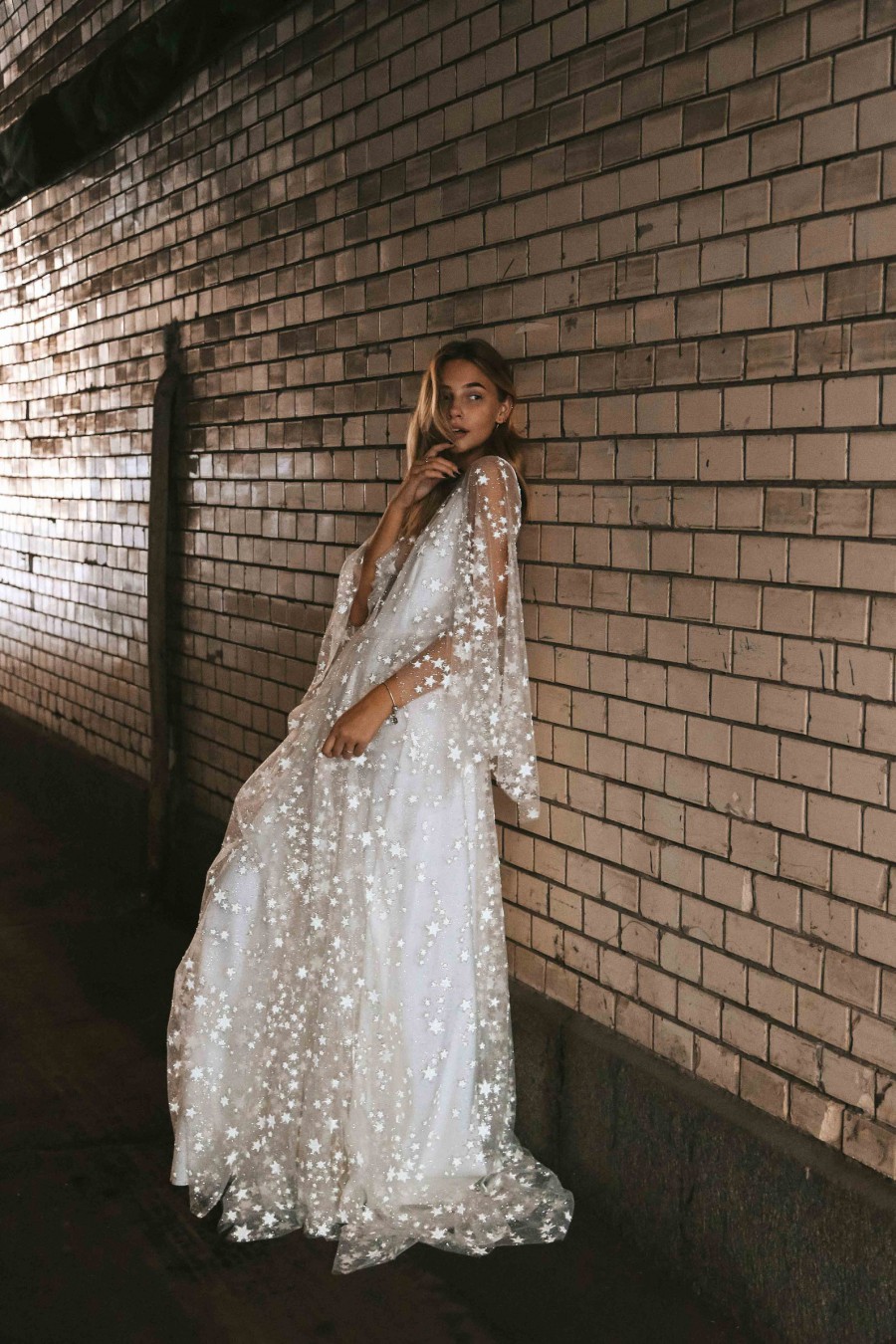 Next up we have a celestial inspired boho wedding style that is hard to resist. This playful and romantic wedding gown is whimsical and romantic.
10.

A Star is Born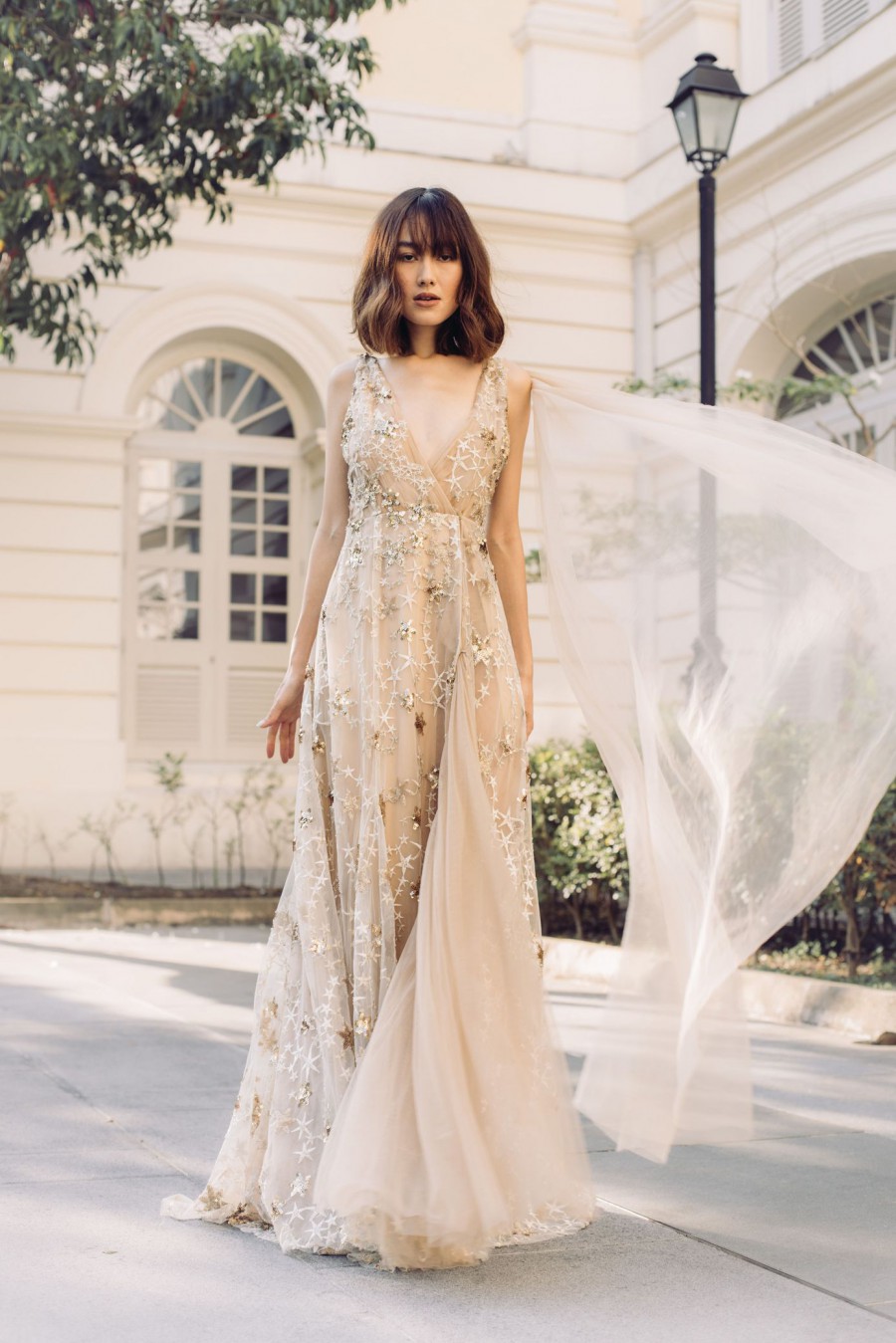 "A Star is Born" is a uniquely designed gown that was originally made for and worn by singer, songwriter and actress Katharine McPhee. This flattering and romantic wrap style gown features all over metallic star detailing on its luxe nude colored fabric.
11.

Sunset Star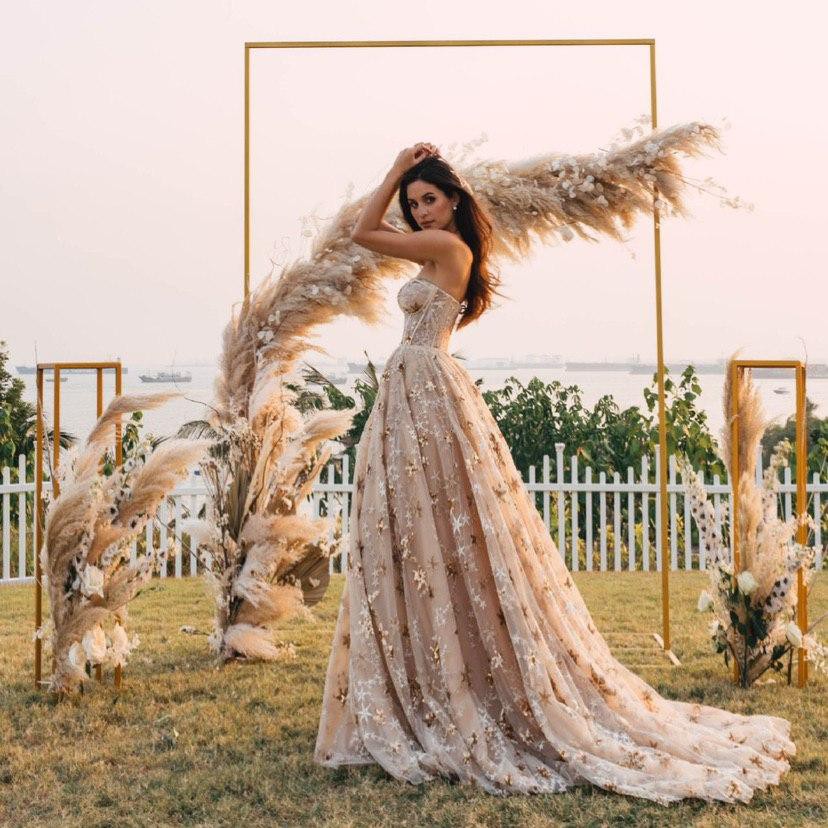 If you loved the last nude colored bridal gown with star accents from Elizabeth Grace, then you are sure to love this one as well. A romantic ball gown with the same bold, celestial inspired detailing.
12.

Luxe Stars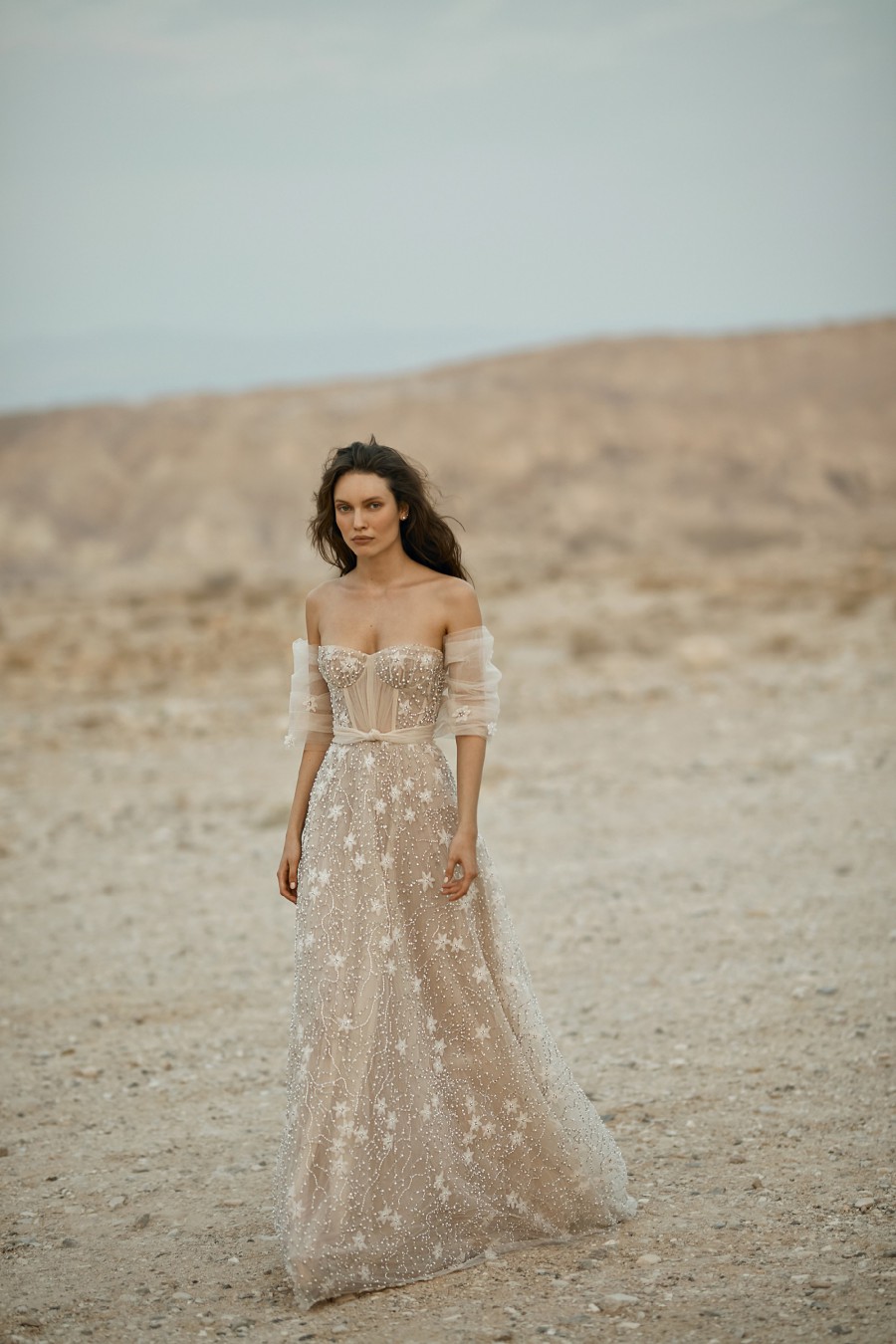 Eisen Stain brings us our next celestial inspired wedding gown with a dress fittingly named "Star." We love the elegant and unique design of the bodice on this gown. And it is designed in a rich, lavish nude color tone that is so flattering many skin tones.
Celestial Inspired Accessories:
If a celestial themed wedding dress is a little too bold for you, don't worry, you can always accessorize with some ultra glam moon and star inspired accessories! Here are some of our favorites from BHLDN:
13.

Astria Hair Pin Set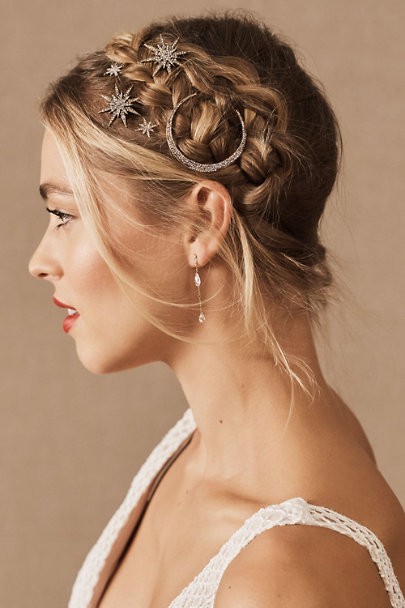 Add a pop of celestial glam to your wedding day look with these chic moon and star themed hair pins.
14.

Astile Veil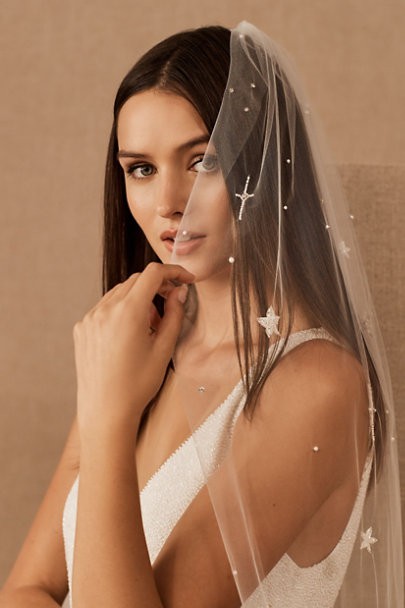 Add a starry finish to your wedding day style with this romantic celestial veil. Perfect for a romantic moon lit wedding night. We love that this veil style can pair with so many different wedding dress styles!
15.

Moon & Star Jewelry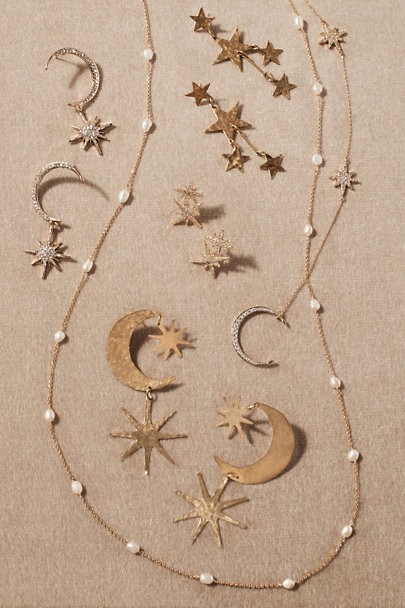 If you love bold jewelry, then some moon and star themed jewels will be the perfect wedding day accent for you! Playful, glamorous and so whimsical.

By Kathryn Schrotenboer