Luxe, lavish and dramatic. We love these trending bridal styles with feathered accents.
Feathers are a great way to make a big, bold statement with your wedding day look. These lavish accents add texture, movement and so much drama. If you love luxe, glam bridal styles and you are looking to show off your playful personality with your wedding day look, then you don't want to miss these trending feathered bridal styles.
01.

Elie Saab: Feathered Princess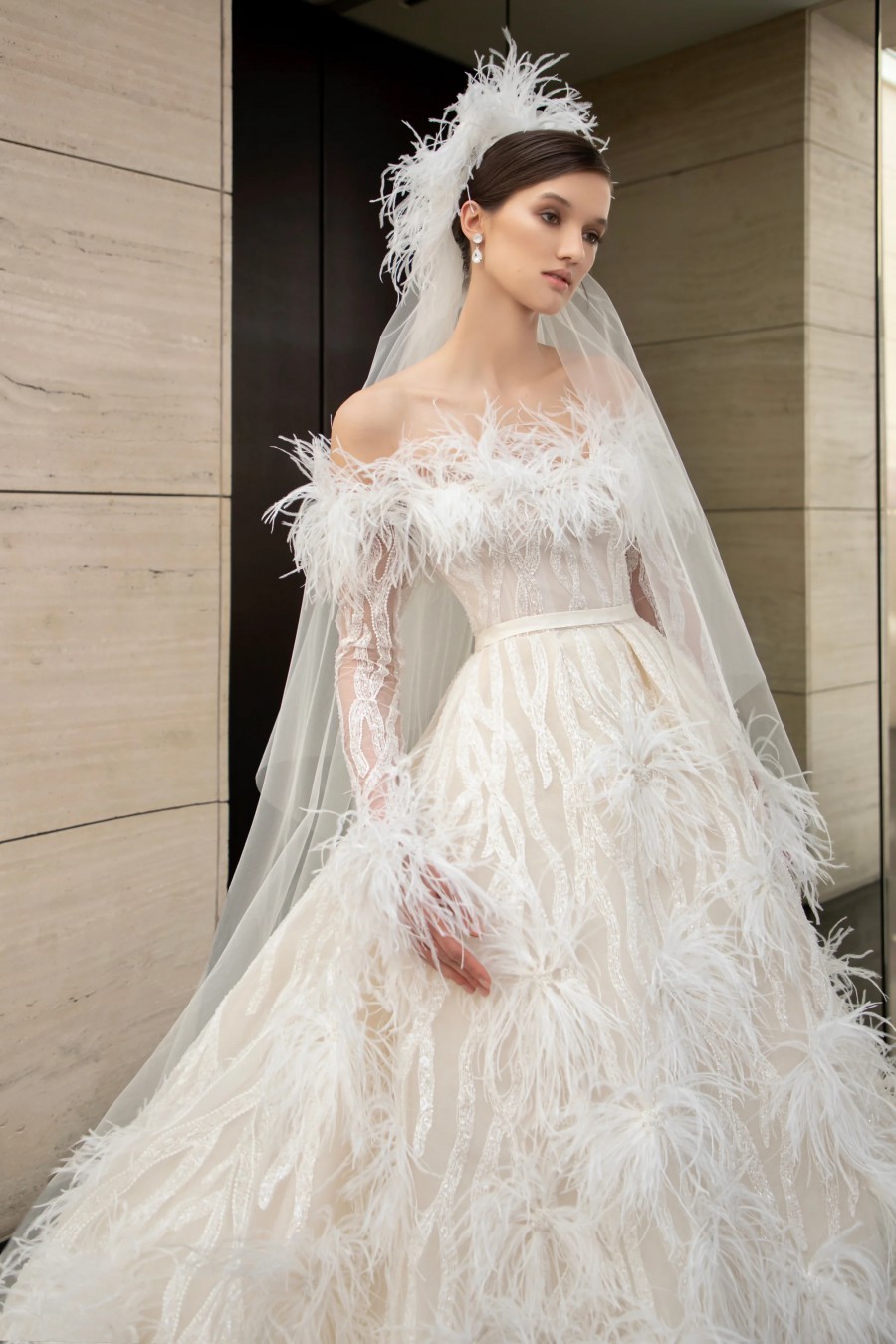 Let's start off this list of trending feathered bridal styles in a big way with this dramatic ball gown from Elie Saab. This gown features such an interesting design from the organic beaded stripes to the floral-like feather accents.
02.

Eisen Stein: Feathers & Pearls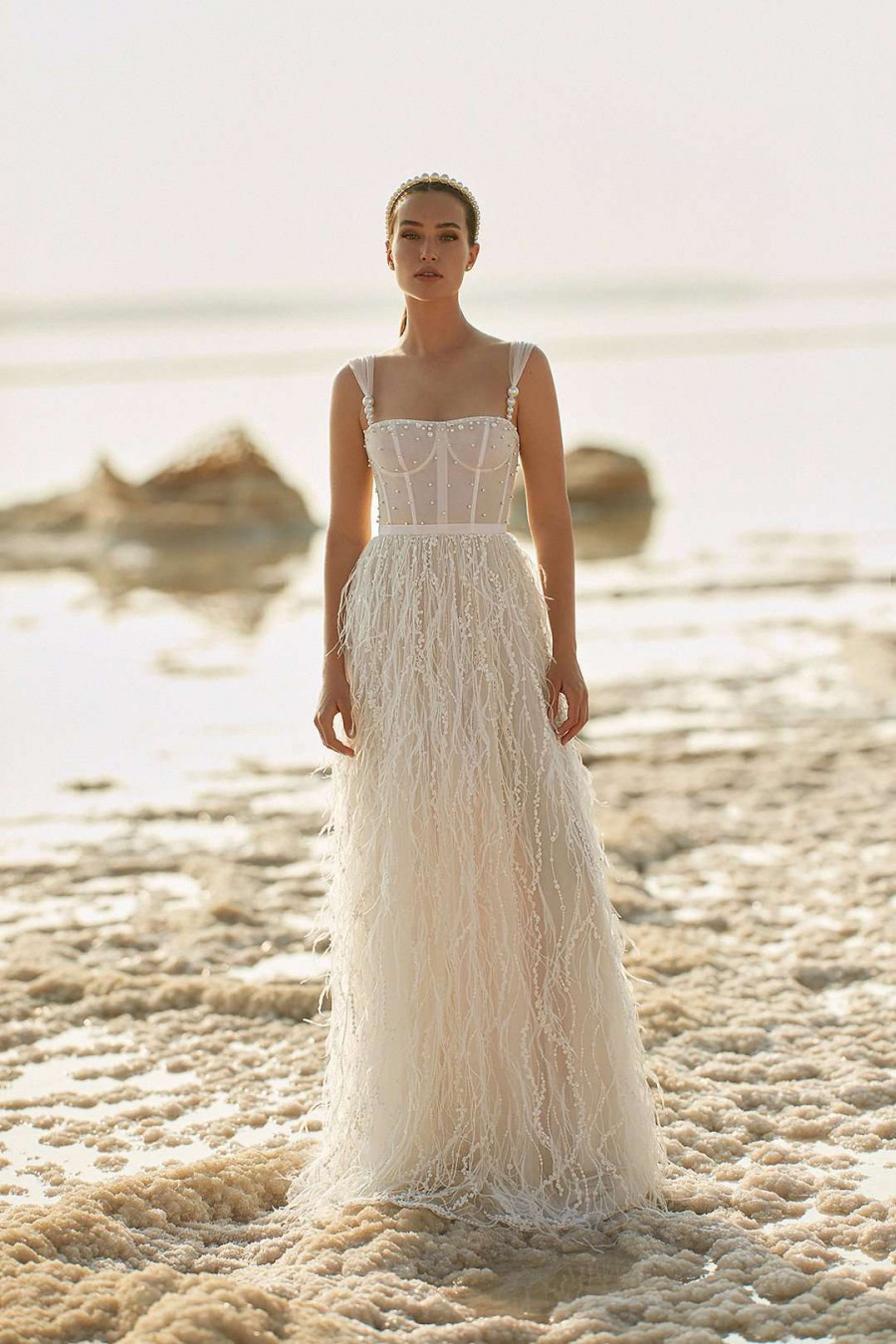 This next feather accented bridal gown is so dramatic, yet still feels so soft and feminine. The skirt of this gown features lush cascading feather accents that create the most beautiful texture. And we just love it paired with the corseted, pearl accented bodice.
03.

Naeem Khan: Fierce Feathered Mini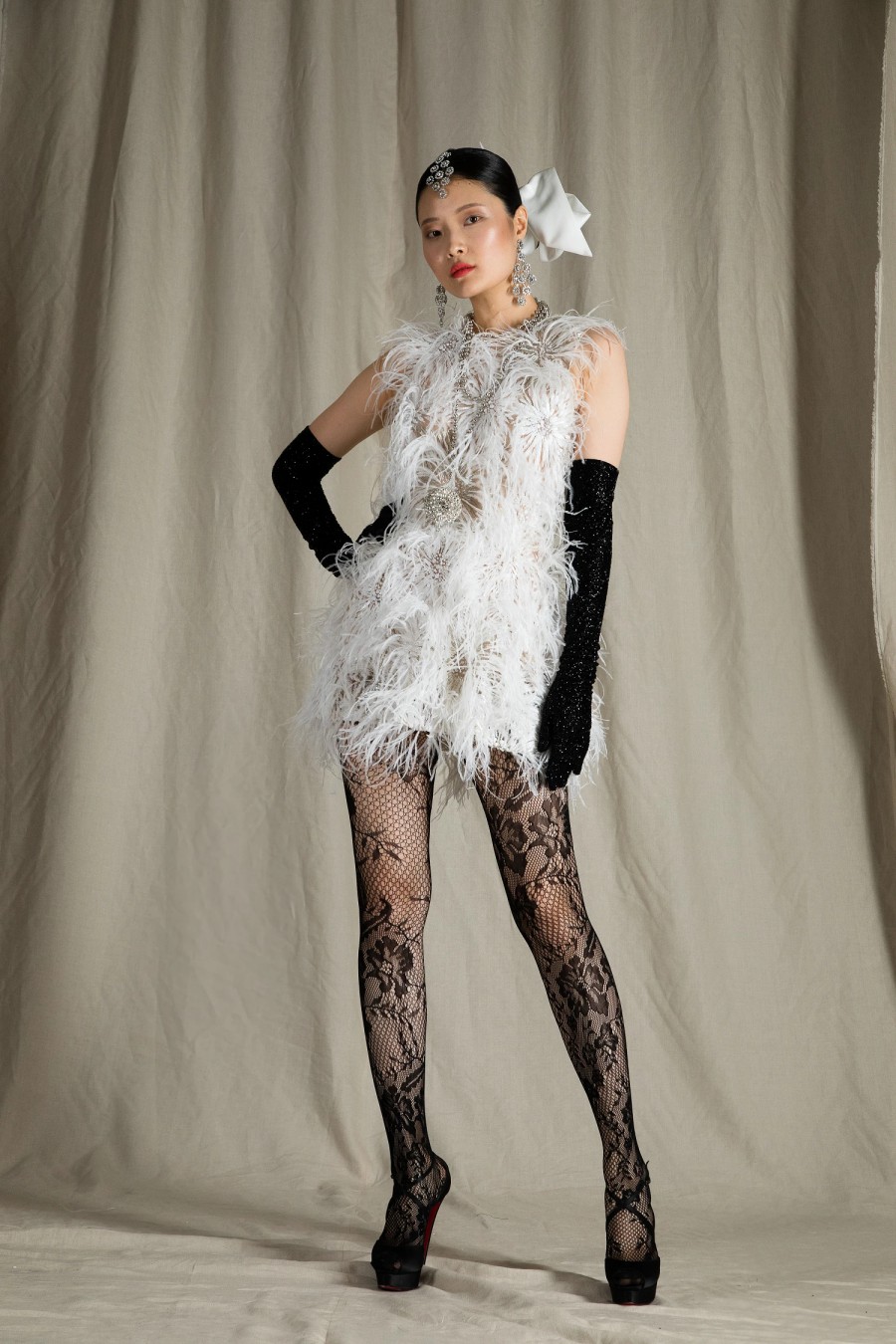 Who is bold enough to pull off this fierce feather bridal mini dress from Naeem Khan? Maybe not for your ceremony, but this would be a bold second look! That is what we love about having multiple bridal styles for your big day. You can wear something a bit more traditional for your ceremony, and then bust out a bold style like this one for your reception. Multiple styles allow you to play around with fashion, and let all aspects of your personality show throughout your wedding day.
04.

Monique Lhuillier: Pretty In Pink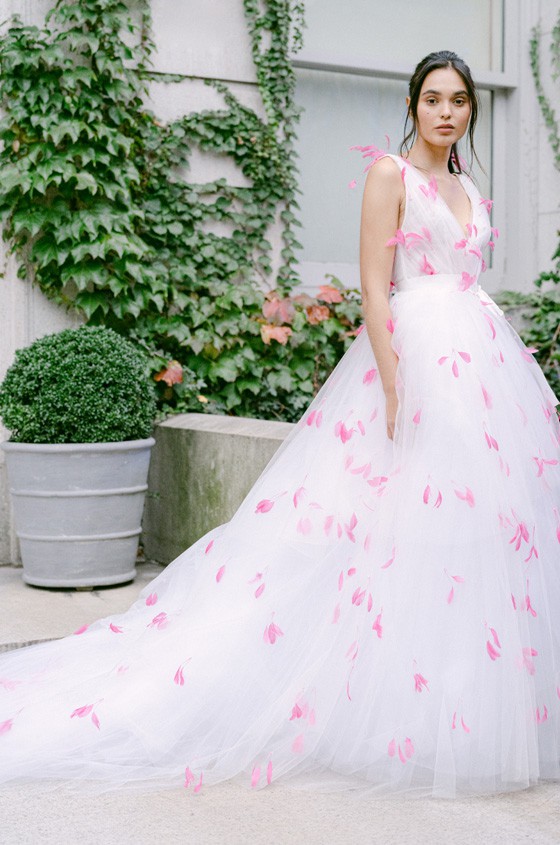 If you are a pink loving bride, then you don't want to miss this next feather accented bridal style from Monique Lhuillier. A luxe tulle ball gown featuring unique pink feather accents. A very traditional feeling gown, with a very contemporary colorful accent.
05.

Elie Saab: Luxe Feathers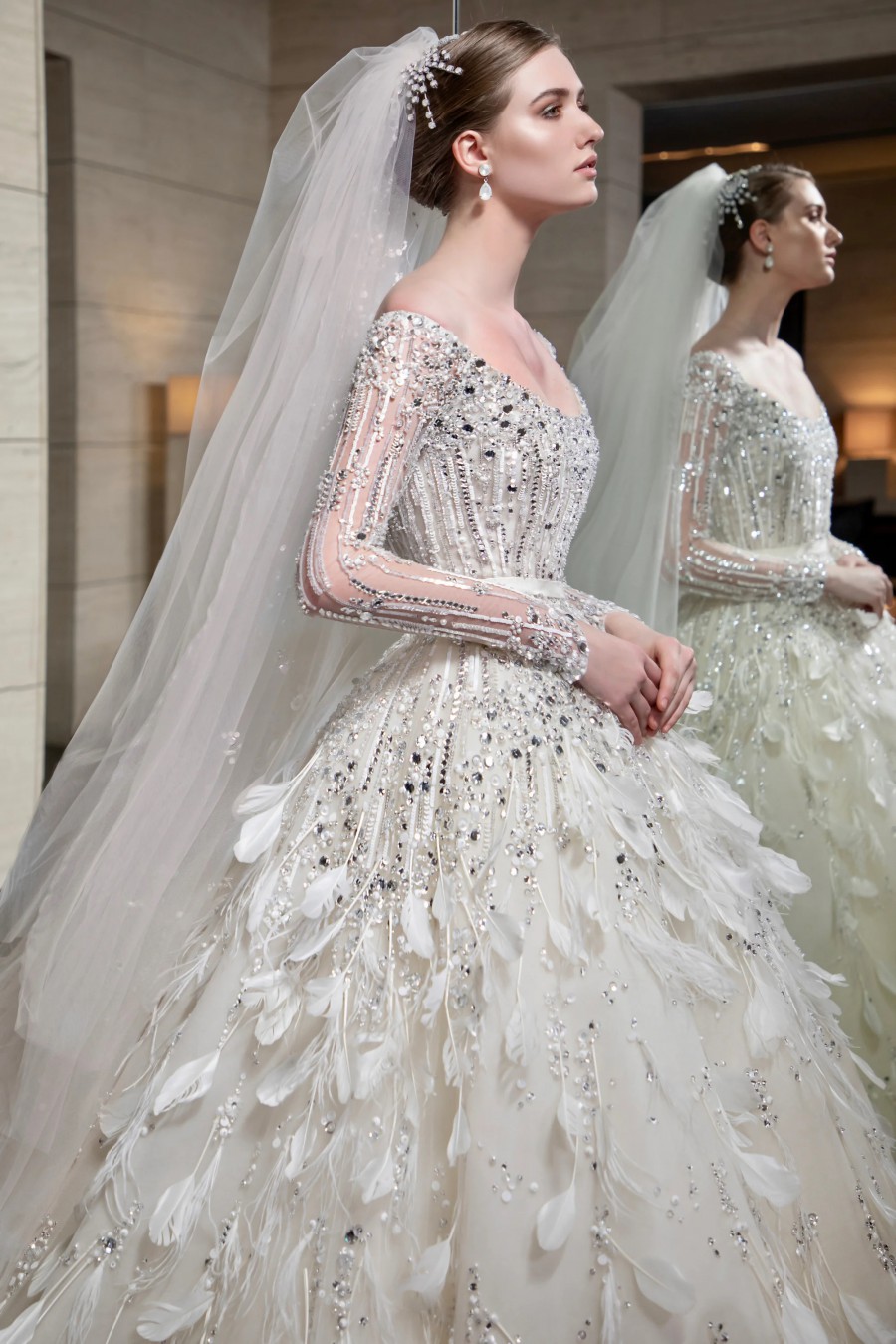 If you are a dramatic glam loving bride, then you don't want to miss this ball gown from Elie Saab. Featuring the most lavishly designed bodice with all over bead, crystal and sequin accenting that cascades down beautifully into the skirt. And to really add a luxe finish, this gown has the addition of large feather accents.
06.

Elie Saab: Lavish Cape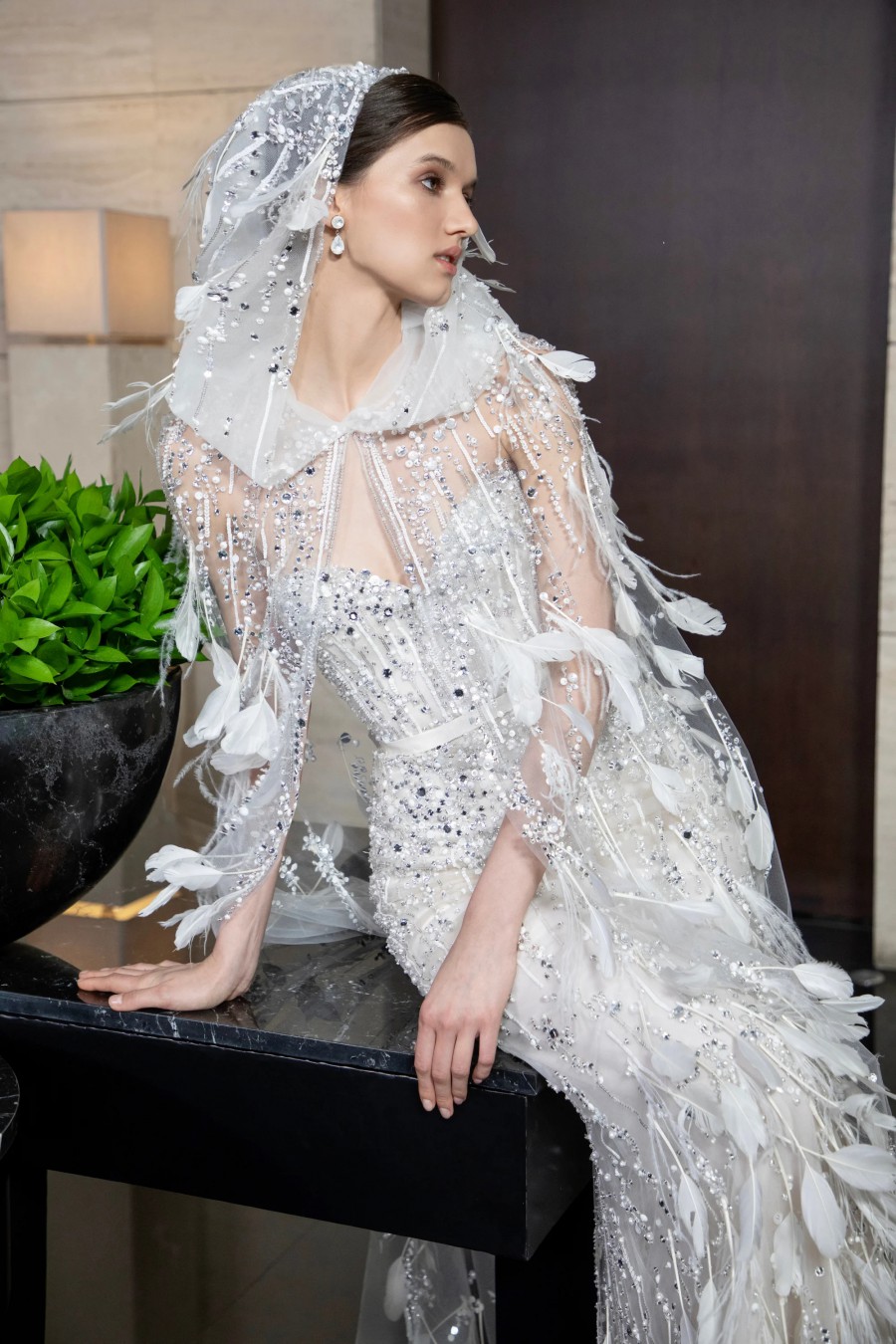 Loving the ultra luxe look of the glam and feather gown from above? Then you don't want to miss this bridal cape from Elie Saab either! This cape features the save lavish feel with all over crystal and bead accenting and large floating feathers. But what is great about a bridal cape, is that it is optional to take on and off throughout your wedding day.
07.

Justin Alexander: Elegant Feathers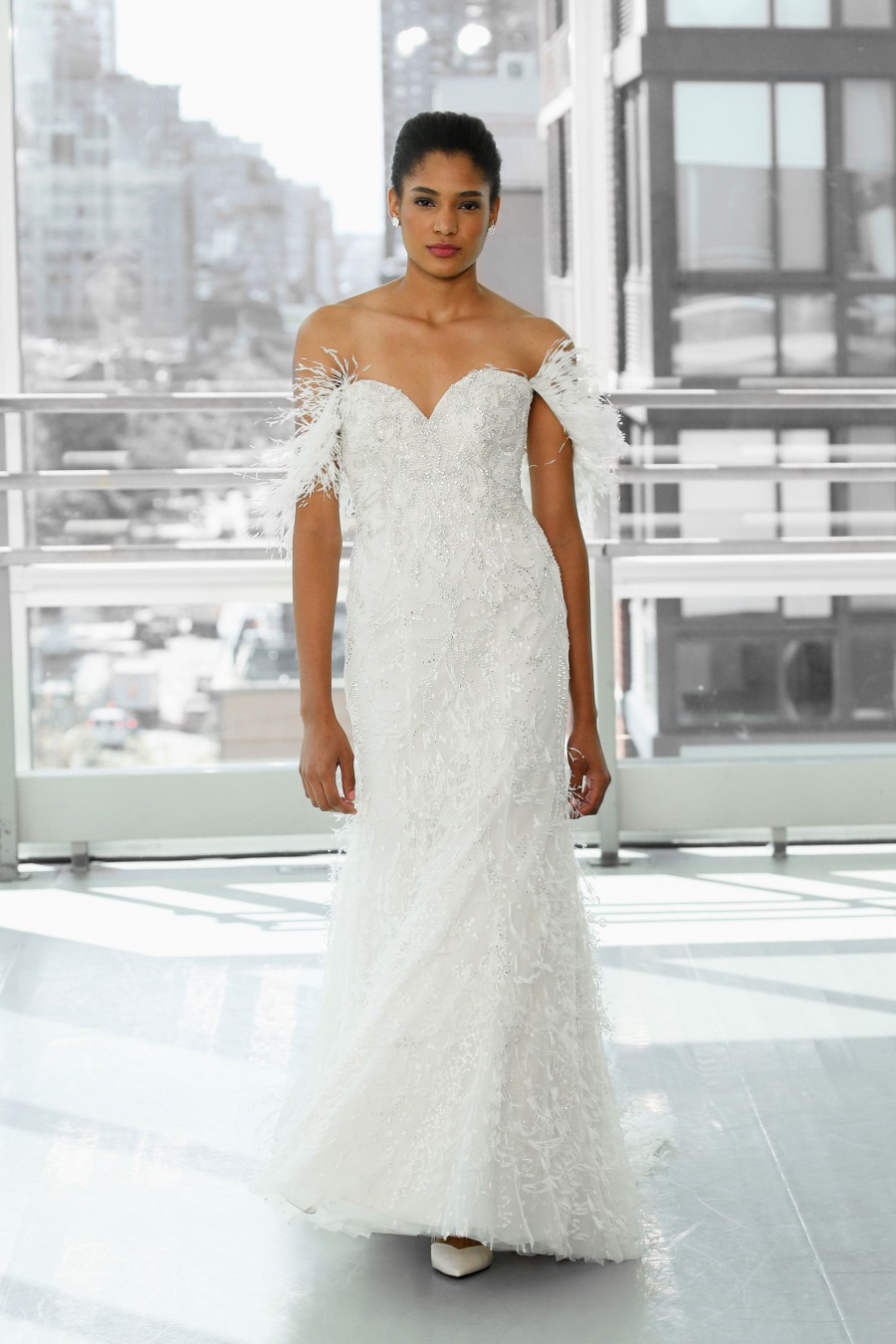 Get ready to make a big entrance with this next feather accented bridal gown from Justin Alexander. This off-the-shoulder fit and flare gown features a heavily embellished design with all over beading and Marabou feathers. Our favorite feature has to be the feathered off-the-shoulder sleeves. They add such a lavish, luxe finish to this look.
08.

Revolve: Luxe Robe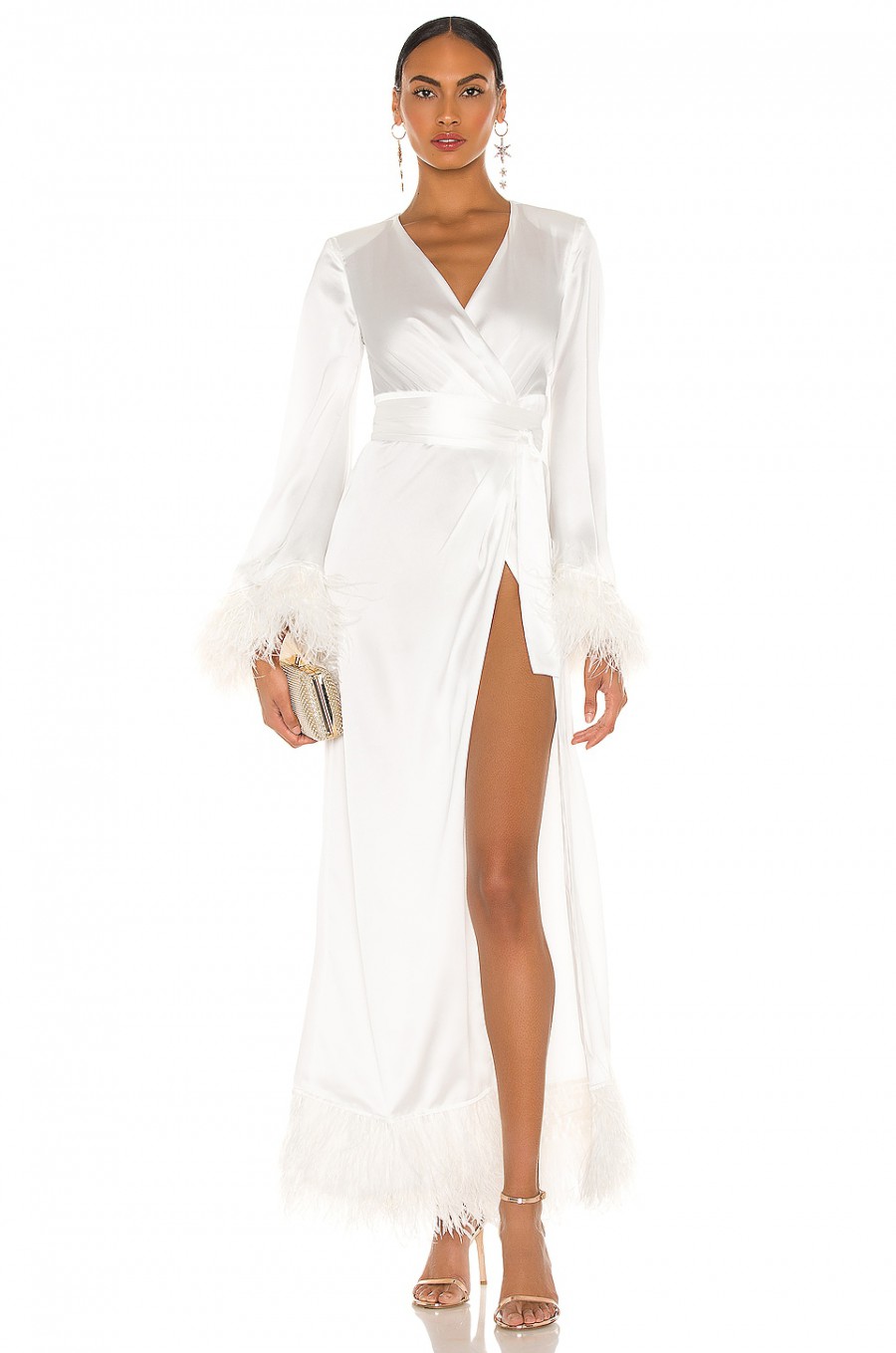 Next up we have a luxe feathered robe style gown from Revolve. This budget friendly and more casual style gown is perfect a second look, reception style or even formal honey moon dress.
09.

Odylyne the Ceremony: Dramatic Feathered Cape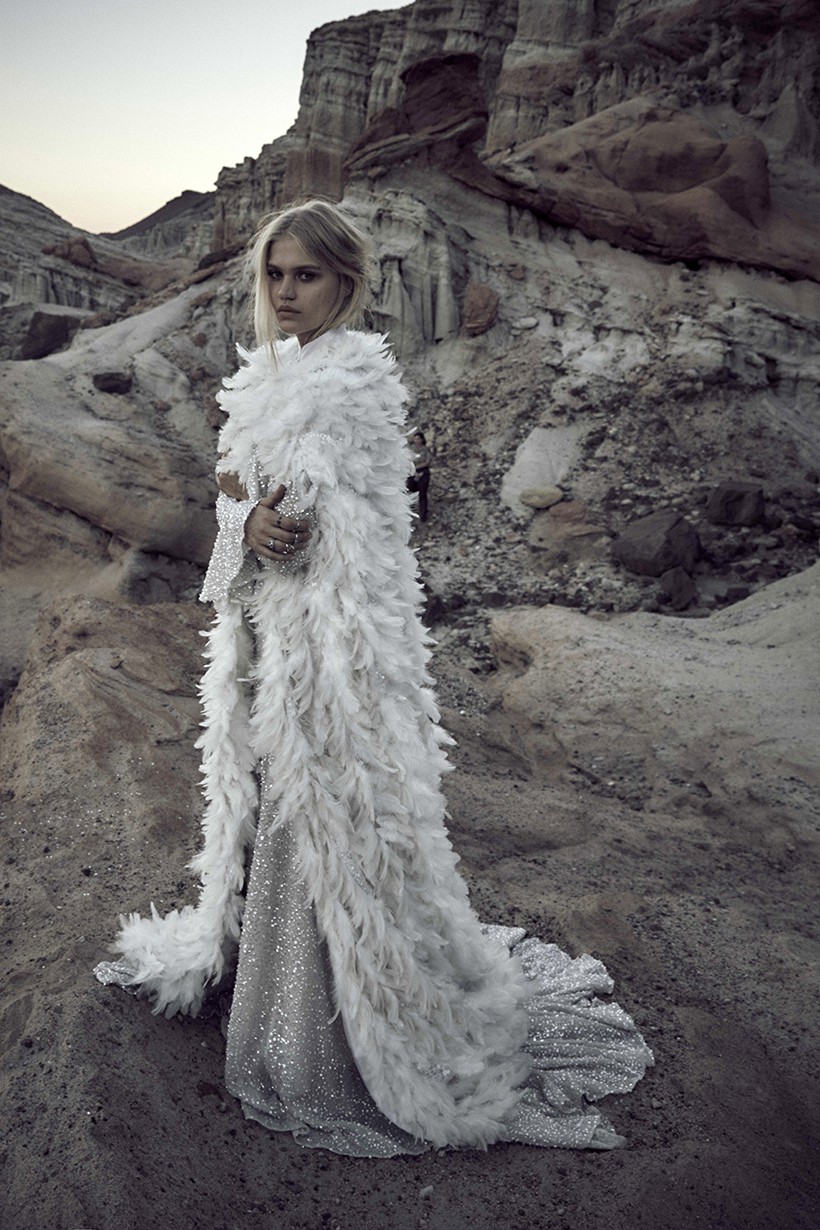 Looking to add a dramatic feathered finish to your wedding day look? Then look no further than this bold feathered bridal cape from Odylyne the Ceremony. Perfect if you are having a wedding in colder weather months, or just to add an ultra lavish touch to your wedding day style.
10.

Justin Alexander: Soft Feather Accents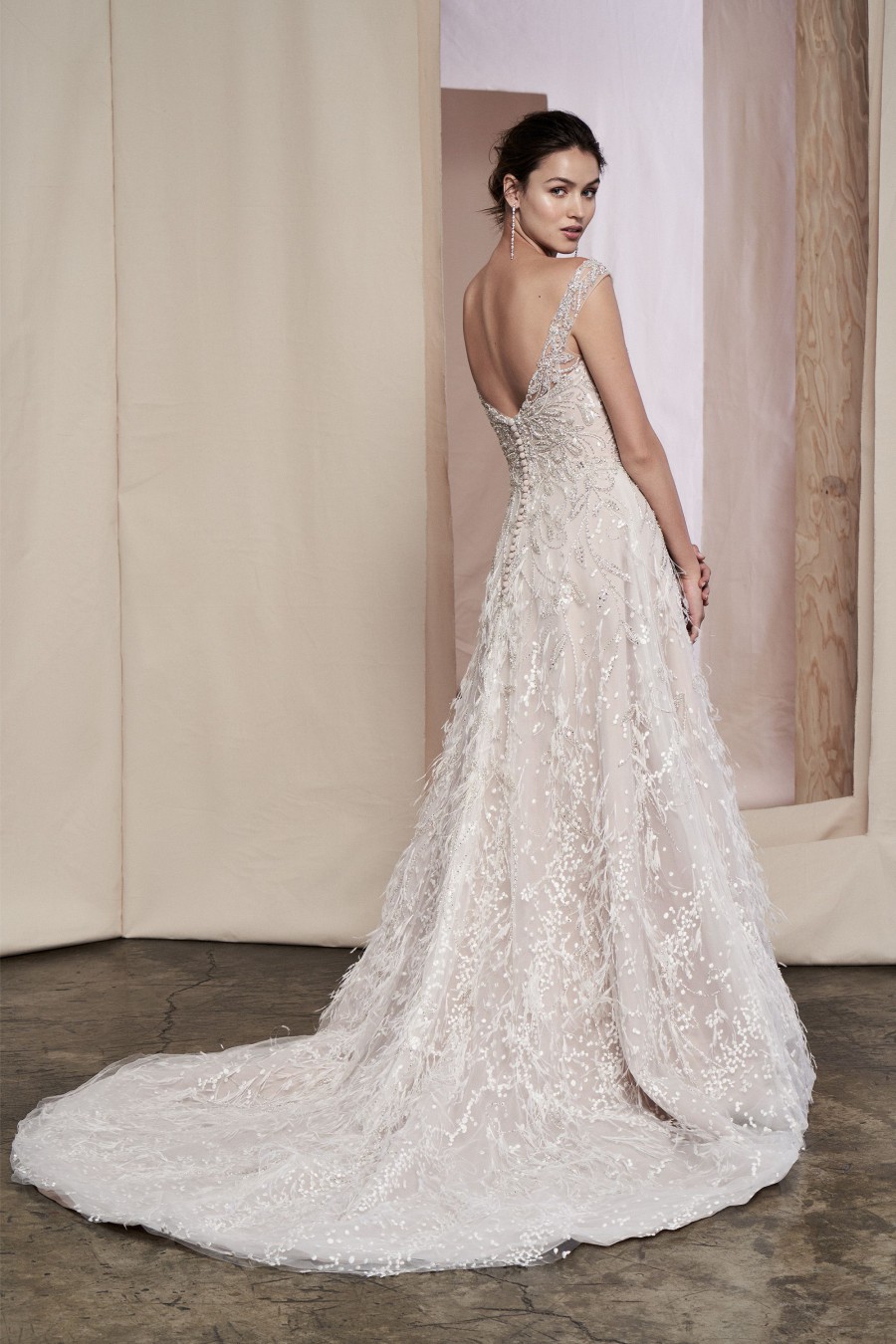 Feathers play a more subtle role in this next bridal style from Justin Alexander. This stunning A-line tulle gown features lavish sequined detailing that is sure to take your breath away. And the gown is accented with soft, delicate feathers to add just the right touch of texture.
11.

Yolan Cris: Feathered Straps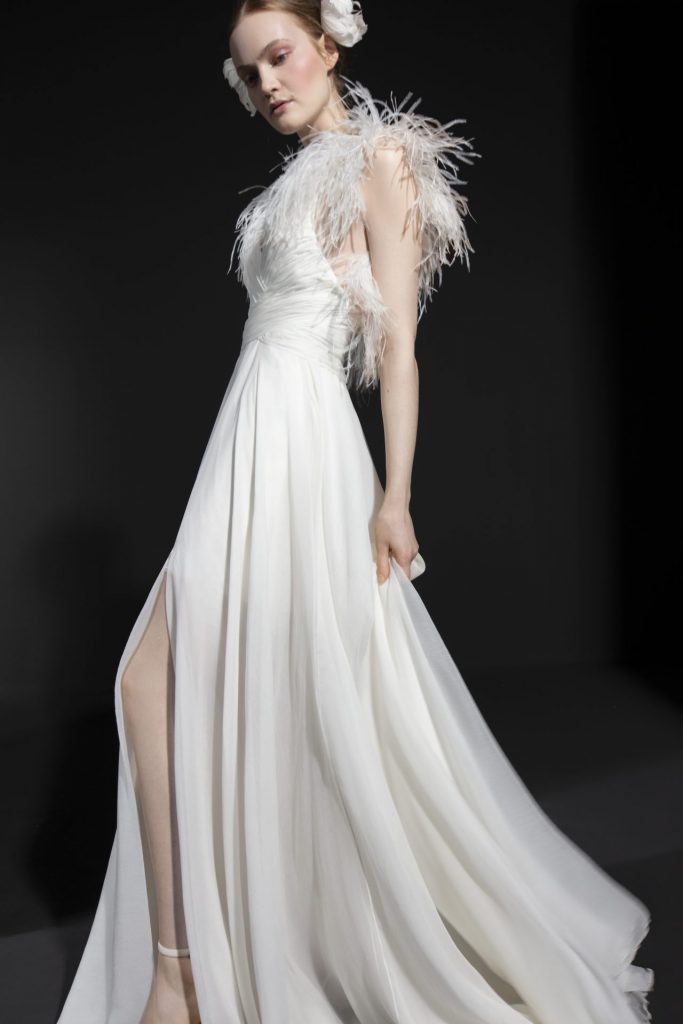 Yolan Cris is never afraid to bring the drama when it comes to bridal fashion. And we are loving this chic chiffon gown with bold feathered strap accents.
12.

Berta: Feathered Glam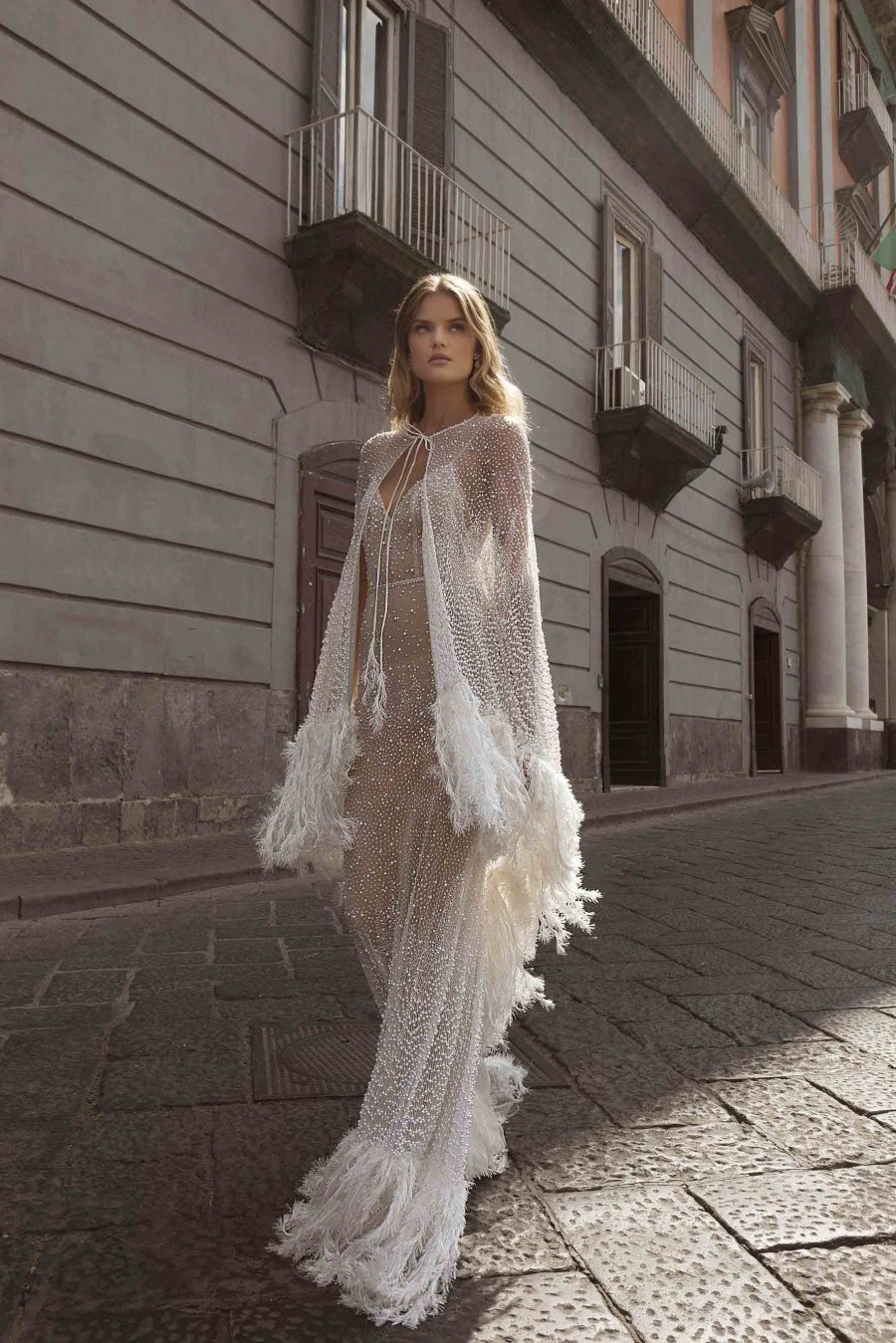 Ultra glam, with a feathered finish. We are loving this bridal look from Berta. This gown has a semi-sheer appearance to it with all over sequin and pearl accents. And then the base of the gown is finished with lavish feathers. And did we mention the matching cape?
13.

Revolve: Feathered High Low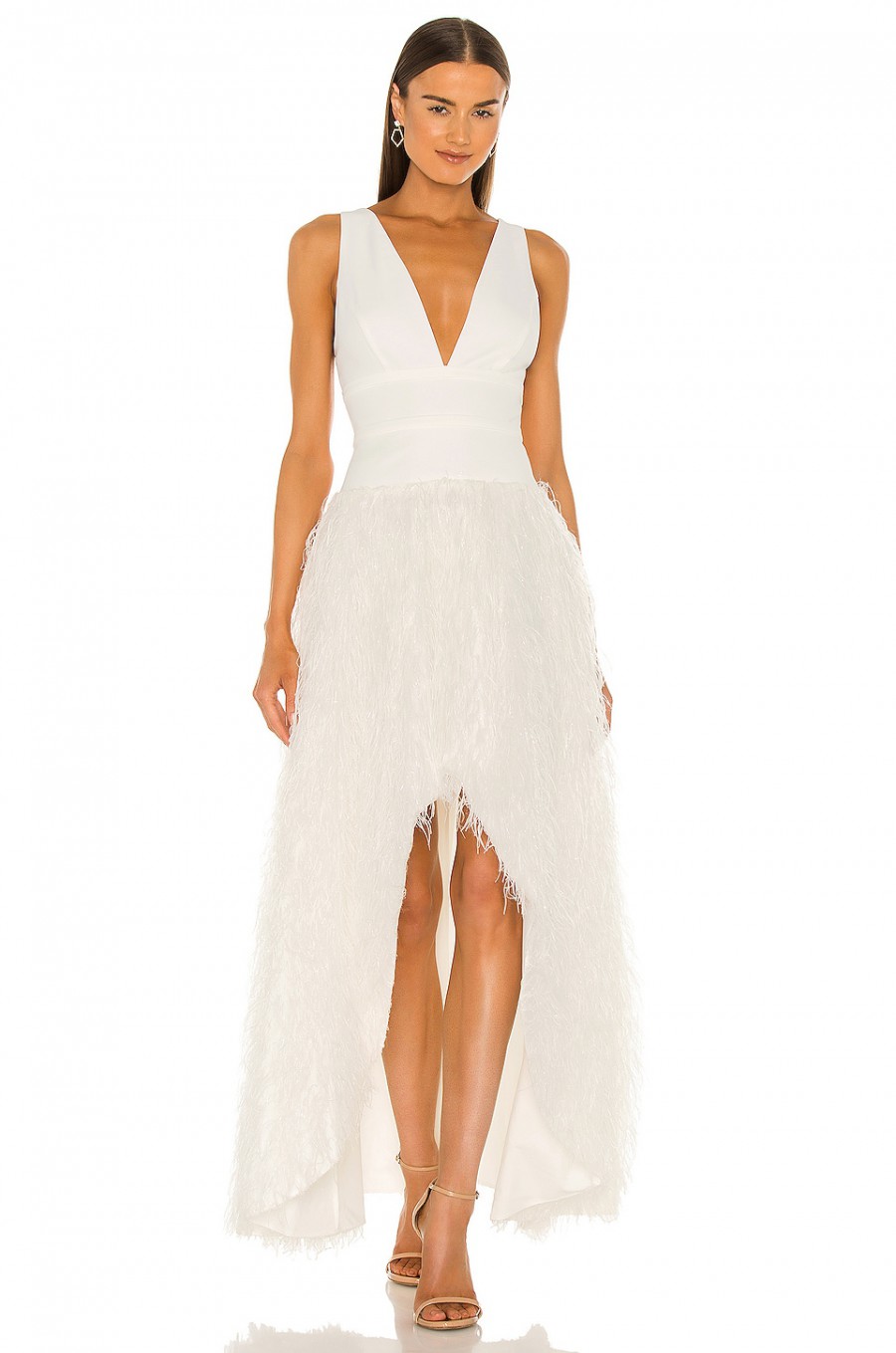 The perfect feathered bridal style to show off those chic wedding day shoes you got! This high-low look from Revolve is playful, feminine and also super budget friendly.
14.

Yolan Cris: Feathered Ball Gown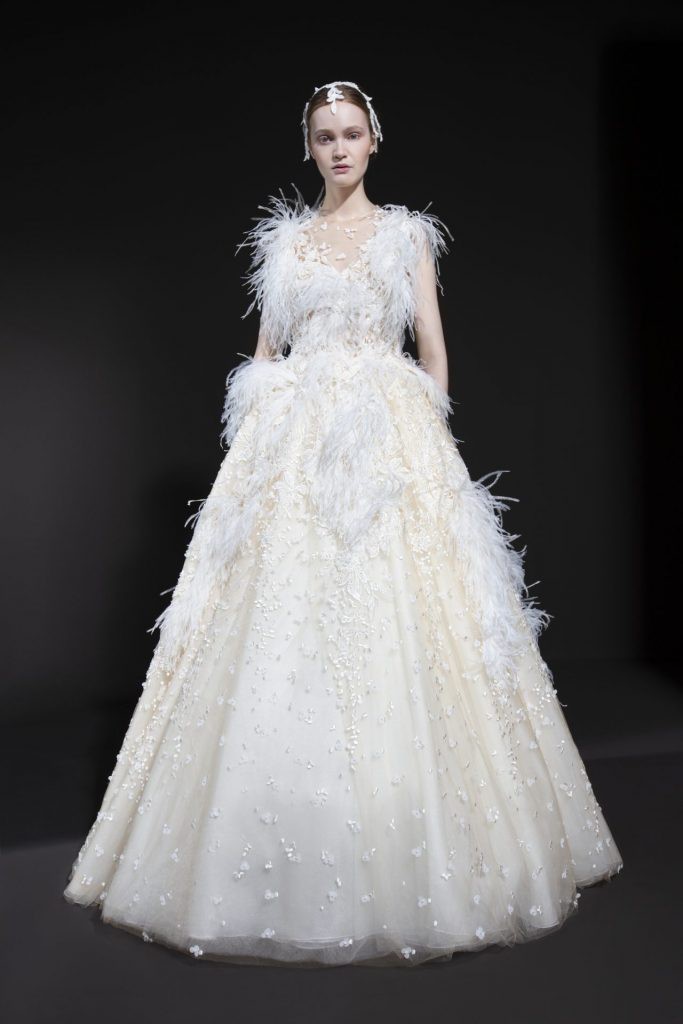 Who is brave enough to pull off this dramatic feathered ball gown on their big day? This feathered gown from Yolan Cris features lavish embellishment at every turn. A couture bridal look that is sure to take everyones breath away.
15.

Galia Lahav: Glam Feathers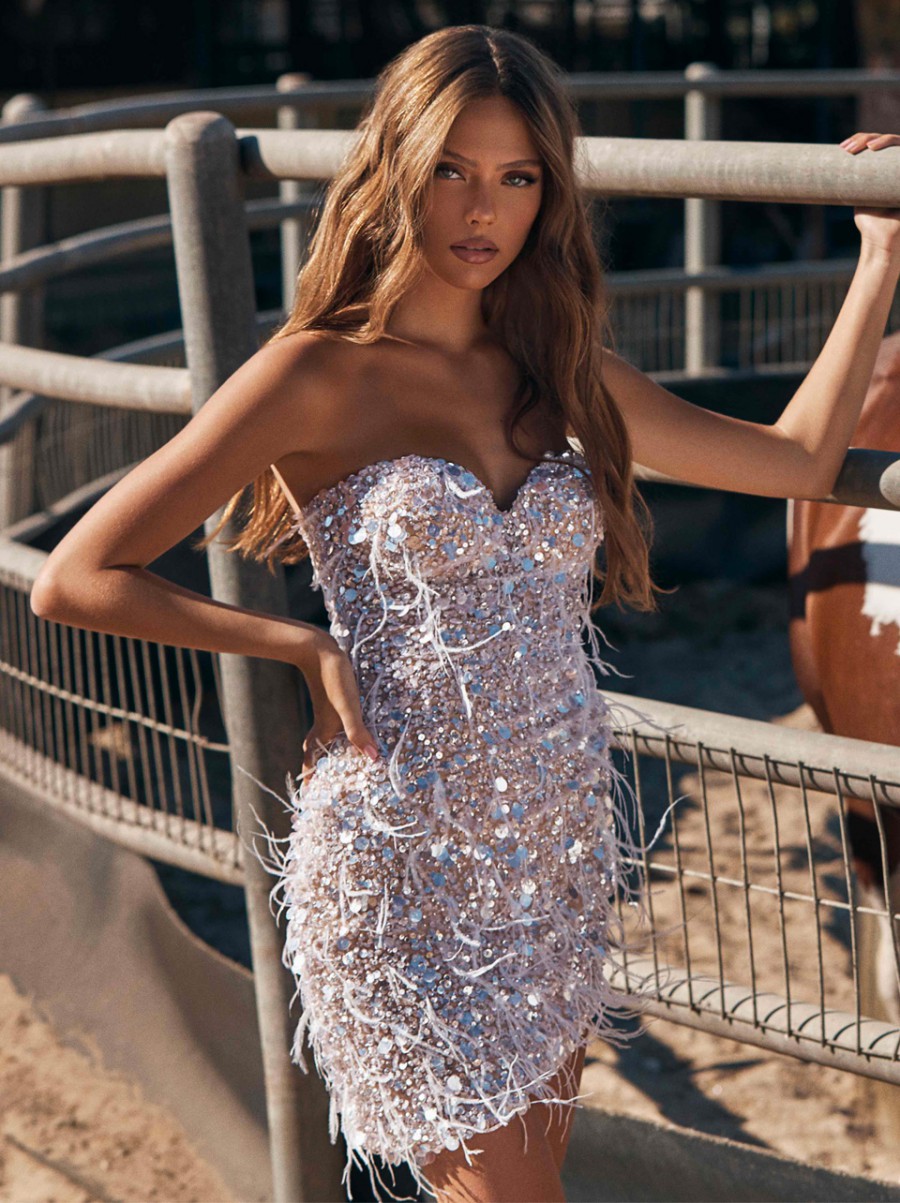 All over sequins and feathers...what more could a bold, couture bride want when it comes to a second look? We love this feathered mini for a party ready reception style. Bold, sexy and ready for a night of dancing.
16.

Berta: Fierce Couture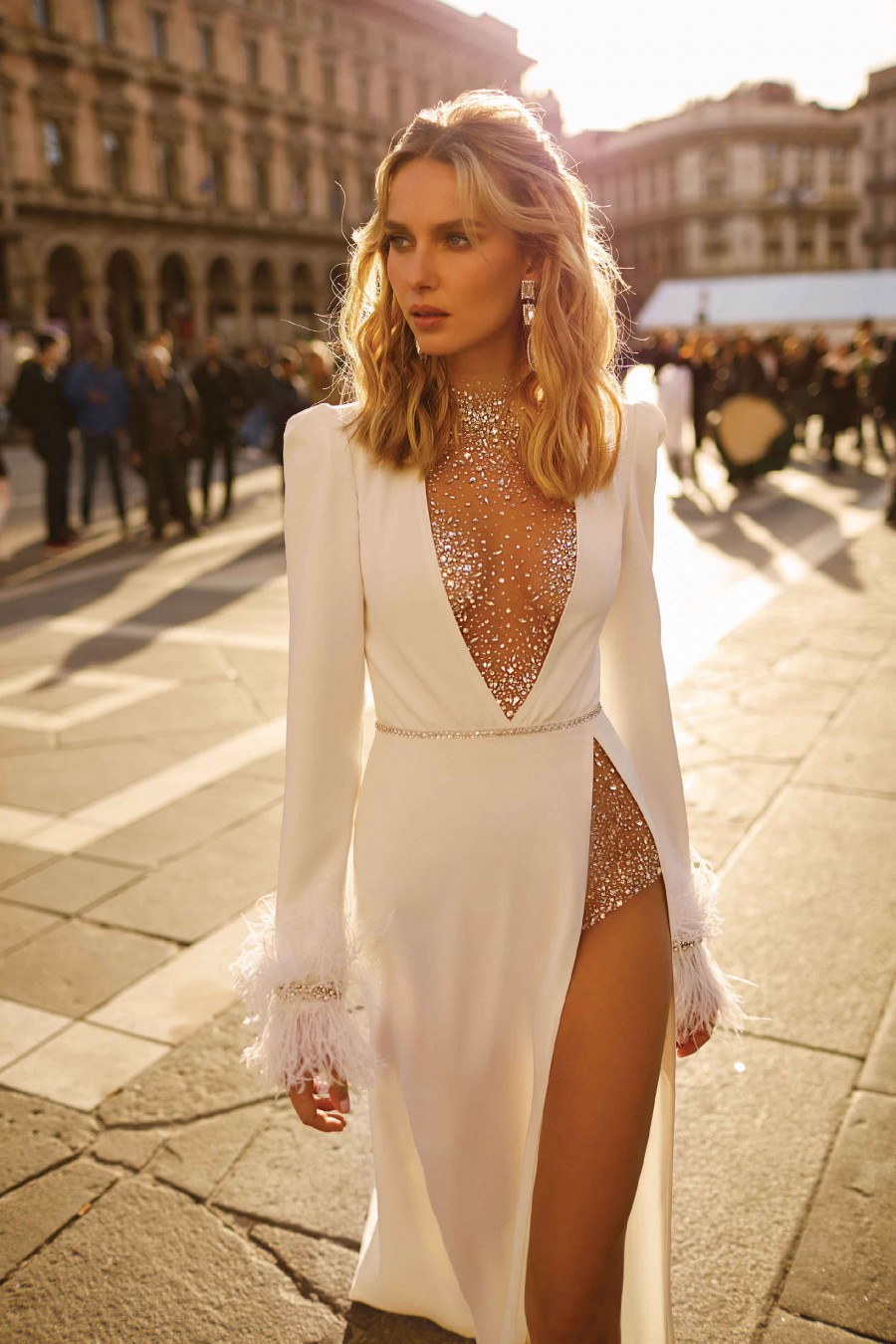 This couture look from Berta is sure to make any bride feel fierce. A crystal bodysuit is paired with a sleek white over dress with a plunging neckline and ultra high front slit. And this look just wouldn't be complete without the lavish feather wrist accents.
17.

Galia Lahav: Dramatic Mini & Overskirt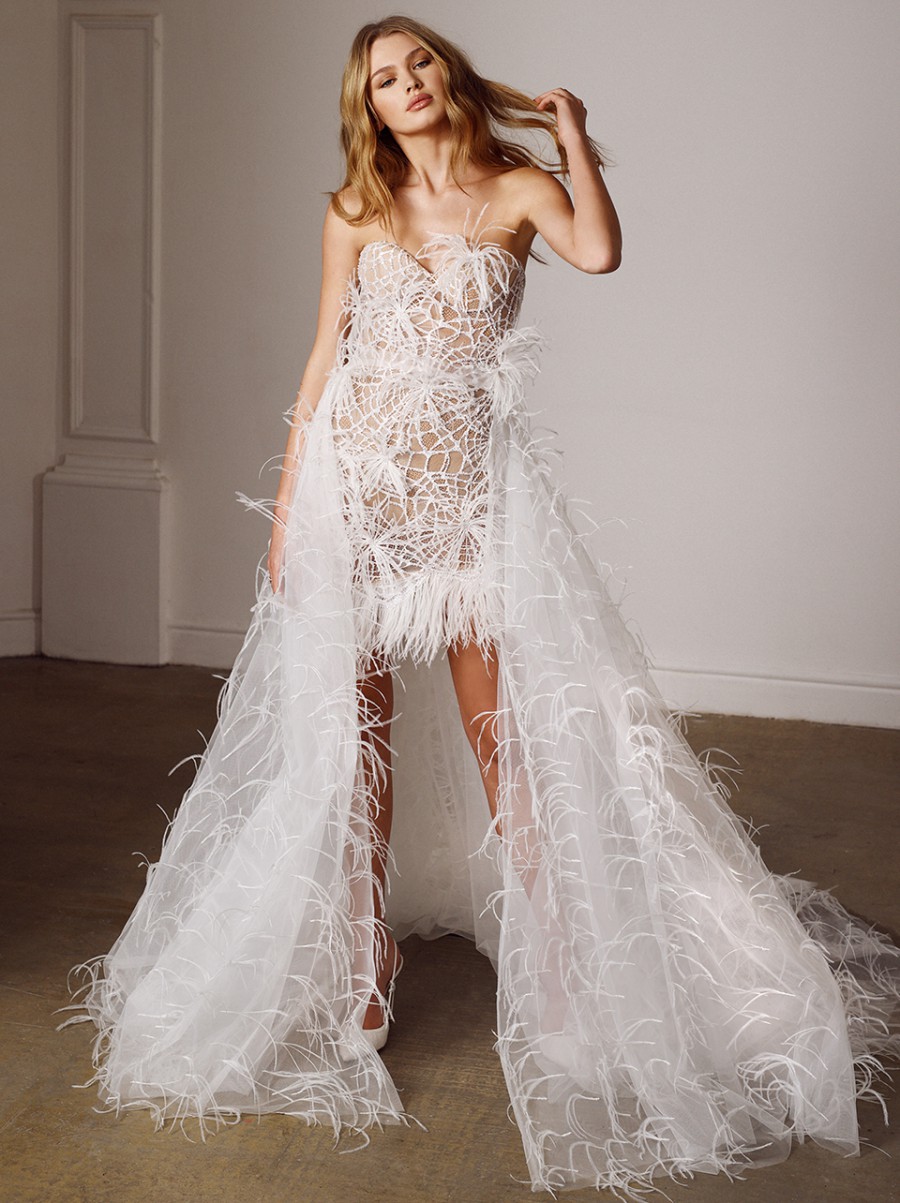 Next up we have another dramatic feathered mini bridal gown from Galia Lahav. This chic corset mini made of beaded netting lace and feather accents. And the matching feathered overskirt can easily be removed to switch up the look.
18.

Alon Livne: Oversized Contemporary Feathers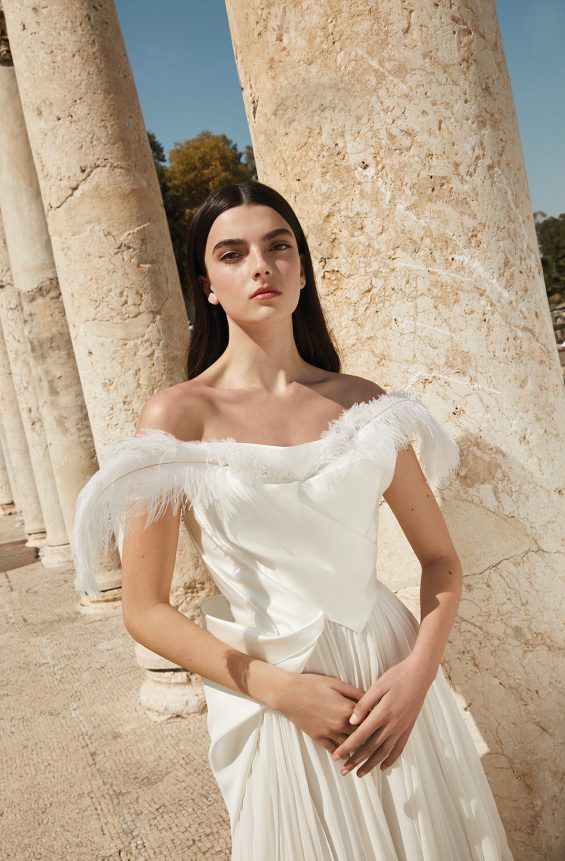 Alon Livne brings us this next feather accented bridal style. A contemporary draped corset gown that features two oversized feather accents at the neckline to create a unique and modern look.

By Kathryn Schrotenboer